I cannot remember the last time that I was as excited about a car as I am the FR-S you're looking at right now. That's a pretty bold statement when you take into account how difficult it has become for anything automotive to knock my socks off, and even more so when you consider that the car that did it is probably the most hyped up vehicle on earth right now. A few days ago I was blue in the face from the constant stream of FR-S / GT86 / BRZ craziness coming from every direction, but this right here is a game changer.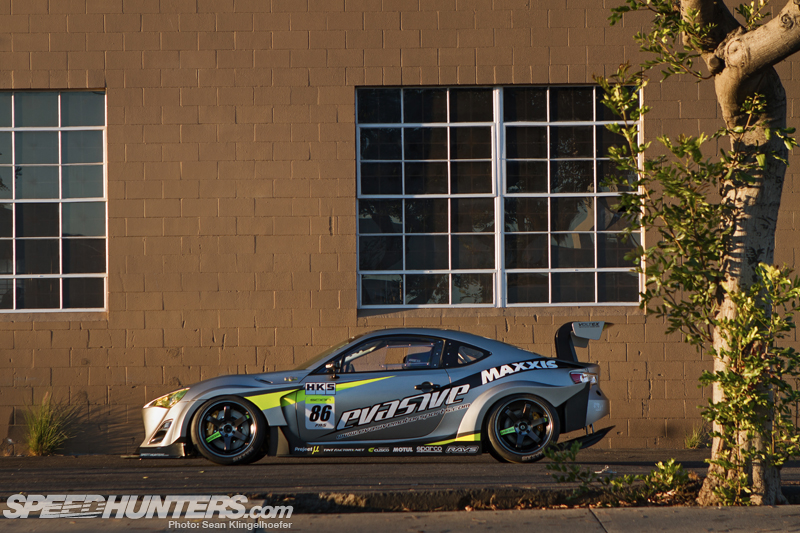 I've known the guys at Evasive and taken my personal cars there for practically as long as I've lived in California, so when I found out a few months ago that they were building an FR-S I knew it would surely become something spectacular. For those of you who aren't familiar with the shop, their main bread-and-butter is making cars go very quickly around a race track and have made quite a name for themselves in US time attack.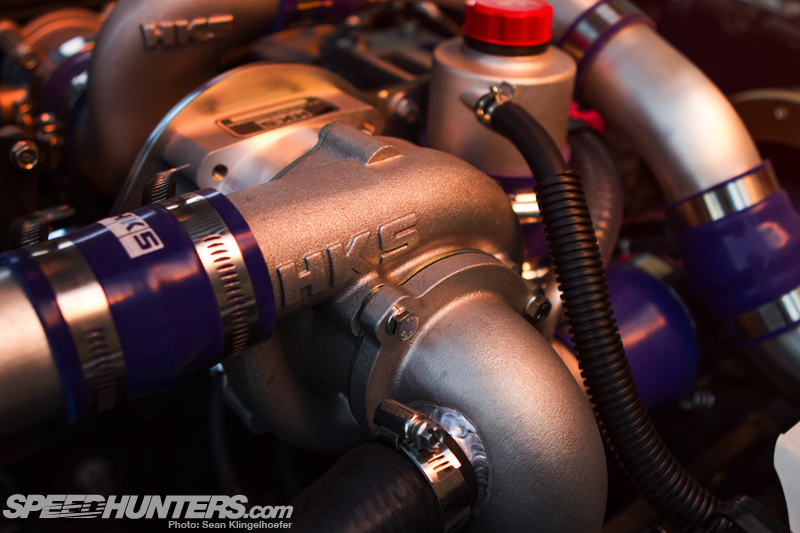 The thing that has always impressed me about Evasive isn't the fact that they build fast cars, it's the methodology behind how they do it. Unlike most US tuners who want to slap ten wings on a car, throw a thousand horsepower in it and mount up the widest wheels possible, Evasive does things a little differently. They have stayed true in their vision and have adopted a Japanese style of tuning where overall balance is key, no one component outshines the others and by working in unison they have claimed many track records with some of the lowest powered cars in the time attack community.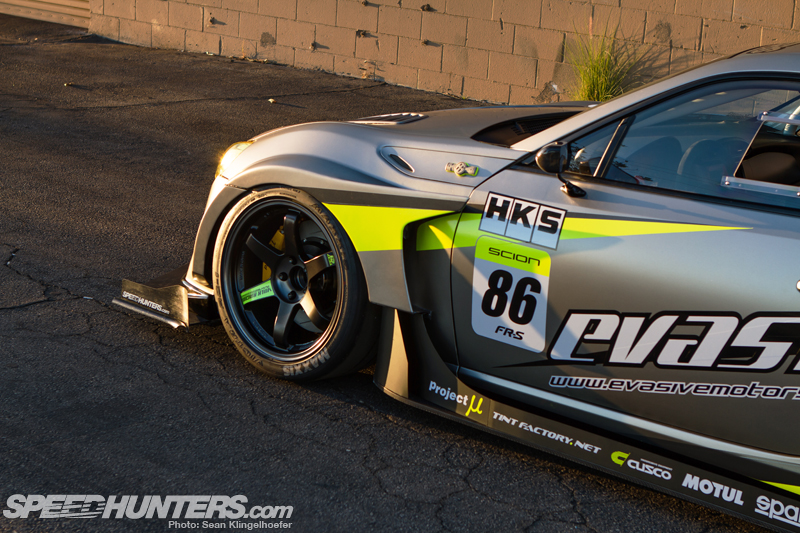 Evasive also has a long time love affair with aerodynamics, albeit a more subtle and refined approach than what you can usually associate with grassroots motorsports. One of their long time partners is Japan's famous tuner Voltex and over the years they have collaborated on a number of different projects together, most notably their S2000 which wears with very first kit ever made for the car by the aero company from Suzuka.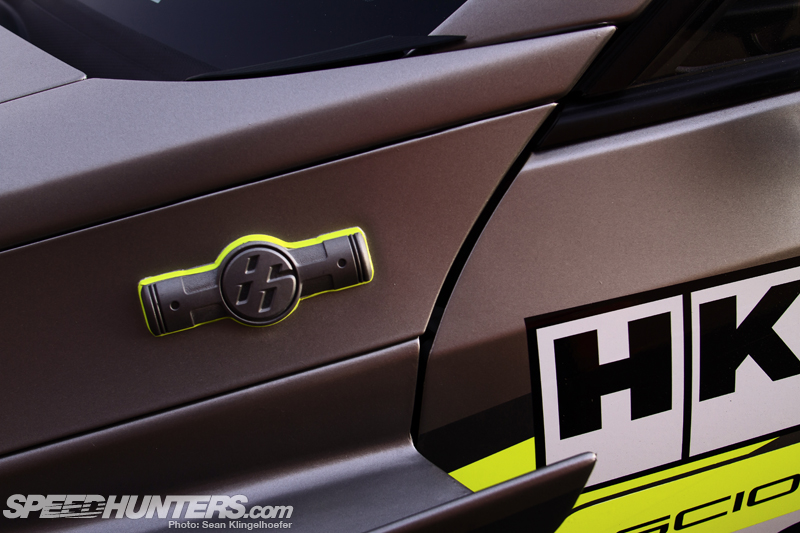 They've also always had what I consider to be the best looking time attack cars in the states as well, and it doesn't hurt that they are usually near the front of the pack. Therefore when I ran into Mike Chang and Tony Kwan from Evasive at Formula D Irwindale I had complete faith in them when they told me "you've gotta come by and see our FR-S when it's done, you're gonna love it!" They were right.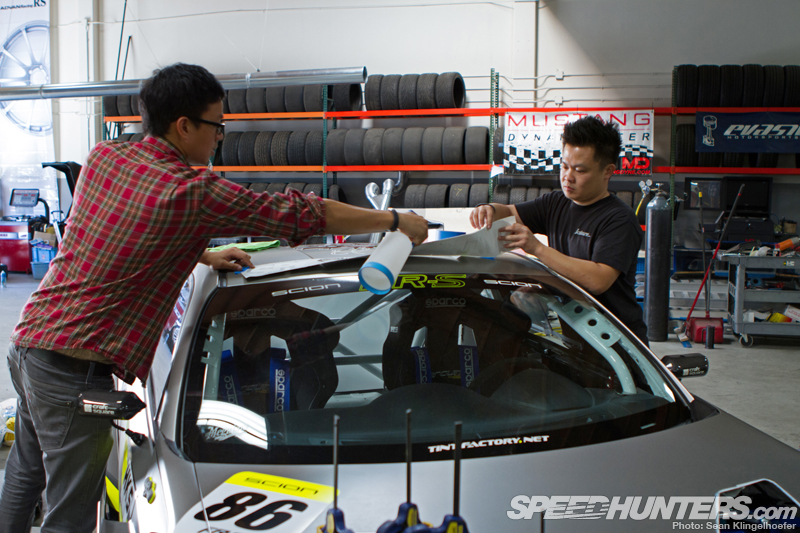 Actually I think "love" is an understatement, I cannot even think of a word to describe how I feel about the car. When I received a message from Mike on Tuesday with photos of the car I think I had a heart attack. Every ounce of my being felt compelled to photograph it immediately, as if I couldn't possibly live another day if I didn't capture it. So I made plans to come by the following day to get my fix and when I arrived the guys were just putting the finishing touches on it.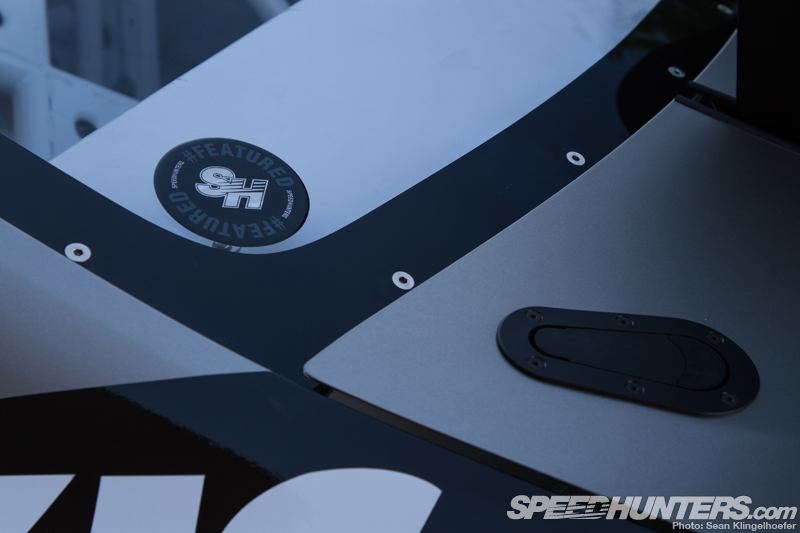 When I first saw the car in person my heart sank again. I decided to eat lunch while the guys tied off all the loose ends but I couldn't stop myself from walking around the car and ogling it. I literally couldn't take my eyes off of it. Of course I made sure to bring some Speedhunters goodies for the car, but the sticker I was most interested in getting fixed to it was the official #Featured badge.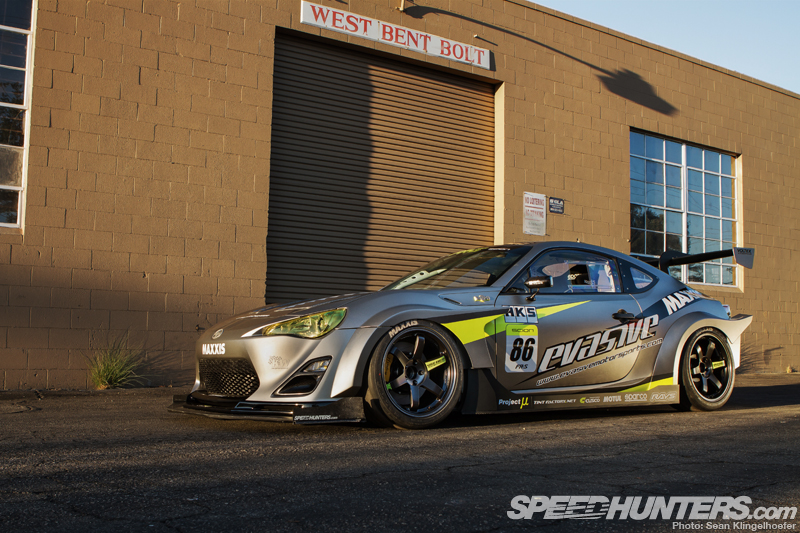 After what seemed like an eternity due to my giddiness, we finally got the car loaded onto the enclosed trailer and out to our shoot location. Seeing the car in the sunlight was another breathtaking experience. Just when I thought it couldn't get any better it somehow did, exponentially. The only other experience I can compare it to would be meeting a really cute girl (or guy), then seeing her (or him) naked only moments later.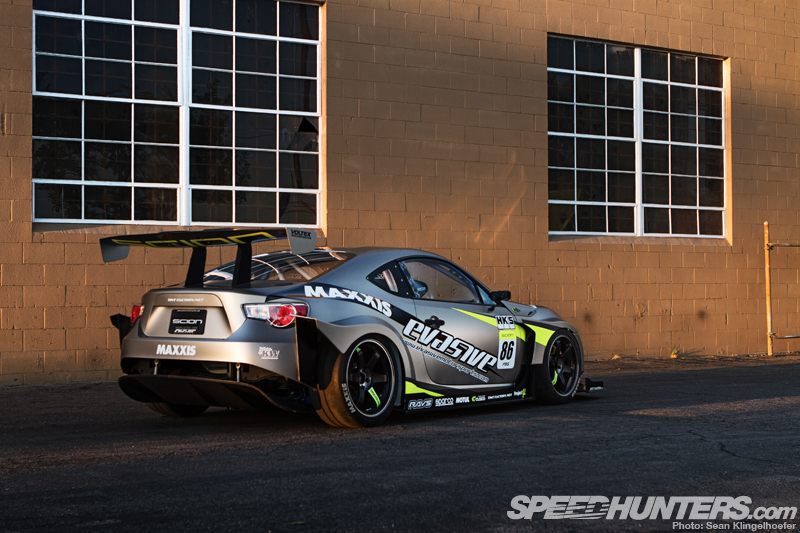 I was completely flabbergasted by the bodywork. This time around the guys decided to build their own bespoke aero kit inspired by various forms of racing. Some of the obvious influences would be the Super GT style high shouldered fenders and the LMP style "swan neck" wing mounts, for which Voltex had to create a custom one-off Type 7 GT wing to accept the top-mounting brackets. Even now looking at the photos I just can't get enough of it.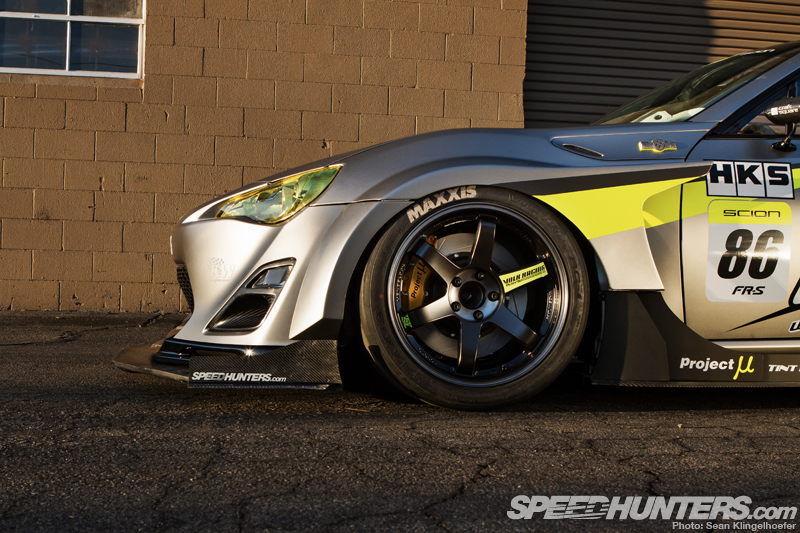 "For our build, we wanted to make sure that we didn't lose the original body lines and we didn't want to go overboard with making it too wide, given its factory width was already large." Tony tells me, "We spent a lot of nights shaping and reshaping the aero to get it the way we wanted, making sure it didn't look heavy on the car." Mike added "We love the stock lines of the car, especially from the profile view and didn't want to distract the factory lines so we tried very hard to match the wide fenders so it does not take away from the feel of the car."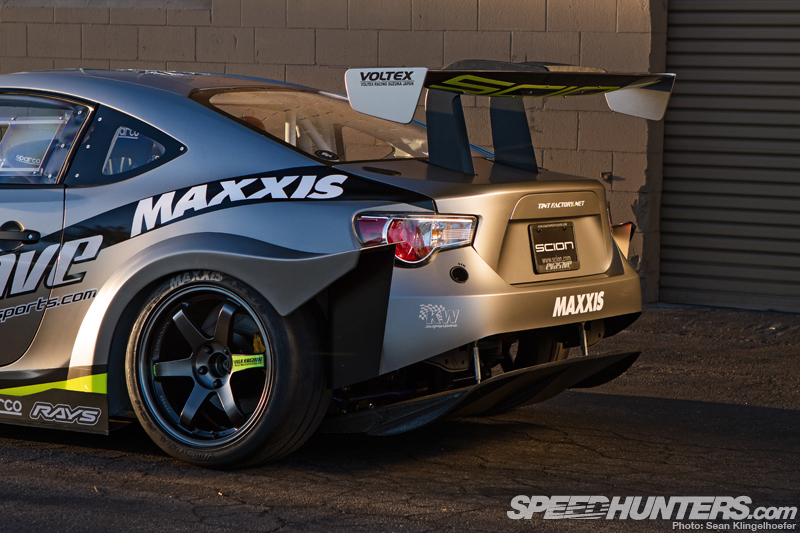 If you ask me they totally nailed it. Now I know I'm probably going to take a little crap for saying this, but before this car I never saw a ZN6 that I fully liked the way it looked. There are a lot of really cool elements on other cars that I like a lot, but as a whole package this is the first time that I love every piece and every angle. I never imagined owning an FR-S until now either, but I could definitely see myself driving the piss out of this one.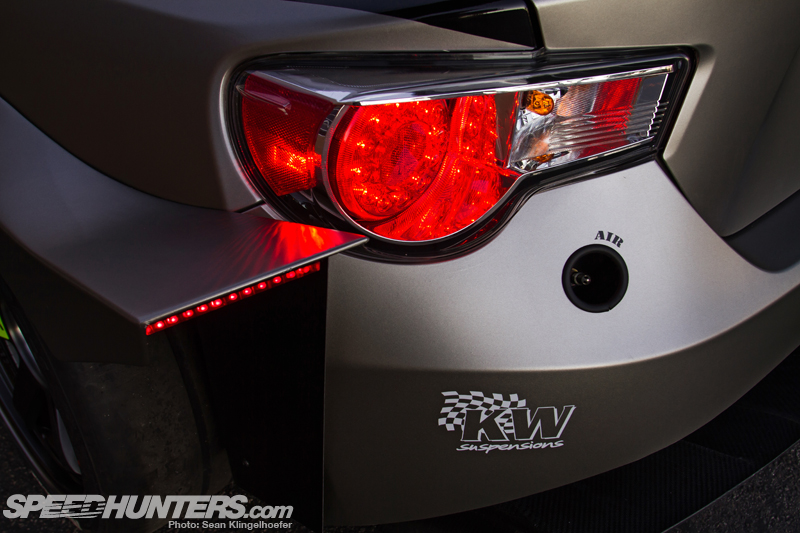 I think part of the reason I'm swooning so hard is because I'm a huge motorsport nerd and I share a lot of taste with these guys. Take for example yet another page borrowed from the world of sportscar prototypes, these sick LED strips running along the edge of the rear fenders. How cool is that? And I wonder what that hole marked "air" is for… we'll get to that in a minute.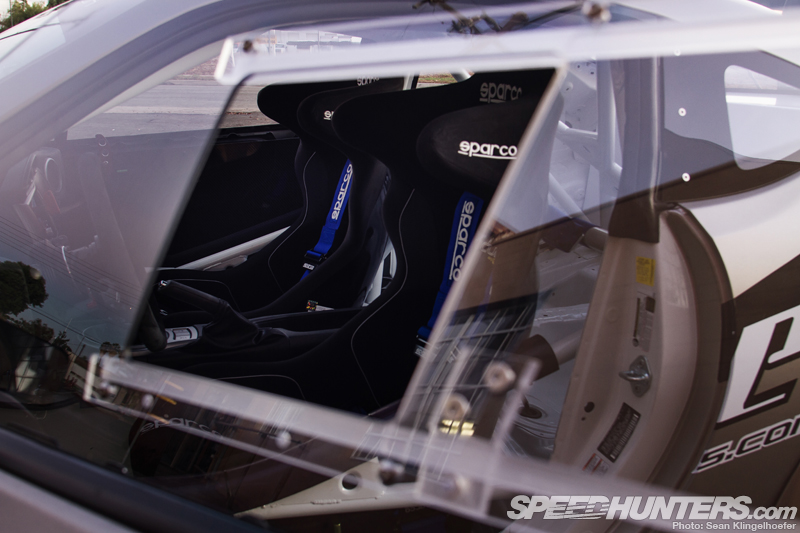 While this is indeed a car that Scion has given to Evasive for SEMA, it is by no means a "SEMA car". By that I am of course referring to the intended use of the vehicle, which if you haven't guessed by now will be largely competitive time attack racing. Tony explained "we're probably best known for competing in time attack events with our EVO 9 and S2000, and will compete with this FR-S as well. But we actually wanted to take it a step further by competing at Pikes Peak Hill Climb."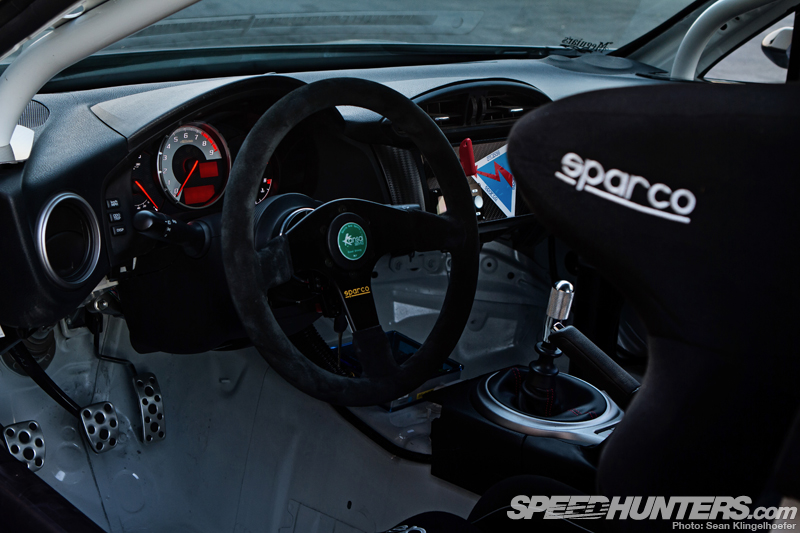 Obviously PPIHC is no small fry competition and Evasive will surely have their work cut out for them, but if there is anyone from the tuner market that I think has a fighting chance it's them. They know what it takes to develop a car and take improving performance very seriously and they have the hours of datalogging to prove it. I'm sure that the car will be moving along nicely by the time it travels to Colorado for what Mike refers to as "the ultimate time attack event."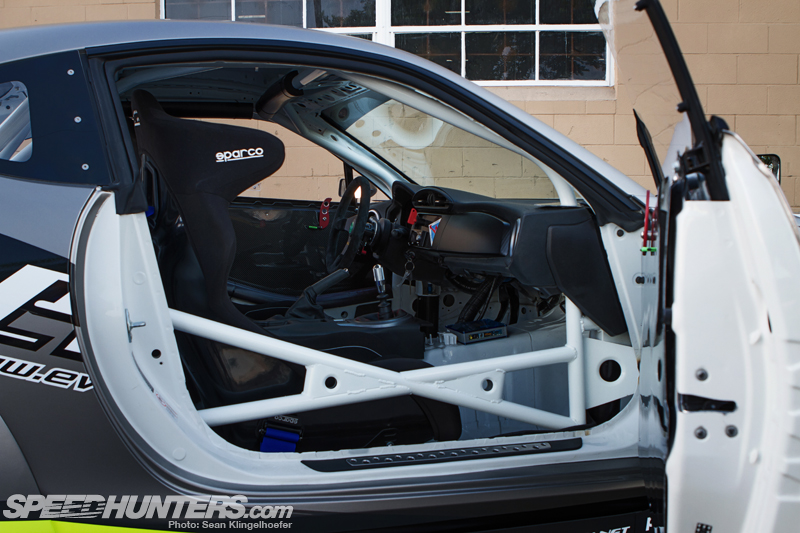 I can only presume that as the team shakes the car down they will make countless adjustments and improvements, but I'll be damned if it isn't jaw dropping as is. The interior is very simple, as you'd expect from a competition car, but seeing one where the few remaining factory items are still pristine is pretty cool. There are also lots of custom pieces that Evasive has fabricated inside the car like the carbon door panels and aluminum door handles.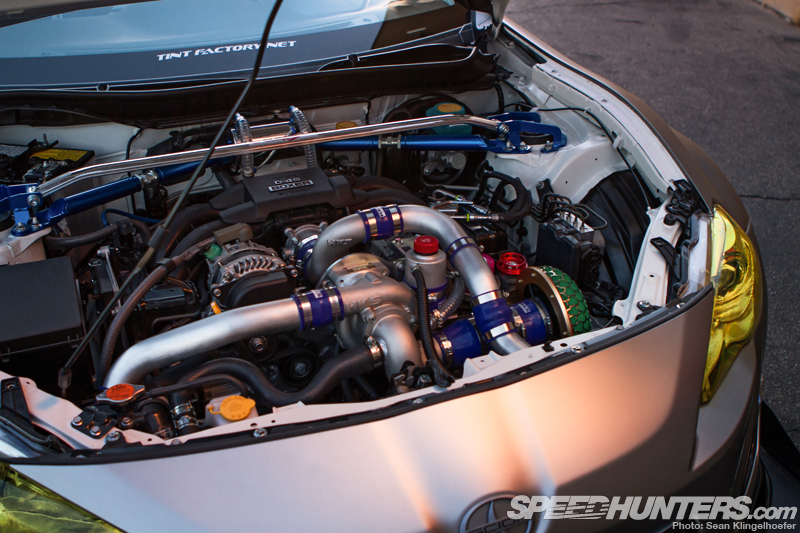 Of course no time attack car would be taken seriously with a stock power plant. Seeing as how a lack of thrust is the main gripe of virtually everyone who has driven an FR-S, power adders were addressed immediately. As a technical partner for HKS, Evasive does a lot of the prototype testing and R&D for the iconic brand now that their US headquarters are closed for good.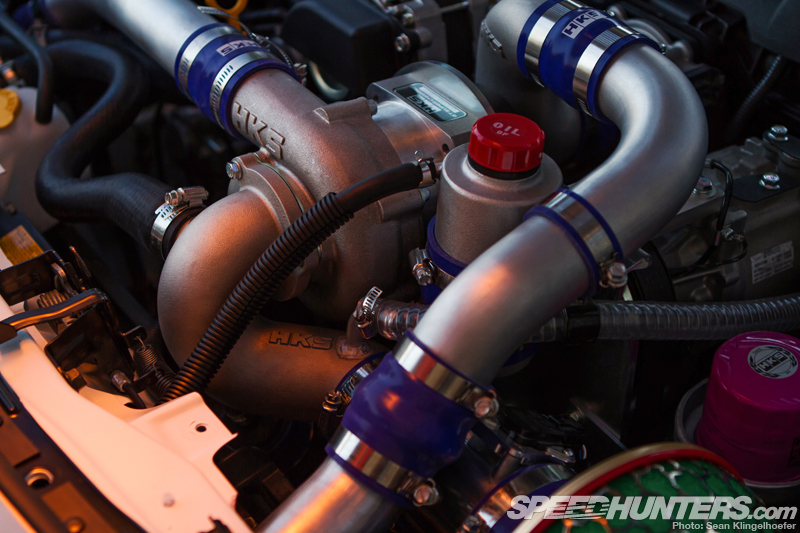 This car is actually sporting the very first HKS supercharger kit in North America for the ZN6 and served as the official test fit for the product's US applications. Output is currently rated at a modest 203hp and 185lb-ft to the rear tires, but the team plans on tearing the motor down and doing a complete rebuild after Super Lap Battle.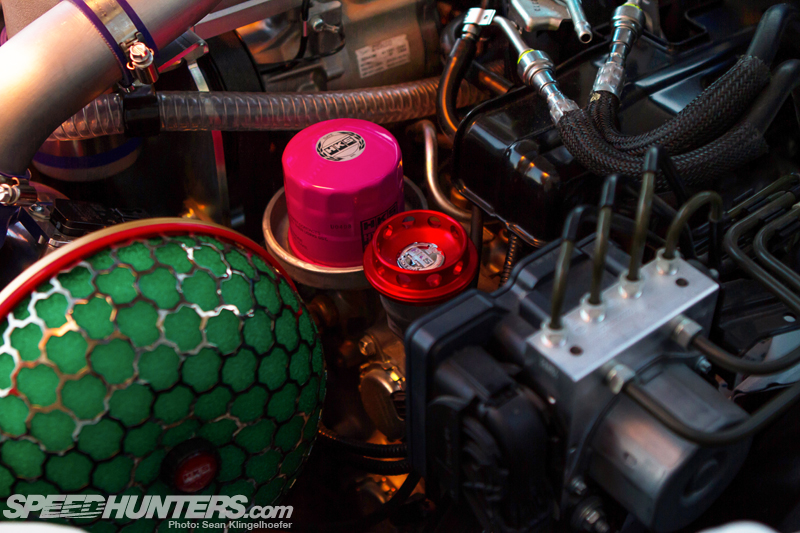 Not surprisingly other HKS goodies like the oil filter, oil cap and Racing Suction intake can be found keeping the supercharger company. When I asked the guys about bolt-on power they admitted that the weak point of the car is trying to extract anything extra from the stock engine. "Although the engine's probably sufficient for street driving, tuners may not be satisfied with it stock. You don't gain much power from bolt-on parts such as exhaust or intakes" Tony divulged.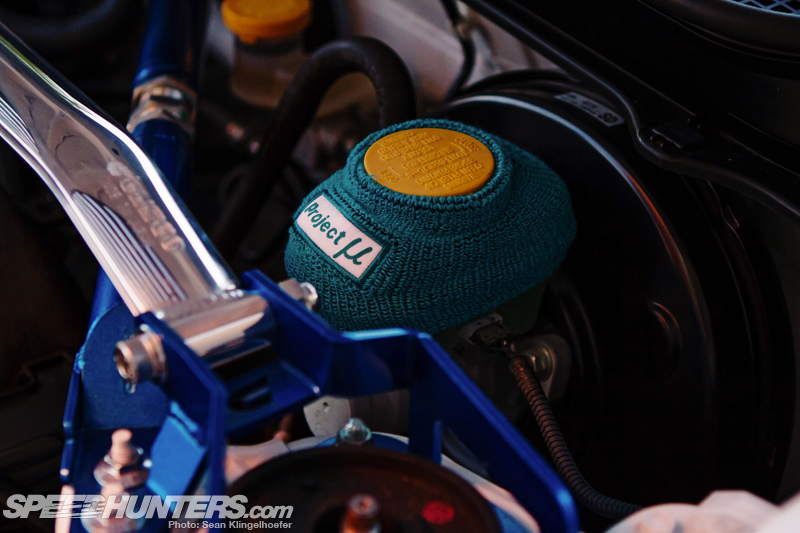 Nevertheless a huge part of Evasive's track record is their ability to make a car handle well. Some of their suspension whispering can be seen in the bay in a form of a wide array of Cusco bracing which is scattered throughout the car. The Project Mu reservoir tank cover may be innocent on its own, but in reality it foreshadows the massive clappers it feeds at each corner.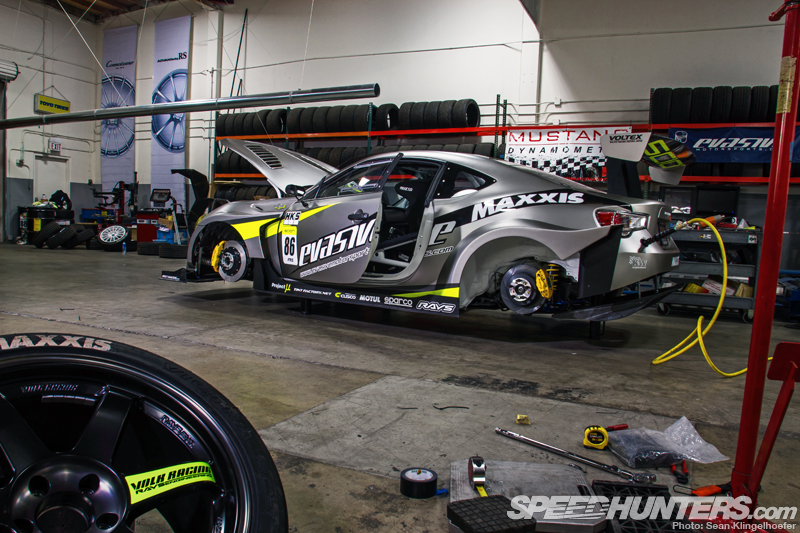 Mike told me that the stock car "is lightweight, nimble, and has a very solid chassis" so in order to get a better look at the footwork we headed back to Evasive's new shop to get the car in the air. "After tearing down the FR-S for our build we noticed that the designers and engineers definitely constructed it as a tuner car, making access easy to do aftermarket upgrades; almost expecting that things would be taken off and put back on a lot."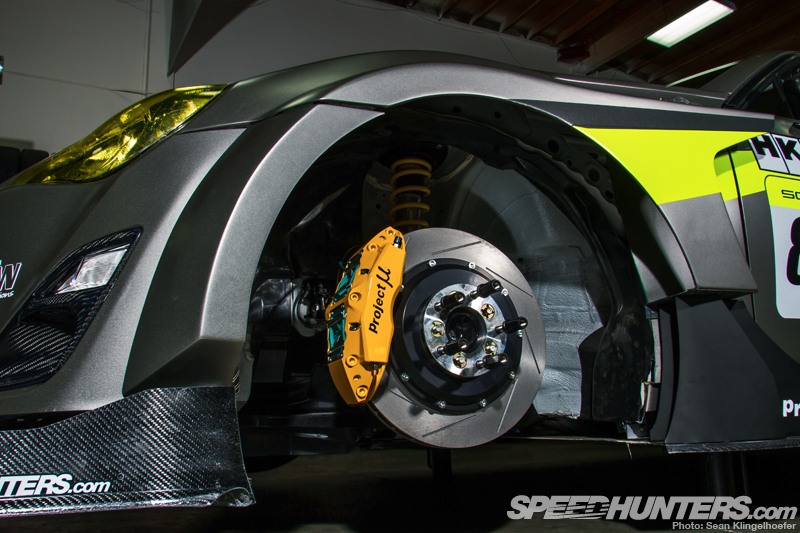 Although I haven't worked on an FR-S myself, I can definitely see exactly what the boys are on about. This really is a sports car from years gone by, something that I had thought by most accounts was now extinct. It's reasonably priced, balanced and easy to work on – what more can you ask for? I'd presume that changing out the shocks and brakes shouldn't take more than an hour even for the unexperienced wrencher.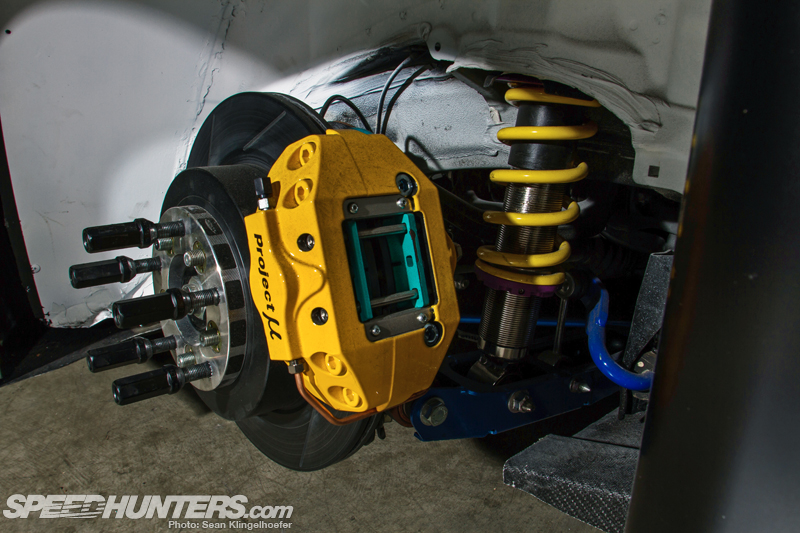 For the pros at Evasive I would imagine the Project Mu brake kit was likely slung on with one hand and frantically secured to the upright with the other in a matter of minutes. The shock absorbers also appear to be quite easily adjusted and removed or installed, which is a very good thing since Evasive is already underway working with KW to develop a custom 3-way adjustable application for the car.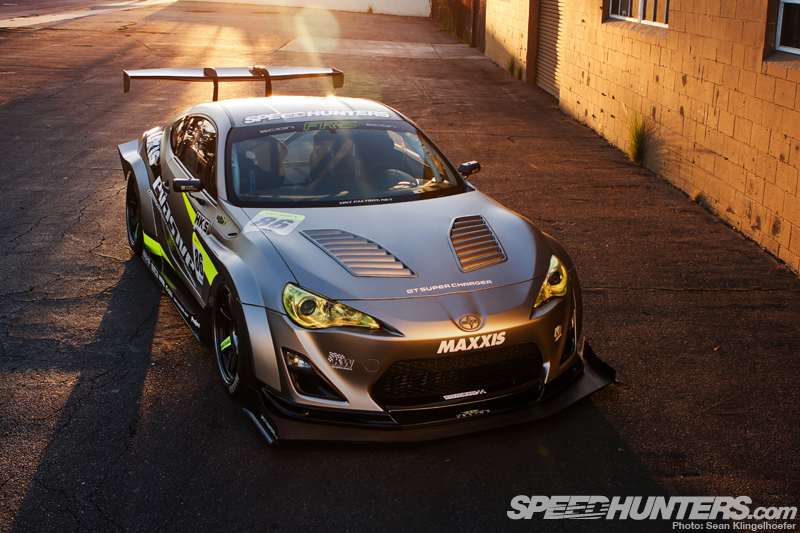 Evasive has built some remarkable performing and downright beautiful cars, many of which I've been fortunate enough to photograph over the years, but this time around they have well and truly outdone themselves. If you're going to be at SEMA you've got to do yourself a favor and swing by the Scion booth to get a look at this monster in person, I guarantee it will blow your mind. It will also be making an appearance the following week at Buttonwillow for the Super Lap Battle finals and I can't wait to see it where it belongs!
Evasive Motorsports 2013 Scion FR-S
ENGINE
2.0L supercharged 4U-GSE boxer engine; HKS GT Supercharger kit (GTS7040L supercharger, intercooler and piping), Racing Suction intake, oil cooler, supercharger traction oil, oil filter; Koyo Rad aluminum radiator; Cusco oil catch can; ATL racing fuel cell
ENGINE MANAGEMENT / ELECTRONICS
HKS F-Con, AFK A/F-knock amp
DRIVELINE
Kaaz LSD; Cusco high capacity differential cover
SUSPENSION / CHASSIS
Evasive custom fabricated roll cage; KW Variant 3 coilovers; Cusco rear pillowball lateral links, engine power brace, front strut bar, front power brace, front/rear sway bars, side member power brace; Genesis air jack system w/ Evasive custom tripod mounts
BRAKES
Project Mu big brake kit (6-piston caliper w/ 355x32mm rotors (front), 2-piston caliper w/ 316x20mm rotors (rear)), Club Racer brake pads, stainless steel brake lines, G-Four racing brake fluid
WHEELS / TIRES
18×10″ +40 Volk Racing TE37SL Black Edition wheels; 275/35ZR18 Maxxis Victra RC-1 tires; Project Kics 15mm wheel spacer conversion adapters; EVS tuning lug nuts
CABIN
Evasive custom carbon door panels, custom aluminum door release, custom carbon dash display; Sparco Pro-ADV bucket seats, 6-point HANS harnesses, kill switch, R375 steering wheel, side-mount seat brackets; HKS Kansai horn button; Nagisa Auto D-Lock super low seat rails; Carbing high grip shift knob
BODY
Evasive custom fabricated widebody kit (front splitter, front fenders, rear fenders, carbon side steps, carbon rear diffuser, hood), custom fitted lexan door/rear quarter/rear windows, custom fabricated GT wing quill mounts; Voltex Type 7 carbon GT wing; Tamon Design FRP front lip, carbon brake ducts; Craftsquare carbon GT mirrors; Aerocatch flush latching system; 3M ScotchPrint 1080-M230 matte grey aluminum film (wrap) installed by Tint Factory
THANKS
Scion, Maxxis tires, HKS, Rays Engineering, Project Mu, KW Suspensions, Sparco, Voltex, Tamon Design, Cusco, Kaaz, Craftsquare, Koyo, Motul, Meguiars, Downforce USA, Tint Factory.net
-Sean
Evasive Motorsports shop tour on Speedhunters
More stories by Sean Klingelhoefer on Speedhunters
More car features on Speedhunters
---
---
---