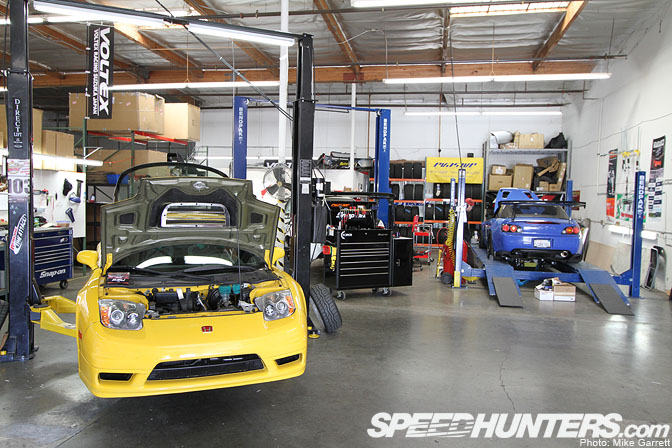 I've been shooting time attack events in California for a while now, and at each event I always find myself gravitating towards the cars built by Evasive Motorsports. Part of it is the fact they are usually at the top of their class, but another was their perfect resemblance to the Japanese time attack cars we love.
Needless to say, when Evasive main man Mike Chang asked me to come out and have a look at the shop, I couldn't turn him down.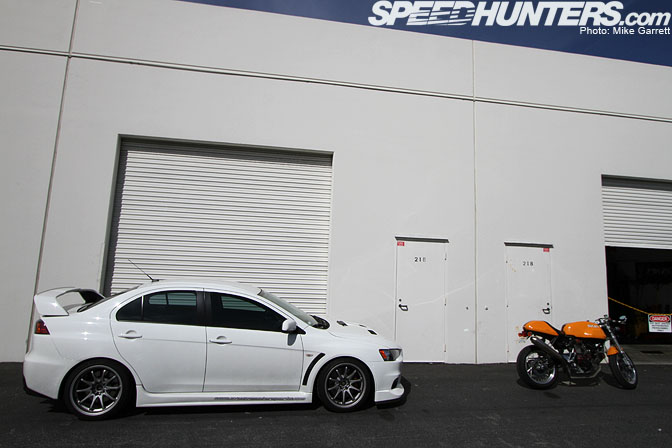 Tucked away in an industrial park in La Puente, California is where you'll find Evasive Motorsports. If you can't find it, just looked for the tuned JDM machinery.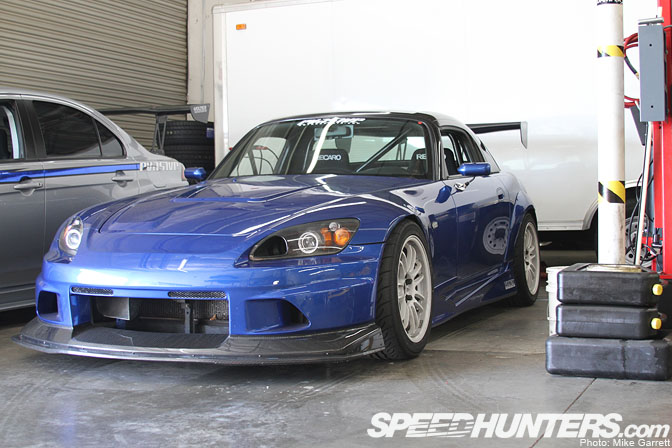 This story was actually only half of the reason for my visit. I also shot a feature on the the Evasive street class S2000 time attack car, which you should keep an eye out for.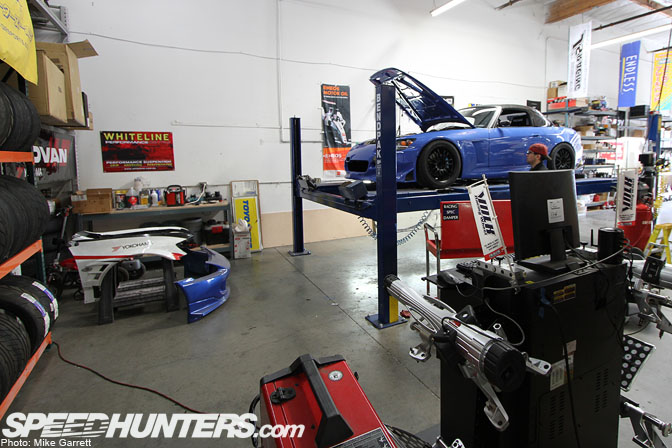 The shop itself has been for some time, first starting as an online parts retailer several years ago.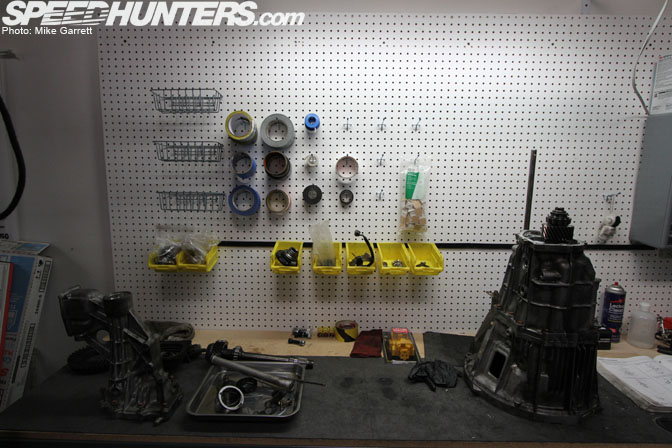 After a couple years later the shop moved to the current location and began the transition to a full service facility.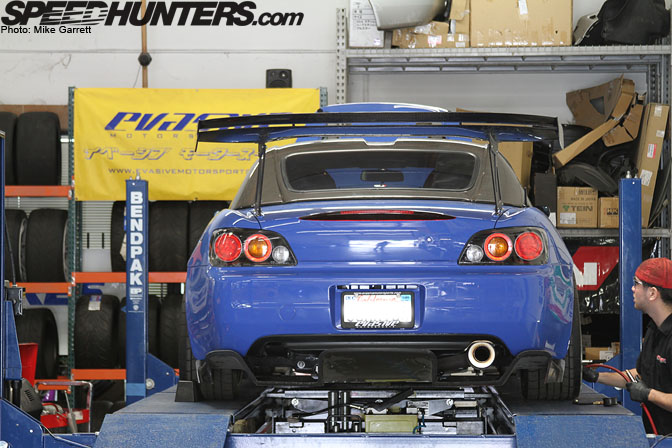 As of now, Evasive's primary focus is on suspension and chassis tuning. While I was at the shop, this customer-owned S2000 was spending some time on the alignment machine.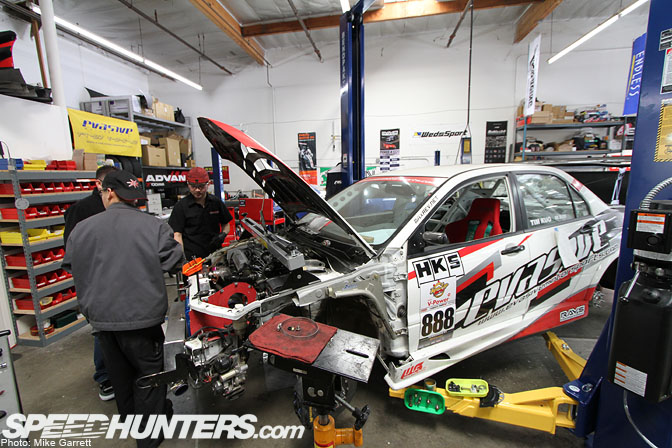 And of course when the guys aren't working on customer cars, they are working on shop cars like the famous Evo IX time attack machine.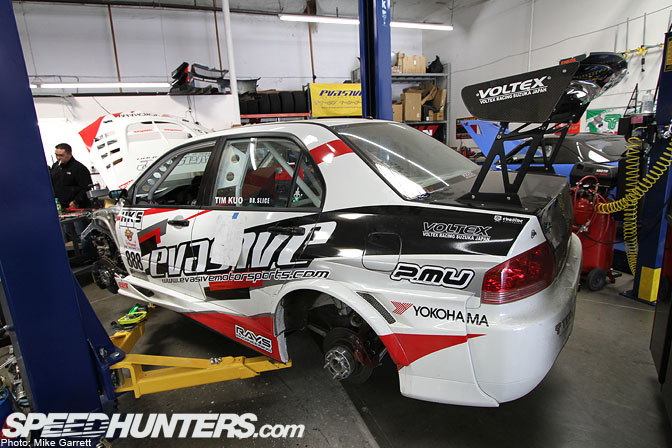 The guys were hard at work getting car the ready for the Redline event at Buttonwillow later this month. The 2010 edition of the car will include revised aero, re-valved suspension, and a new clutch setup shipped in from OS Japan.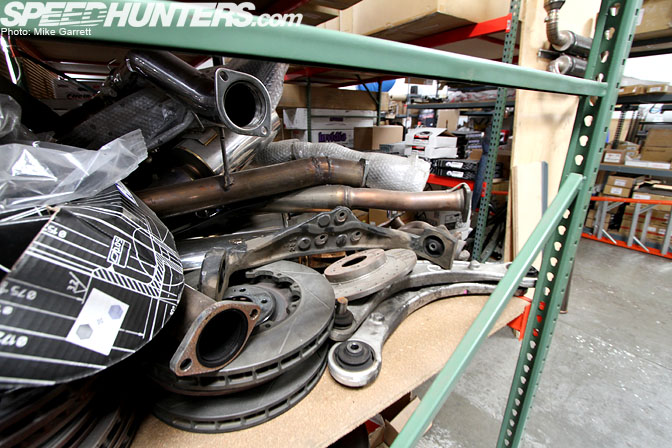 As you'd expect, there are tuning parts spread around every corner of the shop…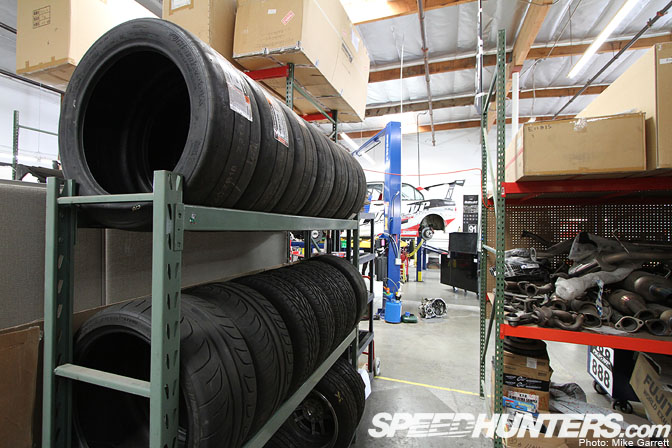 …along with a healthy selection of tires.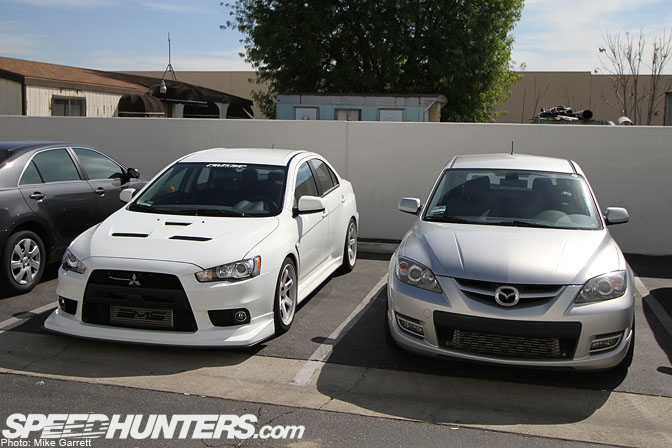 I also took a peek outside in the parking lot, where the employee's cars can be found.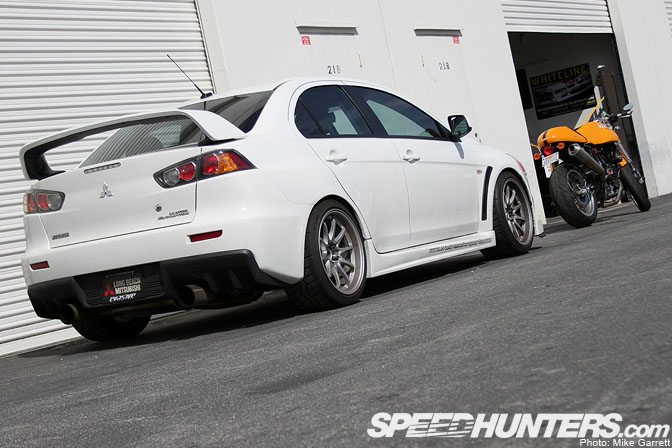 A tuned Evo X and a Ducati make for a good combination, no?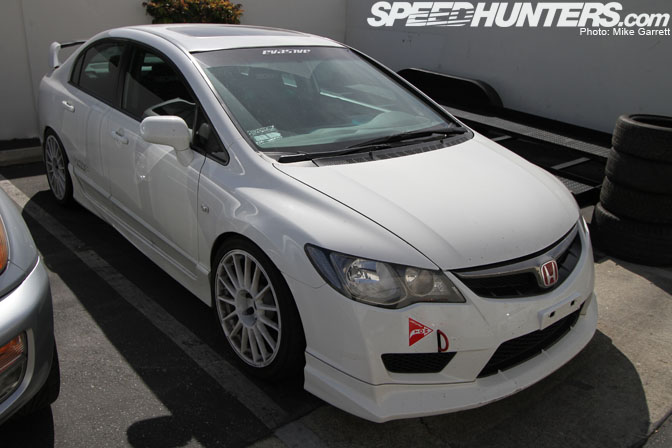 This Civic Si sedan converted to JDM Type R spec serves as Mike's daily driver and track toy. You can also expect a feature on this car coming up soon.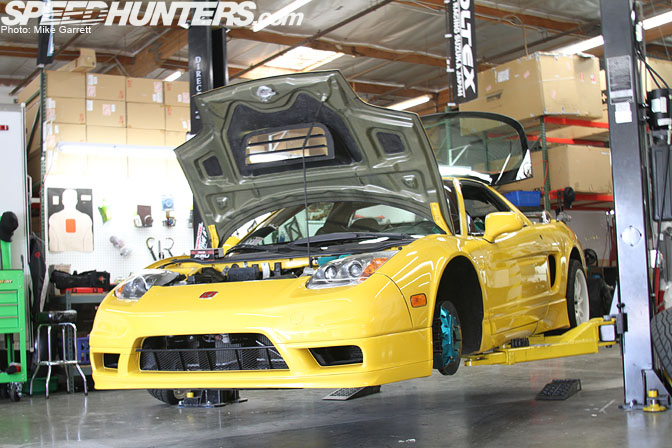 Back in the shop, we have an NSX customer car that was undergoing some minor maintenance.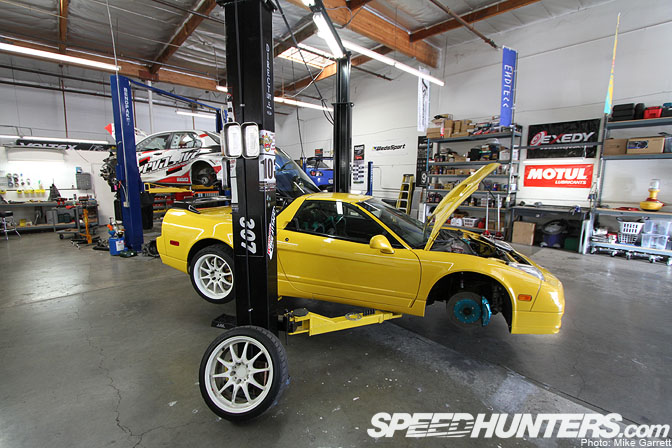 As you can tell by now, Evasive works on some pretty serious machinery. No cheesy show car builds here.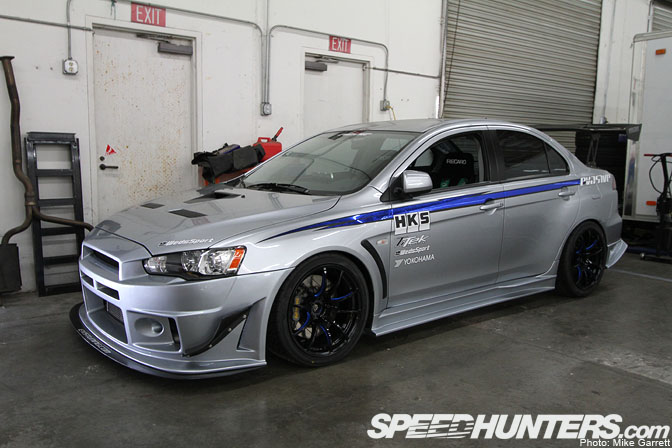 This Evo X is one of the shop newest projects. It should be appearing on the track very soon.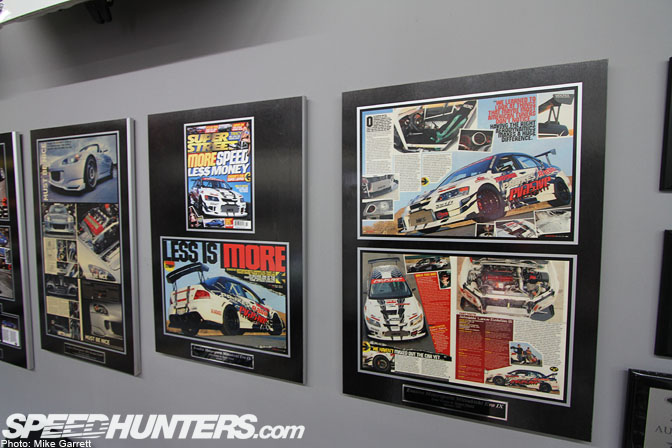 Meanwhile, in the office you'll find framed magazine articles featuring past and current project cars…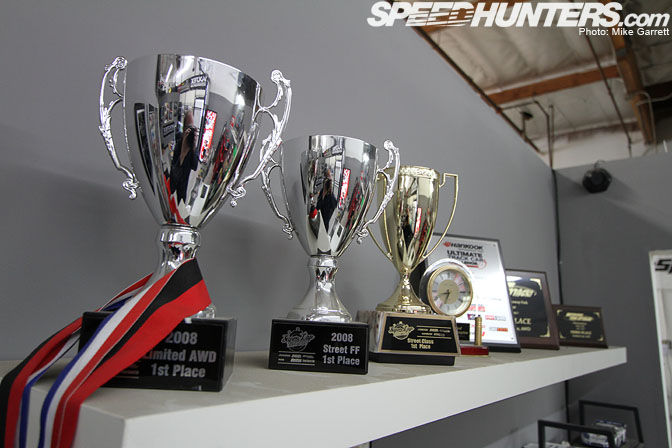 …along with countless trophies from time attack competitions.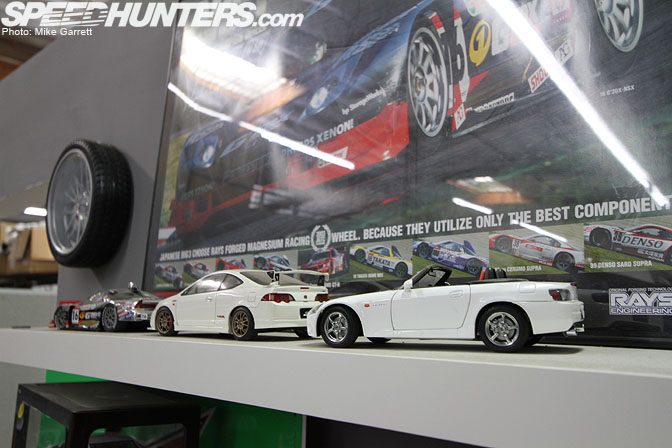 I also found myself checking out their collection of diecast cars. Cool.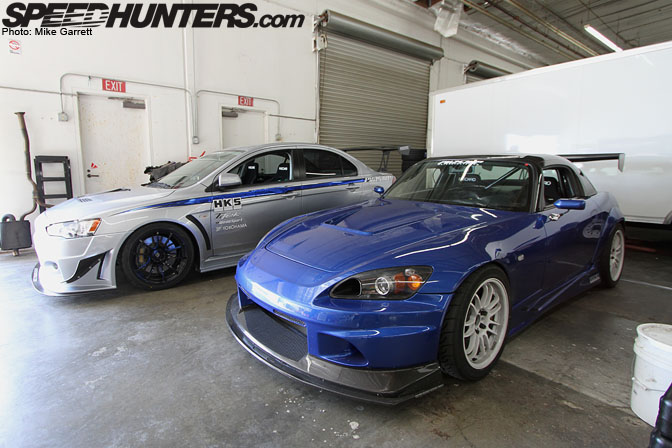 Big thanks to Mike and the rest of the Evasive crew for letting me come out and snoop around the shop a bit.
We'll be looking forward to catching up again with them at the Redline Time Attack season opener later this month at Buttonwillow.
-Mike Garrett