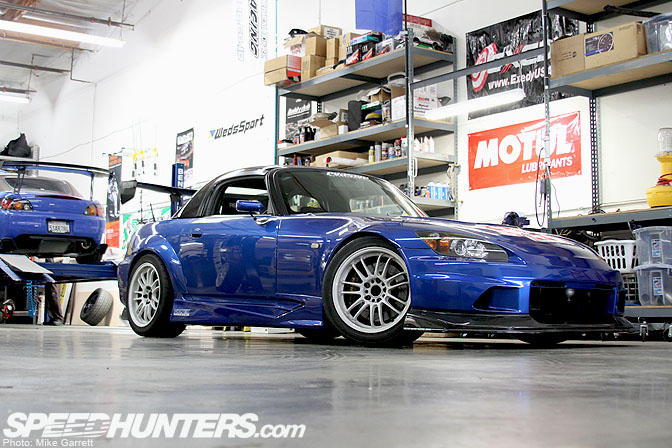 When we talk about time attack cars, we usually find ourselves focusing on the monster that run in the higher classes of competition. But as impressive as cars like Rado's Scion or the HKS CT230R are, they bear little resemblance to the cars that everyday dudes can afford to build.
That's just one of the makes things this Evasive Motorsports-built Honda S2000 worth a look. What you are looking at is car that's just as happy navigating rush hour traffic on the 101 as it is setting class records at Buttonwillow Raceway.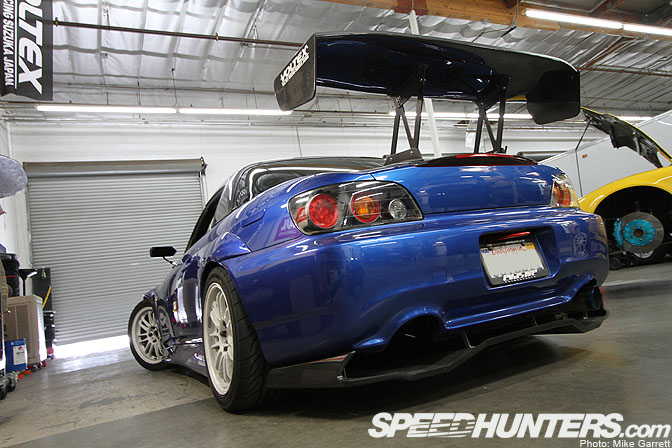 Whether in Japan, the USA, or elsewhere, the S2000 has proved itself as a car that can do astonishing things with mild tuning, There are lots of S2K's out there running ridiculous lap times with just suspension, aero, and very light engine tuning – and this Laguna Blue '06 AP2 might be the best example of this so far.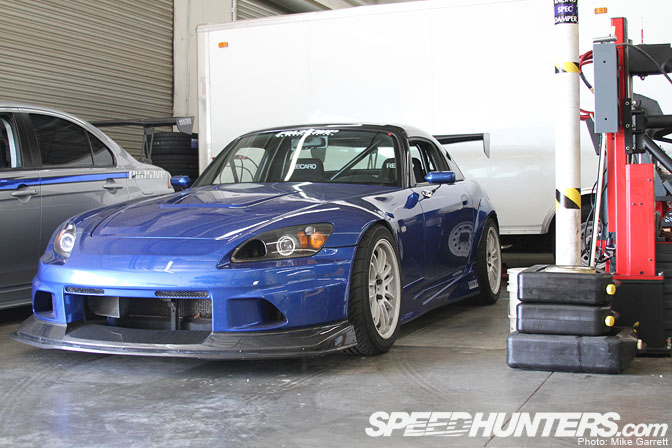 Typically I start off these features talking about the engine or chassis setup, but in this case the aero kit is a huge part of this car so that's where I'll start.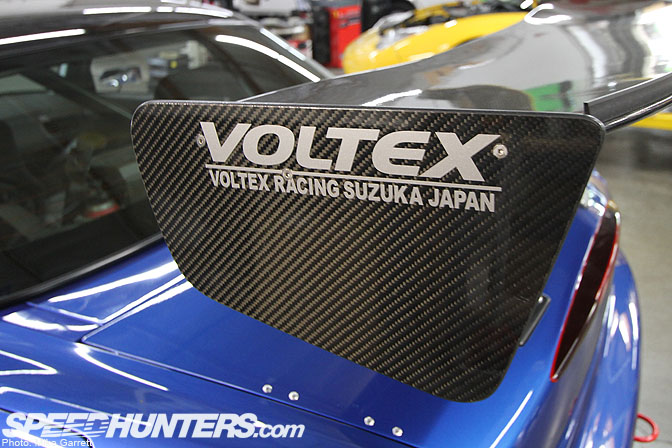 As you might know, Evasive has close relationship with Voltex Racing in Japan, and this car served as the test-bed for the all-new Voltex S2000 aero kit.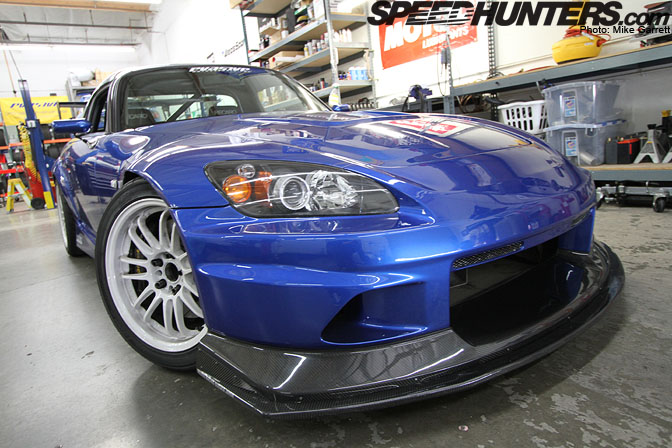 At the time I shot the car, this was the only example of the Voltex
S2000 kit in the world. Not only does the kit and it's unique three-peice front bumper look awesome, but you can bet it's damn functional. This is Voltex after all.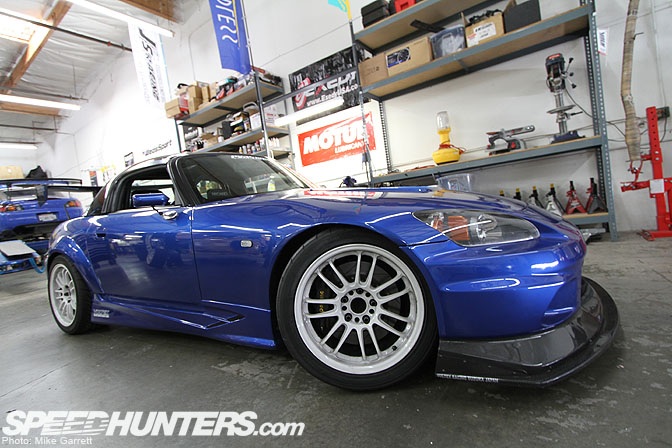 The kit also includes a pair of all new side skirts, which can be seen here.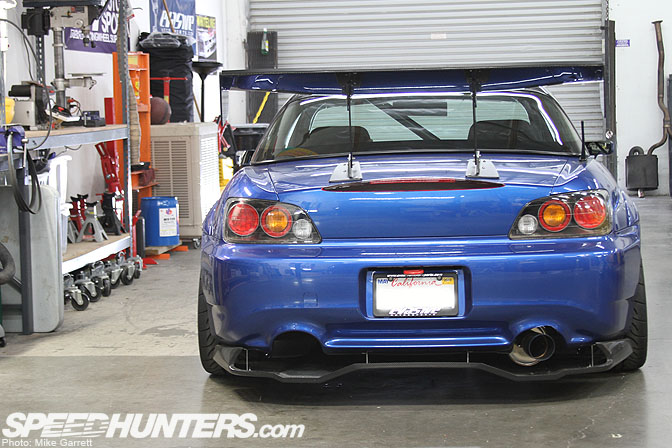 While in the rear a carbon diffuser has been attached to the OEM bumper.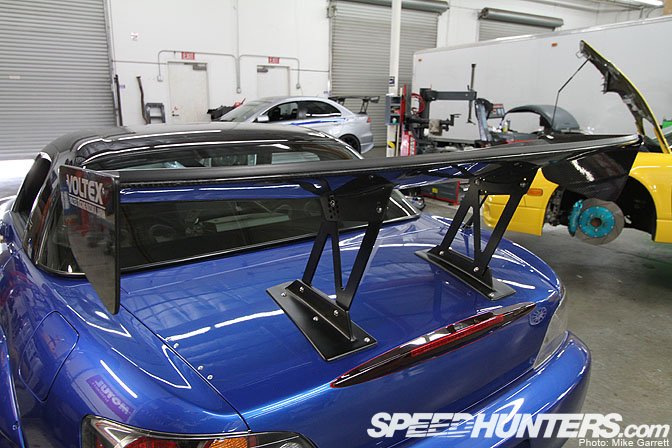 Of course the package wouldn't be complete without a matching Voltex carbon GT wing. You can never underestimate the importance of a good aero package, even on relatively low-powered car such as this one.
Other body modifications include a set of Craftsquare carbon mirrors, which have been painted body color…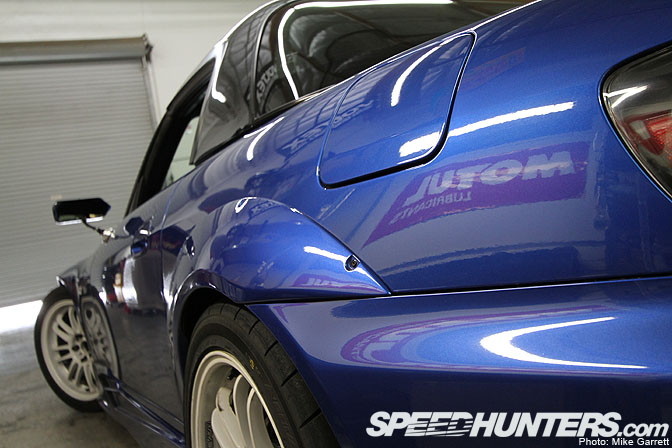 …along with a set of ASM fender flares in the rear. I was actually surprised at how well these work with the new Voltex kit.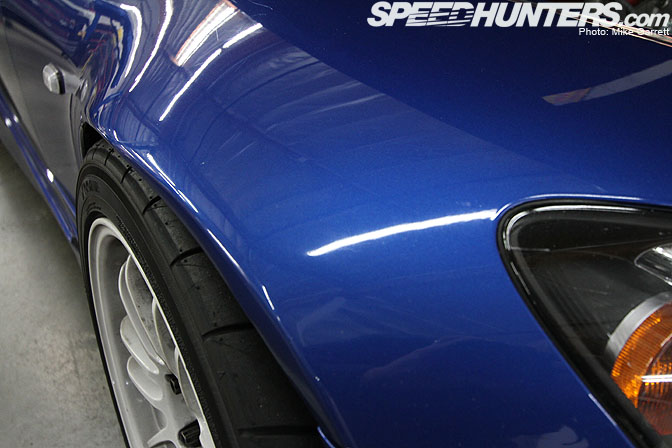 The front fenders meanwhile, are the original factory pieces that have been modified to fit the aggressive wheel and tire setup.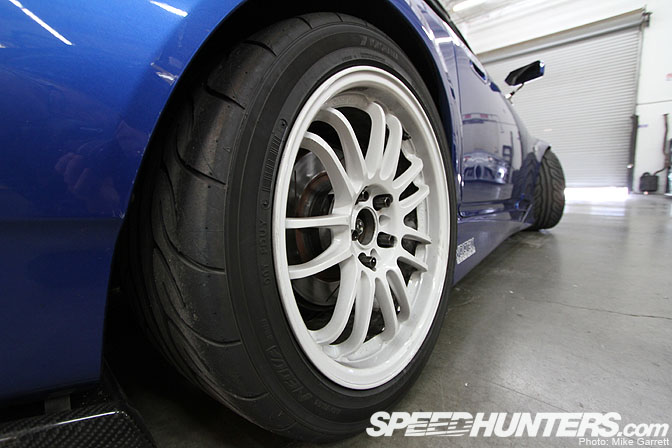 The wheels are 17×9.5 +40 Volk RE30's all around, with 255/40/17 Advan Neovas.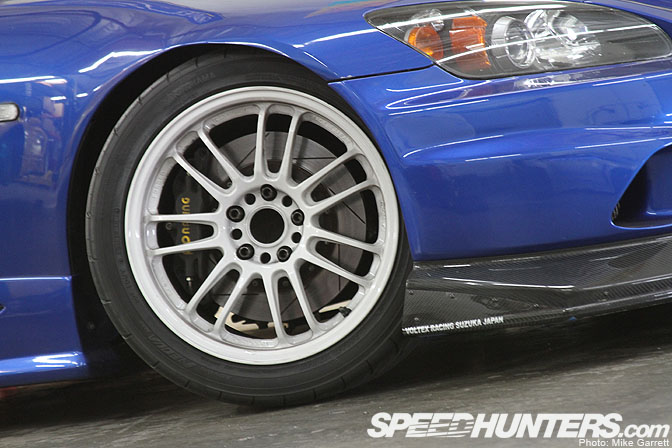 An AP Racing brake kit up front helps to slow the car, while the stock brakes have proven themselves in the rear. Rotors are Stop Tech all around, with Project Mu pads.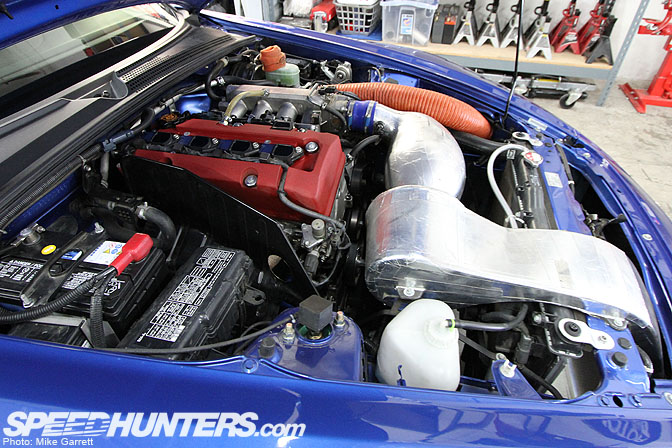 Under the hood the 2.2 liter F22C is relatively untouched. Modifications include a Toda header and a giant J's Racing intake to help her breathe a bit better.
While on the street a standard HKS exhaust system is used, but for track days it's replaced with this high tech "race pipe".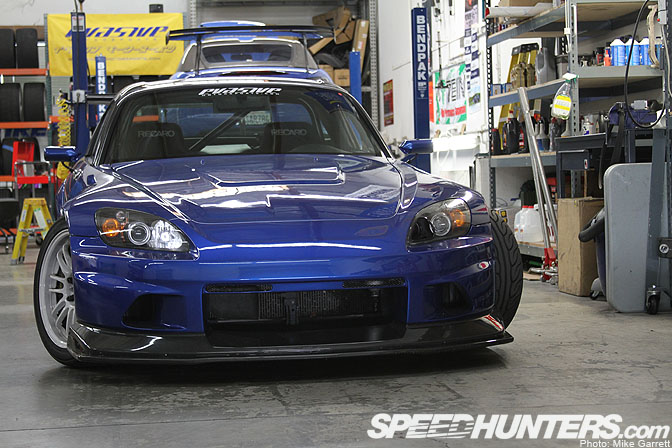 Chassis and suspension work includes a set of Tein Super Racing coilovers, Swift sway bars, Mugen bushings, and a Spoon X-brace. The rear diff has been upgraded to J's Racing two-way unit with a 4.4 final.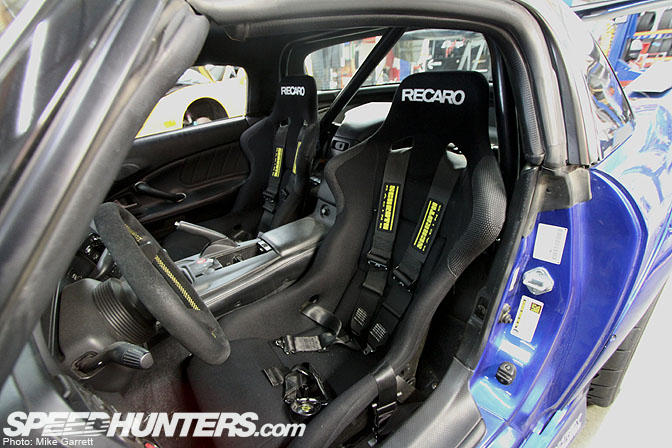 The S2000 still has its interior intact, as a street car should. The seats, however, have been replaced with a set of Recaro SPG's with Schroth harnesses. A Hard Dog roll bar also helps to keep things safe and stiff.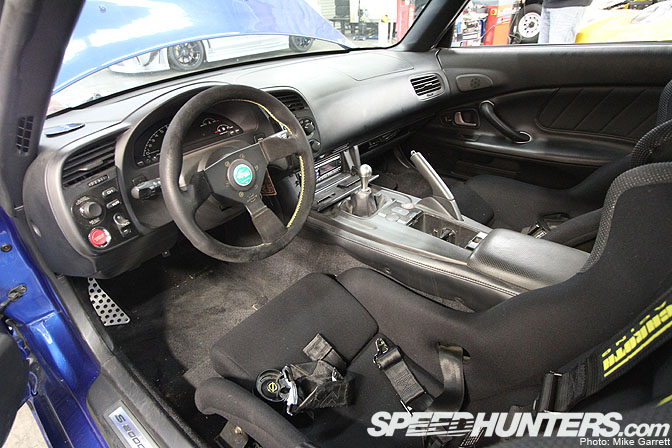 Finally, the OEM steering wheel has been replaced with this handsome one from Personal.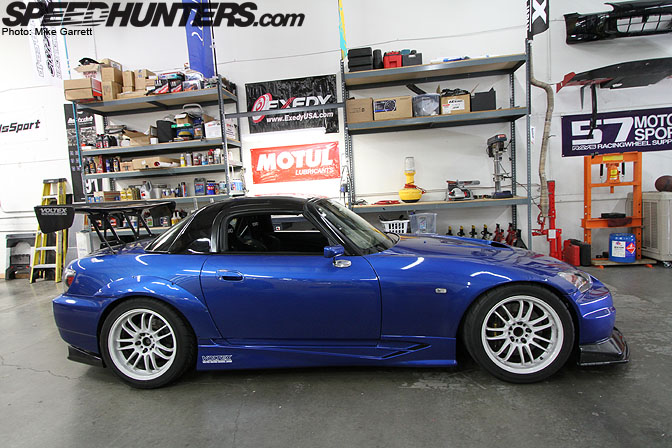 Instead of an exotic carbon fiber top like a lot race cars out there, the hard top here is an OEM Honda peice.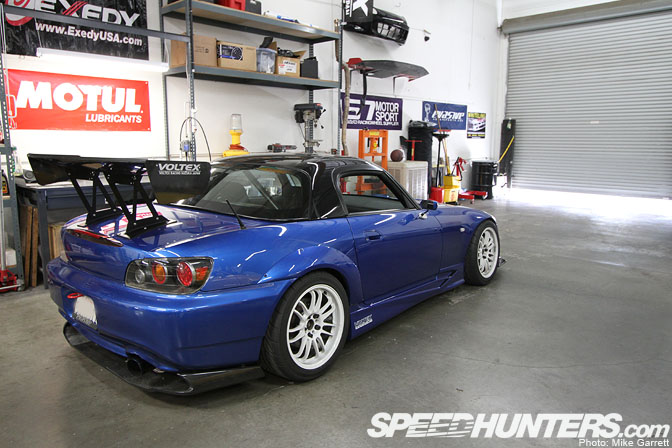 Last November this car set a Street FR class record at the Buttonwillow Super Lap, and unlike some of the other so-called "street cars" out there, this S2000 sees regular commutes from Simi Valley into Los Angeles.
So, we have a car that looks great, breaks records at the track, and is totally docile on the street. A perfect testament to both the potential of the decade-old S2000 chassis, and even more so to Evasive's philosphy as a car builder.
-Mike Garrett
Evasive Motorsports Shop Tour on Speedhunters