We already posted up an in-depth report on our experiences during the Idlers 12 hours of Motegi, but I wanted to show you guys what we got to leading up to the race. I wanted to give a real behind the scenes look at what Dino and I went through as I decided it was a good idea to come a few days early to acclimate to the time difference and sneak a few car features in while I was at it.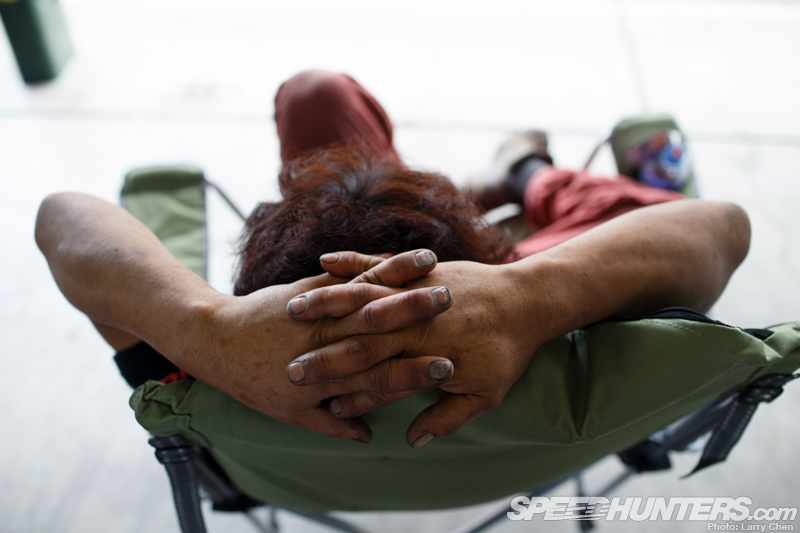 It's crazy to think that the whole reason I was in Japan was to cover the creations of one man. Nakai-sans hands told the story of the endless amount of man-hours spent working on cars and perfecting his craft. I thought I had an idea of what I was getting myself into, but in reality I was completely lost in the woods.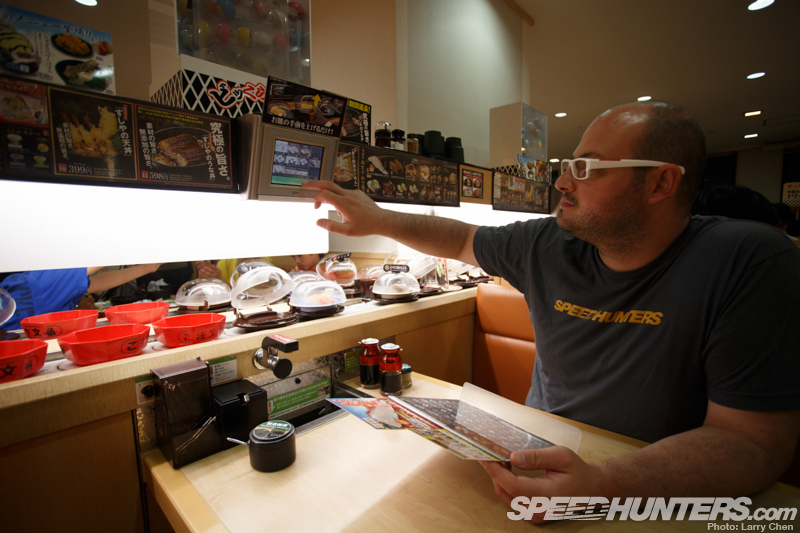 We hit the ground running at a conveyor belt sushi bar, one of Dino's favorite places to eat after a long day of Speedhunting.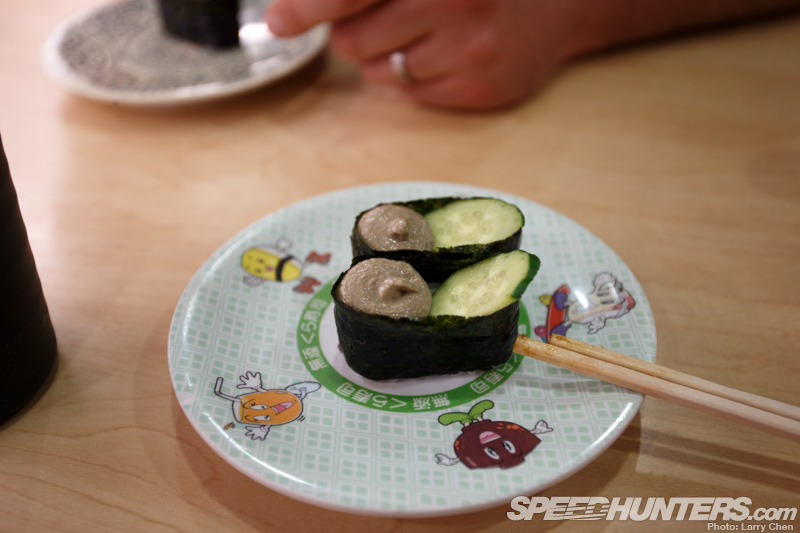 We got our fill of crab reproductive bits brains, also known as kani miso. I've been to Japan many times before and I've always had fairly expensive sushi, so it amazed me that we both got filled up for only ¥1,500 ($15).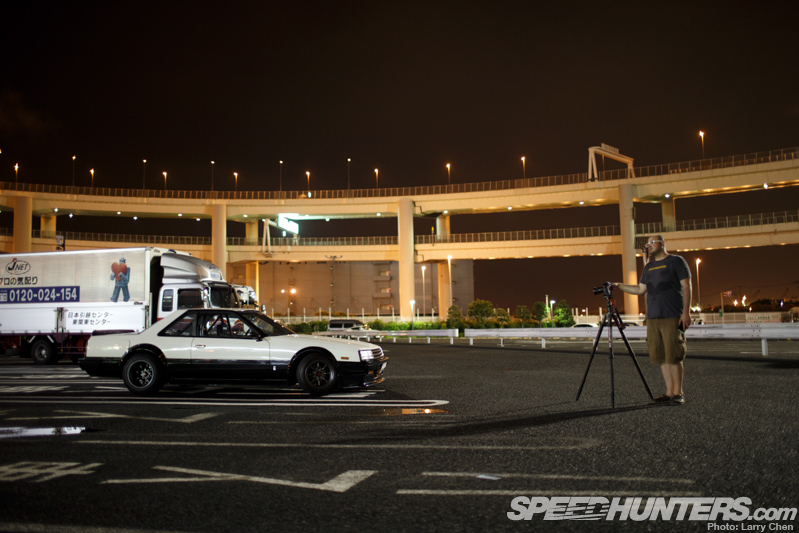 Our first real Speedhunting stop was at the famous Daikoku truck stop, where we met some of Dino buddies from the navy base.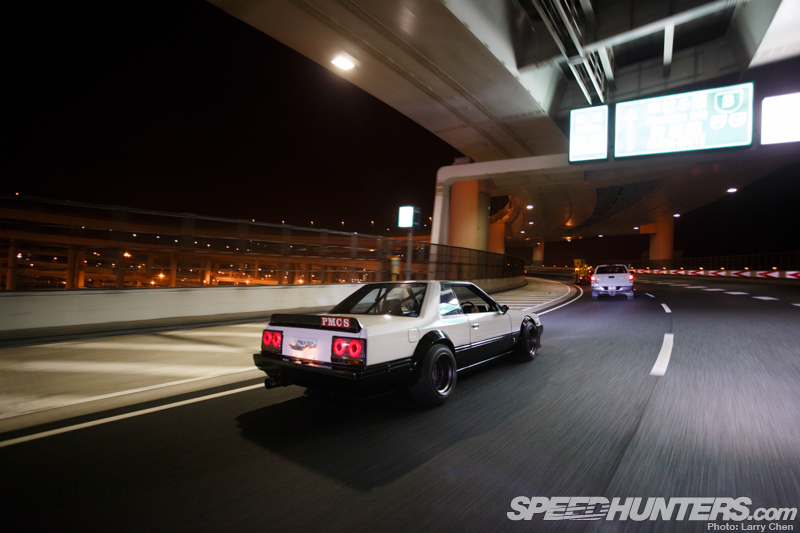 One of them brought out a super-sweet R30 Skyline with an L-series motor. Stay tuned as Dino will roll out this sick feature soon…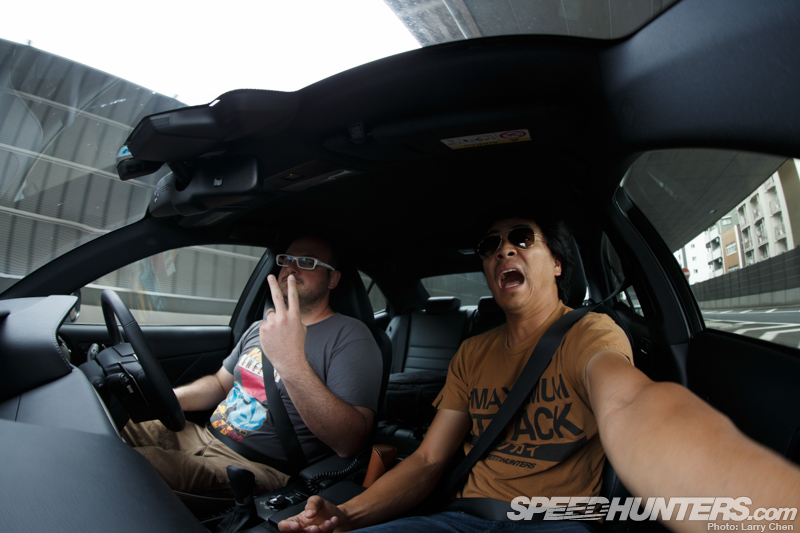 The next morning, after some much needed sleep, Dino picked me up in his Lexus IS350 press car and we headed out to N-Style Customs drift garage.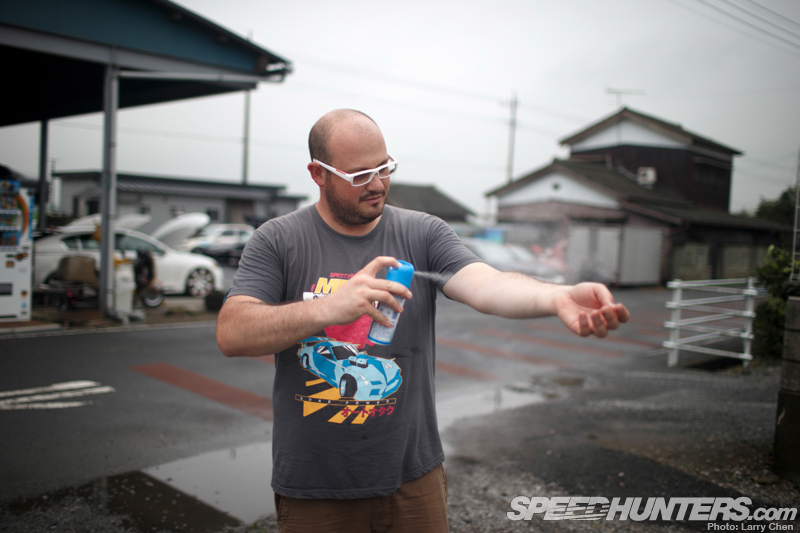 There we would be sourcing as many car features as possible in one day. We would also be battling it out with the mosquitoes.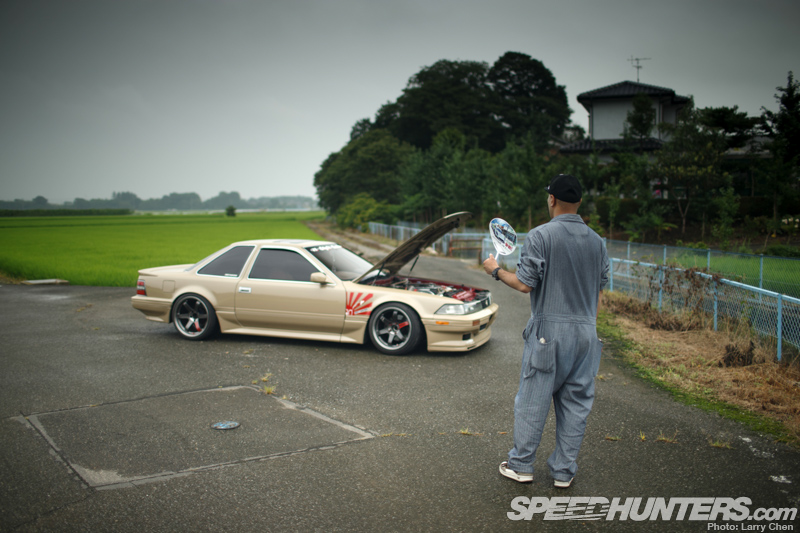 Mosquitoes and intense heat and humidity. But there were drift cars that needed to be shot, so we got straight into it.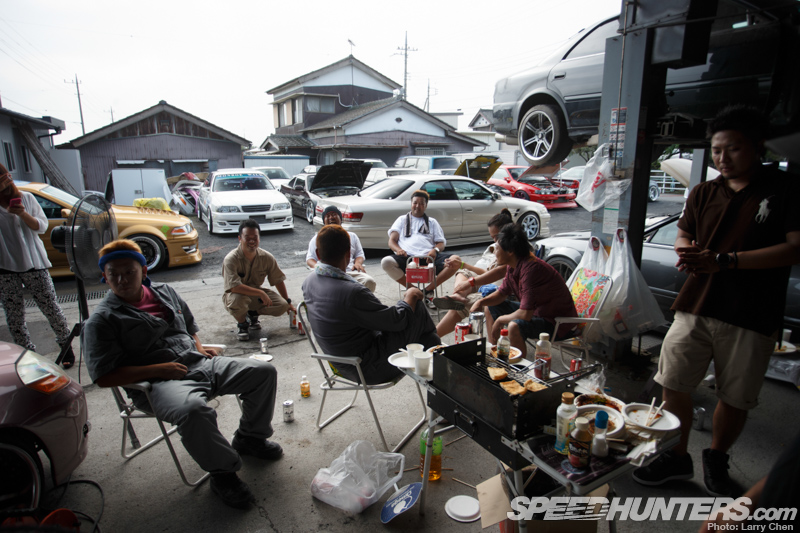 When the owner of N-Style, Nagahama-san, asked how many cars he should round up, we said a few. So he called all his friends and customers and held a nice barbeque.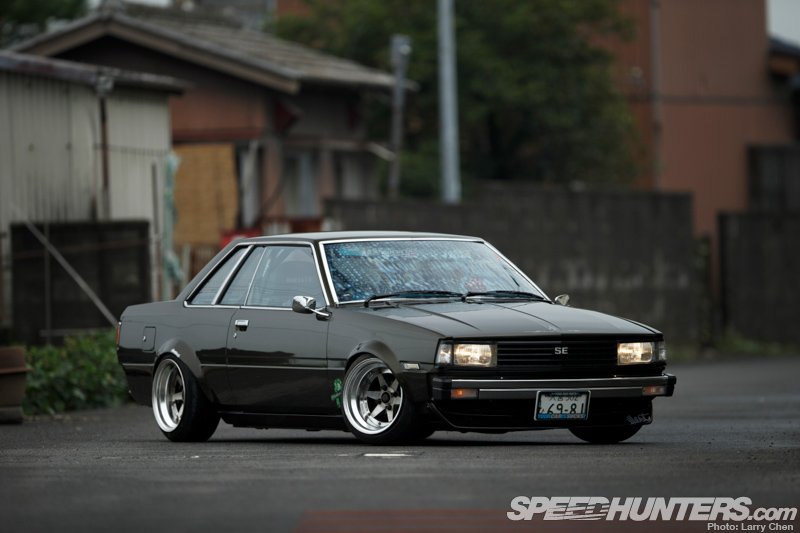 Twenty-two cars turned up, which although very cool was more than two Speedhunters can handle in one day. So we ended up choosing a handful that really stood out to us, like this AE70 street drift car.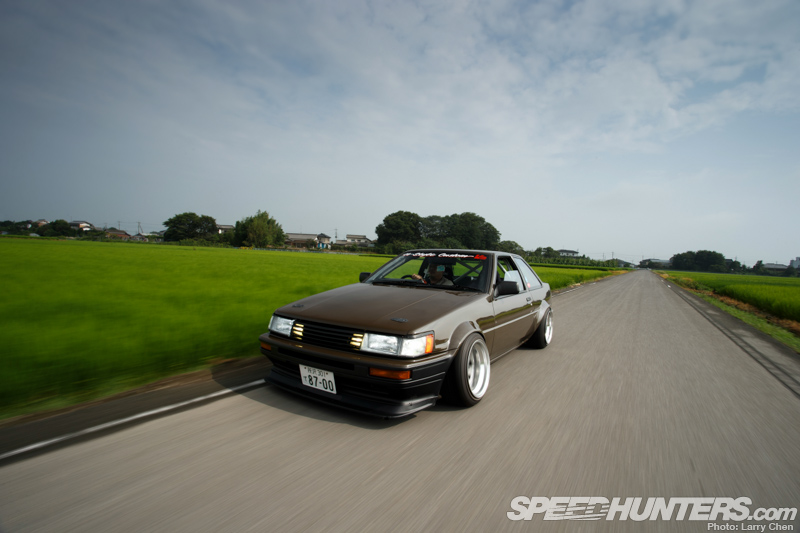 I love the fact that these cars get driven hard on the track and on the street, but are still really well looked after.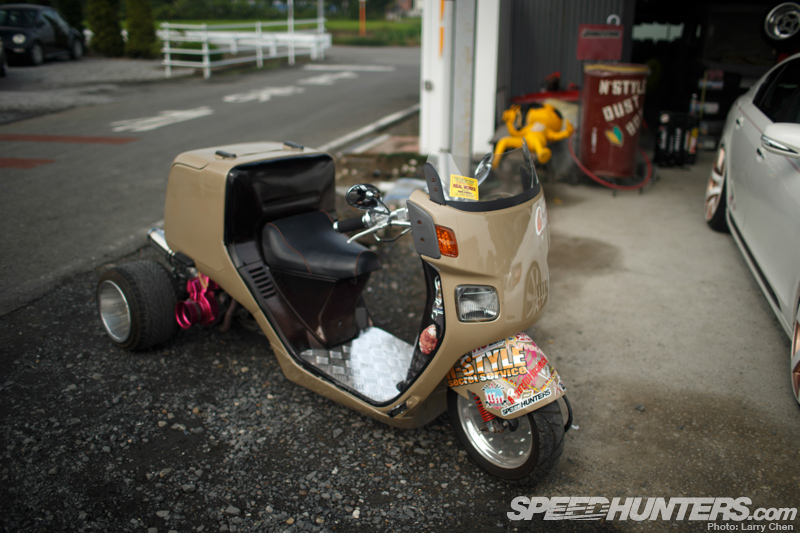 Everything N-Style touch seems to just ooze style, which really made me think. Until now, I have just been shooting everyone else's take on what a street drift car should be.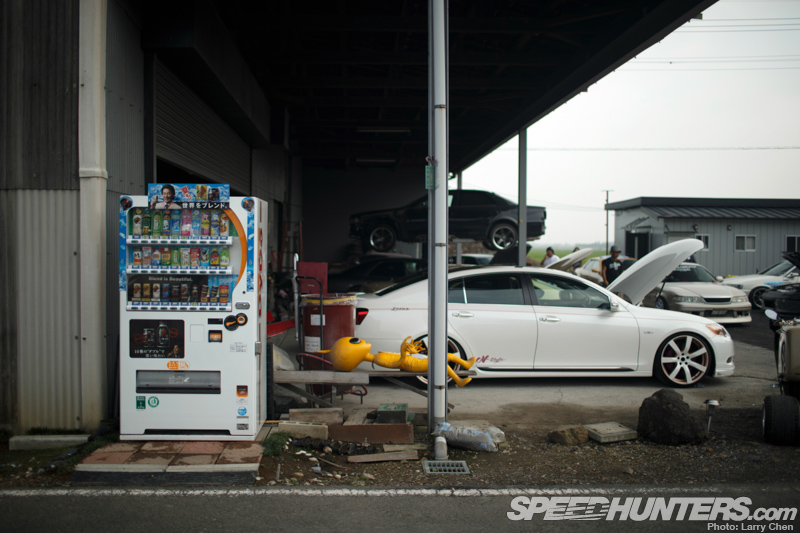 I've never actually had the chance to check out the source. I mean these guys are ground zero.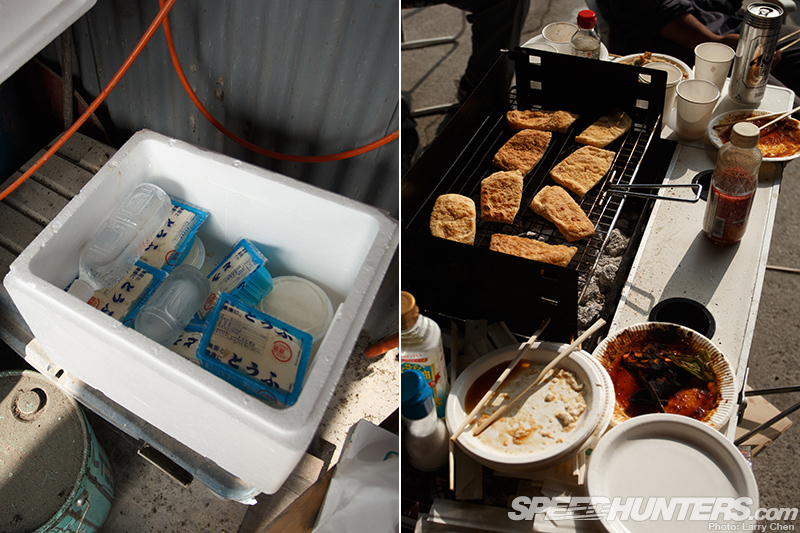 You guys probably won't believe me, because I didn't at first, but Nagahama-san is a well known street drifter who's father just happens to make… you guessed it – tofu!  And Nagahama used to deliver it for him in his drift cars!  To top it all off, the family is from the Gunma area – the same place a certain anime drifter originated from. Dino and I ate so much tofu we could barely move.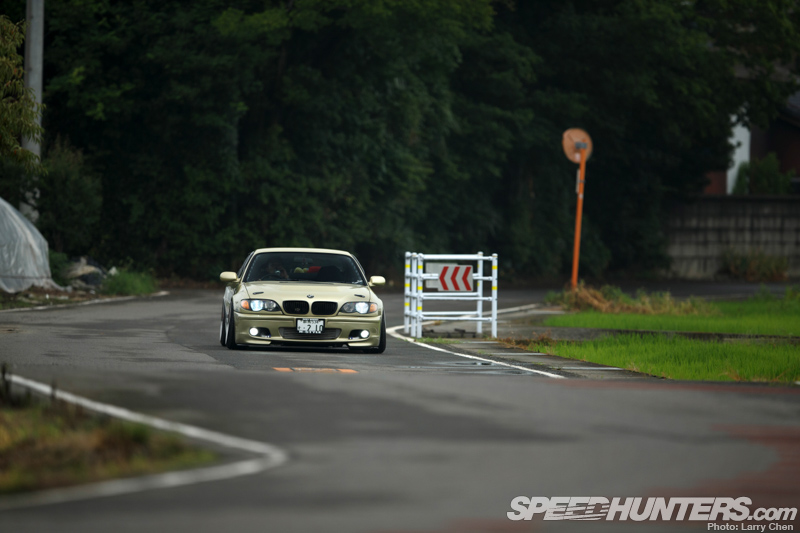 N-Style had both mild and wild builds, including this Nissan Silvia S15 with a BMW 3 series front end. I shot the feature on this one, so expect it soon.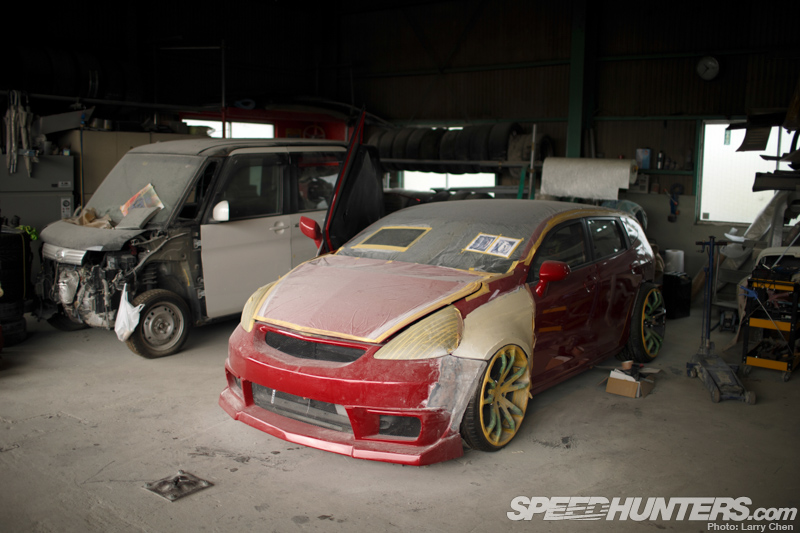 We found this work-in-progress in the garage, which could possibly be for the 2014 Tokyo Auto Salon. Either way it's going to be crazy once it's done.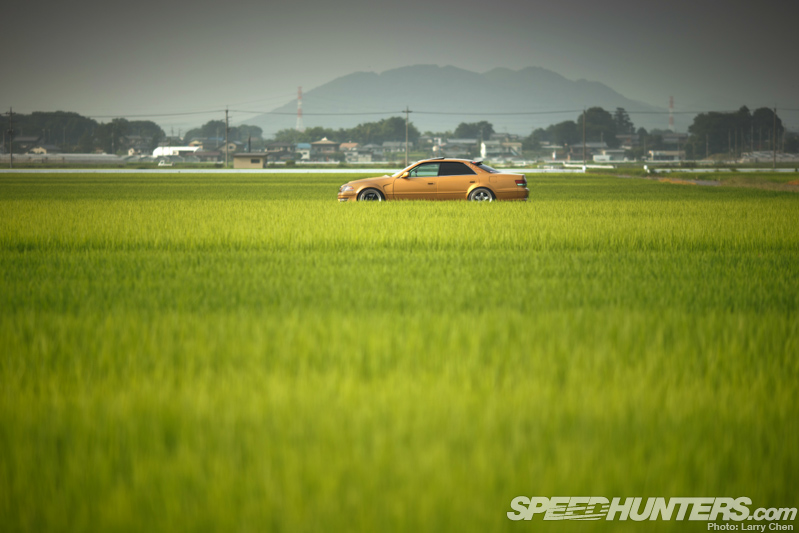 Even though this was my sixth time shooting in Japan, it's the first time I have ever been into the country side. The roads were really quiet so we could park cars practically anywhere we wanted. Even in the middle of a rice field.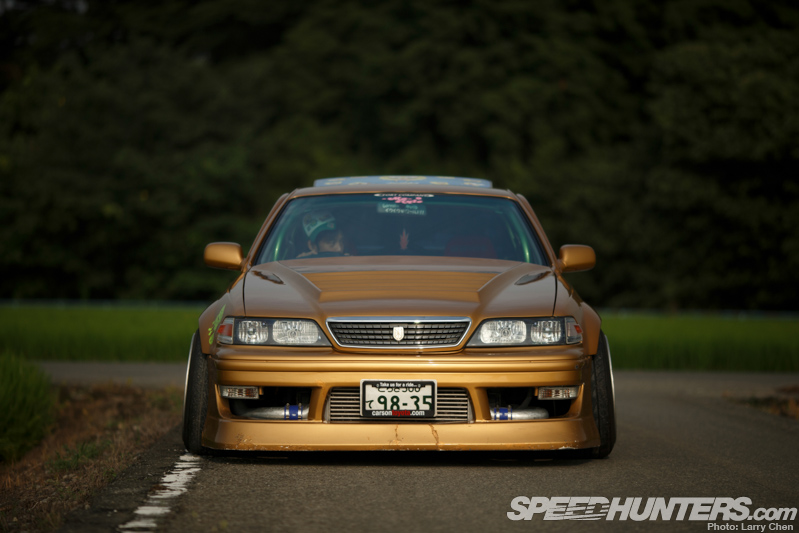 I just love the simplicity of this JZX100 street drift build. N-Style appears to have an obsession of Sponge Bob Square Pants, and Felix The Cat, as those characters are littered all over its builds.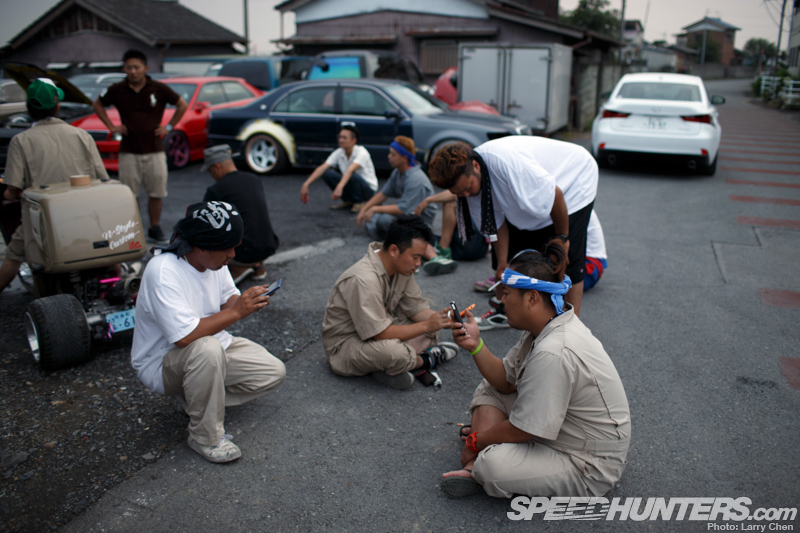 After I was finished with my last car I came back to the shop to find everyone sitting in the street. I asked Dino what was going on and he told me that he just introduced them to the wonderful world of Instagram.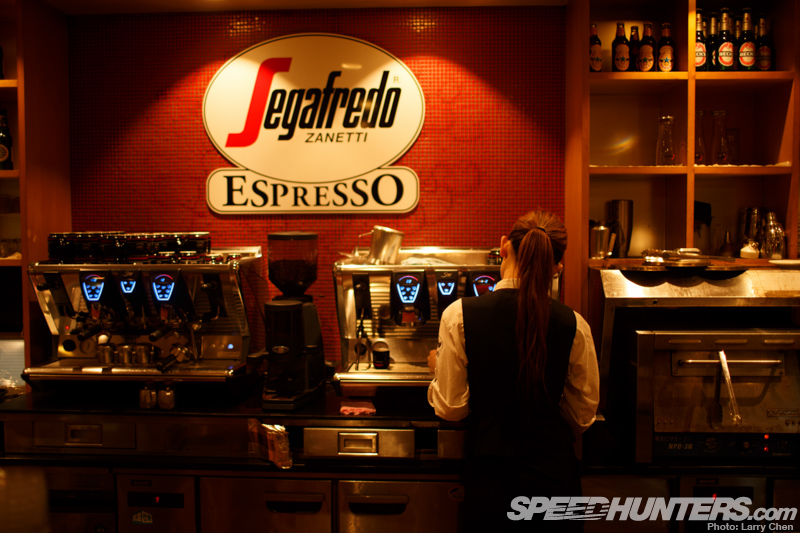 Since Dino is Italian, espresso is in his blood. So that night when we headed back into town he took me to his favorite espresso joint in Tokyo.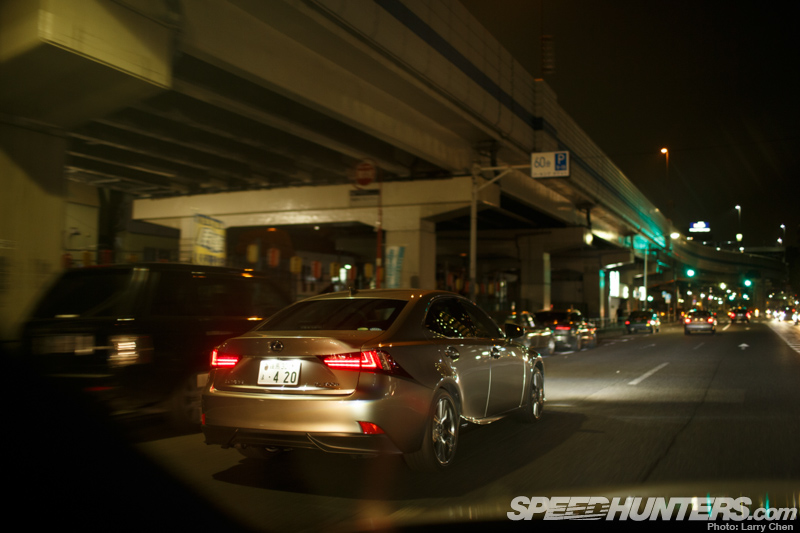 Afterwards we cruised around in the IS350, bumping (not literally) into others with the same car. I guess the new Lexus is selling well in Japan.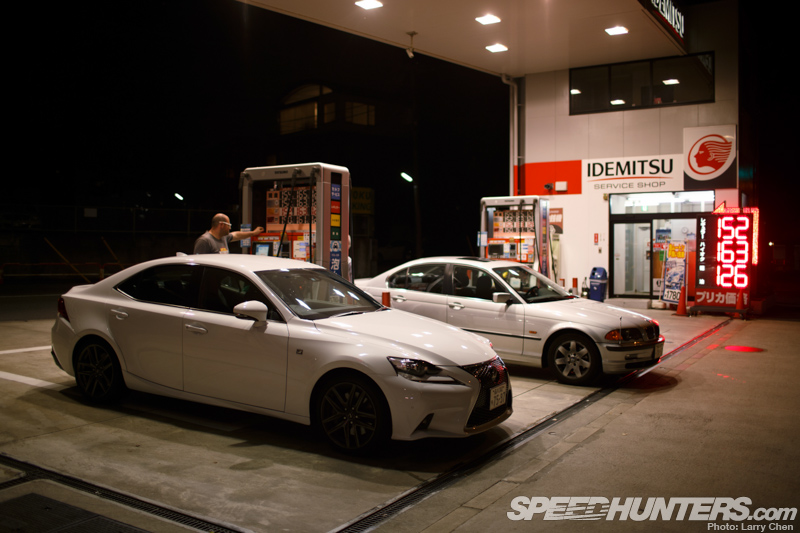 After a quick stop at the petrol station we decided to call it a night. Tomorrow would be another day of Speedhunting in another press car.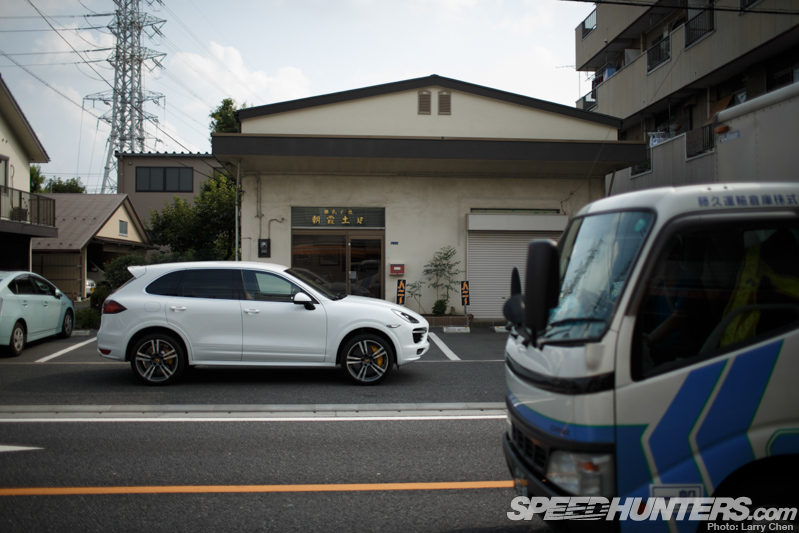 I am so jealous of Dino, he seems to get all the cool cars. I have to say, it shocked me to find out that the Porsche Cayenne Turbo S costs over $200,000 in Japan.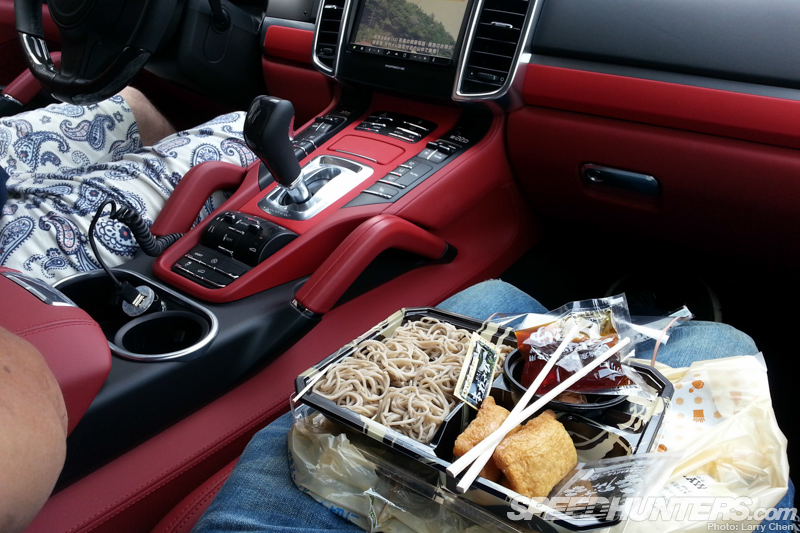 Since it was summer, eating cold soba noodles was all the rage. I was extra careful not to spill any, even when Dino unleashed the 550hp turbo V8.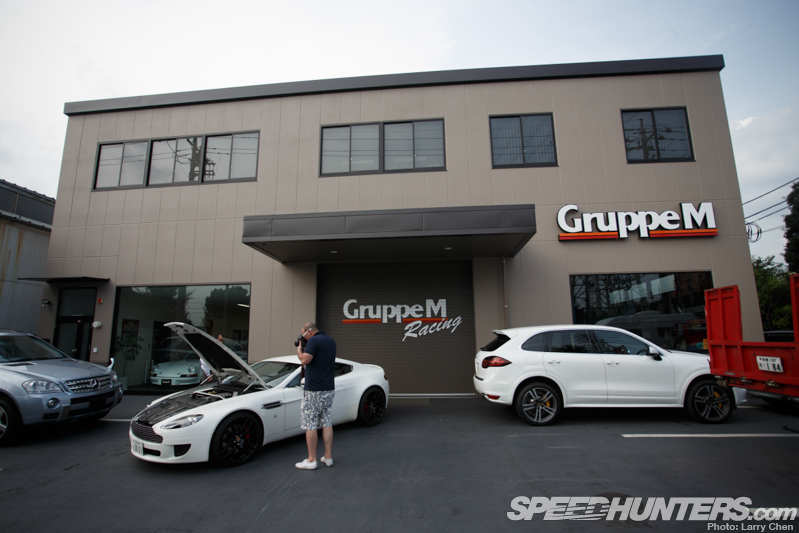 Our next stop was GruppeM Racing. It specializes in custom high end carbon fiber intakes, but also manufactures racing suits and restores classic cars too.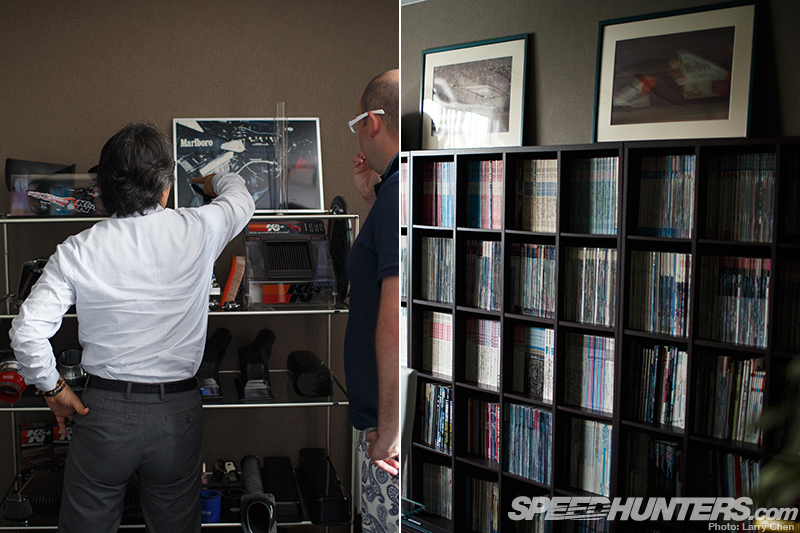 So what makes the GruppeM intakes so special versus all the other brands out there? Well, at first I thought that the owner, Mr. Ogose-san, was an Ayrton Senna fanboy like the rest of us, but it turns out that he designed and made the intake for the Honda engine in Senna's McLaren. Check out his car magazine collection all the way from the 70s.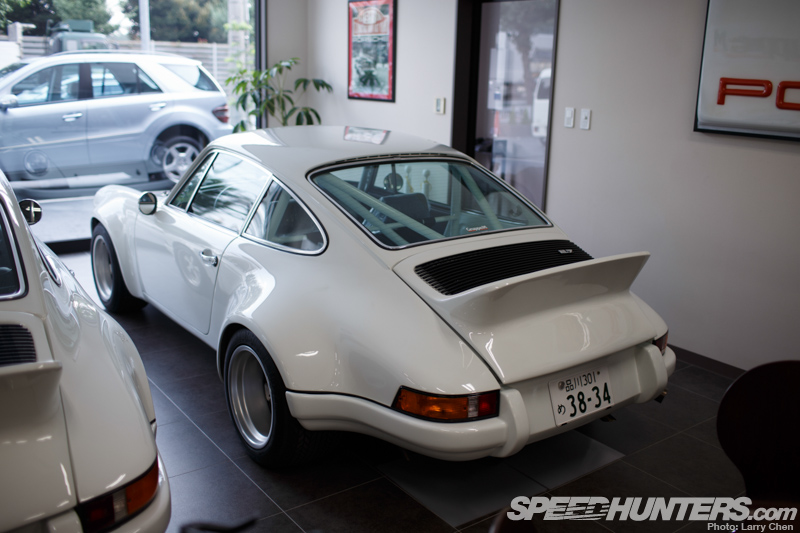 The GruppeM restoration business is just kicking off this year since it moved to this new location with a lot more room. Some of the classics in the showroom are Ogose-san's personal track cars.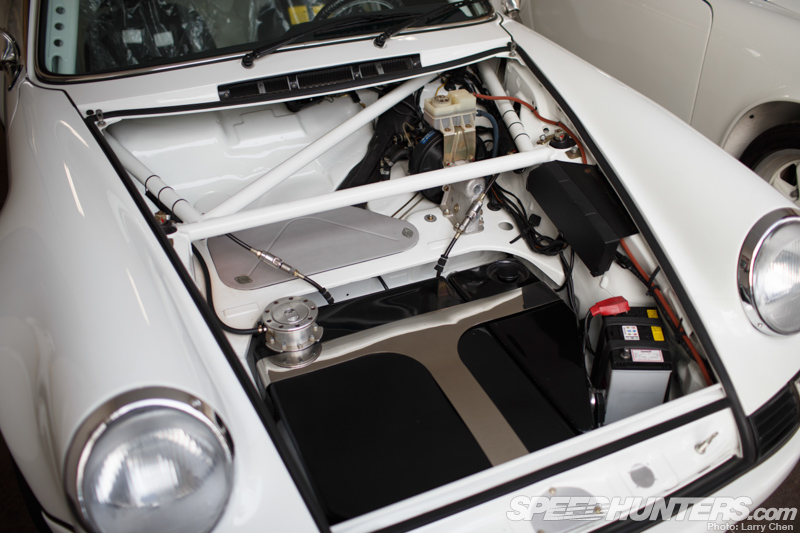 His philosophy is building lightweight cars with a focus on simplistic quality. On top of that they still have to look factory, so as not to lose their original identity.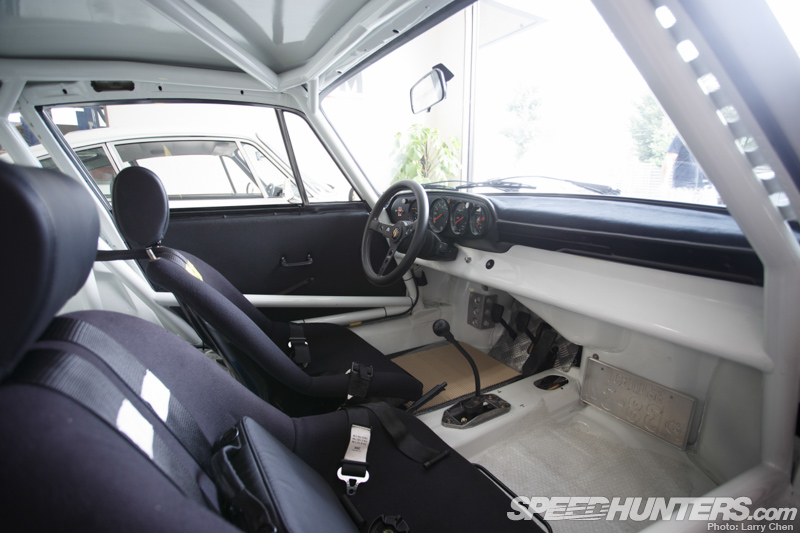 Just look how minimalistic the interior of this 964 is. This particular car has been rebodied with fiberglass panels to give it that classic 911 look, but you would never know there is a 600hp turbo motor in the back!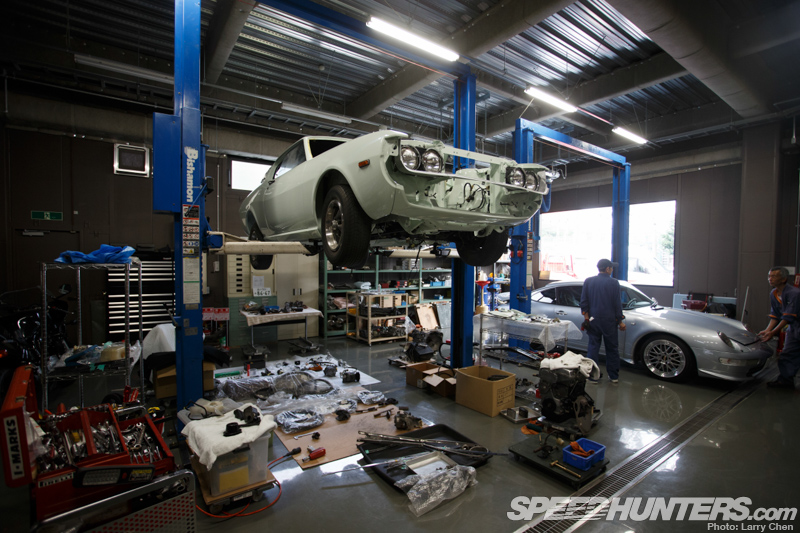 In the workshop there were a few cars undergoing full restorations, including this classic Toyota Celica. I just can't get over that color.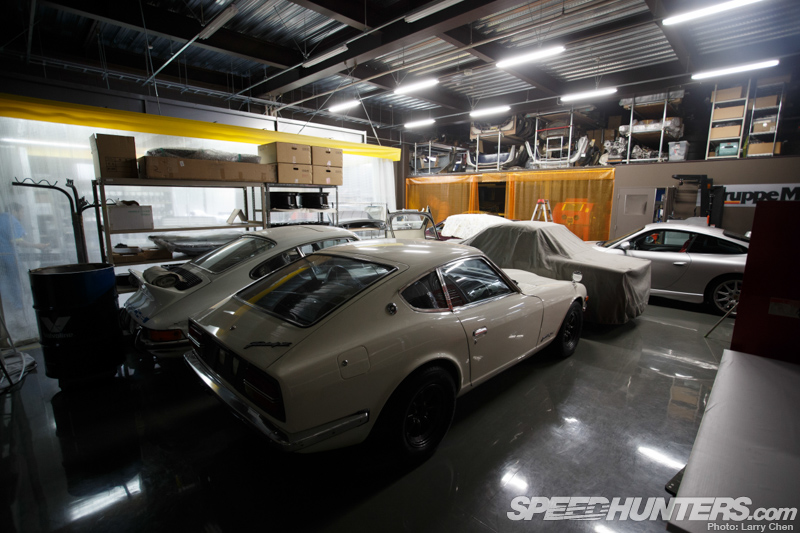 A prime example of a finished GruppeM car is this 240z that underwent the same treatment last year. It's so clean that it reminds me of the ones that I had a chance to see at the Nissan Dream Garage in California, before the headquarters moved to Tennessee.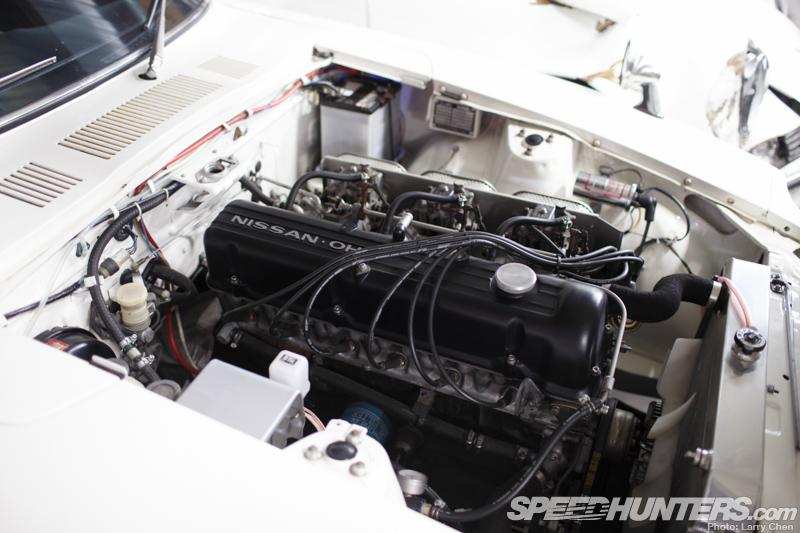 Under the hood is an L30 with triple Mikuni carbs. I just love how original it looks.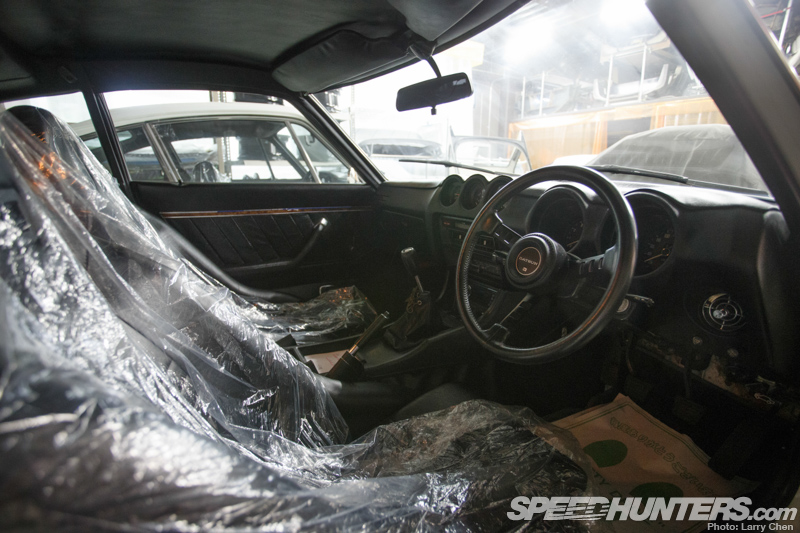 And the interior? It looks like it just came off a new car lot. It even has those dealership foot pads.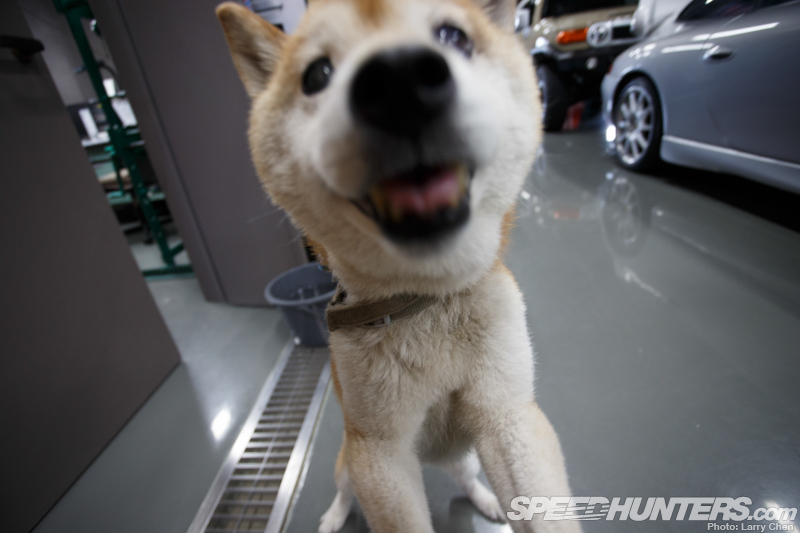 Every shop needs a guard dog. This one was not so camera shy.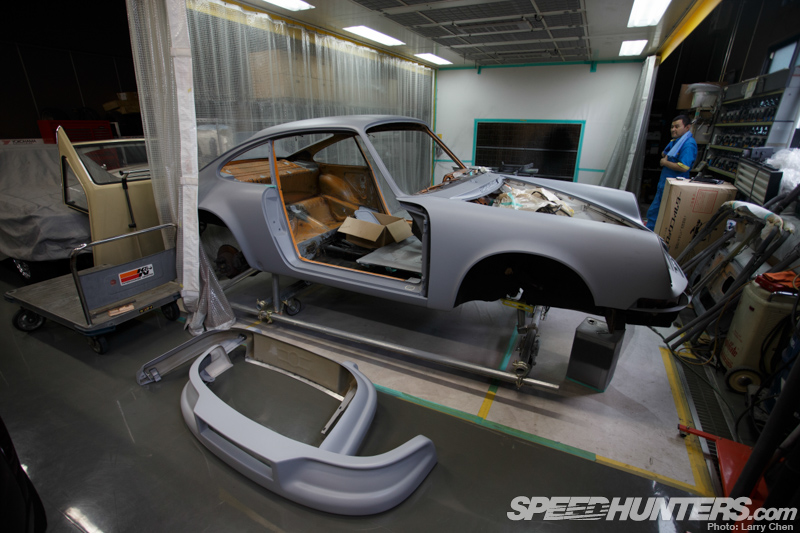 The shop even has its own paint booth so it can finish a project from beginning to end. I am looking forward to making a trip back to GruppeM once it has completed some more builds.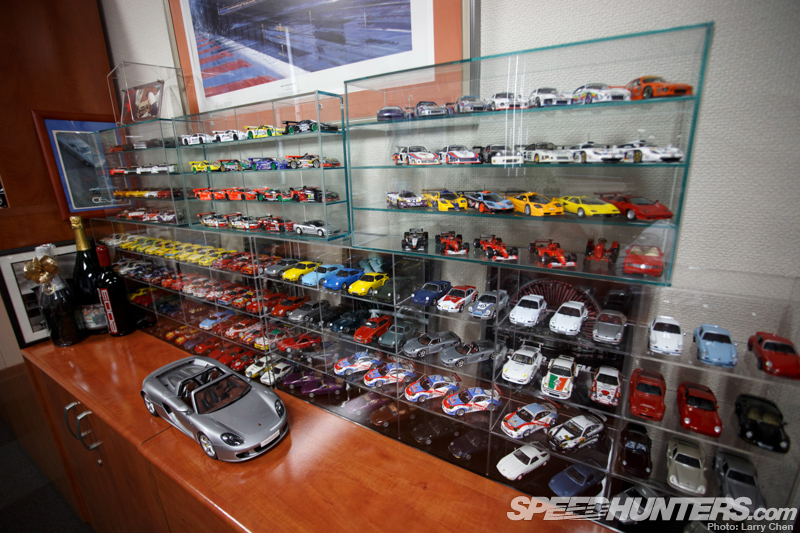 Before we left we checked out Ogose-san's diecast collection, which I'm sure will make Rodbot jealous. Although no one actually knows how many diecasts Rodbot has, because he eats them.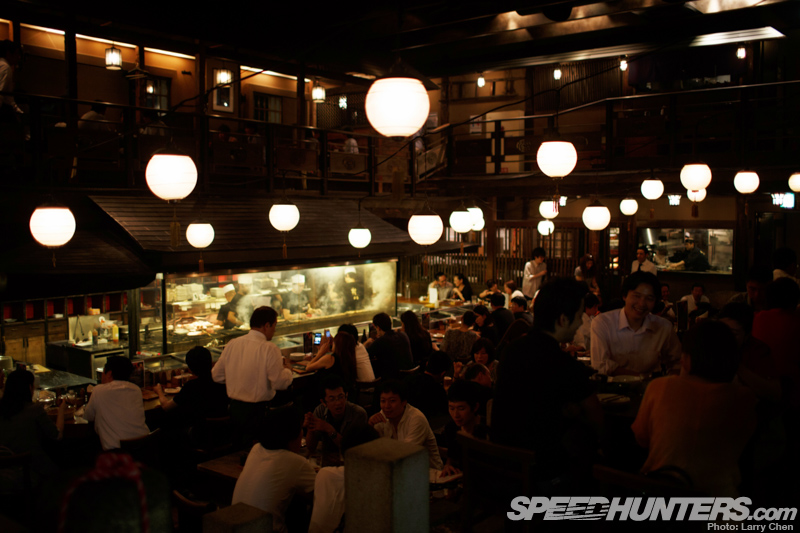 For dinner that night Dino and his wife took me out to a great yakitori place that kind of looked like a scene out of Kill Bill.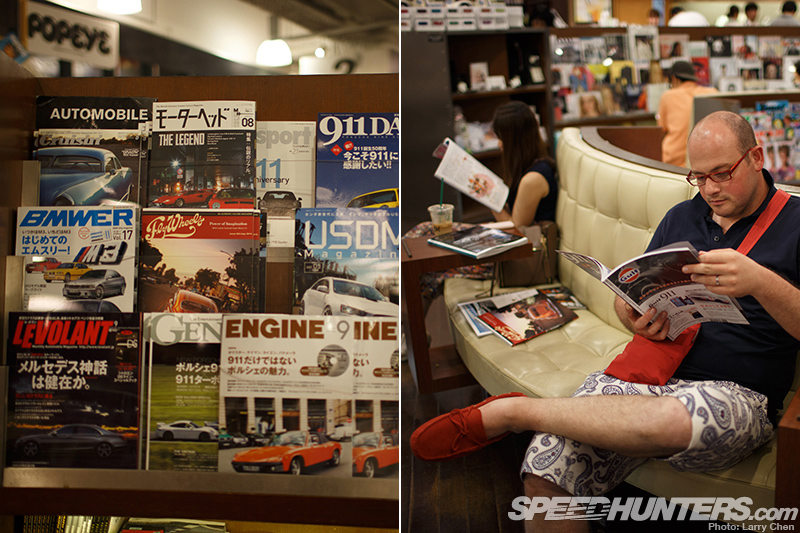 We finished off our night browsing through Japanese car mags. I even spotted a cover sporting the Drag'n Kaiser built by our very own Keith Charvonia.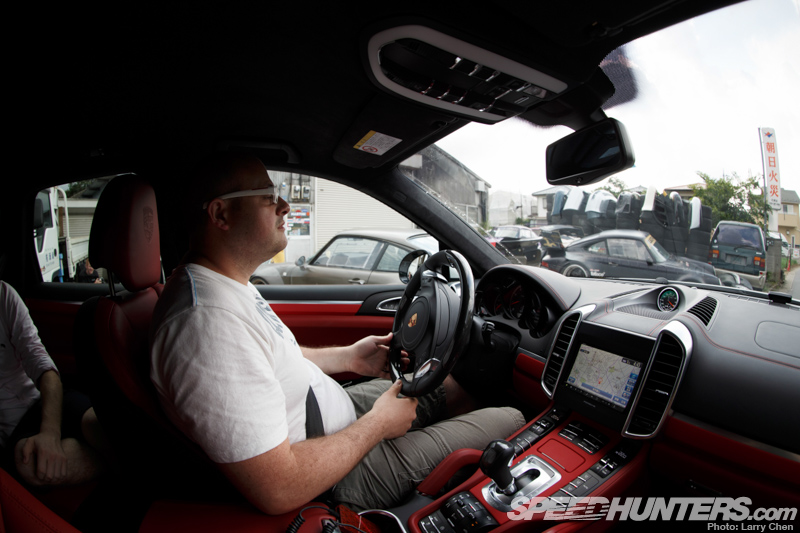 The next day was going to be a long one, so we had a later start. First we had to call into RWB to meet up with Nakai-san and his crew, then we would head to a rest stop to rendezvous with the extended RWB family who were all driving in from different parts of the country. From there we would convoy to the track.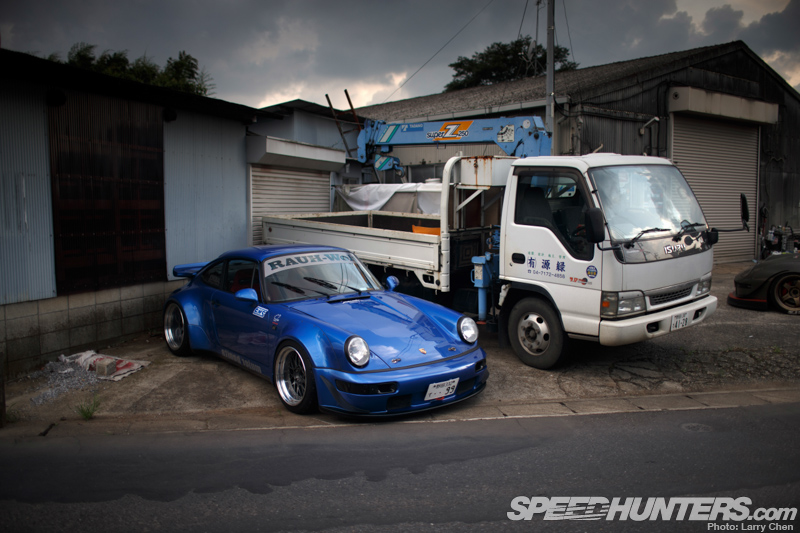 I've seen this shop so many times in pictures and videos, but to actually step foot on this hallowed ground sent shivers down my spine.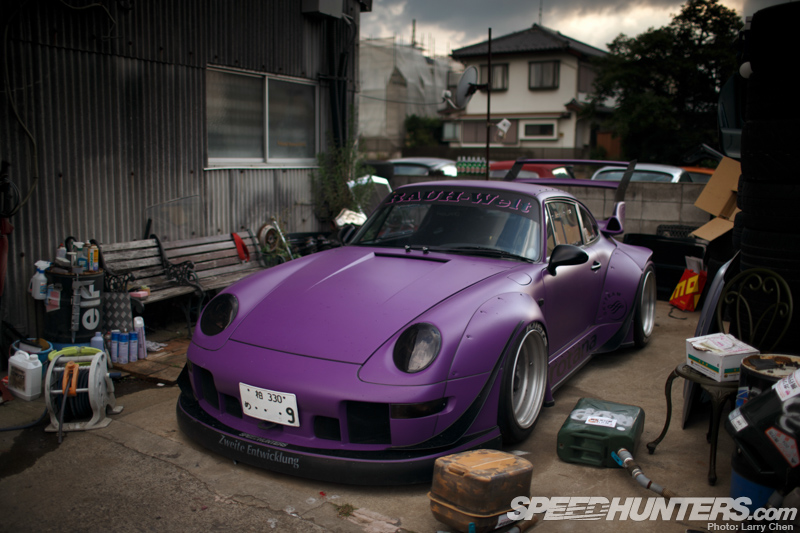 In the middle of it all sat a purple 993 Turbo looking really fast. It's seems crazy to me that Nakai-san parks all these treasures outside in the rain.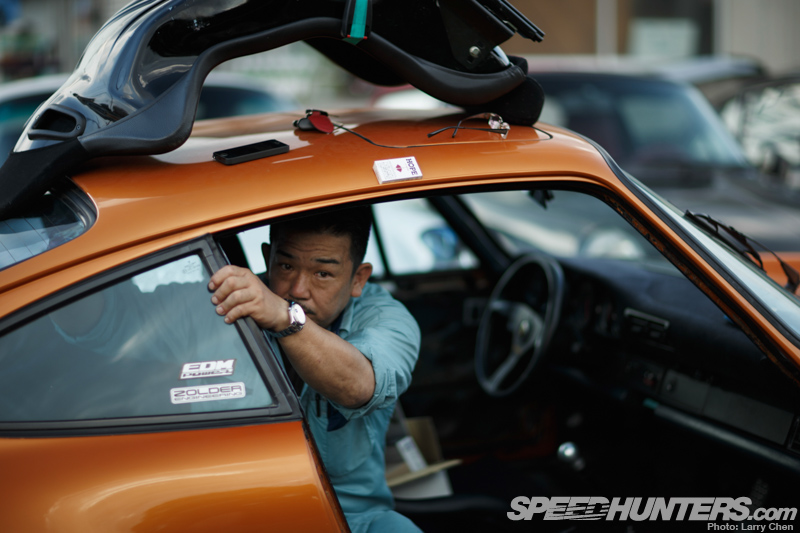 Cars were being stripped down as we were walking around taking it all in. There is no rest for the wicked.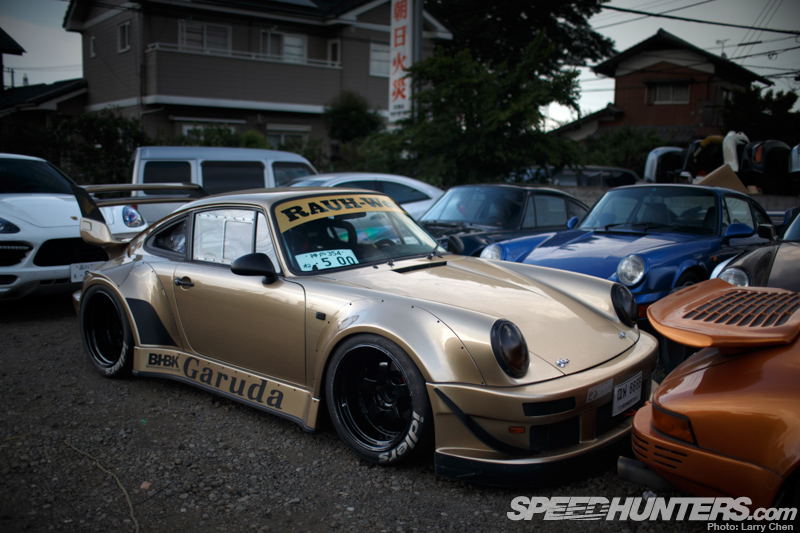 This 964 had only just been finished. I think the gold paint really does the body lines justice. The owner must be doing backflips just thinking about driving his new RWB Porsche.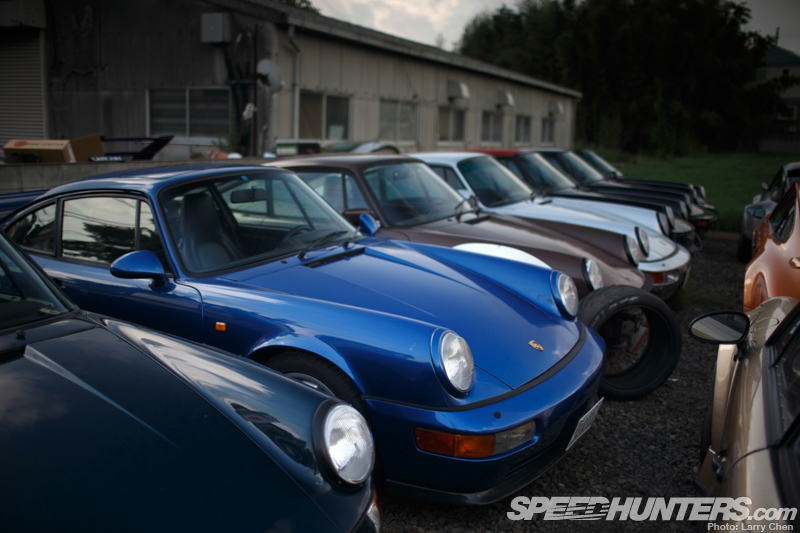 Next to the shop is a staging area littered with cars waiting to be transformed into something amazing.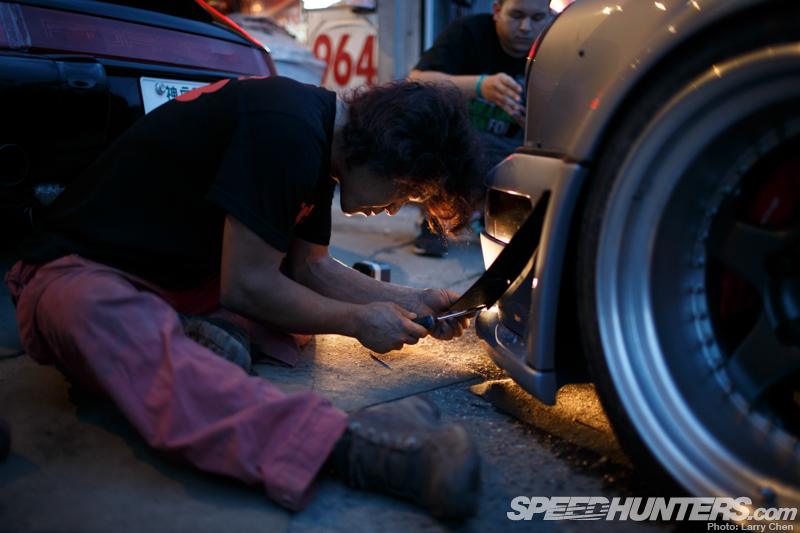 I met Nakai-san briefly last year at the SEMA show, but I never had the chance to really get to know him. He is such an amazing character, almost like someone that you read about in a book. He's someone so cool that his coolness spreads to those around him because he has too much of it.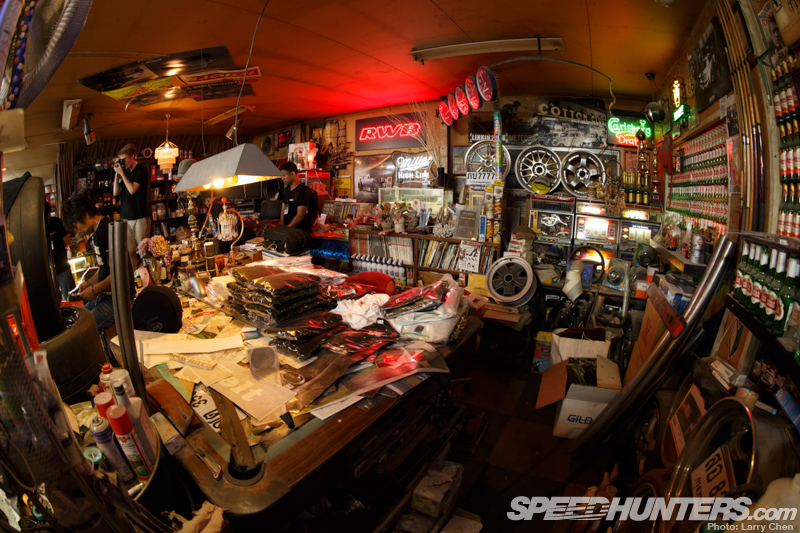 Just like Nakai-san, his shop has lots of personality.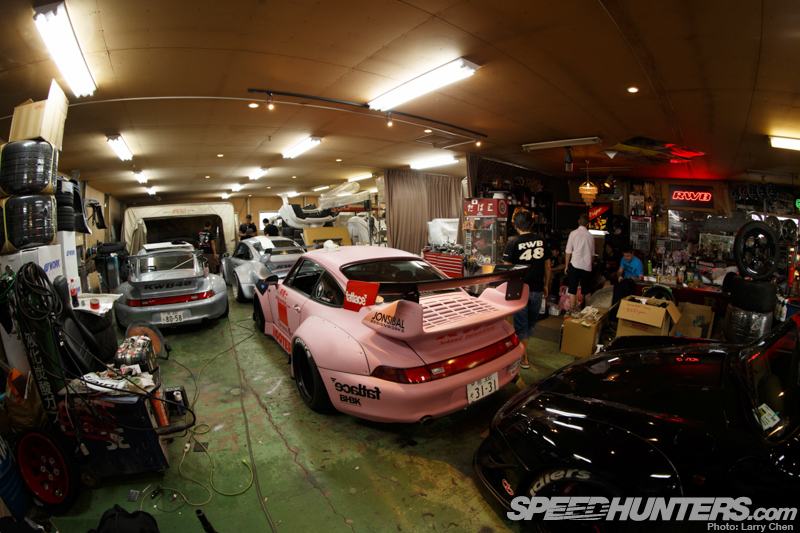 Given how much stuff is in the shop, it's a wonder how he knows where anything is. I guess it's part of the whole RWB experience.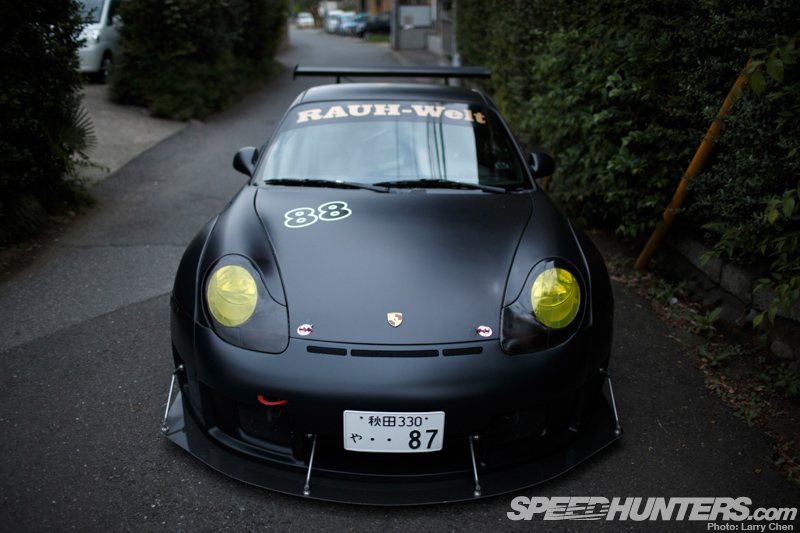 As it started to get dark more and more customers arrived – some in RWB cars and some in hired cars. This was the biggest international group the 12-hour idlers race had ever seen. This is the only 996 to get the RWB treatment so far. What do you guys think?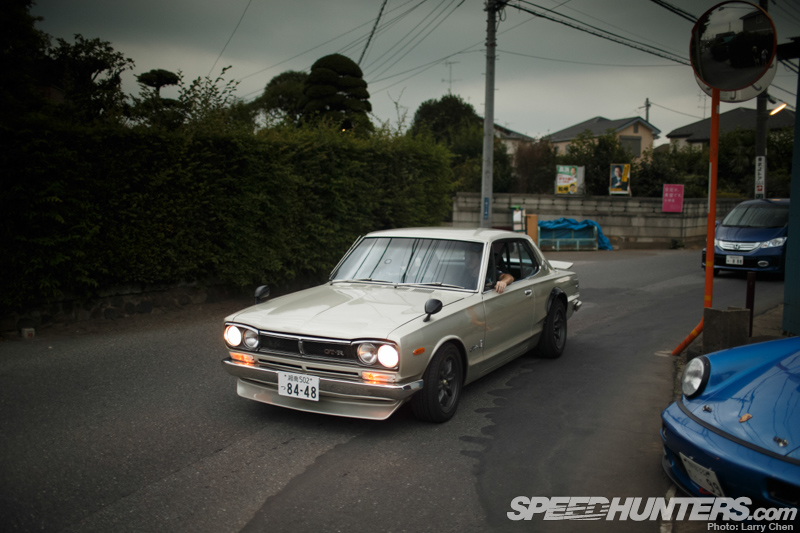 It would not have been a successful Speedhunting trip to Japan if I did not at least see one Hakosuka.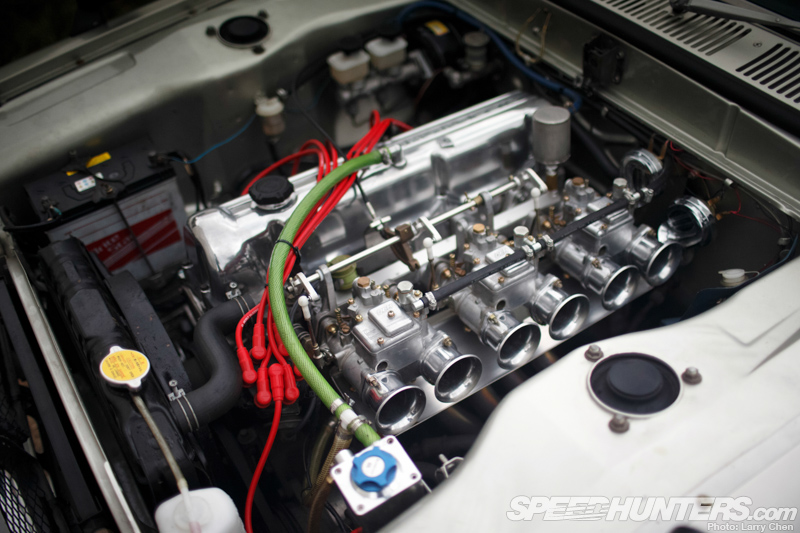 This one was very clean, but it saddens me that I cannot afford to have one. I just love the sound of the L-series motors.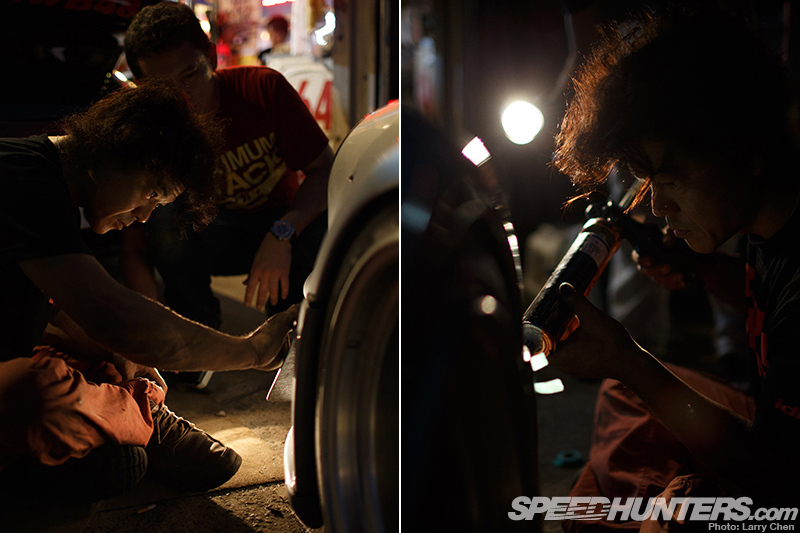 One by one cars were getting prepped. Working with a little spotlight, Nakai-san installed canards on each front bumper.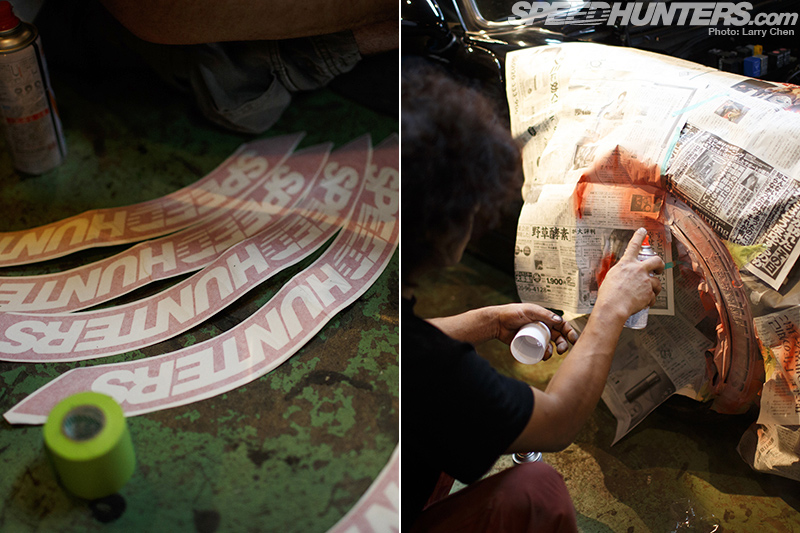 We brought a limited amount of Speedhunters tire stencils, so he helped us do a few and we did the rest.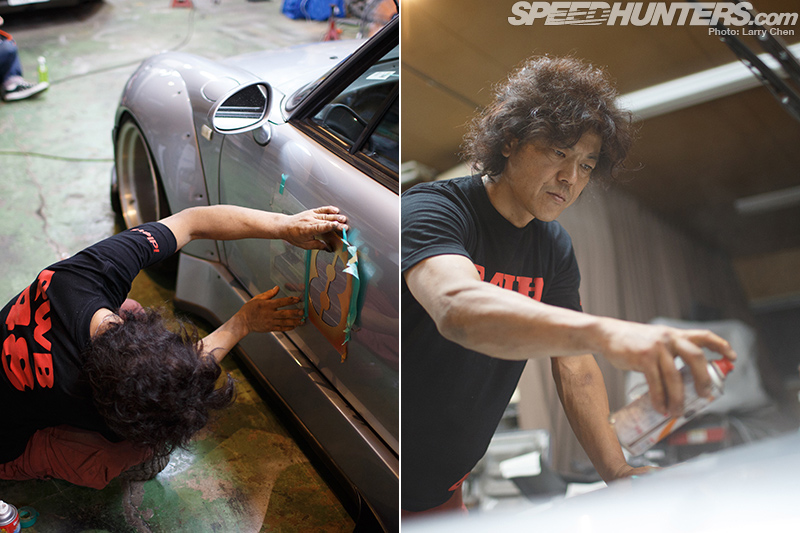 Since some of the cars have imaculate paint jobs I thought Nakai-san would be very careful with overspray when adding the car numbers. But he just sprayed them on crudely and then wiped off the excess with paint thinner. That's certainly one way to do it.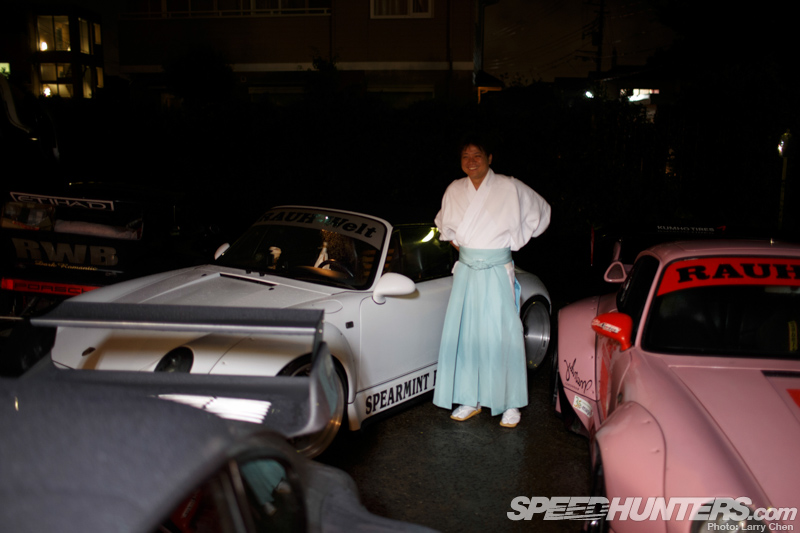 Just when I thought things could not get more interesting, one loyal RWB customer showed up who is also a monk/priest of some sort. He owns a few temples and obviously has a taste for nice cars. His cabriolet 993 is appropriately named Spearmint Rhino.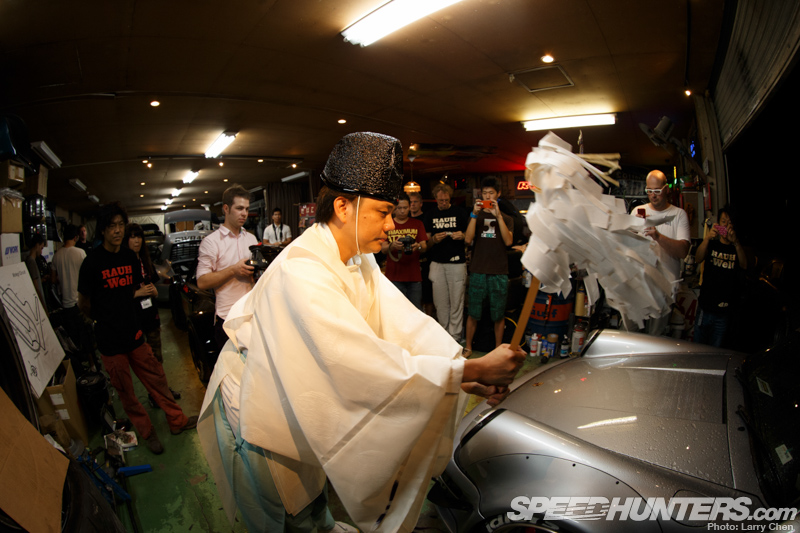 He came to bless the six cars that will be driven in the 12-hour race. I guess it worked because all of the cars finished.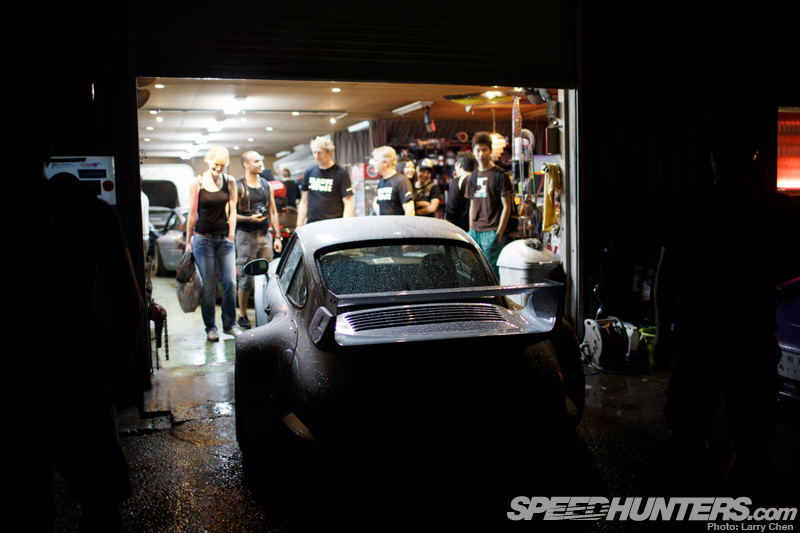 It was midnight already, which meant there were only eight hours to go before the race started, so it was time to head to the rest stop. This set of wheels would be the car I would drive in the race.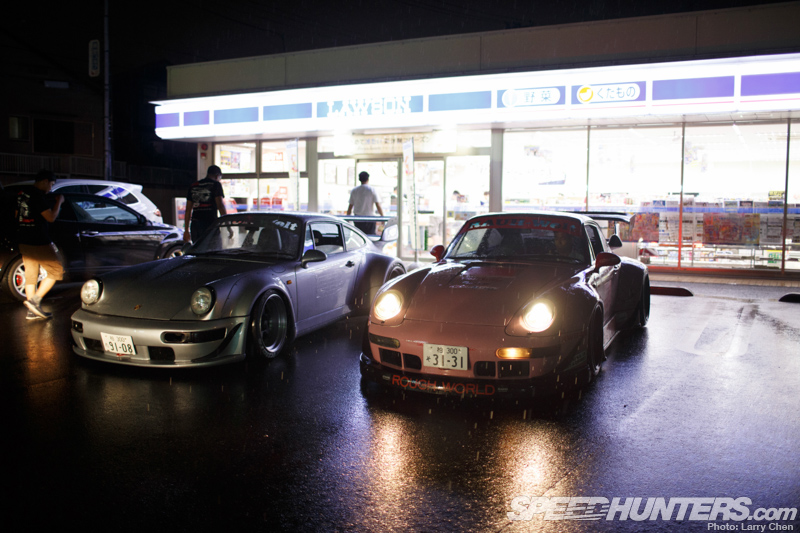 Everyone was starving so we headed to the convenience store just down the street. Then the skies opened up and it started to pour.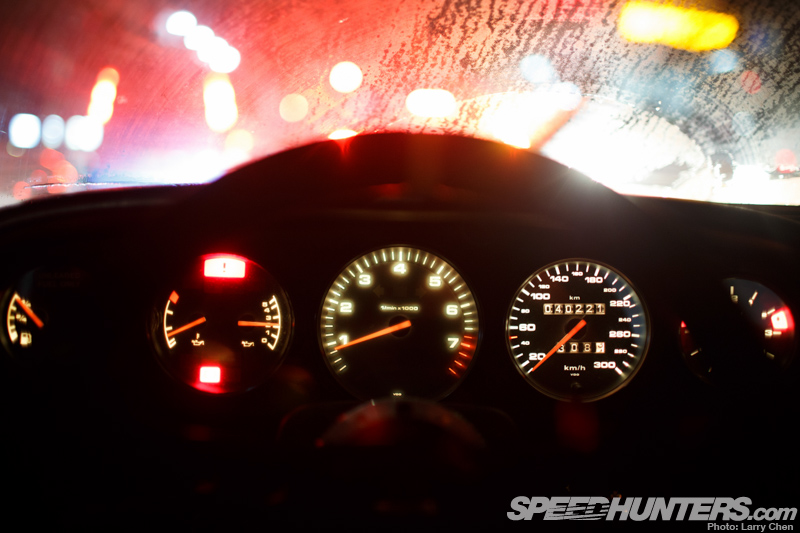 I didn't tell anybody this at the time, but it was my first time driving on the left side of the road. Also, it didn't help that I could not see a darn thing since the defroster was not really working properly.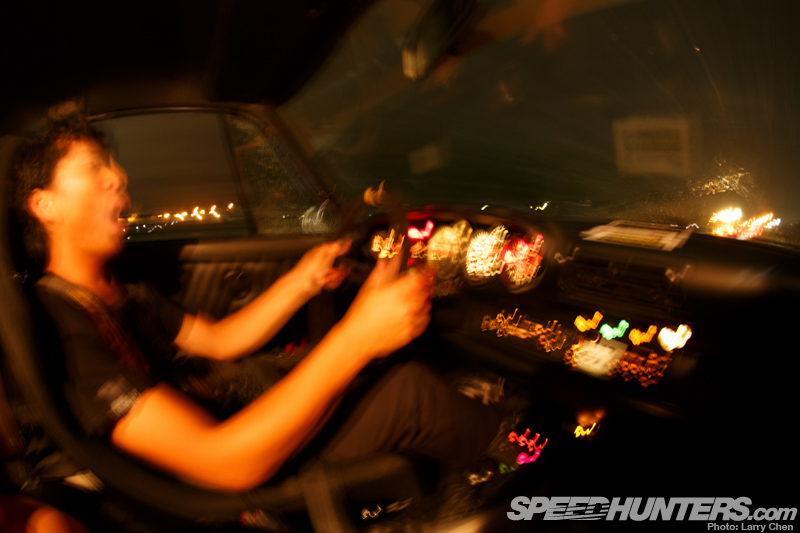 I handed my camera to my friend Jeab who got a great shot of me trying to keep up with our dear friend Dino.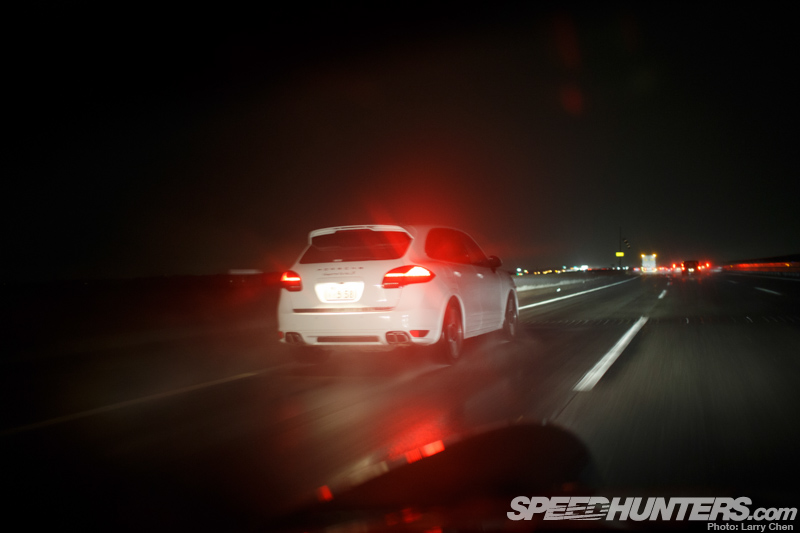 Dino must have forgotten that he was is in the all-wheel drive SUV from hell and of many of us following him only had 10 centimeters of ground clearance and were on slick tires in the rain. He floored it on the highway, taunting us with his mighty 550hp engine.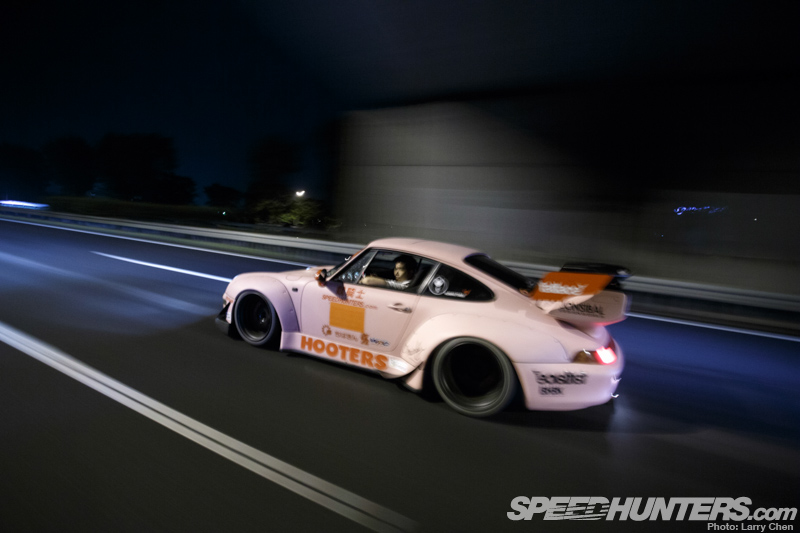 I don't think I've ever gripped a steering wheel so tightly. Actually, after 30 minutes or so I felt quite comfortable on the wrong side of the road.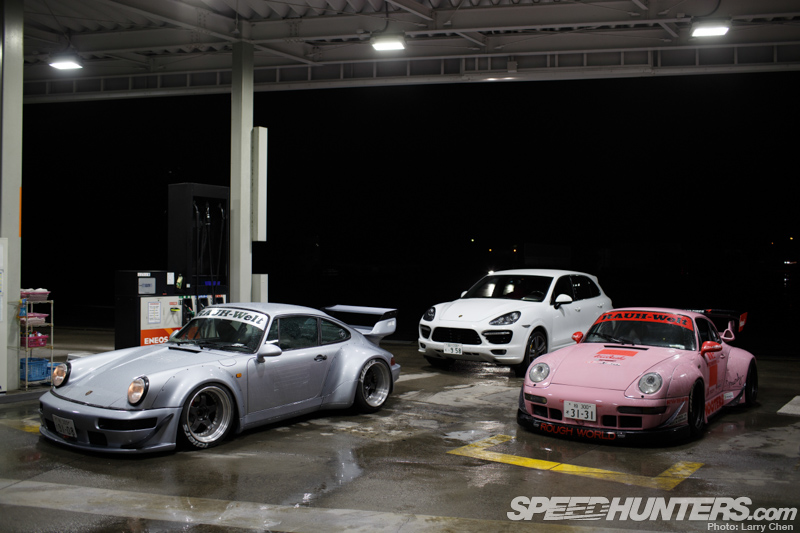 I felt so bad-ass driving that super-wide 964 on the road, even though we were going very slow. We stopped at a service station and waited for the others to arrive.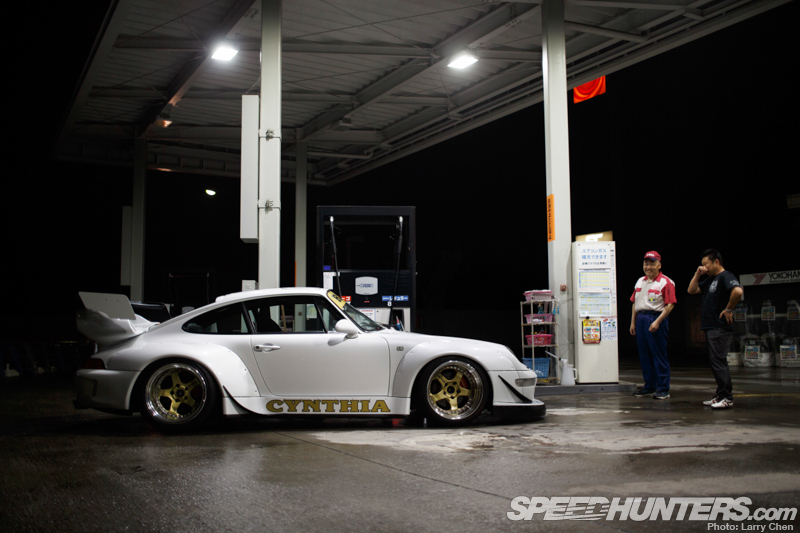 Soon enough more started showing up, including this white 993. My jaw dropped. I think out of all of the RWB cars I've encountered this one is my absolute favorite.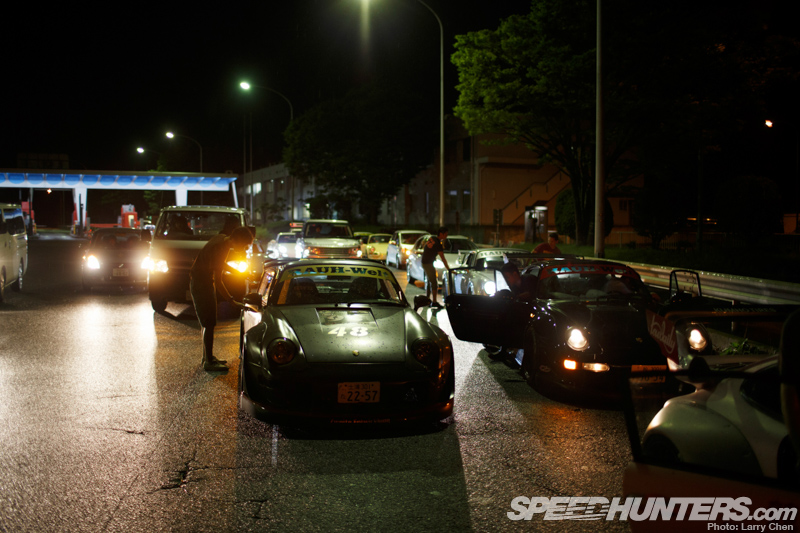 Around 2:30am we all headed to the track. Although I'm sure it was illegal, we pulled over on the side of the highway just after a toll both to wait for the whole group.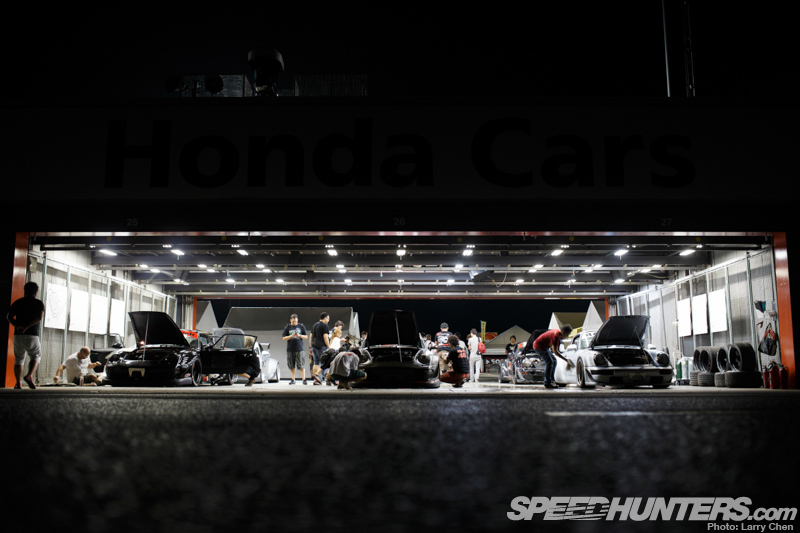 At 4.00am we finally arrived at the track, but there was still much to do. The passenger seats needed to be removed, tires needed to be changed and fluids needed to be checked and topped off.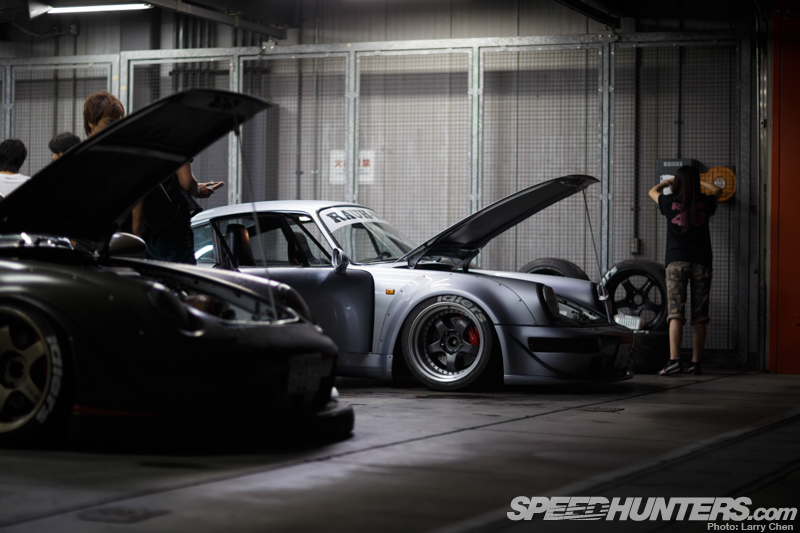 There she was, my beauty, my stallion. Sigh… I miss her so much. I will shed a single tear just thinking about her.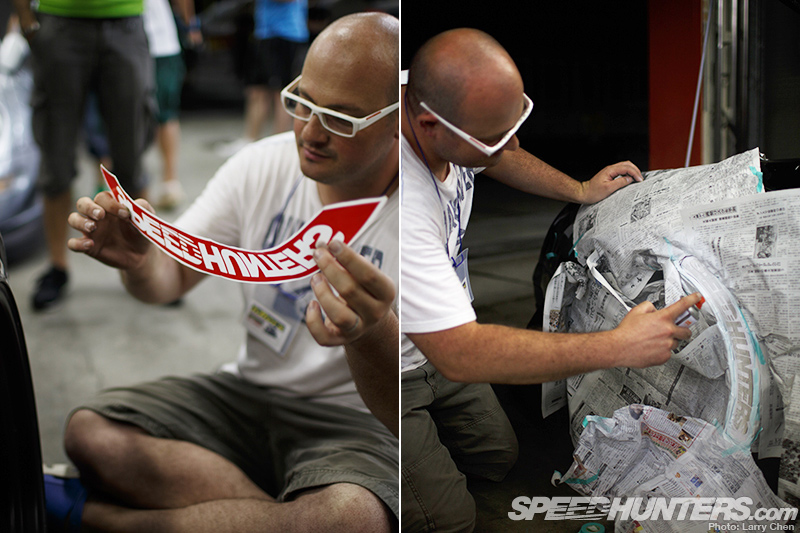 Dino took on the task of finishing up the stencils. Look at that professional masking job with those Japanese newspapers. No overspray!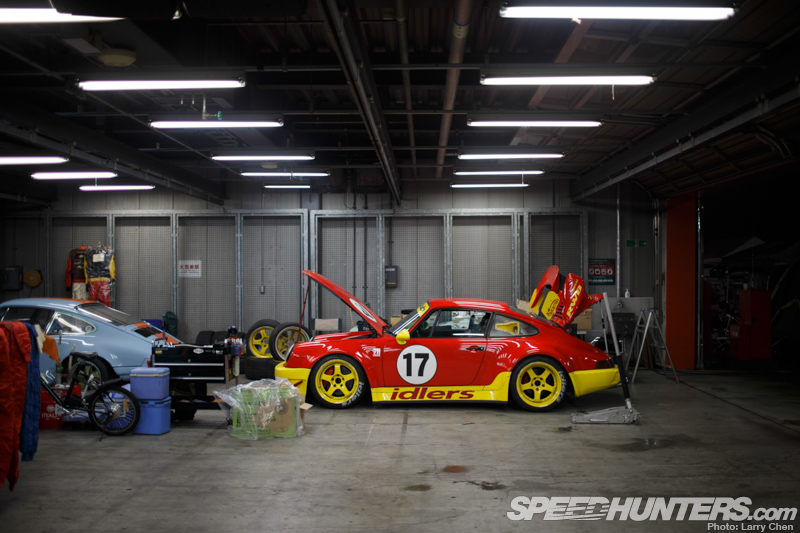 Right next door was the McDonalds RWB 964 turbo that is owned by the founder of idlers. That car was super-quick, but it was plagued with mechanical issues, so it barely finished the race.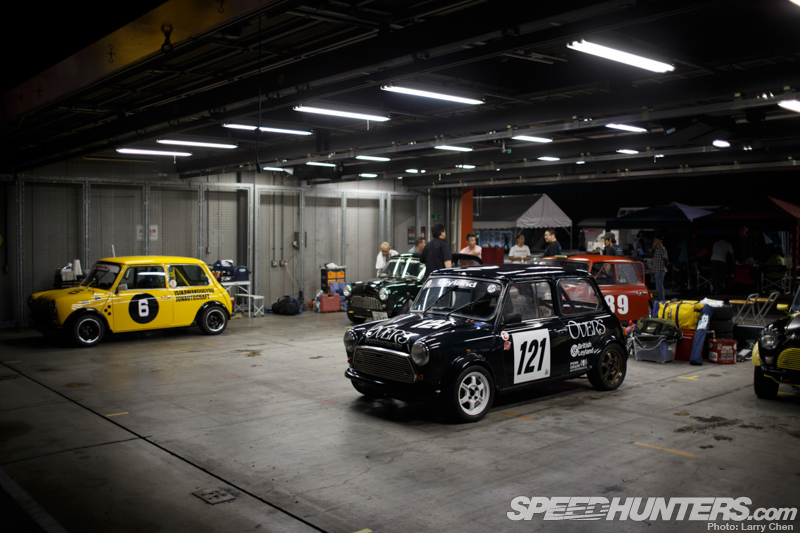 On the other side of our pits were assorted Minis and prototype cars.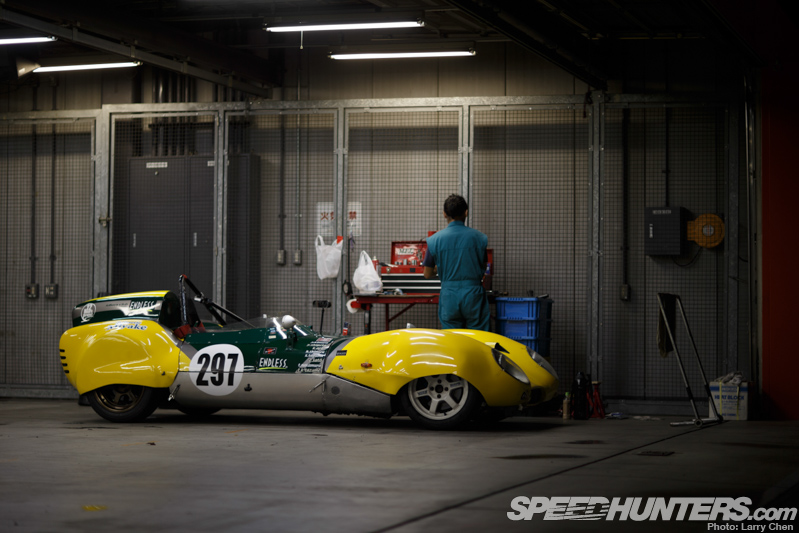 During the race it was actually kind of hard to see these cars sometimes given how low there are – especially when going side-by-side down a straightaway. But they were proper quick.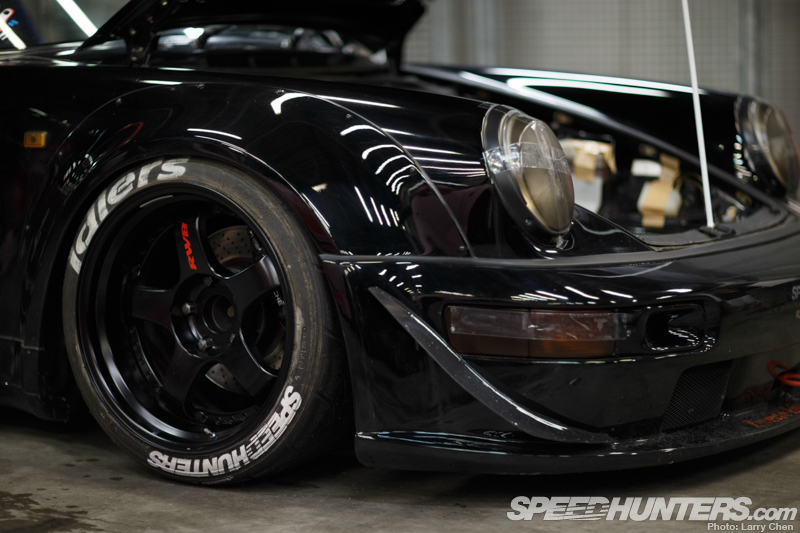 And there you have it – perfectly place Speephunters wheel stencils. Good job Dino!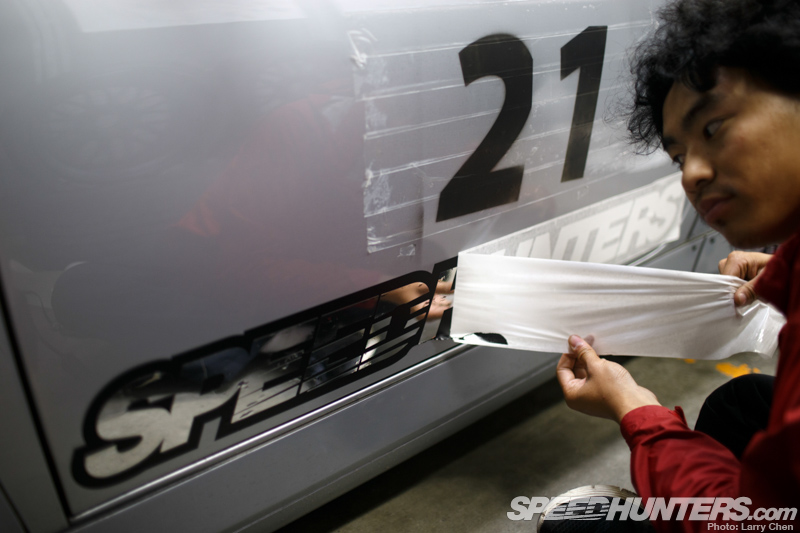 It was 5.00am and the race was starting in three hours. Can you tell in my past life I used to wrap cars?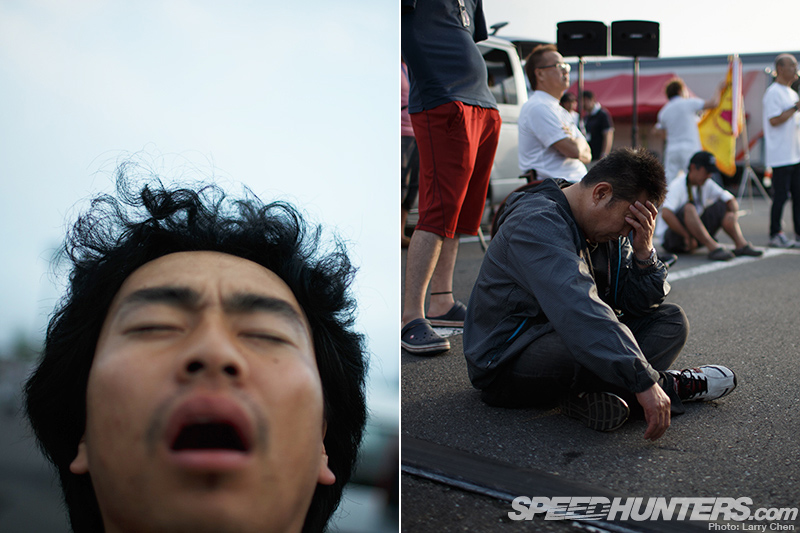 After a refreshing 45-minute nap I was well rested and ready to race. Some people fell asleep at the drivers meeting, probably because they did not have a comfy Porsche Cayenne to sleep in.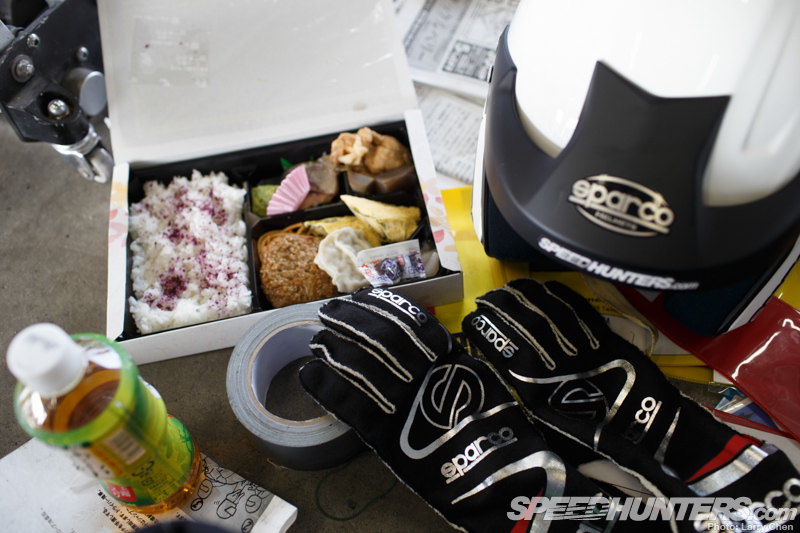 I won't go into too much detail about the race in this post as Dino and I already covered that off in our first combined post, but I do have to say that in terms of life experiences, this one is there in the top 10.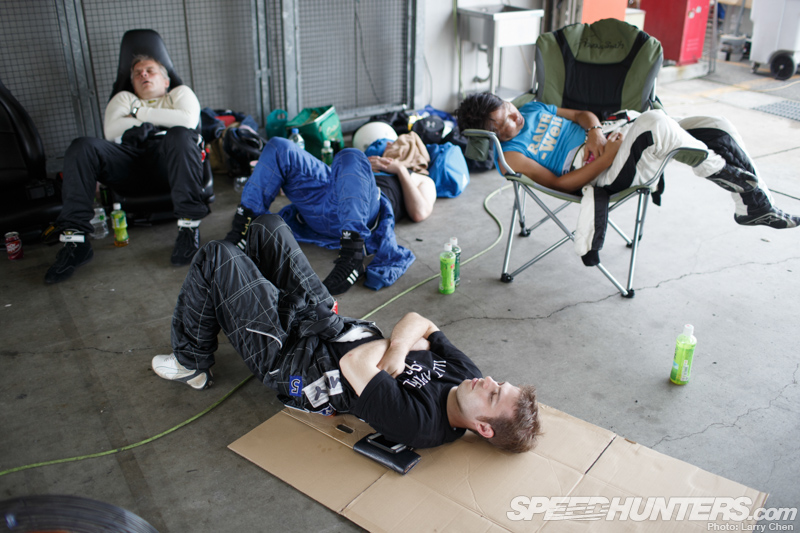 When you hit the wall it doesn't matter that there are race cars whizzing by or people are sitting on your face – you just gotta rest.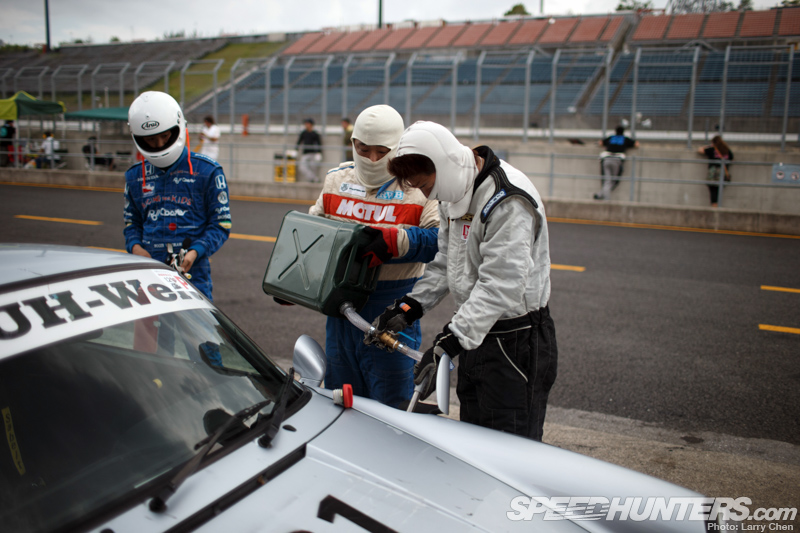 I have to admit that I did not help my team out as much as I could have in terms of fueling and pit stops, but honestly it was very hard to budget my time in between shooting driving and resting. Although, I do have to say it would be much easier if I had a good nights rest beforehand. But that's not the Rough World way, is it?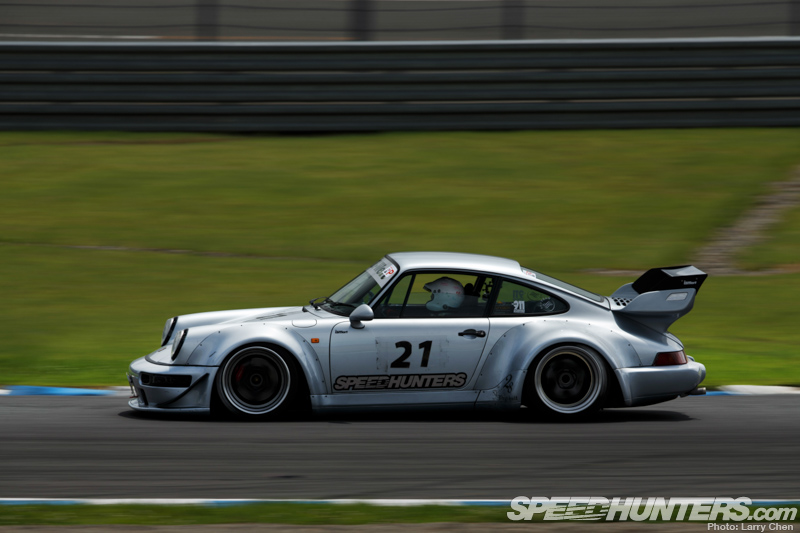 I felt such a sense of pride whenever I saw the #21 car go by. It's interesting, because out of all of the endurance races I have covered, I have never seen any of the drivers venture outside of the pits during the race. I guess there is no point usually since they are just so focused on driving.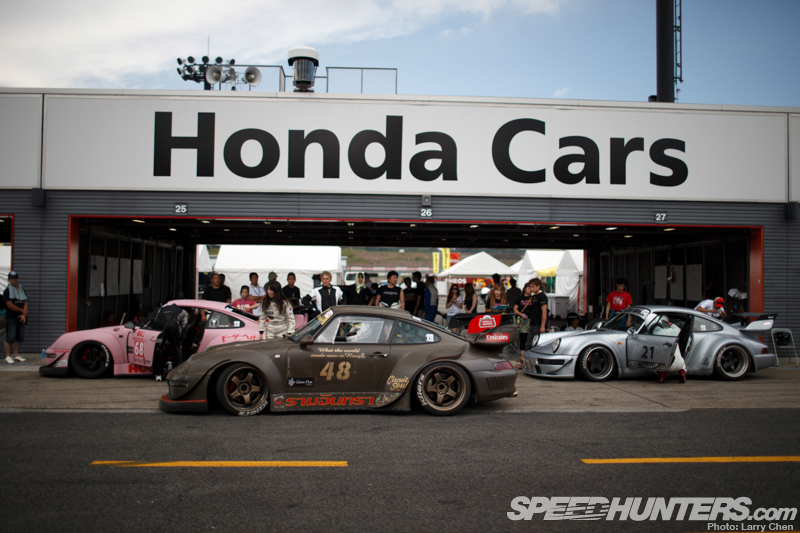 The pits got very crowded at some points during the race. I think the most number of cars we had pit in at the same time was four.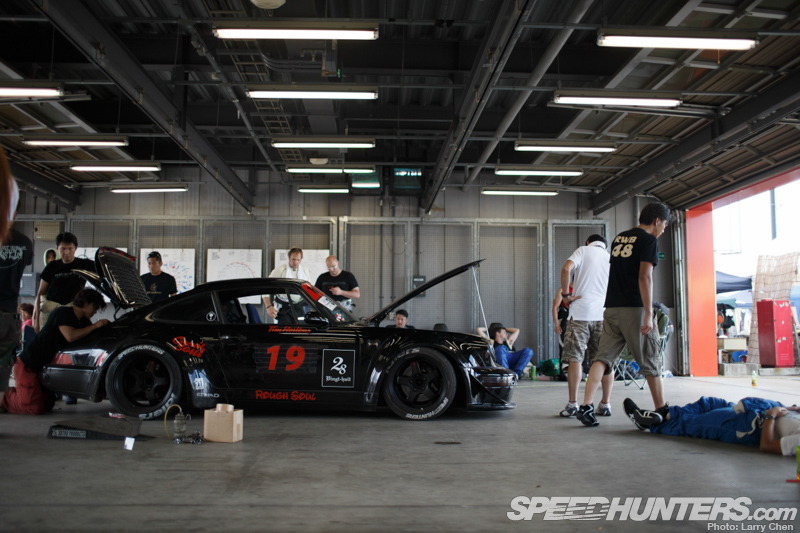 It was rare, but if there was a mechanical issue we would push the cars inside the pit box.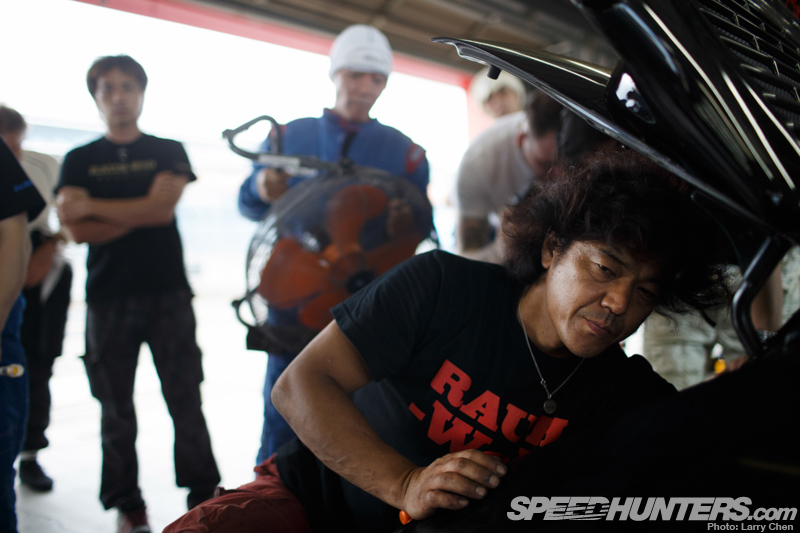 Nakai-san personally fixed whatever was wrong with the cars. Most of the time something just required a minor adjustment.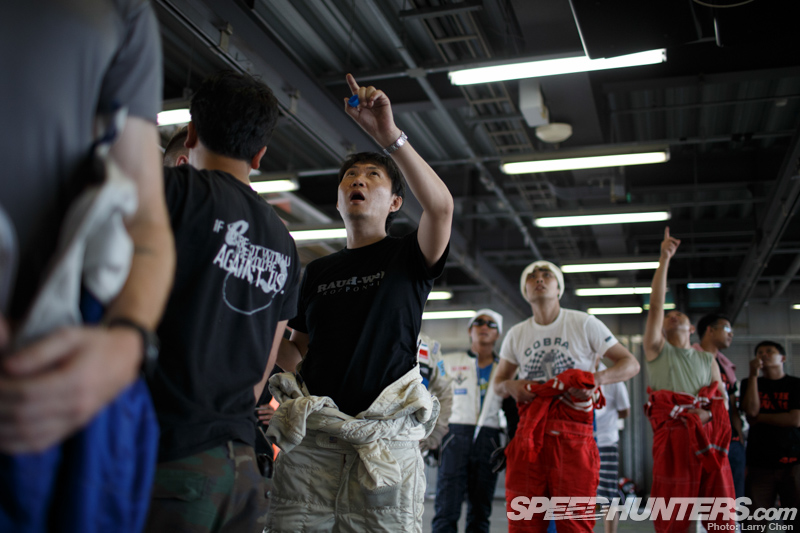 Everyone watched the video monitors very closely and when one of our drivers went off the entire pit got worried sick.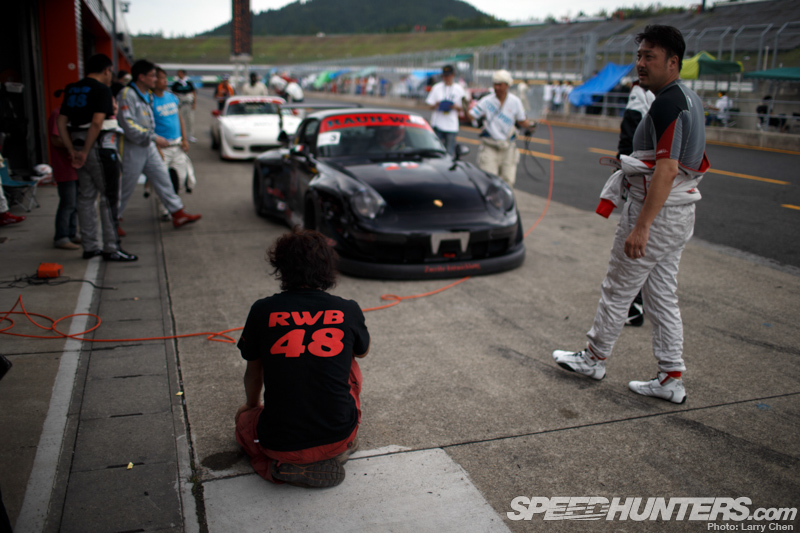 Maybe it's the cigarettes and lack of food, but I don't know how Nakai-san can pit for six cars for 12 hours. He didn't take one nap the entire time. This is why he is so legendary – he is more machine than man.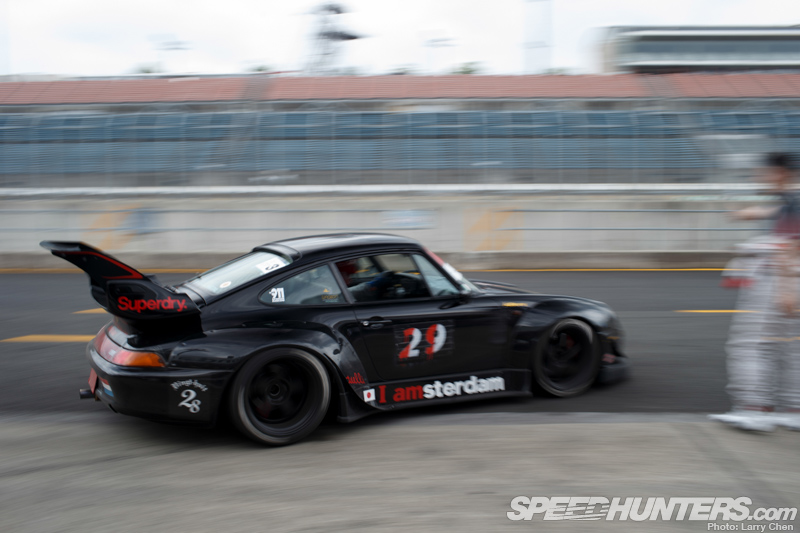 I love shooting friends like Fredric Aasbø, or Vaughn Gittin, Jr. when they're racing as I feel I have a personal connection with them. However, before this event I had yet shoot a fellow Speedhunter behind the wheel.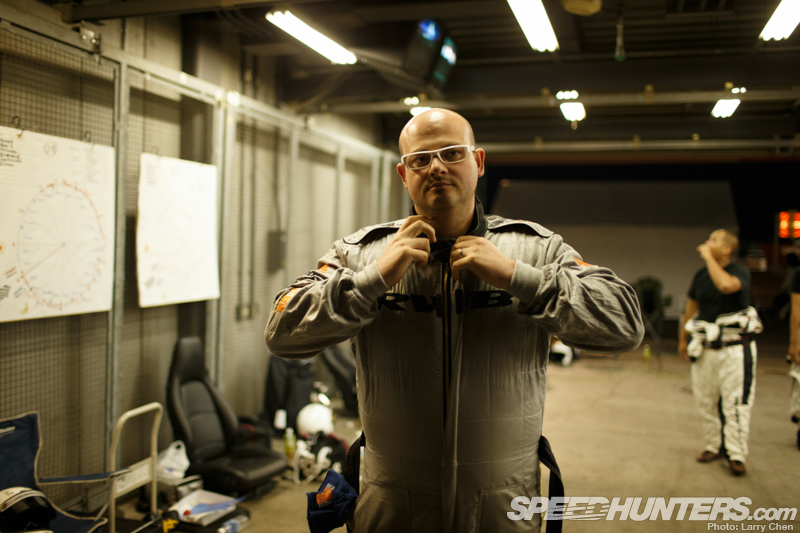 I know this sounds corny, but we are a band of brothers. We are connected through this passion for car culture and it is such a honor to work with these guys. Here was Dino getting ready for his final stint. I was so happy for him – it felt like he was bringing it home for the Speedhunters team.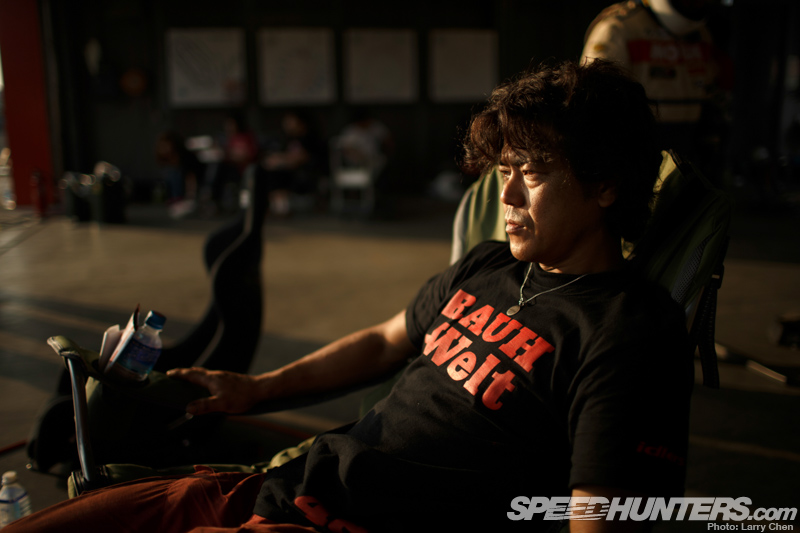 As for Nakai-san, I hope he can continue to do what he does best. I am so honored to have met him and it was such an eye-opening experience to watch this living legend work on these awe-inspiring cars.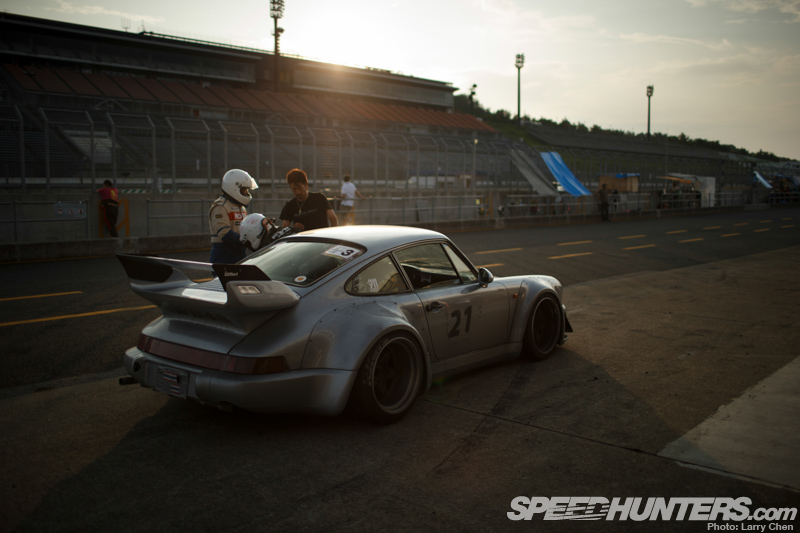 The #21 car was very good to my team of six drivers. We didn't have any offs and we barely had any mechanical troubles. I accidently pitched it sideways a few times due to the greasy tires near the end of the day, but that was pretty much all the drama we experienced.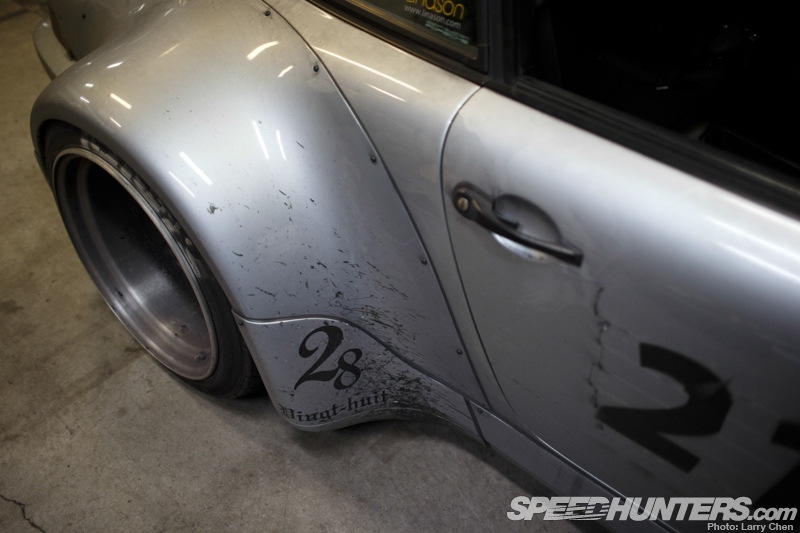 I could not have asked for a better car to drive in my very first endurance race. This experience has really opened my mind up to what is possible and what sort of things I want to purse in the future. Maybe some of my other Speedhunters brethren will join me in building some sort of amateur race team.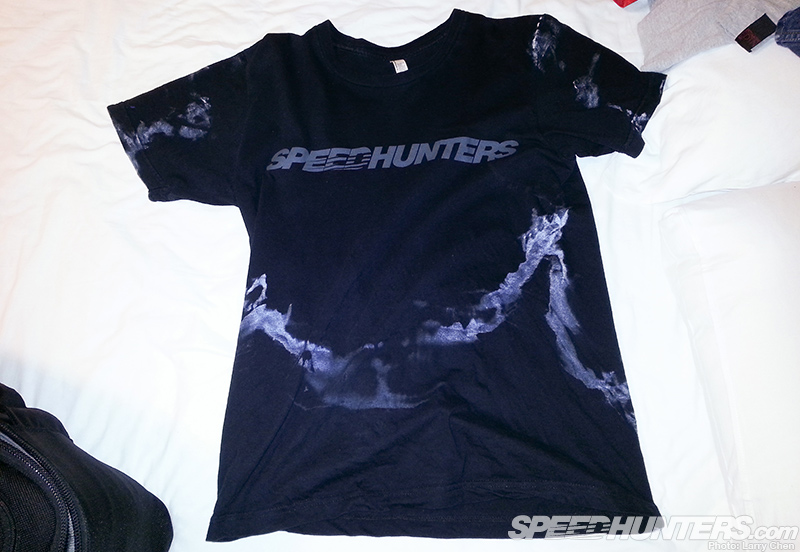 That night before I went to bed I looked in the mirror and I saw the shirt that I was wearing under my race suit. Could you pass the salt?
Larry Chen
Instagram: larry_chen_photo
larry@speedhunters.com
More RWB stories on Speedhunters