It was the home stretch… the sun was still barely above the horizon and there were just a short five hours left in one of the most grueling endurance races there is. This was the hero shot: Speedhunters' very own Edward Sandström, who had traveled all the way from Europe to help the Honda Research West team bring the brand new Acura ILX to the finish line.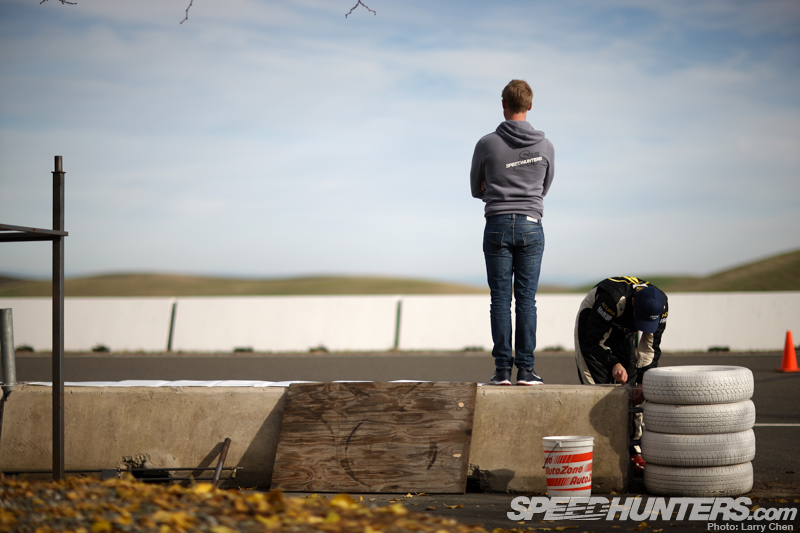 Just two days earlier Edward was staring off into the horizon, looking at a circuit that he had never driven on, in a country that he had never competed in. There was a huge challenge ahead for him and the hundreds of other drivers that would be competing that weekend.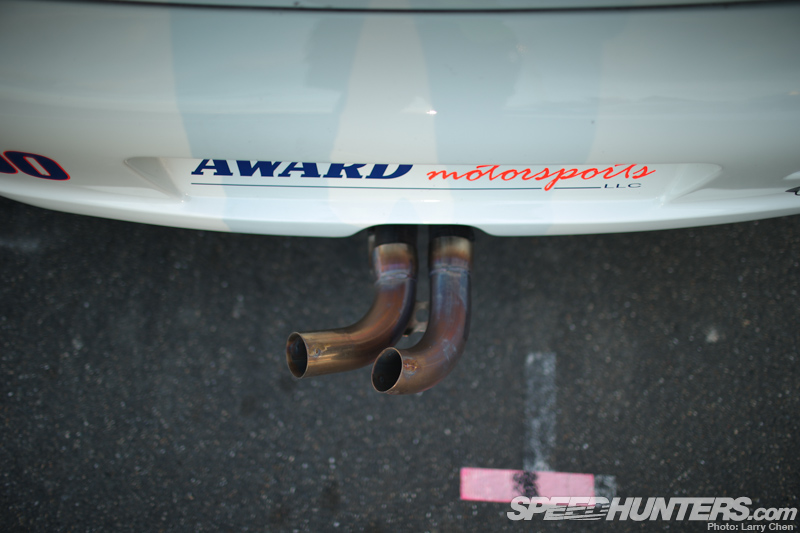 It was just as much of a challange for the mechanics and engineers as well. Many of the cars did not pass sound restrictions, so last minute modifications were made in order to pass technical inspection.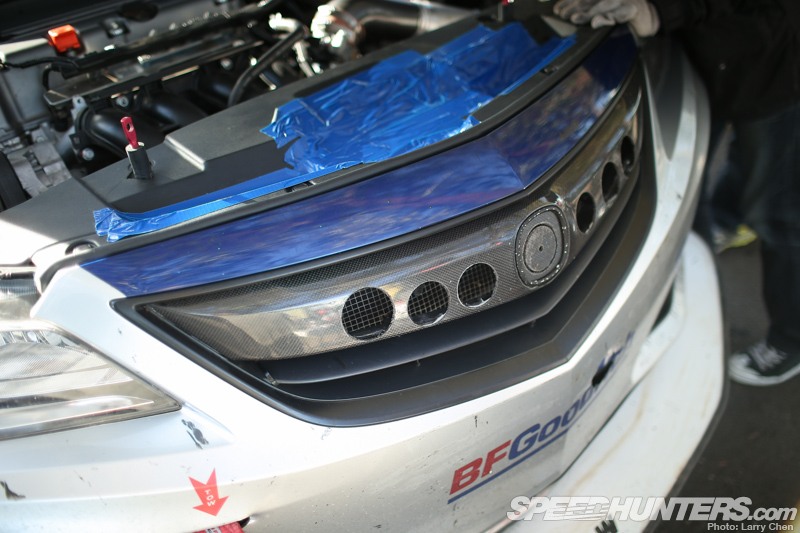 After some testing the HRW team had some cooling issues, so they did everything they could to improve airflow to the radiator.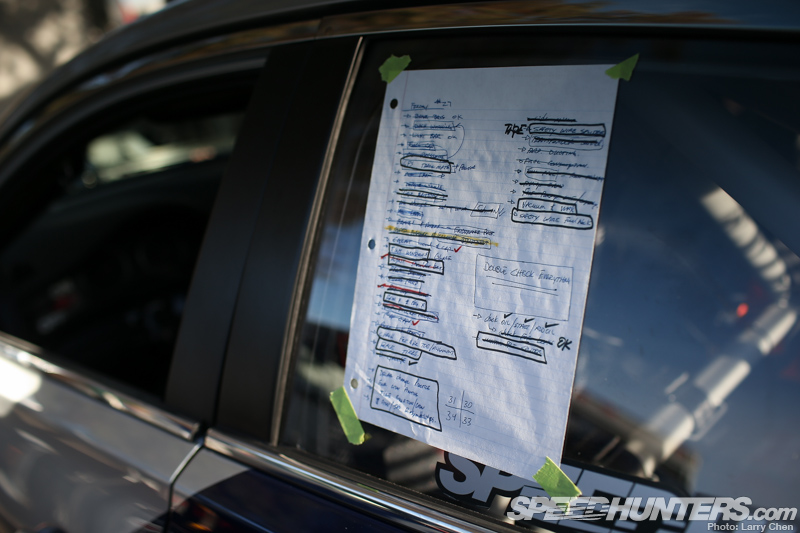 There was still much to do on the cars as qualifying was later that day. On top of that, the team still had to get a few supplies. Edward volunteered, so we both headed into town.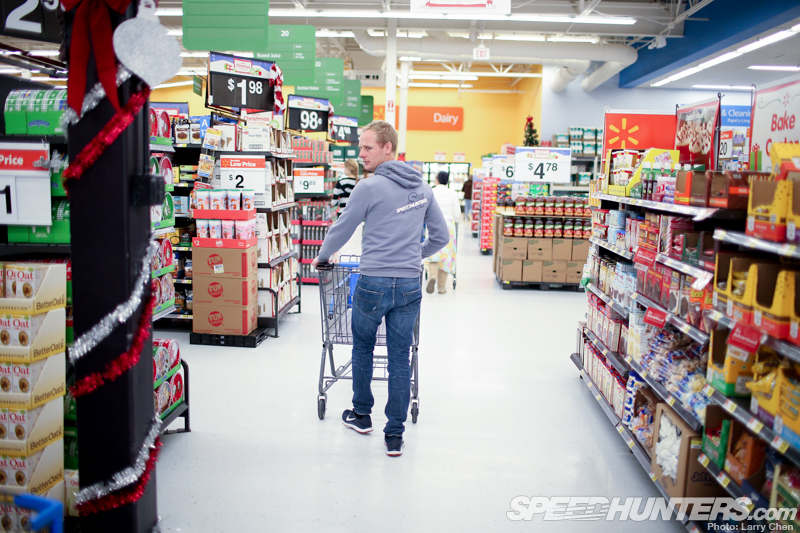 It was so funny for me to watch Edward's first experience inside a Walmart. He was going through some major sensory overload.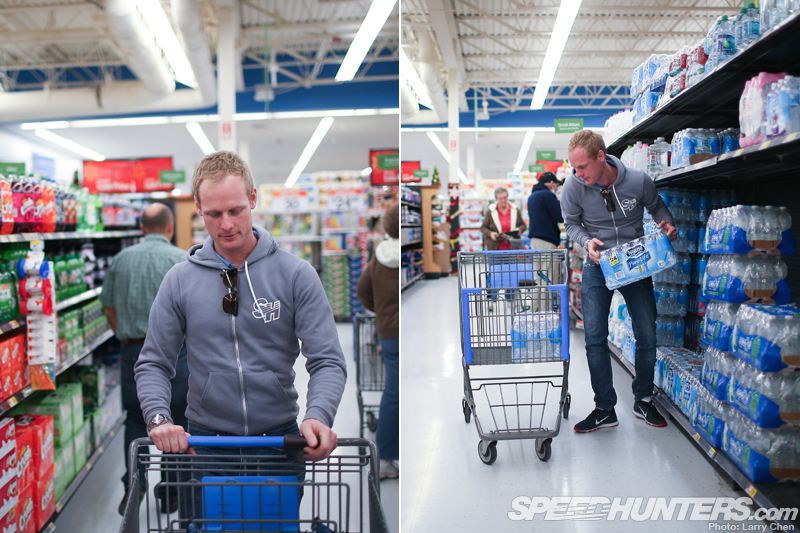 I understand where he was coming from, because last time I was in Europe I paid six euros for a single bottle of water. That was nearly the cost of 48 bottles of water at Walmart, so Edward stocked up.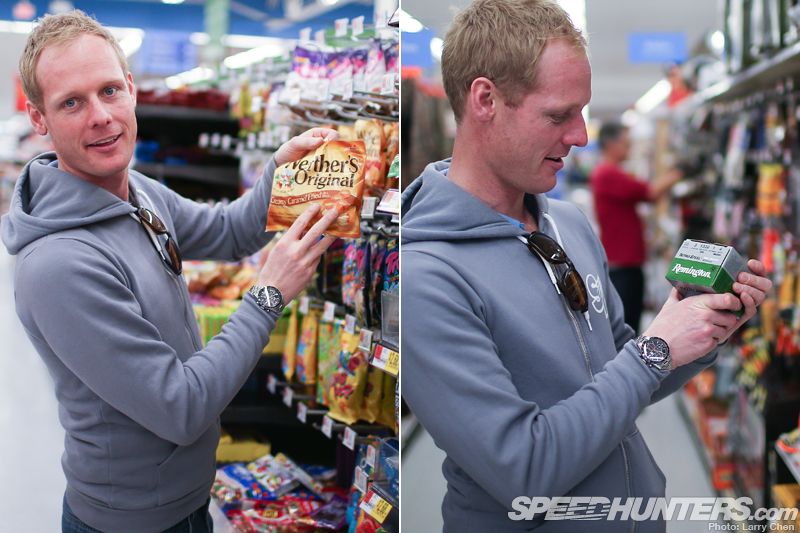 It was also time to get some snacks to keep everyone awake for the duration of the race.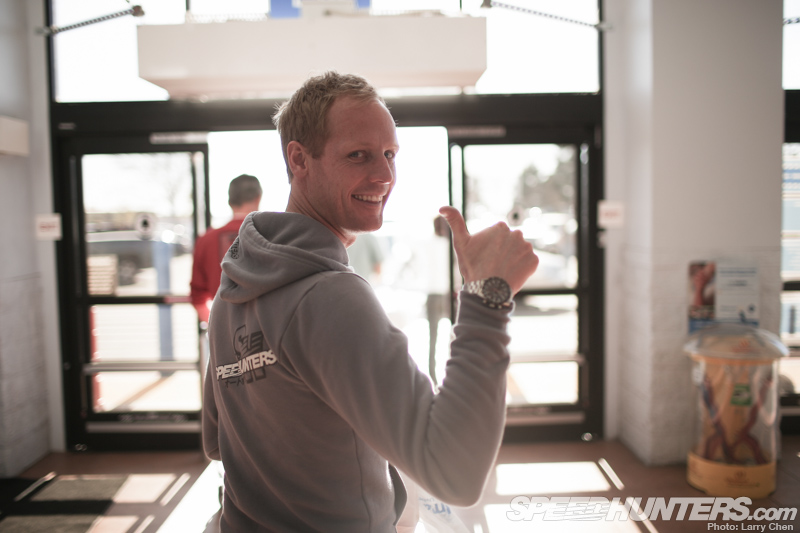 I think Edward approved of this 'shop till you drop' establishment. He was one step closer to becoming an honorary Yankee like Fredric Aasbø.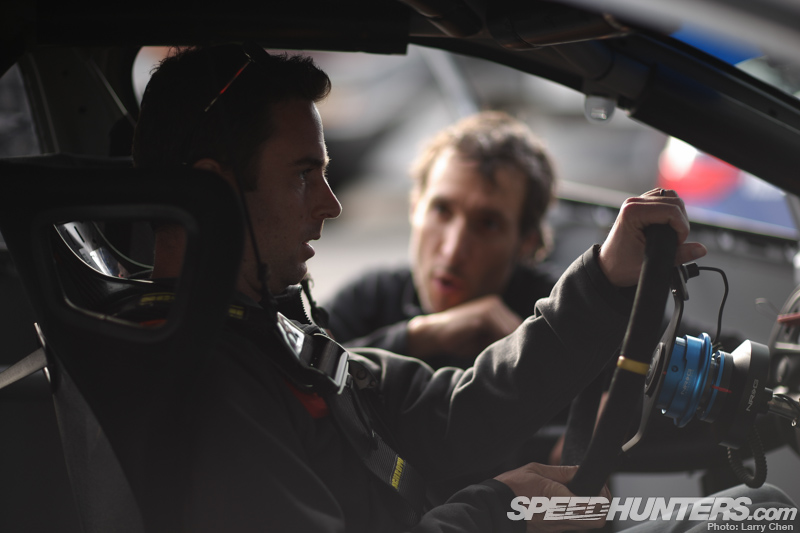 When we got back, the drivers were setting all their seating positions. Because there are five drivers per car there were likely five different seating positions as everyone's body is just a little bit different.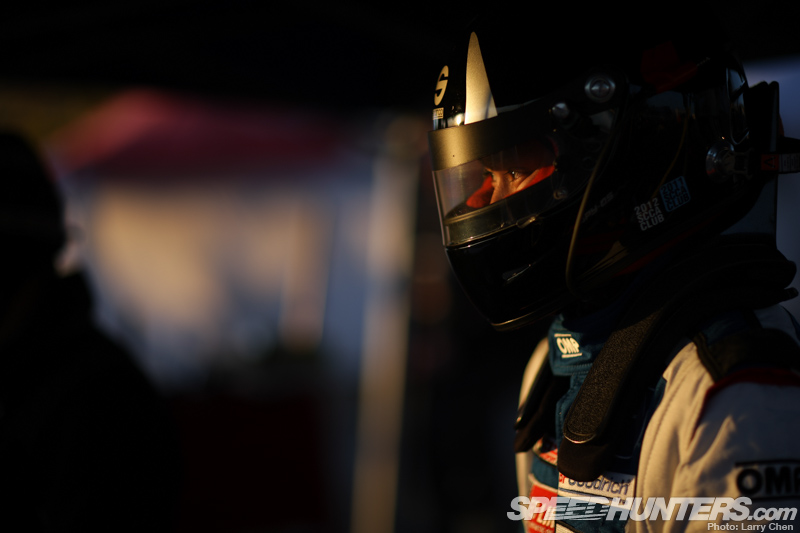 I have to admit I had no idea this sort of team existed within Honda. I've heard of Nissan engineers campaigning the GT-R at the 24 Hours of the Nürburgring, but this was different.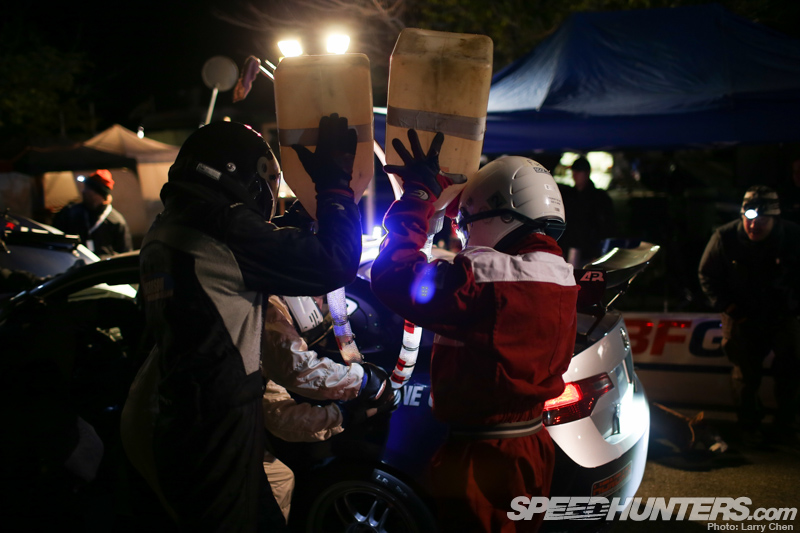 These guys do it on their own, and they even spend their own money to run this race team. Why do they do this? It is because they love racing – they are marketing guys and engineers who all believe in the product.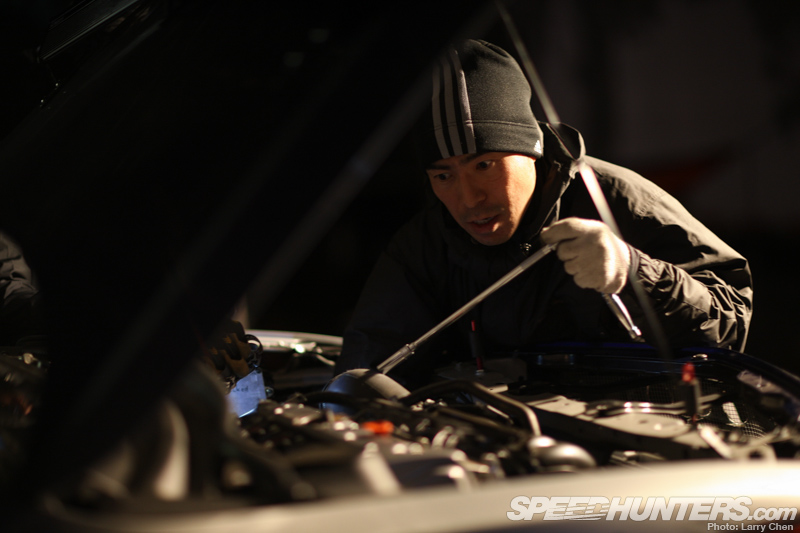 A few guys even came all the way from Japan to help out, because much of the car was designed there.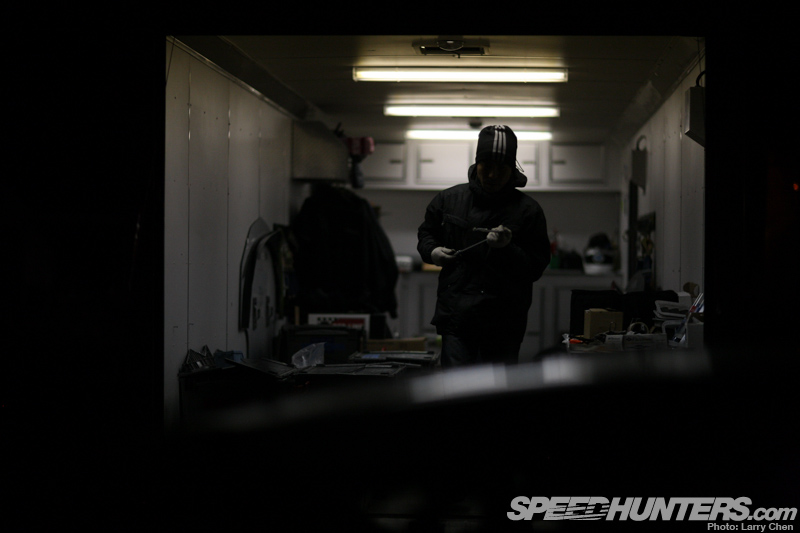 It was like watching a baby taking its first steps, as it was the Acura's first race ever.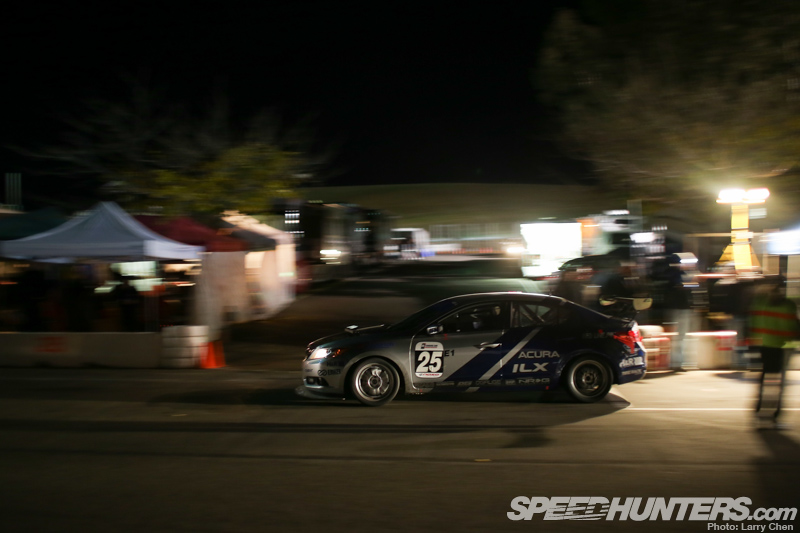 But I wondered how is it that there are so many people within Honda North America who have the skill to help run an endurance racer like this.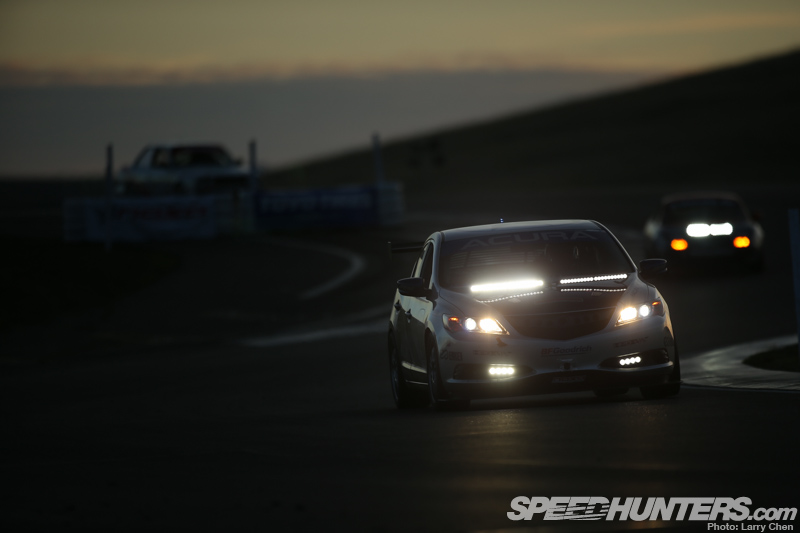 It turns out this program has been running for years, and it helps breed great mechanics, tire changers, fuelers and most of all drivers.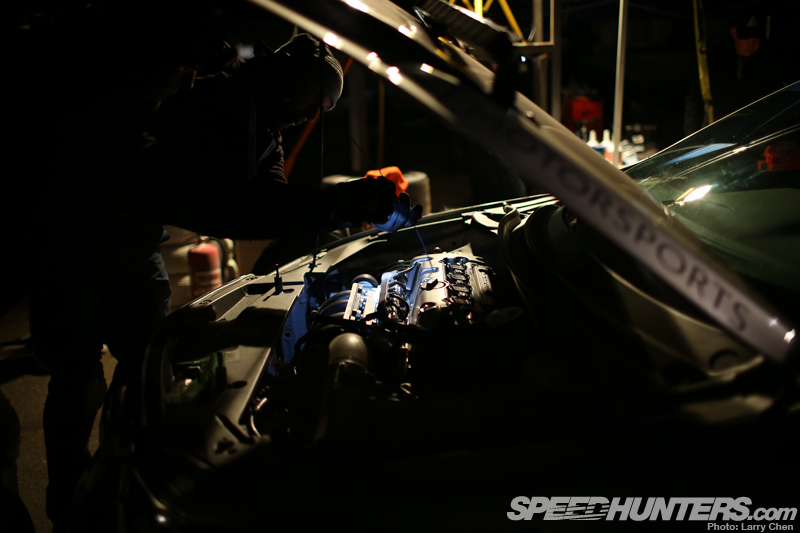 Everyone still has their day job at Honda, and the reason why they are working there in the first place is because they have a passion for cars and car culture.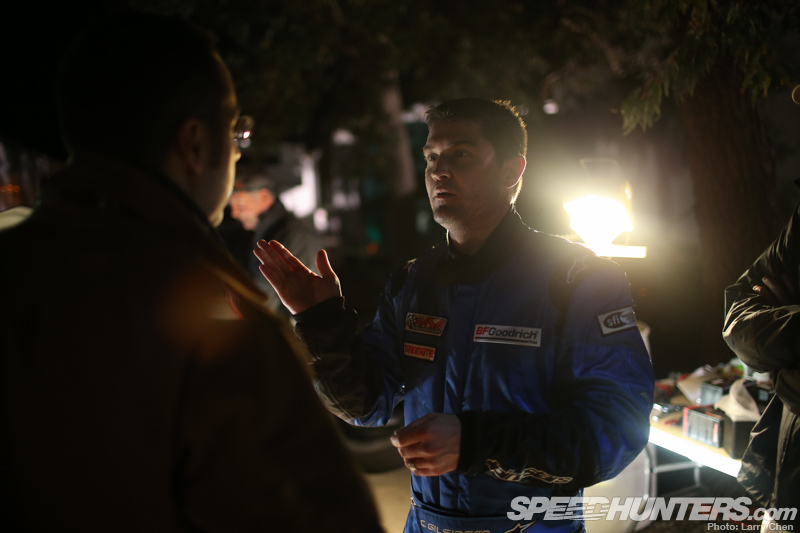 It seems the motoring gods had plans to test the team's limits. Edward was getting some much needed rest, but I was still wide awake when car number 27 came in with transmission problems during the night.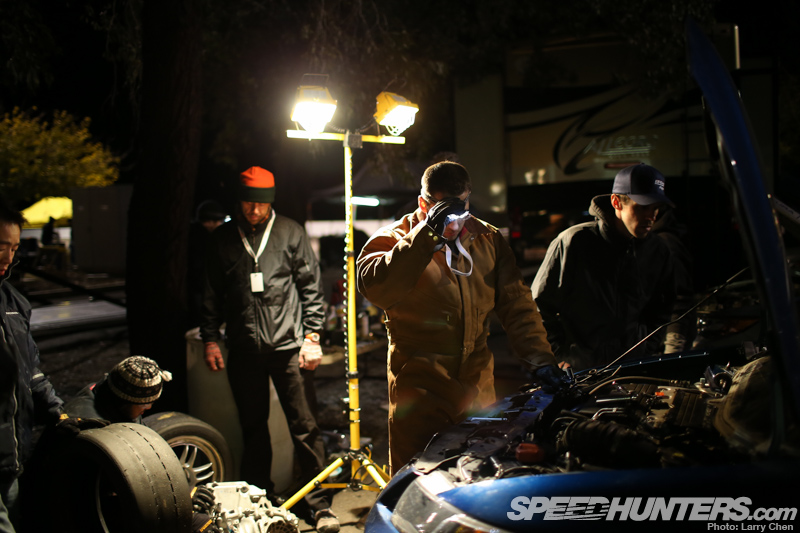 They tried shifting through all the gears, but doing so just confirmed their suspicions.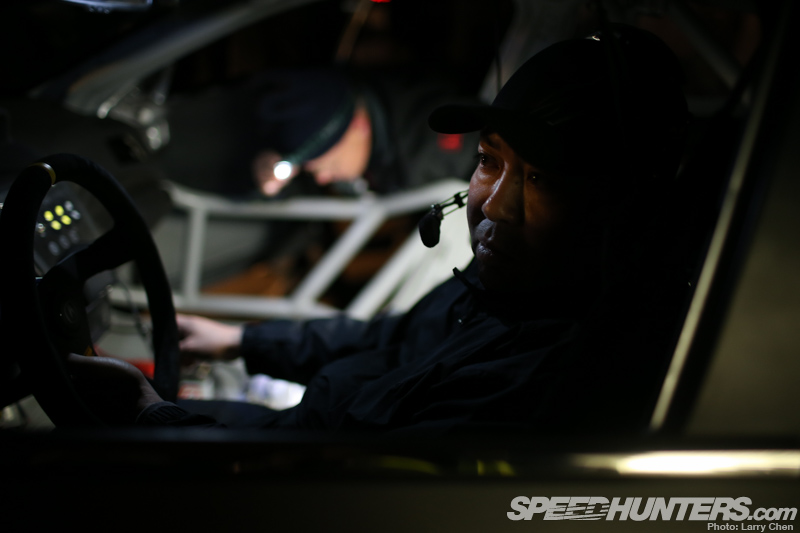 They would have to change the gearbox and give up the battle for first place in the E1 class.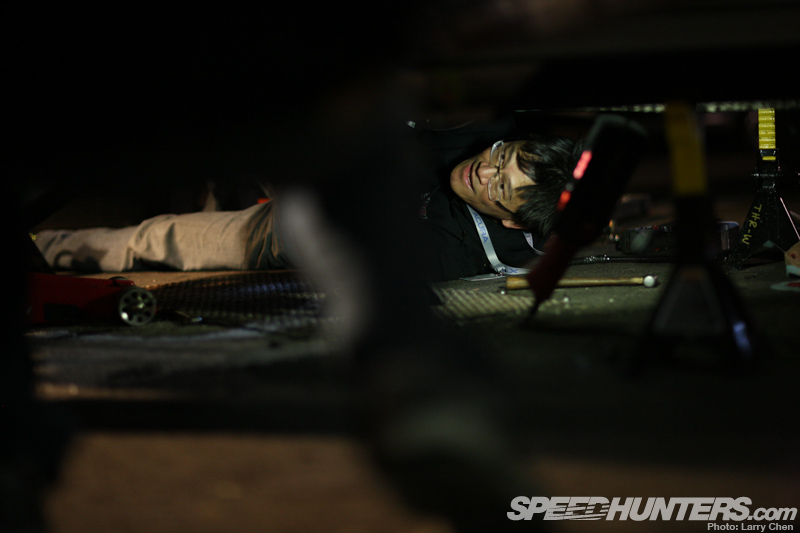 The team was absolutely crushed, but they had to press on in order to finish the race.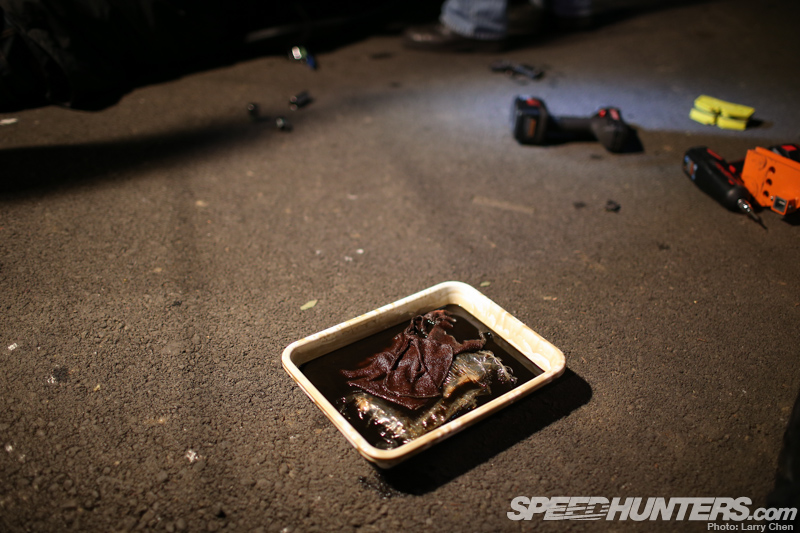 It took an hour and a half to swap out the transmission. Pretty good if you ask me, considering they had to drop the sub-frame in the process.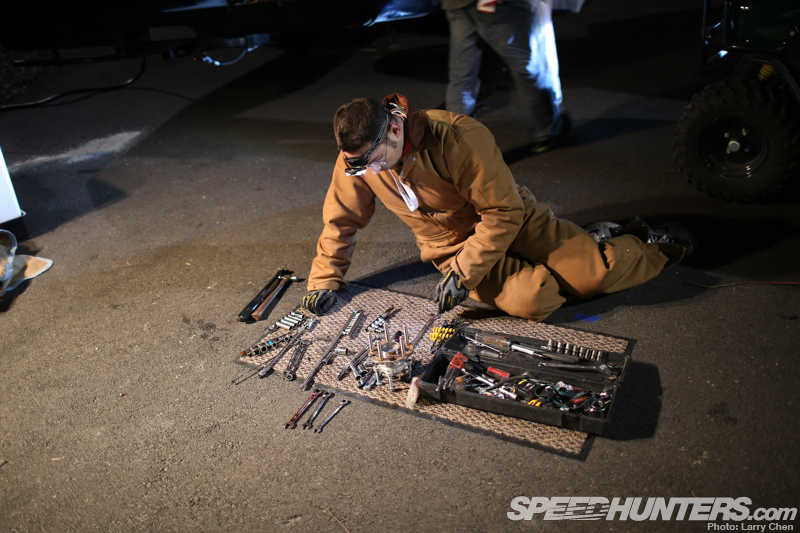 Everyone was exhausted. I could tell they all needed rest, as most of them had been up for 20 hours already.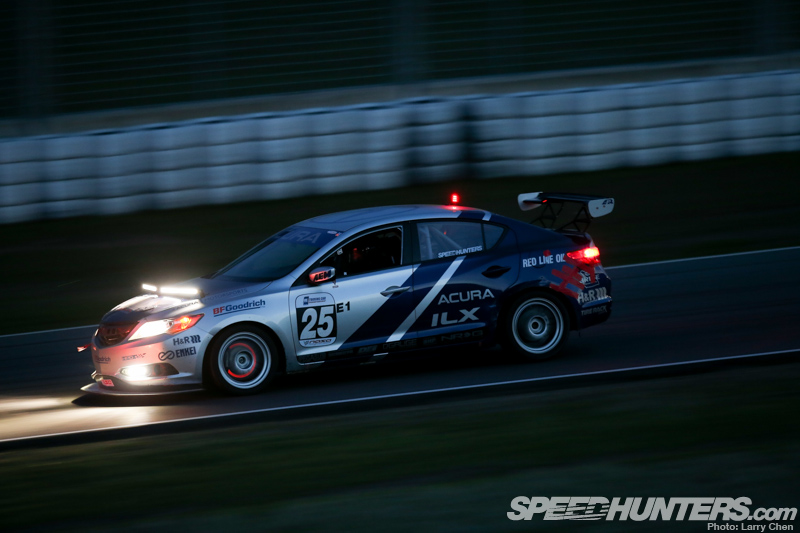 The number 25 car was running great, but later on in the night it developed a crack in the headers.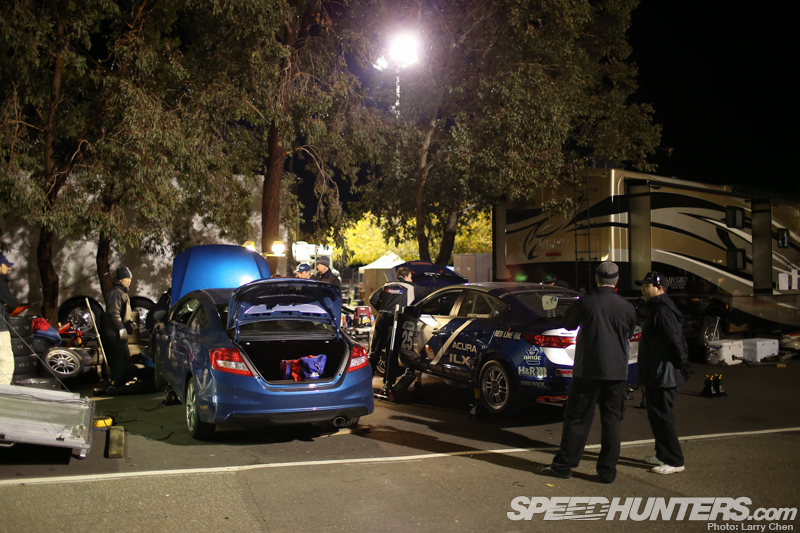 So it pulled in, and since they did not have a spare header the owner of a Honda volunteered his personal Civic as a parts car.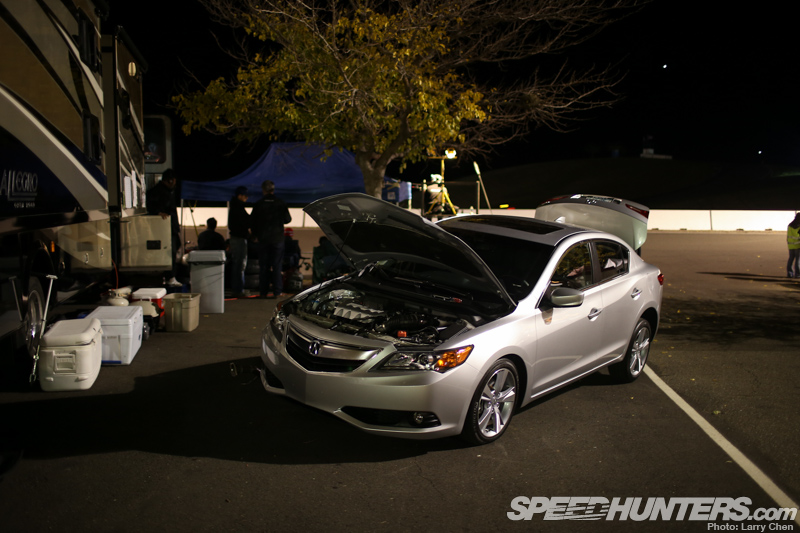 They ended up getting the broken one welded, which took over two hours. By the end of the night most of the team's personal cars were turned into parts donors. Exhaust hangers were taken off of a Honda Odyssey. No car was safe.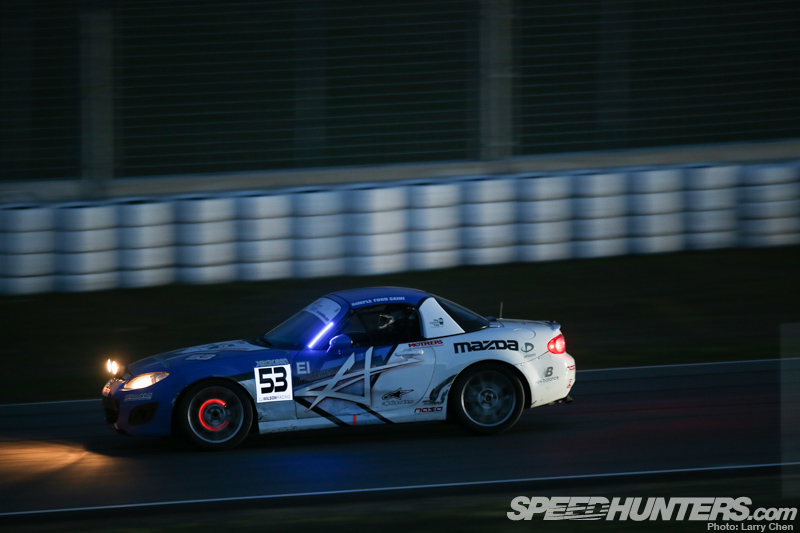 This was an interesting aspect of amateur endurance racing that I did not expect. I heard that many people who normally leave their Mazda Miatas at the track tow them away just for this race in case some Tusken Raider-like scavengers go on the hunt for Miata parts.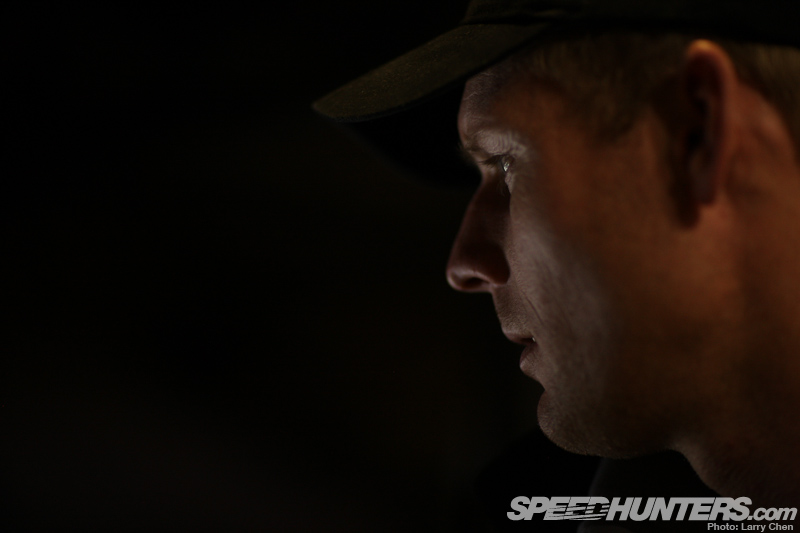 The team learned so much. Next time around they will be much more prepared.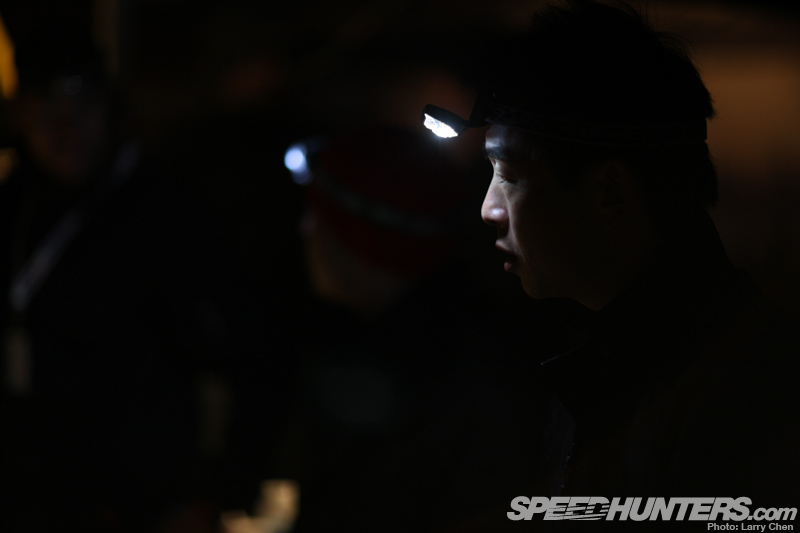 Of course they needed to finish the race first. I decided to leave the Honda guys alone for a bit and I went exploring.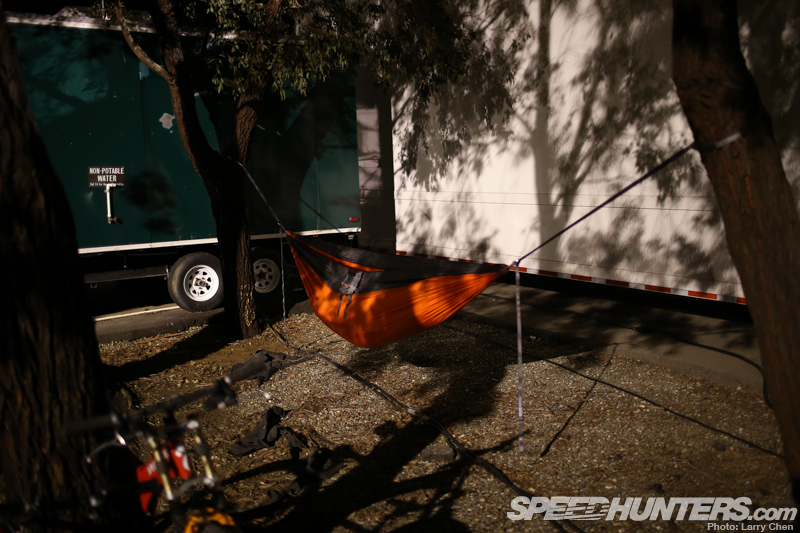 It was already past 3am at this point, so many of the teams were resting in shifts.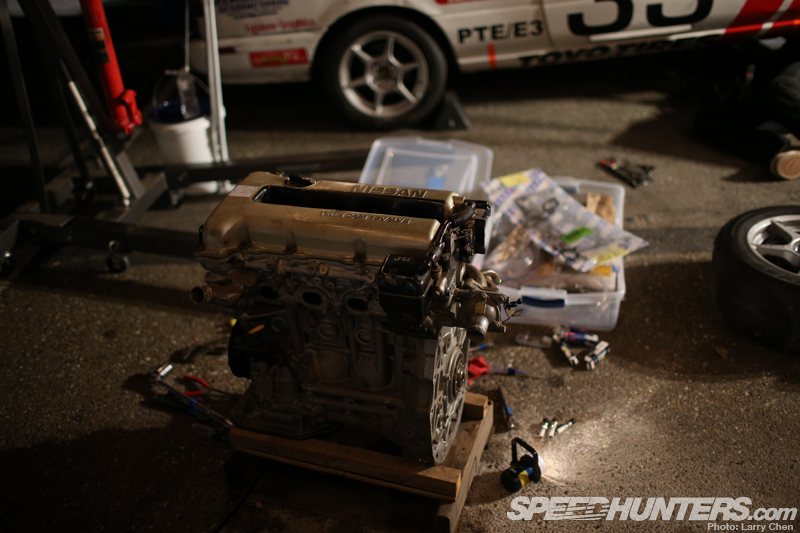 Some of the more unfortunate teams still had major projects to tackle in order to finish the race.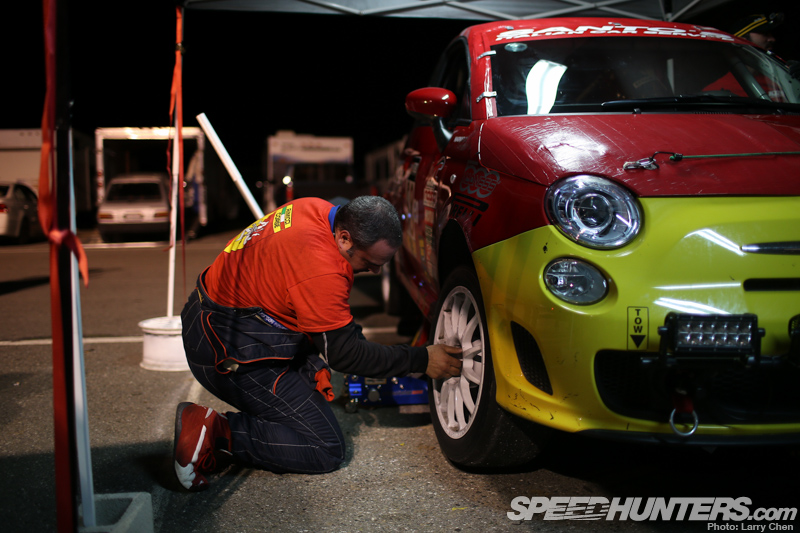 The Rimicci Corse team was no stranger to tackling projects throughout the night.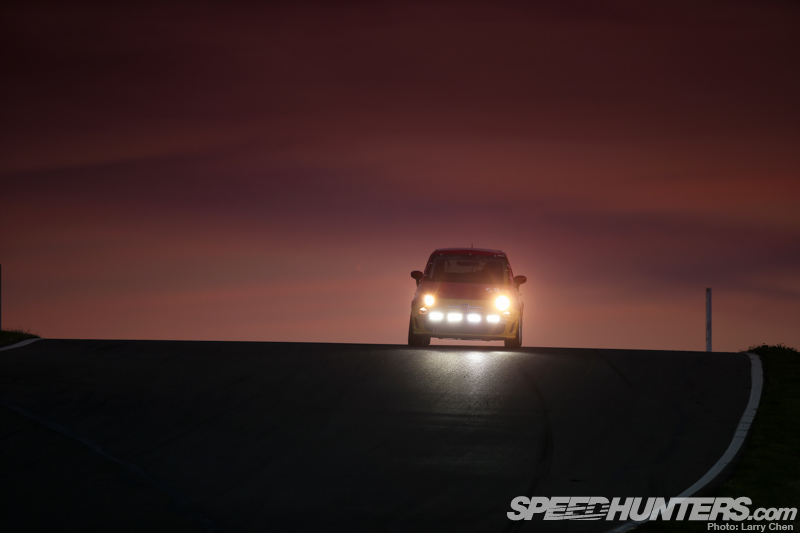 They brought the car into the paddock a total of six times during the 25-hour race.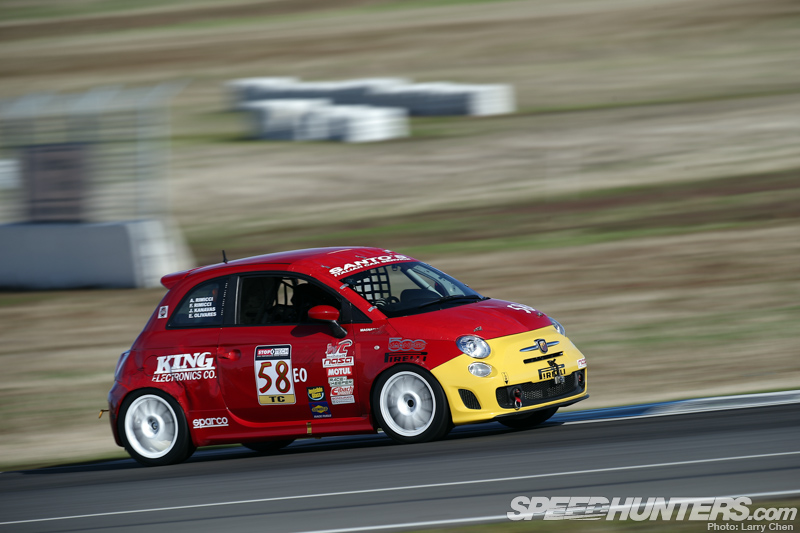 The weekend started pretty rough for the guys, as they rolled the car during Thursday practice.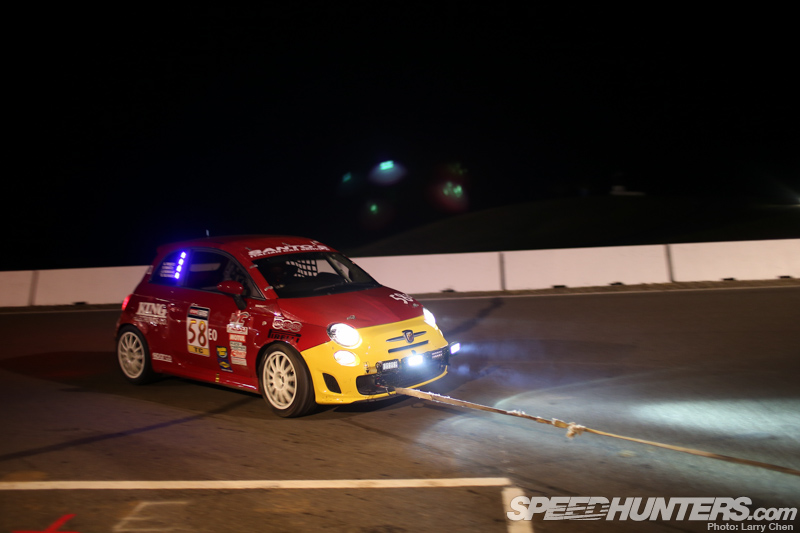 Initially the clutch broke, and that took quite a bit of time for them to figure out.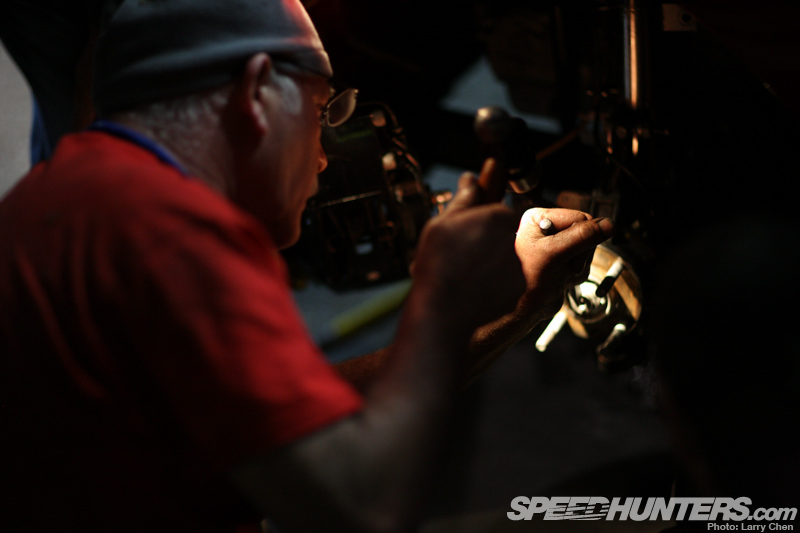 It's never good when you have to bust out the hammer.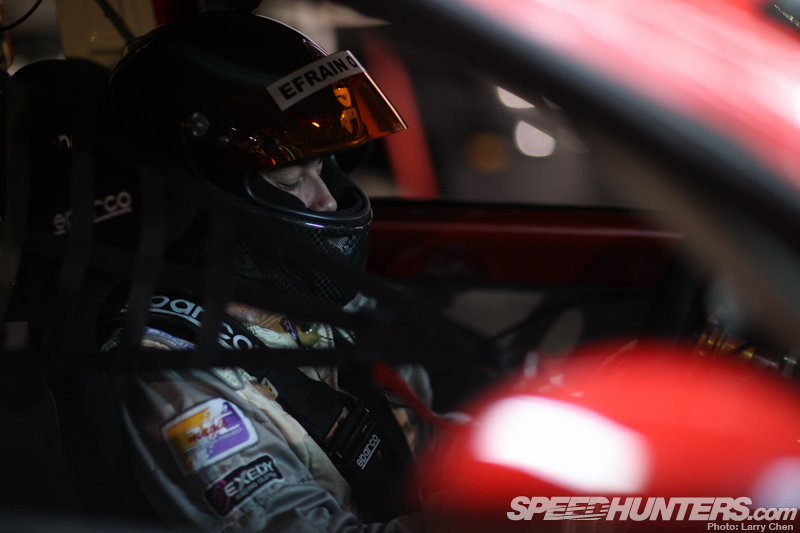 At least the drivers got a bit of rest while the crew was working on the car.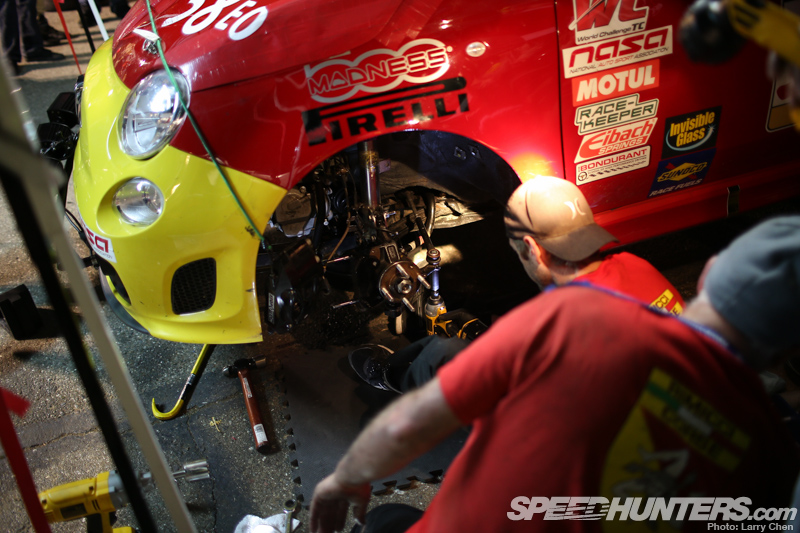 They ended up finishing in 58th place, which I thought was funny because they are car number 58. They did accomplish their goal, which was to finish. They completed 381 laps in the process.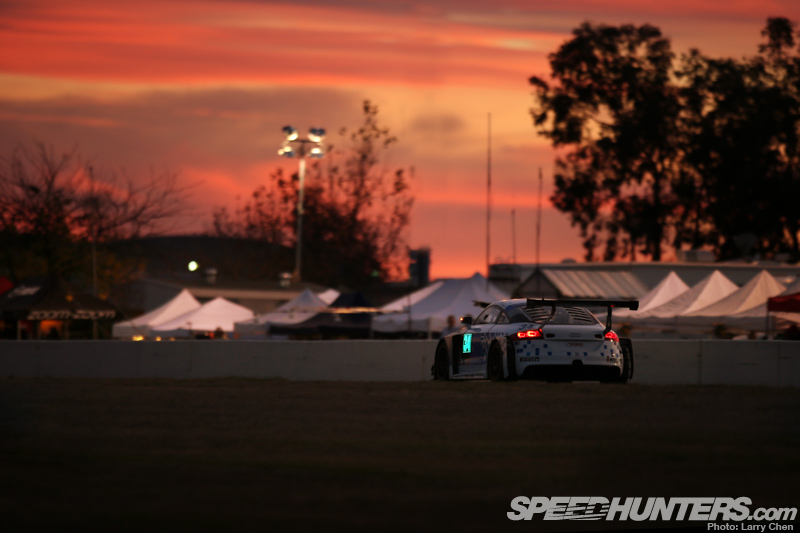 One team that was not so lucky was 034 Motorsport. They brought out an Audi TT RS, which some say may be the quickest front-wheel drive car in the world.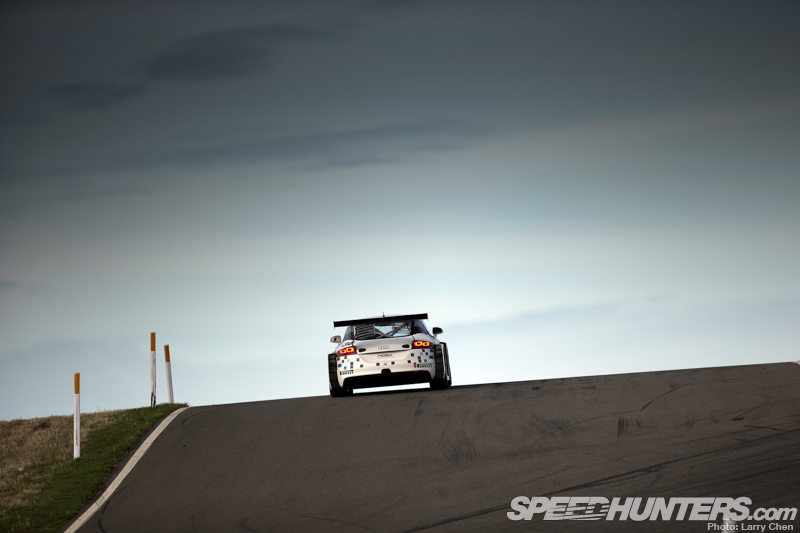 They qualified very well and they were leading the race, but they suffered catastrophic transmission failure just a few hours into the race.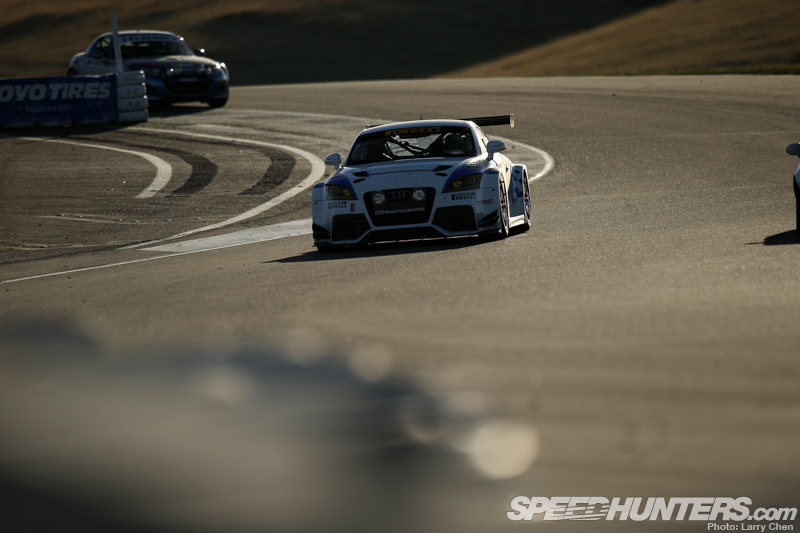 They did not have a spare transmission so they could not finish.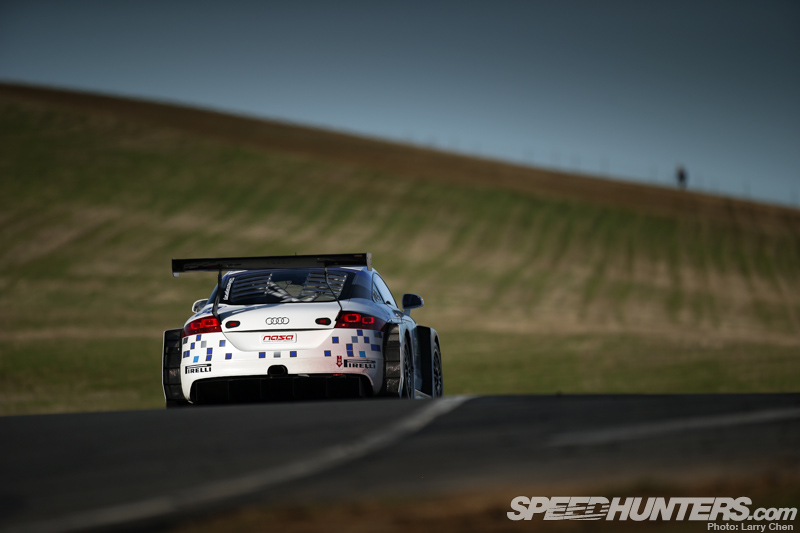 I did get to snap a few photos on pit-lane for a feature, so keep an eye out for that next year.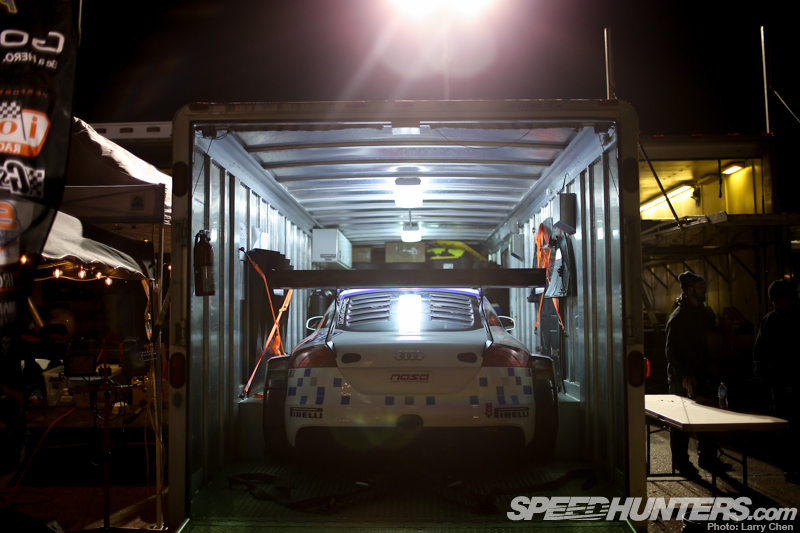 It is too bad that the debut of the Audi TT RS on American soil ended this way, but I am sure they will be back next year, and you bet I will be there to cover it.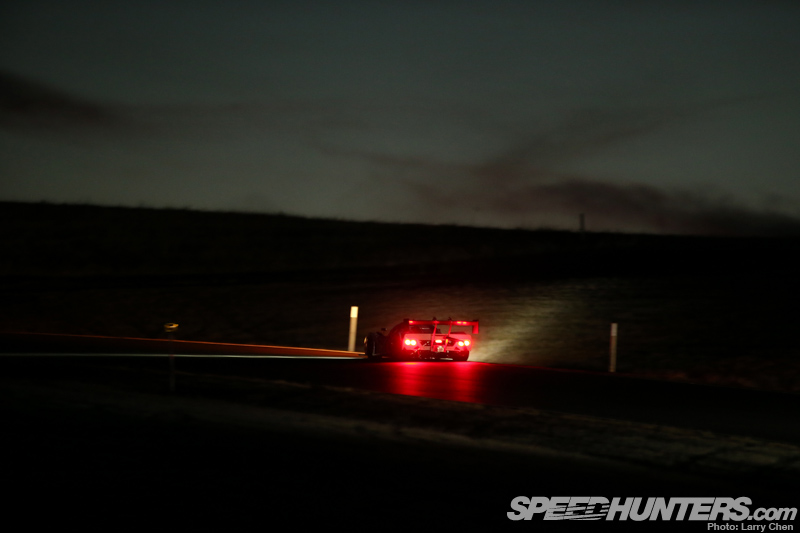 As the sun was about to come up, I told myself I would shoot the sunrise then get a few hours of sleep in my car.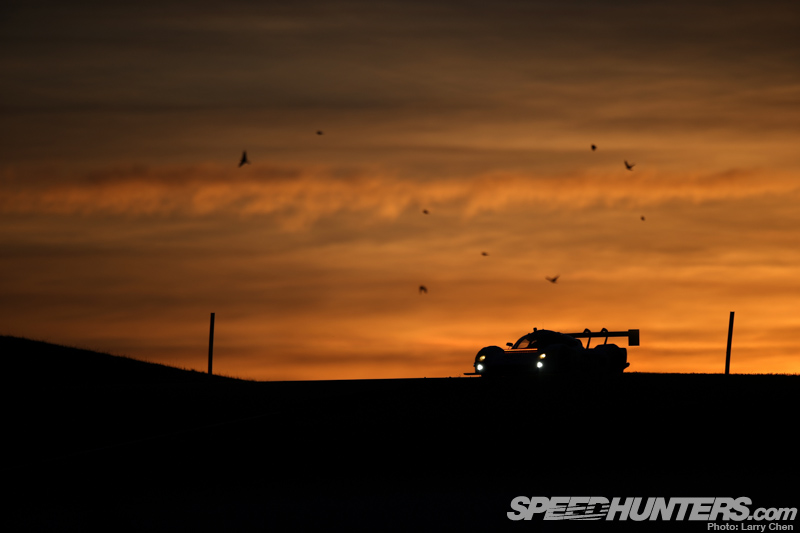 I think it was definitely worth staying up, as the sunrise was absolutely stunning.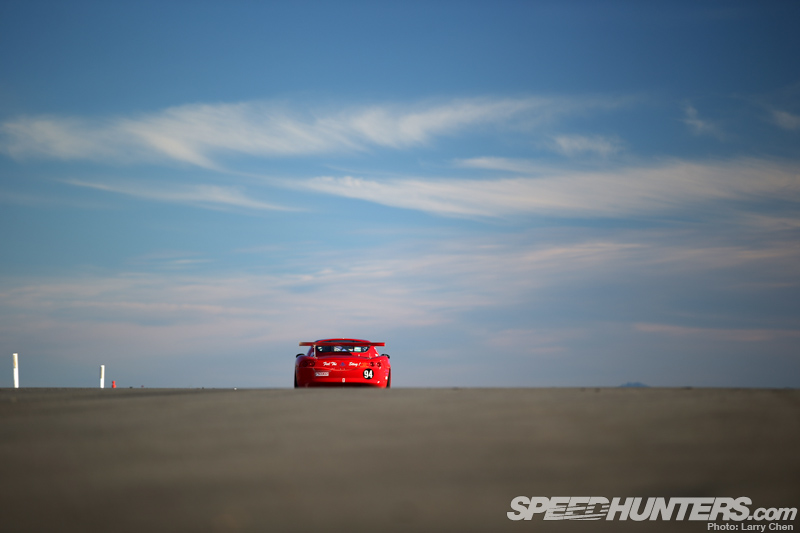 When I opened my eyes, there was less than an hour left to go on the clock. Who knows what I missed, but I don't think I could have continued on any longer.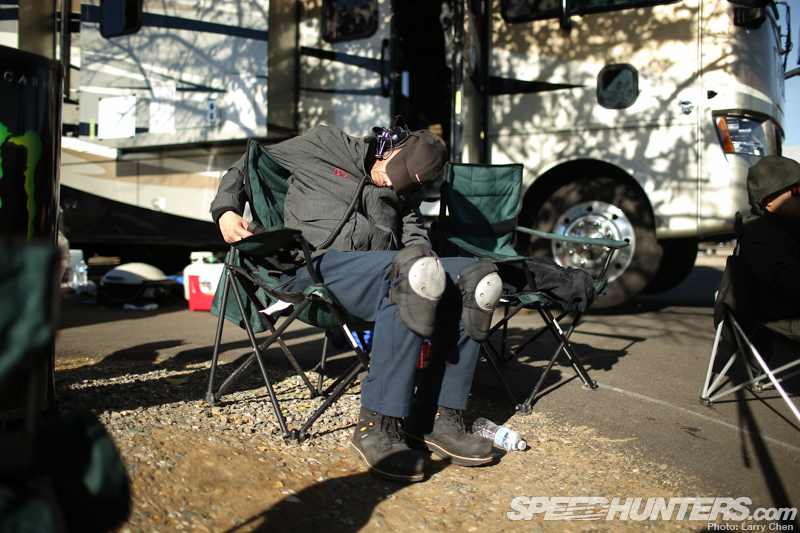 Because I would have ended up like this guy from the Honda team.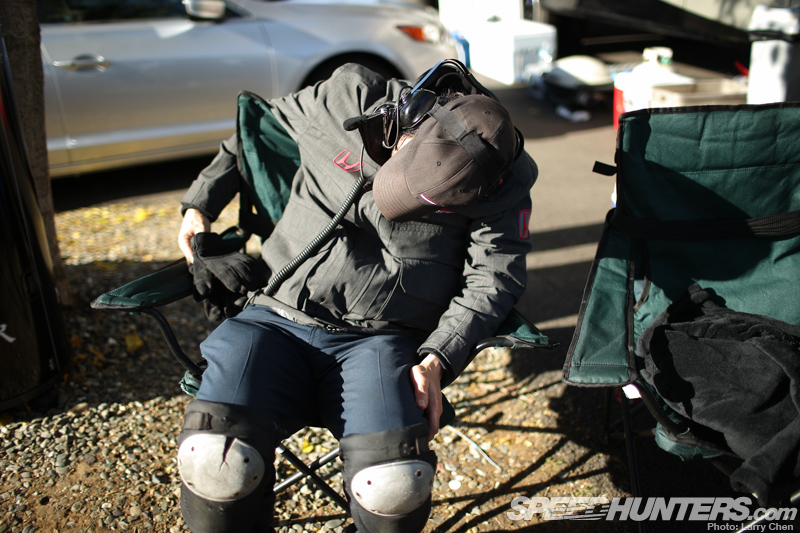 It is interesting, because it looks like he was reaching for his gloves when his body decided he had enough. No gloves for you!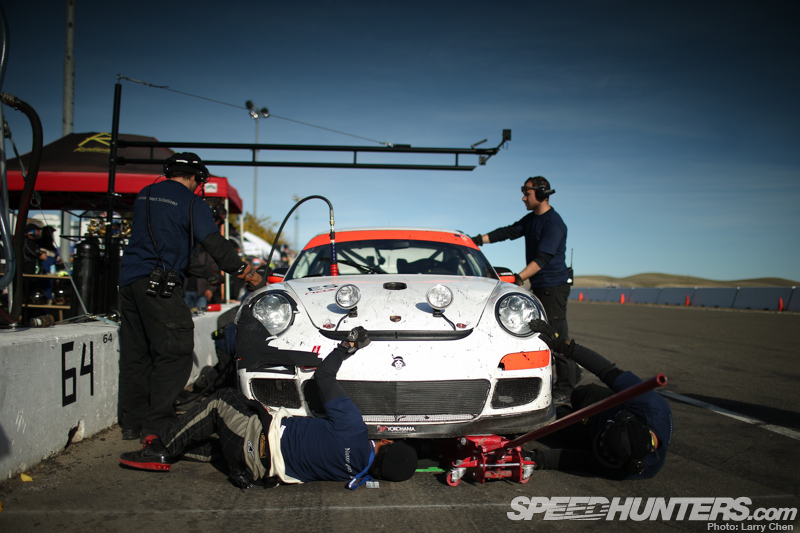 I heard some shouting down the pit-lane, so I decided to go investigate.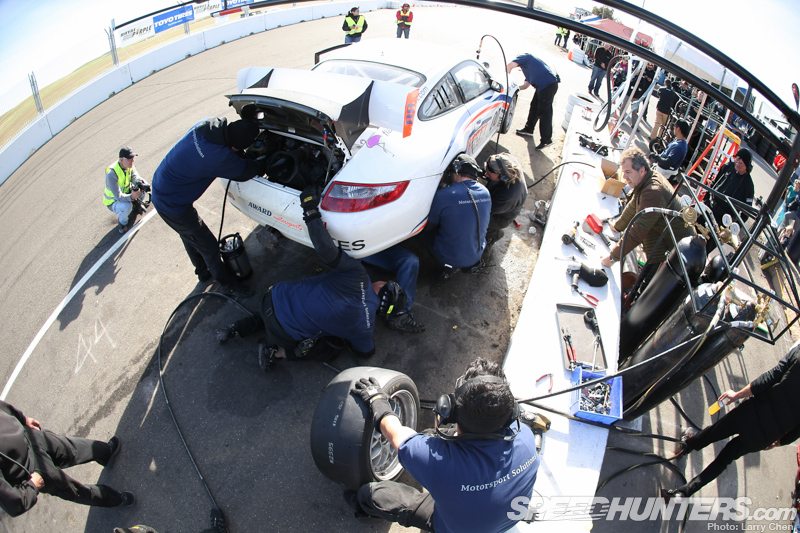 With less than an hour left to go, and with a hefty lead, the overall race leader had come in with an axle failure.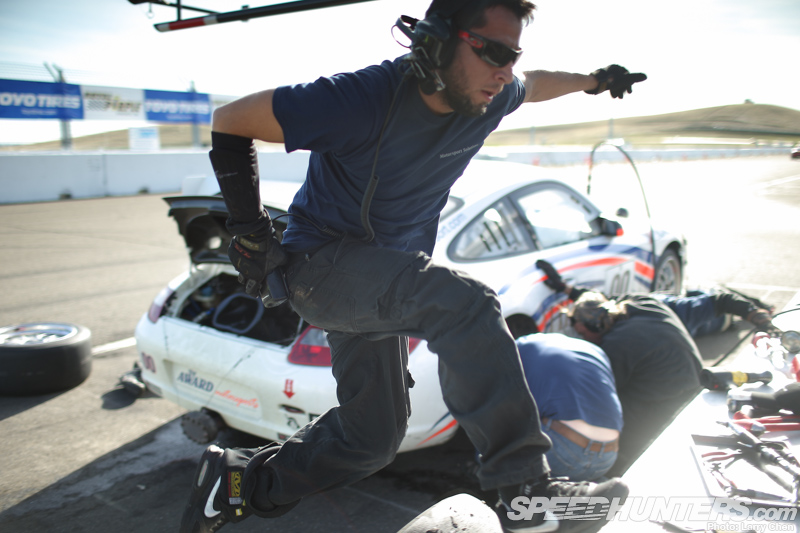 It was all hands on deck for the Motorsports Solutions/Ehret Porsche team.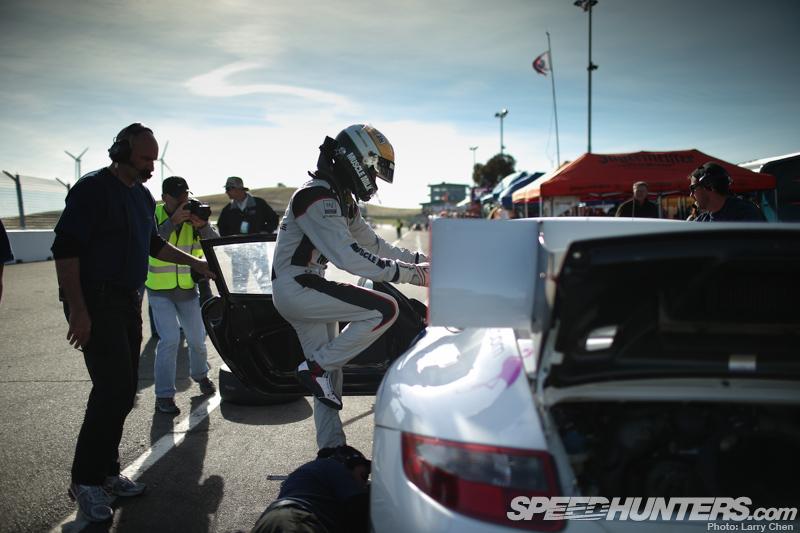 To finish off the race, Muscle Milk driver Memo Gidley jumped into the cockpit of the disabled race car.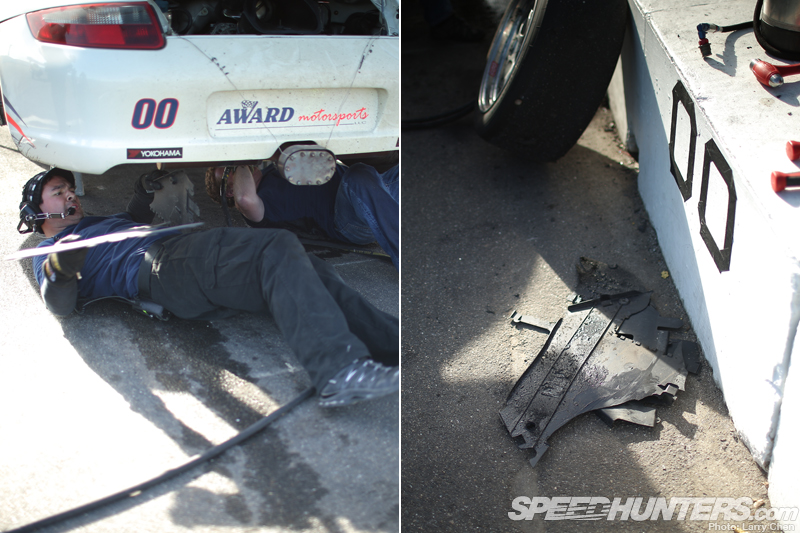 The mechanics ripped off the plastic trim covering the axle wheel-well area with their hands and tossed it to the side.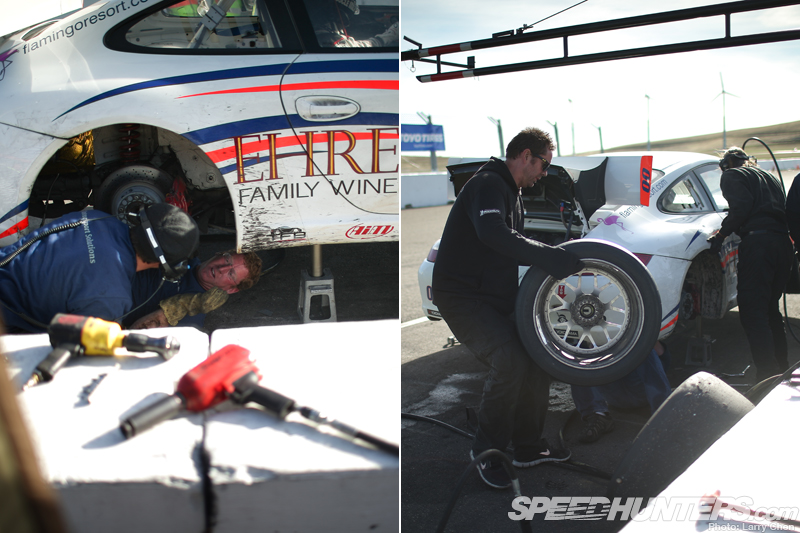 While they were at it, they changed all four tires and double-checked as much stuff as they could get their hands on.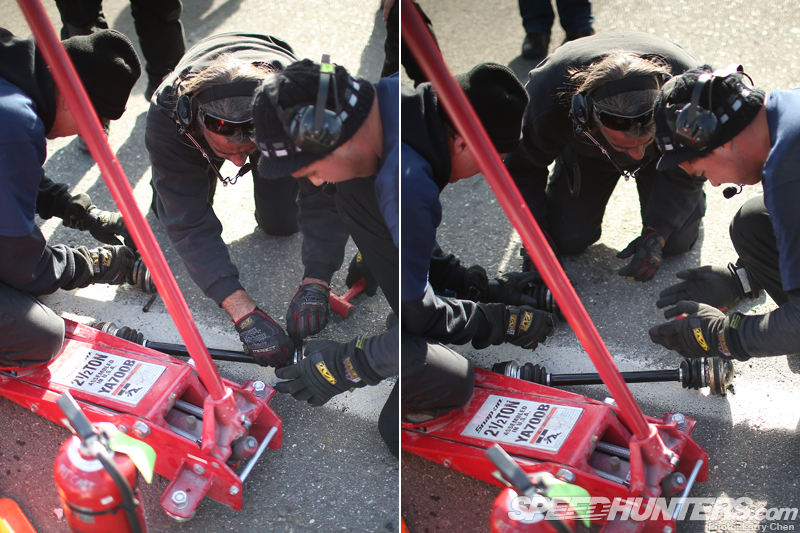 The old axle was very hot still and it scorched one of the mechanics hands through his work gloves, but they pressed on as they were running out of time and the lead they had built up overnight was quickly disappearing.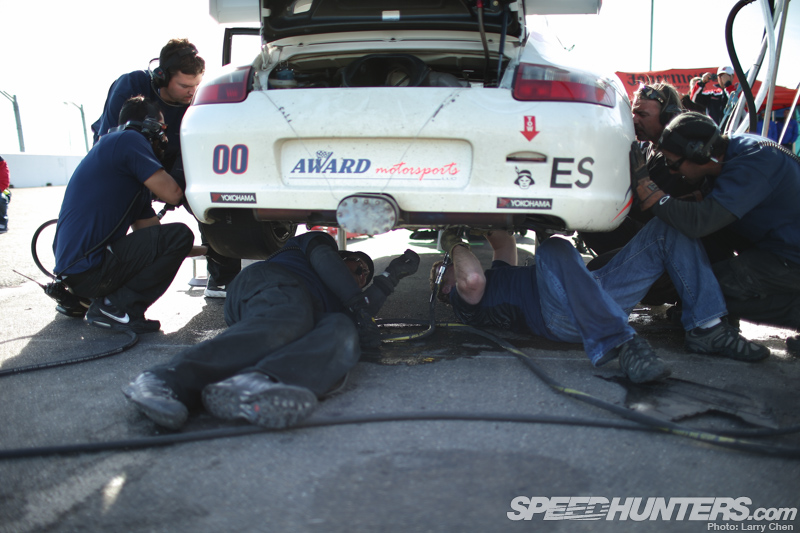 Just some final touches, and the car was almost race-ready once again.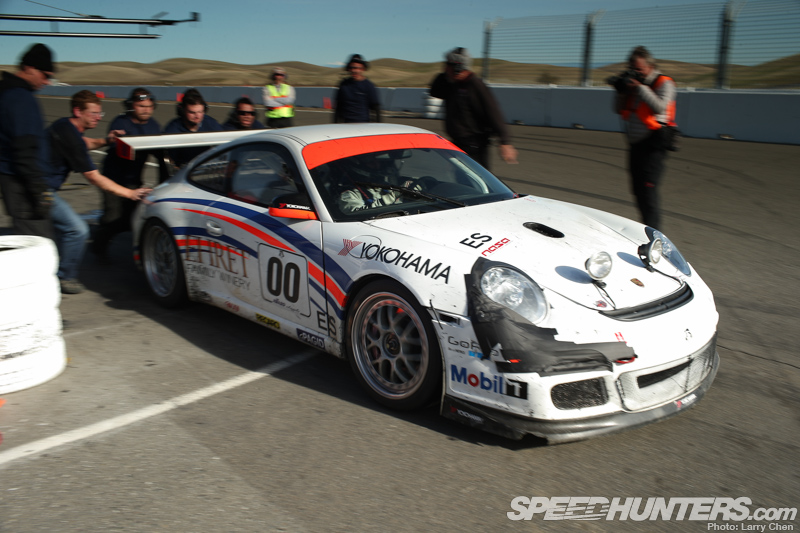 As soon as the car was dropped down everyone helped push it out of the pit-box and it was on its way to a victory just a mere three laps ahead of second place.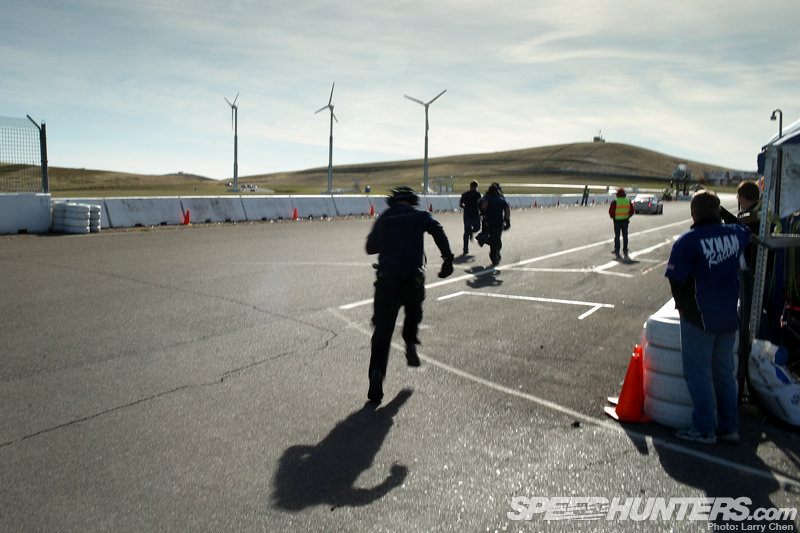 Just when they thought the worst was over, the motor stalled and it was in need of a push start. So, a few of the mechanics ran to the aid of the stalled Porsche and gave it a bump.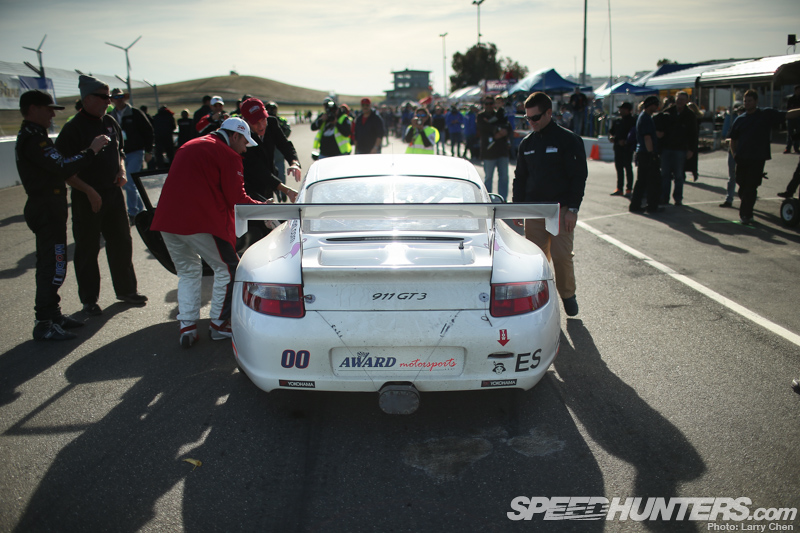 Not long after, Memo Gidley took the checkered flag. The Motorsports Solutions/Ehret Porsche had won the 25 Hours of Thunderhill. Who knows what would have happened if they took just ten more minutes to fix the car.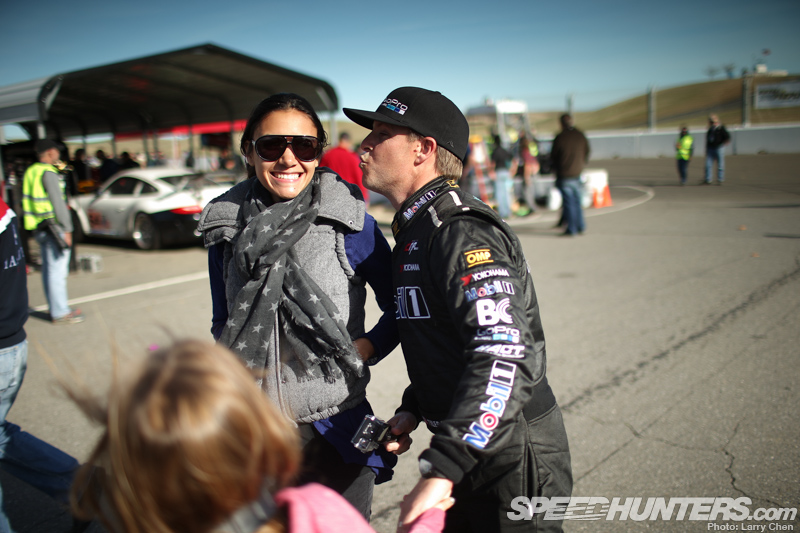 I spoke with Tyler McQuarrie,  who was one of the drivers of the winning 00 Porsche, and I asked him what he was thinking when the car came in for the axle change. He said he was resting in his trailer, because with such a massive lead and just less than an hour to go he figured it was safe to let it play out. But, he said he would have been pretty nervous if he was out there, so maybe it was a good thing to nap. Tyler and his wife were all smiles after the race.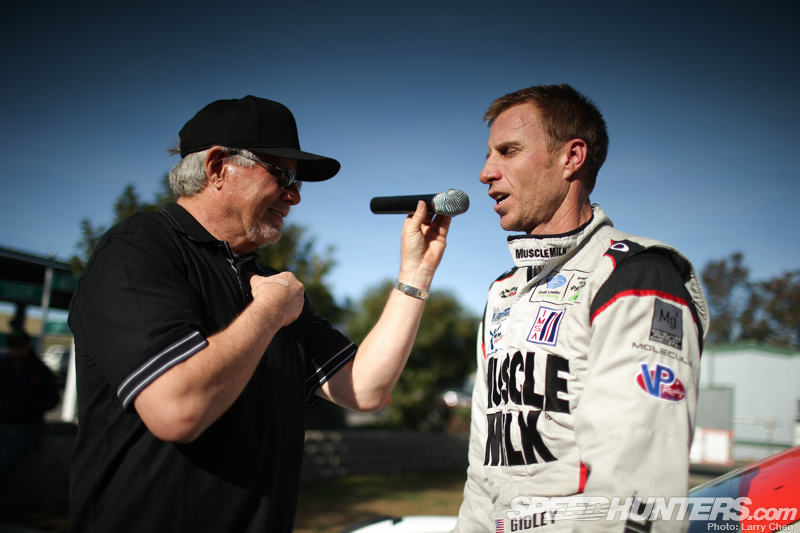 Maybe it was because I only got a few hours of sleep and I was still delirious, but I think the conversation with Memo Gidley went something like this: 'And here comes the airplane! Open wide!'…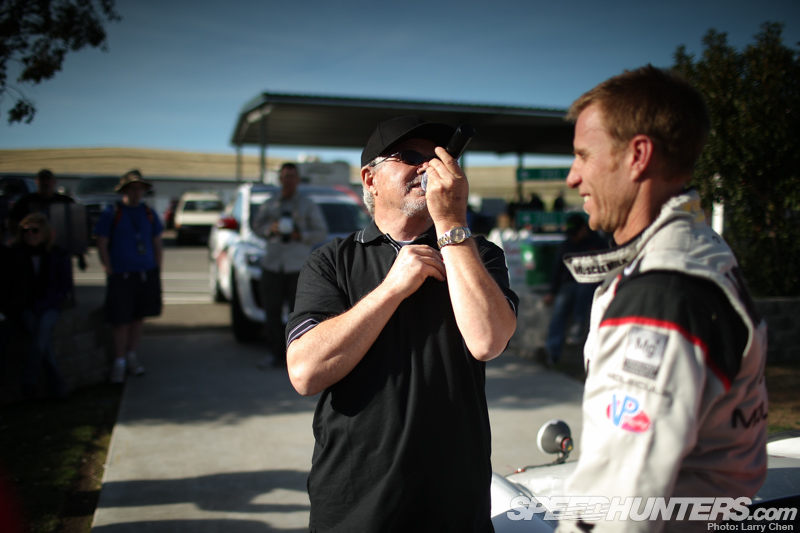 'See, the microphone does not taste that bad – daddy is eating it!'. All the other media were wondering why I was laughing hysterically.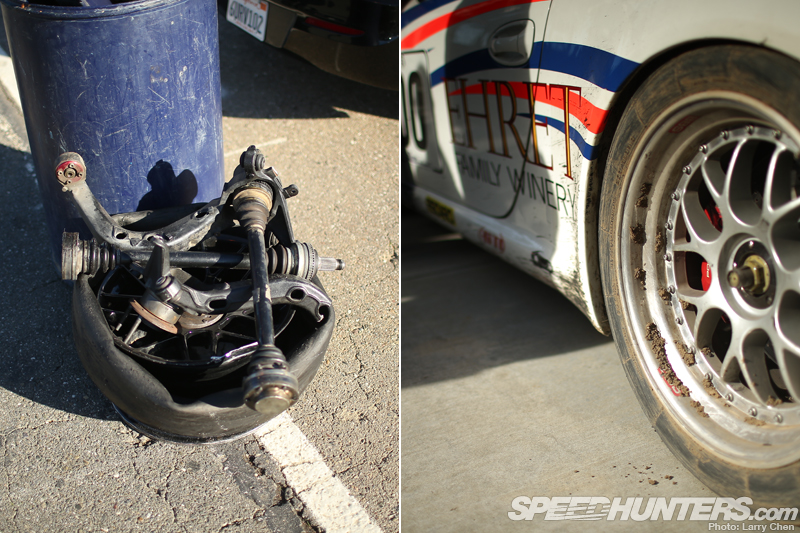 The paddock was littered with broken parts and dirty race cars. The cars gained some serious grit and character overnight.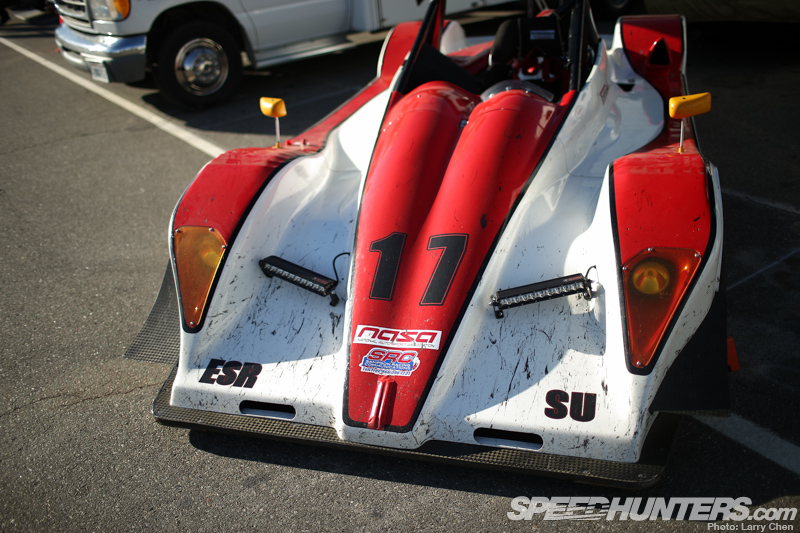 For many of the cars, it was nothing a little bit of WD-40 and some elbow grease could not fix.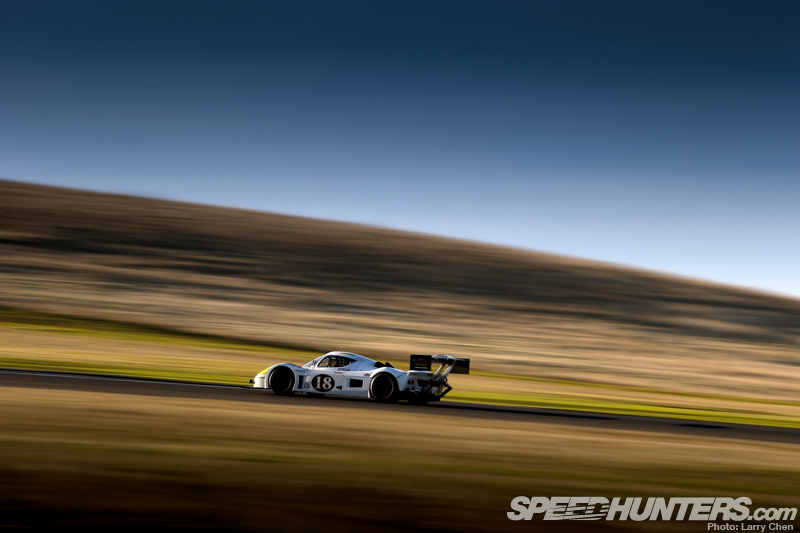 Going to a race like this makes me wonder what it is like on the other side of the lens. It makes me wonder, what if I was a part of a team, how much differently would I experience the race? The sheer joy that overcomes the paddock when the race is over is nothing like I have ever seen before. Most of the field worked very hard to make the journey happen, and I was just an outsider looking in. Who knows, maybe one day I will help one of these teams with a wrench instead of a camera body.
Larry Chen
larry@dev.speedhunters.com
More stories from Larry Chen on Speedhunters
More endurance racing stories on Speedhunters
---
---
---