Parts, Parts, Parts
The list is endless – pistons, connecting rods, cam and crankshafts, bearings, valves, valve springs and valve seats, retainers, turbos, wastegates, exhausts, ECUs, injectors, air flow meters, boost controllers, pumps – oil, water, fuel and scavenger – spark plugs, ignition coils, dampers, springs, suspension links, brake calipers, rotors and pads, aero, wheels, tyres, carbon bits…
If you're anything like me, your mind is a nonstop mishmash of all of the above – new, old, recommended and proven. Call it the tuning bug, or simply being a car guy but we can't escape, constantly thinking about our track project, our daily driver, or heck – even the wife's car! So while checking out what tuners had on display at the recent R's Meeting at Fuji Speedway, I thought trying to do a quick round-up of the most interesting parts on display would make for an interesting post.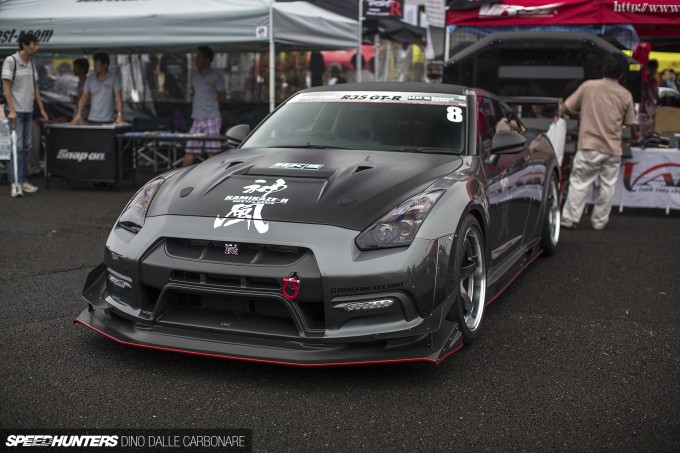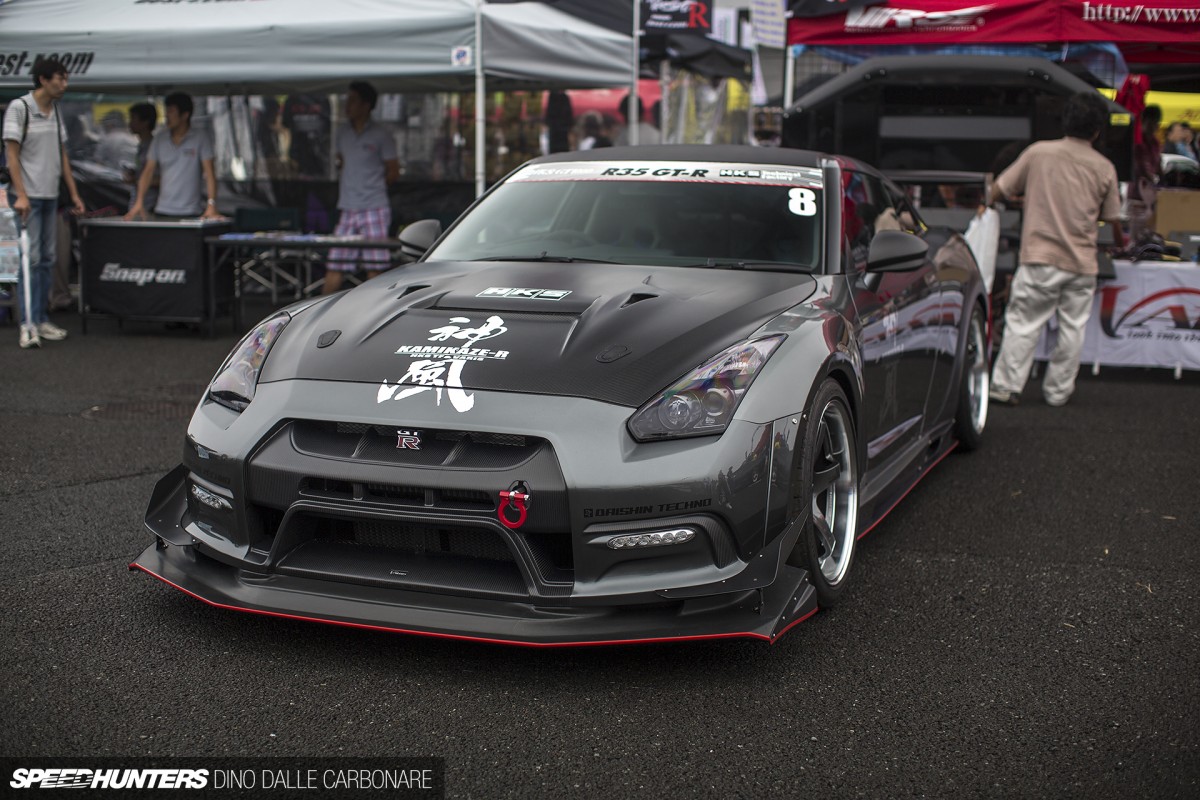 Let's start off with aero. While not much is happening with the older GT-Rs like the R32, R33 and R34, the same can't be said for the R35 which continues to be at the epicenter of exterior parts development. Varis have teamed up with HKS Technical Factory in Tokyo to create this time attack beast – the Kamikaze-R – which has already cemented itself as one of the fastest R35s to lap Fuji Speedway.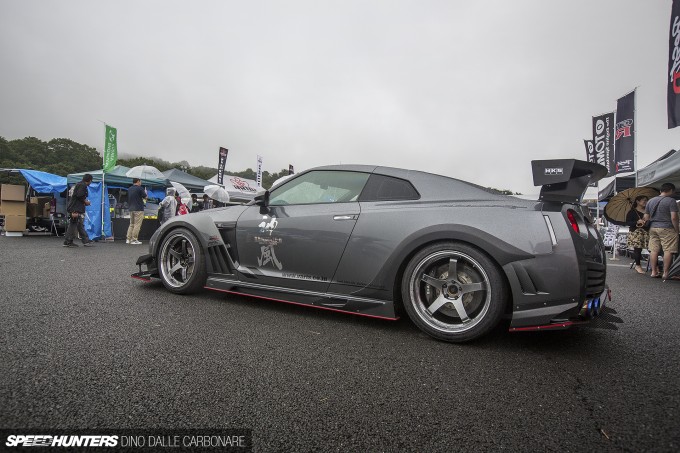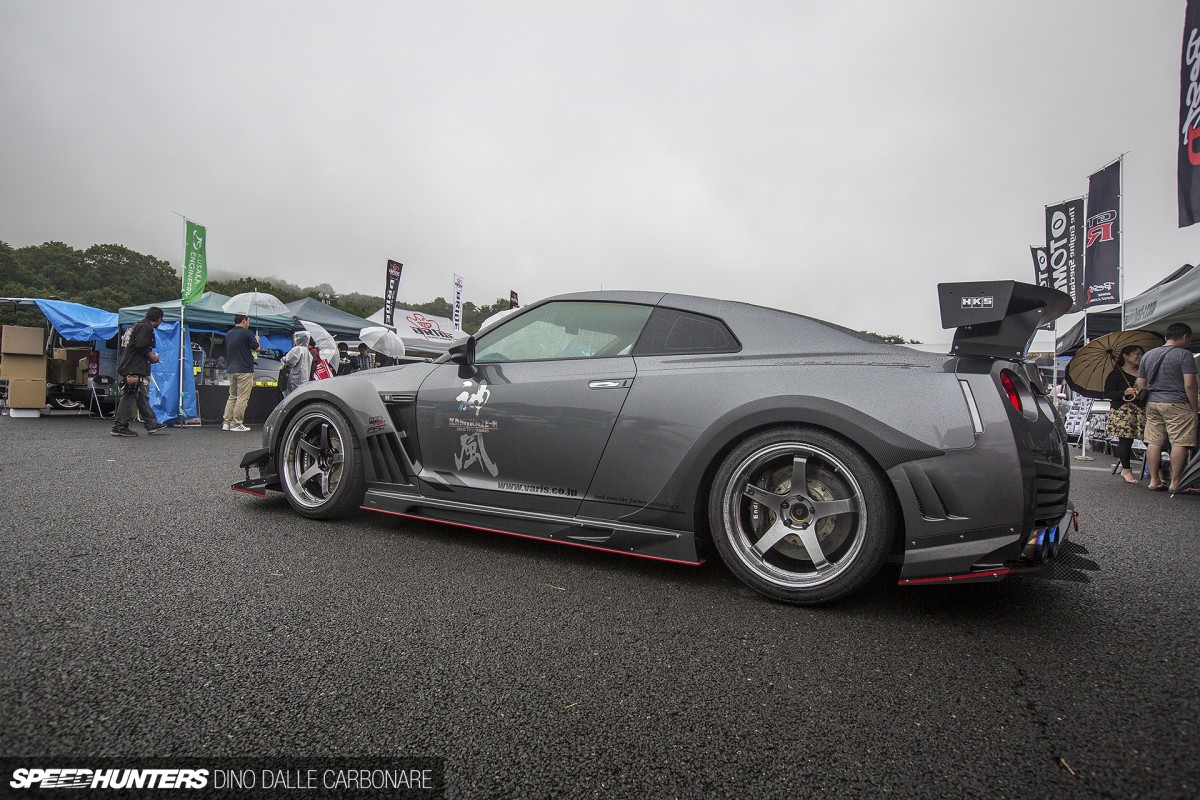 Aside from the four figure power output it pushes, Varis have developed all sorts of interesting aero additions to help the car generate more downforce at speed. So along with the front and rear spoilers, and diffusers and winglets, there's also a pretty interesting number of additions to its profile – namely Super GT inspired front vented fenders and rear overfenders that give a unique look to the big GT-R.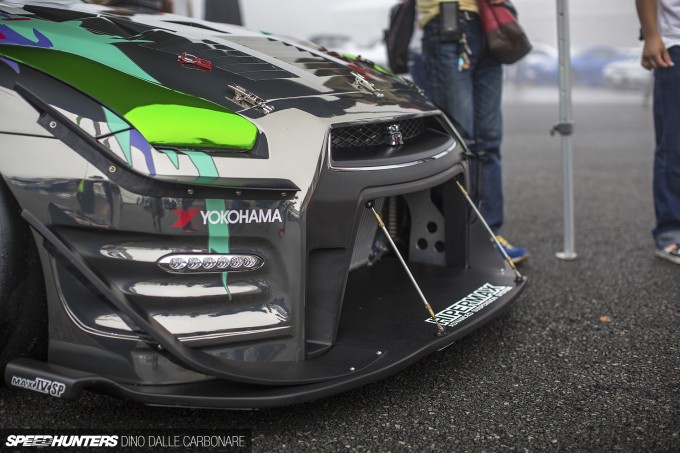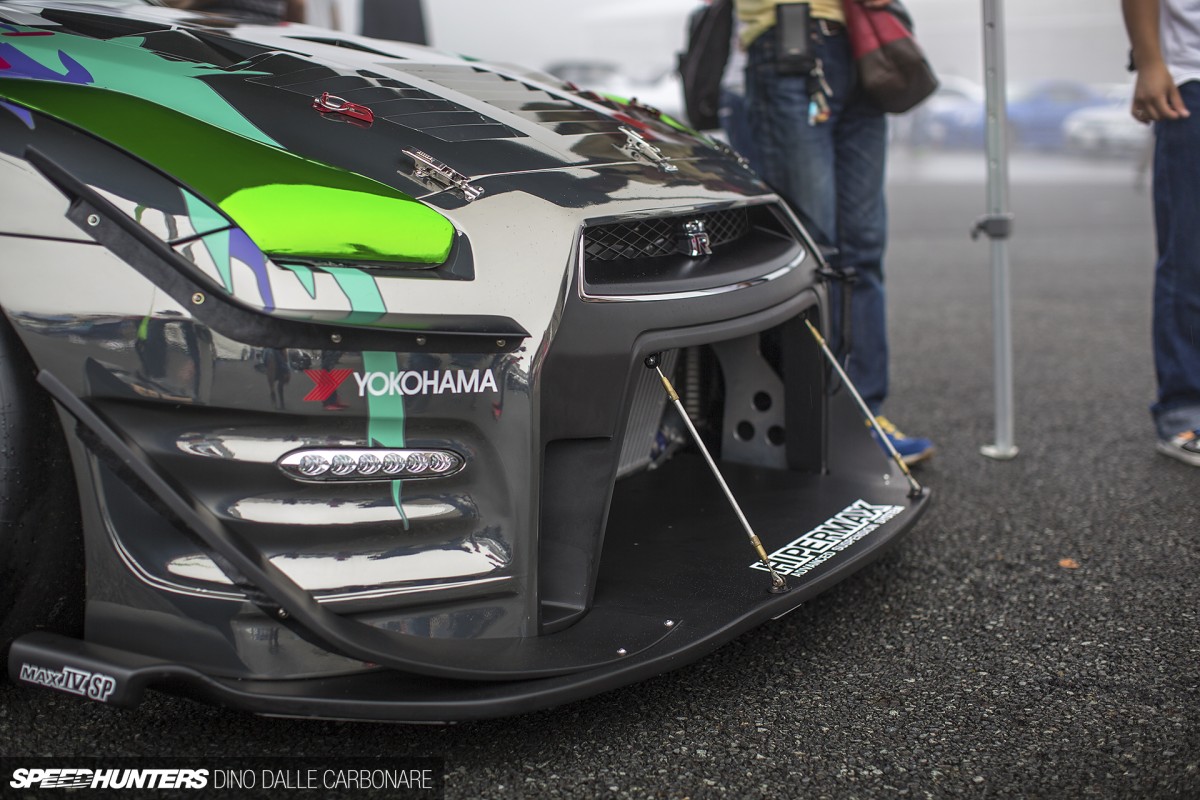 As you are reading this the HKS R35 GT-R is on its way down to Australia with a bunch of other cool Japanese time attack cars ready to take on the WTAC next month. The 1300hp GT-R sports a BenSopra-designed front bumper and under-spoiler section to help generate the needed downforce to keep it planted through Sydney Motorsport Park's high speed corners. Just in case there's too much downforce being developed, they also have a shorter diffuser they can swap in to balance out the performance.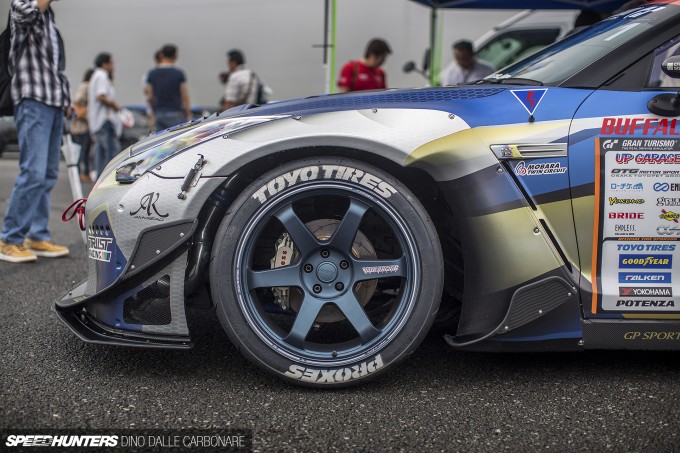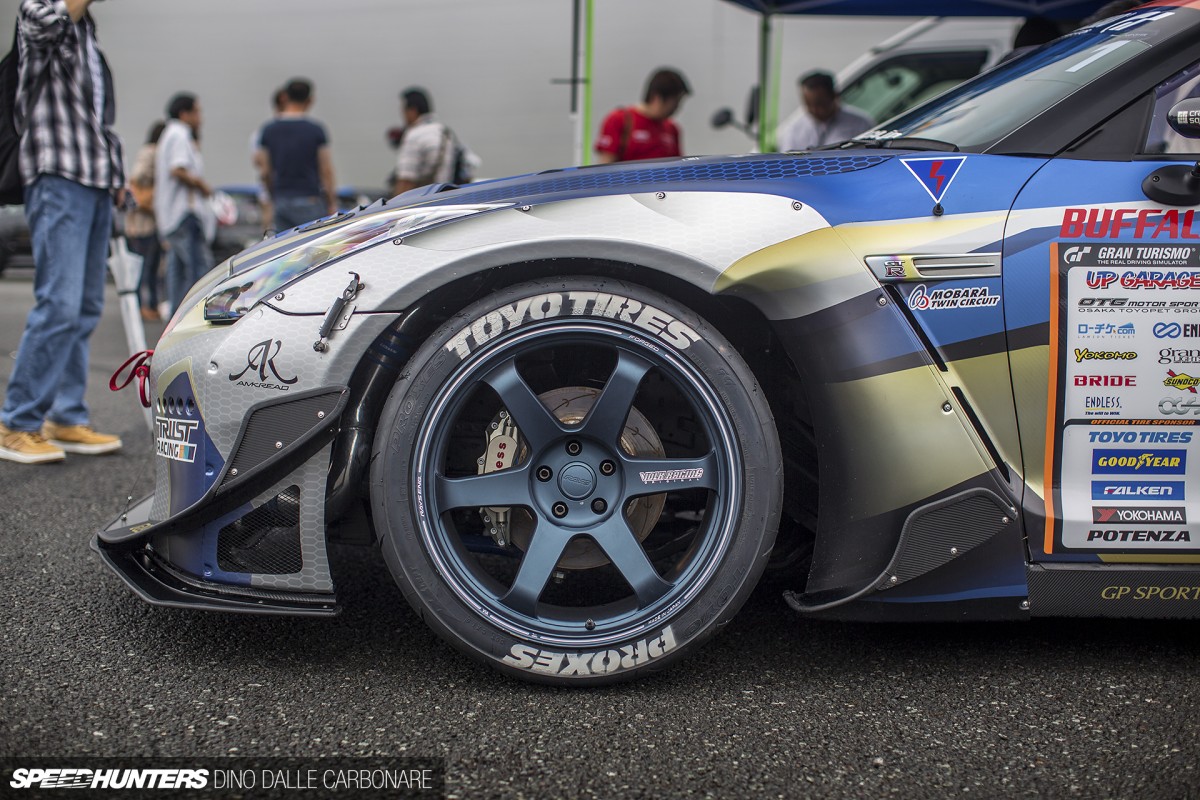 BenSopra parts are of course made by Miura at Rocket Bunny, and in the Fuji paddock there was also another car sporting his unmistakable aero styling – Kawabata's D1 R35 built by Trust. This rear-wheel drive GT-R wears the full Rocket Bunny san-go kit and it's looking a lot more colourful than it was when we saw it unveiled at the Tokyo Auto Salon in January.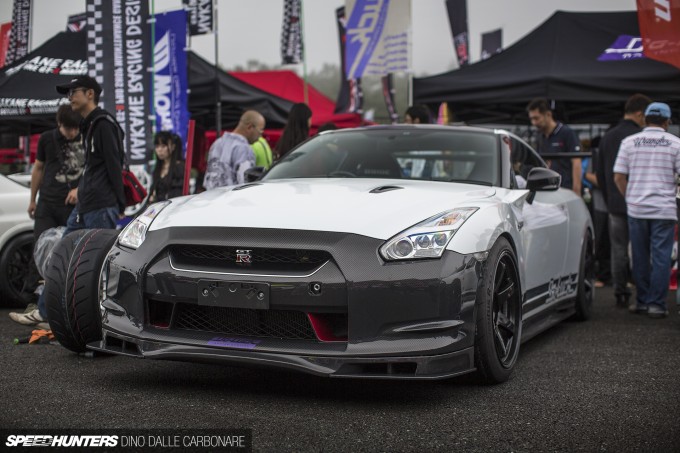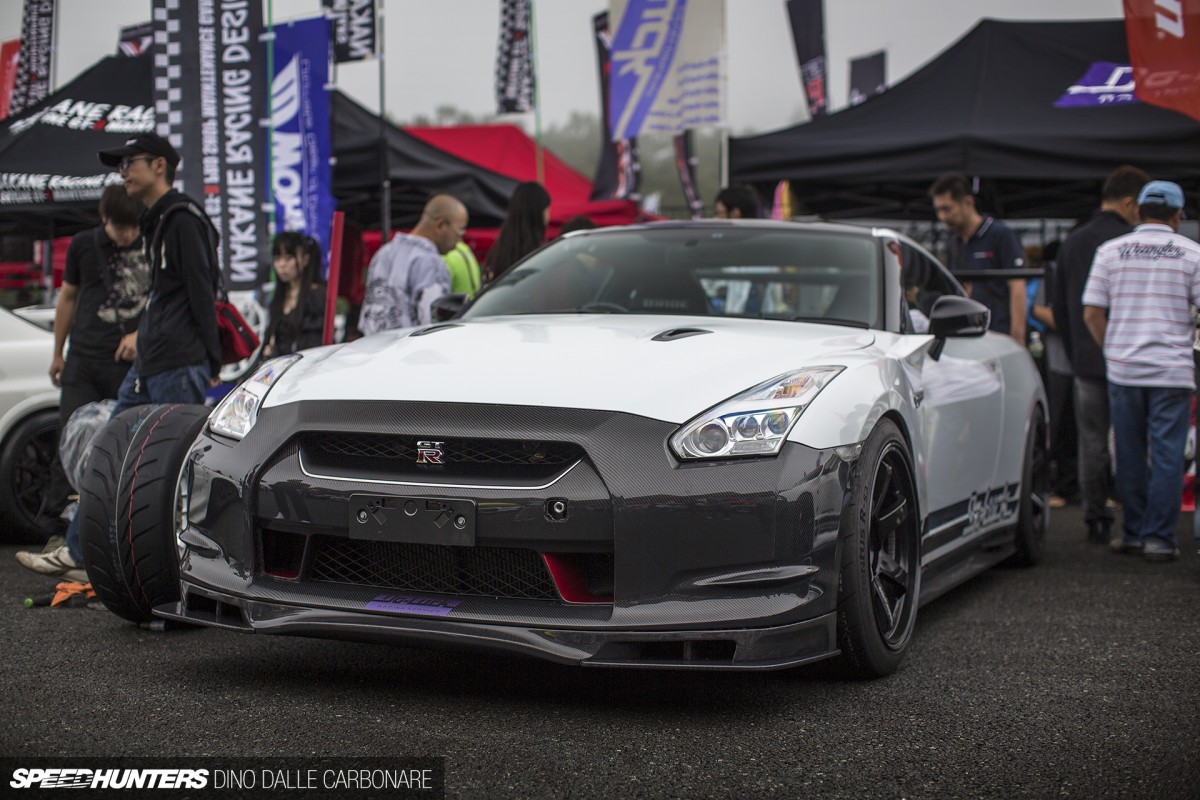 Properly stepping into the R35 tuning game with a whole new demo car is Do-Luck. The Yokohama-based shop came out with this serious looking GT-R running their functional front diffuser and a long list of other upgrade parts.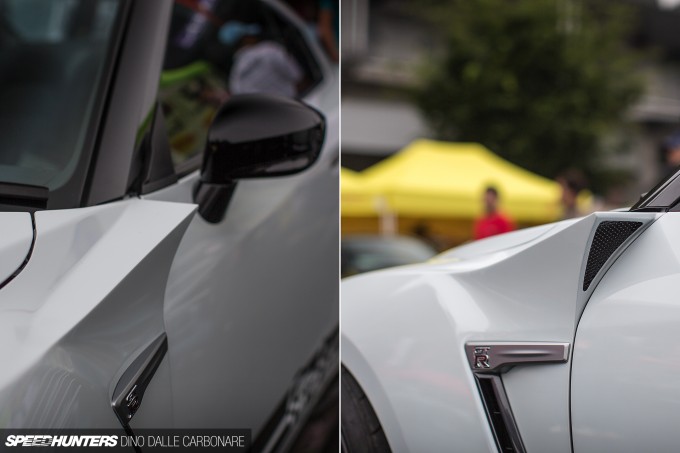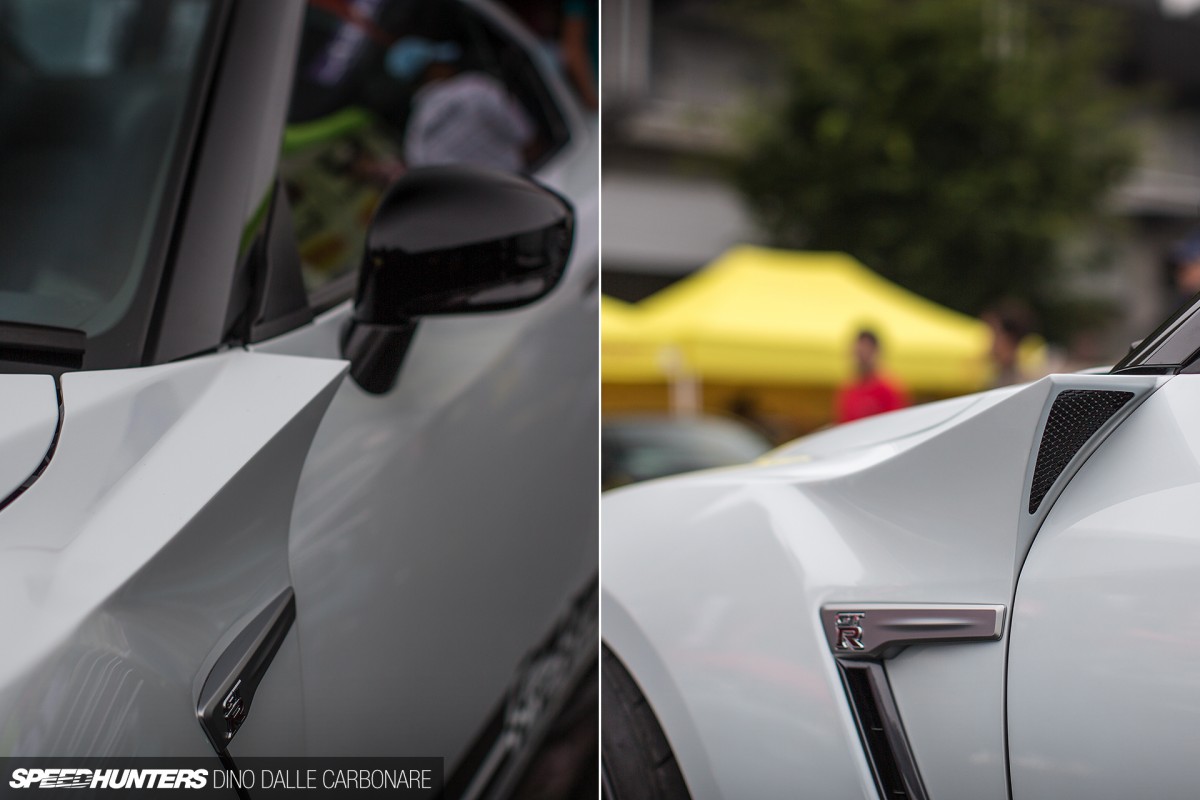 On top of that they unveiled their new front vented fenders, that help channel hot air away from the engine bay via a Super GT inspired outlet which doubles up as a downforce-generating winglet. It sort of reminds me of the Nismo Z-tune front fenders for the BNR34.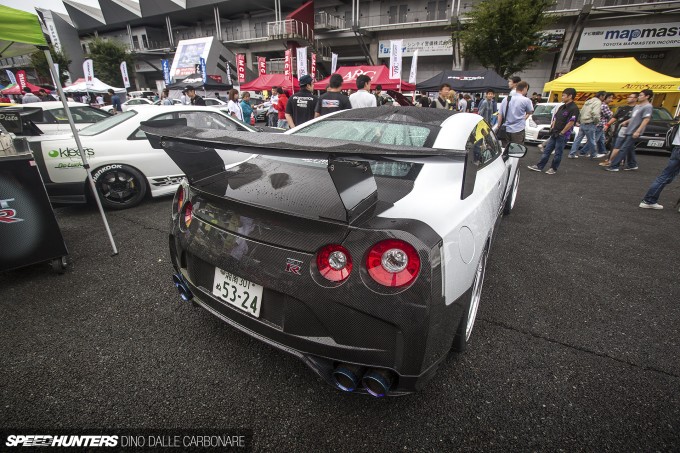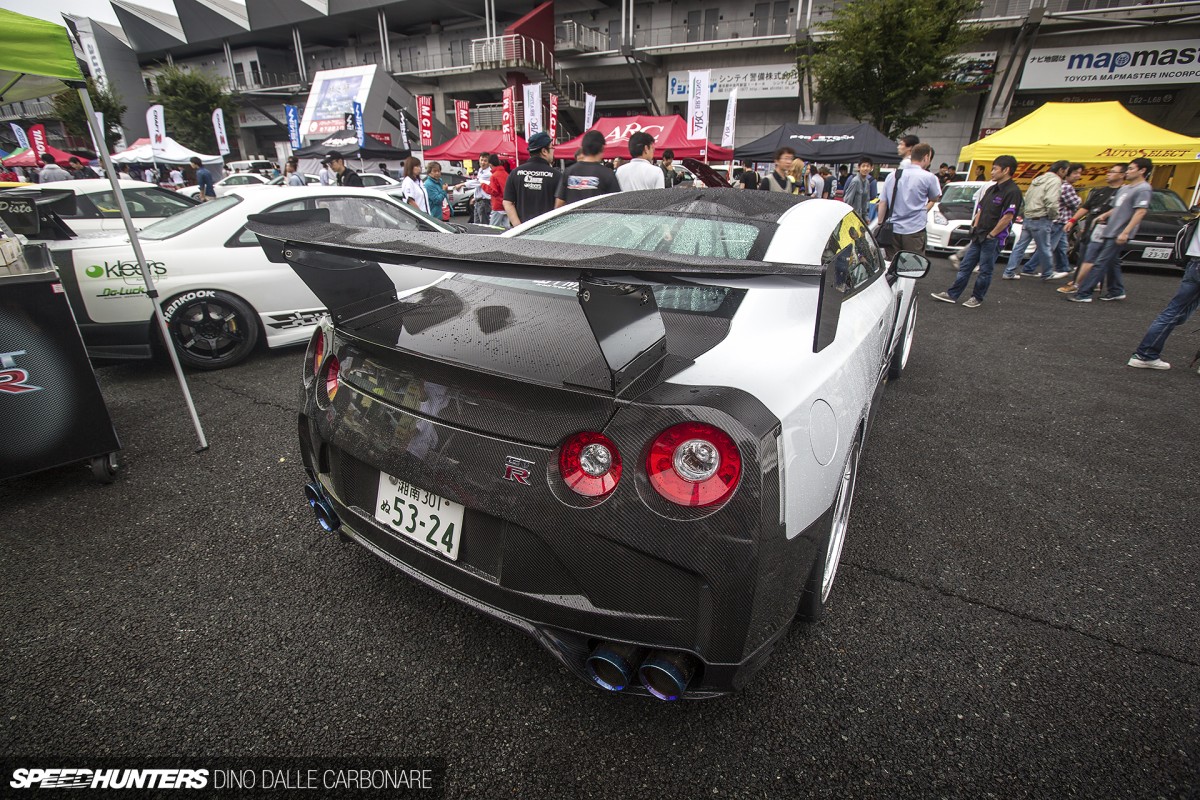 The Do-Luck GT-R was also sporting an Overtake rear section including one of the widest wings I've ever seen on an R35.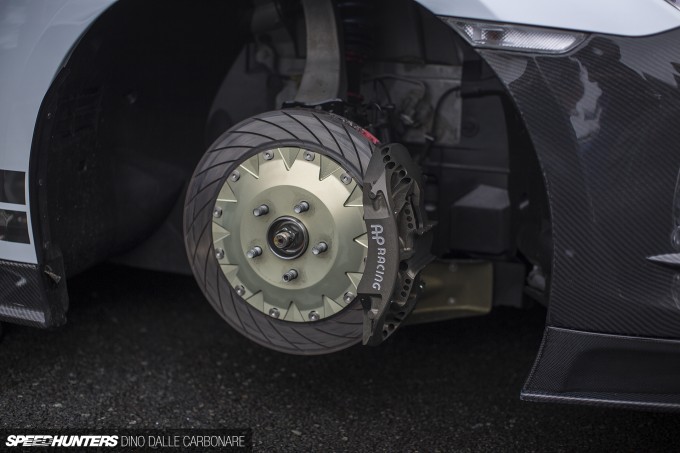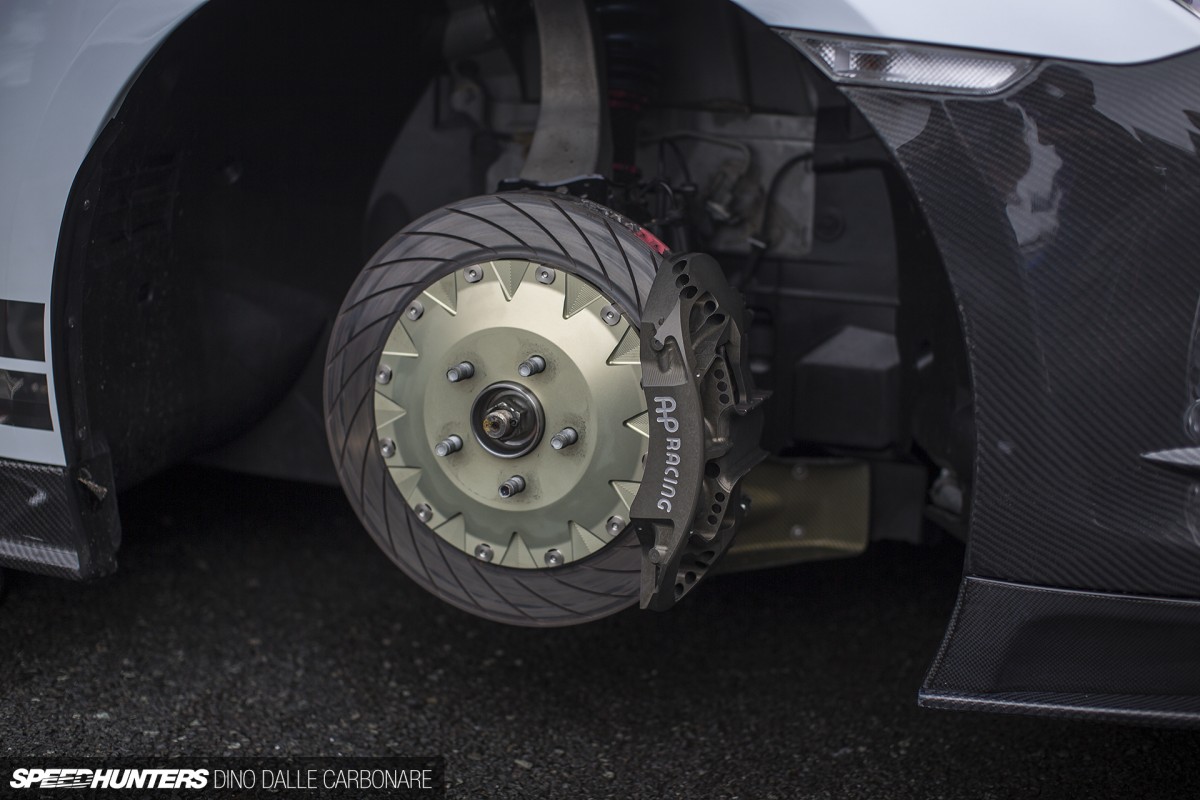 If you like the Super GT theme so far, you will love what they have on offer in the braking department. We all know that the R35 comes stock with some pretty awesome brakes, but as you boost power this is one area that will sooner or later need a rethink. Do-Luck have the solution for the most demanding of customers with a lightweight AP Racing six-pot caliper straight from GT500 Super GT cars. They are mated to special brackets and large grooved discs to create an ultimate GT-R braking package. Oh, and there are slightly smaller six-pots for the rear too…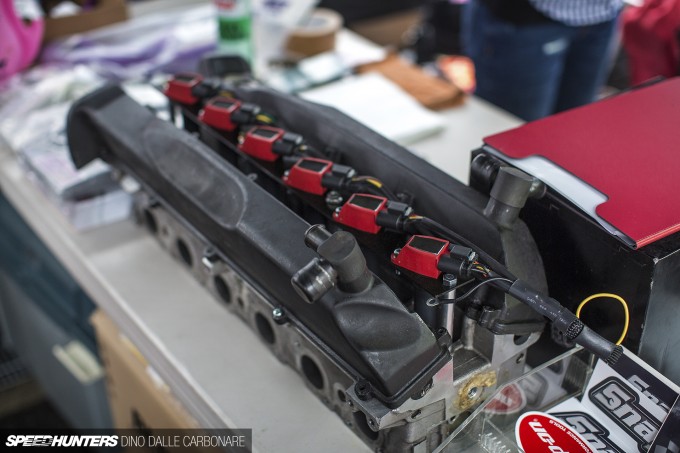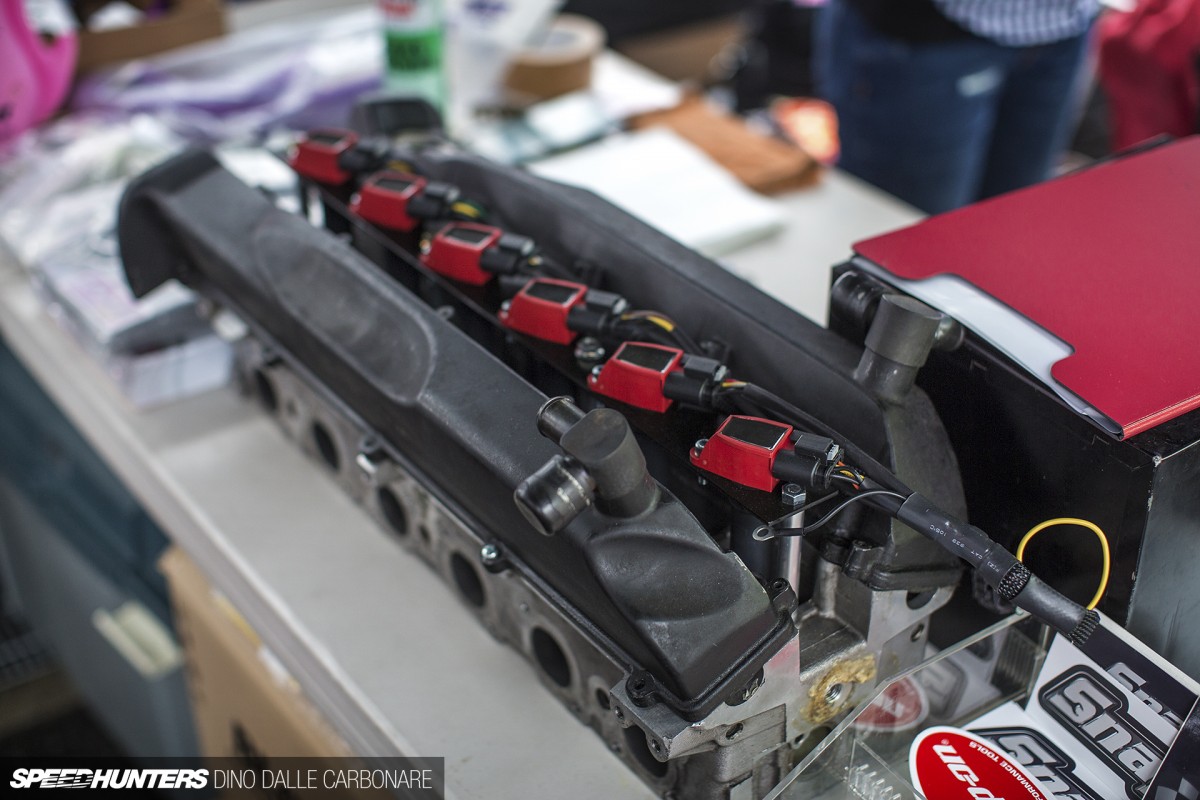 One particularly interesting upgrade is the new Do-Luck ignition coil upgrade for the RB26 – something that everyone that runs this engine should consider throwing onto the upgrade list once you hit the 500hp mark.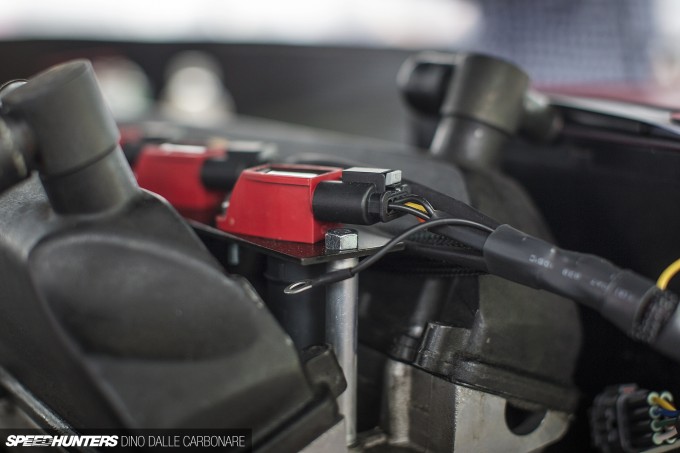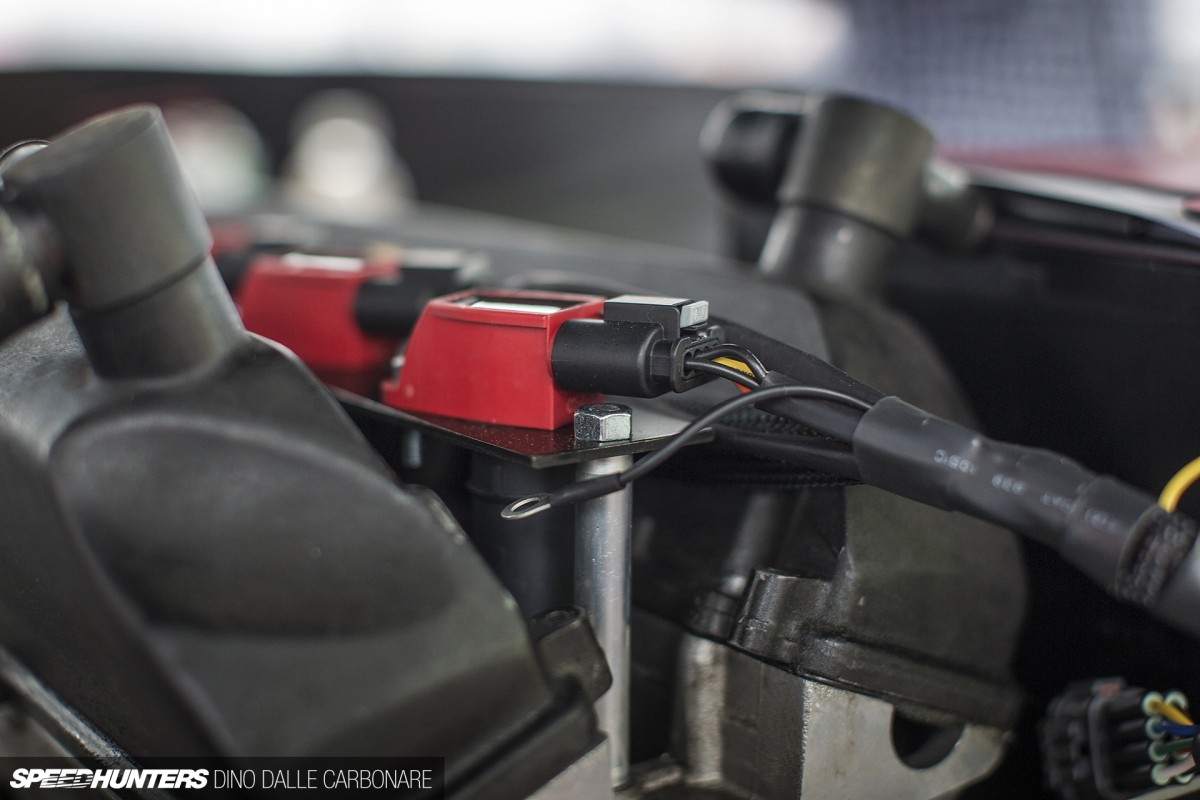 These coils help bring a stronger and cleaner flow of current to the spark plugs, and the better insulation keeps them performing at their best even in the toughest conditions.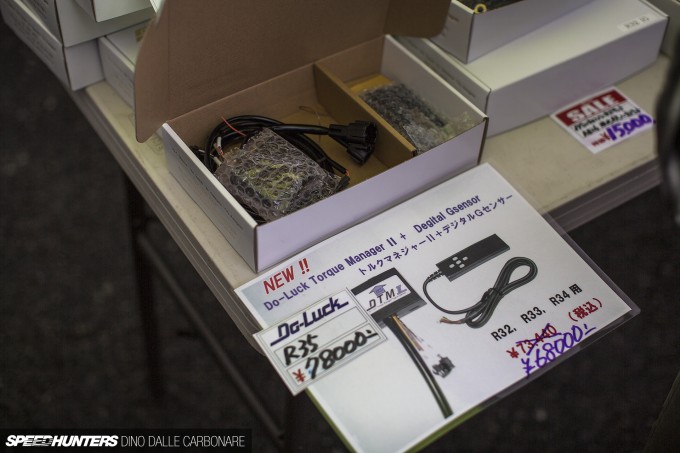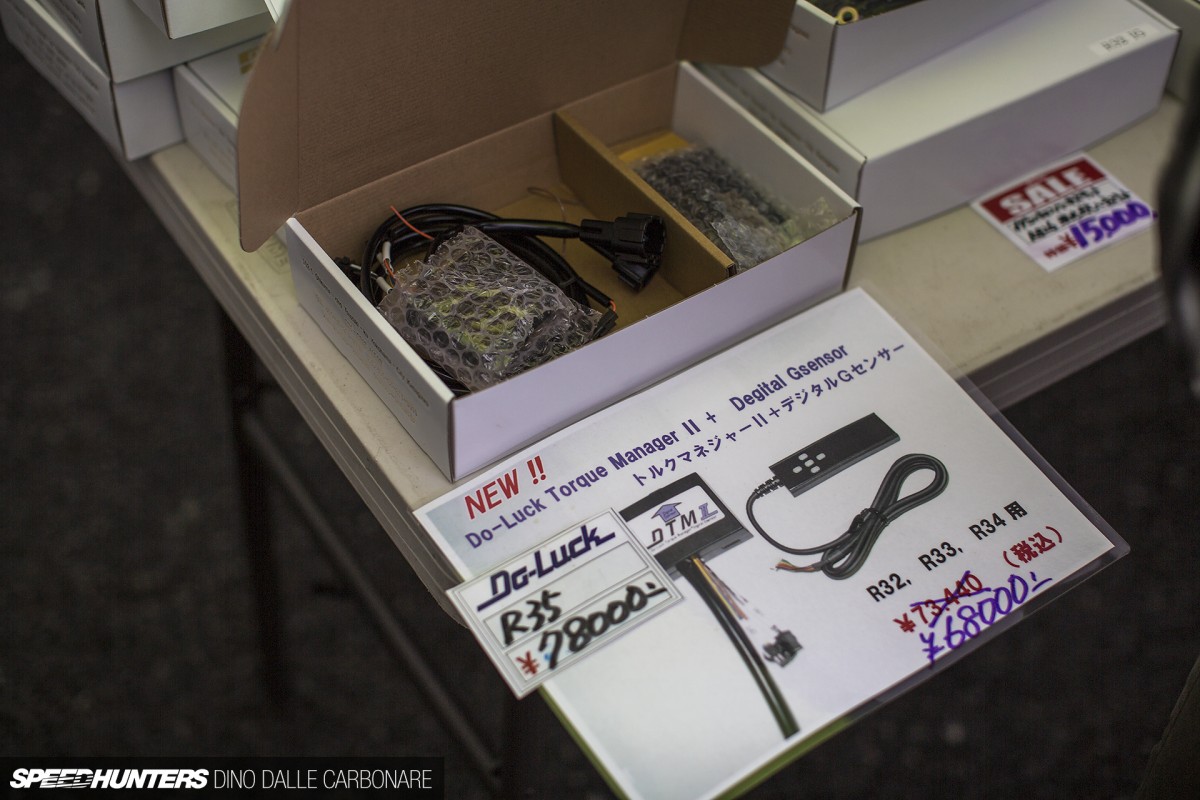 R35 owners will also be happy to hear that Do-Luck have released a digital G-sensor for their cars too. If you recall I fitted the Tarzan version of this gadget to Project GT-R a couple of years back and I was very impressed with the improvements in traction and overall feel. There's also a digital torque controller now that allows you to fiddle around with the settings to get it all set up to your preference.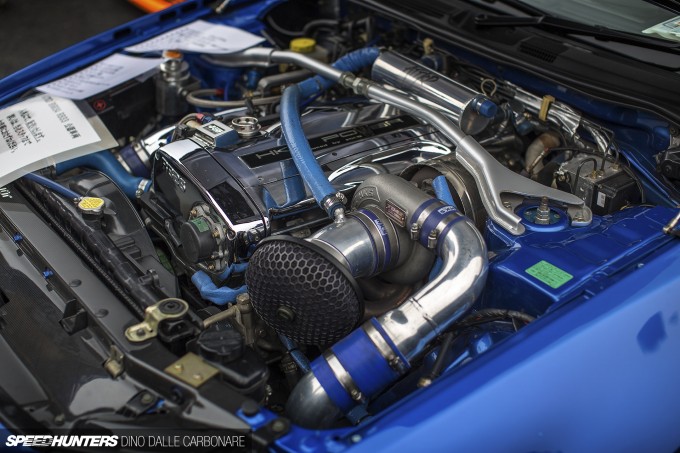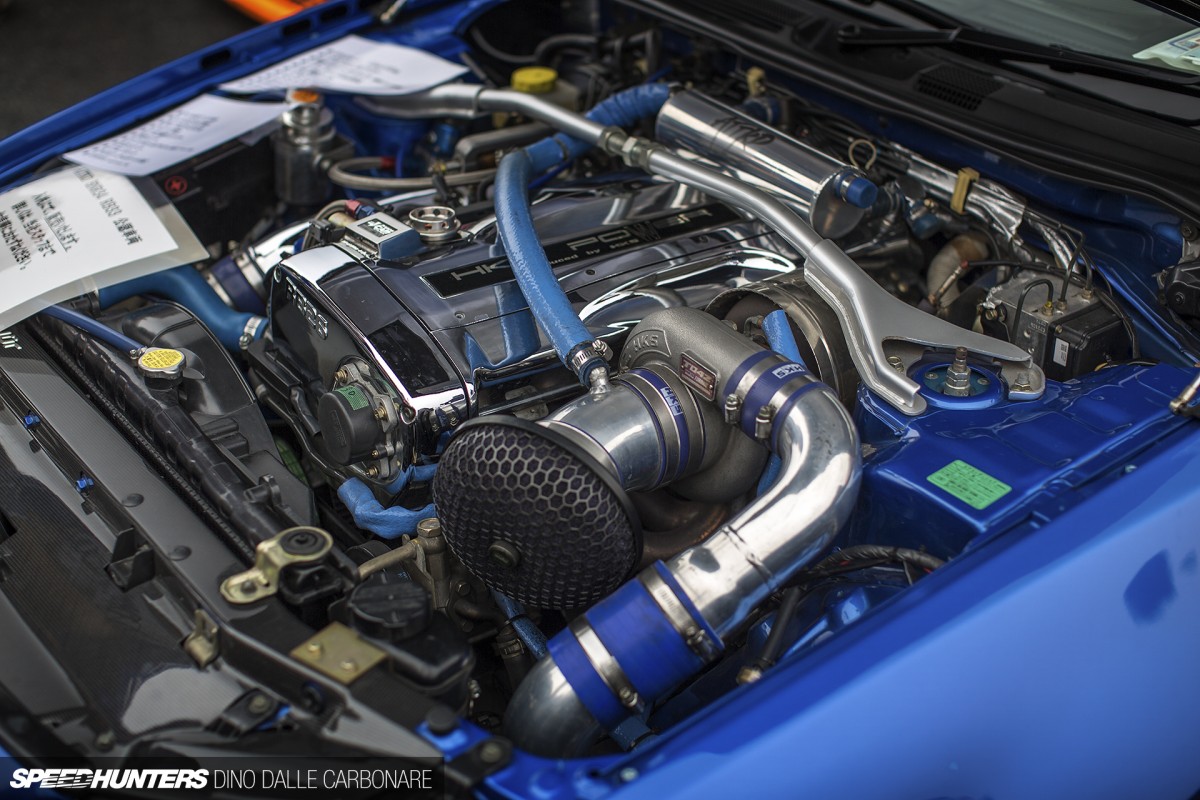 Autech Tsukada – or ATTKD as we all know them – had a superb collection of cars on show at the R's Meeting, but the one that truly blew me away was an R34 running an RB33! If dropping in an RB30 block isn't enough ATTKD can stroke and bore the block out for you (87.5mm x 90mm) so you can achieve 3.3L of capacity. Now mate that to an HKS V-Cam for optimal response and pick up throughout the range and a T04Z single turbo and you have created one of the torquiest RBs out there.
Tune Those Engines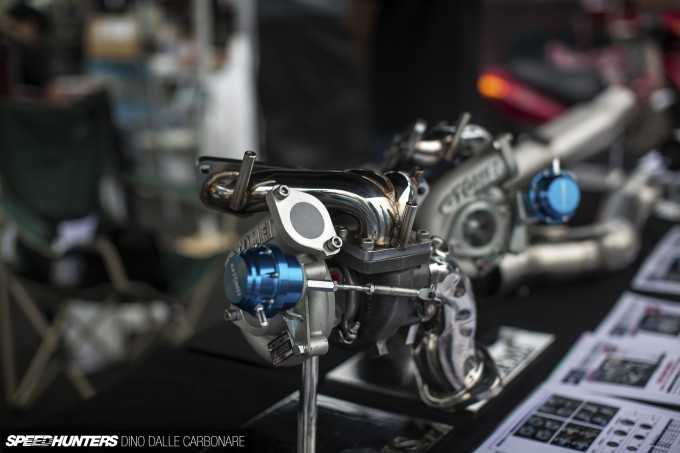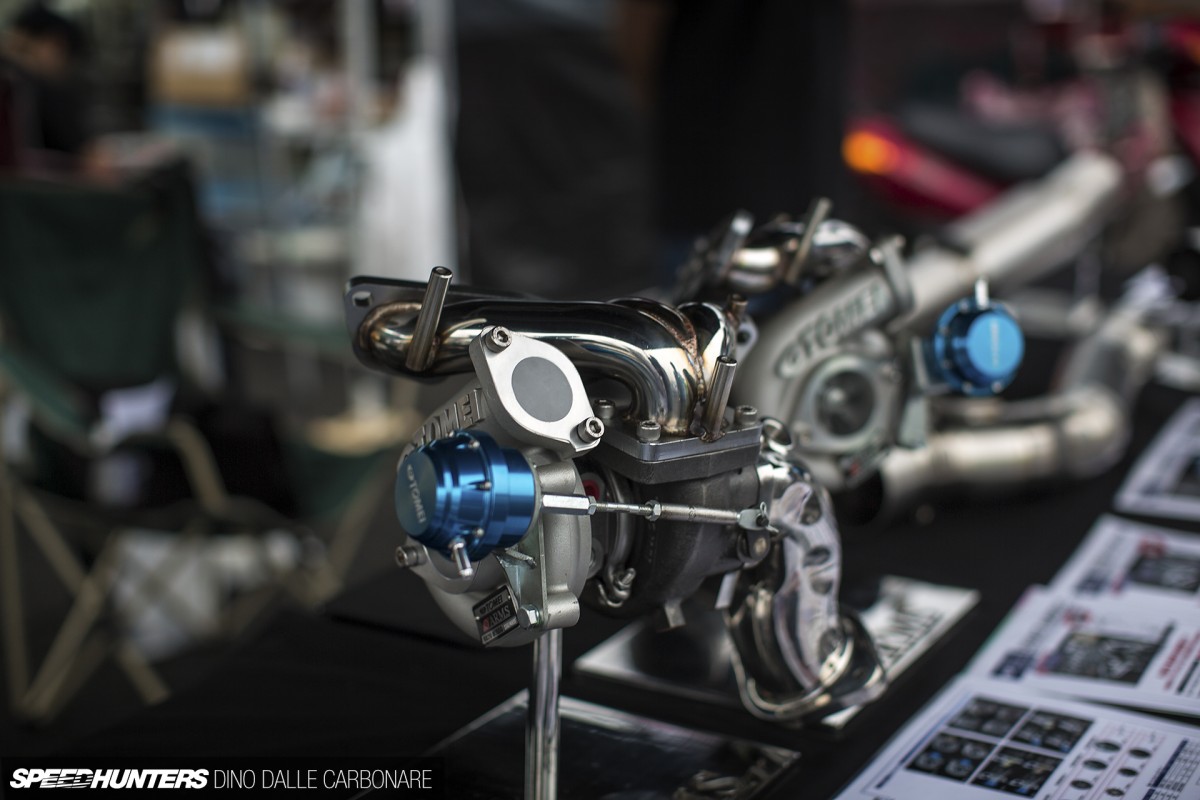 Tomei Powered has some of the prettiest turbos available for the RB26 – some that sooner or later are going to get fitted onto my car. More updates on that coming soon…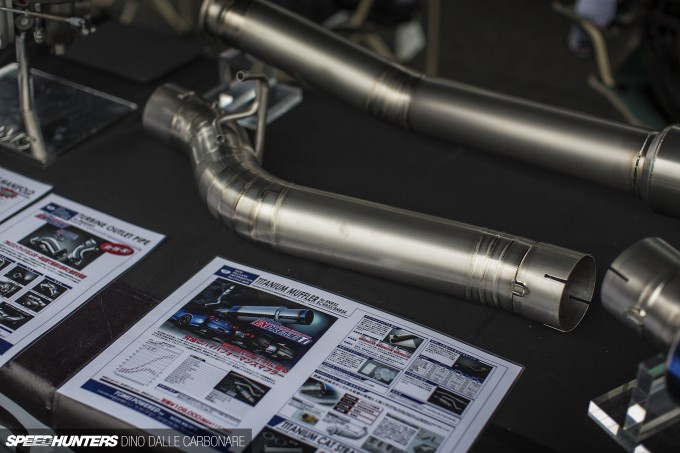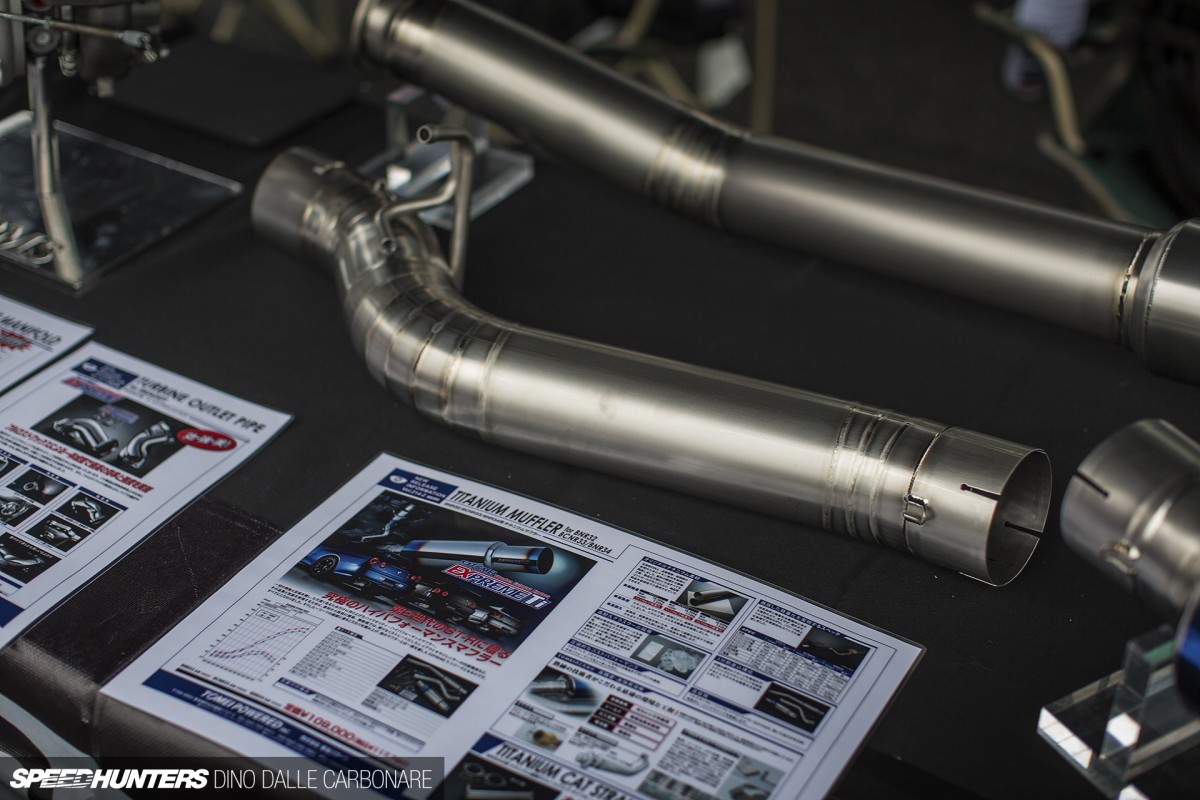 There is no better way to really make your motor sing than to let it do so through a beautifully designed big bore titanium exhaust. Tomei's Expreme Ti fits that bill nicely.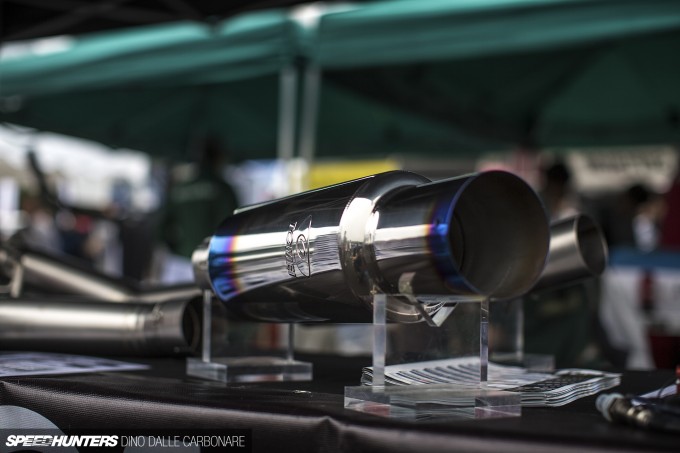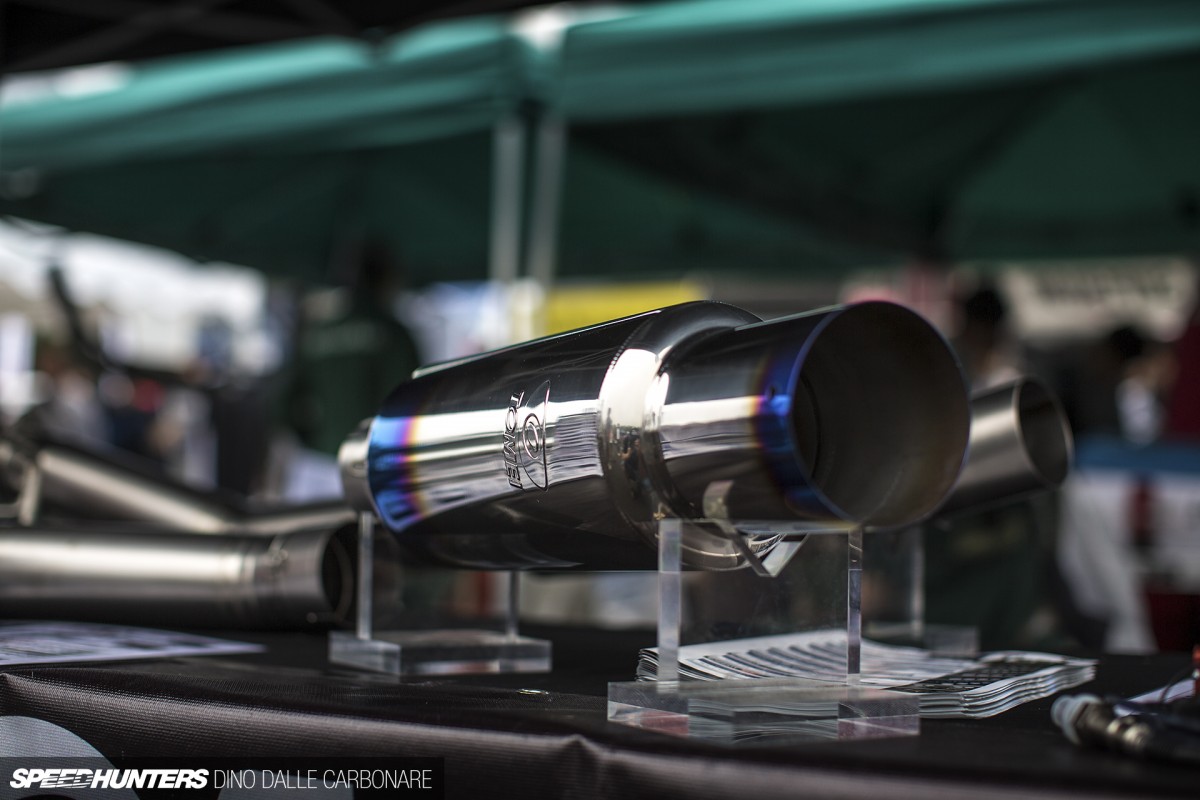 But while enjoying a barely-silenced RB26 scream at the track is quite the aural delight, there are those that prefer to stay a little under the radar.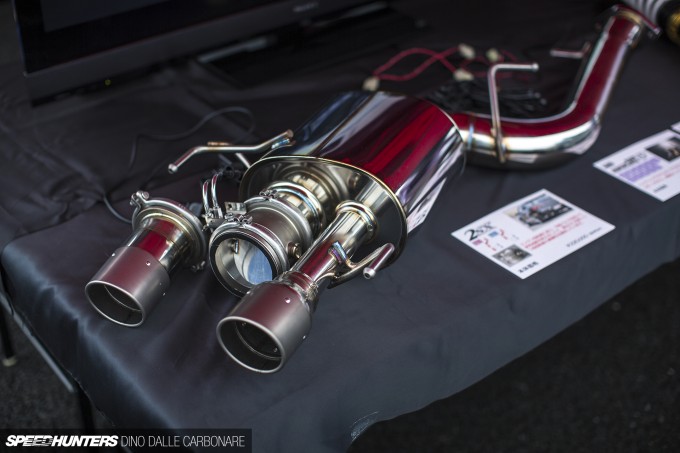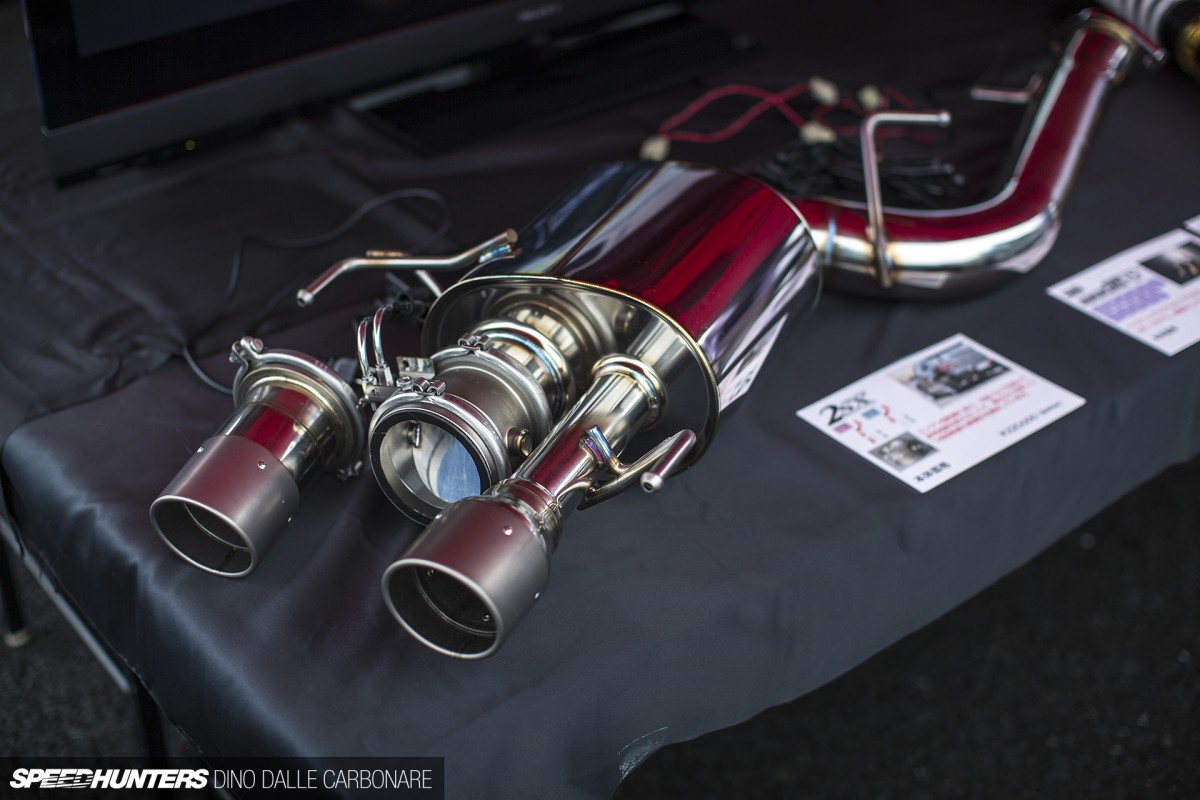 That's why valved systems like the one HKS has developed for the Skyline GT-R are becoming much more popular. After all, this is how supercar manufacturers manage to get their cars to pass homologation tests around the world – keeping their engines muted until about 4,000rpm, before unleashing their full aural fury.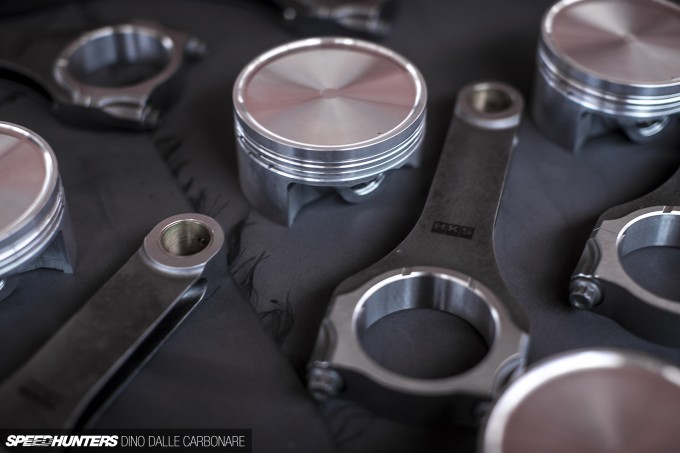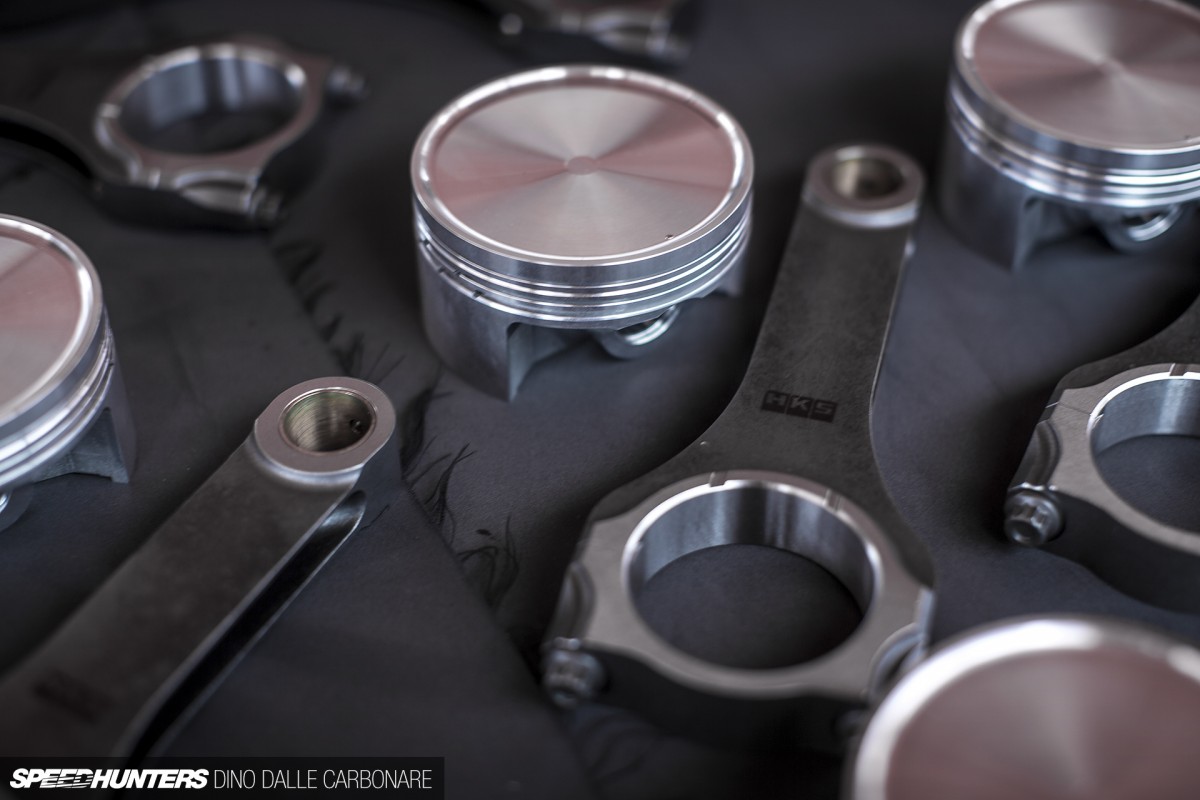 While at the HKS display I took my time to try to understand why a 4.1L stroker kit for the VR38 costs more than double that of a 2.8L stroker kit for the RB26.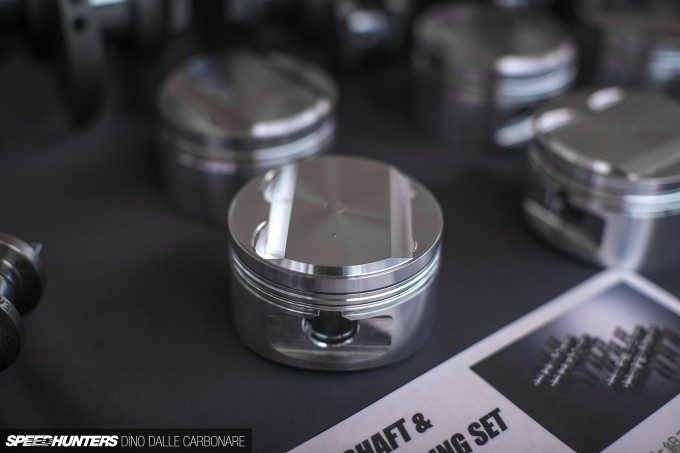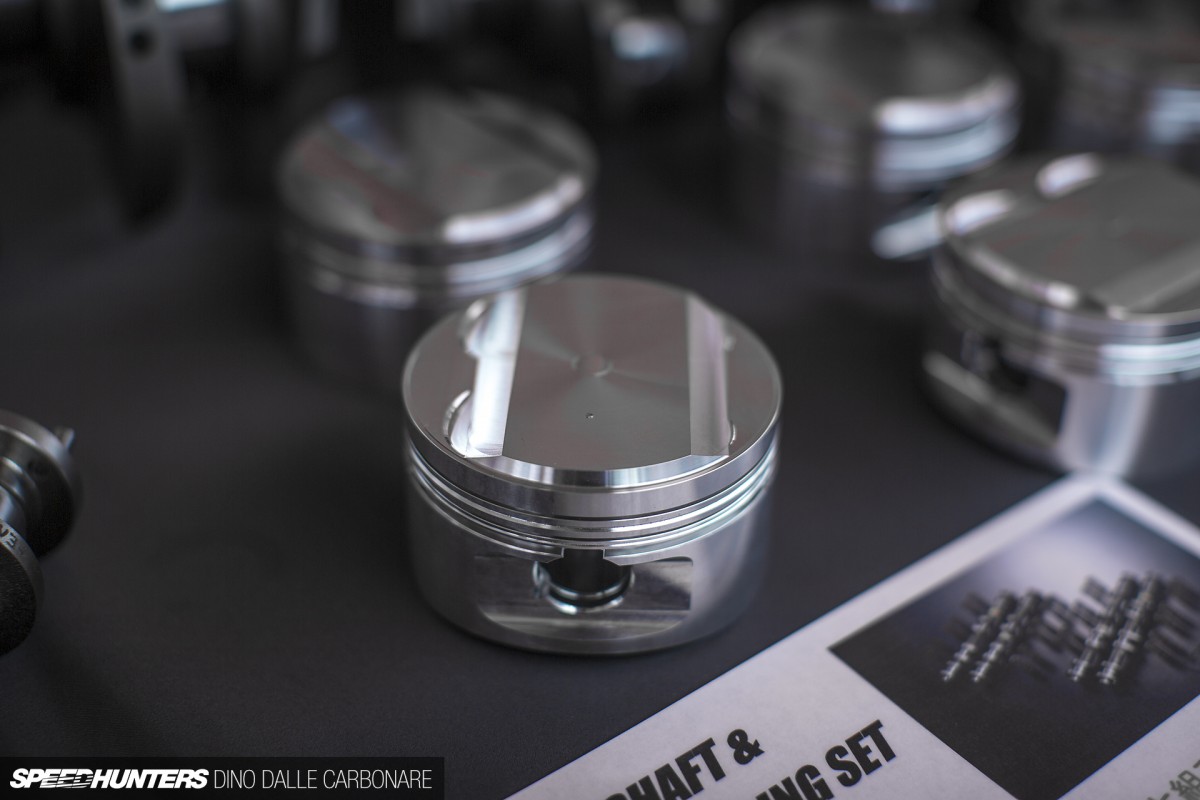 Aside front the different sizes in question and slightly different materials used, the actual reason isn't quite so obvious when you look at them from the top.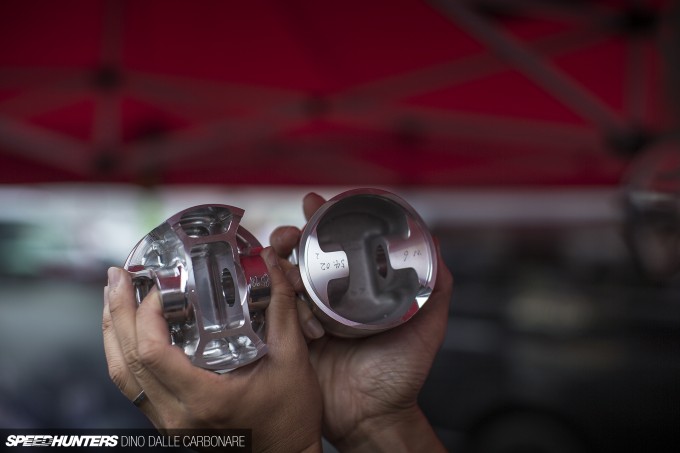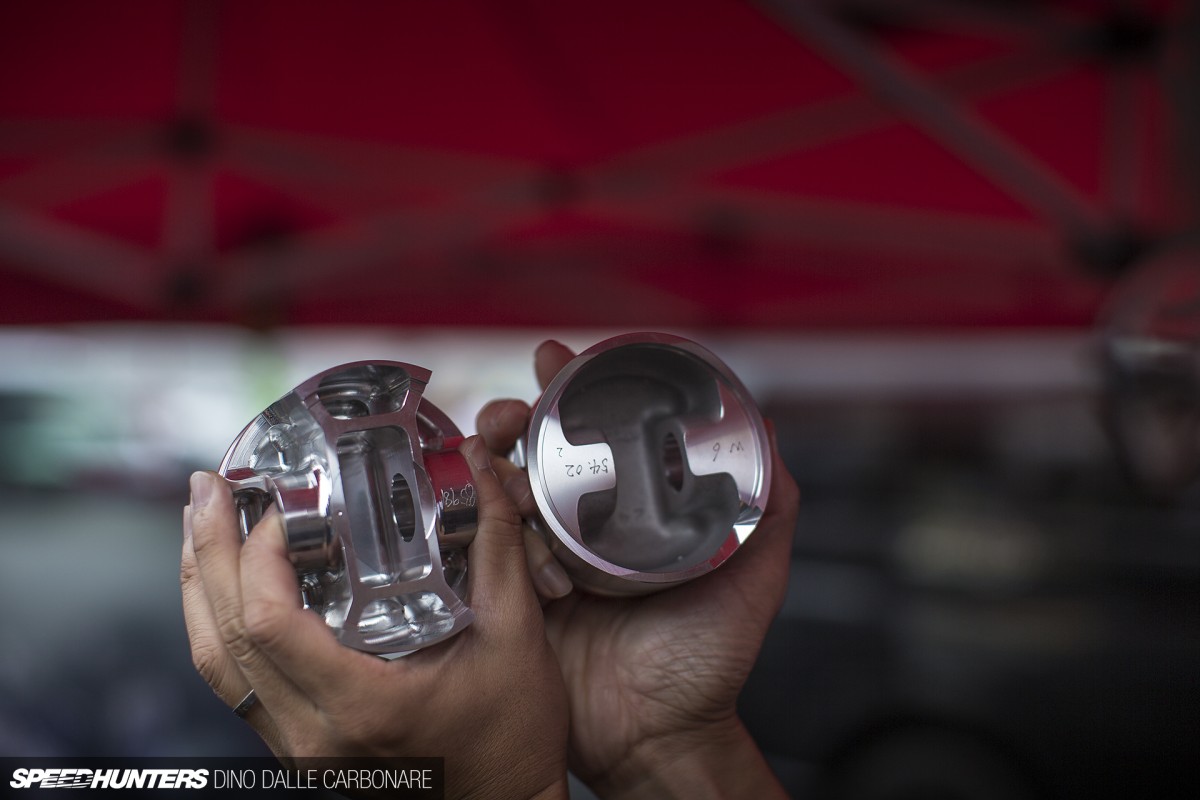 To really notice the difference you have to check out the way they are built underneath. Both may be forged – but the similarities end there. The bigger VR38 piston on the left requires a lot of extra work to create on a five-axis milling machine, the complex truss structure making them so resistant yet so light. That's why the kit retails for 1.3 million yen, or about US$12,200.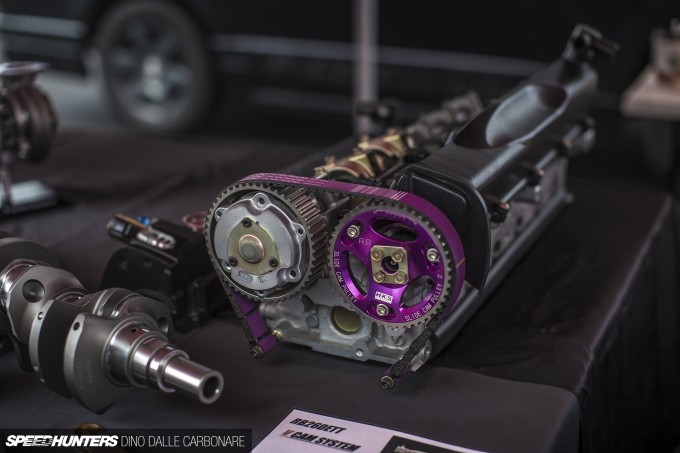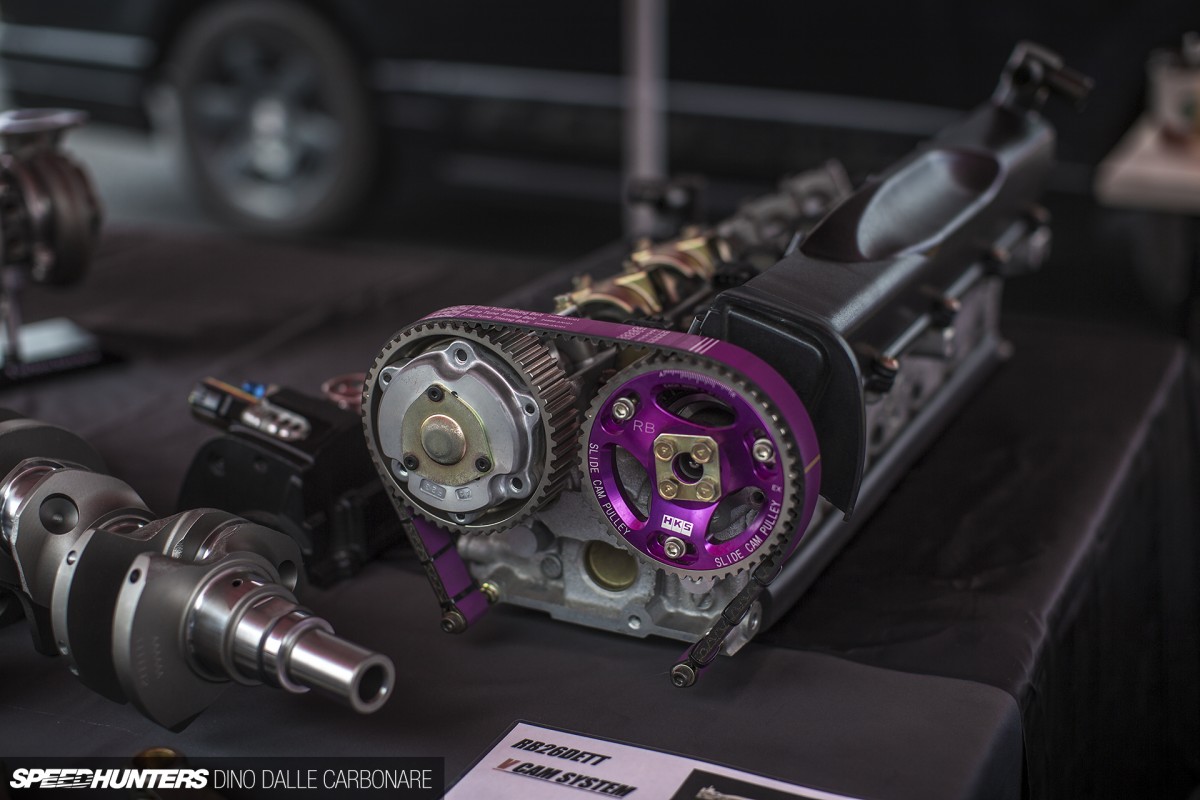 One of the best upgrades one can throw onto an RB motor is a V-Cam. Depending on the spec of the system chosen this allows you to vary inlet cam timing by 30 to 50 degrees and boost low-RPM torque without sacrificing top-end power. Since R32, R33 and R34 owners are holding on to their Skyline GT-Rs longer than anyone ever expected, we are beginning to see more and more people go with this solution, despite the pretty high price tag attached to the system.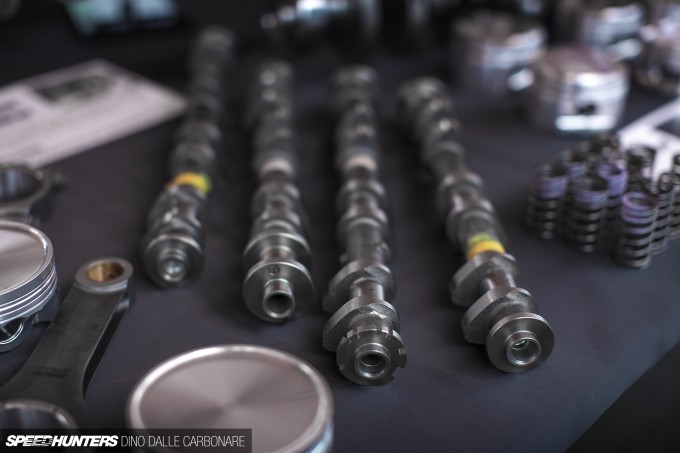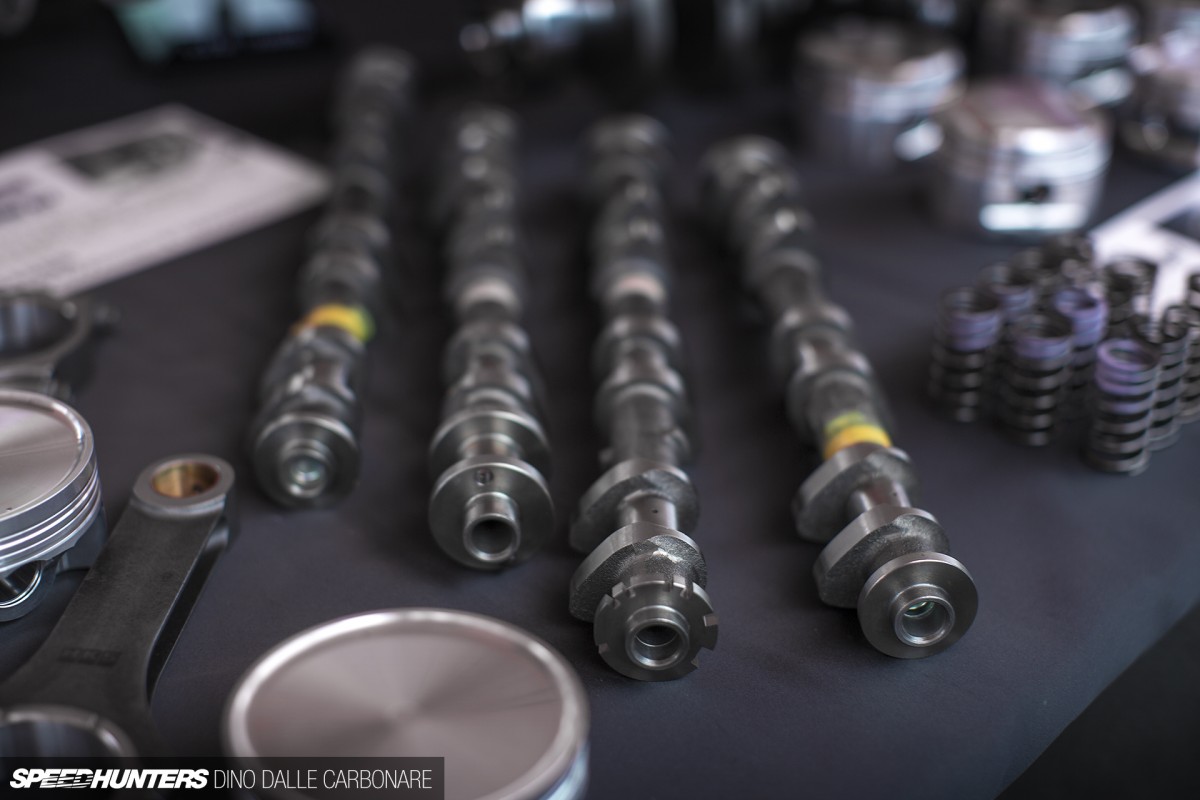 Mate that to the right sort of exhaust cam (cams shown above are actually for the VR38) and you have yourself a killer setup.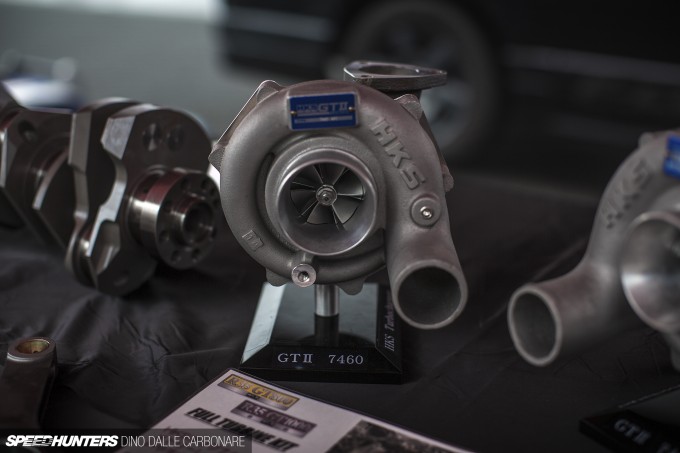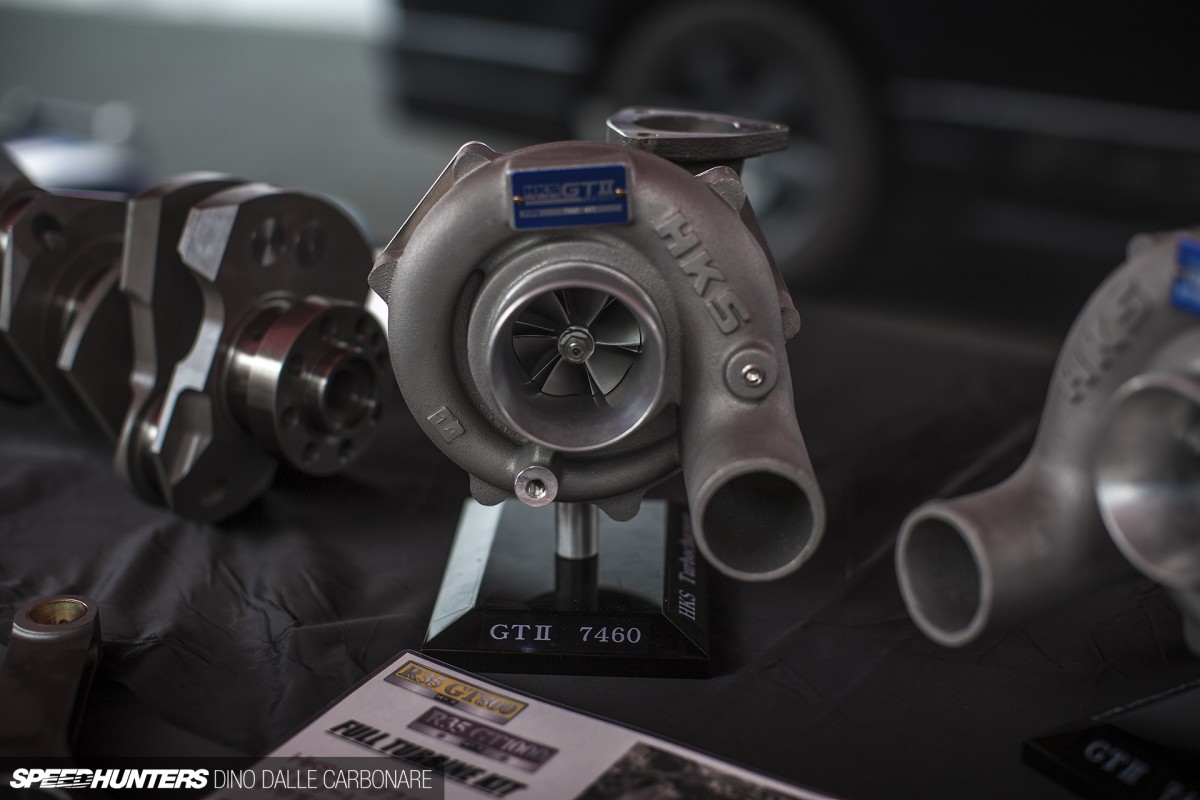 These GTII 7460 turbochargers are the ones that HKS use in their GT800 engine upgrade kit for the VR – blowers that will easily boost power well over 800hp and give you 100kg/m-plus of torque to play with.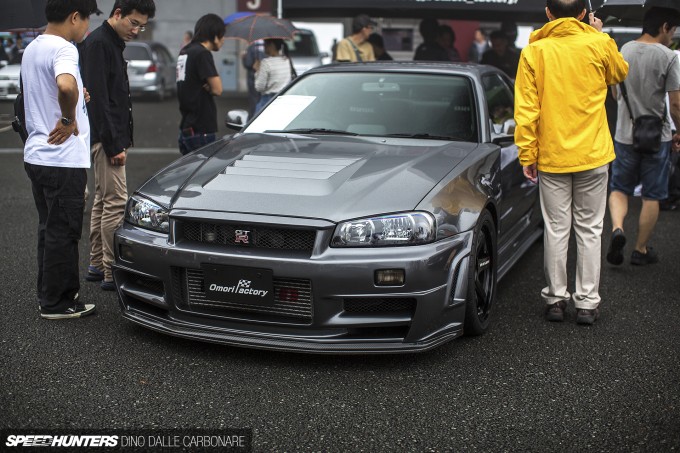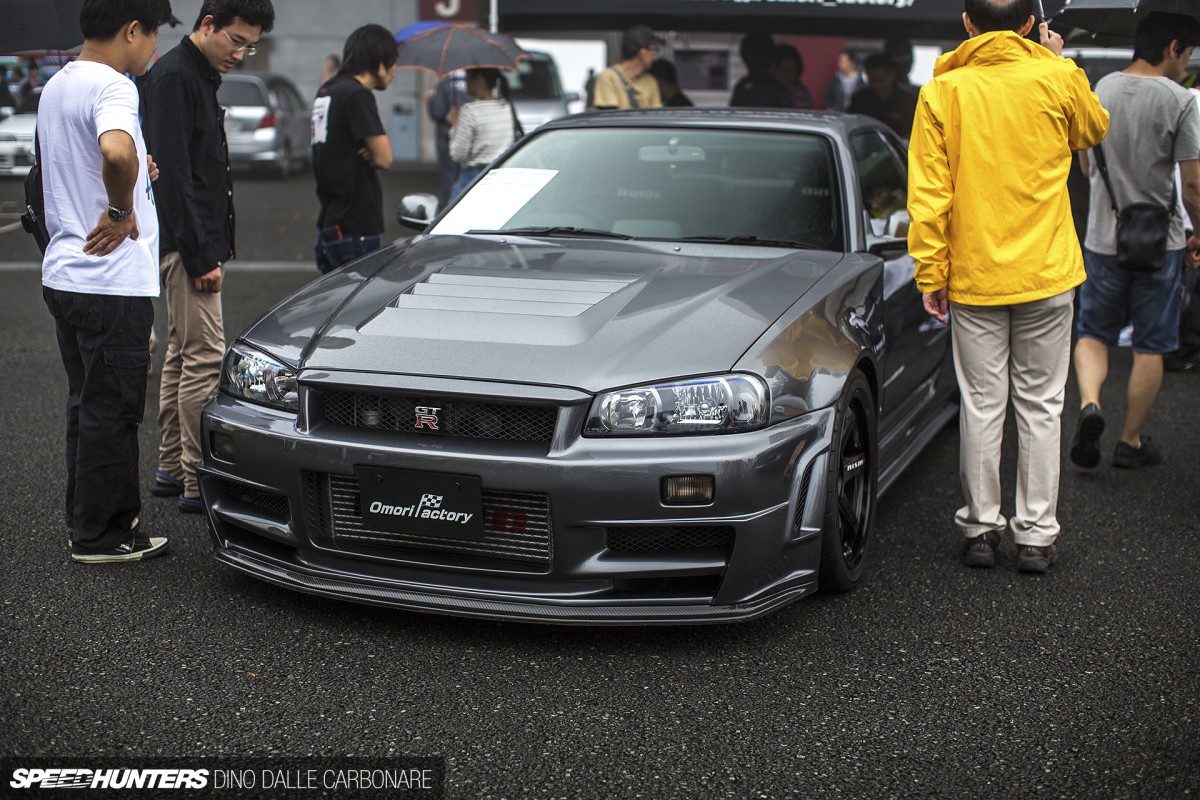 Nismo always manages to do a great job of making GT-R owners drool, and if it isn't over their complete cars like the R34 demo car we saw in the first part of the R's Meeting coverage, it's with their parts.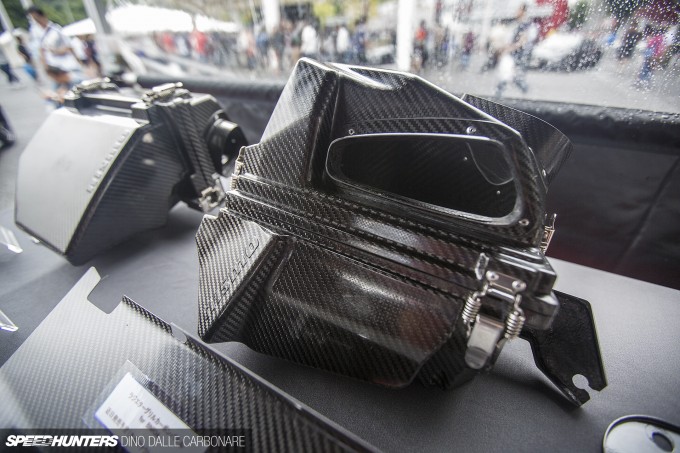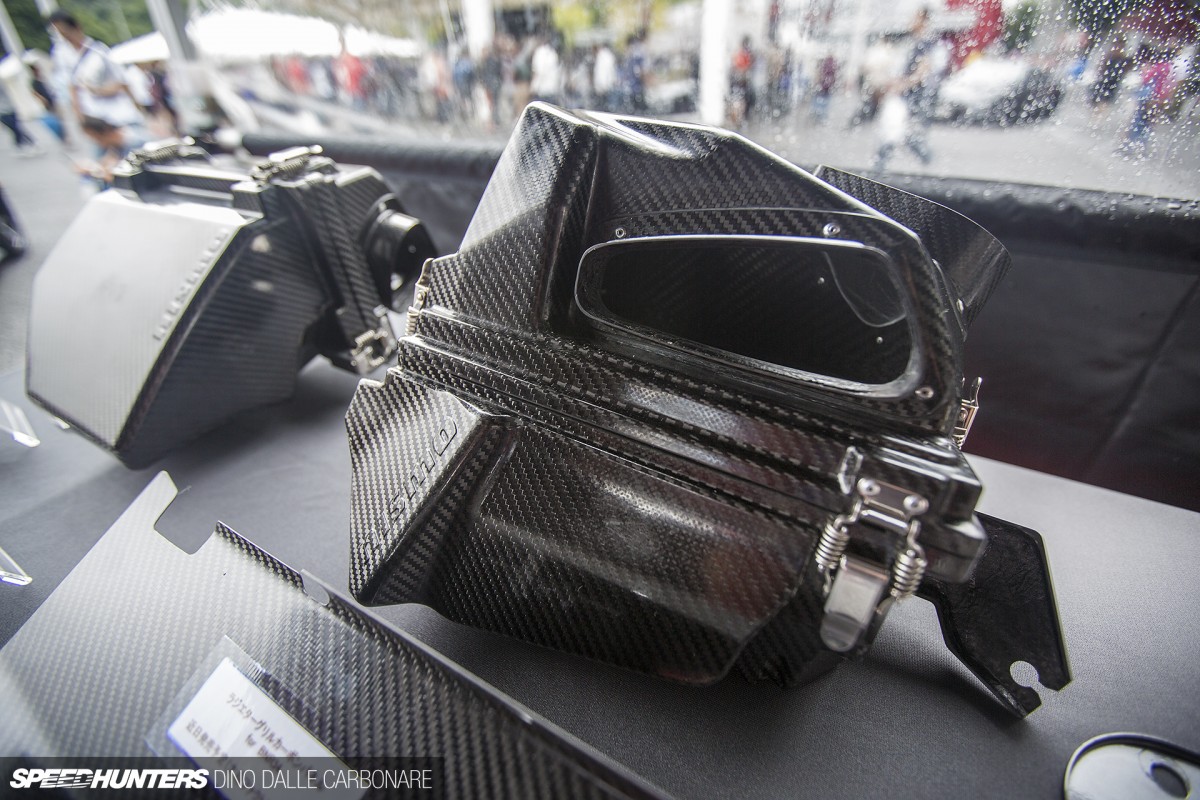 There's almost no reason to throw out your stock R32 (on the left) or R34 (above) ABS plastic air box and replace it with one of these immaculately built Nismo dry carbon equivalents. But you know that every single GT-R owner out there would love to have one. These haven't been released yet as Nismo isn't sure if it will actually sell them, but if they do, they're guaranteed to be prohibitively expensive.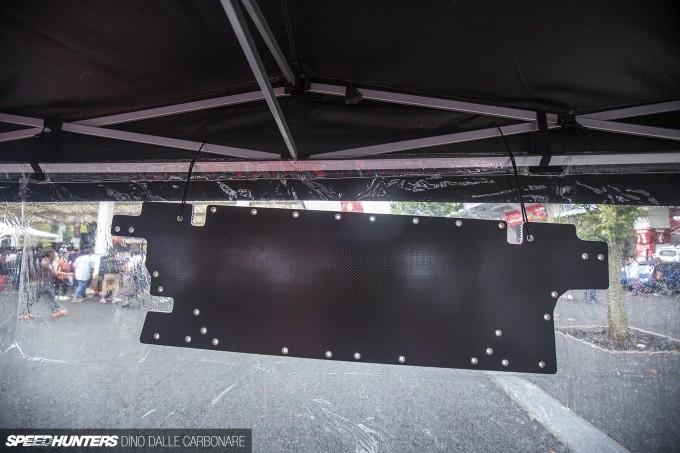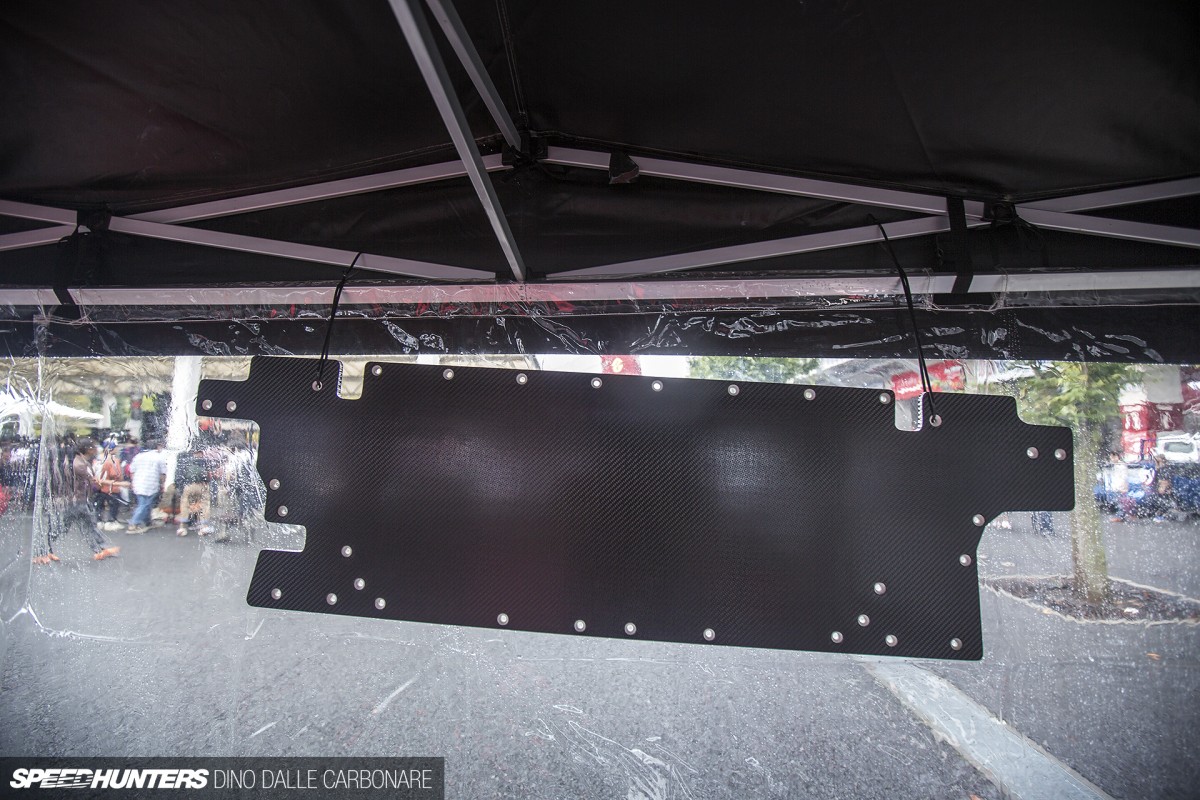 This carbon and aluminium honeycomb panel was developed for the Nismo R32 demo car project and it's meant to replace the rear metal trunk panel located behind the rear seat backs. Aside from being lighter, this is a far more rigid piece and therefore marginally boosts the BNR32's torsional rigidity once bolted in place. It's all about the details, right?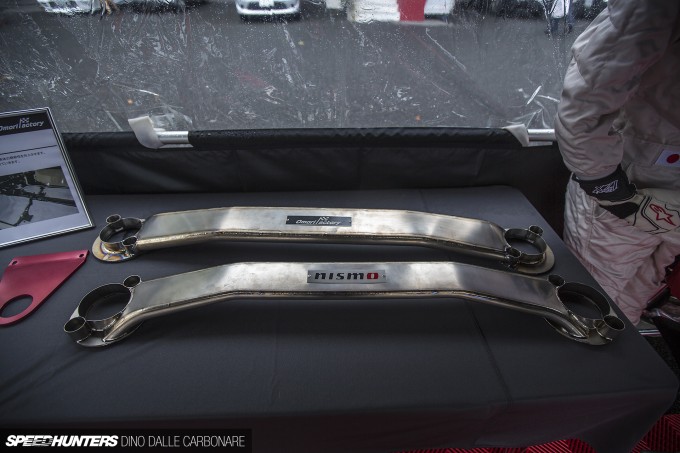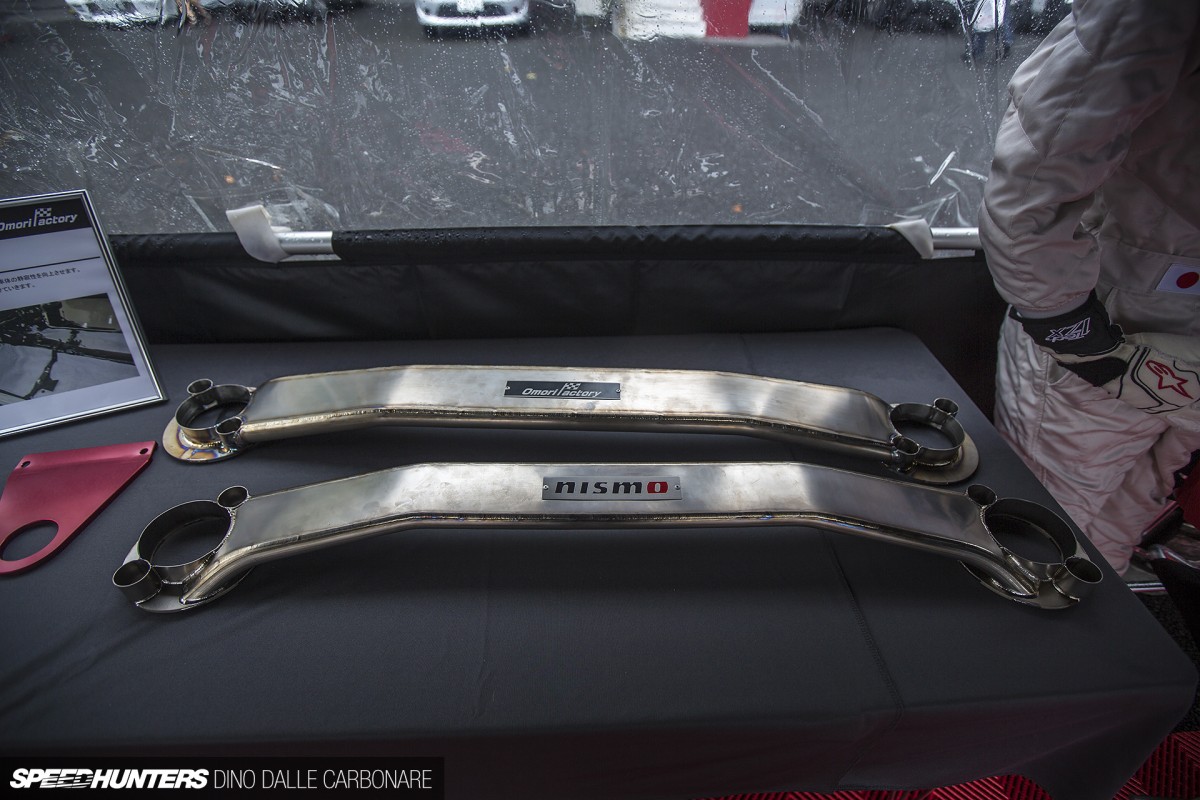 Want to add extra rigidity up front without impacting weight too much? Nismo has you covered with these titanium strut tower bars.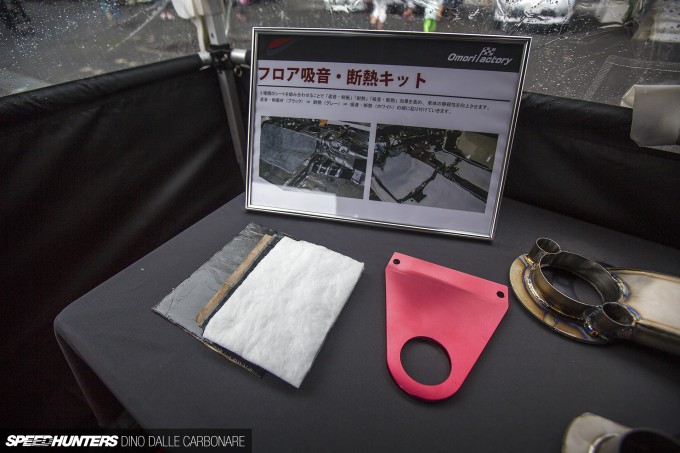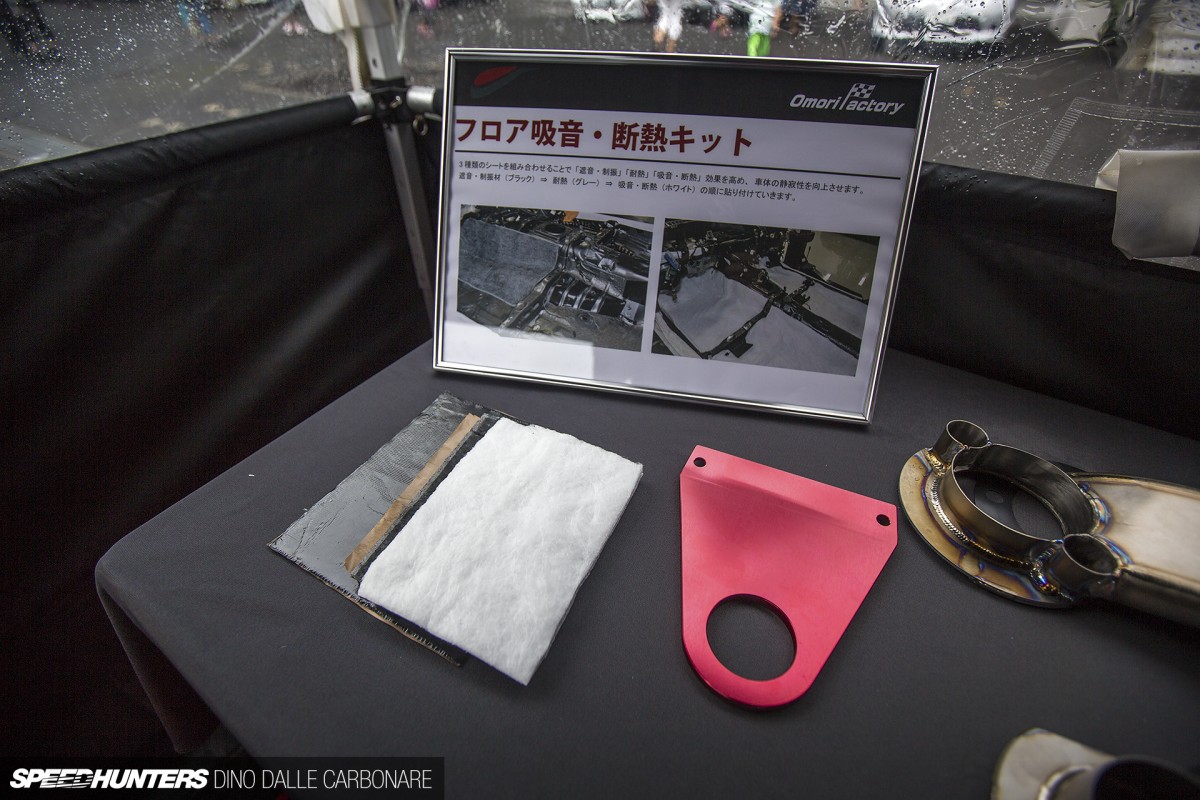 If you are going to rebuild your GT-R at the Nismo Omori Factory then you might as well splash out on a recent addition to the ever expanding list of options. That's this insulation kit for the floor to keep all those nasty vibrations out of the cabin and cut down on heat around the transmission tunnel. If you are wondering what the red thing is, that's a center-mount tow hook for the BNR34.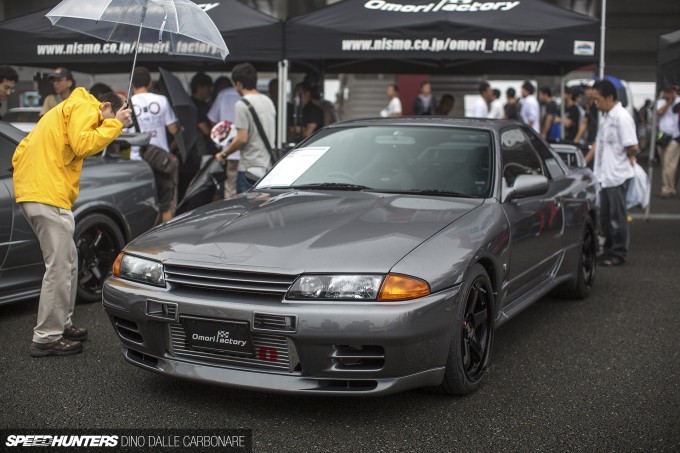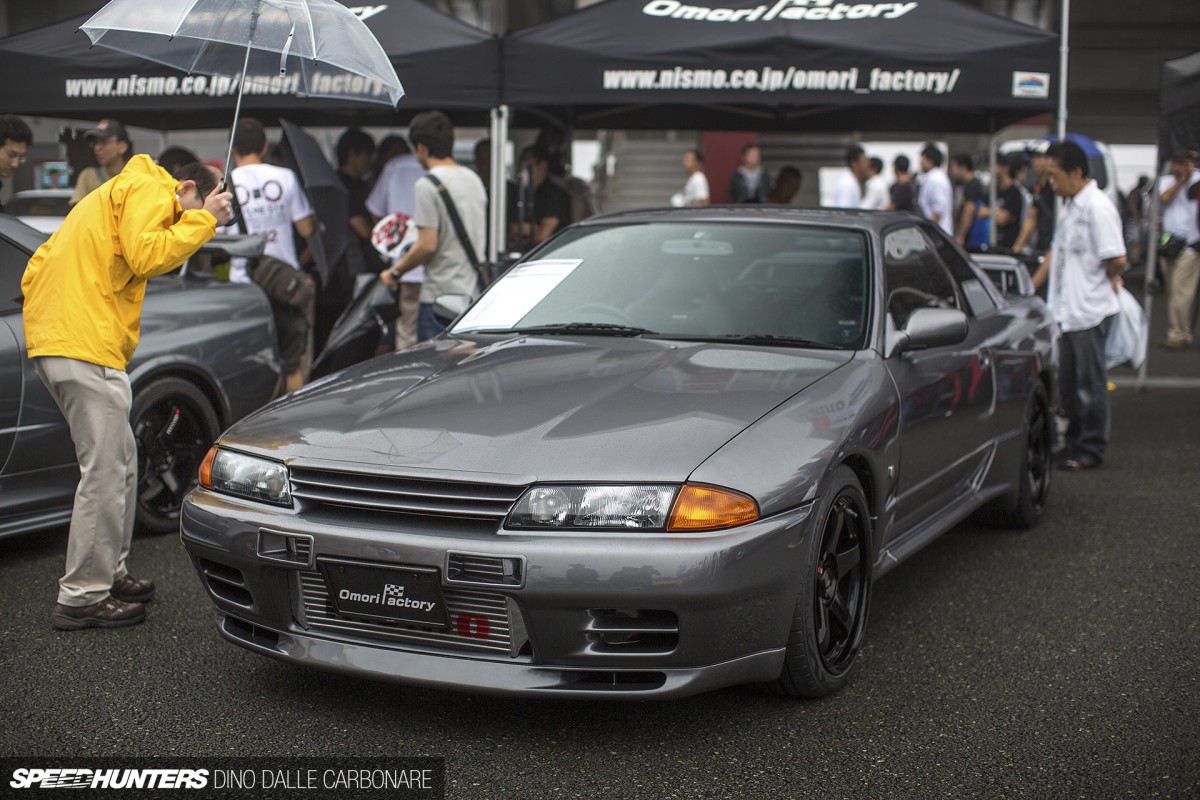 Combine all of these wonderful upgrades together and you get cars like Nismo's new san-ni demonstrator, which was built from the ground up to celebrate the BNR32's 25th year anniversary.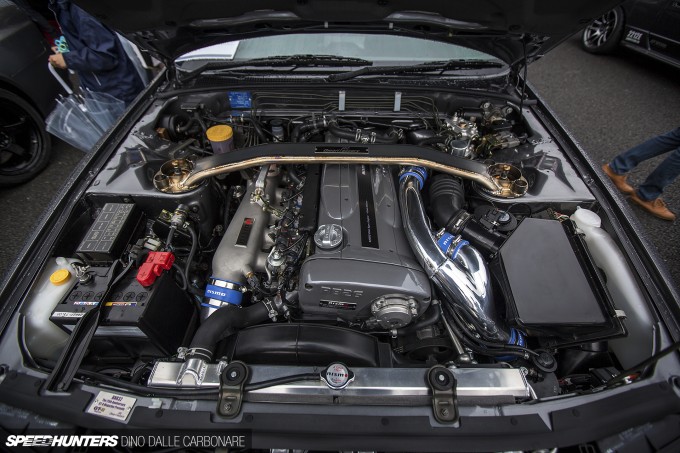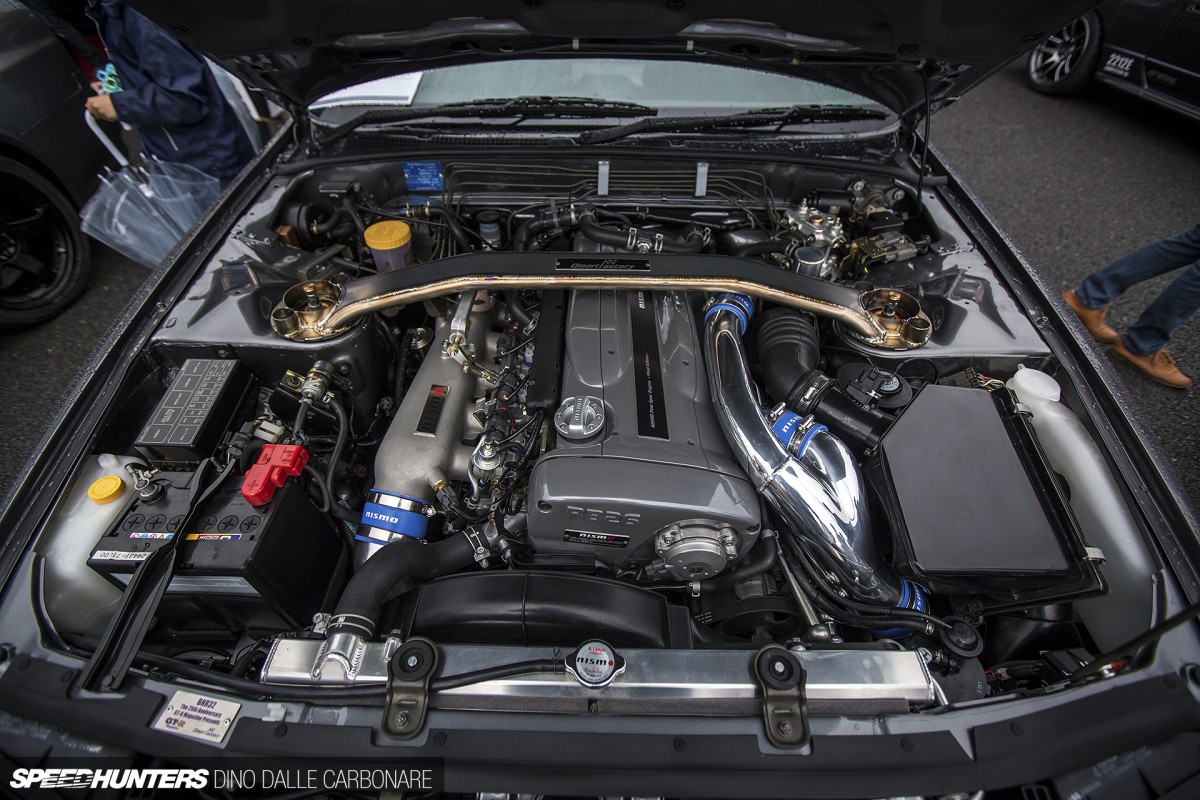 The car is powered by a Nismo Final Spec edition RB26 and is running all of Nismo's greatest products, including Group A turbine inlet pipes and a GT plenum.
Wheels, Transmissions & Interiors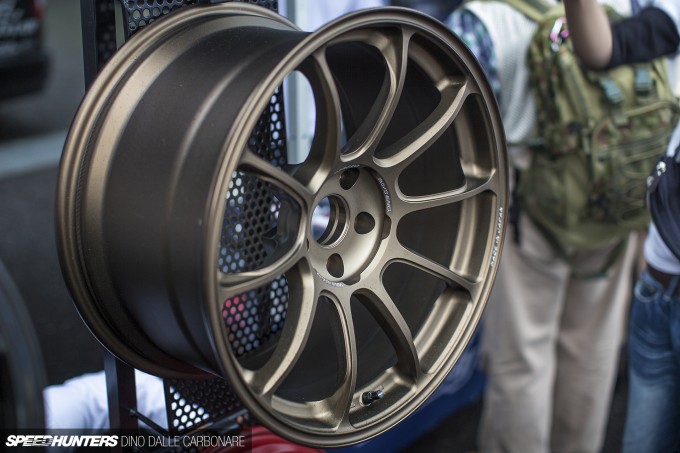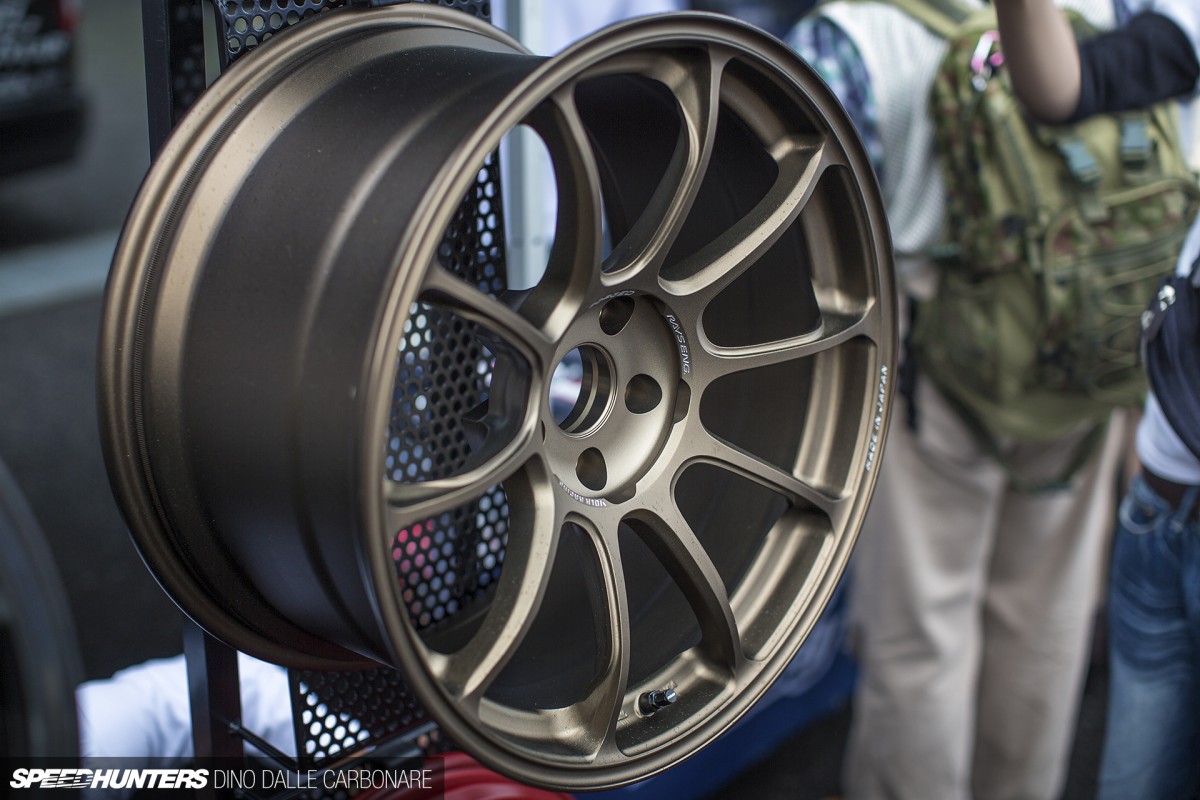 If the only consideration you make when choosing your wheels is performance, then the new RAYS Volk Racing ZE40 should be right at the top of your shopping list. This newly-released model is more rigid and lighter than anything RAYS has ever made outside their motorsport wheel line up. I think I must have seen five or six GT-Rs at the R's Meeting already running this wheel.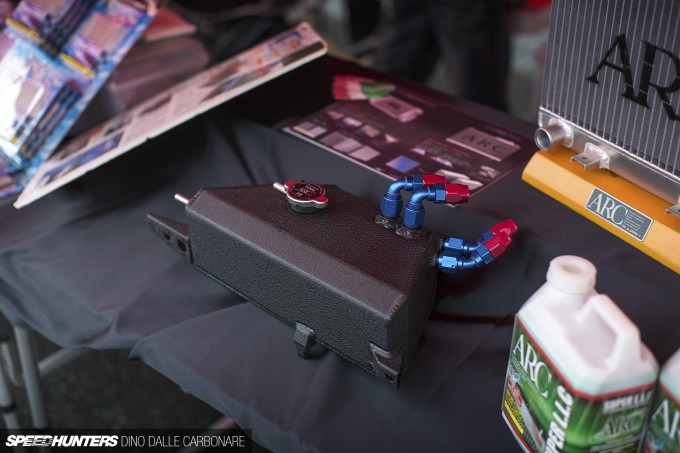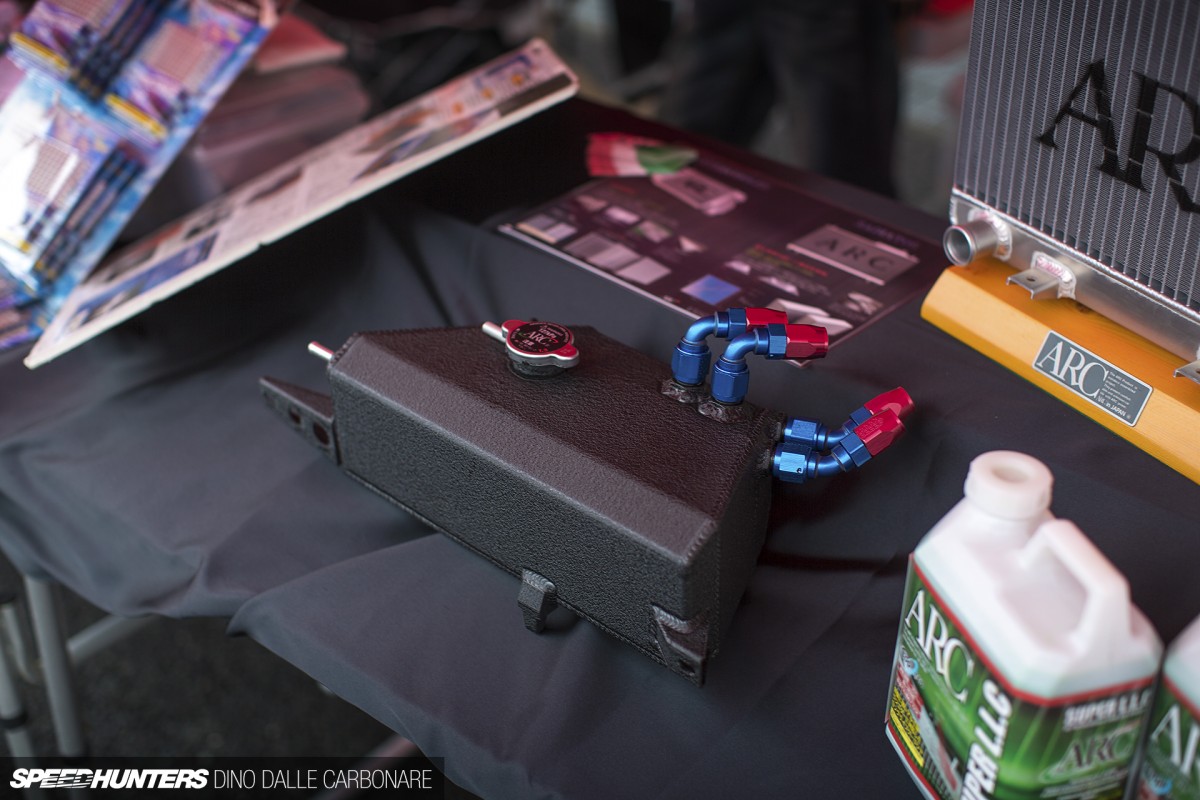 I'm so happy to see ARC back in the tuning game. After some financial trouble they have returned to making those wonderful cooling related products they have always been so well known for. They had this nice radiator overflow tank for the R35 on display – a great way to upgrade what has to be one of the biggest eyesores inside the new-gen GT-R's engine bay.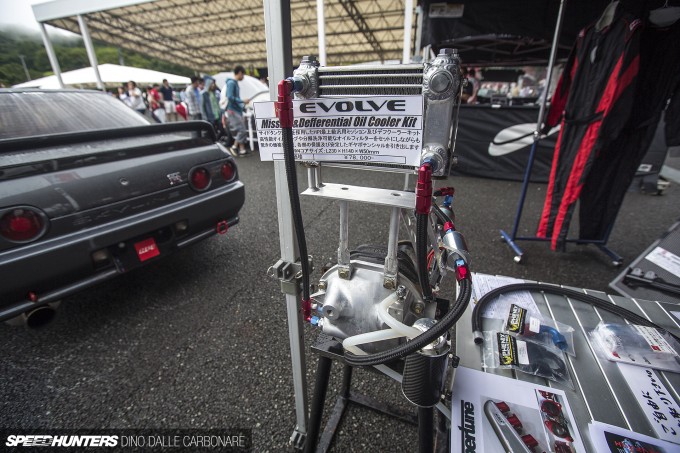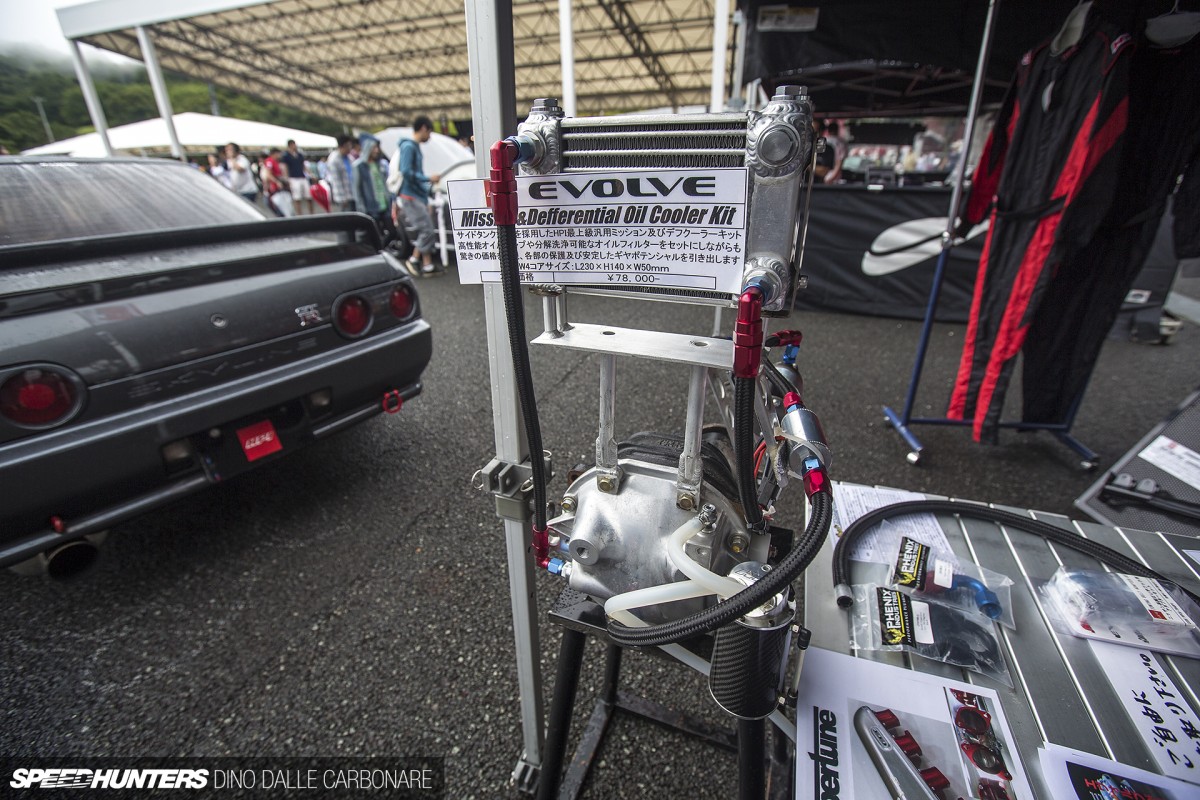 On the subject of cooling, I spotted this differential oil cooler over at the HPI booth. This competitively priced cooler is definitely a must for anyone that spends a lot of time lapping race tracks as it helps keep the rear pumpkin at optimal temperature. The kit comes with a small radiator, Earl's connectors, braided lines and the electric pump that circulates the fluid. The carbon breather tank is an option.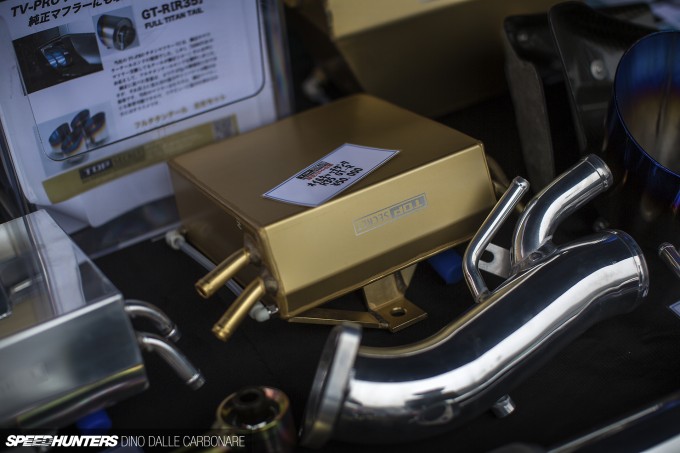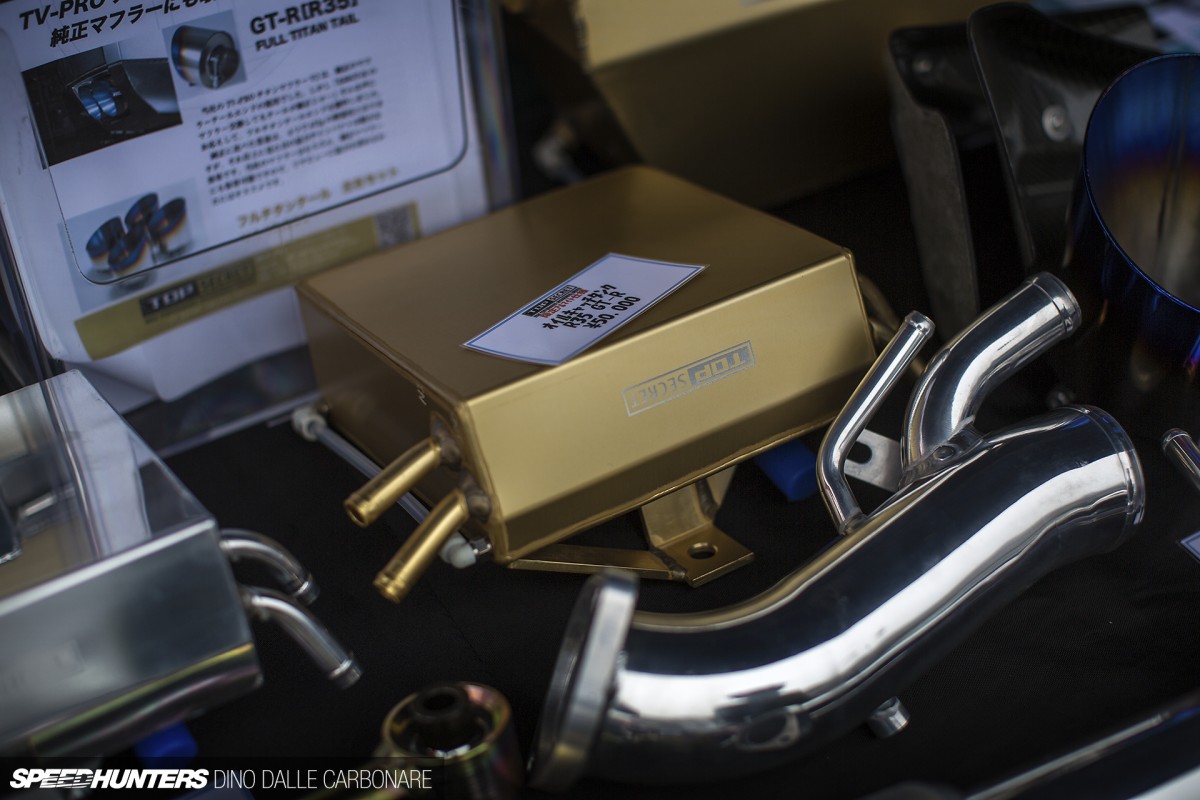 Nagata-san at Top Secret had all sorts of shiny goodies up for grabs at special discounted prices for the R's Meeting, like this gold anodized oil catch tank for the VR38.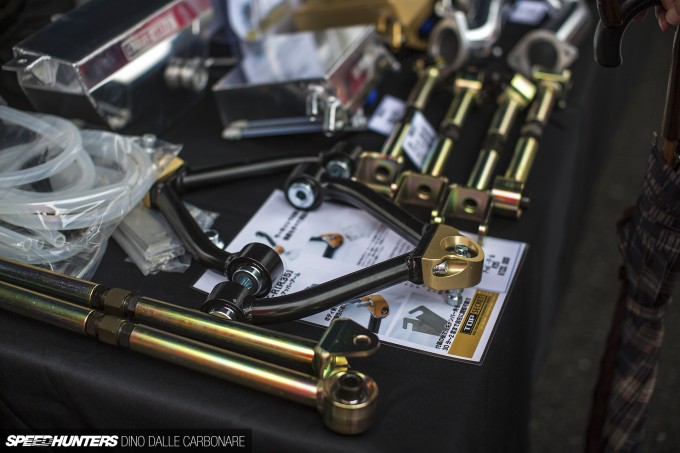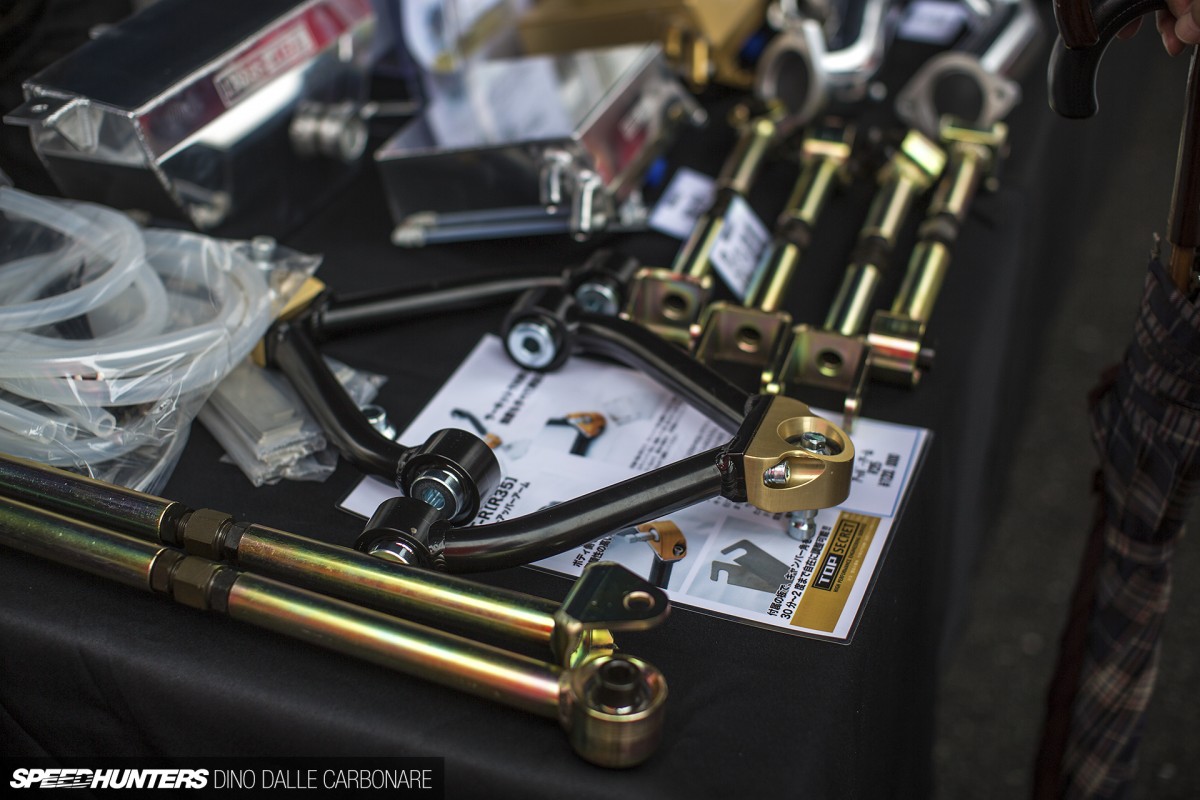 Developing their GT-R for this year's WTAC has allowed Top Secret to come up with a variety of adjustable arms and links for the R35 – again a must for anyone that wants the best performance out on track.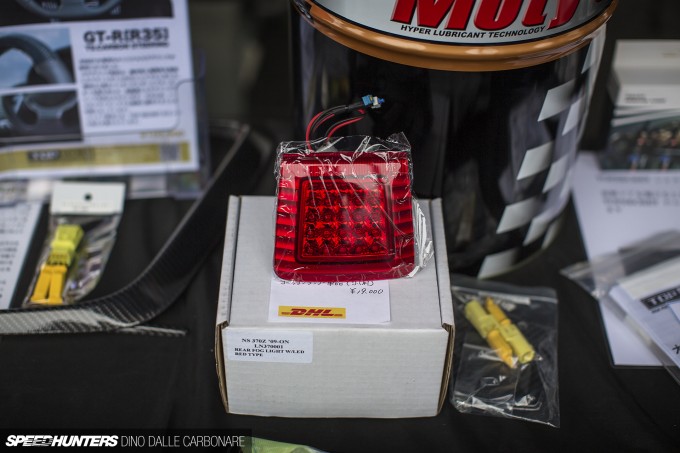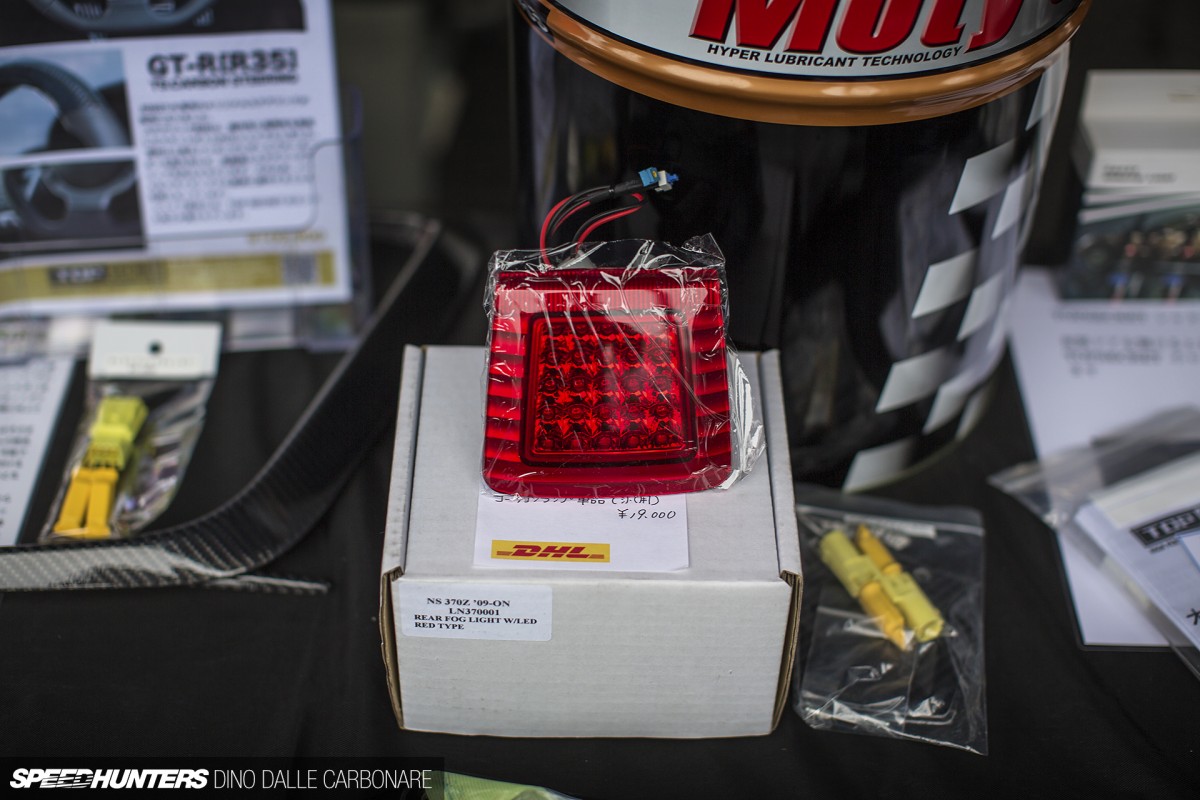 F1-style LED fog/emergency light? Why not!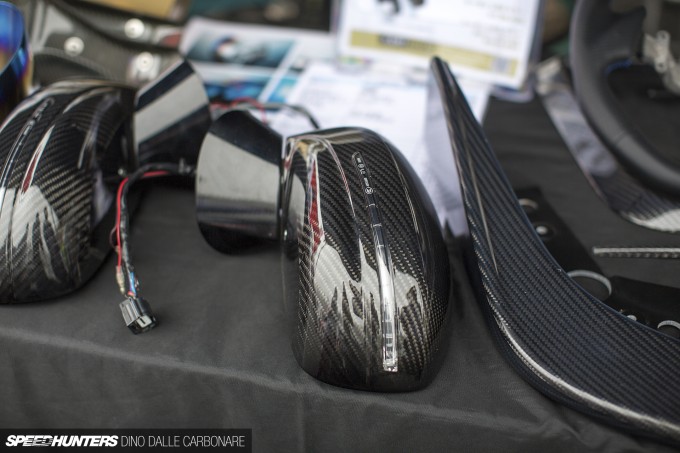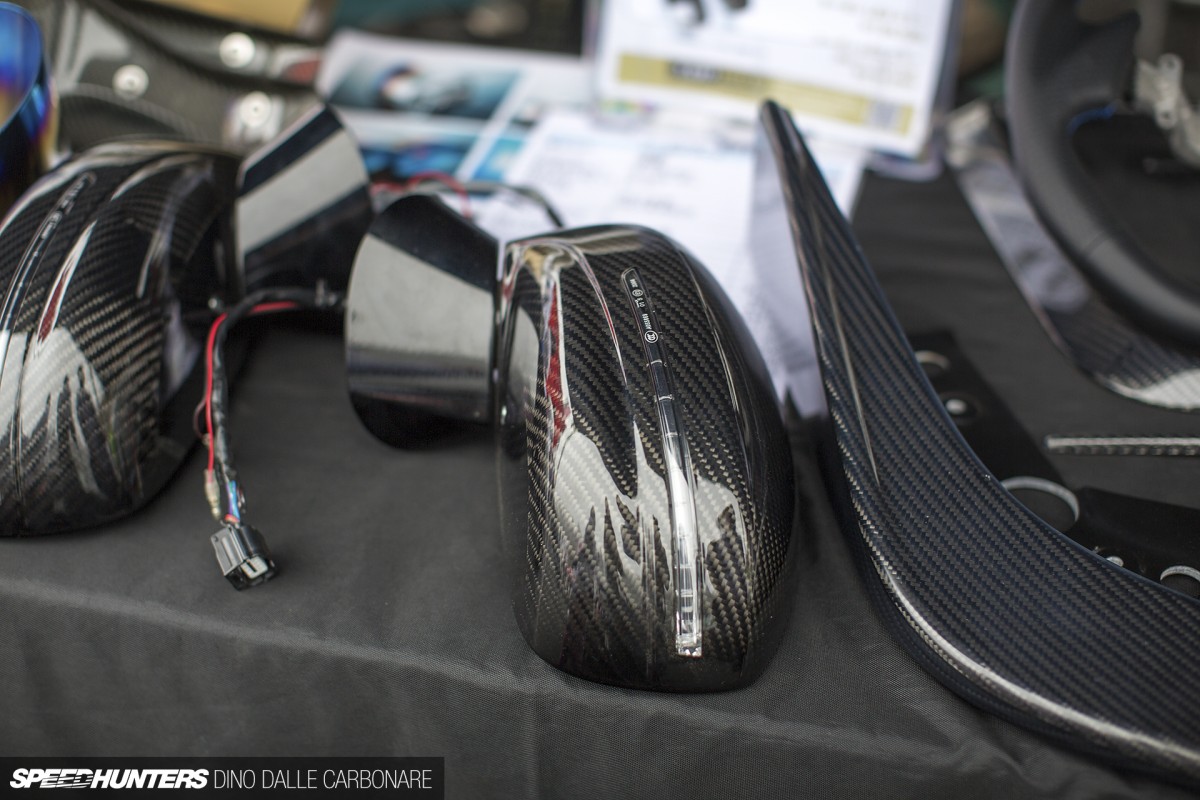 Top Secret may focus on engine and mechanical tuning, but they have never passed up on the opportunity to develop dress-up parts. Their new carbon-shelled mirrors now sport amber turn signals, just like high end European supercars do these days.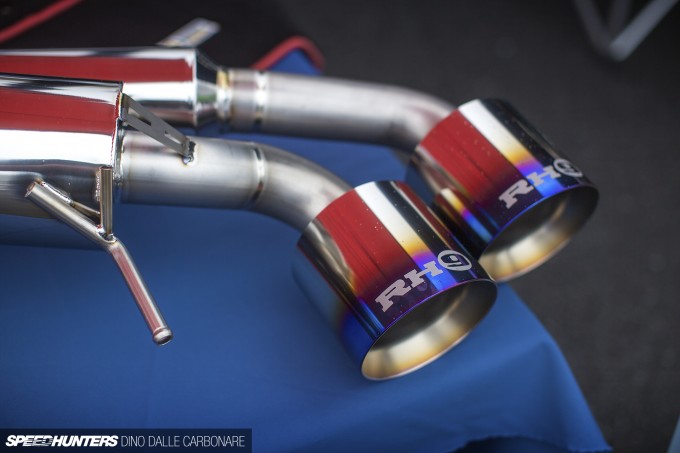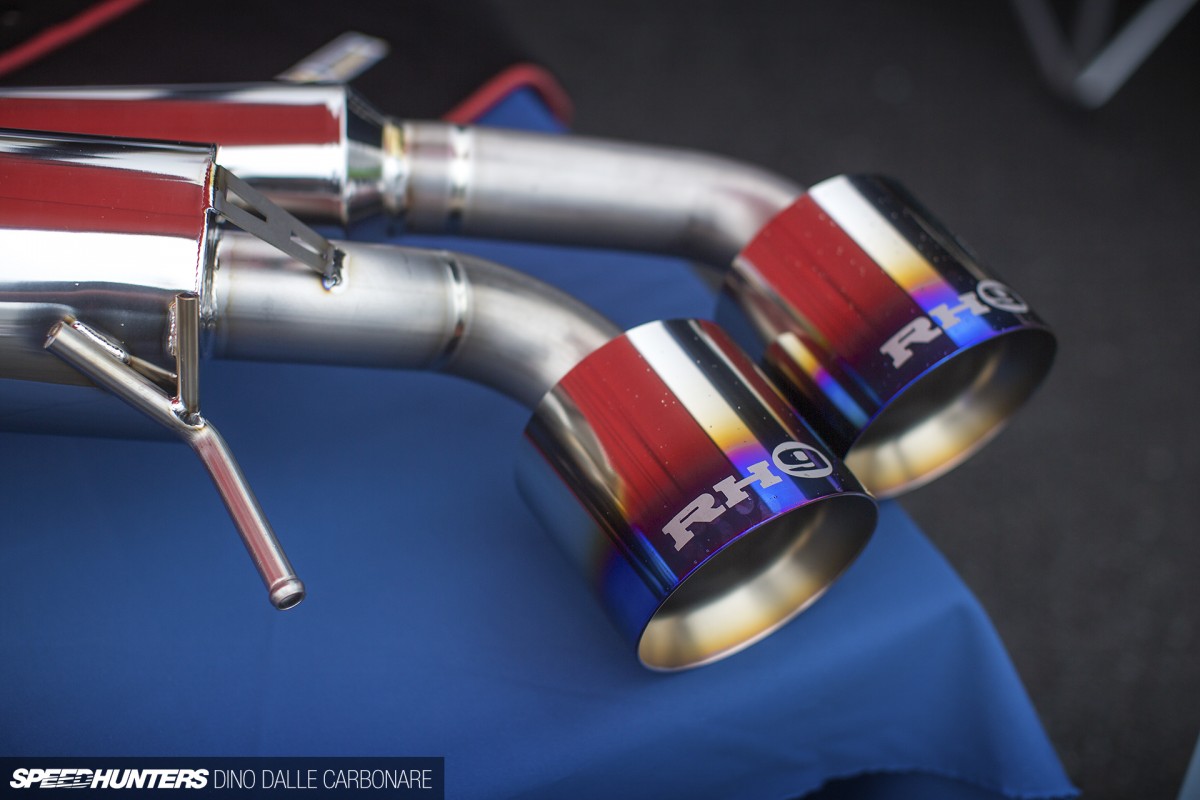 Since a number of RH9 member shops were present, Phoenix's Power and Top Secret set up a special RH9 booth to show off some of the collaboration parts that they create, like this titanium exhaust section for the R35.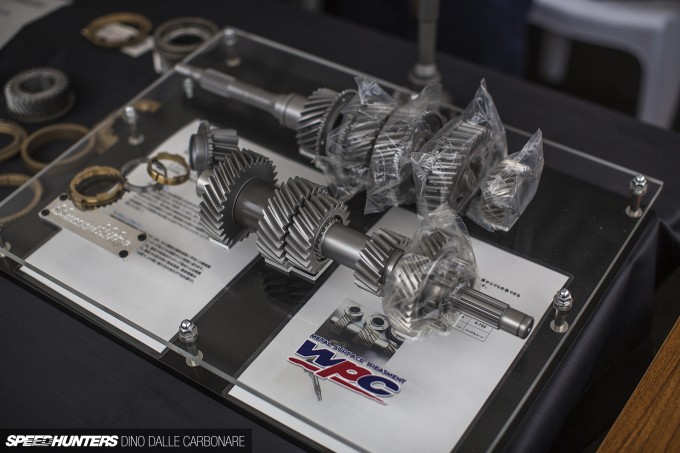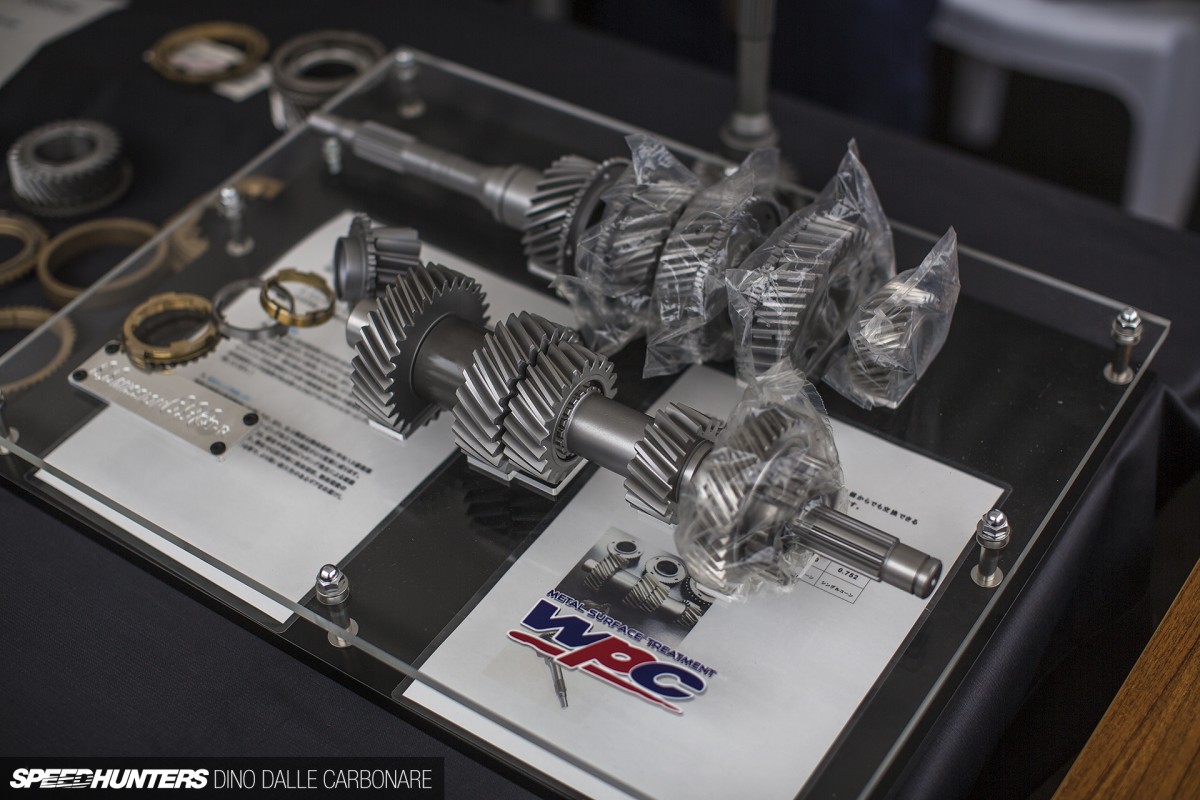 Auto Gallery Yokohama never fails to impress when it comes to driveline upgrades. They are a renowned specialists for R32 and R33 gearboxes, offering all sorts of internal upgrades from refreshes to full dog-engagement race-oriented gearing.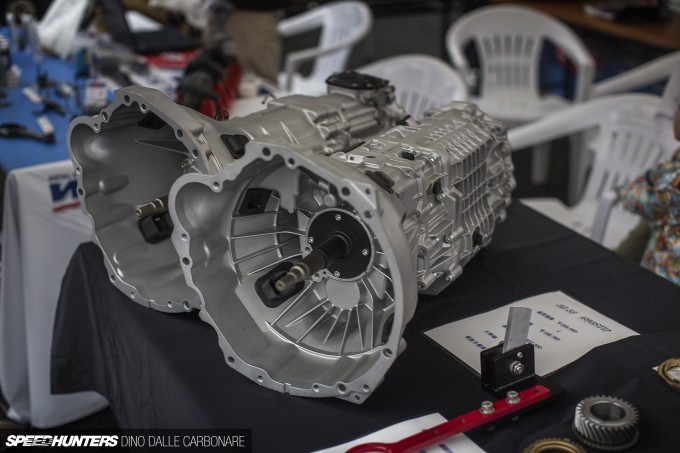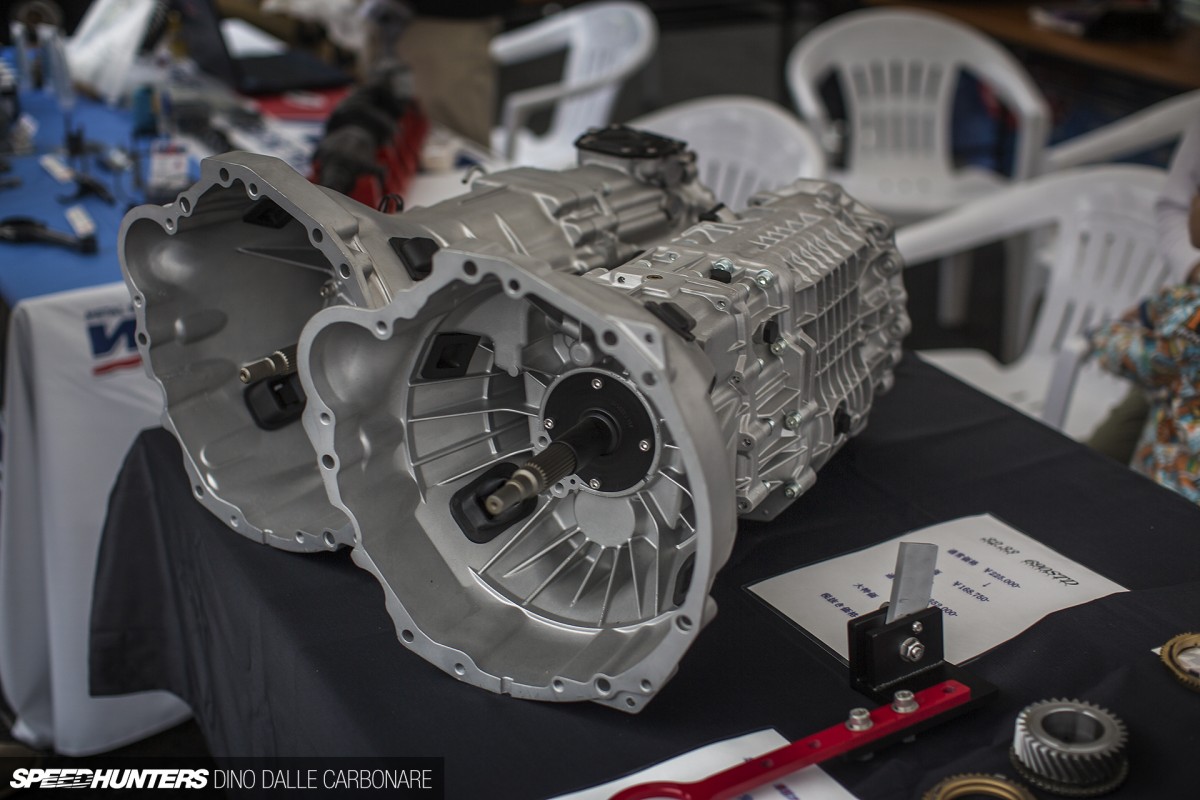 Or complete gearbox replacements and transfer box rebuilds.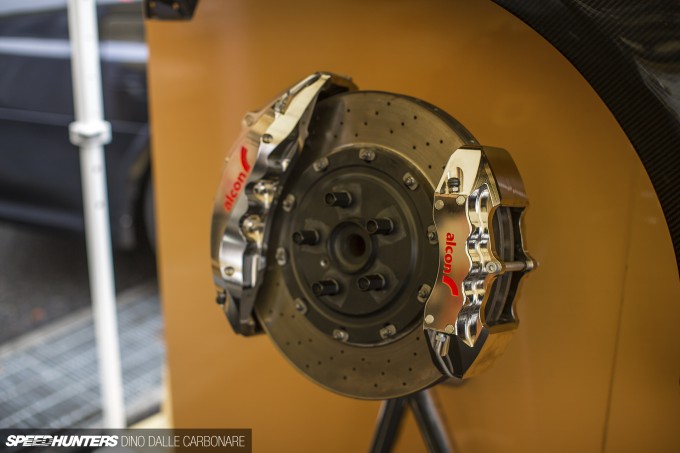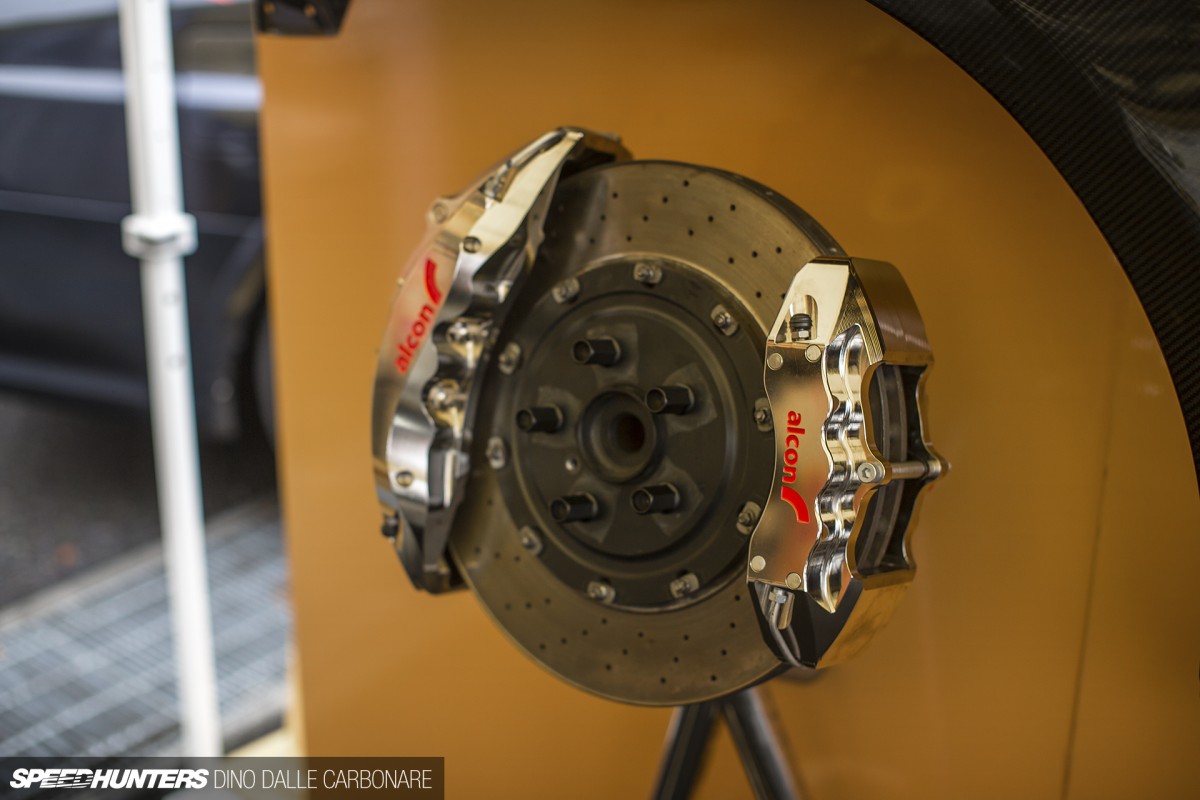 I remember back around 15 years ago, how limited the market for brake upgrades was in Japan. The most popular upgrades were centred around Brembo Ferrari F40 or F50 four-pot calipers or old ex-motorsport AP Racing or Alcon six-pots. Nowadays you are spoiled for choice, depending on how much money you are willing to part with of course…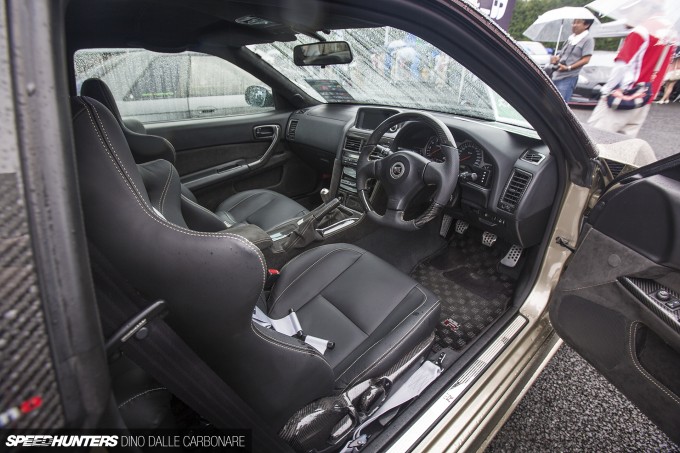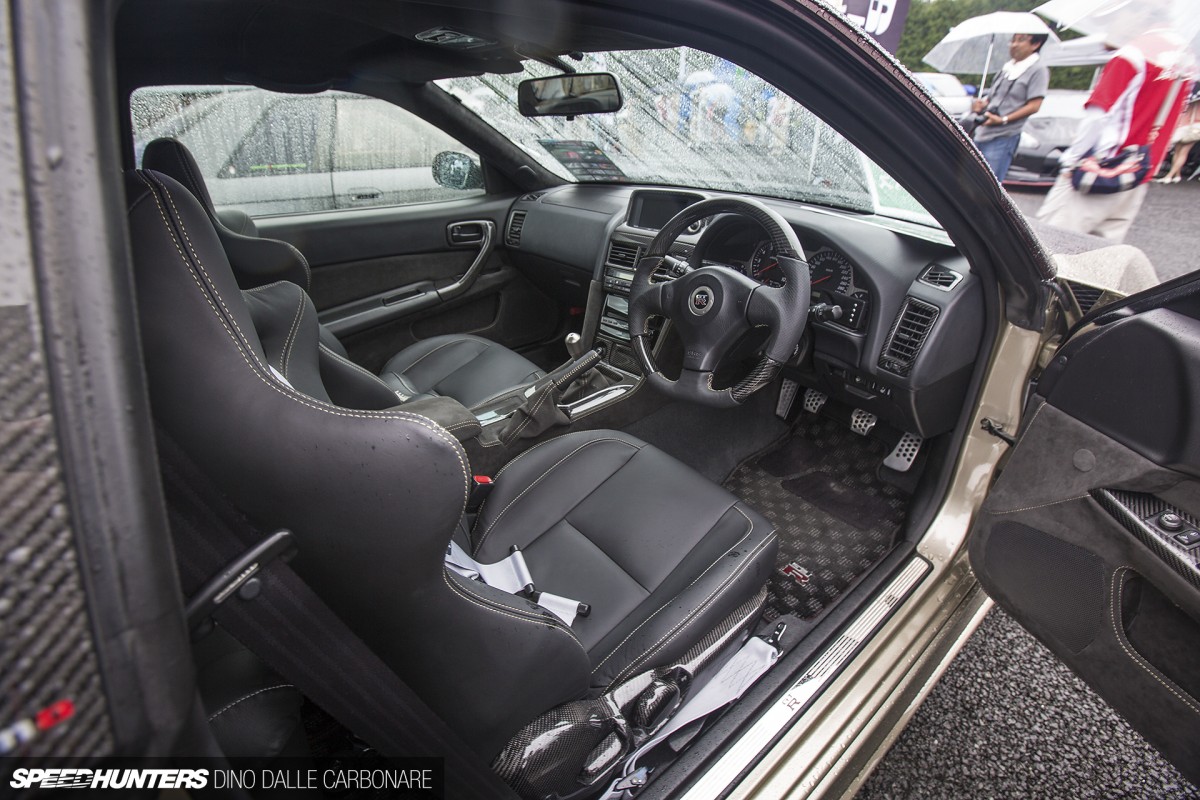 So you've taken years to fully tune up your GT-R, doing all sorts of wonderful things to the engine, driveline, suspension, braking and exterior. What's next? The interior of course! It's companies like Robson Leather that continue to raise the bar in this department, getting rid of the '90s fabric that covered the seats on R32, R33 and R34 GT-Rs, and replacing it with soft leather, Alcantara, or both. This M-spec Nür demo car at their booth had just been upholstered in Nappa leather – a very soft yet durable type of hide.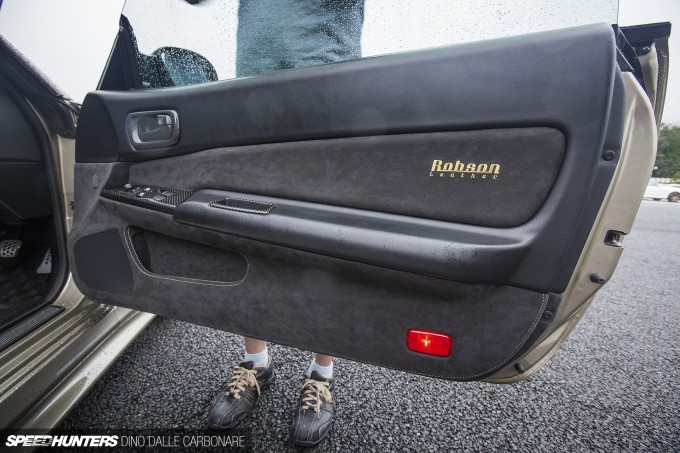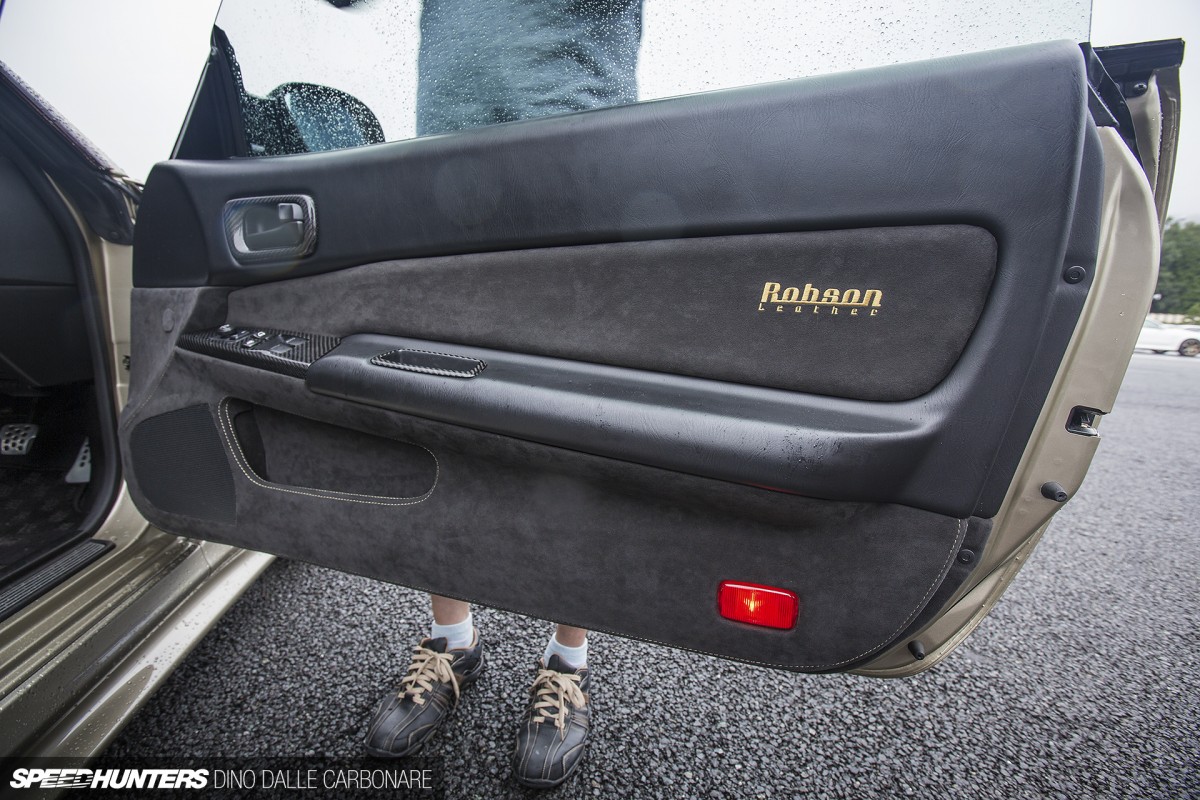 For the first time they've even addressed the lower section of the door cards – a part that from factory is a pretty nasty and easy to scratch black textured plastic. They had to sand everything down and treat it with a special chemical so that the glue used in the upholstering process allows the Alcantara to follow the contours of the surface without any air pockets.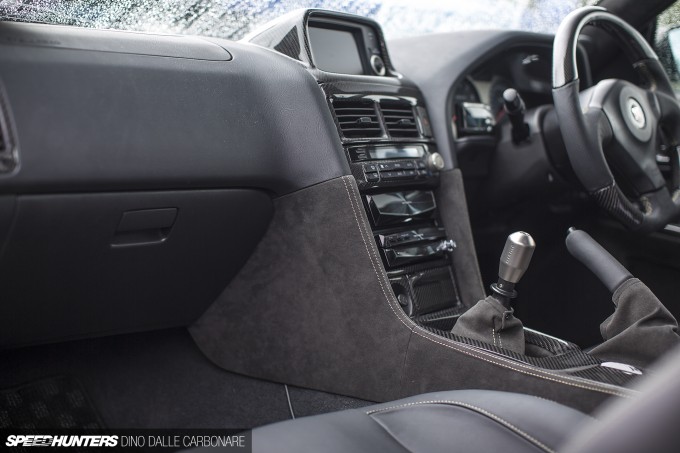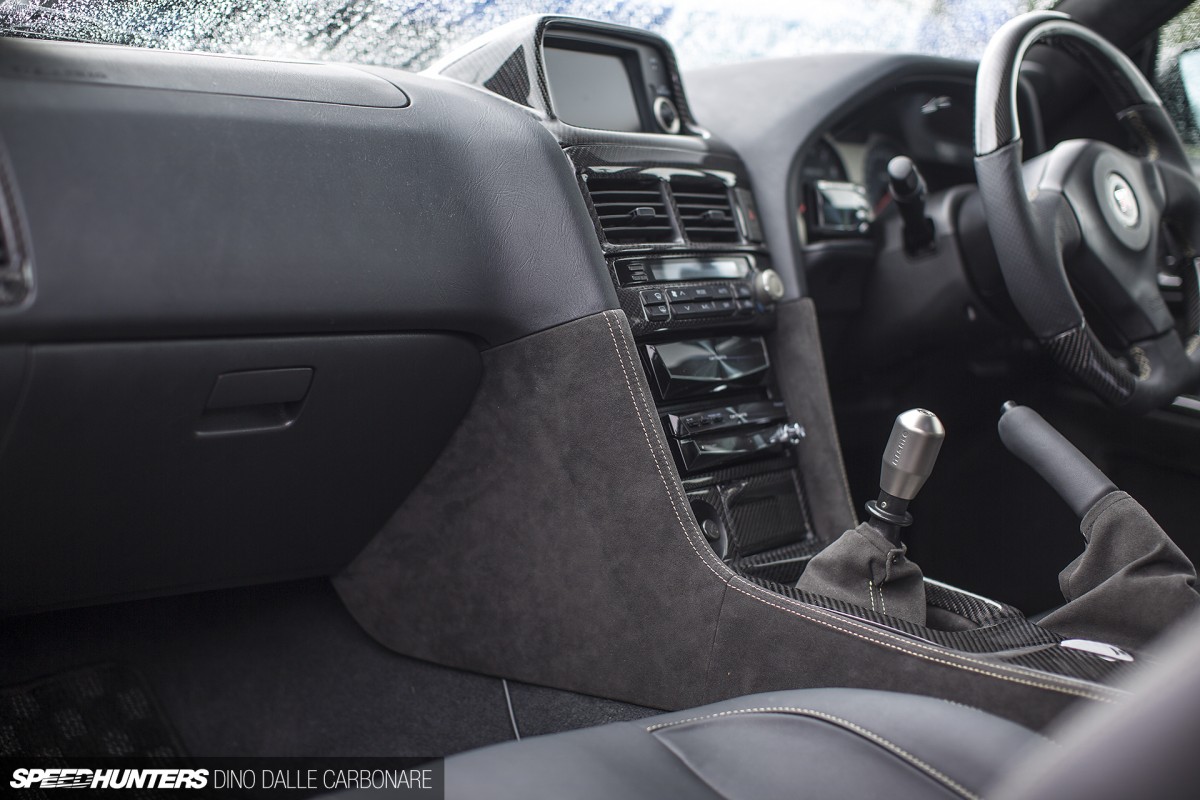 The same process was also used on the transmission tunnel. If you ask the guys at Robson, they might even add some padding to this area for you, because – as any GT-R owner will attest – when you do some spirited driving on track your knees bruise up pretty badly from smacking against the hard plastic on the side of the console as well as the door.
I hope you've enjoyed this quick run down on the most interesting GT-R-related parts that I came across at the R's Meeting. You will have to wait for the Nismo Festival at the end of the year for the next Nissan-related nerd out!
Dino Dalle Carbonare
Instagram: speedhunters_dino
dino@speedhunters.com