For well over a decade I have been quite content with Project GT-R's performance. Even better, I've never had one single issue with the car ever since it underwent its first series of modifications at Mine's many years ago. But with my goal to modernize and upgrade the BNR34 in an effort to keep it fresh among the latest crop of sports cars, I think I've finally reached a point where the engine needs to be addressed. We all know about the RB26's capabilities. It's one of the great Japanese motors – a power plant that lends itself well to a variety of approaches and one that can be easily tuned for pretty much any sort of power output your budget will allow. Although it's tempting to build a monster engine, what I really want to do is build on the RB's character – keeping all the aspects that I love about it, but at the same time tapping into that potential for slightly more impressive numbers. This is of course not a one-step process, it will take time to achieve and perfect…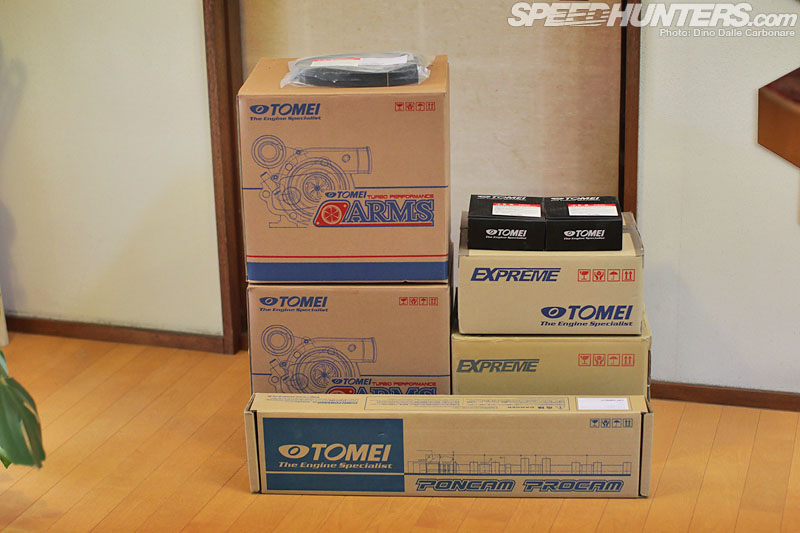 … but thanks to Tomei Powered – one of Speedhunters' official suppliers – I am now very much on my way to seeing it become a reality. So let me show you what has been happening behind the scenes, as I prepare for this rather big step in the car's long-running development.
It all began with the delivery of yet more boxes – the sort of boxes that put the widest of smiles on your face! Thanks to Tomei the whole exhaust side of the engine will be upgraded, starting with…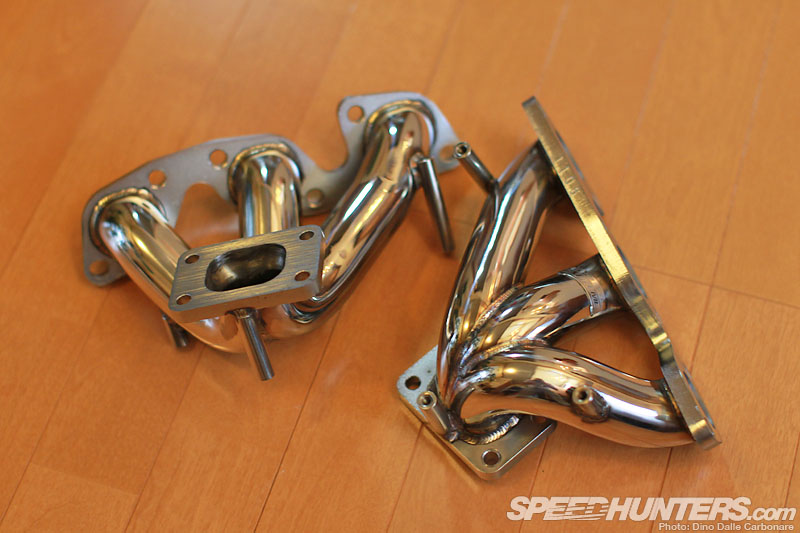 … this set of Expreme exhaust manifolds. These SUS304 stainless steel headers will replace the factory cast iron items and boast a far more performance-oriented design and construction.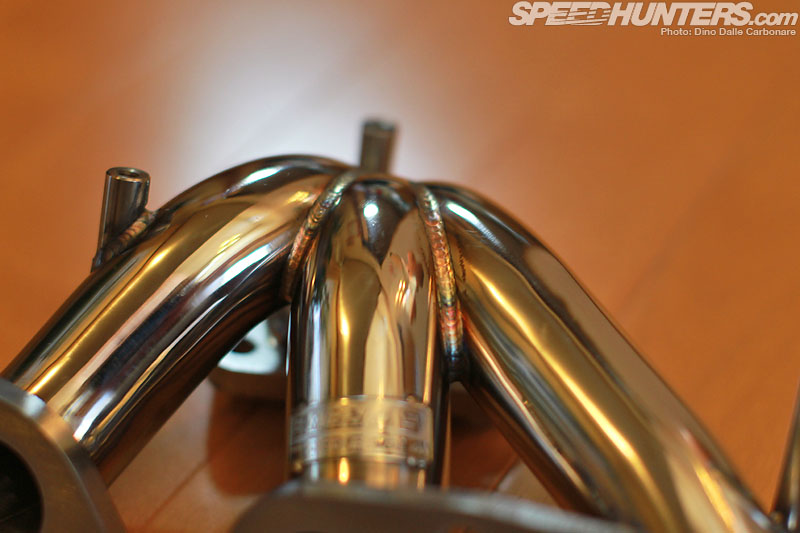 Each one of the three 41.5mm diameter runners are gently curved and TIG welded…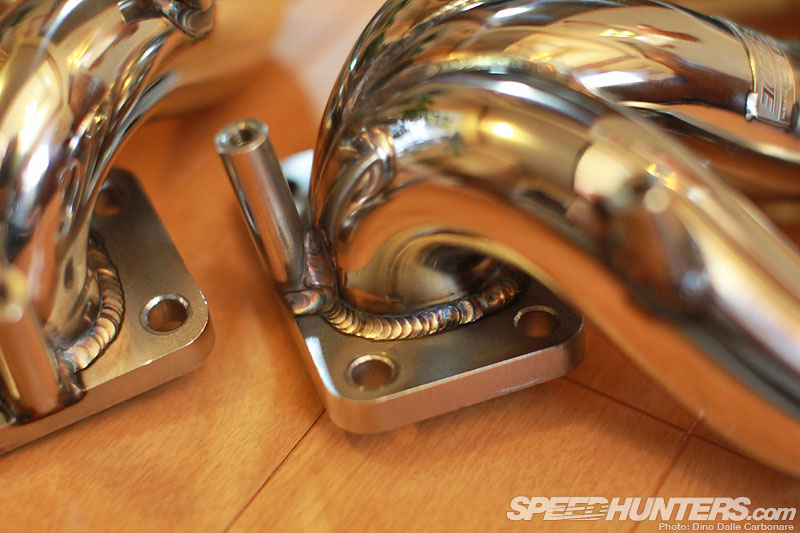 … towards the flange onto which the turbocharger is attached. Tomei has gone with a wall thickness of 2.5mm to help extract the best possible sound from the set up regardless of the turbo you use.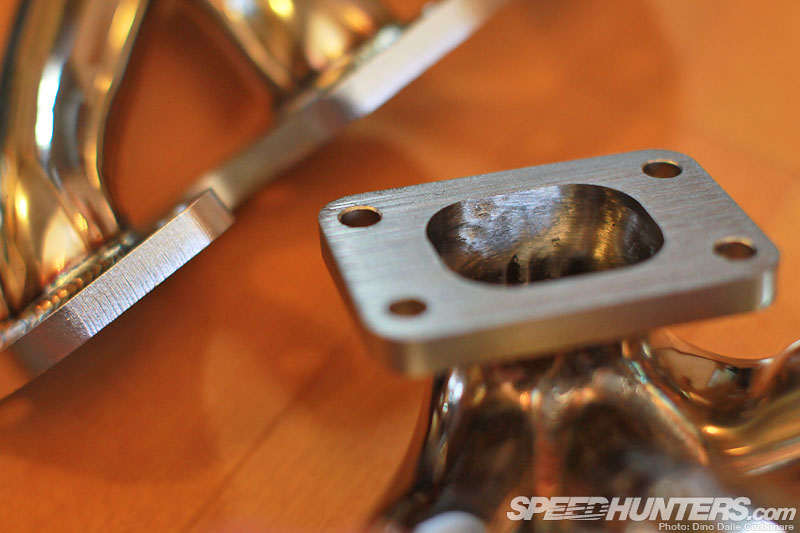 The attention to detail is phenomenal with the inside of the welds smoothed away so as not to interfere with exhaust flow.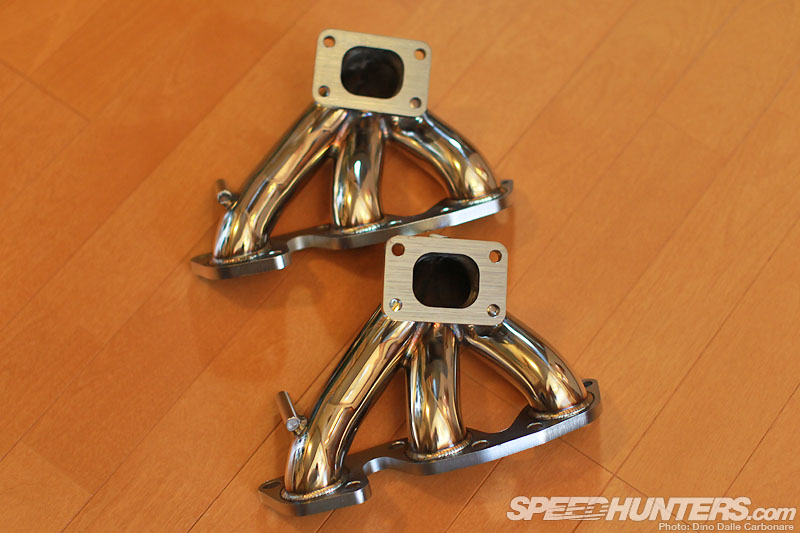 Each manifold weights in at 3.6kg, which is a 3kg saving over the stock cast iron items. That's a 6kg weight loss right there!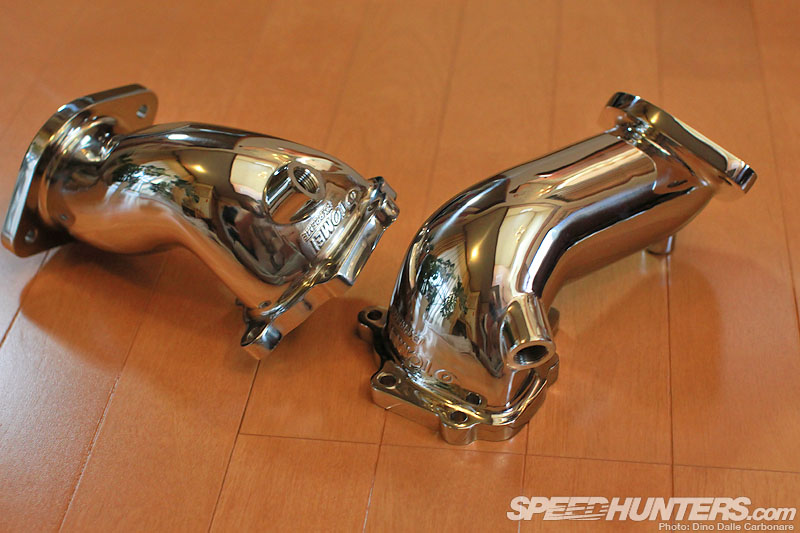 As exhaust gasses do their job through the hot side of the turbos, they are dumped into the outlet pipes, and much like any manufacturer-designed and produced parts, the stock items are quite restrictive. These will get replaced by Tomei's stainless steel outlet pipes, which if you look closer feature absolutely no welds. The smooth look is achieved through a 'lost-wax' casting process…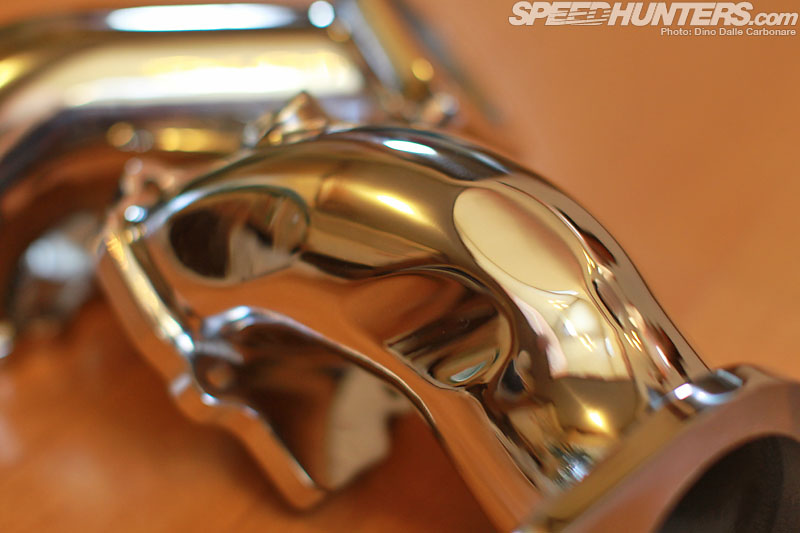 … to help create a smooth shape…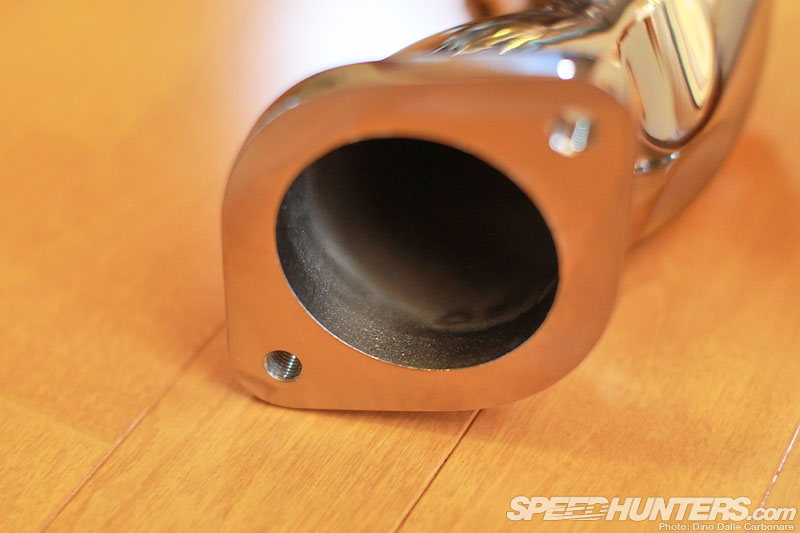 … and eliminate the needs for welds around the top and bottom flanges. That means there's a completely smooth internal surface, and no chance of them failing due to cracked welds.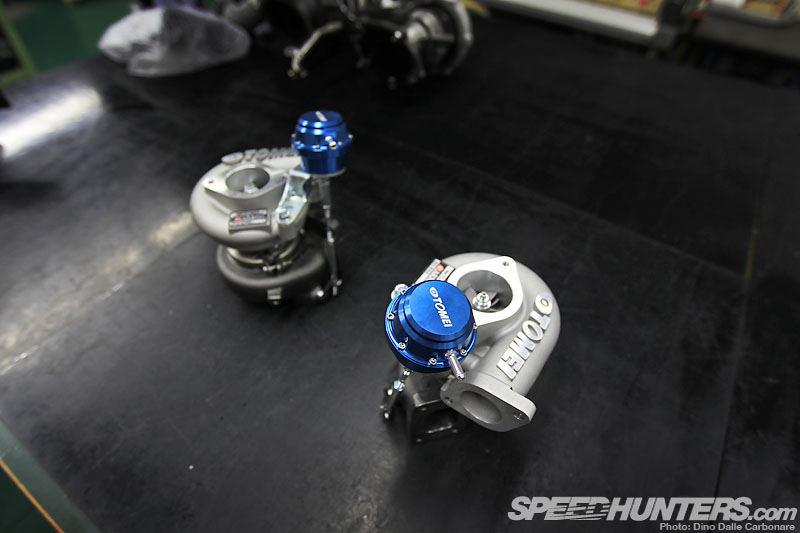 Of course, the pièce of résistance – as you may have already gathered from their boxes – are the two Tomei ARMS M7655 internally-wastegated turbochargers. These are the smaller of the two turbo upgrades that Tomei offers, but are still rated at about 580hp with supporting modifications. Since the engine internals will remain stock (for now at least) I won't be shooting for the max power possible, but rather looking for a good balance between torque and response.  These units, that Tomei released a little over a year ago, are proof that RB26DETT engine tuning and development is still very much active. While the R35 may have stolen the limelight form the older generation GT-Rs, there are still plenty of enthusiasts sticking with their previous-gen cars and because of this companies like Tomei continue the research and development of new parts. Compared to the BNR34's stock turbos, these M7655s run an 11.9mm larger compressor wheel and a 5.5mm larger turbine wheel. Of course, the BNR34's turbos run a ceramic turbine wheel to keep rotational masses low, but these can easily fail when you increase boost above 1.1bar. No such problem on the ARMS turbines!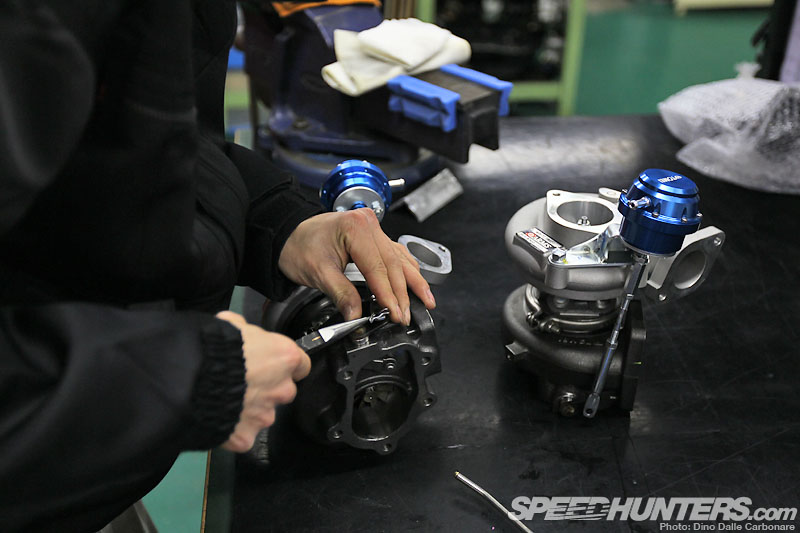 It took years for Tomei to develop and perfect these turbochargers on their engine dynamometer, which is great to know given that they're such a crucial part of a force induced engine. But once I received the turbochargers it wasn't long before I took them back to Tomei.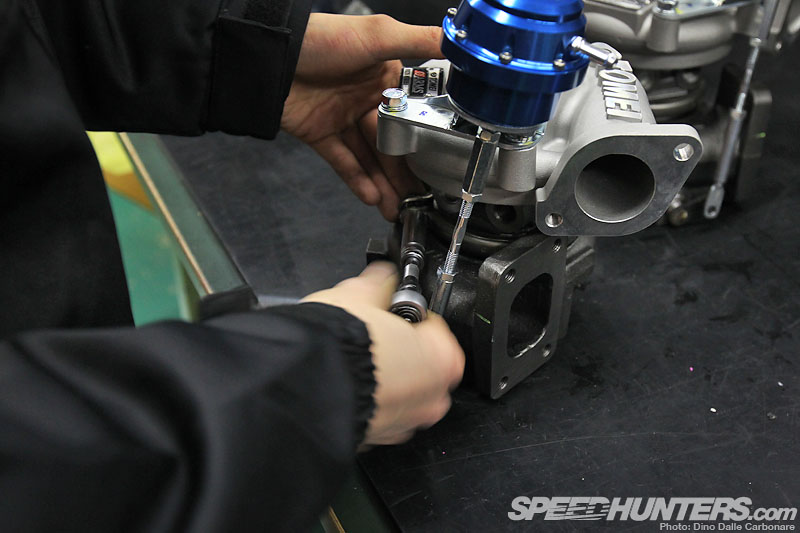 No, I wasn't returning them…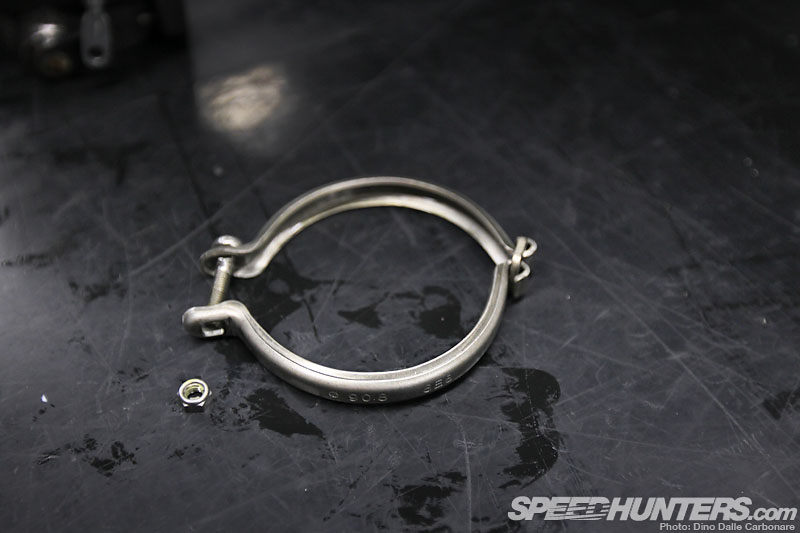 … but rather getting the exhaust housings removed – a procedure that was very quick as the whole assembly is held in place by this bracket.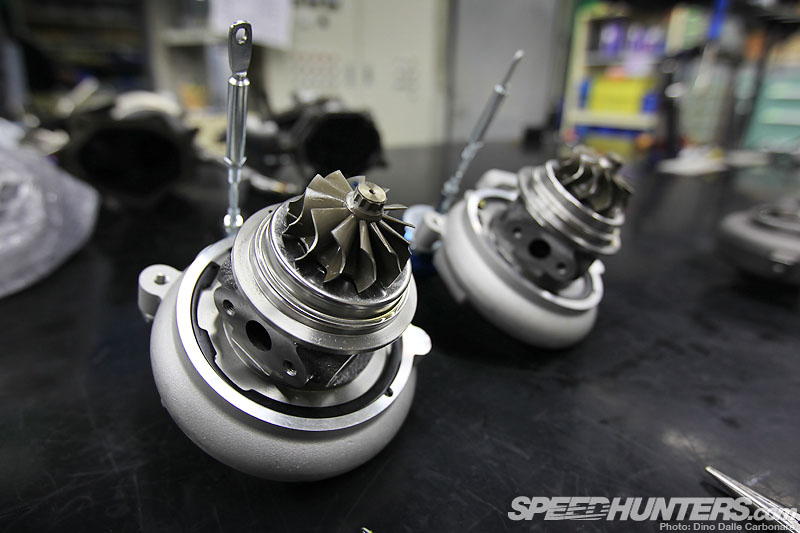 With the hot side of the blowers off you can get a nice look at the turbine wheel and its 12 blades (three more than a stock BNR34 one). These turbos spin on oil-cooled journal bearings and above you can see where the oil lines from the engine connect into. But of course…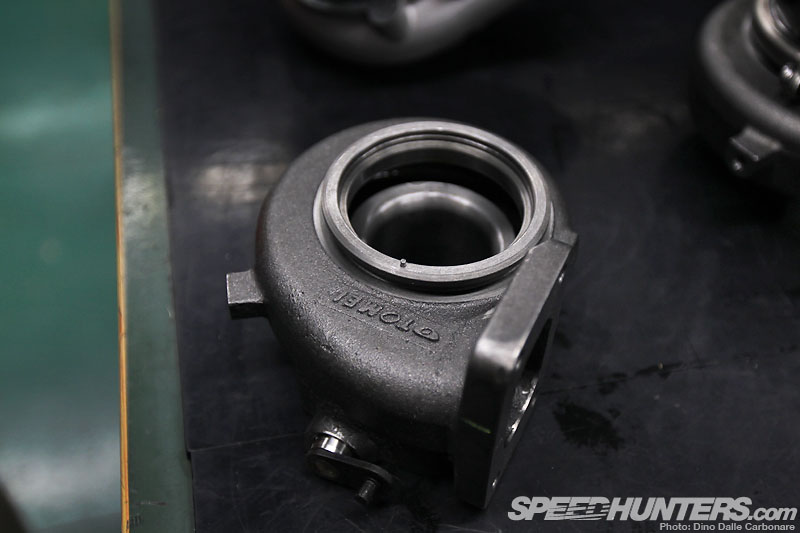 … the reason I had the turbos taken apart wasn't only to look at how pretty they were on the inside…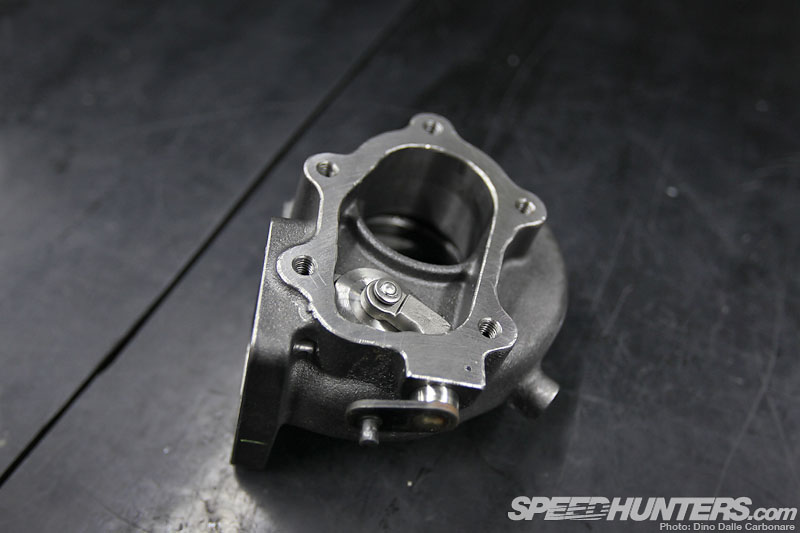 … but rather because I wanted to have them ceramic coated. I thought that if I didn't take this step now I would probably end up regretting it later down the line…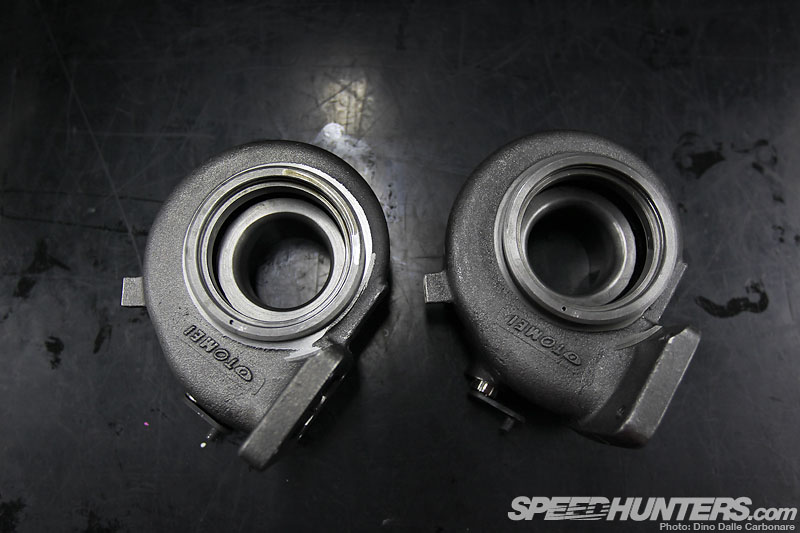 … so along with the two exhaust housings, I sent the headers and outlet pipes on a rather long journey to Finland.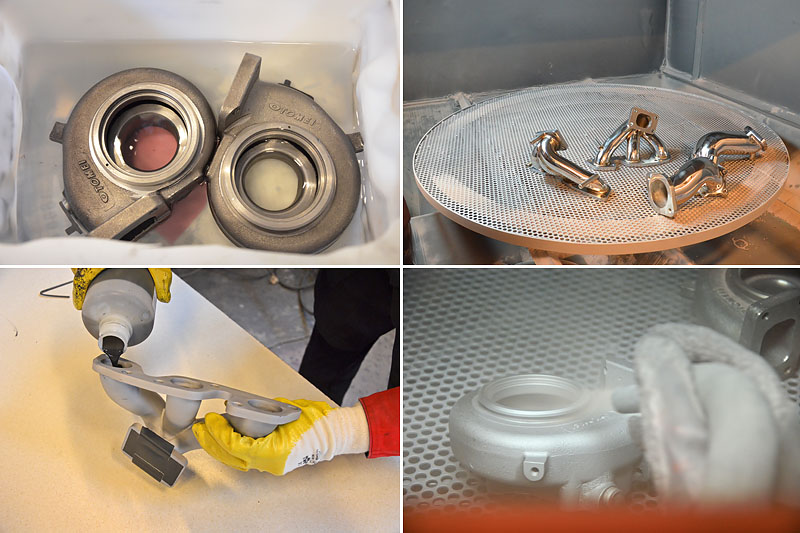 There they would be handled by the guys at Martelius Exhaust Systems who, although they specialize in the fabrication of custom exhausts, also offer ceramic coating options to their customers. As soon as the parts arrived they were in to it. The cast iron exhaust housings were de-greased in solvent and then baked to get all the grease and oil out of the pores of the metal. The manifolds and outlets were blasted with aluminum oxide to prepare the metal for the actual treatment, which started off with an initial base ceramic coating. The headers and outlets were then filled up with Tech Line TLHBC internal coating liquid (special tape holds the liquid in), and then poured back out. After being air-dried everything was then baked at 150 degrees celsius for an hour.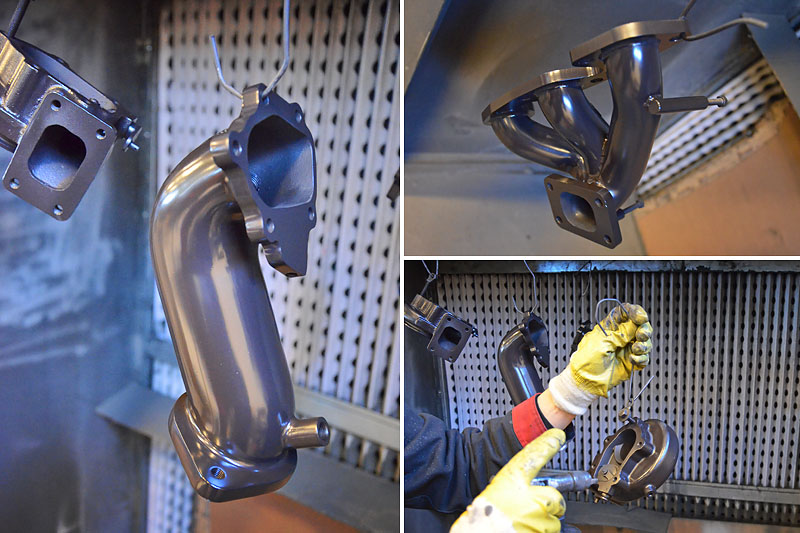 With the first coating dried the parts are treated to the next layers of ceramics; the ones used for the stainless steel parts differing to those used for the cast iron ones. More baking follows – this time at 260 degrees celsius for another hour – and then the top black ceramic coat (I opted for the black color, but there are others available) is applied. This is left to dry and then baked at 400 degrees celsius for an hour to fully cure.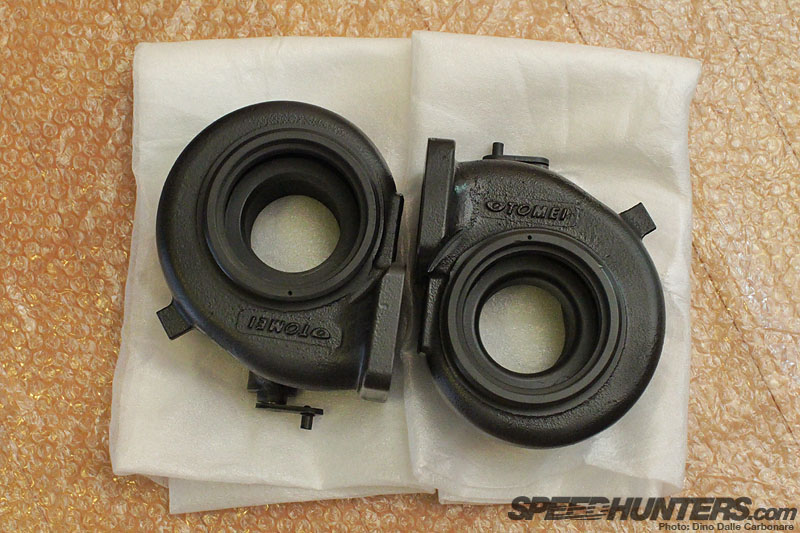 And here is the result.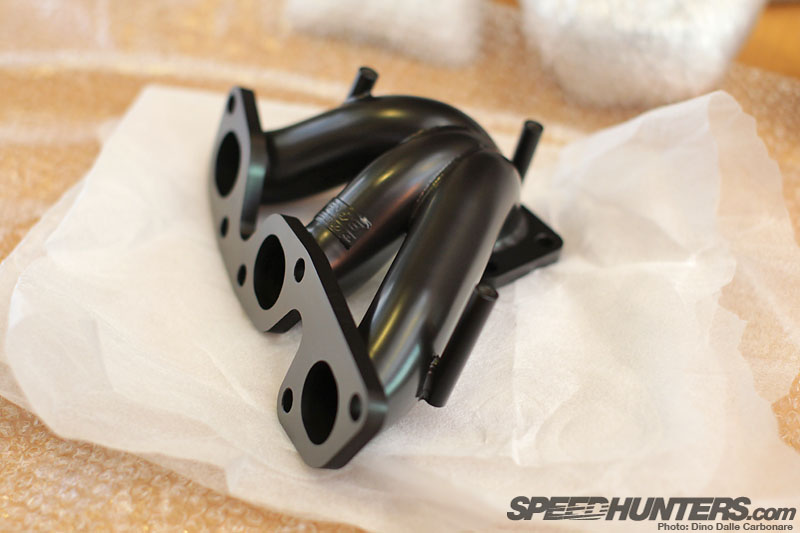 Martelius got the parts back to Japan in no time and I am very happy with how they've turned. It's almost a pity I need to fit them to the engine now!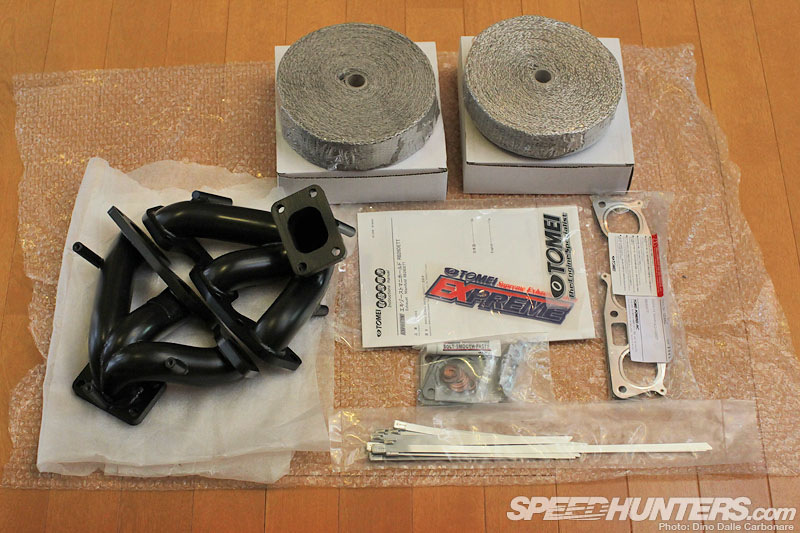 The Tomei exhaust manifolds come with all the necessary parts needed for fitting…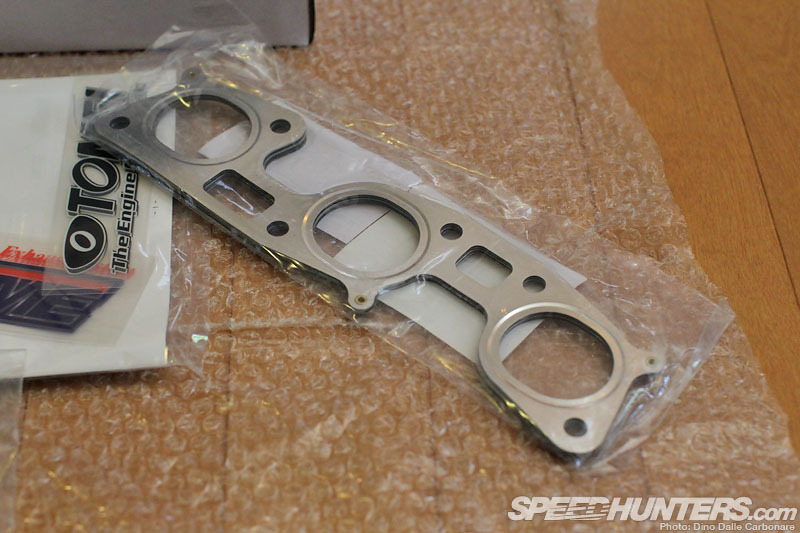 … which includes all the gaskets…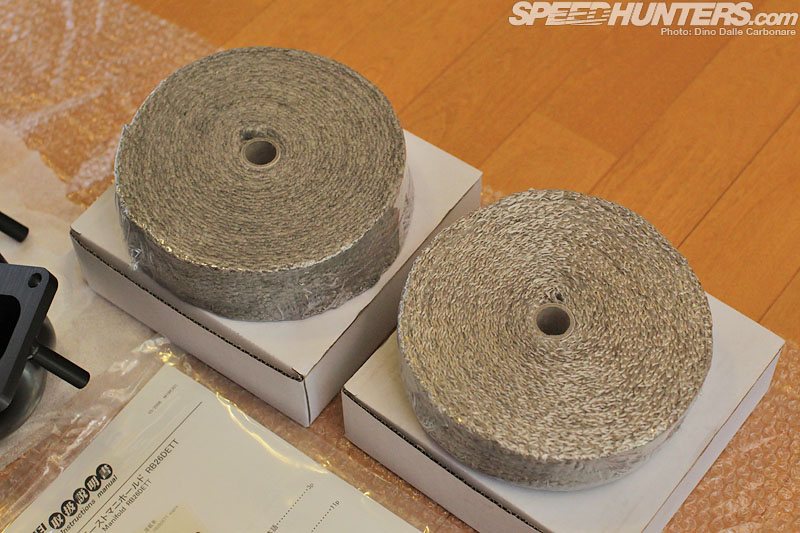 … as well as two rolls of heat wrapping. But now that all of the parts have been ceramic coated this will no longer be required as heat will be managed in a far more effective way. The coating will not only lower engine bay temperature but also contribute to better flow as less heat is dispersed by it being retained inside the manifolds/turbos/outlets and exhaust.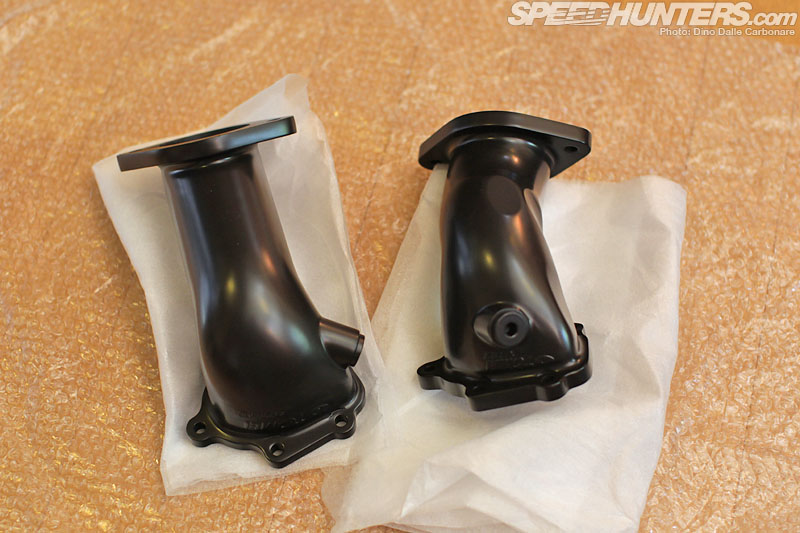 This is what the outlet pipes look like after the coating was applied…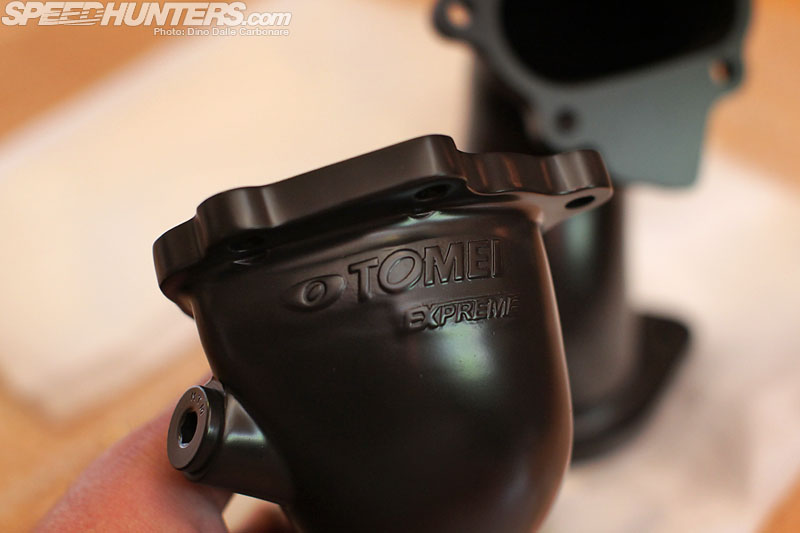 … ready to be fitted onto the ARMS turbos.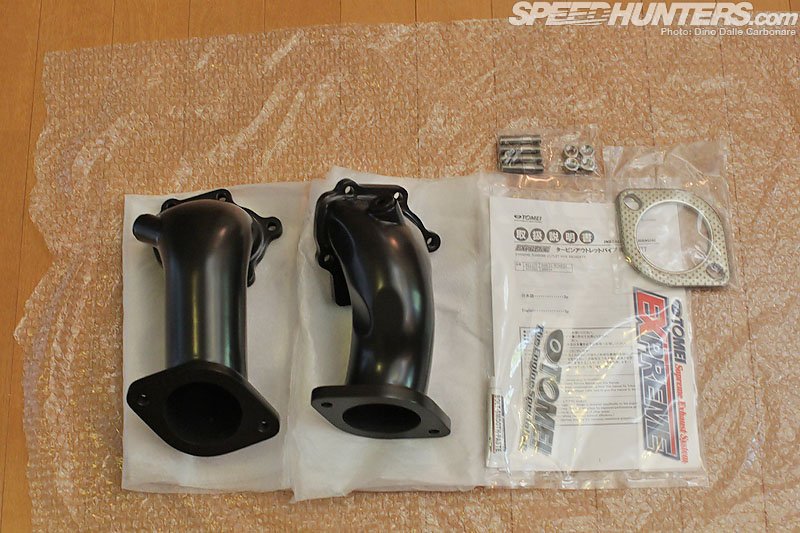 Again, like every one of Tomei's upgrades…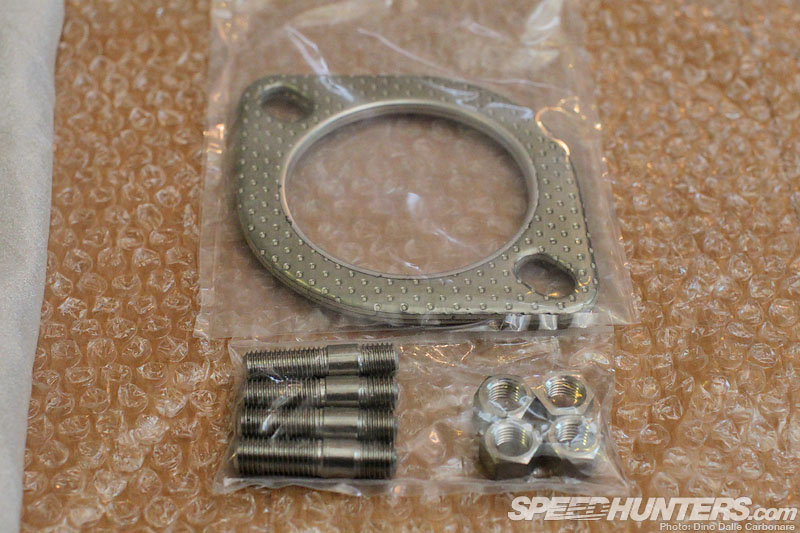 … all necessary gaskets, bolts and accessories are included in the package, along with fitting instructions and even a couple of stickers.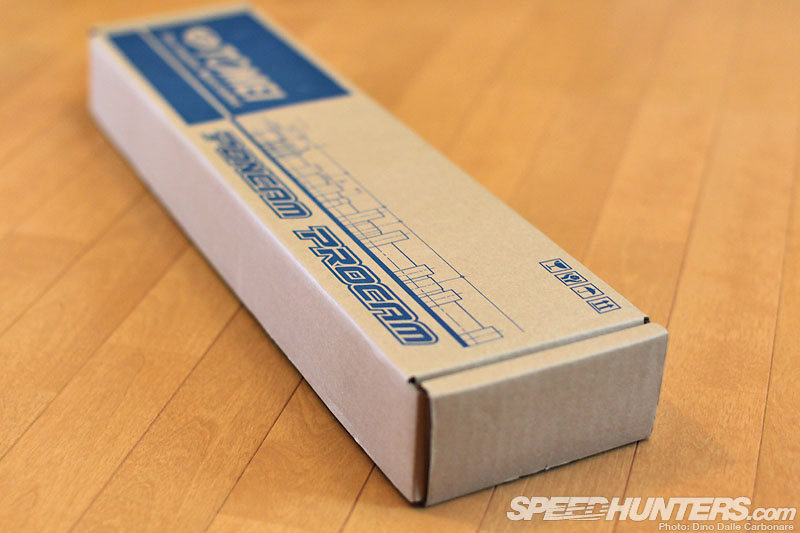 To get the most out of the increased volume of compressed air that the M7655 turbos will provide…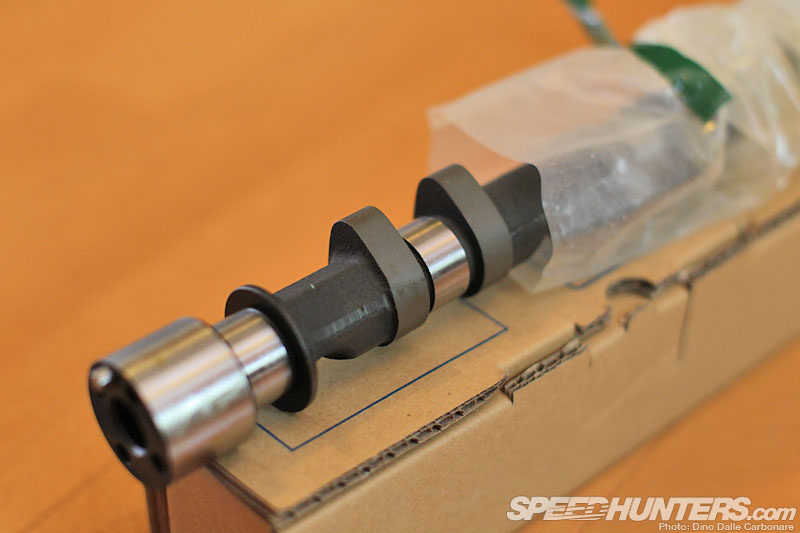 … the stock camshafts will also be swapped out for a pair of Tomei Type-B Poncams, which increase duration to 260-degreess and lift to 9.15mm on both the intake and exhaust sides. Camshafts are what Tomei Powered has always specialized in and they continue to supply and build custom bump sticks for countless tuners and race teams alike.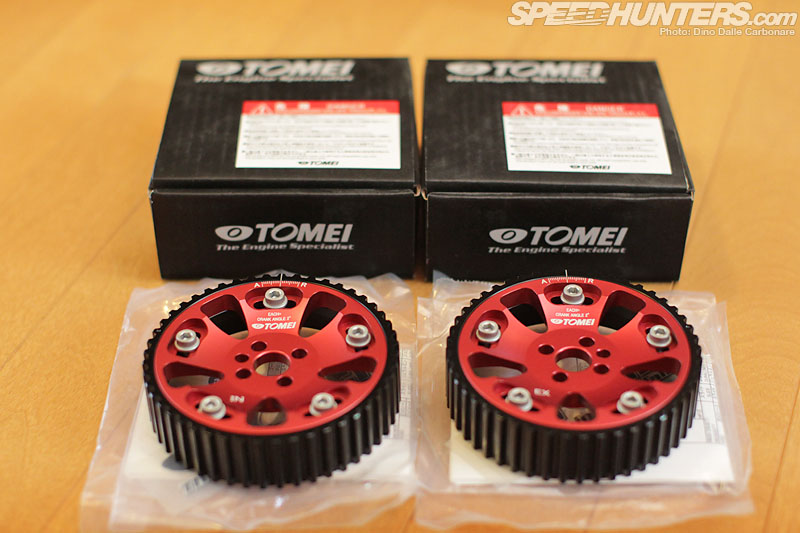 This set of adjustable cam pulleys will then be fitted onto the cams to allow fine tuning of overlap and timing and get the best out of my set-up.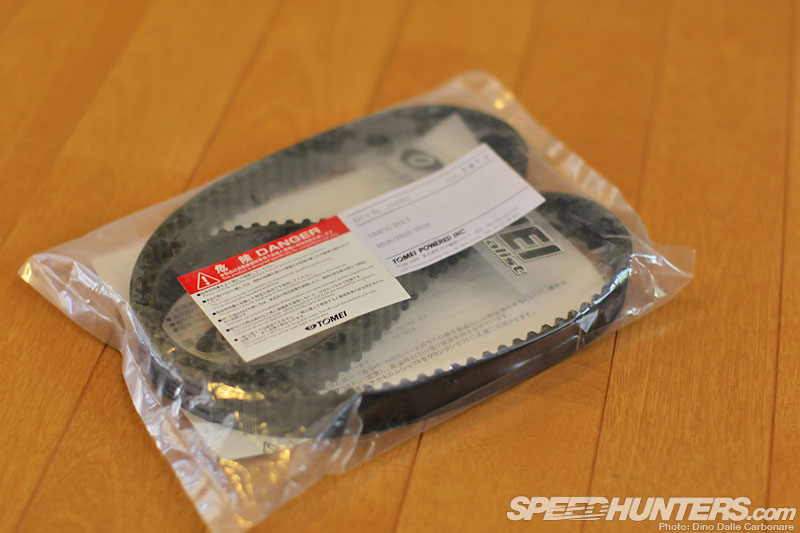 Since the engine is still running the stock cam belt, that will be thrown out and replaced with one of Tomei Powered's own Kevlar-reinforced belts for peace of mind.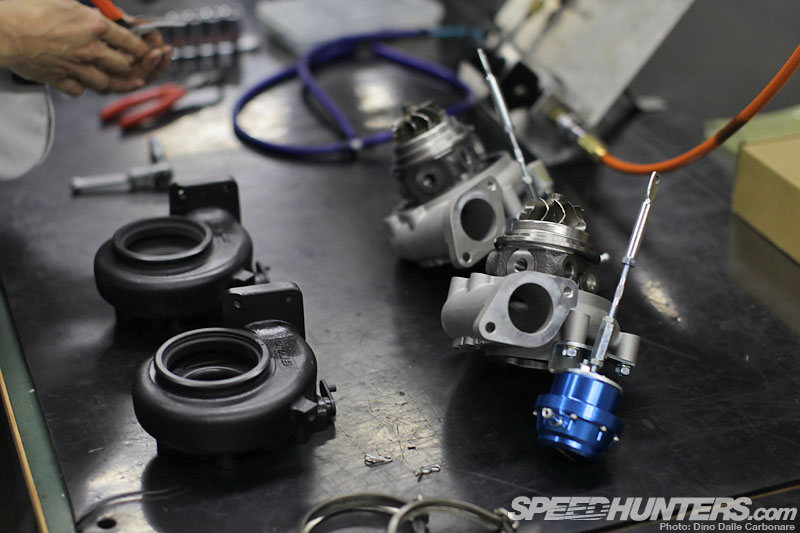 As soon as the ceramic coated parts came back from Martelius in Finland I headed back to Tomei's HQ in Machida to have their turbocharger specialist…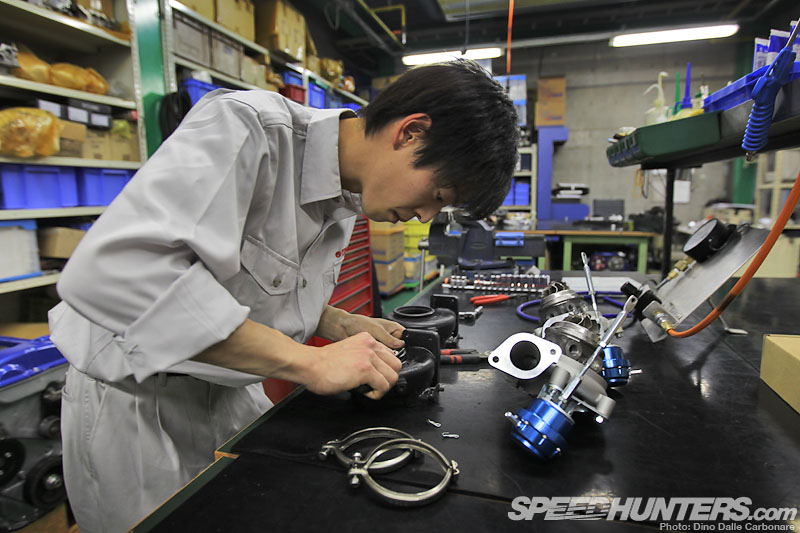 … reassemble the M7655s.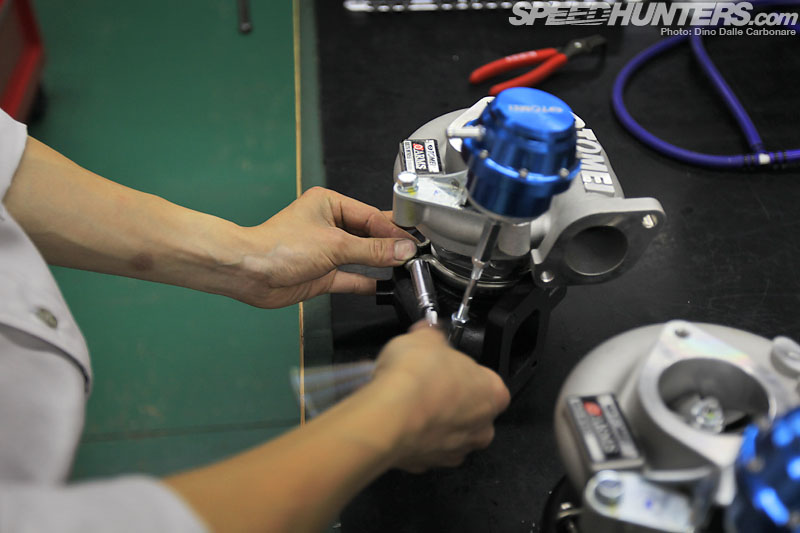 Here the bracket is being tightened to hold the housing in place. A small metal pin on the surface of the exhaust side makes sure that both halves are perfectly aligned.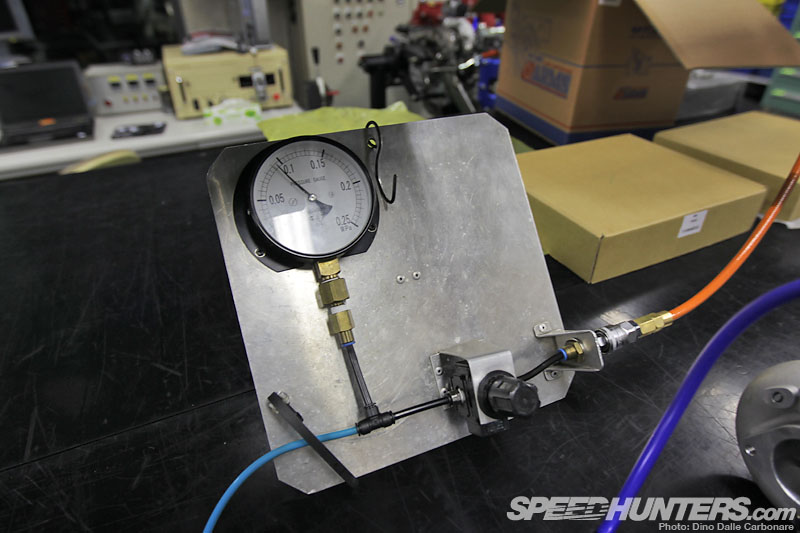 With the shafts of the actuator connected back onto the wastegates…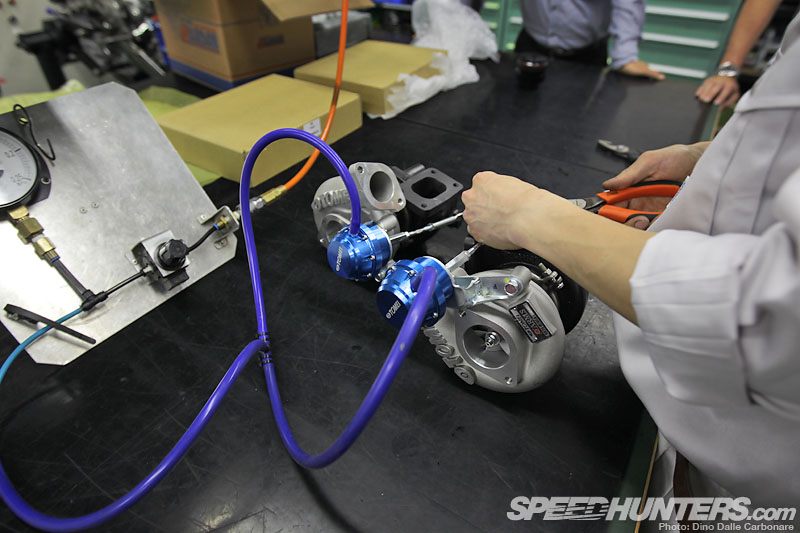 … both billet actuators were adjusted to the Tomei preset 0.8bar of pressure. Once the turbos are fitted I will be using a solenoid to control peak boost and overall boost curve operation, but more on that later on. Next for Project GT-R's biggest upgrade will be figuring out the fuelling. Again, to stick to the main theme of modernization I will be taking a different route rather than just fitting off the shelf injectors – something that has thrown up a few hurdles. But it's all coming together, so make sure you check back each month to see how it all slowly progresses.
Dino Dalle Carbonare
Instagram: speedhunters_dino
Tomei Powered Official Website