I Am The Parking Lot Hunter
Speedhunters have a particular love of walking through parking lots at events. This is especially true in Japan, where people often turn up with machinery that is on-par – if not even better than what's actually on display at the event itself. And seeing that Ferrari Japan set aside a 'Ferrari Only' parking area at its recent Ferrari Racing Days event, we just had to take a stroll through the rows upon rows of Maranello-bred machines that spectators brought along.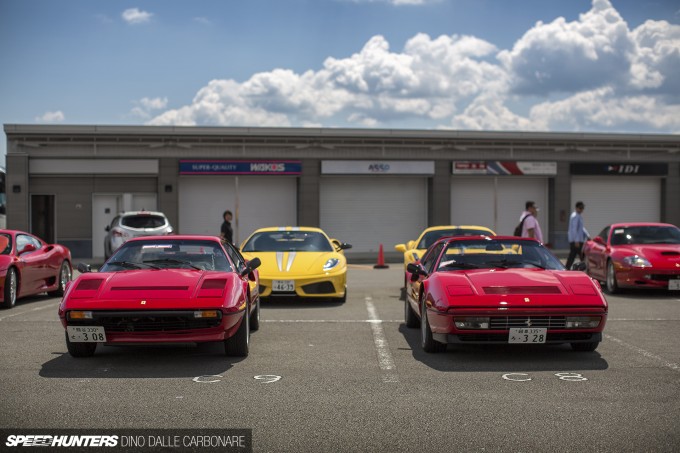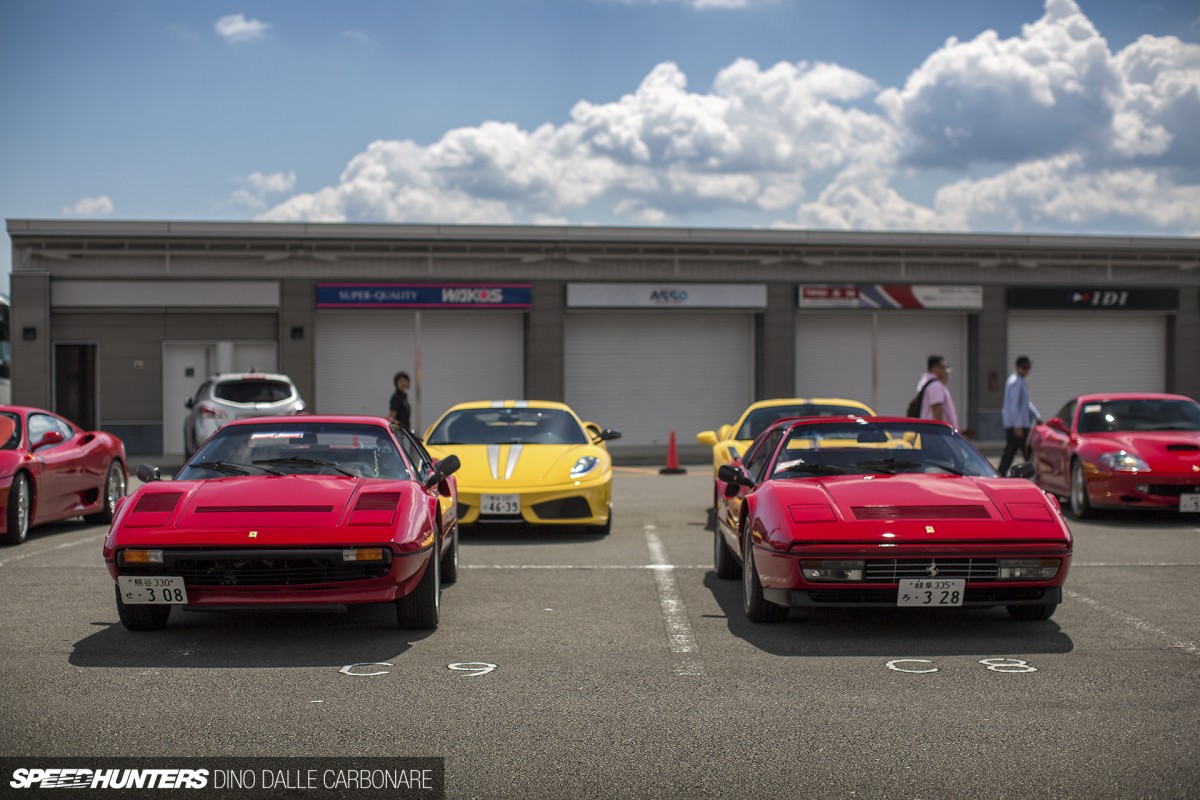 I'll start off with this pair – two cars that helped cement what the mid-engine V8 Ferrari should be all about. The 308, first produced in the mid-'70s, with the faster 328 carrying the flame until the end of the '80s. Timeless in their design, these attractive looking cars helped shape the segment for decades to come.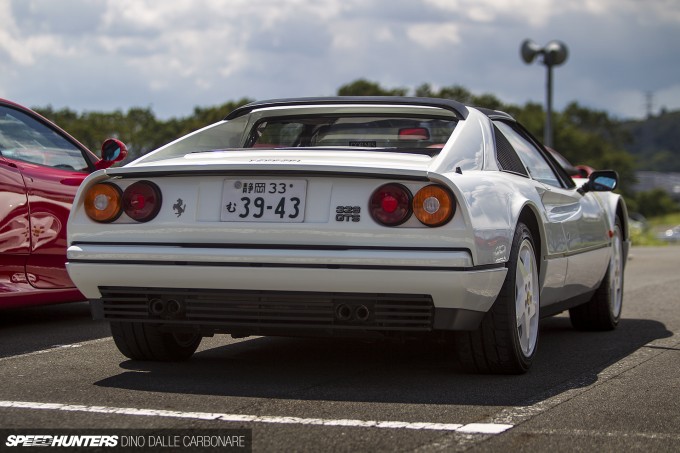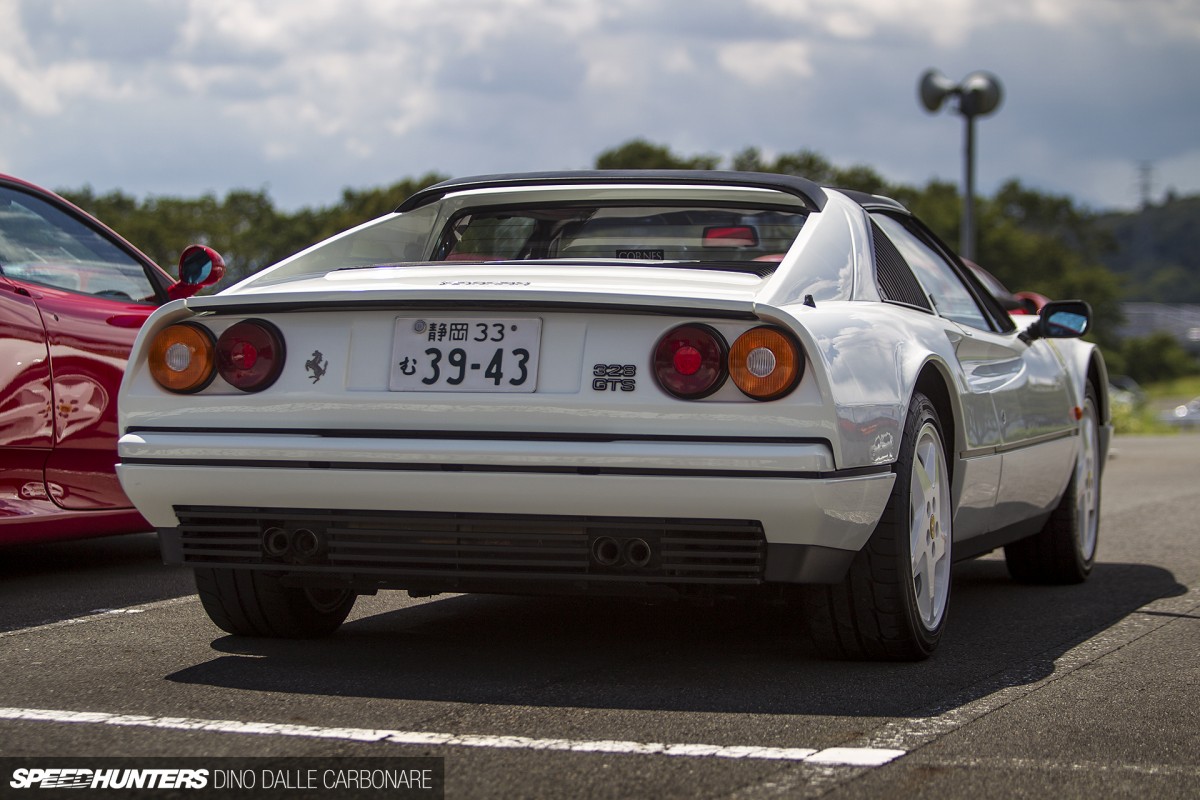 Red might be the colour everyone associates Ferraris with, but I'm partial to white examples.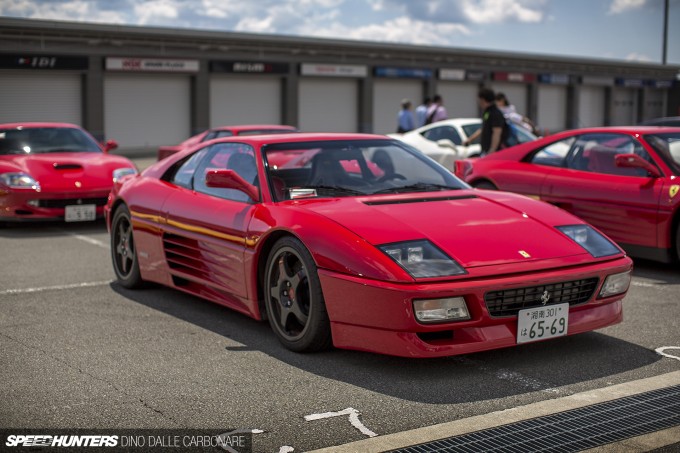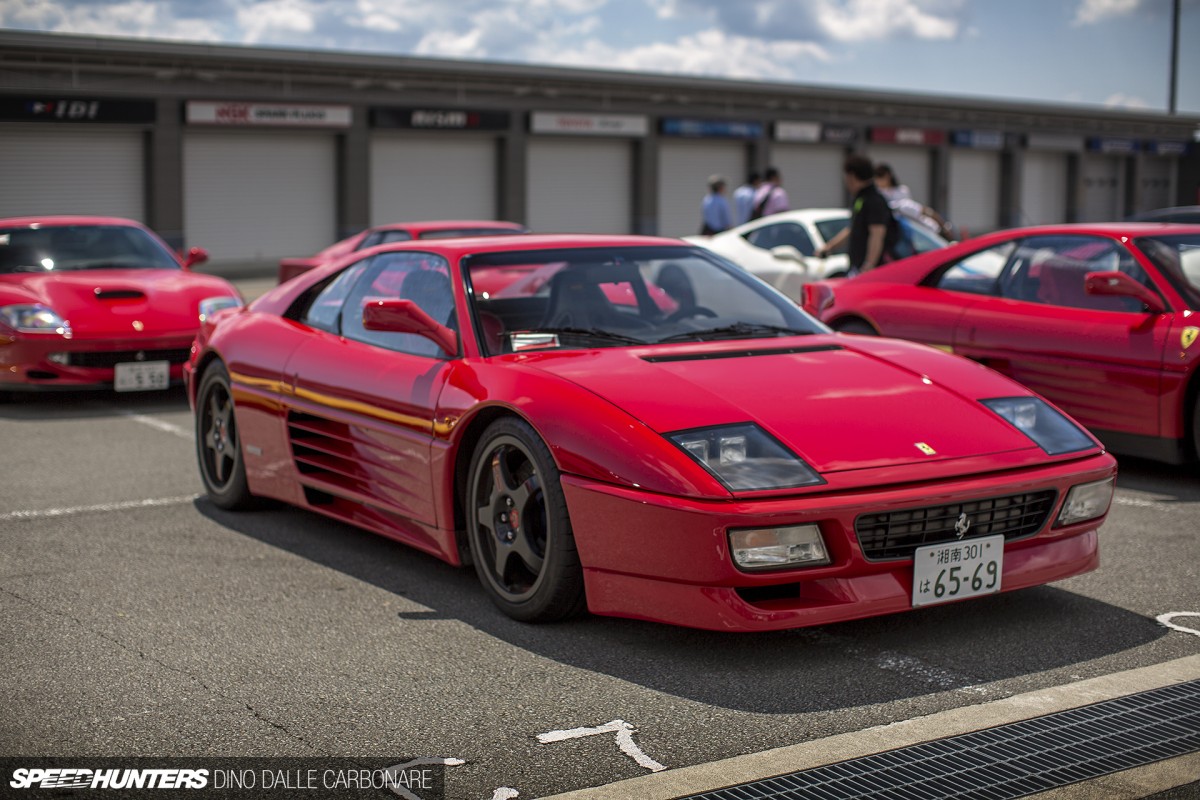 The 348 came next, and while there were quite a few unmolested examples on unofficial display at Ferrari Racing Days, this GT Competizione version was the one that really impressed me. I can't even remember if I've ever actually seen one of these before, and if I have it was certainly not one running the headlight conversion normally reserved for 348 racecars.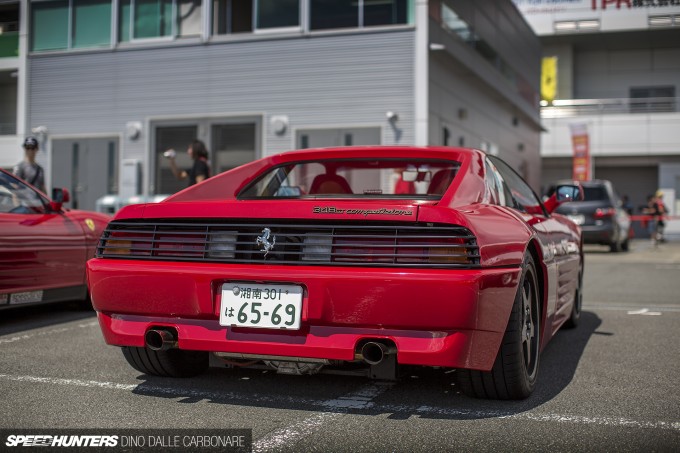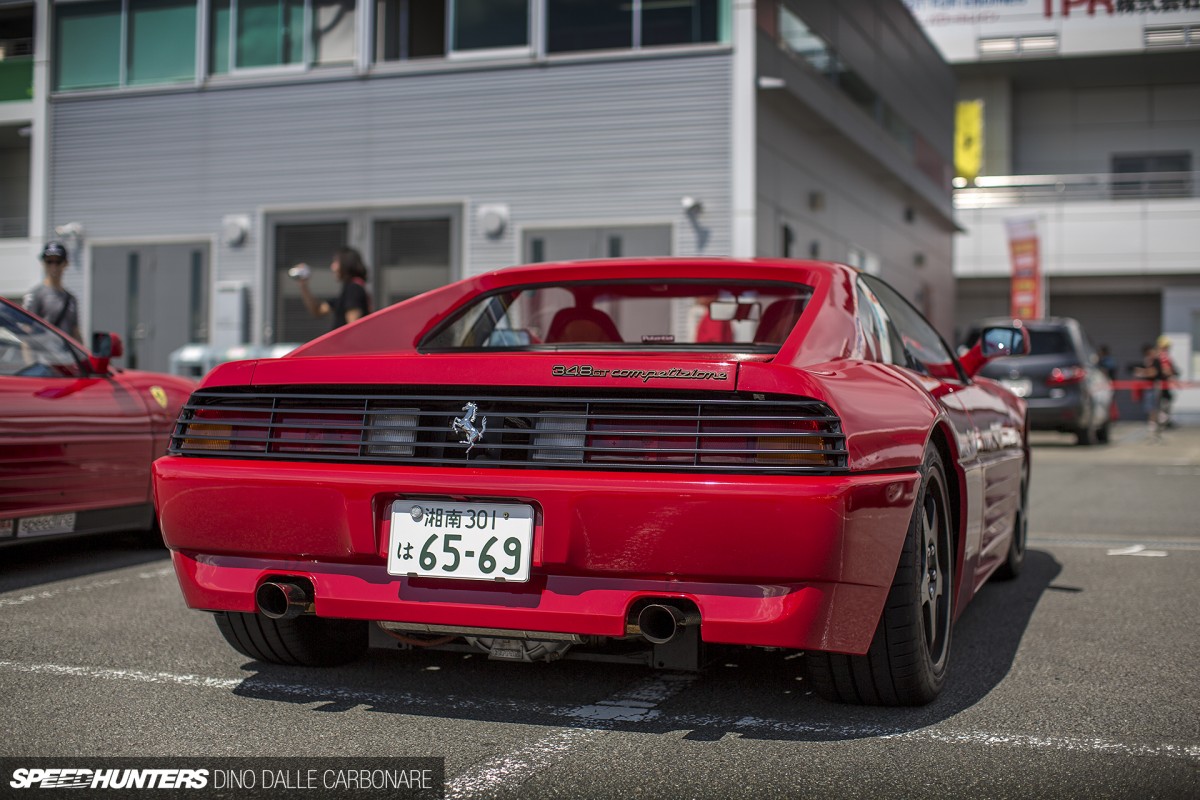 This car boasts a more potent 3.4L V8, plus a 190kg weight saving thanks to the use of carbon fibre and Kevlar in its bodywork, and a gutted interior. The five-spoke O.Z. Racing wheels on this car were a great choice I thought, as was its serious brake upgrade.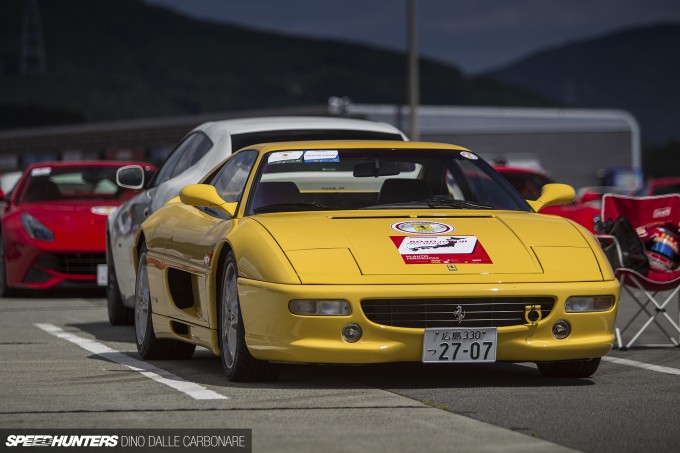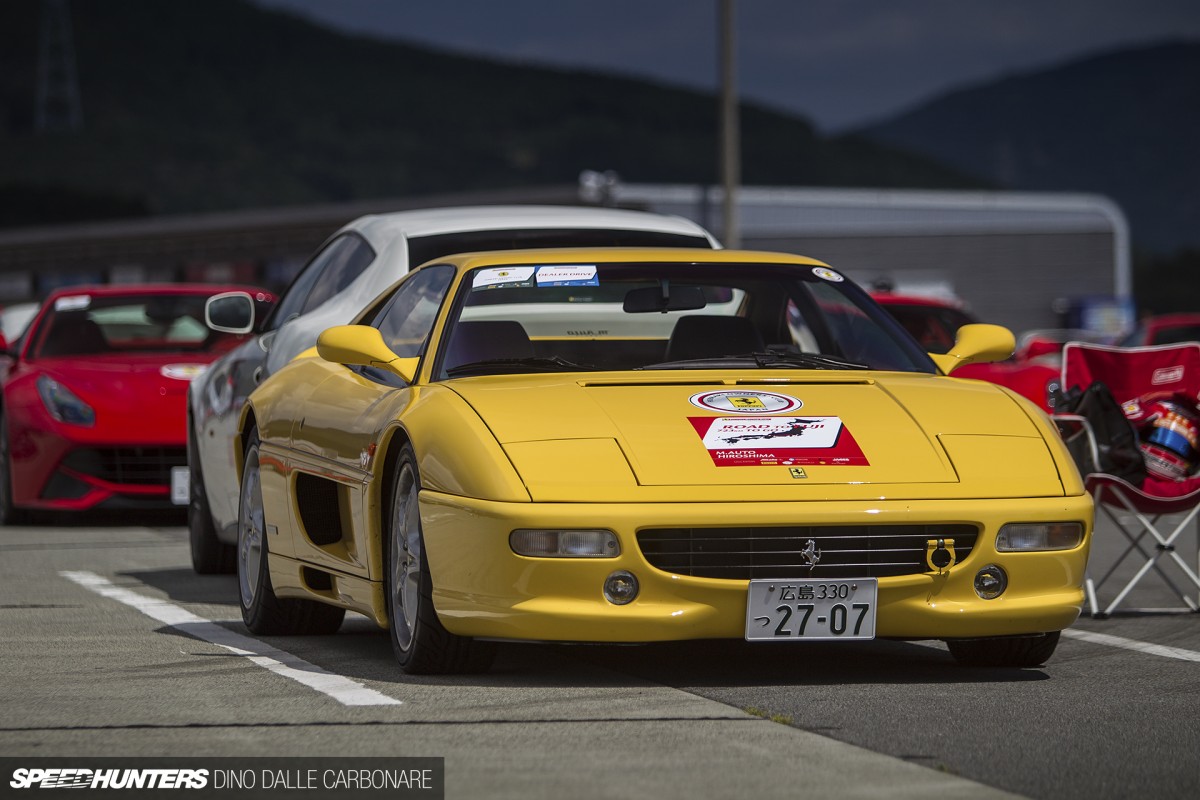 The F355 followed in the mid-engine V8 lineage and it is – to this day – my all-time favorite Ferrari. This isn't the rarity I dream of having in my collection, but the Ferrari I'd turn into a fun weekend track day car – which is what a lot of owners do in Japan. The F355 looks great, sounds amazing, and is one of the last Ferraris to offer a true analogue experience!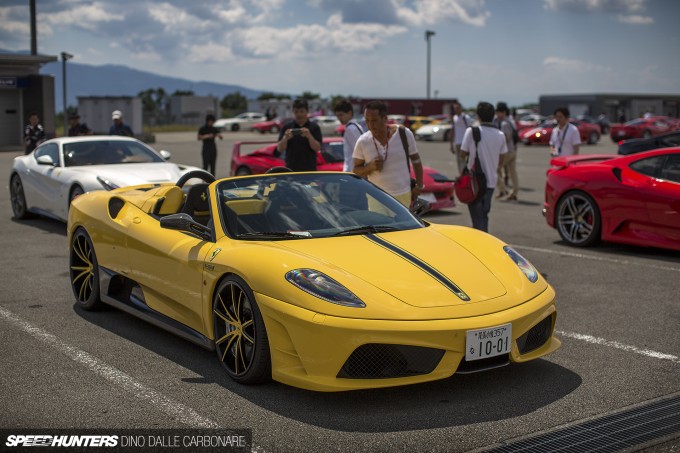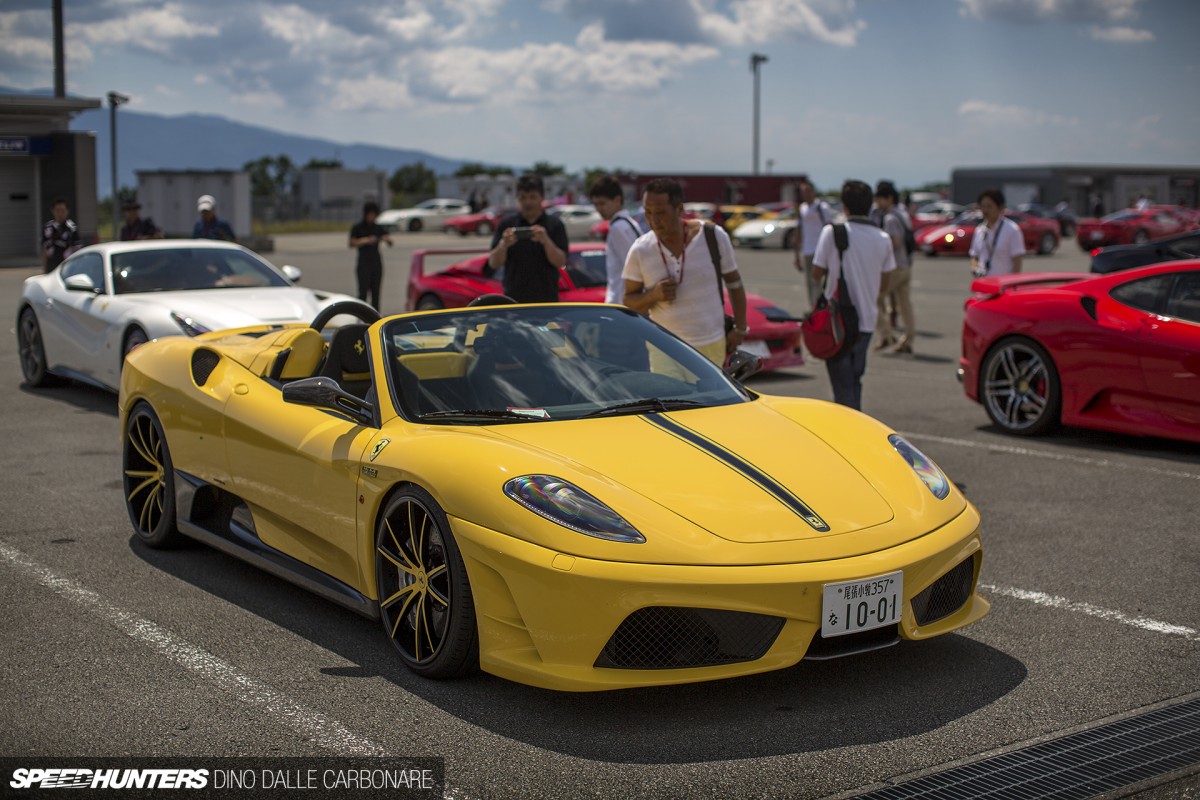 By now – and thanks in-part to the odd Tastumi PA story I've shared in the past – we know that the Japanese aren't too shy when it comes to customising supercars. And there was much of that to be seen at Fuji.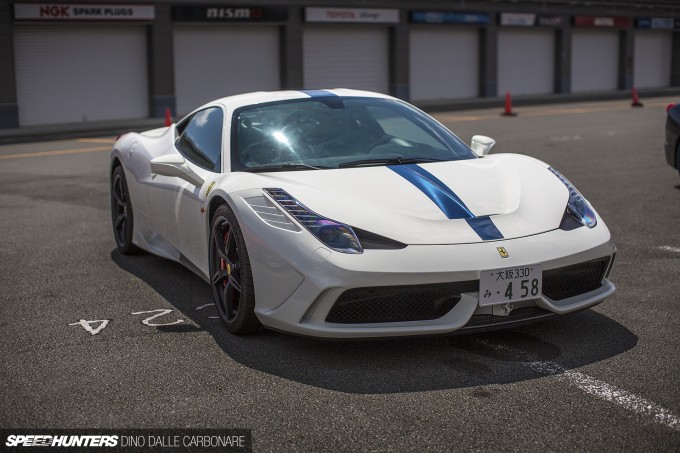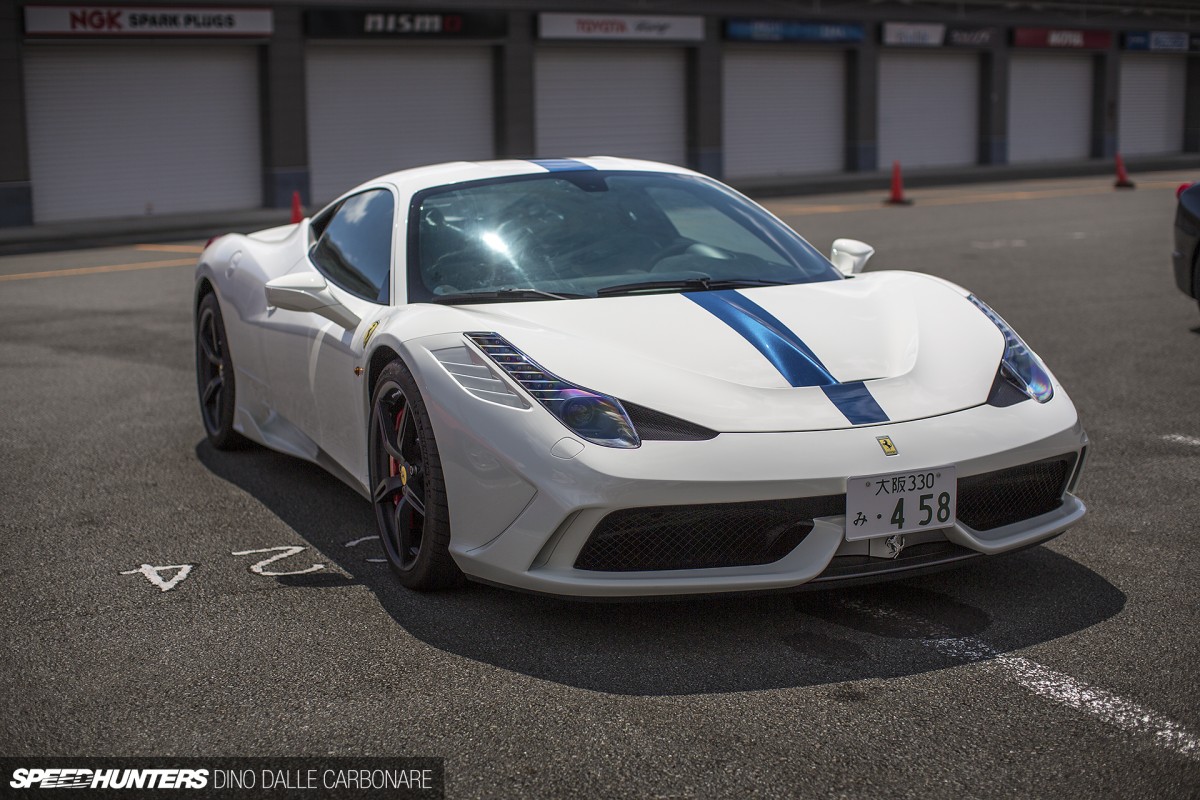 Some prefer to let Ferrari do the tweaking and tuning by going for cars like the 458 Speciale.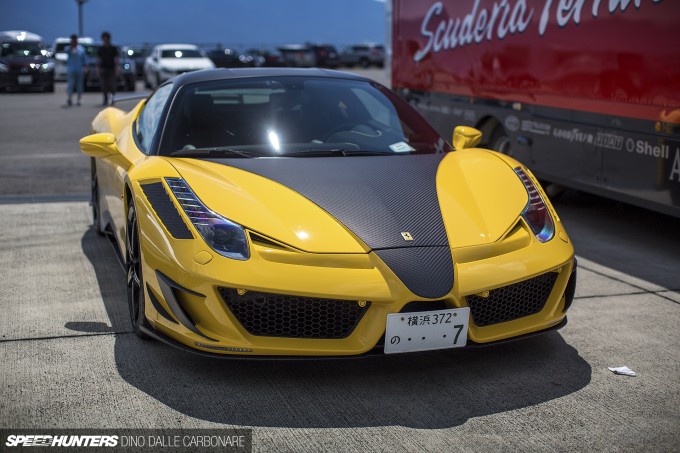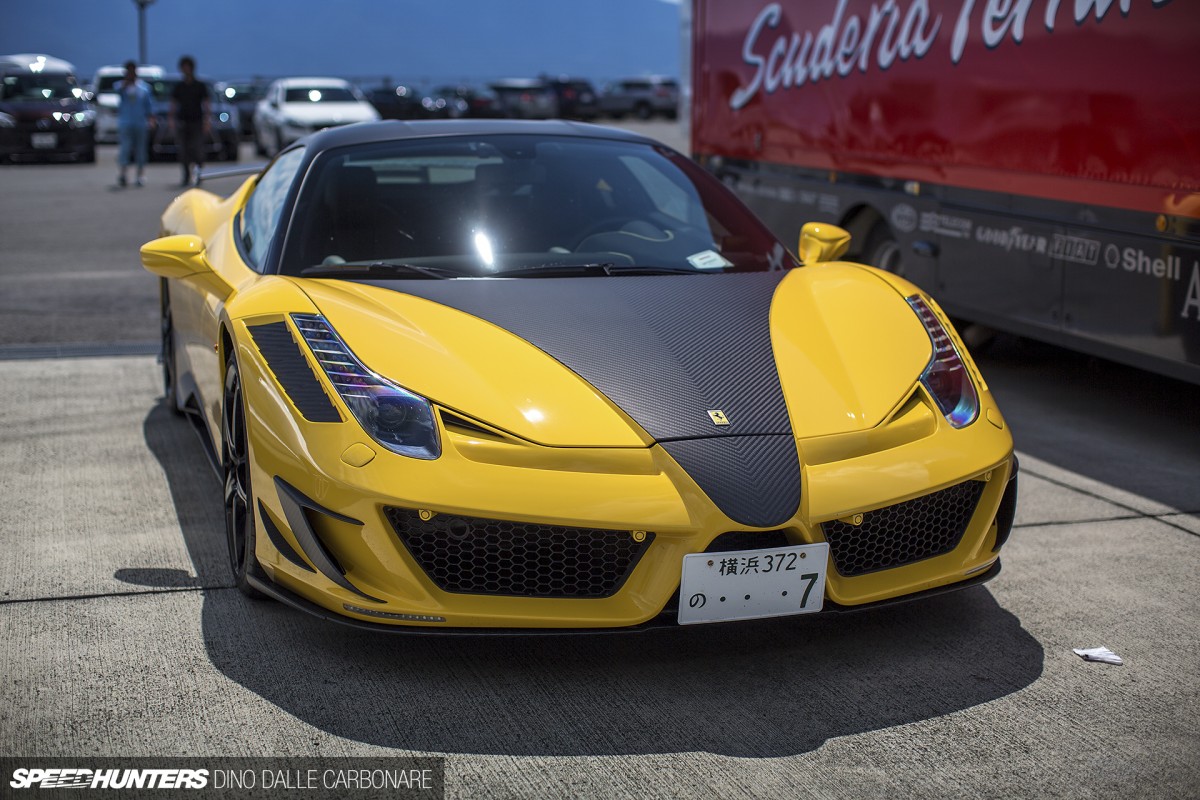 But others prefer to go for the custom touch. I actually get why this is so popular in Japan, because you only have to spend a day in central Tokyo or Osaka to see just how many 458s are on the streets. If you want to stand out, you have to take things into your own hands.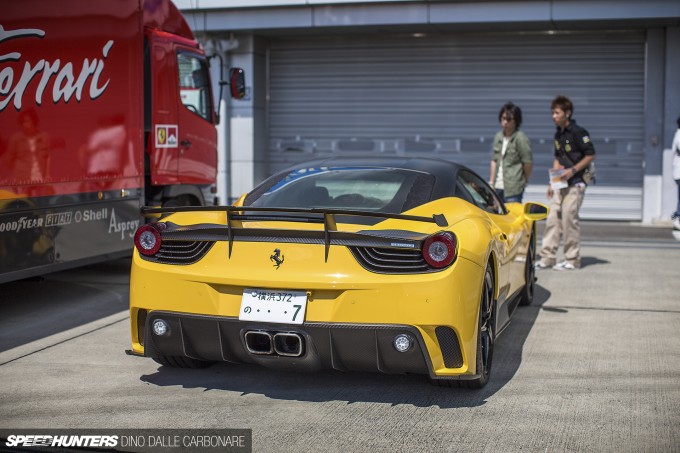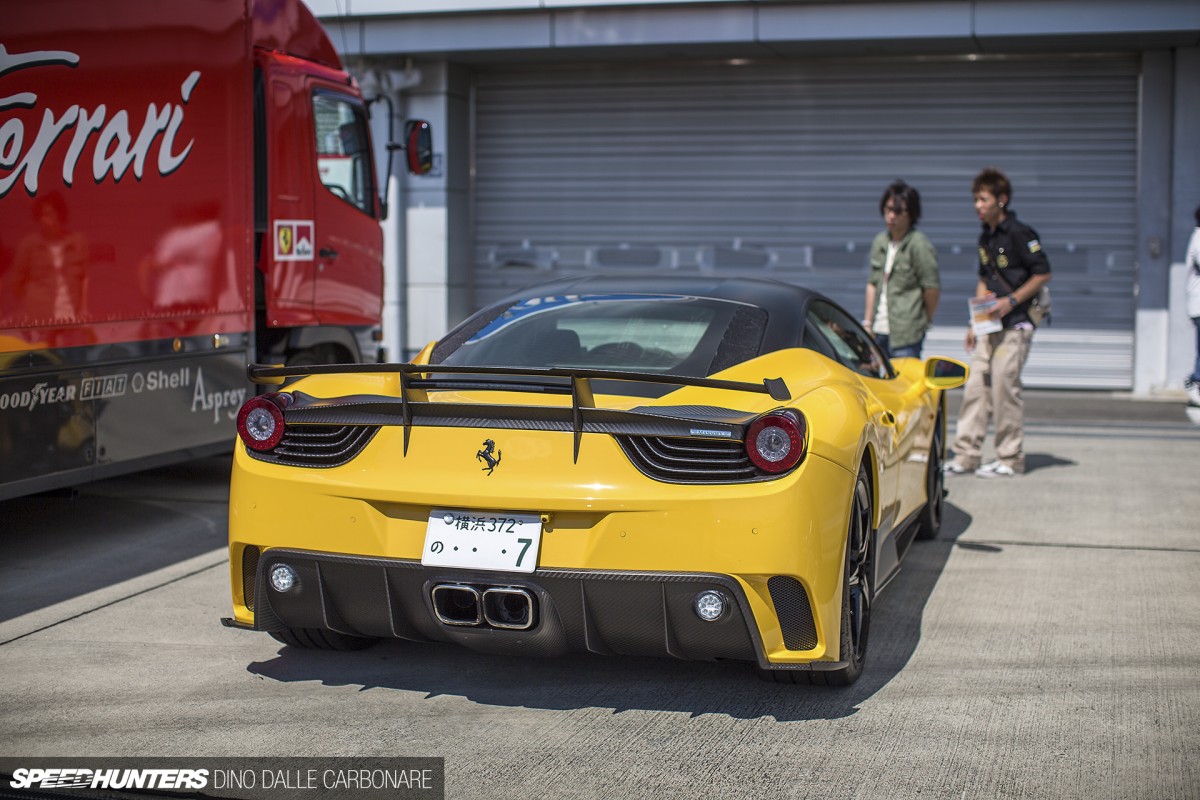 That's where outfits like Mansory come to the rescue. While the end result might not be to everyone's taste, there's definitely no faulting the fit and finish of their aftermarket parts. In fact, I don't think I've seen such beautifully laid out carbon fiber since we spent a few days in Italy with Pagani last year.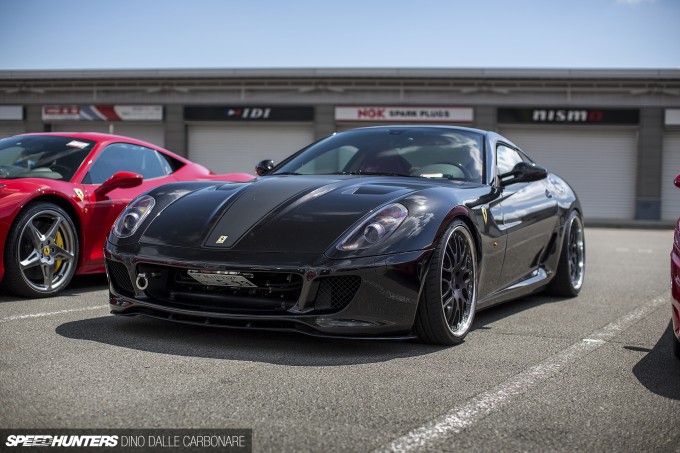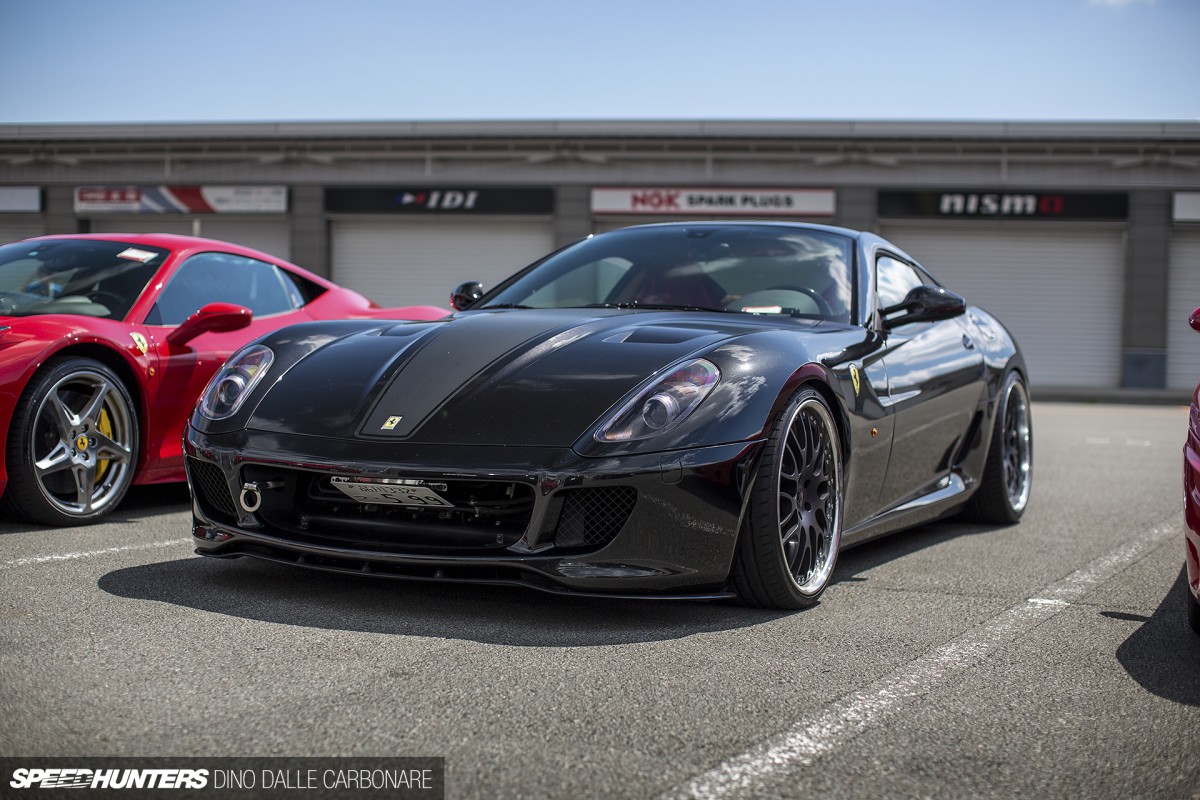 Even the bigger V12-powered cars like this 599 are often treated to a drop in ride height and an aftermarket set of wheels.
The Crazy '80s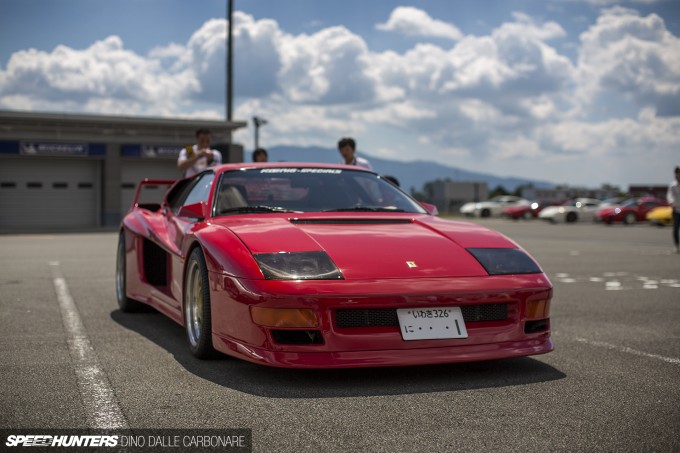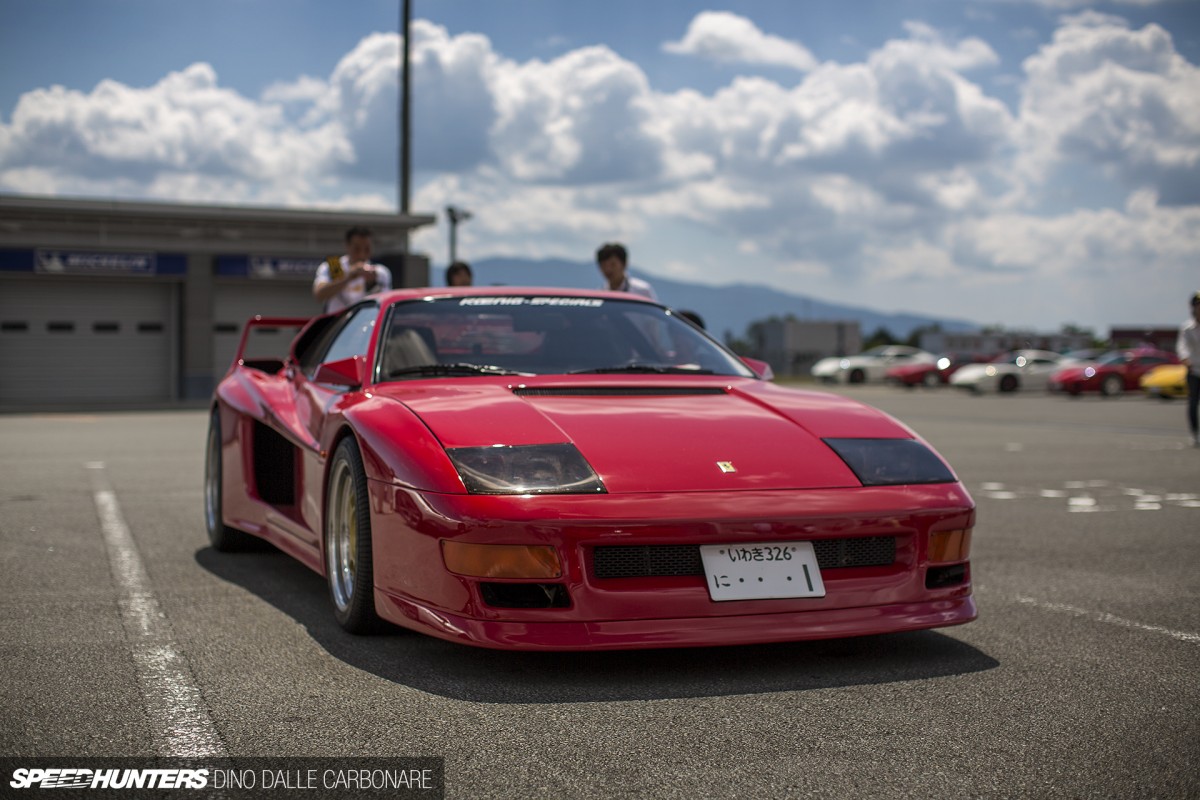 Nothing, however, could have prepared me for what I stumbled upon next. It's not often that this happens, but when I see a Koenig Competizione Testarossa my mind is instantly taken back to a very hot summer's day in 1993 when I took my first walk through Shibuya. A fresh arrival to Japan, I still hadn't figured out the place, but it quickly became obvious that the bubble era had left behind some pretty wild custom cars. That was the day I first saw a Koenig Testarossa, and you can probably imagine the sort of reaction I had – not unlike Elizabeth had when seeing a rare twin turbo Koenig 512BB in a garage in Brooklyn.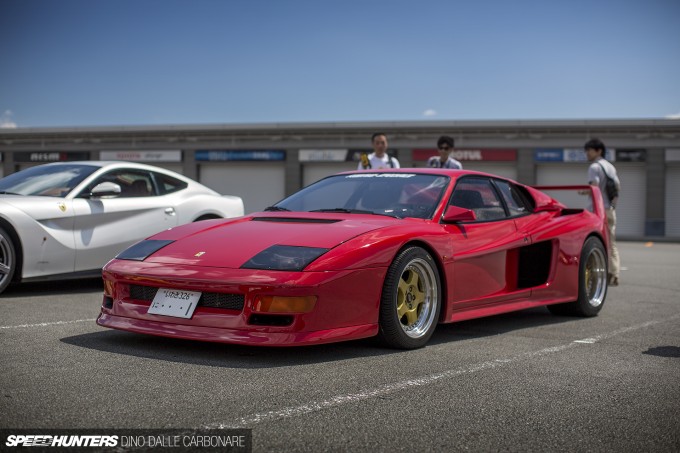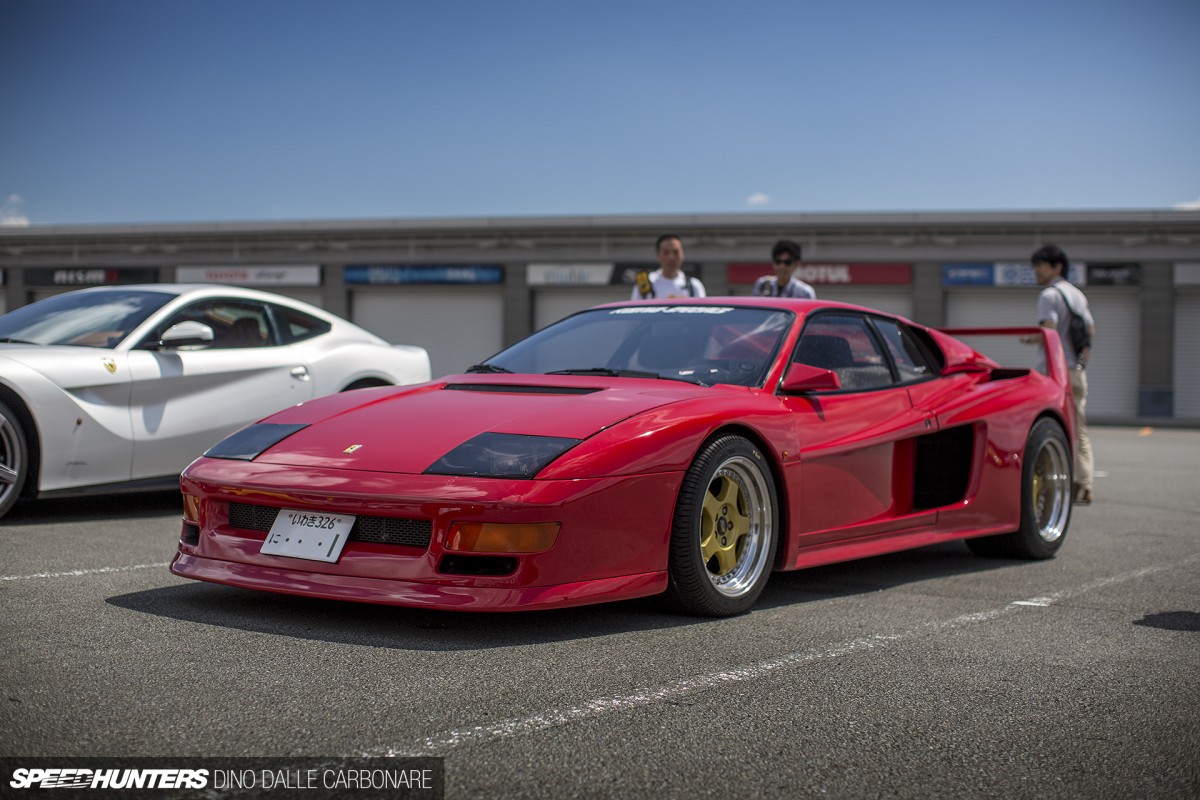 Up until that day it had been a mystical car – something I had only seen in magazines. But there it was, its engine burbling at a ridiculously high idle and throwing out an insane amount of heat as it slowly drove by.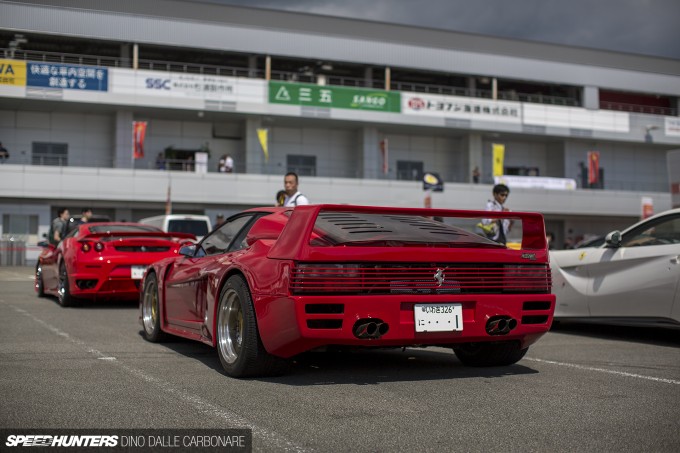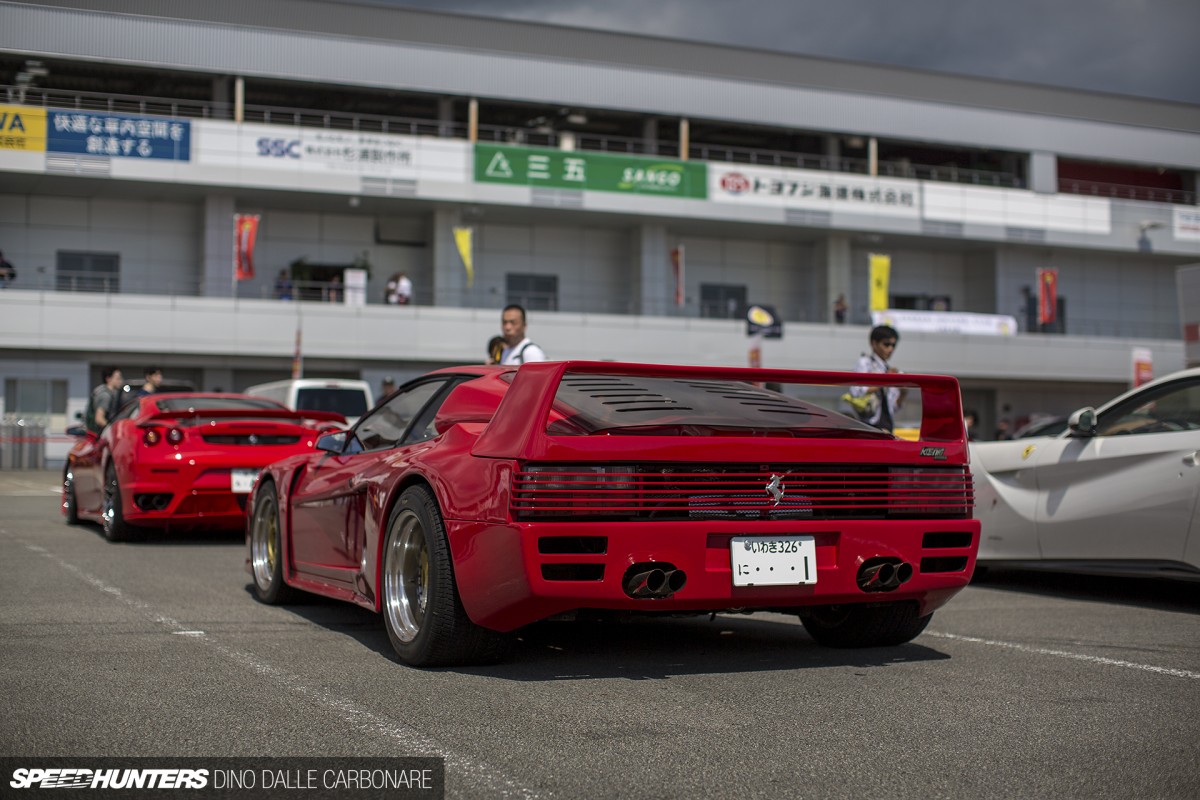 I was so happy that one had shown up at the Ferrari Racing Days. This is a great example of how deep and unconventional the Japanese love for Ferrari is.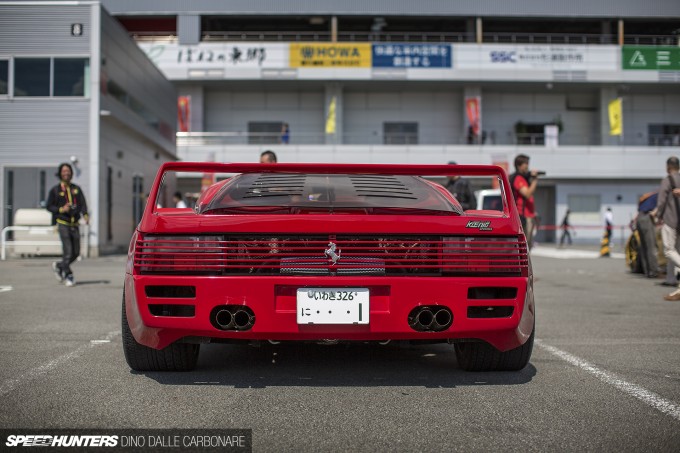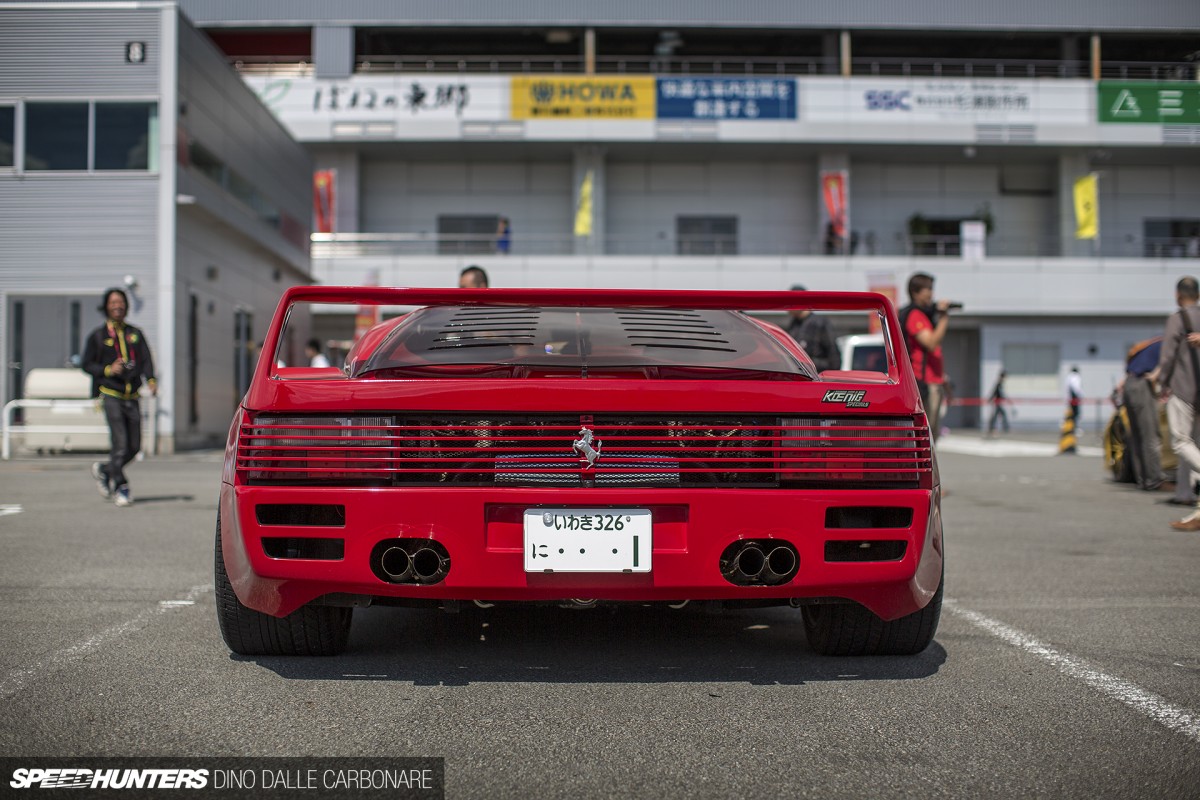 Just take a look at that rear end! If you think it looks wide in pictures, let me assure you that with its spoiler stretching all the way across to the extremities of the fattened rear, it looks even wider in person.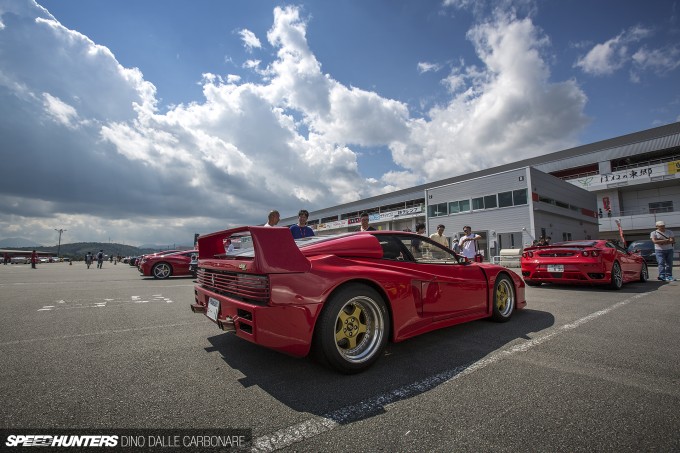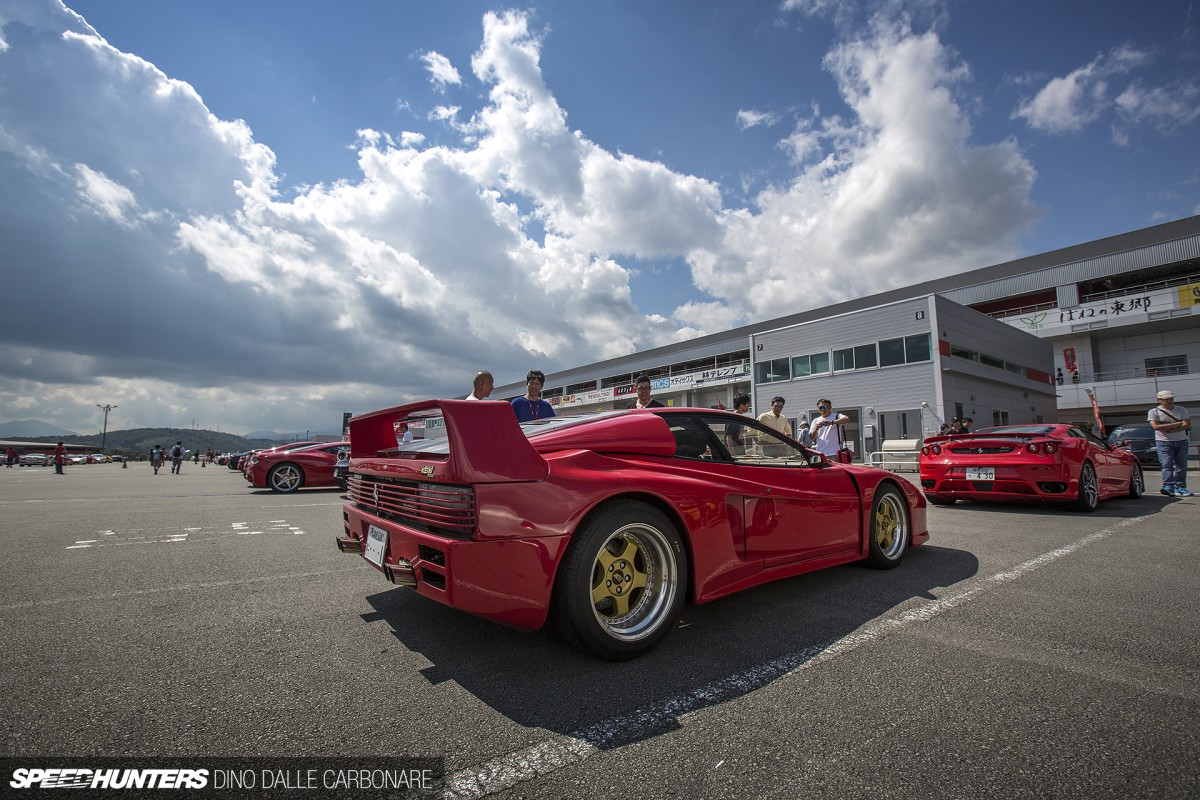 The way the quad tail pipes stick out of the bodywork is something that you can't really do these days, but it sure adds a nice touch to what is one already wild-looking beast.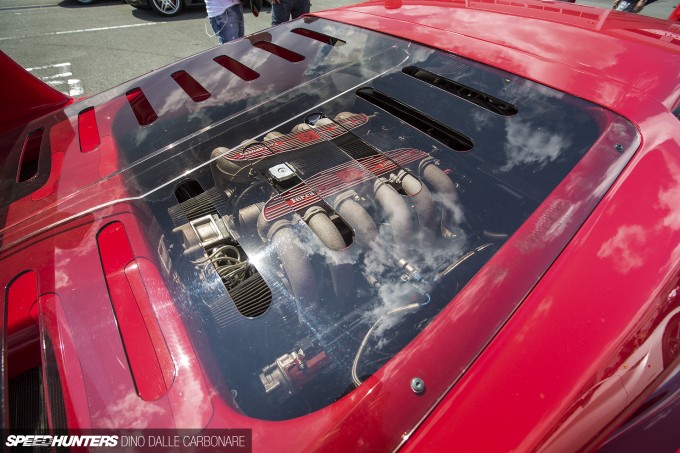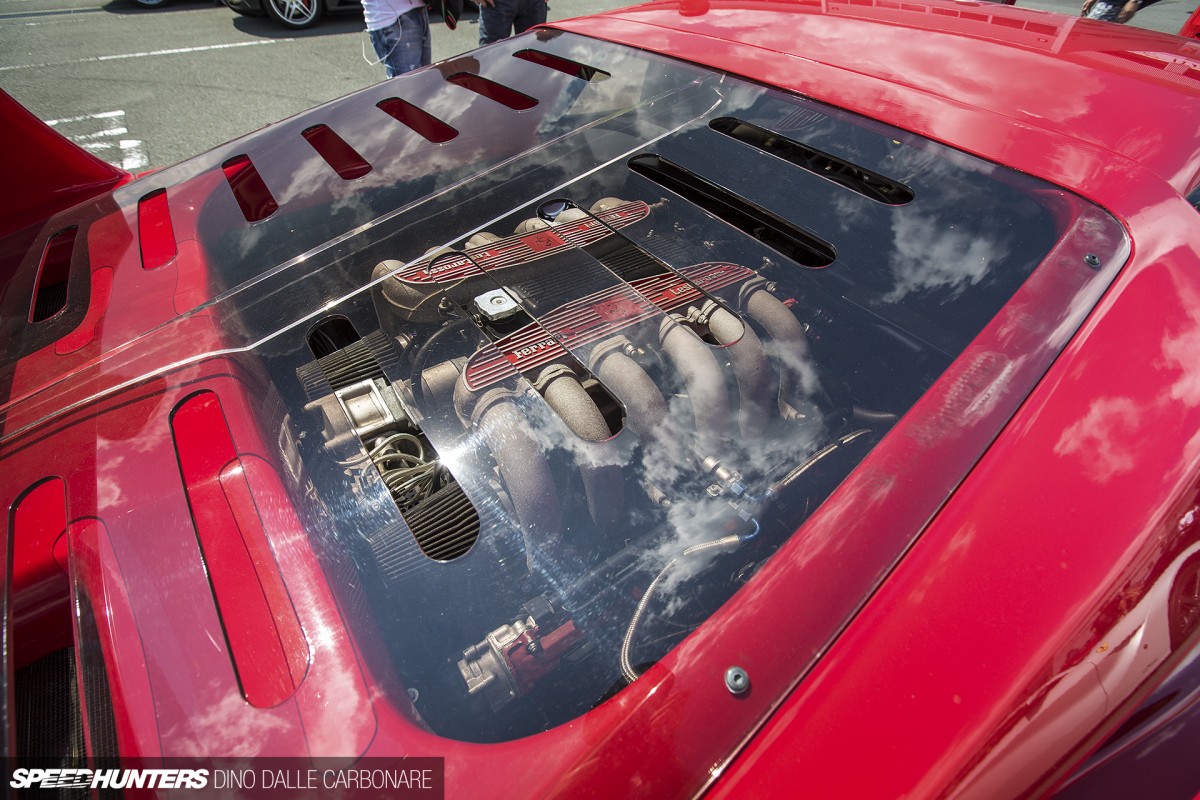 A quick glance under the clear engine cover revealed that this particular car wasn't running the 1000hp Koenig twin turbo engine, but – judging from the two cone filters that replace the stock side-fed air boxes – a mildly-tuned 512TR motor.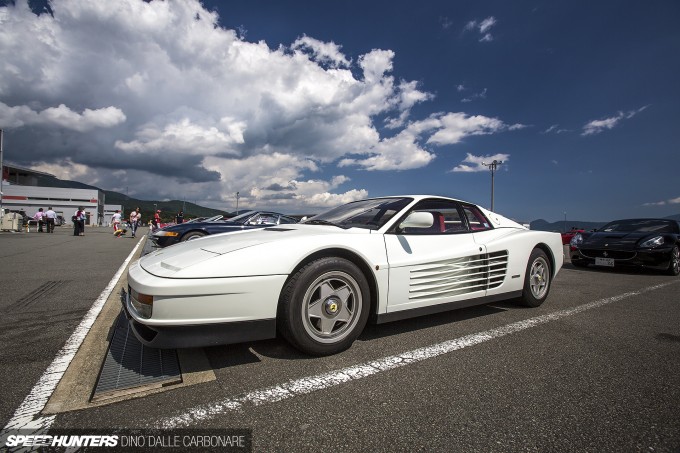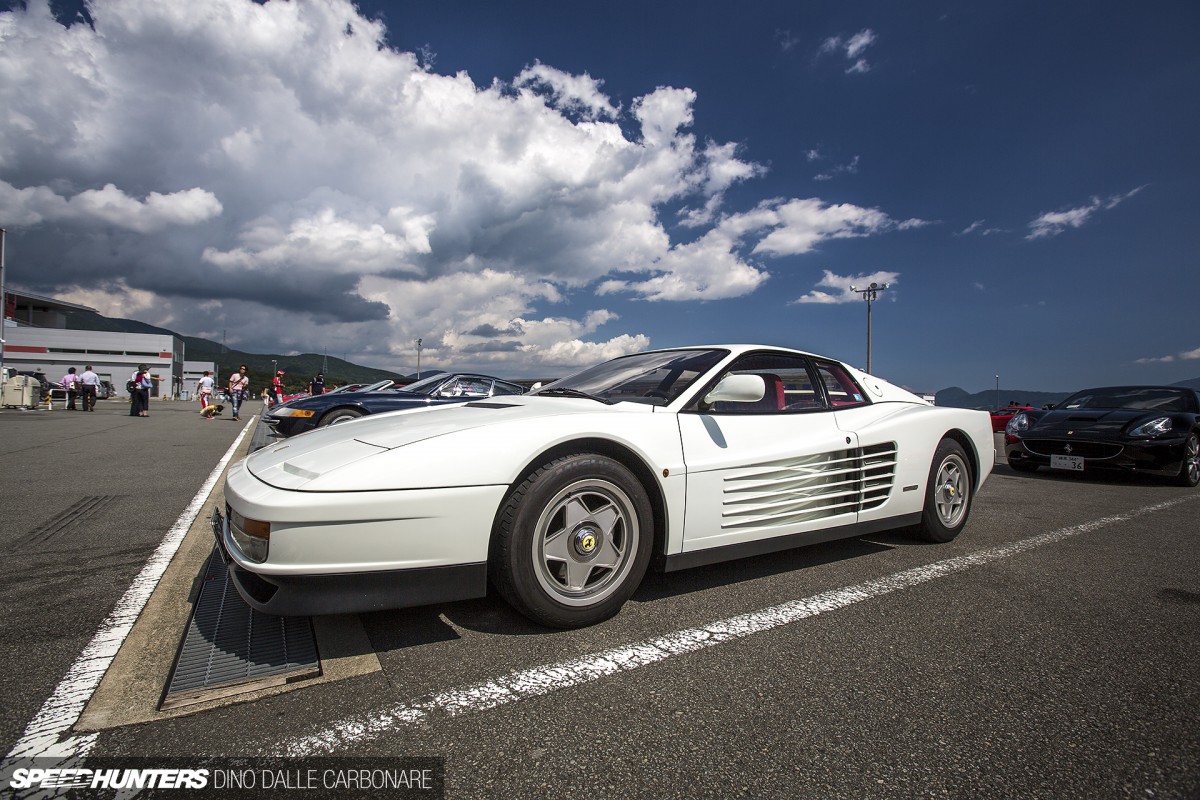 Which will it be for you – the crazy and wild Koenig, or the bone stock car it was originally based on, as seen here in a very Miami-oriented color choice.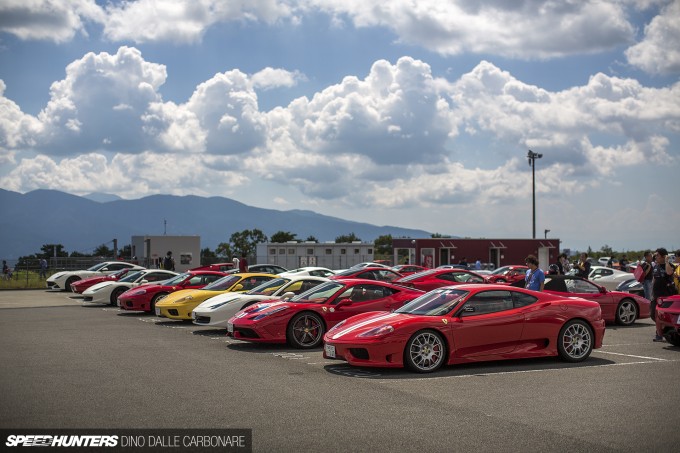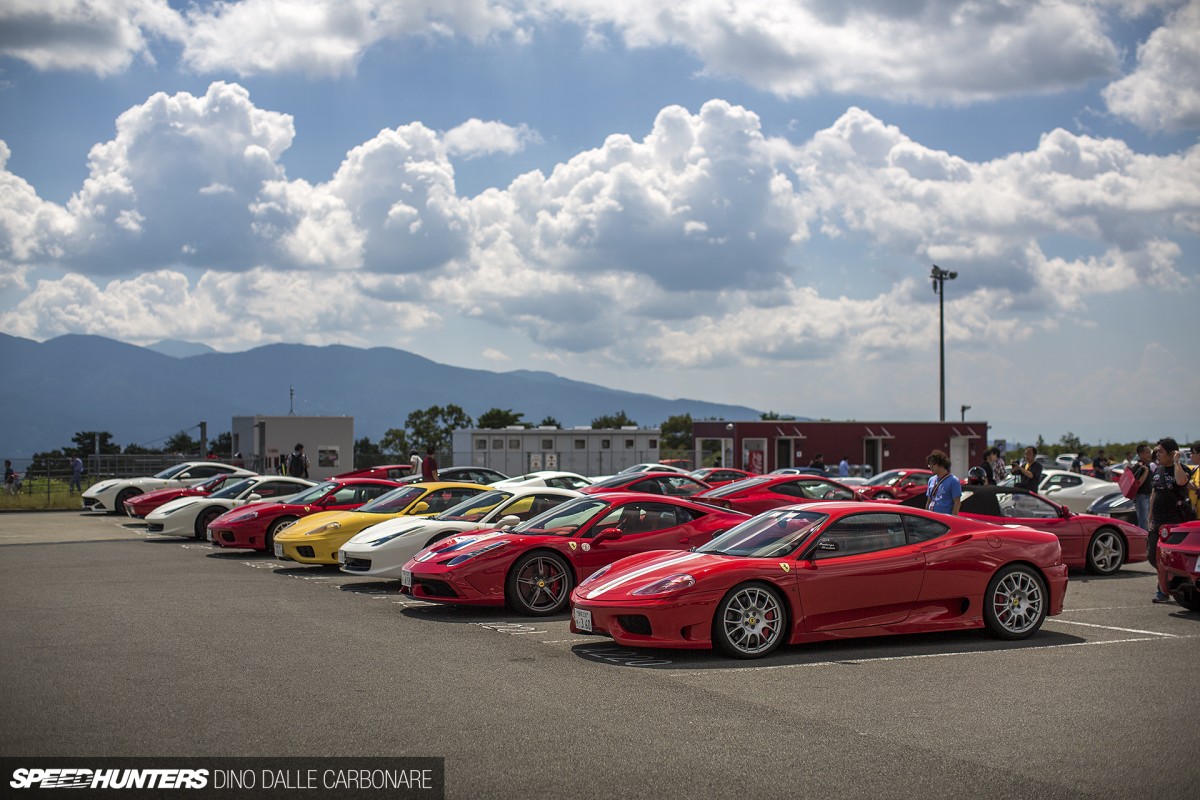 It took a while to fill up a good proportion of the Fuji Speedway paddock, but by lunchtime there was an impressive mix of cars.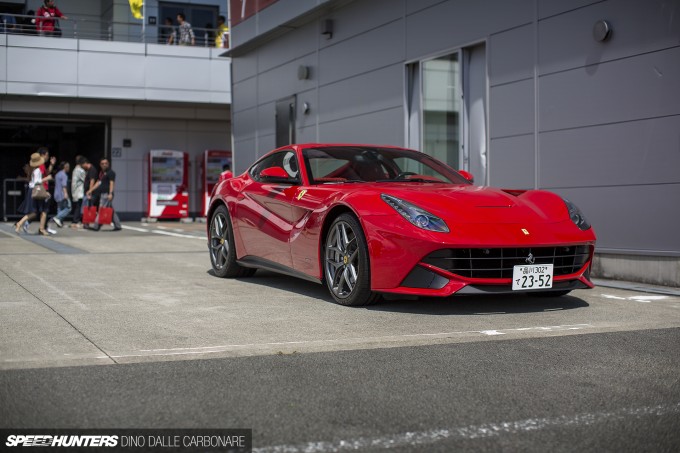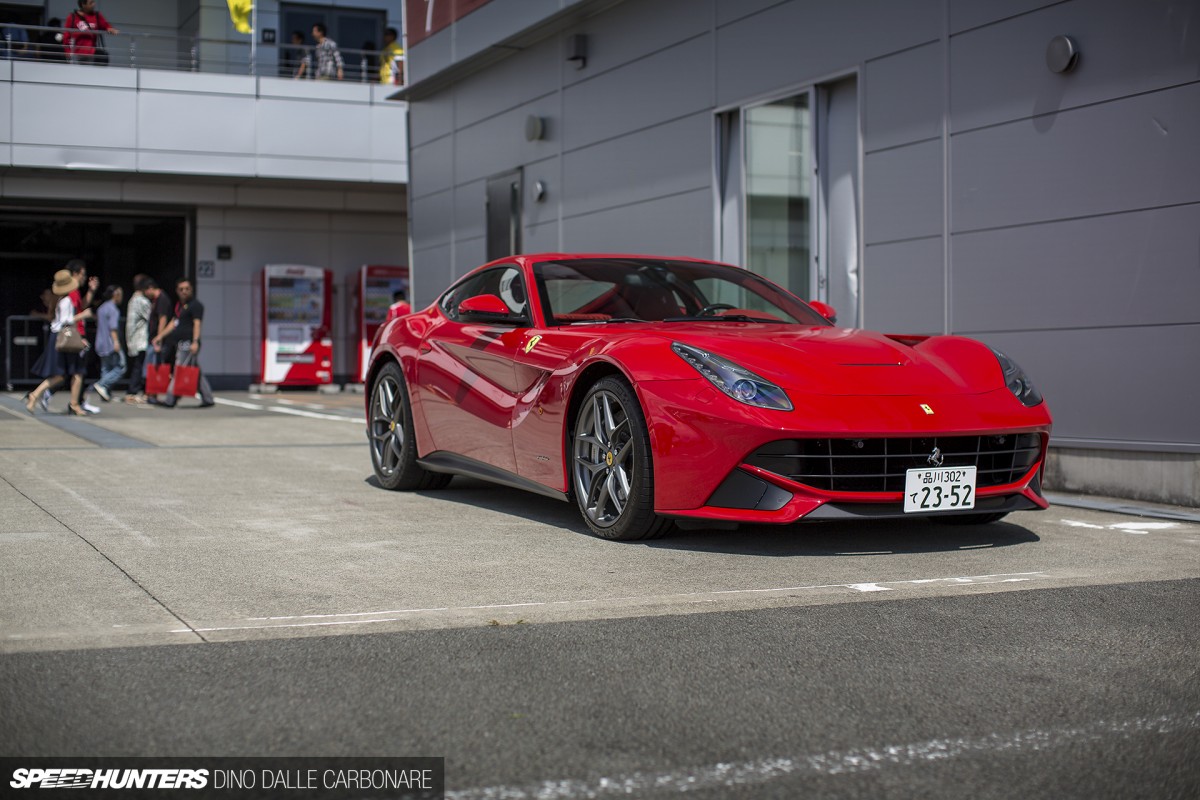 Every time I see a F12 I just have to get up close. To me – and perhaps most purists – this type of GT car is exactly what a Ferrari should be about: a thumping big V12 motor up front driving the rear wheels and packing a ton of power to have fun with, or cross continents in pure luxury.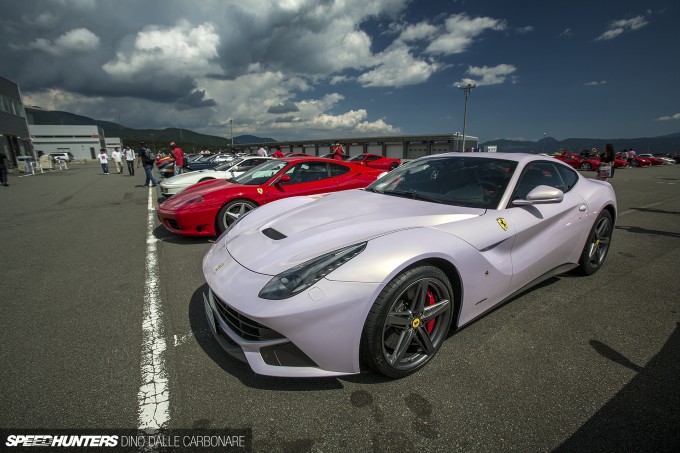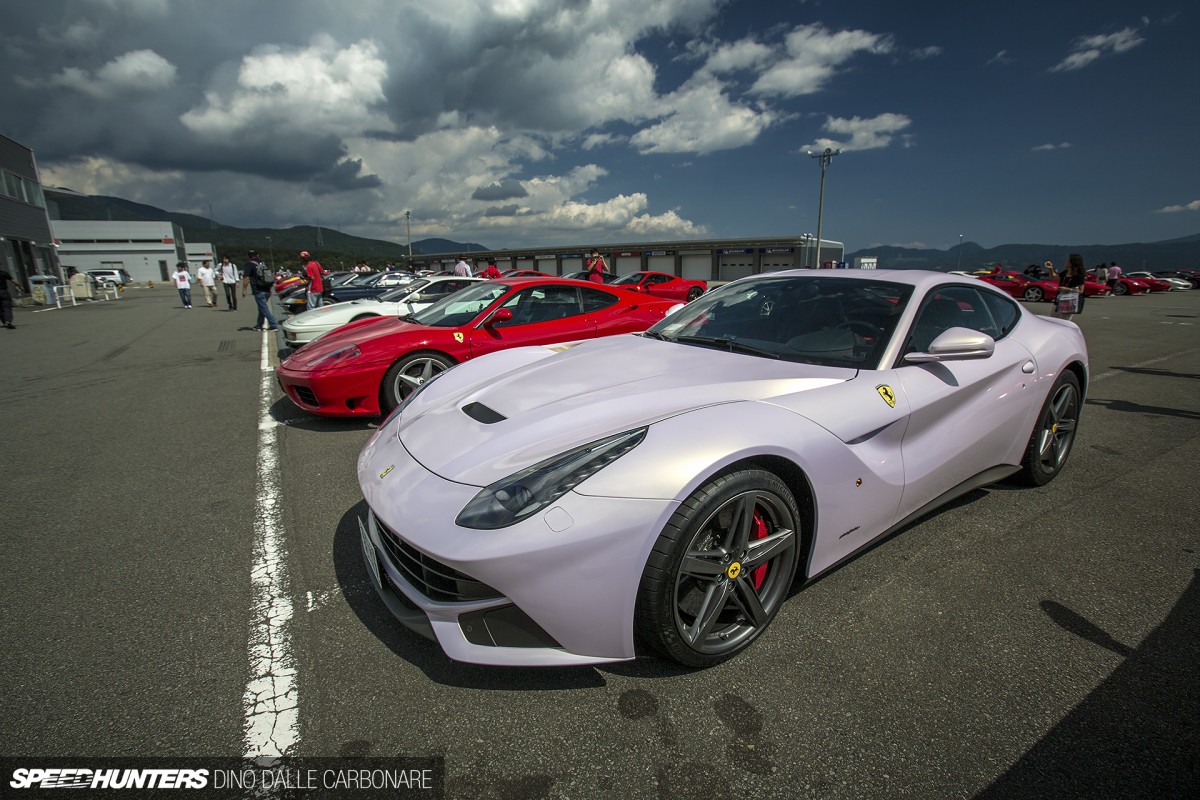 If you open your wallet far enough, Ferrari will paint your F12 any color you please. This example featured a pearl chameleon type paint, with white-to-pink-to-purple flips.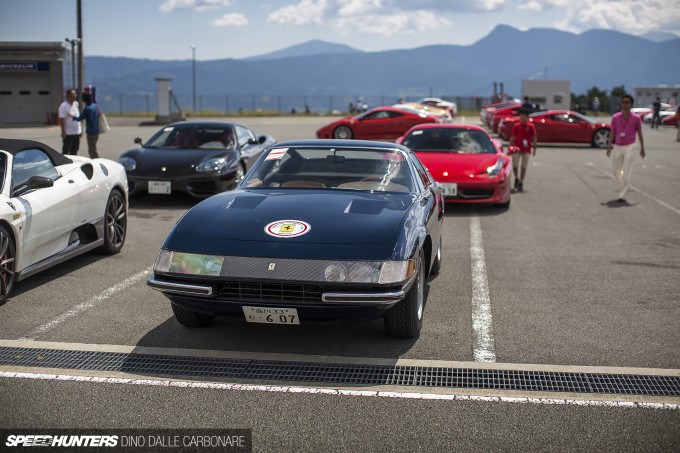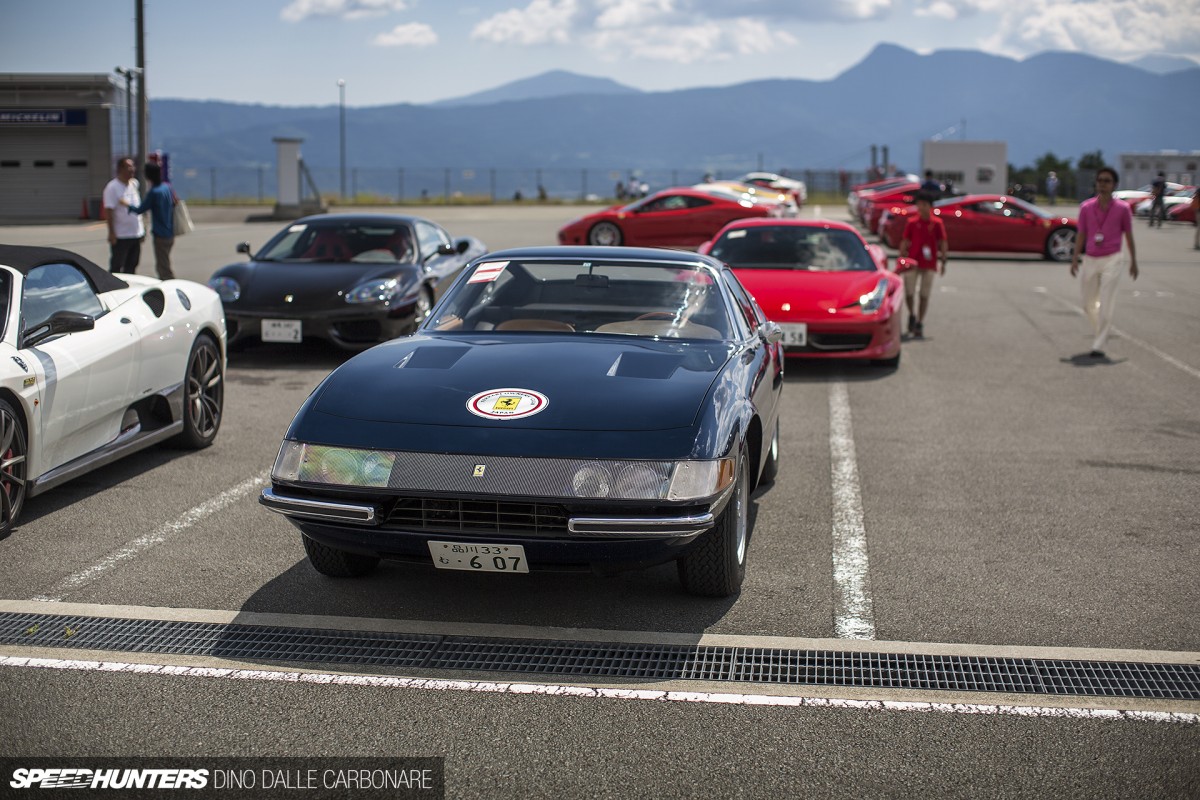 It touches upon that old recipe that Enzo Ferrari always believed in – a GT with 12 cylinders up front powering the rear wheels – and one car from history that did it so well was the Daytona.
The Works Ferrari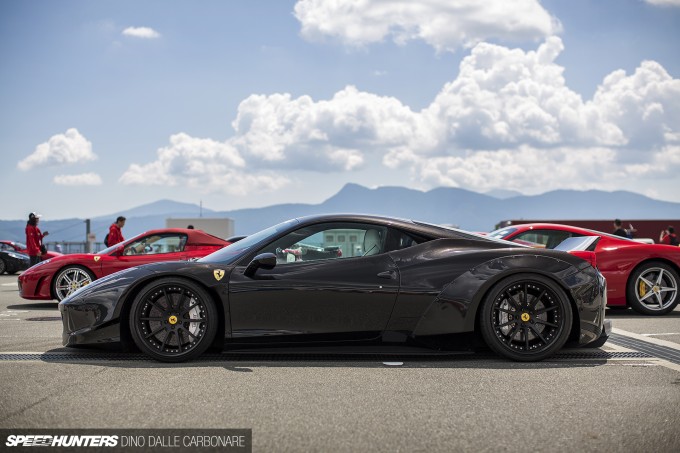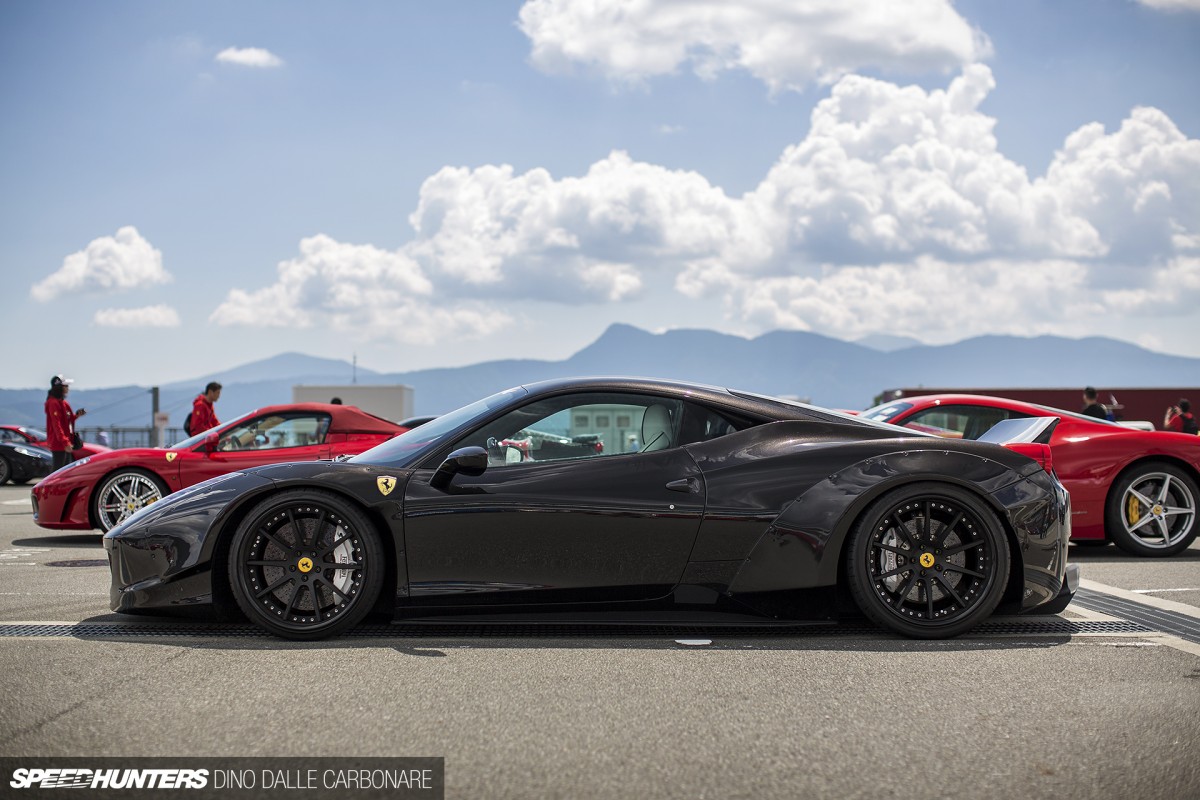 Come one, did you seriously think that a Ferrari event in Japan wouldn't at least have one Liberty Walk creation stop by? This is the same car that we saw back in January on the LB Works booth at the Tokyo Auto Salon.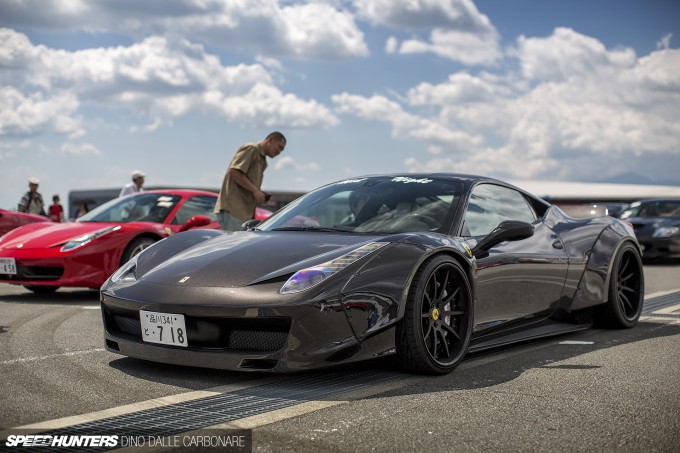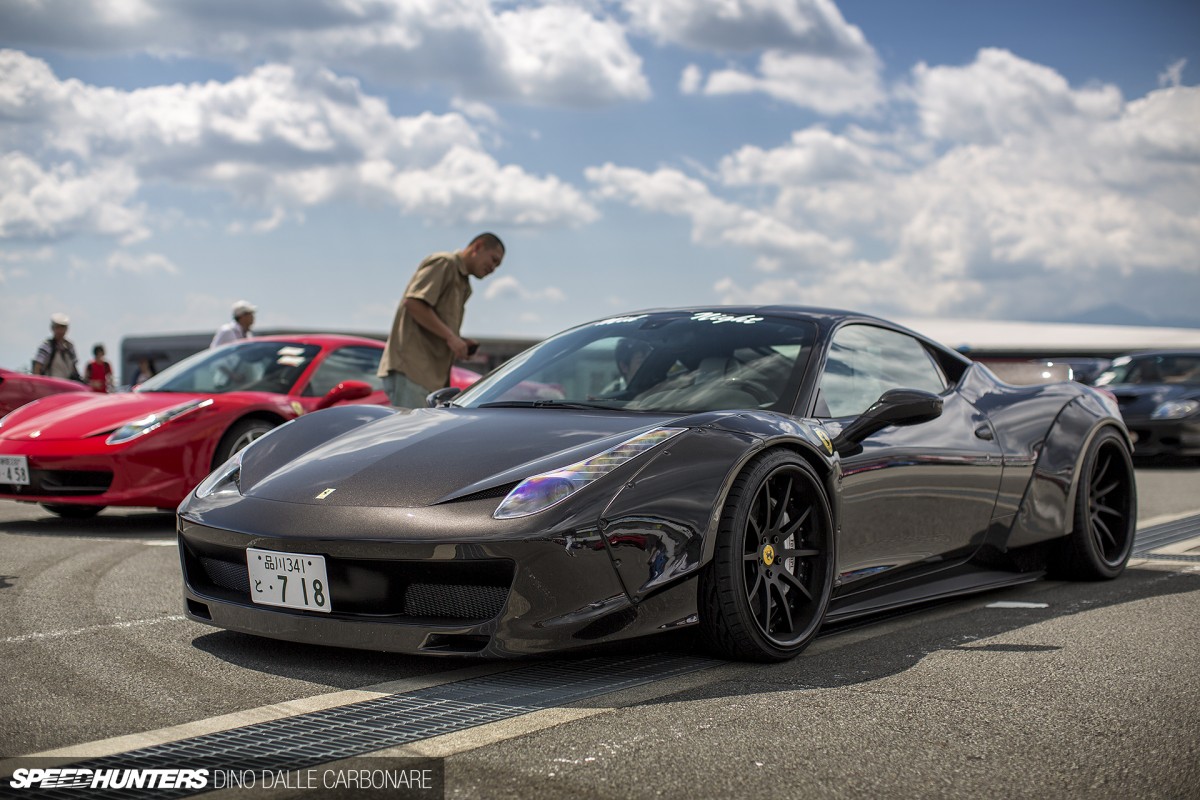 Like all Liberty Walk Ferraris, it looked a million times better out in the light of day, and it was getting some serious attention from the fans. Funny that…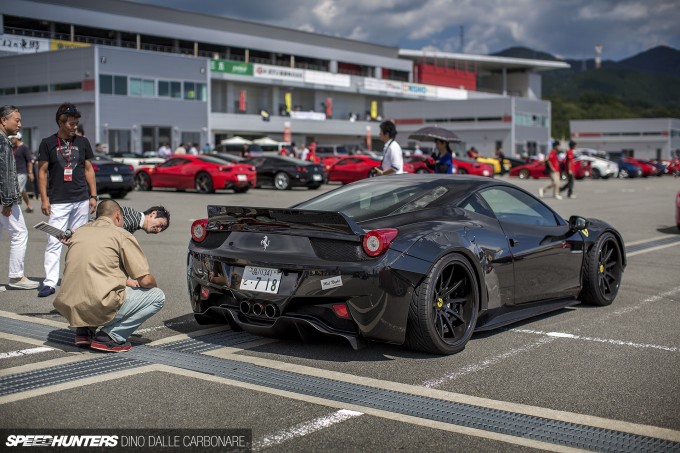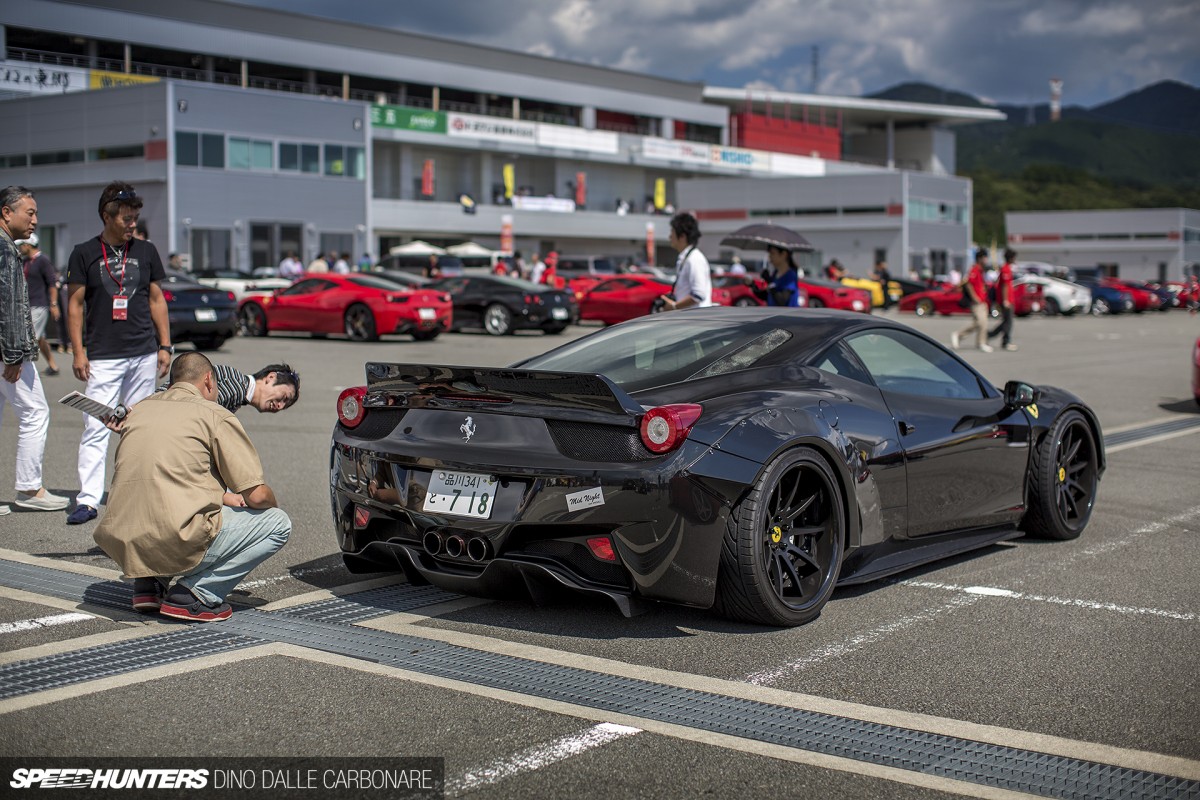 Yes, it really is that low!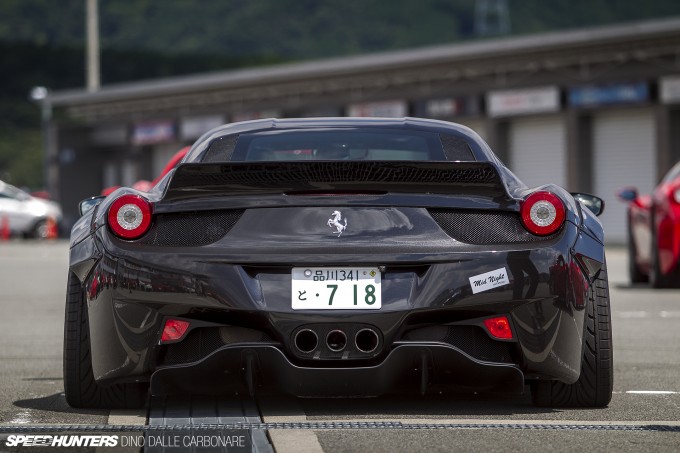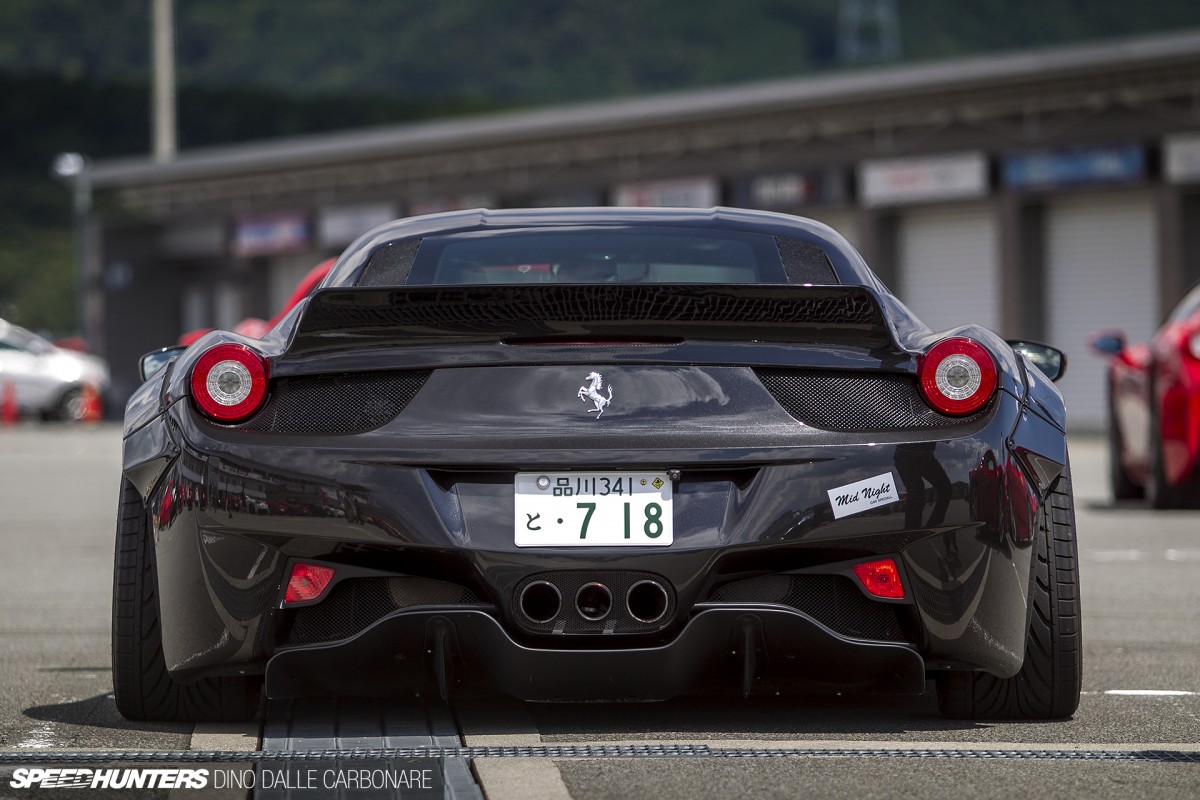 And in case you are wondering, no, that's not a replica Mid Night club sticker. I'll let you figure out the rest yourselves…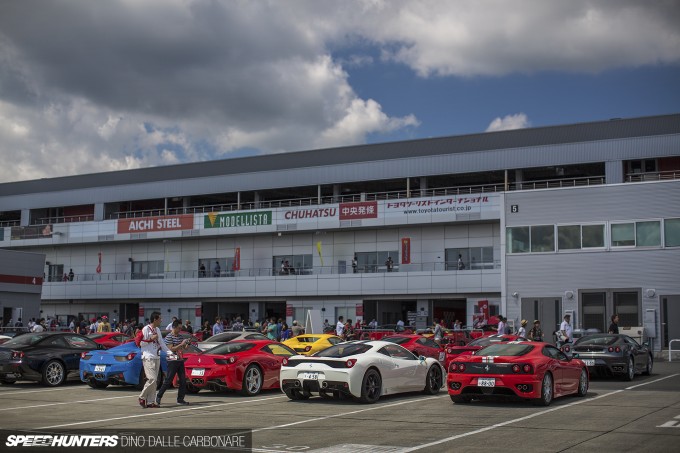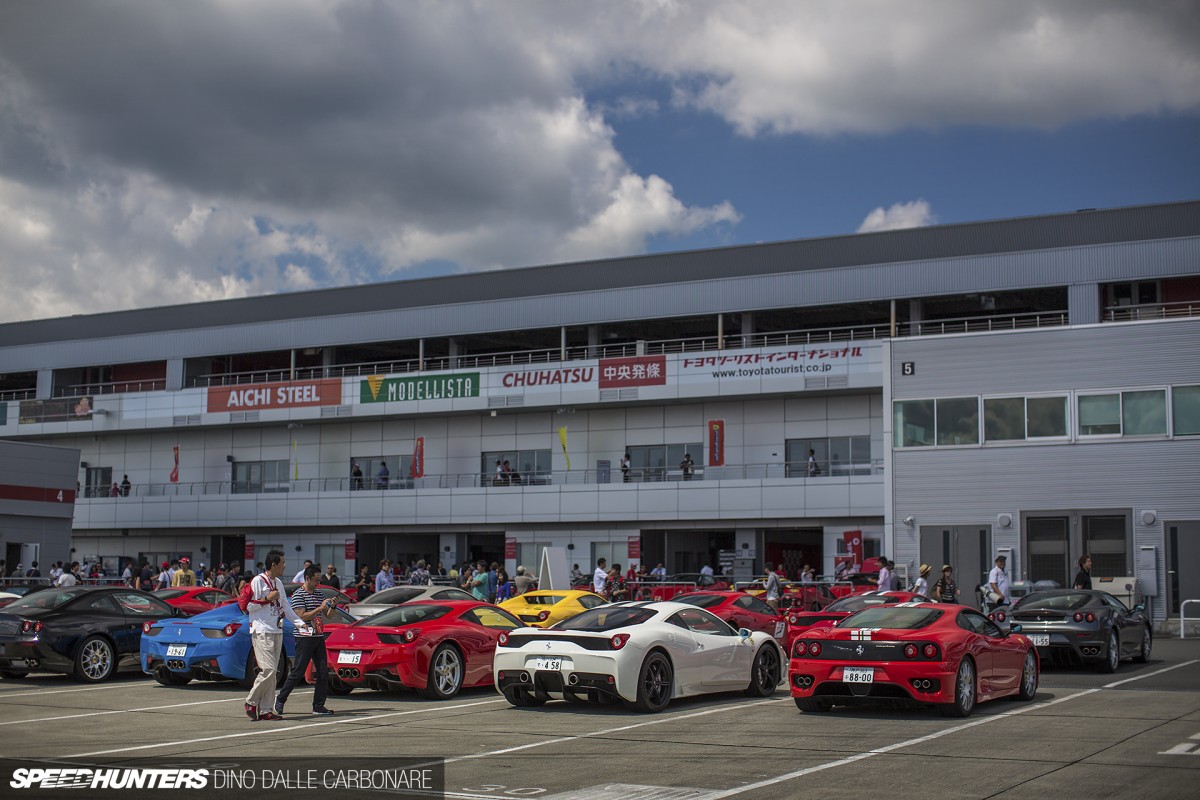 My stroll under the strong late-summer sun continued as I looked over rows upon rows of modern day cars. They're interesting of course – but never as much as a rarity from the past.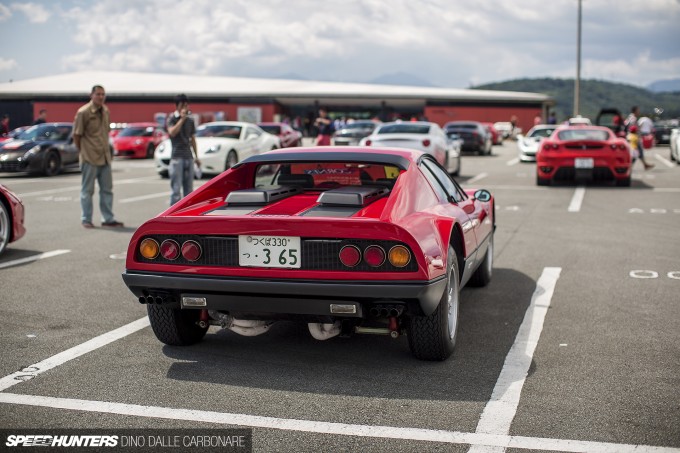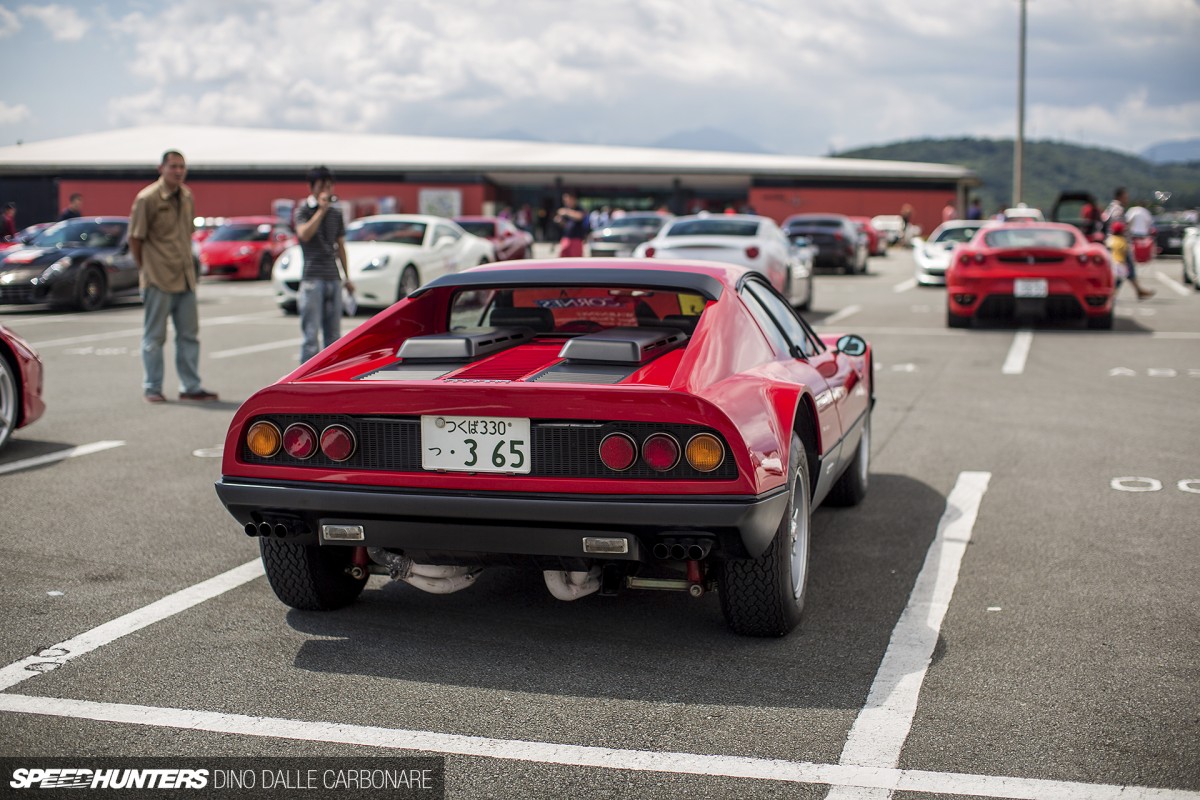 Six tail pipes? It can only be the 365 GT4 BB, running a glorious-sounding flat-12 engine.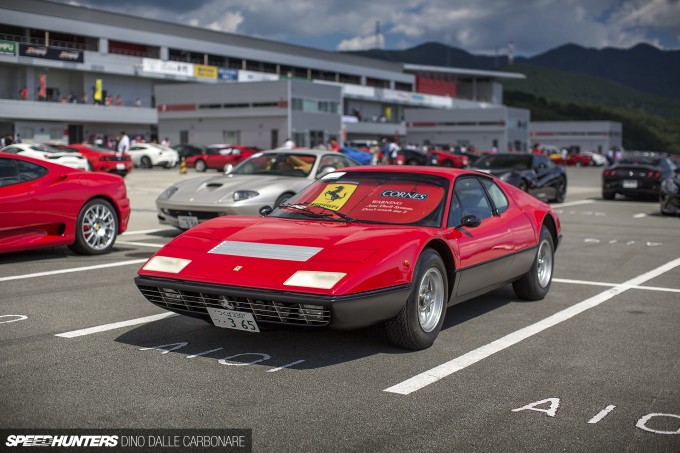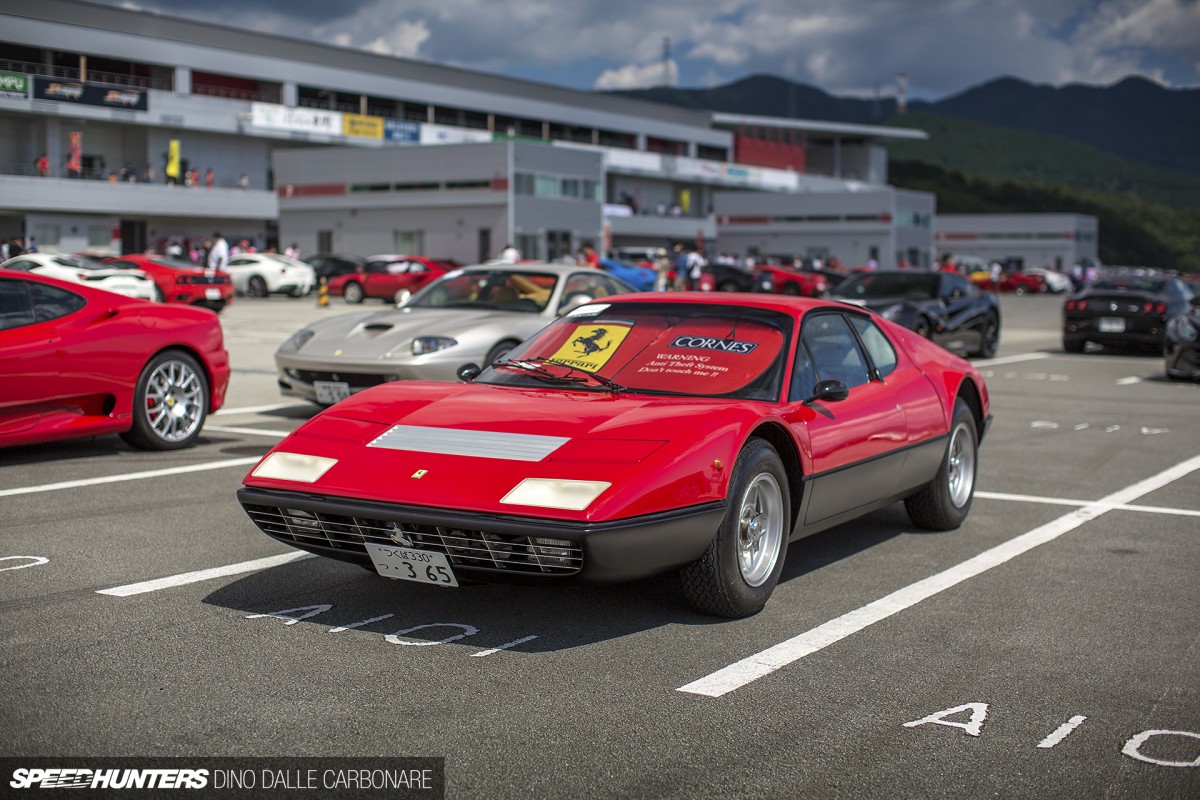 Unlike the 512 BB that followed, very few examples of this model were actually produced – less than 400 in fact – making it a mighty rare car. I don't know if it's just me but that front grille reminds me of the one used on the current FF.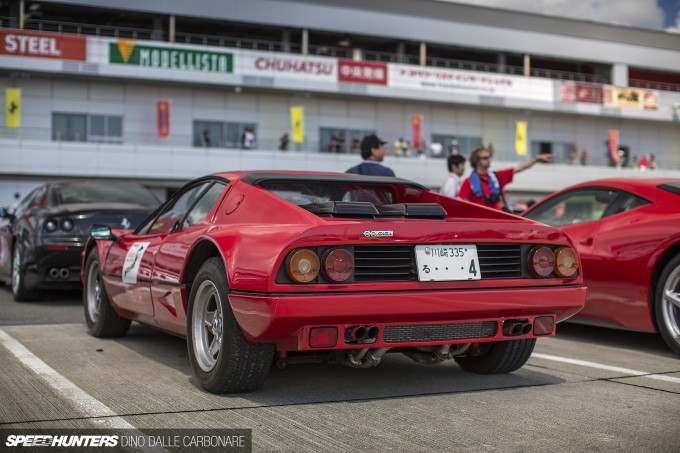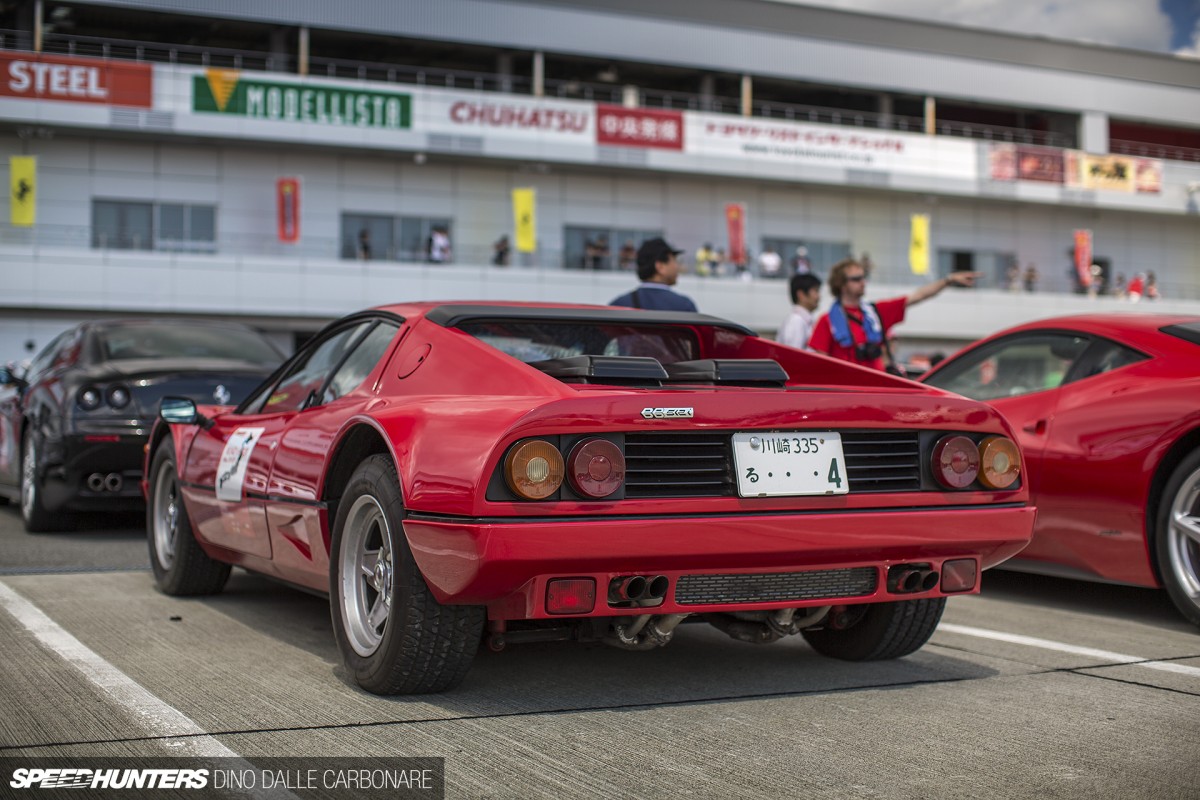 Of course, there had to be a 512 as well – this one being the later generation BB512i where the 'i' stands for fuel injection. I recently saw this car at Daikoku PA.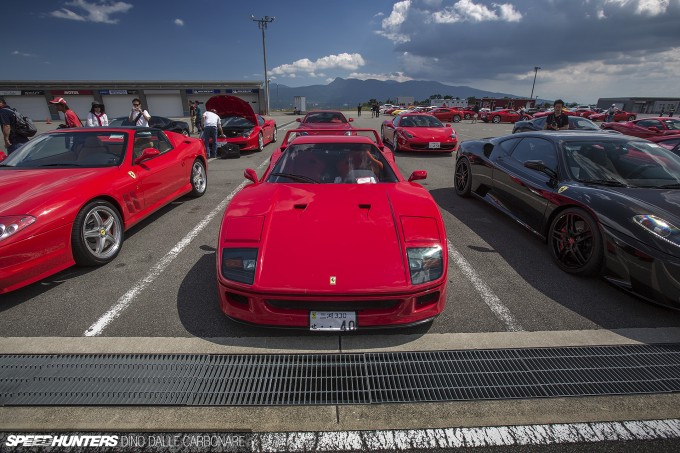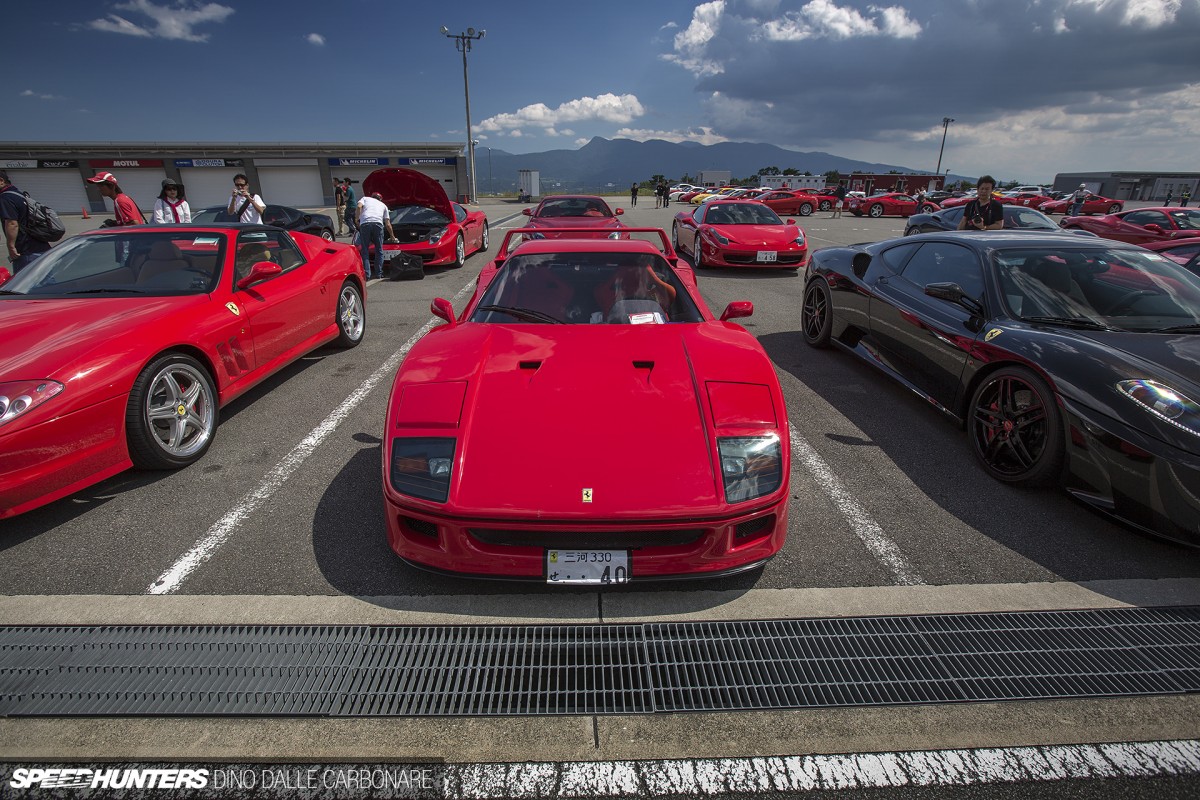 If there is one Ferrari with the ability to turn an enthusiast's knees to jelly it's the F40. To be honest, I began to lose count of how many actually turned up on Sunday! Most owners in Japan don't even bother with a front number plate, but this guy went to the trouble of printing and laminating one. I'm sure the authorities appreciate his efforts.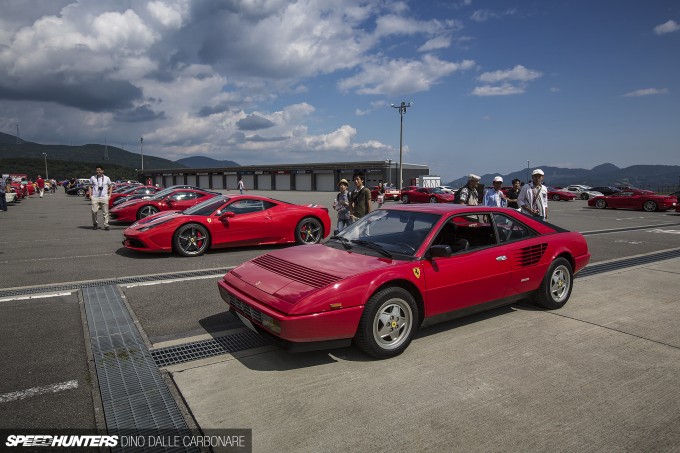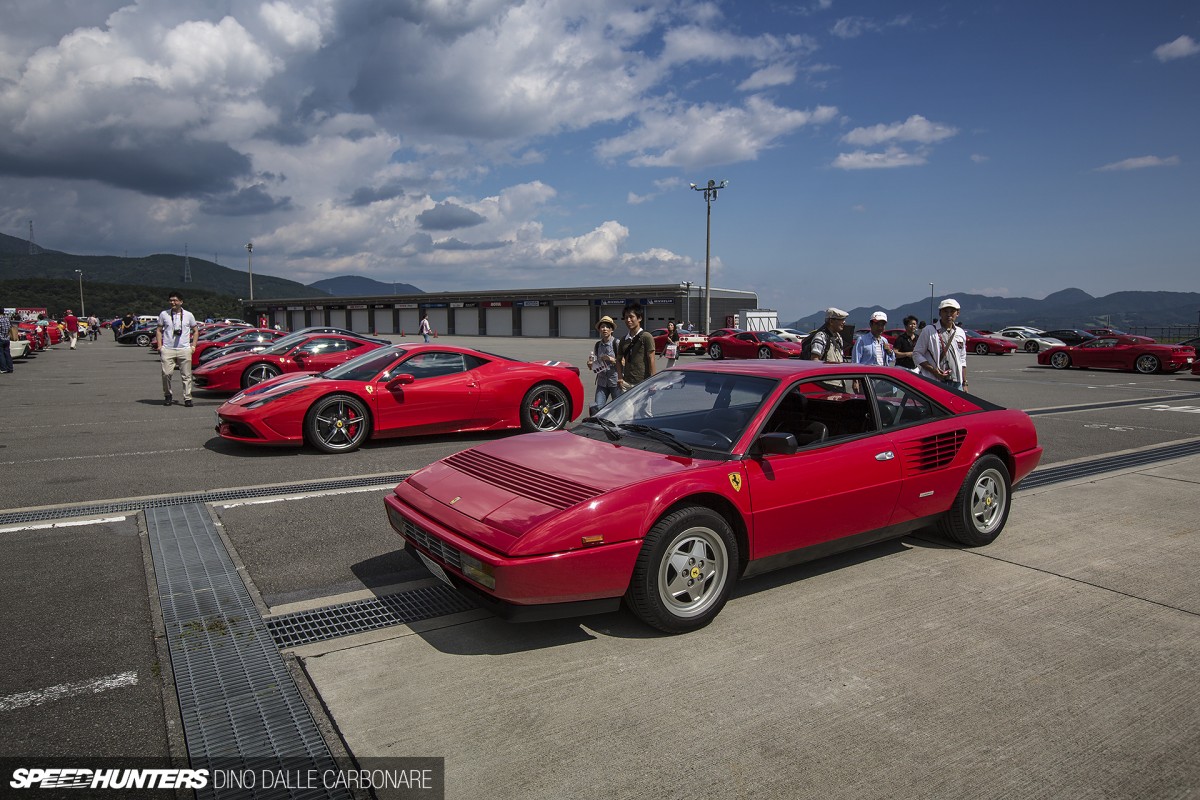 The Mondial wasn't the prettiest car in Ferrari's line up during the '80s but it was a real success, its 2+2 seating arrangement making it almost acceptable as a daily driver.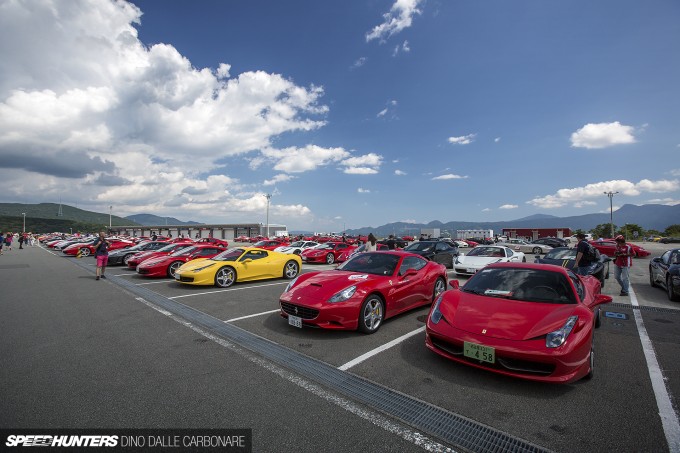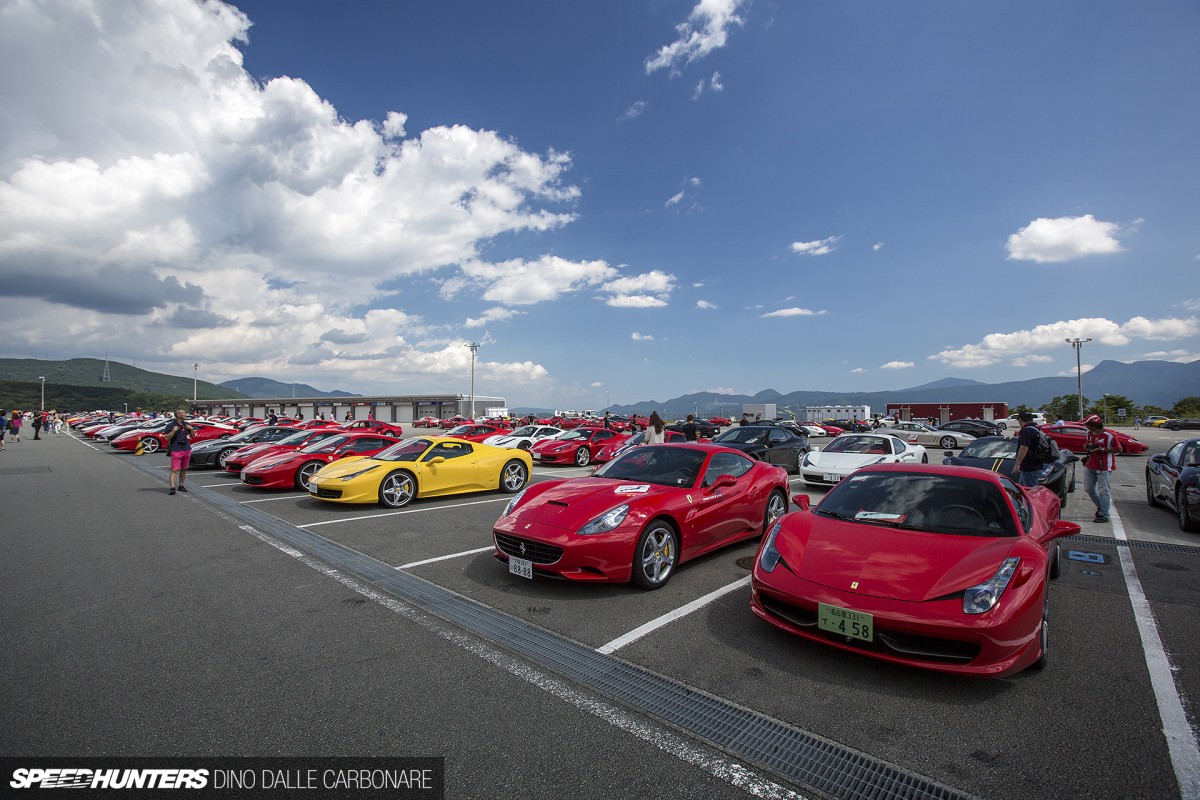 After officially entering the Japanese market a few years back, Ferrari has been doing better than ever – not only in sales but providing great customer service, which at the end of the day is what keeps people coming back for more.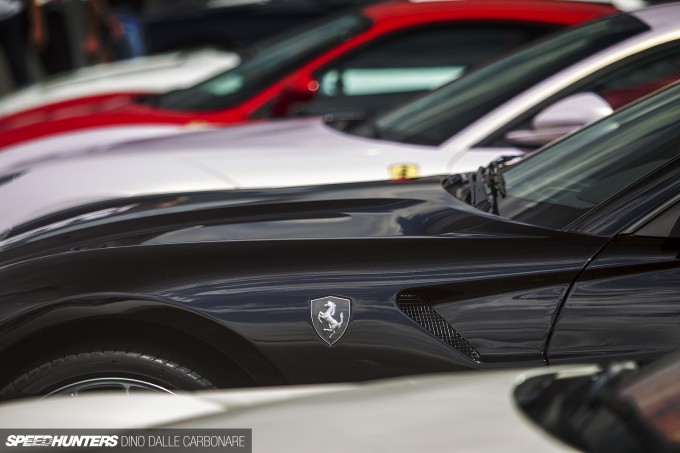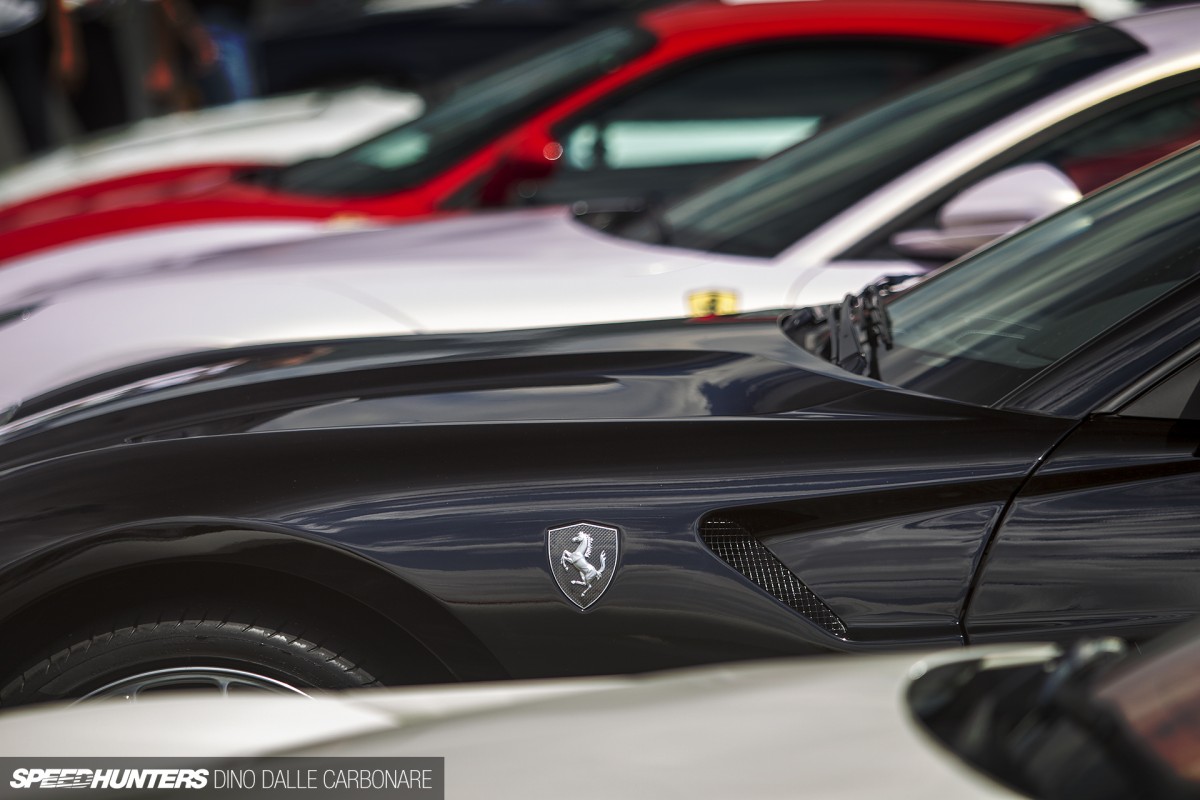 As we enter a new era at Ferrari without Luca Di Montezemolo, is there any doubt that the Prancing Horse will continue to captivate the minds of car guys the world over? No, and I am very excited to see where turbo technology – not to mention hybrid systems – will take the Cavallino. There are definitely exciting times ahead for the legendary Italian carmaker…
Dino Dalle Carbonare
Instagram: speedhunters_dino
dino@speedhunters.com