The Wangan's Pit-Stop
You know what one of my favourite things about living in central Tokyo is? The fact that on any given night, if you're up for a bit of car indulgence, you are never far away from a multitude of meeting spots. Tatsumi Parking Area, located right along the Wangan, is less than a 10-minute drive from the very heart of the city (depending on how fast you drive, of course), and, weather permitting, most nights becomes a hang-out place for car guys.
Situated on the on-ramp of Route 9 on the Shuto-ko, Tatsumi PA's location has always made it a popular rest stop as it can be returned to over and over again when you head out for a quick run of the inner loop, or C1 as it's most commonly known.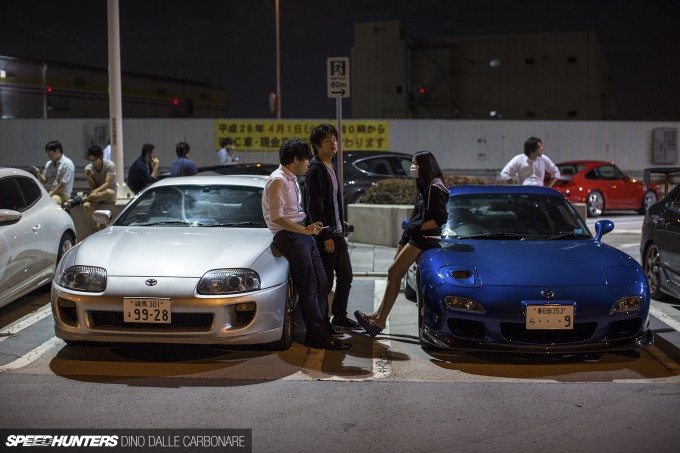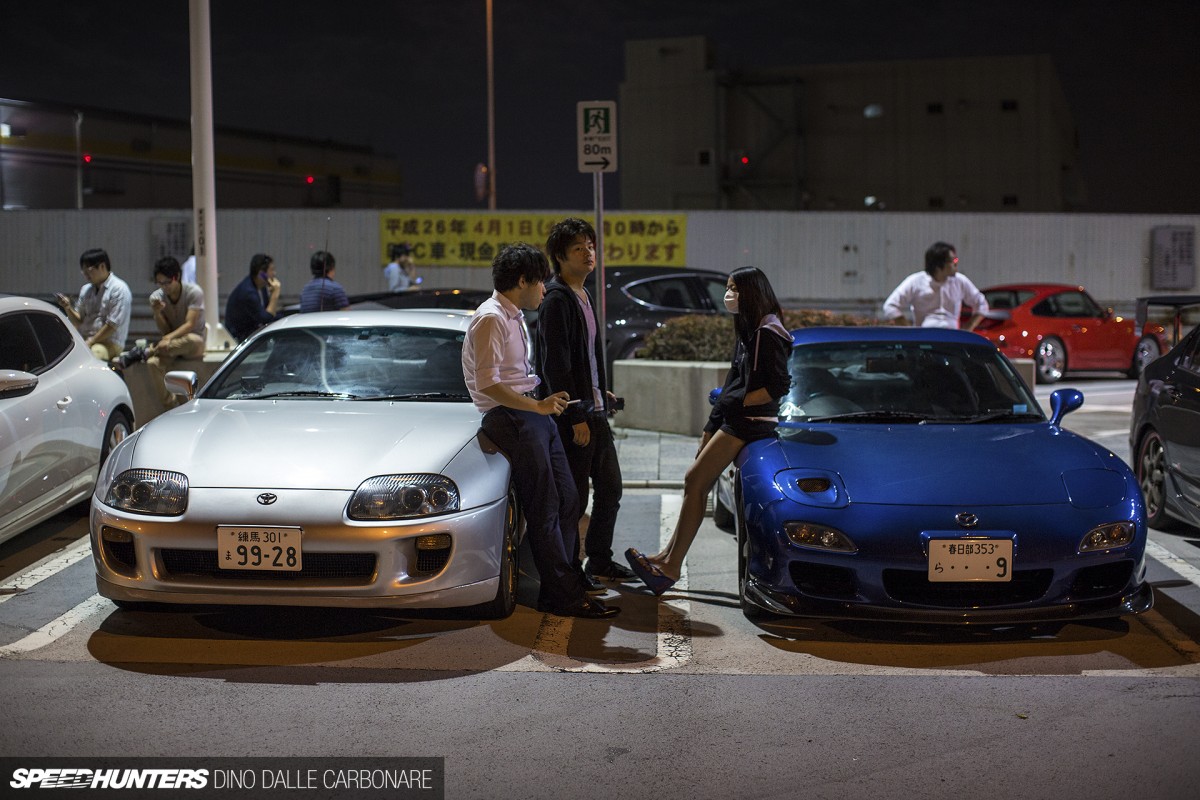 From Route 9 you connect onto the last section of Route 6 and then onto the C1, which you can circle to your heart's desire without needing to pay over the ¥930 toll. On my last visit to Tatsumi I wasn't out for a drive in my GT-R or anything (the car is undergoing a few upgrades over the summer so is out of order at the moment) – I just wanted to stop in and see what was going down.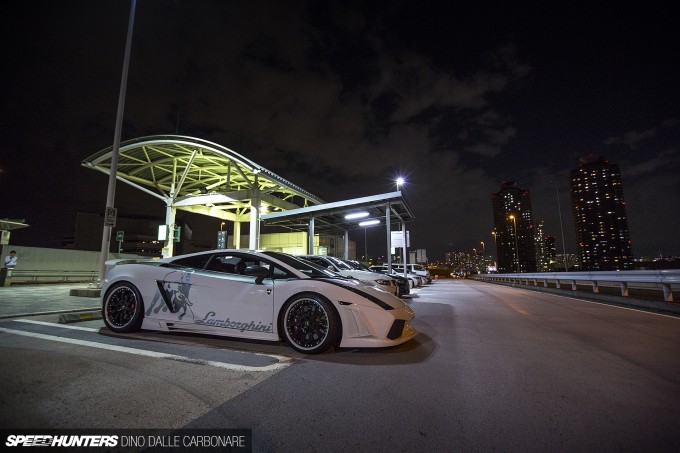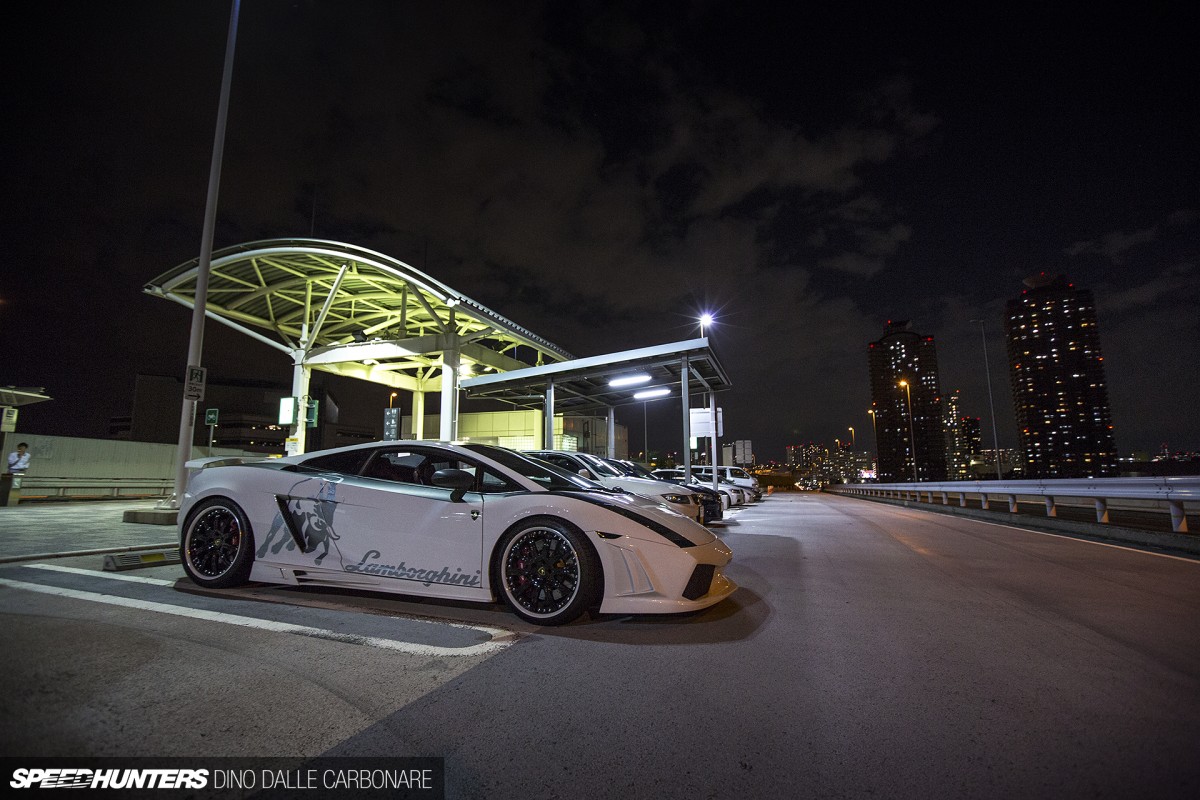 The way this particular parking area sits about five stories above ground level gives it quite a different atmosphere from other Wangan rest stops like Daikoku or Ooi. You also get a stunning view of the Ariake neighbourhood and Tokyo's heart behind it. Sitting a few levels up and having the busy Wangan one level down, the whole place shakes around quite a bit – especially when big heavy trucks pass by. In fact, it almost feels a constant earthquake.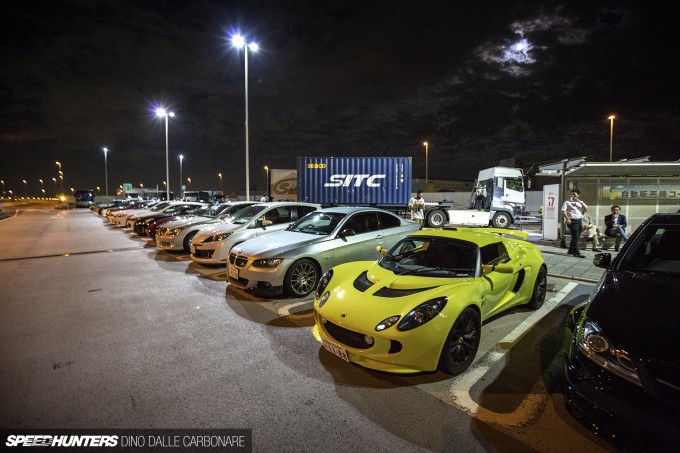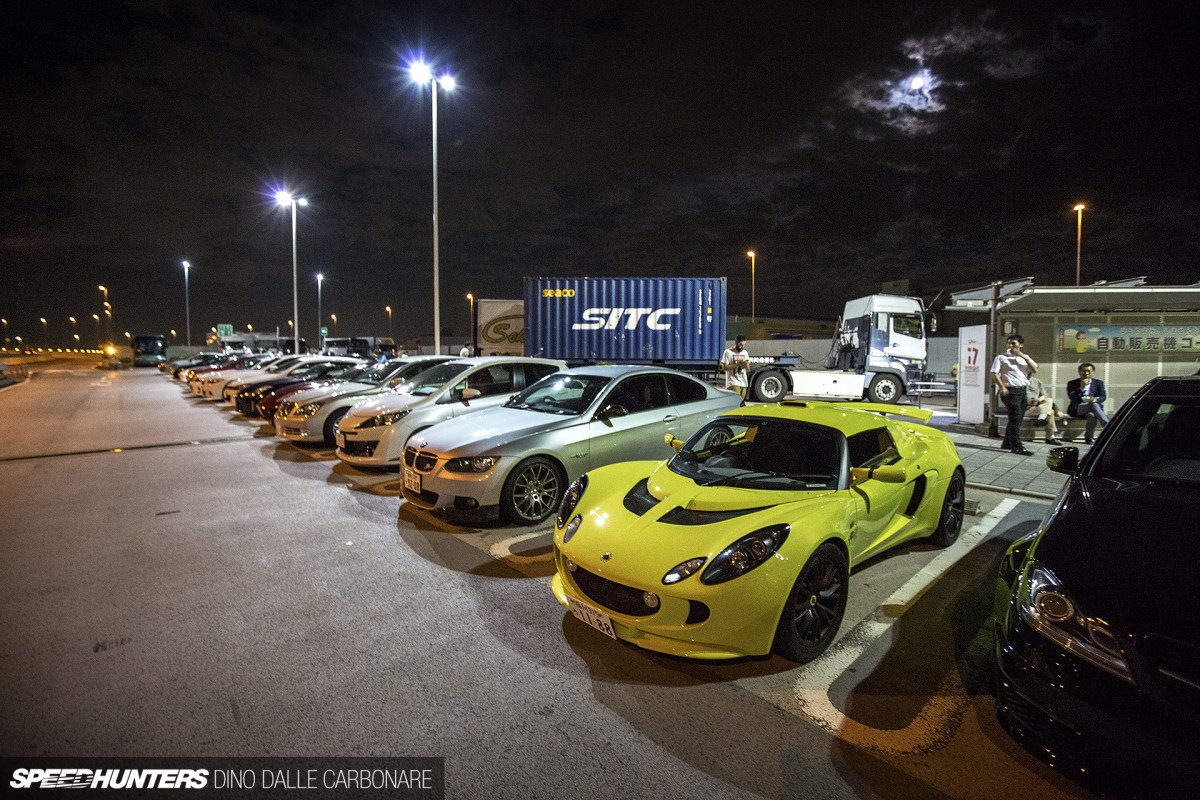 Just after 9:00pm there was an already decent selection of cars present. Unlike Daikoku where a lot of guys park up for a long time, here most people only stop for a quick break to check out what's around, and then go out for another drive. It means you have to be quick to snap cars that pull in, as they might just do a quick loop of the place and then leave immediately.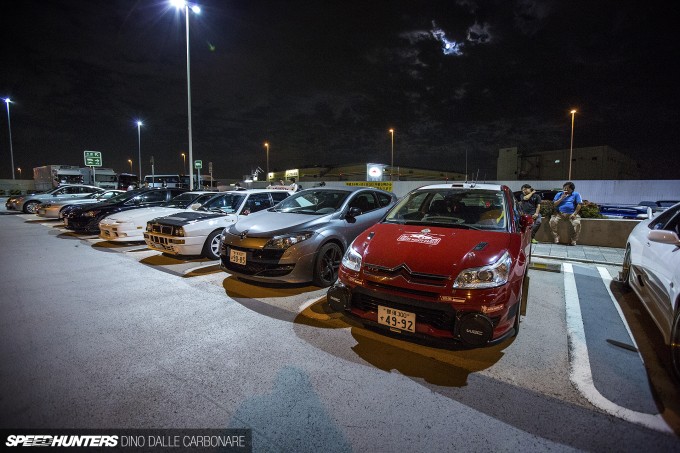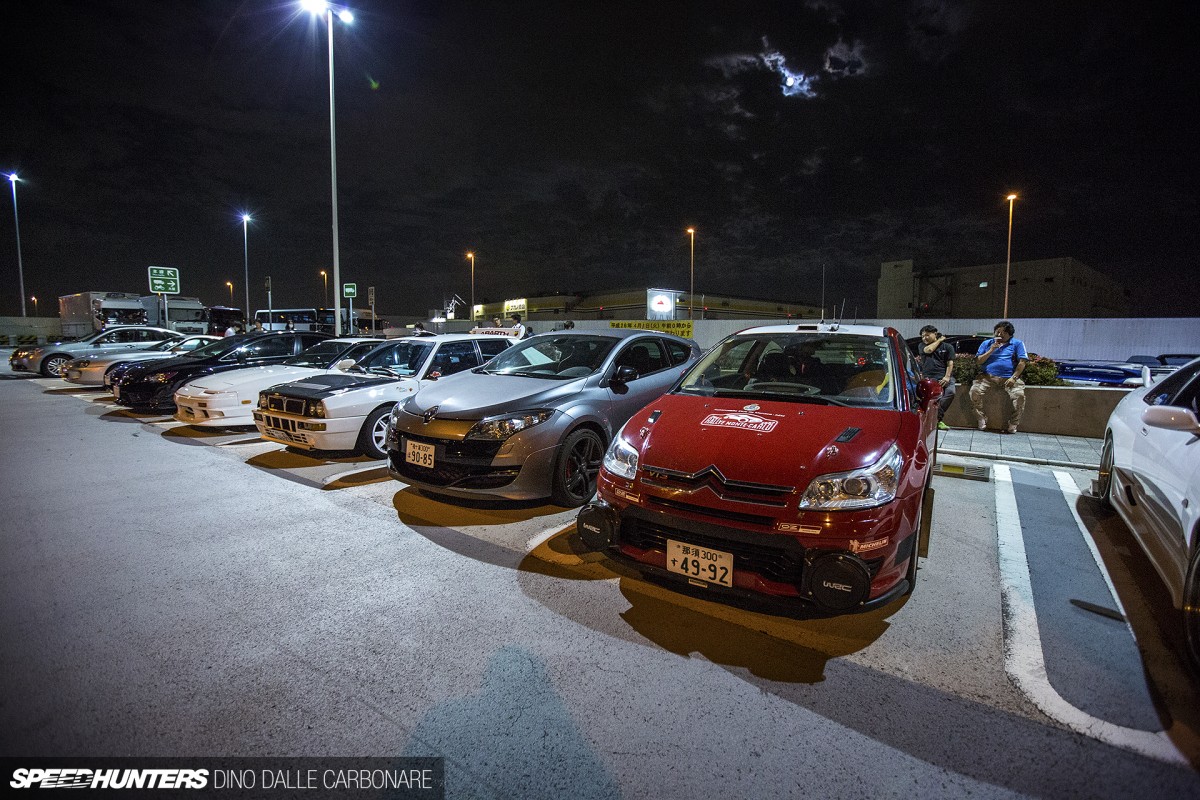 In the few minutes that it took me to grab my camera from the back of my car, I missed one more Citroën from this line up.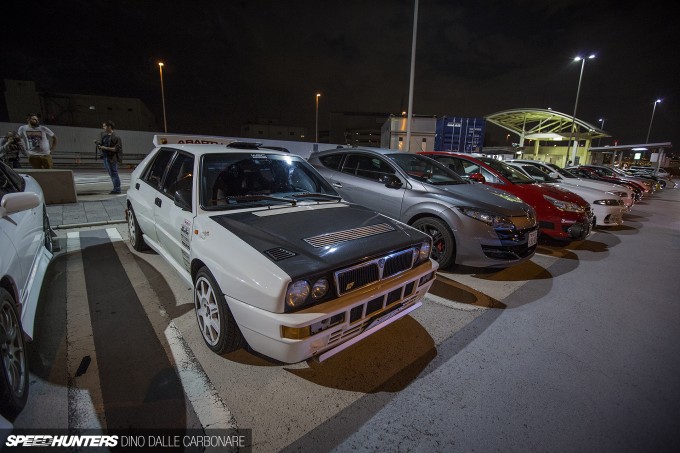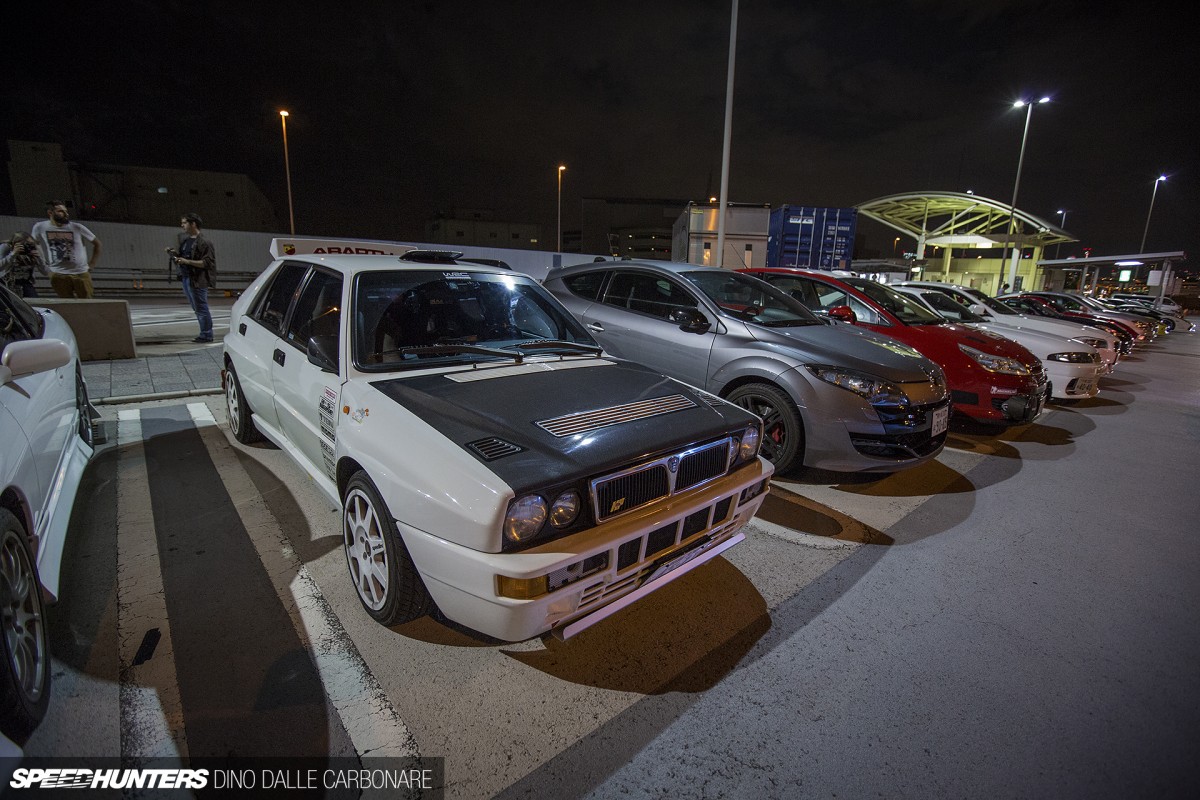 As well as a cool red Lancia that was parked alongside this particular example.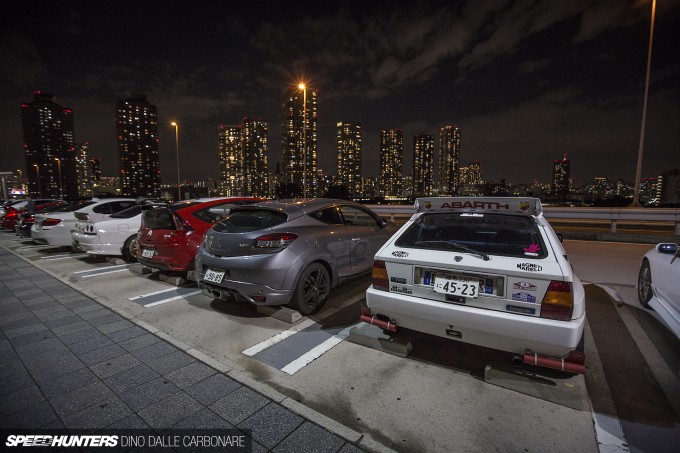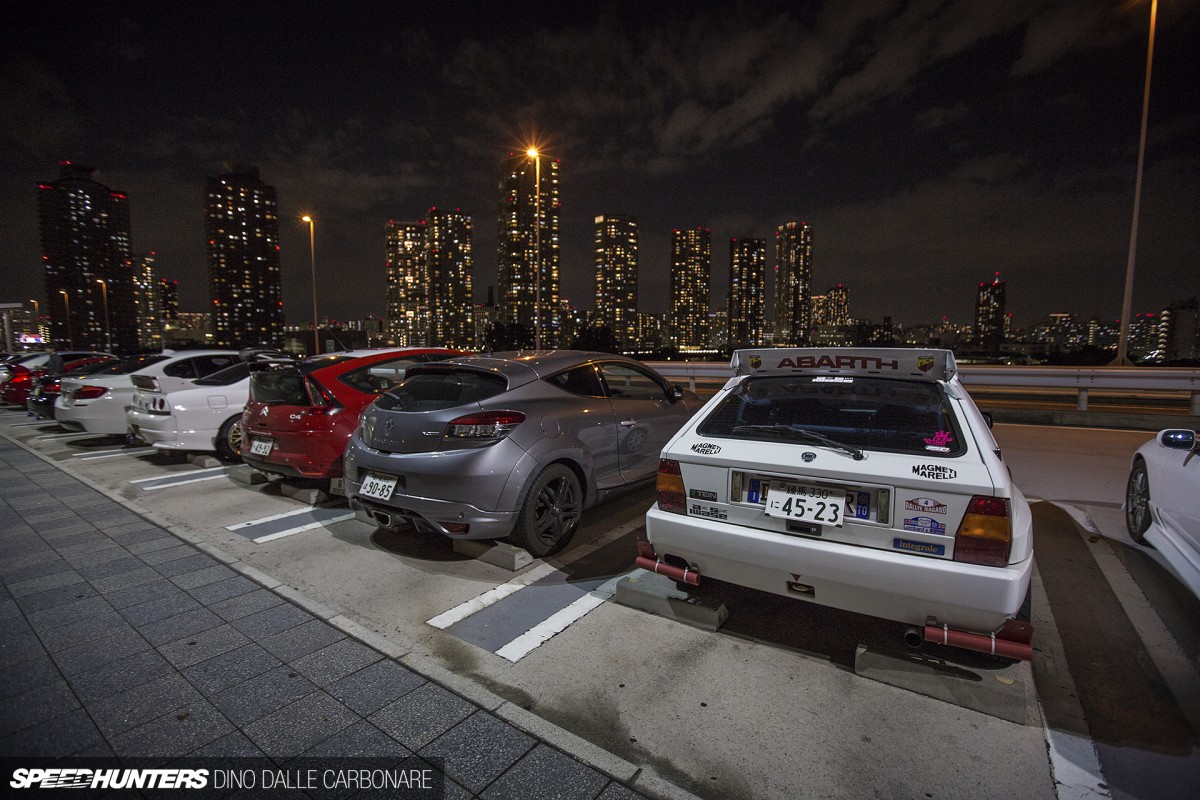 Delta Integrales, albeit rare, still continue to be very much sought after machines in Japan. I'm sure I've mentioned this in the past, but back in the early '90s Lancia made some limited edition Integrales especially for the Japanese market that sported unique leather trim and pearl white bodies. This wasn't one of them, but it's just as cool. I just love the rolled-up and ziptied mud-flaps. You will also notice that the car next to it is a Renault Mégane RS – a very capable FF hatchback that's been on my 'must-drive' list for a very long time now. How cool is the factory Lambo-style center-exit exhaust?!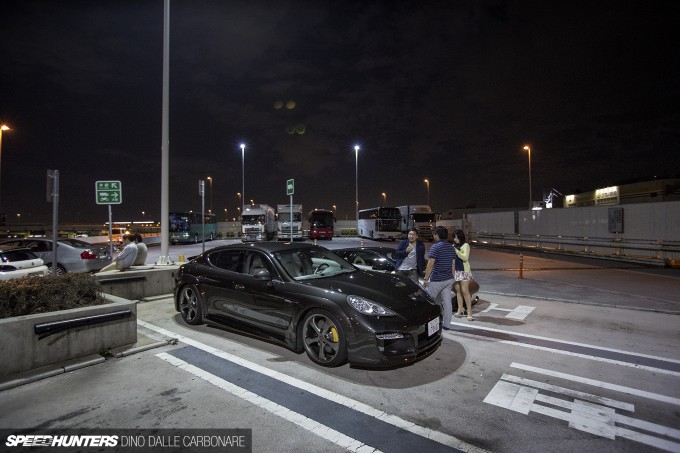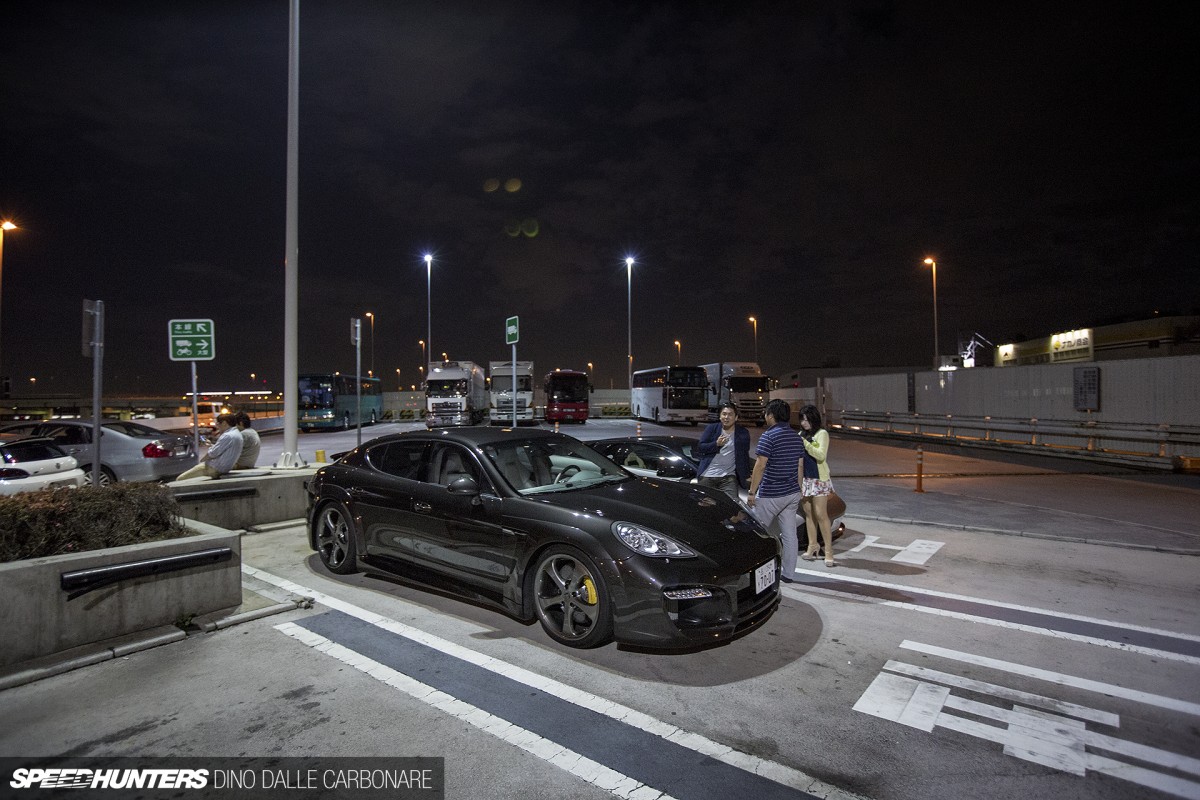 The back side of the PA is usually reserved for trucks, but when you drive an expensive import it seems that you are free to park anywhere you like. Mind you, there aren't too many trucks stopping in this time of the evening, so parking there doesn't seem to bother anyone.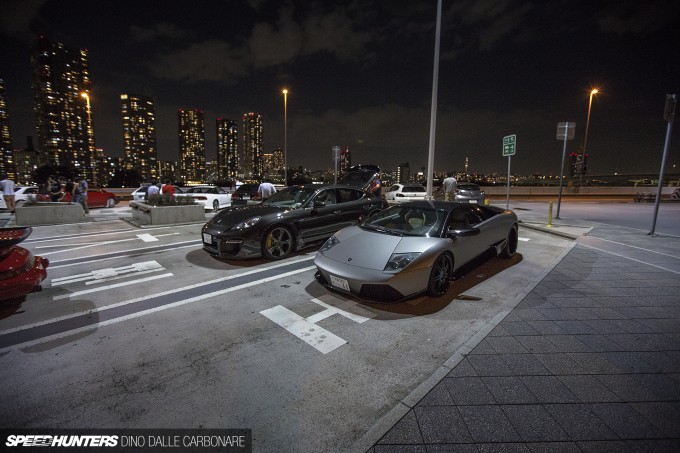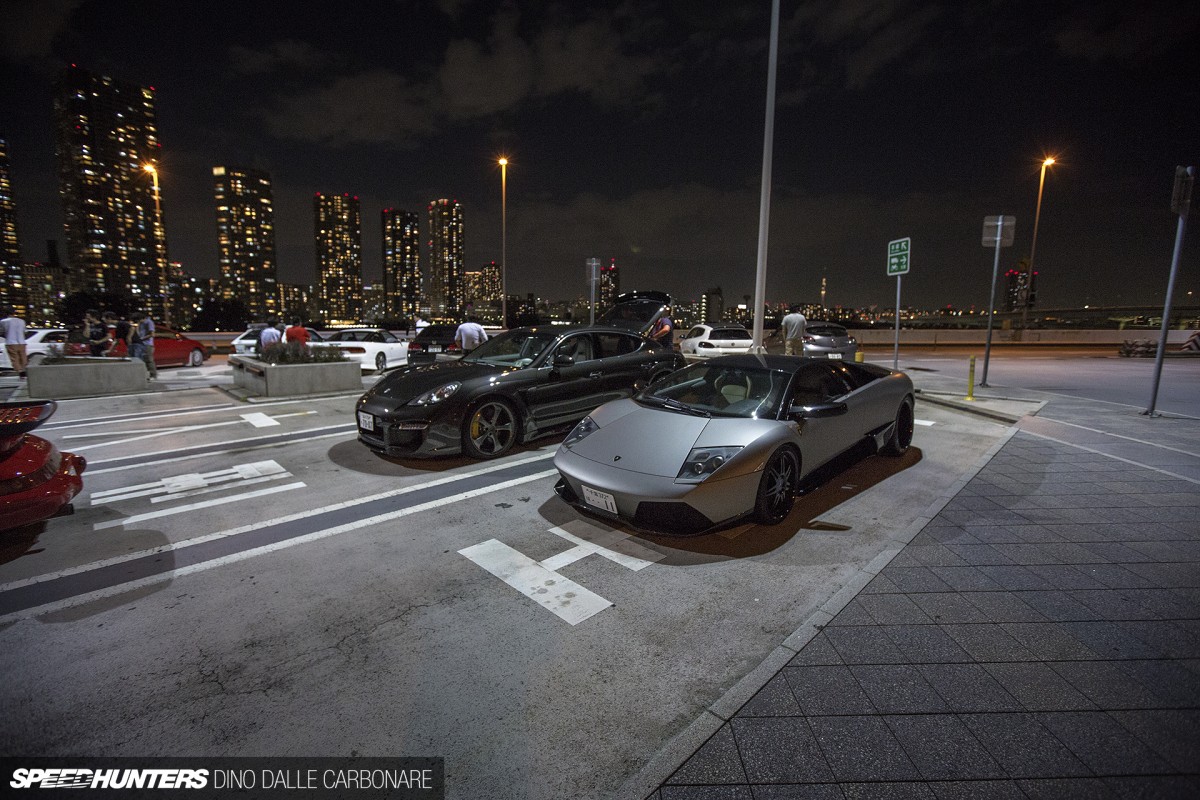 I didn't realise straight away that there was another car parked alongside the Panamera; the low-slung Lamborghini Murcielago almost completely hidden by the massive Porsche sedan.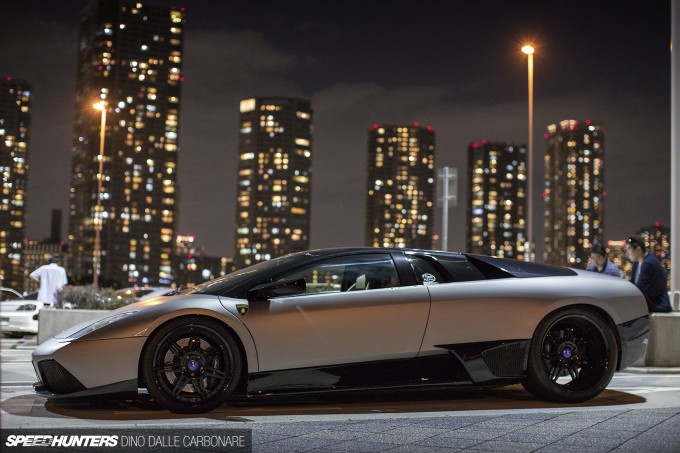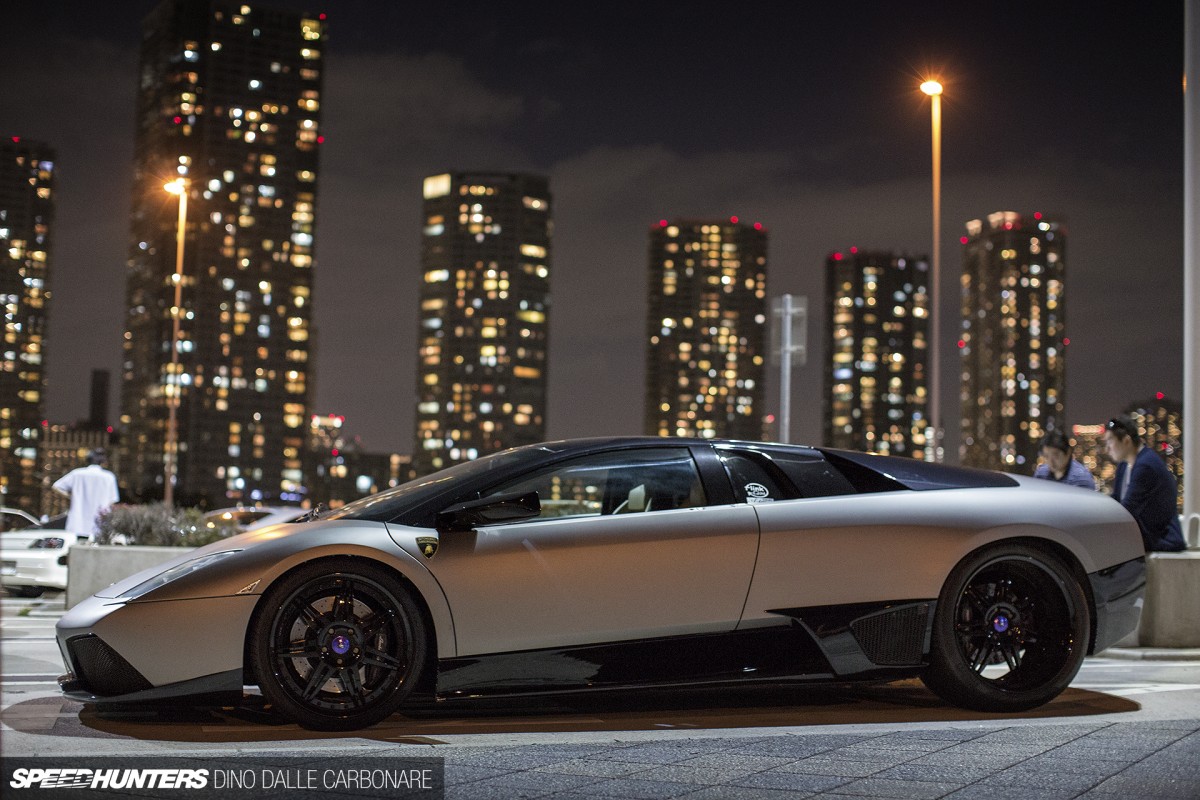 Shoot the right way at Tatsumi PA and you get an amazing background consumed by the new tower blocks that in the last few years have sprouted up on the man-made islands of Koto-ku.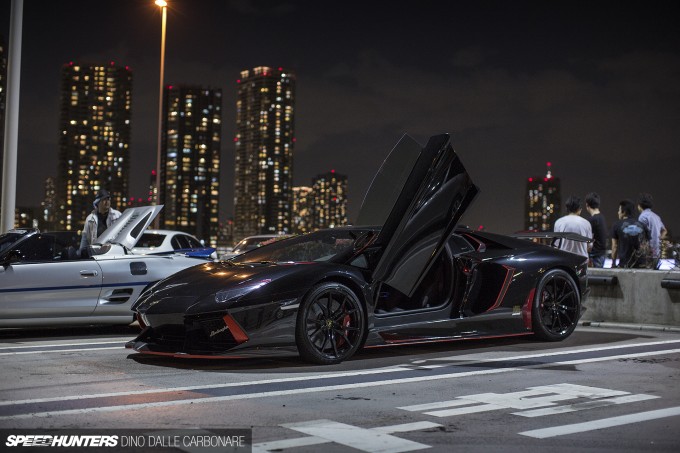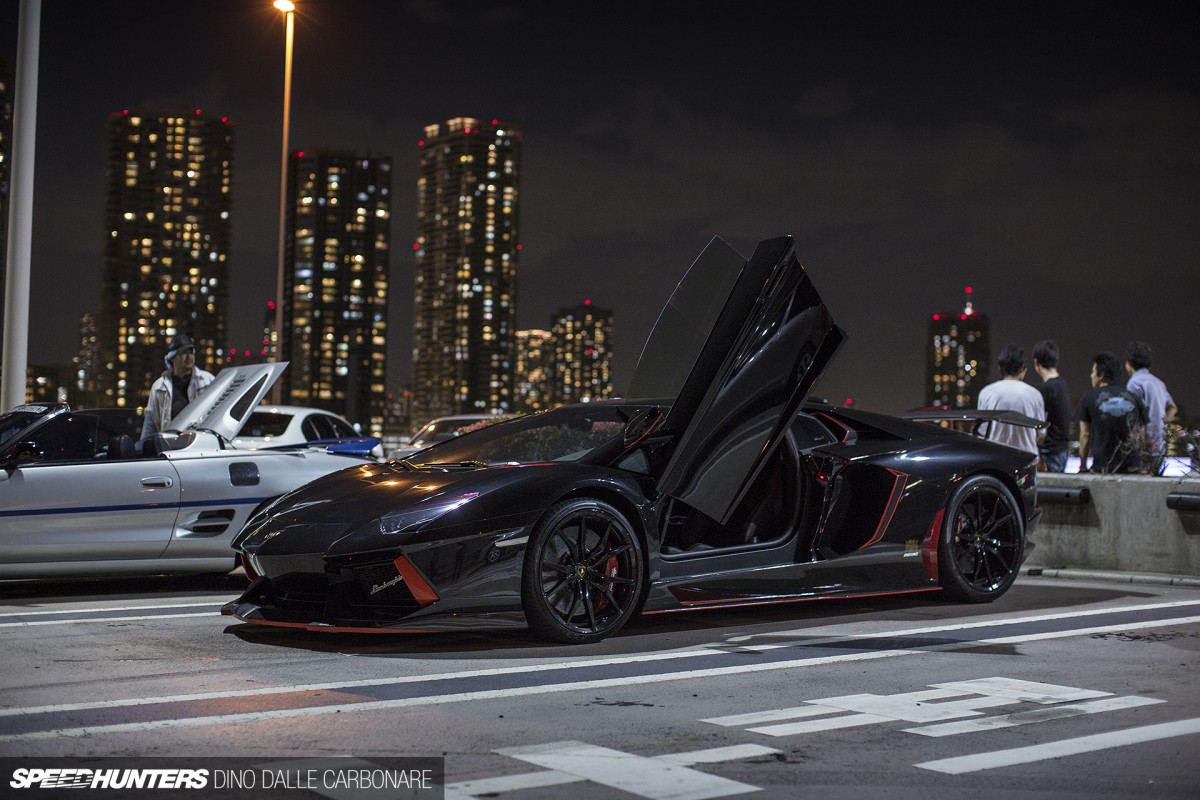 As you can see, even the latest and most expensive machines from Lamborghini don't escape the imagination of Japanese car customizers.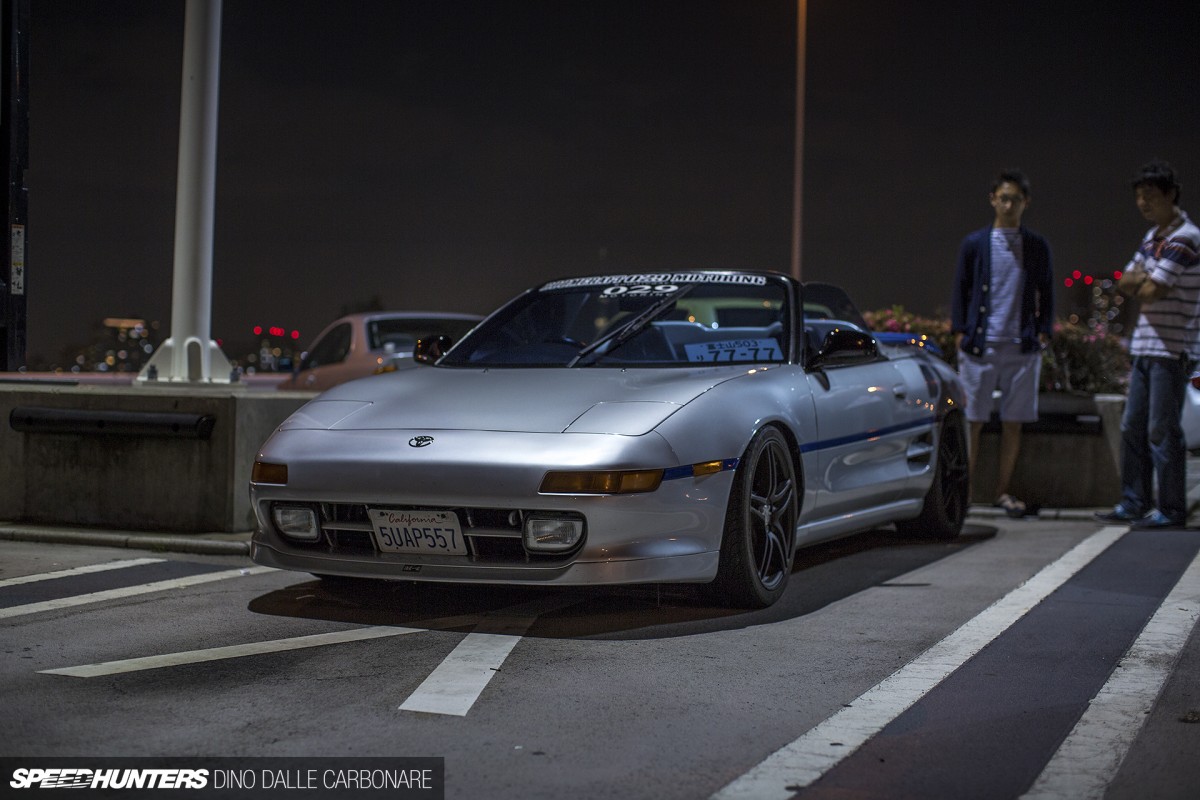 Of course, the same can be said for more affordable options too, like this MR2 which sported a cabrio conversion. I've definitely never seen an SW20 given this custom treatment before.
Night Running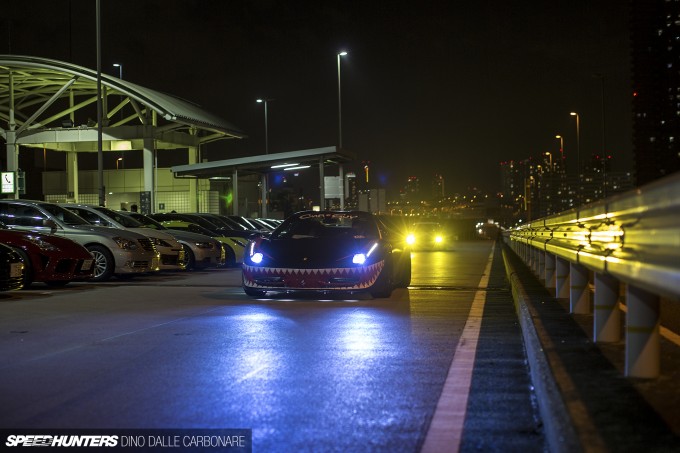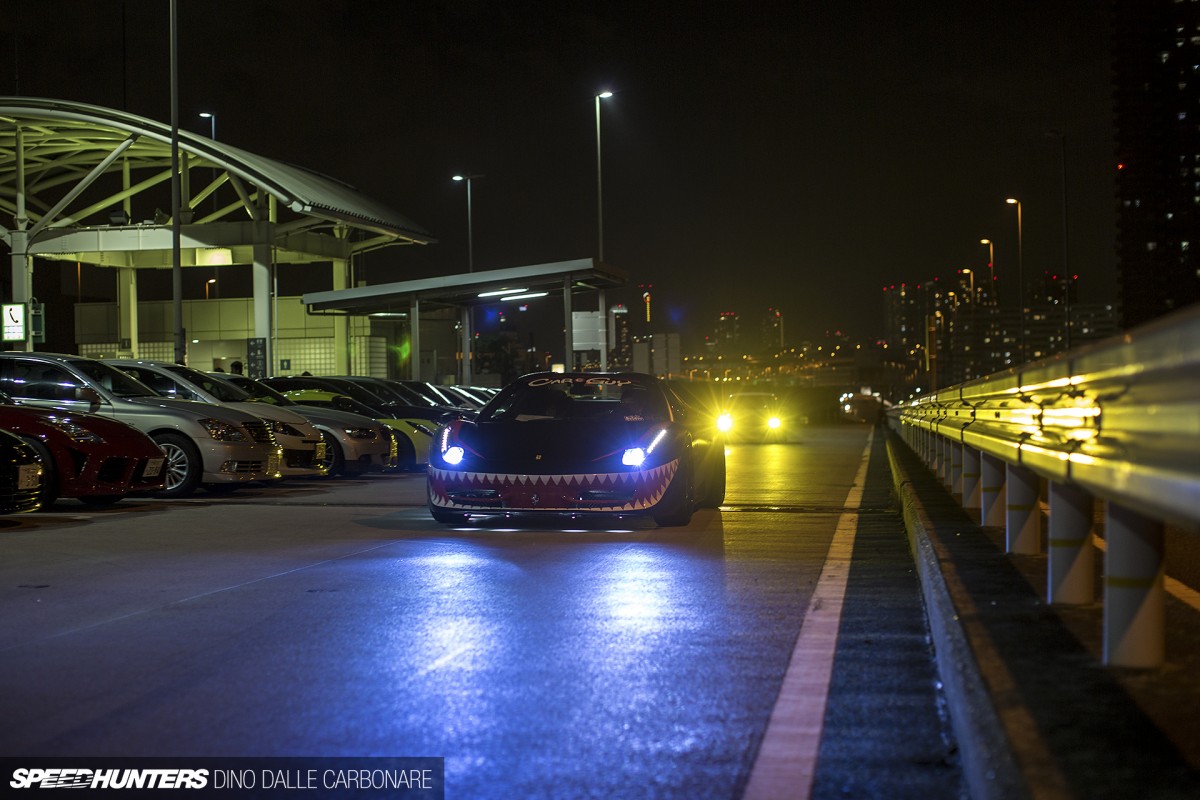 As some cars left more arrived – some in very dramatic fashion with their drivers exhibiting the same throttle revving techniques of bosozoku bike gangs! Mind you, a 458's V8 sounds a little more appealing than an unsilenced motorbike engine, right?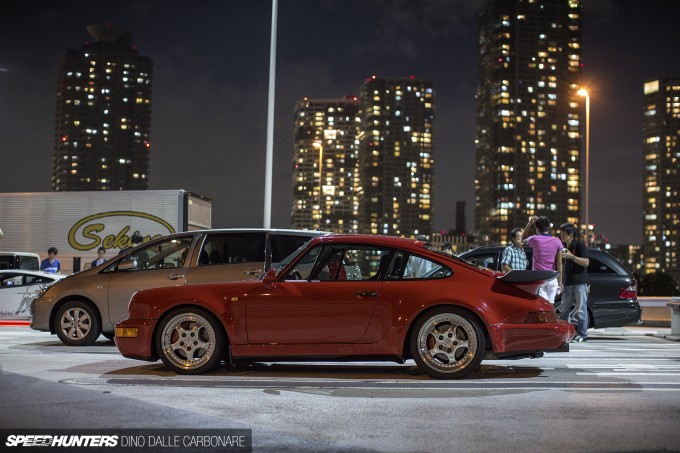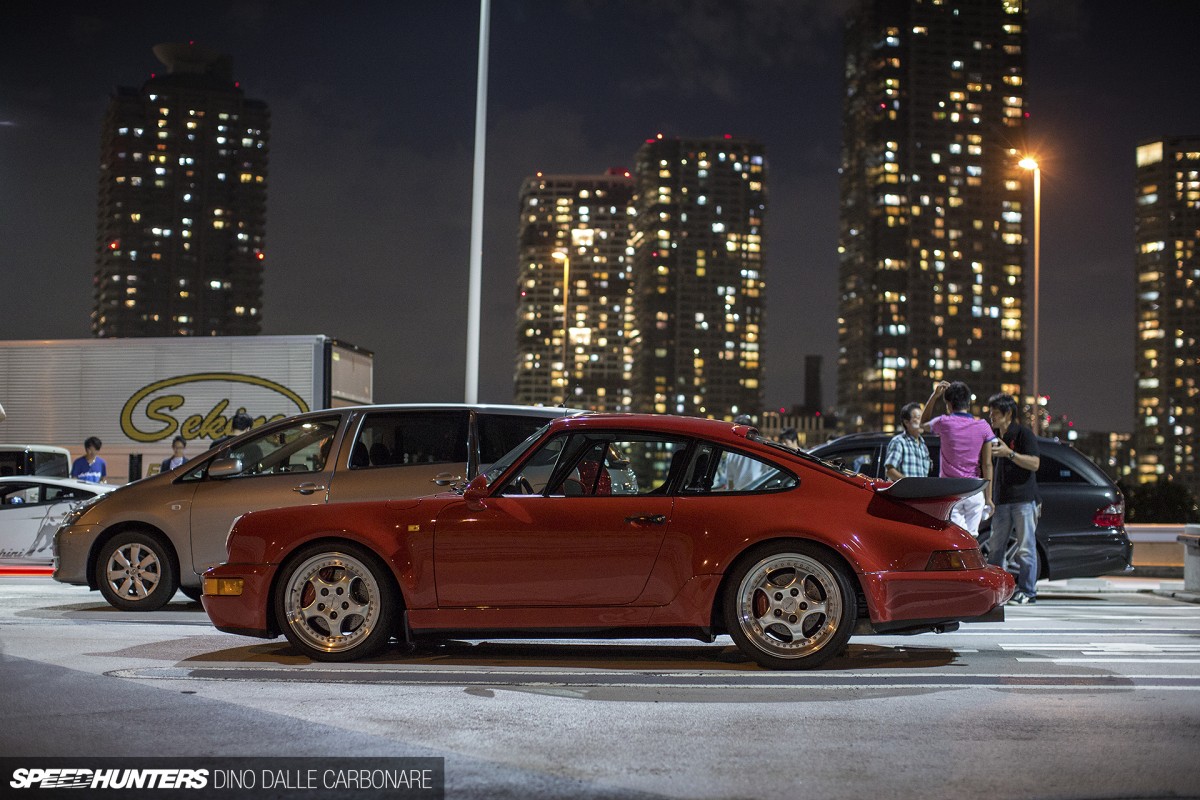 One of the reasons I headed out on this particular night was to meet up with a friend of mine who owns this 964 Turbo. I drop by his shop to pick up my groceries every week and we always talk cars! His Porsche has just had a complete engine overhaul so it's running better than ever!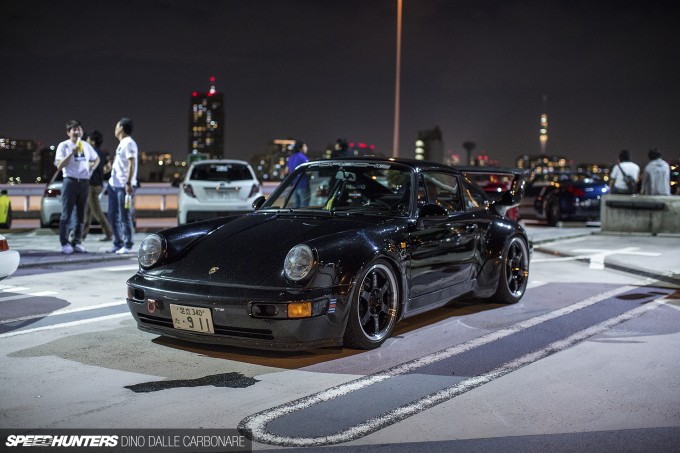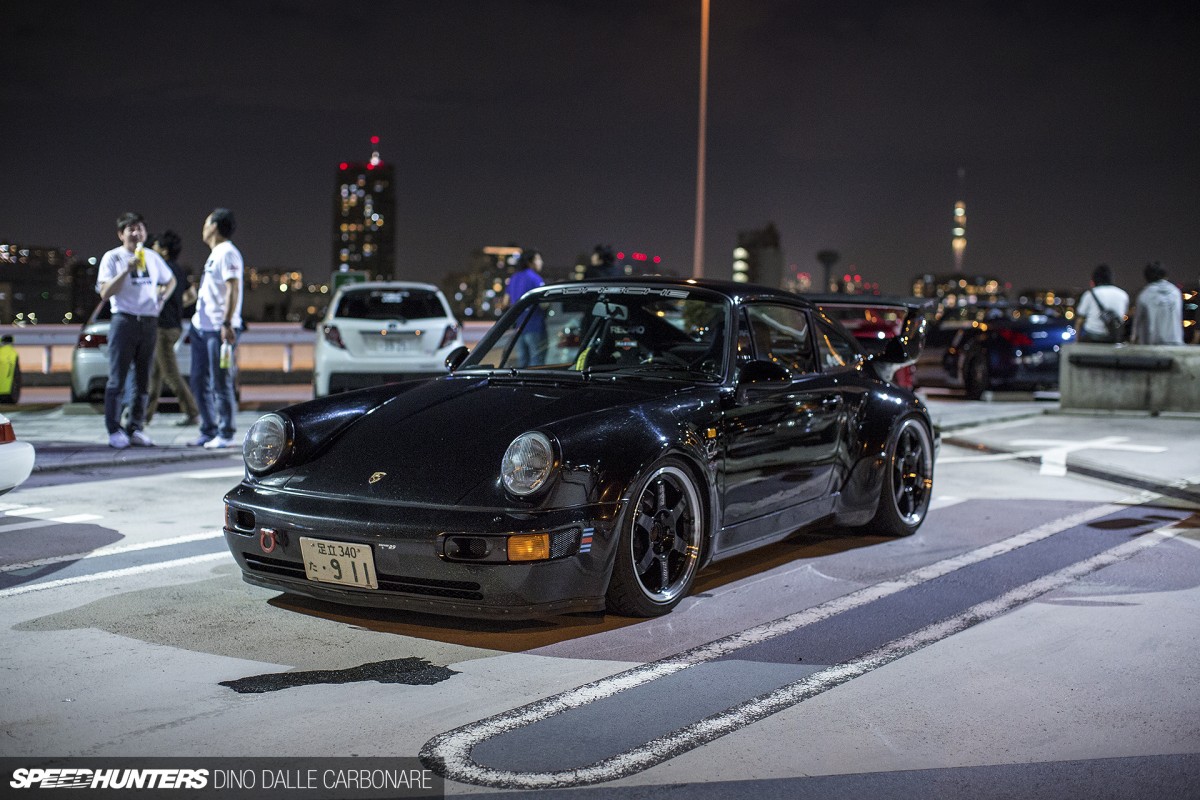 He's part of a Porsche crew that regularly shows up at Tatsumi with a few interesting cars. This mean Turbo is part of the club too.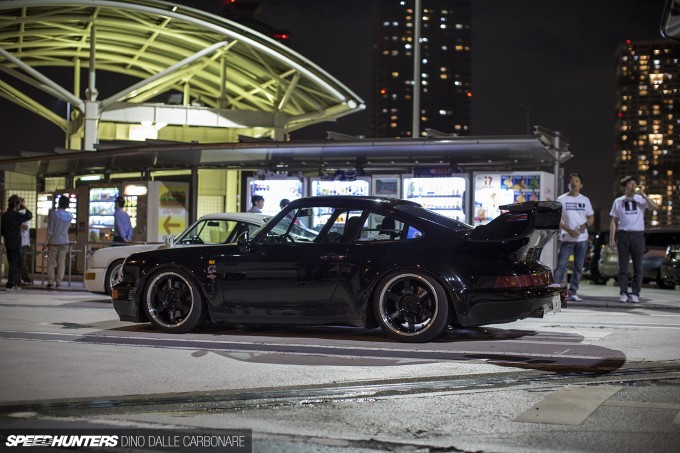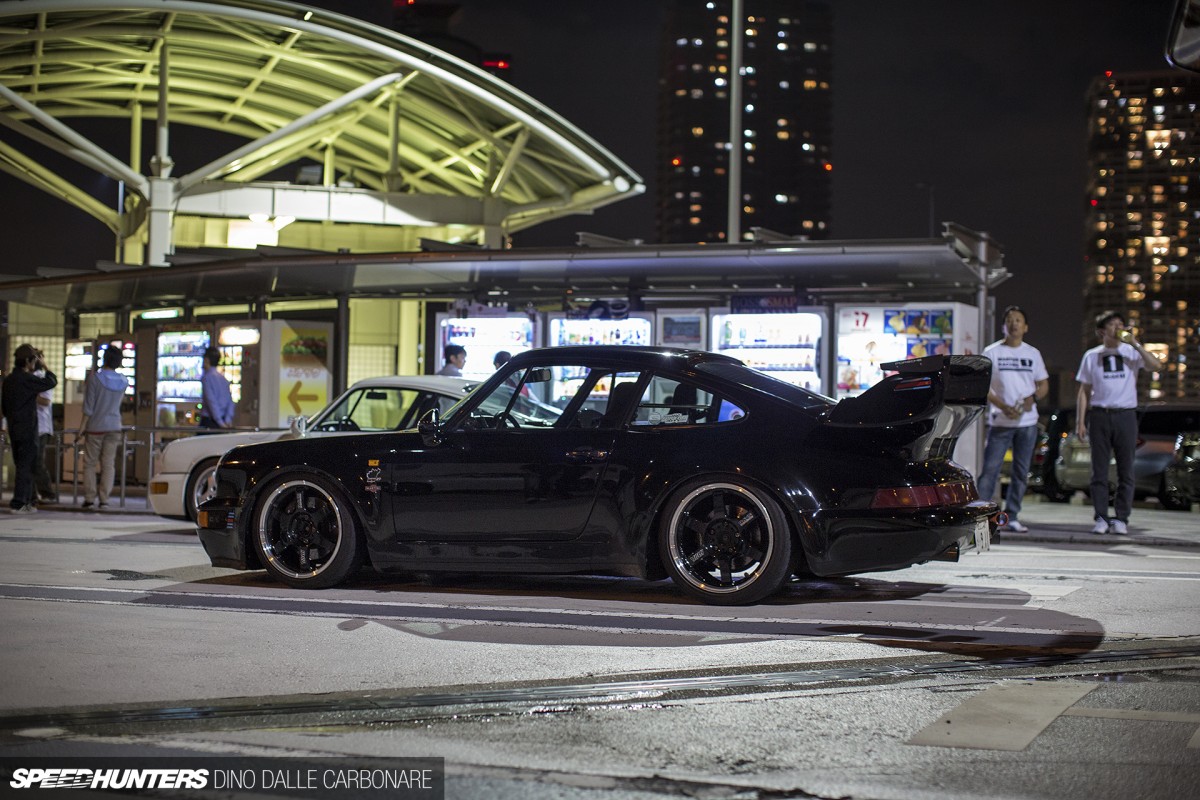 It's hard to put into words the kind of presence these older 911s have, and the Japanese really know how to get them looking their best.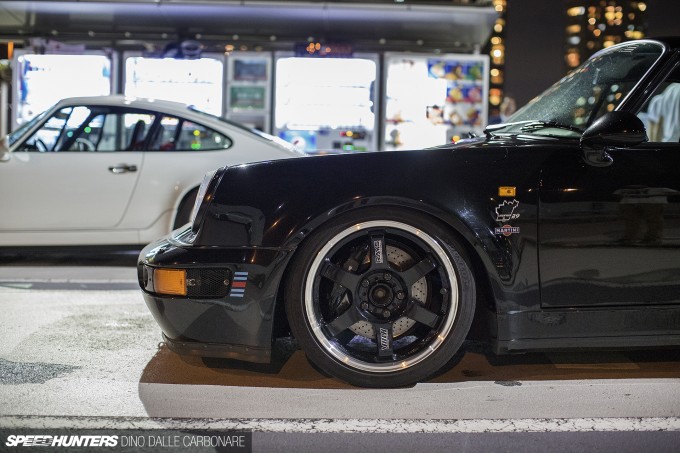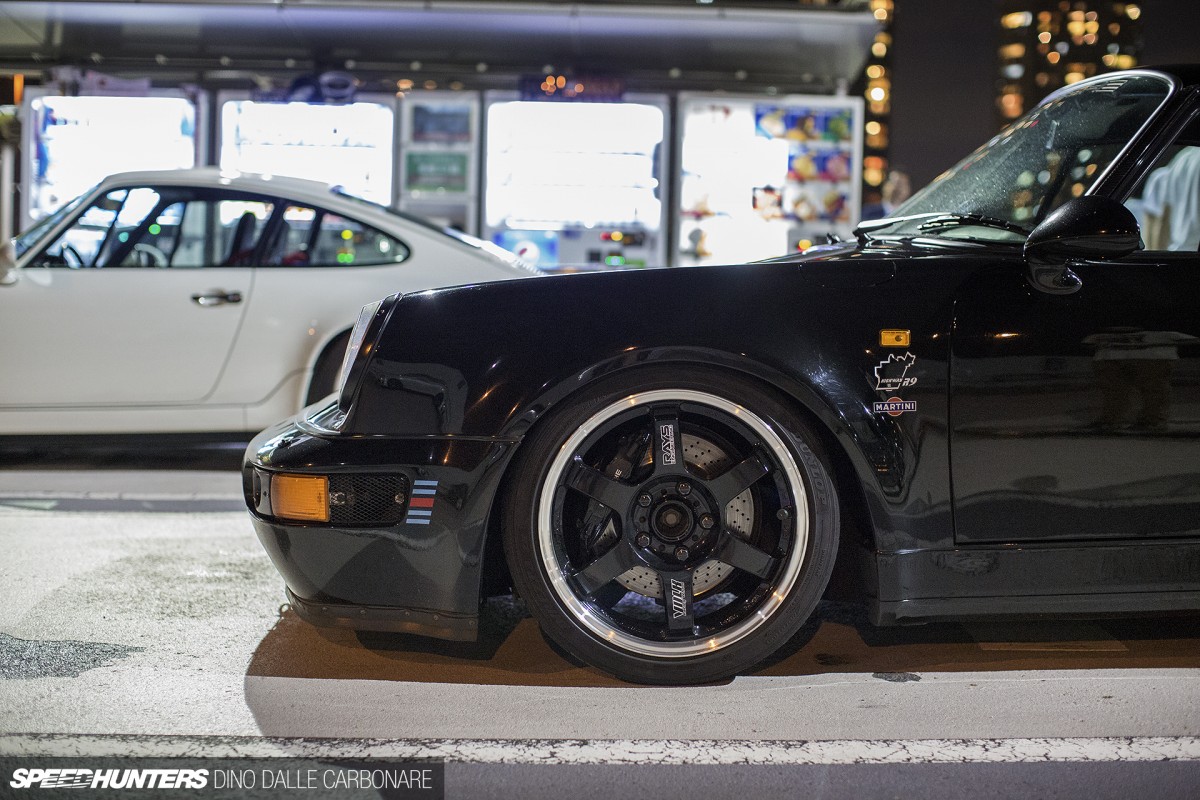 The black RAYS Volk Racing TE37s with diamond cut lip are a spot-on choice in my mind. The fitment was just right too; the body sitting quite low and the Dunlops just clearing the rounded edges of the wheel arches.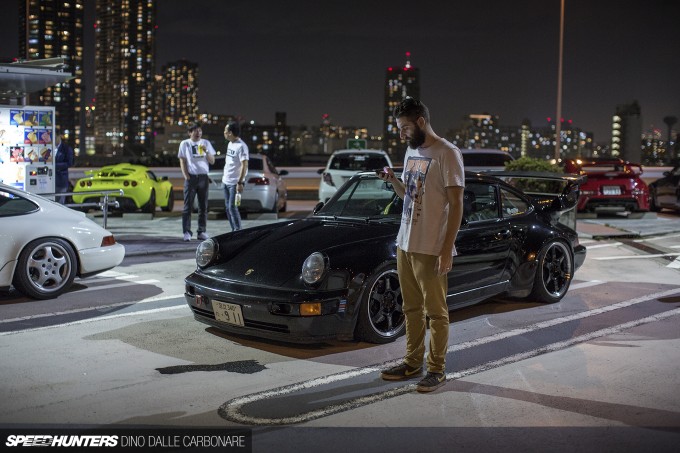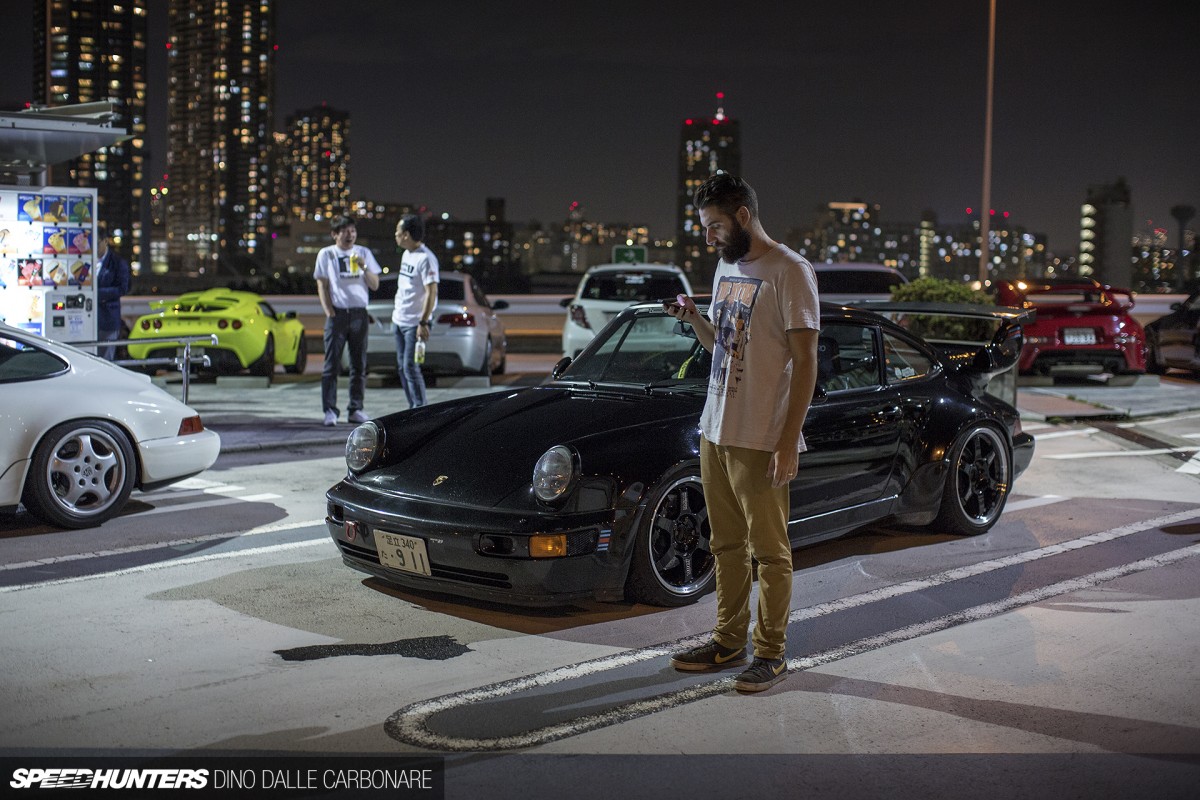 I even spotted a bearded Kiwi fellow wandering around the PA. Ex-NZ Performance Car magazine editor Pedey is in Japan with his wife – and fellow Speedhunter – Taryn, and they tagged along to check out Tokyo's nighttime car scene.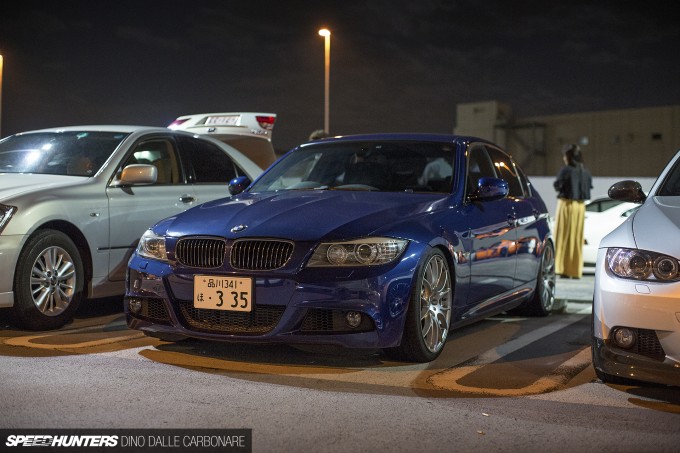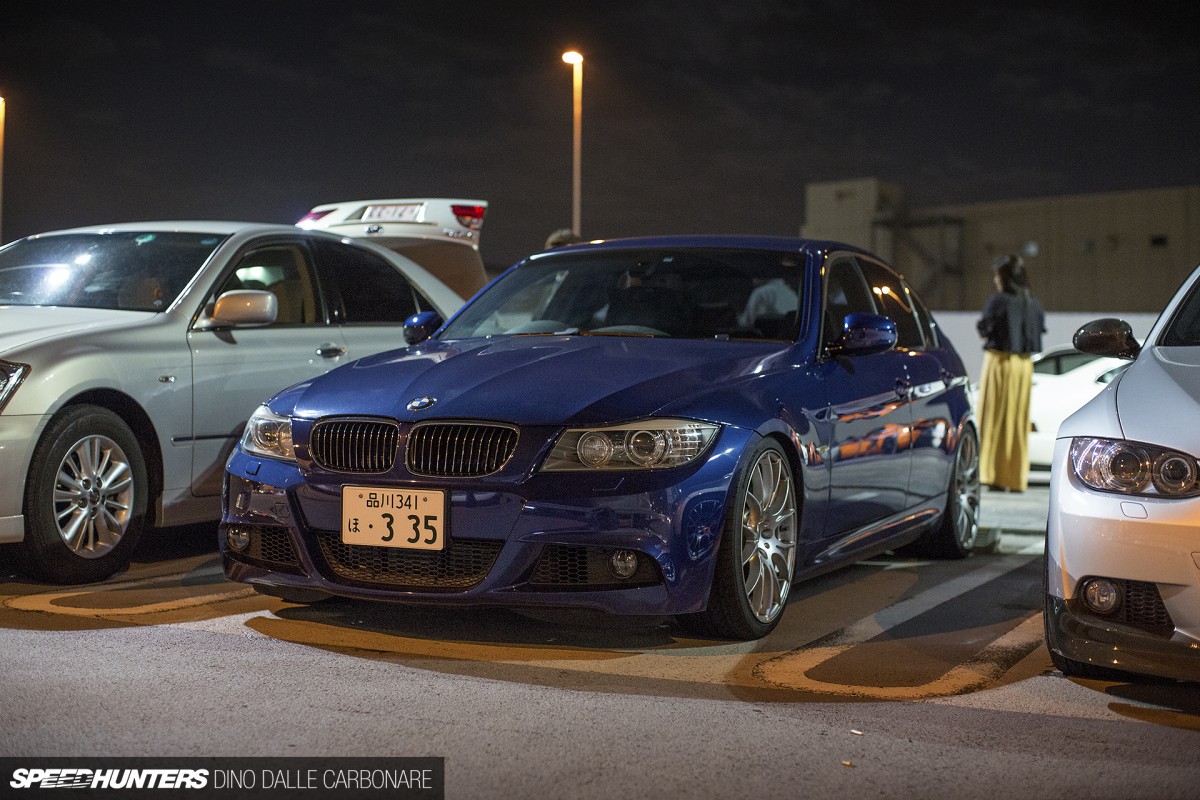 There's something so right about seeing Japanese wheels fitted to imports, don't you think? This BMW 335i sedan was rolling on 19-inch RAYS Homura 2X7s.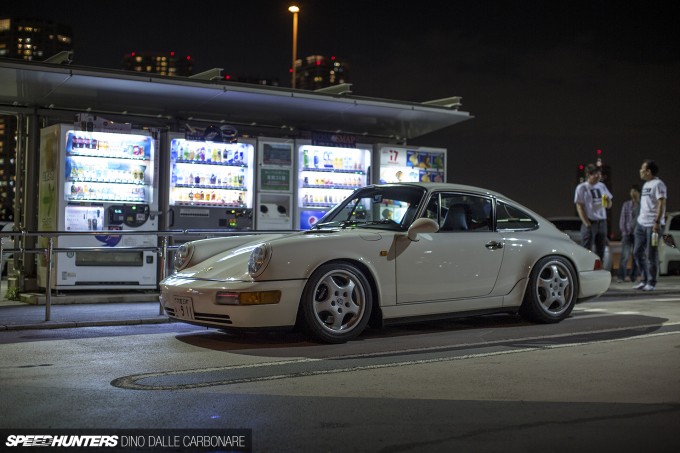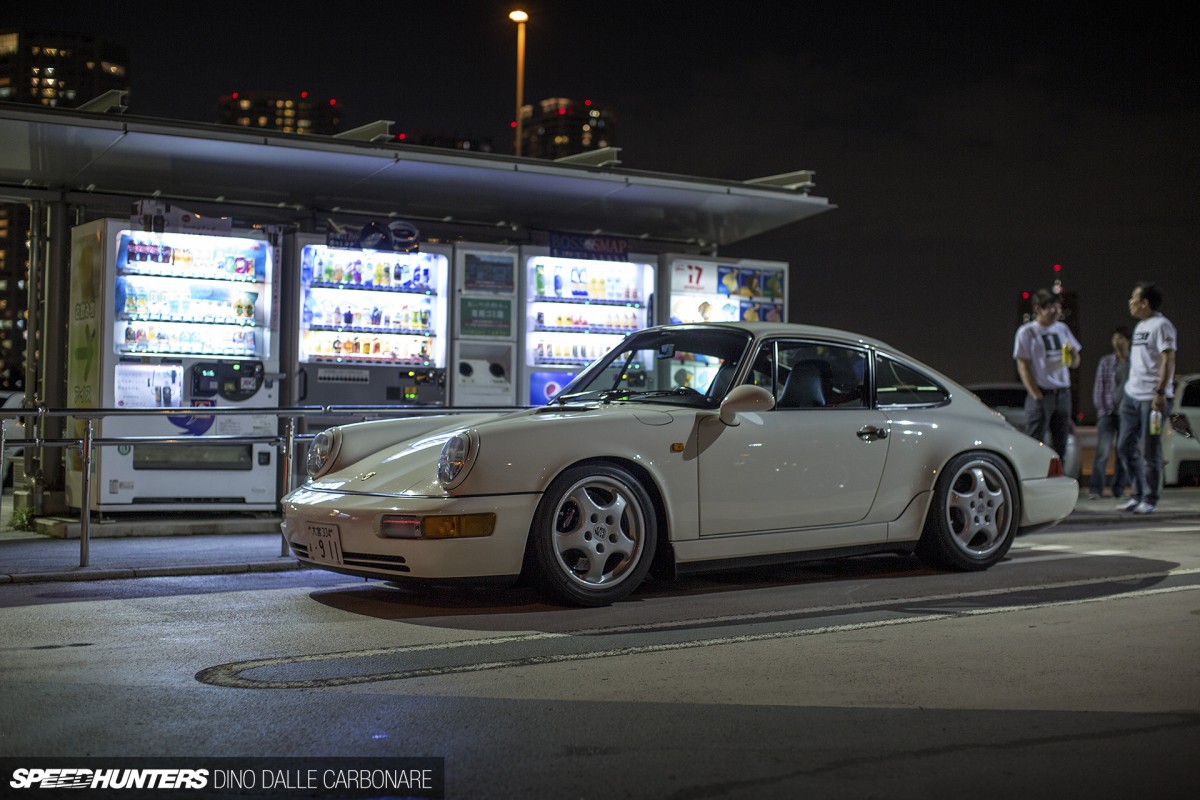 Call me predictable, but among all the expensive exotica that showed up that night, this is the car I would have taken home given the chance:  an original and unspoiled 964 RS. I bet it's a lot of fun to throw around the cambered winding turns of the C1.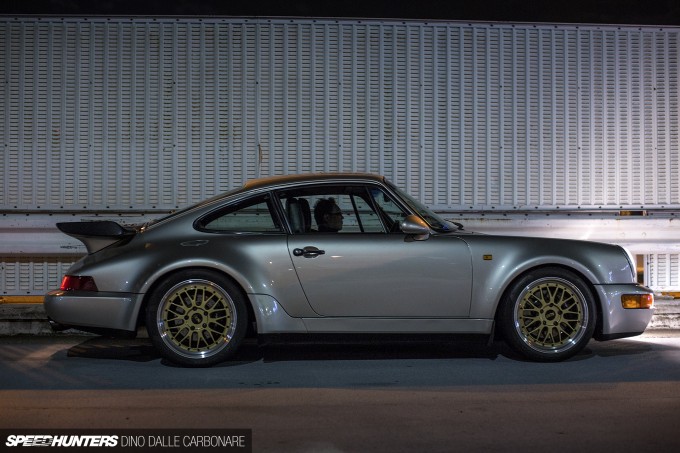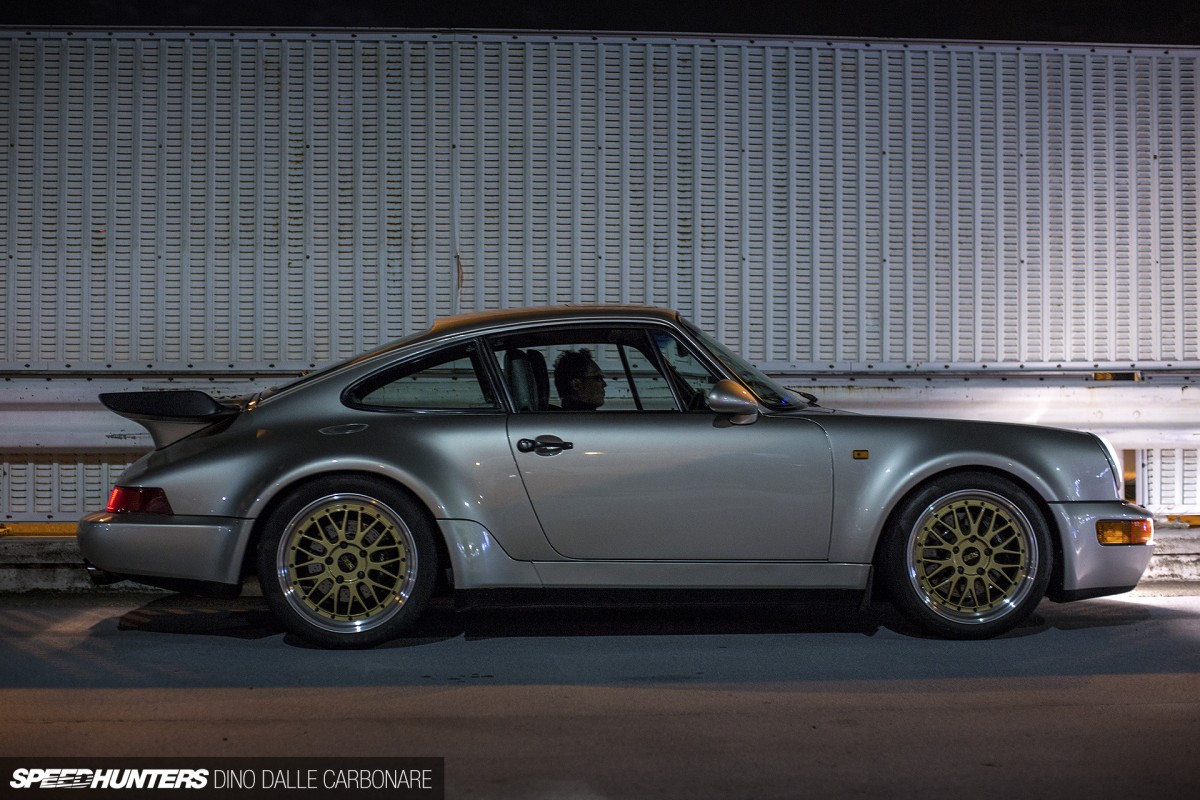 This is the last 964 Turbo, I promise! I find it hard to resist posting pictures of cool cars riding on BBS LMs. Is there anything these wheels don't look good on?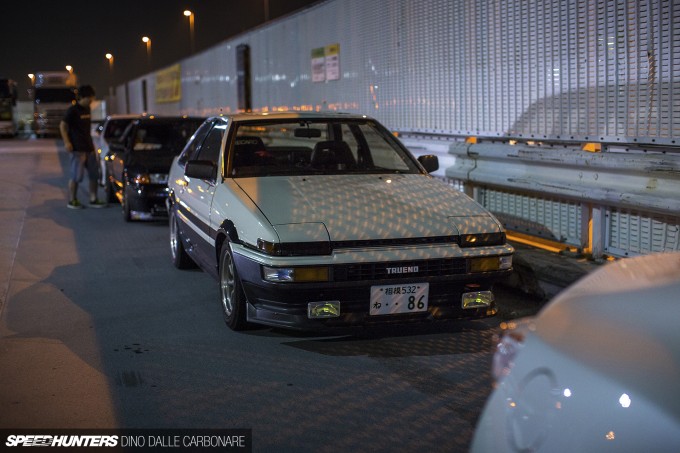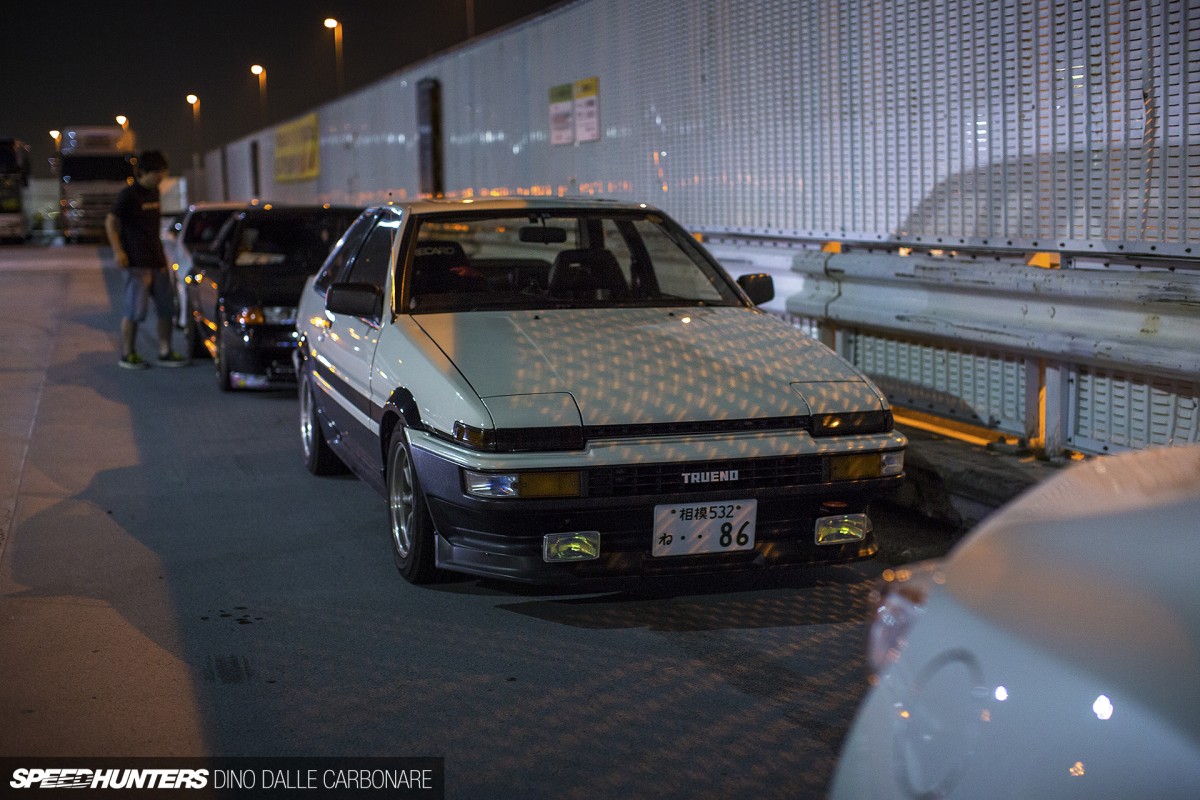 Compared to Daikoku, Japanese cars are definitely outnumbered at Tatsumi – well at least on this particular night. As soon as this extremely well cared for AE86 Trueno drove in, I followed it around until it parked so I could grab a decent shot.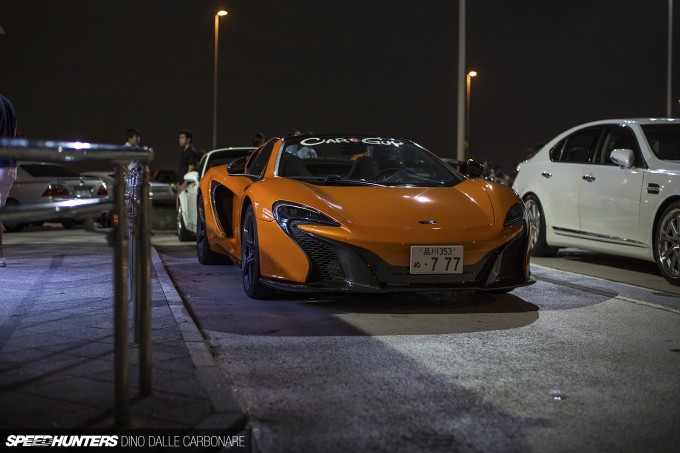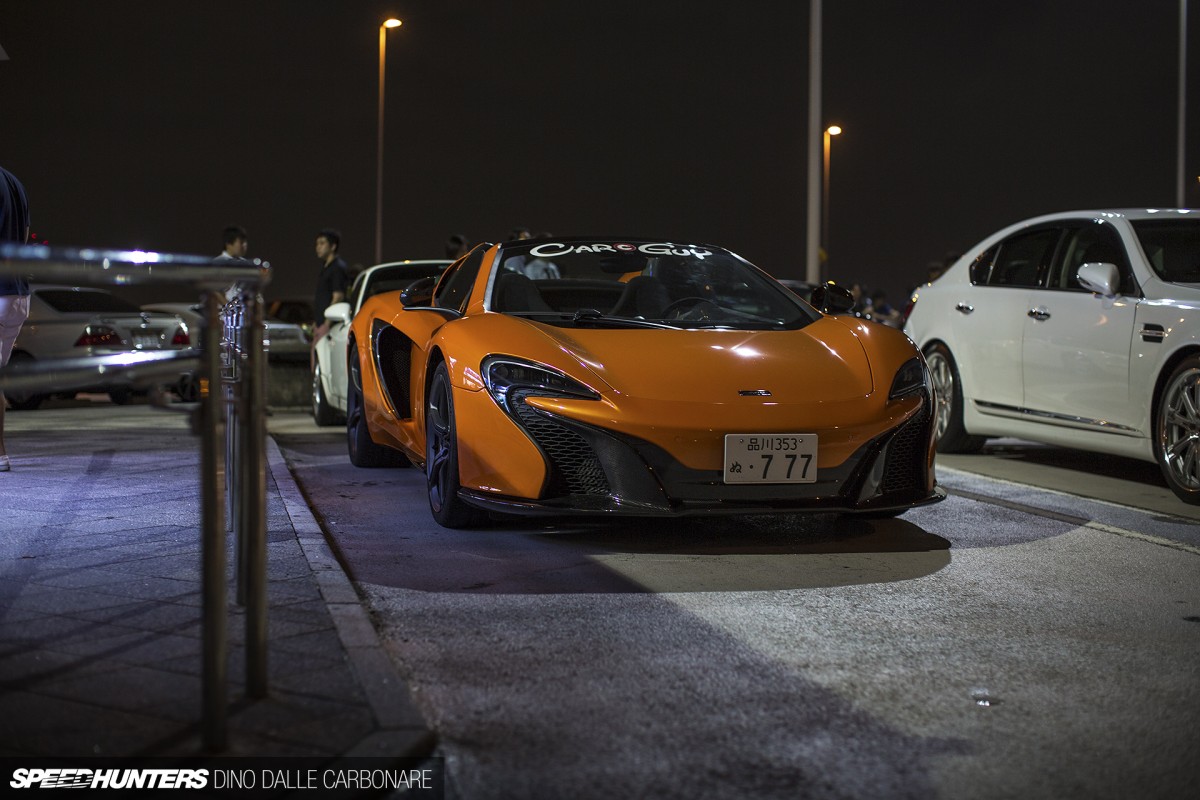 The owner of this McLaren 650S convertible is the man behind the Car Guy club – a group of supercar owners from Tokyo that like to cruise the Wangan and surrounding highways in style. You'd be surprised what other awesomeness he owns, but more on that at another time perhaps…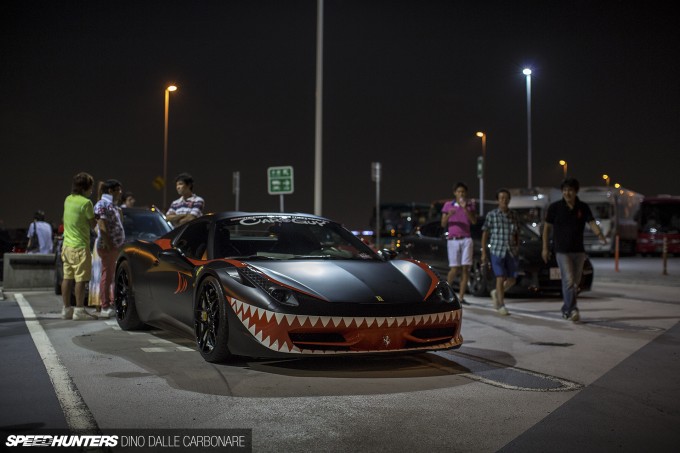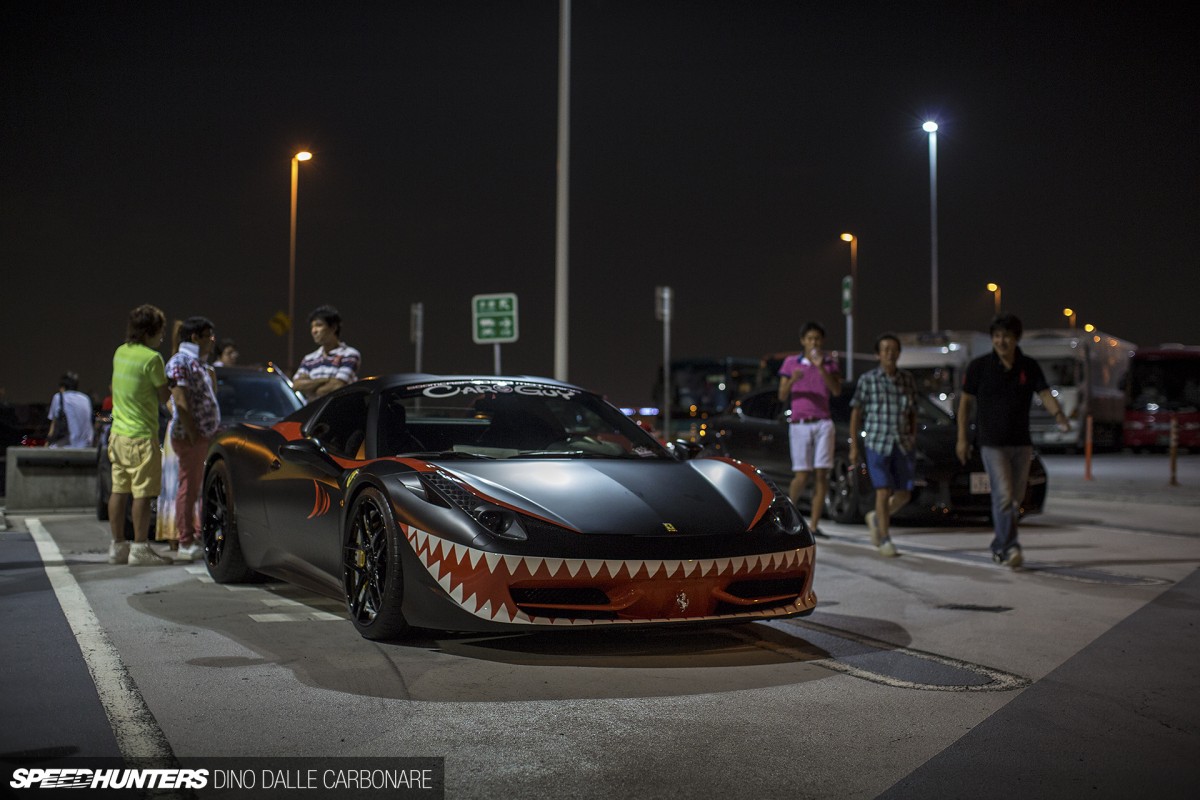 The increased popularity of vinyl wraps in Japan is definitely spawning some interesting creations. Ever heard the saying, 'It looks so angry it could eat you alive?' So why not add teeth?
The Mix Never Ends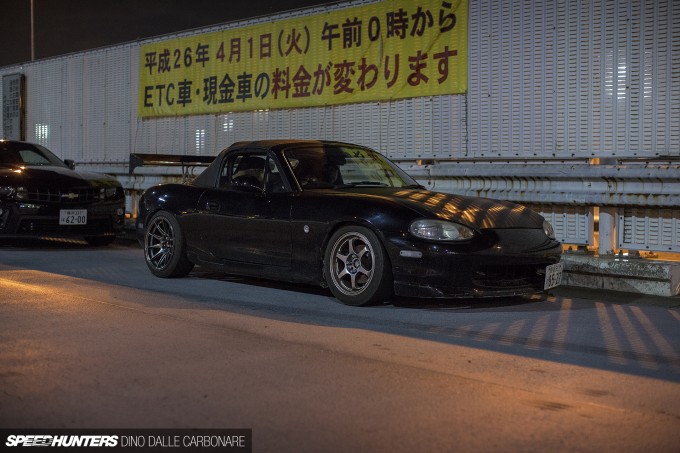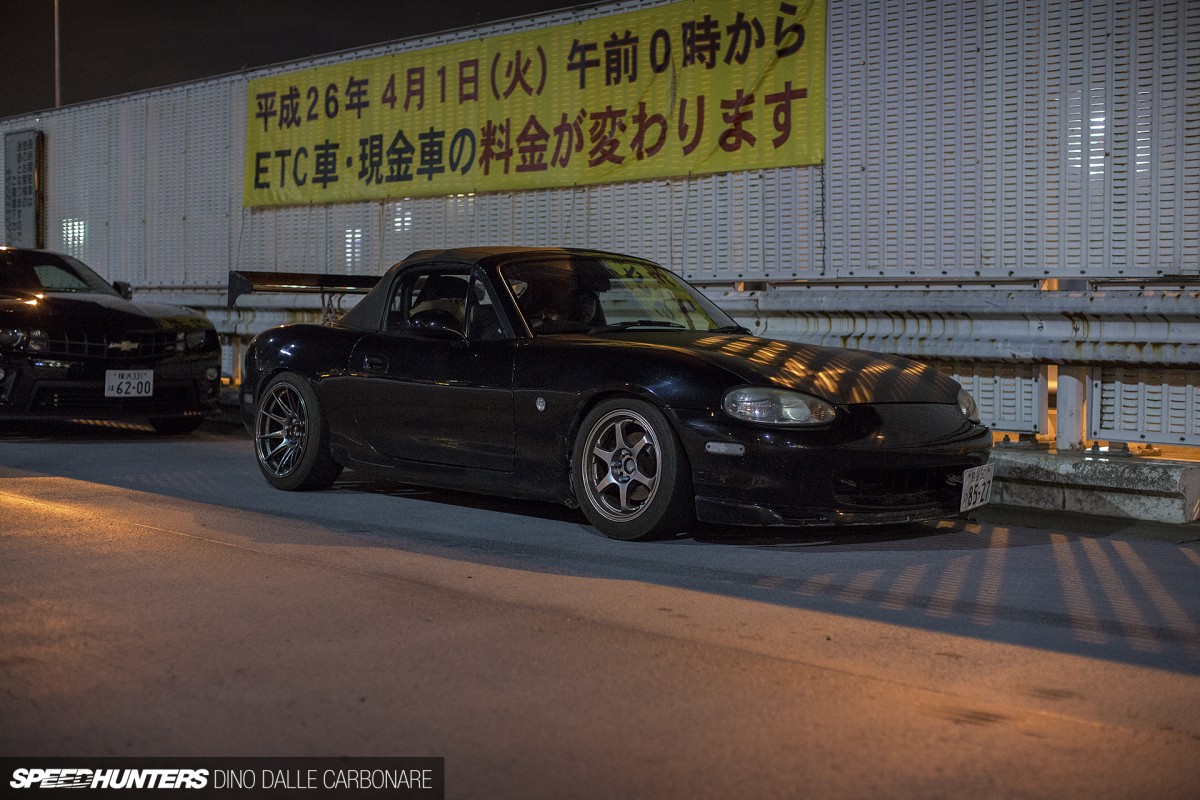 No matter what meet or event, there is usually at least one Eunos Roaster lurking around. As far as affordable sports cars go, it's still a very popular choice in Japan and this particular example certainly looked the part with mismatched wheels, a big rear wing and a front lip that had seen a lot of action.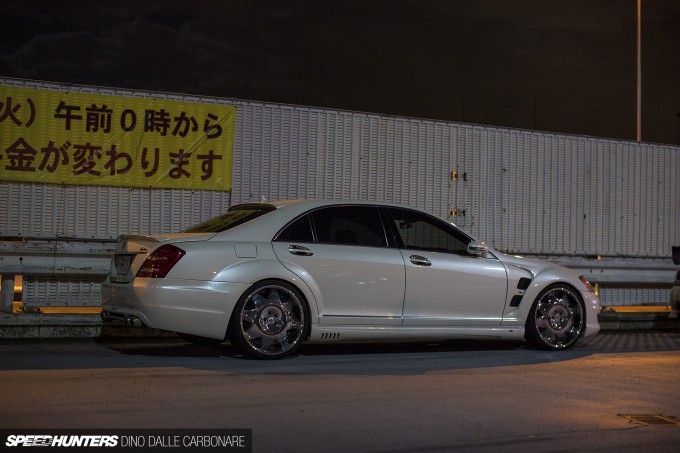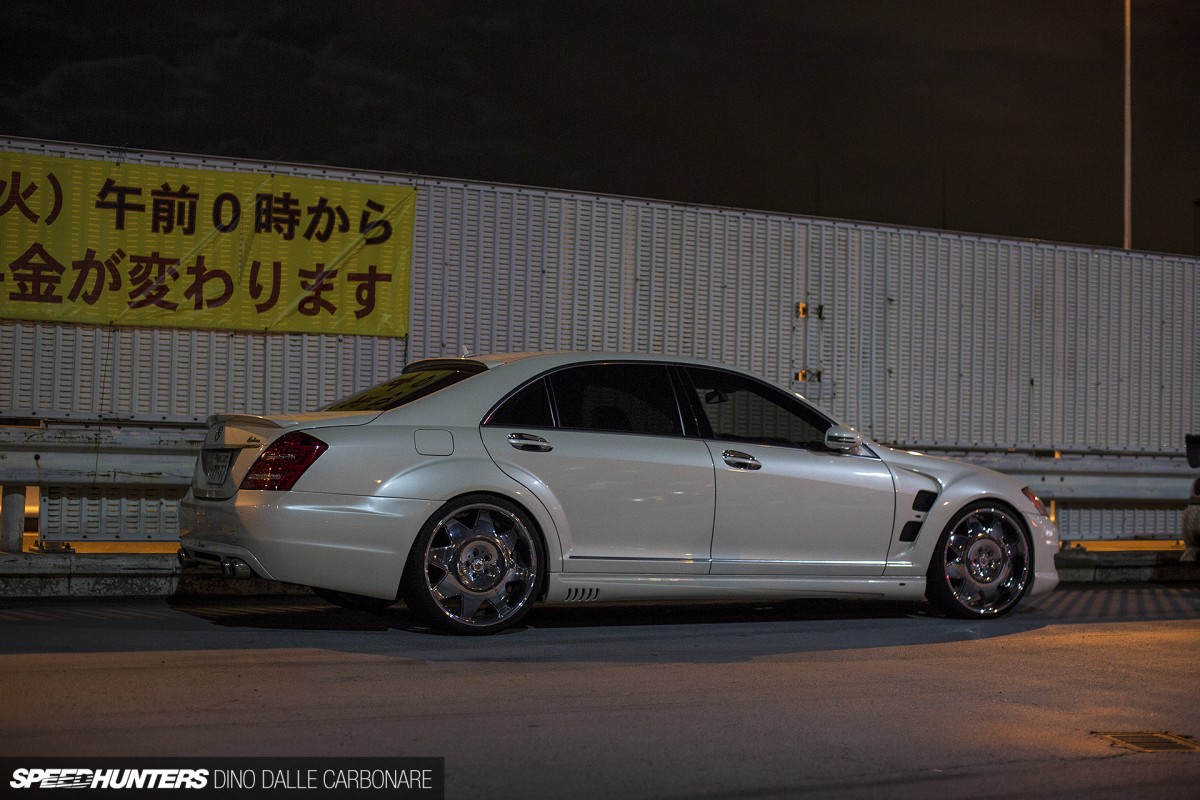 Parked right in front of it was a car that may well be its complete opposite – a Lorinser-kitted Mercedes S-class sitting on massive chrome wheels. Each to their own as they say, but it always surprises me how many of these sort of cars you see cruising the streets of the city. The full aero kit alone is worth almost as much as new Toyota 86!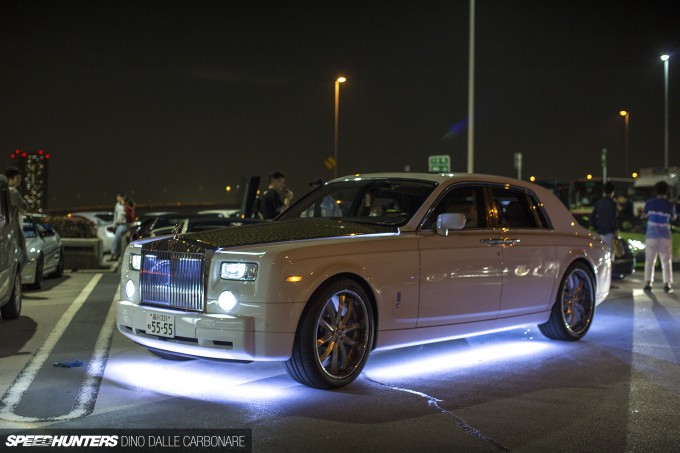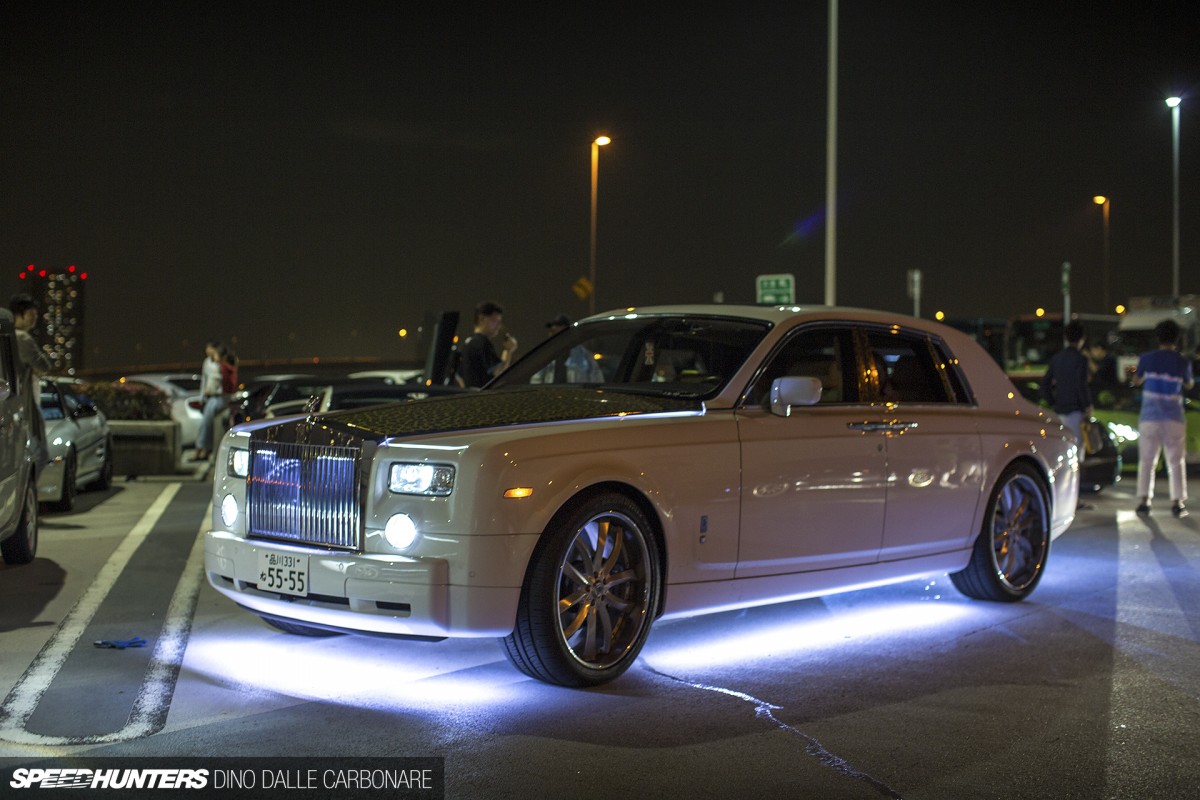 Everyone in the PA paused when this Rolls-Royce Phantom rolled in, casting a bright glow from its underside. This is opulence personified.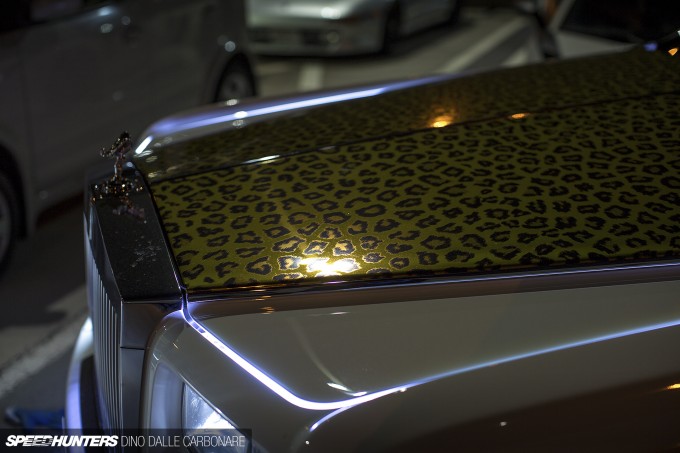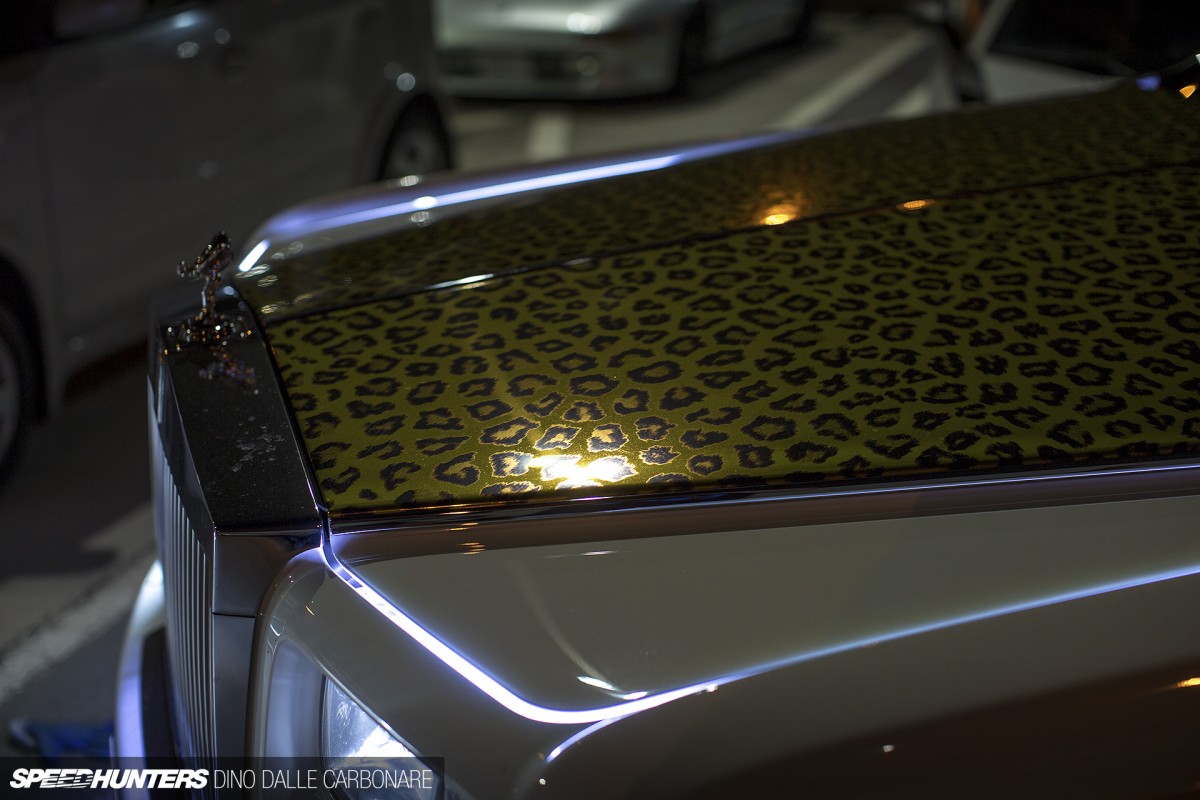 There was light coming from almost every body panel gap, like here around the grille and bonnet. And yes, that is leopard-print vinyl!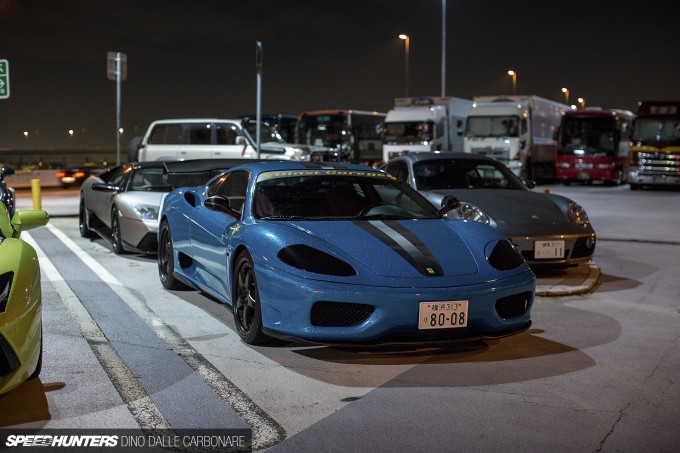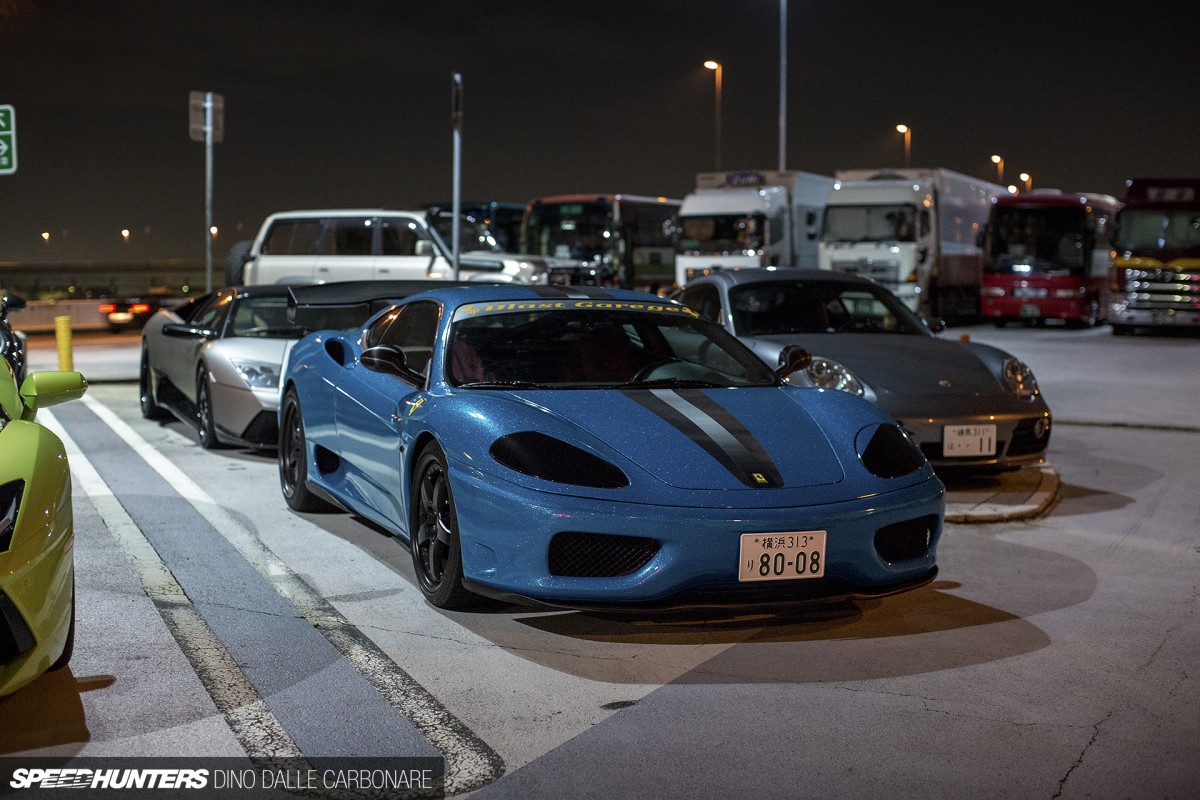 Maybe blue sparkle is more your thing? It truly is all up to the imagination…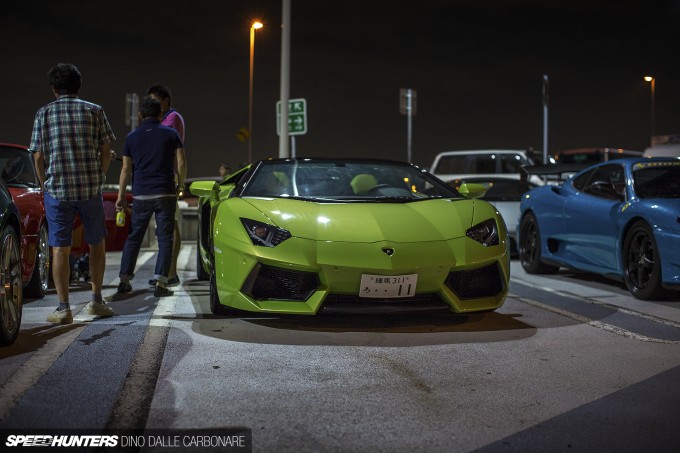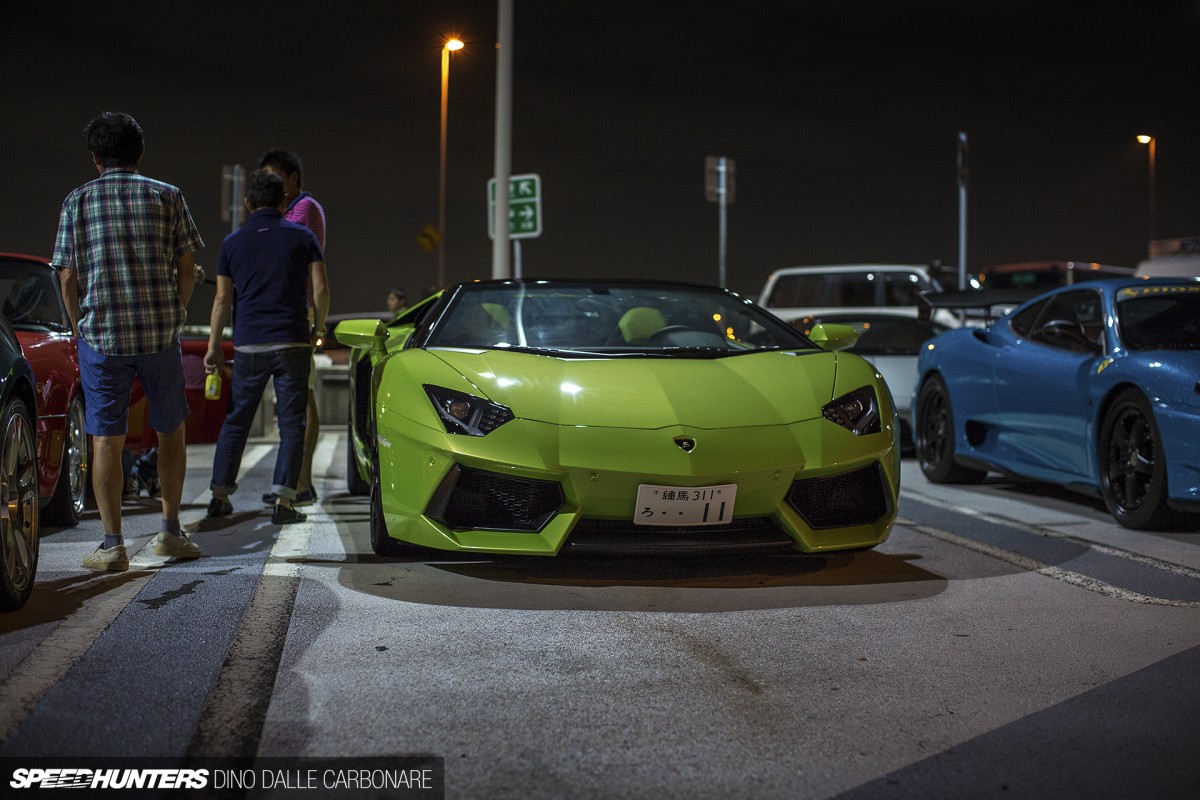 In this sort of company a stock, bright metallic green Aventador Roadster begins to almost look sedate.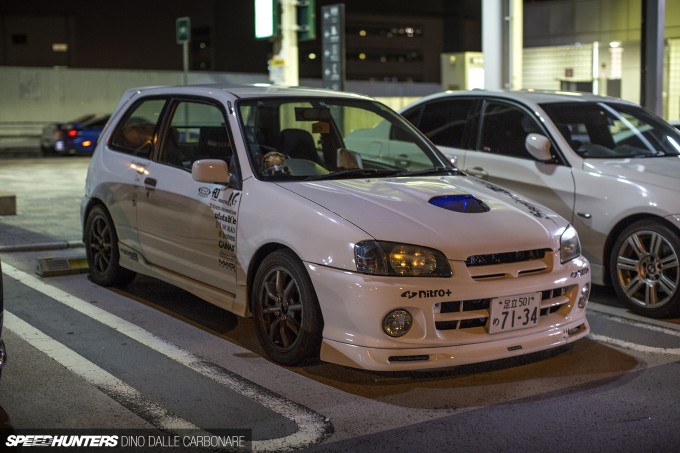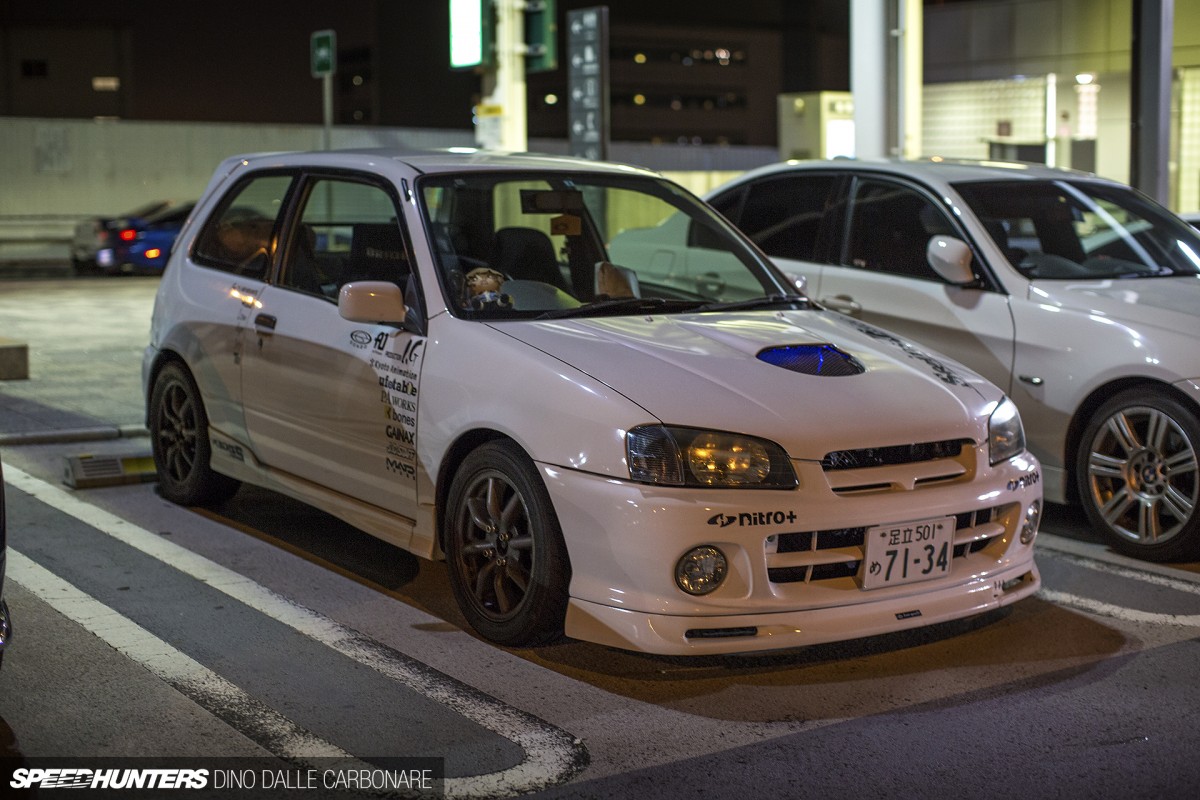 This EP82 Starlet Turbo represented the '90s beautifully. I loved the Watanabes as well as the oh-so-JDM list of anime studios on the door. Looks aside, I'm sure it was packing some mods under its factory-scooped bonnet.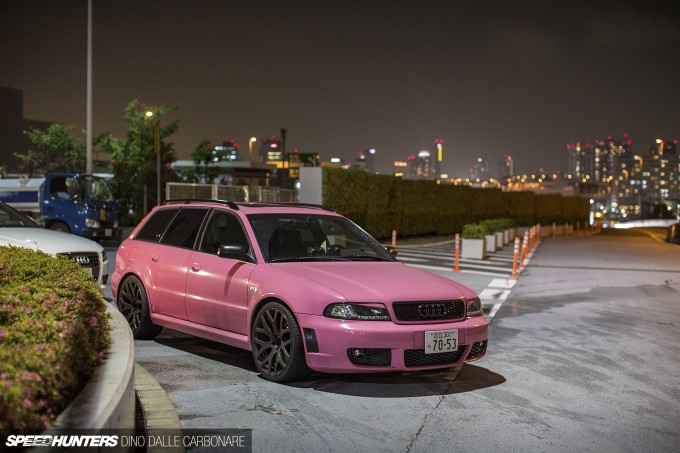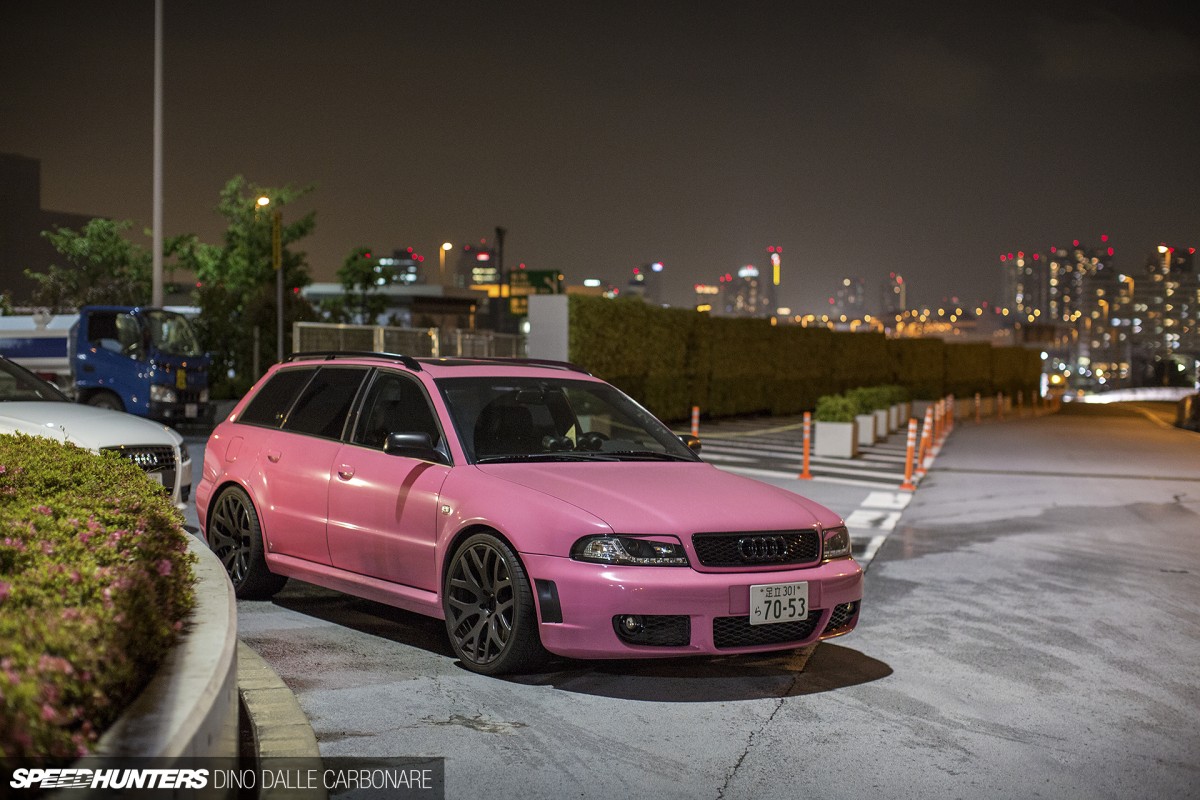 One of the last cars that caught my eye was this Audi RS4 Avant wrapped in pink vinyl.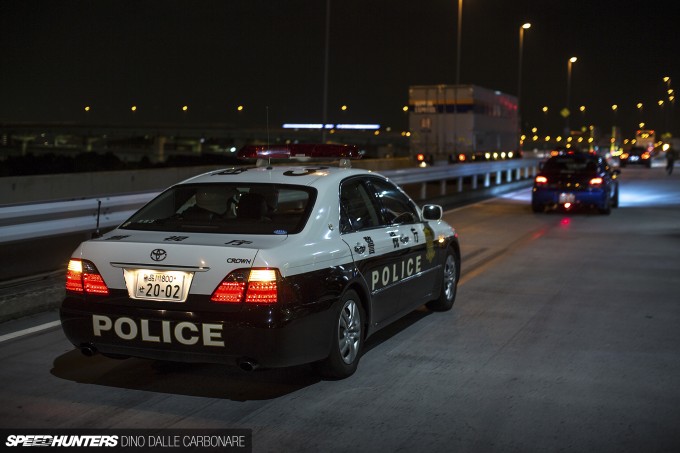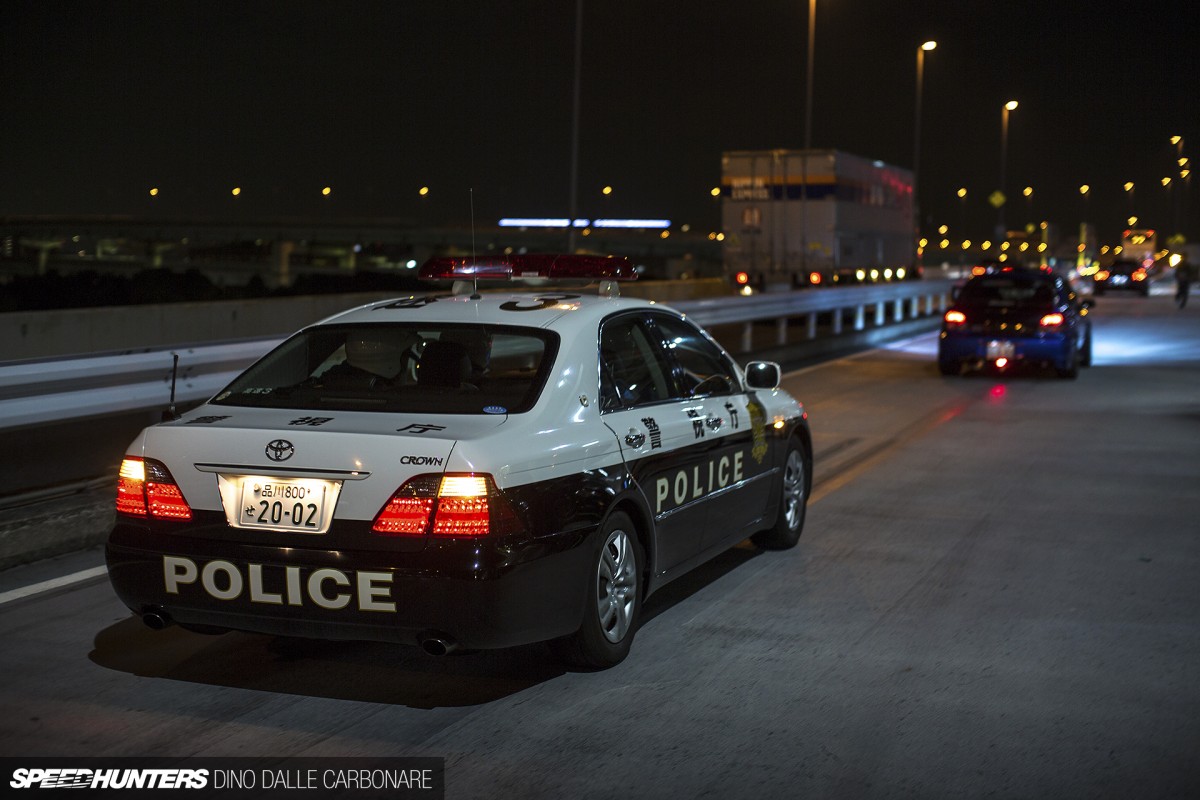 I say last because not long after I shot that photo the Police turned up asking everyone to leave. Of course, nobody really cared like they do at Daikoku, mostly because they aren't able to completely shut down Tatsumi. It was a surprise rain storm that eventually spoiled the fun, and everyone slowly started making their exit. I definitely think I need to return here once my GT-R hits the street again…
Dino Dalle Carbonare
Instagram: speedhunters_dino
dino@speedhunters.com