Withdrawal Symptoms
After spending the past six weeks in Europe, I was really beginning to have withdrawal symptoms. Japan tends to have that effect on people – especially, if like me, you're a car guy. We all know about its crazy car scene, we've seen it all before in detail and in all its flavours. But no matter how many times and in how many ways I'm exposed to it – I just can't get enough.
So it was probably a given that as soon as I arrived in Tokyo, I wanted to get right back into the swings of things. And that's just what I did on Sunday morning…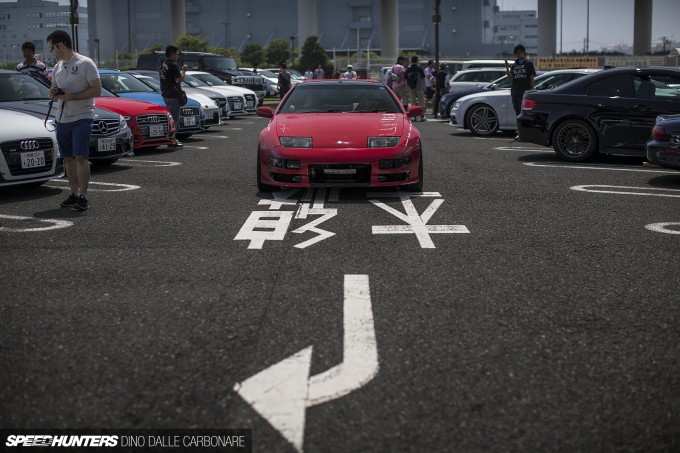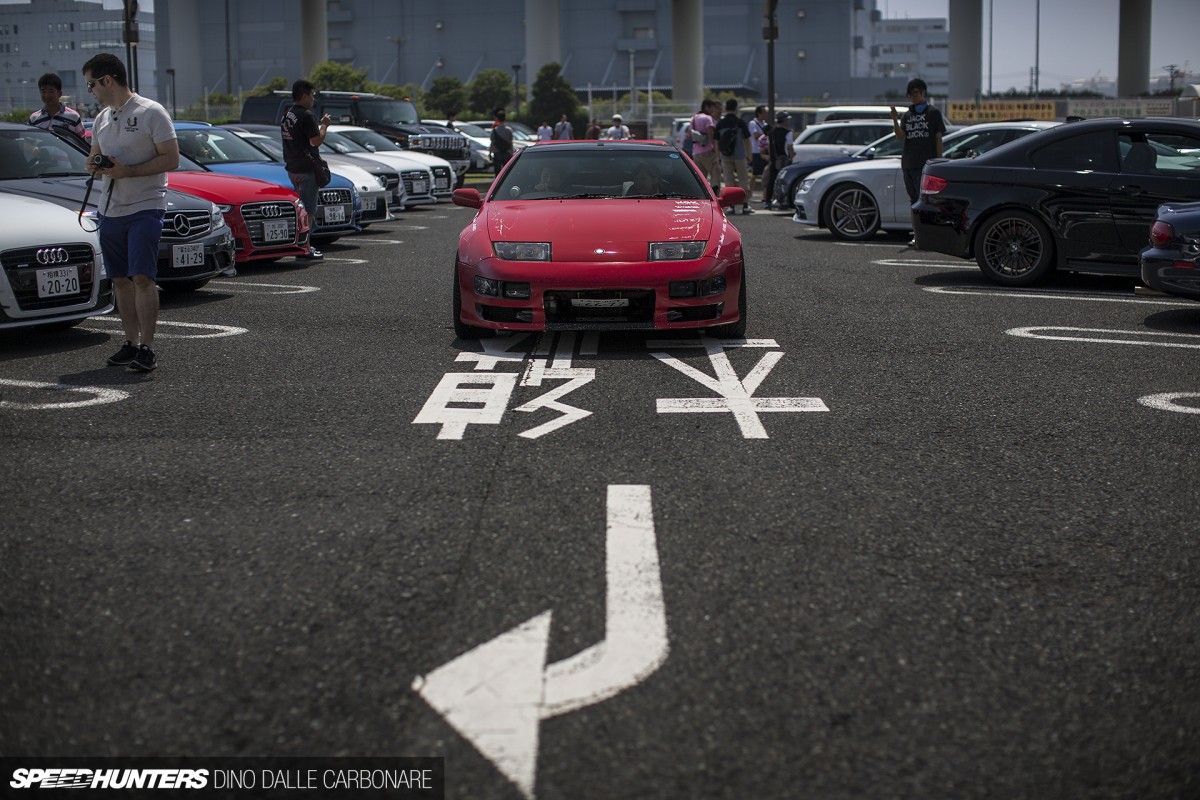 I was up nice and early thanks to a rather unshakable case of jet-lag, and with no real plan in mind I set out – first to my local gas station for a quick fill up and then down the local car wash to rinse off a month and a half's worth of accumulated grime from the trusty Beemer's exterior. With a clean car and a full tank of gas I certainly wasn't going to return home, so I jumped on the Daisan Keihin and headed down to Yokohama. Yep, you've guessed it – Daikoku PA was my spontaneous choice for a Sunday morning excursion.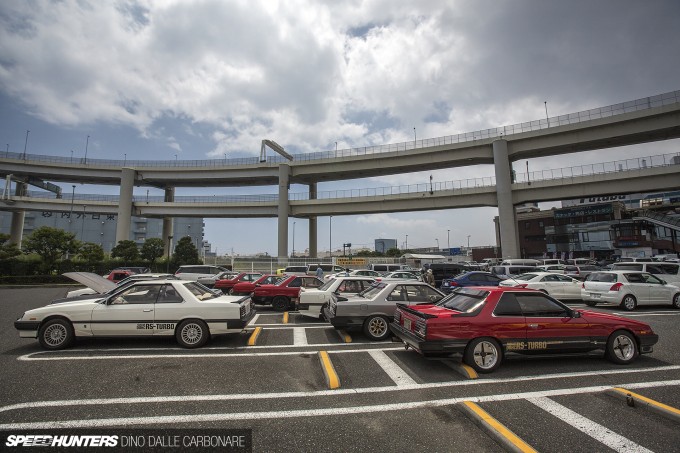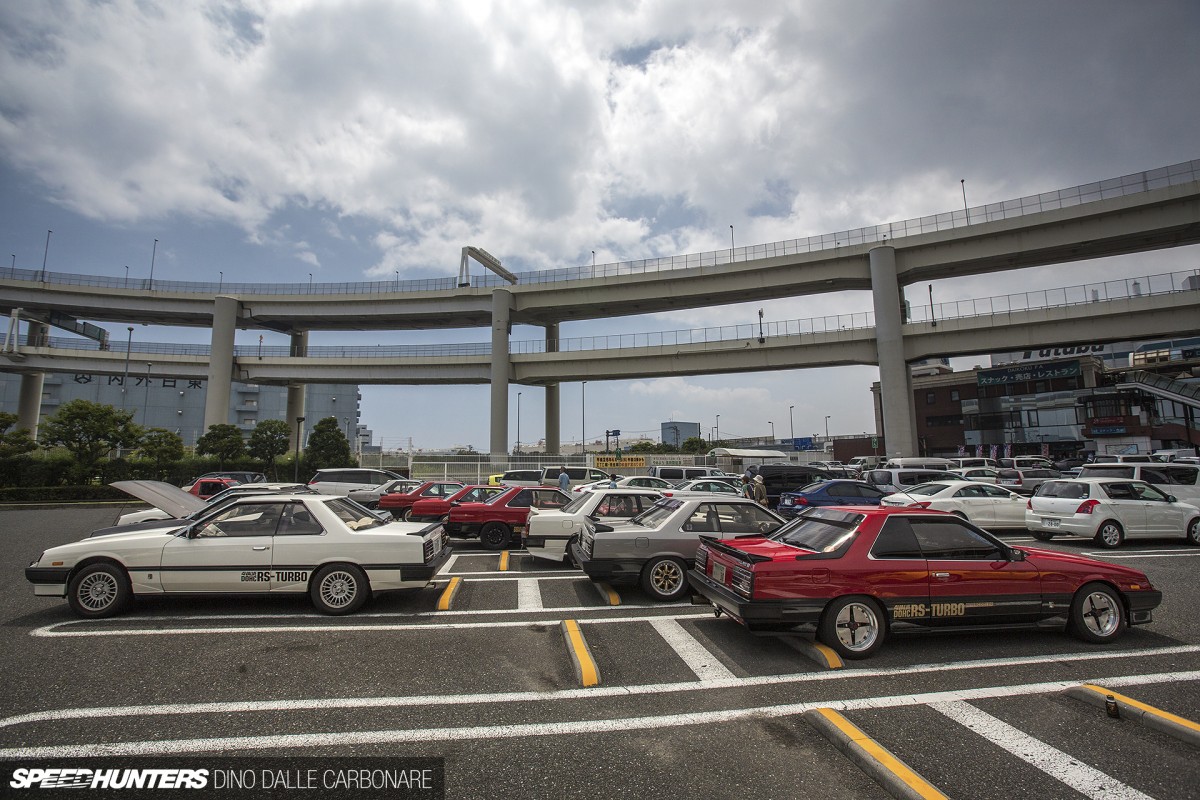 I had no idea what would be going on, but given that it was shaping up to be a scorching-hot summer's day, I was sure at least a few guys would be dropping by the PA. But yet again, I had underestimated Japan. By the time I arrived the parking area didn't just have a few interesting cars, it was already well and truly filled up, and with the sort of variety you'd expect to find at the best of meets. Oh yeah, it's good to be back!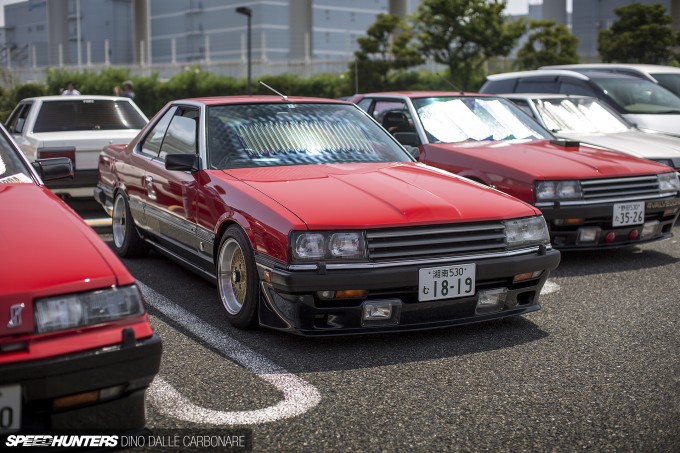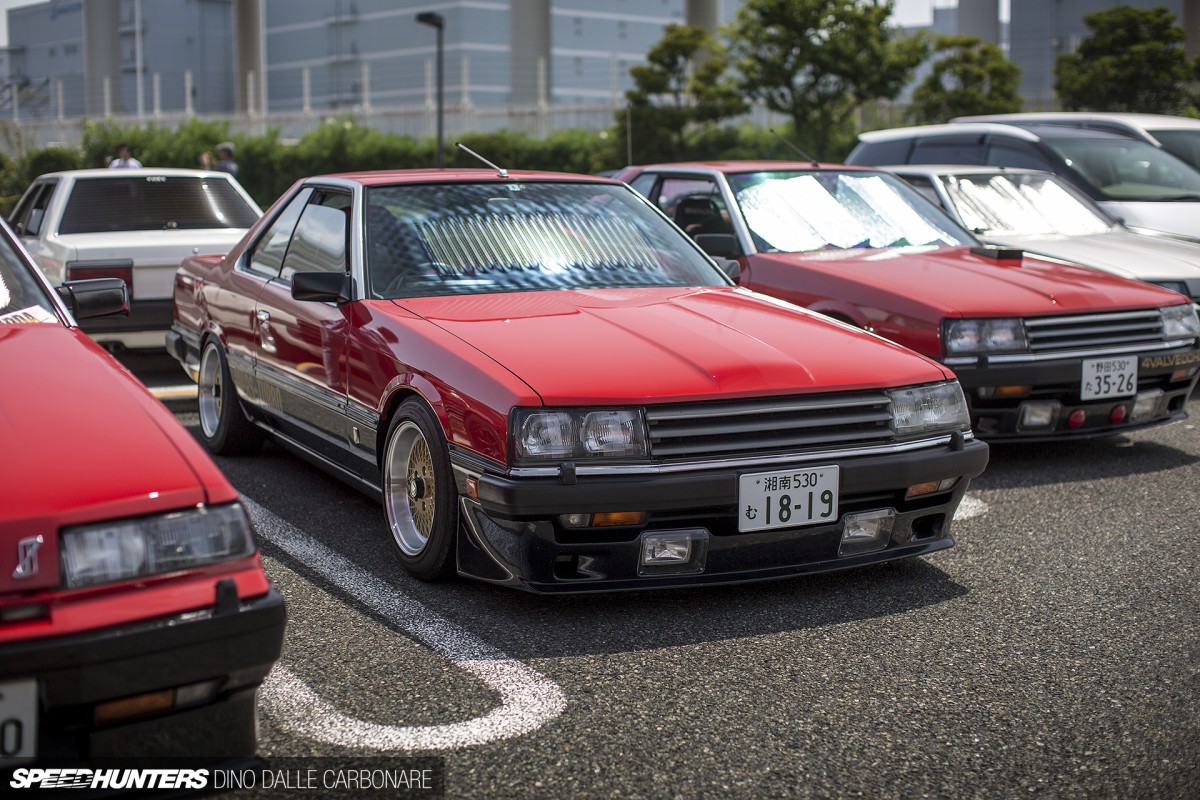 With empty spots pretty scarce I parked down by where a little R30 Skyline gathering that was going on. There was probably 10 to 12 cars in the group and most definitely some of the best examples I have ever seen.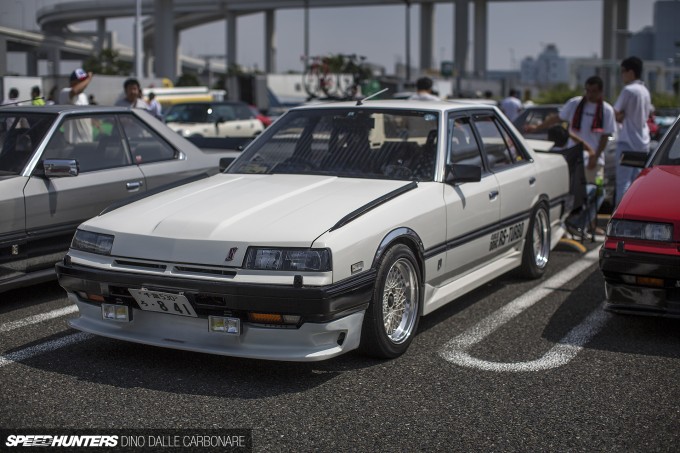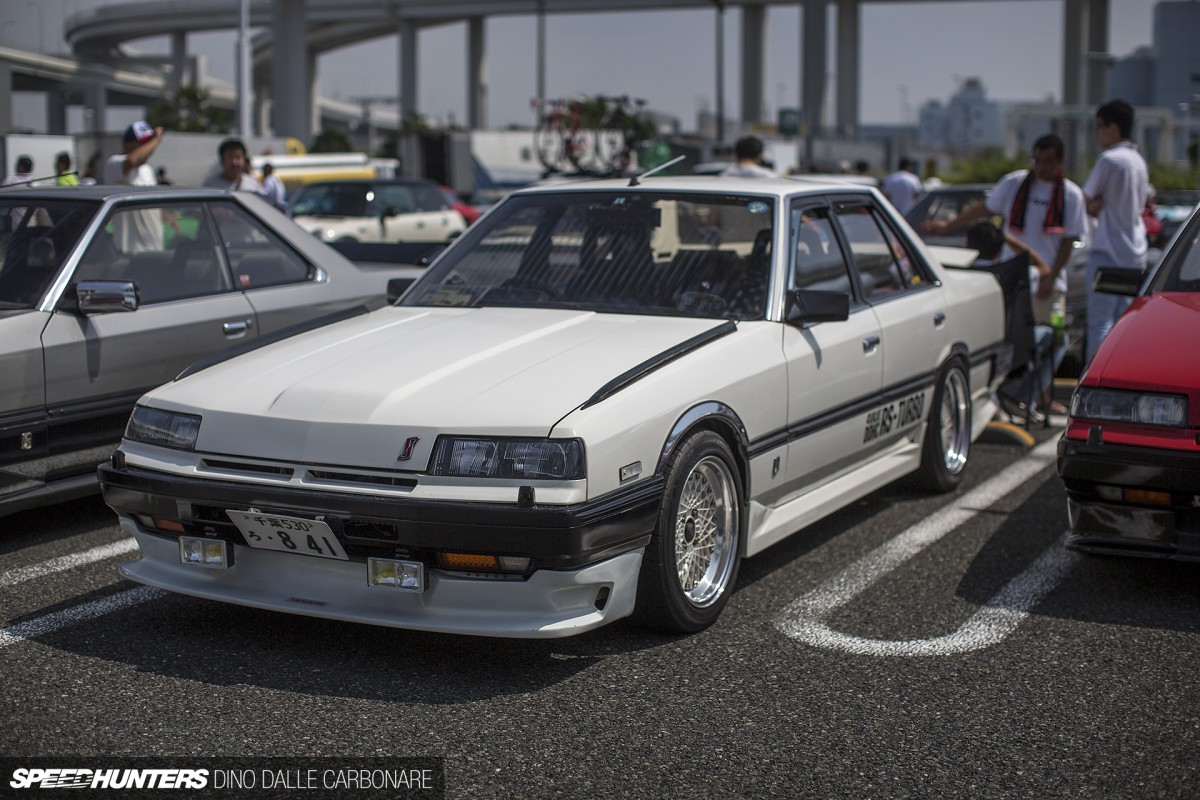 As the vintage car scene continues to get stronger, owners continue to push that envelope further. They are investing more into their pride and joys which bumps up the overall quality of what is out there. This RS-Turbo four-door on SSRs was simply superb, sitting just right and boasting a few trick parts under the bonnet.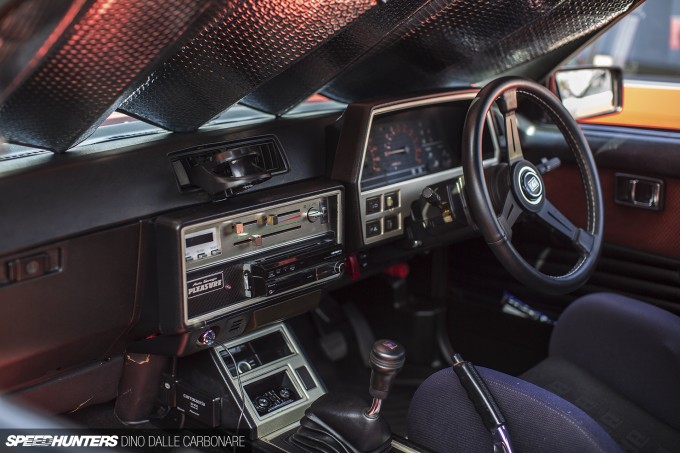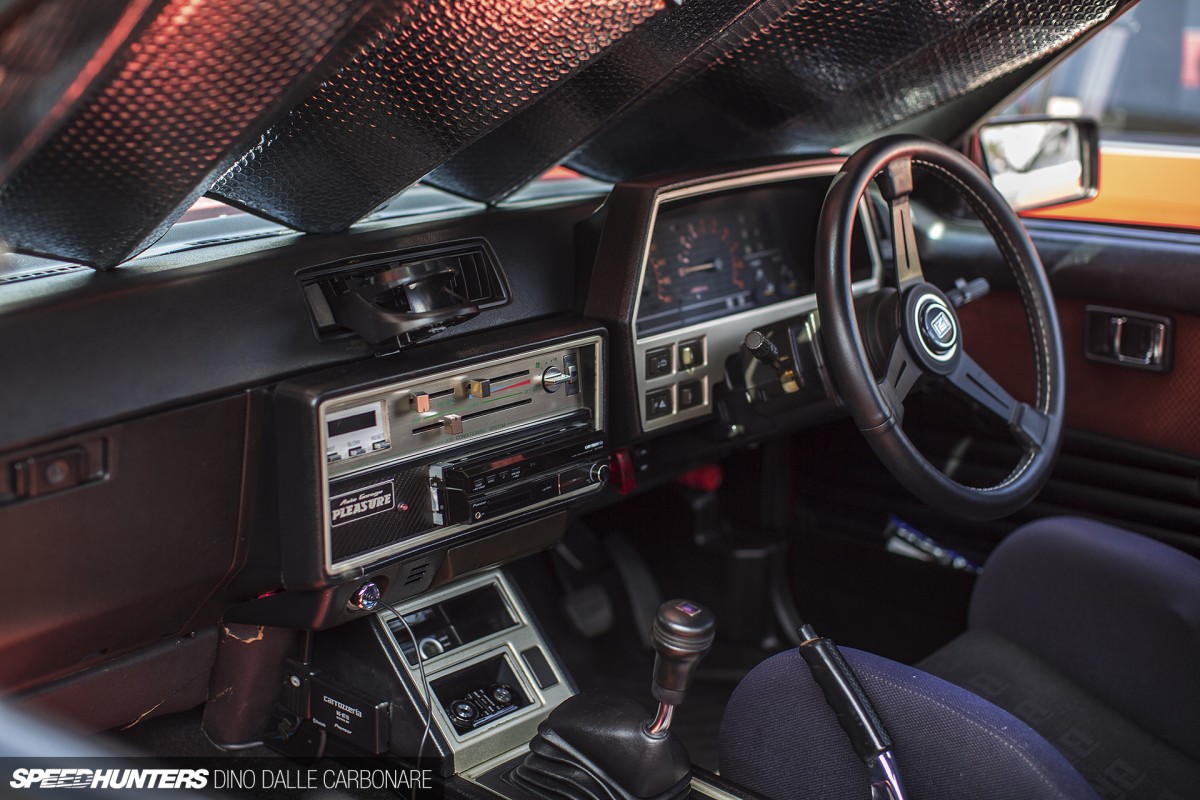 How about that for funky '80s angular goodness!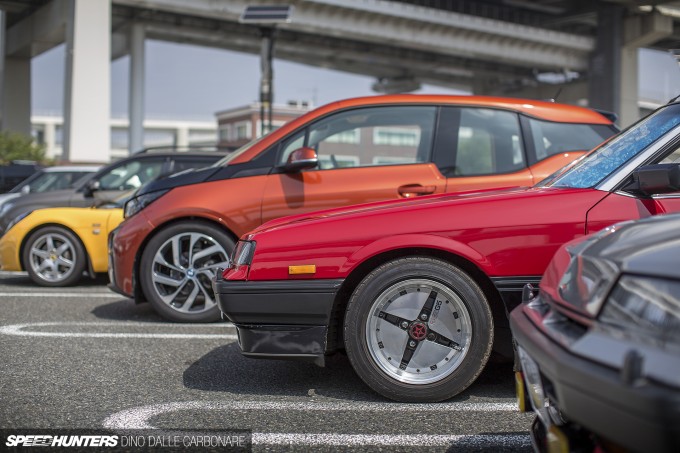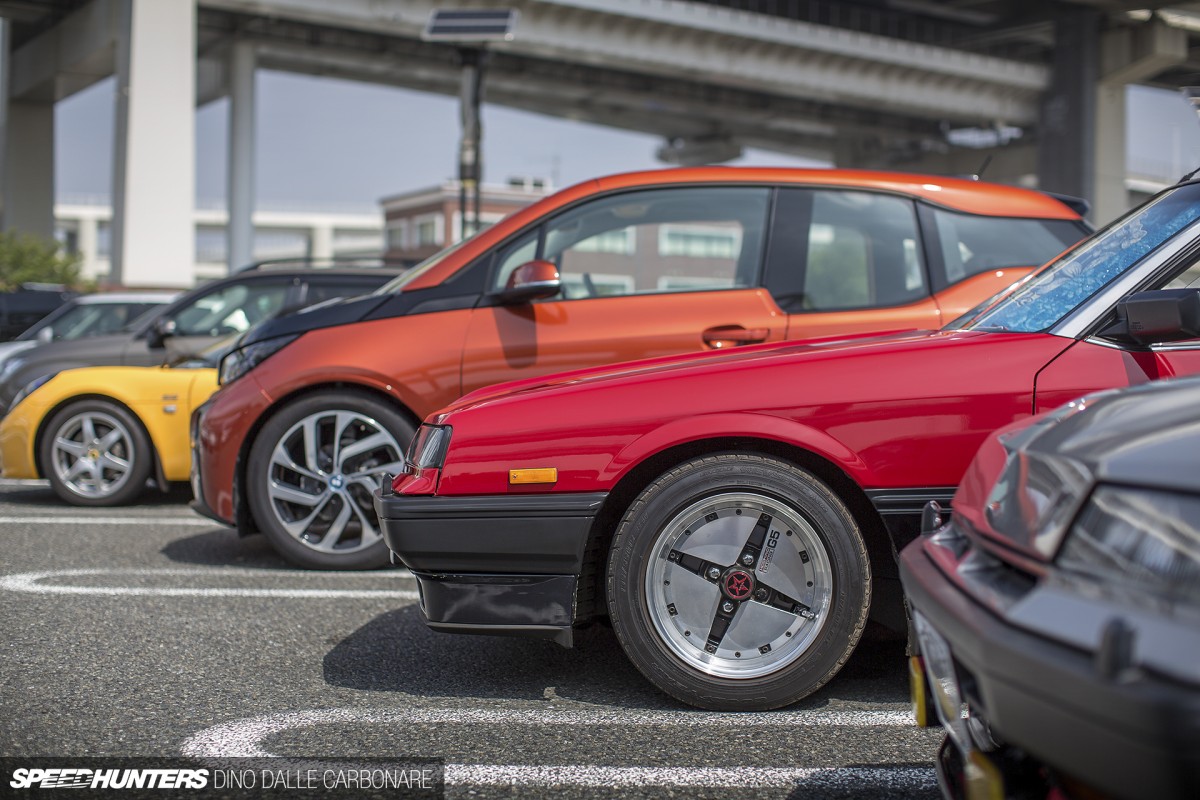 Wheel choice is always very important and this two-door Tekkamen was sporting some rare Hoshino Racing G5s for that extra touch of exclusivity. I also found the new BMW i3 next to it quite a funny contrast. Which one would you take?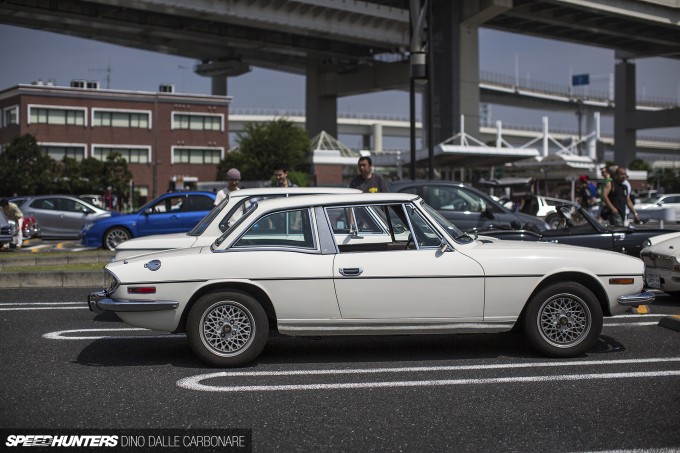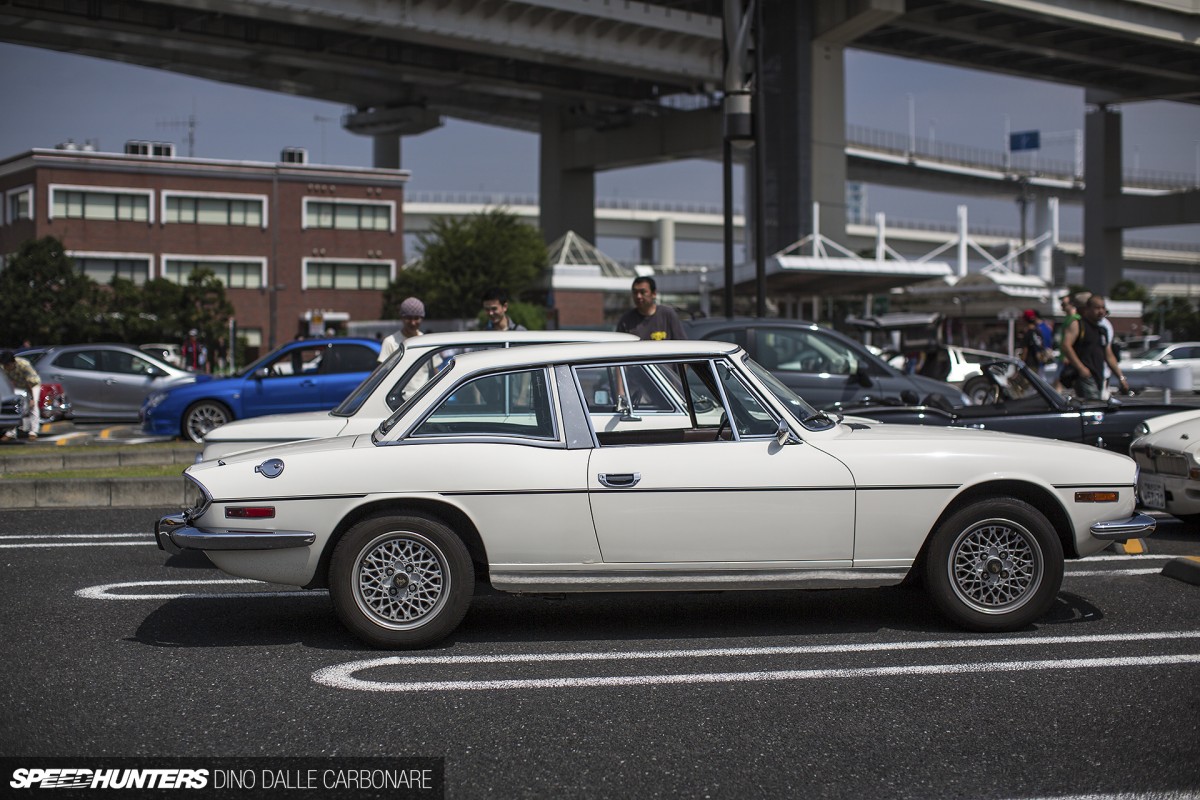 Away from the little group of older Skylines things were really beginning to heat up with a few more classics joining the fun, like this Triumph Stag. Can you figure out the silhouette of the car parked behind it?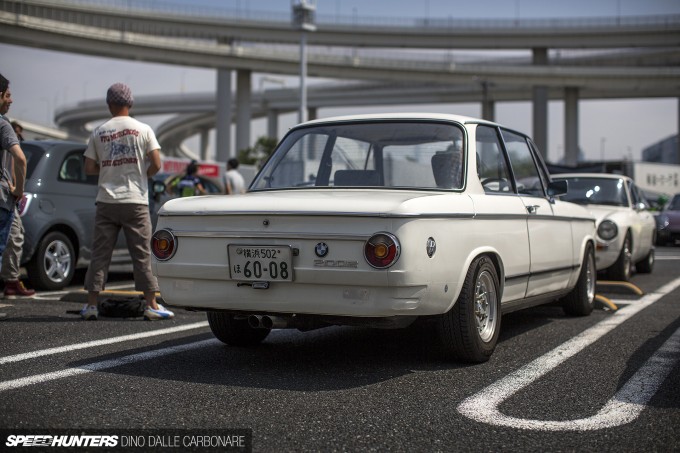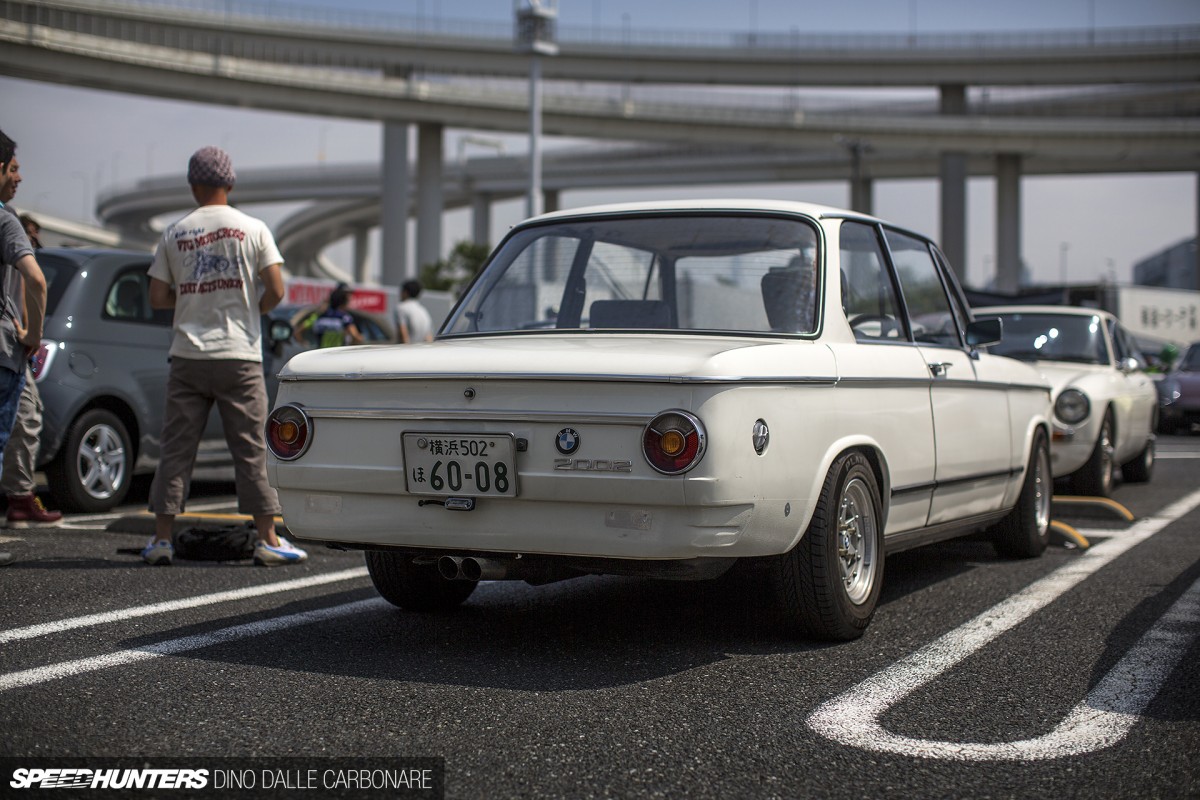 Yep, it's a bumper-less BMW 2002 which had been significantly dropped in the suspension department and was sitting on a nice set of period correct wheels. Simplicity rocks!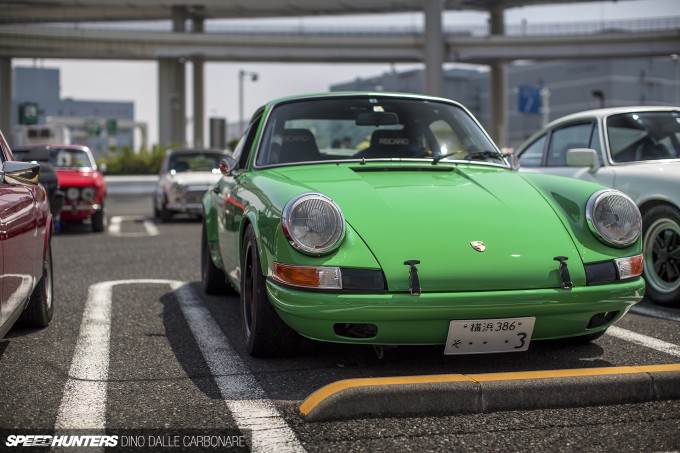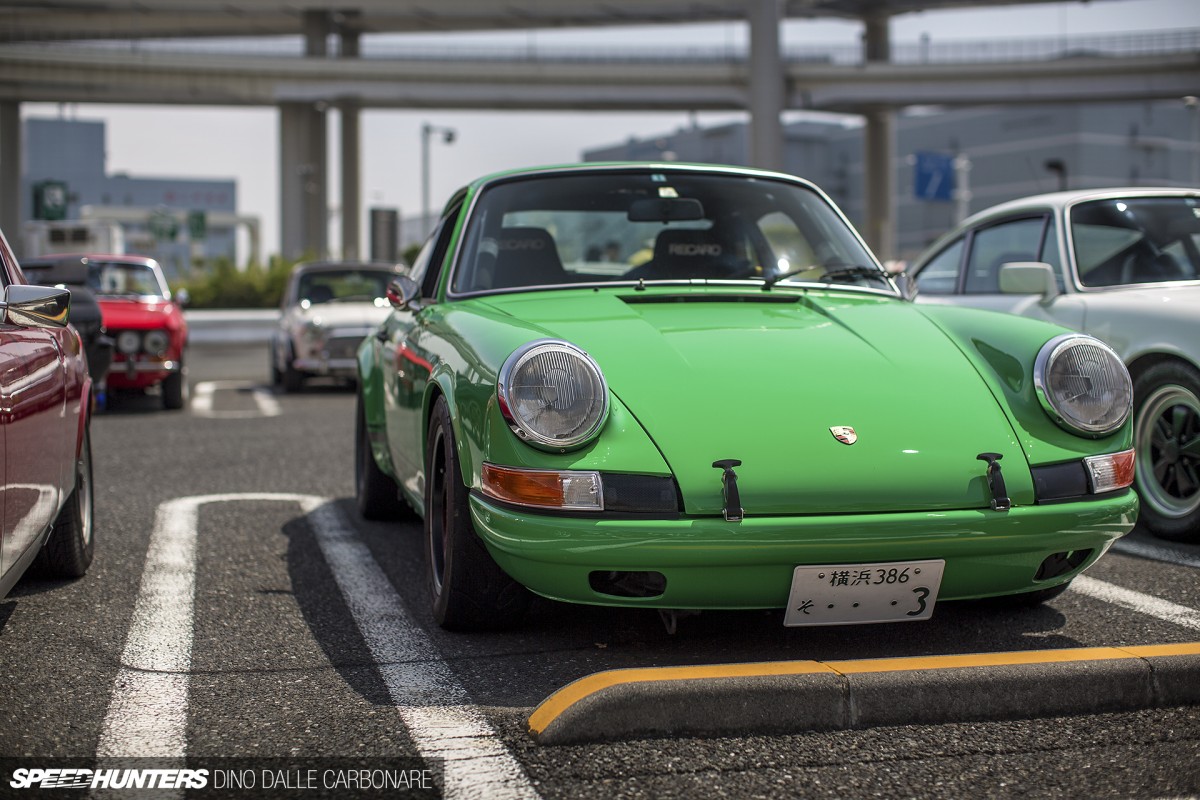 As soon as I spotted this bright green long-hood 911 I was instantly drawn to it. Aside from the fact that I have a thing for this generation of the kyu-ichi-ichi (as the Japanese call 911s), this particular example had been spiced up and turned into a fun weekend vintage sports car with semi-slick rubber, adjustable suspension, a full rollcage and Recaro bucket seats. This must be phenomenally fun to throw around some tight corners!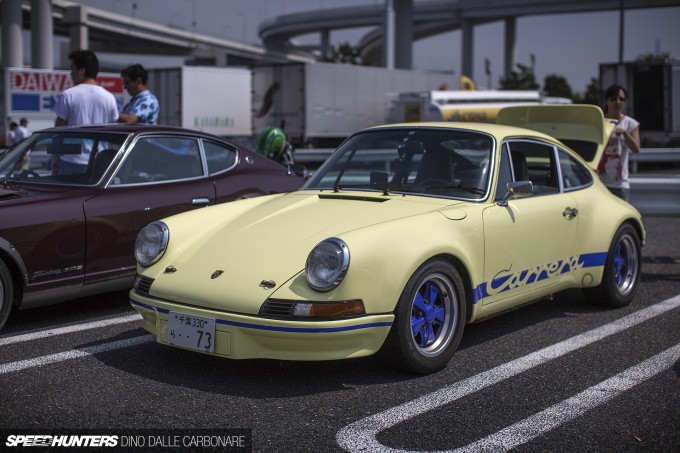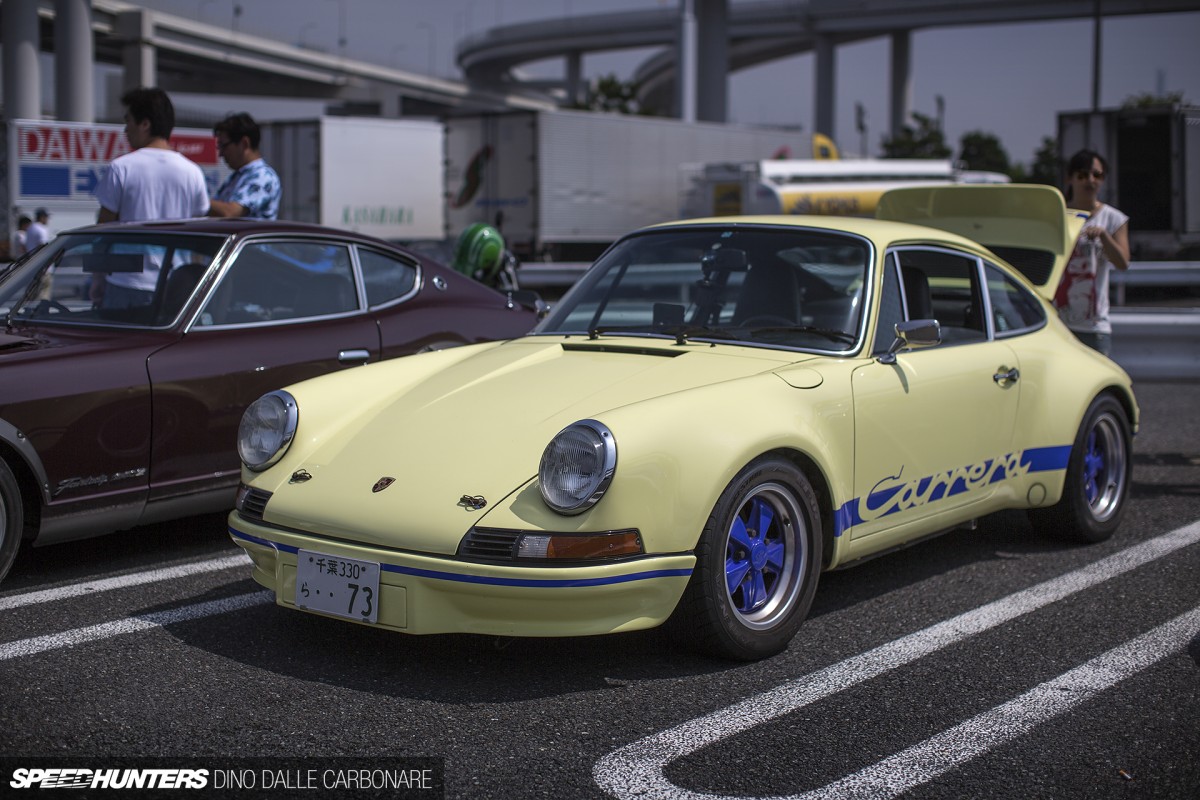 And not to far was another example – this time going for the ever-imitated – but never tiring – RS look. It's a interesting choice of colour, that's for sure.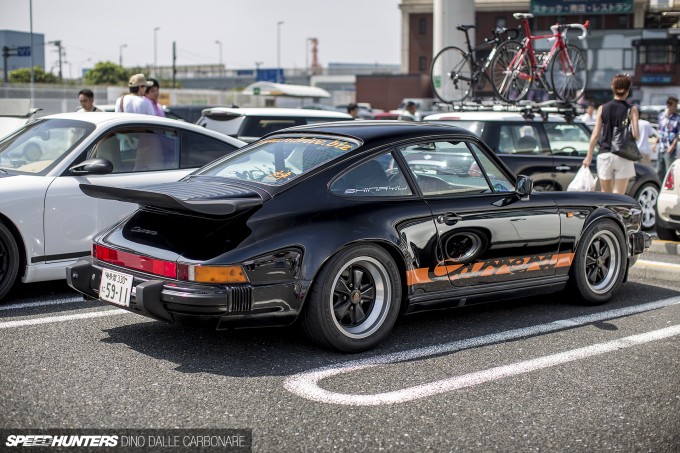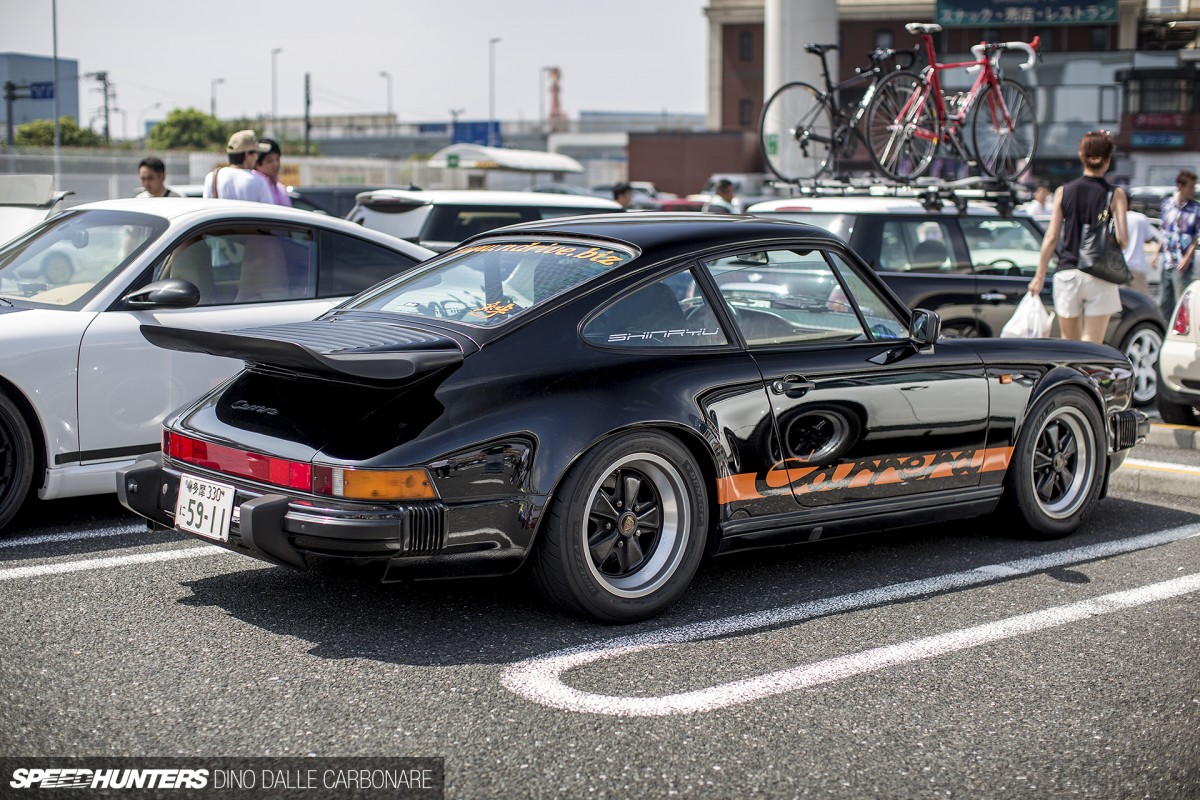 If you prefer whales rather than your ducks when it comes to spoilers, then this 930 will be one to drool over. I couldn't stop looking at the US-spec bumpers on this car too – I mean seriously… What on earth were American lawmakers thinking back in the '80s when they made these mandatory?
It's All In The Mix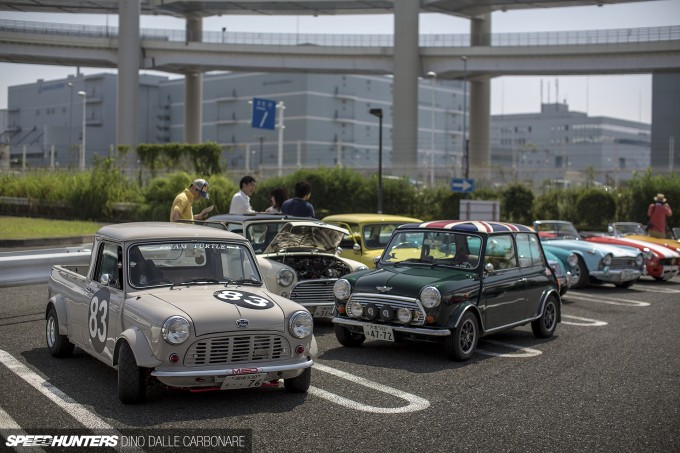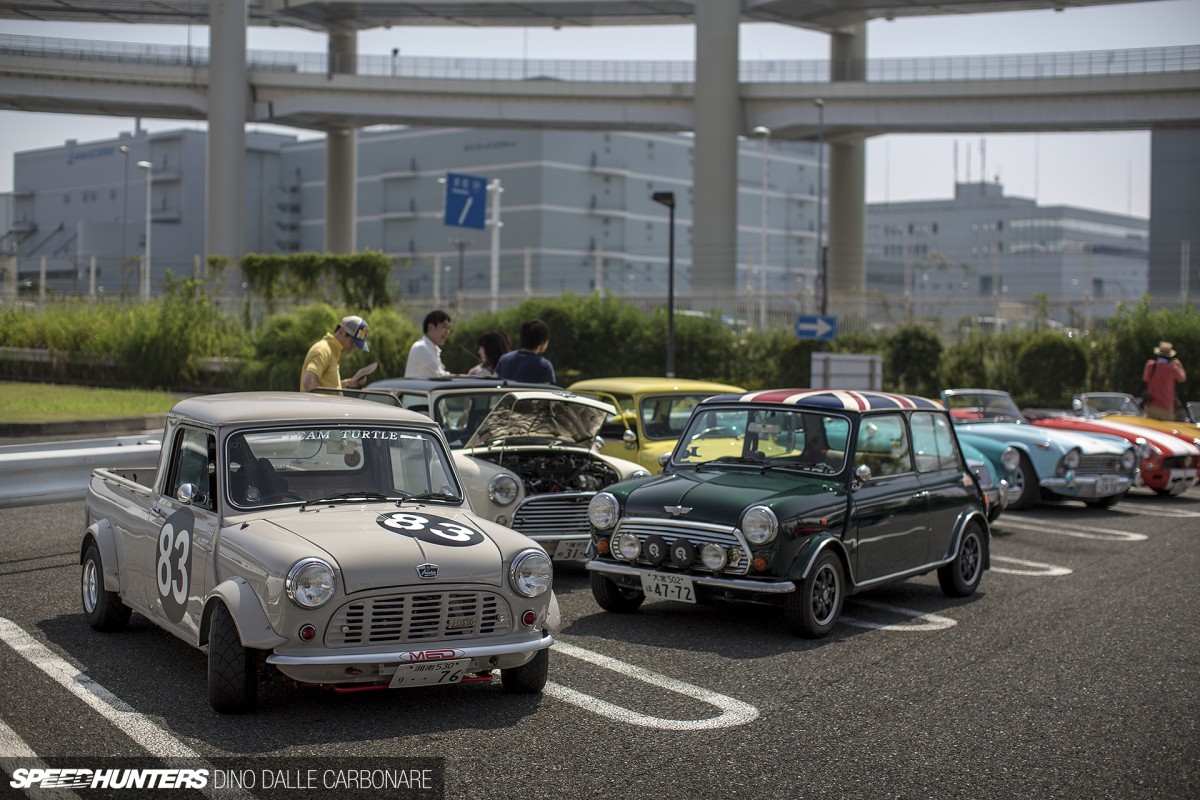 The British contingency is always well up to par at these sort of morning meets, and Sunday didn't disappoint. The top spot was taken by this truck version of the Mini.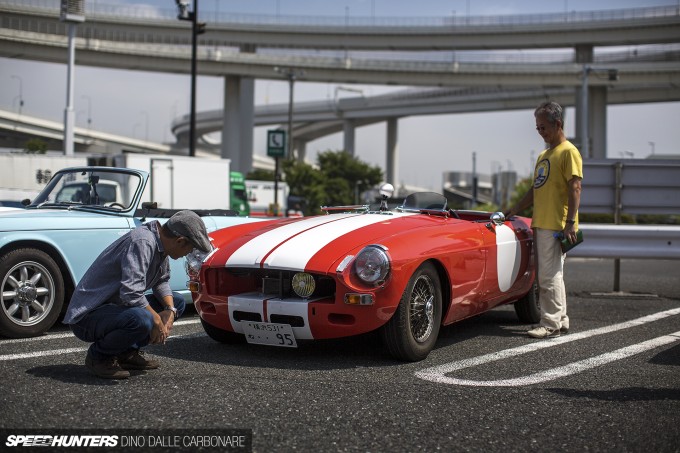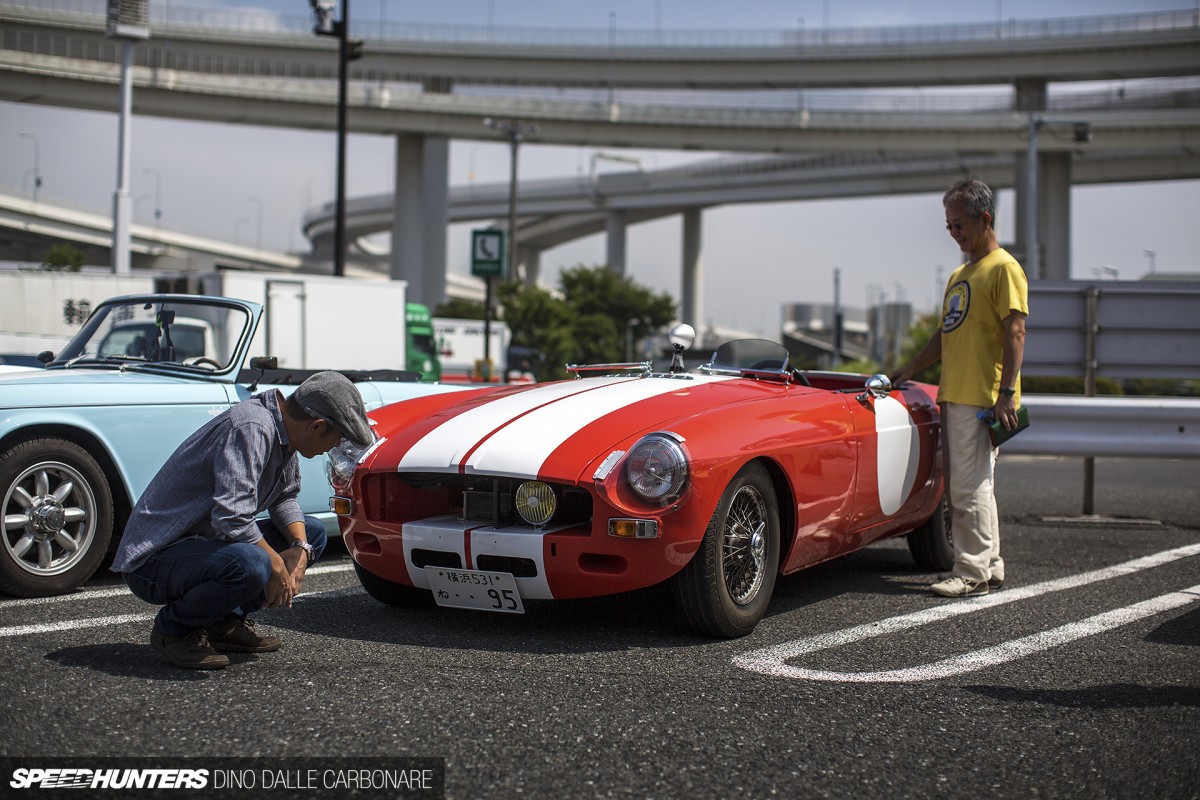 This race-ready MG was getting its fair share of attention too.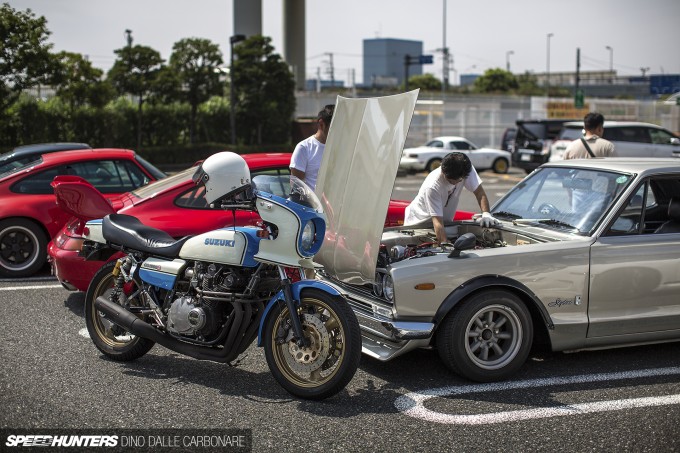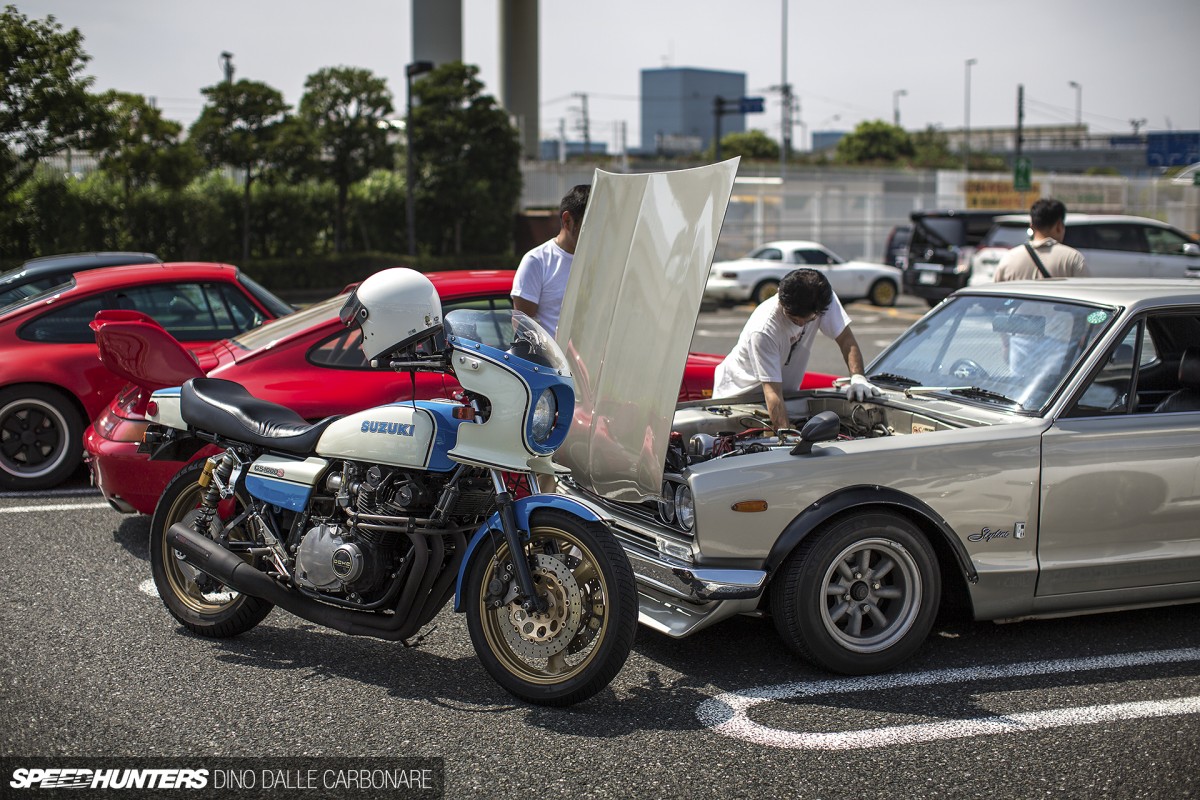 It's always cool to see the way the Japanese embrace car life. These sort of gatherings are used as a place to meet up with friends – no matter what they may be driving or riding – and even get some maintenance done to one's car. I've seen people do all sorts of things to their cars at Daikoku PA, from remedying engine-related issues to fitting aftermarket bumpers!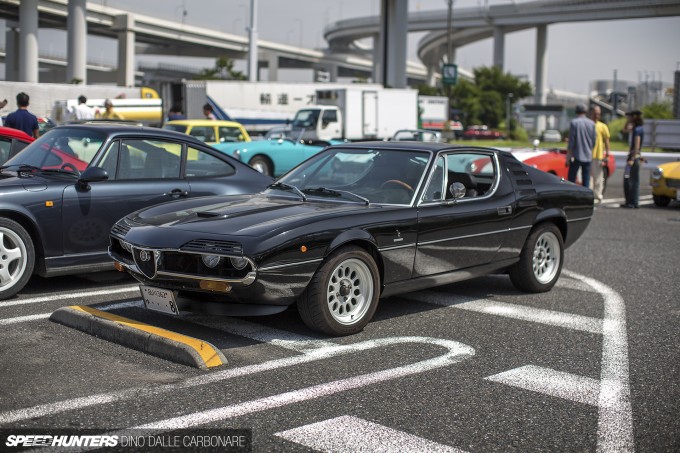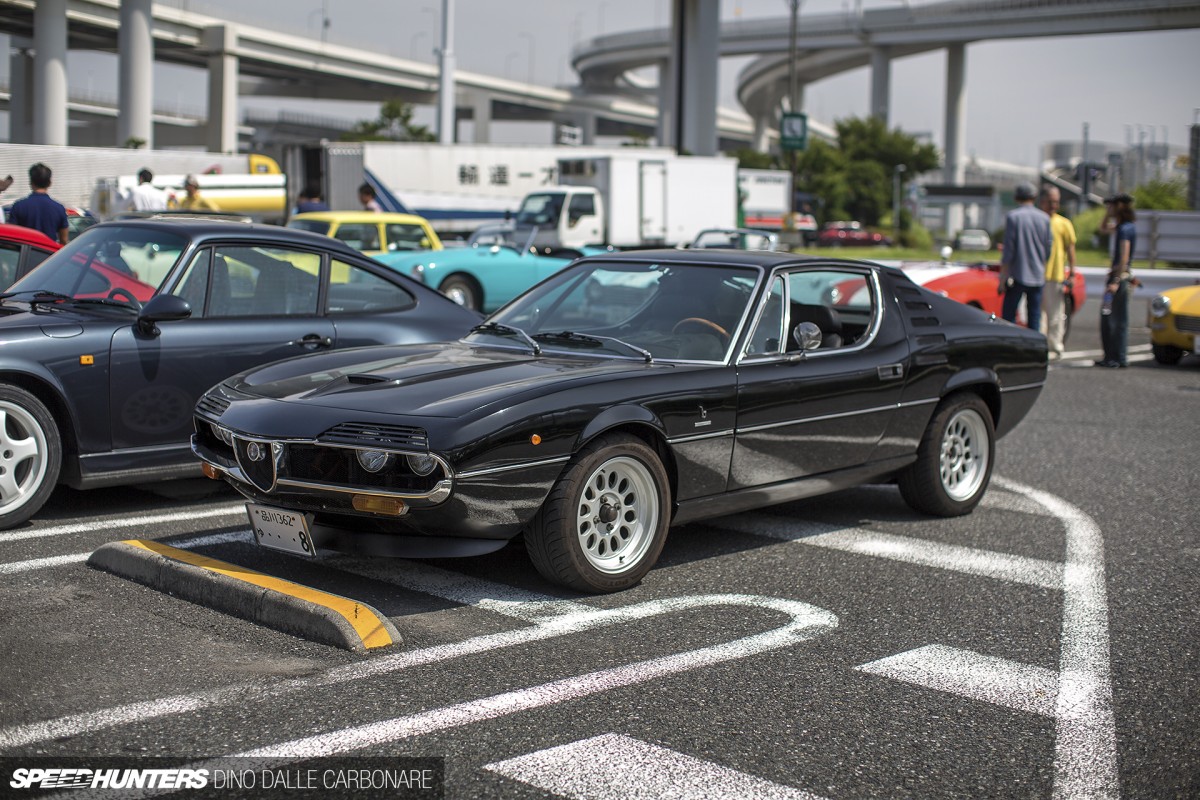 This Alfa Romeo Montreal is one we have seen a few times before at Sunday meets in the Daikoku PA. No matter how many times I come across it though, I just have have to grab a couple of shots. Of course, it's always great to see an owner enjoying his classic often, rather than keeping it tucked away in the garage.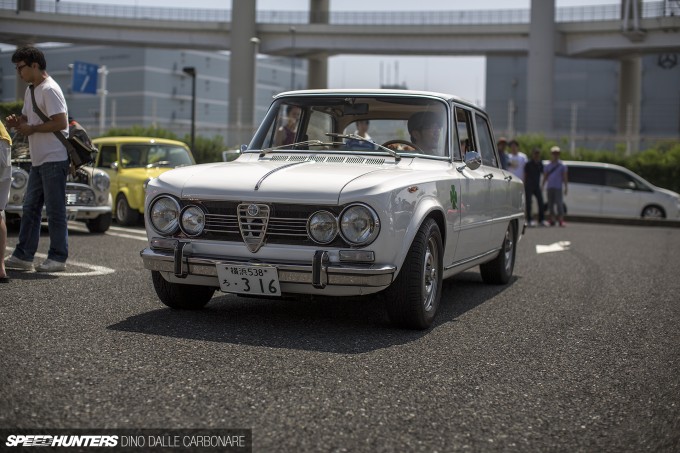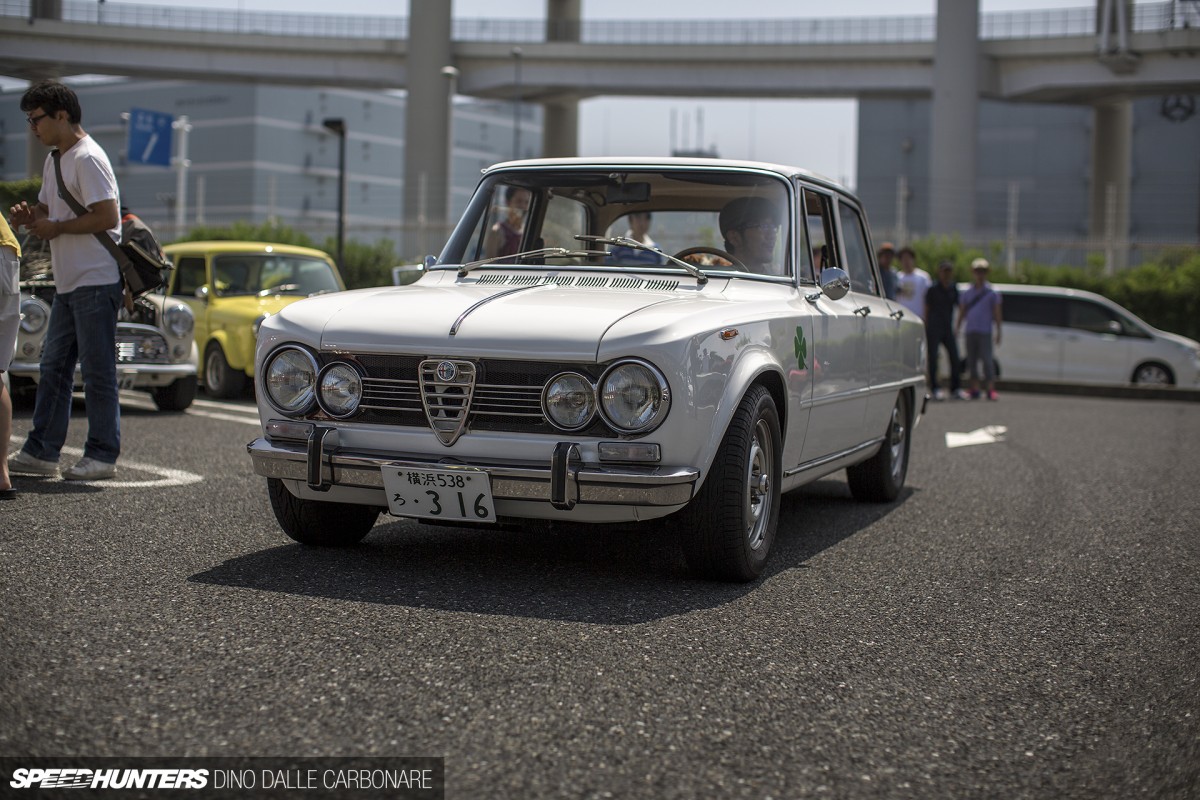 From beautifully flowing Bertone-sculpted lines penned by Marcello Gandini, to a slightly more simple and boxy example of an Alfa: the Giulia. On top of the car's excellent dynamics, it's precisely those sharp edges that have always appealed to Alfisti the world over.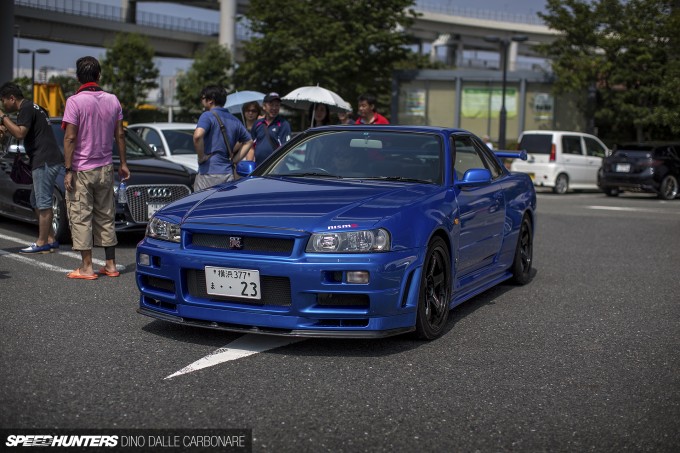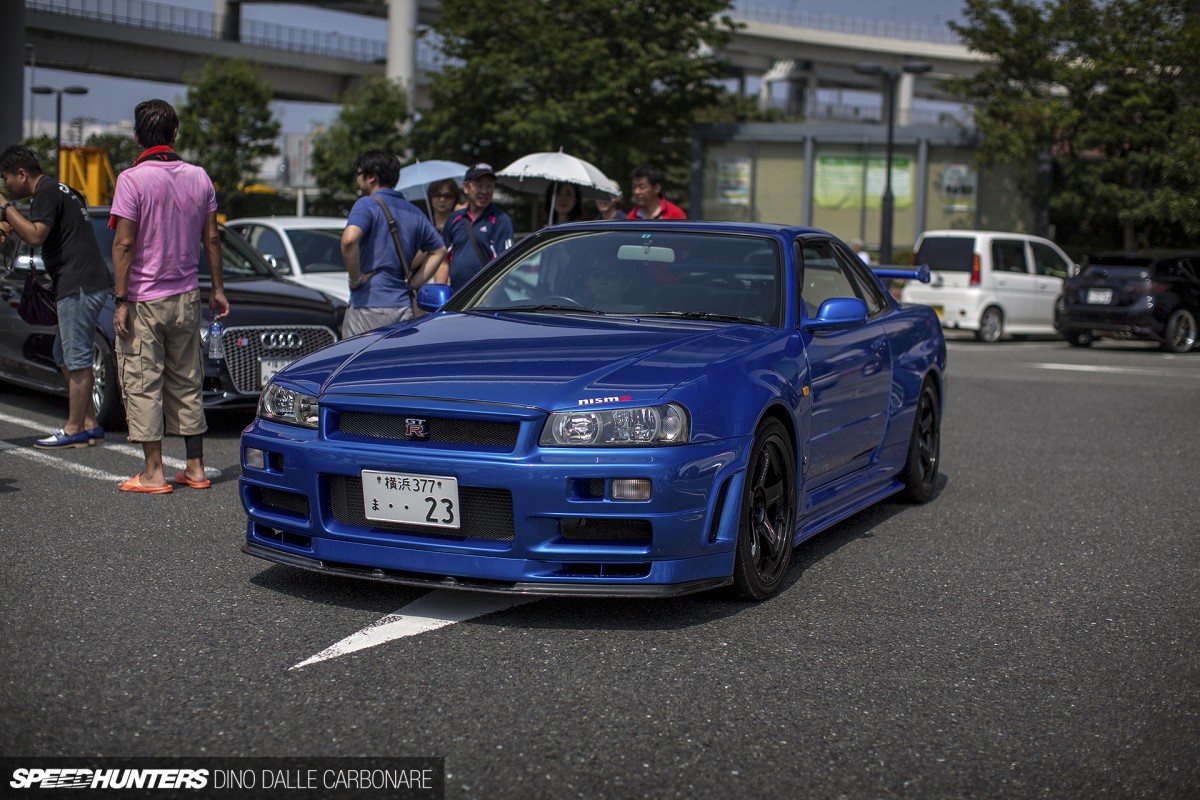 Speaking of body lines, here's something a little more modern and from Japan. It's a bit of a torture seeing cool BNR34s around as mine continues to sit awaiting parts to be fitted. But it won't be too long now!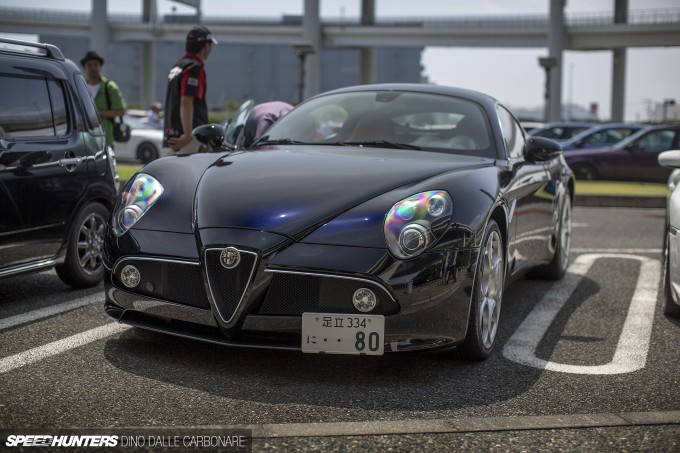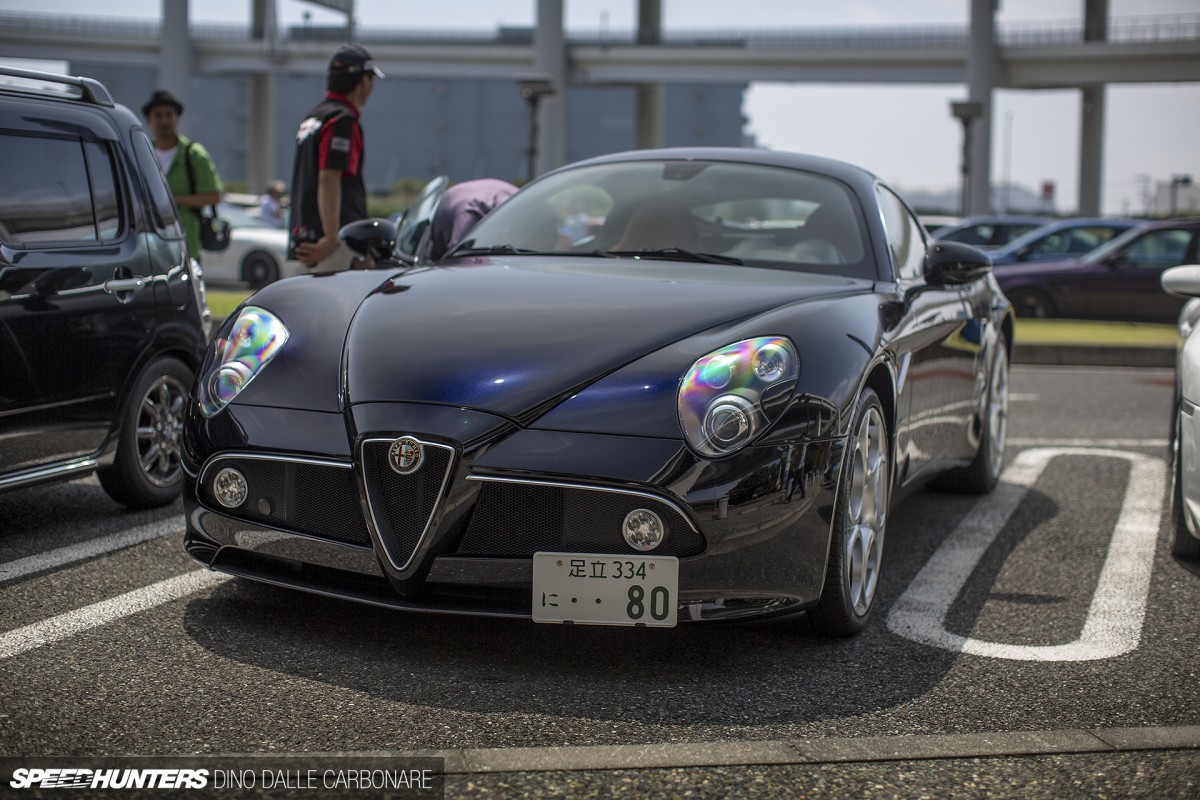 And just like that we're back to yet more Alfa Romeo goodness. I saw this 8C Competizione enter the PA and followed it right up until its owner parked it. It's a very rare car, yet one that we always seem to come across at Daikoku PA. If the mirror-shined exterior is anything to go by, this car gets treated pretty well. I don't think I've ever seen a black finish quite so glossy and absent of even the smallest swirl or water spot.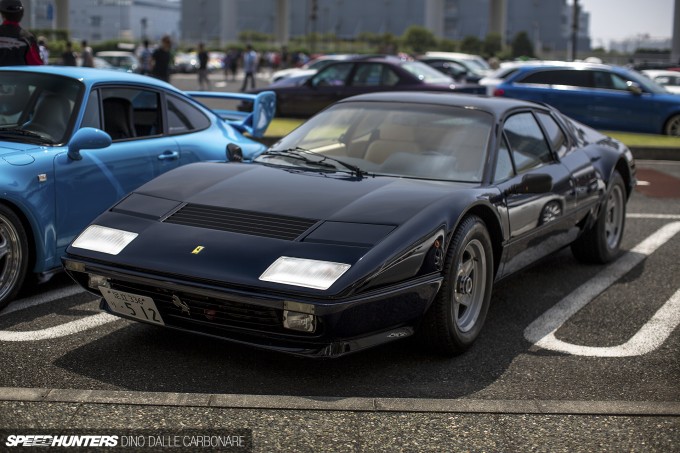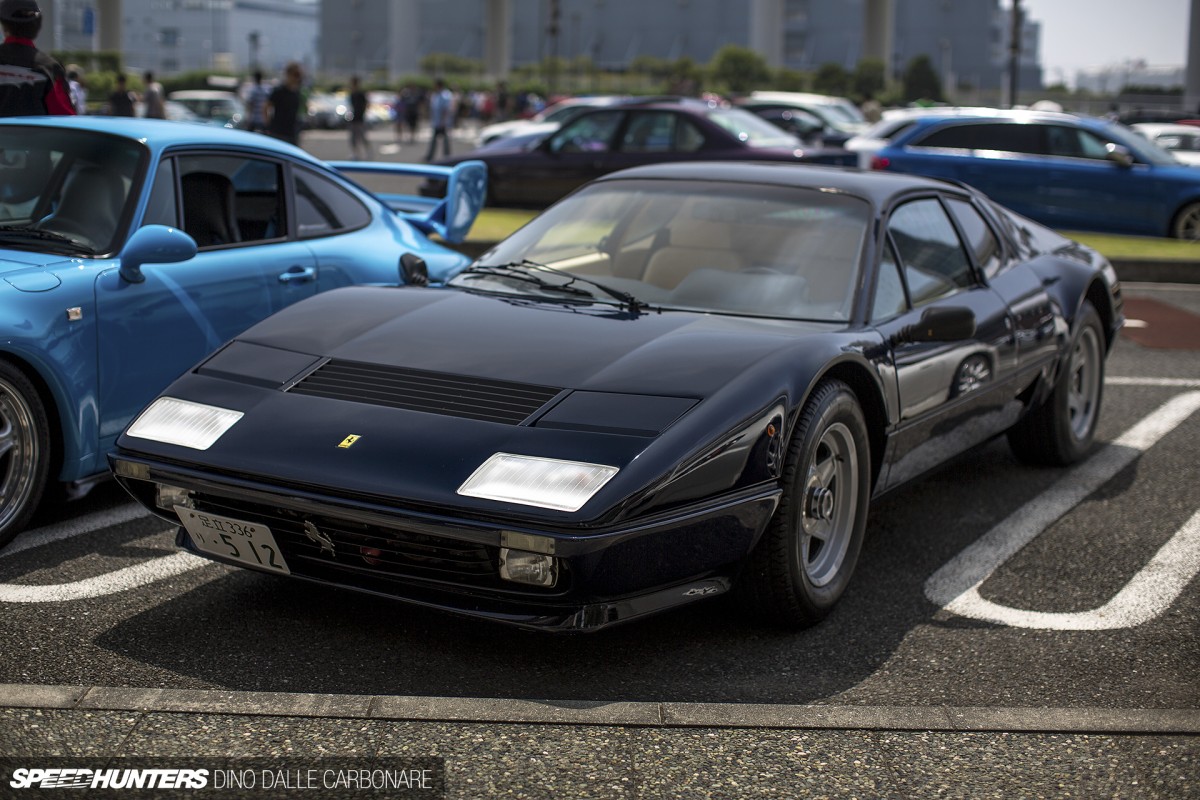 A few parking spaces down, right next to a 993 Carrera RS, was another black beauty that had just pulled up. It was at this point that it occurred to me – why on earth would anyone in the greater Tokyo area bother to go to a car museum when you can just turn up at Daikoku on a good day and be treated to variety like this?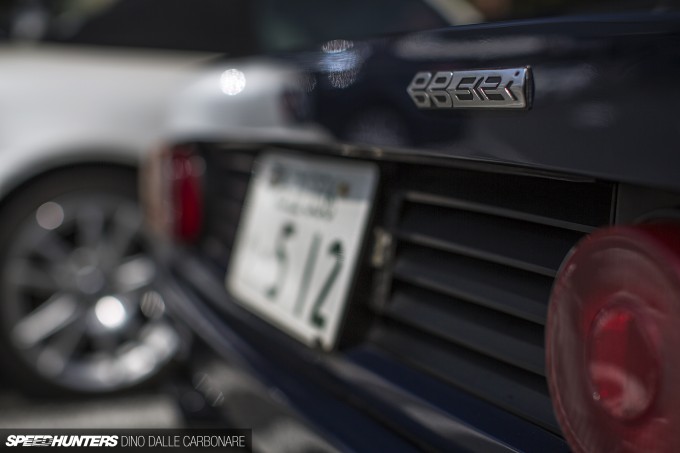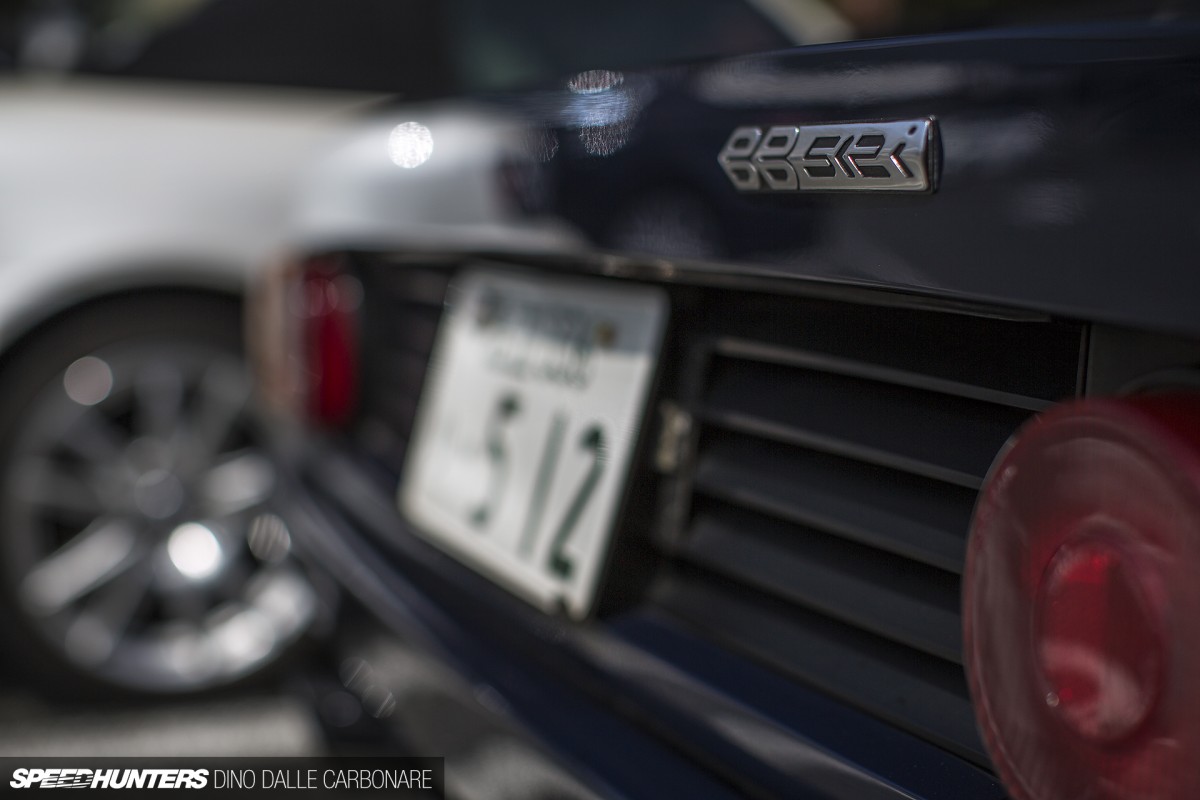 I took my time to indulge in the details of this 12-cylinder boxer-powered piece of Ferrari history.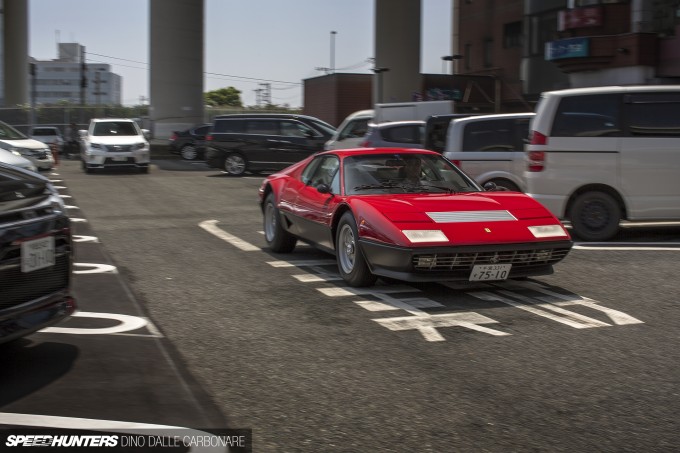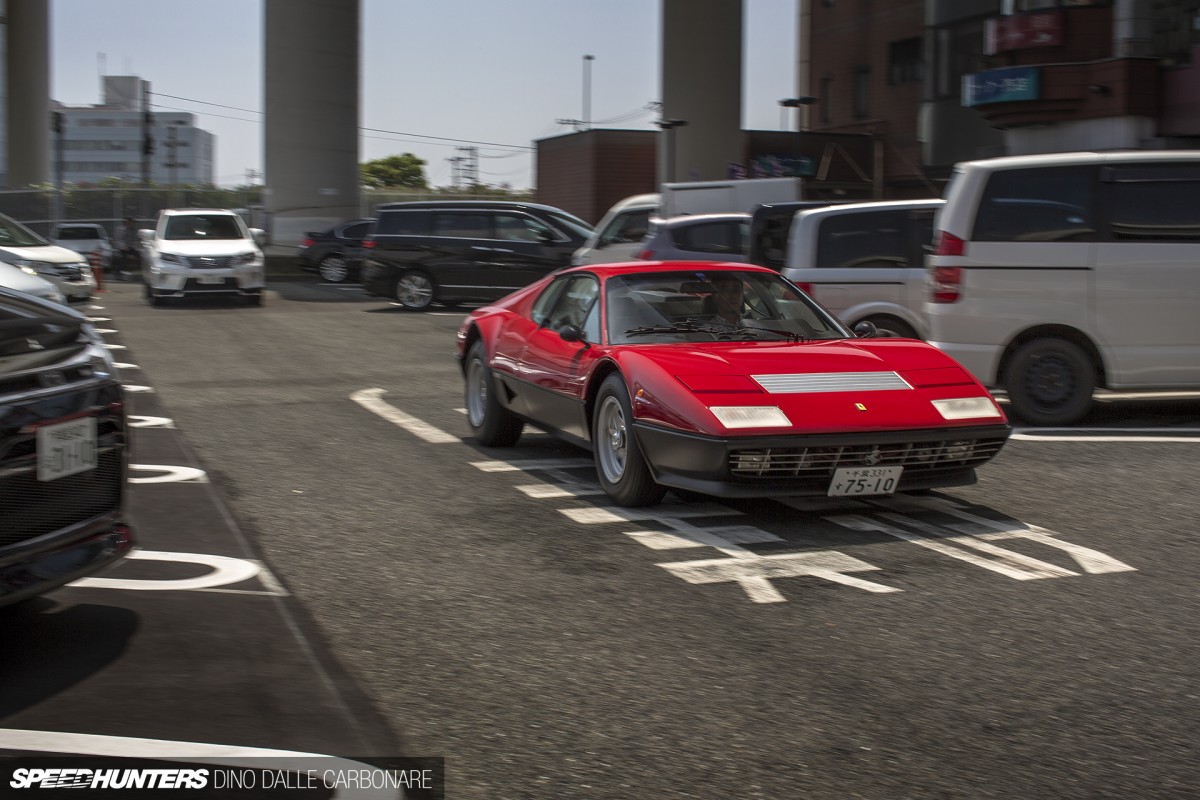 And then another one turned up. See what I mean…
Prancing Horse Love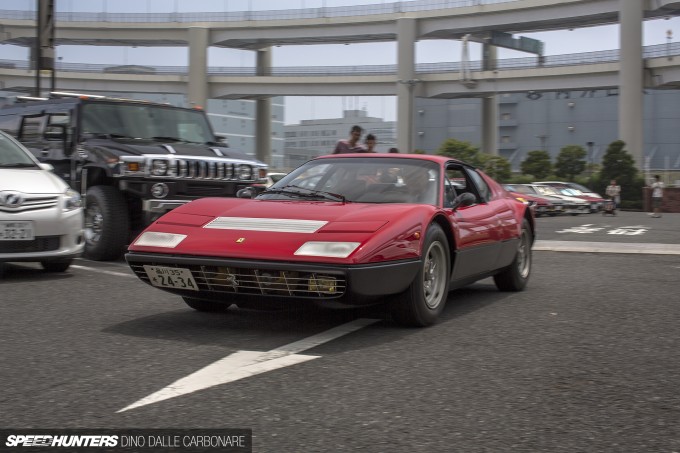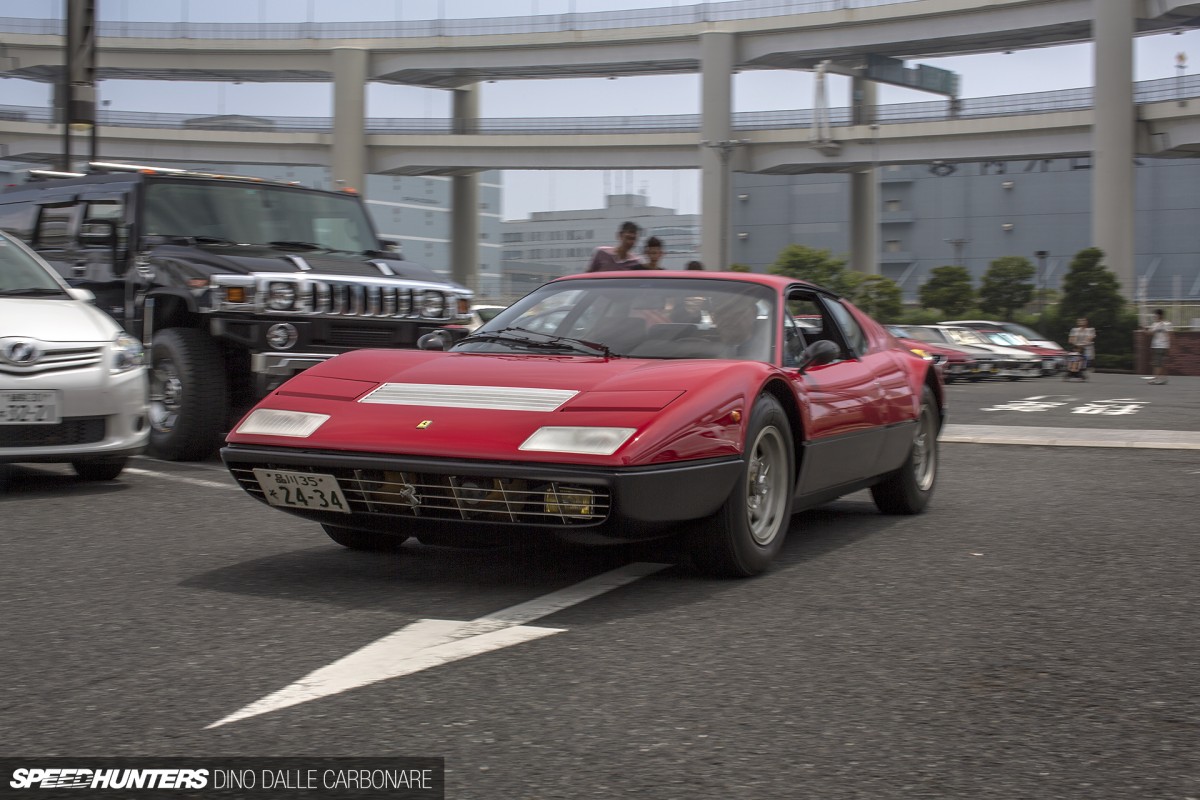 Fast forward about 10 minutes and I thought this was the same red Berlinetta Boxer driving around looking for a place to park. But then I noticed that it was actually the car that preceded it: a 365 GT4 BB.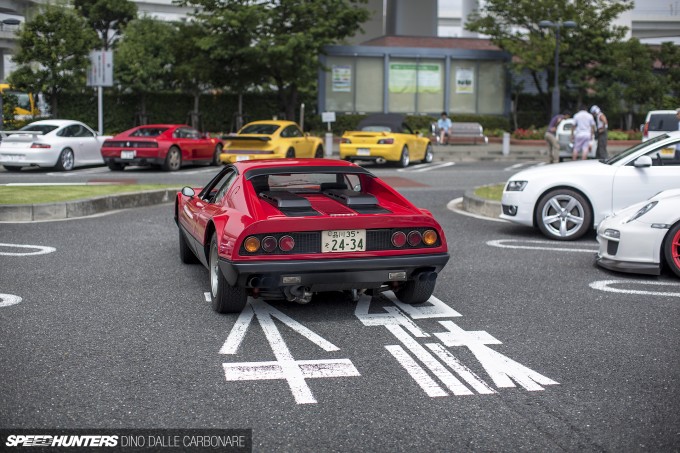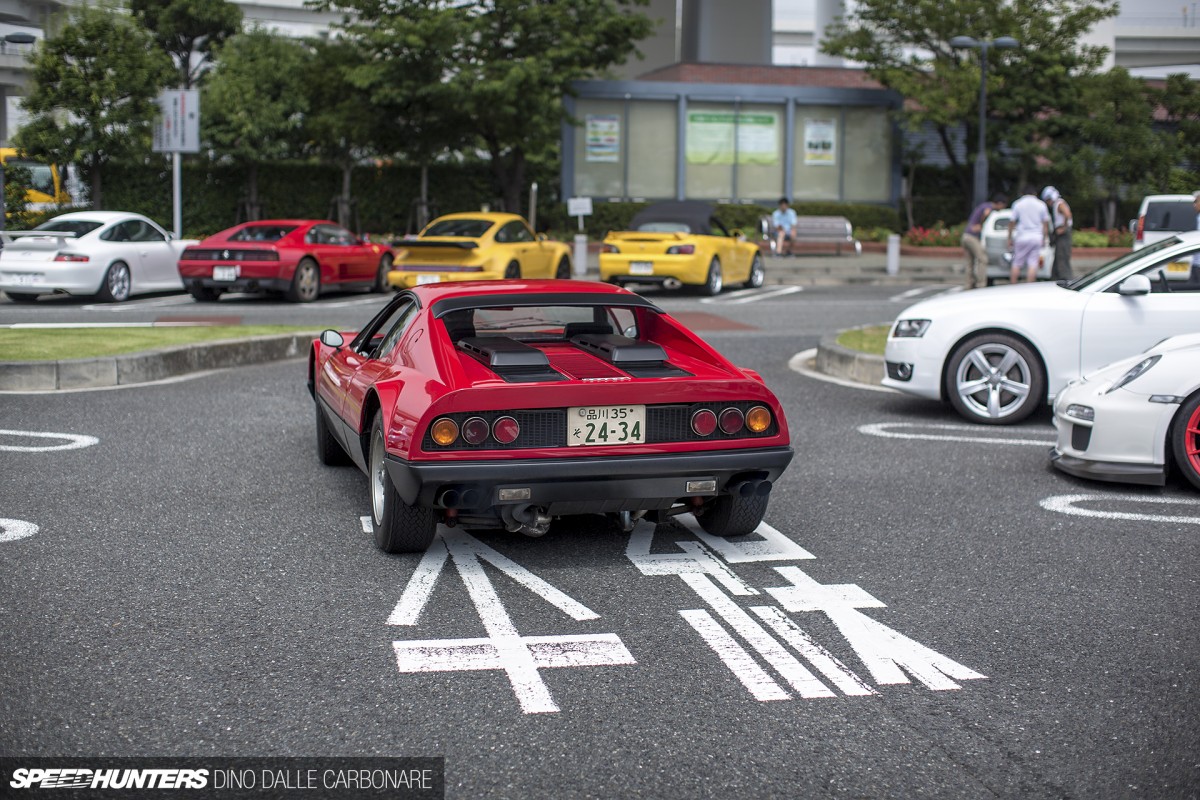 Identifiable by the six rear lights and those big plastic air outlets on top of the engine cover, only 387 of these cars were ever made. Quite a rare one then!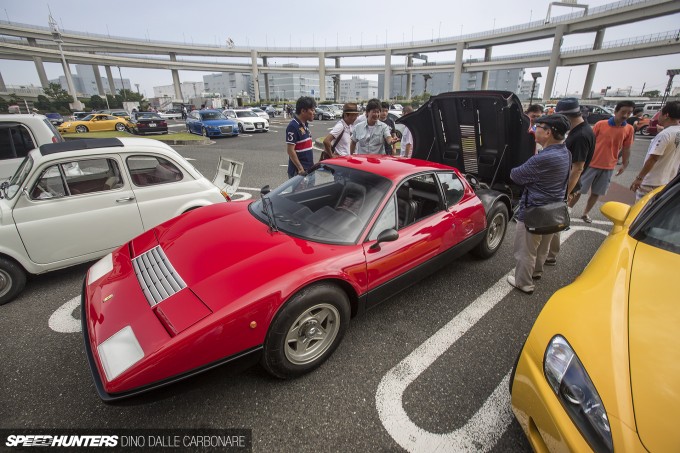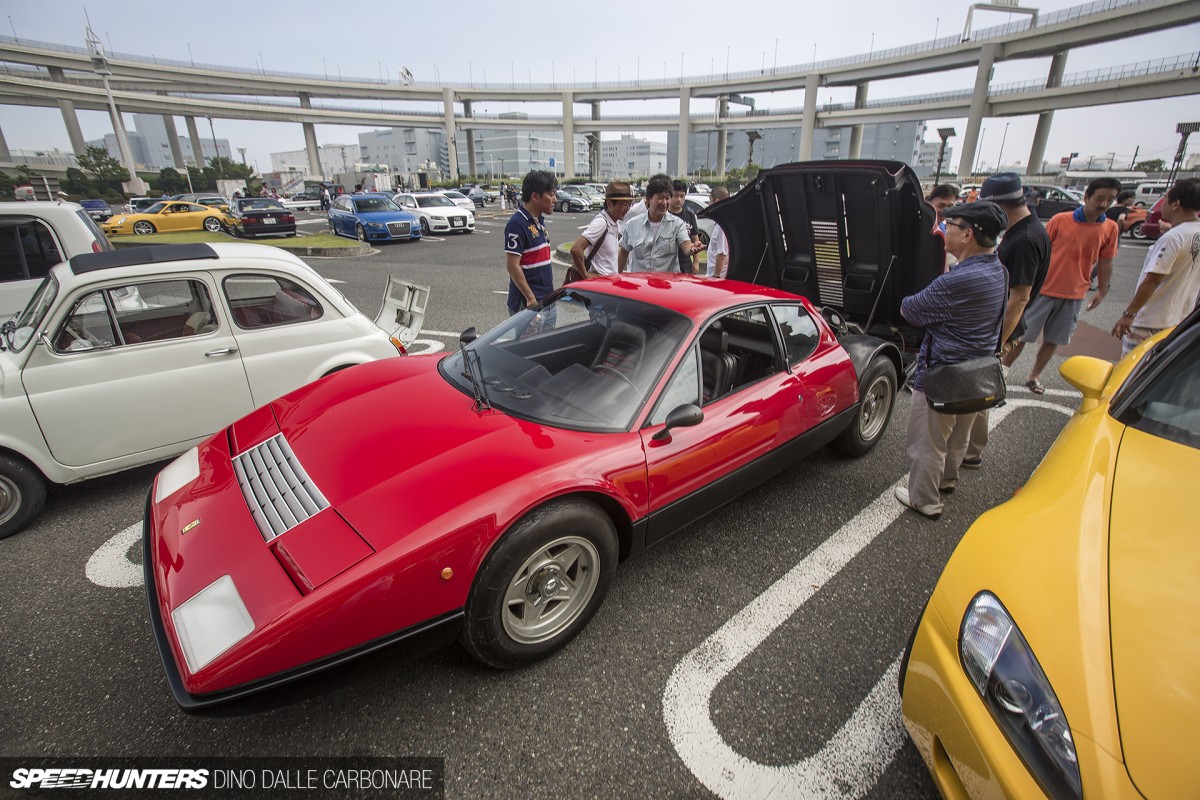 Group admiration followed.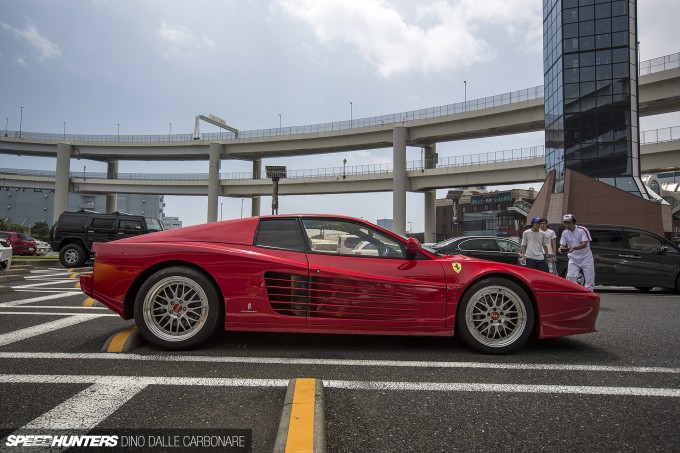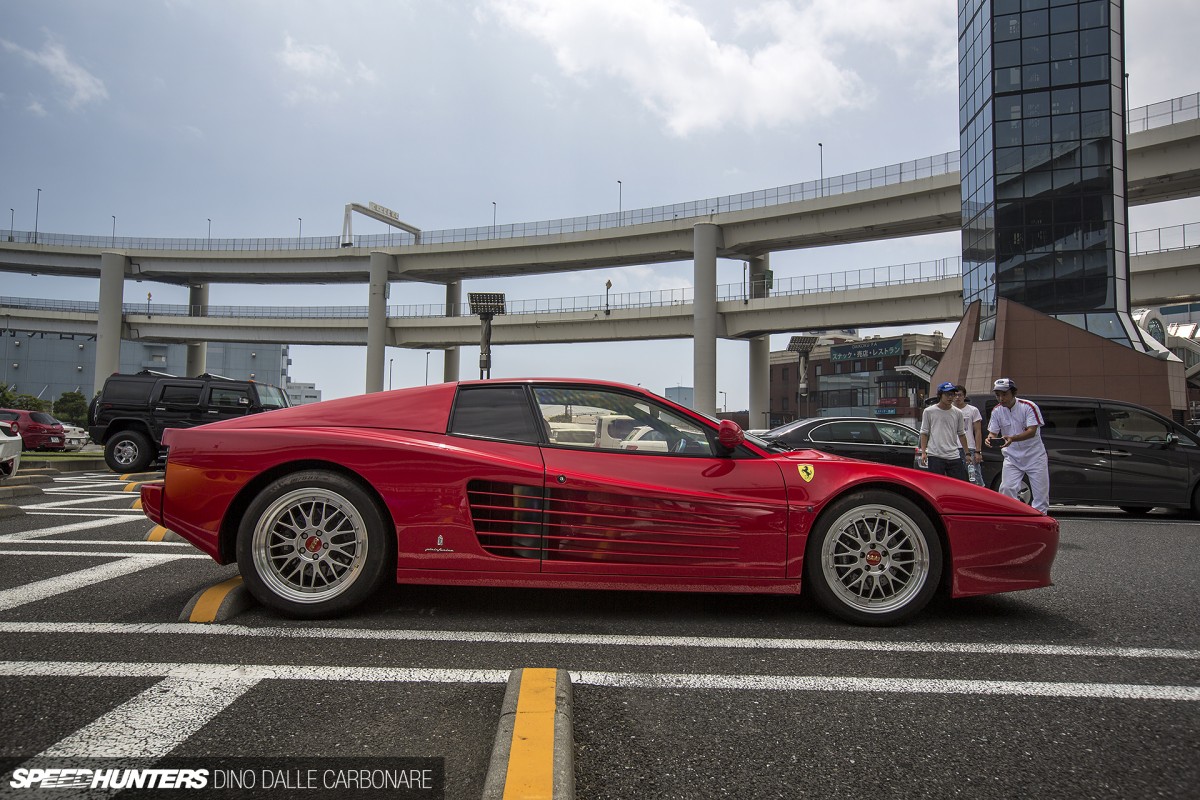 As chance would have it, we were all treated to a more modern flat-12 powered Ferrari too: this 512 on BBS LMs. I don't know if it was the wheels, but this car looked so good – more so than any other Testarossa and its derivatives have in the last couple of years. It also makes you wonder if Ferrari will ever make flat-12 engines again, or 12-cylinder mid-engined cars that aren't quite so unobtainable as an Enzo or LaFerrari…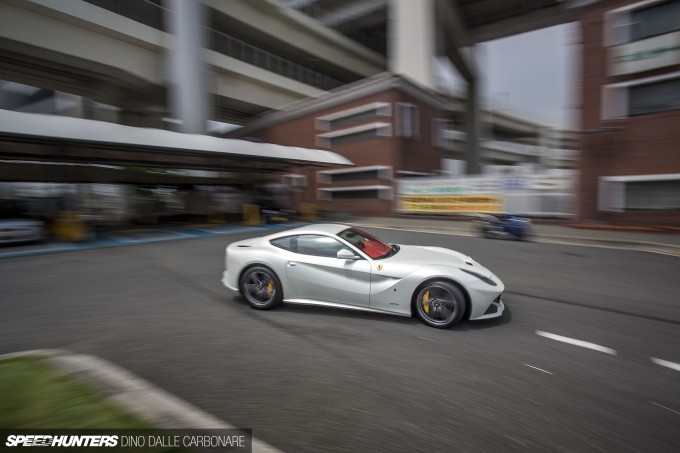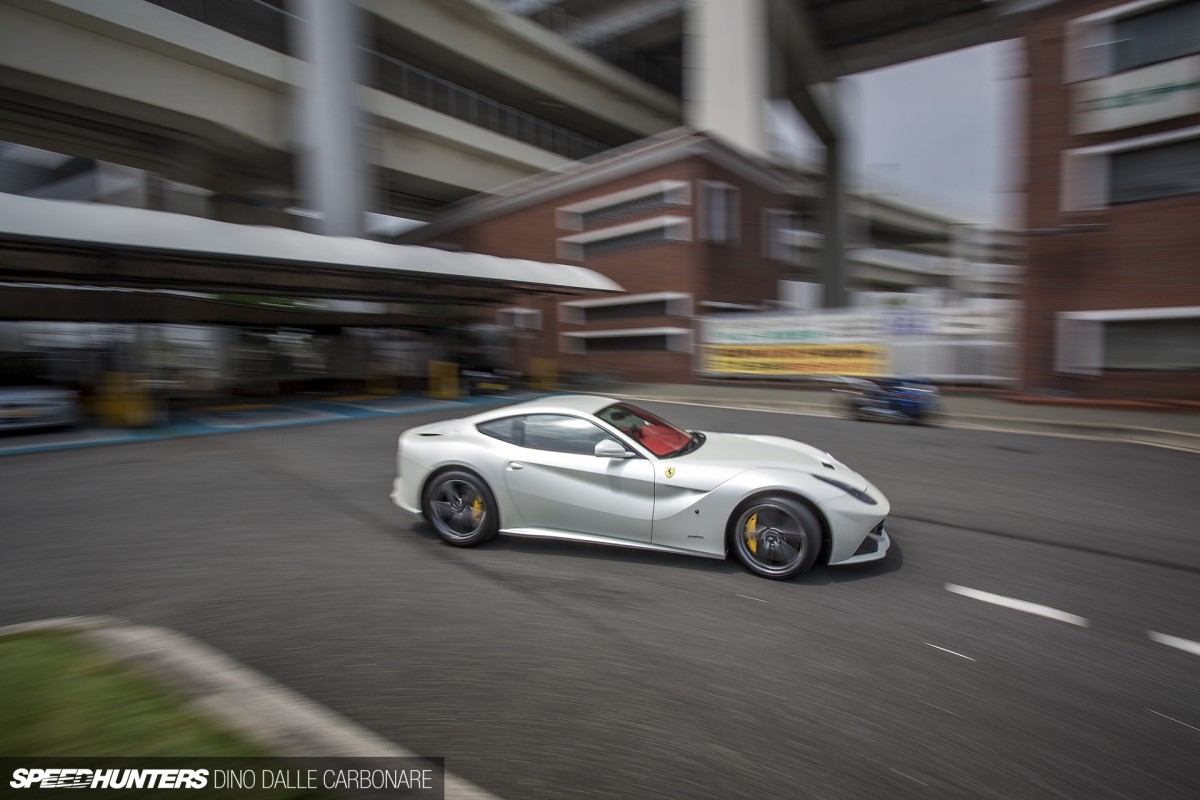 Mind you, the F12 with its front engine layout makes one hell of an argument for itself.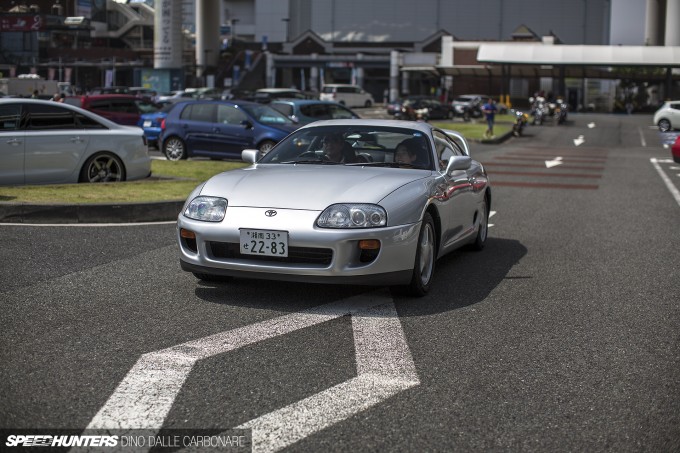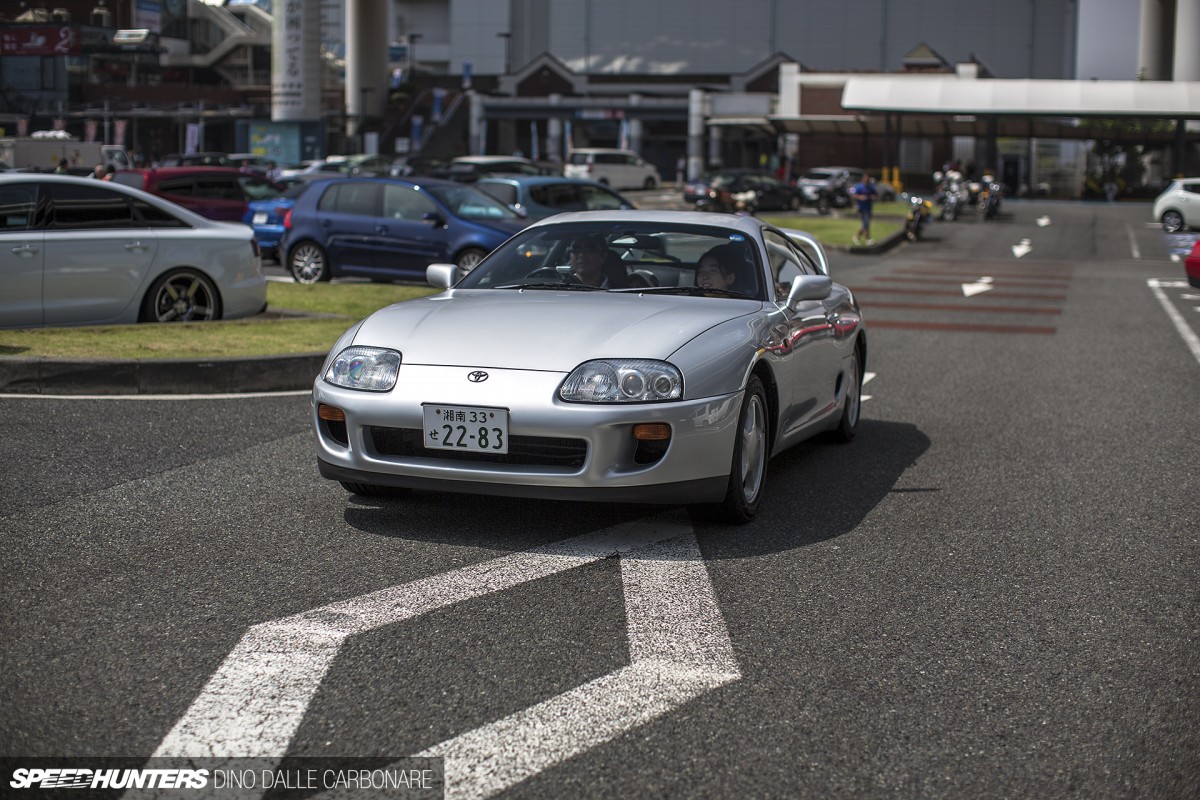 Then all of a sudden what might have been the rarest car of all slowly drove by – a completely stock JZA80 Toyota Supra, rocking the sort of offset only Japanese manufacturers could have ran on their cars in the mid to late '90s!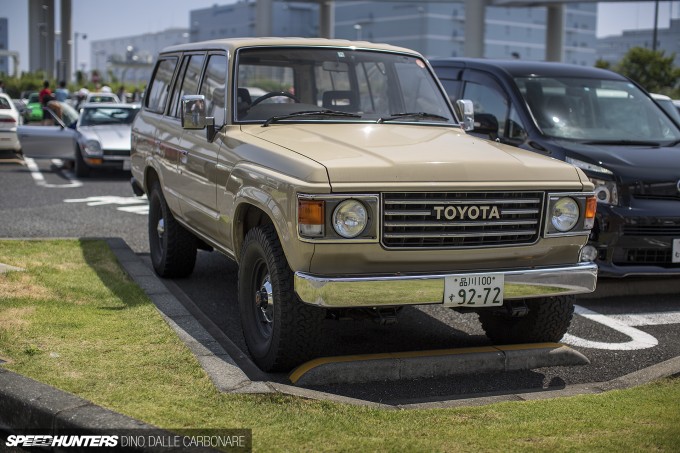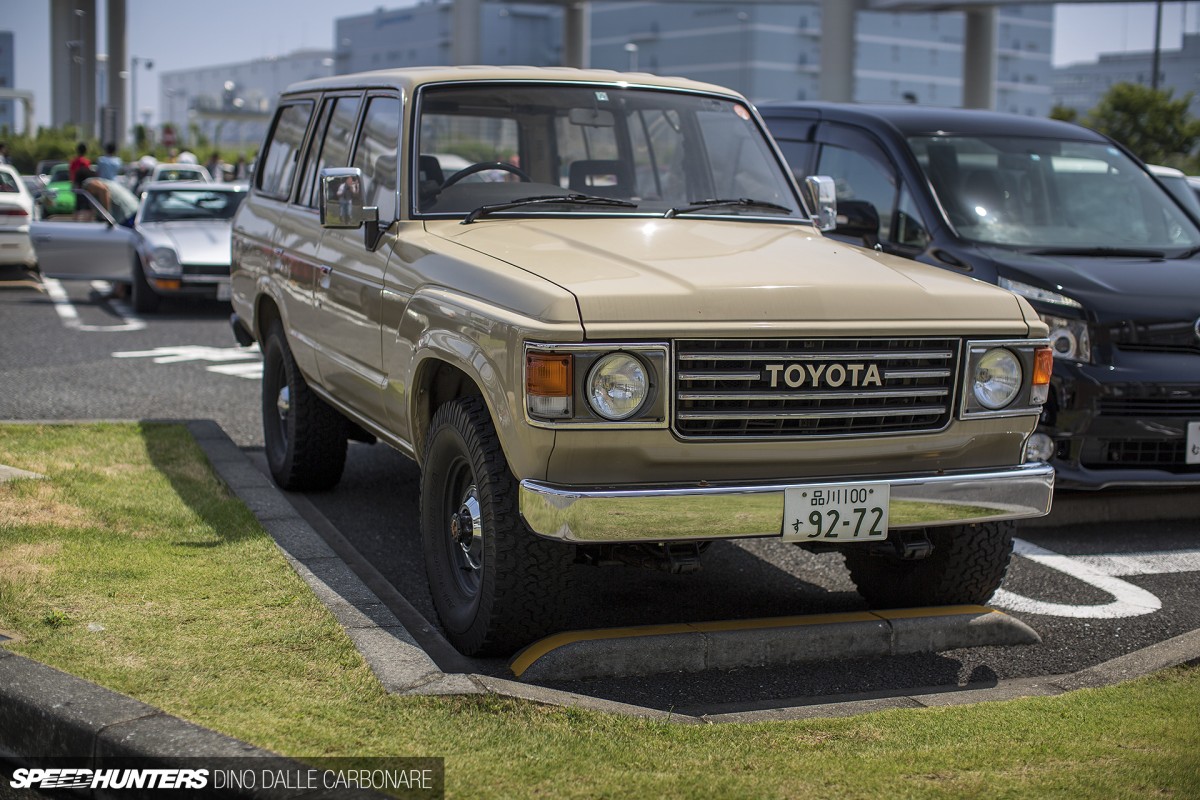 Seeing that always make a point of the variety that I come across at Daikoku, here's an interesting addition to the assembled line-up. The 60 series Land Cruiser is a truck that enjoys quite a large following in Japan. In fact, there's a workshop in Chofu, on the outskirts of Tokyo, which is famous for specialising in this generation of Land Cruiser.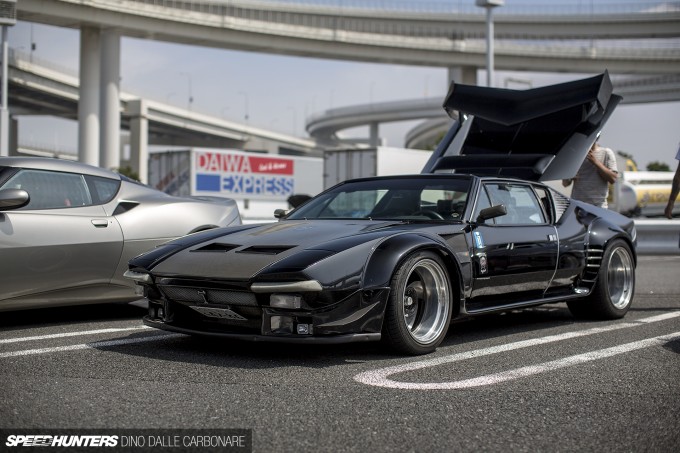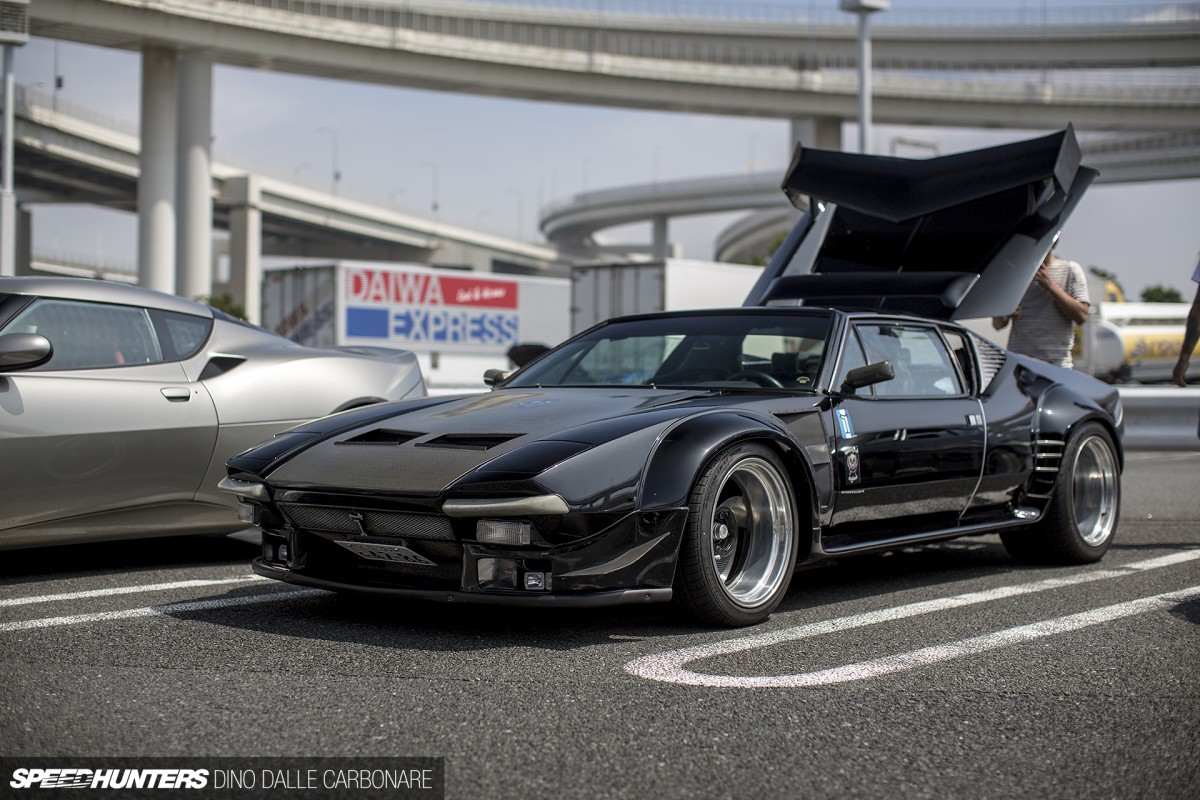 All American V8-rumble meets Italian flair and design – it can only be the DeTomaso Pantera, throwing in yet another touch of uniqueness to Sunday's line up at Daikoku.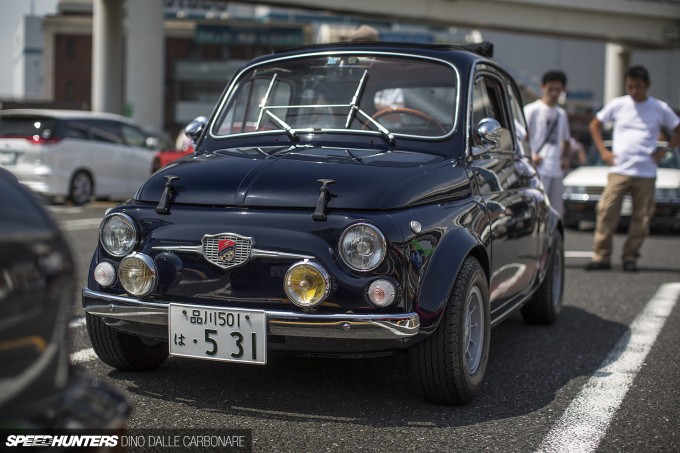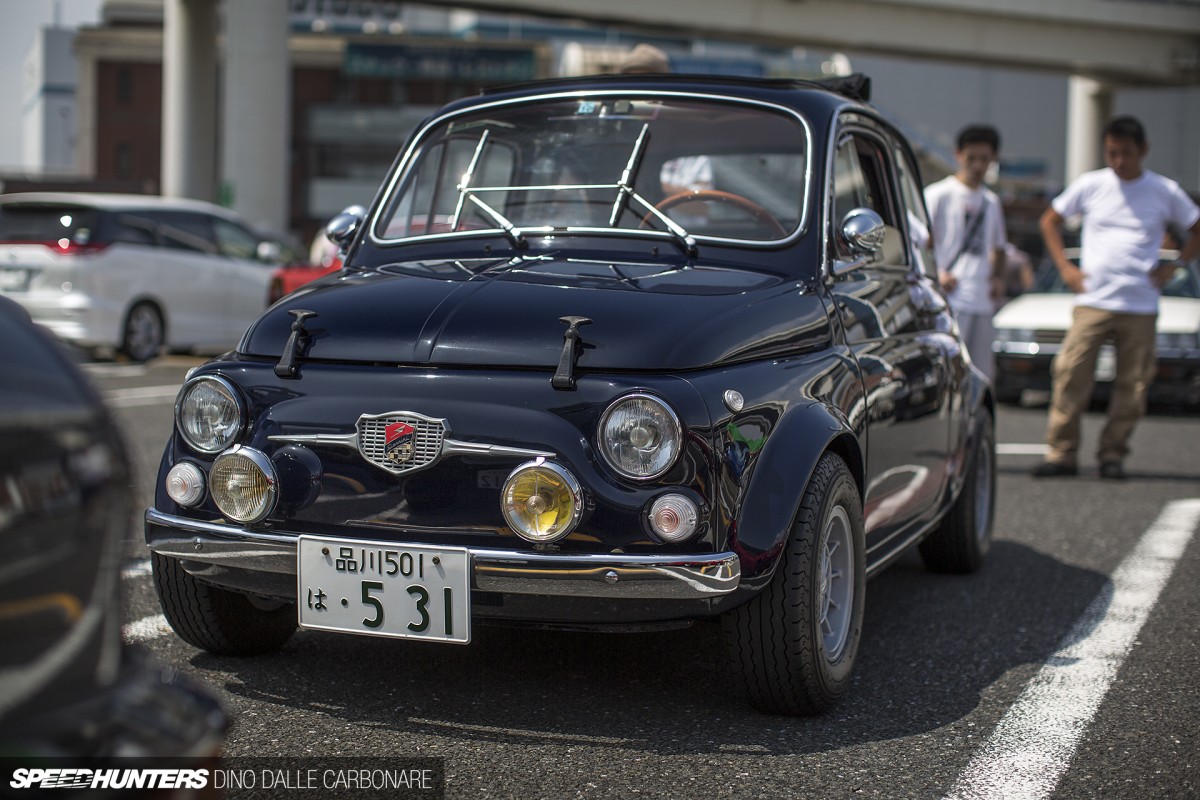 Great things must really come in small packages because this Giannini-tuned Fiat 500 is by far the most memorable ride form the meet. What makes this car special is that it's a rare complete model built by the well-known Roman racing outfit which produced a variety of Abarth-rivaling cars in the '70s.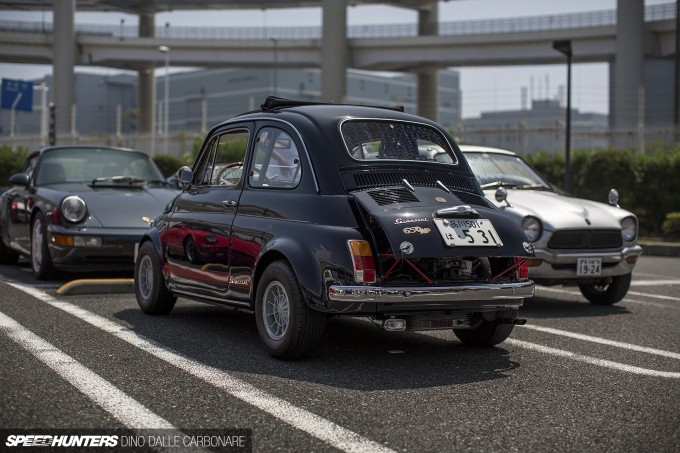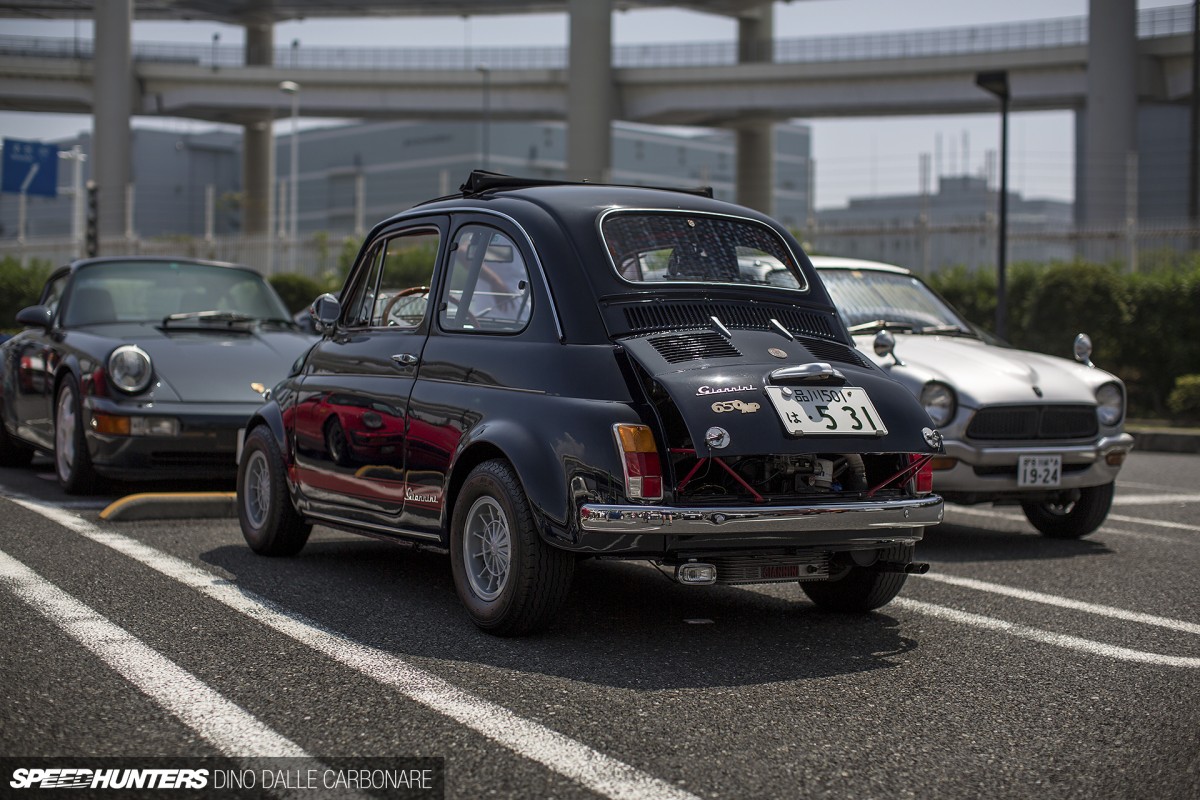 This is a 650NP, running a few nice additions like lightweight Campagnolo wheels and a fixed-open engine cover.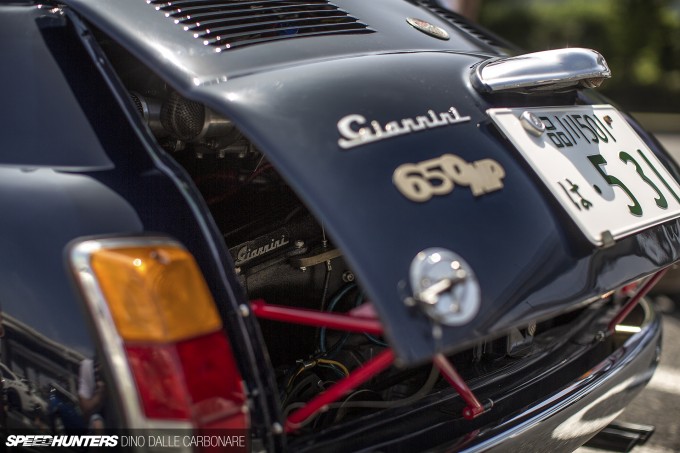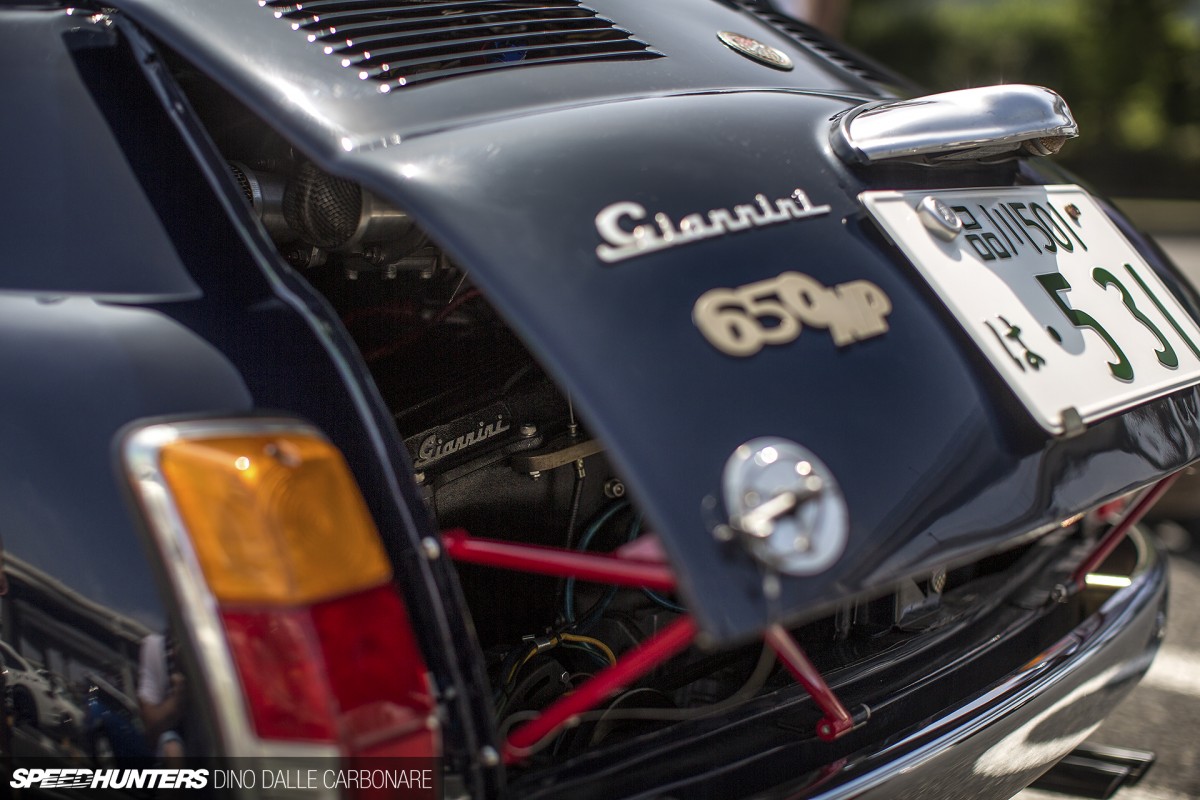 Behind it the stroked motor: 652cc and capable of pushing out a mighty 35hp. Not much, but it makes the paper-light 500 quite a hoot to drive on the right sort of roads.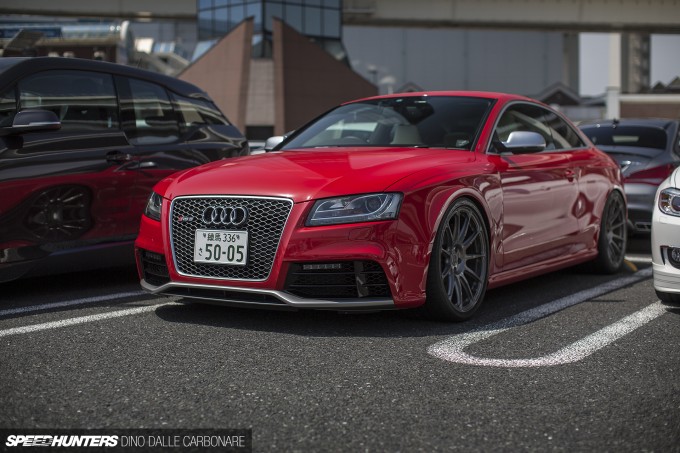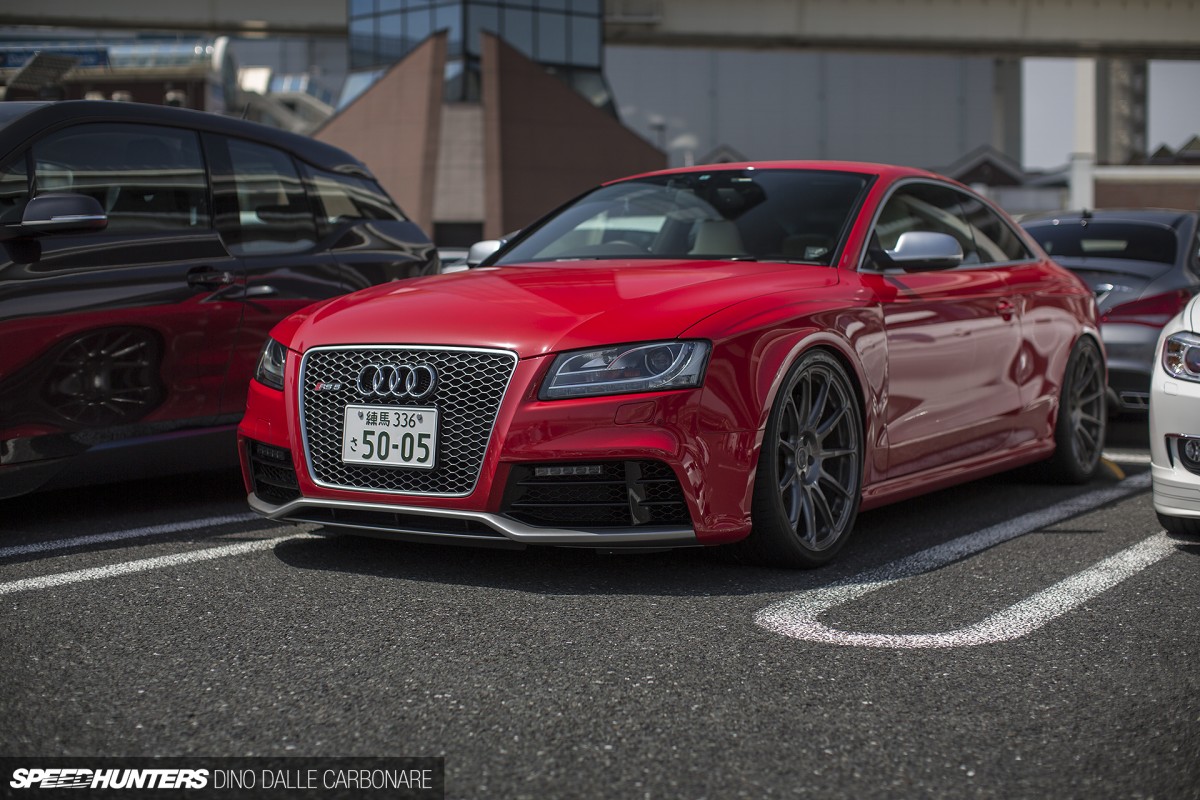 There were quite a few Audis gathered up too, and this being Japan most of the cars present were either of S or RS grade. This RS5 stood out as it was running an aggressive suspension drop and rare-in-Japan HRE wheels.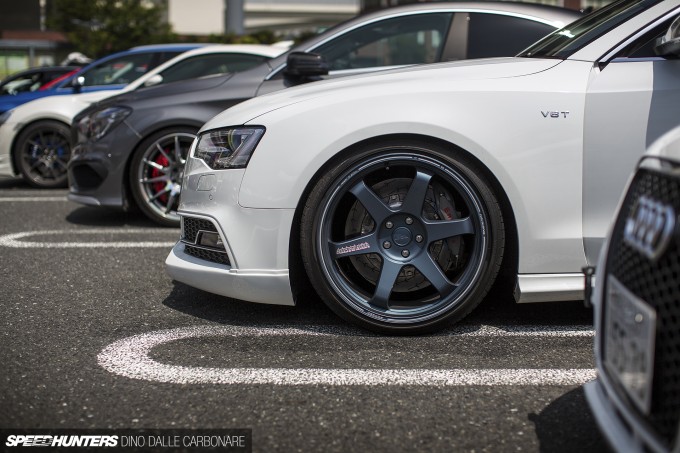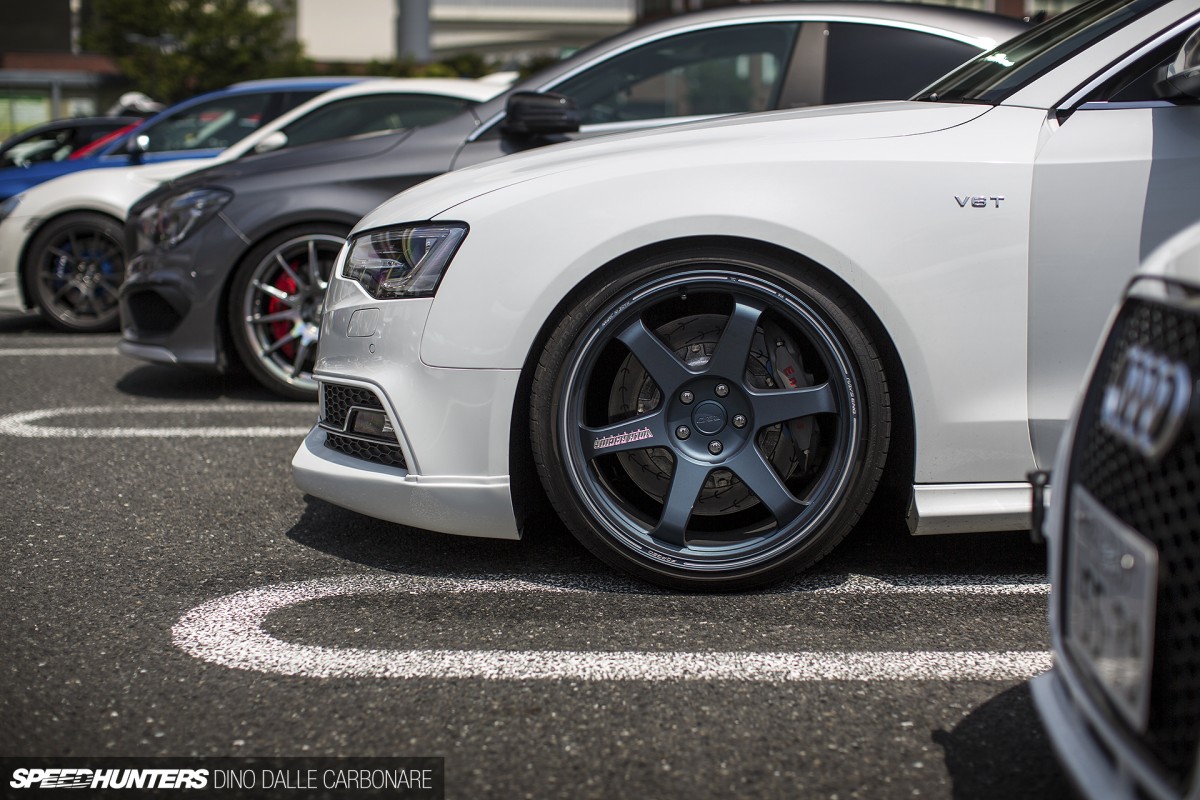 However, the wheel fitment prize goes to this A5 Sportback which was sitting on RAYS Volk Racing TE37 Ultra rims – the 20-inch version of the popular model which was actually made to cater to the R35 GT-R market. Behind them, Endless six-pot monoblock calipers and massive two-piece rotors. Yep, the Japanese continue to show us they are masters of making even European cars look and perform their best.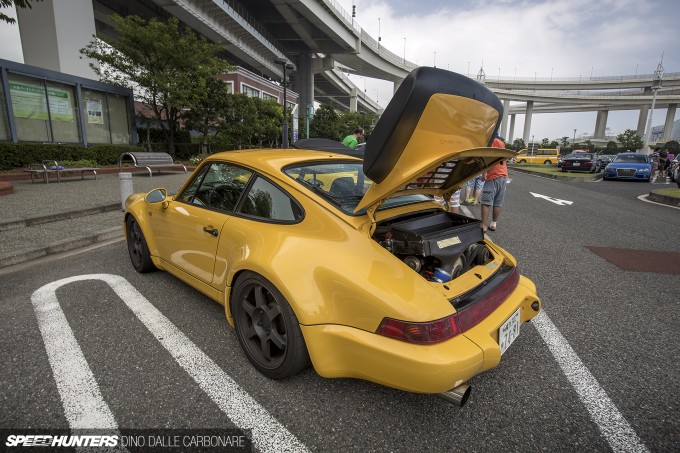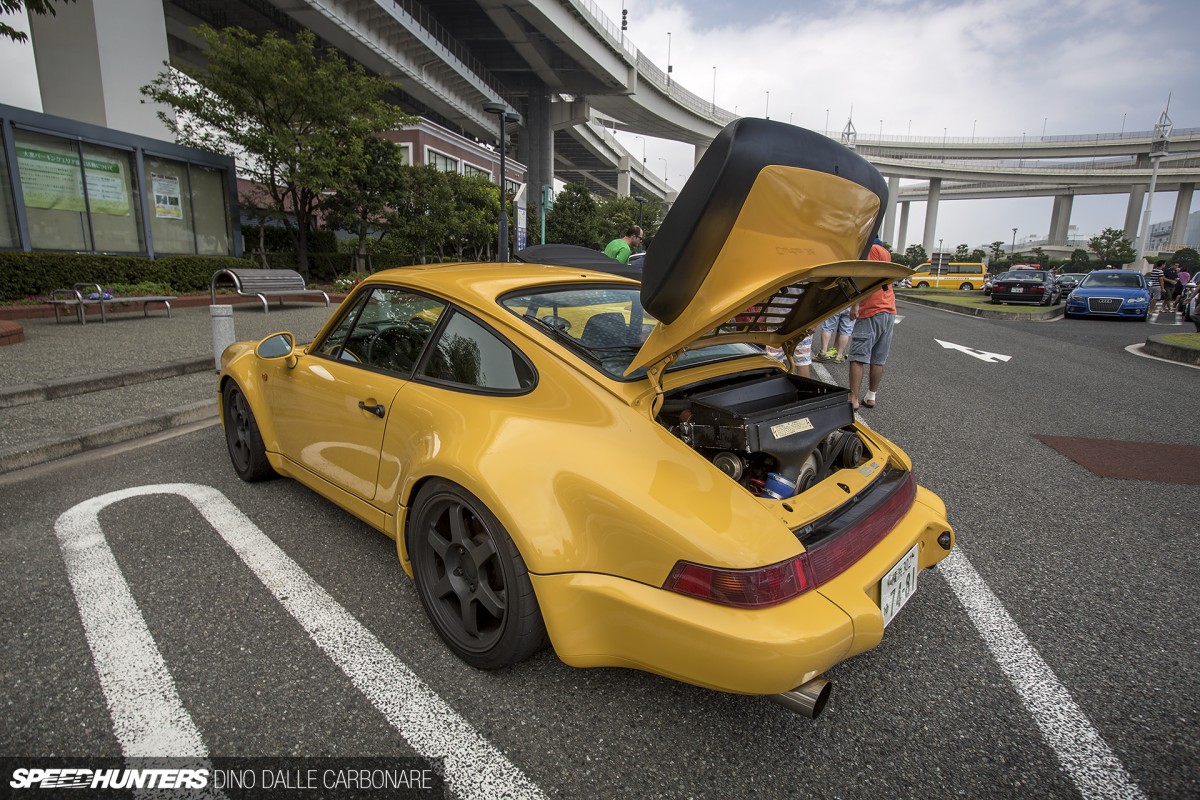 That's 3.6 liters worth of air-cooled, flat-six, turbocharged perfection right there!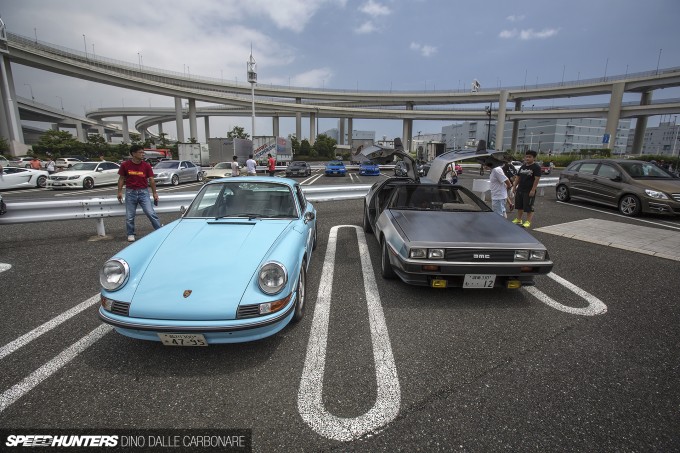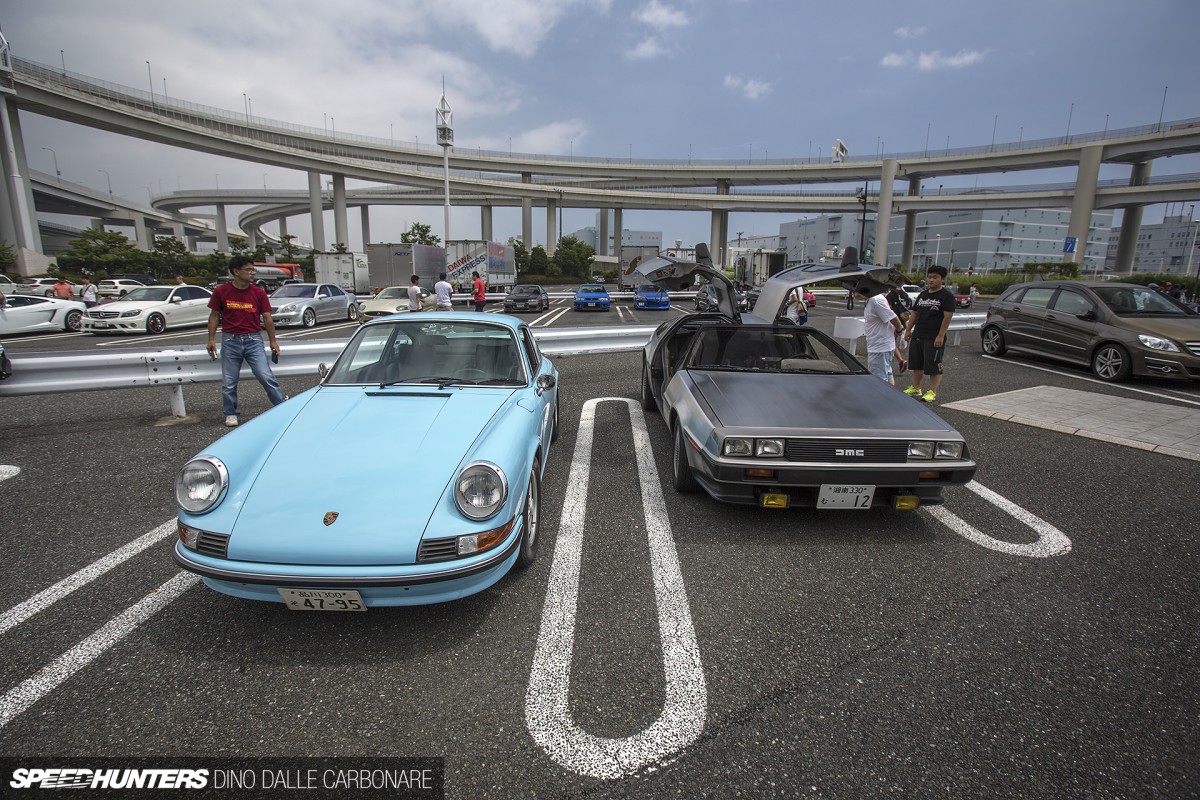 Of course, I have to say a few words about the DeLorean in the opening image. It turns out the car is a personal import, which its owner, after living in Milan in the late '90s, bought the car out of Switzerland and shipped it off to Japan once he returned.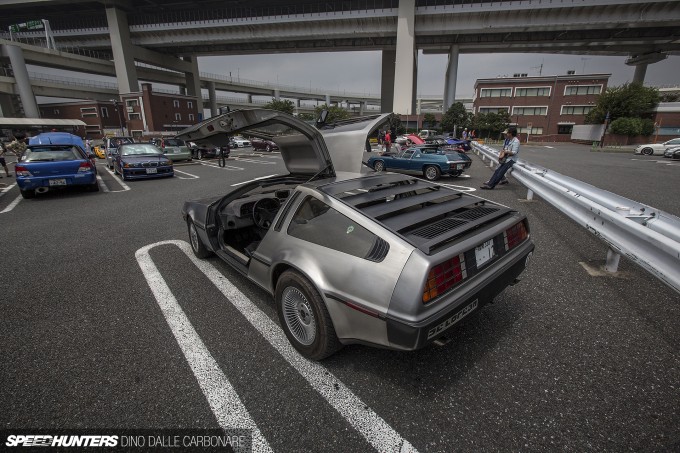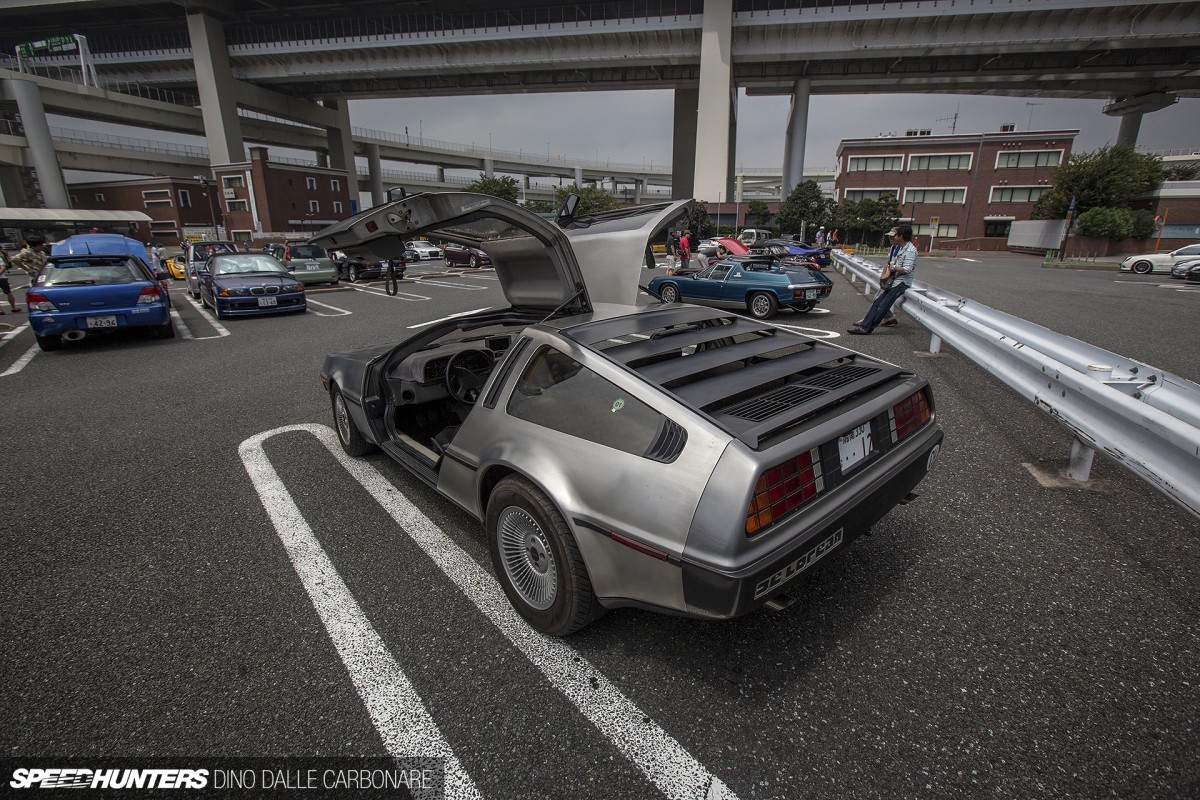 The coolest thing of all is that the owner spoke pretty decent Italian and told me the story in that language. Having just come from Italy two days prior, and still being jet-lagged, it was both strange and awesome at the same time.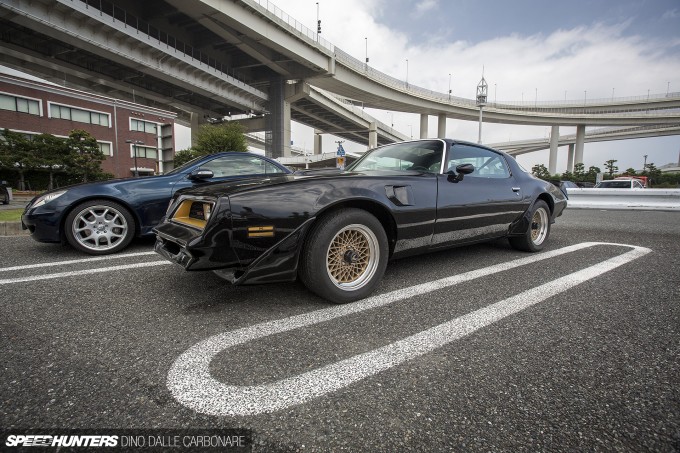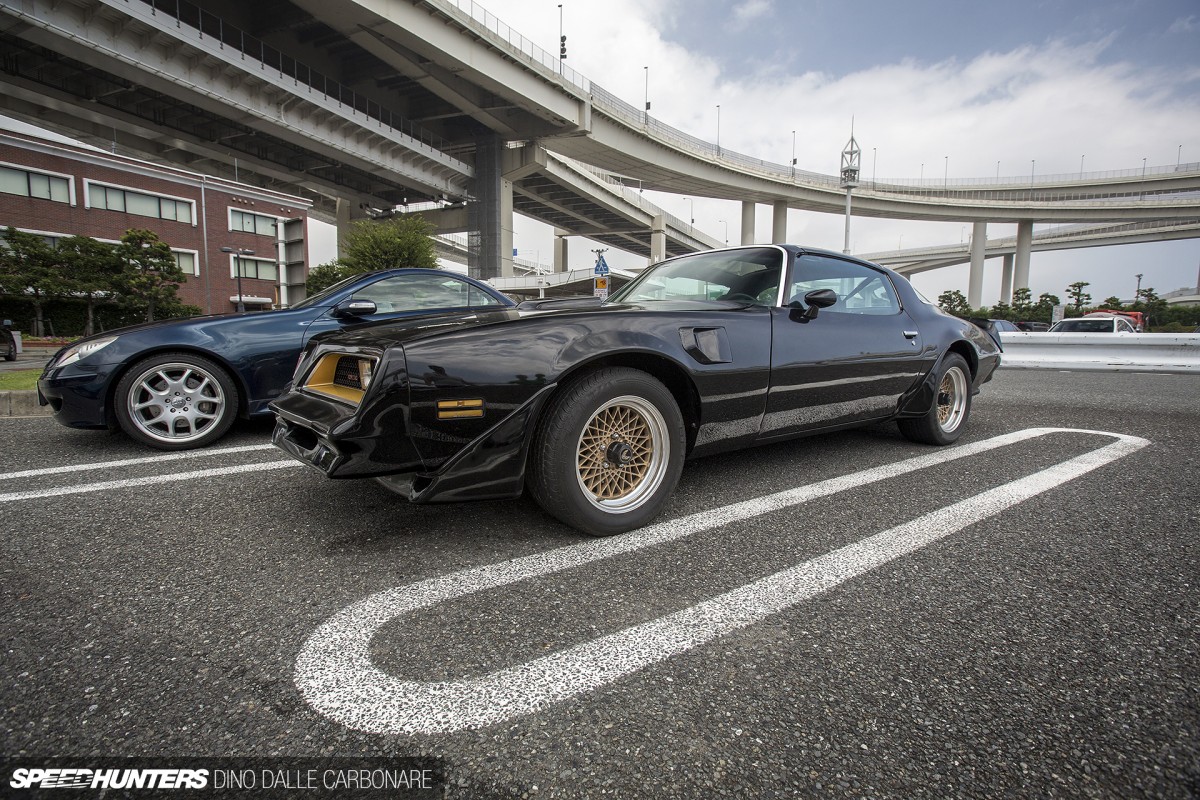 I shot so many pictures I think I could go on for a lot longer, but I'll stop right here and finish up with this image of a Pontiac Trans-Am – an American addition to what was one of the most satisfactory Daikoku PA meets since the massive super car gathering in early January. It's definitely good to be back in JDM-land!
Dino Dalle Carbonare
Instagram: speedhunters_dino
dino@speedhunters.com