Never Ending Energy
Gatebil just never disappoints. It was two years ago that I first headed to Rudskogen Motorsenter in Norway, and on the flight over to this year's event I couldn't help but wonder if I'd even begin to be as impressed and wowed as I was the first time around. Obviously, the initial impact can't be there any more – that's something you experience only once – but that said, would the level of cars, driving and overall atmosphere still manage to get me all excited?
In retrospect it was a somewhat stupid question to be asking myself, because if there's one thing you can count on, it's the Scandinavians always trying to better themselves year after year. Some of the feature cars we selected and shot are the perfect example of that…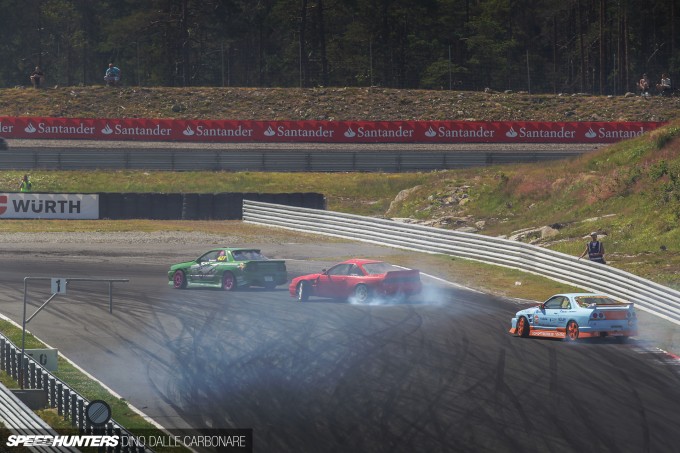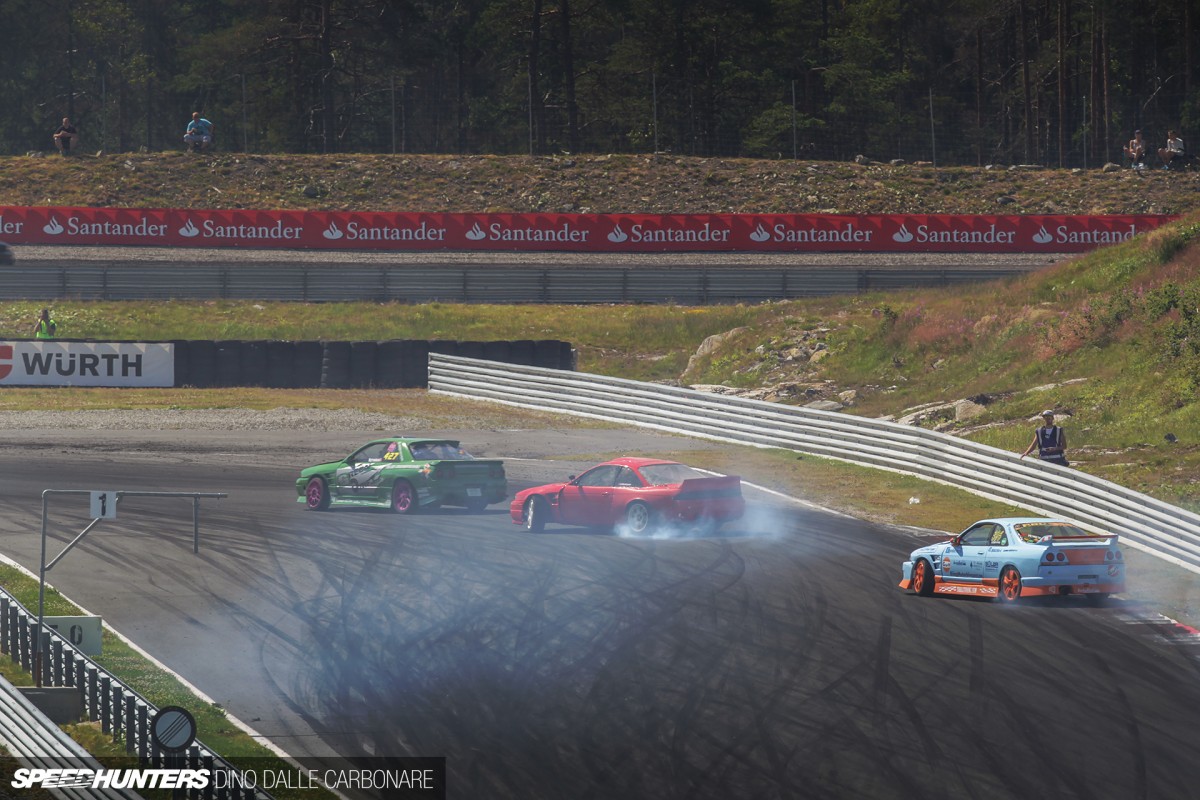 From the moment I set foot at the track late on Thursday afternoon the energy was already electric and a good indication of what the whole weekend was going to be like.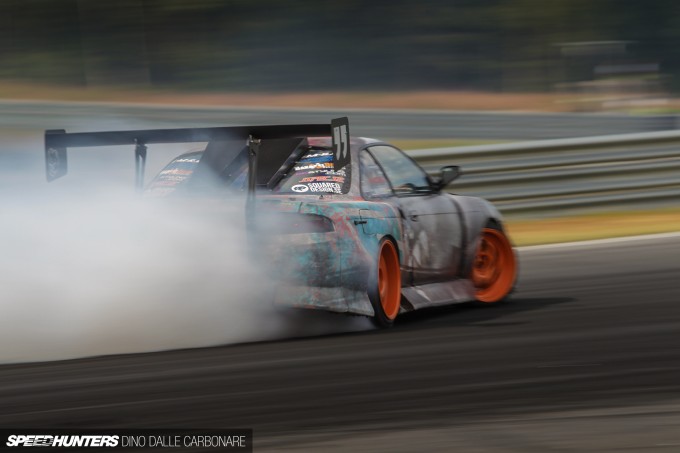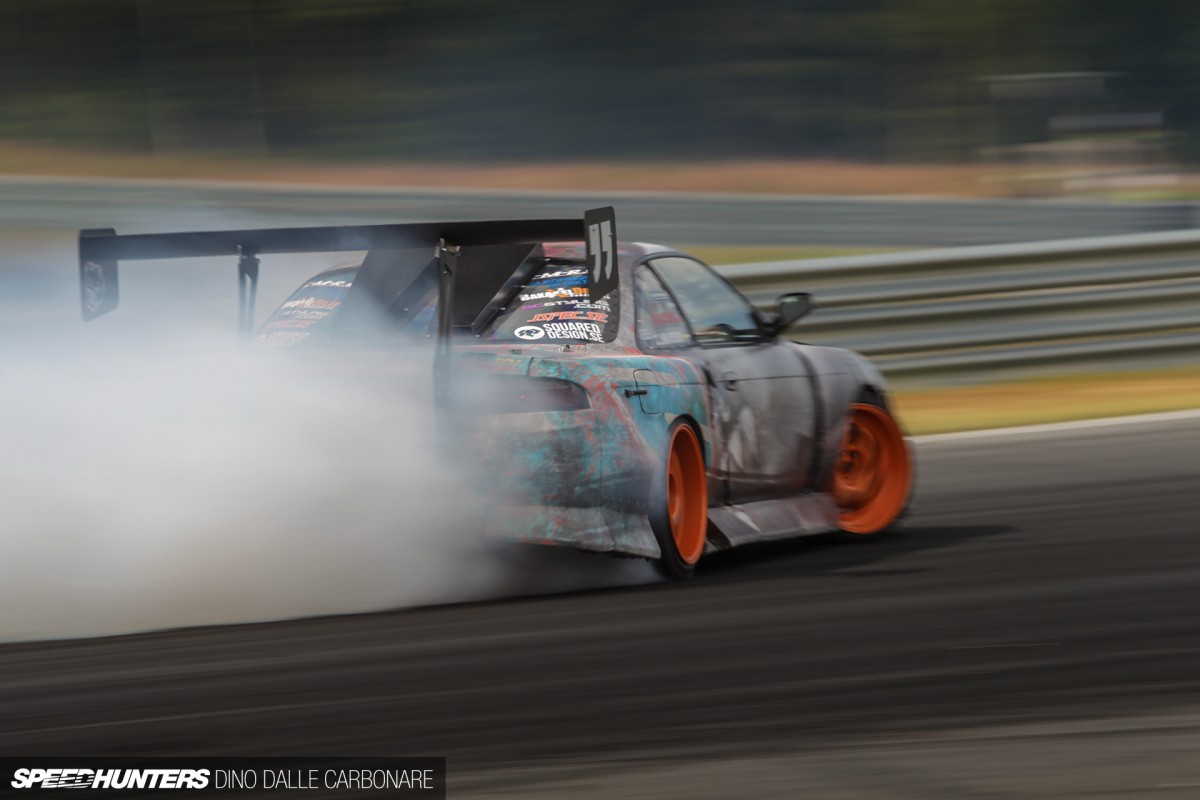 This is one event that people plan way in advance for. It's a chance to get your fix out on track, relax with your friends, get some serious partying done at night time and then start all over again the next day.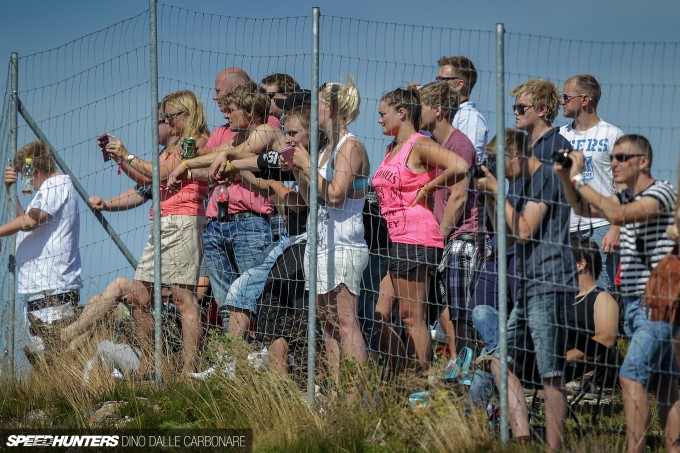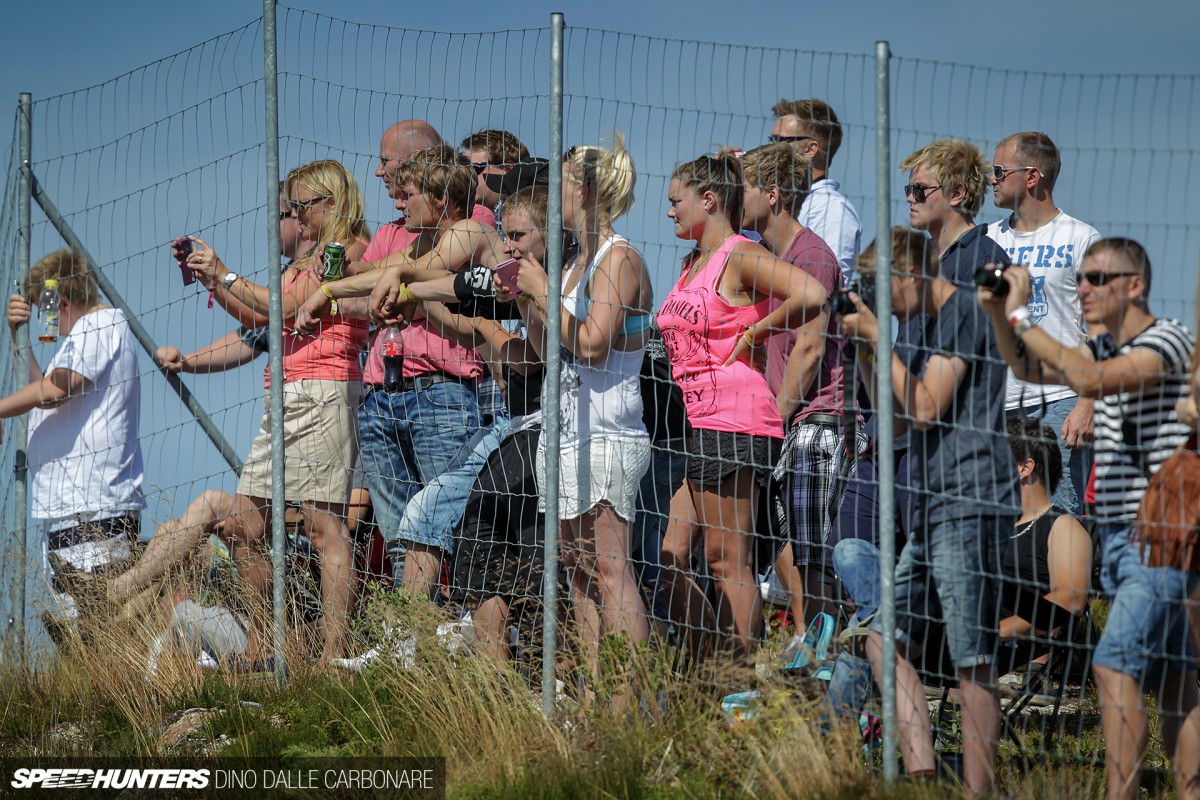 The show brings out a ton of people of course, and this year there was talk of crowds being 50,000-strong. After walking around the two paddocks and all the areas in between, that seemed to be a pretty accurate number.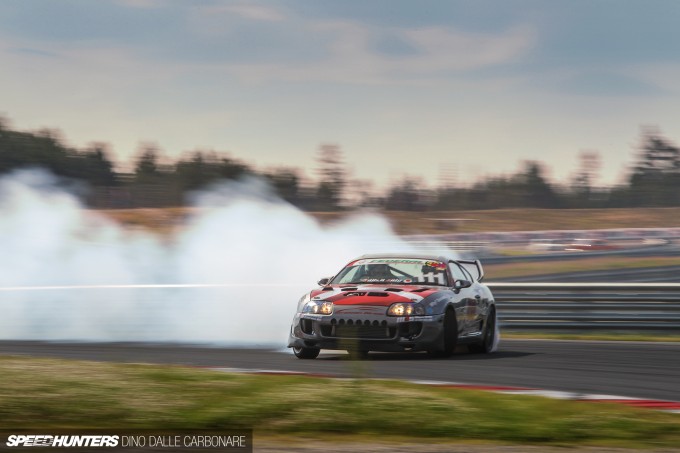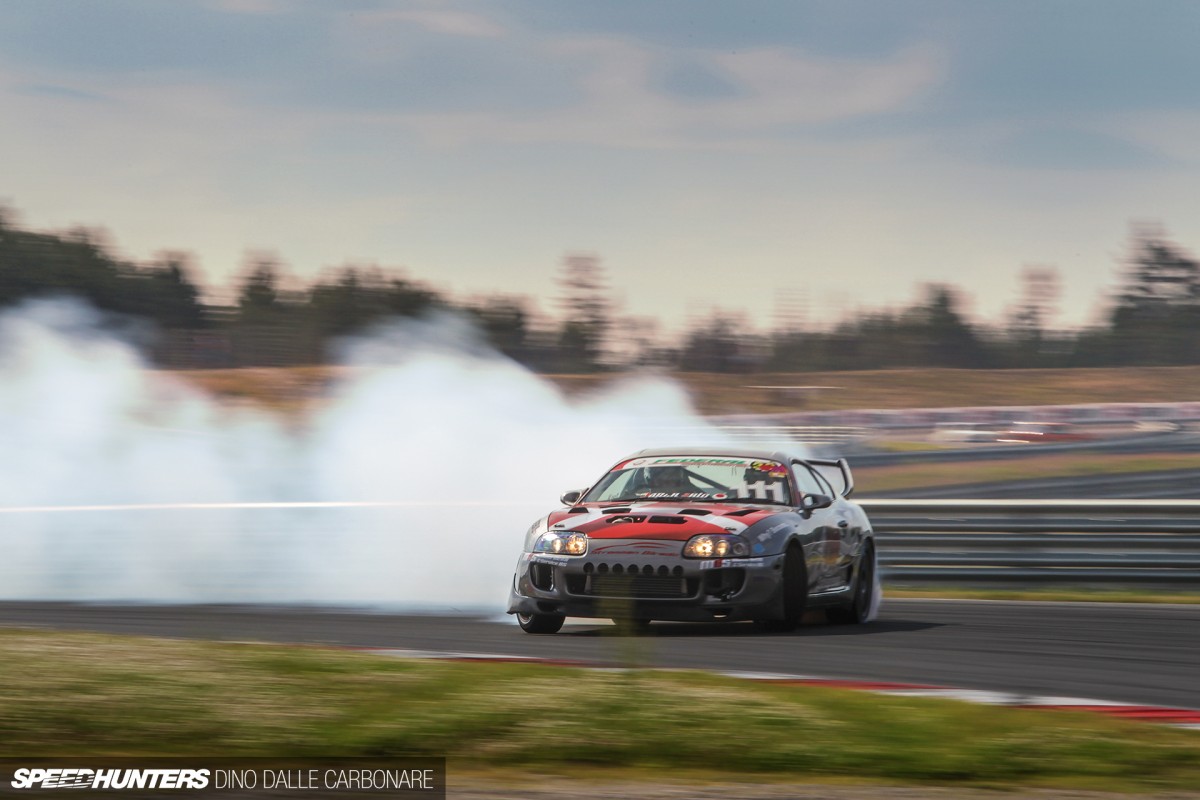 Starting at 8:00am there is constant action out on track; drivers unleashing all the might their cars can muster and not afraid to go through a couple of sets of tyres per session. And this pretty much doesn't stop until 8:00pm, which in Norway at this time of year means it's still very much light – adding an even more special feel to it all for those of us that make the trek over from various countries around the world.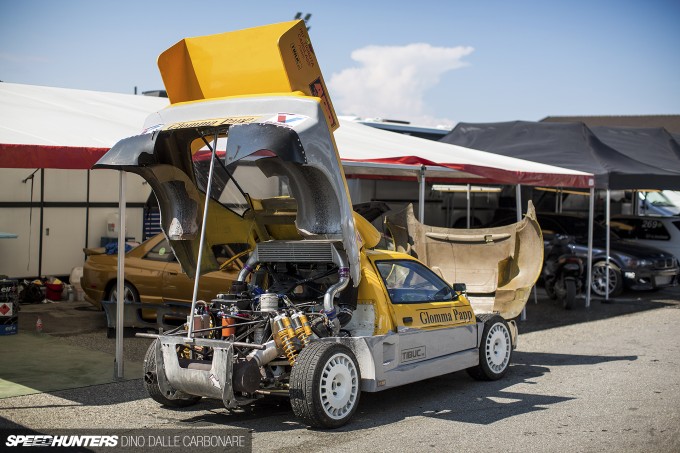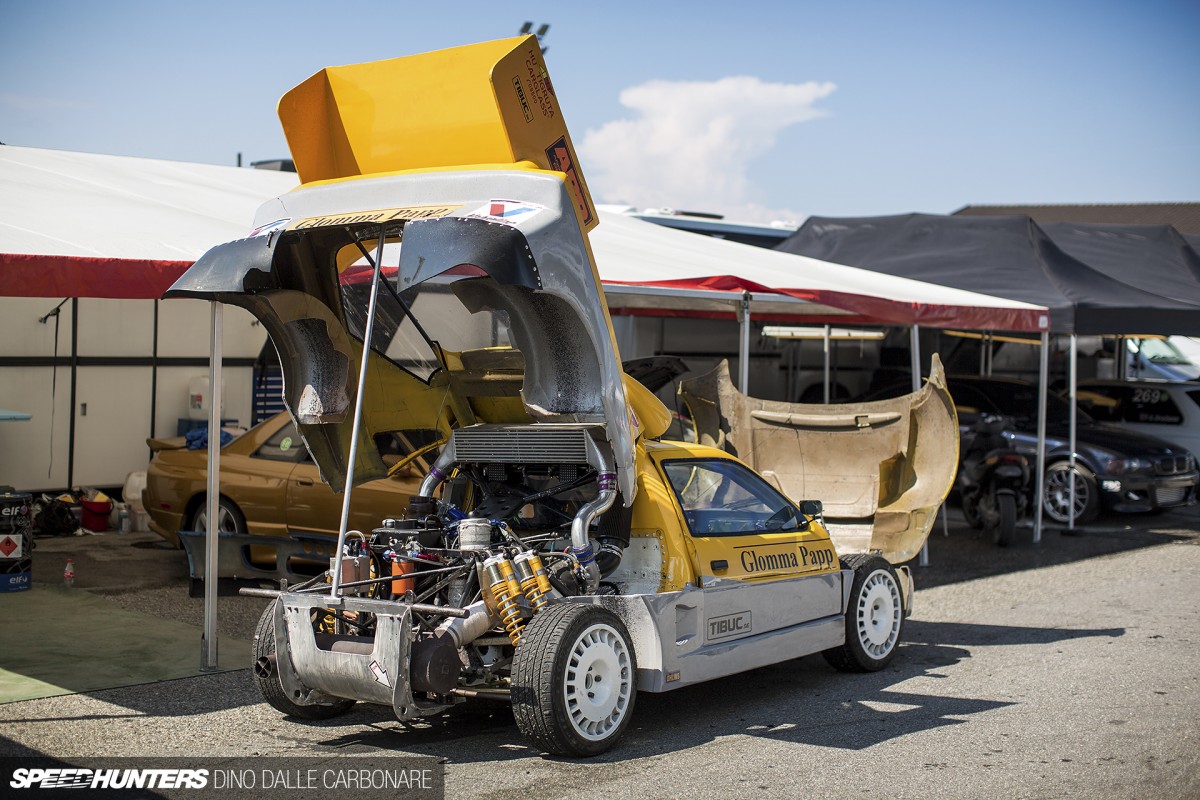 While watching cars going sideways throughout the day is a fun exercise, curiosity always makes sure that I spend the majority of my time in the rows upon rows of cars. There are four main areas at Rudskogen, starting off with the main paddock where the bigger booths are set up, followed by a dusty gravel area equally filled to the brim with more home-built creations. From there you take a short walk down to the go-kart track which is a great place to check out the more street-oriented cars that people drive to the event in.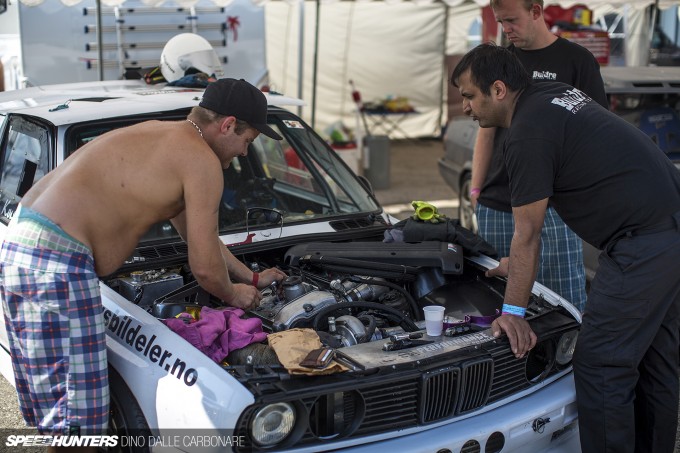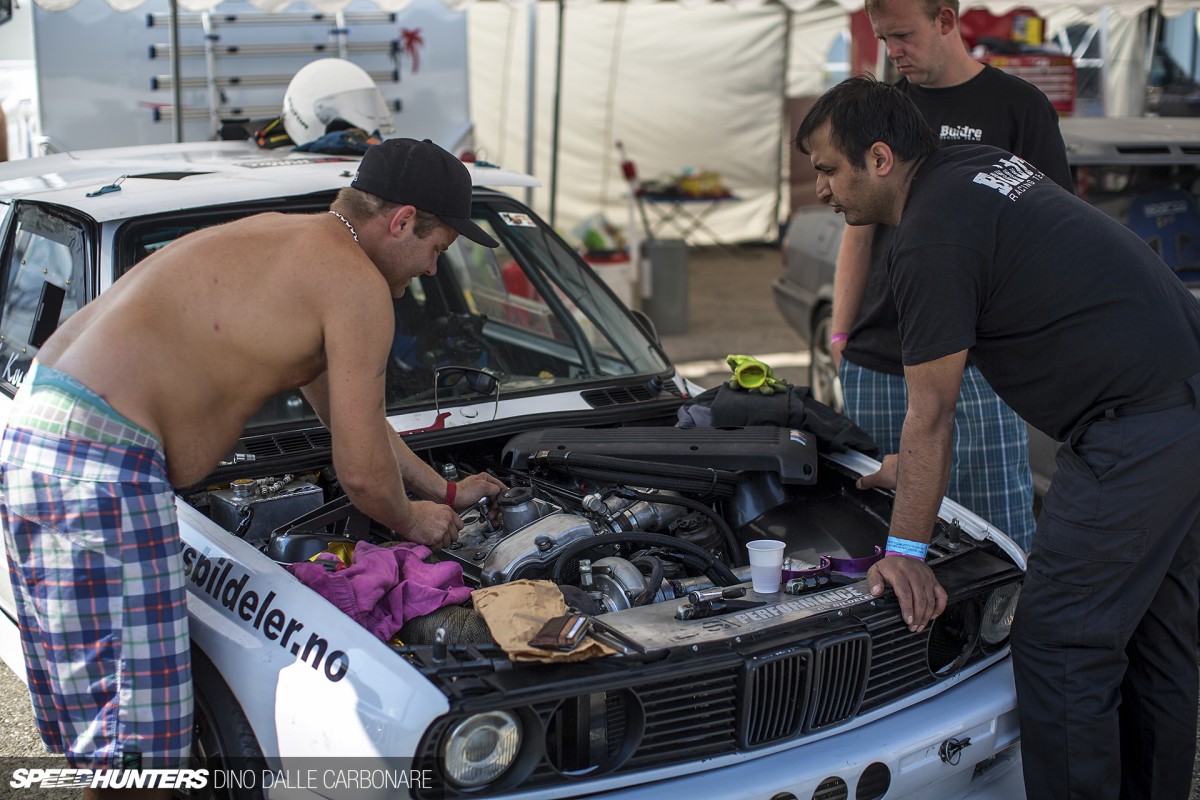 Finally there's the smaller paddock/pit area, located a little before the track's last turn where a lot of the time attack cars can be found. It's here where you also find more cars that can simply be classified as, well, Gatebil builds. Think big turbos, superchargers, interesting engine swaps or a mix of all of the above. As long as you have 600hp to 700hp-plus, you're good to go!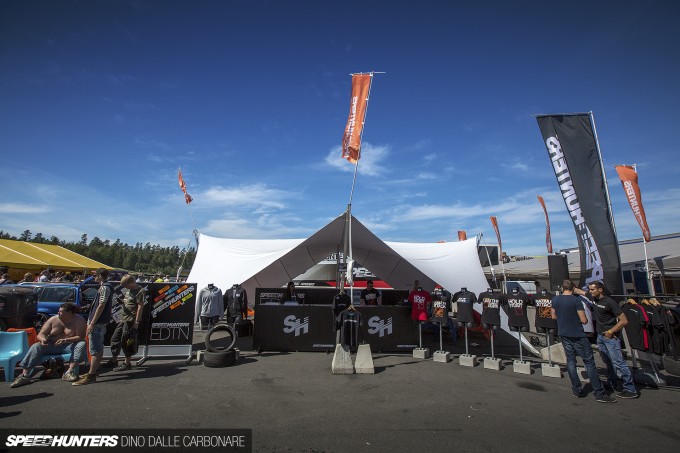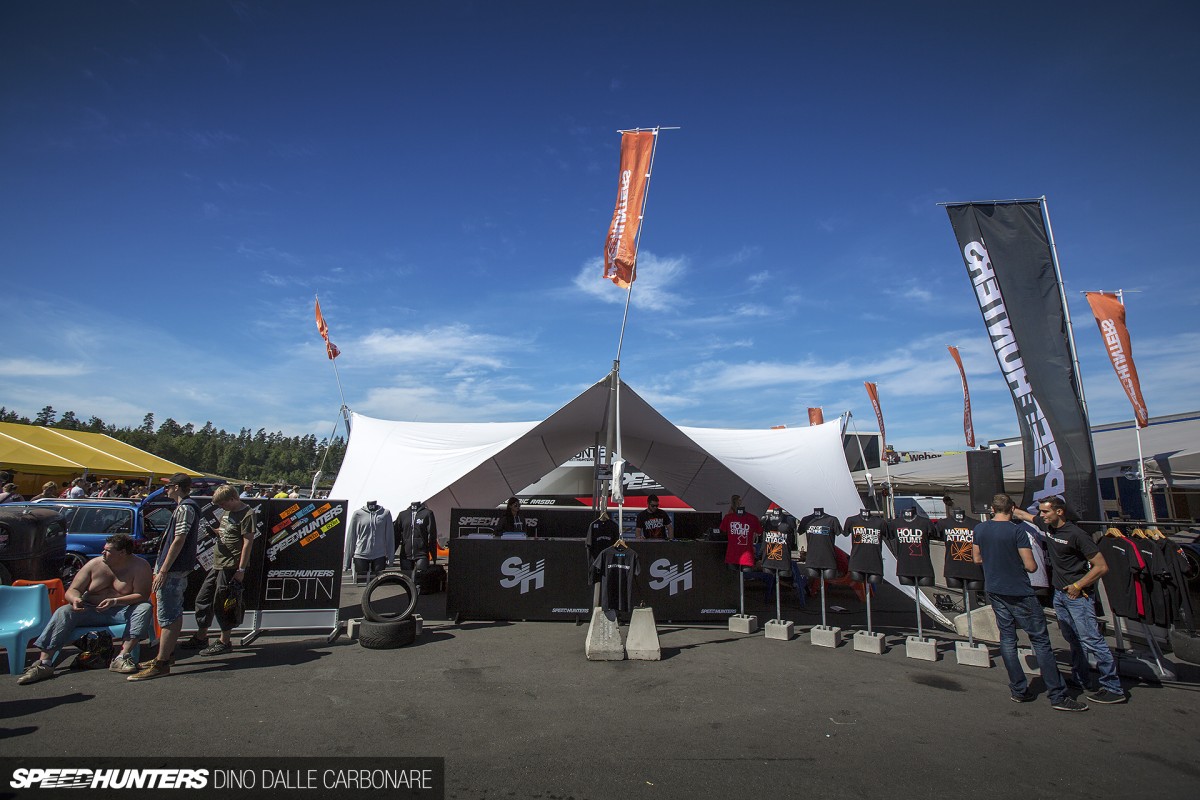 Situated right by the top access to the pit lane was the Speedhunters area; easily spottable thanks to the white canopy and the SH shop area right in front of it.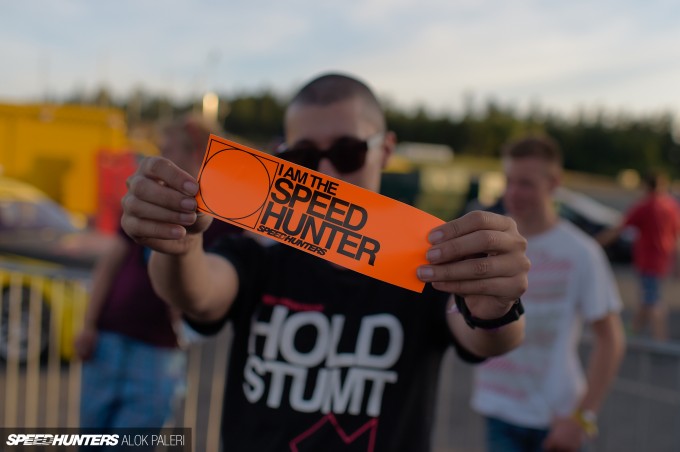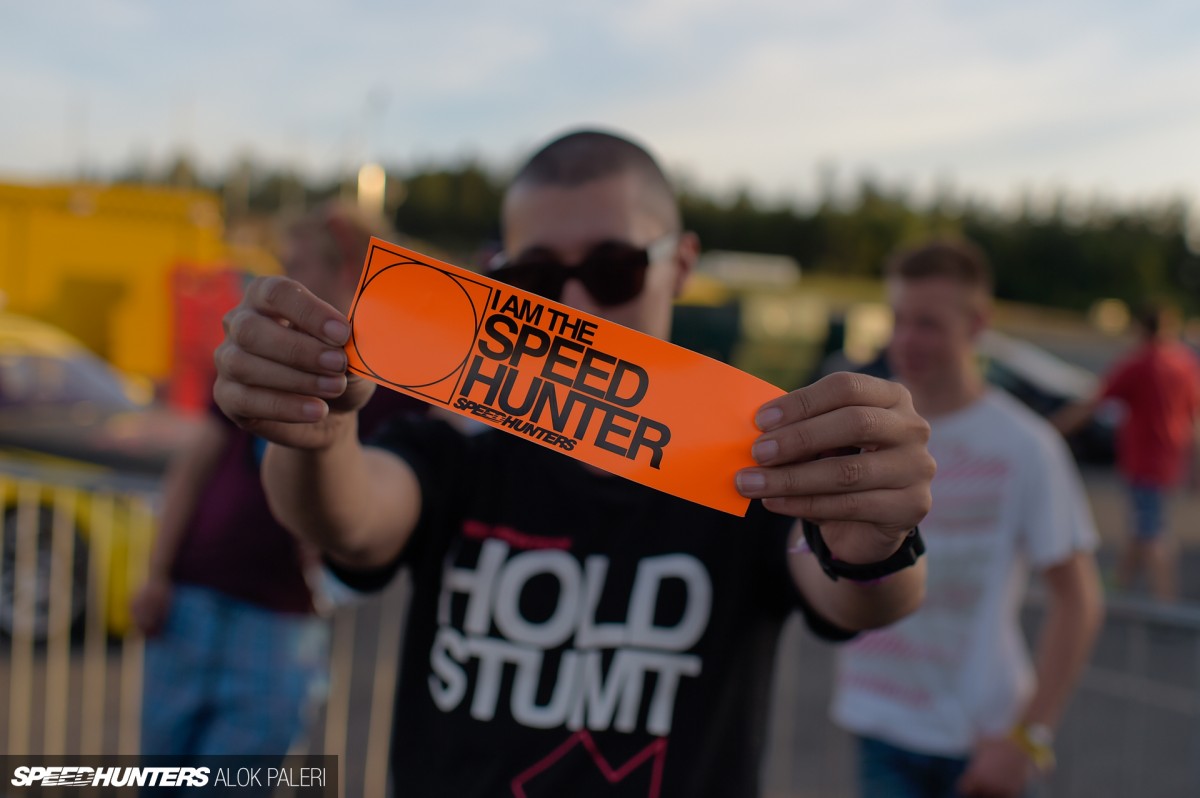 It was great seeing tons of people throughout the weekend stopping by to get their Speedhunters merch fix – everything from our latest T-shirts and hoodies to our top-selling stickers.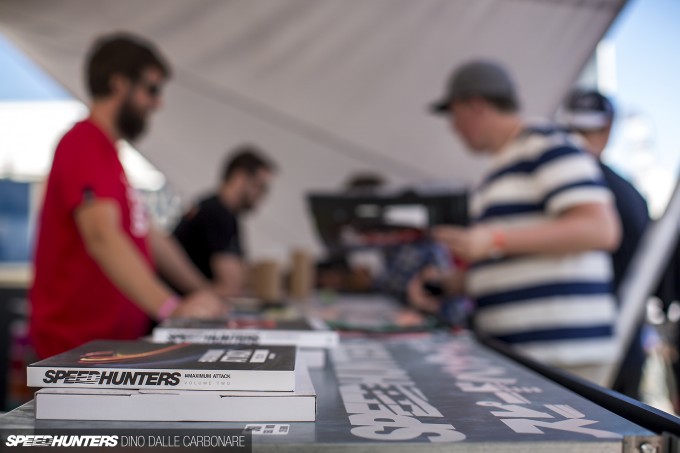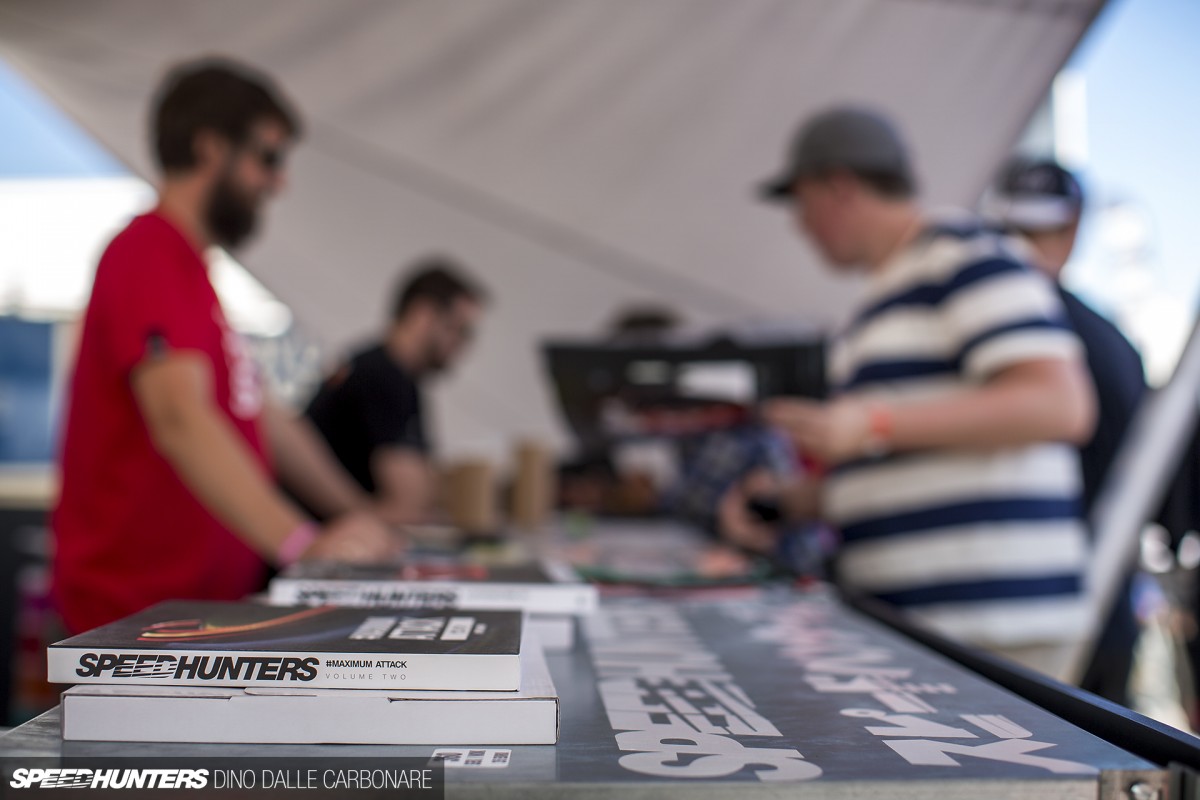 And as usual it was a great pleasure to meet our fans; chatting to them and seeing how much enthusiasm there is for Speedhunters. It was also cool that I got to sign a few of our photography books as well – always a great reminder of how amazing shots look when presented on glossy paper.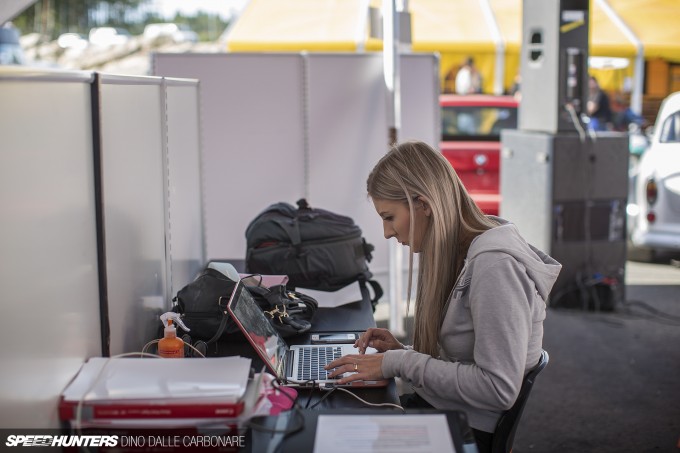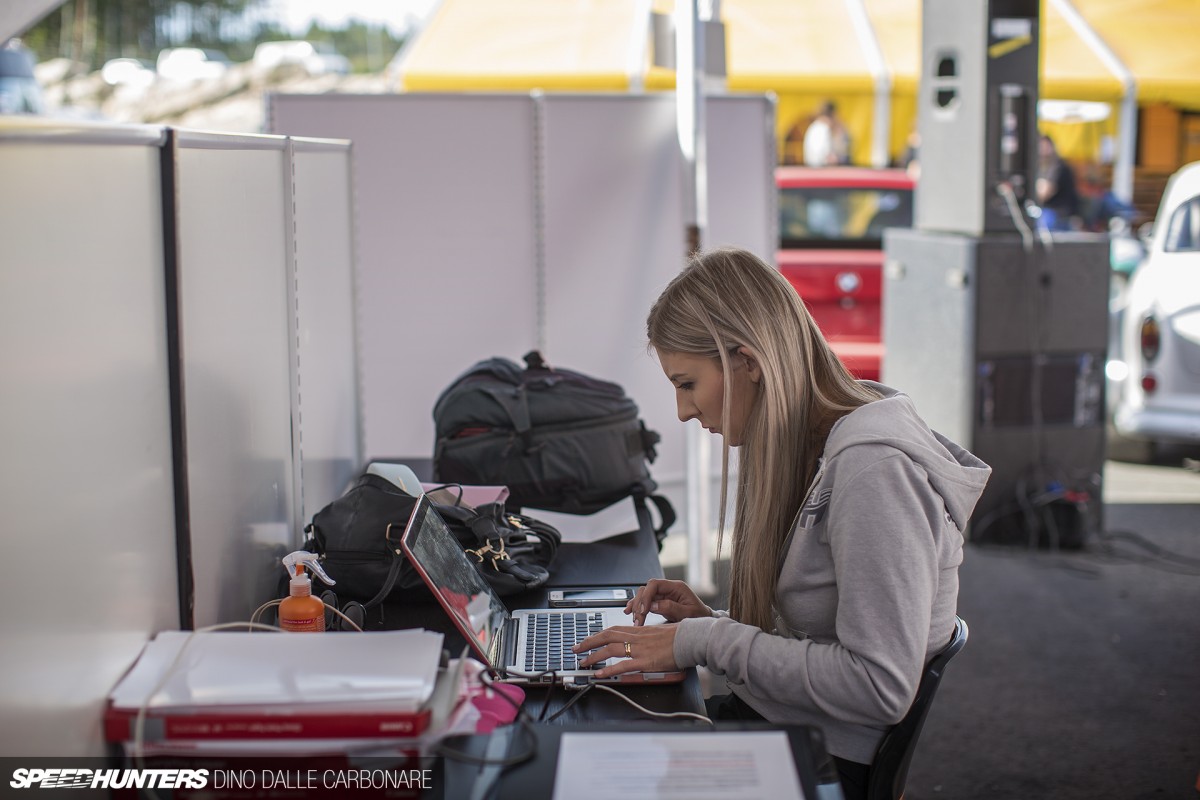 One of the busiest Speedhunters at Gatebil was Taryn. She was behind the #BecauseGatebil photo competition that we ran at the event, and spent much of her time printing out all the Instagram images that you guys uploaded with the appropriate hashtag.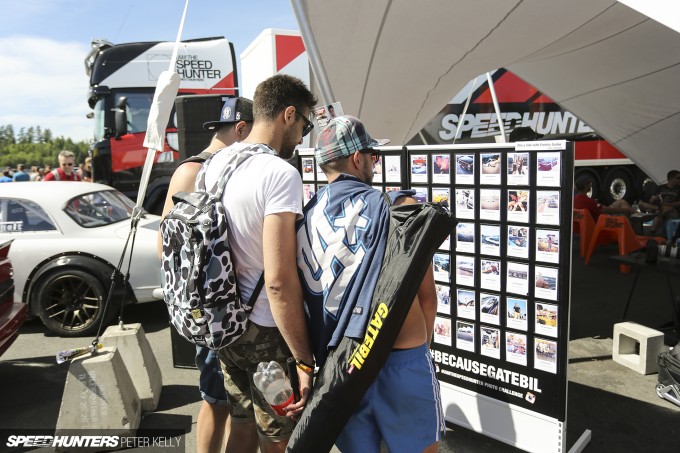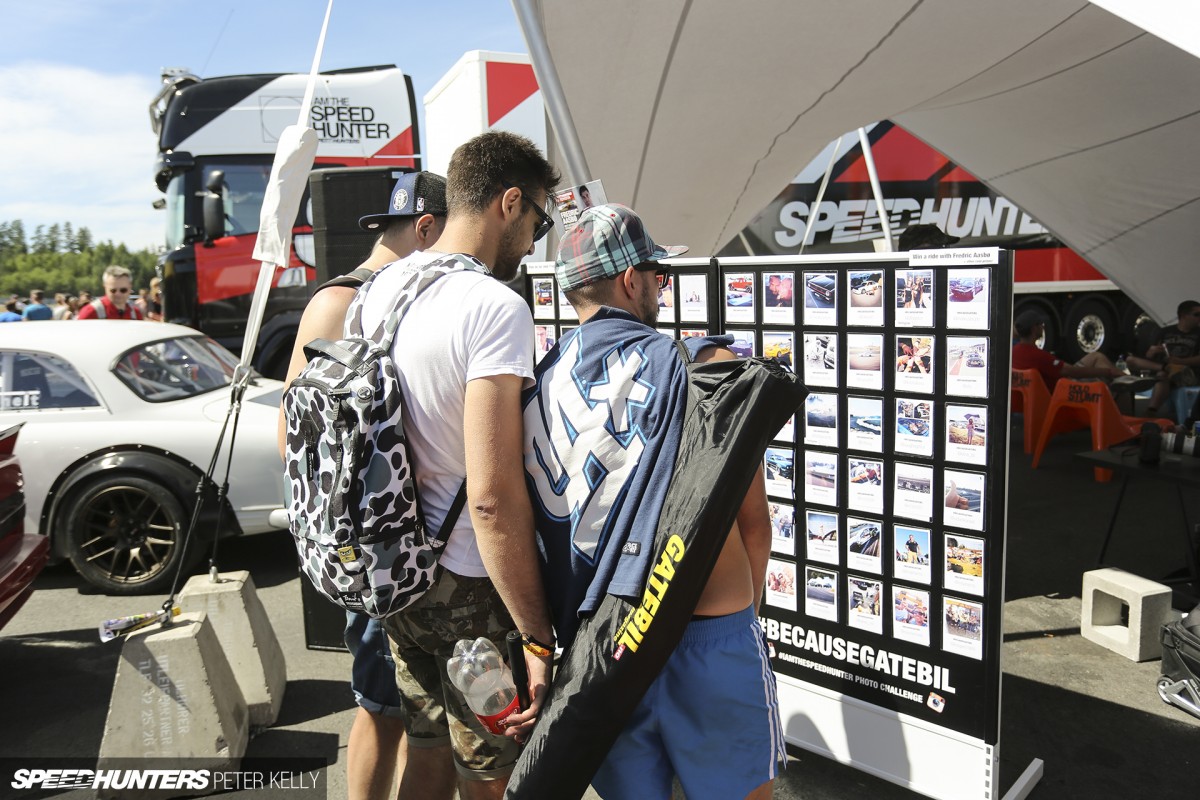 The display wall was continuously updated and every day we picked a winner who was awarded some special SH stickers.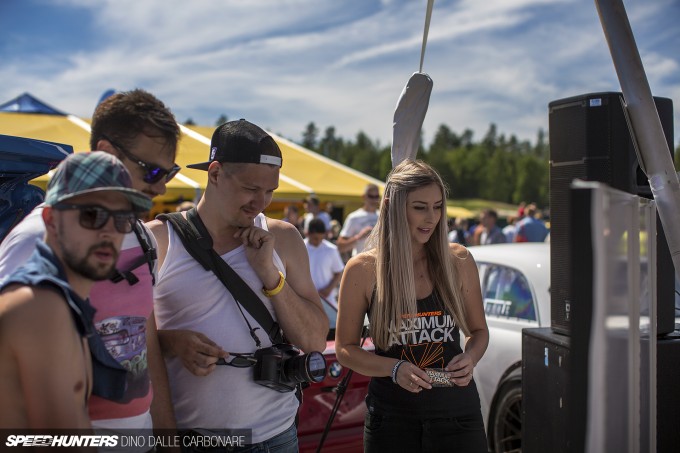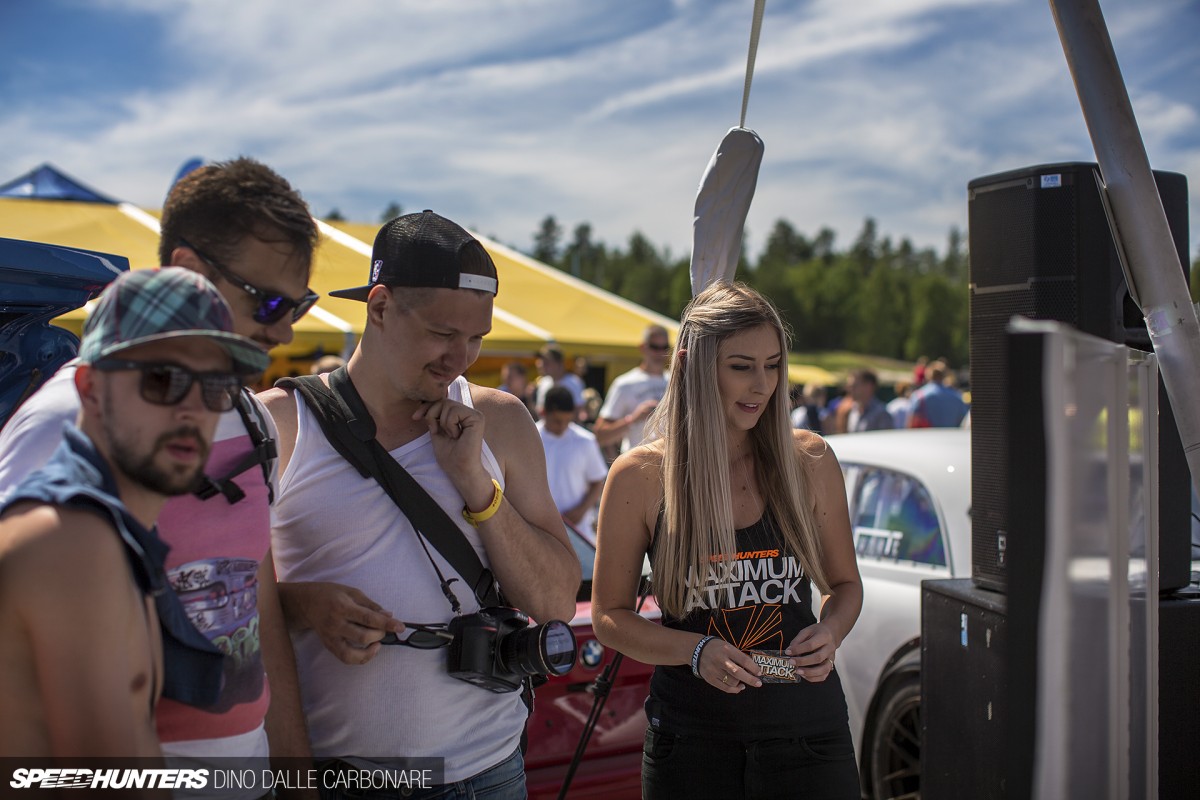 Taryn will be telling you more about the whole program in a separate post so make sure you check it out. It was a fun way to get you guys involved and another great way for us to meet more of you in person.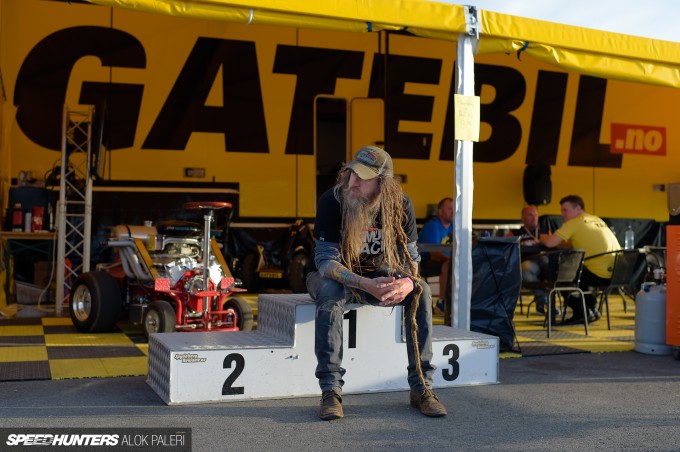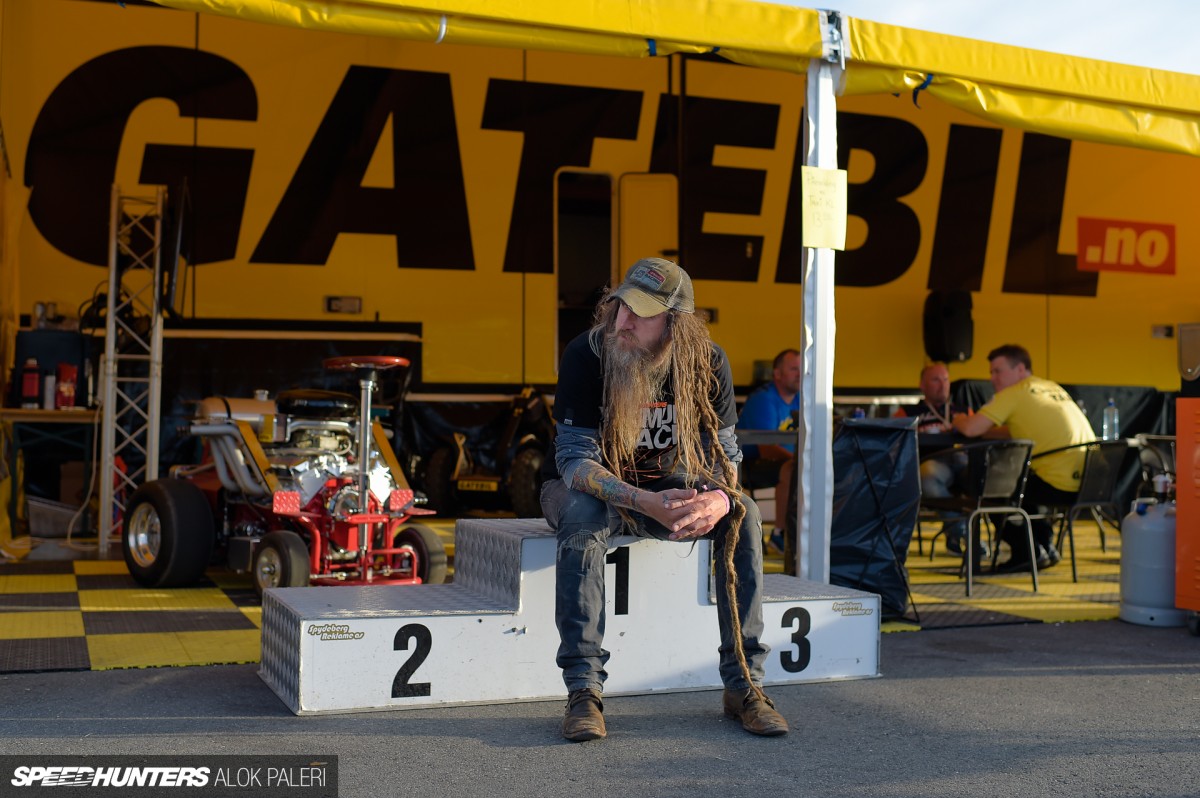 Our special VIP guest was responsible for keeping a steady stream of people passing through our tent. Magnus Walker of Urban Outlaw fame is probably one of the most down to earth and inspiring individuals I've met in a long time, and seeing him interact with all the guys and gals at Gatebil further emphasised his easygoing nature.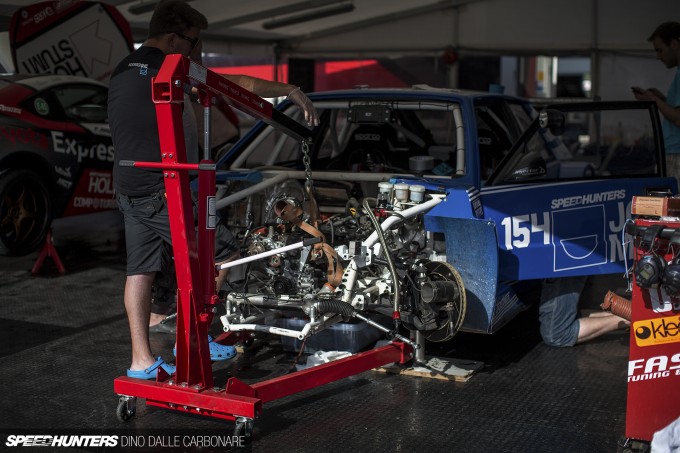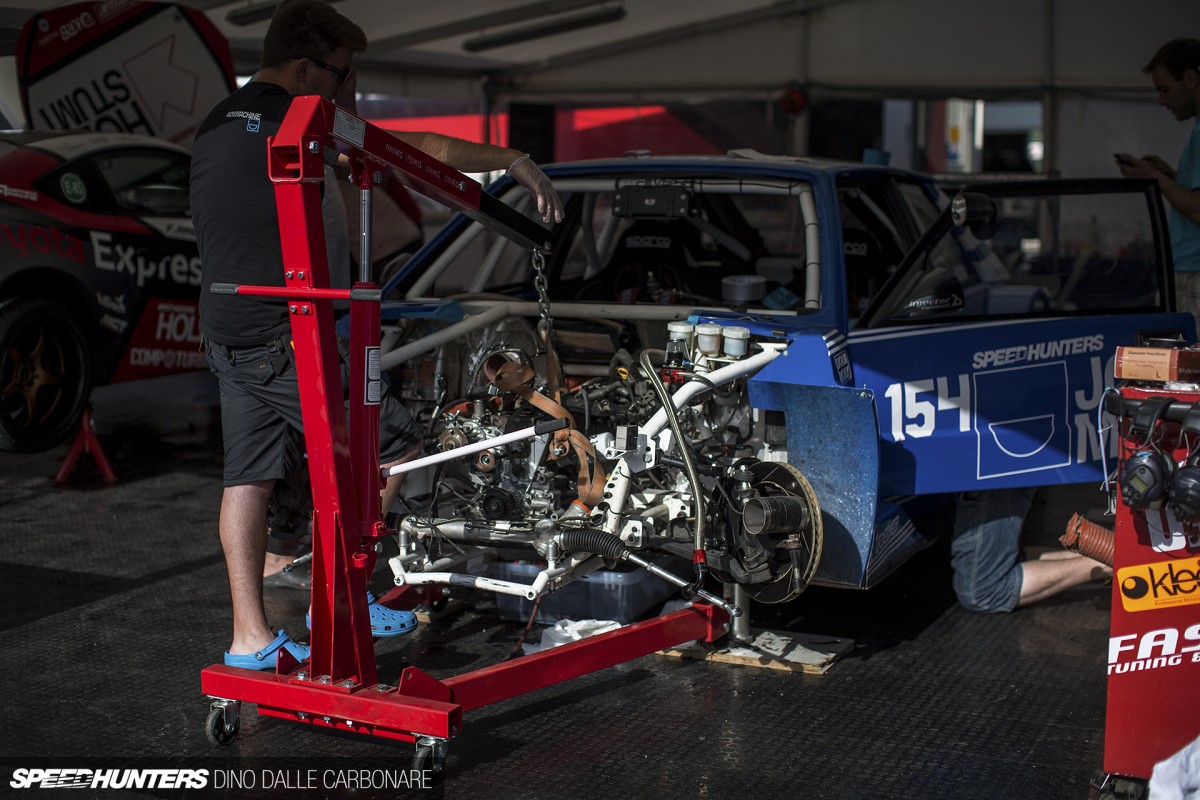 Alongside Fredric Aasbø's 86-X, Peter Pentell's LaSupra could also be found in our garage area. And just like the 2JZ in Fredric's car, the Toyota straight-six powering the wild tubular-frame project also suffered some issues during the weekend. Overnight, the warped head out of the 86-X was sent down the road to get resurfaced before being refitted (along with a new turbo) to ensure Fredric could entertain his fans for the rest of the weekend. Peter and his LaSupra crew worked overnight too; managing to source a 2JZ bottom end and miraculously fitting it back in the car in time to get a few more runs in the following afternoon.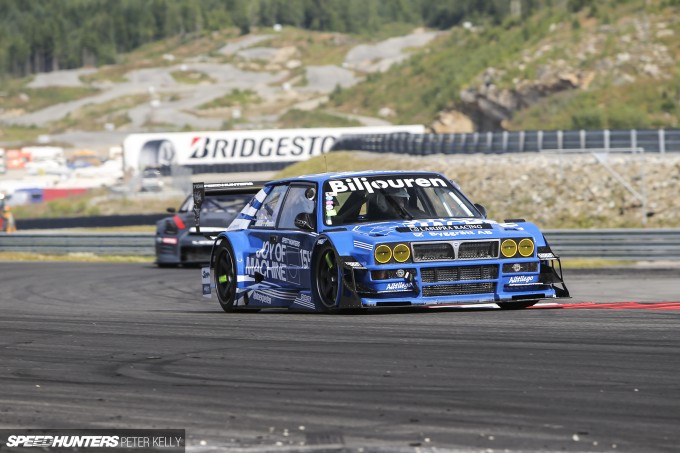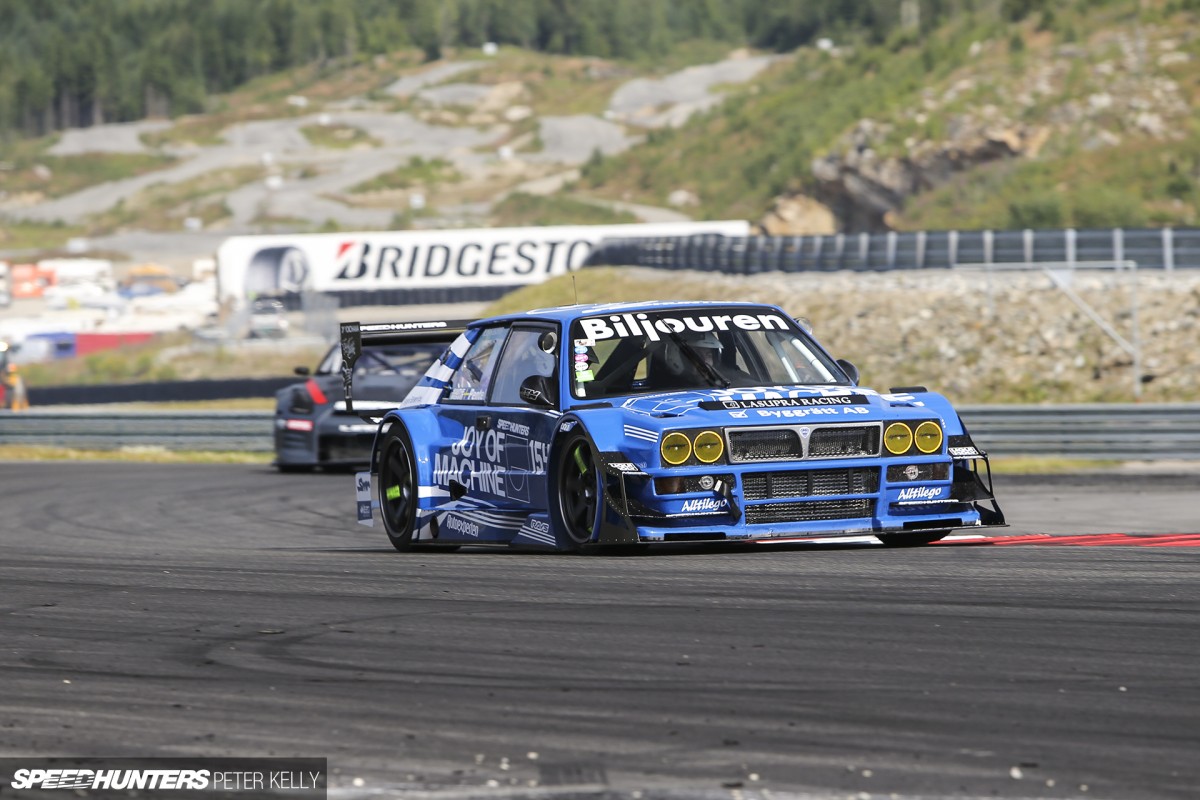 I love the way the car looks now with the blue Joy Of Machine livery, and the new RAYS Volk Racing TE37s are the perfect addition to really finish it all off.
Four-Wheel Drifts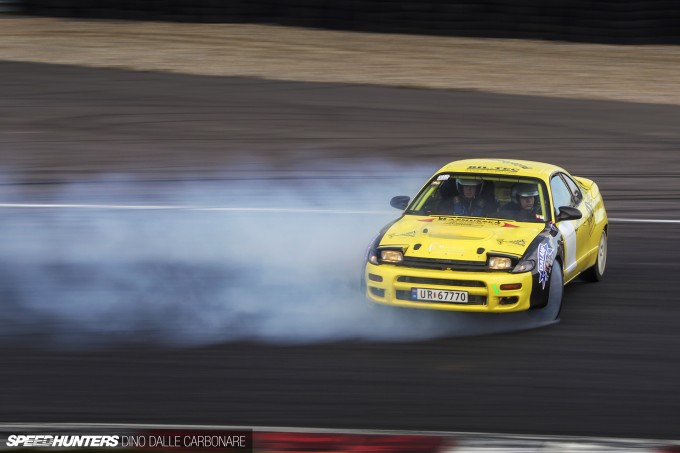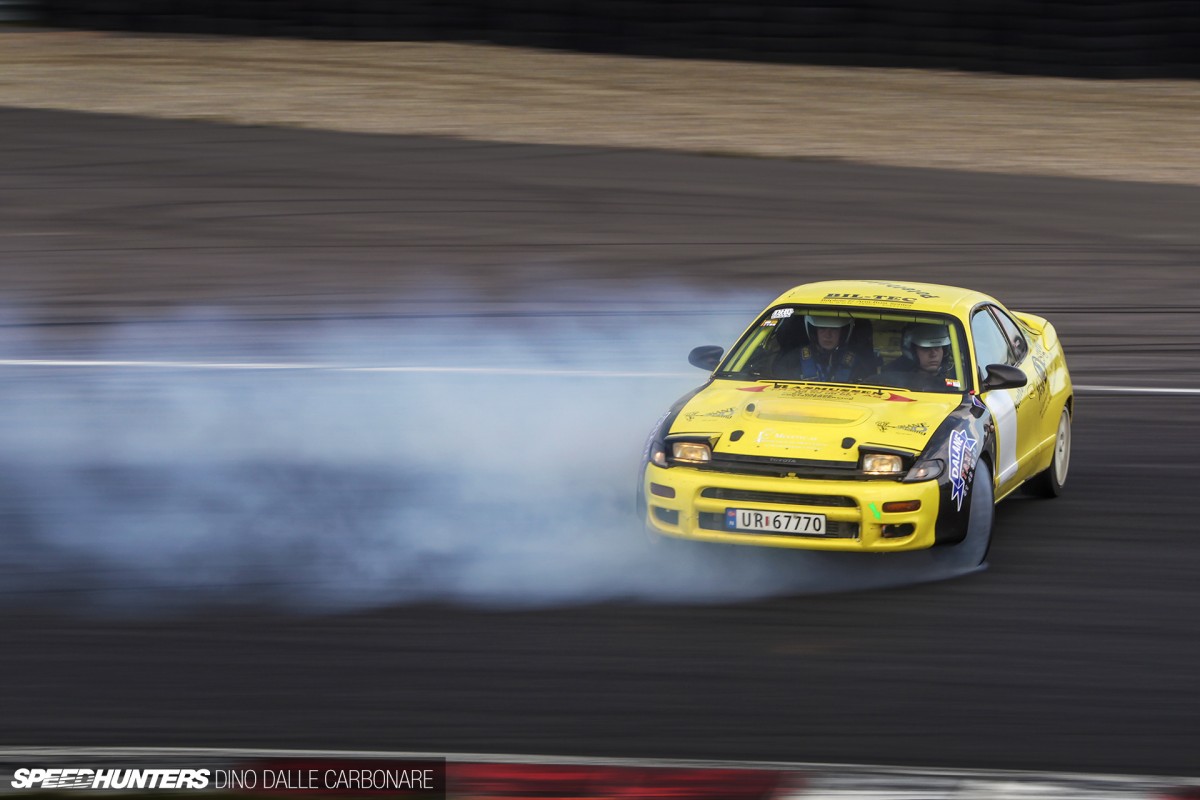 And since we have slowly drifted back into the action – see what I did there – there is always one element to Gatebil that is very special to me: four-wheel drifting. There are only a handful of cars that actually do this at these events, but this was the first time I saw this Celica GT-Four show off just how much fun you can have when you've got too much power under the throttle pedal.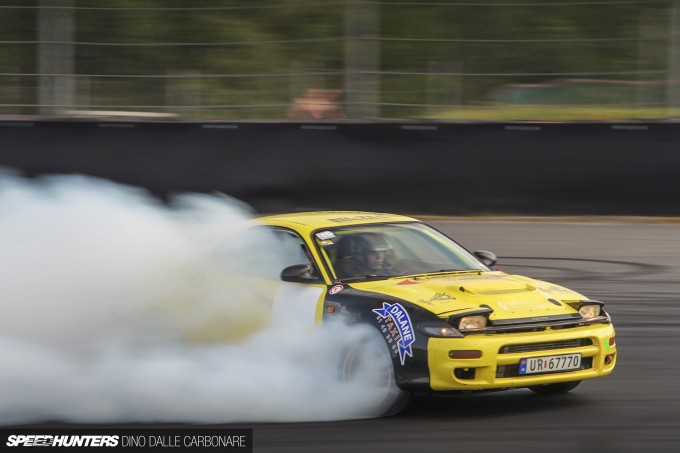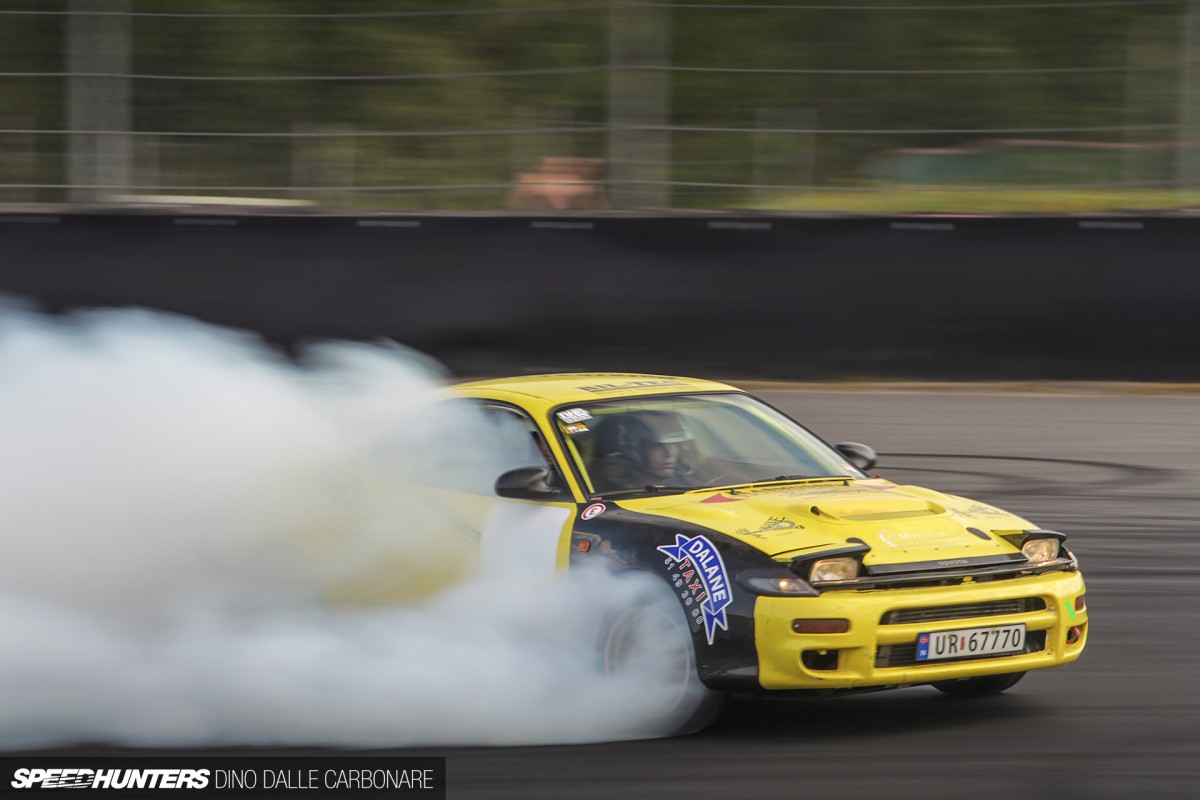 Truly epic stuff!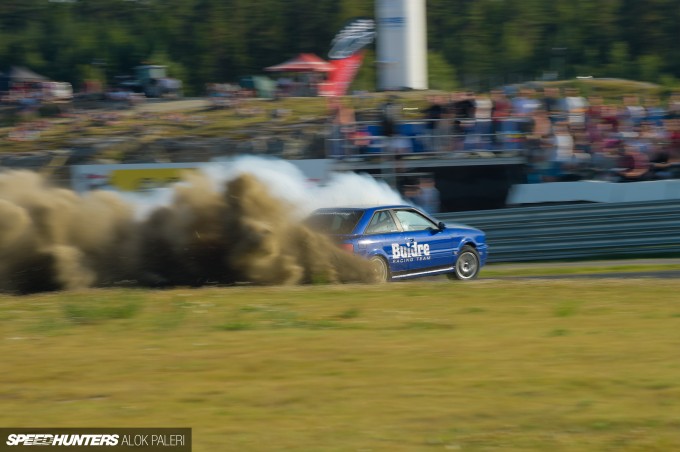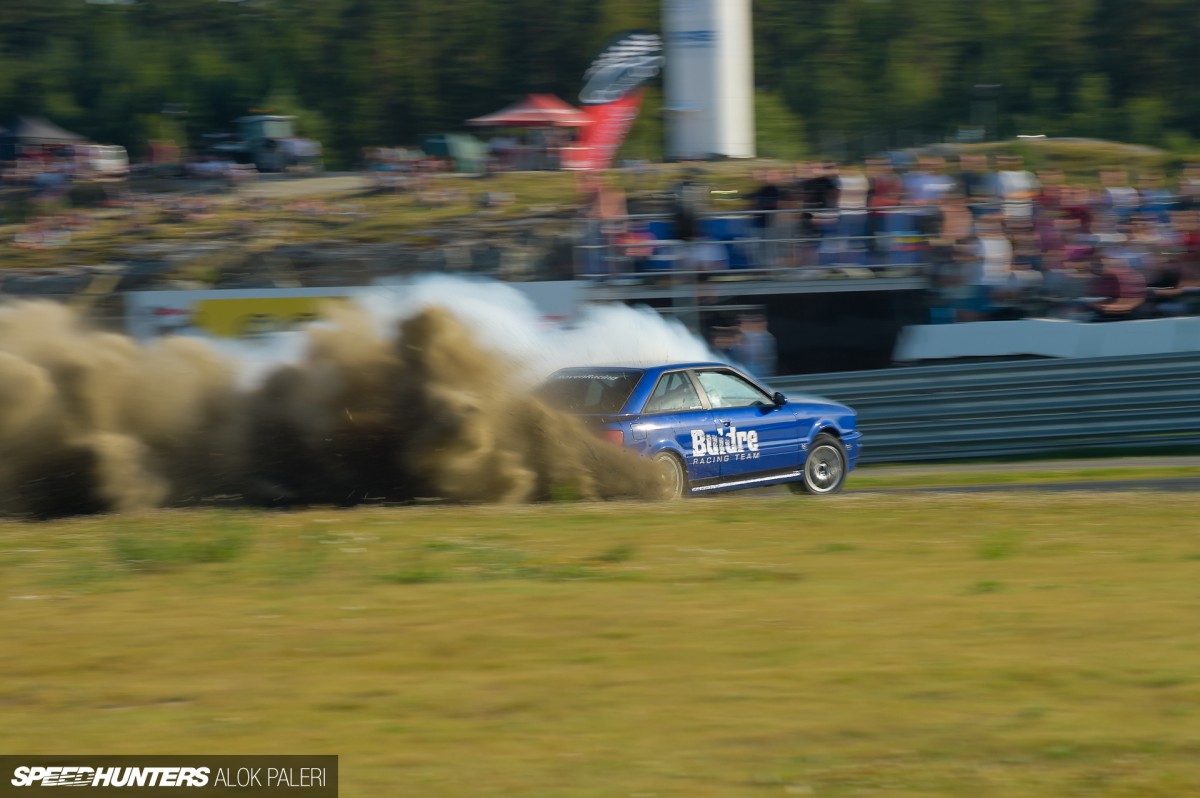 Of course, it's usually the Audis that dominate this rather cool discipline. I reckon they should have a four-wheel drift competition in the future – maybe it'll even encourage more of these crazy builds…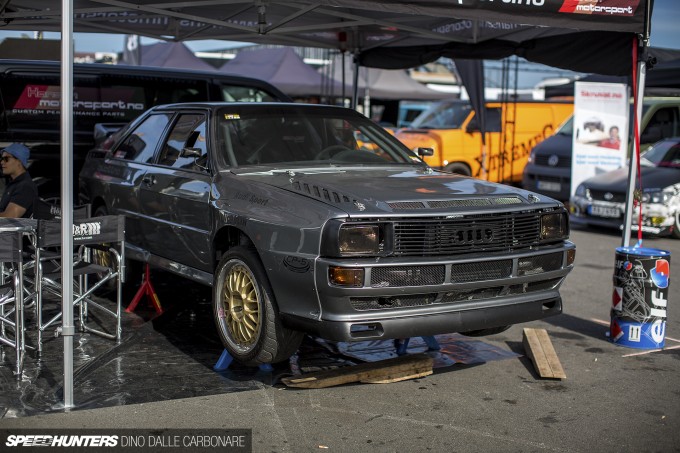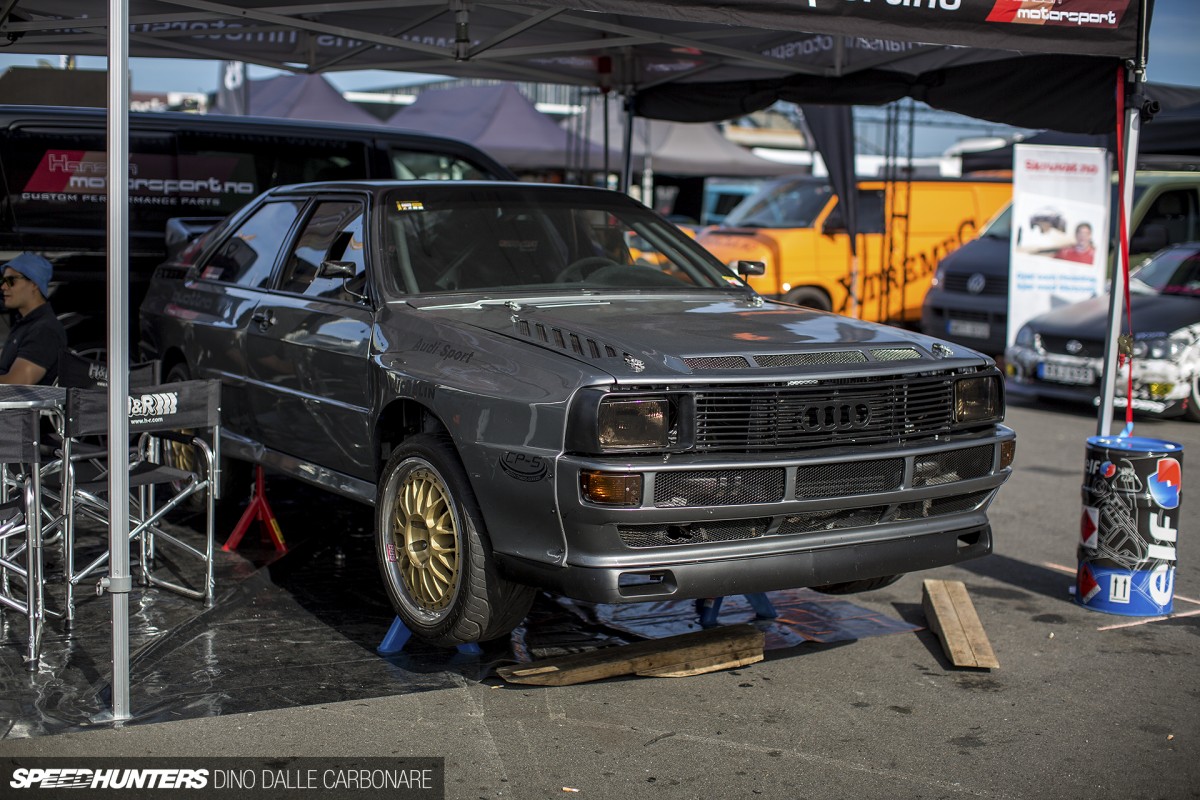 Remember that rather wild Audi 80 owned by Reidar Mjelde that I shot last year in Mantorp? Well, this is Reidar's brother's car, and was featured by Paddy back in autumn. That coupe body made it an instant favorite, but due to an engine seizure during the event it wasn't able to get much time out on track.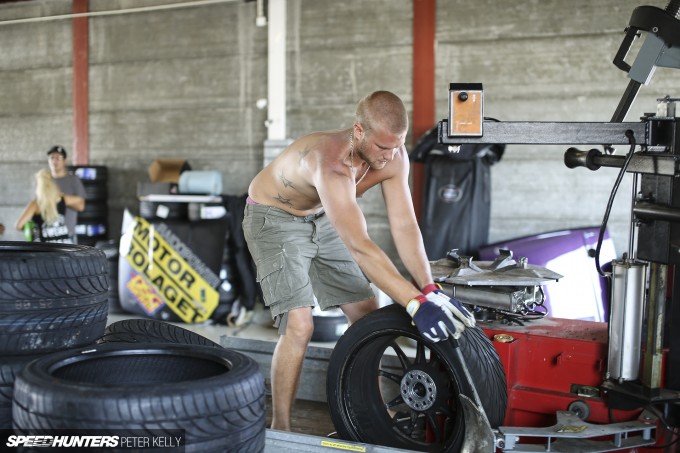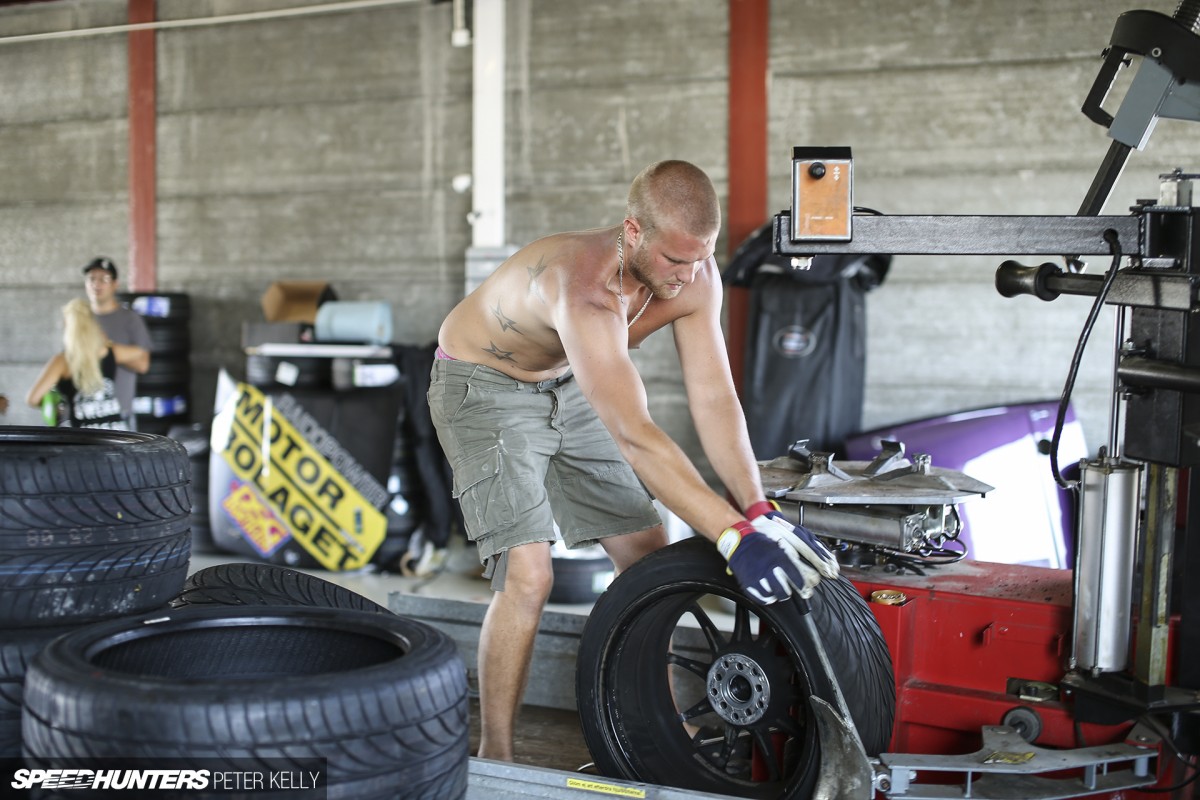 Participating in an event like Gatebil obviously means your car is put through some serious abuse, which means that at the very least you will be spending a considerable amount of time fixing things, changing wheels and/or tyres. If you're lucky, that is.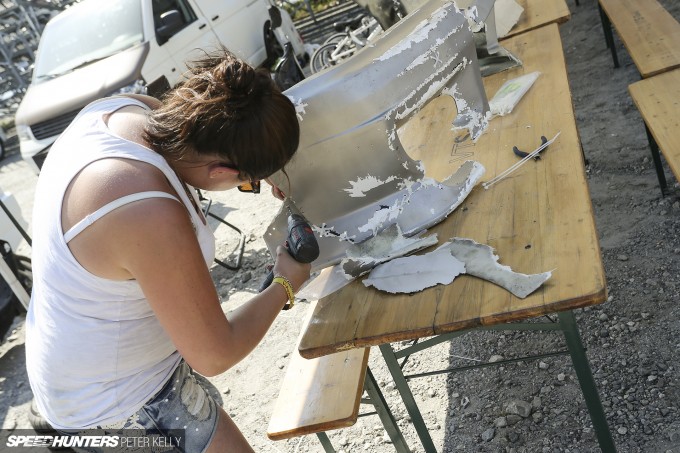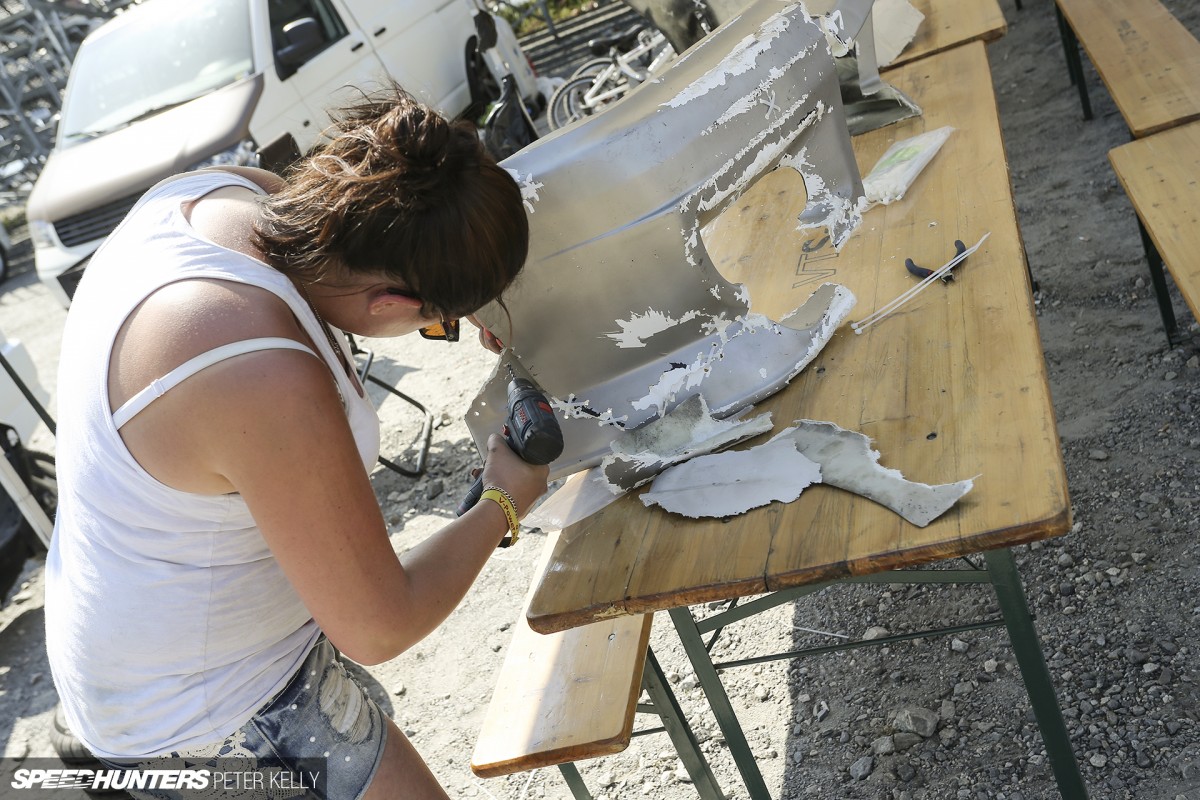 Damage is almost unavoidable – especially if you are really there to have proper fun. Aesthetic flesh wounds can easily be patched up with a bit of patience or some spare parts – or as we see here – with some creative use of a drill and zip-ties.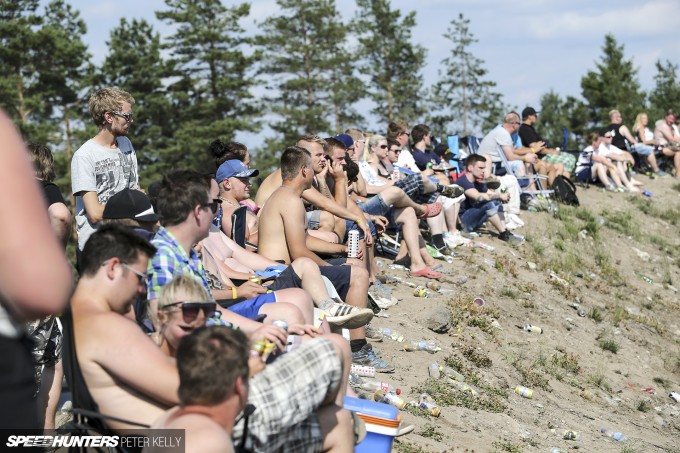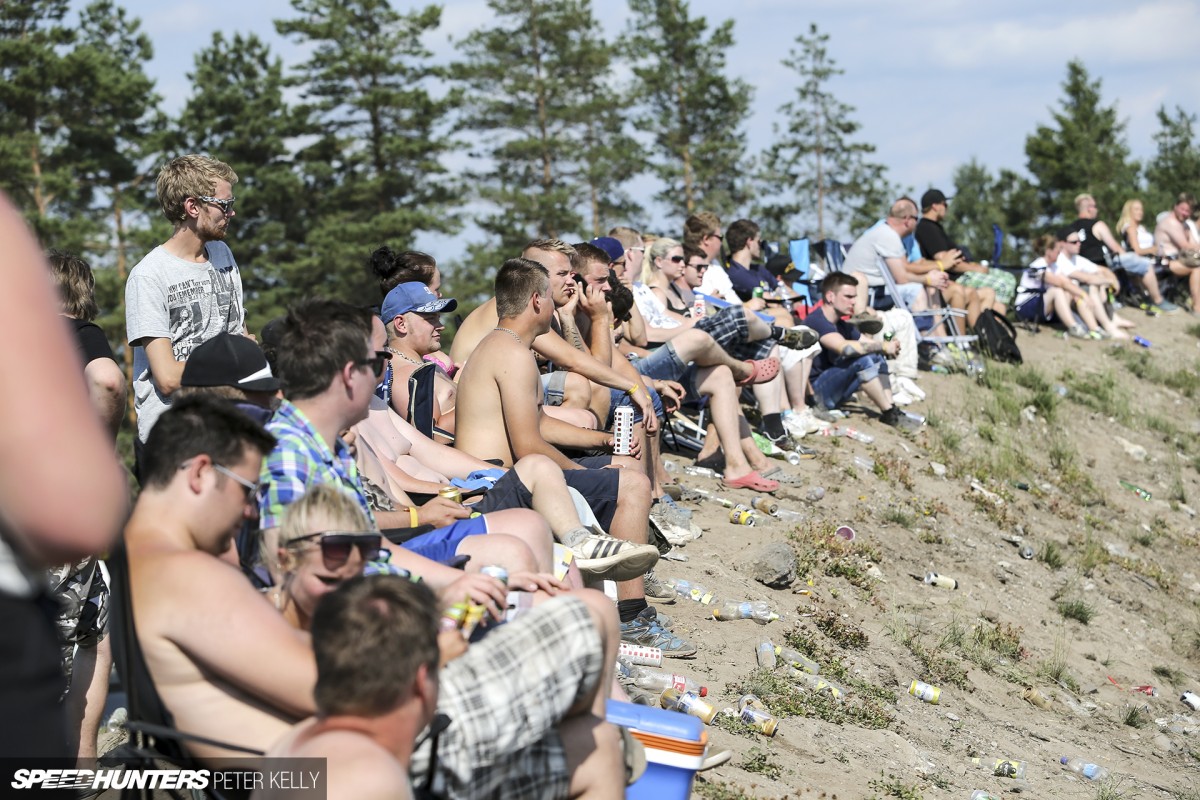 The show must go on as they say, and at any one time there are hundreds of people scattered informally around the circuit's various corners. Now, thanks to the addition of a foot bridge, the inner 'island' that overlooks three of the most interesting in-field corners – including the famous hairpin that Fredric likes to practice his reverse entries on – is easily accessible.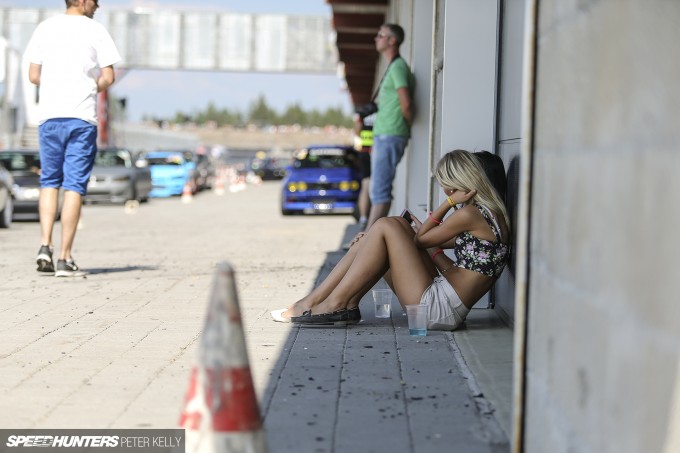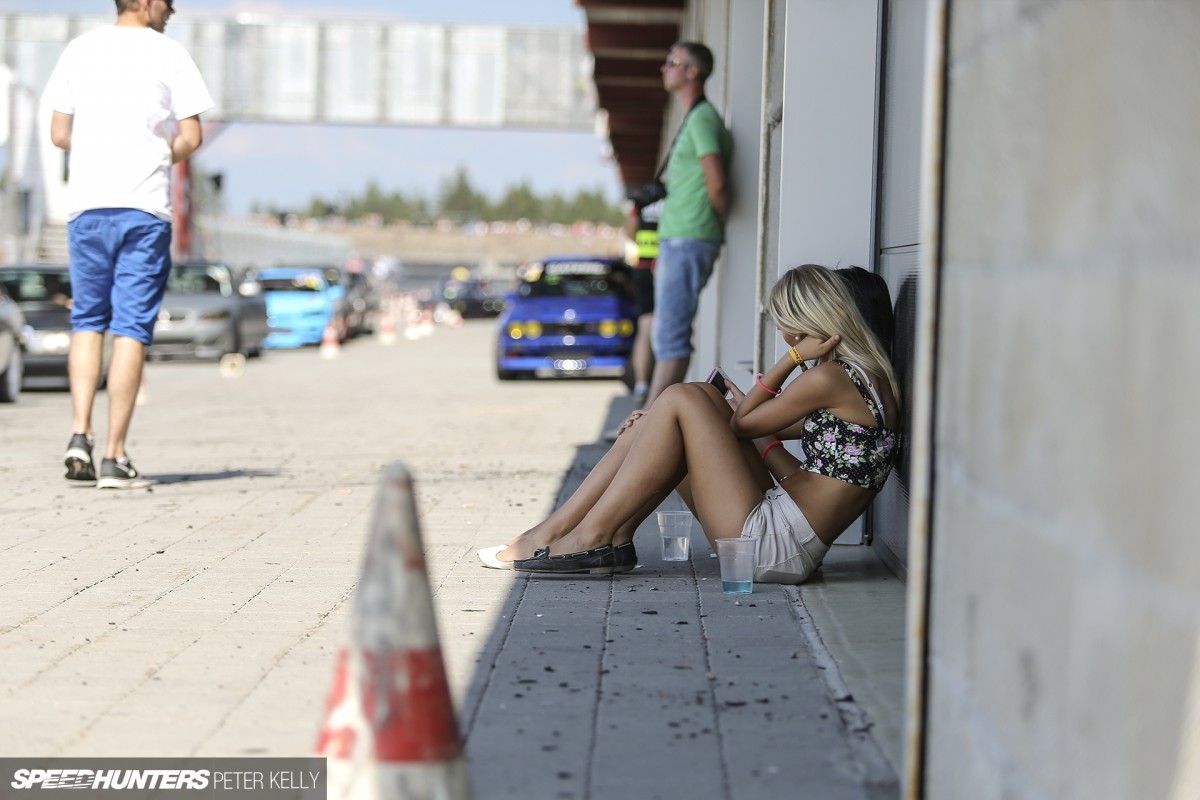 Seeing the rather heavy partying that goes on at night it can be a bit of a challenge to get going on Saturday and Sunday mornings, but with so much always happening around the track there are plenty of spots in which to take it easy for a while.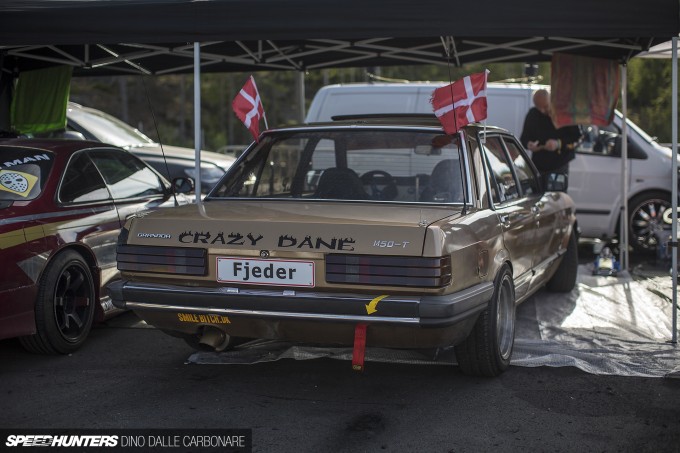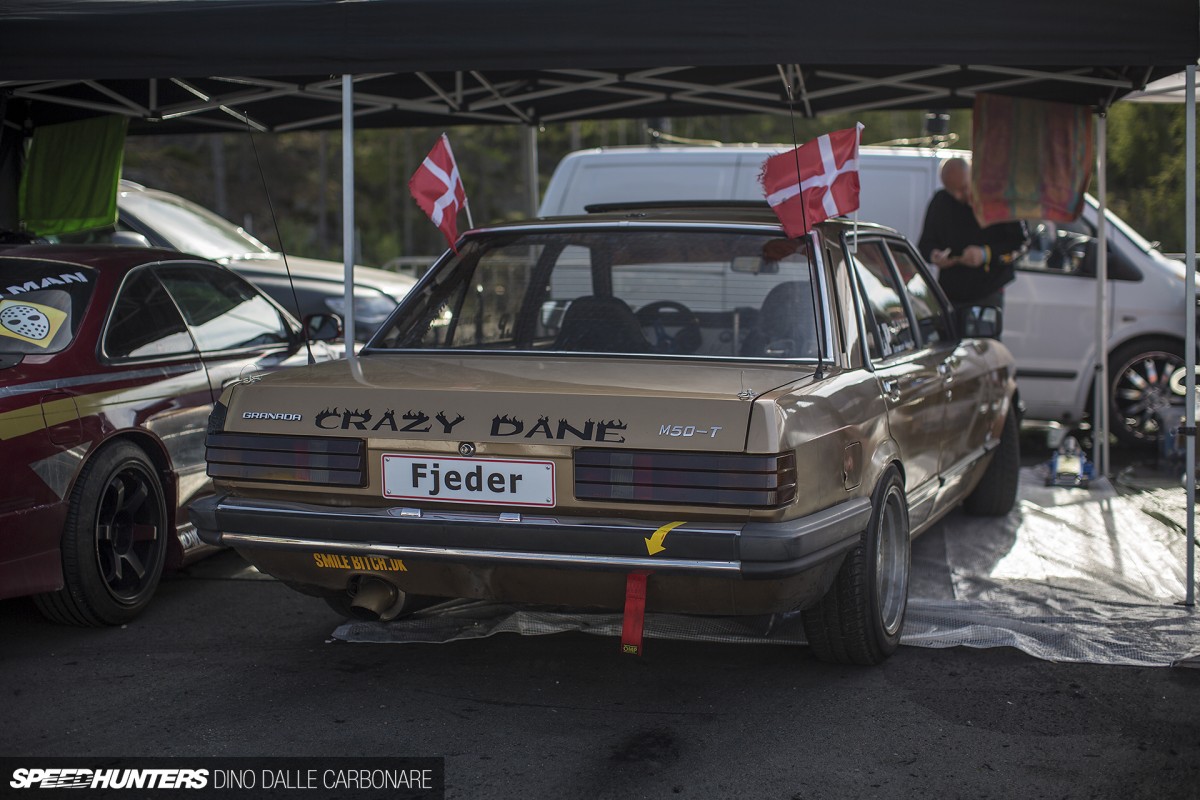 Coming from Japan and being used to its grassroots drift culture, it's always interesting to see the unusual cars that some choose to bring to Gatebil. Like this Ford Granada from Denmark. As long as it's rear-wheel drive, it's a potential drift machine, and even if it's not, you can turn it into one.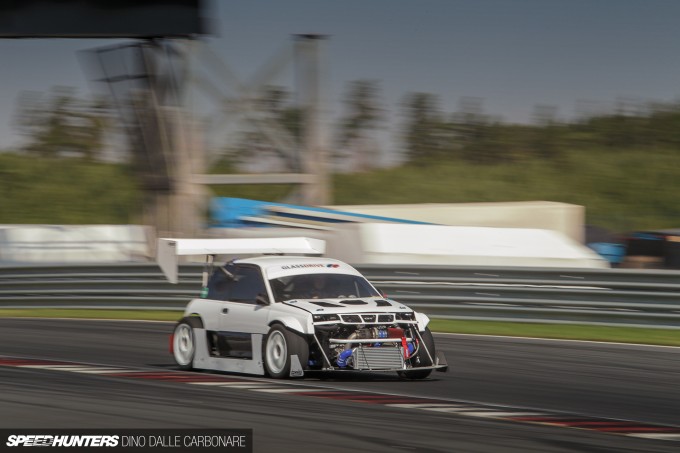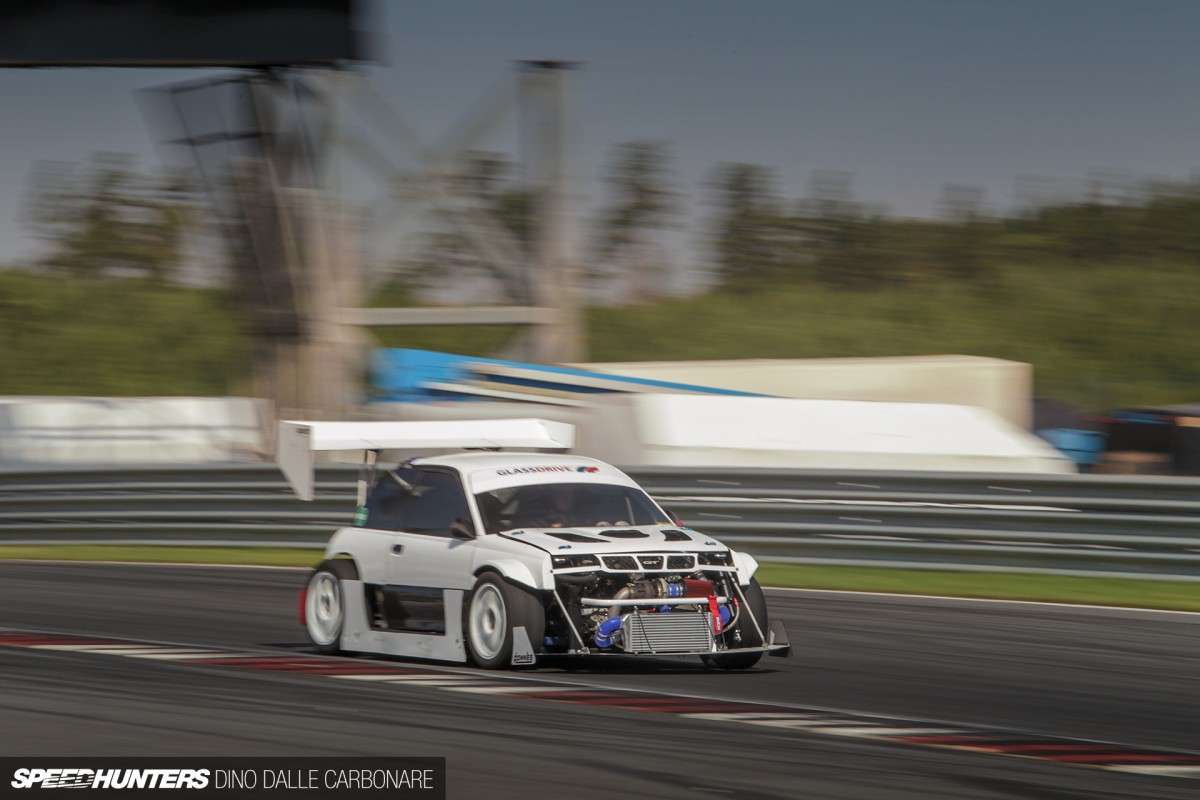 Or into something even wilder. This is Gatebil after all… That's precisely the category this crazy Toyota Starlet falls into – a wild track monster that's well on its way to getting completed.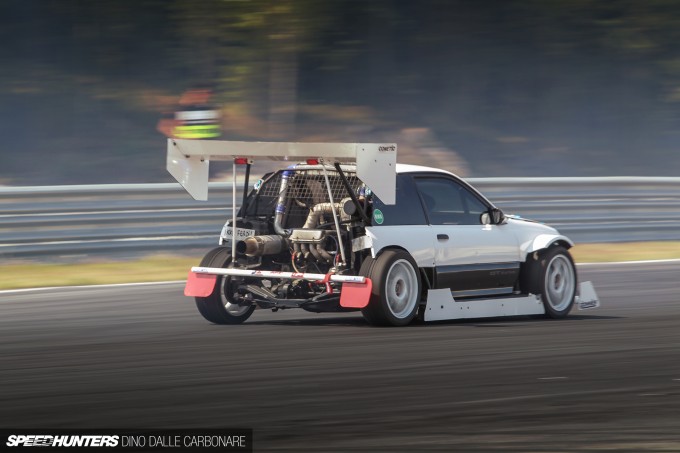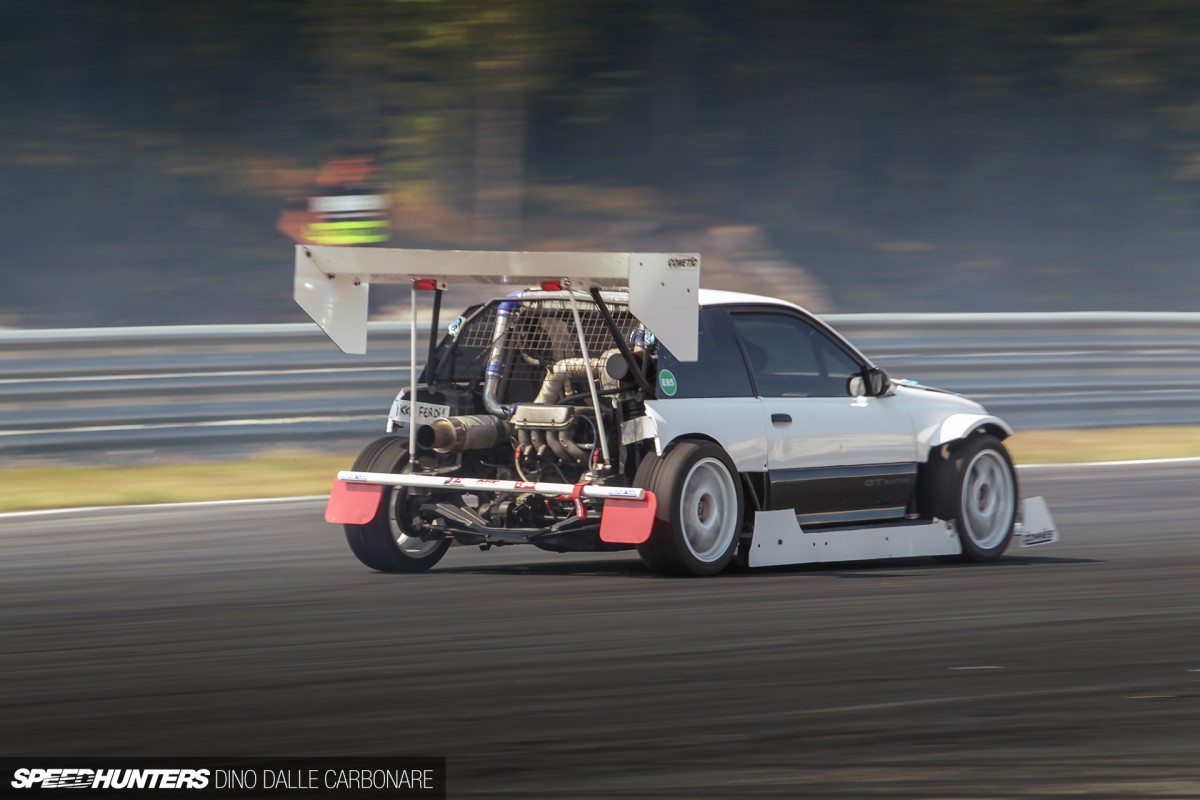 Oh yeah, it's got two engines. Why not, right?!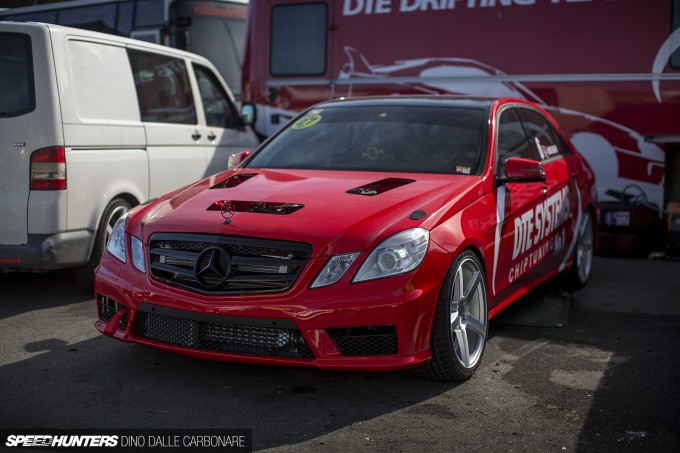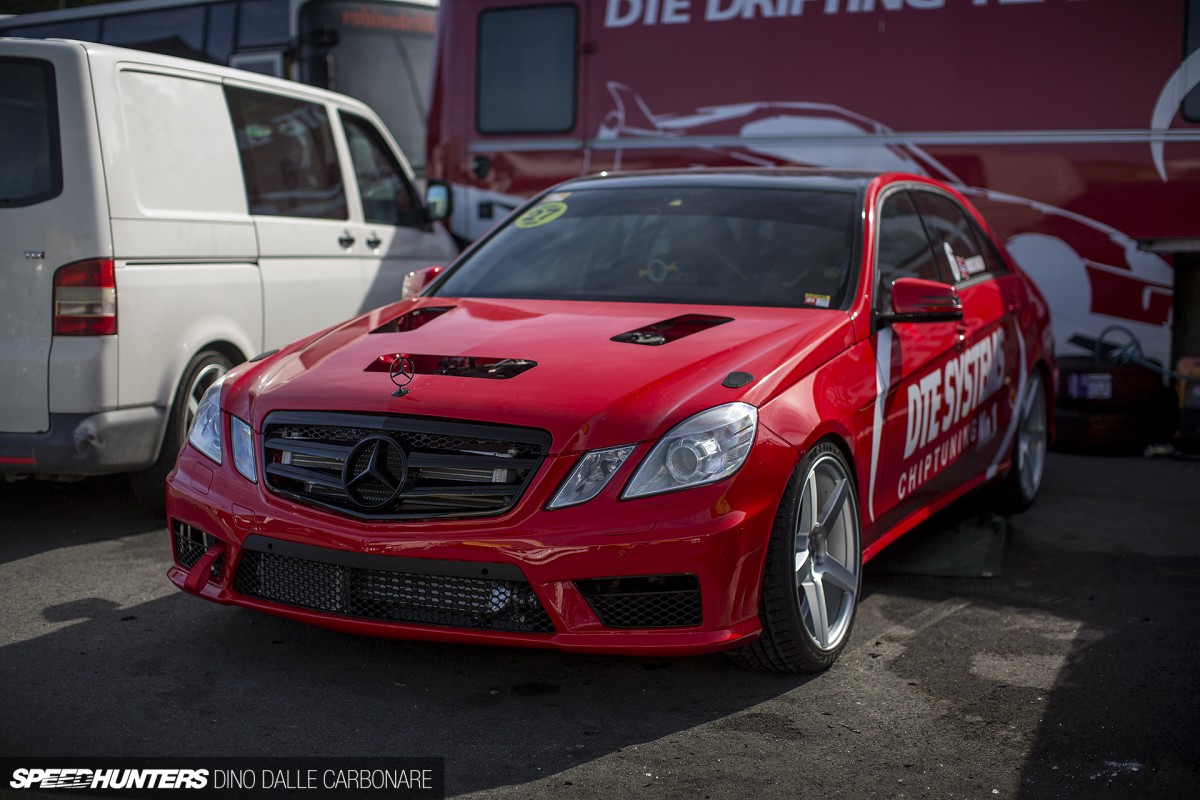 While there are plenty of modern sports cars on display in various booths in the paddock, seeing one modified the 'Gatebil way' is quite unusual. Which is why this Mercedes-Benz E-Class powered by a supercharged Chevy V8 really stood out to me.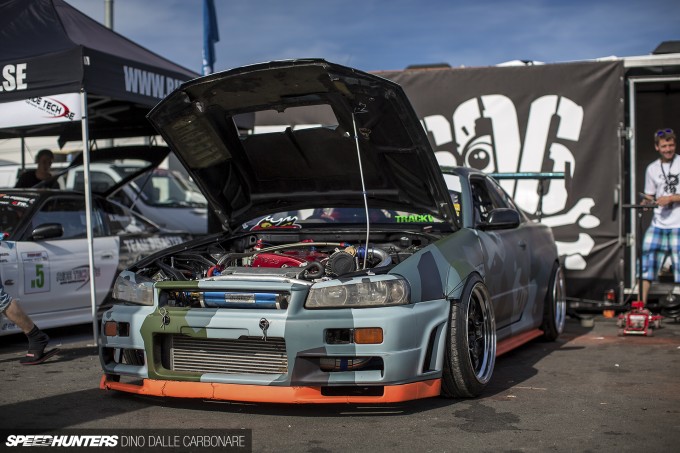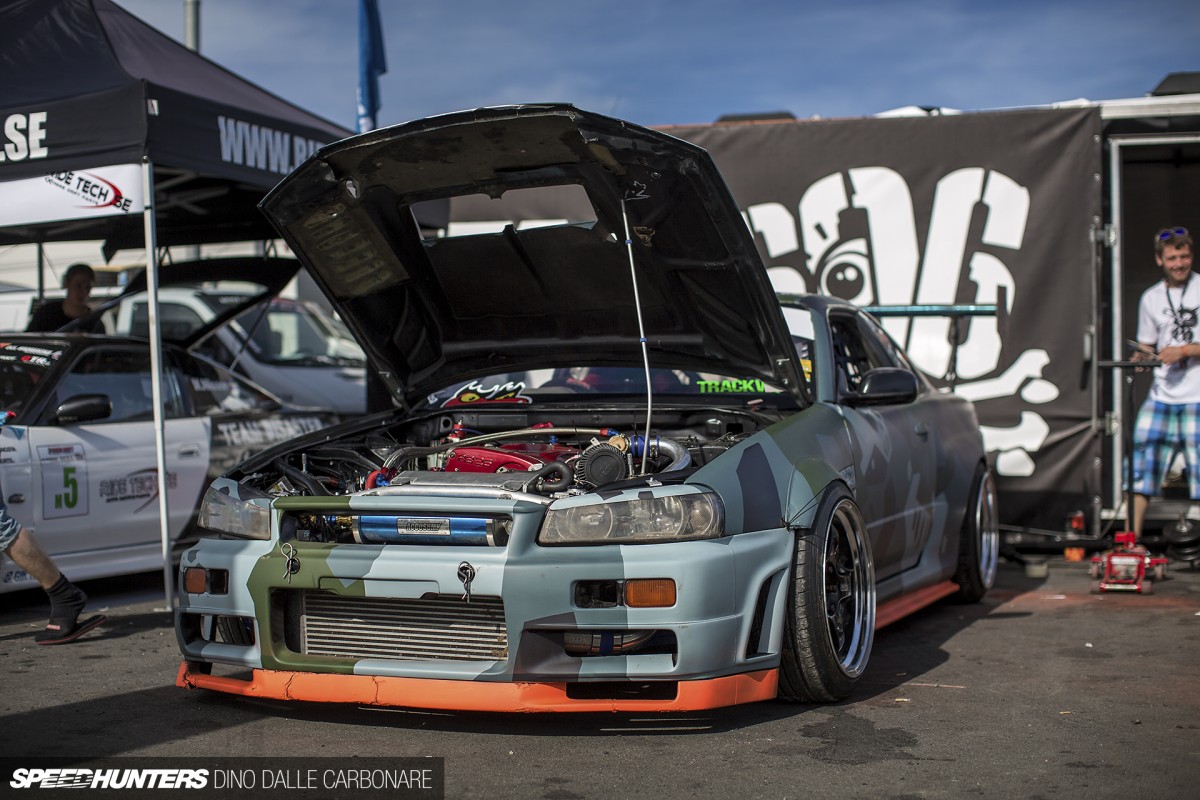 There are always plenty of Skylines to be seen too, but this particular car from Russia certainly stood out thanks that camo exterior. The RB26 that powers it runs a single BorgWarner turbo which produces a ton of power and torque right from 3,000rpm, making it a fun car to throw around the track.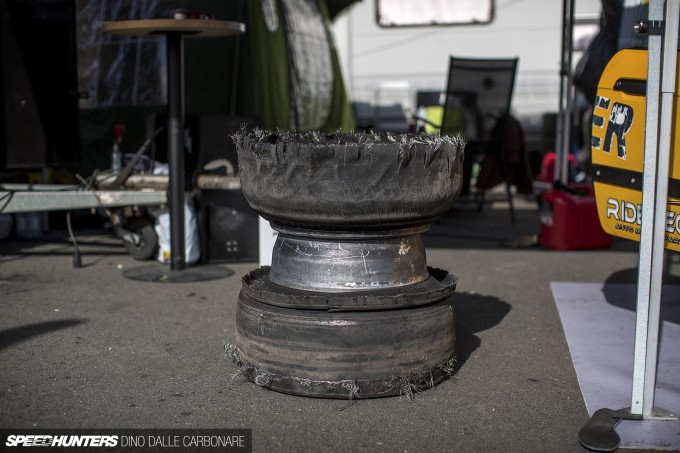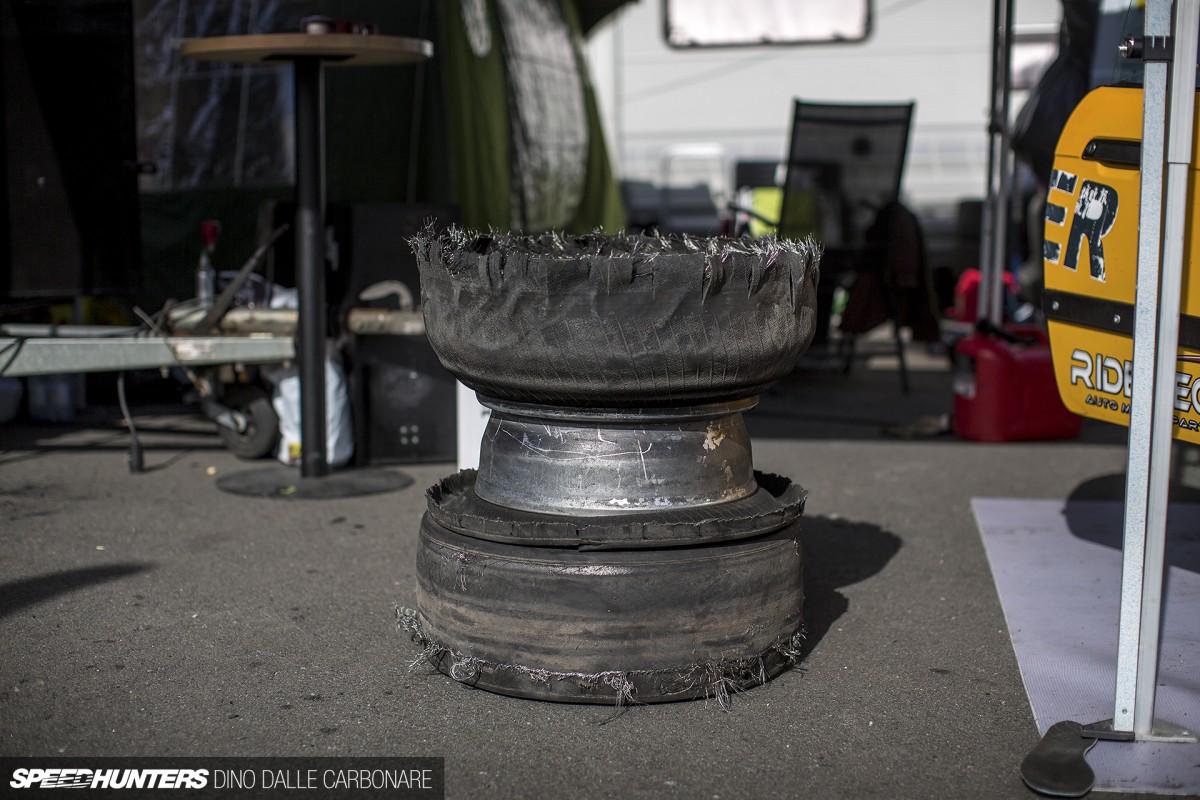 Check out the mayhem that unfolds on the track and from about two to three laps into a session the tyre pops will start. Most of the drifters don't seem too concern about the potential damage that a blow-out can cause to body work, and just drift until the tyres can't take it any more. They make nice tables back in the pits!
The Crazy Builds Continue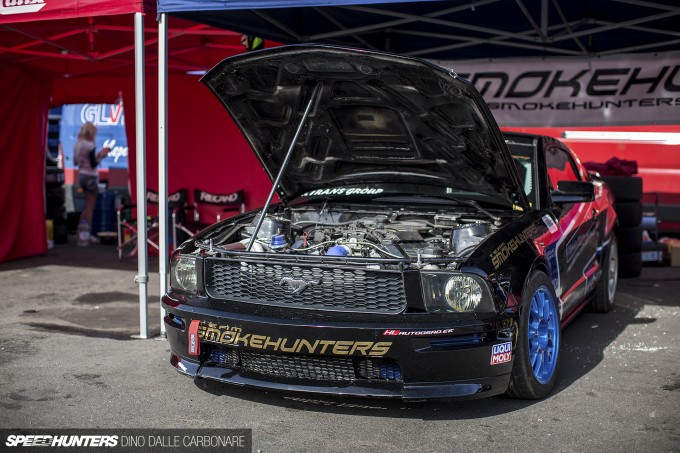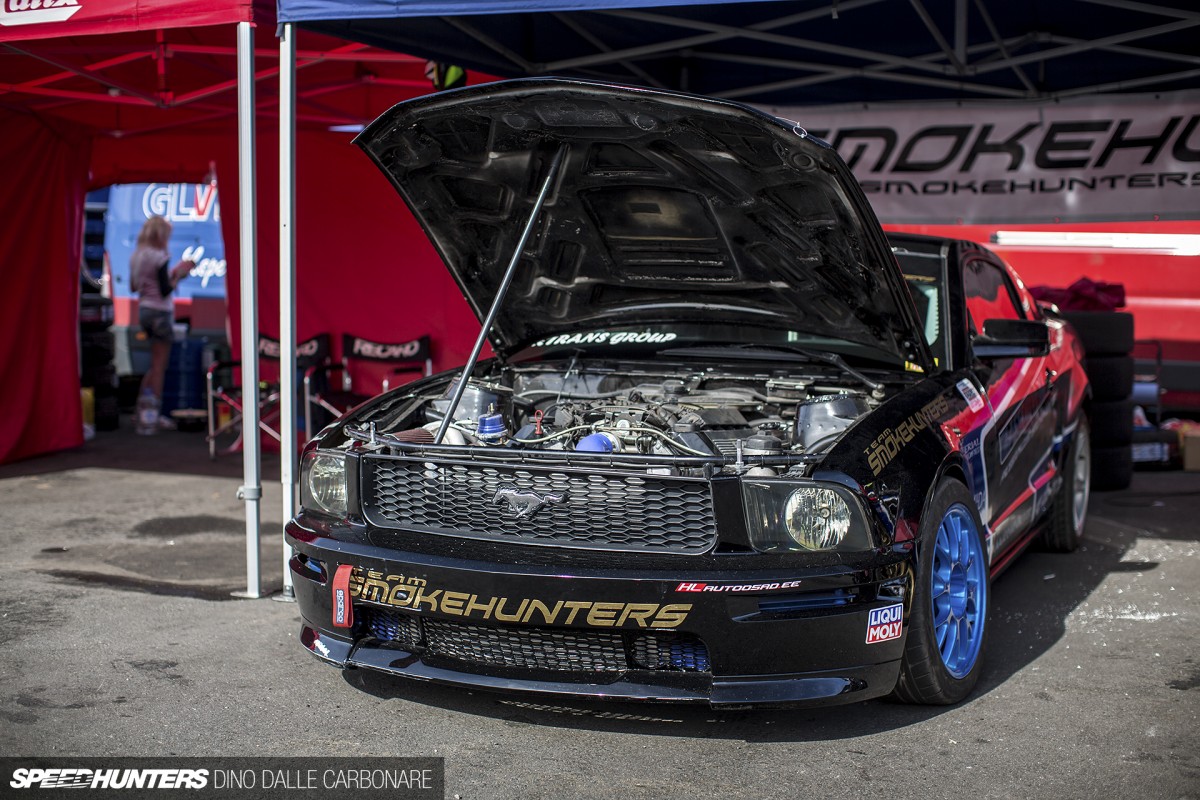 You guys will probably recall the Smokehunters 2JZ-powered BMW 2002 I shot at Rudskogen back in 2012. Well, the guys from Estonia brought out their new Mustang project this time around – yet another turbocharged creation.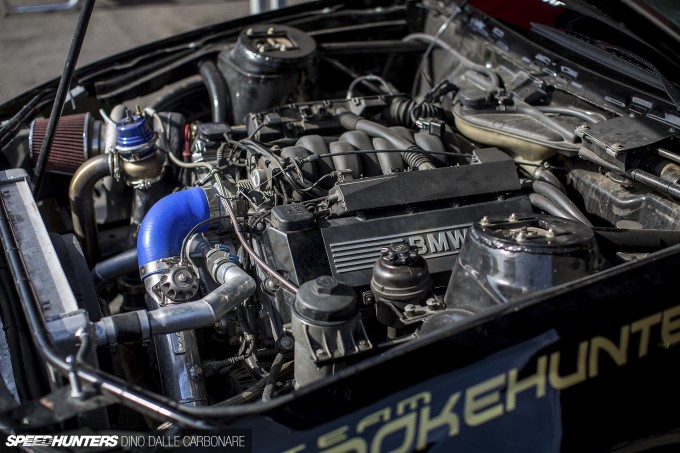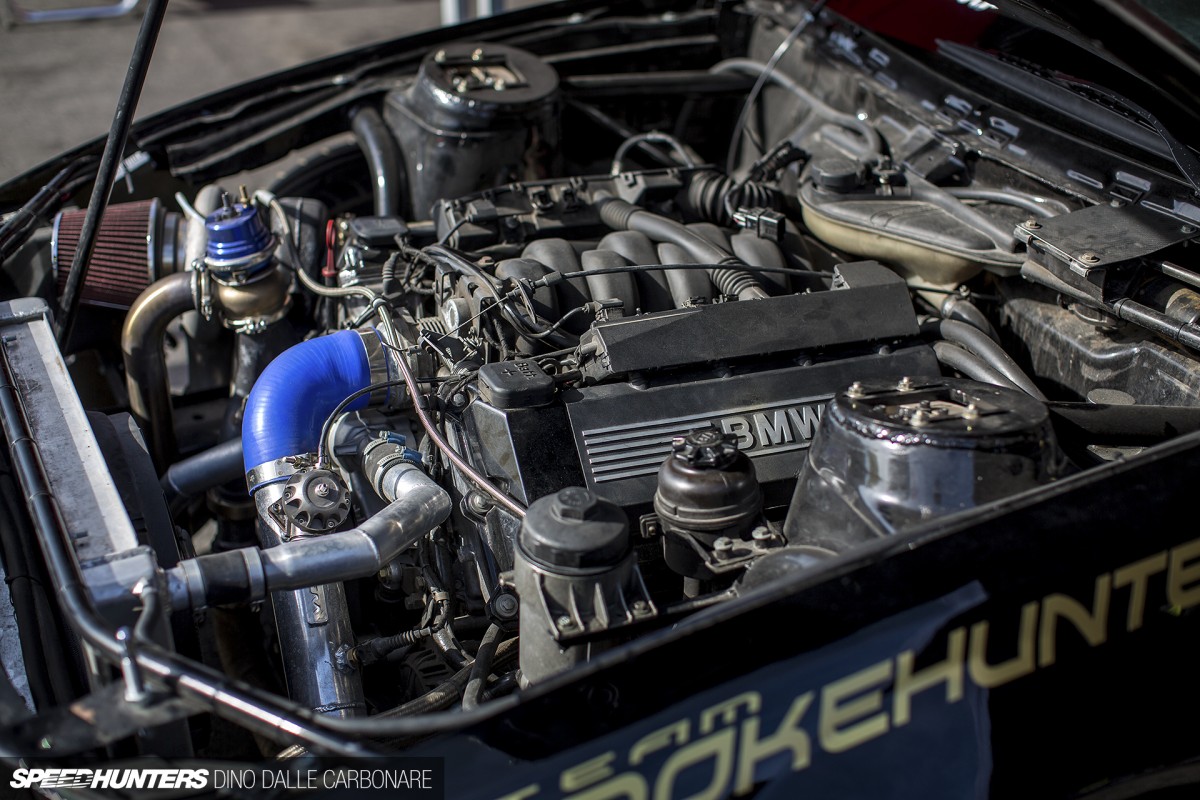 Except this Mustang has had its Ford motor binned in favour of a BMW unit.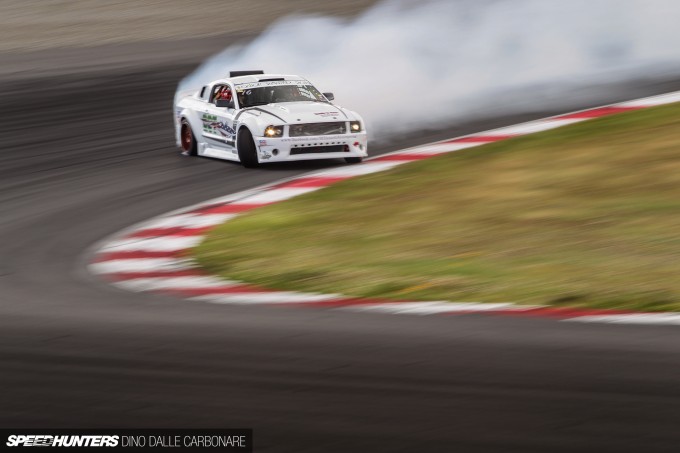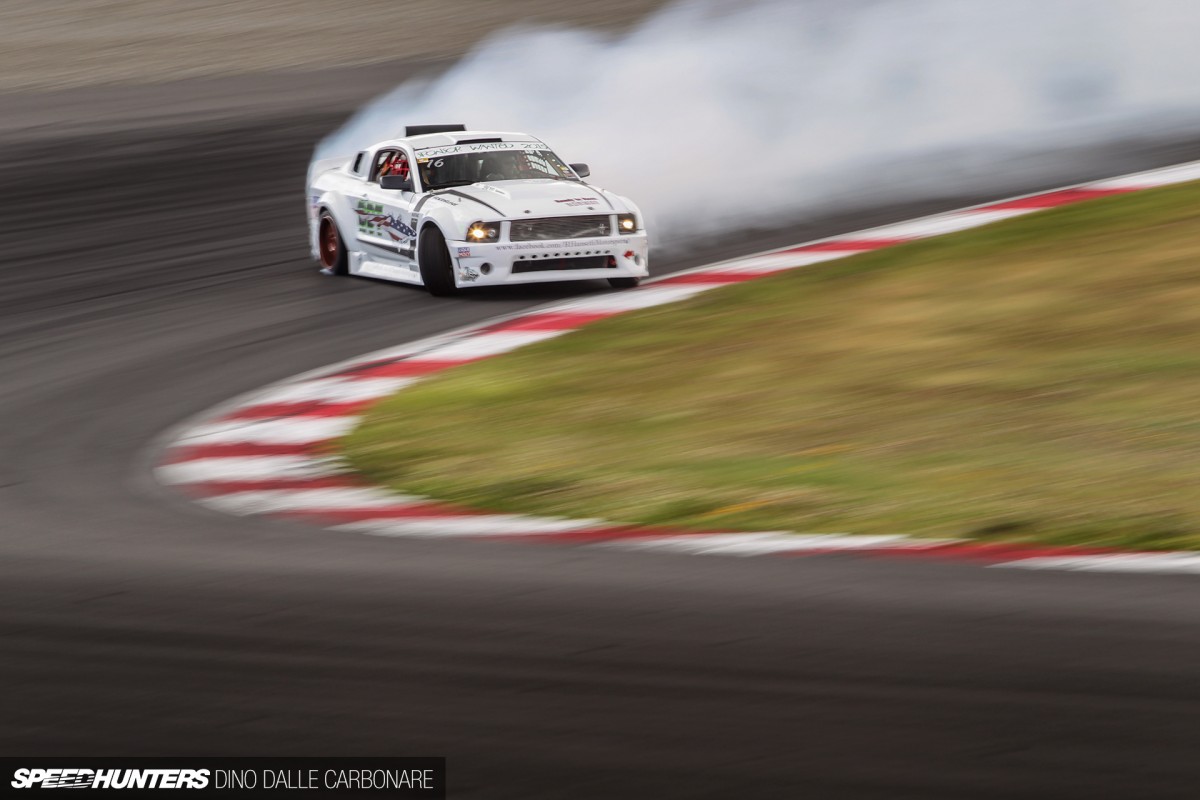 The Smokehunters machine joined a host of other pony cars out on track – a much welcomed V8 component to the general symphony of highly-tuned four and six-cylinder engines out there.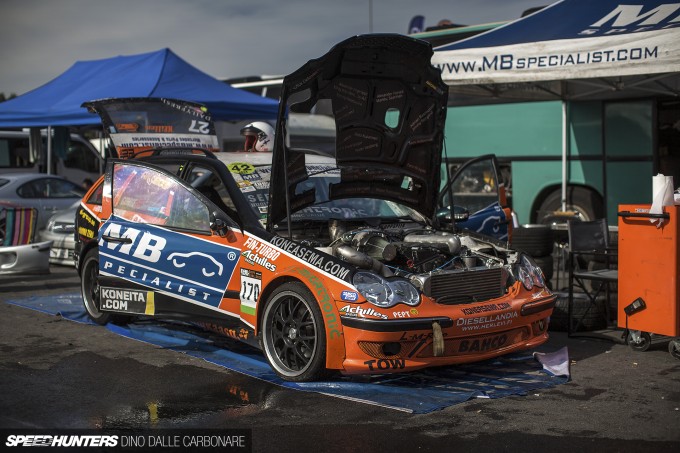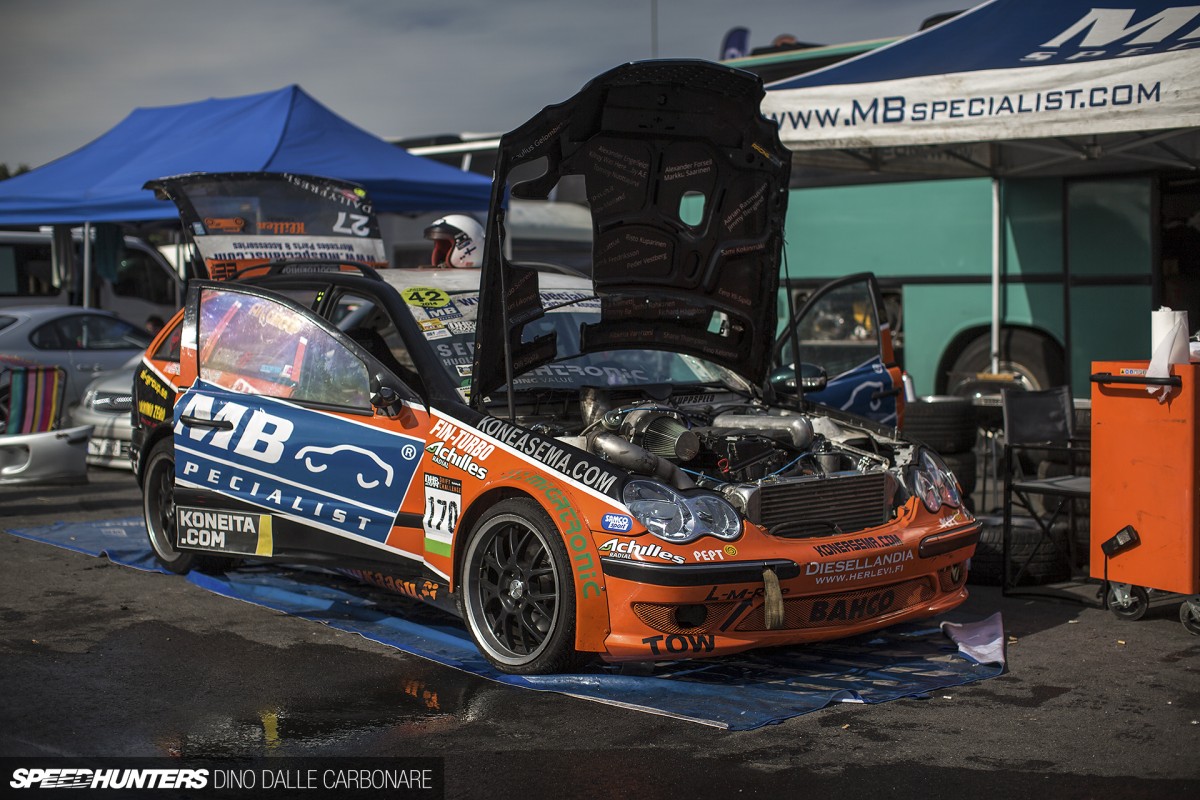 The Finnish Black Smoke Racing guys were back out at Gatebil with their new Mercedes-Benz C-Class wagon which we first saw last year at Mantorp.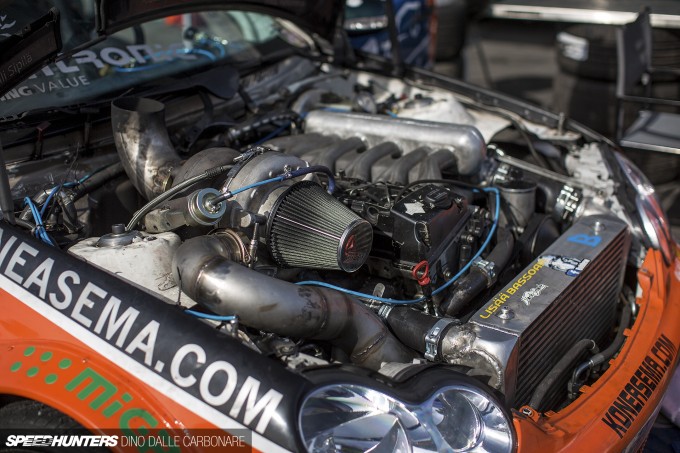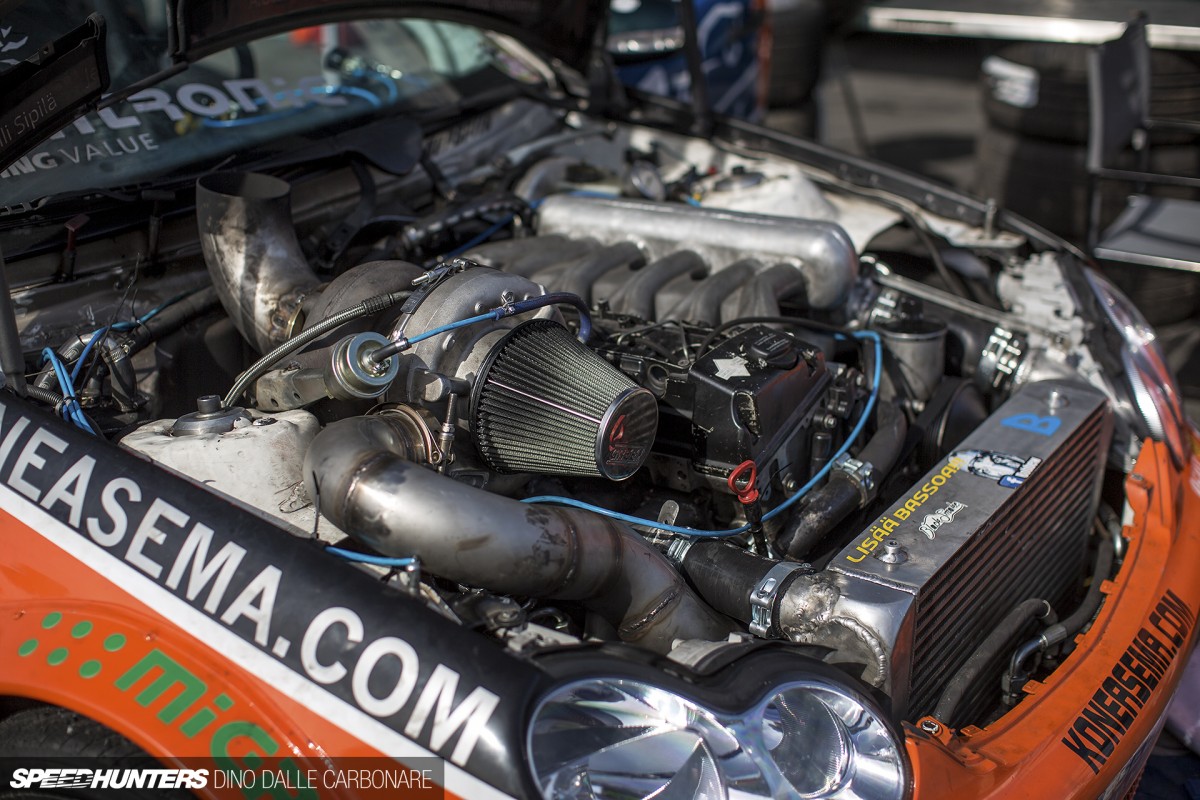 They have changed the set up slightly, so while the 3.0L straight-six Mercedes turbo-diesel is still there, it's now force-fed by a compound turbo system where the massive top-mounted unit feeds a smaller turbo positioned underneath. Yeah, I know it sounds confusing, but it obviously works and is good for about 5-bar of boost!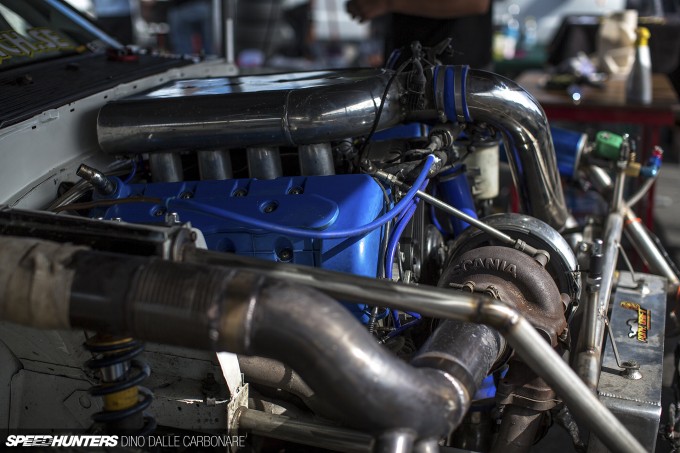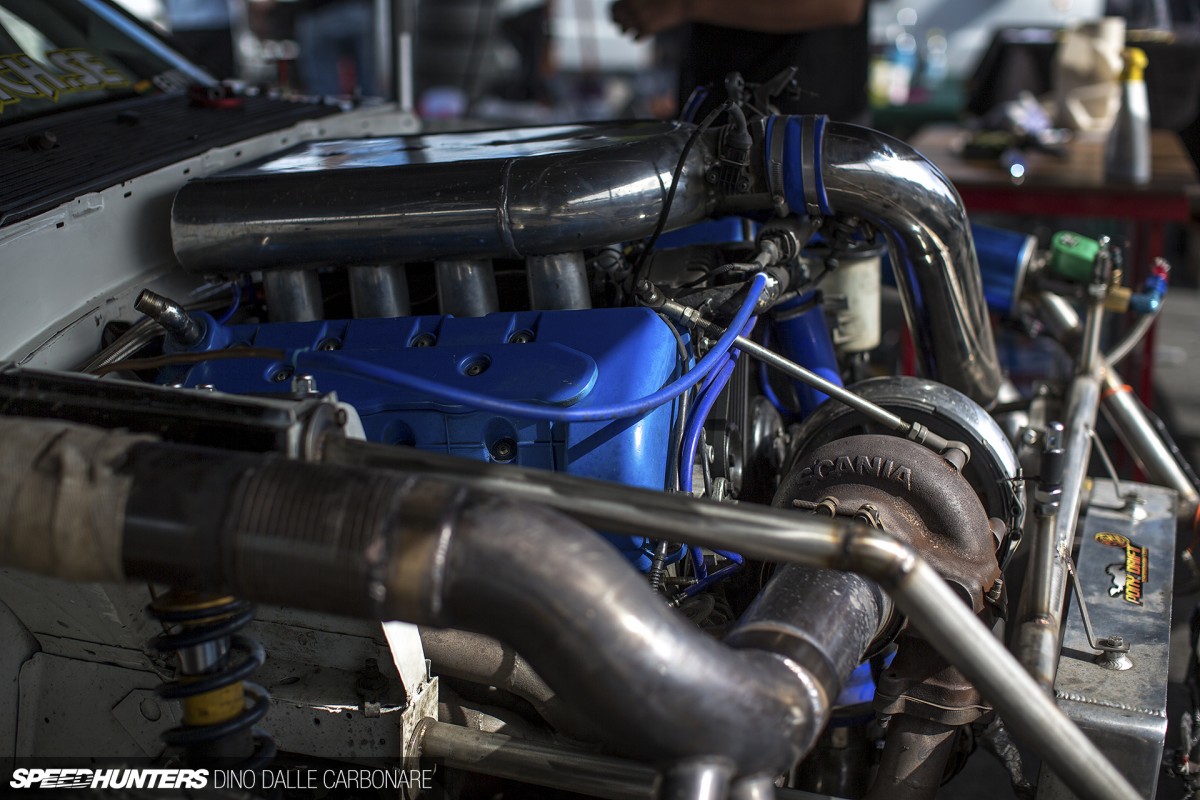 Our #WeHaveBoost tag certainly describes most of the builds you see at any given Gatebil event – just like this Mustang's V8 helped along by a Scania truck turbo. Why the hell not?!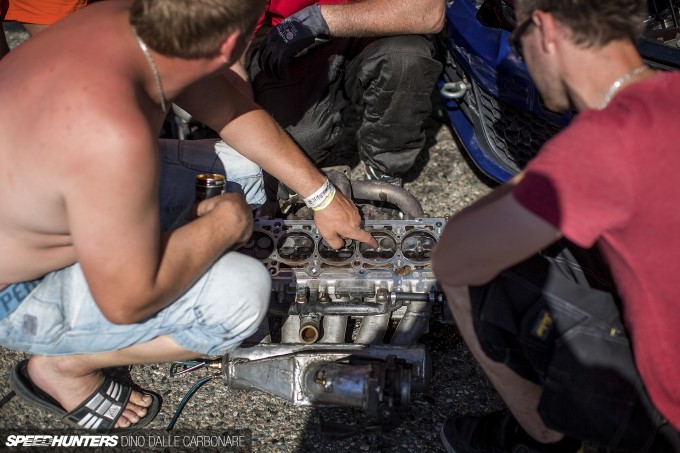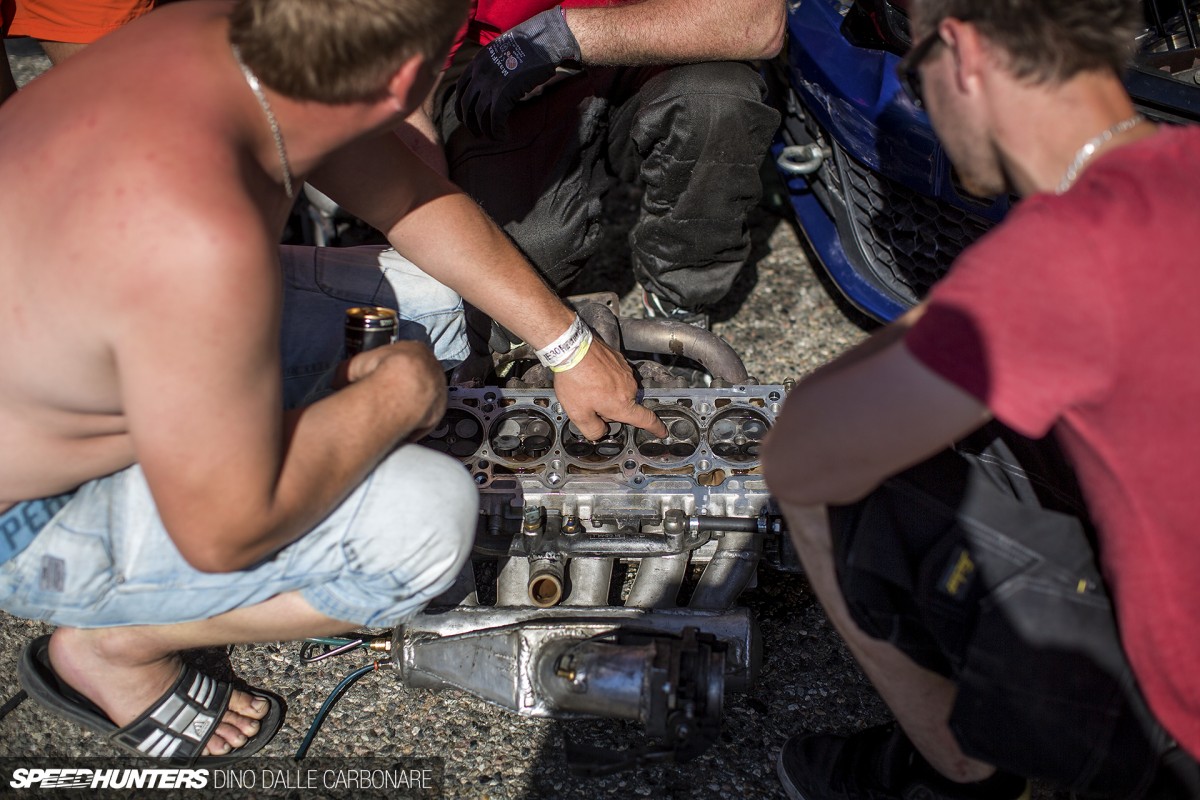 After a few shakedown outings, Kenneth Alm's Audi-powered VW Scirocco had to return back to the pits with its tail between its legs. You'll be able to find out all about this crazy car in an upcoming feature.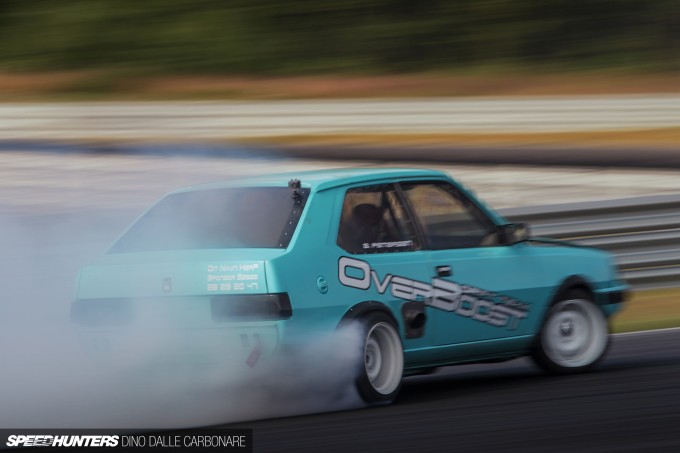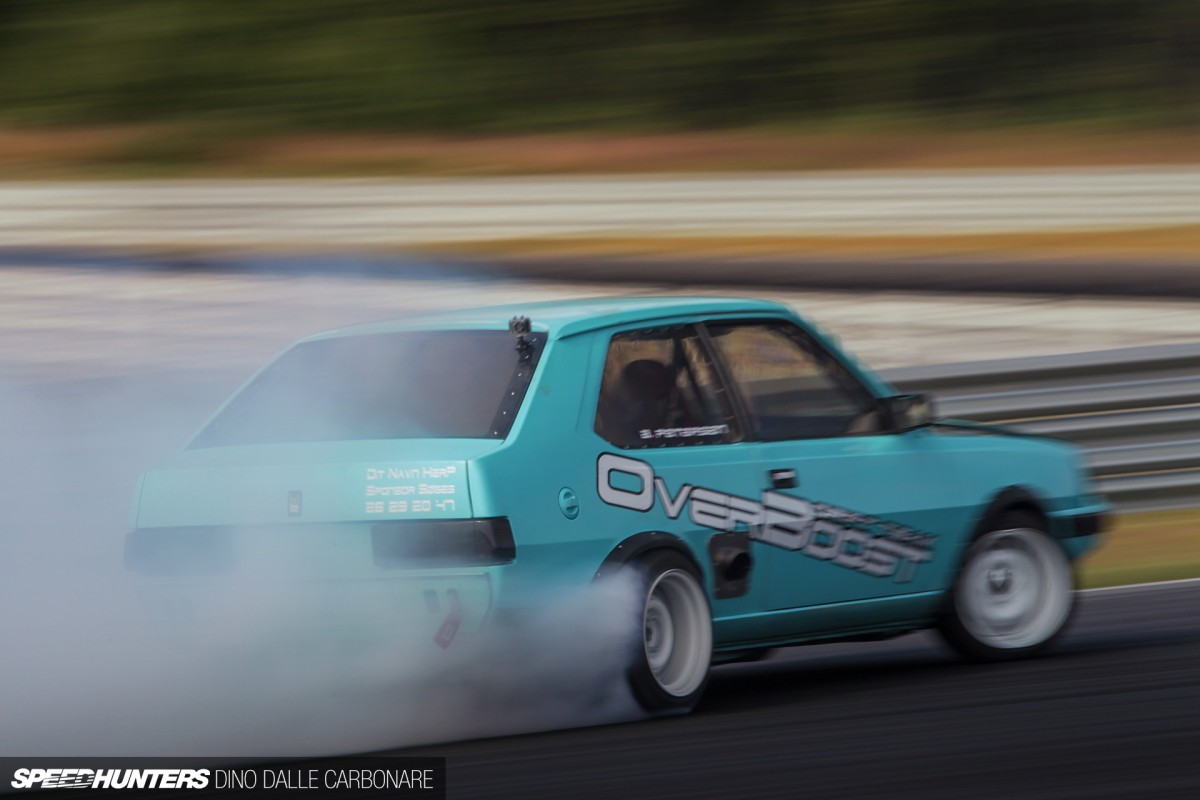 While the drifting continued, Alok ventured across to the other side of the track.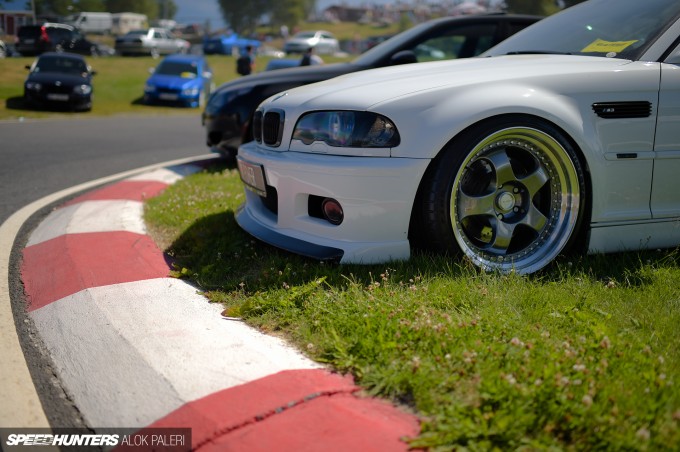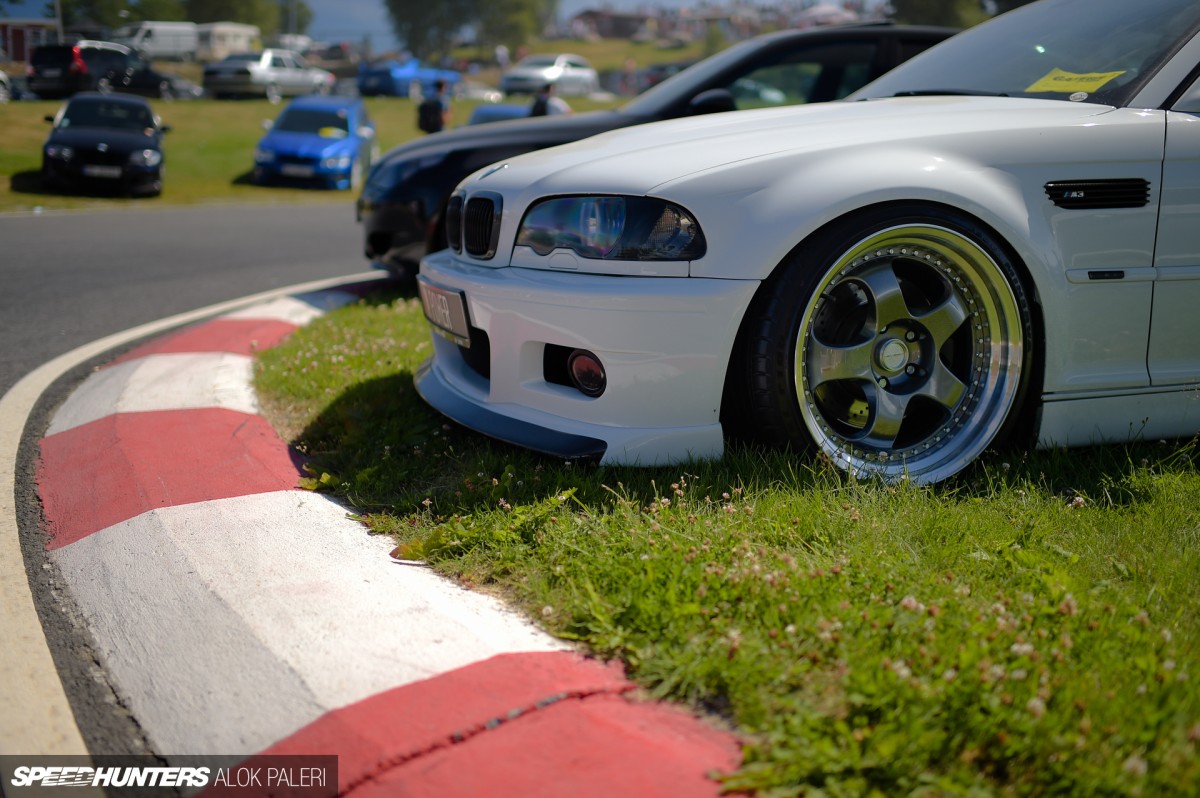 His mission was to check some of the street cars that people drove to the event in an attempt to get a better understanding of Scandinavian car culture. With the Swedish border being only a short drive from the track, it means there were plenty of cars from Norway's neighbouring country, but also from a lot of other places around the eastern side of Europe.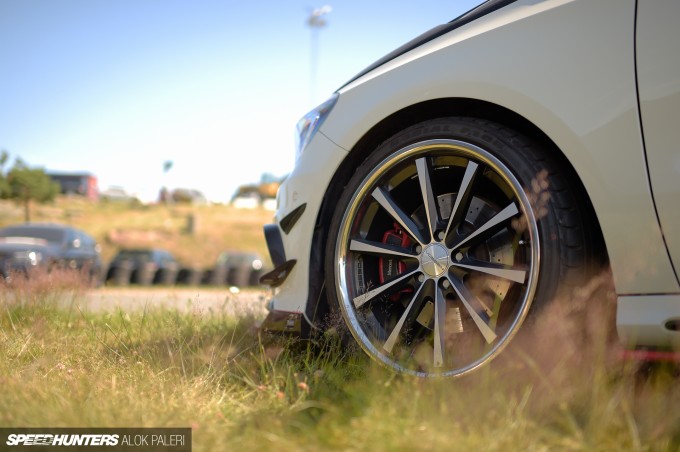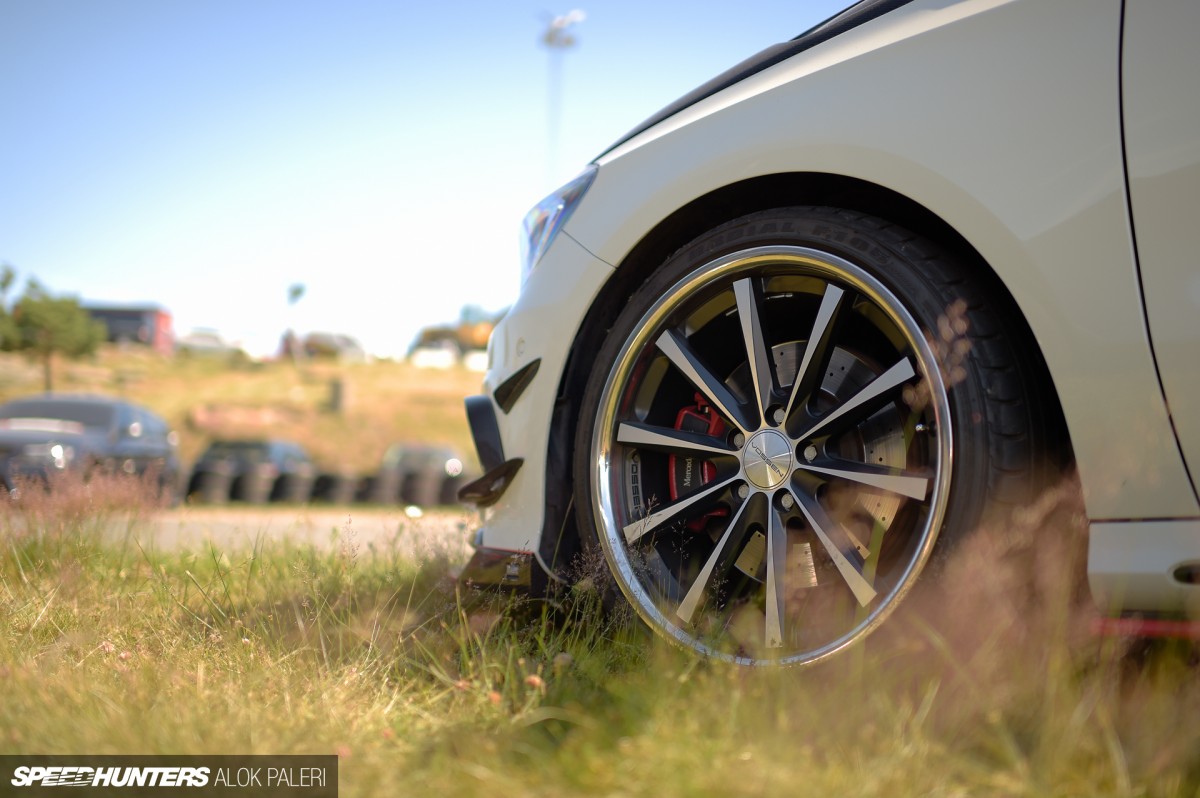 While you may have noticed that wheel brands aren't really high on the priority list when it comes to track cars here, it's obvious that the Scandinavian folk don't take any chances with their street cars. Alok spotted this A45 AMG on Vossen rims parked at the go-kart track.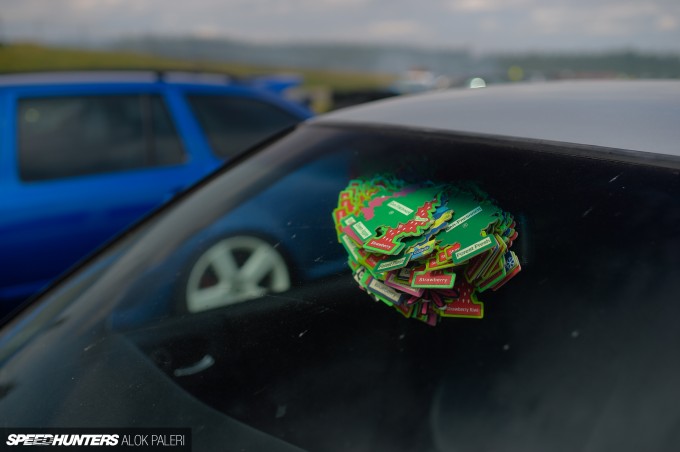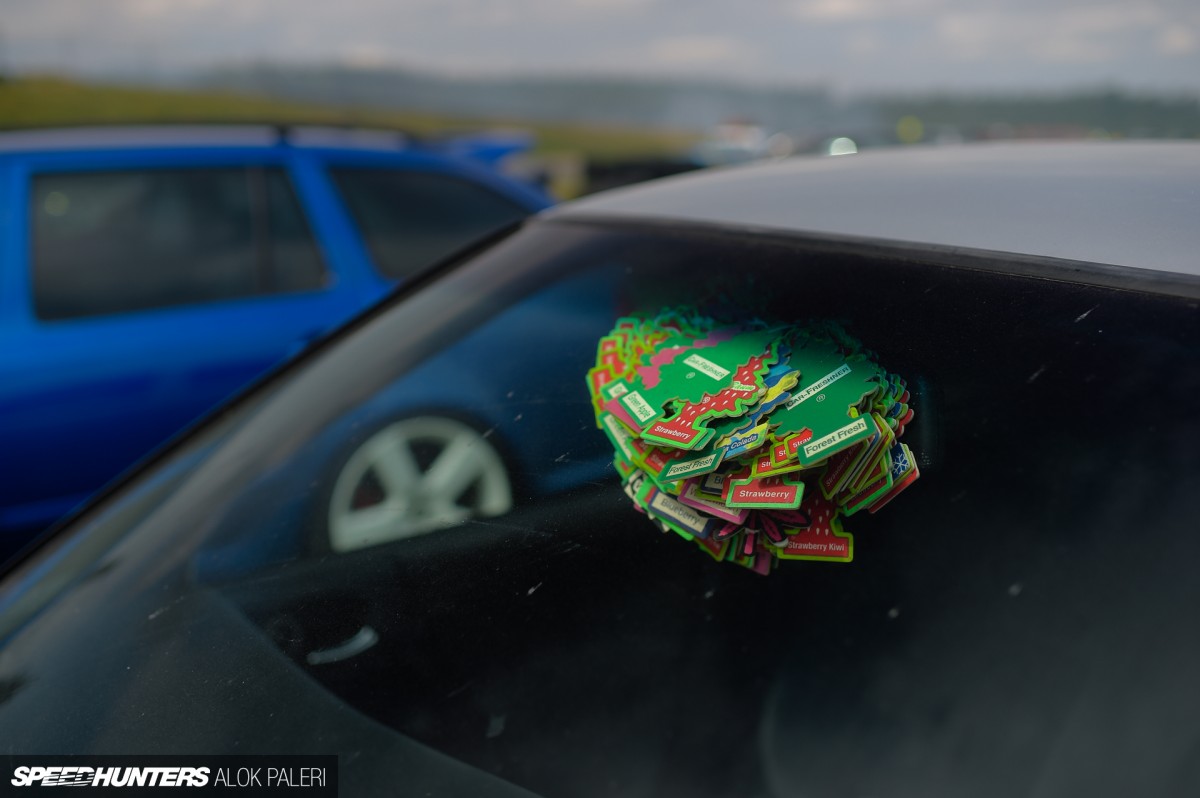 This is either a new trend or someone did something very bad inside this car!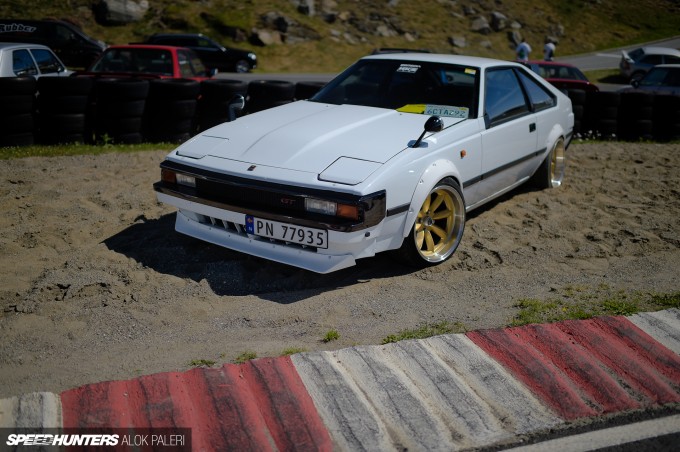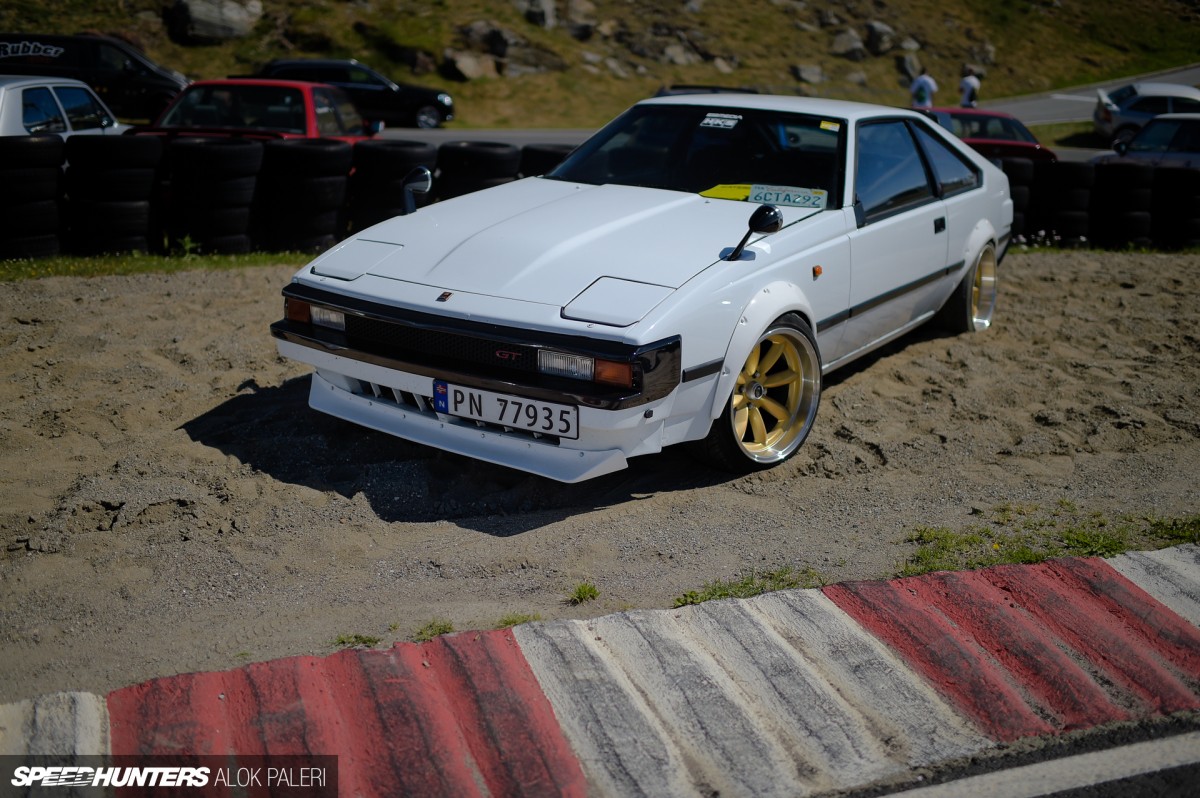 It's not often that you'll come across a Supra Celica in Europe, so to find one beefed up with some Works-style fender flares and looking like this was pretty cool.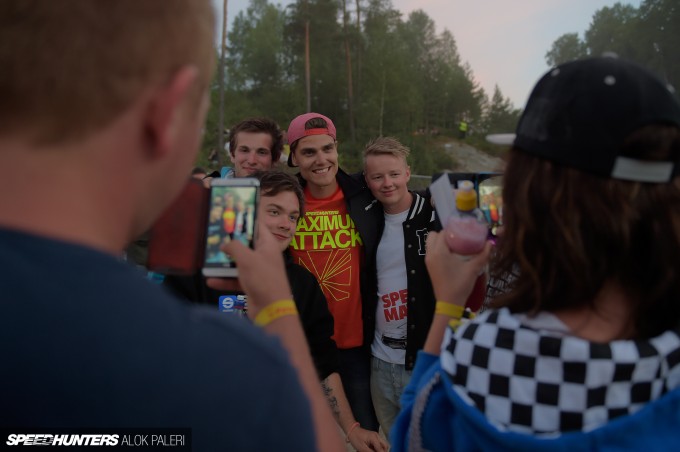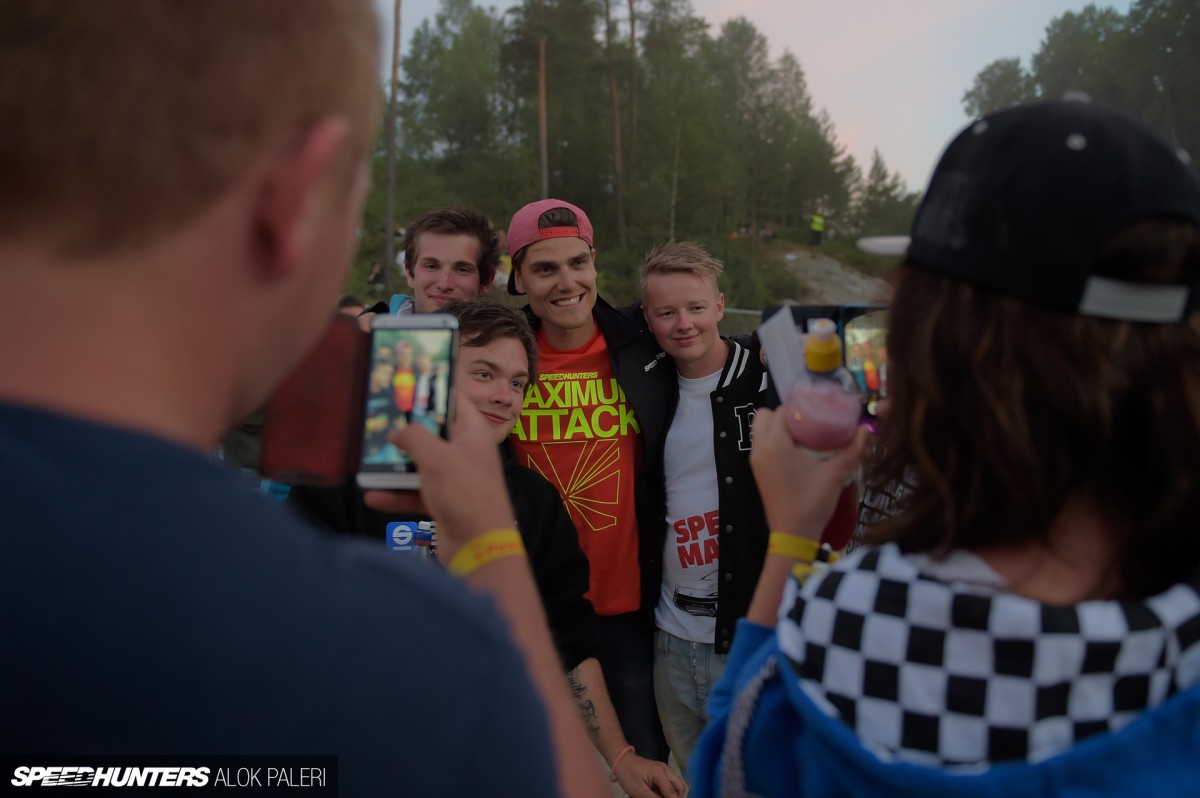 Fredric is always a busy man at his home event.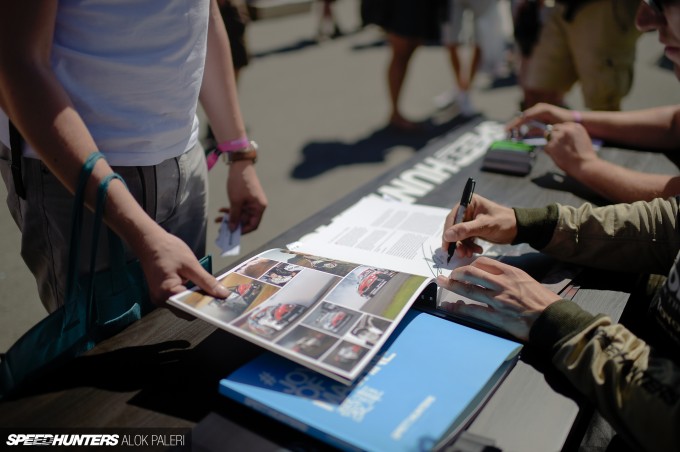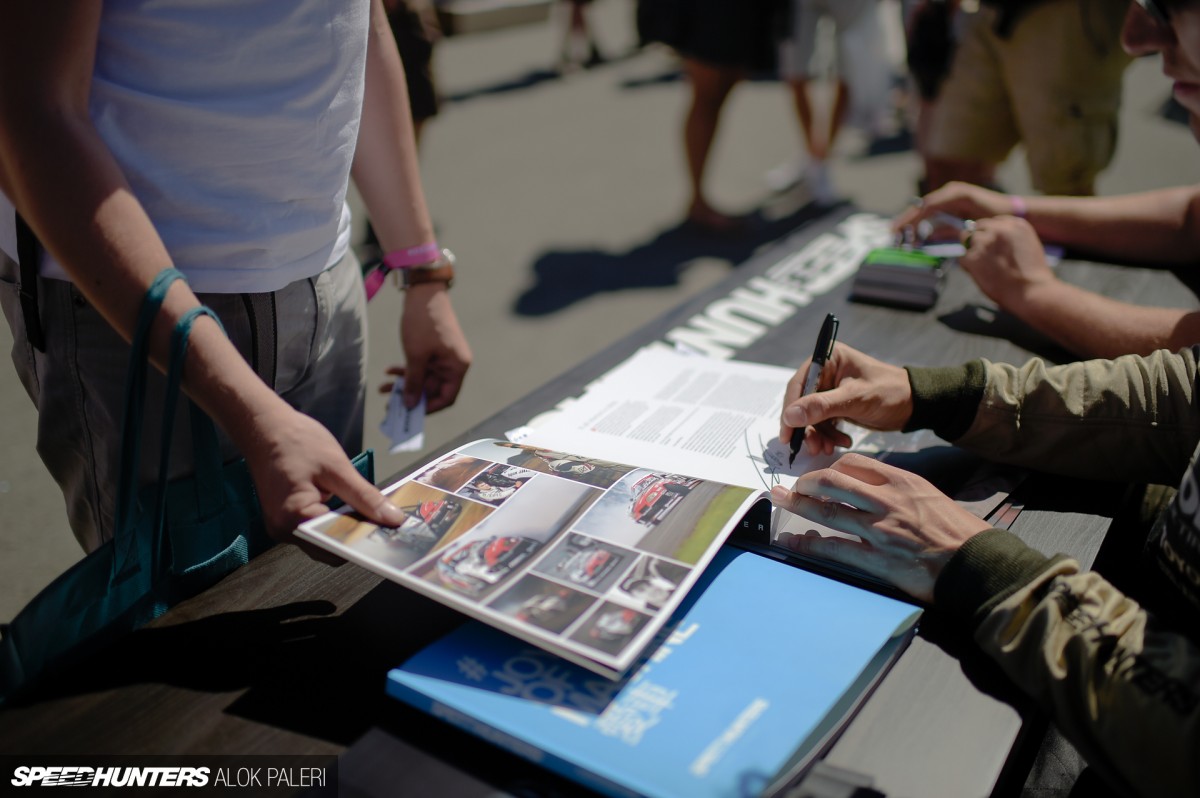 Fans lined up day after day to get his autograph, and when he wasn't out on track he was busy doing the rounds and chatting, posing for selfies and being the general all-round nice guy that he is.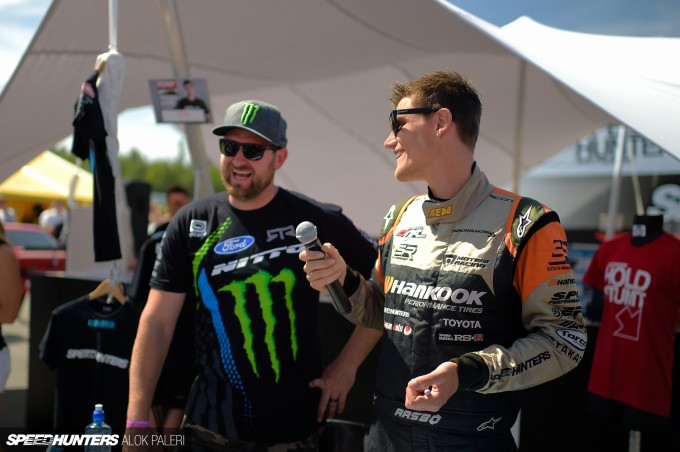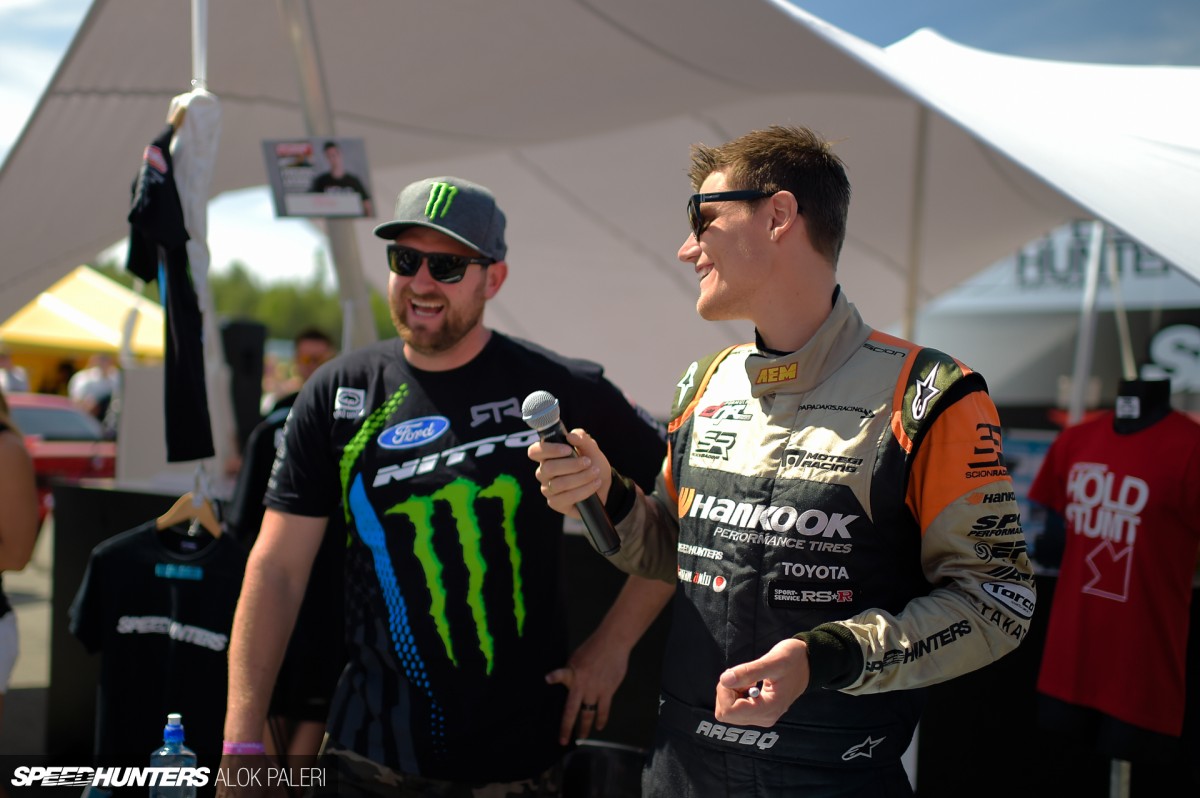 He was also on microphone duty along with Vaughn Gittin Jr. who was at the event piloting one of his Mustangs in his usual pedal to the metal style.
A Ride Along…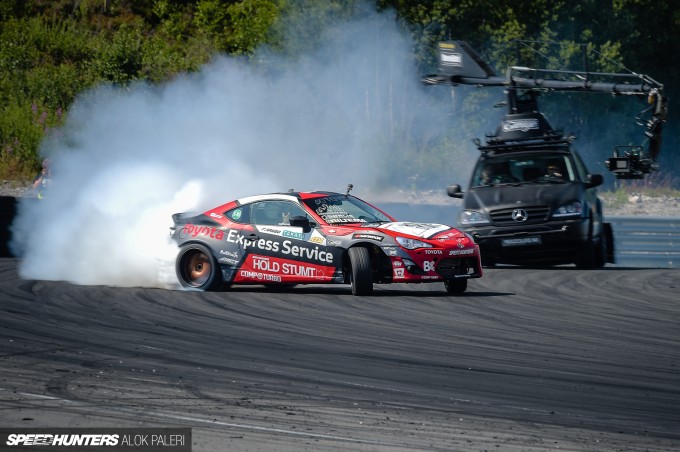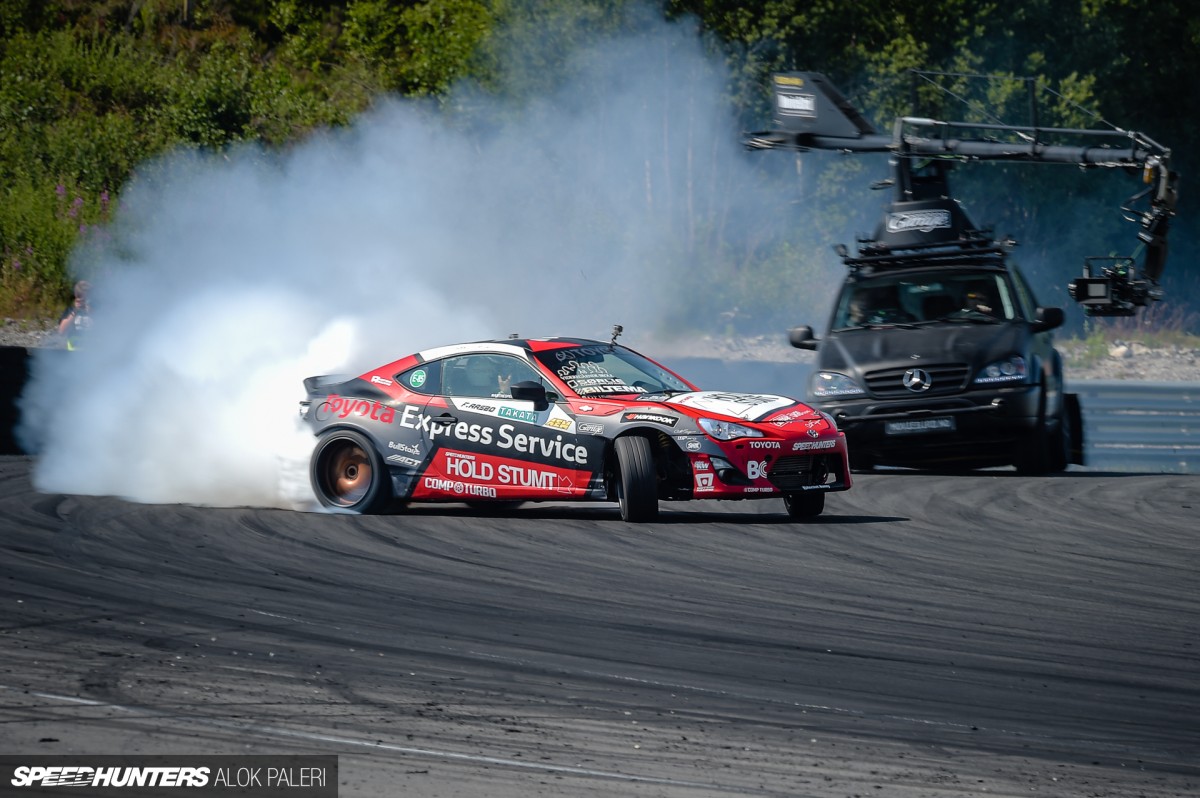 I got a chance to ride shotgun with Fredric, but not your usual ride. We were chasing and performing for the matte black Mercedes-Benz ML SUV and its massive Russian Arm motorized crane fitted with a RED digital video camera.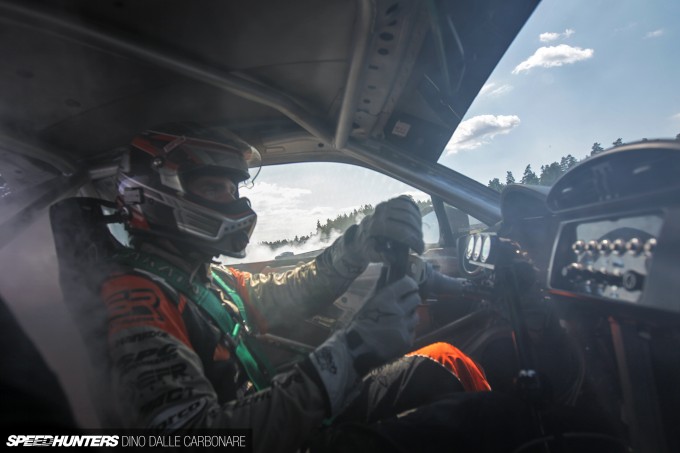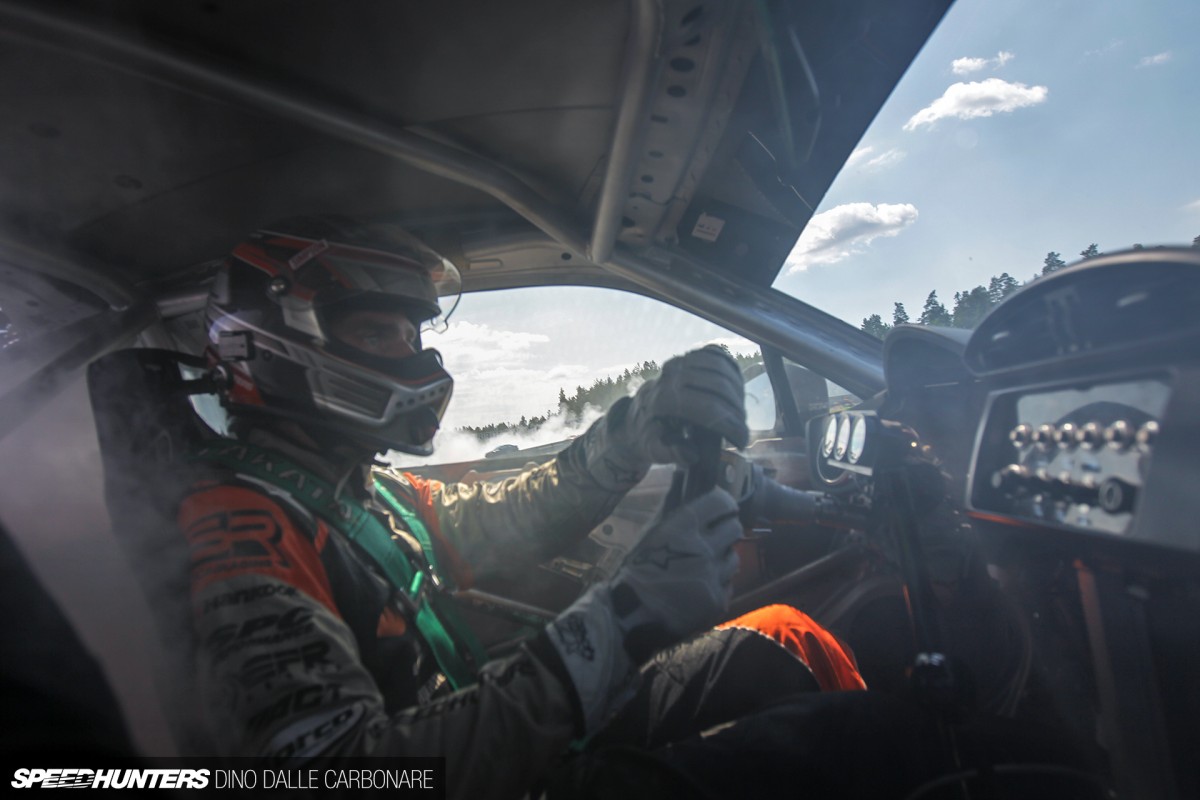 It was actually my first time riding with Fredric and I was impressed at his smoothness. He made it look all so easy…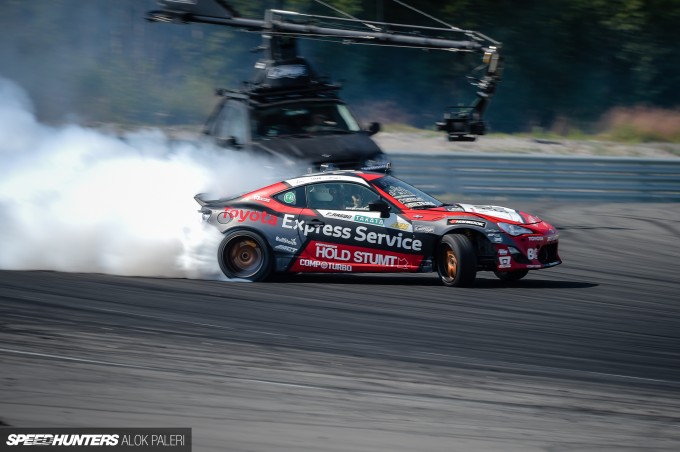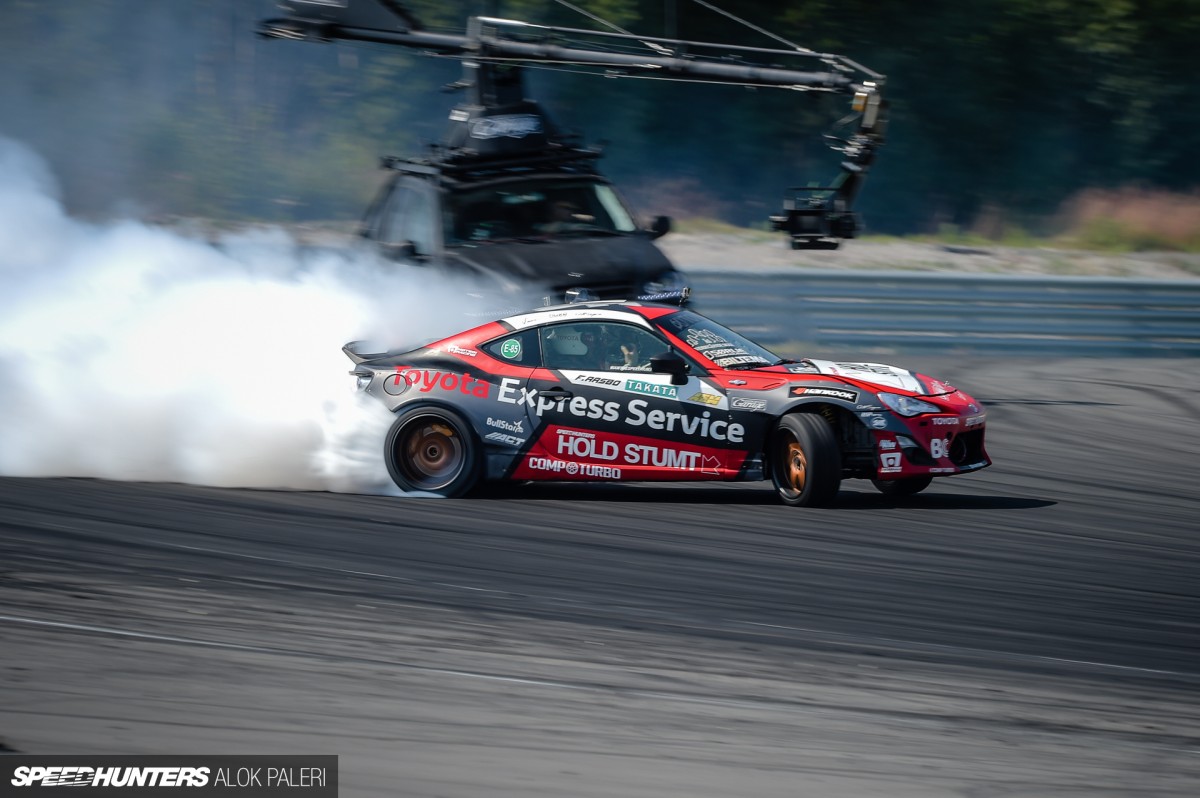 The idea was to put on a good show for the camera – either doing a run past it, or catching up and overtaking it on the outside while hard on the throttle. I bet the shots must have come out pretty damn good!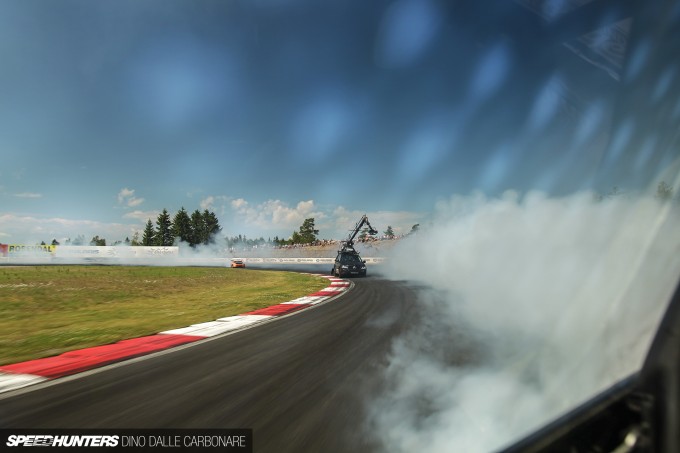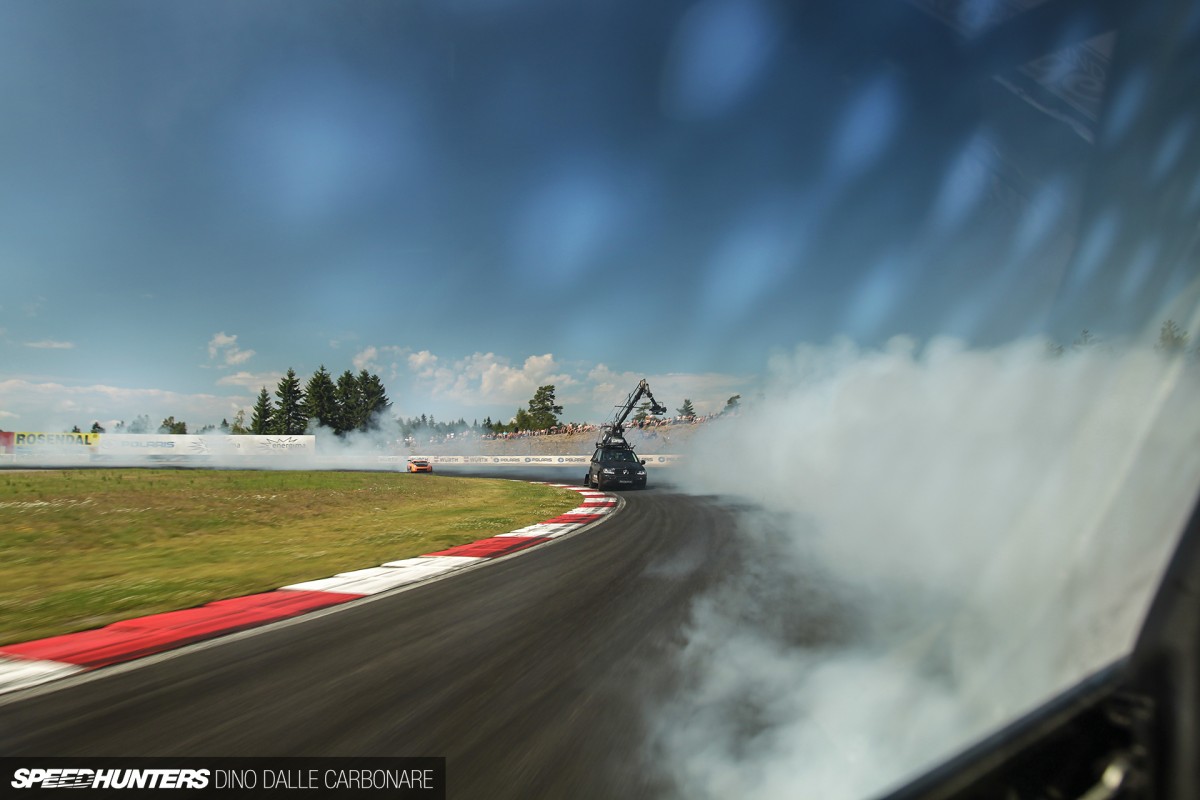 Here is the view from the passenger window as we passed the Mercedes on the last corner before going on and doing a massive dirt-drop along the pit wall straight.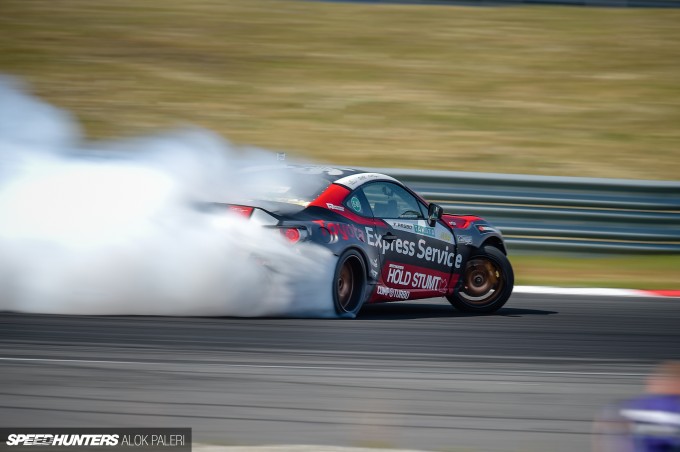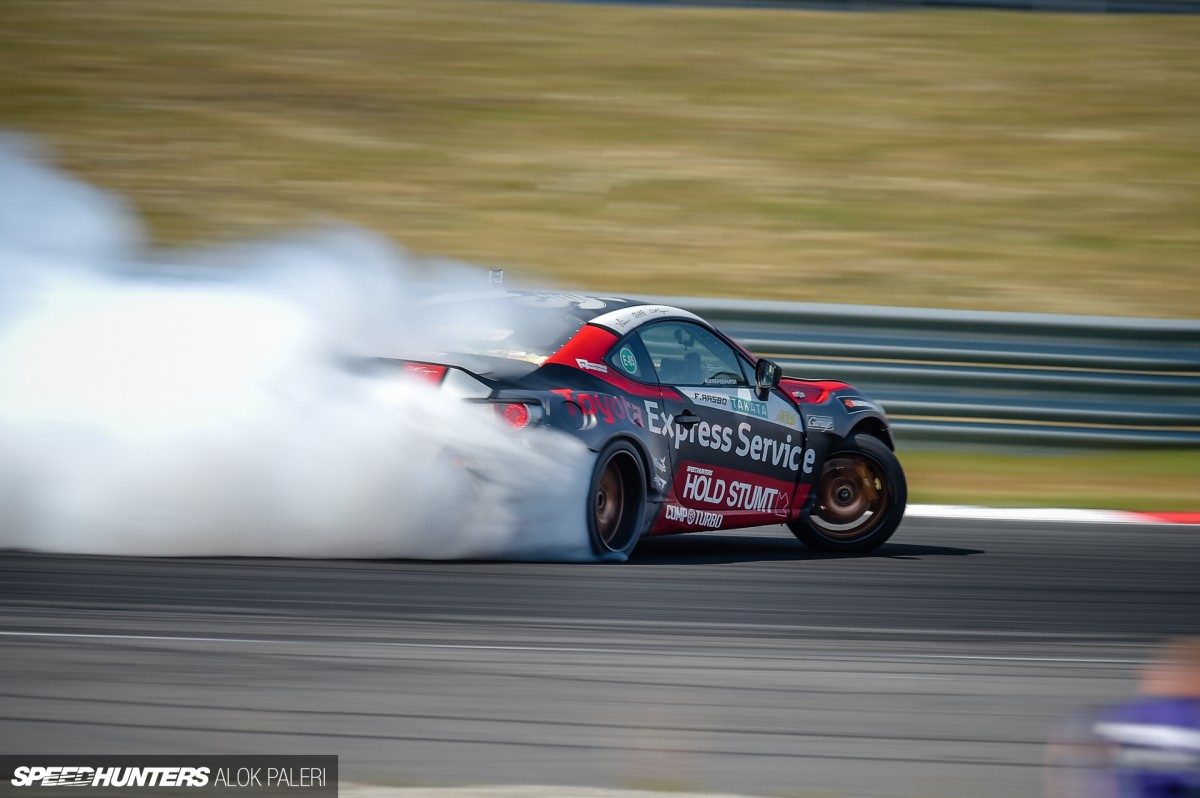 Yup, as you can imagine, it was an epic ride!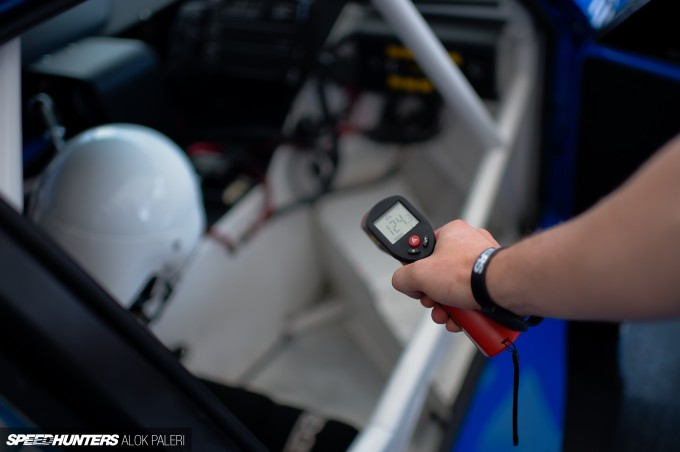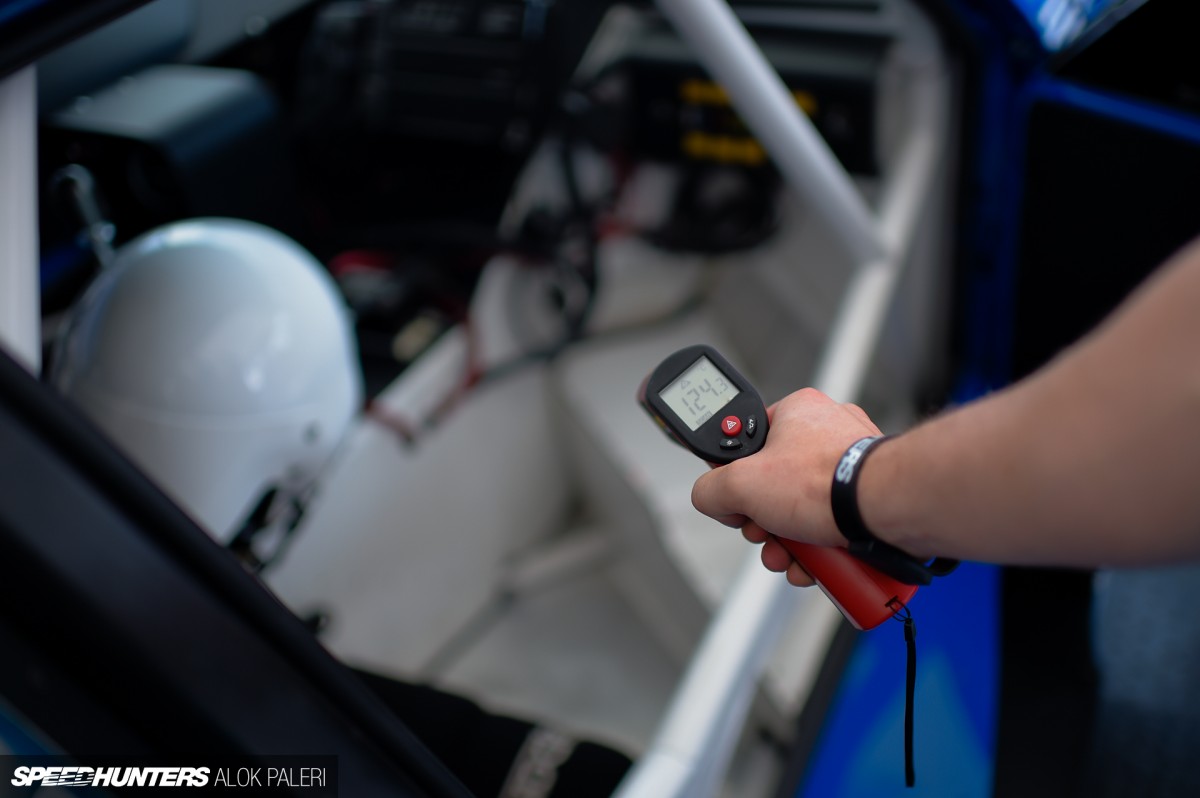 When we drove back to the Speedhunters tent I began noticing my legs were feeling a little toasty. So, after another passenger ride along with Magnus Walker in the car, one of the mechanics measured the temperature in the footwell. Yes, that reads 124.3 degrees Celsius! That's because the big thick lines that go to and from the rear-mounted radiator run right along the passenger footwell.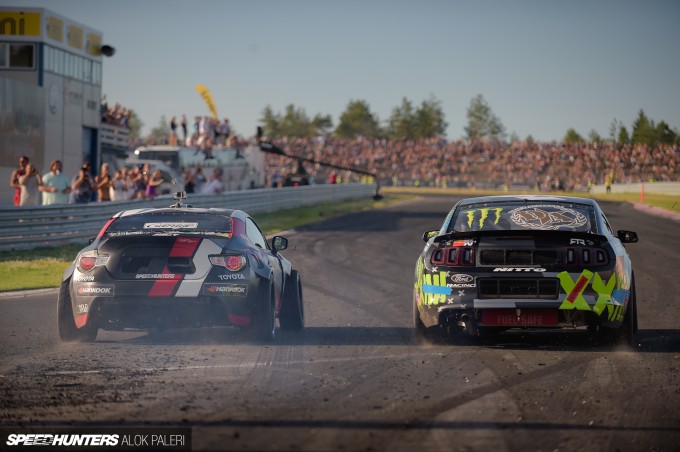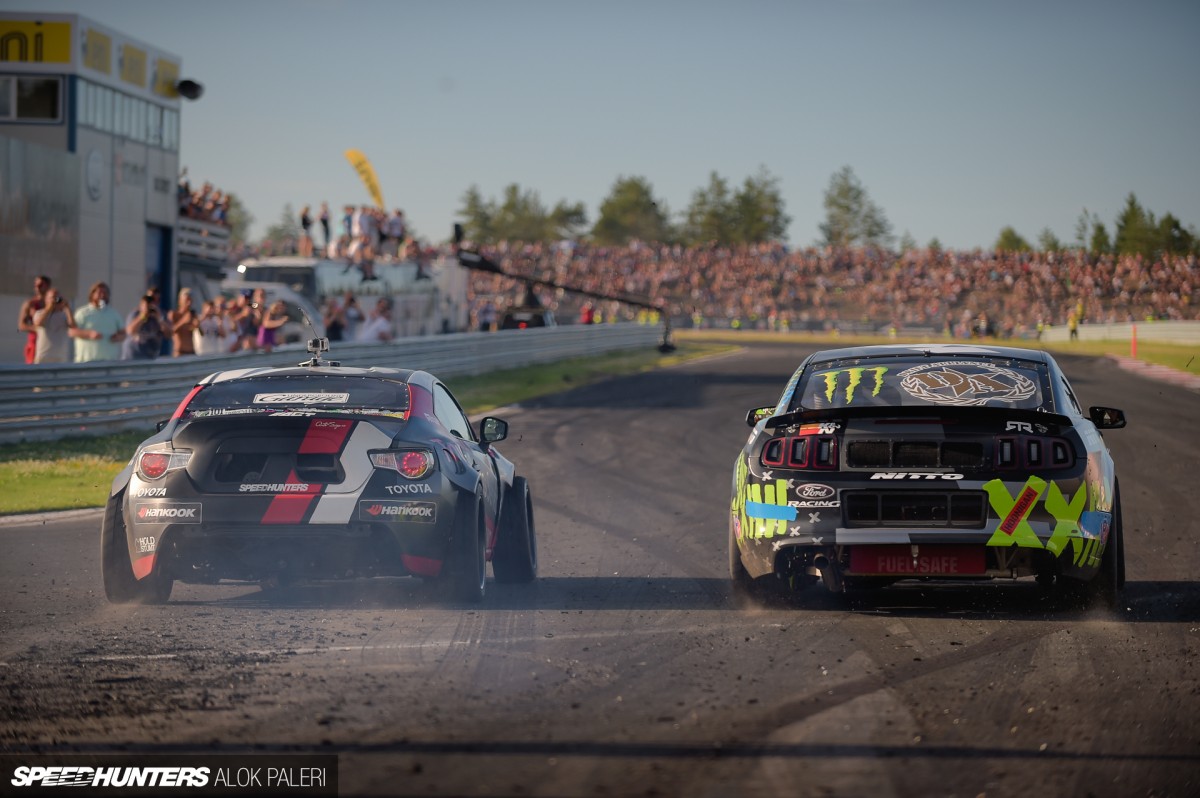 Here's Fredric and Vaughn lining up later on Saturday afternoon during qualifying for the drift competition.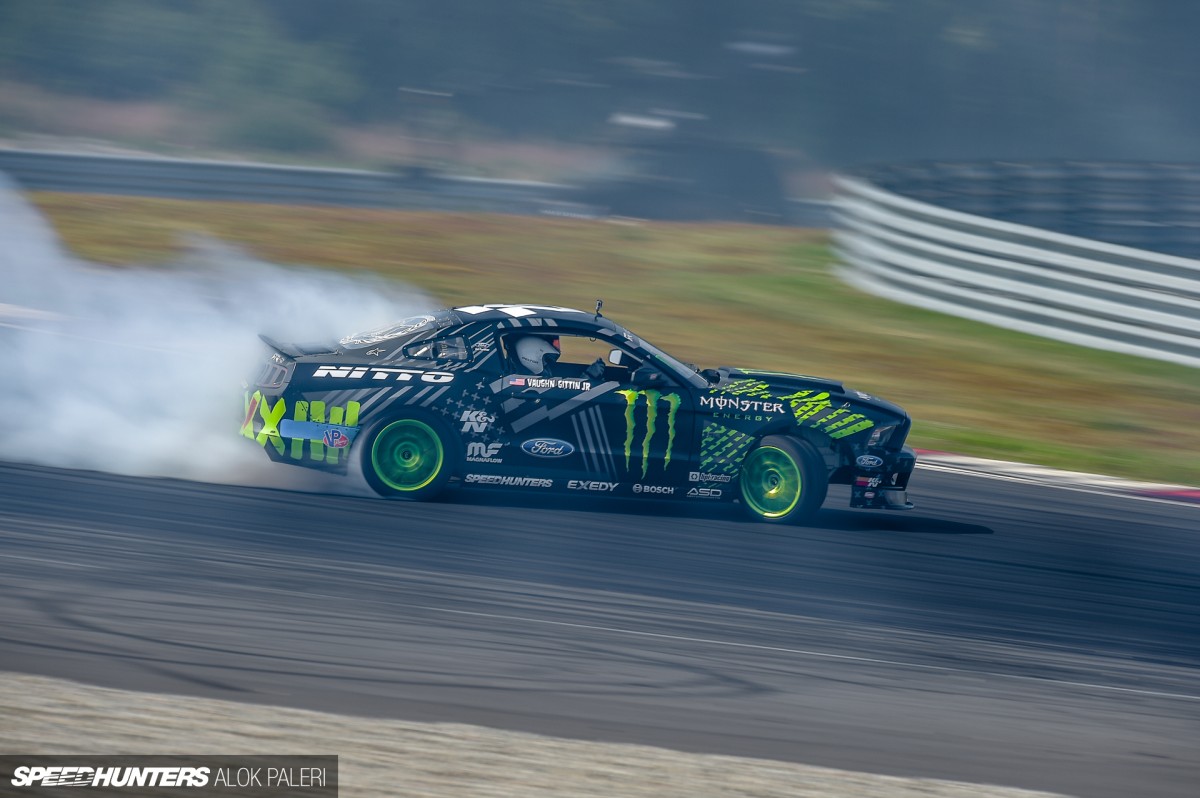 It's cool hearing a naturally aspirated car out at Gatebil sometimes!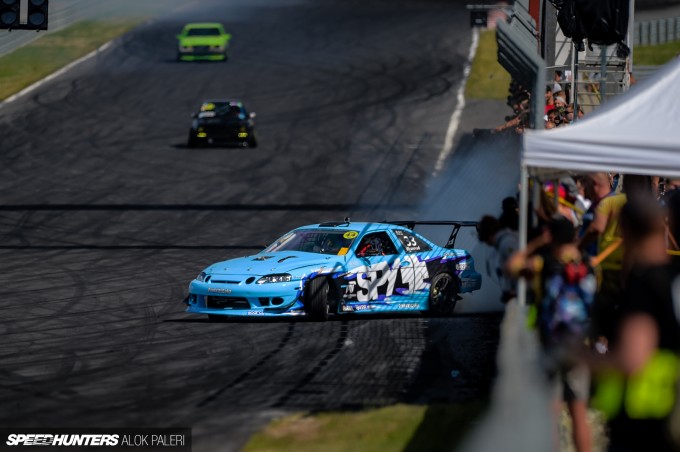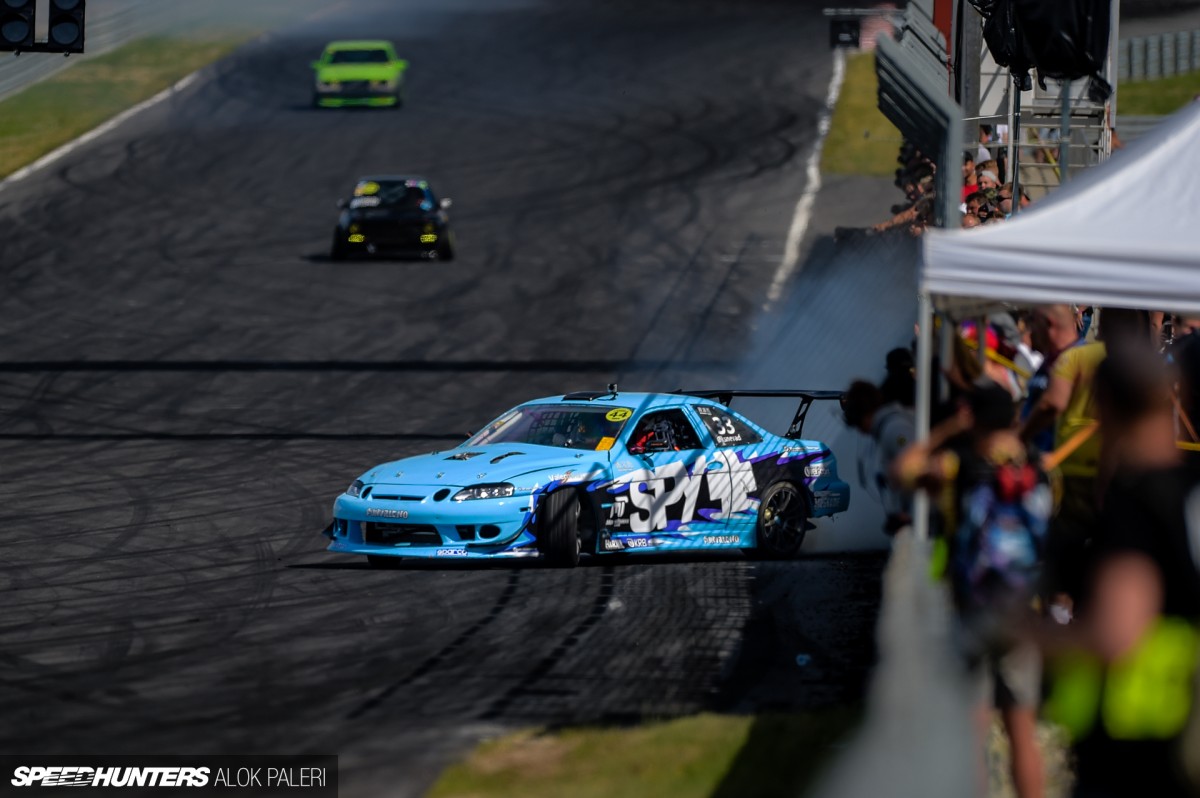 One of the biggest spectacles at Rudskogen is seeing the top drifters attempt to get as close as they can to the pit wall as they prepare to initiate for the first corner. It looks pretty impressive in pictures, but you really have to be there and experience it up close as most guys go past the crowd of people at well over 200km/h!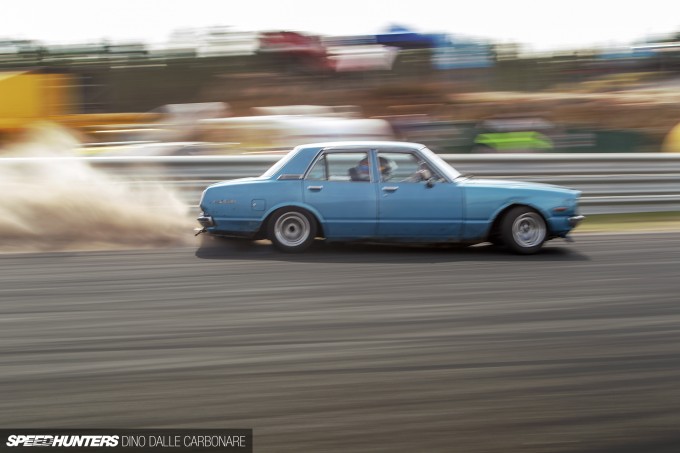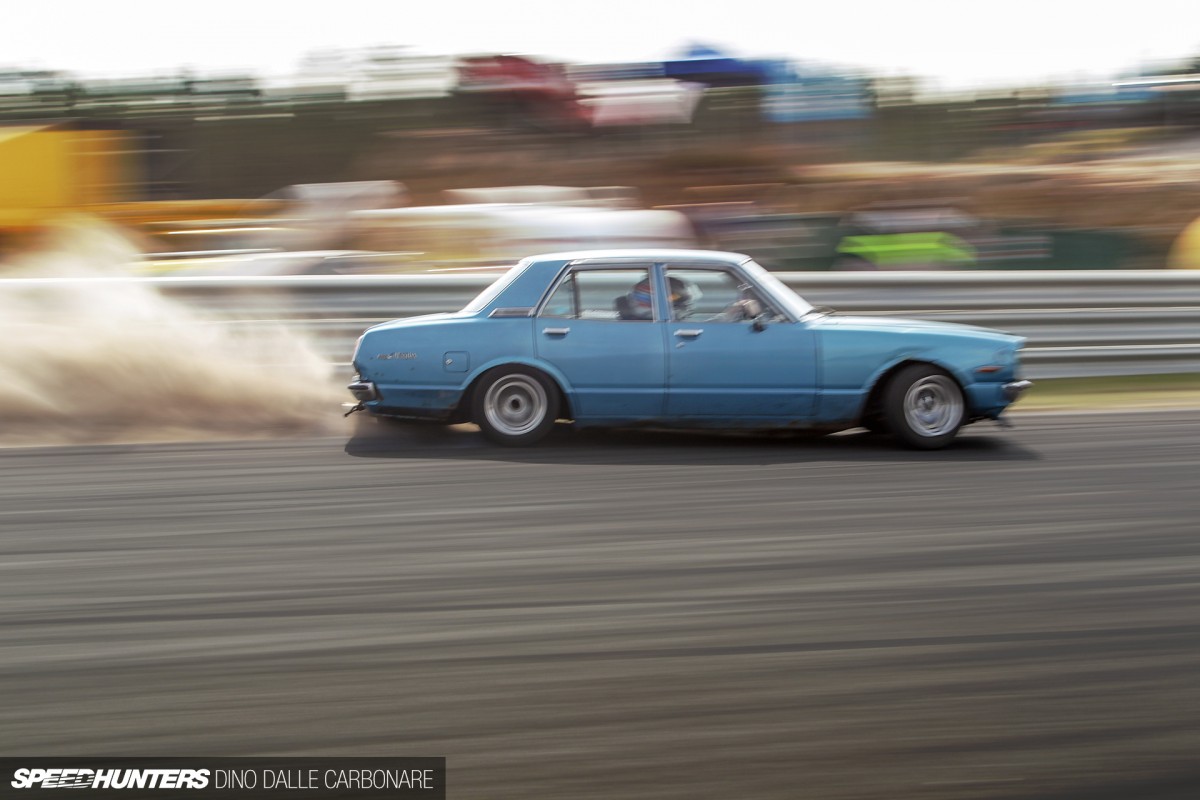 Here's Fredrik Sorlie in his Cressida doing a dirt drop early on Sunday morning. Despite having been a good boy throughout the weekend and refraining from doing this sort of stuff, he got black flagged straight away, which was a bit sad to see as he is one of the better drivers that come out to Gatebil. But I guess it's a lot of work for the track staff to clean it all up in between sessions.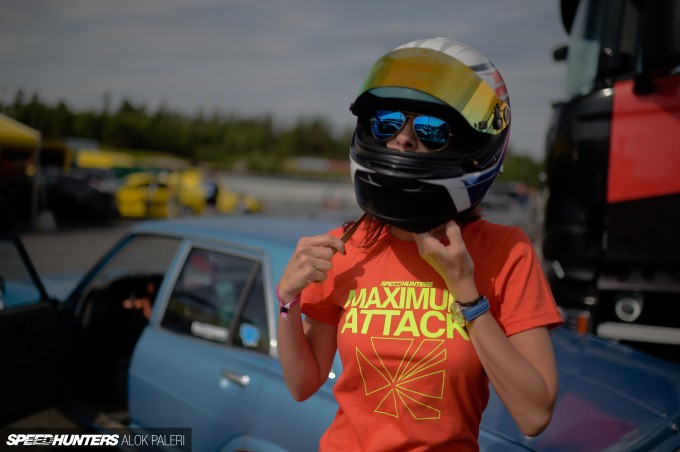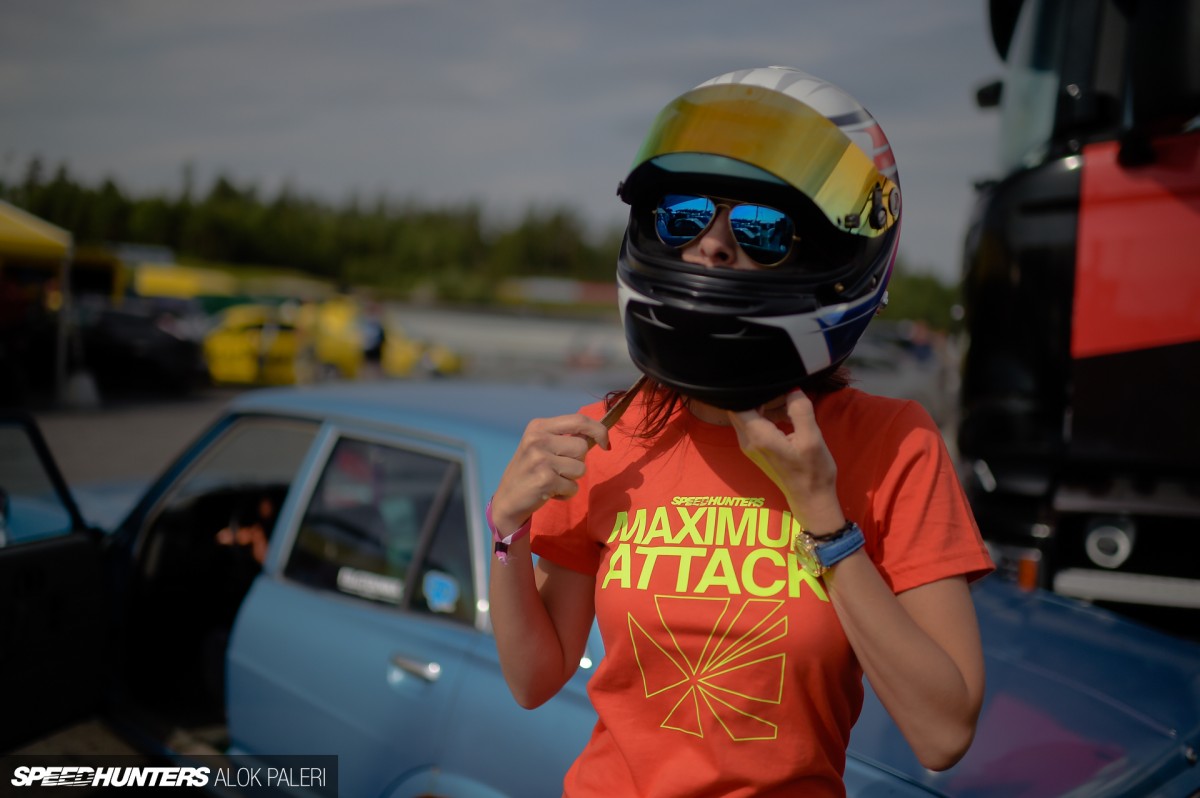 It didn't matter however, as our very own Elizabeth, who was in the car at the time, enjoyed it very much.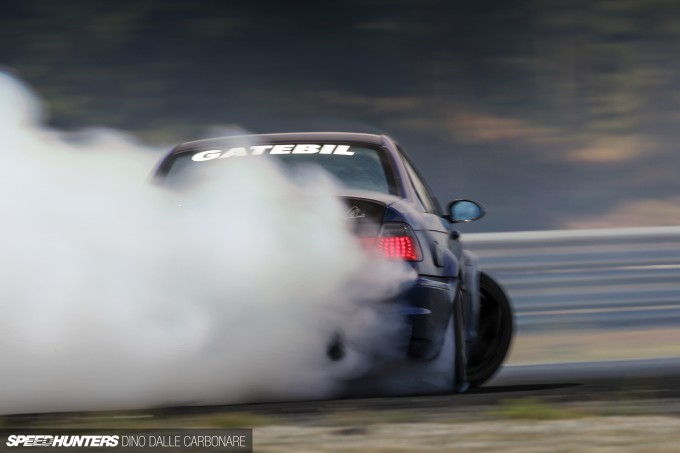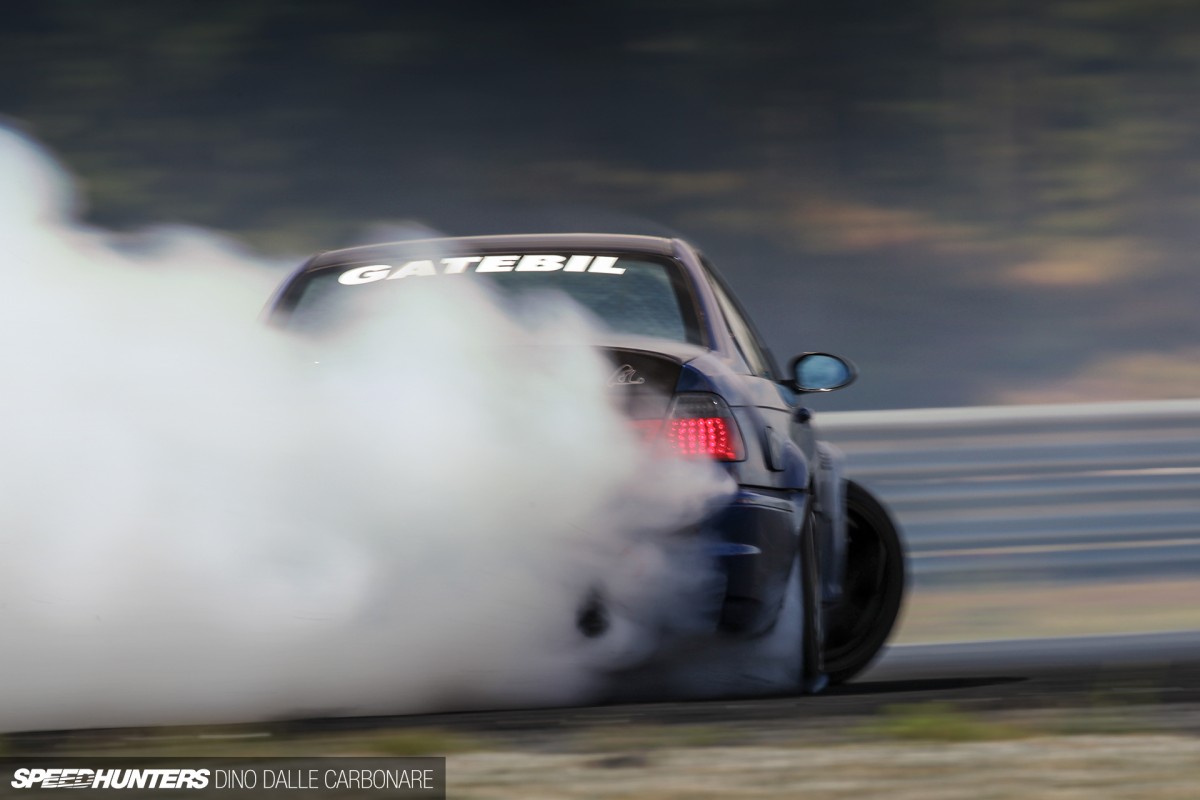 So that's about it from the 2014 Gatebil Rudskogen. It's yet another reminder that the Scandinavians like to do things a little differently from the rest of the world; that they're never scared to try new things and never afraid to experiment – all for the ultimate goal of having fun.
Don't forget to take a look at the additional photos I've included in the Bonus Images chapter, and make sure you check back soon to take a look at all the feature cars we've got coming!
Dino Dalle Carbonare
Instagram: speedhunters_dino
dino@speedhunters.com
Additional Images:
Alok Paleri
Instagram: rennworksmedia
alok@speedhunters.com
Peter Kelly
Instagram: pedey_kenmeri_creative
Cutting Room Floor