Sometimes, without even knowing it, there are interesting little links between cars and their owners. Take this 1984 Audi 80 Quattro we came across at Gatebil last month for example. Known as the 'Silver Arrow', it's something of a legend in the Norwegian Audi community. One of the very first Ur Quattro sedans, it was originally built up between 2000 and 2003 by Trond Gulbrandsen and Sven Runar Nilsen. Now owned by Reidar Mjelde, this is unlike any other 80 you have probably ever seen. Turns out the name Reidar in Norwegian means 'warrior', a rather fitting term because I really couldn't possibly come up with a better name for his Quattro. This is a true Gatebil warrior in the truest sense of the word!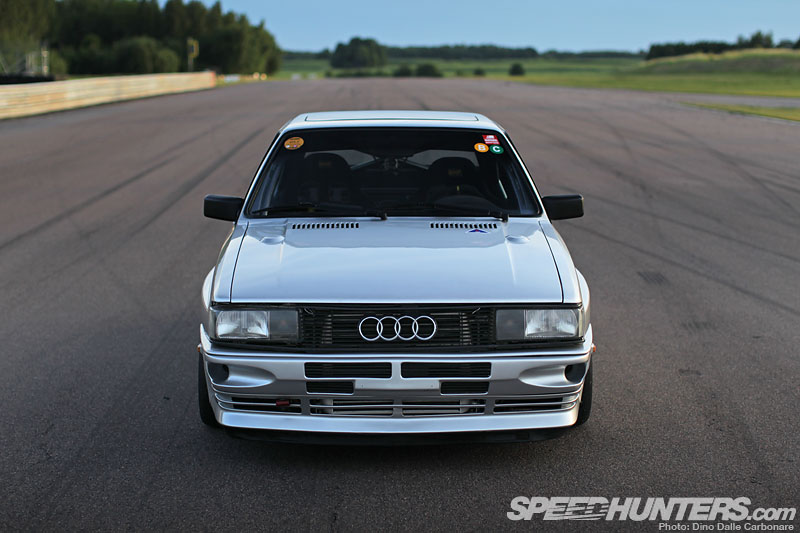 And the best thing is it's a bit of a warrior in disguise, because if you were to give it a quick glance, you just wouldn't be able to even imagine the lengths Reidar has gone to in order to create what, to him, is the ultimate interpretation of this eighties all-wheel drive sedan.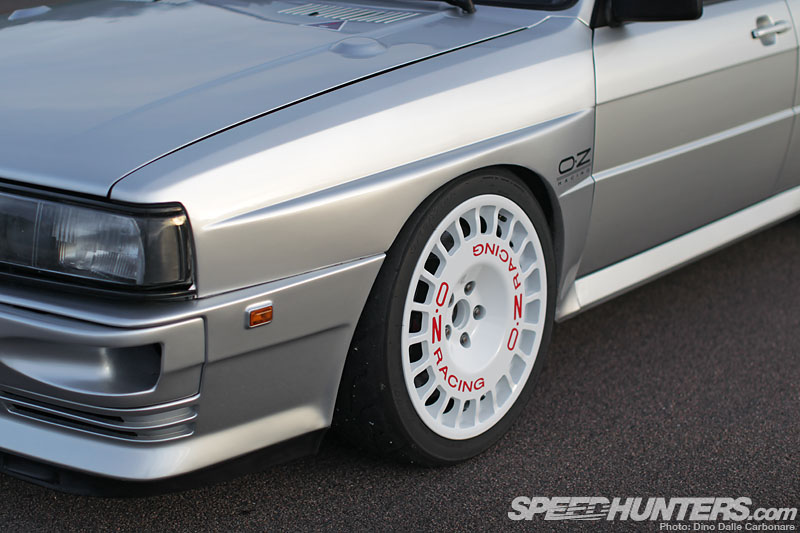 Like most cars we stumbled upon at Gatebil, this was yet another 'double take'; Sean and I were happily walking through the paddock when we spotted a series of gently blistered fenders adorning what was a seemingly stock-looking 80 sitting halfway inside a makeshift garage. It's a good thing we went in for a closer look and met Reidar, who quickly showed us around his car. What followed were many statements of surprise, punctuated with the odd swearword for extra emphasis.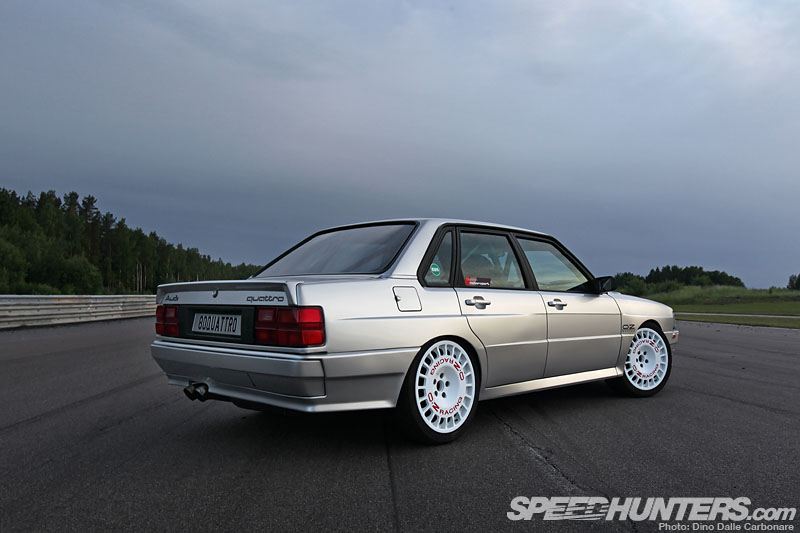 What really did it for me was not just the impressive selection of parts and all the custom work that had been done, but the way it had all been applied, or better still, fused with the car. Like a fine wine this is a car that you slowly appreciate as you walk your way around it and take in all the details.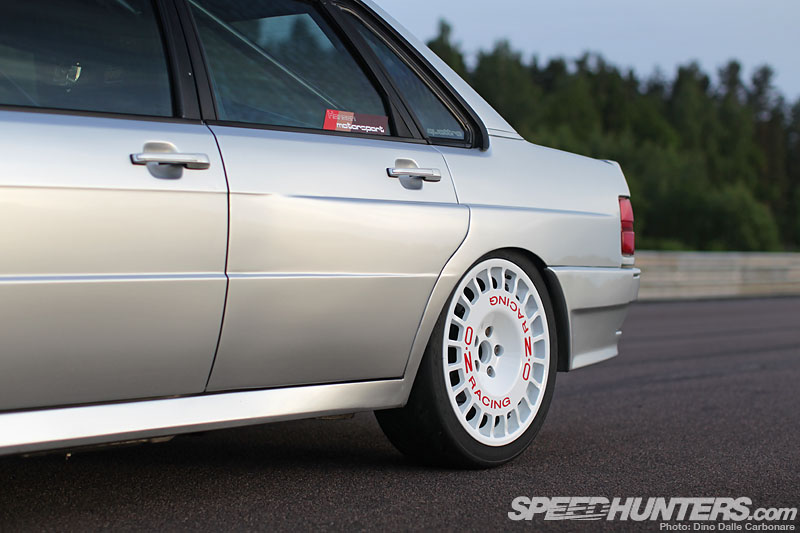 Aesthetically, the angular eighties design has been ever so slightly enhanced with custom blistered fenders front and rear, all done in metal of course and to just the right point where they make the 18-inch O.Z. Racing wheels sit just right.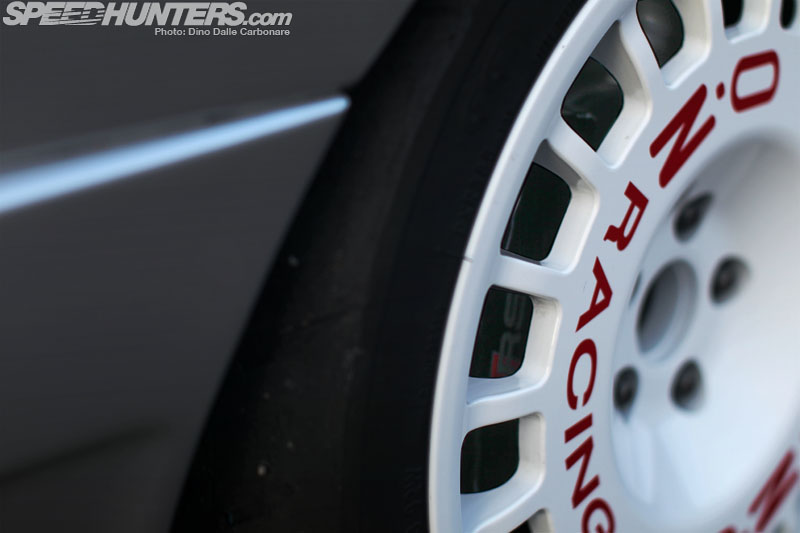 And so the part hunt begins: Reidar started off by pointing out the massive 8-pot Audi RS4 calipers hidden away behind the wheels. These are mated to RS2 rear calipers and actuated via an Audi 80 V8 brake booster.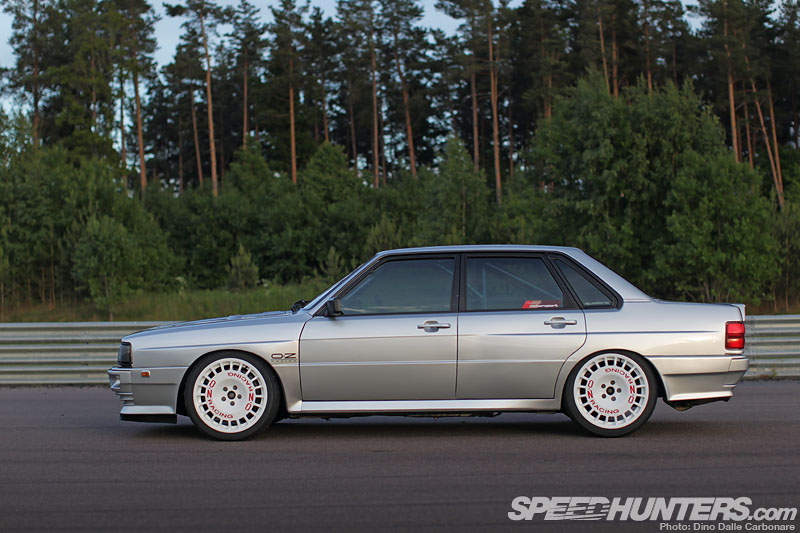 To get the exterior to look just right, custom UR Quattro style front and rear bumpers were created along with UR side skirts all made to match the UR-inspired widened fenders. Reidar explained that he even made the side intakes on the front bumper, molding them out of a halved Coke bottle. Where there's a will there's a way, as they say!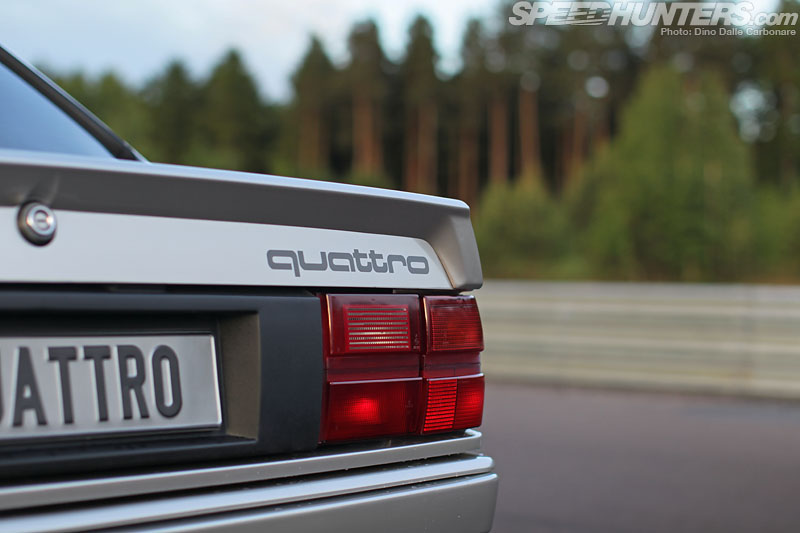 The rear end is finished off with tail lights from the V8 model for a slightly different feel that only those in the know would spot.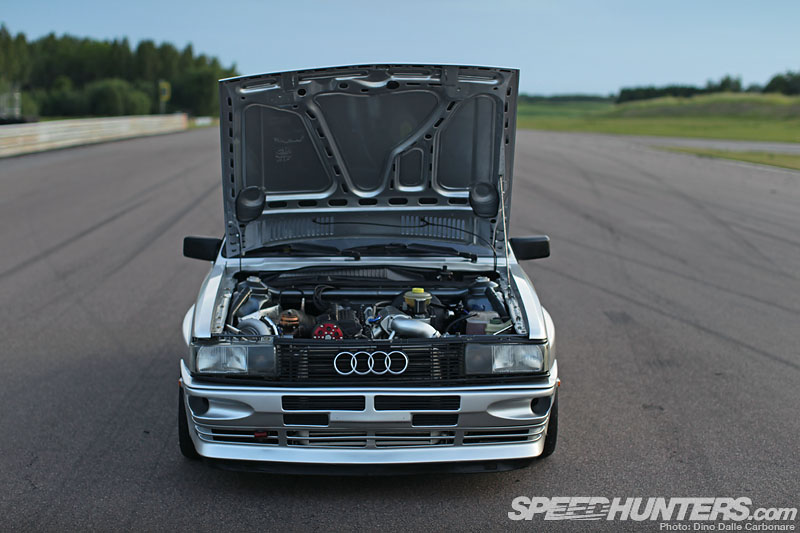 A clean and well-put-together exterior however couldn't prepare you for the insane amount of work that has gone on under those spotless metallic silver body panels.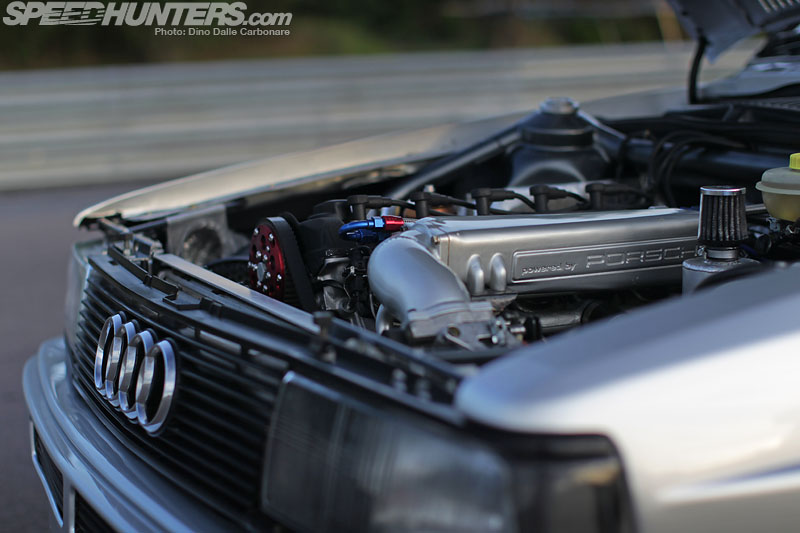 Prior to the start of the bigger bulk of work the chassis was stripped and built to Audi Motorsport Group B specification. Reidar then went pretty much mental on the details, fabricating a custom subframe to lower the engine 2″ and move it rearwards by a massive 3″…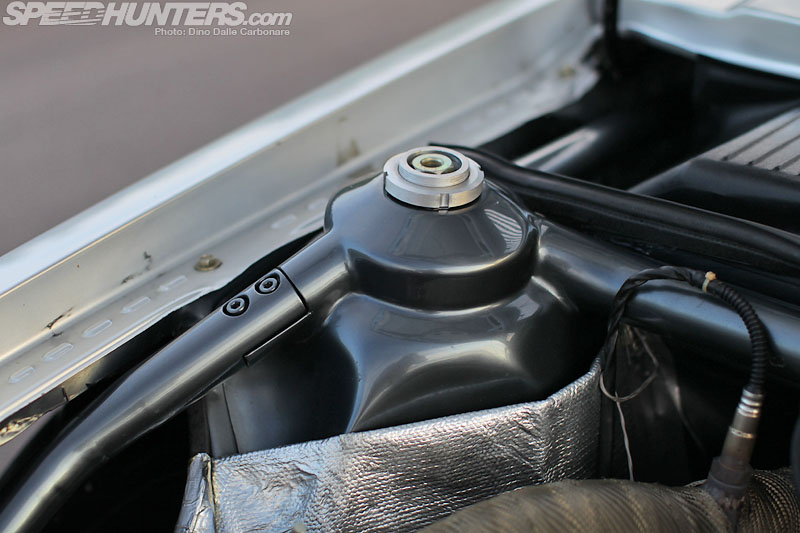 … as well as cutting out the inner section of the wheel arches and raising the suspension turrets 2″ so as to lower the car but maintain the same suspension travel.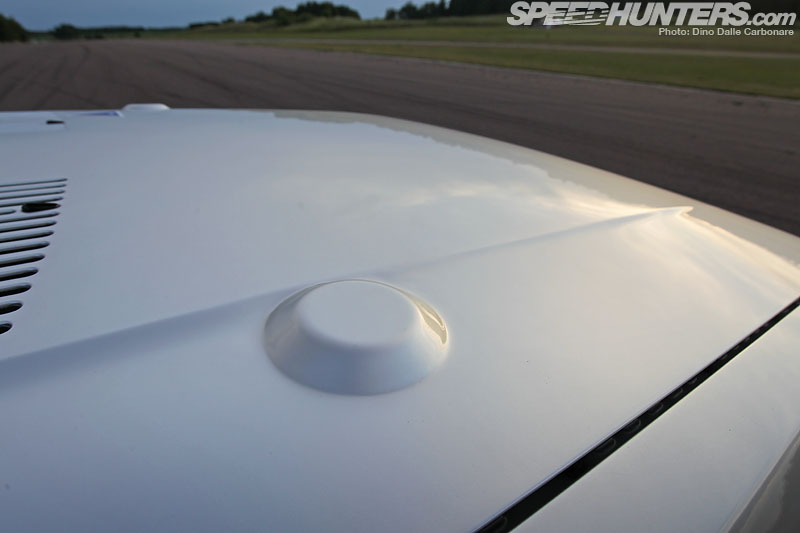 To clear the raised struts a little mod had to be carried out to the hood – these two circular cups borrowed from the back of a washing machine do the job rather well! The adjustable suspension is fitted along with a long list of Group B or custom arms and bracing, all added to get the whole front and rear geometry just right for those time attack attempts at Gatebil.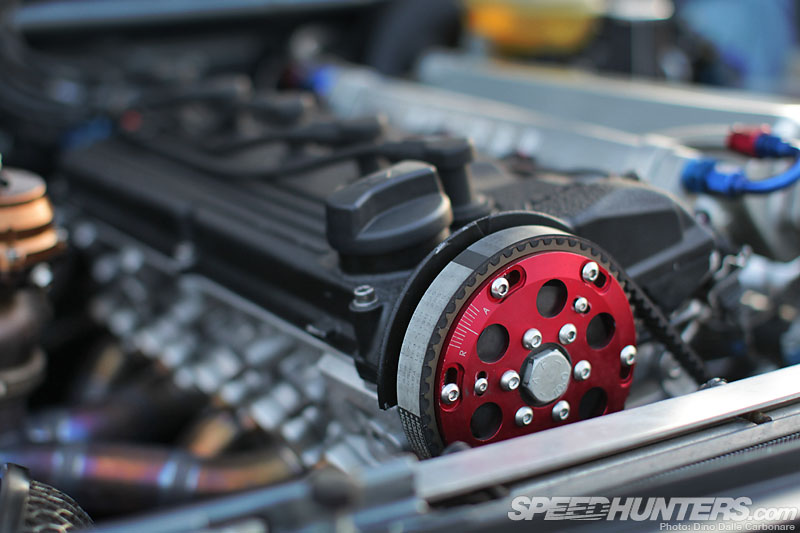 All of this, and we've yet to talk about the engine. Let me first throw some numbers out there, so we get that initial element of surprise taken care of: 760hp and 850Nm. That's more power than the Pagani Huayra I showed you the other day, and only a tad less torque. The 2.5 liter, 5-cylinder, single-cam engine has been taken out of a VW T4 Transporter and completely rebuilt with pretty much the whole 034 Motorsports catalogue of parts. Lots of attention was given to the head which has been fitted with Hansen Motorsport cams and hydraulic lifters as well as a fully upgraded valvetrain, all sealed up with an 034 compression dropping head gasket and ARP head studs.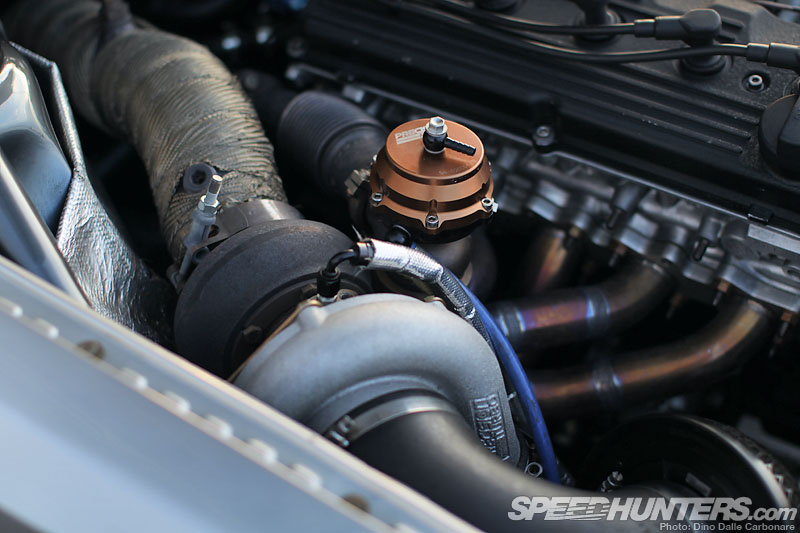 The 760hp is developed thanks to the Hansen Motorsports Precision 62/65 externally gated turbo, which supplies 2.3 bar of boost…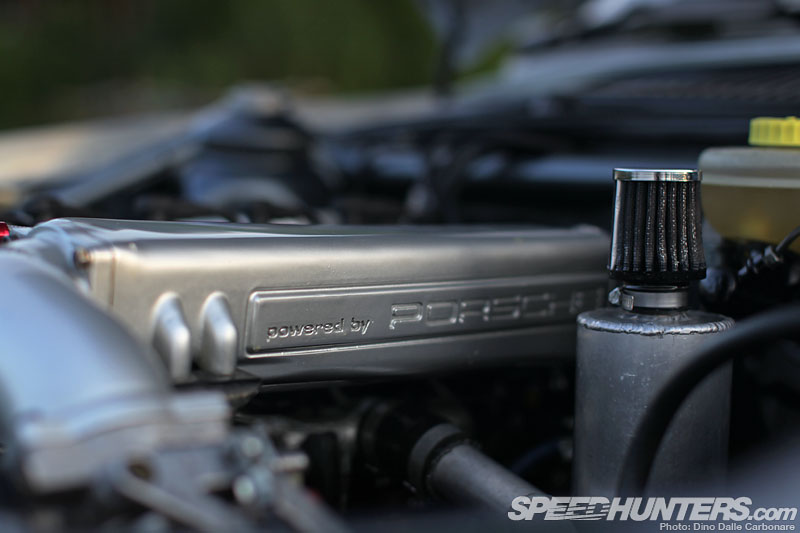 … to the engine through a modified Audi RS2 intake plenum, tilted 90-degrees clockwise from its stock position. Custom piping plumbs the bespoke grille-mounted intercooler in place, right in front of the aluminium radiator; yet another hand-built part.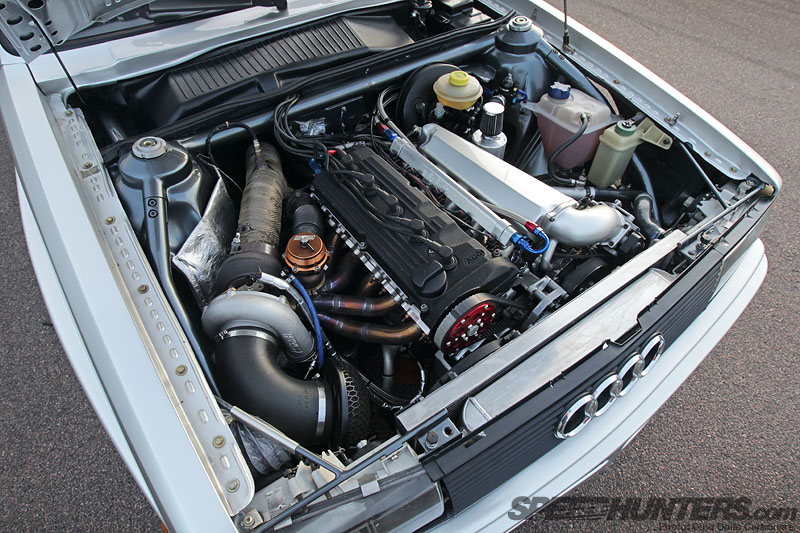 It's all very impressive stuff when you step back and take a wider look at the complete set-up! The cog-shearing 850Nm are transferred to the Audi V8 CMG transmission via a Sachs 4-puck racing clutch and 034 lightweight flywheel. Tons of custom work was done under the car too, which not only includes repositioned transmission mounts (3″ further back like the engine) but a custom double floor set-up to isolate the cabin from heat and hide away all the custom wiring that's been laid down. An Audi S2 rear diff has been added along with RS2 driveshafts to beef up the driveline all the way to the four wheels. Even the steering's been addressed, with a Group B 1.8 turn lock-to-lock rack and Group B rose-joined steering arms.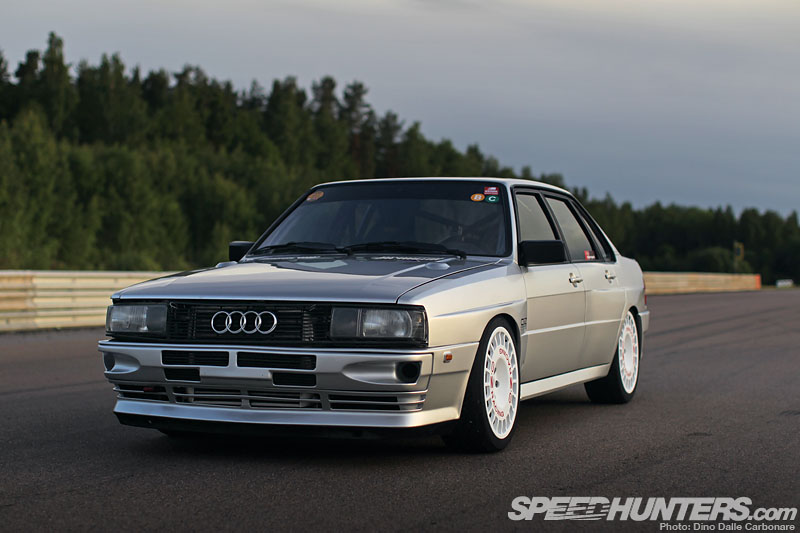 The list of parts almost seems never ending, yet it's all so beautifully incorporated within that custom Group B chassis.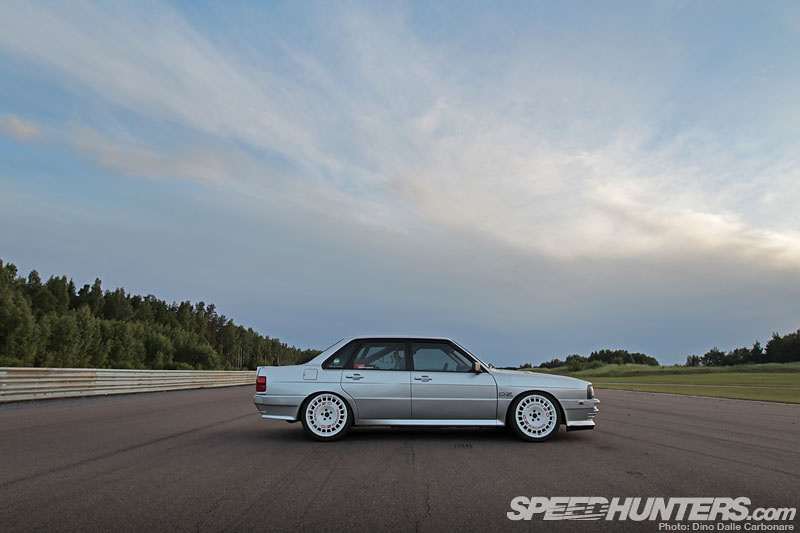 As you can imagine the meticulous detail spans to the interior too…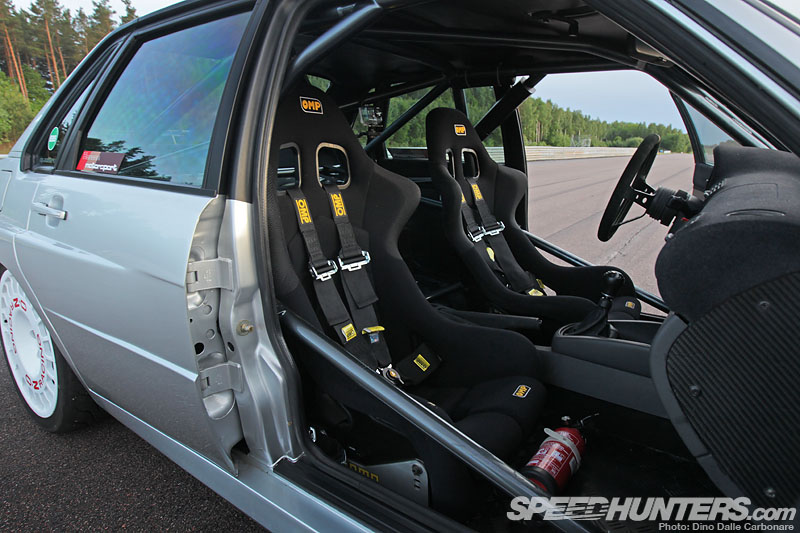 … and once you take a peek inside your brain will automatically conjure up images of Quattro rally cars jumping five meters in the air through forest rally stages. No chances have been taken when it comes to safety: a 16-point cage protecting the two occupants as well as stiffening up that modified Group B chassis.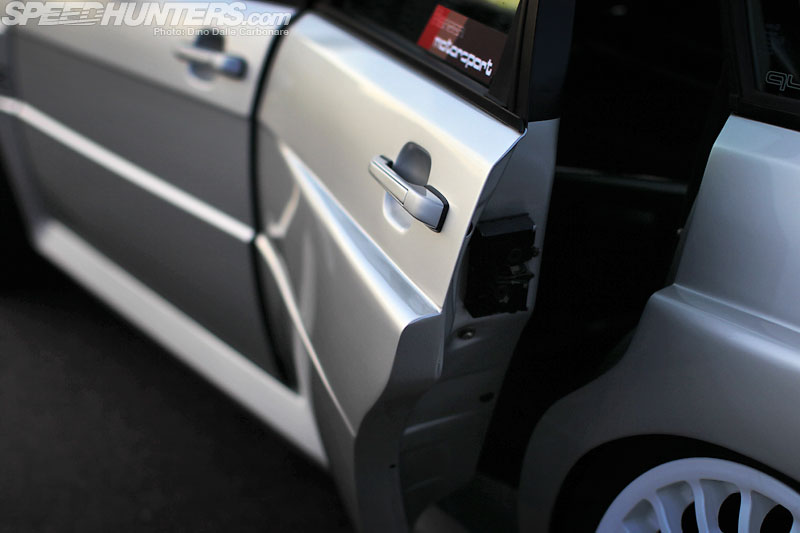 Wanting to take a look at the rear cage design you will have to open one of the rear doors and in doing so you can see by just how much the rear fenders have been widened. Like I mentioned before, this is all metal – no putty to be seen here!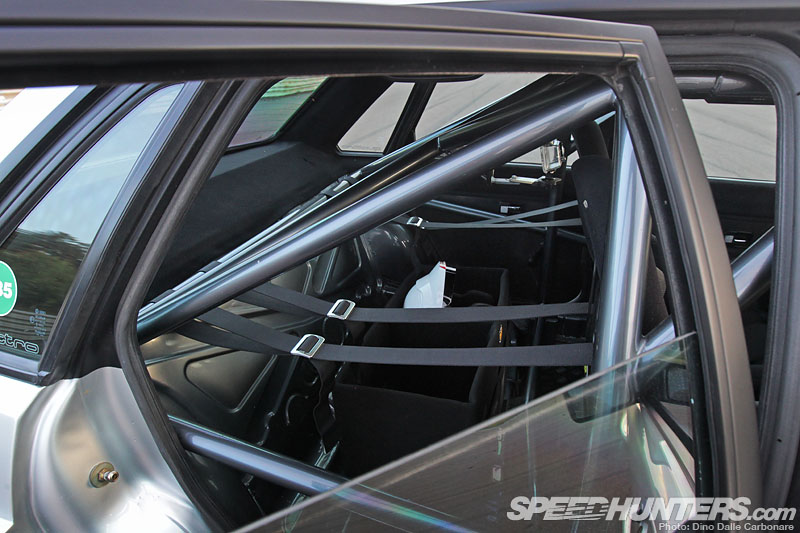 The rear seats have been sacrificed for a good reason, but to make use of at least some space, a small, soft padded box has been placed in the center to hold Reidar's helmet and race suit.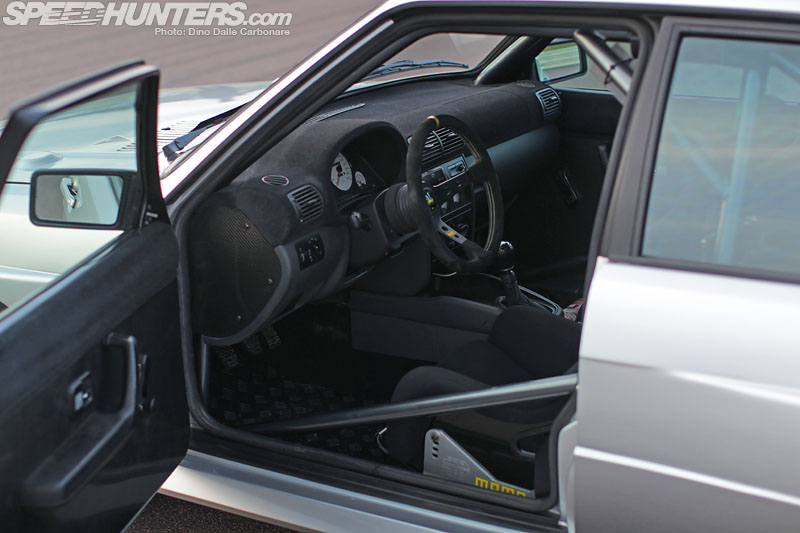 Along with the OMP race buckets, aligned to sit in line with the b-pillar, we find an adapted Audi A3 dashboard housing Audi RS2 instrumentation. The deeper dash allows for the seating position to be moved back just like in a race car. For the ultimate rally look…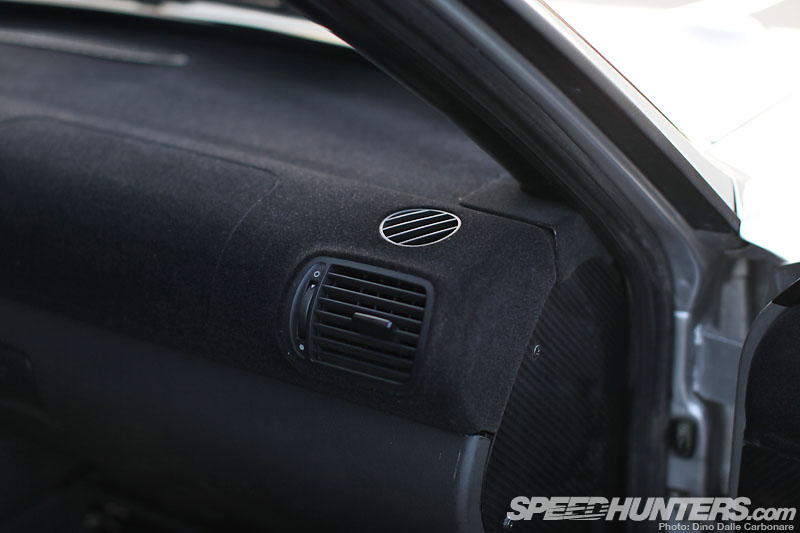 … and to avoid nasty reflections onto the windscreen, the dashboard has been flocked to a velvety finish.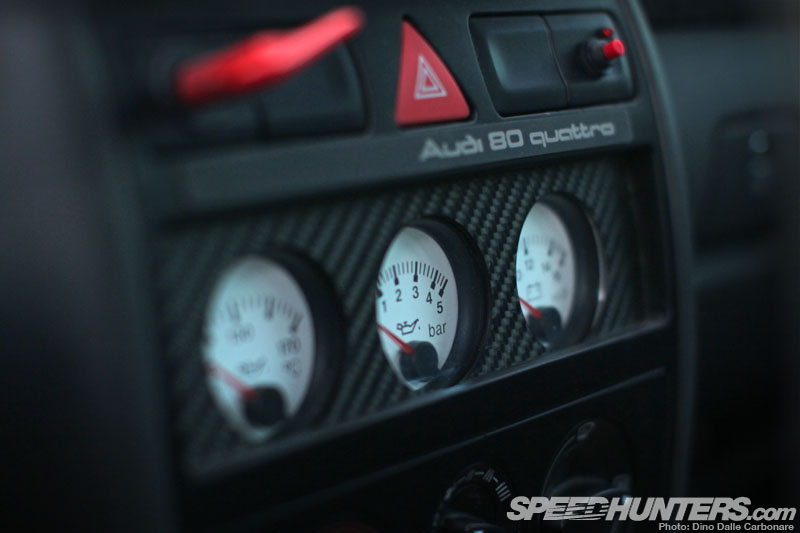 The details continue with this triplet of gauges neatly housed in carbon on the center console. The Audi 80 quattro logo is a great touch.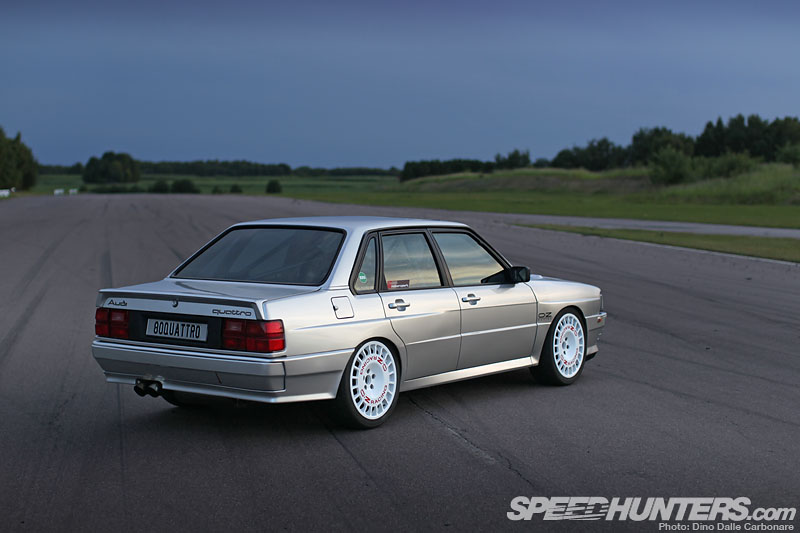 Building a stripped out race car in your garage might be an incredible feat, but to do so within the limitations of a stock body, hiding and integrating all the components away, for me that is a far bigger challenge and one that Reidar has impeccably achieved. This is one track warrior that prefers to hide its almighty bite.
Dino Dalle Carbonare
Instagram: speedhunters_dino
Reidar Mjelde's 1984 Audi 80 Quattro 
Numbers
760hp, 850 NM (627 lb/ft), 2.3 bar
Engine
2.5L I5 20VT from Transporter T4, 034 Motorsports Engine mounts, 034 Motorsports custom rods, fully ported headers by EBB Flowtech, Hansen Motorsport header T4, Hansen Motorsport Precision 62/65 Turbo, Precision WG, 034 Motorsports/Tial 50mm blow off valve, custom full 3.5″ exhaust system, free flow or single muffler ( v-band ), Hansen Motorsport exhaust/intake cams with 11,2 mm lift, 034 Motorsports compression dropping head gasket, 034 "race" N75 valve, Hansen Motorsport light weight hydraulic lifters, 034 Motorsports custom cam cover, 034 Motorsports/ARP head and main bearing studs, 034 Motorsports EFI Stage II C fully sequential set-up, 034 Motorsports AAN 60-2 pulley, 034 Motorsports Custom wiring harness, 034 Motorsports 82 lbs injectors, 034 Motorsports high output coils, 034 Motorsports custom length plug wires, 034 Motorsports/Innovate LC-1 wb set-up, 034 Motorsports 1.8T style inlet temp sensor, 034 Motorsports billet fuel rail, 034 Motorsports/Aeromotive Eliminator fuel pump, 034 Motorsports/Aeromotive 100 micron fuel filter, 034 Motorsports/Aeromotive 10 micron fuel filter, 034 Motorsports/FuelAB high performance fuel pressure regulator, JAZ 10 gallon fuel cell custom fuel cell bracket, custom battery bracket, custom wiring (mostly hidden inside chassis), custom intercooler, custom breather system, custom radiator, custom fan for radiator, custom oil cooler, custom fan for oil cooler, custom modified RS2 inlet manifold, custom intercooler plumbing, custom servo pump bracket, custom front engine mount, custom coolant rail, custom oil dipstick
Driveline
Sachs Racing Clutch 4 puck, 034 Motorsports/Spec 7A style aluminum flywheel, custom transmission brackets to move transmission back 3″, 034 Motorsports Transmission mounts, stock Audi V8 CMG transmission, 034 Motorsports differential mounts, 034 Motorsports rear diff mount, Audi stock Audi S2 coupe rear diff, stock Audi RS2 driveshafts, stock Audi 80 Quattro rear driveshafts, 01E short shift, custom driveshaft, shortened 3″, custom shift linkage to accommodate moved transmission, custom carbon fiber exhaust shield for transmission, custom transmission oil cooler set-up
Suspension/Brakes
Custom front cross member, Audi Motorsport Group B uprights front and rear, Audi Motorsport Group B rear subframe with toe in/out parallel geometry, Audi Motorsport Group B front and rear control arms with bracing, Audi Motorsport Group B full spherical/heim joint chassis, Audi Motorsport Group B short steering rack, 1.8 turns lock to lock, Audi Motorsport Group B steering arms with spherical joints, Audi Motorsport Group B spindles with wheels studs, custom yellow polyurethane bushings for inner steering arms, custom brake brackets for Audi RS2 rear calipers, custom brake bells and discs front, custom brake booster from Audi V8, custom brake line system with bias control, Audi Motorsport Group B rear brake discs and bells
Wheels/Tyres
Custom painted OZ Rally 8J x 18″ ET35  (Ford Transit White), Toyo R888 225/40R18
Exterior
Audi UR Quattro flared fenders modified, custom doors, Audi UR Quattro custom front bumper, Audi UR Quattro custom rear bumper, Audi 80 Quattro custom hood, Audi 90 Quattro trundled and rear panels, Audi UR Quattro side skirts, Audi V8 taillights modified, custom headlights, custom grills
Interior/Chassis
Full Audi Motorsport group B chassis spec, cut out inner fenders in engine bay, custom brace bars for front cross member, custom brace bar for suspension, top and lower, custom suspension towers raised 2″ (lowering car and keeping travel), custom subframe to lower engine 2″, custom engine mount position to move engine rearwards 3″, custom exhaust system tunnel through firewall and under the car on passenger side,  custom 16-point roll cage, custom double floor to protect from heat, custom Audi A3 dashboard with center console, custom RS2 instruments in A3 dashboard, custom modified Audi A3 steering column, custom modified Audi RS2 pedal box, custom hydraulic handbrake,  OMP WRC composite seats x 2, OMP 6 point 4″ seatbelts x 12, OMP steering wheel
More quattro stories on Speedhunters
More Gatebil Mantorp stories on Speedhunters