Here at Speedhunters we do things a little differently. We're not news hunters, publishing every last update about how model X has received upgrade Y; we cover many major motorsport events, yet eschew the traditional event reporting style to search out the real, behind-the-scenes stories that you can't access anywhere else; we approach the subject of car culture with a broad brush, regardless of scene. We live for the love of everything automotive that we each have inside of us, and hand-pick the finest tidbits with which to tickle your car-based tastebuds. Now, you will have to forgive me if I sound overly passionate here, but you would too if you had just spent a few hours admiring one of the most beautiful modern-day cars ever made.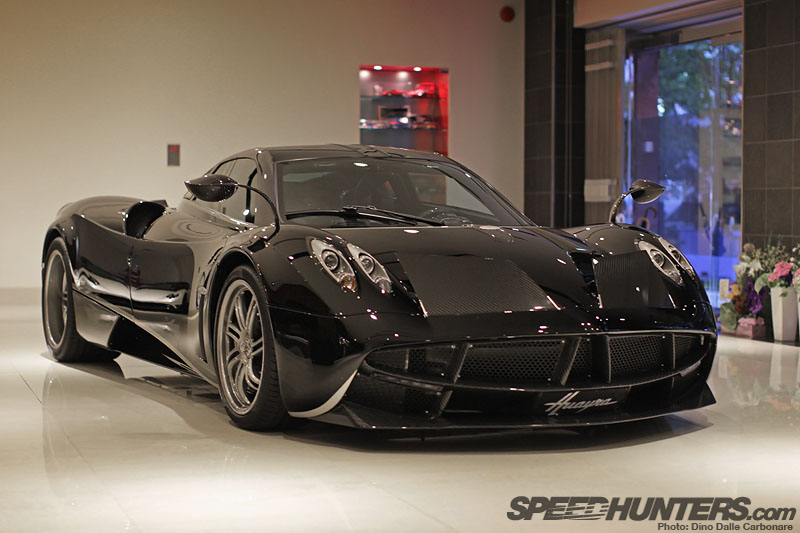 Last week Pagani Automobili officially entered the Japanese market, debuting the Huayra at a state of the art dealership in Akasaka – right in the heart of Tokyo. Since our tour of the Pagani factory back in 2009, lots of exciting things have happened with the brand, from launching an all new car, to building a few more limited edition specials of the Zonda, as well as setting up a much larger all new factory to boost production.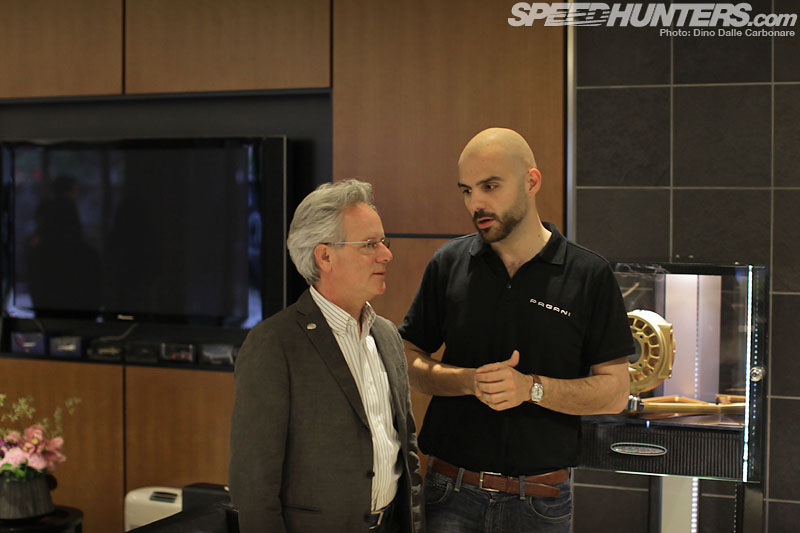 So when Pagani's PR and Marketing man Luca Venturi asked me if I wanted to check out the dealership as well as have a closer look at the Huayra, well let's just say I have never driven through Tokyo's congested city center quite so quickly. Best thing of all however, was that I would also get a chance for a casual chat with Horacio Pagani himself…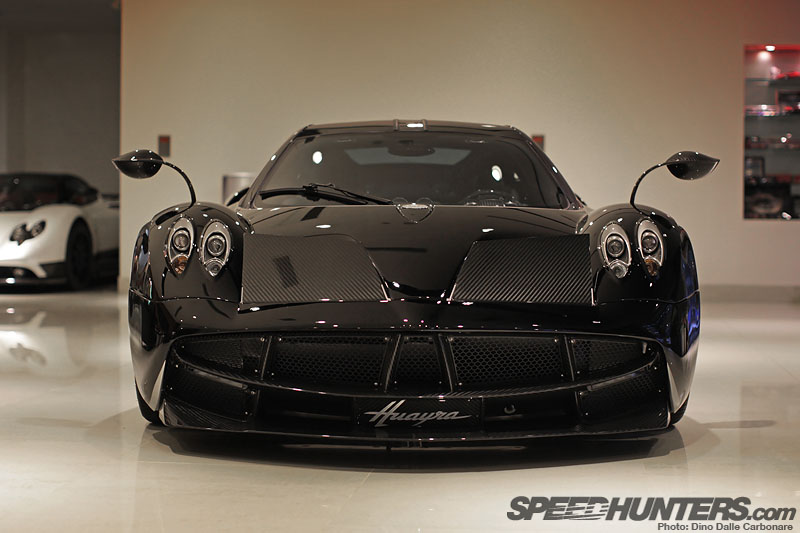 … something I got to do while I was walking around and shooting the first Huayra built for Japan. What a treat!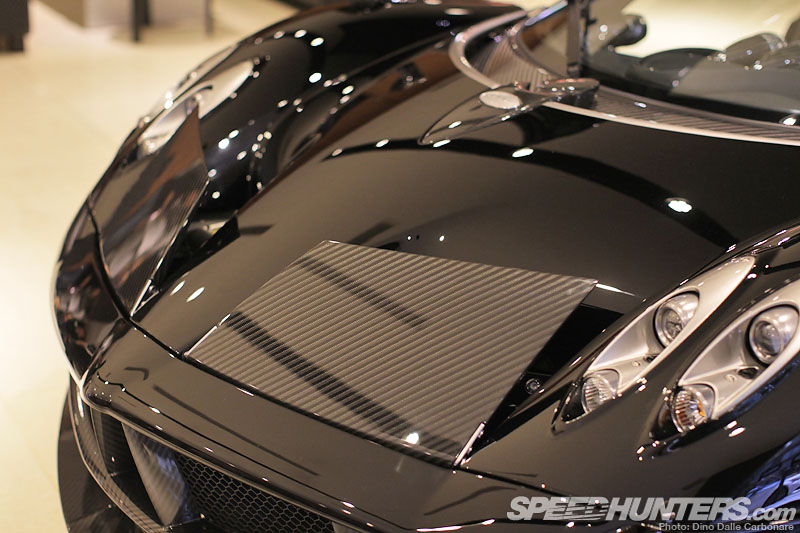 The best thing of all is that my allocated time was right at the end of the day, meaning the hoards of Japanese media had already finished, leaving me with an empty dealership to shoot at.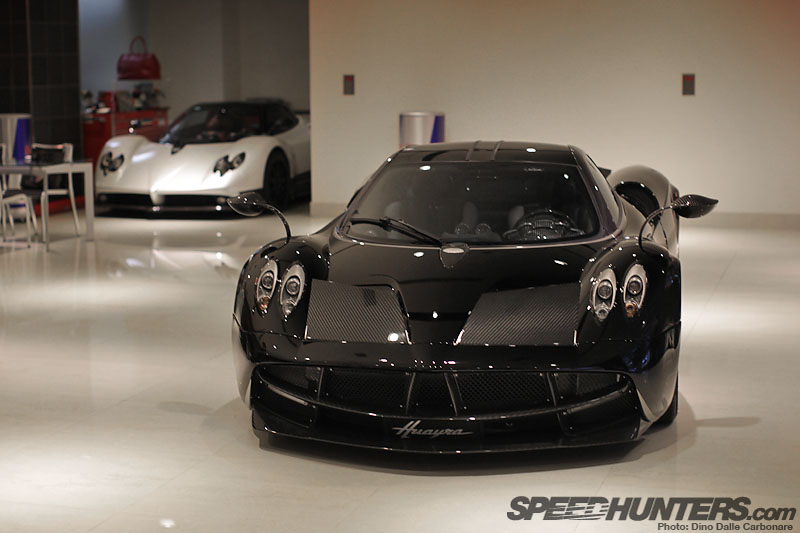 This couldn't have been a better way to slowly take in all the details of this black beauty…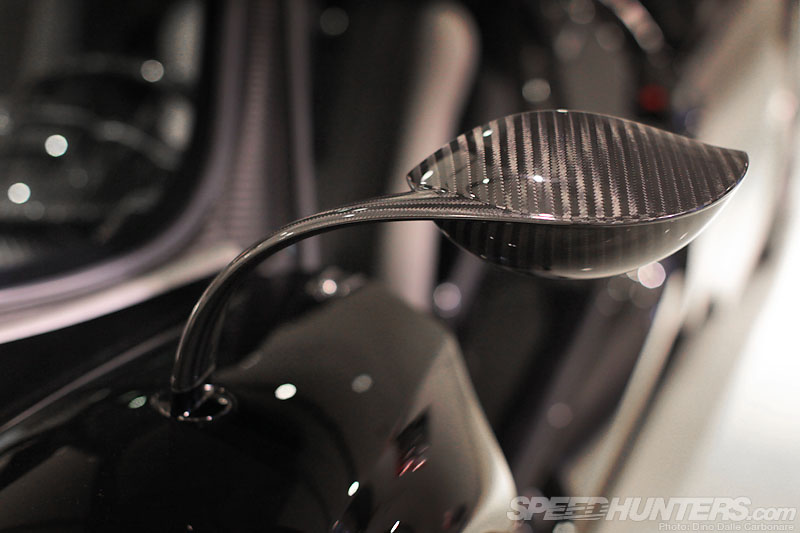 … approaching it much like an art critic would a work of art, except here, the critic had absolutely nothing to criticize. Trust me, this seldom happens to me; I complain about everything but here I was faced with what I can only describe as perfection on four wheels. You know how you always fantasize in the back of your head about how you would build up your car, get custom carbon body panels made up, bespoke engine parts, come up with solutions that no one has ever attempted. I do it all the time when I think of my GT-R, and Horacio Pagani has done the exact same thing here, except he started – like with the Zonda all those years back – from scratch. The result is a celebration of engineering mated to utter beauty, beauty that comes from both the design…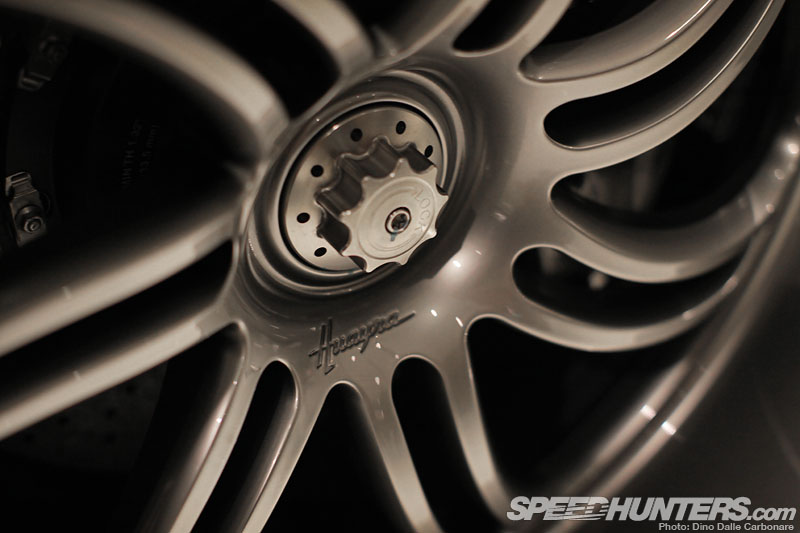 … as well as the choice of materials. Each detail, from those stunning carbon fiber fender mounted mirrors – which remind me of the spaceship in the Flight of the Navigator movie from the eighties – to the forged rims, in this case painted in a 'liquid metal' silver as Pagani calls it.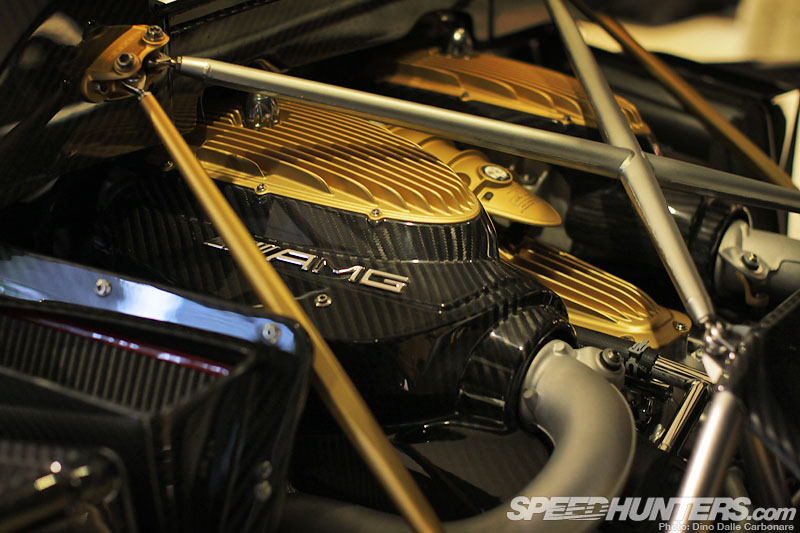 Lift the carbon rear cowl and AMG's bi-turbo 6 liter V12 unit is exposed like a prohibitively expensive jewel. Aside from the numbers which speak for themselves – 730hp and 1000Nm (737.5 lb/ft) to propel 1,350kg of car – it's the way in which it's all presented, a mix of faultlessly laid carbon fiber and billet anodized aluminum parts…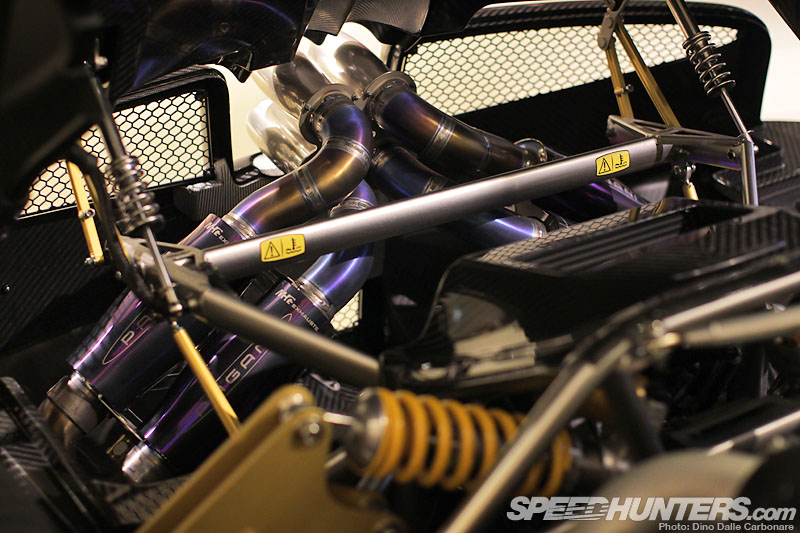 … to the titanium used on the lightweight exhaust system. Everything you look at has an exotic feel, right down to the titanium bolts that are individually stamped with the Pagani emblem.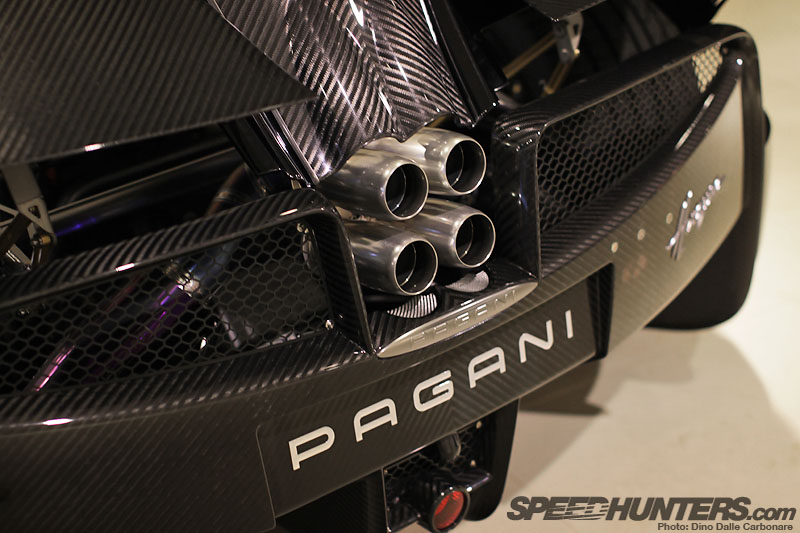 Even the silver carbon fiber around the signature quad-exhaust set-up is of special composition, especially created to shield the bumper from the heat the four pipes emanate.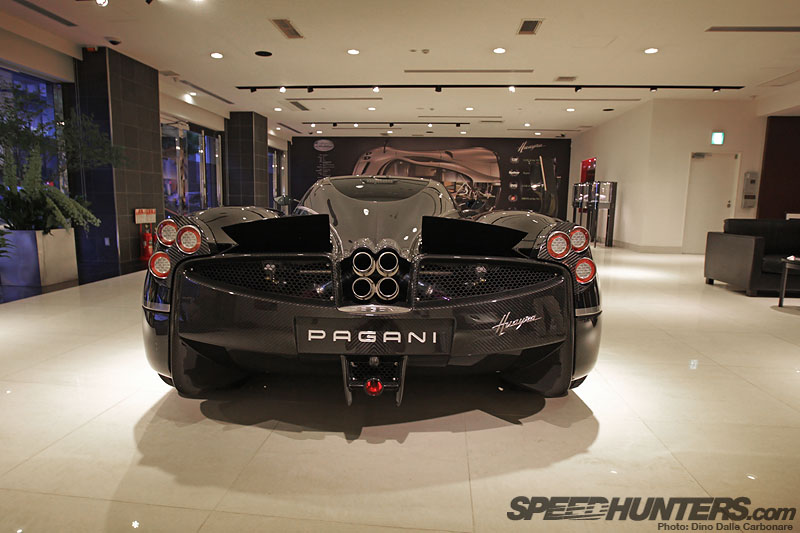 Just look at that rear end! For a boost of visual impact the two individually-operated rear wings/air-brakes can be lifted, along with the two up front.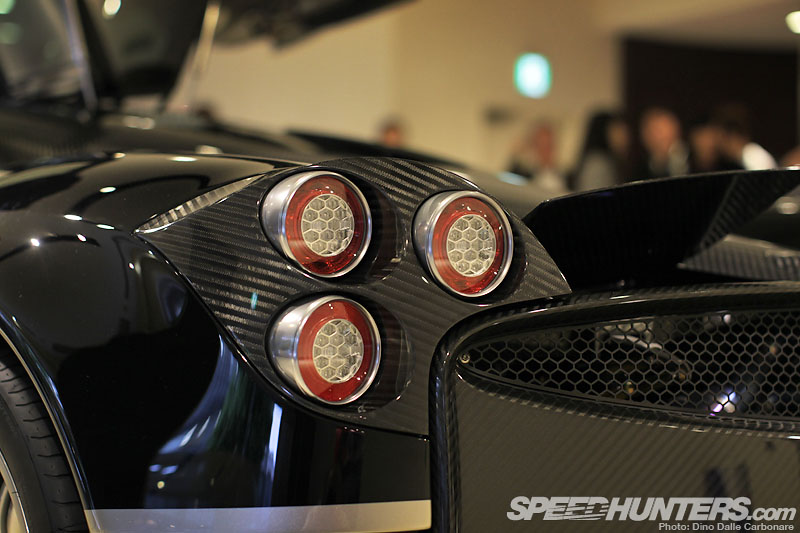 This first 'Japanese' Huayra was finished off with a custom color, a mix of glossy black and clear coated exposed carbon fiber all topped off with a series of metallic silver lines that run along each side of the car as well as along the bottom part of the glasshouse…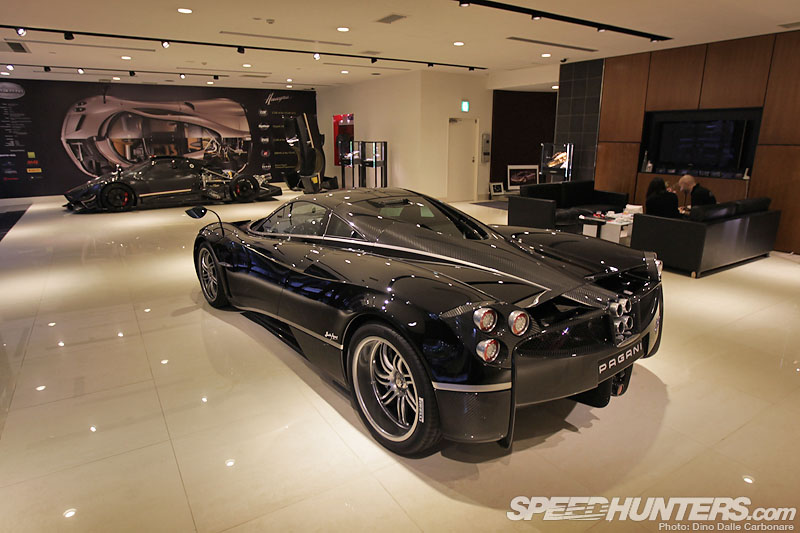 … wrapping around and over the rear cowl.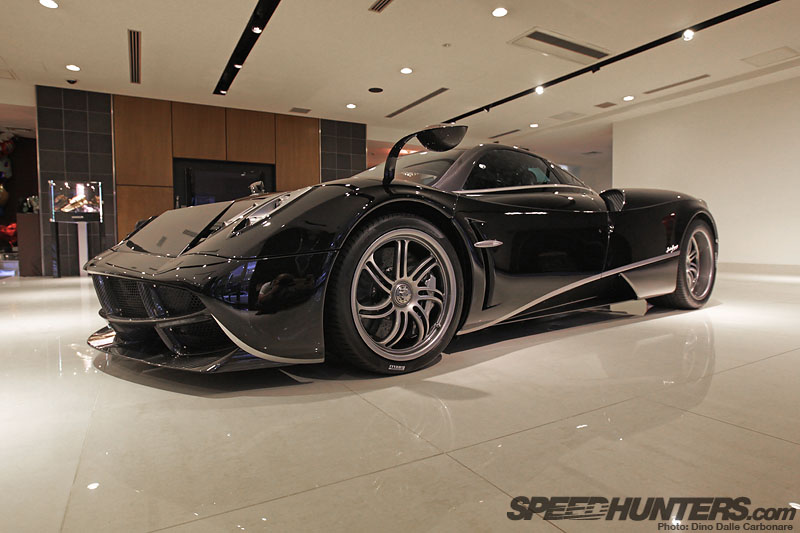 It's hard to give an accurate representation of the Huayra's proportions in pictures, its lines are very sensitive to focal length as well as point of view. This is without a doubt a car you have to see face to face to fully appreciate.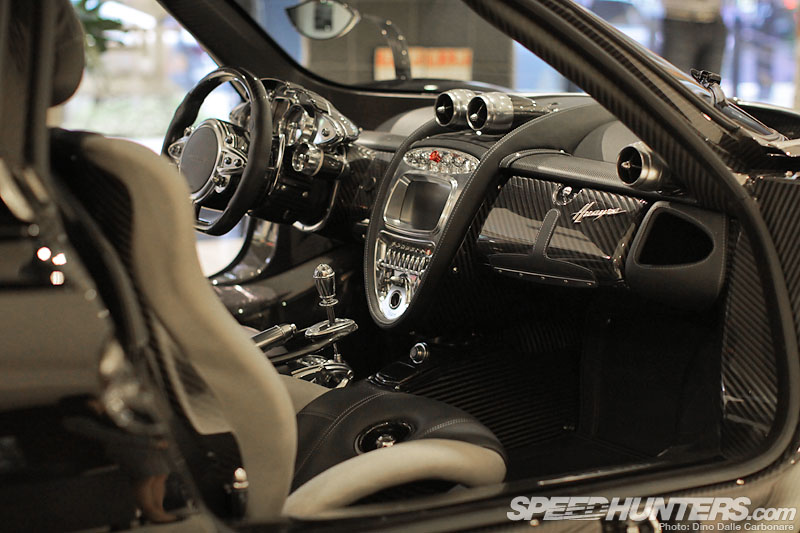 And then you come to the cabin.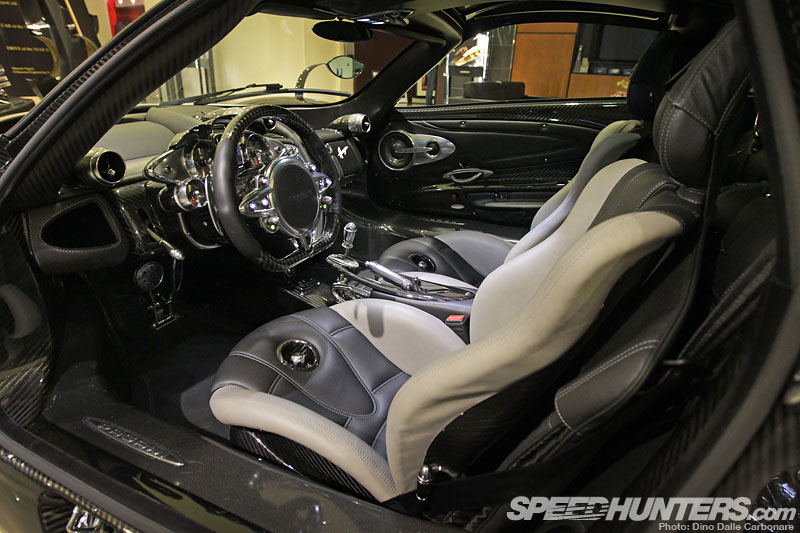 The actual tub is made using a special type of carbon fiber that Pagani himself came up with, meshing titanium in between the carbon weave – something we first saw on the Zonda R in 2009 during our tour.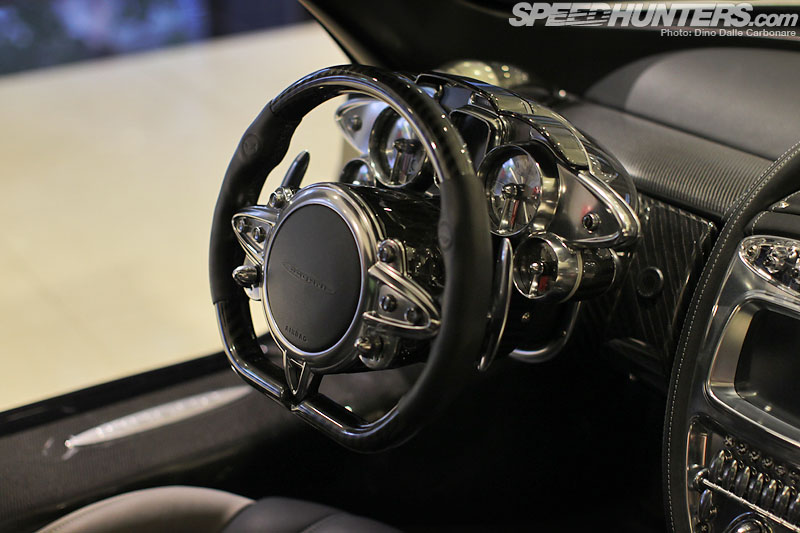 Just like the rest of the car, and even more so in fact, the interior gets the full treatment. Everything you see, touch and smell is either carbon, billet aluminium…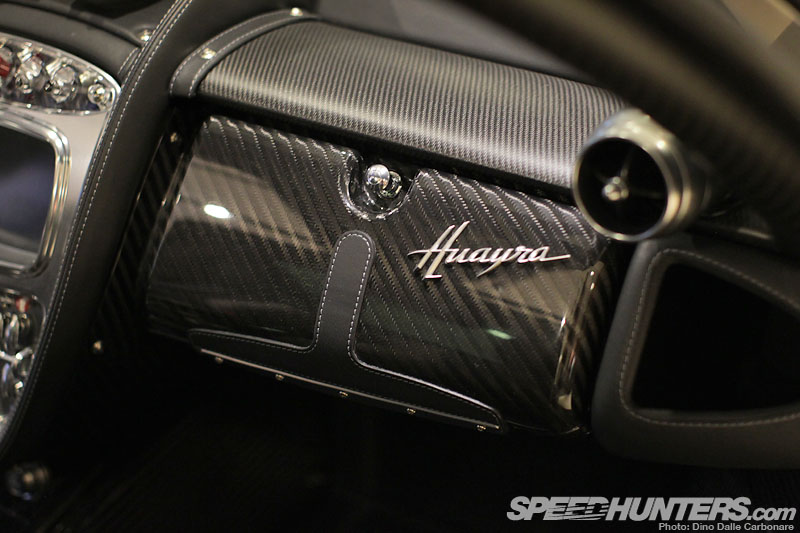 … or leather and its all arranged in a way that only Pagani knows how to do. The best way I can describe the instrument binnacle is to compare it to an expensive high-end designer watch, it's very unique and unconventional, but after a while of looking at it, it makes perfect sense.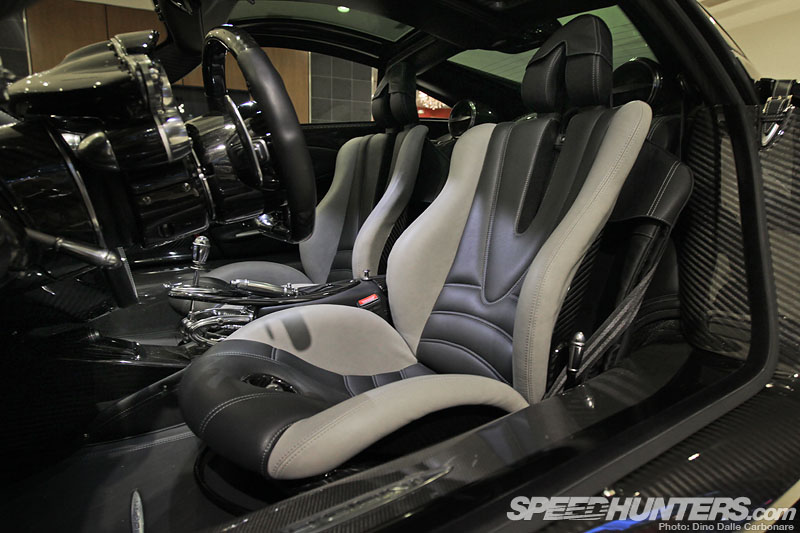 The carbon seats are very comfortable and there is even a surprising amount of space inside, not to mention visibility with the amount of glass you're surrounded in.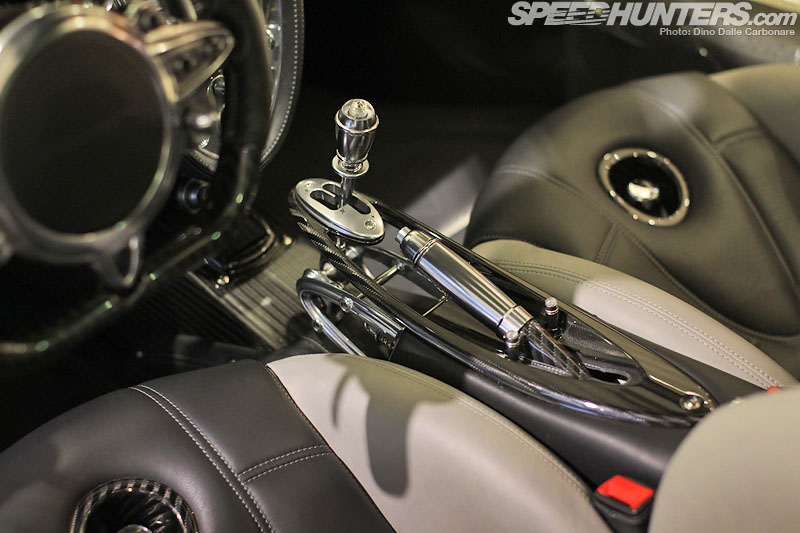 Check out the selector to the custom built X-trac 7-speed transmission, probably one of the most visual aspects of the interior.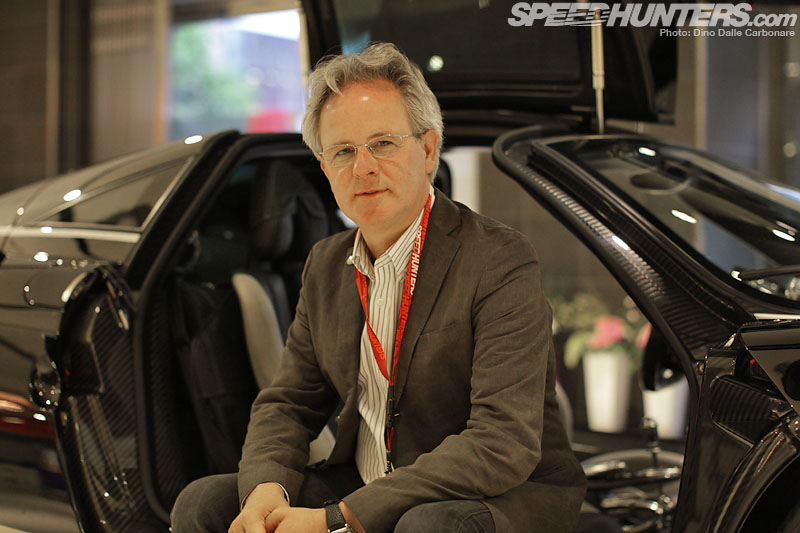 While the doors were open, Horacio Pagani even volunteered to model our new Speedhunters lanyard! Gracias!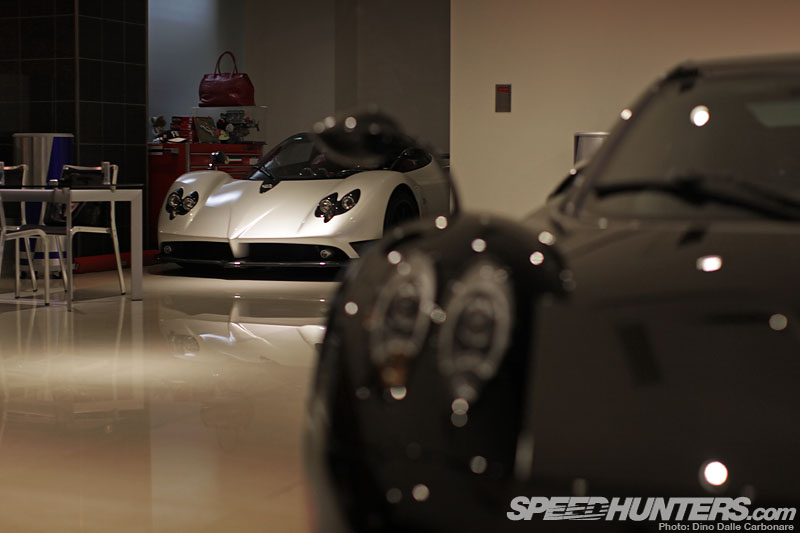 The white Zonda you may have spotted in the background is another limited edition model built for a Japanese customer, on display at the opening of the dealership.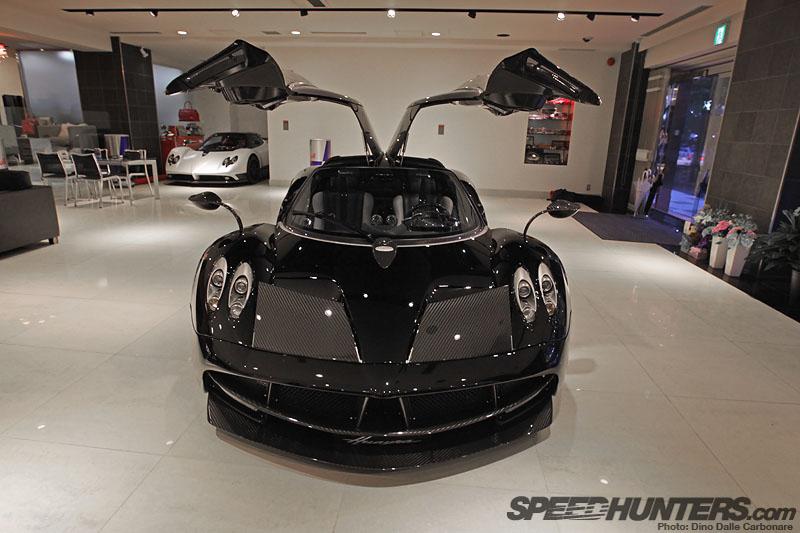 However if you are wondering about the 'other' black Zonda you may have spotted lurking in the background in a couple of shots, well I think you'll agree that my decision to dedicate a separate post to it is a wise one.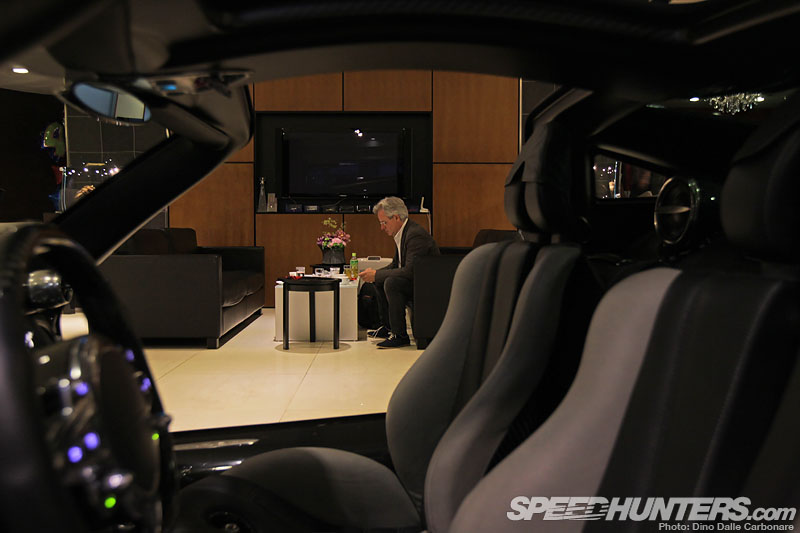 I think it will be hard to restrain myself from dropping by this particular Tokyo car dealer again, so I'm sure this isn't the last time we will lay eyes on this car. Maybe next time we can get to see it in action… now that would be something else!
Dino Dalle Carbonare
Instagram: speedhunters_dino
Pagani factory tour
More Pagani stories on Speedhunters