One of this year's highlights for me was getting the chance to cover Gatebil back in July. It may have been a few months ago, but it is quite hard to forget such an experience. It's a weekend filled with craziness, bringing together similarly minded people from the far corners of Europe. Ultimately for me however, it is all about the cars; I have never seen so many wildly, and in some cases curiously, modified rides and for someone that has spent the last 12 years covering the JDM tuning scene that is a bold statement. But it's pretty obvious that people in Europe and surrounding countries obviously like to do things in an extreme sort of way, and as we noticed at Gatebil everyone seems to be out to impress. One such car was this little compact 1973 BMW 2002 from Tallin in Estonia a vintage ride that had visibly been subjected to quite the injection of steroids.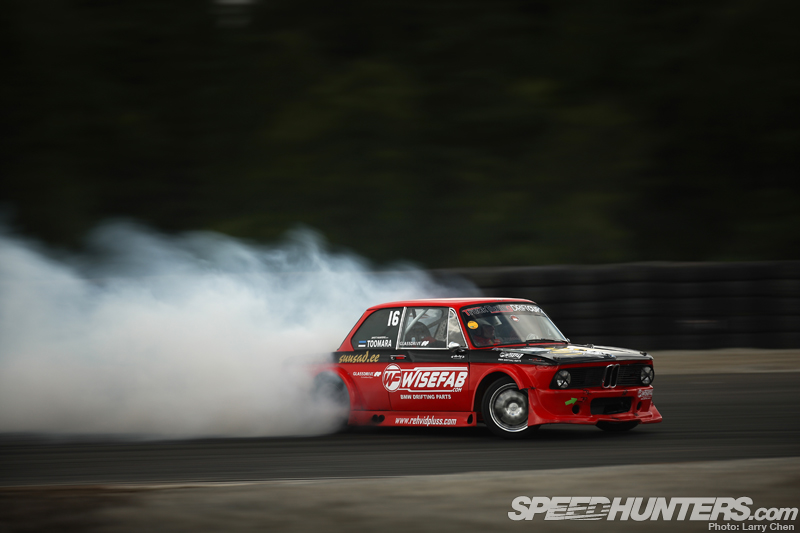 Unfortunately due to unexpected engine trouble the car saw little action at this year's event but as this picture from Larry shows, it was burning serious rubber at last year's Gatebil!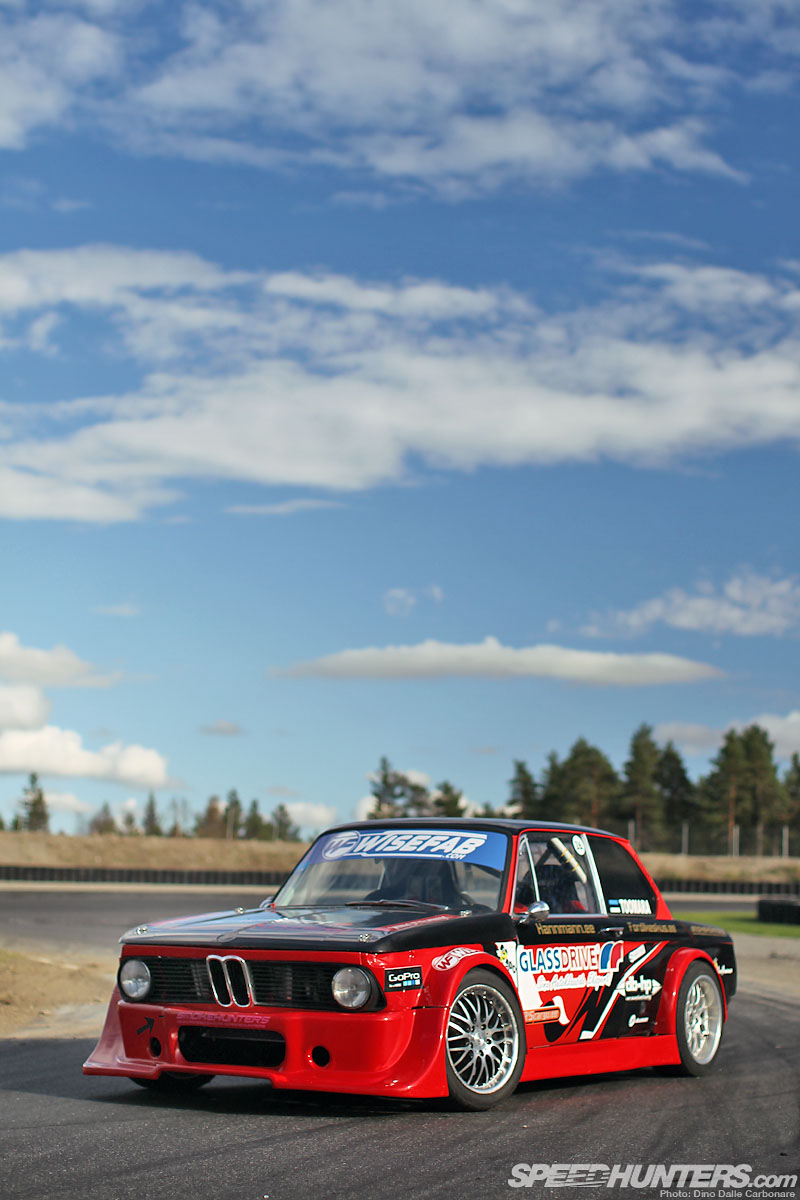 Exterior wise the 2002 boats a custom GTR aero treatment with pumped front and rear fenders allowing a much-needed increase in track for obvious handling benefits. Most of the body panels like the hood and trunk lid are FRP while all glass, excluding the windshield, has been swapped out for much lighter lexan. The car's previous owner Eero Pesur built the 2002 up with the help of Andre Raud and Martin Puusepp of Amper Racing with the original idea to enter it into the Baltic GT series.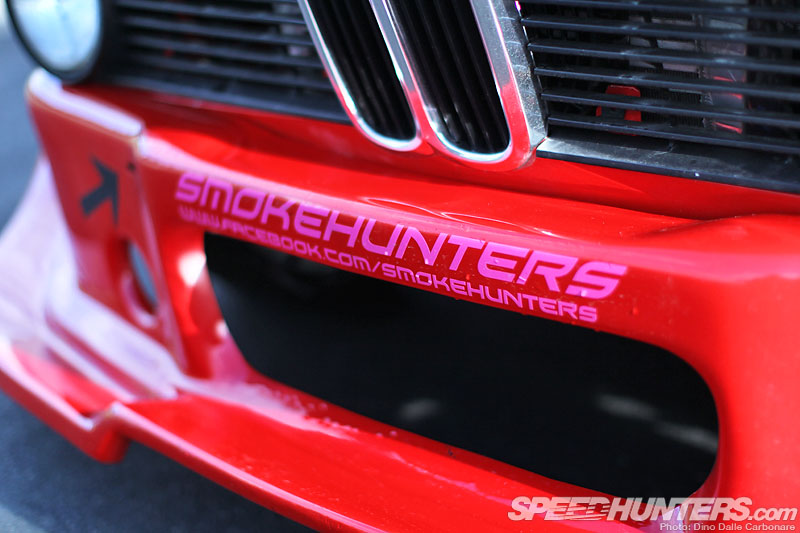 That however never materialized and the car ended up being sold to Taavi Toomara, one of Andre's friends who had just started to get into drifting. The rest, as they say, is history and today the car is known as the Smokehunters 2002.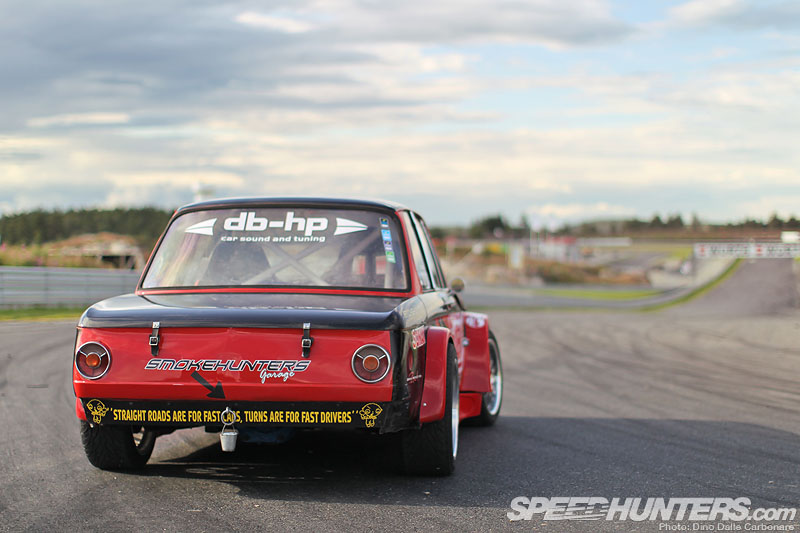 We have seen so many purposely built drift machines over the years but it's always the vintage cars that stand out the most. This 2002 fits the bill perfectly, it is a very unique car and for this oozes a sort of aura that modern machinery could never match.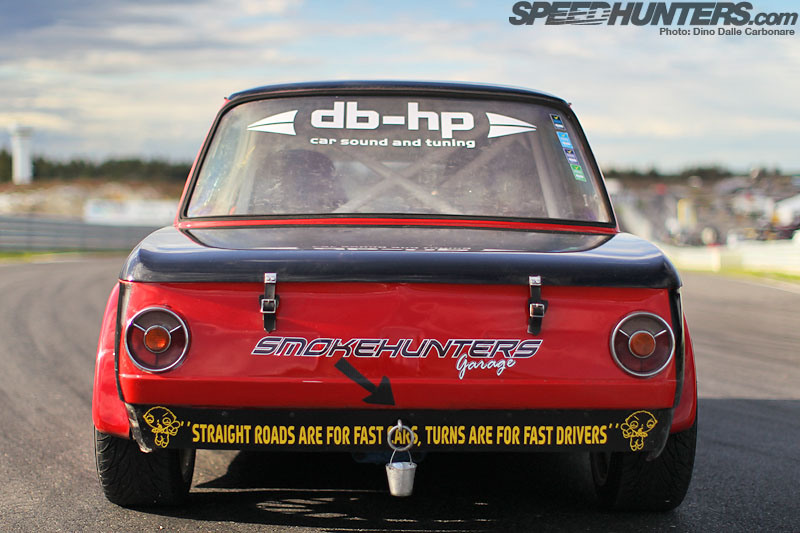 There is a rather refreshing simplicity about it, a clean rear end with those instantly recognizable round taillights. However the same can't be said for the parts you can't see.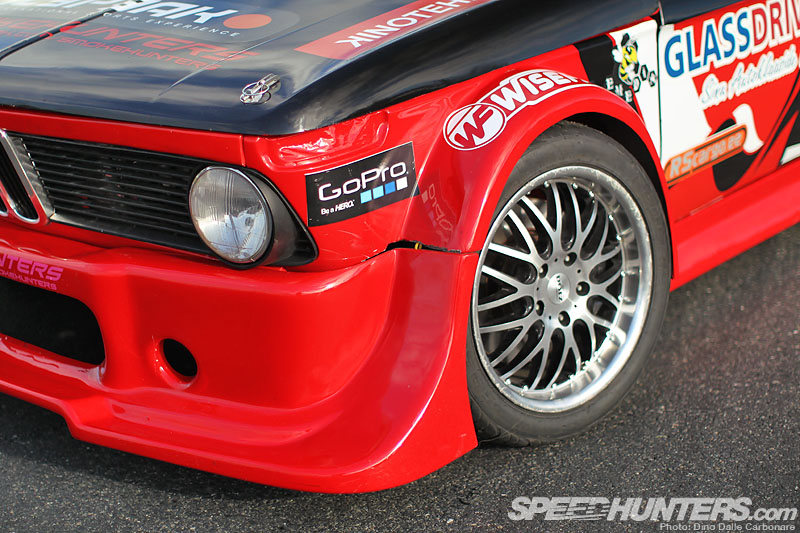 The handling has been addressed by transplanting an E36 front and  E30 rear suspension layout with Bilstein coilovers taking care of the damping up front, MX5 Tein Flex coilovers doing the same for the rear. Behind the 8Jx17″ Dotz wheels hides an upgraded braking package consisting of BMW/Brembo 4-pot calipers fore and Porsche 4-pot calipers aft.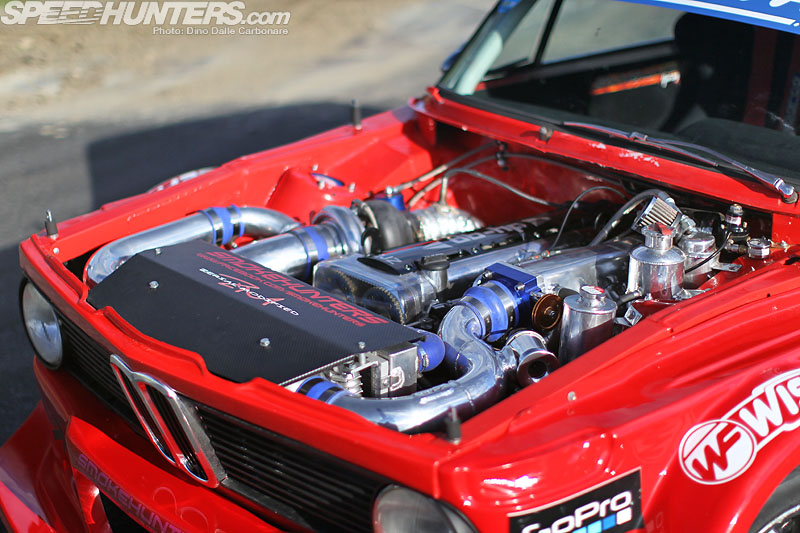 Originally the car was fitted with a 385 HP M3 M54B32 engine but Taavi and his team quickly decided that, how shall we say, more character was needed. So out came the straight-6 and in its place a BMW M60B40 V8 was dropped in. The V8 performed well but due to the hard use of professional drifting it ended up pretty tired half way through Taavi's first season.   The V8 got ditched and another straight-6 followed, this time a suspect ex-drag motor based on a stroked M20B27, turbocharged to 800 HP – or so that is what was thought. Despite lots of mechanical issues with the new engine Taavi ended up winning his second drift championship in Estonia before the M20 threw a conrod through the block.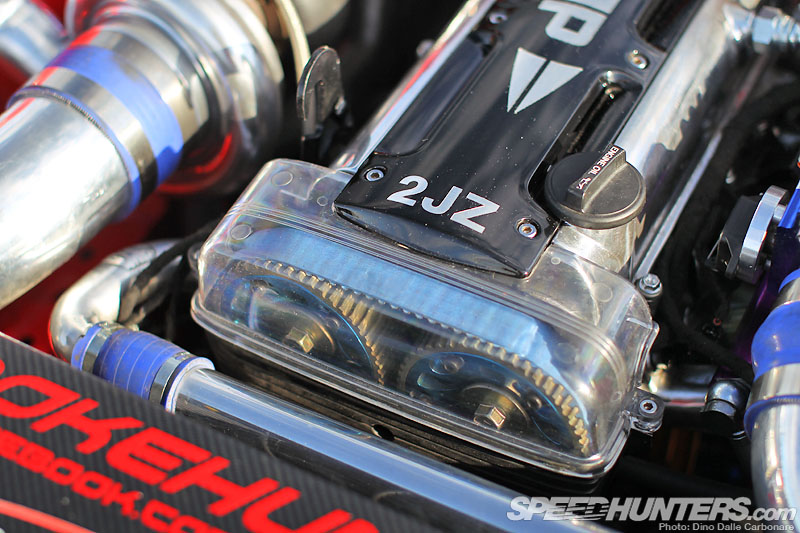 The team had enough of the streak of unreliability,  so it was decided to go for something bulletproof, which is when the 2002 received its 2JZ transplant.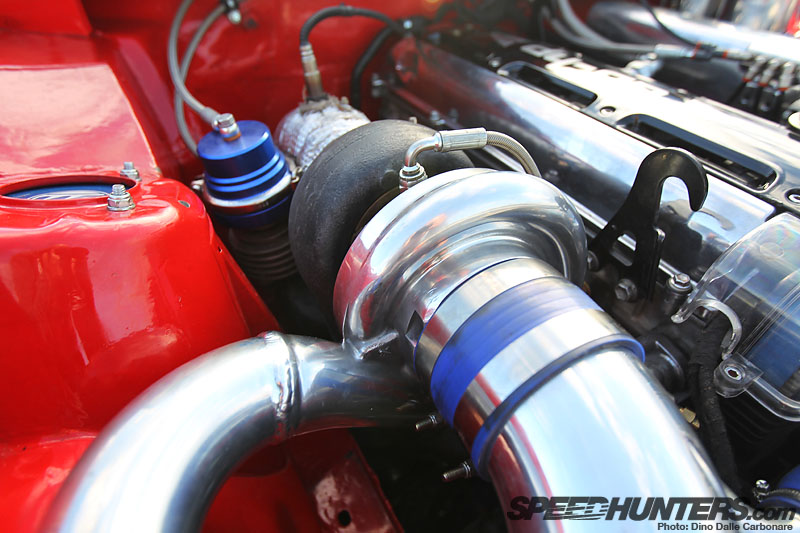 The 2JZ retains its stock bottom end but has been upgraded everywhere else, starting with Brian Crower stage 2 camshafts and valve springs followed by a Holset HX40 Super turbo which supplies enough boost to get between 600-700 HP, depending on the tune. The externally gated blower sits on Zerial Modified exhaust manifold and dumps spent gasses into a custom 3.5″ exhaust.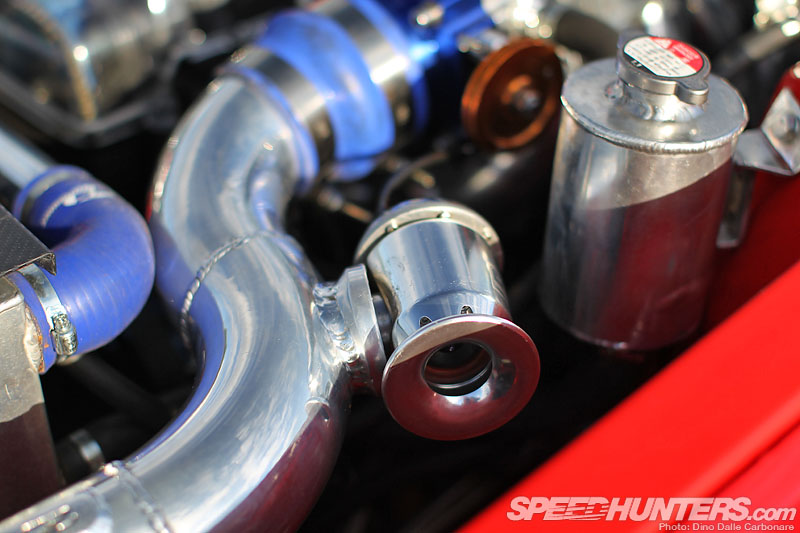 Zerial Modified took care of all the plumbing and the high-flow intercooler…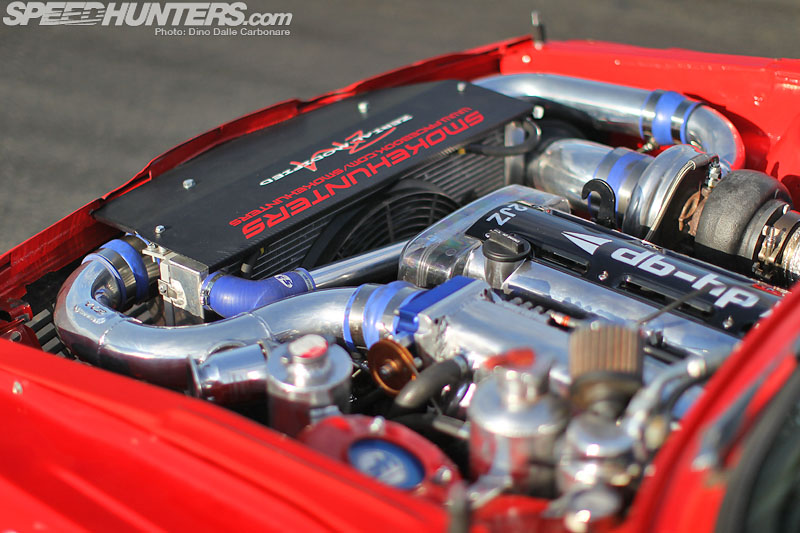 …which has been positioned right in front of the radiator in a raised position so as to keep piping as short as possible.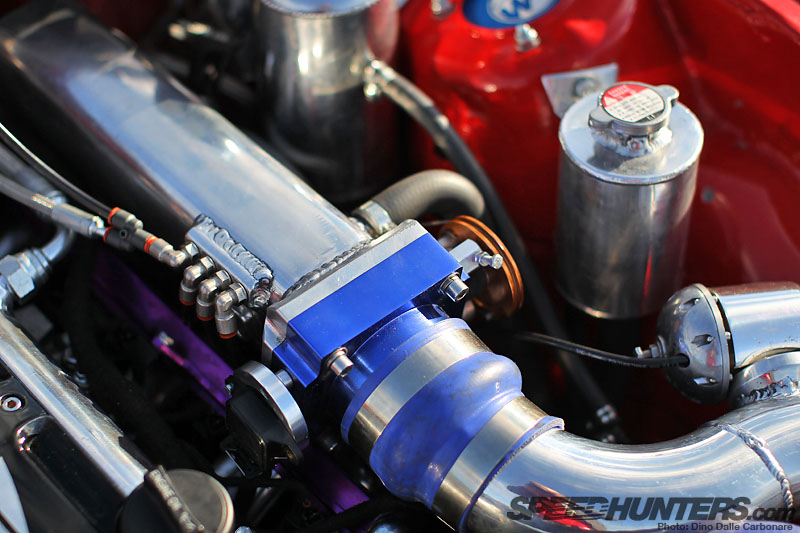 A custom intake manifold was fabricated, ditching the electronic throttle for a large diameter mechanical item. Fueling is handled by six 1,400 cc/min injectors mounted on a custom billet fuel rail which are kept topped up…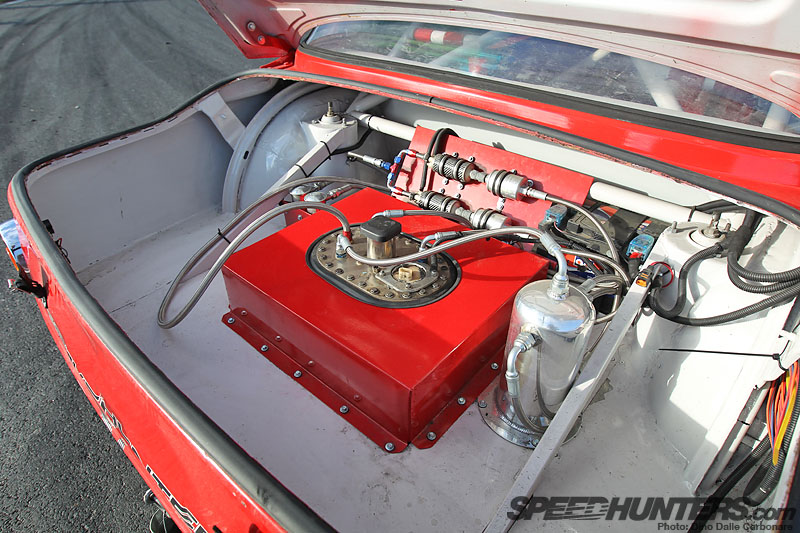 …by this little set up in the trunk. The stock fuel tank is replaced by an ATL fuel cell…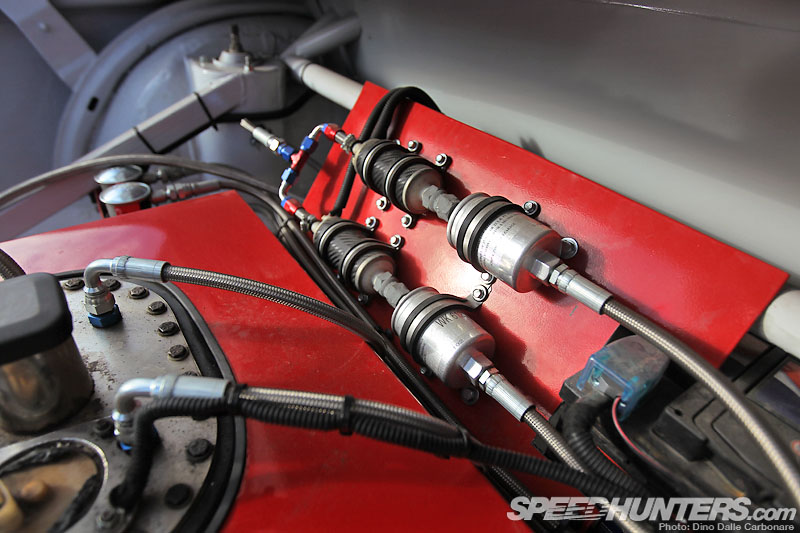 …and no less than four MSD fuel pumps are used, along with a custom surge tank. Fuel and ignition maps are taken care of by the Vems ECU. Driveline upgrades consist of an R154 5-speed transmission mated to and ATC clutch and finished up with an M5 differential.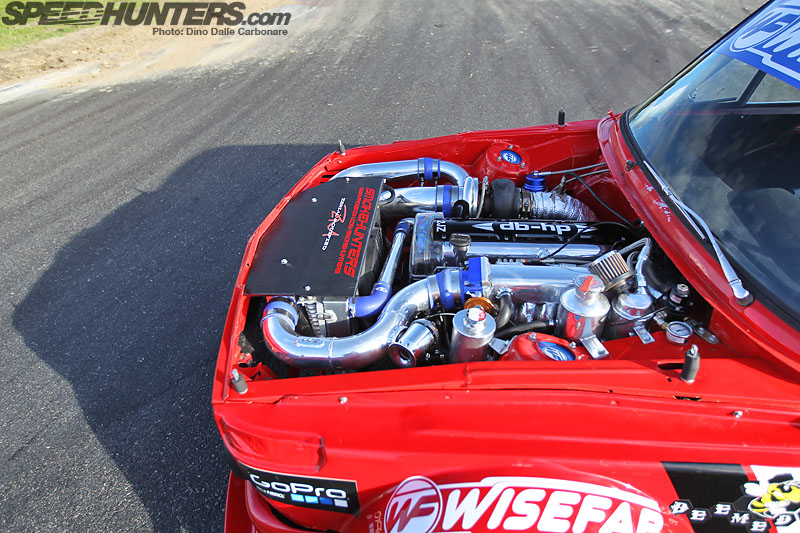 It's an incredibly well executed transplant with a lot of detailed work, and quite the unique choice for a 2002. However at Gatebil the 2JZ ended up melting two pistons so it needs to be stripped down and rebuilt with stronger internals.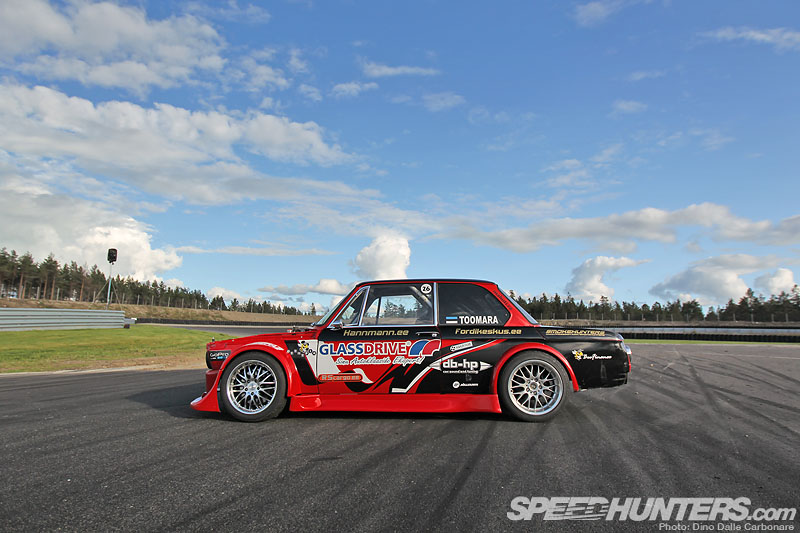 The car hits the scales at 1,182 kg, which is considerably light if you take into account the amount of chassis stiffening that was done, not to mention the racing roll cage and that big Toyota straight six up front!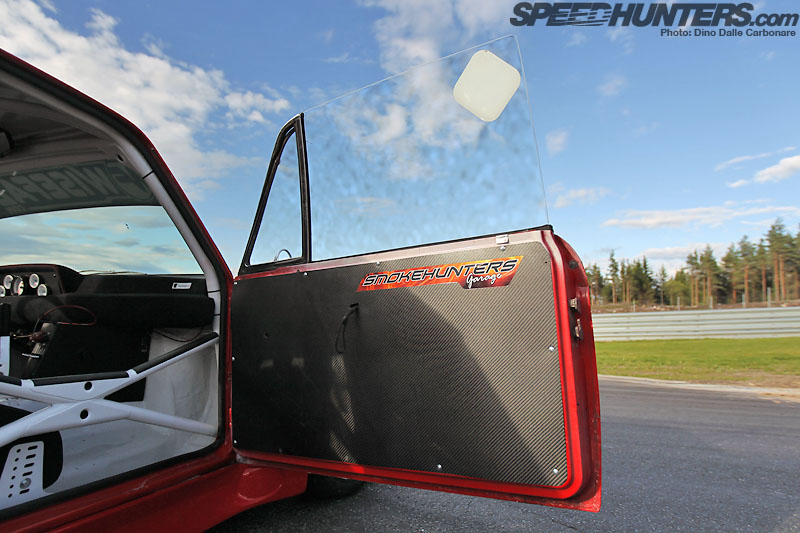 The high level of workmanship continues in the interior with lots of attention to detail.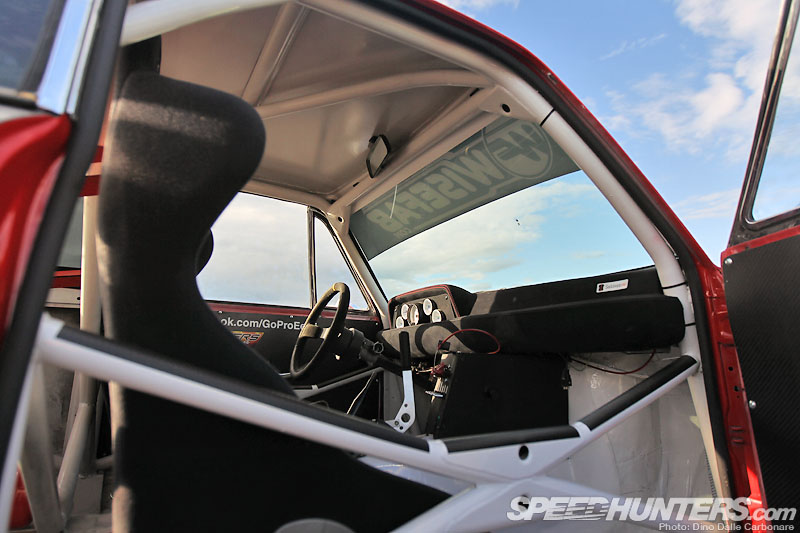 From this angle you can get a good idea of the complexity of the cage, there to not only stiffen up the close to 40-year old chassis but add safety for the driver and his passenger.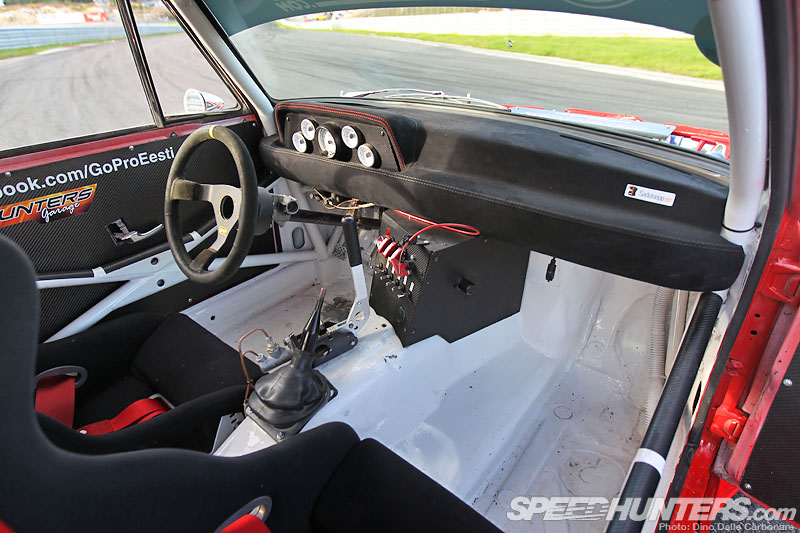 Not even in Japan do I see this kind of quality in interiors; everything is neat…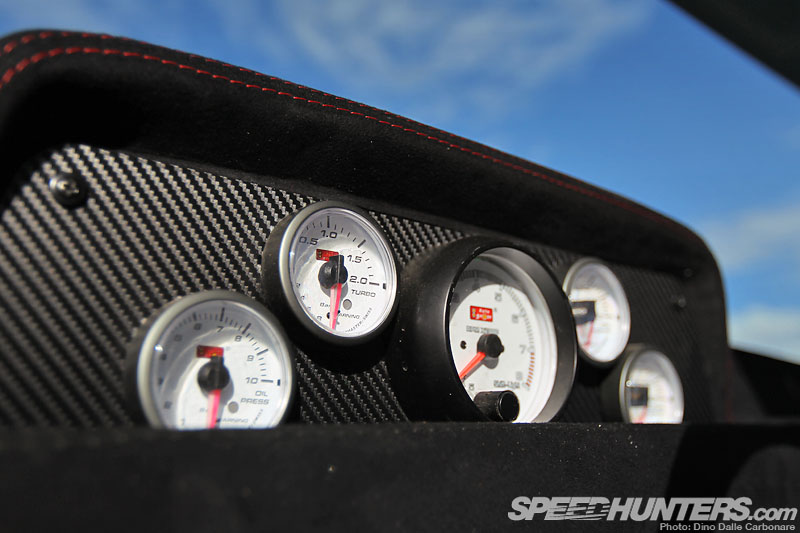 …and well laid out, starting from the custom instrumentation…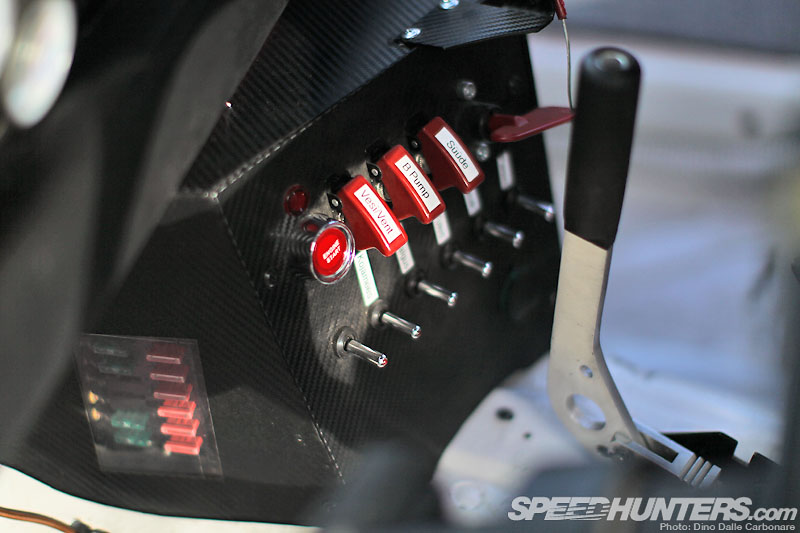 …to the center console, which houses the various switchgear.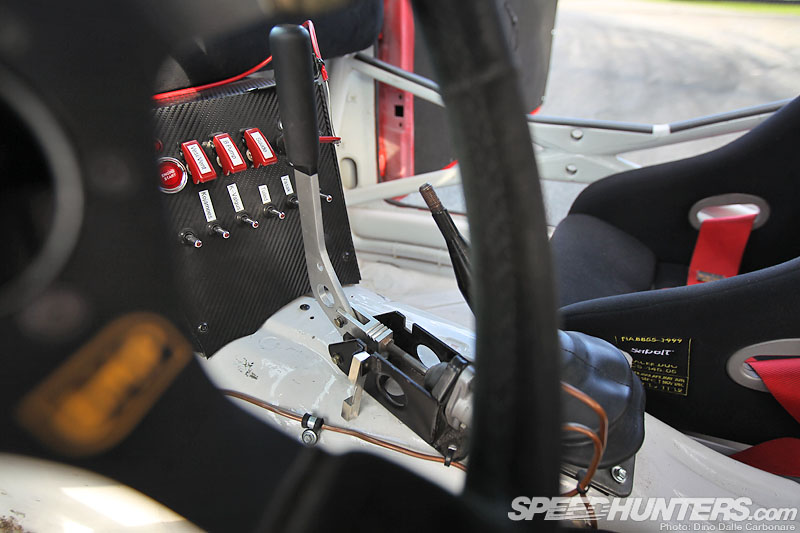 Most important addition to a drift car? An hydraulic handbrake of course!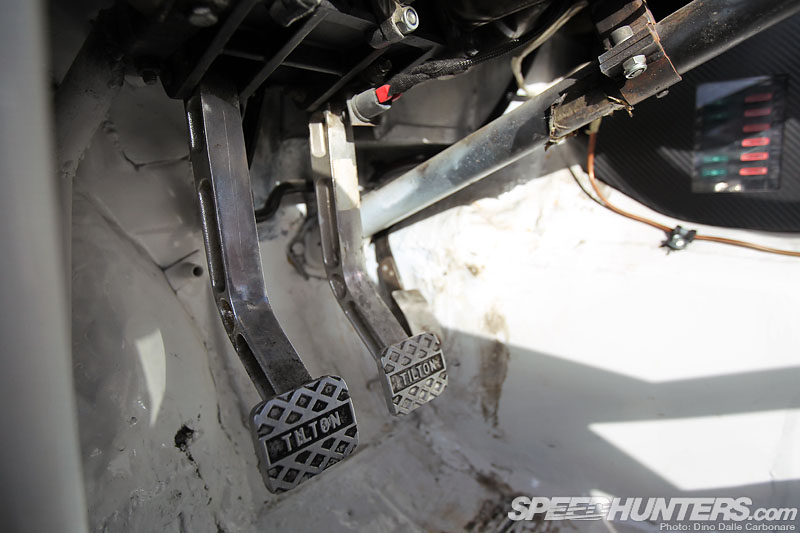 The stock pedals have been ditched in favor of a Tilton pedal box…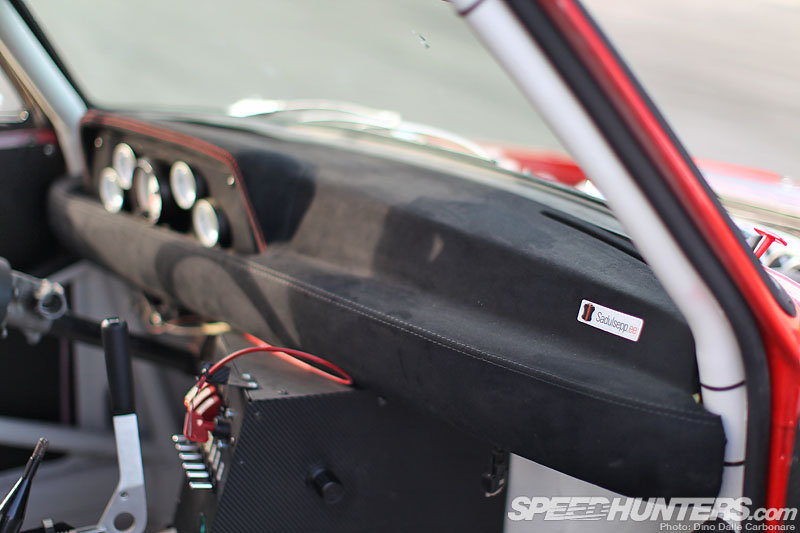 …but what really impressed me was the alcantara-clad dashboard as I don't think I've ever seen such luxury in a drift car! Nice touch.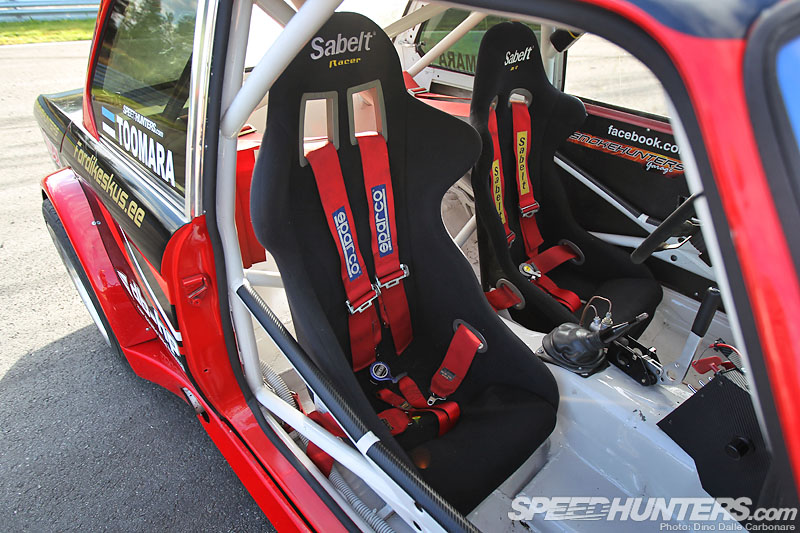 Finishing things off are the Sabelt bucket seats for both the driver and passenger sides, mated to Sparco harnesses.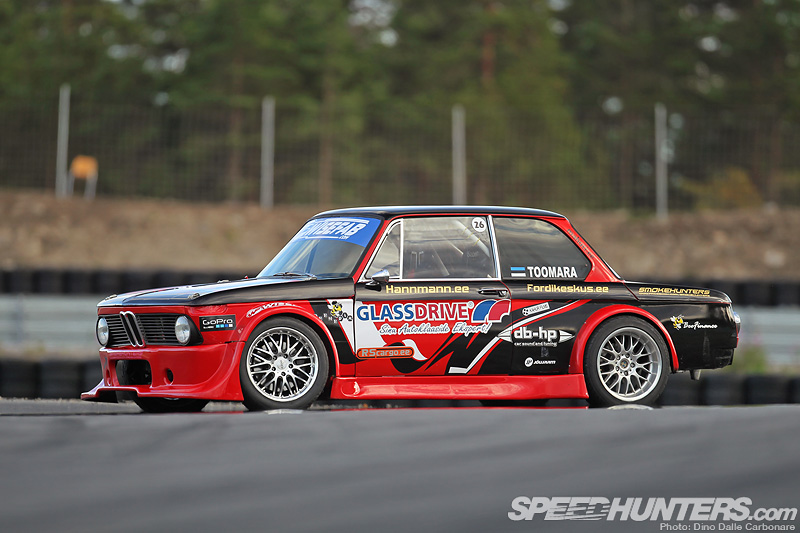 It's a true pity I never got to see this little wild creation out on track, vaporizing its rear tires, but I guess that is something I can hope to see next year.
I'd like to thank Taavi Toomara, Andre Raud and the whole team for allowing me to shoot their car and also for pushing it up the pits and onto the track!
Specs:
'73 BMW 2002
– 1,182 kg full race weight
– 600-700 hp (depends on track)
– Fuel E85
Engine: 2JZ-GTE custom swap, Holset HX40 Super turbo, Brian Cower stage 2 camshafts, Brian Cower valve springs, Electric water pump, Custom intake manifold, Zerial Modified custom exhaust manifold, Zerial Modified custom intercooler, Zerial Modified aluminum intake piping, Custom exhaust 3.5″, 1400cc injectors, Custom fuel rail, Vems engine management, Cometic headgasket, ARP head studs, ATL fuel cell, Surge tank, 4 x MSD fuel pumps
Gearbox: Gearbox R154, Marlin Crawler gearbox package, ACT clutch, ACT pressure plate, M5 diff
Suspension & Brakes: MX5 Tein Flex rear coilovers, Bilstein front coilovers, E30 rear suspension, E36 front suspension, Wisefab, BMW Brembo 4-pot front calipers, Porsche 4-pot rear calipers
Exterior & Wheels: Custom GTR Bodykit, FRP bonnet, FRP front fenders, Lexan rear window, 4pc 8Jx17″ Dotz wheels.
Interior: Full custom rollcage, Sabelt bucket seats, Sabelt harnesses, OMP steering wheel, custom alcantara-clad original dashboard, Auto Gauge gauges, Hydraulic handbrake, Tilton pedal box
-Dino Dalle Carbonare