Keyboard Warriors
We are a skeptical generation aren't we? When one of those 'first 20 purchasers get something free' ad comes up on the radio we don't pick up our phones and dial like a madman at the thought of saving money – we are the keyboard warriors. If we go into a car dealership, there's a high chance we'll know much more about what we're looking at than the kid working the showroom floor.
Drifting can be a hard sell. You see it in videos and you see it here on Speedhunters. But have you actually ever been to an event? If not, what's wrong with you?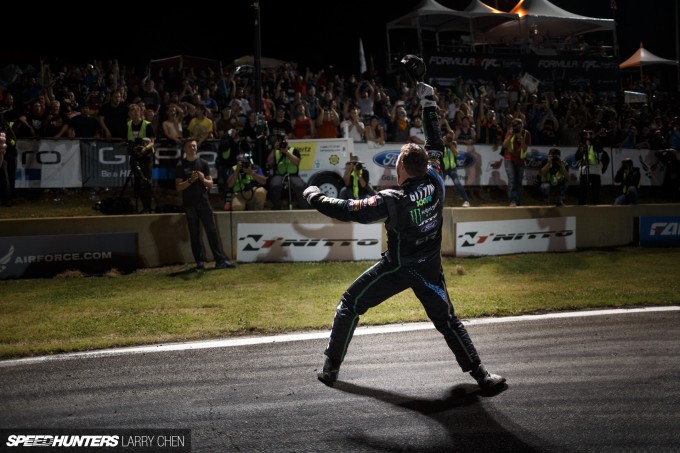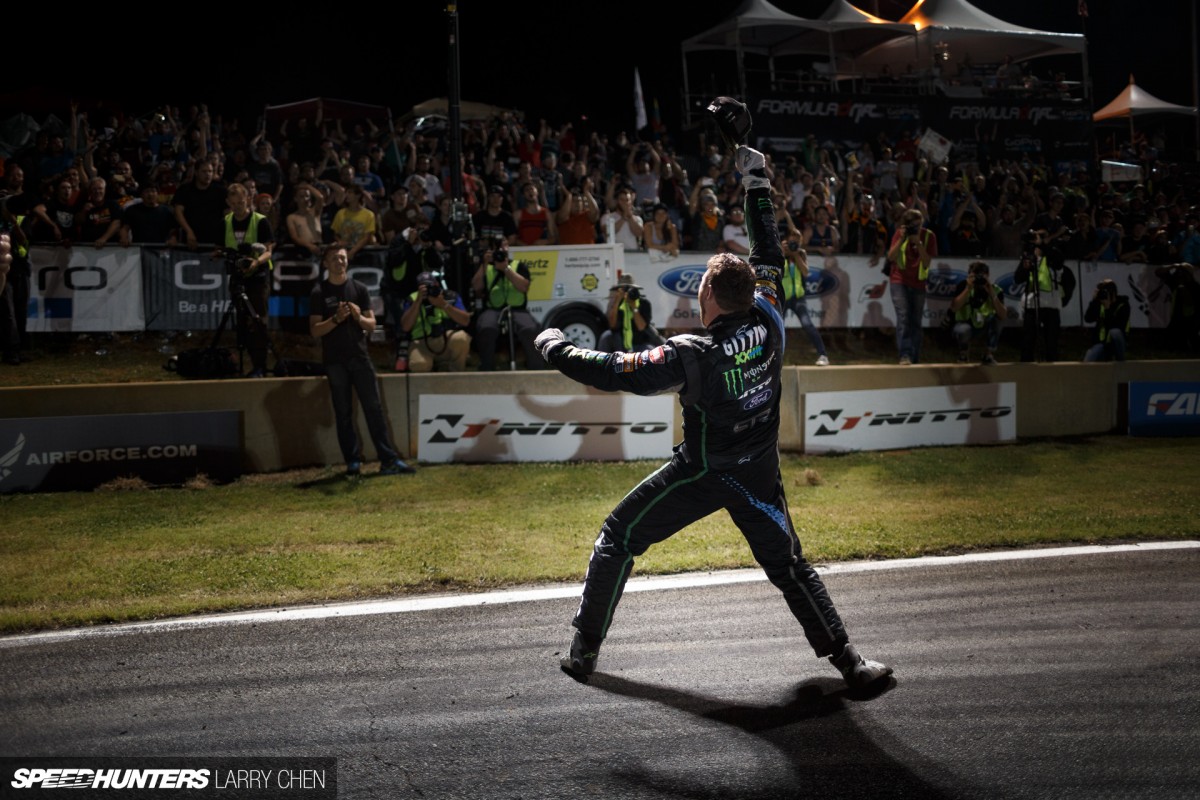 Watching Vaughn Gittin Jr. claw his way to the top of the podium last weekend at Formula Drift Atlanta was absolutely amazing. It's funny to hang around my friends who are not into car culture and listen to them talk about ball and stick sports. That stuff puts me to sleep so fast, and I'm sorry – if that's what real men like, then I am just not a real man.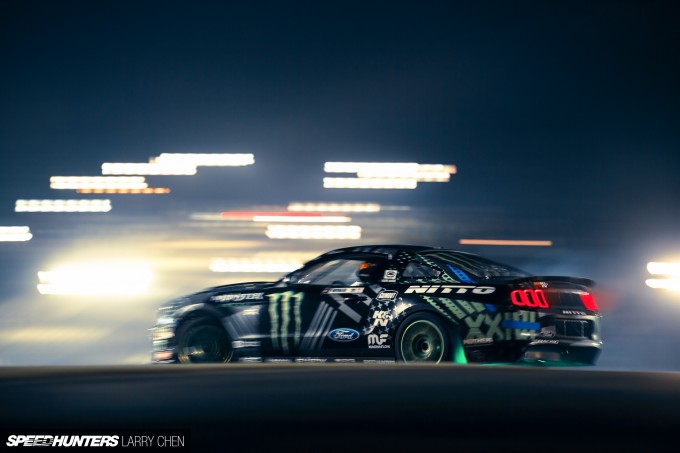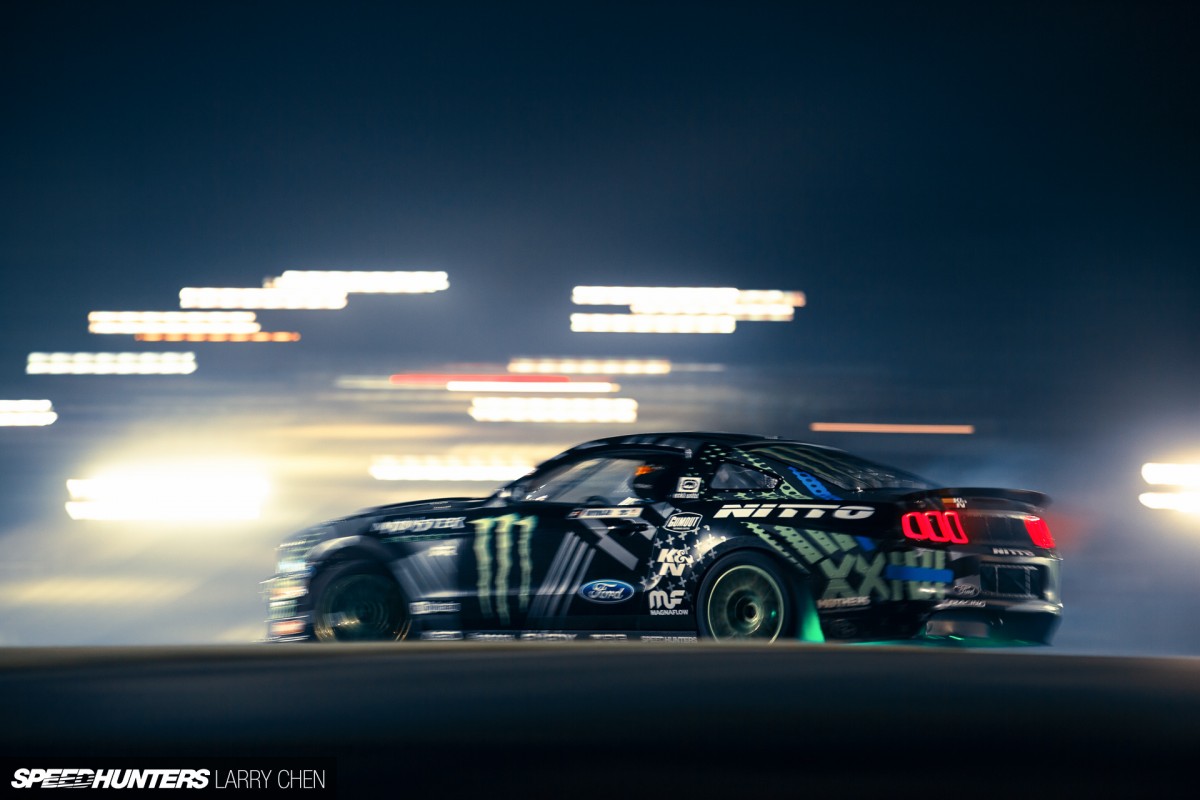 Give me horsepower. Give me tire smoke. But most of all, give me the sideways action that I crave. These cars are pushed so hard; something you get an indisputable sense of every time they pass by.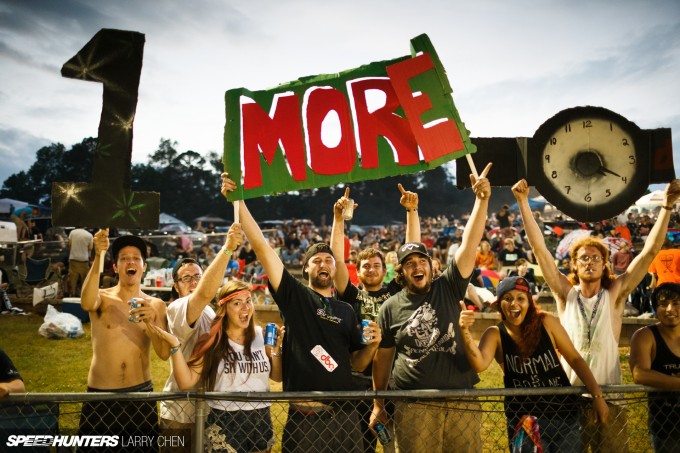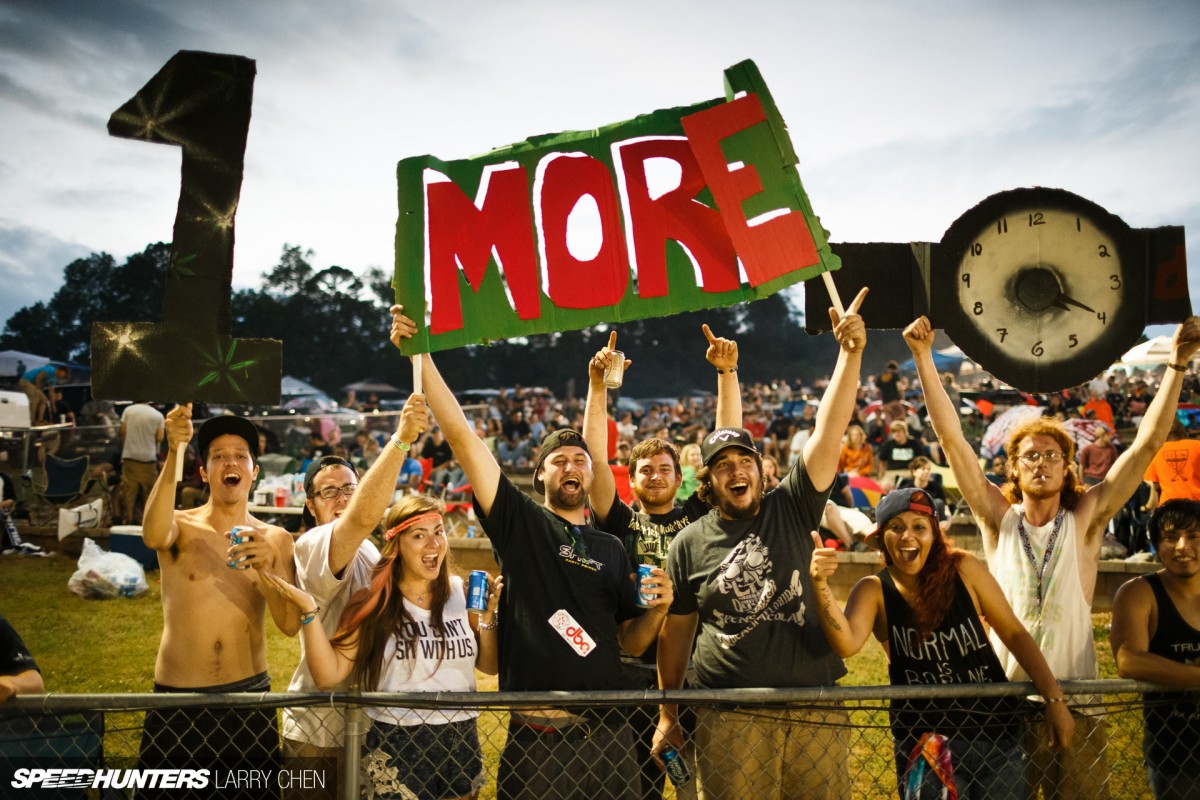 Atlanta has always been home to the rowdiest fans out of all the Formula Drift rounds all across the world. Maybe it's the fact that 11 years ago – in this very spot – North American pro drifting became reality. Whatever the reason, these guys and girls know how to party.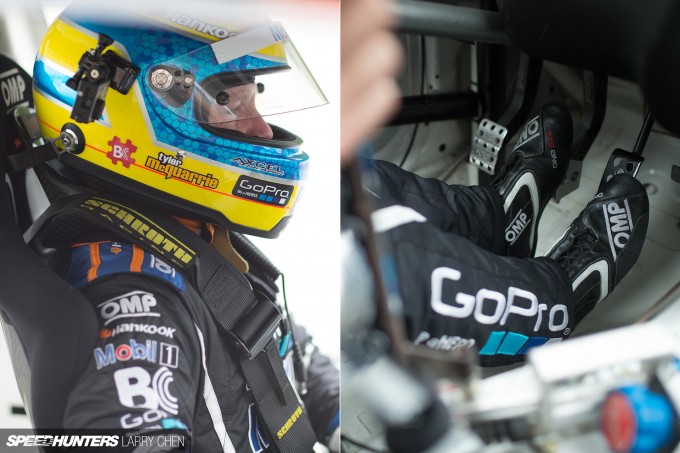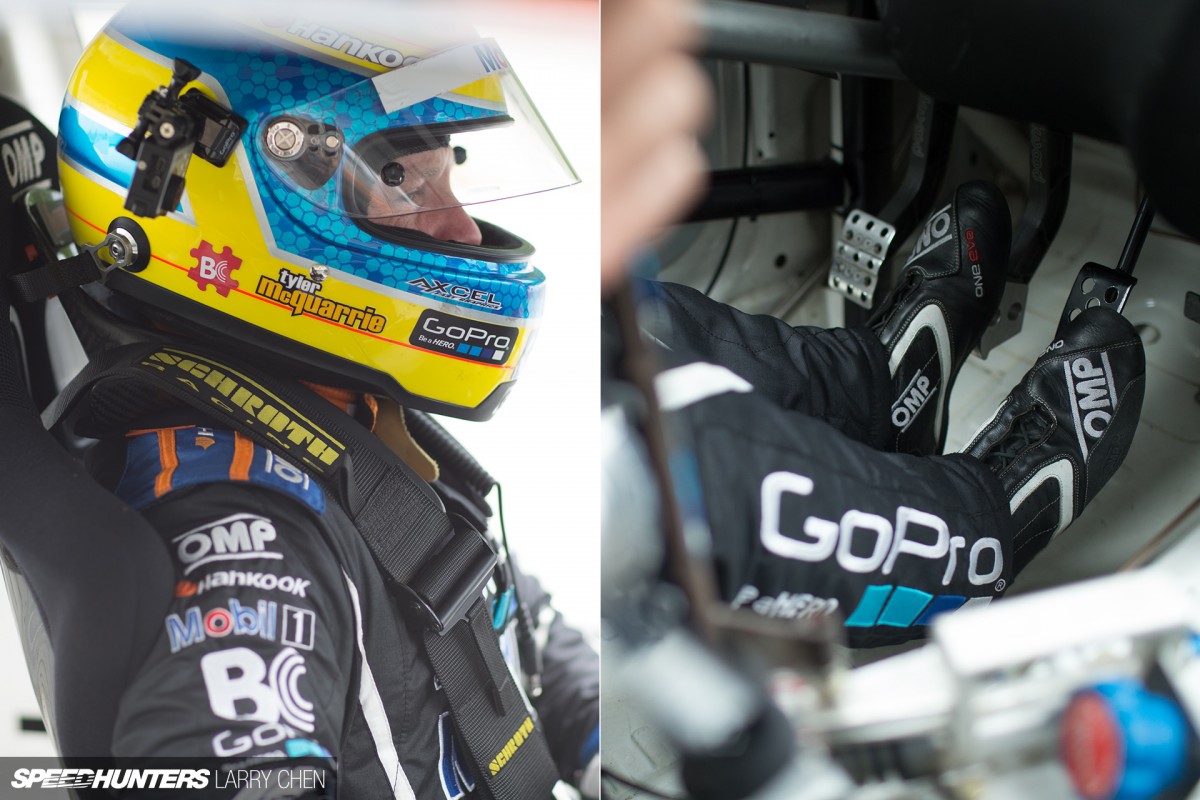 At one point during the weekend I found myself in Tyler McQuarrie's Chevy Camaro hitching a ride to the start line. It was already hot and humid outside, but sitting there with the engine idling waiting for the marshals to open the track gates was just plain miserable. I've known Tyler for nine years now and very recently watched him help pilot an MX-5 to second place at Laguna Seca. Tyler is one of the few guys on the grid who is actually a professional wheel-to-wheel racing driver, rather than the majority of the pro field which is dominated by drivers who only get paid to go sideways.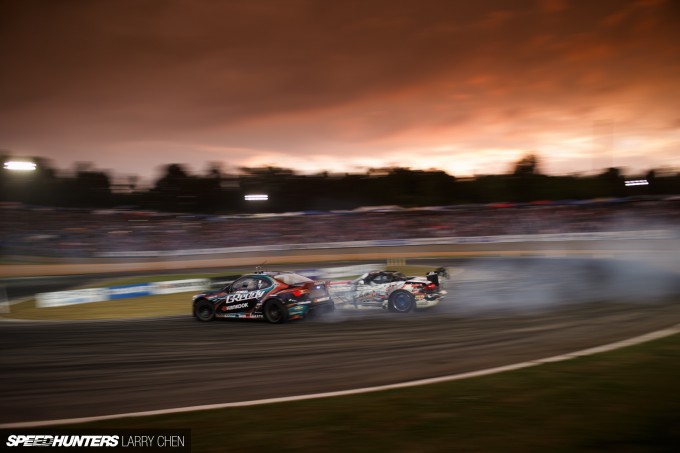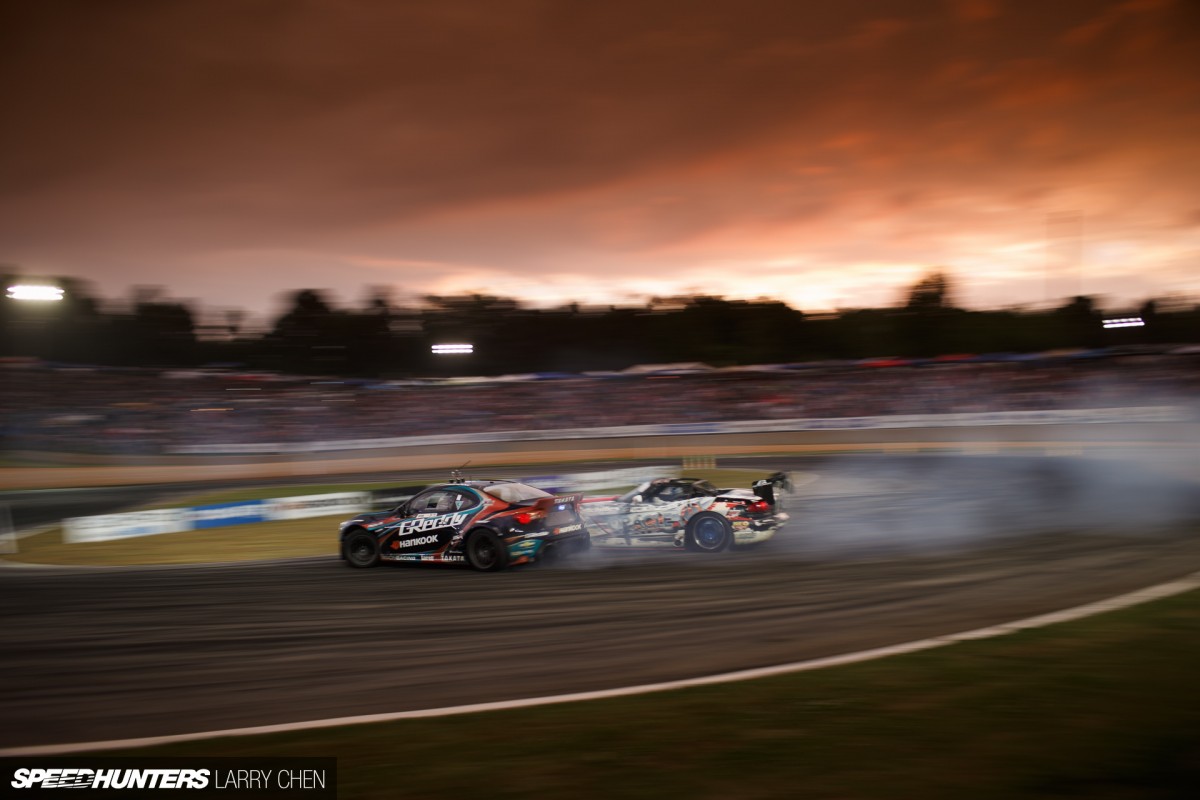 I kid you not, but as we sat there at least 20 fans stopped by asking Tyler for a photo or an autograph. Some even mentioned they had watched him on TV earning that podium I just mentioned. This was not an autograph session, we were just waiting in the car to get on hot grid, which made me wonder if Tyler receives this kind of attention anywhere else he races. 'It's not even close,' he says.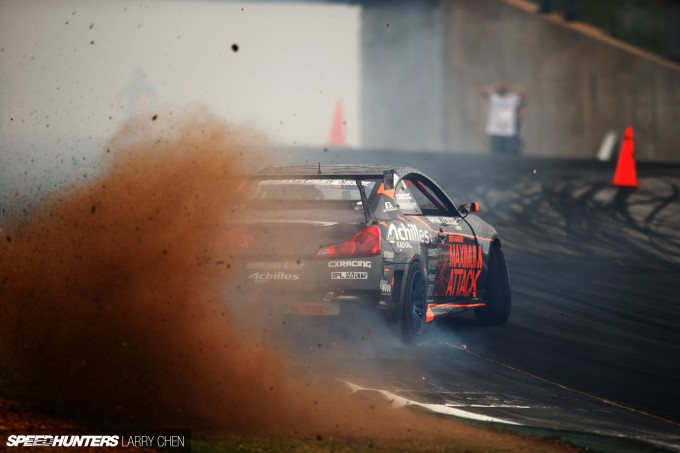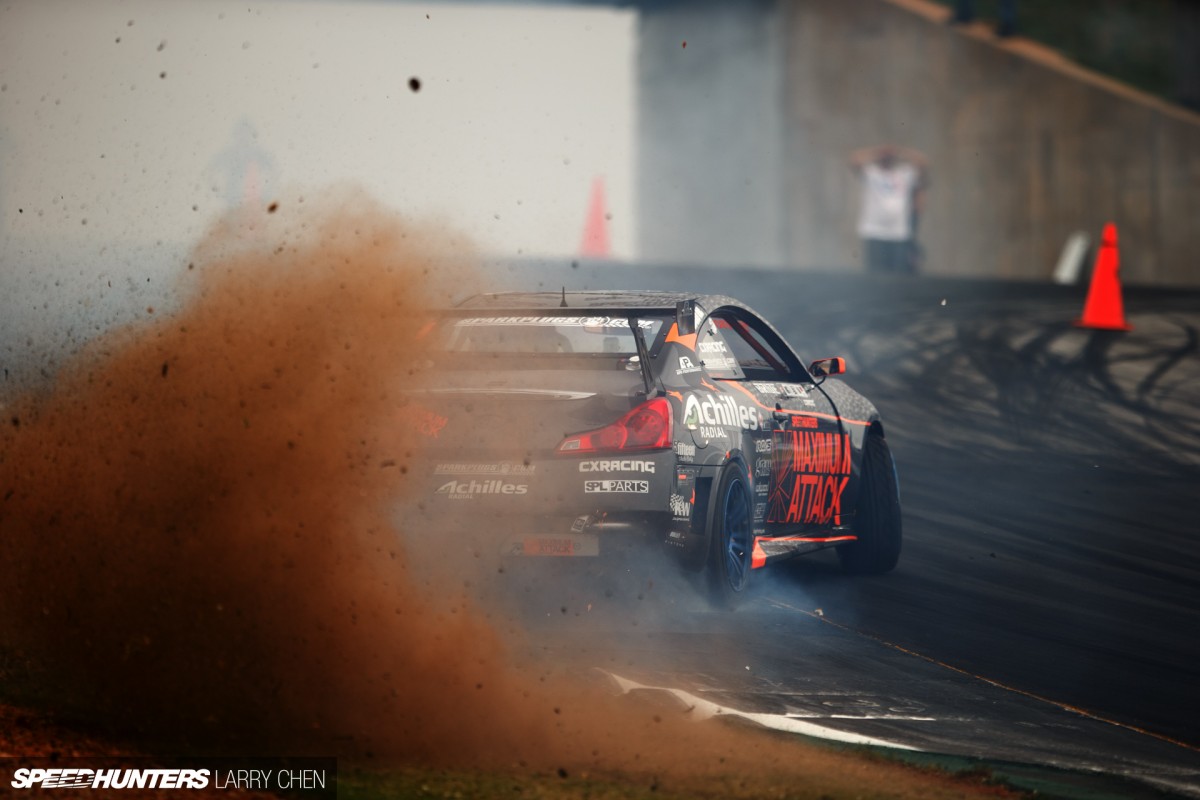 So, why is it like that? Is it because during a sports car championship race weekend there may be hundreds of drivers, and not 60 or so as there are in Formula Drift?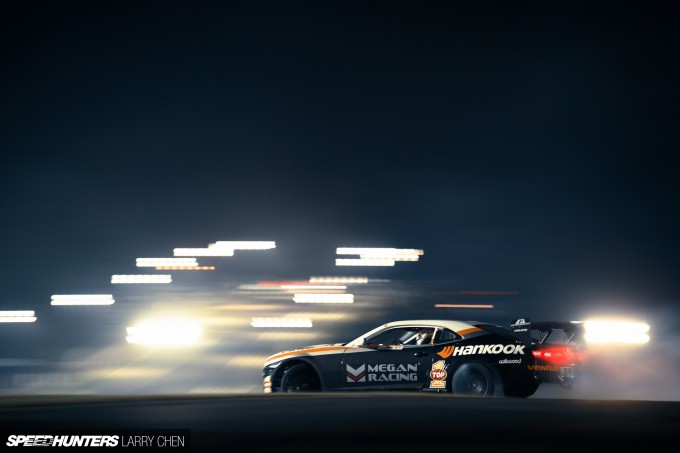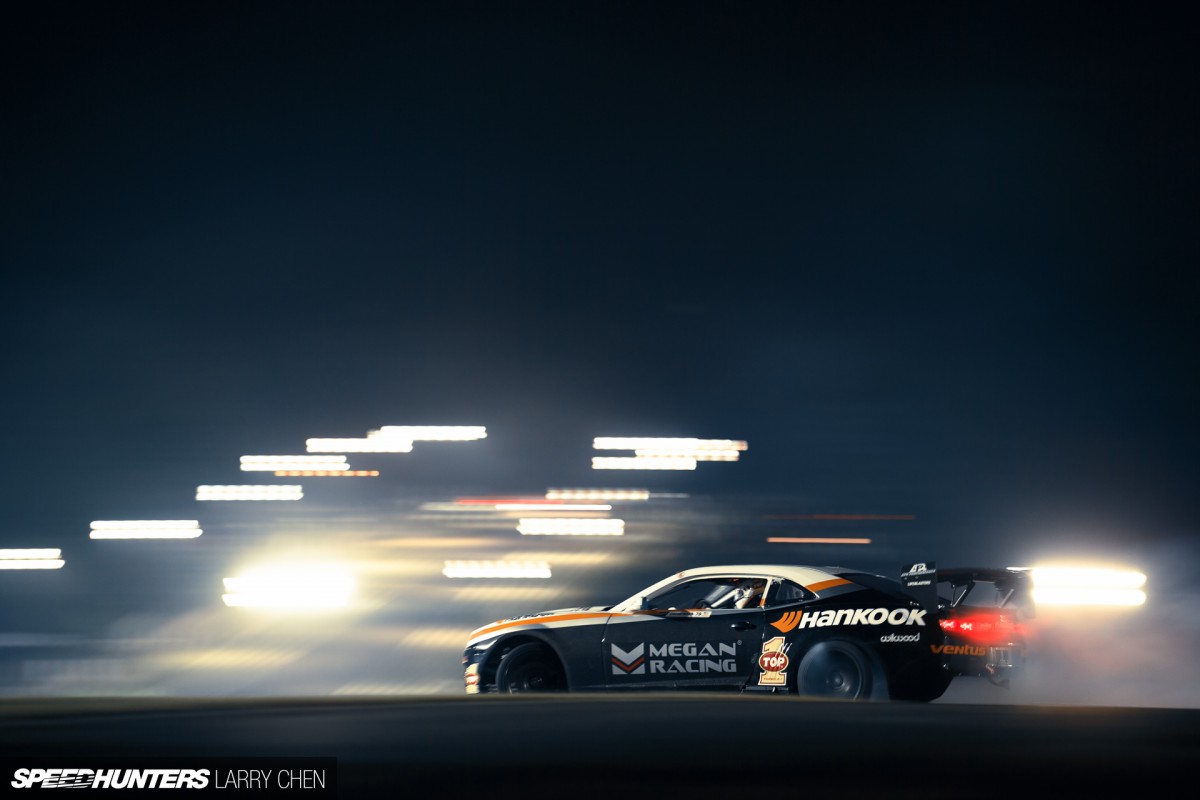 Or maybe it has to do with the fact that these drivers are more accessible to the public? Since drifting appeals to a younger audience, all the teams and drivers are super active on social media.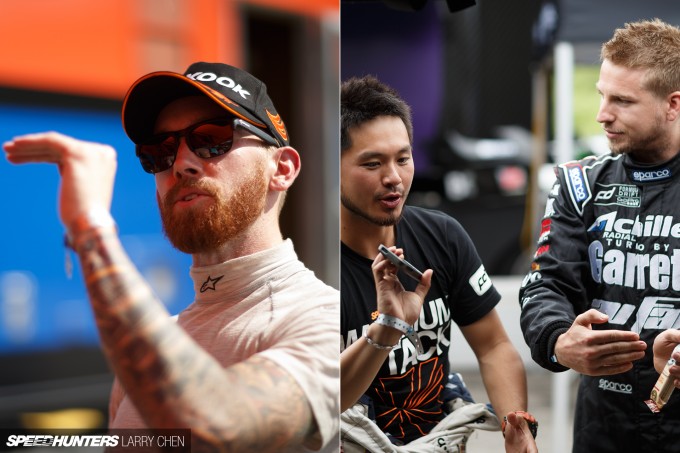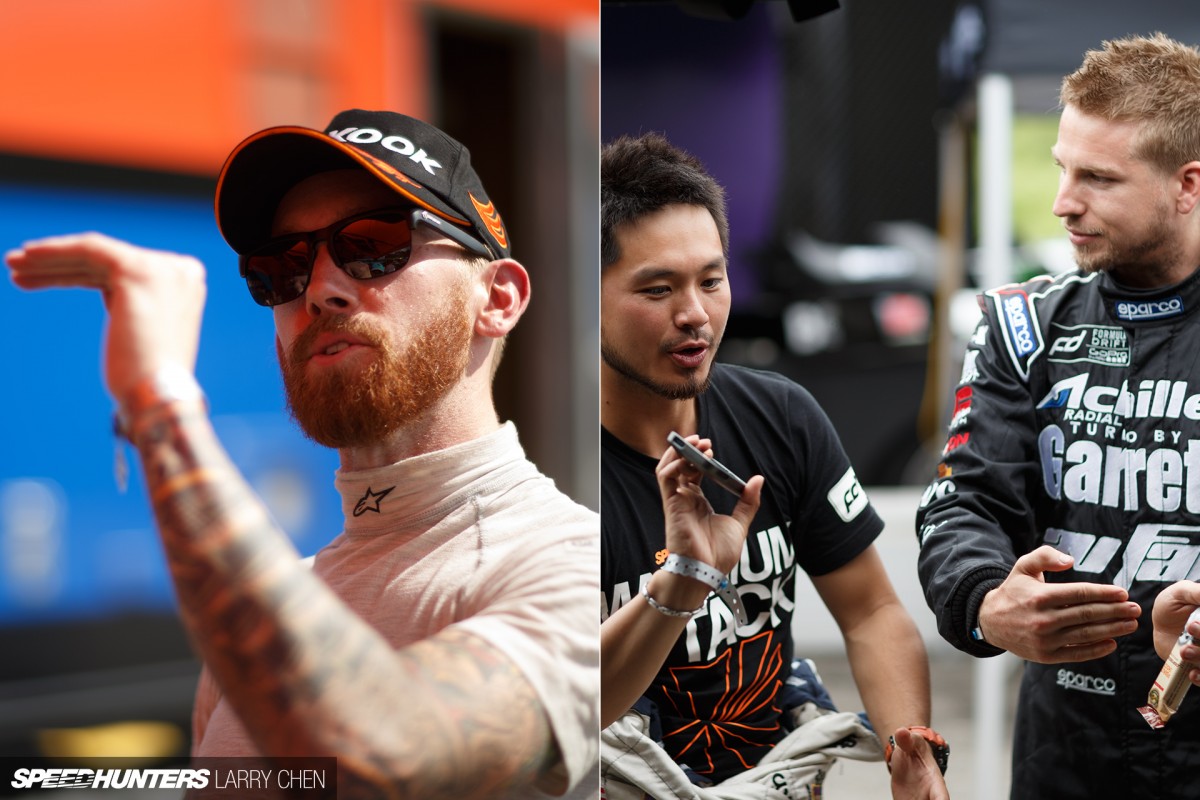 While not every fan may understand the ins and outs of competition, I think there's universal understanding about the appeal of driving sideways.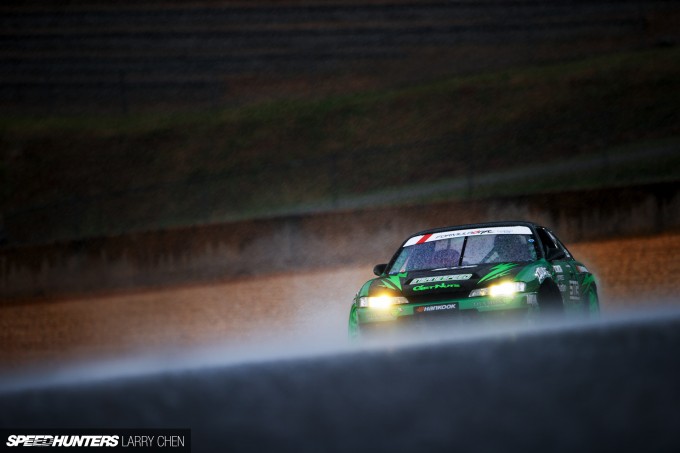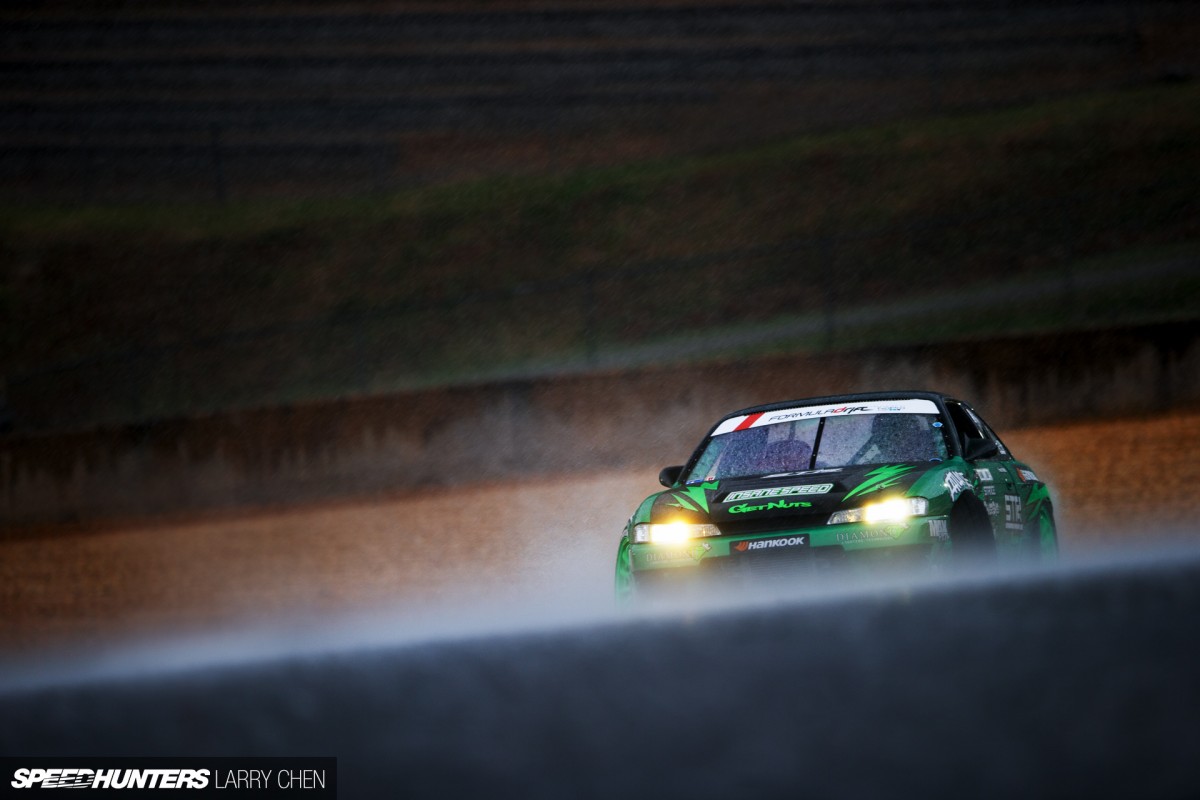 Formula Drift fans can relate to professional drifters much more than they can to IndyCar drivers, for example. When I walk through the parking lot of an IndyCar race, I may as well be walking through that of local shopping mall.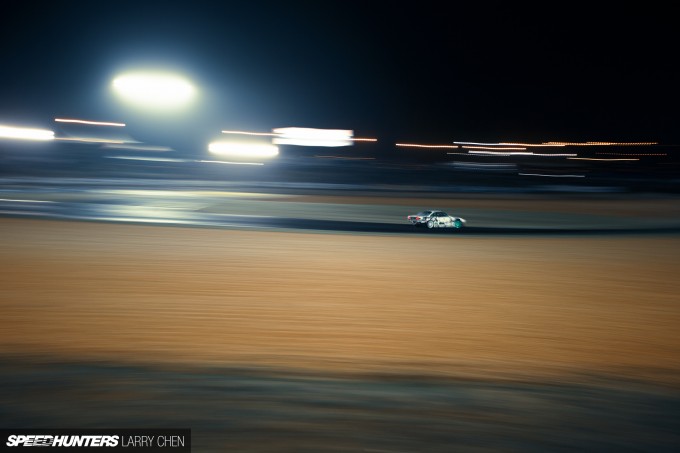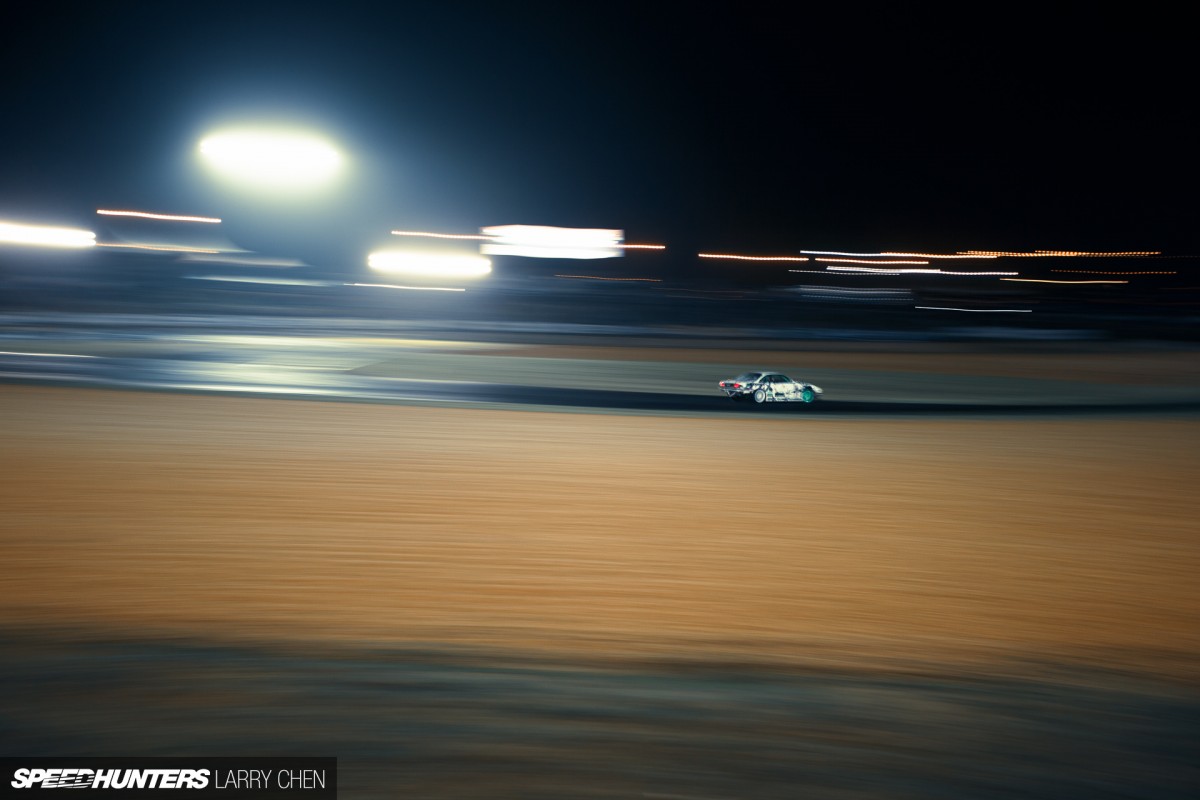 When I walk through the parking lot at Formula Drift, it's like going to Cars & Coffee – with a sideways twist. VIP sedans on air bags, stanced-out rides, front-wheel drive monsters, and most of all: street drift cars.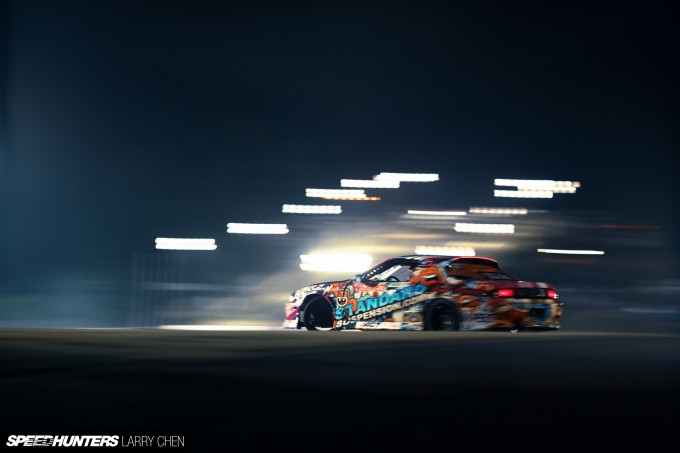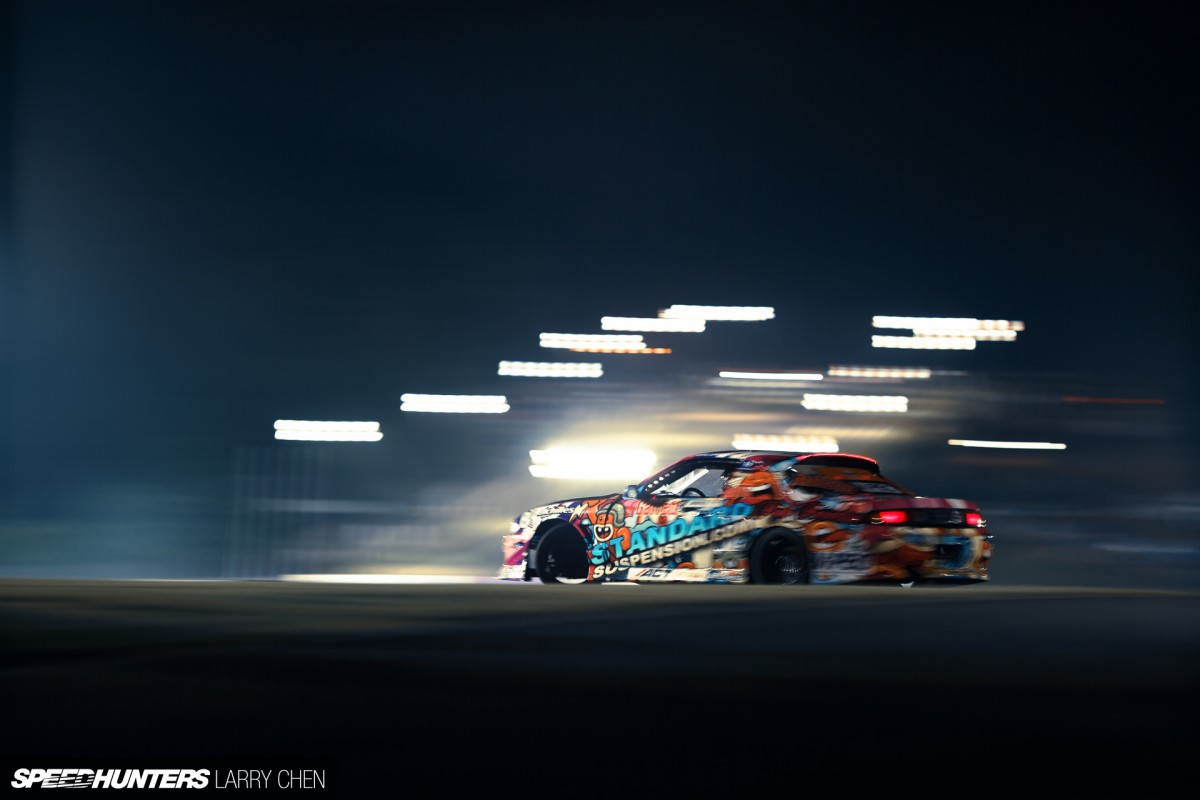 The lots almost always looks like a set from the original The Fast and The Furious movie.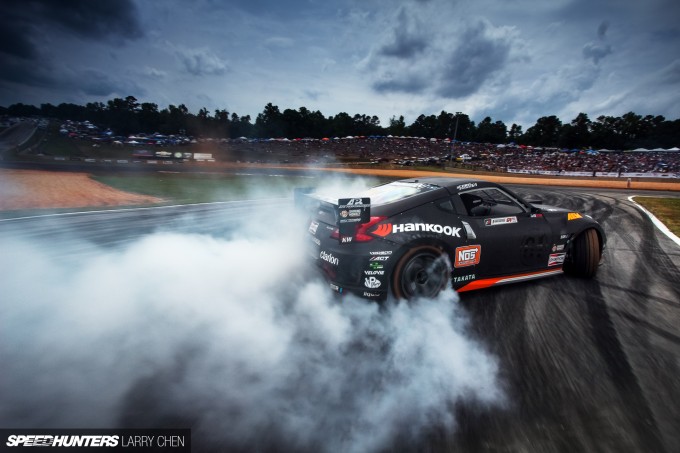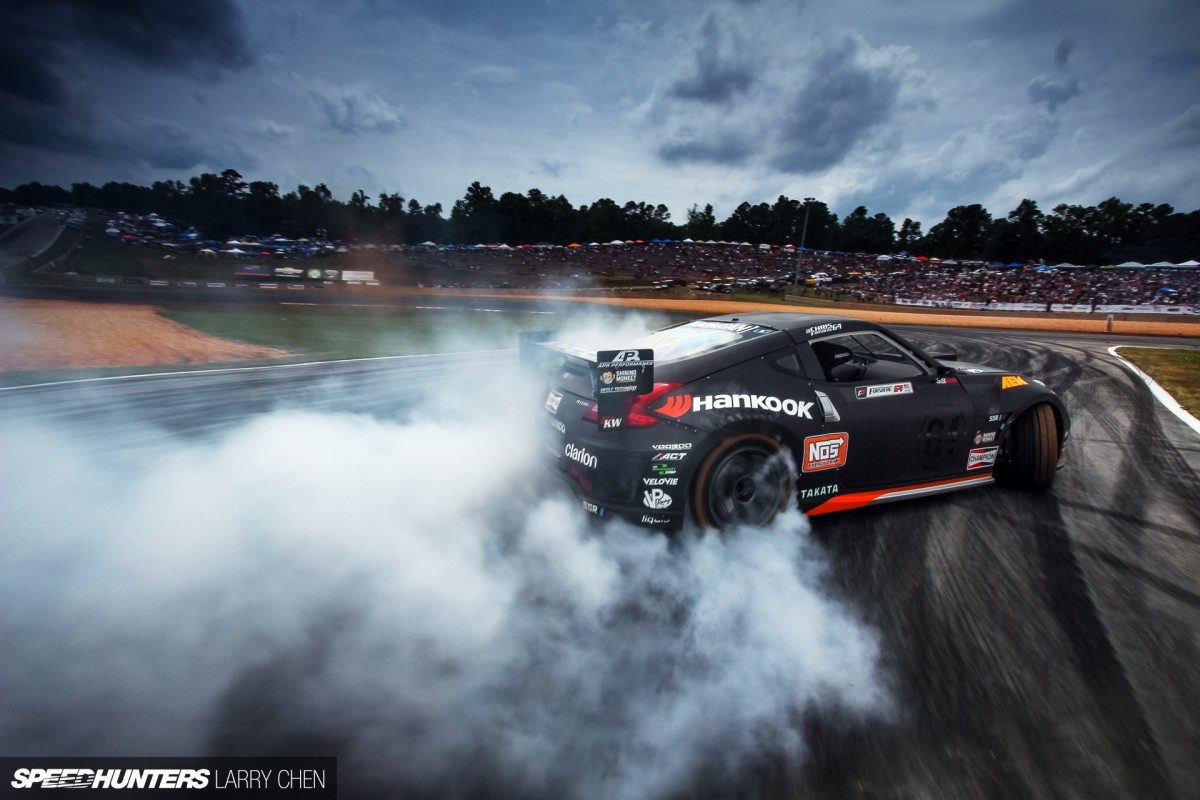 Outside of NASCAR, Formula Drift has the most presence on social media and that thing called the Internet, and it's largely thanks to this new generation of motor heads – bench racers and forum trolls included. Eleven years ago something amazing happened, and I am so glad that it hasn't stopped.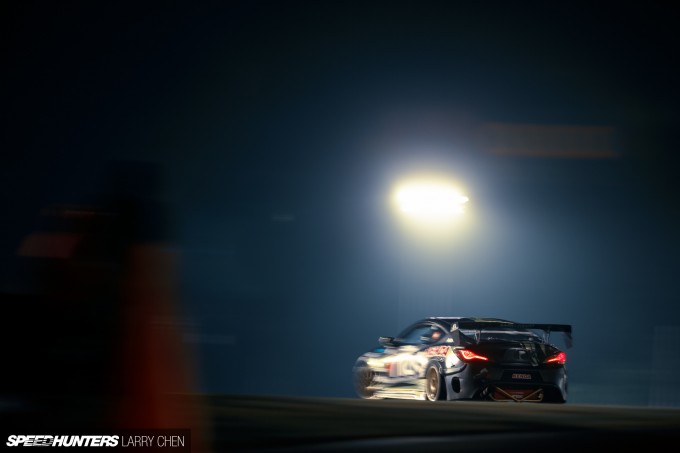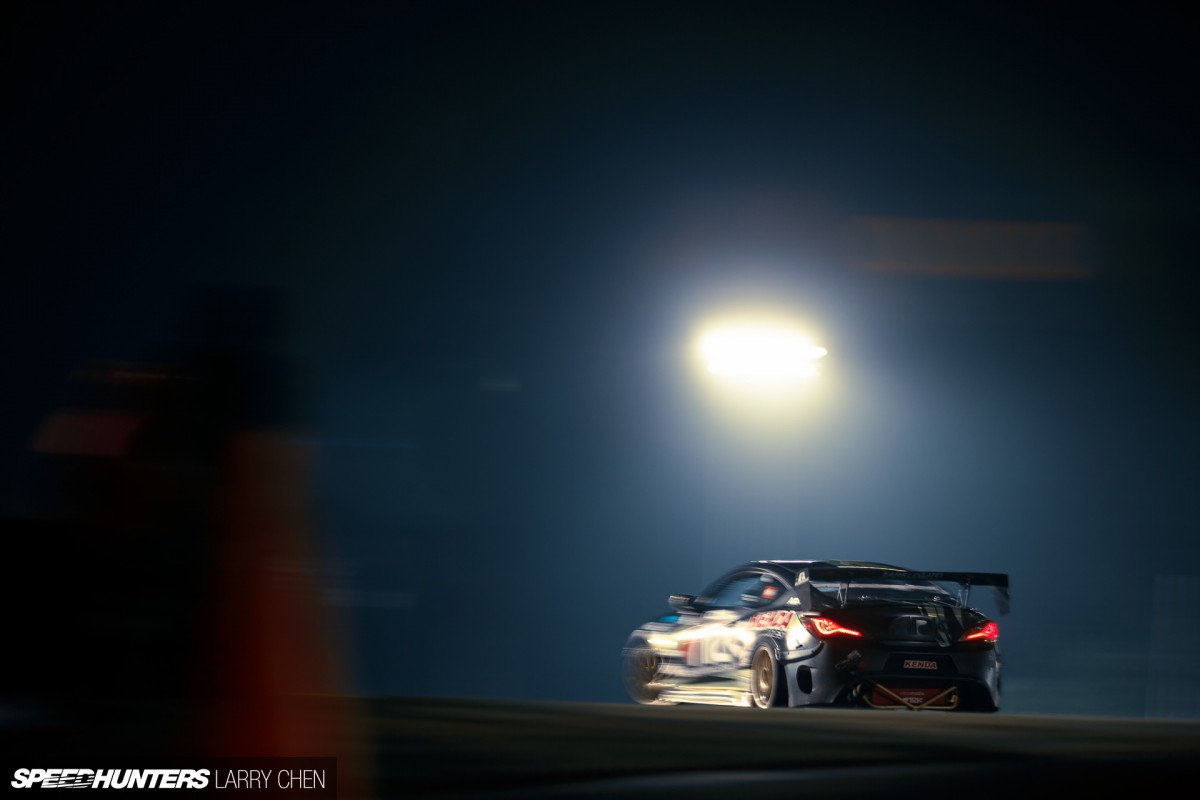 I wanted to touch on some highlights from the weekend that you guys may have missed, beginning with last Thursday's practice…
House Keeping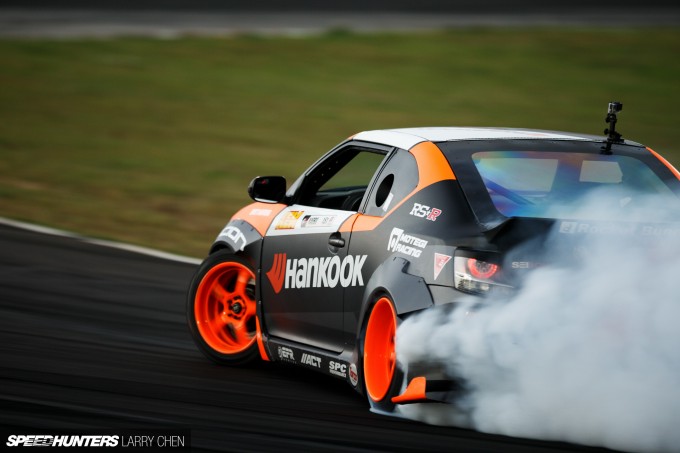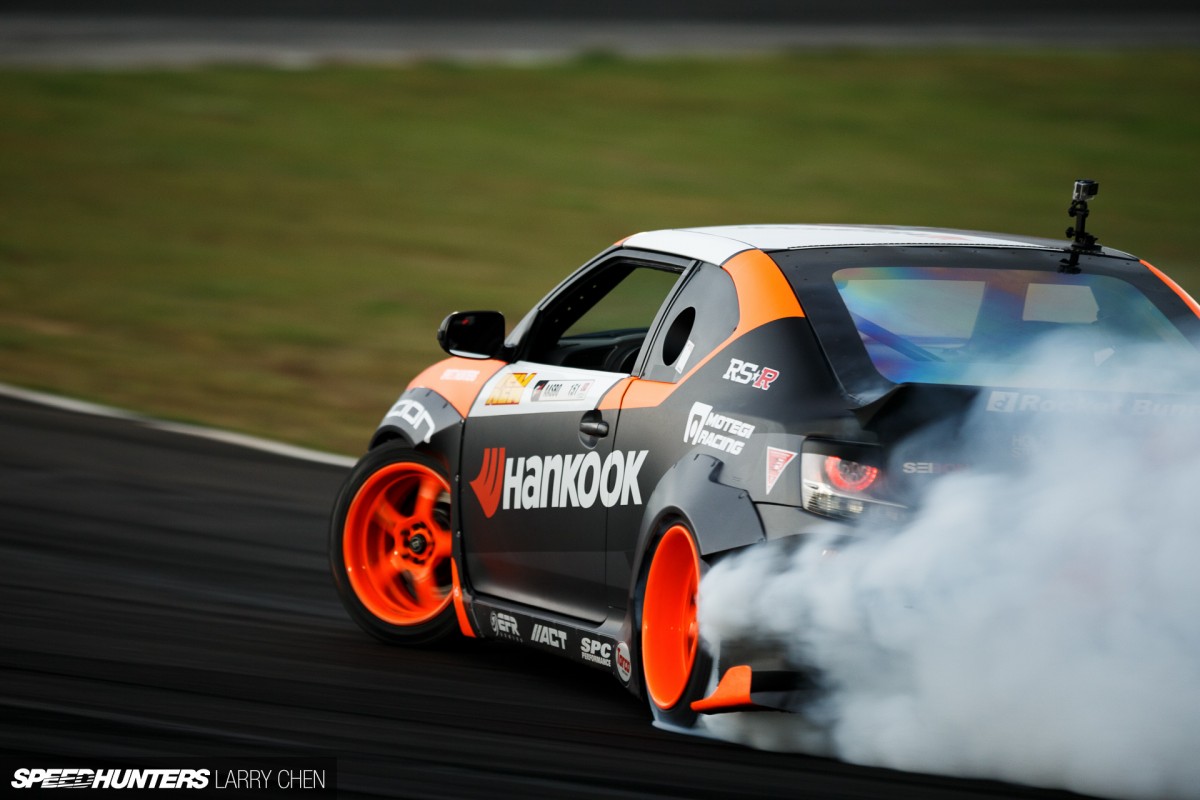 I won't go into detail about Speedhunters driver, Fredric Aasbø and his run to the second step on the podium as the Norwegian Hammer will be telling you himself in a driver blog next week. His battle with Vaughn was absolutely epic though!.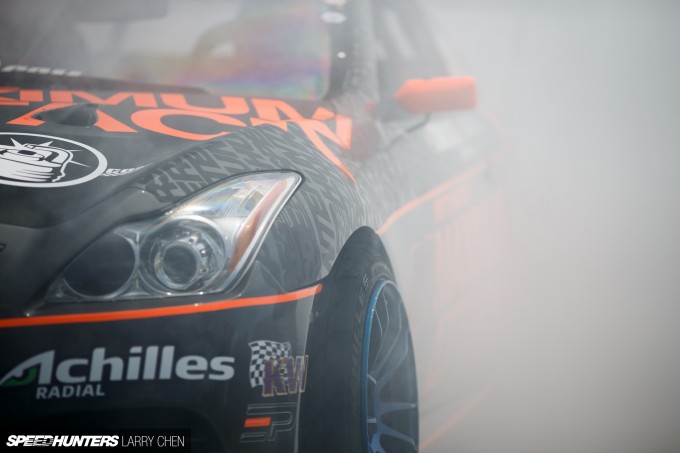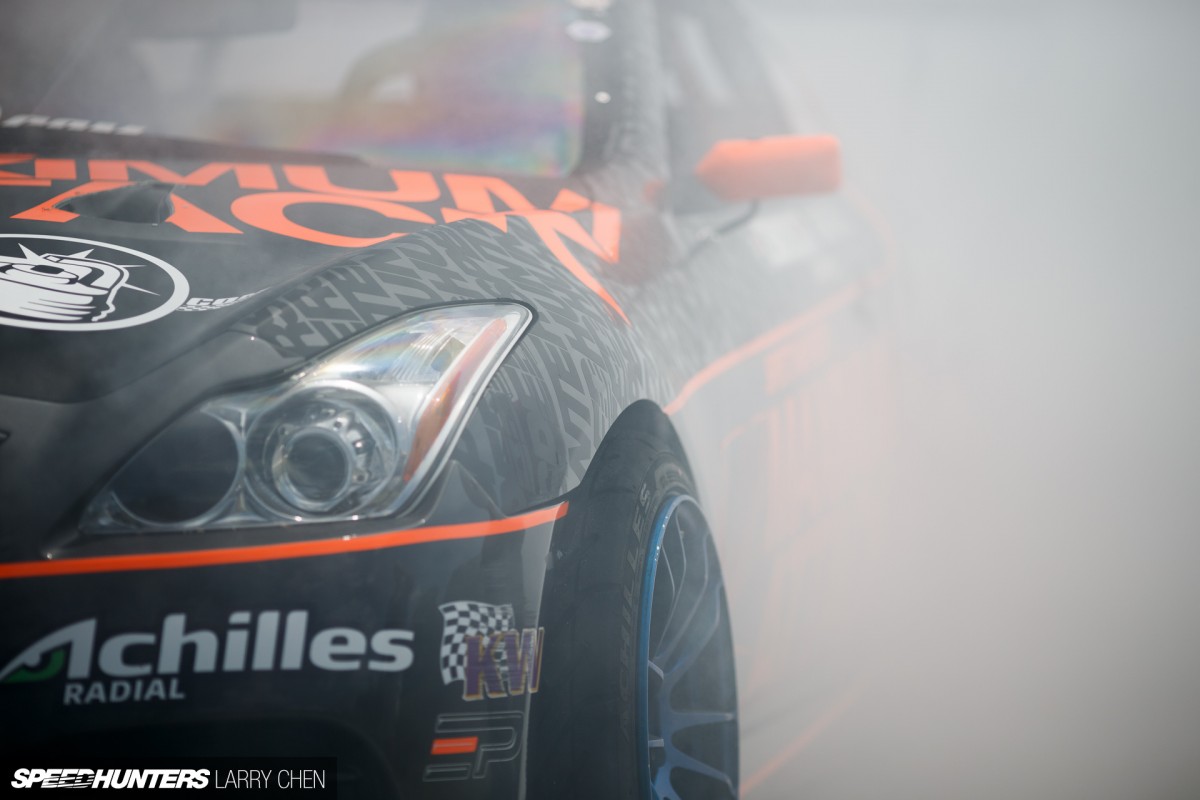 Fredric's fellow Speedhunters team driver, Charles Ng, has been struggling getting to grips with his brand new car and did not qualify for Top 32 in Long Beach back at the beginning of April.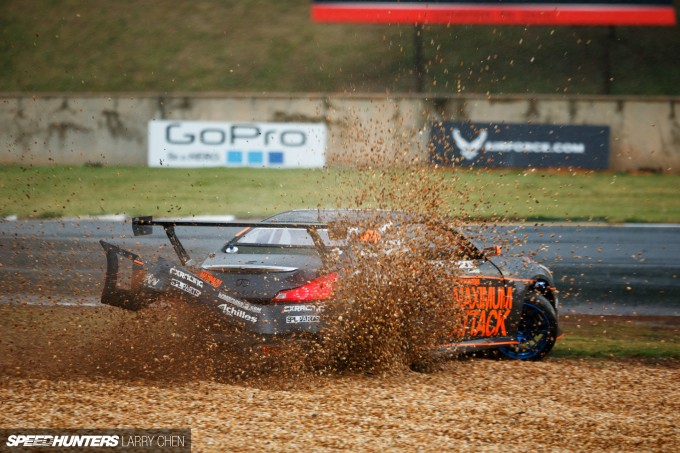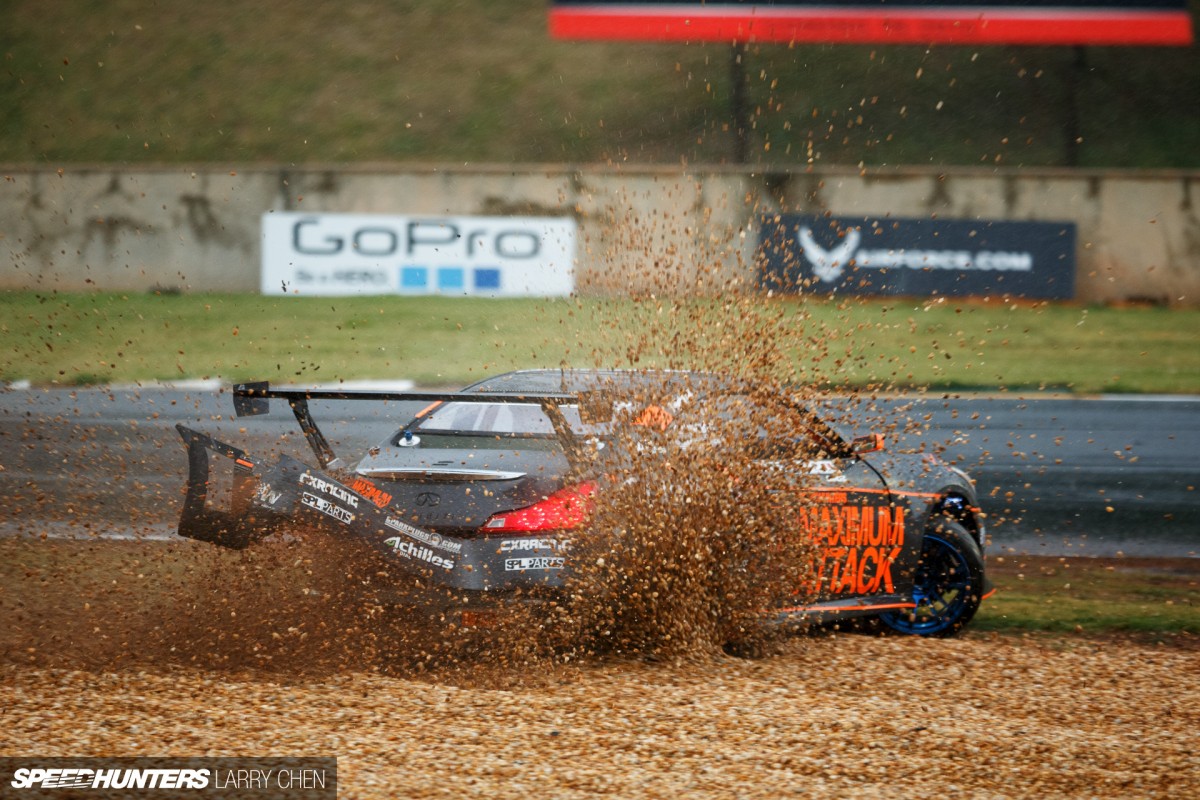 He really came out swinging in Atlanta, but still had to contend with a bunch of teething problems. I'll let him talk about that in his next blog, which is coming soon, too.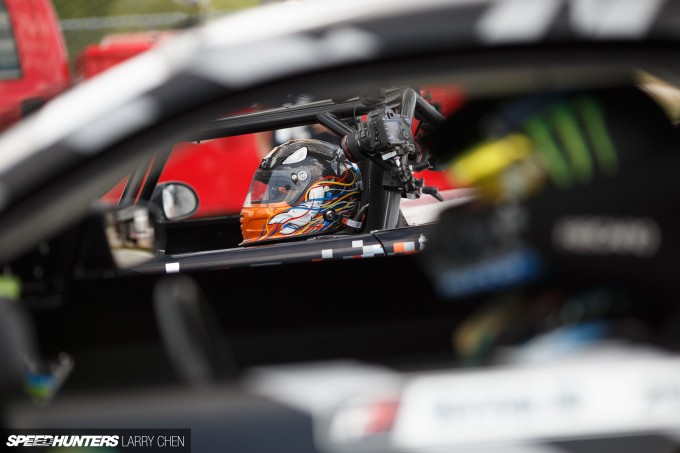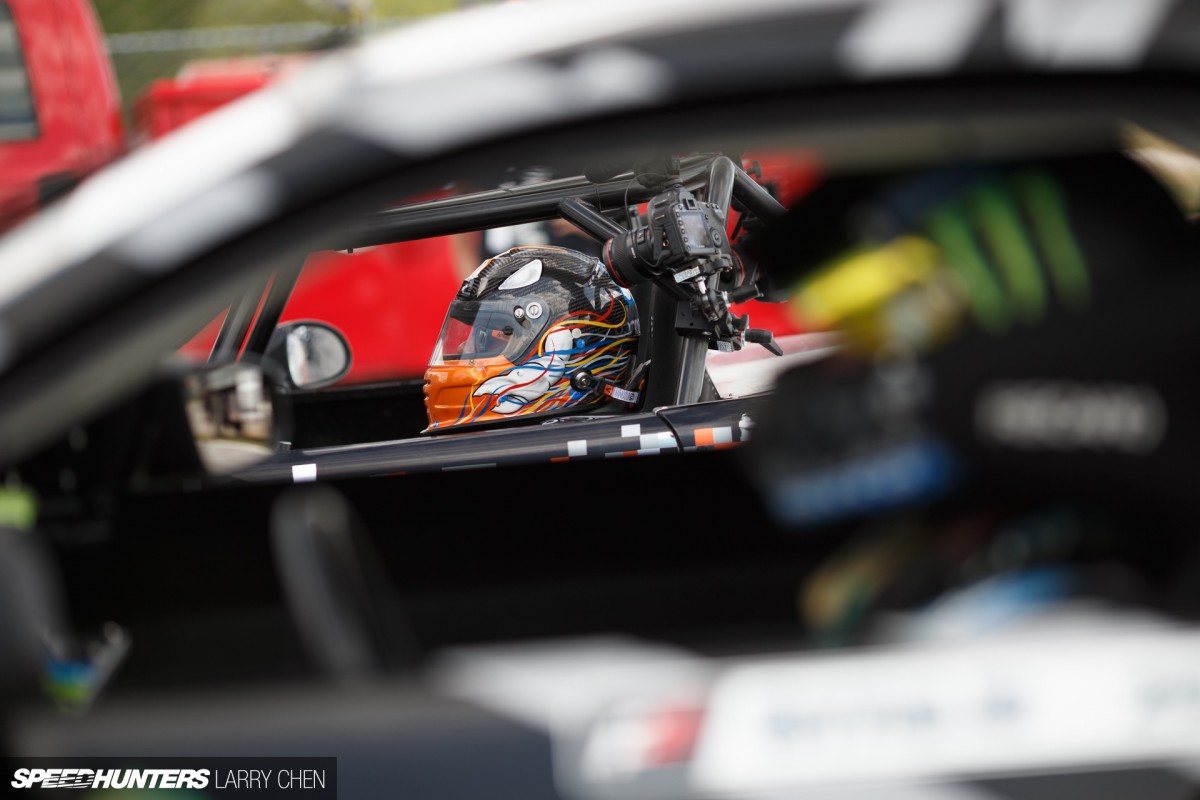 It was a typical Thursday practice at Road Atlanta; scorching heat beating down on my back and drift cars at full noise blasting out my ear drums.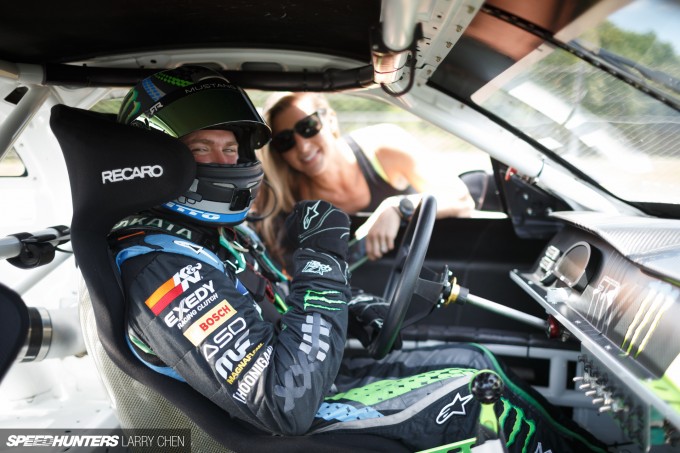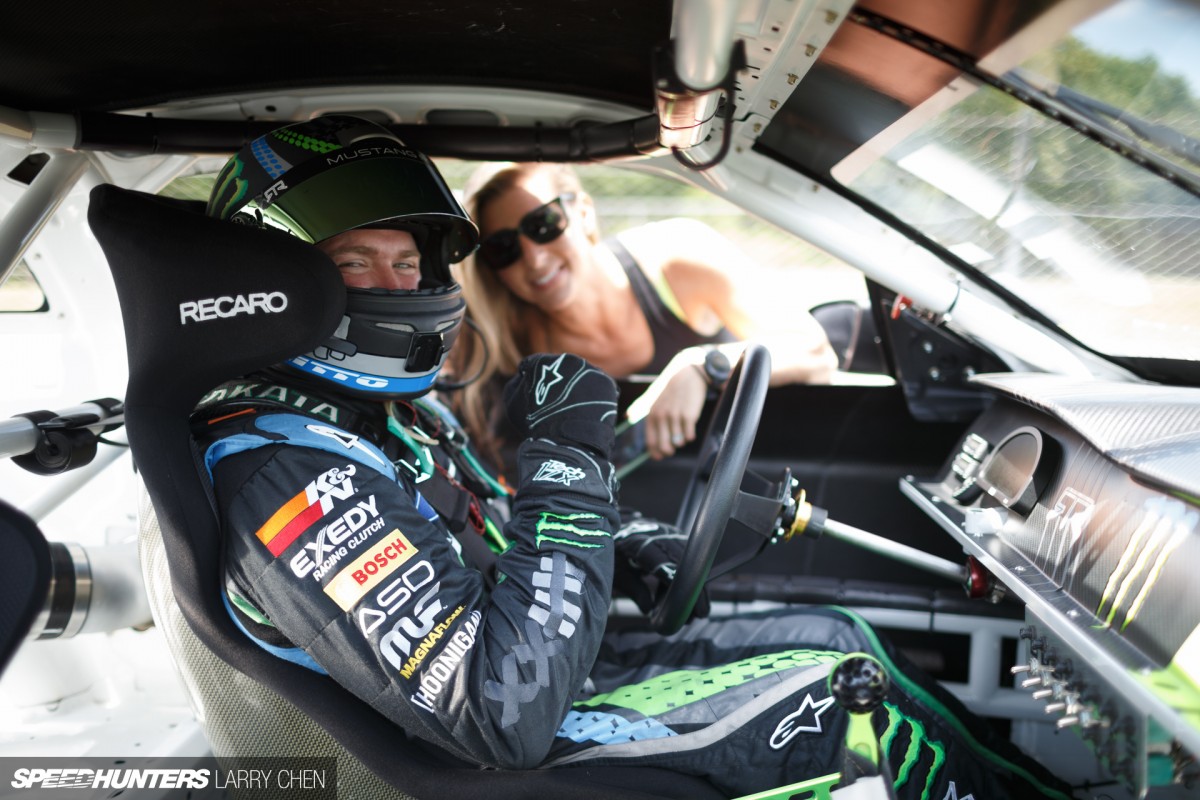 Regardless of how humid it is outside, and how much my eyes sting from sweat pouring from my brow, I always have the comfort of knowing that the drivers –  donning helmets and wrapped up in their race suits, and sitting, waiting inside their million horsepower cars – are suffering much more.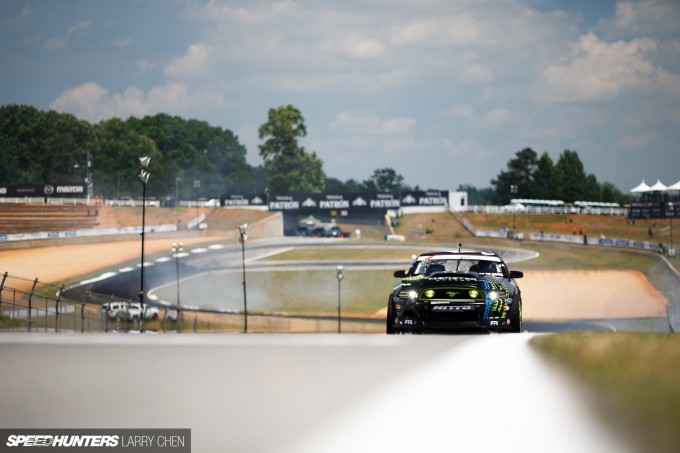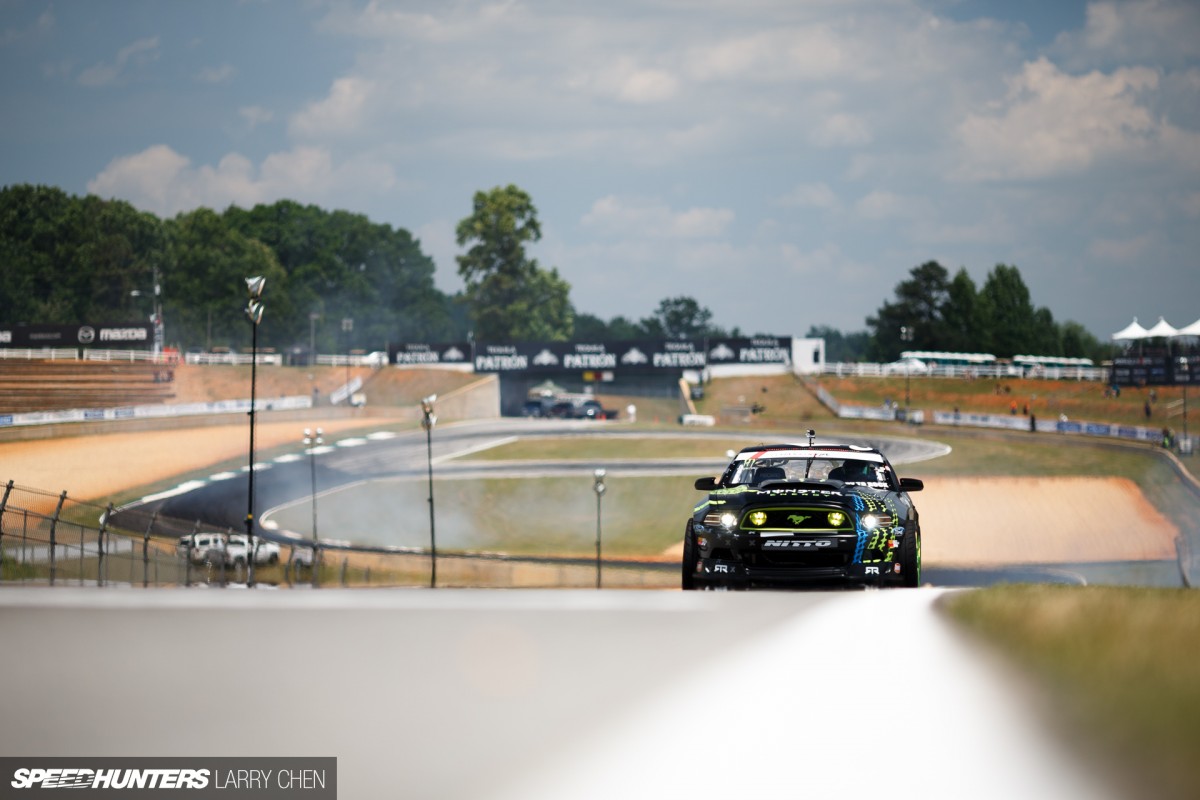 Of course, the heat was the least of Vaughn Gittin's worries in Georgia.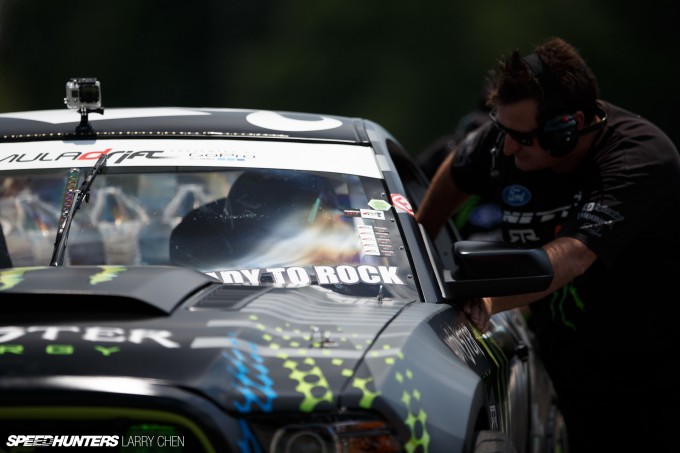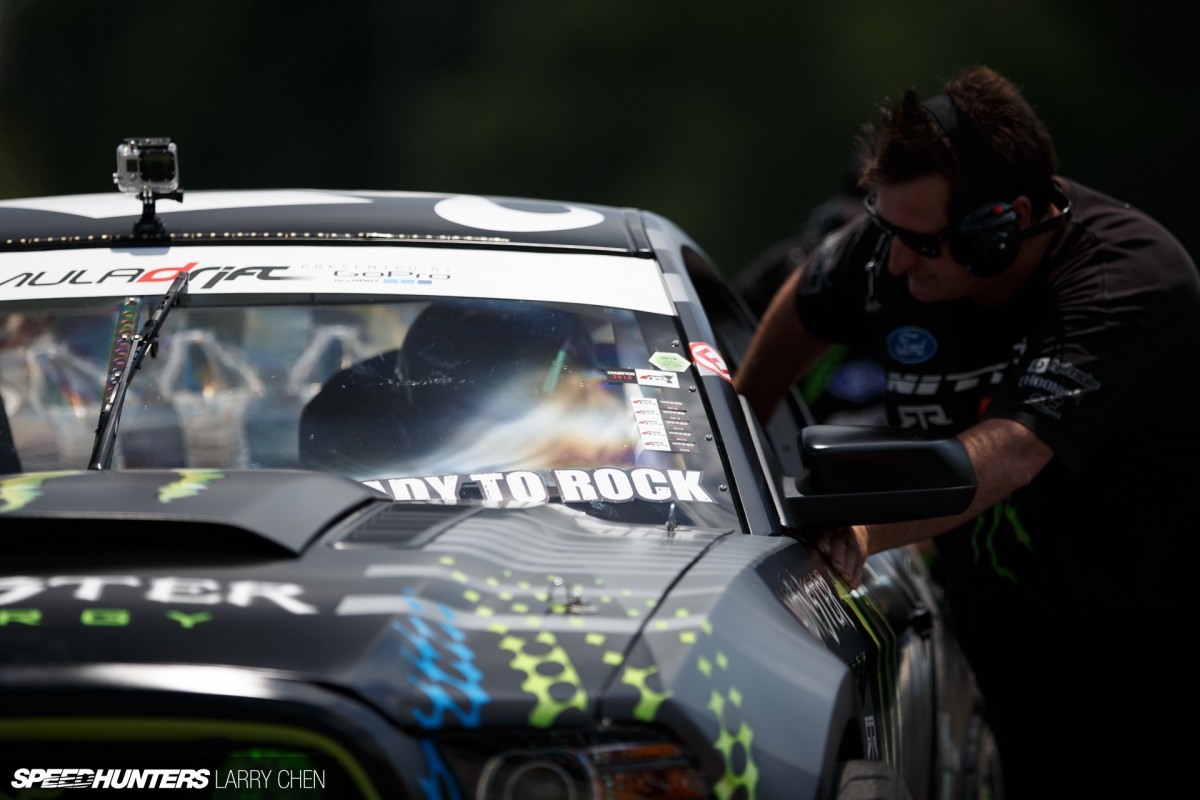 He had a championship to battle for, so nothing else really mattered. Plus, a little sauna session is good for you every now and then, right?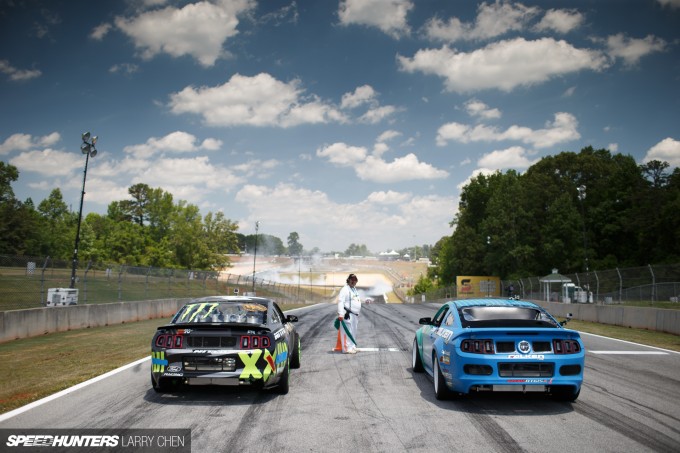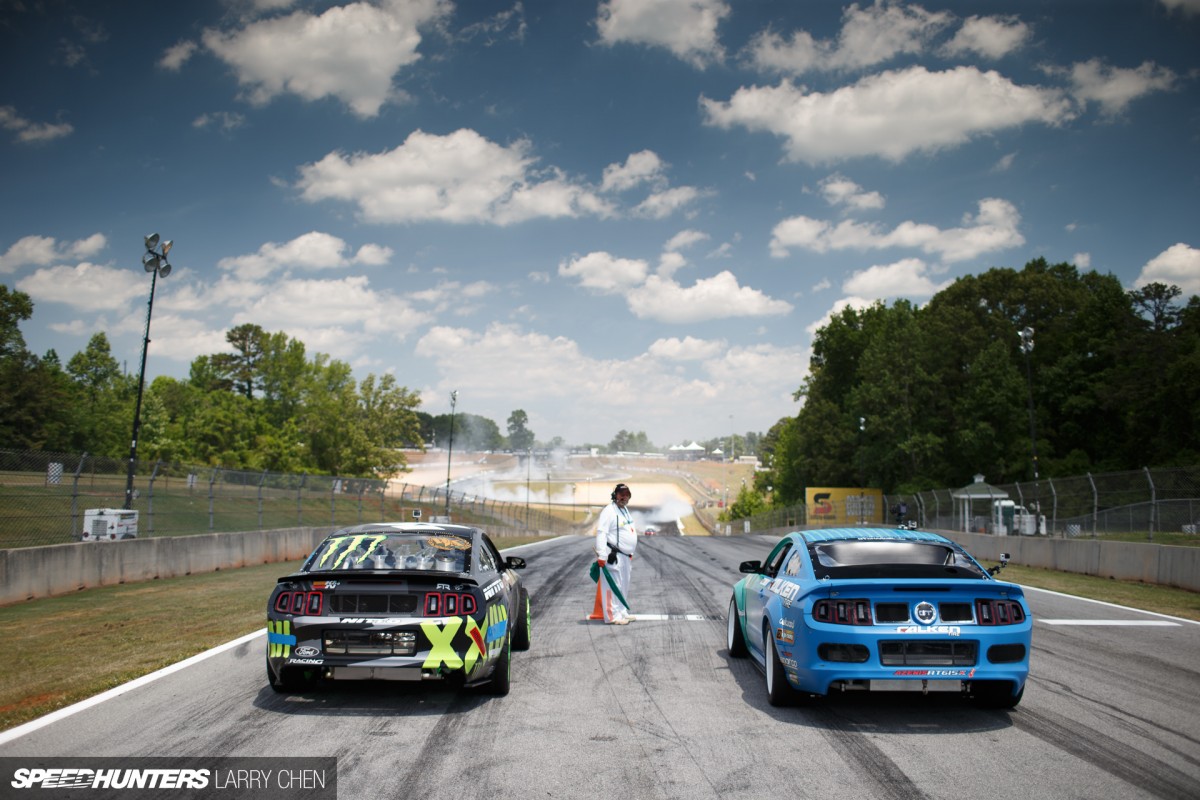 Vaughn lined up with Justin Pawlak during practice, but little did he know later on in the weekend he would be taking part in the Mustang versus Mustang battle of the decade. More on that shortly…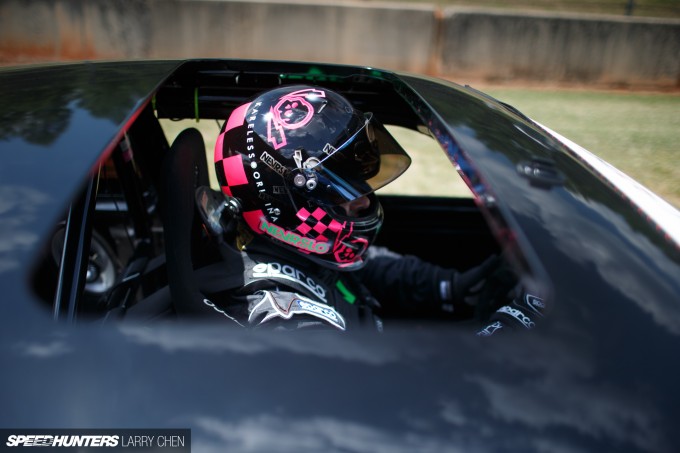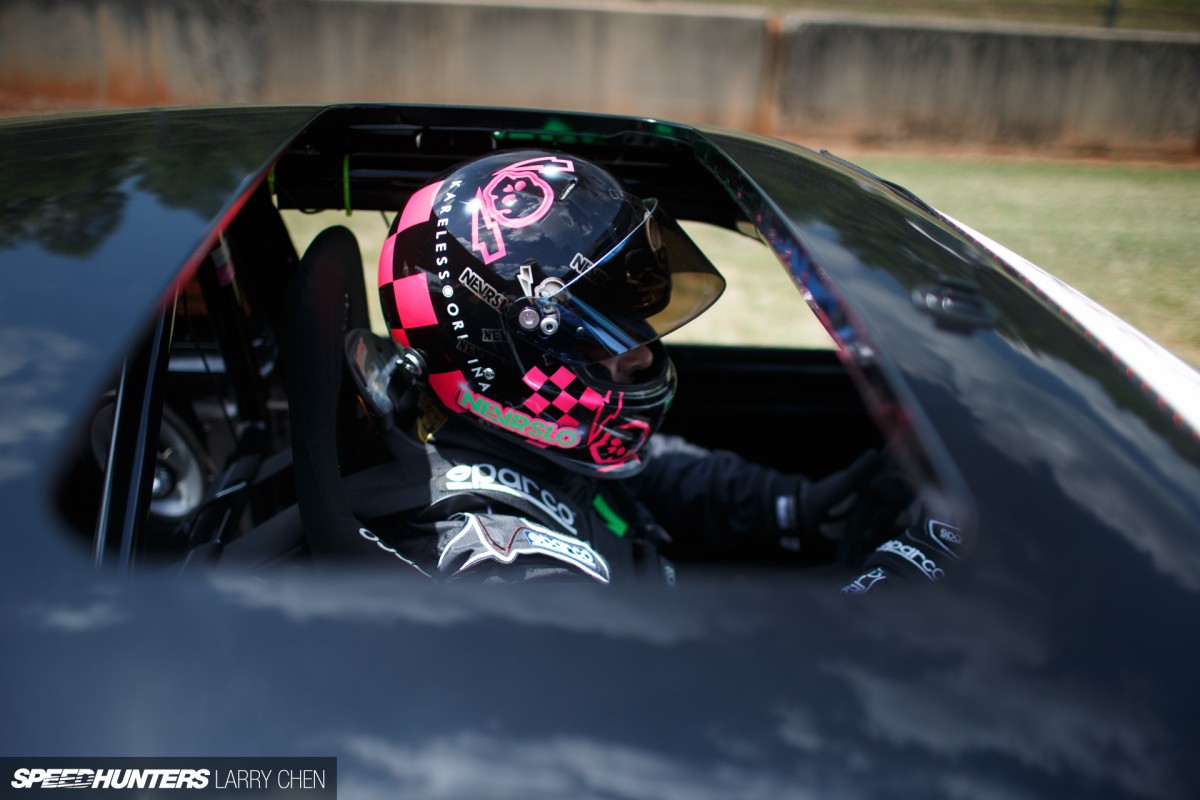 At Long Beach there's only one measly hour of practice before you have to qualify, but at Round 2 at Road Atlanta everyone had the opportunity to officially shake down their cars for an extended period, for the first time in the season.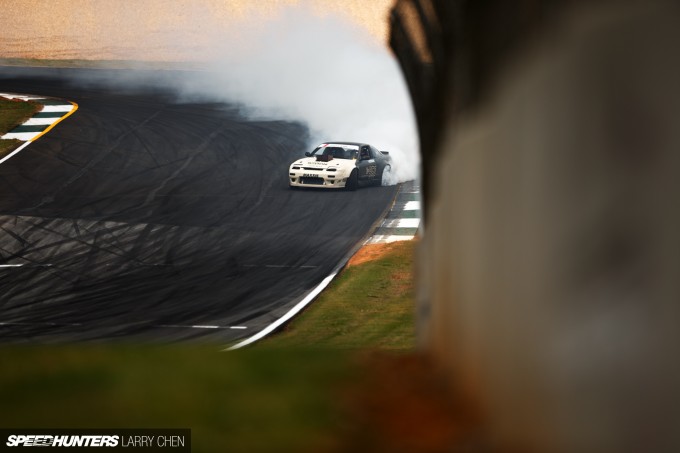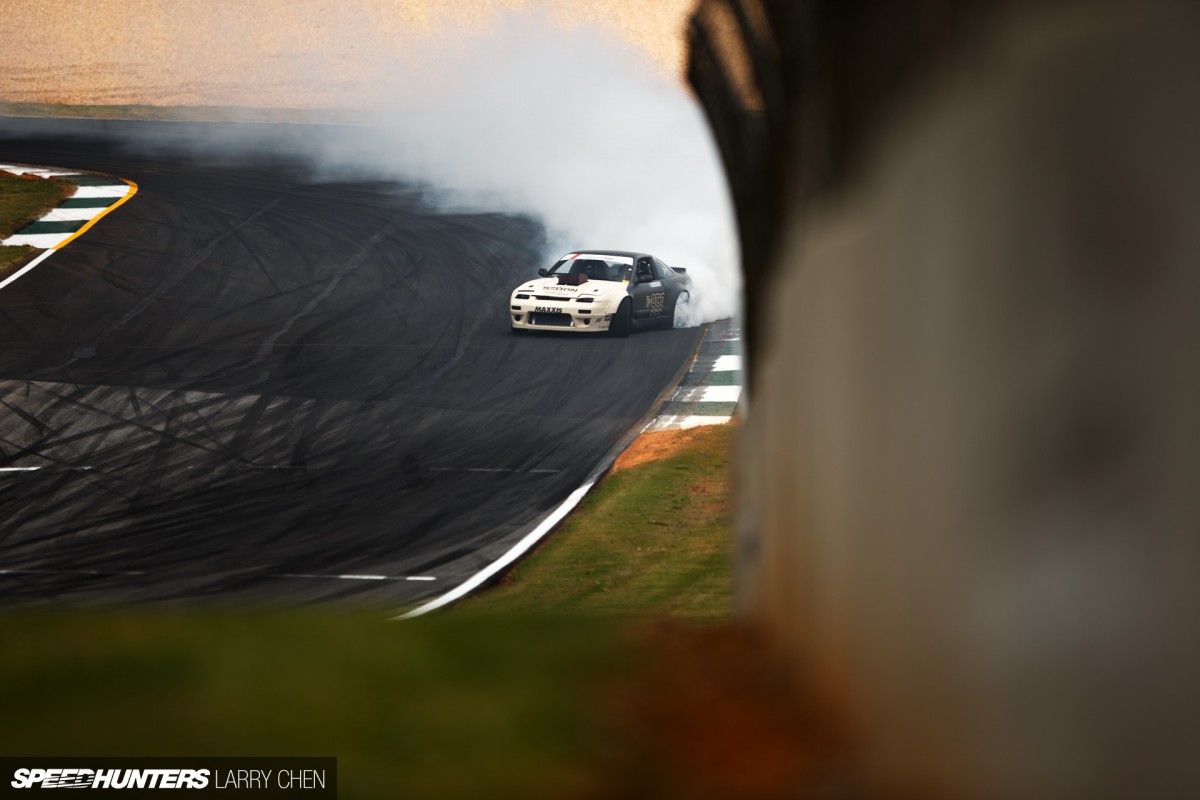 Rookies, privateers and veterans all got four hours of practice in on Thursday, which went a very long way in helping everyone prepare themselves and their cars for competition ahead.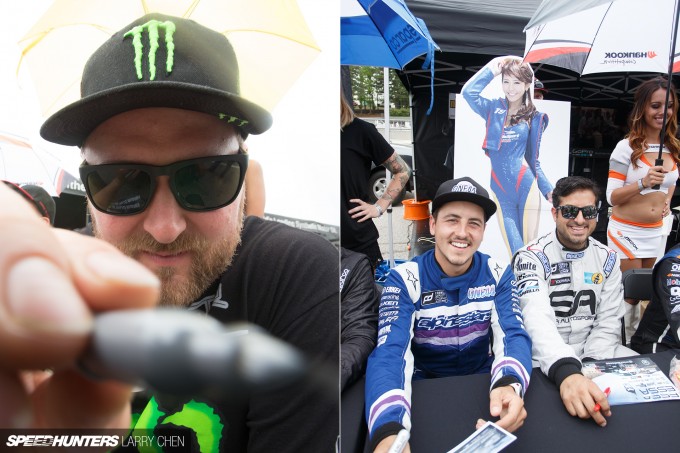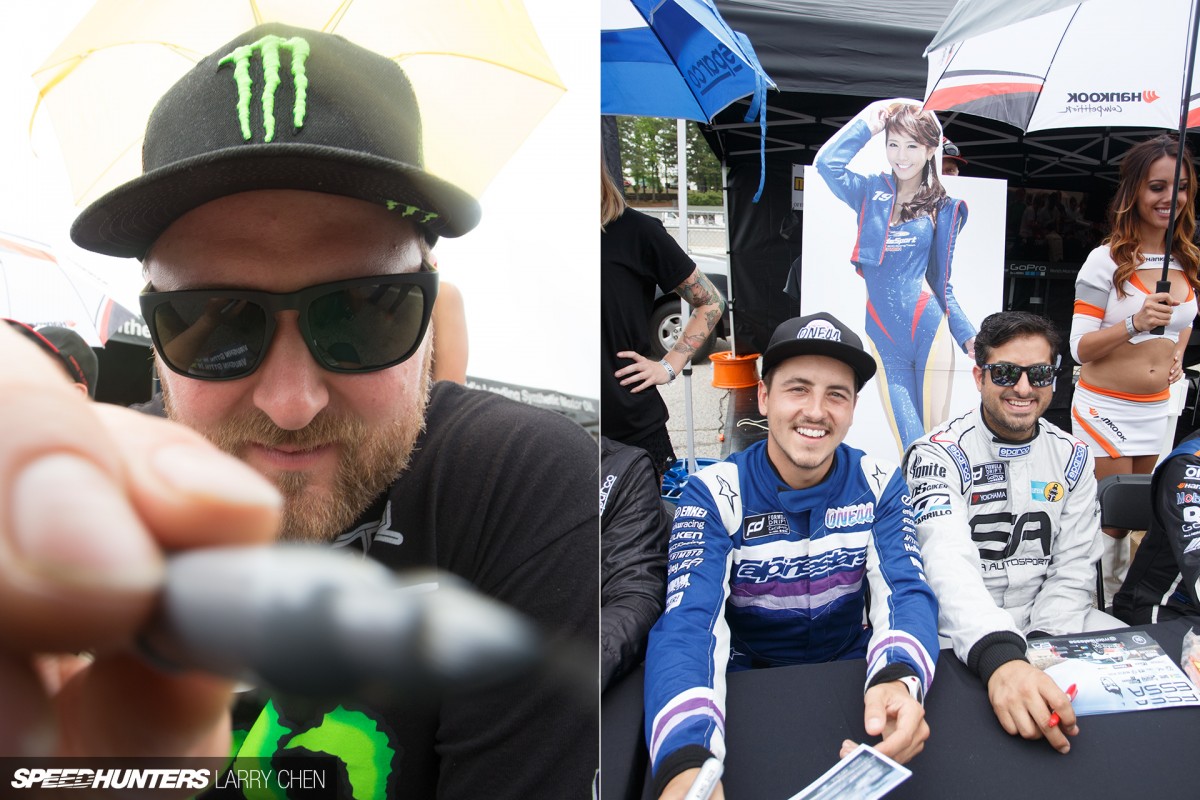 What's also nice about Atlanta is the fact that the autograph session happens before qualifying.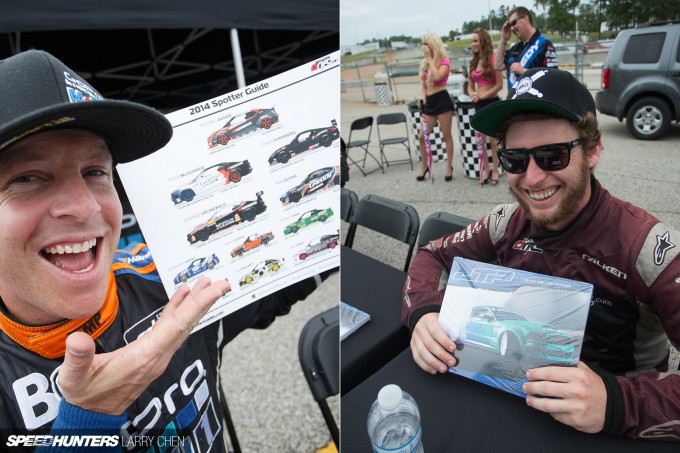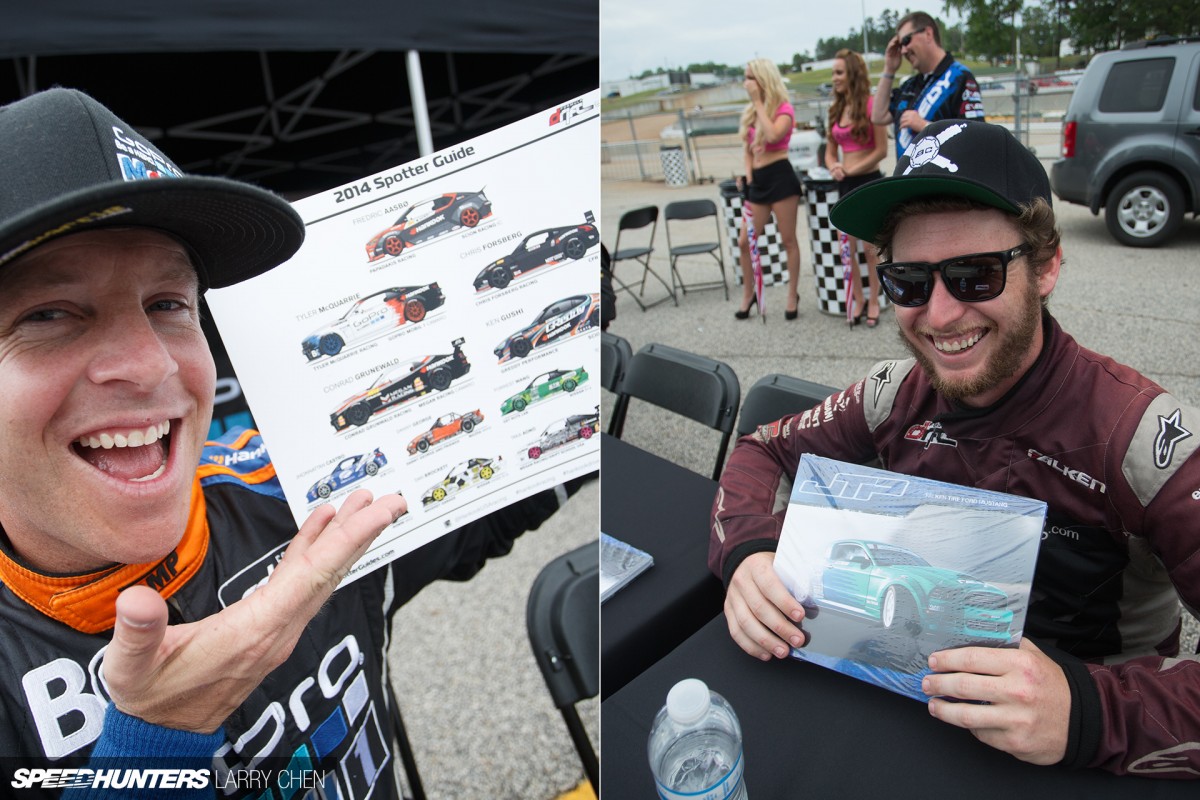 It gives a chance for the drivers to relax and joke around with their peers before things get serious.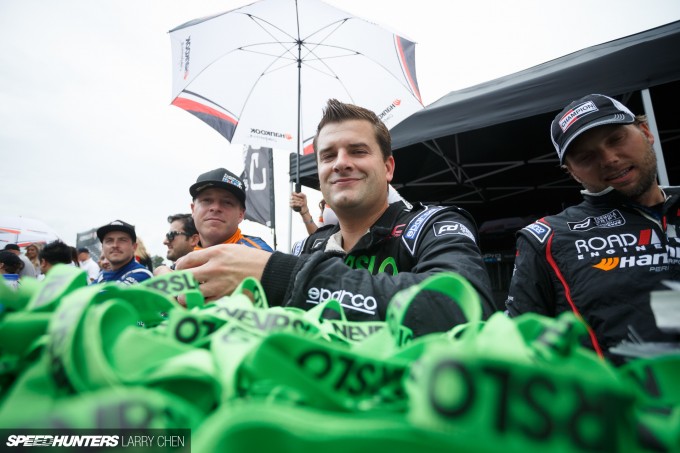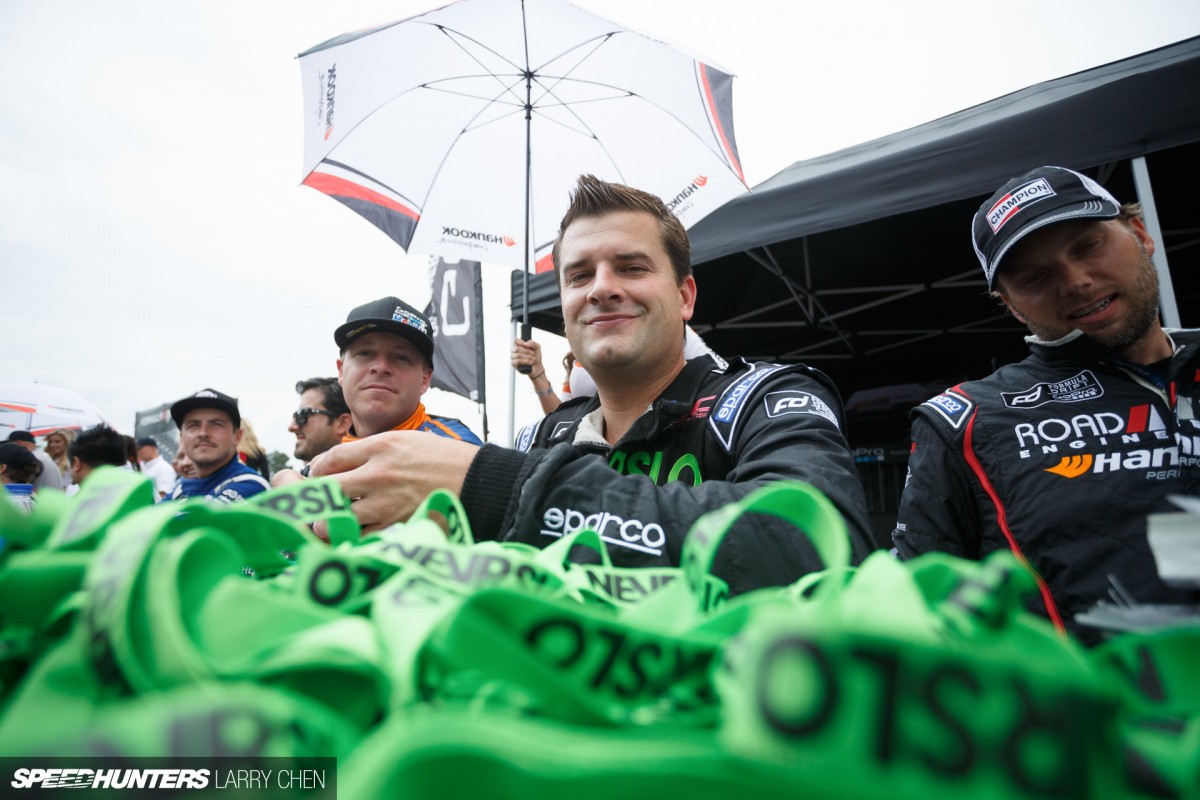 Even one hour of distraction from the pressure of competition helps out. Plus, it allows fans to personally meet and greet all the drivers.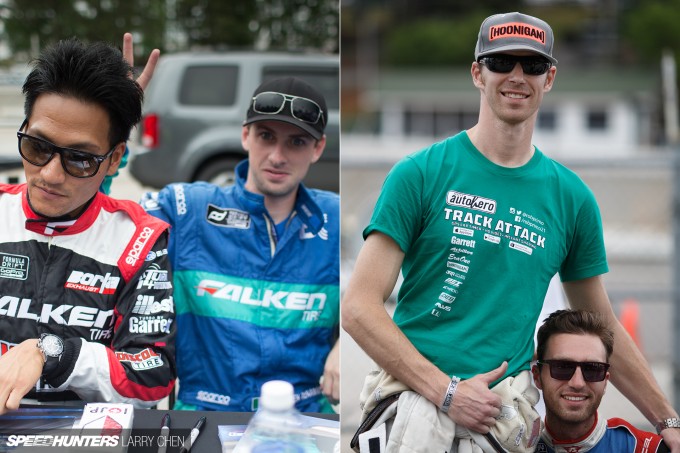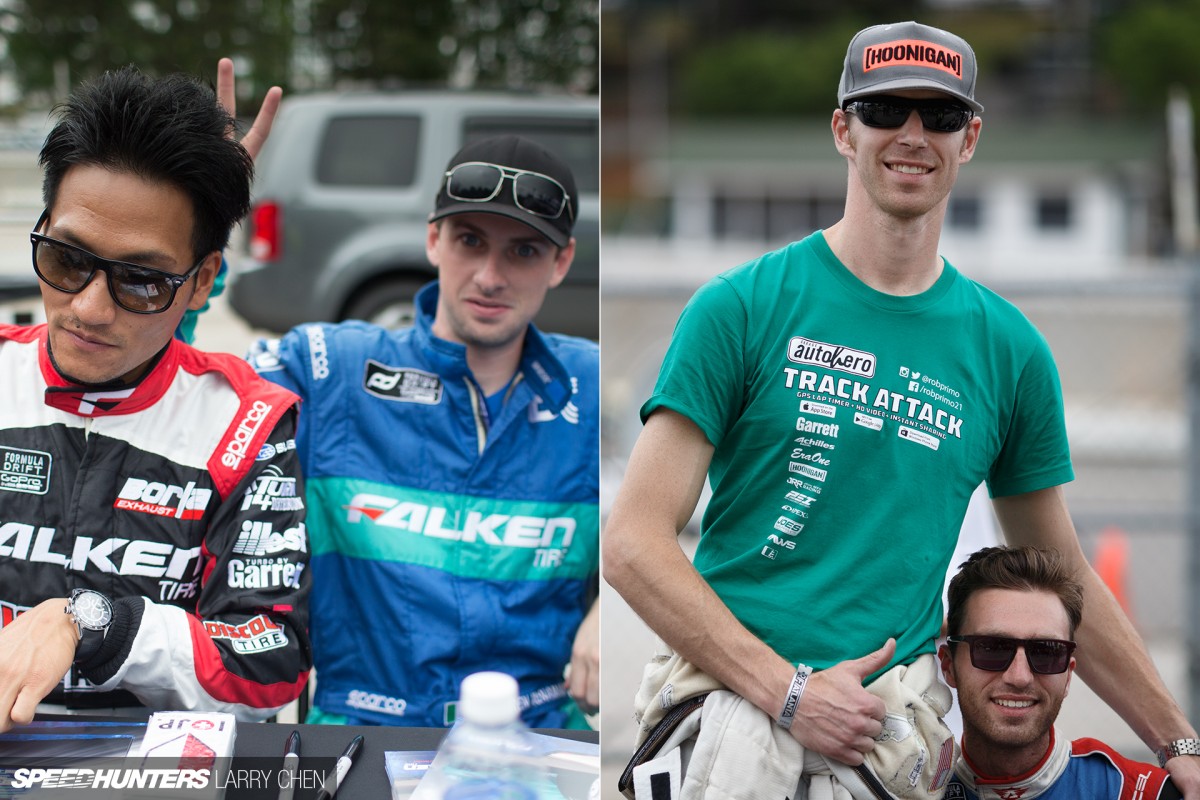 Japanese, Irish, big and small – everyone can be friends during the autograph session.
Groundhog Day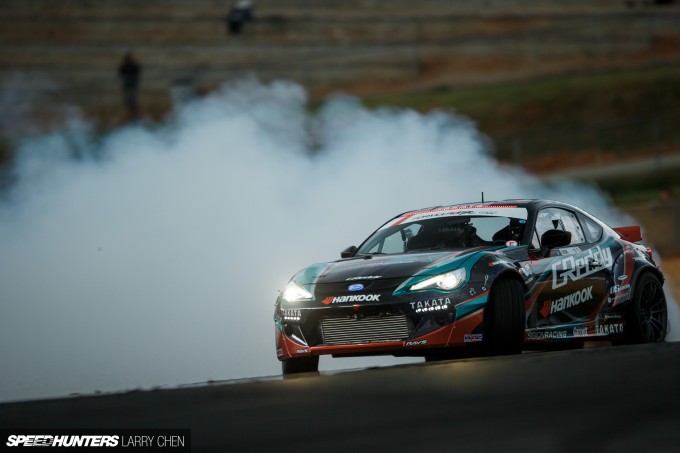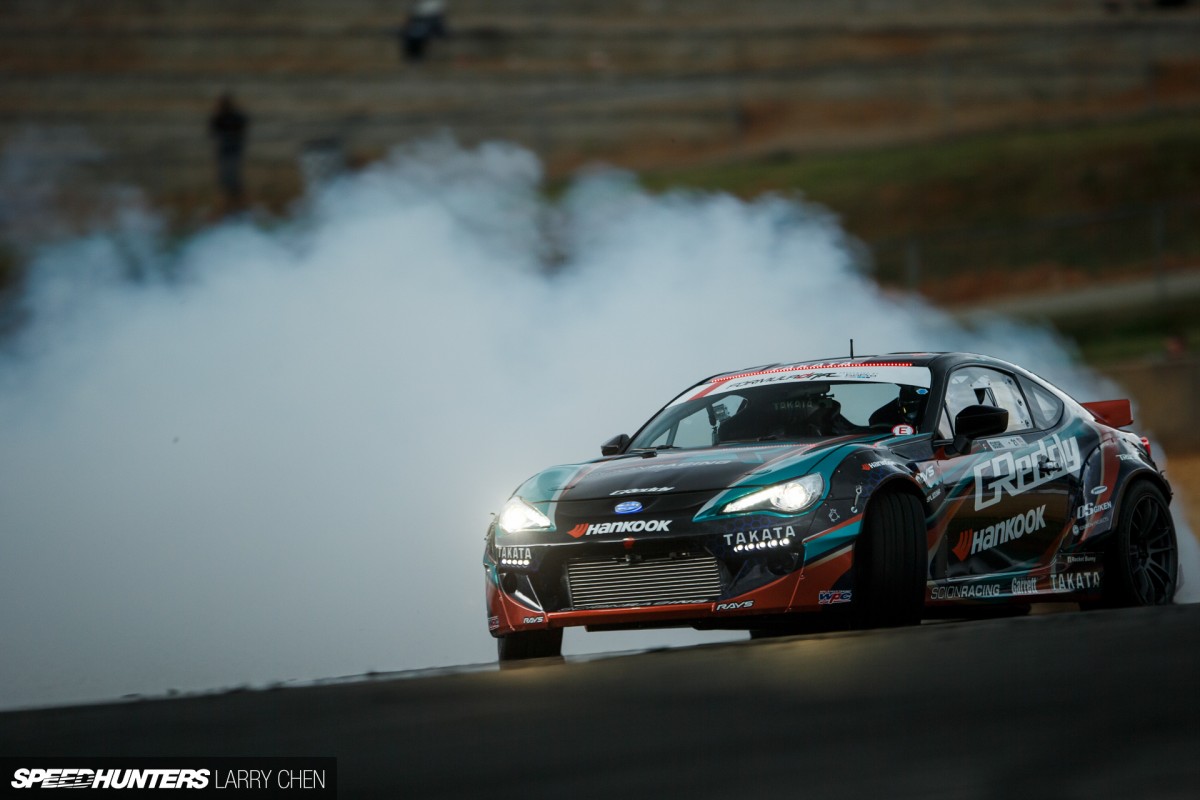 Right after signing session was one short, final practice session before qualifying.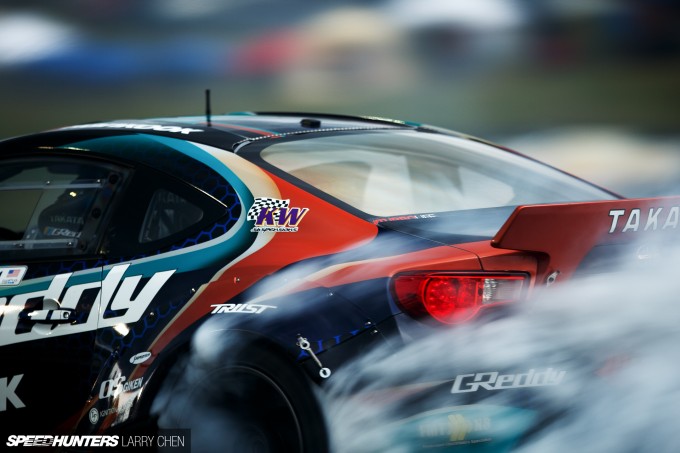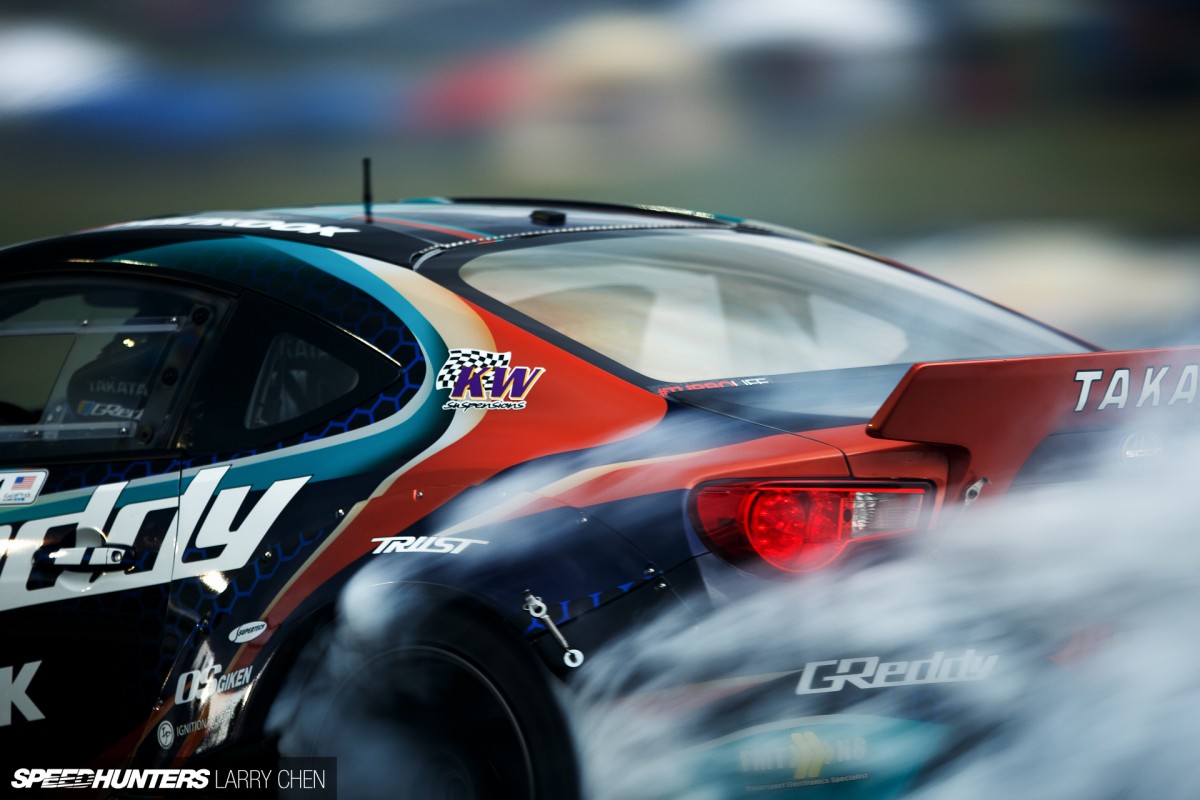 If the amount of smoke pouring out of the rear wheel wells were anything to go by, Ken Gushi was very comfortable in his brand new 2JZ-powered Scion FR-S.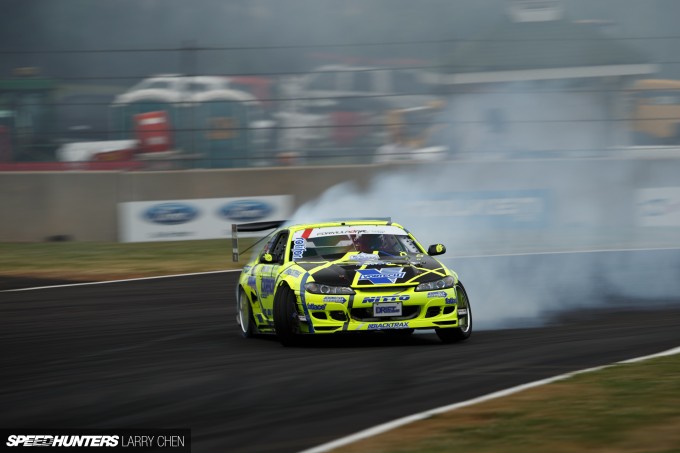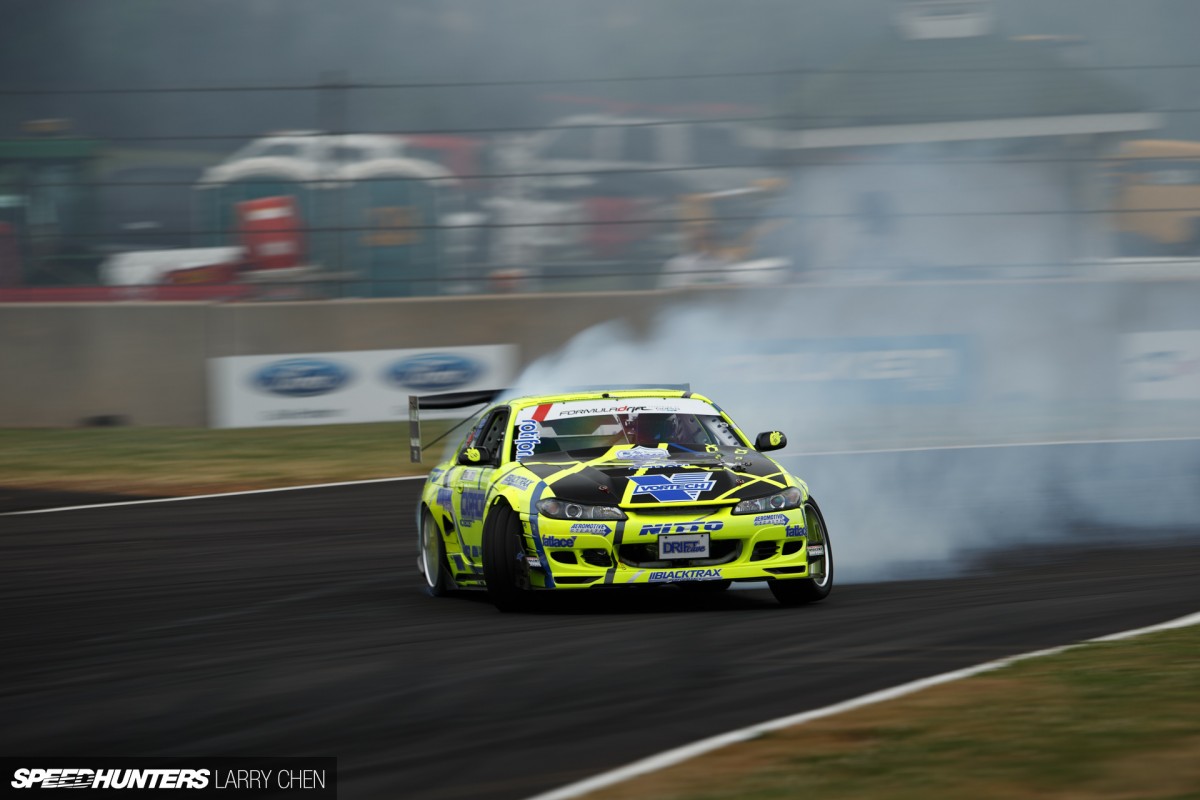 Although Matt Field showed up at the first round of the championship in Long Beach, but he couldn't get his newly-built Silvia's motor running so he had to sit out the all-important opener. The team got things buttoned up in time for Atlanta, but I think Matt still has a way to go before he's got things fully dialled in.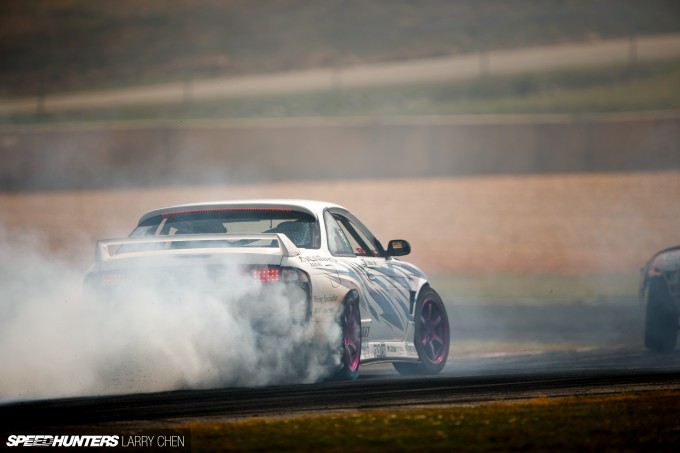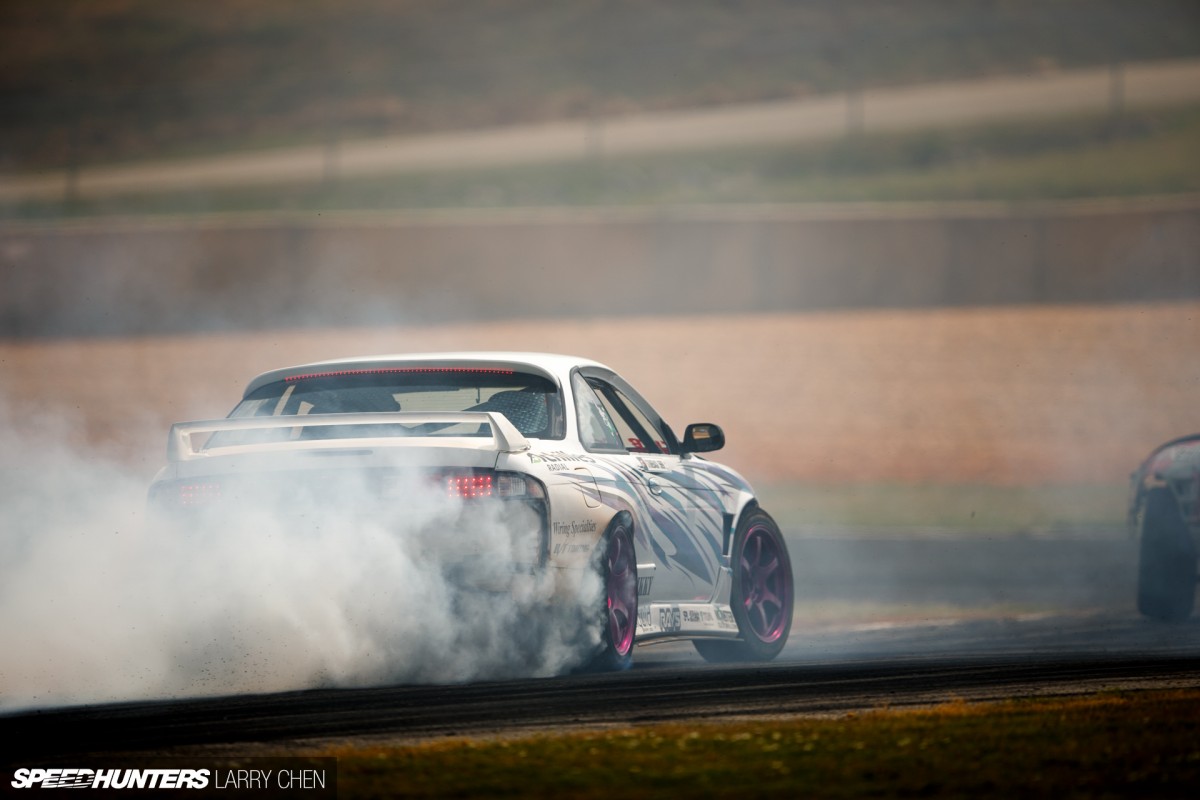 The Rookie of the Year race is seriously heating up, with Geoff Stoneback already tying with 18-year-old Alec Hohnadell for first place.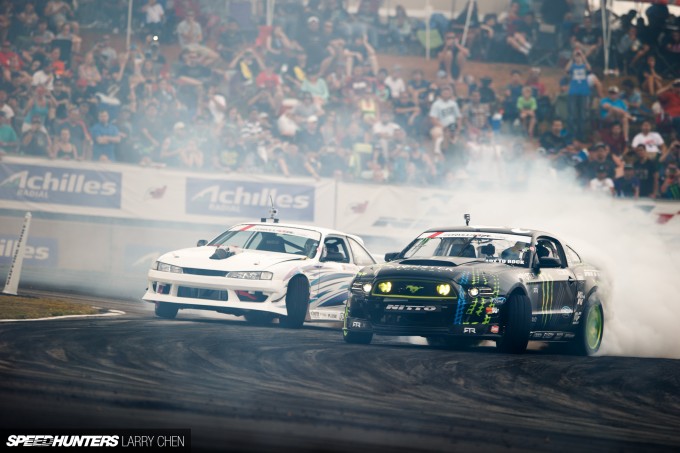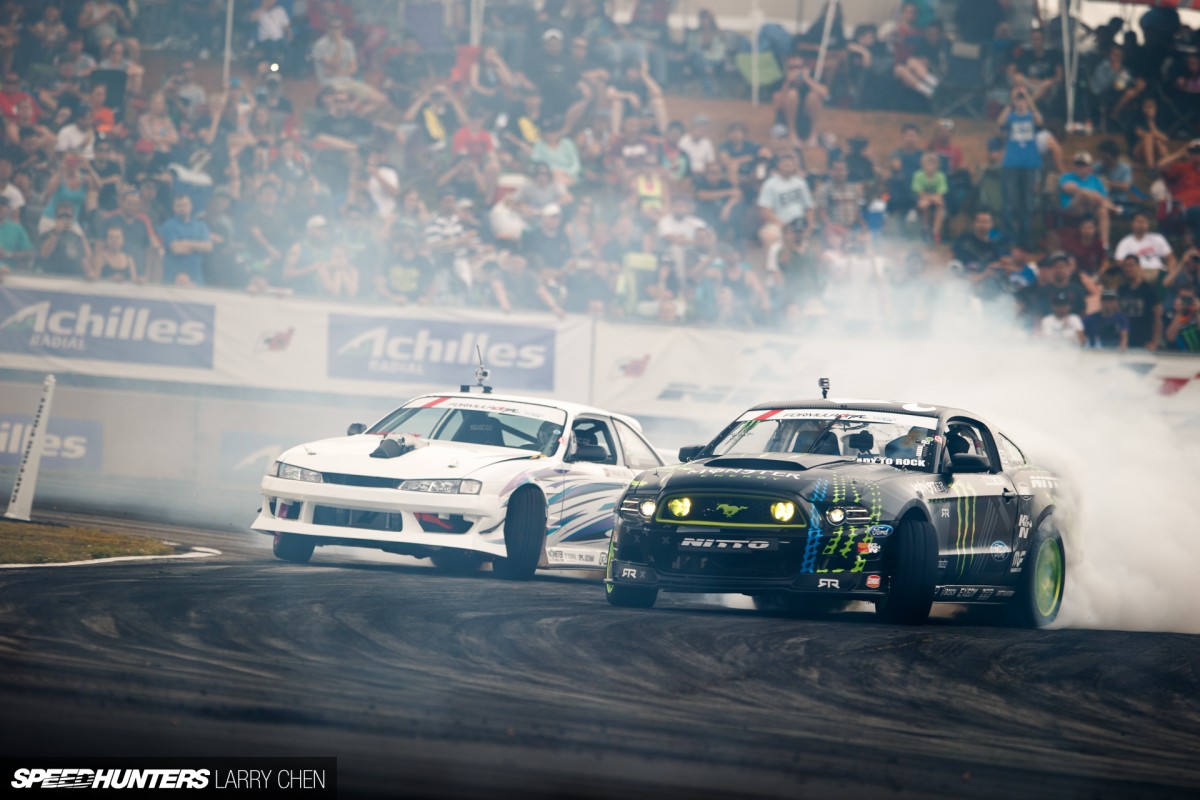 The Club Loose driver put in a great showing in the Top 32 agasint Vaughn, and is showing so much promise for his first year of Pro competition. If I didn't know any better, I would have guessed that Geoff had been driving in Formula Drift for years.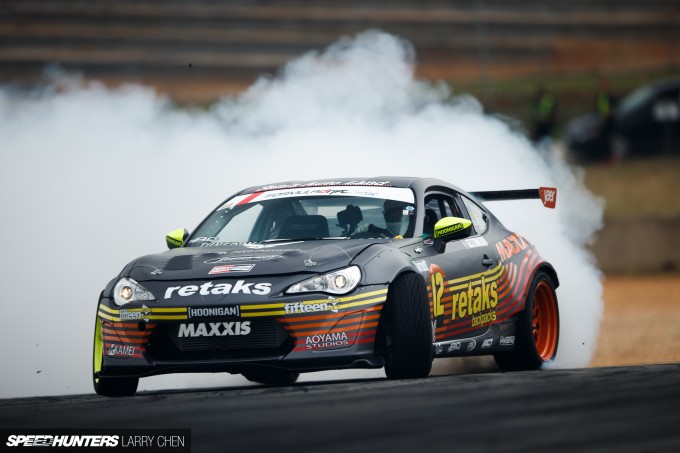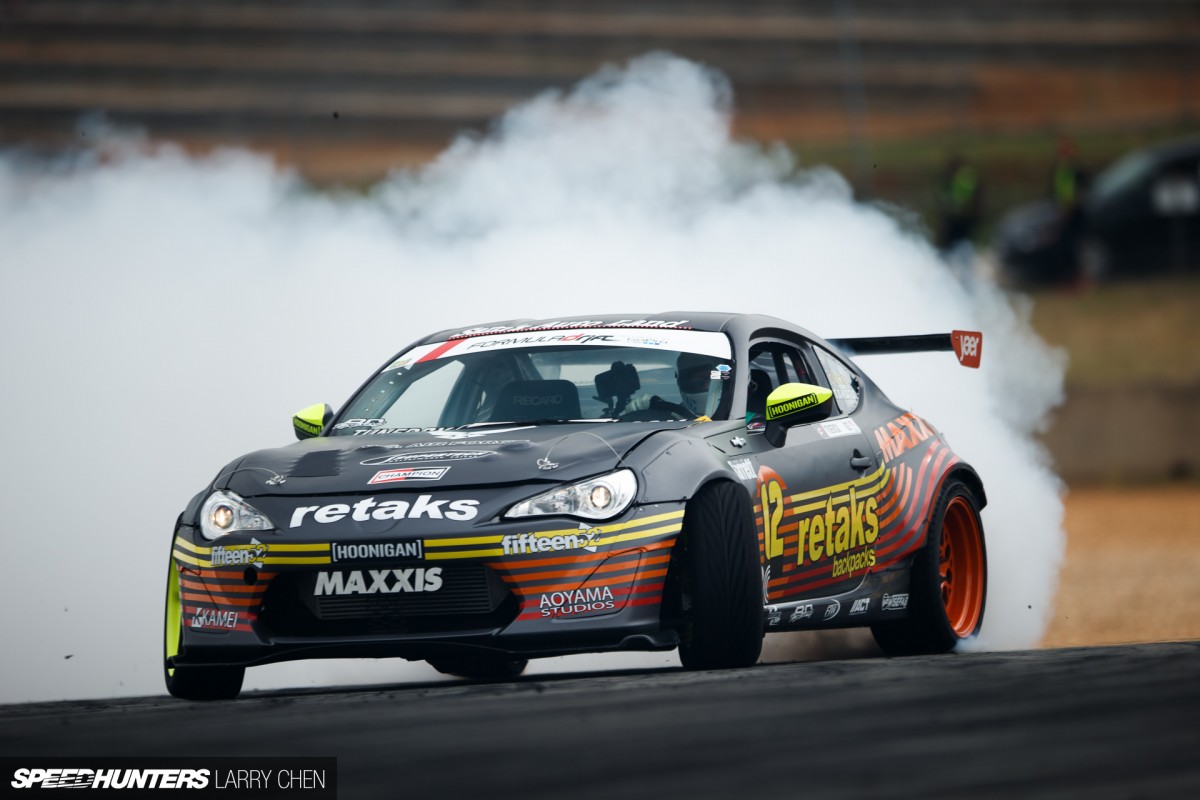 There were quite a few disappointments this round, including Ryan Tuerck not making it into the Top 16 due to a mechanical failure.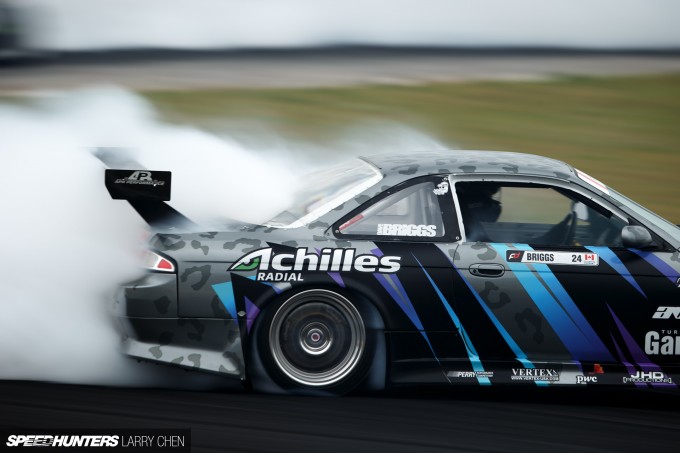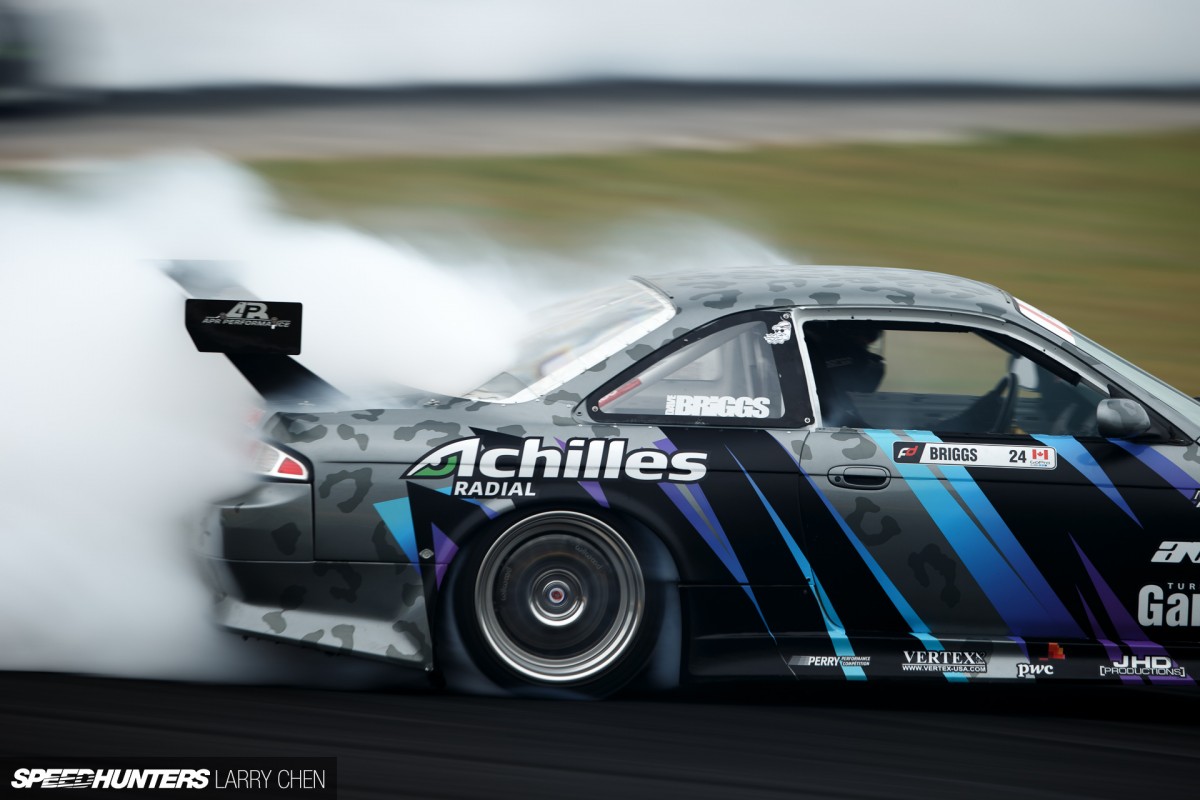 Despite looking top-notch during practice, Dave Briggs also ran out of luck when his transmission failed during his first qualifying run.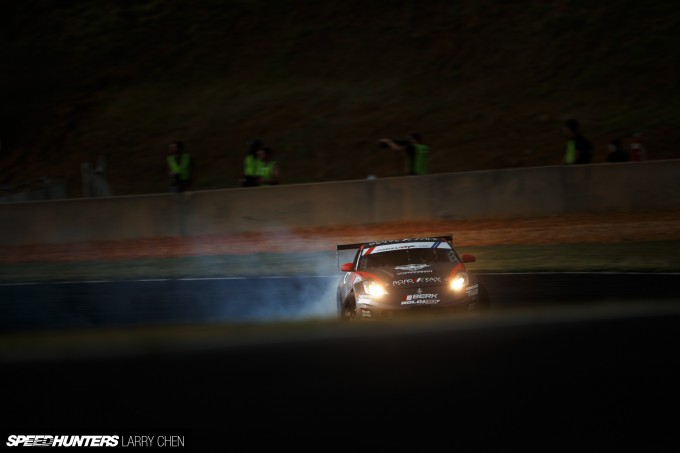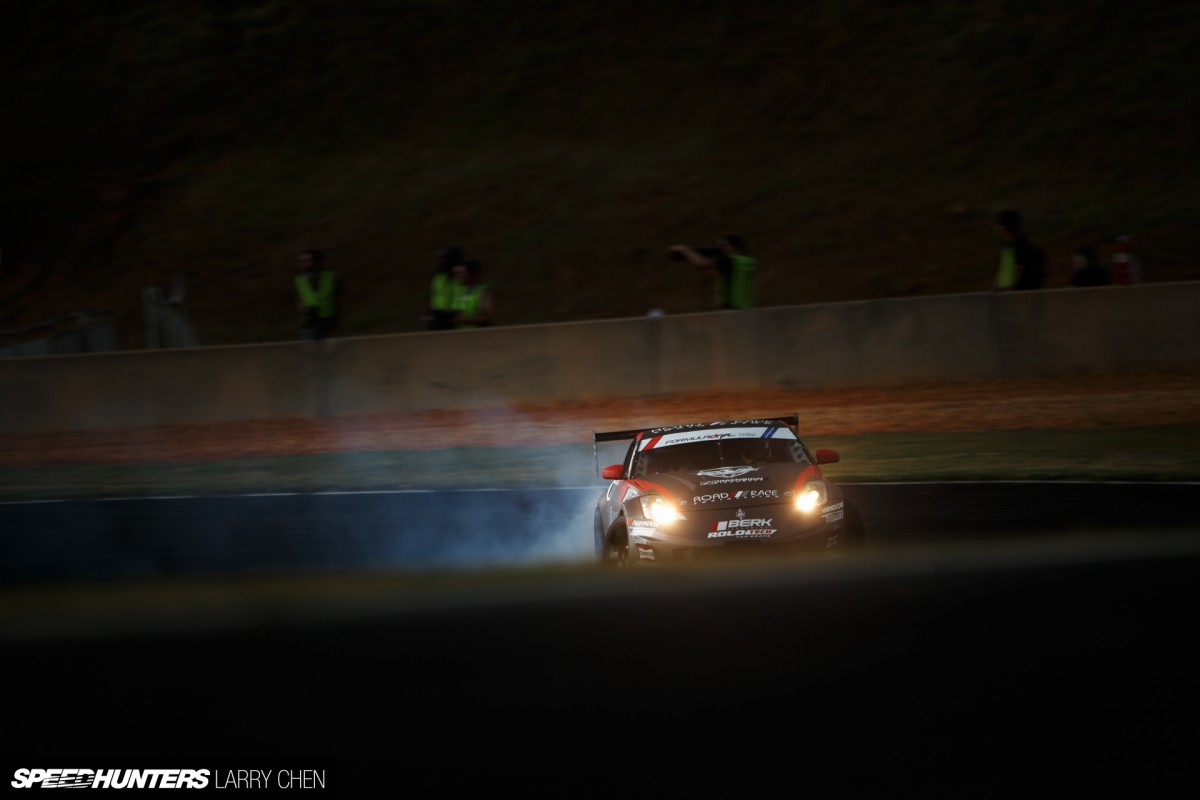 The forecast mentioned rain, and it worried everyone on grid looking to secure a good spot on the battle ladder. Last year in Atlanta the wet weather really threw a wrench into works; cars getting run over and all that jazz.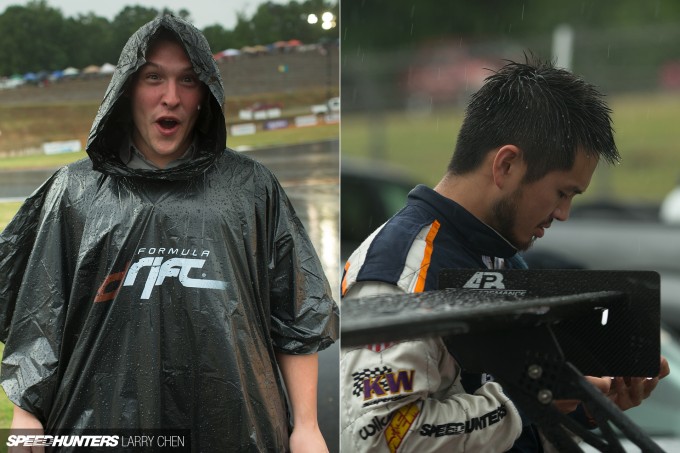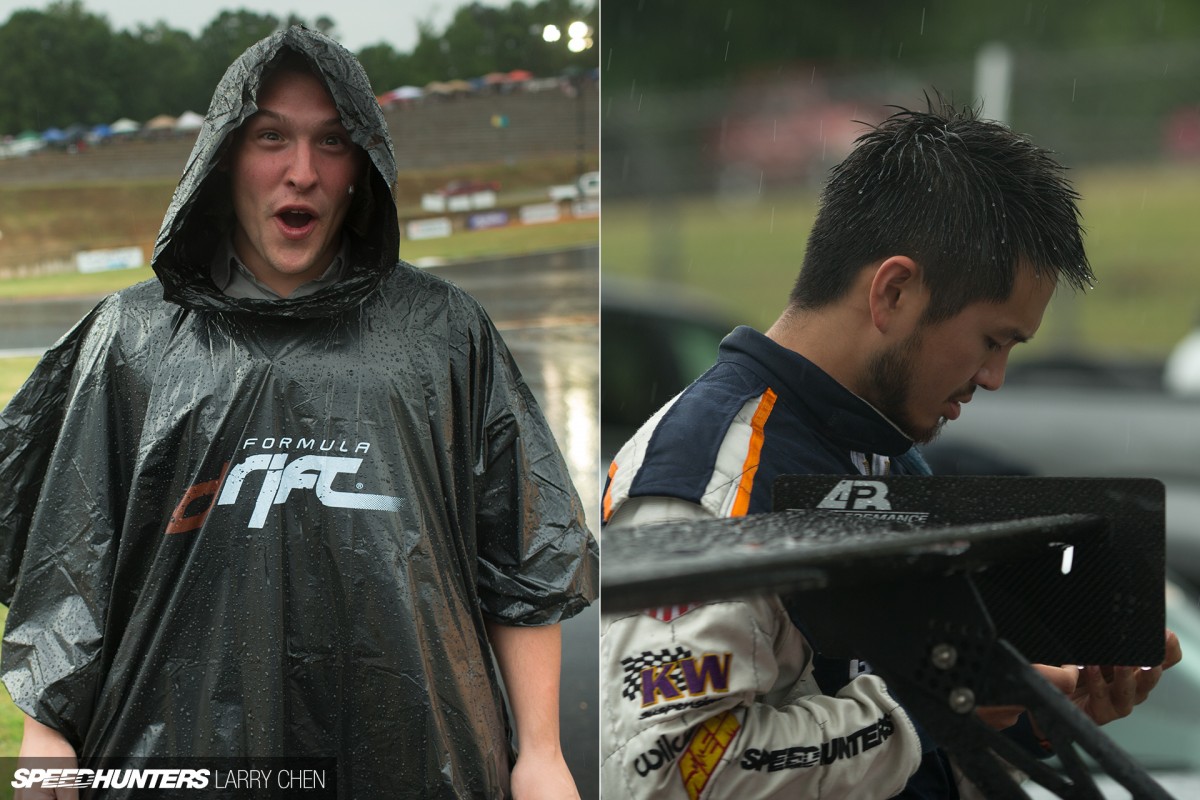 And wouldn't you know it – on cue the heavens opened up and the track was soaked to its core.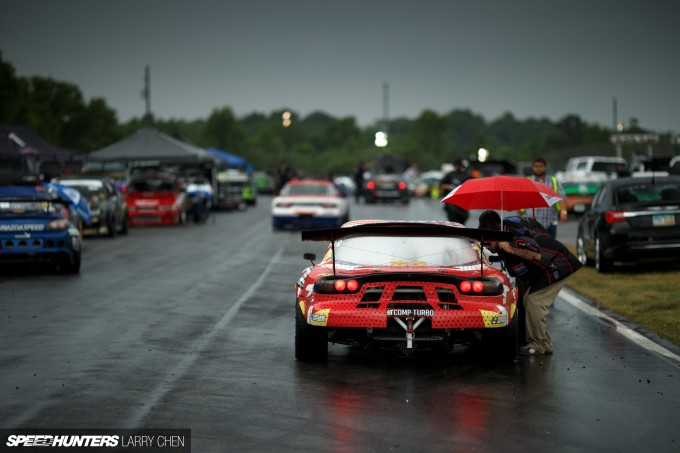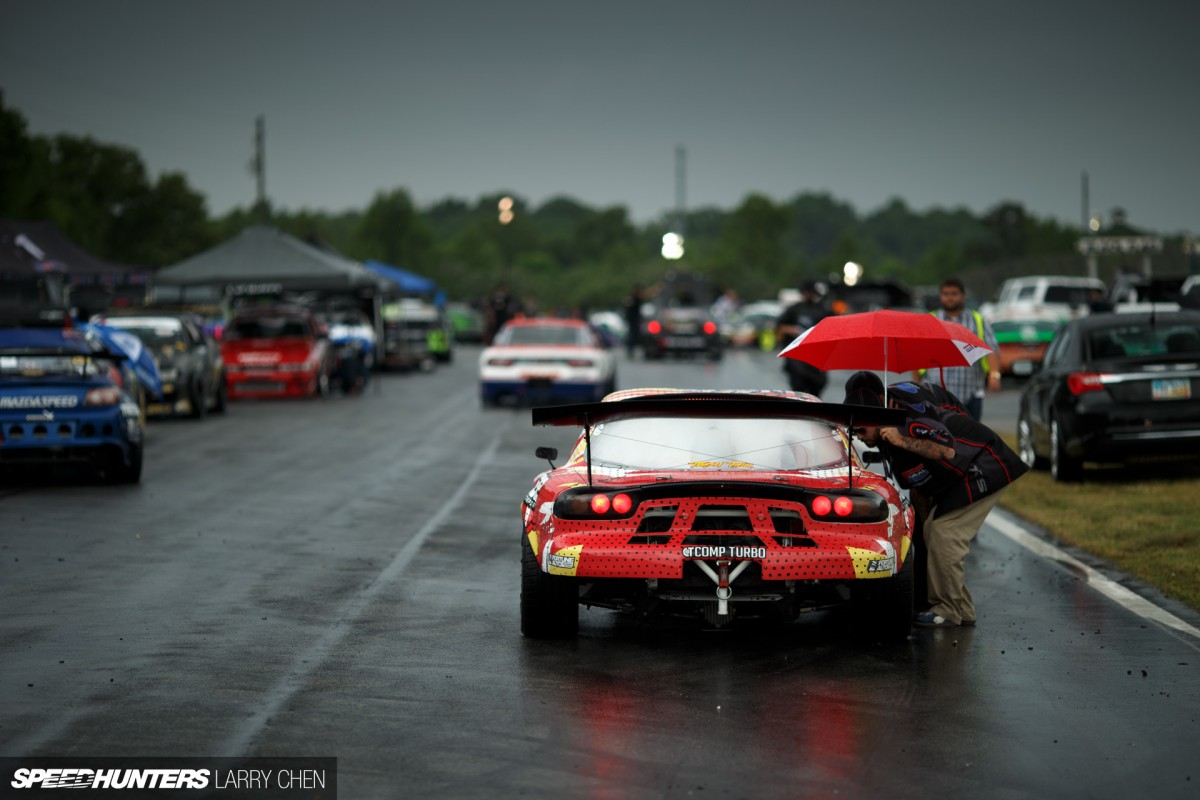 Little did the drivers and teams know it at the time, the ensuing qualifying session turned out to be the longest in Formula Drift history, lasting over four hours to get through all 62 drivers.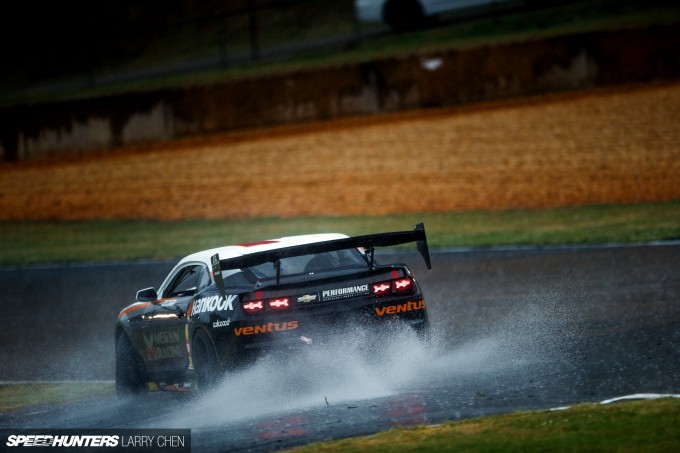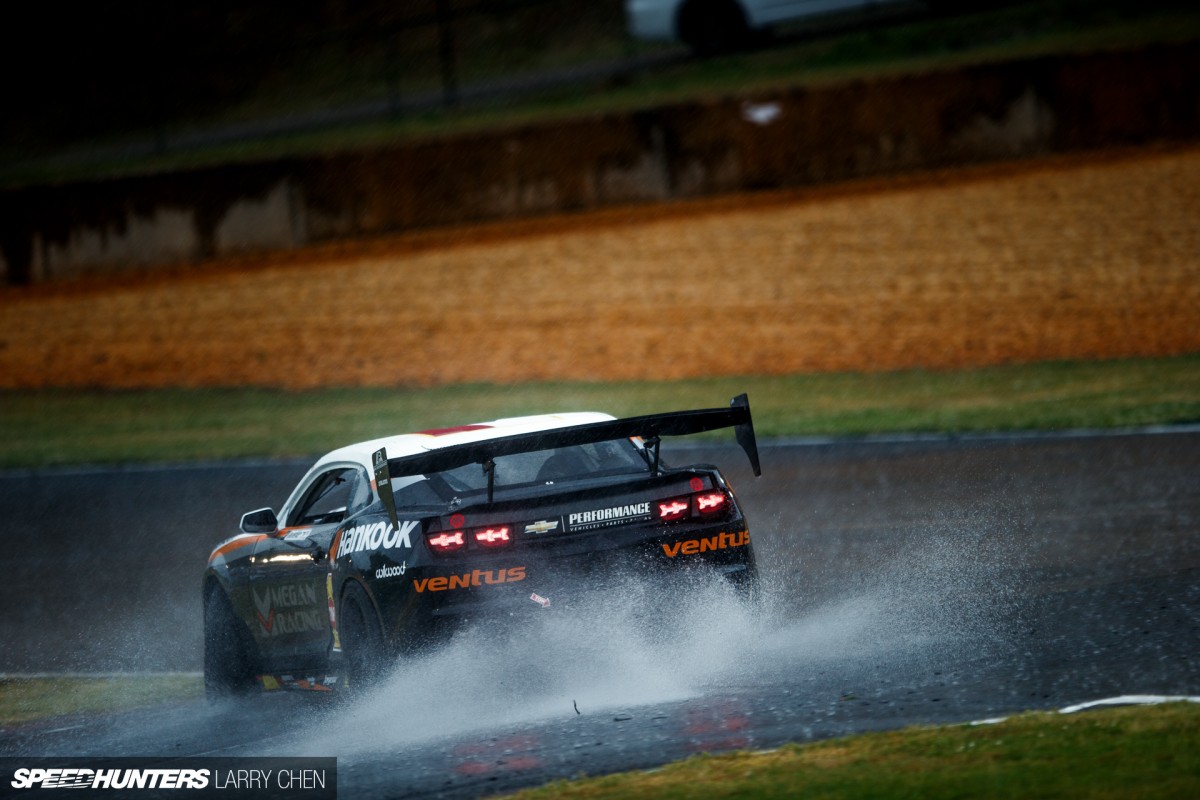 Being an asshole photographer and always hoping for something different, I was smiling from ear to ear.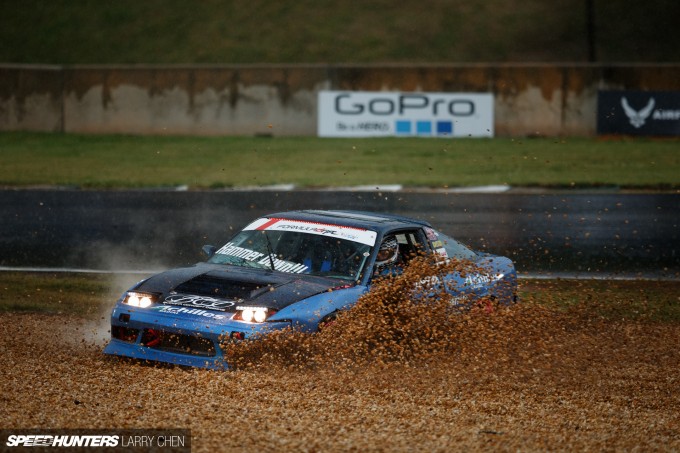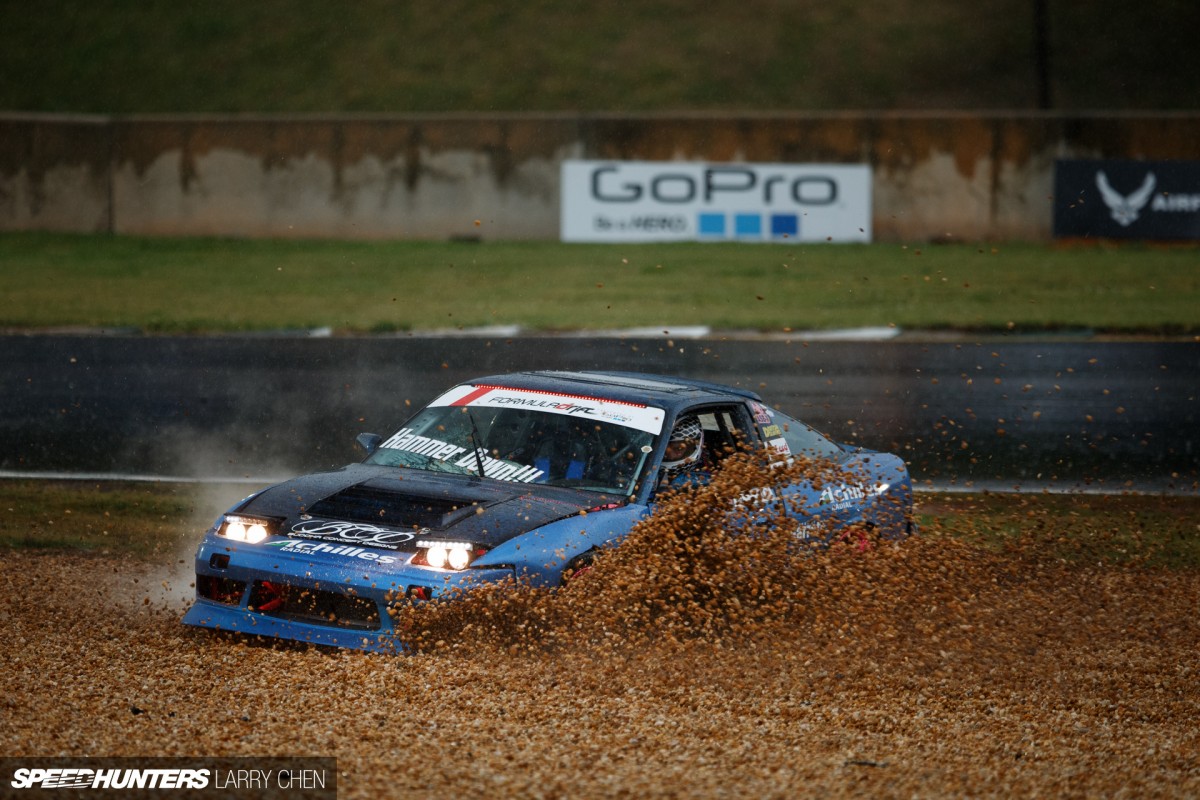 Let's just say that I may or may not have done a little rain dance as soon as I saw some dark clouds coming in. And although I felt a little bad for the drivers, this was what they signed up for.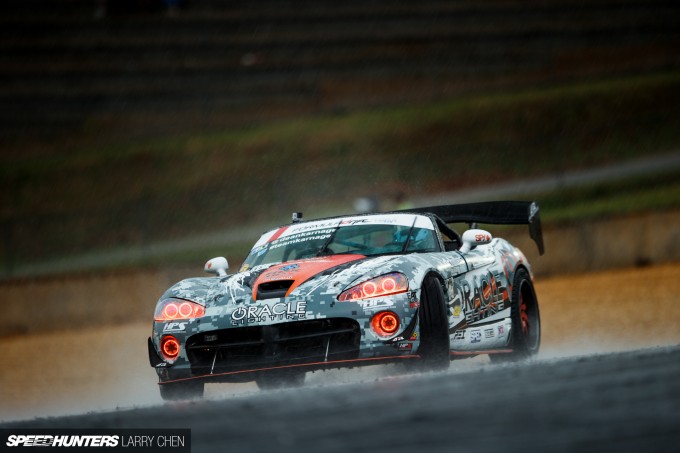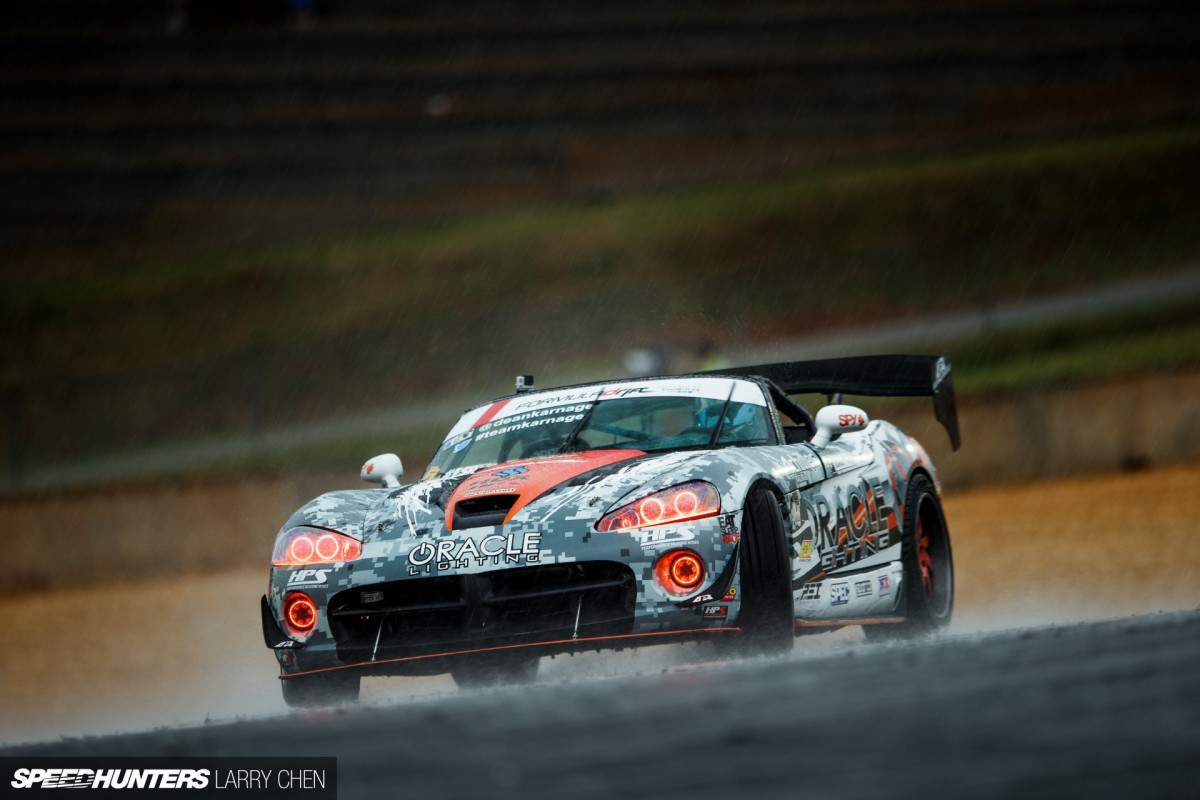 A true professional drifter should be able to put down an amazing qualifying run rain or shine, and despite the atrocious conditions there was some amazing driving. Dean Kearney is never afraid of a little sprinkle; running with the top down in his 1000hp SRT Viper.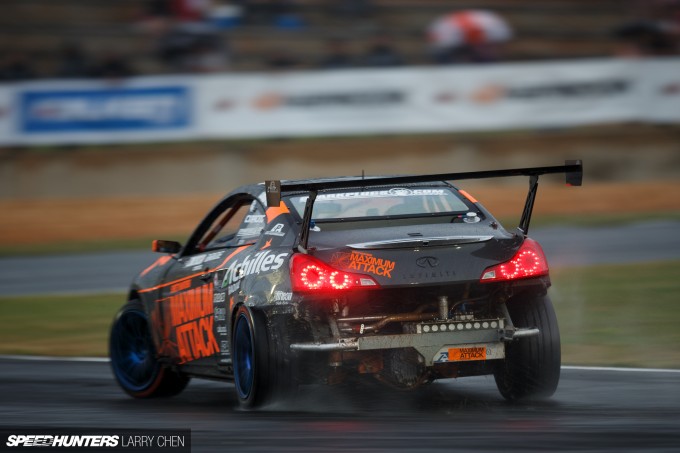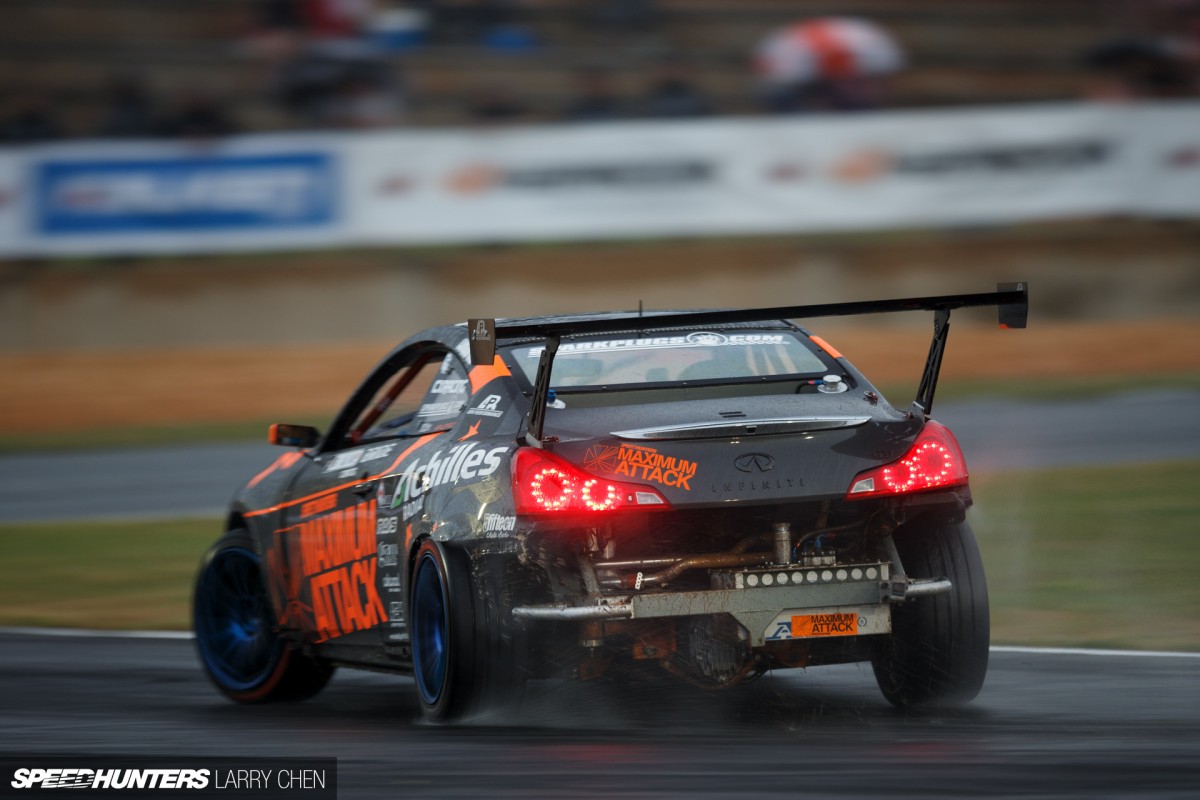 I love the foresight that Charles Ng had when he placed that #MaximumAttack sticker on his fuel cell. Bumper? What rear bumper?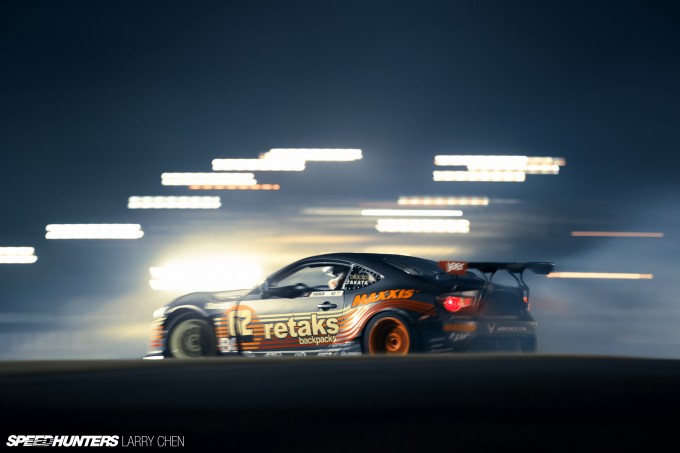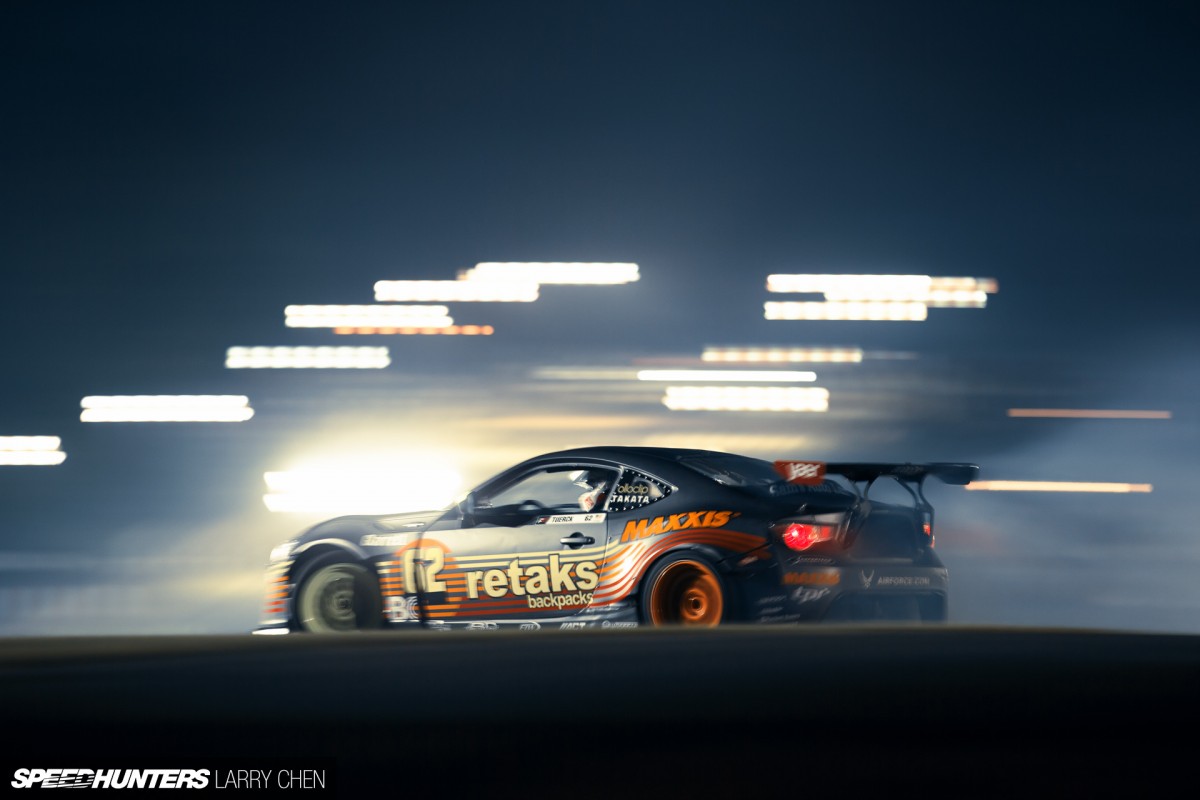 The reason why it took so long to get everyone through was because ever driver had a practice lap before their qualifying lap. That meant all drivers had four runs, which added up to around 250 passes in total.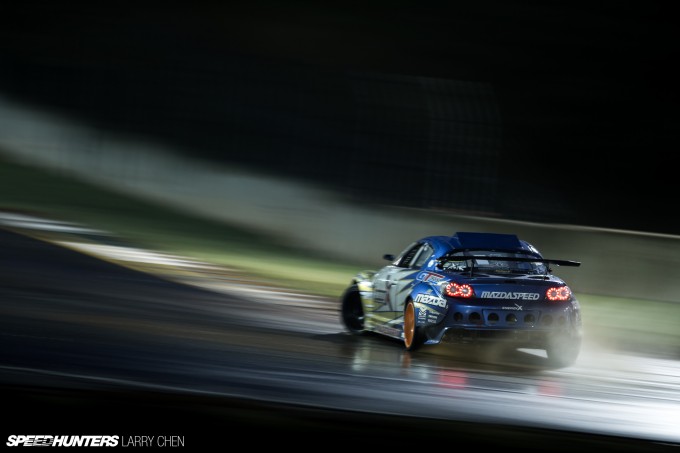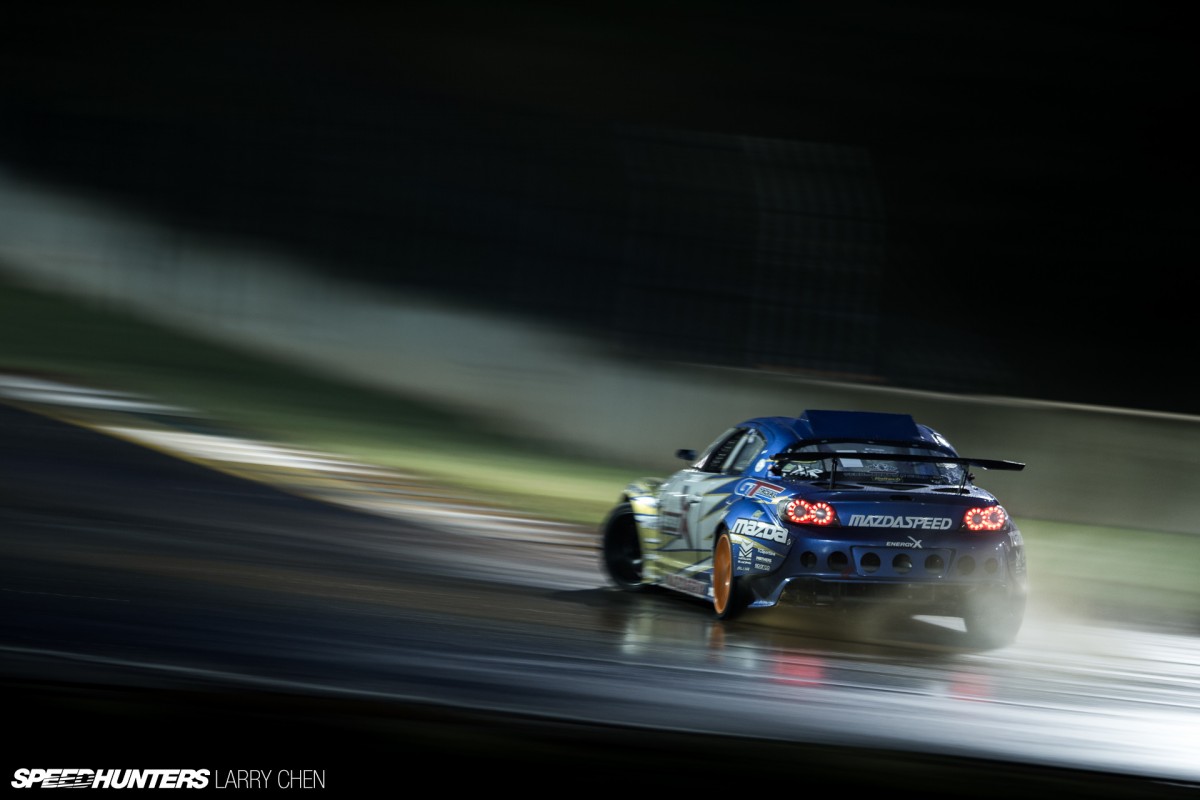 Some drivers definitely seemed more used to slippy-slidy racing than others. And it got worse and worse as the night progressed due to mud seeping onto the driving line.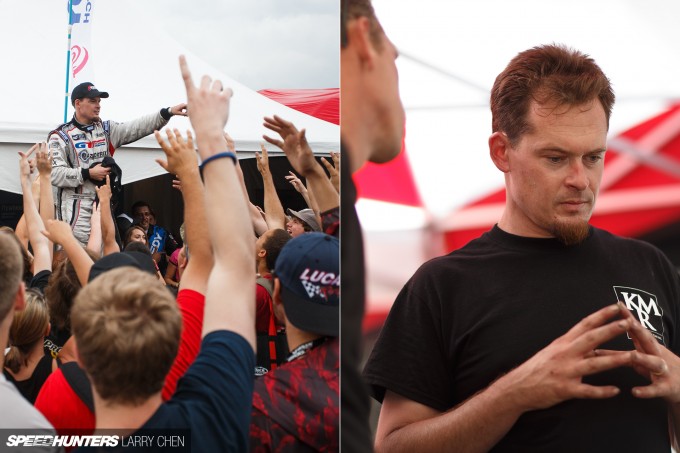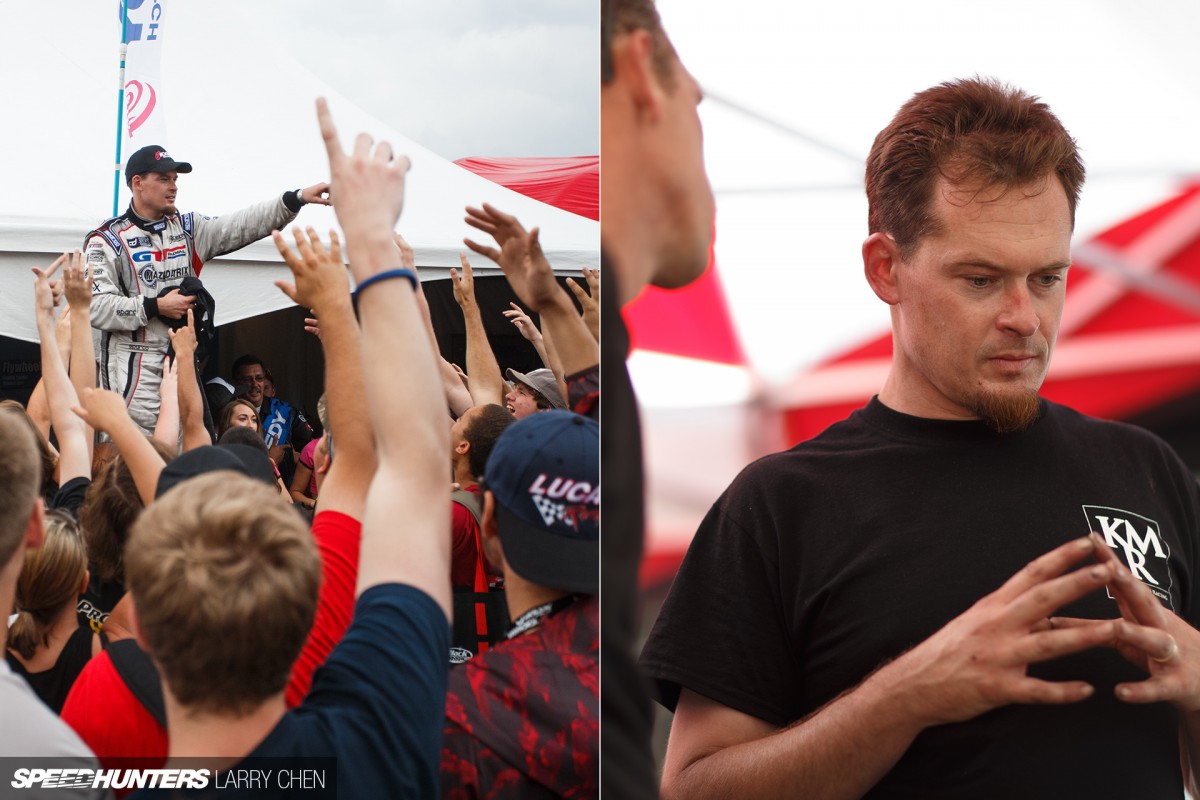 Kyle Mohan had no trouble at all, bouncing off the rev limiter pretty much the entire way in his triple Dorito-powered RX-8.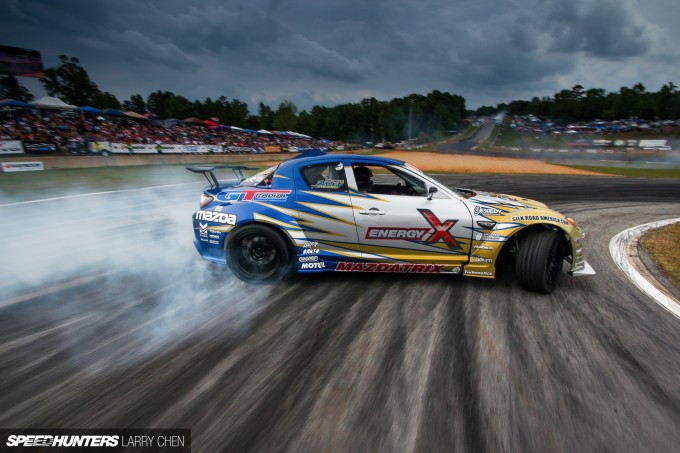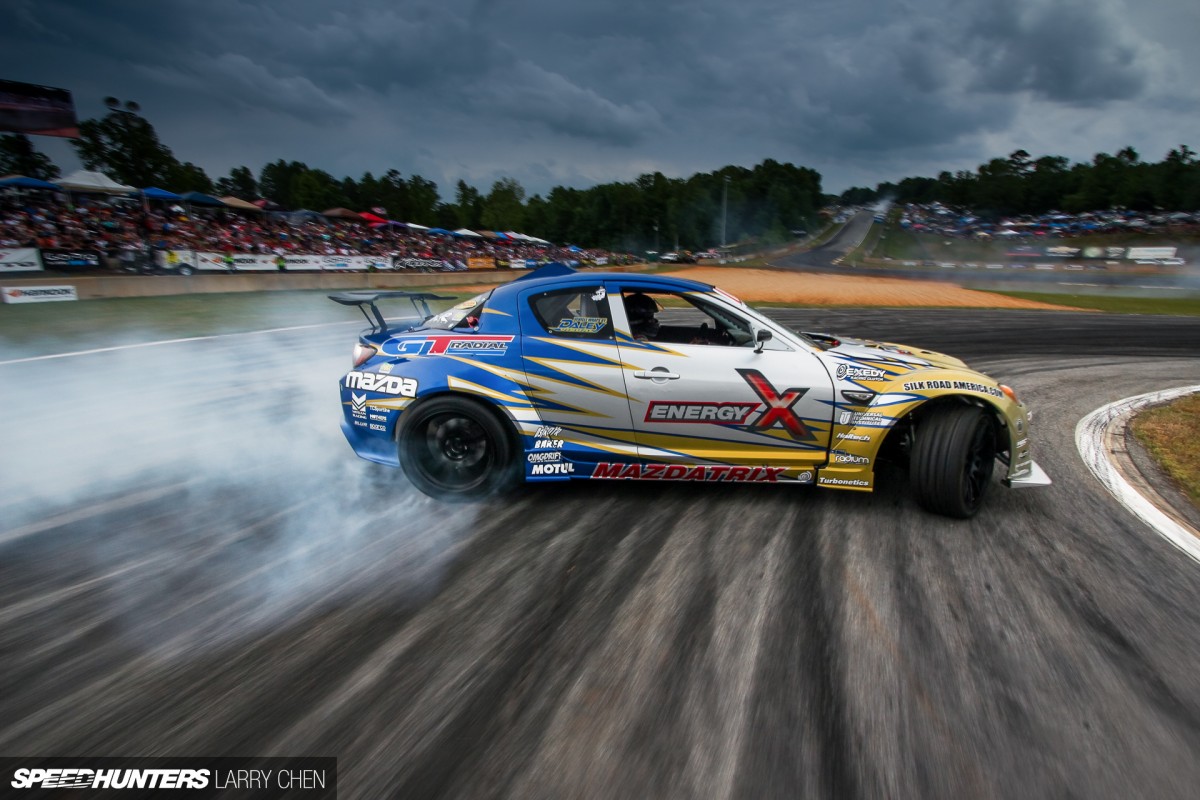 Kyle has a new tire sponsor this year, and I think it's the best thing that has happened to him, because  I've never seen him drive as aggressively. There's seemingly always a silver lining.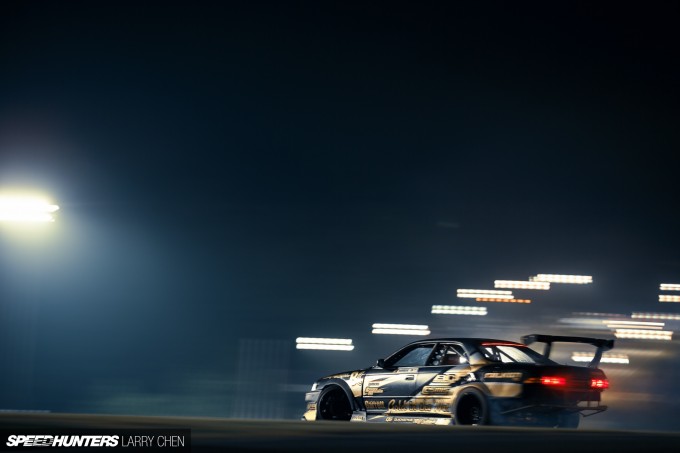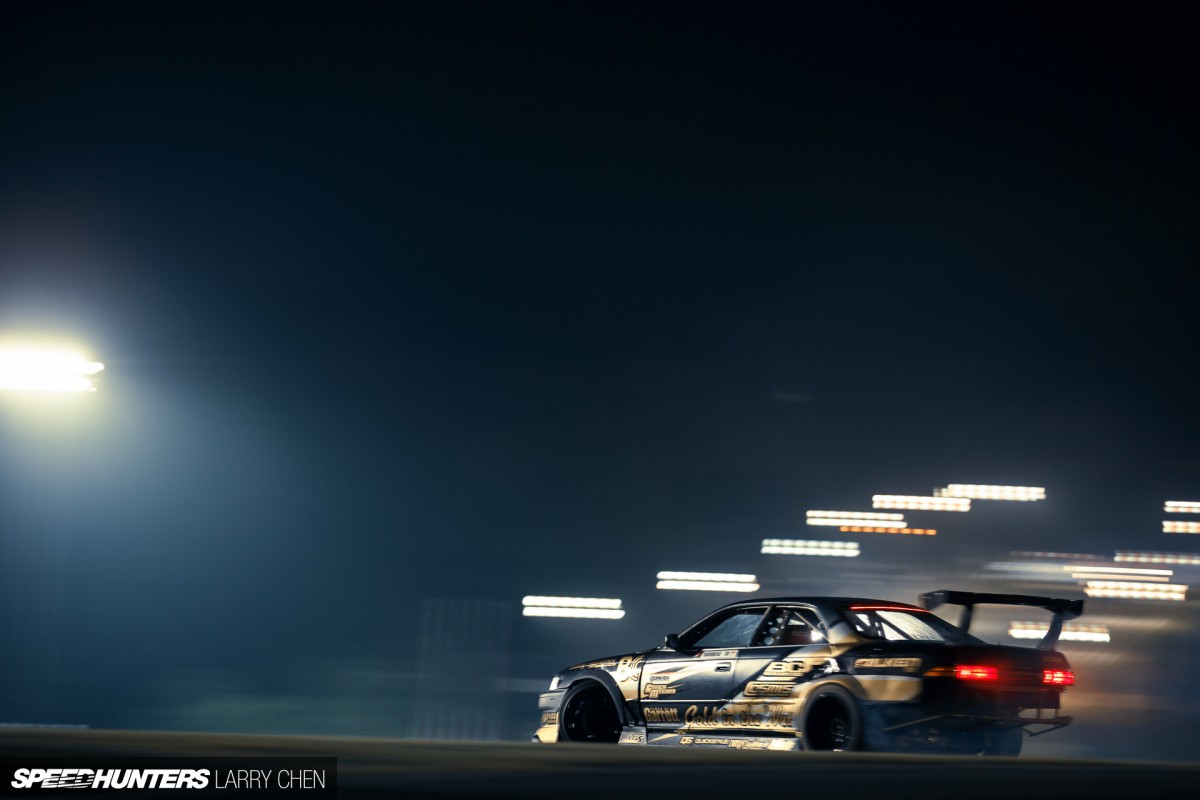 The most amazing thing about qualifying? The fact that the weather-hardened fans hung around until midnight when the last cars finished their runs. Night practice was canceled, and I don't think one single soul in the paddock was complaining.
Smoke 'em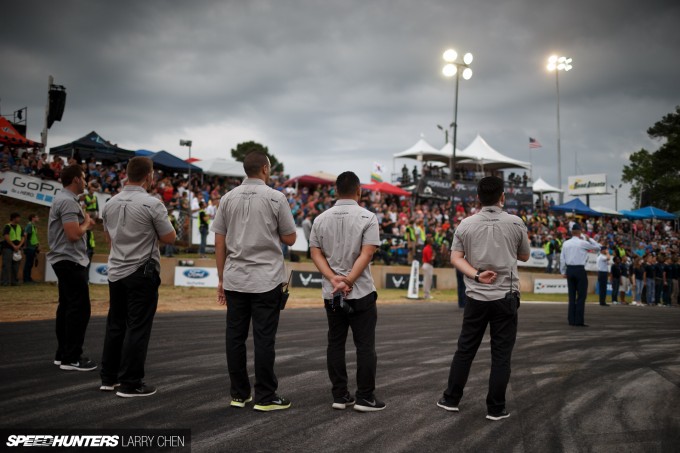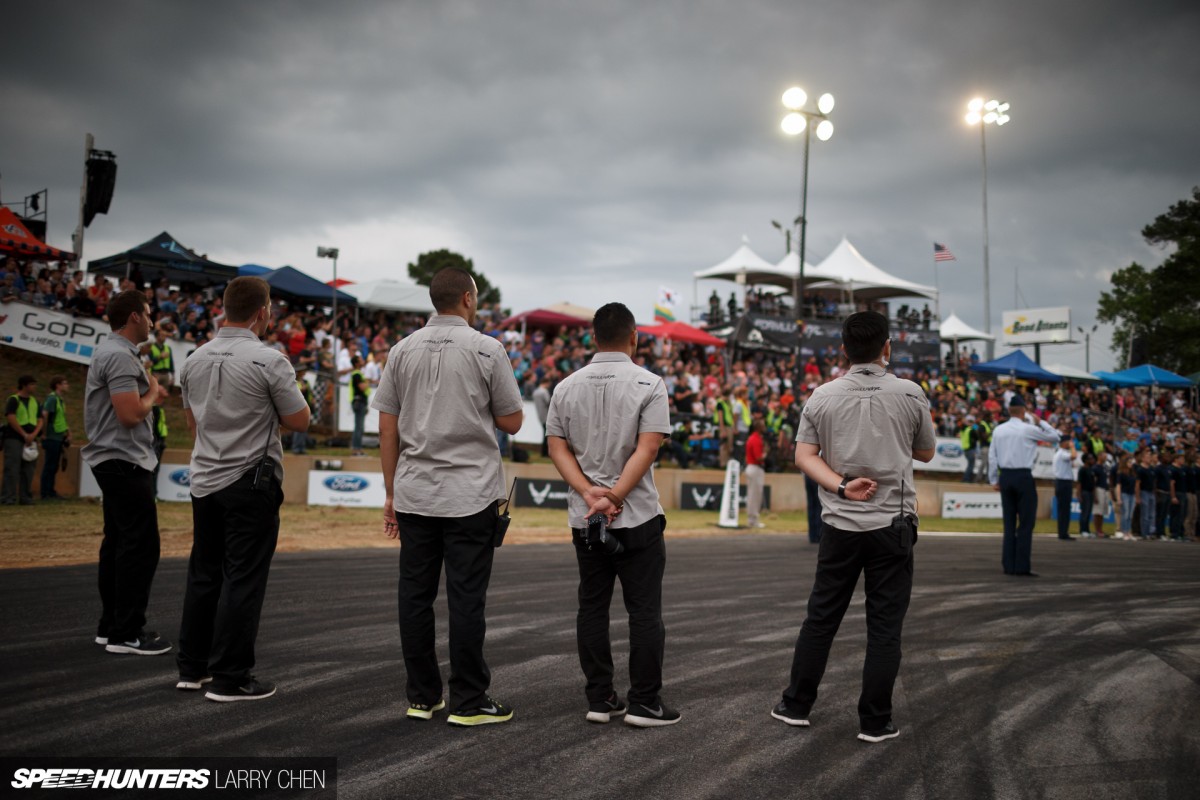 Despite the testing conditions, the Formula Drift staff worked tirelessly to make sure everything ran as smoothly as it could – even with equipment being damaged by the downpour. I know exactly what they were going through, as the supplied hair dryer in my hotel spent a long time wedged inside my wet shoes after qualifying, and then put on foggy lens fixing duty. #JoyOfBeingAMotorsportsPhotographer.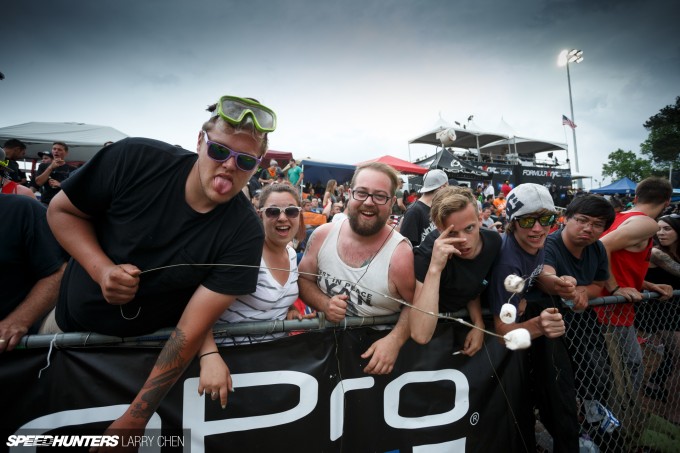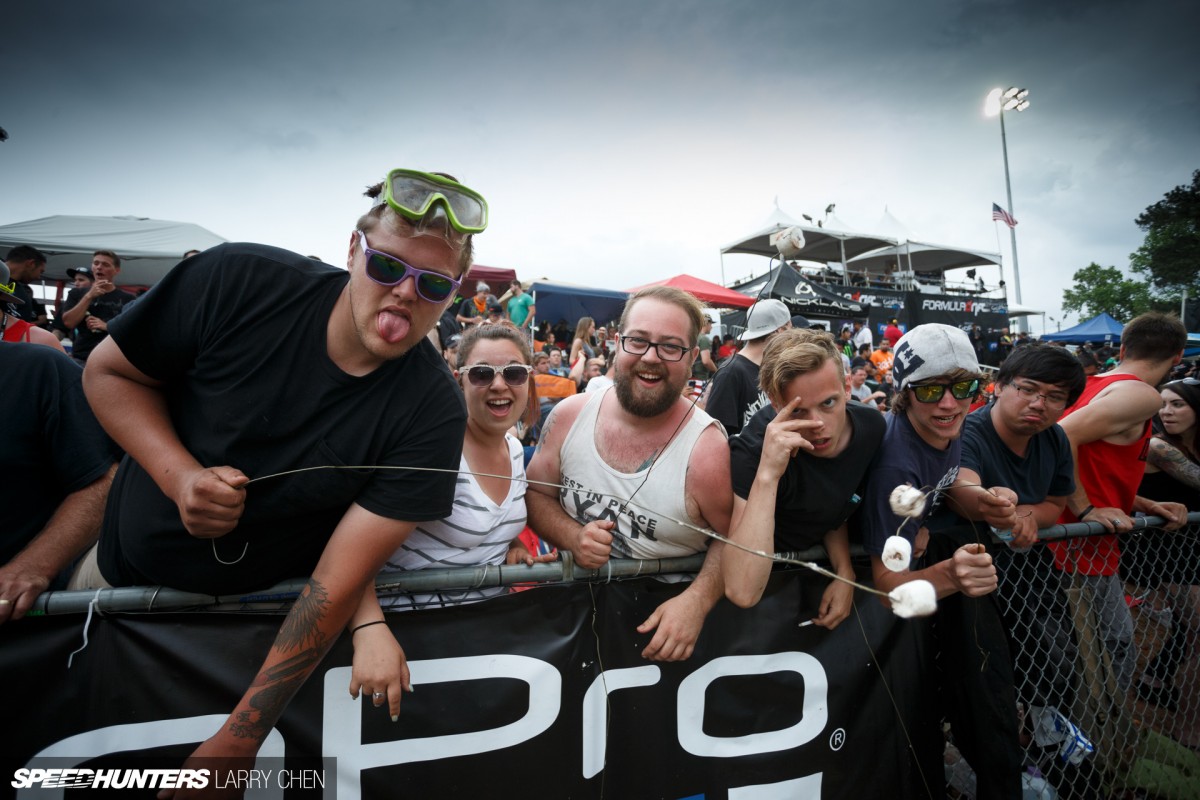 Out of all the signs and funny props the Atlanta crowd brought out, these die hard s'mores eaters were the most original. They stood as close to the track as possible, and were rewarded with a pelting from dirt, rocks and lungs full of burnt rubber smoke on every single pass. Roasted marshmallows anyone?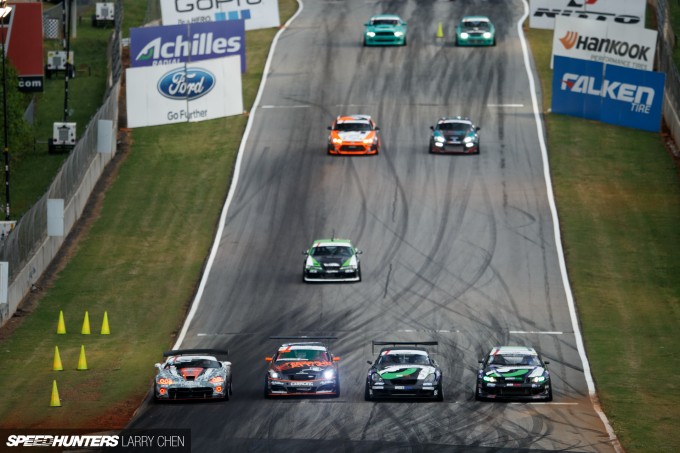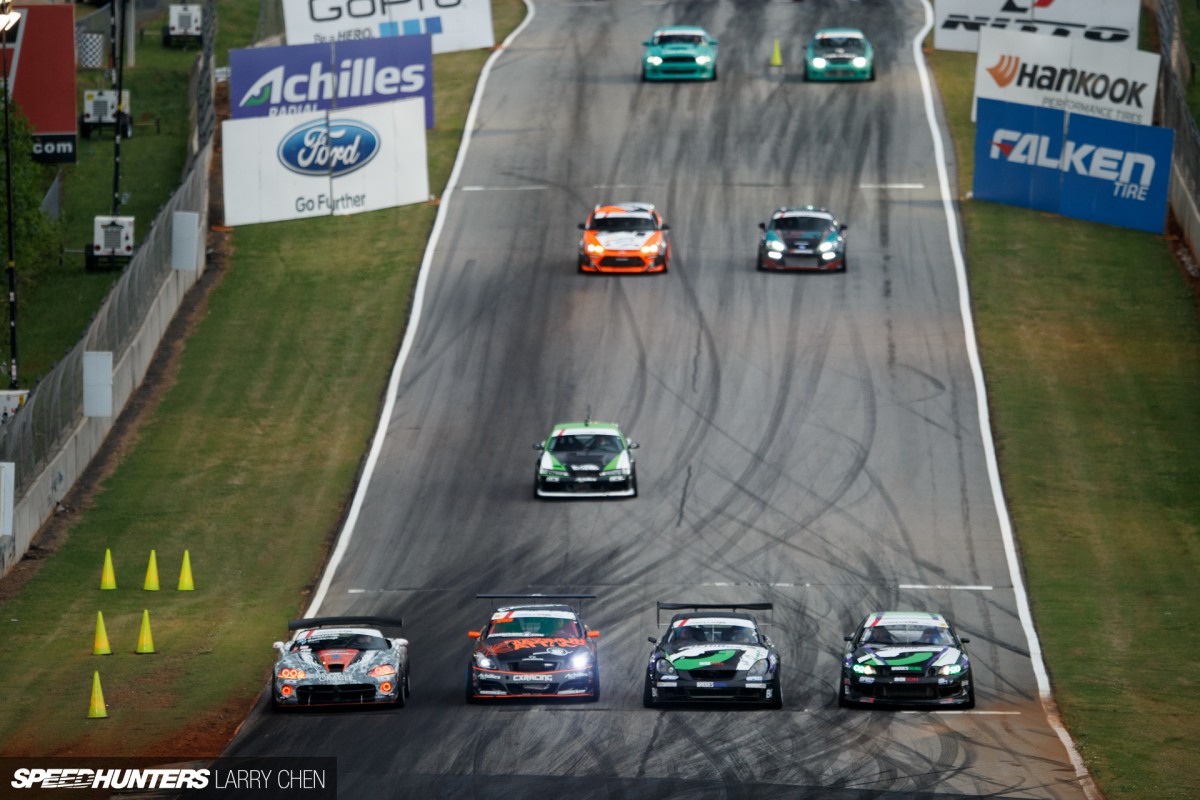 Poor Kenny Moen getting left out of the Achilles Tire Top 16 formation. Sorry bro, no S-chassis allowed.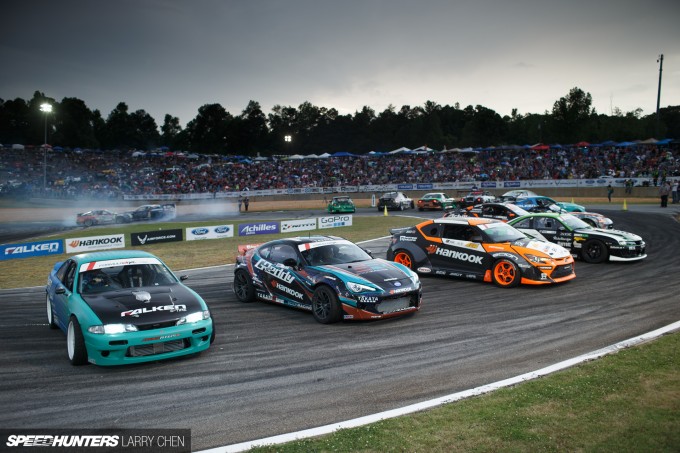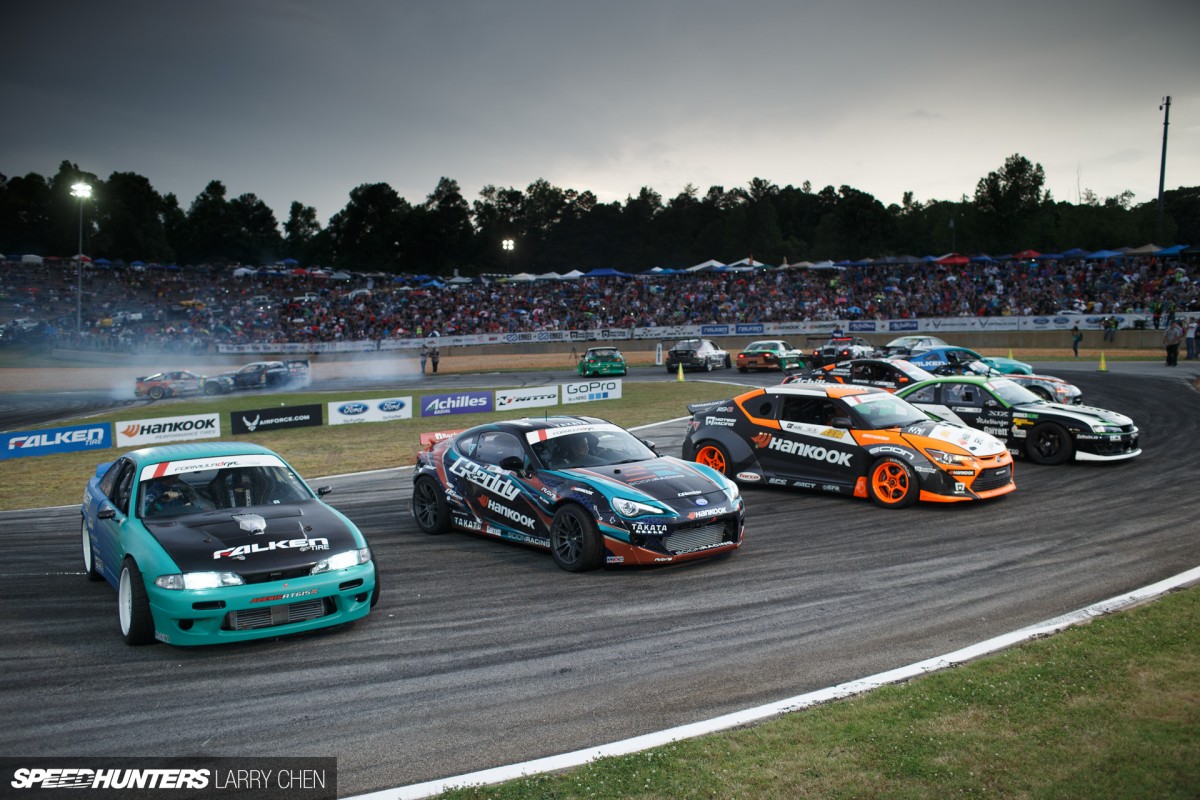 DMac made it through to the Top 16 with the 'most powerful drift car in the world.' Although he didn't have as much power at this round last year, he still managed to make it all the way to second place then.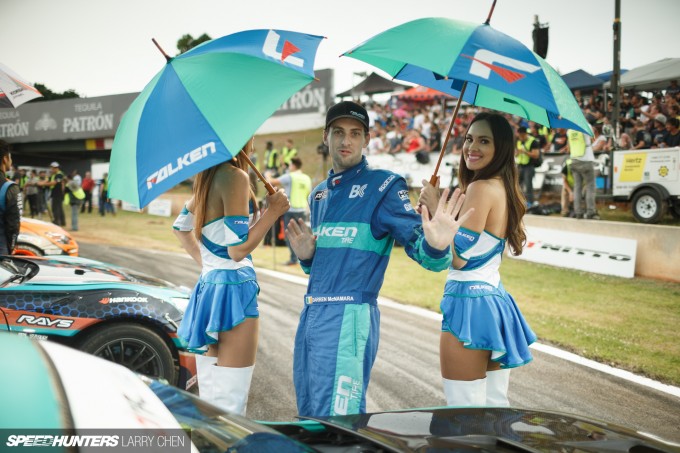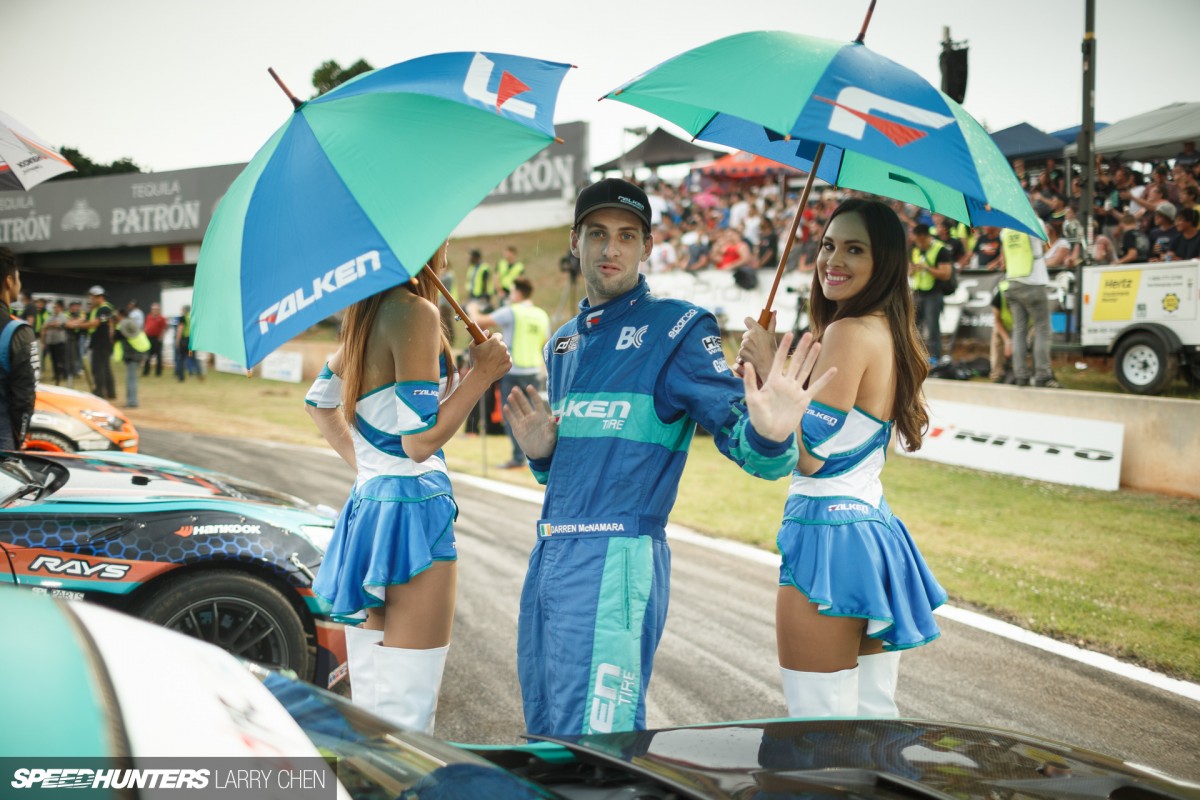 He very nearly took the top spot too, but as he told me afterwards, couldn't see 'a ****ing thing', following Daigo.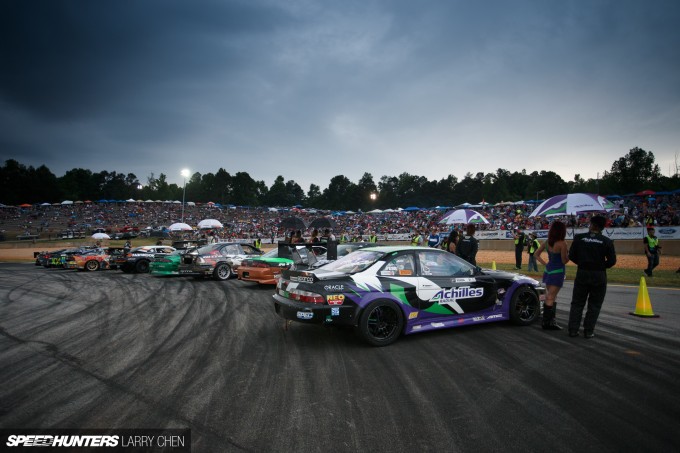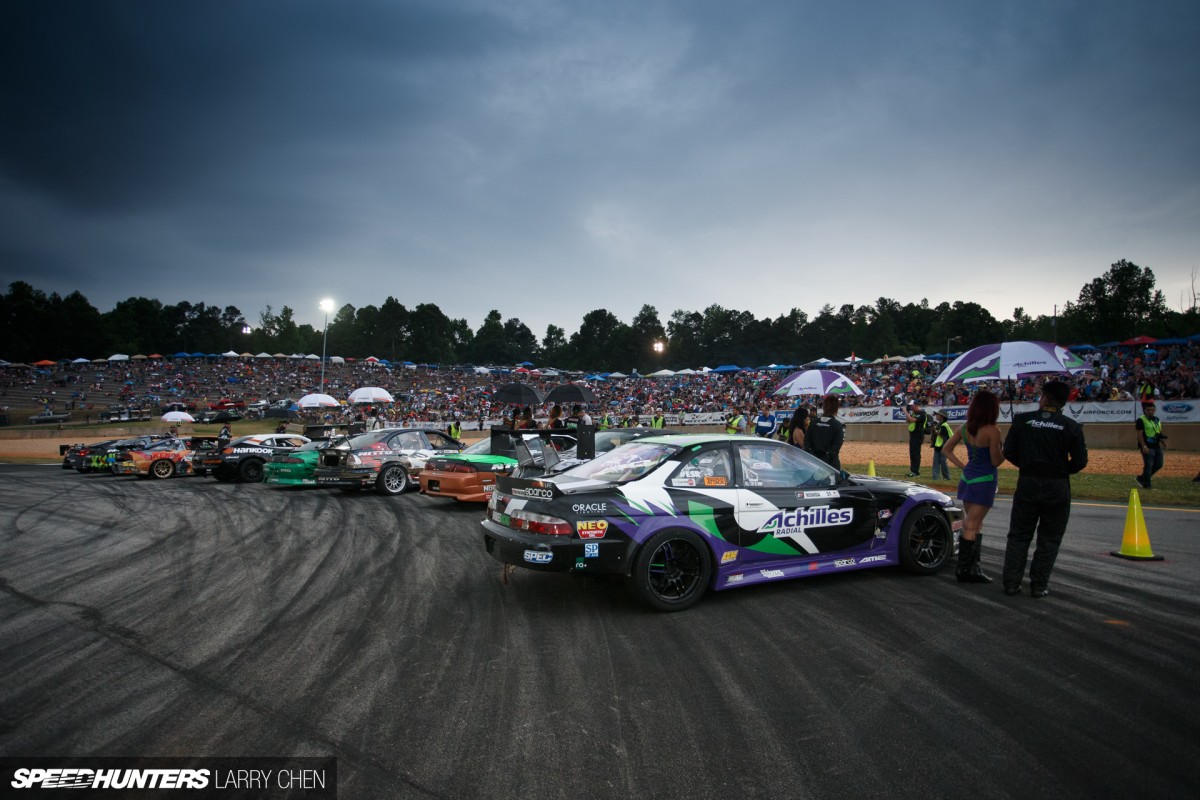 And then the rain clouds rolled in again. This time I was ready though, with rain gear on-hand and ready to brave that wet stuff out of the sky.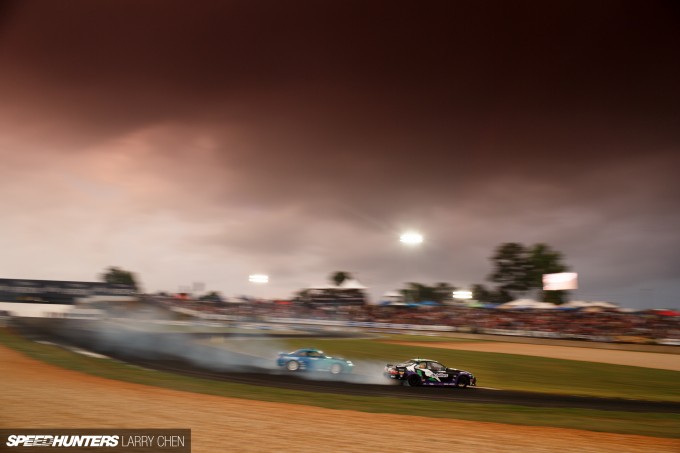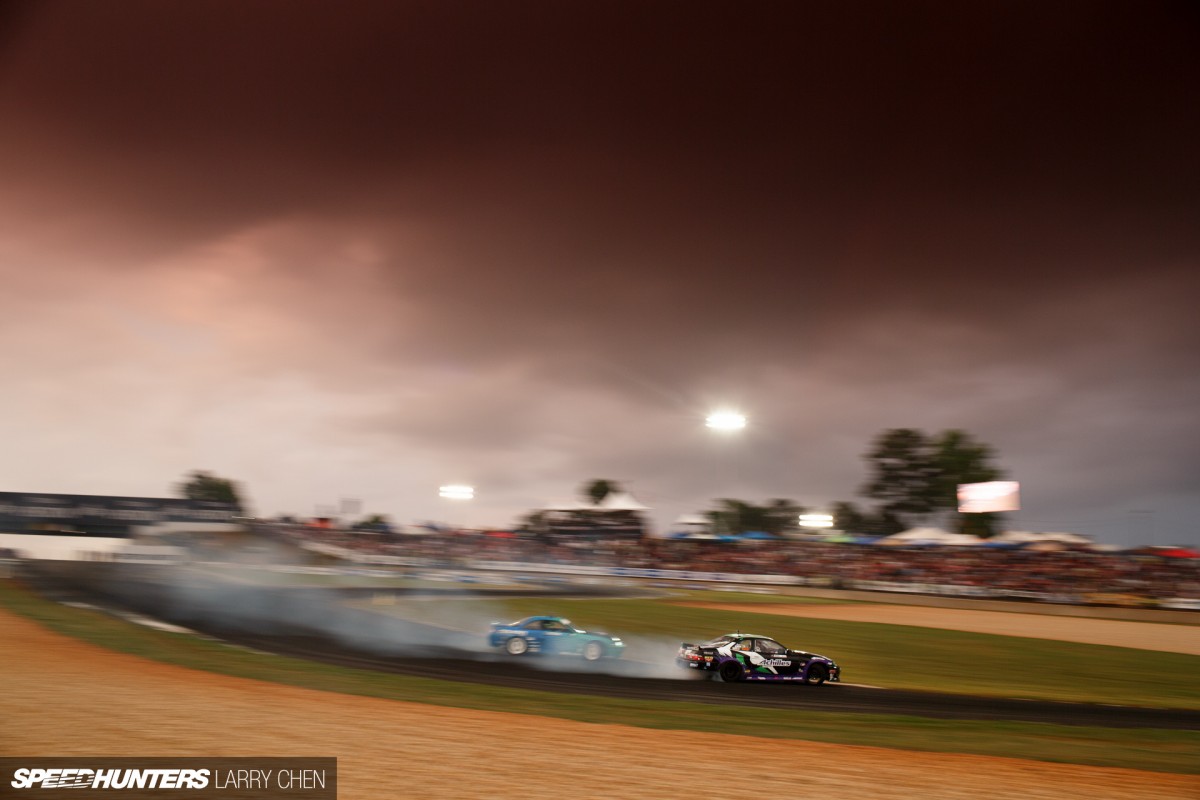 The sky turned all sorts of funny colors and reminded me of a scene from the movie 300. I was waiting for Leonidas I to appear in a drifting chariot yelling, 'This is Atlantaaaaaaaa.' It was the perfect backdrop for the epic battles happening on the track.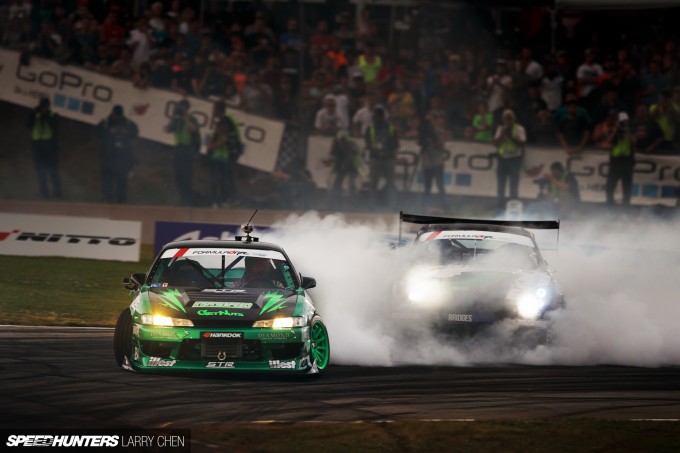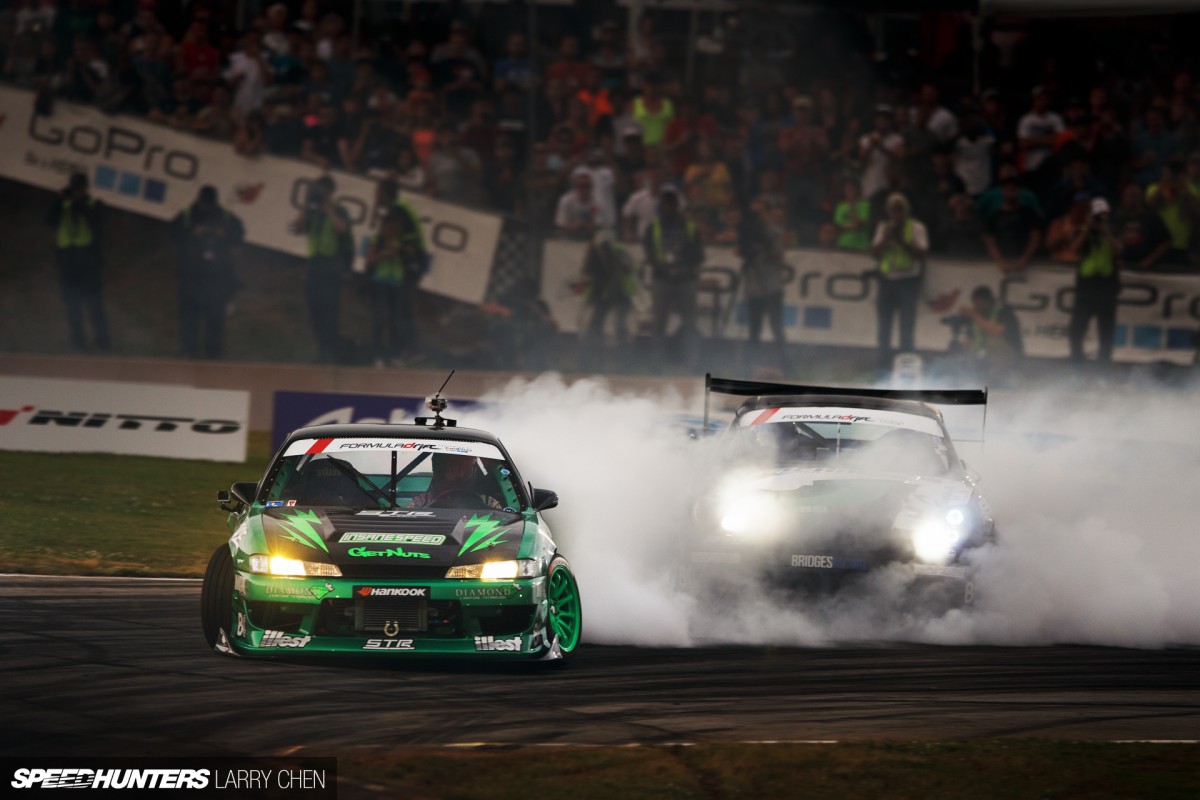 Last year Mr. Wang Chung battled Daigo in the rain, but this time the ground was still dry enough for Forest to give Mr. Saito a taste of his own medicine. Despite this, Daigo moved on, but his car broke right afterwards. What luck!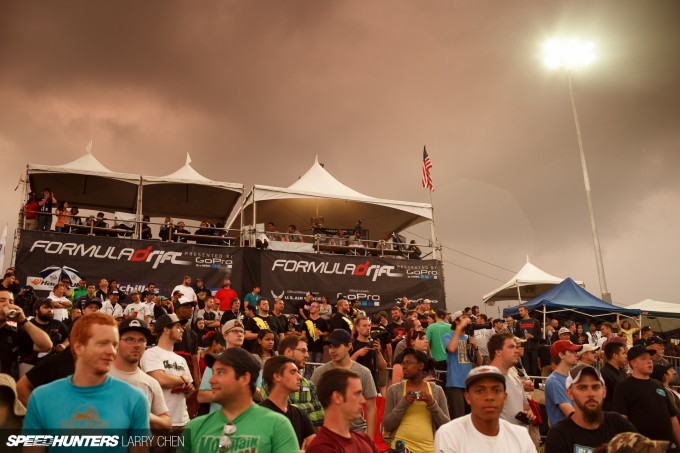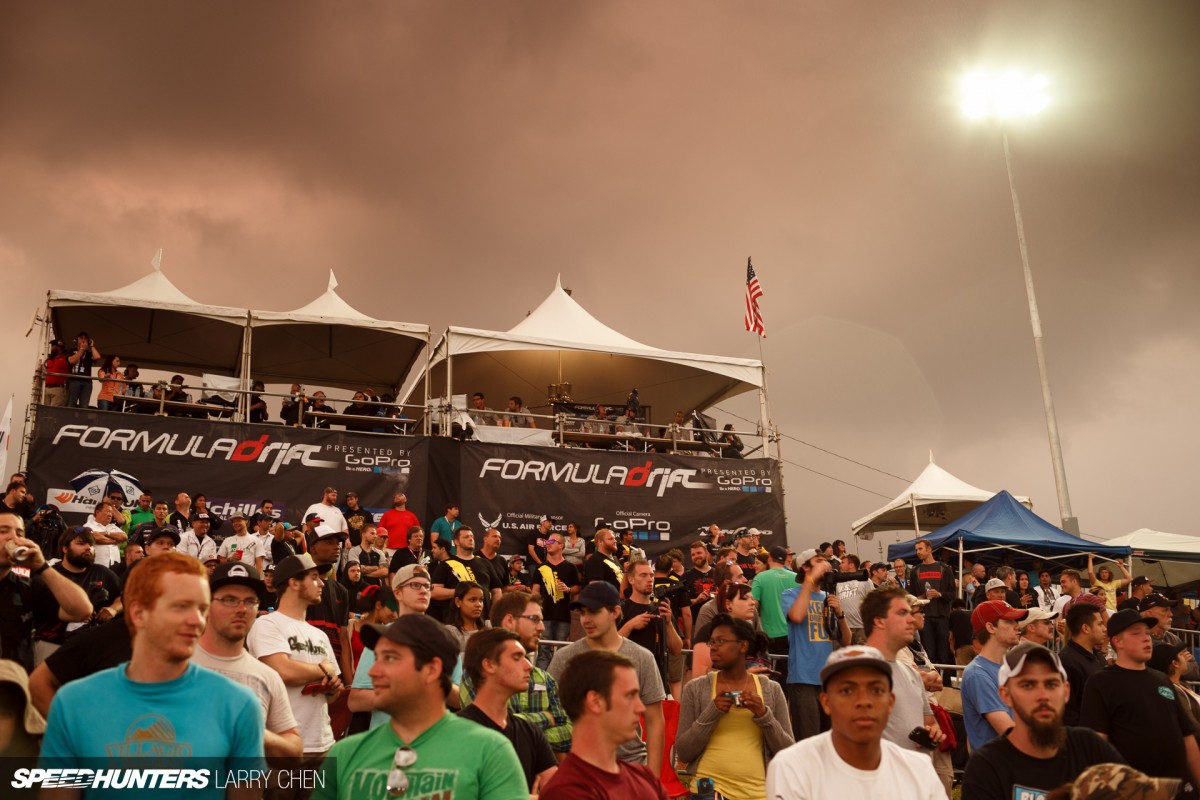 As Vaughn and Justin Pawlak rolled up to the starting line the dark skies opened up and it started to drizzle. It wasn't enough to blanket the entire track, but just enough to make the entry as slick as ice.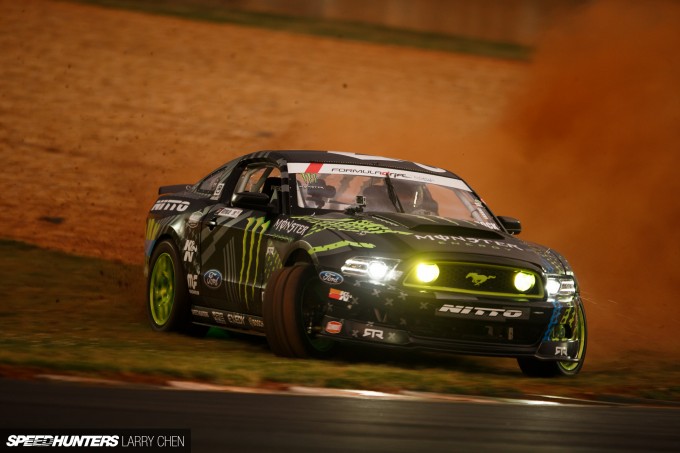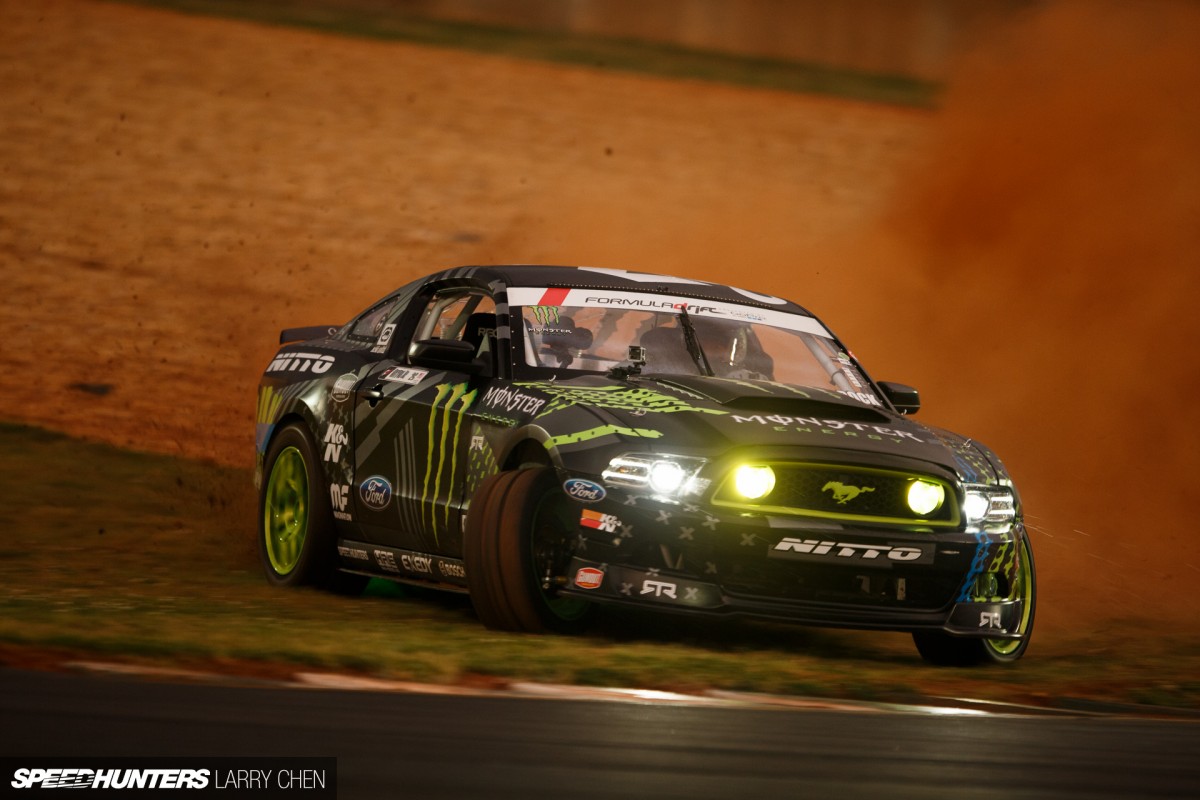 By now you guys have probably noticed from my header image, that Vaughn went for a bit of an off road excursion on his lead run. The amazing thing is, he simply plowed through the dirt like nothing had happened. I guess practice makes perfect! Keep in mind that this man entered the corner at 100mph. In the rain.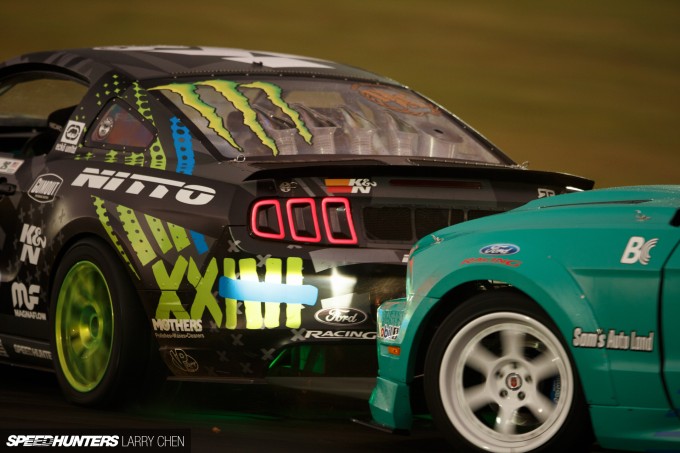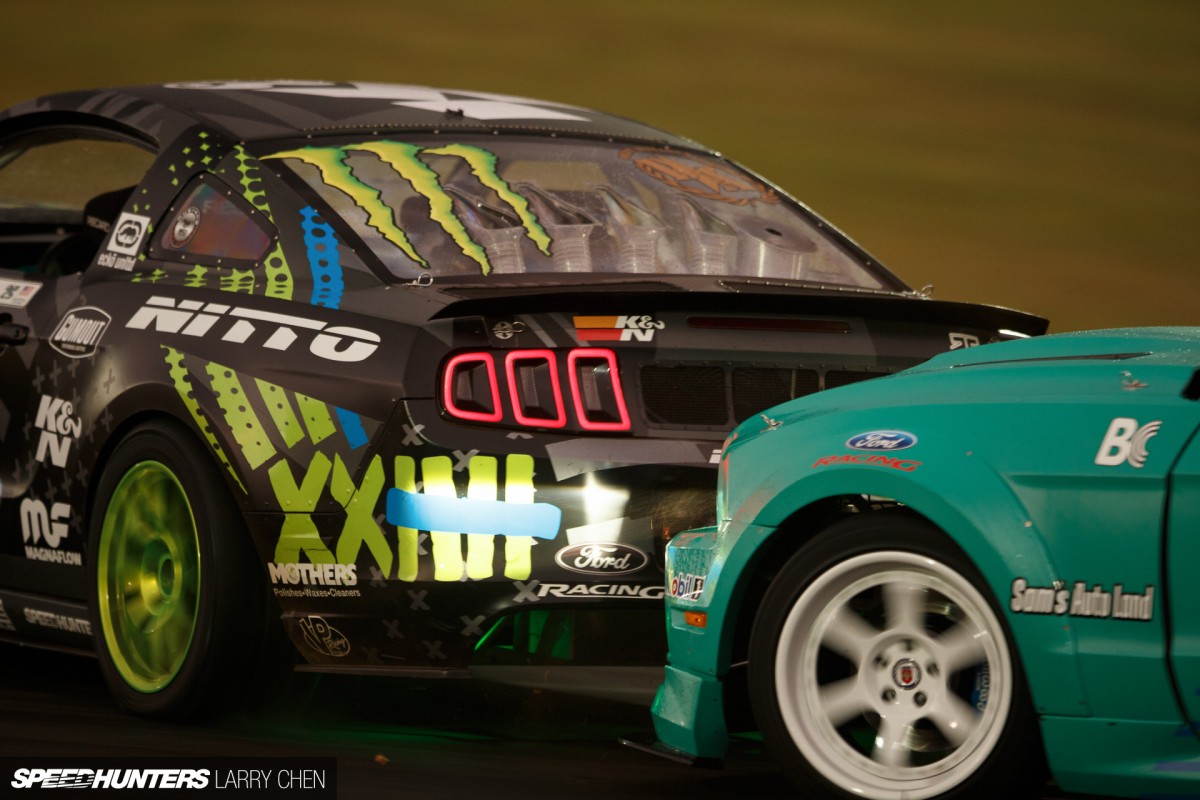 After Vaughn lightly corrected his throttle and steering inputs to get his Ford back on track, Justin – being the nice guy that he is – decided to give him a push uphill. What a fine gentleman he is!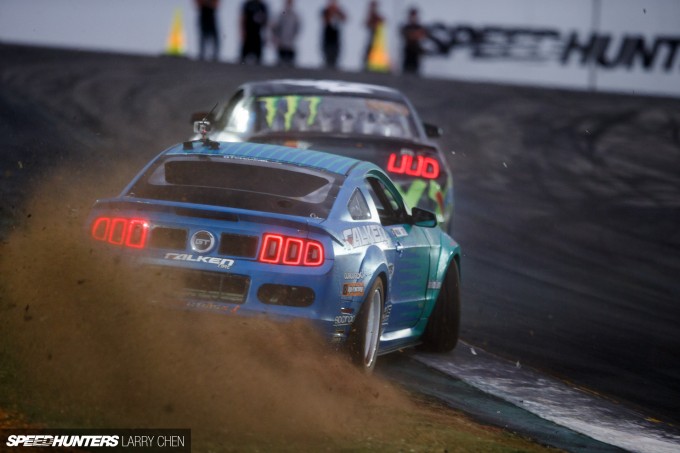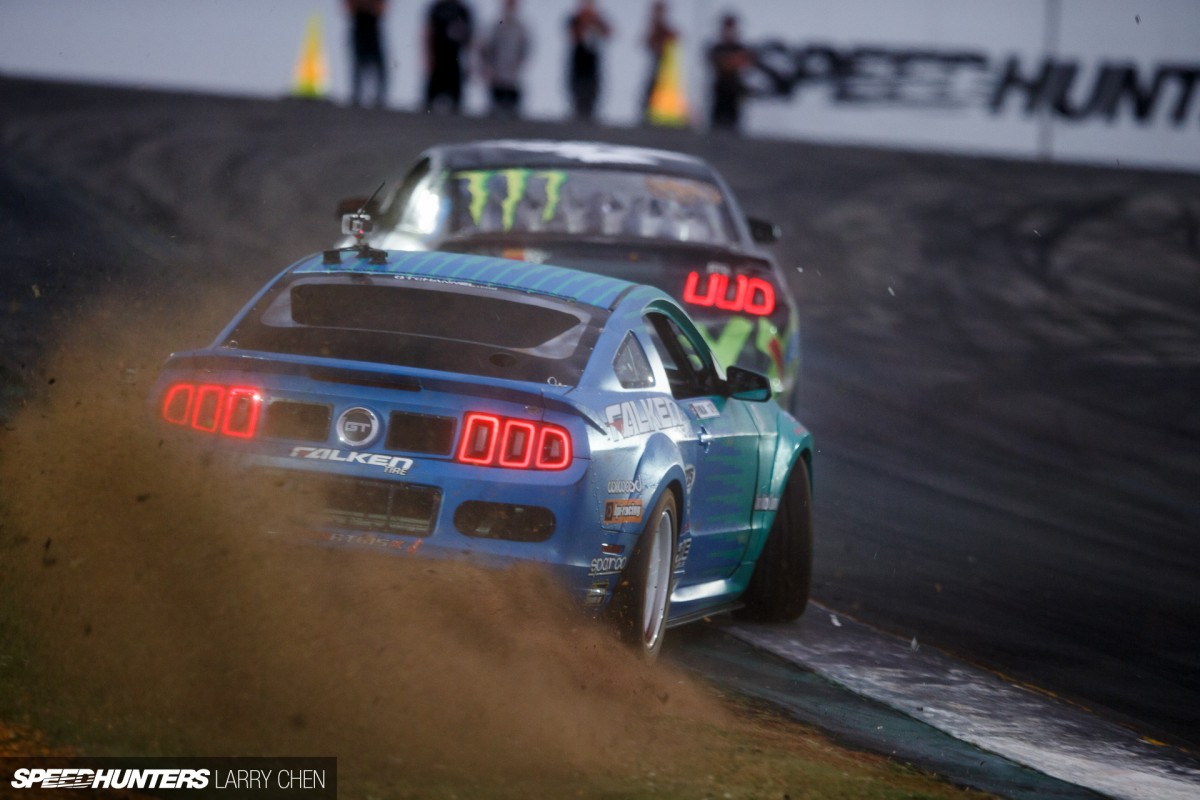 But due to his selflessness, Justin himself went off course. It was just two Mustangs going all-out. And it was beautiful.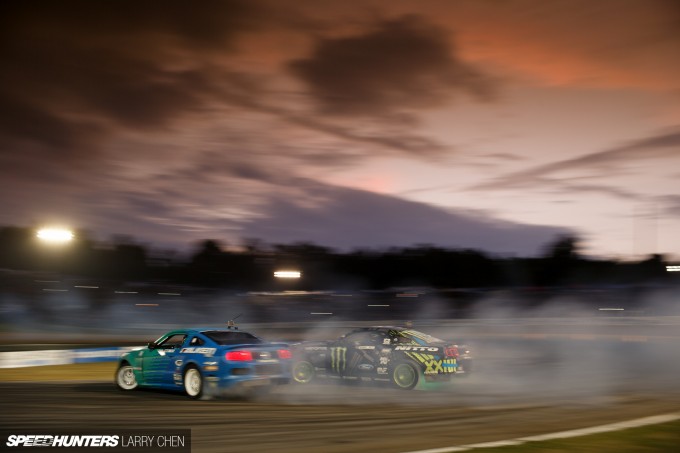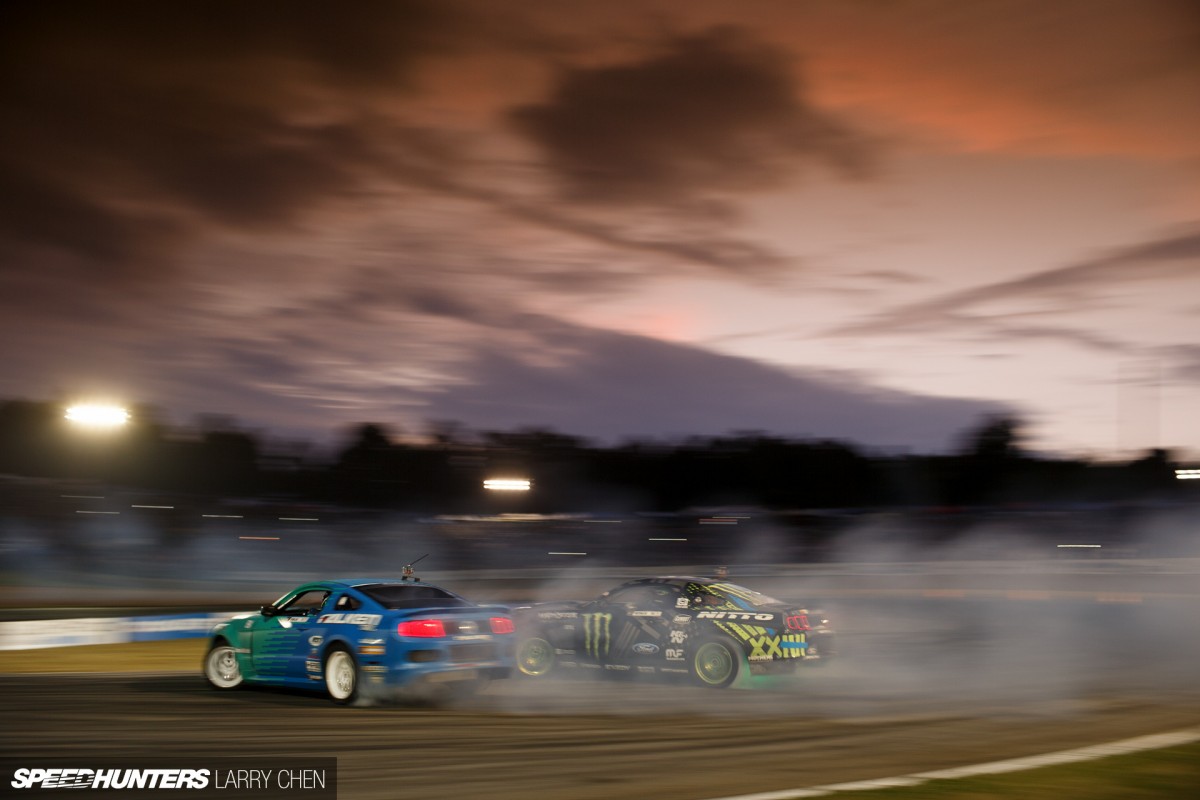 Justin and Vaughn have battled six times in the past and Justin came out on top in four of those.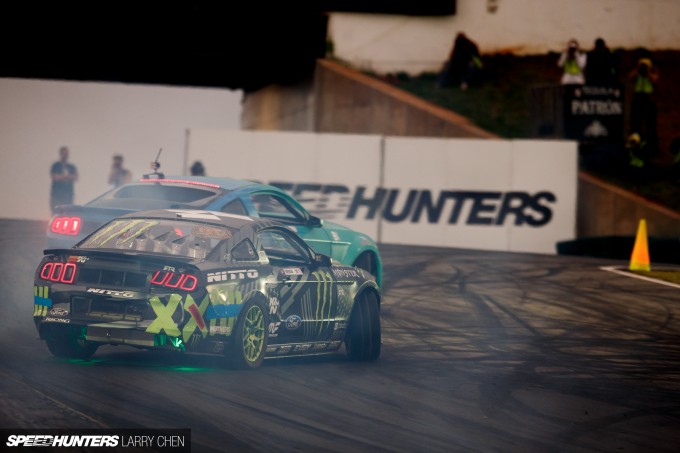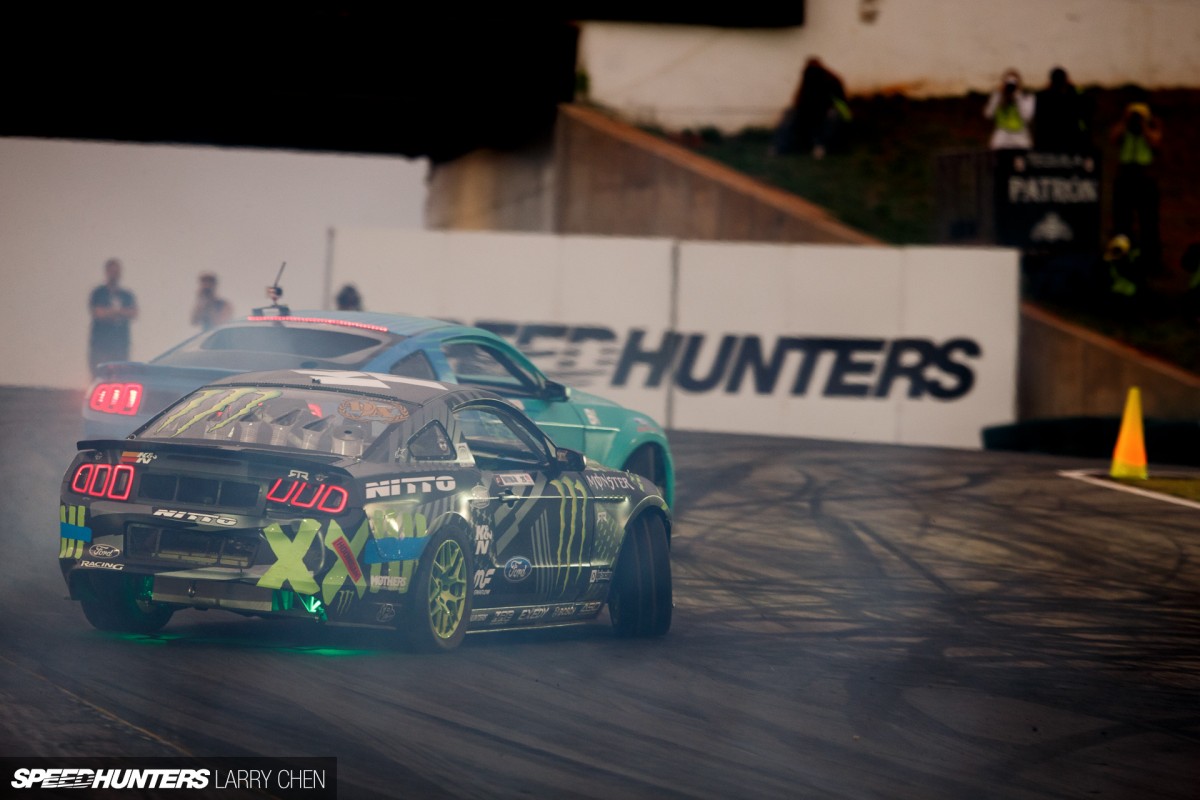 Just one more win from Vaughn now and they can call it even.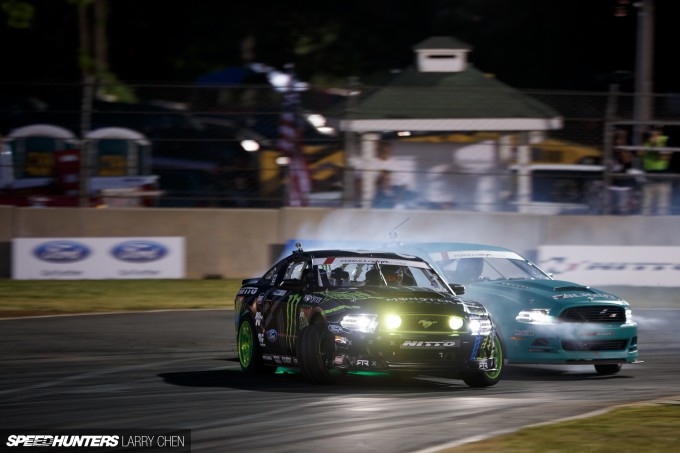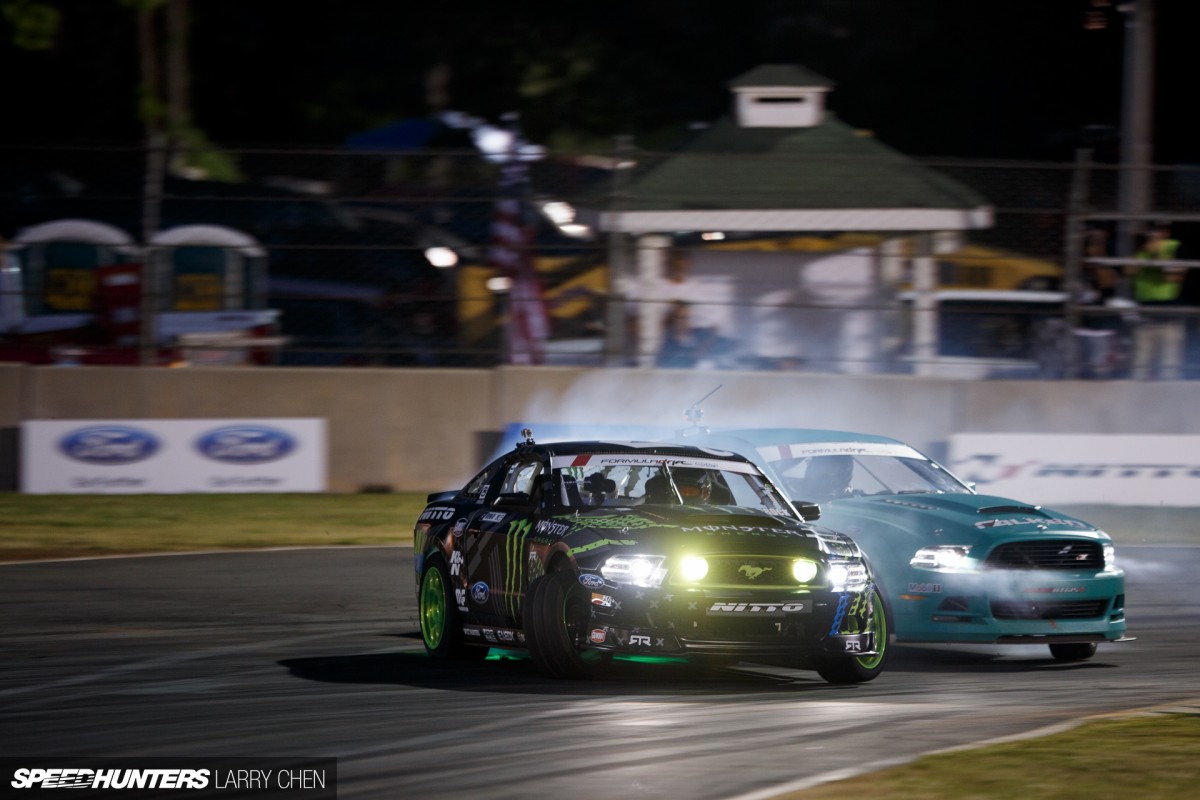 This was one of the best series of battles I have seen in a long time, with each driver making errors and dealing blows to each others runs. You can check out the full battles as well as the rest of the event on Formula Drift's Dailymotion Drift Stream.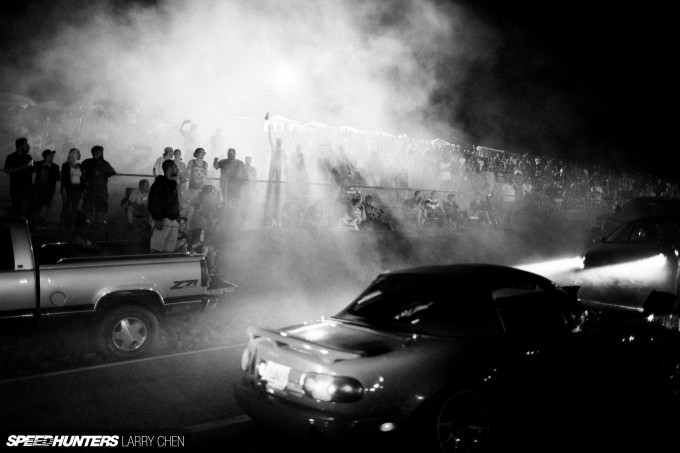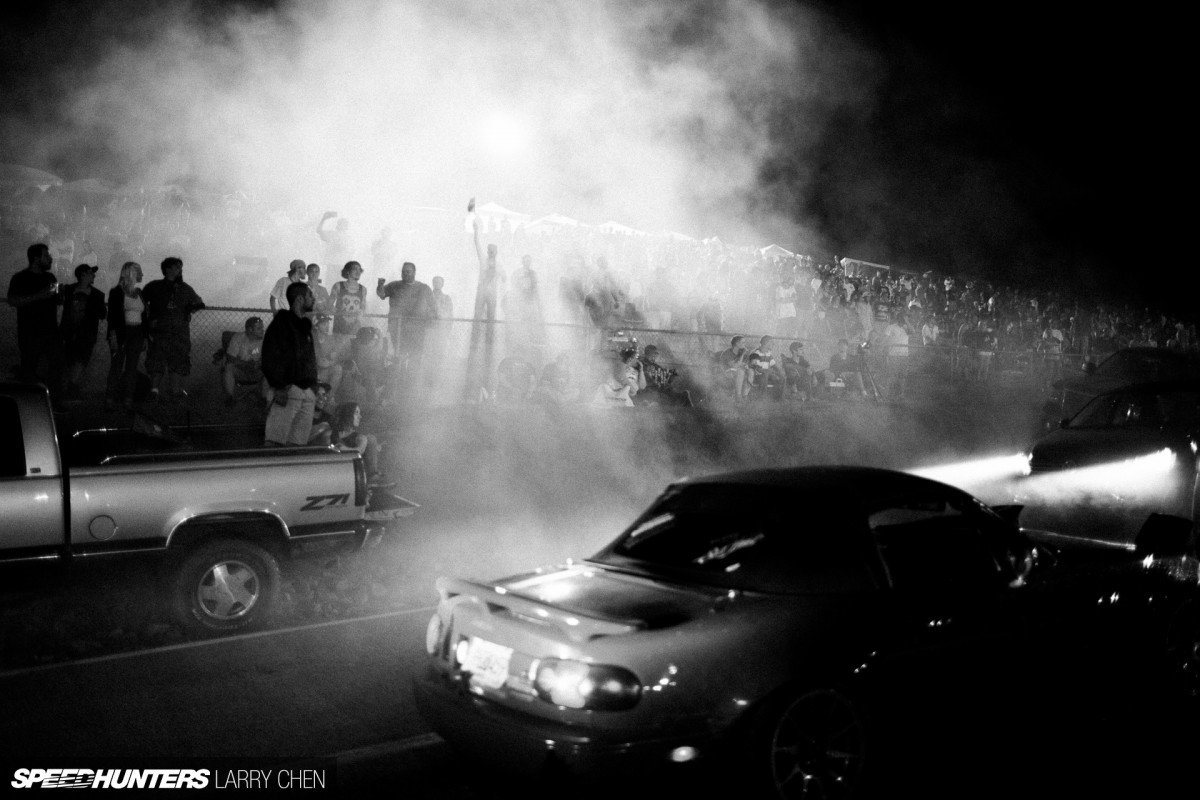 I don't know what it is about the fans in Atlanta, but they won't leave the venue until the last pair of tires has been reduced to a huge cloud of thick, white smoke. I look forward to this round every year because of this fact alone, and I suggest you guys make a trip one of these years too. Believe me, you won't regret it.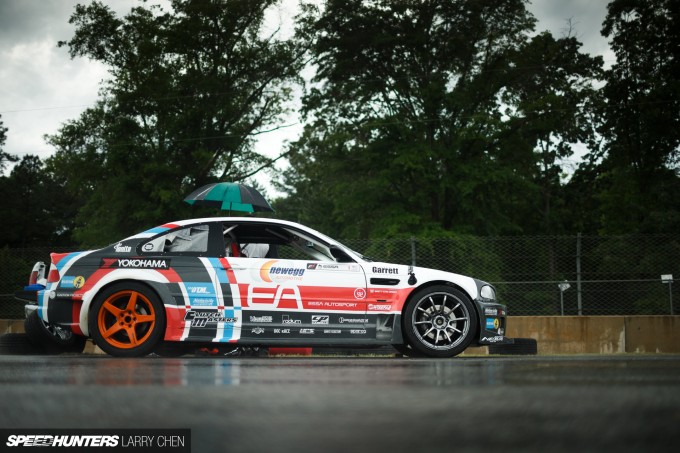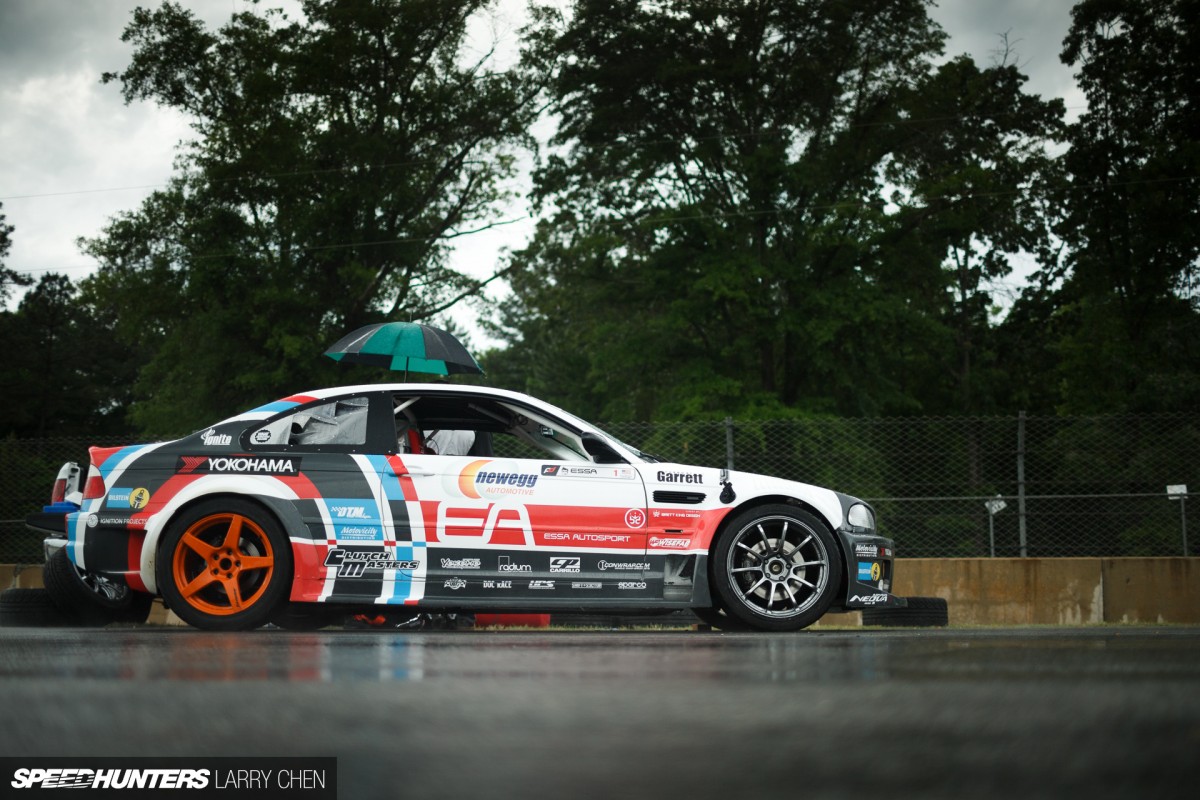 It's still early in the season, but we can already see how it is shaping up. Despite his best efforts, 2013 champion Michael Essa is not having the same dream season he had last year. Sitting in 8th place he still has a chance to make it up, but it's going to be an uphill battle every step of the way.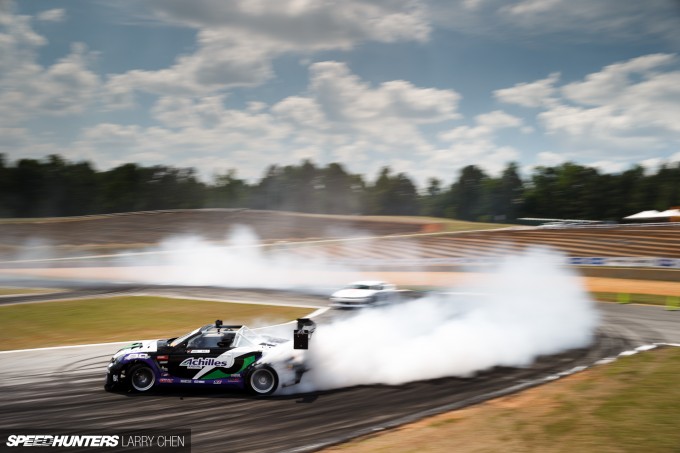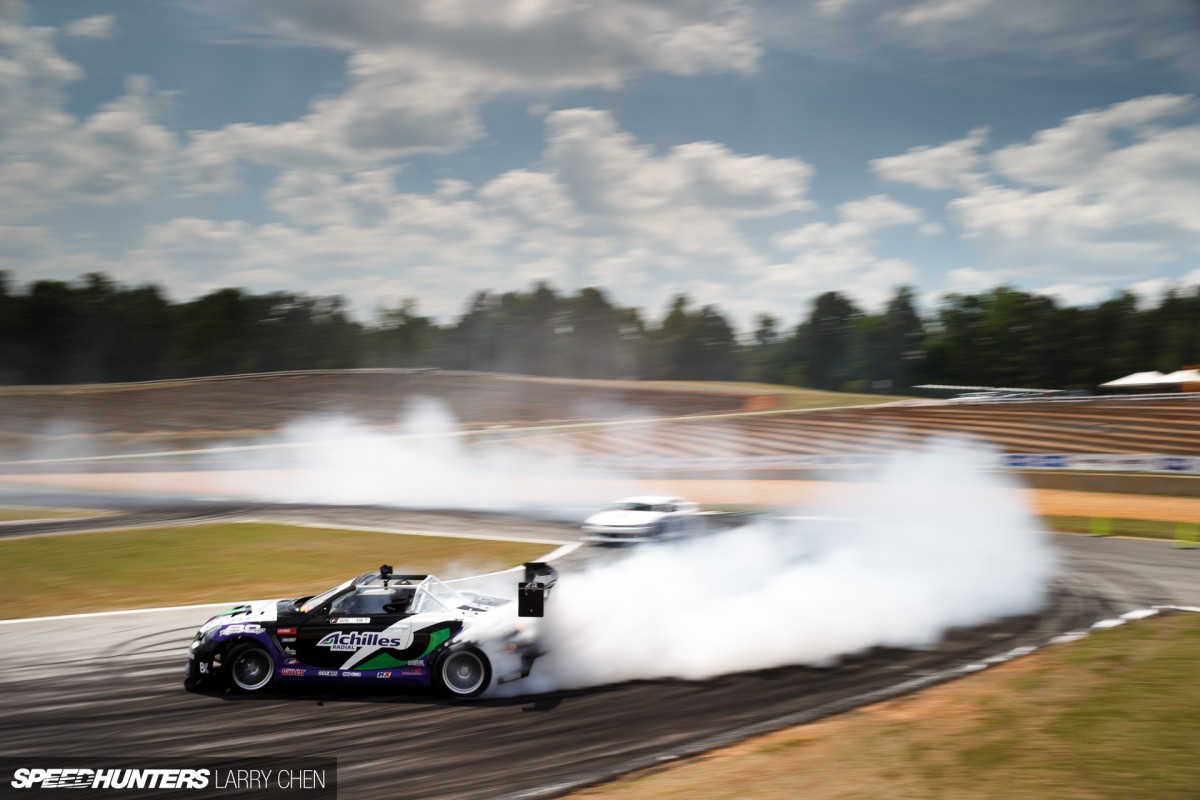 Formula Drift's 2012 champion Daigo Saito is in a worse position than Essa, although some of that can be blamed on mechanical failures. I think it's time for a new build. The Lexus has done him well, but it's tired and definitely showing its age now.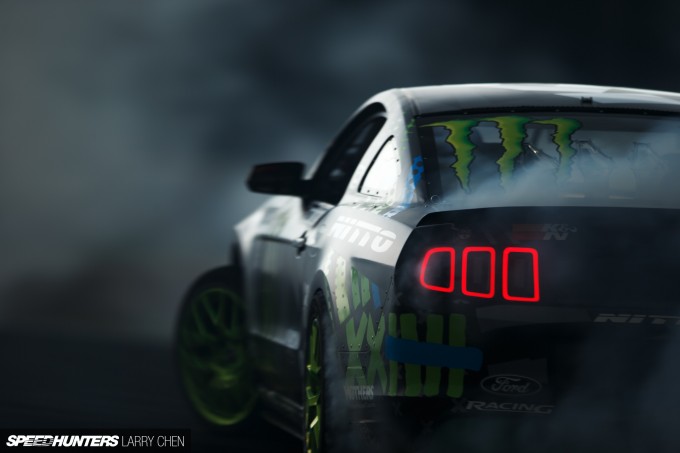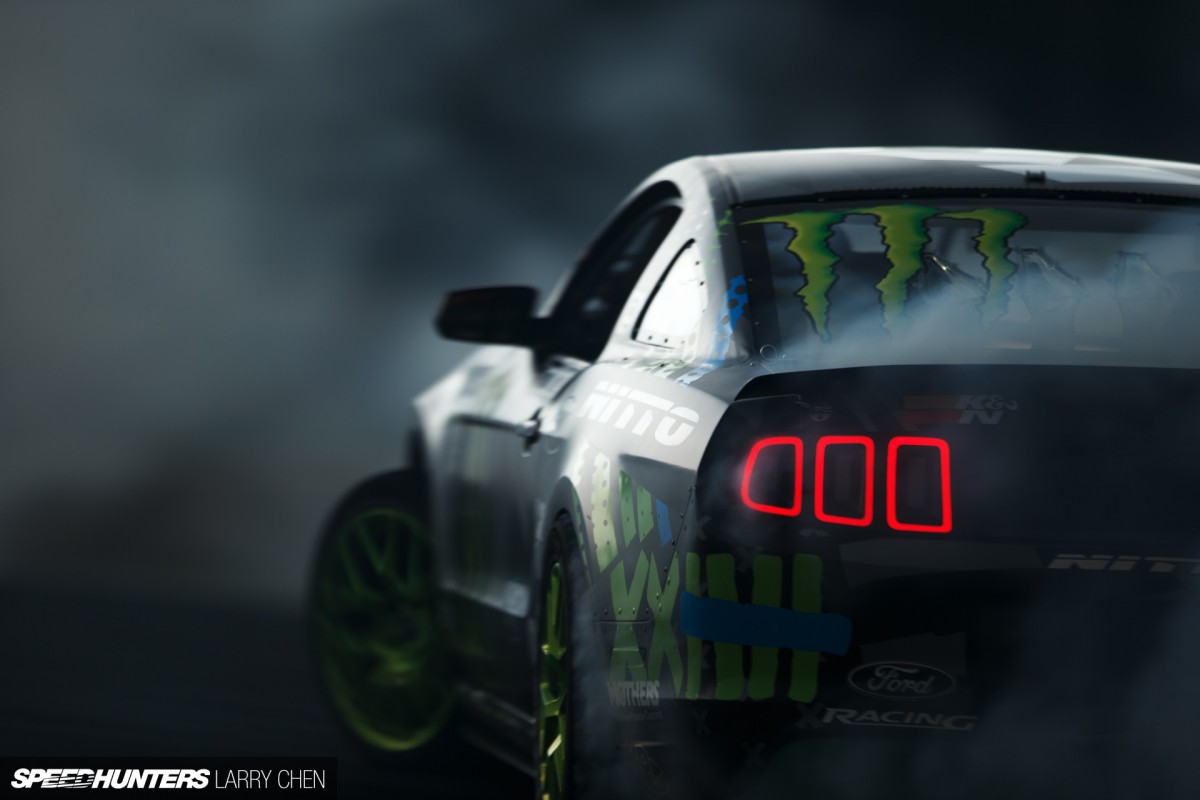 Vaughn has not seen the top of the podium since Formula Drift's fifth round in Seattle in 2012 when he was making a late season charge for the championship.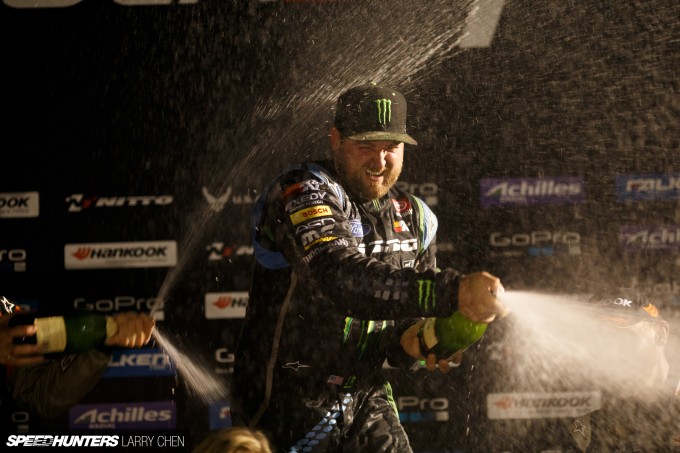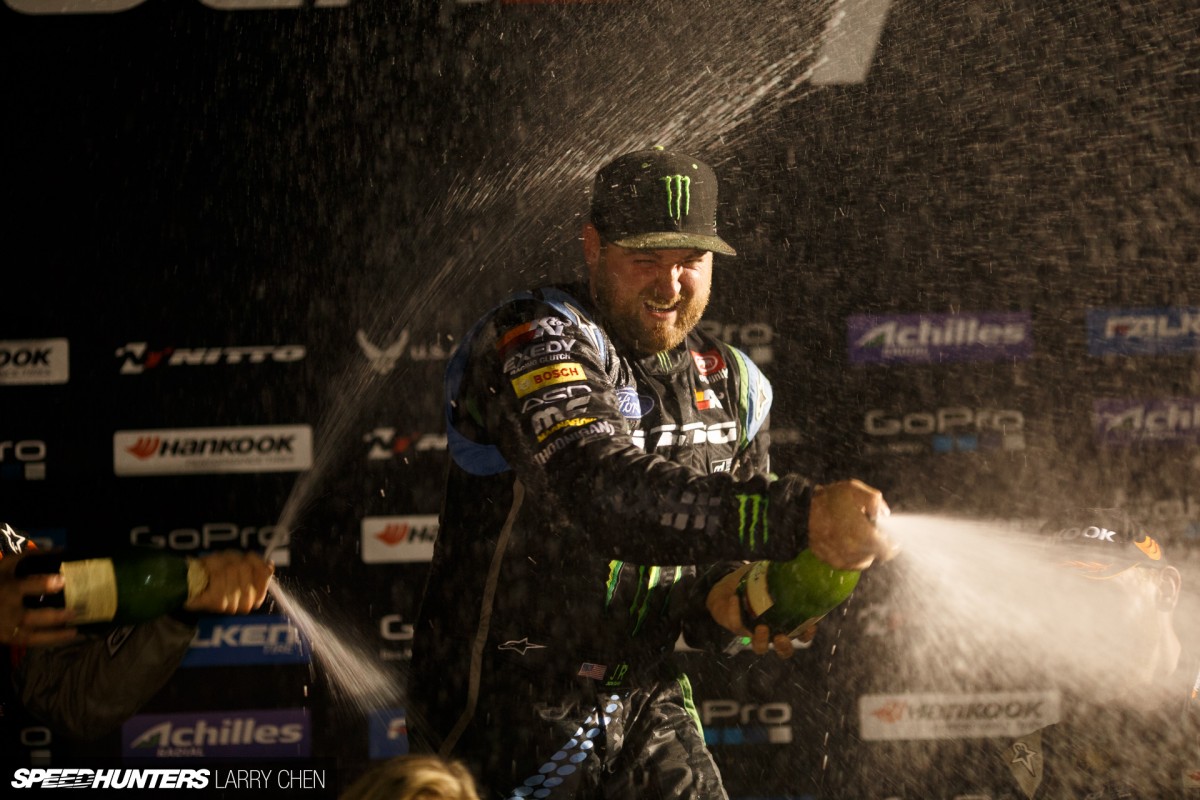 He may not have had the results he was looking for in Long Beach, but after just two events he's now sitting in 2nd place behind his Drift Alliance brother Chris Forsberg.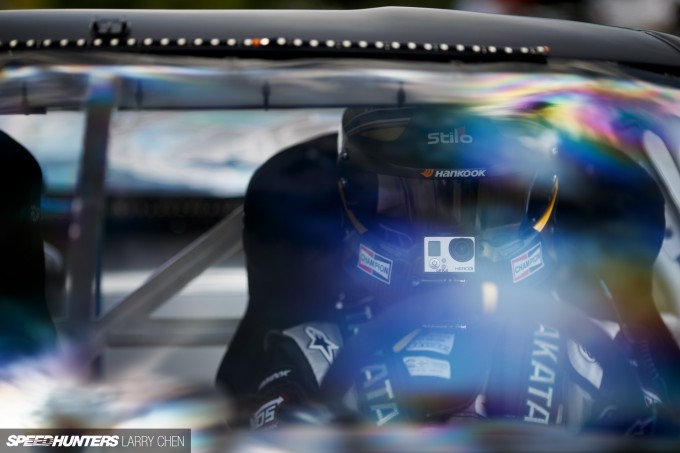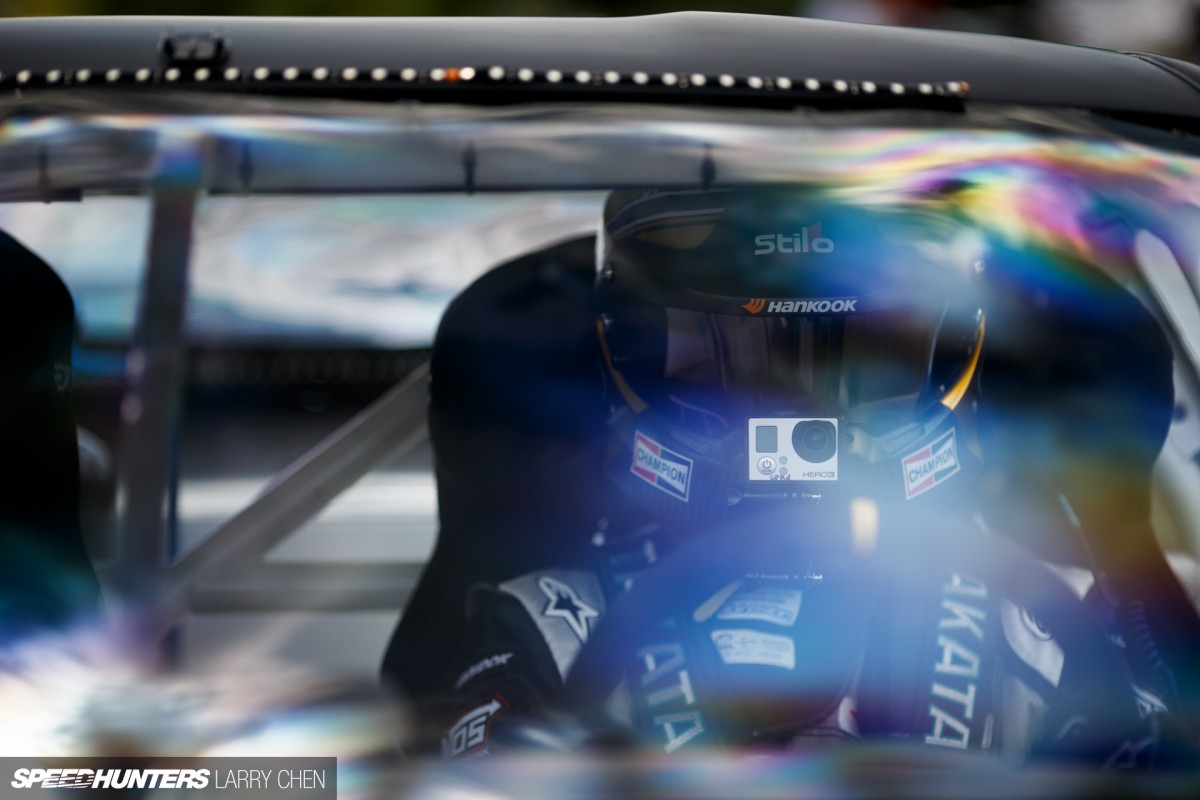 After last year's bitter battle for the championship, Chris has turned to the dark side.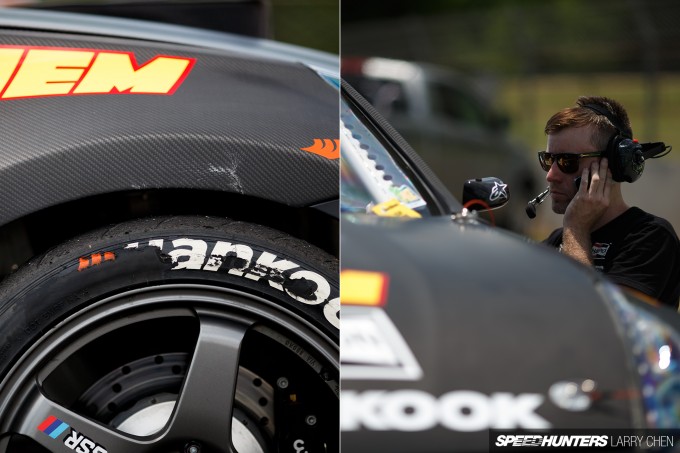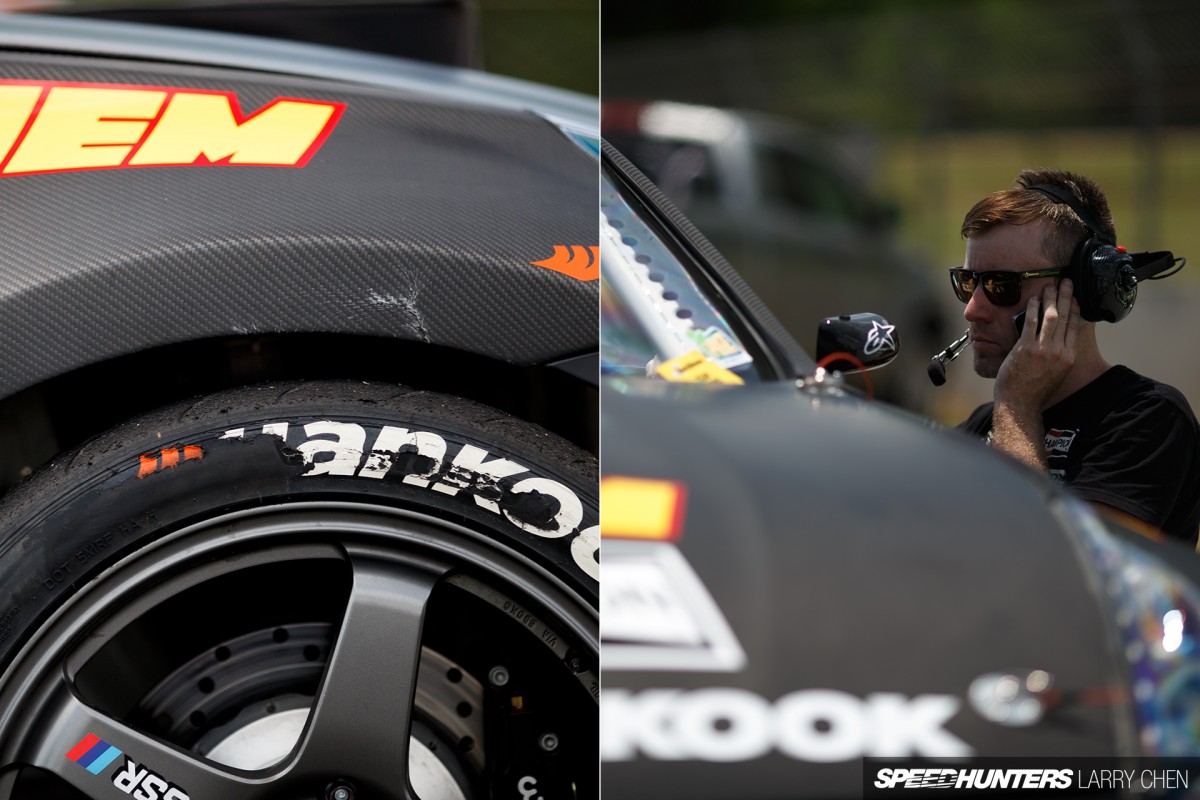 With two back-to-back podiums now in the bag, it's obvious that he and his team are out for blood.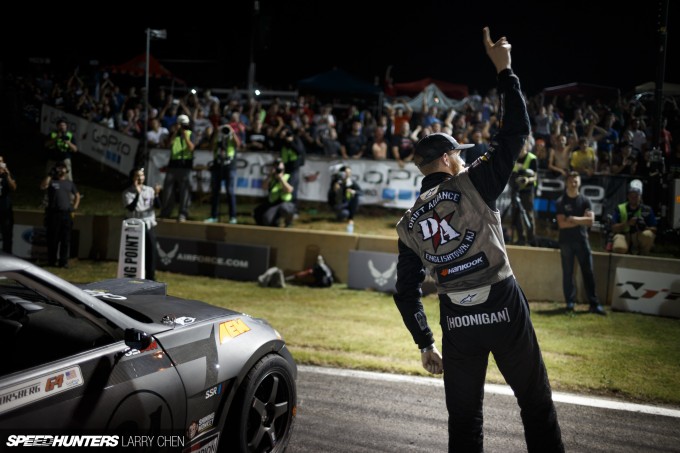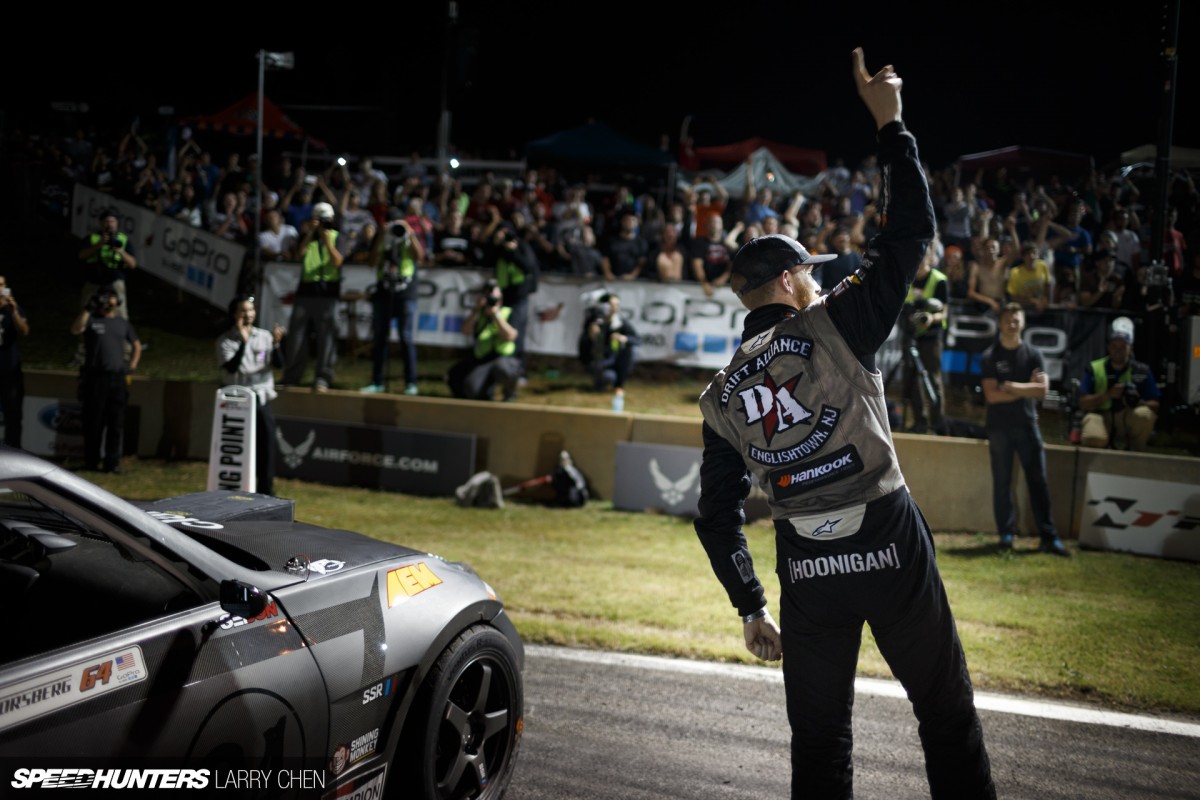 Chris is currently the most experienced competitor in the series to have won a championship, but that was all the way back in 2009. The game has changed so much in that time, but if this year's results are anything to go by, he's definitely evolved with the sport.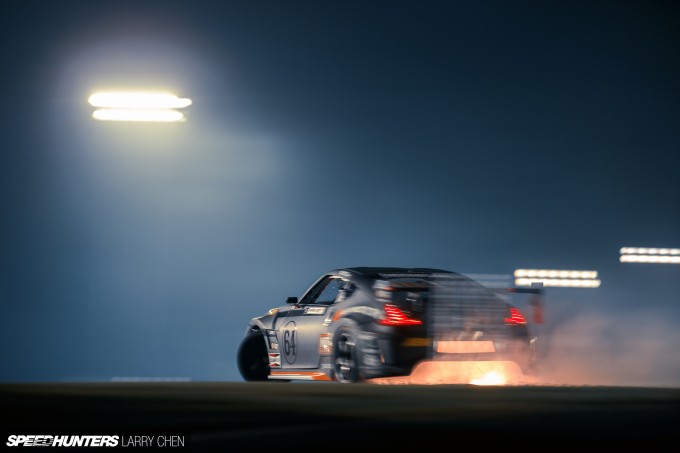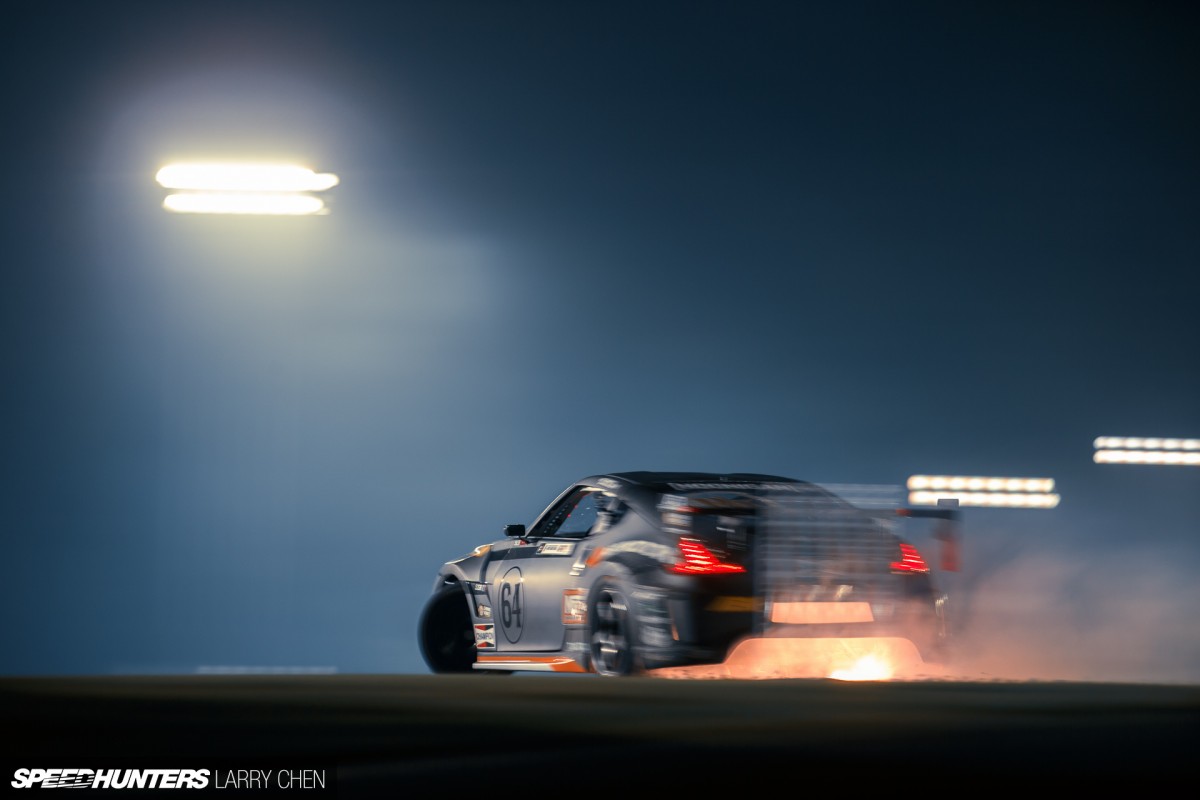 As more and more career drifters evolve to build their drifting legacy in such a fast growing sport, staying relevant is key. As Vaughn said before, who knows – maybe the top drivers of today will be the big name team owners of drifting tomorrow with five-car teams under their wing. I guess we will all have to wait and see…
Right now though, I'm just itching to get to Miami in two weeks time for FD Round 3.
Larry Chen
Instagram: larry_chen_foto
larry@speedhunters.com