At the beginning of this year I told myself that I would try to experience as many new types of car culture as possible, so when I heard that the World Of Outlaws Sprint Car Series would be coming to the West Coast, I knew that I would have to check it out.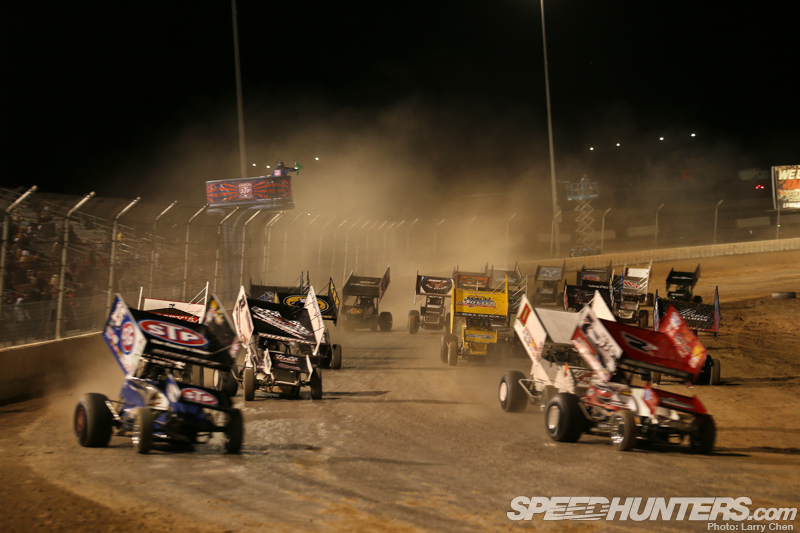 I've been meaning to shoot dirt oval racing for a while now. I just love seeing cars go sideways, and these guys raced sideways way before drifting emerged from Japan.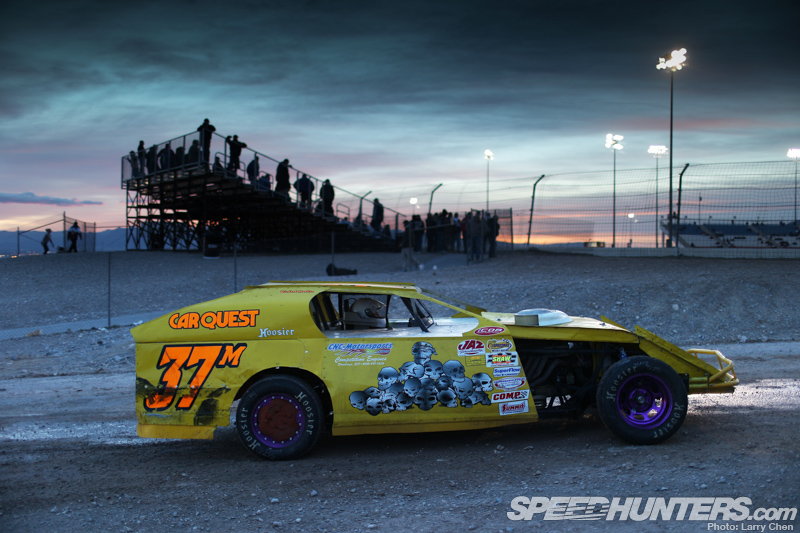 Dirt oval racing started getting popular after the First World War, but back then they mostly raced modified Ford Model Ts. They raced on horse racing tracks because there were no paved racetracks available.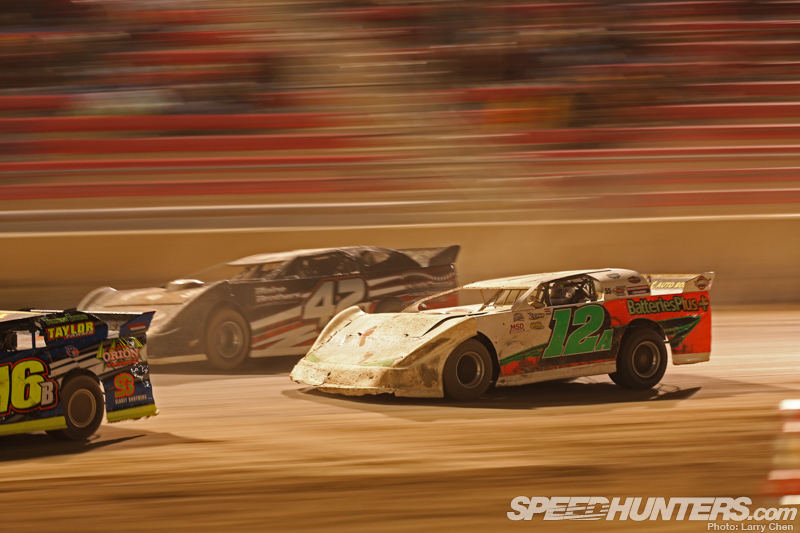 Dirt Oval has come along way since then. Today it is one of the most popular motorsports in the United States. There are an estimated 1,500 dirt oval tracks in existence. The sport is also very popular in Canada and also in Australia, but down there they make right turns instead of left turns.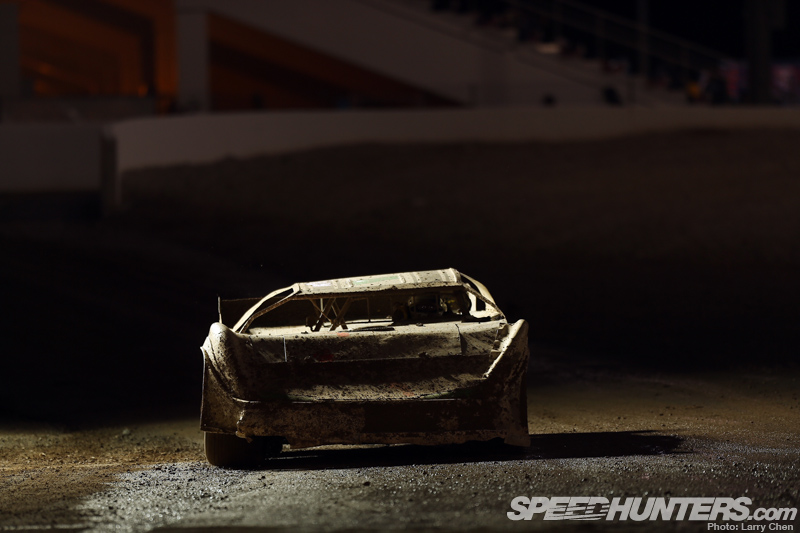 There were a few classes running that weekend. These are the Dirt Late Model cars. From a certain angle they seem to be able to pass for the Batmobile.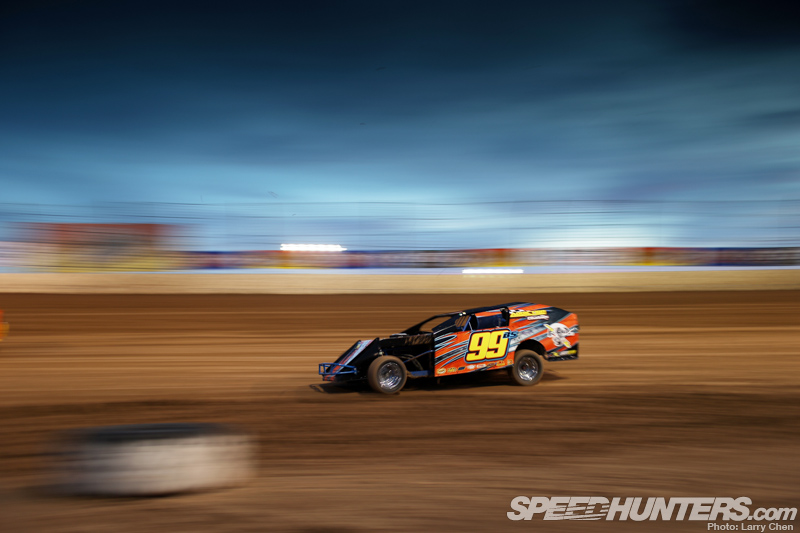 One of the other classes that was running was the Dirt Modifieds. They looks so crazy going sideways. As they would huck it into the corner their body panels would flap around. It was insane.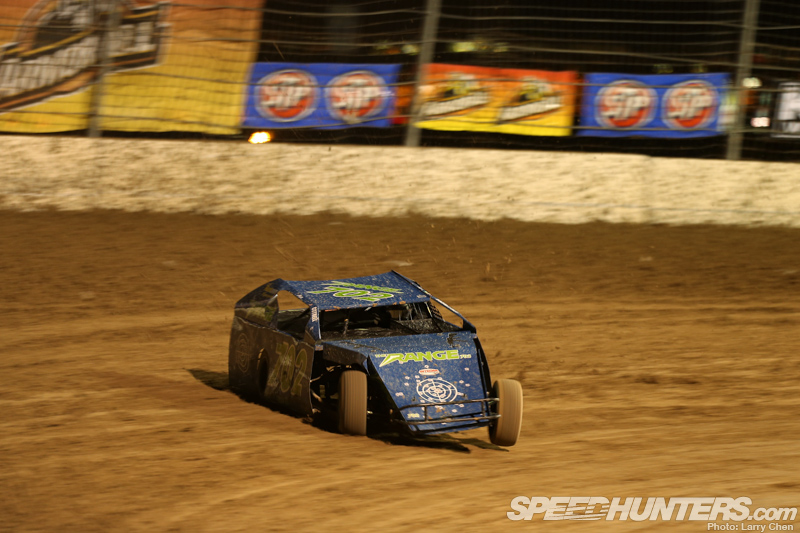 They would constantly corner on three wheels and if I did not know any better I swear these things looked like they were going to fall apart any minute. Of course they didn't, but the racing was super intense as they had to be careful passing each other since their front wheels were exposed.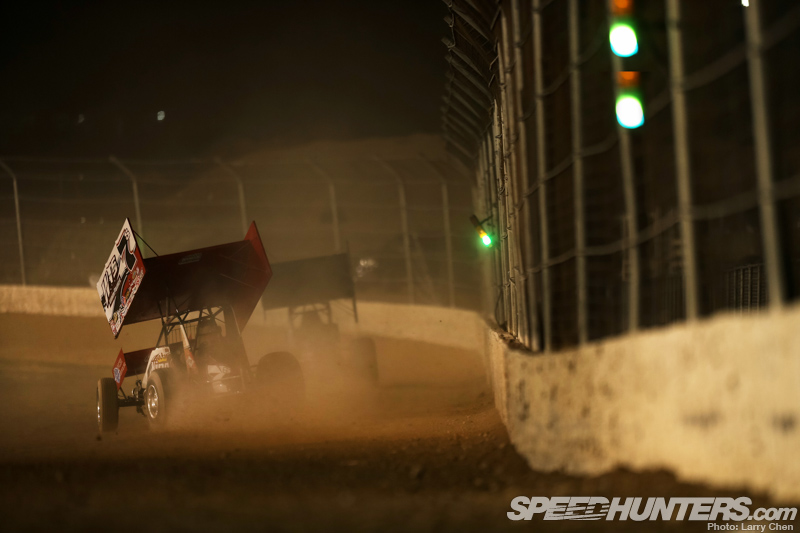 Without a doubt my favorite class of race cars that night were the winged Sprint Cars. These were definitely the fastest, and I also think they were the coolest looking.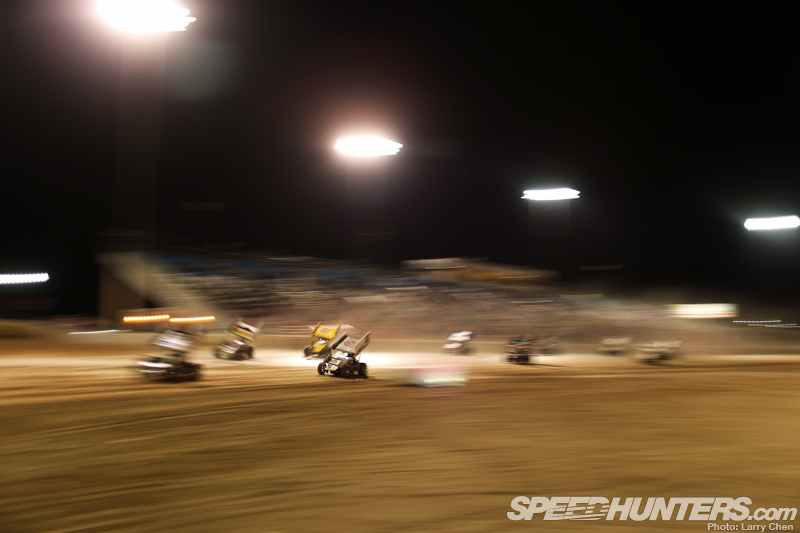 No wonder why the World Of Outlaw guys have the slogan 'The greatest show on dirt!'. Well… because it was!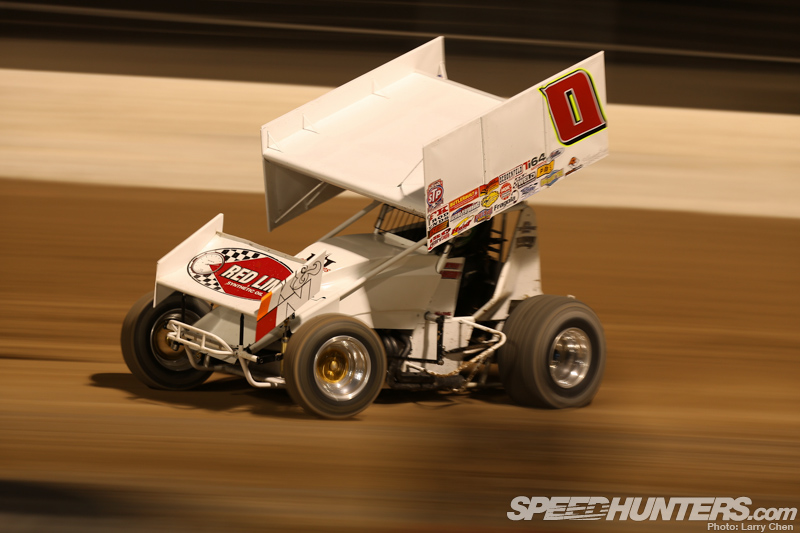 Every type of race car has a personality. The winged Sprint Cars just look like they have a bad attitude, especially when they enter the corner at high speed and the downforce from their massive wing just compresses the suspension.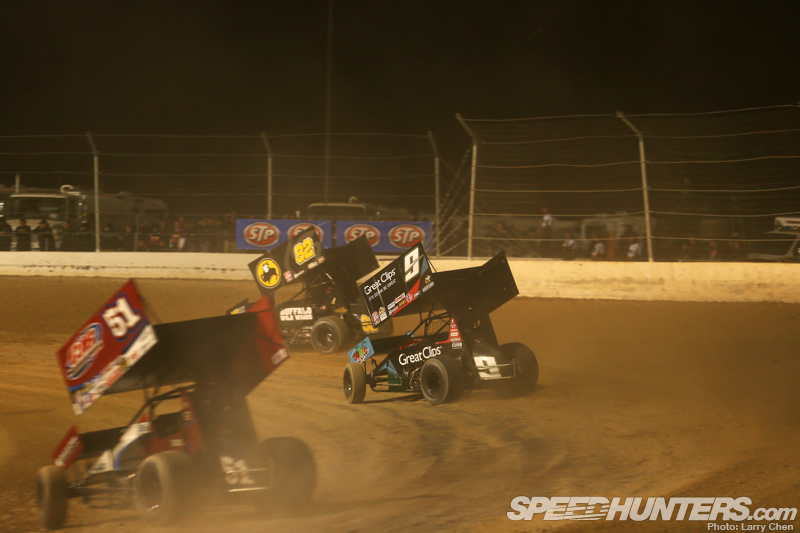 I swear that watching these guys was like watching an optical illusion. You just can't believe your eyes when you see them going around that corner at speed. How was it possible to defy physics like that? After seeing the Modifieds and the Late Model cars I felt like I was watching the Sprint Cars in fast forward.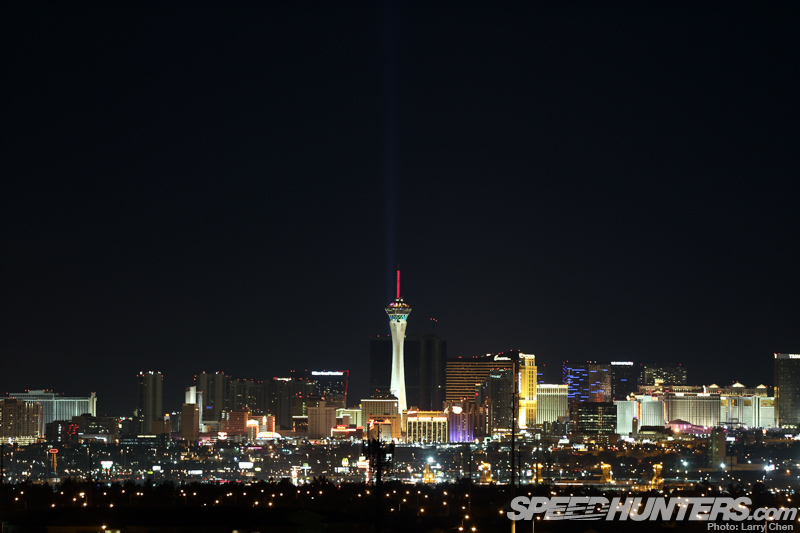 This particular round was held in Las Vegas. I seem to be finding many reasons recently to make the day trip to Sin City.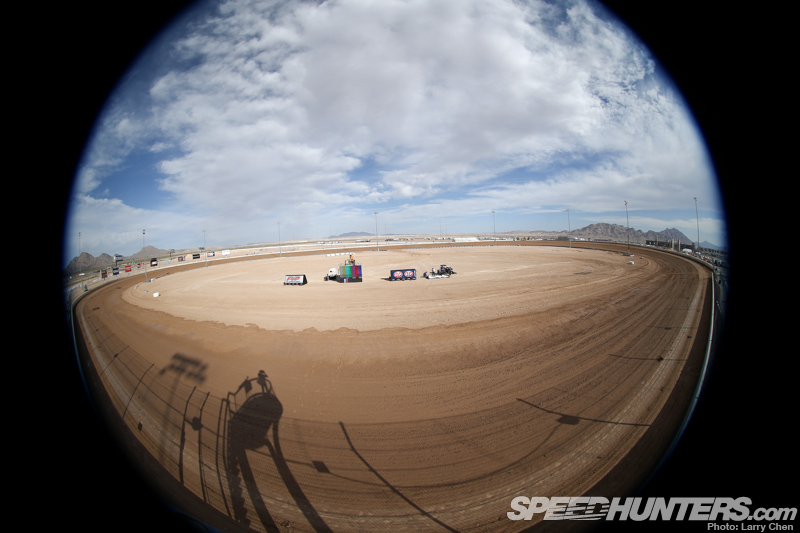 Las Vegas Motor Speedway has nine stand-alone race tracks, and the dirt oval is one of them.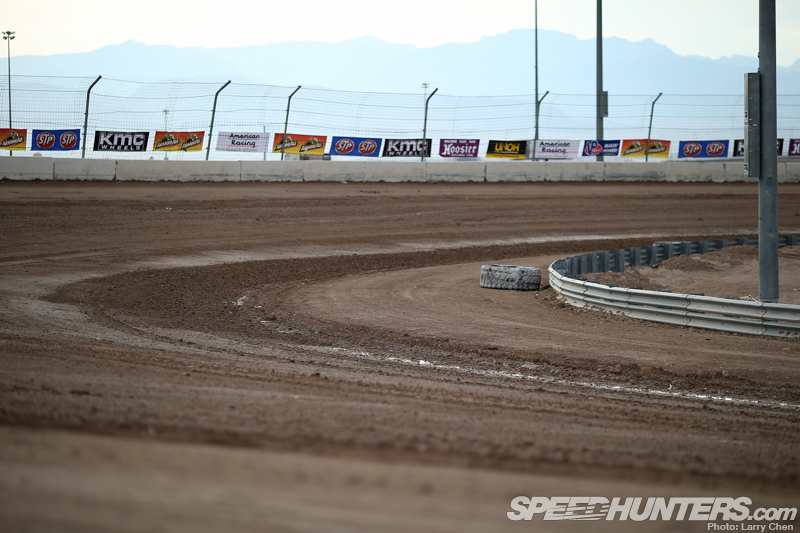 The sufrace is very interesting. It is actually a very fine dirt – more like clay, I guess. Although, I've also heard that this track had more rocks than most other tracks.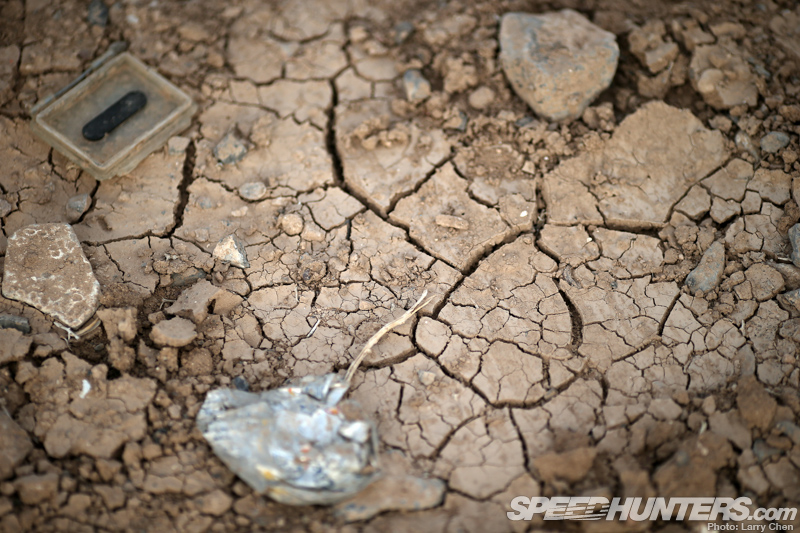 When it dries up it cracks, but when it's wet it is actually quite sticky. My shoes almost came off as I was walking across the racing line.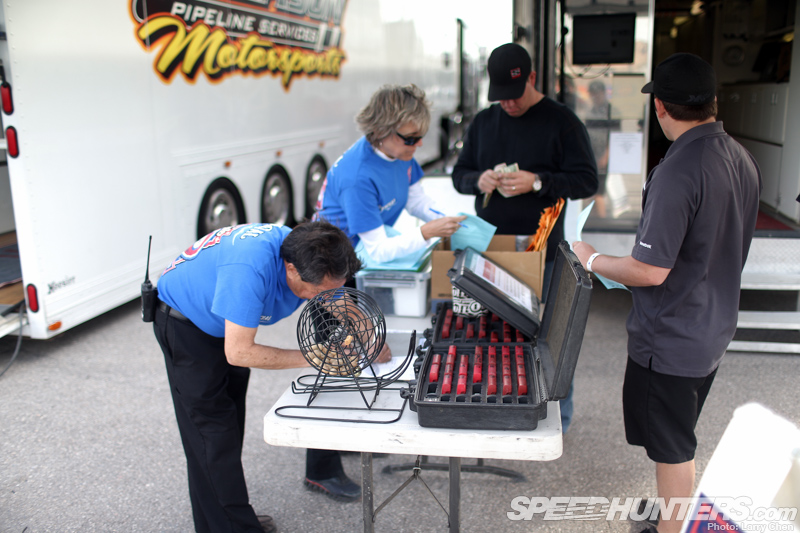 The day starts off with the racers picking numbers for their order of qualifying.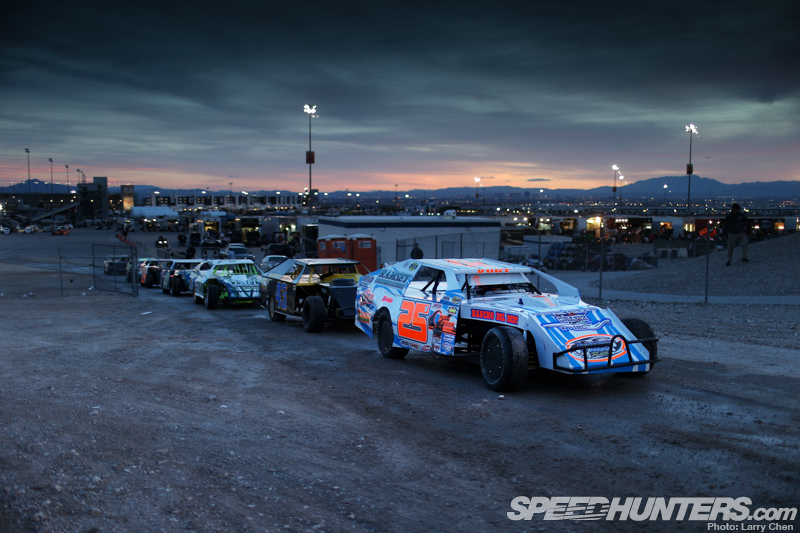 First up to battle it out were the Dirt Modified guys. They lined up right outside the track and they would all drive in at once as soon as they got the signal.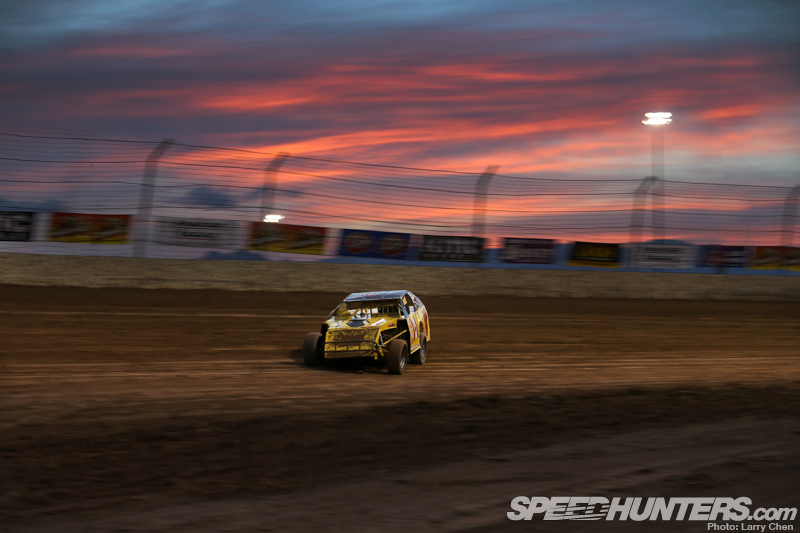 It really surprised me how many different lines these guys took. Sometimes they go super wide and sometimes they cut the corner pretty sharp. It was still early in the day, so I am assuming they were trying to find the line with the most traction.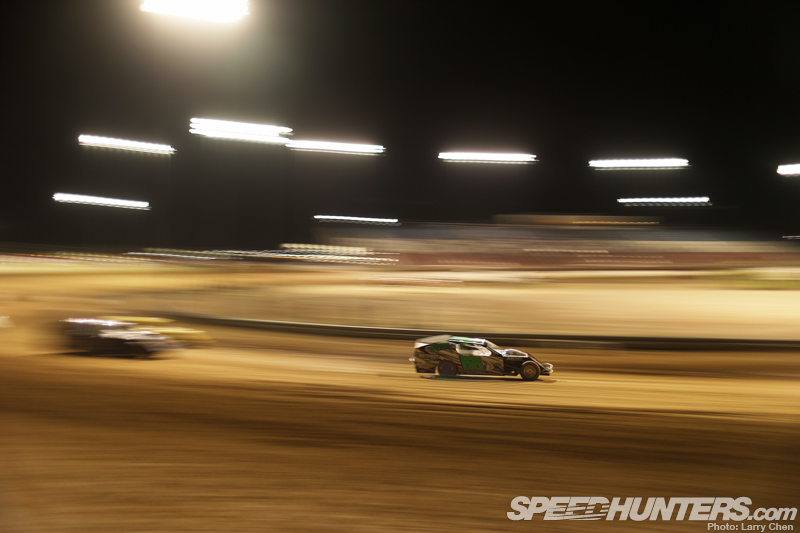 The surface did change over the course of the night, and had to be watered down a few times. Having watched dirt oval racing at night, I am very curious to see what the experience is like in the daytime.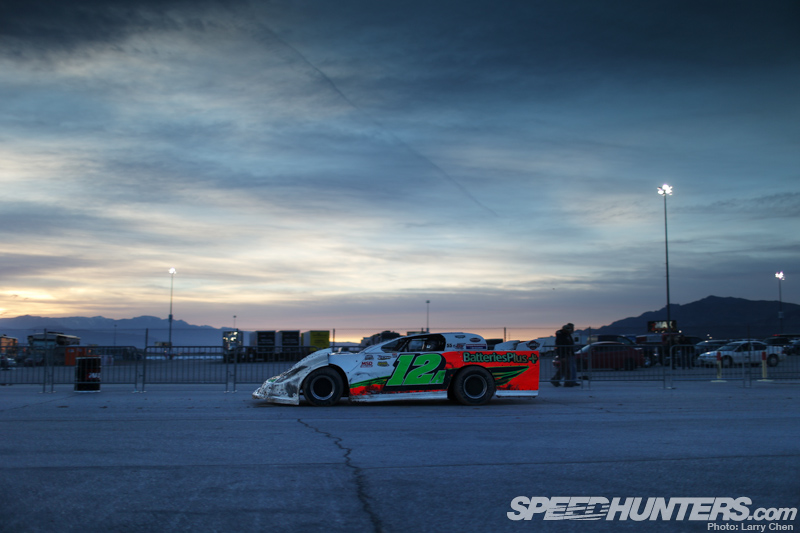 The Dirt Late Model cars had transmissions and reverse gears, so they could stop and pull of the track if they needed to.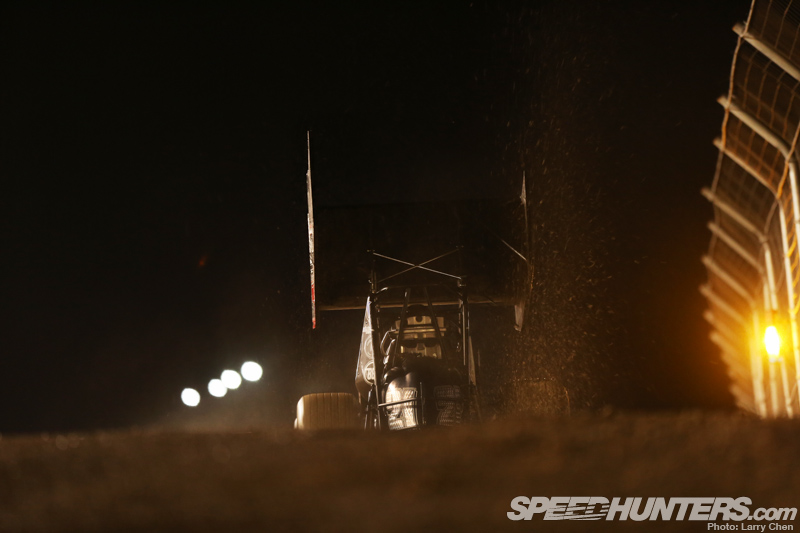 But the Sprint Cars do not have a transmission: it's a direct drive system. Part of the reason is to keep the weight down, but mainly it is for tradition. Although they do have a disconnect, which allows them to be pushed without starting.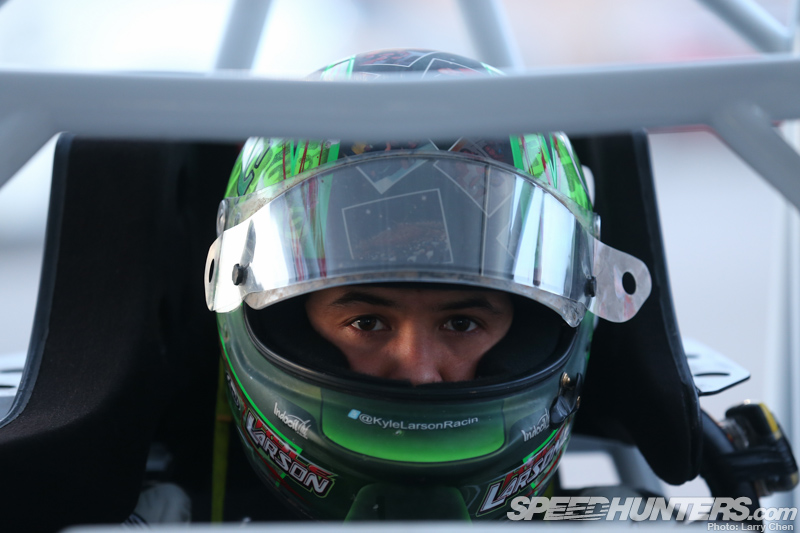 The Sprint Car drivers also don't run radios, so unlike in NASCAR there are no spotters. You just have to listen for the cars behind you. Those helmet tear-off sheets were understandably everywhere. Every time a pack of cars would come buy a few tear-offs would fly up in the air.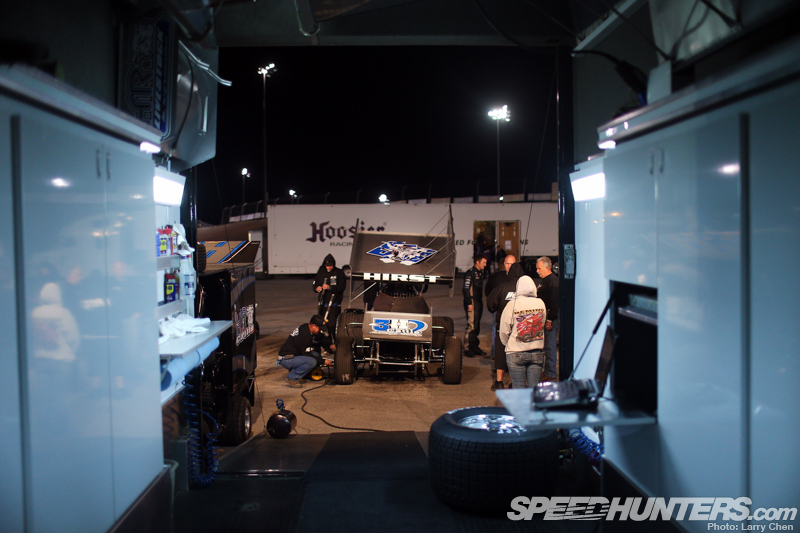 Normally at events that I have never been to I try to make some friends. Luckily, I knew a few people in the industry that were at the race.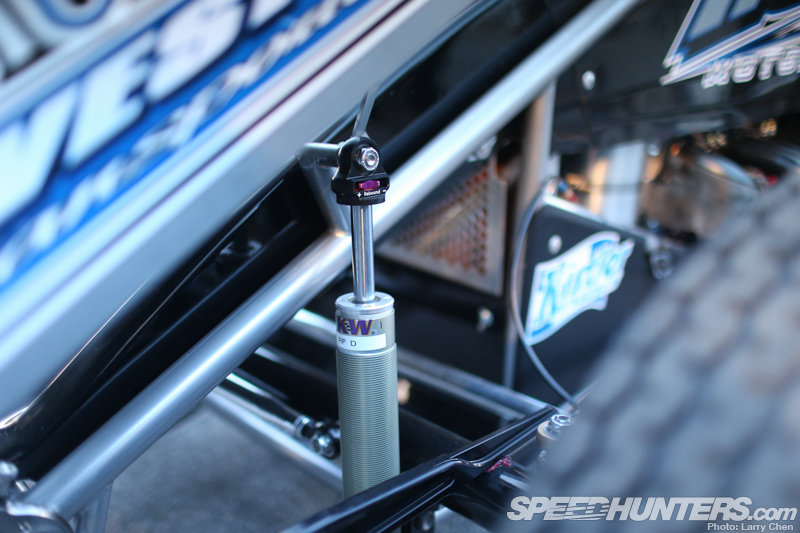 The guys from KW Suspension were there, debuting their new suspension for Sprint Car racing. They have done much testing on these shocks, but this was the first time they would be put to the test in a race.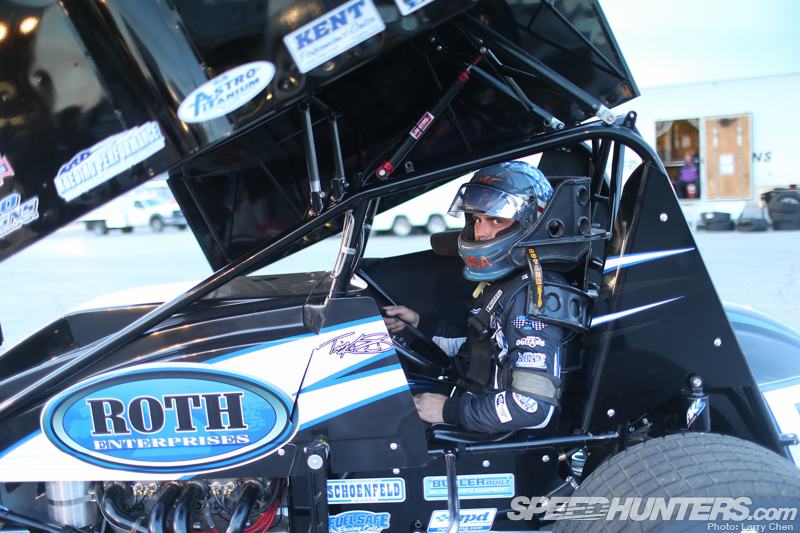 They were testing it on the Roth Enterprises team, which is a two-car team. One car would run the normal suspension that they regularly run and the other car would be the test mule for KW.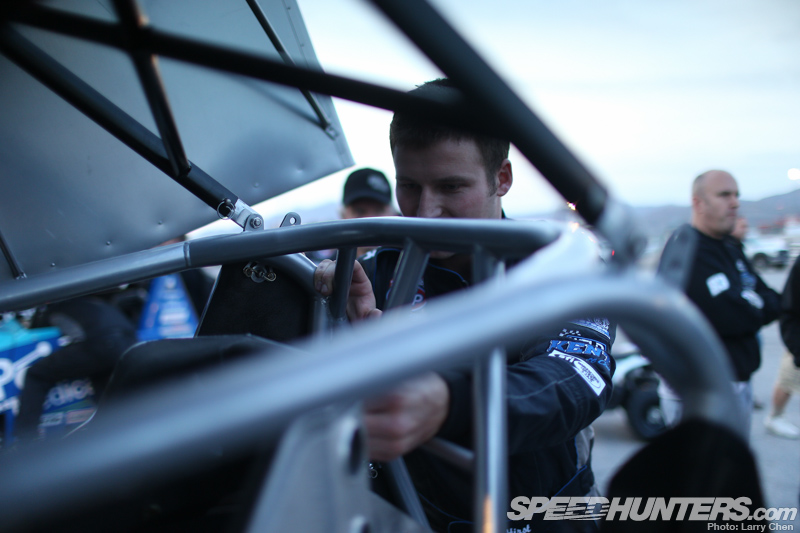 Behind the wheel was Kyle Hirst, a young driver from Elk Grove, California. He is only 25 years old, but he has been racing Sprint Cars for almost 10 years.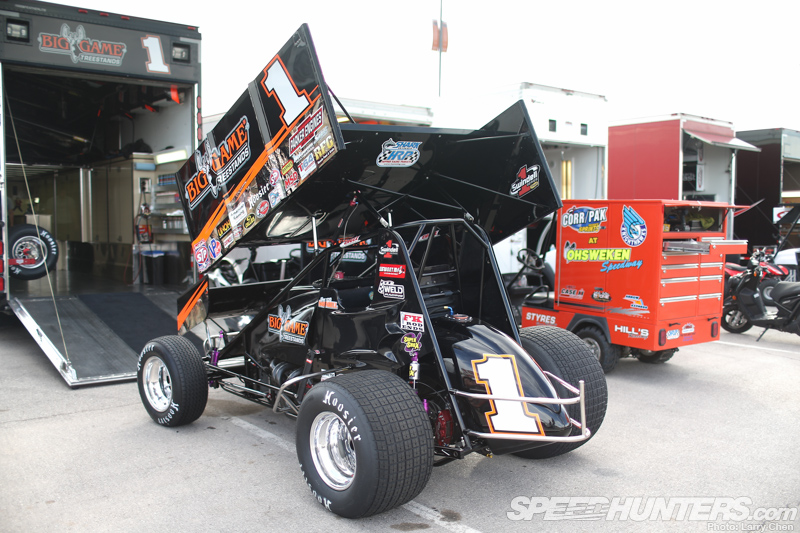 My favorite motorsports are the ones that stay true to the fans. Sprint Car racing was just like that. The pits are wide open and you can meet any of the drivers and strike up a conversation.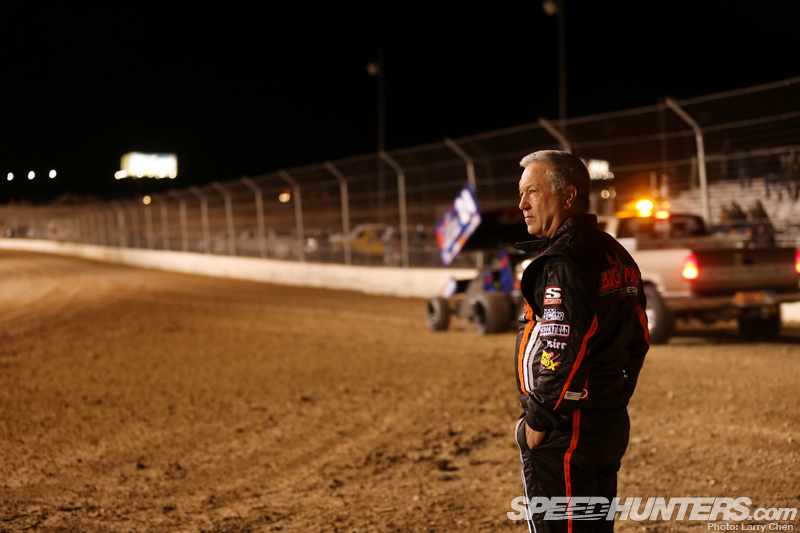 One of the biggest legends in Sprint Car racing is Sammy Swindell. He has been racing in World Of Outlaws way before I was born. The passion for the winner's circle just does not die down over time.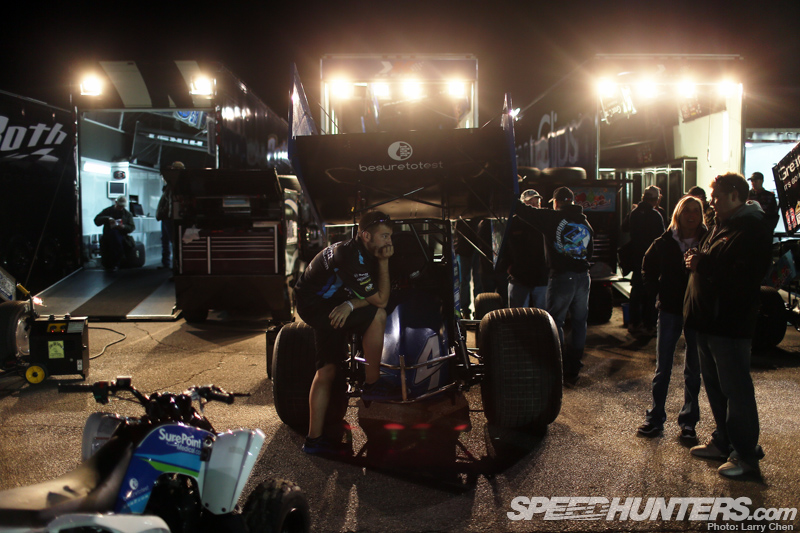 Qualifying for the Sprint Car teams was getting closer and it could not have come soon enough as everyone was getting restless.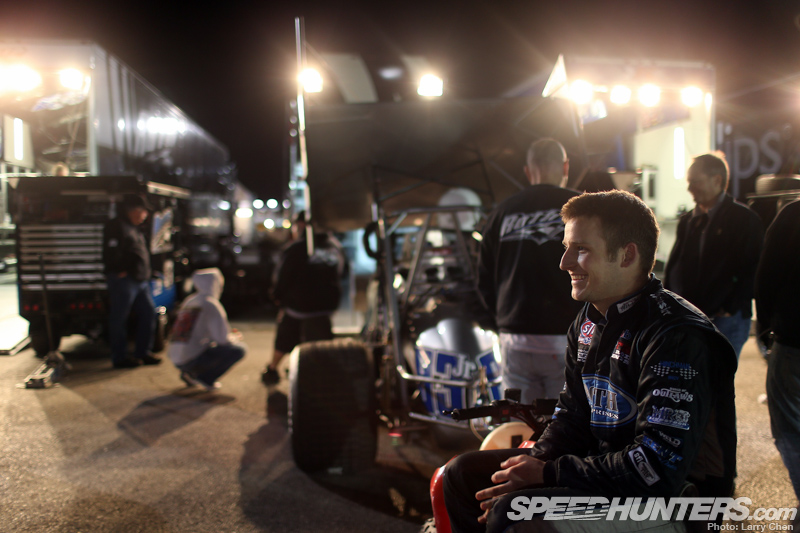 Kyle was also getting anxious, but he was ready to drive. Who knew how the new suspension would work out in real racing conditions? There was only one way to find out.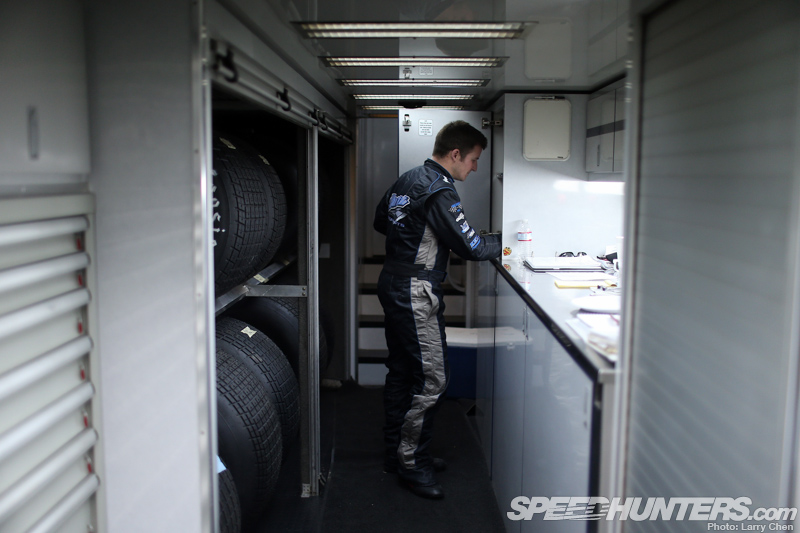 As soon as the call came in to suit up, he darted into the trailer and got his helmet. It was time to hit the dirt.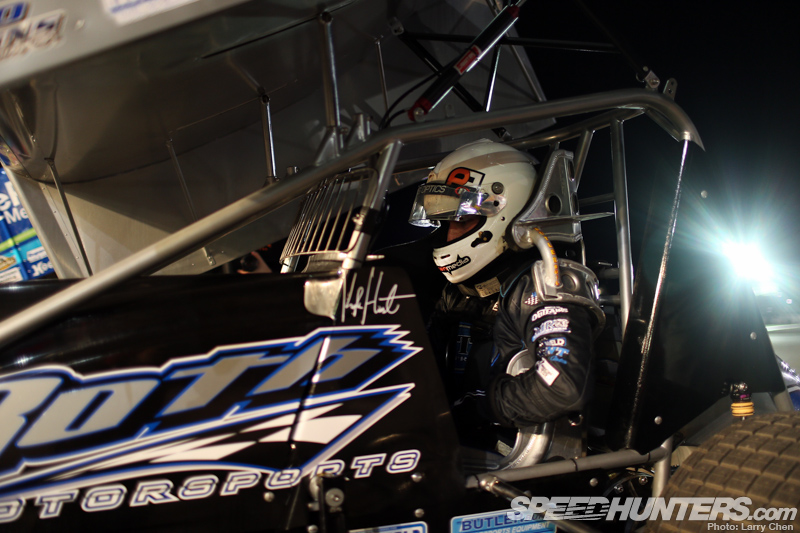 I will go into qualifying in more detail in my next post, but each driver gets two chances to pull off their fastest lap.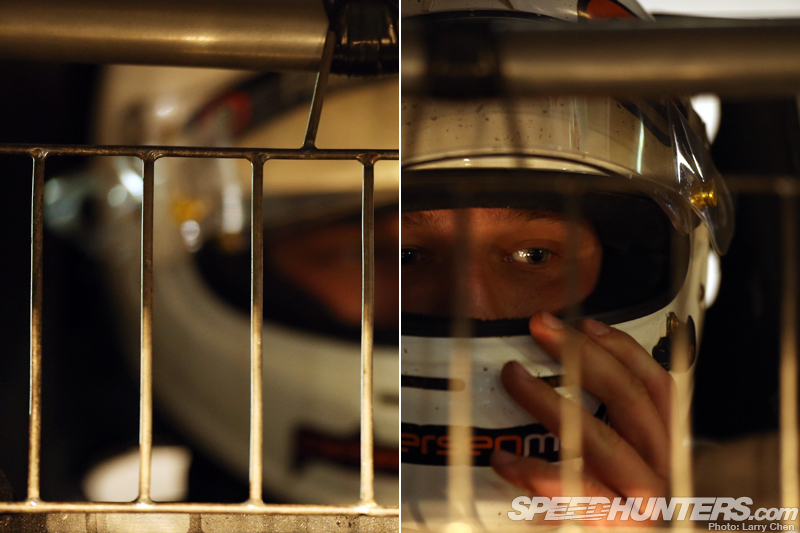 You really have to be focused as the lap times were sometimes separated by a few thousands of a second.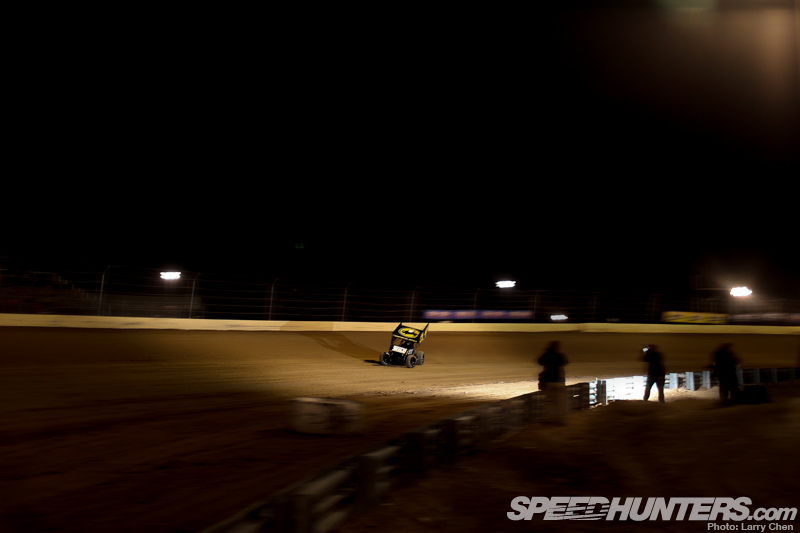 One by one the guys pulled out and did their hot laps. It was actually quite nice because this was the only chance I had to photograph the cars running solo.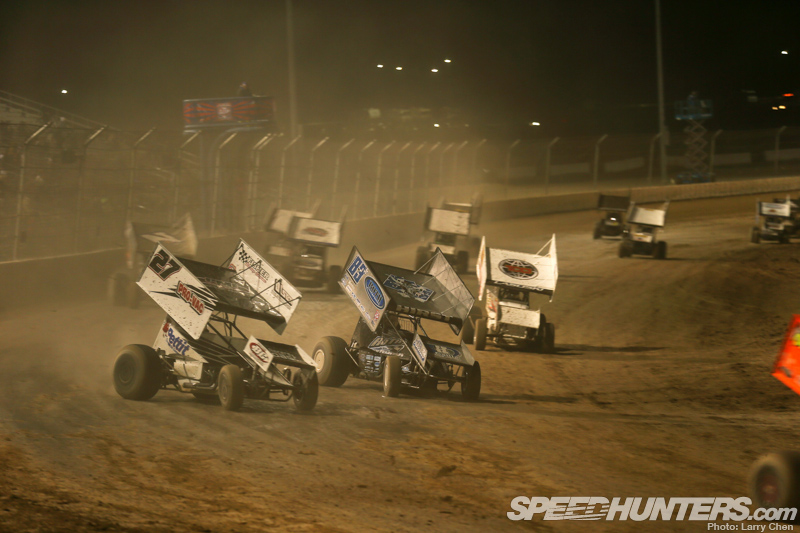 Just like with rallycross, the drivers are pitted against each other in heats to decide who will go into the final race.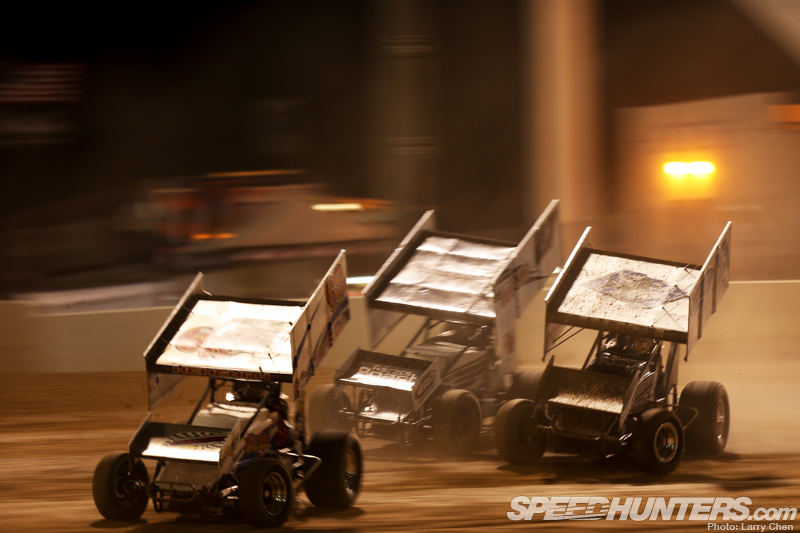 Kyle pushed super hard for position, but he did not finish well in his heat. Luckily he was able to pull through in the last-chance qualifier race – also known as the LCQ.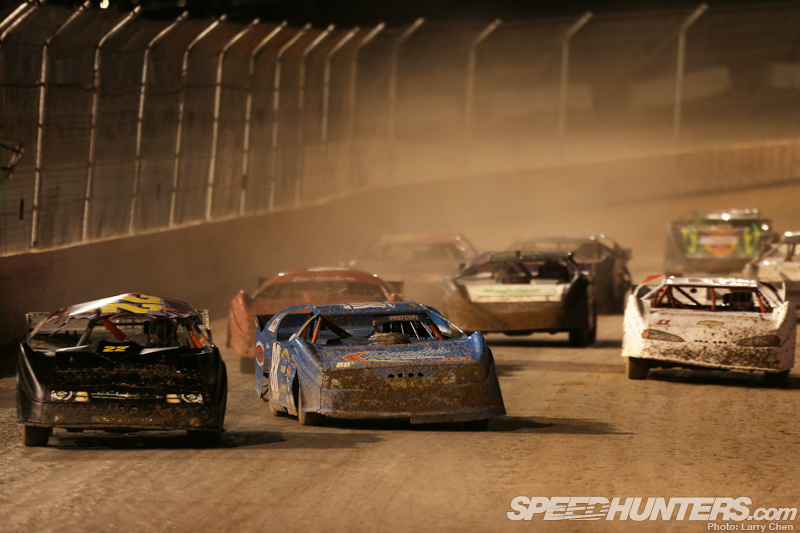 Basically all the people who did not finish well in their heats get thrown into one free-for-all race for the last remaining open slots for the main race. This went for all the classes that were racing that night.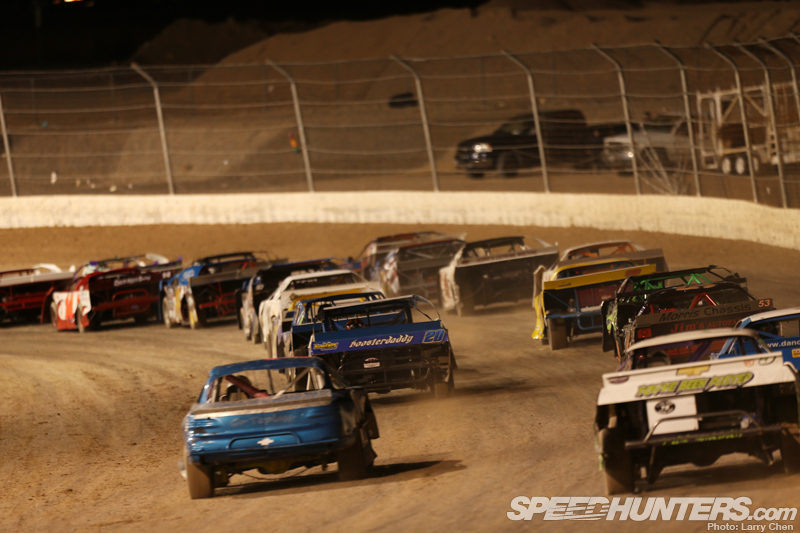 It was total carnage in the LCQ race for the Late Model guys. It is a lot easier to bump each other, as it seemed like that was just one of the ways they could pass each other.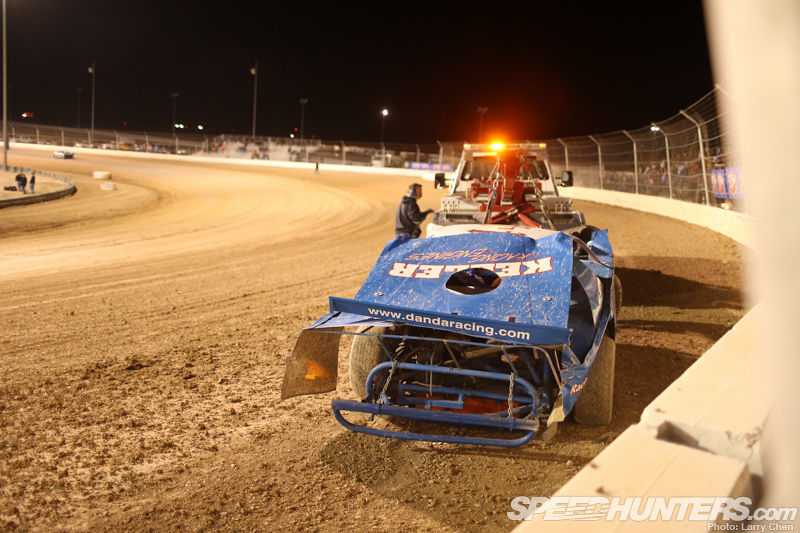 Quite a few guys ended up in the wall, with some them having to be towed off.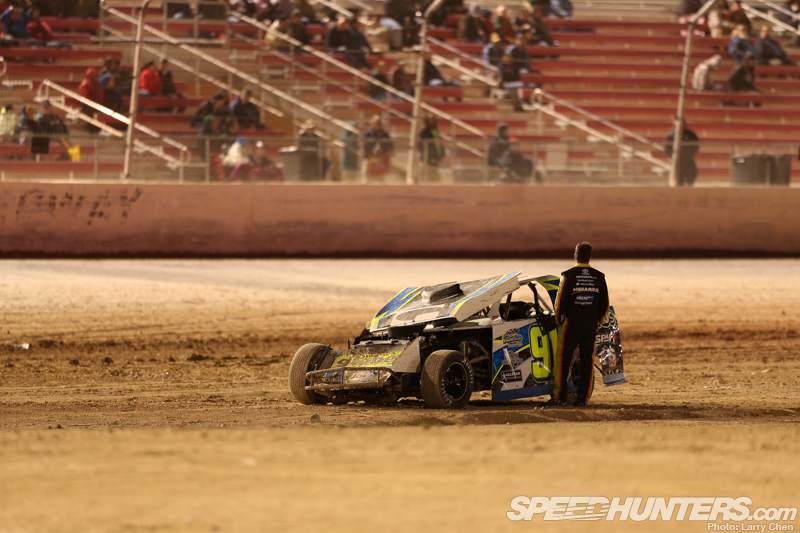 Some of the guys just parked in the middle and watched the rest of the race.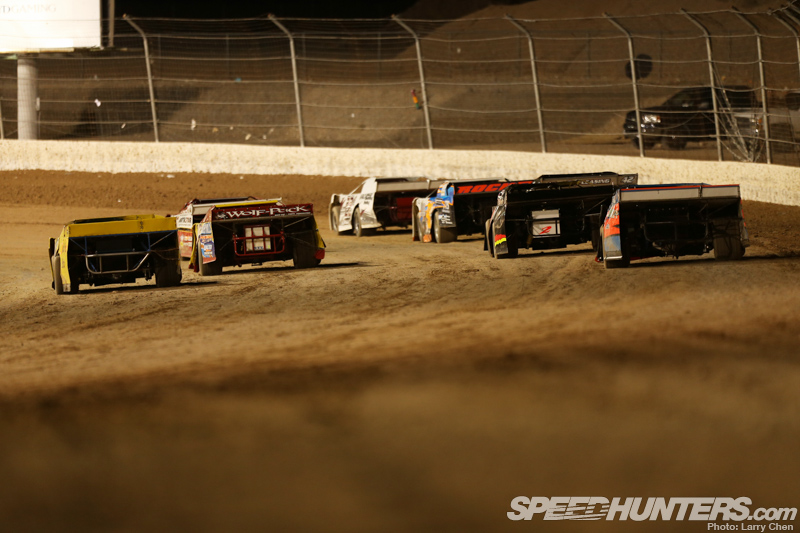 From the back, the Late Model cars actually reminded me of Group C cars from the late '80s and early '90s.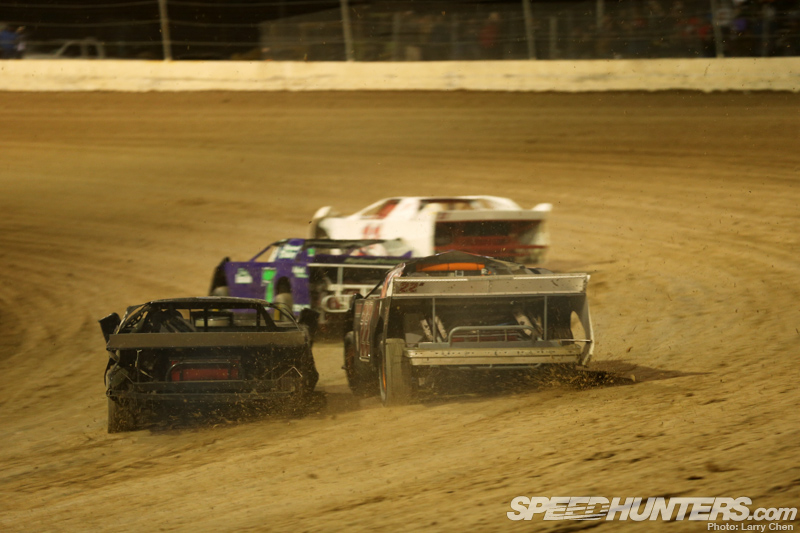 Except these guys went sideways on dirt. I bet these guys would do really well in Formula Drift.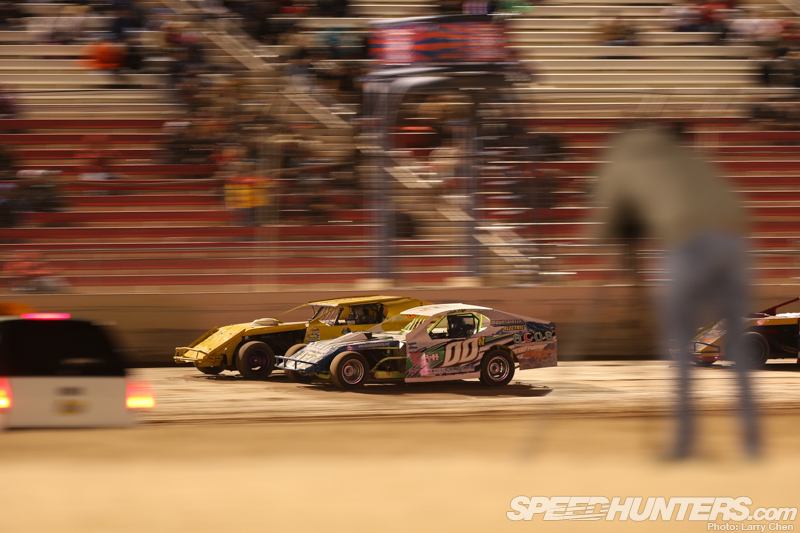 The Dirt Modified guys let it all hang out as well. There was no holding back and there was just as much carnage.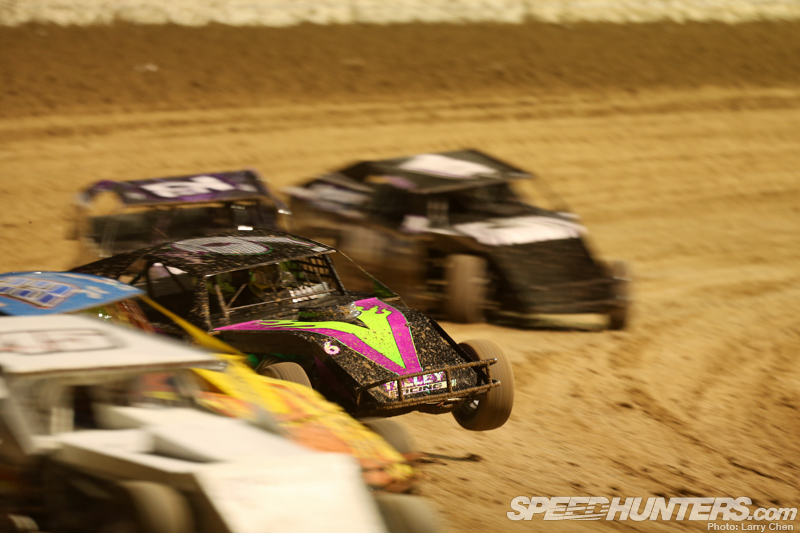 It's actually interesting to watch, considering how large these racecars are compared to the Sprint Cars. To have that much traction on dirt without any downforce just amazed me.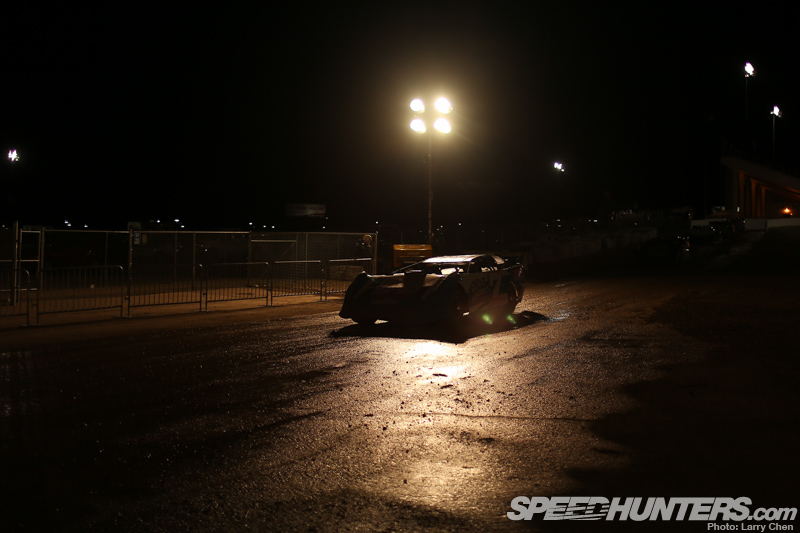 All the Late Model and Modified guy were done for the night and it was time for the Sprint Cars to battle it out for the win.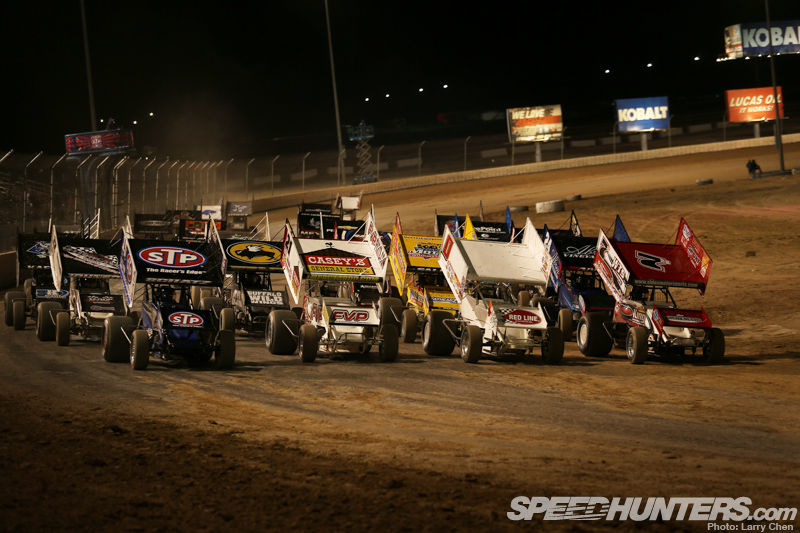 As a tradition for the main event, the entire grid packs into a four-wide formation for their parade lap. Seeing this sent chills down my spine. That was a whole lot of horsepower just waiting to be unleashed.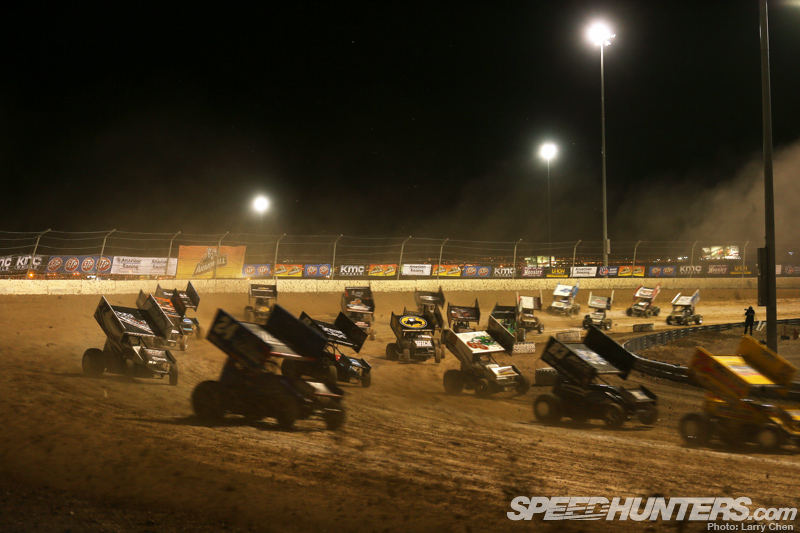 The sound pierced through my earplugs. I ducked for cover as soon as the pack passed and I hid behind a large lightpole. As the rocks hit the pole it sounded like I was being shot at.
I put together some clips of raw video just so you guys could hear what it sounded like.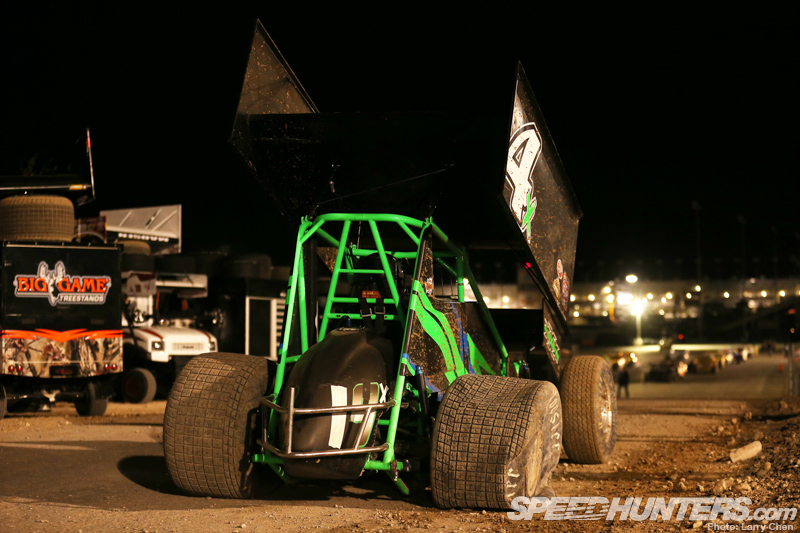 These guys run very low tire pressures, so it is very easy for them to de-bead the tires.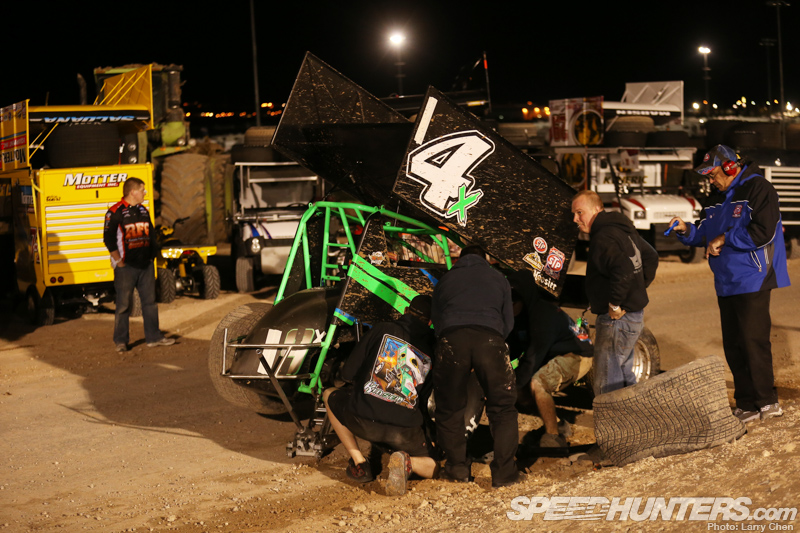 Pit crews were standing close by to change whatever was needed. The crew also brings extra wings and other aero parts as well.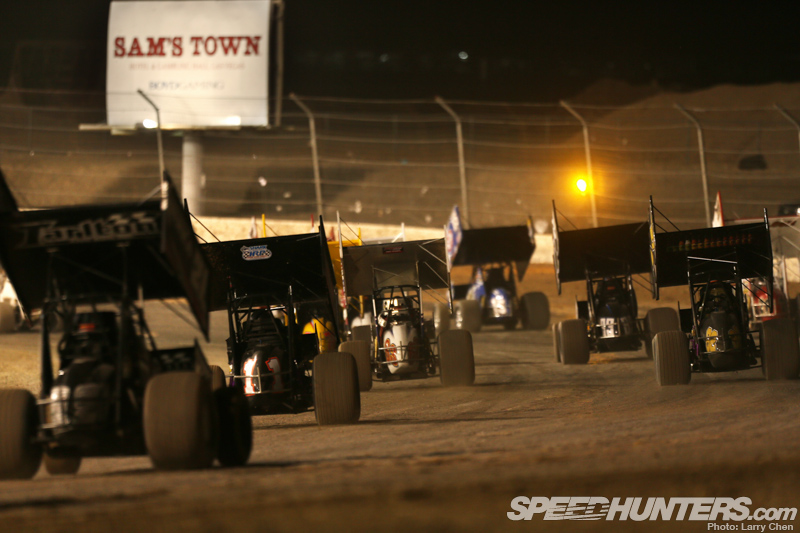 What was interesting to me was the caution laps don't count towards the number of laps completed. So if the race was 30 laps, without a doubt the fans get to see 30 laps of racing.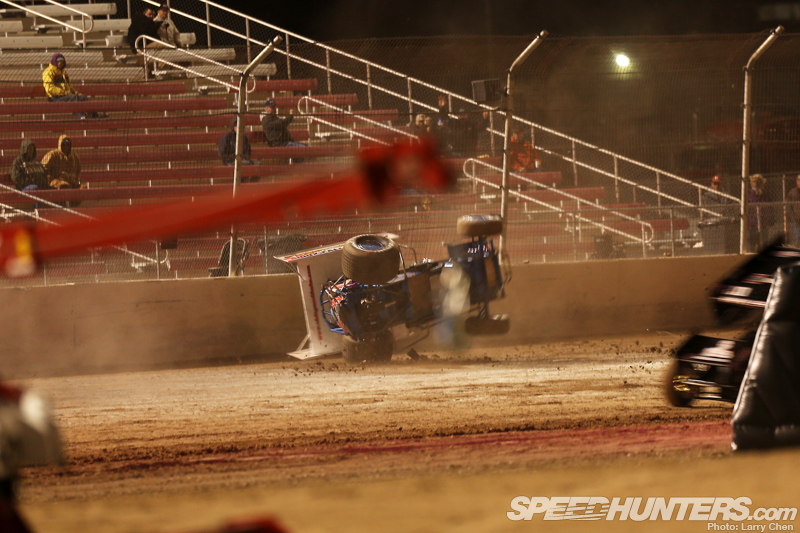 For how close these guys raced I was actually surprised to see only one flip the entire day.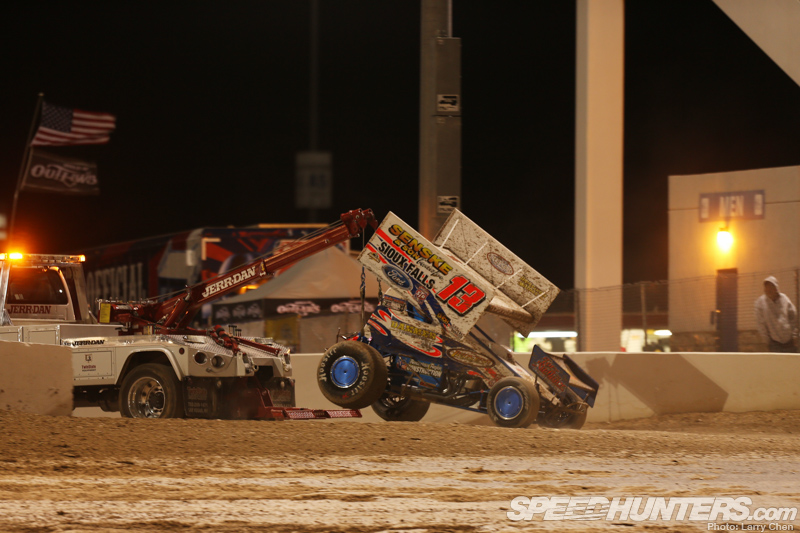 The driver was just fine and the safety crew extracted the dead Sprint Car with ease.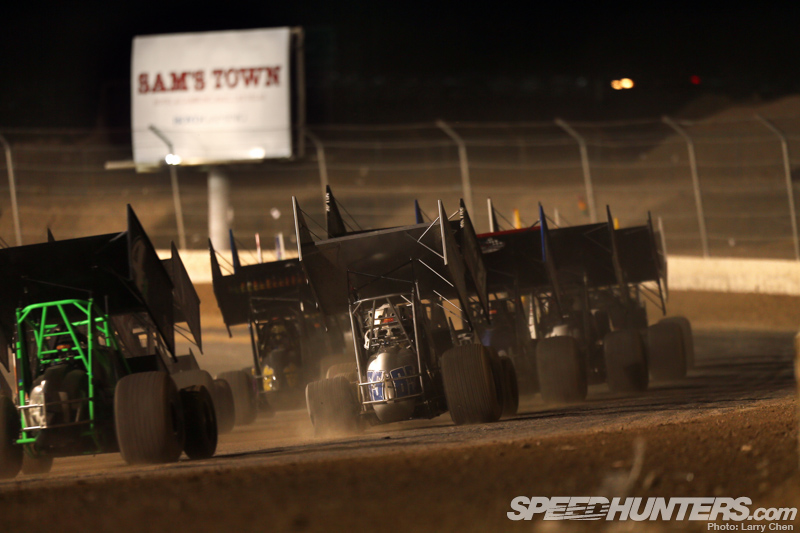 Once again the entire pack rounded the corner, awaiting the green flag to punch it.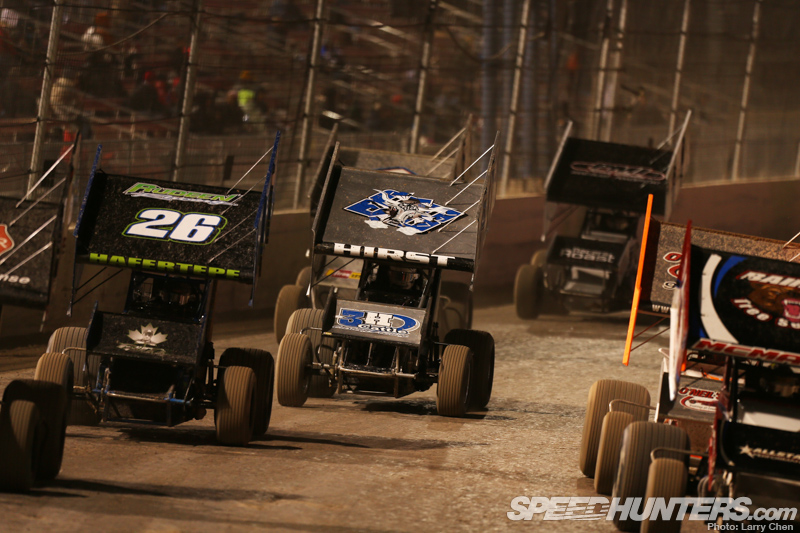 Kyle actually ended up finishing in mid pack. Not bad for the first time running brand new suspension.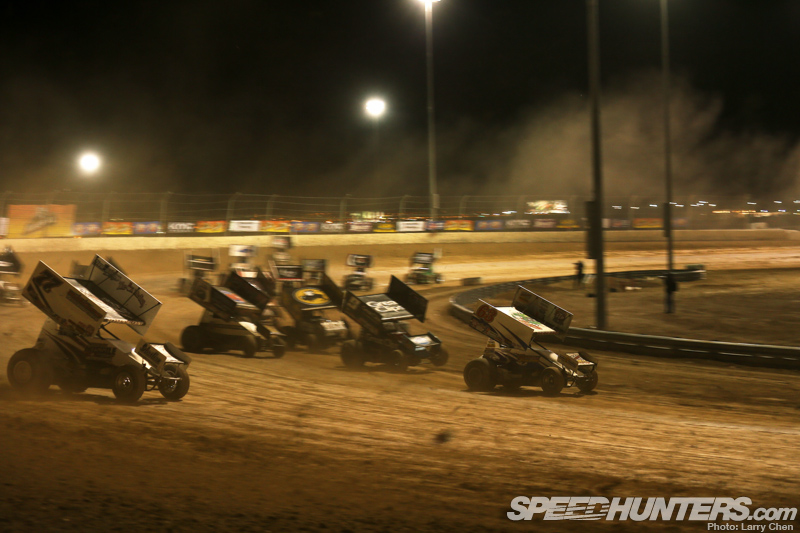 It was restart after restart, there must have been at least eight cautions for the A-main race.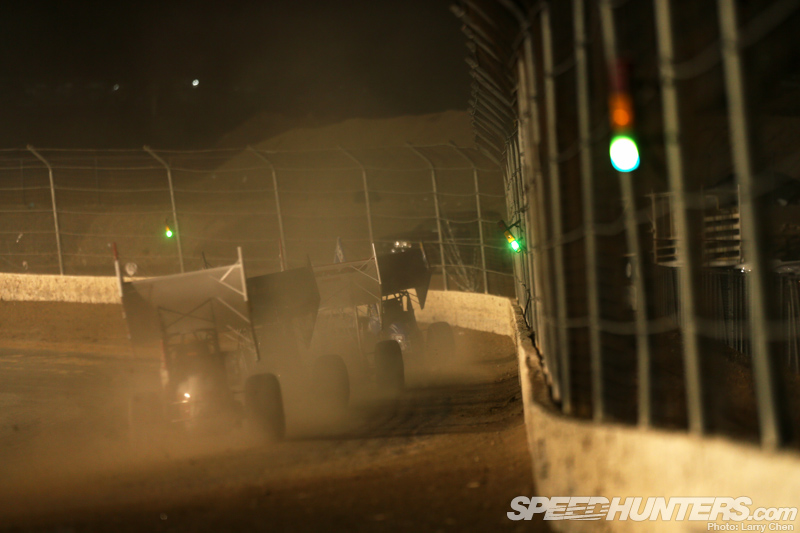 How about that four-car tandem? I just could not believe how fast these guys would accelerate towards the wall.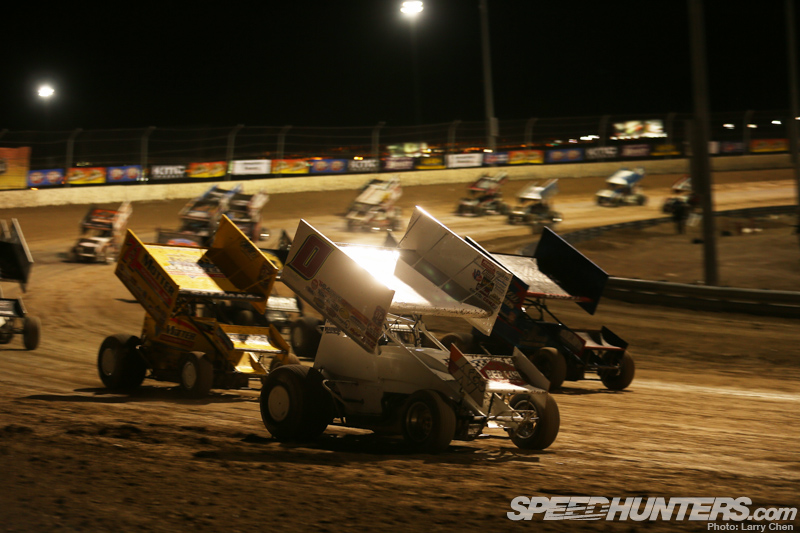 There is just so much in this world of racing that I need to explore, and I have barely scratched the surface going to this race. I've been told that the Wingless Sprint Cars are the ones to watch out for, but that will just have to wait till next time. For now stay tuned as I talk about a few more technical details that stood out to me while I was at the World Of Outlaws Las Vegas.
Larry Chen
larry@dev.speedhunters.com
World of Outlaws STP Sprint car Series website
More stories from Larry Chen on Speedhunters
---
---
---