I had an epiphany recently and this may sound dumb to you Speedhunters out there, but I was thinking that if a certain motorsport is popular and readily available in the country that you live in, then why shouldn't you become a fan? I applied this to drag racing and off-road racing recently, and now I'm getting into dirt track racing headfirst. There are a few dirt tracks not too far from my house. I'm actually pretty disappointed that I didn't get into this type of racing earlier.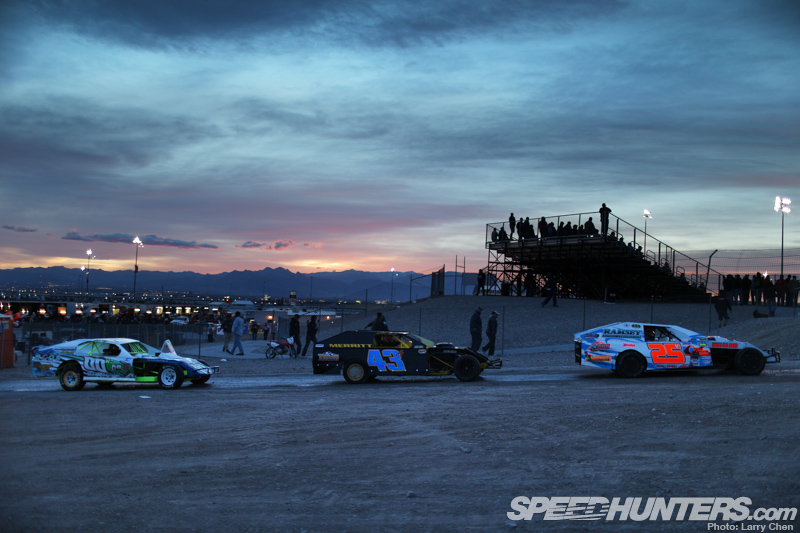 The World of Outlaws series is really the pinnacle of sprint car and dirt car racing. Many of these guys race for a living. As with all different types of racing there are a few quirky things that really stood out to me. I'd like to touch on a few of these things to maybe convince you guys to get out there and watch some live racing.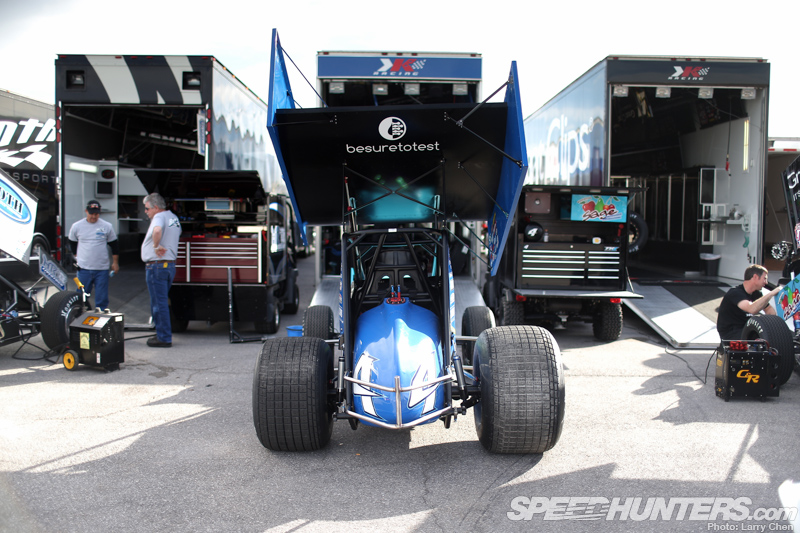 The first thing that I noticed about the Sprint Cars was the staggered rear tire setup. The right rear has a larger rolling circumference, so it physically forces the car to turn left.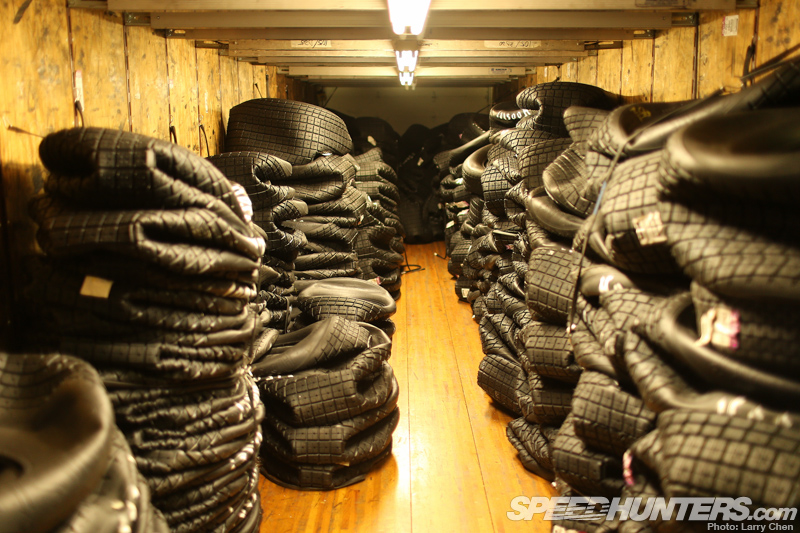 For how large a tire they run I was very surprised at how low of a pressure they run at. Depending on the track surface they can run anywhere from 8 to 15psi in the right rear and a mere 3.5 to 7psi in the left rear.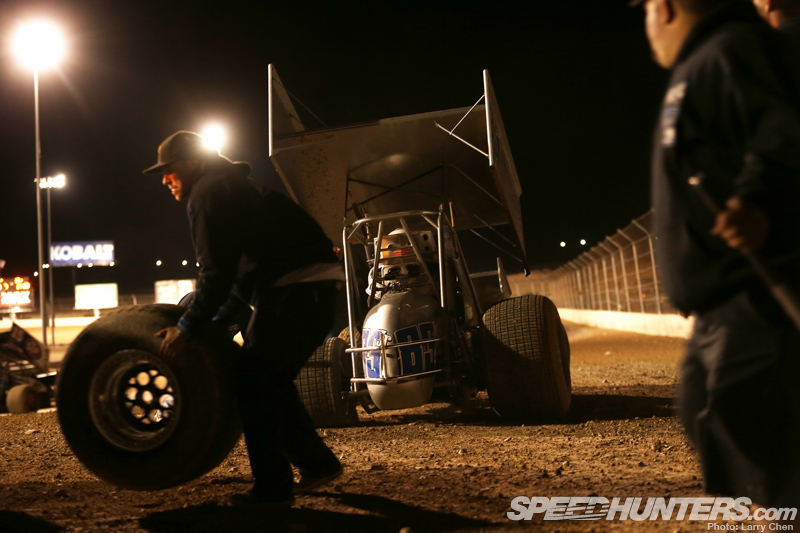 No wonder they debead so easily. Can you imagine a tire that large running such low tire pressures? Of course to prevent them from coming off they run a bead lock.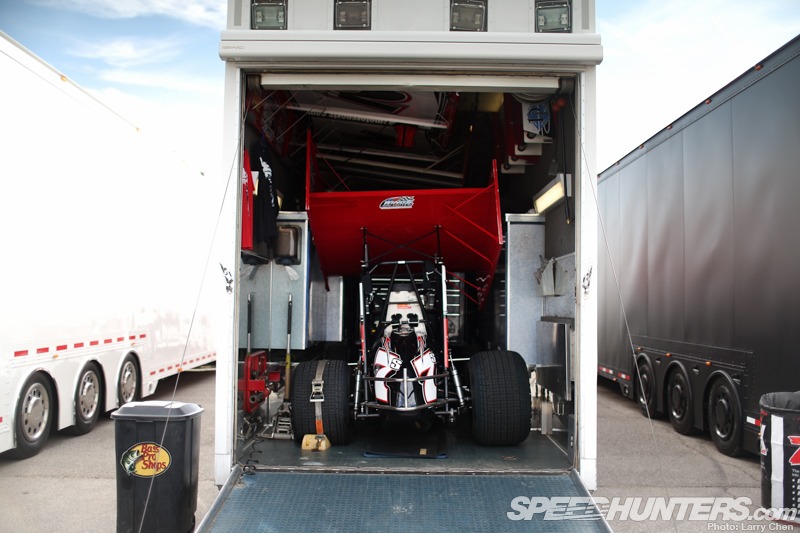 These guys race almost every weekend, so they really pack everything in tight. You have to remember these guys are at the top of their sport. This kind of racing is by no means a big money, big sponsor kind of sport.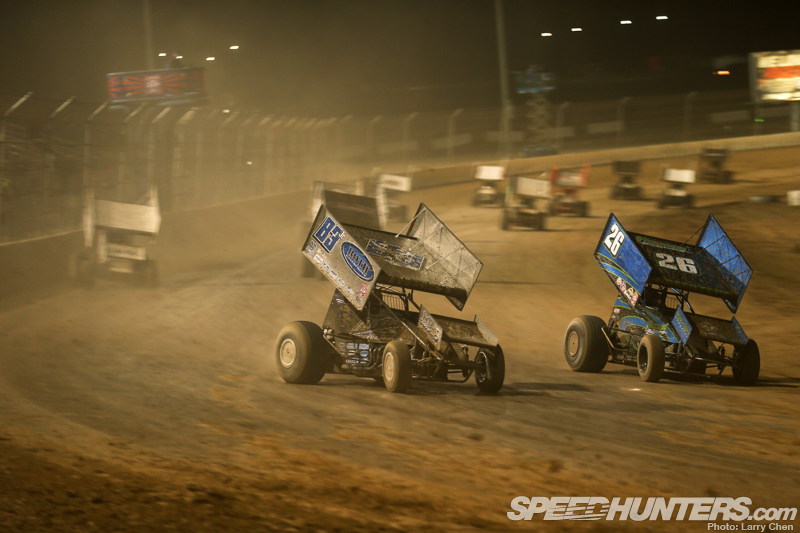 The teams work very hard every weekend to provide results for their sponsors. These are real racers. All they want to do is drive on that dirt.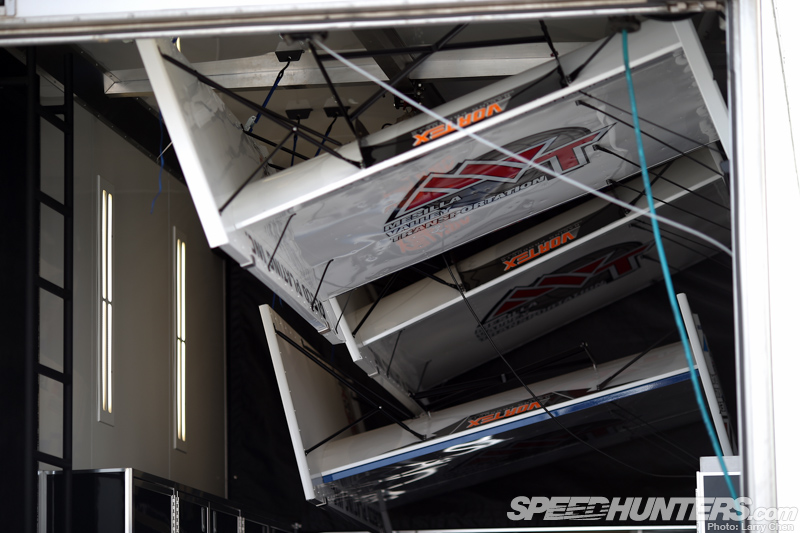 Inside their rigs they have spares of everything, including that massive wing. The wing does produce significant downforce allowing them to corner at unimaginable speeds, but it also provides for protection to the driver in case of a roll over.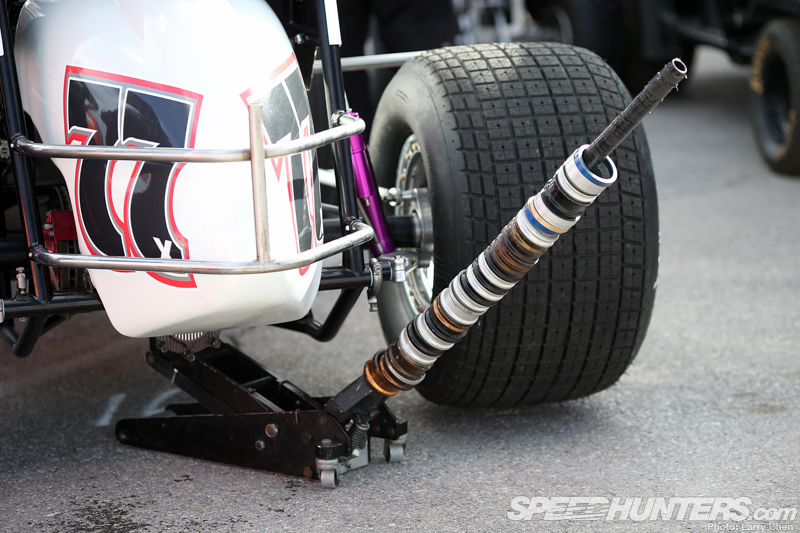 These spacers were on almost every jack handle in the paddock. They're for adjusting the offset in the rear. Left and right offset in a Sprint Car is crucial to tuning the way it drives.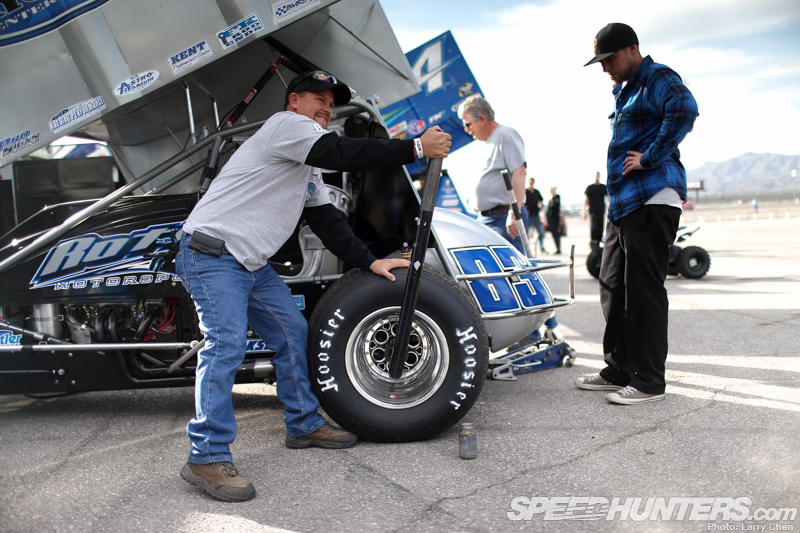 Just like in drifting, you want the rear end to be able to slide, but you also want it to provide you with forward momentum.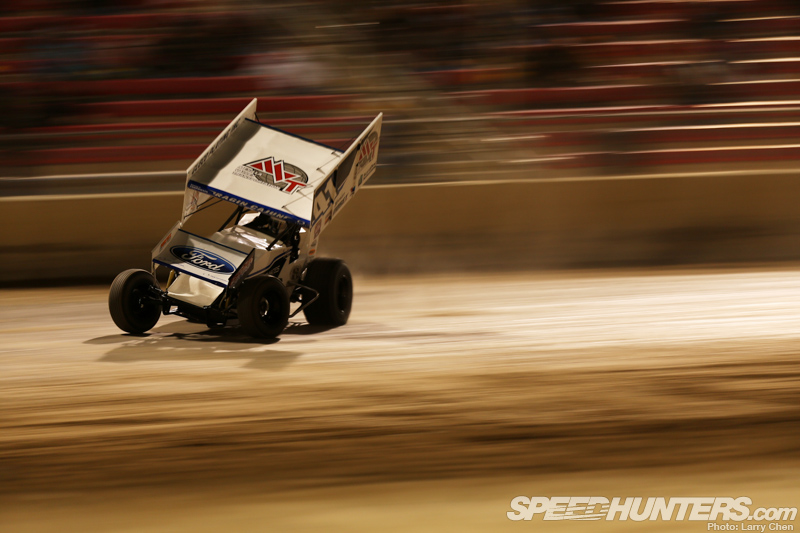 Although too much rear grip is also bad, because it forces the front wheels off the ground and therefore doesn't allow the driver to steer.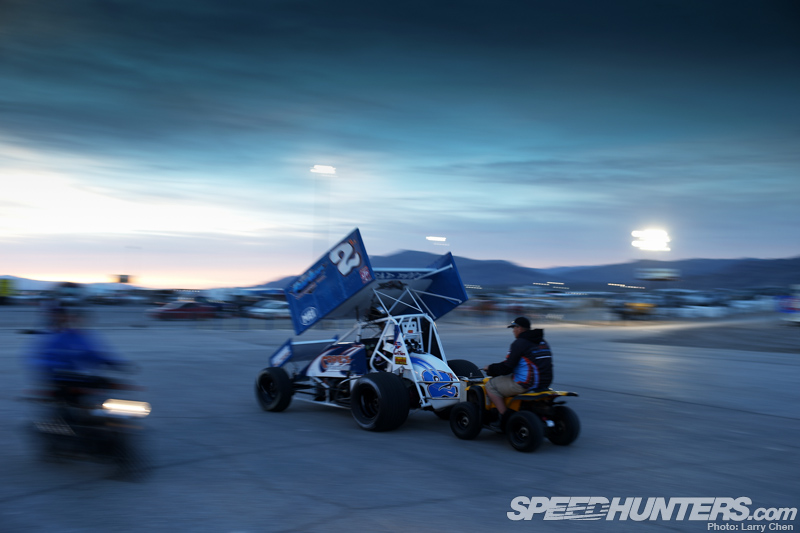 The Sprint Cars are naturally lightweight, as they have no transmission; they are direct drive. They also don't have a battery as they just run off an alternator.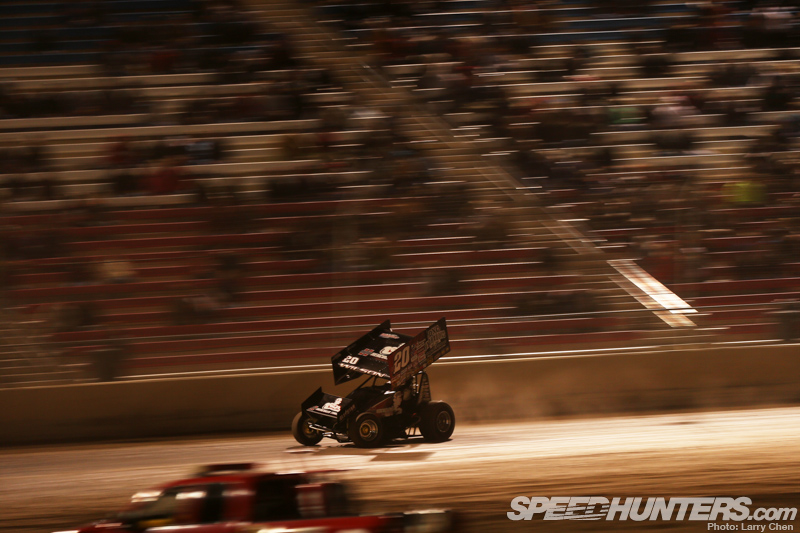 This means the 410 cubic inch motor putting out around 900 horsepower gets to push this tiny featherlight race car around. They only weigh in at around 1400 lbs!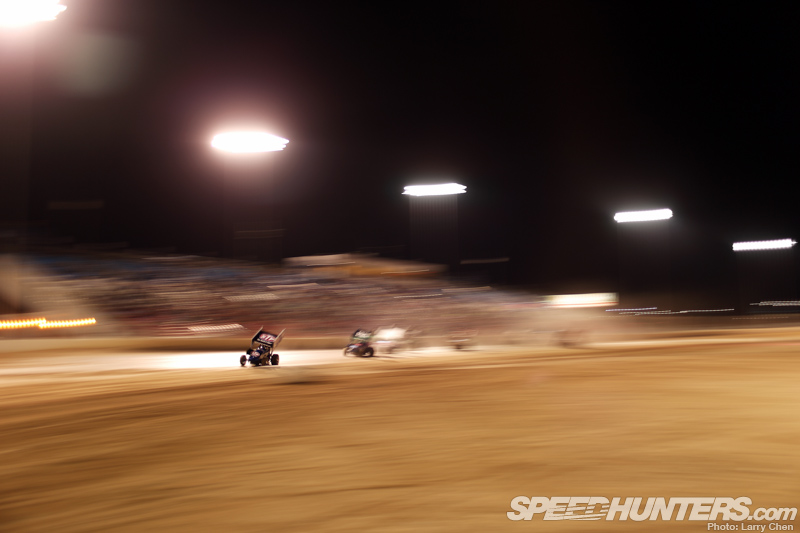 Can you imagine having enough horsepower in your car to be able to reach up to 150mph in a single gear? Well these cars can.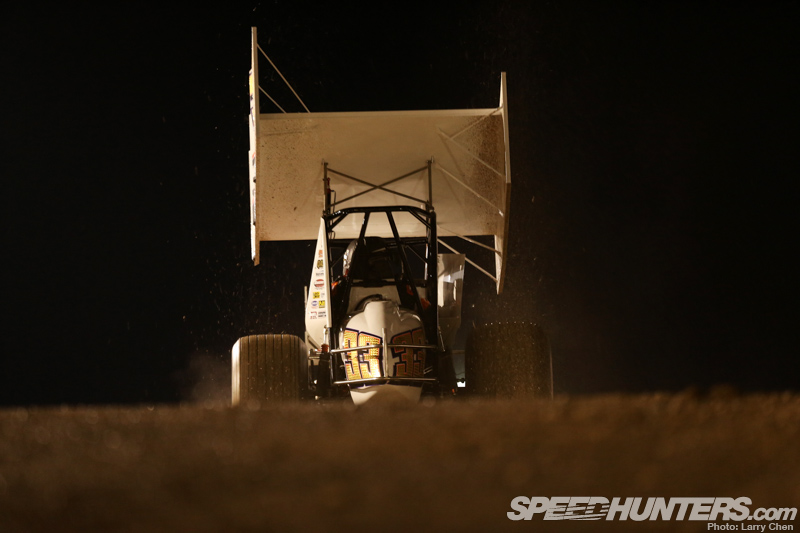 Just like in drag racing these motors run methanol, which keep it cool enough to not have to run fans on their tiny aluminum radiators. Some of the higher-end motors can cost up to $50,000 and can rev up to 9000 rpm.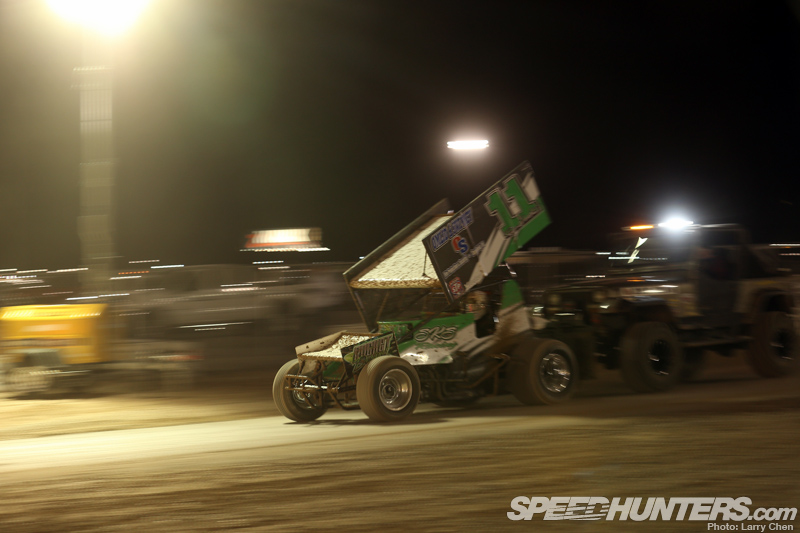 If a motor blows then teams can typically change a motor within 25 minutes. The higher-end teams will go through five motors a year.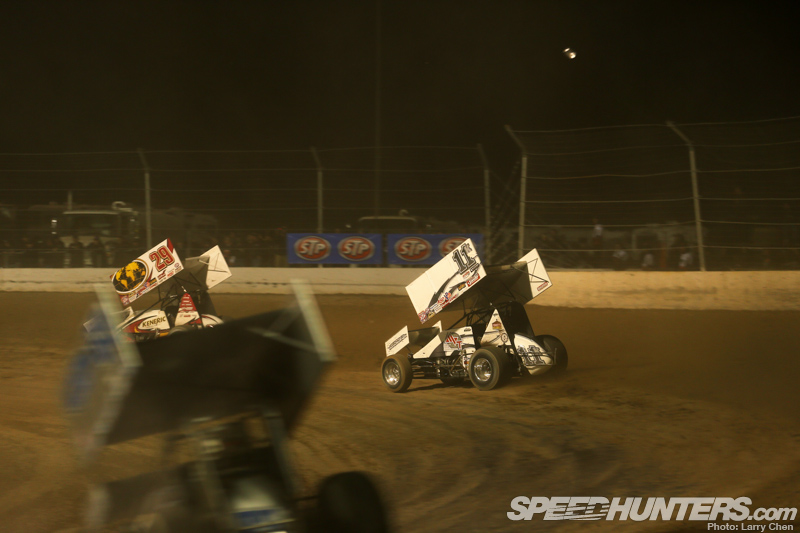 I know what you guys are thinking – easy enough, right? These guys don't even have to shift when they are racing. Well many of these cars actually have several on board adjustments. Sometimes they have the ability to adjust the shocks on every corner; rebound and compression. I've even heard of the guys being able to adjust the massive wing on the fly, but they have been banned from doing that for a while now.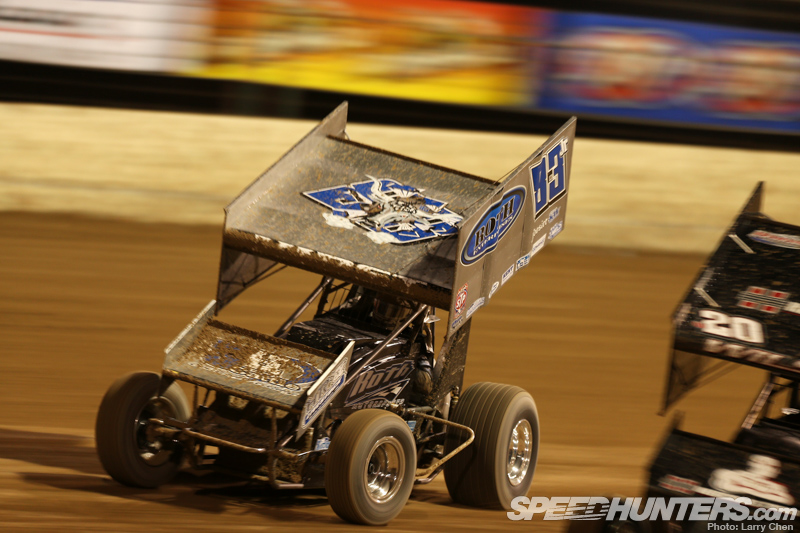 And the faster you drive the more downforce you generate with that massive wing. You need some serious guts for this motorsport.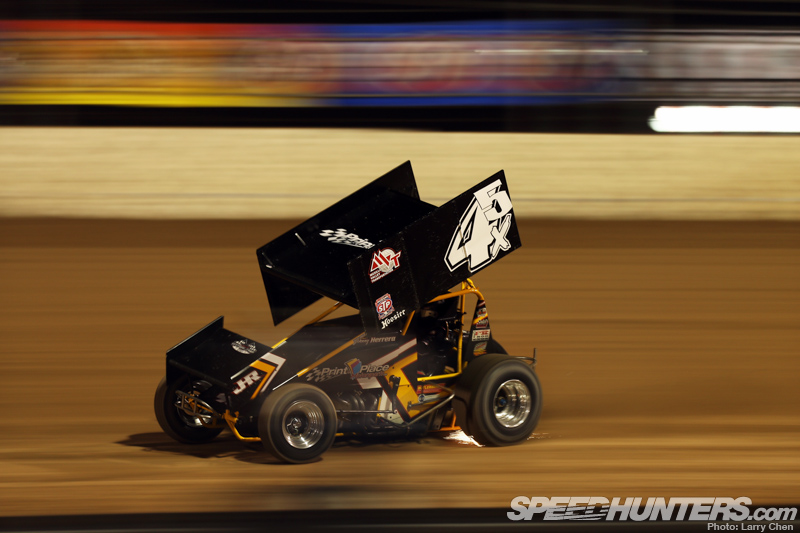 There are so many techniques for these guys to just get some more speed out of their cars. This guy for example was dragging the brake on the inner rear tire to force the car to turn more.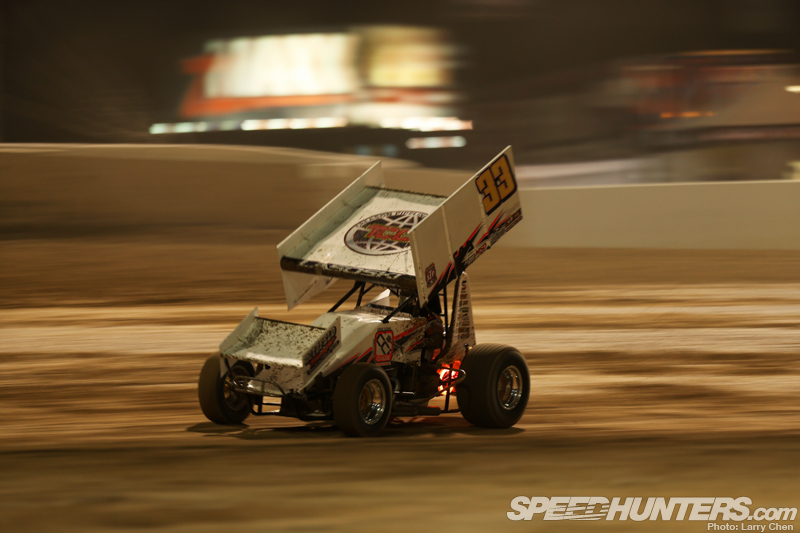 You can tell which drivers are doing it more, like in this photo you can clearly see the inner rear rotor glowing from so much usage.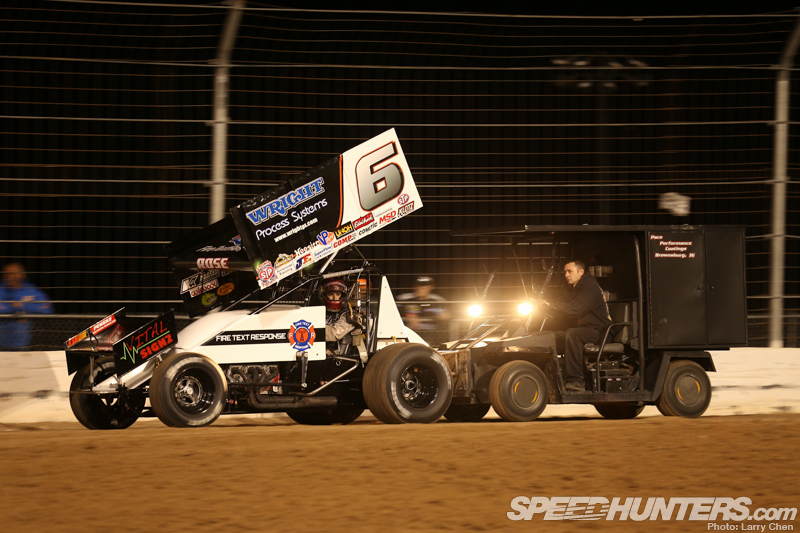 I touched on qualifying just a tad in my last post, but I'd like to delve into a little more detail. One by one the cars are pushed out by a pusher car.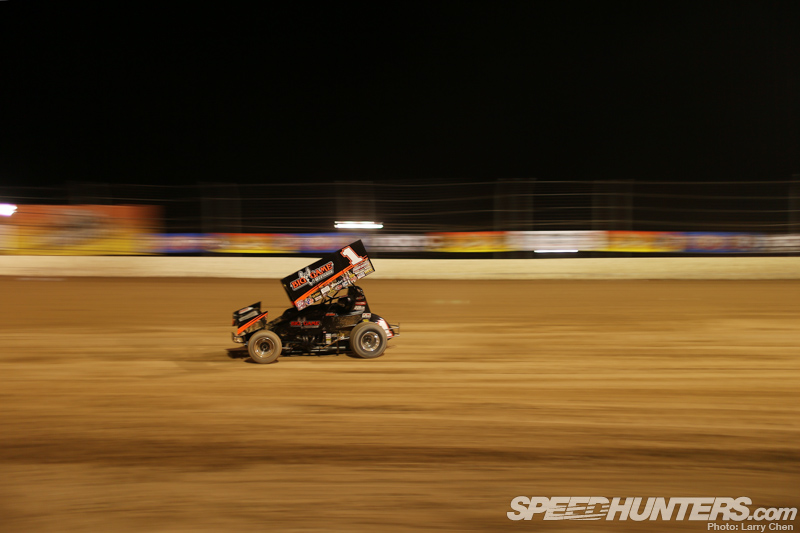 They basically have one warm-up lap and two consecutive fast laps to put down a good qualifying time.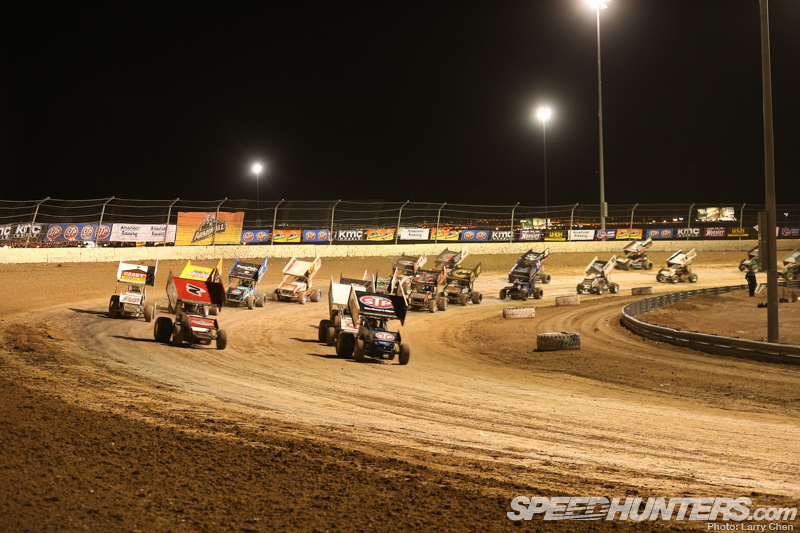 Notice there is a darker part of the track near the outside? That is called the "blue groove". What actually happens is the rubber from the tires get embedded in with the dirt and it creates a line that has some serious traction.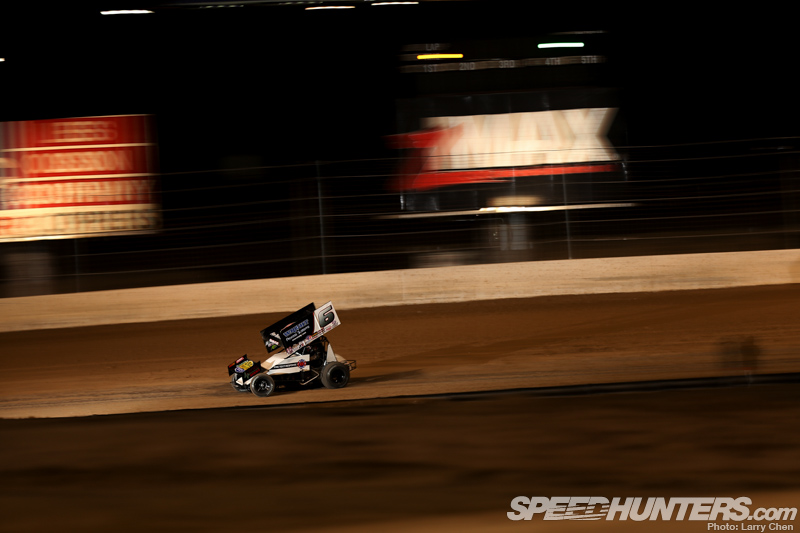 Depending on how the car is set up, the drivers can utilize this groove during qualifying and racing. As the day goes on the groove moves up or down the track.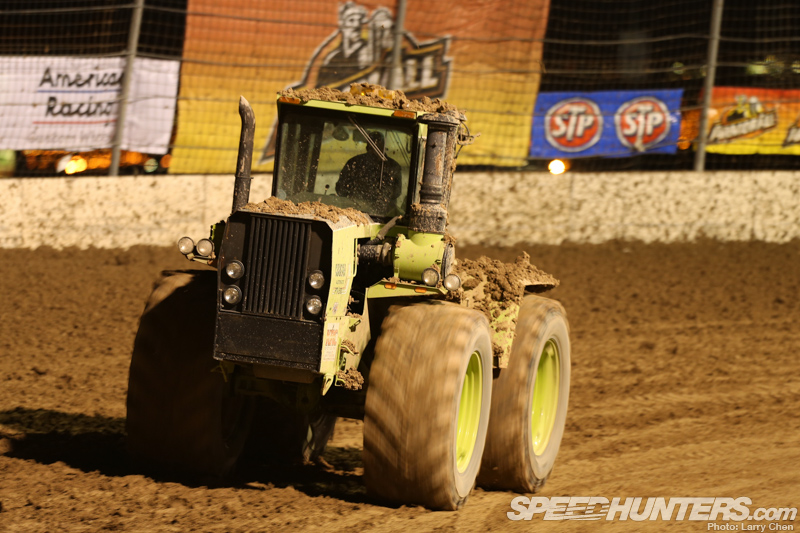 It can also disappear depending on how often the track gets groomed or watered down during race day.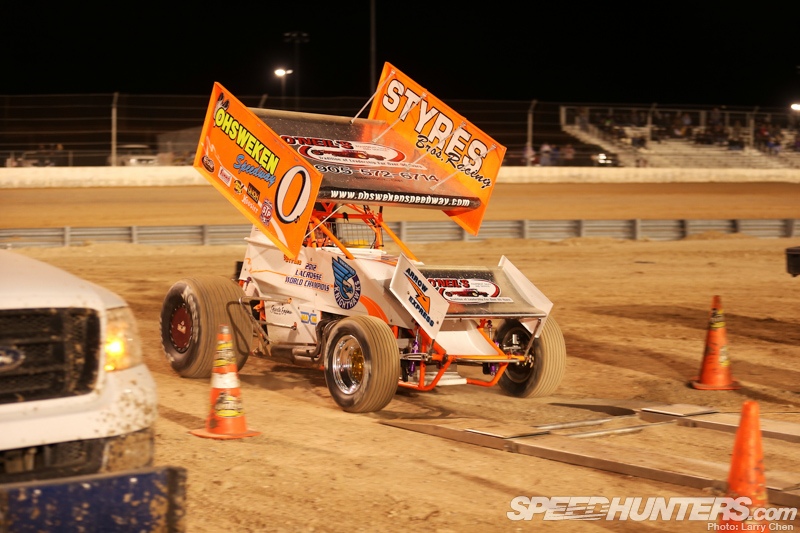 After the two laps each driver pulls into the middle of the track. Even though these cars are meant to be super light they still need to meet a regulation weight with the driver inside.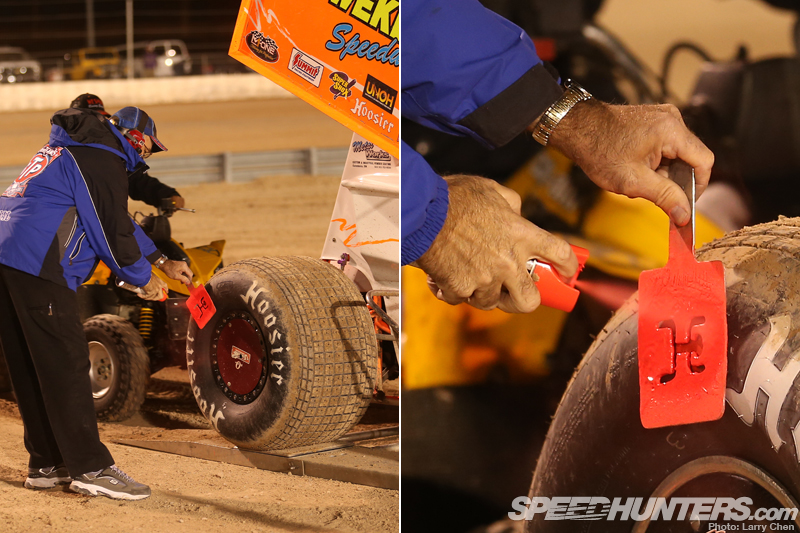 Once they are weighed an official marks the tire, noting that the particular car has met its weight requirements.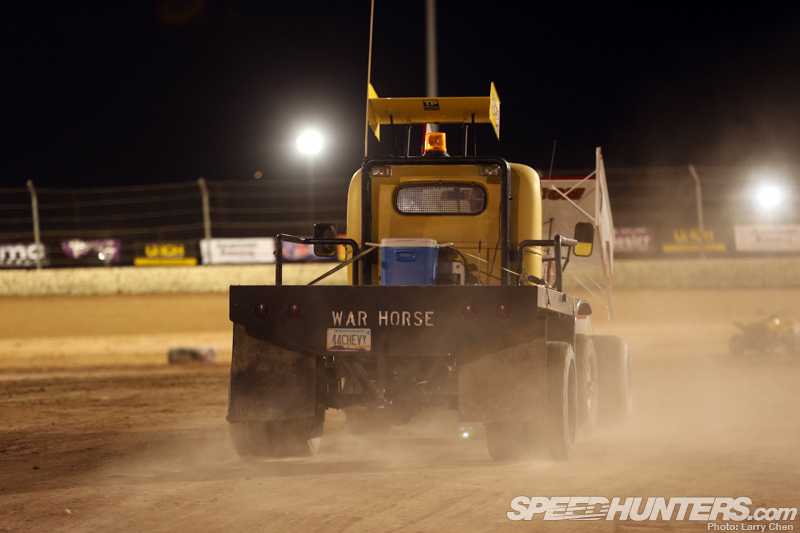 Once again the car gets a little bump start to get going again.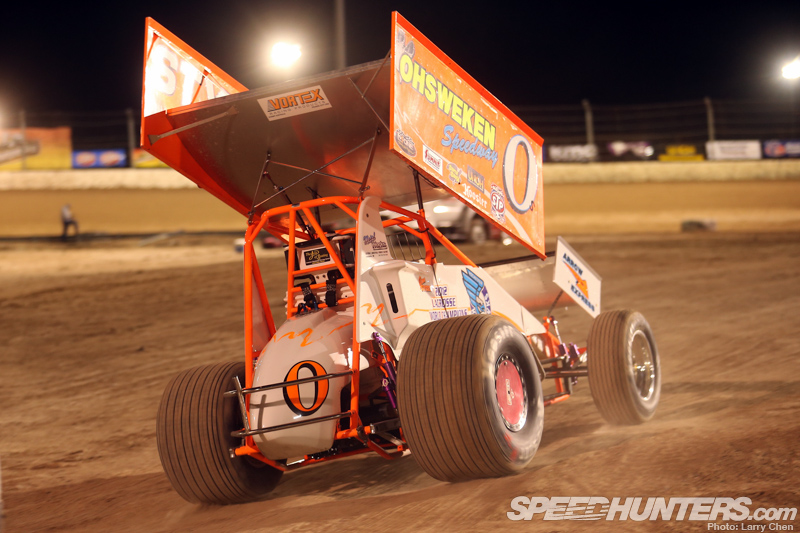 Under their own power they drive off course and into the pits.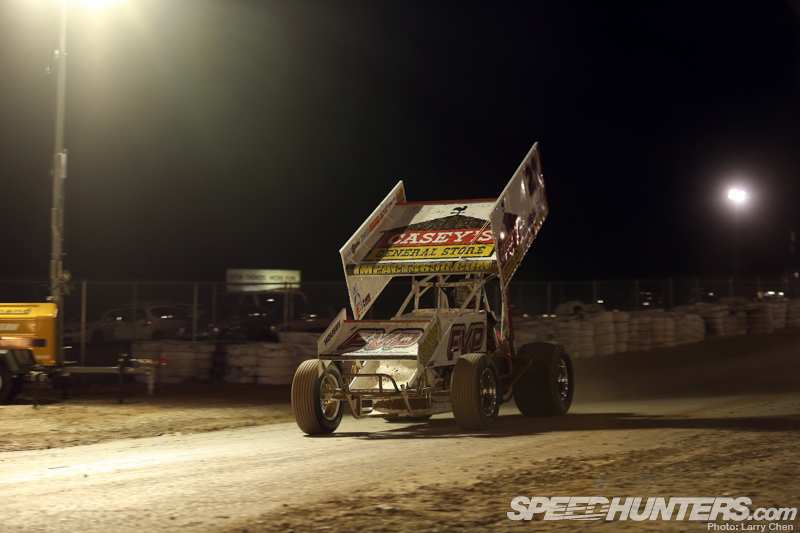 I am sure after years of driving these guys know exactly how to navigate in and around the pits with the direct drive.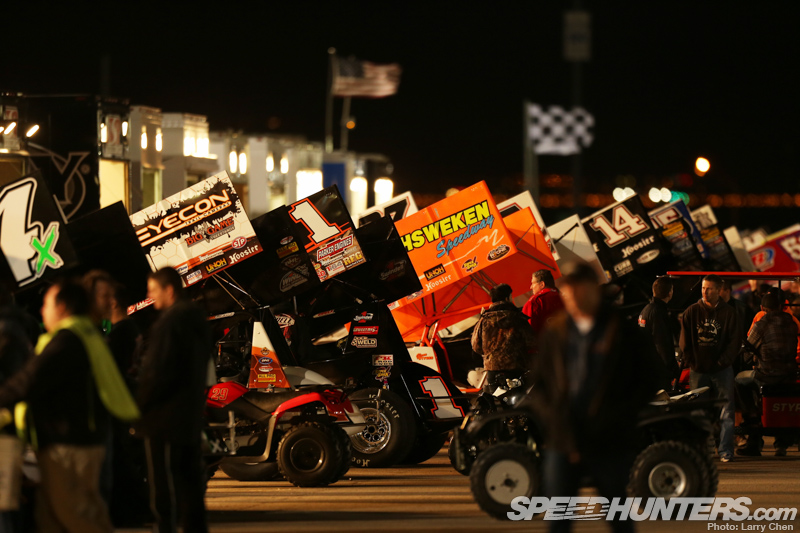 There is a disconnect still, so most of the time they would just turn the motor off, disconnect the drivetrain and coast to a stop in the pits.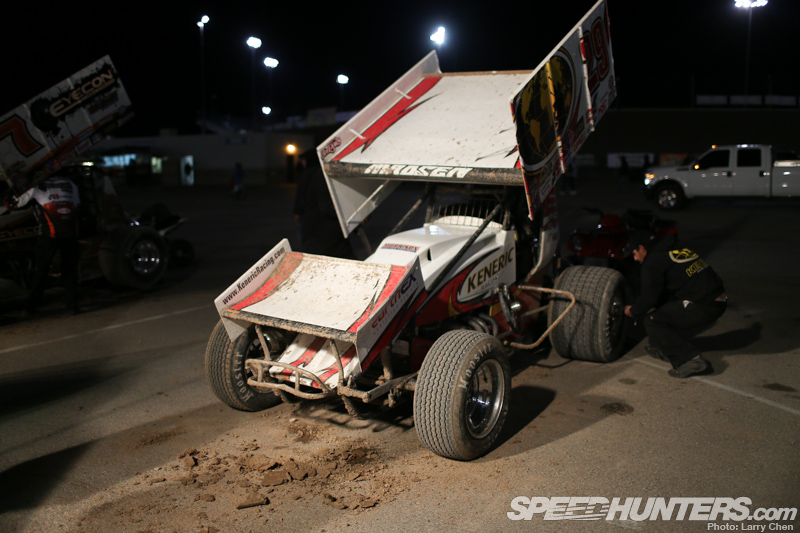 Inbetween runs the team tries their hardest to clean off some of the dirt and grime that the cars pick up.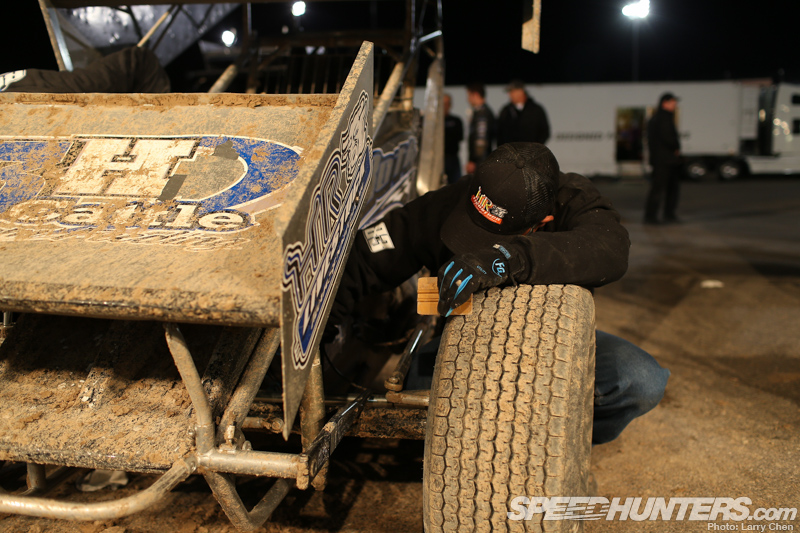 Every little bit of weight saving helps at this level of competition.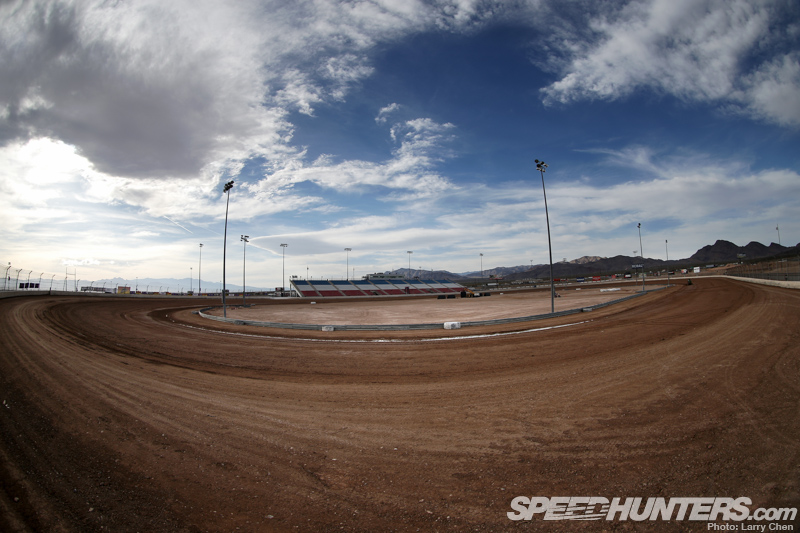 The World of Outlaws series races about 90 days a year. That is seriously more than any other racing series that I can think of.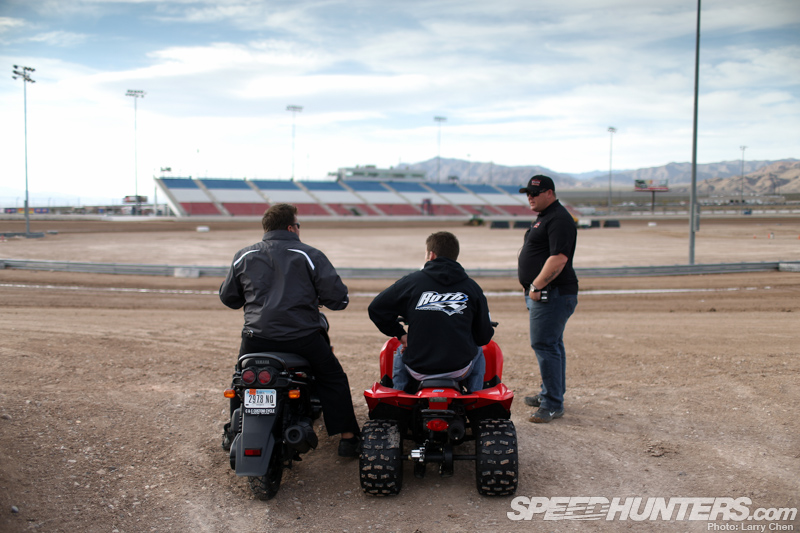 Talk about life on the road. I guess that is why everyone who travels with the series is like family.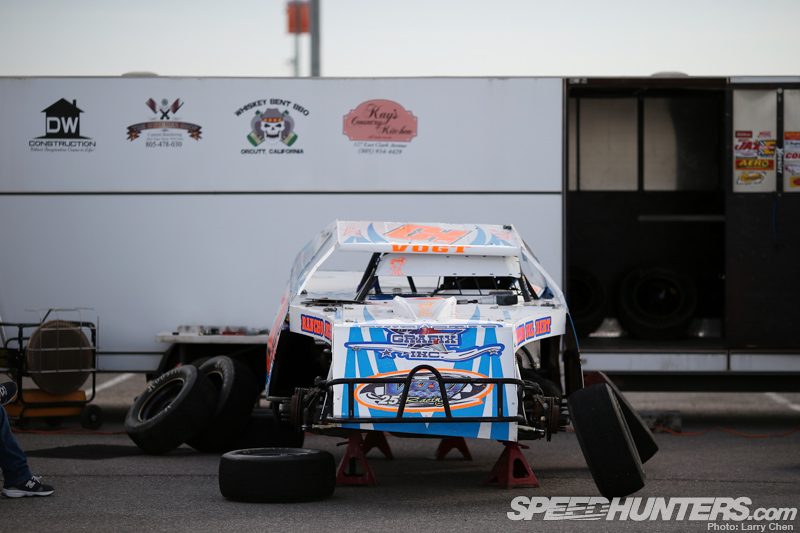 One of the other classes running that night was the Dirt Modified cars. They were originally based off cars that were sanctioned by the International Motor Contest Association (IMCA).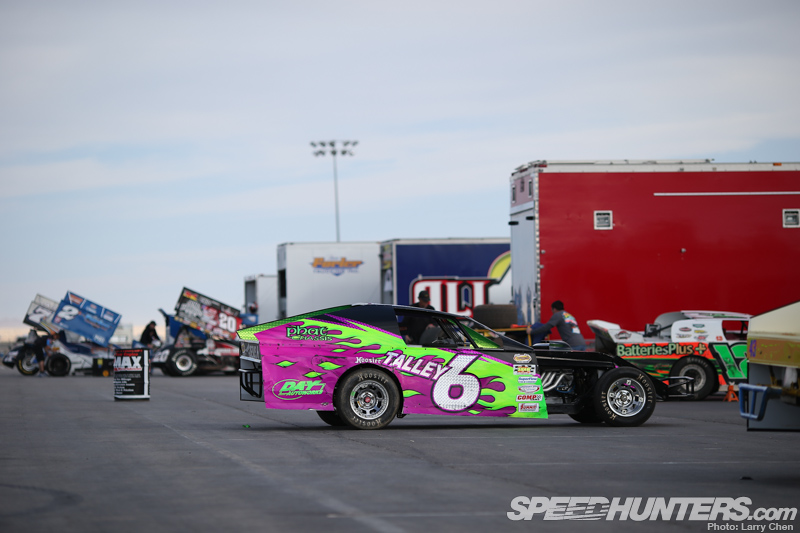 These cars are meant to be more affordable to run than the Late Model and Sprint Cars.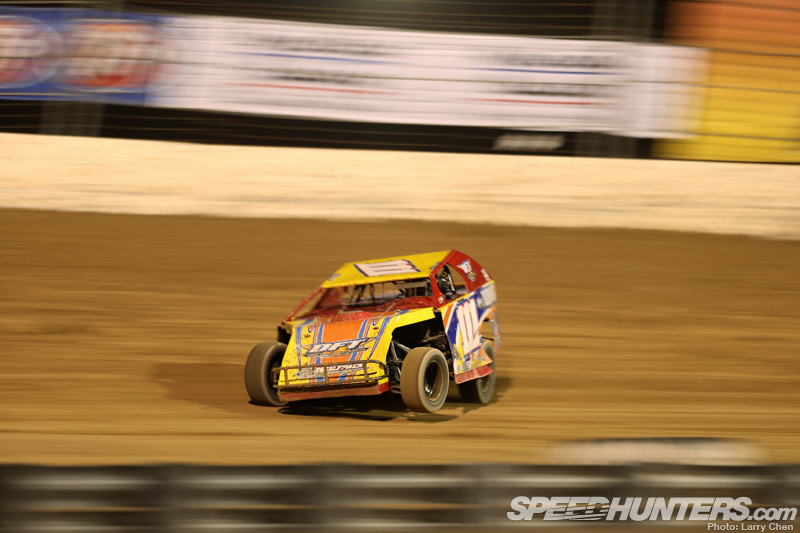 They are much bigger than the Sprint Cars and they typically have about 350 to 400 horsepower.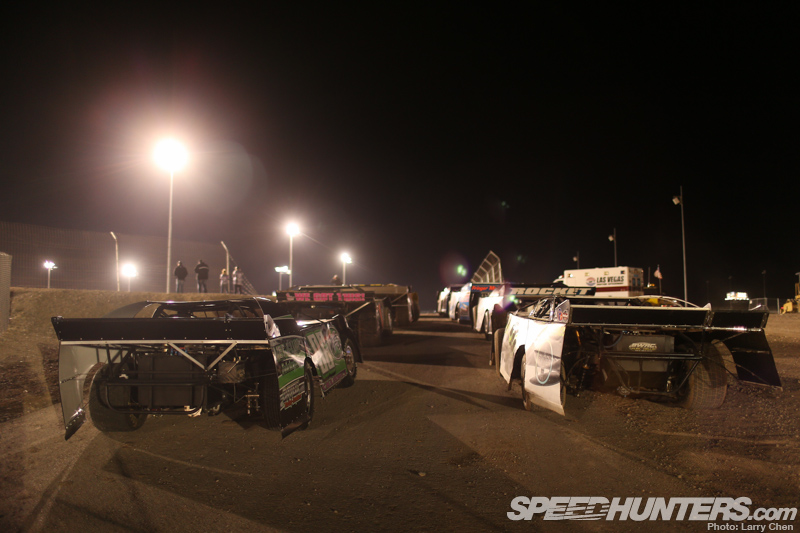 Throughout Dirt Modified history there have been rules stating that any competitor or sanctioning body can go up to a team and demand to purchase the motor for a certain amount of money, usually around $500. This was to keep the playing field as level as possible.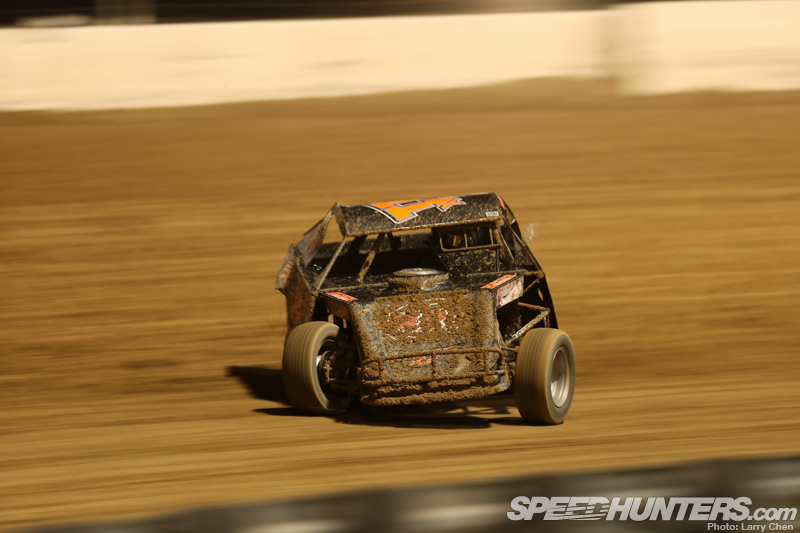 They even went as far as forcing competitors to purchase special spec motors that would be built with special bolts that would break off if it was tampered with.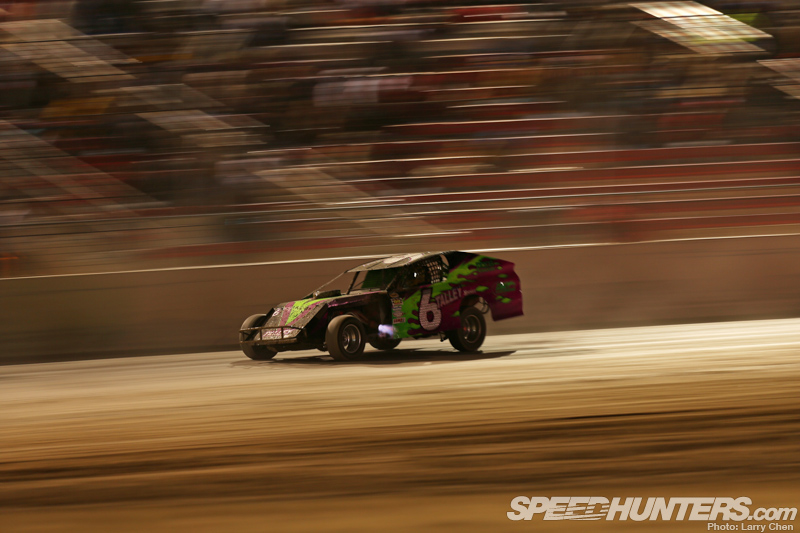 These were still very fun to watch, but they were much slower than the Sprint Cars.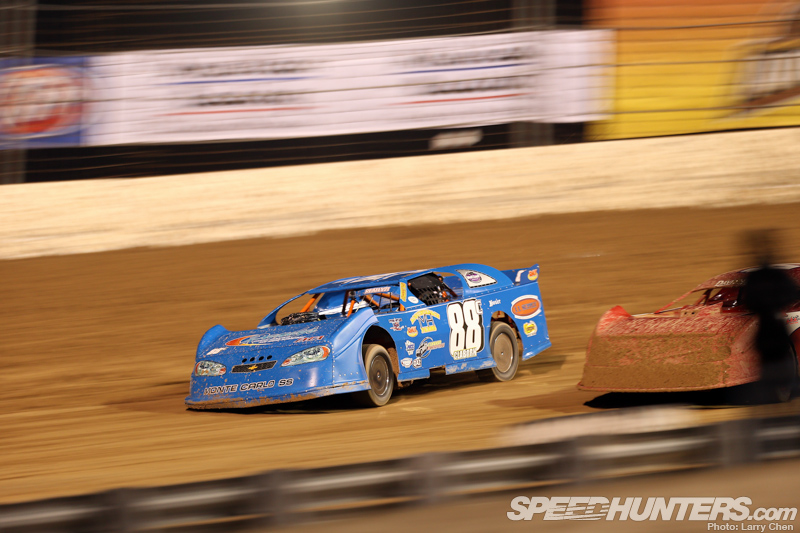 Another class that was running that night were the Dirt Late Model cars. These ran more expensive equipment than the Modified Cars with much more horsepower.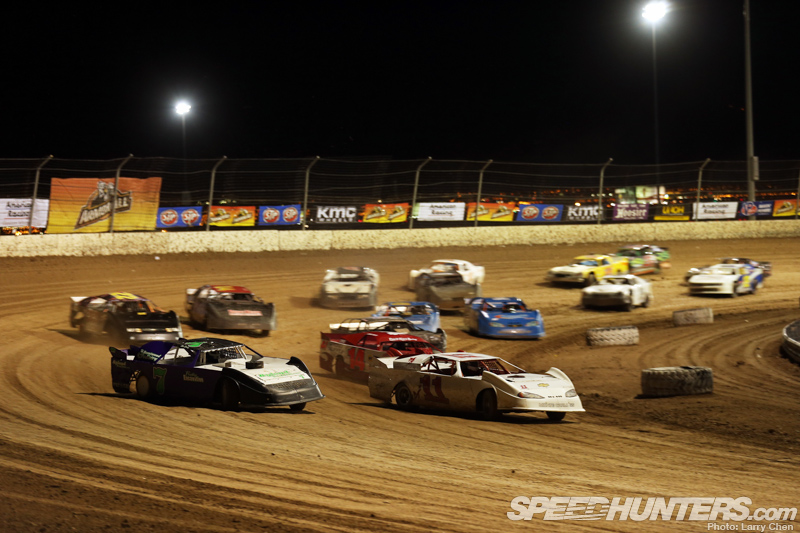 Many of the drivers who compete in Late Model aspire to become NASCAR Sprint Cup drivers.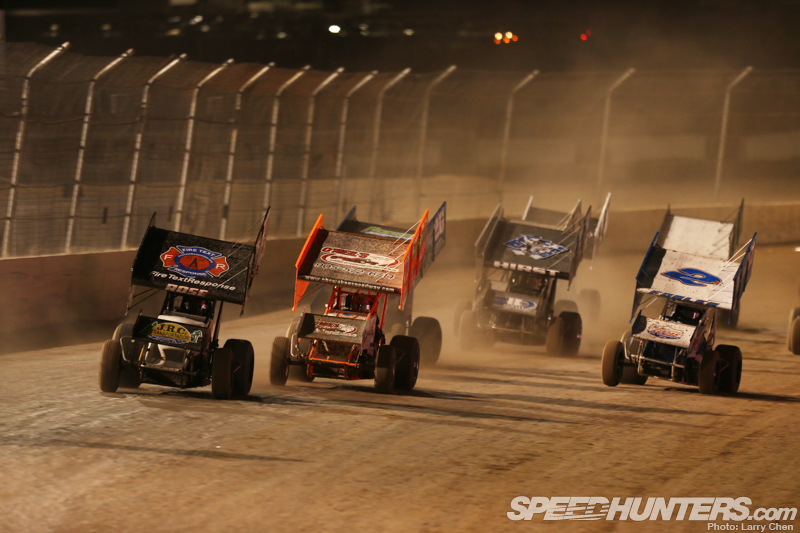 It's the same way with the Sprint Cars too with many American racing legends like Tony Stewart, Parnelli Jones, Mario Andretti, A.J. Foyt, Jeff Gordon and Kasey Kane passing through this style of racing.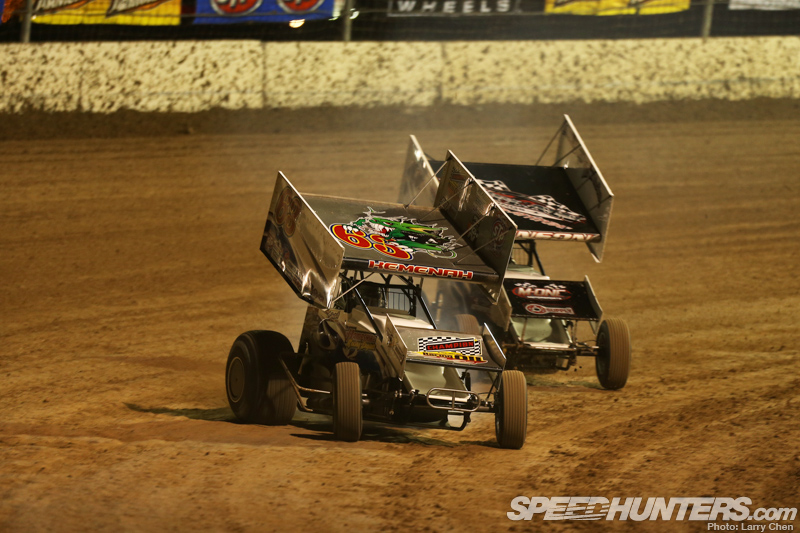 I hope you guys enjoyed these past few articles where I ventured out of my comfort zone. I certainly enjoyed it and when the World of Outlaws comes back into town, you can bet I will be there to learn more about this wonderful motorsport. I hope this will encourage you Speedhunters out there to check out some local racing around your area. You never know what you will like if you don't check it out.
Larry Chen
larry@dev.speedhunters.com
World of Outlaws STP Sprint car Series website