This past weekend was packed with great grassroots and core events like the California Hot Rod Reunion and Just Drift All Star Bash. Both events were just a few miles away from each other, so Mike Garret and I decided to cover both. As the team tandem competition was running I caught up with Matt Field, because I wanted to ask him a little bit about his epic battles with Daigo Saito just a week earlier at the Formula Drift finals.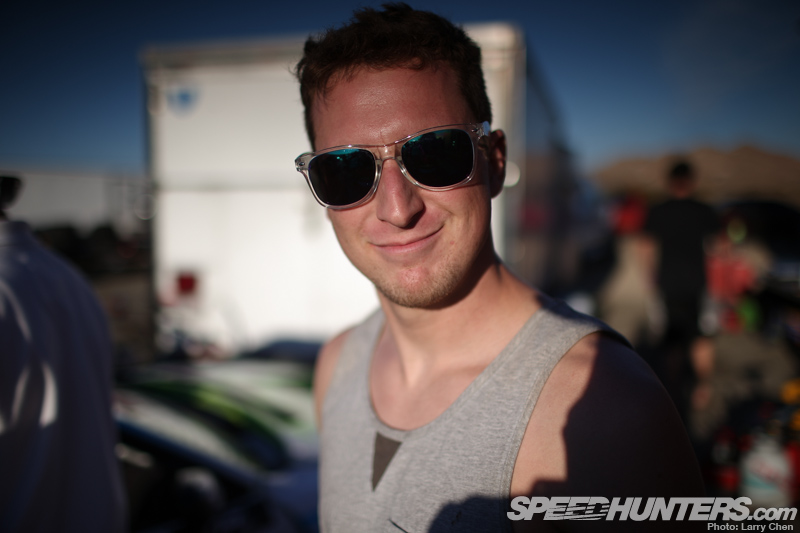 Larry: Seeing your performance this past weekend at the Formula Drift finals has proven that you are a worthy opponent and that you can run with the big dogs. You nearly changed the outcome of the Formula Drift championship. It's cool that you still like to come out to events like Just Drift All Star Bash. Tell us why you still go to grassroots events?
Matt: I got my license through Just Drift. Even though I was from Nor-Cal and they had Nor-Cal Pro-am, I would still make the trip down to here. Mostly because I knew the level of drivers was higher. I liked the people down here and I've made some good friends. I liked the track and I just liked the experience of traveling, instead of going 10 minutes to a parking lot to go get my Formula D license. I loved making a big deal out of it.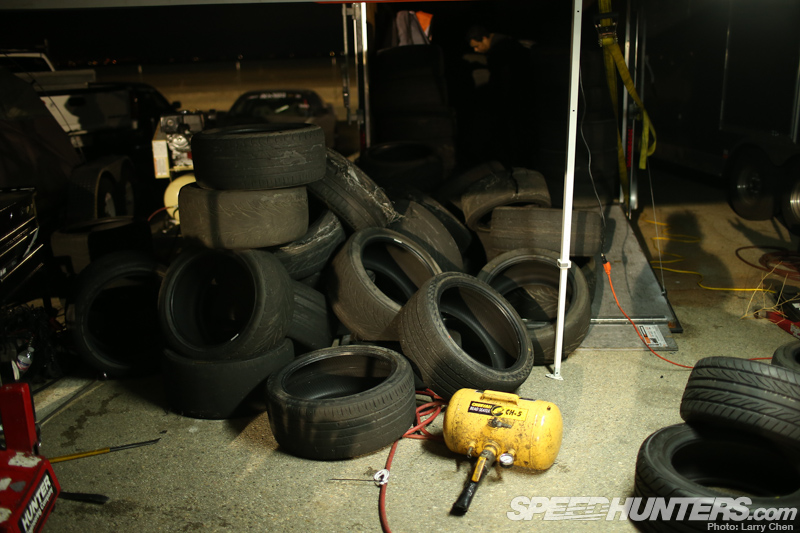 I'd be camping out at the track, living at hotels when I could, bringing food. It wasn't just a day trip. It was a weekend thing when you come down here. You arrive Friday and you get home Sunday night. That's kind of got me experienced to it.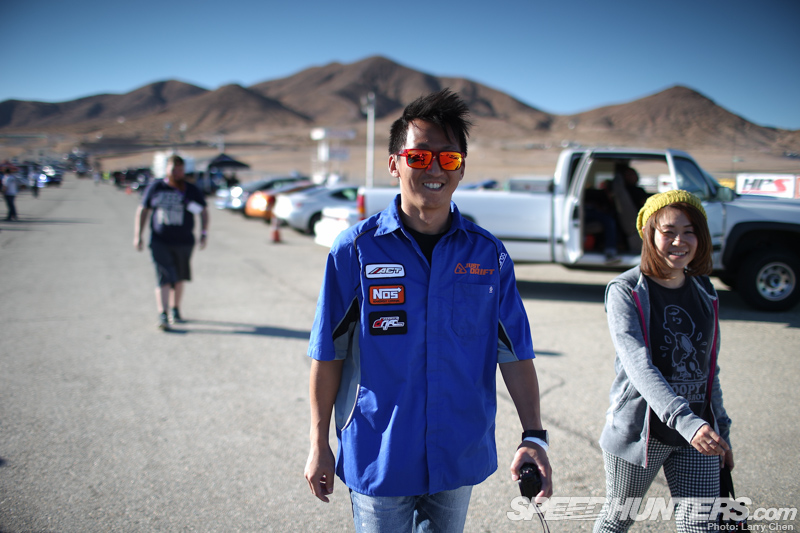 I love Just Drift for so many different reasons. The track, the niceness of the people, the quality of judges – they're all a major plus. You have Taka who's been in the sport forever, Hiro Sumida and Justin Pawlak. They were the judges when I was going for my license.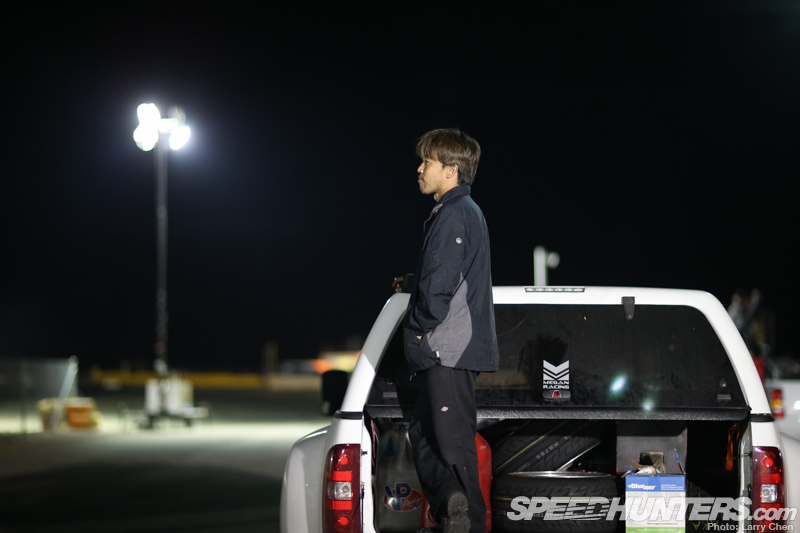 I mean, those are high caliber judges compared to up north where you have people who are supposed to be FD drivers – they are just people who are random judges, or random people just working at the track.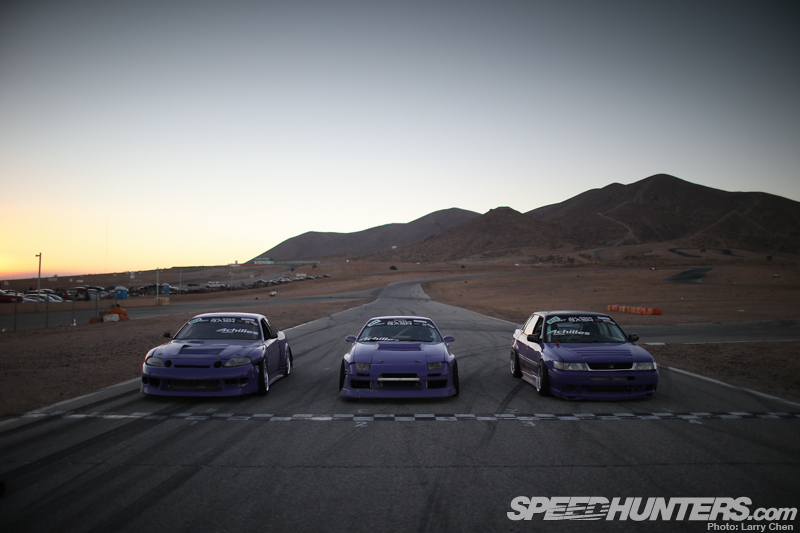 So I really respect these kind of events, and driving at ASB is always amazing. This is the first time I've done it in three years. Since I started FD I haven't able to do ASB because money was always tight. Also it was right in the middle of a season and I can't wreck the car.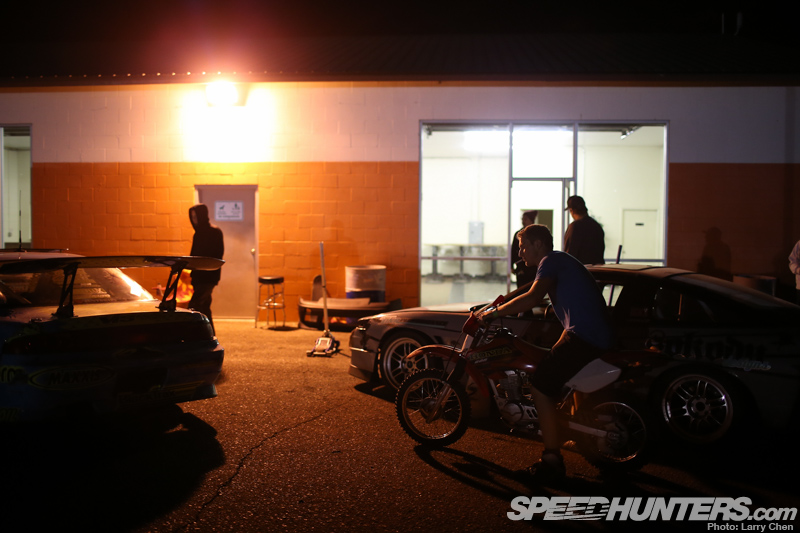 I always have to worry about the car, I can't think about having fun, I have to worry about doing my job as a professional driver. It's been a struggle. I wasn't even going to come to All Star Bash this year, but I was able to scrounge some money and some tires and I'm so glad I came.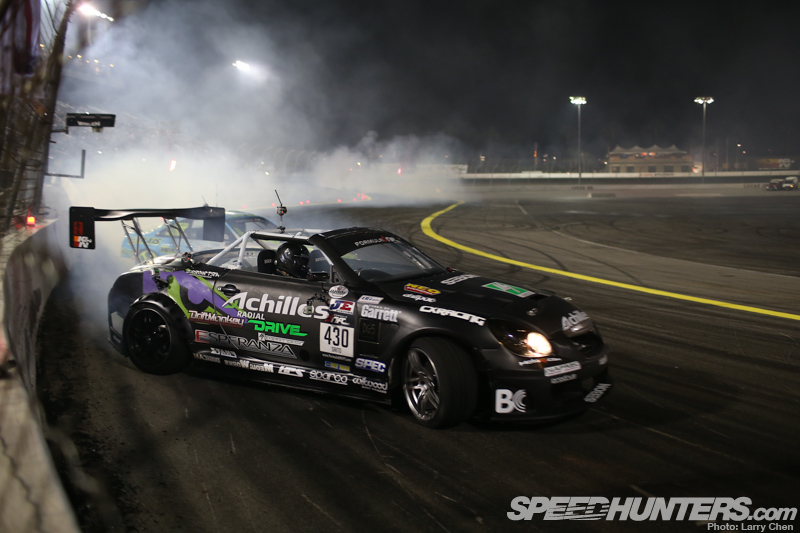 L: So tell me about Irwindale. I mean it's 'the' battle, that's what I've been hearing about. People saying, 'Oh my gosh, Field should have won, Field should have won…', etc. Those sparks that you threw up on the inner bank actually hit me in the face!
M: Sick!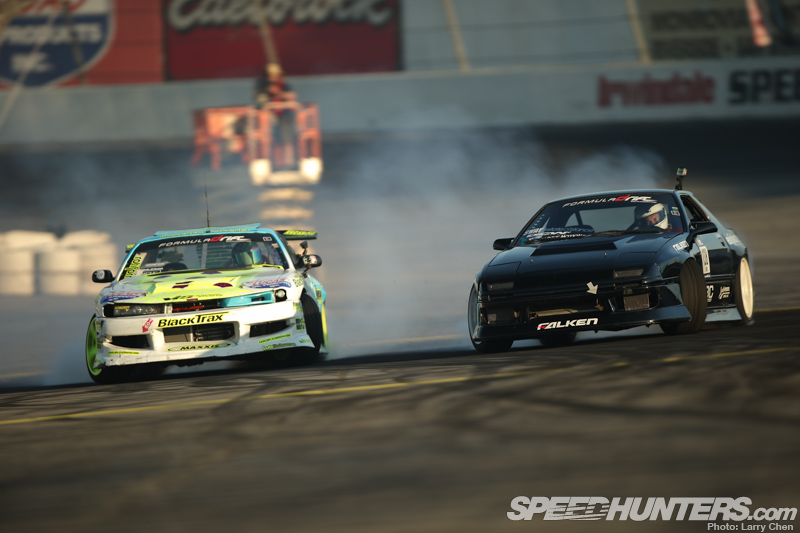 L: I was just so stoked because I was standing right where you guys would scrape. I remember Rhys was telling me that when he heard he was paired up with Daigo in Vegas he didn't even look at the bracket after that, because he figured he'd get knocked out. So what about you? What were your thoughts going into that battle?
M: That's the funny thing, because each time I talk to any drivers or anybody after drawing Daigo they would say, 'I'm going against Daigo, ah no!'. But I had the momentum kind of building up. My run against Jeremy Lowe totally set the start of the event.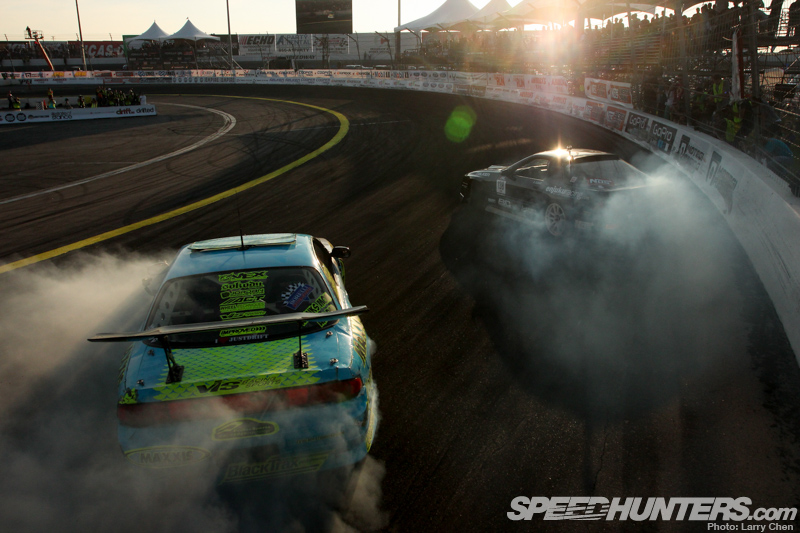 I love bumping into people, I love contact in drifting and I was able to lay a bump on him and I was awarded the win. Going against Ken Gushi – he just totally kicked my ass in Vegas. He just stretched it out and he was gone. I just couldn't catch him.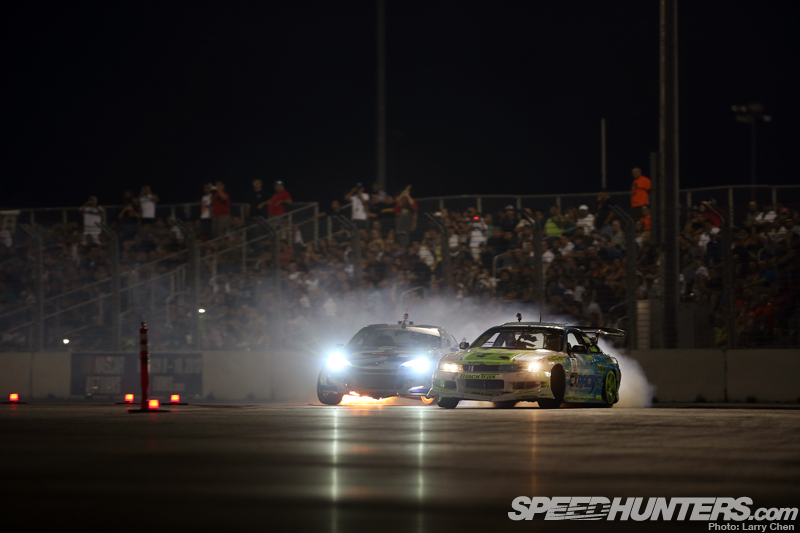 L: He beat you while he was on fire.
M: Yeah exactly! It sucks! It sucks so bad! And I got all these badass pictures, which was a reminder that he kicked my ass. It felt so good to get some redemption at Irwindale. But moving on… When I was about to go against Daigo I was just so pumped up. For a split second I thought in my head, 'ah, I have Daigo', and after that I was like, 'Good. I'm glad I have Daigo. Better than anybody else.'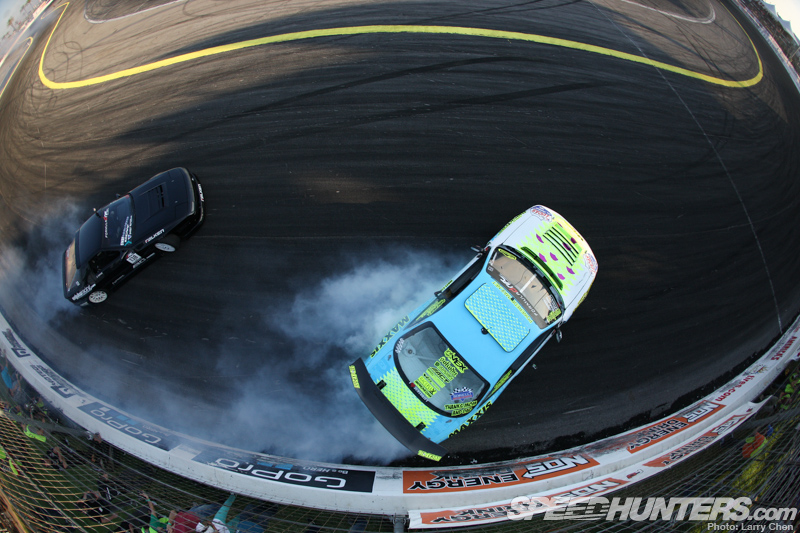 L: So you actually didn't realize the potential bracket, that you'd meet him, until somebody told you.
M: Because his run to go on to Top 8 was right before mine I didn't even know who won. I'm sitting in the car ready to go. I didn't say, 'Hey, did Daigo win? Or did the other guy win?'. All I was focused on was my run.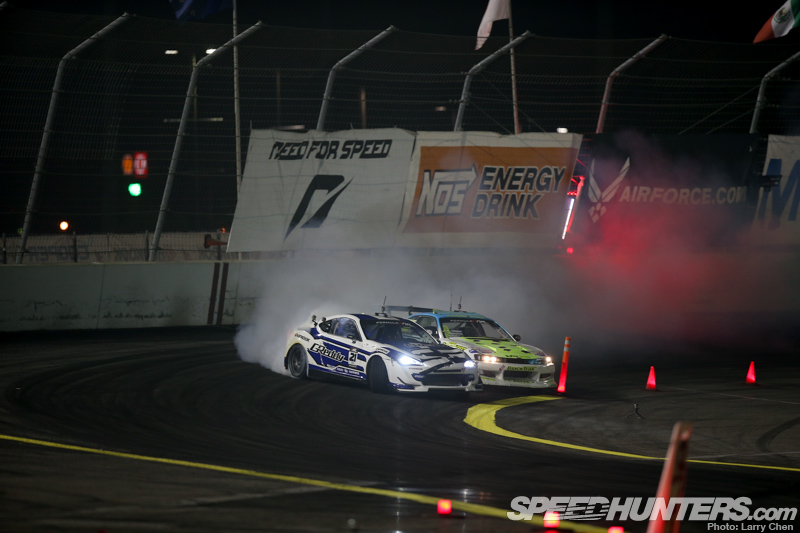 L: You were just taking it one battle at a time.
M: Exactly. Battle by battle. We figured we may be able to meet Daigo in there. I saw it, but I was trying not to think too much. I was not sure I could knock out Ken, because he is tough. But after I moved onto the Top 8 bracket I was glad I was up against Daigo.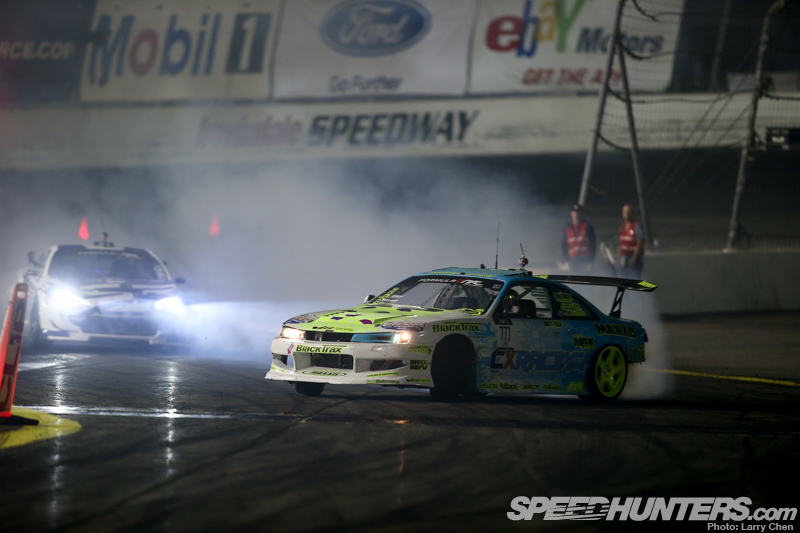 I just got that feeling. I even talked to Ryan Tuerck about it: he was saying that you get that feeling, like, 'this is my event', you know? And that's exactly what I started feeling. Especially after the One More Time with Daigo, I was like, 'I can take him now. I know I can, I know I can take him.'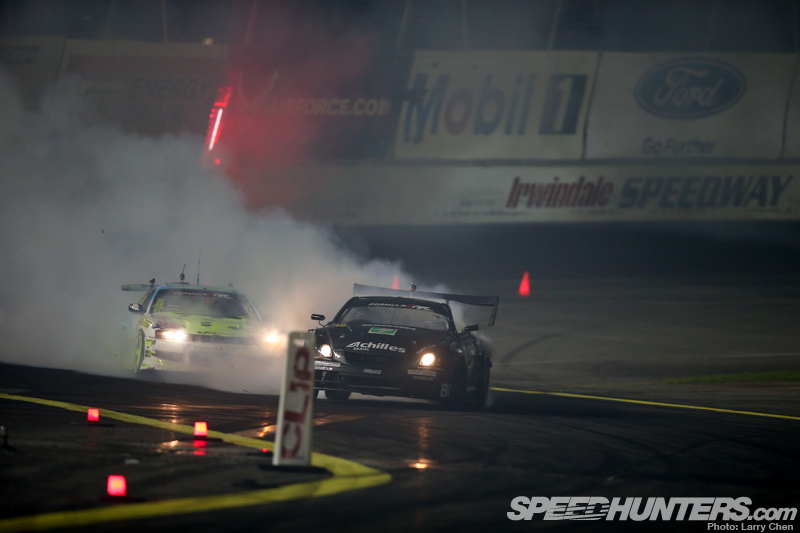 L: Was there a certain strategy going into it?
M: Yeah, with Daigo we had it all planned out. We knew where his car was faster, where my car was faster, where we could close in, or if we needed to lay back and play it cool and close the gap later.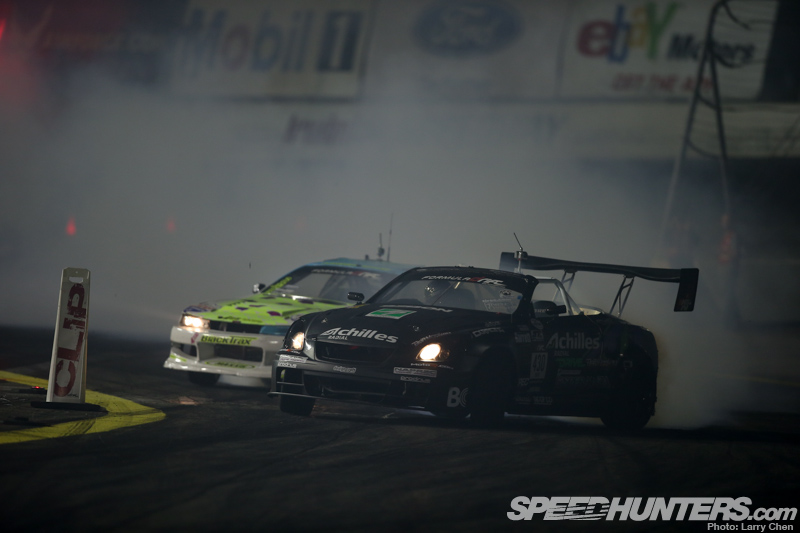 We knew going into the inner bank that our car couldn't grip as hard. No matter what, I had no chance in hell: we couldn't follow him in there as fast as he was going in there. So I would give him room and then I would close in on the inner return, because I knew we had grip and power through there.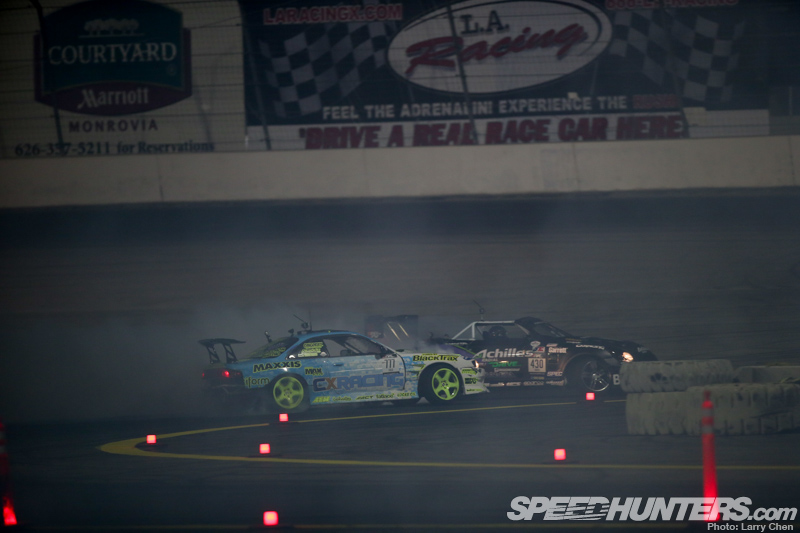 I knew I could close the gap up, i just didn't know I was going to be that close to him on the bank.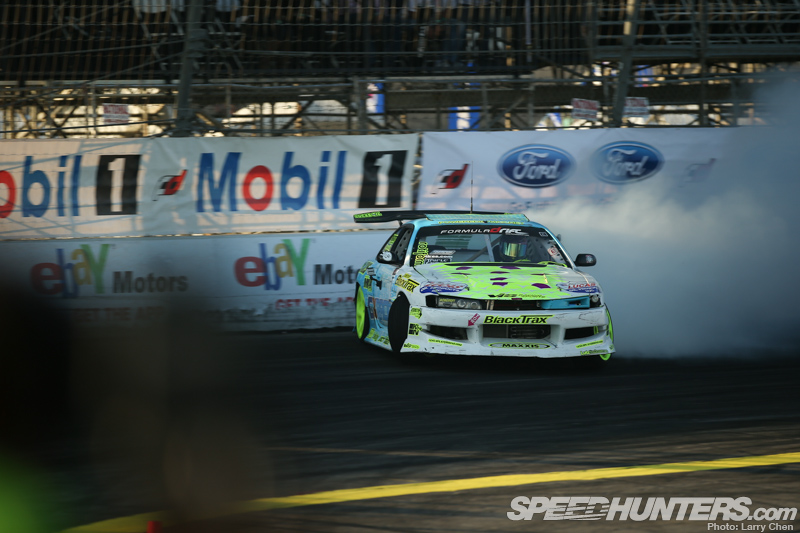 I was running my line and my speed. I felt I could do it and we were going to close in. I tried to follow him into the bank closely, because he plays tricks going onto the bank. He'll leave you, smoke you out and then slow down.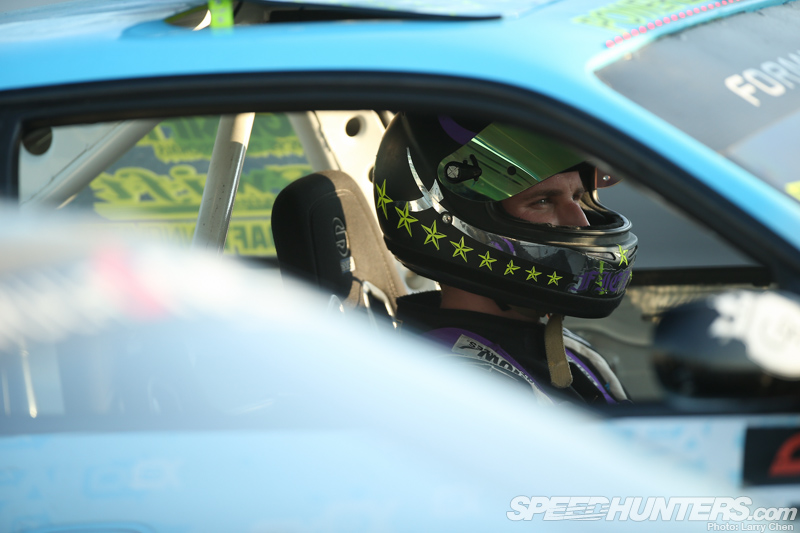 L: It really is a bag of tricks. But that's every drifter, according to Fredric Aasbø. Every driver brings certain tricks when necessary. So was your bag of tricks basically just scraping the inner bank every single time?
M: The funny thing is I would throw it in the inner bank, and when I would have a bad-ass perfect run or maybe just touch or barely graze the wall, every time going in I thought for a split second I was going to crash.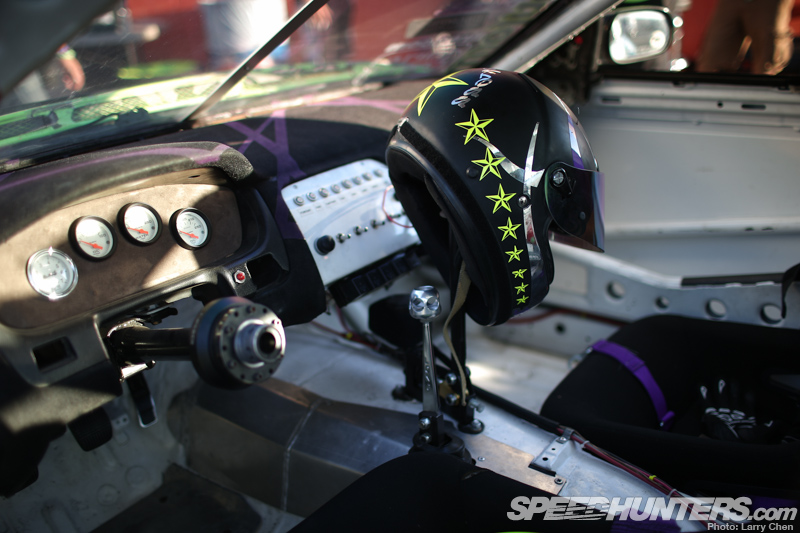 And then I would just get on the power and my car was able to pull out of it. Amazing. I don't know how I didn't crash. So I did this same thing every single time: clutch out, lay on the power and then it would just be a bump and the bump actually helped me because I bounced off the wall – and boom! It shot me right out.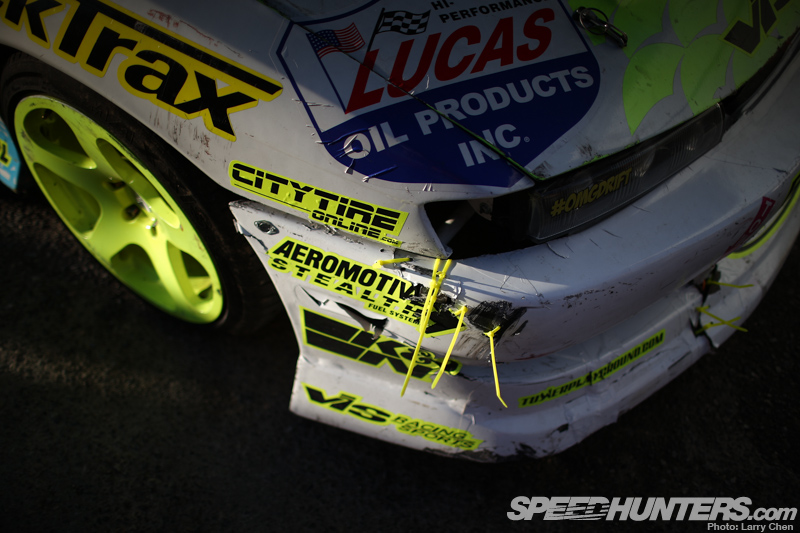 L: The margin of error at that point, well… there was not much of a margin, was there?
M: Yeah, one mile an hour faster, one inch deeper – you're done.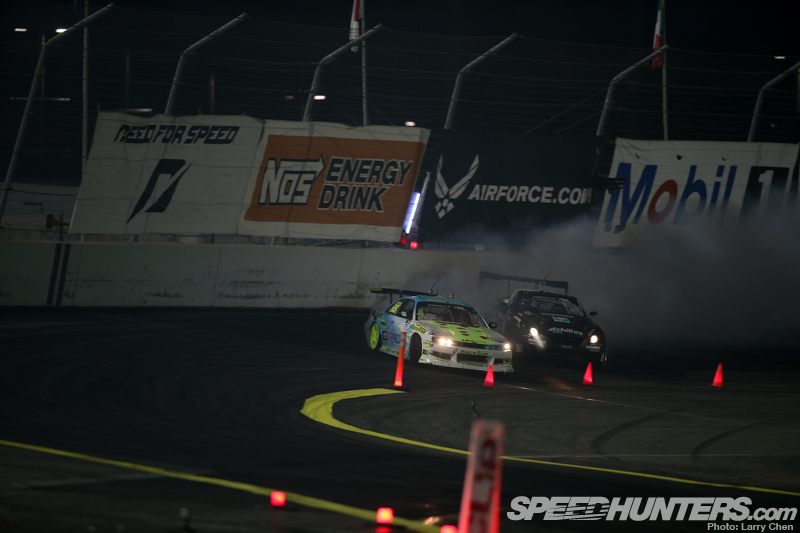 L: So what about after your two battles? Do you think you should have gone One More Time again? Do you think it was a good call? I know you've been watching the videos.
M: I watched the drift stream, I've watched the angles from the stands and everything, and I'm trying to figure out why I lost. I watched the first run over and over: I strongly feel that I won after the first round.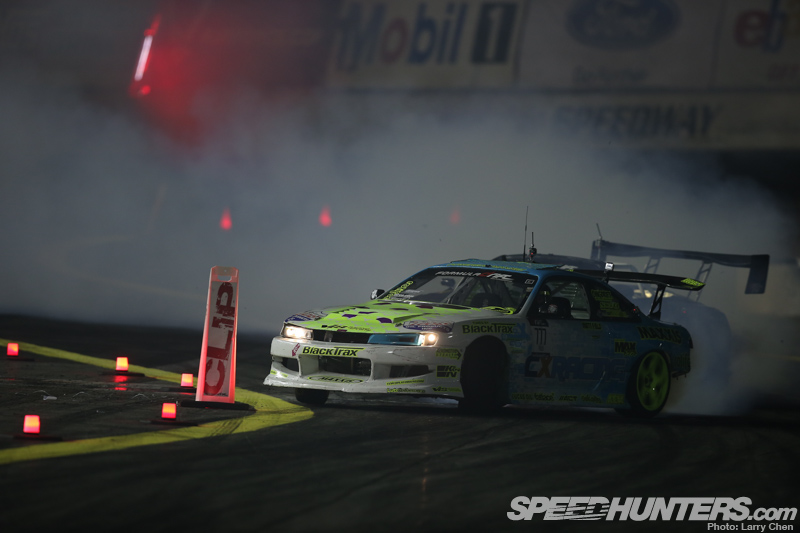 I watched the second run, the One More time over and over, and I believe I lost that one. I definitely had a weaker bank than him; he had a lot of corrections. They focus so much on the bank. I dropped down a little lower on the bank, but on the first run, I watched it and watched it and I was like okay, I won, I mean I could see that there's One More Time because up until that point there really hadn't been that crazy of battles. At least that is what people are telling me.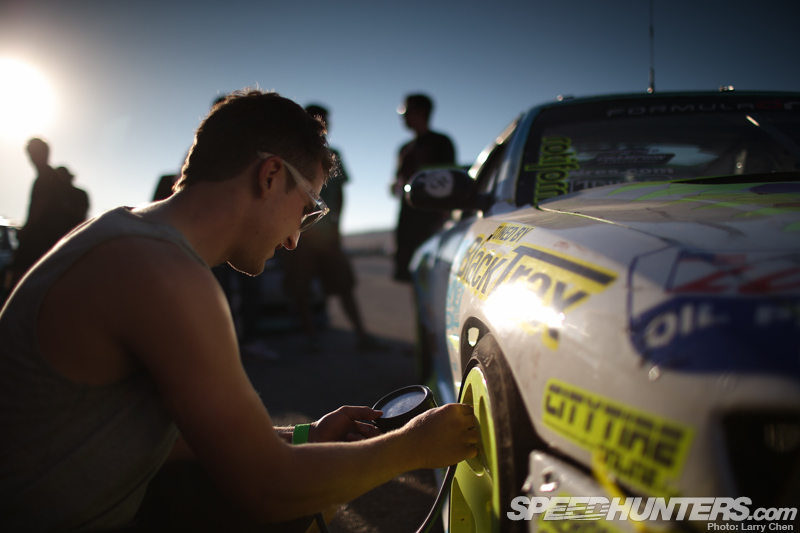 From what I see, once the judges see something gnarly, from when I watched other events, when something is so crazy, they just gotta see that again.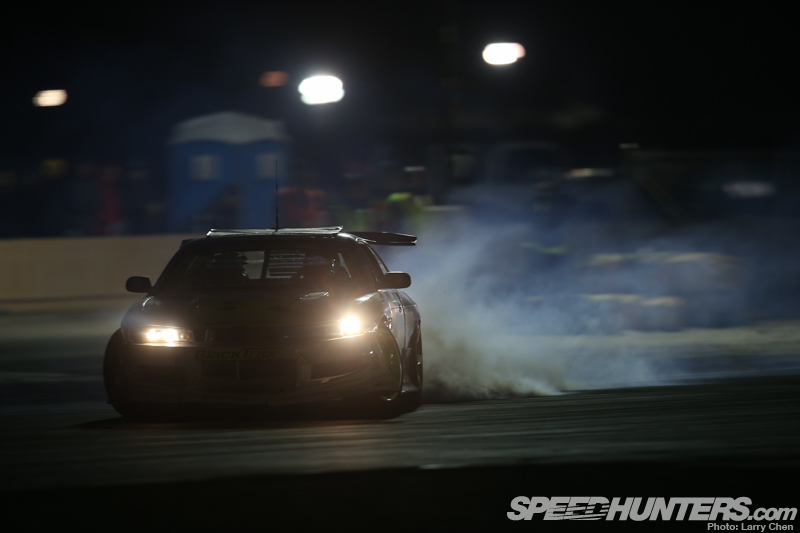 L: That is what makes drifting unique no?
M: Yes, it gets away from numbers and statistics and everything, and goes into something that is so amazing.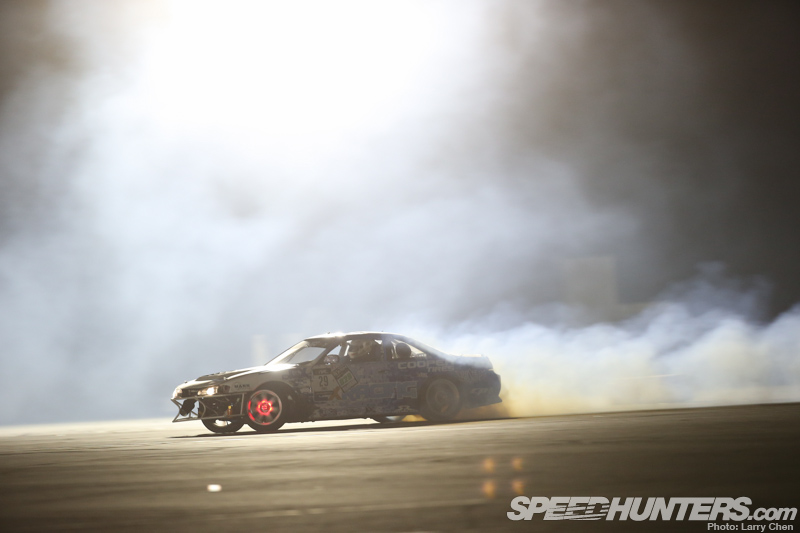 L: They kind of want to see if both of you can do it again?
M: Exactly
L: A lot of these guys here at All Star Bash have that same dream. They want to be pro.
M: That's everything now in drifting, everything. Gotta go Formula D, gotta go Formula D.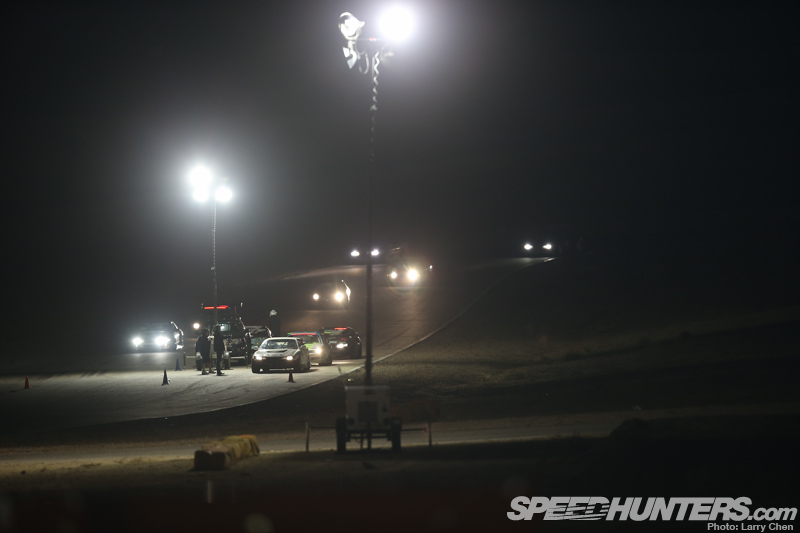 L: What do you think? You've done it and you're getting to that point where you're going to be running for the championship soon, right?
M: That is the plan for next year… If I can drive like I drove at Irwindale, I feel like we can be in competition for the championship next year.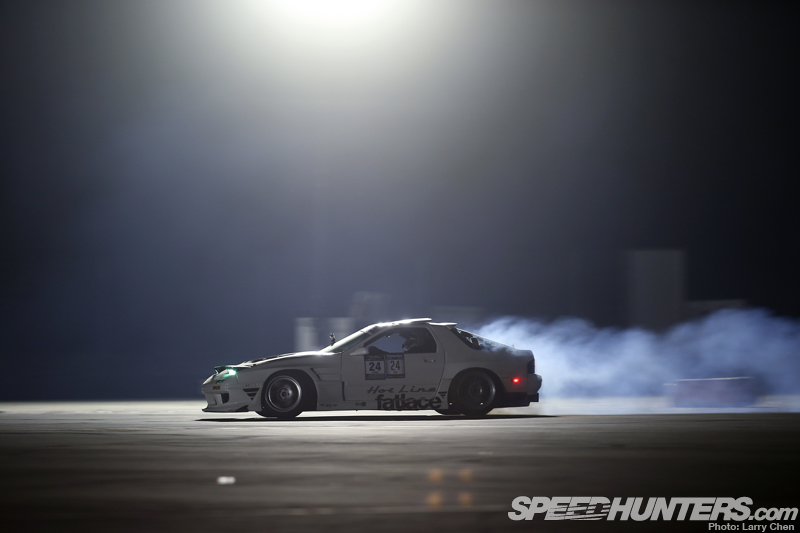 L: What kind of advice do you have for these guys at ASB?
M: I just think that people need to stay focused on their driving, because everyone wants to do Formula D. When new kids start drifting it's not like they want to go drift, have a good time, burn some tires up and learn some sick moves. It's always 'I want to go Formula D.'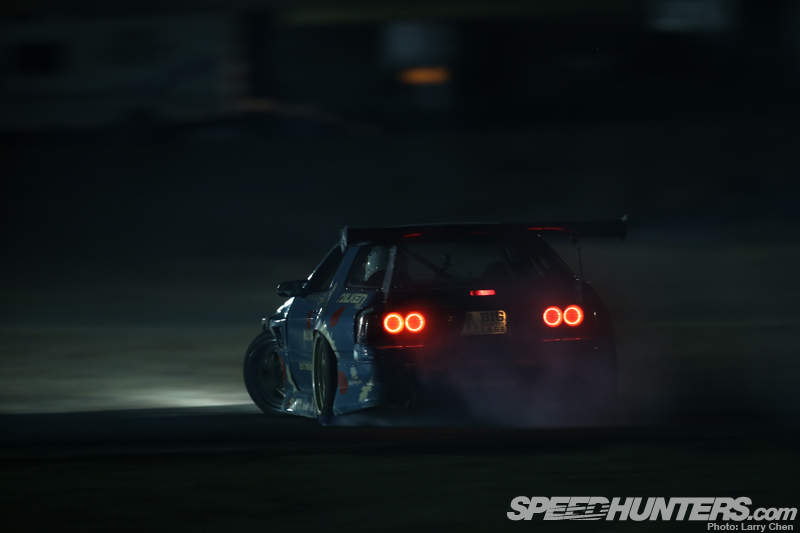 When I started drifting, the only thing I did was think that about how awesome I thought drifting was. I was focusing on driving, I wasn't focusing on what drivers were doing in Formula Drift. And I was not thinking about how I could become a Formula Drift driver. All I was doing was driving in the moment – it was pure.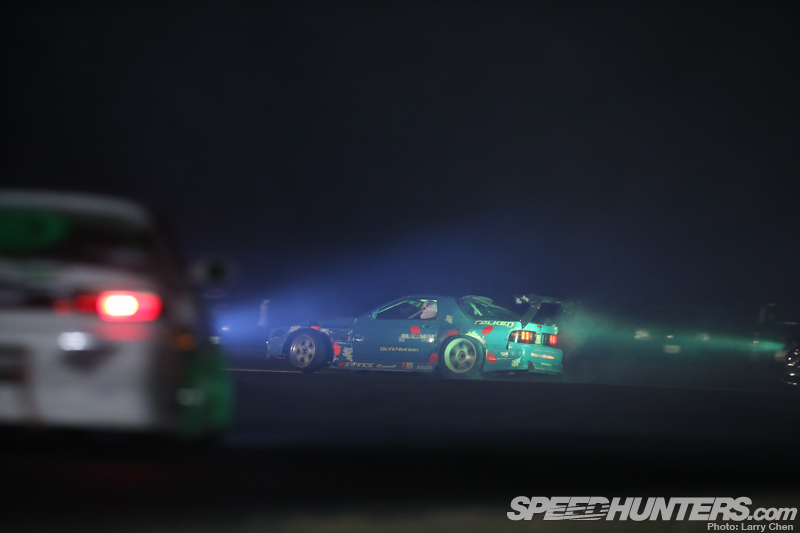 Then I became competitive, and then once you get that competitive spirit it stays with you forever, at least for me. There's no way I can't compete in something like that; you can't just do it for fun.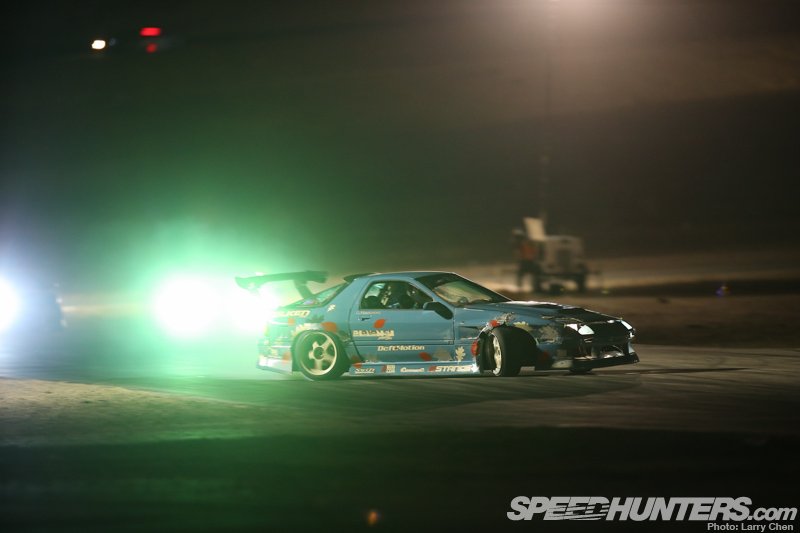 Out here at Just Drift, or any local event, you're driving to learn, you're driving to better yourself. It's not about a set skill list you need for Formula D, it's the whole package. When you start Formula D you have guys who may be the best lead drivers ever, but when it comes to following they can't do anything because all they were focusing on was laying down a 90-point run for qualifying.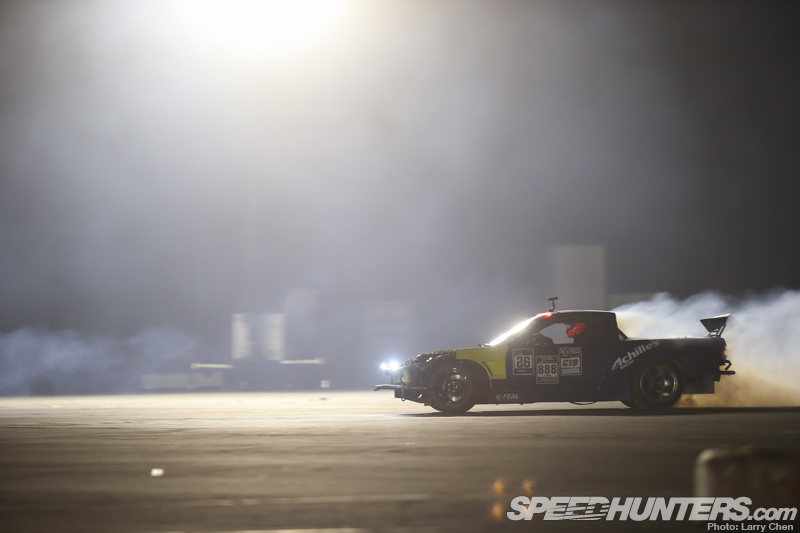 My advice is focus on what you're doing and be proud of what you're doing. Even if you're in Pro-am and you're learning and this is your second or third year. You probably deserve to be in Pro-am and you need to keep learning. No problem there. You're better off staying in Pro-am anyways. It's better to learn your stuff than going to Formula D your first year and making a fool out of yourself.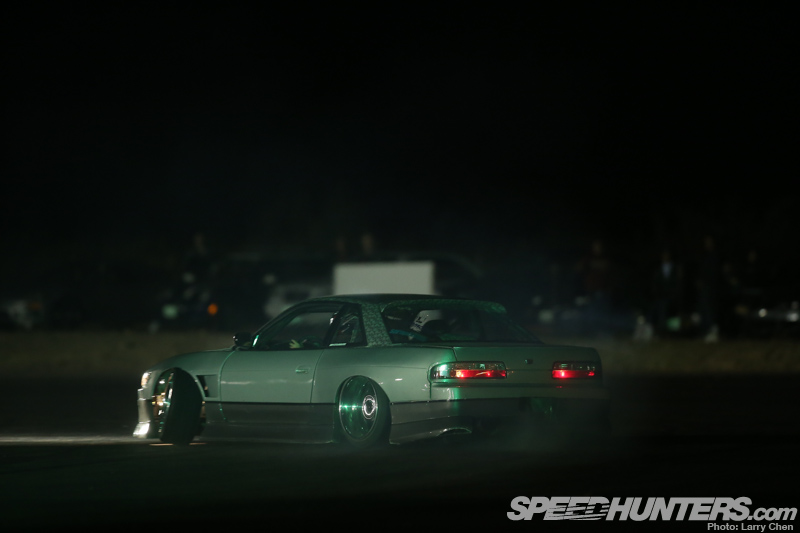 I should have done it way differently my first year, but I had never even been to a Formula D event before Long Beach in my first year. Never watched it, never watched videos, never did anything like that.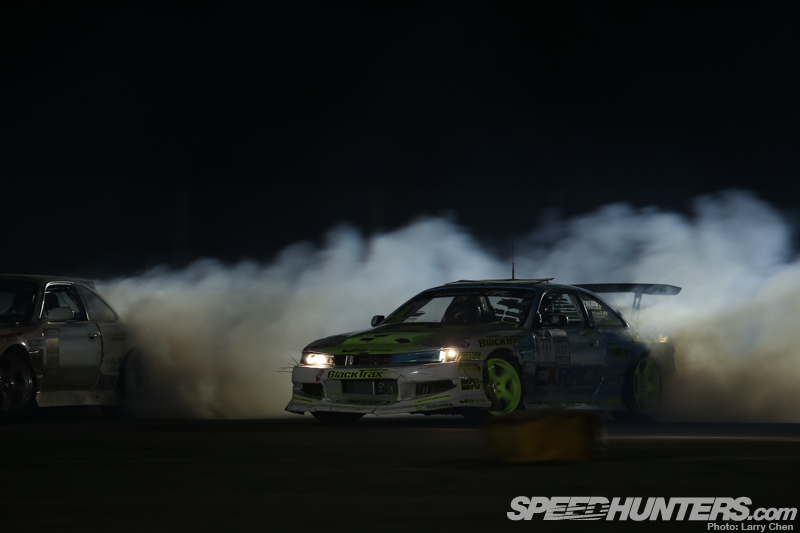 I showed up to Long Beach and wasn't competitive at all. It was a learning process for me, and I mean I took my lumps when I had to, but my biggest piece of advice is to drive what you're driving and you'll be happy with yourself. A lot of people just make the FD dream a little too big and put too much weight on it I think.
L: Thanks for your time, it was good to catch up.
M: No problem
Matt and Larry
larry@dev.speedhunters.com
More stories about drifting on Speedhunters
More stories from Larry Chen on Speedhunters
---
---
---