Old meets new… and vice versa
Time to jump right back into the Nostalgic 2 Days coverage for one last round up of images from the show that represents all that is right with Japan's vintage car scene. And it's by choosing a non-vintage car for my opening shot that I want to get things going, if that makes any sense…
The recently-confirmed Nissan IDx is something a lot of enthusiasts are waiting for, especially those that feel the obvious link with the Datsun 510 – and to a stretch – the '60s Silvia. Throw in some Pete Brock BRE-inspired livery and it's hard not to make the link back to yesteryear. This was one of the many models on display at N2D and one that, to me at least, represented the continuous link between the past and modern day that this scene seems to have in Japan.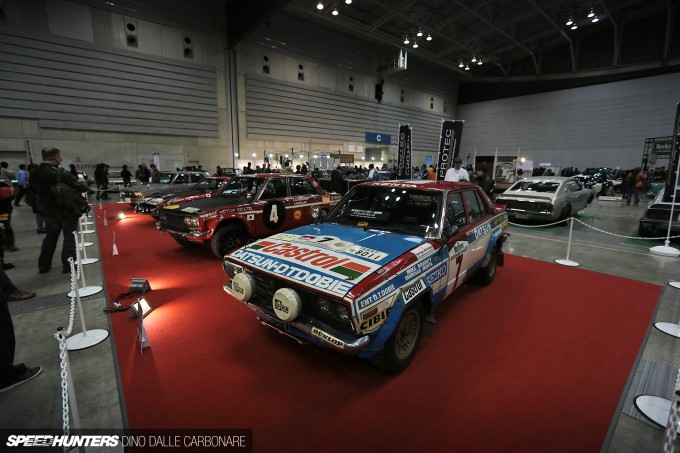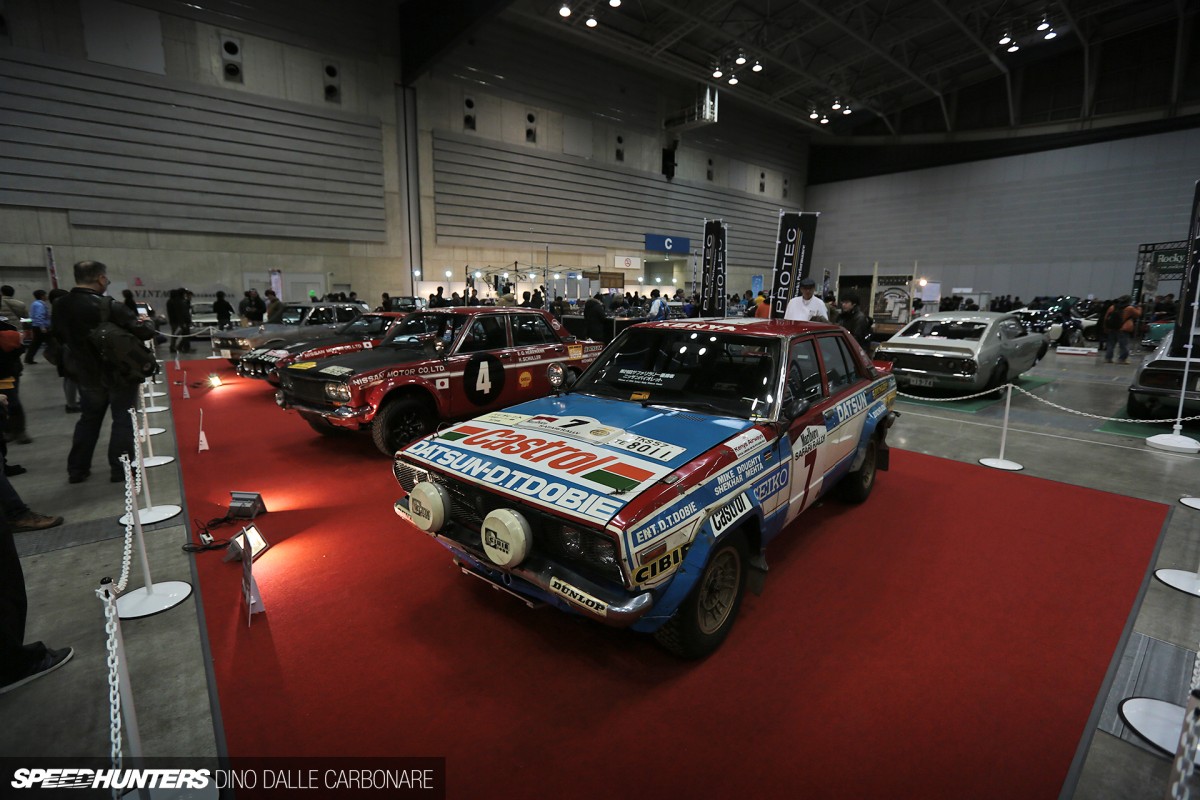 And there is always much history to ponder over, from Honda race cars to a selection of Nissan rally cars that sat on a red carpet right in the middle of the hall.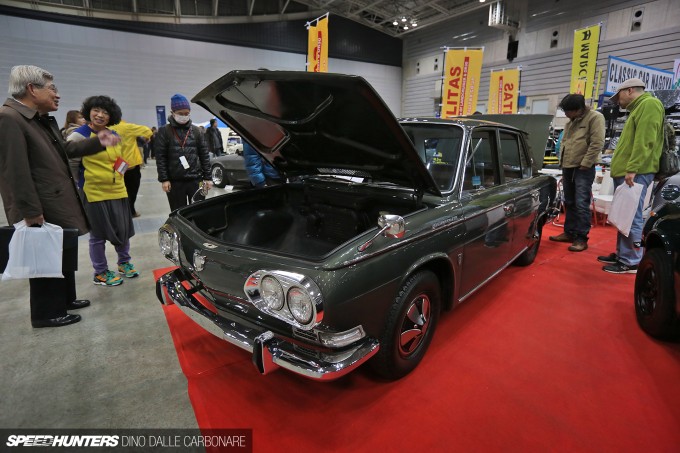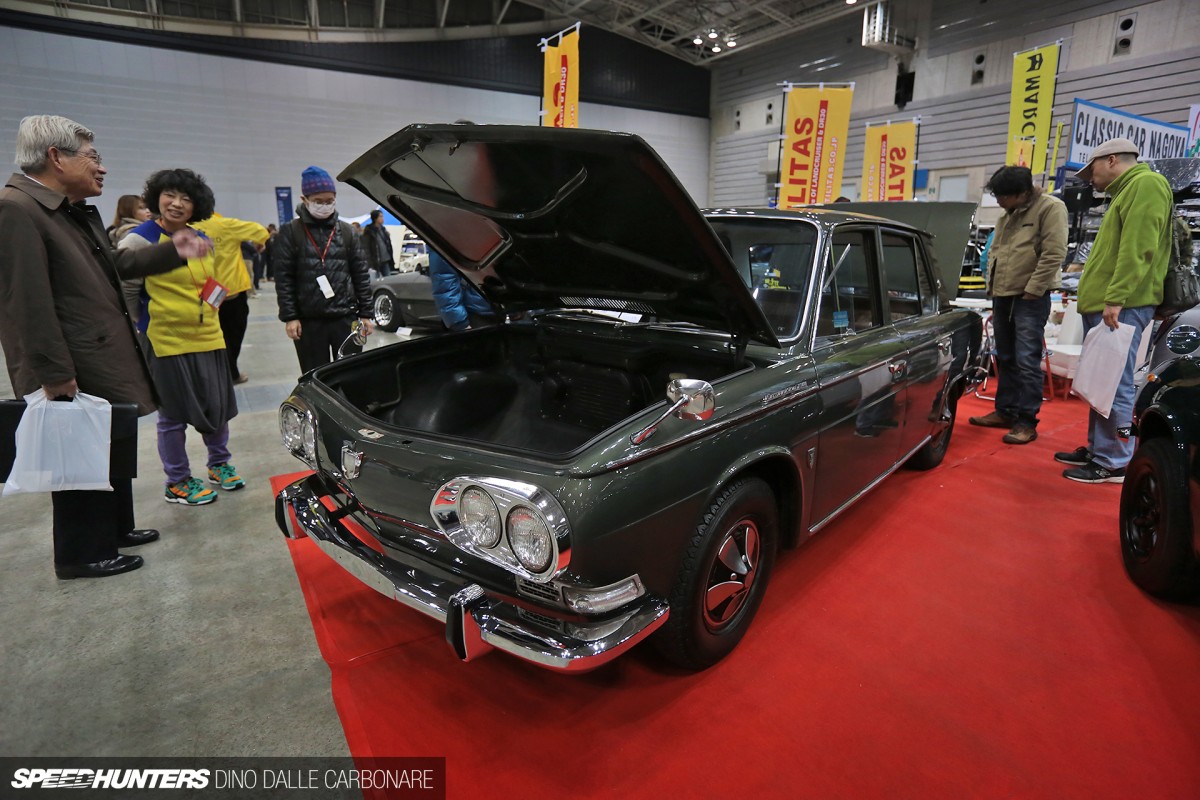 While performance-oriented cars are the ones that always get the most attention, it's hard not to stop and take a look at the more ordinary classics too. This Hino Contessa was one of them, a very normal looking four-door sedan, until you notice it doesn't seem to have an engine up front.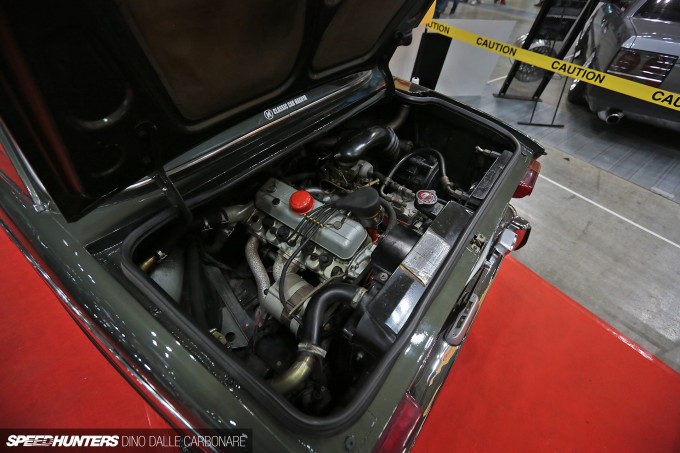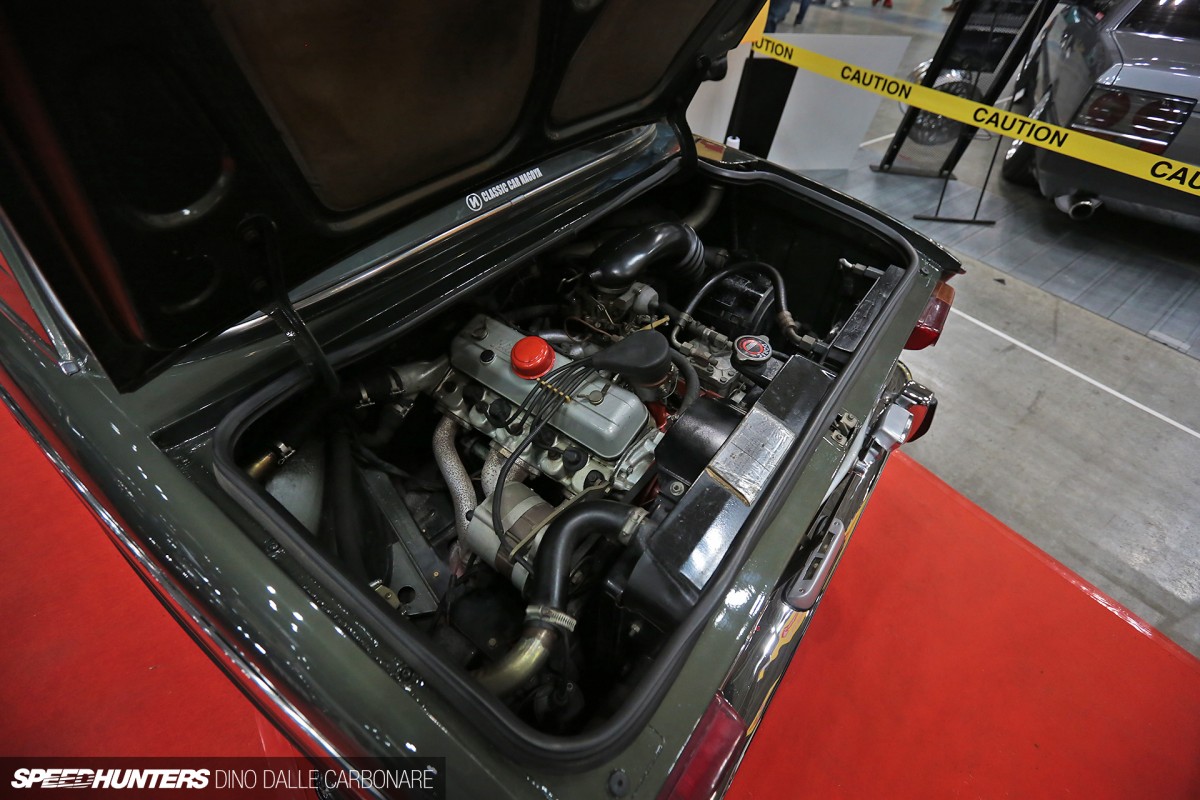 That's because the 1.3L four-cylinder that powers it is fitted at the rear, including the radiator. Hino licensed the 4CV driveline from Renault to build the Contessa in Japan and the result was this unsuspecting family car. This particular example was up for sale at just over 1.8 million yen.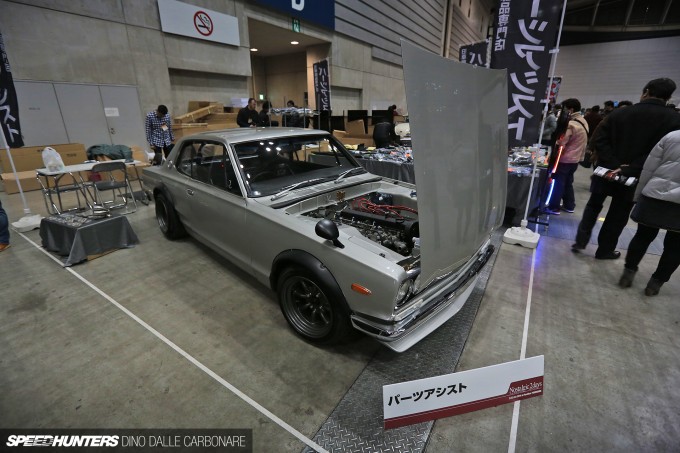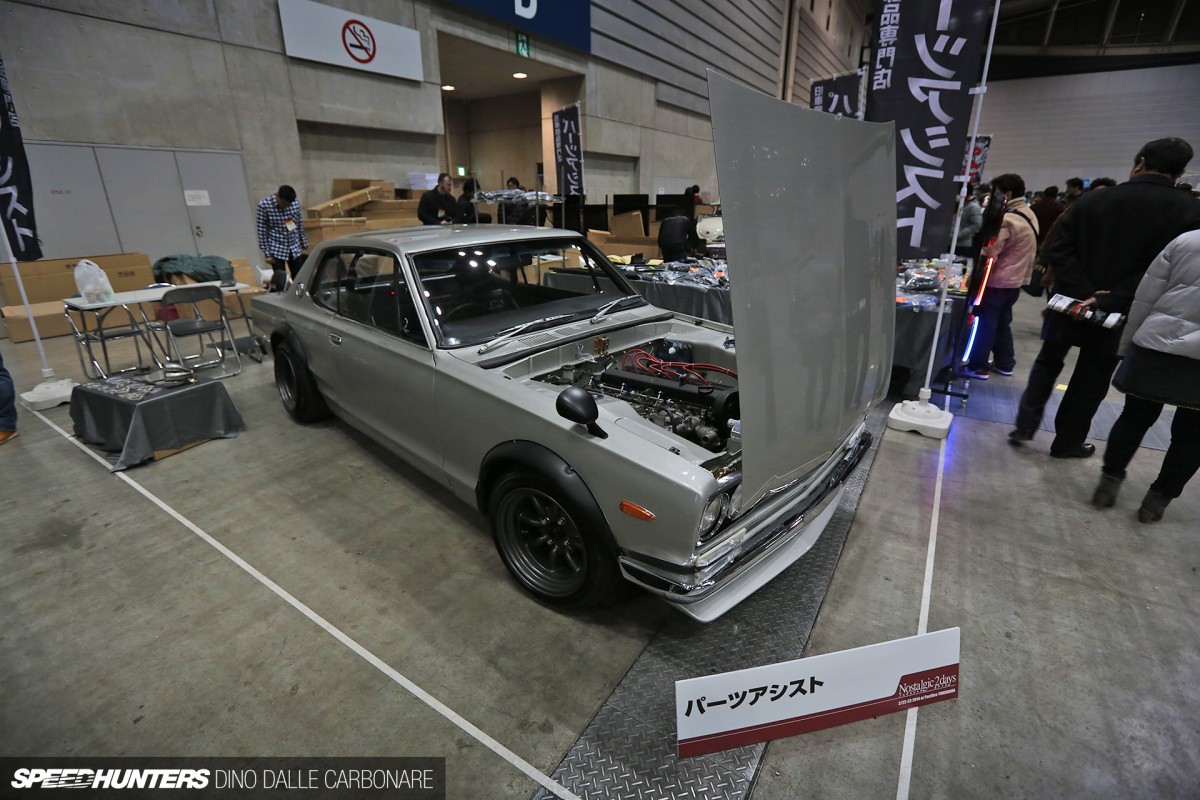 Okay, so it's hard to stay away from performance! And like you've probably noticed me hinting about in the previous posts, tuning shops and owners just can't seem to stop messing around with these older cars, perfecting them, and developing new bits and pieces.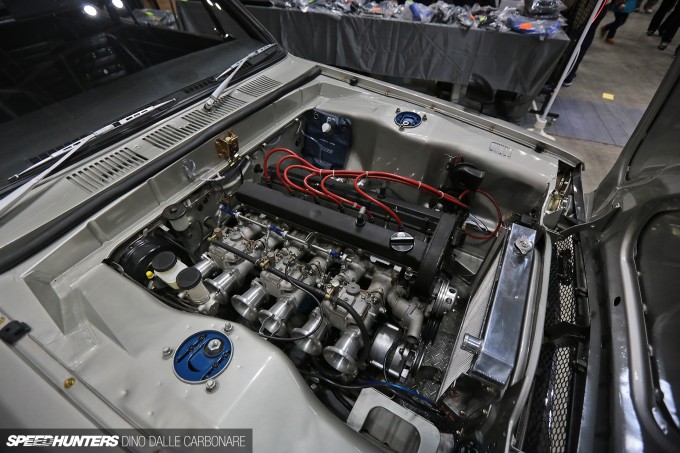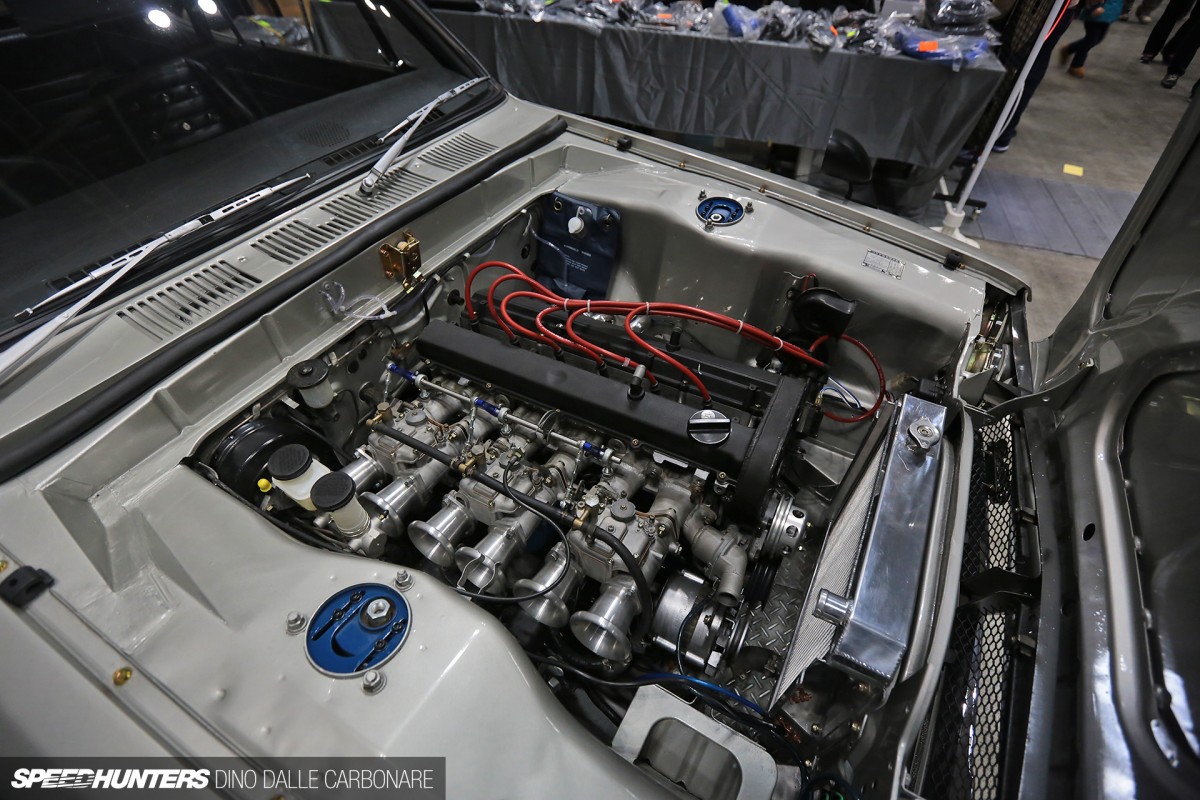 One that really caught my eye was this hakosuka from Parts Assist who have dropped an RB26 head onto the L-series motor.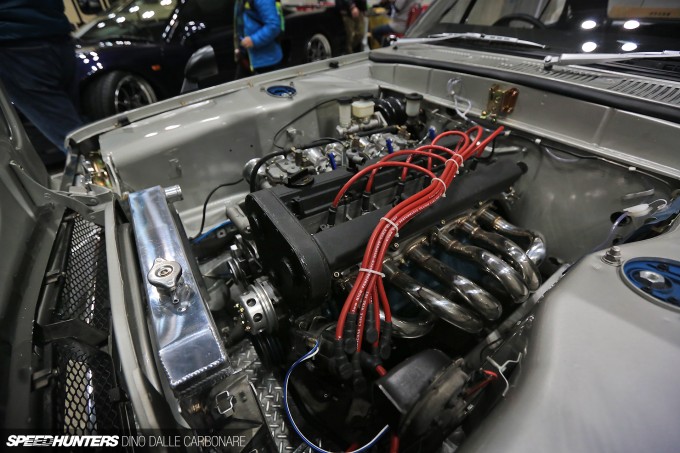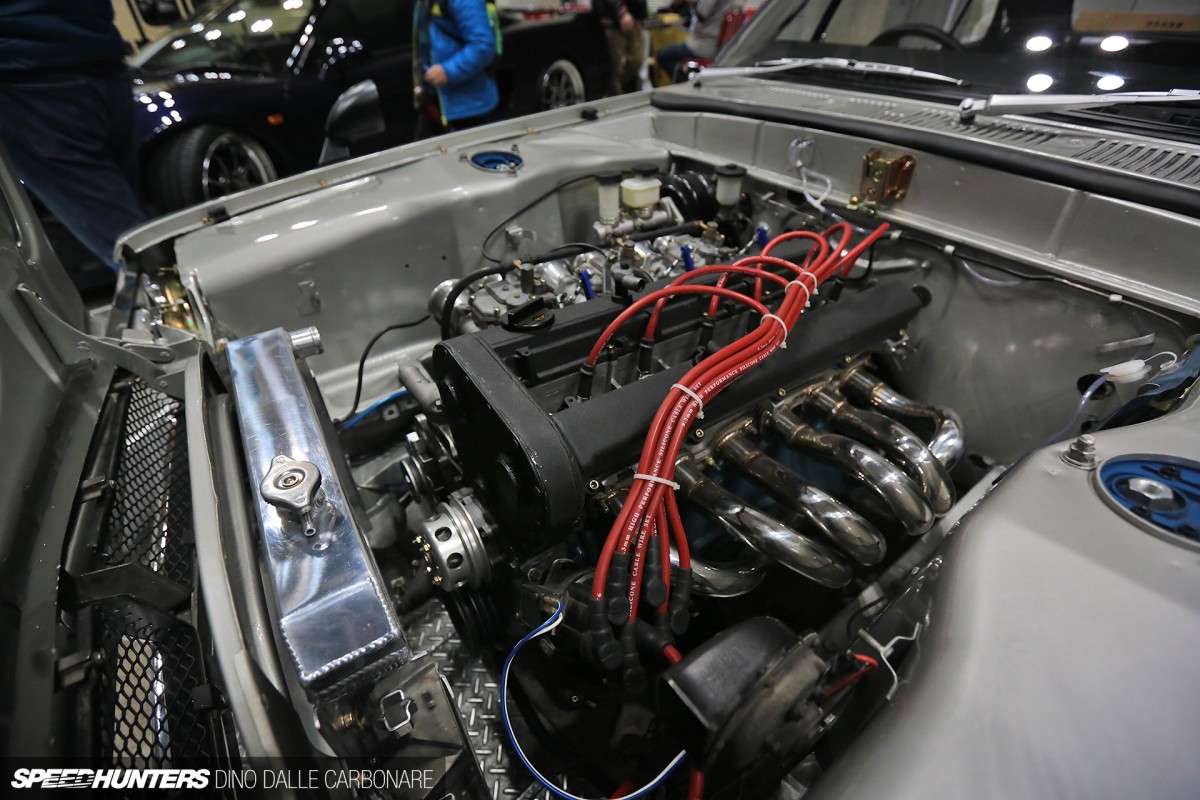 The carbed engine isn't fully set up yet, but when it's done it should give a punchy mid-range with lots of throttle response.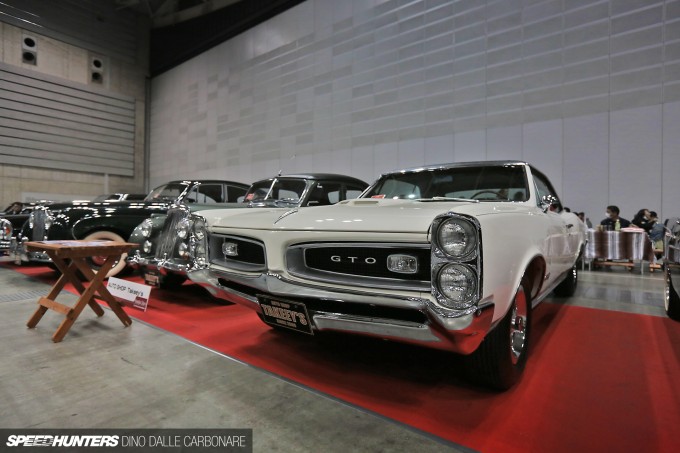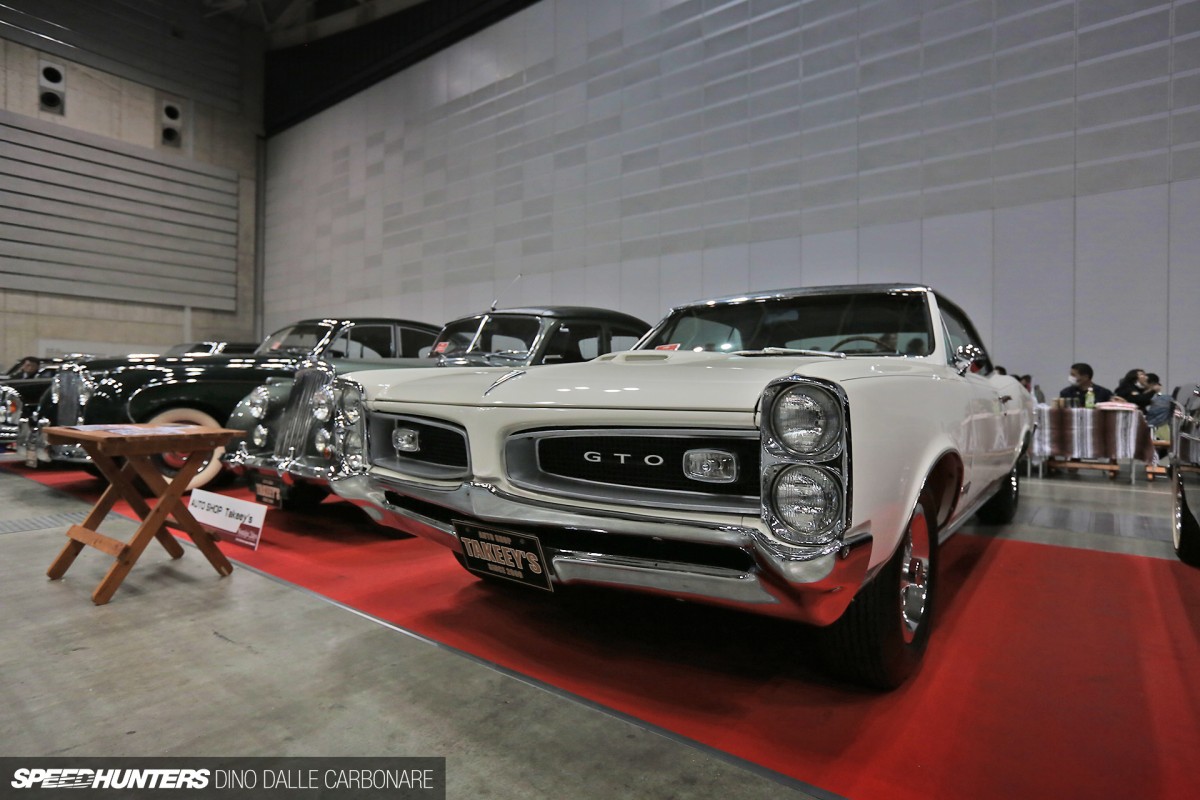 Tucked away in one of the corners of the Pacifico exhibition hall was this Pontiac GTO, adding a little slice of Americana to the more domestic-oriented selection of cars.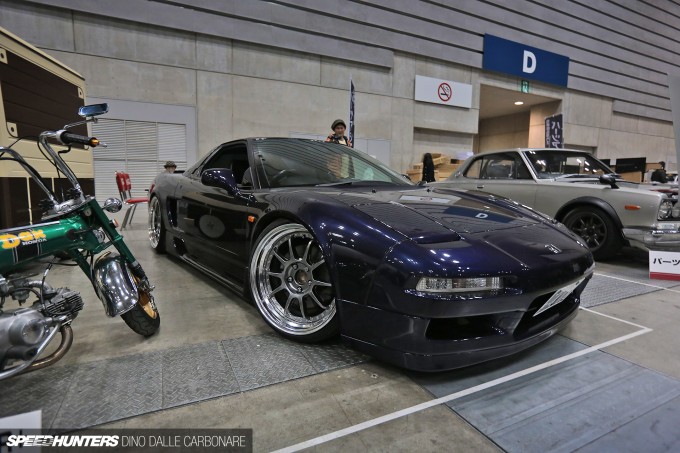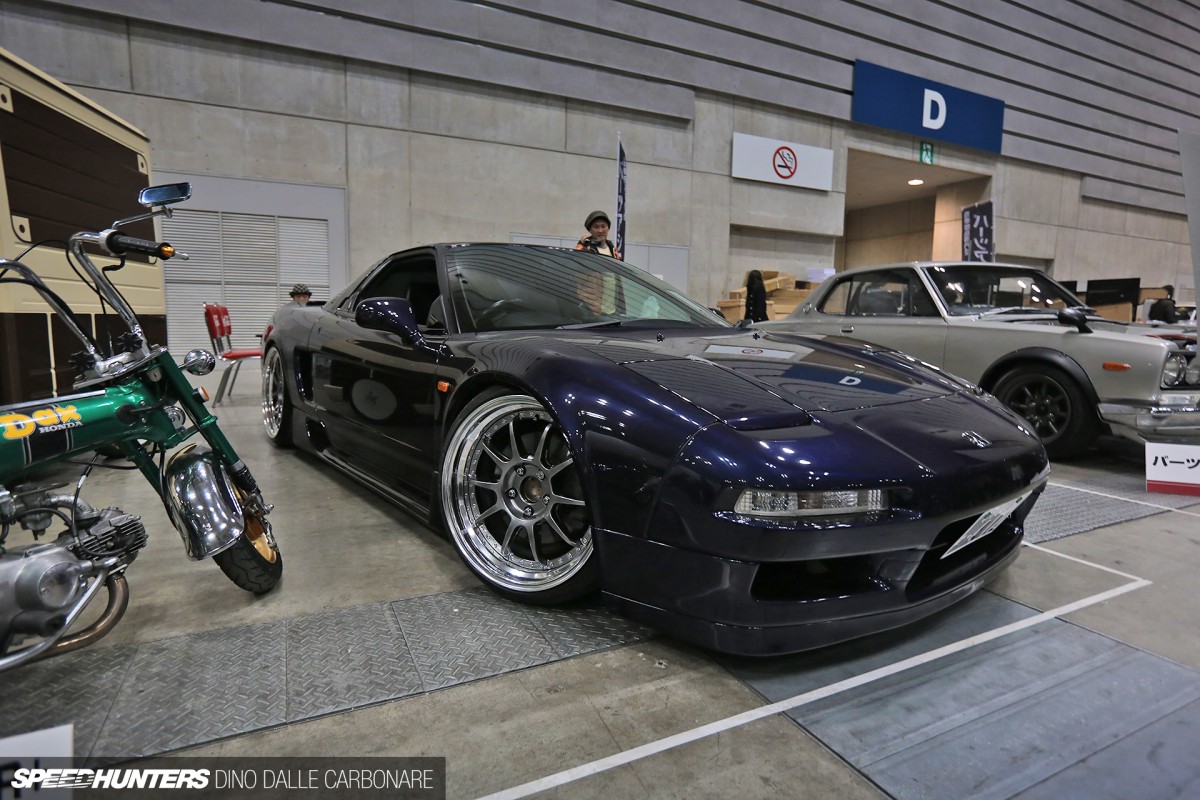 Is the NSX so old that we can consider it a nostalgic car? Well it's getting there – especially the first generation. Time sure flies, but it hasn't had much of an impact on the NSX's iconic design, so it did look a little out of place among the other cars.  Still, a cool addition, that's for sure.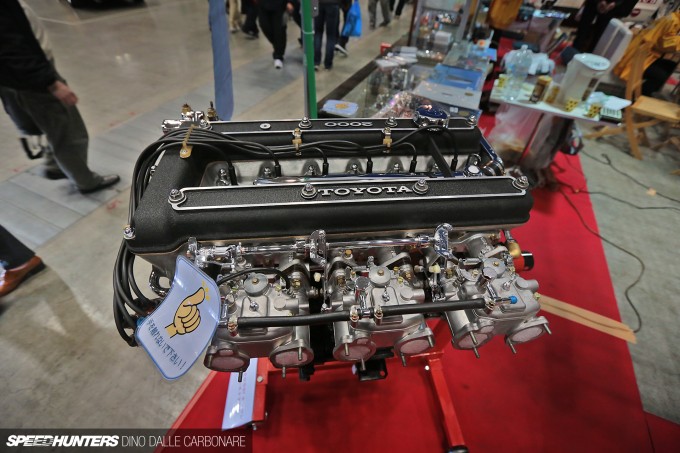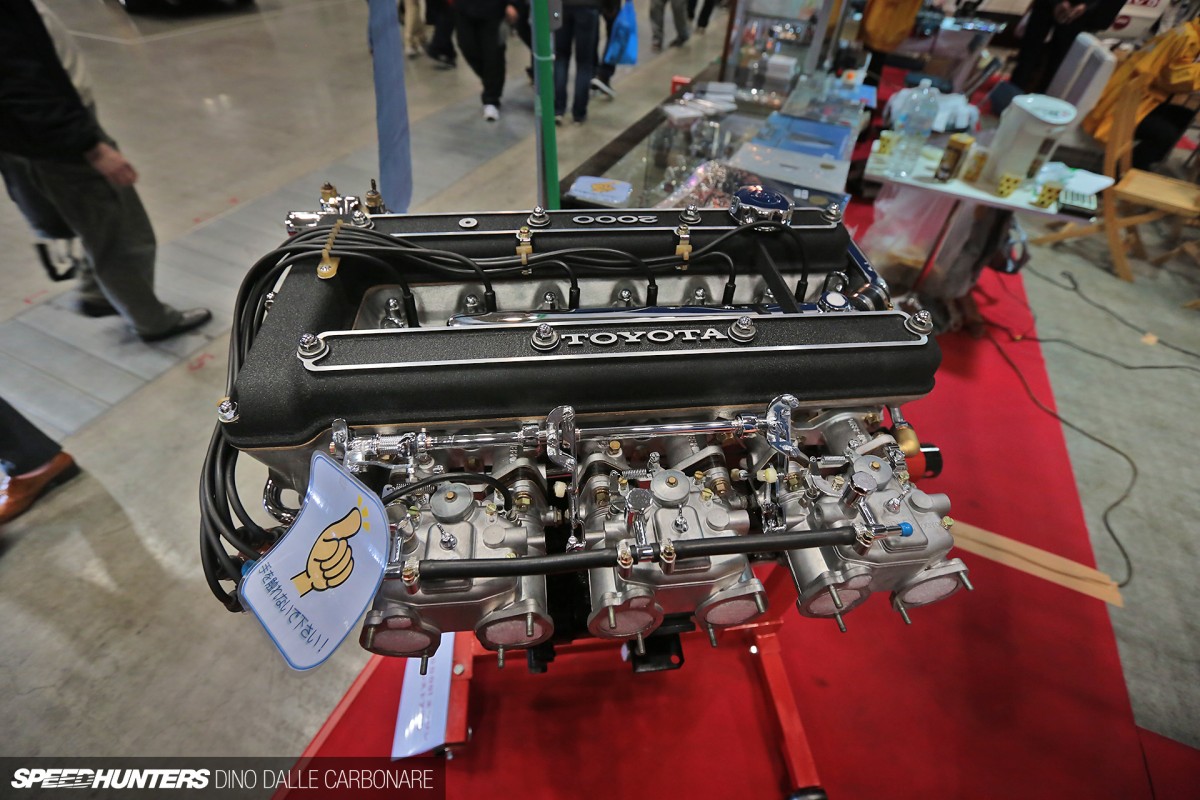 I bet you don't get to see many of these Toyota 3M motors sitting on engine stands! This is the 2.0-liter straight six that powers the Toyota 2000GT, and currently out of a car for an overhaul, which by the looks of things has already been completed. Yamaha developed the head design on this unit too, showing just how far back their work with Toyota's best motors actually dates to. Like Nissan's S20 that came a little after it (which supplied power to the 2000GT-Rs and the 432Z), it developed 150hp through a very similar 2.0-liter, six-cylinder, twin cam design.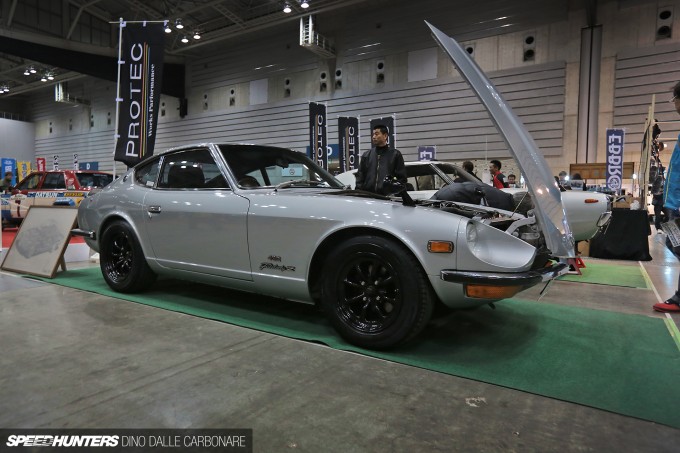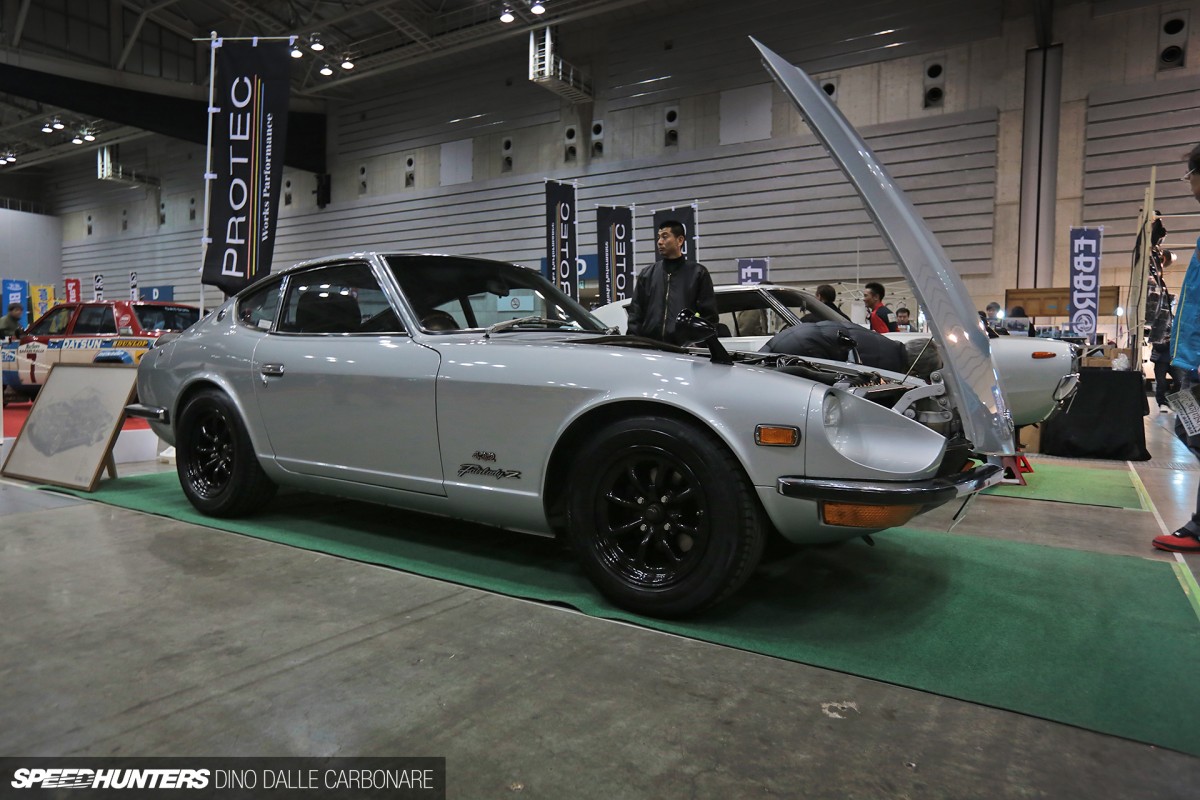 And seeing that I mentioned the 432Z, here's a stunning, fully restored example.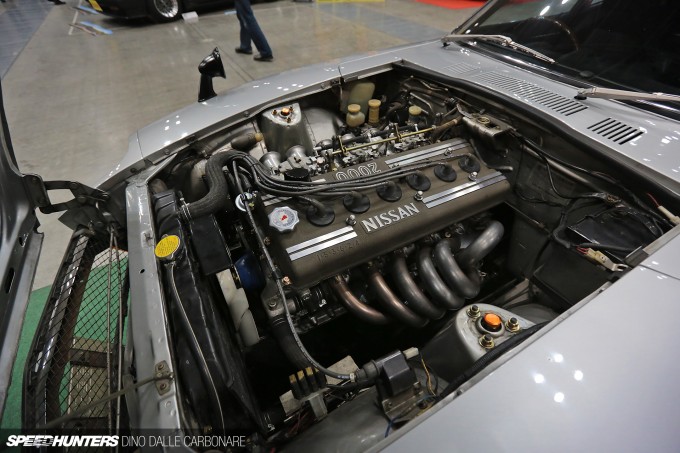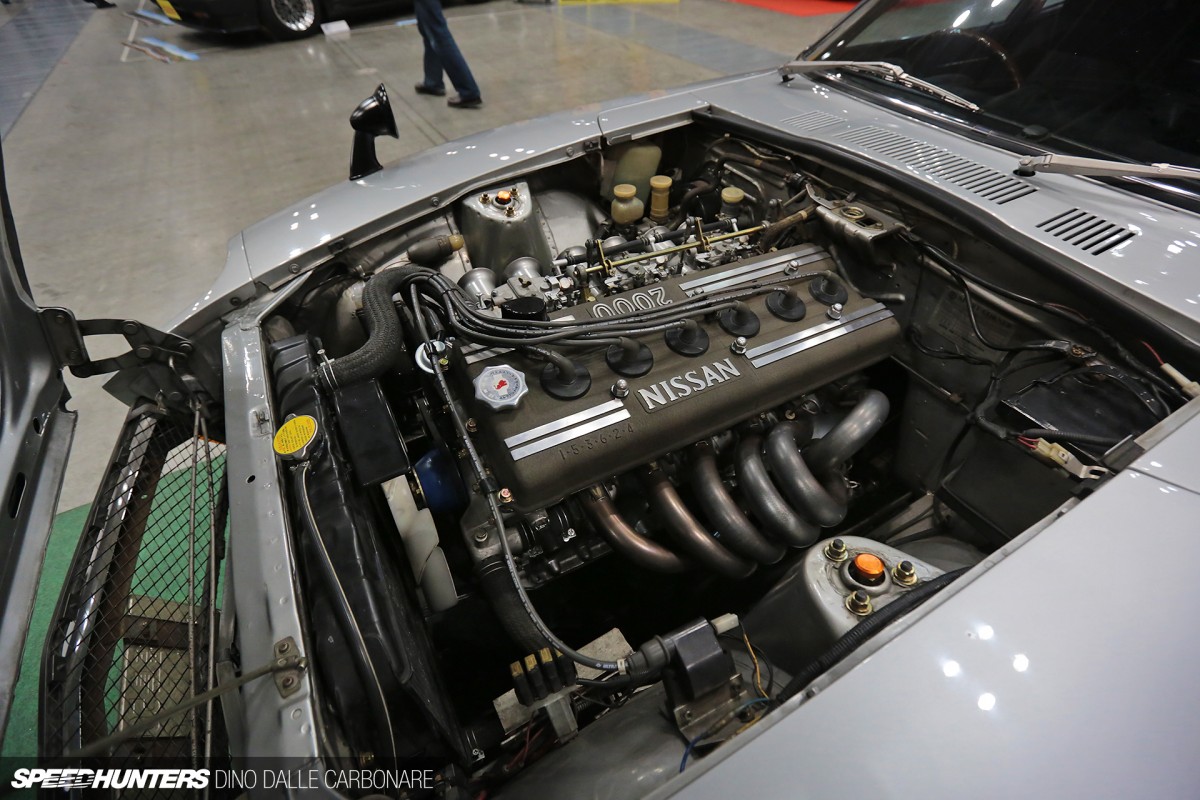 Under the bonnet, that sought-after S20 with the unmistakable aluminium cam cover which also lists the firing order on the bottom left corner. I always thought that was a cool touch!
The Japanese restomod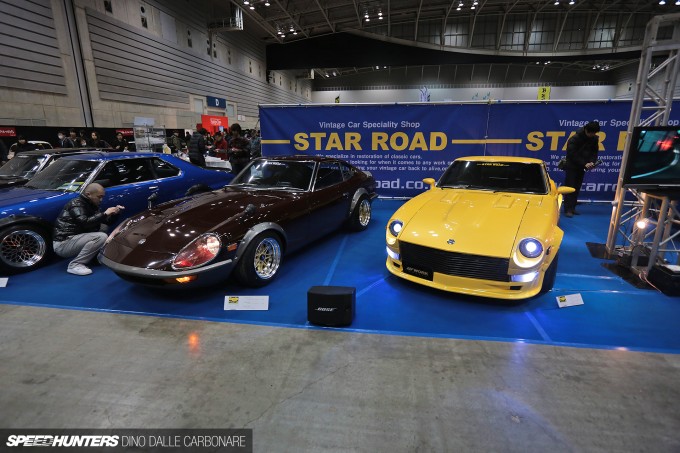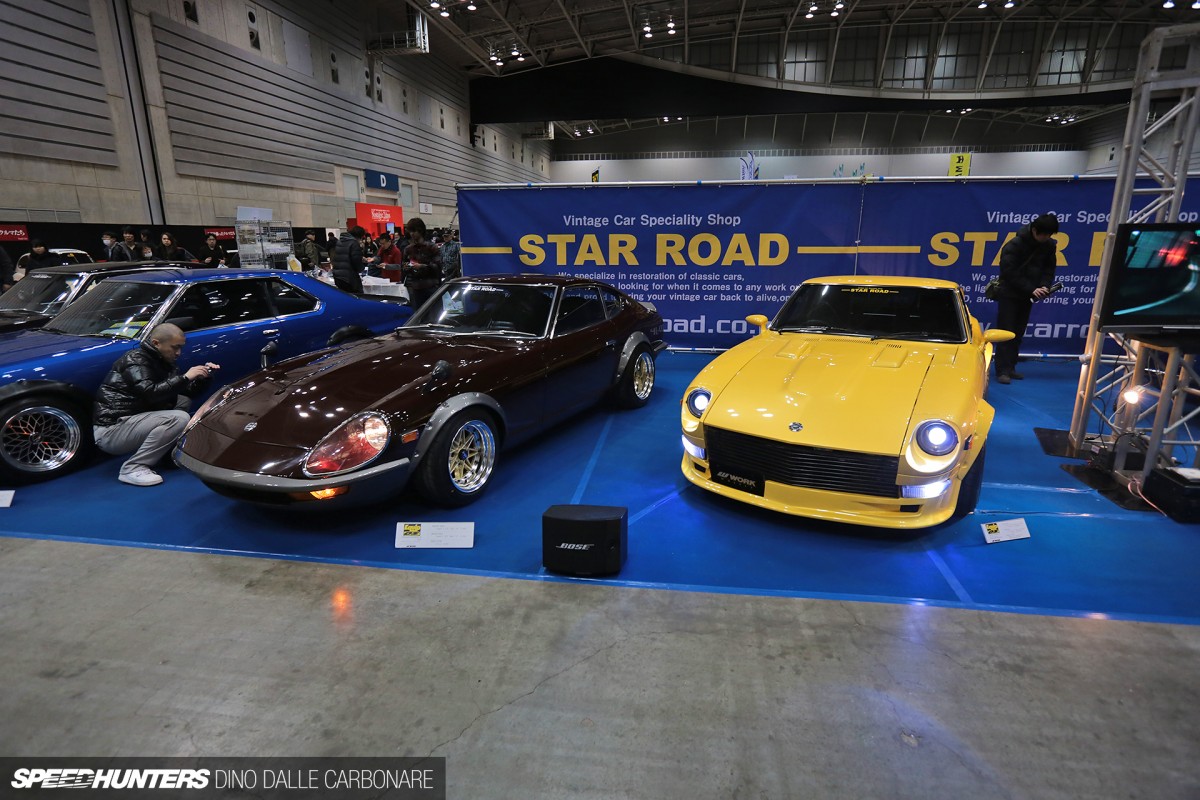 Talk about Zs and it's hard not to bring Star Road into it. Based in Tokyo, this is one vintage car specialist that has really made a name for itself in recent years. We already took a look at their blue S30 back in 2011 – a car that in my opinion really sets the standards in both style and execution. Development on that car continues, but there were a lot of other cool projects to check out at their booth.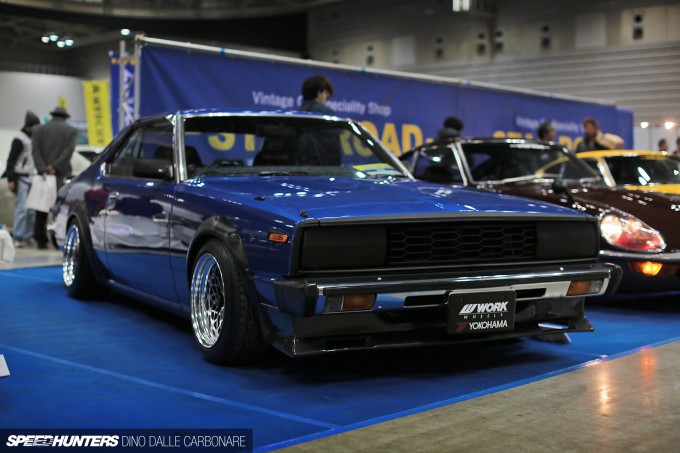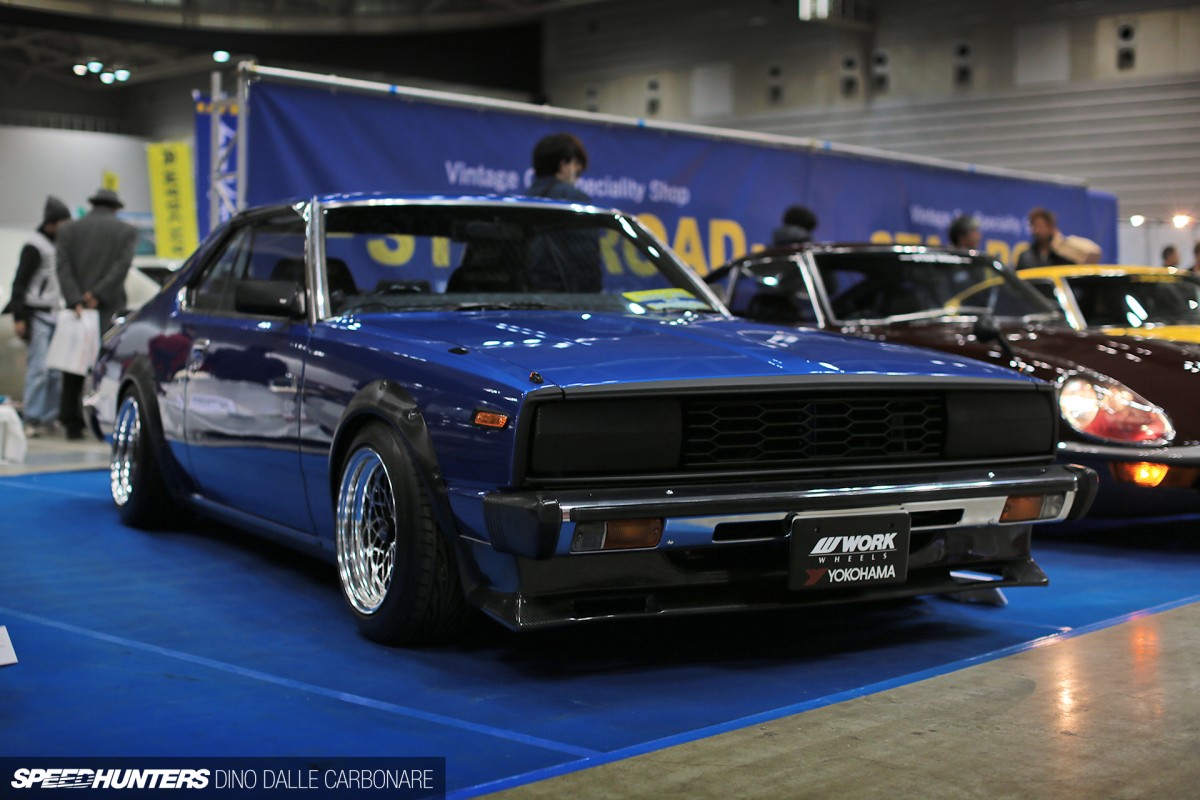 This Skyline Japan was one of them, running small works-style fender flares and a blacked out set of headlights that I guess were done just for the show.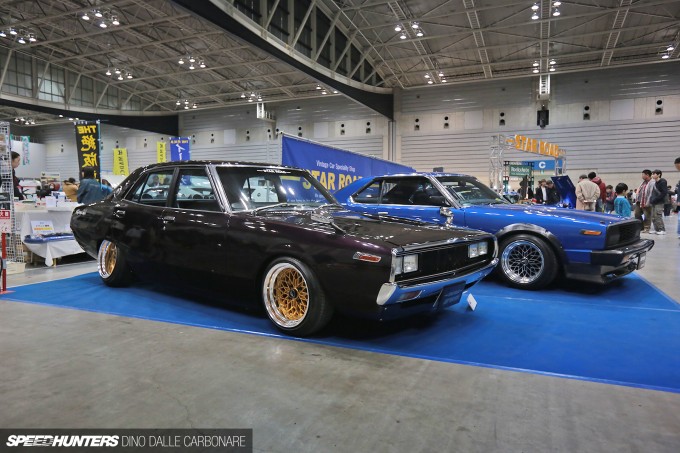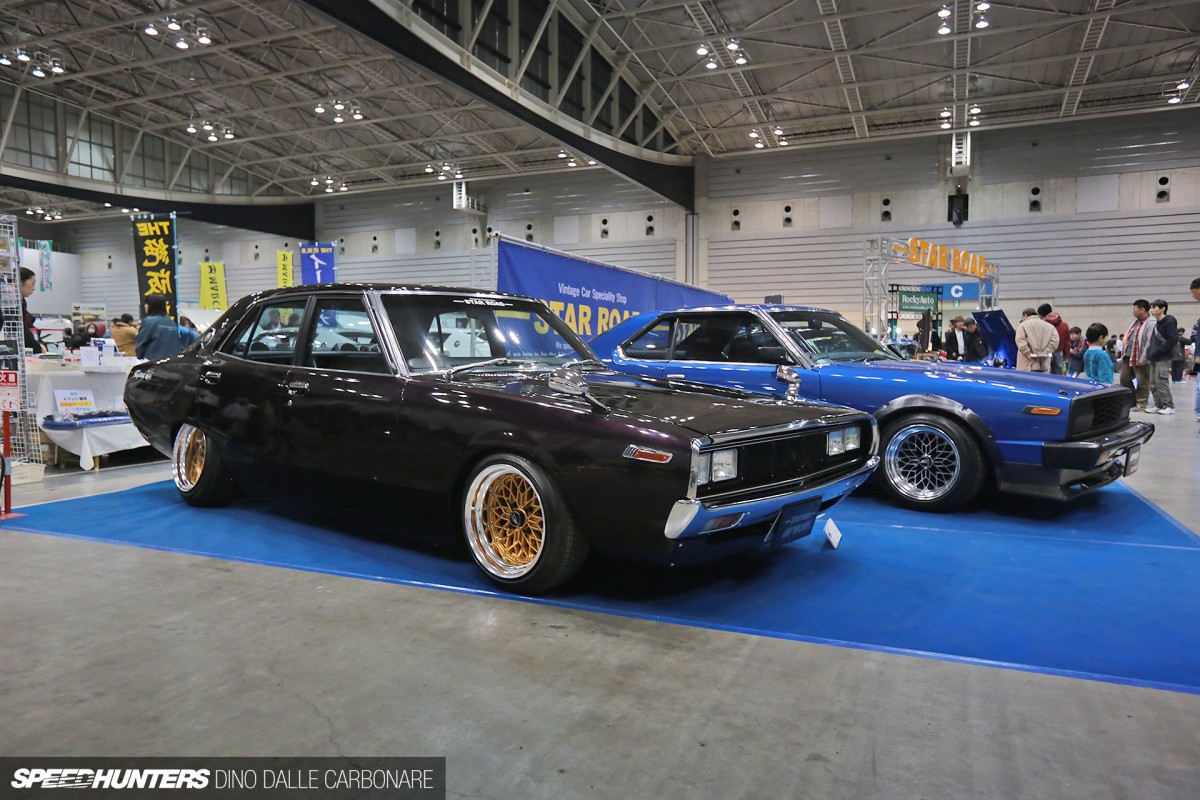 Like the four-door kenmeri next to it, it was sitting on Star Road's new Glow Star wheels, which they have made in collaboration with Work.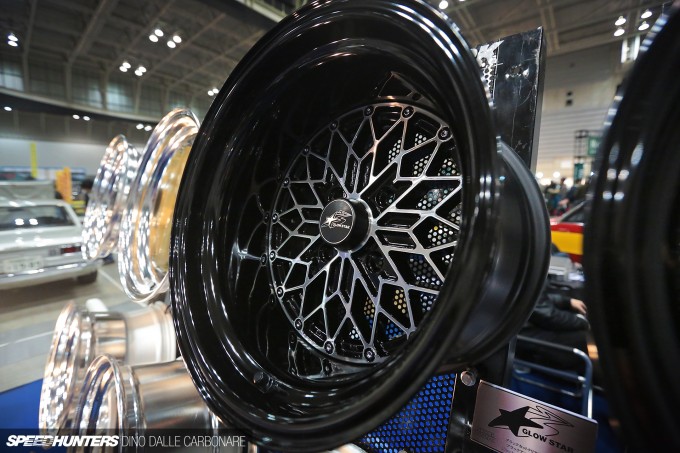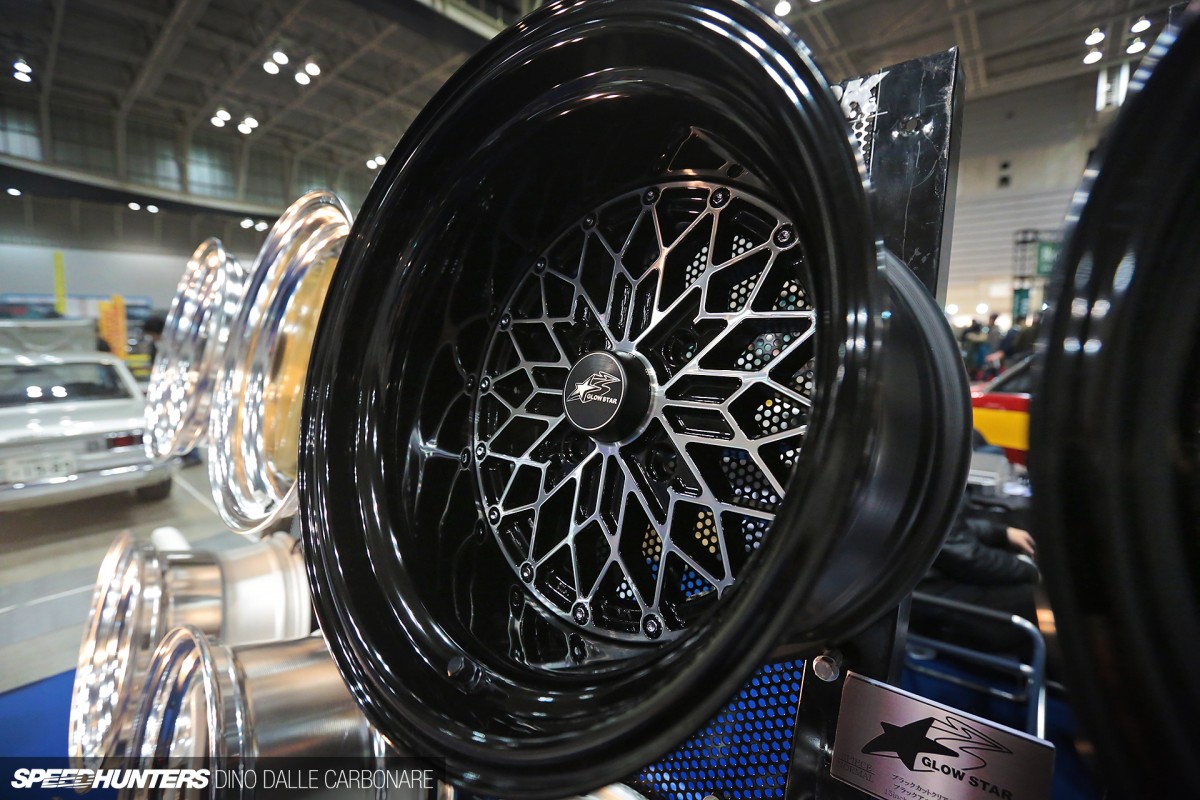 The old school mesh look is one that never fails, which is probably why there were quite a few other cars at the show rocking these two-piece rims.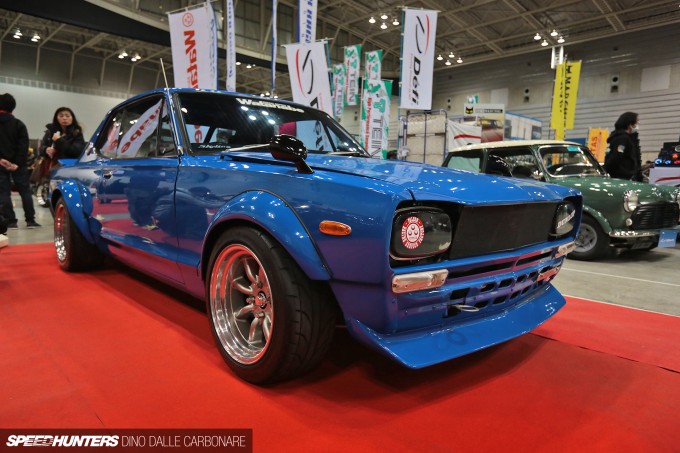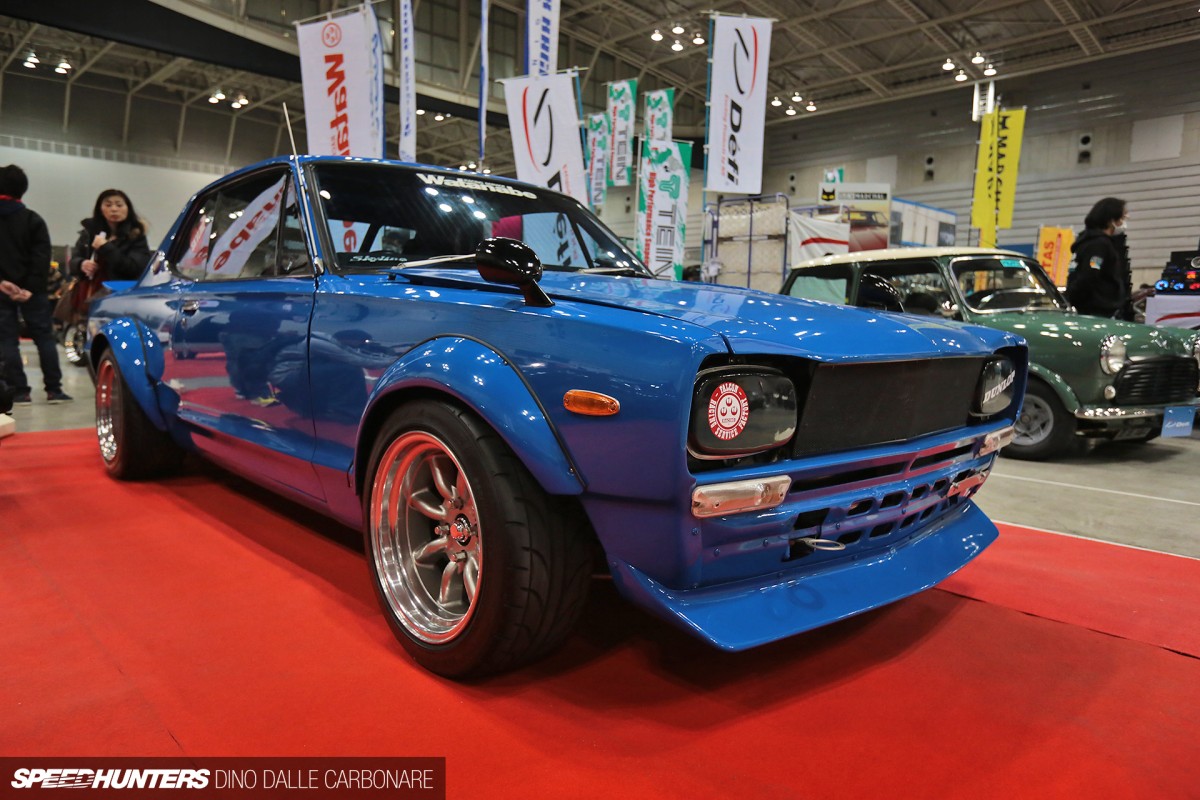 On top of the Tano Works RX3 that I showed you in the spotlight post, Watanabe also had this race hakosuka on display sporting some pretty bulbous-looking overfenders and the must-have bucktooth lip. The R32 Skyline color might be too modern for some, but it looked damn cool up close. Although it probably could have done with some Calsonic sponsor decals to finish off the look.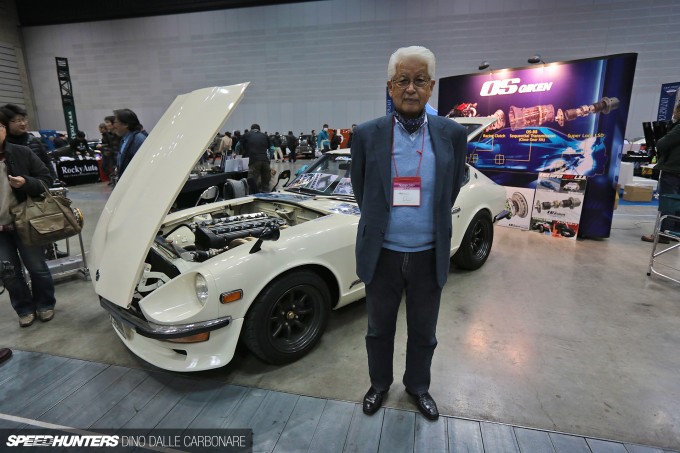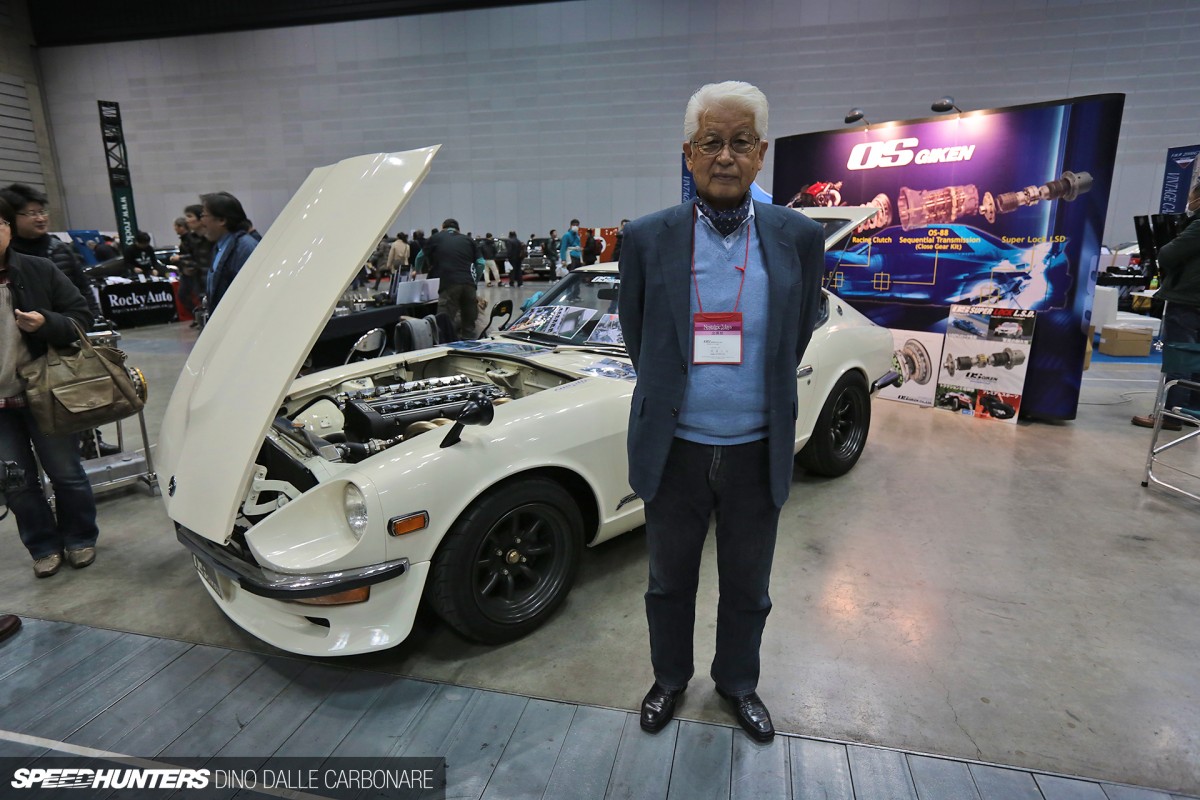 If it wasn't for this man – Okazaki-san of OS Giken – Japanese tuning wouldn't quite be as exciting as it is now. He's quite the character and it's probably because of this that he's always strived to come up with parts and products that are either different from the norm, or just completely mind-blowingly awesome.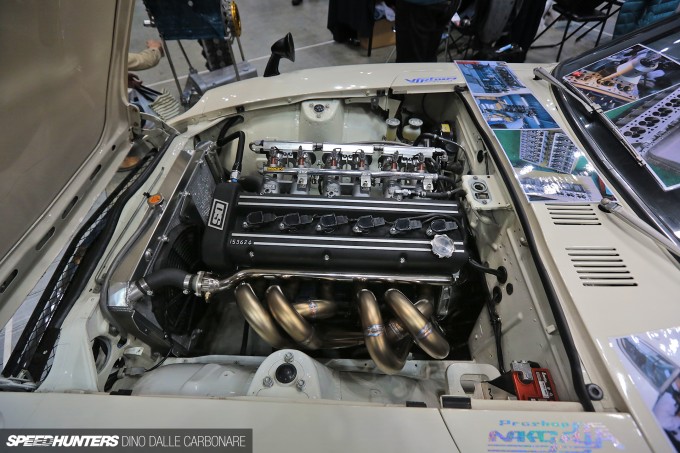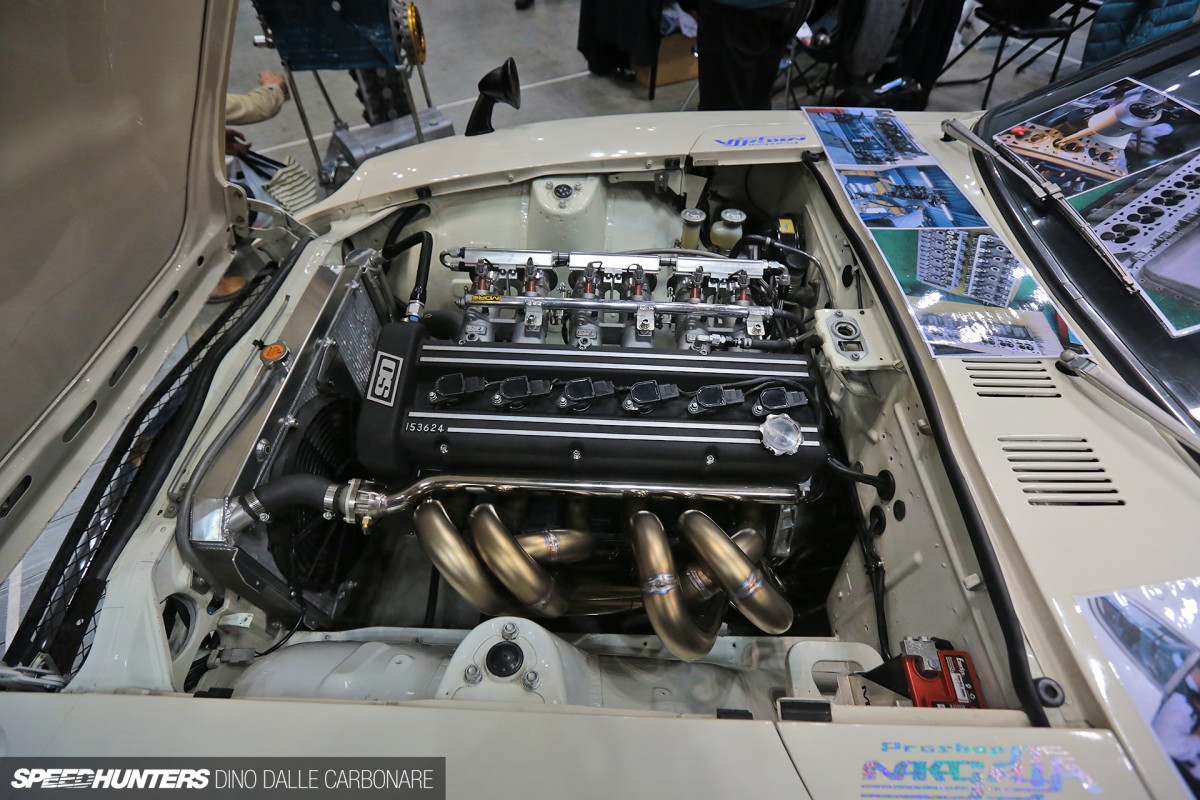 This engine is a great example. The TC24-B1Z isn't something we're unfamiliar with and some of you might remember that I spotlighted it last year – or at least the carburettor version of what you see here.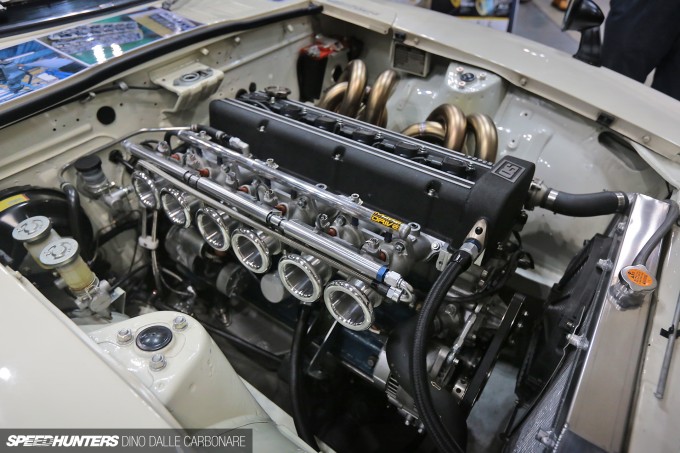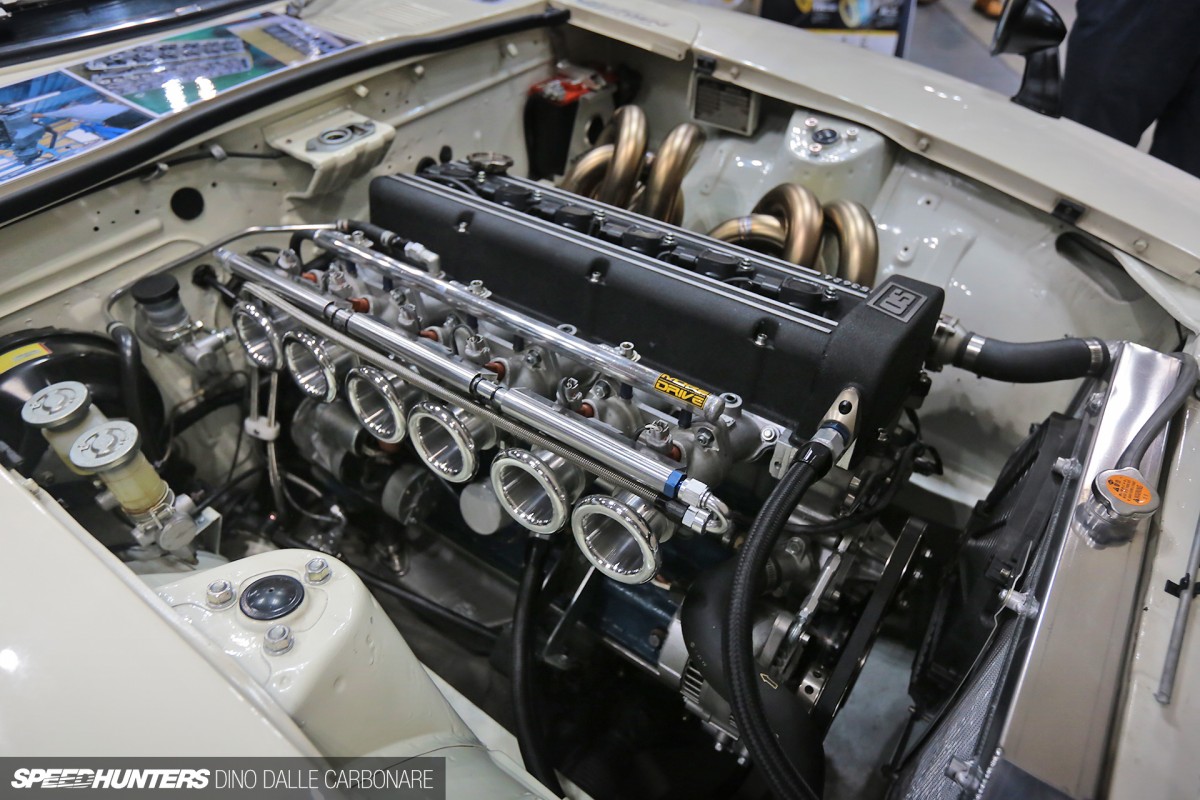 The development and fine-tuning on the OS Giken twin cam head and their S30 might make this the most special Z on the planet if you ask me. Like I mentioned last year, the complete engine option can be requested with either carbs or a sports injection system to really get the most out of it. And when I say 'most', I mean 420hp at 9,000rpm. Now this is a car I have to do a Dream Drive of… with a bunch of GoPros strapped all over to record the sound of course!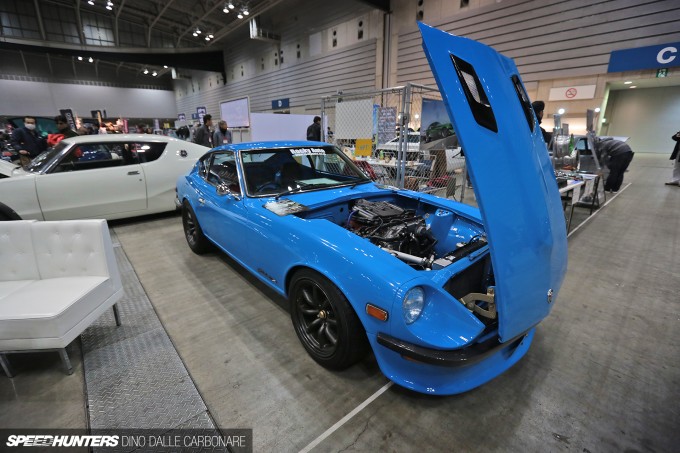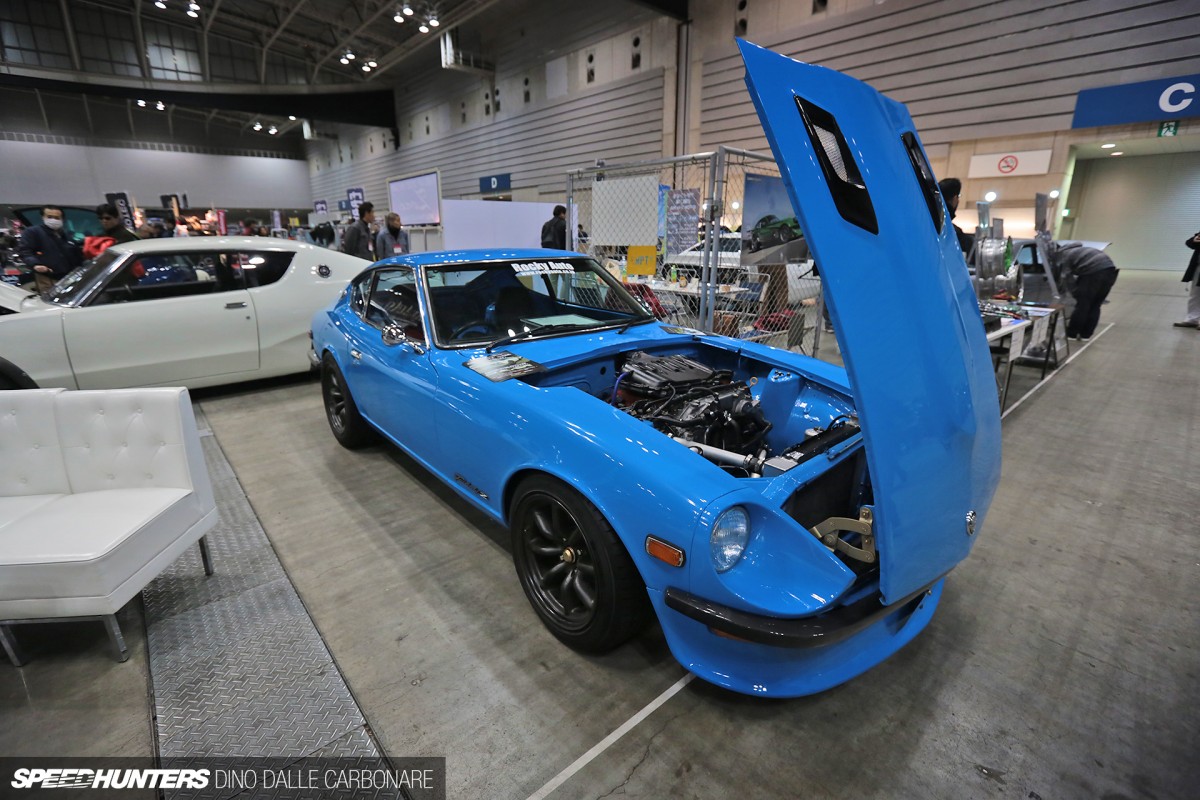 Here's another Z, albeit completely different. This is Rocky Auto's latest little project and seeing how they've practically swapped every conceivable engine into the S30's rather large engine bay, they thought they'd keep it in the family this time.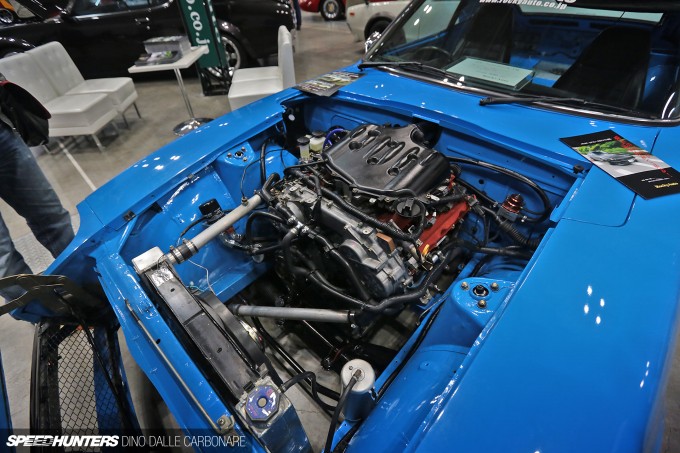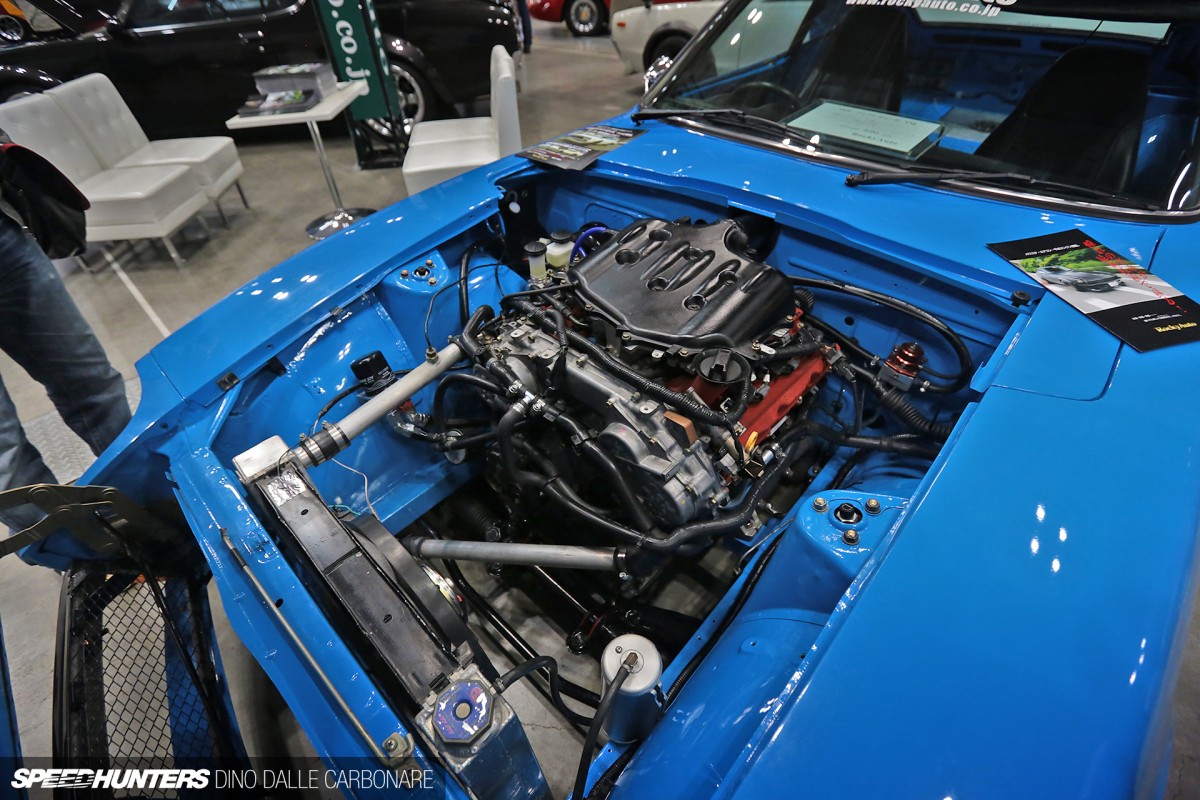 The Z33's VQ35DE certainly looks tiny in there. The motor is obviously still the first generation of the engine with that curious looking intake plenum and single throttle set-up, and seeing the actual position of the throttle itself, it was easier to feed it air from behind the firewall rather than create an intake pipe with a overly exaggerated bend in it. Along with the V6, the Z33's six-speed transmission was also swapped over. The car is up for sale and yours for a cool US$87,000.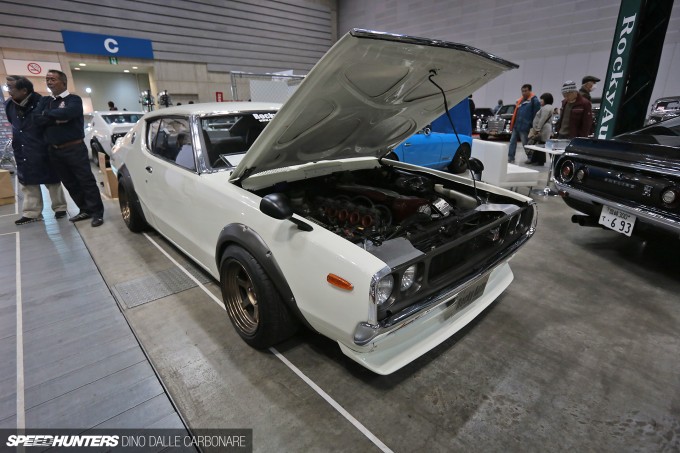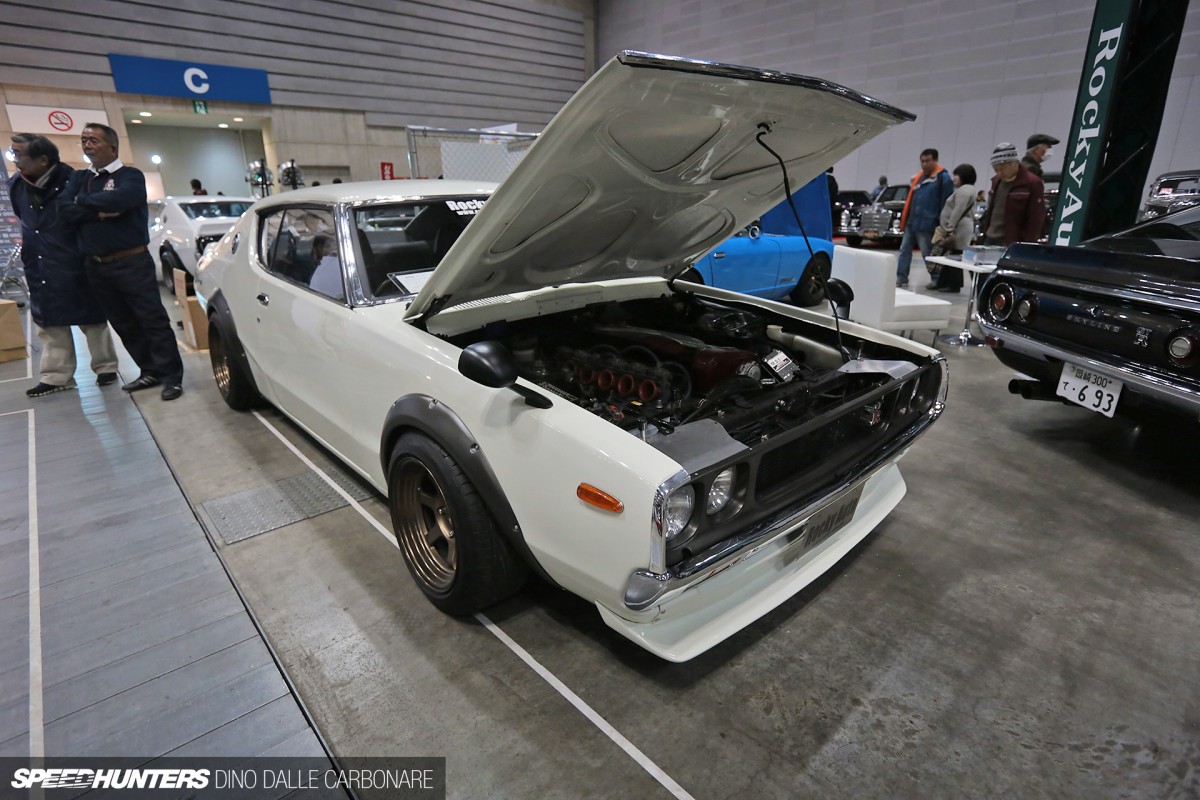 After a year spent ironing out all the little problems, their R32 Skyline-based kenmeri replica is almost close to production now. This might get interest from those that want the kyusha look, but don't want to sacrifice the benefits of a modern chassis, engine and comforts.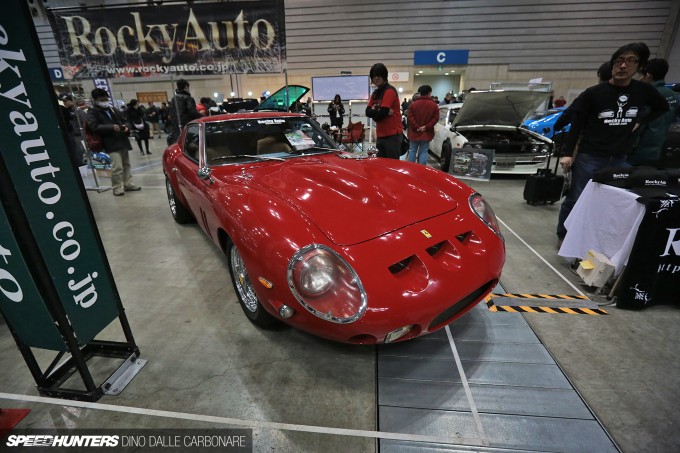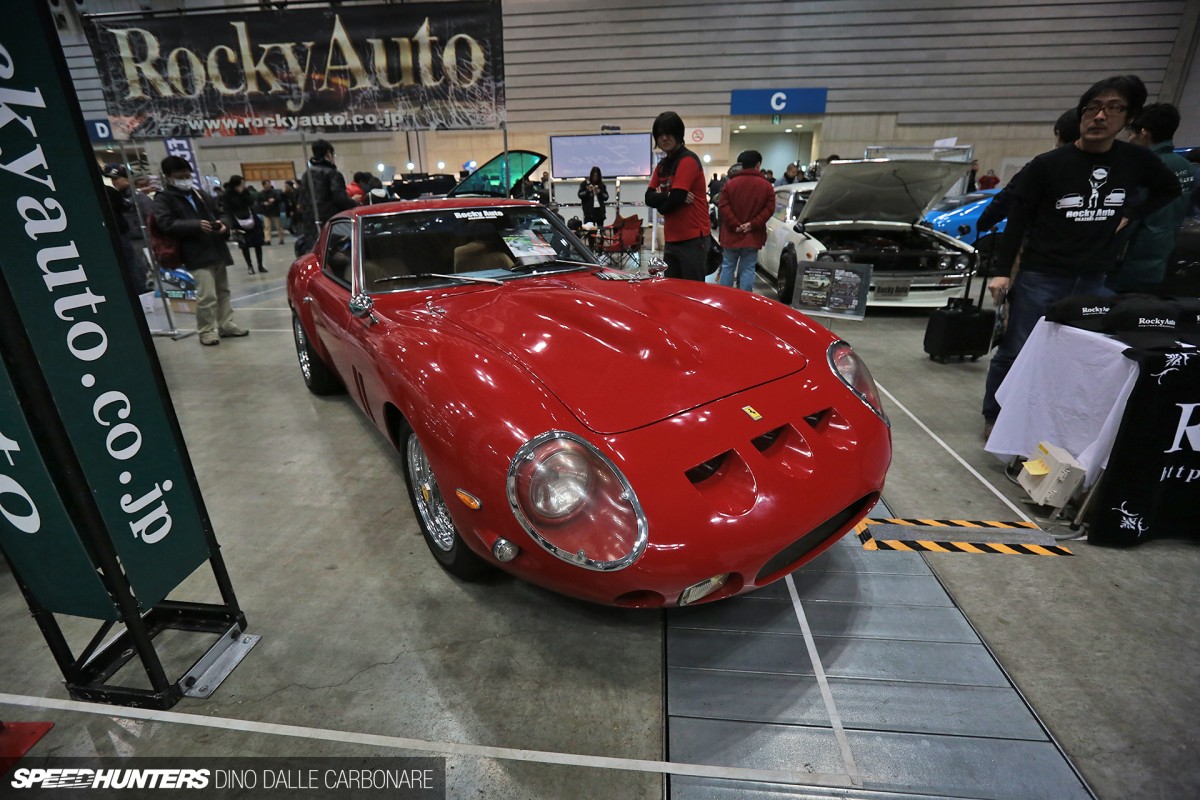 You should know by now that when it comes to Rocky Auto-branded cars, looks can – and usually are – deceiving. That's precisely the case with this Ferrari GTO, which of course isn't a real 250 but a replica built on 240Z underpinnings. The car was actually built in the US and Watanabe-san has recently brought it over to Japan.
The parthunters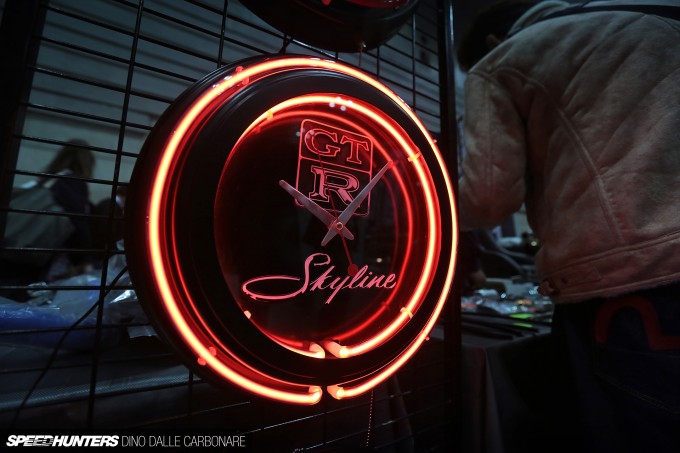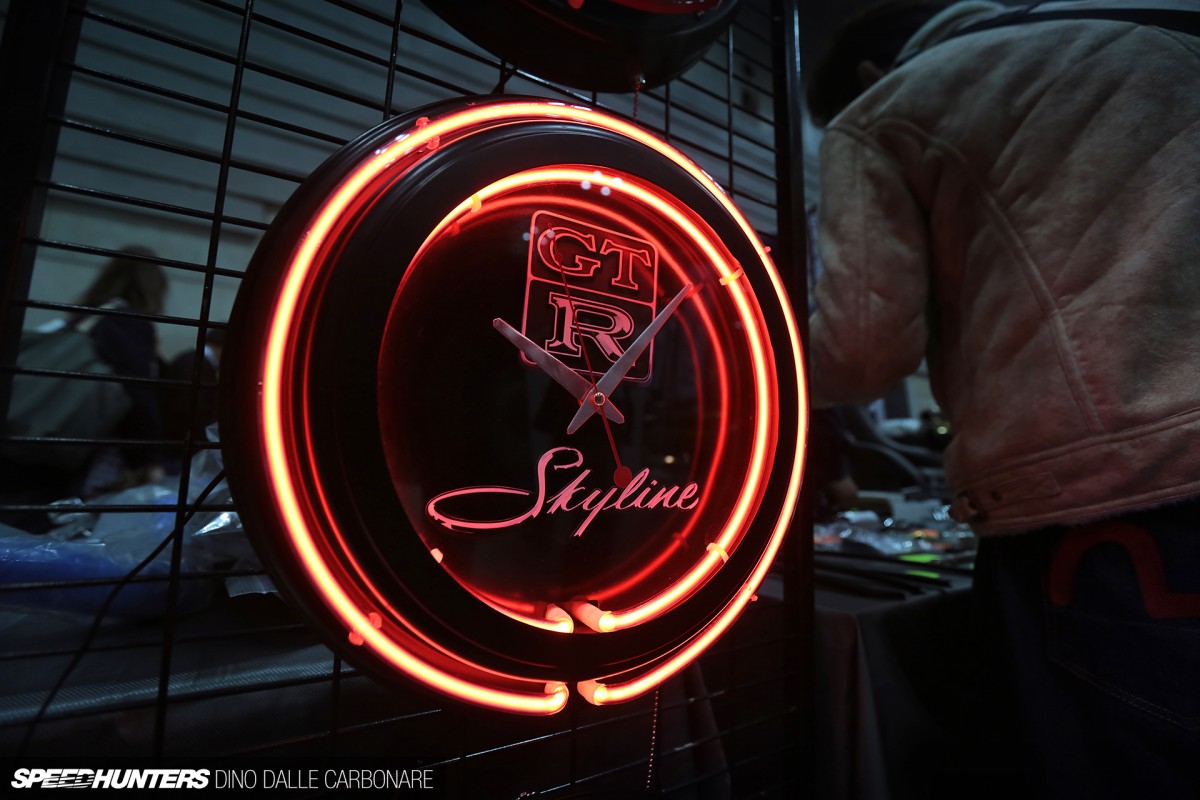 N2D is as much about cars as it is about merchandise, collectables and of course, parts. Kyusha owners flock to the show as they know they'll be able to check out rare and hard to find parts, and get some really great deals.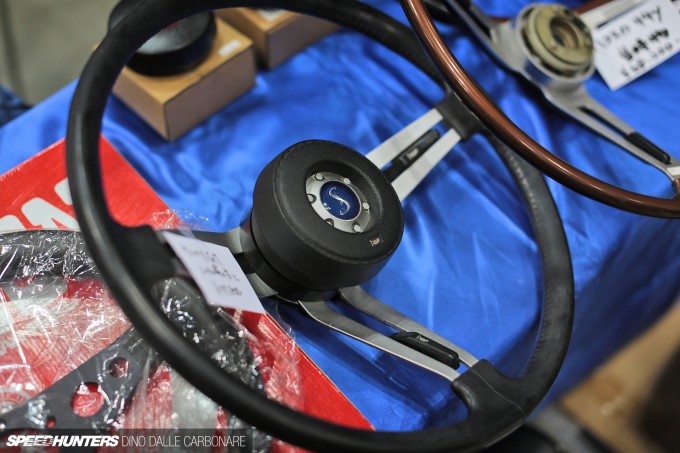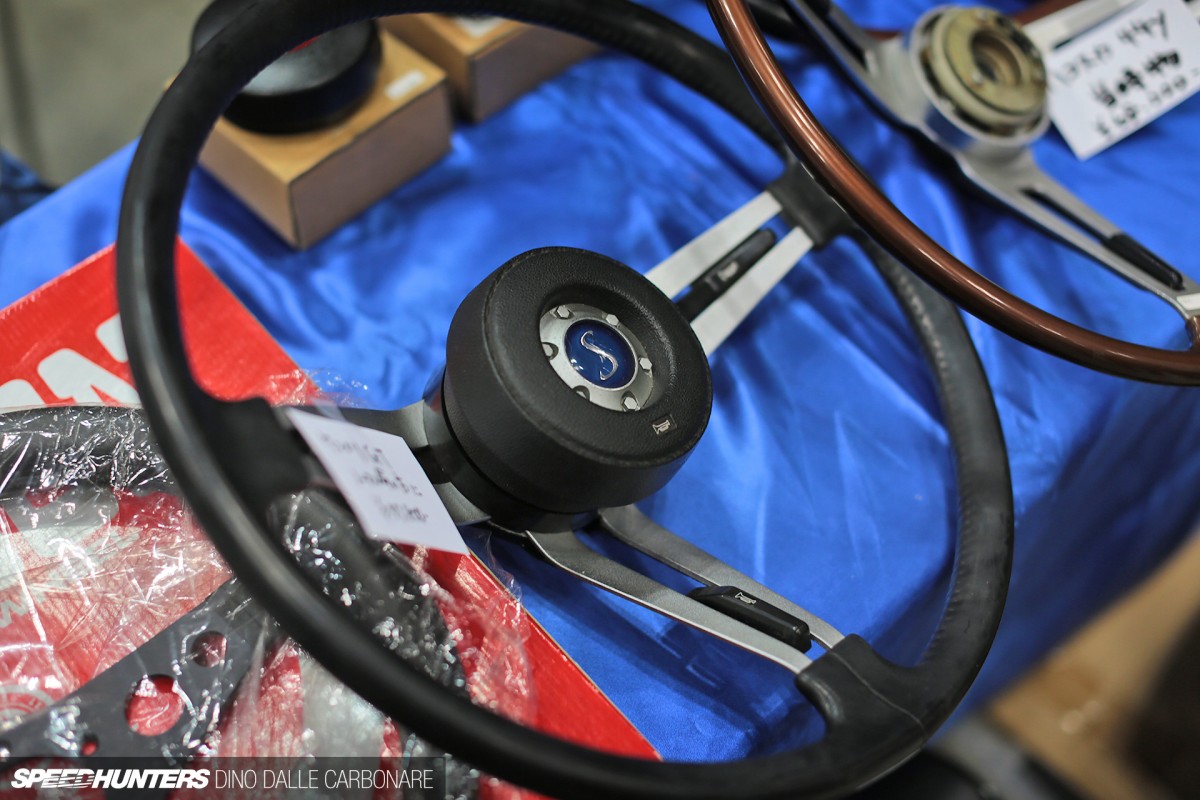 It doesn't really matter what you're after, or what you can or can't find either, because you're usually face to face with some of the most clued-up vintage car experts and otakus in the country. So what you may be after is usually only a question away.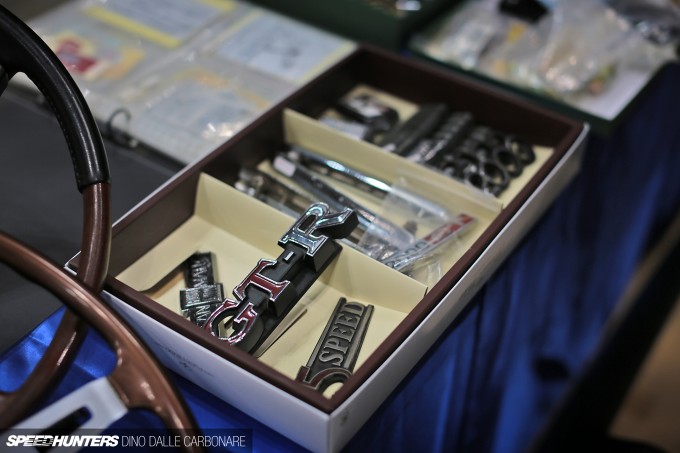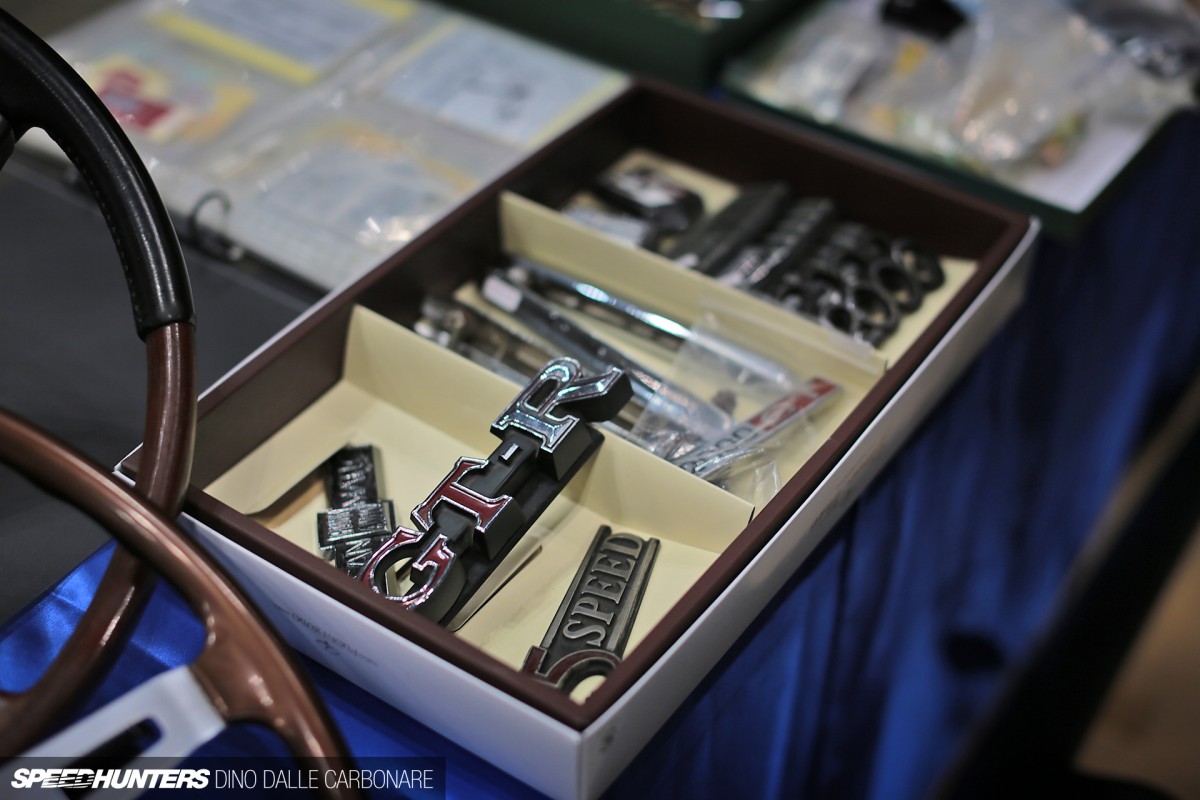 Even if you aren't restoring a car, picking up a few badges or other sort of odd bits to add to the bookshelf collection is always nice.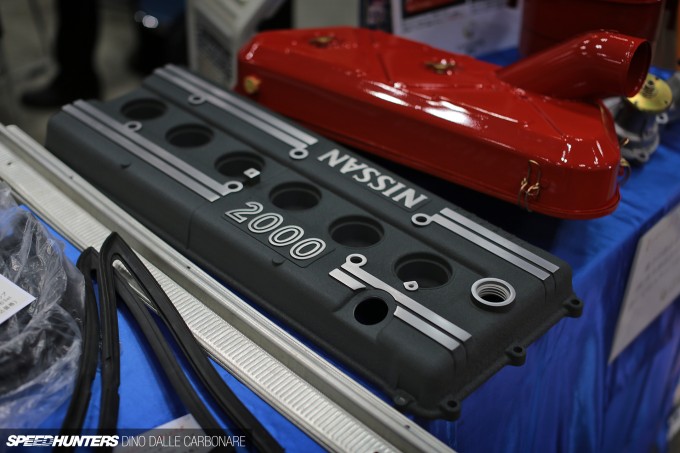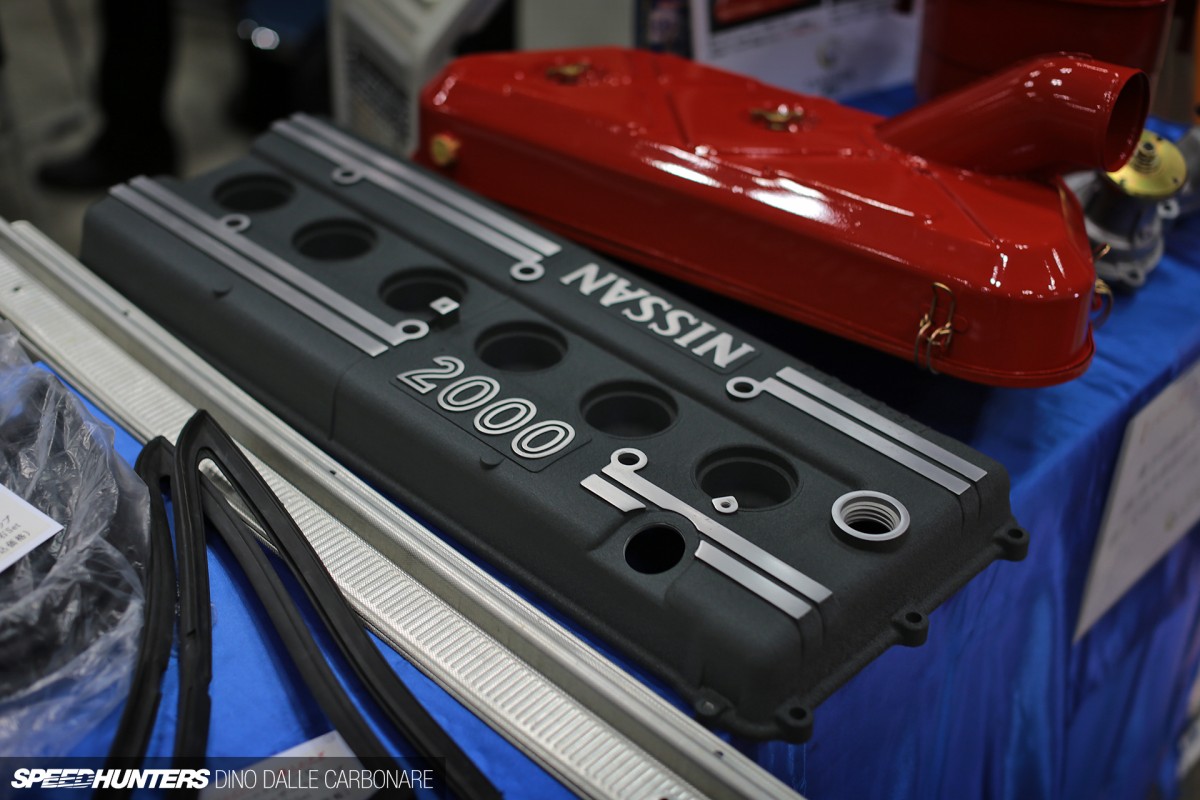 On the other hand, for those looking to put the finishing touches to an engine overhaul, you're really confronted with some hard to resist final additions – like this gorgeous S20 cam cover and factory S20 air box.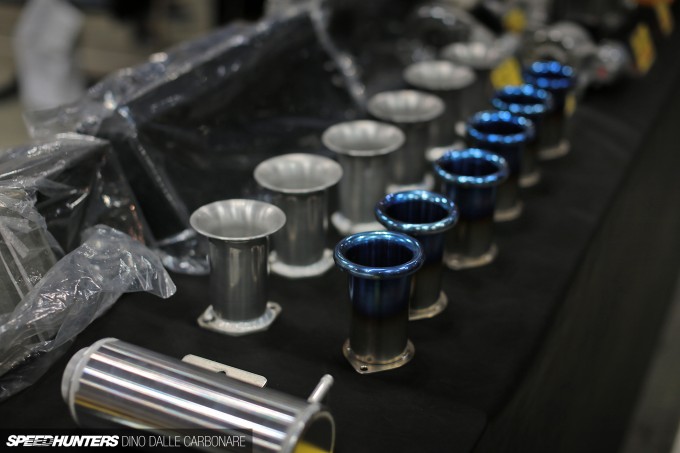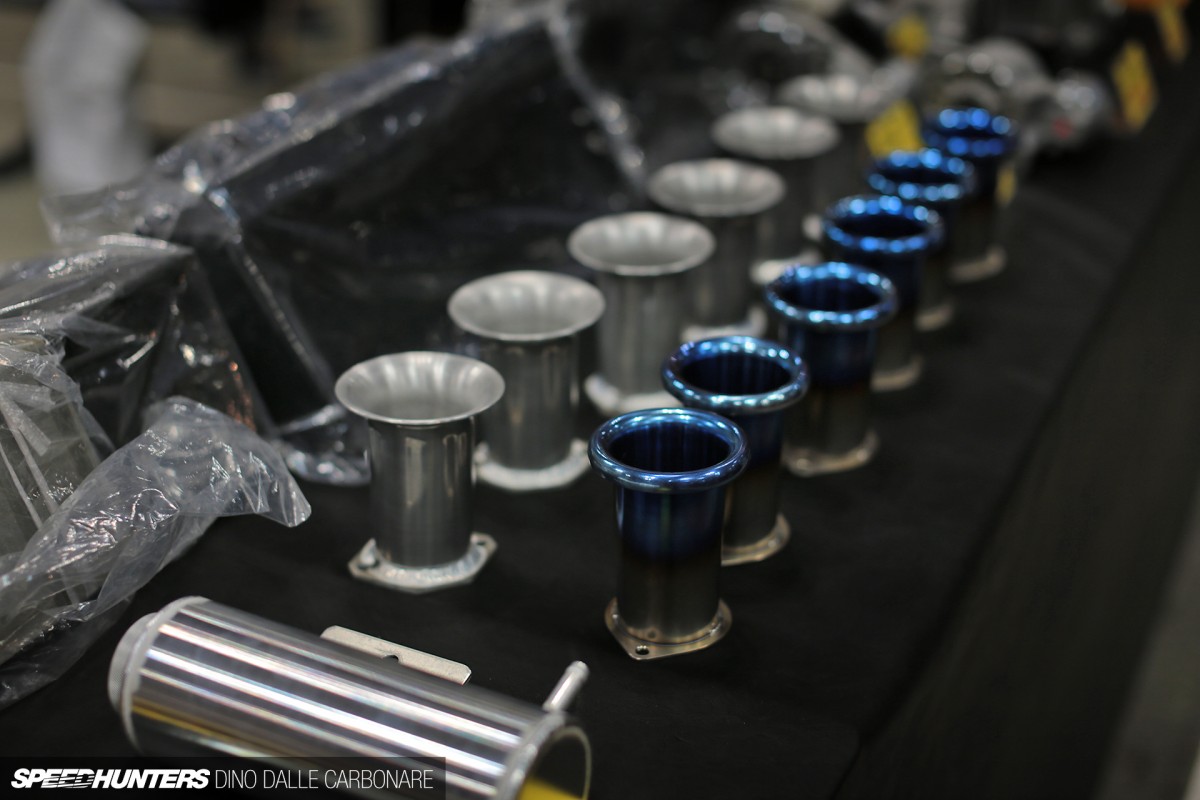 Velocity stacks are more than just decoration pieces of course – they're there to smooth and facilitate the flow of air into either a carburetor or a throttle body intake if you're running fuel injection. Length, diameter and the shape all come with their own positive or negative aspects depending on the specifics of the set-up. These titanium ones that RS Start had on sale were rather sexy though.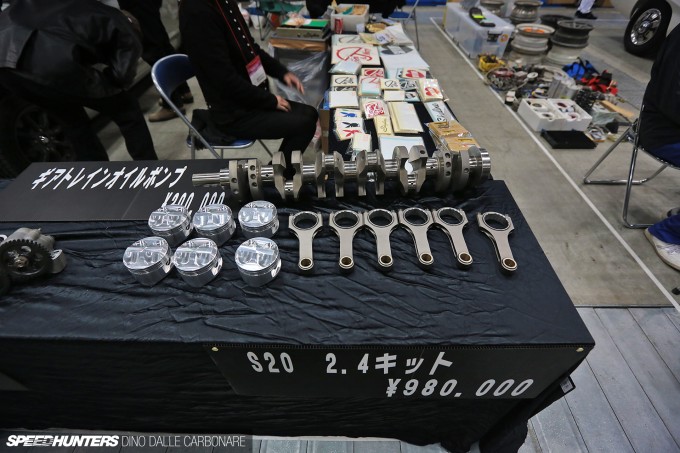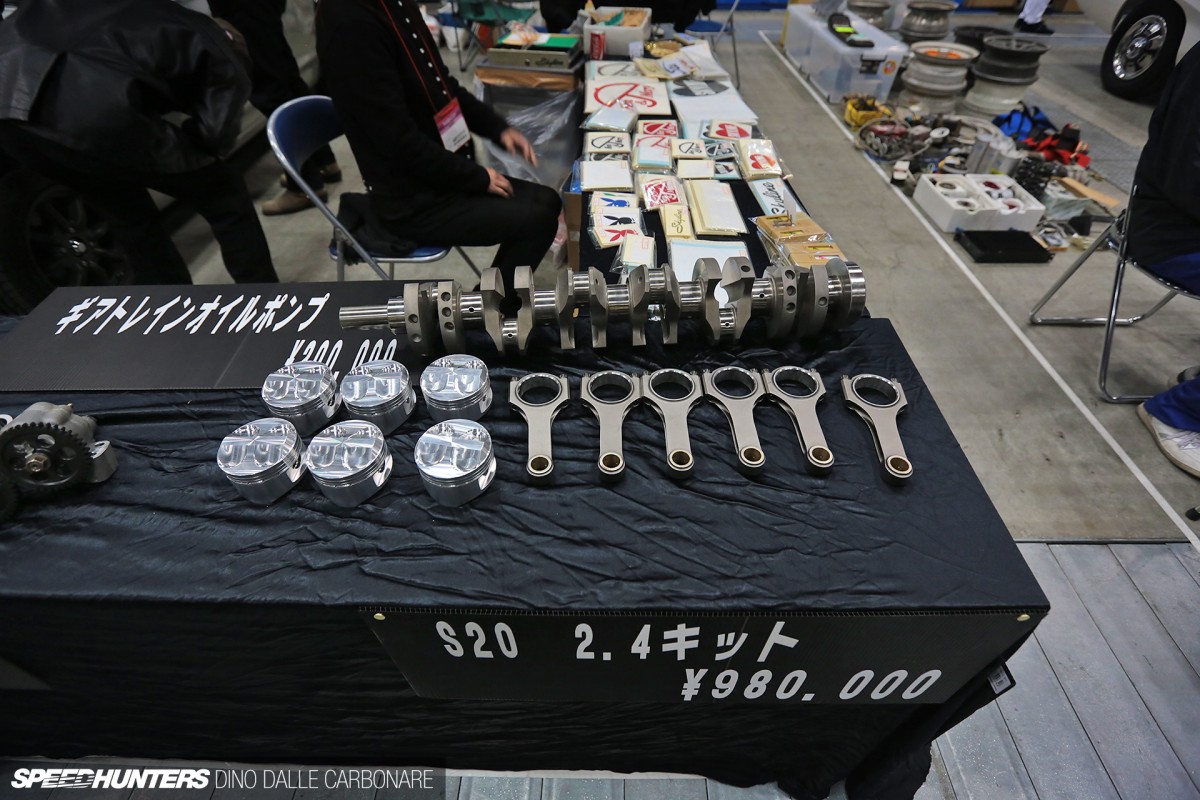 Granted the S20 is right there at the top with the best-sounding engines ever made, even when slightly tuned, it can hardly be considered overly powerful. For those wanting a little bit more, stroker kits are becoming quite popular. They may irk the the purists, but hey – 400cc of extra capacity goes a long way if you rate power as the most important attribute in a motor.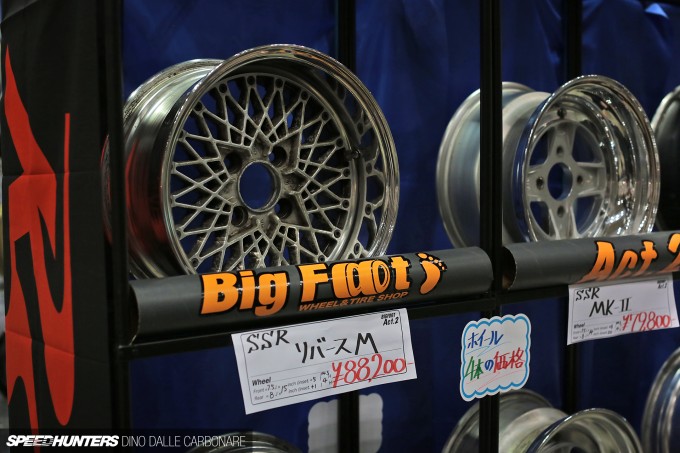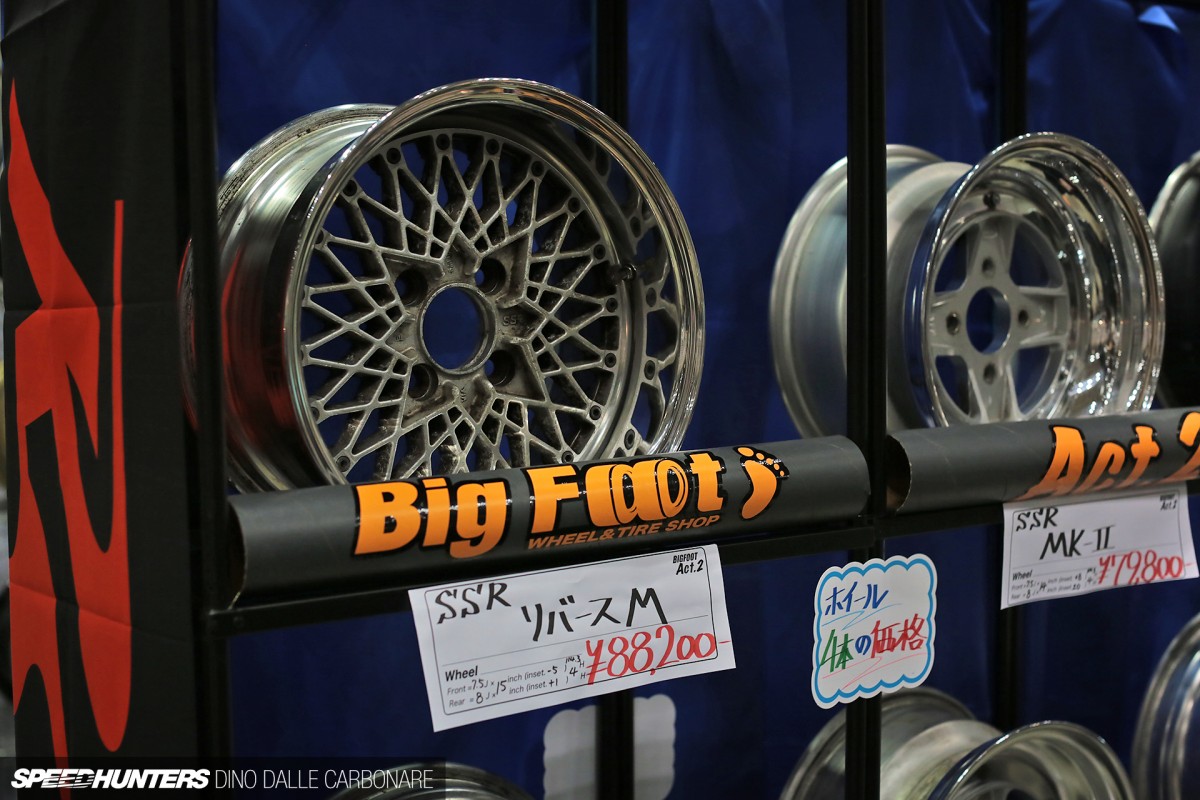 Did I hear you say wheels? Well if you like your vintage stuff then Big Foot is the place you need to head too. They had a few popular rims in varying conditions up for grabs, like these unrestored 15-inch SSR Reverse Mesh.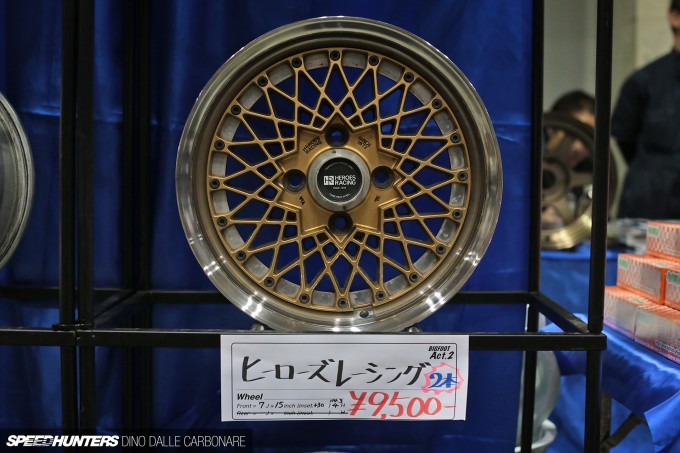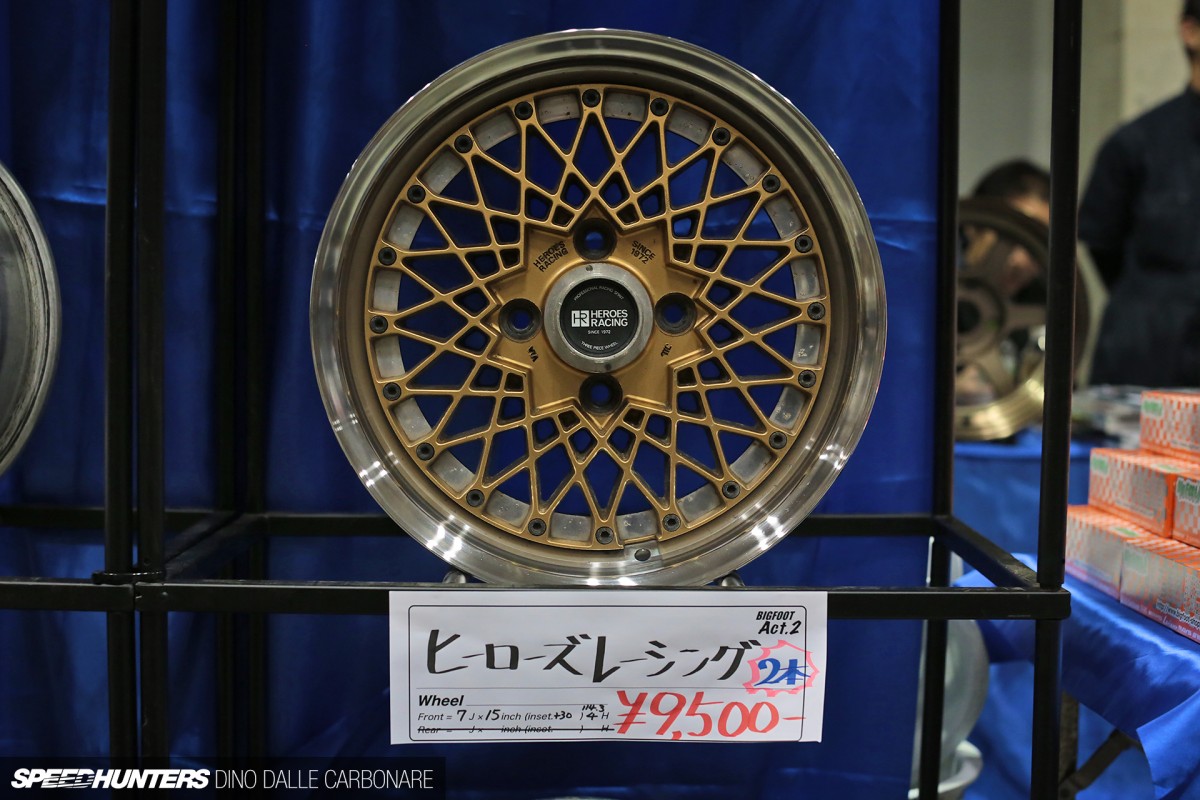 In the same display rack I spotted another cool mesh design from Heroes Racing, but there were only two wheels available.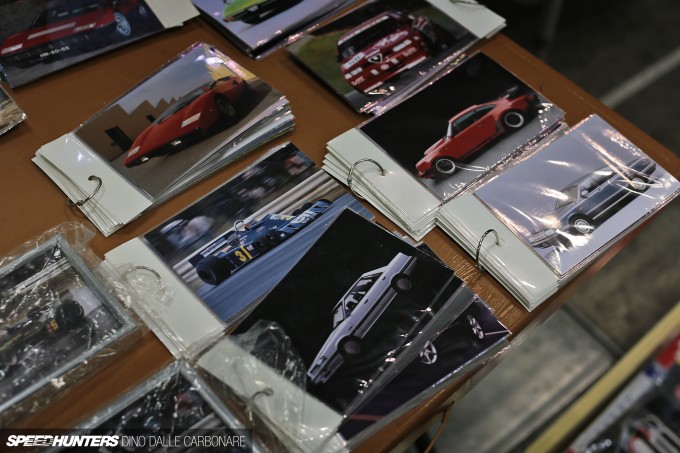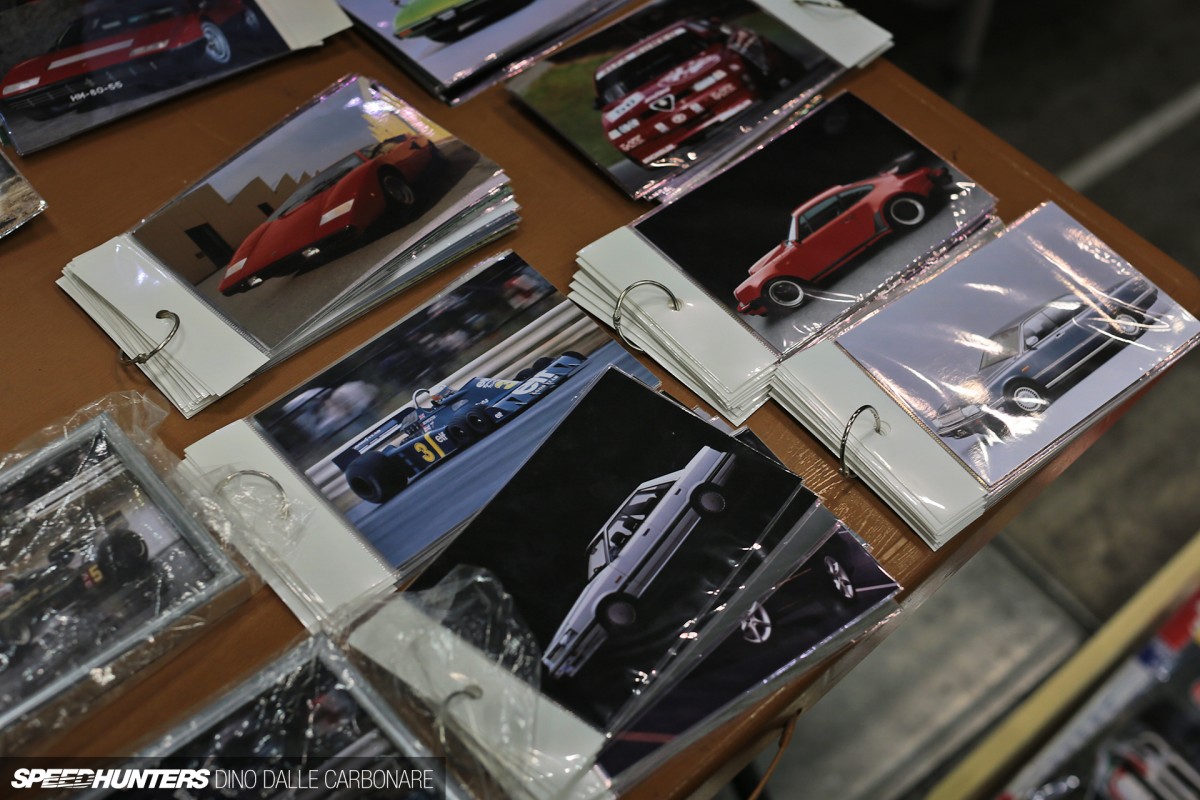 And then we get to the merchandise, and with me spending a great deal of my time behind the viewfinder of my camera, I always take a good look through the posters, calendars and regular pictures that are available. You could literally spend the whole weekend doing this sort of thing, and a lot of dedicated enthusiasts do just that. Bye bye spare cash!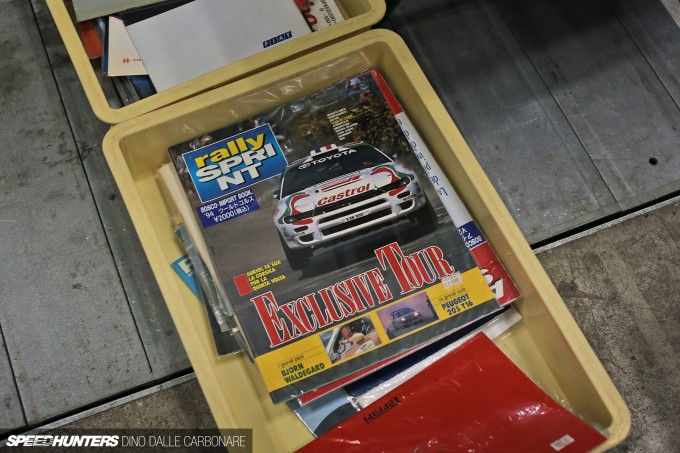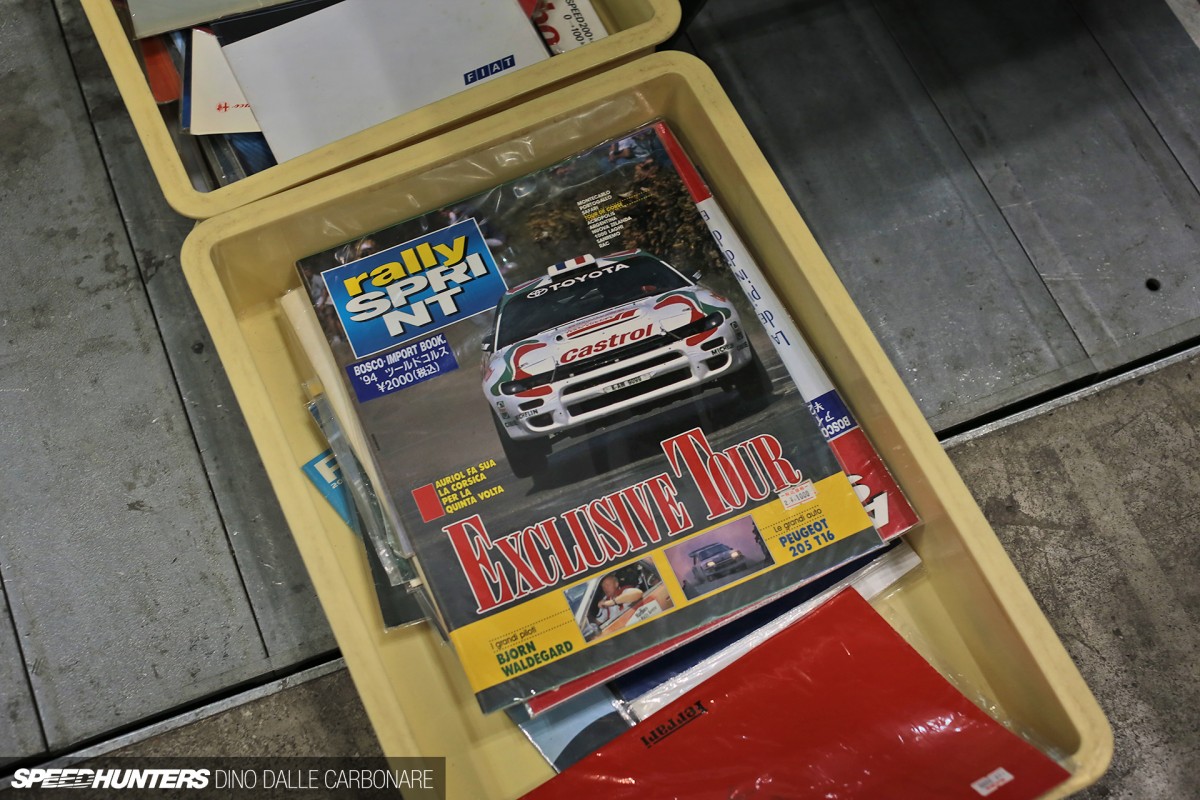 As I was checking out some vintage magazines one reseller had on display, I came across an old Italian Rally Sprint magazine from 1994 with Didier Auriol and his Group A Celica ST185 GT4 on the cover.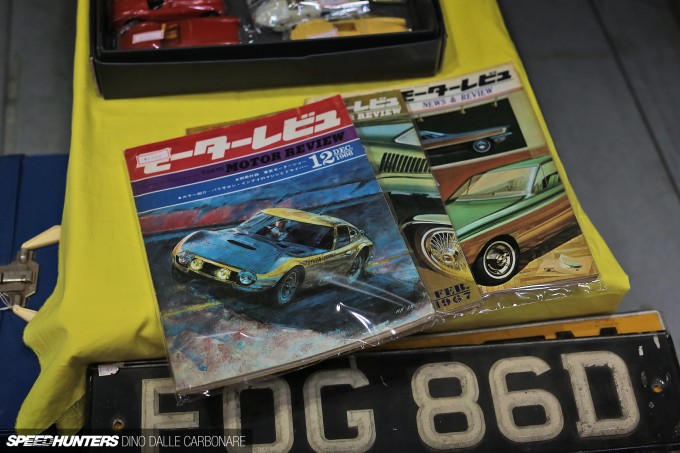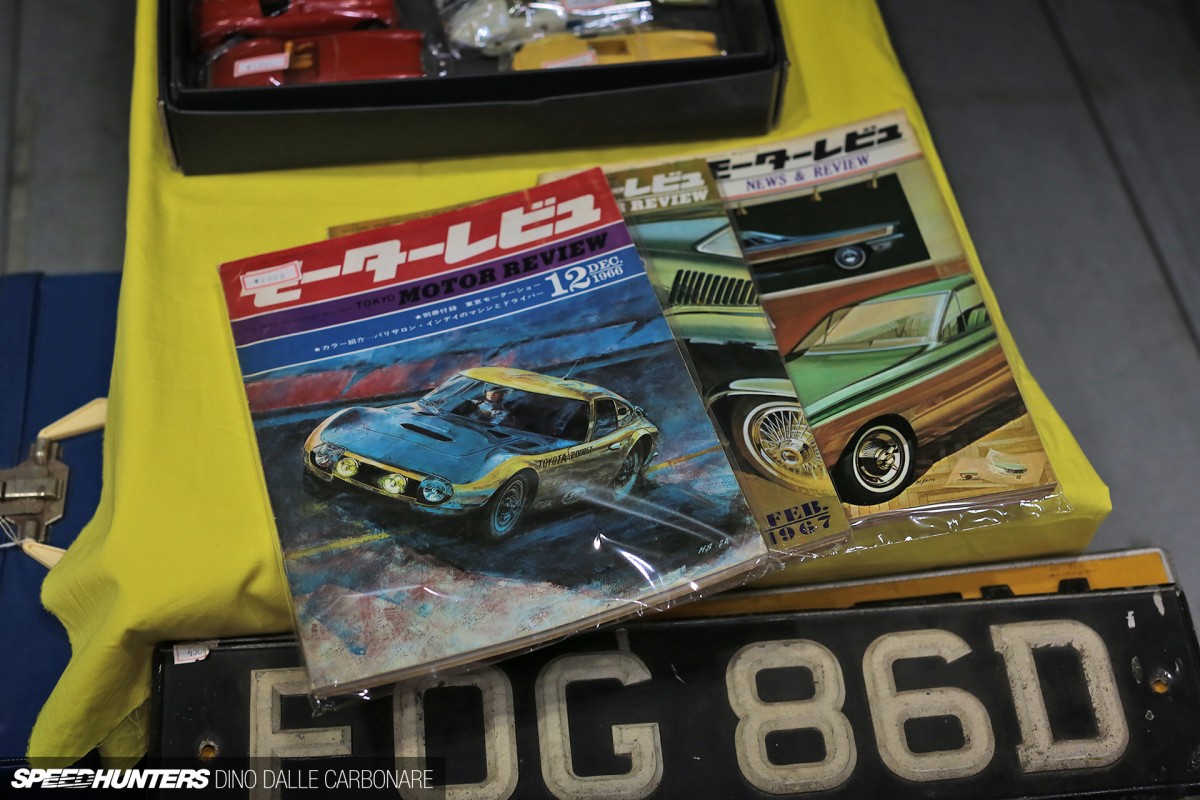 It was quite the find among other Japanese collectable mag, books and catalogues.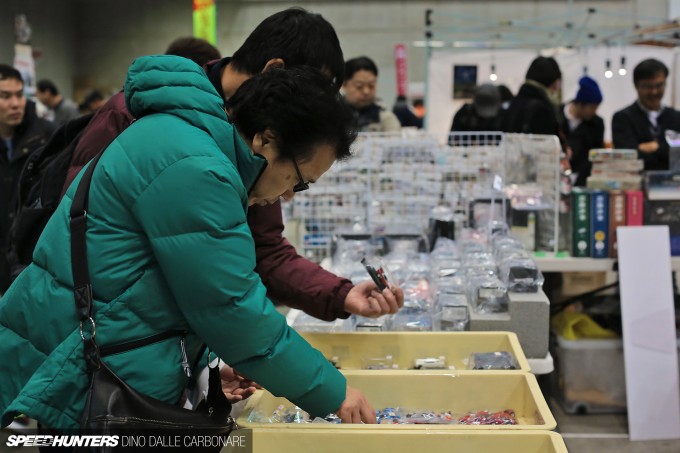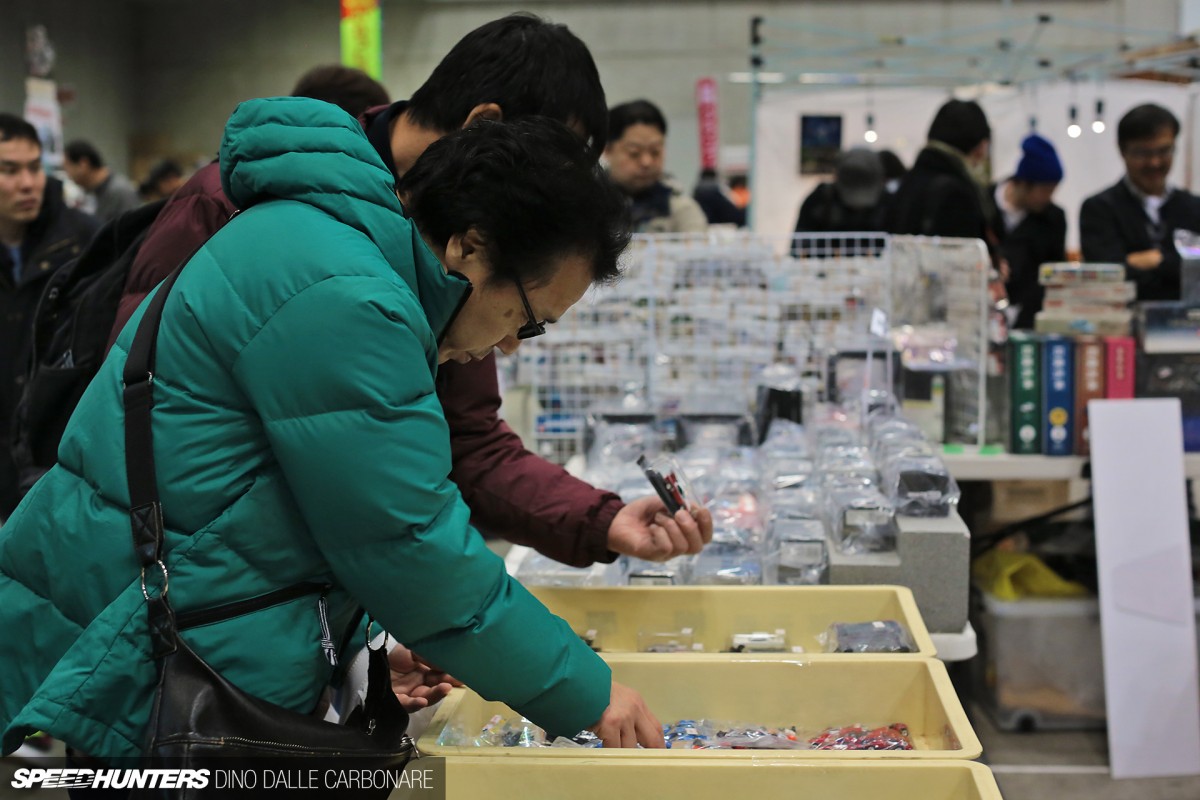 This is where stuff begins to get really dangerous. Many moons ago, I too used to be quite the collector of model cars – either patiently assembling them myself – or getting the odd die-casts of cars I was interested in. But then I took the decision to stop. I'm glad I did as it had the potential to become really expensive.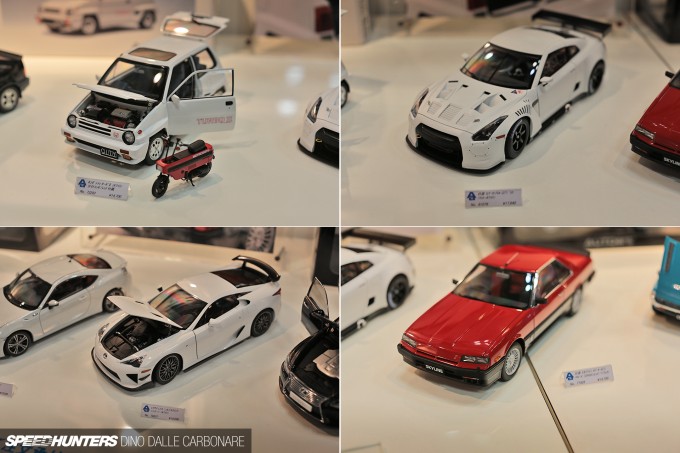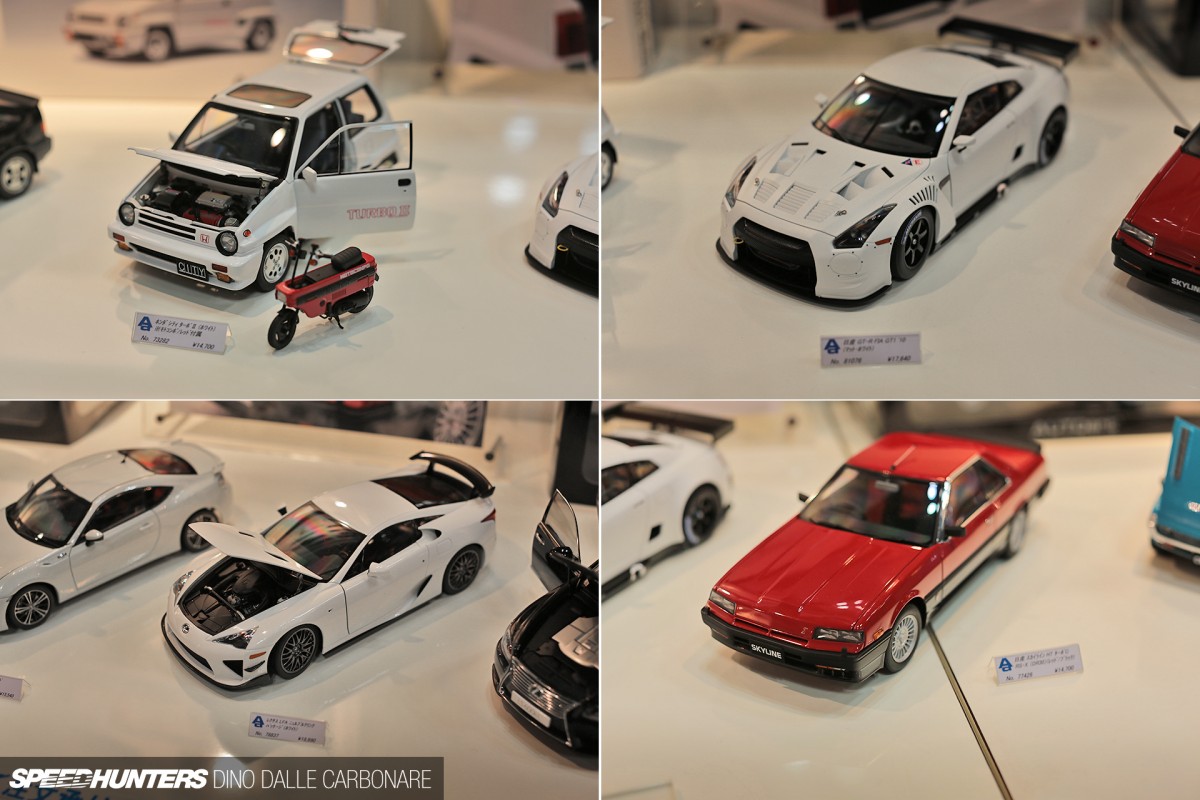 However, some of the more detailed ones really do make it hard to accept that decision. Check out the Honda City Turbo II with the Motocompo foldable moped. How cool!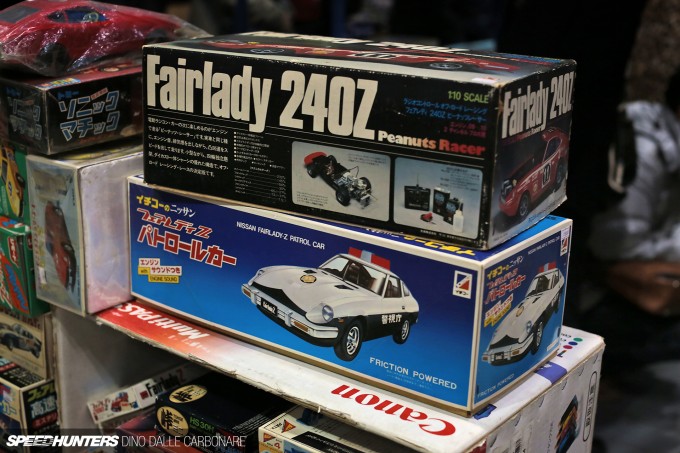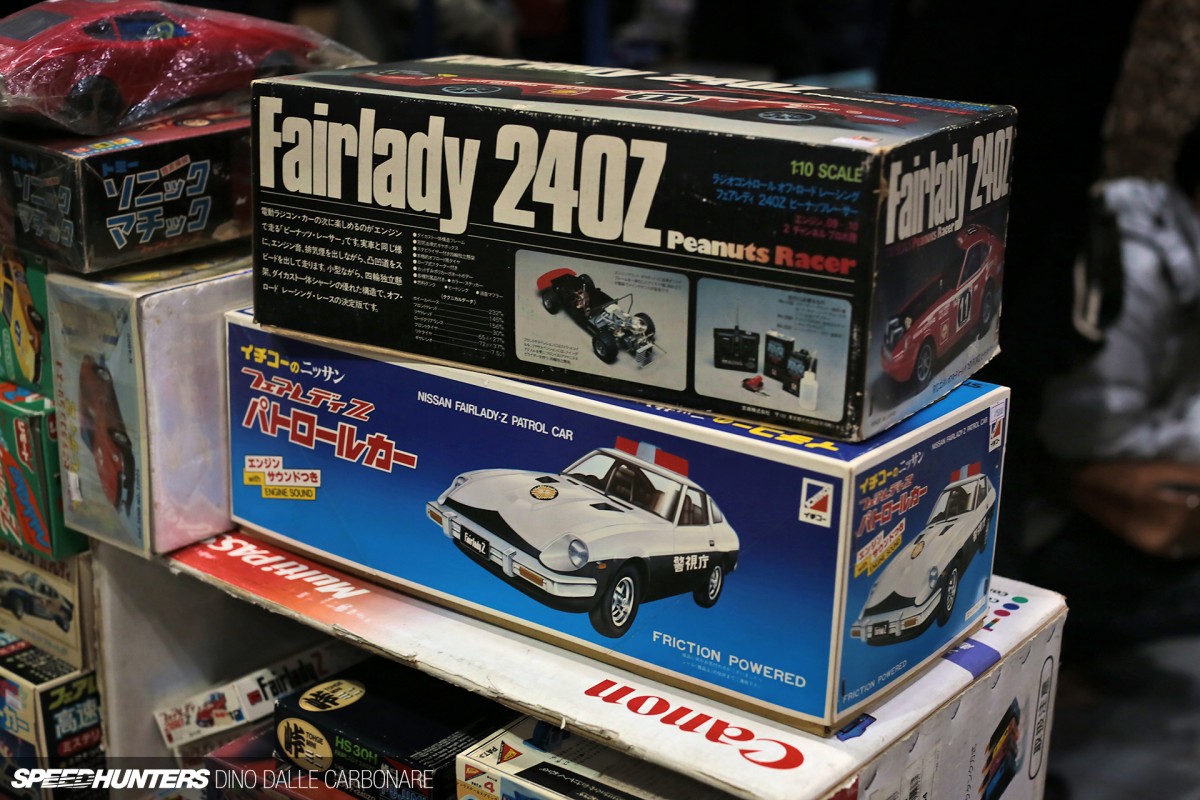 You really can find anything out there…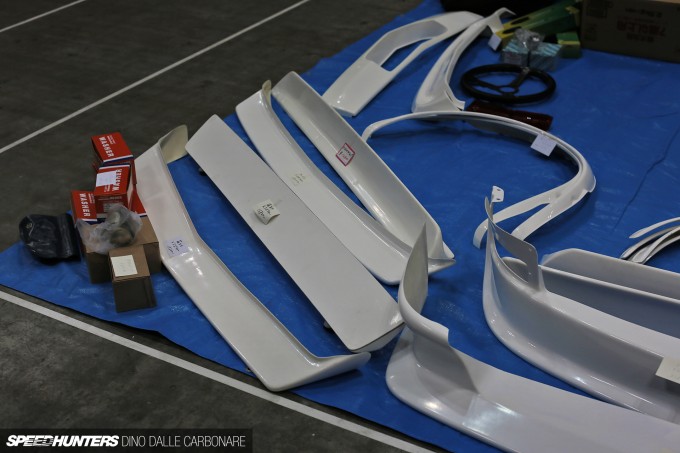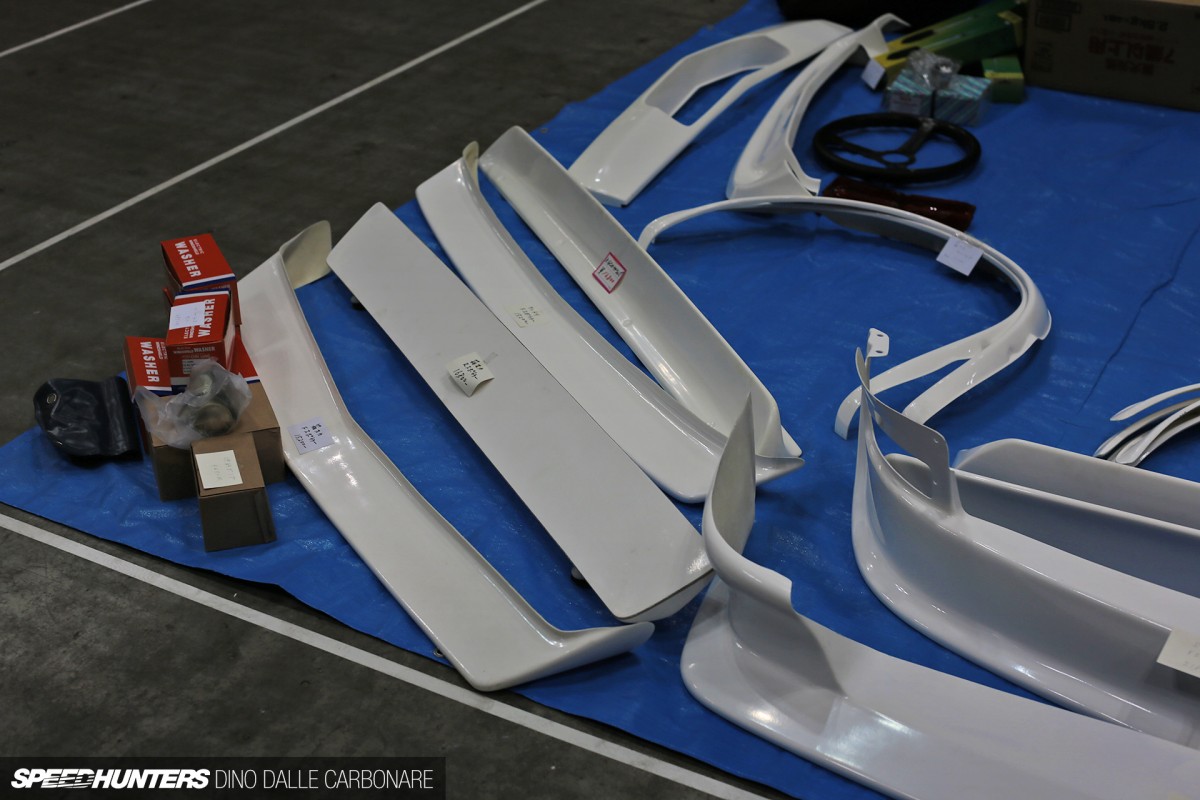 But some prefer the 1:1 scale stuff and even when it came to exterior additions, there was much to drool over, like this little selection of front and rear spoilers for a variety of cars.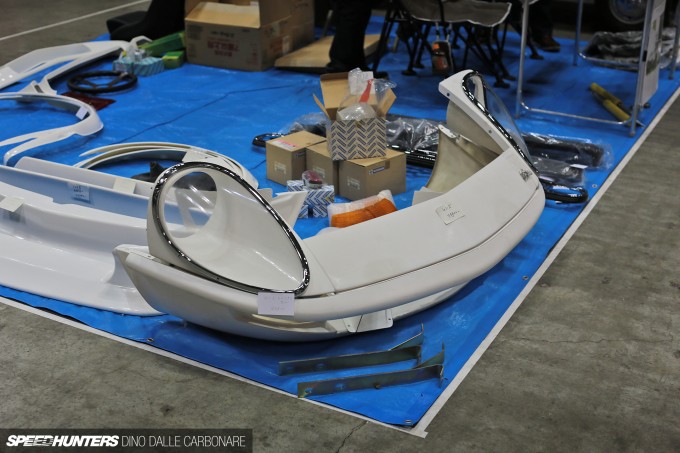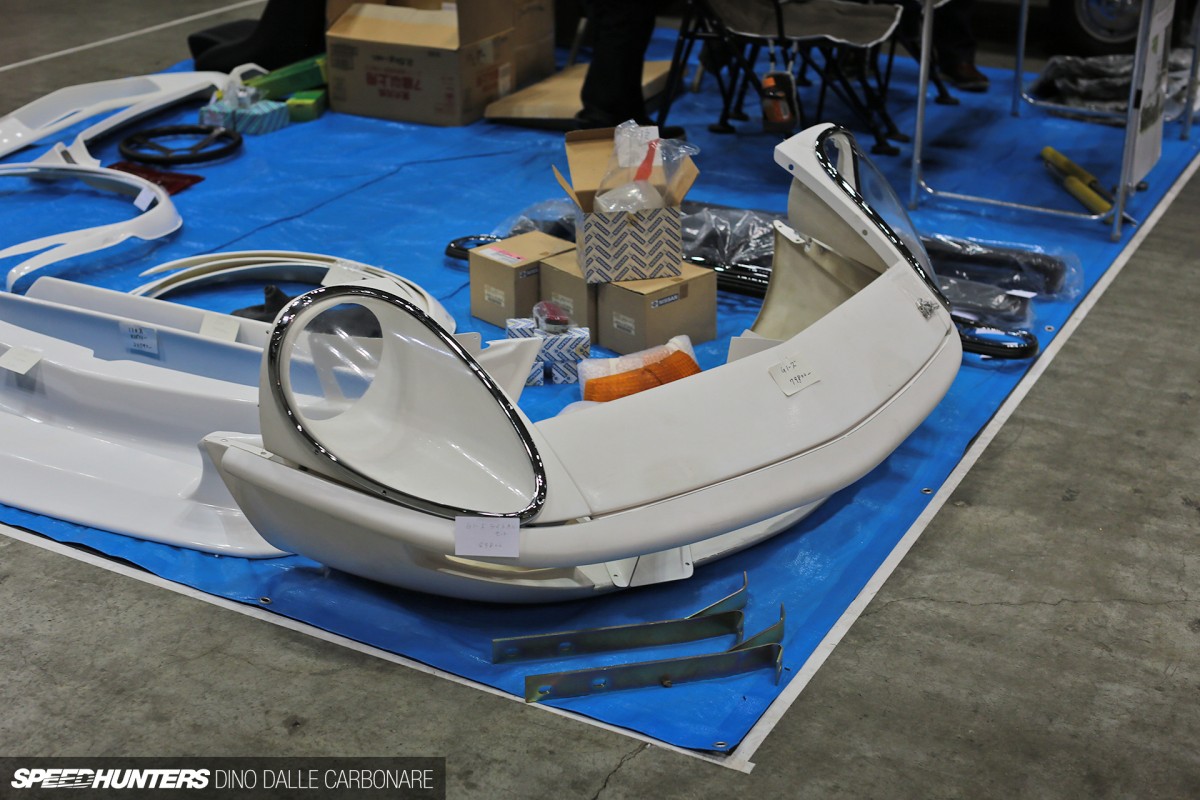 G-nose conversion for your S30? Yes please!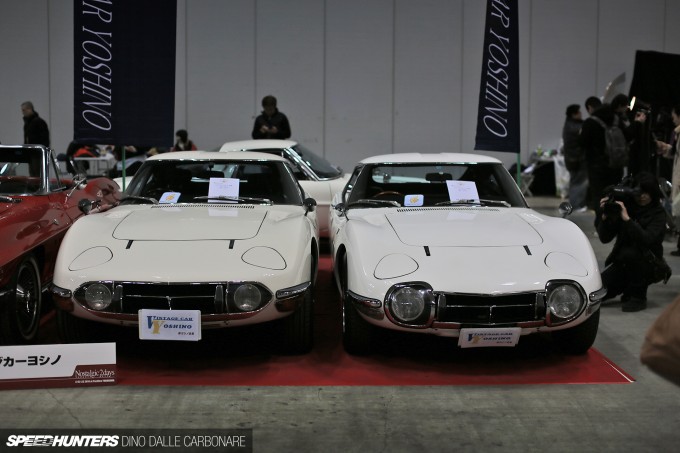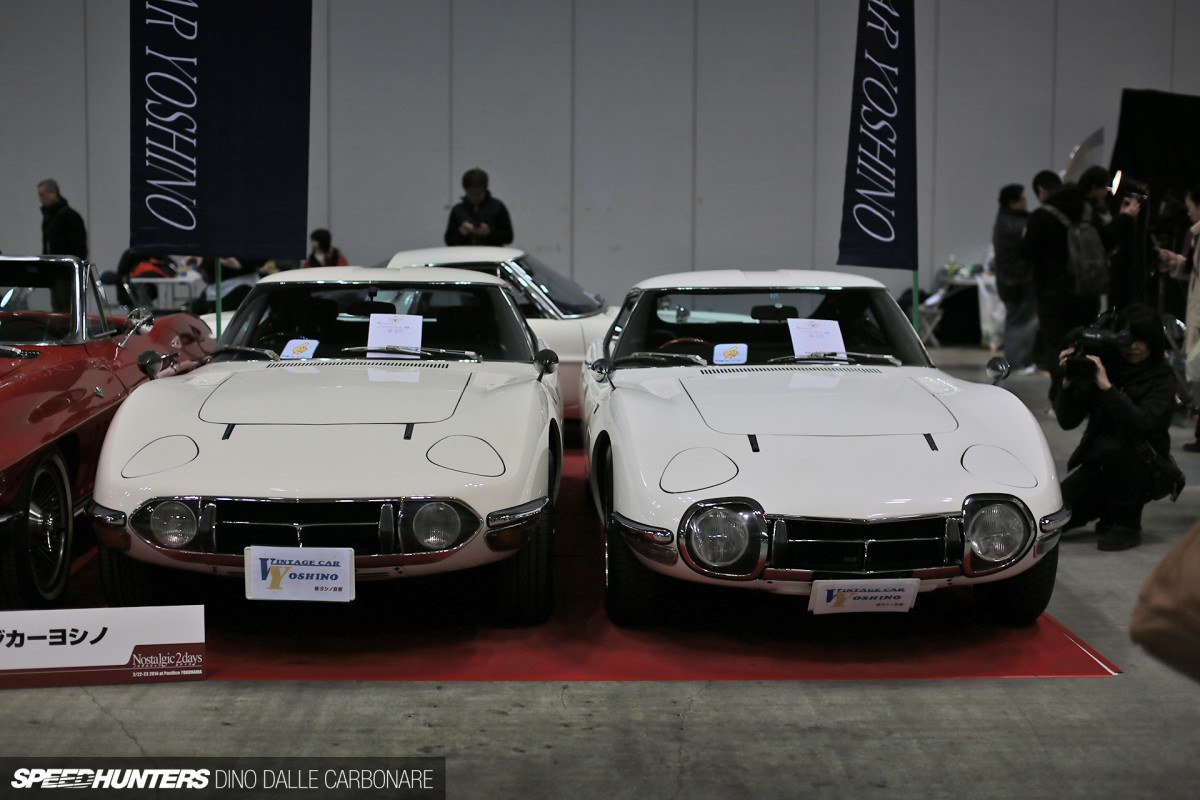 I think this is a good image to bring this year's Nostalgic 2 Days coverage to an end. It's definitely a show that continues to cement itself as a must-see, year-in and year-out, representing this crazy Japanese vintage car scene like nothing else out there. More next year? You betcha!
Dino Dalle Carbonare
Instagram: speedhunters_dino
dino@speedhunters.com