Vintage paradise
You know what continues to get me about the Japanese vintage car scene? It's the way it continues to reinvent itself, the way that despite the rarity of some cars, people keep pushing development as if they were modern day contemporary models. It's all to do with the popularity of it all, because if enthusiasts aren't be interested, there wouldn't be such a big industry supporting it all. The Japanese love to tinker, improve and play around with styles, and to tell you the truth I had no idea just how deep it all went before, a few years ago, I decided to check out the yearly Nostalgic 2 Days event in Pacifico Yokohama for the first time. Needless to say I've been going back every year since because, simply put, this stuff is addictive no matter whether you're into it all or not.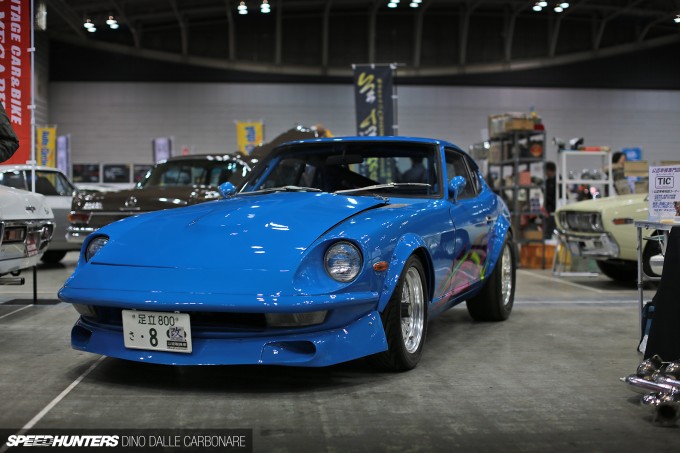 The show may be a fraction of events like Auto Legend but it's mostly all about quality rather than quantity. You can find great examples of the different scenes that exist within the kyusha (vintage car) movement, starting off with some authentically tuned street drag cars like this Fairlady from TIC Group. Bodycolor-matched overfenders join a big front bucktooth-like front spoiler, Vitaloni mirrors and an imposingly tilted bonnet.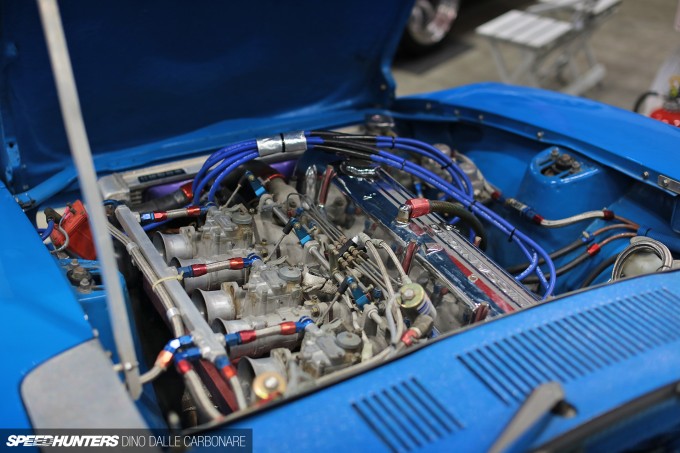 Under it, the stroked L-series sports a touch of old school tuning; well-used big bore Solex carbs standing out along with the supporting fuelling upgrades.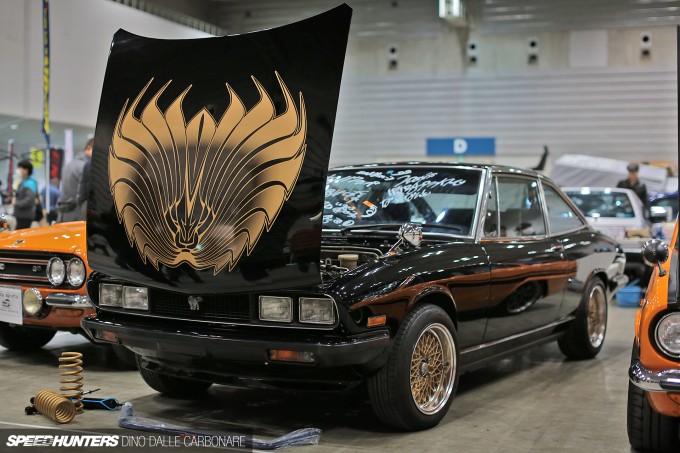 If you're after some rare cars, then Nostalgic 2 Days (N2D) doesn't disappoint. It's here that I always get my Isuzu fix, as you can always count on the guys from Isuzu Sports to bring out a nice selection of Bellett GTRs and the later Giugiaro-styled 117 coupe. This black one really stood out with those oldschool mesh rims and the gold design on the bonnet, which sort of reminded me of the golden bird on a Trans-Am.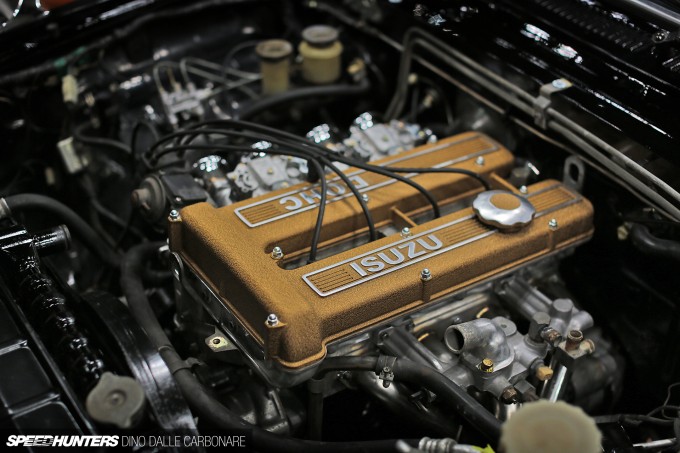 The gold detailing stretched to the tuned four-pot motor with beautifully powder coated cam covers. Interestingly enough, Isuzu was Japan's first car builder, making some pretty original-styled cars and at one point during their history, being partially bought up by GM which spawned the various versions of the Gemini.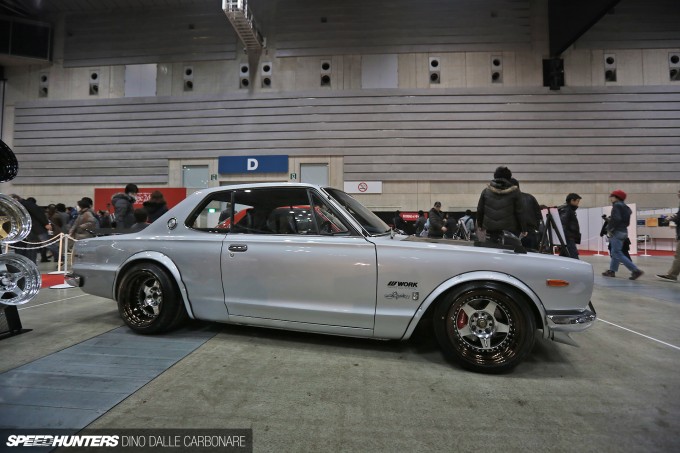 So from old school taste and the odd rare car, it's the progressive vintage car approach that the Japanese exhibit with their most sought-after models. I call it progressive because, for one school of thought at least, it's perfectly alright to improve cars like the KPGC10 GT-R. Think of it as resto-mod tuning, with a JDM twist, something that RS Start really does well. Their Hakosuka which we first saw last year is still running Work Meister CR01s, and behind them, their Brembo braking package and custom suspension goodies make the 2000GT-R handle and stop more like a modern car.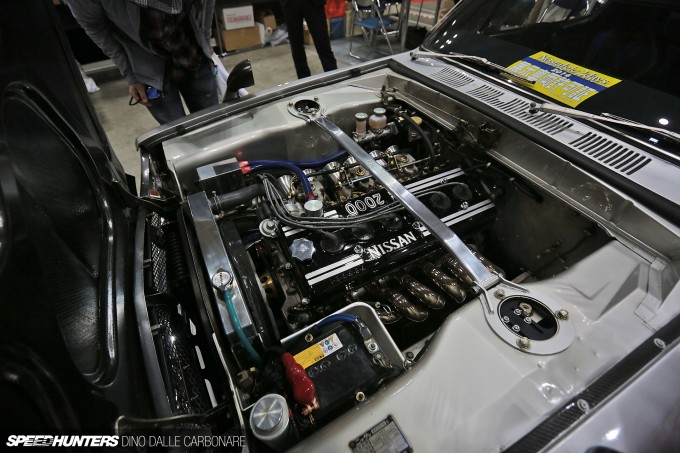 A full restoration makes the engine look like it just came out of the Nissan factory. At the center of it all, the lightly tuned S20 running their headers and aluminium velocity stacks, along with a glossy black paint job on the cam covers. Thanks to parts like the carbon bonnet and front fenders, they've even managed to drop a little bit of weight – always a great way to improve overall performance.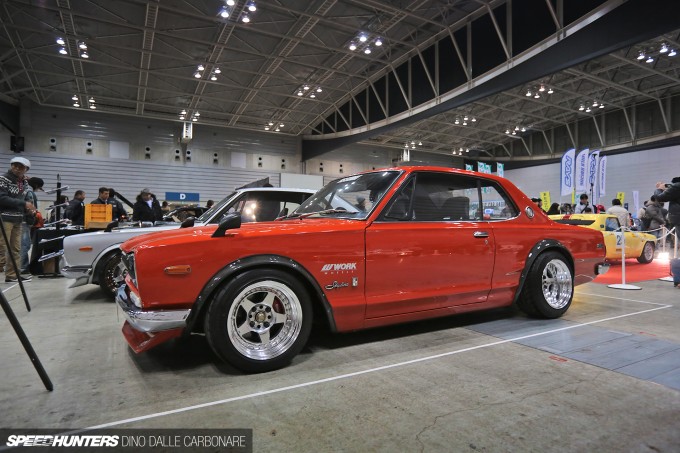 Next to it was another, slightly brighter, interpretation.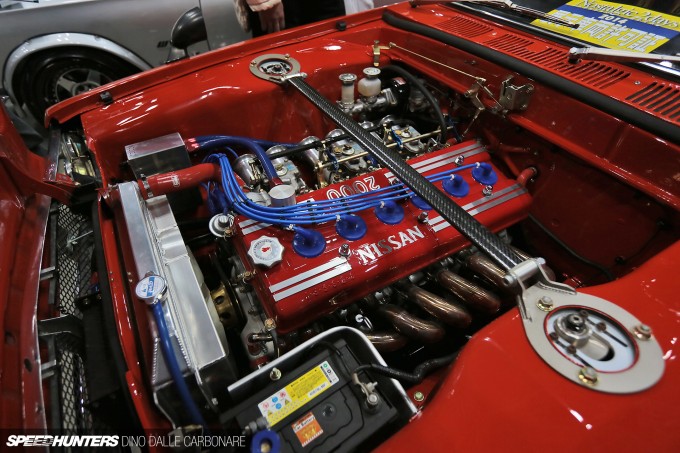 Some more die-hard purists may look down on this sort of tuning approach, but I for one am all for it as long as it's all done with taste. Mind you, I also really like the factory-perfect, period correct restorations that others prefer. It's hard to pick one approach. How about you guys? Which one does it for you? And remember I'm only referring to the rarer GT-Rs here: the KPGC10 and KPGC110s.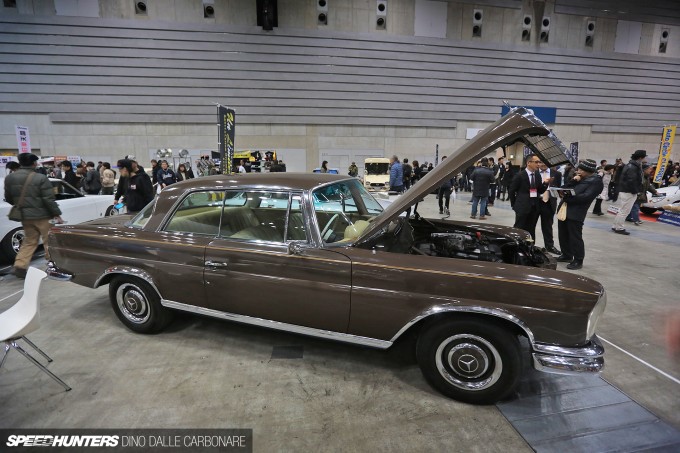 It's a hard choice I know, and at times it can take much more extreme forms. Take this 250SE for example; nothing would make you think it's anything other than a very nicely-maintained classic Benz, until you look at what's powering it.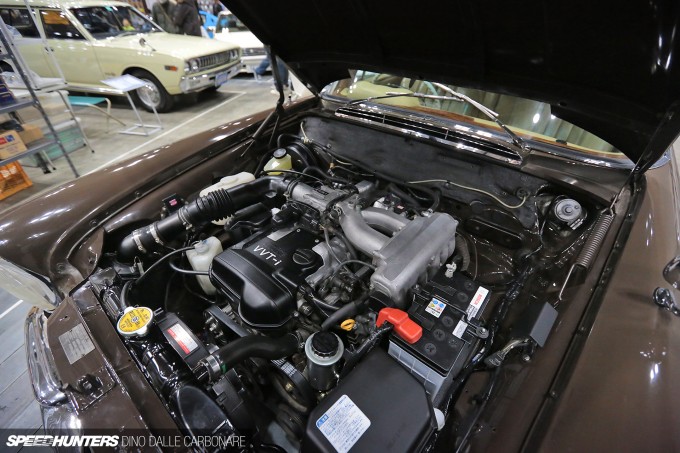 I call it the Rocky Auto approach, and it's getting more and more popular. Mercedes lovers may cringe, but this is done because a 2JZ offers silky smooth and effortless performance with low-cost maintenance. You can argue against this obviously.
In shakotan we trust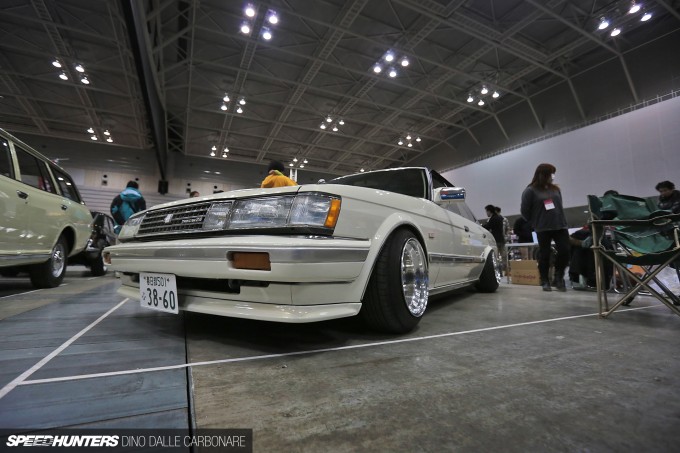 Let's go out on a bit of a tangent now and concentrate on a couple of shakotan rides like this MarkII Grande from Mizuno Works. These guys really had an awesome display with some very hot cars, one of which I have picked for my spotlight-o-rama which is coming up after this post.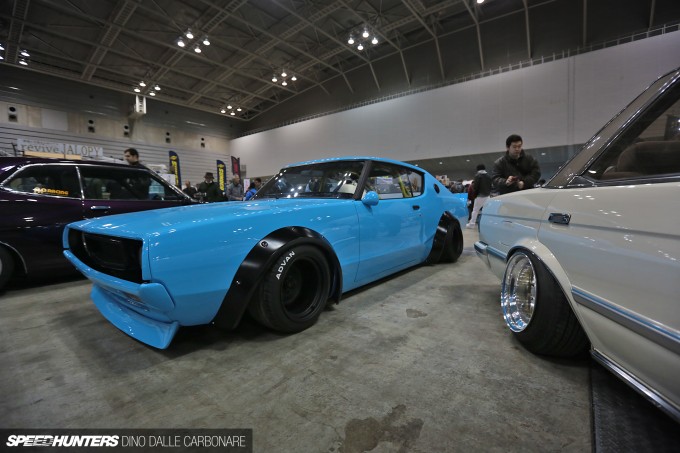 Next to it was a car you're all too familiar with by now: the Liberty Walk Kenmeri which they built most of, including the high-compression L-series that powers it.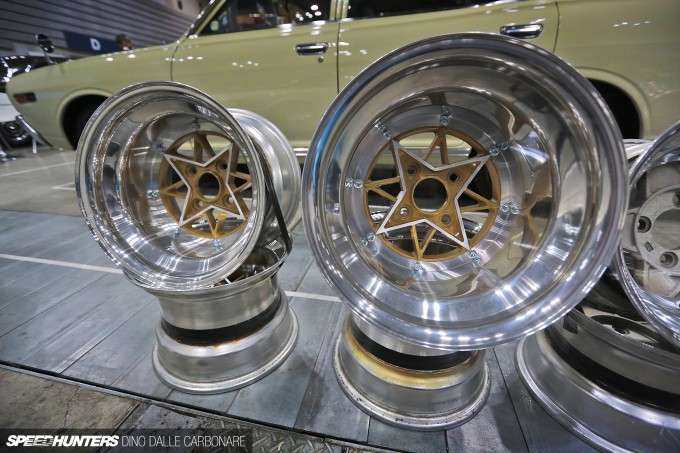 N2D is a show but it's also a very good place to source yourself some parts, be it vintage rims, engine bits or miscellaneous trim. Pretty much most of the stuff you see is up for sale and that includes a lot of the cars.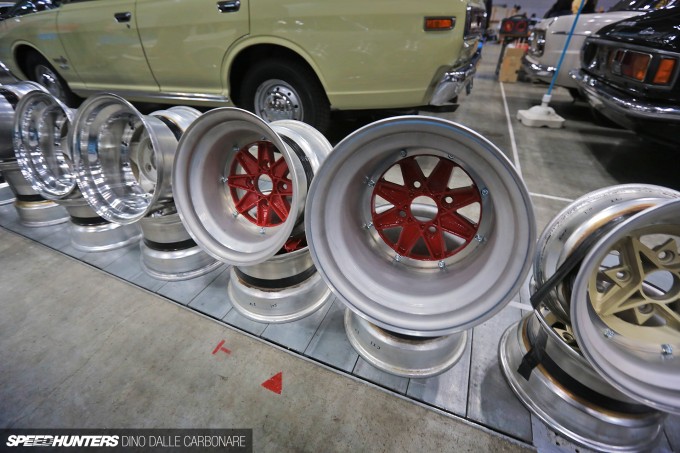 Mizuno Works did have a pretty epic selection of deep dished rims like the SSR Star Sharks above and these red eight-spokes up for grabs to the first interested buyer.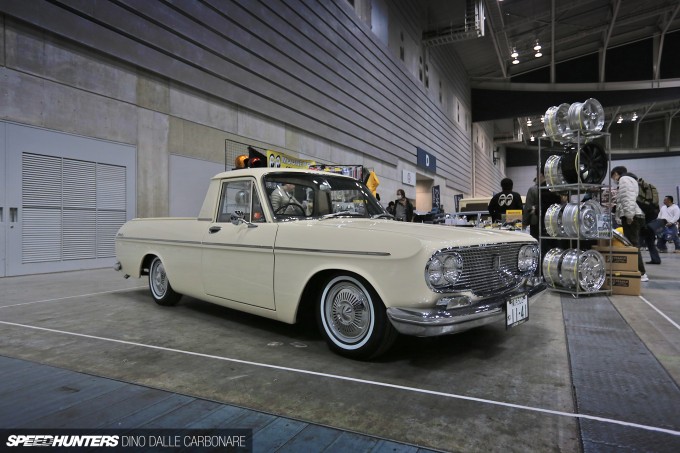 Being only located down the road from the Yokohama Pacific exhibition center, Mooneyes never fail to miss a N2D event, bringing a much needed custom angle to the whole JDM vintage scene.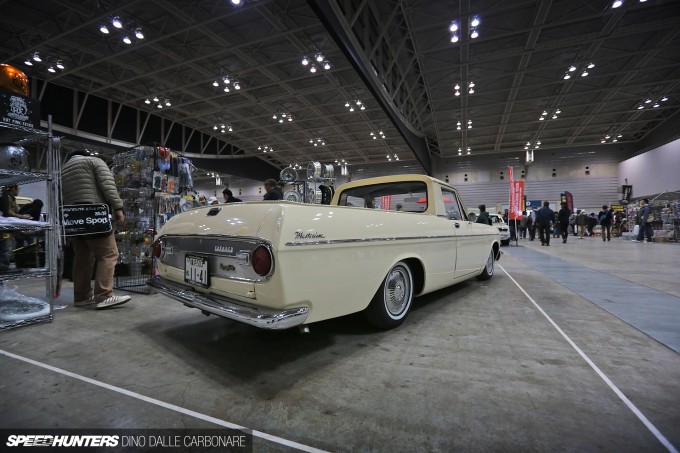 They couldn't have picked a better car to display their style but still keeping an obvious link, perfectly done with this Toyopet Crown pickup.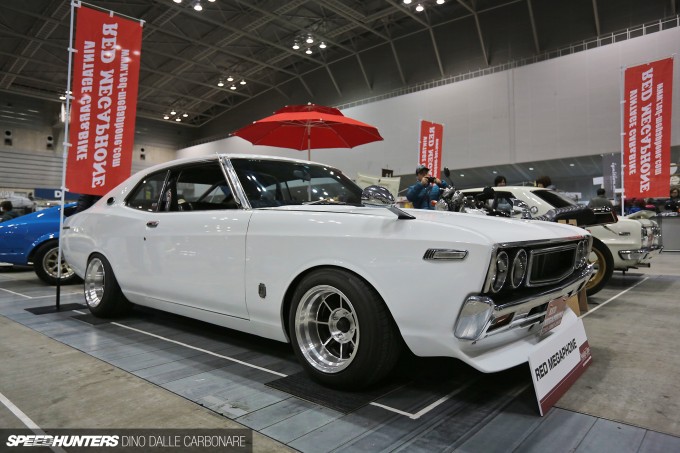 While the Kenmeri and other generation of Skylines continue to be the most popular old school Nissans that the mainstream enthusiasts lust over, I personally continue to find the Laurel the pick of the bunch. Simple is always best, so a clean exterior, dumped suspension and a nice set of rims – in this case some Hayashi Racing ones – always makes for one hot ride as Red Megaphone showed us.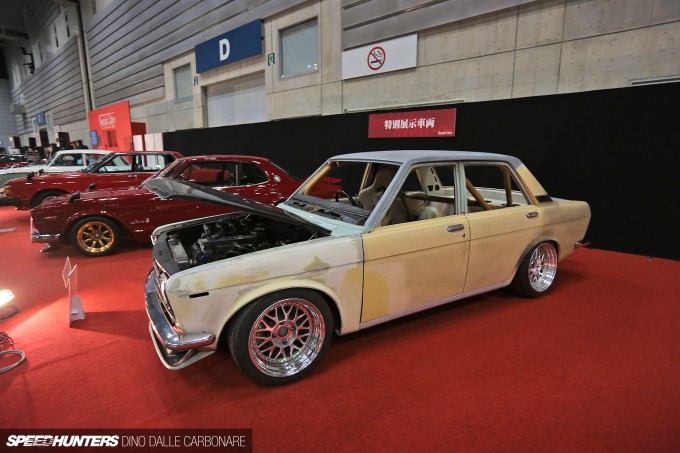 When finished, this 510 sedan will be a very special machine. It belongs to one of the Nostalgic Hero staff photographers, who is currently building the car by himself in his spare time.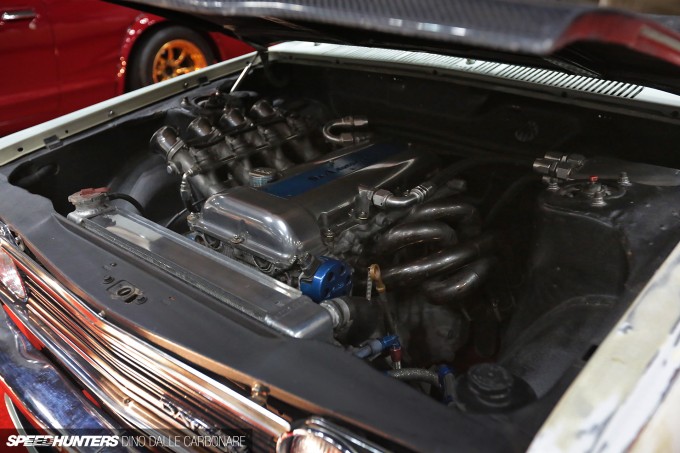 Most of the important bits are already done, like the SR20DE swap. This is one I definitely need to check back on when completed!
Museum pieces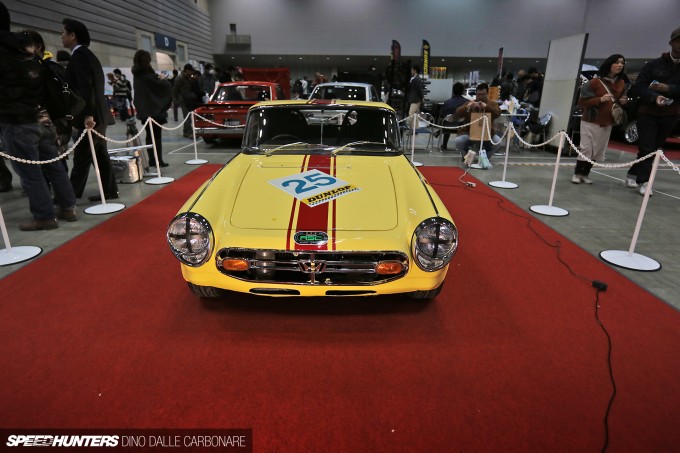 Nostalgic Hero, the vintage car publication that organizes N2D, has excellent ties with the Honda Collection Hall and Nissan's private collection in Atsugi, so there are always exciting museum pieces to be seen too like this 1968 Honda S800 race car. Back in the '68 Suzuka 12-hour endurance race, this car took first spot in the GT1 class and came third overall. That turned it into an instant legend as it was up against some much bigger and more powerful cars.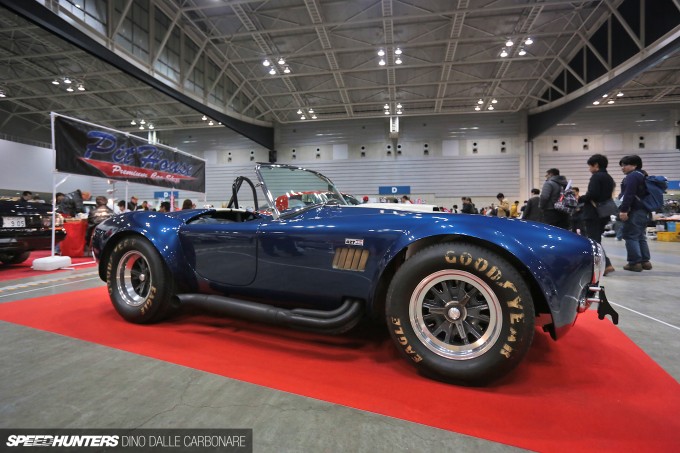 Galleria Scala may be a new name in the whole Japanese classic car scene but in the year or so that it's been around, it has made a name for itself for being able to source and supply some of the rarest cars out there. Considering the owner drives around in a Porsche 962 race car replica based on a Schuppan 962CR – if that rings a few bells – it's not surprising what he has in his collection. This Shelby CSX4000 continuation Cobra 427 was one of the impressive cars he had brought over.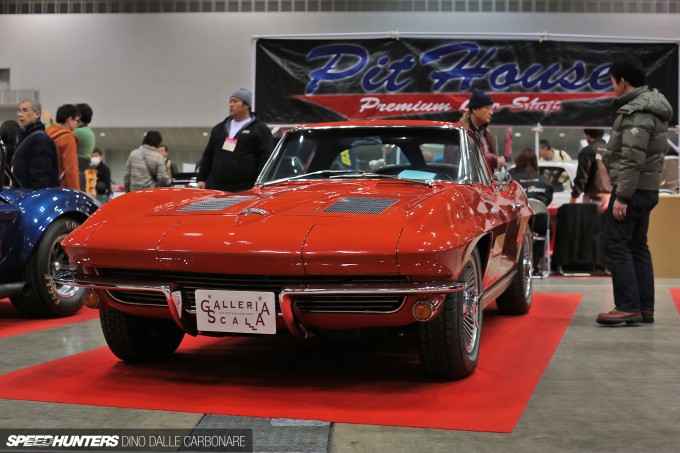 It was sitting next to a split window Stingray, the most sought-after of the older Corvettes and an absolute gem of a car.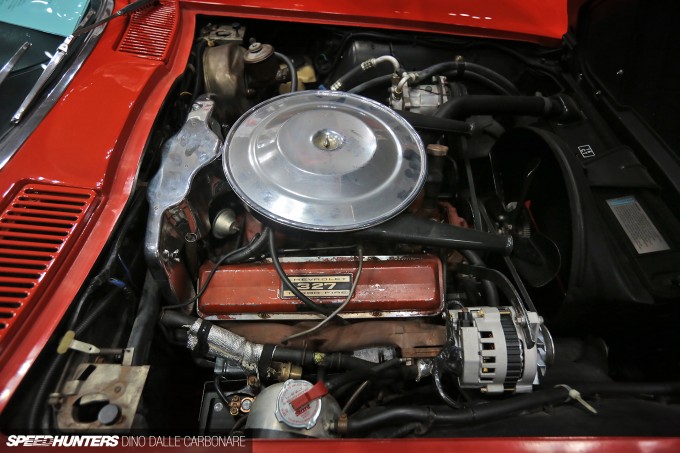 I took my time to look over it in detail as I never had a chance to do so before. Galleria Scala have kept the 327 powering it running like clockwork.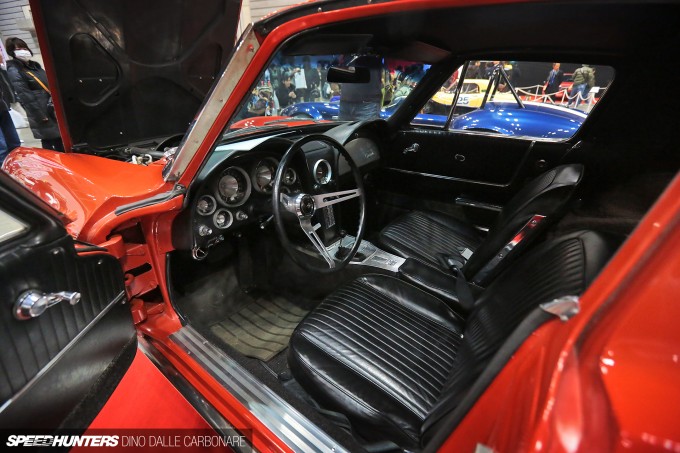 The interior was in great condition too and had all sorts of the right scents emanating from its leather and plastics.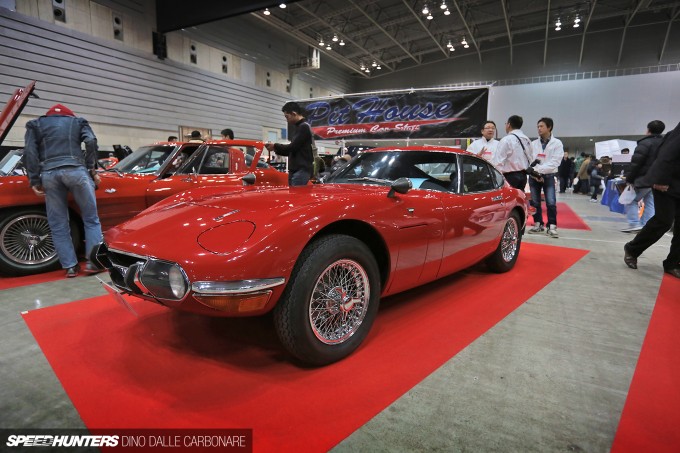 Next to that was one of six or seven Toyota 2000GTs from the collection, which like every other car there, might be available for purchase for the right sort of price. I can never stop looking at this little Toyota, it's so well-proportioned and such a great reminder of how far back Toyota's sports car history actually goes.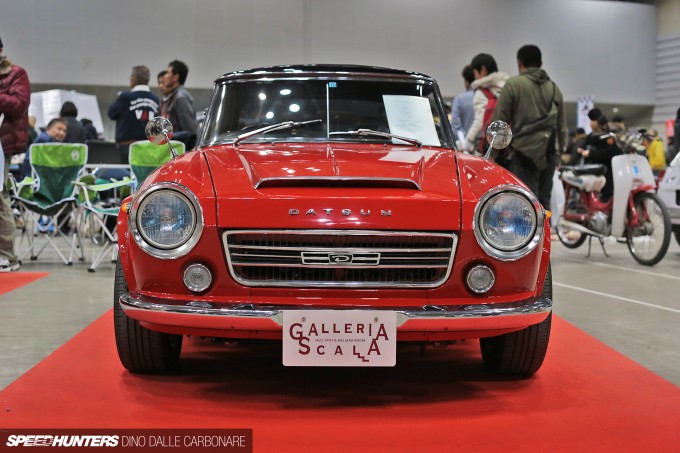 While the show floor was absolutely stuffed full of S30s and Hakosukas, it's sometimes nice to see that the original Fairlady isn't forgotten. The SR311 is a little rarer and maybe not as sought after as the other Zs that came after it, but there's no denying that it still very much has its lure.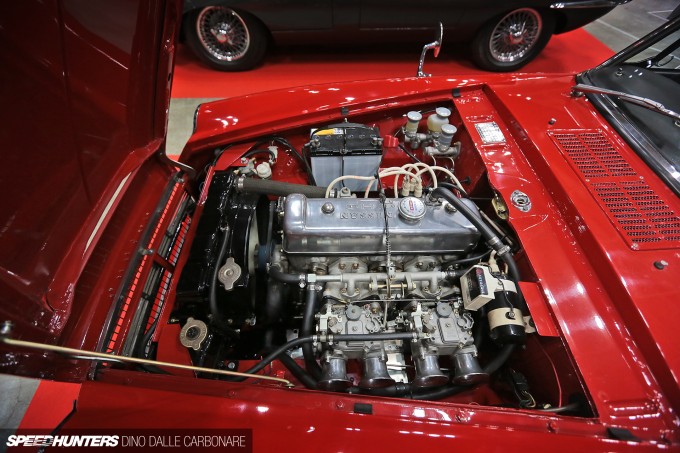 The little single cam U20 two liter is one unit I will never underestimate, ever since I took a ride in a TA Auto-restored 2000Fairlady four or so years ago. With a little tuning, this car can really be made to fly!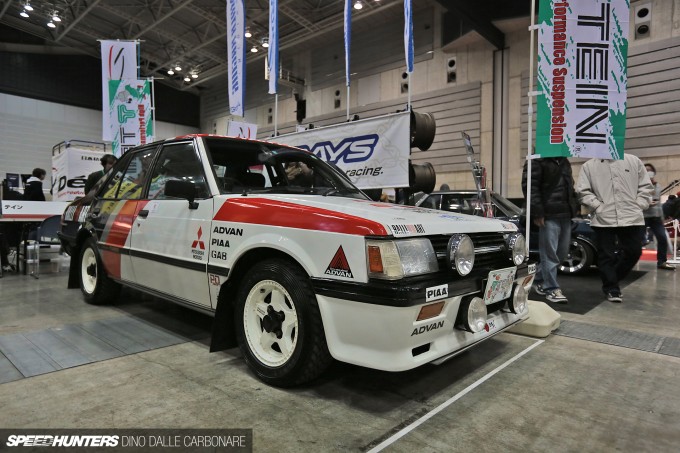 With this Lancer Turbo rally replica, Tein reminded everyone of how far back MMC's rally exploits actually go. Gotta love the boxiness!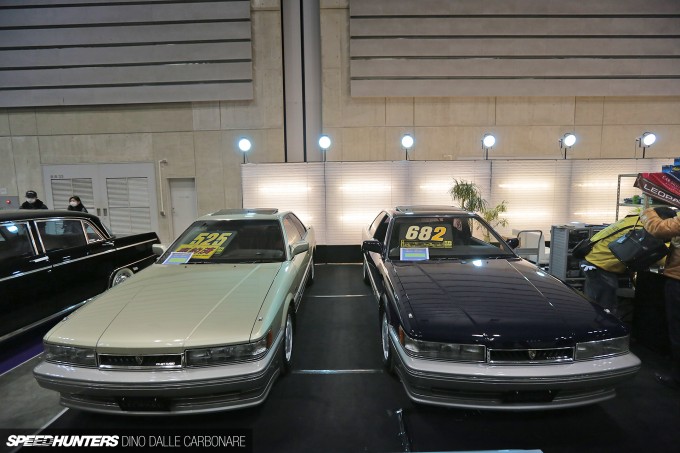 It never fails to amaze me the value the F31 Leopard seems to hold in the secondhand car market. Car Shop Friend specialises in these luxurious eighties Nissan cruisers and always has a nice selection on show at N2D, with both the 3L V6 and the 2L V6 Jet Turbo models for sale. Actually, the car on the left above was sold as I was grabbing a few pictures of it. These all seem to be pretty high mileage cars – at least for Japan that is – with most around or over 100k km. Baffling.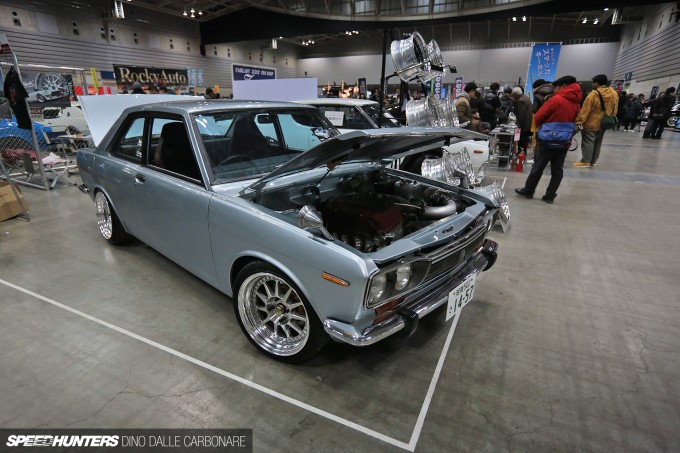 If you've never heard of Common Snapper, that's good as I have a shop tour coming next month from this awesome shop. Not to mention a feature of a Datsun 510 coupe they've built for a customer of theirs. These guys really put the 'custom' into the cars they create, combining a very distinct clean style and topping it off with their own Barramundi wheels.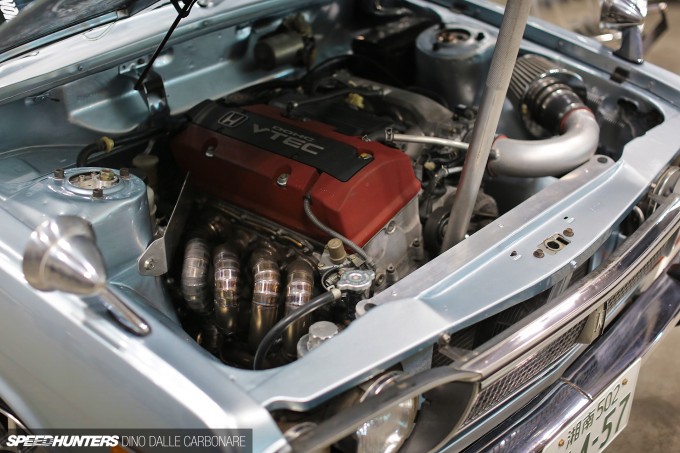 And yes, their engine swaps are also very entertaining!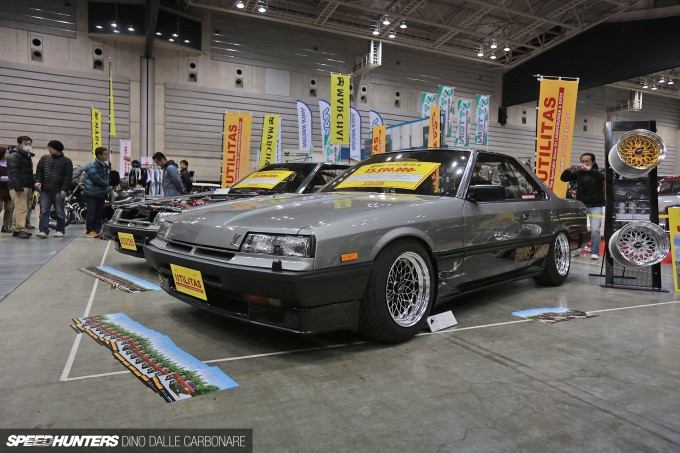 Do you like Skylines? Maybe you're into the eighties models like the R30 Tekkaman, the kouki model of the san-maru. Well then, you'll be happy to hear that a Tokyo-based shop called Utilitas has started offering fully restored examples for sale. Considering the work that goes into getting these cars to look as fresh as the day they rolled off the production line, the price is actually pretty reasonable.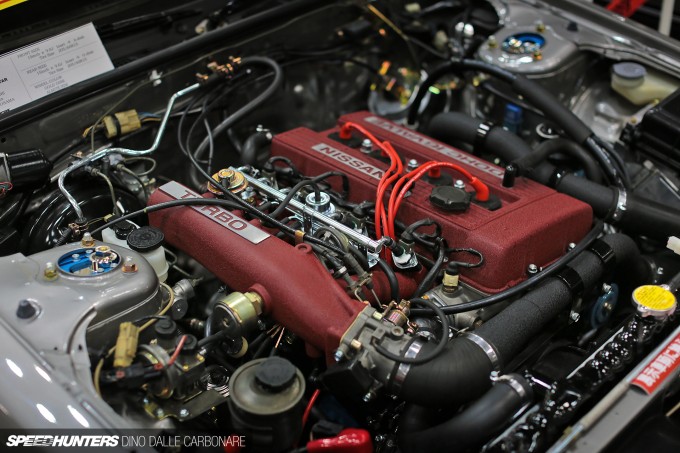 Restorations include an overhaul of the FJ20DET that powers versions like this RS-X. I wasn't exaggerating when I said factory-fresh as you can see above.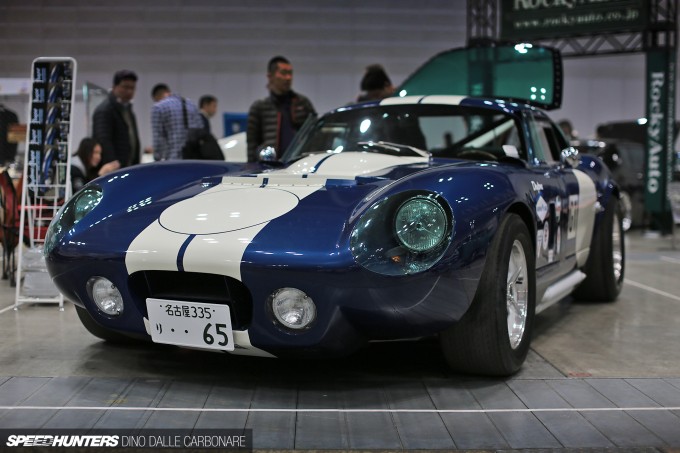 It's funny that I saw this Shelby Daytona Coupe replica at the Rocky Auto display, because the day before, I was watching one of Jay Leno's latest videos where one was being featured. I've never actually seen the real thing but as far as replicas go, this was executed pretty damn well.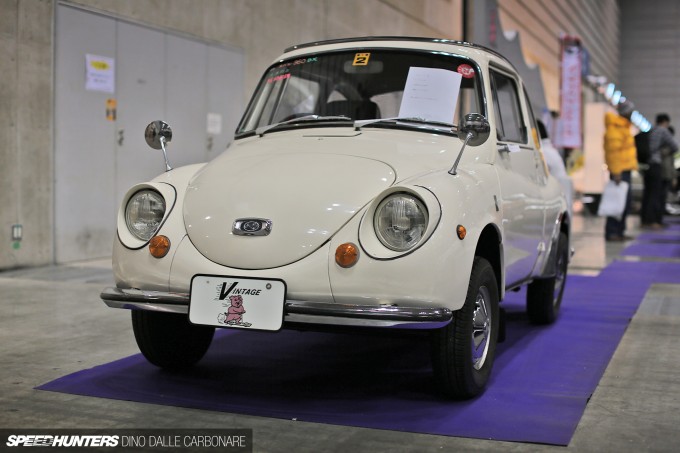 And while one moment you're looking at big V8-powered American classics, walk a few steps in any direction at N2D and you'll find the complete opposite, like this tiny Subaru 360 – the FIAT 500 of Japan!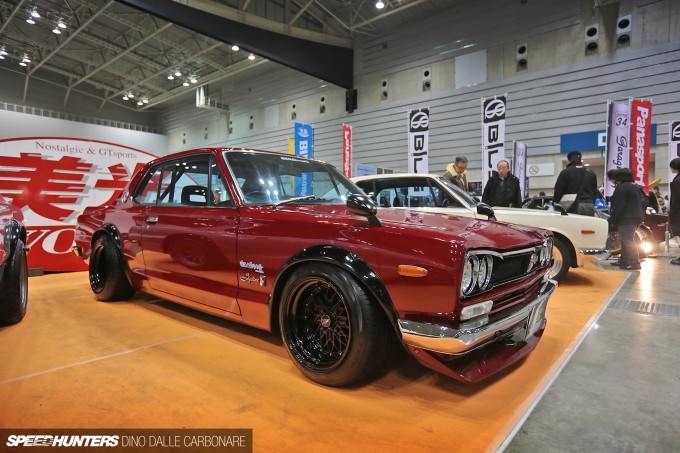 I'll end this first installment from the Nostalgic 2 Days with a shot of this maroon KPGC10 from Biko Works which was sitting on menacing black Glow Star rims from Star Road. Make sure you check back for the spotlight post and the rest of the show coverage, as I have tons yet to share with you!
Dino Dalle Carbonare
Instagram: speedhunters_dino
dino@speedhunters.com