Granted this is not the first time we have looked at the OS Giken's TC24-B1Z, but seeing it's further been refined from last year's Nostalgic 2 Days show, I thought I'd dedicate a little post to it as it's simply, a work of art. It was back in the late seventies that Okazaki-san from OS Giken decided to convert what was then one of Nissan's most popular engines, into a true high performance powerplant. High power and high rpm were two of the main goals for the project, which was all based around an aluminum twin-cam head design. Combined with a reworked bottom end of their choosing, customers would really tap into the true potential of the L-series. Only 11 OS Giken TC24-B1 heads were created, demand was low due to the high cost but it was quickly regarded as the ultimate modification for Nissan's popular straight six.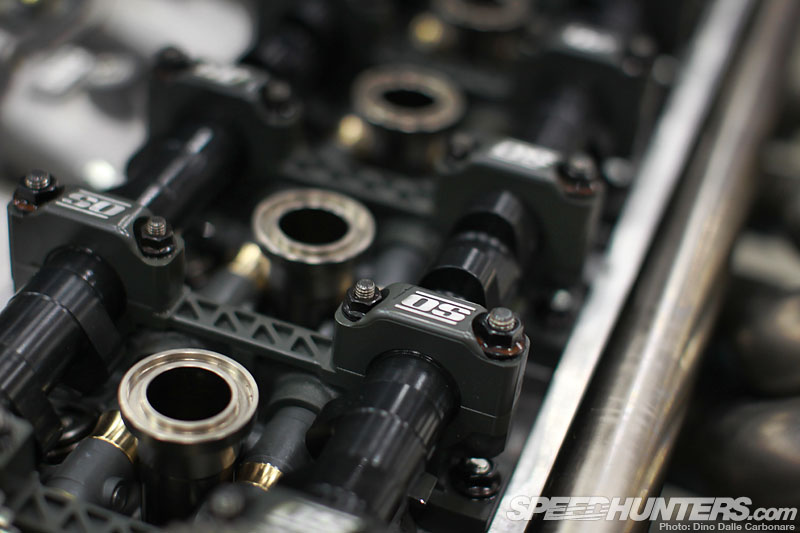 But seeing the continuous growth in popularity of the kyusha in the last few years, Okazaki-san was persuaded to offer a few more of these special heads to his most demanding customer. So from the middle of last year OS Giken began taking orders for the TC24-B1 head, except Okazaki-san was not exactly going to be recasting a design he created over thirty years ago. What he did was go back to the drawing board and refresh the whole design of the DOHC head, using better materials and modern technology.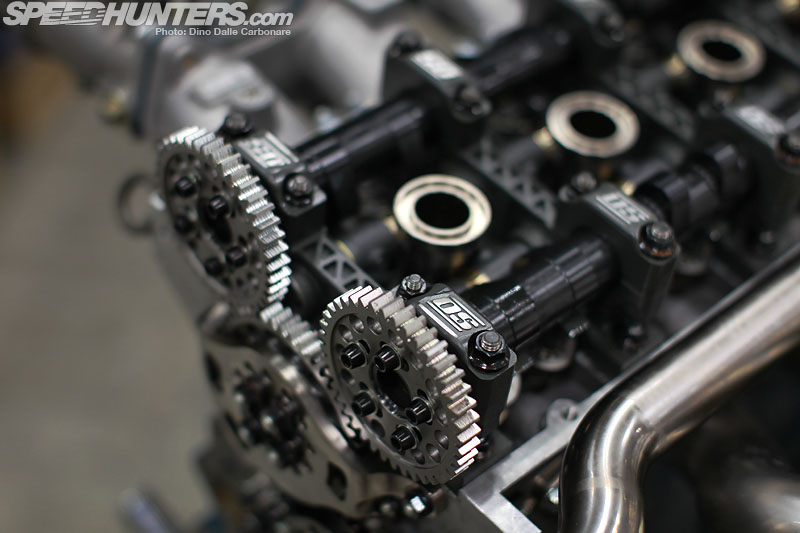 One of the main changes are the cam caps. These 2-piece items used in the newer "Z-version" not only reduce friction, but are shorter than the bulky 1-piece round items that were implemented in the original design. Furthermore for 2013 the whole lower structure of the caps has been changed with a more complex and rigid design. Valve adjusters have also been changed from screw type to bucket & shim, helping lower mass and make the engine rev more freely.  And since the new head allows more revs now, cam and rocker lubrication has been altered for better performance at all engine speeds. One of the options that is being offered is the gear conversion that replaces the chain drive distribution system…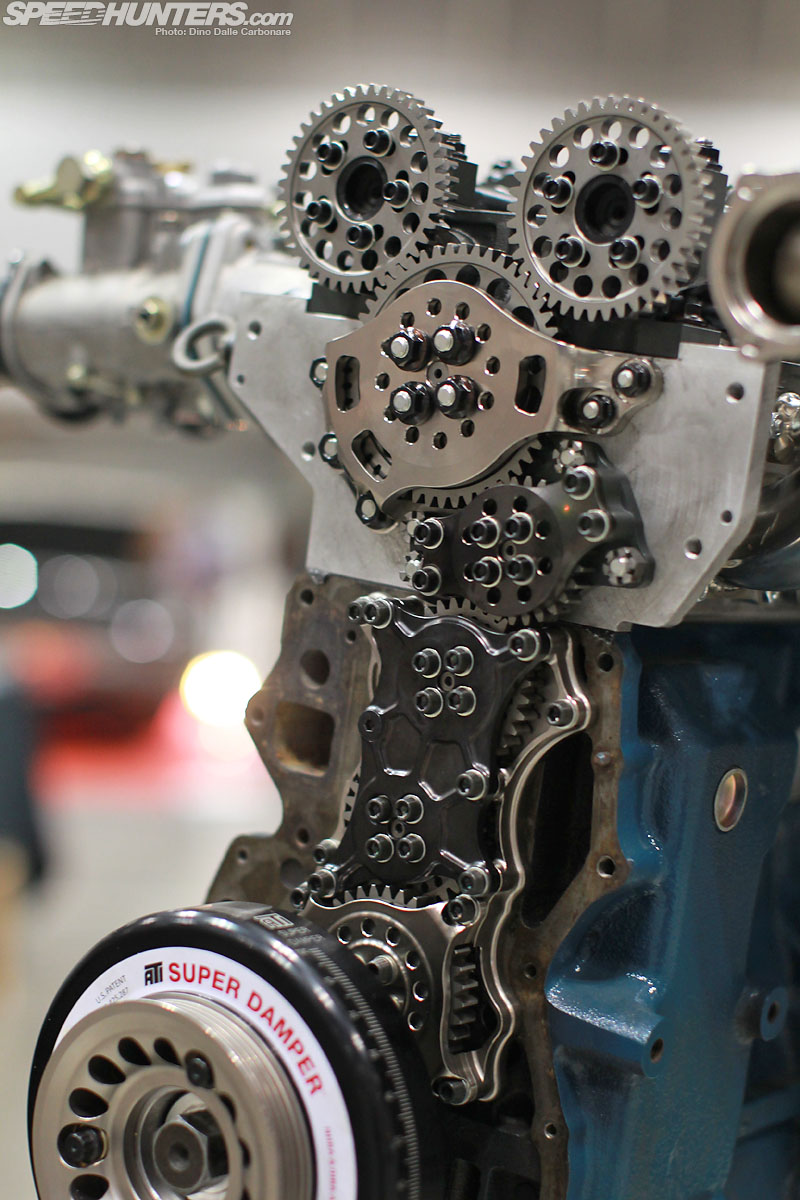 …with a series of cams. This has quite a few benefits, first of which it eliminates the slack chain systems have, as well as guaranteeing reliability at high rpm. Seeing this engine spins to 10,000 rpm, that's a good thing. Cams not only sound nice but as you can see are actually quite compact and OS Giken offers a very nice billet aluminum cover that, to those in the know, will hint something very special has been done to this motor.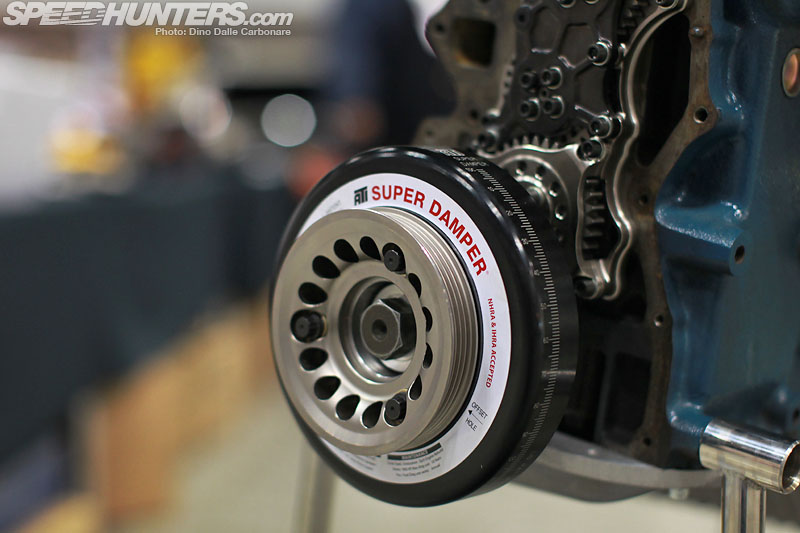 This particular engine is one of their development motors and runs the best components and options that OS Giken offers like a forged and counter balanced crankshaft, H-section connecting rods and oversized pistons. The increased stroke, 86 mm over the stock 79 mm and the bigger piston diameter of 89 mm, bump capacity to 3,208 cc. For those that opt for this complete engine OS Giken will also revise the oil circulation with better jets and fit a crank case reinforcement plate to keep the internals from torquing the vintage block. On this latest version of the complete TC24 engine, an ATI crank damper is also fitted to keep harmful crankshaft harmonics at bay.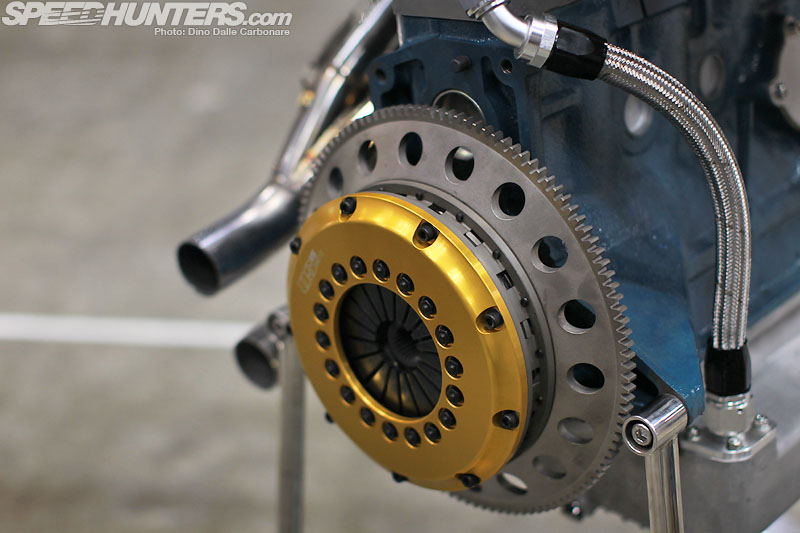 Drive is sent to the transmission via one of OS Giken's clutches and lightened flywheel.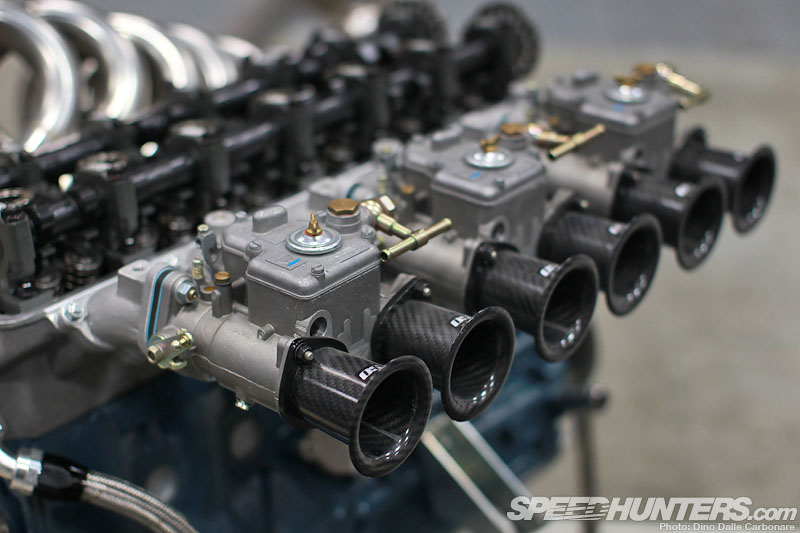 This engine breathes through Weber carbs but can also be converted to fuel injection if the customer so requires.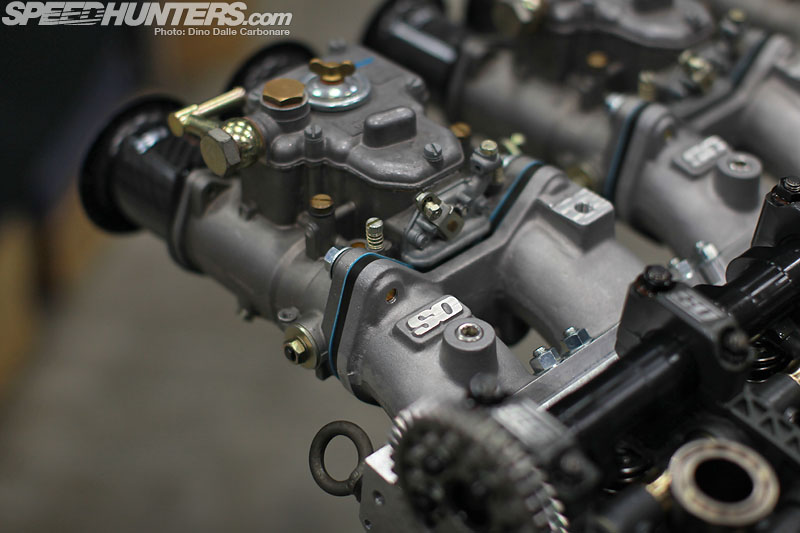 The TC24-B1Z of course also comes with optimally designed intakes…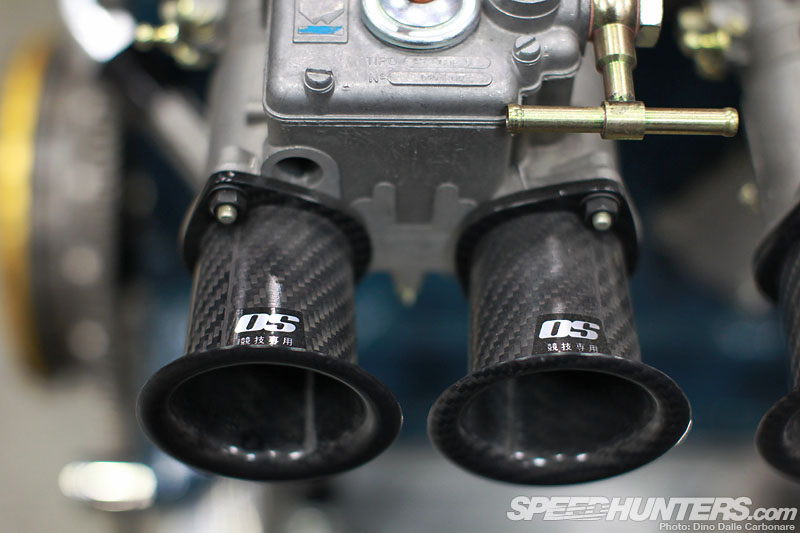 …although these stunning dry carbon trumpets are still a prototype part. As it stands this engine can churn out 420 HP at 9,000 rpm and 392 Nm (289 lb/ft) at 8,000 rpm thanks also to the increased compression (11.5:1 vs 11.0:1). With the improvements in design the red line has been raised 1,000 rpm to 10,000 rpm compared to the original TC24 head.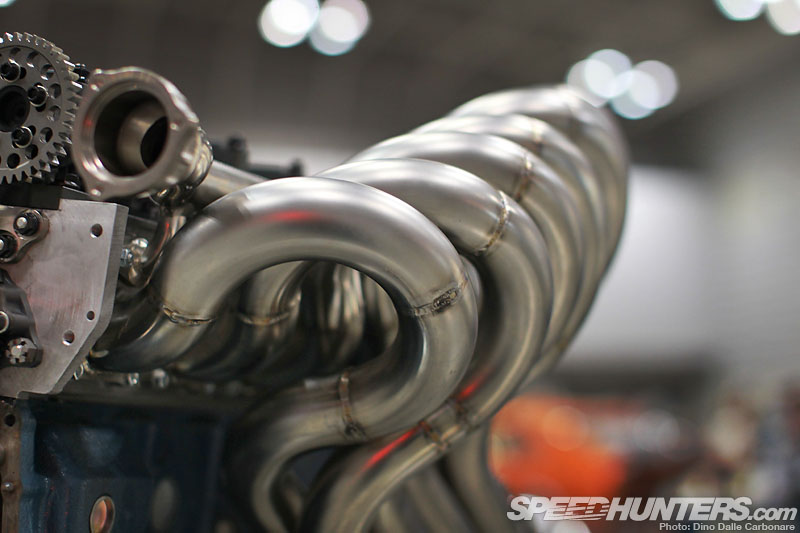 Here is a quick look at the equal length stainless steel headers the complete engine comes with…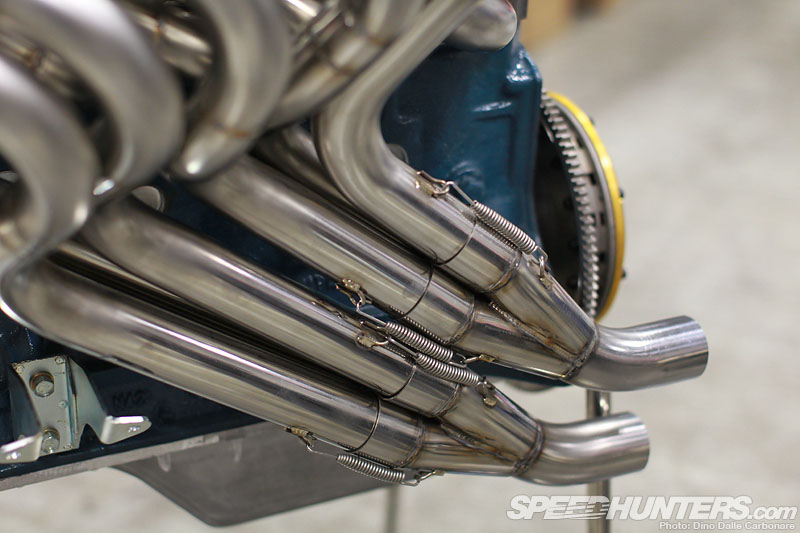 …a six-into-two design. All of this makes the TC24-B1Z one of the best sounding straight-sixes of all times!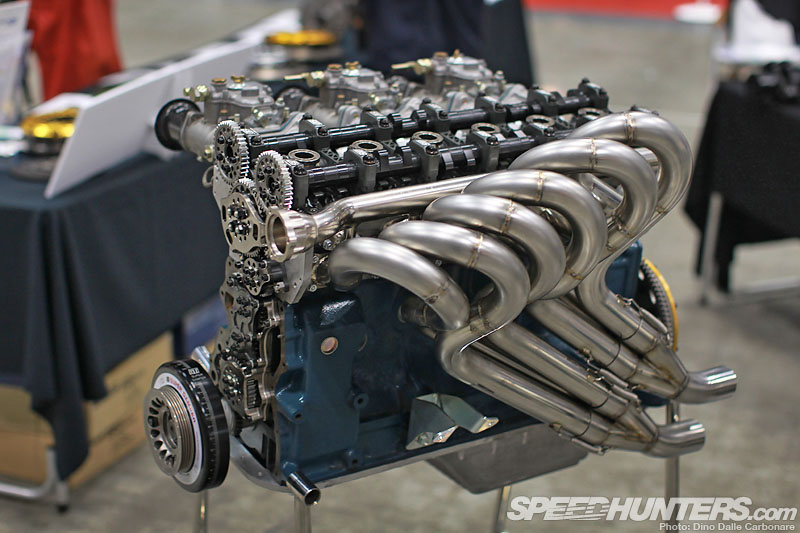 The complete package is topped off with a large billet aluminum oil sump and extended pick up. Nine of these wonderful motors have been built so far and since Okazaki-san can't ever stop fiddling around with this beast I am sure this isn't the last iteration of the engine we will see. Dry sump lubrication next maybe?
Nostalgic 2 Days 2013 coverage on Speedhunters
-Dino Dalle Carbonare