Bespoke wonders
It's all interconnected. It doesn't matter what you're into, or where your preferences may lie in the vastness that is car culture: if you're a car person, it's hard not to find something to appreciate in various scenes. It's something that's at the core of Speedhunting; we look for those little aspects that we can draw a link to…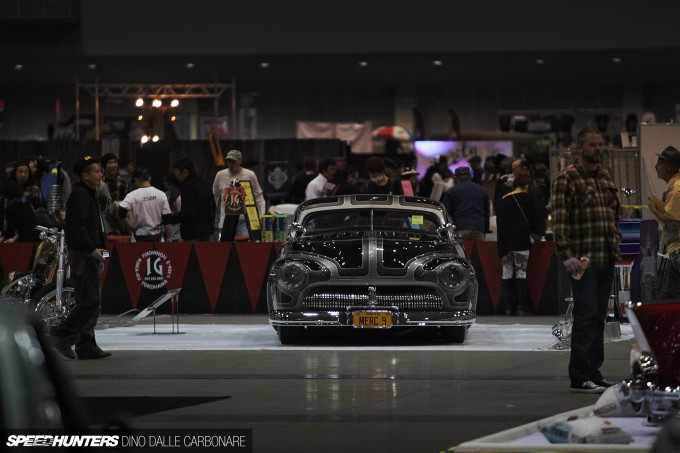 … something that even if applied to cars so different to what we are used to dealing with, we can stop and say, 'Damn, now that is hot'.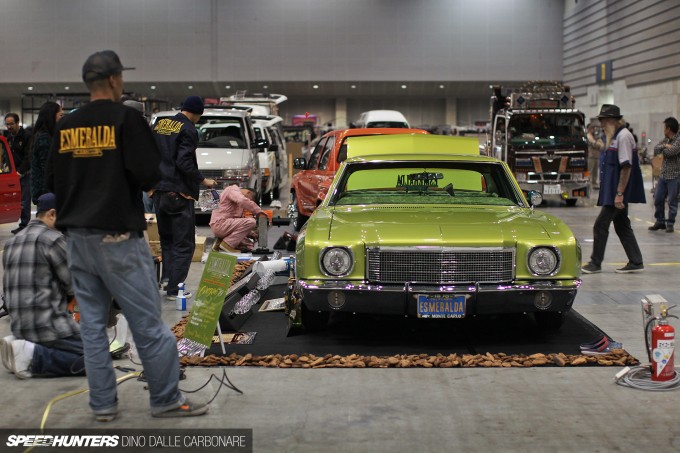 As I touched on in the first Mooneyes Hot Rod & Custom show post yesterday, that's pretty much what I was doing. Surrounded by Japan's best custom machines…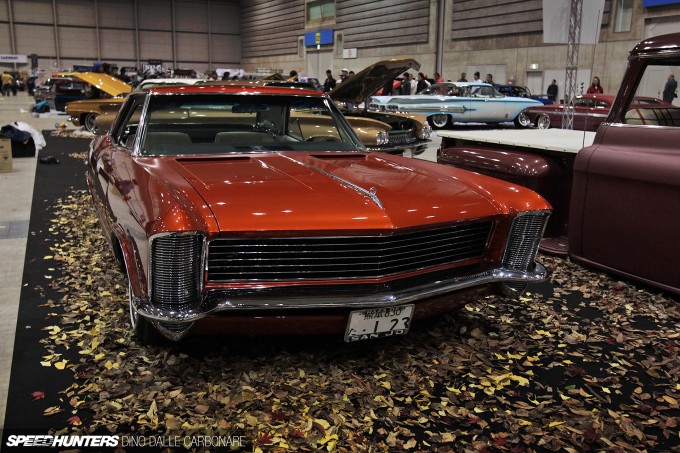 … I felt a little lost. These are not cars I'm used to dealing with, but that's precisely the beauty of it all. Cars are cars…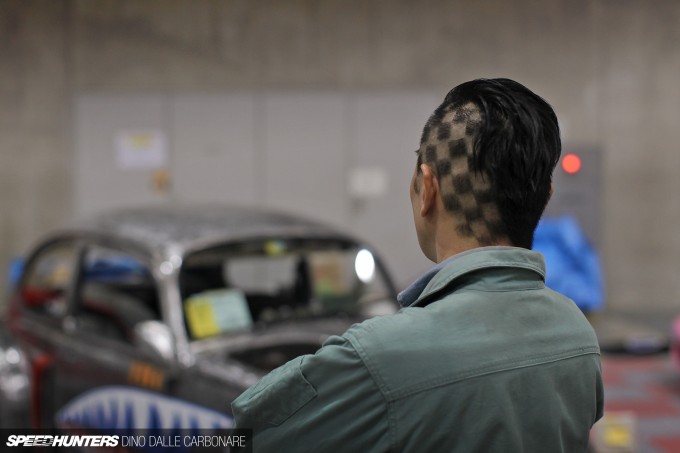 … and car culture is car culture, no matter the flavor it assumes.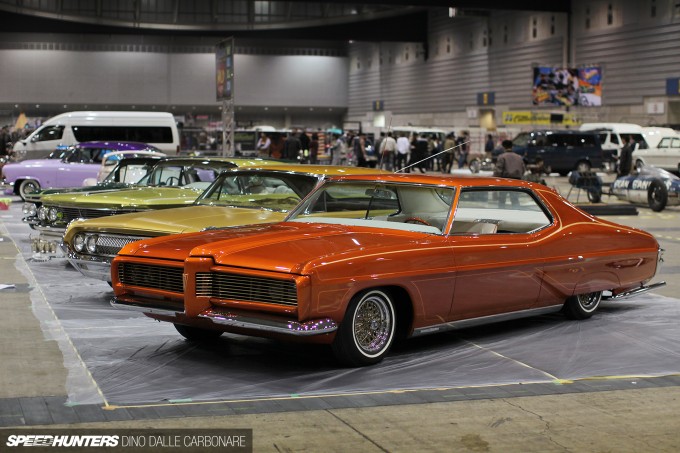 So armed with my camera I decided to continue to indulge myself, attempting to understand this curious scene further…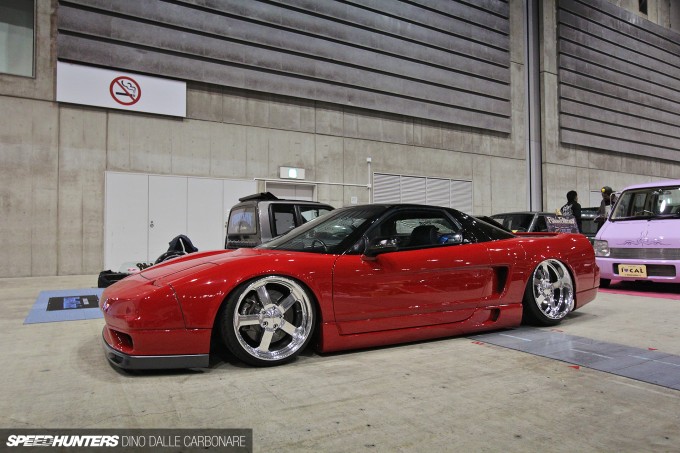 … not forgetting to touch on the cars that make it so unique compared to even the US, where it all originated from. That's why when I spotted this slammed Acura NSX, I had to grab a quick shot. This is actually a car we've already seen this year. It's hard to forget such a focused supercar being tuned with a more show car sort of approach. If you're the sort of person that gets his/hers panties in a twist seeing this sort of thing, well you'd better look away.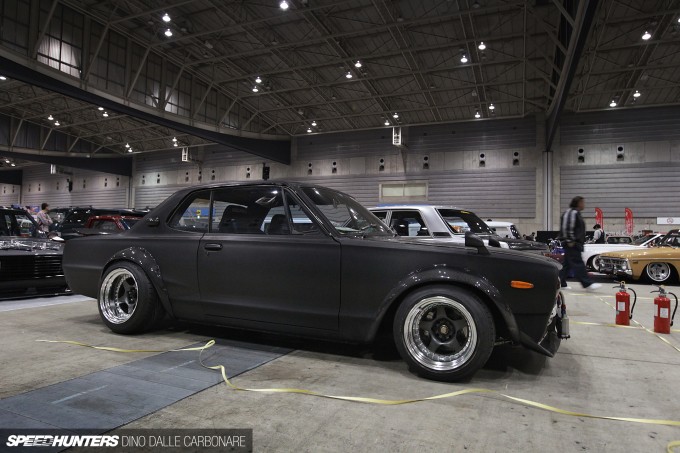 Rocky Auto's carbon Hakosuka also made a showing this year, keeping the small but very important JDM aspect of Mooneyes Japan going strong!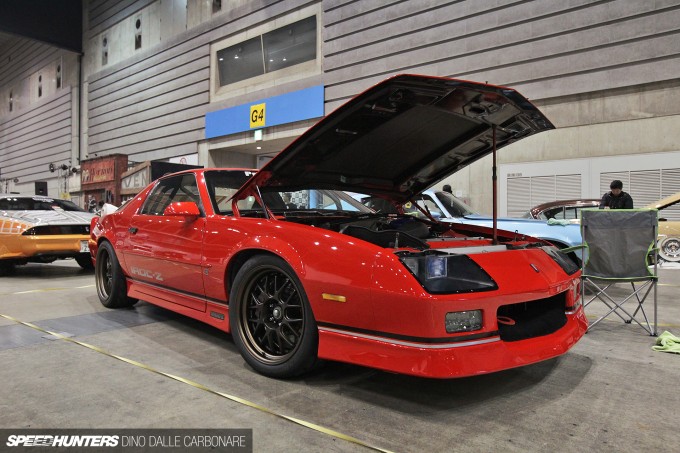 And to serve as another example, I thought this Camaro IROC-Z looked rather cool sitting on a set of Meister M1Rs!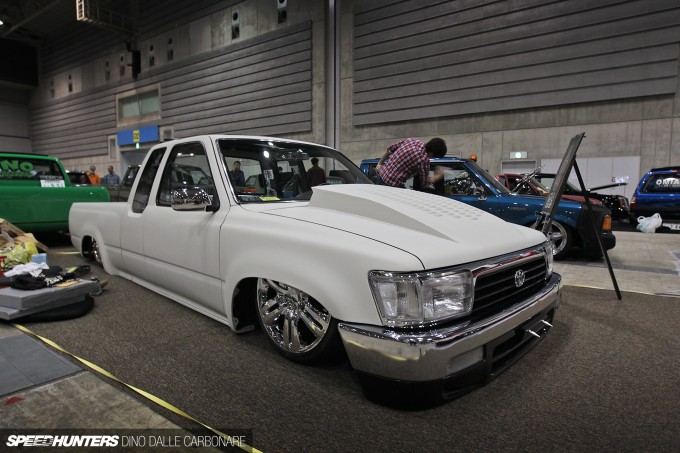 This Toyota truck has had been dropped so much a cowled hood was needed to clear the engine.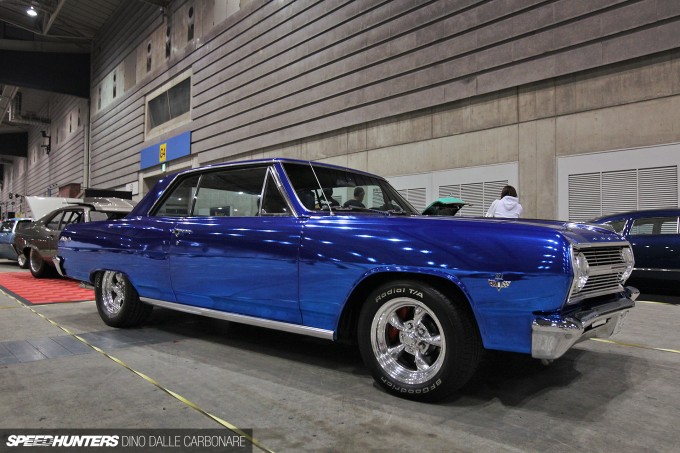 But while the JDM touch is interesting, the Japanese love to keep things authentic too, attempting to emulate the styles that are currently popular in the US…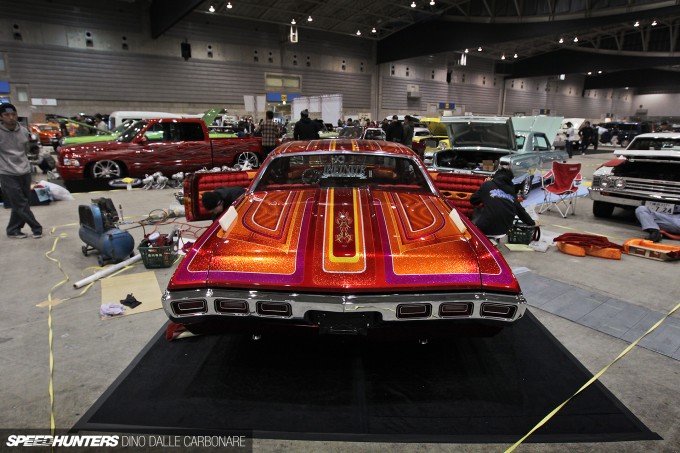 … and always executing them with incredible attention to detail. Paint jobs didn't only impress when applied to cars though…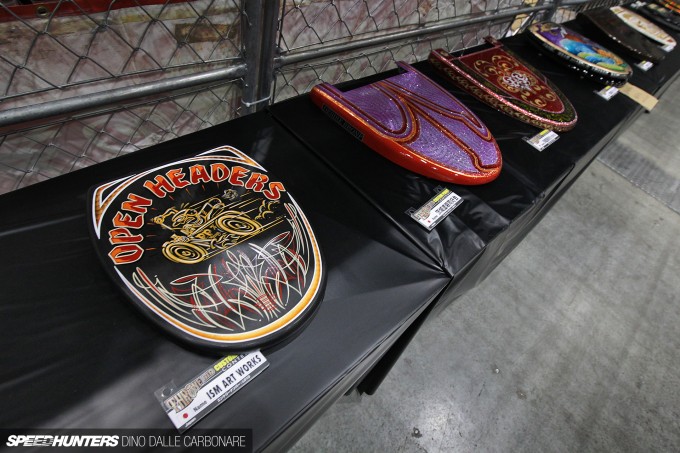 Check out these toilet seats that were part of a painting and pinstriping competition that was being held at this year's event. Now I know how to get my washlet seat cover customized!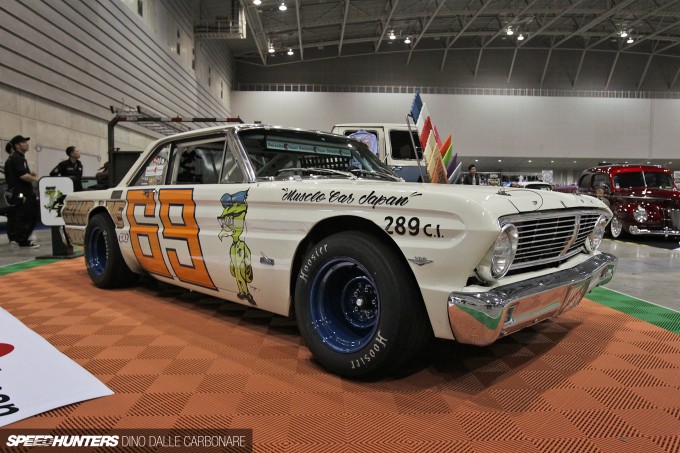 This Ford Falcon Sprint is one car that really grabbed my attention; the way it was built for serious track action, sitting on mean dished steelies…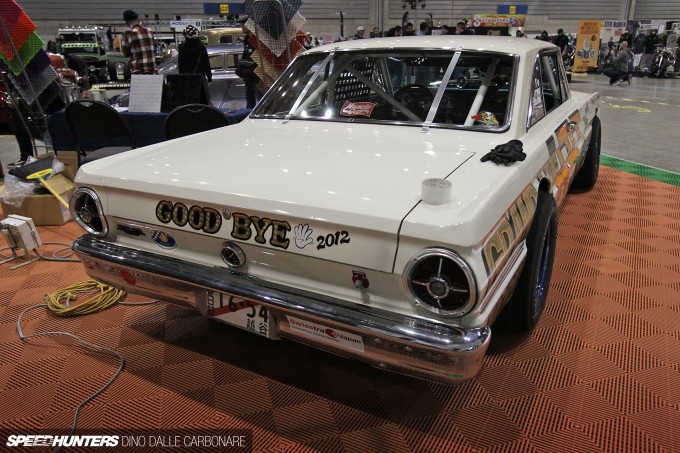 … and sporting a rather purposeful stance. This is one I will definitely be trying to feature in 2014!
The Revolver 2 Hijet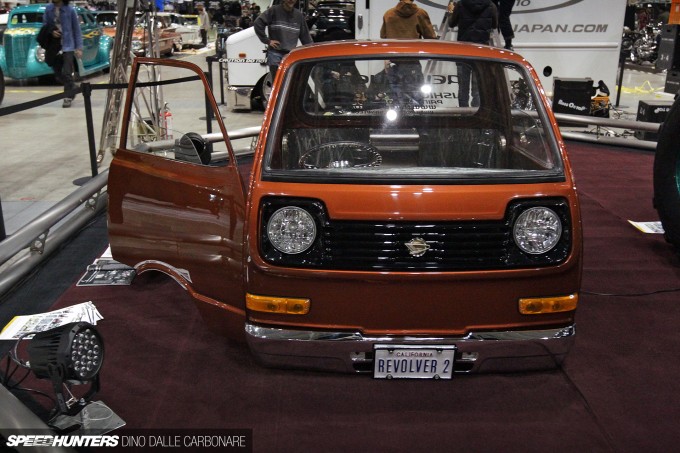 Last year show it was a dragster Subaru 360 that really stole the show for me, the quirky little car ticking all the right boxes of what this scene in Japan is all about. For 2013 it was the Daihatsu Hijet Revolver 2 built by Ushio Automobile down in Osaka.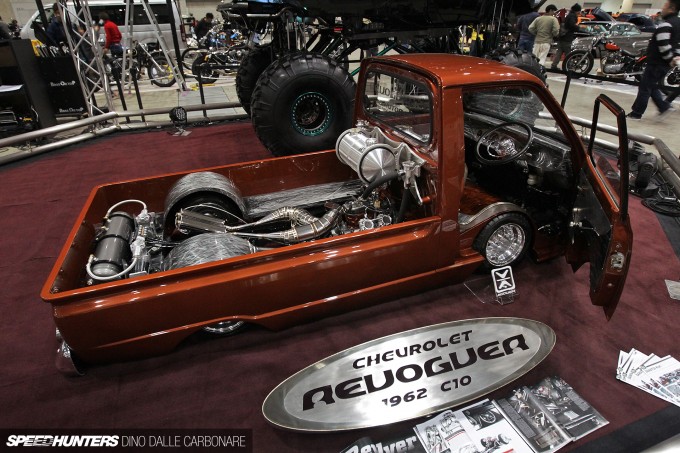 Much in the same way, it perfectly represents the outside-the-box thinking the Japanese are so damn good at. I mean look at this thing! This was a ground-up build; the exterior modified, smoothed and shaved to emphasize those vintage Kei-truck lines.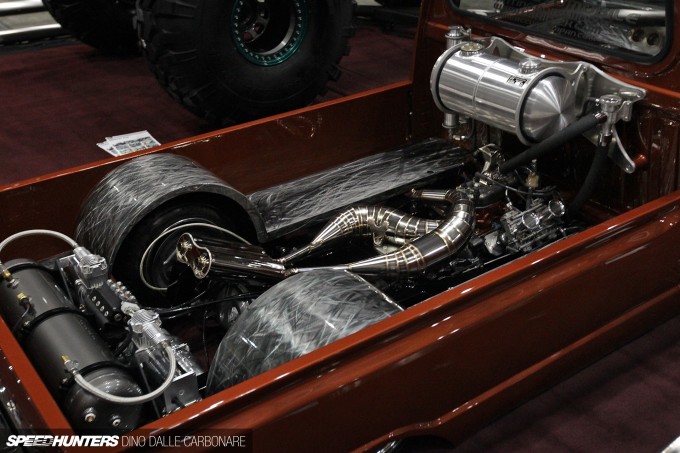 It sat right on the ground, its air suspension set as low as it can go for an extra dramatic look.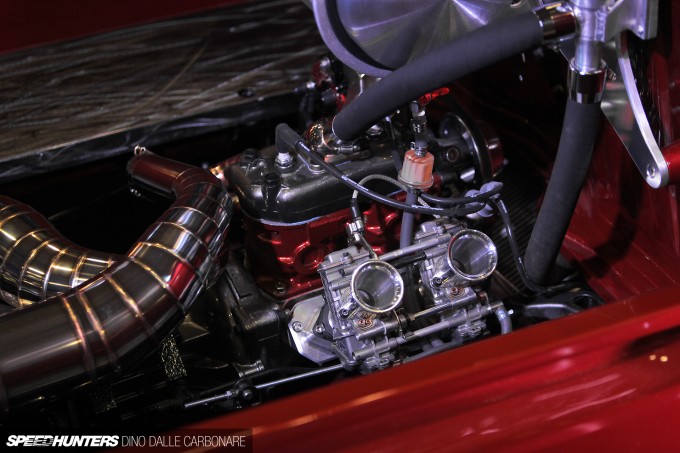 And to top it off, the little 360 cc two-stroke engine that powered it was highly tuned running FCR carbs…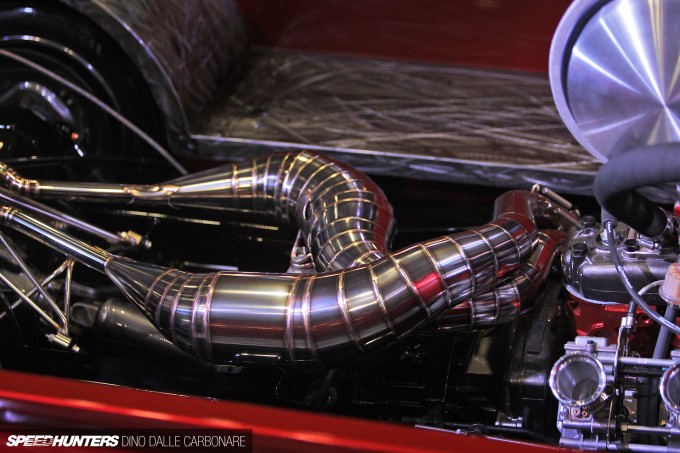 … and an intricate exhaust system with lobster tail expansion chambers! Those curves brought me back to my scooter tuning days!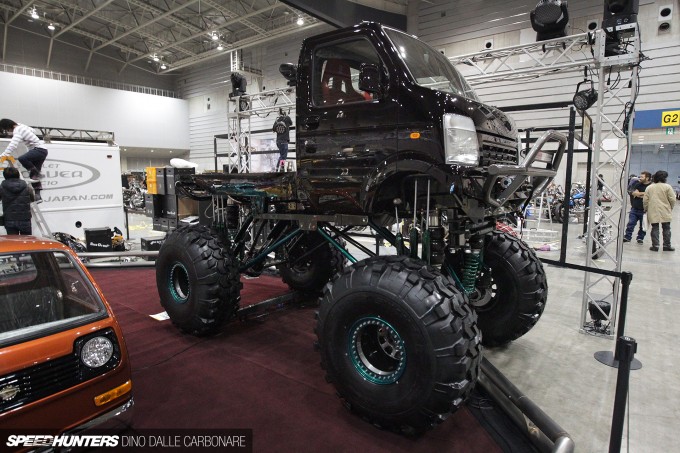 As a stark contrast, the other lifted Kei-truck next it was a nice comical touch!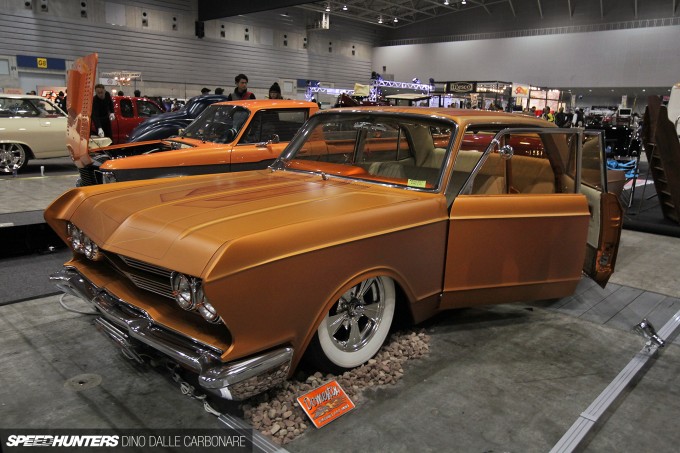 Can't get enough of JDM rides? How about this Debonair from the Domestix crew, modified with a Lincoln Continental look?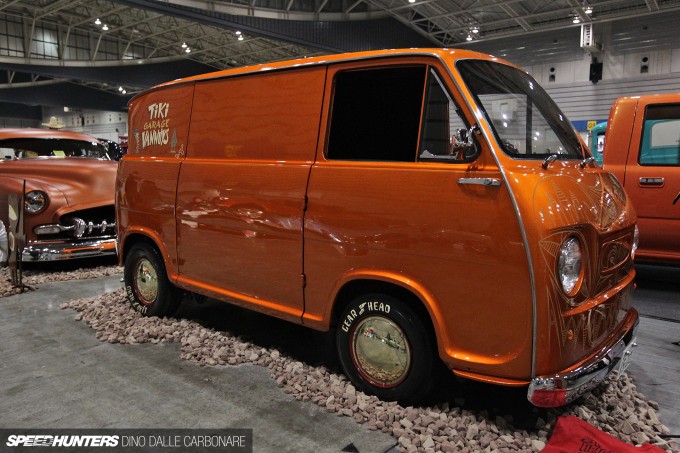 Or more Kei-van awesomeness…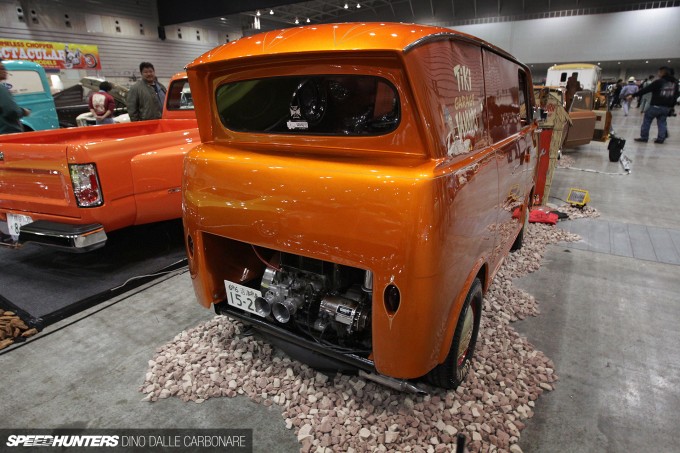 … with another two-stroke-powered custom creation!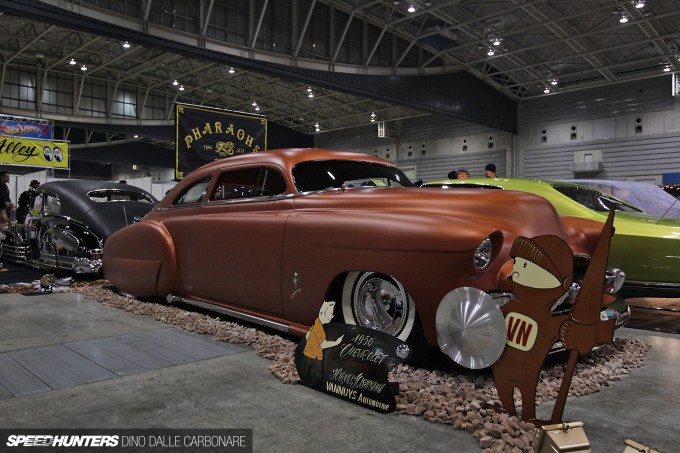 And right behind it this 1950 Chevy coupe…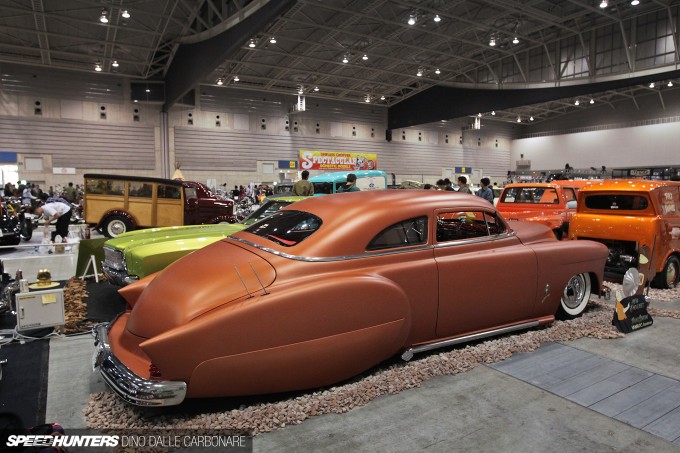 … helped give a striking example of the sheer size difference between Japanese cars and the old American stuff!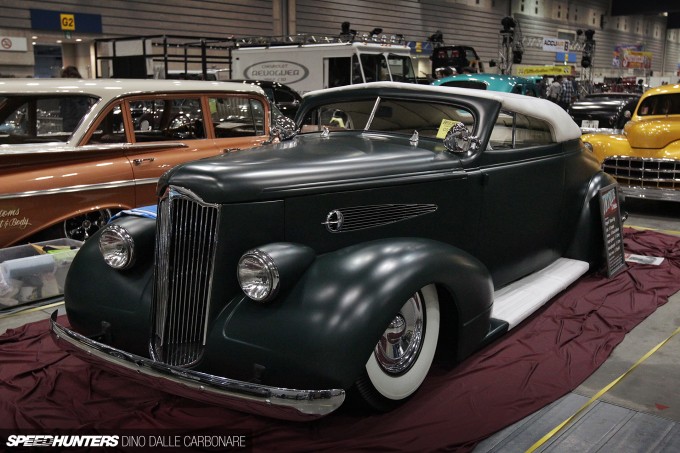 The mafia was in the house too!
They kept coming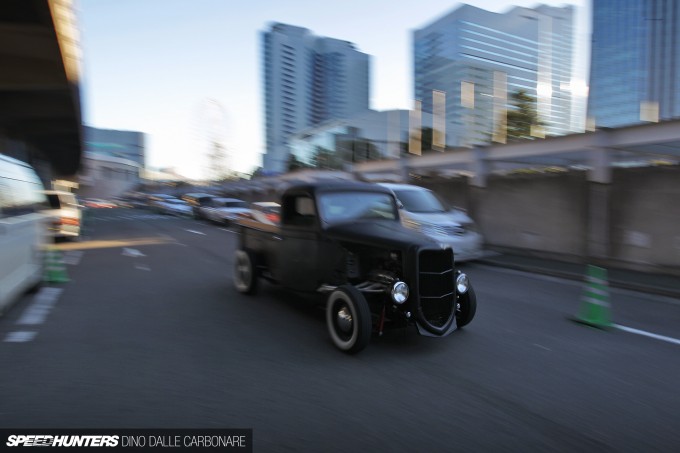 By mid-afternoon most of the halls were filled to the brim, but the last few cars were still on their way in.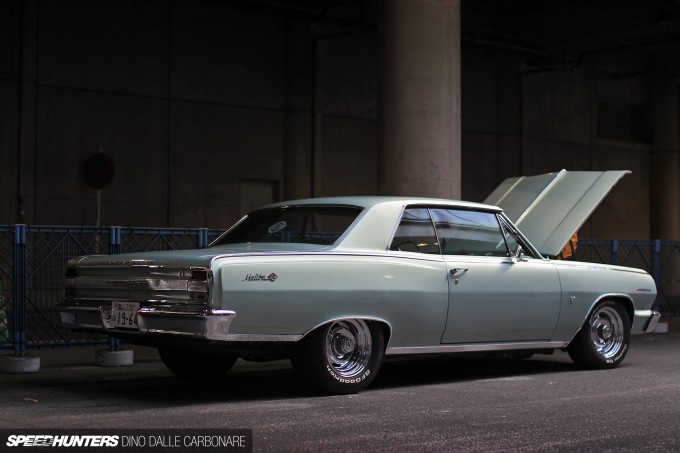 I saw this stunning Malibu street drag racer being unladen from a transporter, or rather I heard it…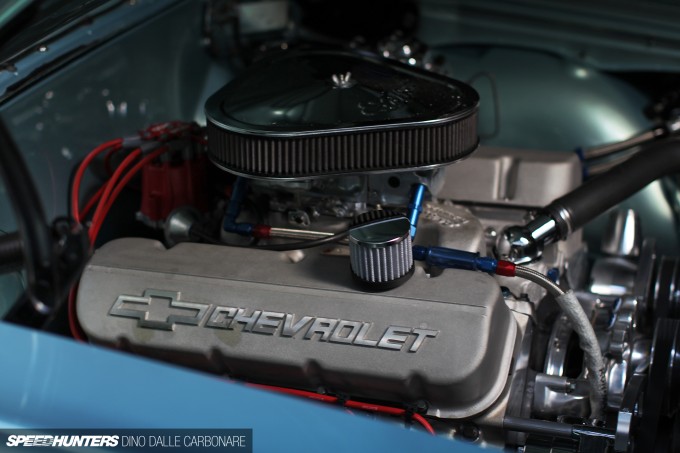 … it's barely silenced big block V8 sending shockwaves through the open access doors of the Yokohama Pacifico building.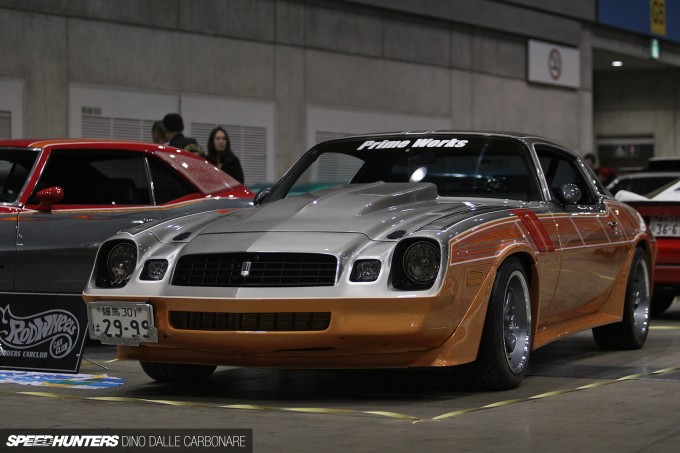 The Rod Wheels car club had some really cool cars on display as you can see in the opening picture to this post, but I wanted to share one more image of this Camaro. Gotta love the colorful seventies feel!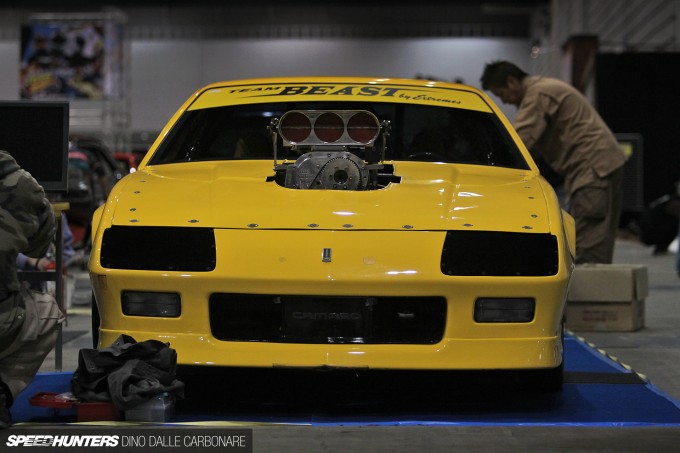 Team Beast… how appropriate!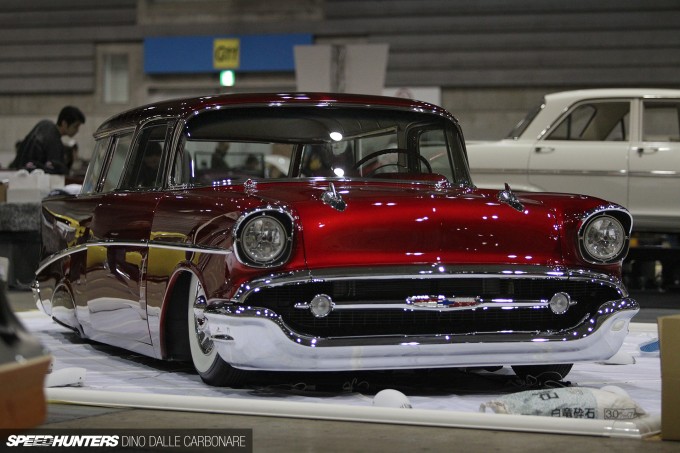 If Mooneyes Japan hasn't yet done a station wagon theme at one of their shows, well heck I think they will as Japan certainly has a lot of awesome haulers to show off. Maybe one for next year?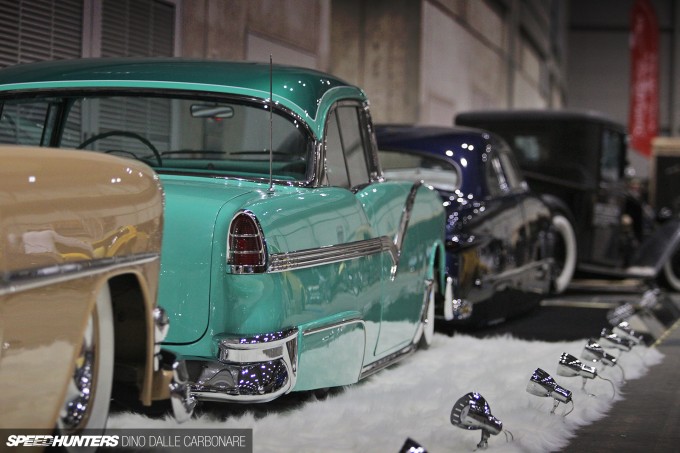 After spending much time looking at all the custom rides that by late afternoon were all pretty much sitting in their respective completed display areas…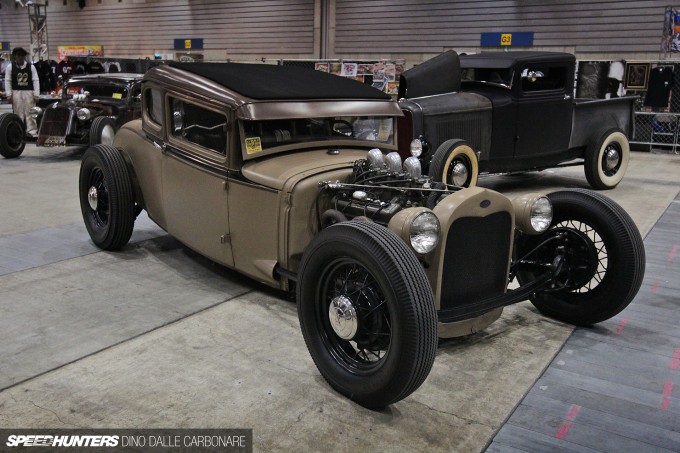 … I wandered into the hot rod area. This is always the most interesting section for me. I probably felt even more lost in here than I did in the rest of the show…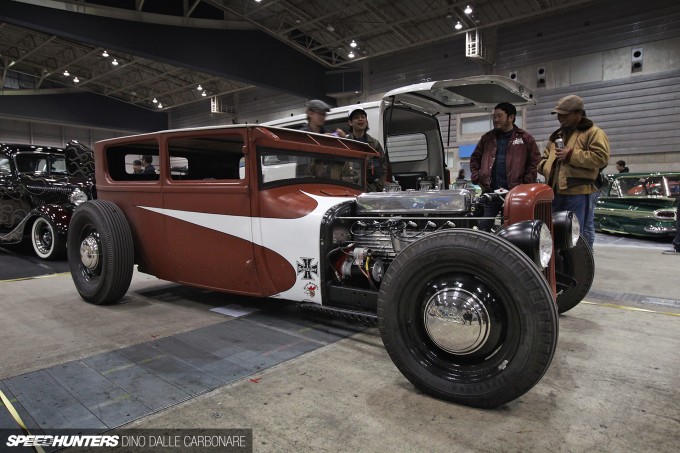 … but with these creations being so brutally visual in their execution, it's hard not to be blown away by them and just appreciate them without knowing the ins and outs.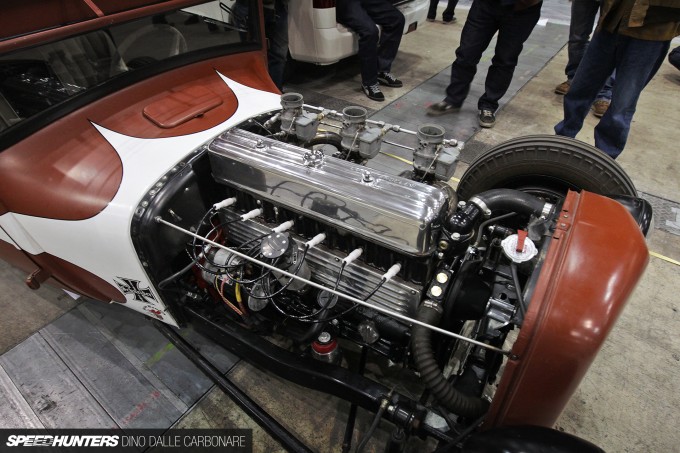 One thing that was obvious was that this Beans Bandits rod was powered by a straight six; quite the contrast to the usual V6s and V8s I usually see in Japan.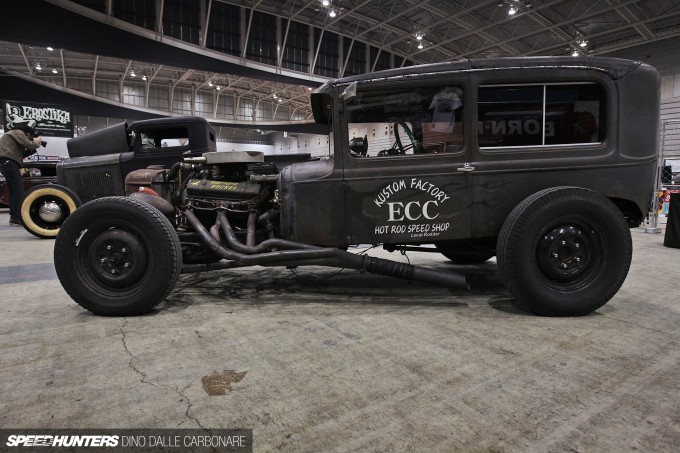 While most builders like to chop roofs rather dramatically, Kustom Factory ECC have left the stock Oldsmobile glasshouse intact giving this huge rod quite the distinct look.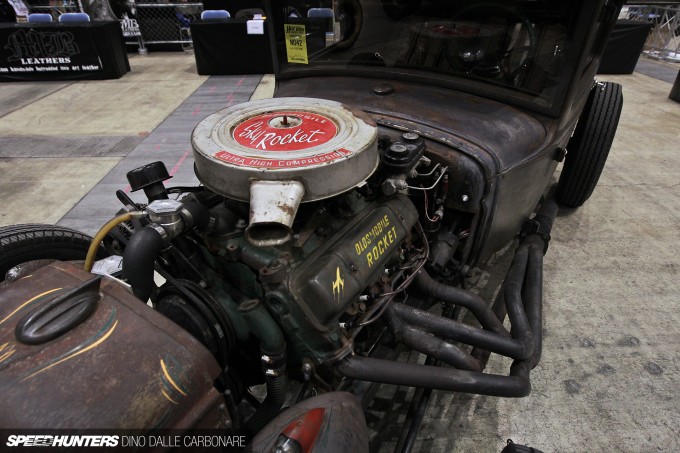 The old school filter was a nice touch too!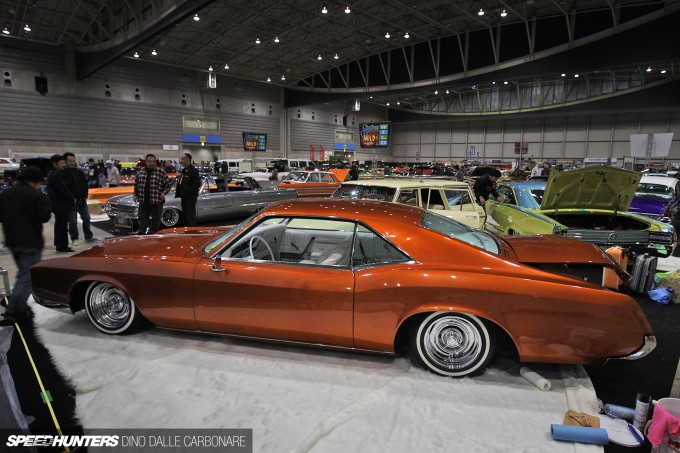 Mooneyes Japan events are all about diversity: diversity of cars, styles and ideas. A fusion of the authentic mixed in with a bit of craziness. This is precisely what keeps me coming back…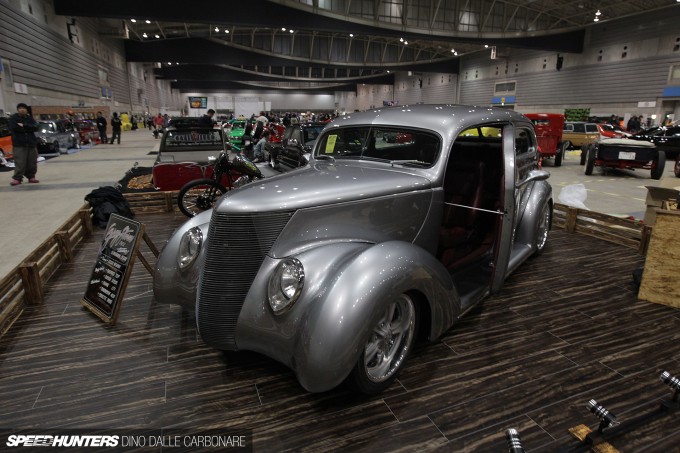 … even if it is a complete different world to what I'm used to immersing myself in. This, after all, is Japan and this is what it has to offer and I couldn't be happier to have such variety at my doorstep. Yes, I really love this place!
Hope you've all enjoyed this year's Hot Rod & Custom Show!