Purists, look away. I'm pretty sure that by now you should all know what the name Rocky Auto is synonymous with. This is one place that isn't afraid to fettle with authenticity, taking a modern approach to the sort of Japanese vintage rides we all know and respect. Watanabe's latest project couldn't possibly be a better ambassador for this way of thought and it's one we got a little glimpse of back in February at the Nostalgic 2 Days. Back then the car wasn't even fitted with an engine yet, but it didn't take much imagination to figure out that with a carbon fiber body…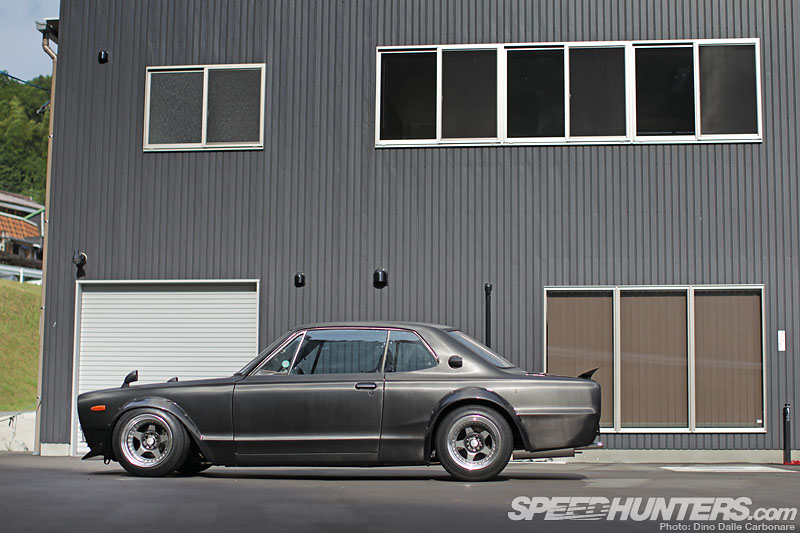 … it would be running something pretty special for propulsion. The car isn't actually completed yet, but Watanabe-san was kind enough to quickly fit the wheels and a bunch of other interior parts the night before my visit and get it down from the lift so that I could feature it. And I'm glad he did because this is one car I've really been looking forward to admiring in all its glory. It follows much the same recipe as the RB30-powered carbon S30 Rocky Auto built back in 2009, except what makes it very special is that you just don't see these wild sort of conversions done to Hakosukas. Seeing that the car was only ever sold in Japan, it tends to be a more revered Nissan classic – one that people haven't dared to meddle with too much. Most are usually more than content with going for a 2000 GT-R look and modding the L-series motor that usually powers them, except of course Watanabe had different ideas.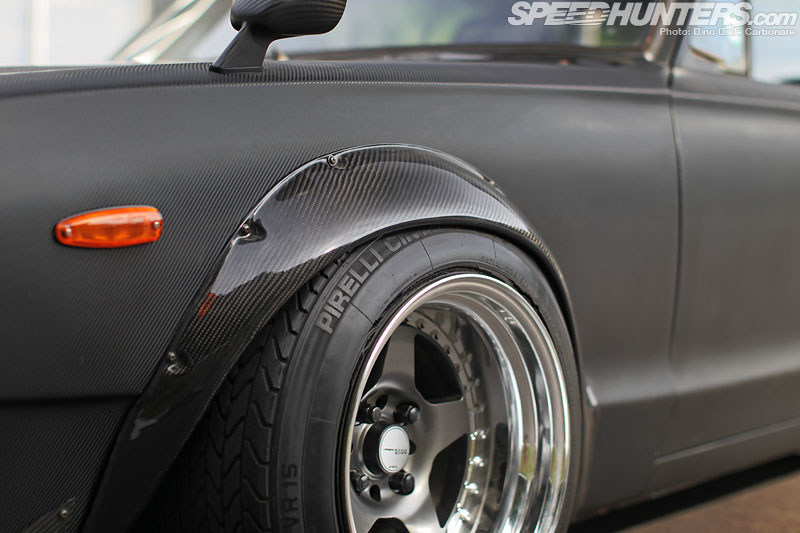 The exterior itself is mostly wrapped in carbon-look vinyl but countless bits and pieces have been custom made out of carbon fiber. So the whole bumper-less front fascia is carbon, as are the headlight covers, the hood and the fender flares. It all combines to give the car a sort of Works look but with the obvious modern feel carbon fiber introduces to the equation.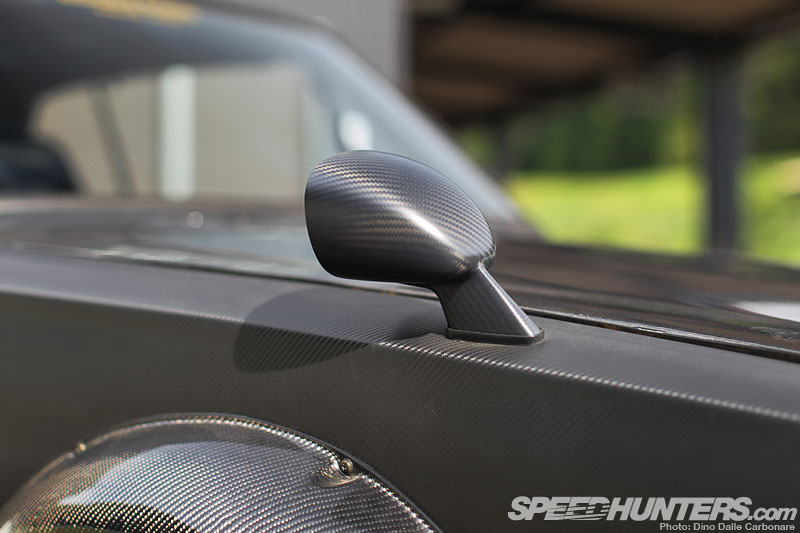 There are a lot of cool details that further spice up the looks like these prohibitively expensive dry-carbon fender mirrors from 09 Racing…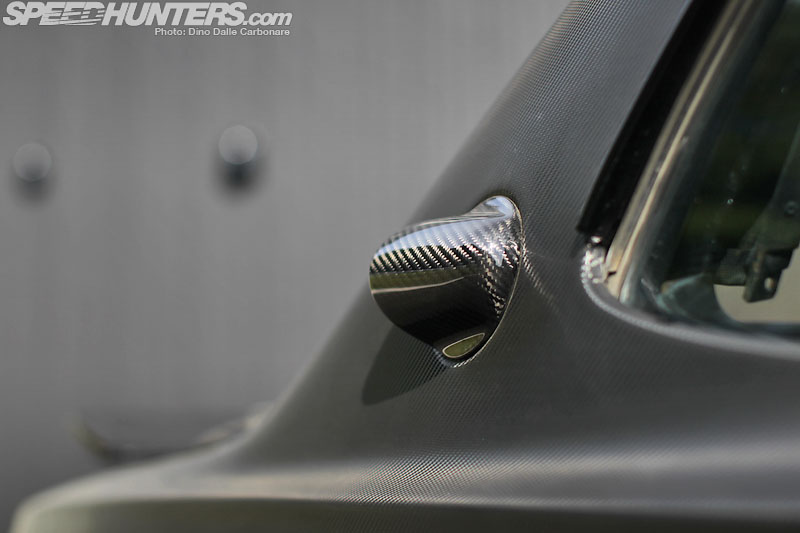 … or the C-pillar air outlets, again made in carbon.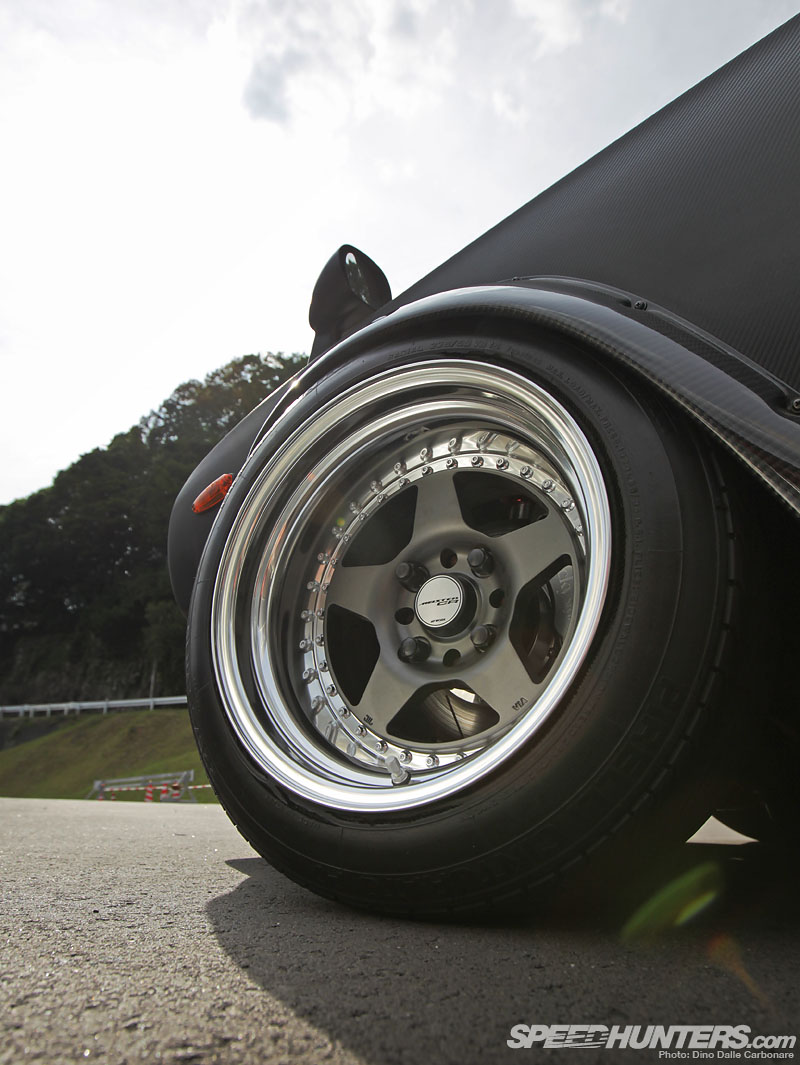 Thanks to adjustable Rocky Auto coilovers the car has been significantly lowered onto a set of 15″ Work Meister CR01s, measuring 9.5 inches across at the front. The lack of appropriately sized tires needed to achieve the look that Watanabe wanted, led him to stumble upon a set of old 225/50VR15 Pirelli P7 Cinturato. As you can see from the picture above the aged rubber hasn't particularly liked the excessive stretching its been subjected to and has begun to split along the rim.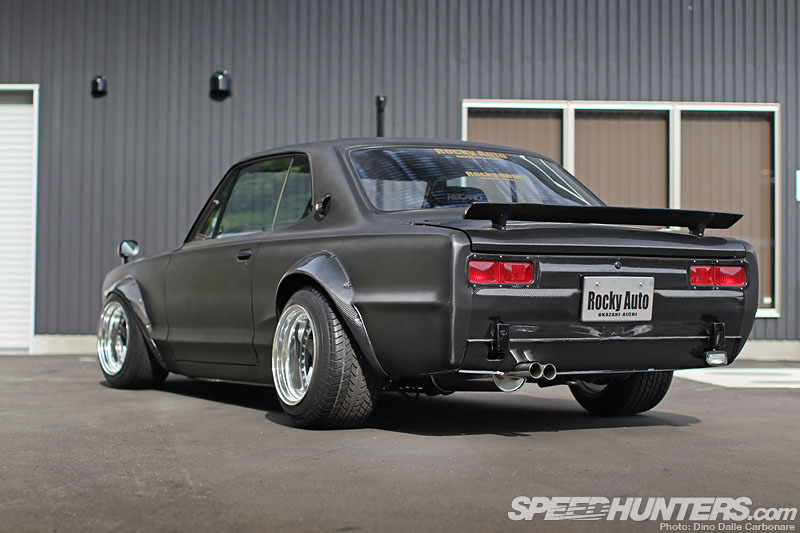 The 11-inch wide rears are fitted with Pirelli P700s…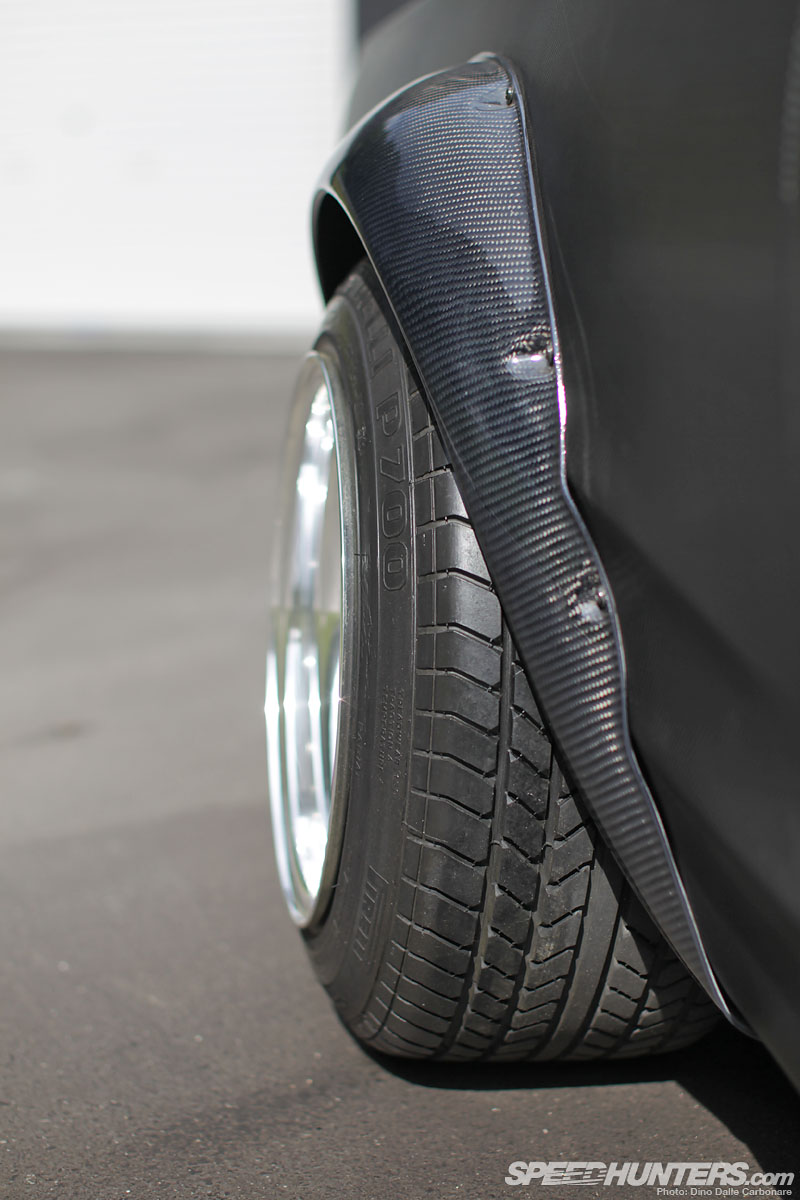 … in slightly wider 255/50VR15 size. The custom offset of the wheels has been perfectly selected for an optimal fit. The last thing remaining to be done is lower the rear suspension…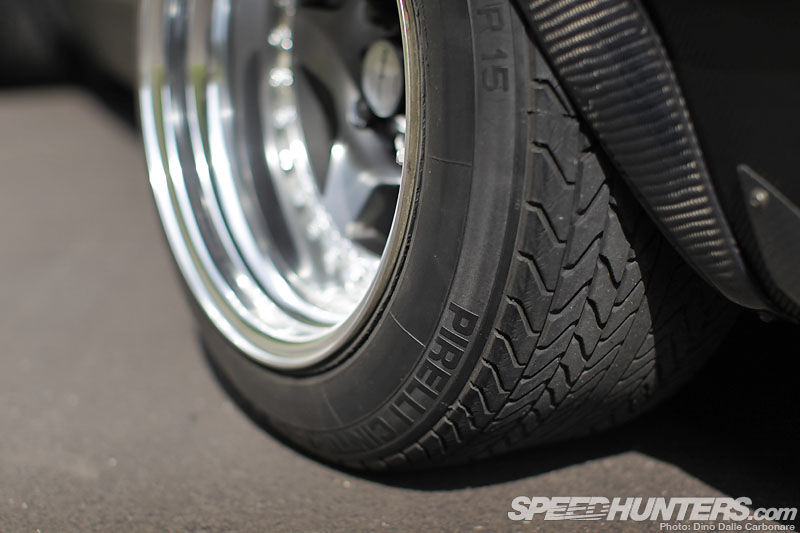 … pretty much as far as it will go. With such a unique exterior treatment for a KGC10, it's hard not to get curious about the car's driveline…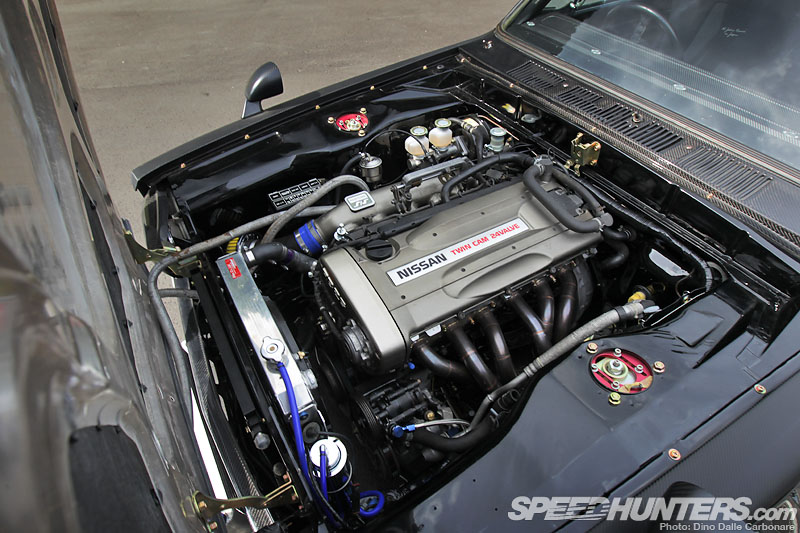 … which of course hasn't got a single period correct component in sight. Recall our little tour of Watanabe's new garage where we came across about seven R32 Autech Versions? Well this is why he has so many – they are donor cars for this rather rare and special version of Nissan's RB26.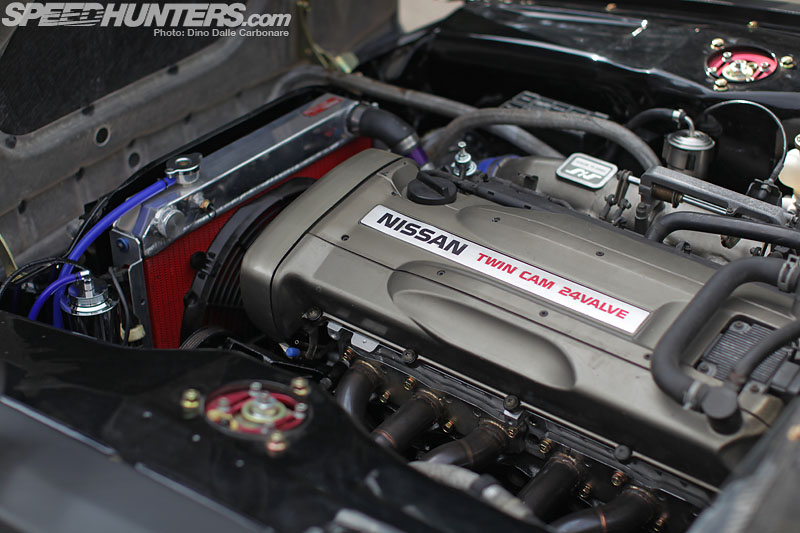 The limited edition Autech R32 was never regarded as quite the special car as other limited edition versions of the Skyline, but the engine that powered it was quite interesting. After grabbing RB26 shortblocks from the Nissan production line Autech would disassemble the engines, and get to work on them. They bored out the blocks to accommodate the 1mm oversized 87mm pistons that increase capacity to 2,627 cc and balanced the crank, con rods and flywheel to guarantee smooth, vibration-free operation all the way to the redline. Furthermore the head was polished for extra flow, helping to extract 220hp.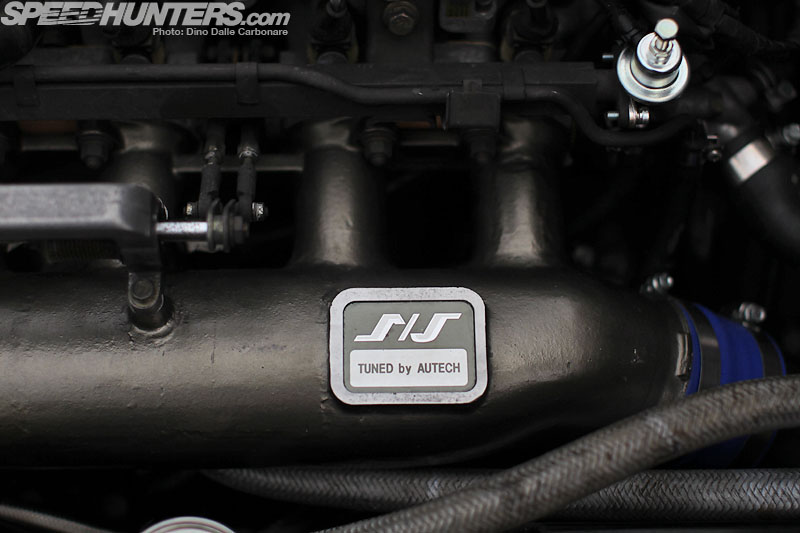 The engines are easily recognizable thanks the S/S plaque on the intake plenum, playing homage to Shinchiro Sakurai, Prince's engineer responsible for developing the very first Skyline and later the Prince R380 race car.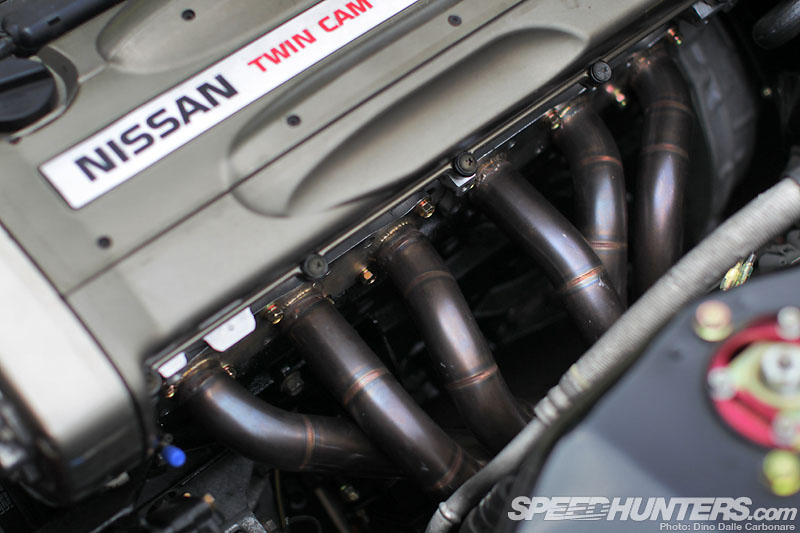 To liberate a few more horsepower, Rocky Auto added Tomei Powered camshafts with slightly more aggressive duration and lift, and fine-tuned the overlap thanks to HKS adjustable cam gears. A full stainless steel exhaust system, including the six-into-one headers, helps give the RB26 a more vintage raspy tone and slightly increases throttle response. The engine is fitted with a lightweight Toda Racing flywheel and sends drive to a Nissan five-speed transmission.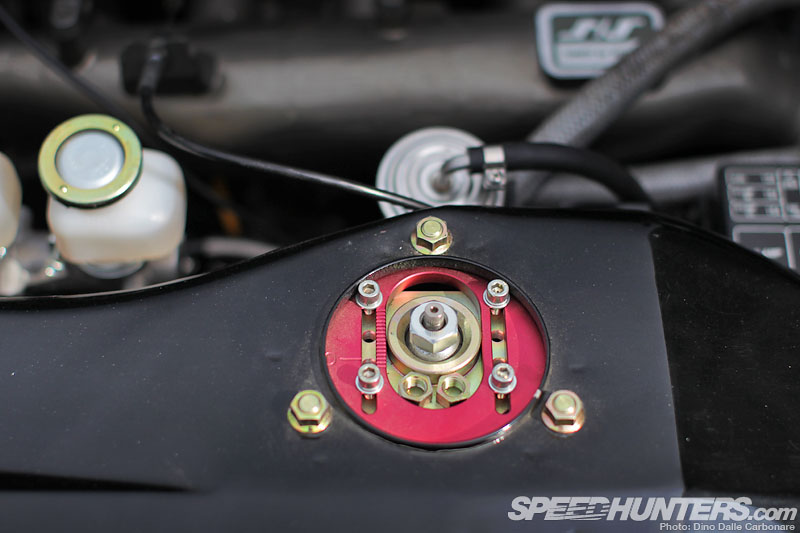 Watanabe is still tuning the suspension and will probably end up running slightly more negative camber than what the top mounts of the coilovers allow.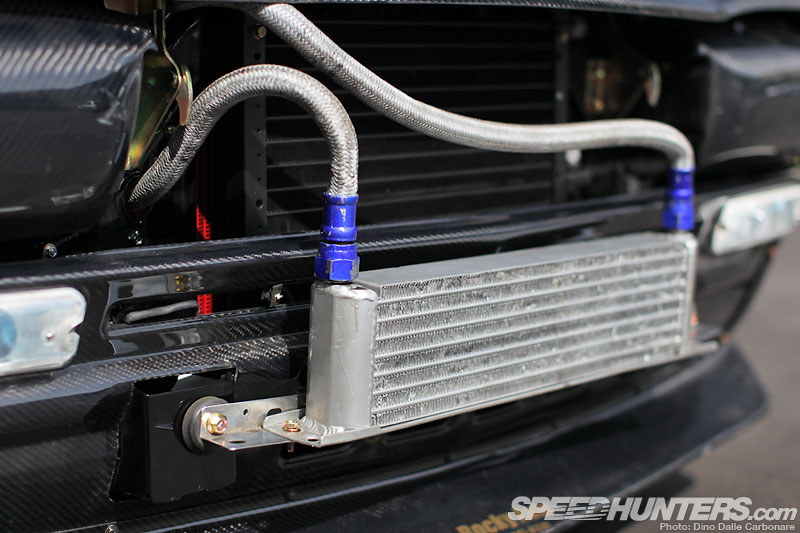 To pay homage to the successful 2000 GT-R race cars that dominated endurance races in Fuji Speedway in the early to mid seventies, an external front-mounted oil cooler was fitted – quite a contrasting addition against all the black shiny carbon fiber.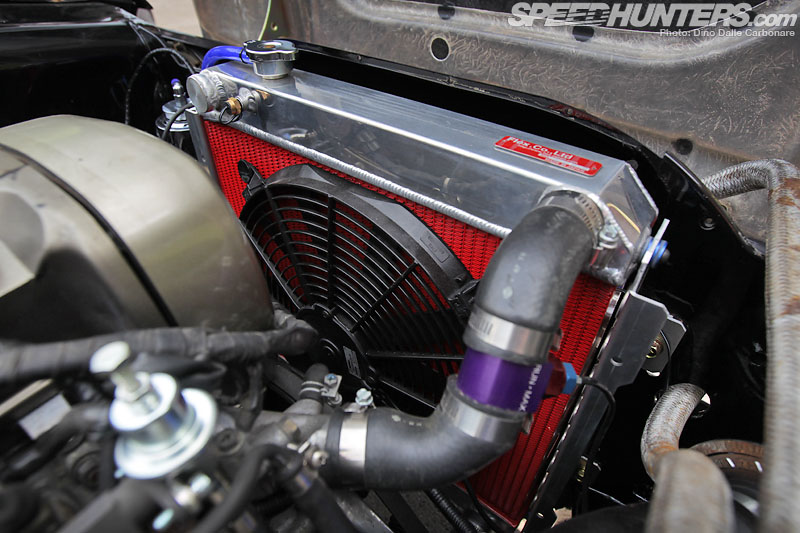 An aluminum Flex radiator of generous dimensions makes sure the RB26DE never runs into issues even if its future owner decides to run the car hard on track.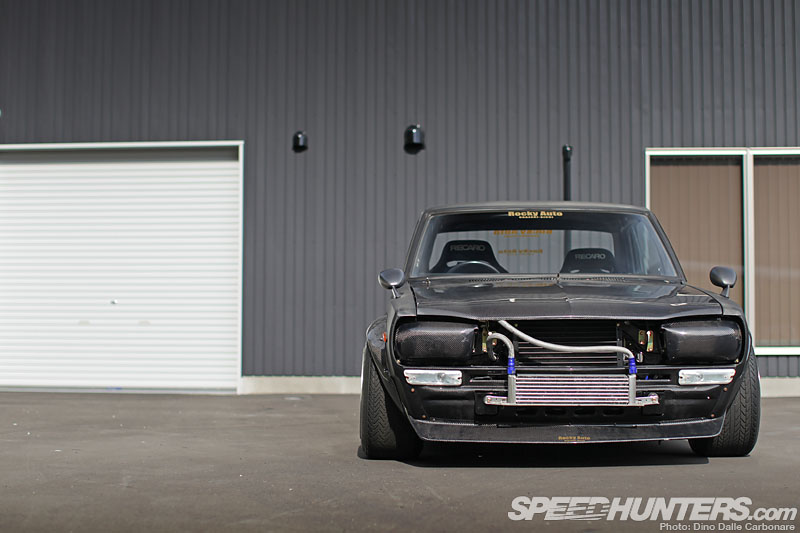 It might be a sore sight to digest for those that appreciate only period-correct alterations, but it's not like Watanabe cares. While he would never dream of messing around with a real S20-powered GT-R, these relatively affordable base model Skylines offer a fun platform upon which to go wild on and often create rather fast and exciting cars to drive.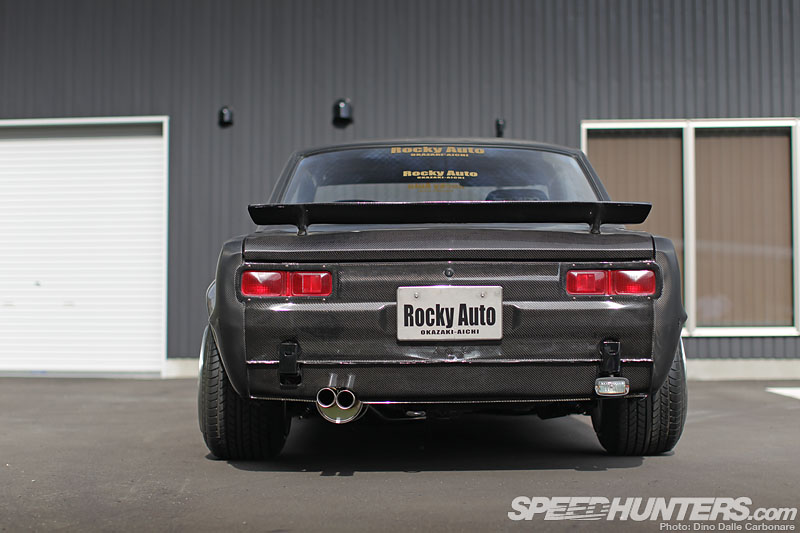 Just like at the front, the rear end is pretty wild, with carbon fiber replacing the whole section, topped off with a carbon trunk and spoiler.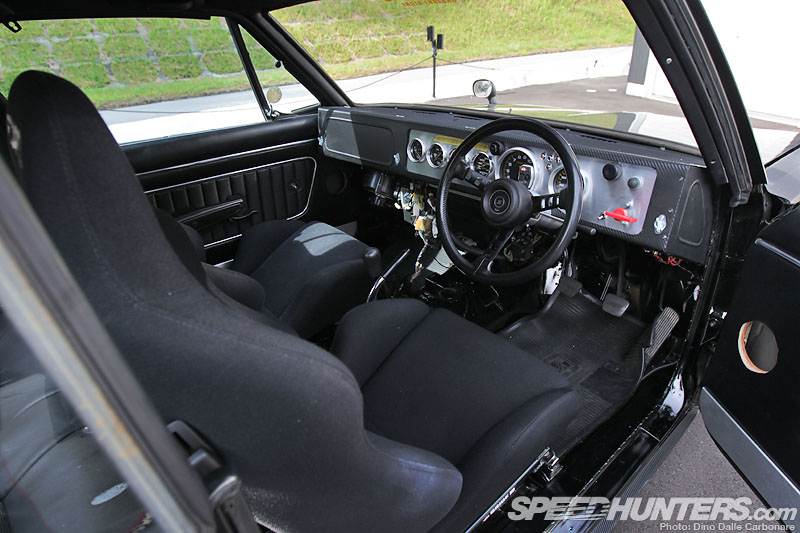 The interior is the final area of the car that needs to be finished off and the day before my visit they had to interrupt fitting the A/C system to get the car ready for the shoot, which is why there are a bunch of wires and looms hanging down under the dashboard.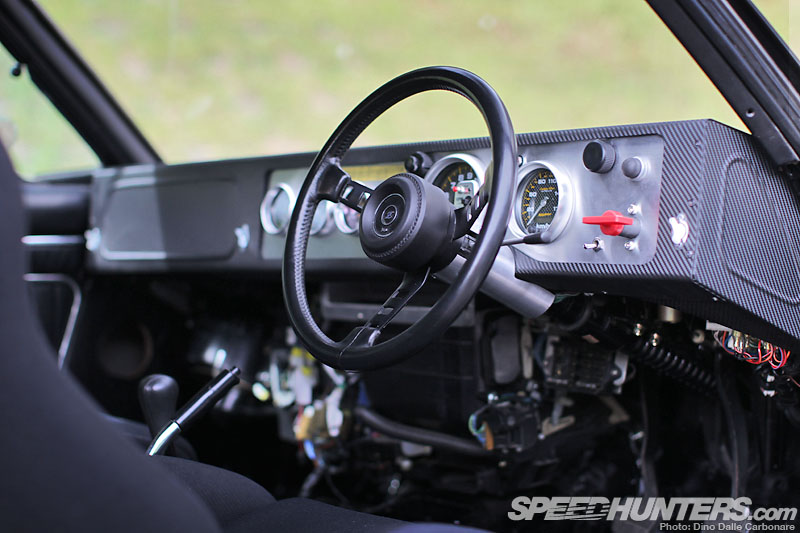 And talking of the dashboard you may have noticed that it's a one off piece, made out of aluminum…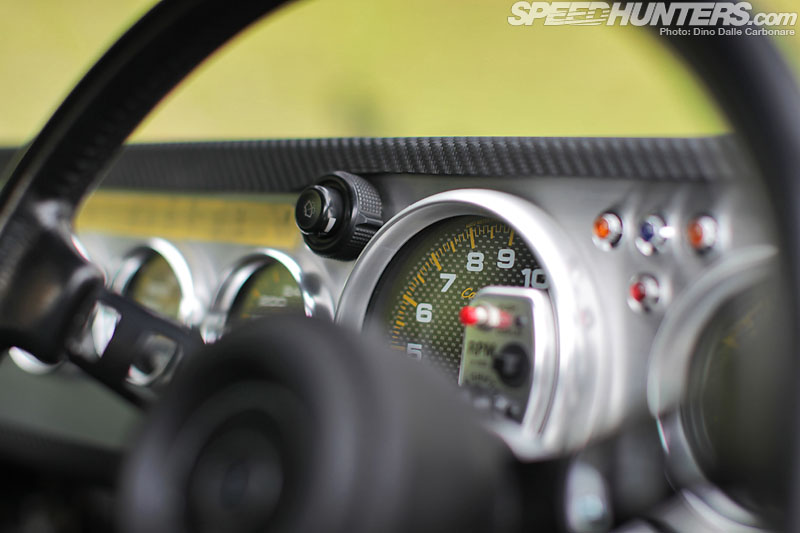 … and wrapped in carbon-look vinyl to match the theme of the car. The Carbon-look AutoMeter tachometer and speedometer…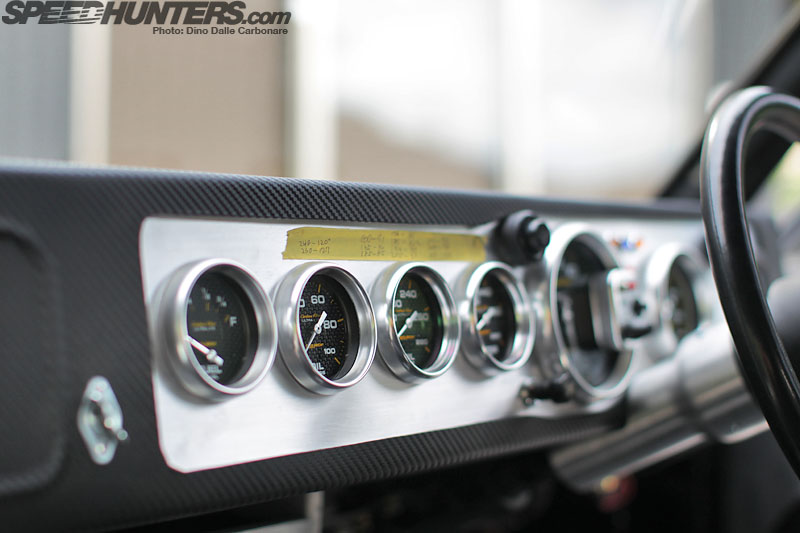 … join the four centrally mounted auxiliary gauges, all neatly positioned for clear consultation.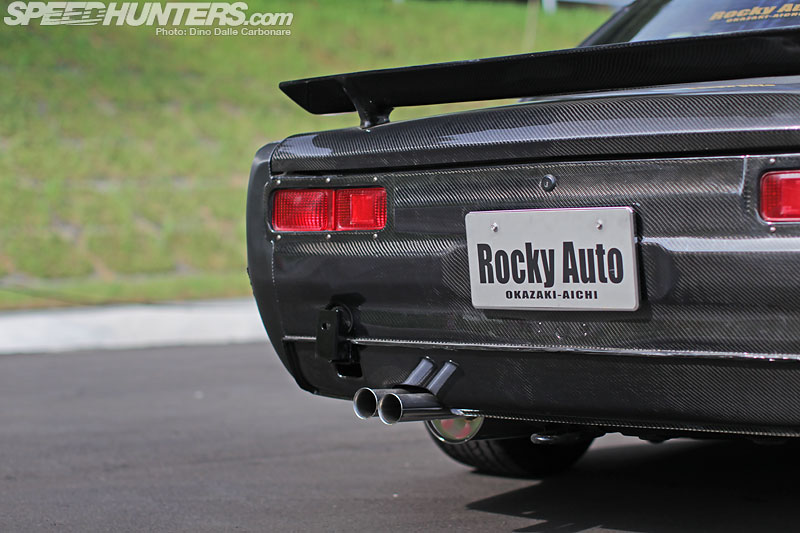 There's no hiding the fact that this car will raise a lot of questions to different enthusiasts, but it's hard not to commend the innovative way of thinking in which Rocky Auto always approaches vintage Japanese rides. If the end result is to extract more fun and enjoyment out of a car that was previously somewhat slow and uninspiring to drive, surely there's nothing wrong with that?
Dino Dalle Carbonare
Instagram: speedhunters_dino
Rocky Auto Carbon KGC10 Skyline
Numbers
Max power – 220hp, max torque – 245Nm
Engine
Autech S/S Plasma-RB26DE engine swap, Autech forged 87 mm pistons (2,627 cc), 11.5:1 compression ratio, Autech balanced connecting rods and crank, Tomei Powered 260-degree camshafts (IN & EX), HKS cam pulleys, Autech ported head, Trust air filter, Rocky Auto exhaust manifold, Rocky Auto exhaust system, externally mounted oil cooler
Driveline
Toda Racing lightweight flywheel, R32 five-speed transmission
Suspension
Rocky Auto height-adjustable coilovers
Wheels/Tires
Work Meister CR01, 9.5Jx15 (front), 11Jx18″ (rear), Pirelli P7 Cinturato 225/50VR15 (front), Pirelli P7000 255/45VR15 (rear)
Exterior
Rocky Auto carbon front bumper/structure, Rocky Auto carbon bucktooth lip spoiler, Rocky Auto carbon headlight covers, Rocky Auto carbon hood, 09 Racing dry carbon fender mirrors, Rocky Auto front and rear carbon fender flares, Rocky Auto carbon rear bumper/structure, Rocky Auto carbon trunk lid, Rocky Auto carbon rear spoiler, carbon vinyl wrap
Interior
Spot welded and reinforced chassis, Recaro seats, custom dashboard, AutoMeter gauges, Datsun Z steering wheel, automatic A/C
Other Rocky Auto features on Speedhunters
Other Hakosuka stories on Speedhunters