Total customize
We all know those occasions where you see a modified vehicle that's been so drastically changed that you can't figure out what model it started as. You know, cars that are more fiberglass and body filler than they are metal.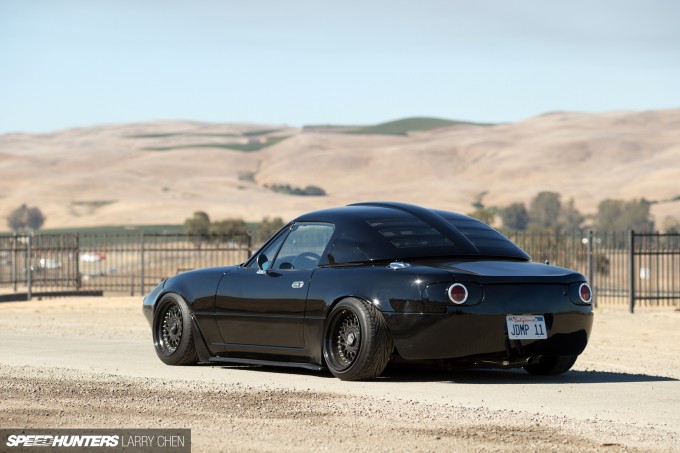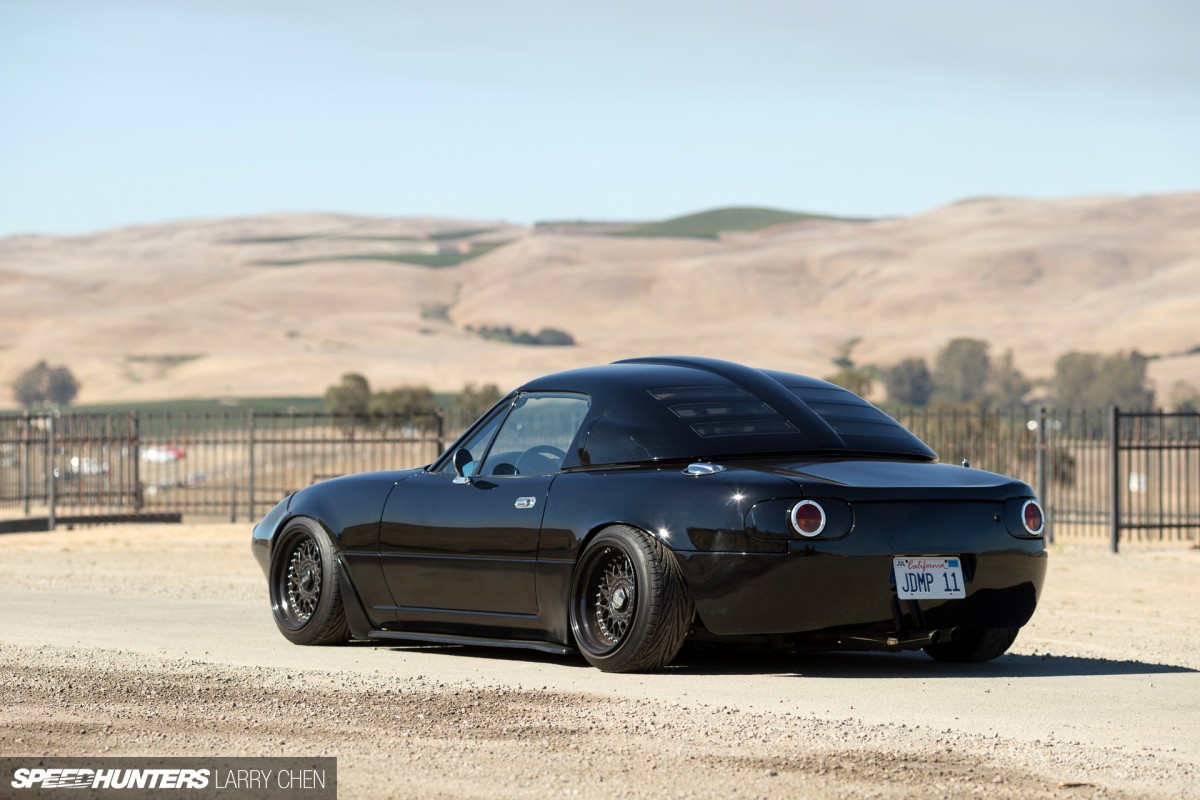 That isn't always the case though. There are those rare occurrences when a car can be so far removed from its original form that it takes on a completely new and completely awesome personality.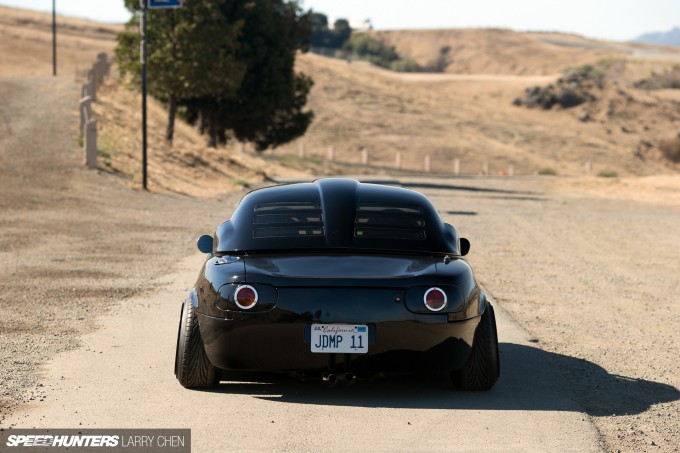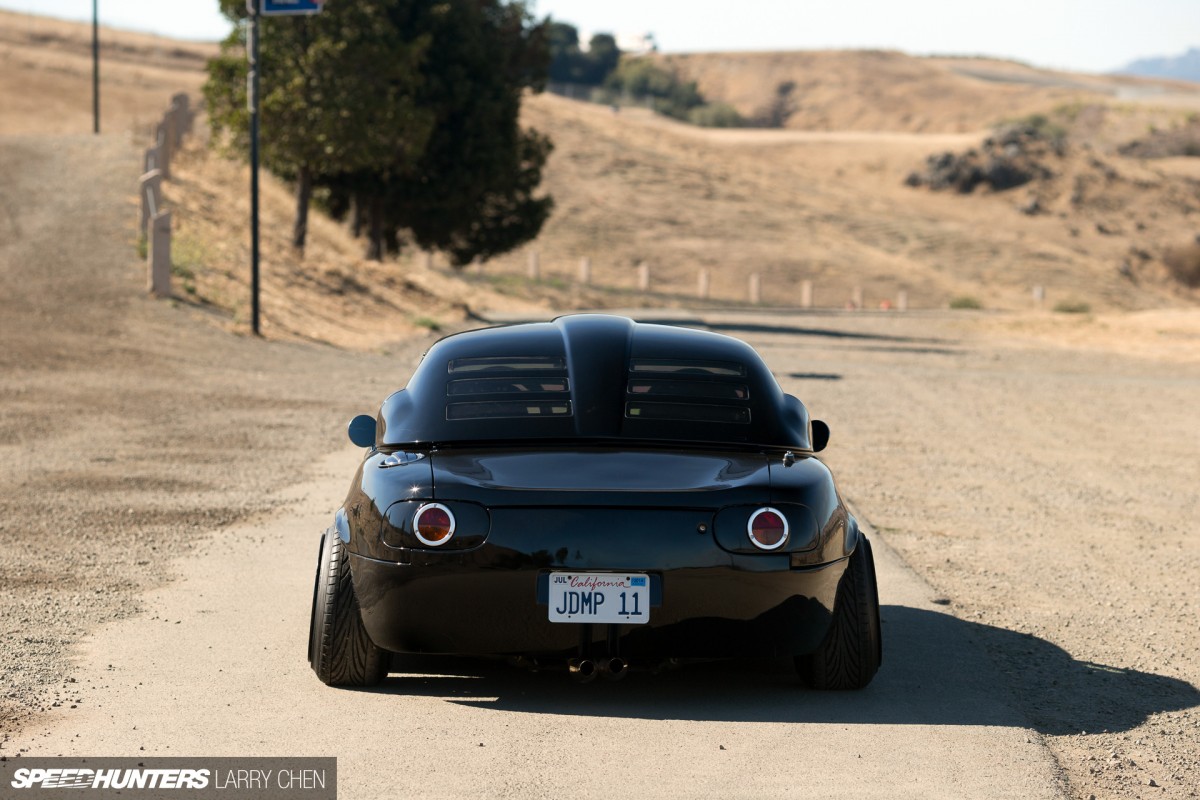 Sometimes it's due to an incredible degree of craftsmanship, but in this particular case it's due to an exquisite selection of rare parts from Japan.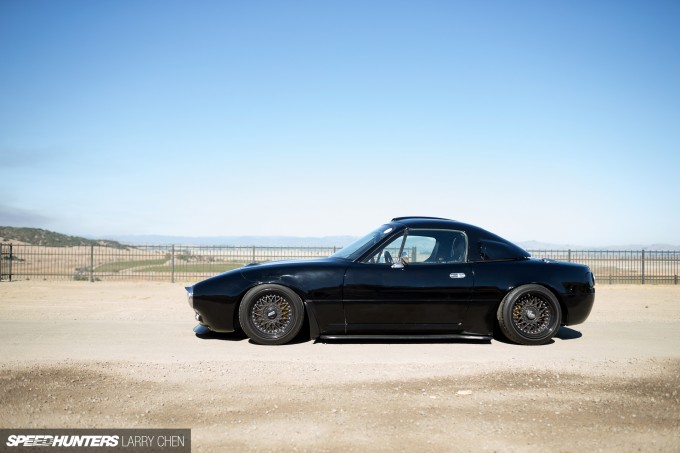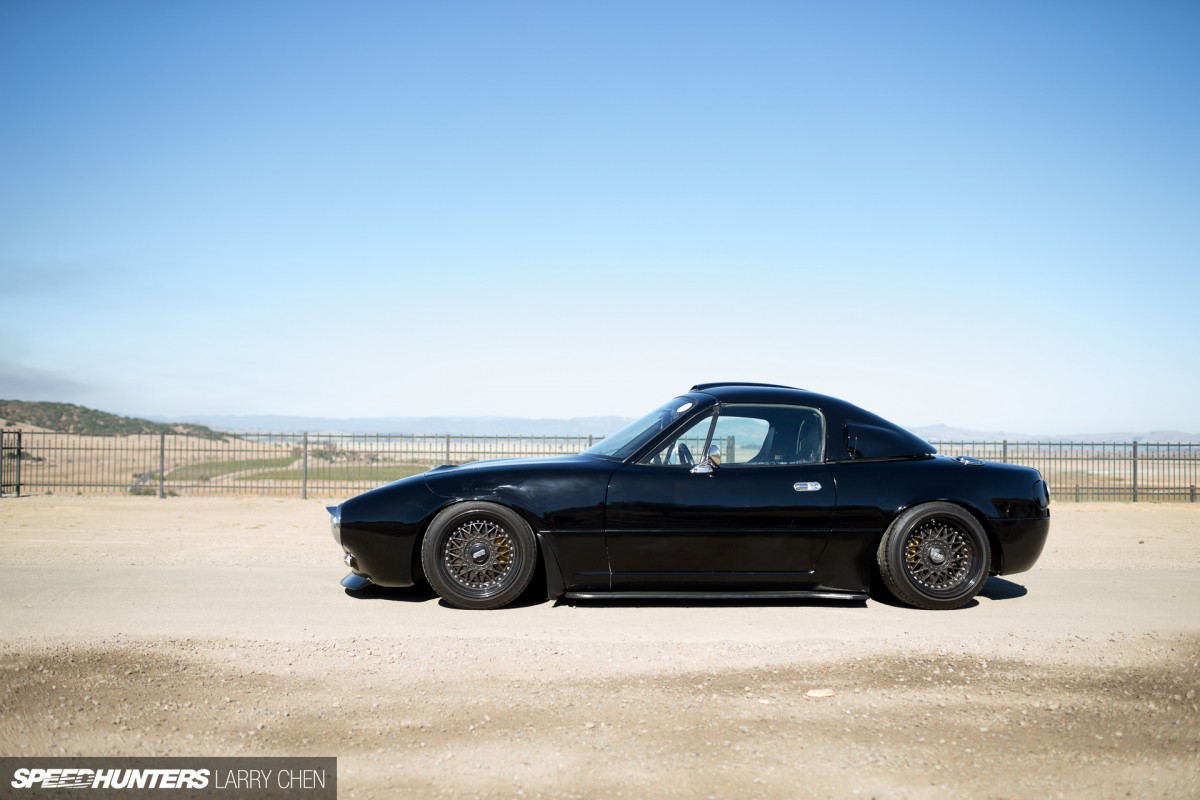 Can you name the car you're looking at here? Well if you're reading Speedhunters, then I'd bet you're sharp enough to identify that this is in fact a 1996 Mazda Miata. The general road-going public though, would see this car and wonder what the hell it is.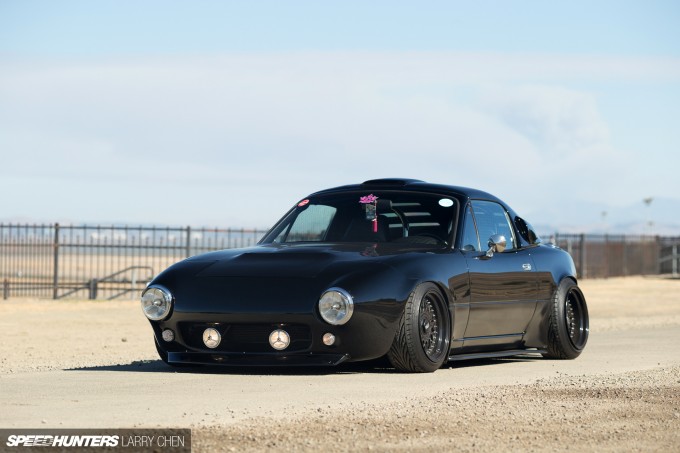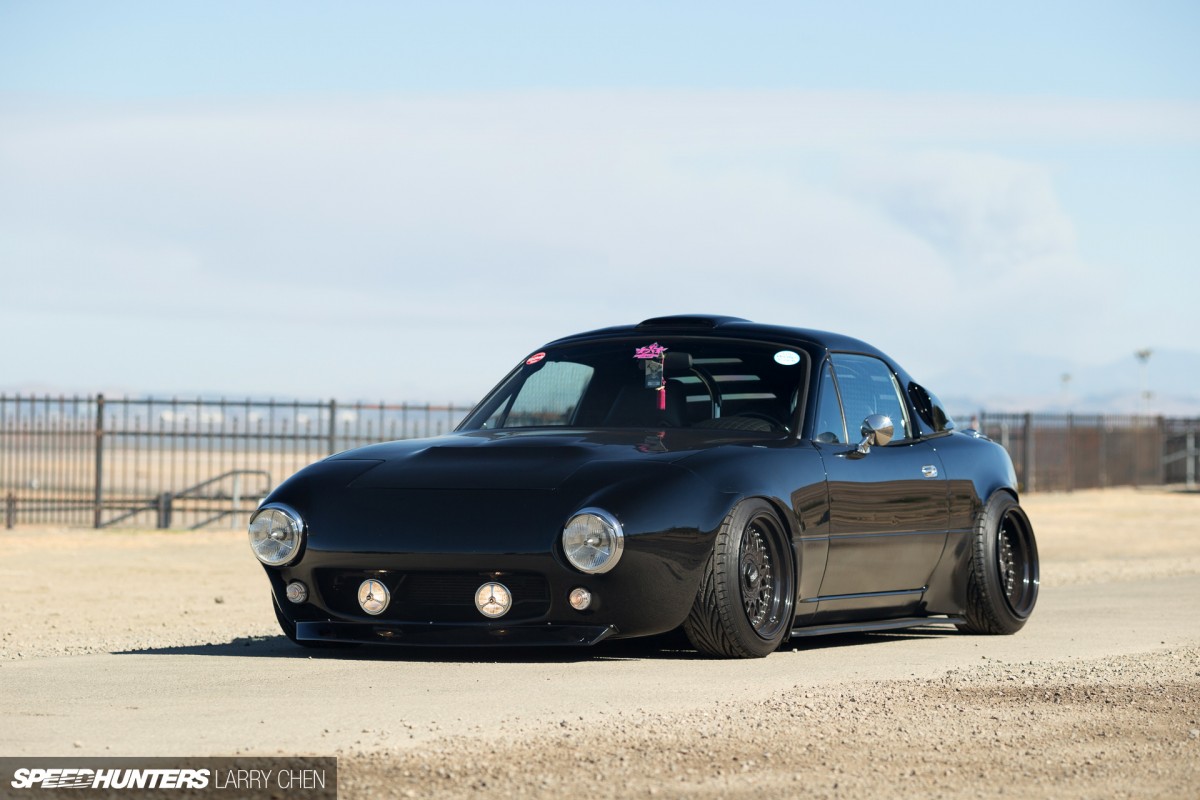 Joe Sixpack filling up his Camaro at the gas station will see this unique machine and wonder what he's looking at, but those with a keen eye will not only recognize that this is a Miata, but a Miata that's packing some of the rarest and most desirable aftermarket parts ever made.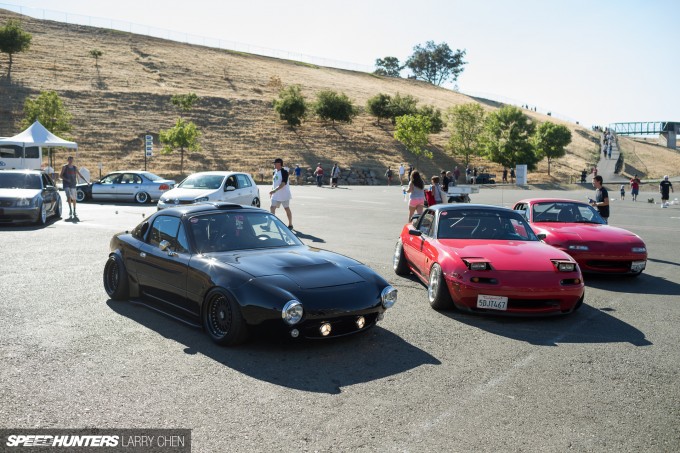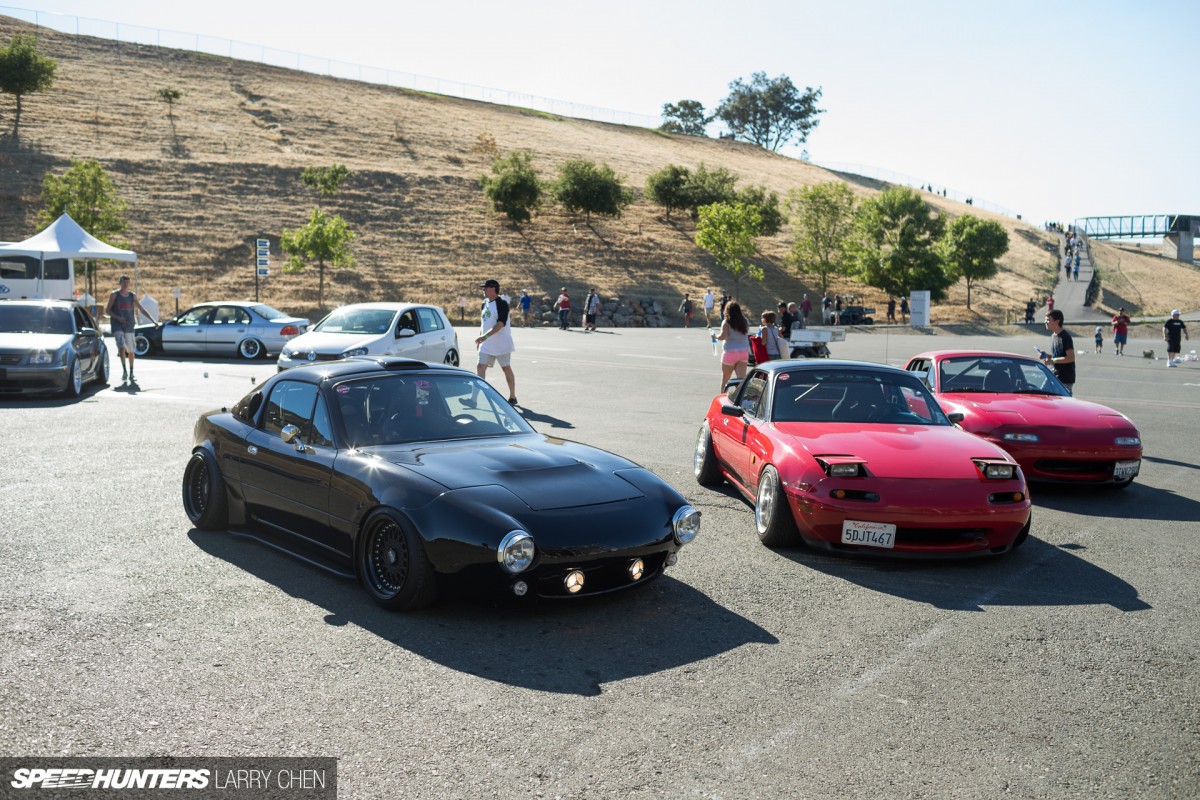 The car belongs to Sean Shokouh, who runs an importation business in Northern California called JDMPalace. I spotted the car during the recent Slammed Society event at Sonoma Raceway and immediately I had my pick for the #FeatureThis winner.
Pit Crew style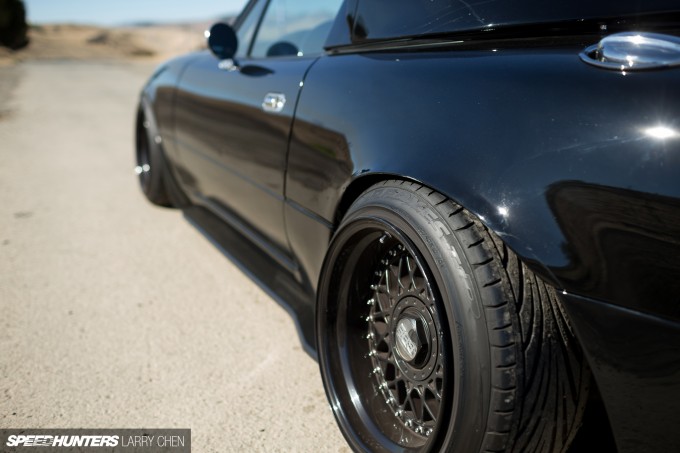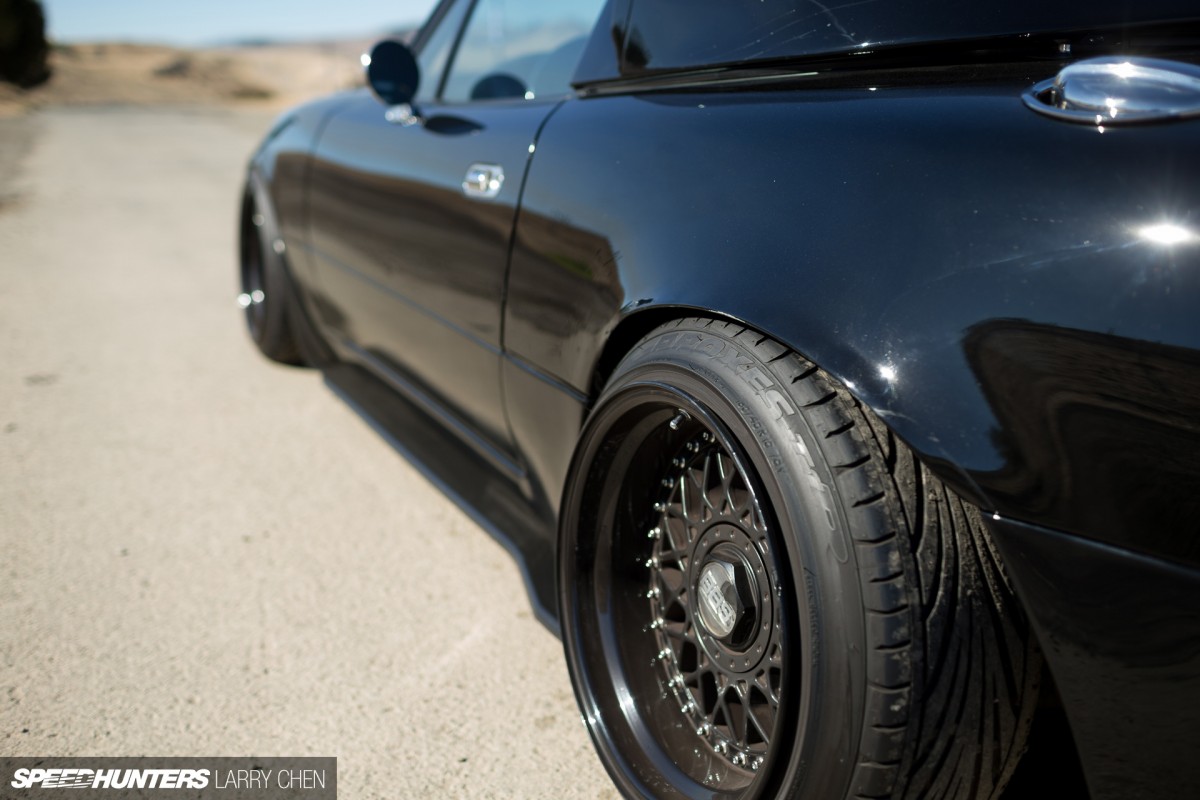 Of course it helps that I personally have a soft spot for Miatas, but really this car's got an appeal that reaches far beyond Miata geeks. In fact, those who see Mazda's little roadster as being too wimpy or feminine will probably change their mind when they see this car.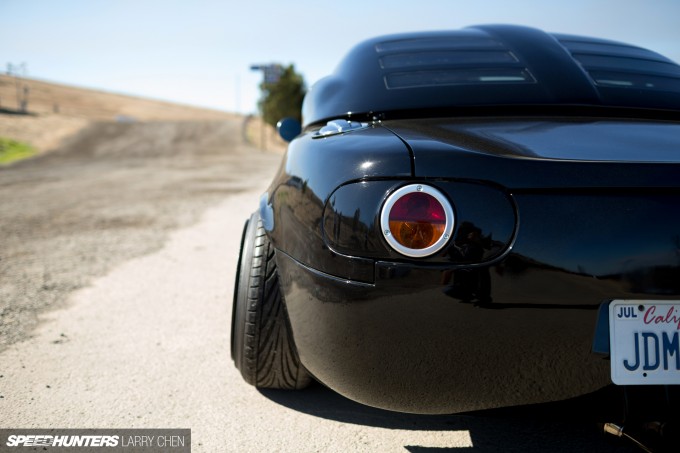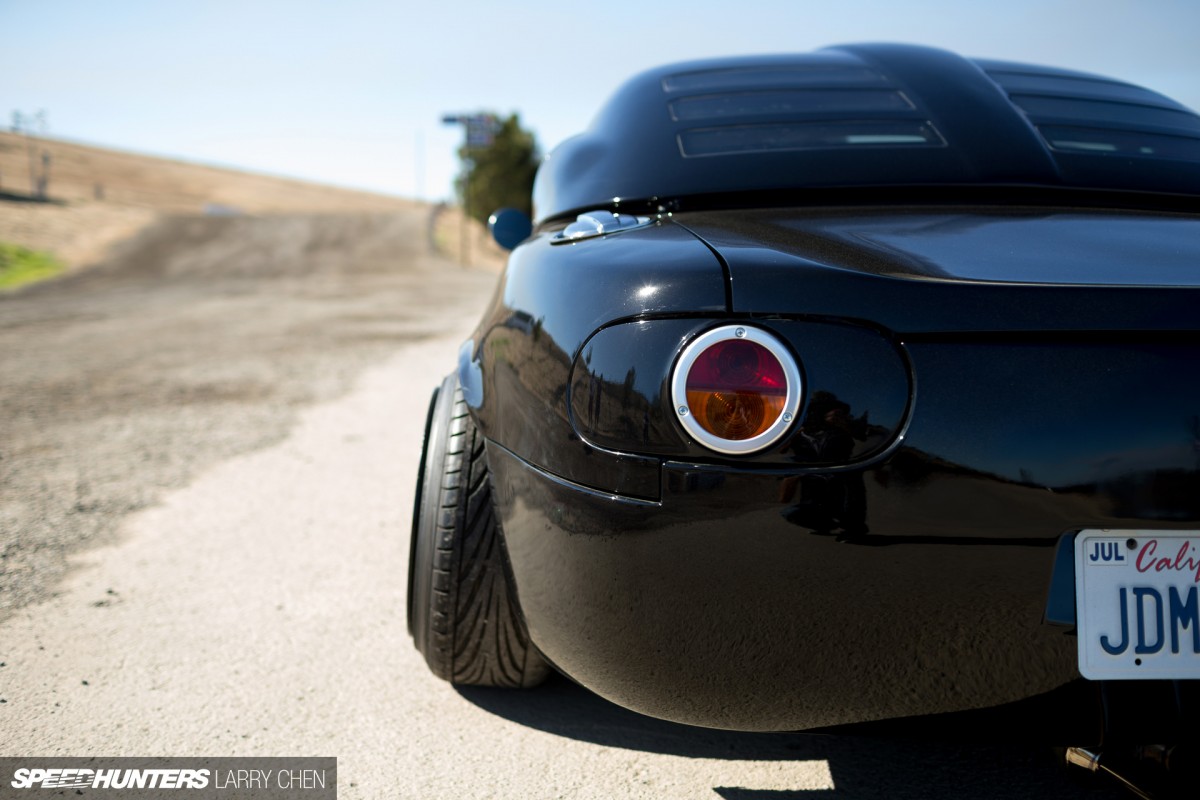 Actually, Sean himself originally wasn't a huge Miata nut, but he saw the opportunity to take the popular entry-level sports car and do something crazy with it – and that's just what he's done here.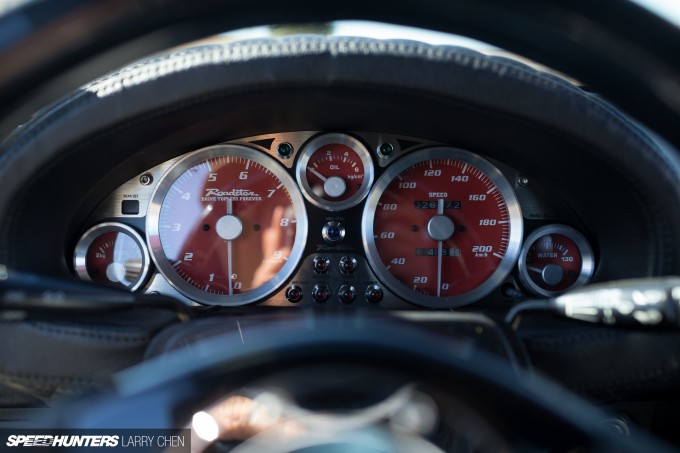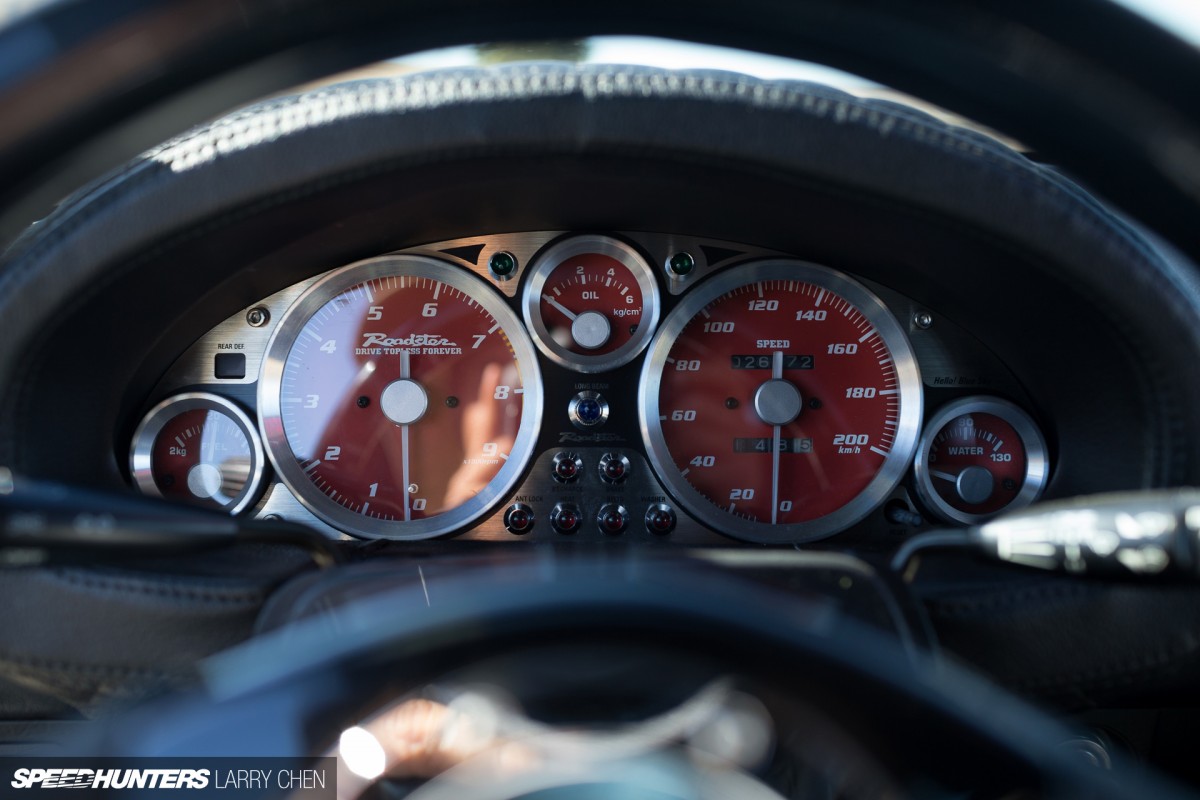 As you look down the car's spec sheet, it reads like an absolute dream list of rare parts from Japan – enough to make the drool flow from the mouth of any JDM Miata enthusiast.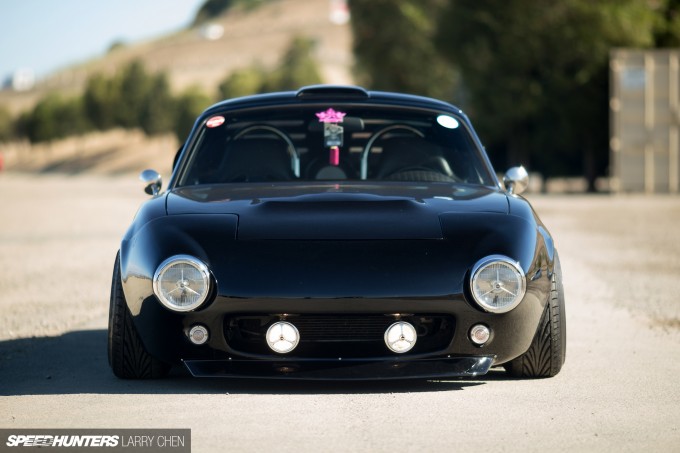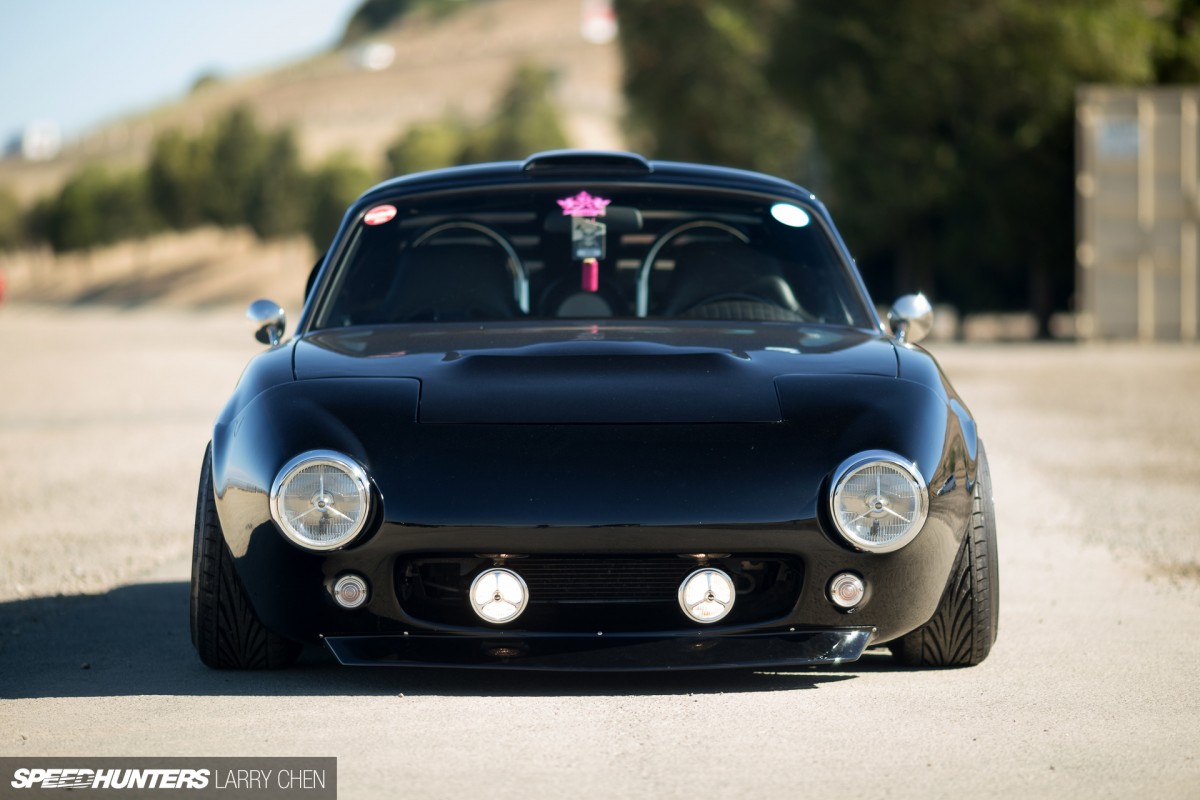 The most drastic change on the car is easily its front end. Gone is the smiley face bumper and pop up headlights of the stock NA Miata and in its place is a full Pit Crew Racing front-end conversion from Japan.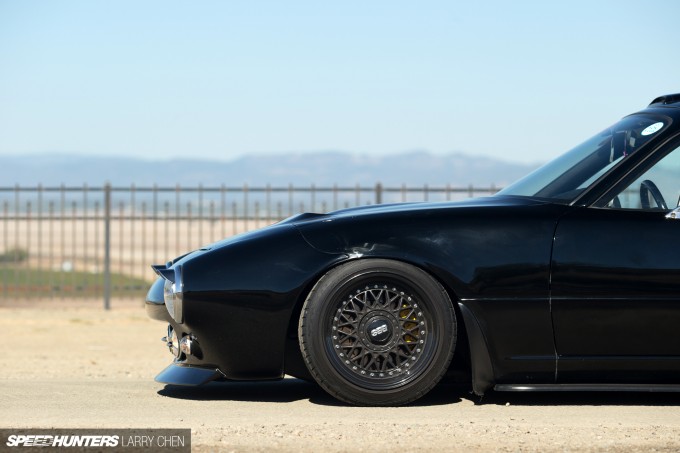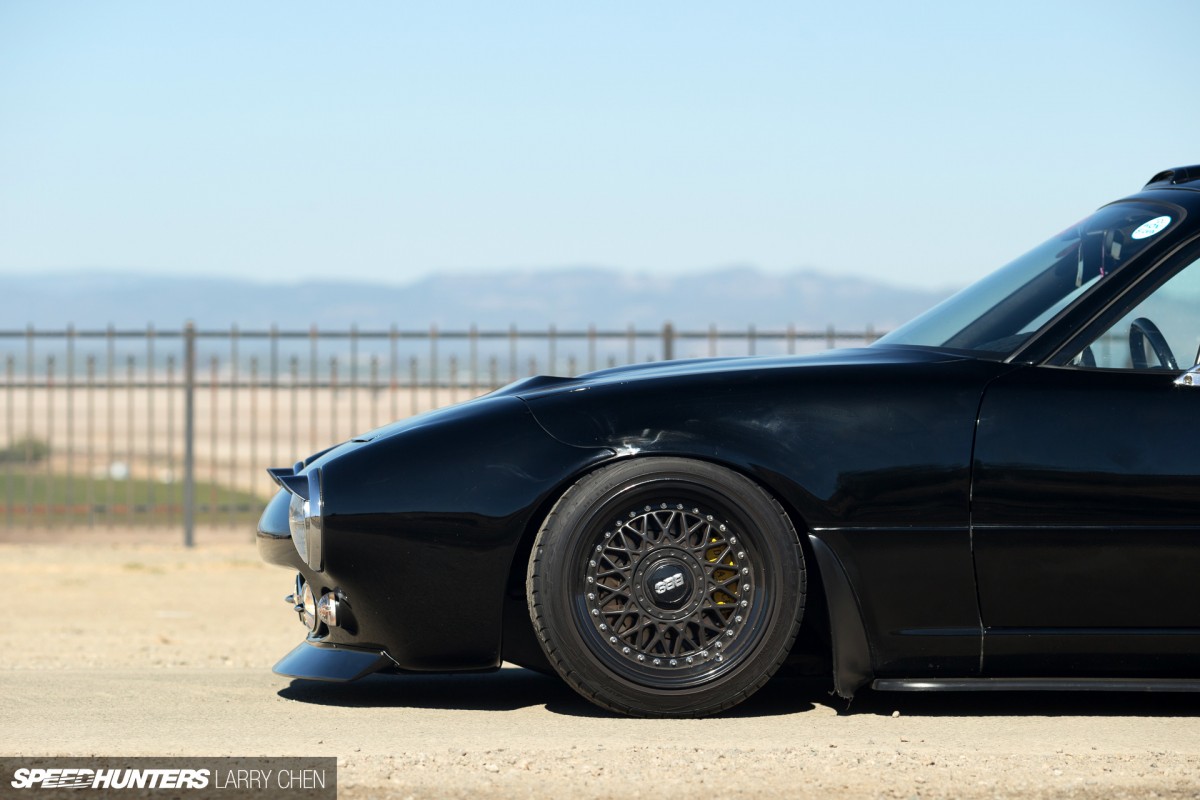 When Mazda designed the original Miata, the idea was to call back to the great sports cars of the past – and the addition of the Pit Crew nose takes the retro vibe to another level with a look that is more 1960s than 1990s.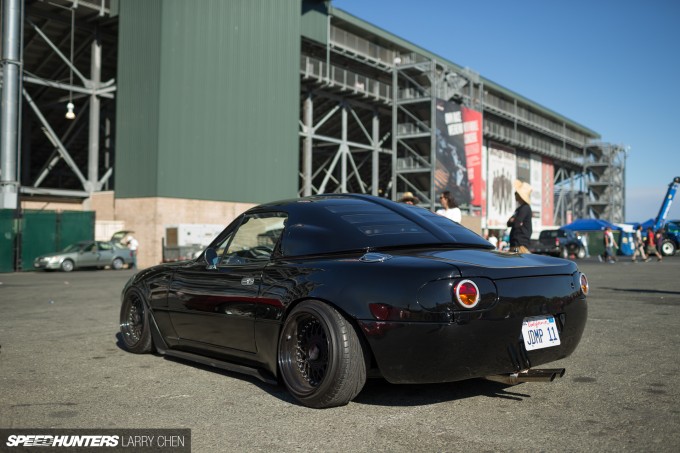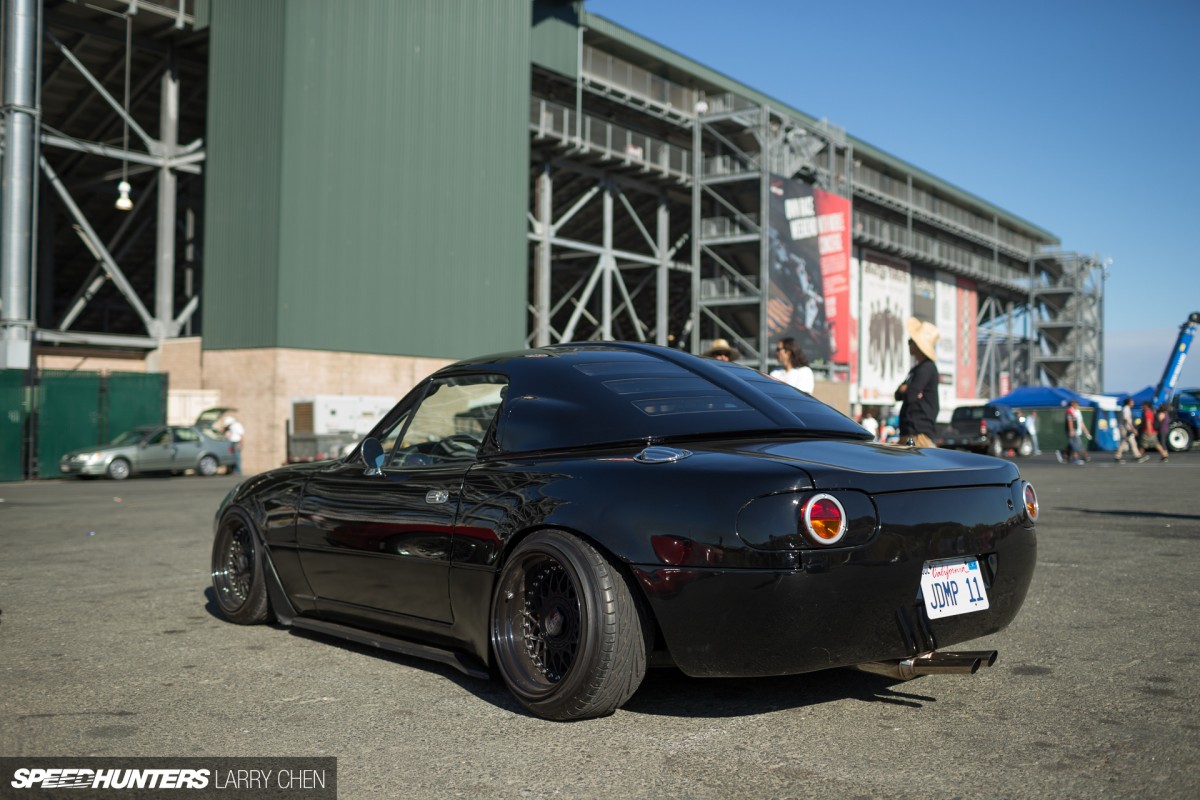 The retro treatment extends to the rear with a super low profile bumper from TRAP and a taillight conversion sourced from a Japanese market Mazda Porter pickup. The Pit Crew center-exit exhaust further helps throw people off.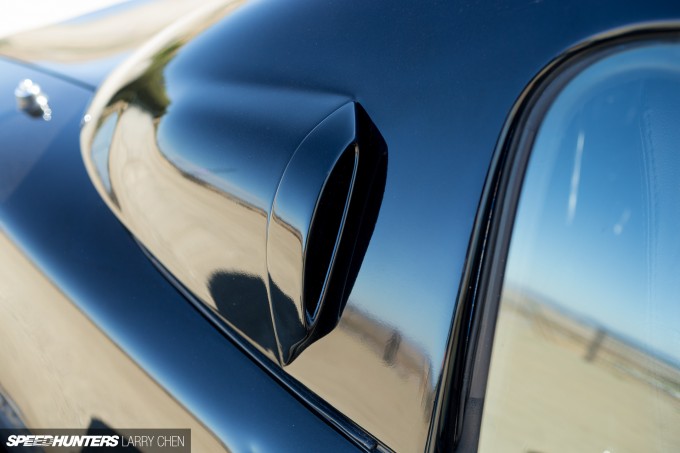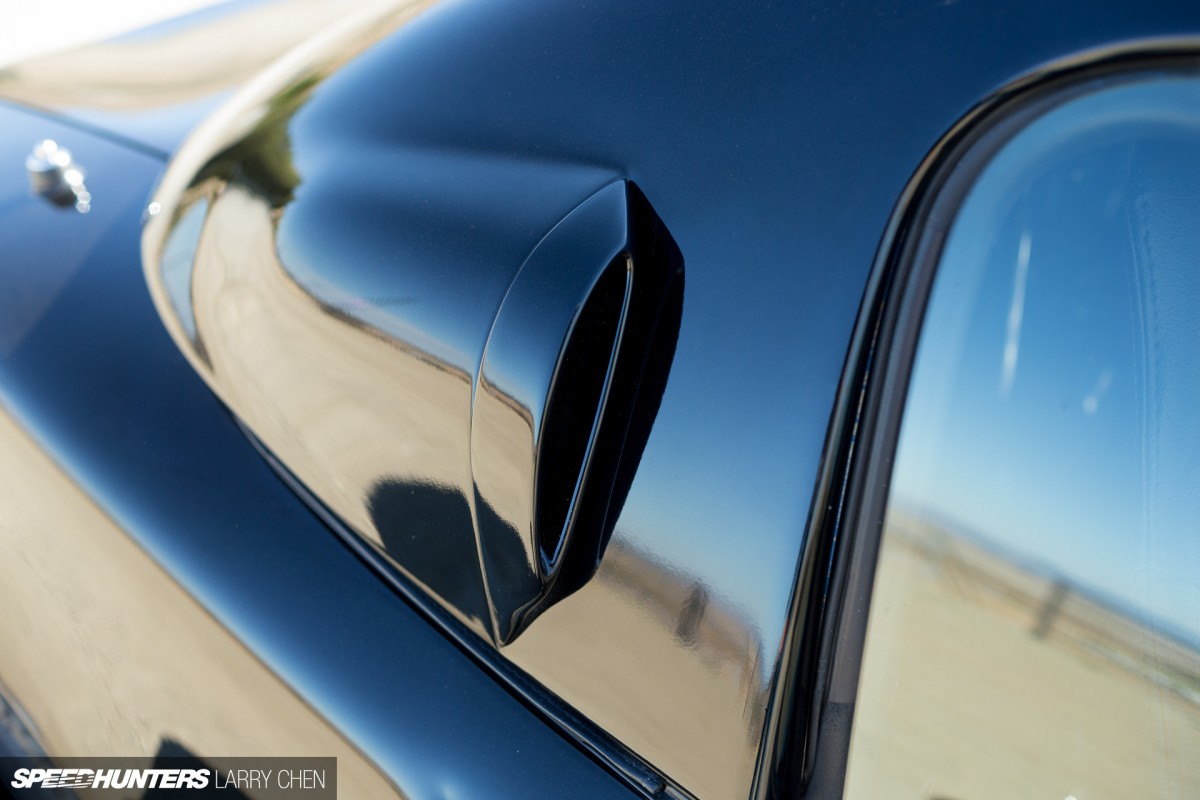 Equally important is the car's hardtop, which is even rarer than the now discontinued Pit Crew front end. It comes from a company in Japan called Zerbinino and even though I'm fairly familiar with the Mazda Roadster, I'd never seen one before.  Apparently there were just a handful ever produced.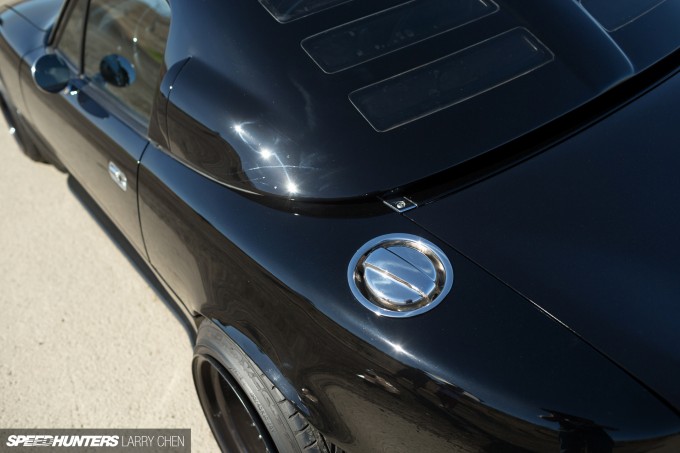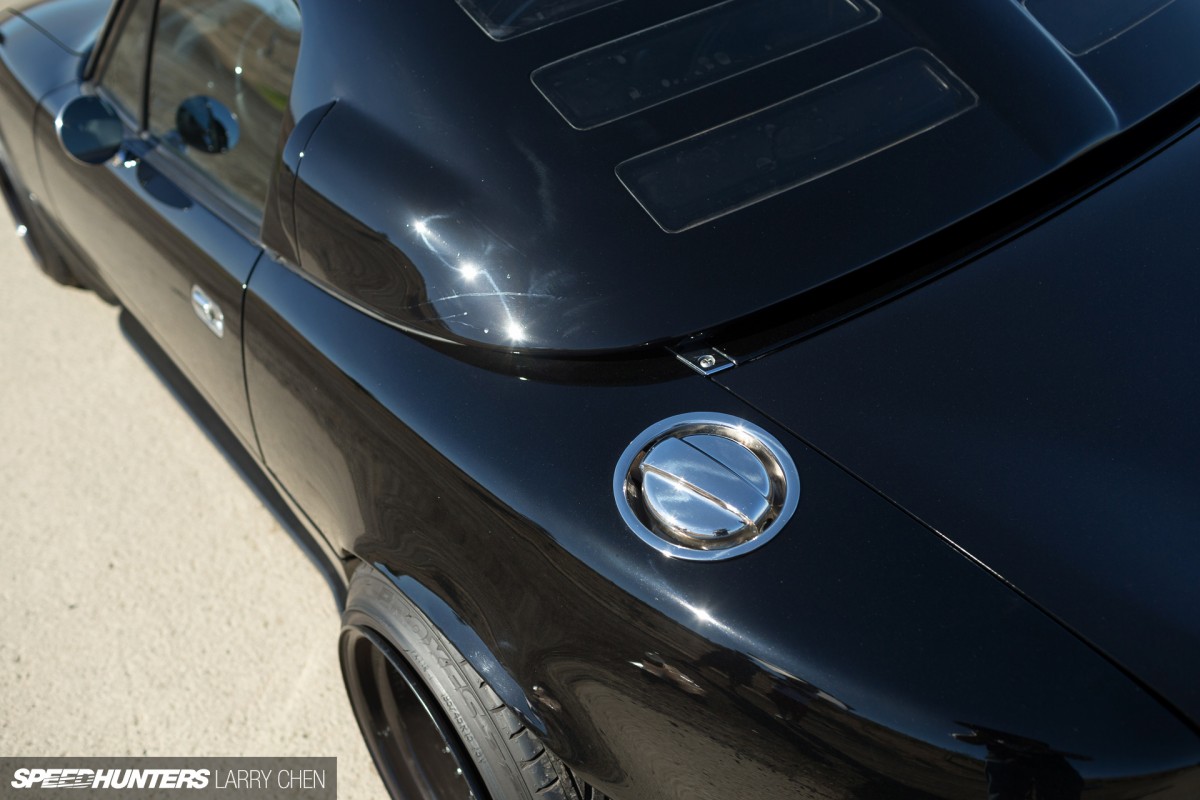 Other JDM treasures on the exterior include a Garage Vary hood, a Garage Hundred One flat trunk and Runabout S800 side mirrors. The Project G side diffusers meanwhile come from right here in California.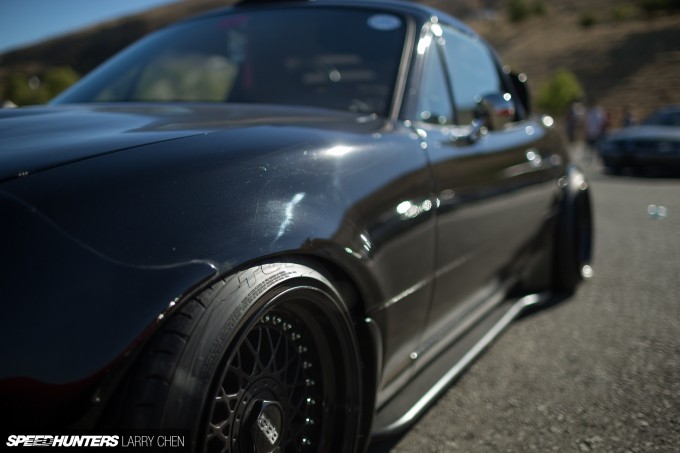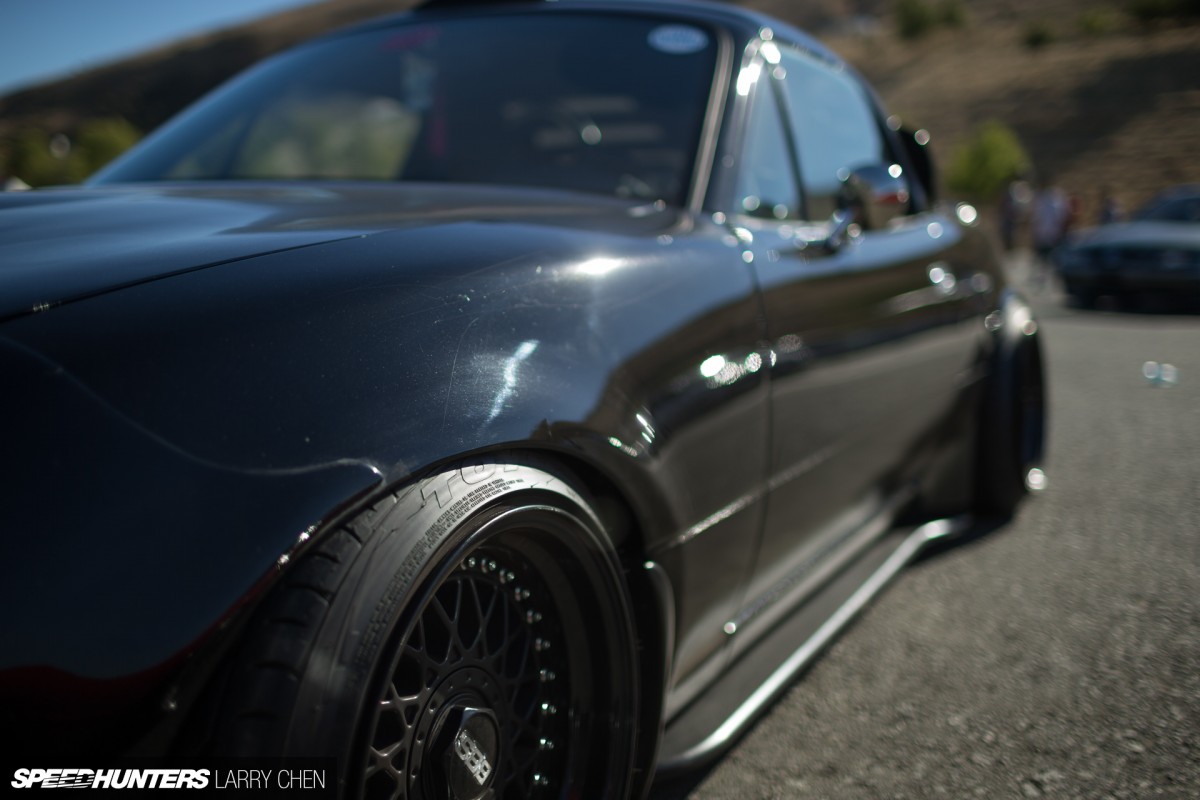 If the rare bodywork wasn't enough, there's also the fact that the car is running one of the most aggressive wheel and suspension set-ups we've ever seen on a Miata. Sean has used quality parts throughout, and the pebble-scraping ride height is achieved via a set of Endless Zeal coilovers.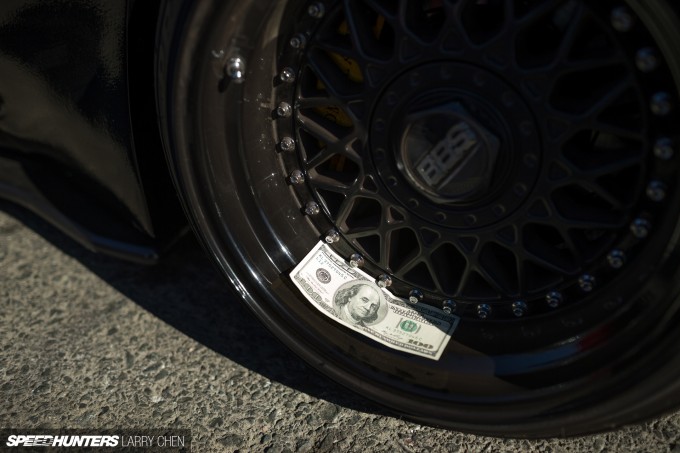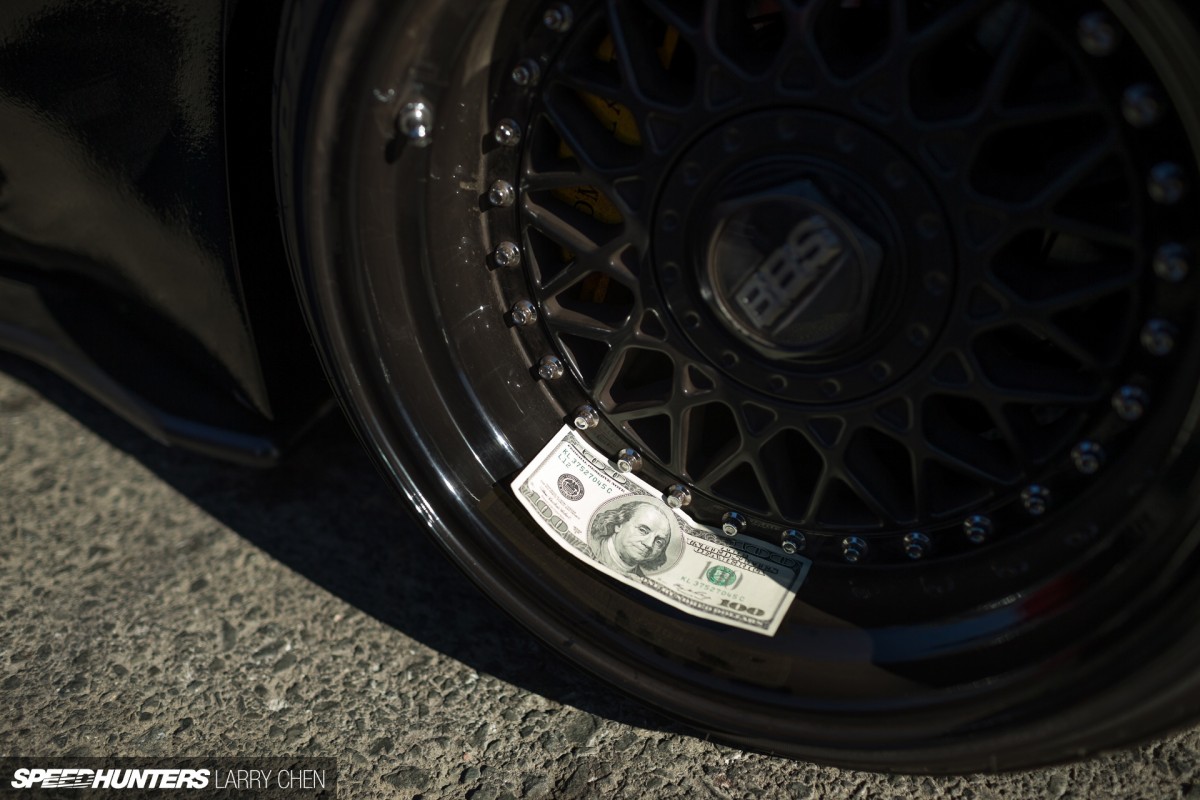 The custom-built BBS RM wheels measure 15"x8.5 in the front and 15"x9.5 in the rear with satin black centers and gloss black lips. They also pass the Larry Chen 'Benjamin Test'.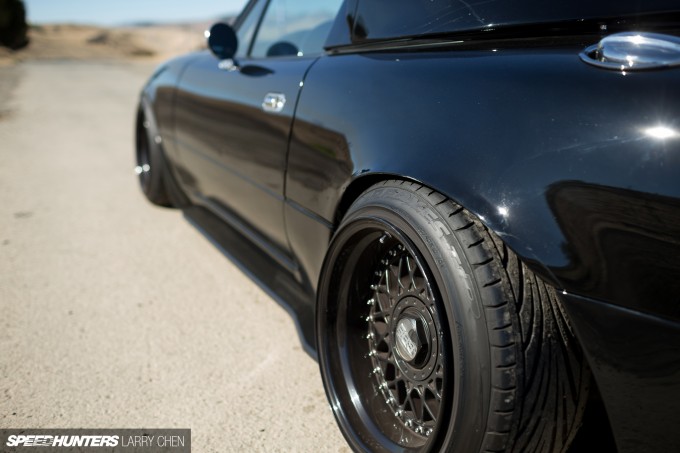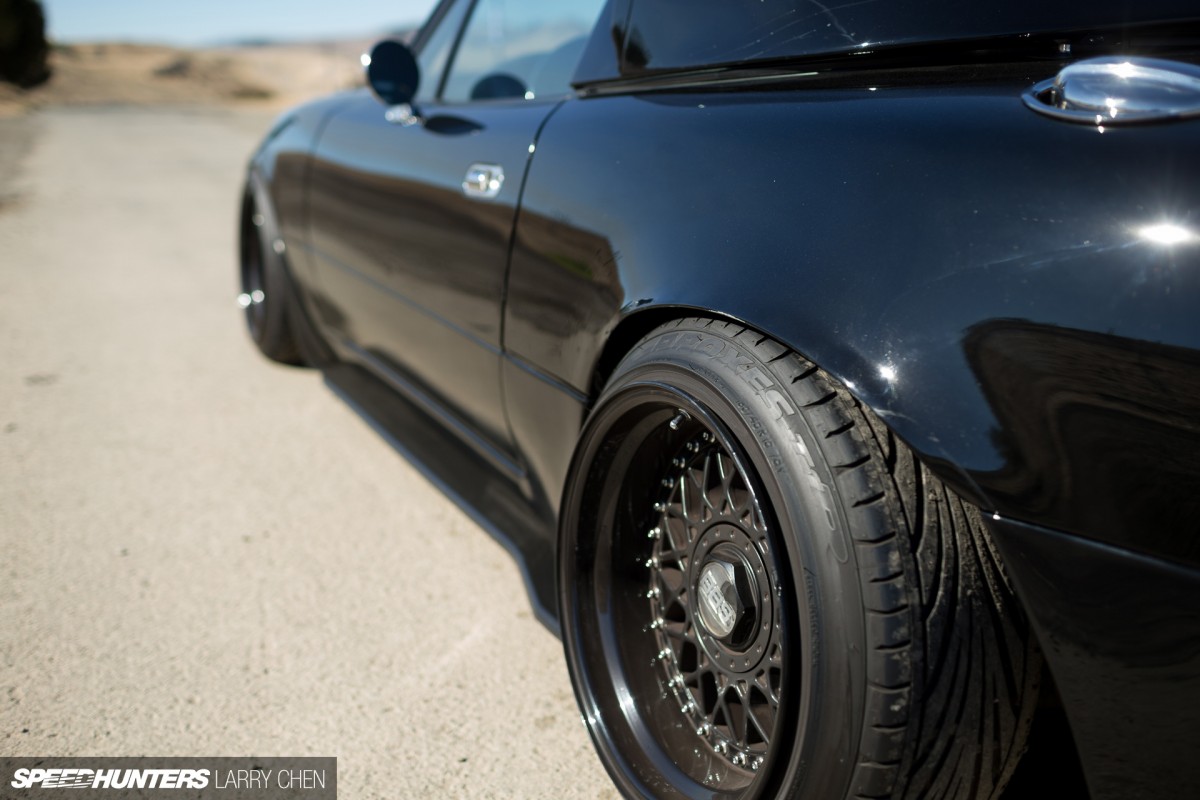 The tires are Toyo T1R 195/45/15 on each corner and let's not forget the Endless six pot front and four pot rear brakes.
Rare treasure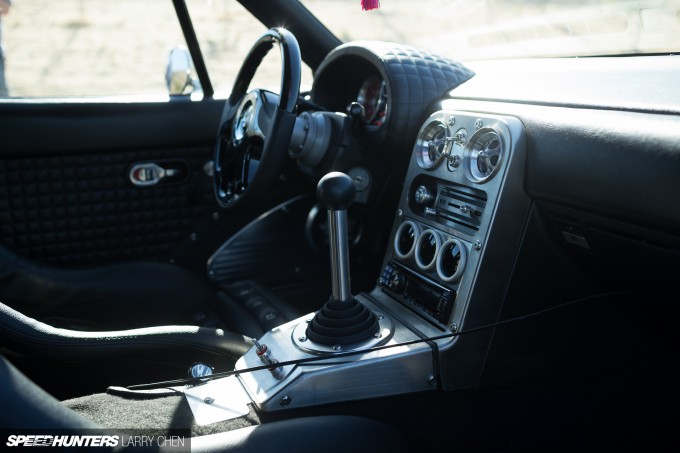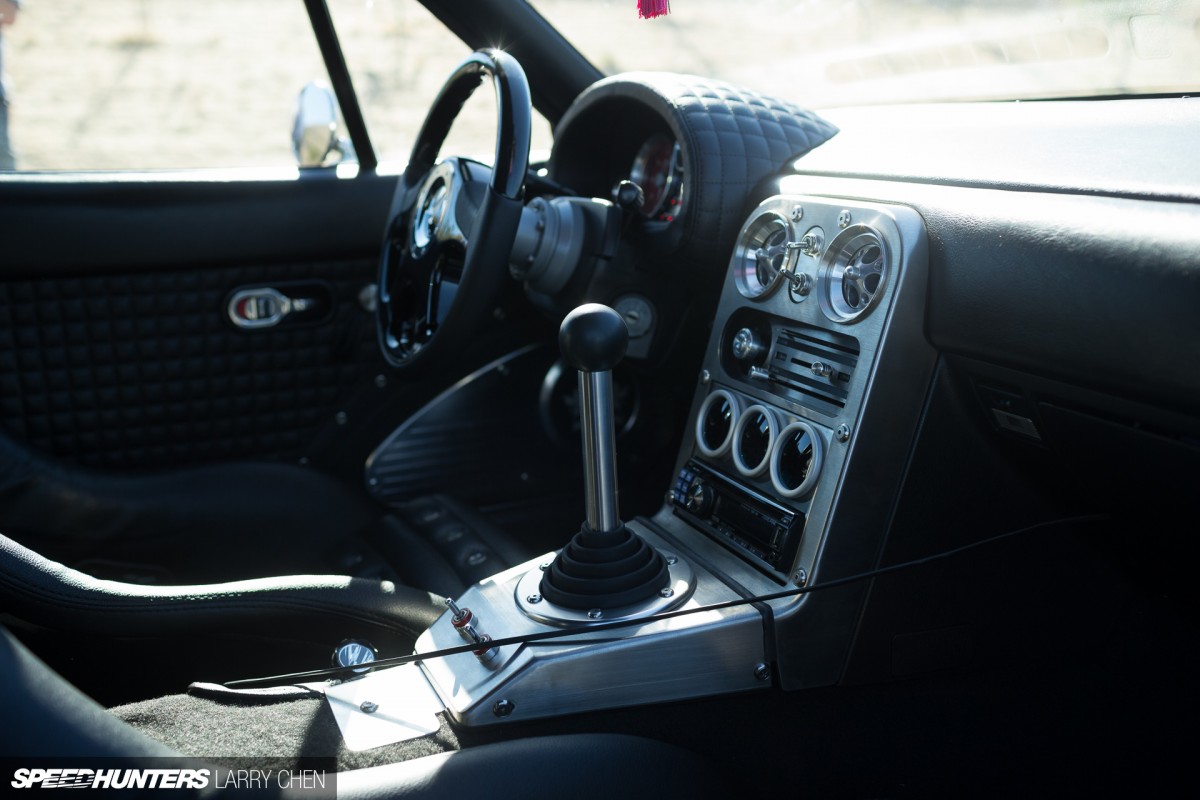 As for the cockpit of the car, I could probably write an entire story about all the rare parts that Sean has installed but I'll just outline some of the basics.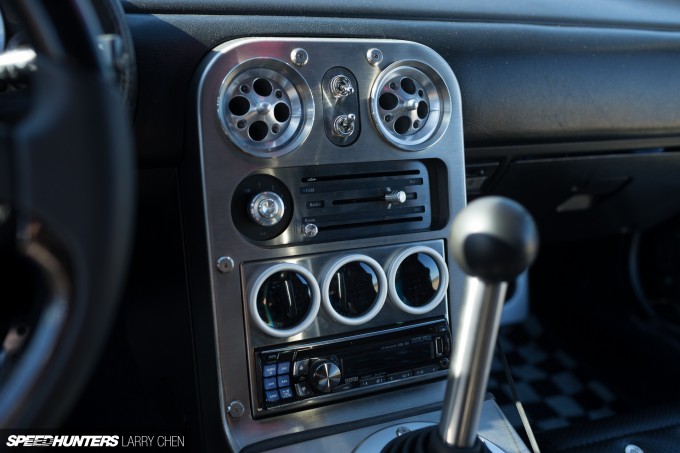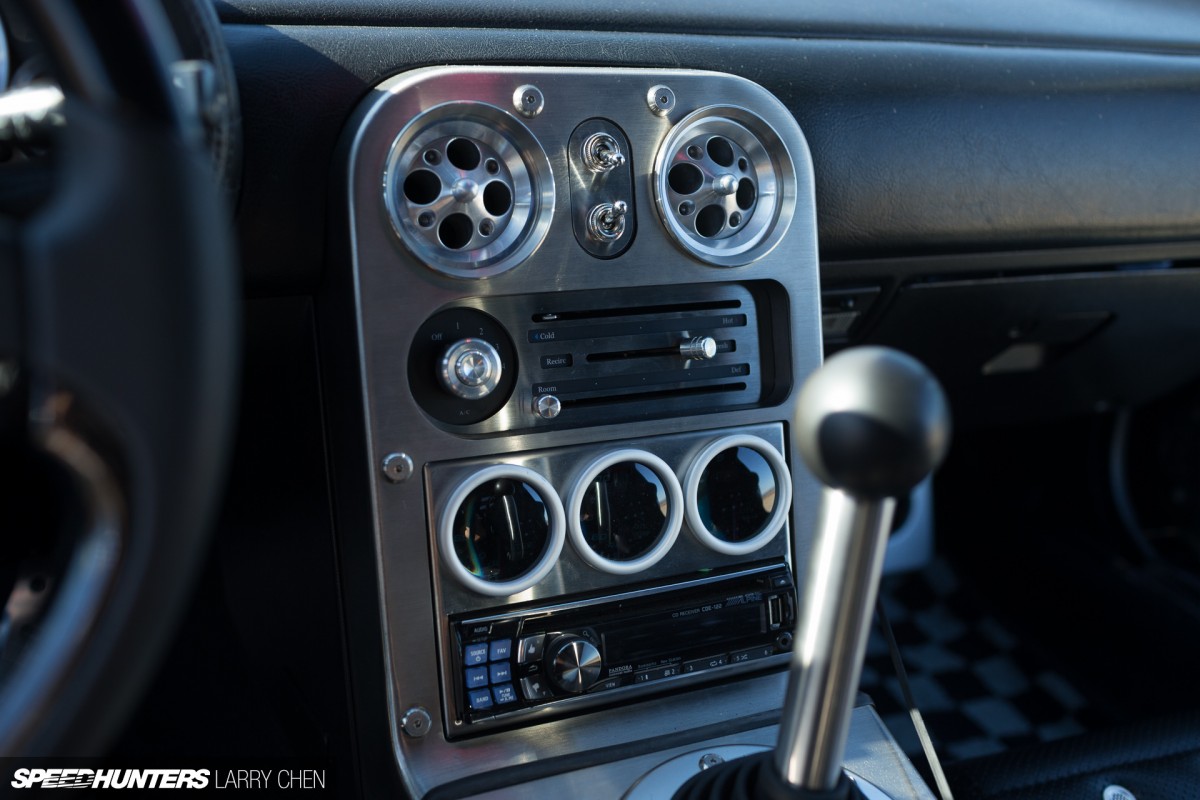 He started off by converting to an early model NA non-airbag dash and then added things like custom door panels, a vintage dash center and console from Nielex, and vintage panels and switches from RS Products.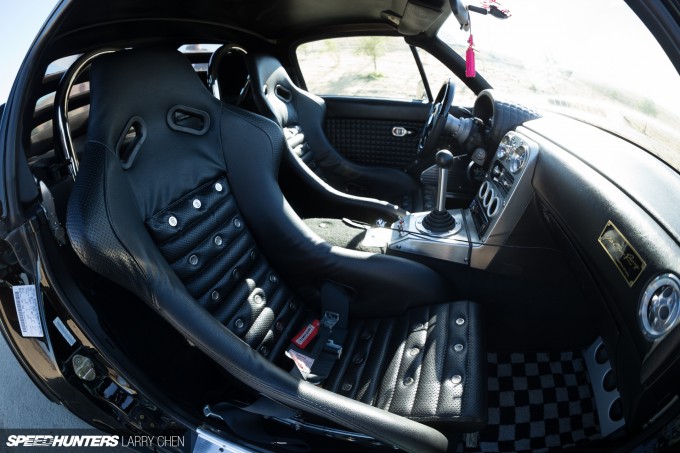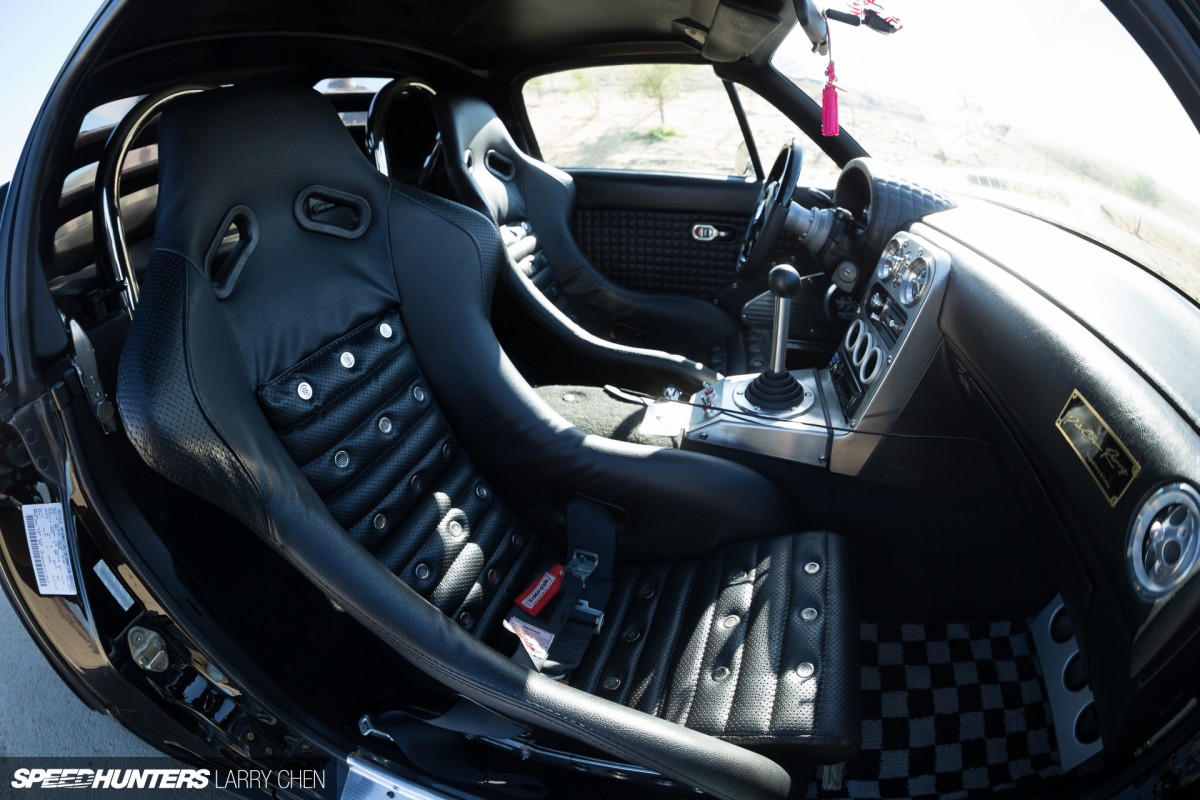 The Fabulous steering wheel meanwhile brings a hint of VIP flavor, and the M-Speed vintage Skyline seats help to round out the retro feeling. Again, if you look around the interior there's almost nothing to tell you you're in a Mazda from the 1990s.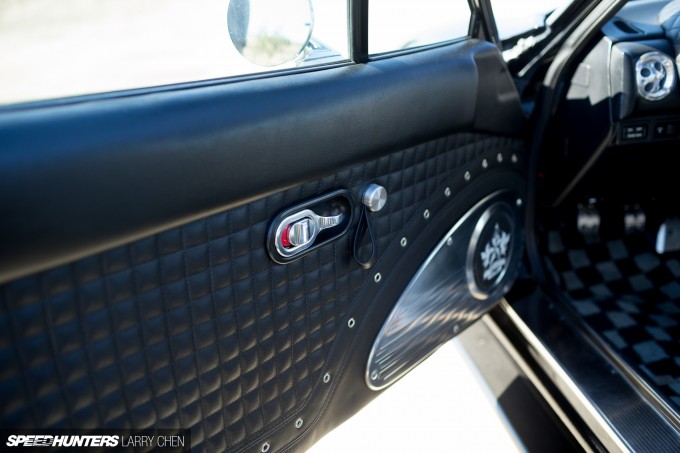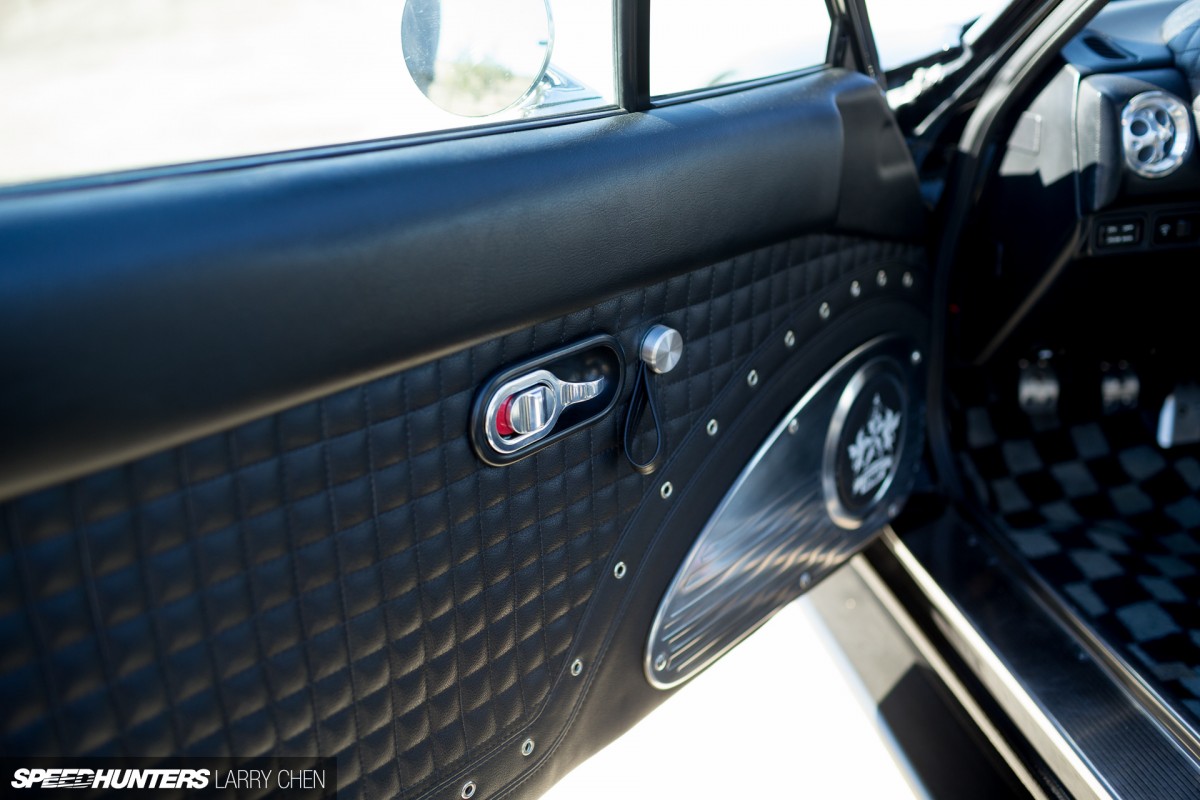 The Japanese Roadster scene is filled with small boutique companies that make high quality, retro-inspired parts for the Miata – and Sean's car is surely one of the best models of this on American shores.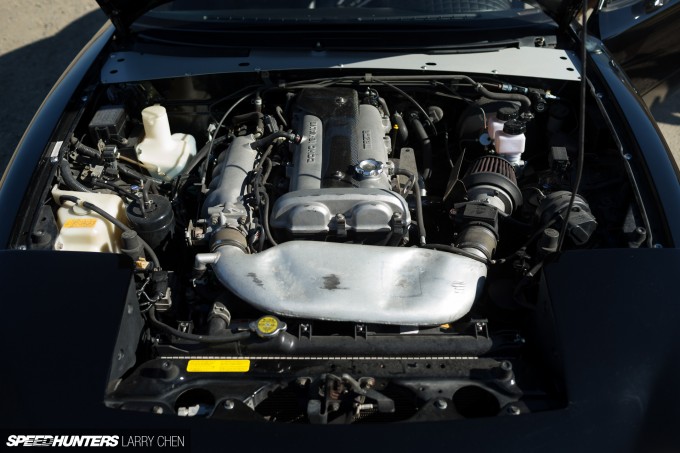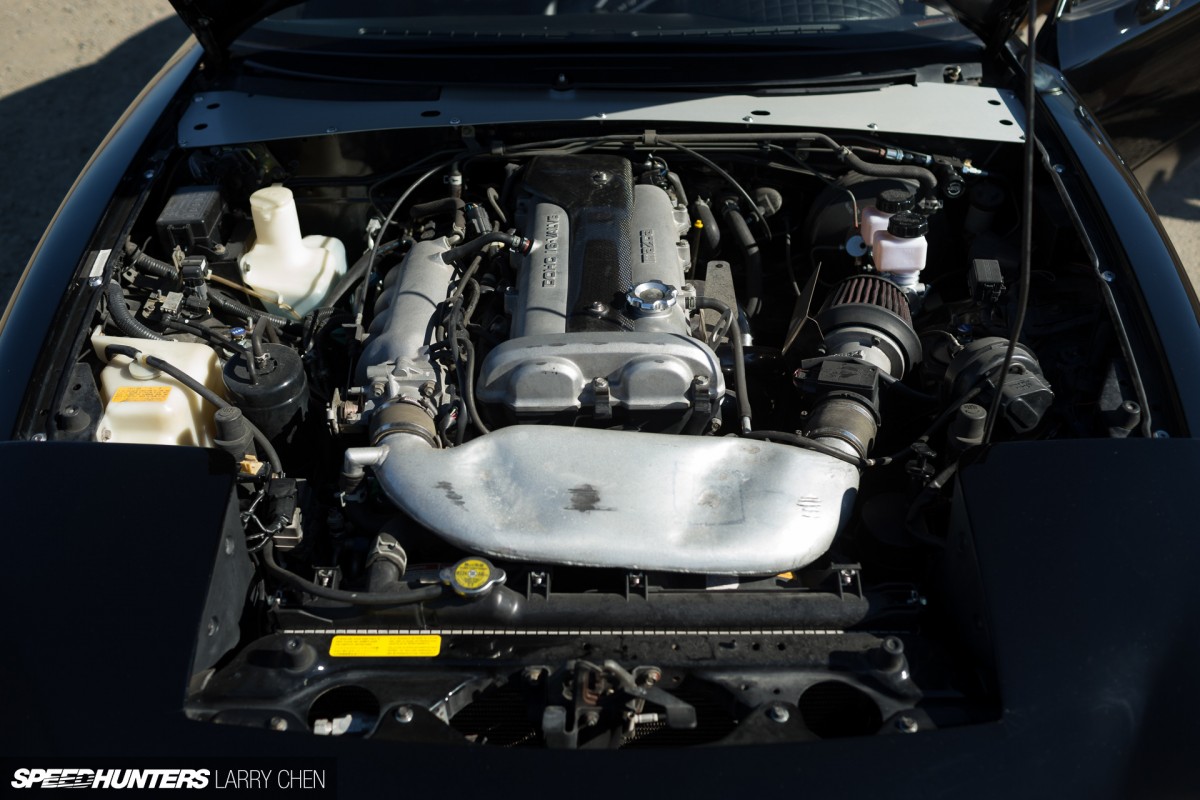 The engine is the least modified part of the car – and that's because despite its unpractical ride height and valuable body parts, the little Miata has seen plenty of duty as Sean's daily driver.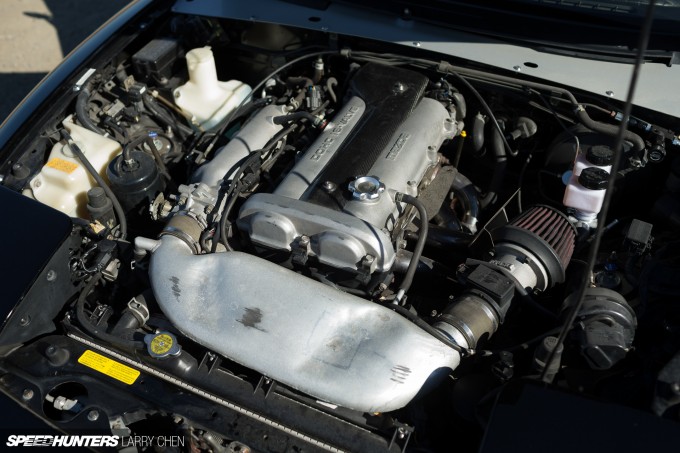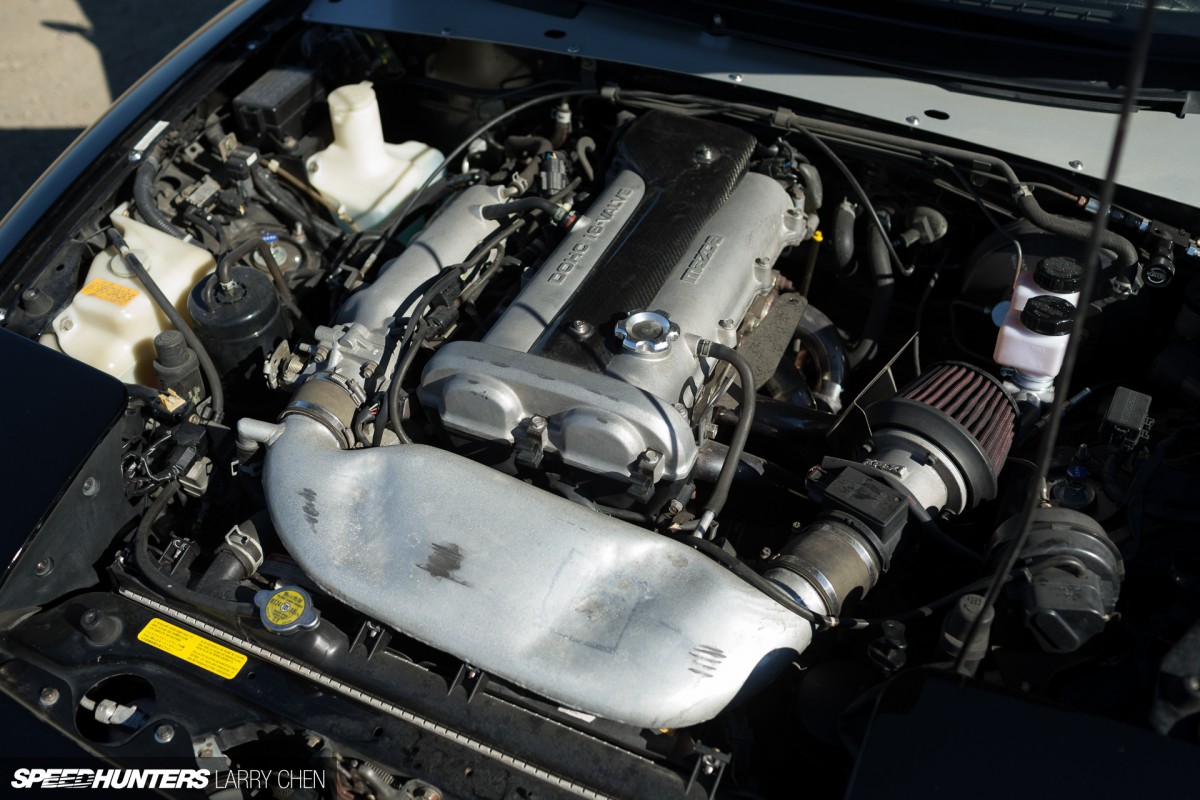 Right now the power modifications are limited to the aforementioned Pit Crew exhaust, an ARC intake crossover and a stainless steel header. The plan though, is to build a new motor with a set of individual throttle bodies to complete the vintage feeling.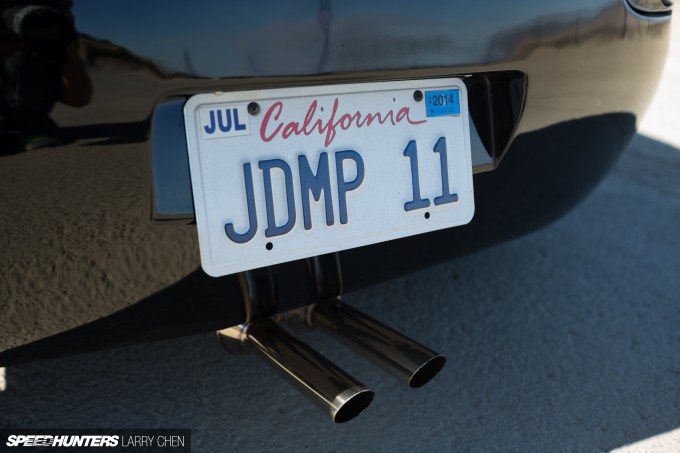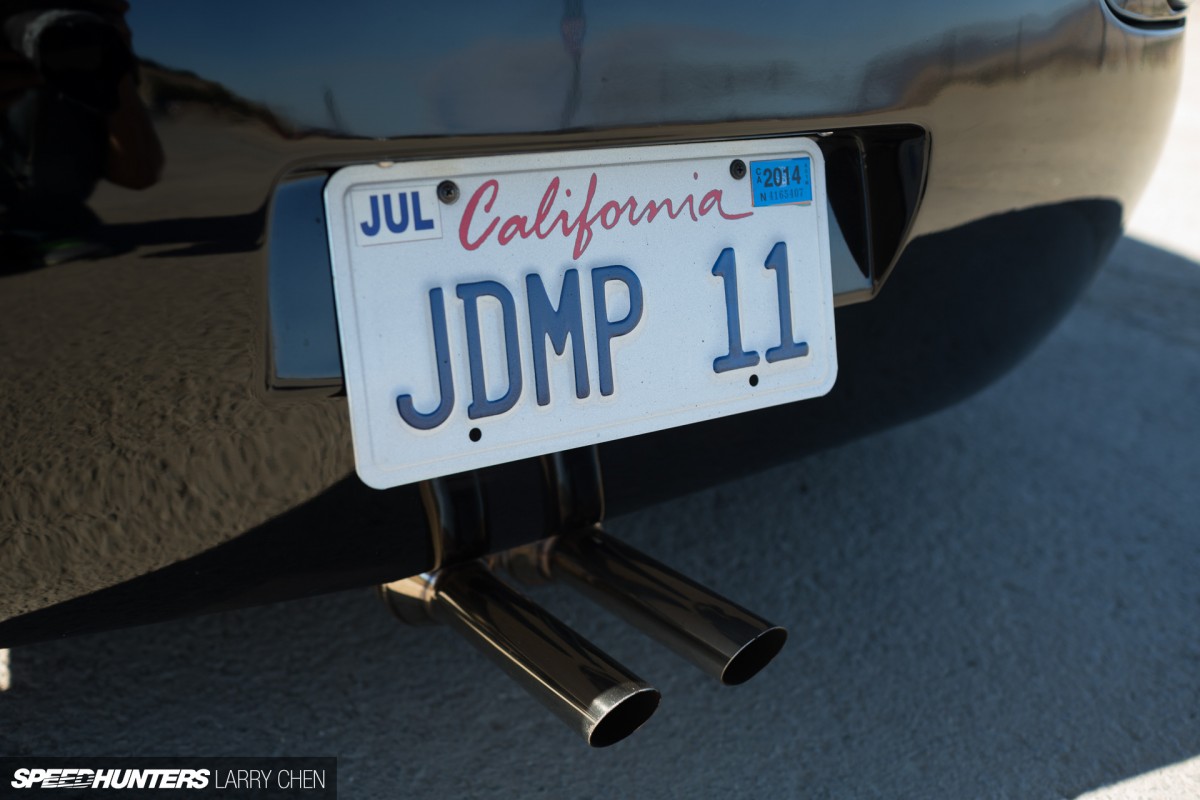 Making something that'd be unrecognizable to 99% of the people that saw it was part of Sean's mission when he started building the car, but what I like even more than that is the way the Miata seamlessly blends so many elements from different parts of the automotive world.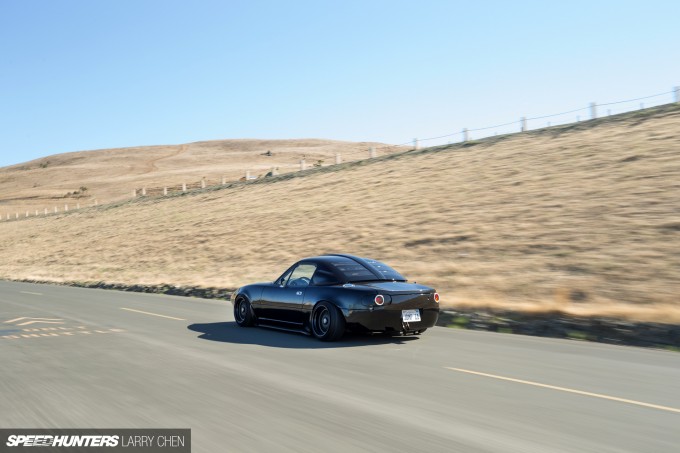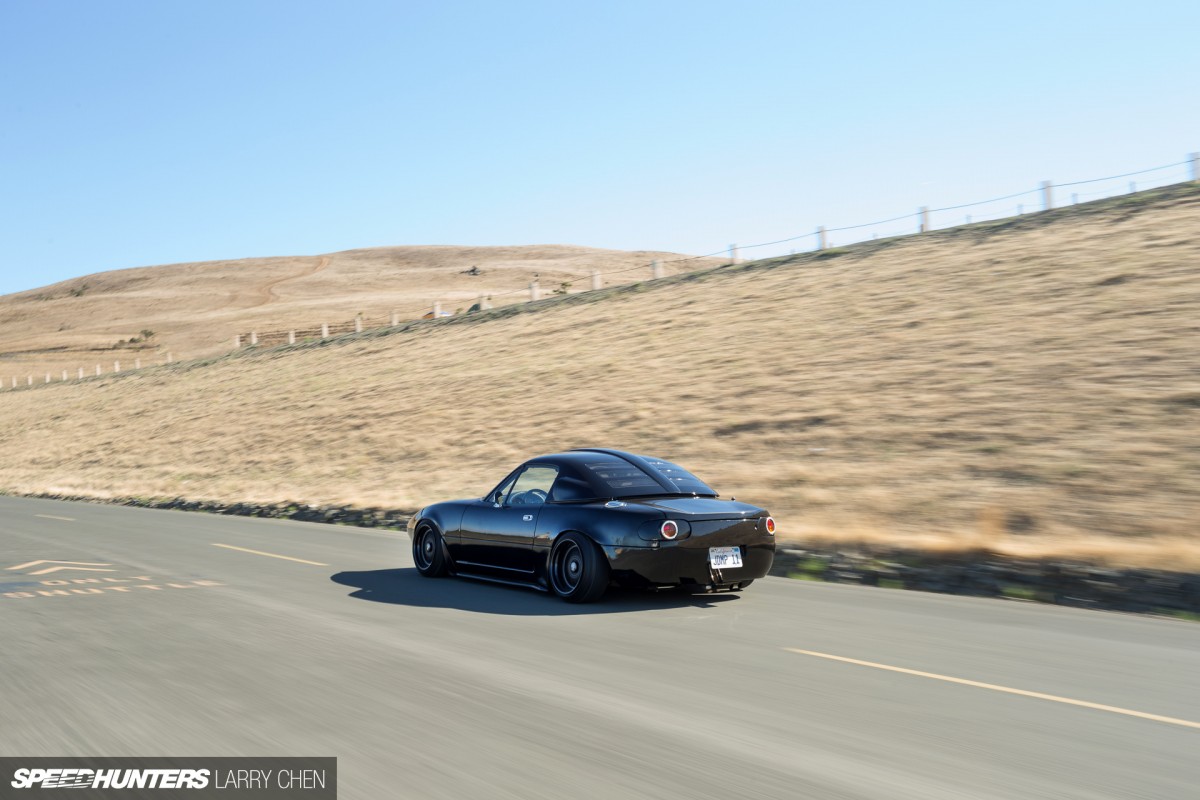 There's the look and feel of a 1960s sports car, the wheel and tire fitment of a modern day stance machine, and even a little touch of VIP luxury. All together, the result is something that I think is easily one of the most unique street-going Miatas on the planet.