For as long as automobiles have been around, and most likely until the day they disappear, modified car enthusiasts will be represented by two major groups. There are those that want their cars to look cool at all costs, and those who see any modification that does not make a car go faster to be a complete waste of time. Now there's obviously plenty of gray area in between those two ideas – which is probably where a lot of us sit – but in the last couple of years it seems the divide between the form and function crowds has become larger than ever.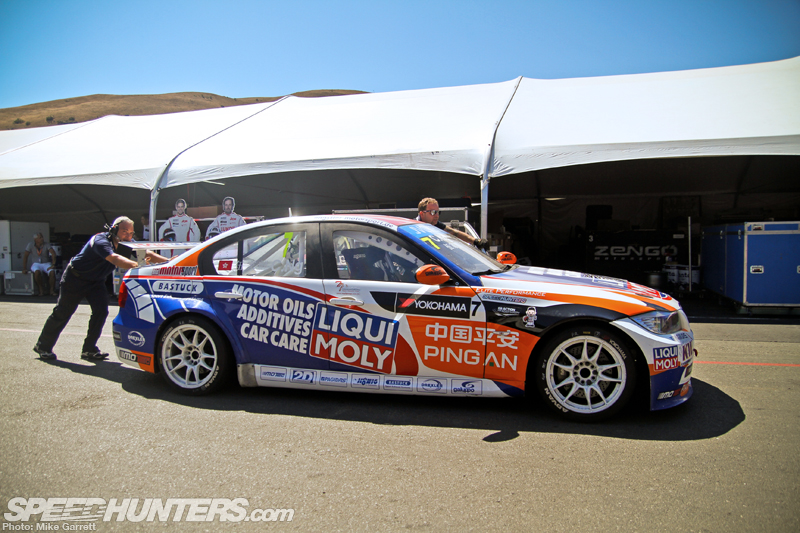 The question is then, can these two groups coexist in the same place without complete chaos erupting? The answer it turns out is 'yes', as both Larry and I found out this weekend at Northern California's Sonoma Raceway. The main event would of course be the World Touring Car Championship which was appearing in the United States for the second time ever, but the WTCC action was really just one part of a petrol-filled weekend in Wine Country.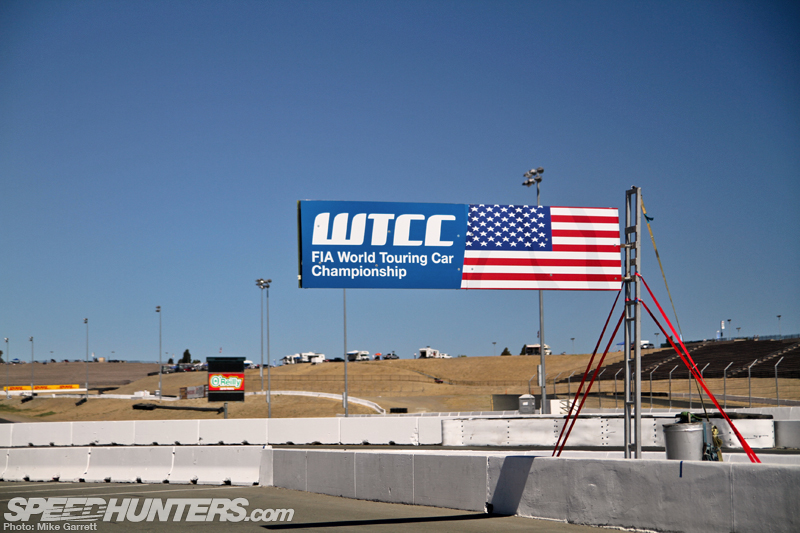 And while the WTCC has no shortage of spectator-friendly racing, along with things like an accessible grid and pit garages, I think it's fair to say that international touring car racing doesn't yet have a large built-in audience in the USA.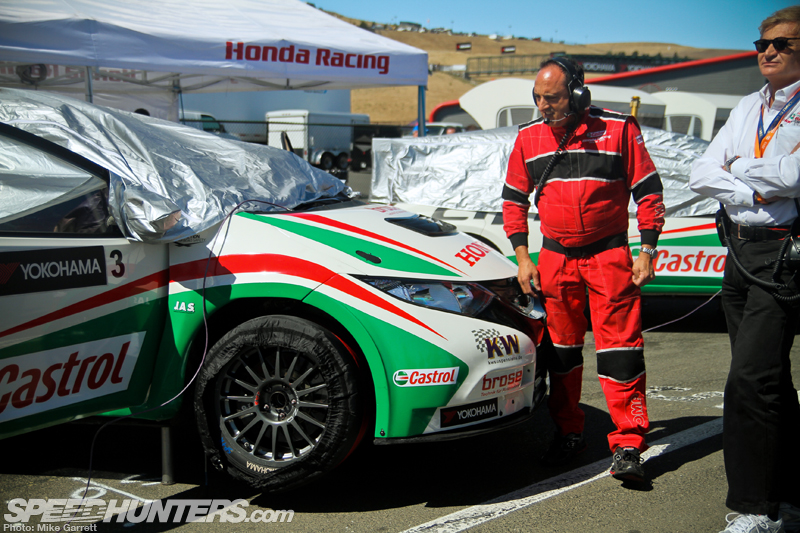 So because of this, the event organizers decided to make the WTCC races the main-billing in a weekend that was full of competitive racing and other attractions for car-lovers of all types. The result was one of the more enjoyable combinations of form and function I've seen in a long time.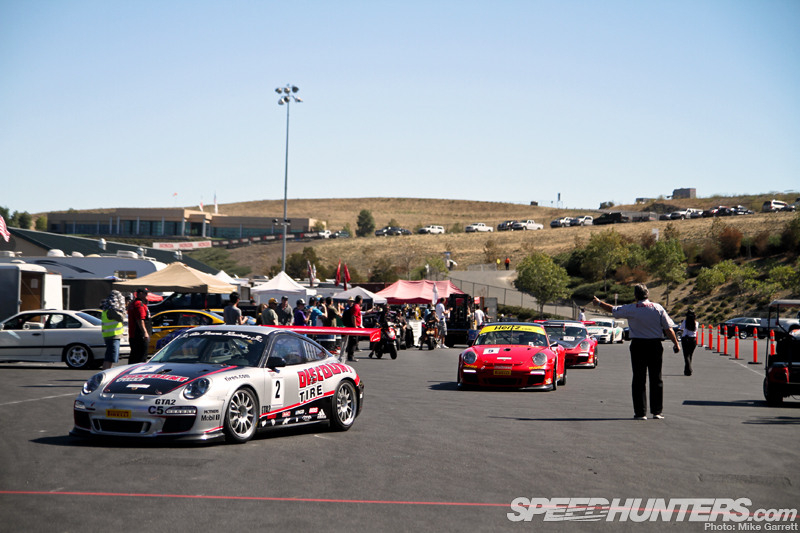 Joining the WTCC on track during the weekend's schedule would be the GT3 Cup and the US Touring Car Championship, which further quenched the race fans thirst for competitive motorsport.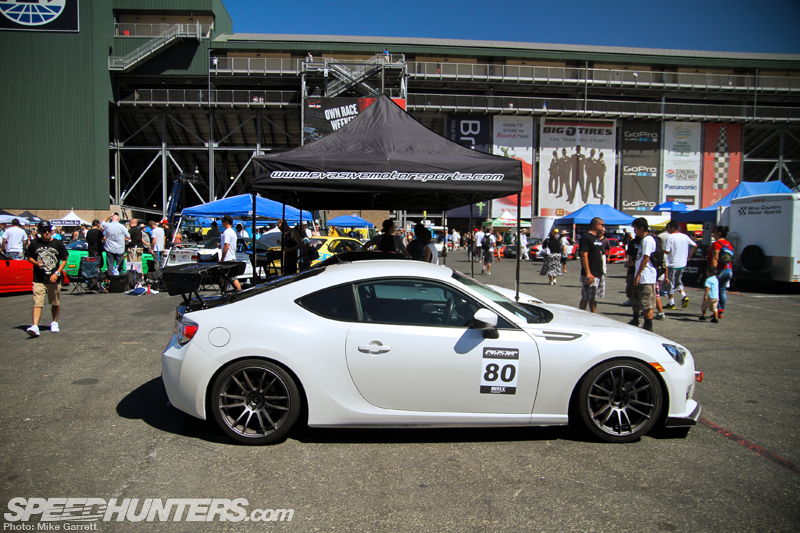 In addition to that, Evasive Motorsports came out to host a time attack demonstration with a select group of S2000s, M3s, Evos and other track day favorites.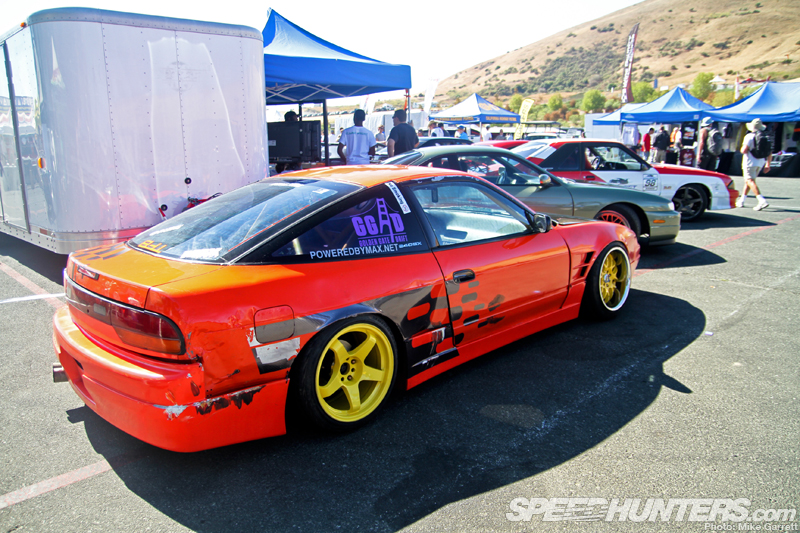 And if that wasn't enough, there were also drifting demos held throughout the weekend. It's always amazing to see just how excited 'normal' race fans get when they see cars flying sideways with smoke pouring from the rear tires.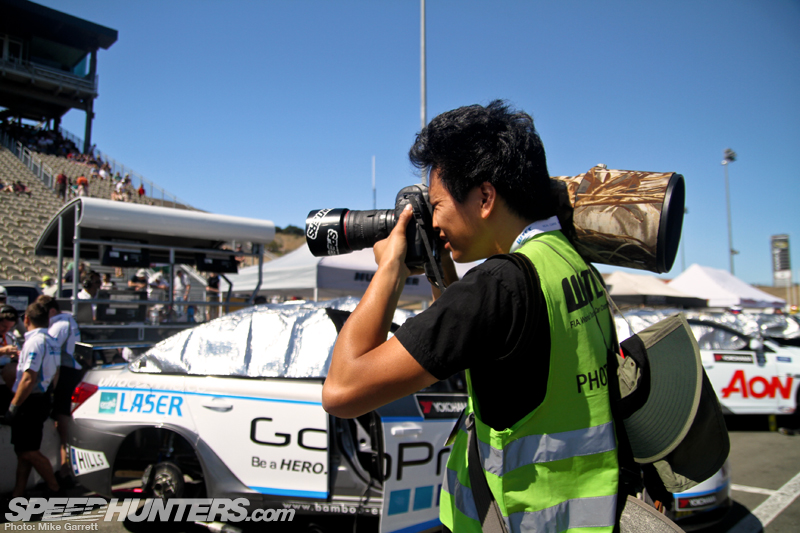 With both Larry and I representing Speedhunters, our plan was to have Larry to work his usual magic to cover the fender-banging, curb-hopping WTCC action, while I would focus more on Slammed Society and the #FeatureThis promotion we were running.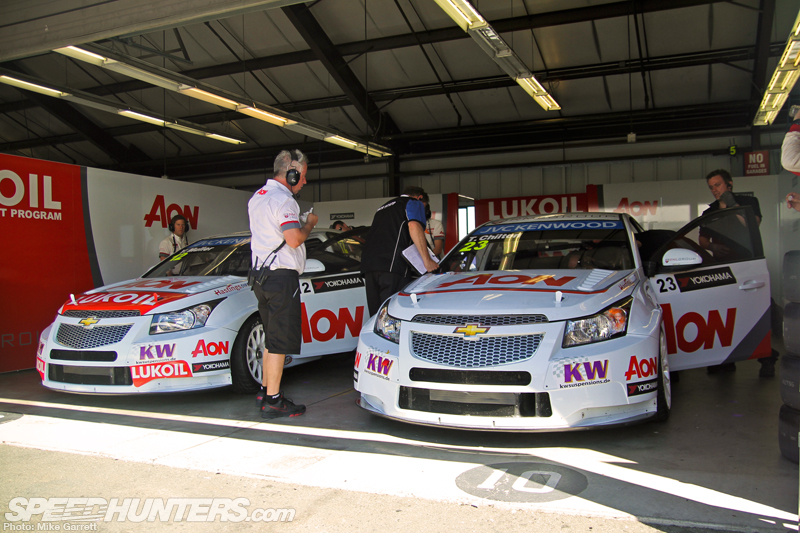 Of course, I couldn't help but poke around the WTCC paddock a bit myself. After all, like many Americans I'd never had the chance to see these cars in person before.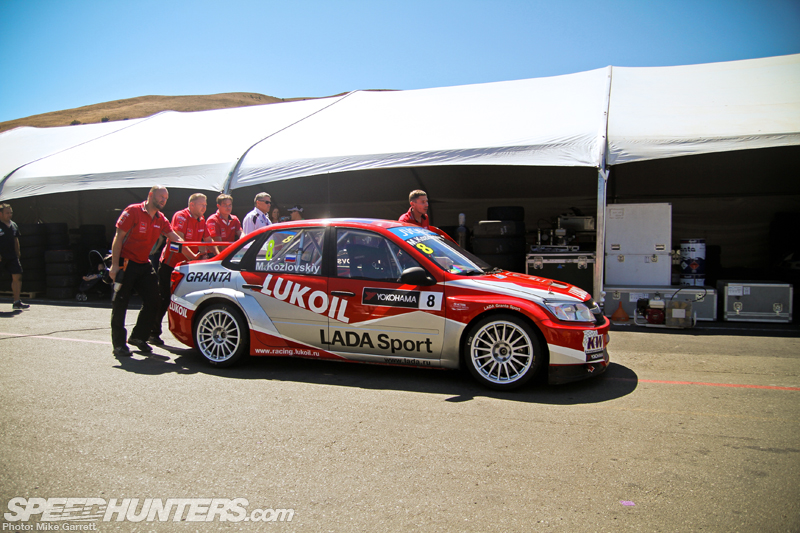 For me, one of the most enjoyable parts of the weekend was the opportunity to see so many race cars representing brands and models that aren't even offered in the United States. It's not very often you'll see something like a Lada Granta on American shores.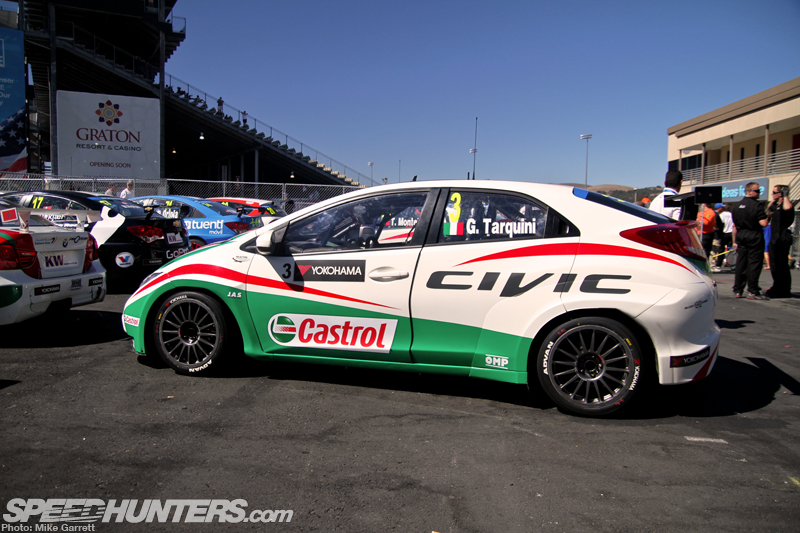 The Civic is a car that all Americans are familiar with, but the Civics we get here look nothing like the sleek hatchbacks campaigned by the Honda factory team in WTCC. There's just something about that Castrol livery that brings back memories of so many great racing cars.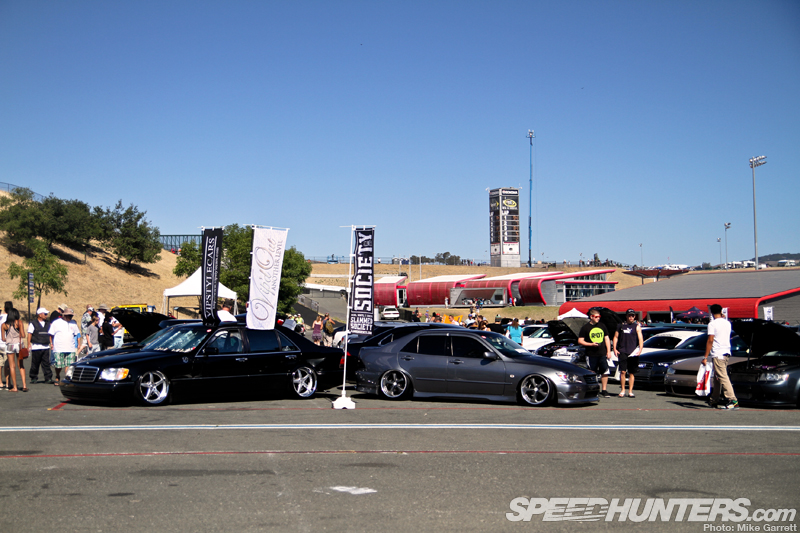 Rather than just being a sideshow to the WTCC, the Slammed Society event turned out to be one of the biggest attractions of the weekend with a huge turnout of cars and a lot of foot traffic throughout the day on Sunday.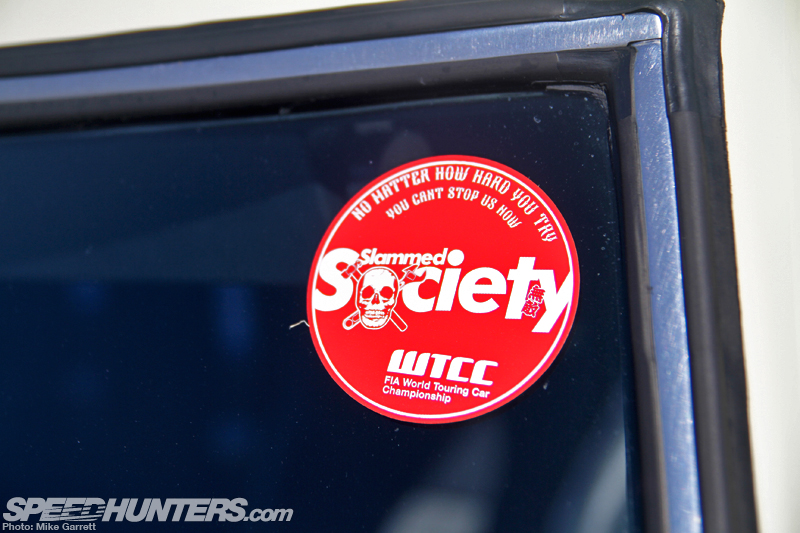 It's not really surprising though as Northern California is the home of Fatlace and this event marked its only NorCal showing this year.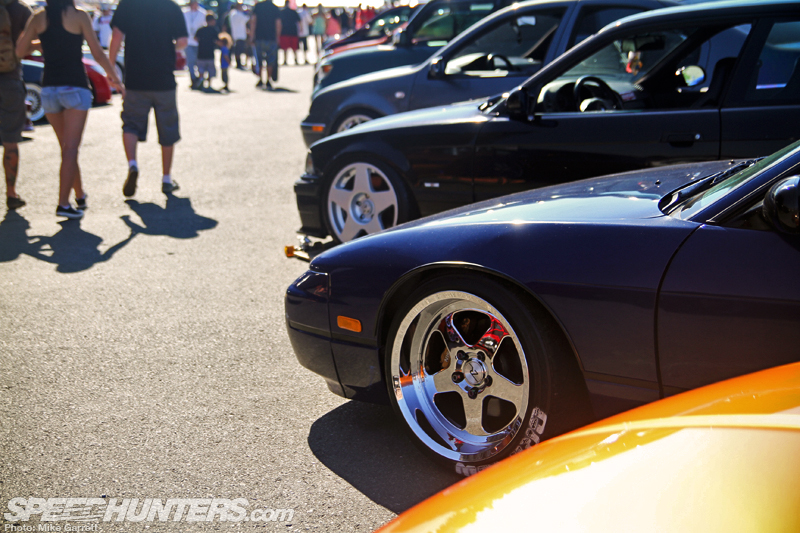 The selection of cars that came out to Sonoma included all of the usual Slammed Society Suspects: drift cars, high-end European machines, classics and more.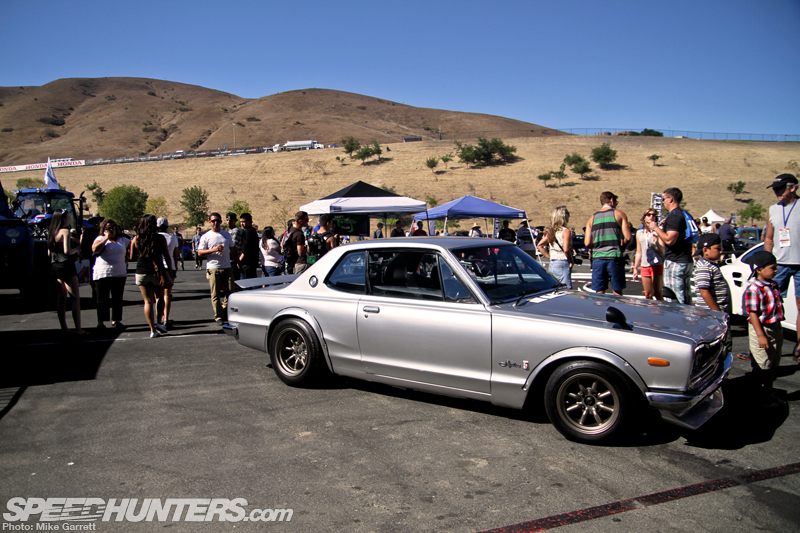 Amongst the vintage machinery was this beautiful two-door Hakosuka Skyline. I have no idea how many of these cars are in the United States now, but it's certainly a far cry from the days when you'd see one at an event and most people would have no idea what it was.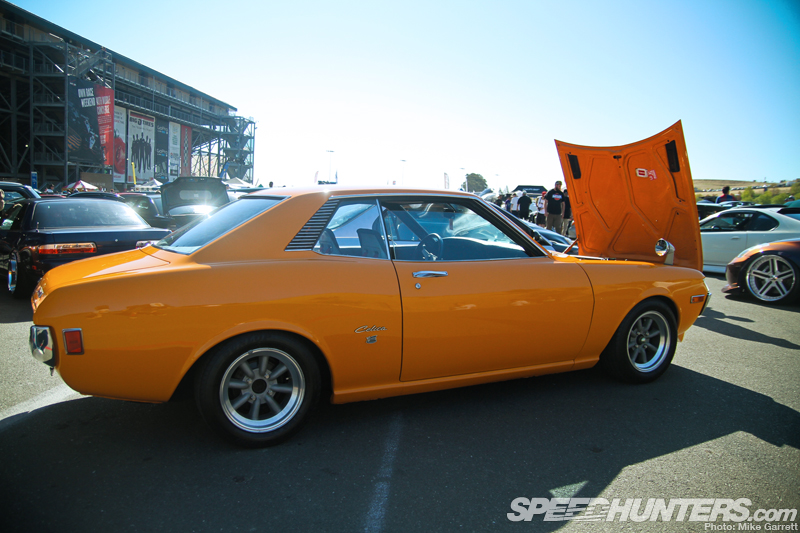 Equally great was this Dauma Celica with all of the correct Japanese market details like RS Watanabe wheels, TOM'S seats and, of course, a twin cam power plant.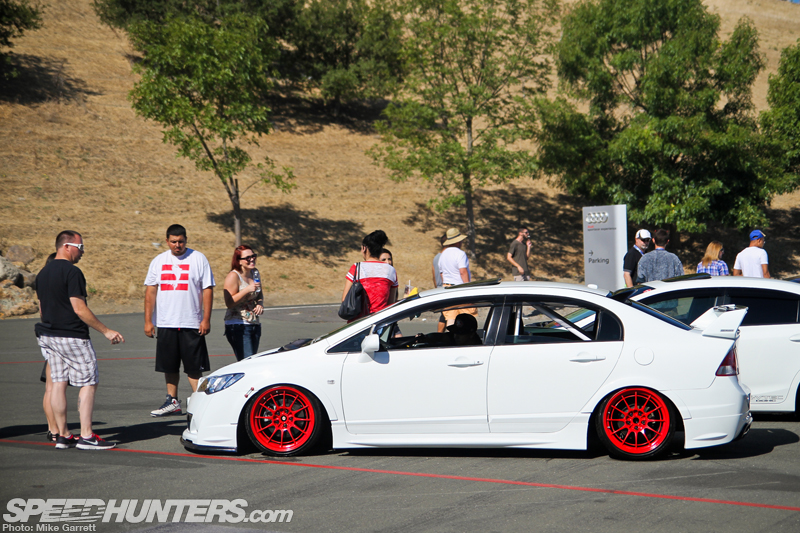 On the more contemporary side of things, there were machines like this Honda Civic Si sedan with a full FD2 Type R conversion, a supercharger, and a ride height to rival a VIP car.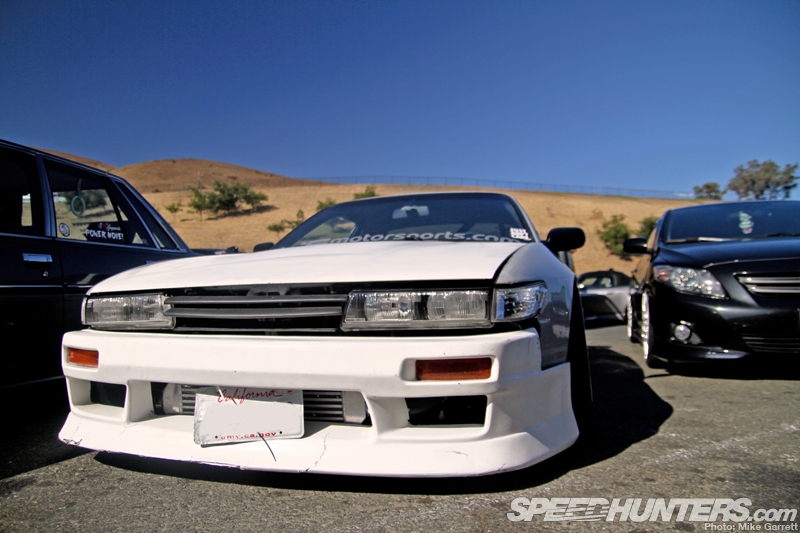 Just because this was a 'car show' didn't mean all of the vehicles were spotless show machines. The gathering included several drift cars that were proudly sporting their battle scars and zipties.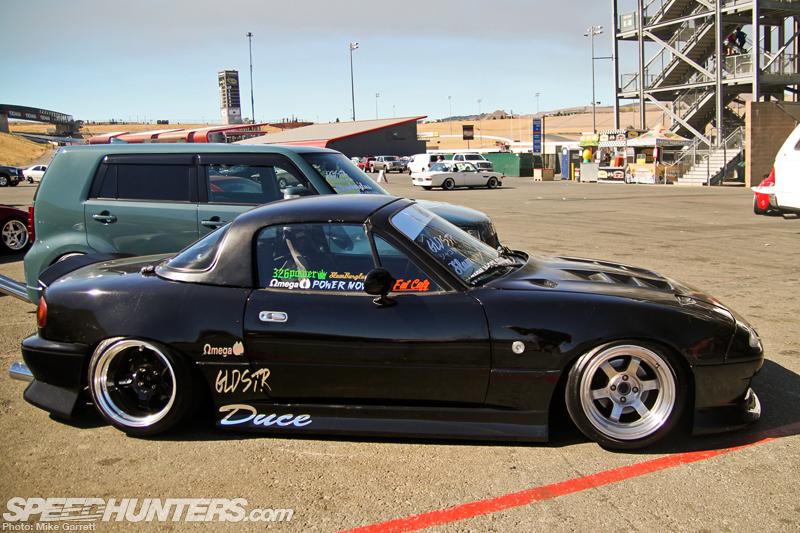 One of which was this sexy NA Miata with mismatched wheels and some choice-looking bodywork. I love the old school late '90s/early '00s street car vibe here.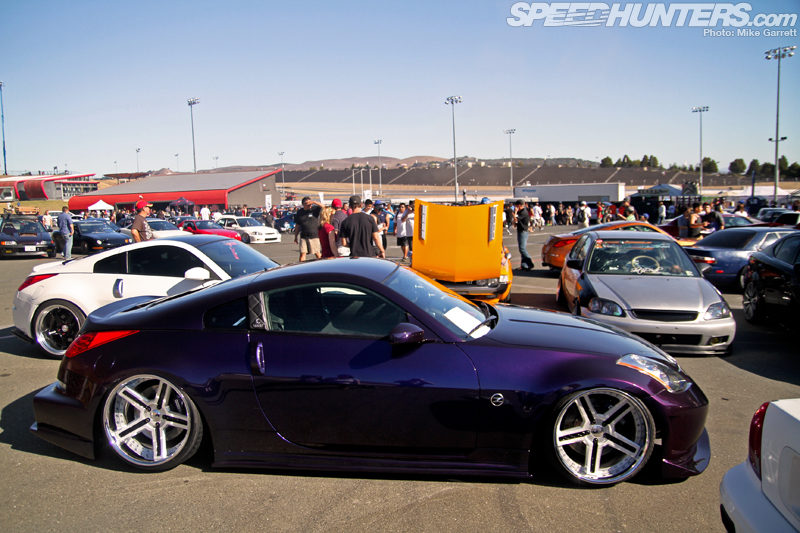 The Nissan 350Z (and its cousin the Infiniti G35) continues to be one of the most popular cars in this scene, and as prices continue to drop on the second hand market the trend shows no sign of stopping. There were several examples present in Sonoma sporting all manner of aggressively fitted wheels and undercarriage-scraping ride heights.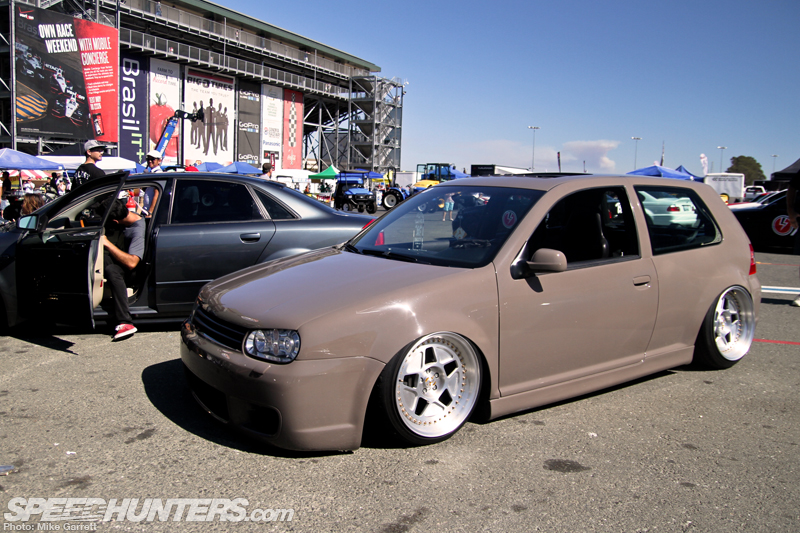 While the selection of cars in the Slammed Society Show heavily favored Japanese makes, there were plenty of European machines as well, like this heavily customized Mk.4 Golf.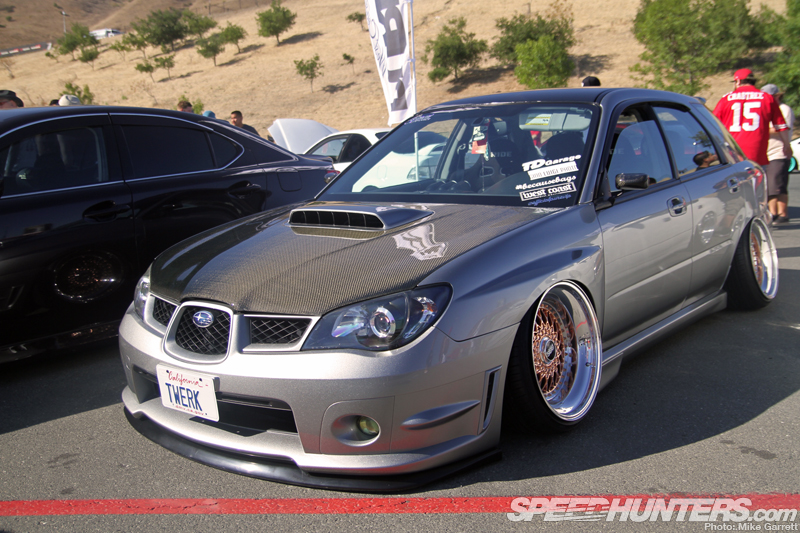 It seems that with each Slammed Society event, you find more and more people pushing the boundaries when it comes to wheel fitment and camber.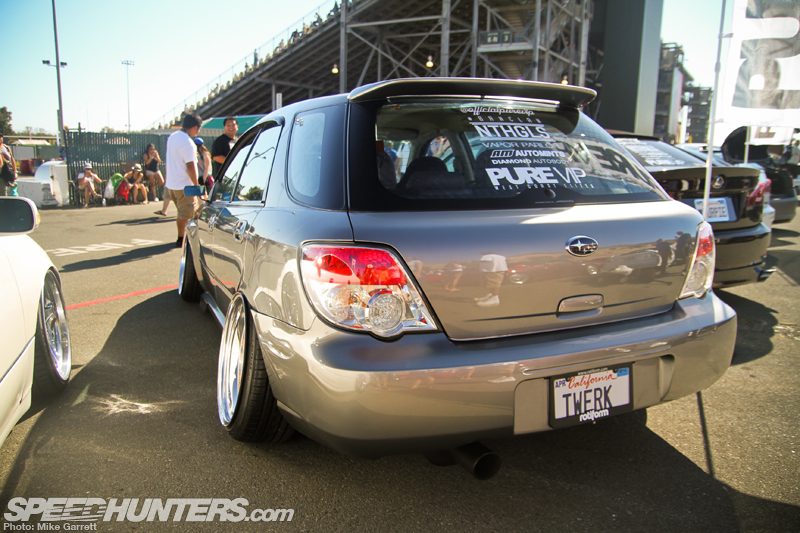 One of the more extreme cars in the show was this WRX wagon with an rather mad set of BBS wheels and an even more gratuitous display of negative camber.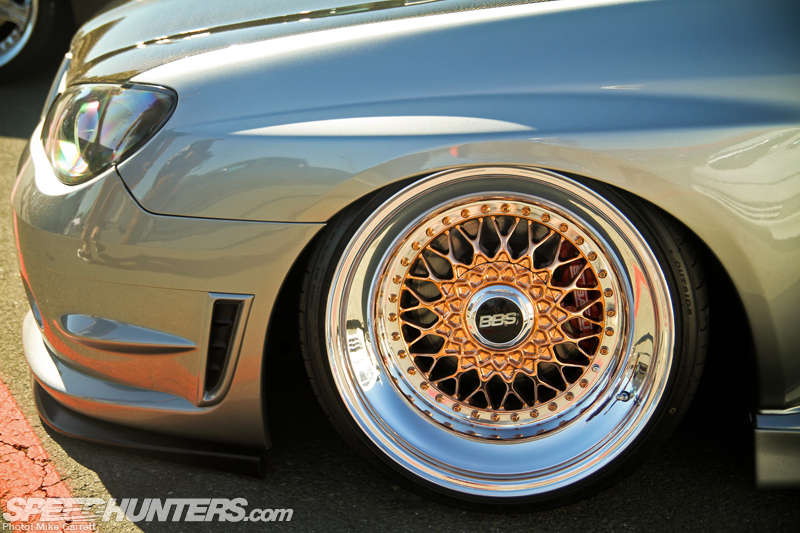 Of course, it was entertaining to hear some of the comments from the more traditional race fans as they checked out the Slammed Society Cars. "How do they drive like that?" was the most commonly overheard question.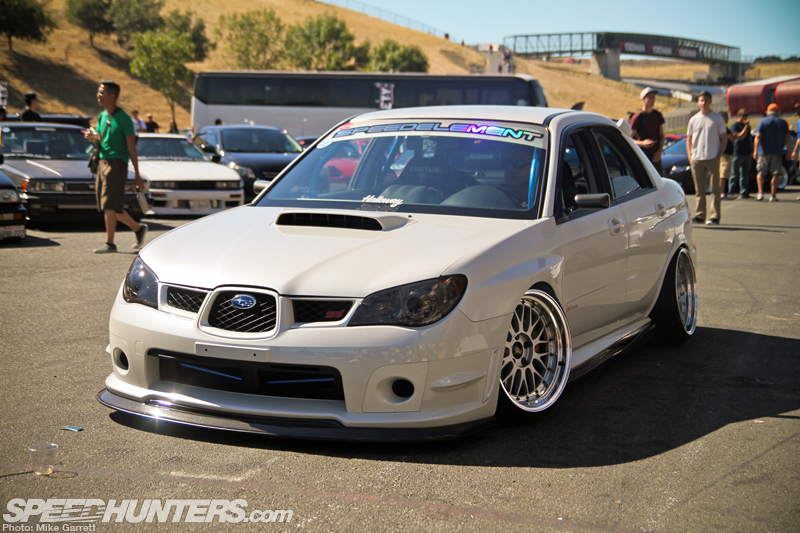 Elsewhere, we've got another Subaru that's looking about as far from its STI rally roots as it gets. Note how the removal of the rear spoiler gives this car a completely different feel than usual.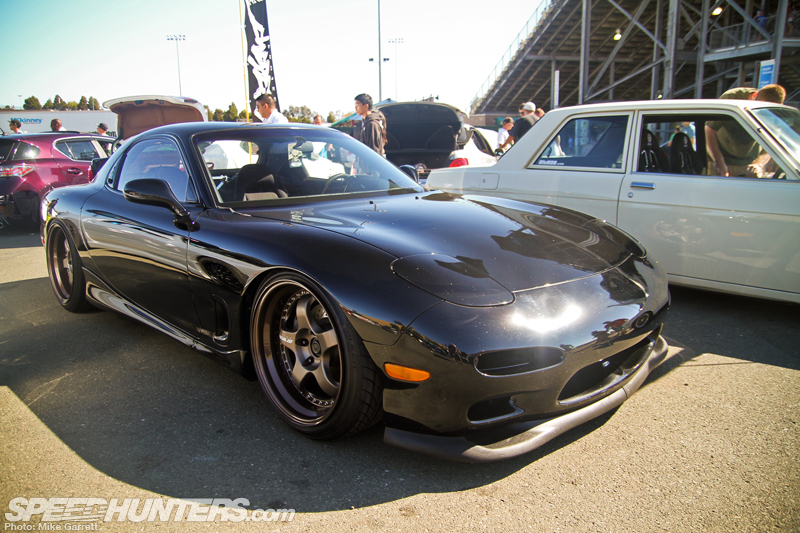 With so many cars going out of their way to grab people's attention, it was nice to see that cars that stuck with the simpler, more understated route – like this tasty black FD3S RX-7.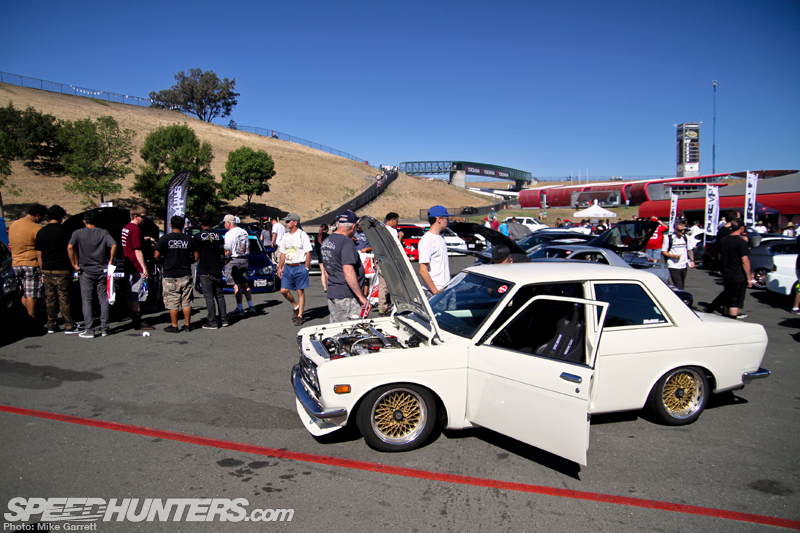 This Datsun 510 was clean enough to get plenty of attention on its own merit, but the tidy SR20DET swap under the hood made the little car that much better.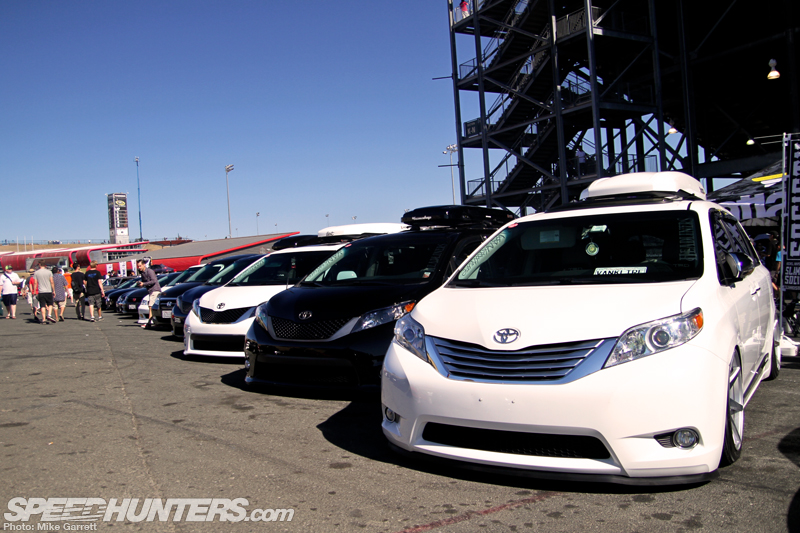 How about some minivans? The show included not just one dropped down Toyota Sienna, but a handful of them. Have custom vans officially gone mainstream now?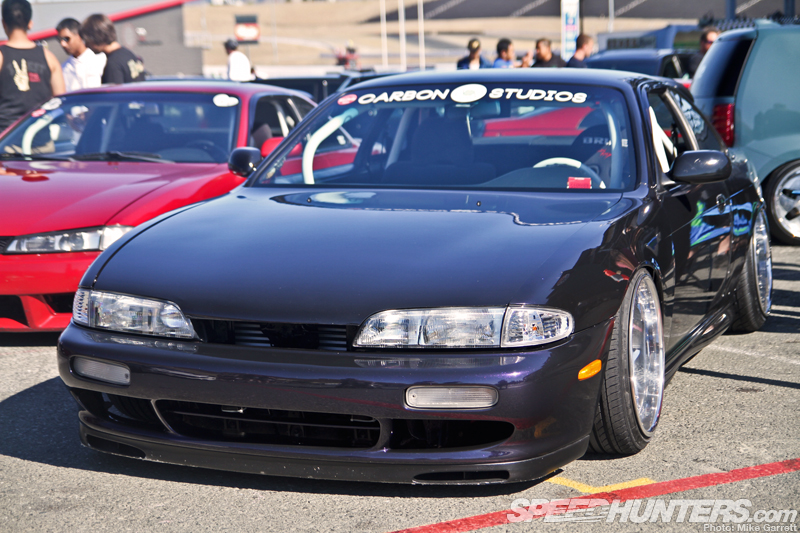 I know this might make you feel old, but can you believe that the zenki S14 design has been around for two decades?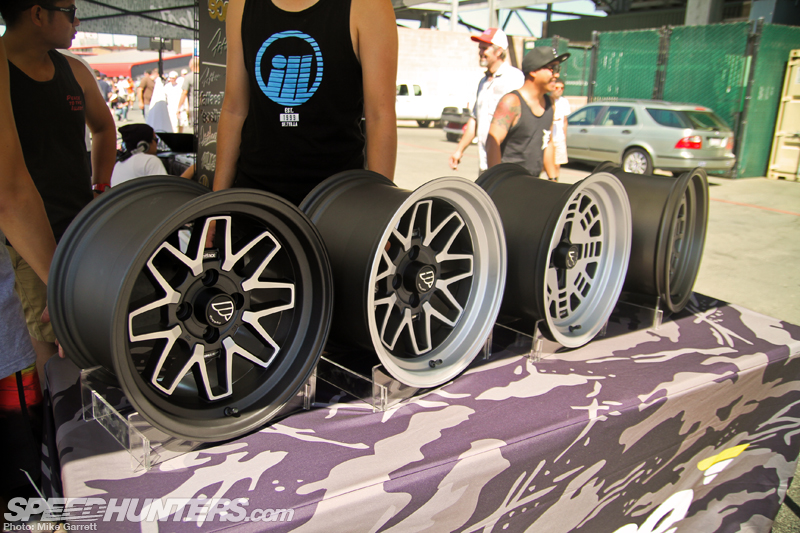 Fatlace also used the Slammed Society event to officially show off its newest product – a line of vintage-inspired wheels.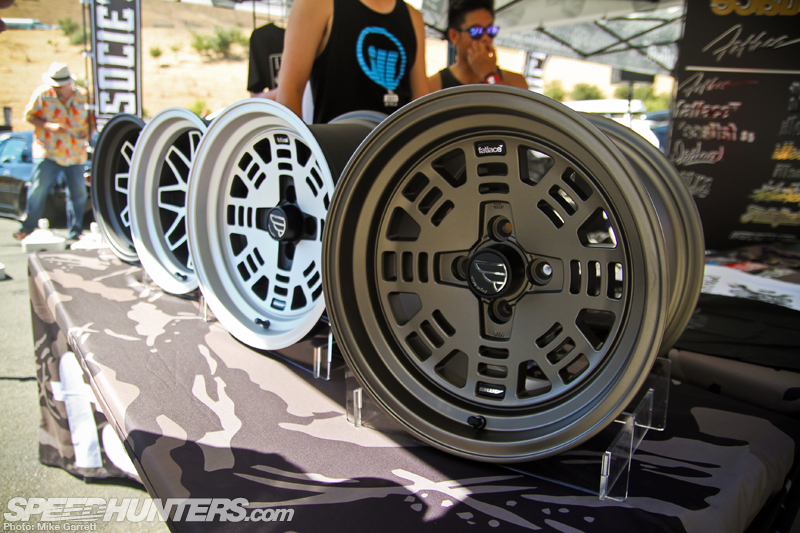 A collaboration between Fatlace and Japanese wheel maker AME, the designs are modernized takes on original designs from AME's 1980 catalog.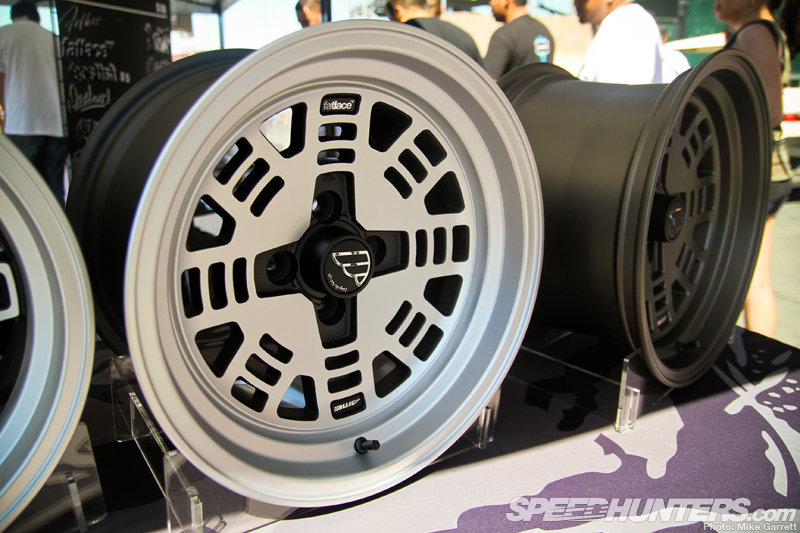 There are two models: the F/ZERO1, seen here…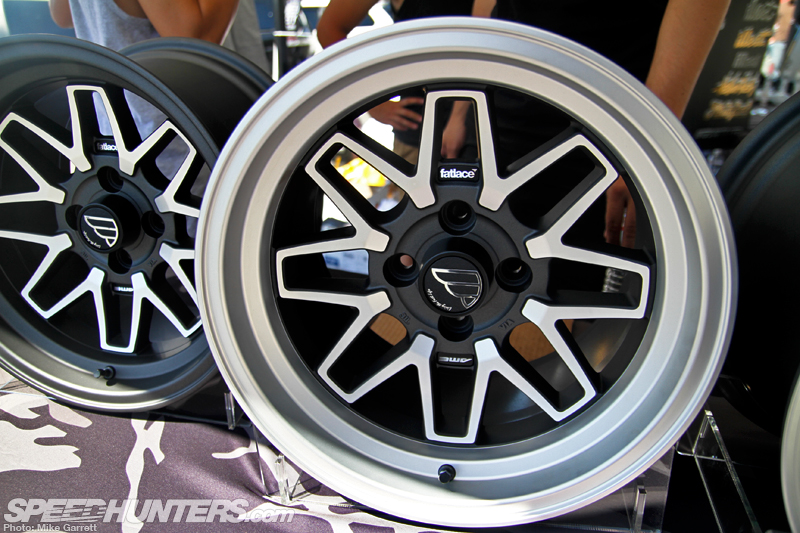 … and the F/ZERO2 seen here – both of which are available in different color options. I'm excited to see what the new wheels will look like mounted on a car when they're officially shown at the SEMA Show in November.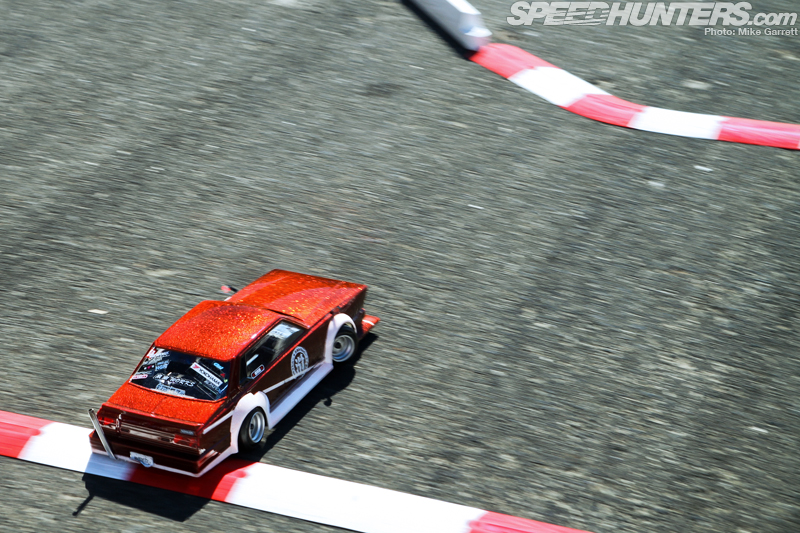 Another attraction that the crowd seemed to enjoy was the RC drifting display which was put on by a group of local hobbyists.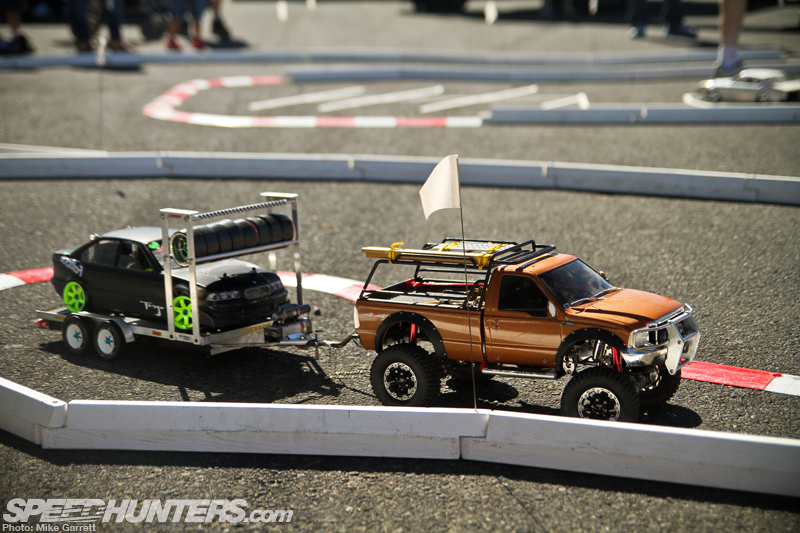 I found this truck and trailer to be especially badass. Loving that spare tire rack!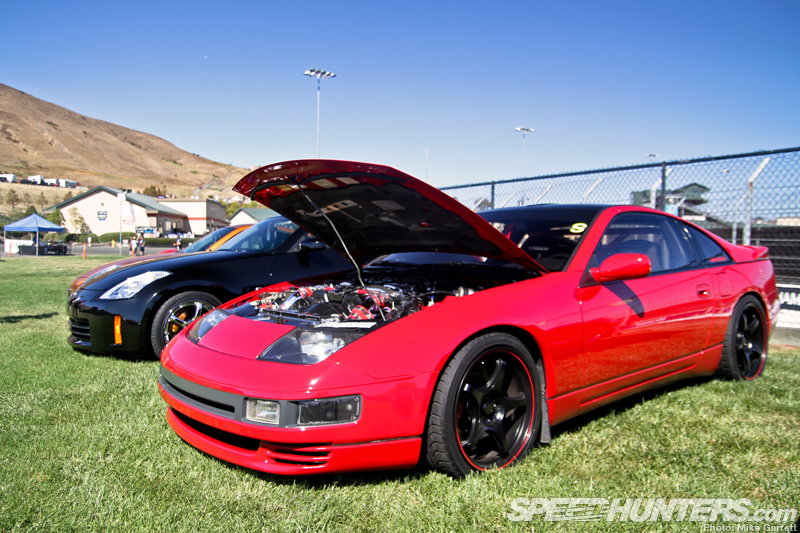 Besides the main Slammed Society show, the event also included an informal display area at the outside of Turn 11. It was here where I found the immaculate Z32 300ZX owned by Landon Shore. One of the best parts of the event was having the chance to meet Speedhunters readers like Landon and others who came out to enjoy the festivities.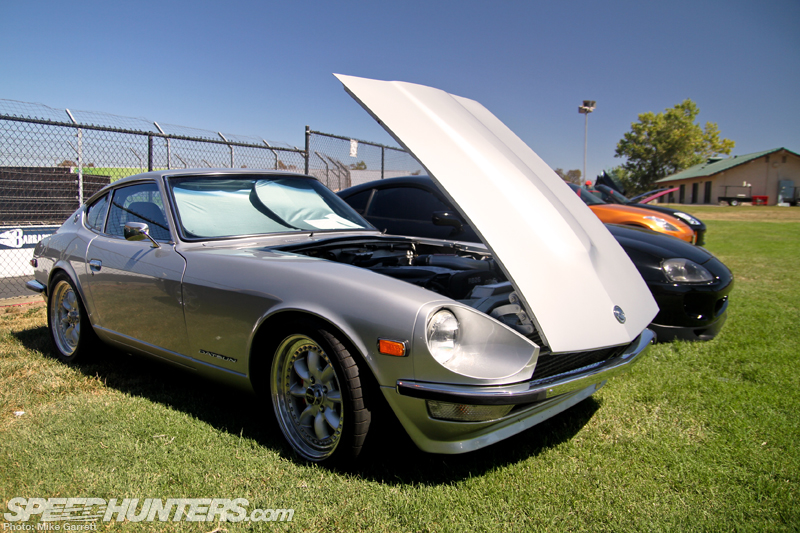 It was also in this area where I found this modest looking Datsun 240Z…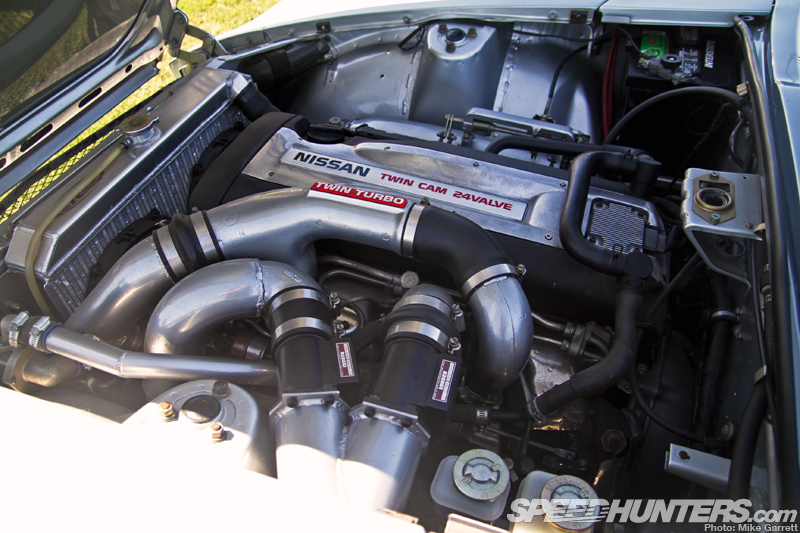 … that happened to be powered by a not-so-modest RB26DETT.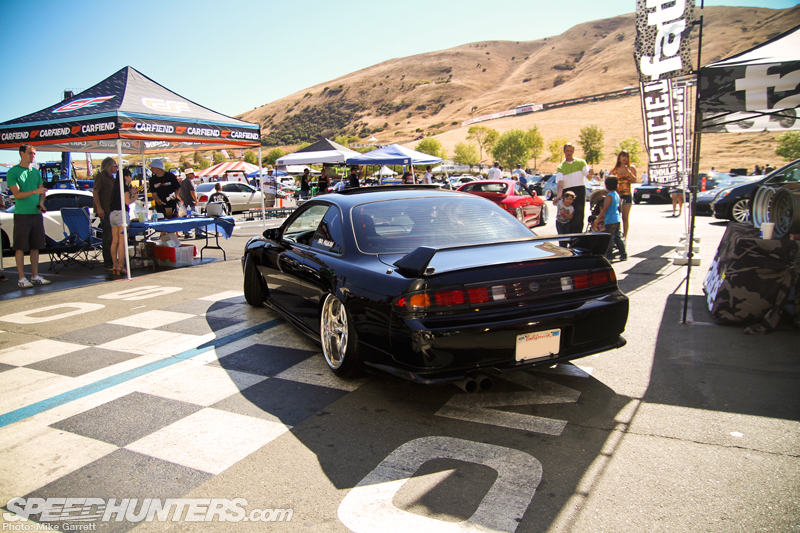 Not only did including the Slammed Society show help build more interest in the WTCC event, it also helped to bridge the gap between form and function. It gave race fans a chance to see some cool custom street cars, and it gave the show car crowd a chance to see witness some real international-grade motorsport.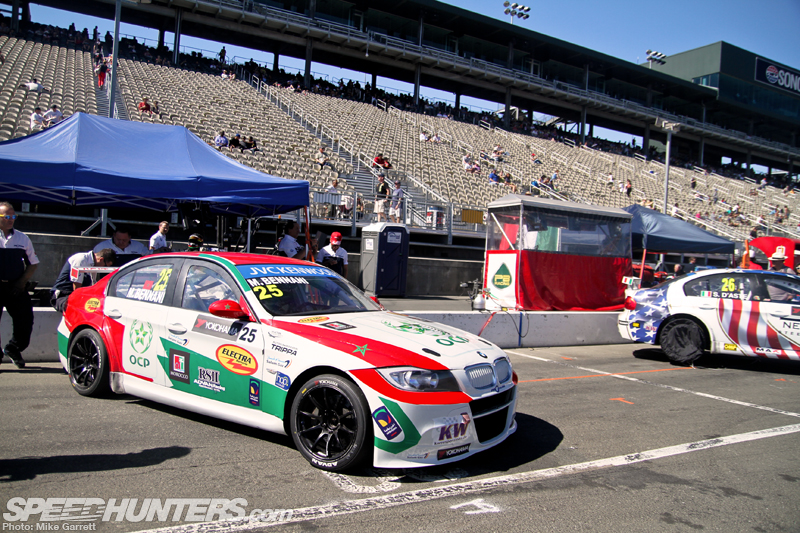 When I was walking around the Slammed Society show I even spotted a few WTCC team members checking out the show cars during their break time.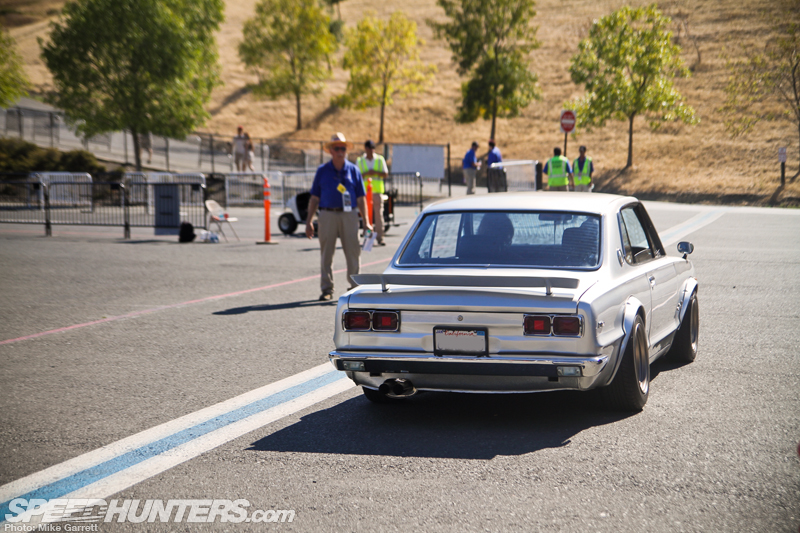 The world would certainly be a boring place if everyone liked the same type of cars, and events like the one in Sonoma this weekend only help to prove that even more. Whether it's the air jacks on the WTCC race machines to the air bags on the VIP show cars, in the end it's all about the #JOYOFMACHINE.
Mike Garrett
Instagram: speedhunters_mike
mike@speedhunters.com
More WTCC coverage on Speedhunters