Authenticity goes a long way
I know that you fellow Speedhunters are a car crazy bunch. While your interests in the world of car culture may be vast, it's ultimately always the cars that everything revolves around that tickle your senses more than anything. At least that's how I feel about it all, and that's why I thought a little extended spotlight-o-rama may go down well with you lot. I purposely stayed away from the more mainstream D1 cars, because – aside from the fact that we have seen a lot of them for far too long – well, there is always plenty more to see in the paddock than what the better financed teams have to offer. Plus I think that these seven rides stay far more faithful to what a real dorisha should look like. Authenticity goes a long way in my book and that's why I want to start off…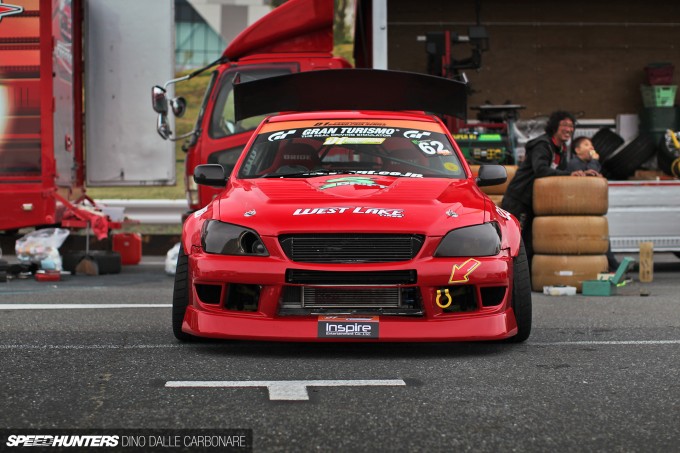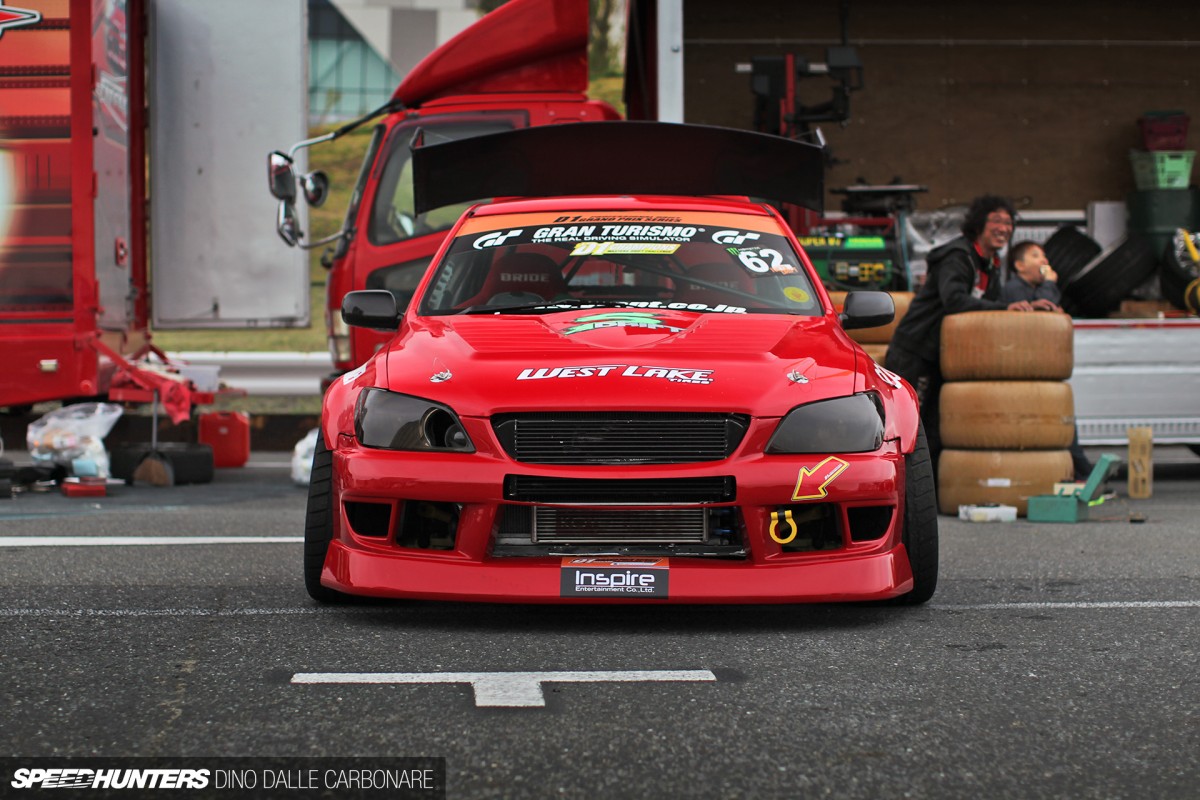 … with the SXE10 Altezza that 21-year-old Thai driver Chanatpon Kredpiam was driving. The West Lake Tire team car really caught my attention as it instantly stood out as one of those cars that are simple and to the point. On top of using a not so popular platform…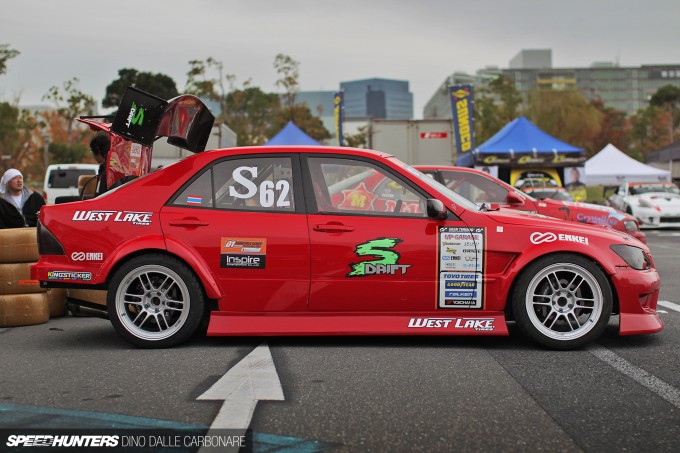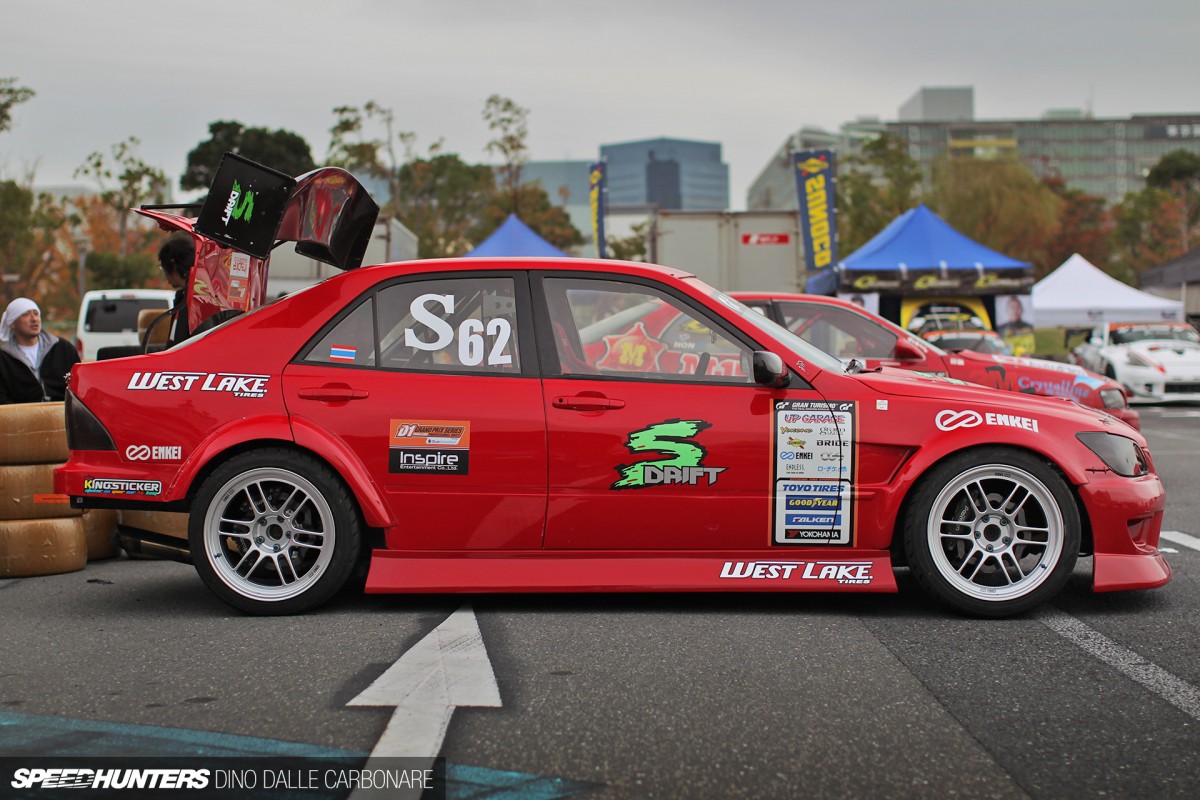 … the Altezza just looked so right, sporting pumped wheel arches, a nice and low stance and a set of Enkei RPF1s at each corner.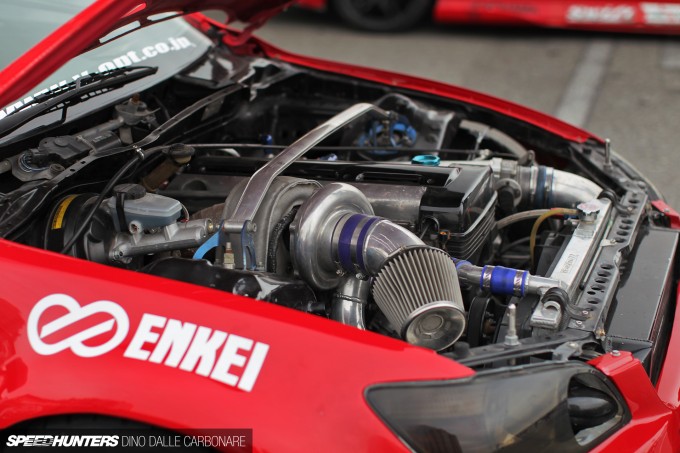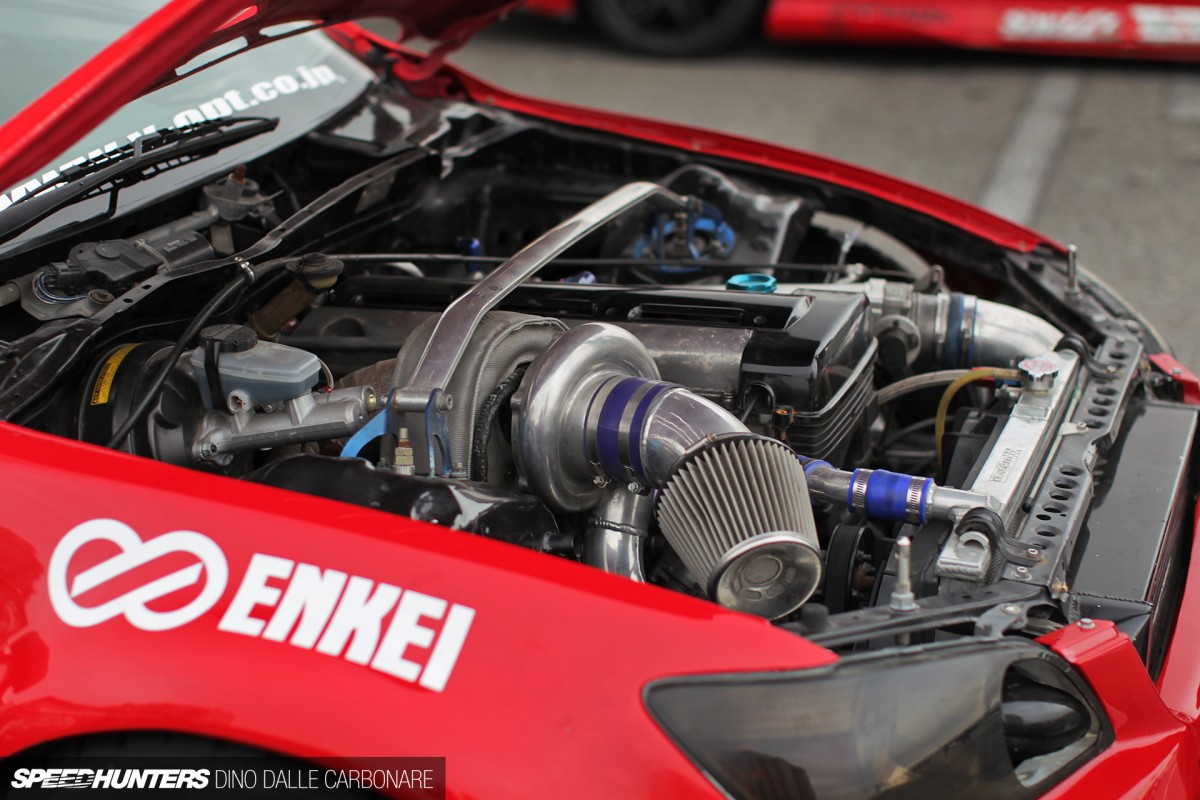 Under the hood, the stock 3S that powered the JDM version of the car has given way to a rather mean looking 2JZ, stroked beyond its stock 3-liters of capacity and running a large turbocharger.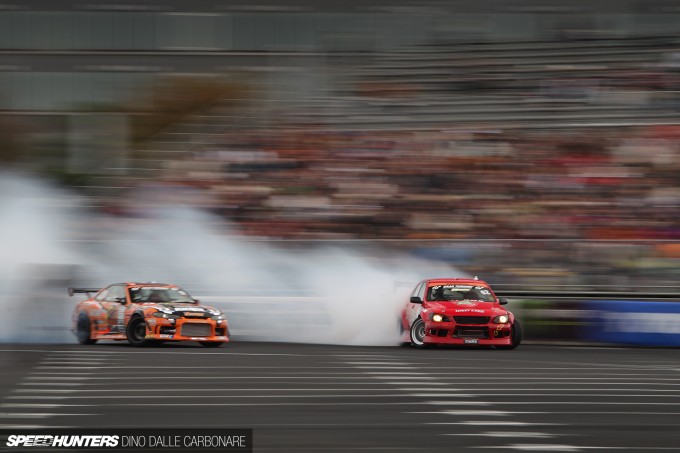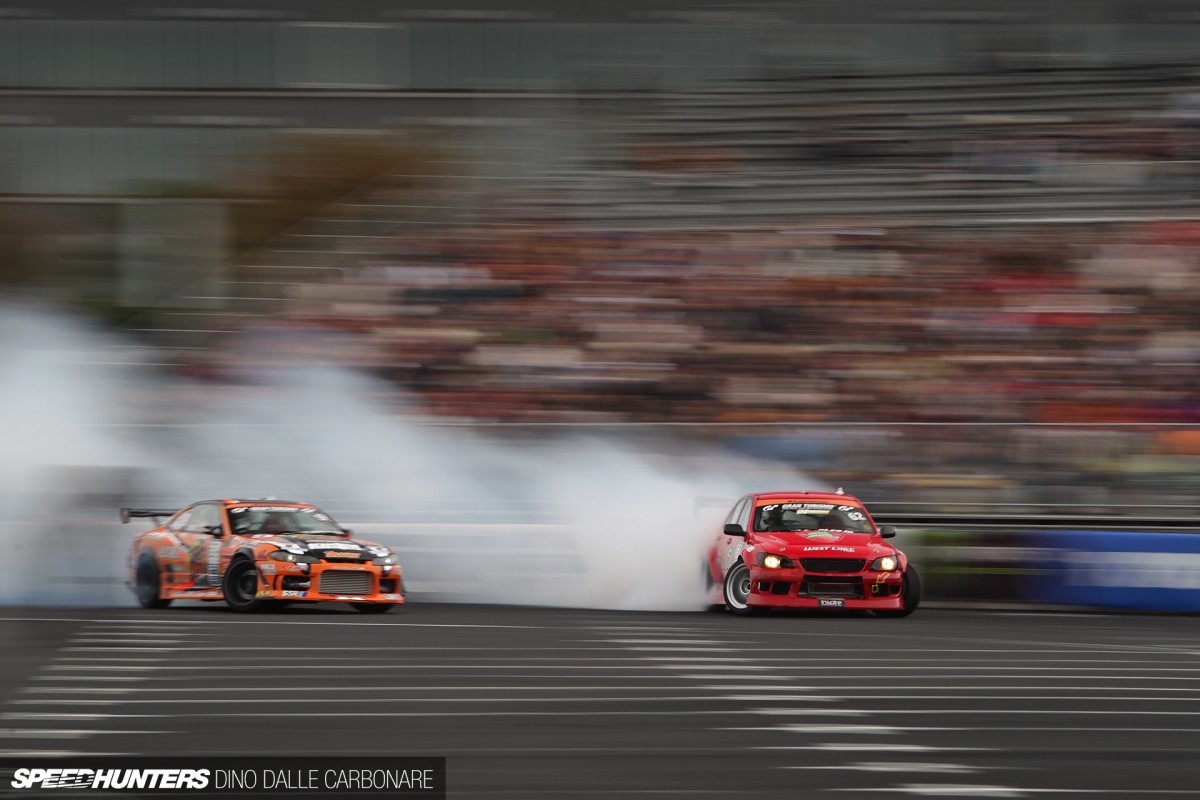 Chanatpon was making full use of his power and not afraid to throw the car in hard into the makeshift course at Odaiba, even against established stars like Naoto Suenaga seen here in one of the exhibition runs they did together.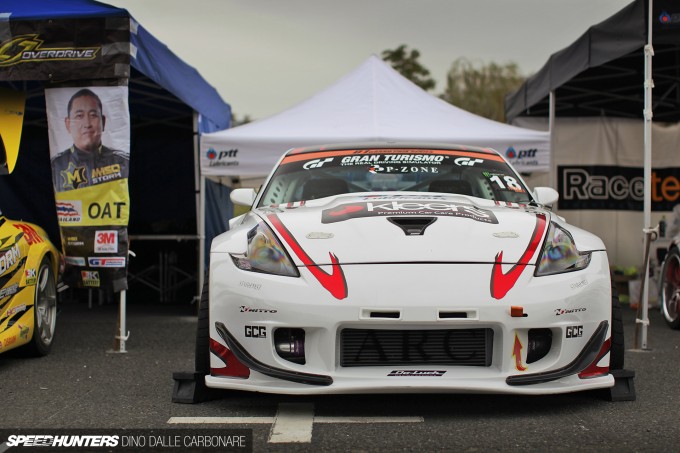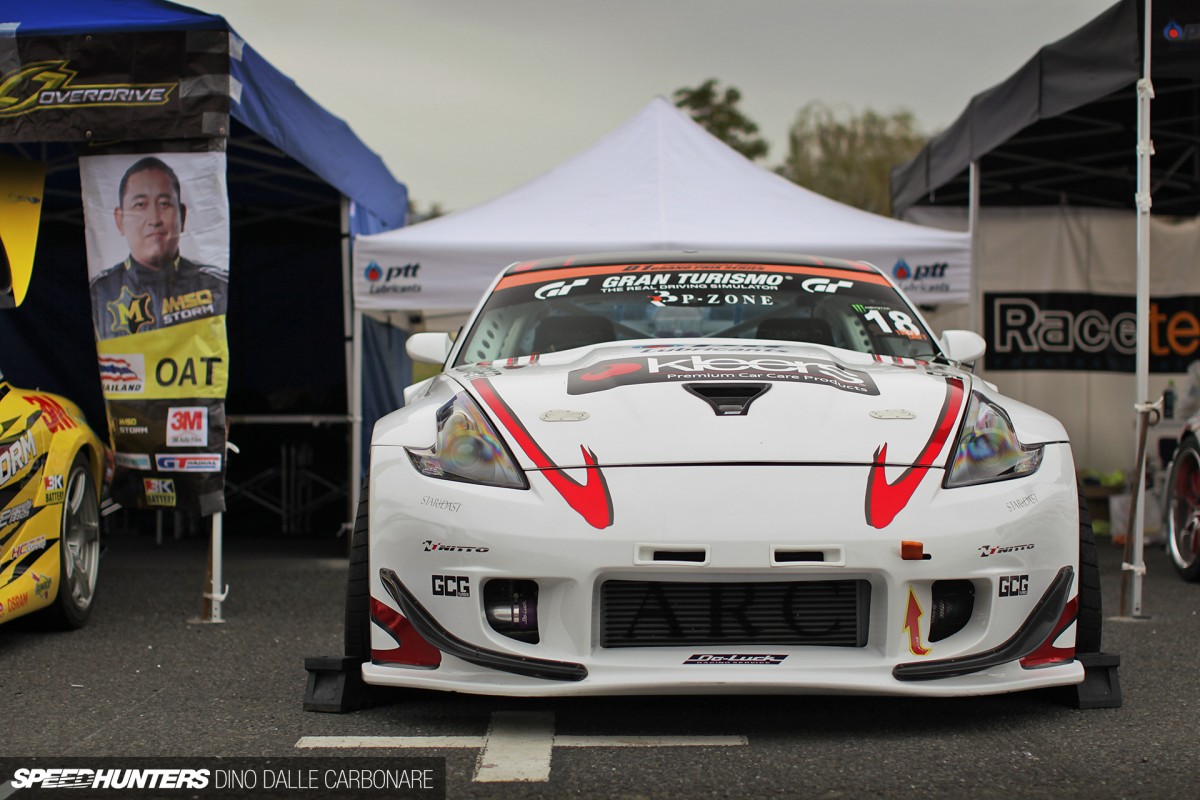 It was a few months back that I spotted a curious Z33 sitting high on the lift at Do-Luck. I didn't think much of it at first until I saw it the following month in pretty much the same state you see it here. It was then that Ito-san explained this was to be a pretty serious D1 machine and it was very cool to see the car completed and sitting in the paddock at Odaiba. Visually it runs a Z34 headlight conversion with Do-Luck aero parts…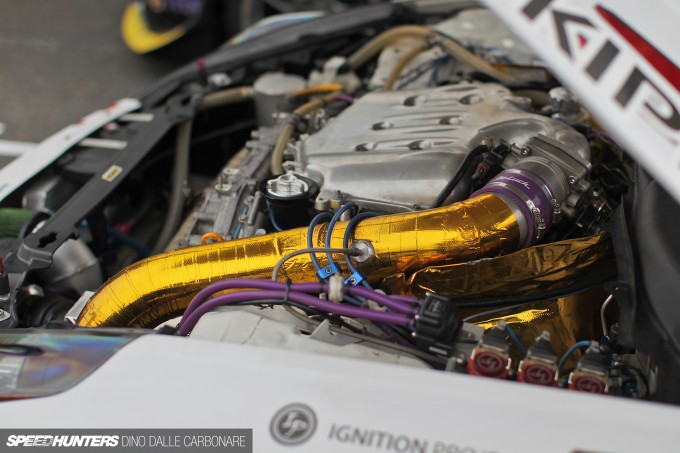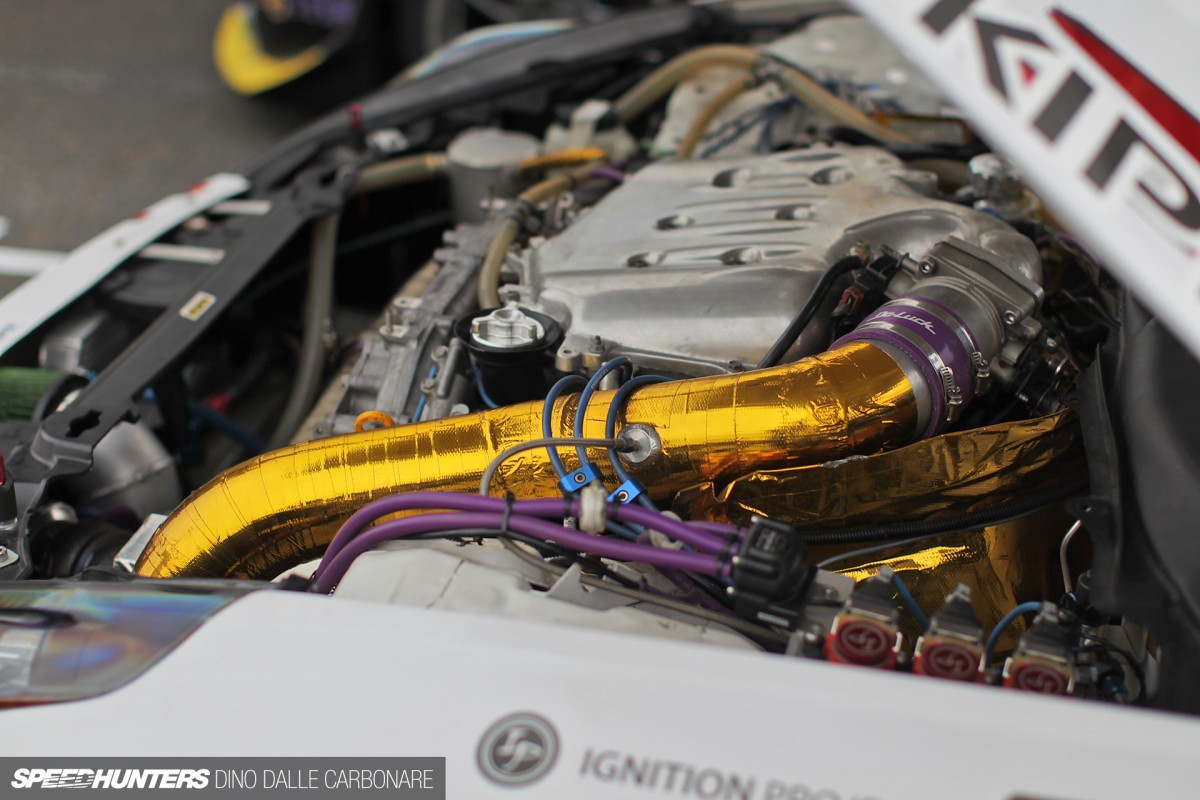 … but it's actually under the hood that this Zed truly impresses. The VQ engine has been completely rebuilt and stroked, its gold-wrap-insulated intake fed by a rather large BorgWarner EFR turbo located in a low-mounted position in front of the engine. That's why…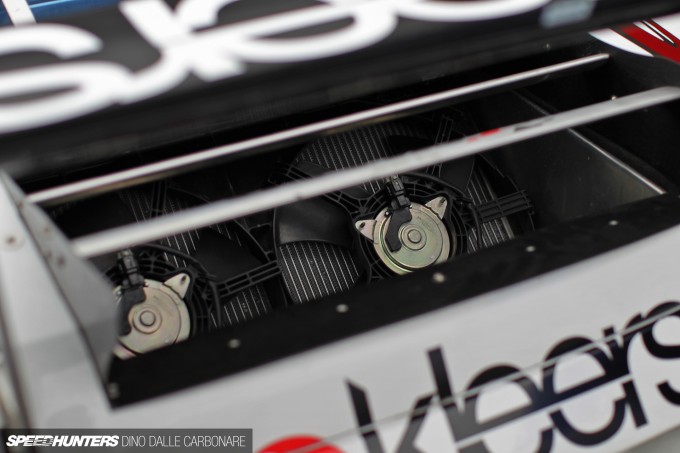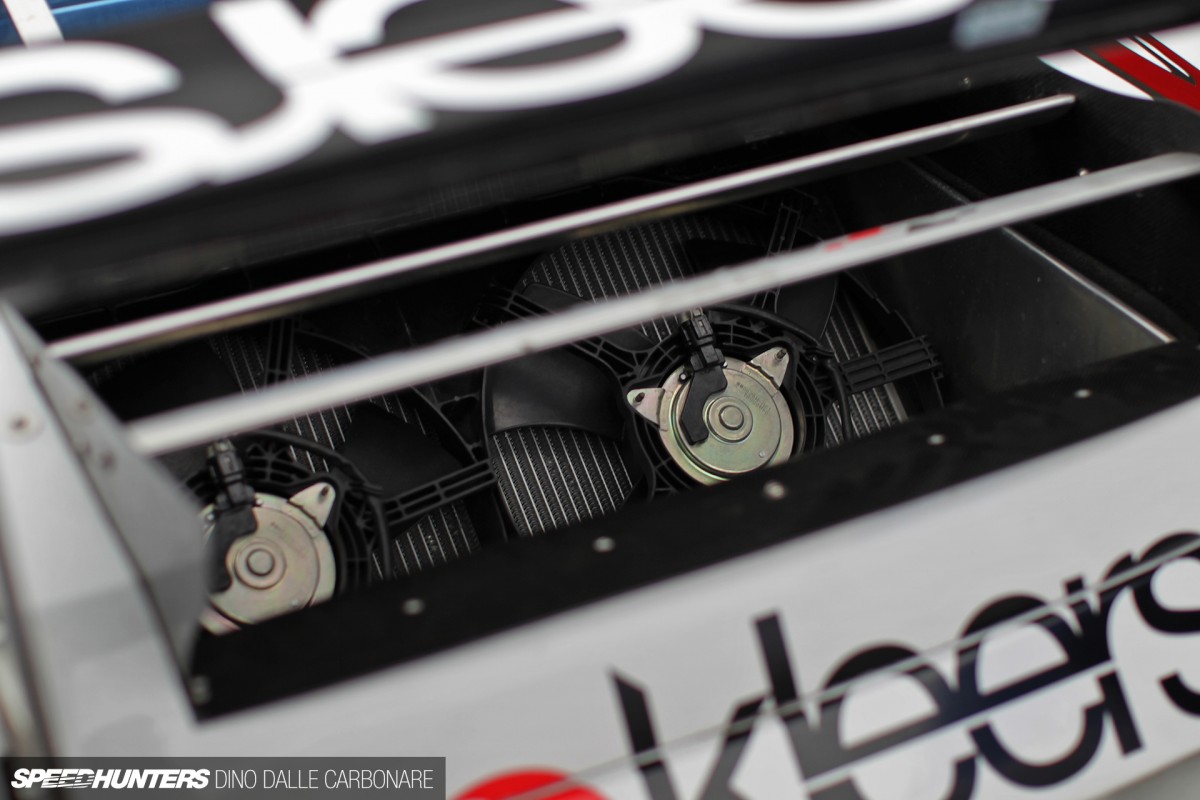 … the radiator had to be moved to the rear, where it gets cooled by a series of intakes before the air flows out through a large opening underneath the big GT wing.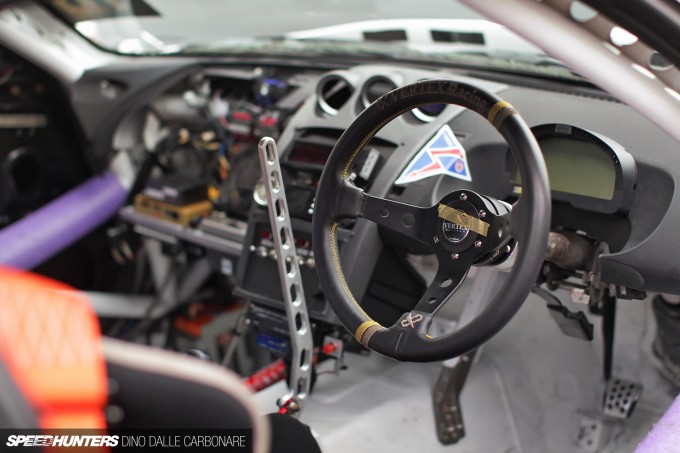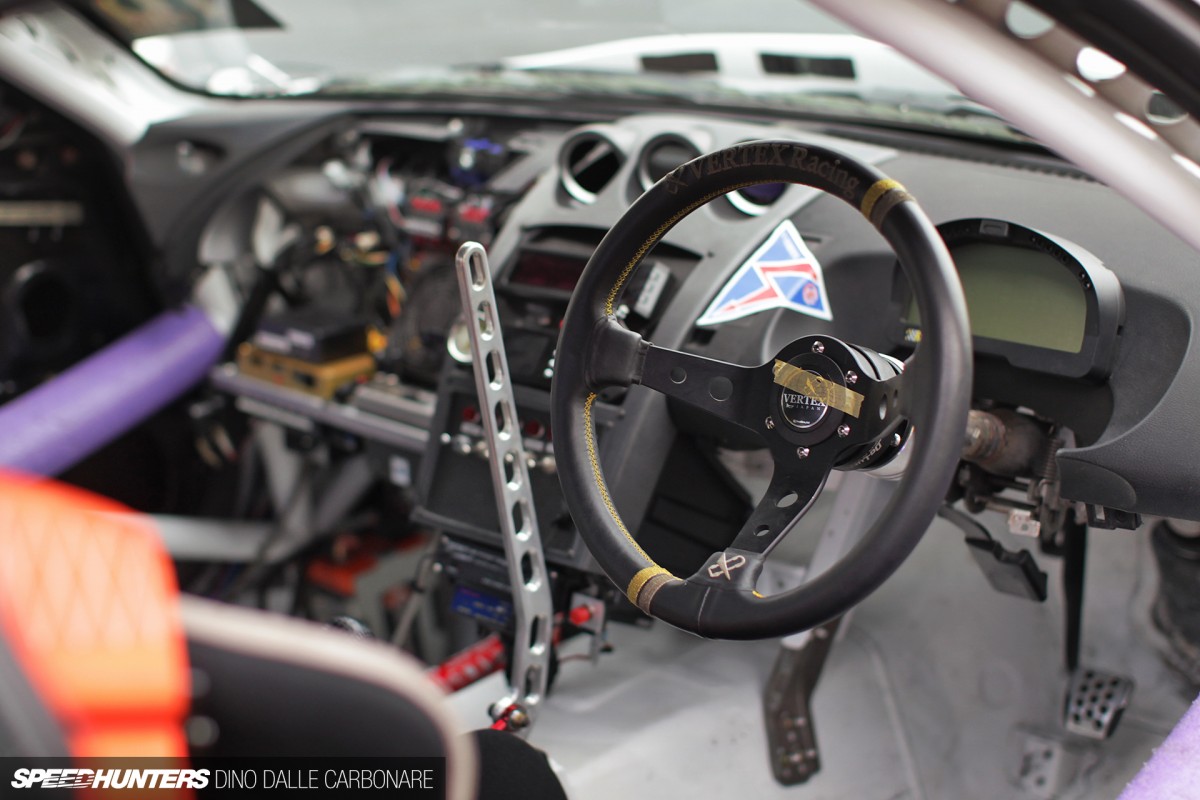 For the exhibition round the 800hp Z33 was being piloted by Thai driver Davide Dorigo…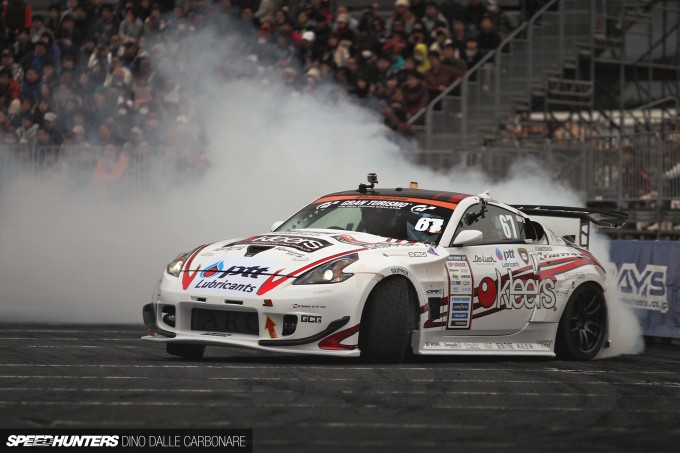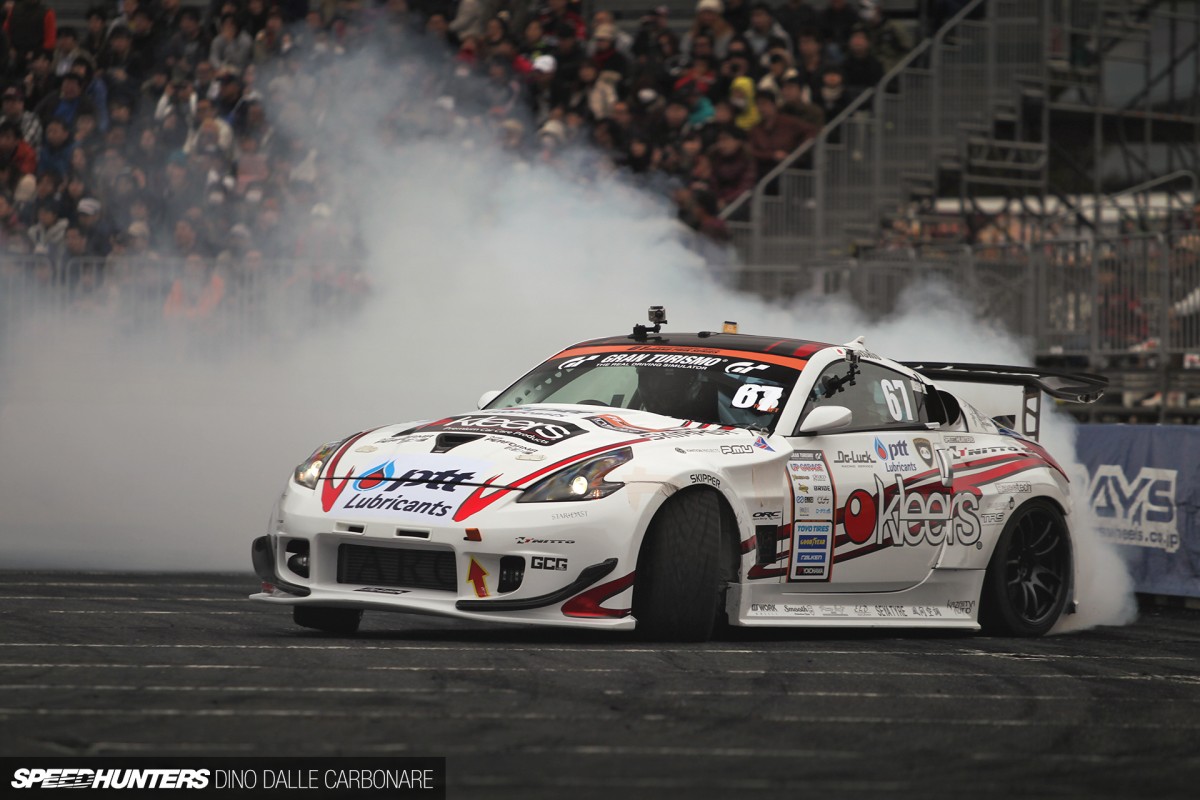 … who ran into a bit of a misfortune in his second run of the Sunday Exhibition after being cut off on the straight, forced to hit the barrier and have one of this rear wheels ripped off its spokes by one of those dangerous barriers that bought Orido's day to a close in the first post from Odaiba.
2JZ love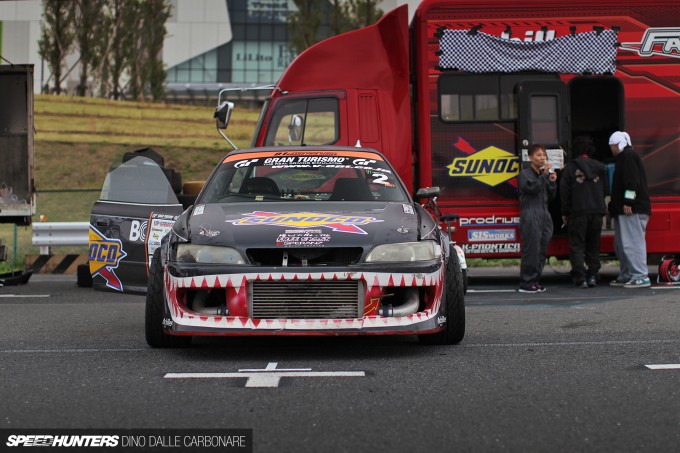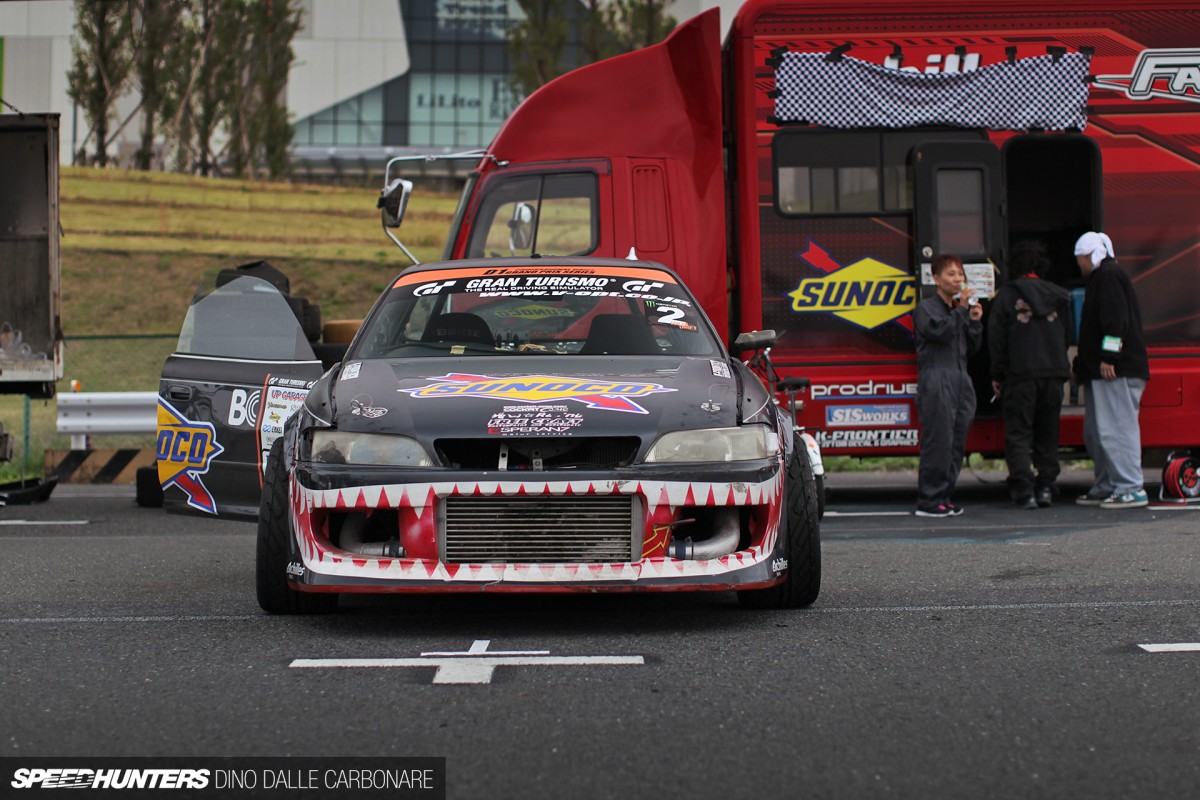 And then we get to Daigo Saito's car. I too was scratching my head as to why he wasn't behind the wheel of his trusty red JZX100 but rather a JZX90 he had borrowed from a friend. Well unfortunately it turns out that due to a fire at a bodyshop where the car was being worked on, it – along with a ton of other cars – was completely burned to the ground. So his insanely powerful beast that showed it could fly back in 2010 at Ebisu, is no longer.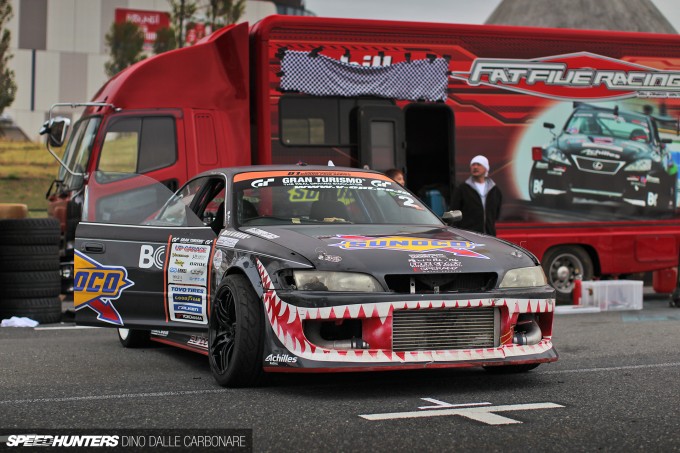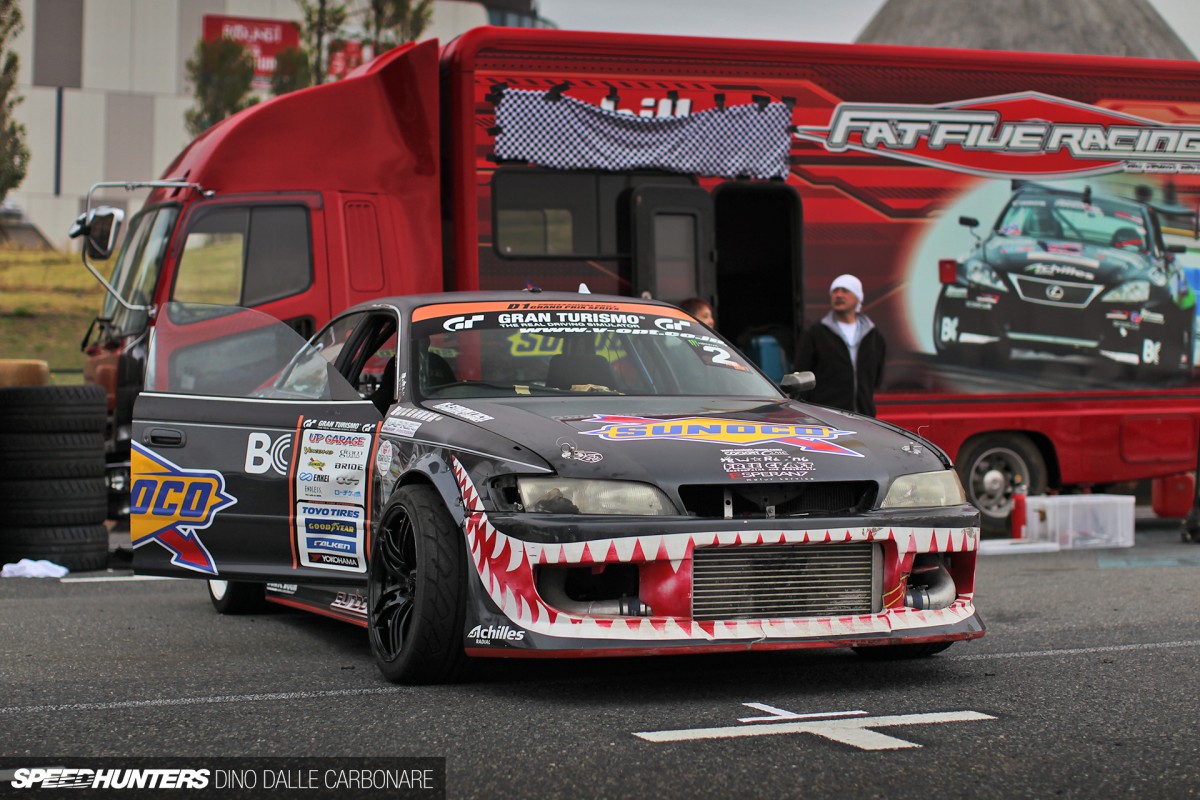 Still, despite that, nothing was going to stop him competing, and the car he was doing it in showed the usual trademark Daigo touches, from a sort of missile look which some of his cars sport when he hits up the Ebisu Drift Matsuri…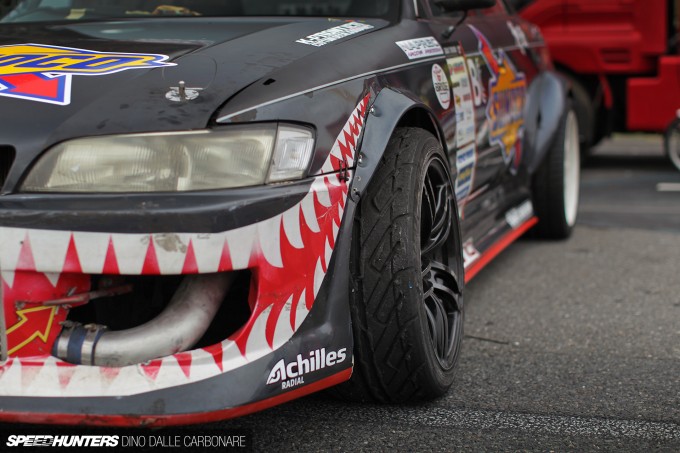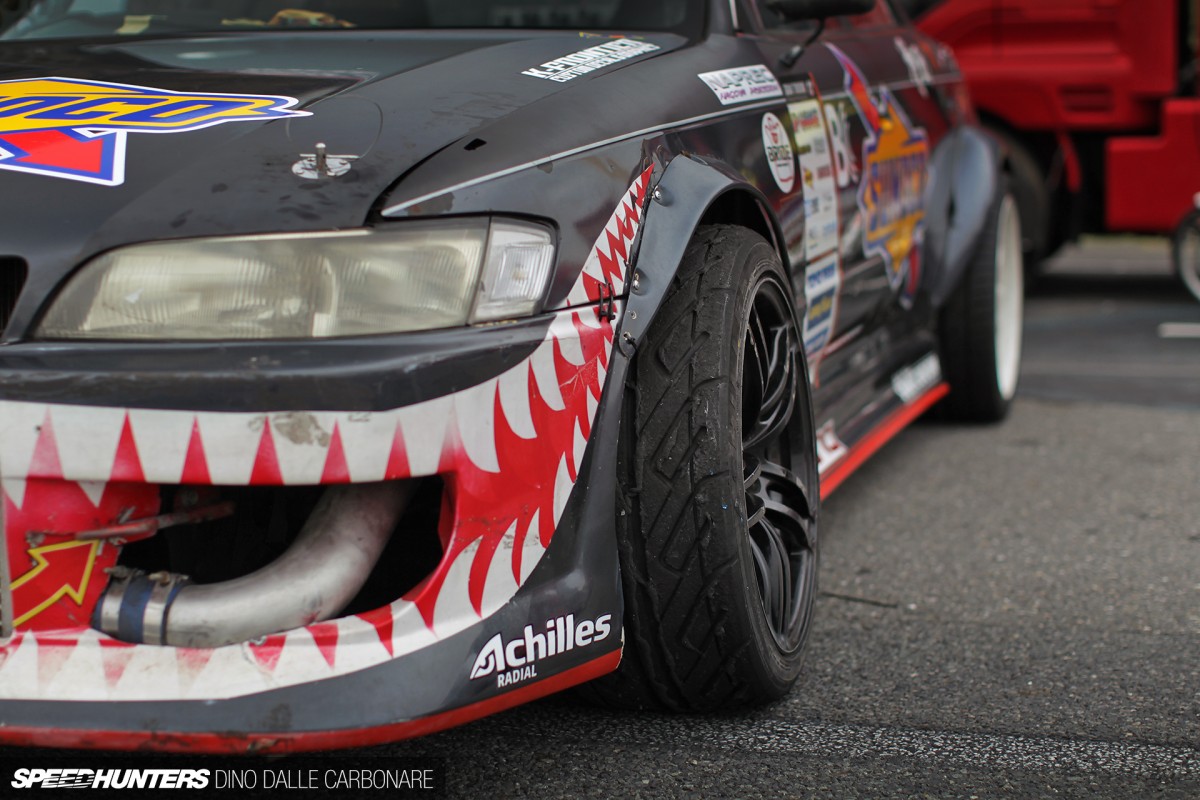 … to that impossibly wide front track and crazy knuckle set-up. Oh yes, the big shark-like mouth drawn onto the front bumper is a nice touch!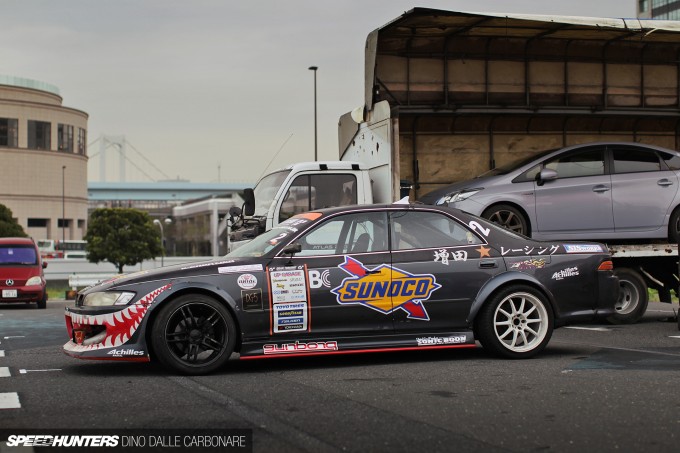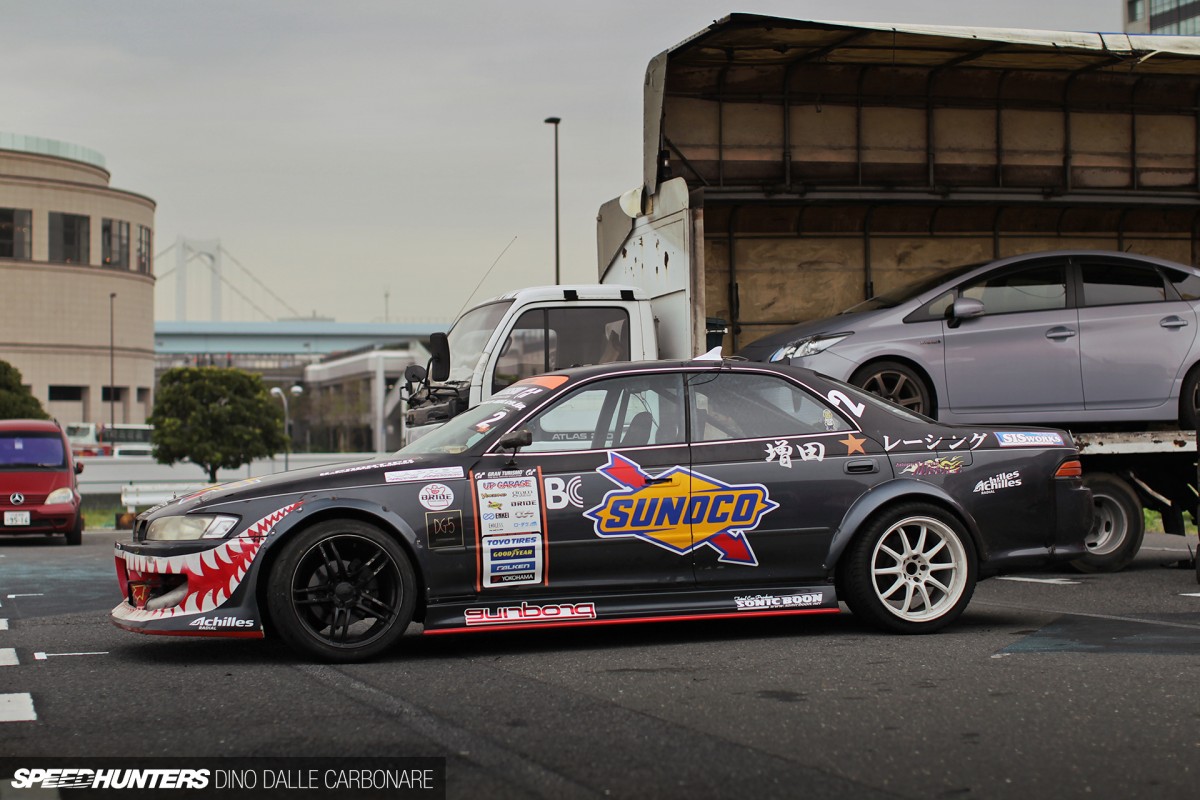 Sure it looked a bit rough around the edges, but I thought it embraced all that is right about drifting far better than big expensive builds of the top seeded drivers.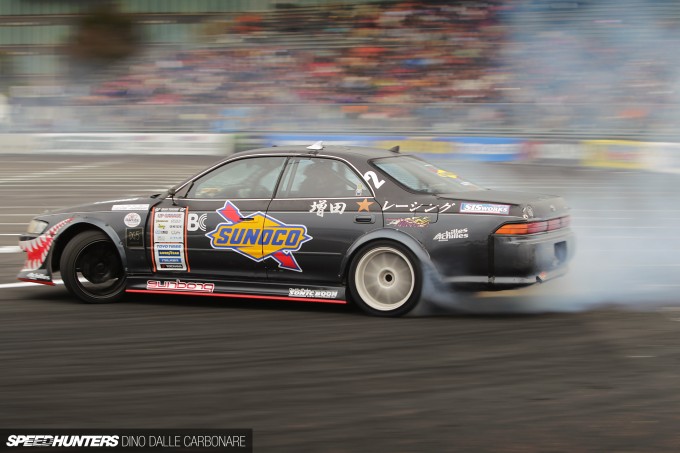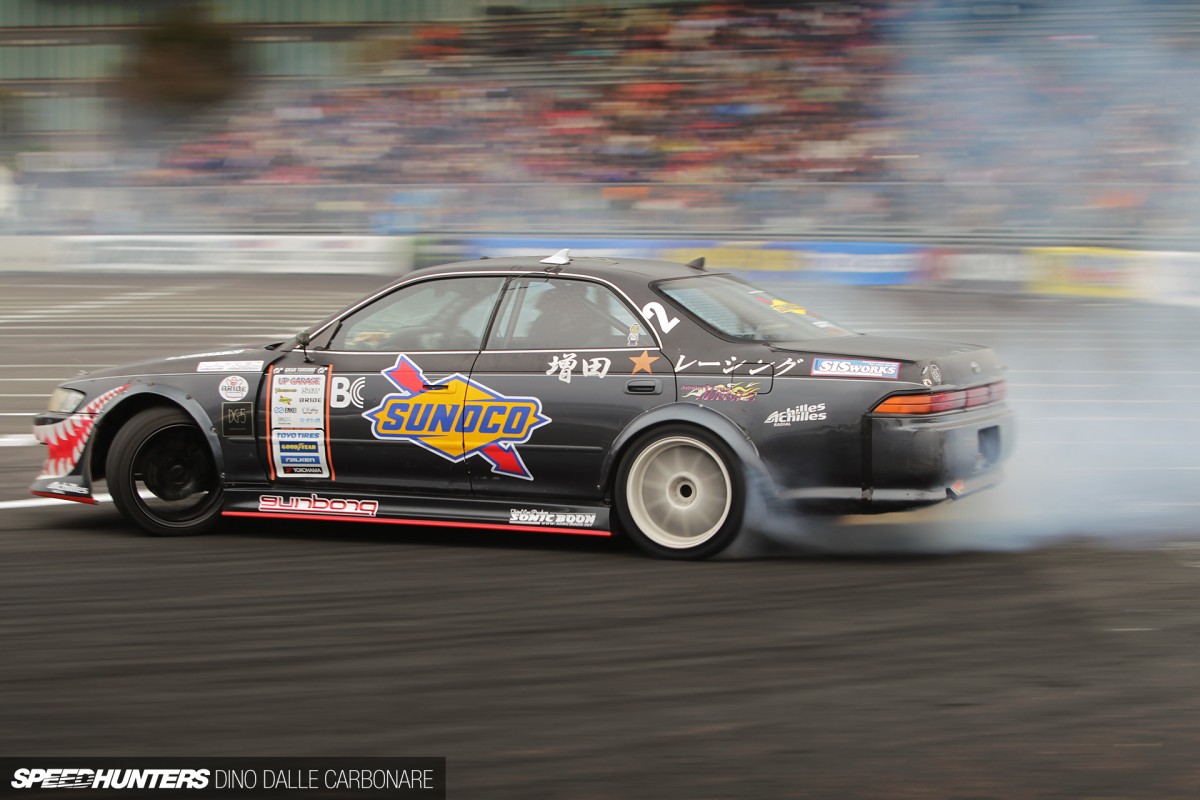 It might not have been too competitive, but that didn't mean he didn't give it his usual 110%. Big thumbs up from me at least!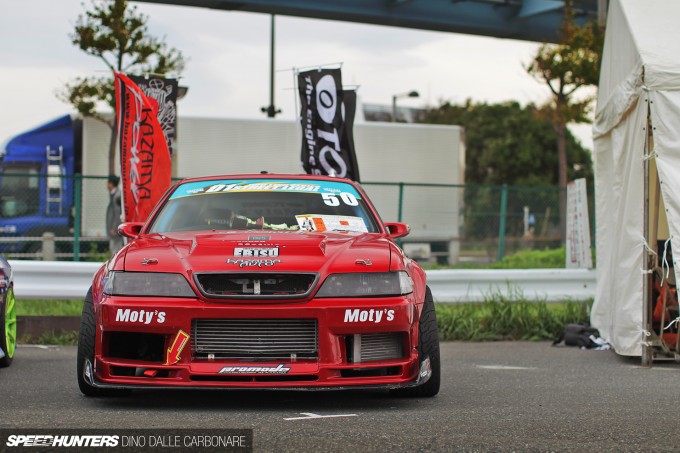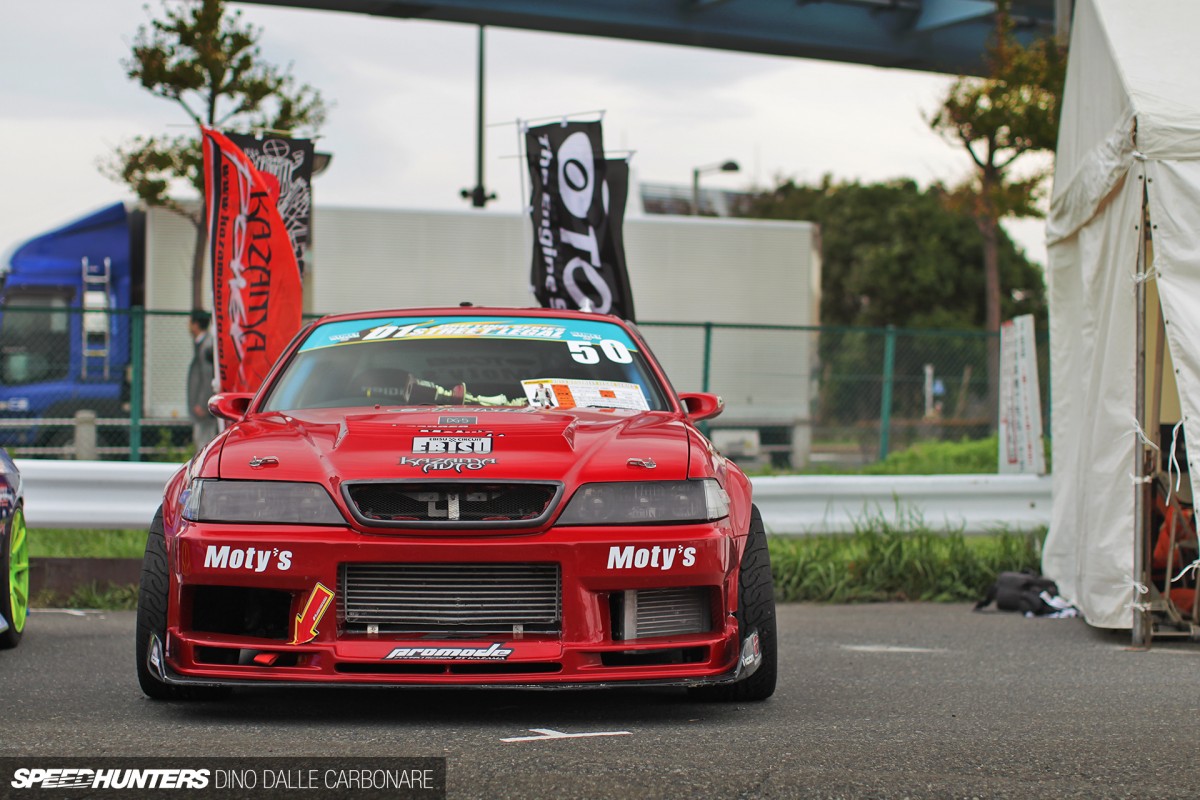 And speaking of burned cars, Andrew Gray of Powervehicles has recently gone through the exact same thing. After an unfortunate fire that left his JXZ100 burned beyond repair, he spent most of this year building and fine-tuning this new ride of his. It sports the same flake-red trademark color of all his cars, albeit a little darker, and like the car he was driving in the Tectaloy Drift round at the WTAC a few weeks ago, has the same dark grille and smoked headlights for a touch of aggression.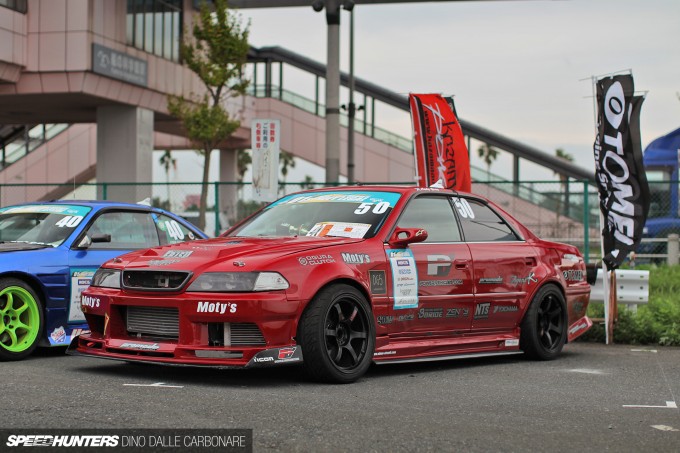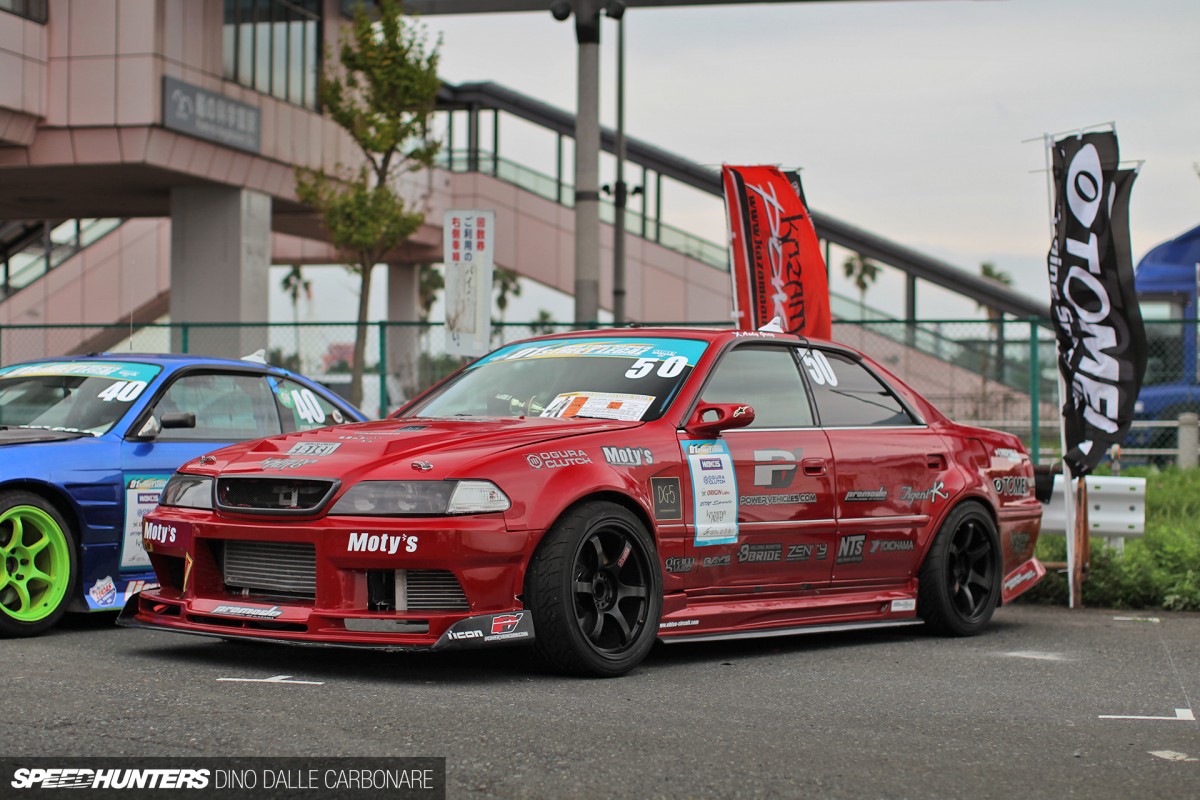 The aero is mostly from BN Sports but touches like…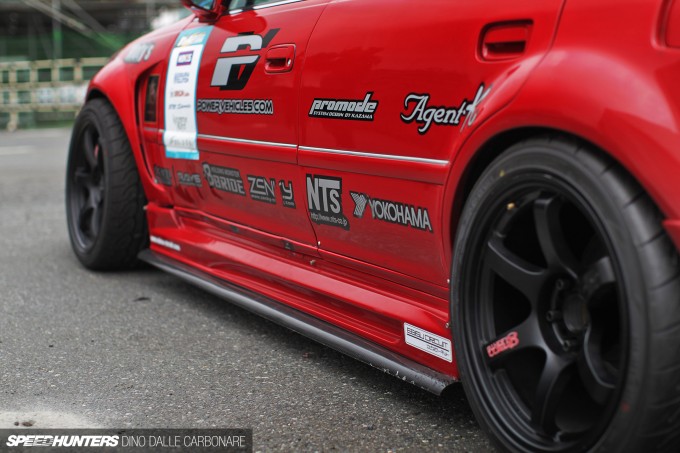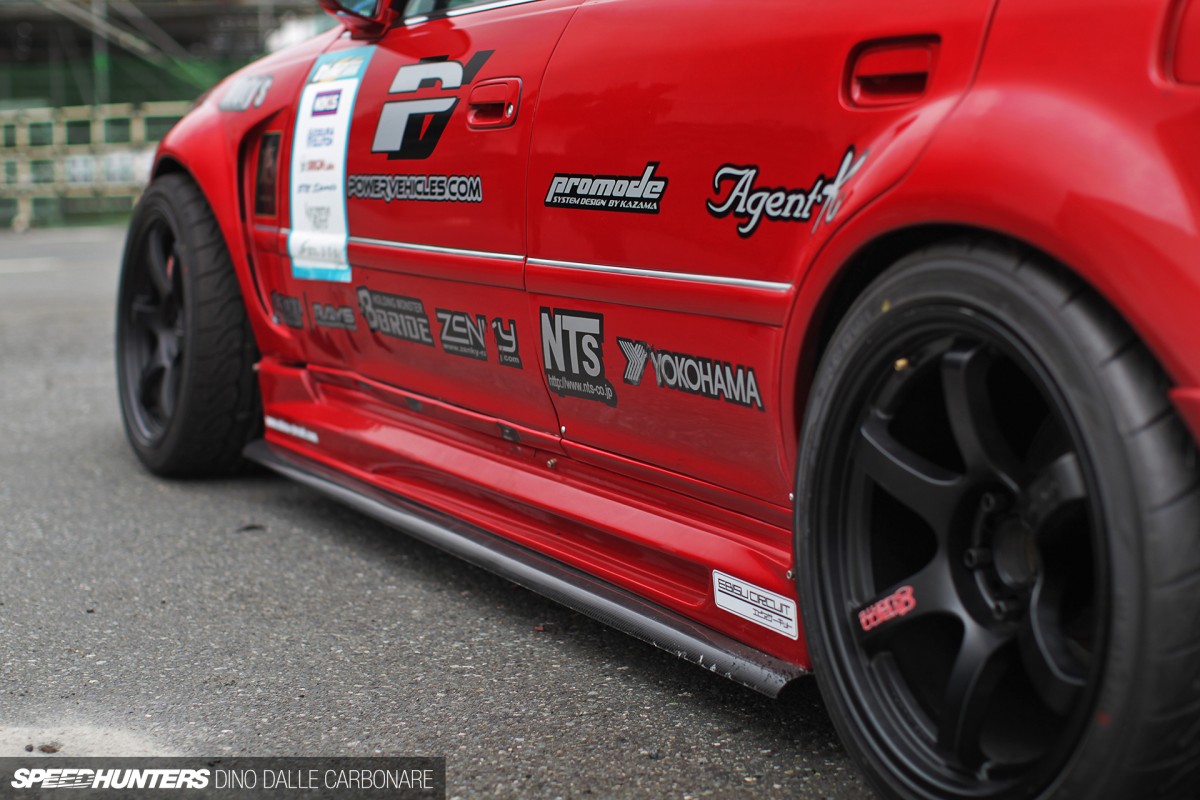 … the carbon side skirt extension and front carbon underspoiler are Powervehicles original bits.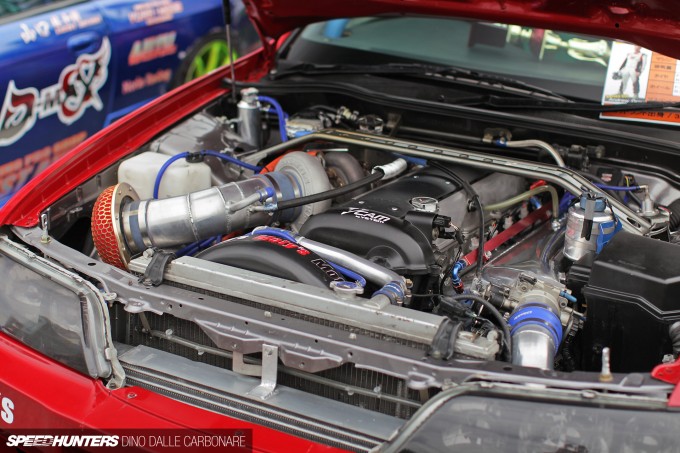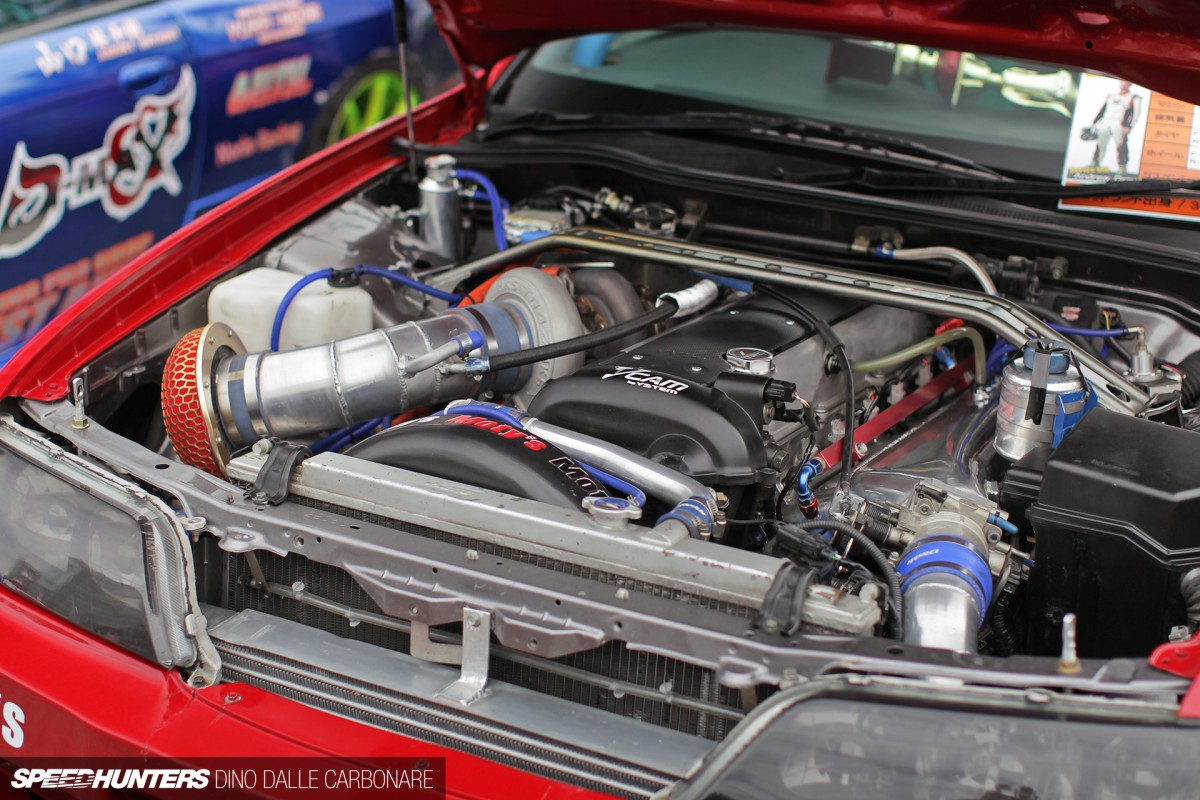 Andrew has always been a foot-to-the-metal sort of driver, loving to spice up his runs with copious amounts of tire smoke, possible thanks to the 600hp his 3.1L stroked 2JZ develops.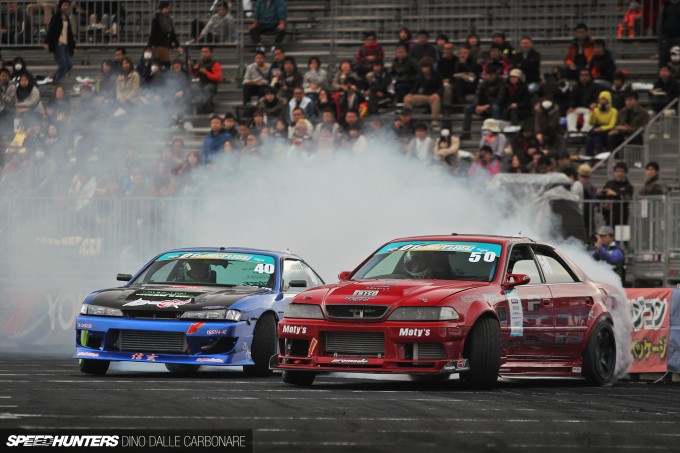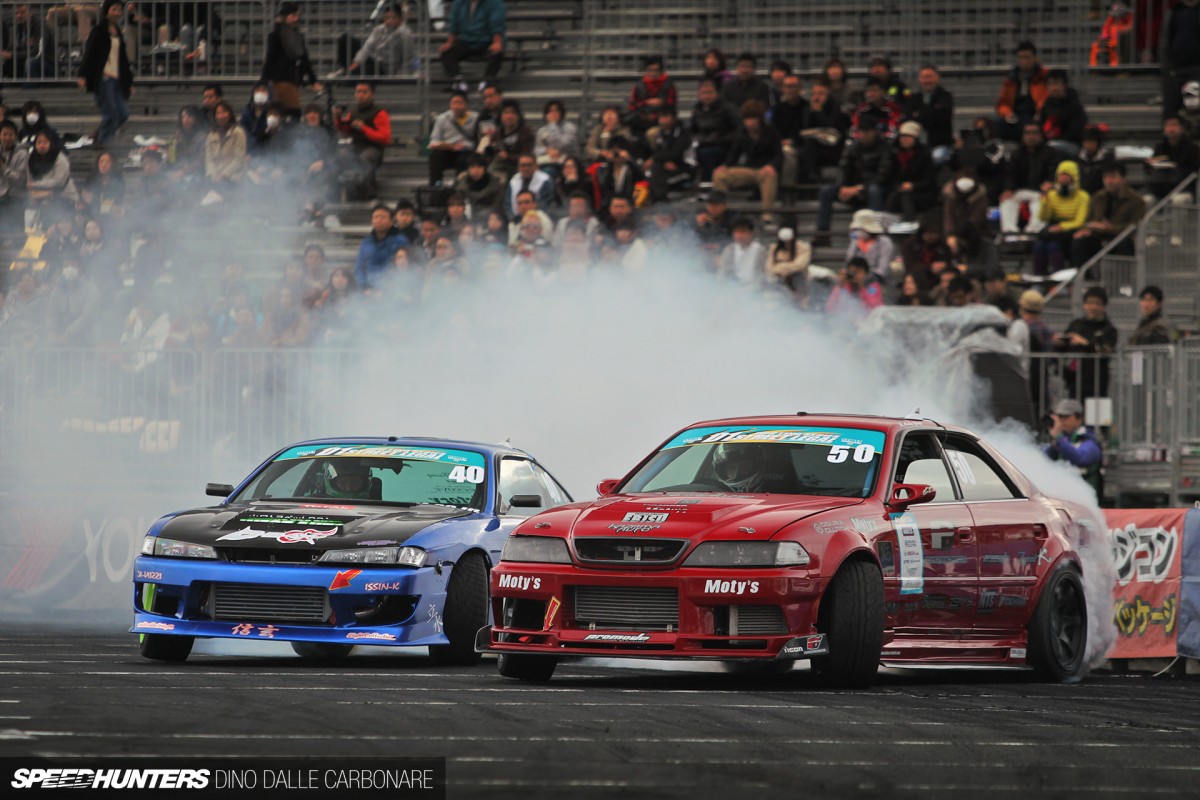 Here he is against Hayashi in his D-Max kitted 400hp S14 during the Street Legal exhibition tsuiso.
Odd ones out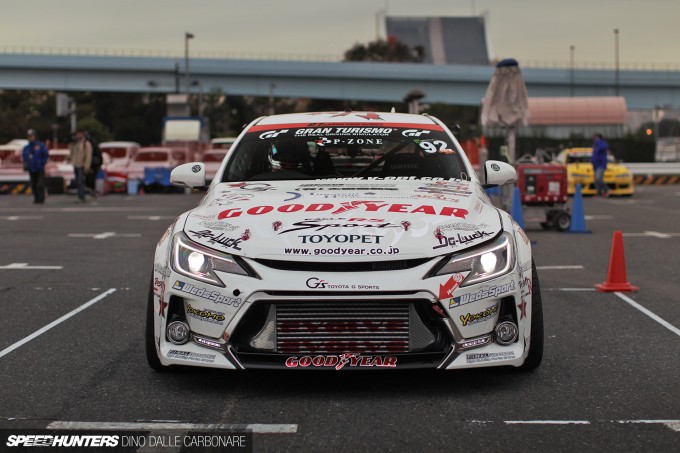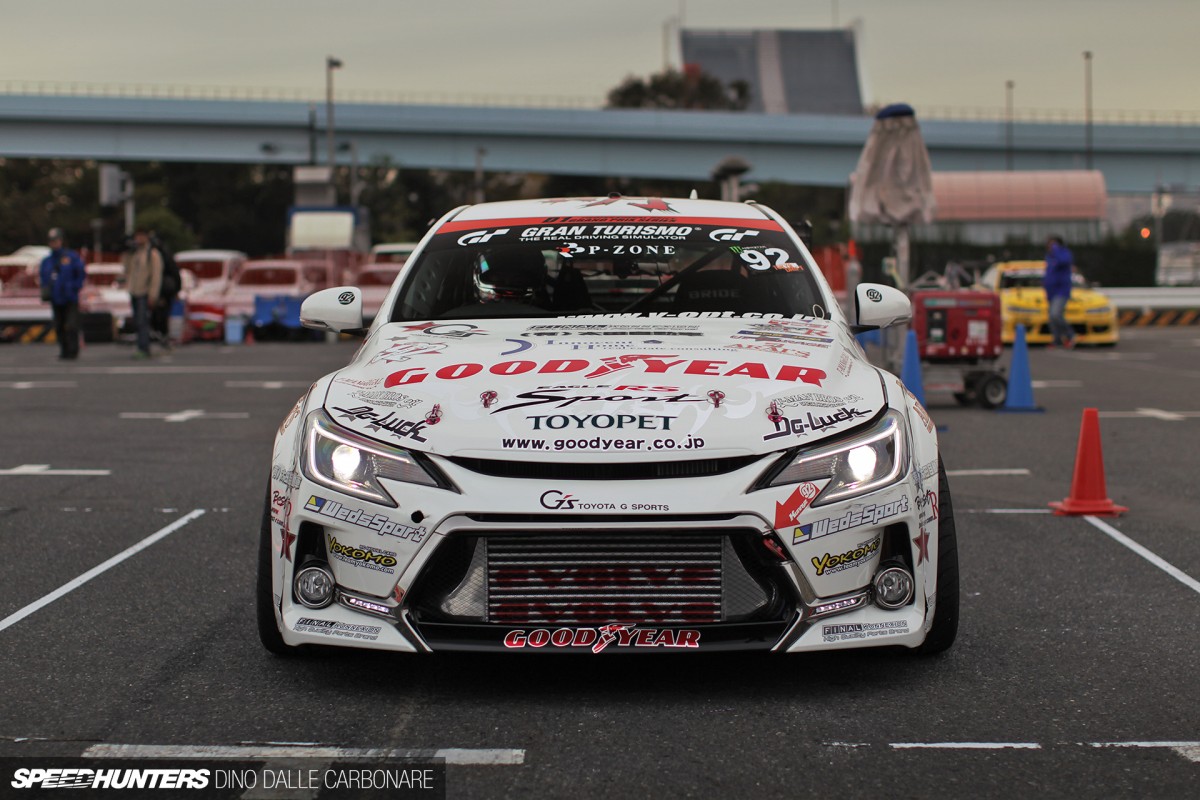 I did promise I wouldn't concentrate on mainstream D1 cars, but I can't help it when it comes to Kunnyz's GRX130 MarkII. He was one of the first big names in drifting to drop his trusty old D1 car for something new and he has created one of the most badass cars currently competing in the series.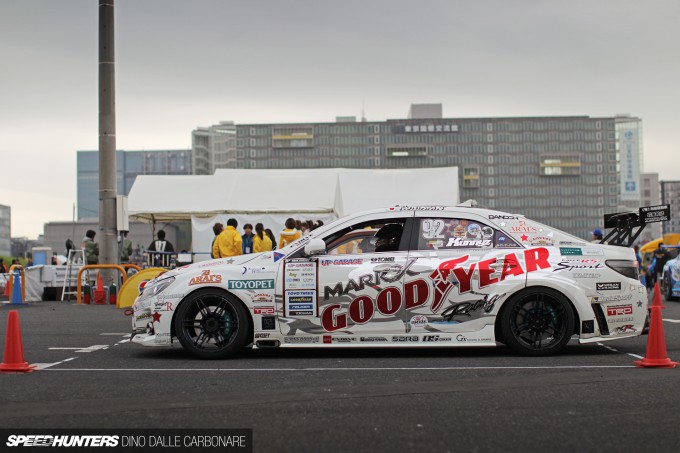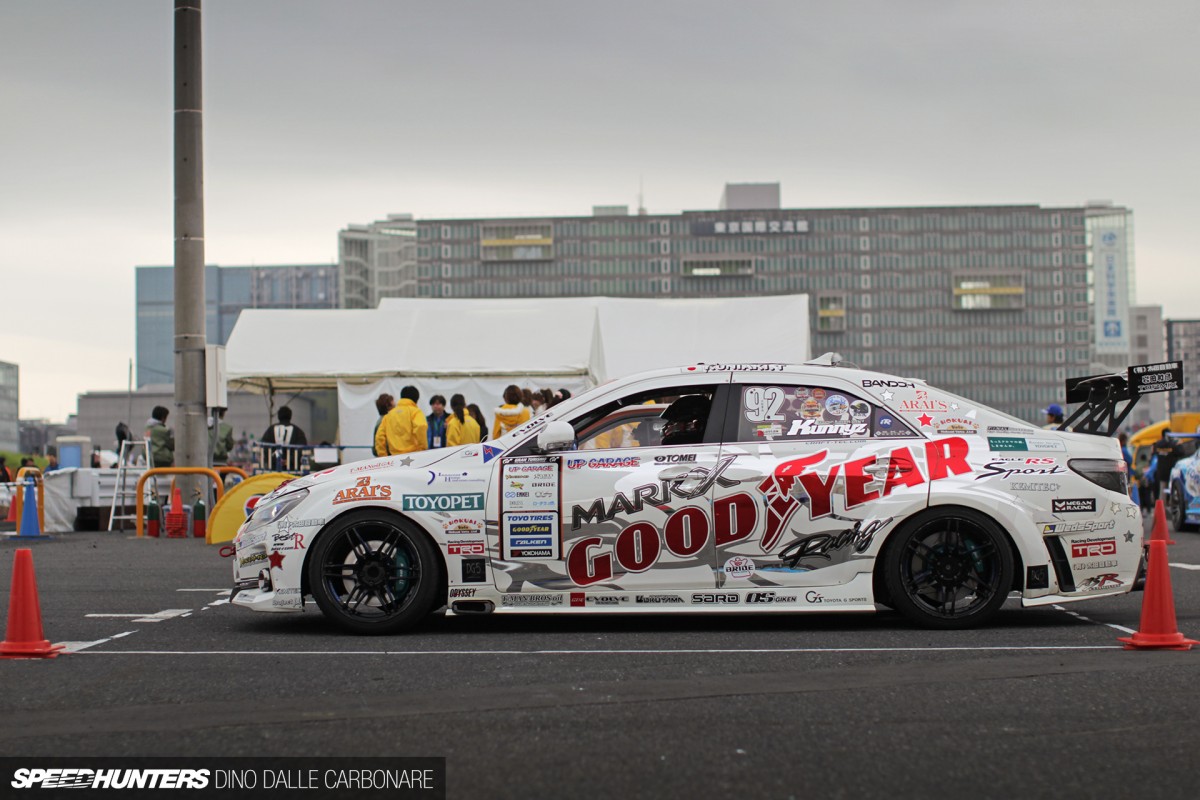 I for one love big cars, and even more so when they come with 1000hp. Such a power figure is possible thanks to a 3.4L 2JZ, a big GCG GT-X4294R and the magic touch of Ito-san of Do-Luck for the setting up of such wild power.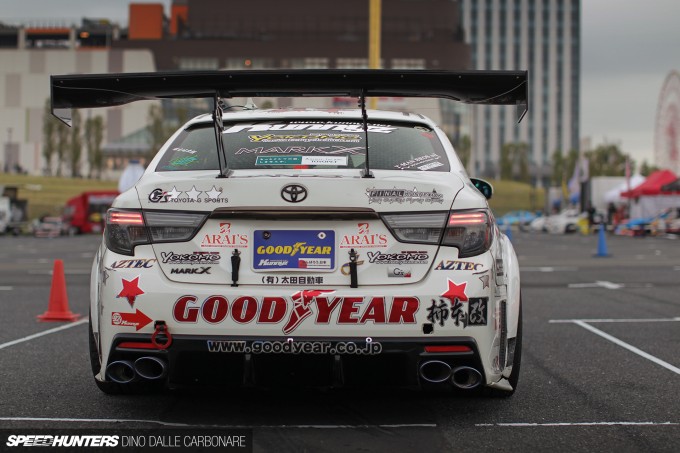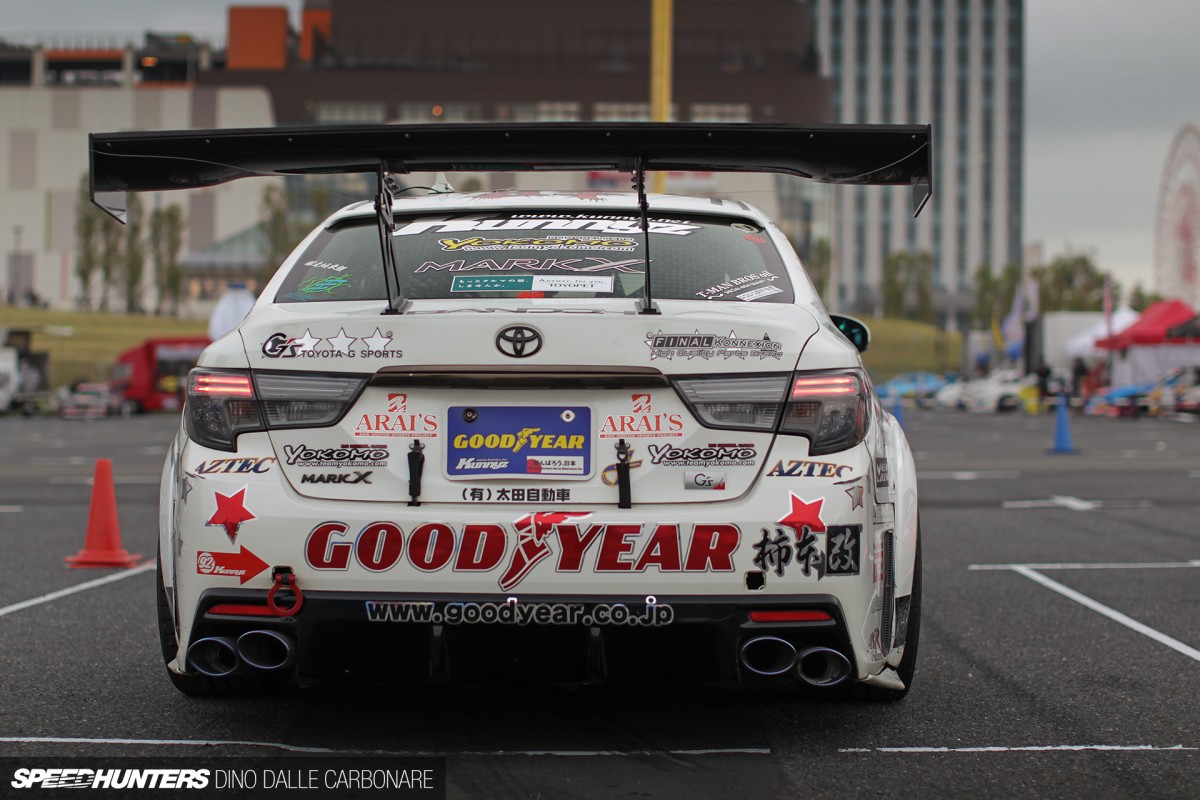 It's just so cool to see what is usually an old man's car transformed into something so wild and competitive.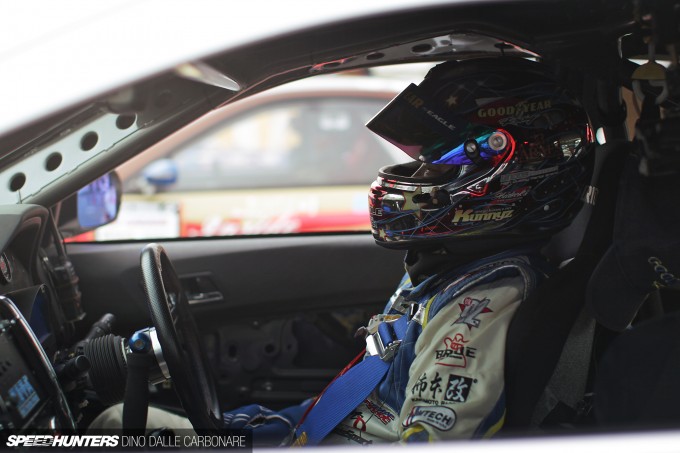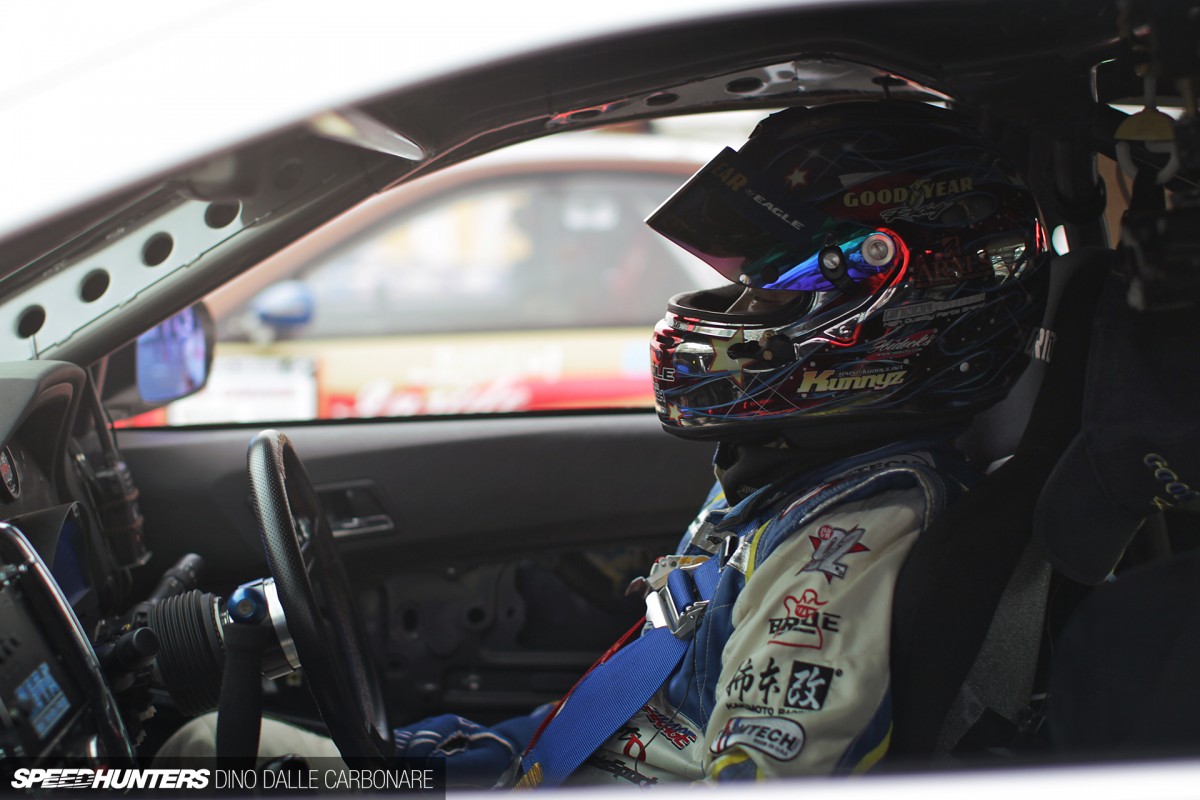 Here is Kuniaki Takahashi concentrating before going out for his first run of the day in Round 6.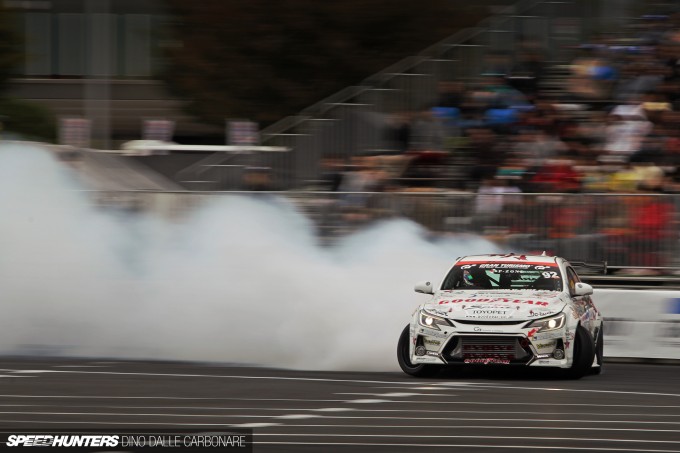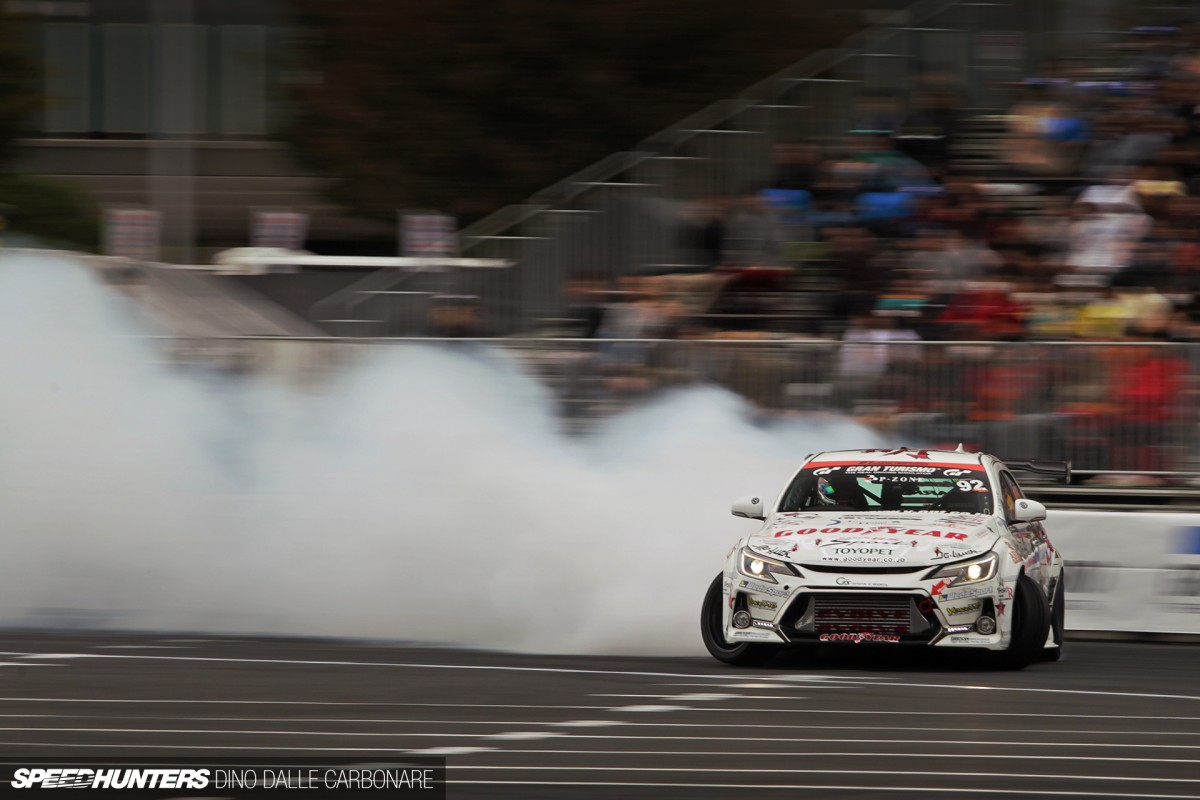 The rear GoodYears don't stand a chance against that sort of power!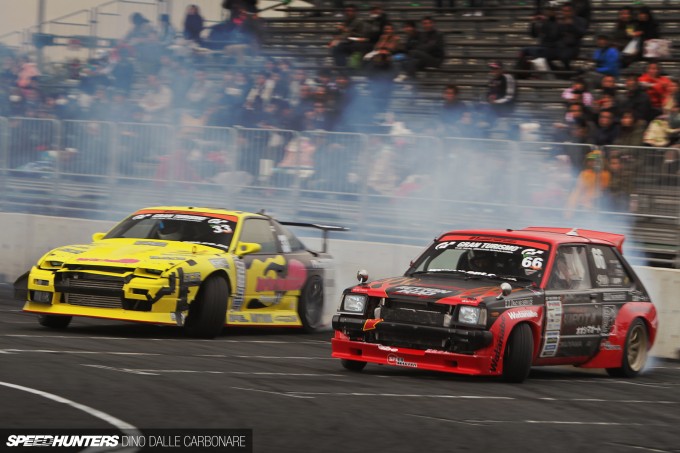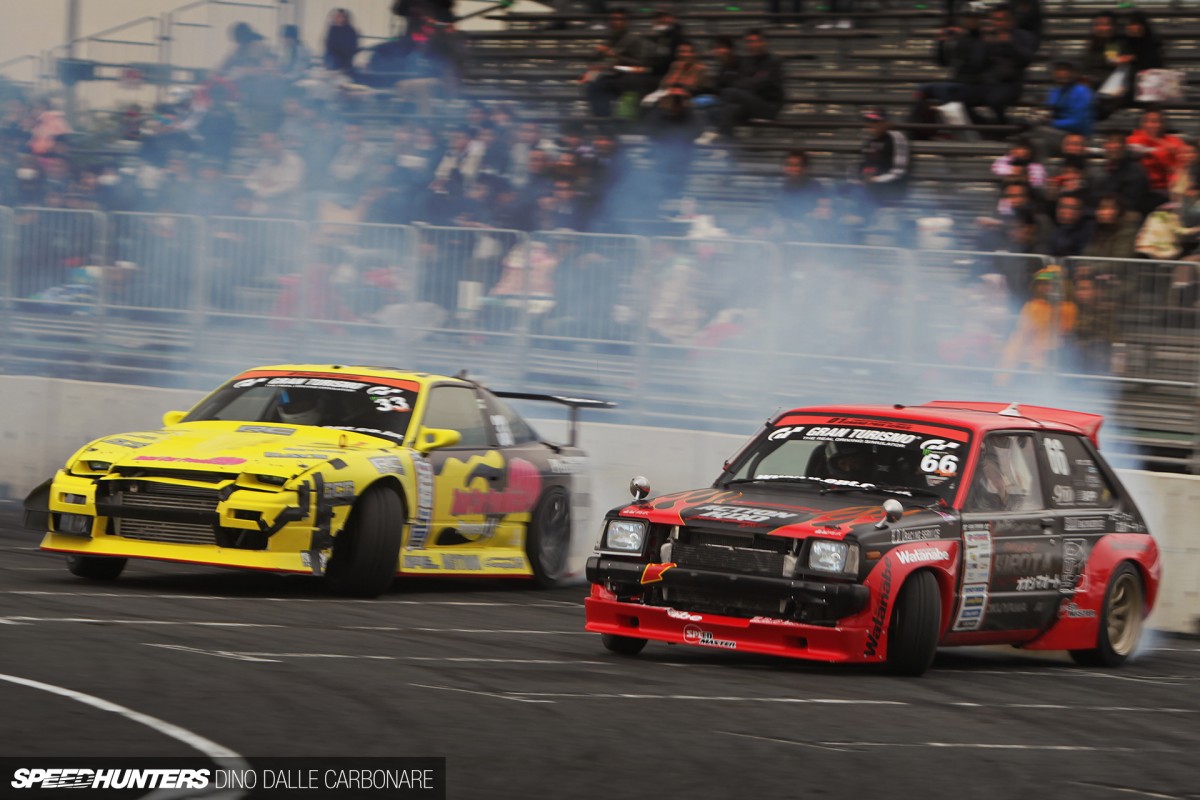 It's hard not to feel compelled to support the underdog in D1 and nothing out there puts up a proper David vs Golliath battle like Hideo Itakura…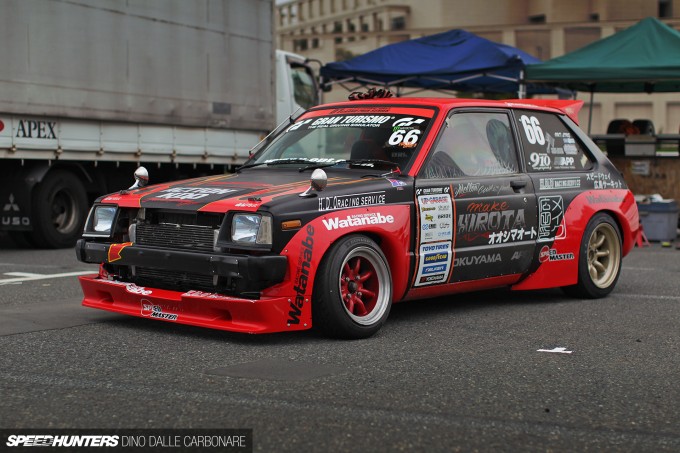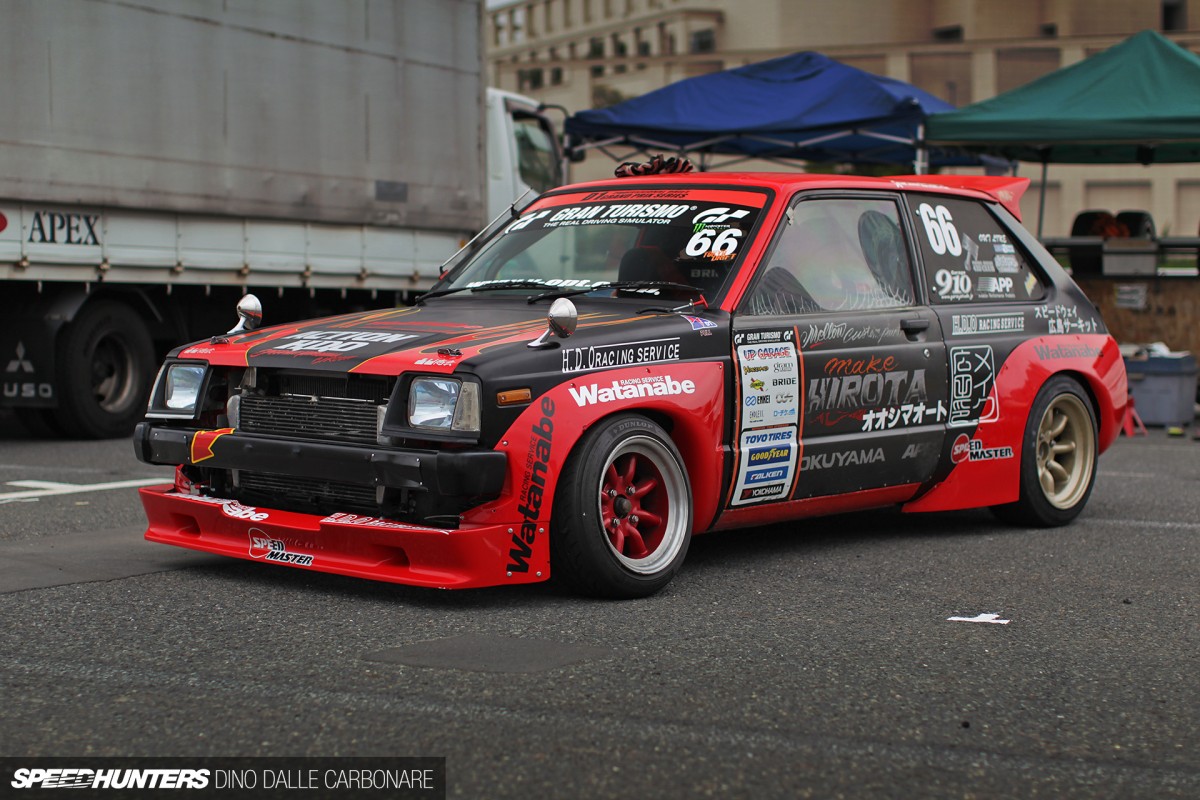 … and his HDO/RS Watanabe KP61 Starlet. The car rocks some mean N2-style overfenders front and back…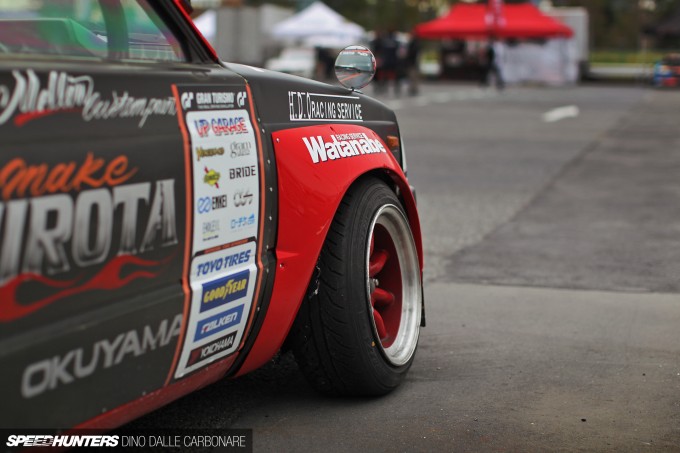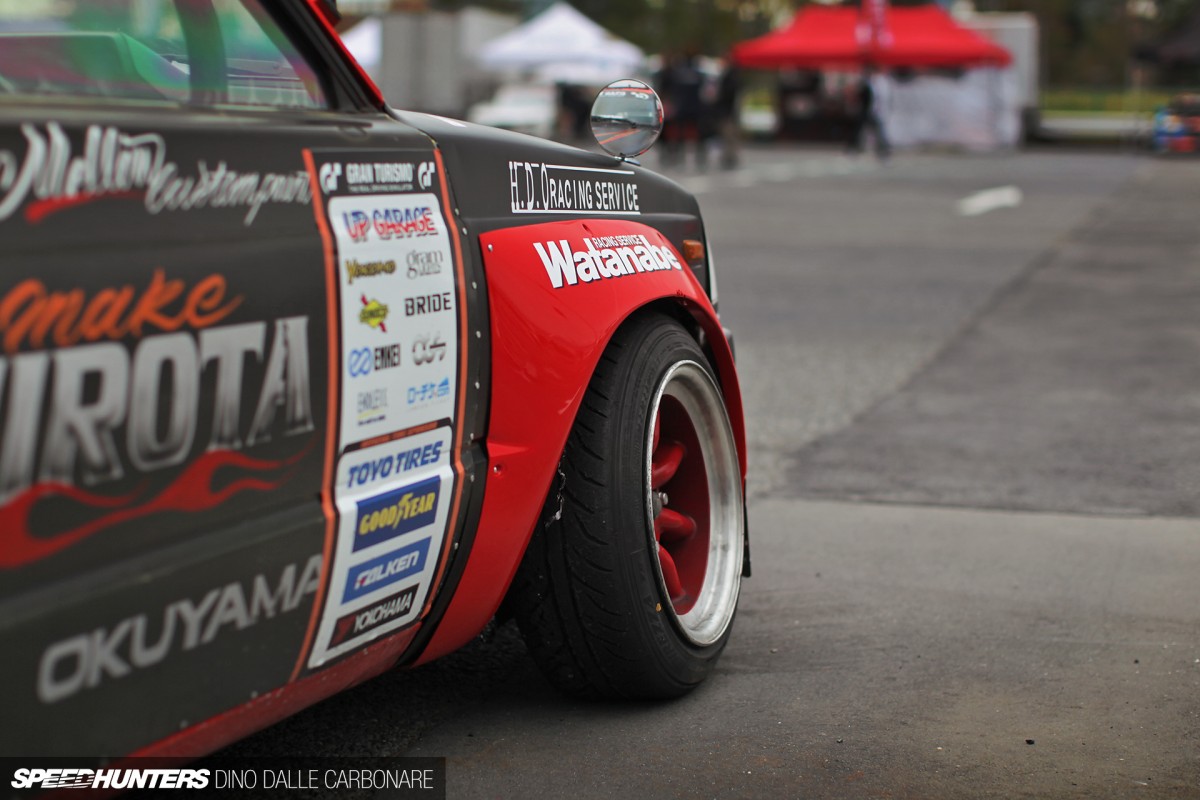 … barely containing the 14-inch RS Watanabe rims and 165/55R14 Dunlop Direzzas.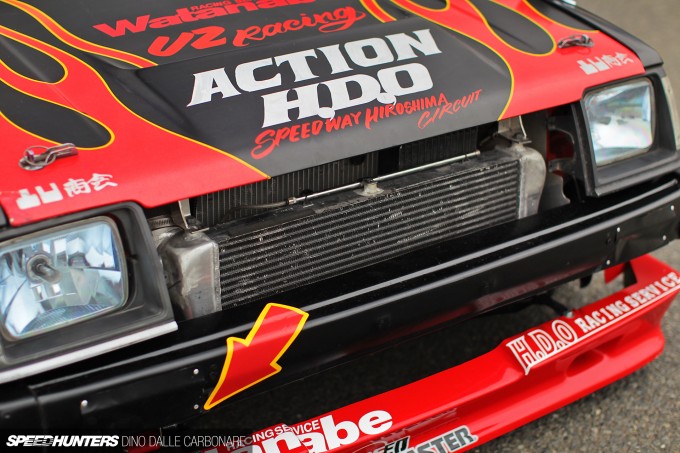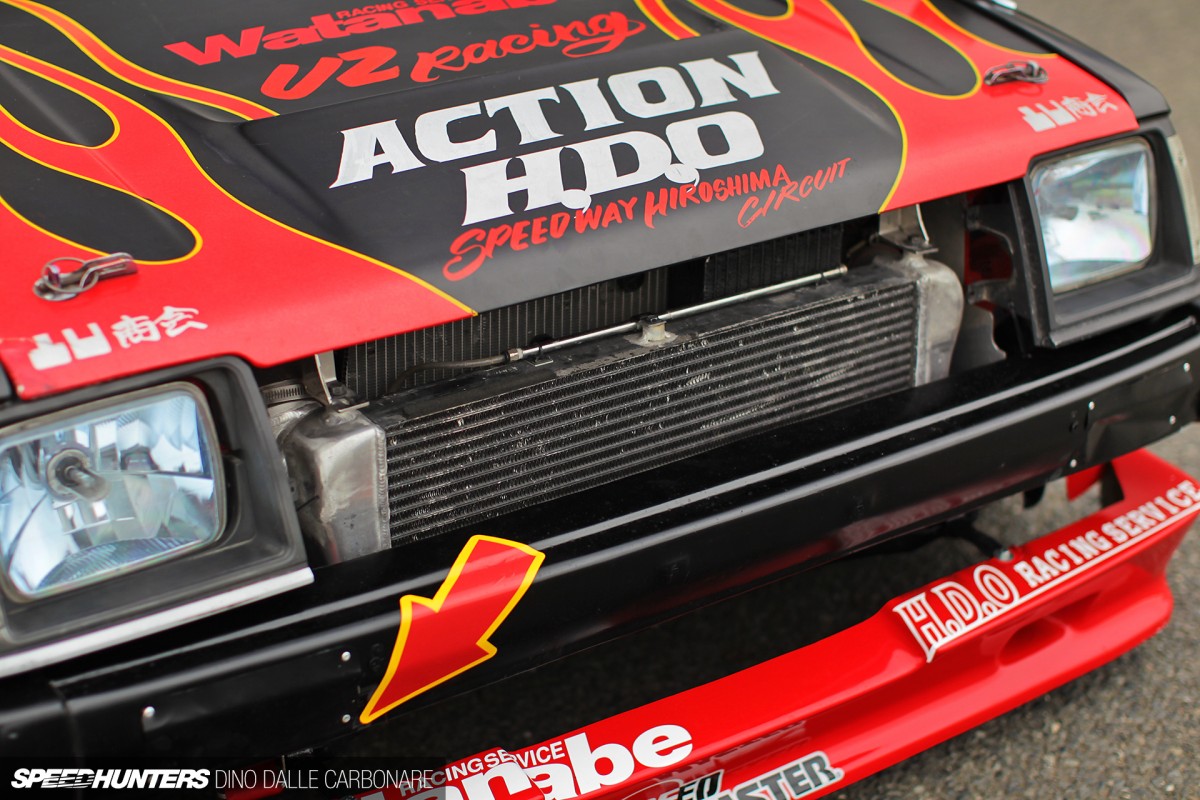 Since the last time I had seen it, the stock grille has been removed so that the front mounted intercooler can intercept a larger amount of air. Power still comes from a turbocharged 4A-GE which is able to pump out around 320hp.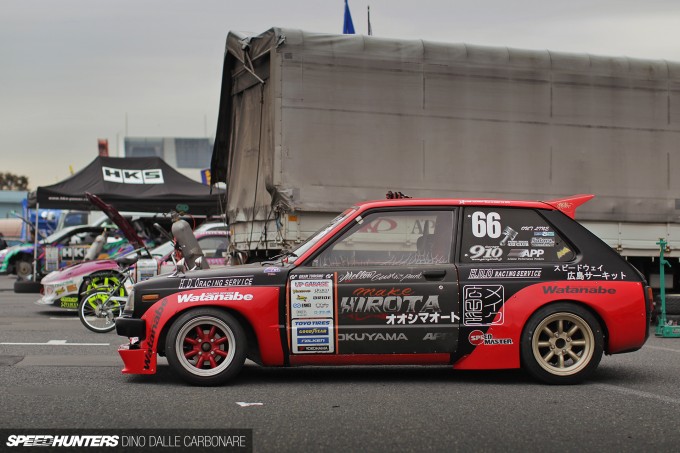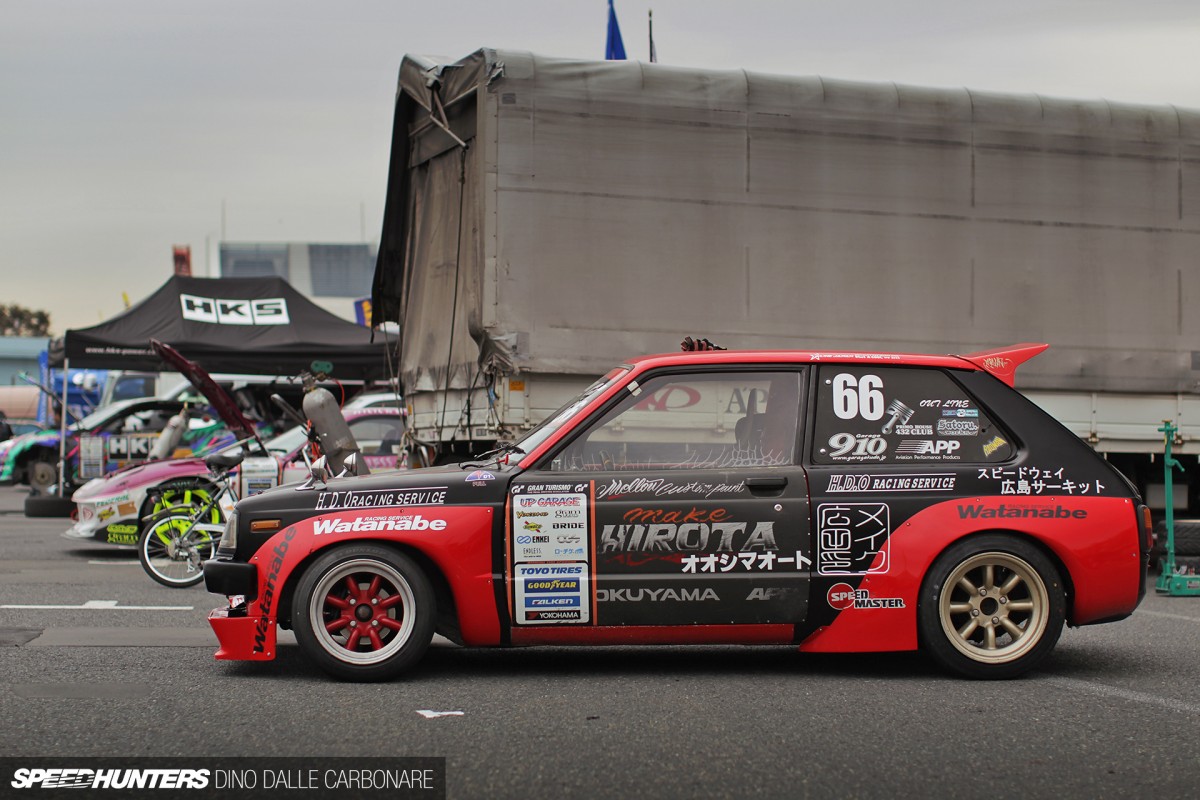 If D1 was about character, this car would win hands down!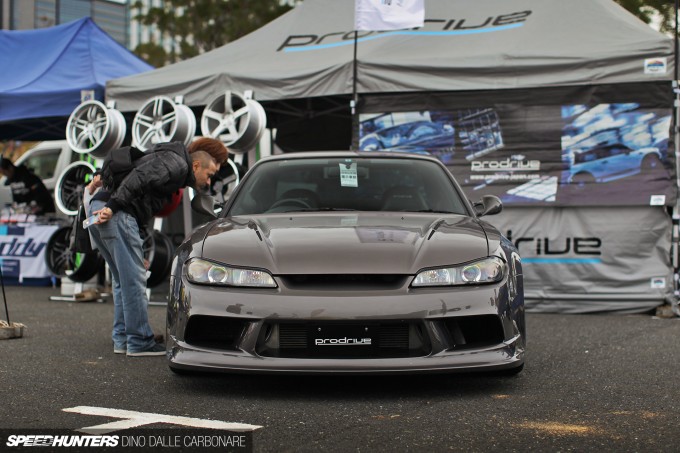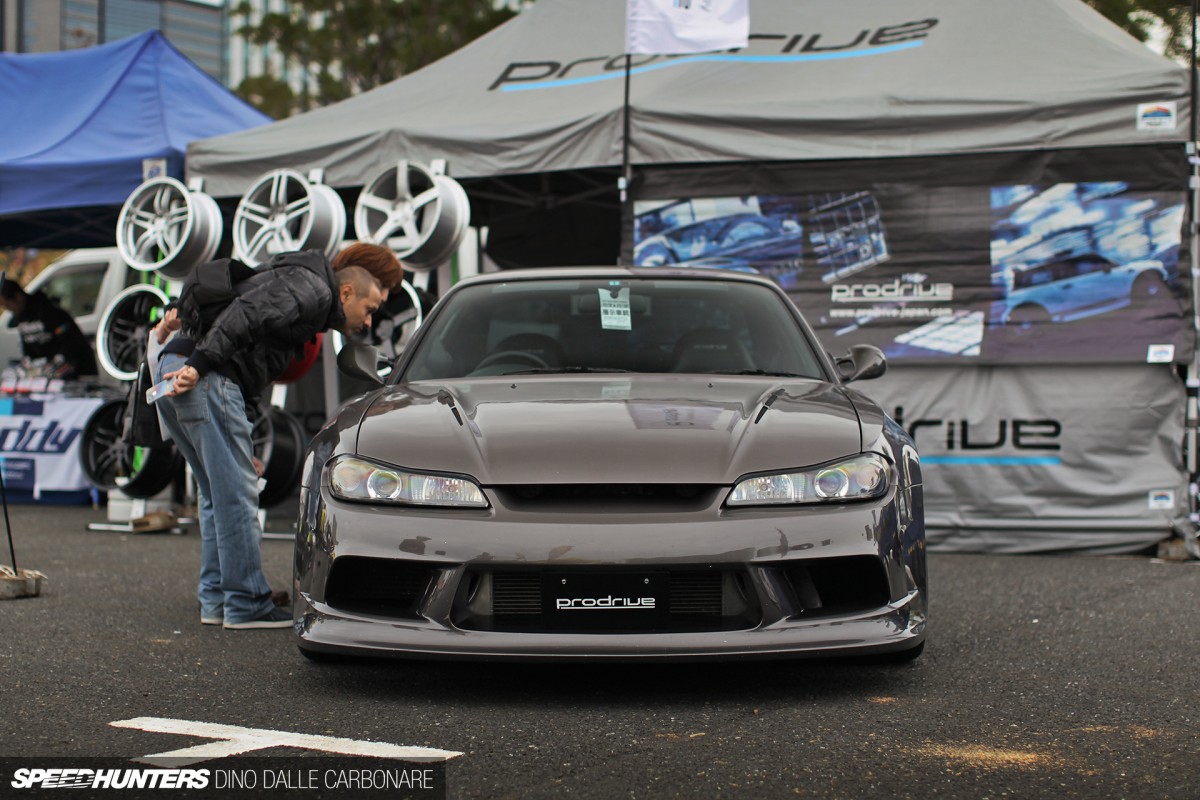 To conclude this 7×5 spotlight-o-rama I selected a car that isn't a D1 drift car. Of course it can be put sideways: it is an S15 after all, but the reason I decided to include this road car in this selection of cars is because it's a great example of what a very well-built street drifter looks like.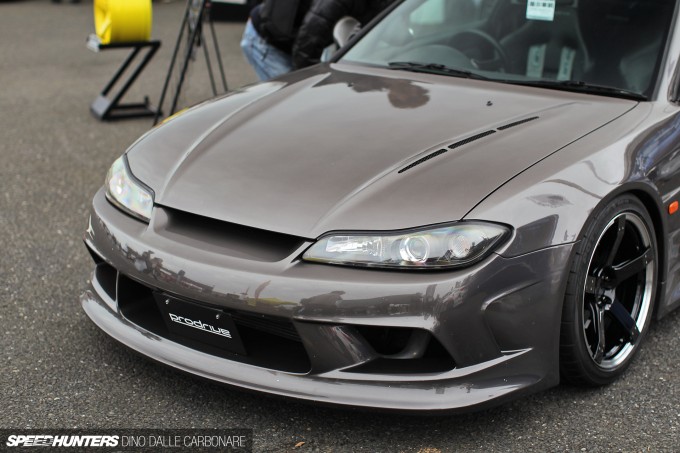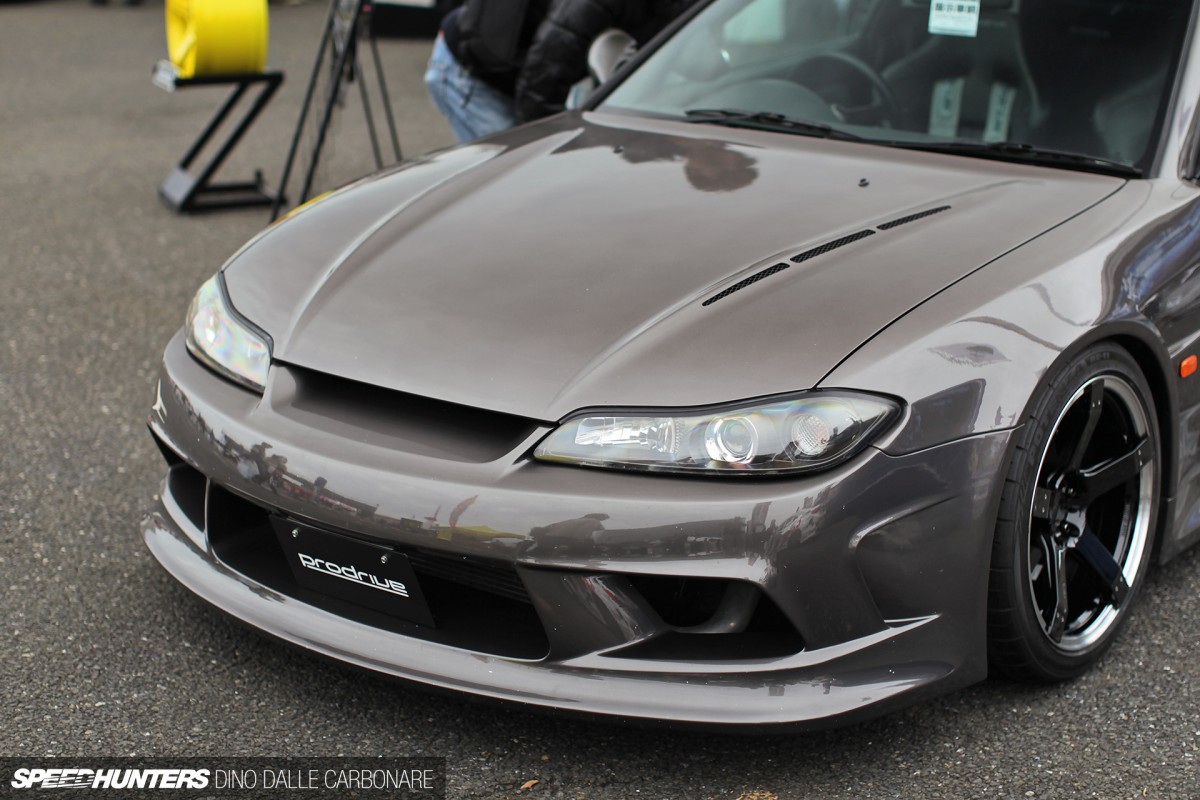 Running the same T&E Vertex Edge kit that Nob's personal car runs – if you recall we saw that earlier this year – this Silvia at the Prodrive booth was luring in its fair share of interested showgoers. Aside from the fact that this is one of the nicest and cleanest aero packages for the last-gen Silvia, the dark metallic grey it was painted with gave it an extra touch of elegance. I also really liked the three-cut outs along each of the hood grooves.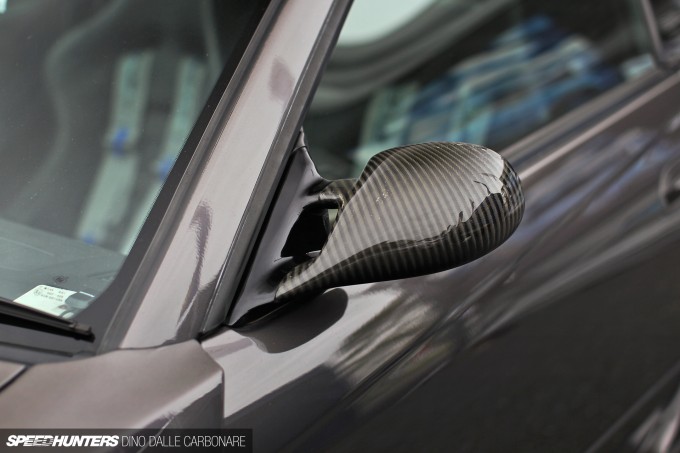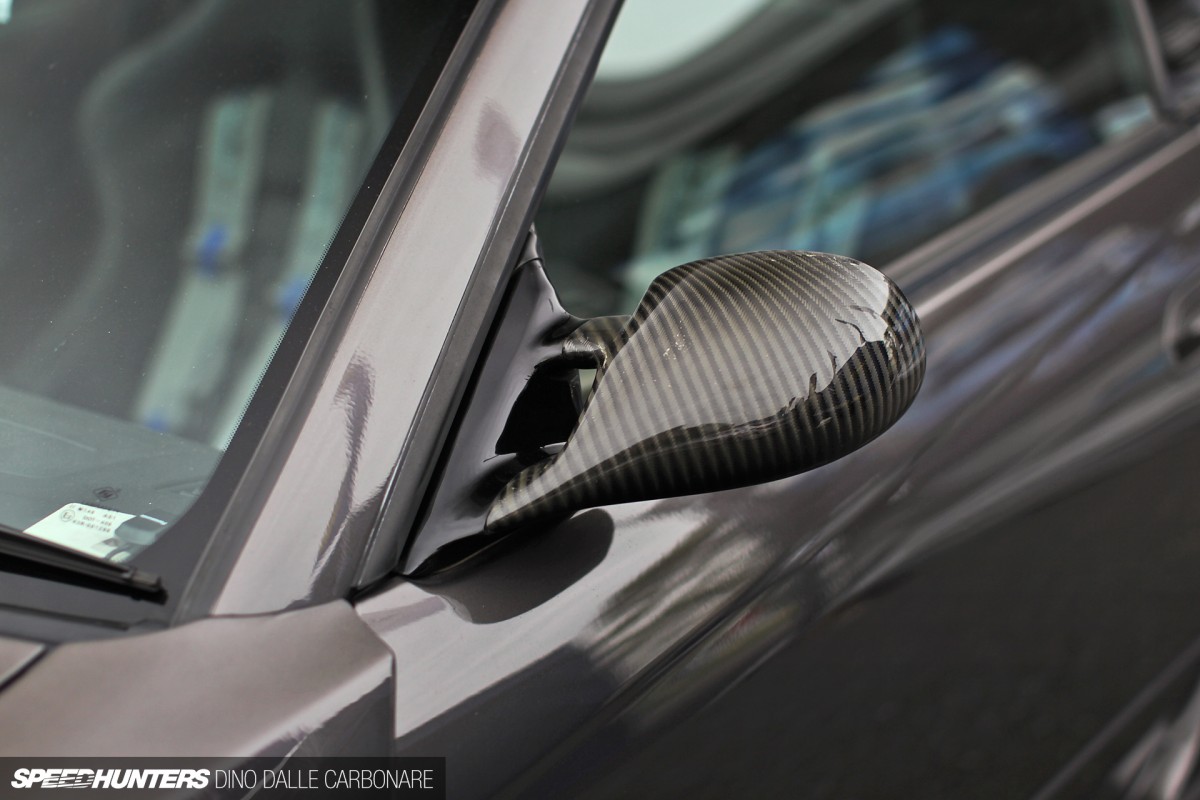 Mine's mirrors! Uhm, here I am still debating whether to take mine off Project GT-R, and these manage to convince me once again that they still look mighty cool.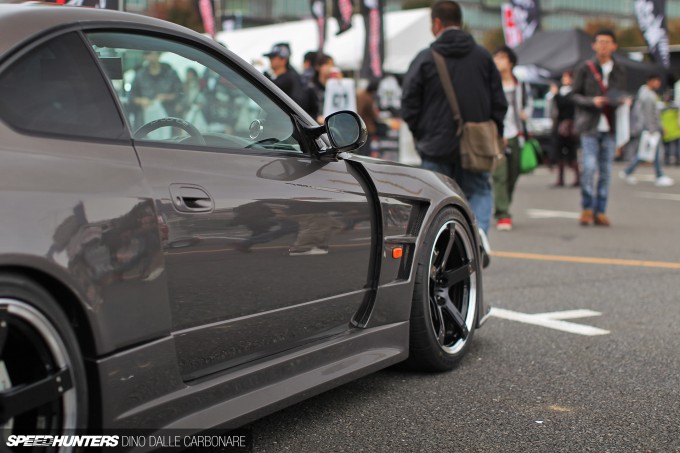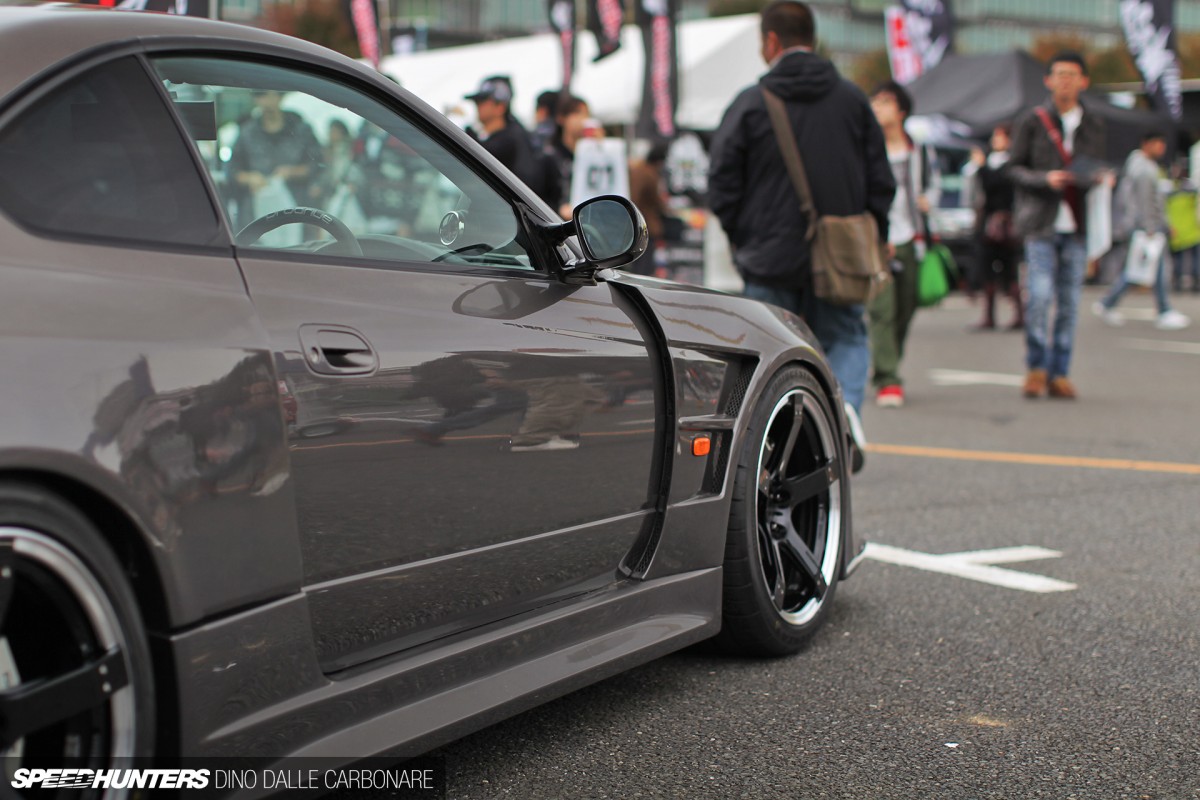 The front wide aero fenders are matched at the rear…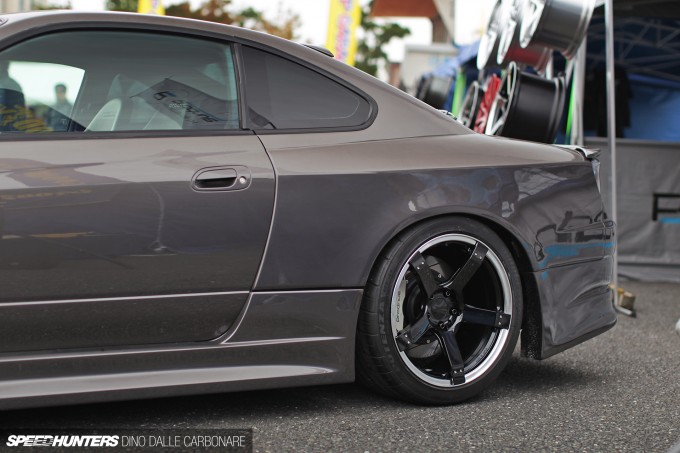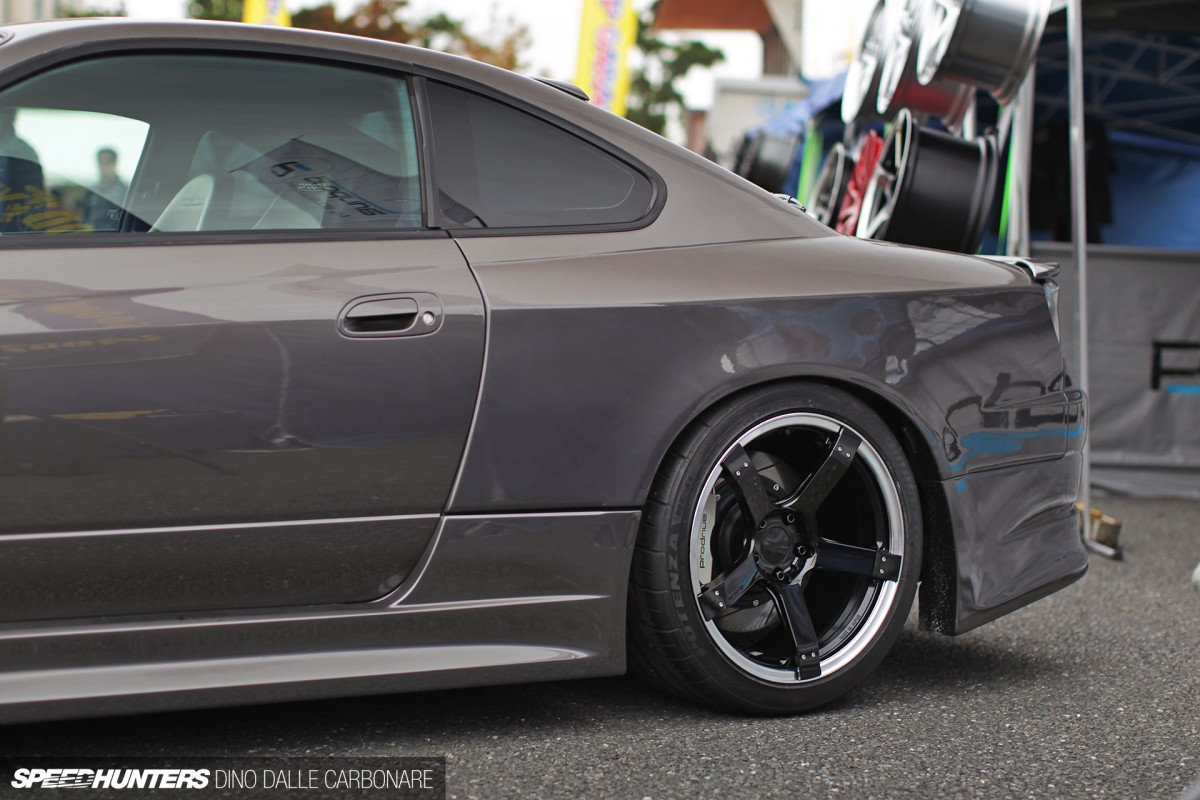 … with quite a substantial widening. In a time where bolted-on overfenders are all the rage, seeing blended in blistered fenders certainly does look like a welcome alternative. Add a set of Prodrive GC-05N and you have yourself one mouth-wateringly, effective-looking street dorisha! I'll touch on the Exhibition round next so stay tuned for more action from D1 Tokyo Drift.