Here is an interesting scenario. If money was no object and you had hookups to the biggest names in the tuning industry, how would you build up your car? What parts would you pick to put together the ultimate street car, in this case an S15 Silvia? We've seen our fair share of S-chassis over the years, but dare I say, not one has been as special as this particular one. I usually refrain from making such statements but hey, this is the opening paragraph and I'm here to get your attention! I'll let you make your minds up for yourselves, but by the time you have scrolled down to the bottom of this post, I will be surprised if the majority of you guys don't agree with me.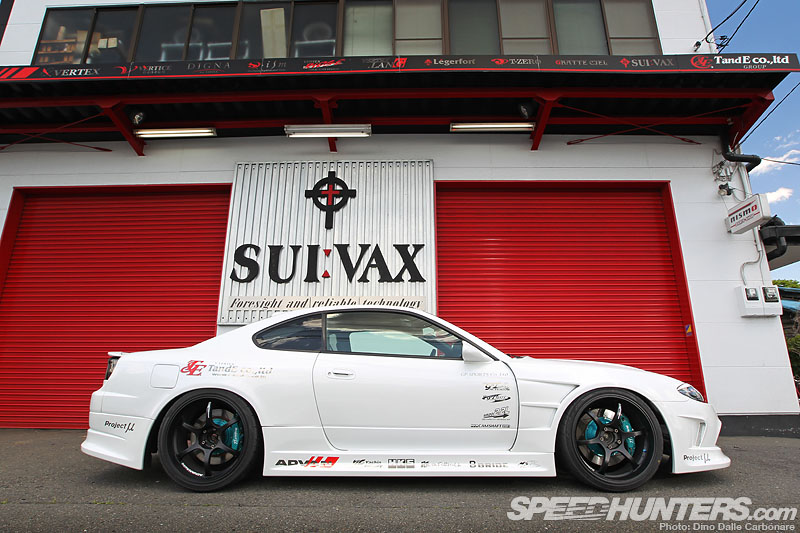 It was actually last week, while shooting Nobuteru Taniguchi attempting a very unique time attack at Tsukuba (more on this soon!), that I remembered this S15. I featured it a couple of years back for a magazine and realized I had never actually shared it with our Speedhunters readers. With the amount of cars I shoot on a weekly basis – five and counting this week – you will have to forgive my absent mindedness, but even so I can't believe I had forgotten all about this particular ride.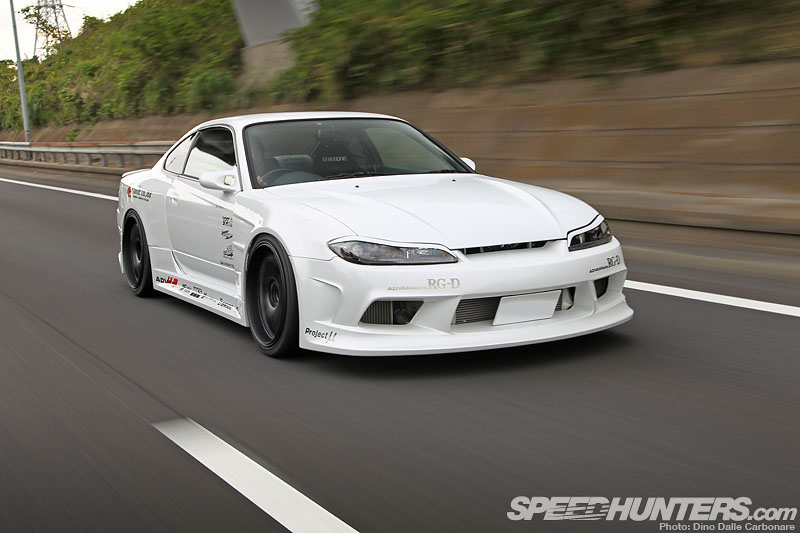 Being a top level professional driver in Japan comes with obvious perks. Despite the variety of racing series he competes in, Nob has never really forgotten his roots, so while he could well be cruising around in countless exotics he prefers to keep it real. His daily driver is a Nissan Elgrand minivan and for fun he has a pretty wild widebody R35 GT-R I must feature one of these days. On top of that he has quite the selection of S-chassis, built for a variety of disciplines. This S15 here however, remains his latest creation and one that was built in collaboration with T&E, HKS and of course Yokohama & Advan which are some of his biggest sponsors. See where I'm going with the whole "perk" thing? Call it good timing but at the same time Nob embarked on this project, his long time friend Takahiro Ueno of T&E was just about to release the Vertex Edge aero package. The kit sports an unmistakable Vertex look, but Ueno concentrated on giving a more modern feel to the S15…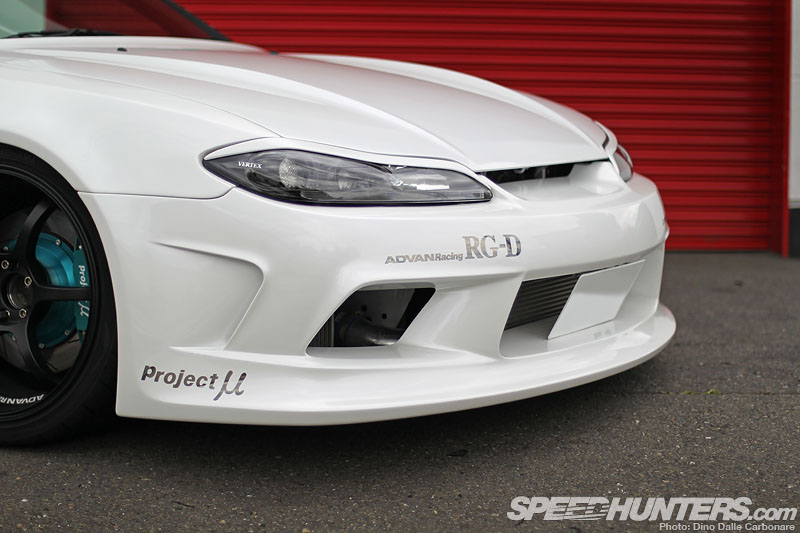 …the main accent being the front bumper. There's a more defined smoothness to it all compared to the Vertex Lange and Ridge kits, the lower lip spoiler section smoothly integrated, flowing around the sides where it meets with the lateral vents.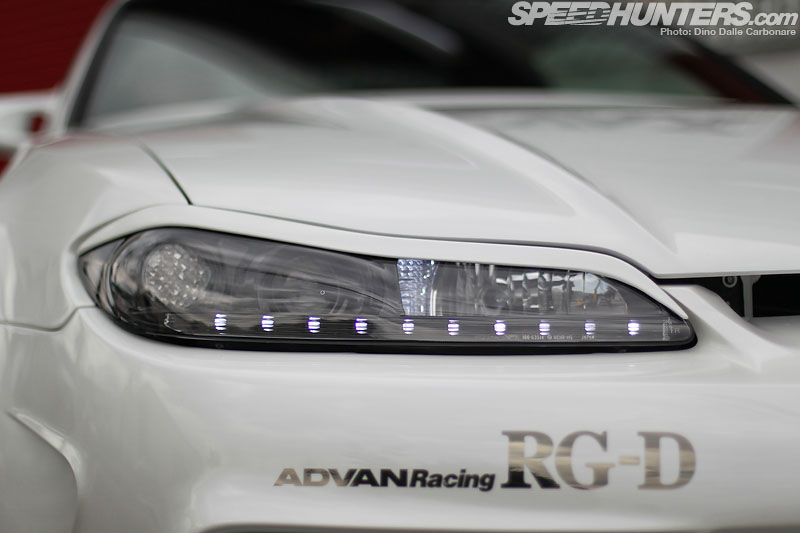 T&E headlights feature smoked lens covers and built-in LED daytime running lights and if you look carefully you can also see the more defined creased on the T&E hood that span upward from the grille area.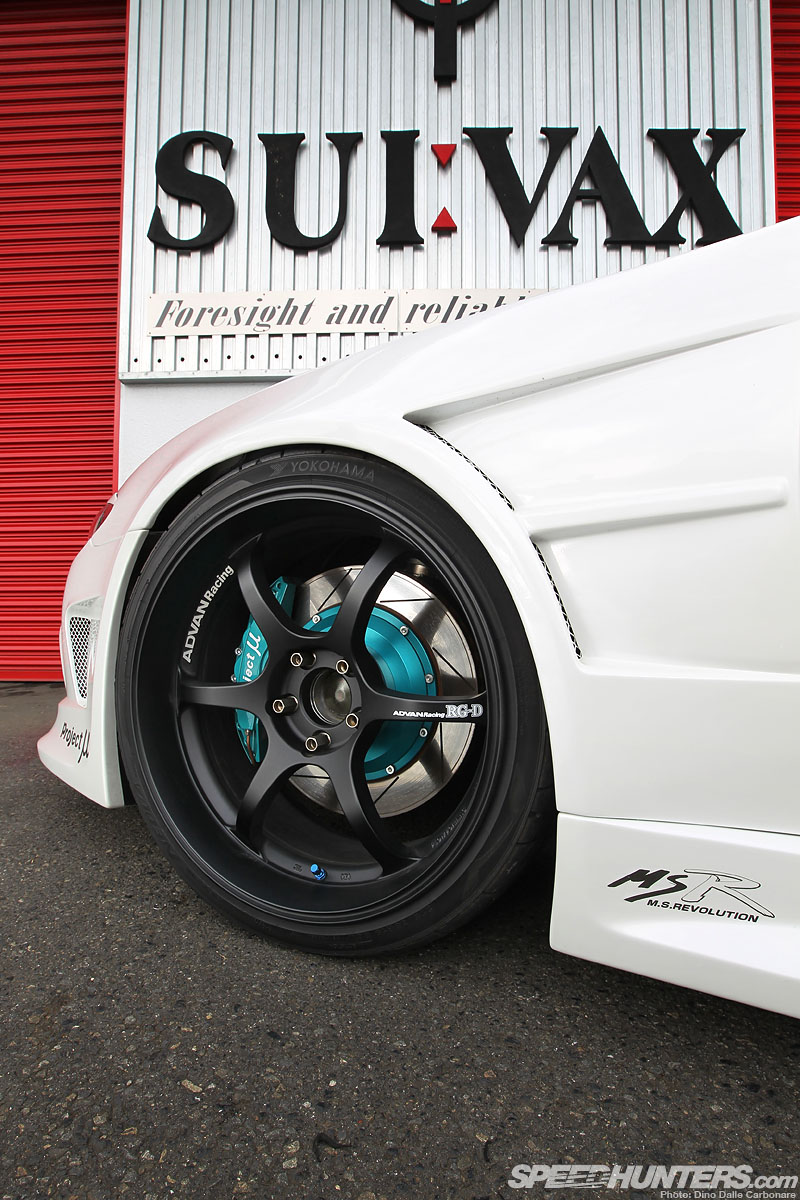 Wider fenders boost girth by 50 mm on each side, adding aggression as well as the ability to run wilder offsets. The larger fender wells therefore have no problem swallowing up the 19 inch Yokohama RG-Ds, 9J up front and 10J for the rears. The satin black finish is a great match for the body's pearl white but it kind of masks the sheer depth of the actual lip. Nob's hookups continue in the brake department which has been taken care of by Project µ, with a complete 4-wheel brake package made up of their 6-pot based kit at the front and the slightly smaller 4-pot one for the back. The car was then dropped on a set of adjustable Hipermax-D dampers, a special version set-up by Nob for the S15.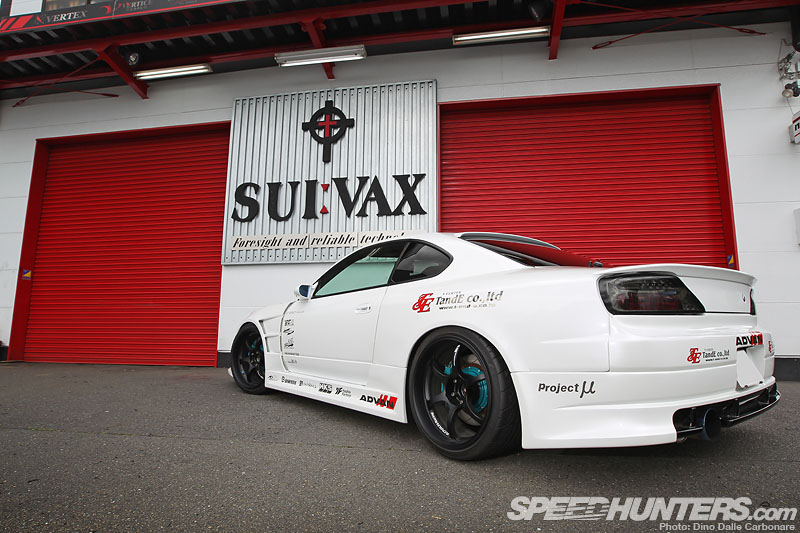 Nothing makes a car sit better than a big fat rear end and this is where the Vertex Edge kit doesn't disappoint. The same 50 mm widening as the front has been achieved on each side with a set of overfenders, seamlessly blended into the bodywork for an even cleaner look. The rear bumper gets a complete makeover too, equipped with a modern diffuser section, a must have even if in no way functional.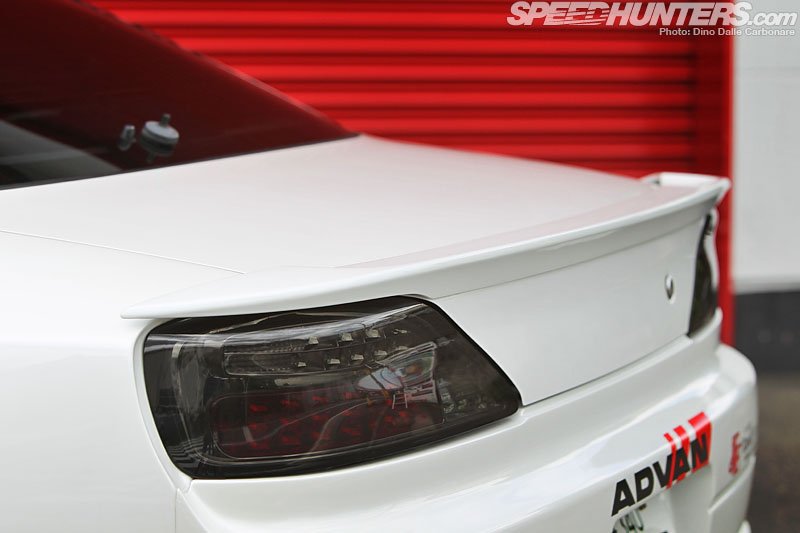 There are no big GT-wings to be seen here, thankfully, only a sedate trunk spoiler to spice things up and a set of T&E LED smoked taillights.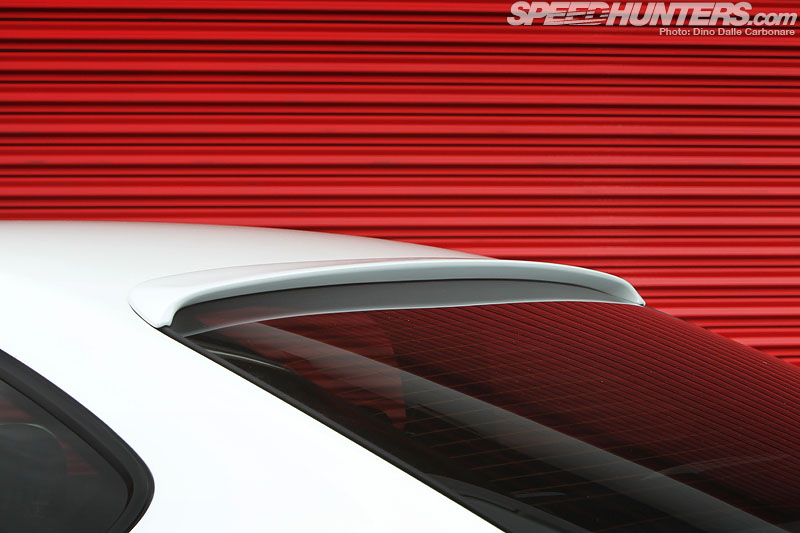 I've always liked the little roof spoilers that T&E have been doing since forever now, so it was great to see one applied to Nob's car as well.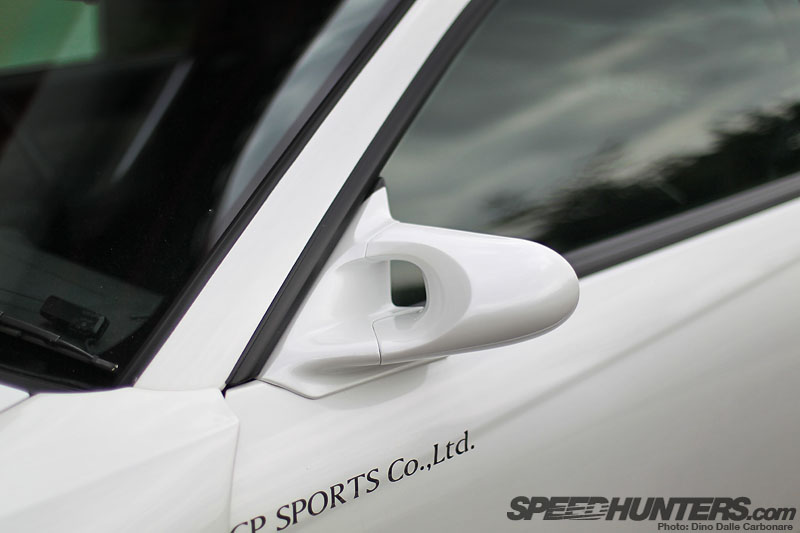 Ganador aero mirrors are the final touch on what is…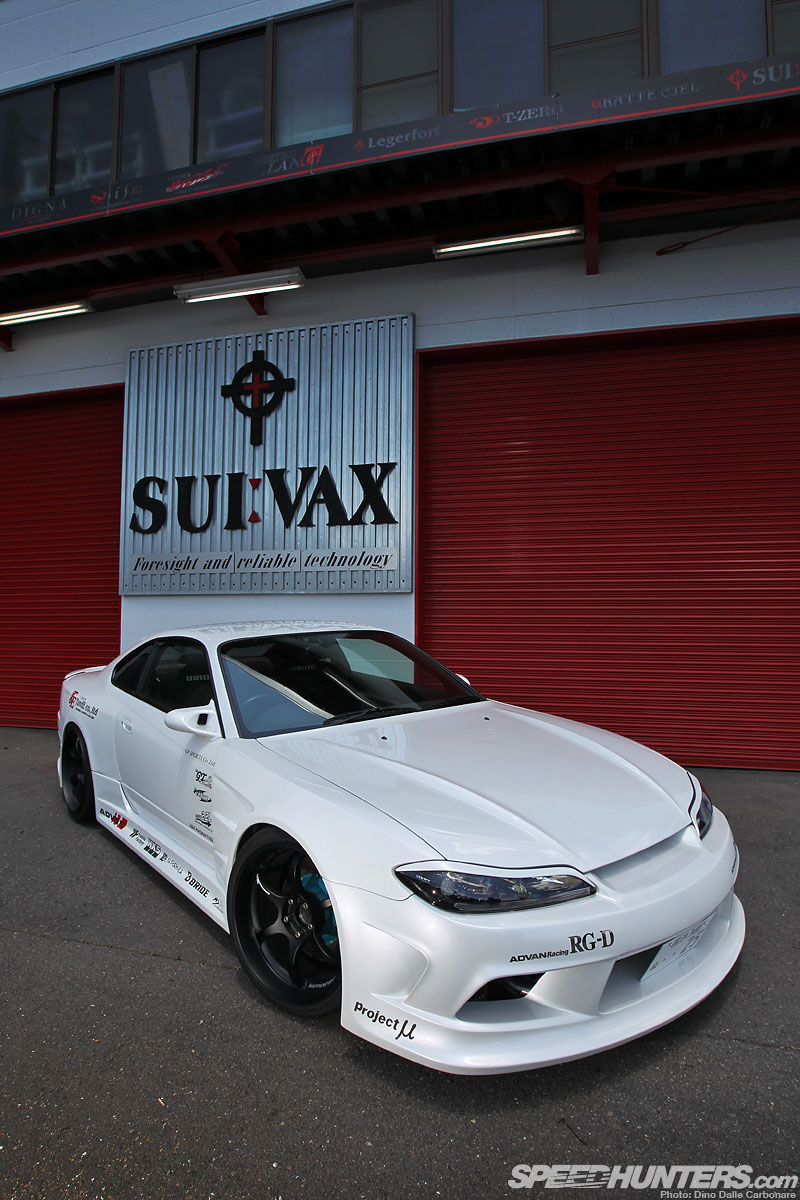 …a very clean and effective aesthetic conversion.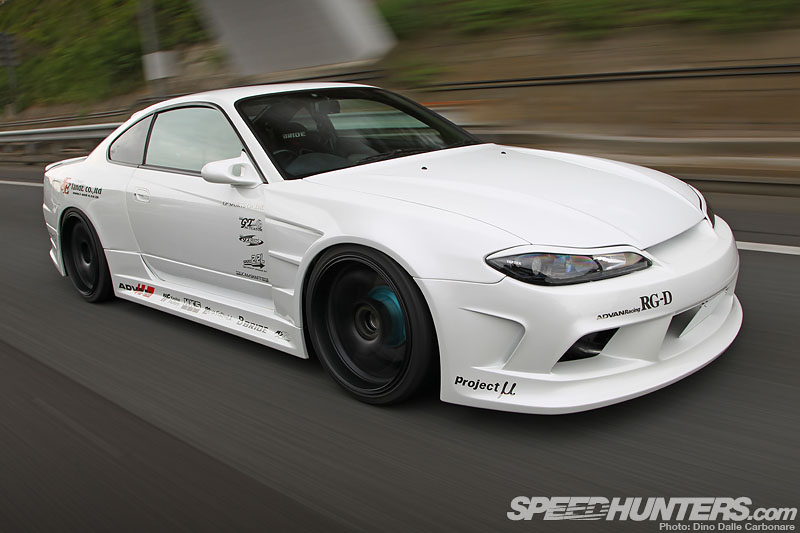 As cool as exterior upgrades are however, you would never expect a person of Nob's stature to not approach the oily bits with the same attention to detail as was paid to the rest of the car.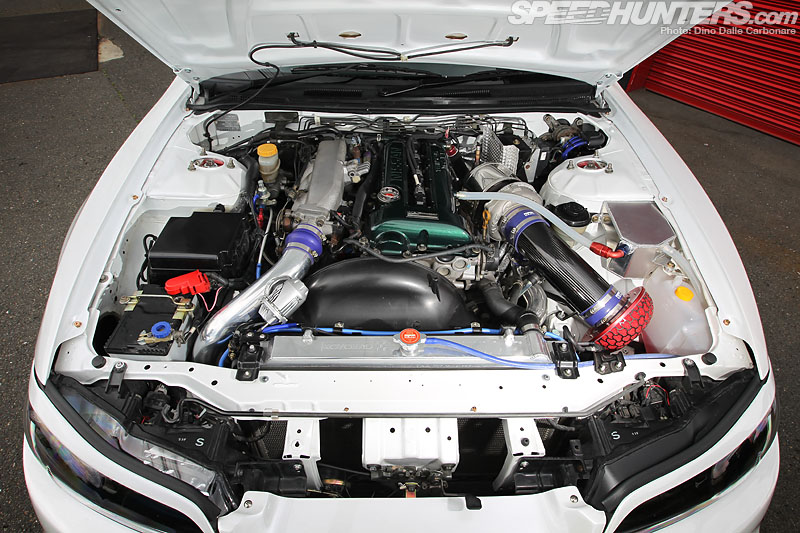 And this is where his relationship with HKS came in. Being their official D1 and time attack driver allows Nob to pretty much request what most people would only dream of. So…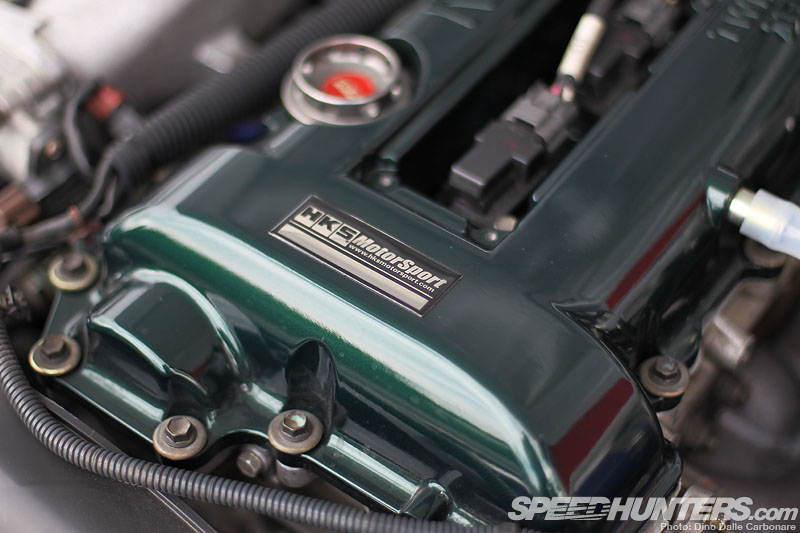 …as the HKS MotorSport plaque on the cam covers suggest, this olive-green topped SR20 was handed to the same select group of engineers at HKS that build their D1 cars, time attack cars, demo cars as well as all the secret stuff nobody knows anything about. Despite this however, things were kept quite simple, as the whole motor was built around reliability seeing it is purely a street driven machine. So beefing things up in the bottom end is a 2.2L stroker kit – made up of a fully counter balanced billet crank, H-section connecting rods and forged aluminum pistons. No work was done to the head except for a set of pretty mild 256-degree camshafts. A 1.2 mm metal head gasket seals everything in place setting an 8.8:1 static compression ratio and ready to take all the 1.5 of boost…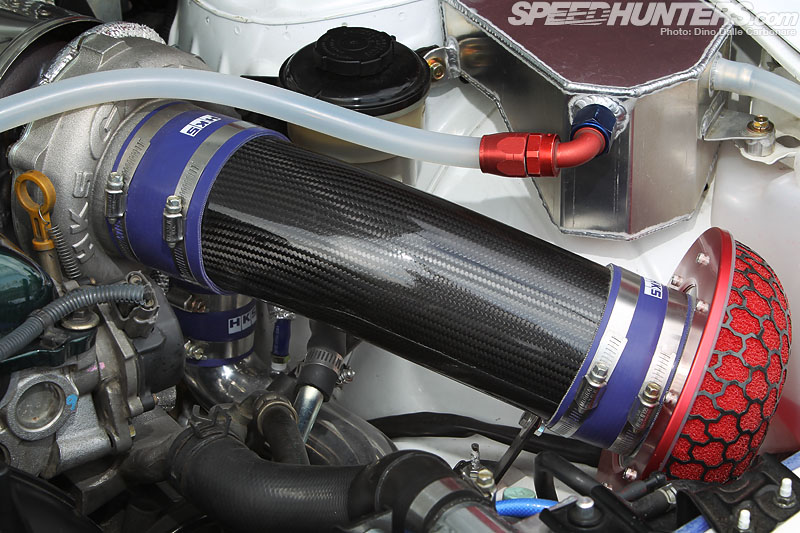 …the GT3037S top-mount turbo is run at. Dry carbon intake pipe? But of course, why not!!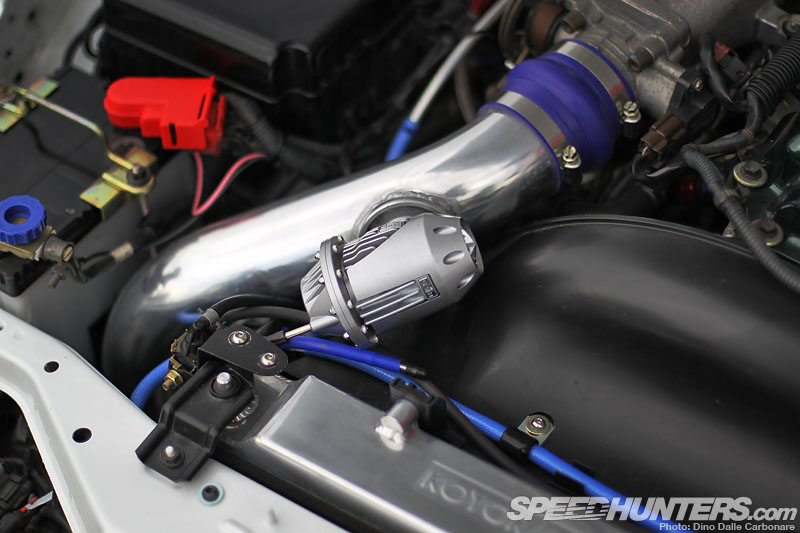 The HKS S-type intercooler benefits from optimal airflow coming in from the Vertex Edge bumper and is joined by a hard pipe kit to keep things presentable.  The SR is fed by a quartet of 740 cc/min injectors which are of course managed by HKS's own computer, the F-Con V Pro. The amalgamation of all these parts results in a 500 HP punch, with a pretty brutal torquey mid-range topping out at 588 Nm (488 lb/ft).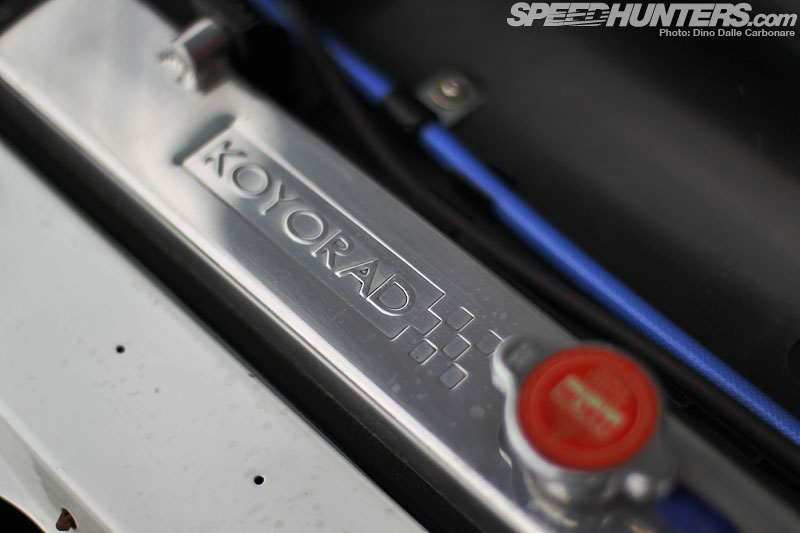 Cooling is handled by a prototype twin-oil cooler set up and a thick core Koyo radiator to make sure that even in Japanese traffic the SR stays well within its operating temperature.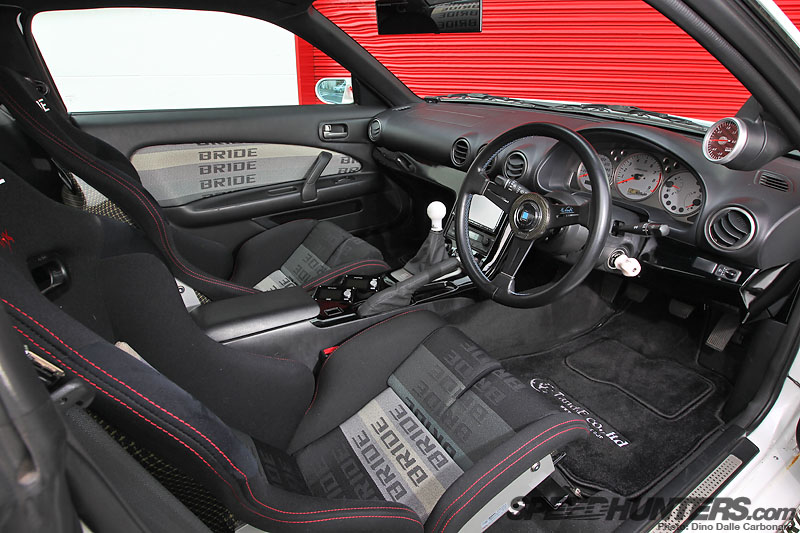 Do I need to mention the word "hookup" again?  Yep, Bride did come in as a sponsor and provided a pair of Low Max carbon-Kevlar bucket seats; but not only that of course.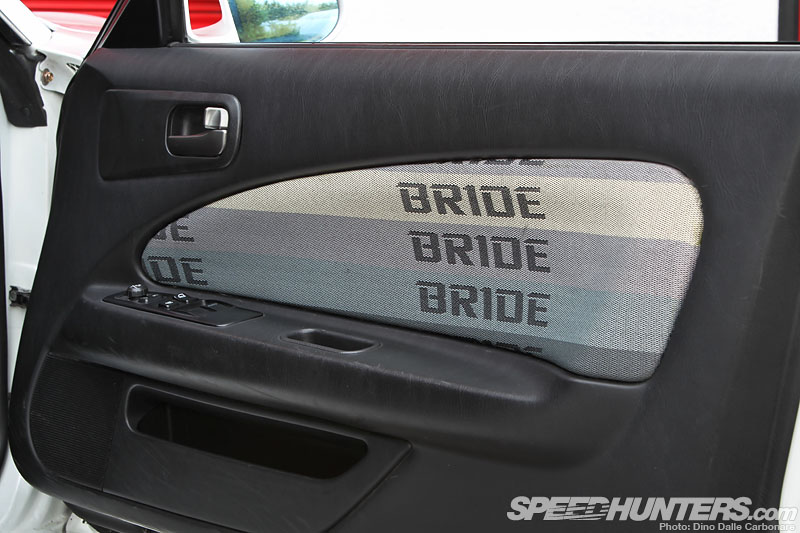 Bride-logoed seat fabric is used to upholster the rest of the interior, including the door cards…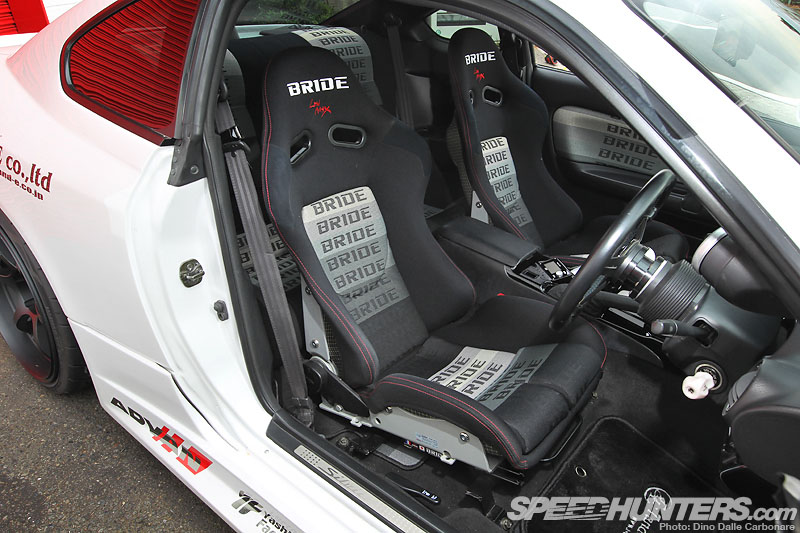 …as well as the rear seats.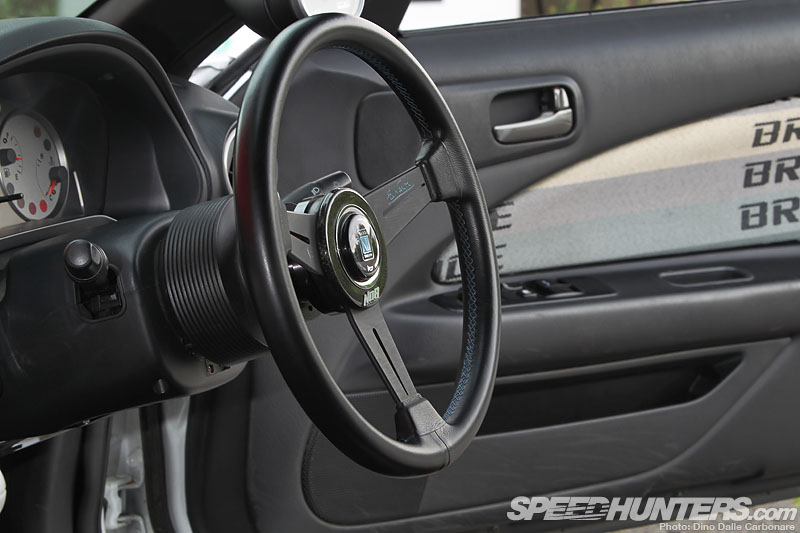 The NOB version traditional Nardi wheel is a must have for any S-chassis, and especially for one that is driven by the drift master himself!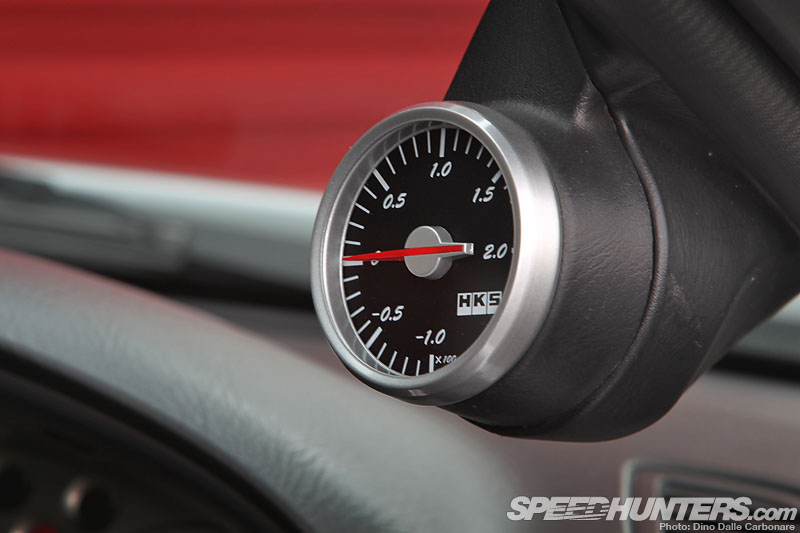 The HKS boost gauge replaces the Silvia Spec-R's A-pillar-mounted stock gauge, a more precise instrument that, just in case, reads to 2 kg/cm2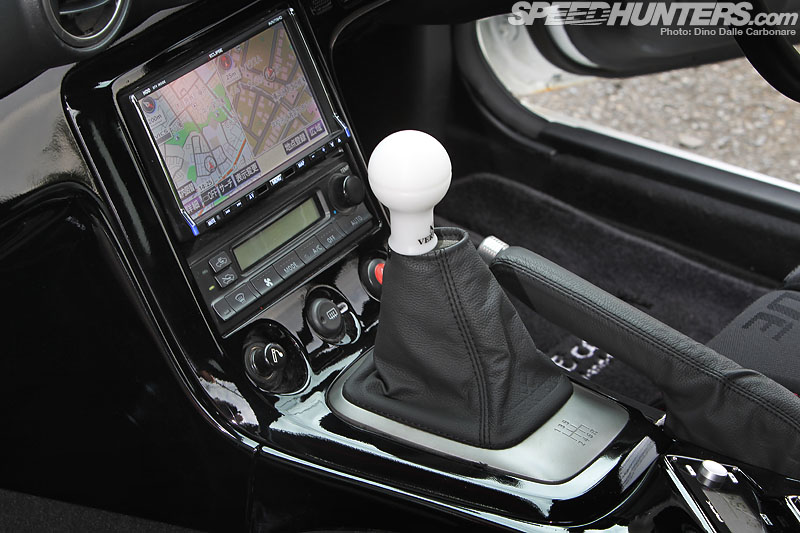 T&E provided the leather shifter and e-brake boots while the center console has been painted in glossy black and equipped with a double DIN navi unit.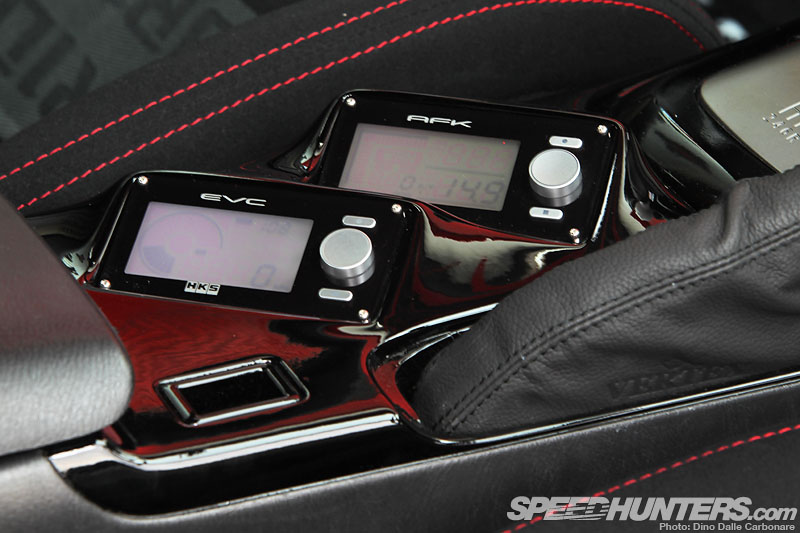 The idea to mount the HKS EVC boost controller and A/F meter in the transmission tunnel was smart but that means Nob no longer has space to place his can of iced coffee! A travesty to say the least on any JDM drift/street car!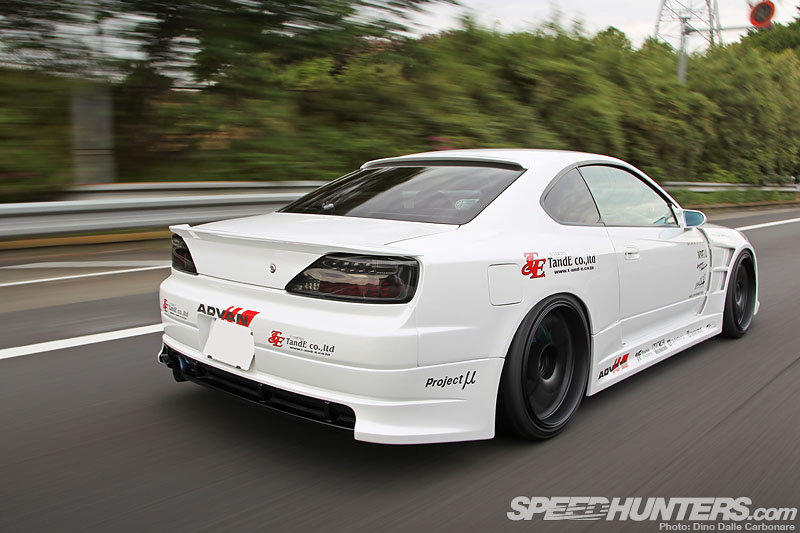 So do you guys agree with me? Is this the ultimate street S15? No doubt there will be much more powerful builds out there but with Nob at the wheel, I'm sorry to say that no matter how much power you have or how good you think you are behind the wheel, the only thing you are going to see of this Silva is its big fat rear end!
NOB Taniguchi's T&E Vertex Edge S15 Silvia SpecR
NUMBERS:
Max Power – 500 HP, Max Torque – 588 Nm (488 lb/ft), Max Boost – 1.5 kg/cm2
ENGINE
HKS 2.2 L stroker kit (87 mm bore, 91 mm stroke), HKS 1.2 mm metal head gasket, 8.8:1 compression ratio, HKS camshafts 256º IN&EX, HKS cast exhaust manifold, HKS GT3037S A/R0.61 turbo charger, HKS stainless steel front pipe, HKS GTII external wastegate, HKS Hi-Power, HKS Super Power Flow Reloaded air filter, HKS Motorsport one-off dry-carbon intake pipe, HKS hard piping kit, HKS S-Type intercooler, HKS SQVIII blow off valve, HKS fuel pump, HKS 740 cc/min injectors x4, HKS M45i spark plugs, Koyo racing radiator, HKS prototype twin oil cooler system, Custom aluminium oil catch tank, HKS Motorsport green engine covers, HKS oil cap, HKS radiator cap, D-Jetro conversion, HKS F-Con V Pro ECU
DRIVELINE
HKS LA clutch kit, HKS lightweight flywheel
SUSPENSION / BRAKES
HKS Hipermax-D NOB spec, Project µ 6-pot front calipers and 2-piece slotted discs, Project µ 4-pot rear calipers and 2-piece slotted discs, Project µType HC+ brake pads all round
WHEELS / TIRES:
Yokohama Advan RG-D 9Jx19″ (front), 10Jx19" (rear), Yokohama Advan Neova AD08 235/35/19 (front), 265/30/19 (rear)
EXTERIOR
T&E full widebody VERTEX EDGE kit, T&E front bumper, T&E wide aero front fenders (+50 mm), T&E bonnet, T&E side skirts, T&E rear wide fenders (+50 mm), T&E rear bumper, T&E trunk lip spoiler, T&E roof spoiler, T&E headlight eyebrows, T&E front LED headlight conversion, T&E LED tail lights, Ganador side mirrors
INTERIOR
Bride Low Max carbon-Kevlar reclining bucket seats, Bride door cards & rear seat upholstering, Nardi steering wheel, T&E custom lower dashboard section, T&E custom center console with integrated HKS instrumentation, HKS EVC boost controller, HKS AFK A/F sensor, HKS boost gauge mounted on A-pillar, T&E shift knob, T&E leather shift and side brake boots, T&E carpets, Eclipse AVN778HD HDD navigation/DTV/CD/DVD 2-DIN system
No One Better – Nobuteru Taniguchi Official site 
-Dino Dalle Carbonare