Getting reacquainted
It's been over a year and a half since I've hit up a D1 Grand Prix event. Over the last few years I've had a bit of a love and hate relationship with this series: initially I loved it because it gave this cool motorsport the attention and promotion it deserved, plus I enjoyed shooting it, experimenting with low shutter speeds and trying out strange new angles. Every time I went to an event, it was an exciting mix of witnessing drivers do their thing, seeing, hearing and smelling powerful cars pushed to the very limit, and then the photography aspect of it all.
Never did I expect D1 to disappoint me, but that is precisely what it did. Seeing such a great series spoiled by poor organization that forced even the founding fathers to leave, but then seeing it continue to evolve into an overly-protected series; well if this doesn't kill your passion for a sport, then I don't know what will. But I believe in second chances and with the last round of the 2013 Championship being held 30 minutes from my house…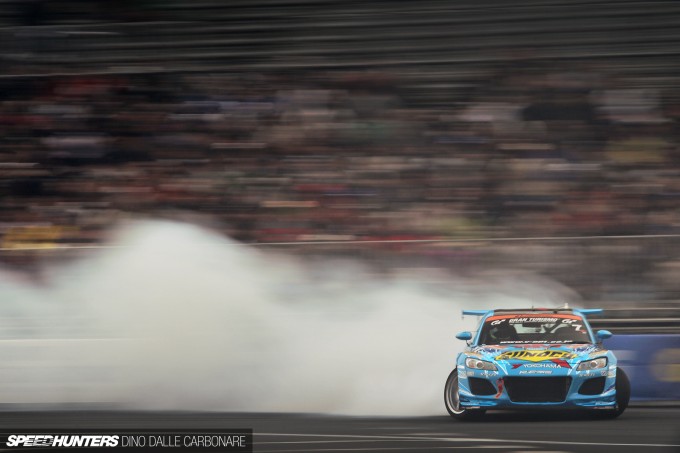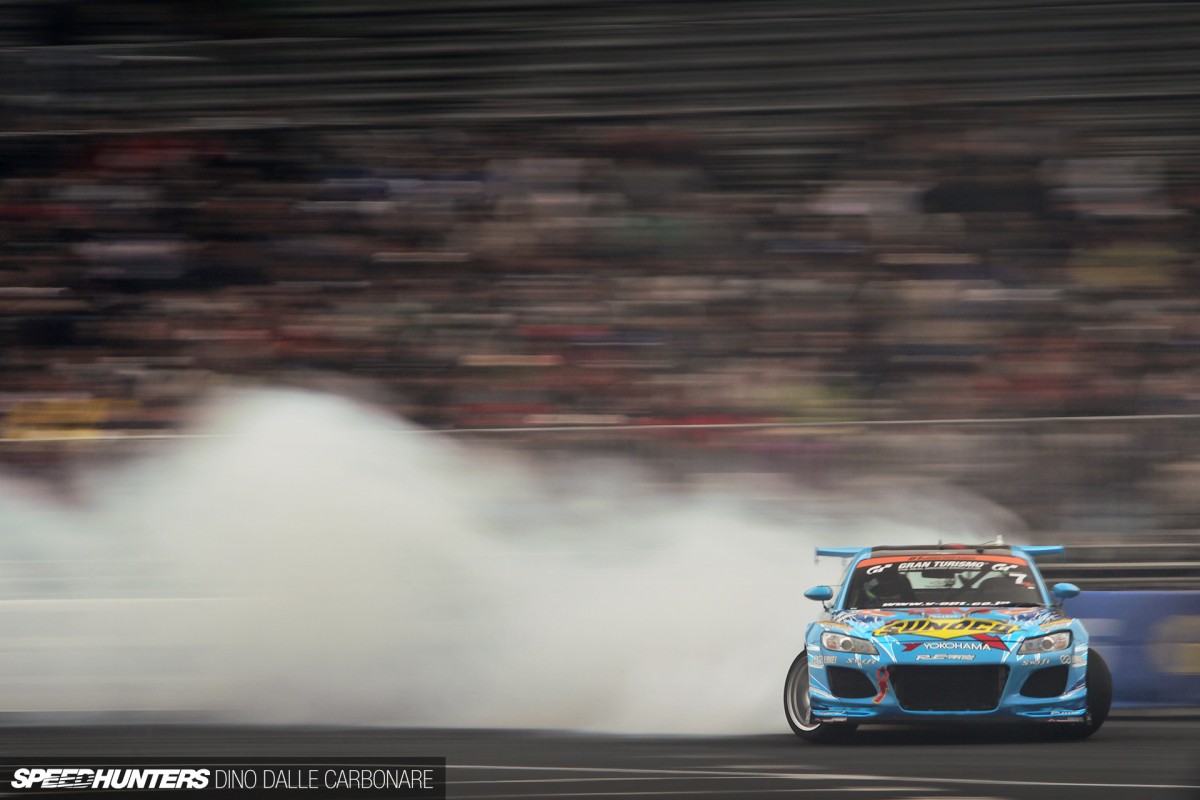 … well I thought, why not? I wasn't there to follow the proceedings as I would have ten years ago, getting caught up in the battles and anxiously waiting for the judges' calls. No, I was there for the very simple desire to shoot some wild slides…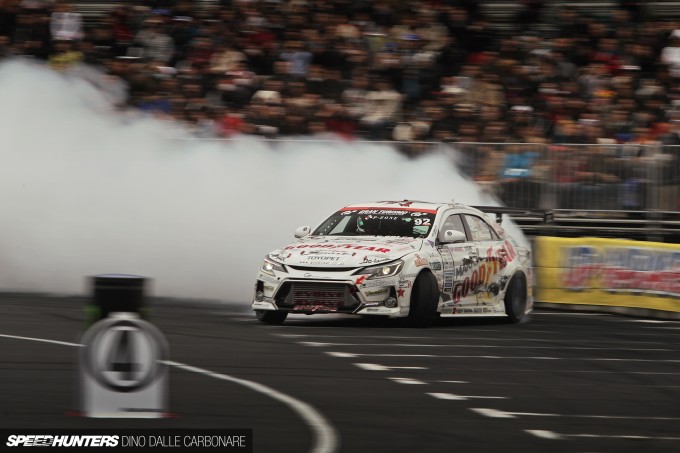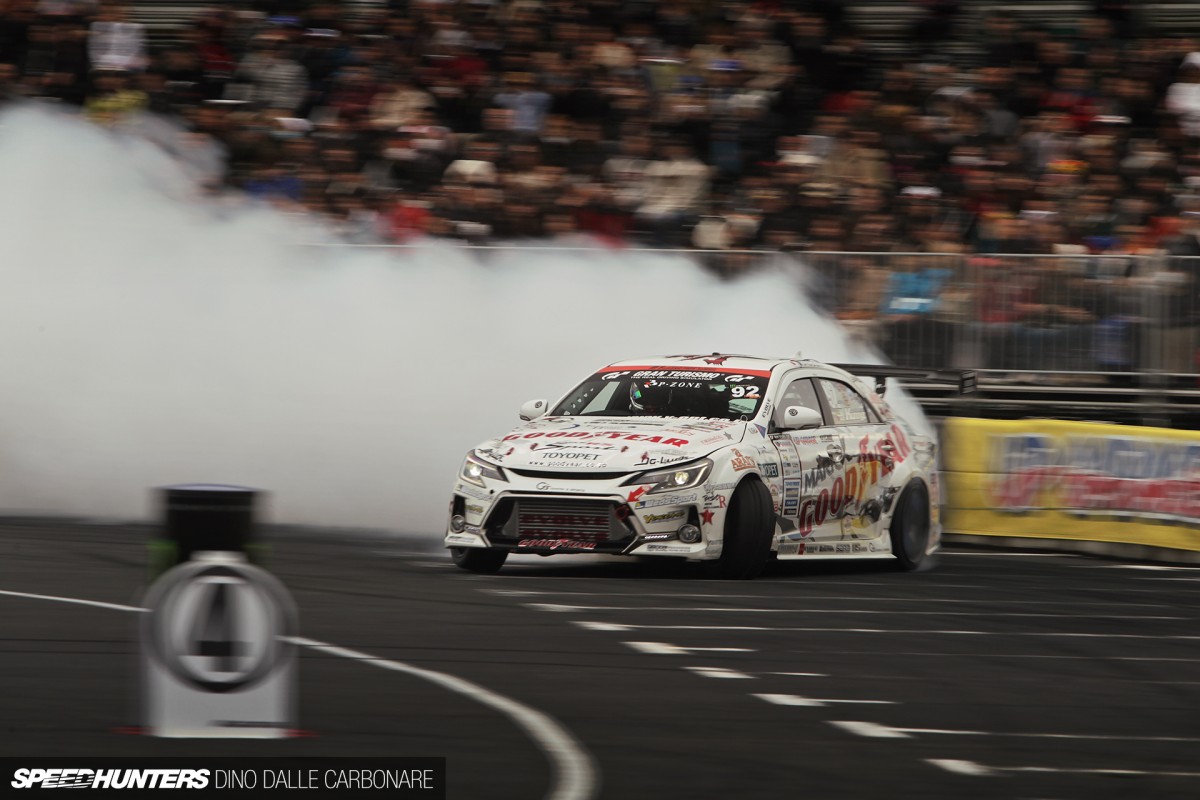 … and to take a look at the cars that are currently participating. After all, this is exactly what caught my attention all those years ago. It's always been about the cars for me: that, the way they are driven and the resulting pictures I can walk away with.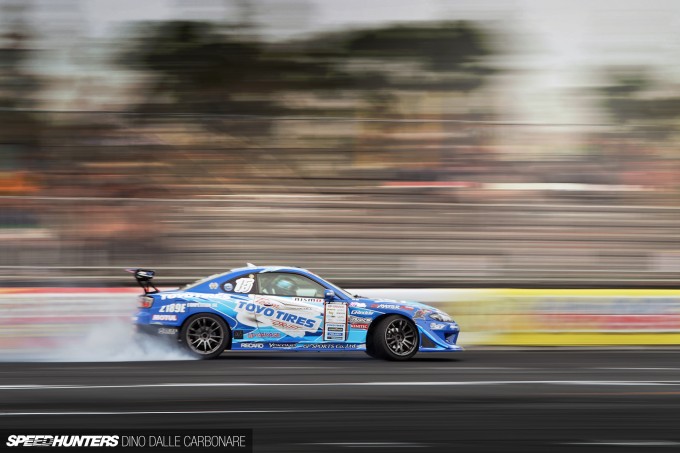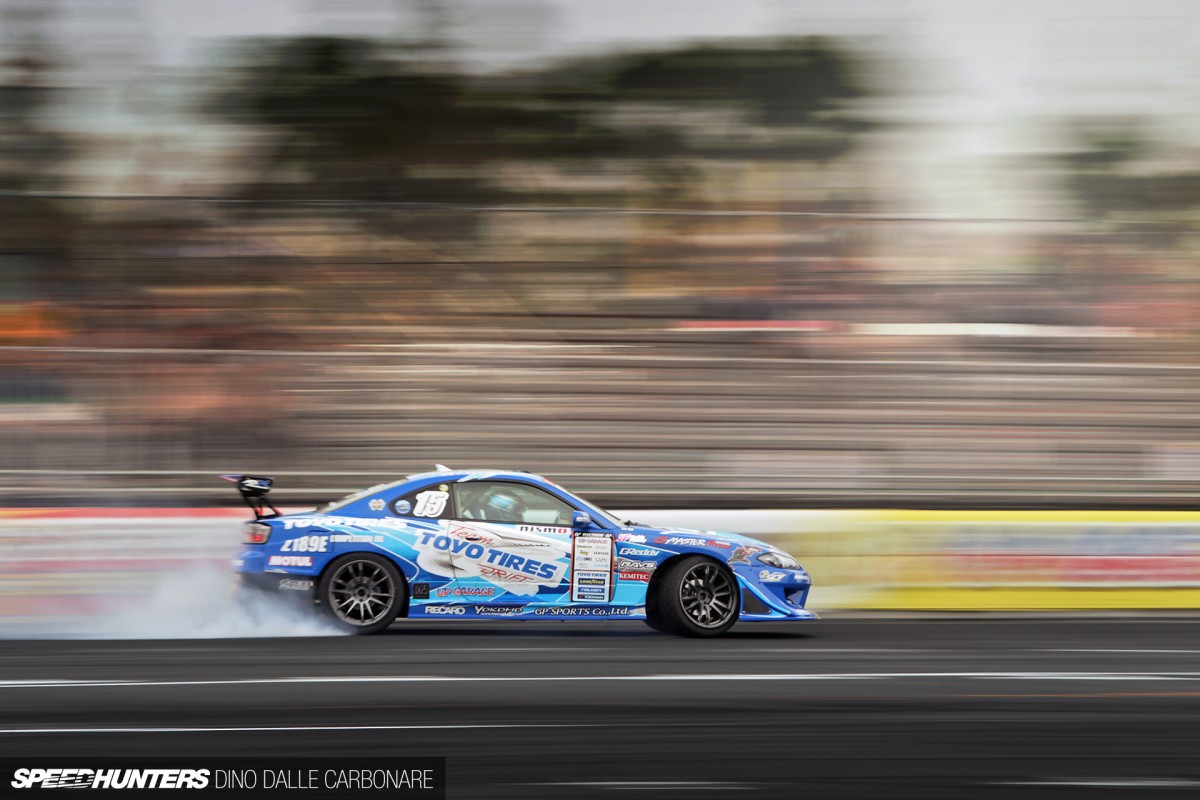 The morning started off with some solo runs, drivers getting judged on both entry speed and the line they managed to put down…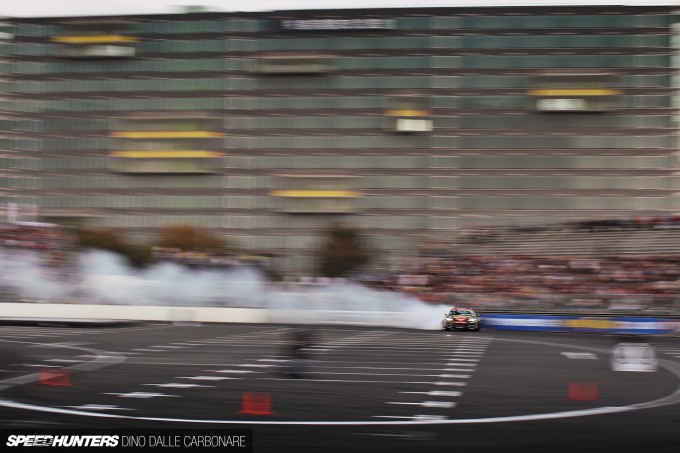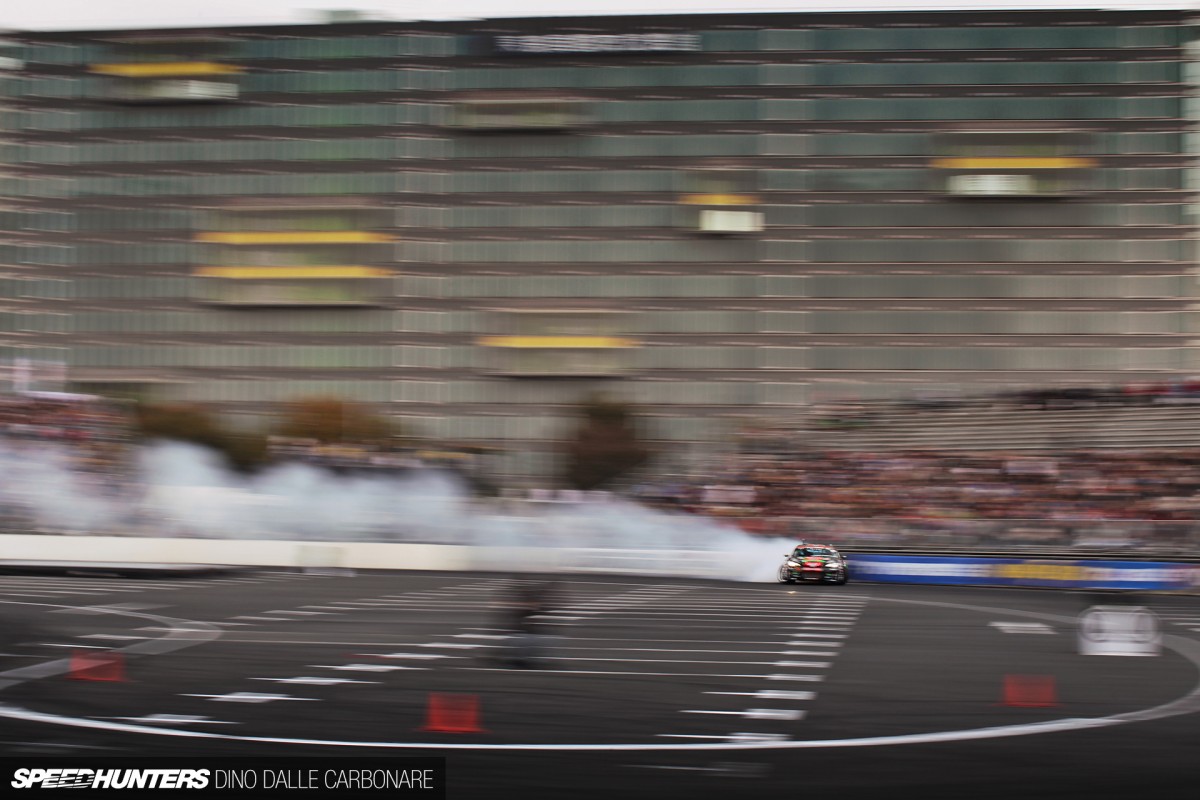 … around the makeshift track that was laid out at the same car park that hosts those cool Mooneyes and JCCA gatherings we always flock to every year. There was much I wanted to see, starting off with Manabu Orido's 86…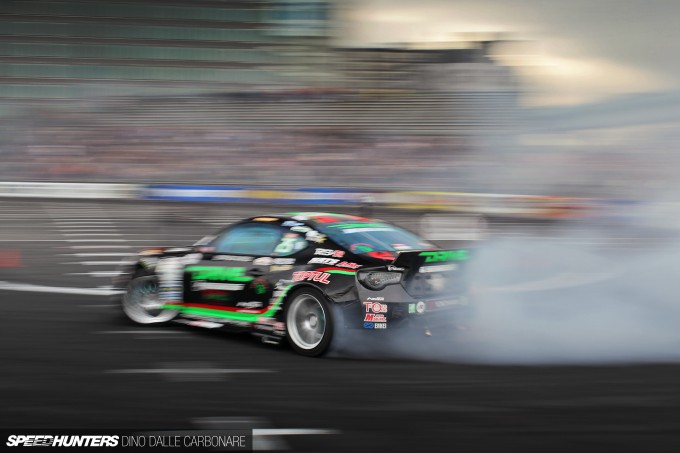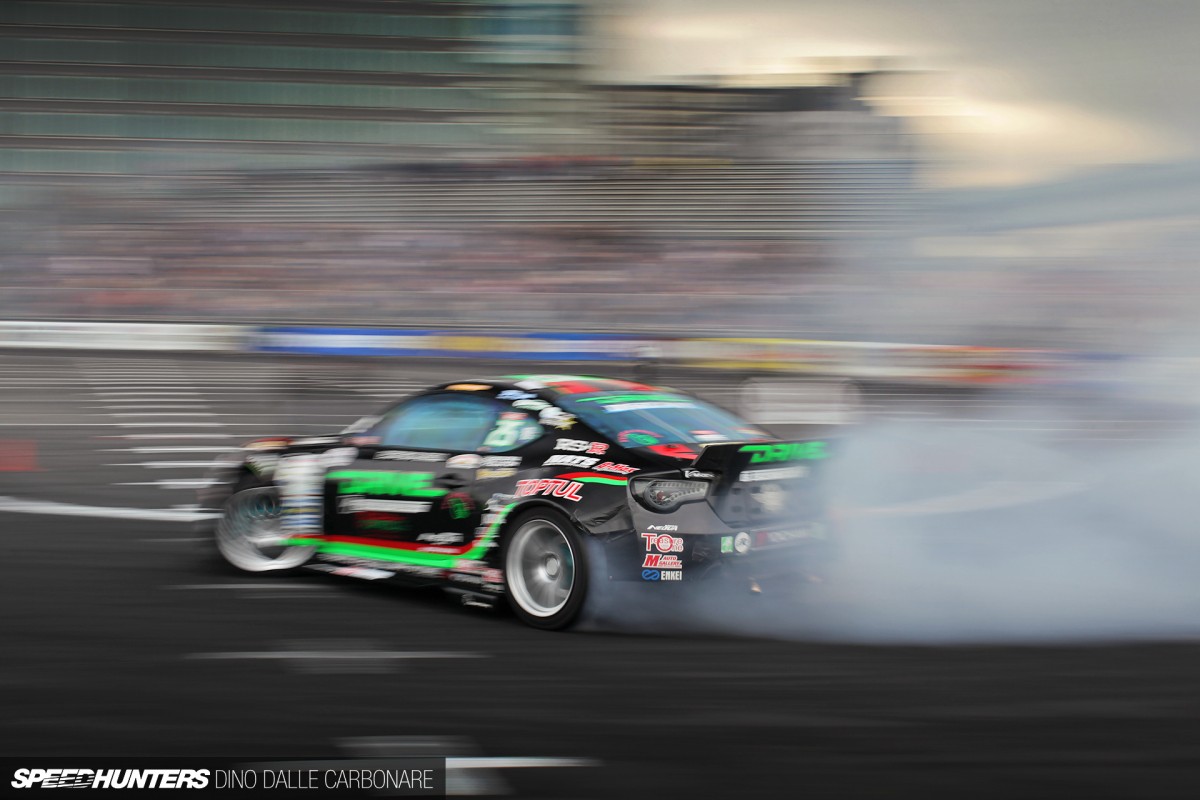 … which, since the last time I saw it, had ditched its hard-to-work-with ISF V8 powerplant in favor of some American muscle. After a quick initial and very smooth pass however…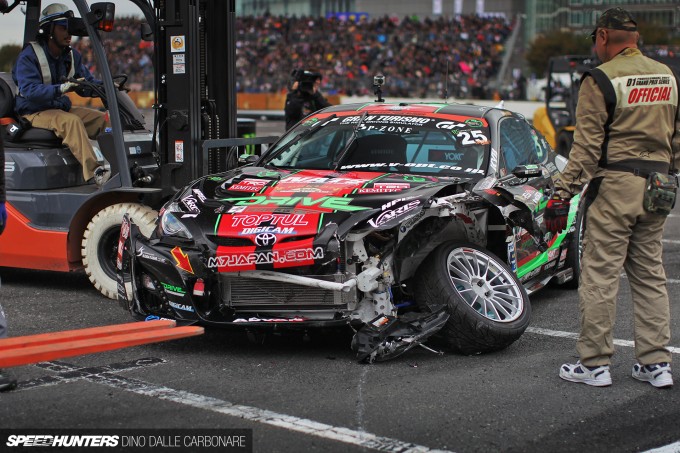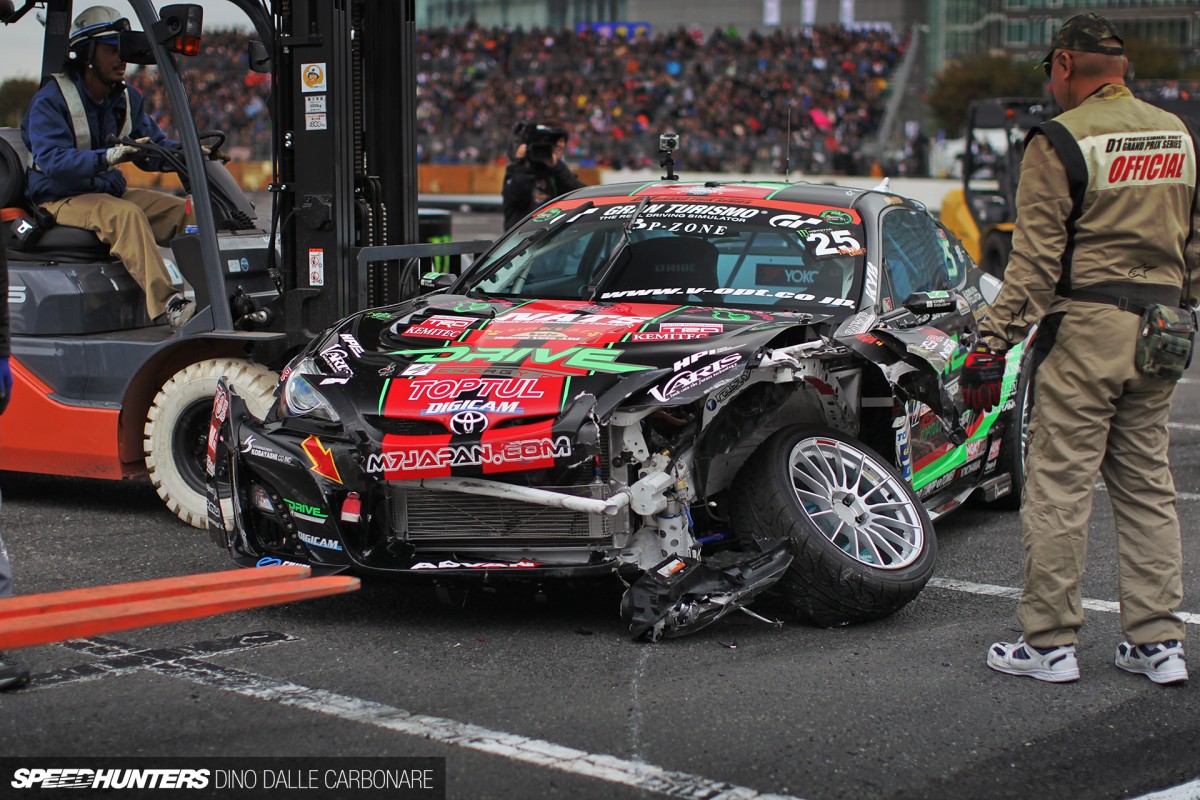 … everything went pear-shaped for Orido. After clipping one of the last concrete barriers as he powered out of the turn, his car straightened up and the front end pushed into one of the guardrails, the resulting push allowing the following guardrail to literally stab the front end of his car. Orido's weekend was over before it even started. The big spear-like hit had bent a portion of the chassis, and despite his team managing to get most of it fixed up by the end of the day, the car wasn't used, even in Sunday's exhibition round.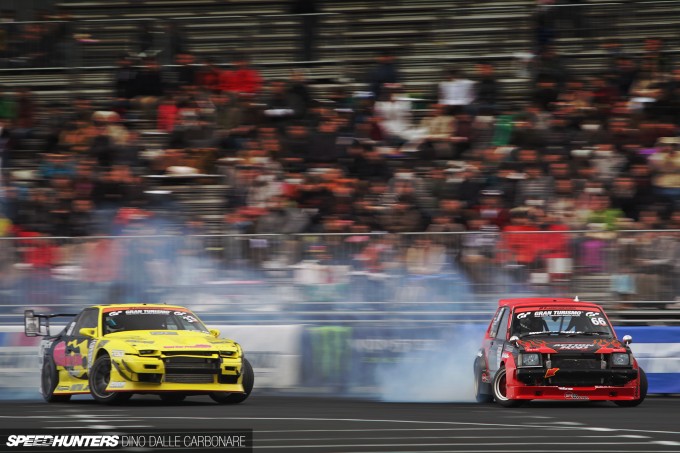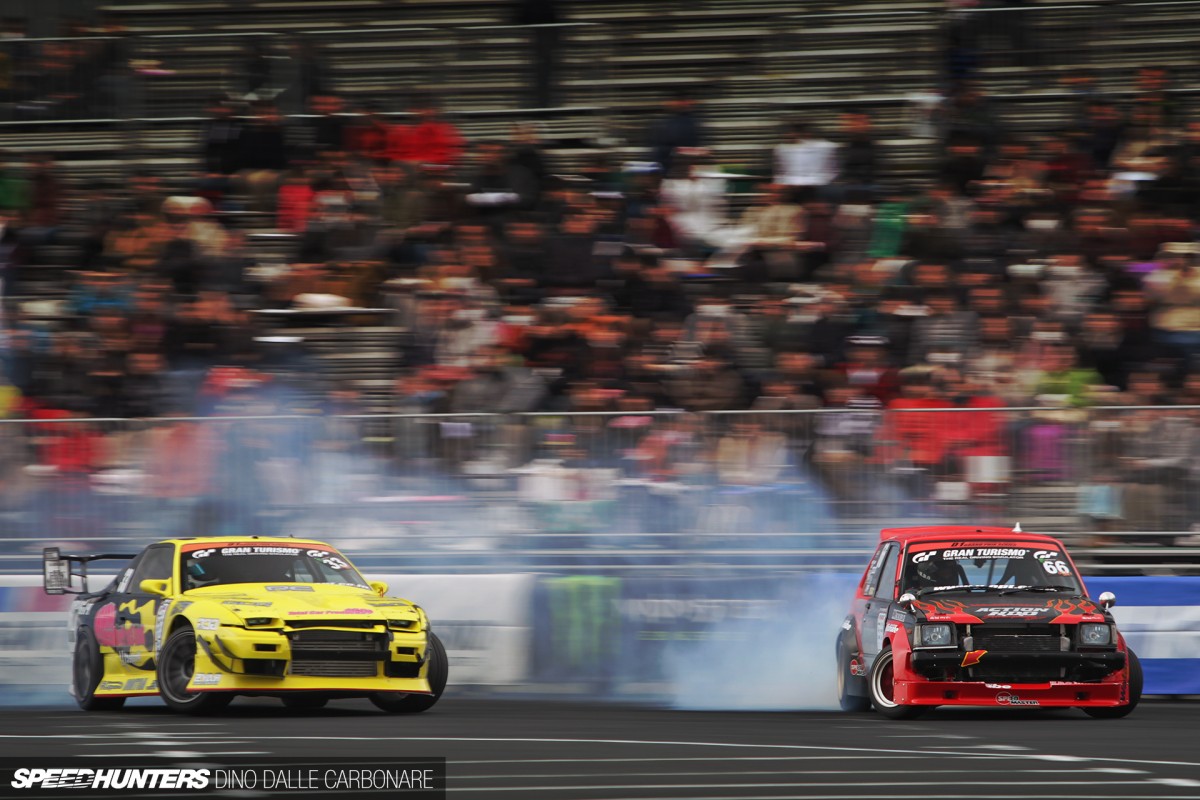 Single runs led to some tsuiso battles between drivers in the first group, and there were some pretty cool cars to see, like the HDO KP61 Starlet of Hideo Itakura, seen here leading against Mitsuro Murakami of Team MMM.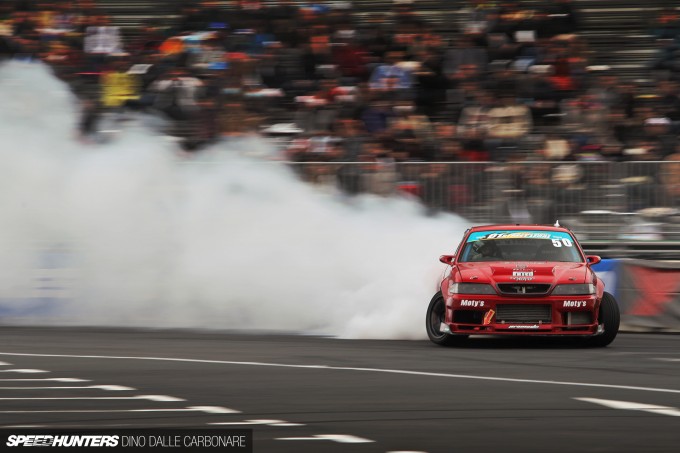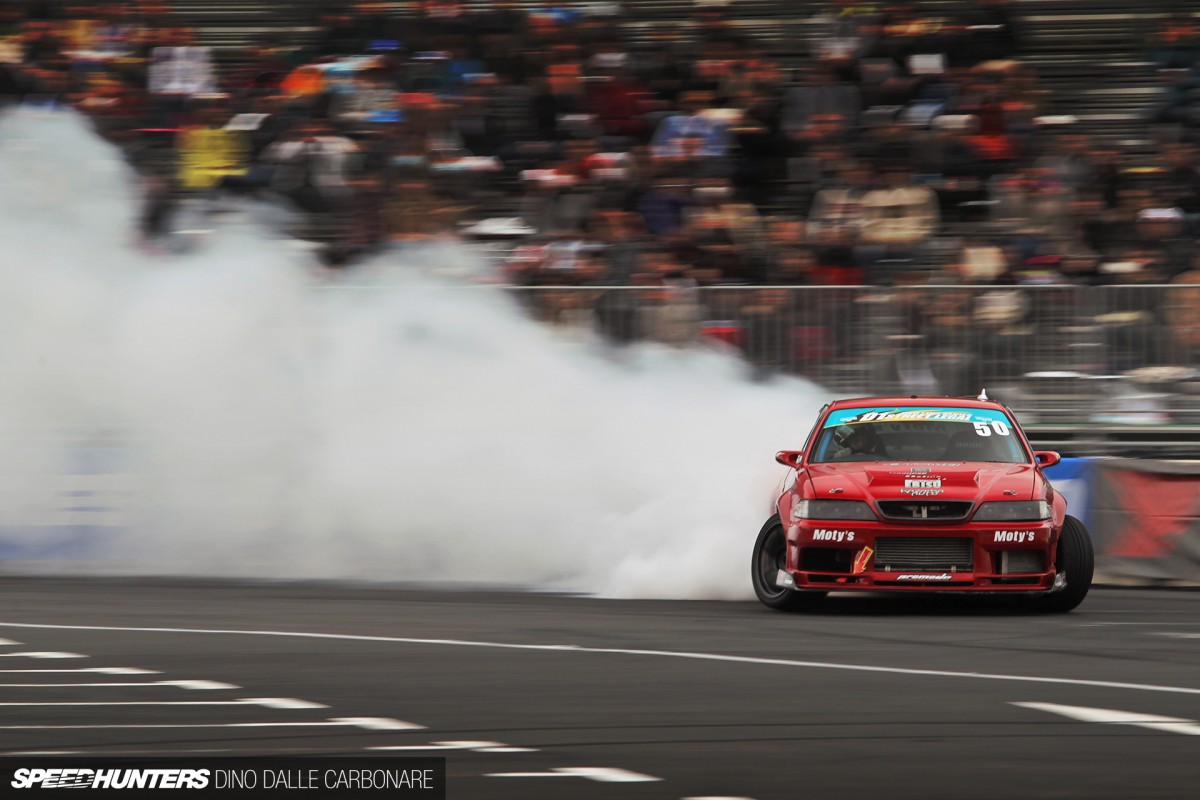 The top five drivers in D1 Street Legal were called in to do a short competition between each other: drivers that included Andrew Gray and his Powervehicles JZX100, which, thanks to a 3.1L 2JZ and an HKS T04Z blower, does a good job of burning through Neova AD08Rs like they were butter.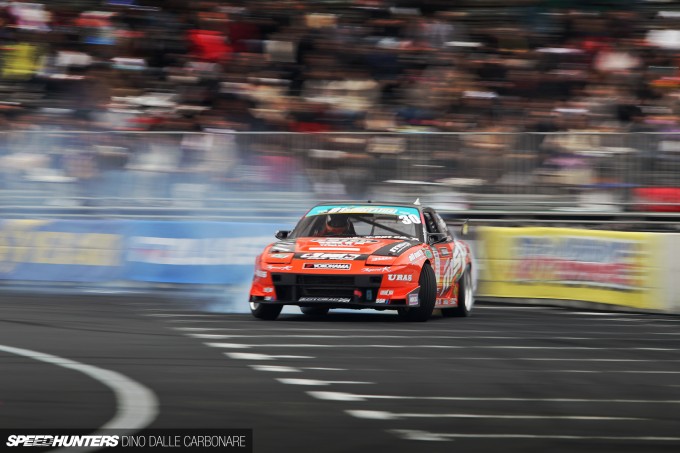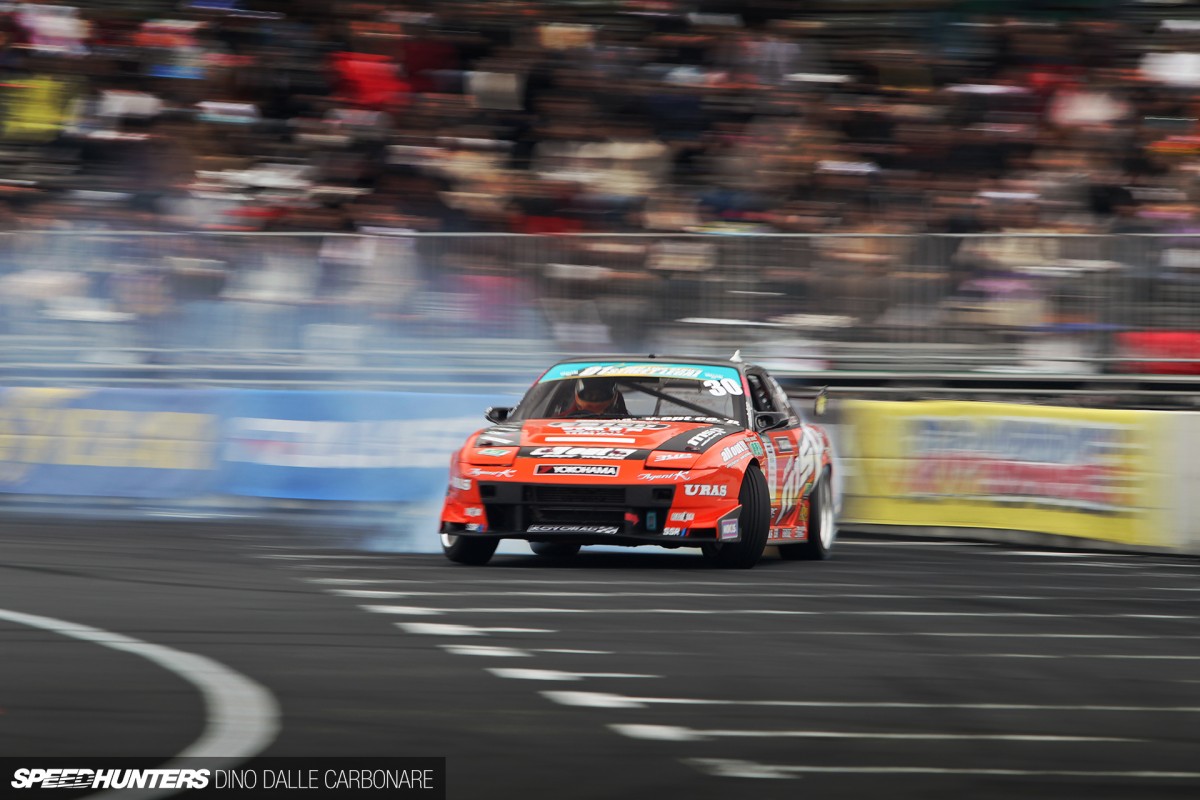 One of the youngest drivers in D1, Masanori Kohashi, always manages to put down smooth and consistent runs and is always a pleasure to see in action.
Paddock time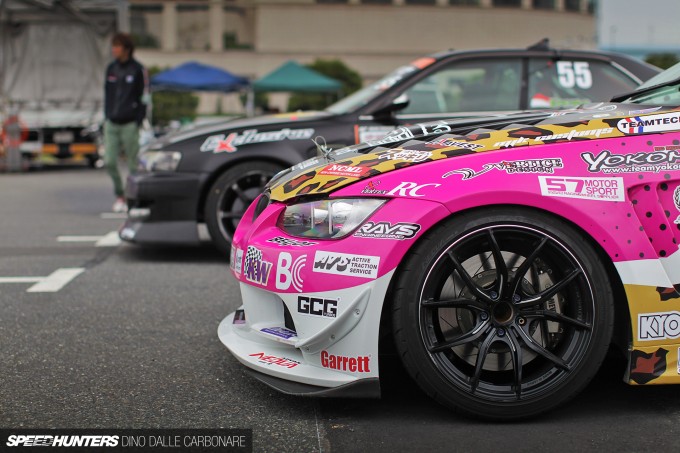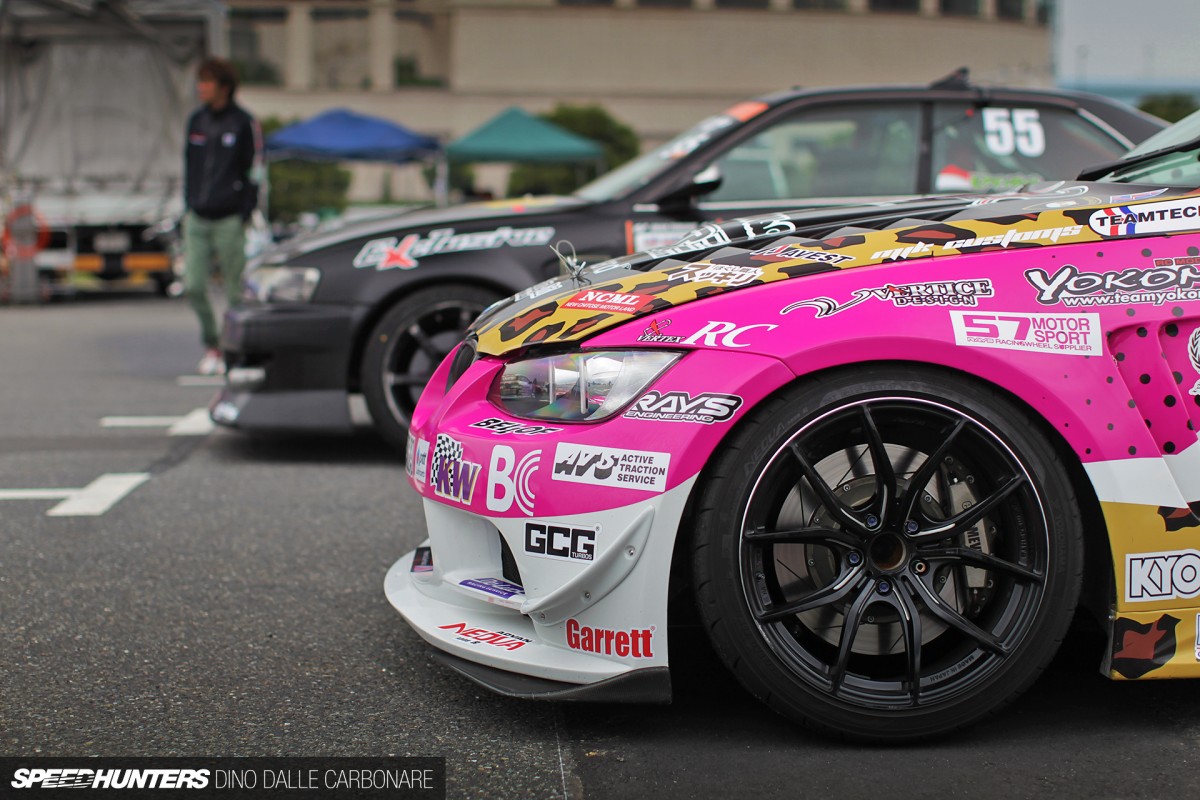 There is always much energy in a D1 paddock, especially as drivers are lining up their cars and warming engines before going out for a run. I will be bringing you a spotlight-o-rama post of some of the cooler cars that I came across…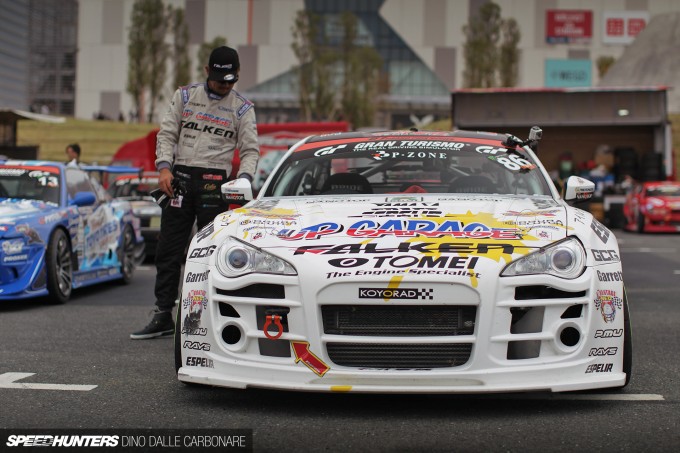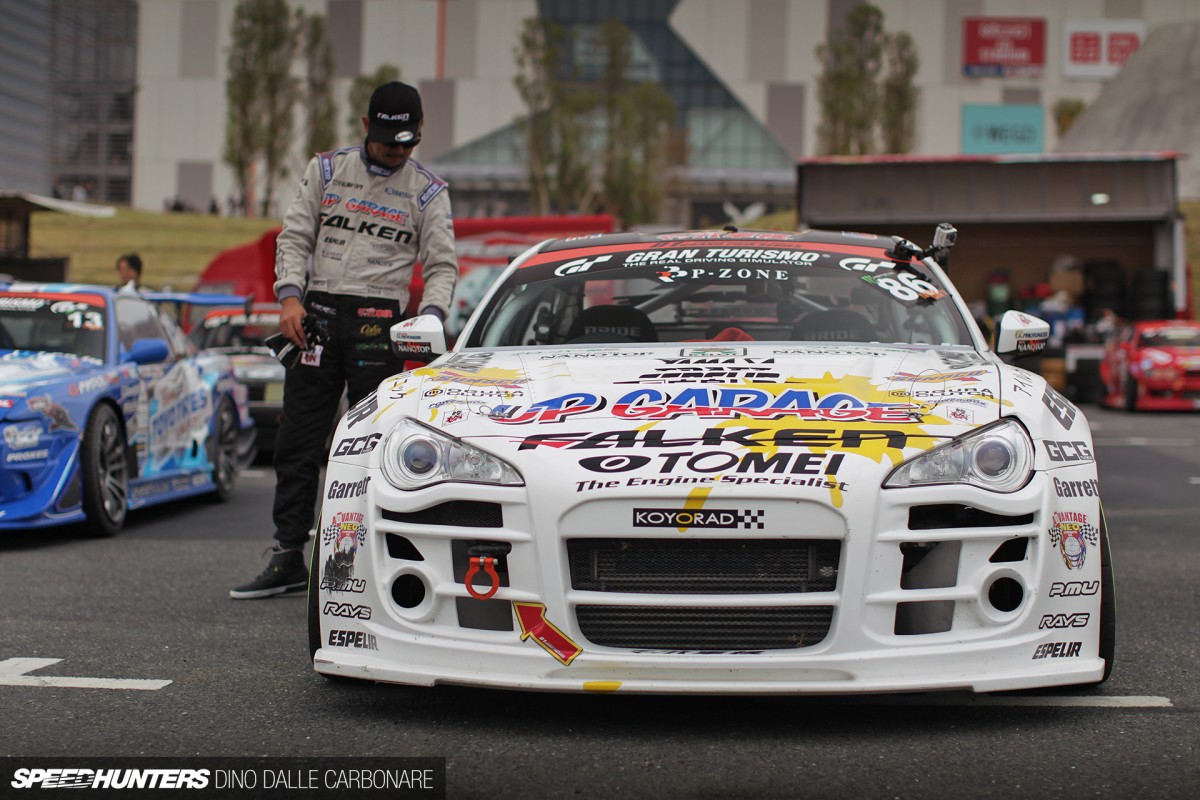 … just to see what your modern day D1 machines are looking like – from what big teams like DrooP put together, to what those that manage to participate in the series with far smaller budgets come up with. Diversity is the most exciting thing in any drift series I think.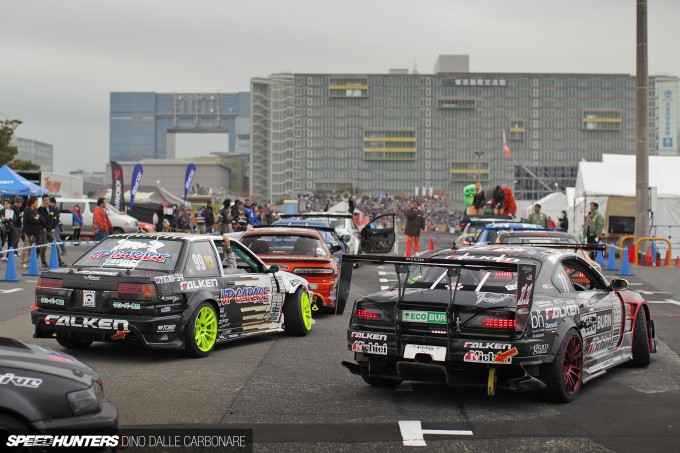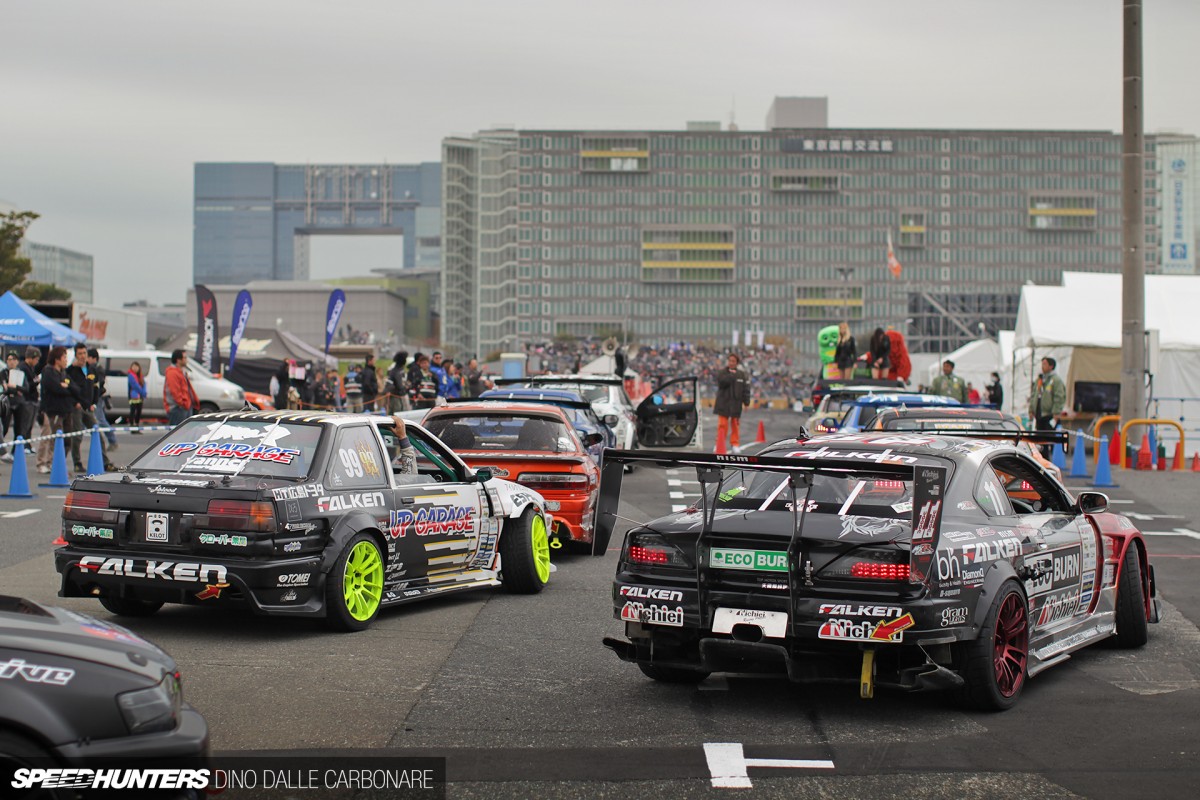 It doesn't look like much has changed in the 19 months since my last D1 round…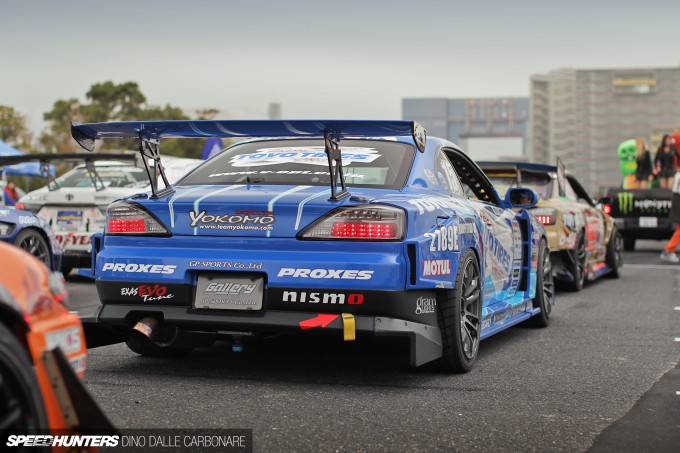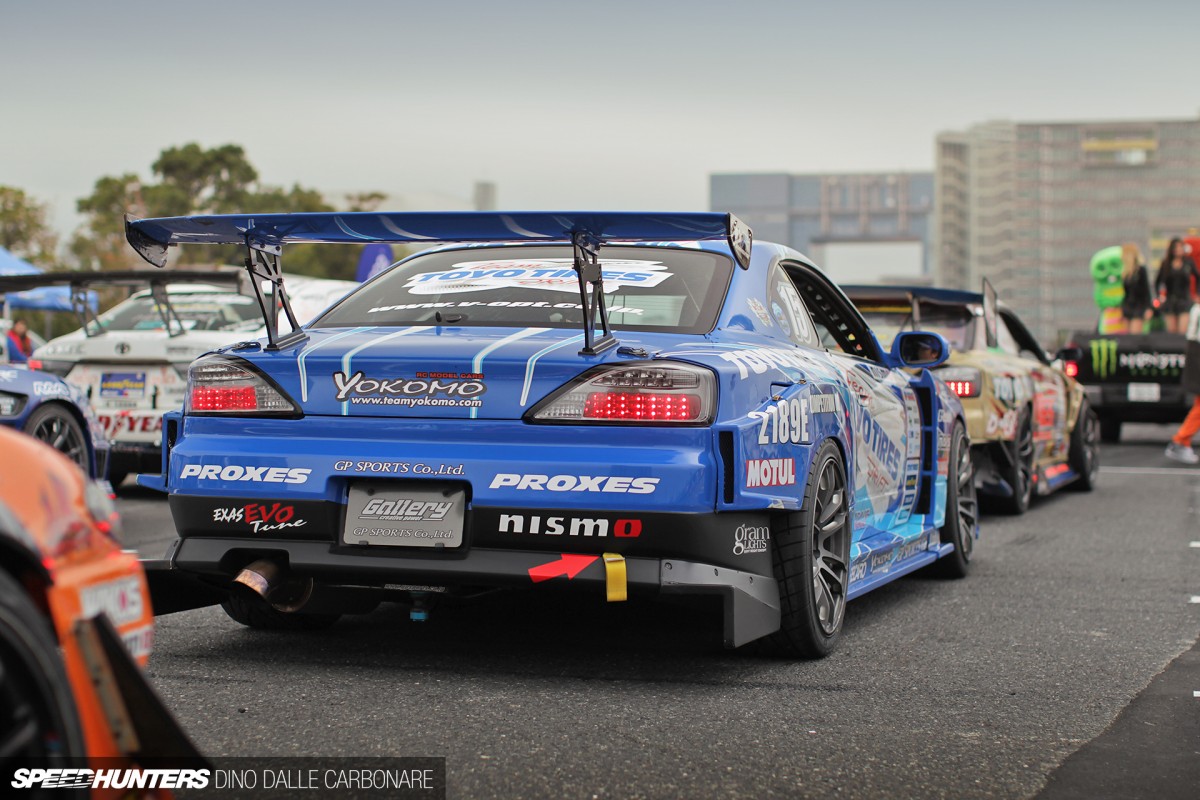 Much of the same cars are still there like the GP Sports/Toyo Tires S15 of Sakuma and the RPS13 of Kawabata. These cars have been perfected with so much time having been put into setting them up; it's not surprising a move away from the known and trusted puts some off.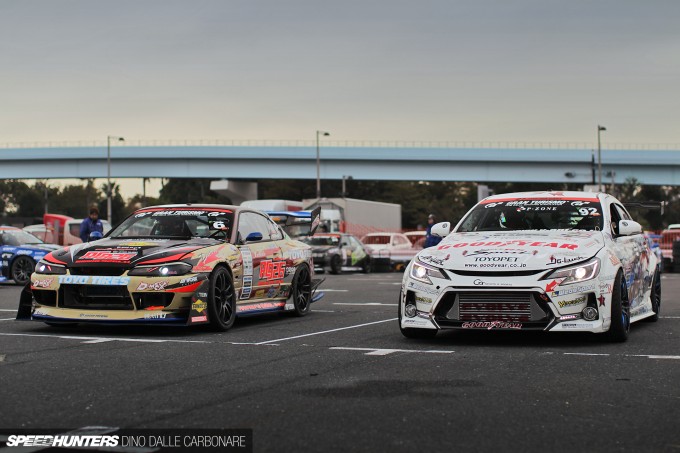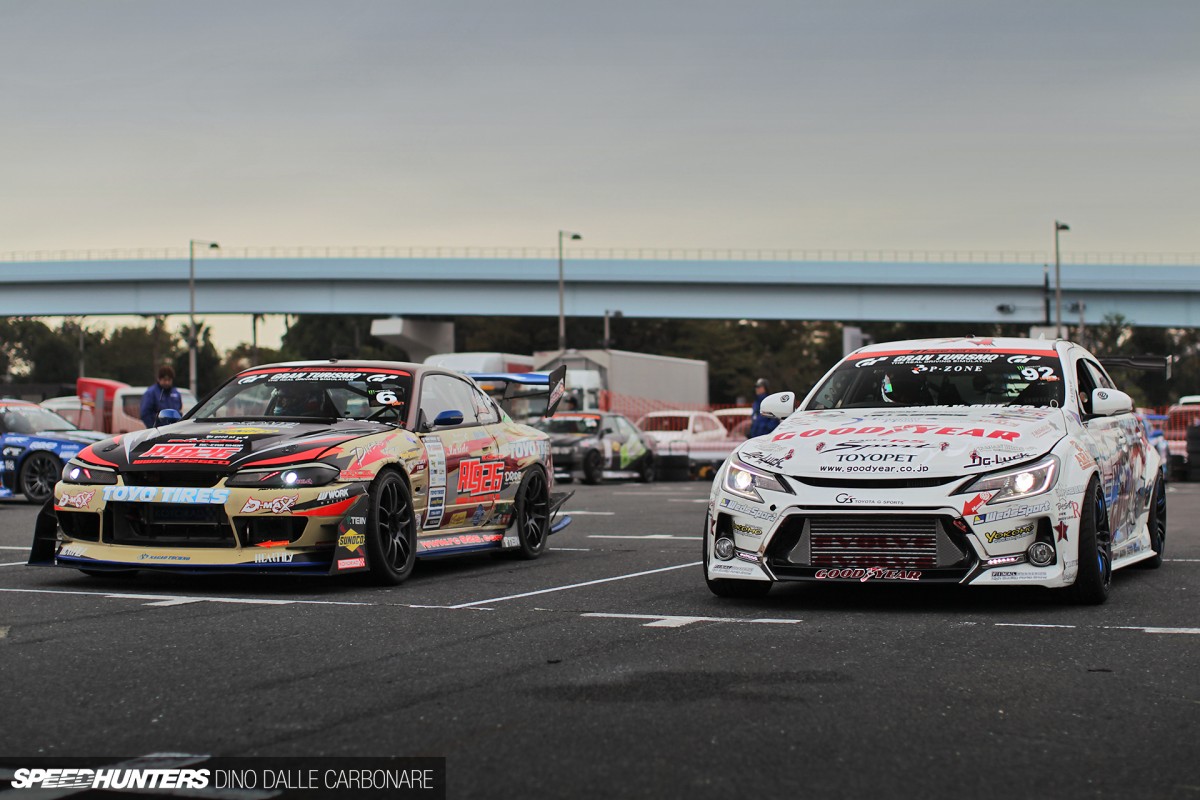 Kuniaki Takahashi of course doesn't belong in that camp. His move onto the Mark X platform back in 2011 was a very respected one and one that in no way hampered his competitiveness in that year's championship. His car is looking even better this year thanks to the face-lifted Mark X front end. Oh and Utumi's S15, despite not having changed much, is still a badass looking machine and one that likes to take to the sky as shown by the opening picture!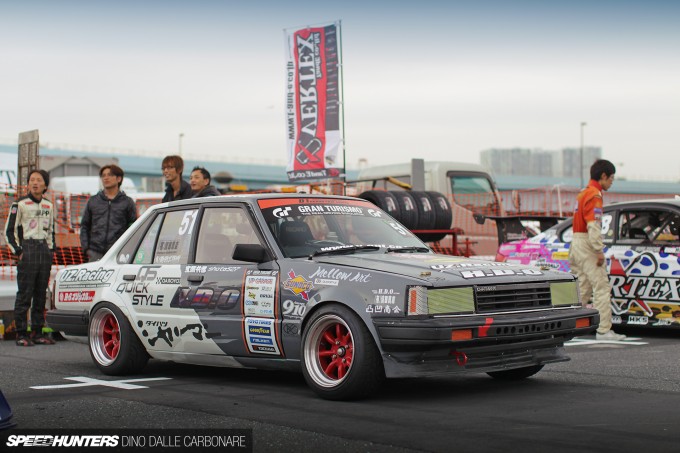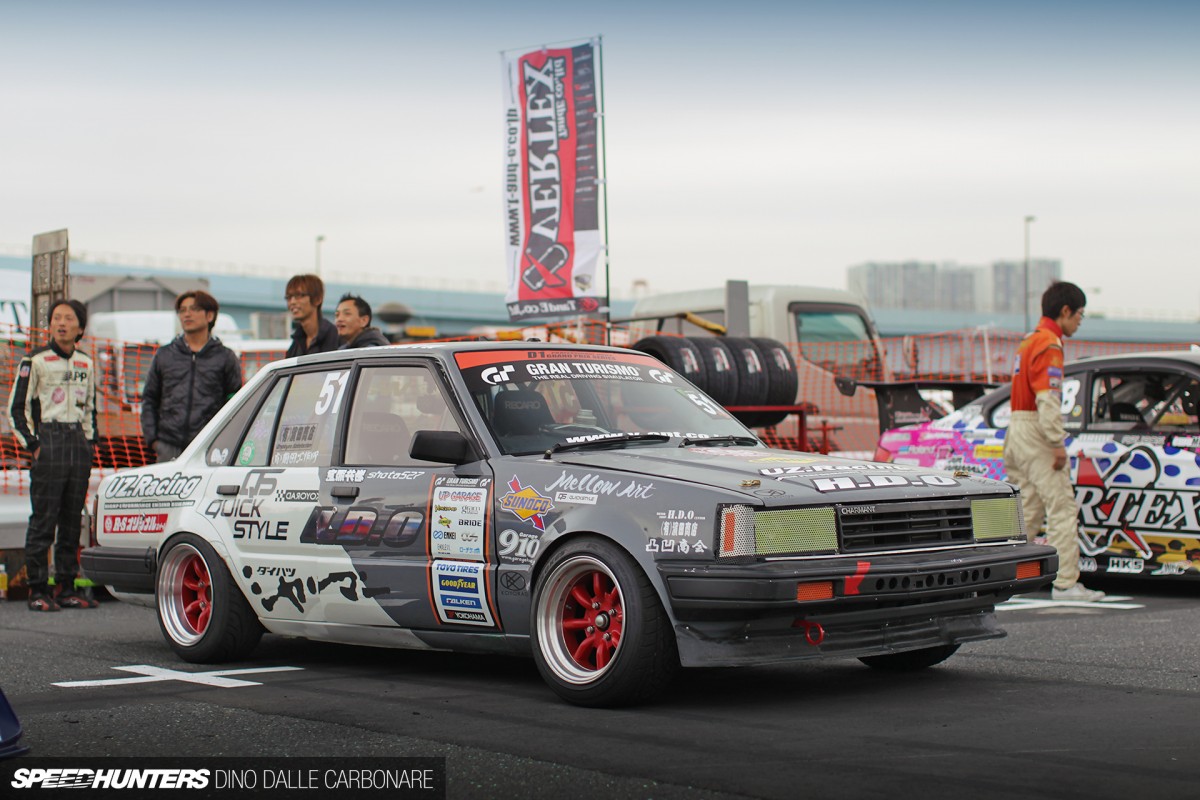 There is another type of driver I respect in D1: those that like Iwai continue to rock old school rides, despite being confronted with the highly powerful and more modern cars sported by the rest of the field. Hats off to you sir!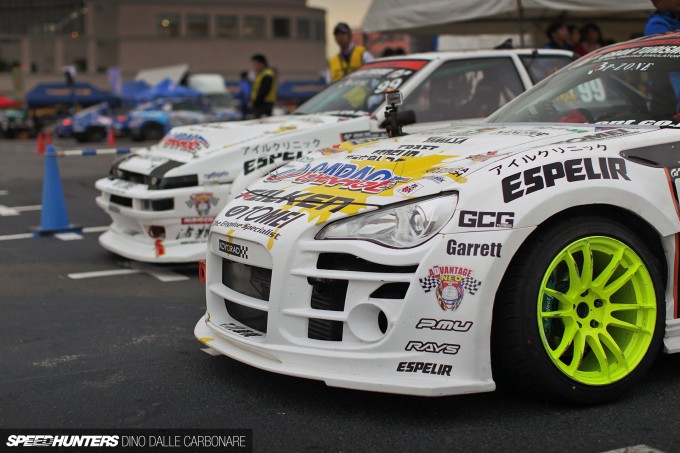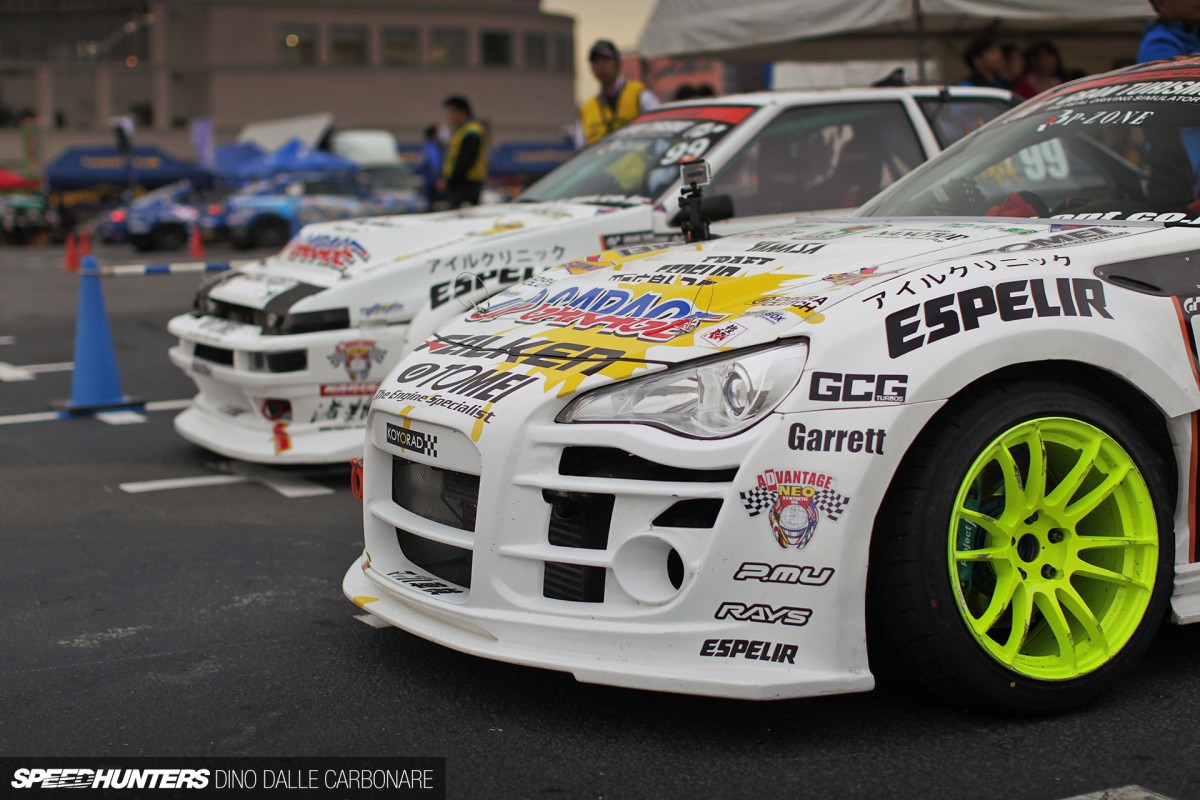 This sort of debate always brings you to the question: what makes a true drift car? A well set up older car like the 3S-powered DrooP AE86, or a true race-car build like the ZN6 the same team put together for Hibino? Tough one right?
Fierce competition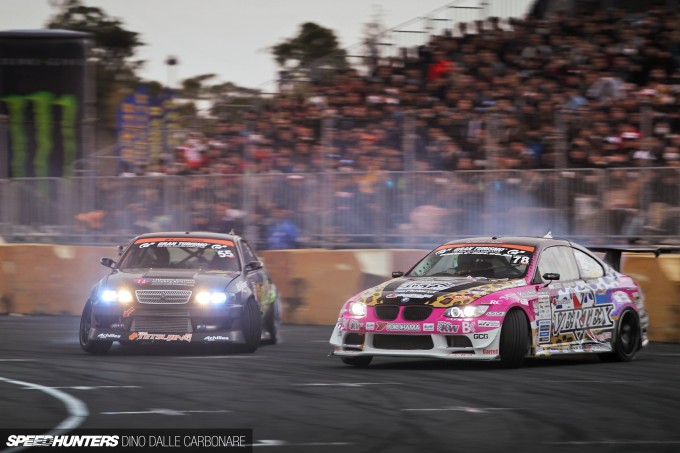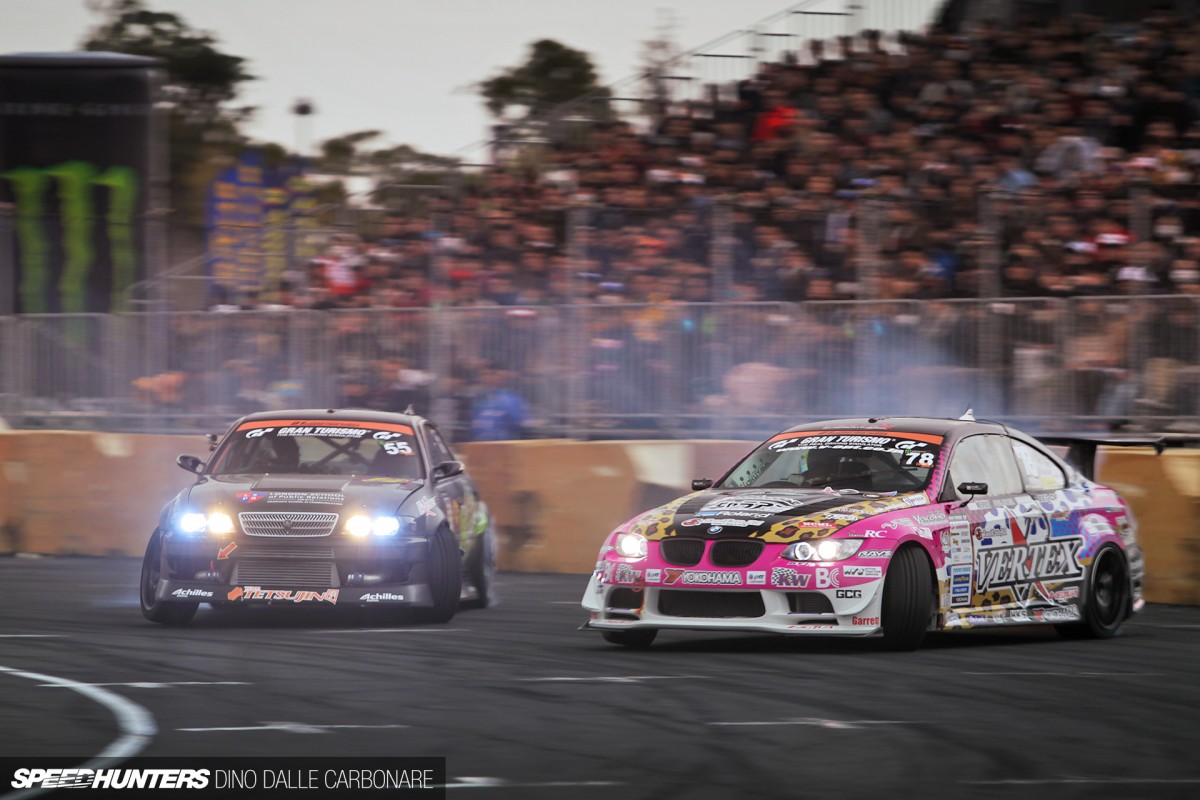 What has always made Odaiba fun is the number of foreign drivers that are given space to show off their skills in front of the Japanese crowds. However this year, Indonesian driver Emmanuel Amandio has competed in the full championship, and behind the wheel of his JZX100 has proven to be rather competitive among established drifters.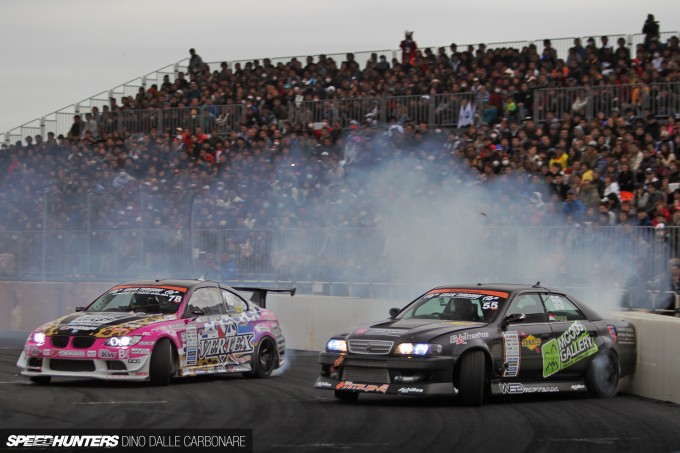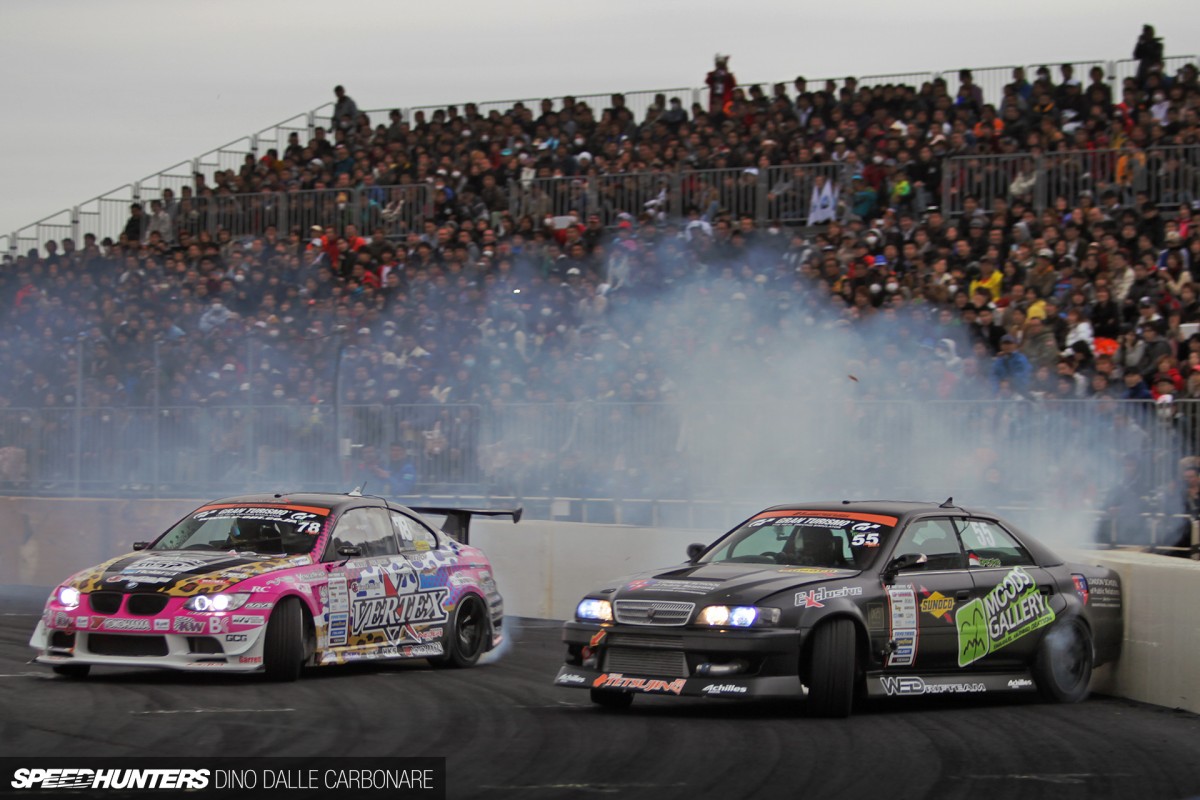 I saw as soon as he went out that he was there to drive 110%, probably generating more smoke than any one other driver and not afraid to take some aggressive lines with his spare car, as you can see in his barrier brush above. He managed to beat Ueno in the T&E E92 and move up to the Best 16 competition.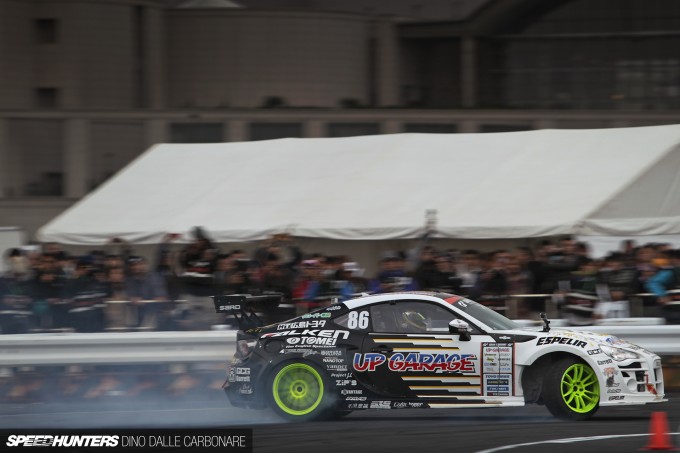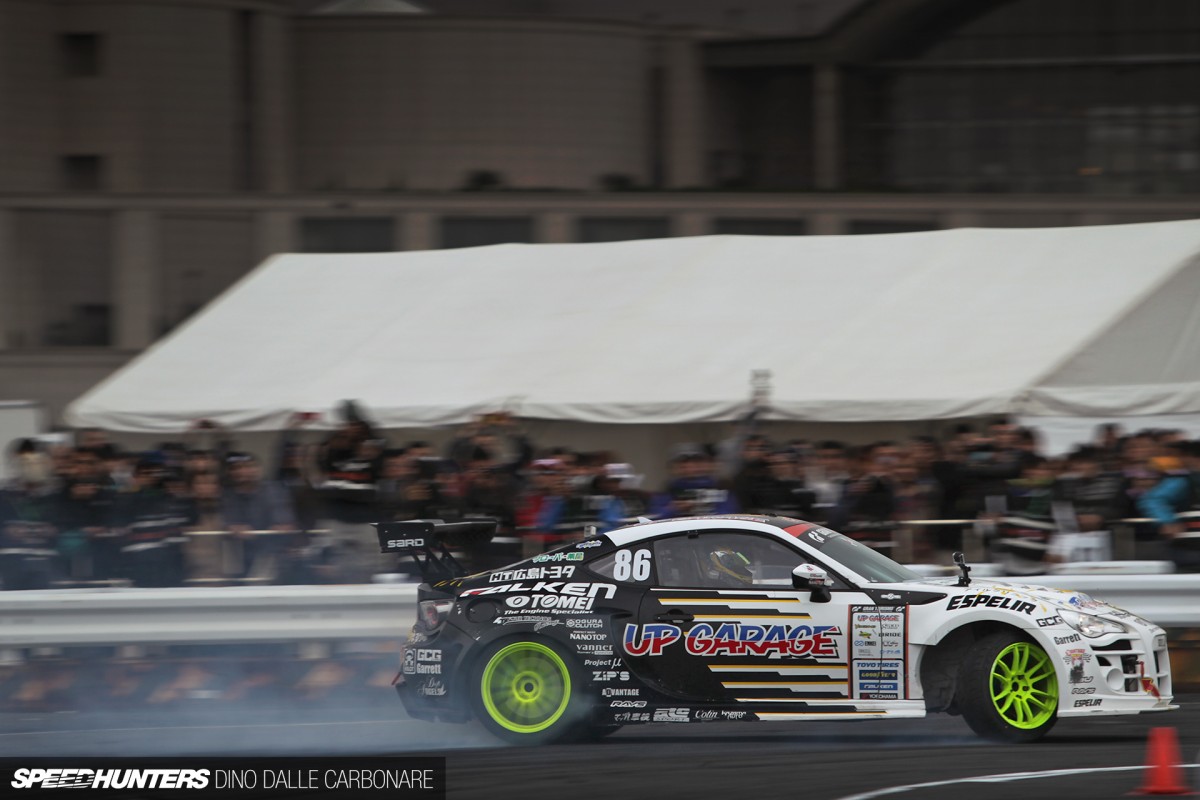 Hibino seemed to be more at home in his EJ-powered 86 compared to when I saw him take the car out in its debut round last year in Odaiba, going into the Round 6 competition in seventh place in the standings.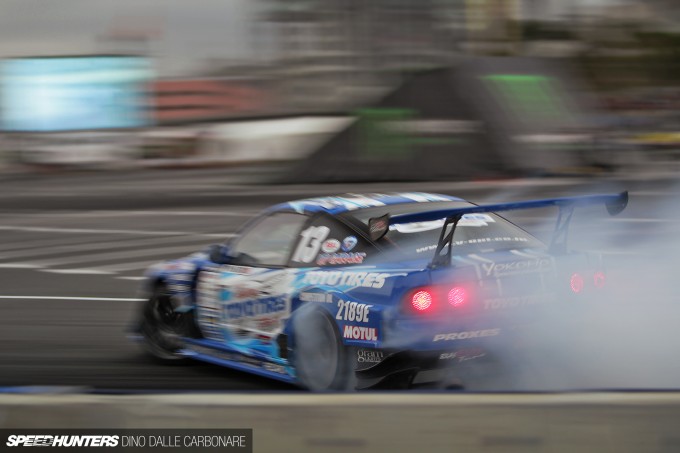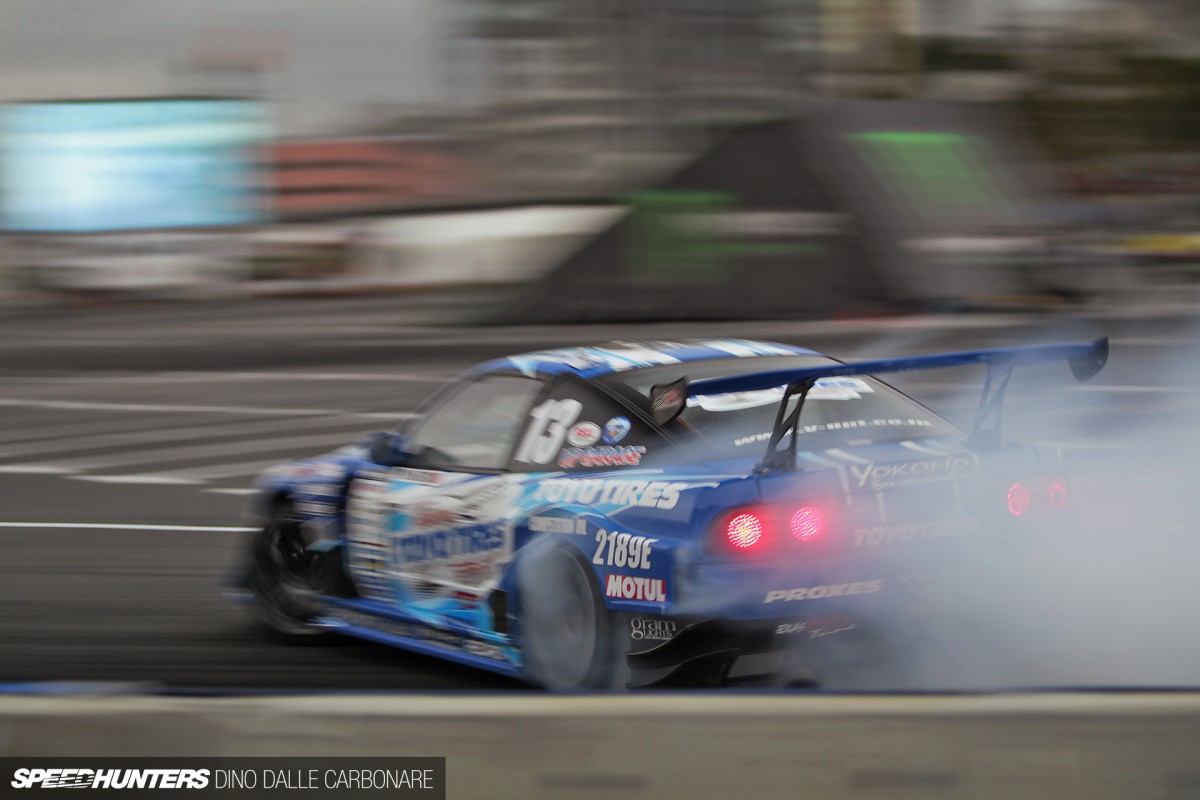 But everyone's eyes were on Kawabata's RPS13…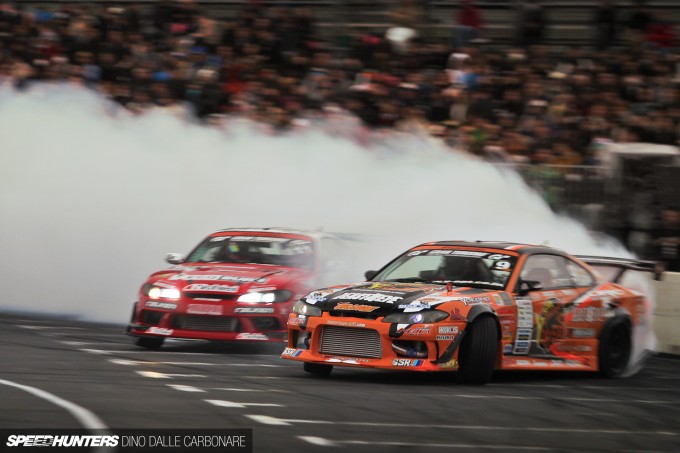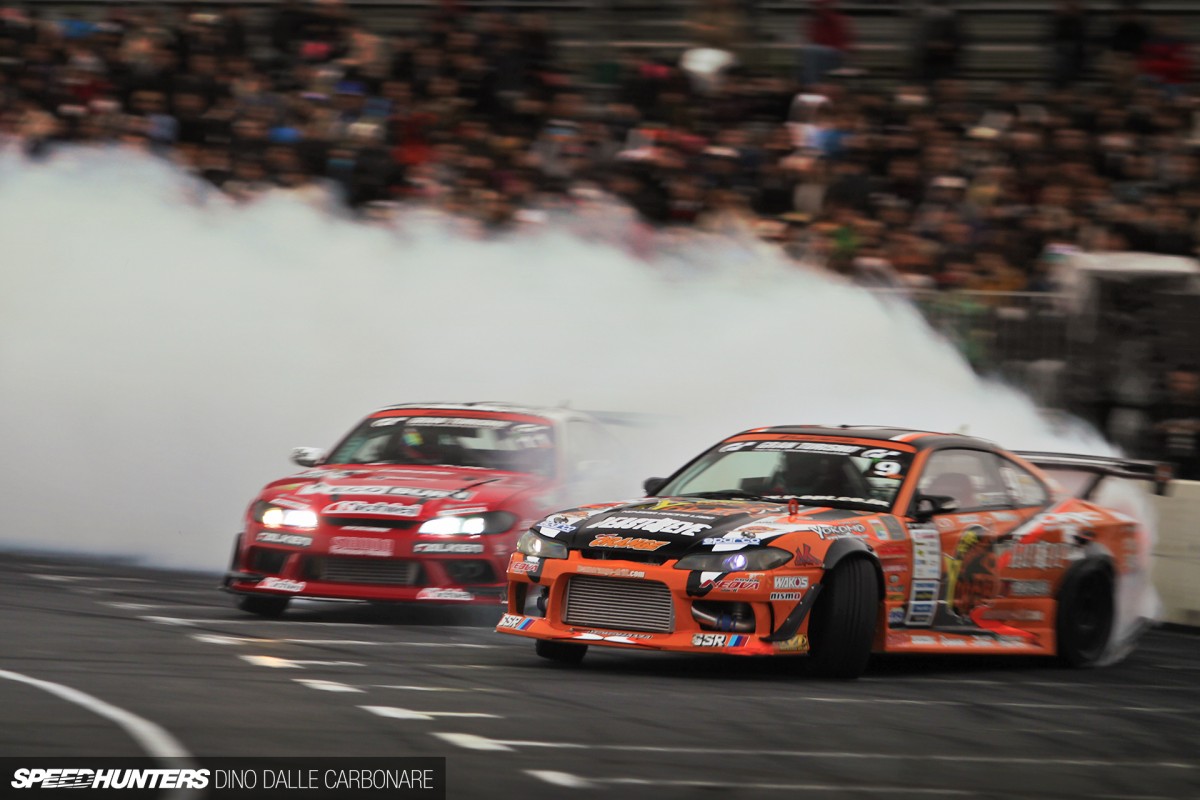 … and Naoto Suenaga's Team Orange S15, the car that has replaced his Evo 9. Powered by the dry-sumped RB26 that was in Kumakubo's Laurel, Suenaga has really found a superb set-up, landing him only two points behind Kawabata, point leader in this year's season.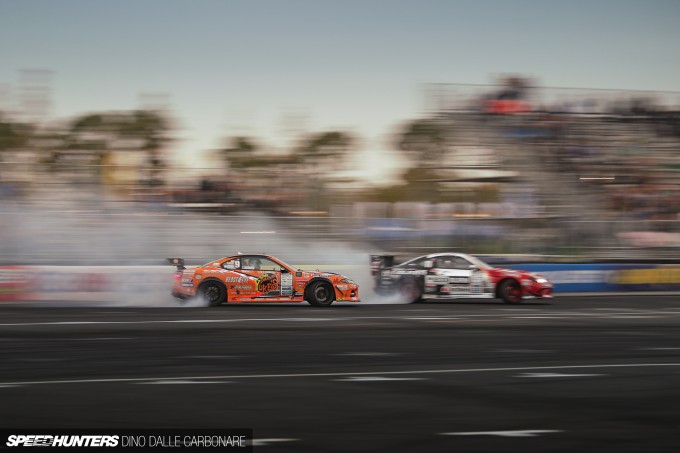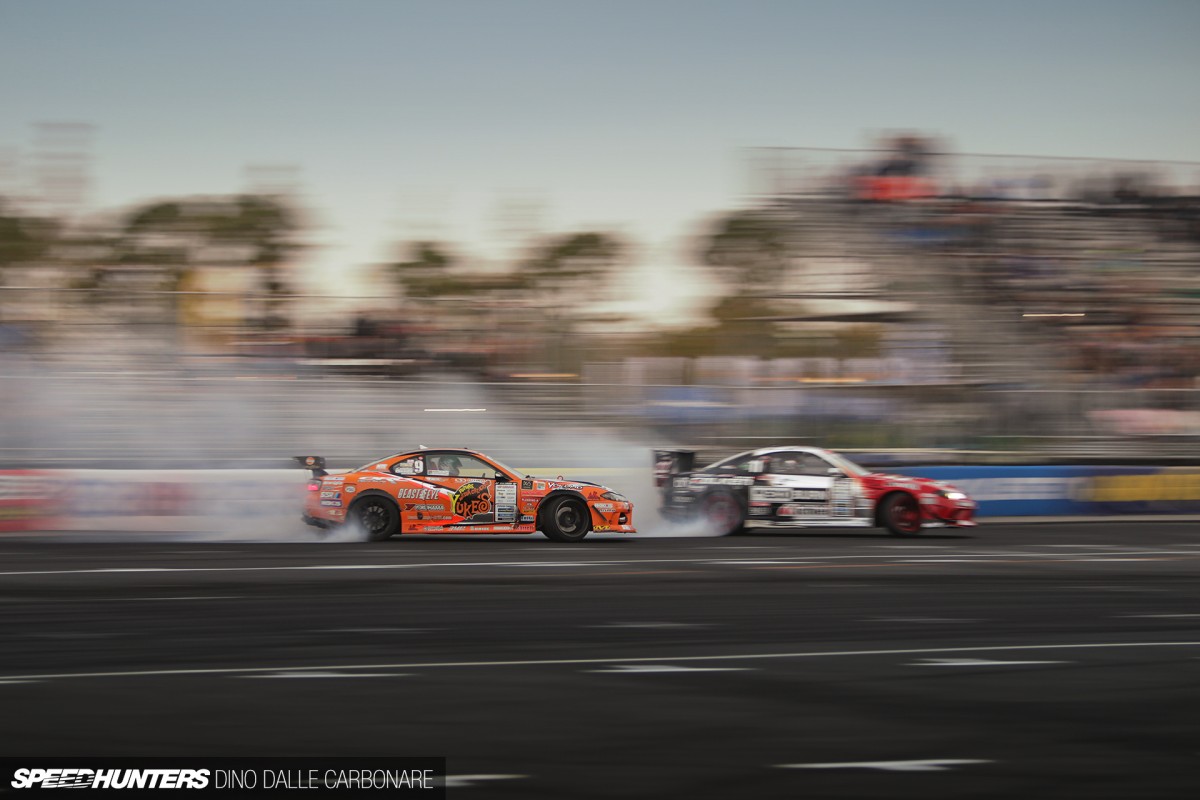 Suenaga was doing superbly all day until he came up against Imamura and his nichei S15…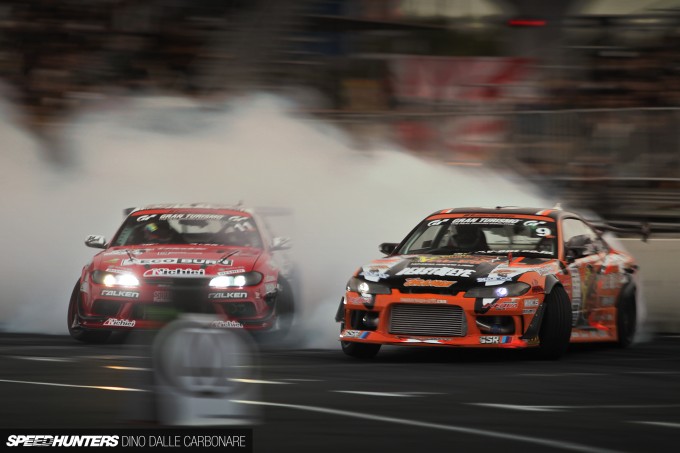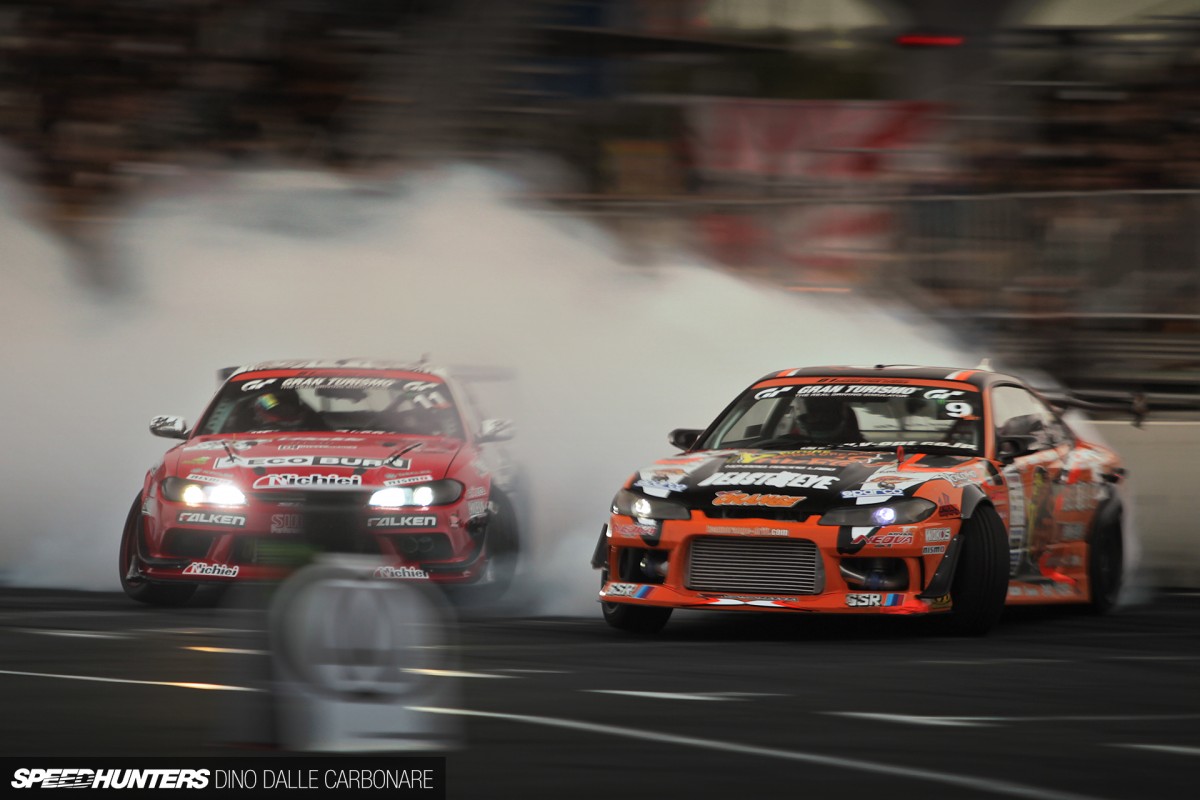 … both drivers driving infallibly, run after run until Suenaga managed to grab the victory by a small margin.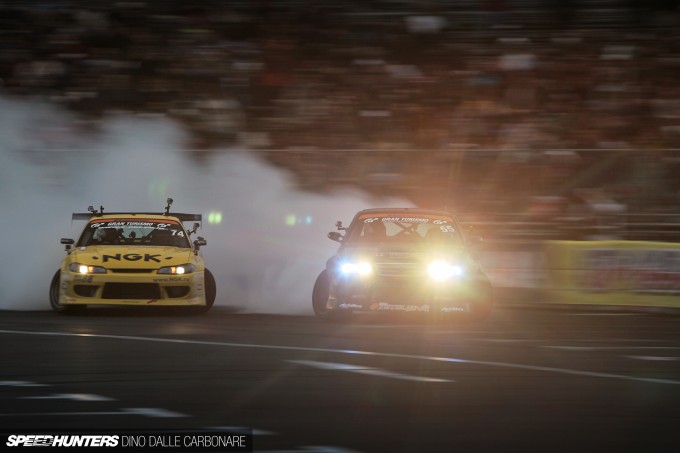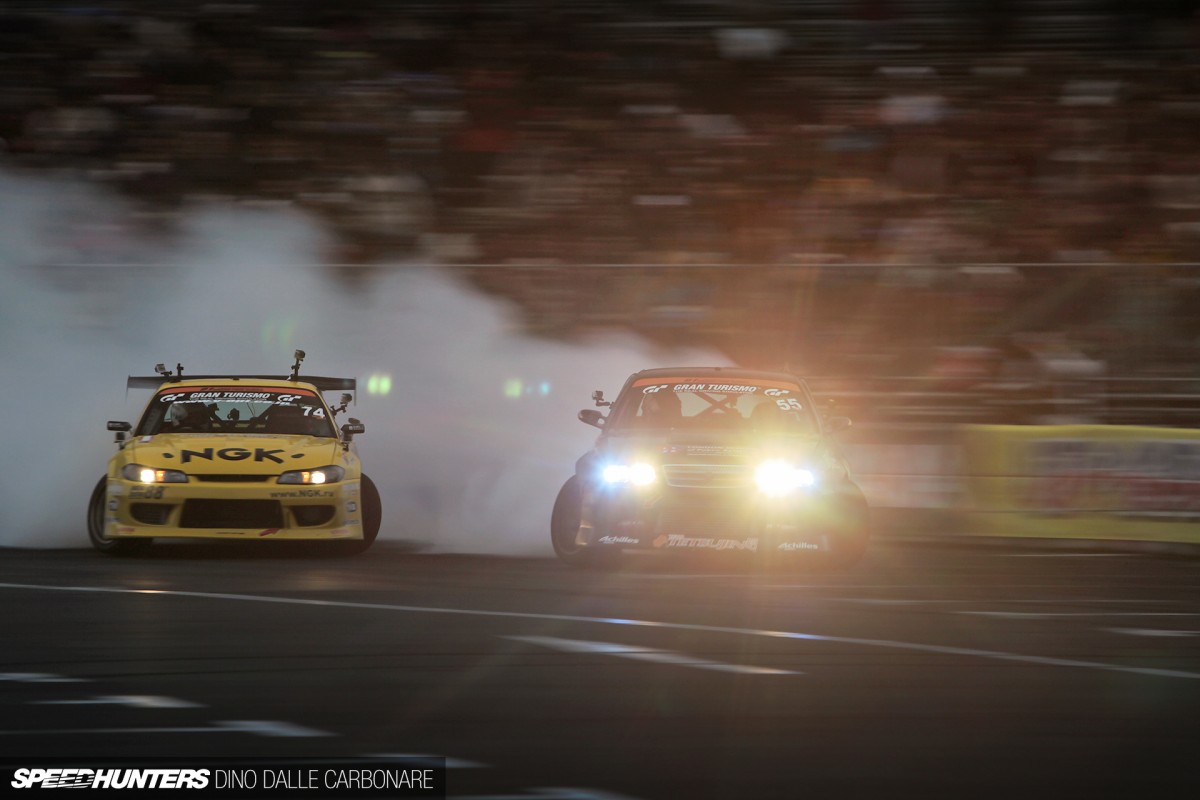 Here is Russian driver Gocha Chivchyan and Amandio, once again proving that D1 is in dire need of a foreign presence to throw a little unexpected excitement into the proceedings. These guys fought hard and aggressively, pushing their respective cars to limits that most Japanese drivers weren't even attempting to risk, so big thumbs up because that's what drifting should be all about!
Rocket launch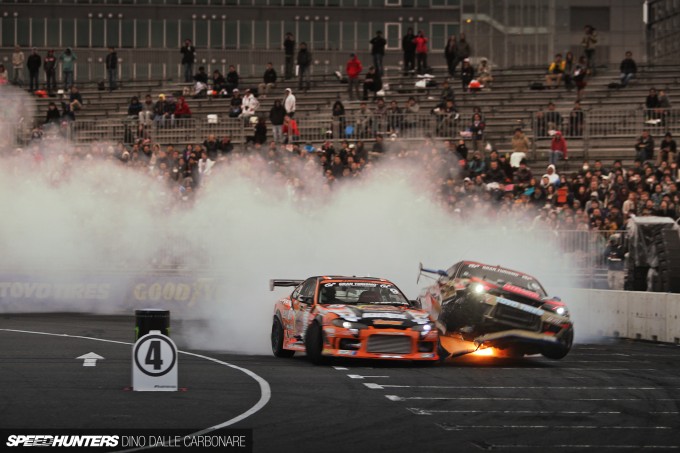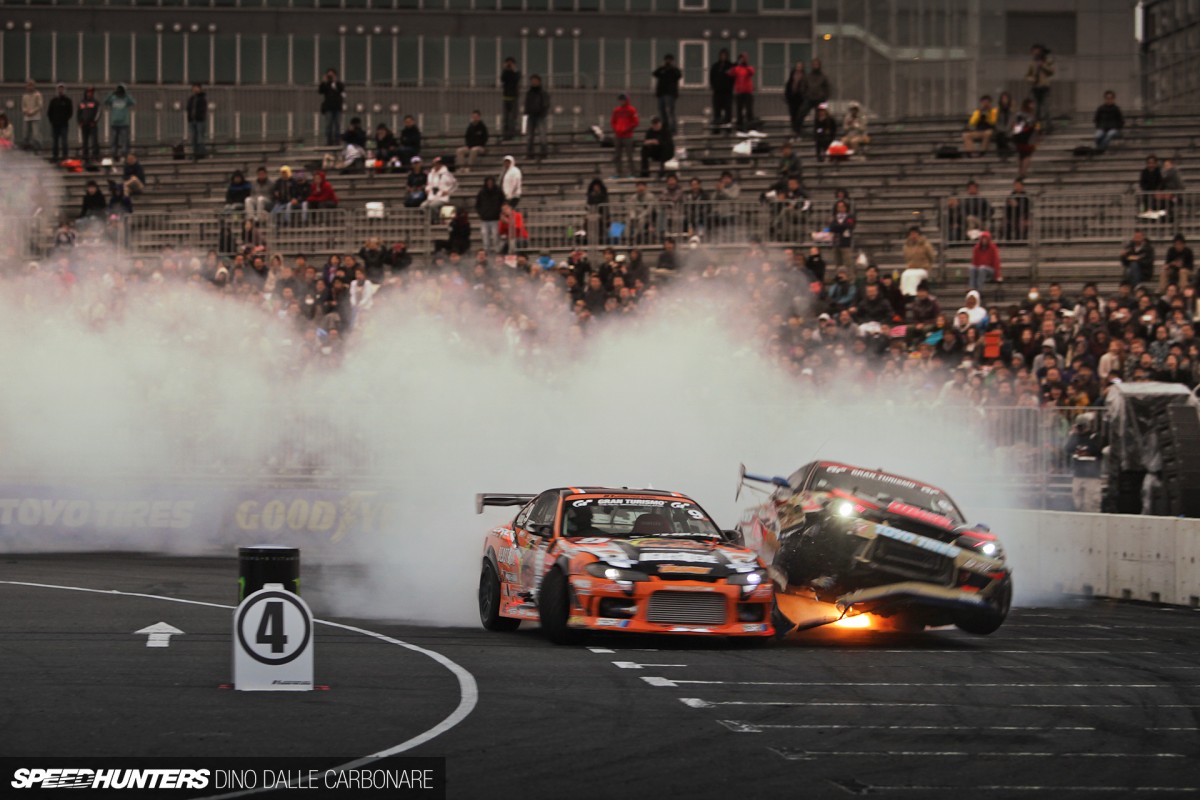 But then in the battle against Suenaga and Utsumi something a little unexpected happened, that sort of redefined 'limits'. After Suenaga lost his drift mid corner and almost came to a stop, Utsumi ended up using his steered passenger side wheel as a ramp…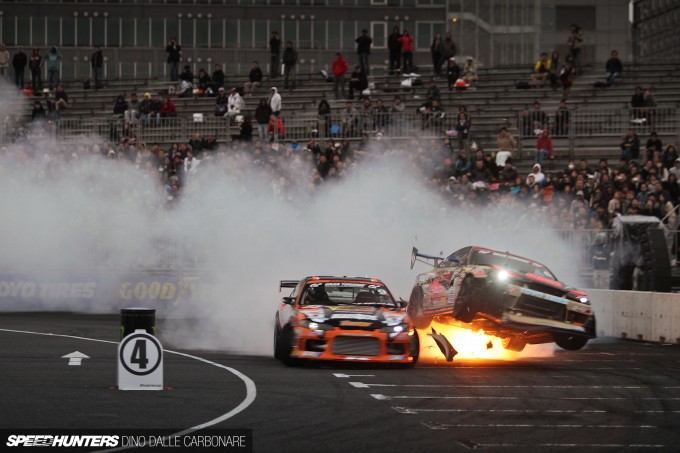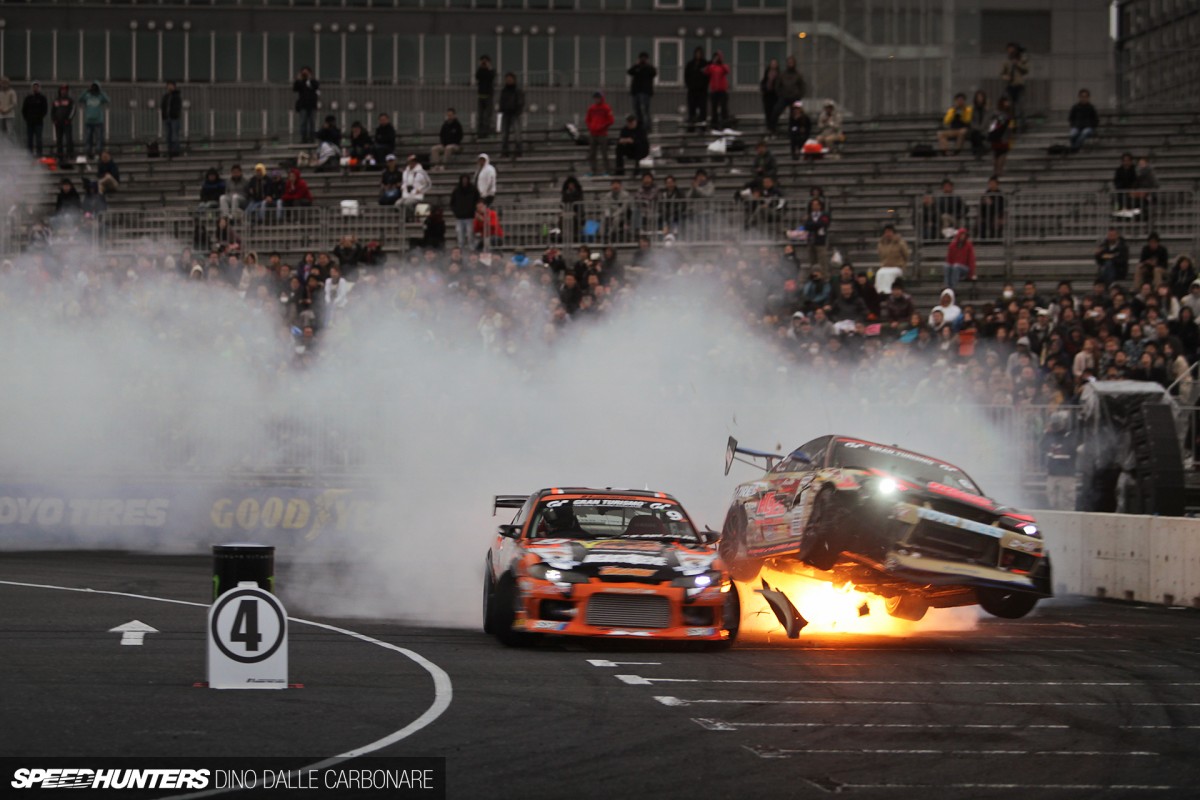 … a ramp that sent him flying up into the air with a massive backfire, lightning up the whole underside of his S15. I've been shooting drifting for well over a decade now and I've never seen anything like that happen!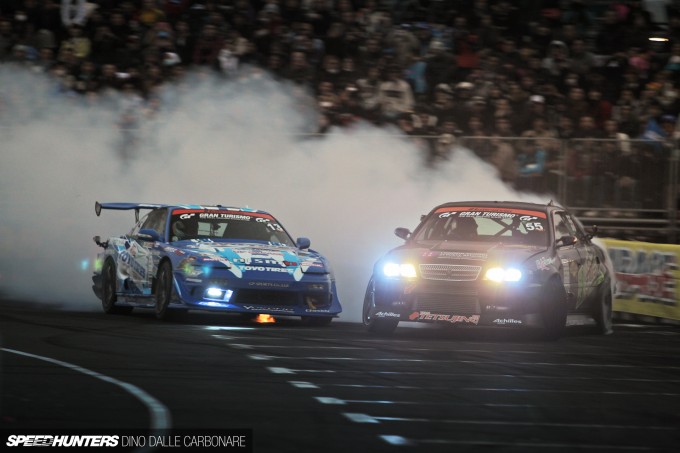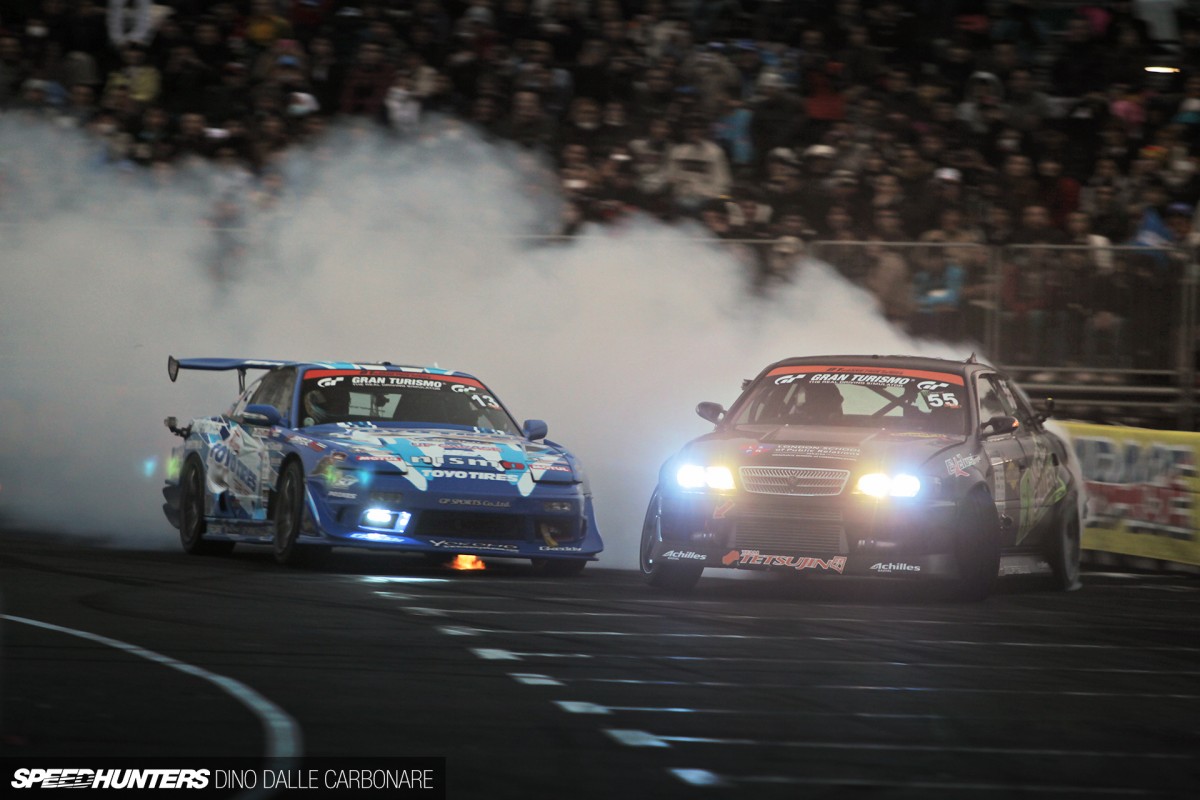 More fire? This time it was from the external wastegate on Kawabata's S15 in his battle against Amandio.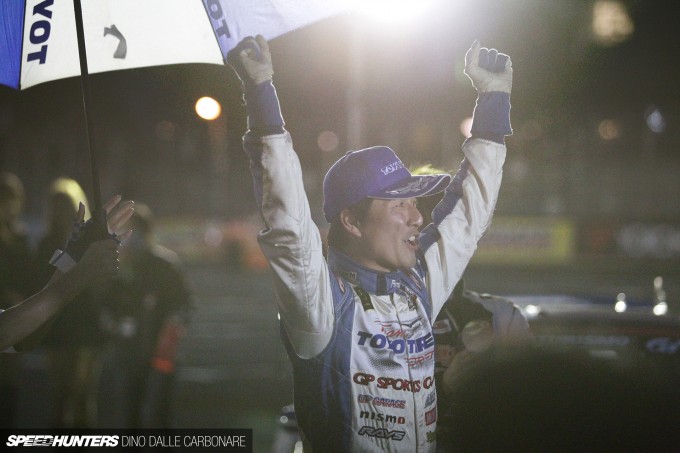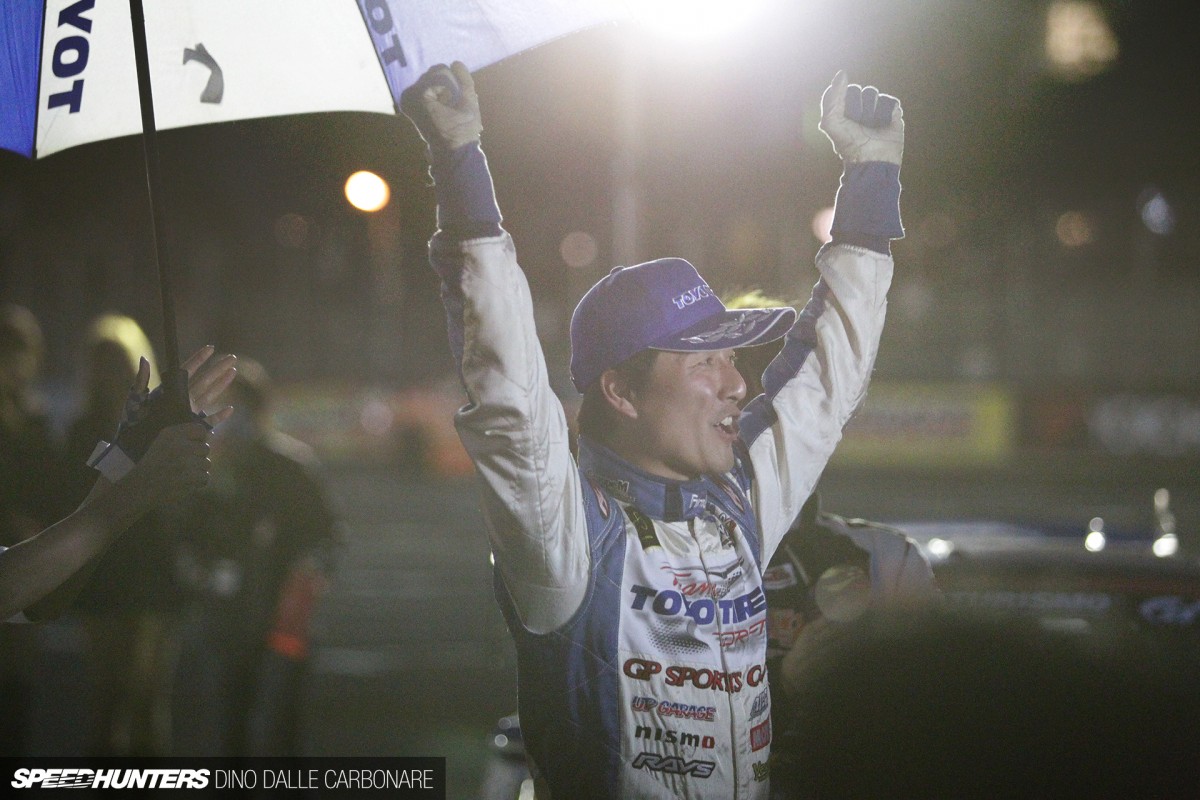 Kawabata ended up going against Utsumi in the final and grabbing the win, taking those points that would guarantee he stayed in front of Suenaga in the standings, clenching yet another D1 Championship title. With the Exhibition to follow the next day, the weekend wasn't quite over yet, but before we take a look at more drifting, there are some cars we should check out first…