Can you believe it's already April again? While I associate April first with my Speedhunters anniversary, for drift fans it means something much more exciting – the official start to the Formula D season. Long Beach is round one on the calendar and brings with it many highly anticipated build debuts. Today we'll take a look at what the boys at Papadakis Racing have been doing in the offseason to prepare our very own Fredric Aasbø's chariot for battle.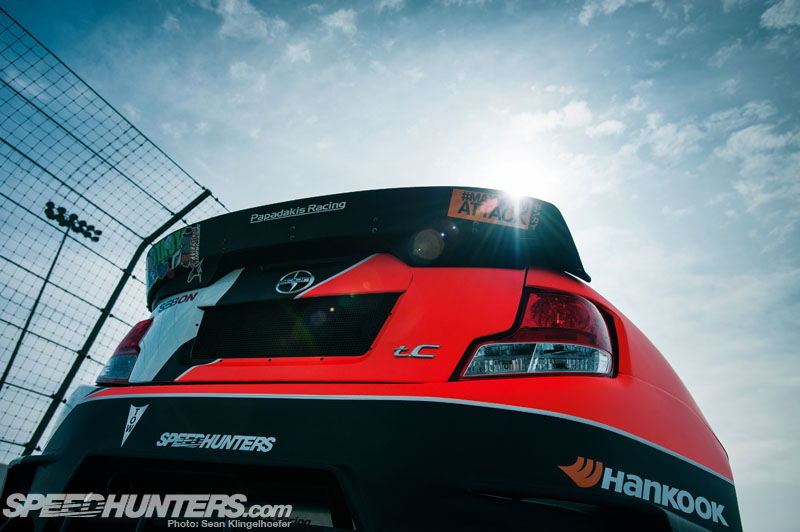 Since the Scion tC was first built the team has spent a lot of time developing its potential, and when they finished the 2012 season they had a pretty competitive machine on their hands. That said, much of the platform remains the same as did for the last season, but there are definitely some changes that have taken place since I last saw the car at Irwindale back in October.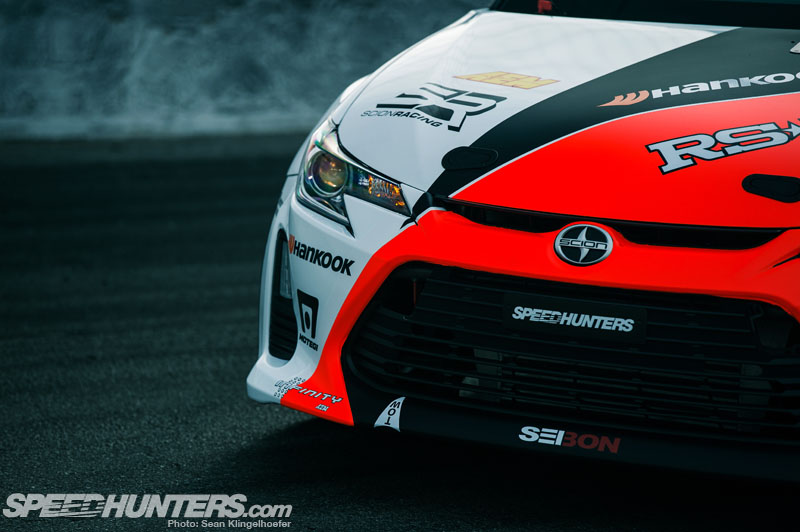 Some of the improvements – like the new 2014-model facelift –  jump out at first site, while others take a more trained eye to spot.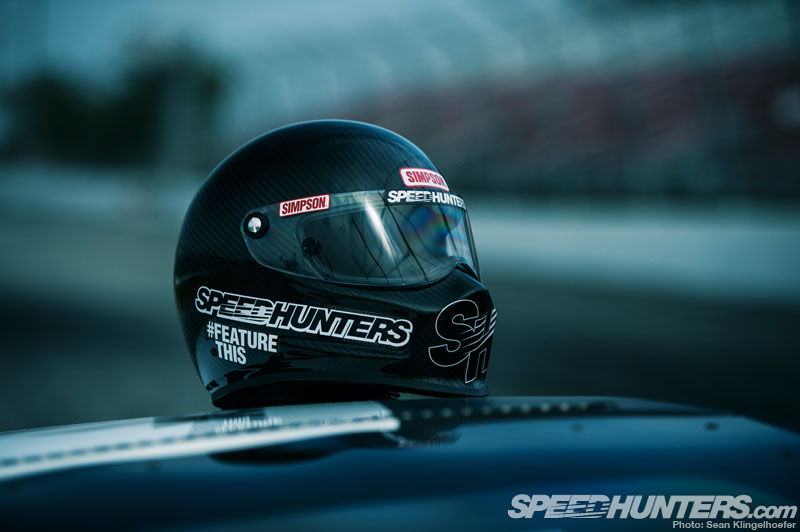 In fact, even Fred's helmet will be undergoing a full refresh. For the time being though, he'll be sporting a Speedhunters-sticker-sheet-on-bare-carbon scheme. Not a bad look if I do say so myself.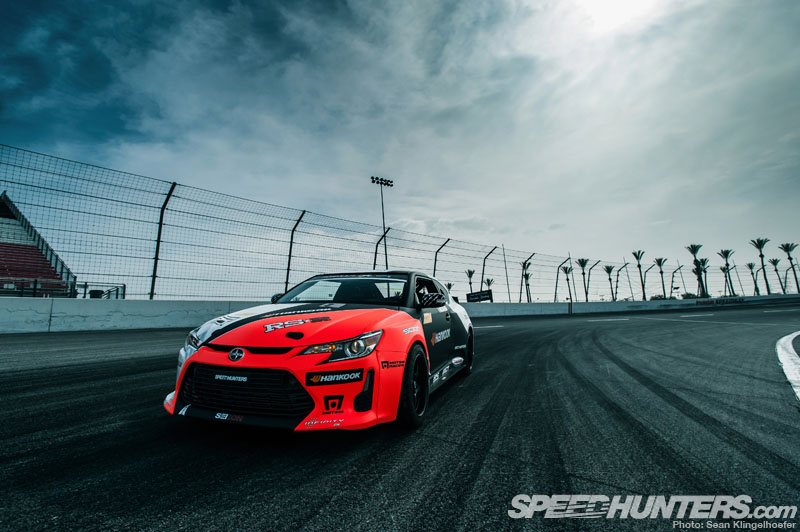 As cool as the new lid is, it pales in comparison when you take in the new front end of the car. There was always something about the car that just didn't seem quite right to me, but I think that the update has improved its appearance ten-fold. At the very least, it's gone up a few clicks in the 'menacing looks' stakes.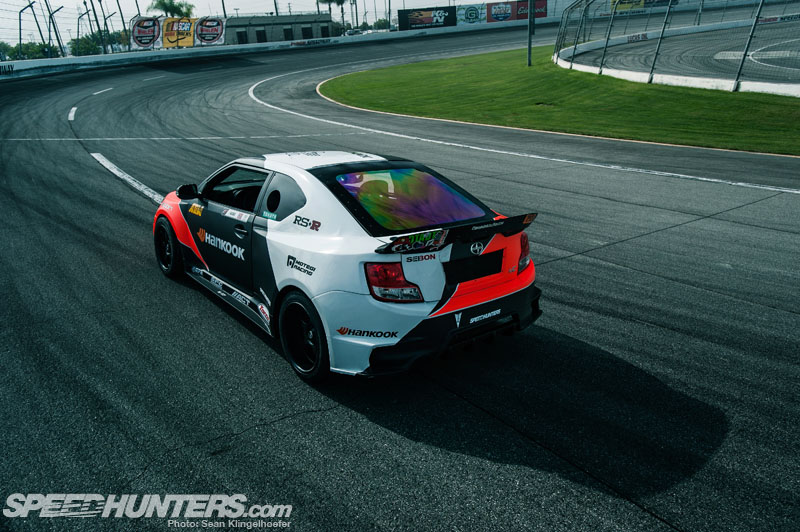 But although drifting is a motorsport that's partially judged on style, a drift car has to do a lot more than simply look good. Knowing that, there's a lot more that has gone on underneath the surface to ensure Fred has a fighting chance at the title this season.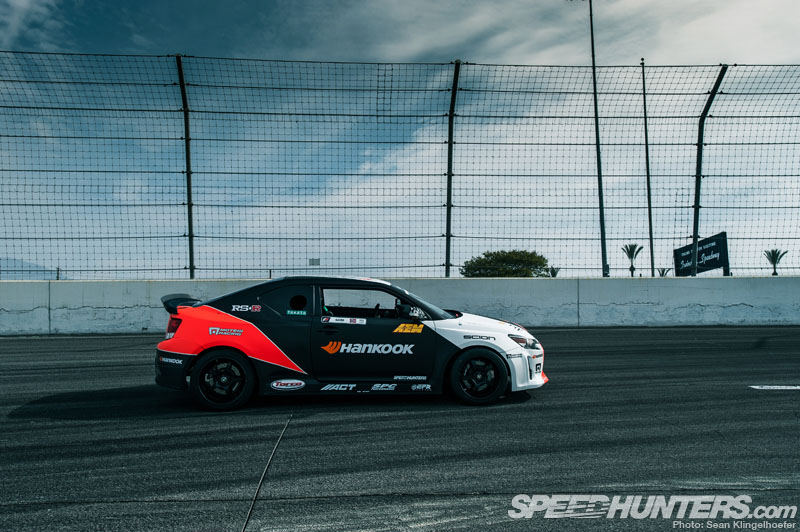 The livery remains largely the same as it did in 2012, with the trippy asymmetrical highlighter orange graphics you all know and love.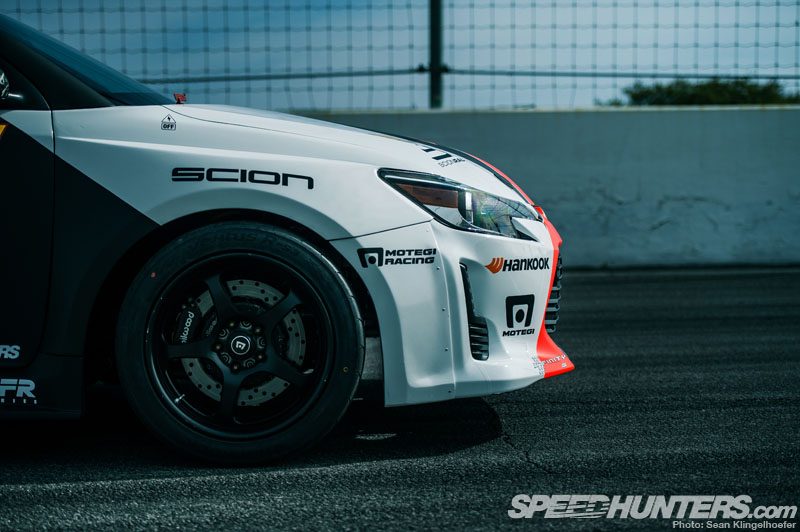 The low-key wheel and tire package utilizing massive Motegi Traklite wheels wrapped in Hankook's very popular Ventus R-S3 rubber, is unchanged too. The tried and true Wilwood brake system has also been left in place.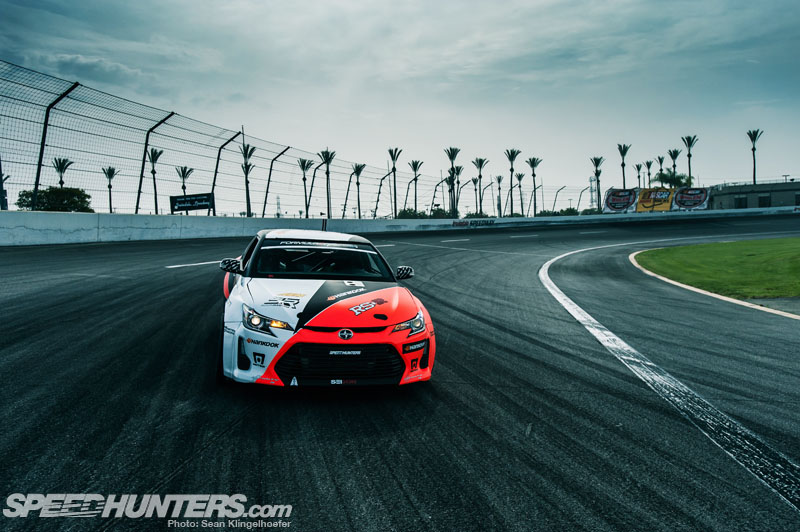 So what exactly has been changed? Well, we'll get to that in a minute, after taking one more gratuitous look at that badass front end. I think that saying this is a 100 percent improvement might be an understatement…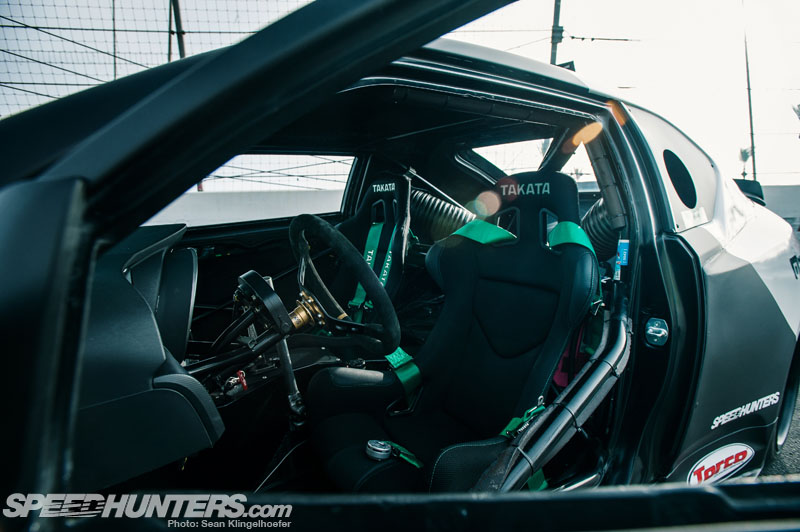 Anyway, inside the cabin we can begin to spot a few changes, starting with Takata Race LE seats, which are a new addition to the harness belt maker's catalog for 2013.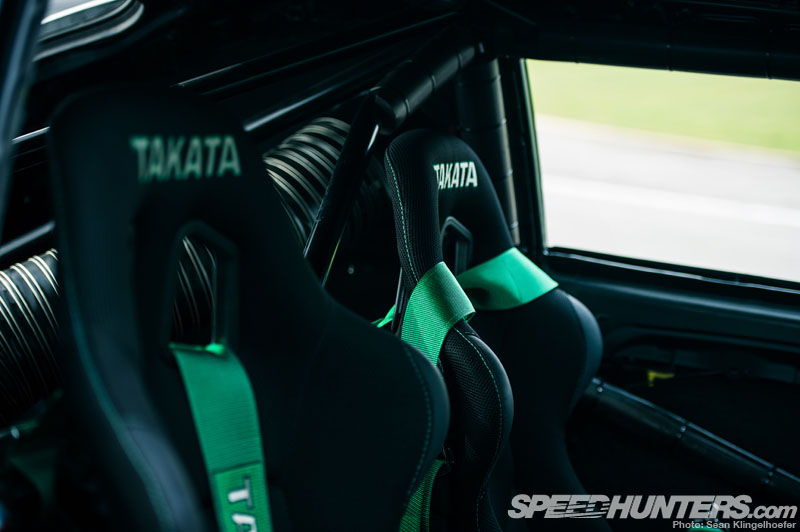 The Race LE's come wrapped with a pretty cool mesh fabric that's different than almost every other racing bucket I've seen. They're also HANS-compatible which is a good thing since Fredric was telling me he's thinking about running such a device this season. I'm definitely interested to hear his thoughts on these after a few rounds.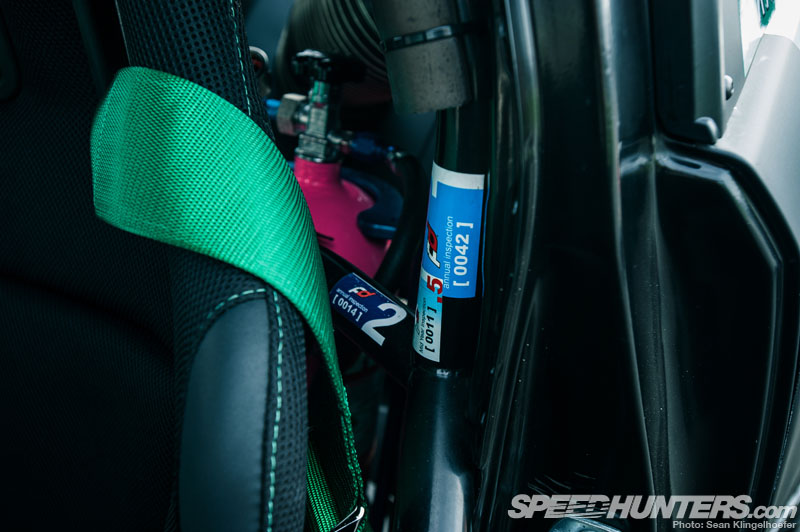 In any form of motorsport it's important to make sure that you first have a safe car, then worry about making it competitive. Obviously the main pillar of safety in a Formula D car is the roll cage, in this case one custom-built by Rob Miller Race Cars – a legendary fabricator in the world of drag racing. And yes, that pink bottle in the background is indeed nitrous, but we'll get to that later…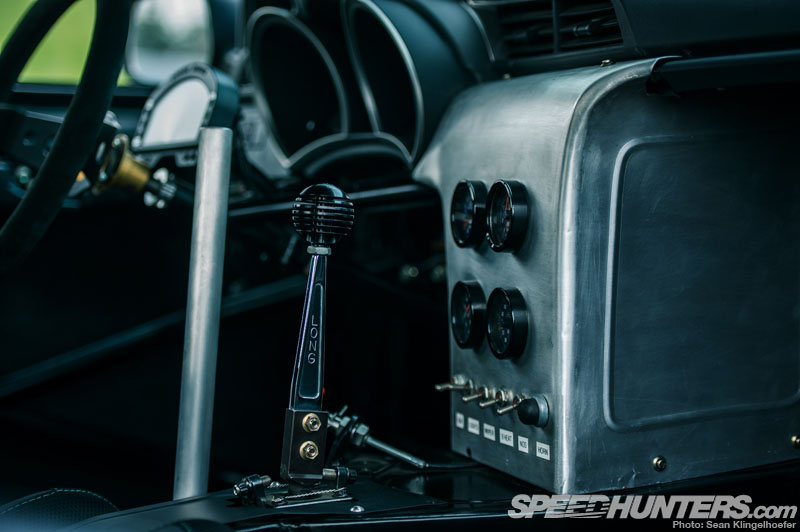 The four-speed G-Force GSR gearbox used in the car might have been designed for circle track duty, but if you think about the speeds and demands of drifting, this type of transmission makes perfect sense. Because corners are taken at relatively similar pace to racing there isn't a need for a full set of conventional gears, and that makes the transmission both lighter and stronger, and therefore well-suited to the application.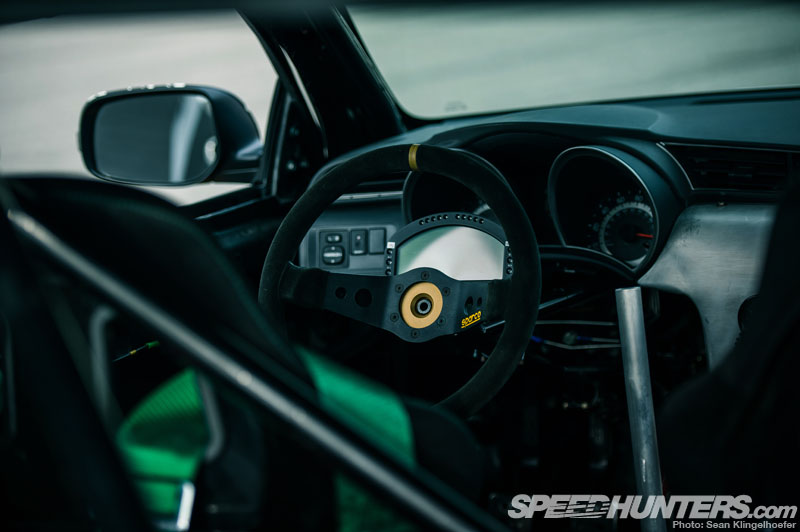 Other than that, the cockpit is pretty straightforward. Everything you would imagine needing in an all-out-drift-run is there, and anything not needed in that minute or so of fury is removed. I'm really digging the industrial looking handle on the e-brake!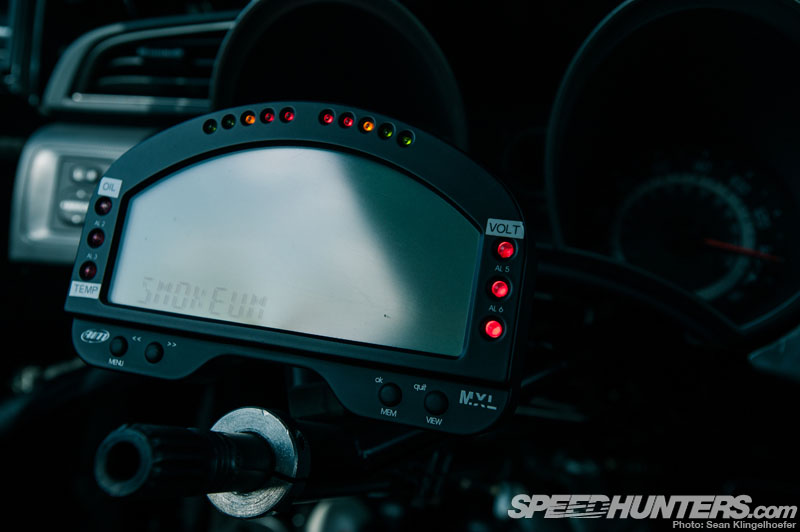 In the rare circumstance that Fredric suffers from a case of amnesia, there's this message on the startup screen to remind him exactly what he does for a living. That, or it's yet another The Fast and the Furious reference, but either way, I like it.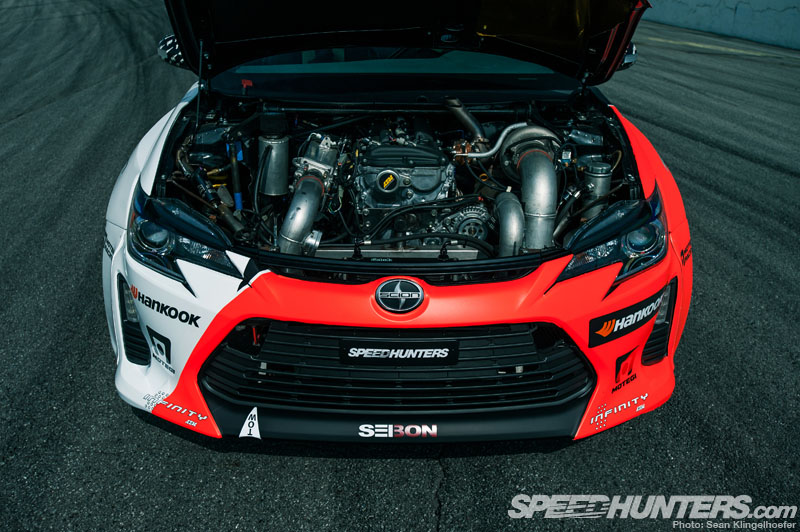 As cool as the rest of the car might be, I think the real magic is in what lies under the hood. Many of you will remember that prior to this build Stephan Papadakis and his team had built another RWD drift monster tC for Tanner Foust. In that instance the team decided to tap power from Toyota's NASCAR program and installed a massive race-prepped V8. While that engine proved very successful, they decided to take another route this time around.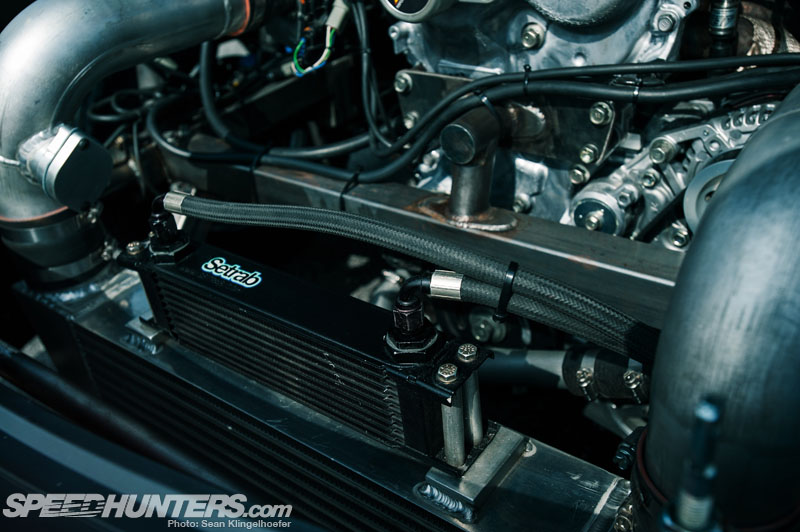 For 2013 the tC's factory-spec 2AR-FE is the base, albeit stretched in capacity and re-oriented 90 degrees to align it in a more RWD-friendly longitudinal layout. While there is unquestionably a fair amount of fabrication work done to fit the engine in its new location, that's just the tip of the iceberg in making the car competitive.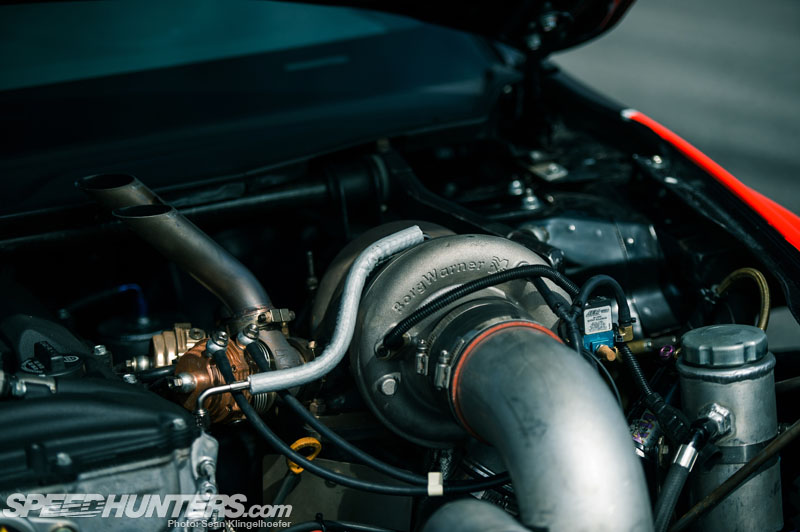 On paper the numbers don't lie: over 800 wheel horsepower and 700 wheel torque – and that's without firing up the nitrous system. Clearly a lot of that can be attributed to the star of the show – a massive BorgWarner EFR turbo. For those of you unfamiliar with the EFR line, take a few minutes and Google it. Having one of the world's most technologically advanced turbos bolted to the engine is certainly a great start, but it's the supporting team and the minor details that bring the package together, and ultimately make reliable power.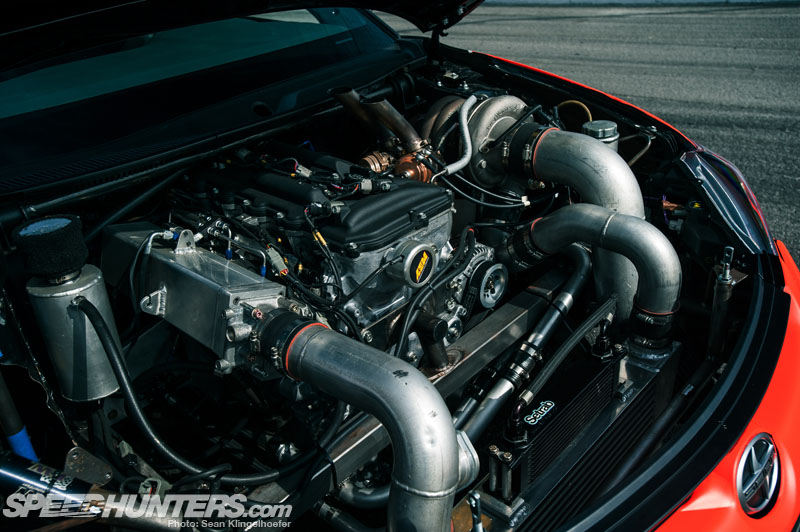 Shockingly, many of the engine's internals remain standard items. Some pieces, like the camshafts, have been made slightly more aggressive, while other factory components have been borrowed from Toyota siblings like the 2.7L crank out of a Highlander. Once you take that foundation and massage it in all the right places like head work, Supertech valvetrain, JE forged pistions and an Infinity programmable engine management system from AEM, you're ready to make some serious numbers.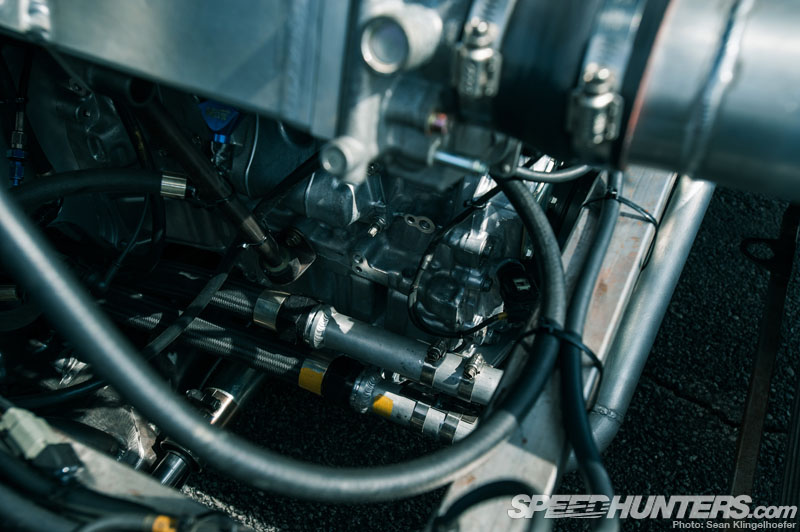 For most tuning shops this type of performance seems borderline unfathomable, but if you grew up like me you'll know that Steph was a world-record holding drag racer in the late '90s. Nothing he does surprises me these days. To put it lightly, the dude is a legend who is relentlessly looking for gains, which is probably why they made another breakthrough in this year's build that can be seen by following these inconspicuous looking water lines…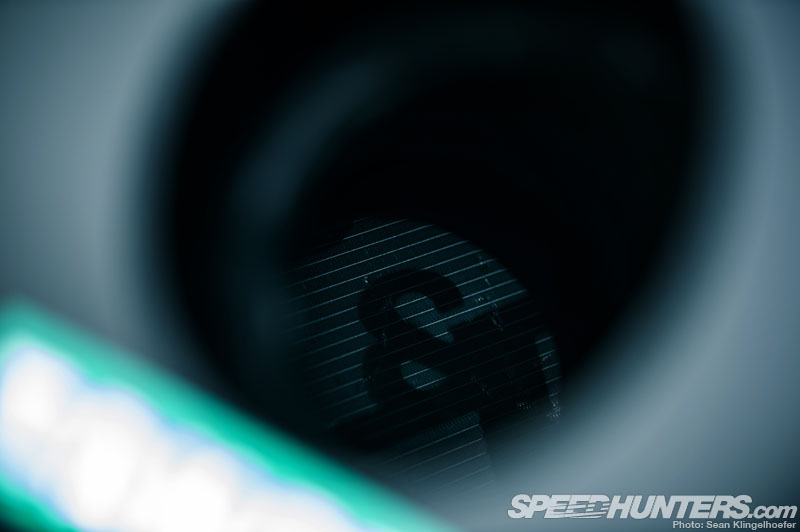 Or the massive new openings in the quarter-windows…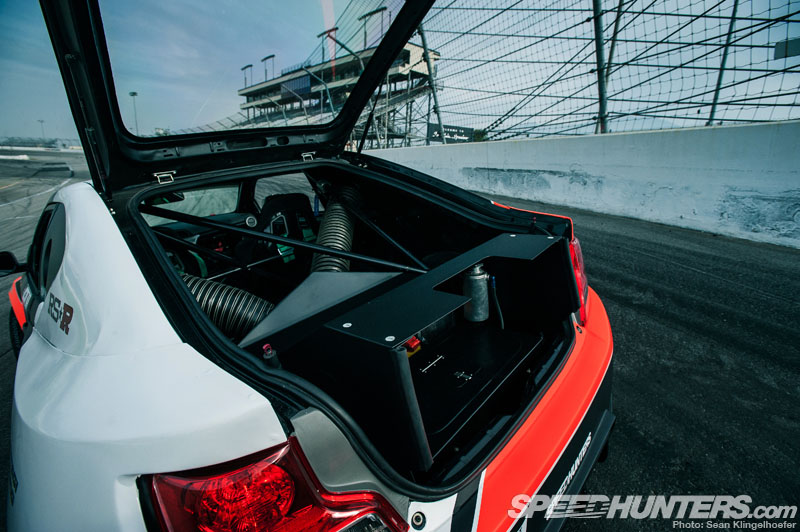 …which both hint at a new rear-mounted radiator setup. The advantages of having a radiator in the back are at least three-fold and I believe we've discussed them at length in the past. However if you missed those discussions here are a few benefits: you shift some of the weight to the back of the car which can improve balance; you take one of the most delicate and critical components and put it in a better-protected area; and it frees up more space in the front for a larger intercooler or more creative routing of other components.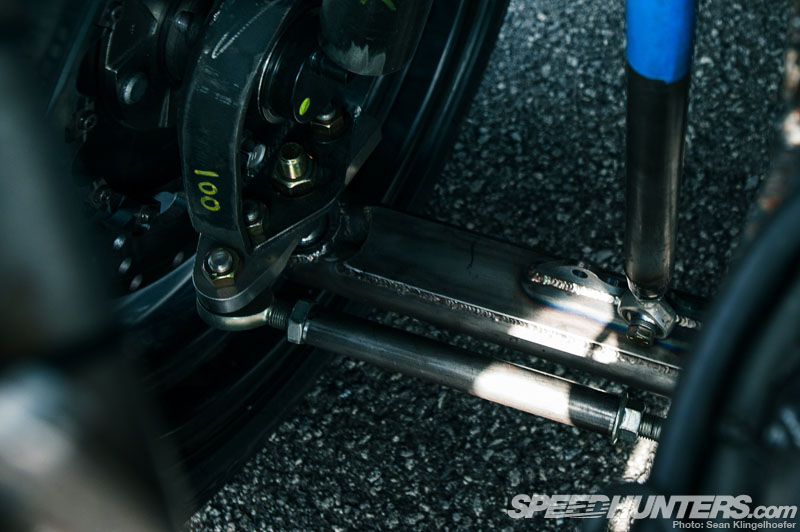 I think it goes without saying that reassigning a drivetrain configuration requires a lot of miscellaneous custom fabrication, and a lot of that hard work can be seen in the suspension. At the front of the car Papadakis has utilized an S14 strut and in doing so had to create custom knuckles, steering linkages and lower control arms…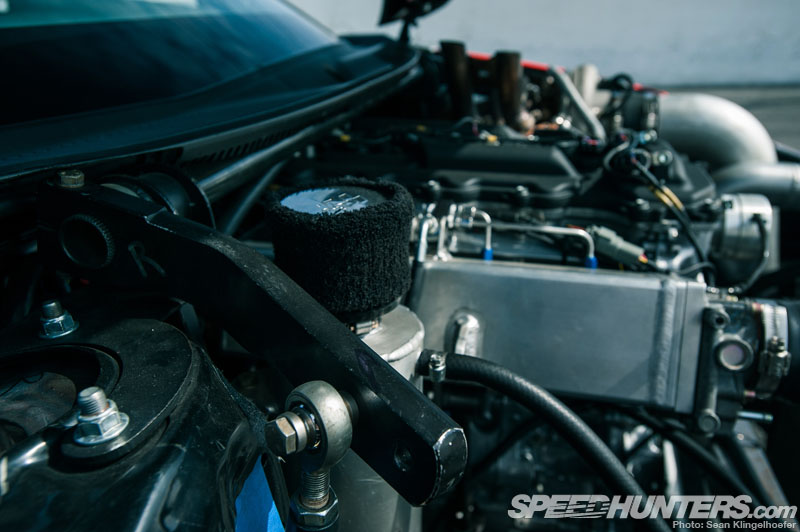 …which have pretty trick provisions to allow the use of a top-mounted hollow sway bar. I presume that due to the new engine configuration either part of the oil sump and/or gearbox now reside where the standard bar would go, so moving it to the top was about the only solution – and an ingenious one at that.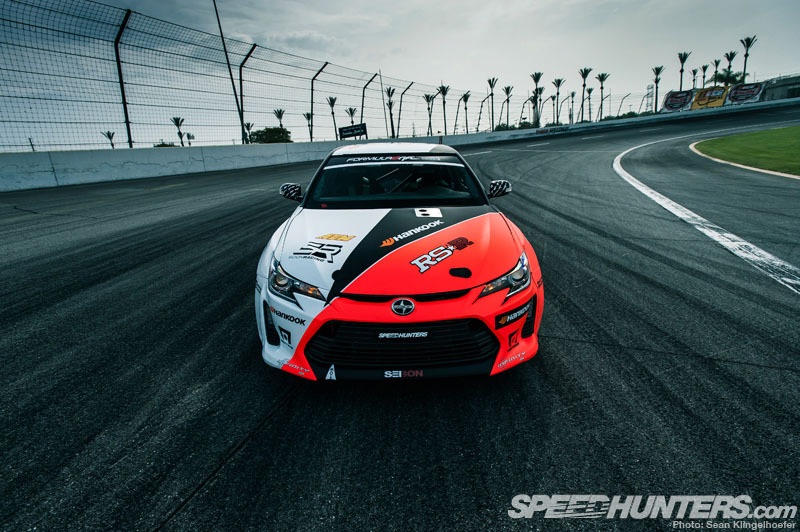 I was joking with Fredric at the time of the shoot that I knew shockingly-little about the car before. The sad fact of the matter is that during the course of a drift weekend everyone is very busy. The crew is feverishly preparing the car and as journalists we're running around frantically trying not to miss 'the shot'. Therefore, opportunities to sit, examine and really appreciate a car's intricacies are scarce.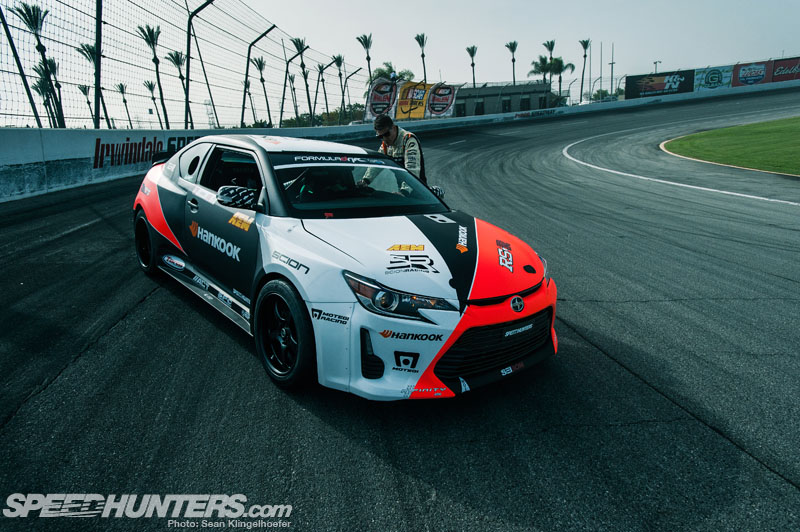 As much as I had enjoyed giving the car a good once over I could tell that Fredric was eager to get back behind the wheel and start shaking down his freshly sharpened blade.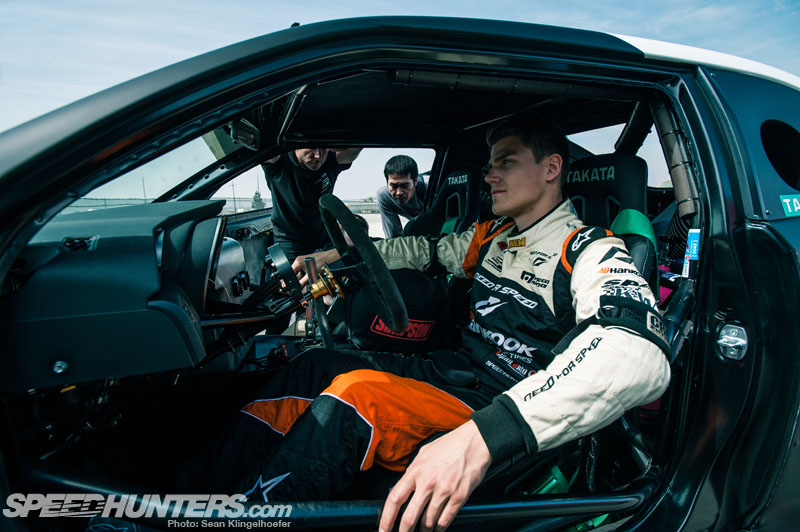 The car was transported back to the pits briefly and the team spent a few minutes going through fuel maps before Fred was finally cut loose and left to do his thing.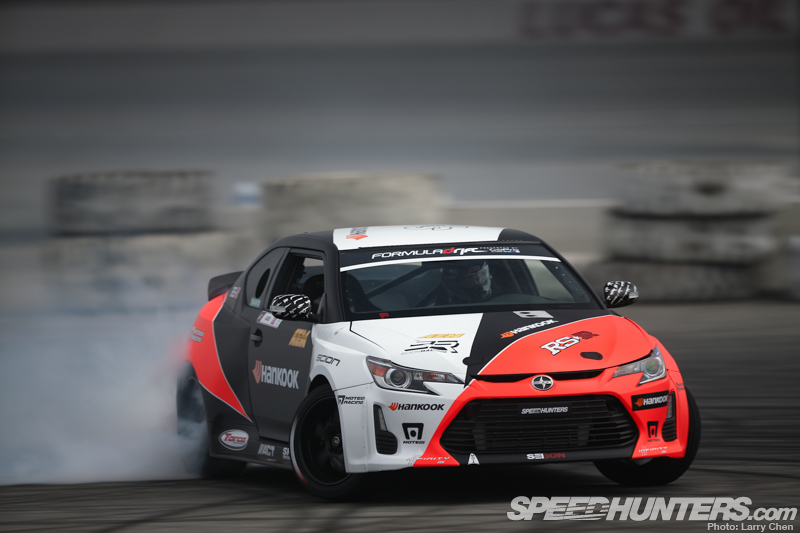 Perhaps I shouldn't have been shocked, but within seconds Aasbø was back to his old self and tearing up the makeshift Long Beach test course that he and Ken Gushi laid out over Irwindale's tarmac.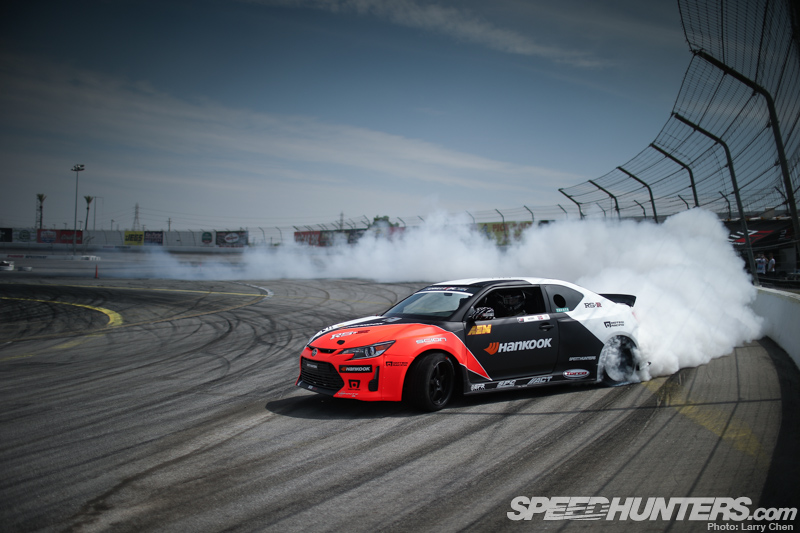 Yes, he did indeed "smokeum"…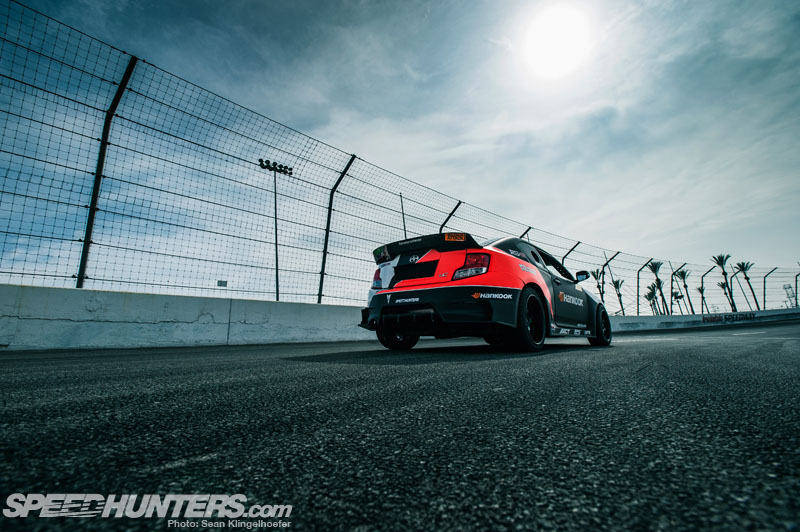 For fear of jinxing anything, I won't say too much more than you have to rate the team's chances this year. When you have a hungry driver with his head on straight, a very sharp crew chief and a team of eager guys backing up the car only good things can come. On behalf of all the Speedhunters, I wish Fredric, Stephan and the rest of the team the best of luck. See you guys in Long Beach!
Sean Klingelhoefer
Instagram: seanklingelhoefer
Additional photos by Larry Chen
2014 Hankook Tire Scion Racing tC built by Papadakis Racing
Numbers:
800+whp, 700+lb-ft
Engine:
Toyota 2AR-FE, 2.7L inline-four, 10.5:1 JE pistons; Supertech valvetrain, Portflow ported cylinder head, AEM Infinity EMS, Universal fuel rail, 25-201 fuel filter, BorgWarner EFR8374 turbocharger, dual 38mm TiAL MV-S wastegates, Injector Dynamics 2000cc injectors, Torco oil
Driveline:
G-Force GSR 4-speed dog box, ACT 3-puck clutch & flywheel, Driveshaft Shop driveshafts, TRD LSD, Torco fluids
Suspension/Brakes:
RS-R coilover suspension, custom front &rear geometry and sway bars, SPC adjustable links, Wilwood brakes, Rob Miller Race Cars custom Formula D-spec roll cage
Wheels/Tires:
Motegi Traklite wheels – 17×8.0J (f) 18×10.0J (r),  Hankook R-S3 tires – 225/45R17 (f) 265-40R18 (r)
Exterior:
Custom widebody kit by Seibon including carbon fiber doors, hood, trunk, bumpers & over fenders
Interior:
Takata Race LE seats, Takata harnesses, AEM serial & UEGO gauges, AiM Sports digital dash
---
---
---