Setting styles
I hope you have all been enjoying the impressive amount of content we've been pumping out this week, and here in my little corner of the world these past few days have mostly been a reflection on what I saw at the Slammed Society show on Sunday. We all know just how damn good the Japanese are at making cars sit just right; they are naturals when it comes to fitment…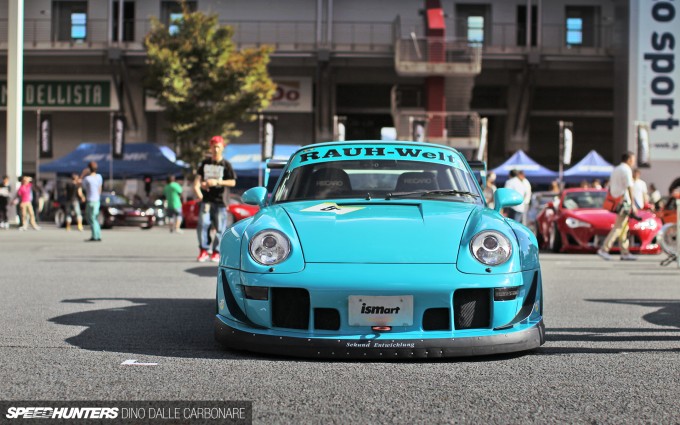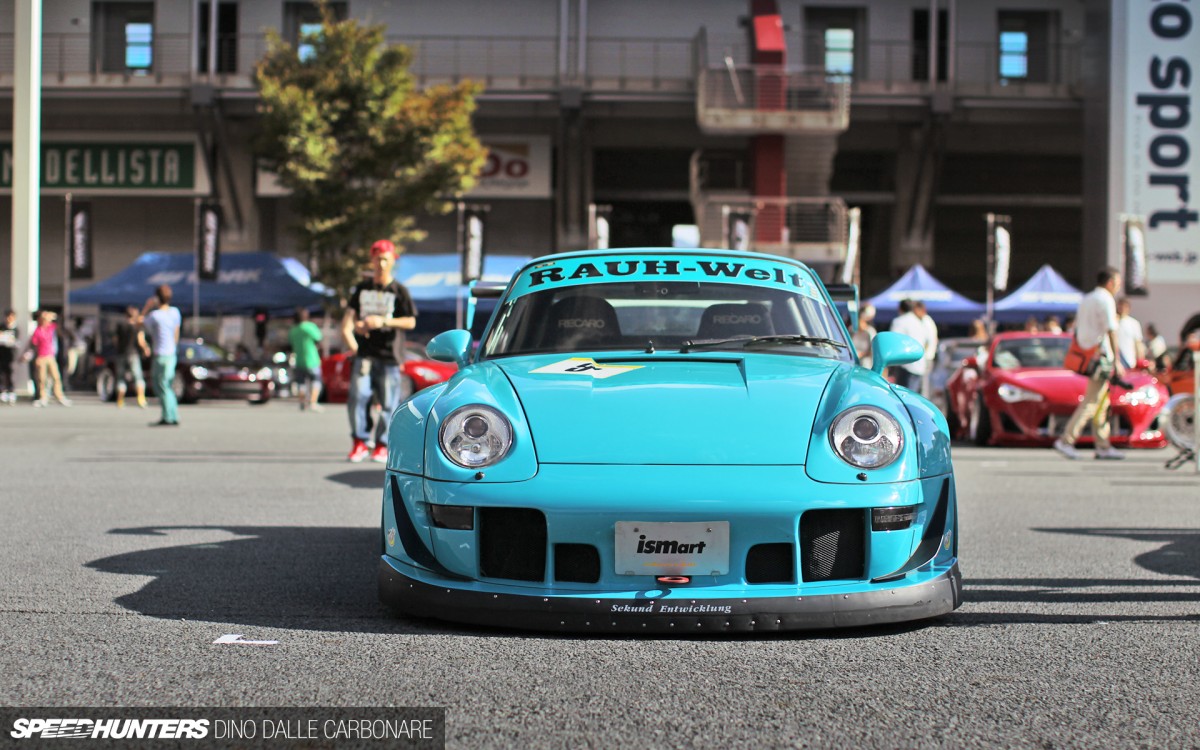 … with lots of shops basing their entire brand around this very aspect.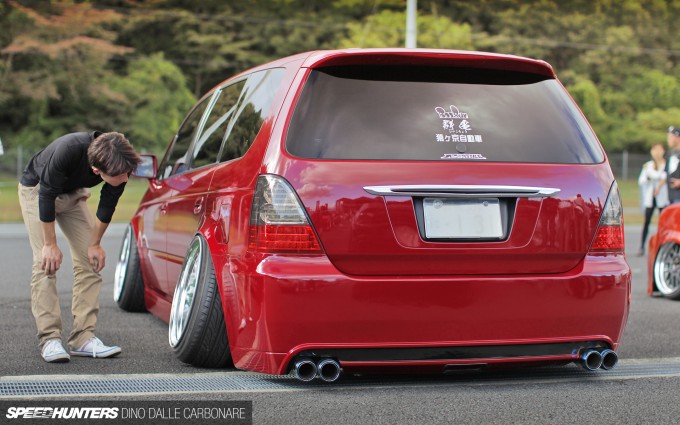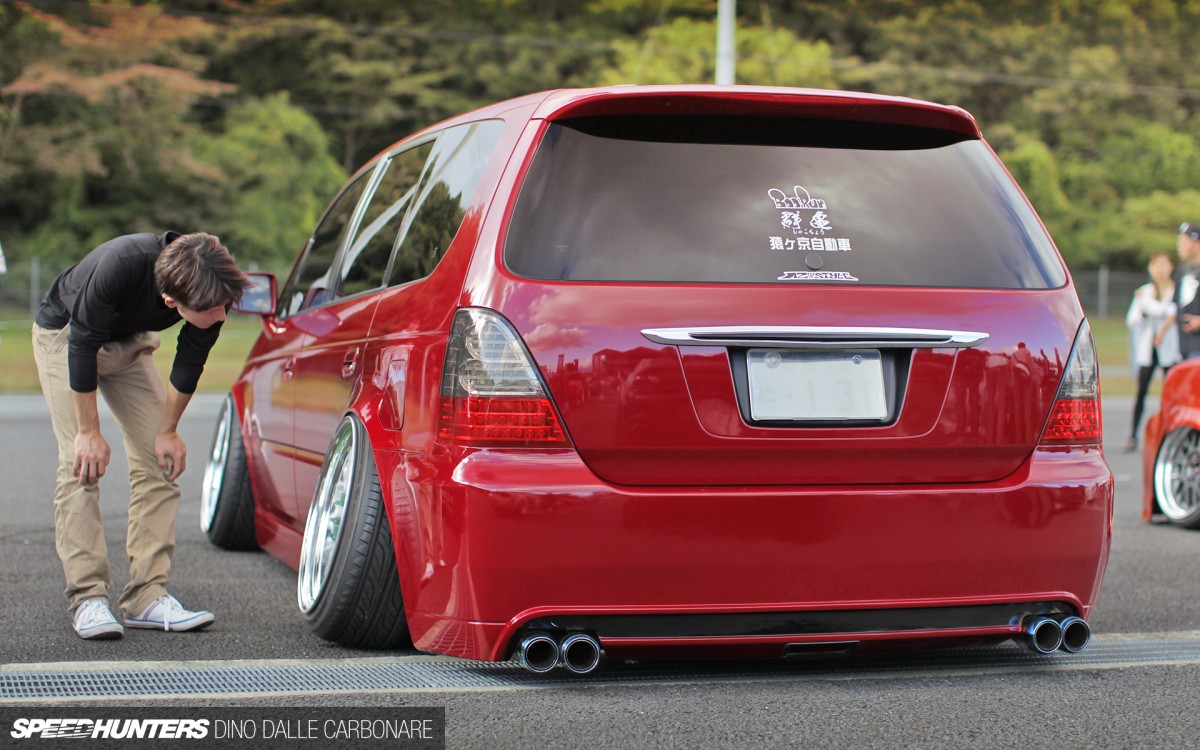 It's the extremes of course that make these shows a great day out for people, looking around at what others are doing with their rides and the brave things they at times do in order to get noticed.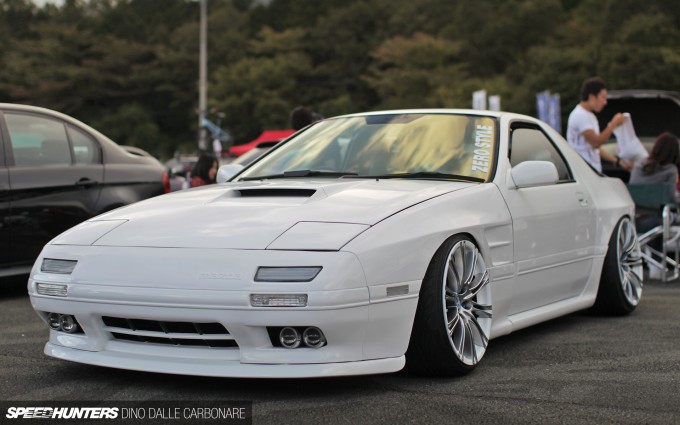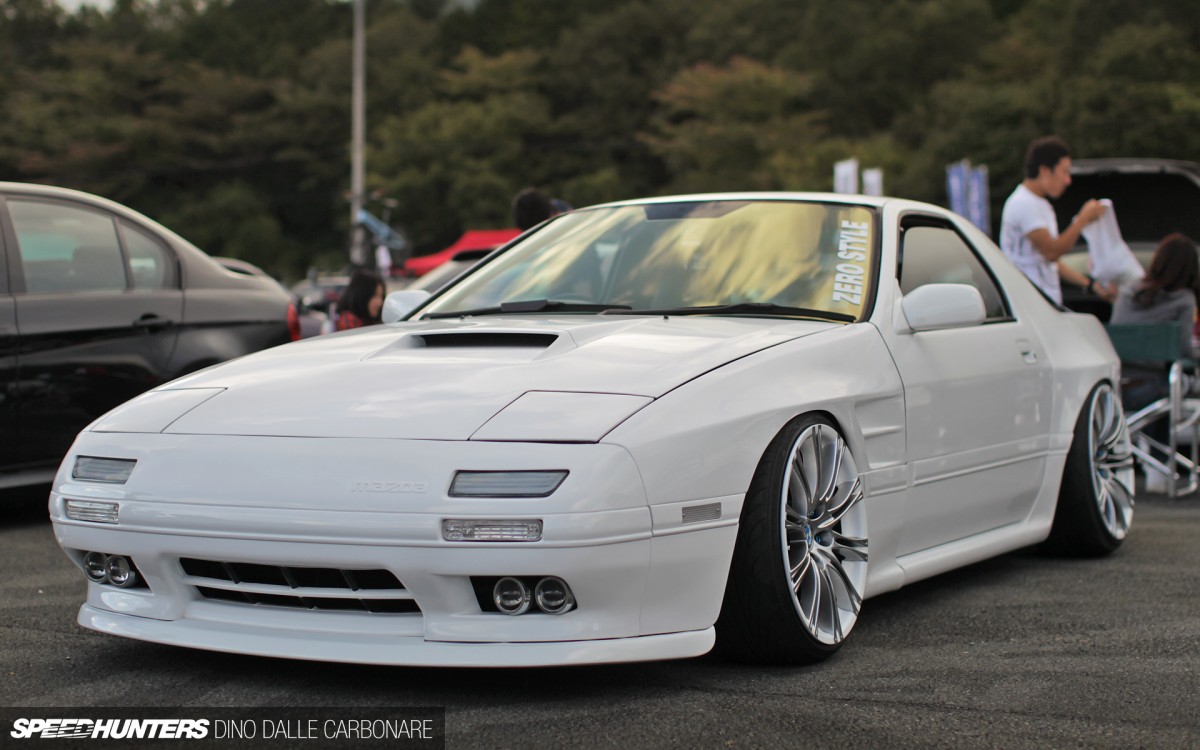 In this final post I'll go through some of the cars that stood out the most, because with close to 400 present I can't possibly show you everything that showed up. And what better way to get going on this best of the rest gallery than the Zero Style FC, a rotary we have seen before at VIP meets like Excite King. The BMW wheels are still there, now color-matched in white, and the car still oozes presence out of pure simplicity.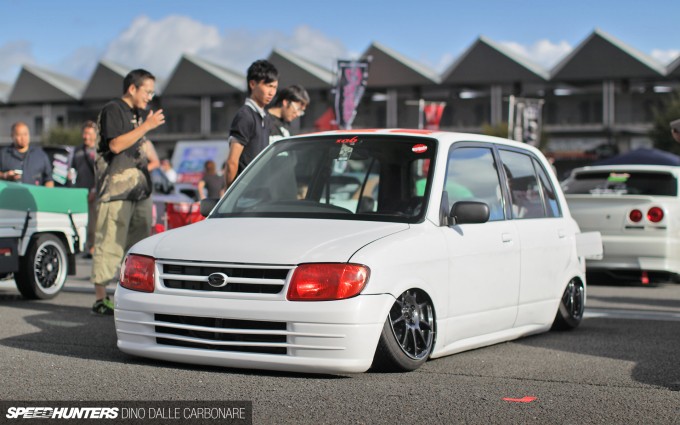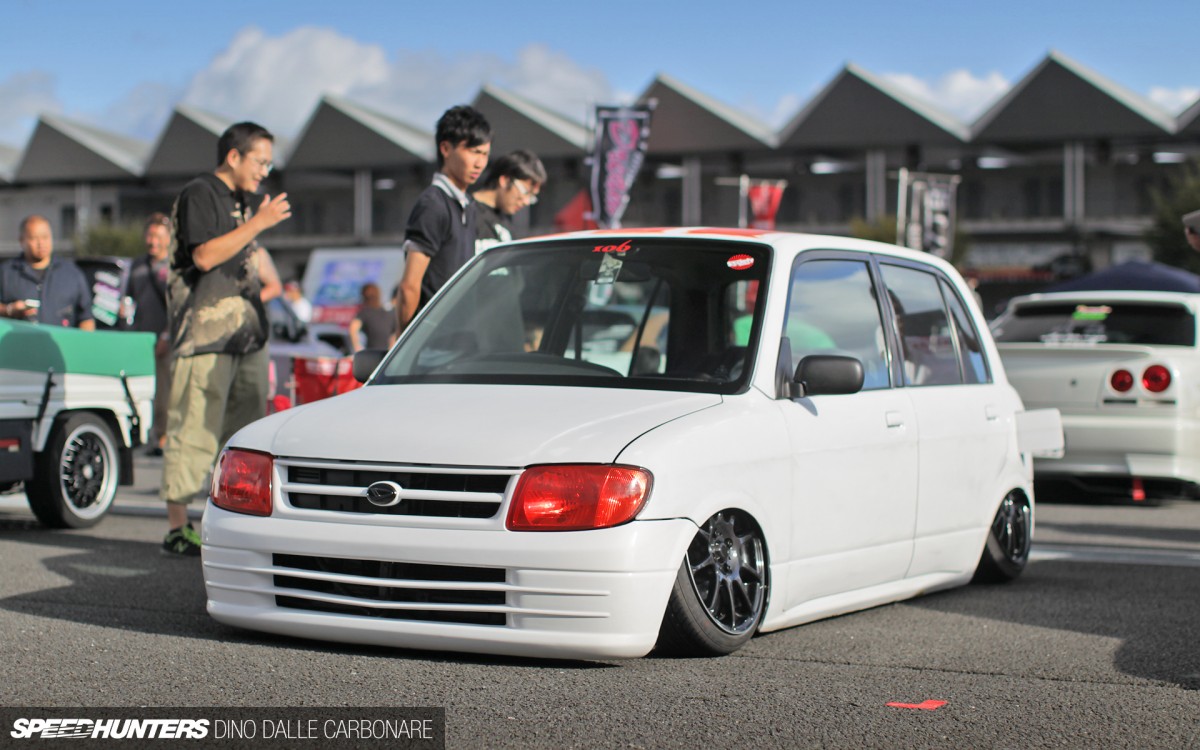 Simplicity can be taken to various levels and this little Daihatsu is the perfect example. It may look close to stock aesthetically speaking but a ton of work must have gone in order to tuck 30% of the rims (almost half at the back!) inside the fenders!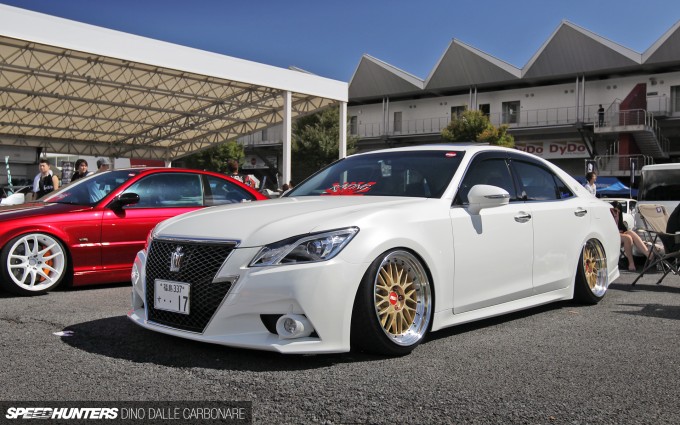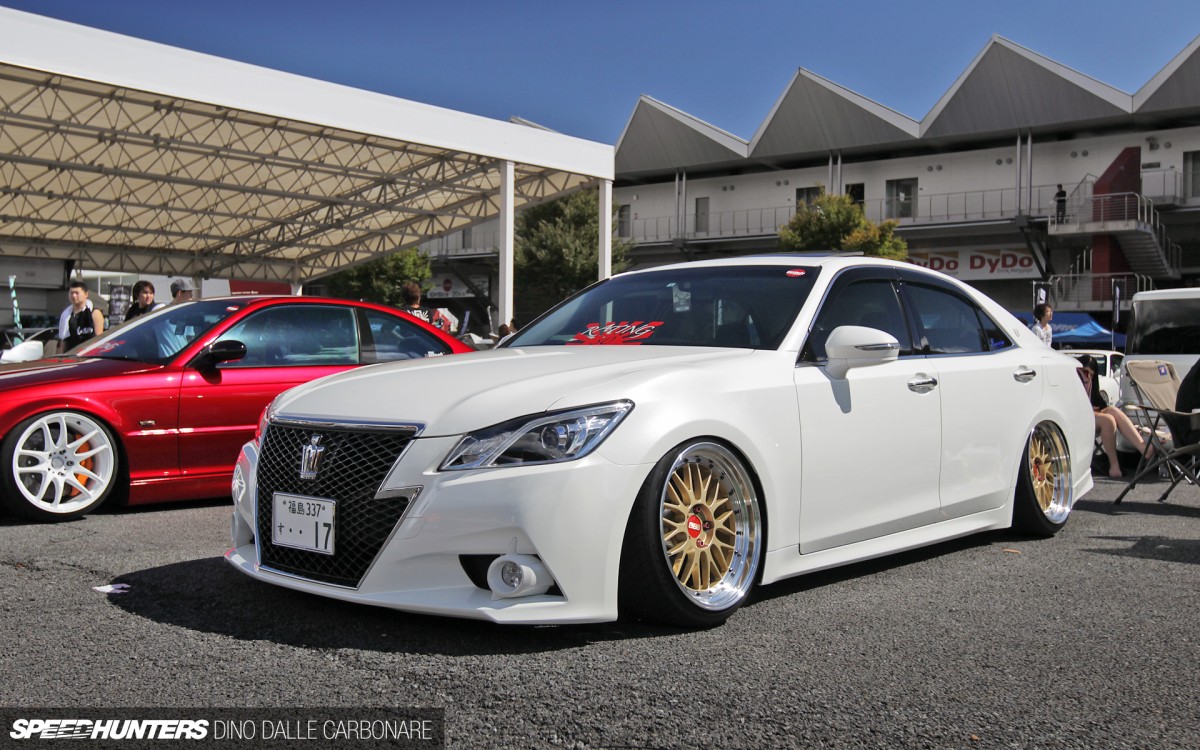 While Toyota/Lexus are having questionable issues with their grille designs as of late, I can't help but say that the weird pointy one on the new Crown seems to look pretty cool provided the car is done up properly. This one was sitting on BBS LMs and we all know that anything on these rims will look fantastic.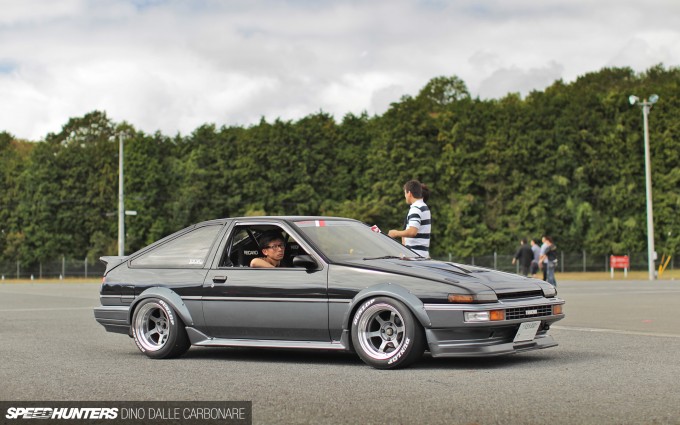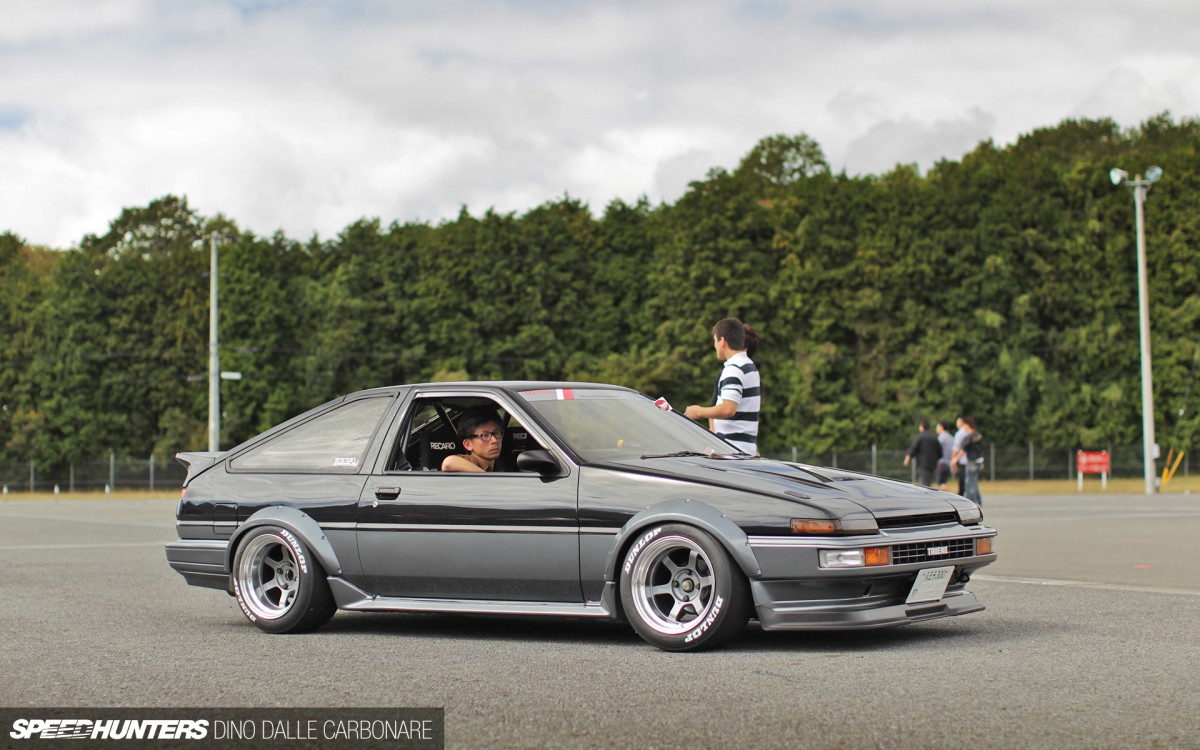 From the simplicity-driven side of this stance movement, we move into another area, the more authentic approach I'd call it, where the car's ride height is dictated by a need for better handling and performance rather than looks. This AE86 on TE37Vs and Dunlop slicks was the perfect example.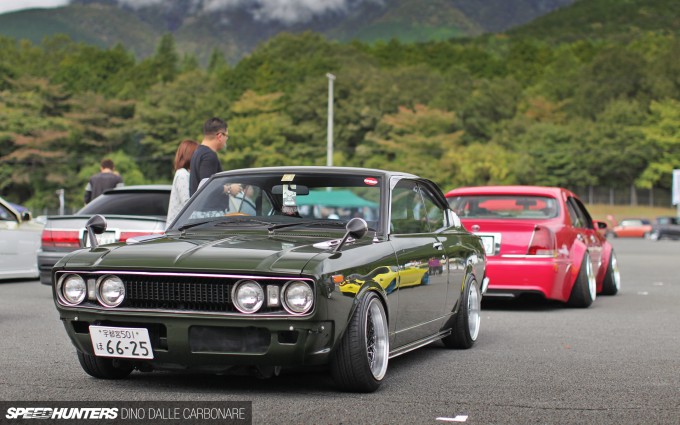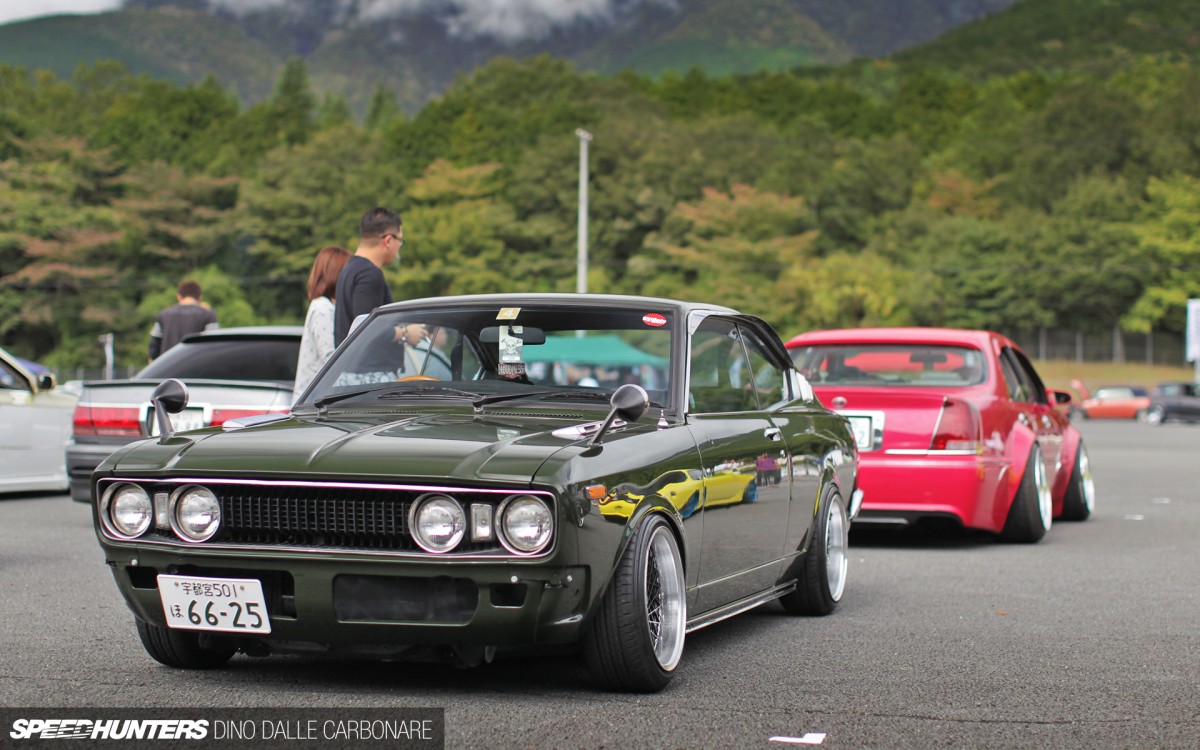 The purists that complain so much about low cars might like seeing classics riding three feet off the ground but I think a lot of us prefer them when they sit closer to terra firma!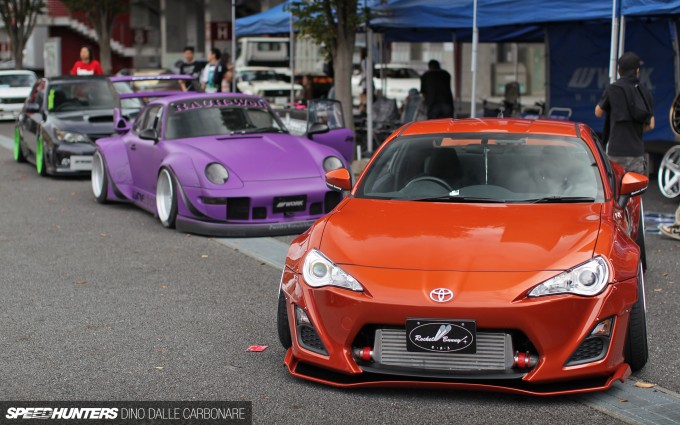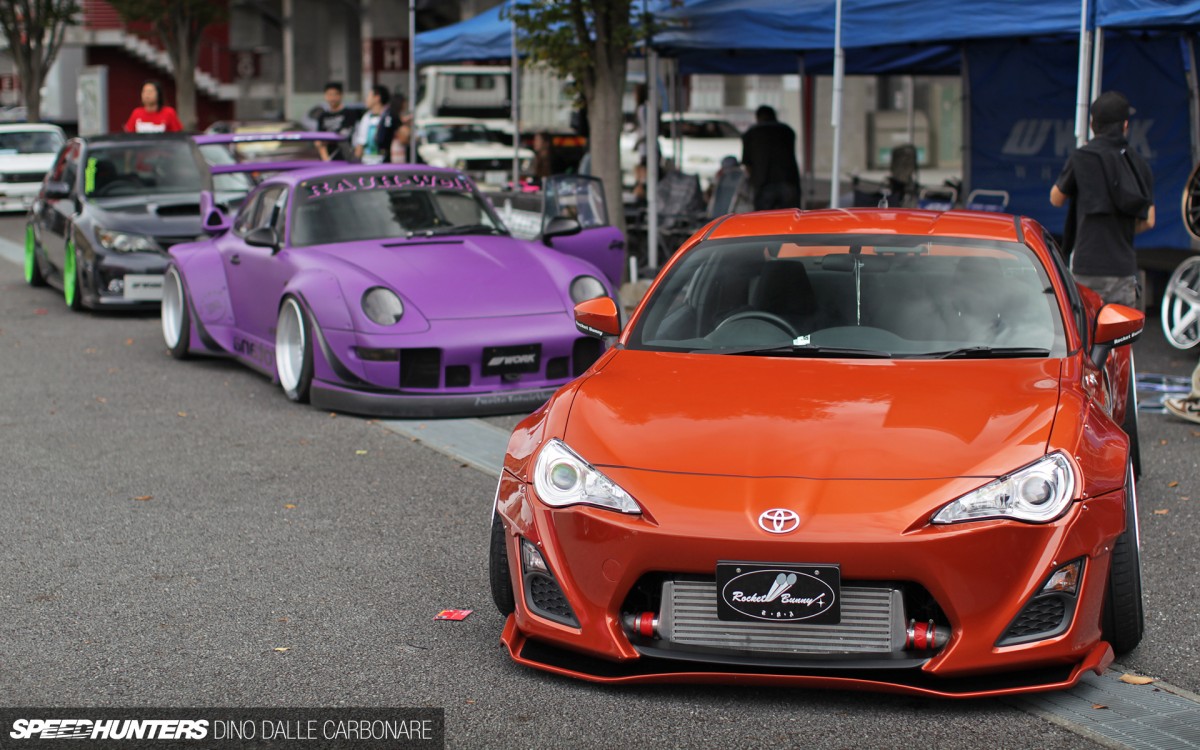 It's funny how things are all interconnected in this scene; I've just put the finishing touches to Satomi's Volkingler S14 feature and this past Sunday at the show he was there with his latest project, this orange turbocharged ZN6 running Rocket Bunny aero. Satomi now works with Miura at TRA Kyoto, so you can imagine the crazy stuff these guys will be coming out with in the future. Oh yes, and that's Nakai's Rotana back there… remember that one?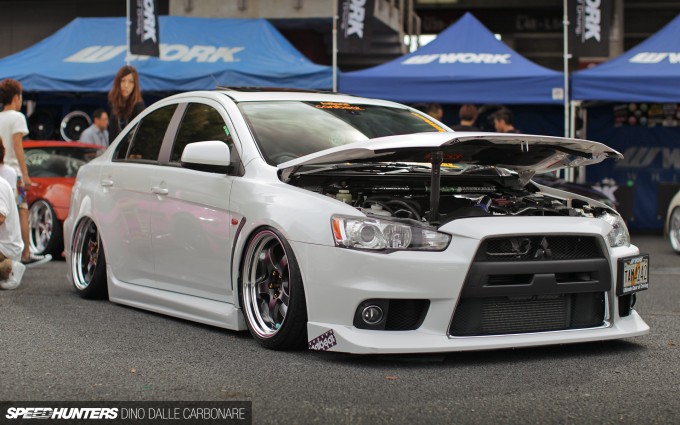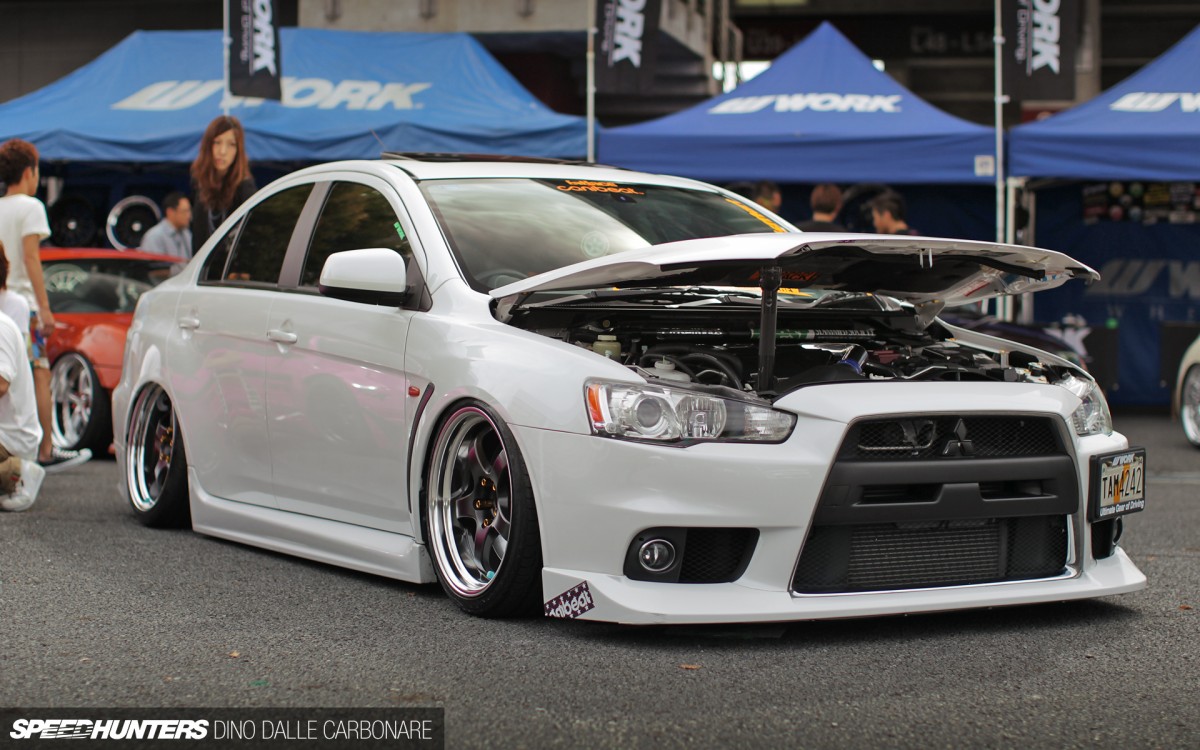 Stanced AWD? Why not?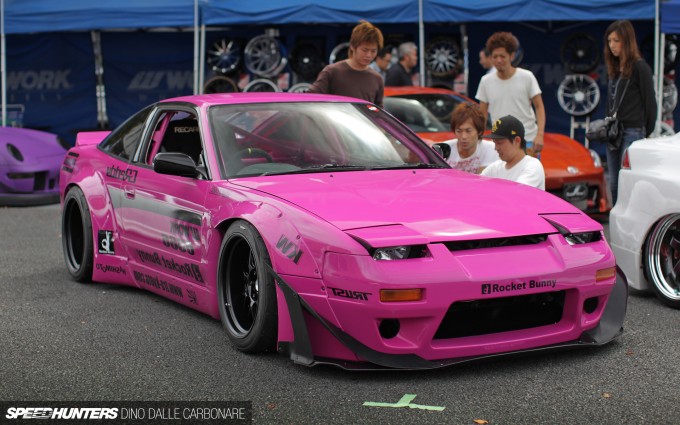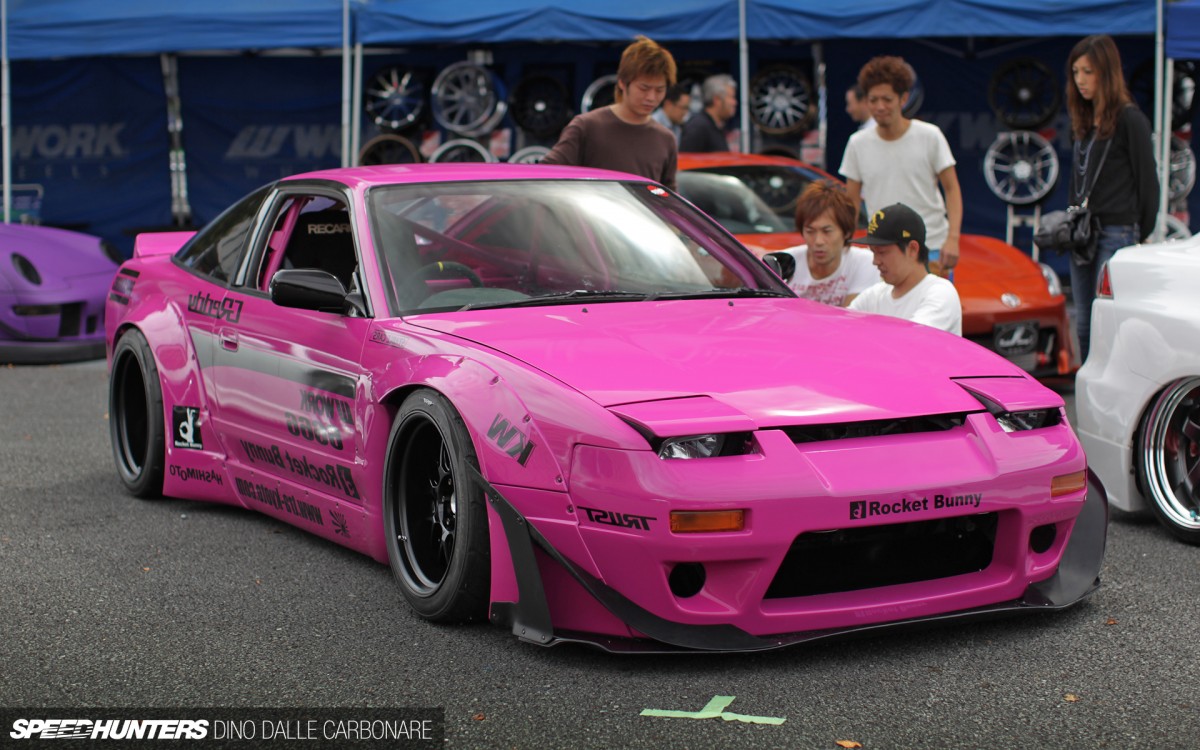 Rocket Bunny pinkness with this 180SX at the Works Wheels display.
Impossibly Japan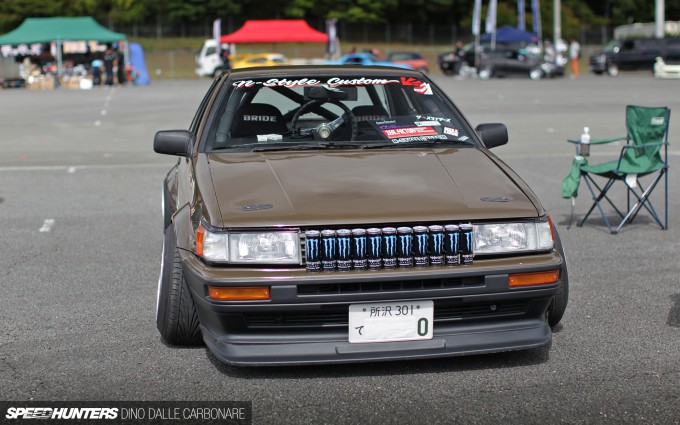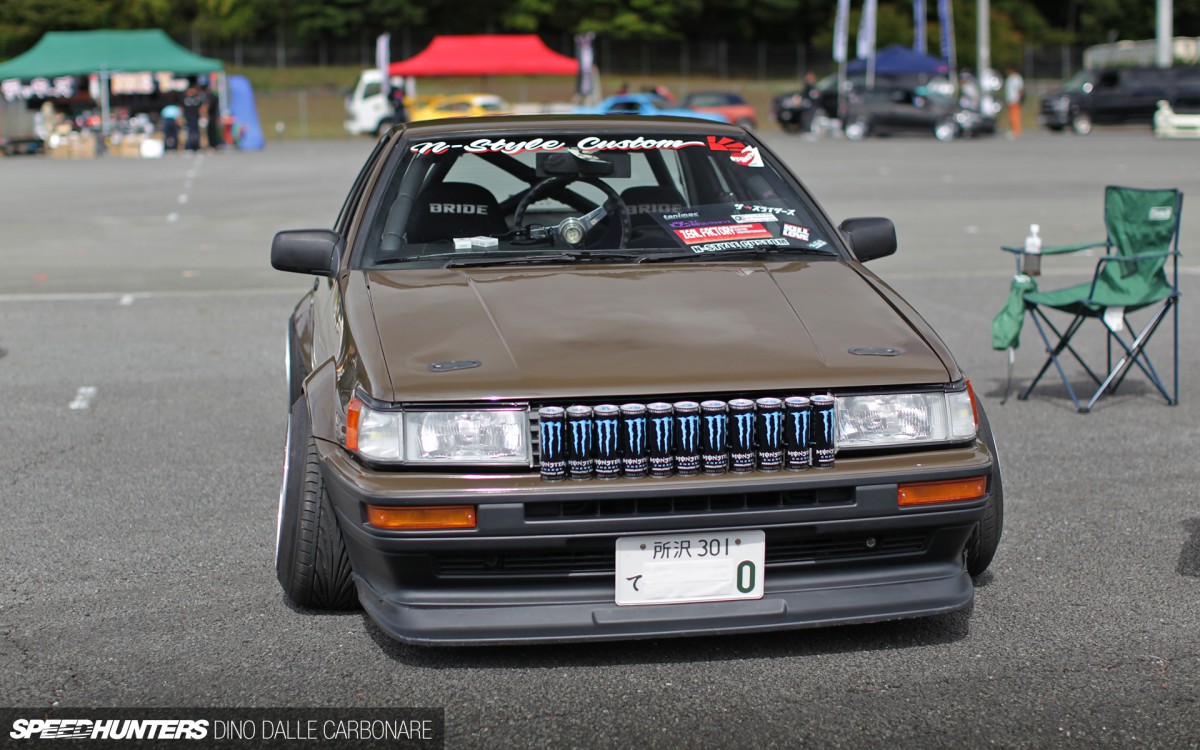 I've recently shot this N-Style AE86 and will be running a feature on it soon, but when I met the owner at the show he told me to remember the color of the Monster energy drink cans that he had lined up on the bumper. About an hour later I returned…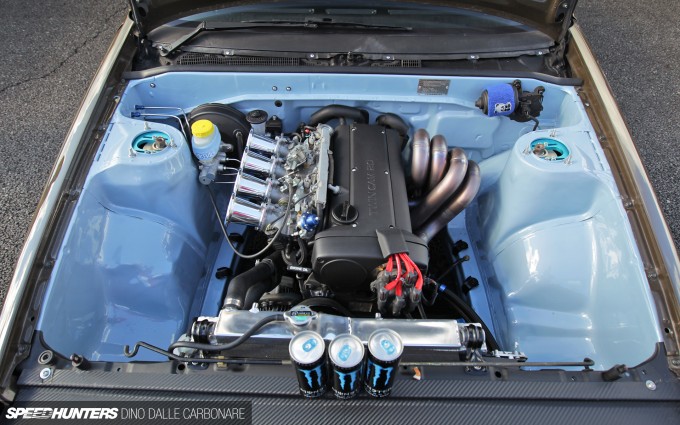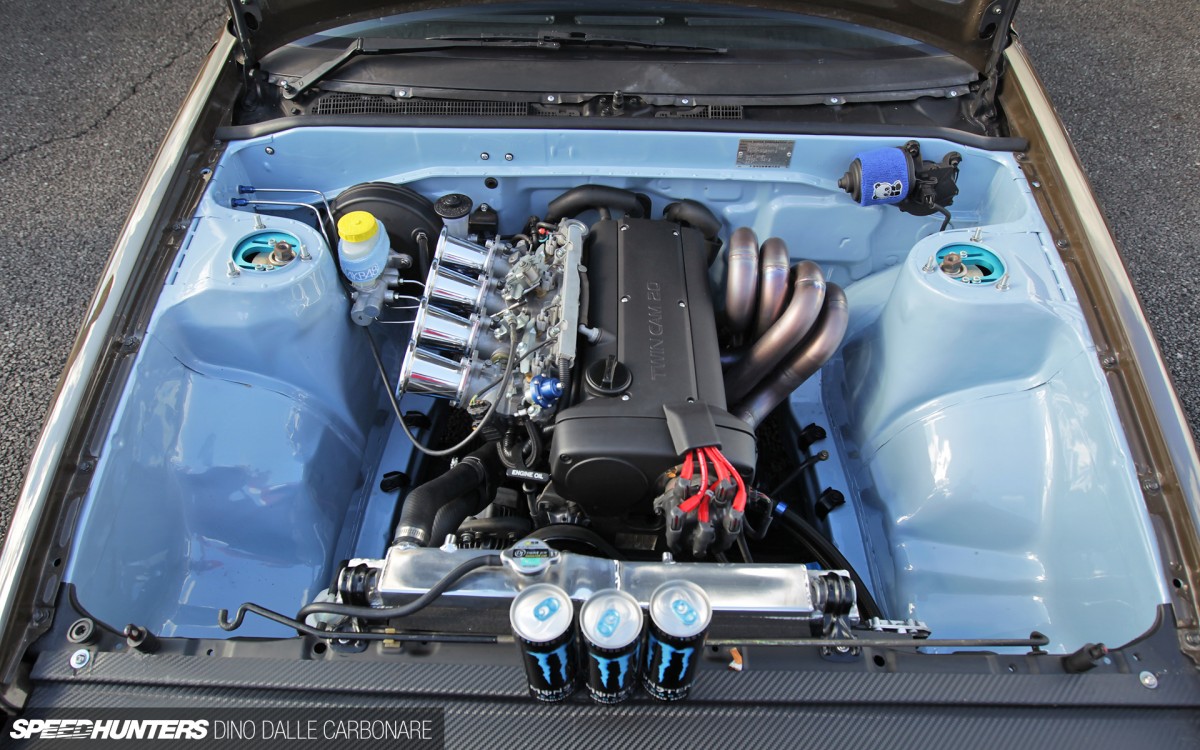 … and he showed me why he asked me to do so. Seems that after I shot the car he had the engine bay completely redone, everything tucked and hidden away and the whole thing sprayed in Monster baby blue. Impressive! Make sure you stay tuned for the full feature, albeit minus the nip and tuck under the hood.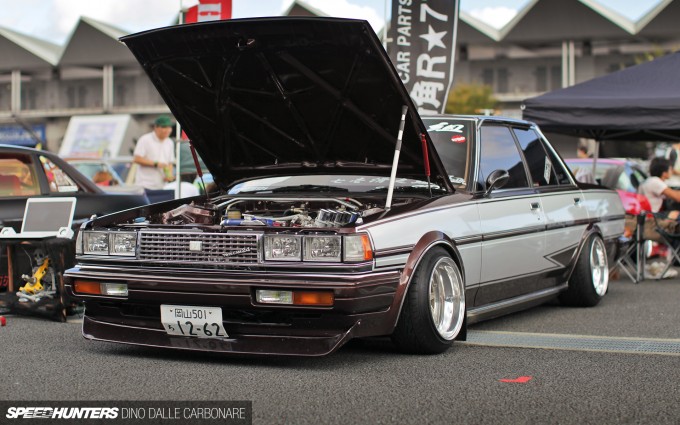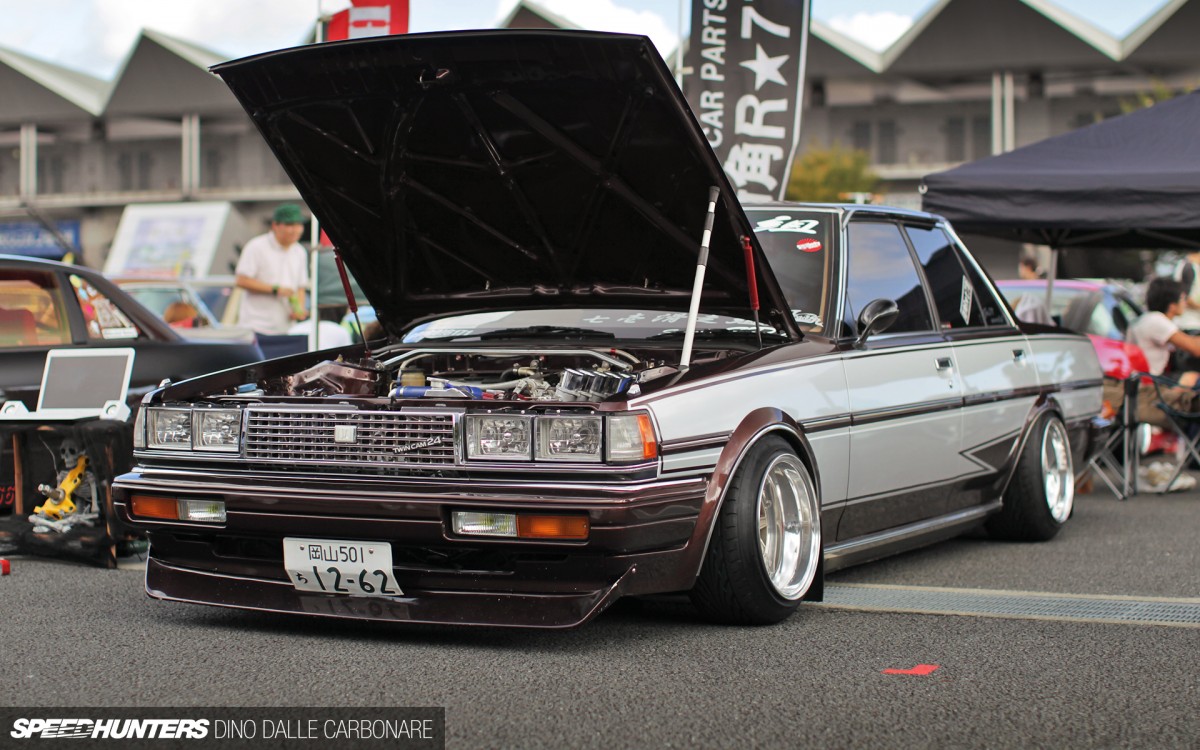 This GX71 Cresta was a superb take on the whole eighties craze that is happening in shakotan circles and one that stood out not only for its exterior with that semi-bozo two-tone, nice fender flares and great tayazuri fitment…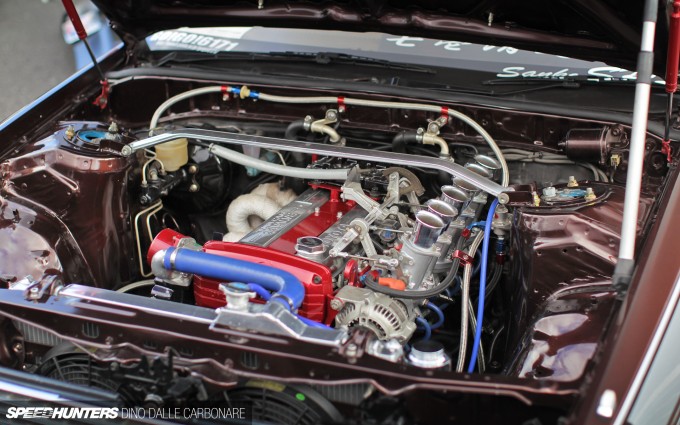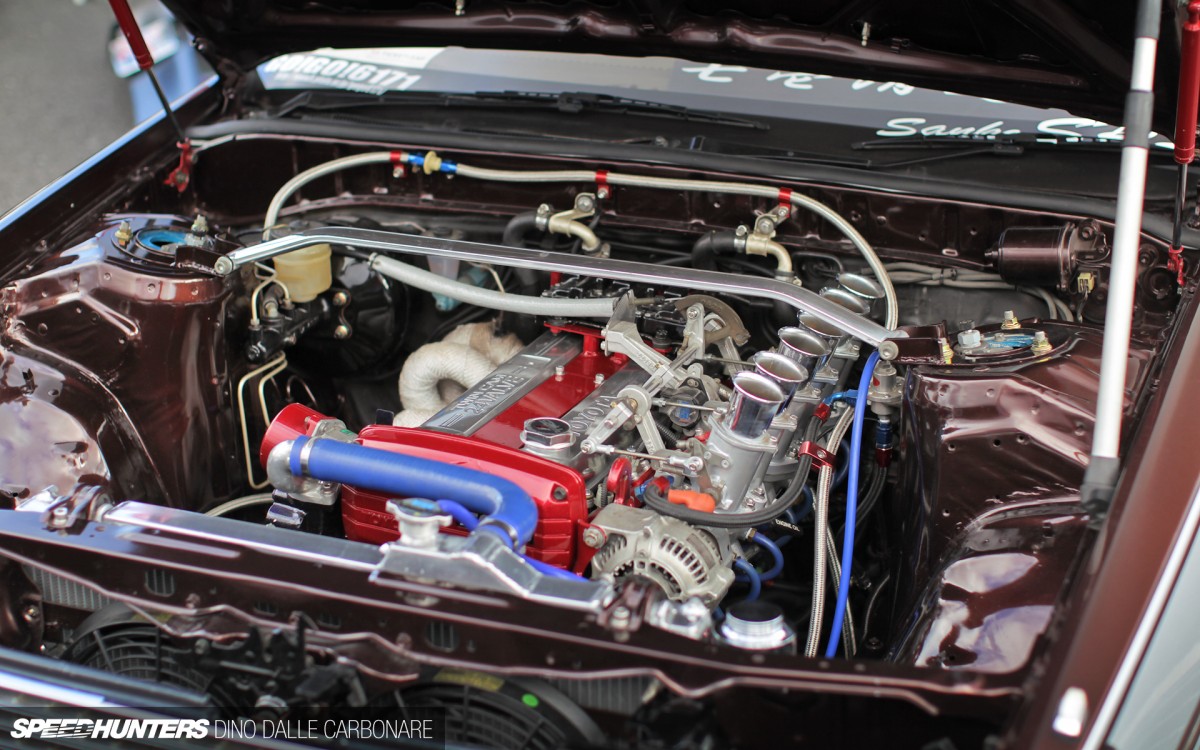 … but for the attention to detail and presentation in the engine department. The 1.5G-GEU takes centre stage and those vertical velocity stacks made me realize I had actually posted a few pictures of this same car back in 2011 after seeing it at the Nagoya Exciting Car Showdown.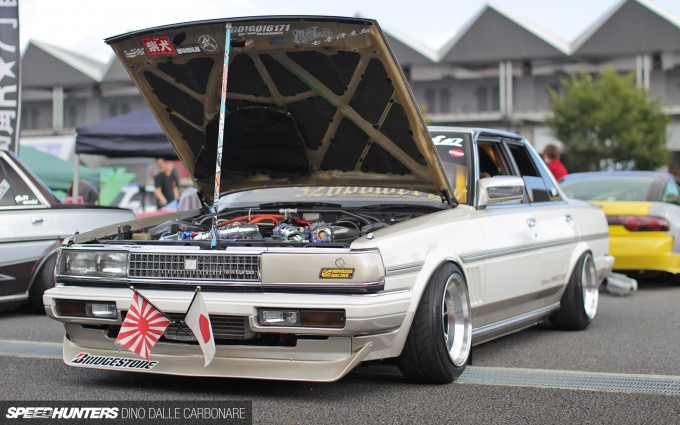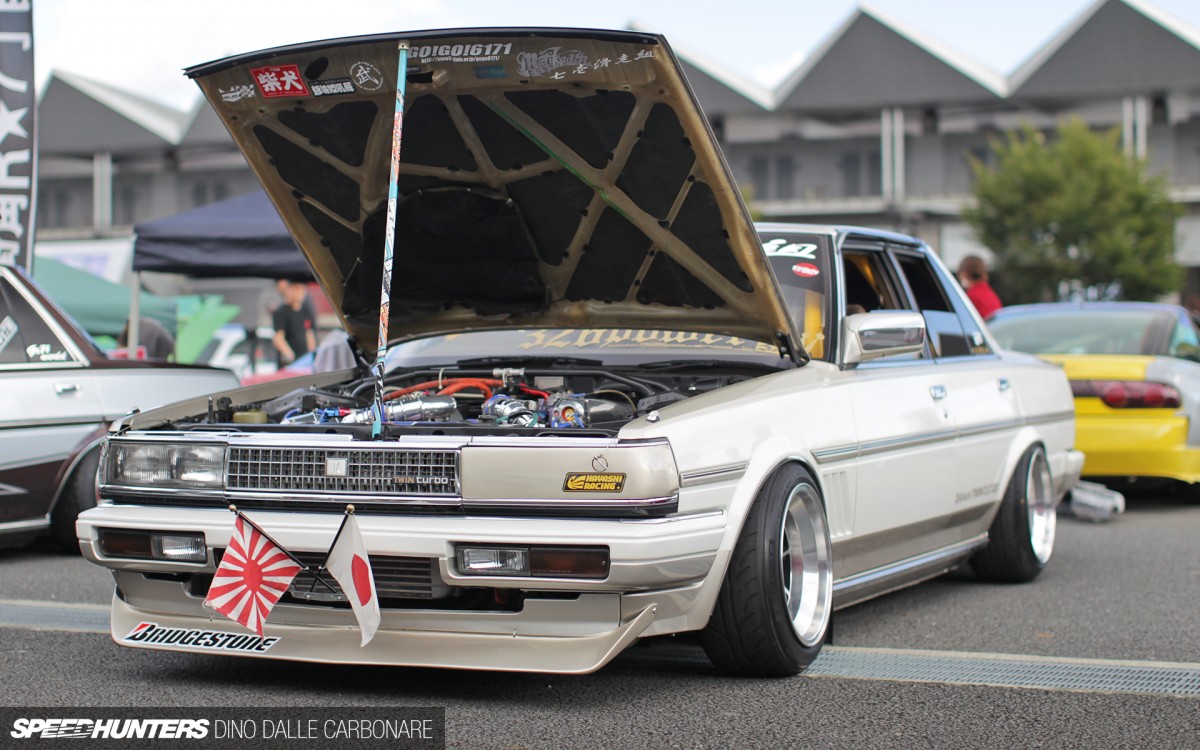 Not too far from it was another GX71…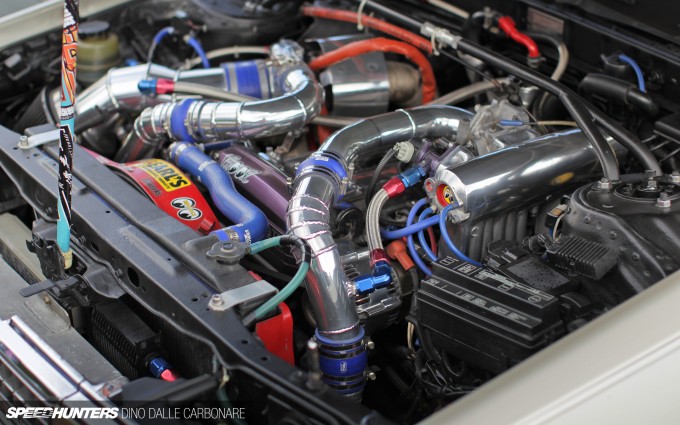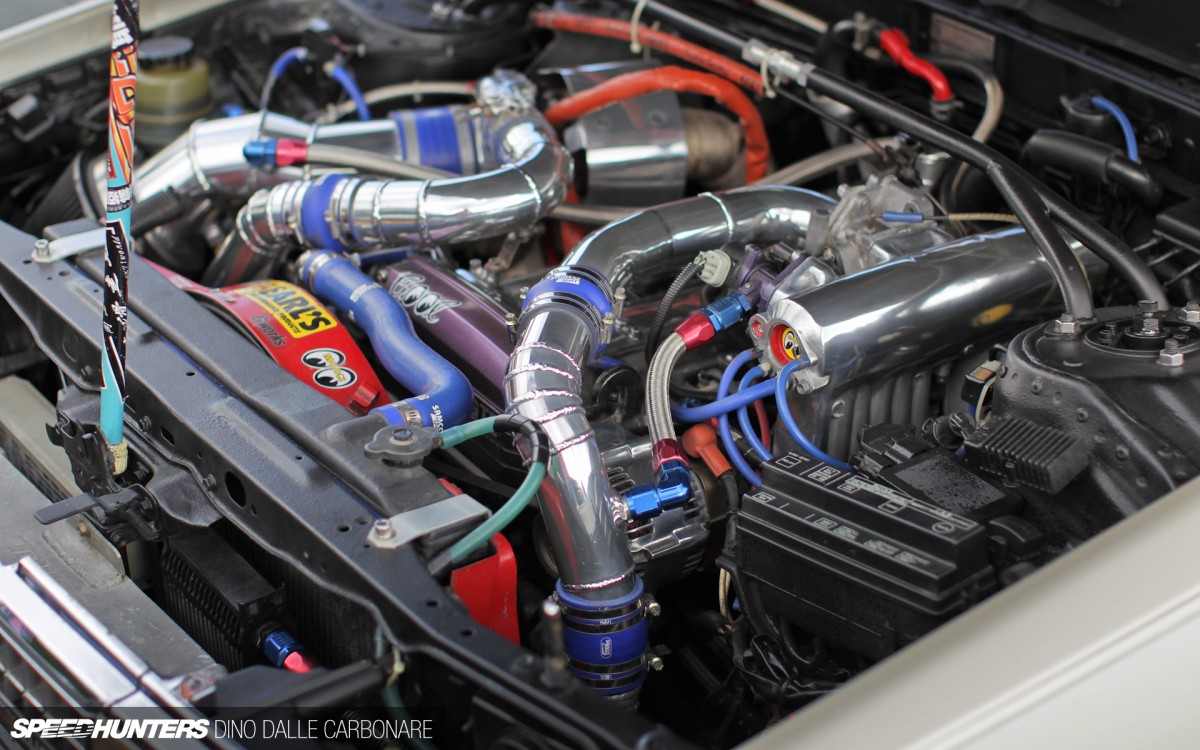 … preferring the turbocharged approach.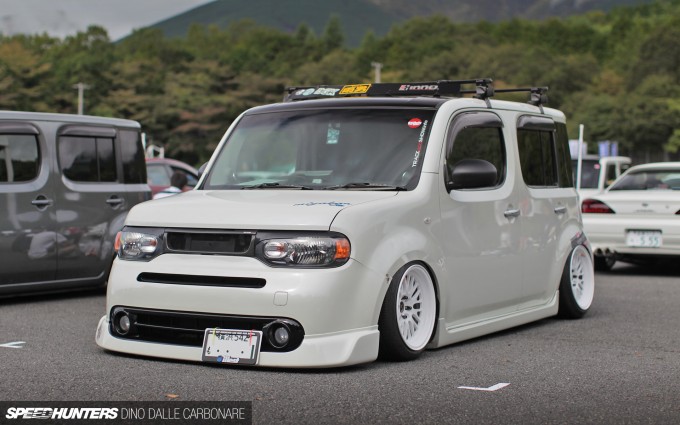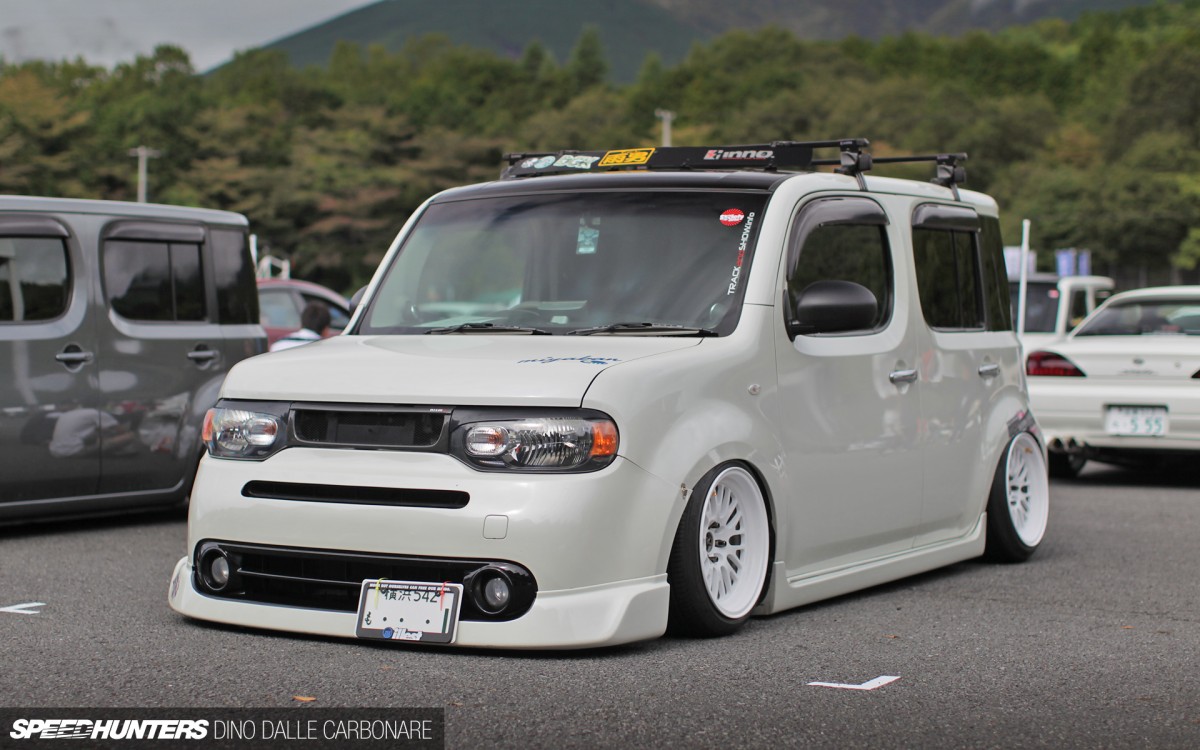 Cube on the ground.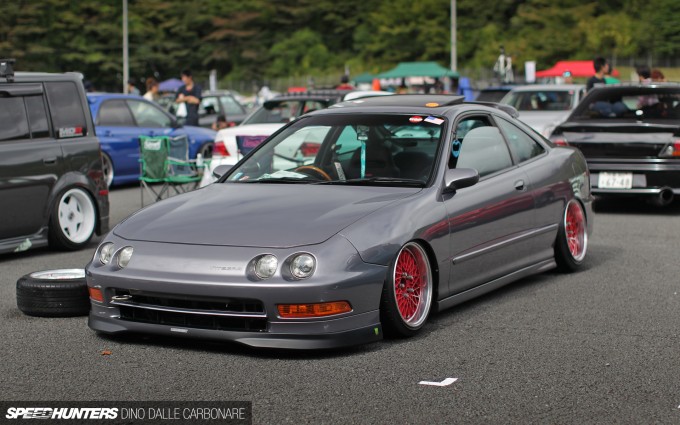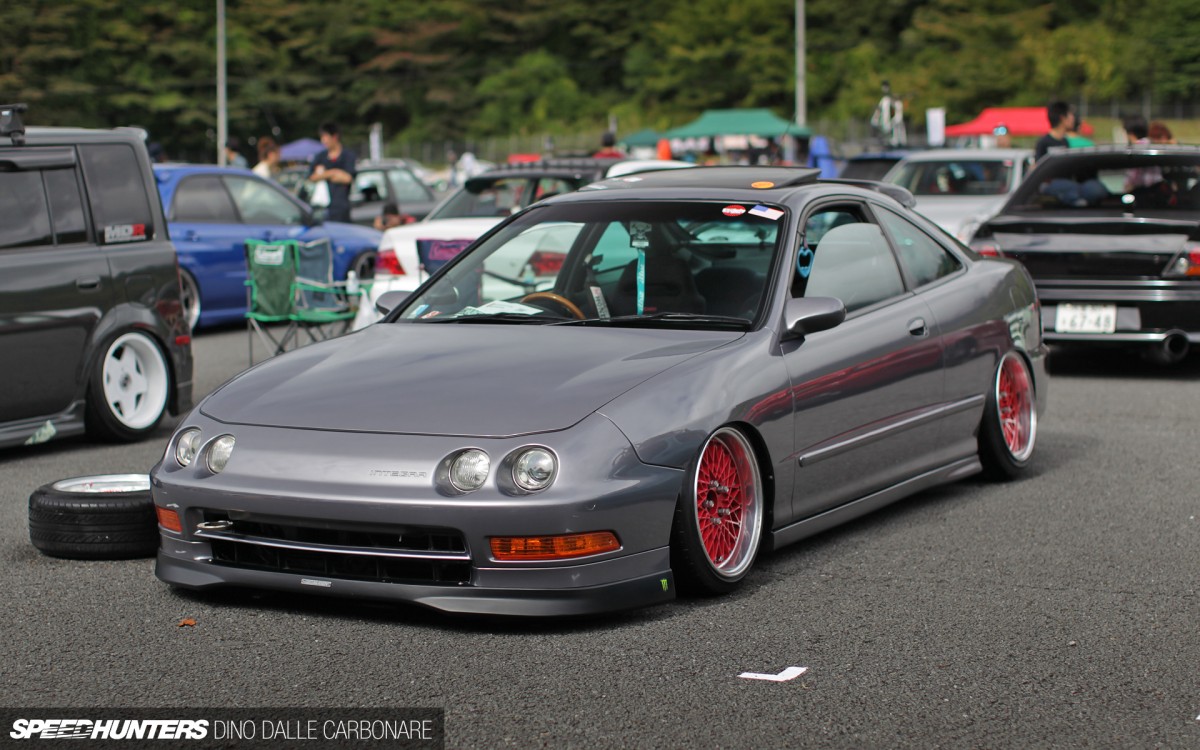 One for you Honda guys out there, and also because it had red wheels. Red wheels are cool. Trust me.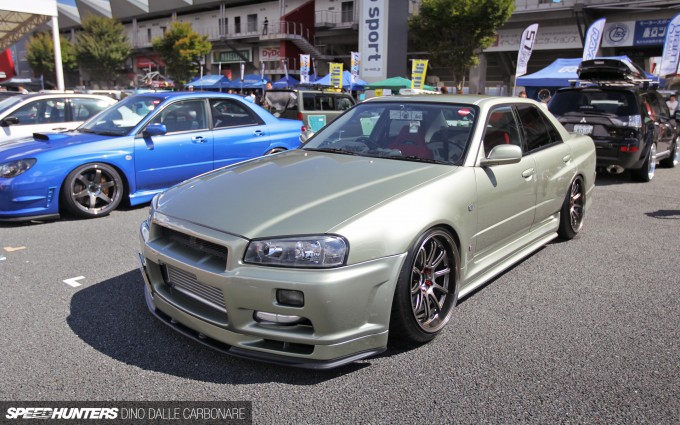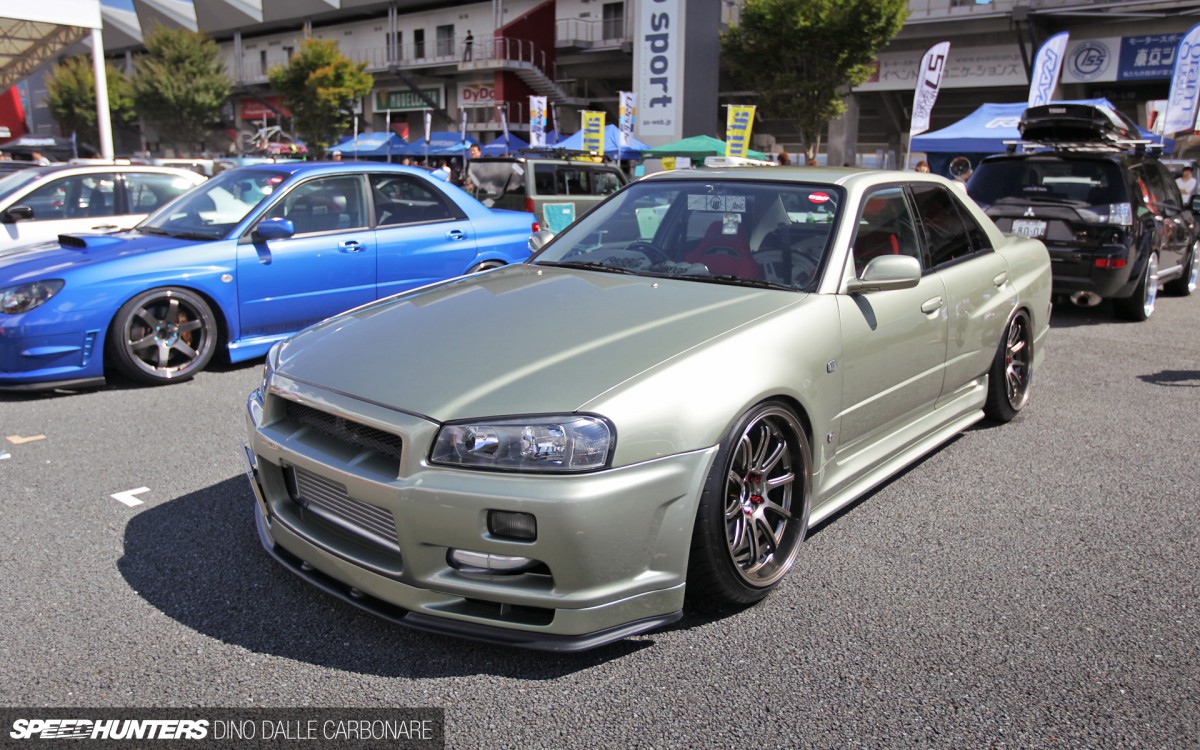 I've been seeing this four-door R34 at various meets lately, last time at the Daikoku PA…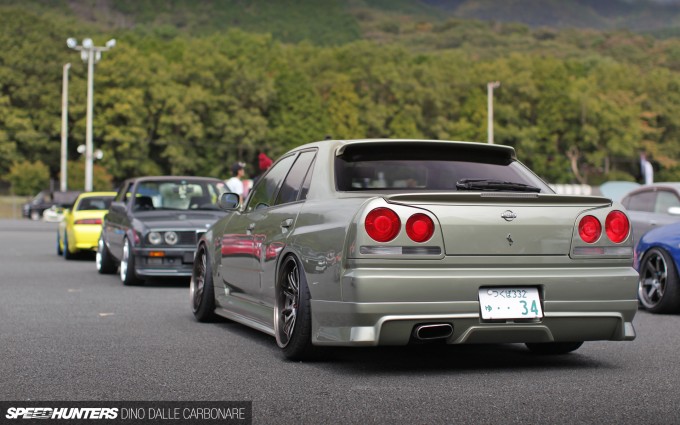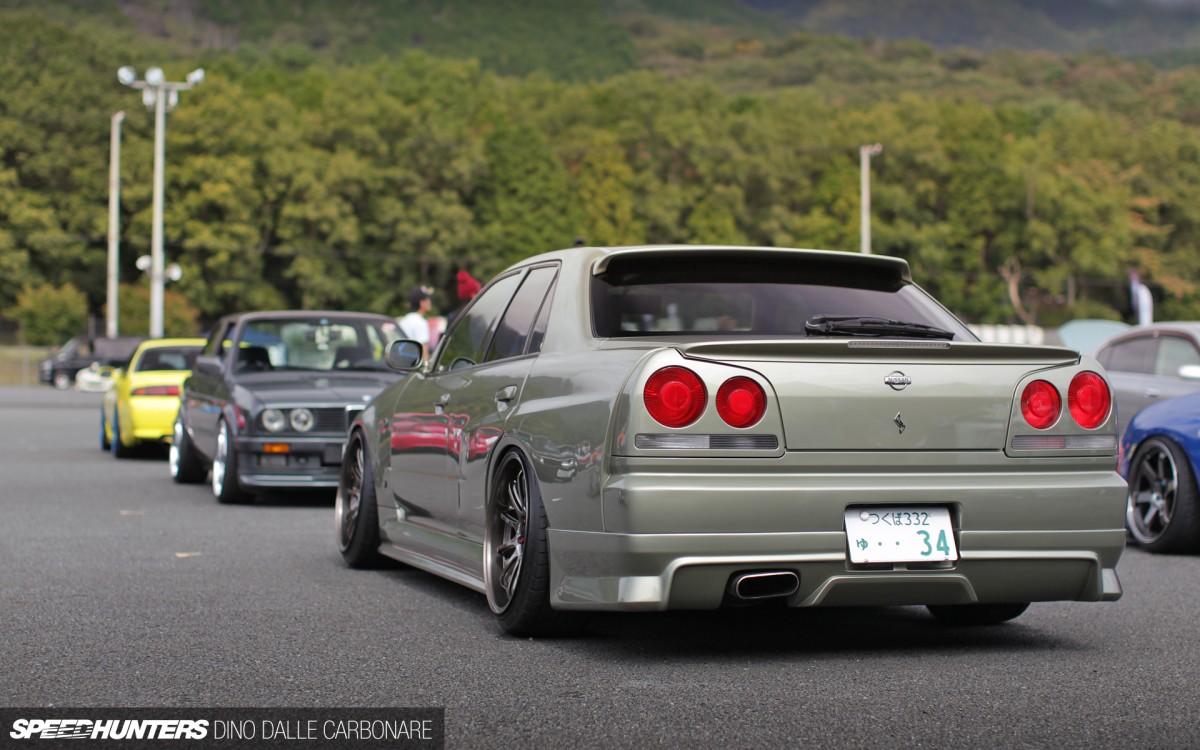 … and it always impresses for its attention to detail and well executed series of mods. Love the color too.
Lesson in fitment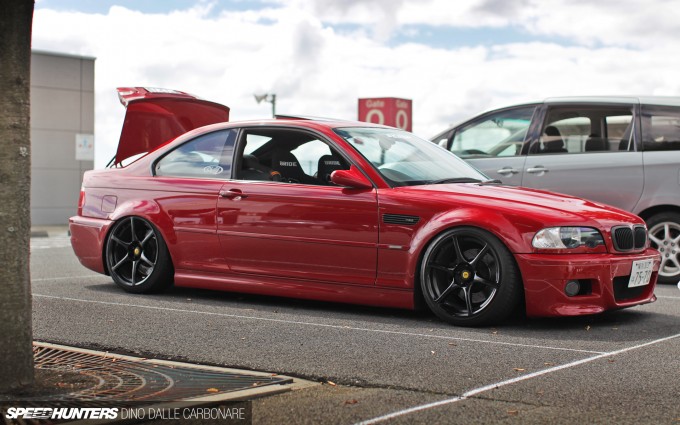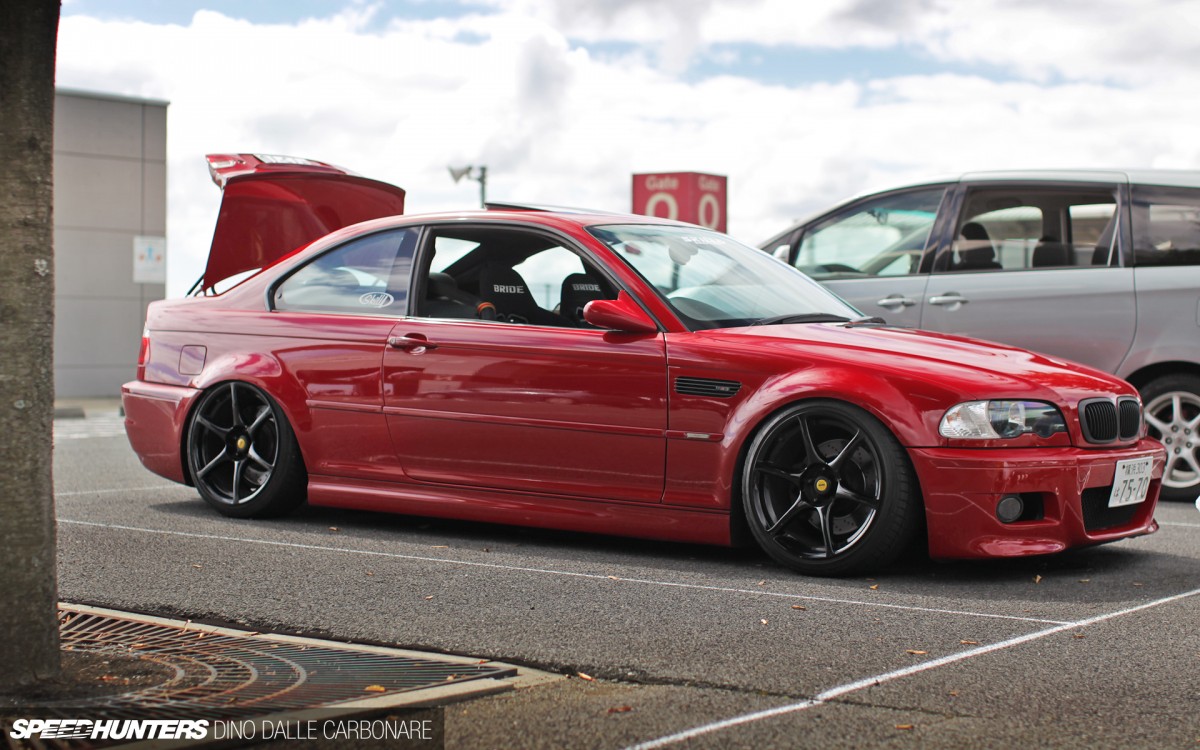 I've teased you with an image of Kawasaki's E46 M3 on R34 GT-R wheels but you really have to see the whole thing to appreciate just how damn hot it looks.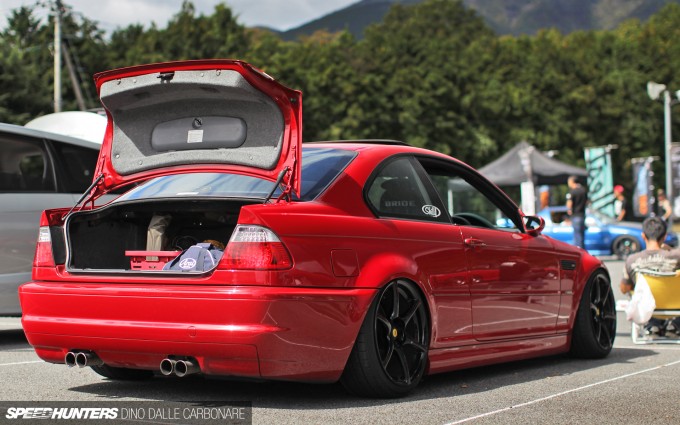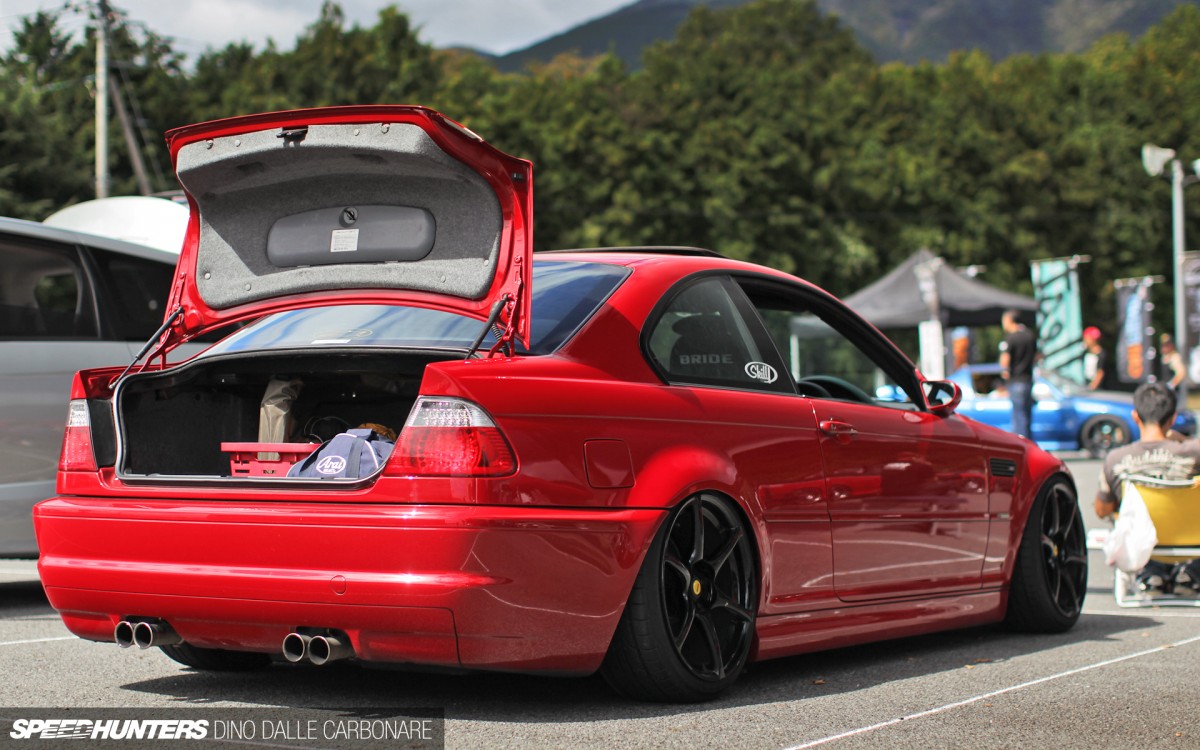 … and sounds. Maybe we will be seeing more imports in Doriten magazine from now on if readers are to follow the editor's example.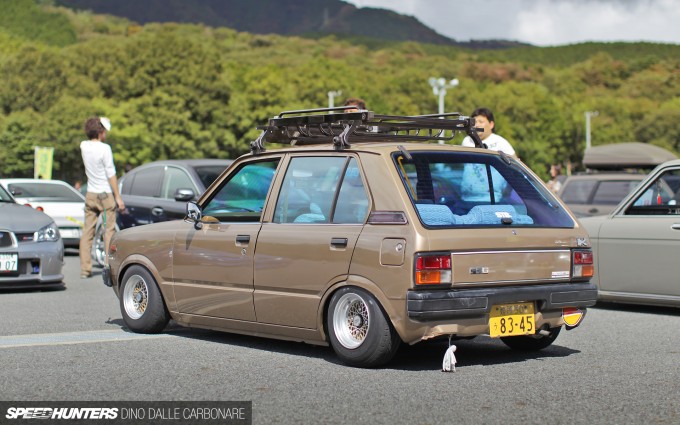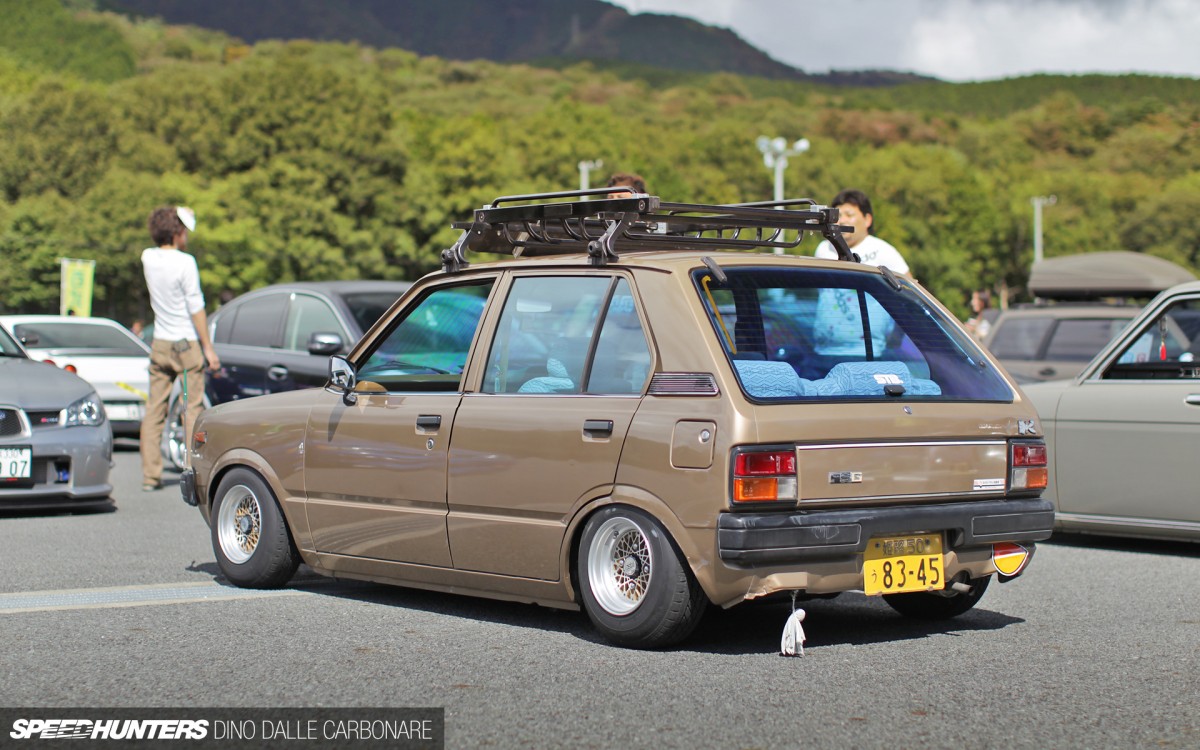 I'm always a sucker for anything out of the ordinary and this old Suzuki Fronte kei car dropped on tiny SSR mesh wheels was one that instantly stood out.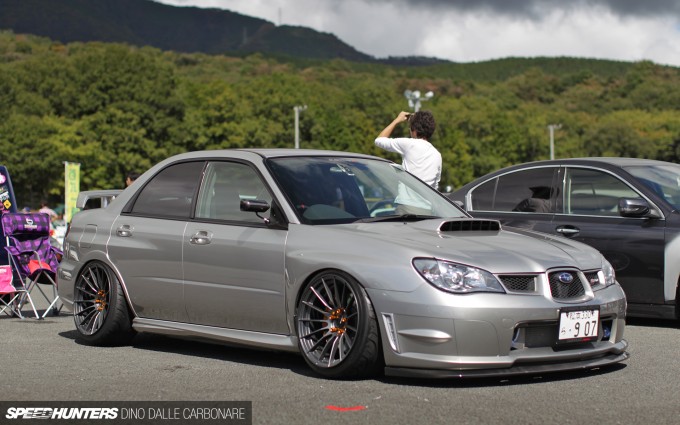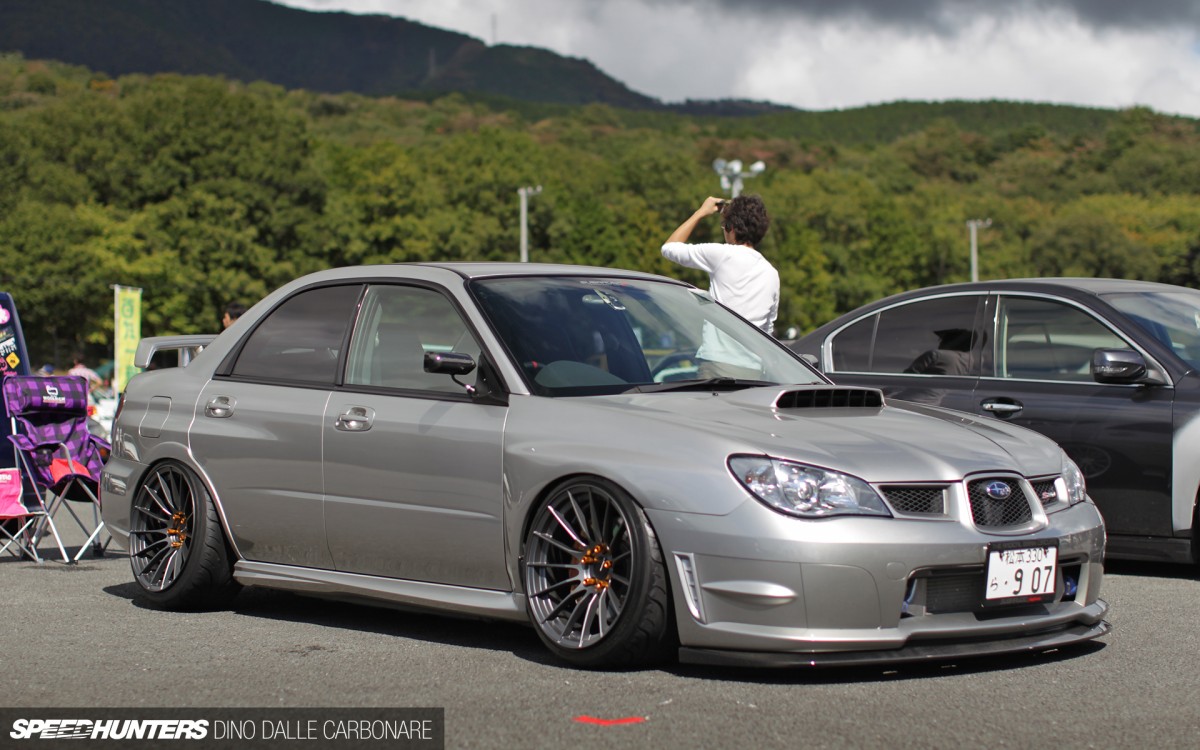 The new Enkei RS05s looked like a great match for this STI S204 but I'm sure the extreme lowering its been subjected too – with resulting negative camber – will piss off a lot of purists of the brand. I'm also pretty sure the owner doesn't really care!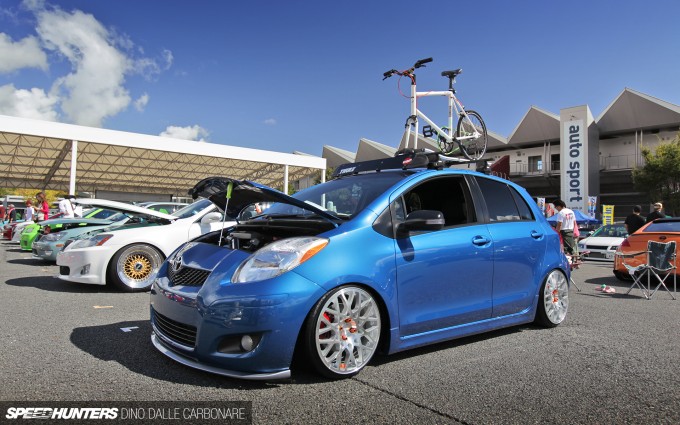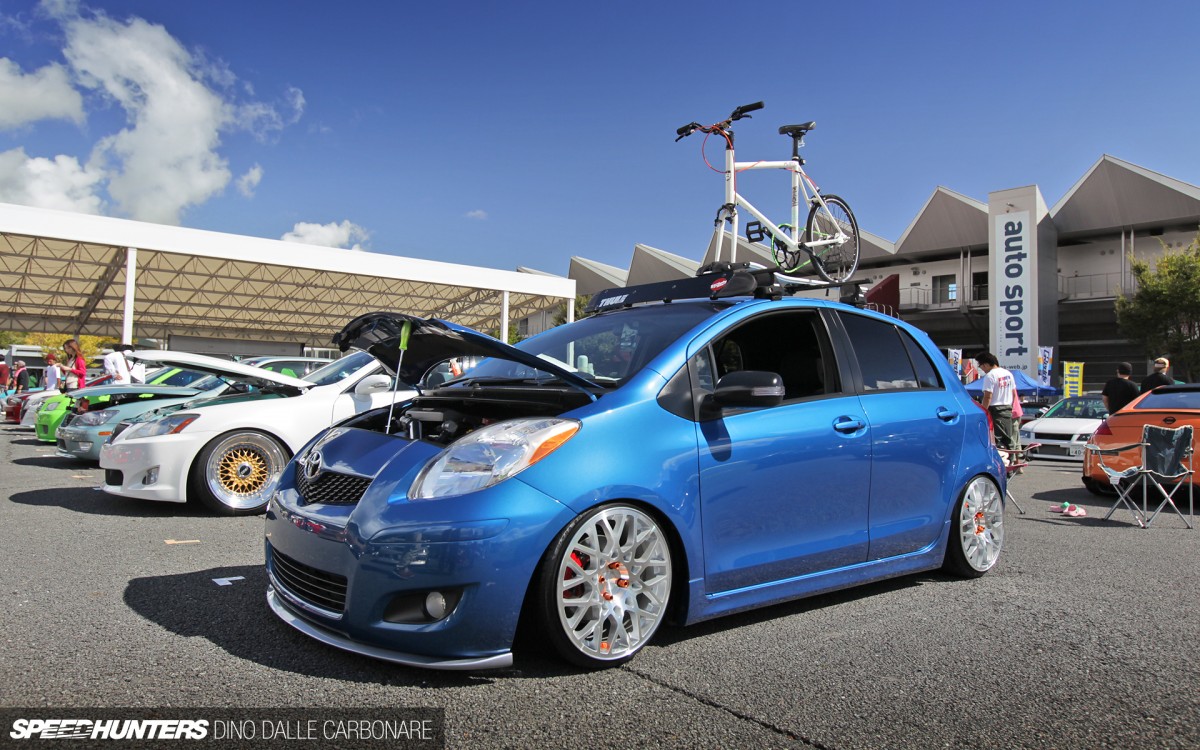 While I continued to walk through the lines upon lines of stanced vehicles, I couldn't help but wonder about the whole roof rack, or bicycle rack thing. I'm sure it's a fashion-driven accessory but for us photographers it makes fitting car and bike into one picture a pain. Still, cool rims on this Vitz.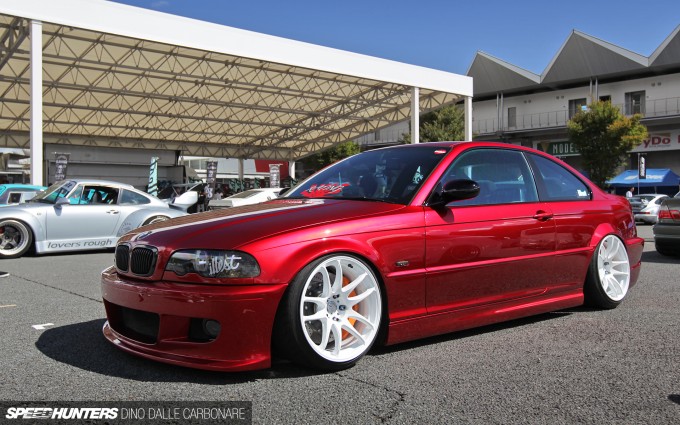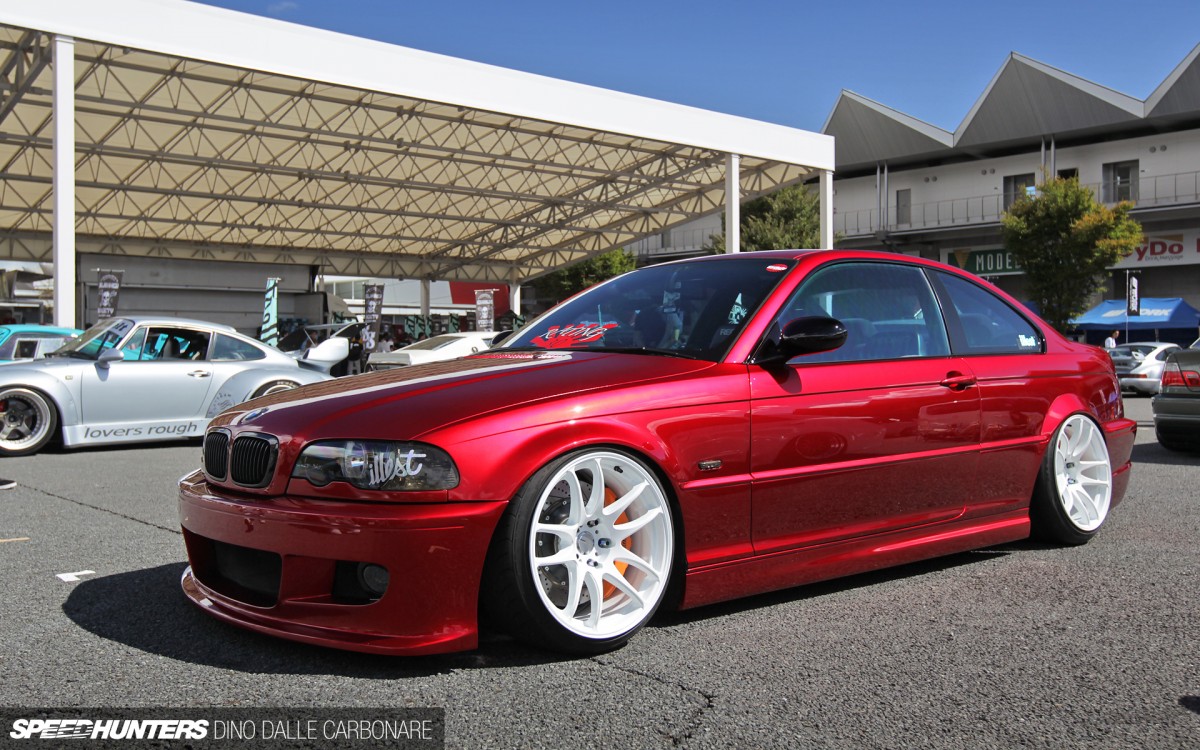 The Fatlace guys chose this candy red E46 as one of the best Euro cars at the show and it's a call I can only agree with as it was impressively executed.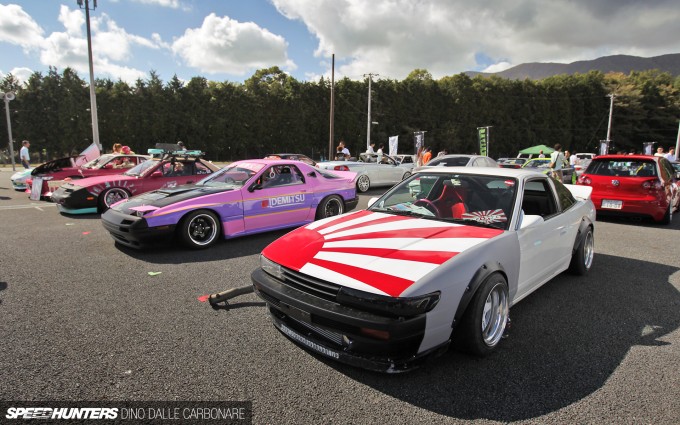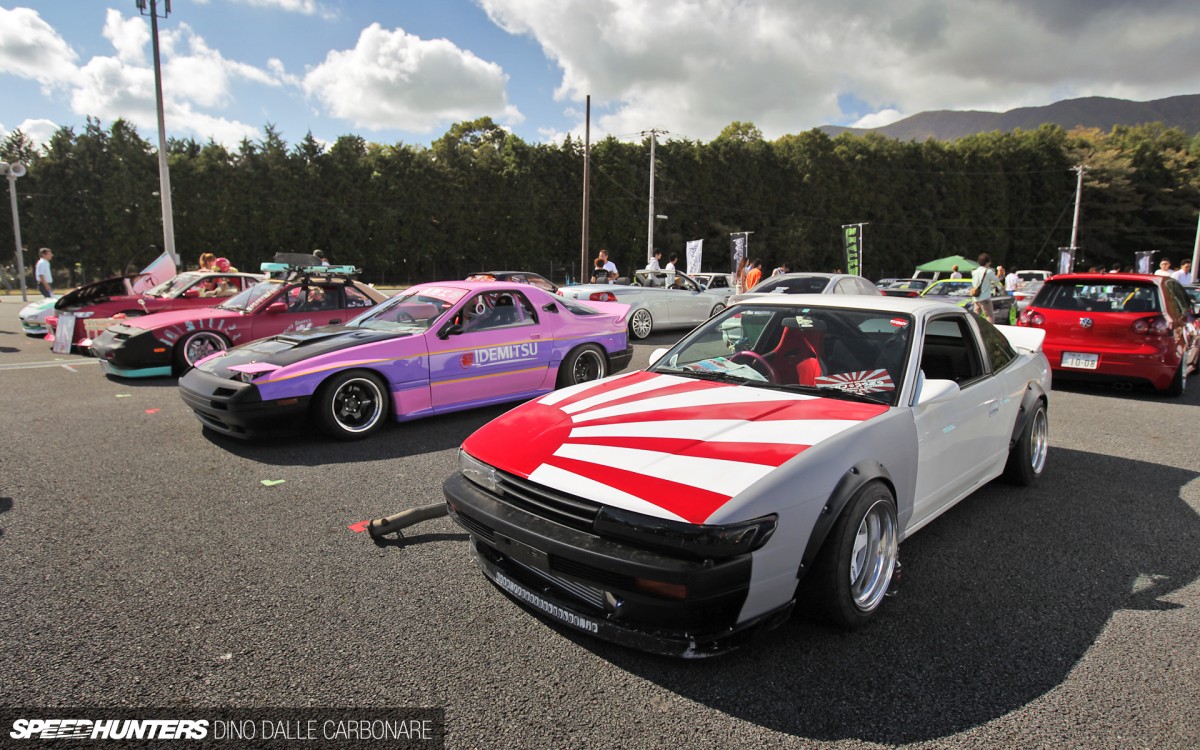 It was cool to meet up with Nagano-san from Nagano Koubou at the event. He and a few of his buddies drove up from Kyoto with this awesome selection of S-chassis and RX-7s.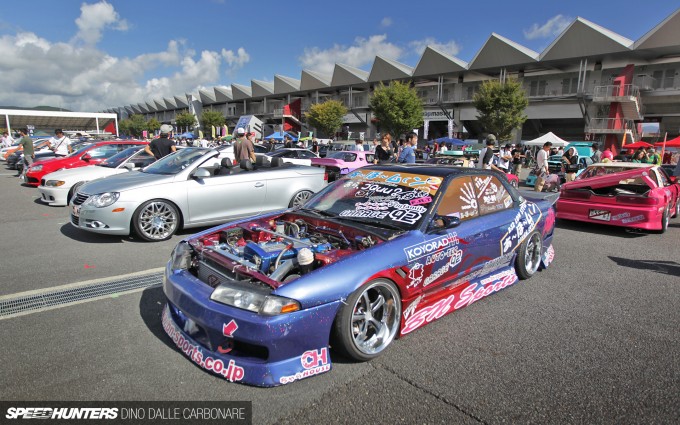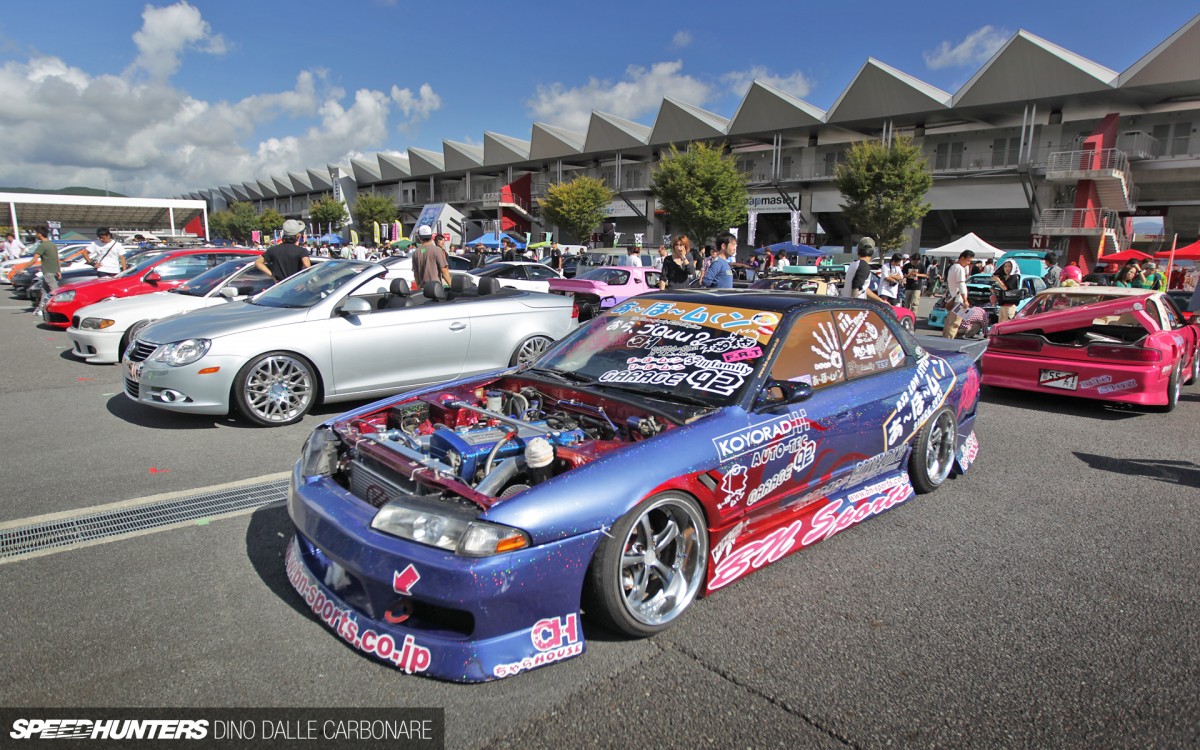 Slammed and with a purpose? How can the haters possibly hate? Maybe a ride in this drift-spec R32 while out on track can show them that low doesn't necessarily mean useless.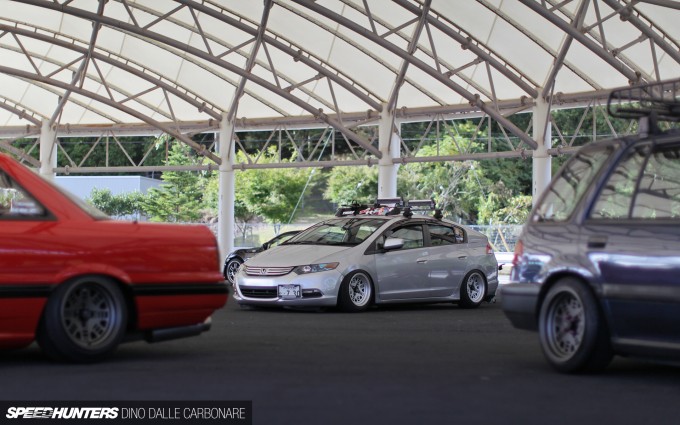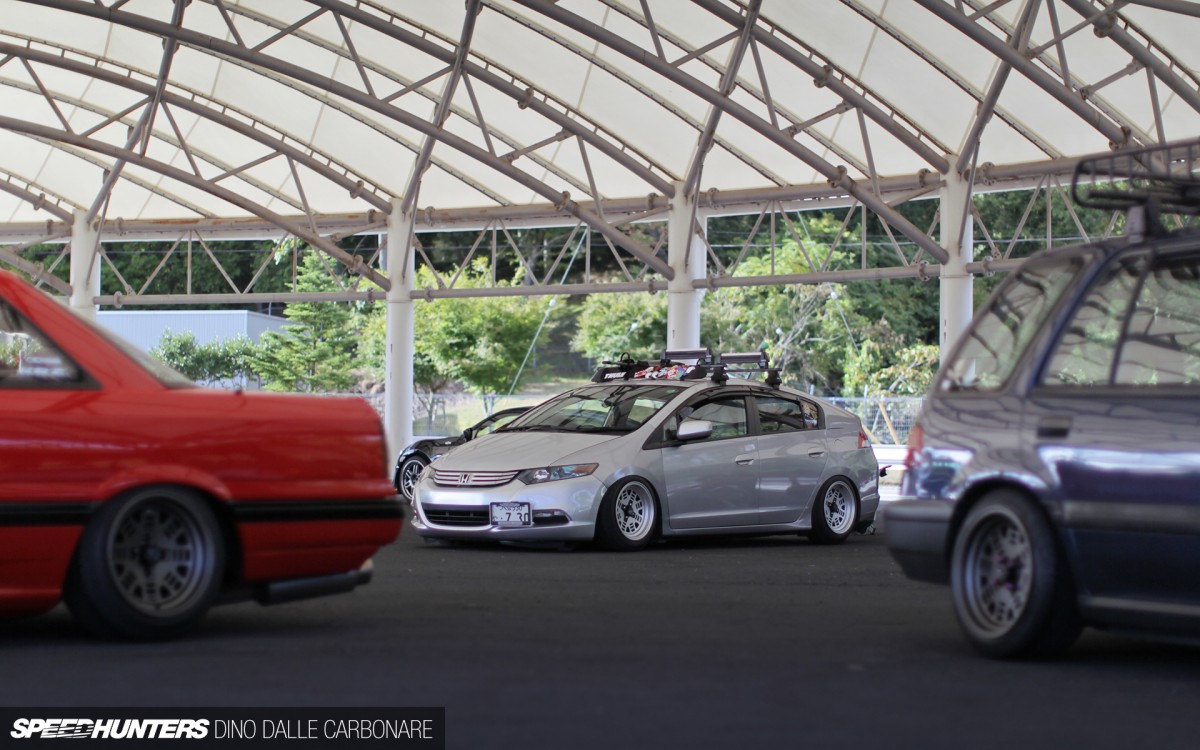 Those new Fatlace rims sure do look good on a lot of different cars, including ones that make environmentalists happy.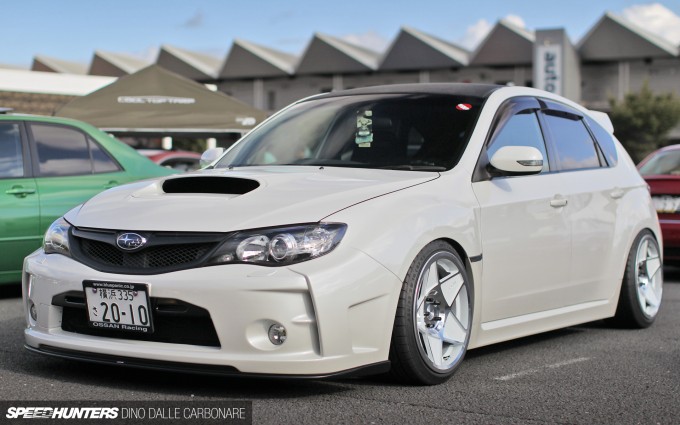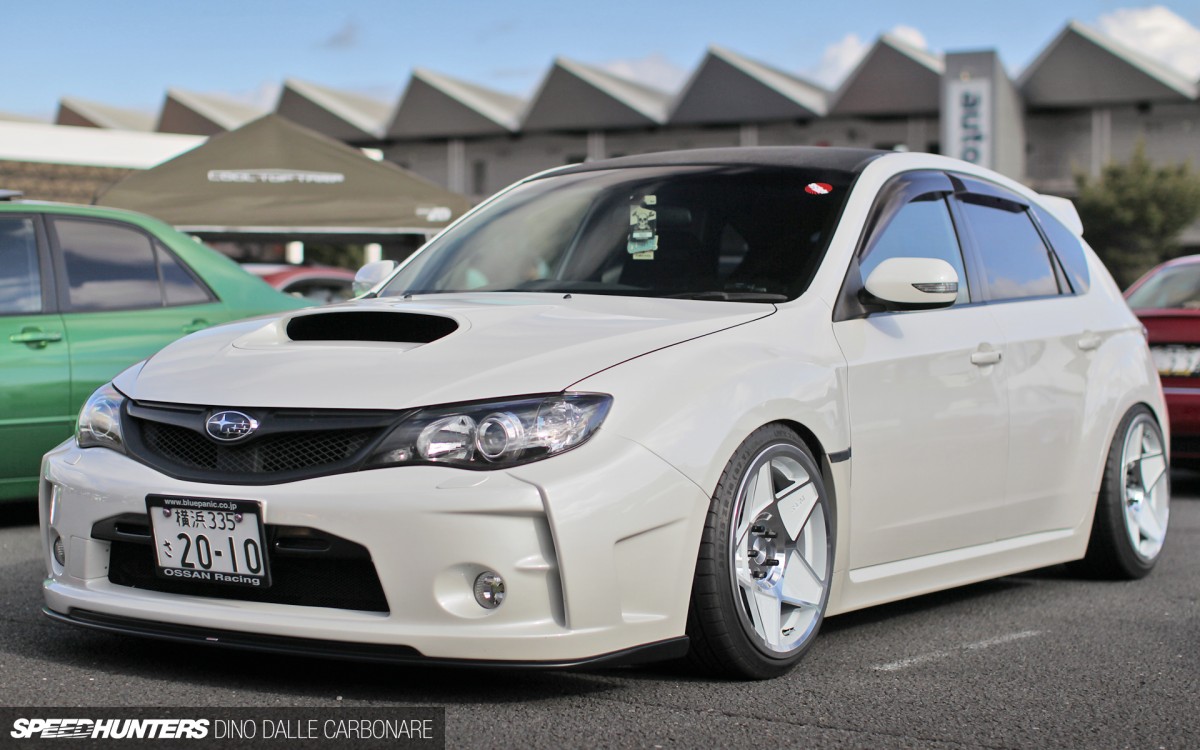 3SDM bringing the Ferrari F40 look to the masses. I sort of like.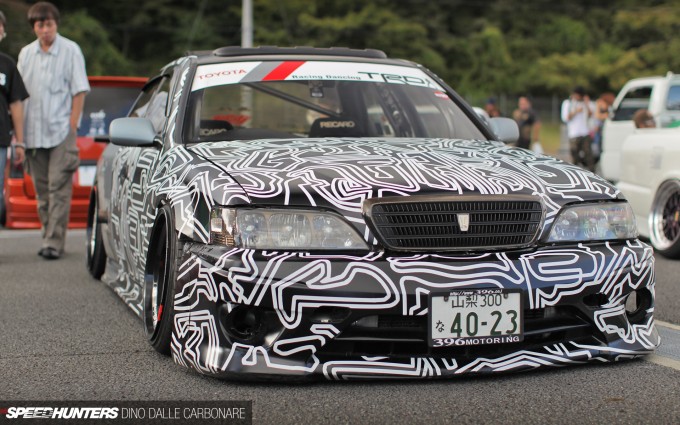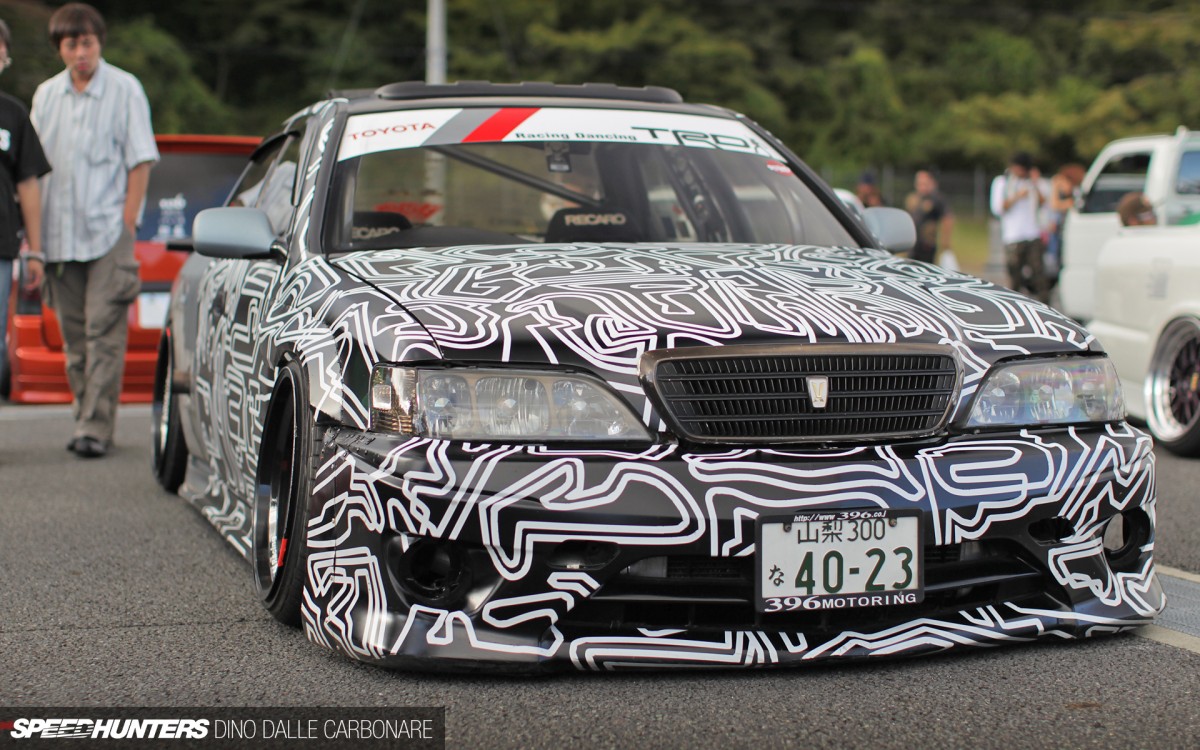 I'll close up the coverage from Slammed Society Fuji with an image of a certain  JZX100 Cresta that we know all too well here at Speedhunters. It's a car that perfectly embodies – thanks to the endless work its owner puts into it – the continuous pushing of that envelope that I keep talking about, the thinking outside the box, the unrelenting evolution that continues to make Japan's cars stand out on the world's stage. All I can say is don't stop Japan, we love you just as you are!