And so the evolution continues. Last week, after dropping off the RAUH Passion following my Dream Drive on Mt. Tsukuba, I headed inside for a chat with Nakai-san, only to spot a freshly painted and impossibly wild-looking 993. "This," Nakai said, "is my new race car." Now Nakai is never one to boast, so while he was fitting the massive 14-inch wide rear wheels shod in 345-section slick rubber I prodded him for a bit more info. "Oh yeah, I'm just finishing the car off this week, I'll be driving it for the first time at the idlers Games this Sunday and it's my very first turbo car."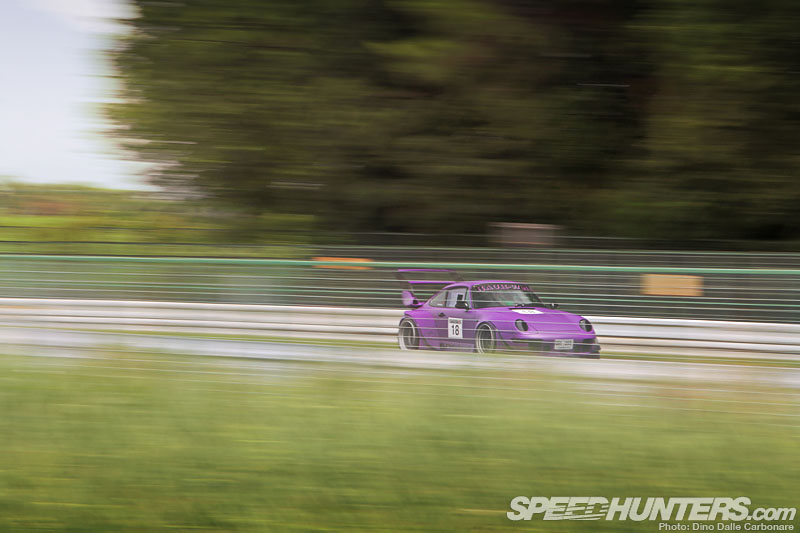 Before he had even finished that sentence I was already asking him if I could come back and shoot it, to which – in his usual casual way – he replied, "Sure, drop by on Friday, the later the better." Ok then, so that was sorted, all I had to do for the following 48 or so hours was to resist Instagramming too many of the pictures I grabbed with my phone!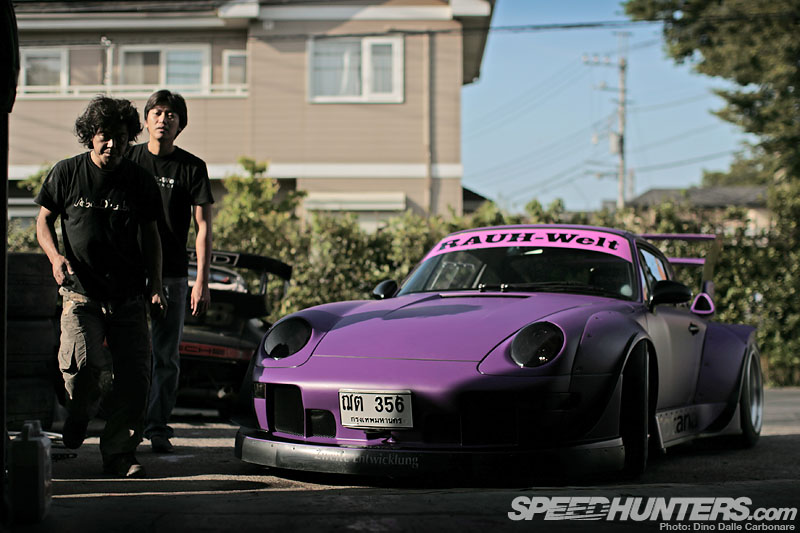 Upon my return to the RWB cave two days later I was greeted by the sight of the completed – and named – car, just washed and ready to be shot. Chin from Autohaus RWB Thailand was also at the shop, having just flown to Japan for a couple of days in order to participate in the idlers Games; his very first time driving around Tsukuba. With a big event like that just around the corner, there was plenty of energy in the air, as lots of other customer cars were in for last minute preparations.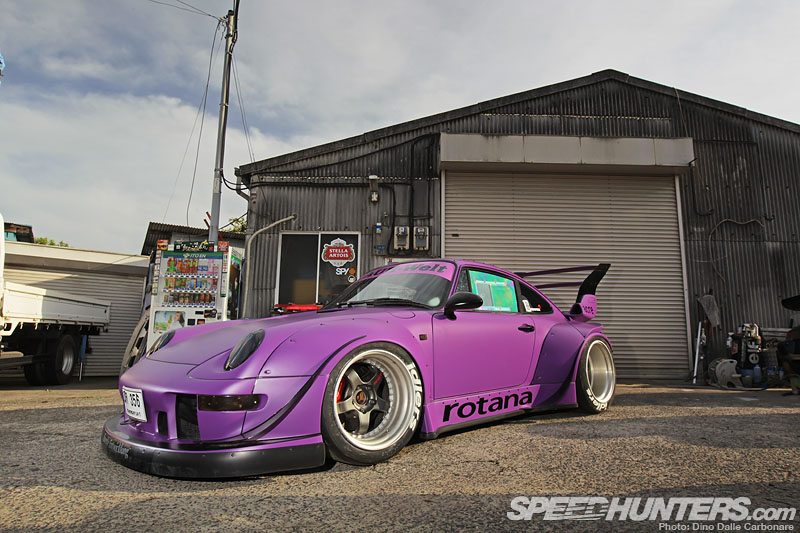 But it was the Rotana I would be dedicating all my time too, the Nojima-special flat purple color giving this 993 Turbo a unique presence.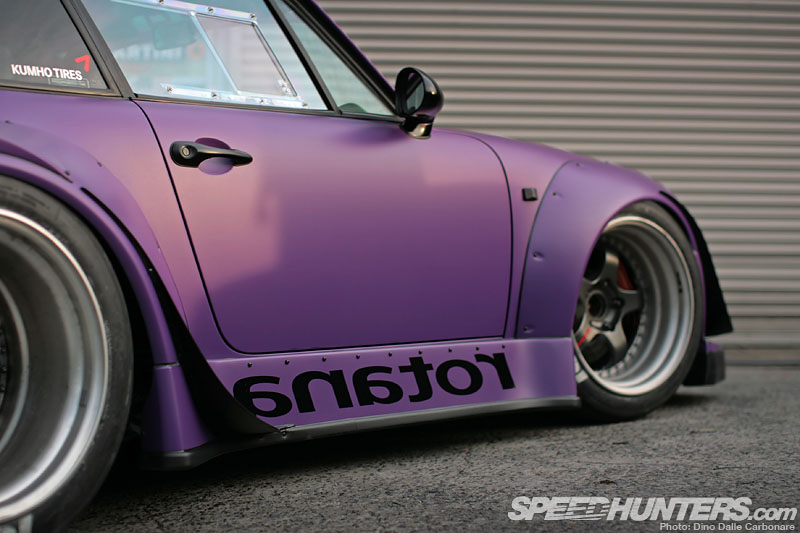 Nakai came up with the idea to name his most powerful and focused race car to date Rotana when he was in the UAE a few months ago building a car for one of his Middle Eastern customers. He saw a wild matte purple Lamborghini blast past him as he was walking by some buildings owned by the Rotana group, and the idea to create this car popped into his mind.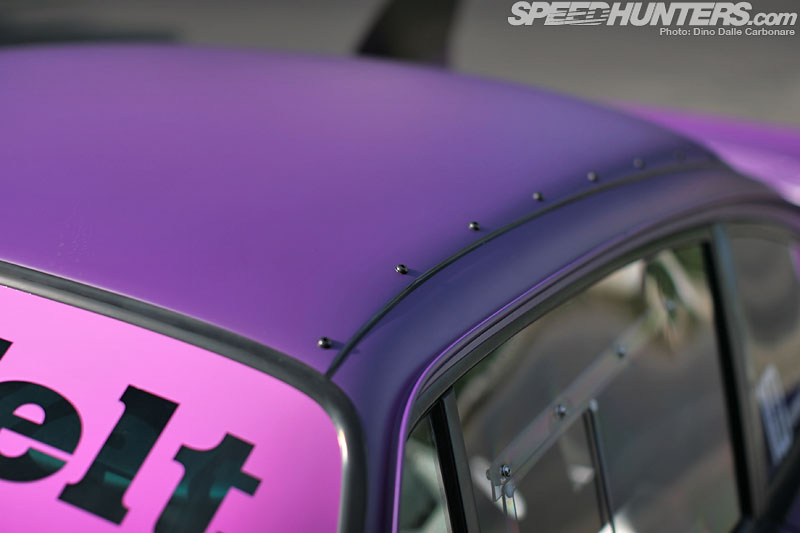 The theme was a simple one: attempt to create his most focused and rawest personal race car, an evolutionary step up from the Stella Artois he continues to hold on to. This car merges a lot more functional touches like the bonded and riveted carbon roof…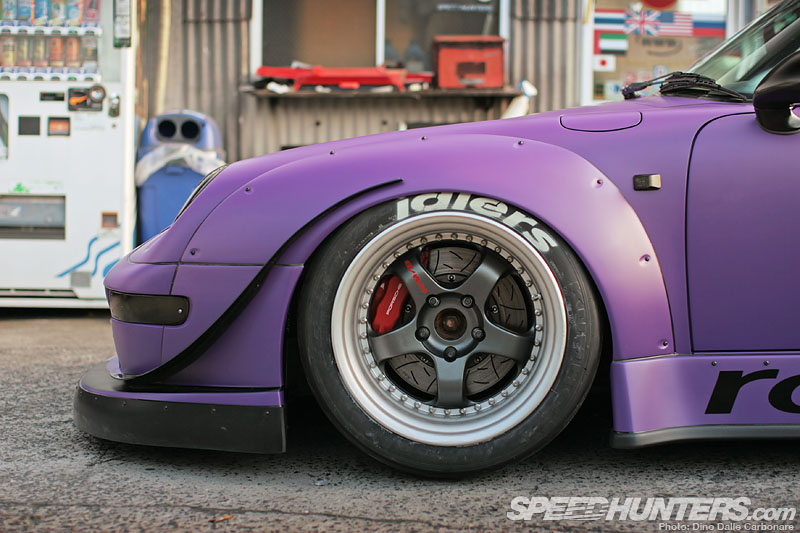 … with Nakai's unmistakable slammed look that the whole world has become used to seeing. Looks are important of course, but the Rotana puts performance above it all…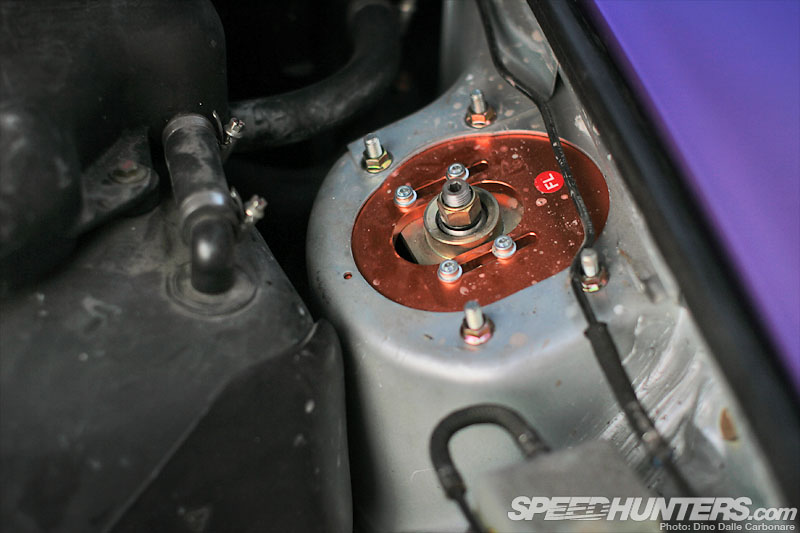 … riding on RWB-Special Quantum adjustable race dampers. As you can see Nakai isn't too shy with the negative camber!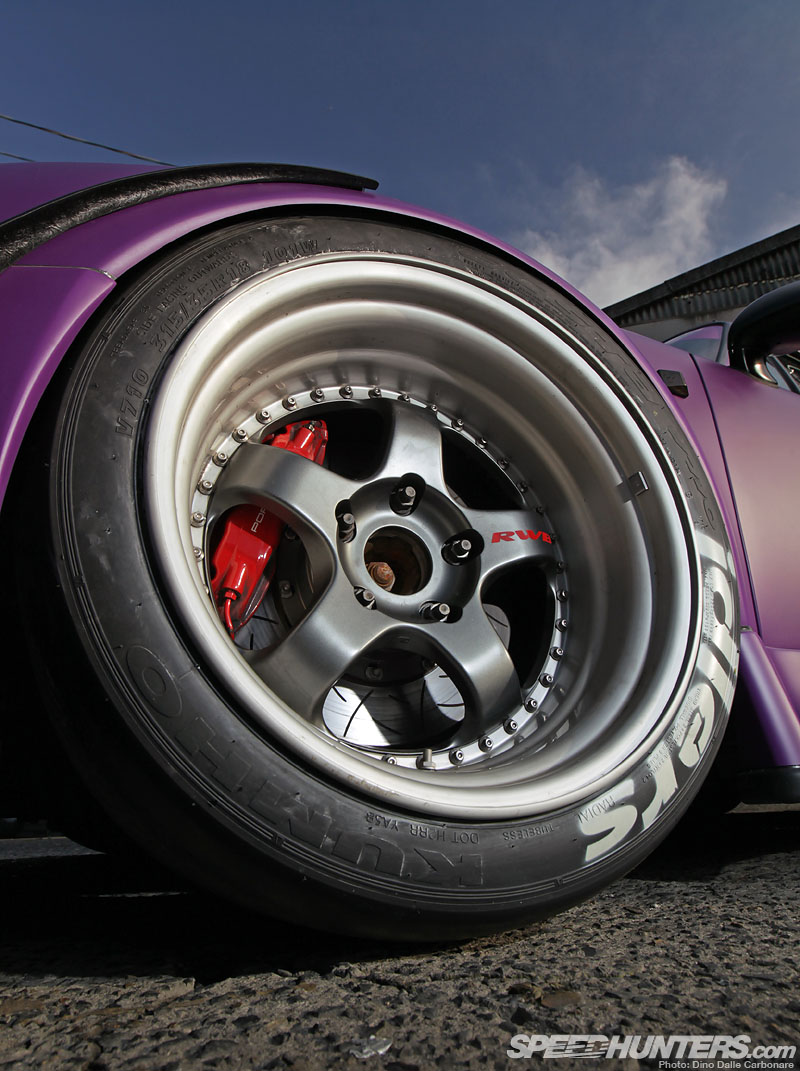 RWB's latest collaboration with Work Wheels has spawned these bespoke Meisters, featuring some pretty wild sizes. Up front Nakai has squeezed on a 12.5J-wide 18-inch diameter set…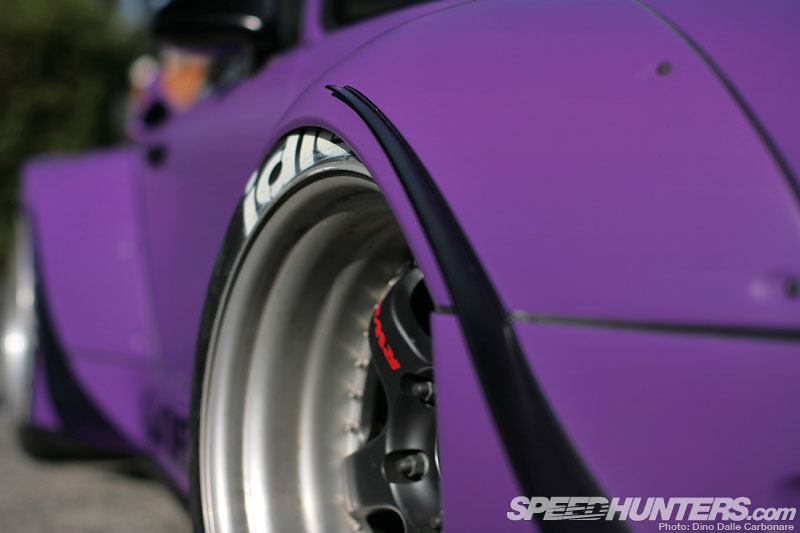 … with a -5 offset to really get the Kumho's 315/30 shoulders to sit just right with the RWB front fender extensions.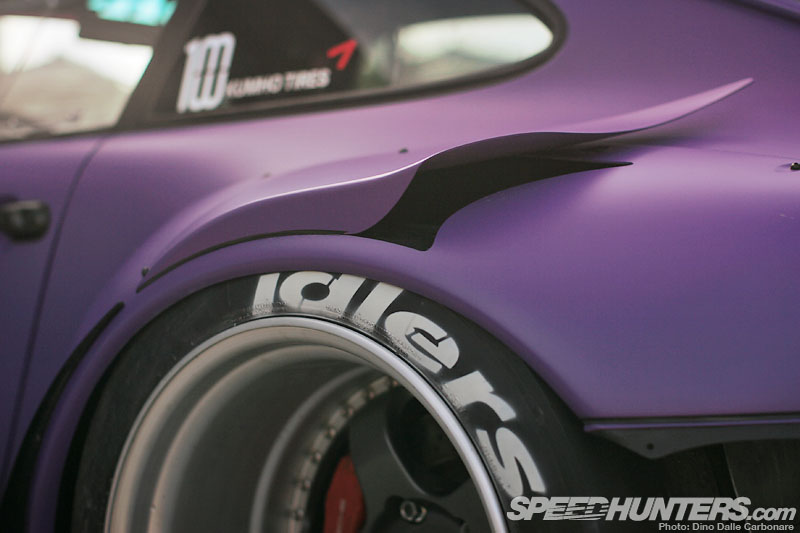 Complimenting that low and wide front is a jaw-dropping rear end treatment, with vented riveted-on fender extensions…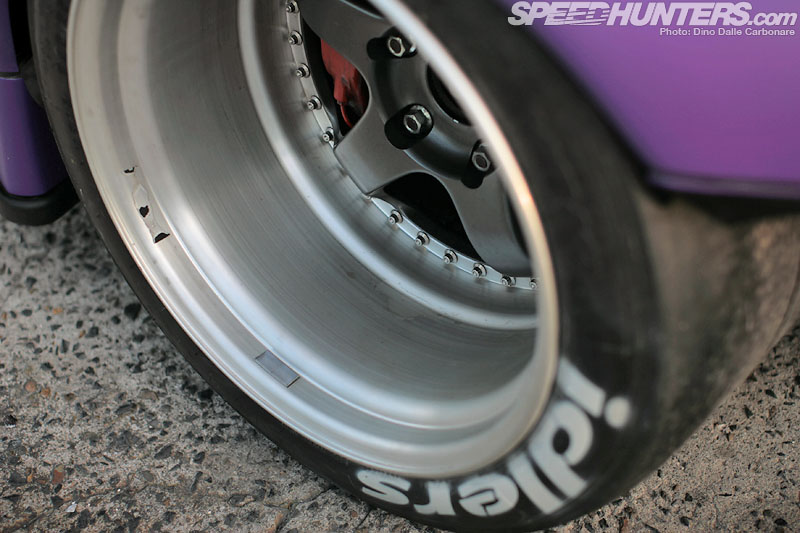 … barely containing the 14J-wide rears. To get the required deep dish look that Nakai wanted, Work had to go for a reversed assembly, effectively mounting the faces on the backside of the rim . The result is a -48 offset…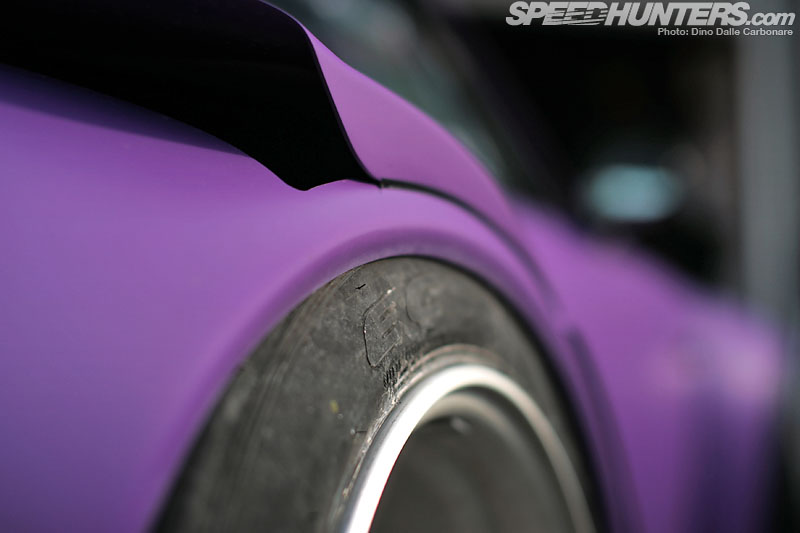 … and much, much flushness.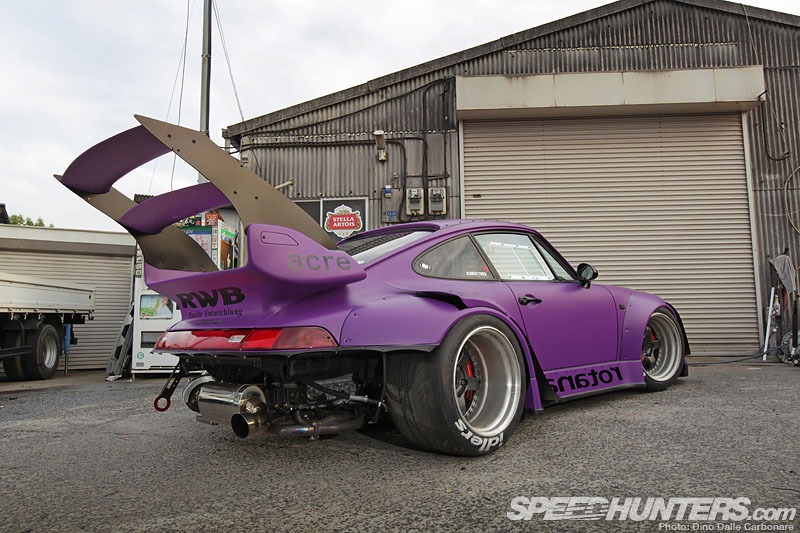 It all comes together to create that what is the most extreme expression of the RWB style to date, a look that is partly achieved thanks to the adoption…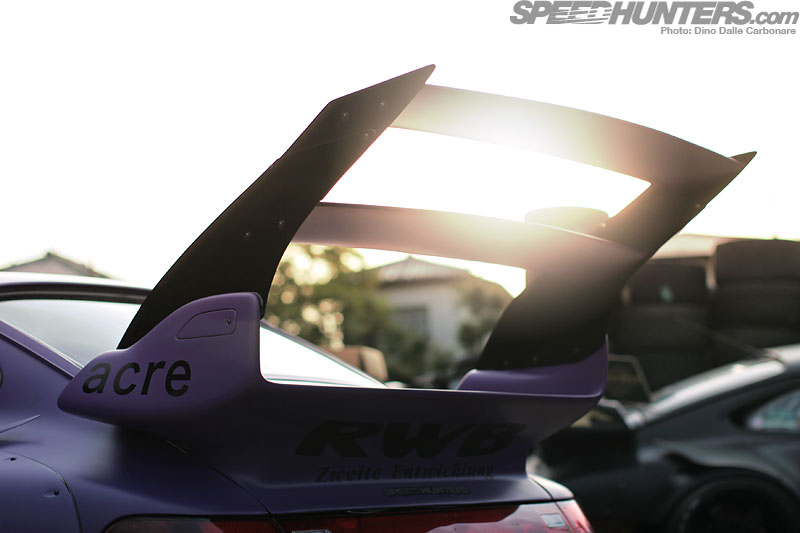 … of a newly designed wing, attached onto the 993 Turbo's stock stays.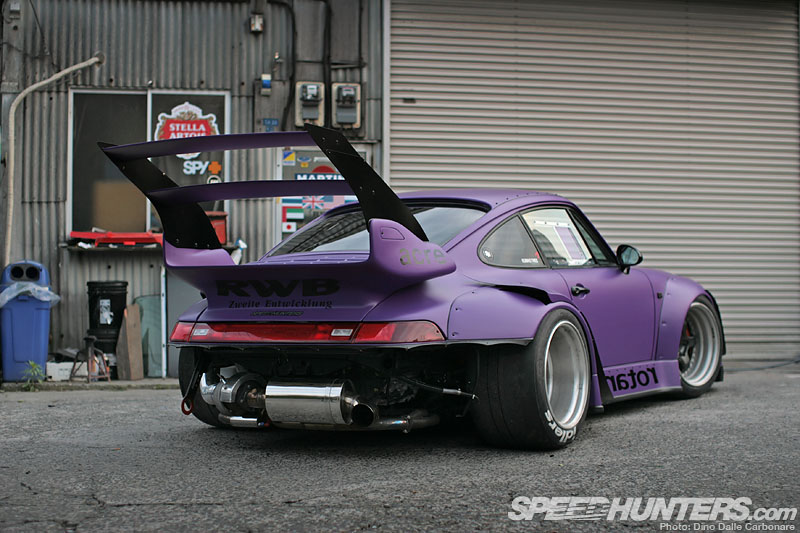 Much like the rest of the car…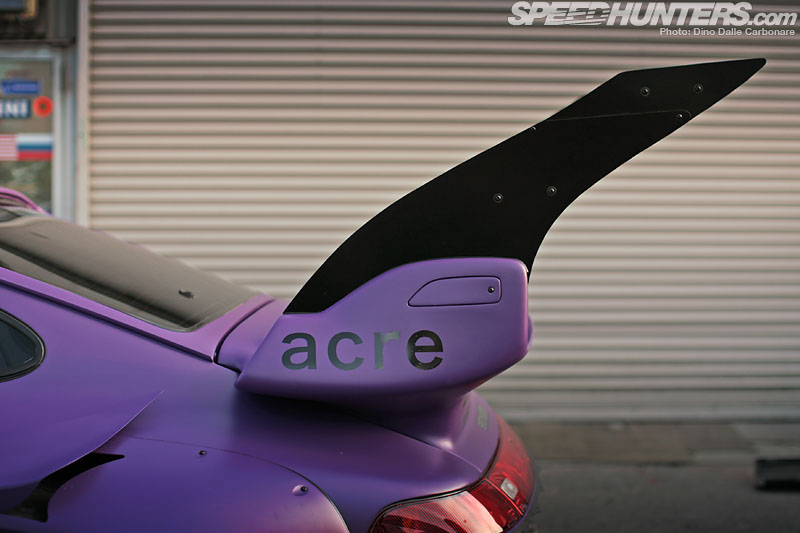 … it's there to shock and impress, its sole purpose to achieve a reaction – and let's face it, piss off Porsche purists!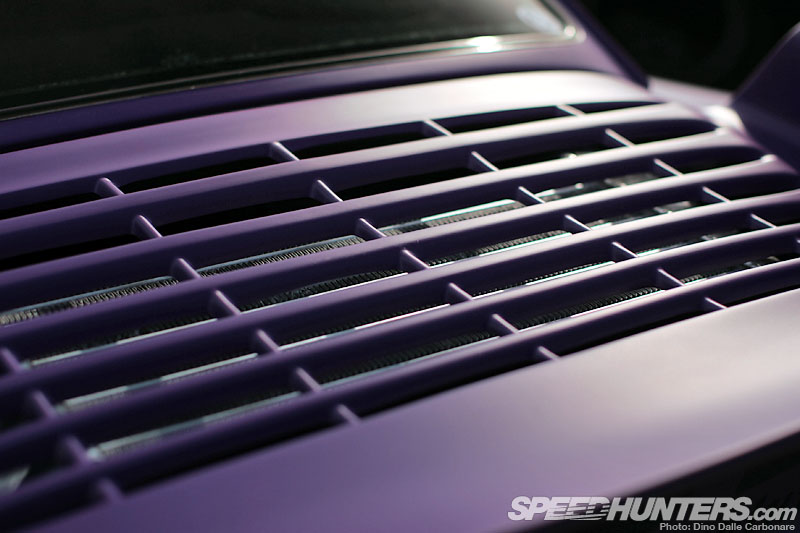 And for those of you out there that have always though RWB cars weren't packing enough horsepower to match their looks…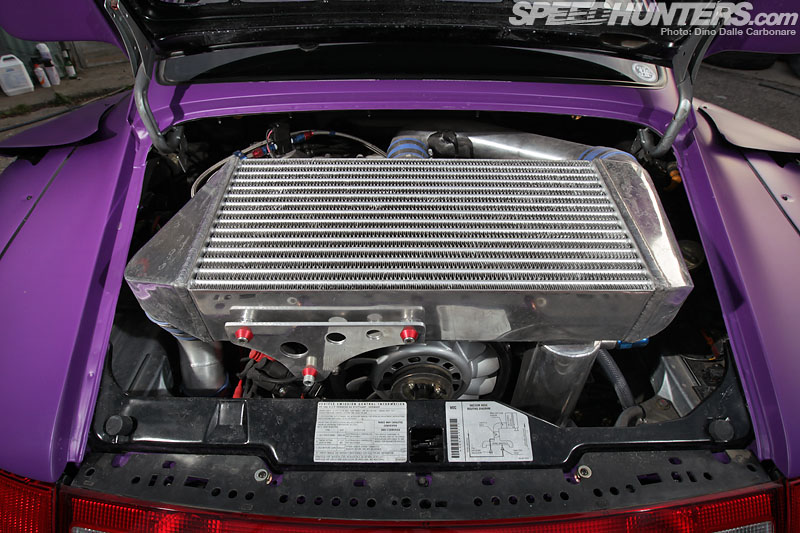 … well maybe the Rotana can change that perception of the brand. Nakai called in Porsche engine specialist Front Row to build him a worthy motor, a set-up that would be well suited to tracks like Tsukuba and Motegi, boast lots of power but without sacrificing the mid-range response he has always been used to in his naturally aspirated cars.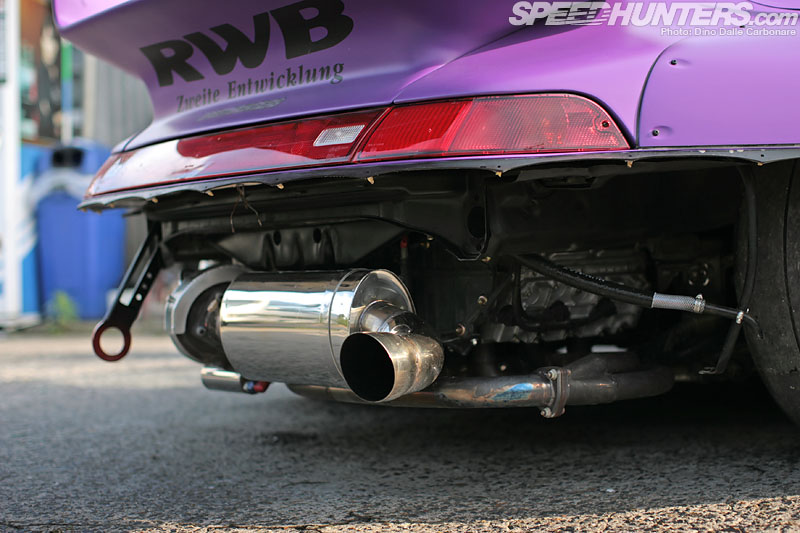 So in was fitted a 964 3.6L turbo engine, boasting upgraded internals to take the abuse of higher boost and hard track use…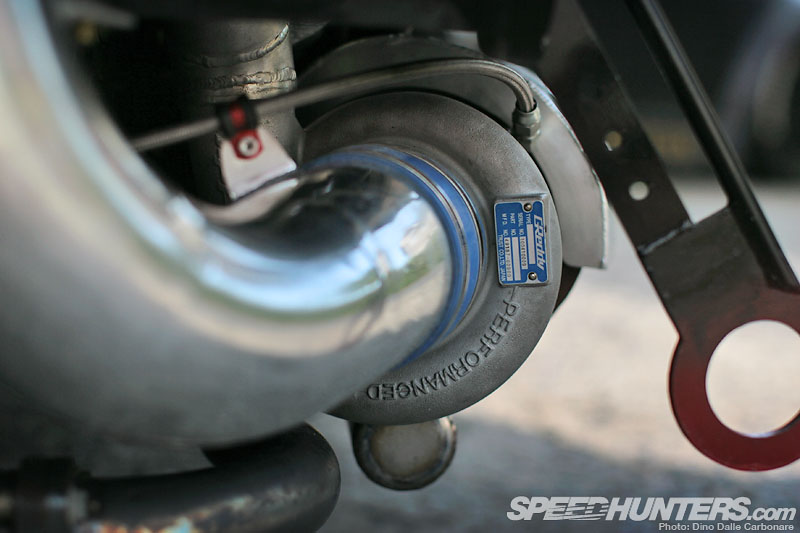 … mated to a mid-sized GReddy turbo, hanging low in full sight.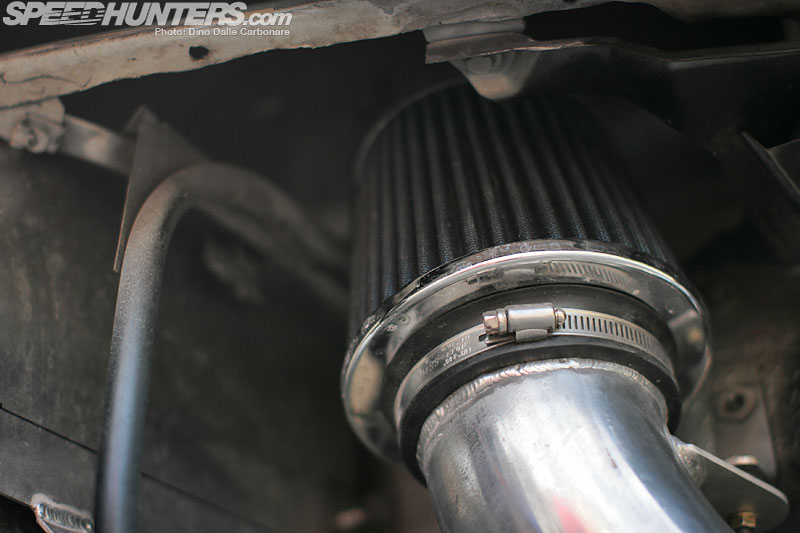 A custom upward-turned intake locates the HPI cone filter in a semi-protected corner right behind the driver-side rear wheel arch, out of harm's way and protected during wet weather use.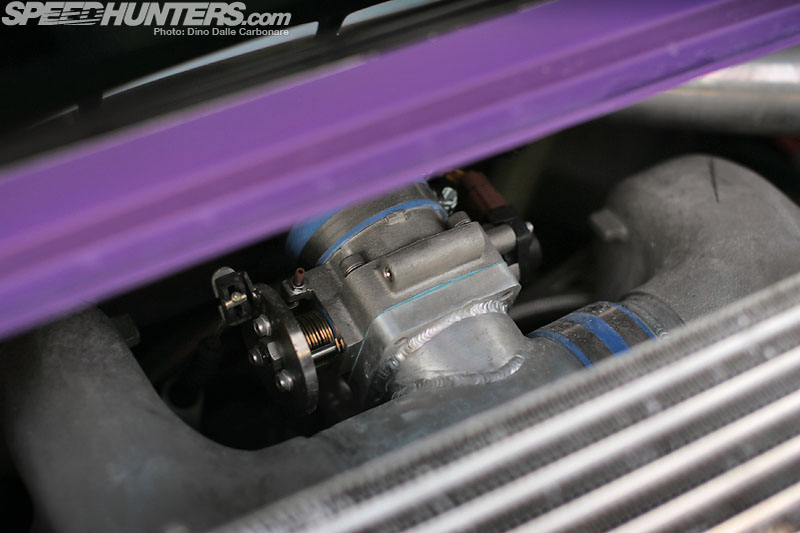 Once compressed and cooled, the intake charge is fed to the inlet manifold via a 993 mechanical throttle body, fitted to better communicate with the HKS F-Con V Pro ECU selected to handle the engine management. In this first initial tune…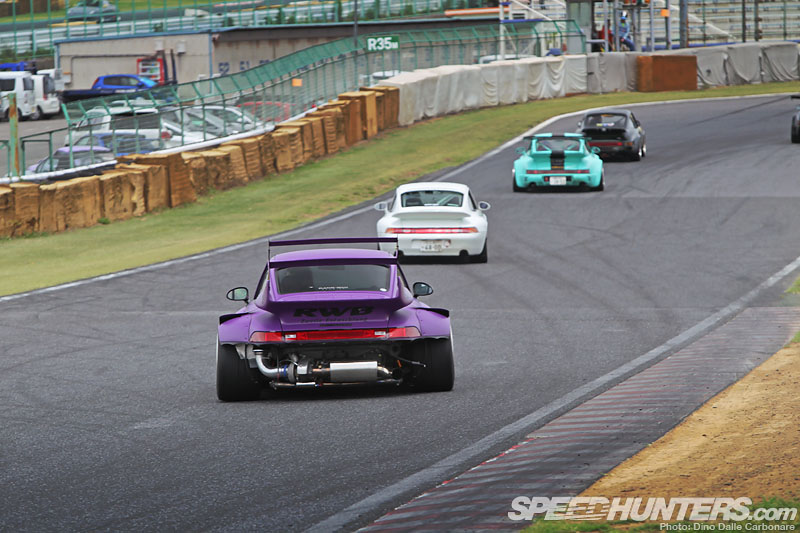 … Nakai using the idlers Games as a shakedown test for the car, the engine develops 575hp, with an explosive torque-filled mid-range to play with and fully use. And as you can probably guess, with 345 mm worth of rear rubber on each driven wheel, well traction is never an issue not even with close to 600hp on tap. For track use Nakai has come up with an easily removable rear bumper, which he can quickly throw back on for the drive back to the shop.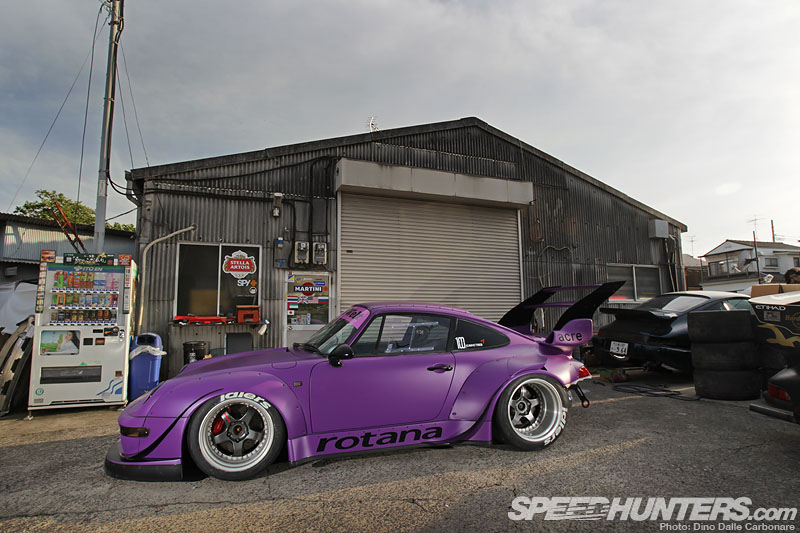 After years of travelling around the world building cars for lovers of his Rough Style, Nakai seems to have continued to ever so slightly change, adapt and evolve his designs and the Rotana – for now at least – is the culmination of all his experience.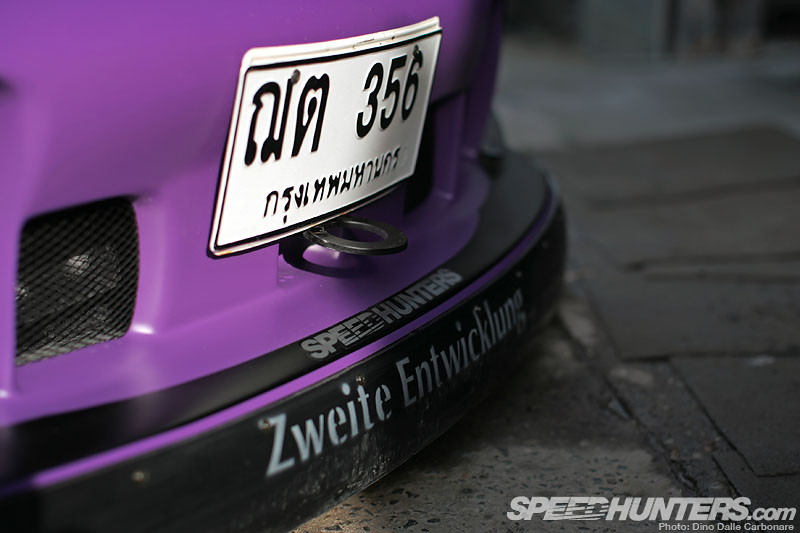 The plan is to ship the car around the world, enter it in race events, time attacks, tracks days along with his customer cars…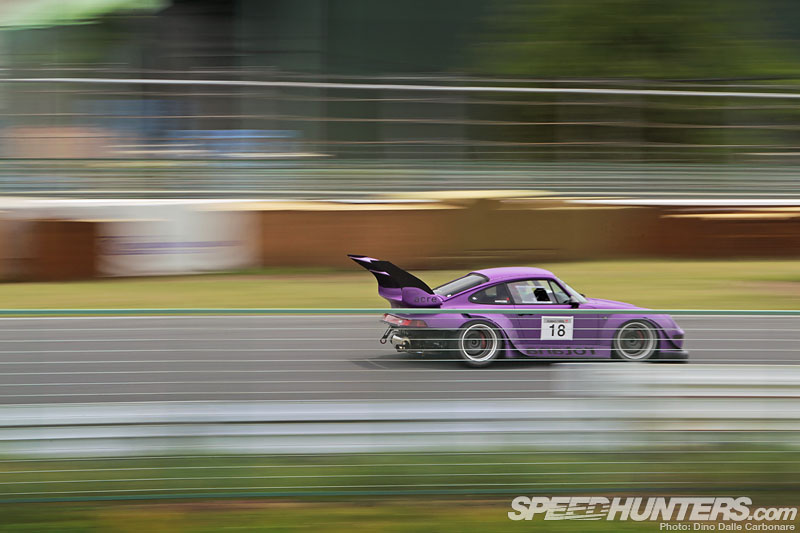 … to really get the most out of all the work that has gone into it. Next step is to fabricate a roll cage to satisfy safety regulations in various countries. If you are wondering why the car wears Thai plates, that's because Chin from Autohaus in Bangkok brought one over, a sort of detail celebrating the worldwide appeal RWB cars have.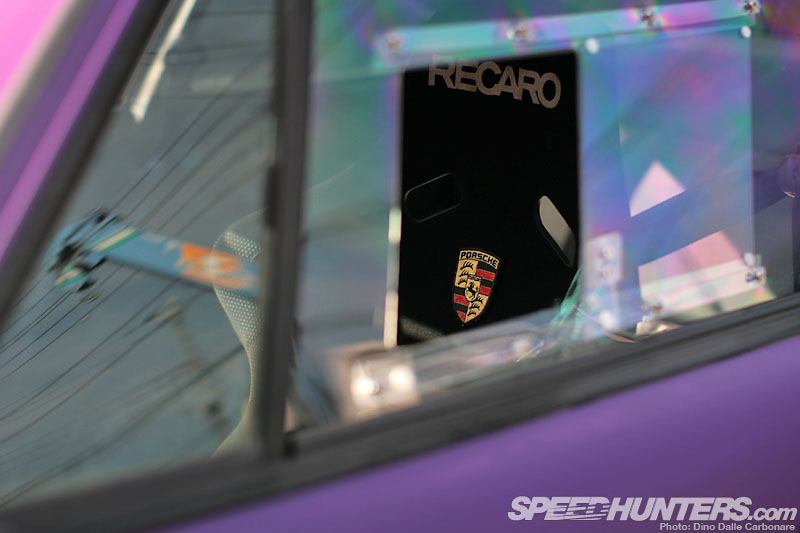 One look inside through the acrylic slide-type door glass reveals some nice additions…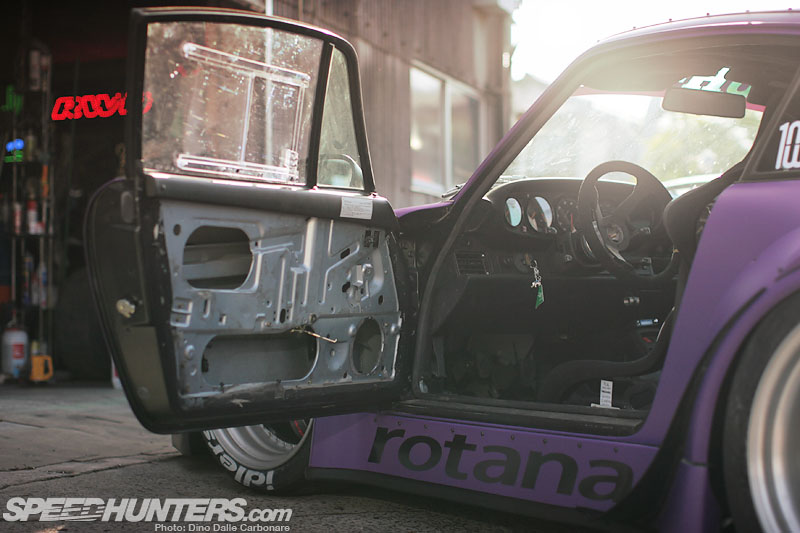 … but you need to swing the door open to get a better idea of how seriously this project is being taken.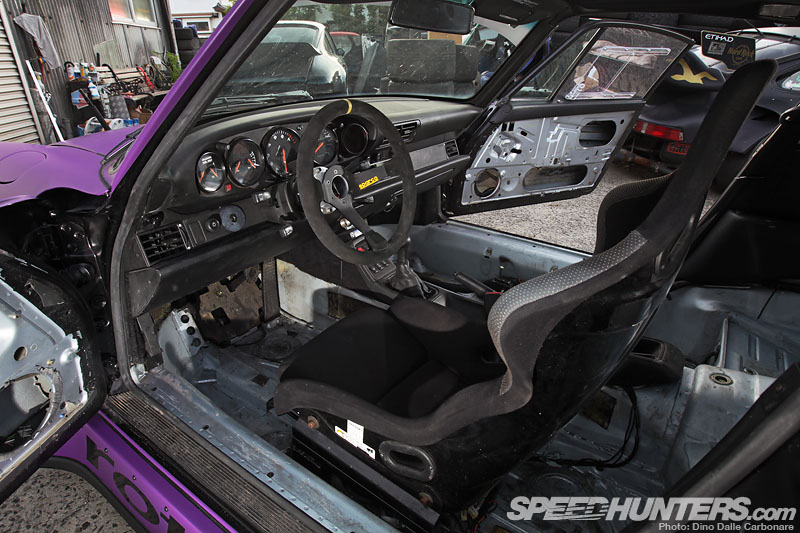 Pretty much everything aside from the dashboard and transmission tunnel has been gutted out, ready to receive the safety cage that Nakai still believes he doesn't need!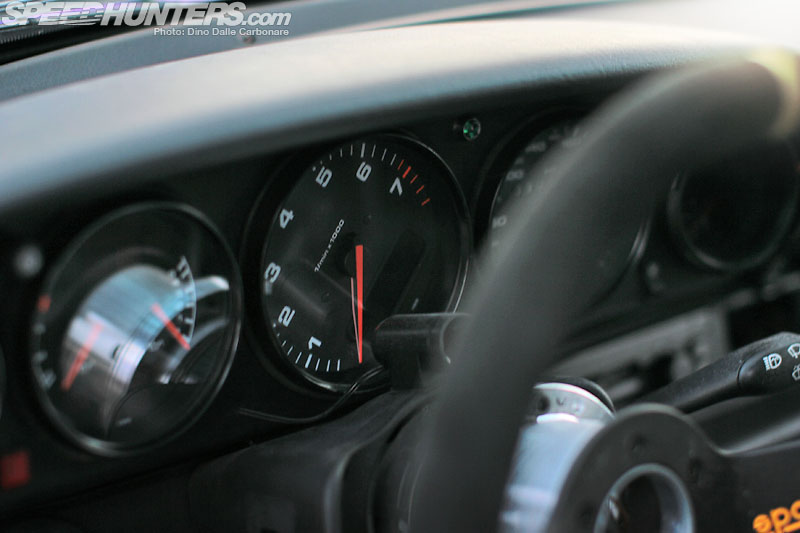 The race car-like rotated tachometer is a little detail that most RWB owners do to their cars.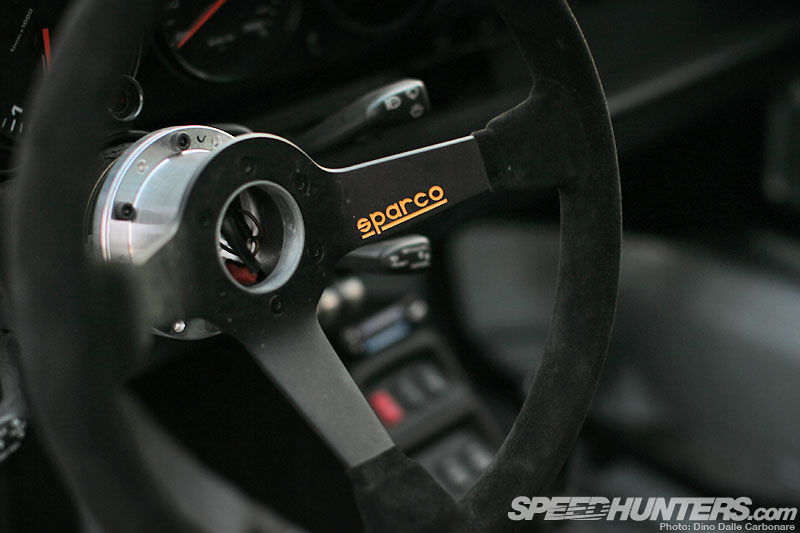 A deeply cupped Sparco steering wheel has been chosen for its optimal offset, mounted on a custom boss to have it sit pretty much right where Nakai needs it.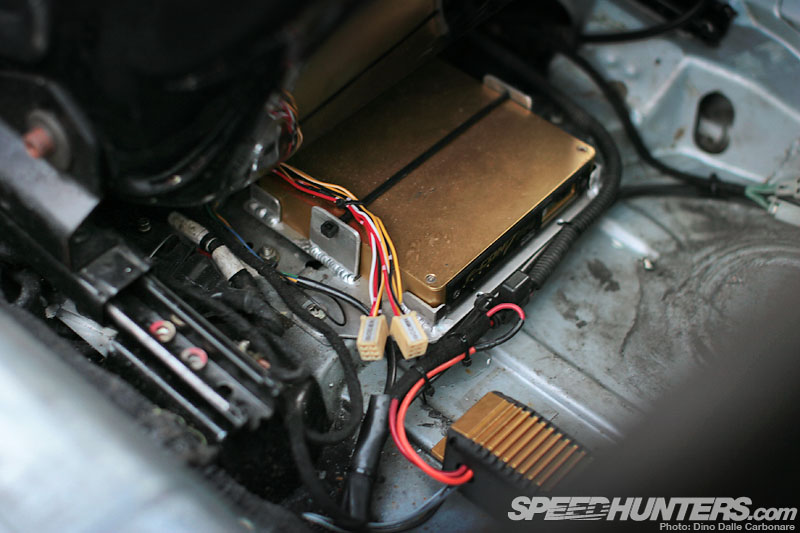 Under the Porsche/Recaro bucket is where Front Row located the HKS computer: easy to reach for when the laptop needs to be connected for fine tuning.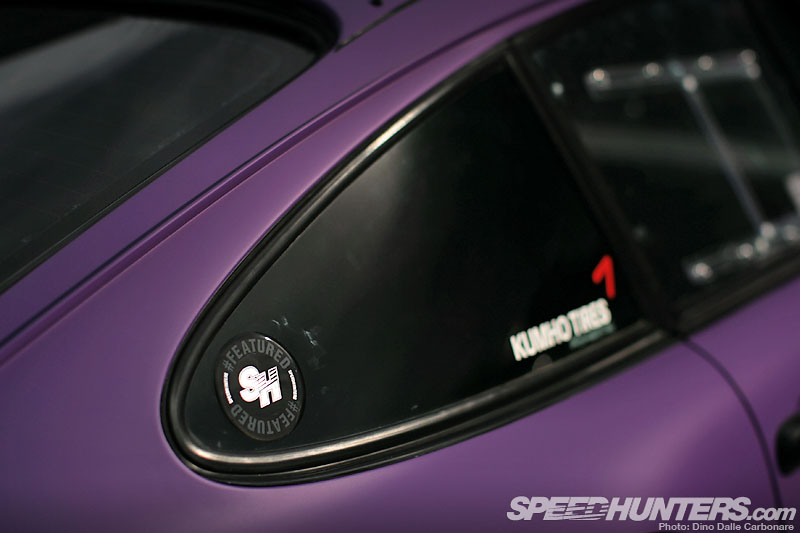 So there you have it: form meets function meets performance, all spiced up with a little touch of roughness to keep it all legit. Could Rotana possibly be the ultimate RAUH-Welt creation??
Dino Dalle Carbonare
Instagram: speedhunters_dino
RWB Rotana
Numbers
Max Power – 575 hp
Engine
Front Row-built 964 3.6L turbo engine, upgraded internals, custom exhaust manifold, GReddy turbocharger, custom intake pipe, HPI cone filter, custom intercooler, custom piping, braided oil lines, custom stainless steel exhaust system
Driveline
993 stock transmission
Suspension/Brakes
Quantum/RWB adjustable two-way race suspension kit, stock 993 Turbo brakes
Wheels/Tyres
Work Meister RWB-special reversed rims, 12.5Jx18″ -5 (front), 14Jx18″ -48 (rear), Kumho Ecsta V710 315/35R18 (front), 345/35R18 (rear)
Exterior
RWB full widebody conversion, GT2-look front bumper, RWB rubber lip, RWB elongated front canards, RWB carbon fiber roof, RWB side skirts, RWB aero vented rear fenders, RWB side canards, RWB rear bumper (removed for track use), RWB one-off wing, acrylic slide-type door glass, RWB one-off matte purple color
Interior
Stripped cabin, Recaro bucket seat, Sparco steering wheel, HKS F-Con V-Pro ECU, GReddy Profec-B boost controller
Rauh Welt features on Speedhunters
idlers Games '13 coverage on Speedhunters