I've done a few 'a day in the life' stories before, but for some reason I have never done one at a Formula Drift event. Just to give you Speedhunters out there an idea of what I have to go through just in one day I broke my day into 30 minute intervals.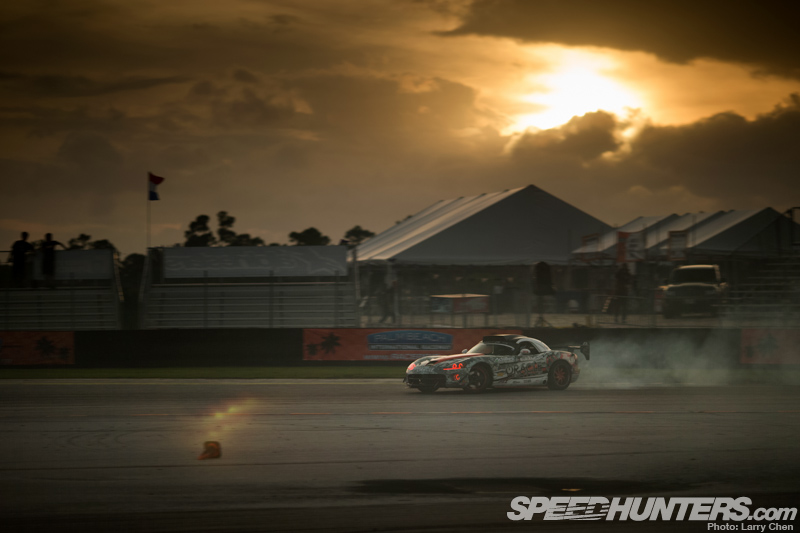 I figured Saturday at Formula Drift round three in Palm Beach would be perfect for this type of story, but before I get into it I want to touch on the event itself just a bit.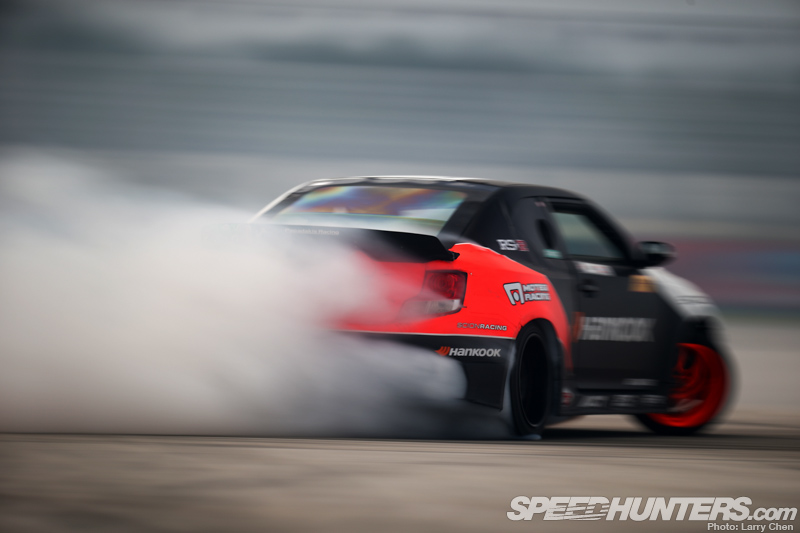 Our very own Fredric Aasbø has been doing quite well this season despite the tough calls and mechanical issues. He is currently fifth in the championship standings.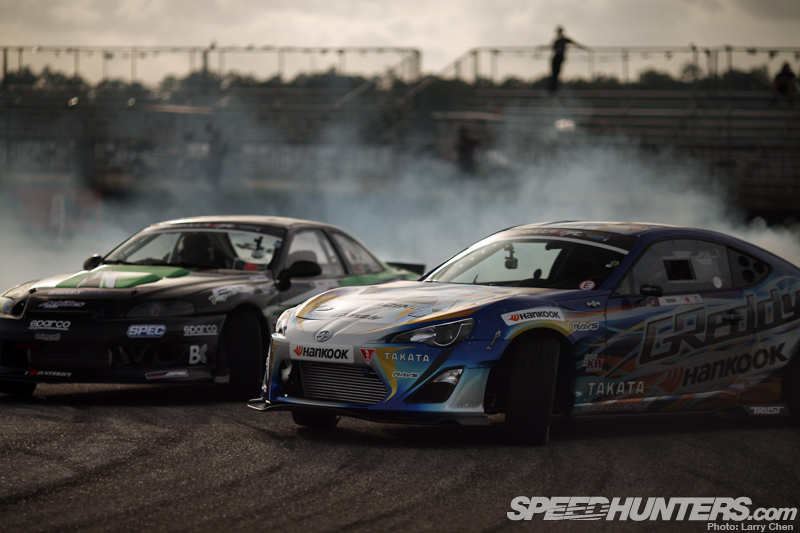 For the second event in a row, ten-year-veteran drifter Ken Gushi did not qualify due to engine problems. What a tough break, as he did very well at the season opener in Long Beach.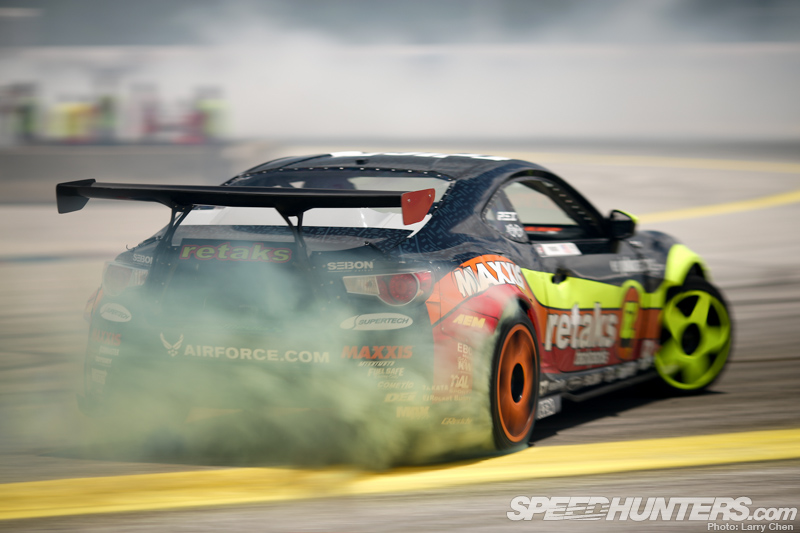 For the first time since 2009, Ryan Tuerck did not make it into the top 16 due to an axle failure during his follow run with Aurimas Bakchis.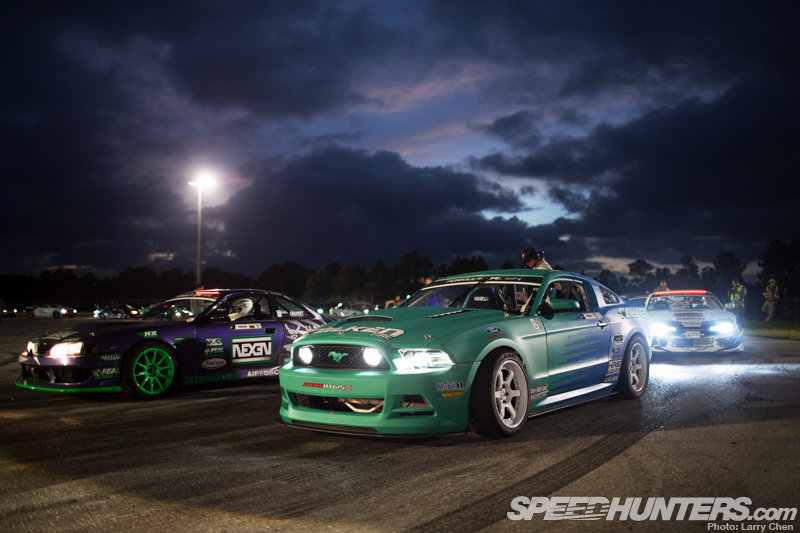 Justin Pawlak was definitely the favorite to take the win, as he qualified on top, but the new stricter off course rules seemed to have thrown a wrench at the top teams.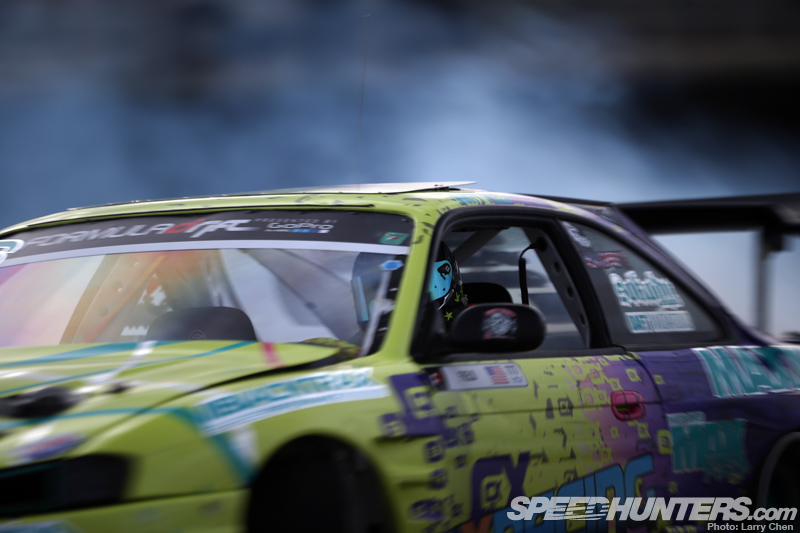 Now it's anyone's game; as long as you don't go off course, you have a good chance of winning your battle.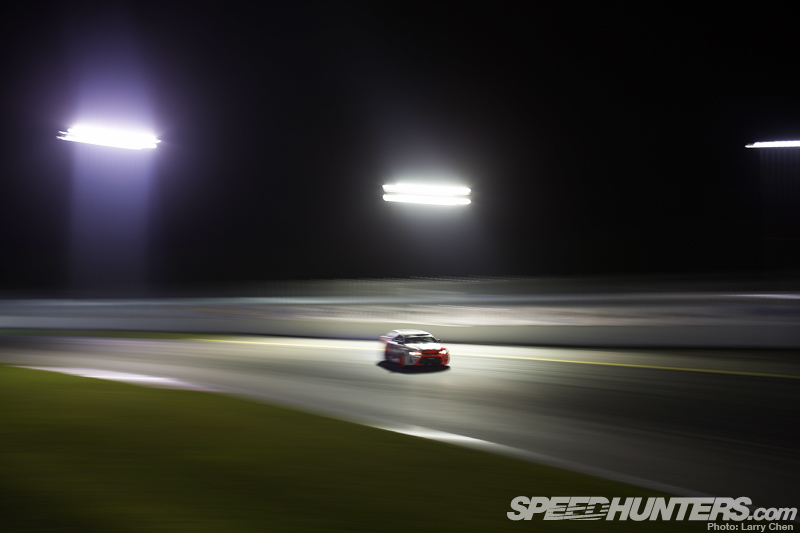 Friday night practice started out dry, but it quickly turned for the worst.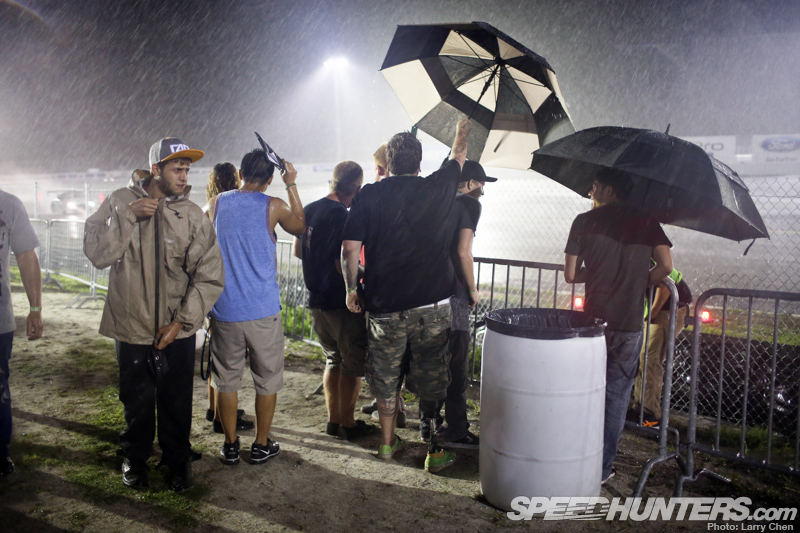 What really amazed me was how many of the fans stayed till the end of practice in the pouring rain. Some of them muttering something about driving five hours to see this skid racing.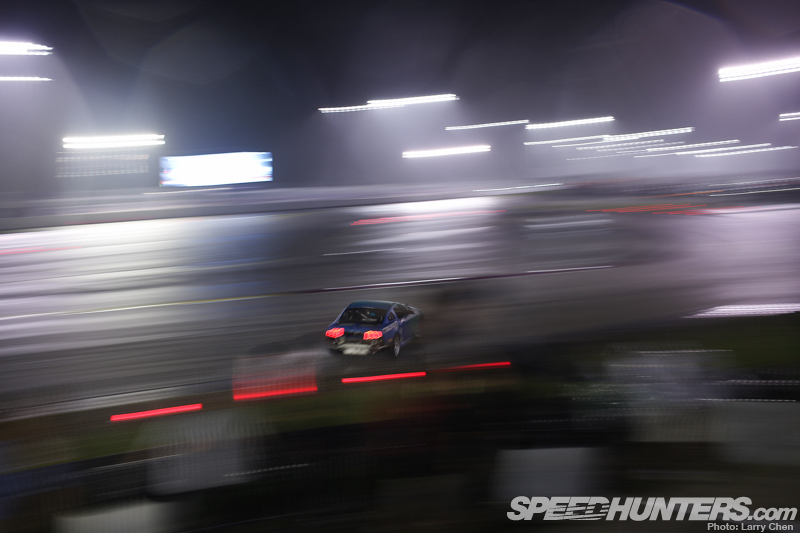 I stayed till the end too, and yet again I got soaked to the underwear, which seems to be a trend recently.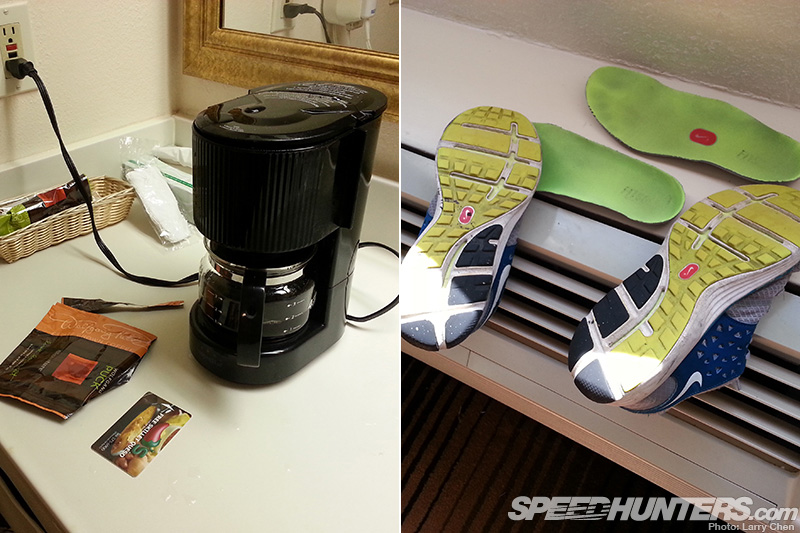 9:30am I always look forward to Saturdays at Formula Drift, because so many things happen and when you're having fun, time really flies. I made my morning coffee and checked on my shoes to see if they had dried out from last night's thunderstorm shooting session.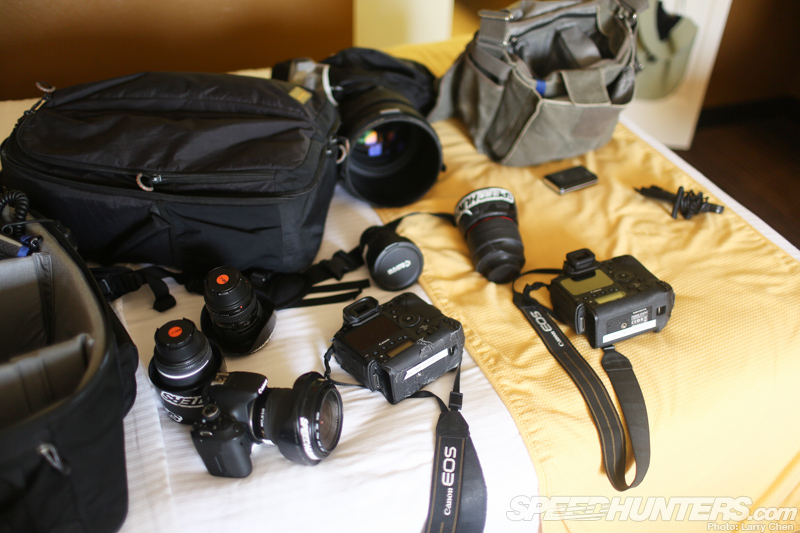 10am All of my gear was laid out over the other bed. Whatever water was lodged in my camera gear leaked out overnight onto the bed. There's no point in having tools if you can't use them to their full potential, right?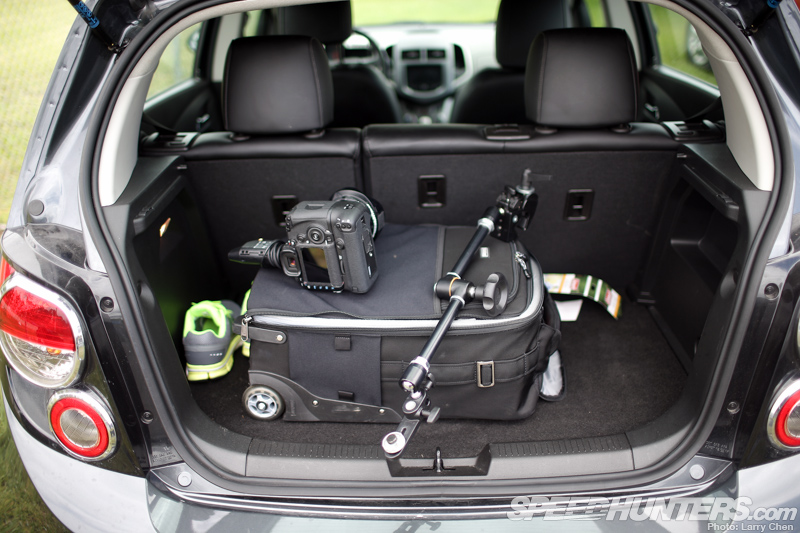 10:30 It was just a short 20 minute drive to the track and my first task was to mount my remote cameras and wireless relays. This would be my only opportunity as it's very difficult to mount a camera when the course is hot.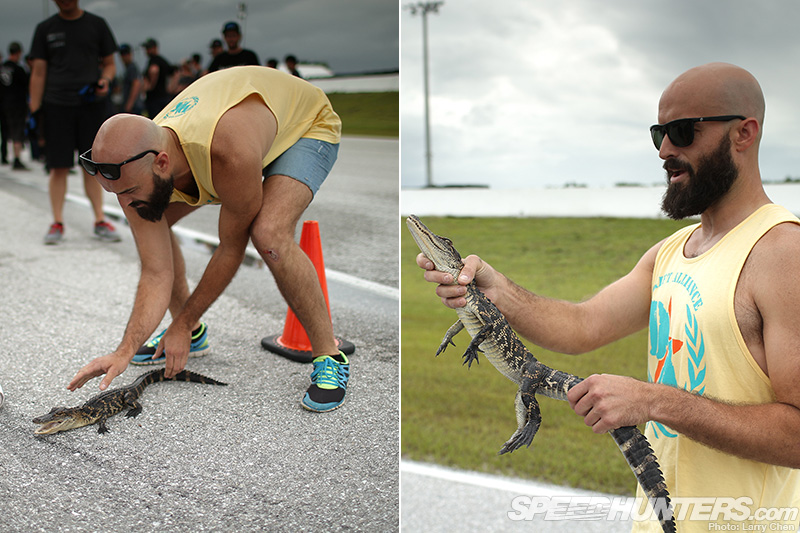 Some of the local livestock wandered onto the track, so my friend Andy Laputka decided to move it back into the swamp where it would not get run over by drift cars. Barbecue anyone?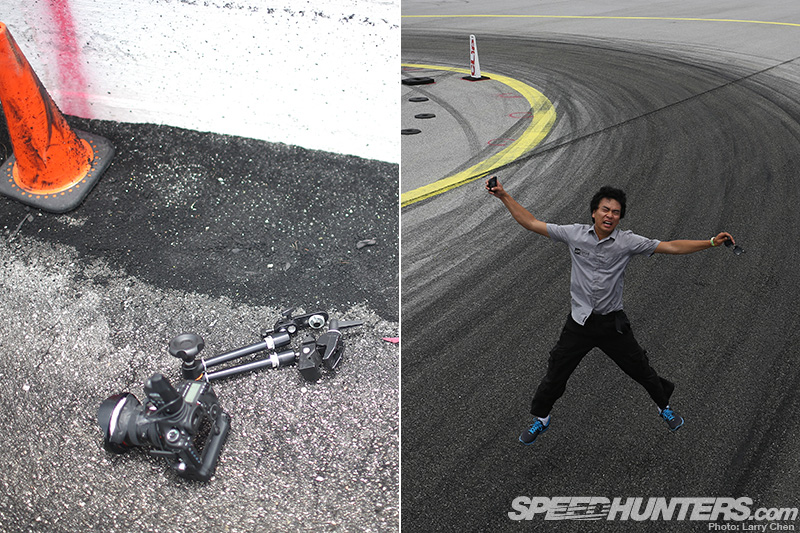 11am You guys are going to laugh, but this is actually where my rock climbing skills come in handy. I can stay on the fence for an extended period of time without falling. I rate the fence at palm beach a VB+.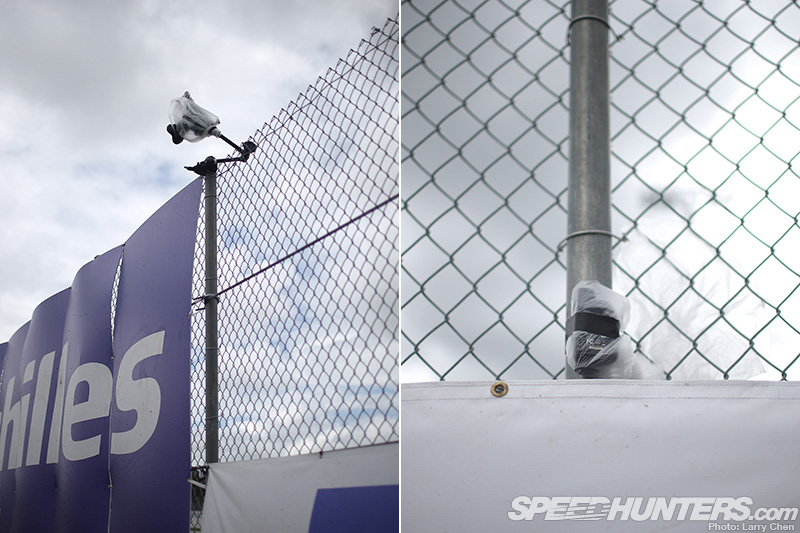 11:30 With my camera mounted and weather protection trash bags  installed, it was time to mount some relays. Because of the length of the track, I used eight remotes set on repeat signal mode in order to be able to trigger from anywhere.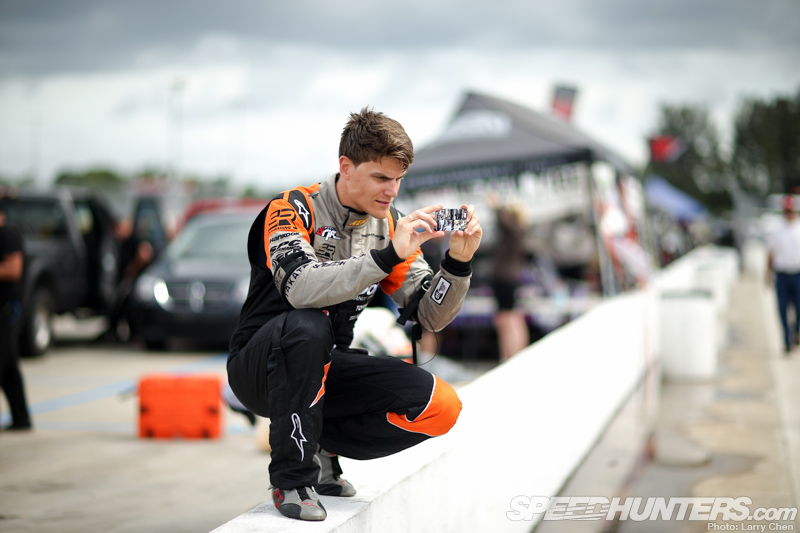 12:00 With some time left before the drivers meeting I made my rounds through the pits and grabbed some interviews for my motivation story. I didn't get hold of Fredric as he was working on his Instagram feed.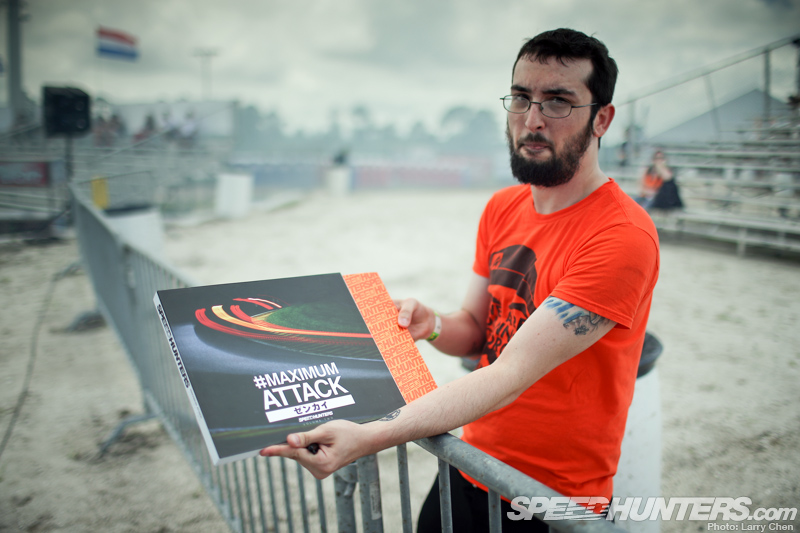 12:30 As I was cruising around I found myself staring at this odd looking book. I signed it and headed to the media center for the drivers' meeting.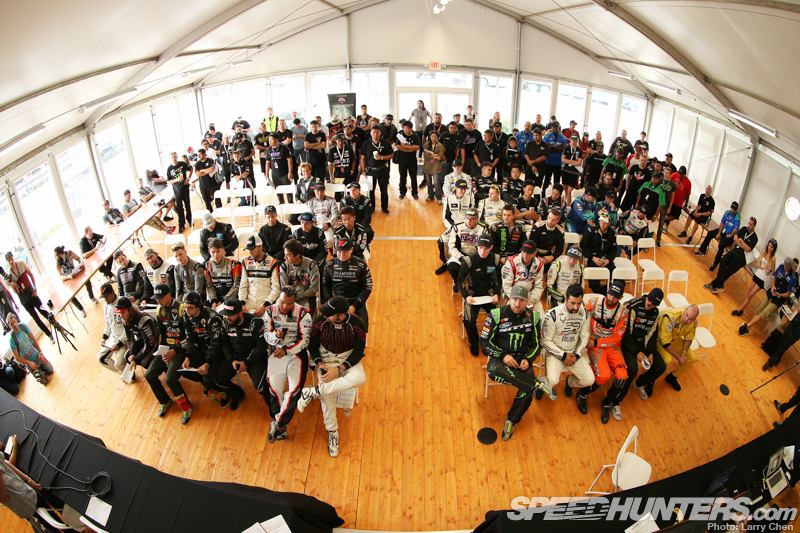 13:30 Drivers' meetings are always a good time for me to pick up shots of drivers that I am doing stories on as for once they all gather in one place. It's like a turkey shoot.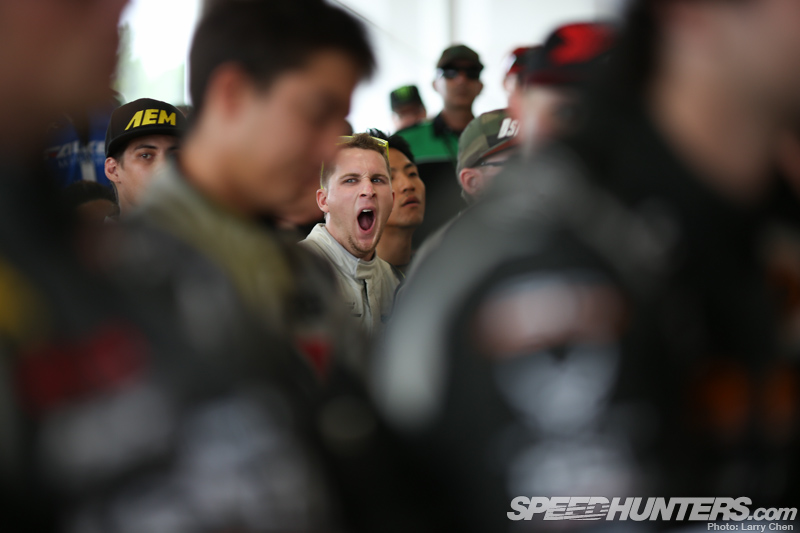 You can tell which ones stayed up the night before partying hard working on their cars.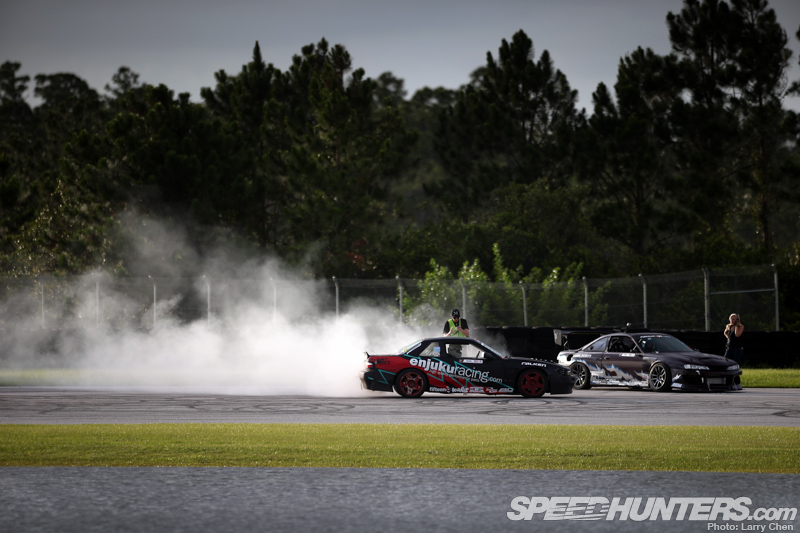 Top 32 practice on Saturday is the last chance for the drivers to practice and to size up their competition.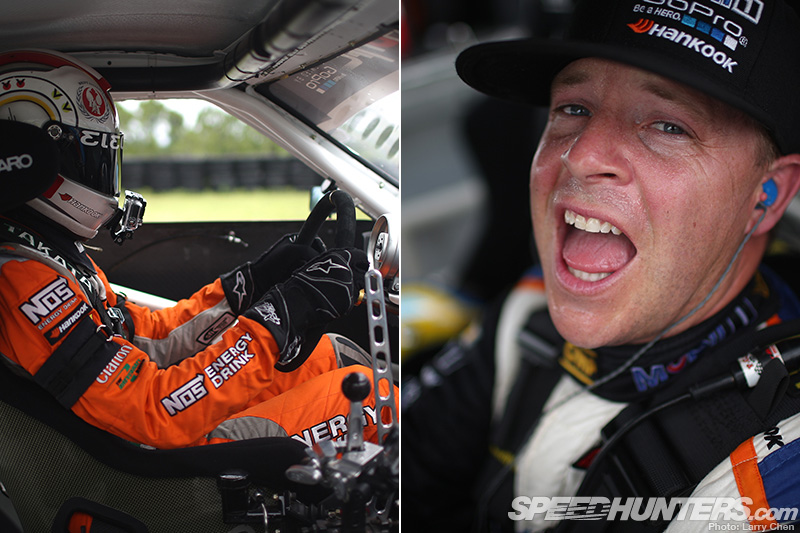 I feel so bad for them sometimes as they look like they're in agony from the heat and humidity. It does not help to be in a helmet and race suit sitting in a hot race car while idling.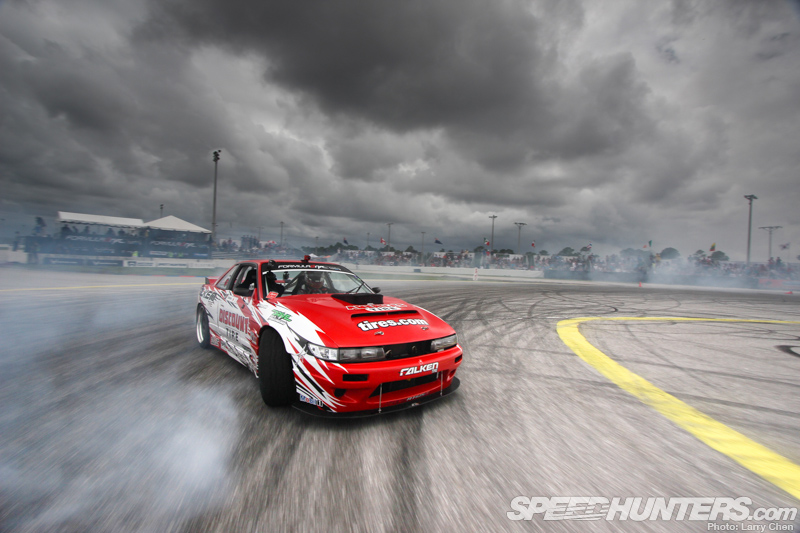 14:00 This was also the last chance for me to get some car-to-car shots. Remember the relays I mounted along the track in the morning?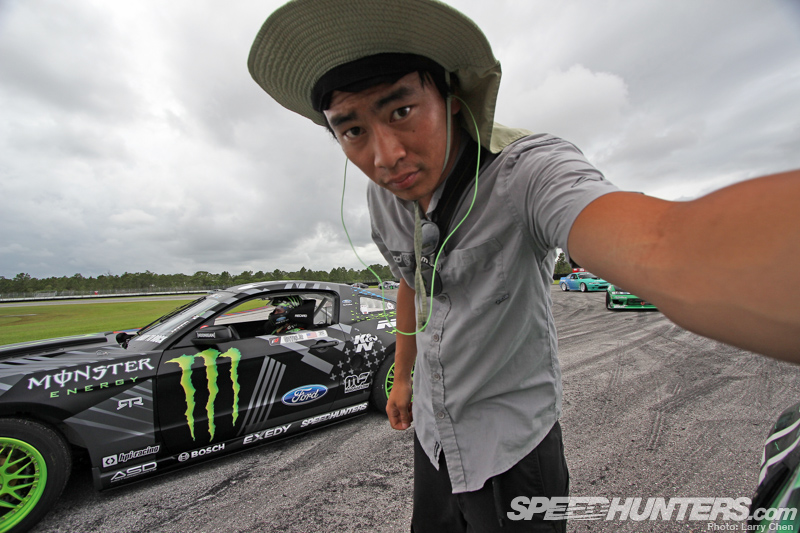 Is this thing on? I love shooting photos of myself from drift cars for Myspace. New profile pic every day!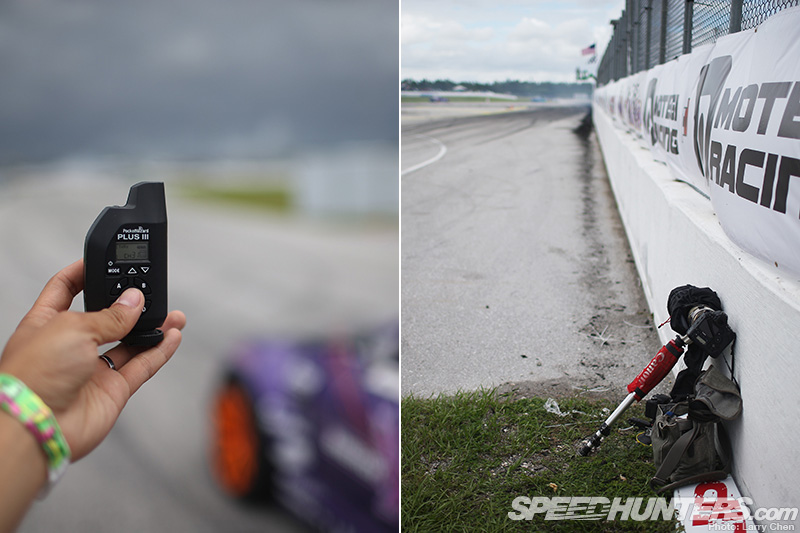 14:30 Even though I was on the hot grid, my gear was already at my shooting location for the top 32 battles as there was very little time for me to move due to the tight schedule.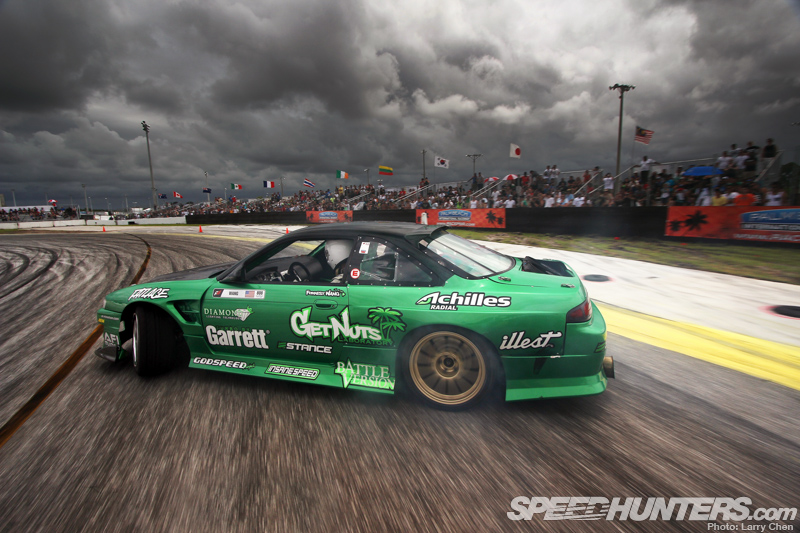 15:00 Just a few more car-to car-shots and I was on my way to the finish line. For some reason I always get great photos of Forrest Wang, although I need to tell him to give a thumbs up or something next time. Stay tuned for a feature on his car dropping soon.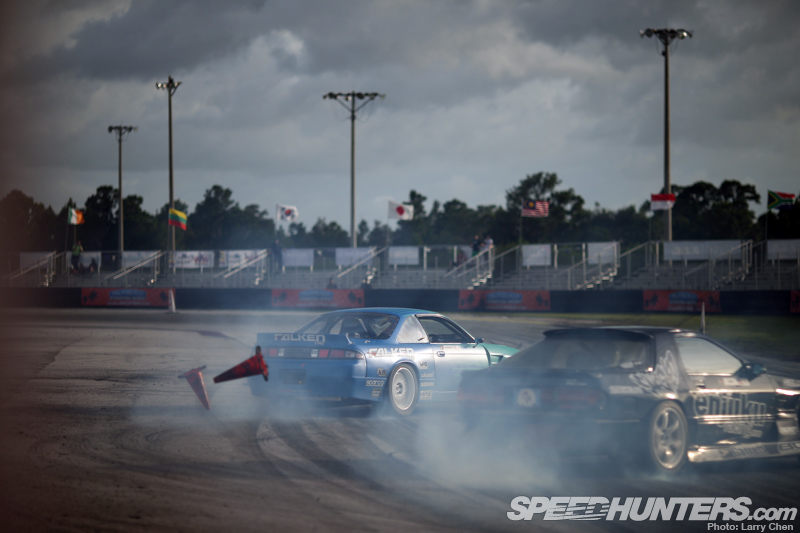 Drivers go very hard during practice, as every run can be a potential match-up later on during competition.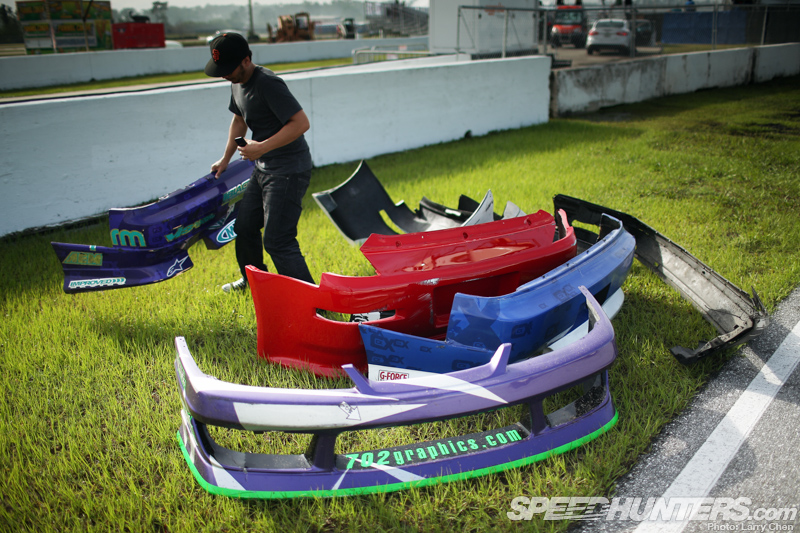 Many bumpers were harmed in the making of this article.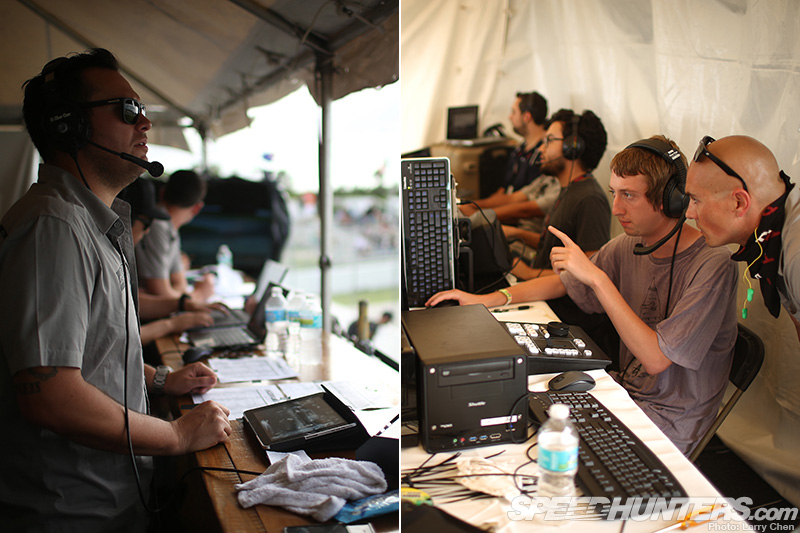 15:30 With top 32 around the corner it was time for the voice of Formula Drift, Jarod DeAnda, and the rest of the FD crew to get ready for the live stream.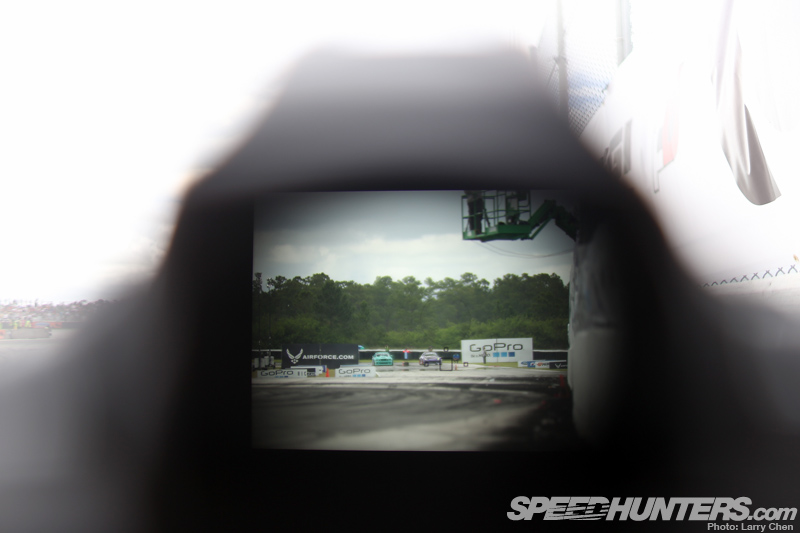 16:00 The first battle was on deck and this was my view for the next two and a half hours.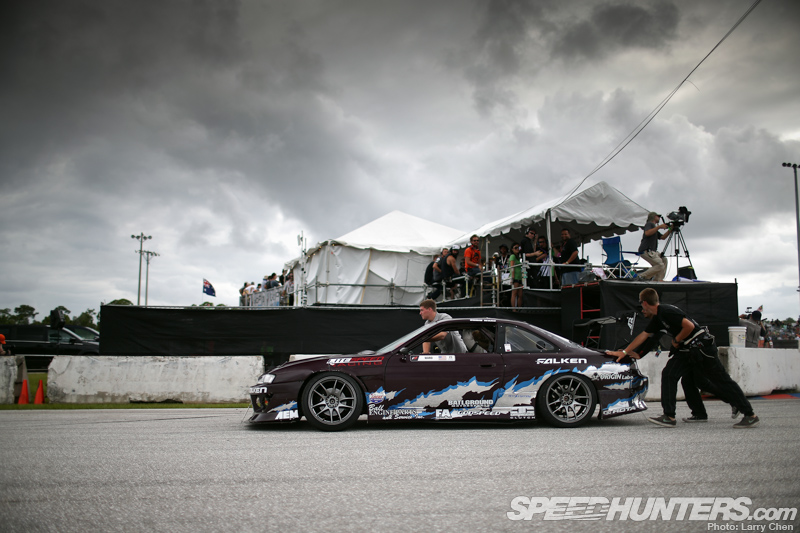 16:30 Chris Ward was not so lucky as his car gave out during his top 32 battle with Robbie Nishida.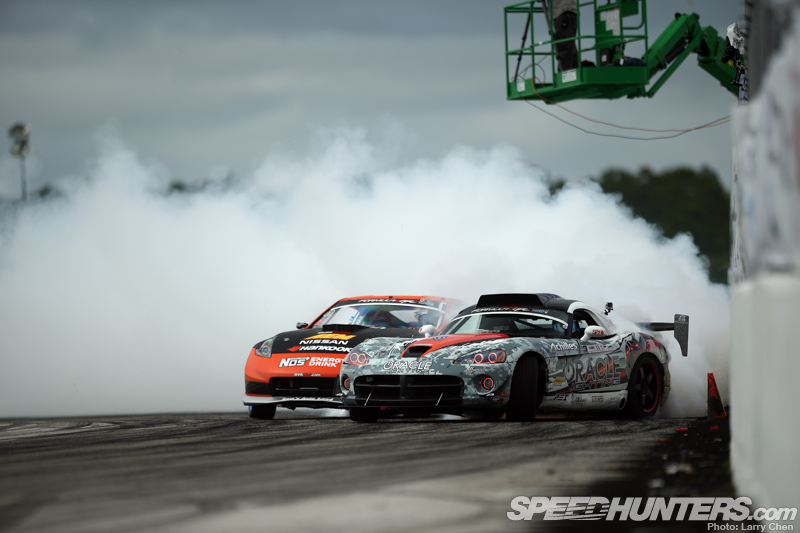 Before the new knockout qualifying style, the top 32 was very predictable, with only a few upsets here and there.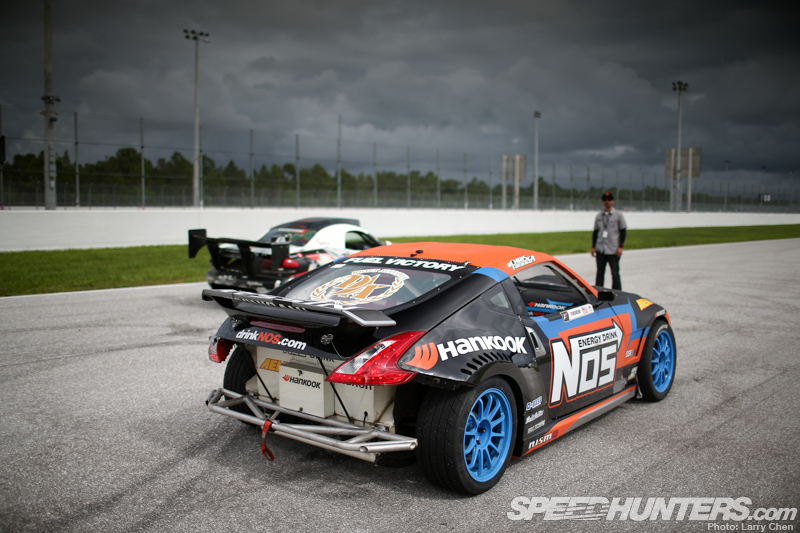 17:00 Now all the top drivers really have to watch out because it's very easy for them to end their weekend early. Luckily Chris just edged out Dean Kearney for a spot in the top 16.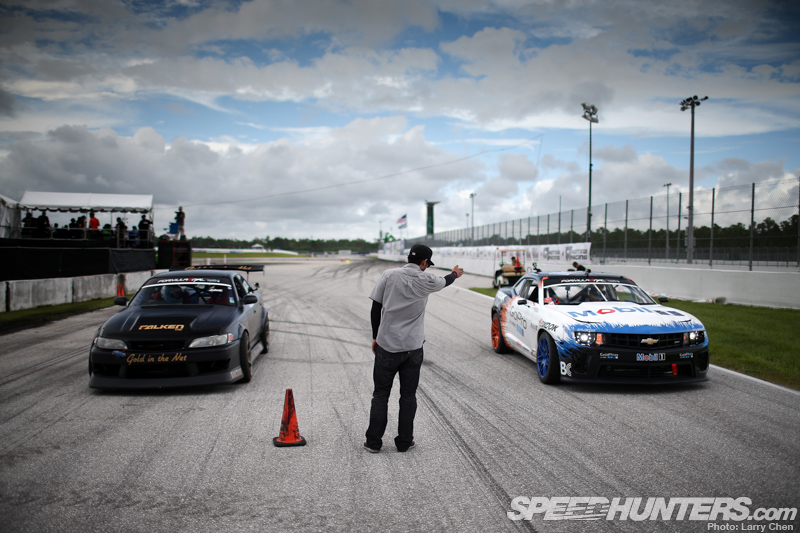 17:30 After two unsatisfactory events, Tyler McQuarrie knocked out Mats Baribeau who was a higher qualifier.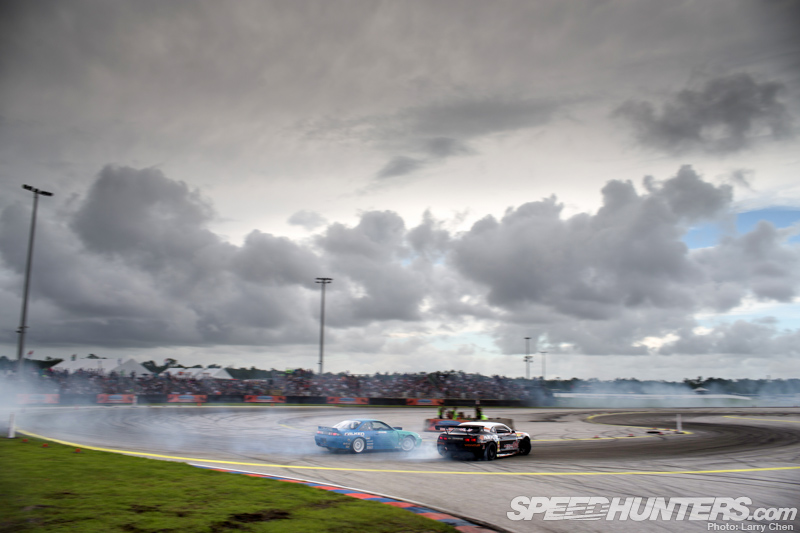 There were quite a few one more time battles in the top 32, which allowed me to shoot different locations and varied focal lengths. It's not fun if you just stay in one spot.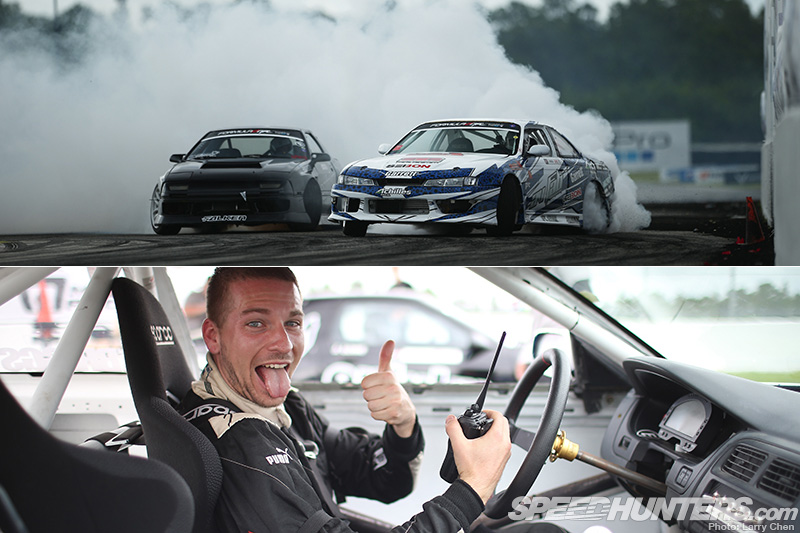 18:00 Speaking of having fun, it seemed Dave Briggs was having an absolute blast ploughing through all the way to the top eight for the very first time.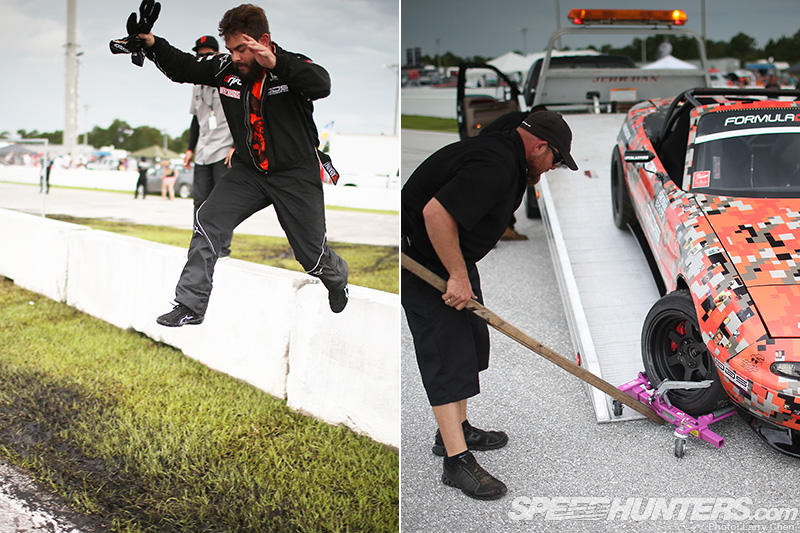 The last battle of the top 32 was between Danny George and Daijiro Yoshihara. Danny gave Dai a love tap, but broke a tie-rod in the process.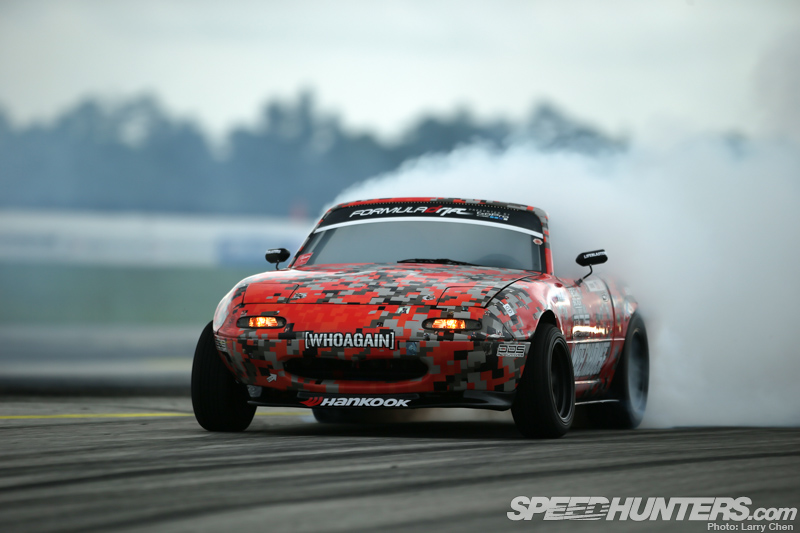 18:30 The team was able to fix the car, but the battle was already lost.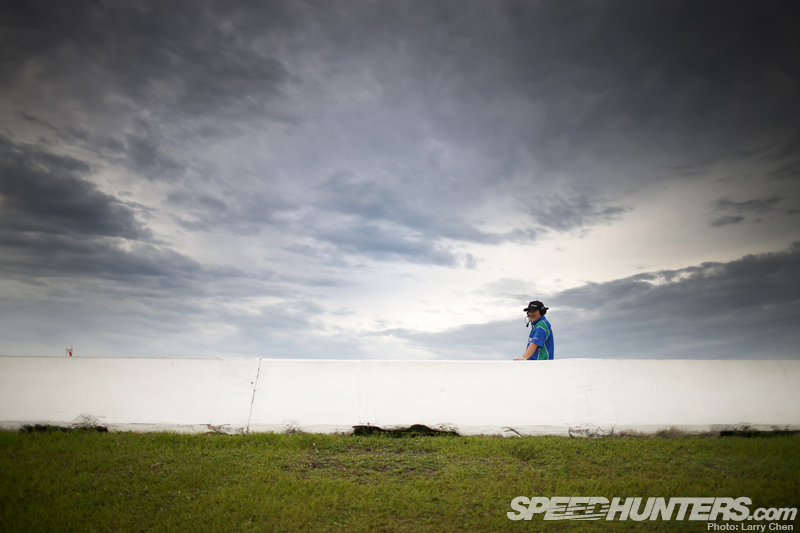 Between top 32 and top 16, there's a halftime break. It usually runs for about one and a half to two hours and it gives the media and staff time to rest as well as time for the fans to check out vendor row and anything else the pits have to offer.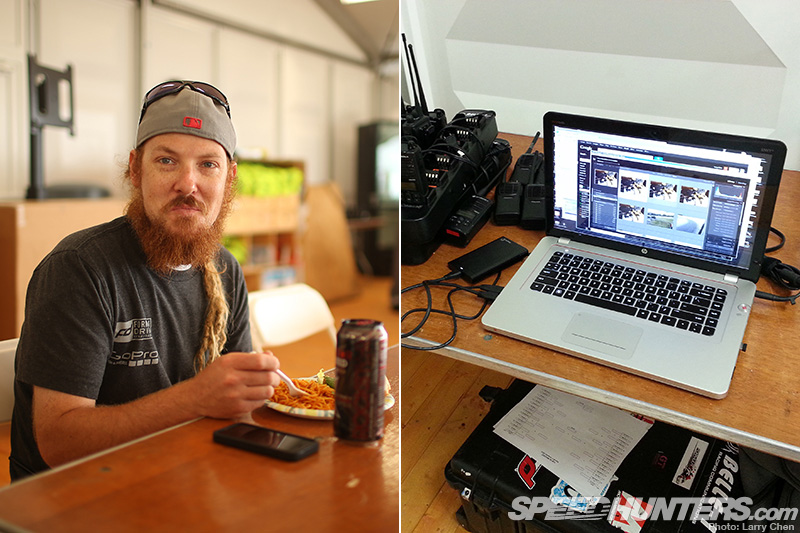 I grabbed a quick lunch with the FD bearded man and took a midday memory card dump afterwards.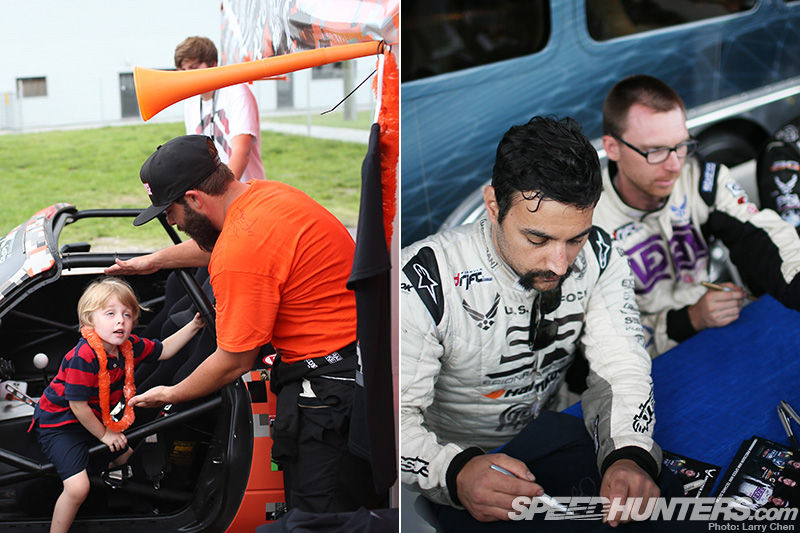 19:00 With some time left I made one more round up and down the paddock. Danny George was trying to sell his car to any prospective buyers and Tony "Mutton Chops" Angelo was signing autographs for fans.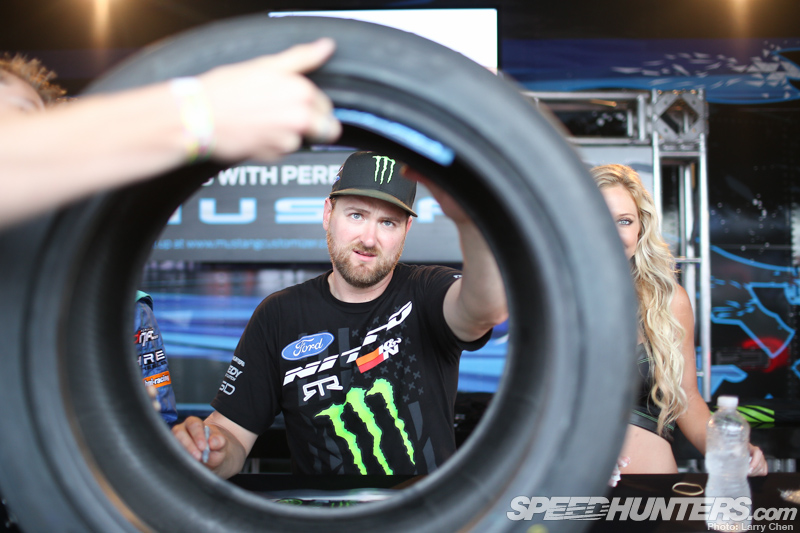 With just a few minutes of half-time remaining, Vaughn got in the last few autographs and quickly got ready for the big show.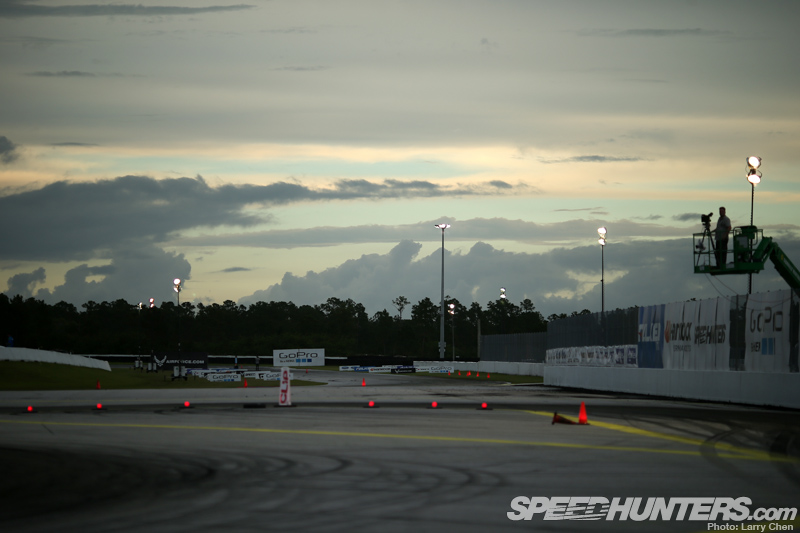 It was so muggy and hot. Some parts of me were still damp from last night's rain. Where will the water evaporate to if the air is so dense with moisture?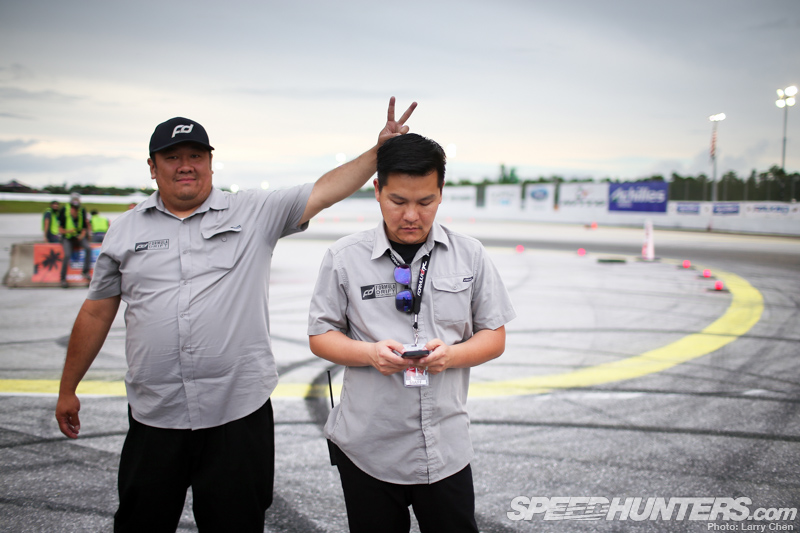 19:30 This is the home stretch, and it's also my favorite part of the whole event. This was when the staff goofed off as the hard part was over.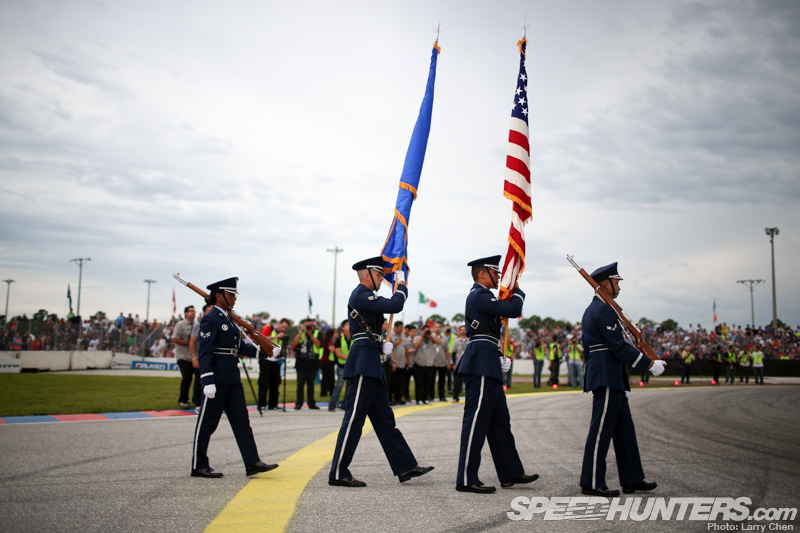 Formula Drift used to have a singer do a live performance of the national anthem, but a few years back the poor girl's microphone kept cutting out so I think they axed that idea.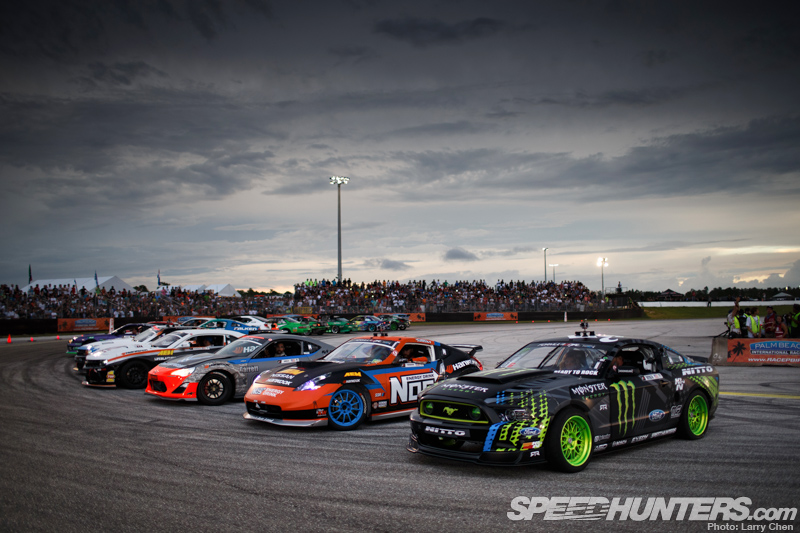 20:00 The top sixteen started right on the dot as the fans eagerly waited for the epic battles to take place.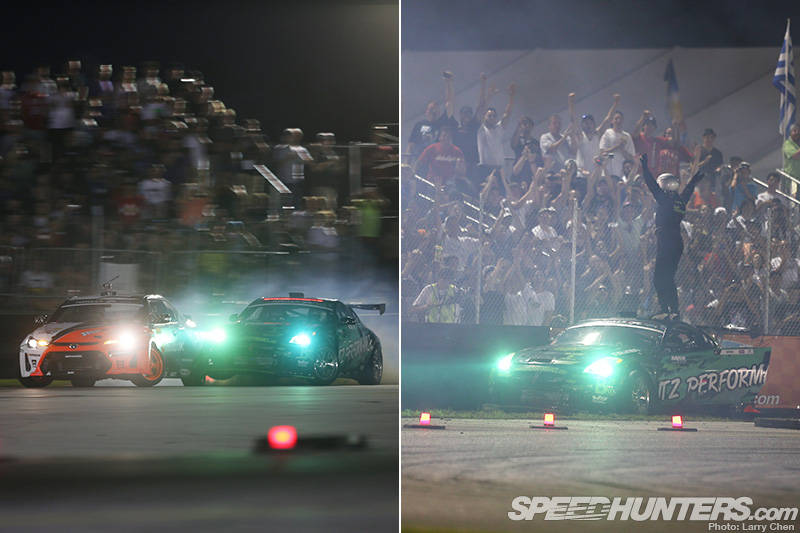 20:30 How many times this year do you think Fredric will get rammed by a green and black car?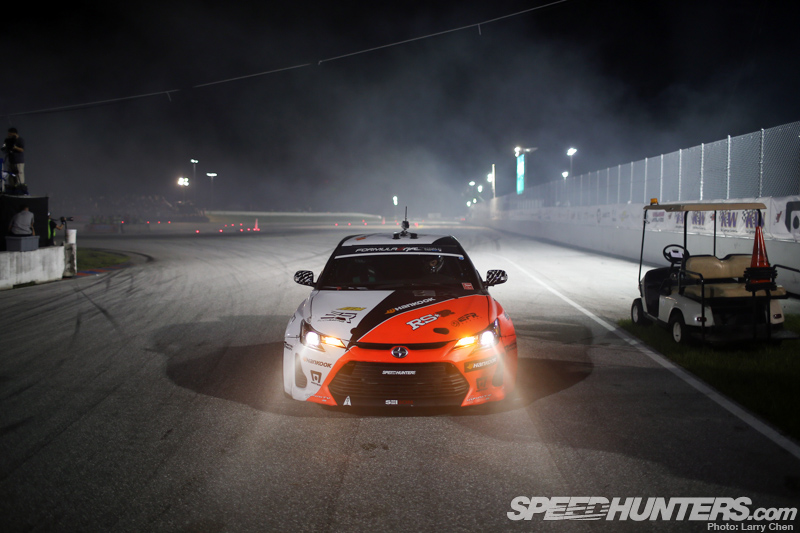 At least Fredric has a sense of humor about it, make sure you check out his blog.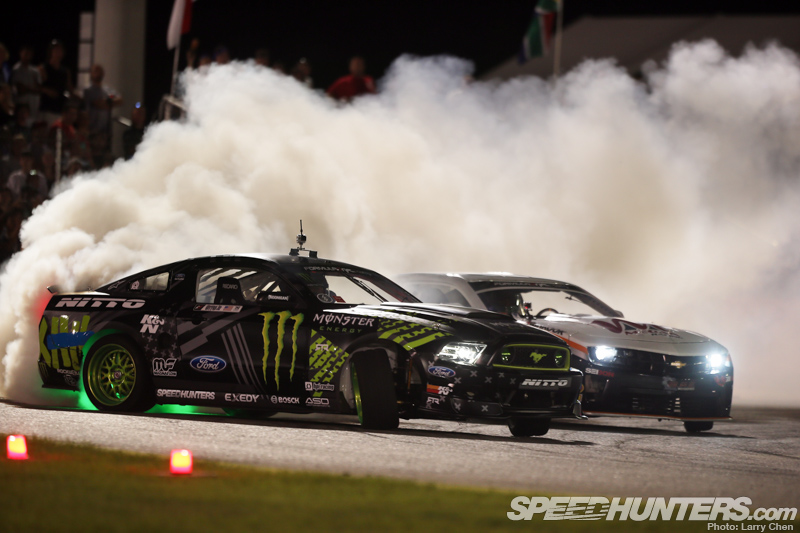 It was the battle of the muscle cars that everyone was looking forward to. It amazed me to see how evenly matched Vaughn's Mustang was with Conrad's Camaro.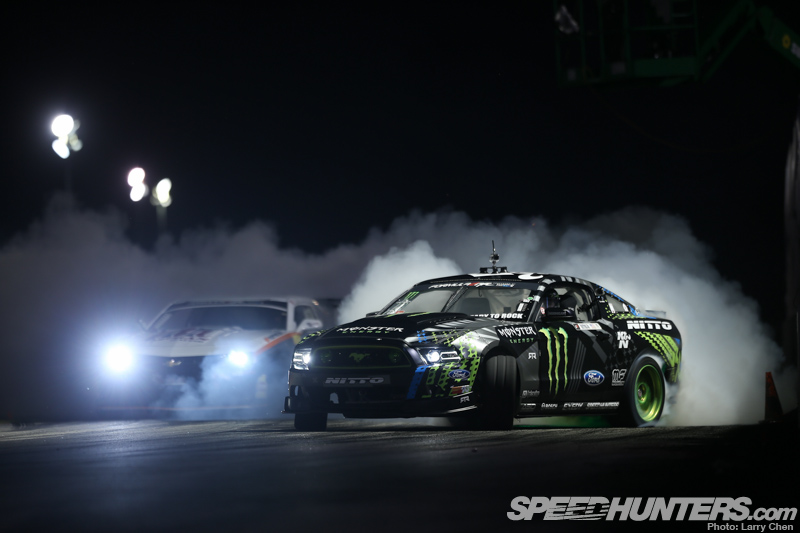 21:30 After three 'one more time' battles, Vaughn finally moved on to the top eight.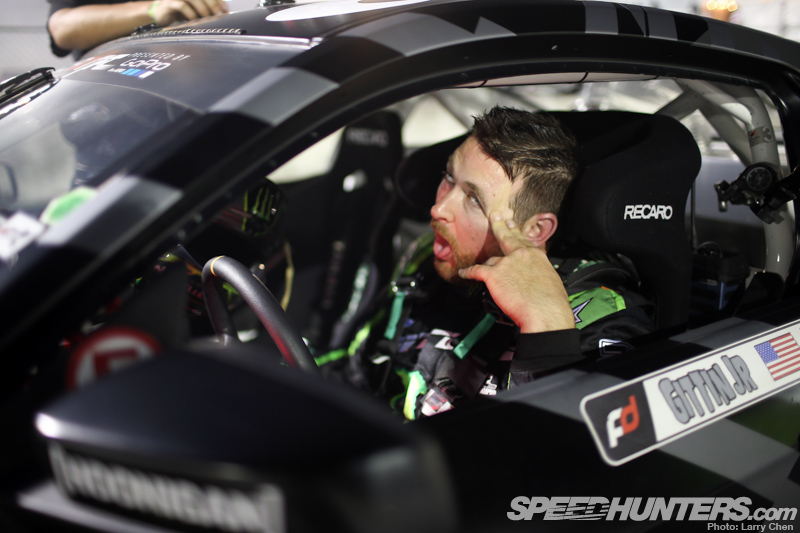 Vaughn had such a sigh of relief when he won, but oh no! His face started melting from the heat. Poor guy.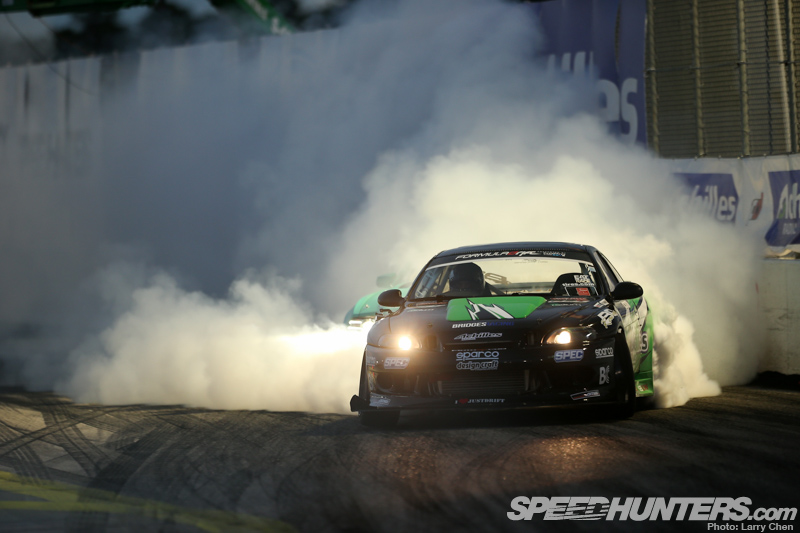 22:00 You have to look closely, but you can barely make out a Ford Mustang behind Robbie Nishida's Sc300. How could Justin Pawlak see anything?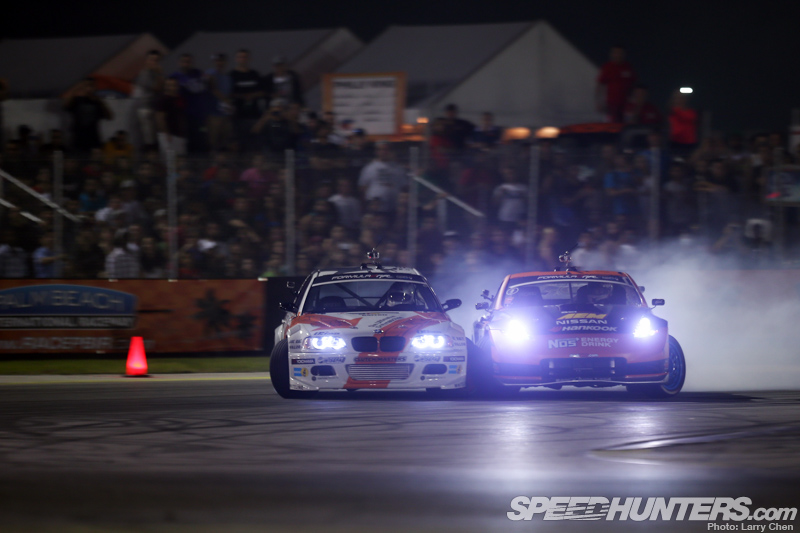 22:30 I awarded Chris Forsberg the Speedhunters battle of the night, because I think his driving on the second half of the battle versus Essa really embodied what #MaximumAttack was really about. Chris had nothing to lose as he'd already been given a zero on the first run, so he ran so close to Essa that they touched tires a few times. As Jarod put it, "Rubber on rubber baby!"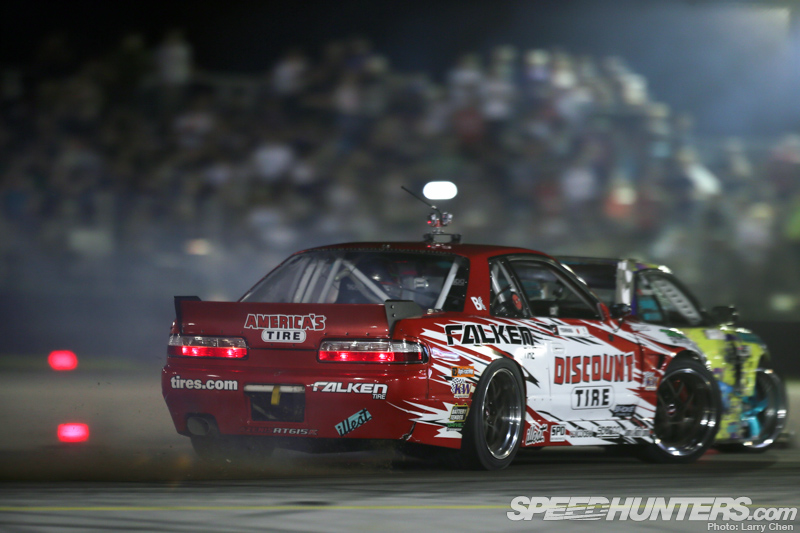 It was getting late and the action was getting silly. Daijiro made a fatal mistake in the top 16 and went completely off course. Matt Field took advantage of it, threaded the needle and made a very clean pass.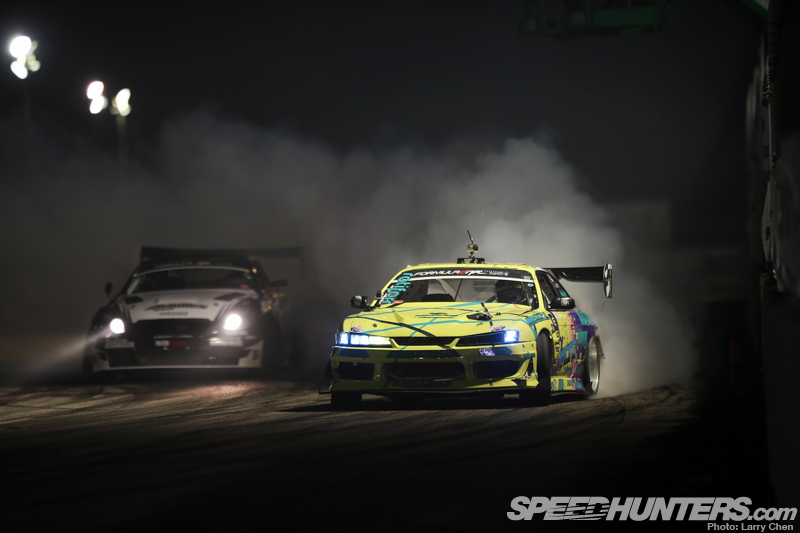 The lighting was getting pretty tough as it was completely dark. So I just exposed my photos for the few spotlights that were shining on certain parts of the track. I was really stoked on seeing this battle between Matt Field and Daigo Saito take place, as it was sort of revisiting the battle they had last year at Irwindale.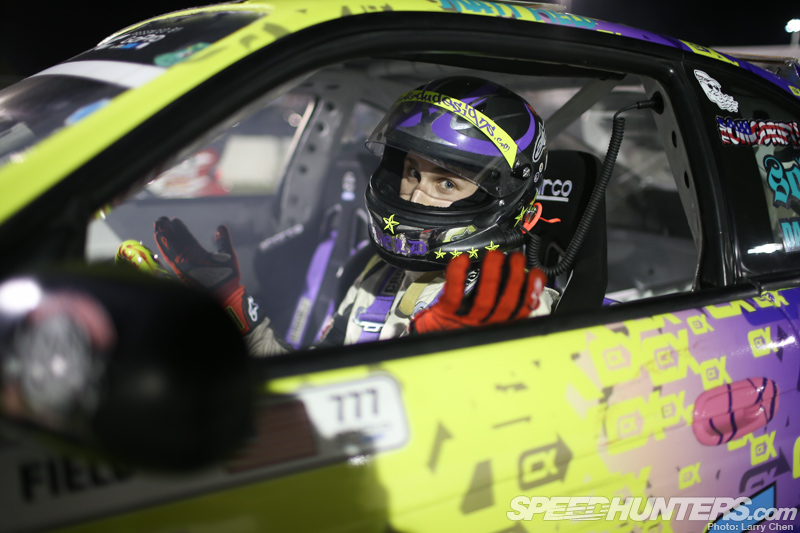 23:00 Matt ended up losing, but he went out with a fight. I'm stoked to see how far he gets this season.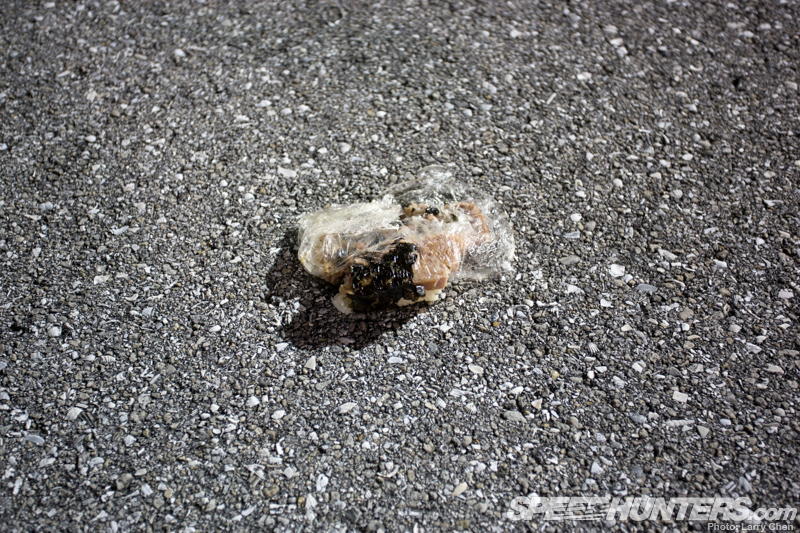 Dinner was served, but my butter hands dropped that carefully crafted spam musubi. Thank god for the 25 second rule.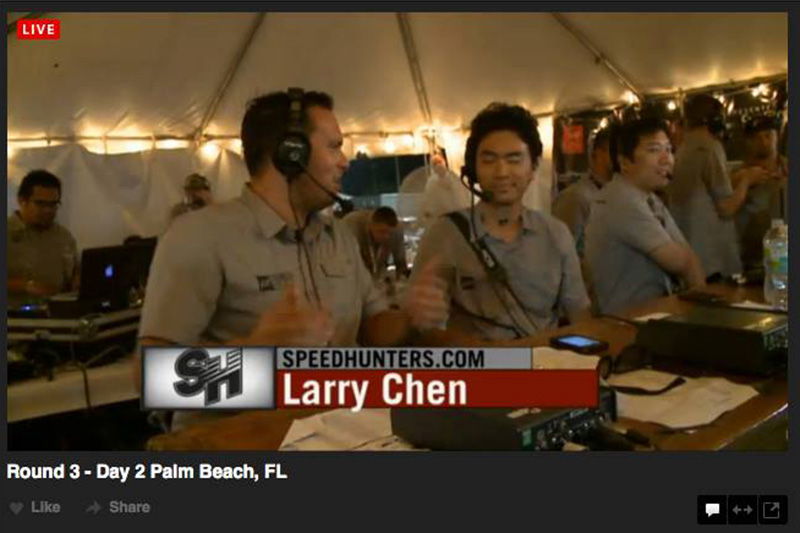 23:30 The day was almost over and it was time for me to announce the Speedhunters battle of the day. I'm such a ham in front of the camera.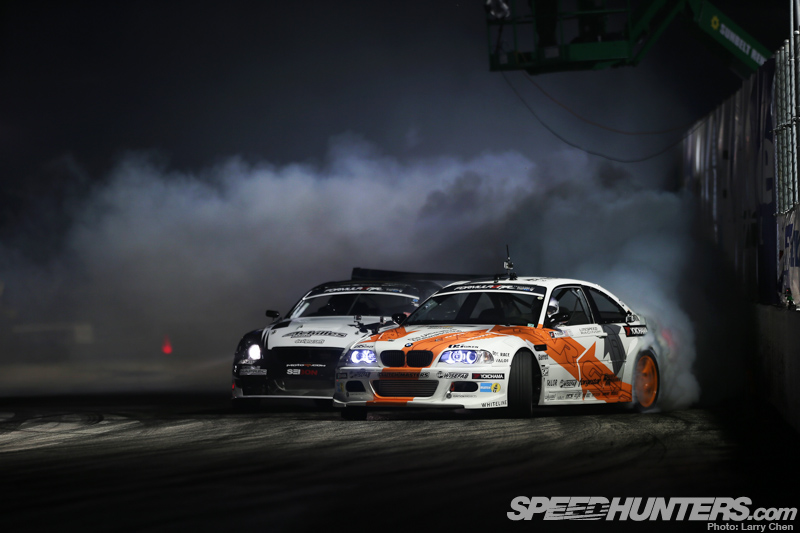 00:00 Just like that the final battle was over. Mike Essa took the win for the very first time.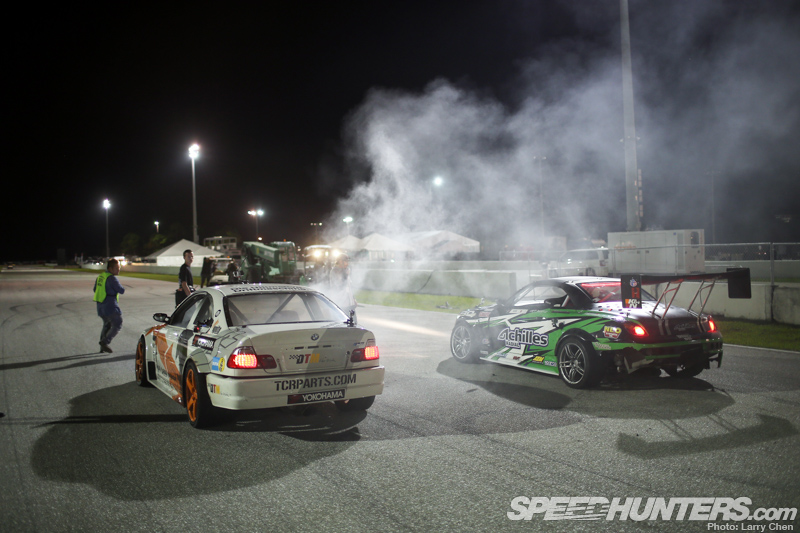 This is why I love drifting so much. How cool is it that smoke leaks out of the car after a battle?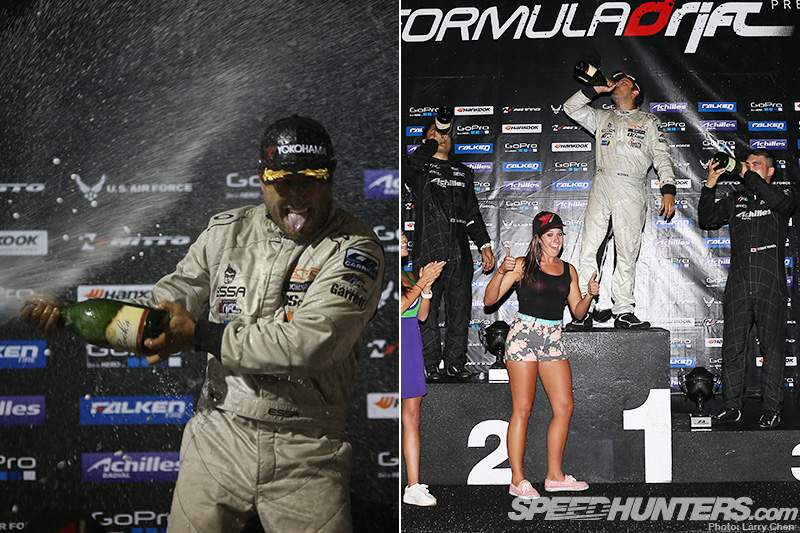 00:30 Having never tasted that sweet victory champagne before, Mike stuck his tongue out for Robbie and Daigo.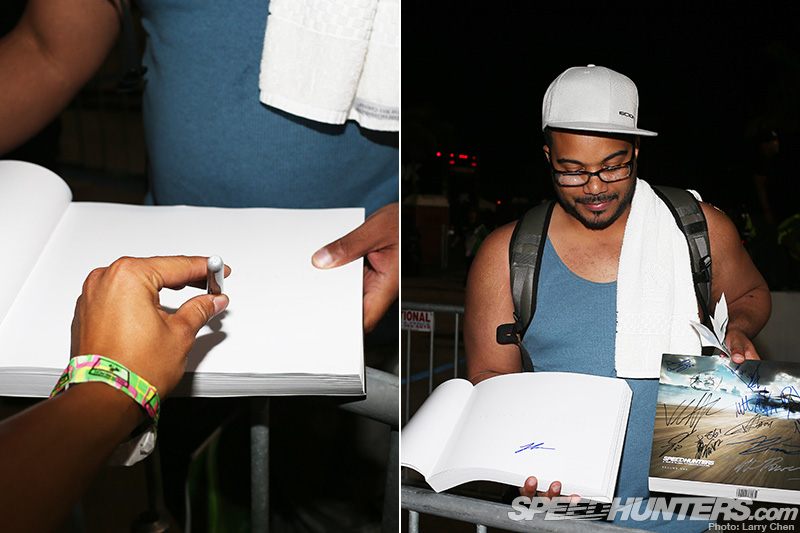 01:00 I was flying out in a few hours, but I always have time to sign just one more book. You don't see Speedhunters Volume One that often any more.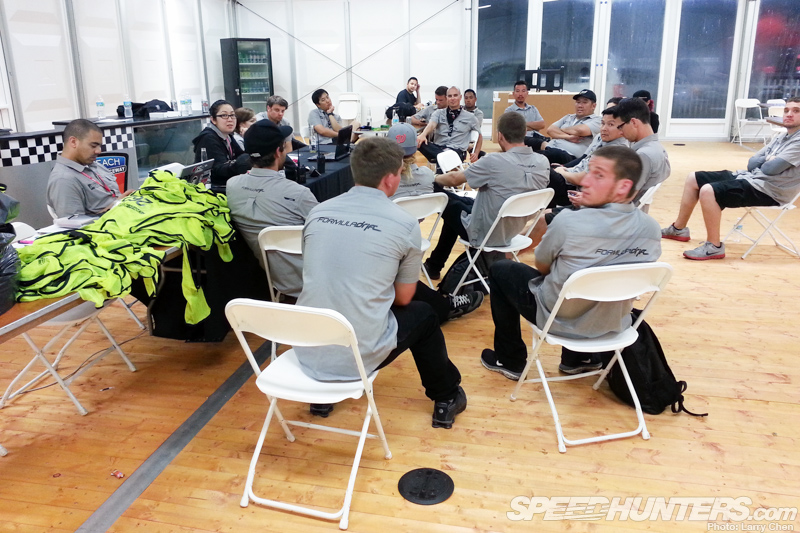 01:30 While everyone else was out partying, the entire Formula Drift staff was having a very detailed meeting about the event. It went on for the better part of an hour.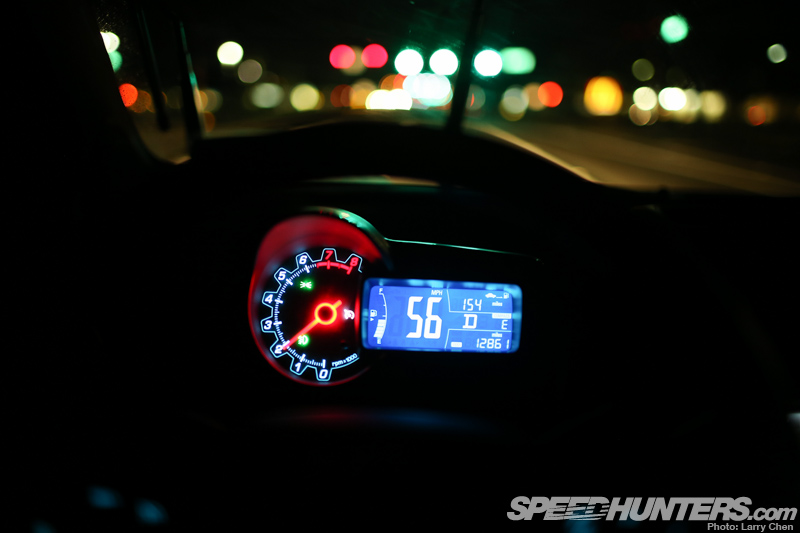 02:00 With my eyelids getting heavy, I packed up my gear and made the trek back to the hotel.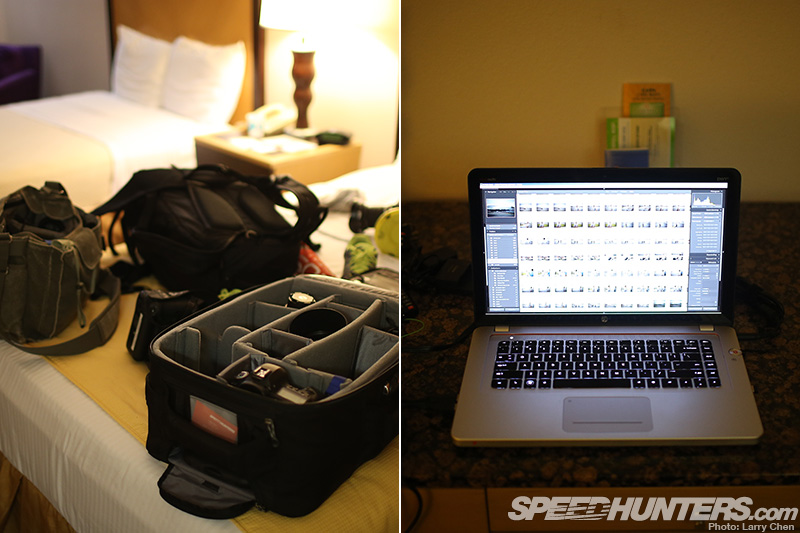 02:30 This is the glamorous part of being a Speedhunter. For every hour we spend behind the camera, we spend four more staring at a glowing screen. Next week I do it all over again.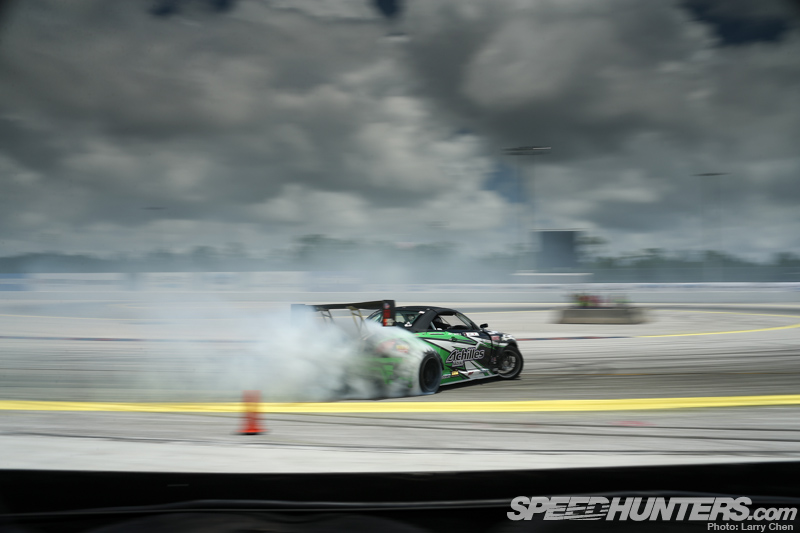 Whew! What a crazy event and for the first time in quite a while there was not a single eight cylinder on the podium. It was dominated by the inline six turbo, one of which belongs to Daigo Saito, who is currently leading in points.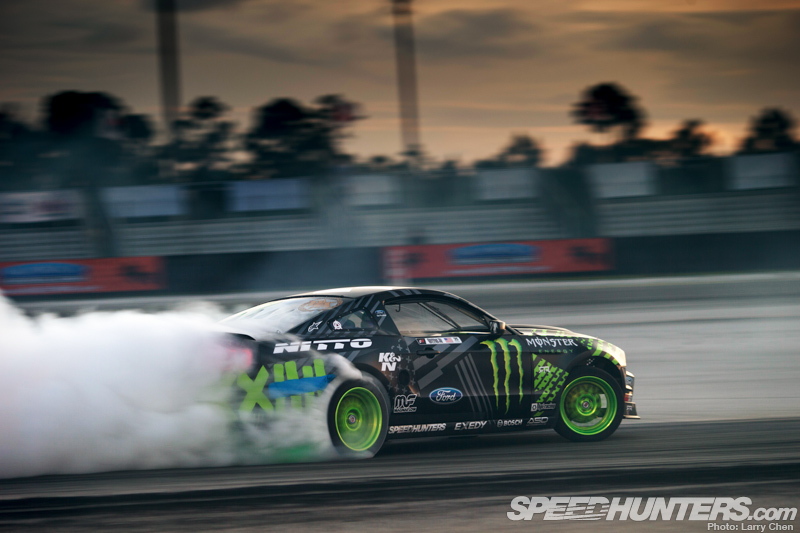 He bumped his best friend, Vaughn Gittin Jr., down to second place.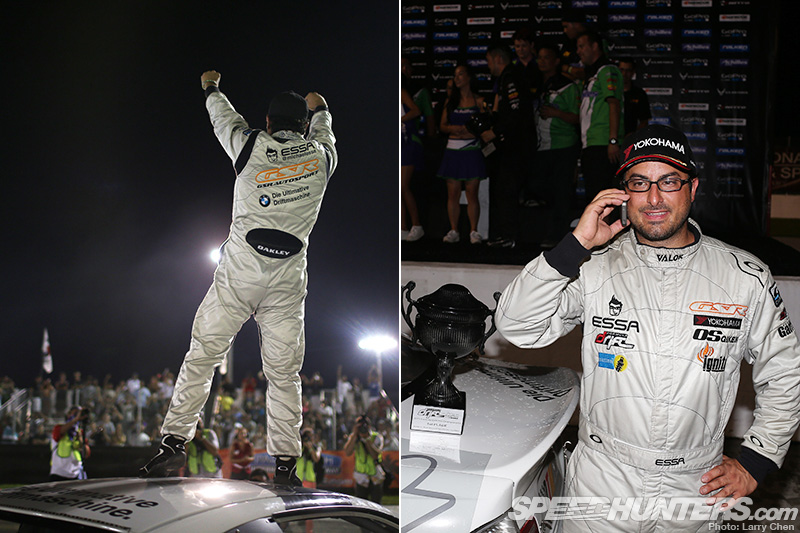 Michael Essa moved up a few notches to third place in points. Can you hear me now? Or is my carbon fiber trophy making too much noise?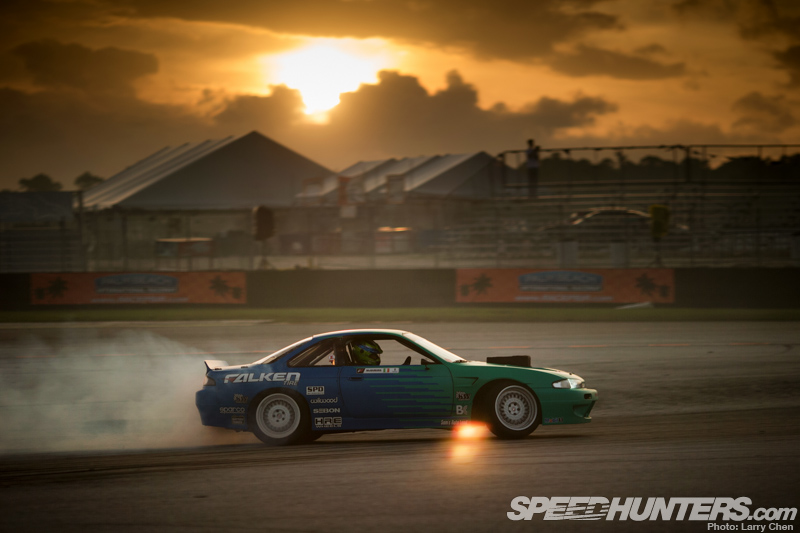 Darren McNamara made a breakout performance in Atlanta with a second place finish, but he got bumped down to ninth after getting knocked out in the top 32 bracket. Will he be able to catch up with four rounds left? Only time will tell, but…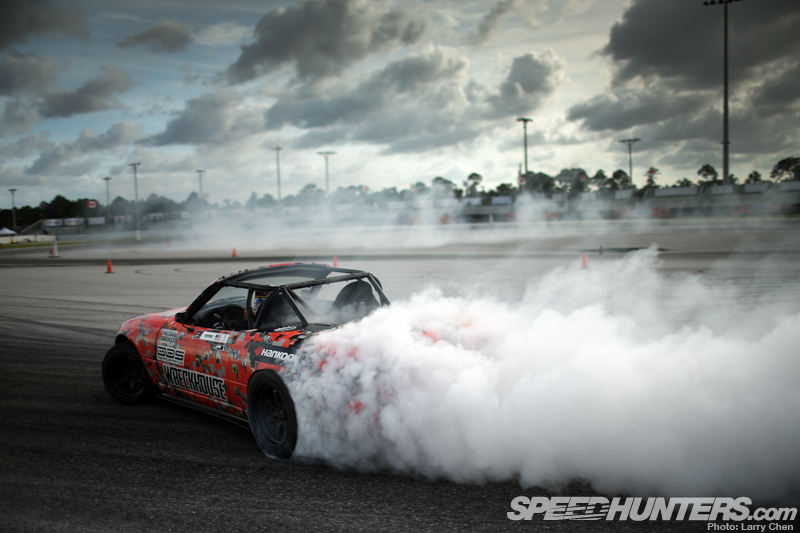 … the real question is, will Danny George cry like a little girl when he makes top 16 for the very first time? Probably, but just to be sure you guys should keep an eye on Speedhunters for coverage from Formula Drift New Jersey.
Photos by Larry Chen
Instagram: larry_chen_foto
Email: larry@speedhunters.com