We always push ourselves to bring you the best possible coverage and photography at every event we attend, and I am a big believer in showing you Speedhunters out there what goes on behind the scenes. This time I've tried to do something a little different: I wanted to show you guys what I did on race day at the 12 Hours Of Sebring in 30 minute intervals. I have yet to stay up for the duration of a 24 hour race, because my body shuts down after hours upon hours of hiking around a race track, but at Sebring I was up for 21 hours straight and this is what I saw…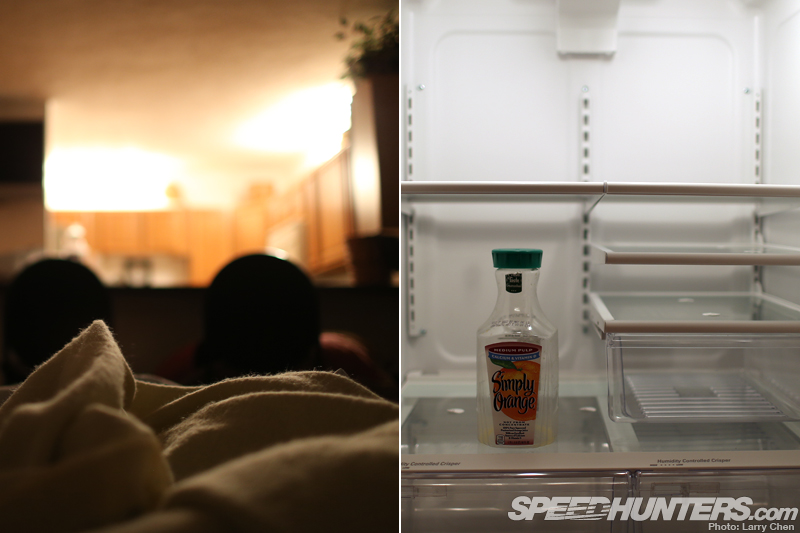 5:00am
Living out of a suitcase has forced me to be able to get a good night's rest anywhere – even on the sofabed of a basement apartment that happened to smell like washed clothes left in the washer for a week. I did my hair and had a hearty serving of juice for breakfast. I knew I would need every bit of that pulpy goodness to get me through the day.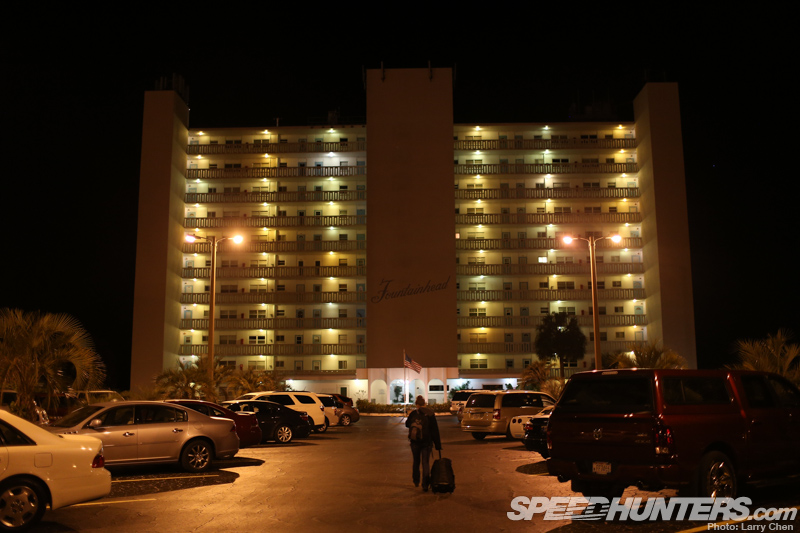 5:30am
It was still dark out and I was rather groggy, but all I could think about was shooting awesome racecars trackside. I was so anxious; my trigger finger was itching to release some serious shutter actuations.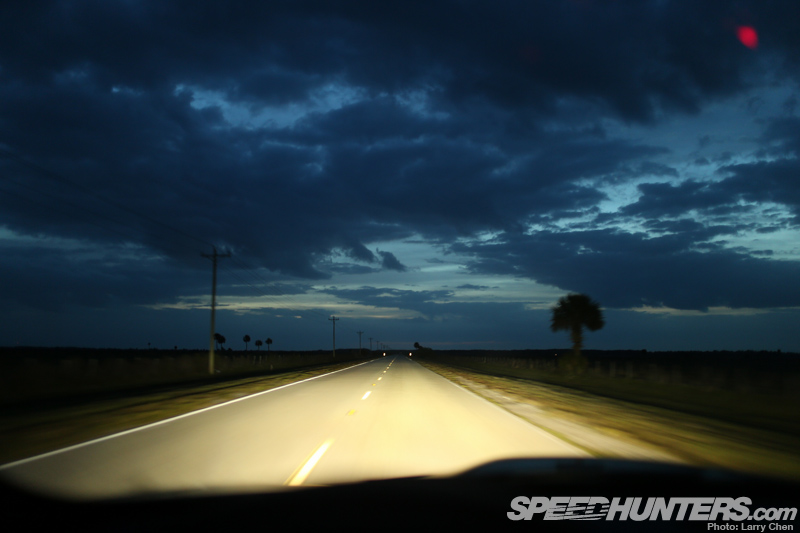 6:00am
The purr of the E92 M3 that BMW loaned me for the week was soothing. I've had quite a few press cars, but this was the perfect daily driver. Plenty of room for gear, and most importantly, plenty of power on tap as well.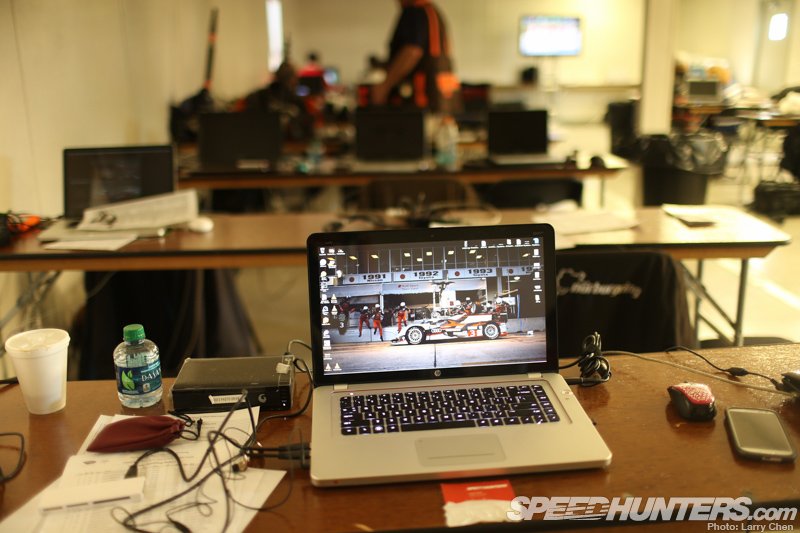 6:30am
My first stop was the press center. I set up my workstation and gathered my gear to get some early morning shooting in. My desktop was a photo I shot last year at Sebring.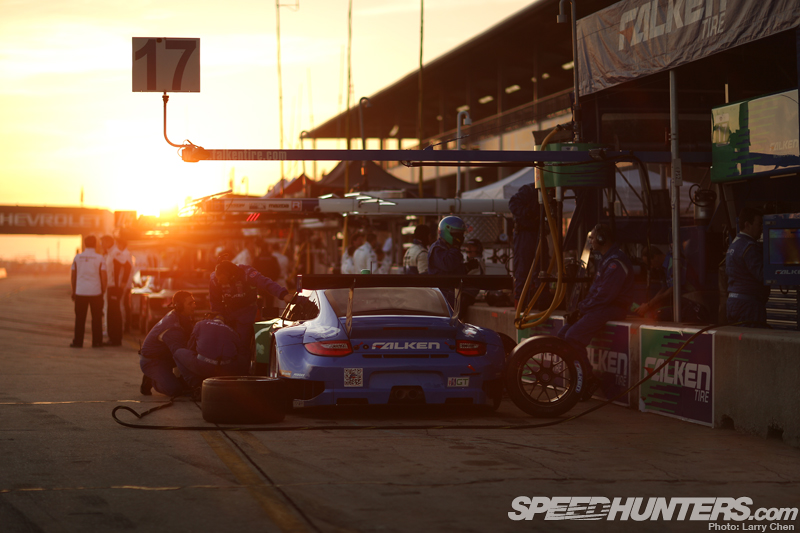 7:00am
The sun was peaking over the horizon as teams were bringing their cars onto pitlane for morning practice. It was going to be a short session, but it was very important as the drivers needed to get back into the groove.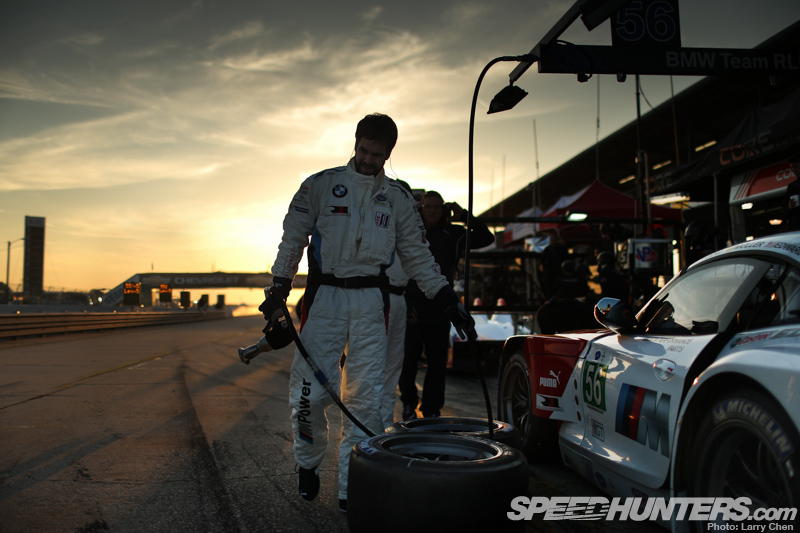 7:30am
Pretty soon the brand new BMW Z4 GTE would be put to the ultimate test. The Rahal-Letterman-Lanigan team was most definitely up for the challenge. The session was about to begin, so I headed out to the track.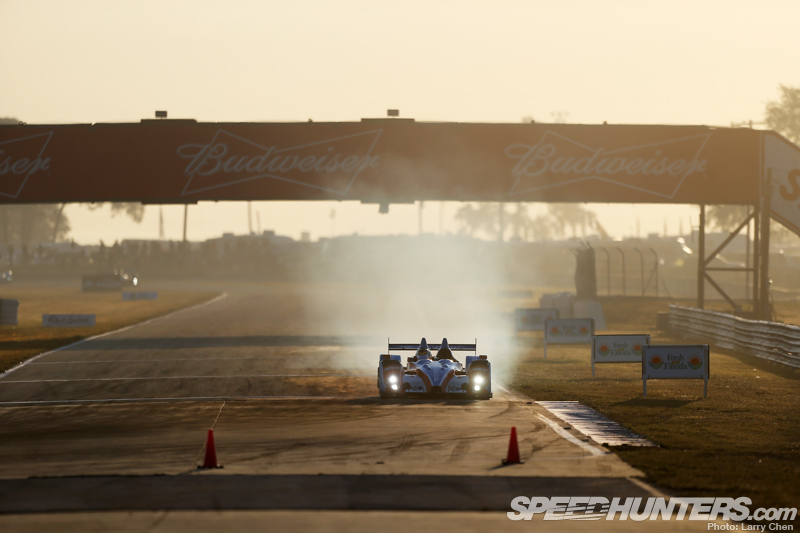 8:00am
I got to a great spot looking down a long straightaway. The track temperature was low and there was very little grip, so many of the guys were locking up quite easily going into the hairpin.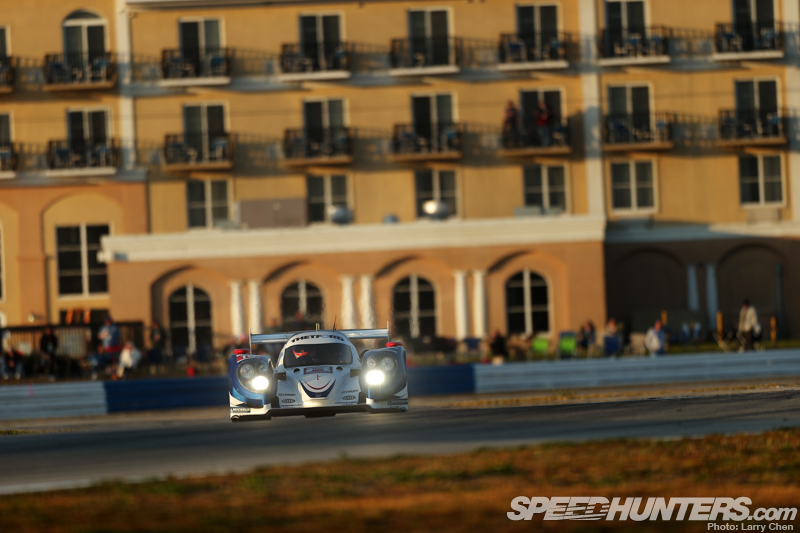 8:30am
The amazing backdrop on the outside of the hairpin is Chateau Elan. The track-side hotel gets completely filled every year around this time. The race wouldn't start for another two hours, but I had to head to Turn One right away to secure a spot for the rolling start.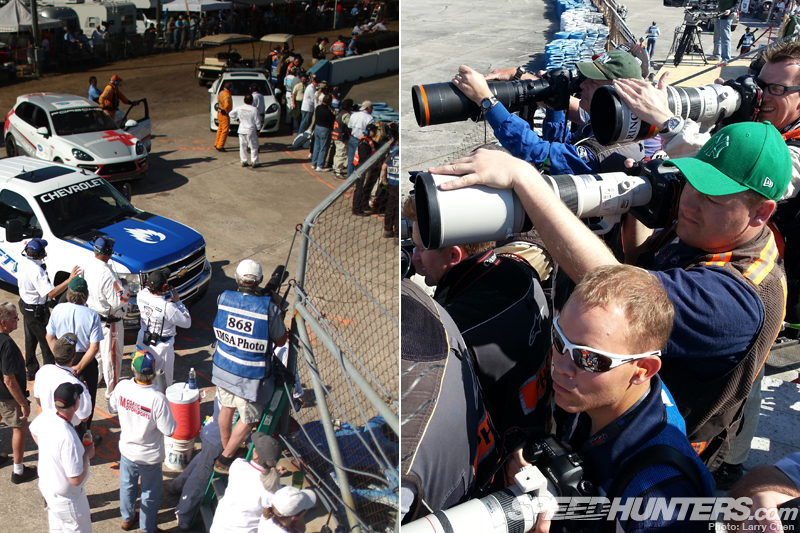 9:00am
The track marshals and safety crews started taking their positions. Everyone in the photo tower was squished together. With just one deep breath it was very evident who forgot to put on deodorant that morning.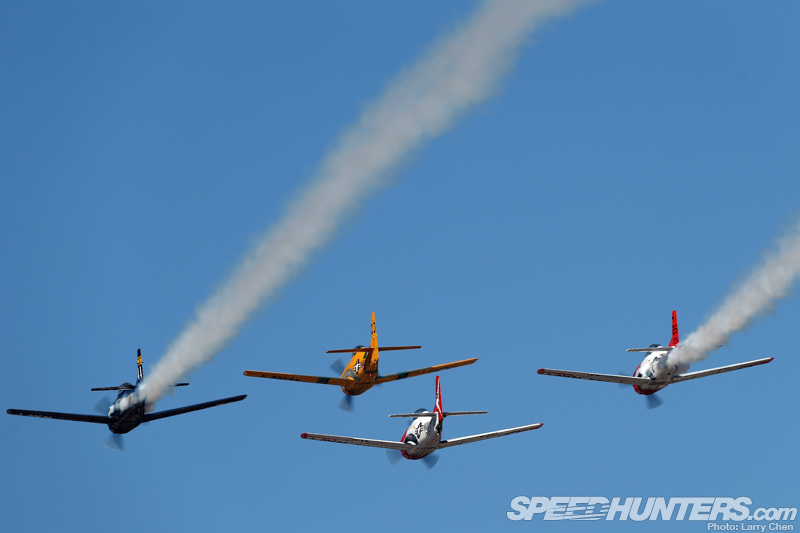 9:30am
There were many international drivers, so they played a snippet of every one of their national anthems, starting with China and ending with the United States. As the music stopped a formation of historic warplanes did a low altitude fly-by – it was absolutely perfect.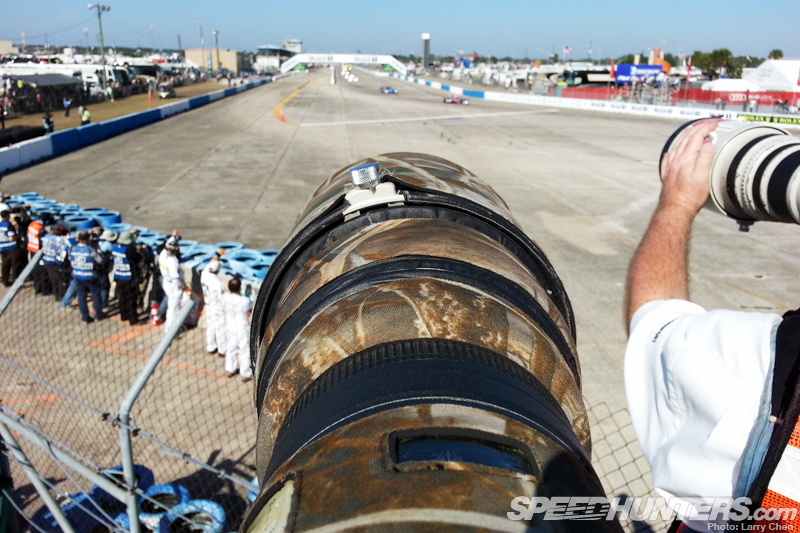 10:00am
This was my point of view for the next 30 minutes or so, as we waited for the start of the race.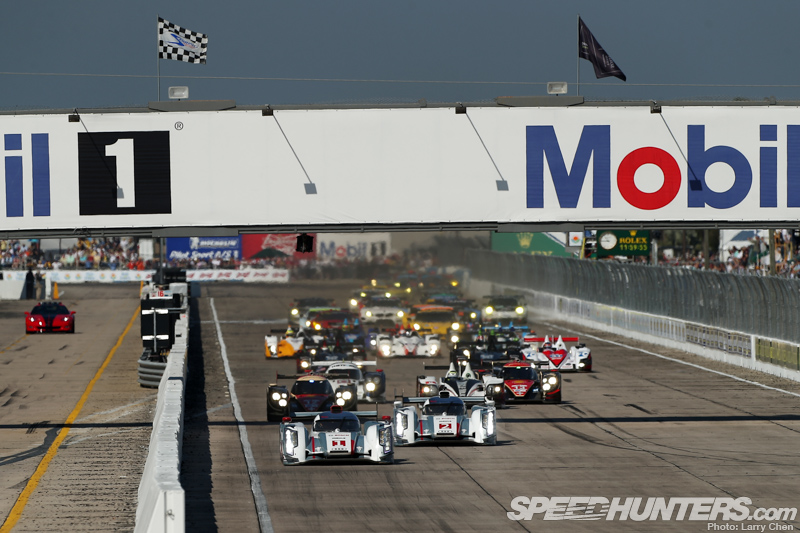 10:30am
After a couple parade laps, the 61st running of the 12 Hours Of Sebring was under way. It looked pretty similar to last year's start, except this year there were only two Audi R18s versus the three they had running last year.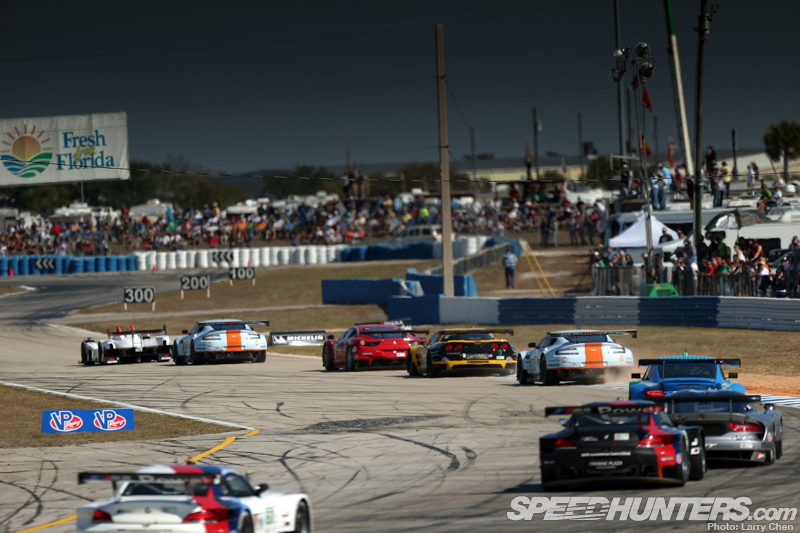 11:00am
Right out of the gate the battle for position in the GT class was getting a bit rough. There were some of the closest battles I have ever seen in sportscar racing.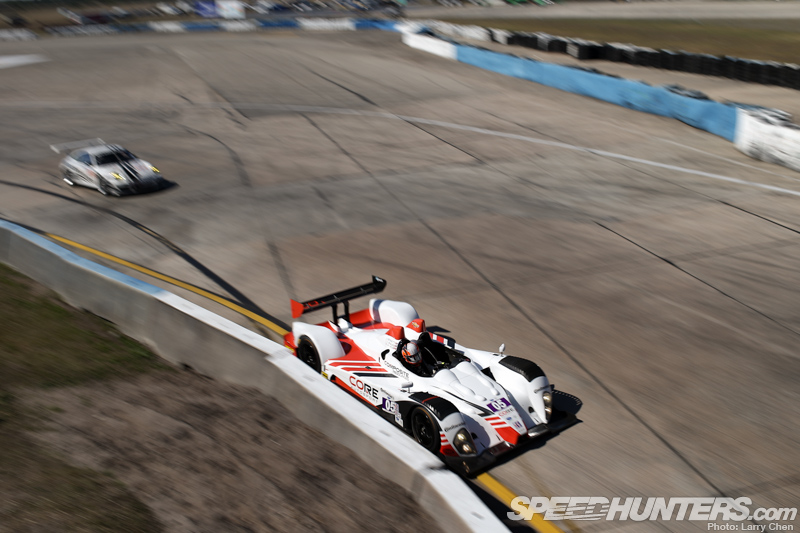 11:30am
As the race progressed, the field spread further and further apart. I decided to head to the inside of the track to get some different angles of the battles going on.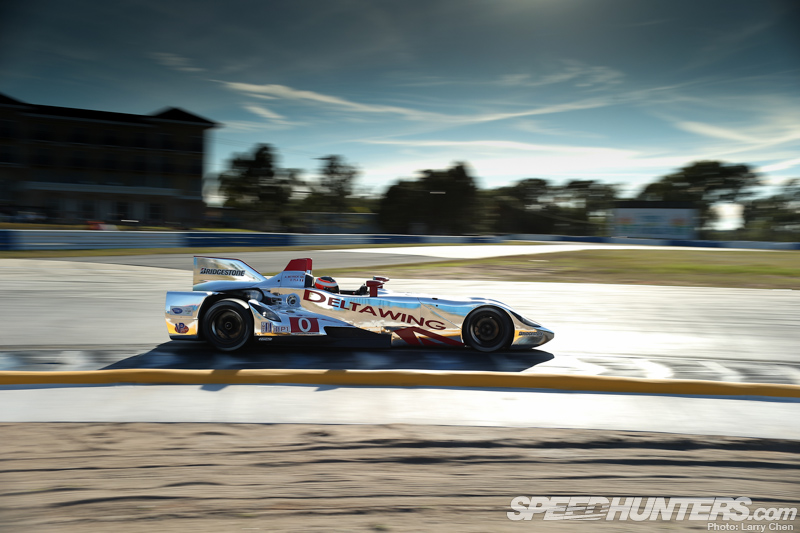 12:00pm
The sun was super harsh around midday, which made the DeltaWing shine just that much brighter. Although, it was around this time when the motor gave way, and yet again the Delta Wing had to retire early. Hopefully they get all the bugs sorted out soon enough. I really want to see them do well with this car.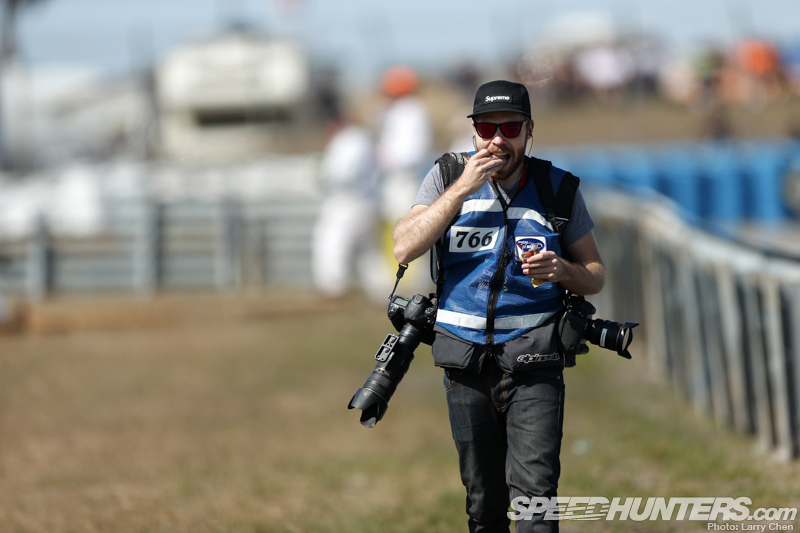 12:30pm
Fellow Speedhunter Sean Klingelhoefer was also with me at Sebring. It gets lonely out there all alone, so he kept me entertained with corny jokes. Although, he was making me hungry as I watched him munch on his trackside lunch.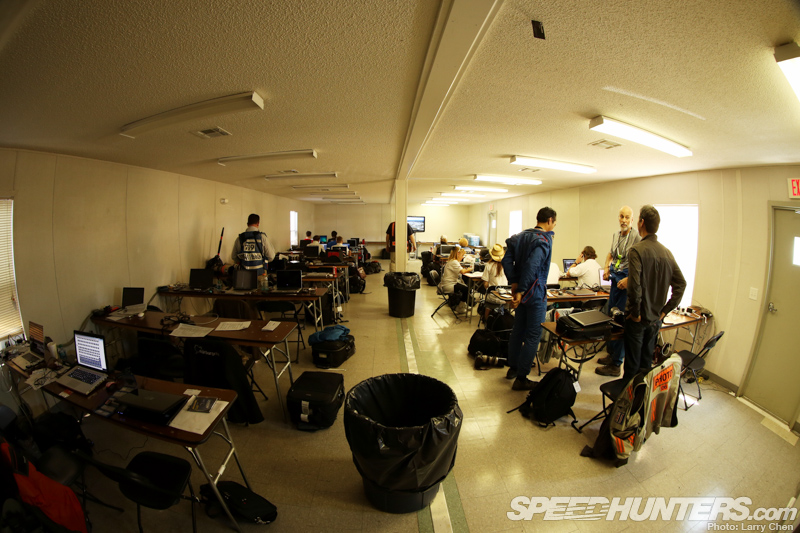 1:00pm
I figured this was a good time to dump my memory cards, as the light was terrible and it was scorching hot outside anyways, so I headed back to the media room. I also changed into my firesuit, as I was heading to pitlane next. ALMS requires everyone to wear one if you plan on entering the pits on race day.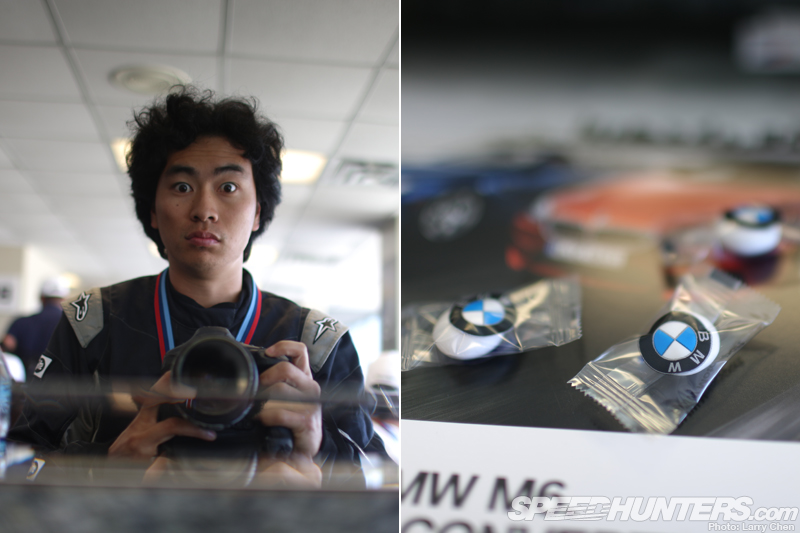 1:30pm
As my files were transferring, I figured it was a good time as any to grab some lunch in the BMW hospitality suite. Afterwards I treated myself to some BMW mints. German engineering at its best…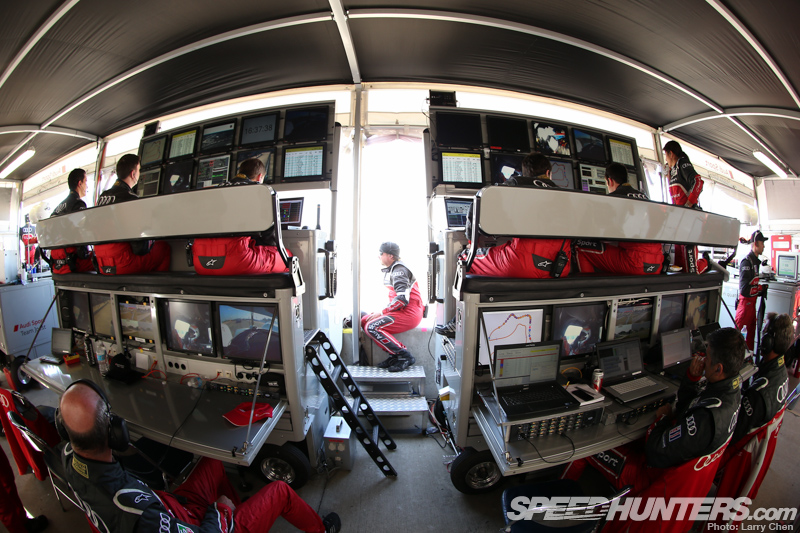 2:00pm
With my morning and start photos safely on my hard drives, I headed to pitlane to check out the hustle and bustle. This was the Audi pit-side command center. I am sure it rivaled what NASA used to monitor the Space Shuttle.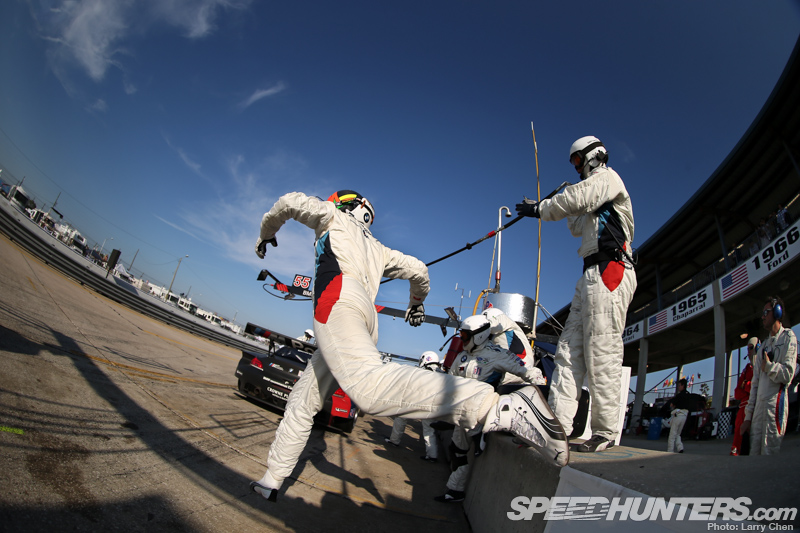 2:30pm
By the time I made my way by the BMW pits, they were getting ready for two pit stops and two driver changes. As soon as a car pulled in, everyone leaped off the wall.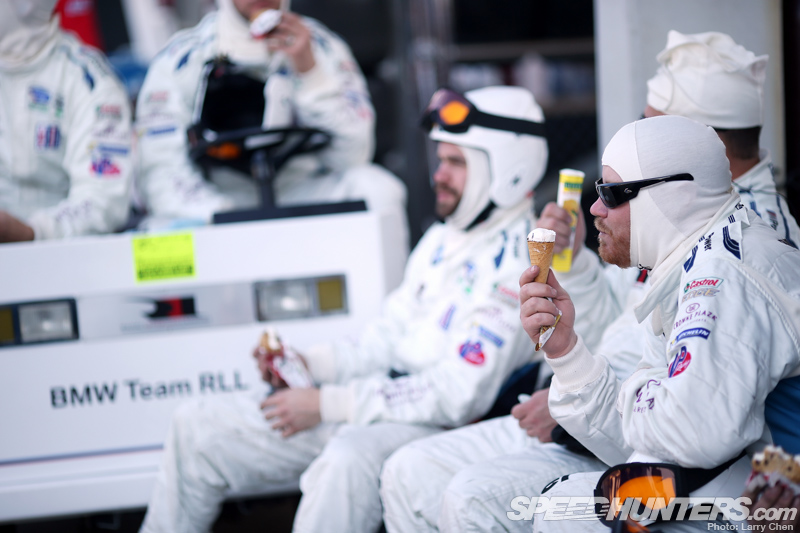 3:00pm
As both cars headed out with fresh drivers, fresh rubber and a full tank of gas, it was time for a much needed ice cream break.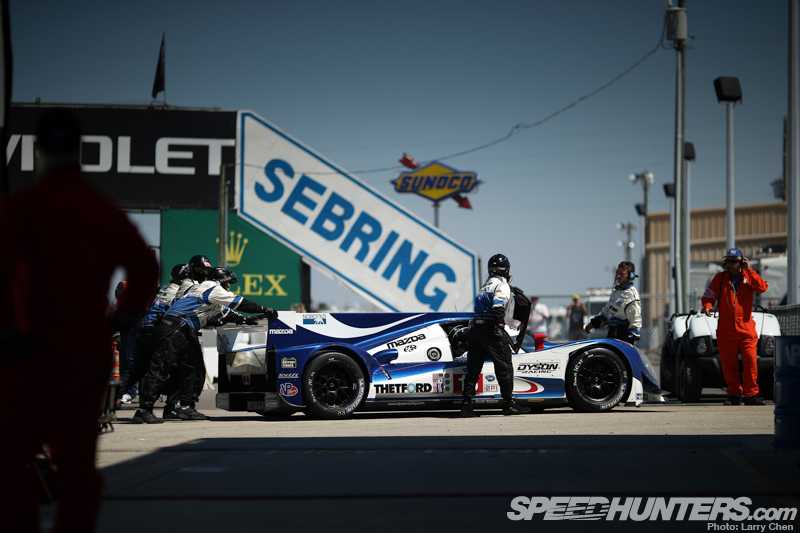 3:30pm
It was sad to see the Dyson Racing team retire early due to engine failure. They pushed the Mazda-powered Lola behind the wall as their weekend came to a premature end.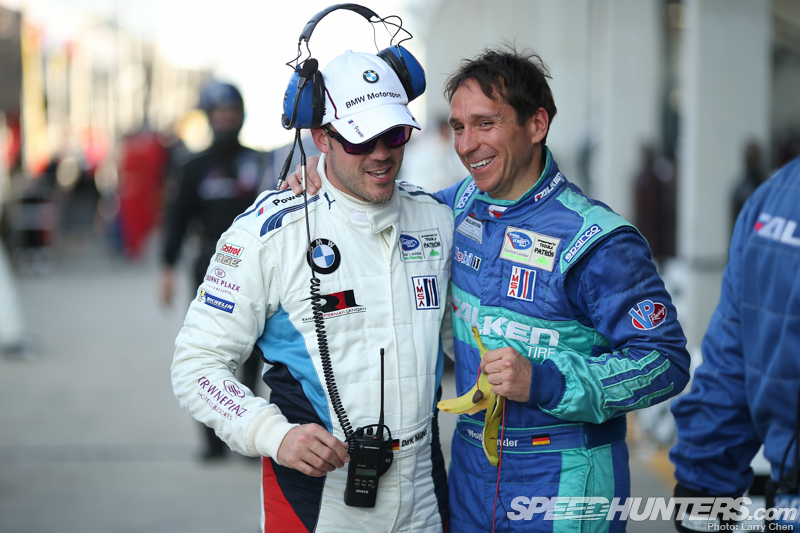 4:00pm
BMW factory driver Dirk Müller and Porsche factory driver Wolf Henzler had some great battles on track. They may have been fierce competitors behind the wheel, but they were super friendly in the pits.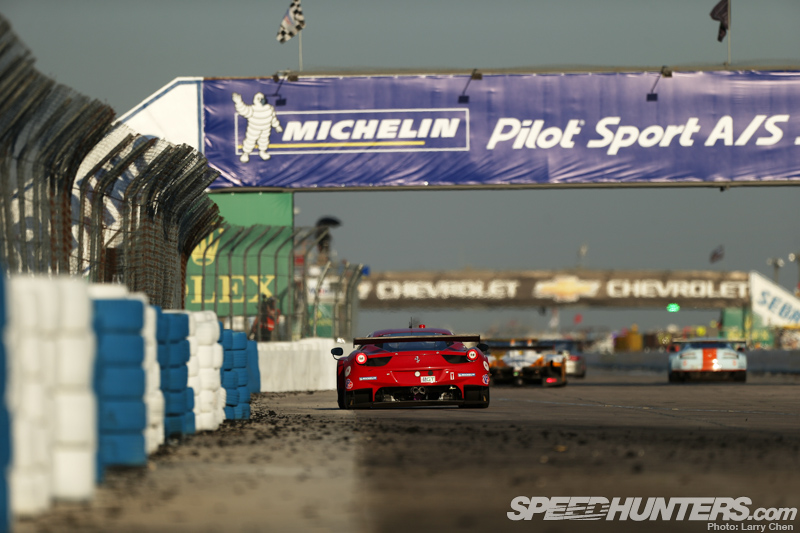 4:30pm
I spent most of my afternoon in pitlane going in and out of various teams' pit boxes. It really was the best way to get a feel on what was going on in the race, as well as having great opportunities to captures some interesting photos of the people who work behind the scenes. With the sun getting lower and the light getting softer, it was time to head track-side once again. This angle was looking down the front straight. It seems most of the most dramatic passes happened on this stretch.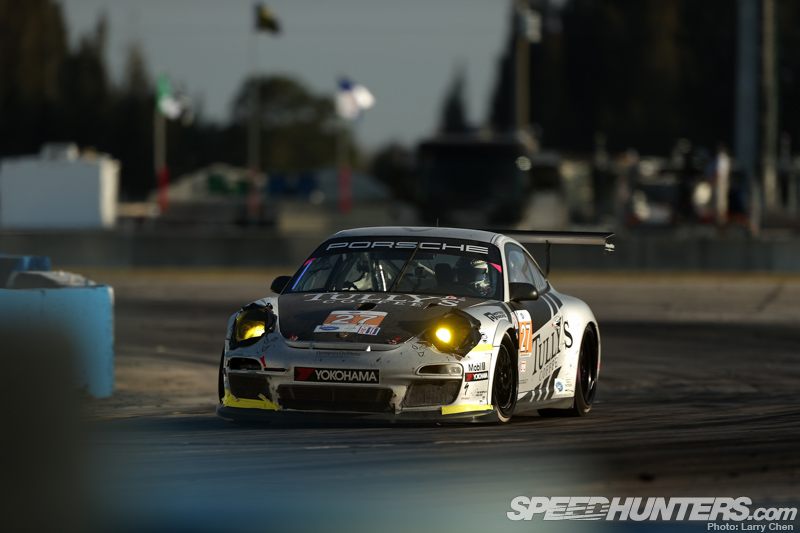 5:00pm
To make the most of the front straight you have to take the last corner, Turn 17, as fast as possible. Although, it is one of the hardest to navigate with many 'correct' lines. On top of that, it was the bumpiest part of the entire track. I've seen some cars three-wheel going into Turn 17. We were only just over six hours into the race, but it was very evident that some of the cars had already taken a serious beating.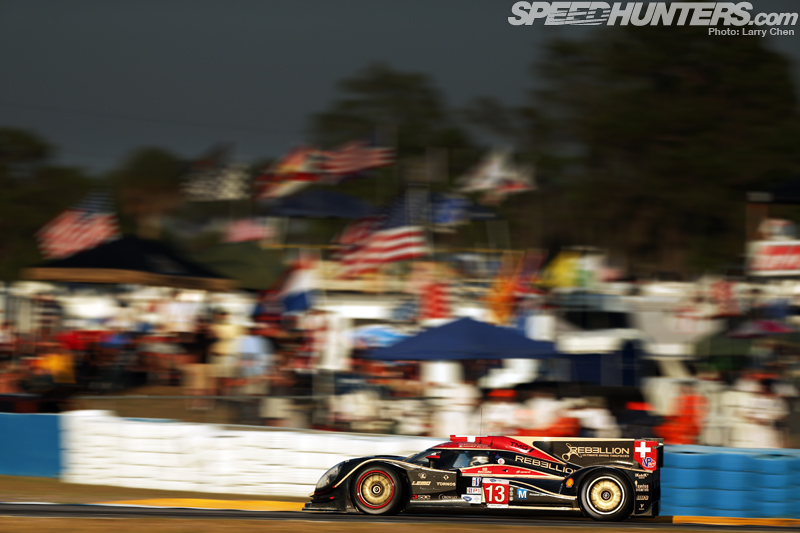 5:30pm
I set a plan to navigate to the north side of the track on the outside (drivers' left), because I wanted to start shooting into the sun as it went down. I started on the outside of the hairpin and made my way east. Slowly but surely I would work my way up a mile or so.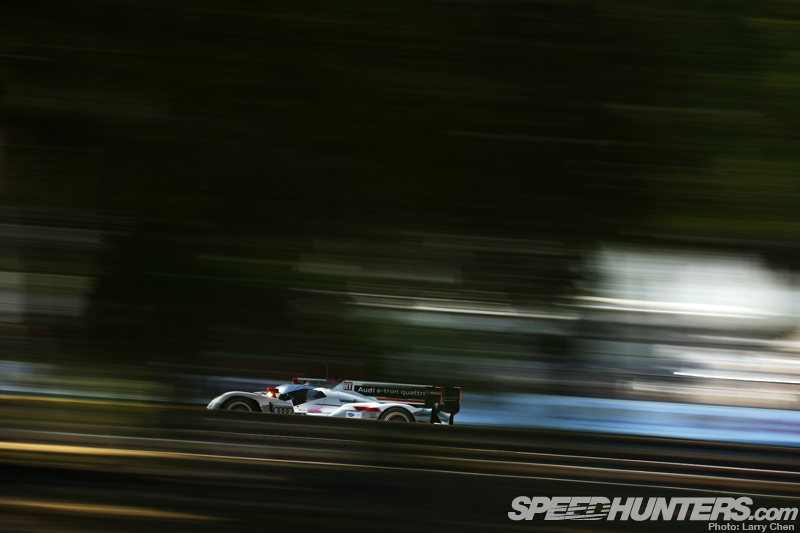 6:00pm
After coming across a few trees that lined the track, I could not resist getting a few slow pans through the thick branches of Spanish Moss. This one was 1/15th of a second.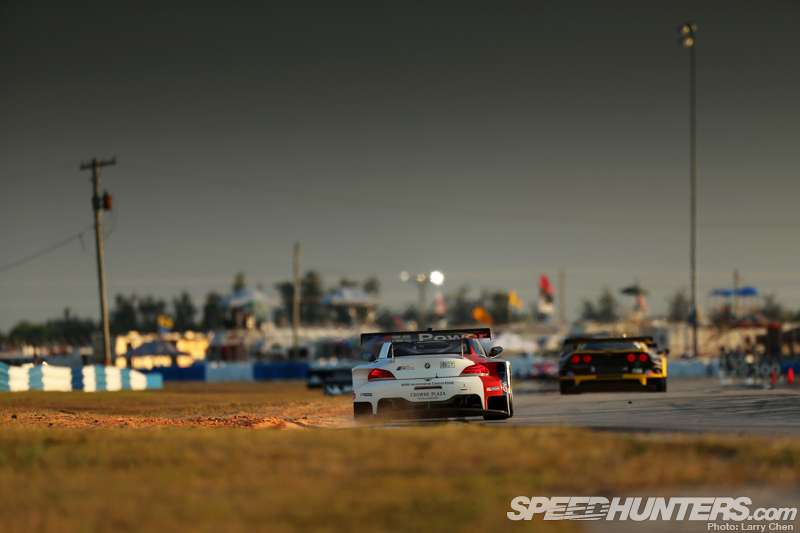 6:30pm
There was not a single cloud in the sky as the battle for first place in GT raged on.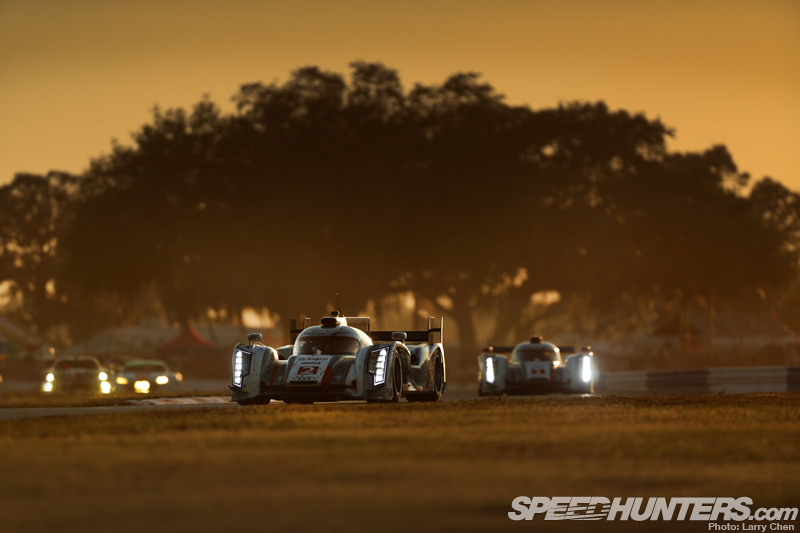 7:00pm
Even though the #1 car lead the #2 car by a few laps, they still battled it out for the fans whenever they met each other. It really made for a great show. You could always tell that they were the crowd favorites, because every time they went by I saw hundreds of flash strobes going off with the hopes of catching them in action.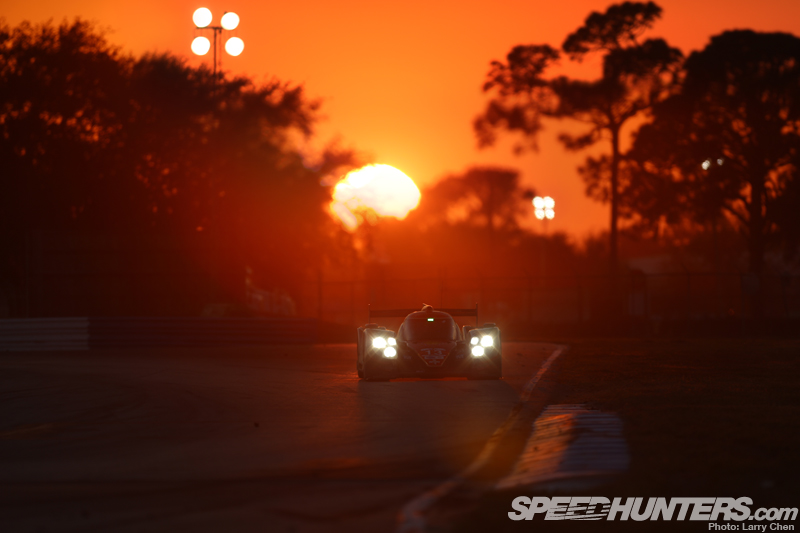 7:30pm
It may have well been the perfect sunset. There is just something magical about seeing a sunny-side-up egg yolk just resting on the horizon with race cars whizzing by.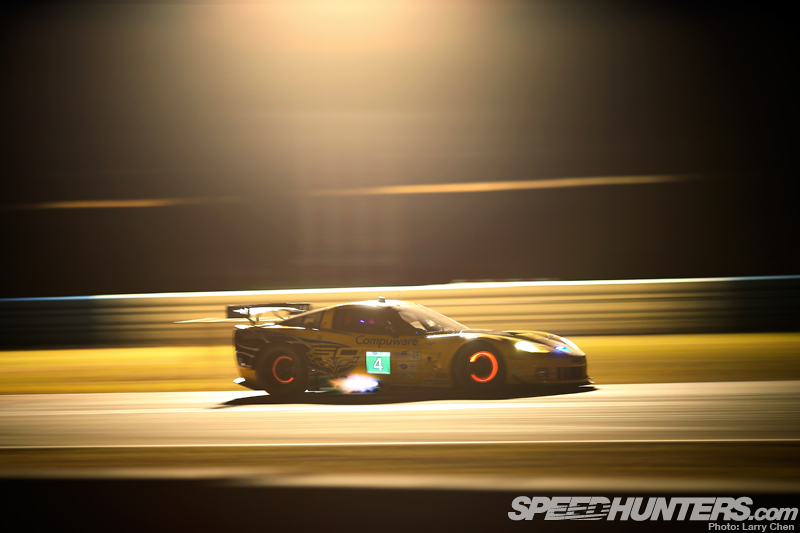 8:00pm
As it got darker, the glowing rotors became more and more evident. I figured I got enough track-side action shots, so I headed back into the pits.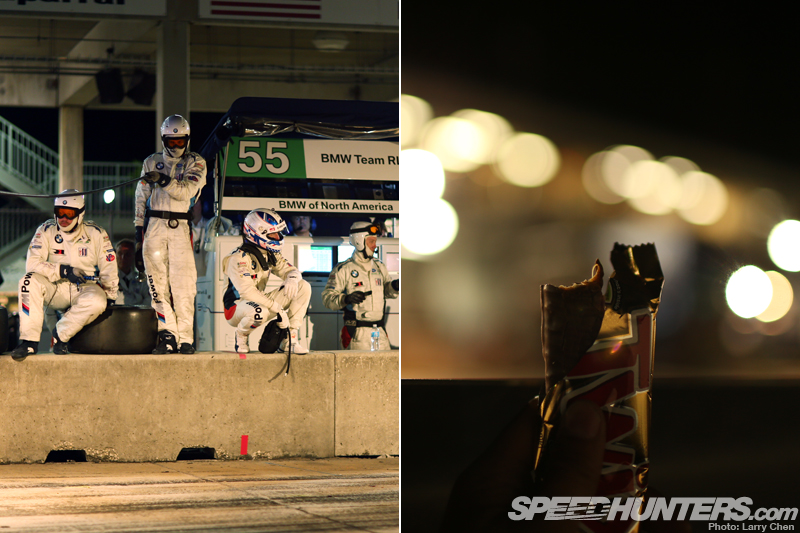 8:30pm
I knew the teams would be coming in for their final driver changes, so I figured what better place to photograph it than on the other side of pitlane. While I waited for cars to come, I ate my dinner.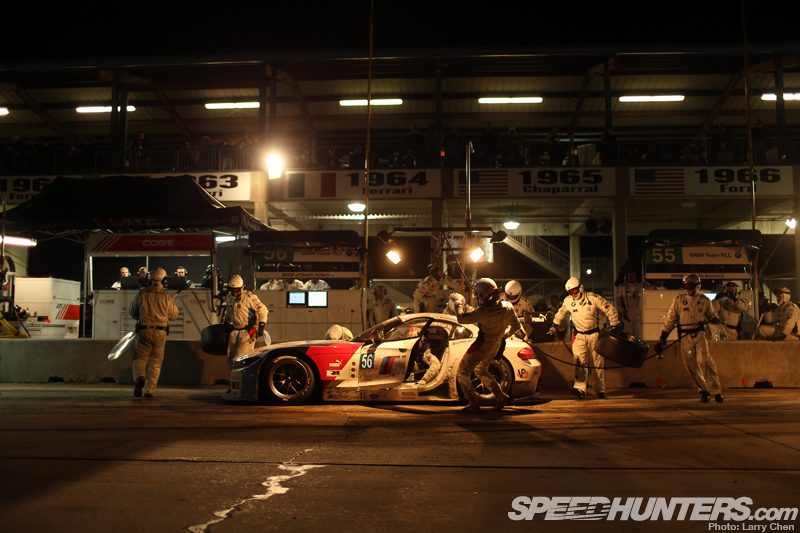 9:00pm
One by one cars started to arrive in desperate need of fuel, tires and fresh drivers. Pit strategy was where battles were won and lost. Unfortunately, in the afternoon the #56 RLL BMW Z4 GTE got a drive-through plus 20-second penalty, because one of the mechanics handed a fresh drink pouch to the driver. That set the team back considerably.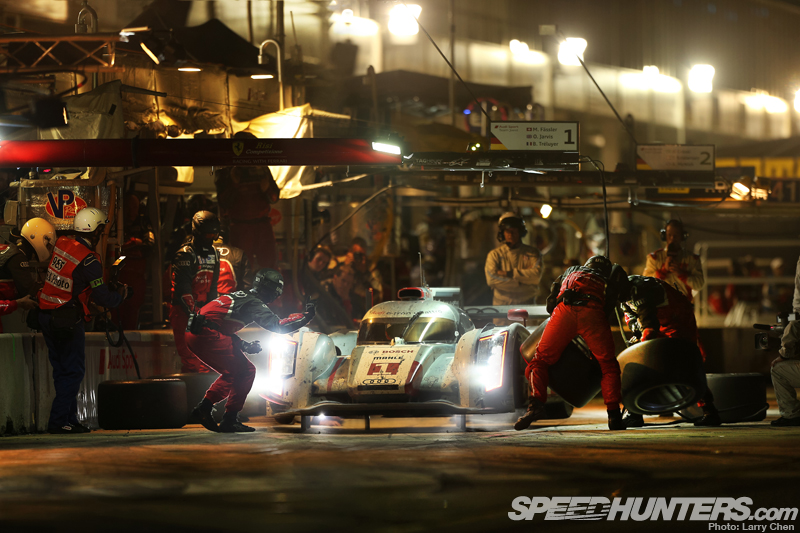 9:30pm
With a little over one hour left, the leading Audi R18 E-tron Quattro came in for one final pit stop. It was the home stretch and they did not want to take any chances.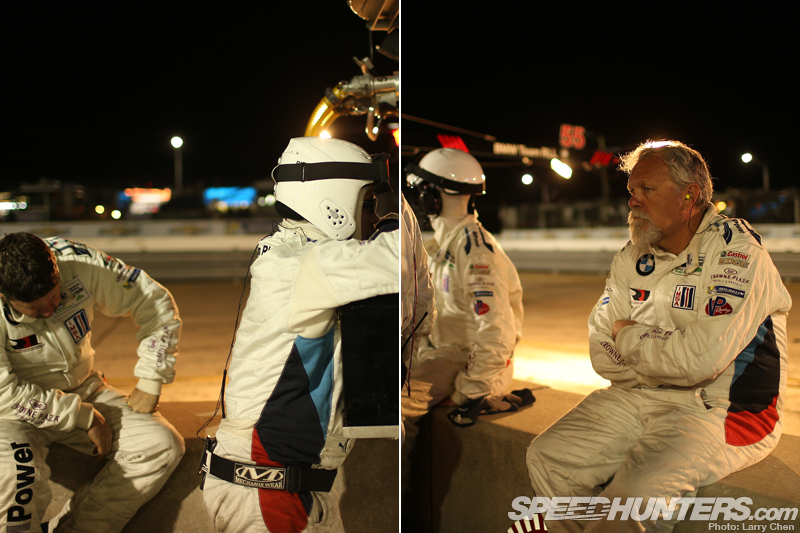 10:00pm
Fatigue was taking a toll on all the mechanics on pitlane. The boys of team BMW RLL were crushed as they worked so hard but were not going to get the result they hoped for.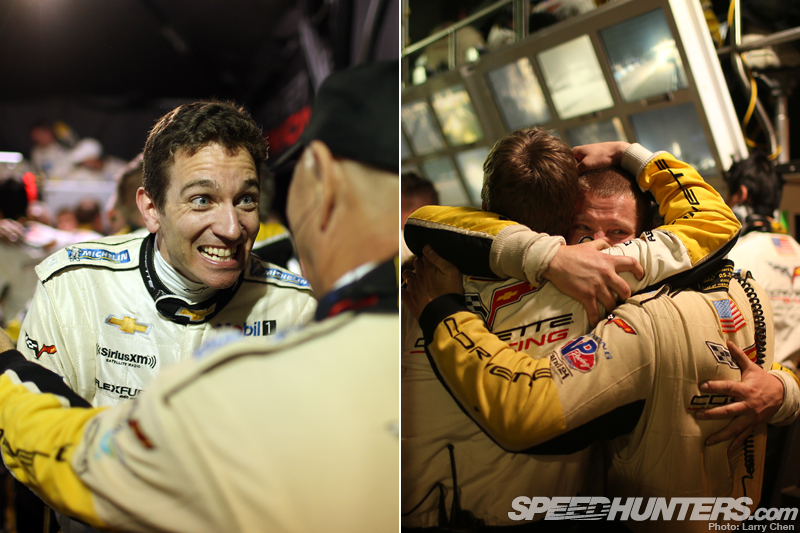 10:30pm
Just a few meters away was a very ecstatic Corvette racing team as they watched their driver, Tommy Milner, bring home the GT class win.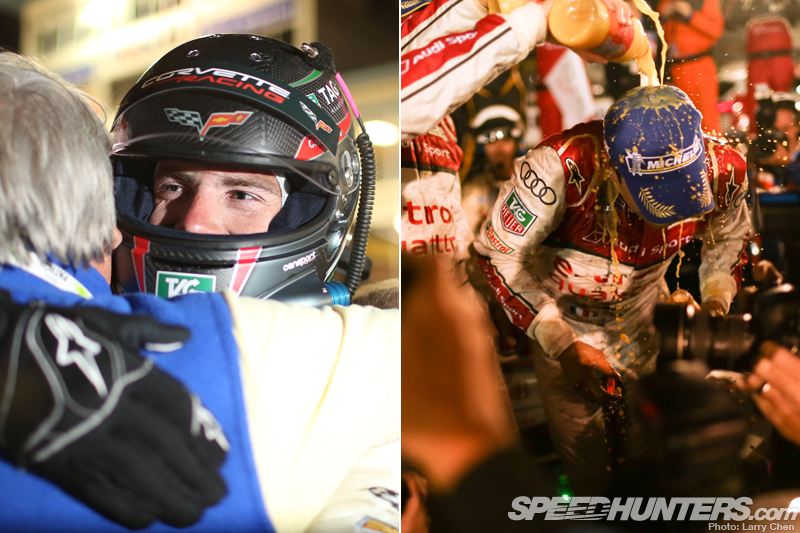 11:00pm
Tommy was immediately greeted by his father after he climbed out of his car, and at the same time Benoît Tréluyer and the rest of the Audi boys got a much needed orange juice shower.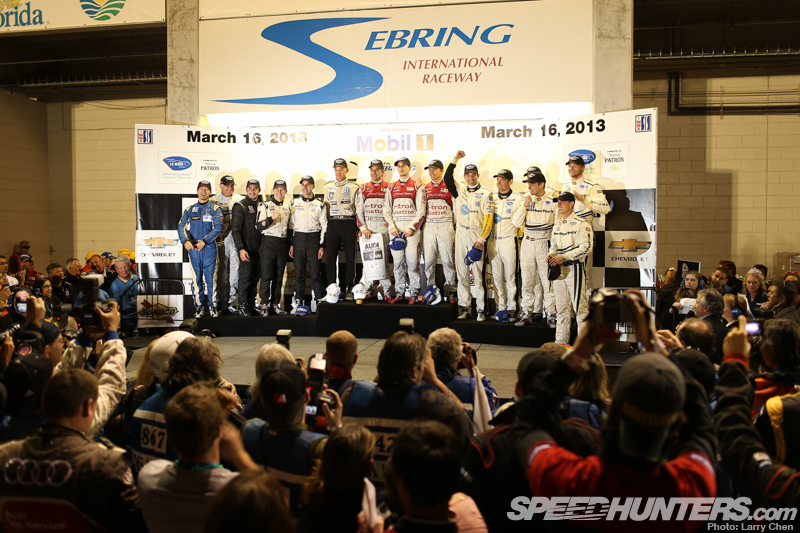 11:30pm
The podium ceremony is always a nightmare at Sebring. There are always a few drivers that lag a bit, which delays the entire thing. 2013 was no different, although this time all the class winners received a Sebring 2013 Rolex watch. I was green with envy.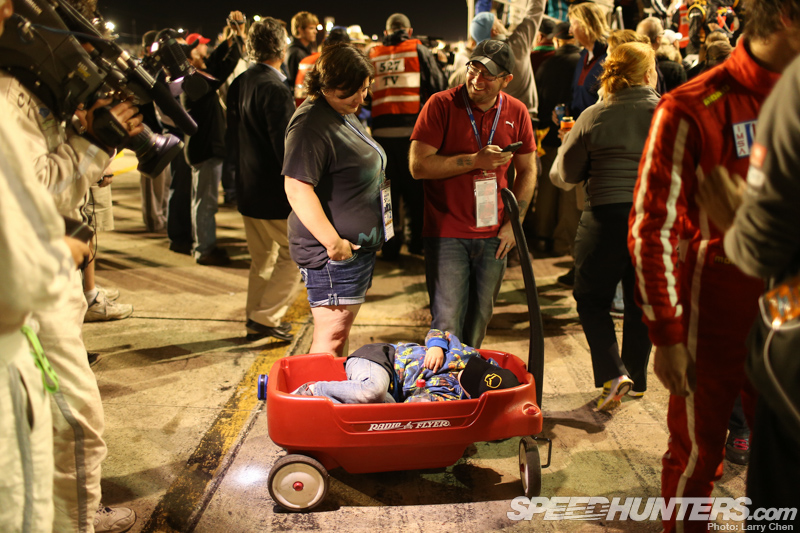 12:00am
It seems watching racing all day had taken a toll on this pint-sized racing fan.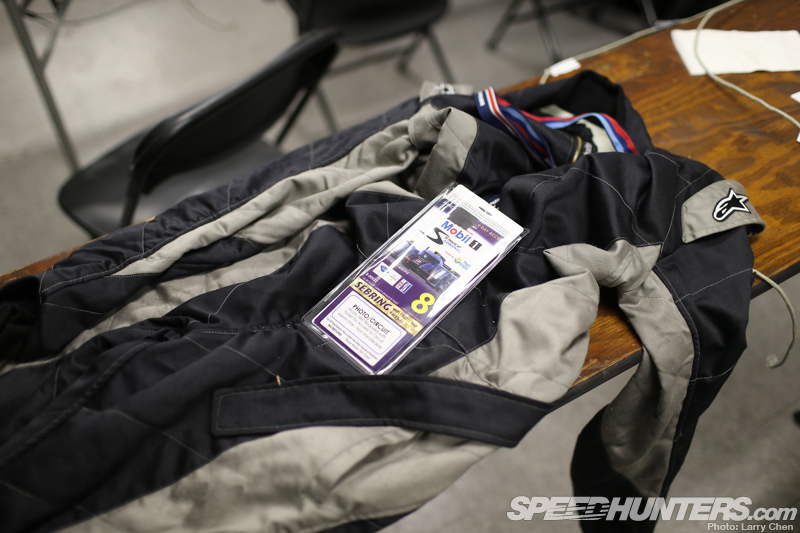 12:30am
It was such a relief to take off my fire-suit after wearing it for almost 12 hours. It definitely needs a trip to the dry cleaners before Round 2 of the American Le Mans Series in Long Beach.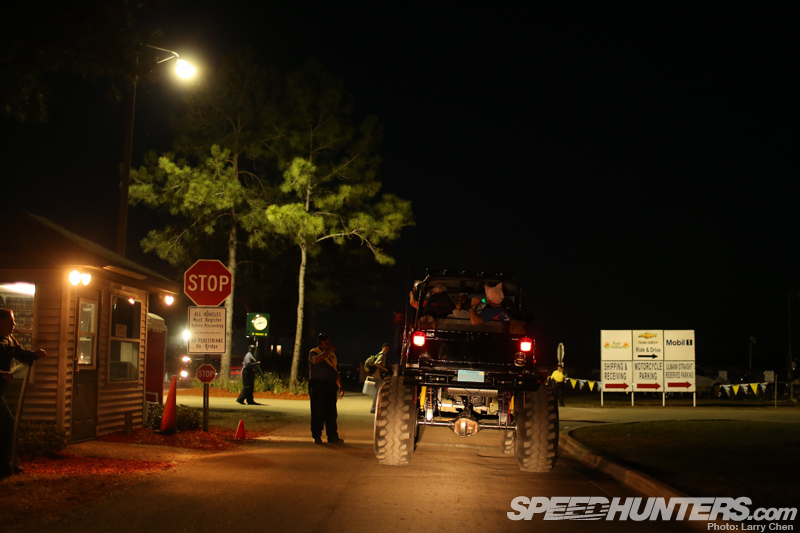 1:00am
After dumping the last of my memory cards, I packed up and headed for the car. The party does not stop after the race is over. Many of the most hardcore fans will party till the sun comes up.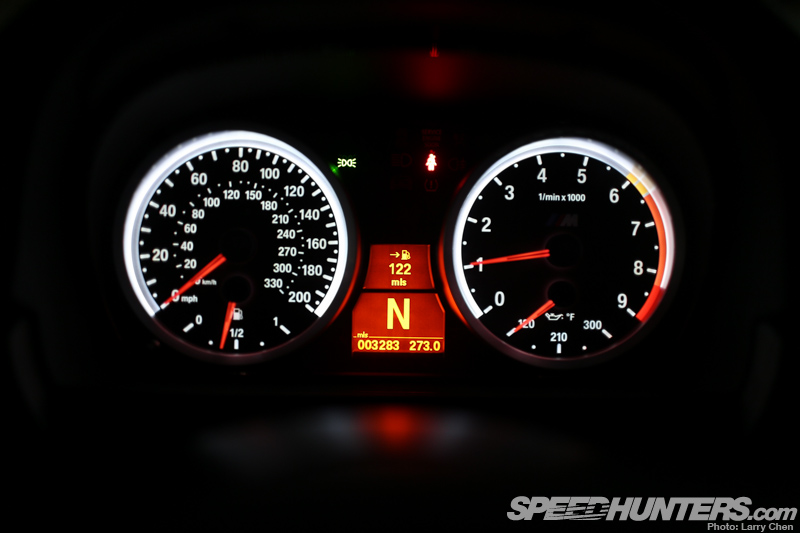 1:30am
It was a slow ride back to the apartment I was staying at, but I had a huge smile on my face. It was finally over, and I collected some great images over the course of the day.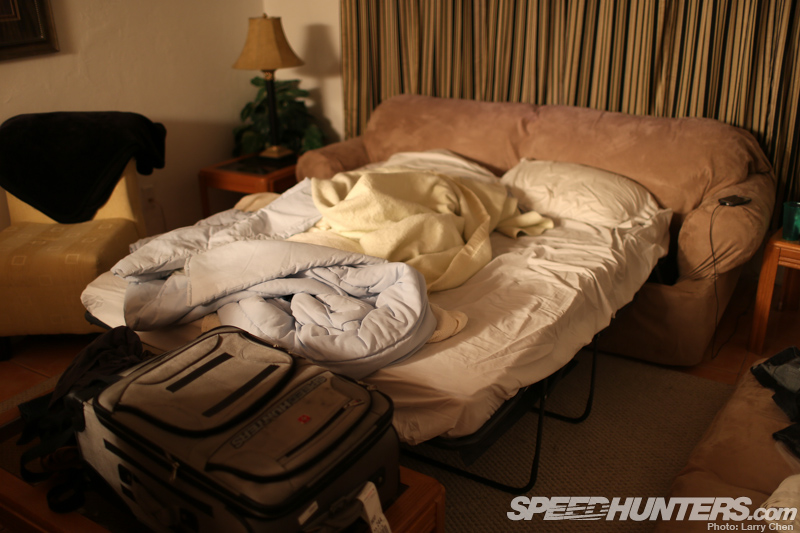 2:00am
That lumpy excuse of a sofa bed never looked more welcoming. I literally collapsed onto it as soon as I walked in the door. I closed my eyes, but my ears rang loudly as they had been punished all day by an endless barrage of race engines at full throttle. That was the last thing I remembered before I dozed off…
Larry Chen
larry@dev.speedhunters.com
instagram: larry_chen_foto
More stories from the 12 hours of Sebring on Speedhunters
More stories from Larry Chen on Speedhunters
---
---
---
---