I survived the 24 Hours of Nürburgring and I have come to the conclusion that it was like eating very spicy curry. It is such a painful event, but for some reason you still enjoy it. Every last moment of it.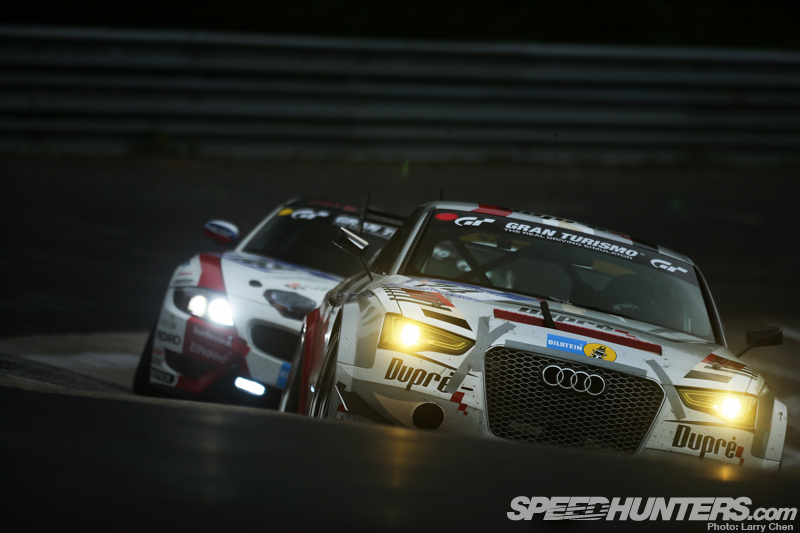 For me this was a big ticket bucket list item, so I'm really glad to have been able to check it off – but it came at a price. It's almost been a week since the end of the race but only now has my body fully recovered.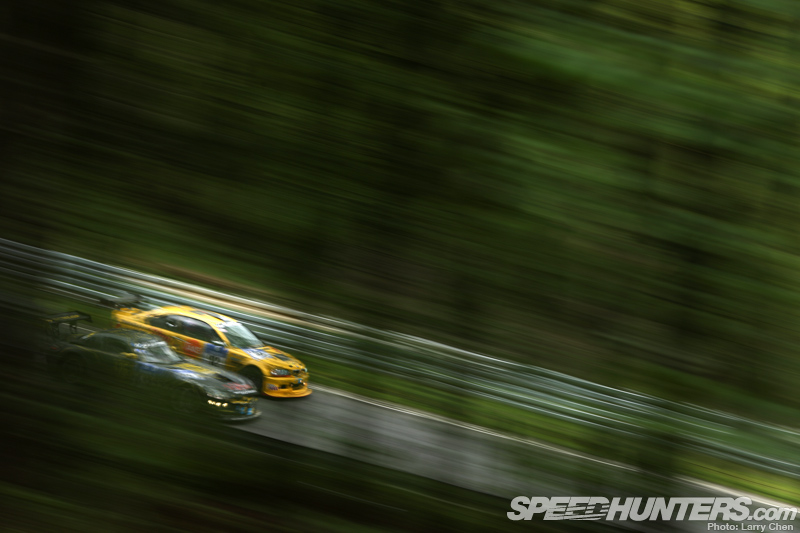 I hear the phrase: "They just don't make them like they used to" applied to cars quite often, but what about race tracks? I found that true with the Nürburgring, and as Jonathan said, you could never build anything like this ever again.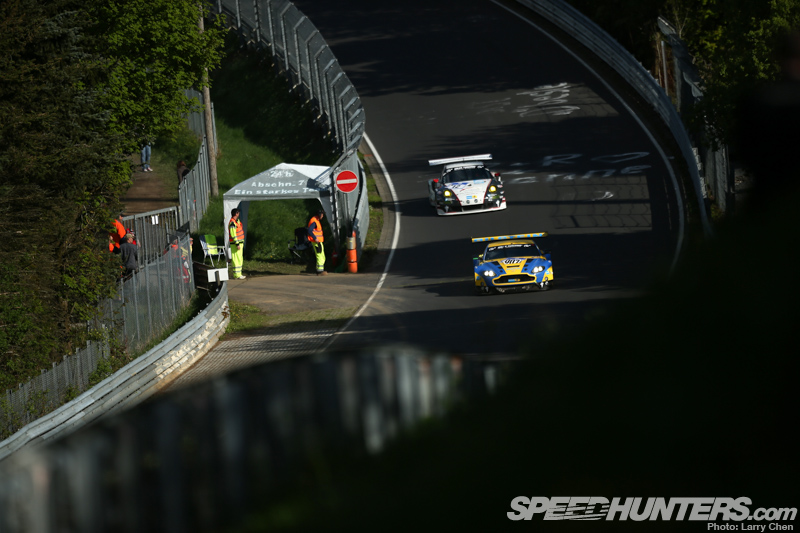 It's so dangerous for the drivers as there are virtually no run off areas. That also means it is very dangerous to be anywhere near the outside of a corner – but we didn't let that stop us.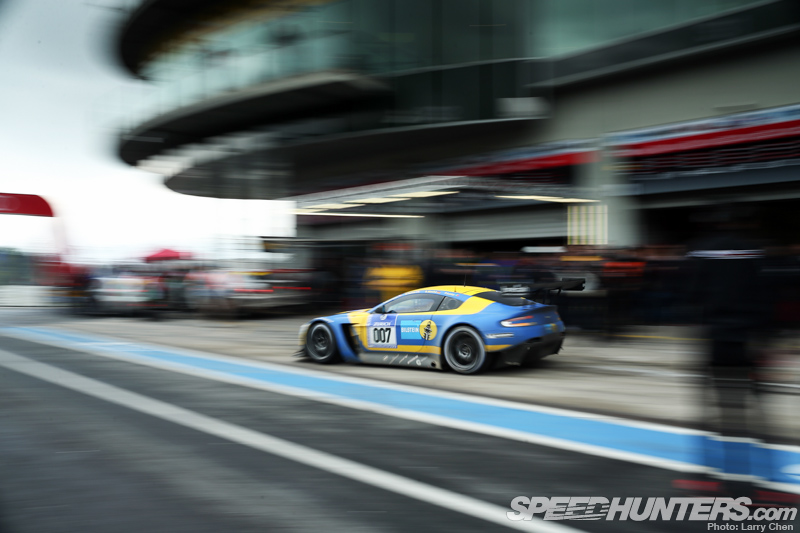 Generally speaking, the best way to cover an event is to follow a story and this time we had the pleasure of being embedded with the Aston Martin team. If you have not already done so, make sure you check out our previous post on that experience.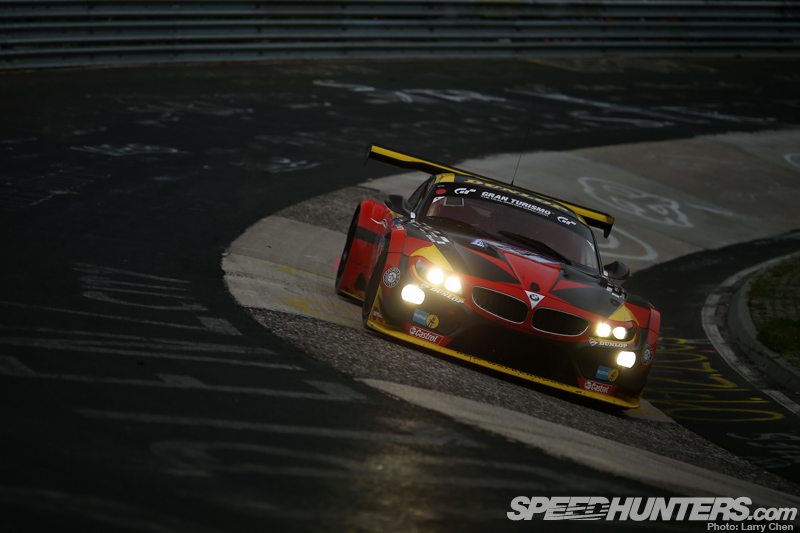 Chances are, anyone who has picked up a racing game has memorised the 12.93-mile long circuit. I must have done a thousand (virtual) laps on the Nordschleife, with every combination of car and tune possible.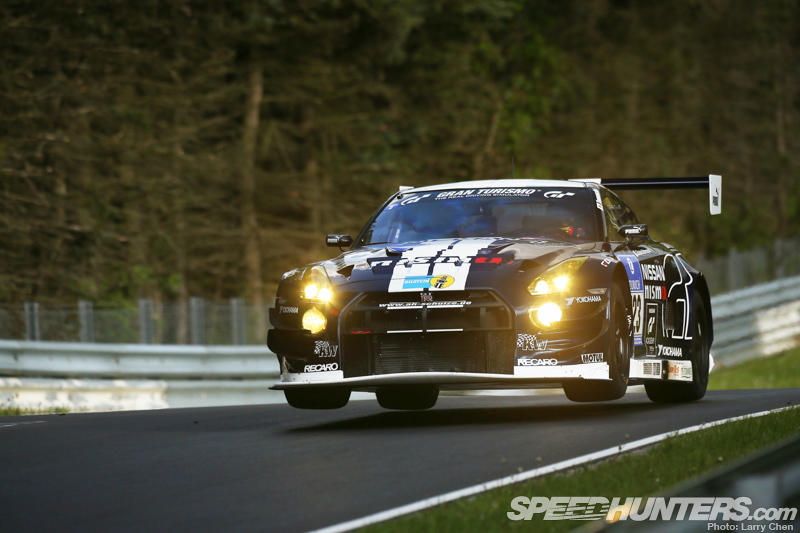 We have seen the videos, photos and all the media you could possibly fathom, so I thought I was prepared. But I was so wrong. I could never have imagined the grandness of the place Jackie Stewart so famously labelled "The Green Hell".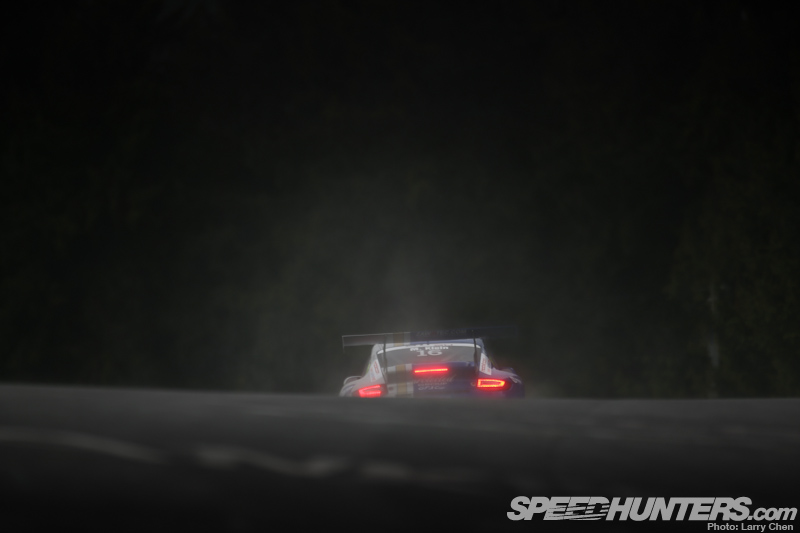 The sun must have peeked out just two or three times the entire week. The rest of the time it was either raining or downright pouring.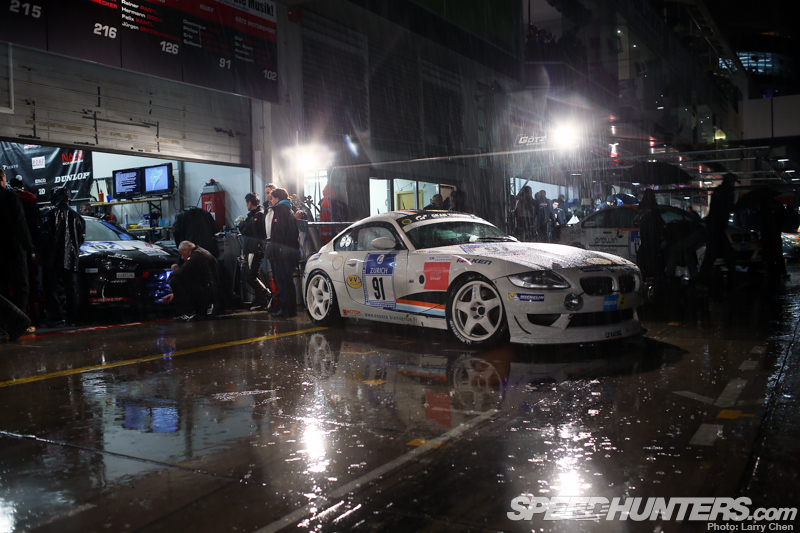 By now you guys probably would have heard that the race was initally red flagged due to standing water on the track surface. That really says a lot considering what the drivers are willing to put up with.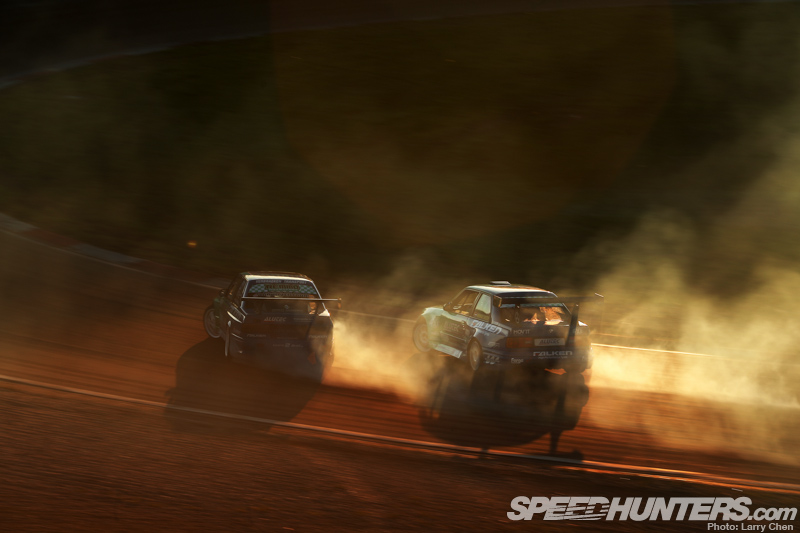 Like many other glorious motoring events it's not just about the main race. There were plenty of support categories, one of which involved drifting. I couldn't believe how many spectators there were for the hour-long demo, but I'll touch more on this shortly.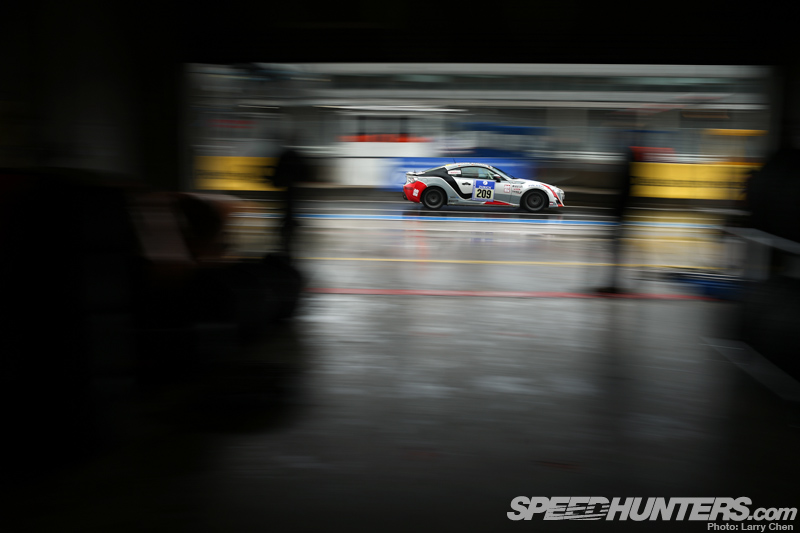 It was also interesting to see the variation between the different classes. Just 30 minutes into the race the fast GT3 cars were already lapping the slower traffic.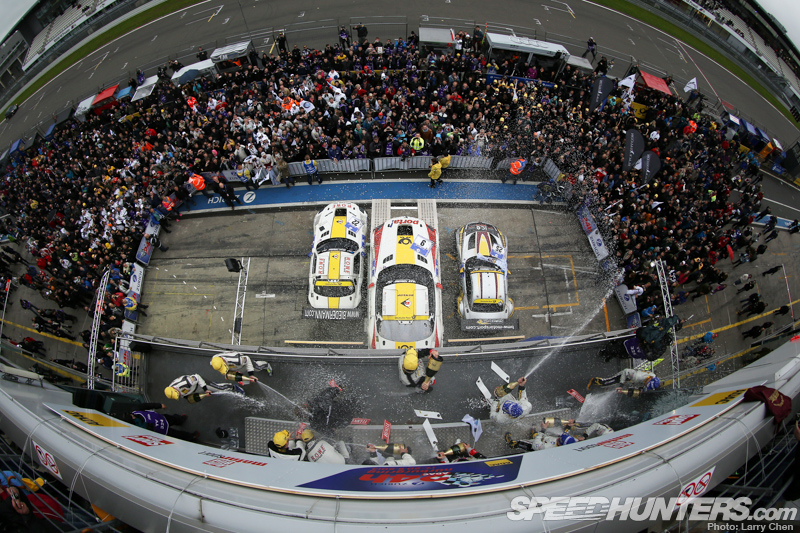 Hundreds of drivers, thousands of support staff,  and 160,000 fans gathered in one place for the greatest party the racing world sees every year.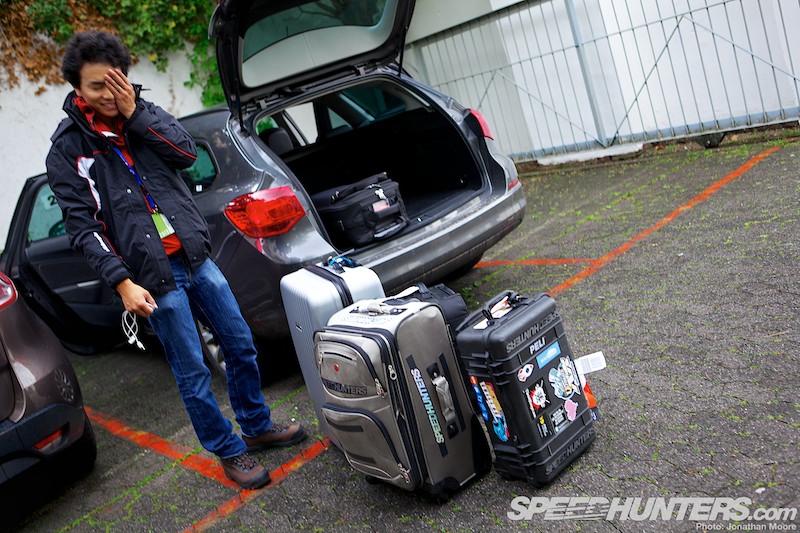 Our mornings started much earlier than I would have liked. Each official day leading up to the big race, Jonathan, Hide and I rolled out of our beds like zombies and made the hour-long trek to the track.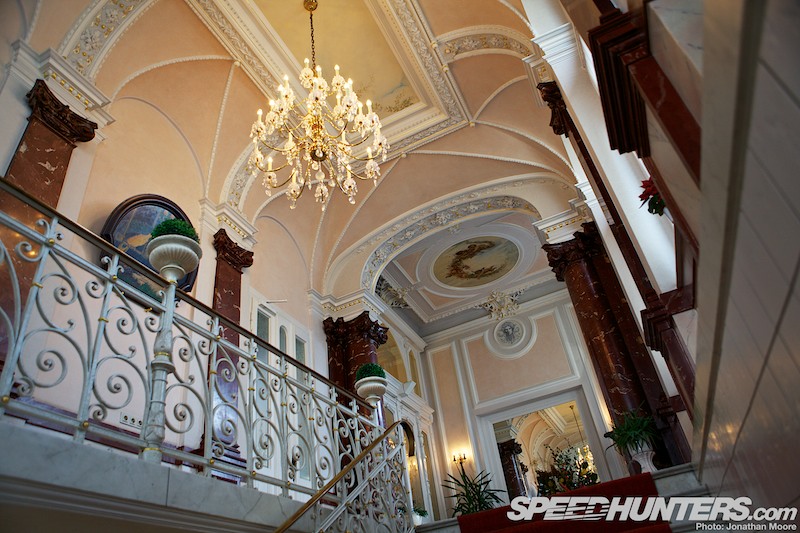 We had a really nice hotel that was built almost a century ago, but it was a long way away from the track. The Nürburgring is quite isolated from major cities and and the local accommodation books out really quickly, so we missed out on something near by. We could have camped, but that would have proved tricky with all of our camera gear and the need for creature comforts like electricity and indoor plumbing. I think we made the right choice given the weather outcome!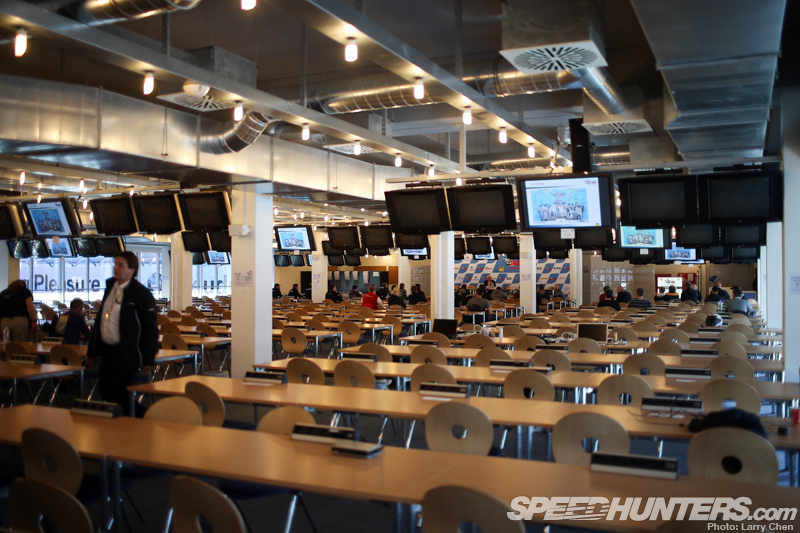 Even though we had the hotel, this was our real home-away-from-home – the dreaded media center. It's a good thing these photos don't have Smell-o-Vision, because that place reeked of journalists.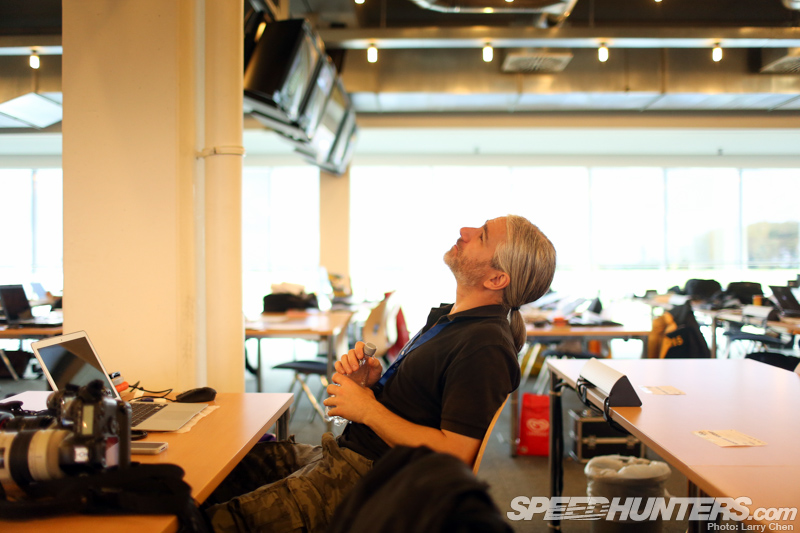 When we were not buried in our computer screens we were paying close attention to the race via the video monitors that lined the ceiling.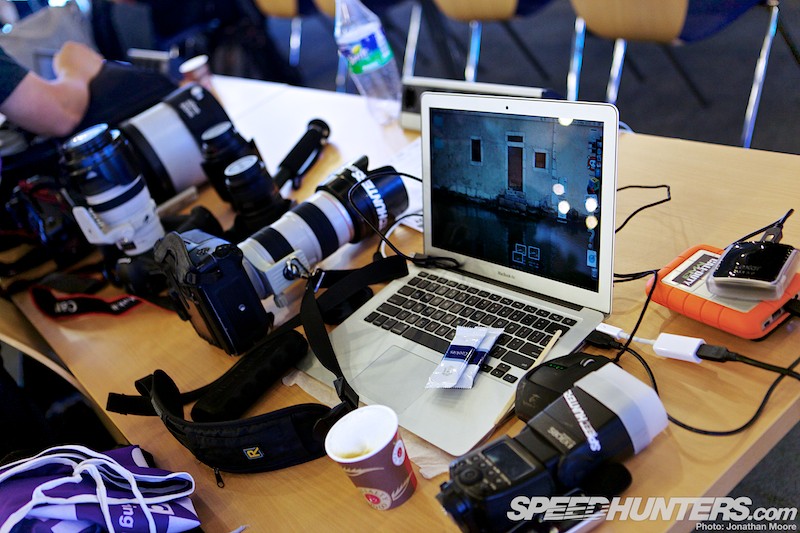 Jonathan always has the neatest work area, where as I am terribly messy and take up the room of three or four people.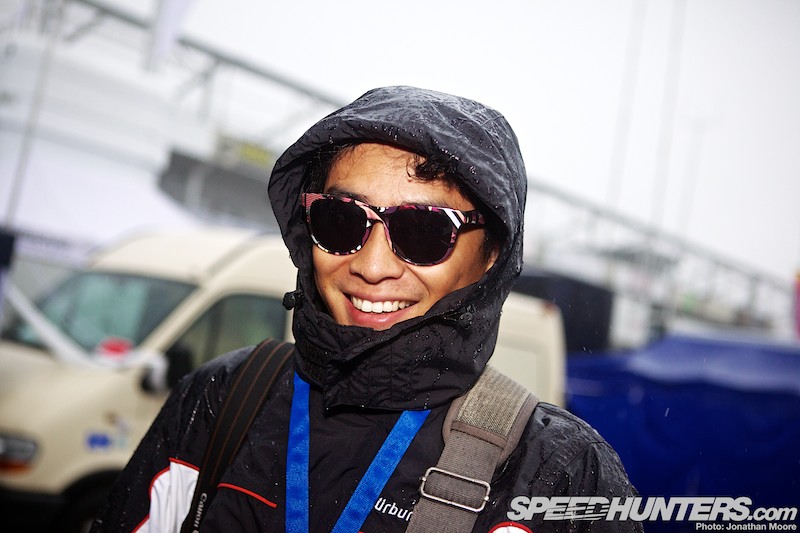 Being a Nürburgring noob I thought that there would be sun, so I brought my shades.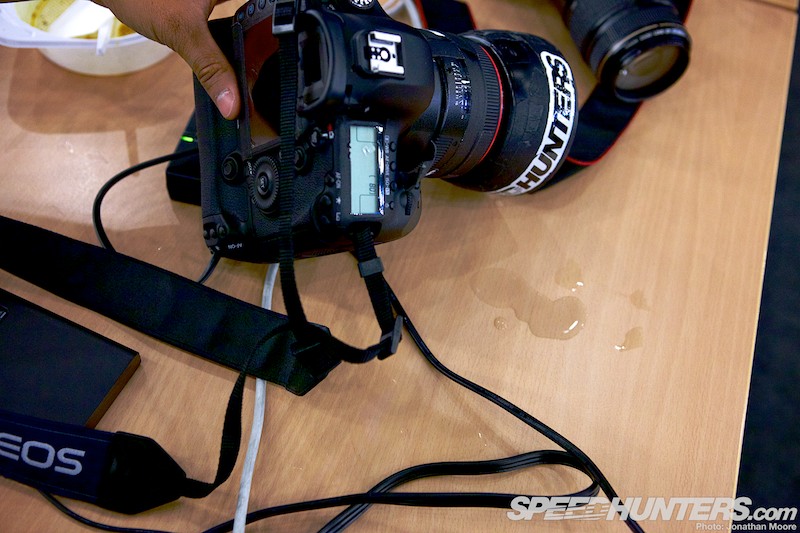 I was so wrong though. At the end of every shooting session I had to drain rainwater from my cameras.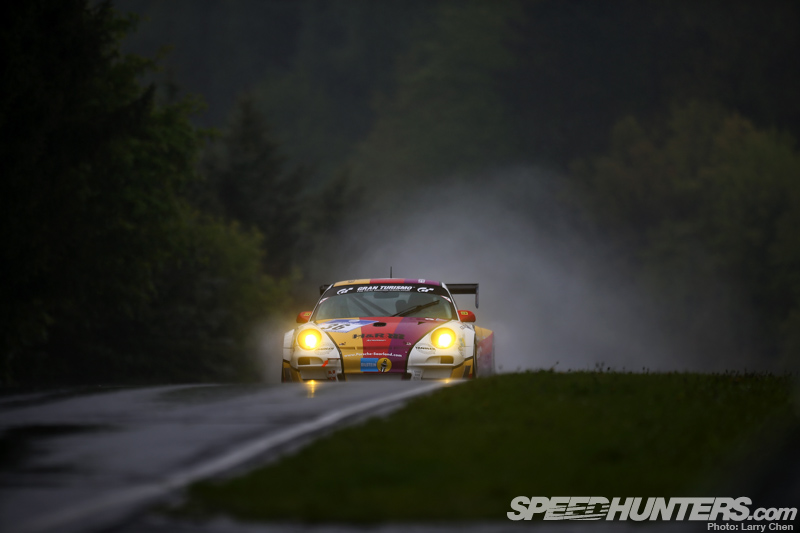 I was loving every moment of it though, because being based out of  Southern California I rarely get to shoot in these sorts of conditions. Jonathan and Hide are used to it though, and looked at me like I was stupid.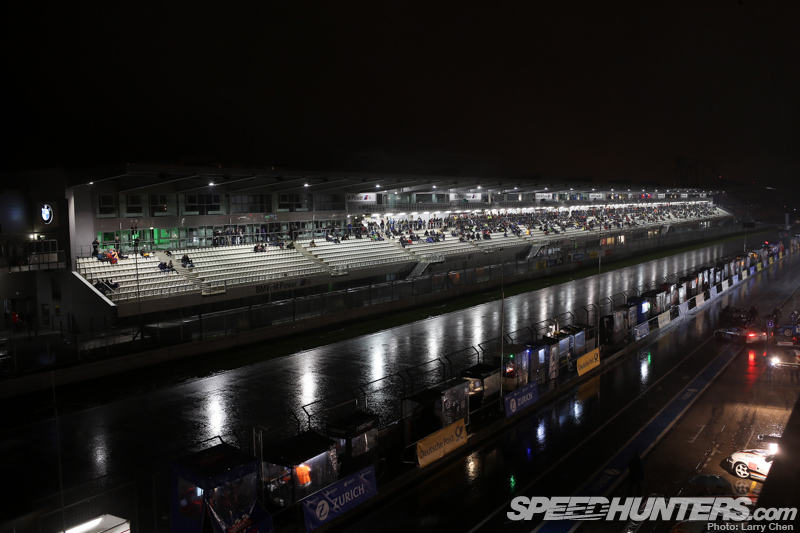 I probably should have stopped my little rain dance as it caused the race to stop and the cars to return to their pit garages. I was really looking forward to shooting the night racing too.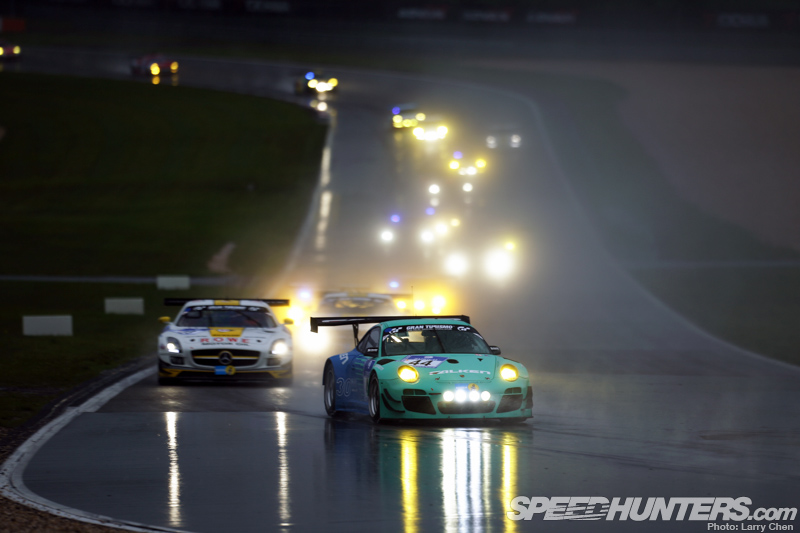 On the plus side, we did have the chance to shoot the restart in the morning after many teams spent the night repairing their damaged cars. It actually felt like I shot two separate races.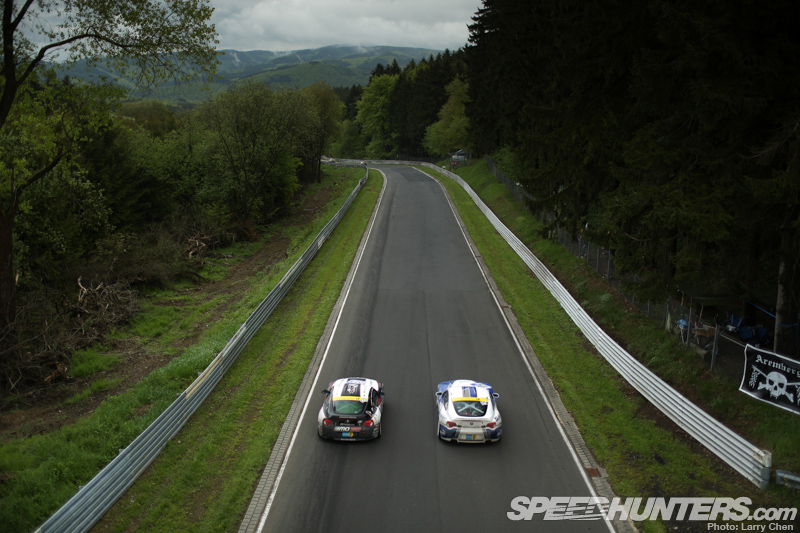 If you are an avid reader of Speedhunters then you know I love preaching to you guys about getting out there and doing some Speedhunting of your own.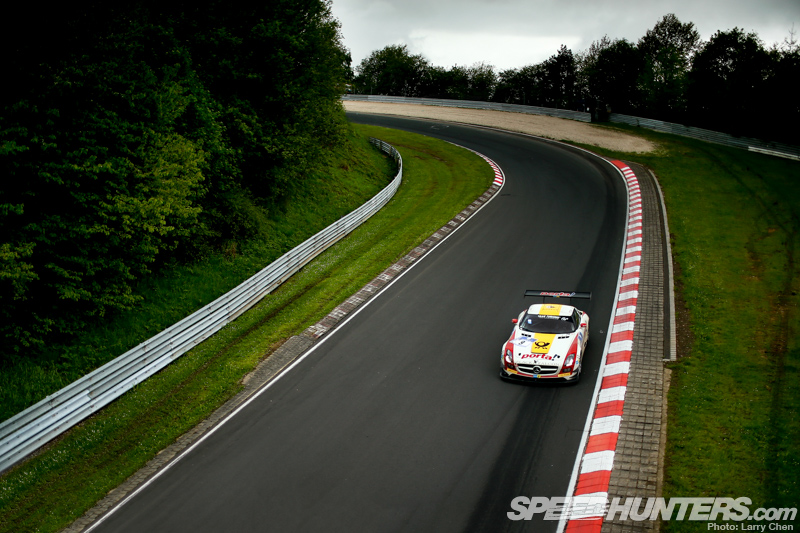 The Nordschleife is a perfect place to do it. You might not think so, but almost half of the photos in this post were taken from spectator areas – including this one I shot off a bridge crossing.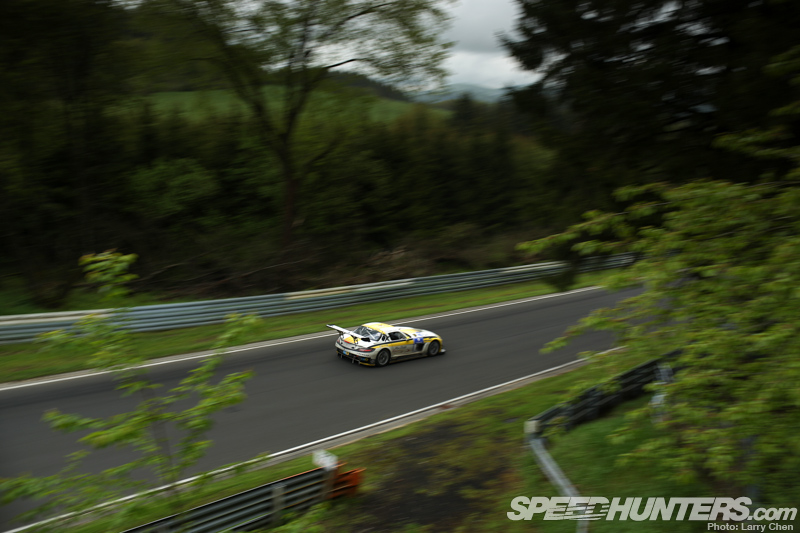 Just a few feet away was this wide open area, which allowed for some nice wide angle panning.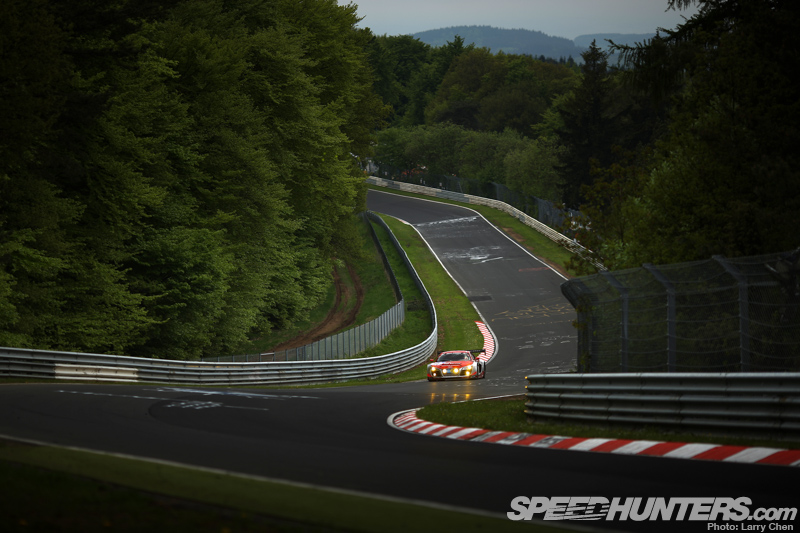 The challenge in this case was not about having the best camera body or the longest lens – it was about seeking out those sort of areas to shoot from.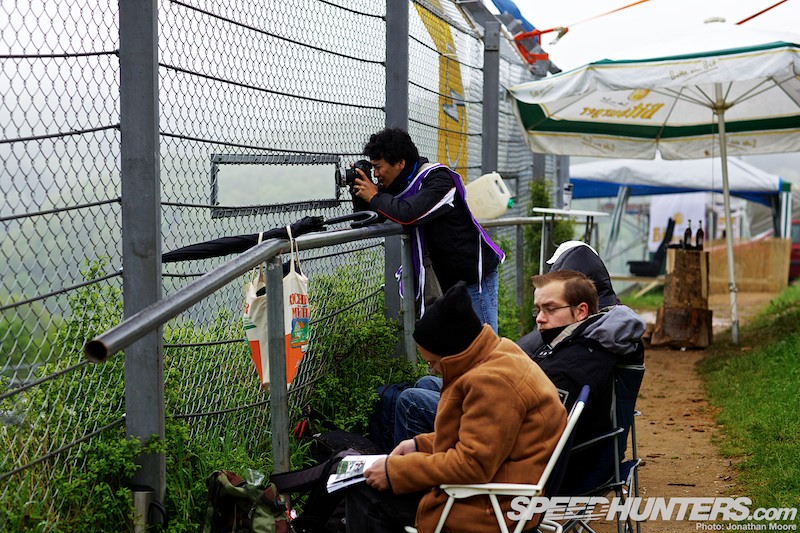 Luckily there are hundreds of holes just like this one, cut out in the fences surrounding the entire course.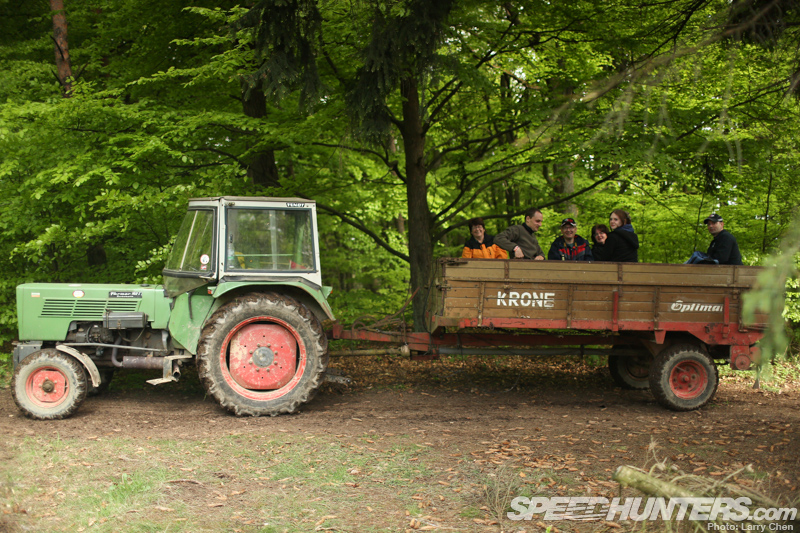 All you have to do is hitch a ride with some friendly locals and you're halfway there.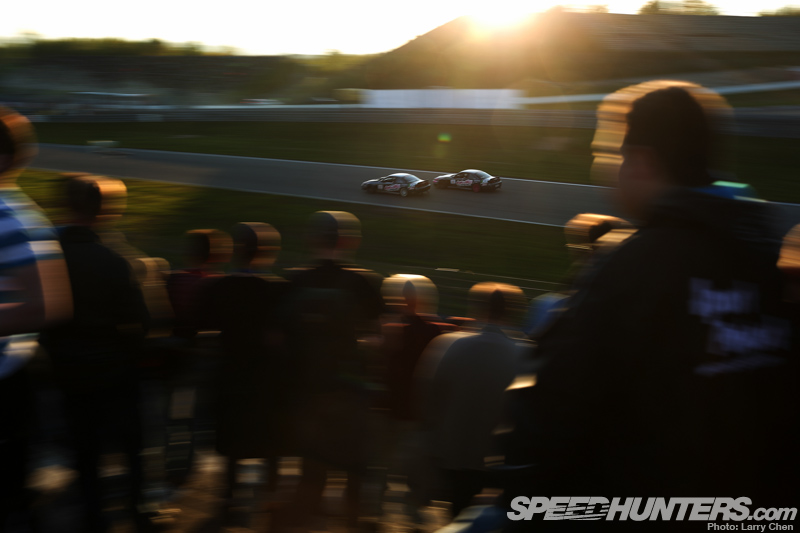 To drive the point home, I shot the Falken Drift Showoff entirely from the spectator areas.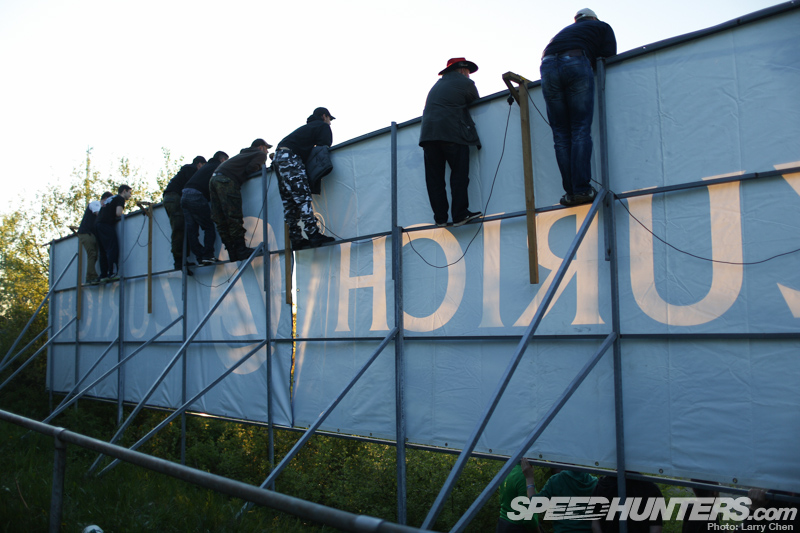 I had no idea drifting was so popular in Germany. When Formula Drift in the States sells out the venue there is usually still standing room. But here you had to make your own.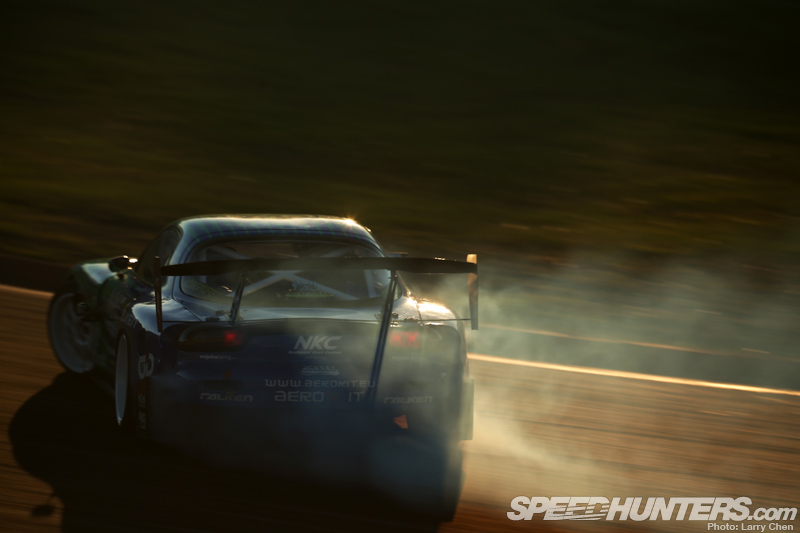 Popular European drivers like James Deane from Ireland made the trek over to Germany especially for the demo.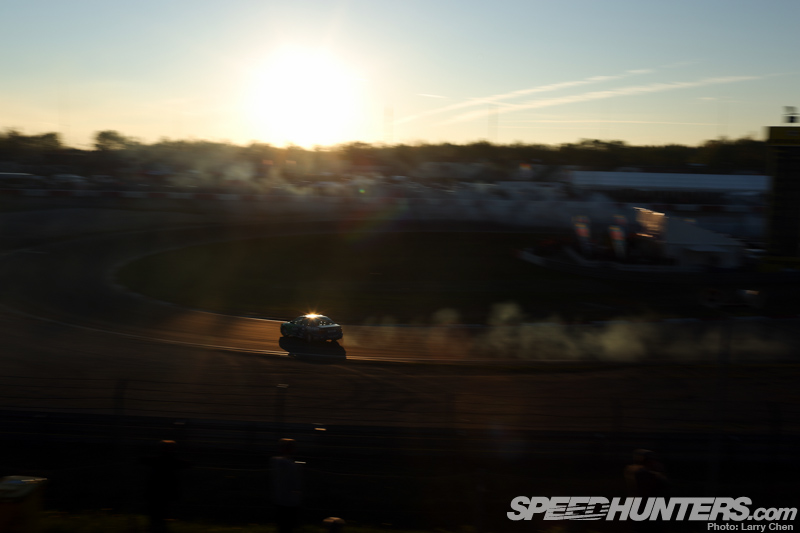 There must have been at least 30,000 spectators, but what amazed me the most was that they all came out to these guys drift one single corner.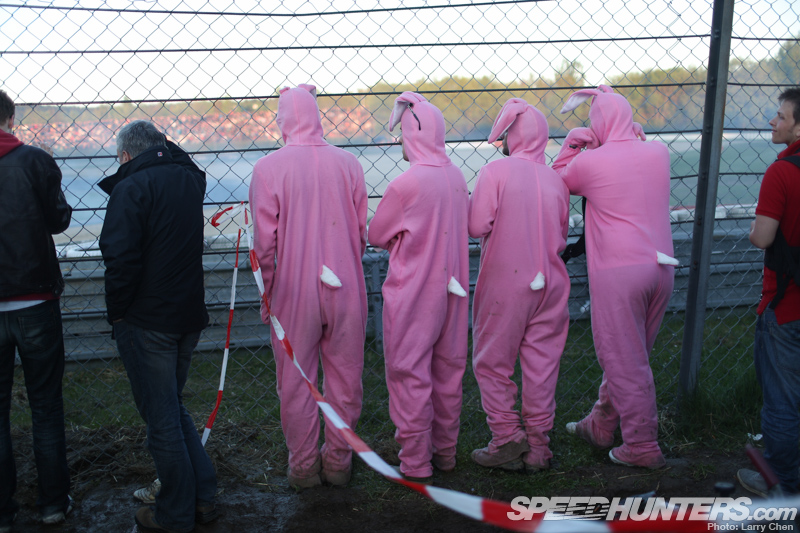 I have a feeling they would probably explode if they ever watched a proper competition.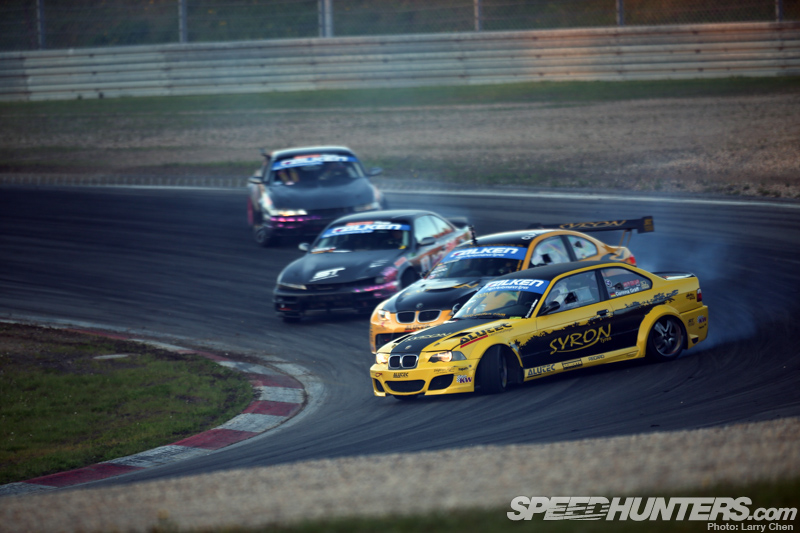 The long sweeping right-hander allowed for some nice team drifting.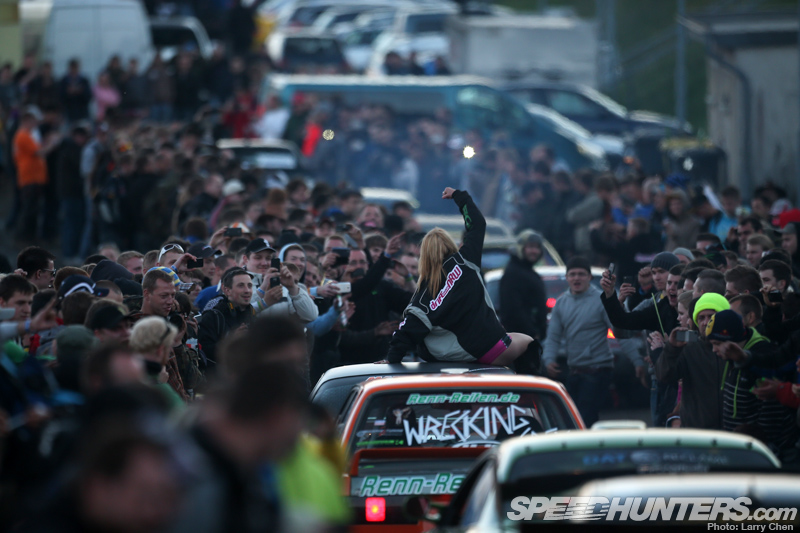 After the event the fans didn't want to leave. They wanted more and I've never seen anything like it. Maybe this is something Formula Drift should look into?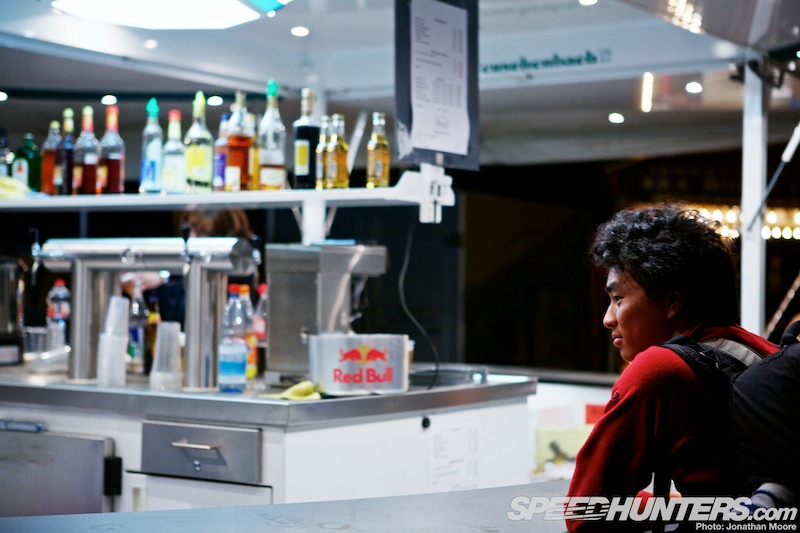 By the time we were done for the day all the restaurants around our hotel were closed. Lucky for us the food and drink vendors surrounding the 'Ring were still open.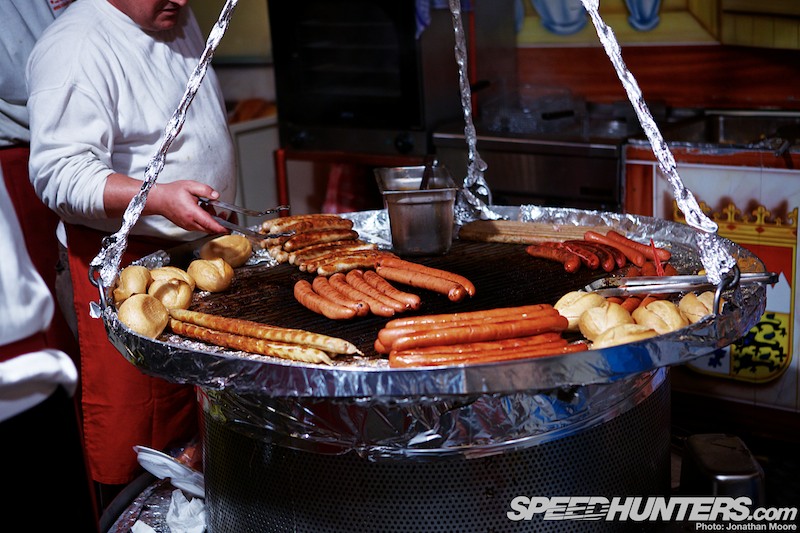 A trip to Germany would not be complete without beer and sausages, right?
This has got to be the most clever ketchup dispenser ever! I was thoroughly impressed.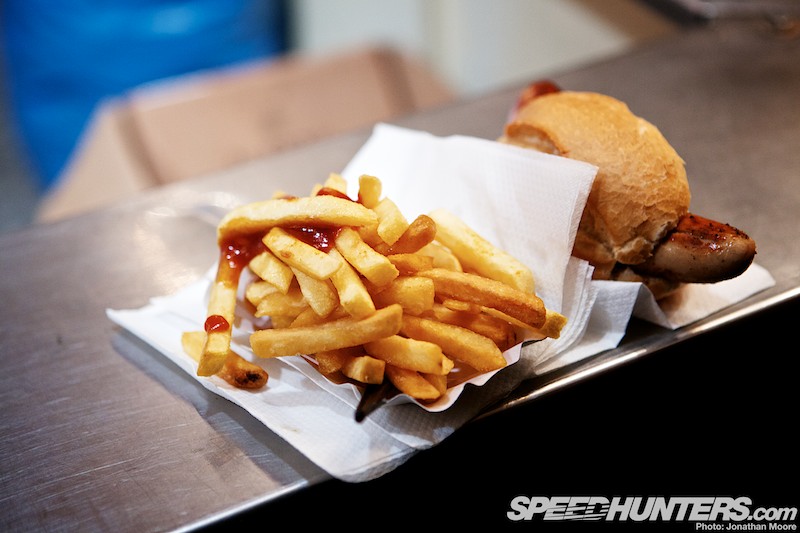 We found ourselves carb-loading as much as possible to make up for the miles of hiking we had to do in a day.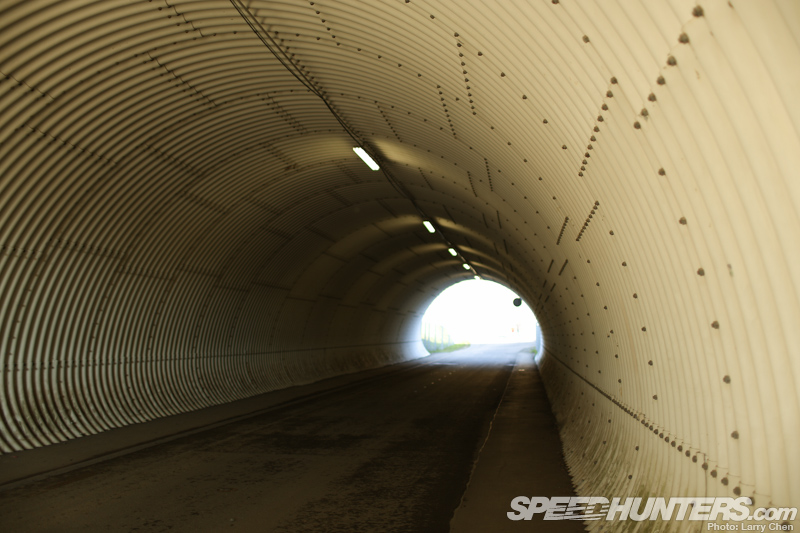 Although the track is huge, I think it would be pretty manageable if there was a walkway that lined the perimeter. But there isn't, and sometimes you have to walk miles out of your way just to cross the track. It is possible to run across the 'hot' track during the day, but it all depends on the marshals.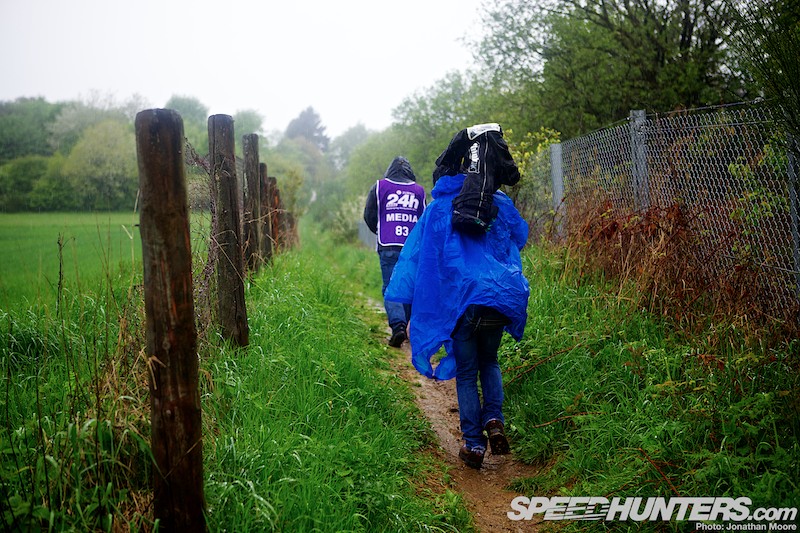 I hiked three and a half hours straight in the rain and mud, but I could hardly complain given the challenges the drivers and their teams had to face.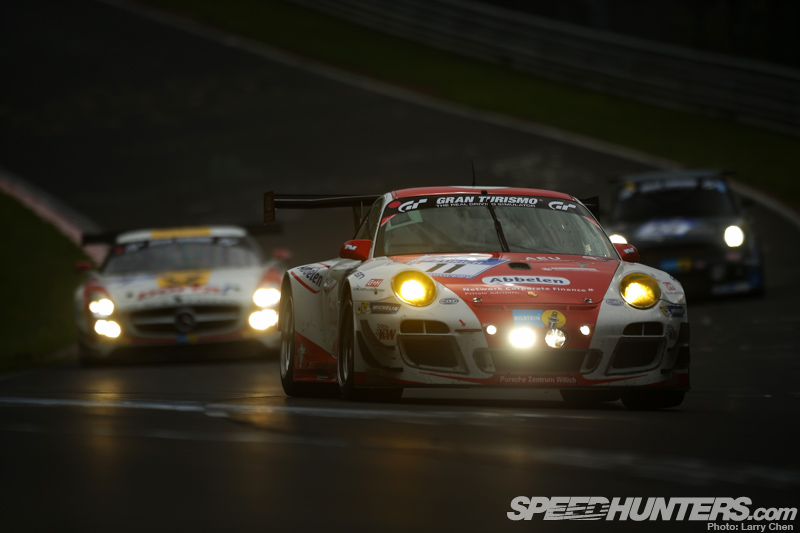 Considering the amount of traffic and unknown track conditions, it's mind-blowing that any of the drivers got through a single lap without incident.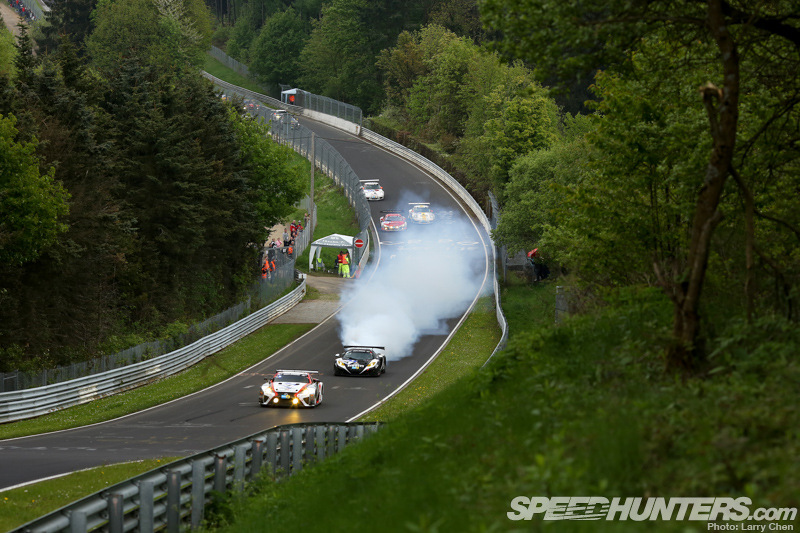 For example, on the very first lap a McLaren MP4-12C laid down a strip of oil on a very high speed section of the circuit. There is only so much you can do to avoid things like that.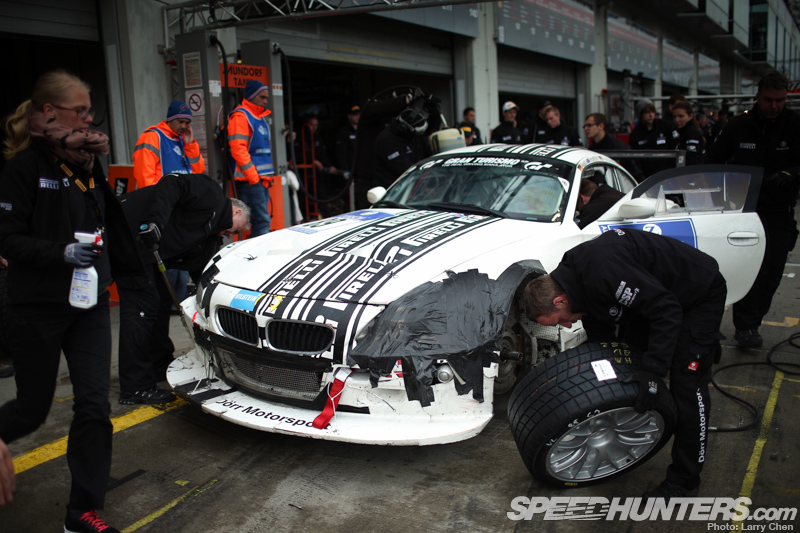 This was the fifth 24-hour race I've attended, but I have never seen carnage like I did here. Almost all of the cars had some damage at one point or another – it's simply unavoidable.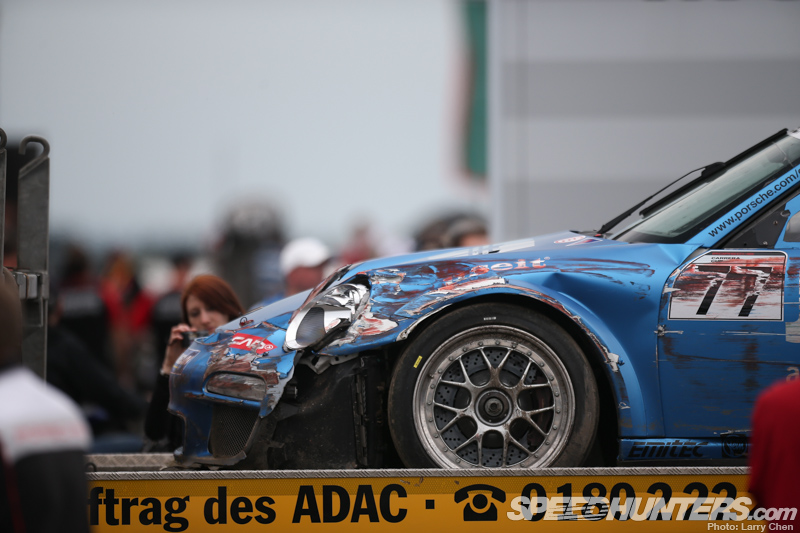 Unlike Spa, crashed out cars are not left littered around the track. They are brought back into the pits where they are quickly covered in sheets, like a corpse.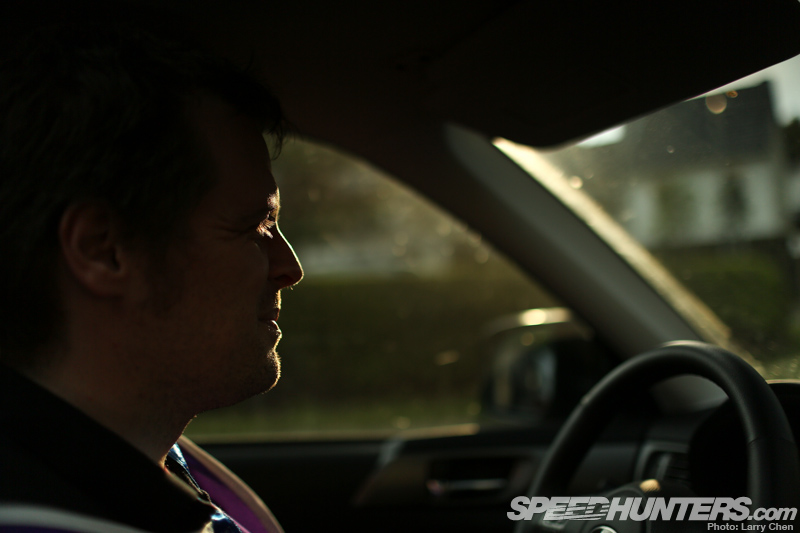 Since it was my first time here I needed some help getting around – a guide of some sort. Enter Dale Lomas. He knows all too well about what it's like to have a major incident on the 'Ring, because he crashed badly here on a motorcycle and has since switched from two wheels to four-wheel racing and instructing.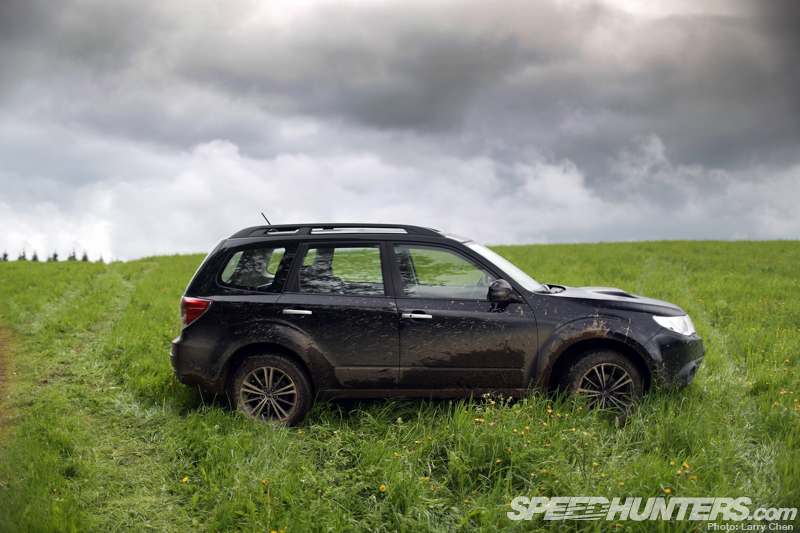 He has made over 6000 laps around the 'Ring, so he was the perfect person to guide me to where I wanted to go. His steed was a Subaru Outback, and believe me when I say that we tested it's all-wheel-drive to the limits.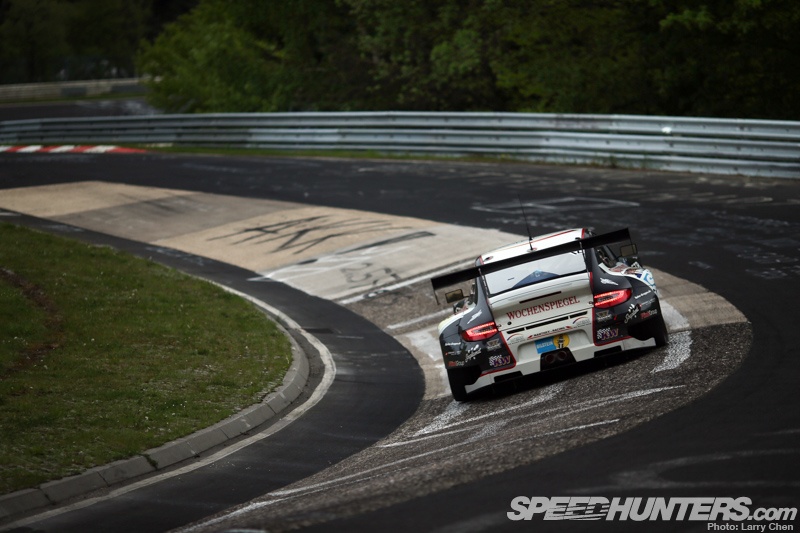 Our first destination after the race started was the most famous corner in all of motorsport: the Karussell. Jonathan and I hiked to the inside during practice day, but I wanted to check it out from the outside.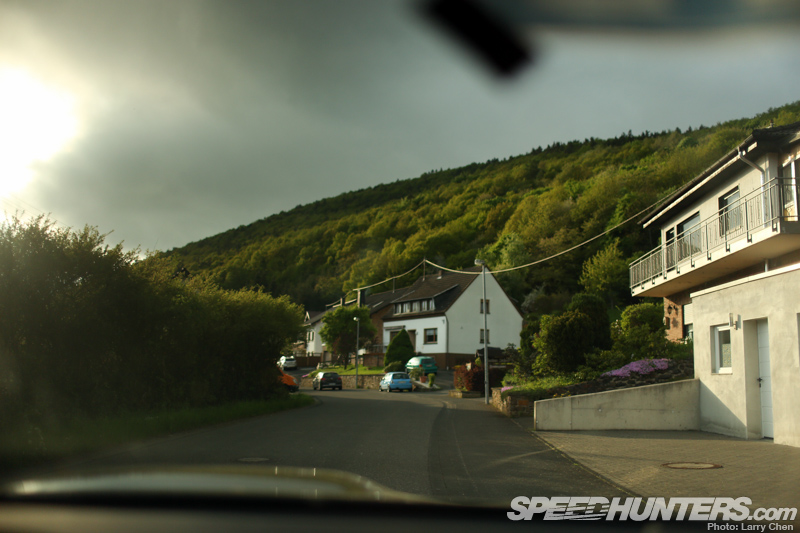 Dale lives in of one of the three towns inside of the Nordschleife, so he knows all of the secret roads around the place.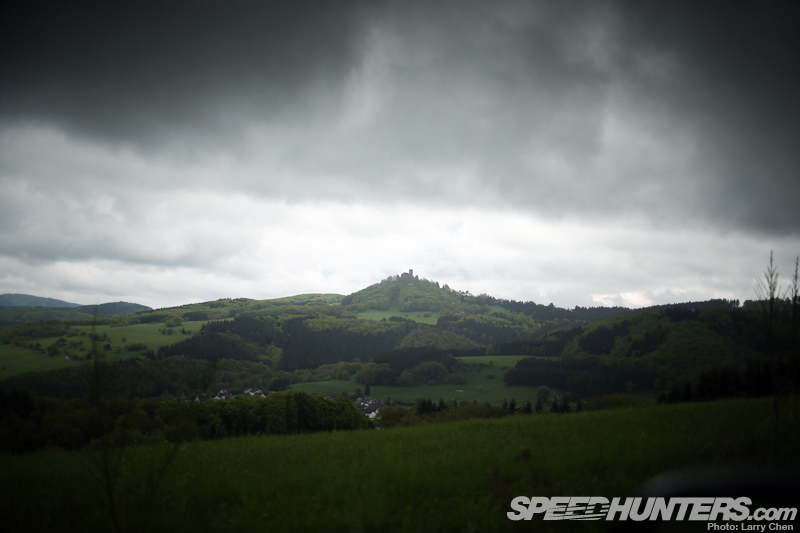 We climbed steep hills and battled treacherous terrain, but we never lost sight of the Nürburg Castle in the distance. The local landmark was built some time in the 10th or 11th century.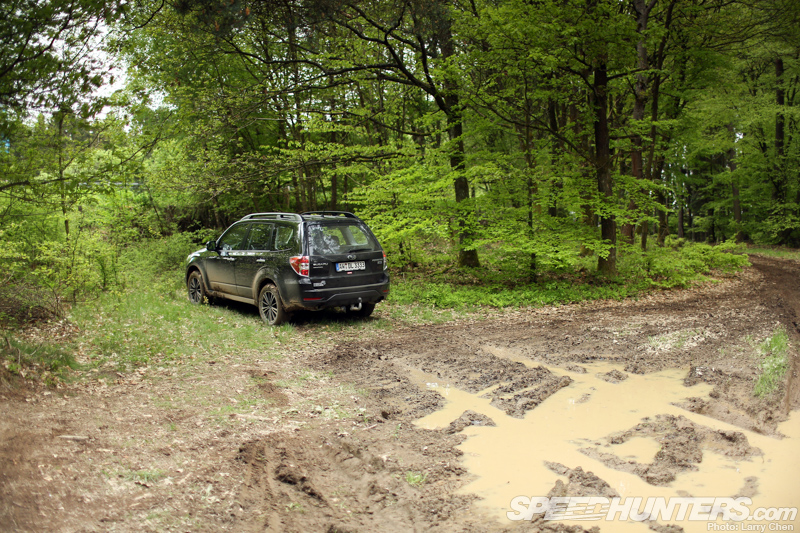 Finally we arrived. It is absolutely necessary to have a capable off-road vehicle for these roads as there is no one around for miles if you get stuck.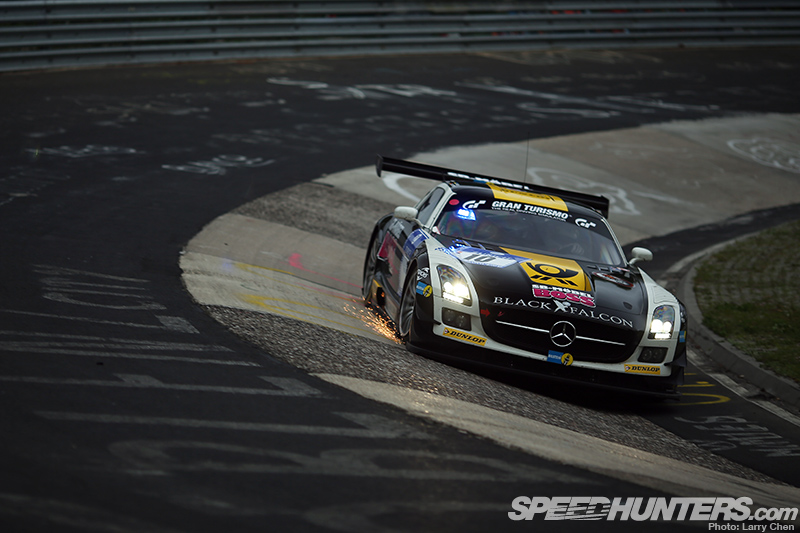 As soon as I stepped out of the car I heard loud scraping and banging noises. It was weird because we were far enough away that we couldn't  hear the cars' engines, but we could hear their undersides as they bottomed out on the Karussell at speed.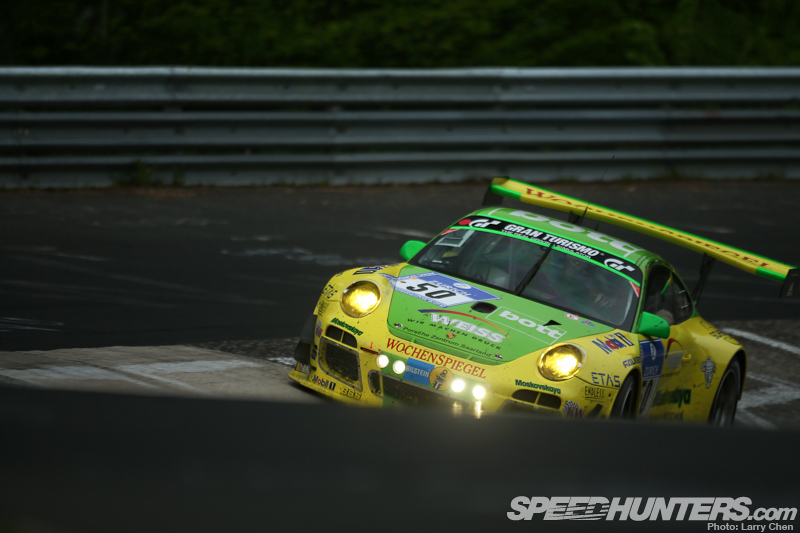 Once I approached the famous corner I just stood and stared at it for a few minutes. I could not move. I froze up, and everything I knew about photography went out the door. I was so happy I could have almost cried. I just couldn't believe that something this cool existed in the racing world.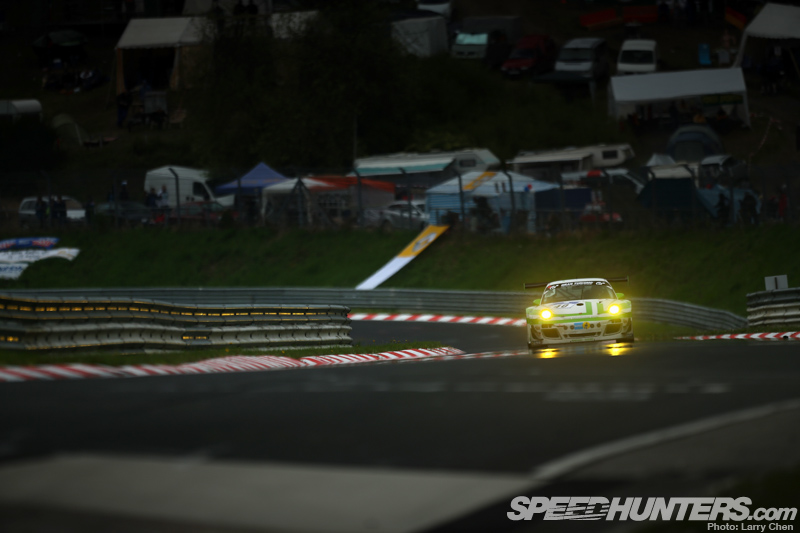 Jonathan already touched on this on our Dream Walk, but we never had the chance to see the entire grid drive the Karussell under race conditions. It was amazing to see how fast they would approach the corner only to slow to a crawl in order to enter at just the right angle.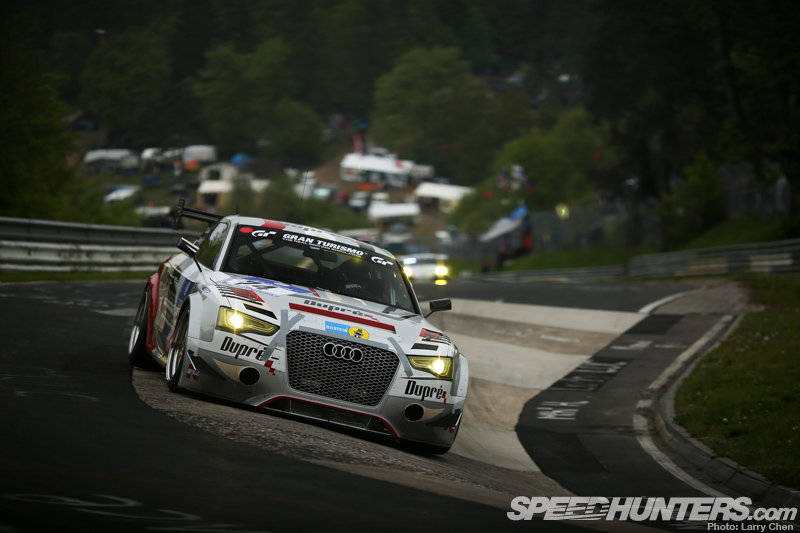 It reminded me of a synchronised swimmer taking a dive into the pool at just the right moment.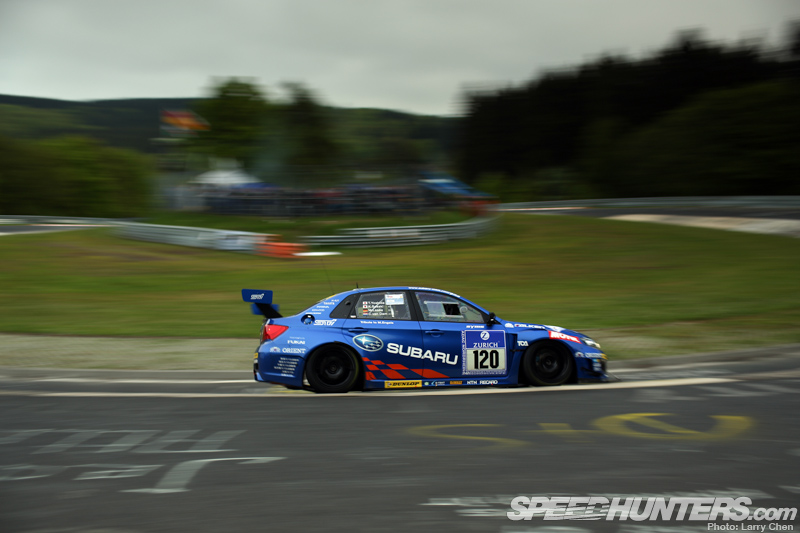 I bet it feels like it will never end once you're inside the Karussell. Dale pointed out something interesting though – apparently it is still faster for some cars to take the outside line, but that really depends on the car. I was very surprised to see how banked the outside was as well.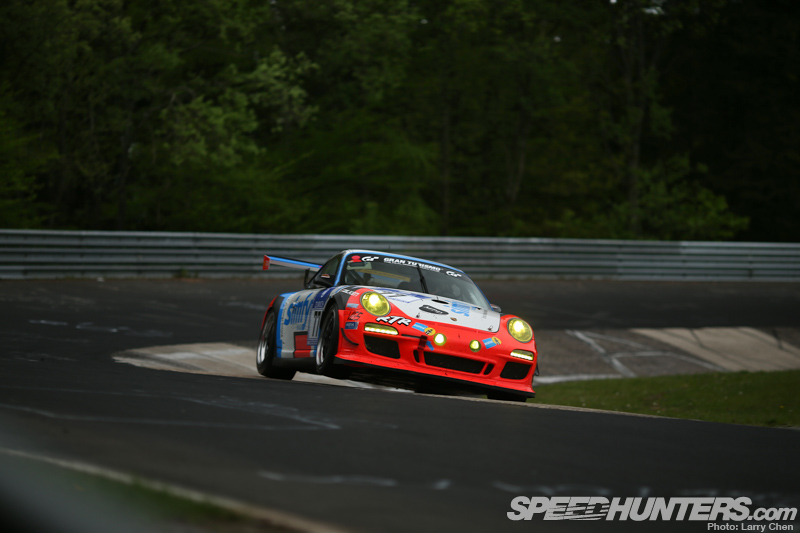 The way the cars launch out of the corner is just amazing. Jonathan and I both agree that if we were spectating we would camp on the inside of the Karussell.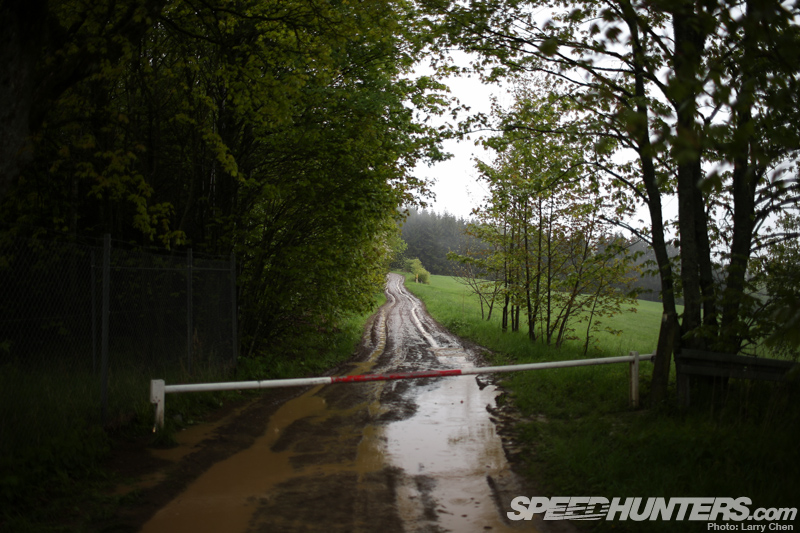 Even though Dale knew the roads around the track, it was still tricky as many of them were blocked off for one reason or another. It's mostly to keep spectators out of dangerous areas with limited guard rails though.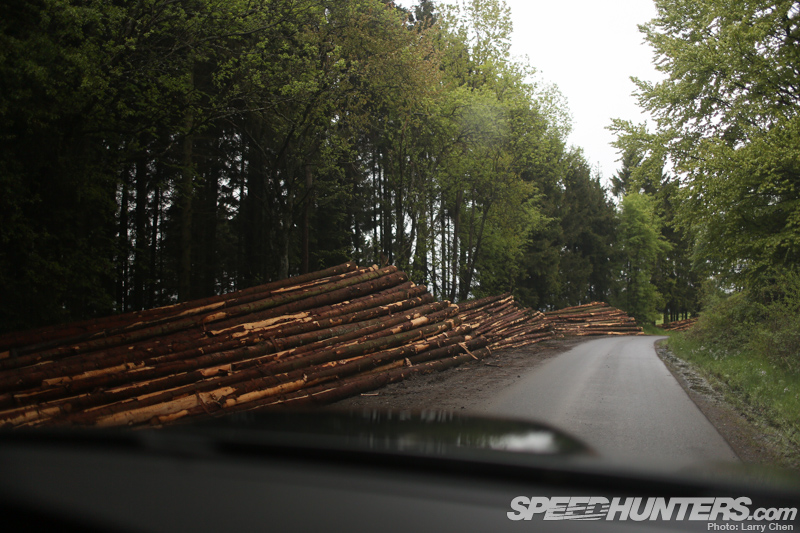 Many of the roads were built for logging and some of them were better maintained than others.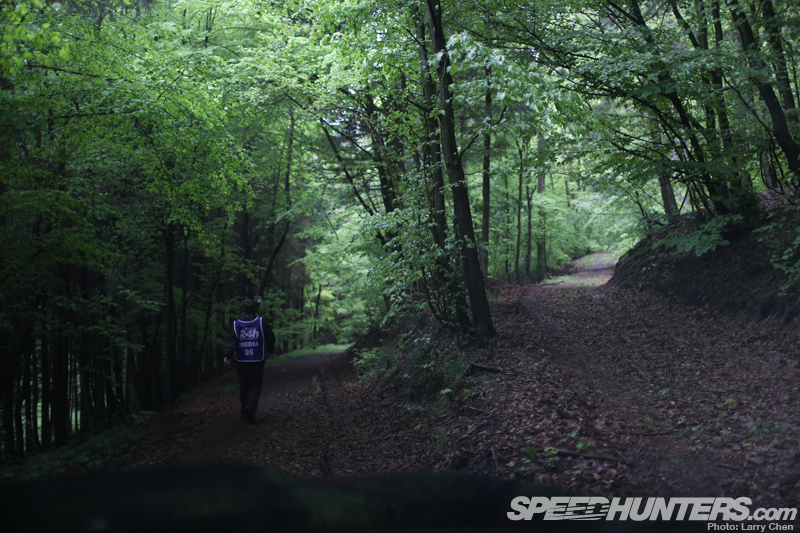 After days of rain the earth was very soft and it was easy for the car to sink in. And even with four-wheel-drive we weren't immune.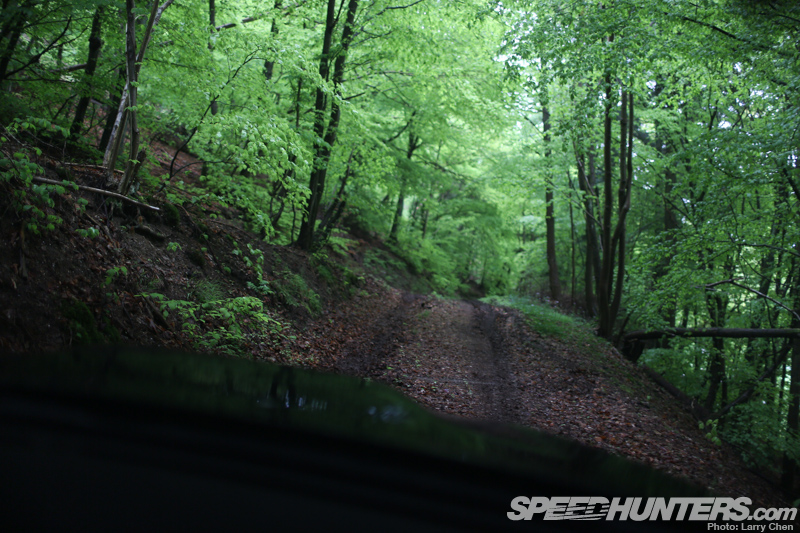 The sketchiest moment of the entire week happened on one of those roads when the Forester started to drift to the outside of a cliff. Dale floored it and counter steered to keep the car from going over. Just your average Speedhunting weekend…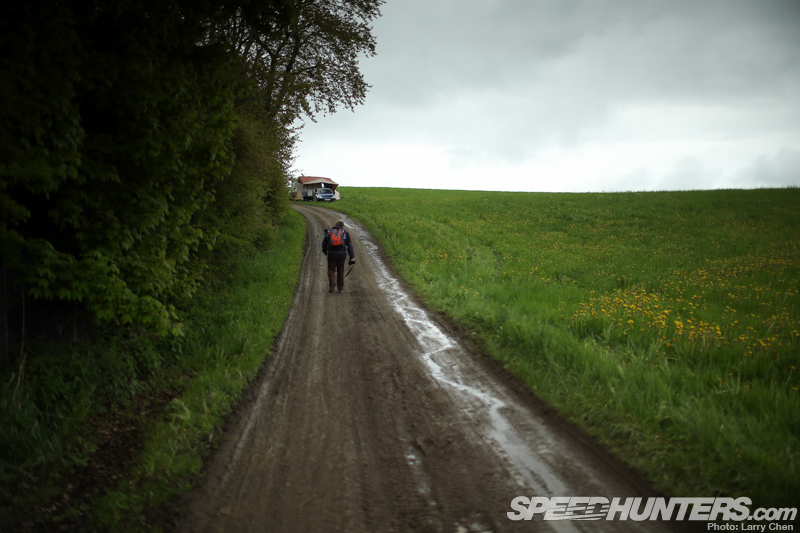 Even though we had a car we still had to hike to get to the good positions. After the restart we decided to hit up one last spot.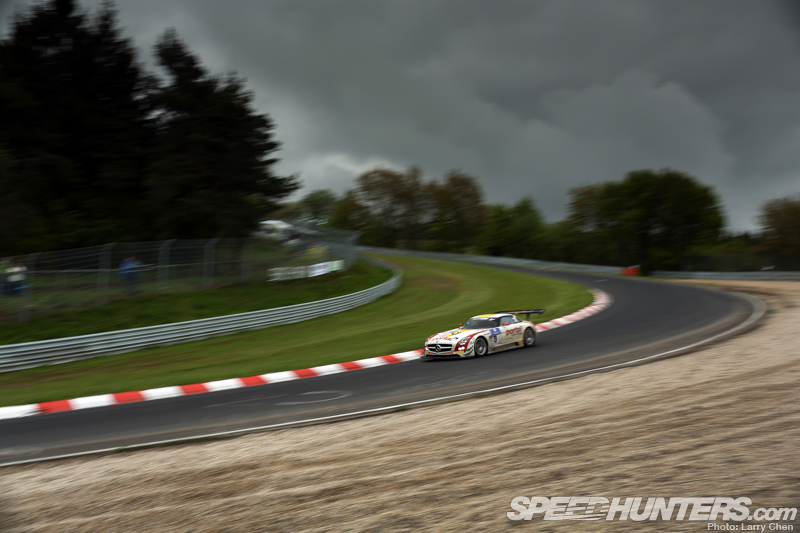 This corner is called Aremberg, but being so much steeper in real life than it is the virtual world I almost didn't recognize it.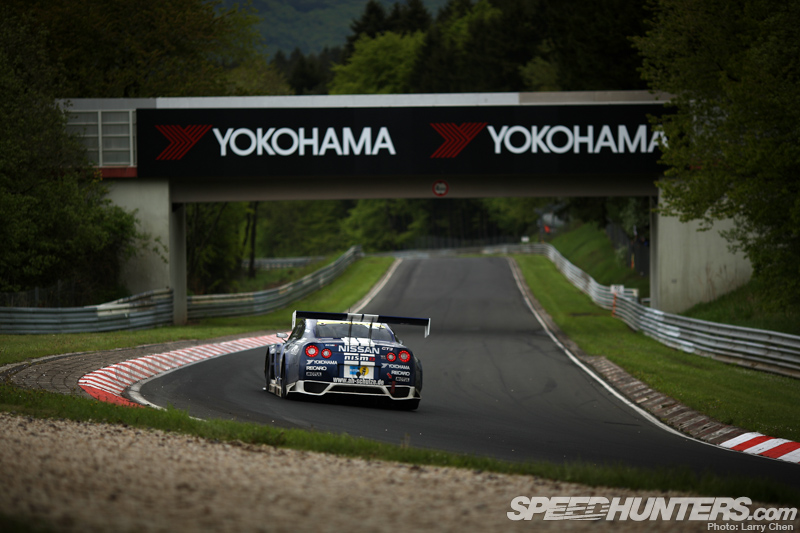 Apparently the Nissan team blew the motor in their GT-R early in the race, which explains why I didn't see it again after the first few laps. They swapped it overnight though, and made it back out on the track for the early morning restart. Talk about dedication.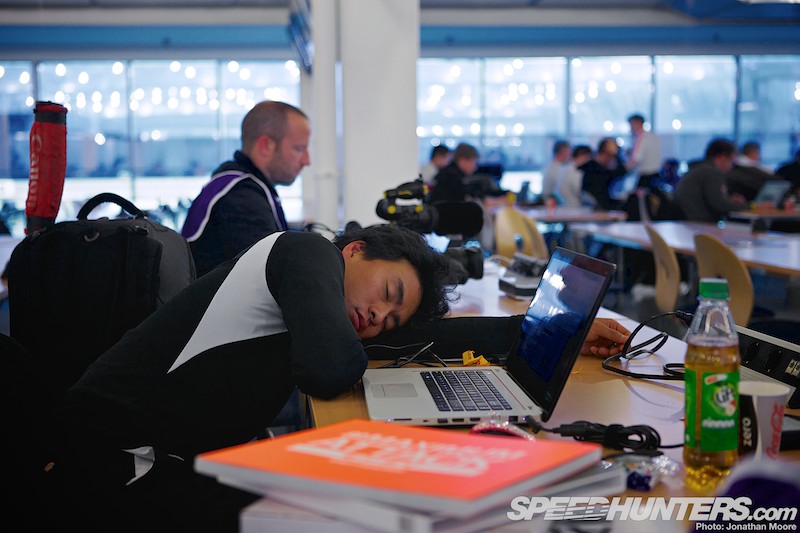 Before the end of the race we headed back to the media center to dump our cards and edit some photos. It's all about making the most of your time.
Jonathan slept in the rental car and ate candy for breakfast.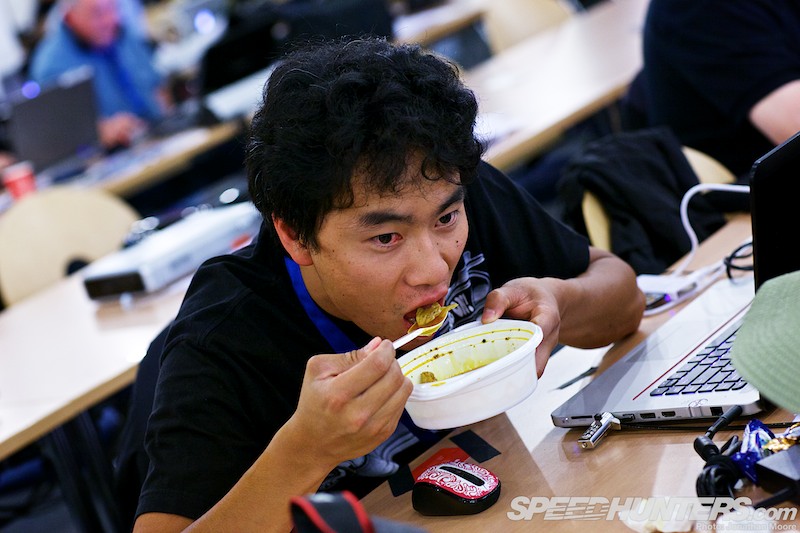 I held out as I knew there would be some real food in the media room. After some spicy curry sustenance I was ready to finish off the race in pit lane.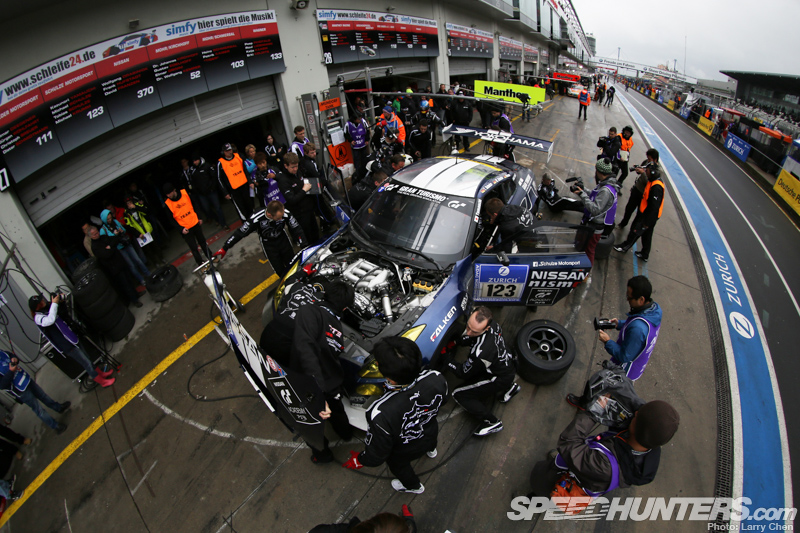 Pit lanes are generally quite dangerous places to hang out, but it's really dangerous here. These teams are accustomed to having an entire pit garage to themselves, but due to the sheer number of competing cars, six or seven of them are packed in each one.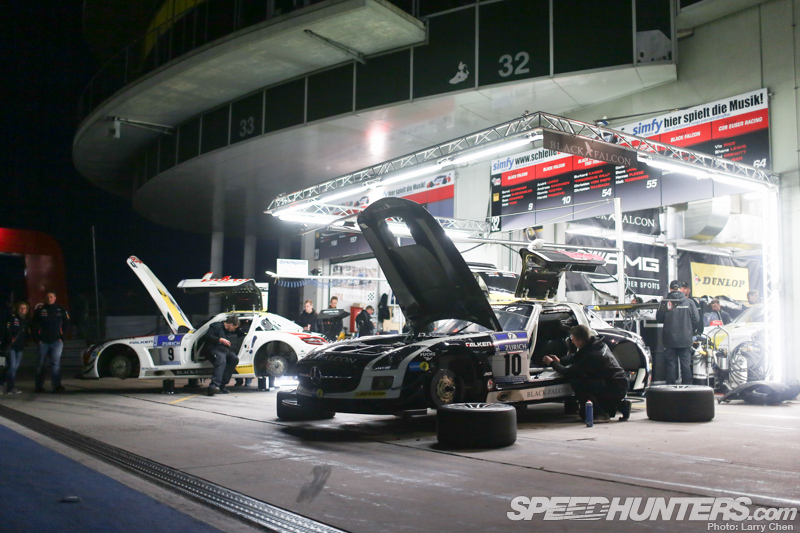 To make things more efficient some of the teams campaign multiple cars out of the same pit garage, so you have the one set of tools and mechanics to save room.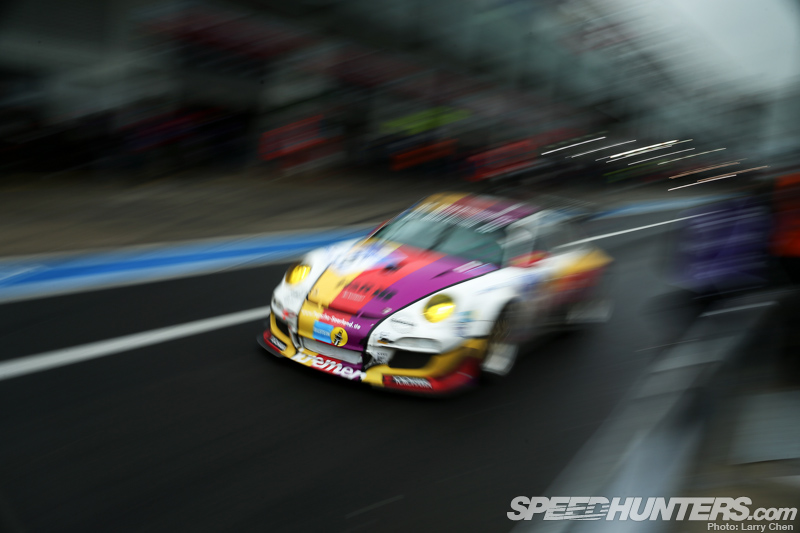 During the race there was always a constant procession of cars coming in and going out, so if you don't watch your back it would be very easy to get clipped.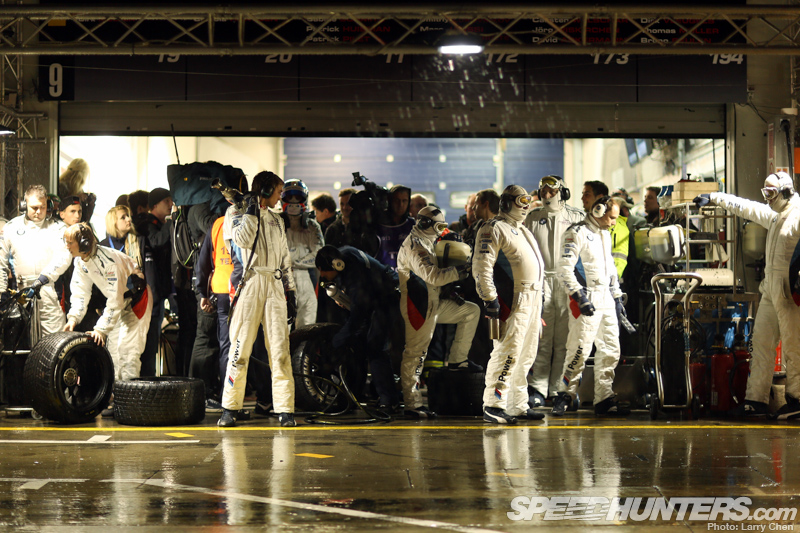 It was even more dangerous at night when it was raining due to the low visibility for the drivers, as well as the slick concrete surface.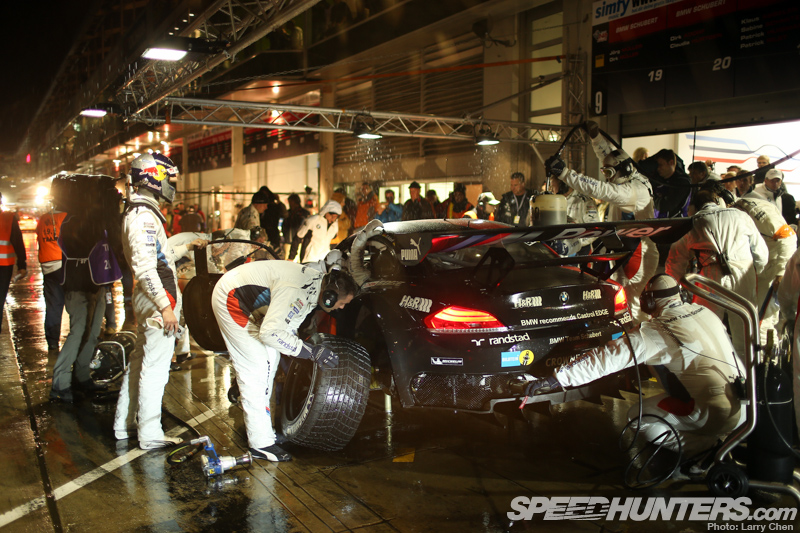 At that point it's almost better for everyone to slow it down a notch just so you don't slip and fall.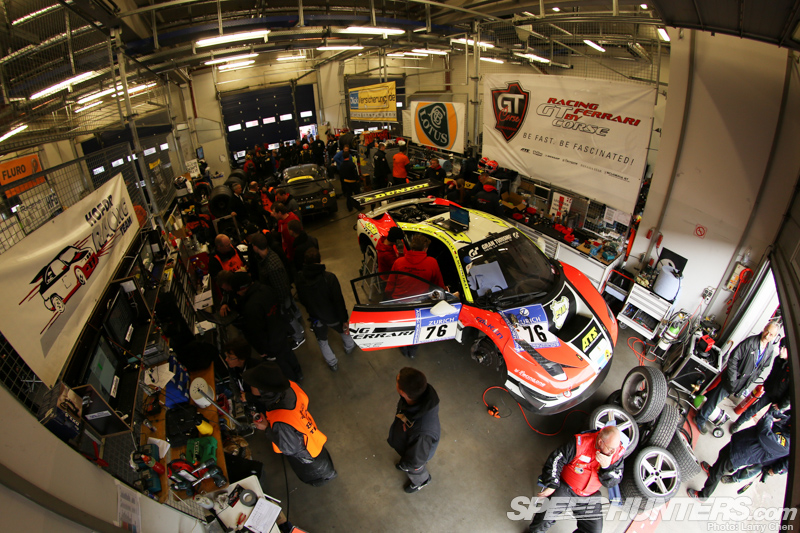 By the end of the race a good 30 percent of the cars were out of commission, which left some of the pit garages with a little more room to move.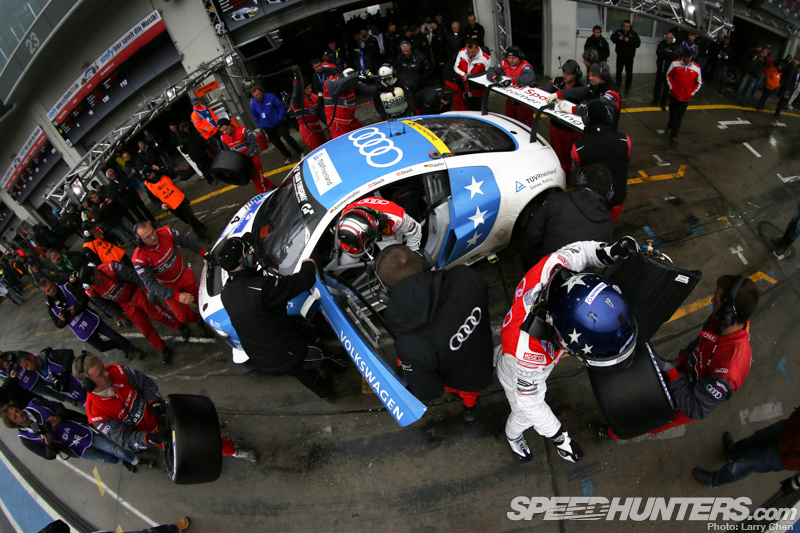 With just over an hour left to go you could hear cheers of relief from teams after they did their final pit stops and driver changes.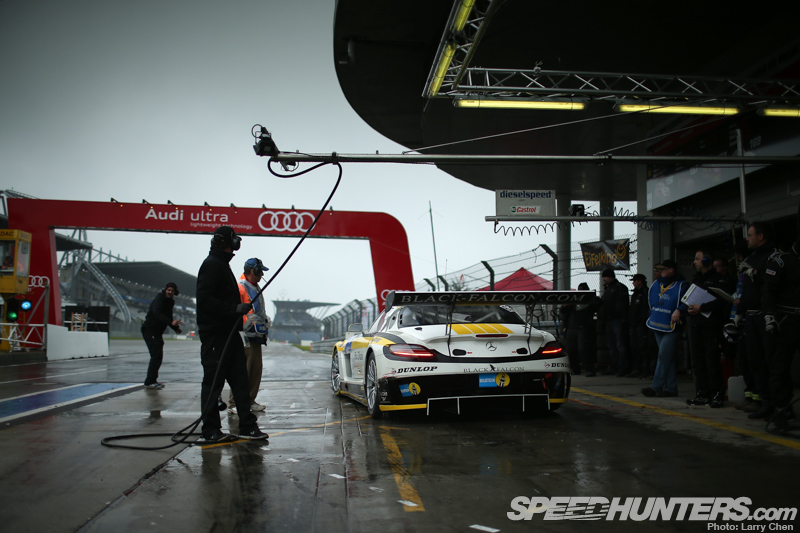 As soon as the cars left for their final stint it was time to begin the long tear-down process.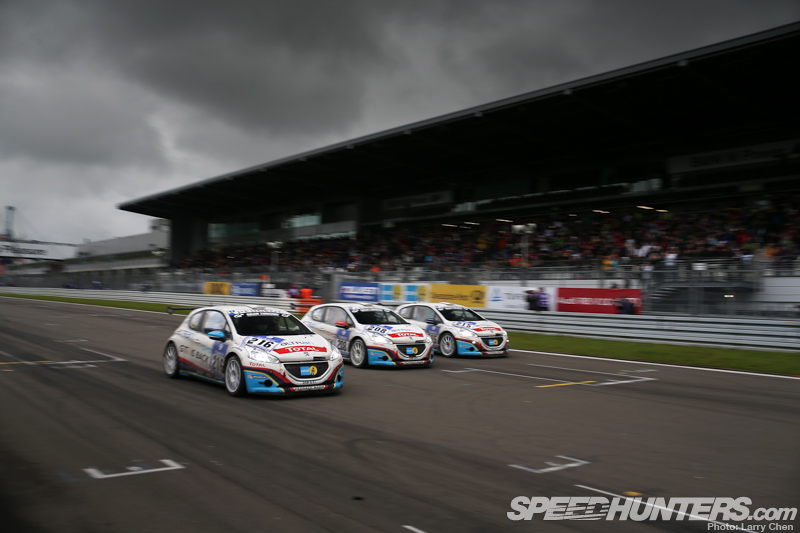 It is such an accomplishment for teams to finish this historic race at all. Completing 24-hour endurance is tough, but doing it at the Nürburgring requires a huge amount of skill and an equal amount of luck.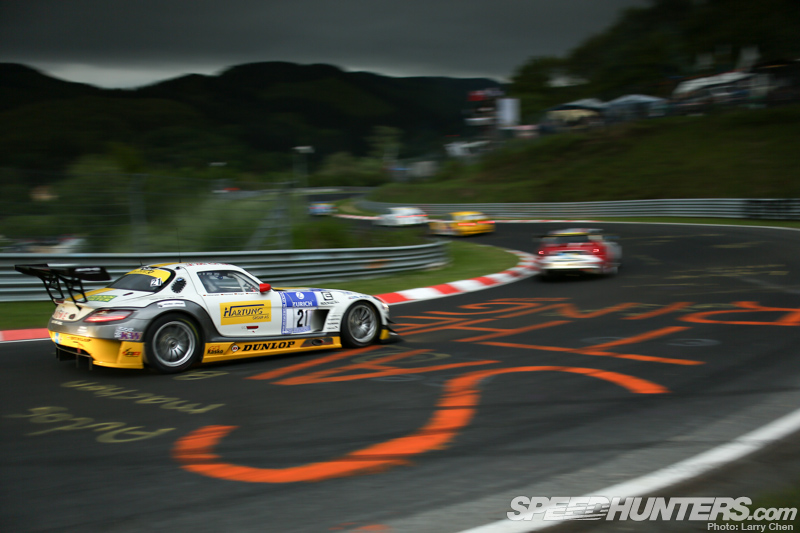 I think I can speak for every photographer who has ever had the fortune of shooting at the Nürburgring when I say that I have unfinished business there. I bet you could spend a lifetime trying to find new and unique angles that no one has ever seen before. Trees grow and the landscape changes and photo holes disappear and reappear year after year. I get giddy just thinking about it.
Words & Photos by Larry Chen
Instagram: larry_chen_foto
larry@speedhunters.com
Photos by Jonathan Moore
Instagram: speedhunters_jonathan
jonathan@speedhunters.com
Speedhunters at the Nürburgring