It was bound to happen again, and sooner rather than later. Speedhunters' own Fredric Aasbø once again qualified in 1st place. This is his second time earning top honors on qualifying day.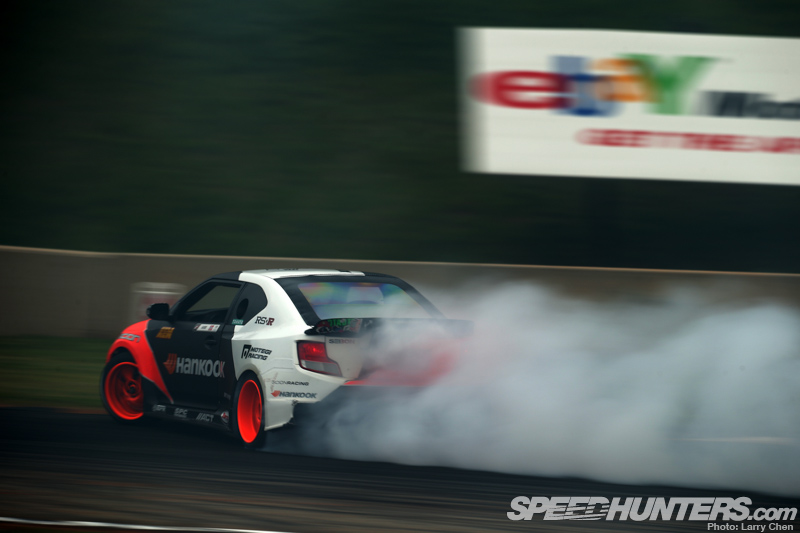 Historically Fredric has always done pretty well at Road Atlanta, the modified road course just seems to suit his 'full throttle, or nothing' driving style.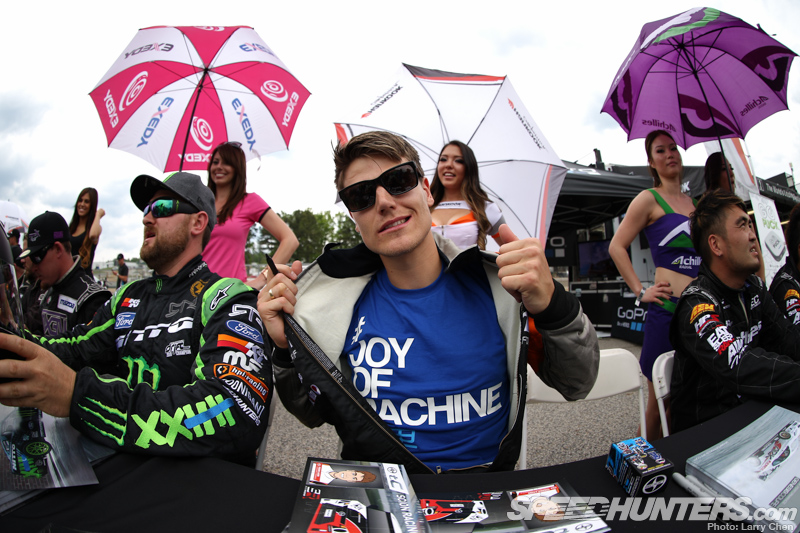 I think Fredric had a real #JoyOfMachine moment after redeeming himself from a disappointing finish at the Motegi Racing Super Drift Challenge just two weeks earlier.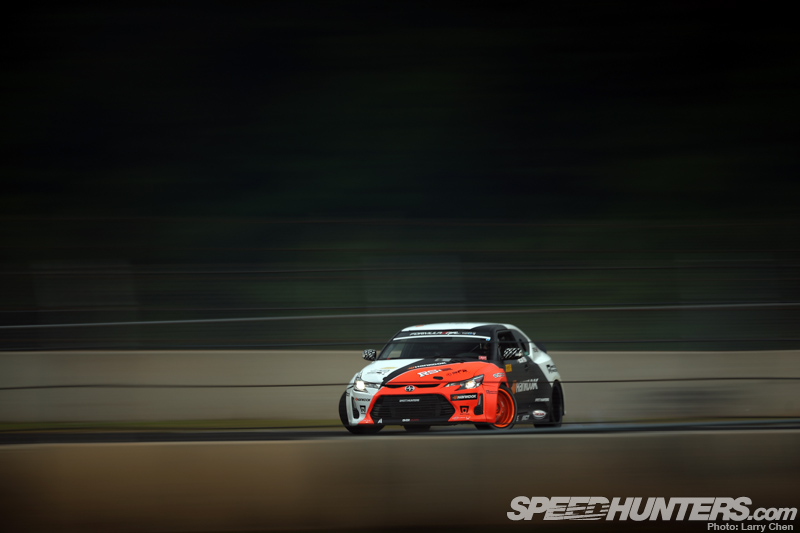 Last year he battled it out with Daigo Saito and he won. This year, though, there is a very high chance that he will meet 2010 FD champ Vaughn Gittin Jr. in the top eight bracket.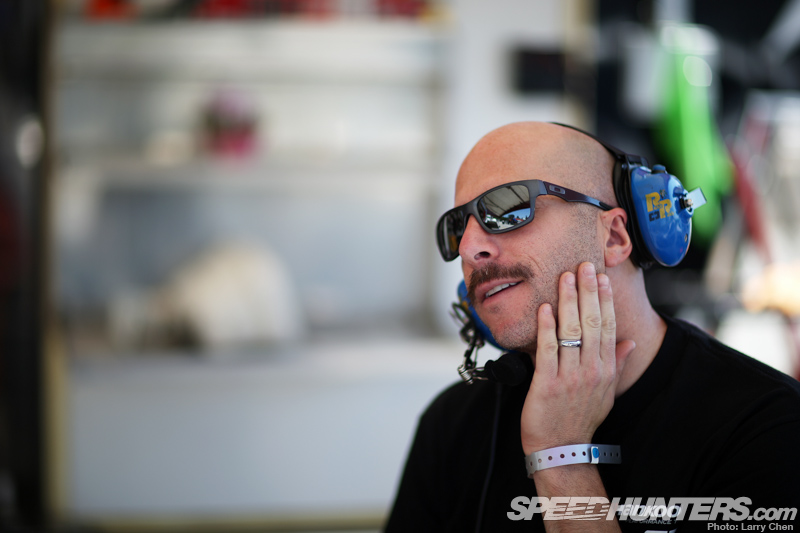 I am very curious to see how that battle will play out, as the last time they met in battle at Las Vegas back in 2012, Vaughn admitted that Fredric beat him fair and square. Either way, I think Fredric's crew chief, Stephan Papadakis, won't be shaving his good luck mustache anytime soon.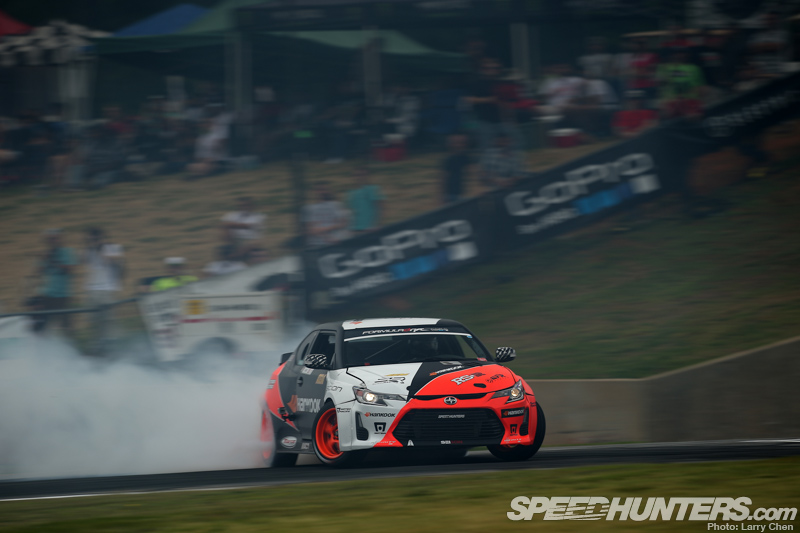 The top two qualifiers from this round are not running V8 powerplants.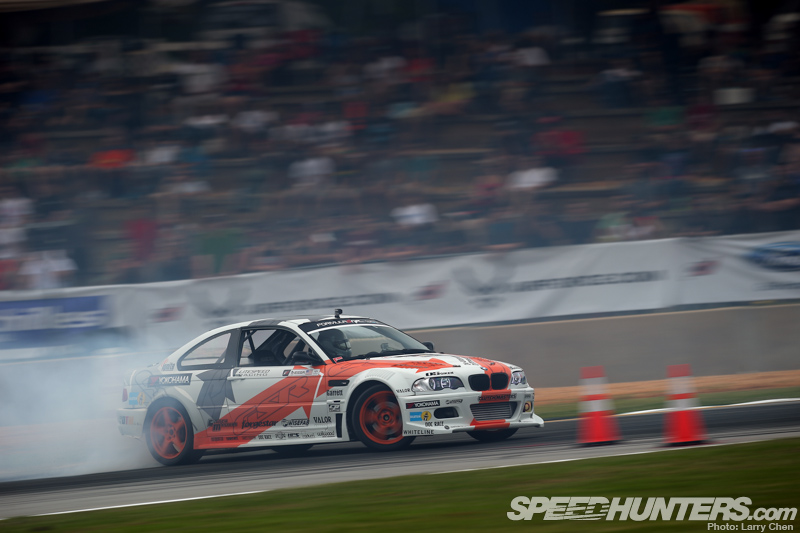 2nd place went to Mike Essa in his E46 powered by a turbo inline six. I am curious to see how well the rest of the turbo cars will do in tandem.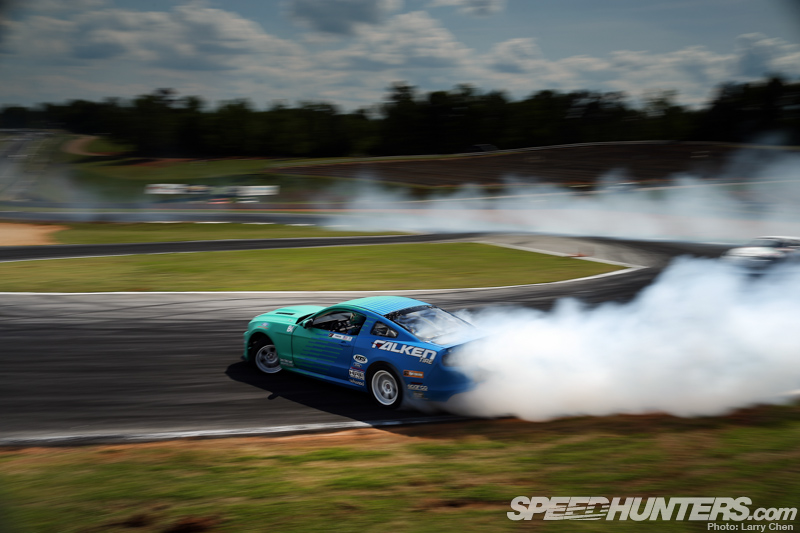 Third went to the ever consistent Justin Pawlak, which is leaps and bounds better compared to his result in Long Beach. He nearly missed the whole show after going into the wall during his first run.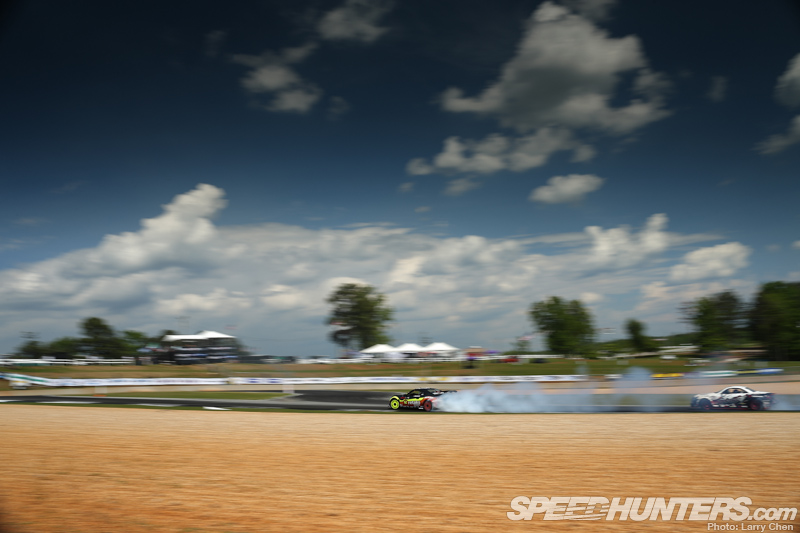 Road Atlanta is probably the most beautiful course out of the seven stop Pro-Championship series. There always seems to be just as many puffy clouds in the sky as there is tire smoke.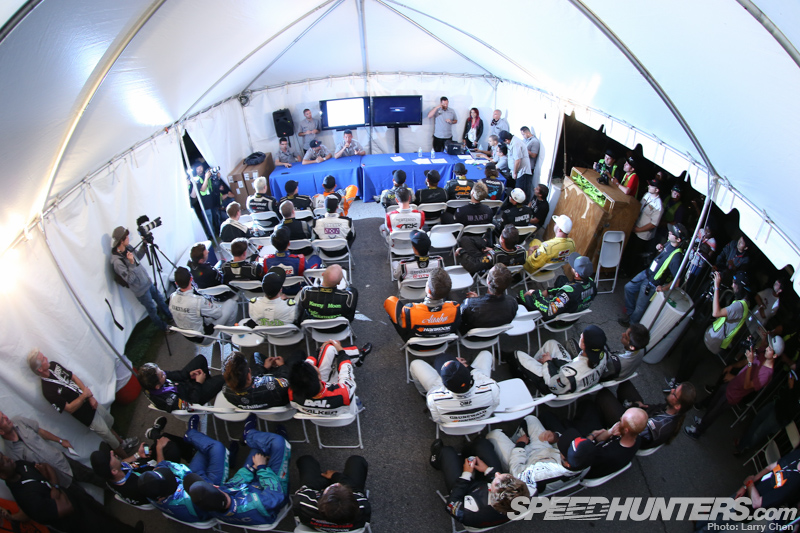 The field this year was packed with 54 drivers trying to find a spot in a 32 car bracket. With so many new drivers in the series this year I am very interested to see if there will be less rookies joining next year.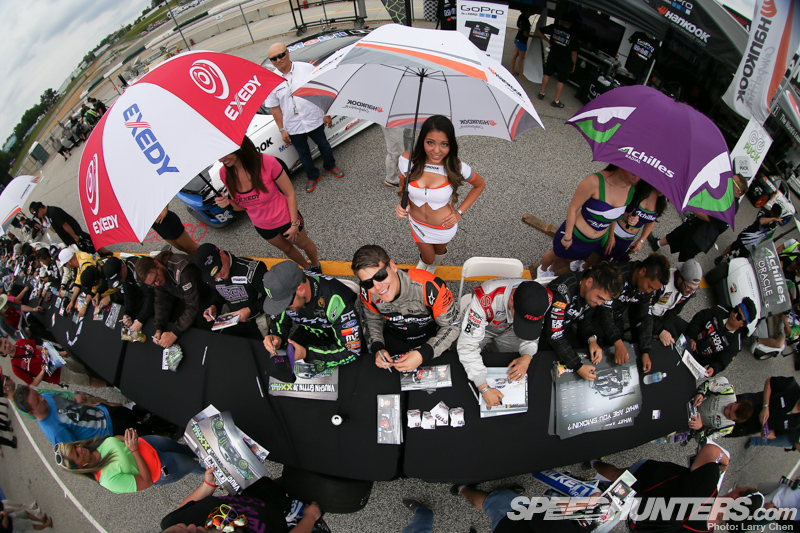 The fans really make this event special. They are always the most rowdy, and they absolutely love drifting. Anytime someone would do a backwards entry the crowd would go absolutely ape-berries.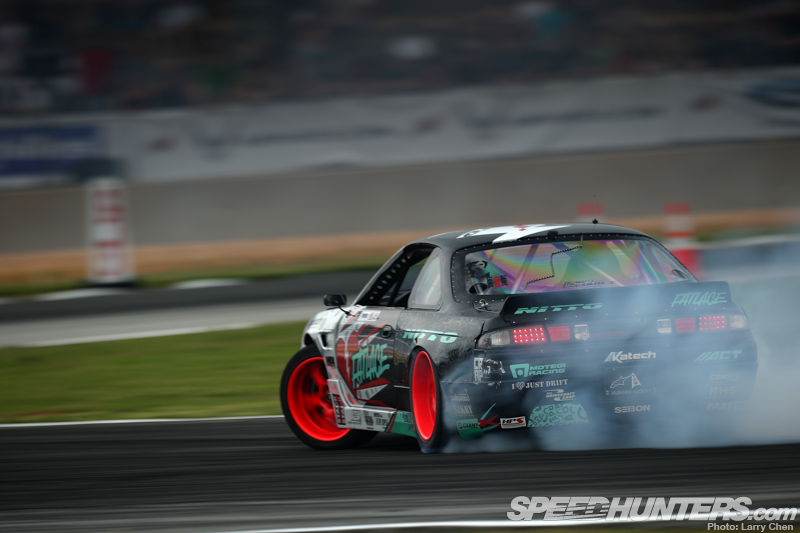 Fresh from his win at Motegi Super Drift Challenge, Matt Powers put down some very clean runs all weekend. He ended up in 7th place, but I think it's fair to say that he doesn't have a very easy bracket to battle through.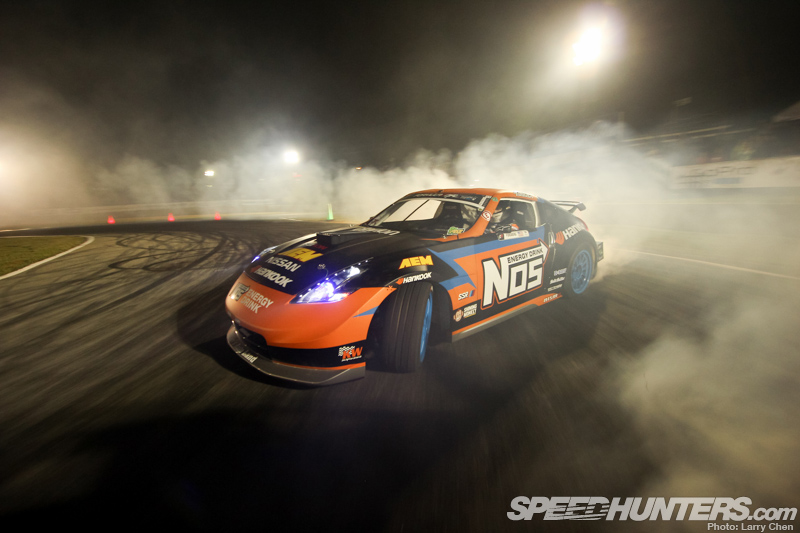 There is a good chance that Matt will meet Chris Forsberg in the top 16 bracket. Chris currently resides in 3rd place on points in Championship after just one event.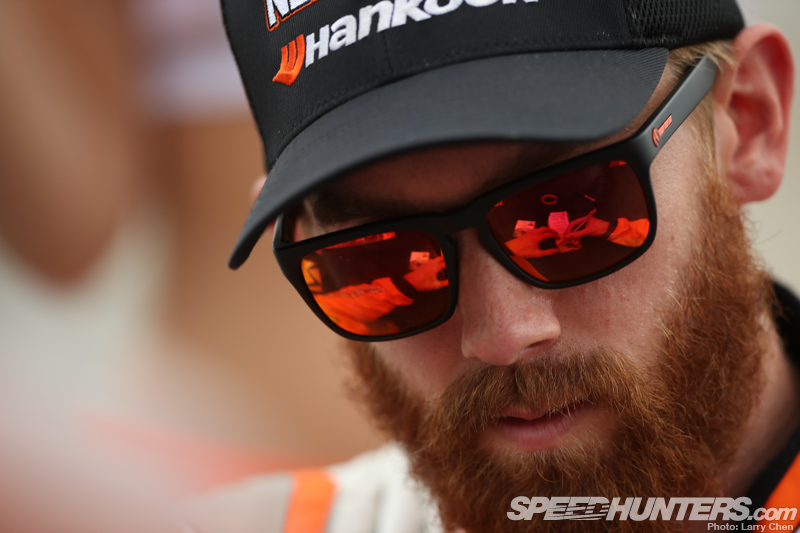 The team has been dealing with some mechanical issues as they really are at the forefront of pushing the Nissan VK56 motor to its limit. They are currently running the most powerful naturally aspirated VK in the world, which no doubt requires all sorts of development.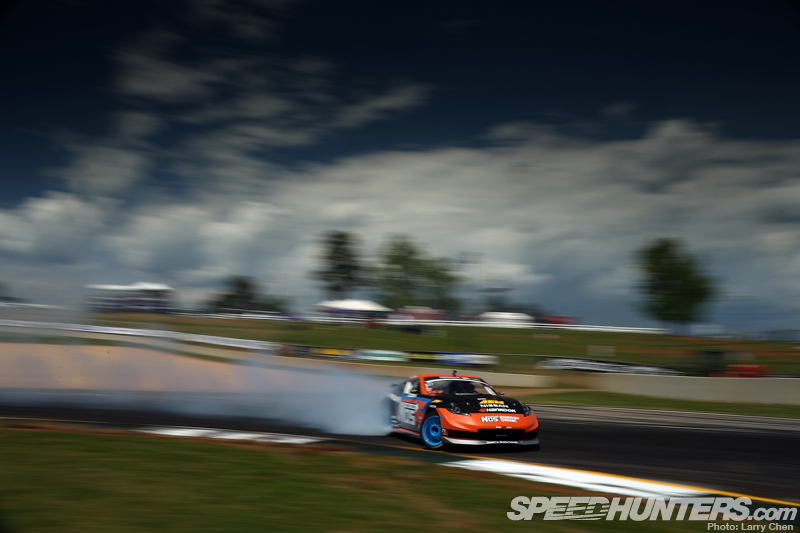 Most of the other Nissans in the series are running domestic V8s. I wonder if it will make a difference in the end of the year for the manufacturers championship?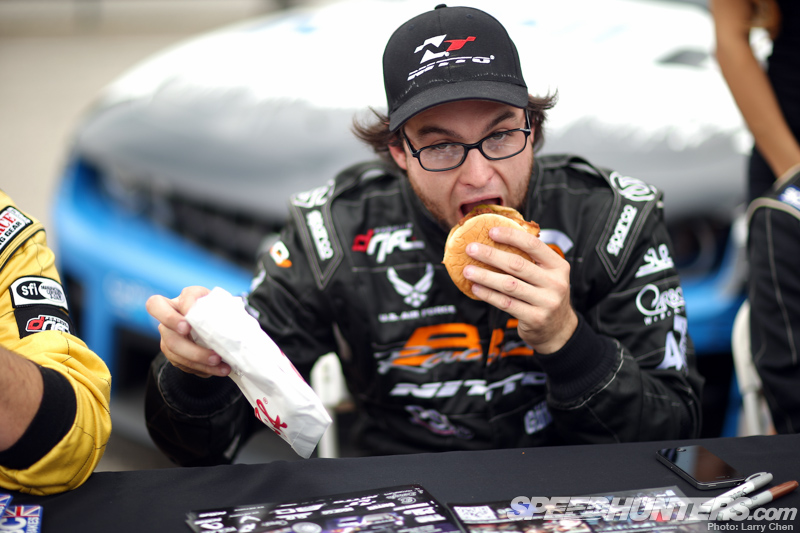 Chelsea 'don't call me a girl' DeNofa, was super hungry for blood this year after getting snaked out of his rookie of the year prize. This was evident at Long Beach, as he had a 4th place finish, which is a personal best for the young and talented driver.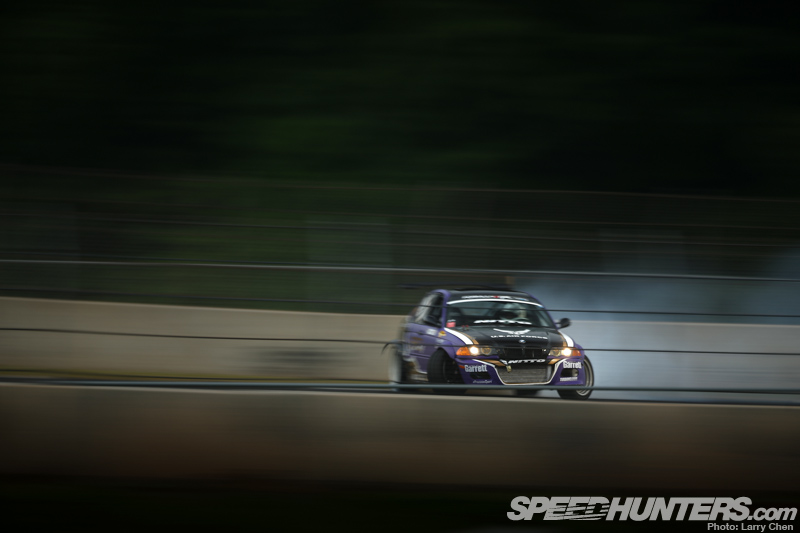 He took a big risk during qualifying and chucked his car in backwards. I don't know how he recovered from it, but it was awesome.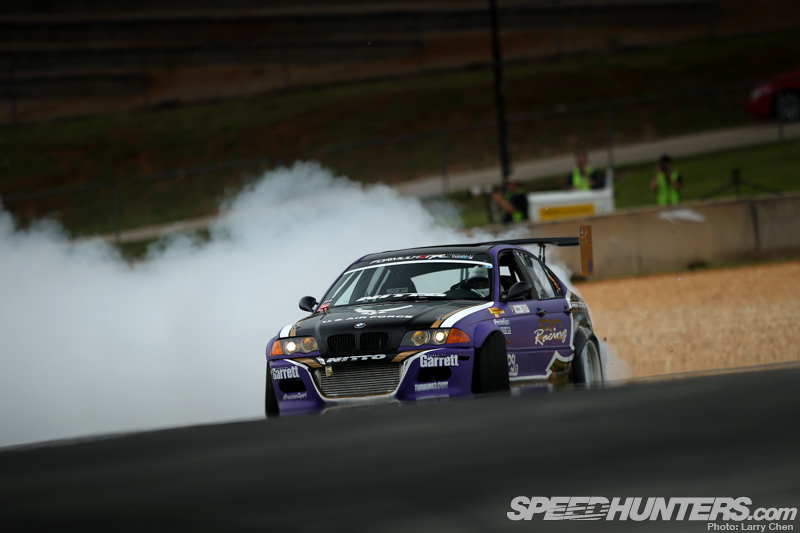 He won the insane entry award and earned a 4th place spot in qualifying, which puts him against his arch rival Joon Maeng.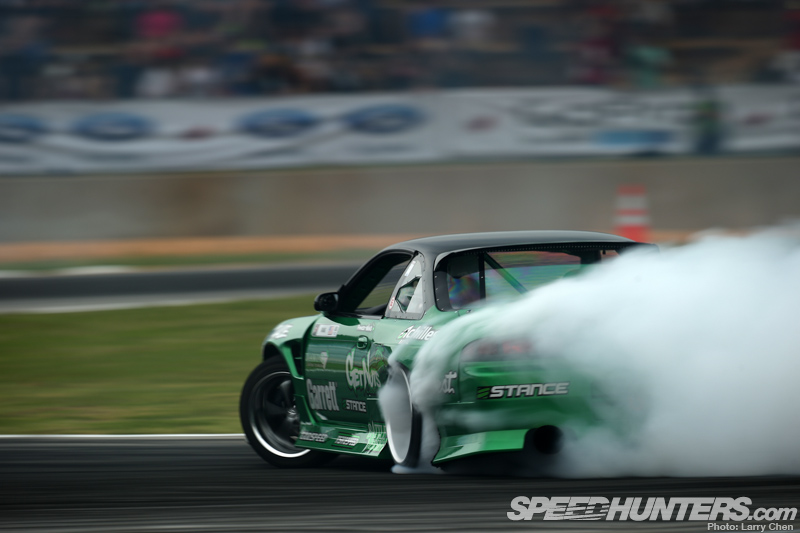 I think Forest Wang is one of the most stylish drivers on the grid. He lets it all hang out and his motto, of sacrificing a few miles per hour in speed for massive smoke and equally impressive angle, is cool to watch. Wang qualified in 12th place.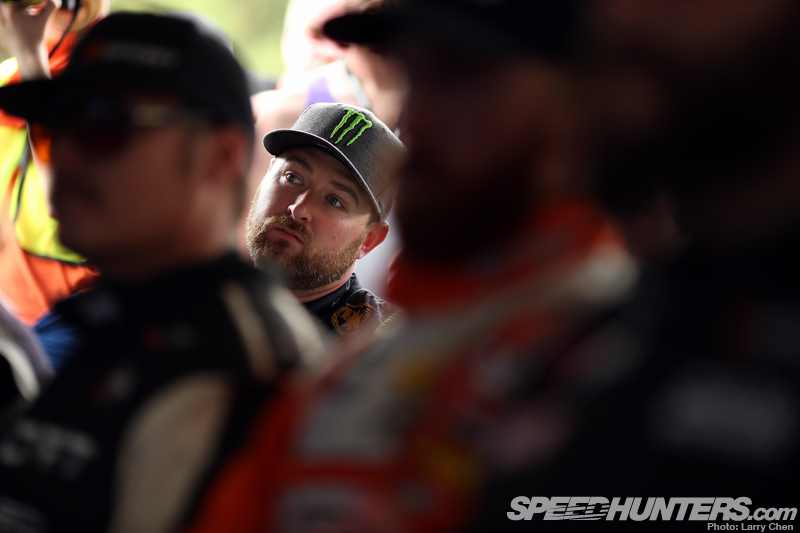 It seems the new knockout style qualifying has thrown a wrench in everyones strategies. Now, instead of taking it easy for the 1st run and waiting till the 2nd run to go balls to the wall, right out of the gate each driver has to go all-out in order to secure a top spot.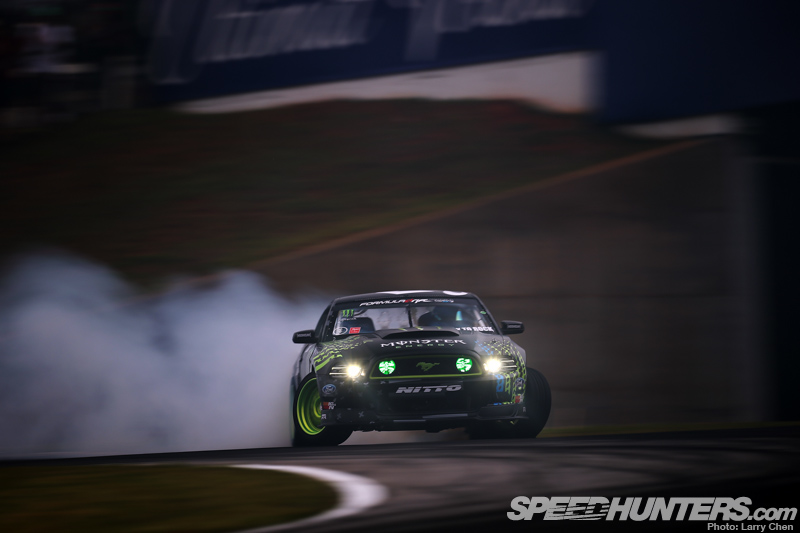 Last year Vaughn was an absolute qualifying monster. In fact he was down on points earlier in the season, but from qualifying points alone he caught up very quickly allowing him to take a stab at a 2nd championship.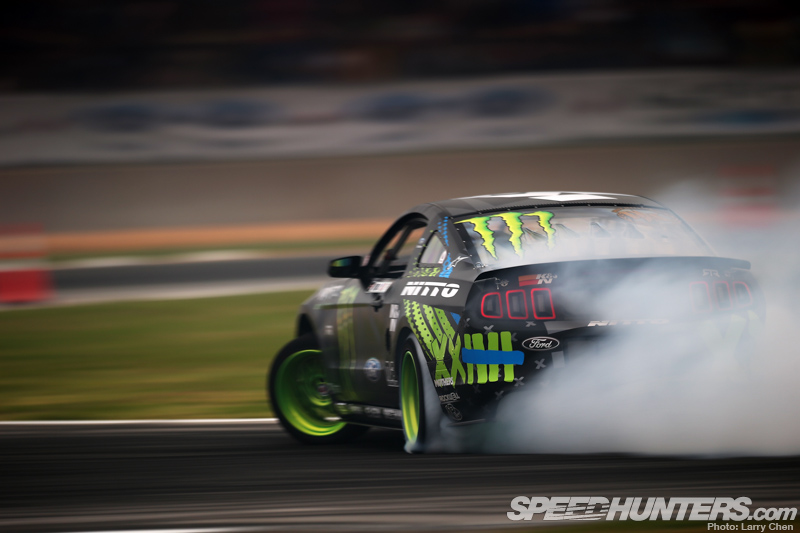 Vaughn is running the show this year as he is the team owner and driver. It does seem to be working out for him, although I wonder if the extra responsibilities will affect his performance. So far it doesn't seems like it all as he's doing just fine.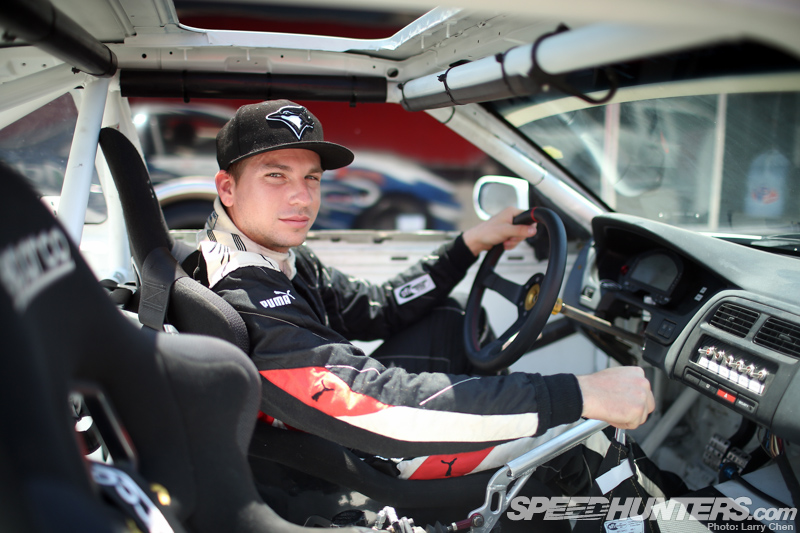 Vaughn will be going against Dave Briggs. This guy is one of the few left in the series who is running a four cylinder turbo.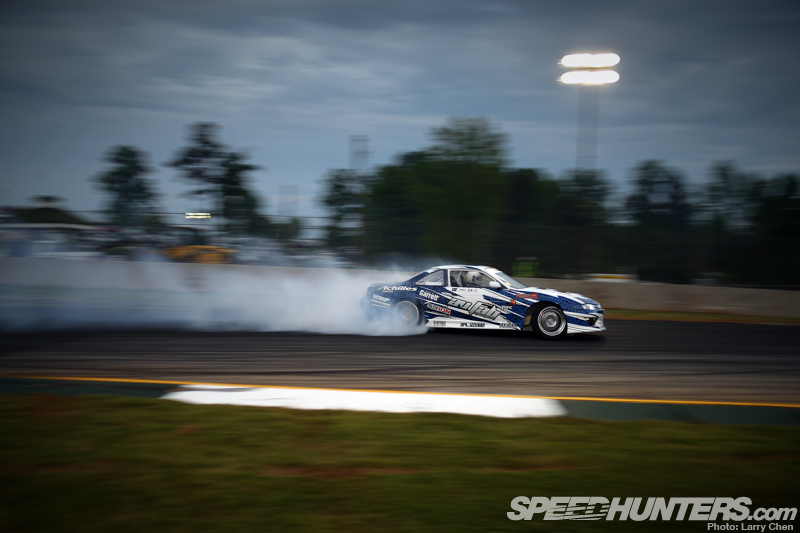 He did not qualify at round 1 in Long Beach, but he sure did have a smile on his face after making it to the big show.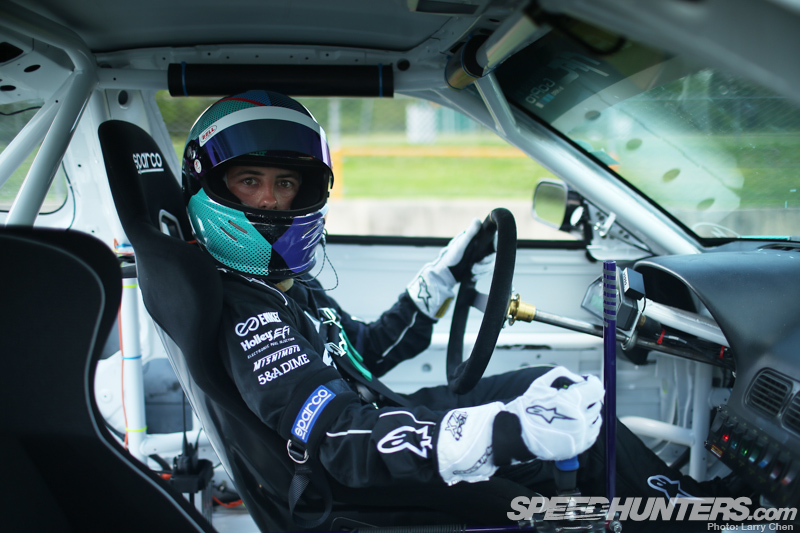 Rookie of the year hopeful Nate Hamilton was struggling all weekend with his car. He was having power issues and he could not get a single clean run in.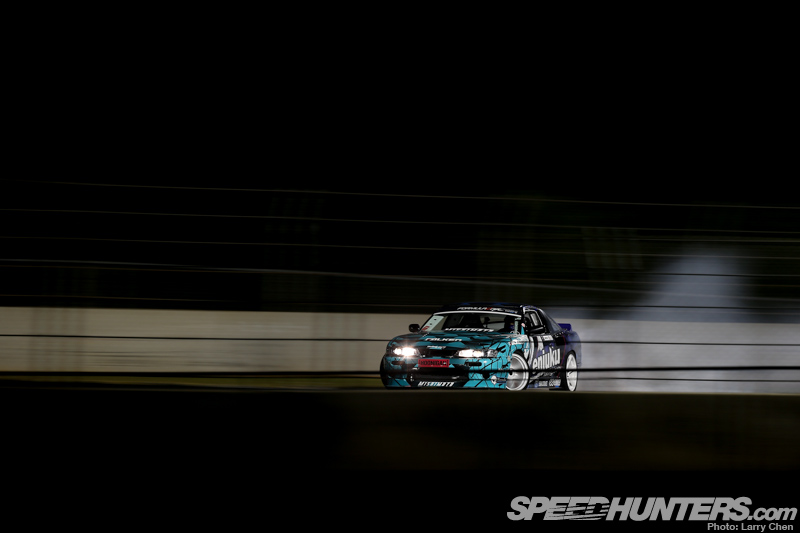 With just one run remaining he made it count and delivered a performance good enough for 27th place.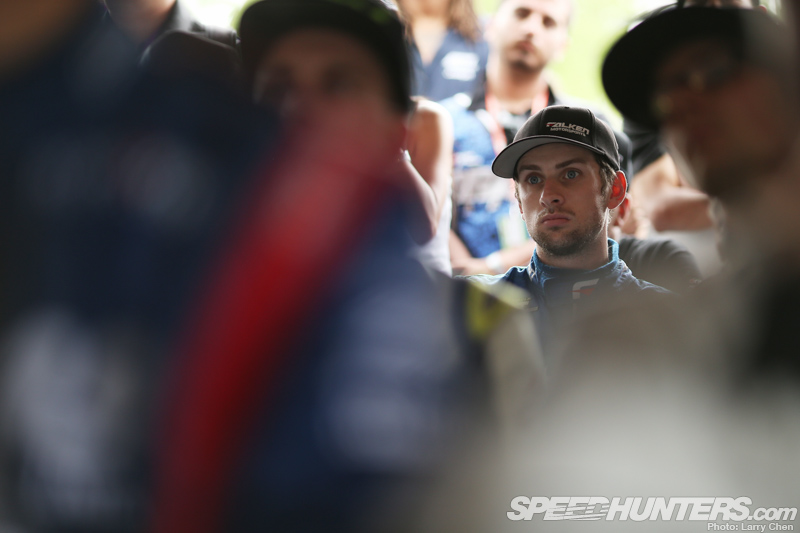 It won't be easy for nate as he will meet the Irish sensation, Darren McNamara in the top 32.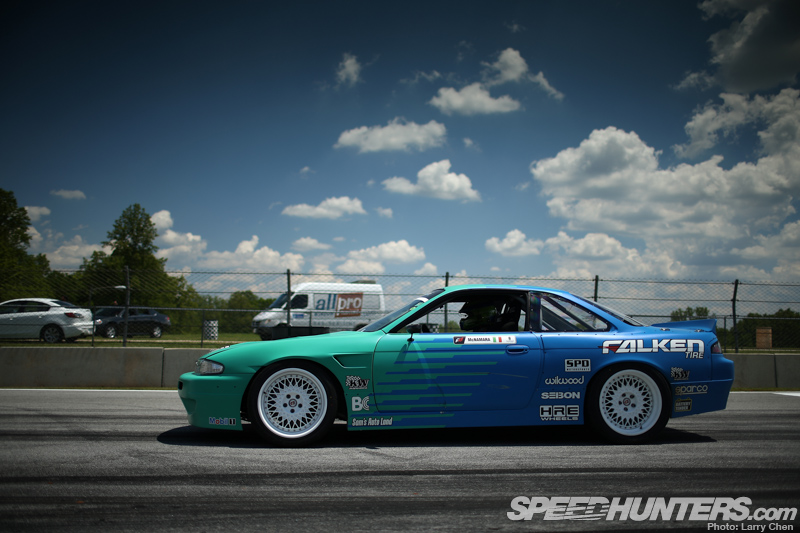 I do really miss the Saturn Sky that Darren drove in years past that was built by ASD. I think it was one of the most beautiful cars to grace the FD paddock.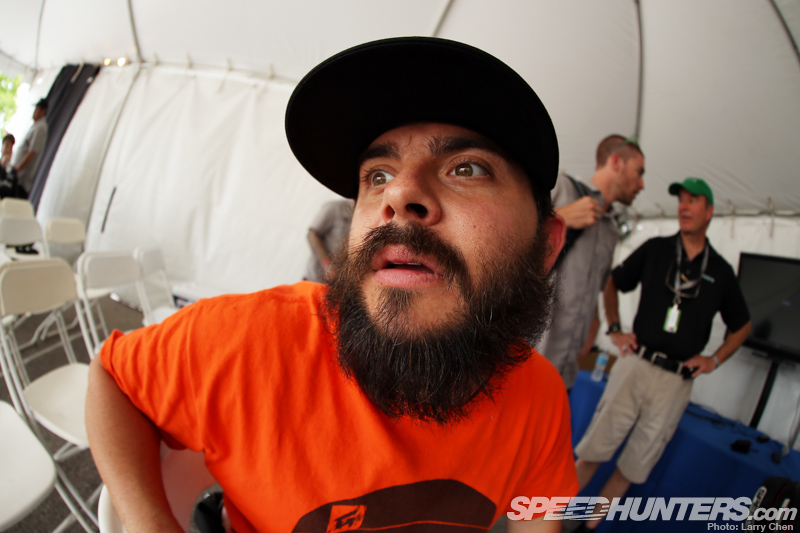 Once again, the peoples champ, Danny George, proved to his fans that he is worthy of their support. Having a race team funded by your fans means you have harsh critics as well.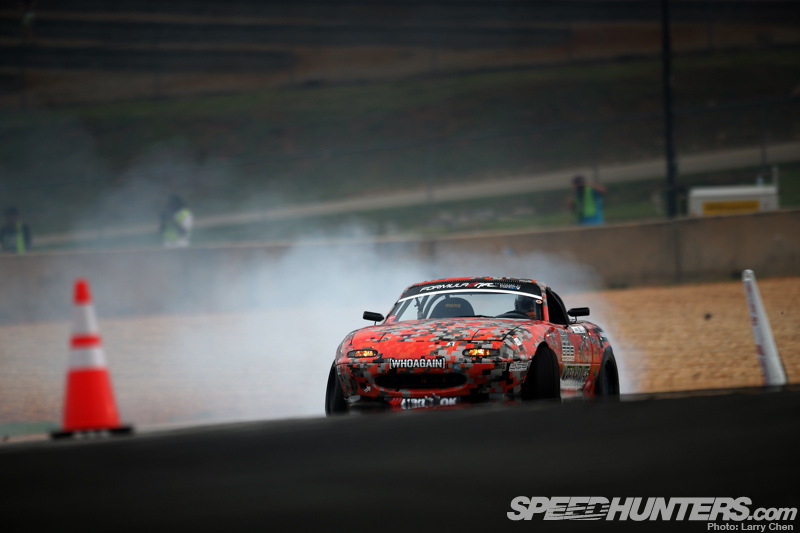 Interestingly enough, every time Danny would go for a run the crowd cheered. It really shows how much of an impact he has made on the sport and how much he has grown as a driver.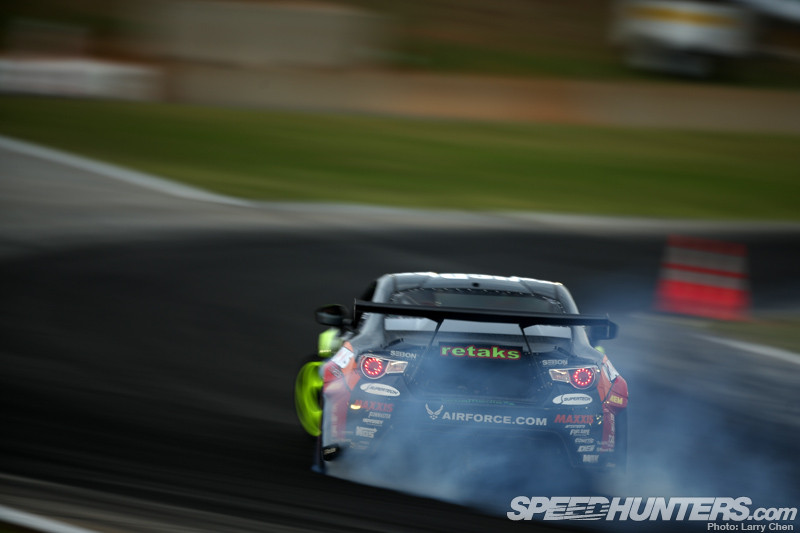 Although, I bet Danny's smile went to a frown as he will be meeting Ryan Tuerck in the top 32. Traditionally you are supposed to have an advantage if you qualify higher. Danny will need all of what that little Miata can muster to pull this one off.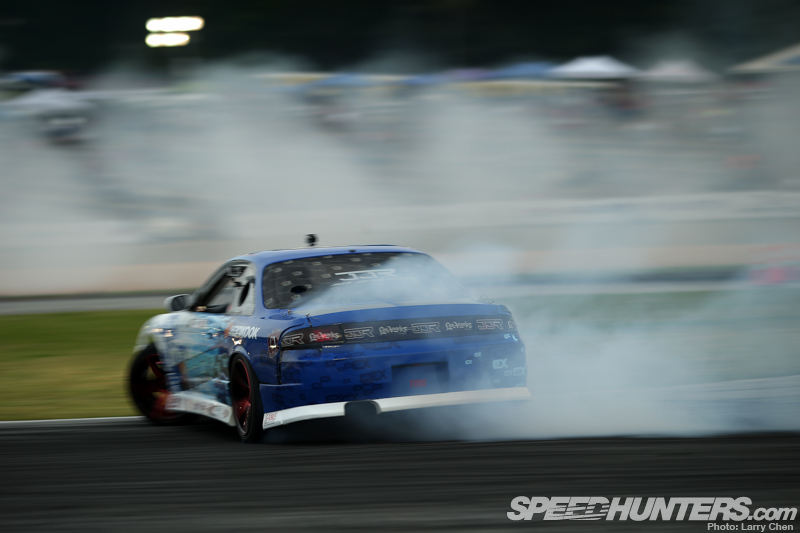 Jeff Jones is an all around cool guy and he wears a yellow fire suit, what is there not to like? Ever since he started competing in Formula Drift he has struggled.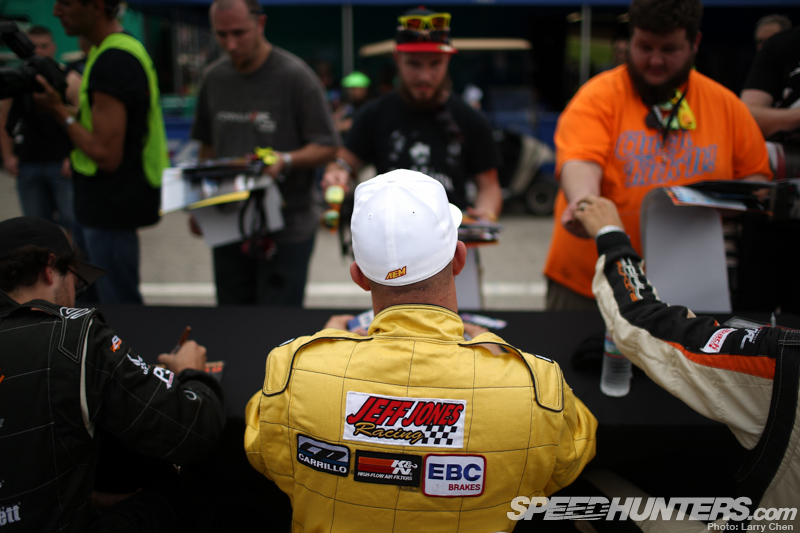 This year he picked up a new tire sponsor and according to him it has made all the difference running on rubber tires versus plastic.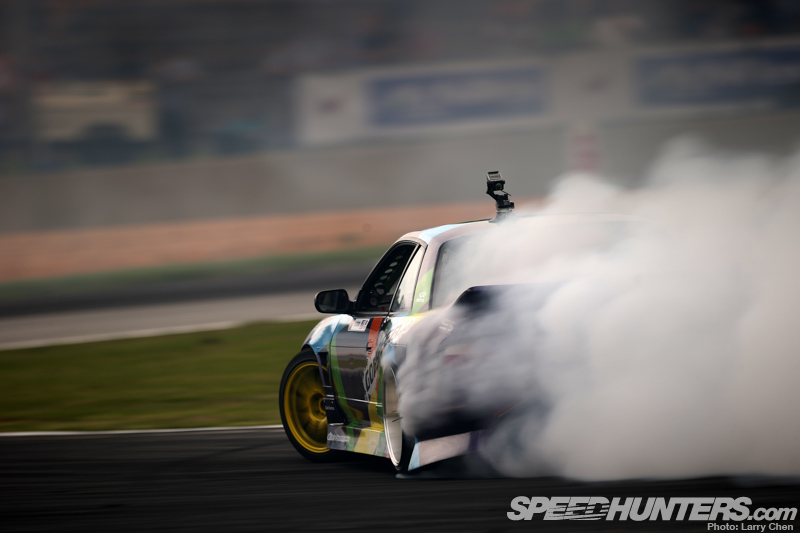 For this event I wanted to do something different than my normal "through my lens" series event reporting. I wanted to follow the driver on top of the points standings and on the bottom of the points standings. There were many drivers with no points, so I choose Brandon Wicknick. I have been following him for years at Just Drift and Vegas Drift events. He has always shined with his driving skill and technical knowledge. If anything I would say he is a great contender for rookie of the year.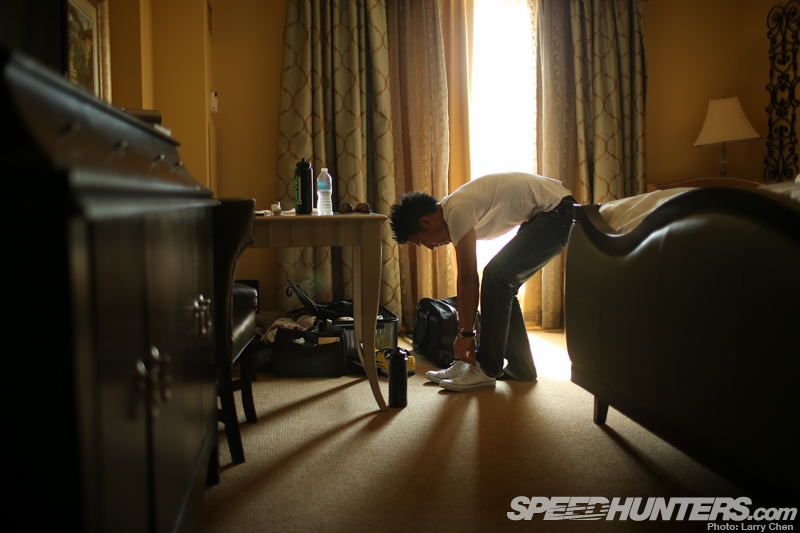 Of course 1st place means following the most charitable drifter, Daijiro Yoshihara. Through his website and his massive effort to provide relief for Japan he has raised thousands upon thousands of dollars. I will definitely touch more on this later.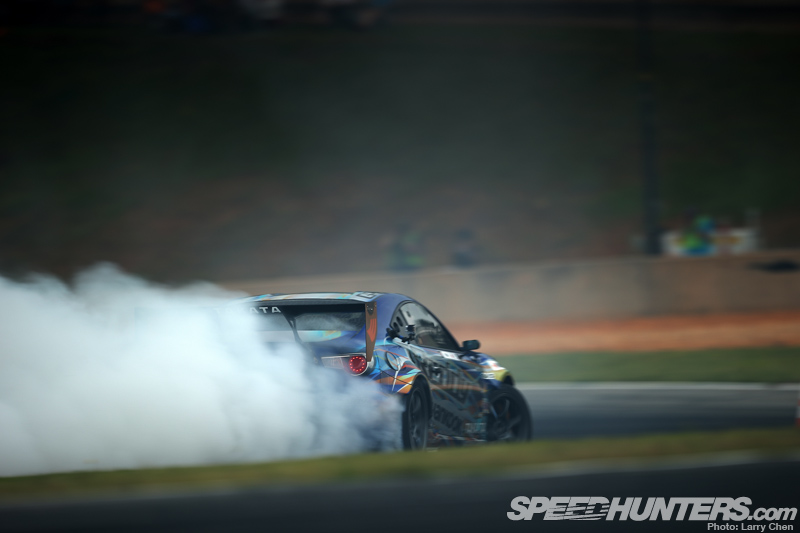 Absent from the big show is Ken Gushi, he drew the short straw this round as his motor gave out in practice. The team tried their best to get him to the line for qualifying, but there was just not enough time.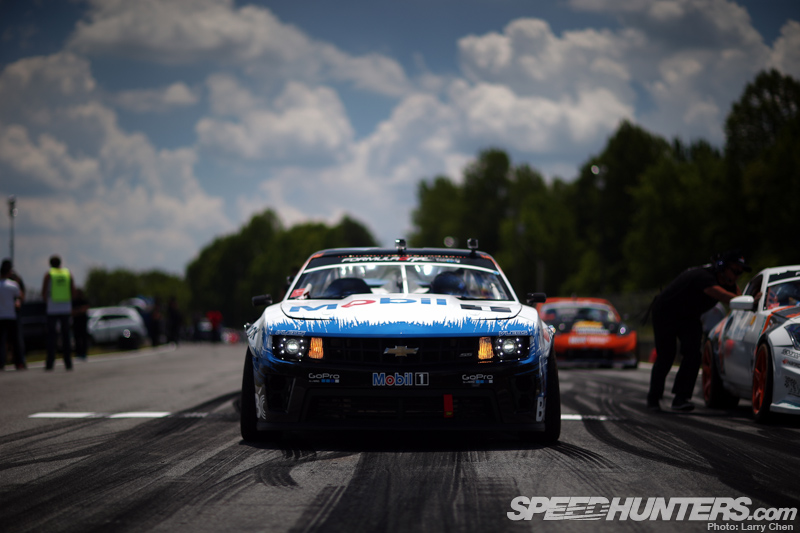 Tyler McQuarrie will also be absent. Unfortunately, he has been having the worst luck this season. I can't imagine how hard it is for him being a winning driver behind a door stop of a car. There are five rounds left and hopefully he can sort things out before it's too late.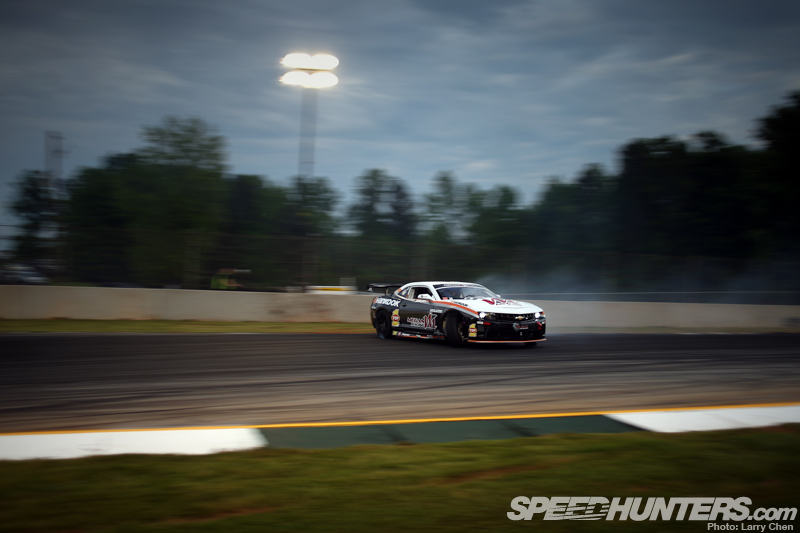 Tyler's teammate, Conrad Grunewald, nearly had to sit out as well. His first qualifying run was absolutely amazing, as he entered completely backwards, but the judges gave him a zero. With his spirit crushed he went for a more normal run which landed him in 18th position, which pits him against the one and only Daijiro Yoshihara.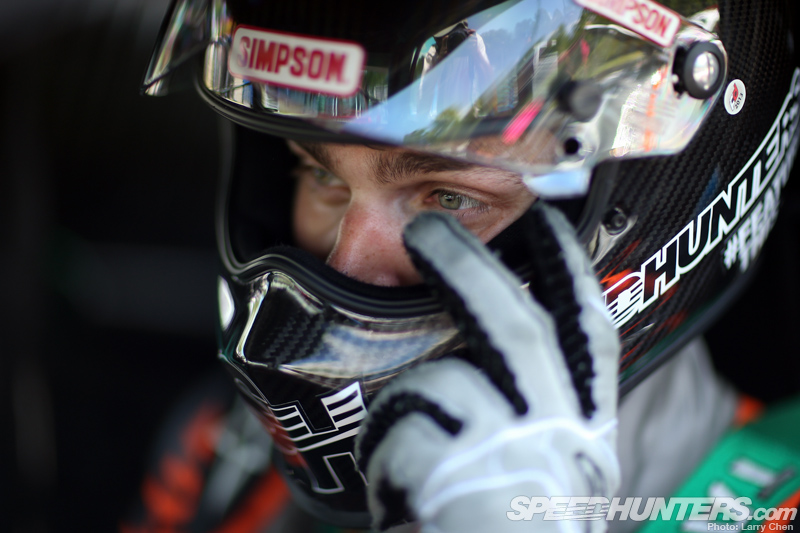 Fredric has lots to think about during practice as he really has to keep focused. He has a target on his back now.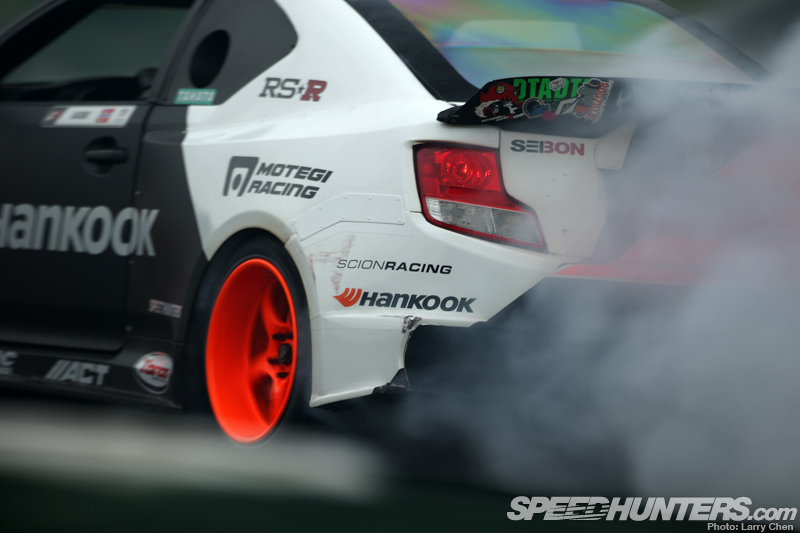 I don't want to jinx it, but it is very possible for Fredric to get his very first win at Road Atlanta.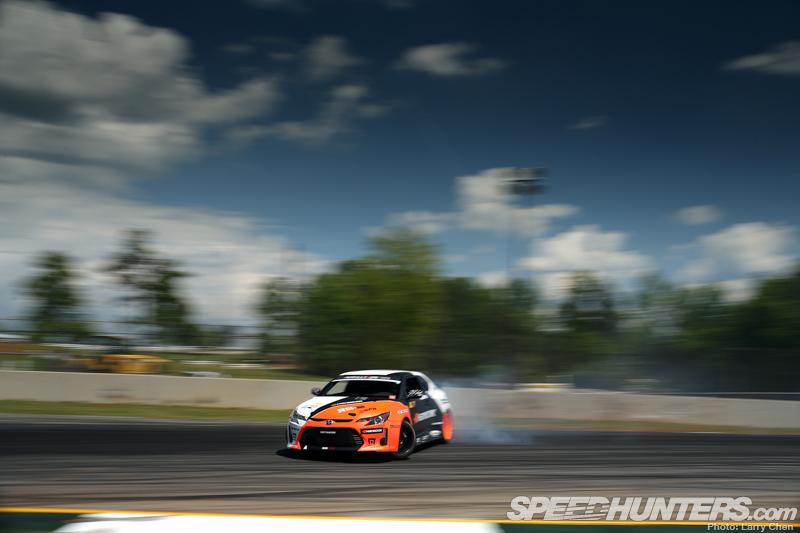 If you guys have ever watched him drive in person or on driftstream, you will notice he just gets in this zone, and the only way anyone can beat him is if he knocks himself out. That is the honest truth.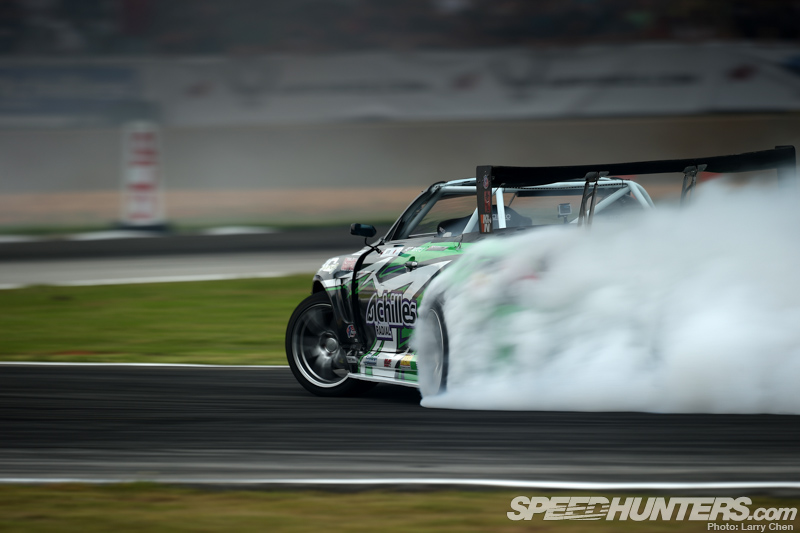 What I really want to see is Fredric and Daigo battling it out again. Since Daigo beat Fredric in Australia, it is the Hammer's turn to nail it to the Ninja. God awful pun I know.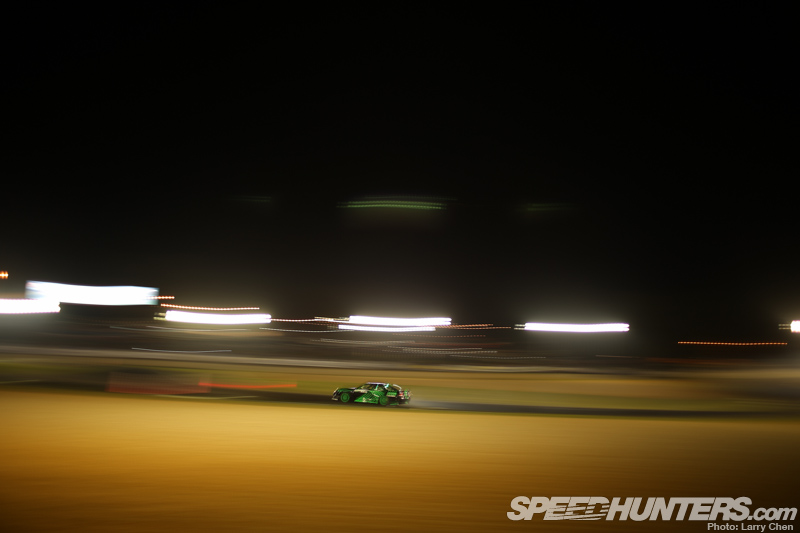 That is it for now, enjoy the desktops and if you could not make it to Road Atlanta, make sure you watch it live on the drift stream.
Larry Chen
Instagram: larry_chen_foto
larry@dev.speedhunters.com
Buy #MaximumAttack now from Speedhunters
More stories from Larry Chen on Speedhunters
---
---
---
---