Hello Speedhunters! If you don't follow my Facebook or Instagram you are probably confused right now about the design of my car. That's not really the point of this drivers blog, but we might as well talk about it a little bit.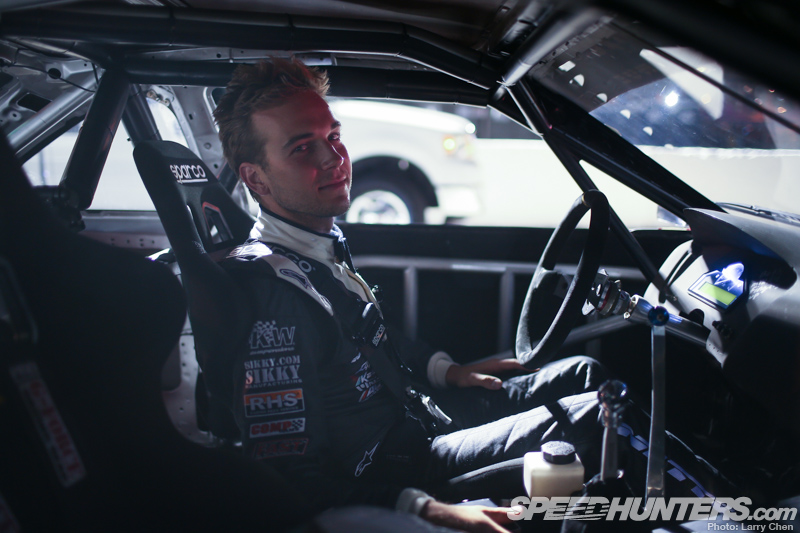 As you can see, this year we have new sponsorship from Fatlace as well as Nitto, which is giving me support for the fourth year straight. They are both super rad brands and Jay from Fatlace helped design the race car livery which Im so stoked on! I also now have a super awesome race suit that looks like a tuxedo thanks to Alpinestars.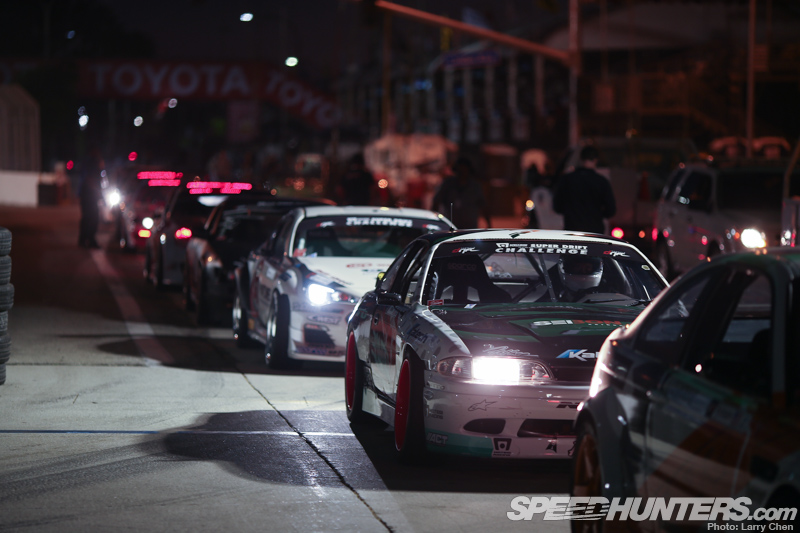 The first round went well. We have had some changes to this team this season as I wanted to bring it back to my roots with my friends who have all been part of my drifting pretty much since day one. Big Tom and Martin Muench from Parts Shop MAX now keep my car in one piece (not an easy task!) and Tommy Roberts still tells me if my runs count as: "Thats the sh*t I do like".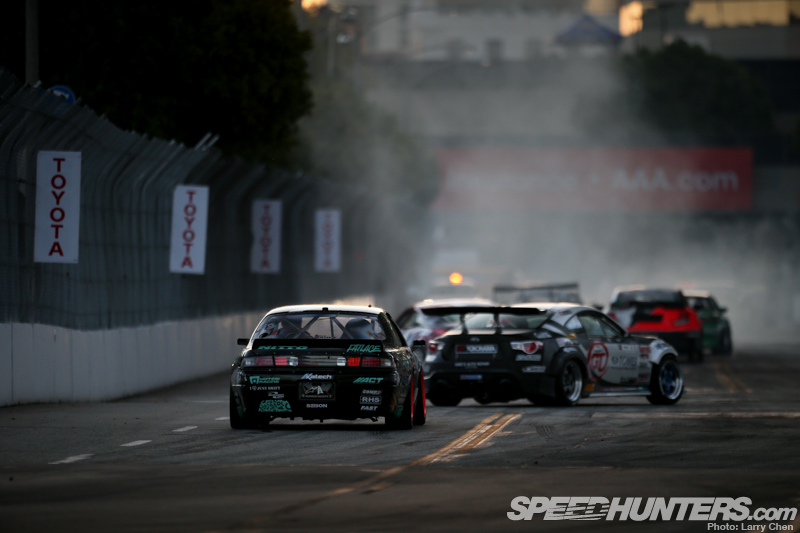 Thanks to Katech Performance we are also now running a radical 463ci engine that makes 700hp at the crank. I drove really well at Round 1 I think; I just had a tough bracket and lost to Dai [Yoshihara] who ended up winning in Top 16. He did comment that we were his toughest battle. I am definitely getting closer to beating him!!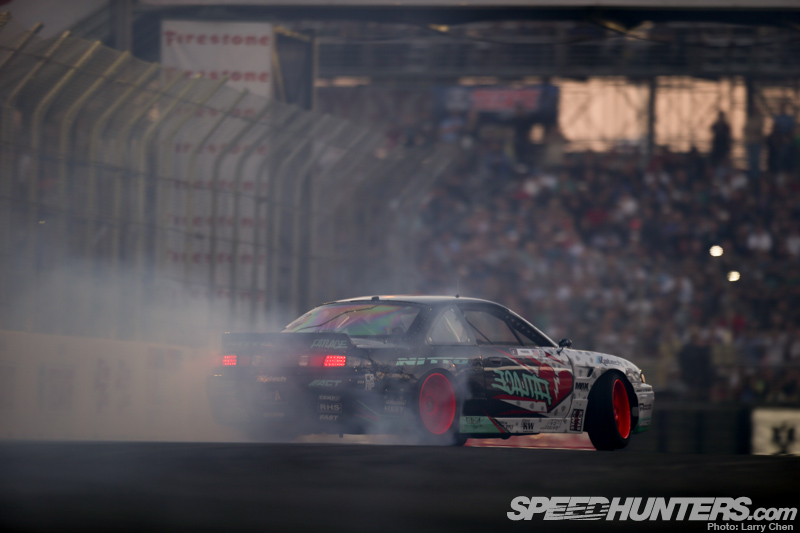 The Motegi Super Drift Challenge was a Formula D Top 16 invitational event put on during the Long Beach Grand Prix. In some ways I think winning it is more rad, but in other ways it is less relevant than a normal Formula D round. It is not for points and not all the top drivers were there, but at the same time it was part of a much larger event than Formula D and was in front of a new audience.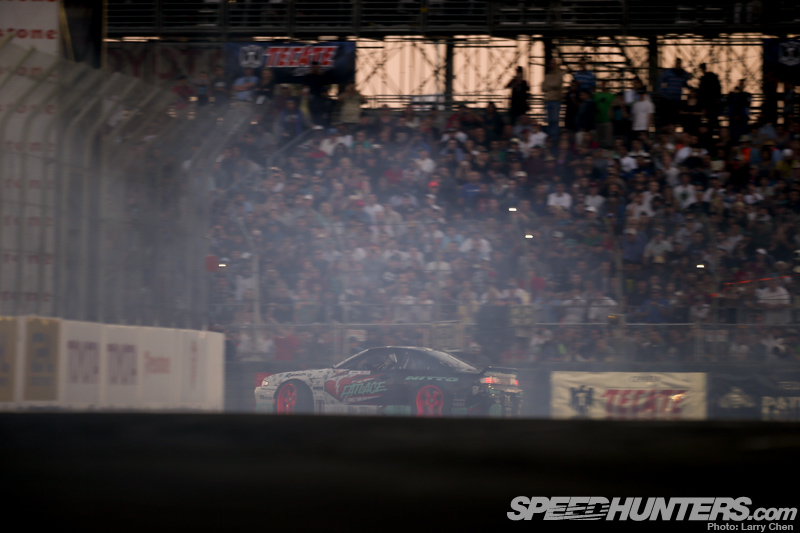 This is a really cool shot as the sun is setting in Long Beach. The sun would set about a third of the way into our practice. So yes, that means we were drifting the Long Beach FD track mostly in the dark.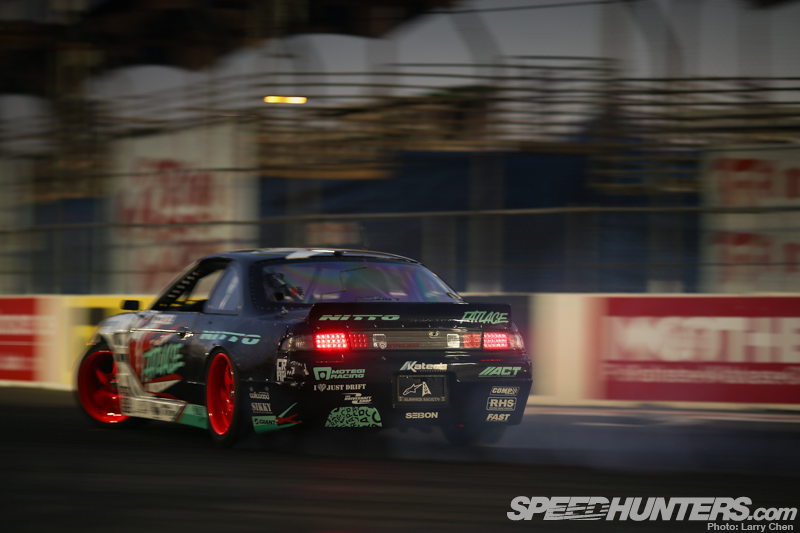 I was definitely concerned about a lack of lighting leading up to the event but it was fine. The straight was pretty dark then when you entered into Turn 9, but when it came in to view it was like sensory overload and all of a sudden, BOOM! – the light, walls, track and people.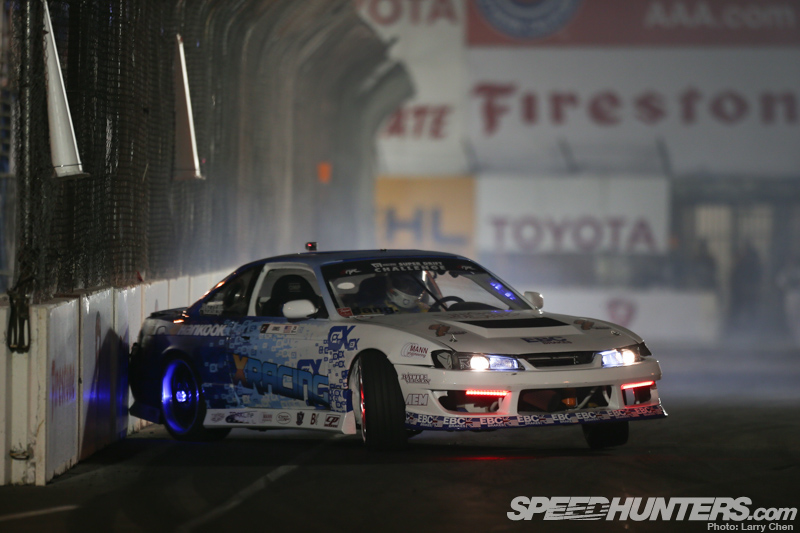 While many of the top top teams were not in attendance everyone was putting on a solid show. Jeff Jones for example is now running on Hankook tires and is doing the best he has ever done.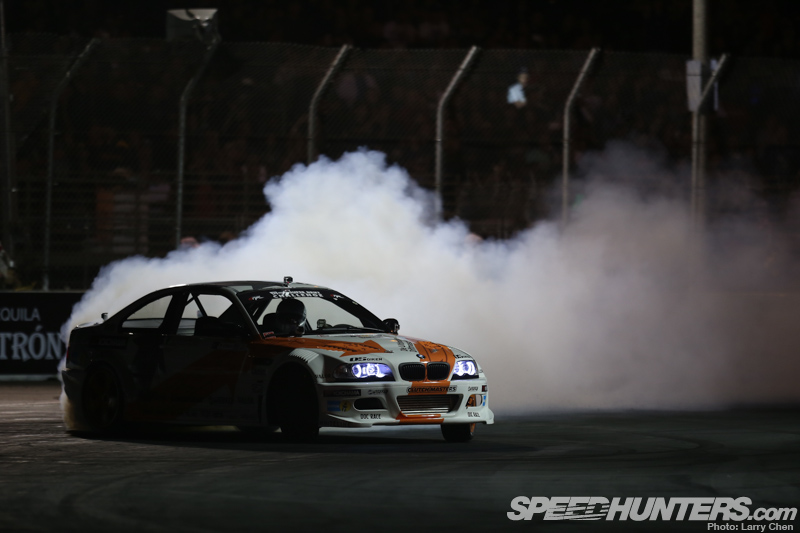 Mike Essa was absolutely killing it in his new GSR BMW and qualified first, backing up his third place qualification at FD Round 1 the weekend before.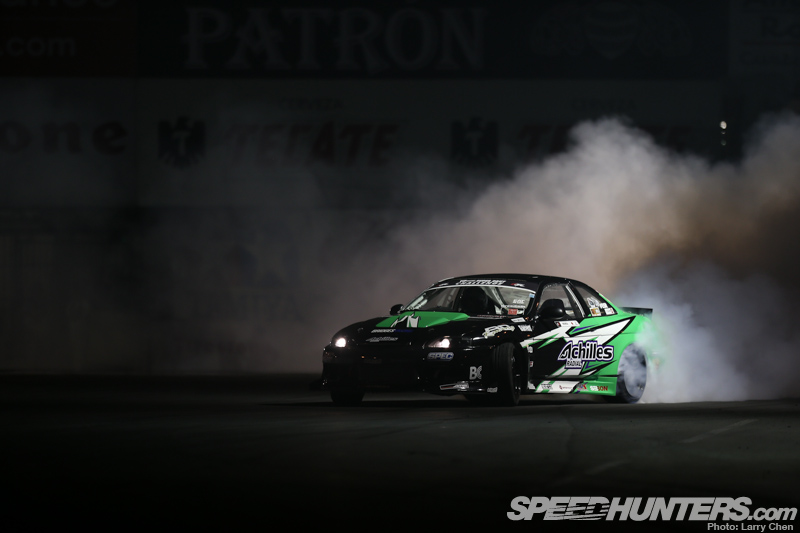 Robbie Nishida was slaying as usual. A lot of people don't know – or perhaps forget – but when I was a rookie in 2009, Robbie Nishida was driving that 350z and was one of the best drivers. He has had bad luck with cars and teams, so I'm happy to see him getting a good shot now. He was the top qualifier until…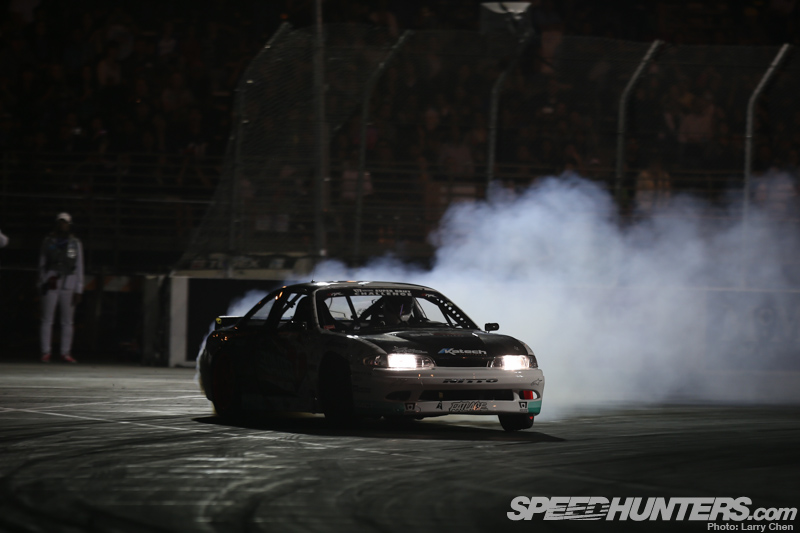 … I laid down my second qualifying run. I decided to go for it and felt like I really had to qualify high. There were a lot of good drivers with broken cars and it was looking like I was going to get paired up with Daigo where I was currently sitting. As it ended up it wouldn't have mattered because he didn't have a good weekend, but it pushed me to do a solid run and I scored 91, I think.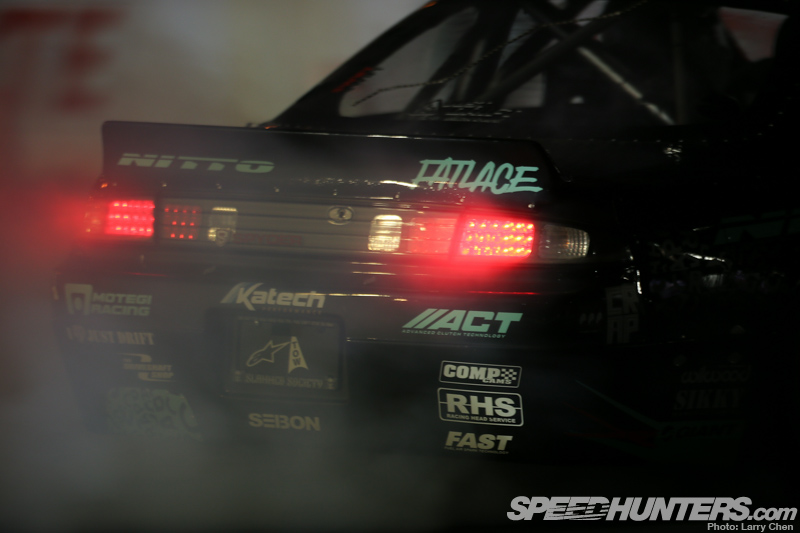 I felt good about this and was stoked to do it for my team who had been working so hard on my car for two straight weeks (oh, did I forget to tell you we only got our engine one week before qualifying?). Then Essa came out, bounced off every wall out there and beat me by one point. Good thing I like him!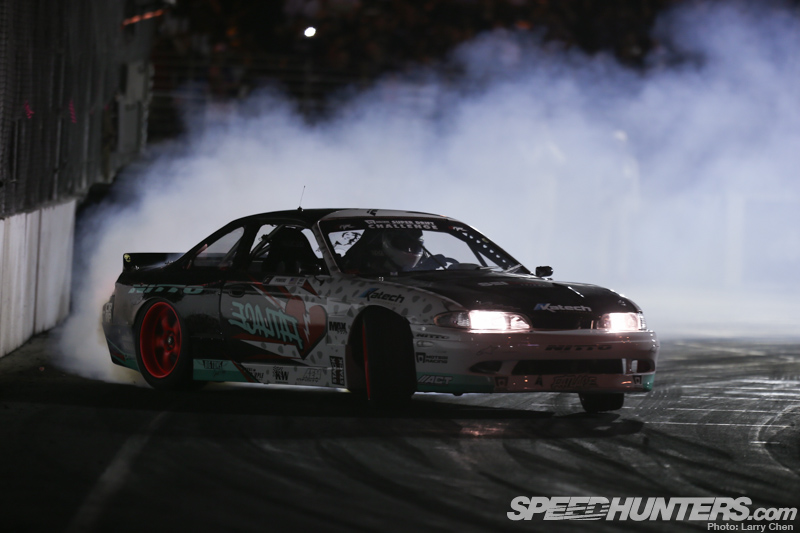 I really like my livery this year. I got that heart design off of a Vans t-shirt, then Jay from Fatlace made it rad, and made it make sense on the car. Linhbergh even helped out and added the Fatlace green fade on the bottom of select body parts.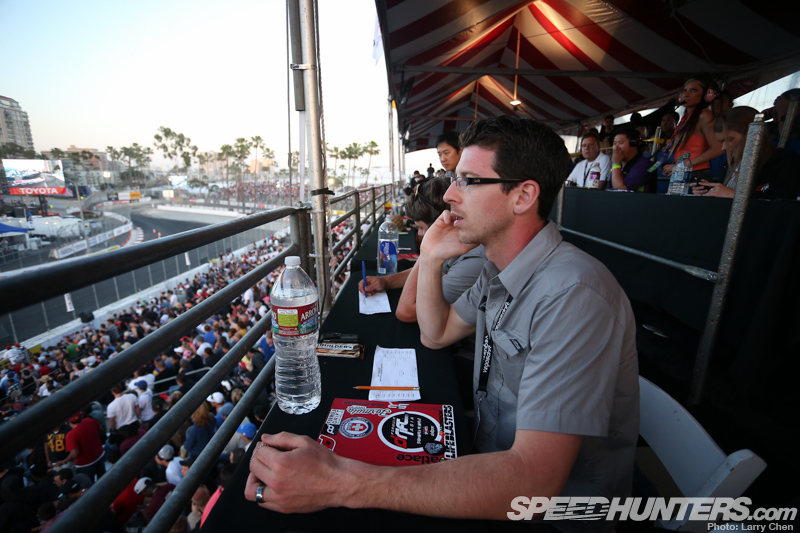 Judging sucks. I've done a fair bit of it over the past few years internationally and its a tough gig. All these guys drive or were once drivers as well and I know its not an easy task. I appreciate their dedication to the sport and focus on cars. I think the more judging gets quantified the harder it will be to score points based on style/impact. You know the "OH SH*T!!" sorta feeling. Making it look like you are going to crash but don't. We will see!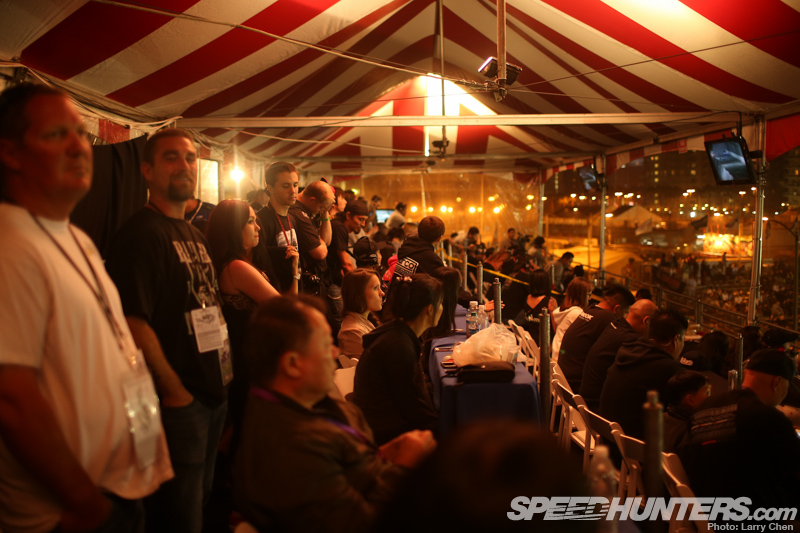 This is a view I usually don't see – the spotters tower area. I definitely don't want to see this view, because that means that I have lost. This event Tommy could not make it, and my friend Dave also from Parts Shop MAX who has done some spotting for me before helped out. He's a real casual, but very good spotter. He's a funny guy too. At Irwindale one year I was sorta stressing out, but I didn't mention it. Then he said: "If you do a good run right now i'll give you 20 bucks." Stuff like this helps and makes me happy. He also drives a radical Ferrari and drifts a rad Soarer.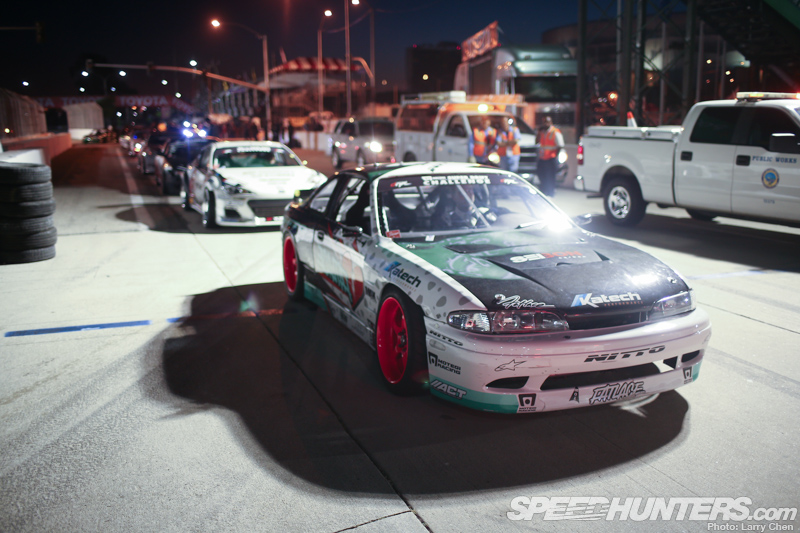 There were a lot of delays before the main event and I was getting tired from sitting for so long. We surfed twice that day and I was feeling good, but delays pushed the event back an hour and a half.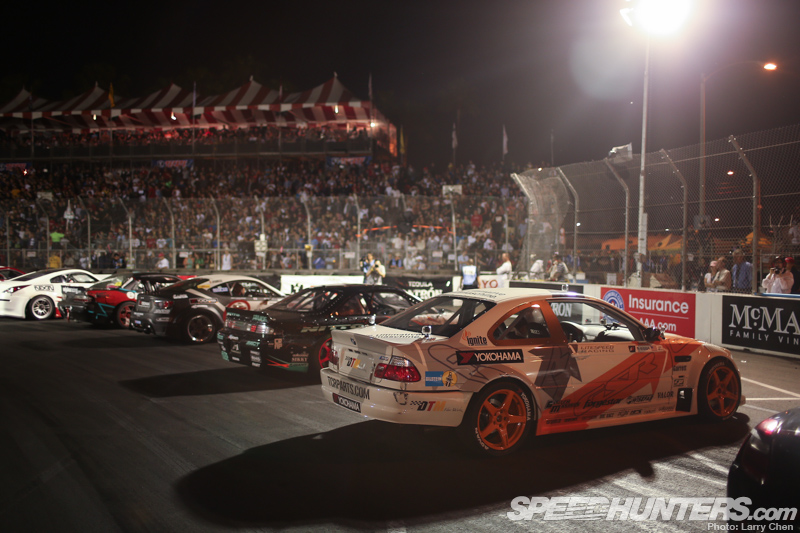 I had a bye run in Top 16 because Kyle Mohan had blown his engine. I have never had a bye in Formula D or competition before.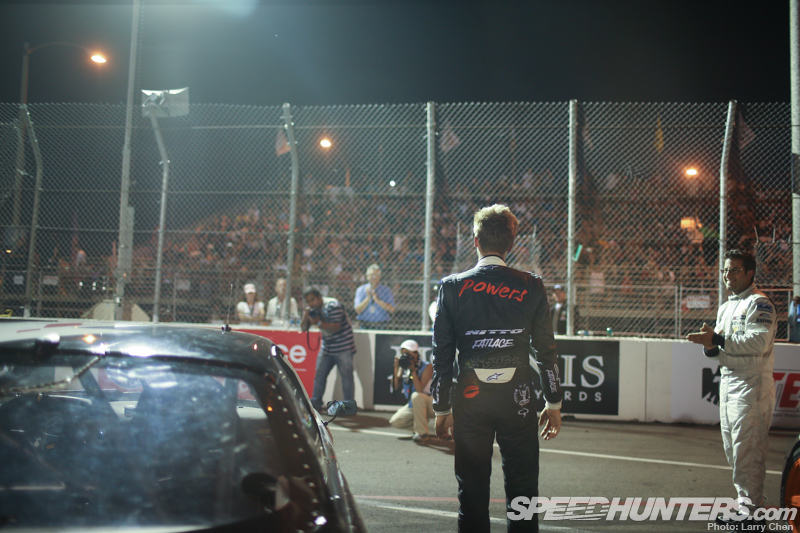 My suit is fitted! Full side pipe… My friend Chantelle Lamoreaux always designs my suits and they are so good.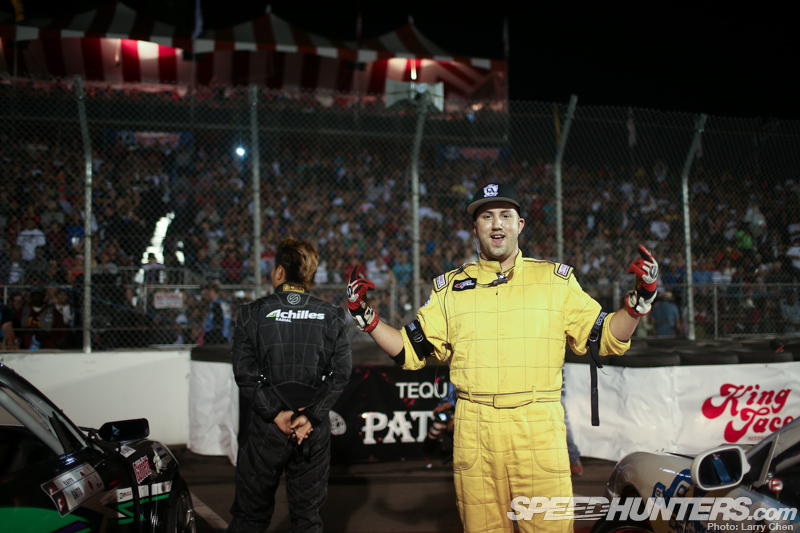 I was paired up with Jeff Jones in Top 8 after my bye run. He has definitely been driving good this year, but has never beaten me. I beat him twice in 2011 and also put him into the wall once when he was trying to follow my line.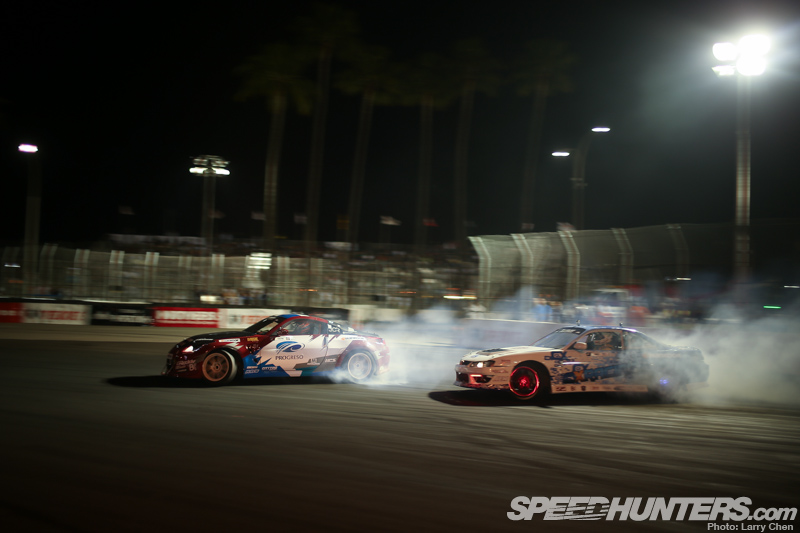 Still, I feel a pressure to beat drivers like him that are not at the top. It's sorta like I have more to lose than to win… it's a strange pressure.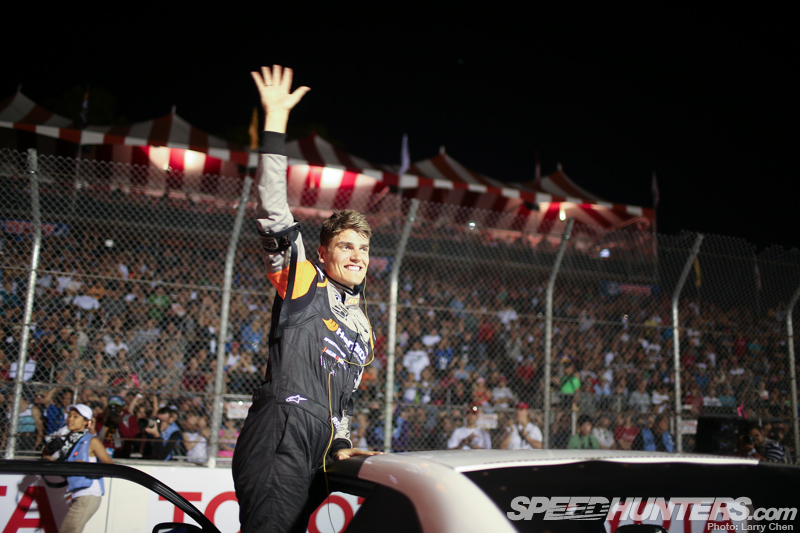 Aasbø! This viking. He was also in my bracket and is driving that car really well. I knew it would be a tough battle if we matched up. Even though we are not on Need for Speed anymore we are still teammates via Motegi and AEM. We also like to do donuts together in Top 16 – really good ones! Don't act like you didn't know…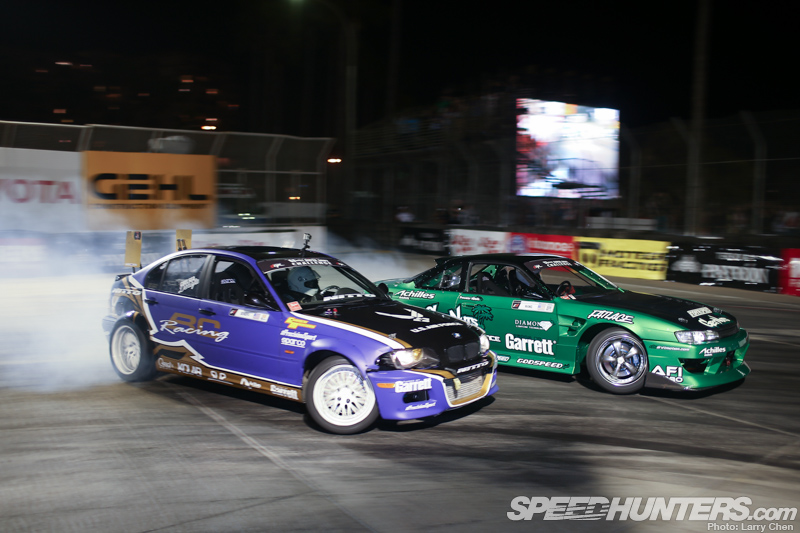 Forrest [Wang] was driving great and defeated Chelsea DeNofa. This shot is cool because you can see the screen in the background. When I was exiting Turn 10B sometimes I would watch myself on the screen!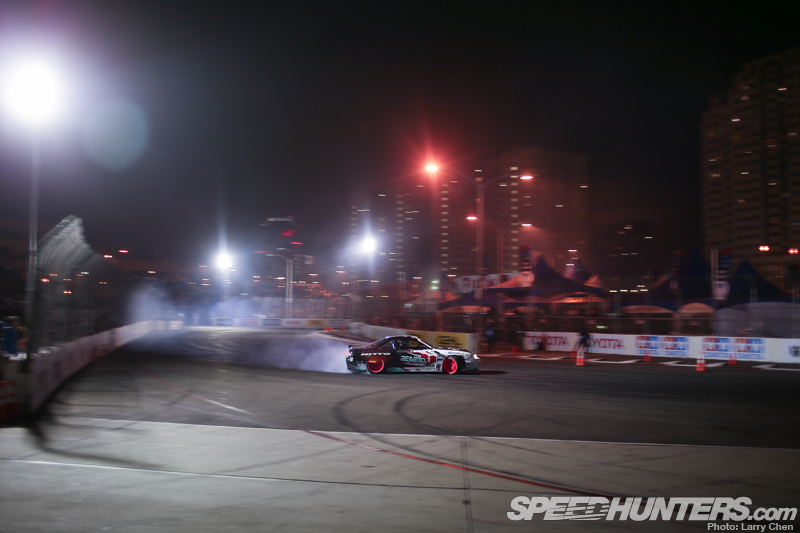 This is my bye run. I don't really have a caption for it, but it's an awesome photo so i'll leave it.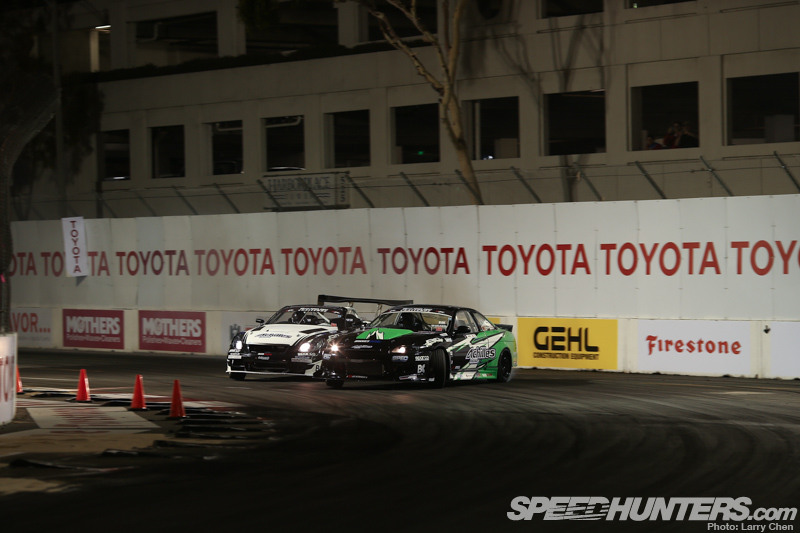 I was really hoping Robbie would beat Daigo. Sorry Daigo, but it would be huge for Robbie. I think he ended up winning pretty easily as Daigo was having car issues all weekend. Sort of ironic they got paired up together.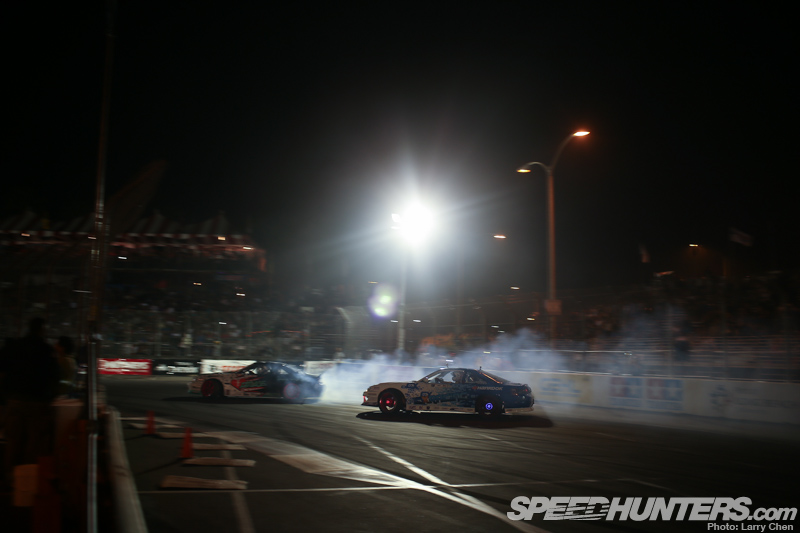 I lead first against Jeff [Jones] and he followed but didn't do anything crazy. My lead run wasn't that good but it was solid. I just needed to do a solid chase run and I would move on to Top 4.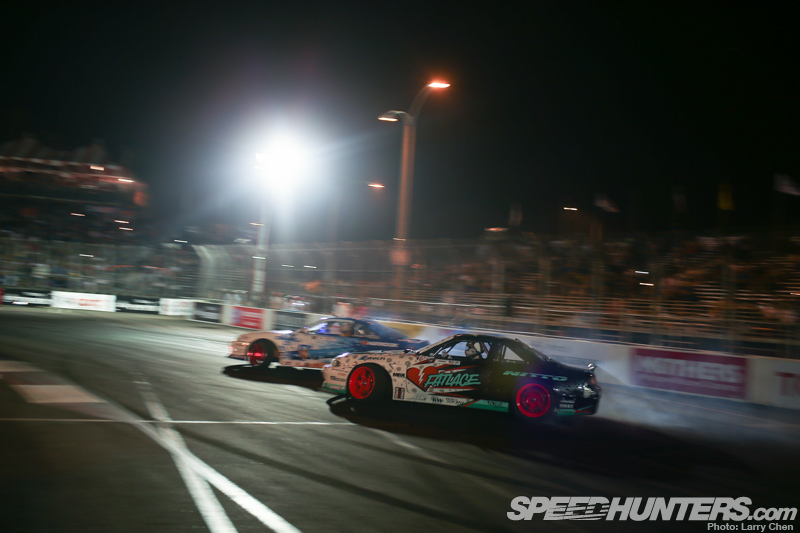 I think I have my chase runs at Long Beach pretty dialed. I had a good chase and Dave told me I had it. Sometimes I get a bit excited over the radio, and this was one of those times. The first battle is always the most stressful for me.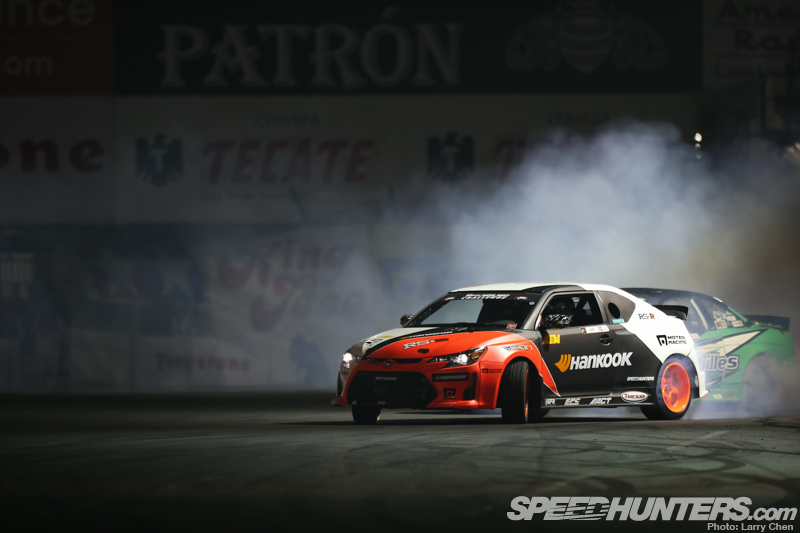 Aasbø beat Nishida (and probably would have beaten Daigo too). Some people just have some peoples number for whatever reason. I think Aasbø just has Daigos number. He also just defeated him the weekend before at Round 1.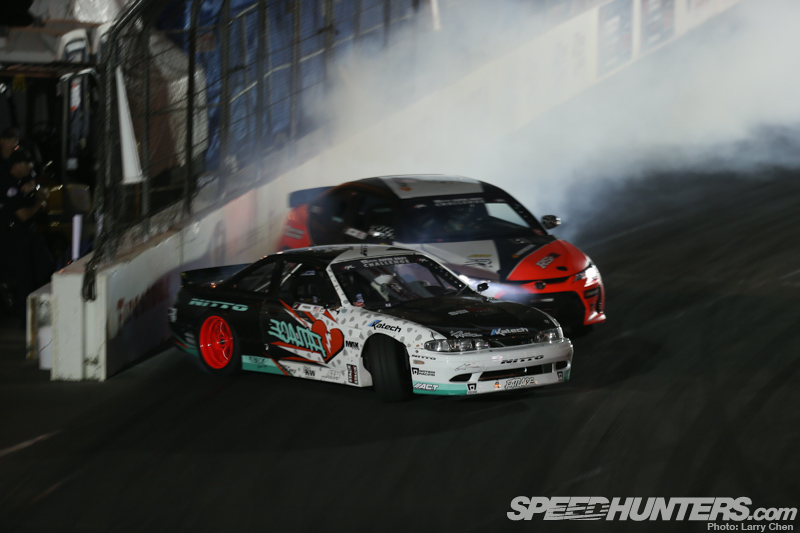 This means that Aasbø and I would match up against each other. While he beat me last year overall –and while I look up to him and his team – he has never beaten me heads up. Twice before this we had gone against each other and I won. I think he gets sort of psyched-out going against me for some reason. In Florida 2011 he dropped a wheel leading and  in Vegas 2011 he did a half spin and I hit him. Then here we both just had a sloppy first set of rounds leading to a OMT in which he crashed during.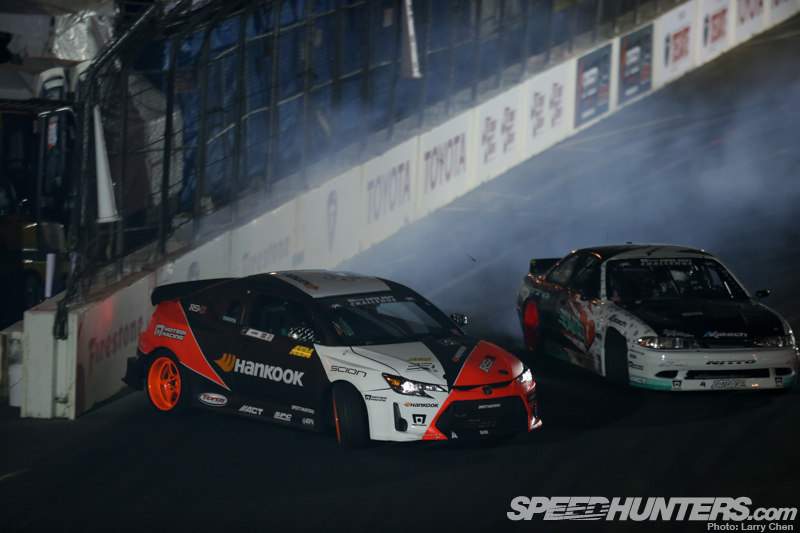 Sloppy no doubt. Pretty far inside here on my part.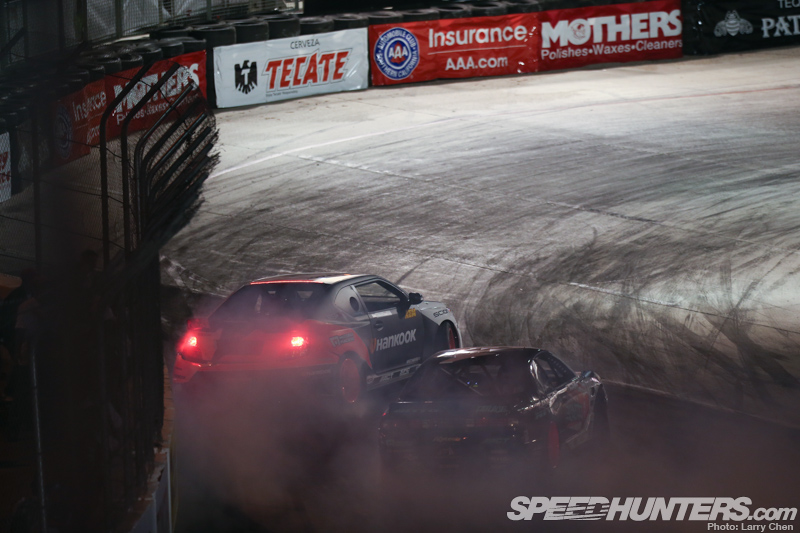 Being the higher qualifier I had the chance to lead first, this is always an advantage I guess. I'm not sure if it really matters that much. But, while launching I stalled. Aasbø waited for me right away. In a way he sort of had to as I was supposed to be leading and he was supposed to be following, but he probably could have driven to the end of the straight and gotten the win. I'm not really sure how that would have worked. He waited though, and is a total legend for doing that. It's something that probably no one really knows without reading this, or reading another post where I mention it. Weird thing though, turns out right when I stalled a minivan drove on track (no idea how). So it's a really good that we didn't go down the straight together…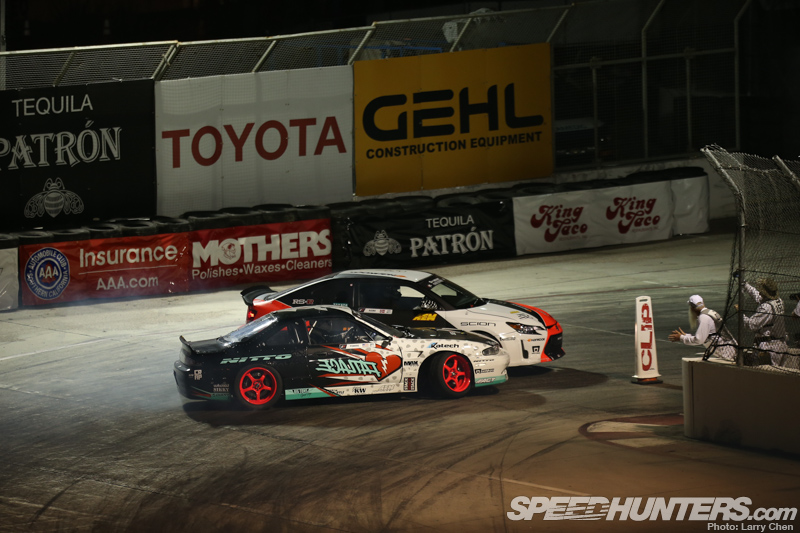 I was really close to him here. What's up Freddy – Norwegian hi-5! (I'm a strong percentage viking as well).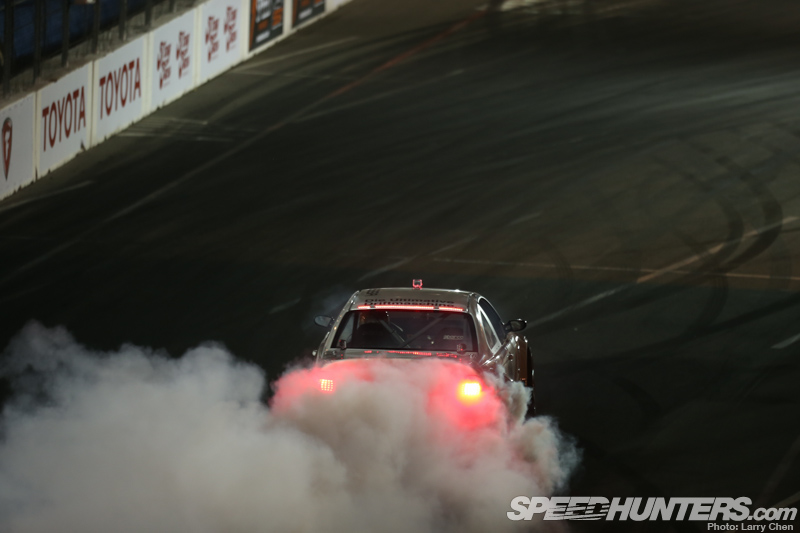 Essa and I were in the finals together now! He's one of my favorite people in FD and I was stoked to share the final with him.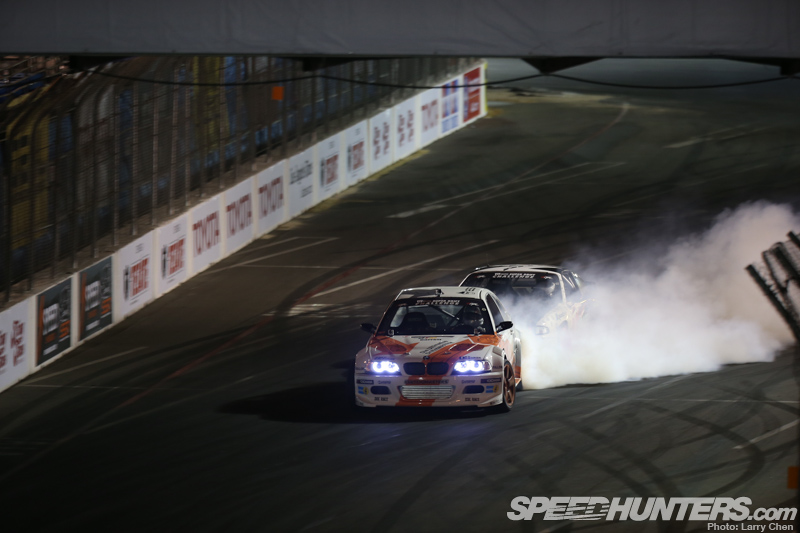 JTP was in the spotters tower spotting for Chelsea, and as we were staging to go Dave told me that JTP said: "Let the lion out", or maybe he stole the radio and said this, I don't really remember. One or the other happened though, and I was about to do just that. I wanted to follow as close as I could, and literally until the end of second gear down the straight I was alongside (not behind) Essa. At this frame above shows, I literally thought the front of my car might clip the rear of his mid-transition. That would have been really bad.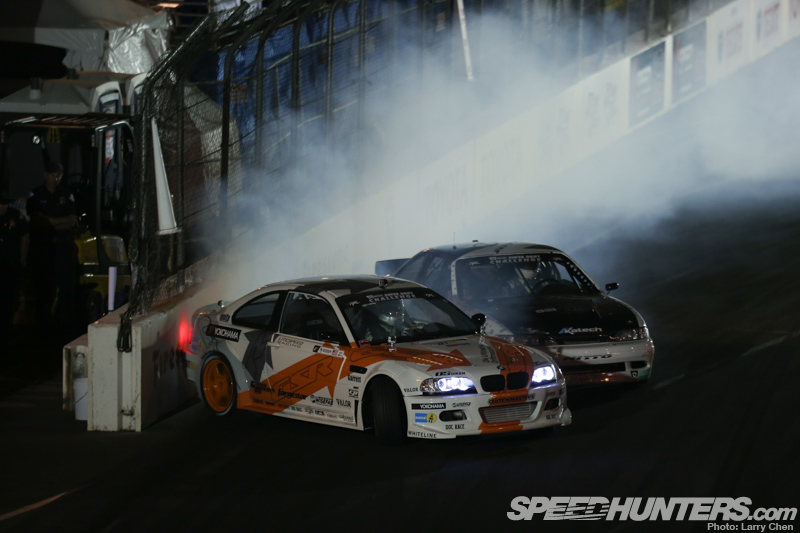 It didn't, and it set me up perfectly to follow super close to him. You can see here he is doing a super-gangster run, too.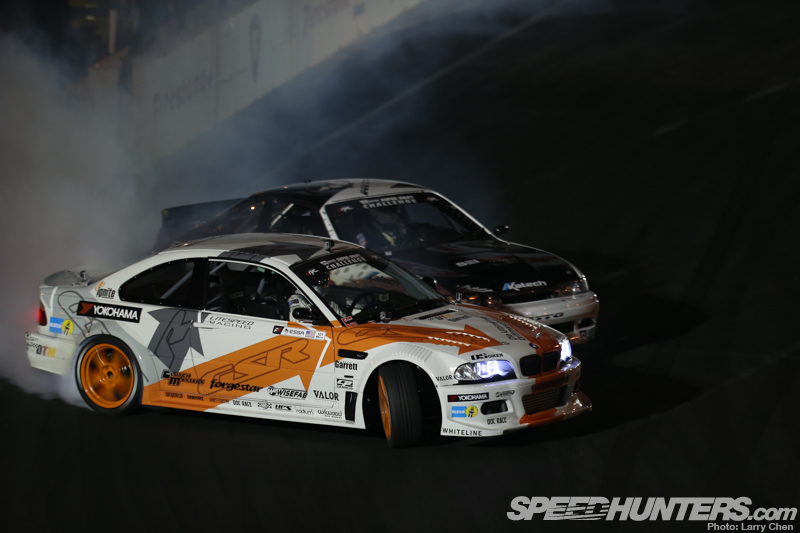 Still hanging in there – this feels cool.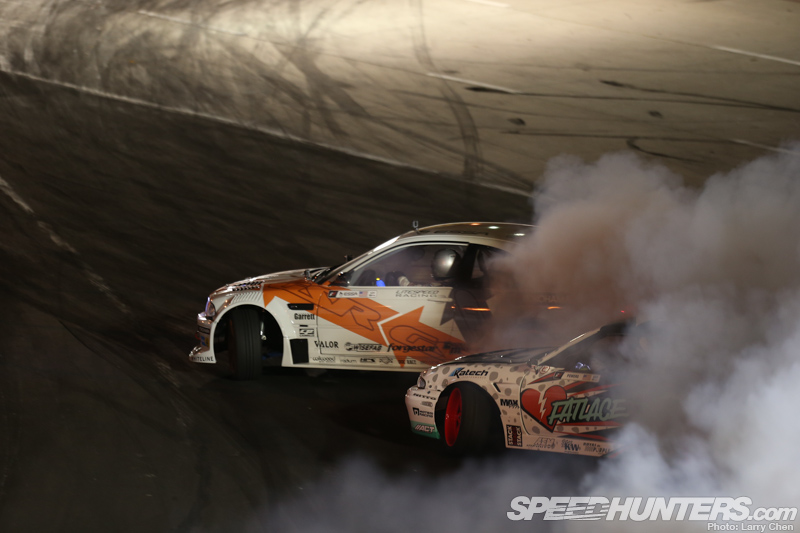 The part in front of the judges tower is pretty easy in chase, and I was just alternating between left-foot-brake and e-brake to keep the car in the right spot.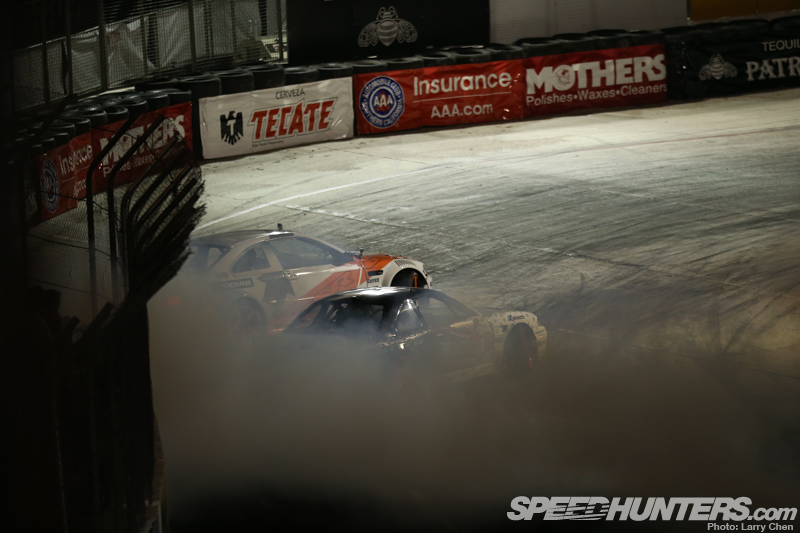 The last tricky part is the transition into Turn 11 which is very tight and you have to slow down hard as well.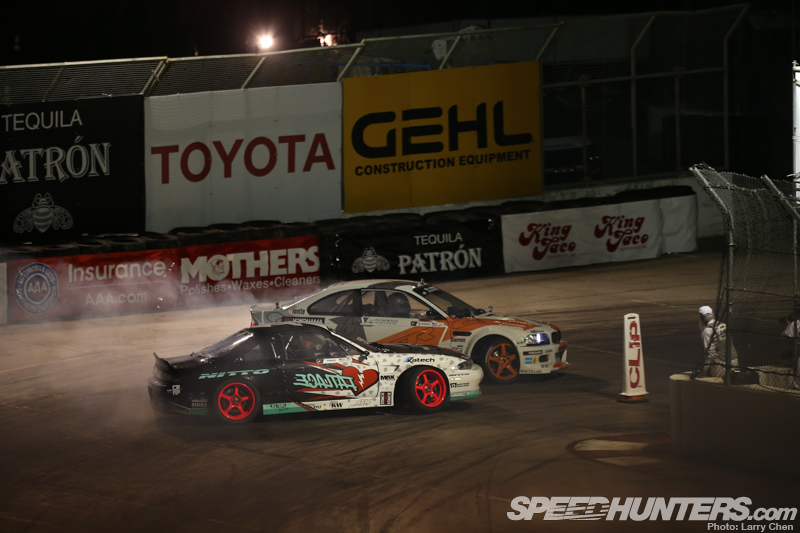 This all went well, and Tom jumped on the radio and said: "Matt, you are my hero". I guess it looked as cool as it felt!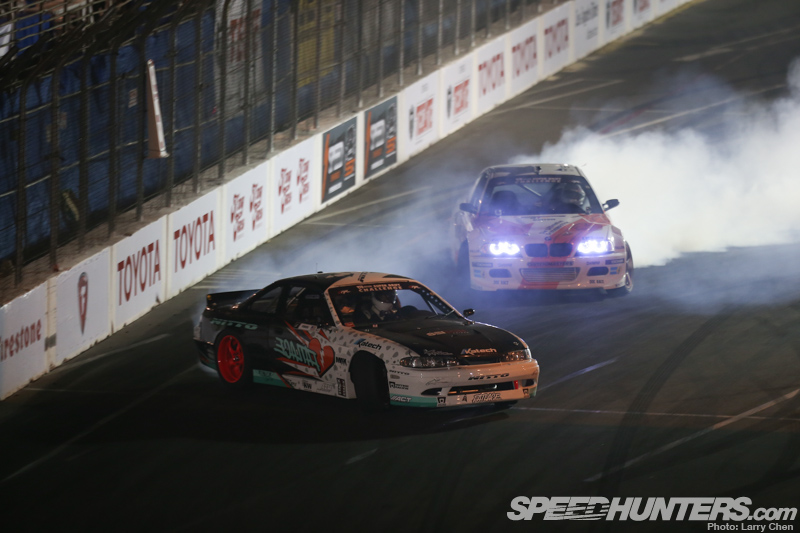 Leading, I knew I still had to put it down and do my signature flick under the bridge. Essa was certainly going to be applying pressure.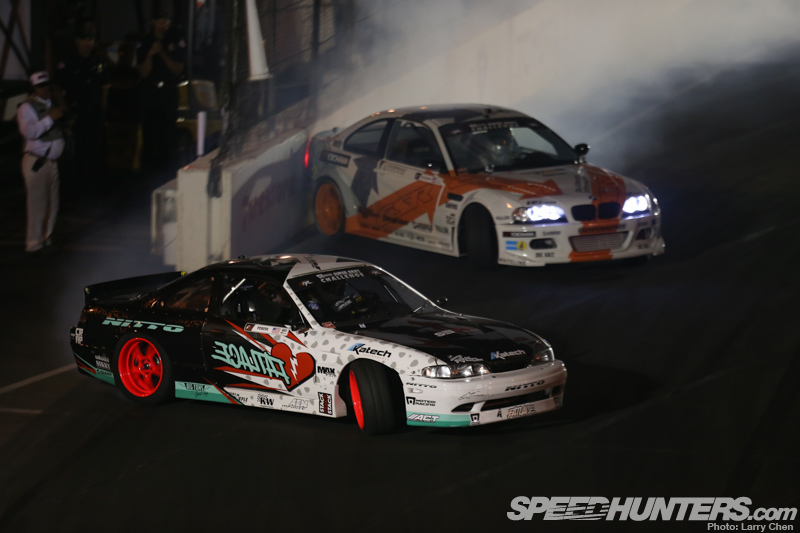 I flicked it really really hard. I wish there was more footage of this because the livestream doesn't do it justice. It was almost a spin but I saved it. Also note that Essa is hitting the wall behind me too!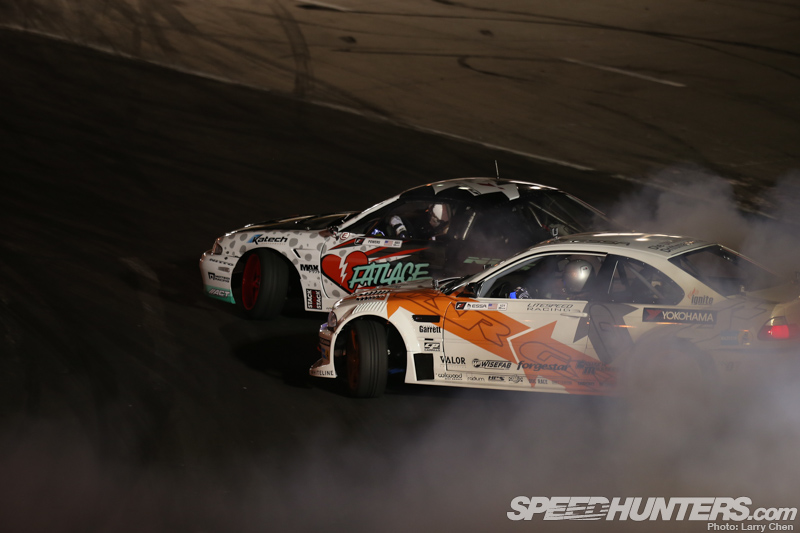 I think this was one of my best battles ever.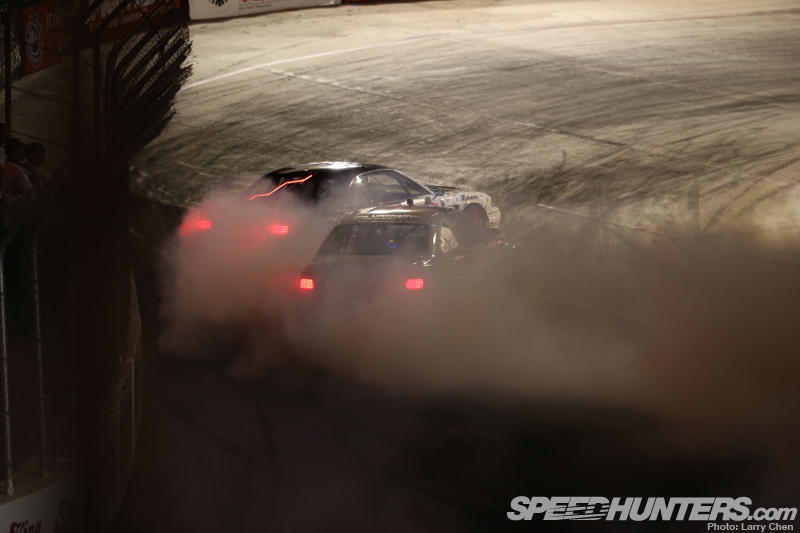 He was on me through the rest of the course. Dave said it was close!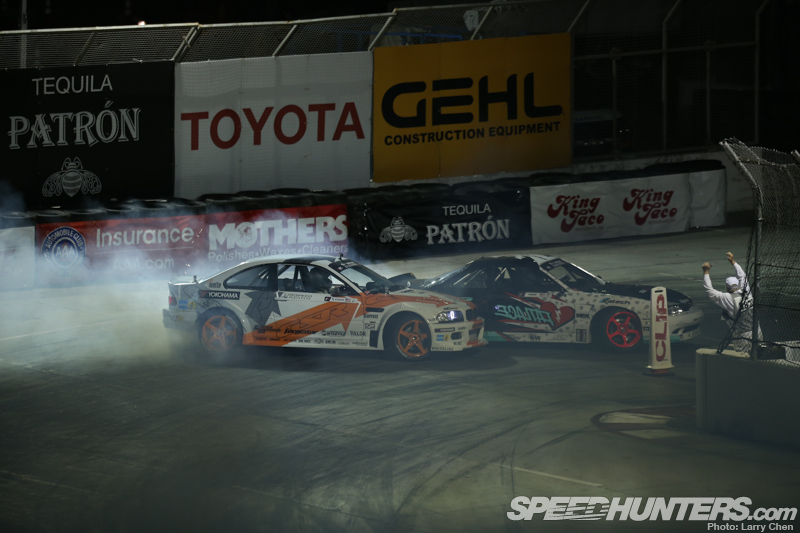 He actually hit me right here. I am not a bitch – I don't straighten out when people hit me, I keep it going. Please do the same when I hit you, whoever you are. Essa hit me and I was just thinking man this is an epic battle! He pulled up next to me where we wait to find out the verdict and we were throwing massive thumbs ups.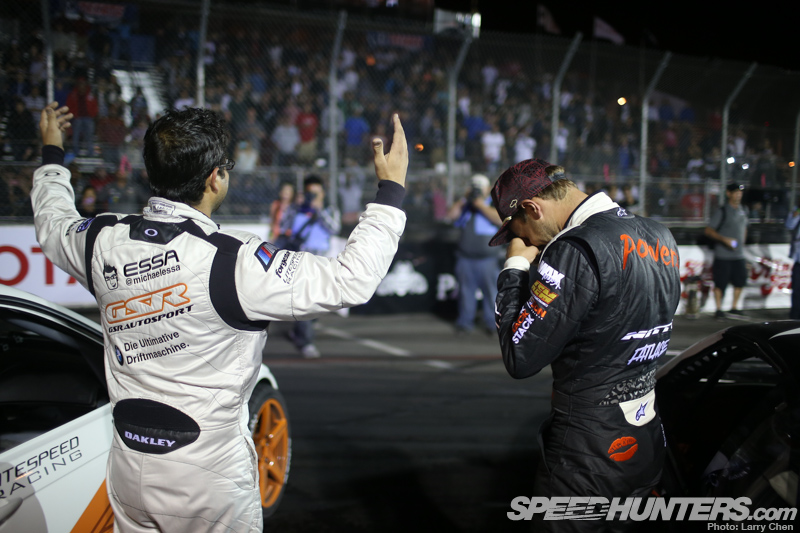 Many people have said this was the best FD battle ever. I was so stoked to drive like I could I honestly did not care that much whether I had won or lost. Simply to be part of such an epic battle with a friend was so awesome.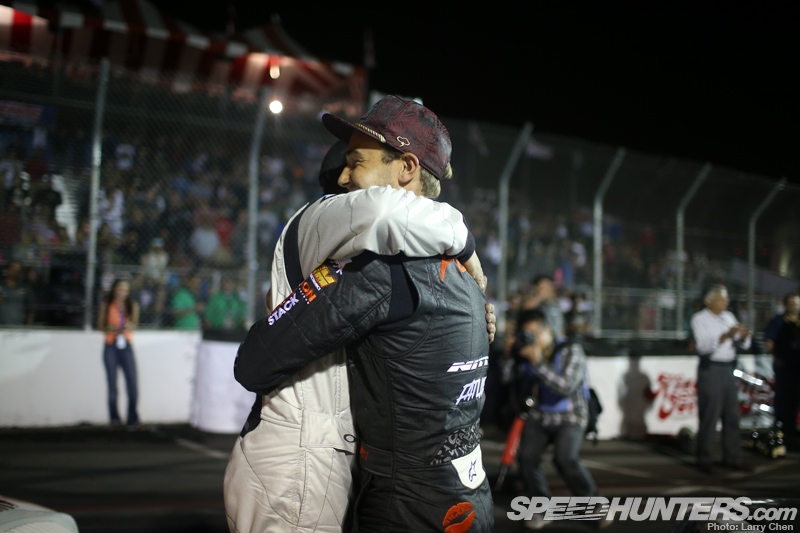 Obviously though winning is better, and I got the win! So stoked – for myself, my team, my family was there too (it was way past my dad's bed time). Thats a solid hug, lots of body contact. Essa and I agreed to take this enthusiasm with us to Atlanta!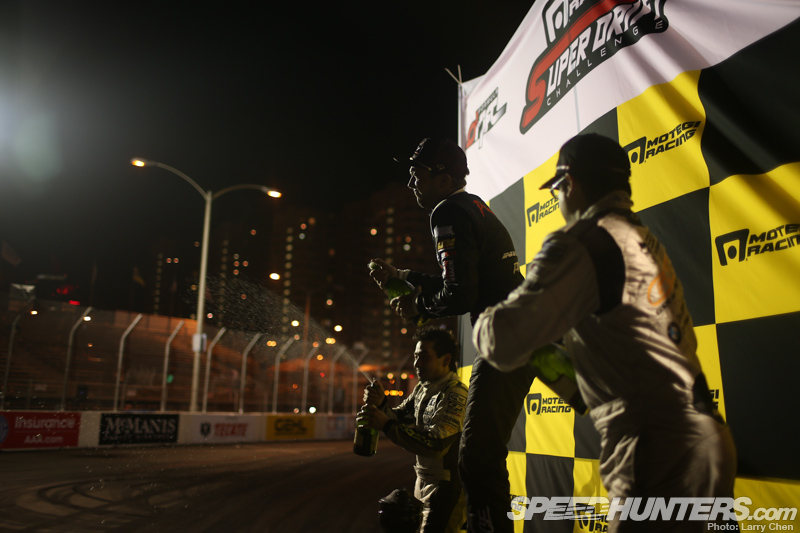 Setting up the champagne. Always a slightly stressful moment for me as I don't drink, and therefore am not good at popping corks. Courtney Day had to do it for me in 2011, and also she shot me in the face with the cork once – thanks Courtney! Fingers crossed.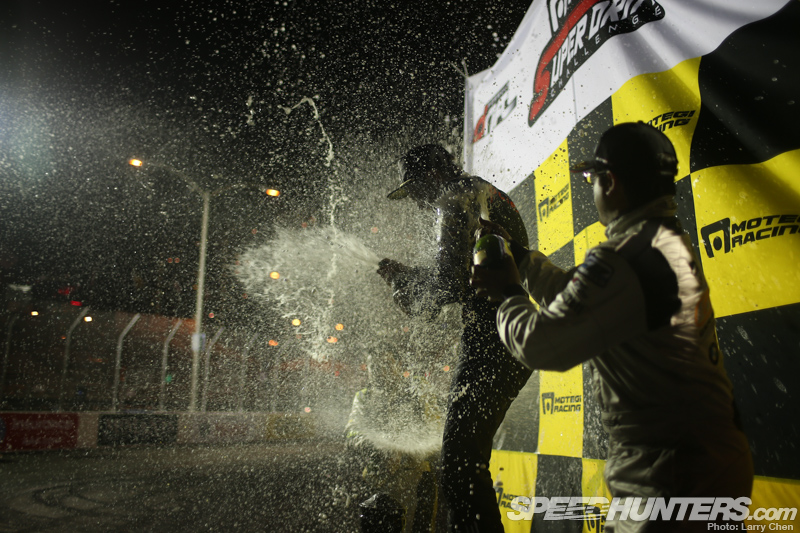 Okay, we're good! Close eyes (it stings oh so bad) and aim at everyone including photographers within a 20-foot radius. Luckily for the models they were not there. They are my favorite to attack because I have crushes on all of them.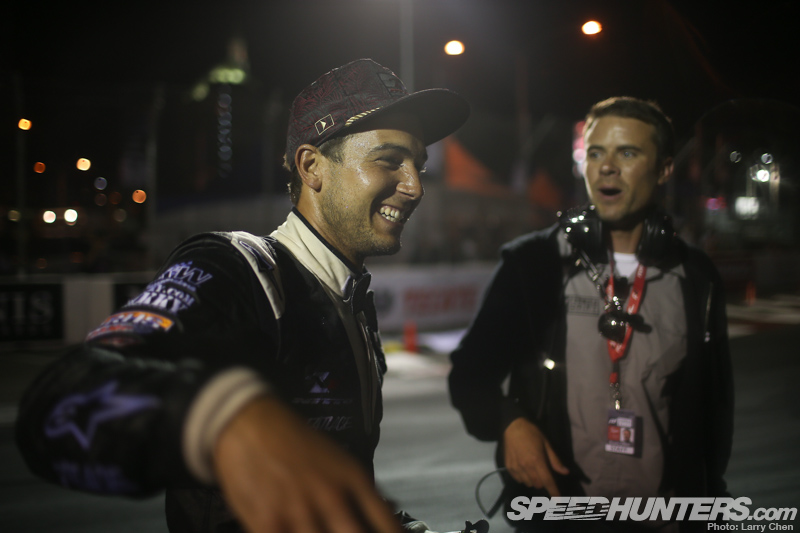 It was definitely a great night and I'm really happy. Now I just need to do this in a few points rounds. See you in Atlanta this weekend!
Matt Powers
Photos by Larry Chen
More stories from Matt Powers on Speedhunters
More stories from Larry Chen on Speedhunters
---
---
---