I had quite a few 'pinch me, is this real' moments while in Australia. One of which was when I first watched our very own Fredric Aasbø fire up the Nascar V8-powered ZN6 for the first time. Was I dreaming? Possibly… I might as well have been, since we hit the ground running as soon as we touched down into Melbourne after a 15 hour flight.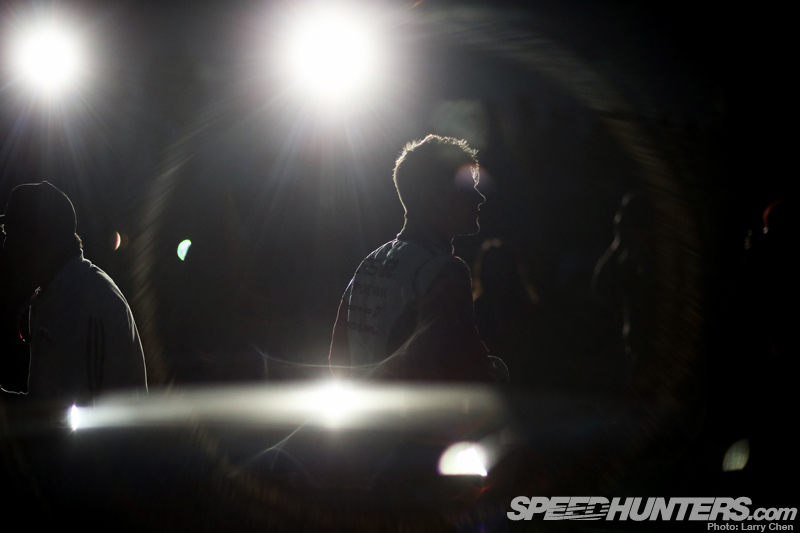 Fredric is in a constant state of nirvana. He's high on life, but it comes at a price. He always jokes with me about how he doesn't know where home is any more, but there is truth in that. I'd say he's more of a globetrotter than I am. After all, he's competed in the Formula Drift Asia series before, but this is my first time attending one of these events.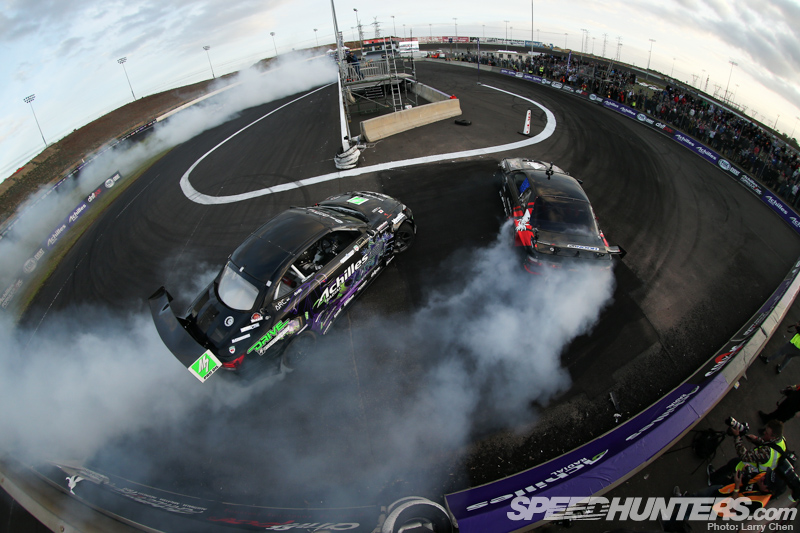 All eyes were on Daigo Saito though, because just a few weeks earlier he'd had an unsatisfactory result at round one of the Formula Drift Pro Championship series in Long Beach.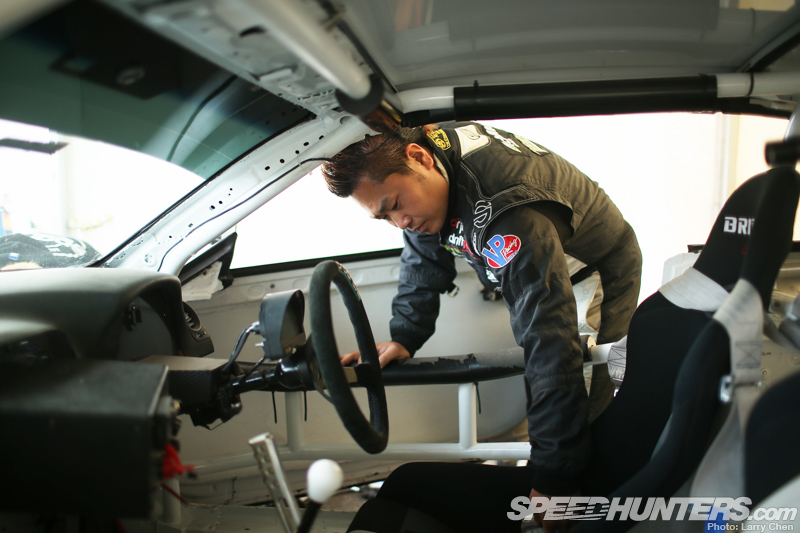 It was very evident that Daigo was battling technical issues in Long Beach, but everyone was wondering if he would have the same bad luck in the Asian series. By now you guys have probably already heard that he had an absolutely perfect event.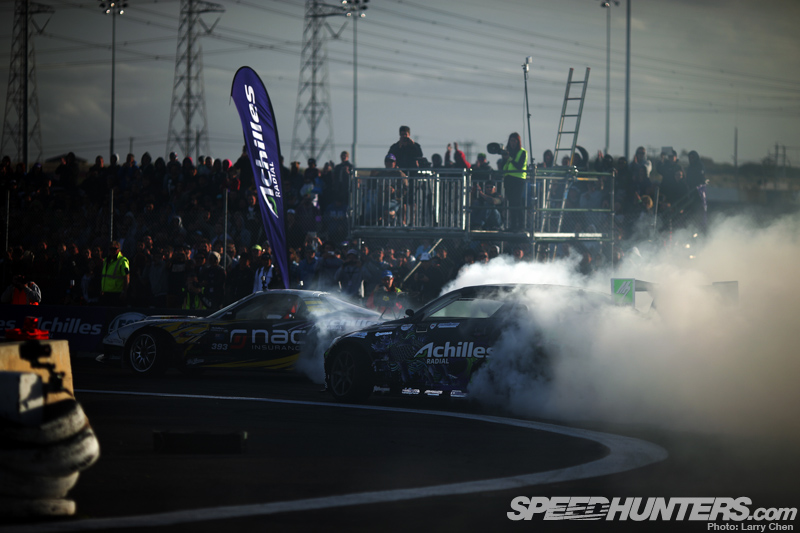 He qualified in first and won the event, making it look easy in the process. Could this be a trend? After all, what is there to stop you if you're on fire? Could Daigo or Daijiro Yoshihara have a perfect season?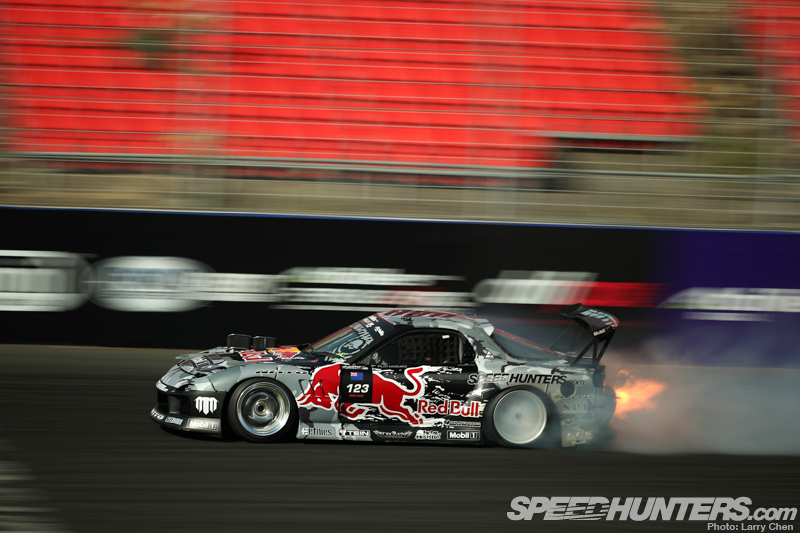 I was really looking forward to this round, as our very own Mad Mike Whiddett made his long awaited return to Formula Drift competition.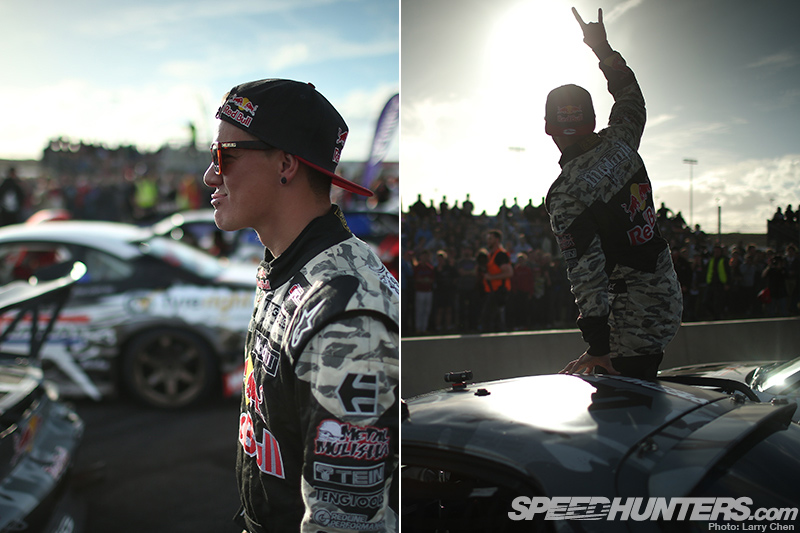 Ever since he stopped competing in North America after the 2010 season, all he talked about was how he wanted to come back. At least this way he gets his feet wet before diving head first into the Pro Championship series.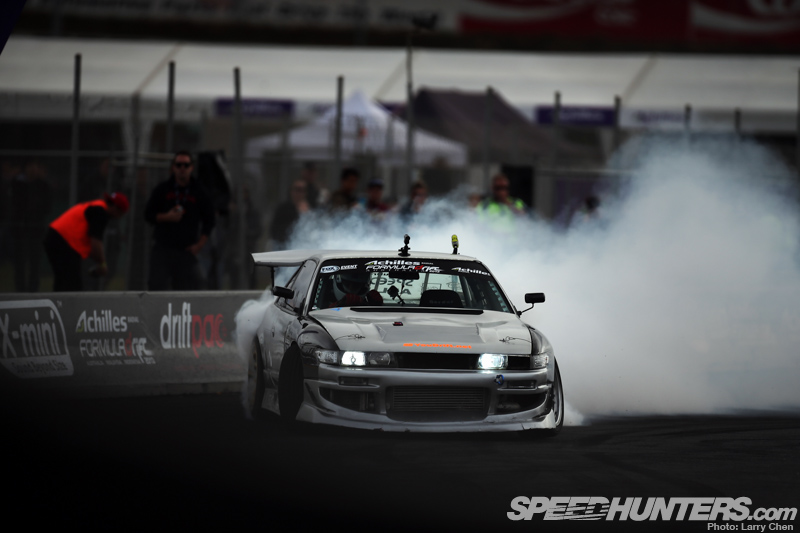 The event was three days long. The first day was a media day, and the second day was the Australian Drift Grand Prix. The top six drivers from Saturday's competition earned their Formula Drift Asia license to compete with the big boys on Sunday.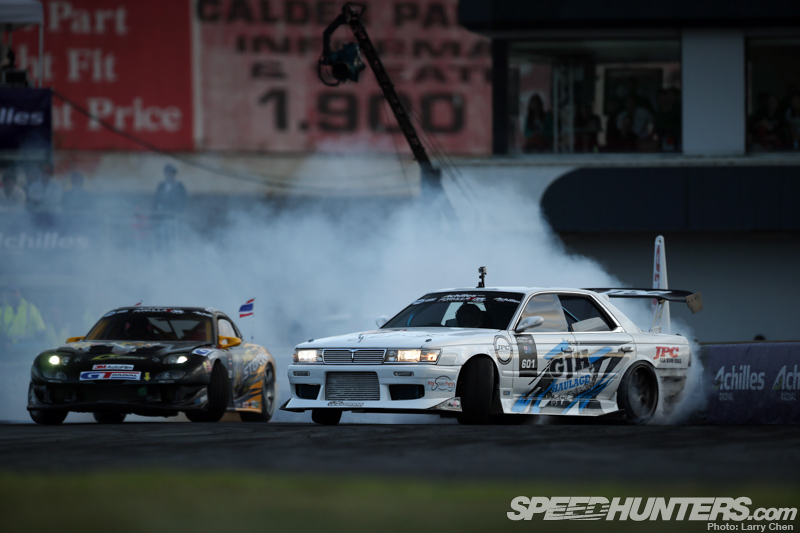 It proved to work out very well as one of the six ADGP drivers, Tom Monkhouse, ended up finishing in second place.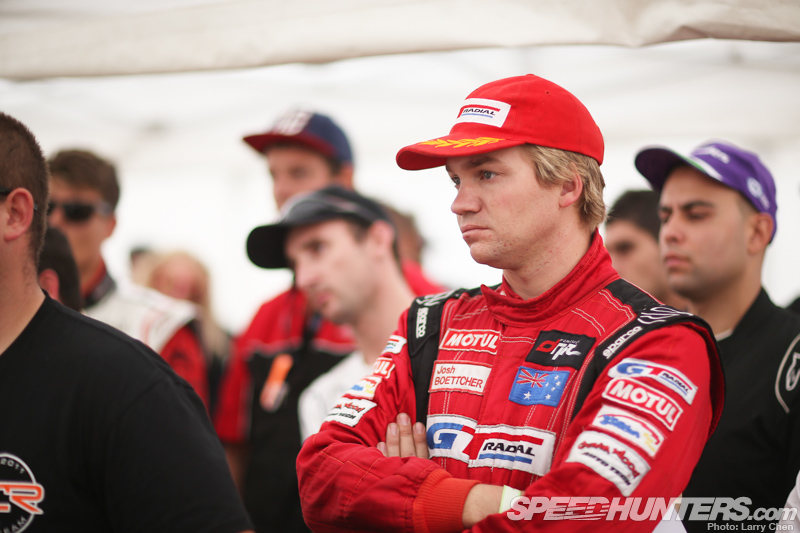 Third place went to another Australian driver, Josh Boettcher. However, he's actively competed in Formula Drift Asia before. According to Fredric, Josh is the 'Justin Bieber of drift'.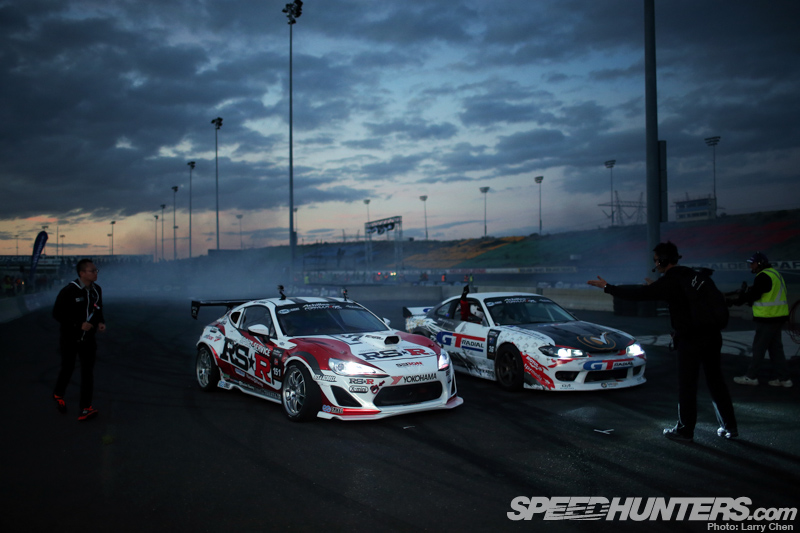 It goes to show that the home country advantage really helps, as 'Bieber fever' beat Fredric Aasbø after a one more time battle for the final podium spot. Fredric promised to return the favor later on in the season.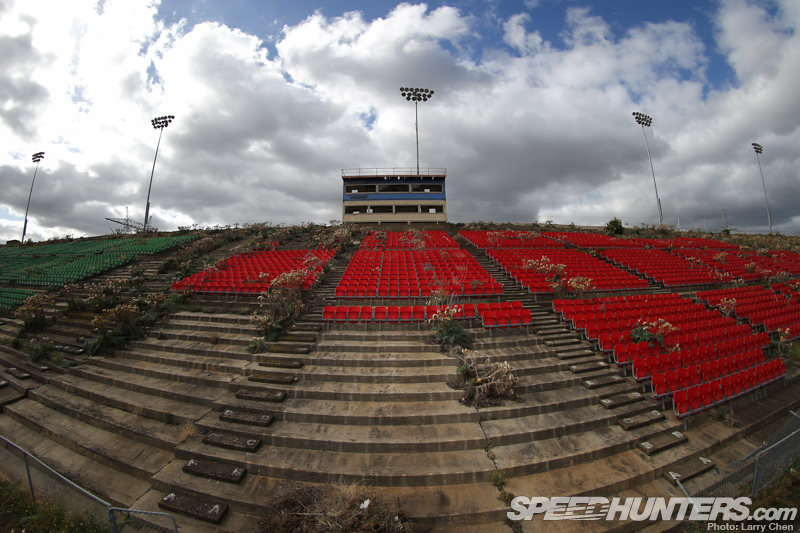 The event was held inside the Thunderdome at Calder Park, which is located just outside of Melbourne.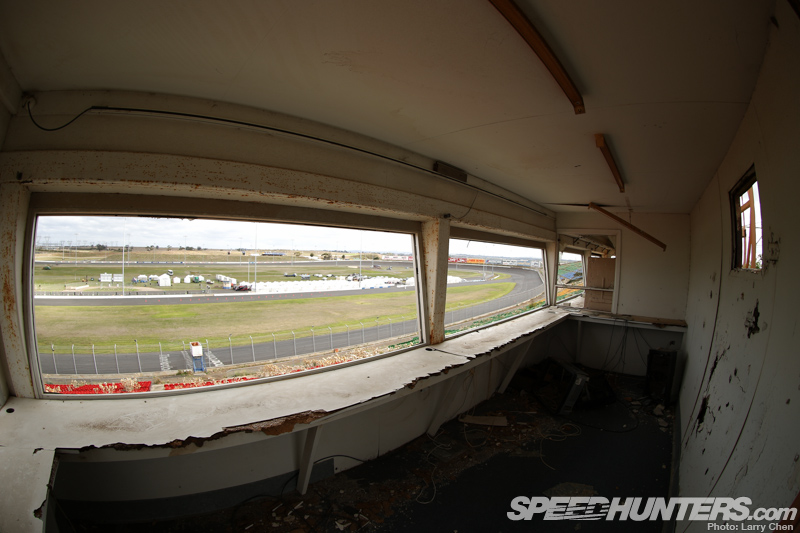 The Thunderdome was originally built in the late 80s as NASCAR was growing in popularity in Australia.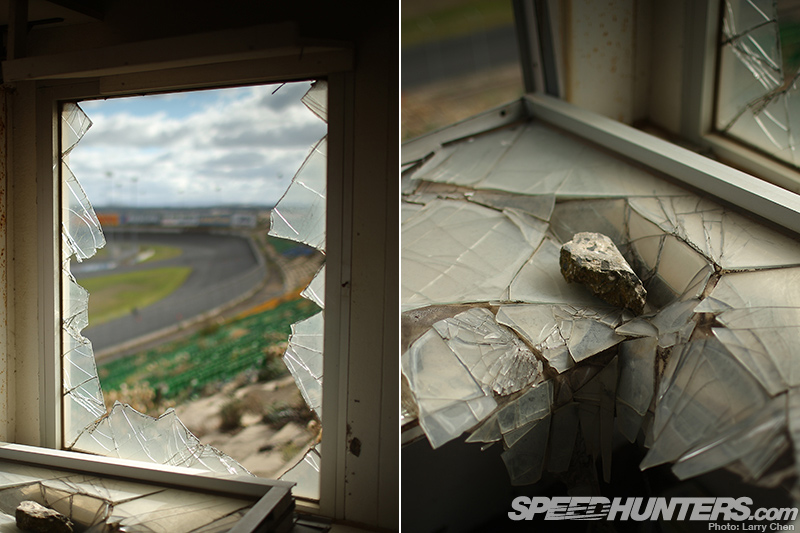 Many Winston Cup drivers came down for a race along with many of Australia's great oval racers. It proved very successful, but as time went on, oval racing lost its glory, and the track was shut down in 2001.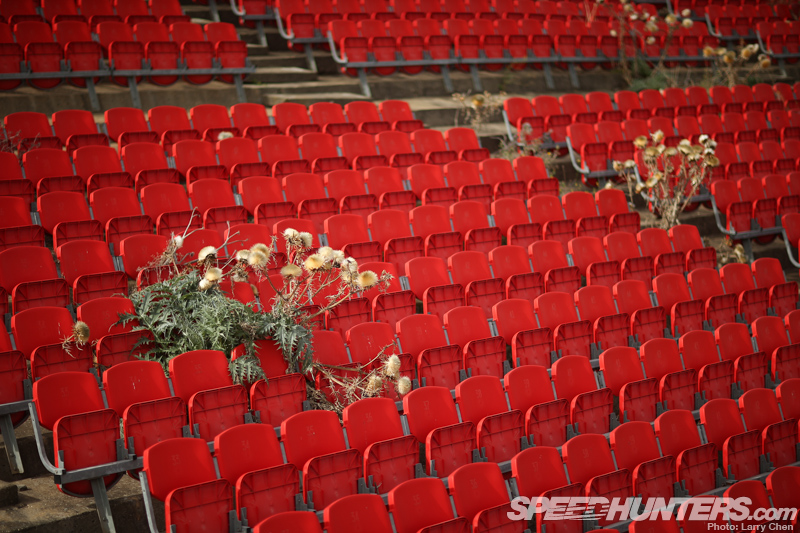 Now the only thing that occupies the stands are giant man-eating weeds.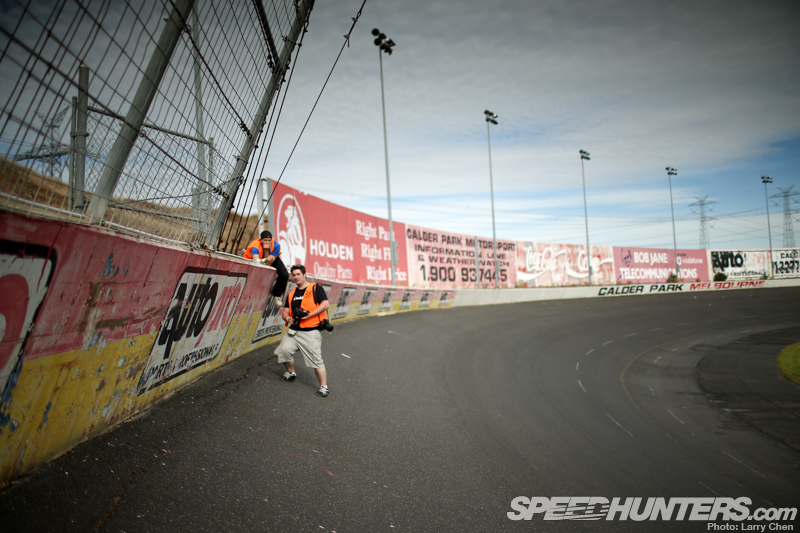 It is a true super speedway, as it has 24 degree banked corners. It was a feat for me and my chicken legs to scale the massive walls.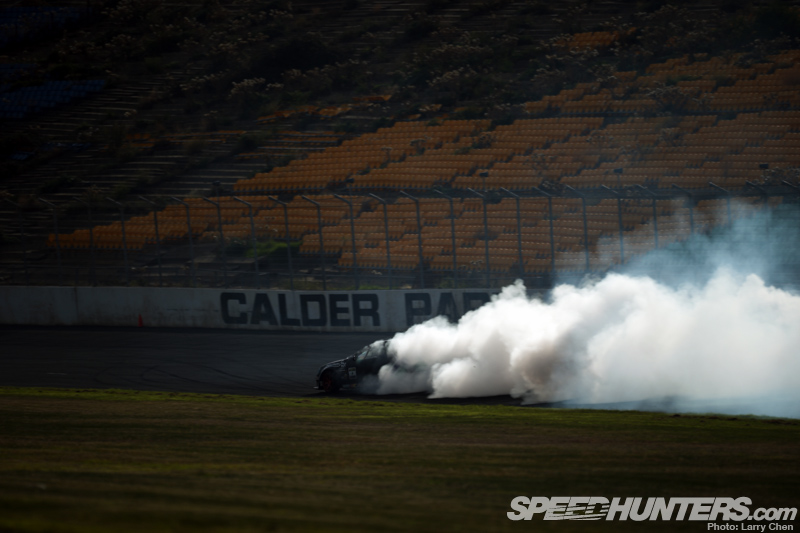 The track is practically useless now for oval racing as the years has taken a toll on the surface in the banked corners, but luckily for the drifters in the world, they only need to use a part of the track.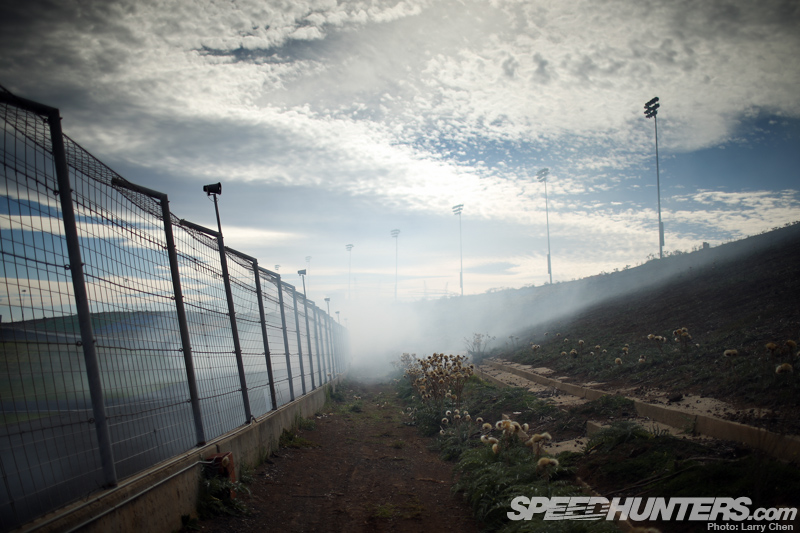 Like any bowl, it quickly fills up with smoke once the drifters are unleashed. It was a good thing it was windy that weekend, because it cleared out the smoke very quickly…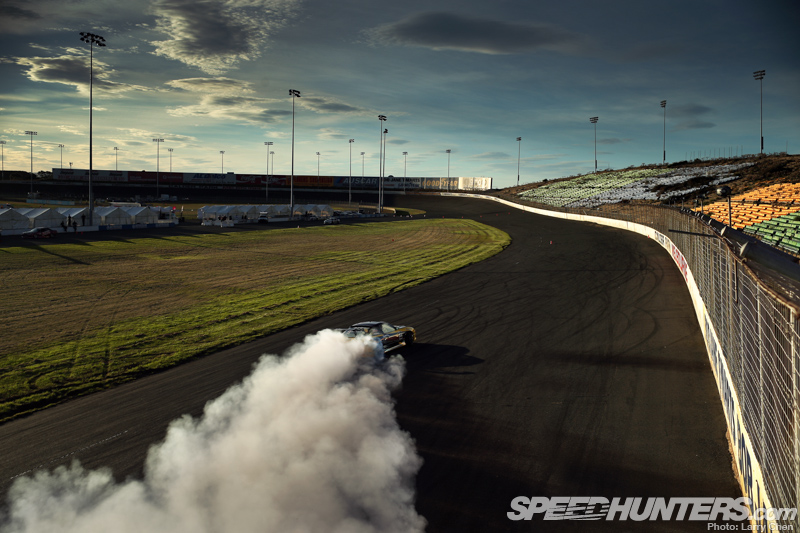 … or as Jarod DeAnda, the voice of Formula Drift says, "it's nature's Zamboni".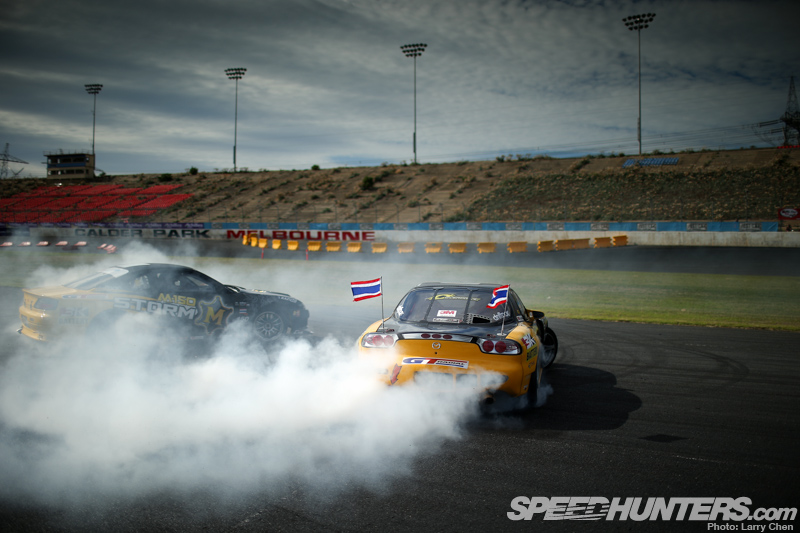 On Friday, some of the Formula Drift drivers did a little 'expression session' for the crowd to give them a taste of what to expect from the main event on Sunday.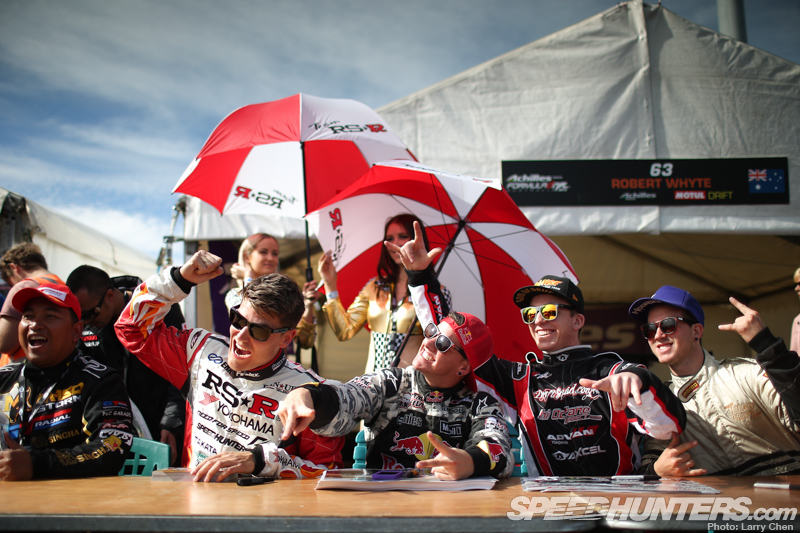 Afterwards, all the drivers signed autographs for the eager fans.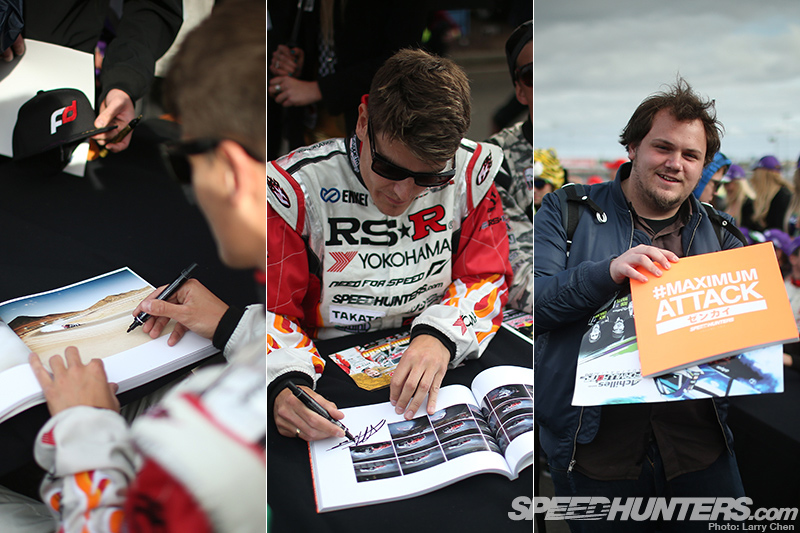 I was surprised to see how many fans brought out Speedhunters books. I even signed a few myself.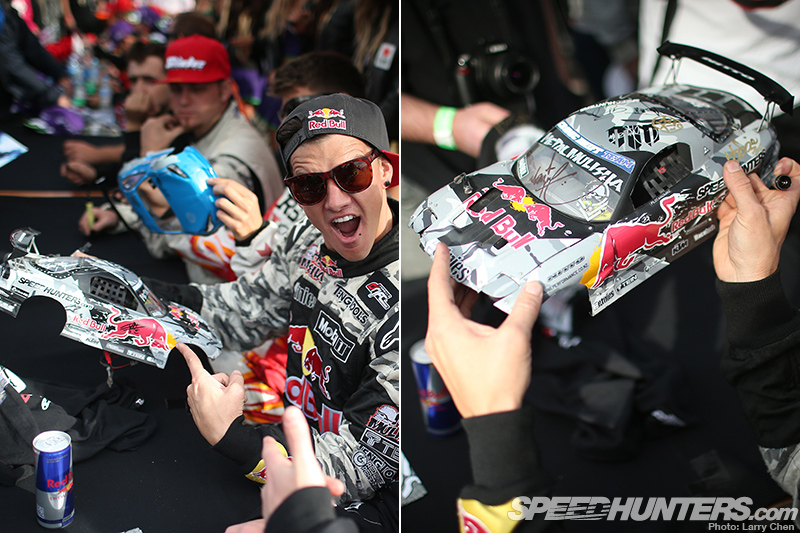 Mike loved this R/C shell. Someone actually took the time and effort to make an exact scale copy of his RX-7. How cool is that?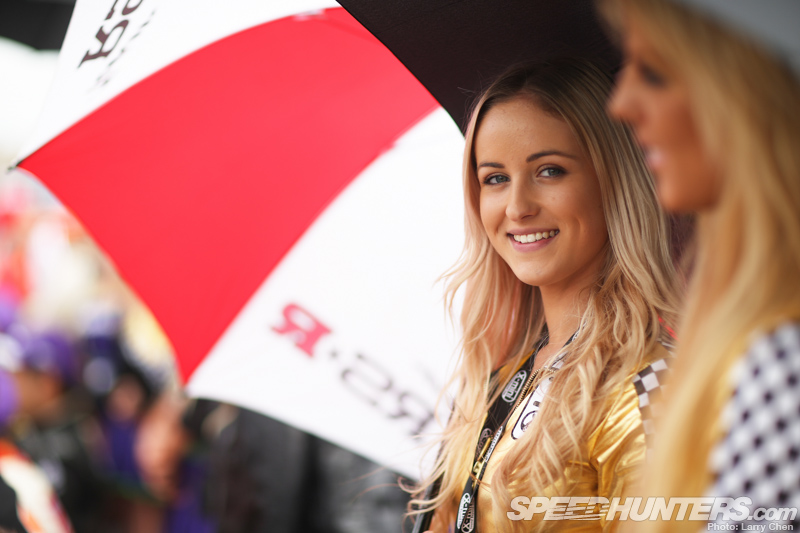 A few friendly local umbrella girls showed up to provide much-needed shade to the weary drivers.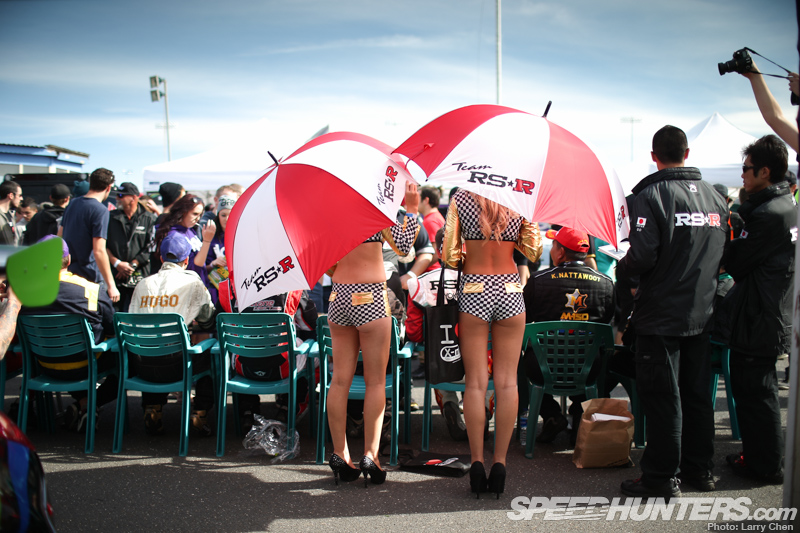 I could not believe how many people came out to meet these drivers. I talked to many fans, and it seems it was the norm for many of them to travel long distances just for this event. I heard some people say they drove 20 hours straight. Crazy!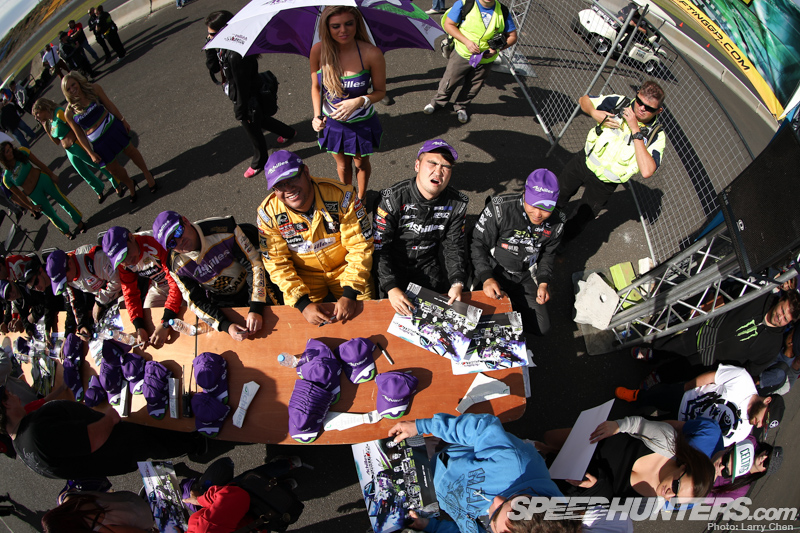 I swear it must have been the longest autograph session ever. Robbie Nishida loved it so much, he wished he could have been there for a few more hours!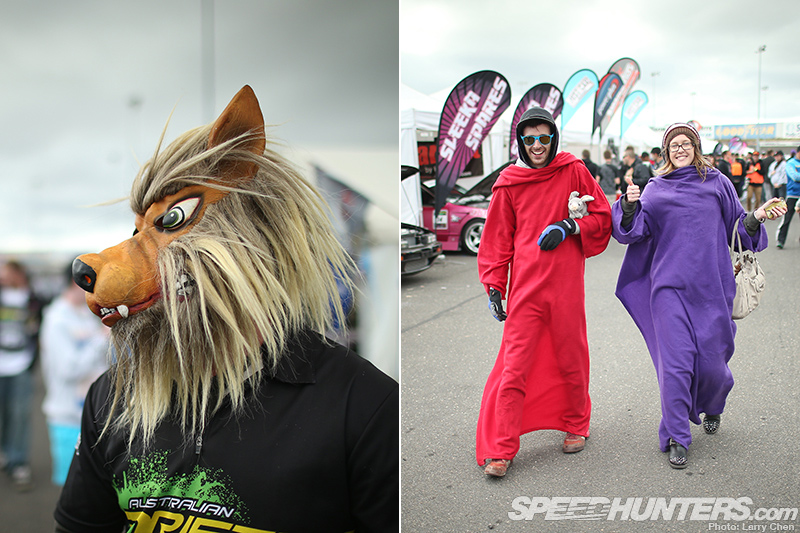 Outside of watching videos on the internet and traveling abroad, these fans never normally get to see the likes of Daigo Saito, Fredric Aasbø and Mad Mike. I was the same way back when Formula Drift first started and D1GP came to North America.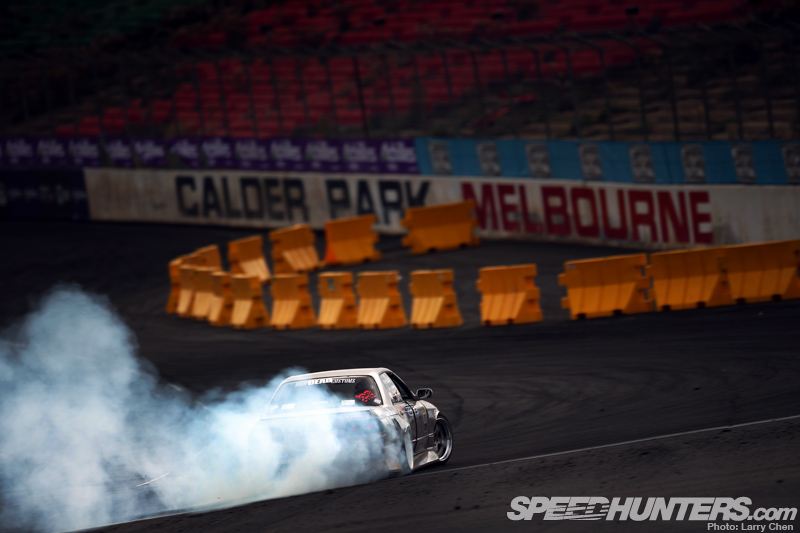 Much of it has to do with the influence that the Japanese have on the car culture in Australia. It's very evident on the street as well as on the track.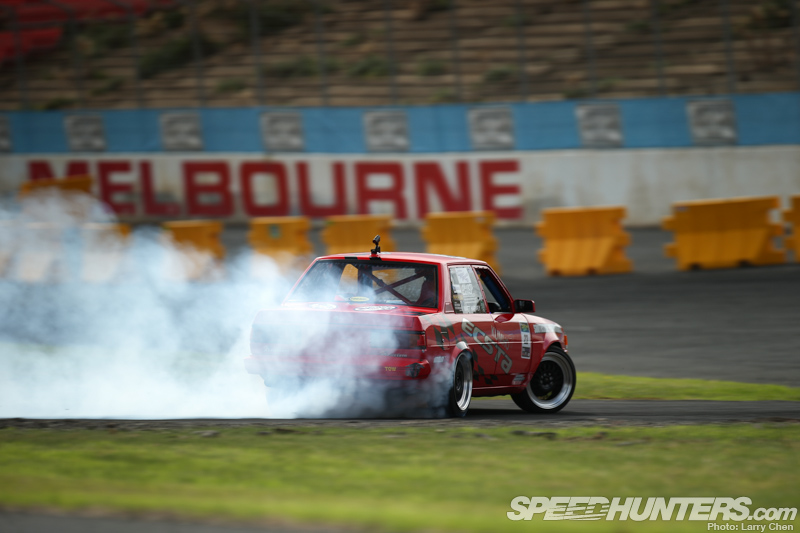 Many right-hand drive cars like this KE70 Corolla, are coveted and treasured here in North America, but are common fare in Australia. It makes me so jealous.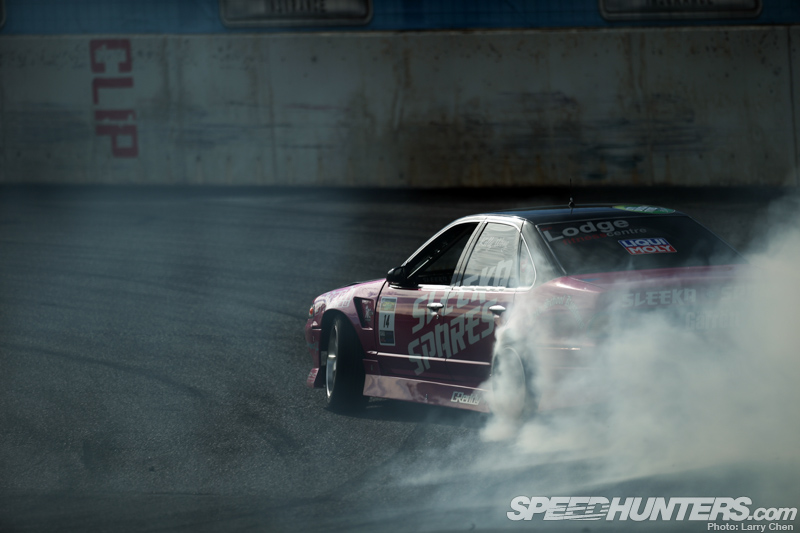 Over the years I've seen quite a few women drivers compete in a variety of motorsports (including the ones that always kicked my ass in autocross), although none have really stood out in the public eye of the drift world until now. Kelly Wong competes in the ADGP series, and she's really good. From what I have seen, I would go as far as to say she's the best female drifter in the world.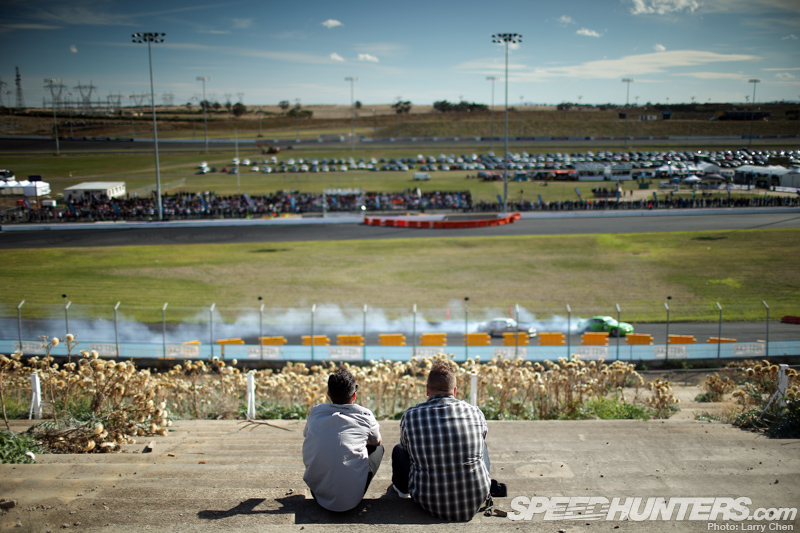 I had another one of those moments where I had to pinch myself during the ADGP top 16 competiton. Was I really watching drifting with my buddies in Australia? Yes, and it was too bad that the Thunderdome's grandstands were infested with snakes and man-eating weeds.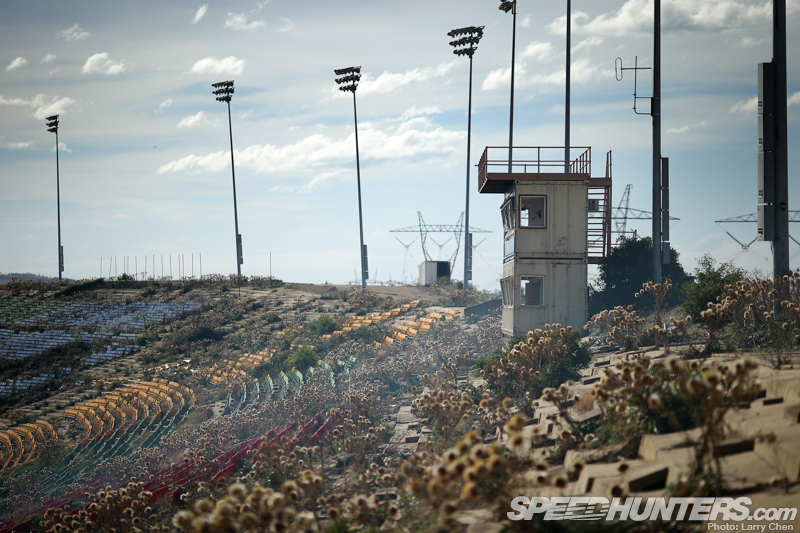 Aside from the fact that it looks like it's been through a nuclear fallout, the stands provide a great view of the action.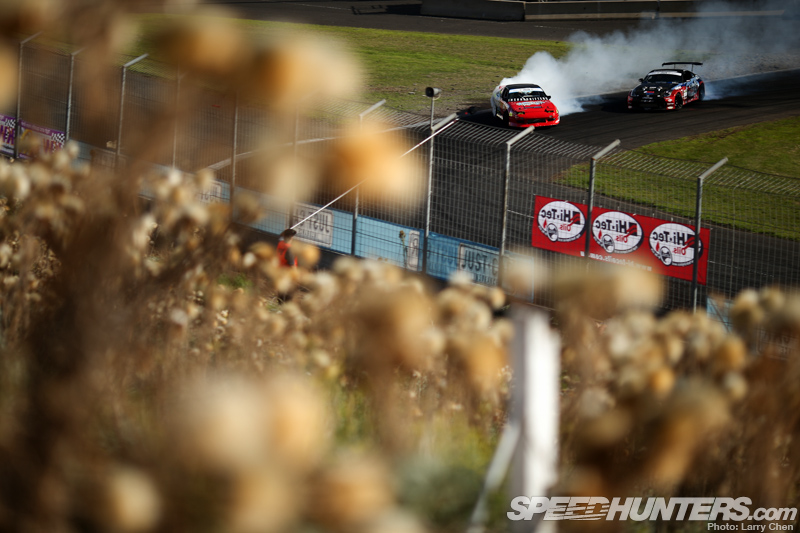 Although I did have to constantly yell "Down in front" as the man-eating weeds kept getting in my way.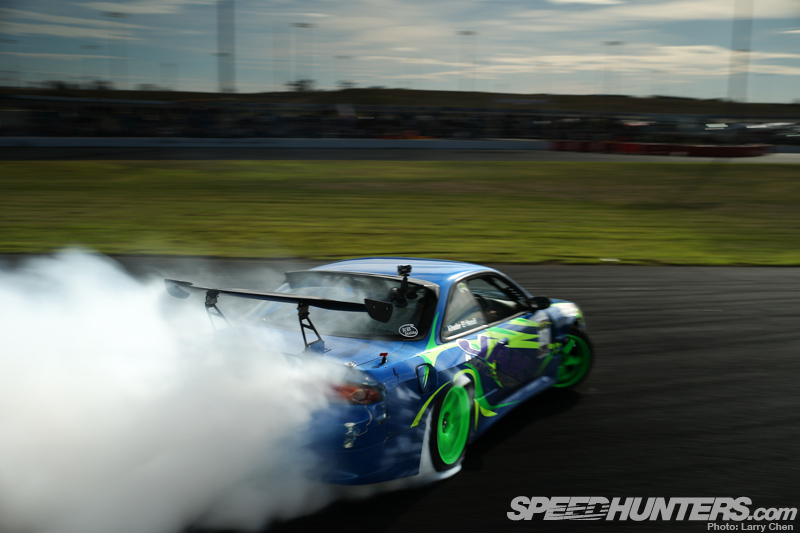 The skills the local guys had were second to none. It's very evident that these drivers get plenty of seat time, and that there are builders in Australia who know what they are doing.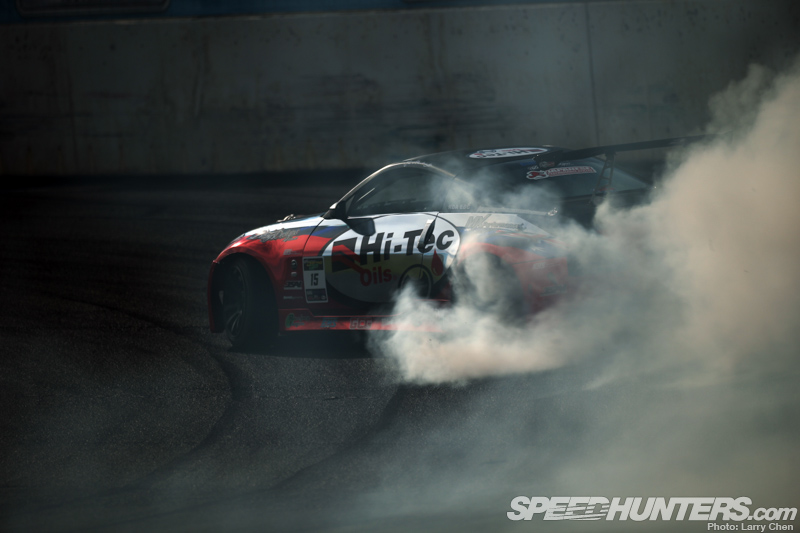 For instance, just check out this Z33 ripping the asphalt a new one.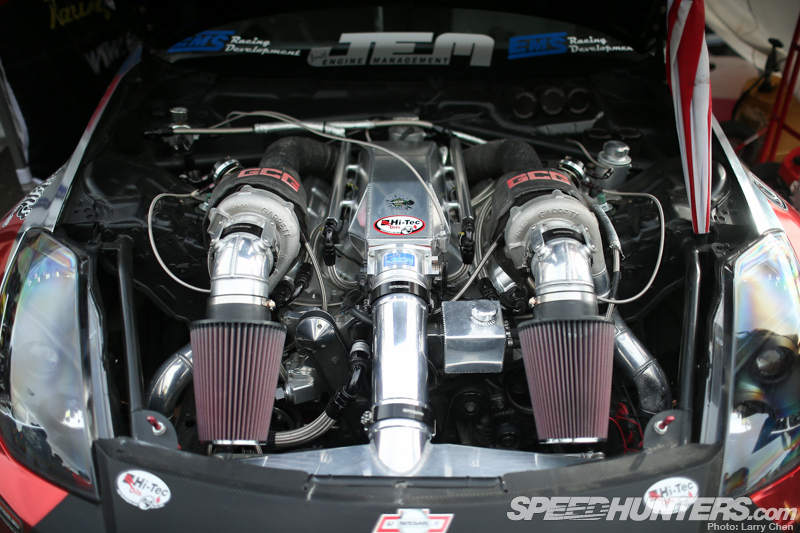 It's running a twin turbo LS3, with enough sucking power to bring down low-flying birds.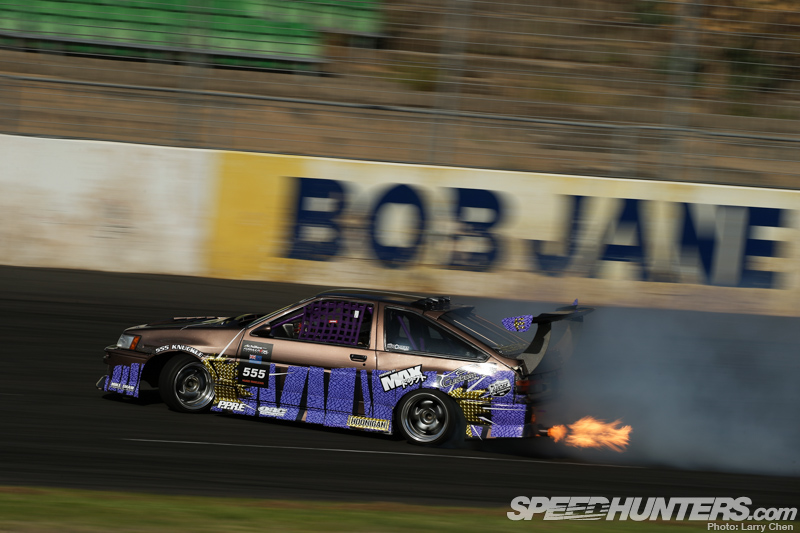 Aside from Mad Mike, a few drivers from New Zealand made the trip over, including the man known as Hugo and his 20B-powered AE86.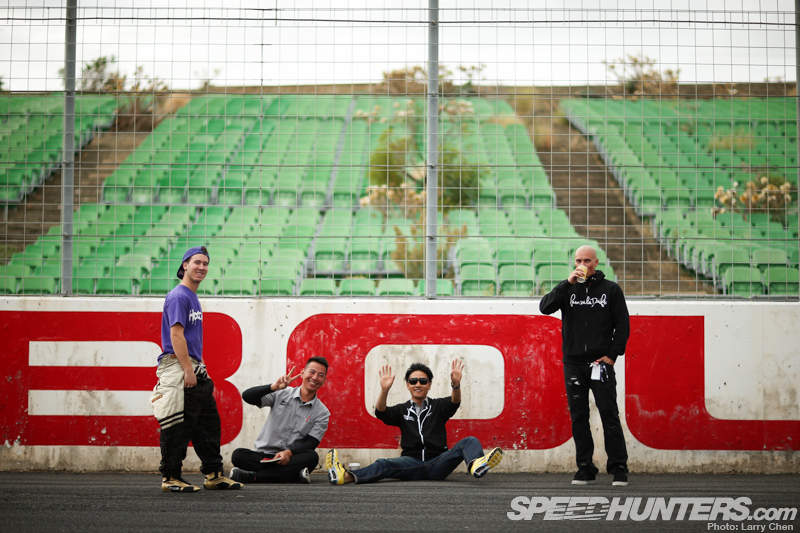 He's already made a name for himself in the drifting community, but he unfortunately ran into some motor issues and could not compete in the main event. Keep an eye out for a car feature from our very own Dino Dalle Carbonare.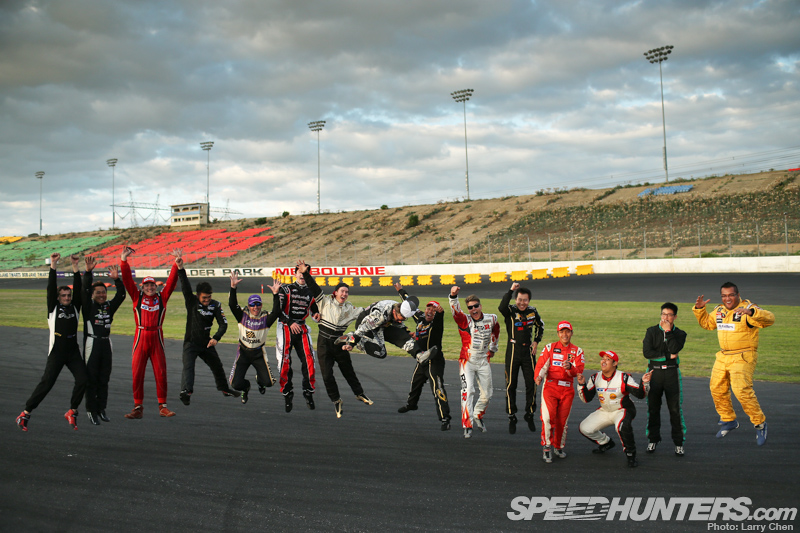 The Formula Drift field of drivers was set, and everyone was super excited to battle it out for glory. Except the guy in the green and black race suit.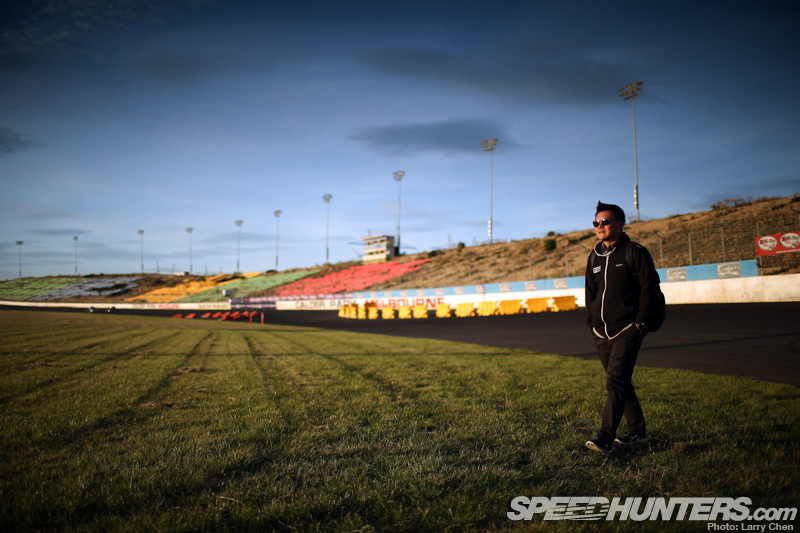 This is the sixth year for the Formula Drift Asia series. Most of the staff take on different roles in this series.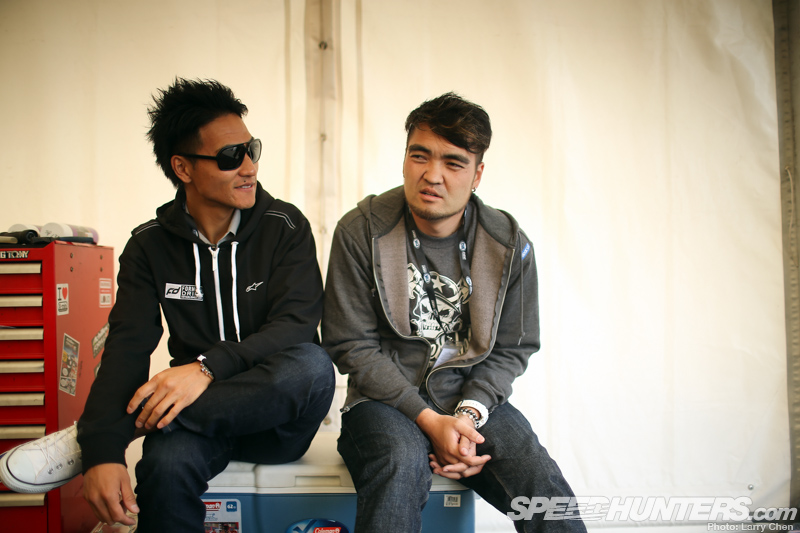 Daijiro Yoshihara hangs up his driving suit as he's one of the three FD Asia judges. The other judges are Andy Yen, and FD Technical Director Kevin Wells.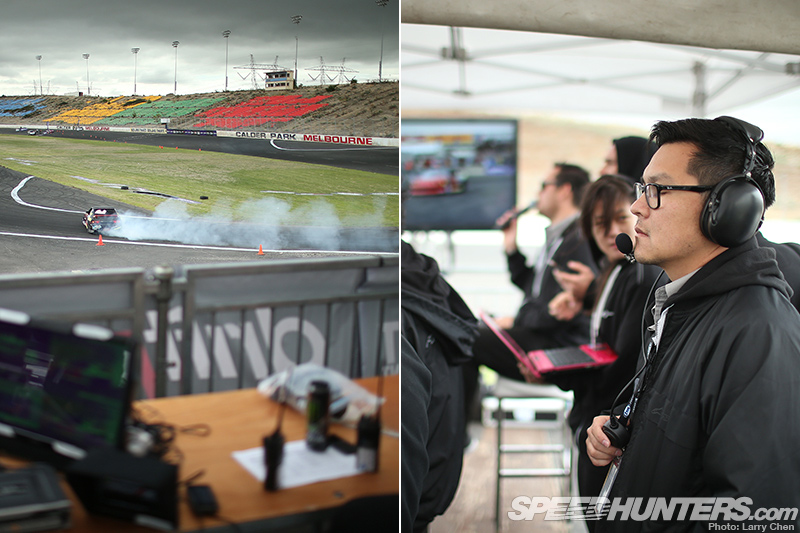 President and Co-founder Jim Liaw, also takes on a different roll as race control for the event. Just a week earlier he was in the same position for the Motegi Racing Super Drift Challenge in Long Beach, CA.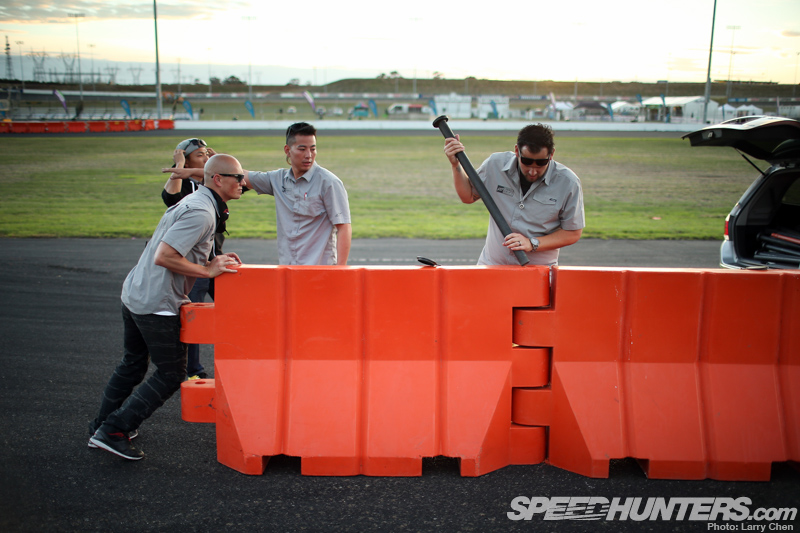 After the ADGP event it was all hands on deck for the FD staff as they had to flip the entire drift course backwards.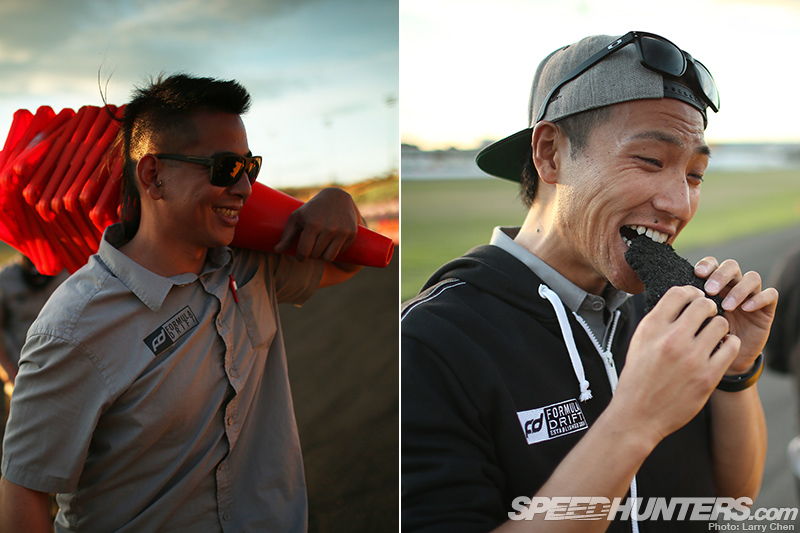 Andy Yen helped out with course setup, while Dai ate some left over tire rubber.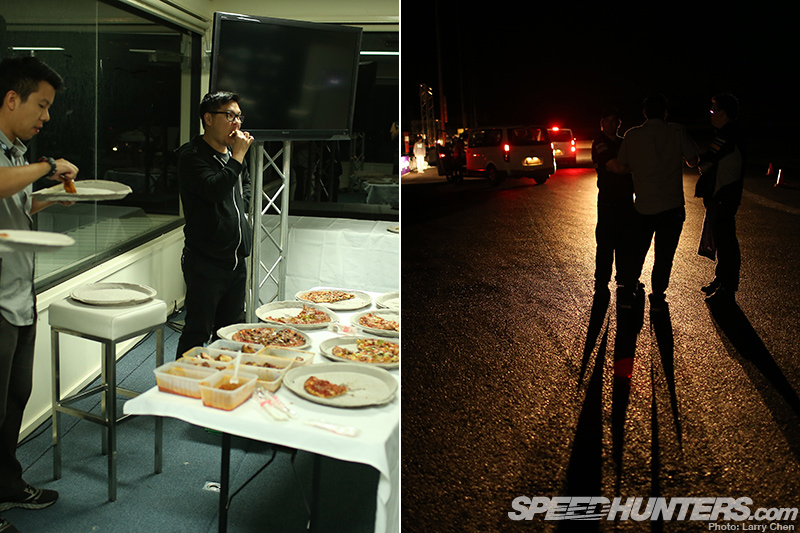 Everyone was very hungry from a hard day's work, so they took a break to eat some seafood pizza. Afterwards, it was right back to work in the pitch dark.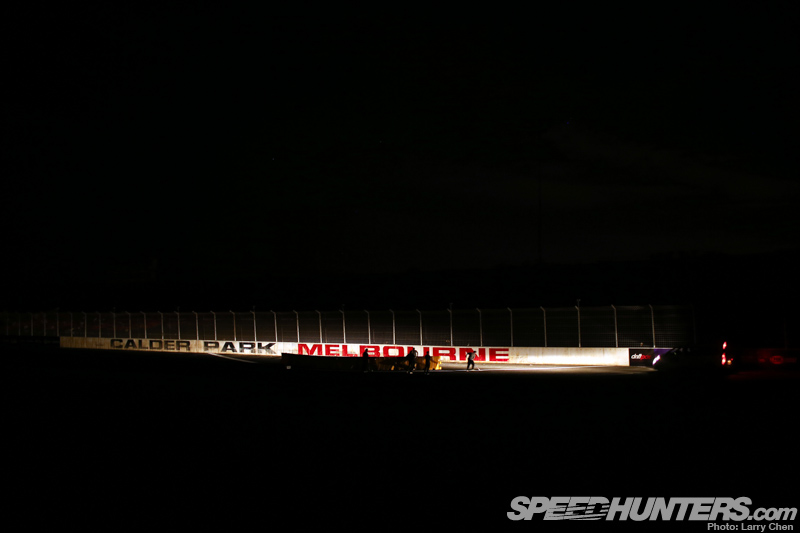 The Formula Drift staff worked well into the night to get the course ready.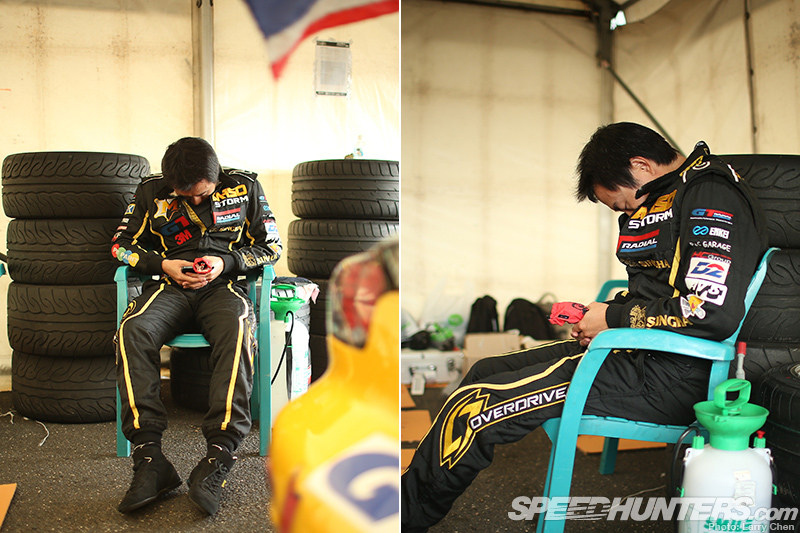 The tightly packed weekend took a toll on everybody, including me. Drivers like Saranon "Non" Pornpatanarak had great style. It brings me back to my high school days when I used to fall asleep in class with my pen still in hand, just to wake up with a giant drool spot on my books. Although, no one has a better sleeping style than Robbie Nishida. He can sleep during drivers' briefings!
The course layout was new to everyone. so the driver briefing was also a course walk to familiarize the clipping points and the way the track layout flowed.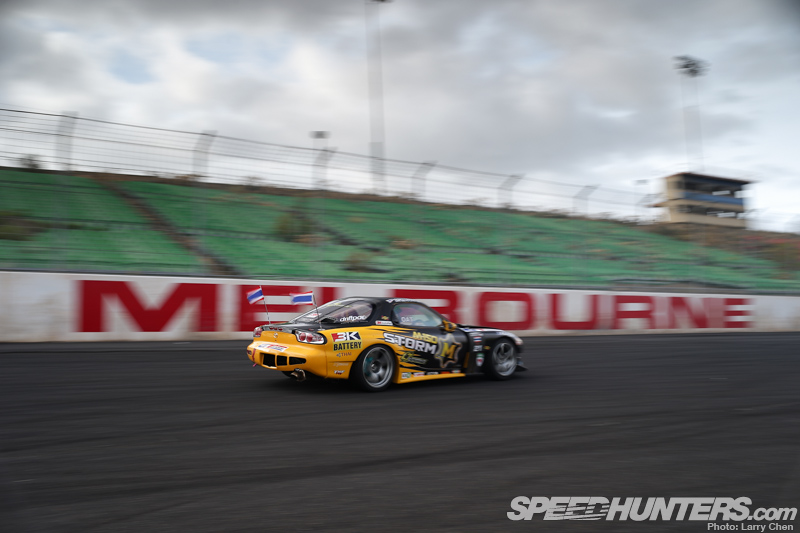 One by one, the drivers dove headfirst into what little practice time they had.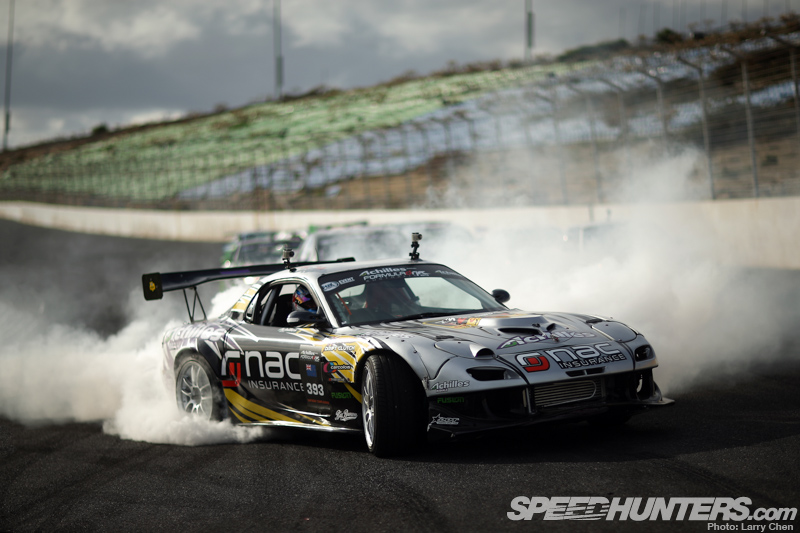 Each driver only had a few runs before their two qualifying laps, which gave everyone an equal handicap.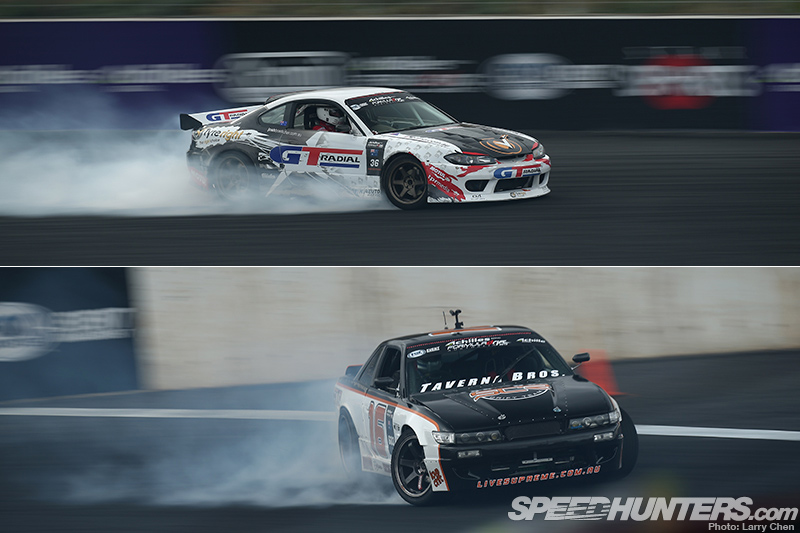 Due to the new track layout and the drastic changes in track temperatures, many of the guys were locking their front tires coming off the bank.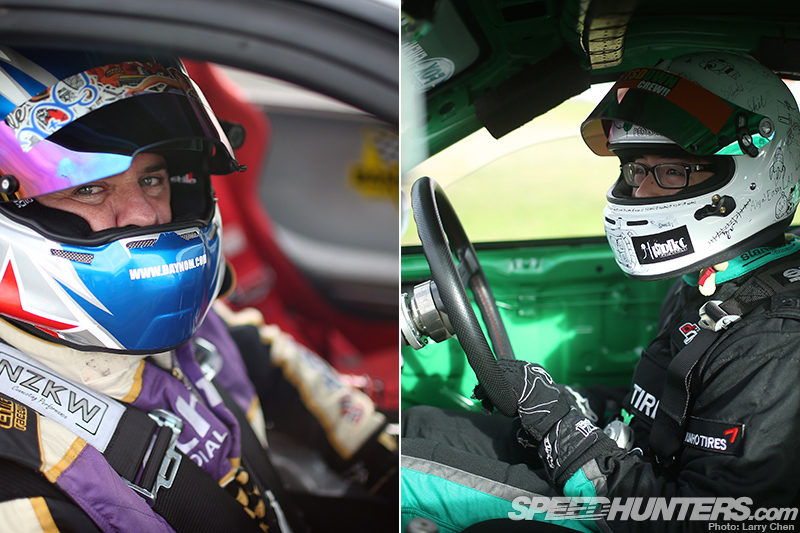 Depending on how much experience the Australian and FD Asia drivers had, some coped with the new track layout better than others.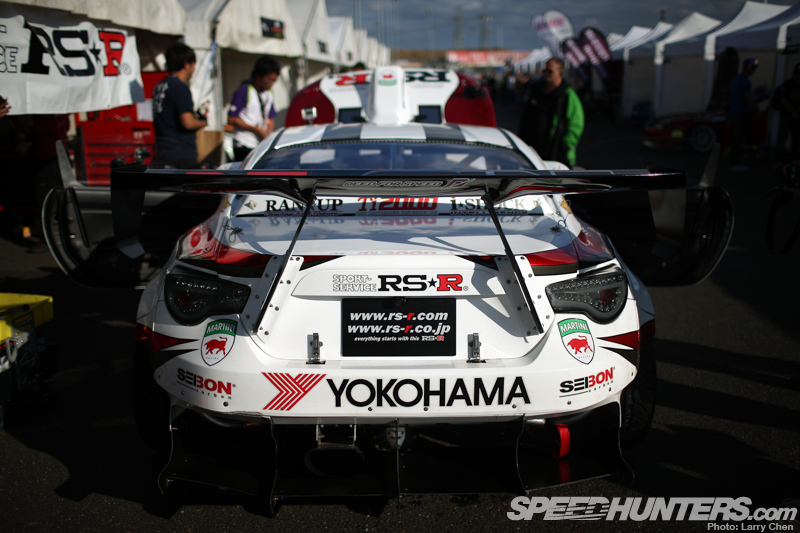 Fredric seemed to be struggling all weekend, especially during practice.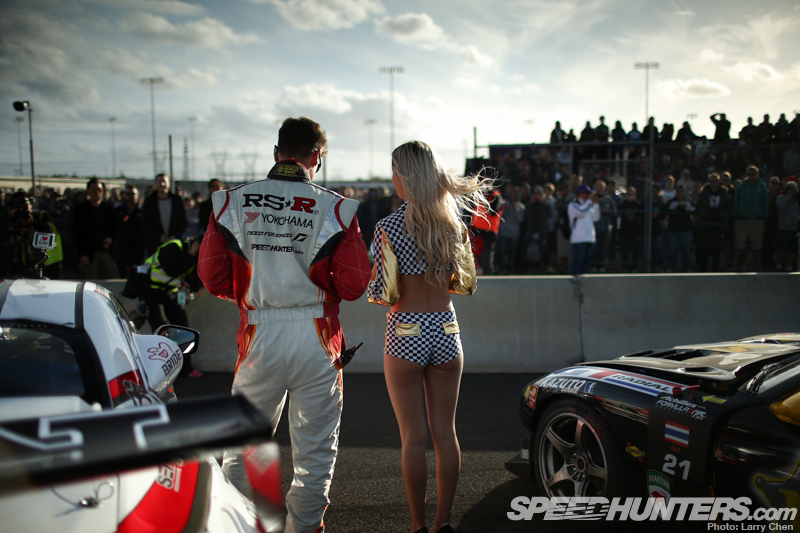 By the time top 16 rolled around, he got a bit more comfortable with the car. However, he was still plagued with mechanical issues.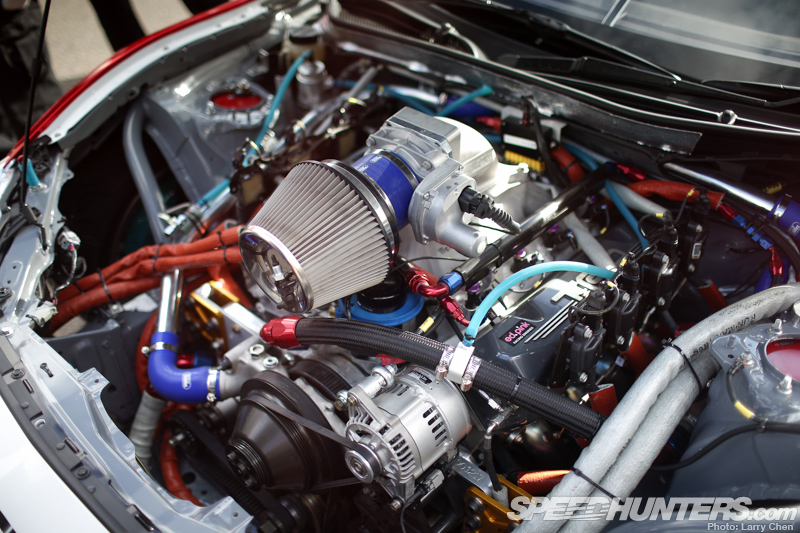 The team mentioned that the car would shut off momentarily mid-drift.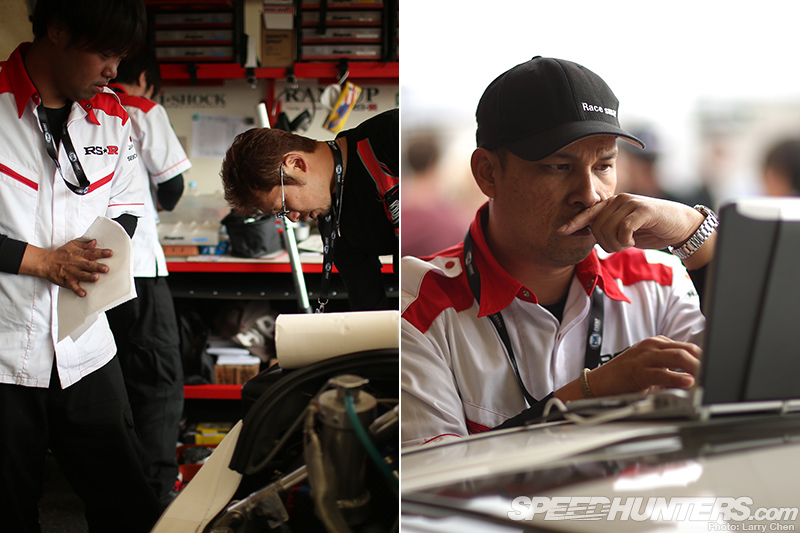 Because it was the first event for this crazy car, it was expected for the RSR team to run into minor bugs here and there.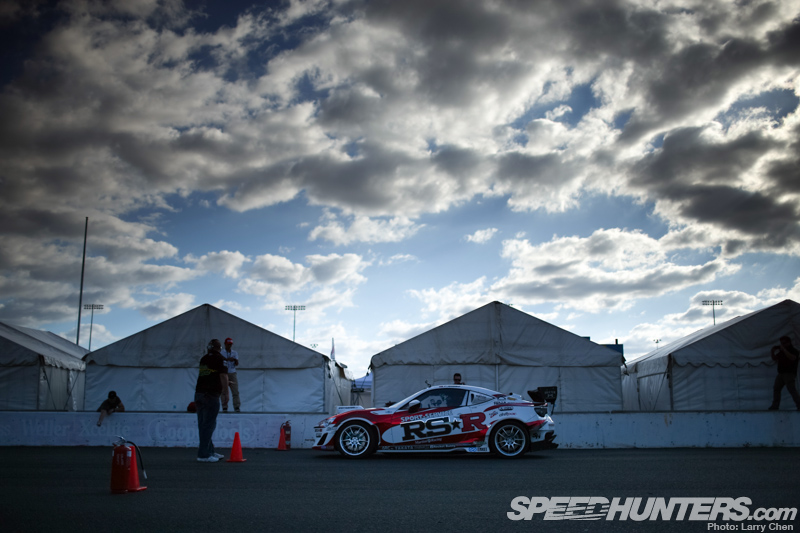 Fredric will go into more detail about it later in a post, so I won't get into it too much.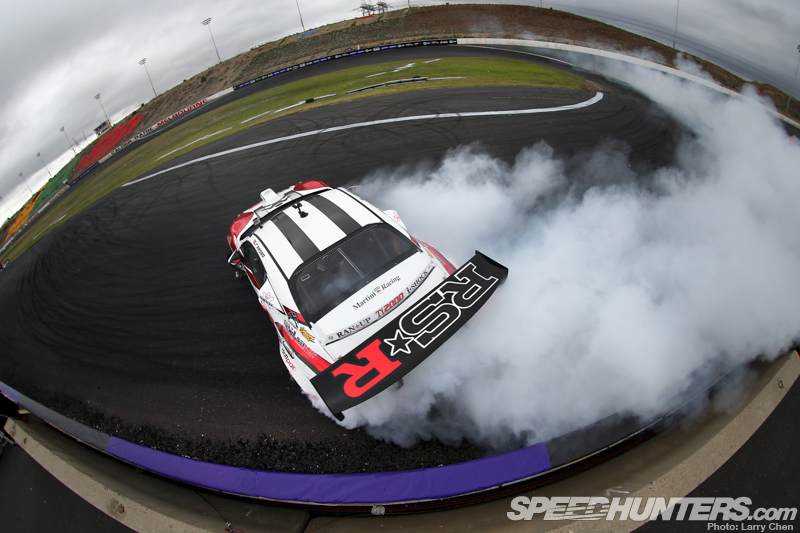 He did end up qualifying in fourth place and he finished in fourth too, which is not too bad considering that it's a brand new car that he has only driven once before.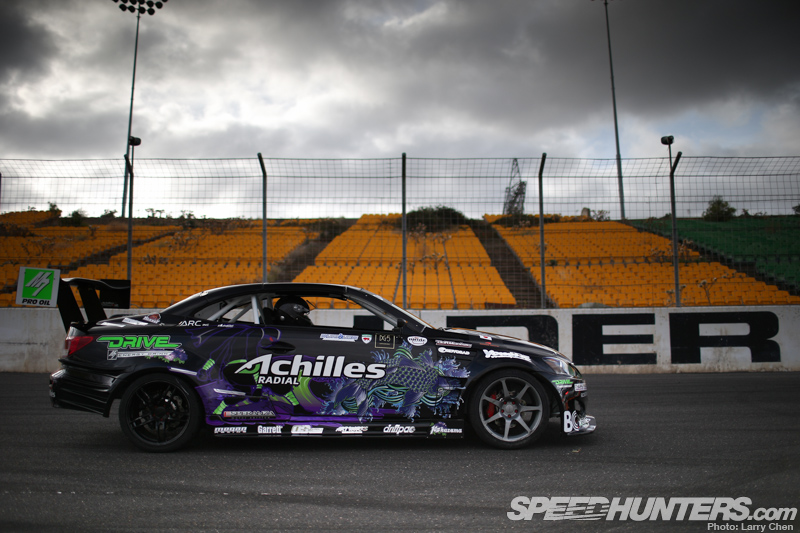 I'm just going to put it out there right now: I love Daigo Saito's Formula Drift Asia car. I think it looks much better than the car he's campaigning in the Formula Drift Pro Championship.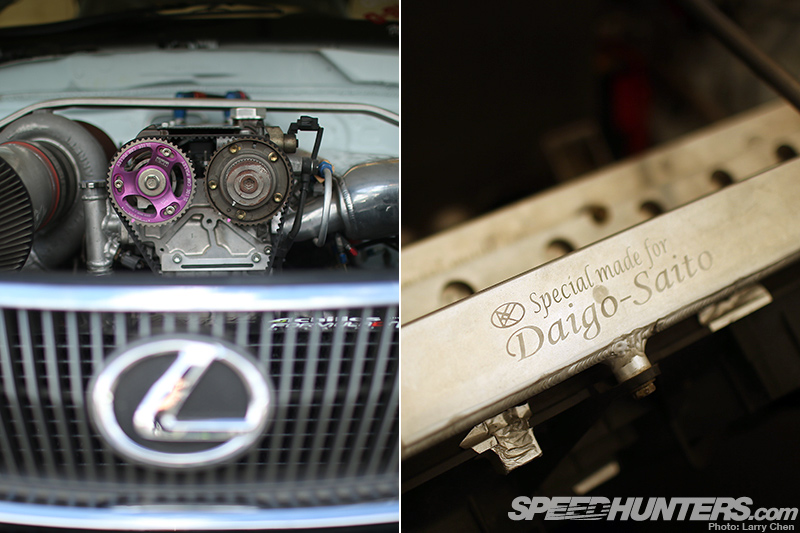 Both of the cars scream his own personal style, but there's something that I can't quite put my finger on that separates the two.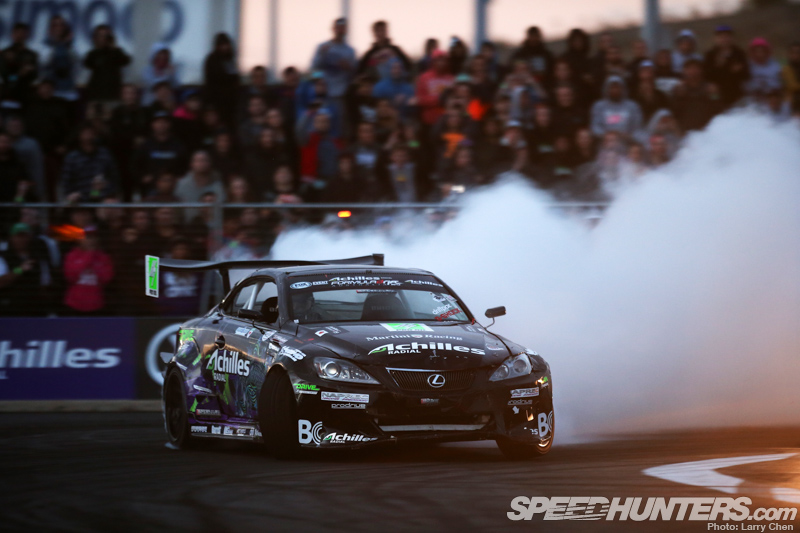 It may be to do with the livery, but then again, maybe he'll change the livery on his S430 in the near future.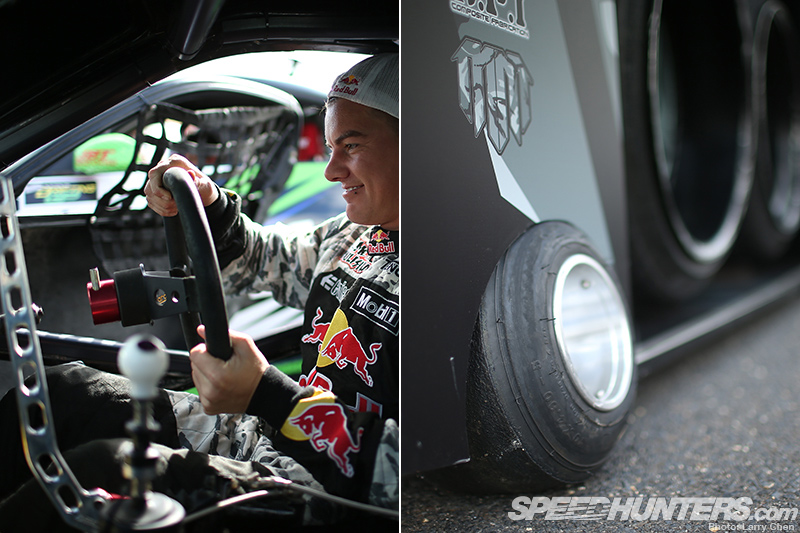 In terms of personal style though, I don't think anyone will beat Mad Mike. Even his pit box has stretched tires and mad camber. How cool is that?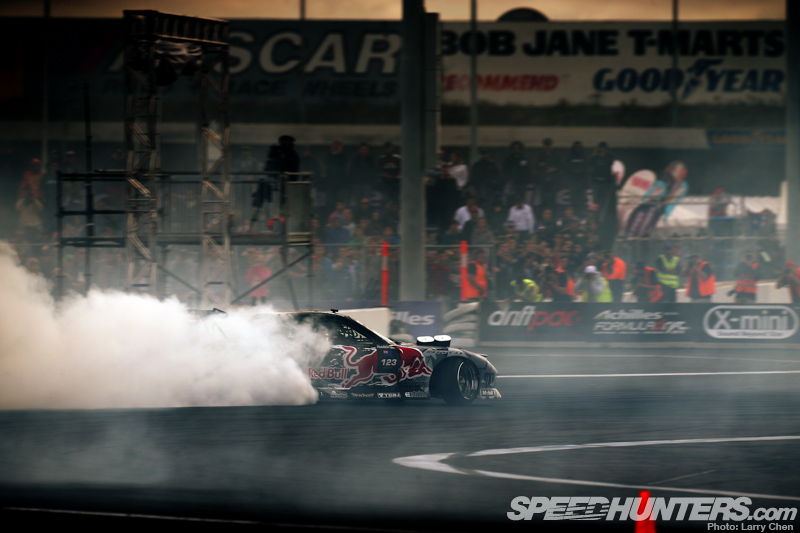 He has one of the best looking and sounding drift cars in the world, period.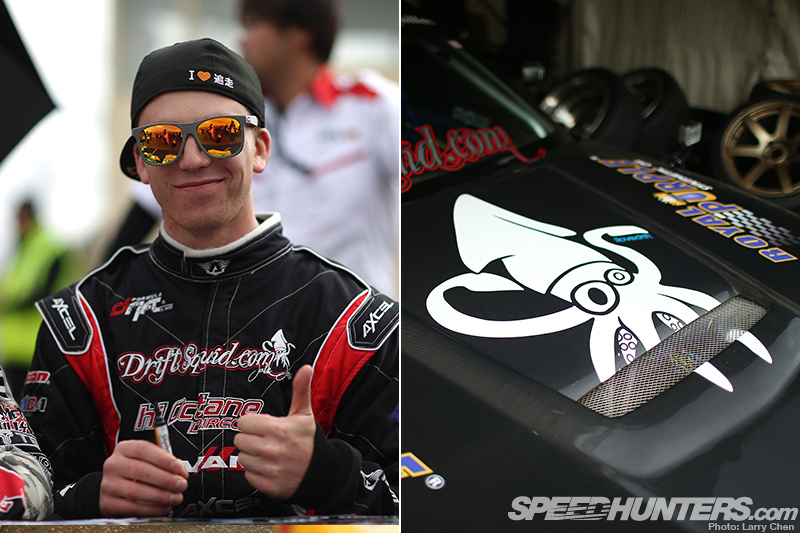 Jake Jones, also known as Drift Squid, is one up-and-coming driver that everyone needs to keep an eye on. This kid has skill oozing out of his ears.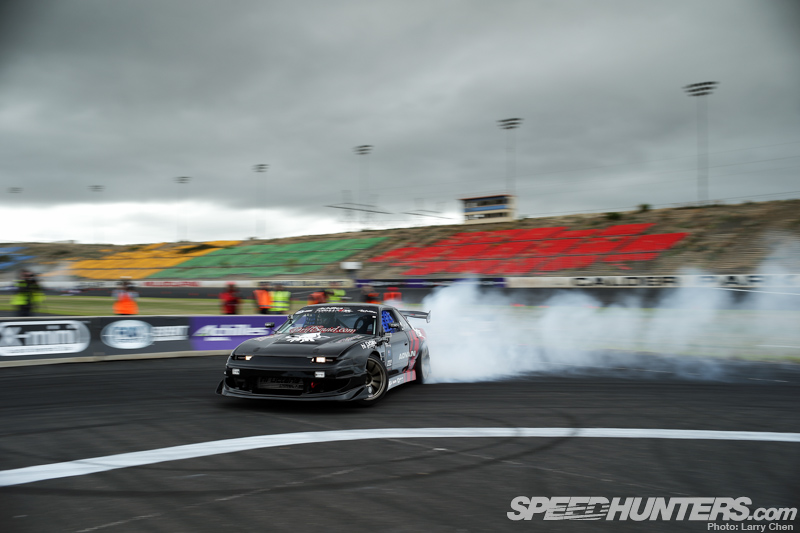 From what I saw, he could very well be the next Fredric Aasbø/Darren McNamara. Who knows, maybe in a few years time he'll be competing in North America.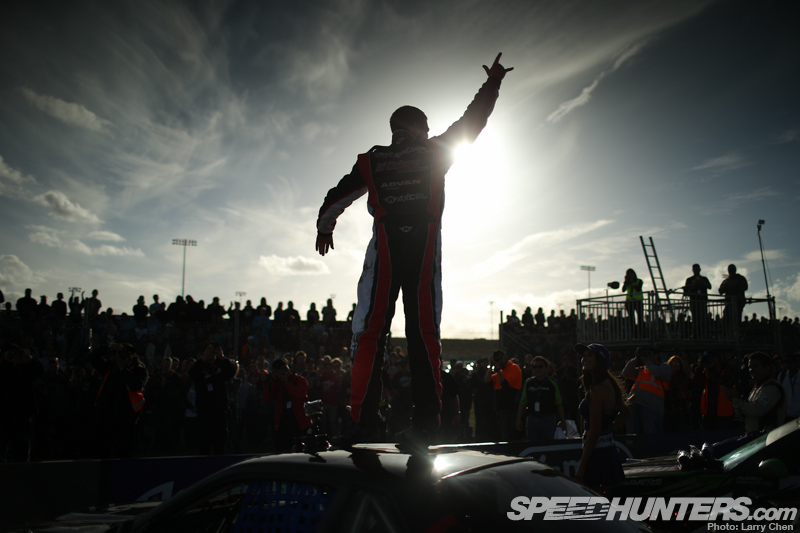 I was very excited to see how packed the stands were; the tickets sold out around midday. During Top 16, it was standing room only, and the fence surrounding the course was lined with people three or four rows deep.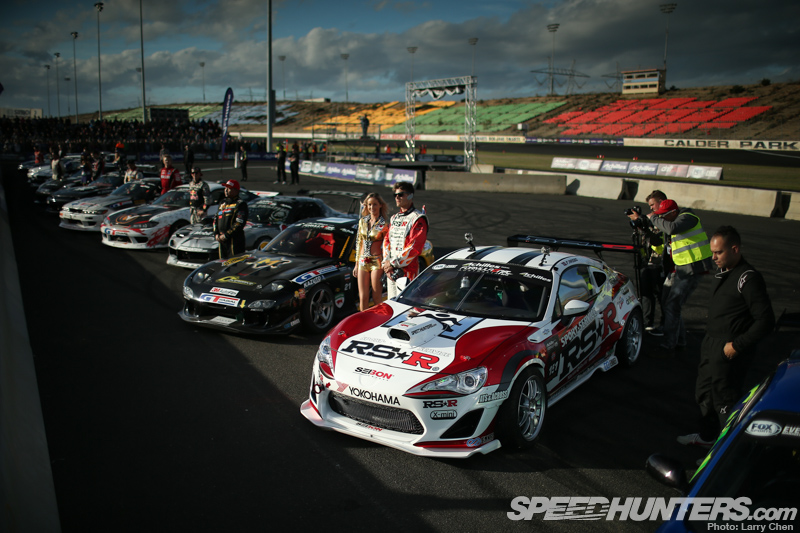 Until now, Australia has never seen such a grand and professionally run drift event. To top it all off, this event was broadcast live on Fox Sports.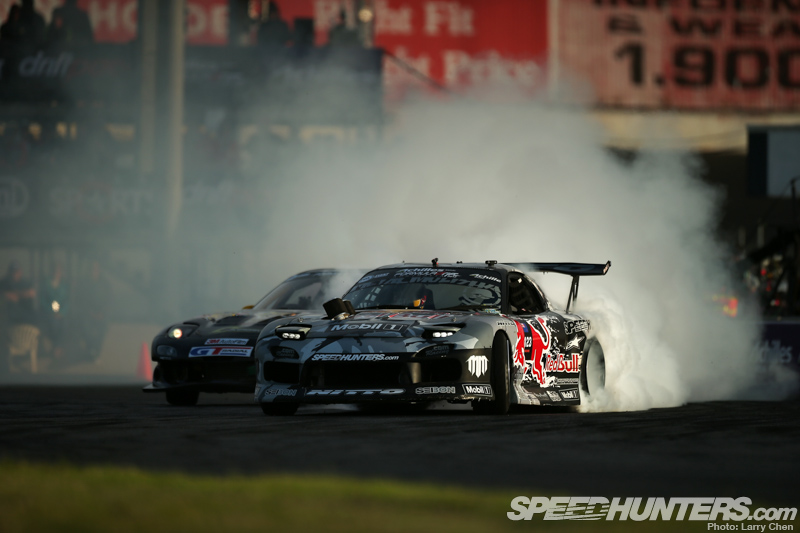 Television ratings were the least of Mad Mike's worries though, as during top 16 practice, Daigo hit the rear of the four-rotor-powered RX-7. During his top 16 battle, his exhaust completely came loose and his car bottomed out, causing him to spin out.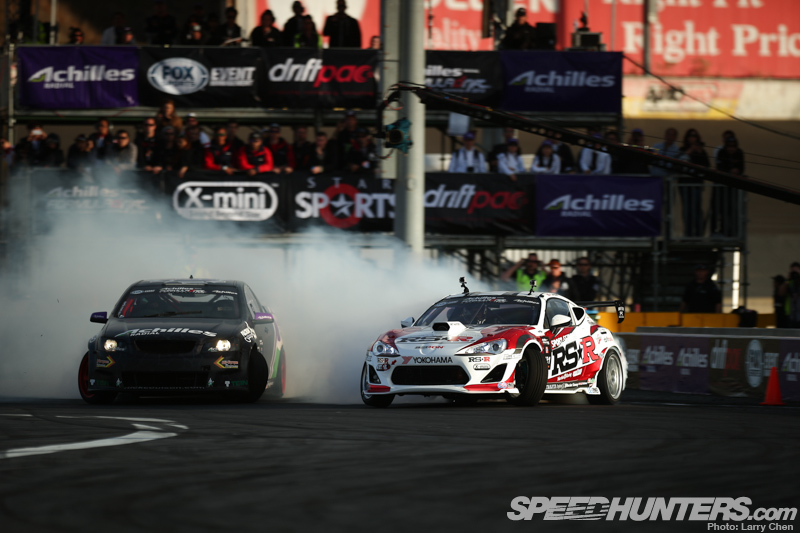 One of the more controversial battles of the event was between Fredric Aasbø and Nick Coulson in his drifting ute. Fredric ended up moving on, but not without a fight from Nick.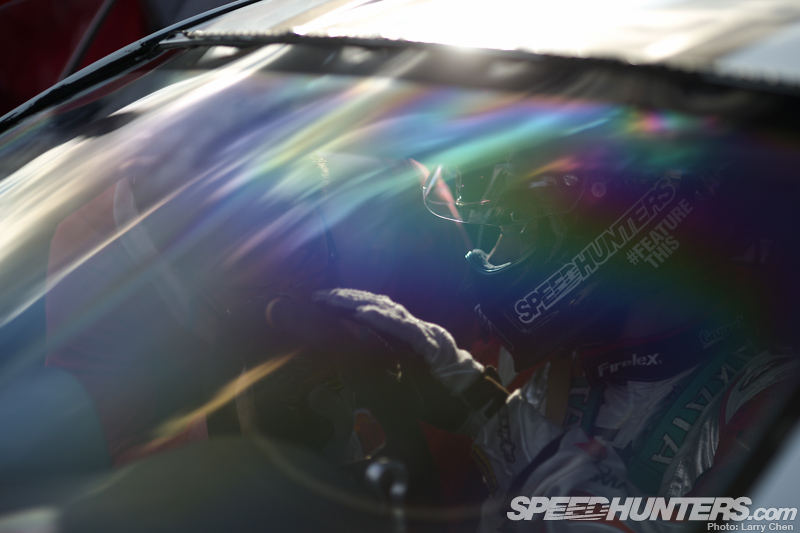 Later on I asked all three judges about the battle. Dai said that it could have gone either way, because Nick had great proximity and he was not very impressed with Fredric's performance. He chose one more time. Both Kevin and Andy mentioned that Nick had a very poor initiation, and he was also very far from the clipping points. Both of them voted for Aasbø, which gave him the win. Personally, I would have loved to see that battle go one more time.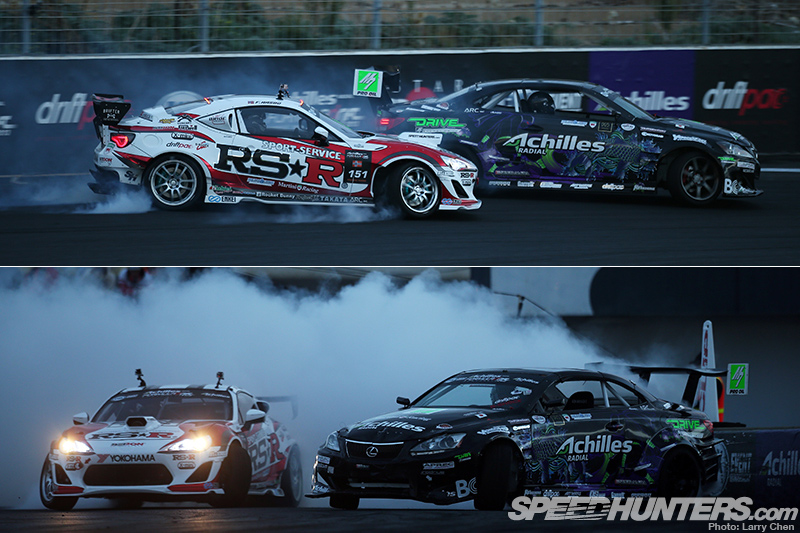 The battle of the event though, was between Fredric and Daigo. It seems they keep going back and forth. Since Fredric won the last time they met, it was now Daigo's turn.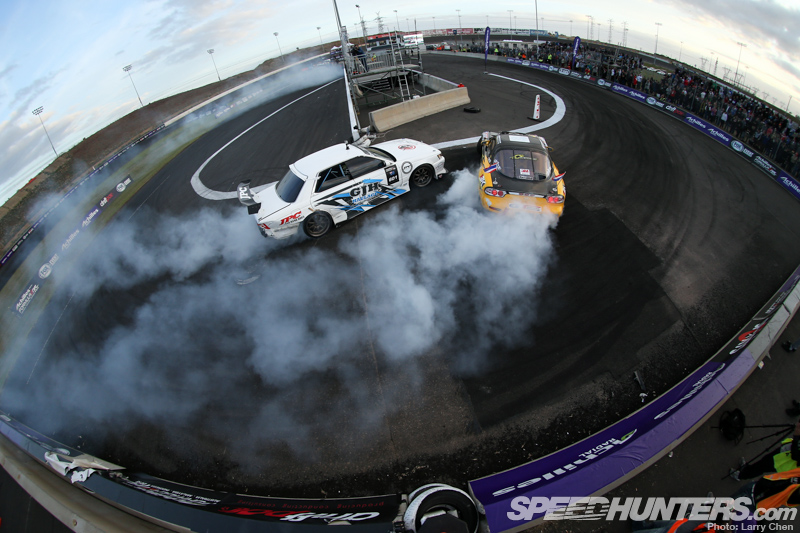 The driver of the event was Tom Monkhouse in a borrowed C33 Nissan Laurel. He borrowed a car to drive in the ADGP series, which earned him an FD Asia license, and then he borrowed another car to compete in Formula Drift. How crazy is that?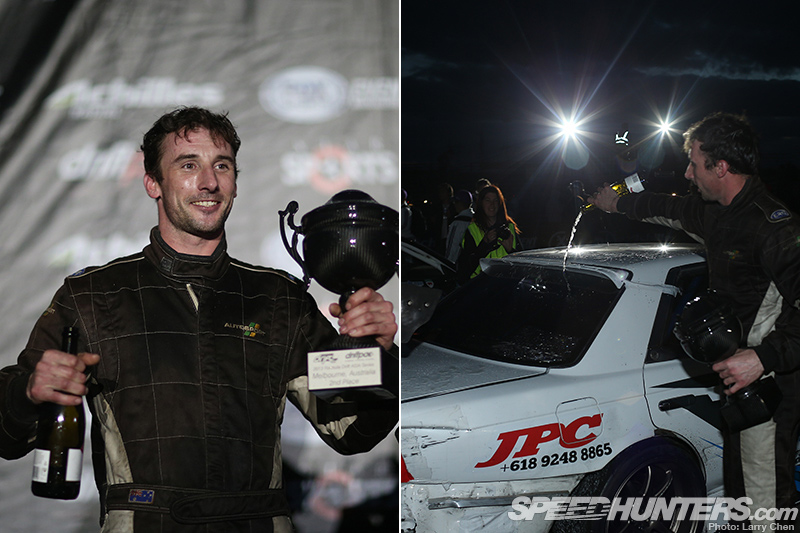 Well it turns out that the C33 Laurel is one of the most well-prepared drift sedans I've ever seen. Paired up with a driver with amazing natural talent, you have yourself a winning combination.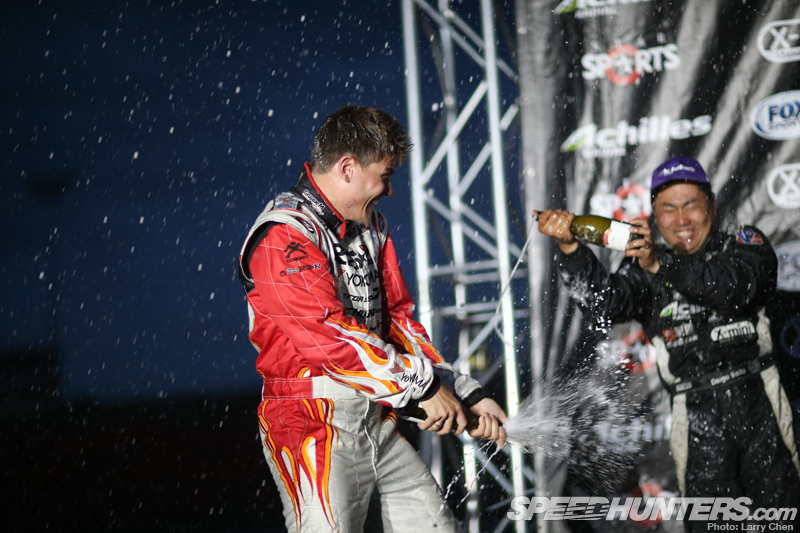 The only time you will ever seen Daigo Saito smile is after he wins an event. Otherwise he's in total robot mode, which kind of reminds me of our fearless leader, Rod Chong. I guess you could say Daigo is the Rod Chong of drifting?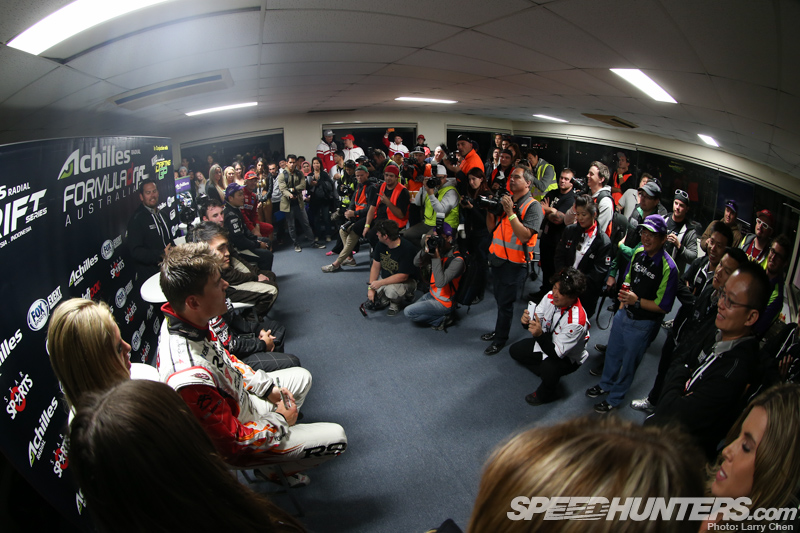 Afterwards, there was a traditional press conference where friendly jabs were exchanged. and laughs and good times were had by all.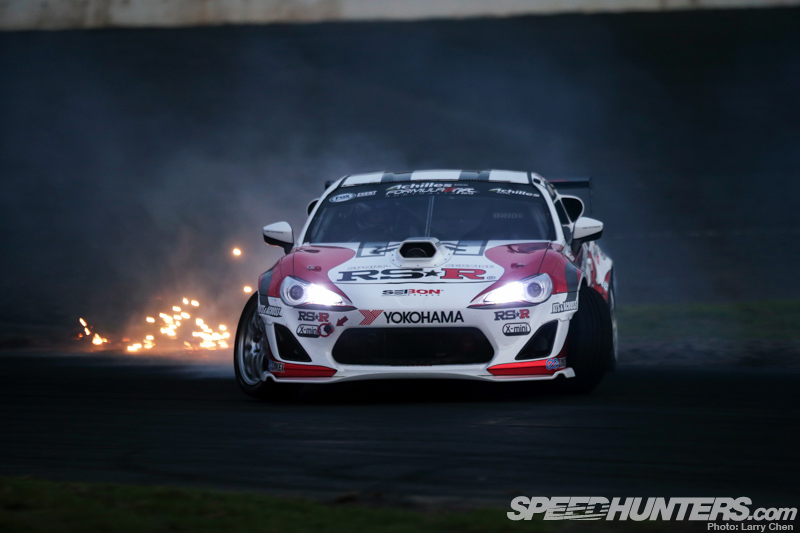 The engineers at RSR have so many hurdles to overcome before the next event. Hopefully they will get things buttoned up before the next round in Malaysia.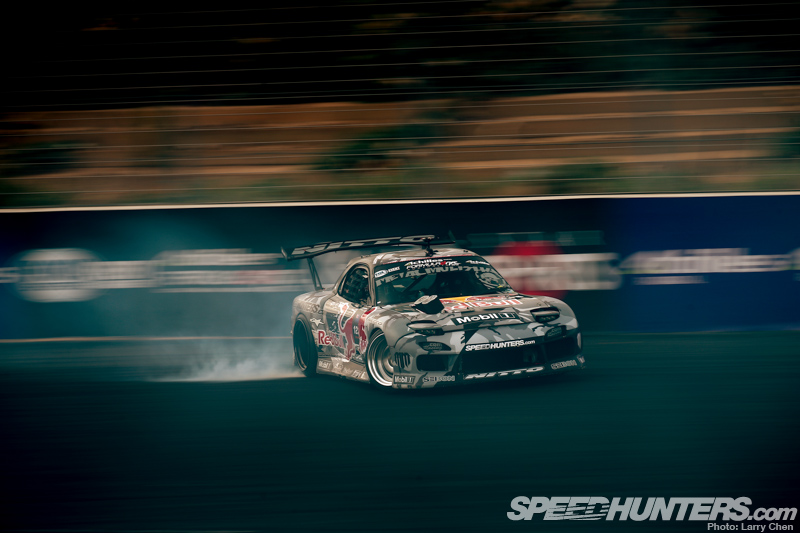 I probably won't be able to watch Mad Mike drift again until Gatebil. Then again, that could be a good thing as it gives my ears some time to recover. I watched children literally scream and cry in agony after Mad Mike drove by. Poor kids and their little eardrums.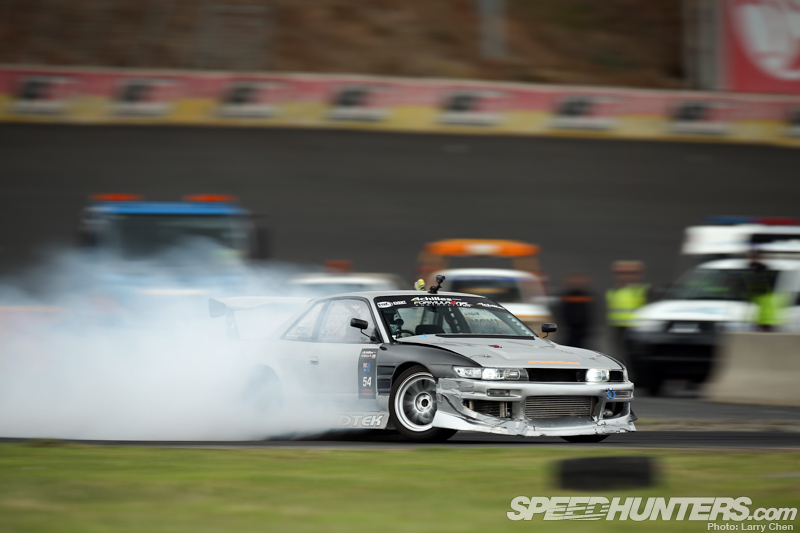 Now that the Australian drivers had a taste of Formula Drift competition, it will be interesting to see if any of the six drivers will be able to make it to the rest of the rounds in the Asian series.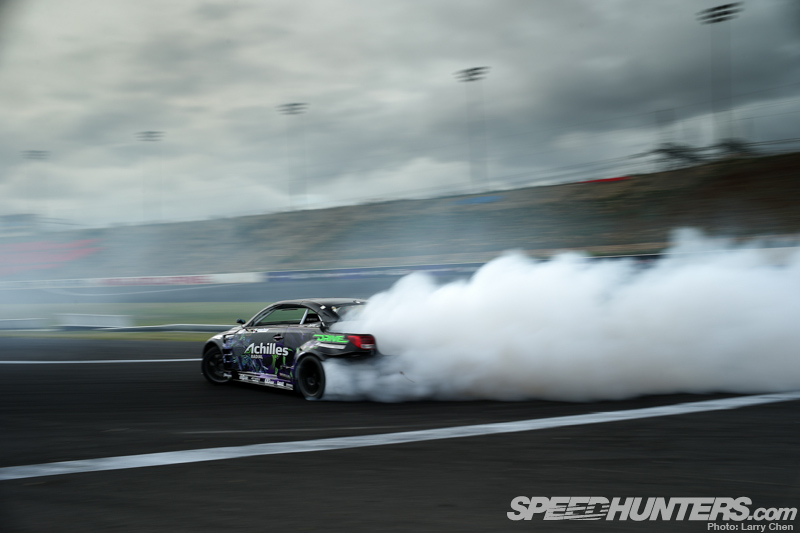 The Formula Drift Asia Championship comprises of only three events this year. There is a very likely chance that Daigo will have the perfect season. It seems the only one who has a chance to stop him, is Fredric Aasbø. I guess we'll just have to wait and see….
Larry Chen
Instagram: larry_chen_foto
larry@dev.speedhunters.com
Previous Formula Drift Asia coverage on Speedhunters
More Formula Drift coverage on Speedhunters
---
---
---