We've already shown you that Randy Winkle and crew can build a mean Front Engine Dragster, a gangster '57 Chevy Gasser and even an oddball Opel Kadett. When some of the Speedhunters crew arrived at Famoso Speed Shop last month they stumbled upon a treasure trove of feature material; so they did what they do best and pointed their cameras, resulting in a whopping four feature shoots in one visit. I've saved my personal favorite of the bunch for last – a Competition Coupe named One Bad Hombre, built for and with Randy's son, Randy Jr.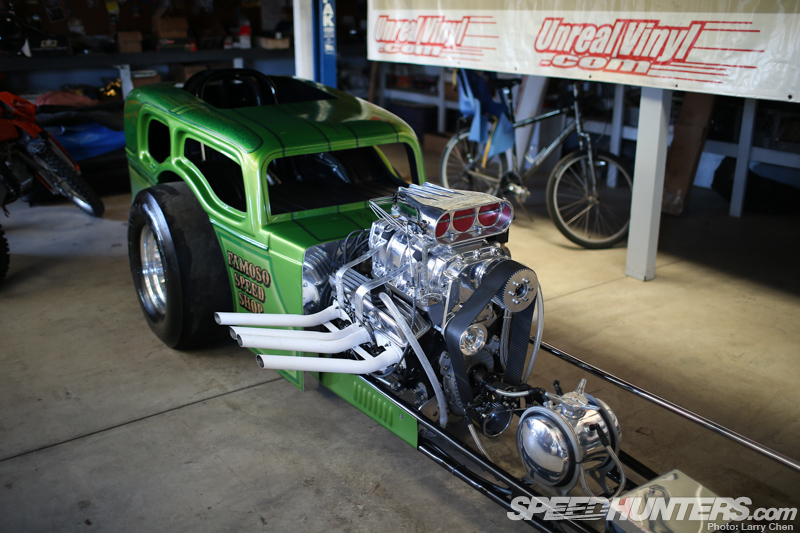 I saw the Comp Coupe parked alongside the paddock at Famoso Raceway, but was so enamored with the FED and Gasser that I didn't pay a whole lot of attention to it. Fortunately Larry had the chance to isolate our subject when he returned to the shop, because it's just as impressive. You might be noticing a theme by now – everything that comes out of Famoso Speed Shop is unbelievably cool!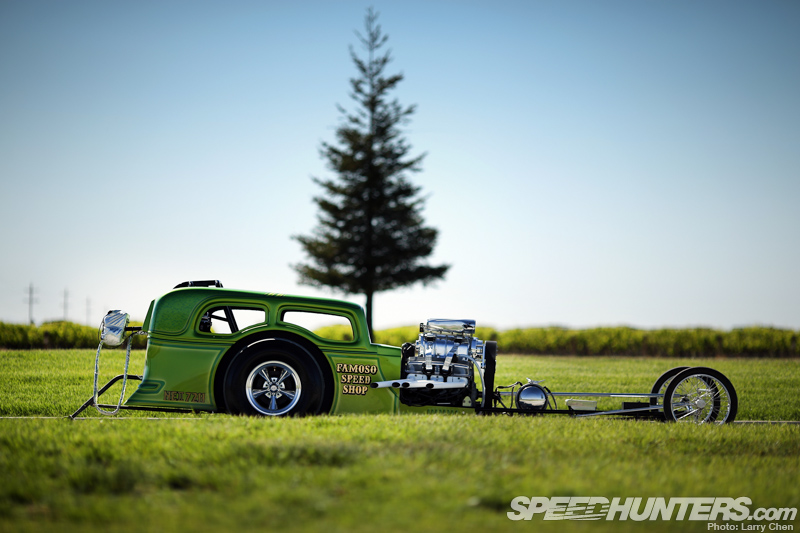 The Competition Coupe class was a little more open than the Altered class, allowing the engine to be placed almost anywhere in the chassis as long as the driver sat behind the rear axle.  Oh, and of course it had to have a production-based body too. This style went away with the rise of the Funny Car in the late '60s, but Nostalgia racing is bringing them back.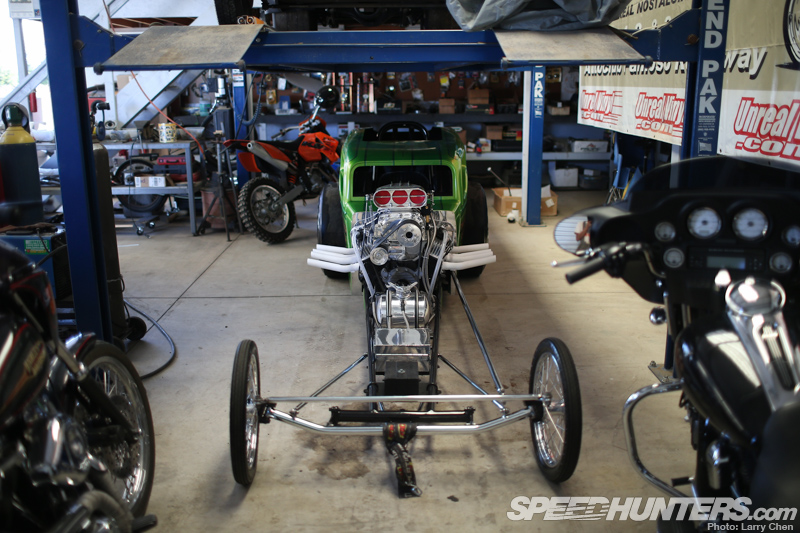 One Bad Hombre is miniscule compared to the O' Black Betty FED. Just looking at the spec sheet tells the story: a 127-inch wheelbase versus 179 inches on the FED, 15×10-inch rear ET wheels instead of 16×12, and a high compression 360ci SBC that's much smaller than what they typically run.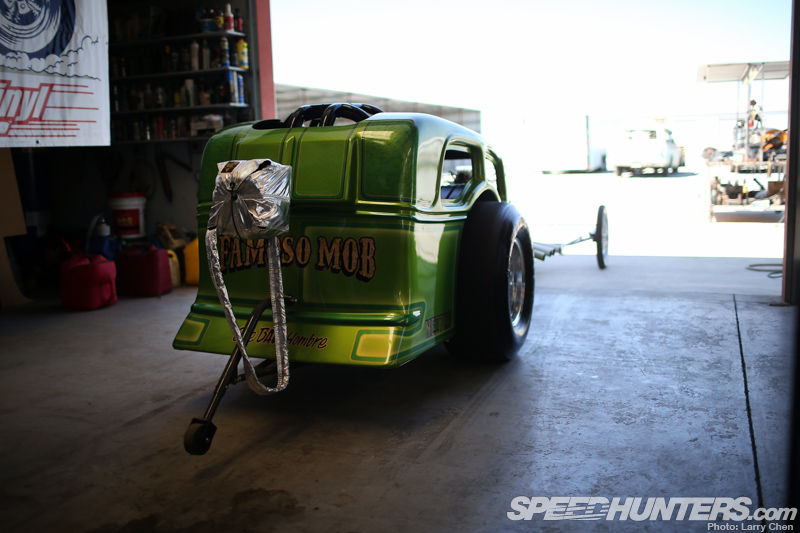 I got the impression that the Comp Coupe was a small car for Famoso Speed Shop to build, but Randy said it's actually the opposite. I just happened to encounter the '57 Gasser and the big boy FED first – two of the larger cars they've built. Turns out the guys like their dragsters small and simple. Randy words: "Building an overpowered, complicated car is like a over-swinging a golf club."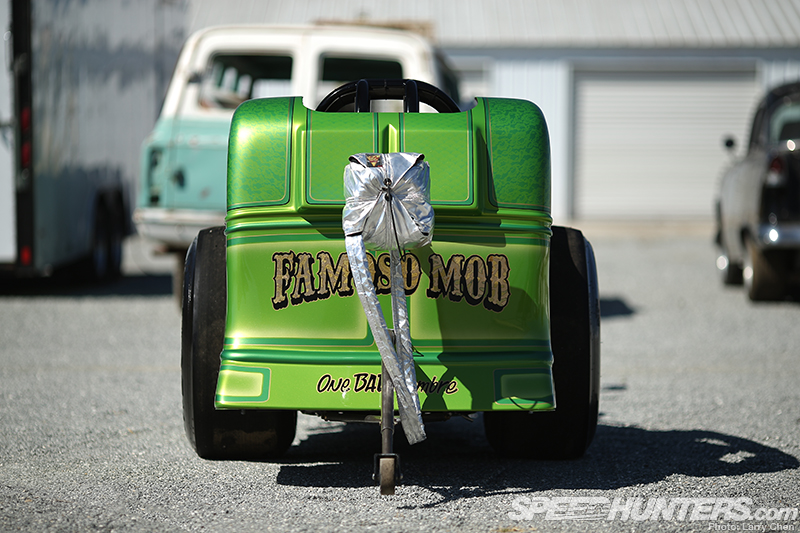 Chew on this for a second: those are 10-inch wide slicks, which are considered skinnies in the 1/4 mile world, yet the car scoots down the track in the mid sevens with a 1.1-second 60-foot time. A lot of guys would have been tempted to put a wider tire back there in an effort to maximize traction, but Randy and Jr. know that if you build 'em right there's no reason to go overkill. Plus going any wider would have thrown off the period-correct vibe they were going for.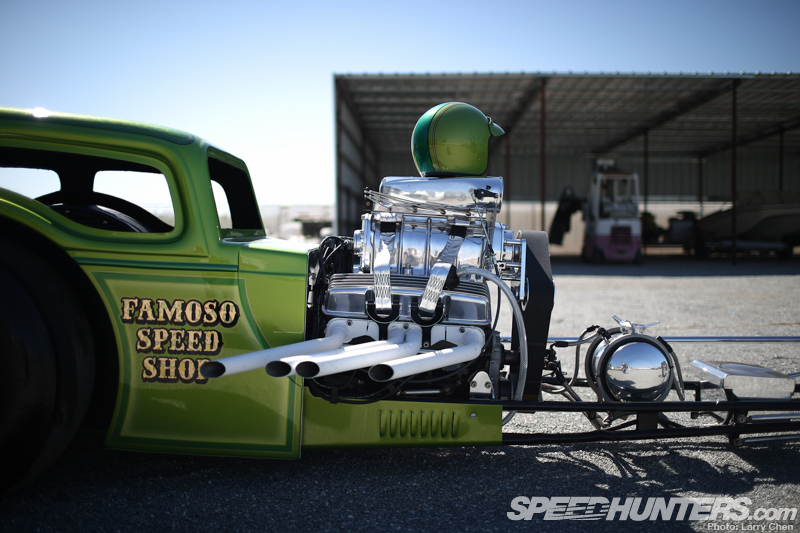 The 360ci engine might sound like an exercise in restraint too, but there's a more interesting story behind it. Randy was challenged by his late friend Kenny Brown to run a 13:1 high compression Sprint Car motor in place of the typical firebreather. His buddy bet him that he would go just as fast on the smaller engine, and he was right.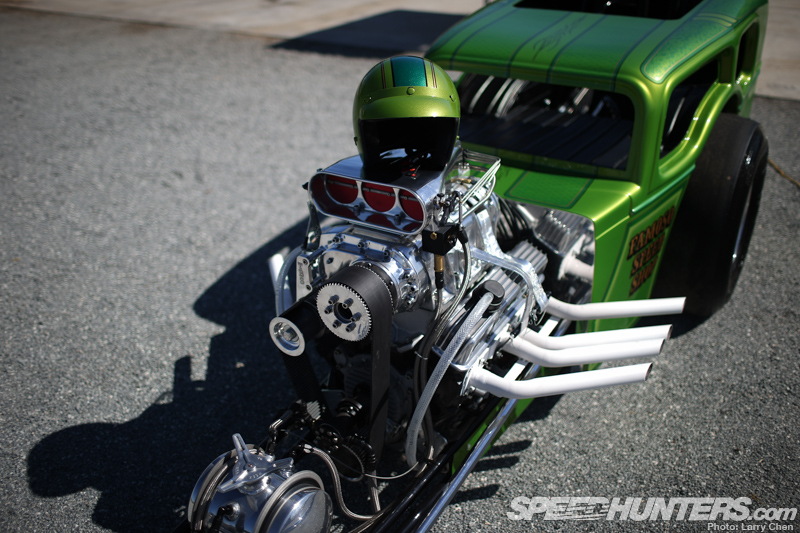 Randy wanted to turn up the power a bit though so he added the blower, running a conservative 4lbs of boost since the compression is so high. Next he wants to crank it up to 10 or 12psi and see how fast it will go. Boost is simply controlled by pulley diameter – notice how large it is in this shot? He'll just swap on a smaller pulley to spin the blower faster and add more pressure.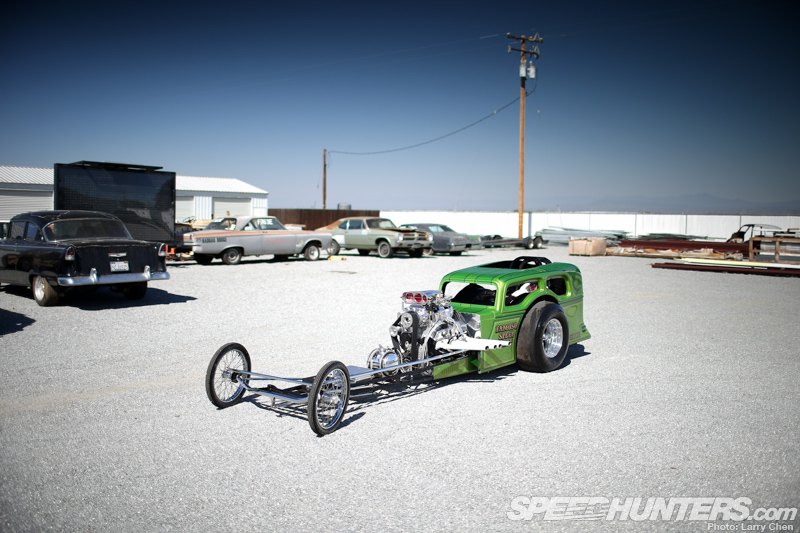 Randy and his son hadn't planned to build this car, it was more of a serendipitous score. Randy Jr. called his dad one day as he was passing through Arizona on a parts run. He wanted his pops to stop in Hemet, California and take a look at an old 1964 rail that he had spotted in the classifieds. Dad was happy to oblige – his son's interest in drag racing is one of his greatest pleasures in life – so he took a slight detour to look at the project for Junior. He immediately realized this was a chromoly chassis with period-correct construction, but the poor car had been through a couple decades of racing  and had plenty of add-on junk.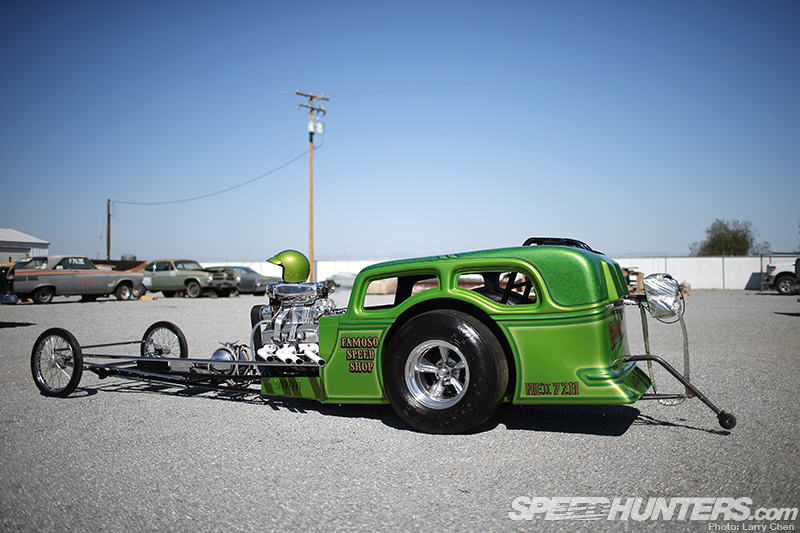 They both knew the front half of the car had the proper '60s look so they left it original, save for deleting the radiator that someone had mounted in the '80s. Ain't nobody got time for a radiator.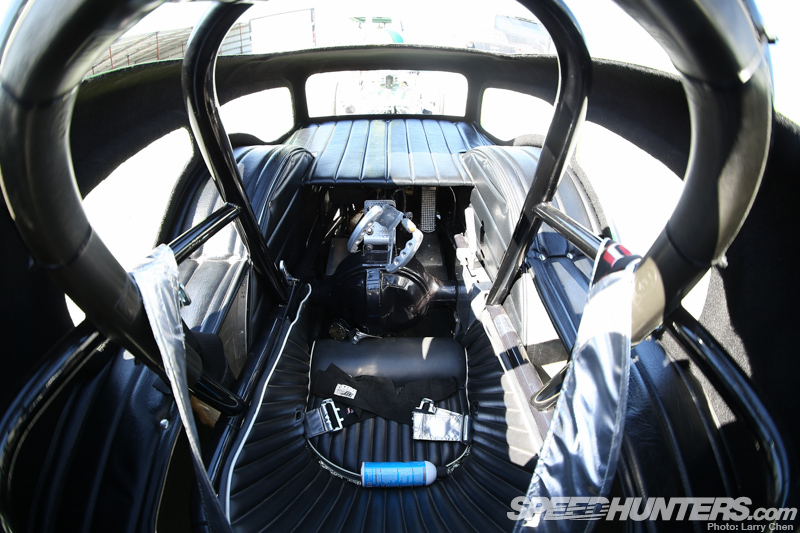 The back half of the car was hacked off and rebuilt with chromoly tube, updating the safety cell to current standards.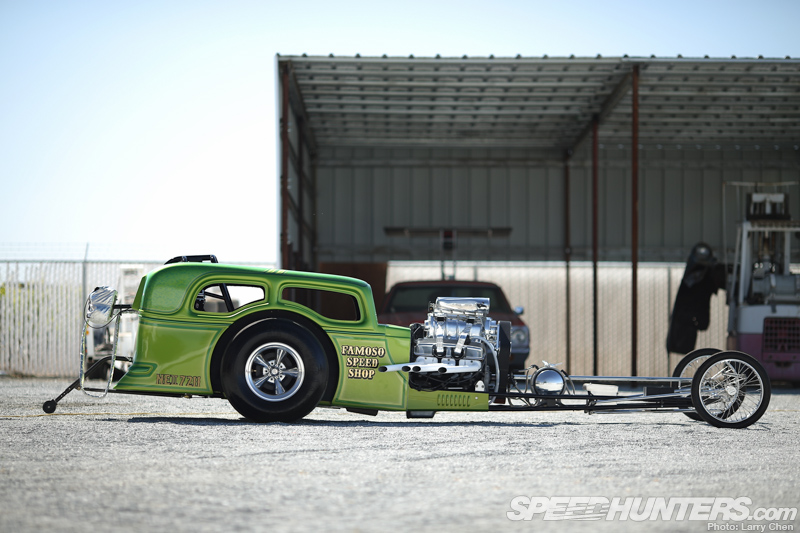 These are all interesting details and notes about the build, but we're just circling around what really makes this car One Bad Hombre – the proportions and stance. No way around it, this car is low as hell. Not only is the body raked, so is the whole drivetrain! Look closely and you will see that the engine actually tilts forward. This required clocking the rear diff upward to get the correct pinion angle, but the look is undeniably staggering.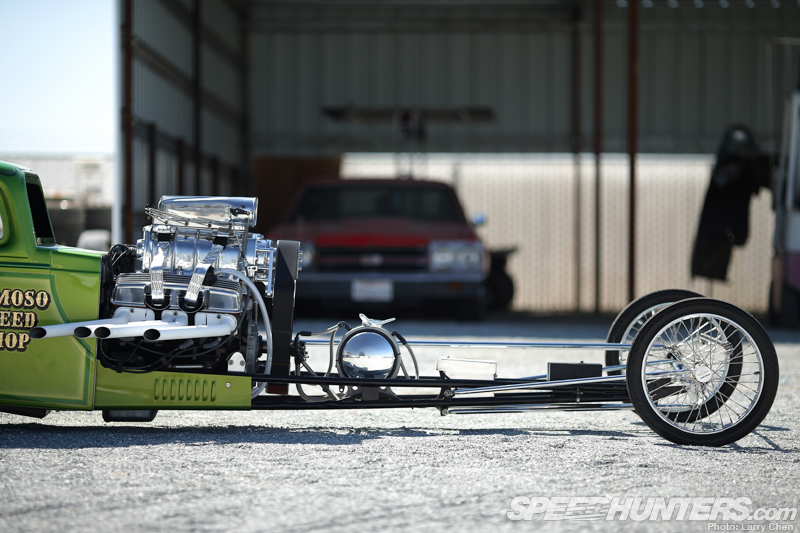 Randy explained to me that when you trailer a rail you put a block of wood under the oil pan to keep the chassis from bending under the weight of the engine bouncing around.  This car is so low that you have to lift it with a floor jack to get the 2×4 under the oil pan!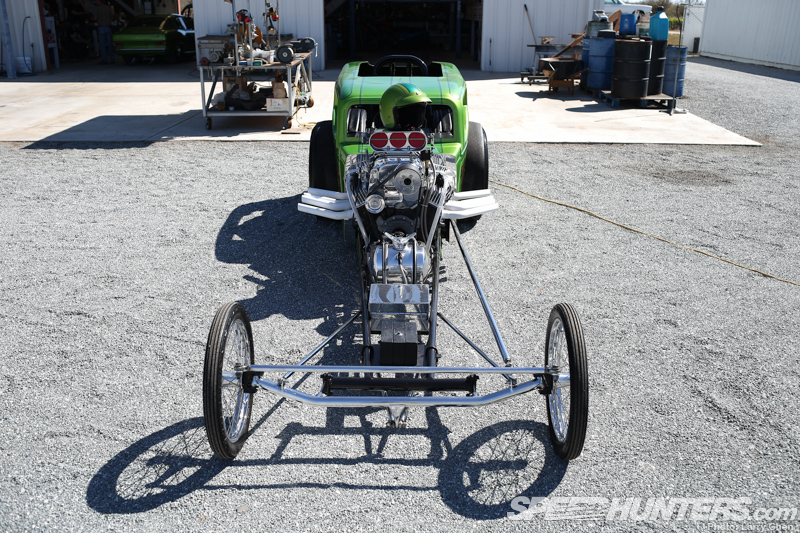 Since the oil pan is so low, the boys at Famoso Speed Shop welded on a skid plate for landing wheels-up launches. They even cinched the front torsion springs down so there is zero travel. Also notice the lead weights on the nose to balance the car – 107lbs to be precise.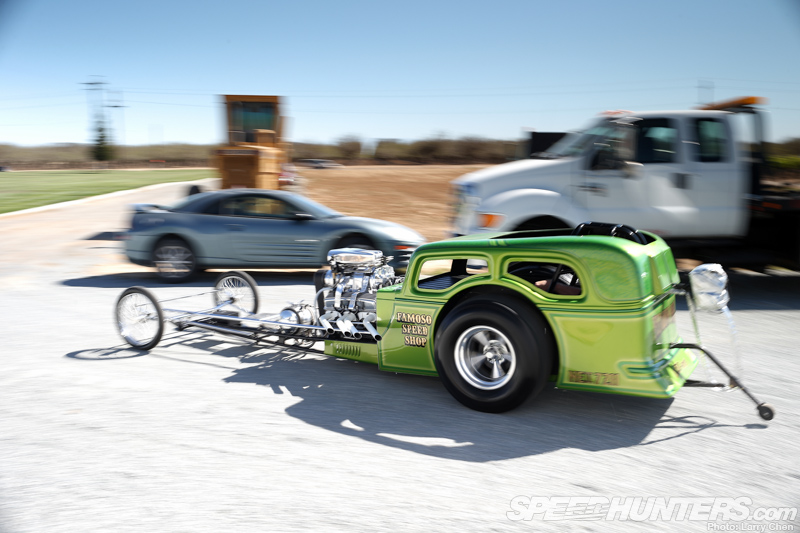 Obviously the chassis has everything to do with the stance, but the body is even more mental. Built from several Dwarf cars (think roundy-round dirt track racing), this was the very first of its kind, yet it retains that wild '60s drag race feel. It was actually gifted to Randy and Jr. for the build, as the 'glass guy planned to build more of them and knew a Famoso Speed Shop build would get attention.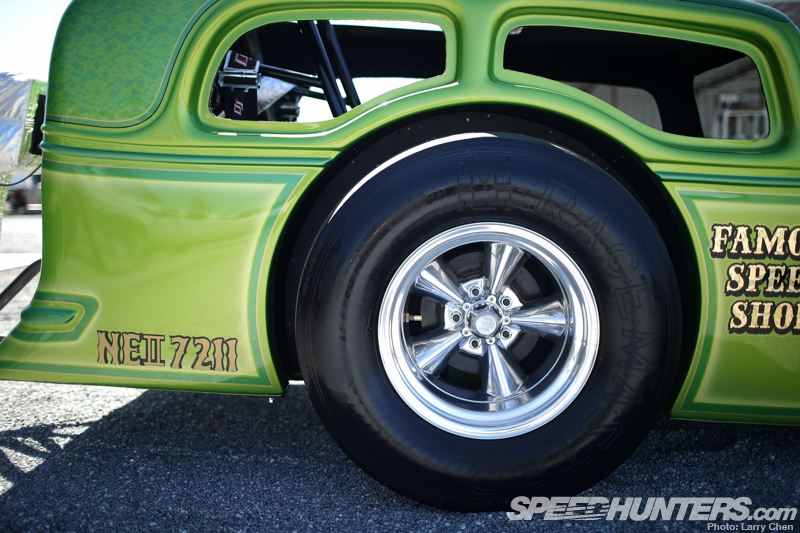 Never leaving good enough alone, Famoso Speed Shop shrunk the rear wheel openings to match the smaller slicks, then cut a hole in the roof to climb through and clearanced the firewall to set the engine back. I still can't get over the way the wheel arches alter the shape of the windows. Brilliant.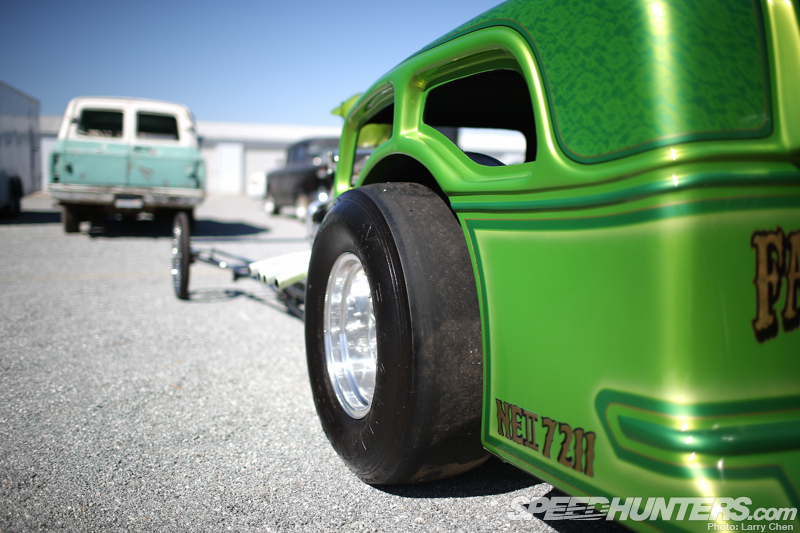 The guys also ordered a custom set of ET wheels with just the right amount of poke. Of course the track width narrows as the tires grow at speed, something Randy accounted for when placing the rear wheels and modifying the wheel wells. It had to have just the right look whether moving or static.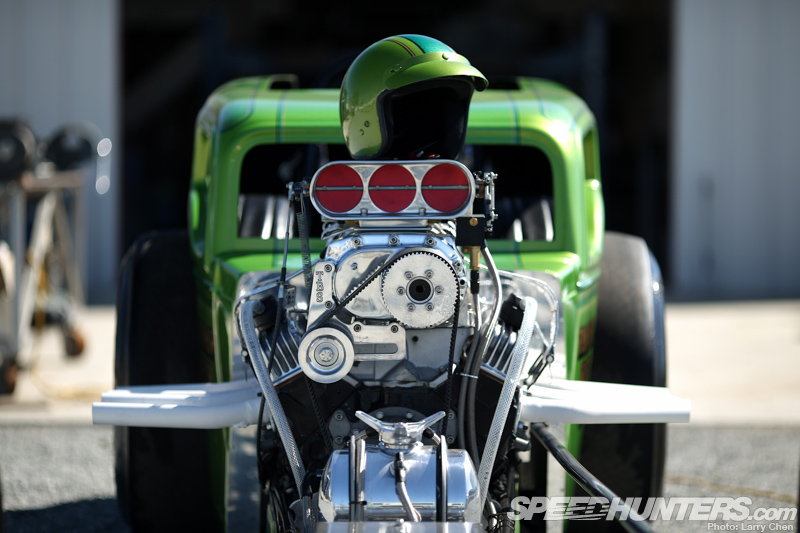 Even though the engine is mounted as low as possible in the chassis, you still can't see much out of the windshield.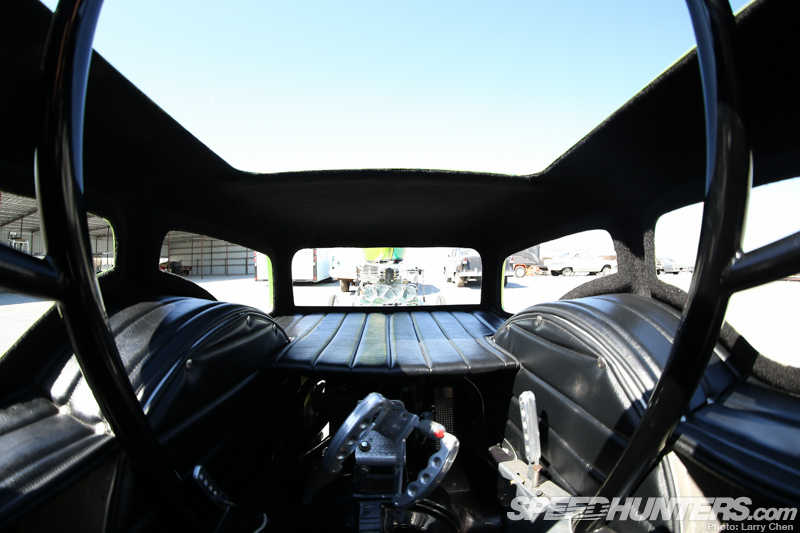 Randy Jr. sits in the back of the cabin, looking out the side window to stage. He can just barely see the bottom yellow light on the Christmas tree when he launches.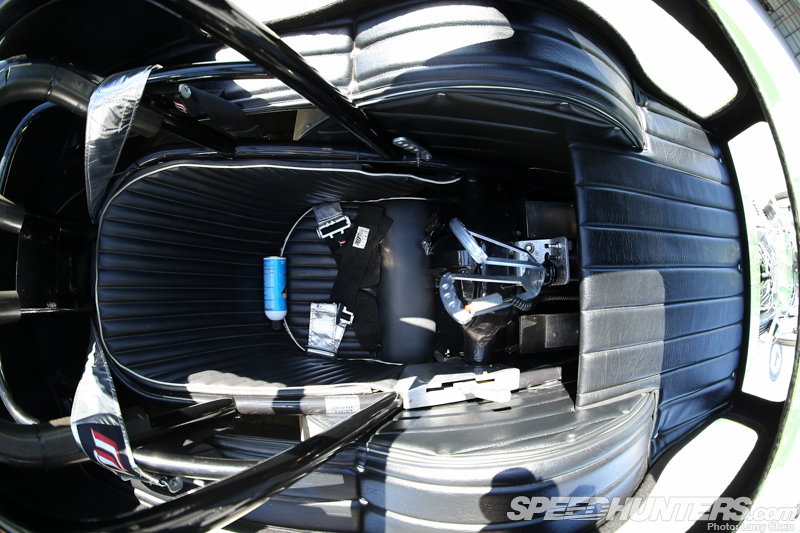 Did you notice the full interior yet? Fully unnecessary, but not surprising now that we know how Famoso Speed Shop builds its cars.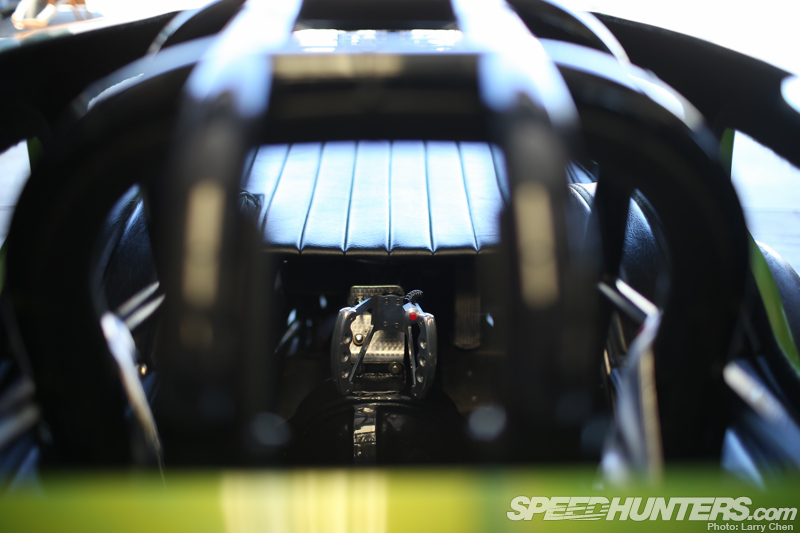 The instrument panel is just a narrow swatch of aluminum – engine turned of course – and housing switches for fuel shut-off and ignition. I never thought a small rectangle of aluminum could look so cool.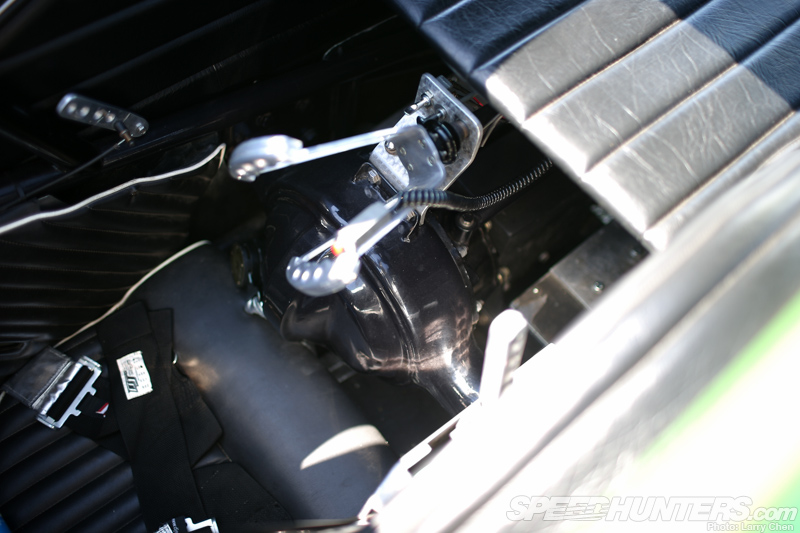 Look closely at where the panel is mounted – directly to the rear diff. I asked Randy if the Ford 9-inch was plated for safety in the event of an exploding ring or pinion gear. He said it wasn't because you can usually feel it when a rear-end is going to let loose, but he'd better do it now that I brought it up! Sorry buddy, didn't mean to jinx you.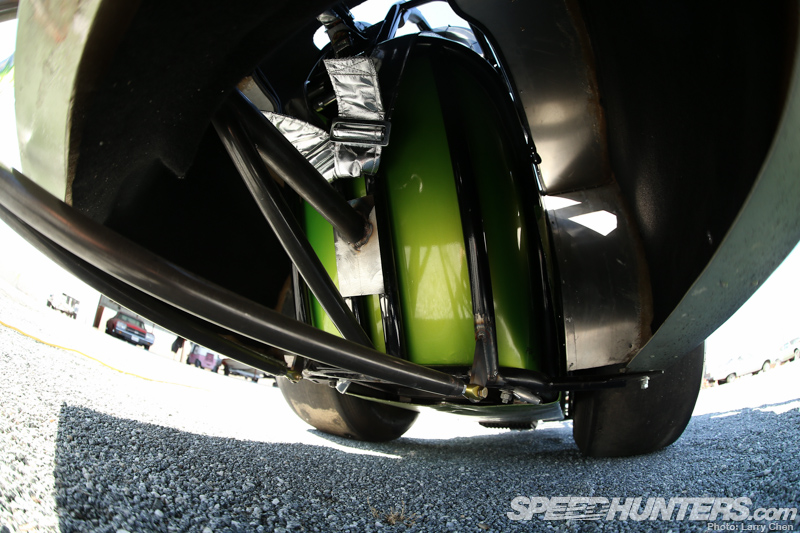 Randy Jr. explained that the car was a handful to get down the track when they first built it. Although it appears to be finished from the outside, a longer wheelie bar was recently added, as you can see by the ground paint and fresh welds at the mounting points.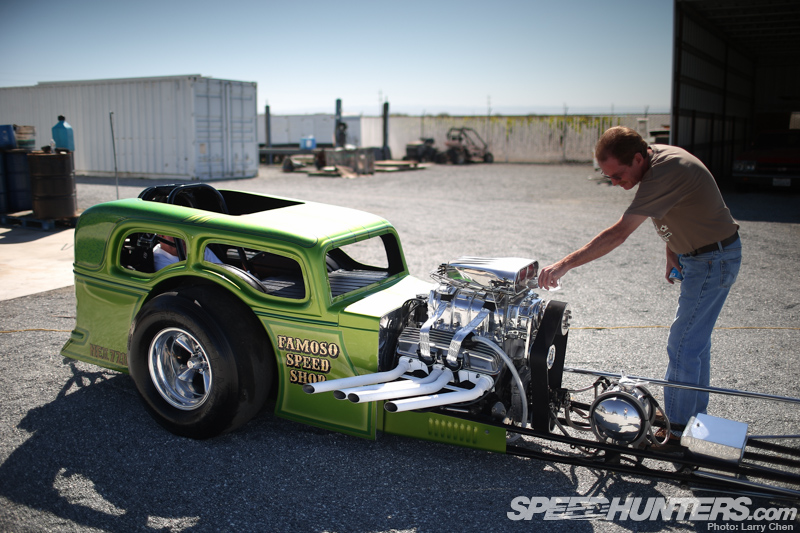 When photographing race cars it's not always practical to see them run, so I'm sure my Speedhunting cohorts were giddy when they started squirting race gas in the blower.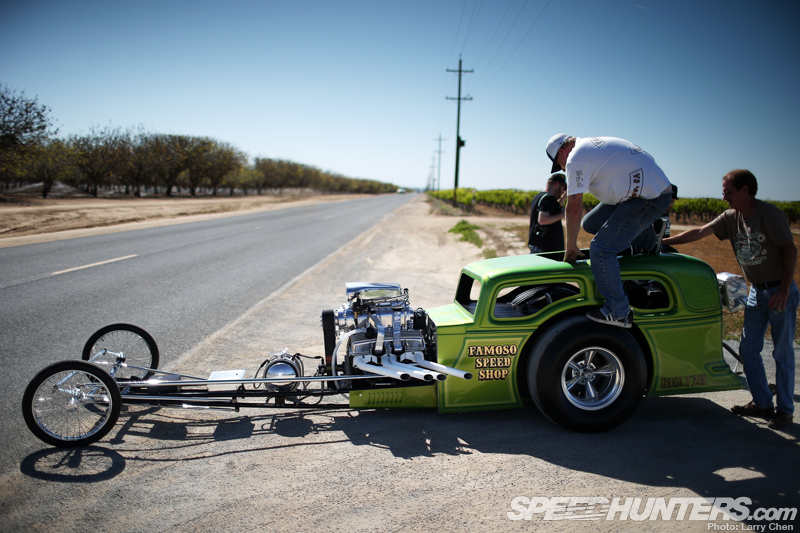 Uhh Randy, are you sure this is a good idea?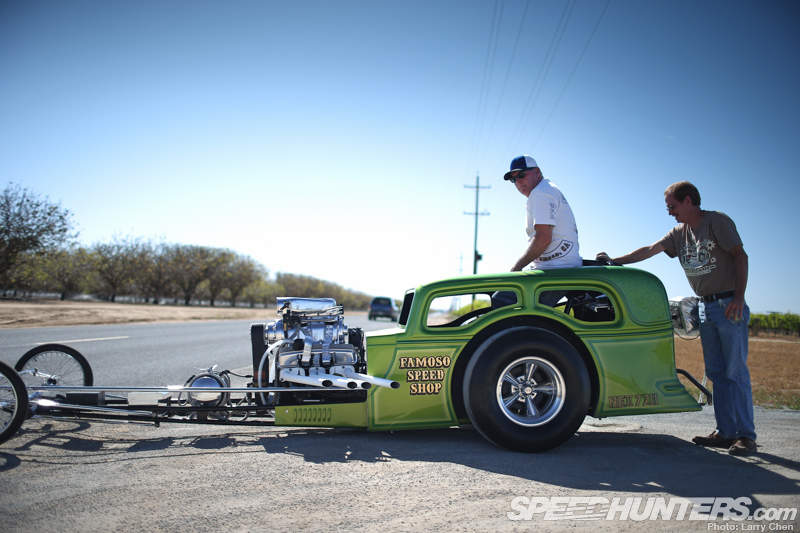 Don't worry, he's a professional.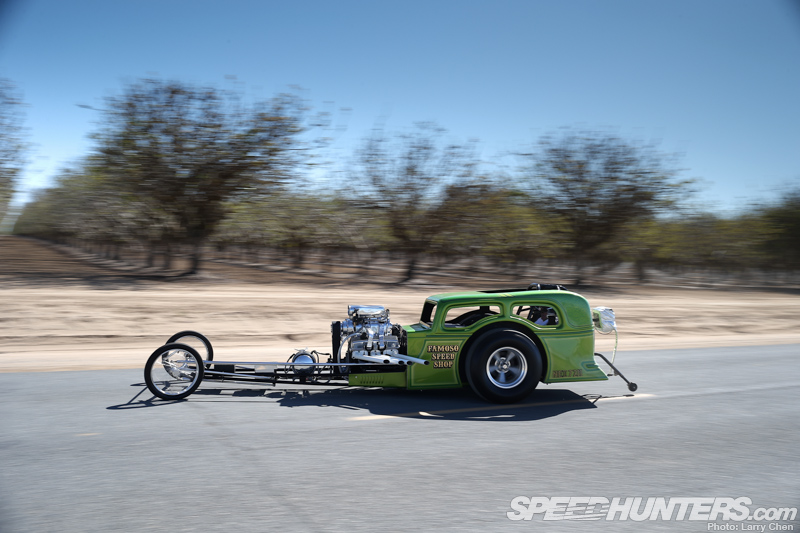 Are you smiling yet?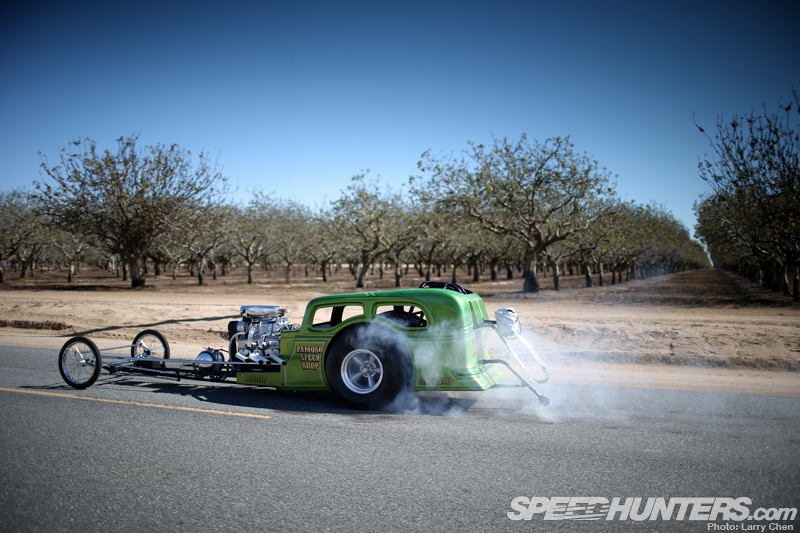 I am.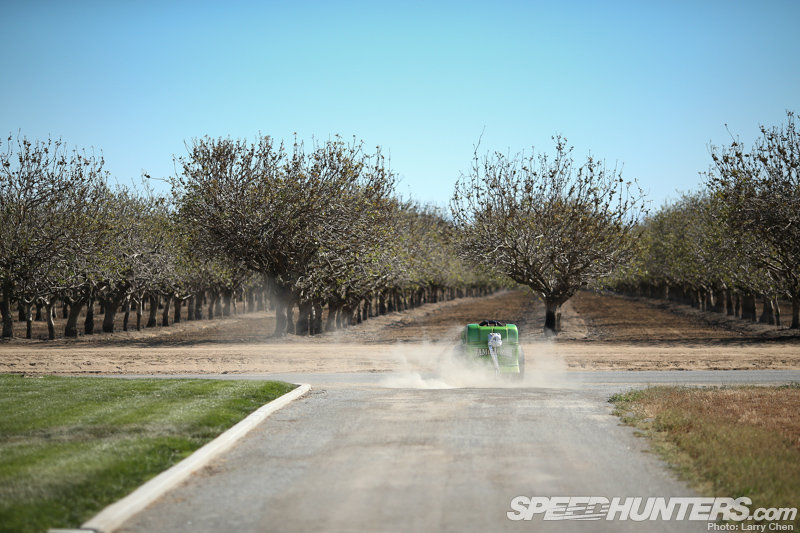 When I asked Randy if he had any hesitation driving the car for the photoshoot he surprised me with his answer. Apparently he only drives his race cars to the track since it's right down the street. It would take longer to load and unload a trailer. He gave me a few stories about driving his dragsters to the track, the best being the time he forgot he didn't have a wheelie bar mounted and did a four-foot-high wheelstand! No, we're not condoning street racing right now. This is literally in the middle of nowhere. See all those trees?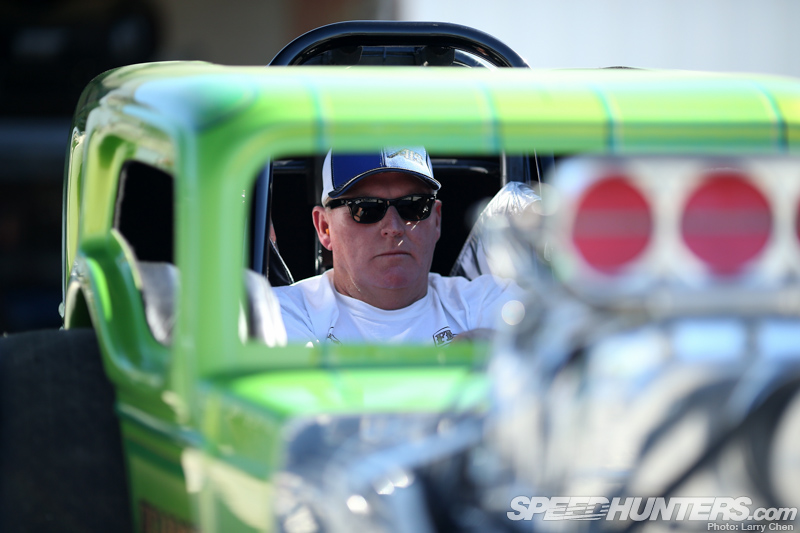 So obviously we think Randy and Randy Jr. are a couple of bad mofos, and they build some badass rides too. But let's get down to what drives them to keep cranking out show-quality race cars. Let's face it, the typical racer mentality is to go fast – aesthetics be damned.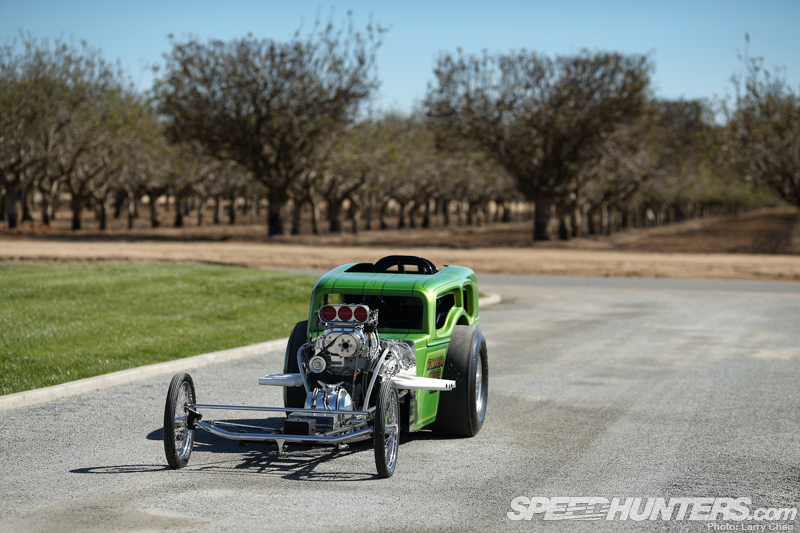 There's a common theme going on in Nostalgia racing right now – take a modern-style chassis and engine, throw a vintage-looking body over it and call it a Nostalgia race car. Well Randy, Randy Jr., and the guys at Famoso Speed Shop have a beef with that and they're out to show the world how they think it should be done.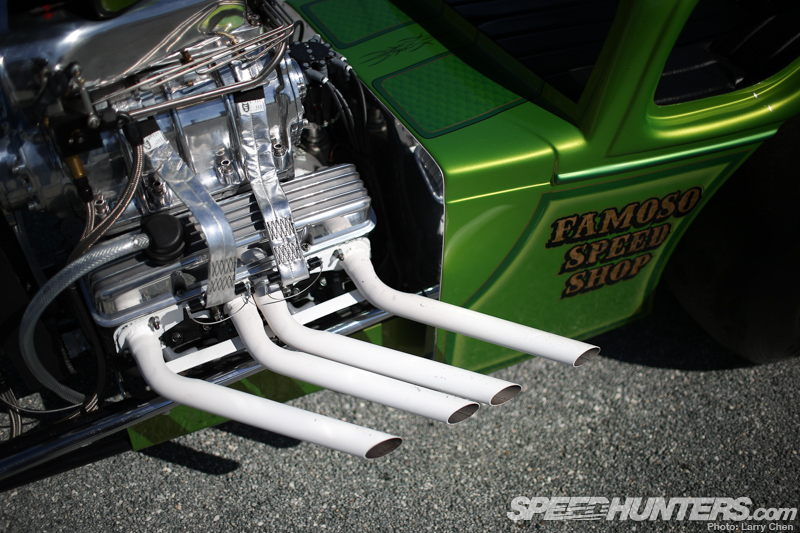 They want to get back to the days when craftsmanship counted for something too. When dragsters showed up with glittering metalflake paint and chrome on the back of a custom flatbed truck painted to match. Those were the pioneers of the sport, promoting match races and drawing a crowd. It's not just about winning the race, especially if the car is just an impersonation of a vintage dragster.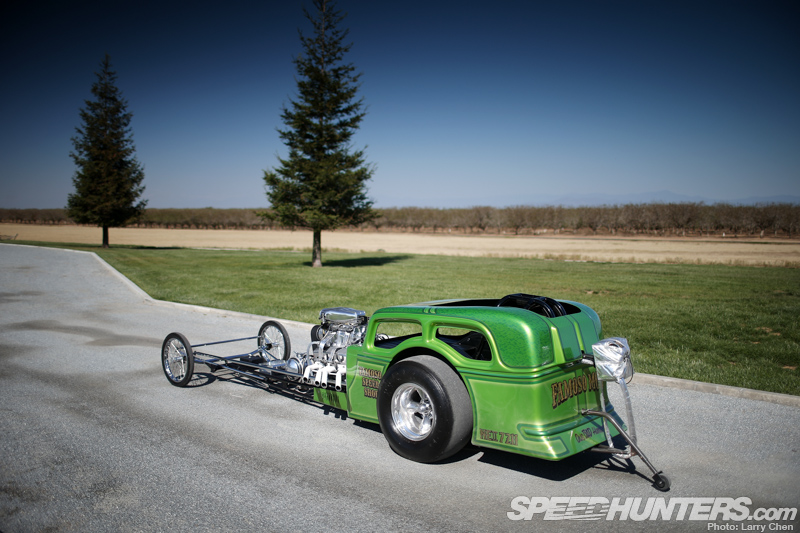 I guess that's why I'm so drawn to these cars. I'm a hot rod and kustom guy myself, and these cars are just as respectable as any hot rod you'll find at a car show. Then on top of that, they can fire them up and smoke the car in the other lane.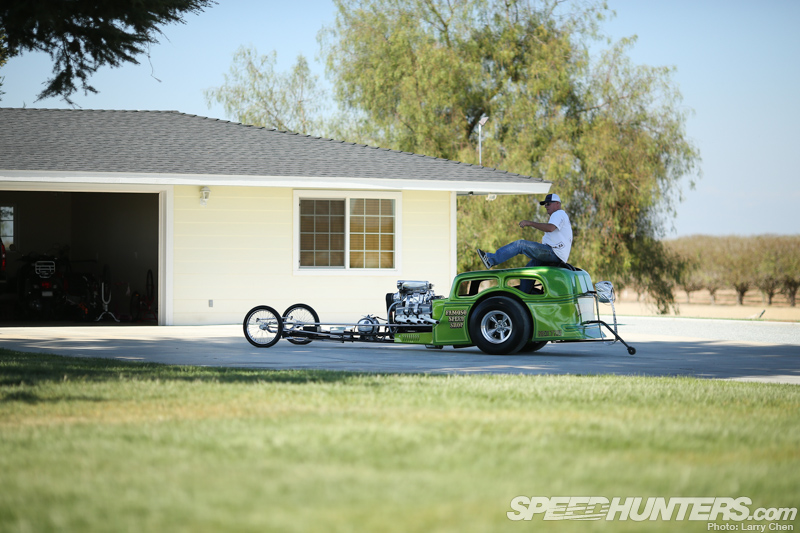 The crew at Famoso Speed Shop will keep doing what they're doing – and schooling the rest of the scene while they're at it – using proper vintage parts and styling even while putting their own original spin on things. I hope they never stop, but they don't need my hope: They're never going to stop.
Words by Keith Charvonia
Instagram: SpeedhuntersKeith
Email: keith@speedhunters.com
Photos by Larry Chen
Instagram: larry_chen_foto
Email: larry@speedhunters.com
Randy Winkle Jr's 1964 Competition Coupe – One Bad Hombre
Numbers
Max power – 700hp, max torque – 700 lb/ft, weight – 1300 lbs, ET – 7.50 sec
Engine
1972 Chevy 360ci, 13:1 compression, AFR head machining, COLA camshaft & crankshaft, Manley valves, valve springs, push rods, retainers and lifters, ARP head bolts, copper head gasket, double roller timing chain, Crower connecting rods, ARP connecting rod bolts, Jahns Racing pistons, Famoso Speed Shop engine mounts, The Blower Shop intake manifold and supercharger, Enderle fuel pump and fuel rail, Famoso Speed Shop weed burner headers, NGK spark plugs, MSD spark plug wires, coil and distributor, Excel battery, wiring harness and cosmetic modifications by Famoso Speed Shop
Driveline
Powerglide transmission, Ford 9″ differential, SFI flexplate
Suspension/Brakes
Solid mounted rear suspension, chrome front suspension links, Wilwood rear disc brakes, parachute
Wheels/Tires
17″ spoked wheels with Avon tires (front), 15×10 E/T wheels with 10″ wide x 30″ tall M/T slicks (rear)
Exterior
Famoso Speed Shop customized chassis, Fiberglass Competition Coupe body based on Dwarf car body, paint by Mikey and the Paso Boys, graphics by Jamie and the Paso Boys
Interior
DJ Safety harness, unknown vintage steering wheel, Kurtz steering hub and quick release, Famoso Speed Shop shift and brake levers
O' Black Betty FED by Famoso Speed Shop
Famoso Speed Shop's Opel Kadett