I was in full Speedhunting mode when I attended March Meet last month, scouring Famoso Raceway to bring you the best the nostalgia drag race world had on offer. Of course there were gobs of old school dragsters and gassers, but I was looking for that one special car that stopped me dead in my tracks. I found it – but I hadn't a clue how far down the rabbit hole it would take me (and a whole crew of my fellow Speedhunters too).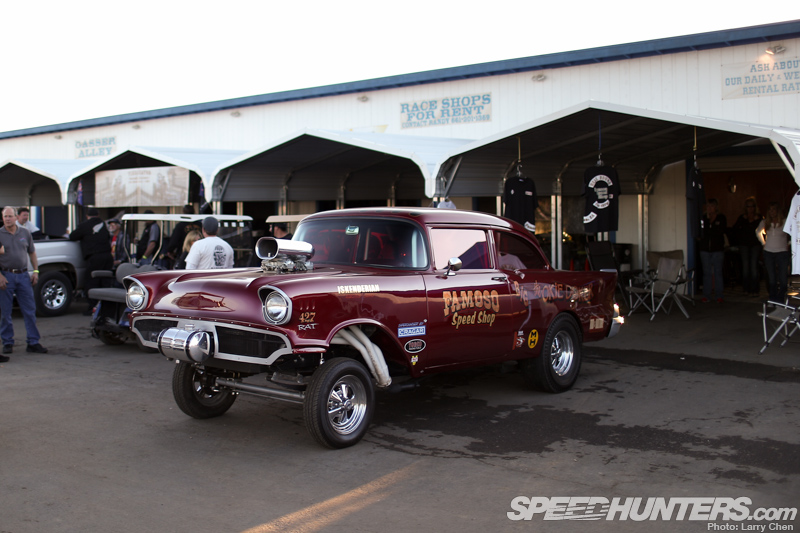 I spotted Randy Winkle's '57 Chevrolet gasser in front of one of the paddocks and was sure I'd just struck feature car gold. As I crawled all over, around and under the car Randy walked up and we made our introductions. I told him about Speedhunters and that I was looking for drag cars to feature, to which he responded, "Oh this isn't the race car, I just built it to tow that one around the drag strip…" Wait. What?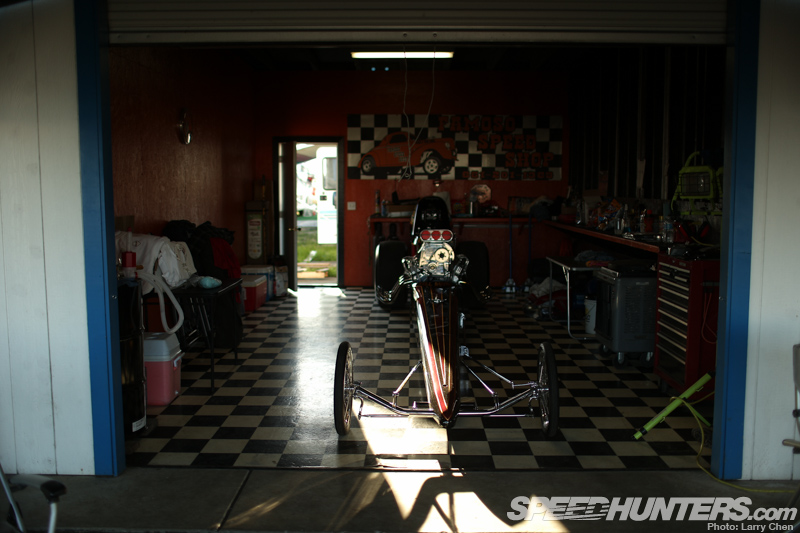 Randy invited me to step into his personal garage space (on track premises I might add) to say hello to his little friend – a 1967 front engine dragster (FED) named O' Black Betty.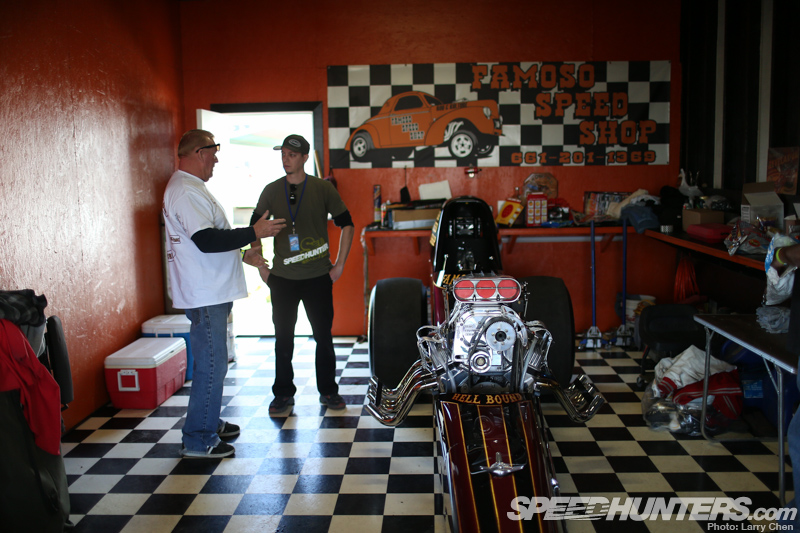 I worked my way into the garage and slowly circled the baddest FED I'd ever seen. With each question answered it became apparent that this guy was legit.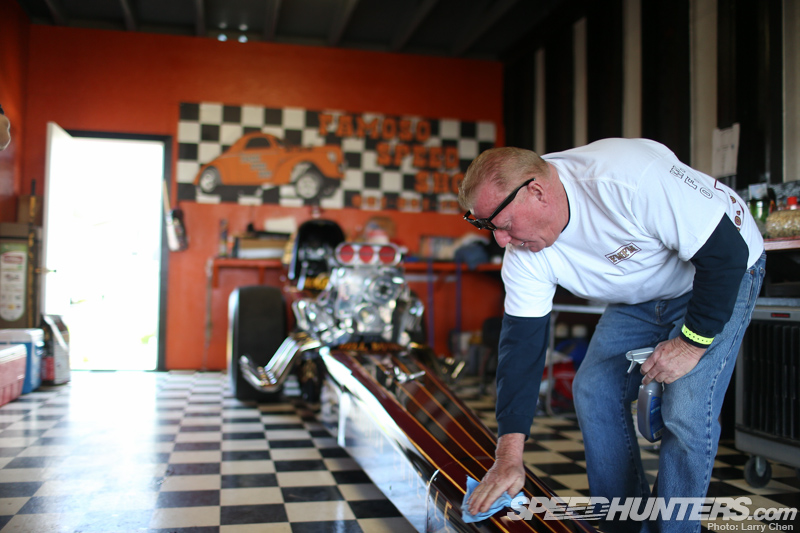 He was there when it went down the first time around, and he's seeing to it that history is preserved. This matched pair is the proof: FED racer and Chev gasser.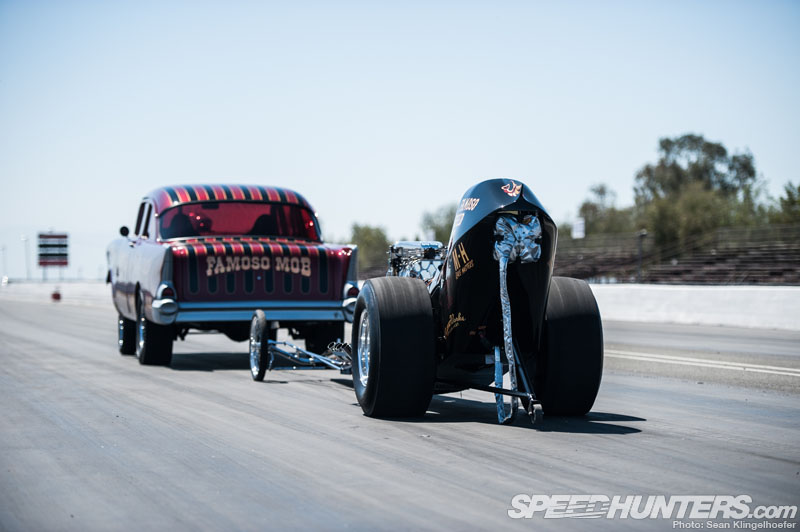 Specifically designed to complement each other, the combo just couldn't get any more gangster. Can you imagine the intimidation factor when this set-up rolls through the pits?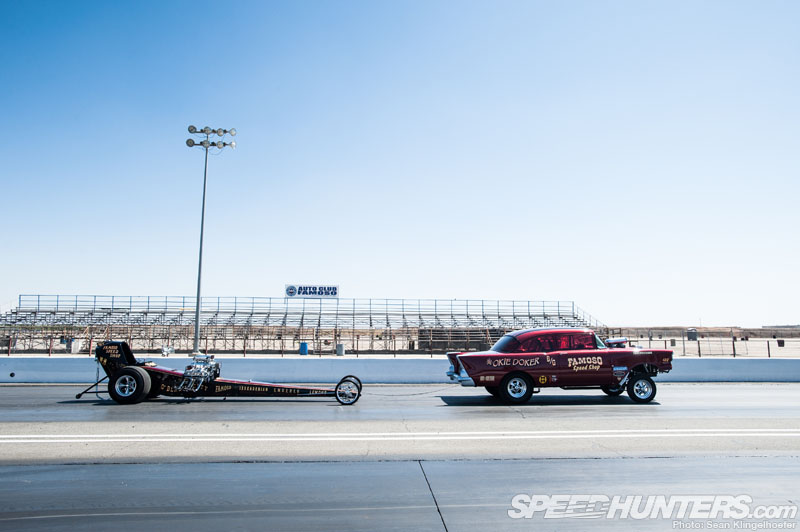 Most race teams get by with a daily driver Chevy pickup to tow their race cars on the weekend. I think Randy's level of commitment to keeping the scene alive is pretty evident at this point.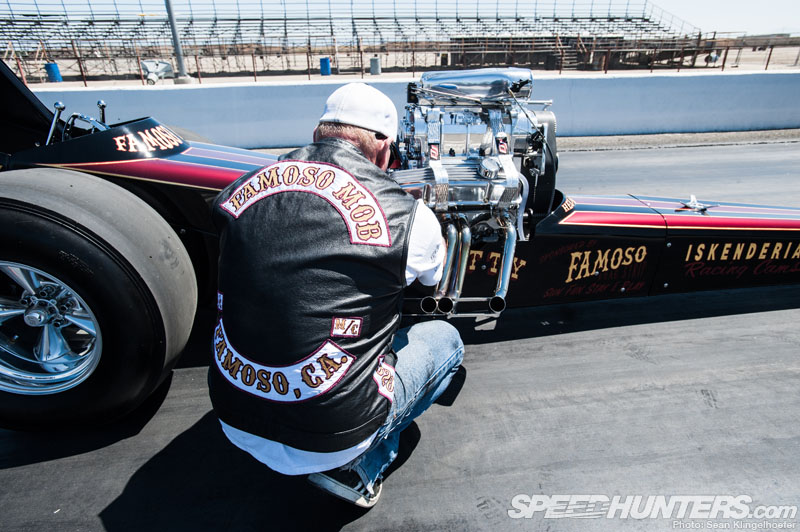 He's even started an exclusive club for like-minded racers, called the Famoso Mob. They recently returned from a trip to New Zealand where they schooled the Kiwis on vintage American quarter mile machines.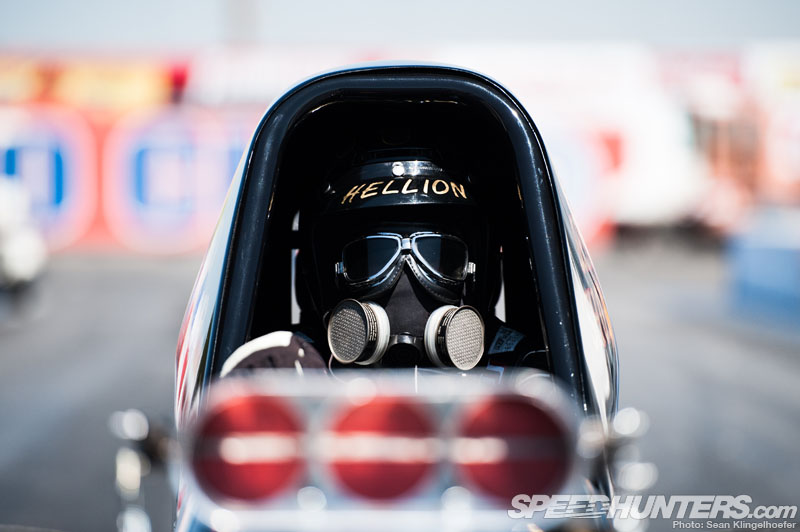 As if that weren't enough, Randy and his Famoso Speed Shop were consulted as nostalgia racing experts for the upcoming movie Snake & Mongoose. Randy and his good friend Stormy Byrd are even behind the wheel in several scenes, and O' Black Betty makes a cameo appearance as well. I think we've found the right guy to show us what this scene is about.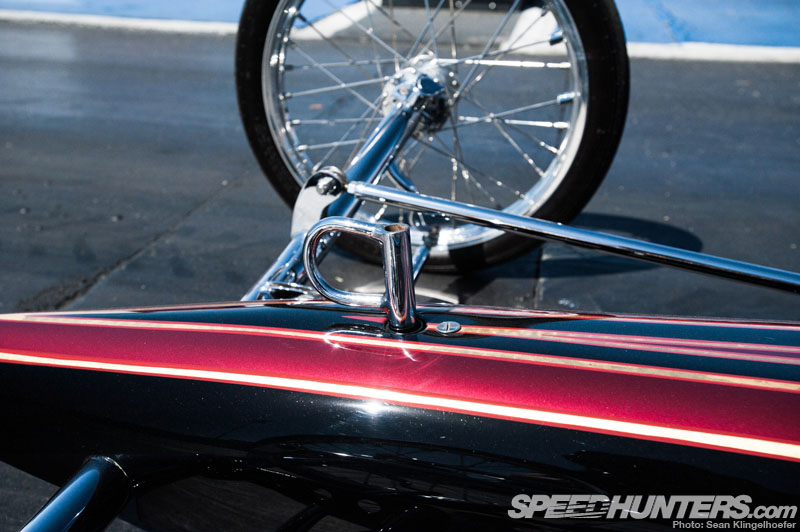 I know it's a strange way to start a car feature but we'll begin with the FED's tow hook, specifically the finish. Famoso Speed Shop isn't just building period-correct race cars, it's building them on a show-worthy level. I'm sure the chrome bill for this build is ample evidence of my assertion.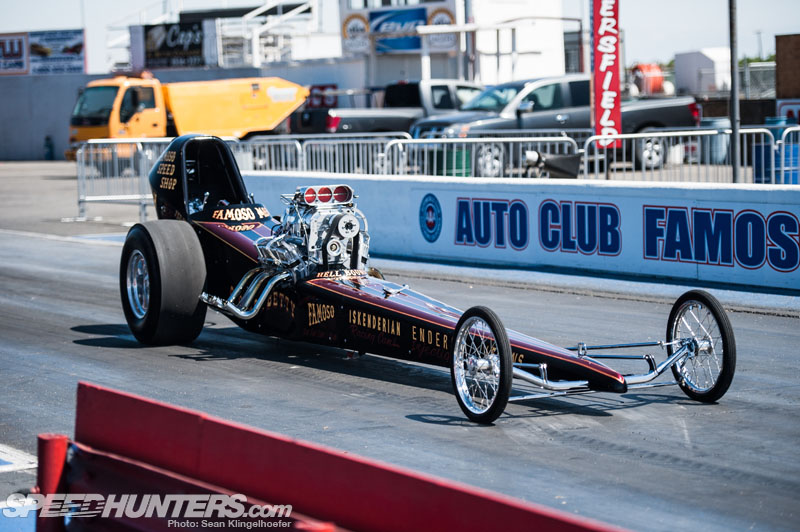 So let's get the necessary stats out of the way: 179″ wheelbase, 800hp, 750lb/ft and 1300lbs. It'll go 7.40 in the 1/4 mile…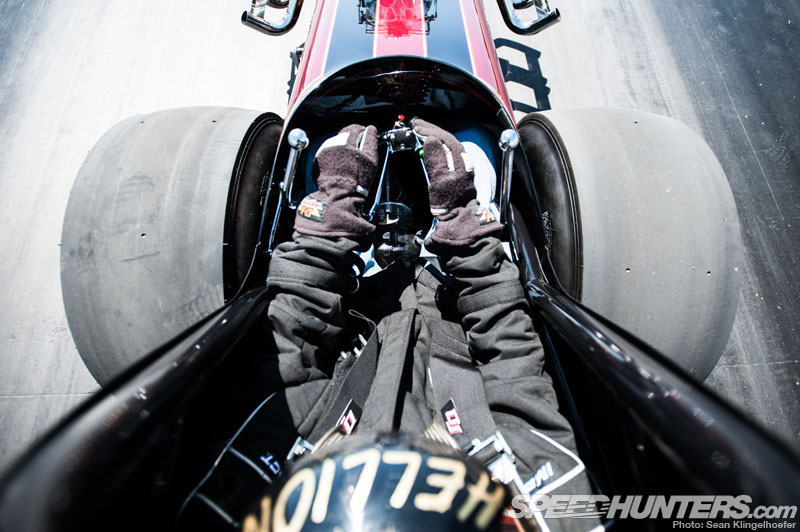 …if you have the stones to strap in and hit the loud pedal.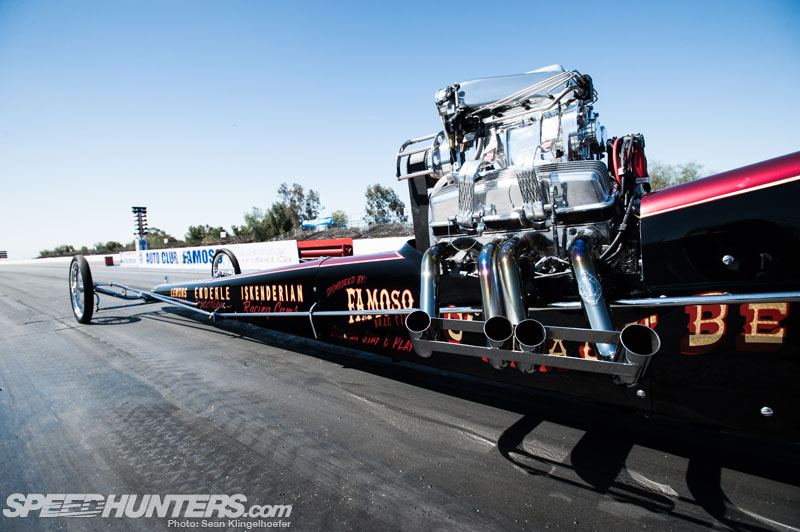 That's a 383 of 1971 vintage, stuffed with race parts and pressurized by The Blower Shop. The blower restraints are necessary by today's rulebook, but notice he went with silver so they disappear against the chromed engine.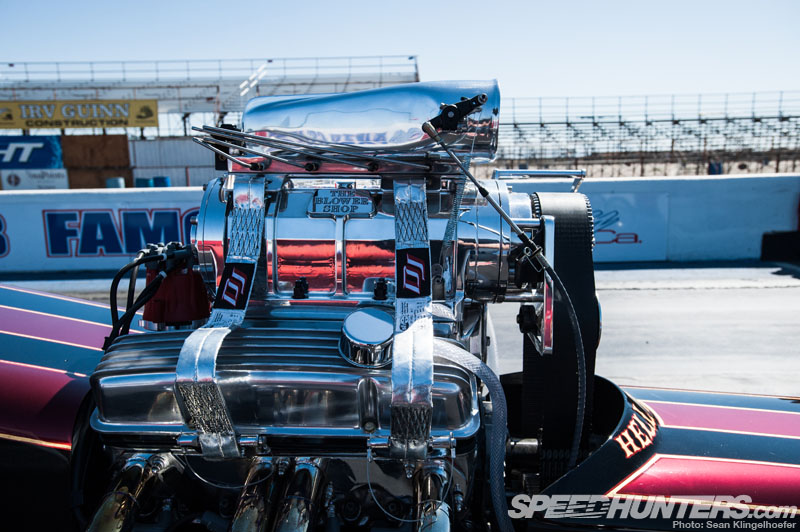 Sitting behind a blown small block running at full tilt isn't the safest place to be, but the restraints and belt guard will keep parts from going airborne if something pops. There's a reason dragsters are built with the engines in the back now – to avoid getting sprayed by stray engine parts, fireballs and hot oil mostly.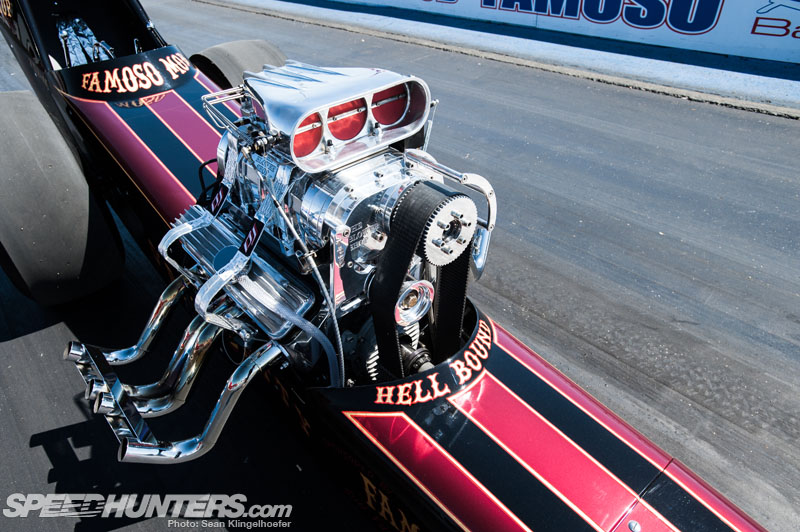 To be honest though, it's the aesthetics that intrigue me most; like the matching cowls at the front of the engine and driver's compartments, and the way the three ribs on the blower scoop match the three red stripes on the bodywork.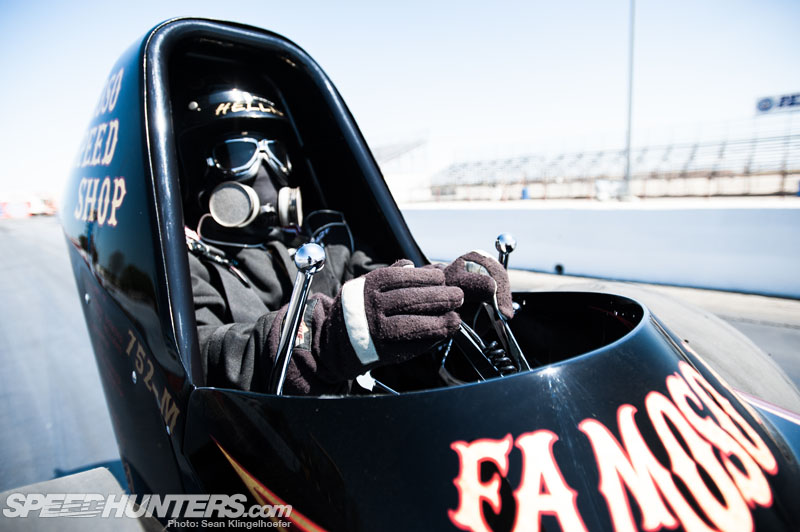 The visor on Randy's helmet even echoes the shape of the cowls and has gold lettering too. It's probably coincidence, but still cool.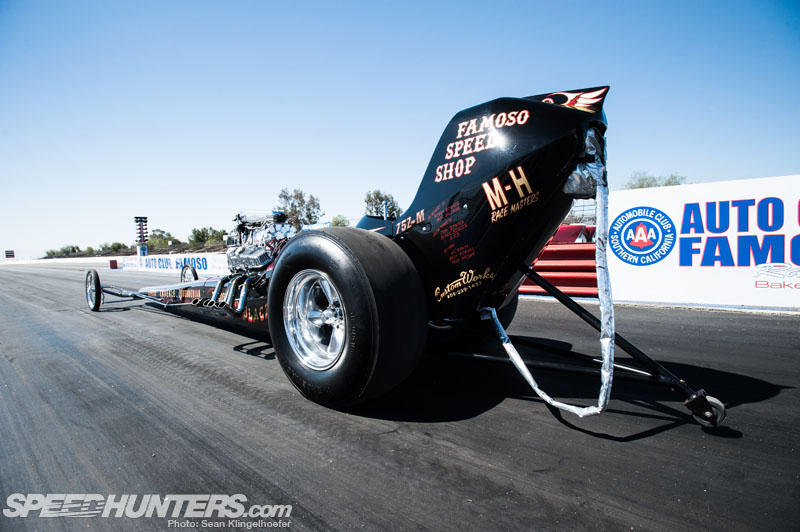 I've always liked nostalgia dragsters with a little bodywork on them, especially since each body is hand-formed to its respective chassis.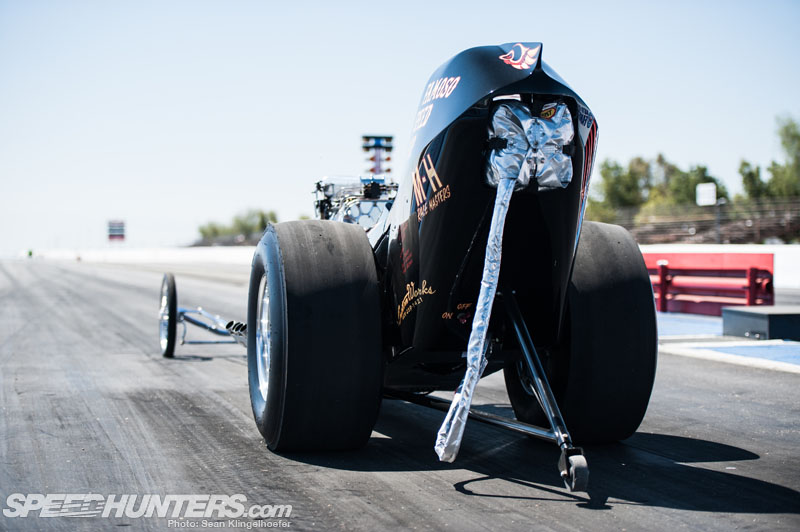 Not only does the bodywork enclose the updated roll cage, it also shrouds the 'chute and hides the mounting points for the wheelie bar.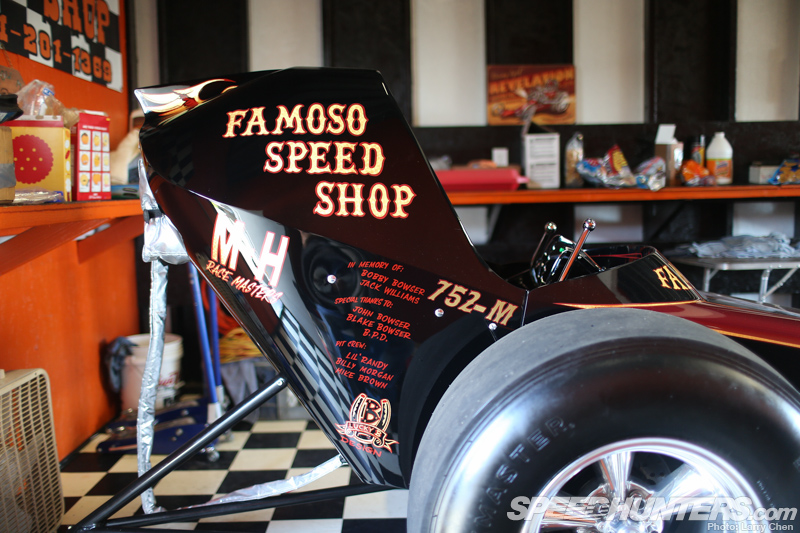 Check out how the character line flows down and forms a nice angle of attack. I wonder if Famoso Speed Shop knew it was using car design tricks when forming the sheet metal.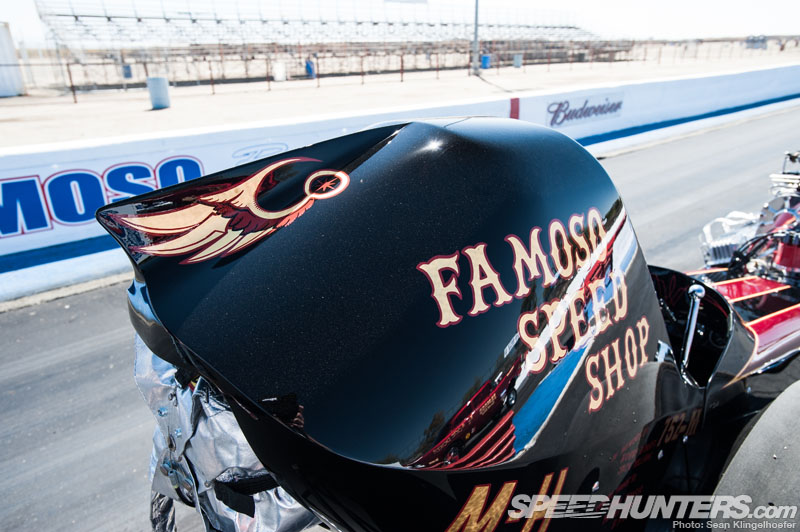 The tail fin formed into the bodywork is what really grabbed me though. Famoso Speed Shop's Mike Alspough put considerable effort into crafting a beautiful body for this nostalgia racer – and succeeded quite nicely.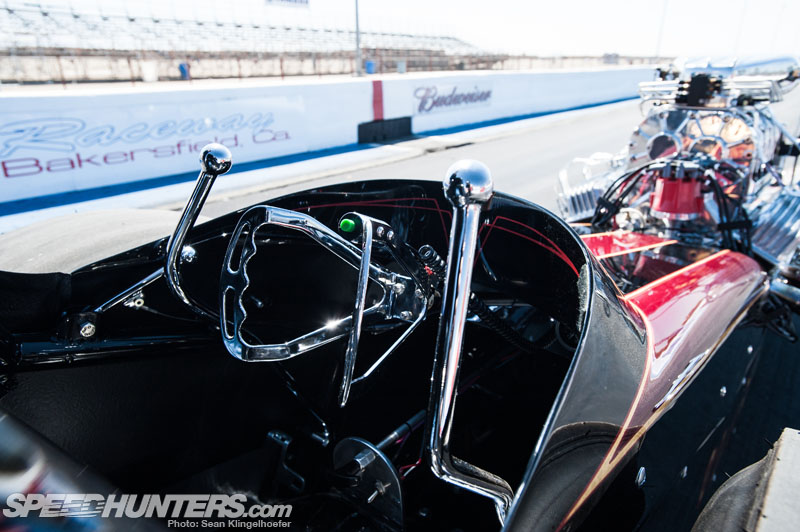 That's a handbrake to the left and a shifter on the right, custom built with giant ball bearings welded on the ends. Remember that chrome bill I mentioned earlier?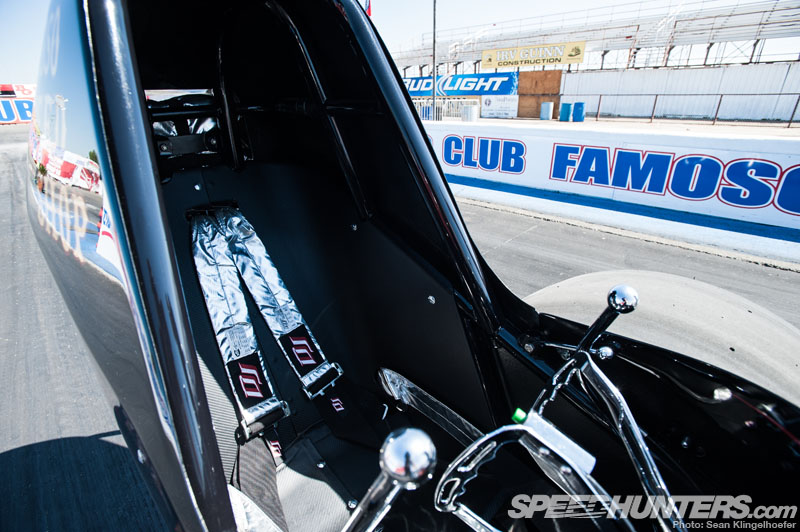 Inside there's not much of a seat, but you don't sit there long anyways. The green button on the steering wheel activates the trans brake and launch control.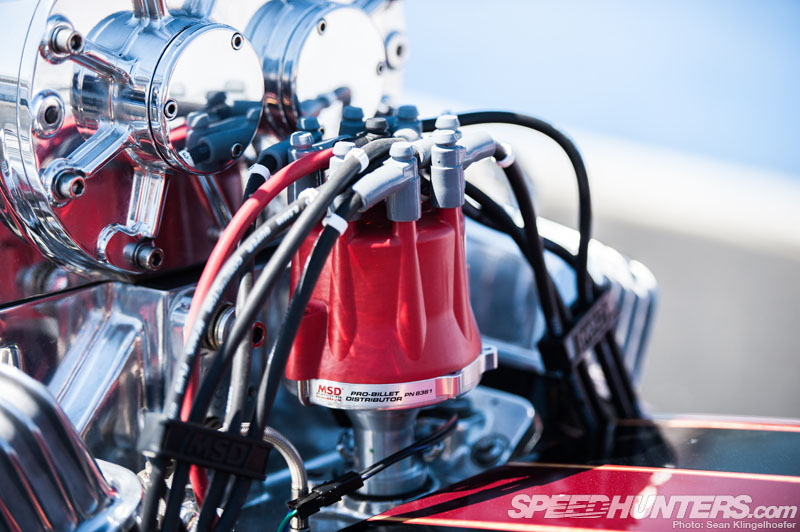 The term nostalgia dragster might make some of you think these guys are running outdated technology, but really it refers more to the layout and the spirit in which these machines are built. Randy said they have updated a few things for the sake of staying competitive, like the MSD distributor which allows them to use launch control by omitting spark to certain cylinders while the button is pressed.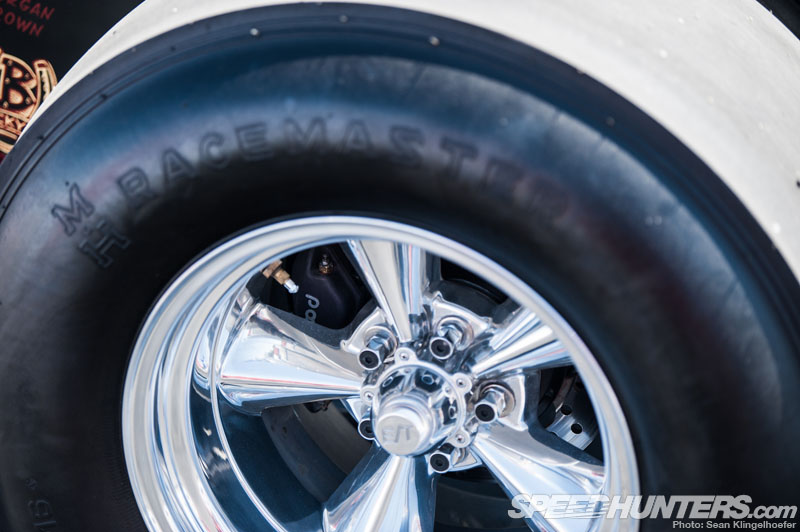 The Wilwood brakes hiding out inside the 16×12-inch E/T rear wheels appear to be late model as well, but disc brakes have been used in drag racing since the mid '60s so they get a pass.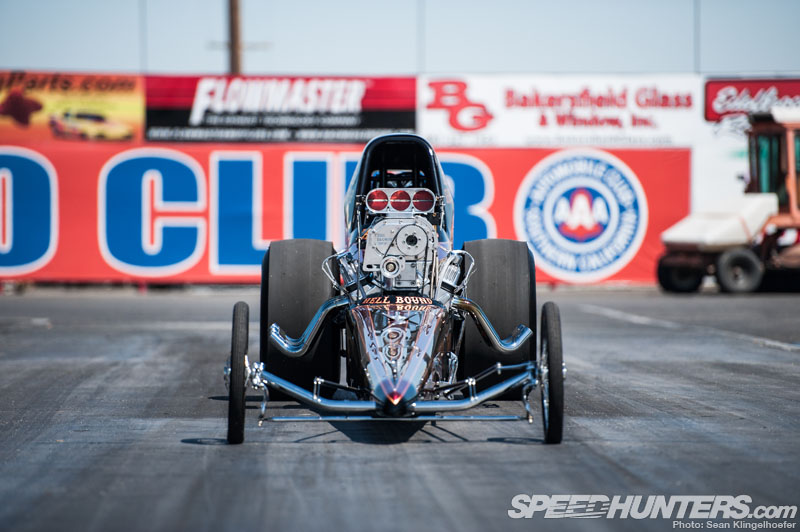 No brakes on the front though, since it barely has tires anyways. I love the juxtaposition of the massive slicks out back with front tires that are barely suitable for a bicycle.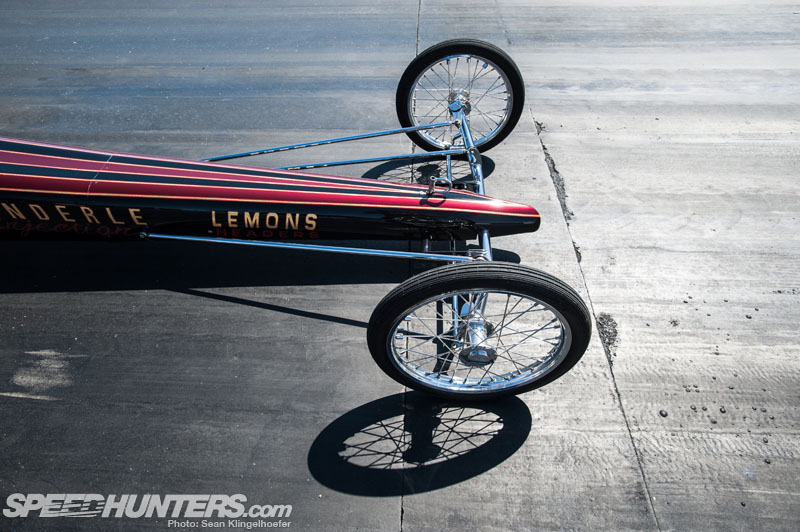 Randy lists them as 17-inch spokes. I'm guessing they're 2-inch wide, maybe. Check out the typeface on the sponsor logos too.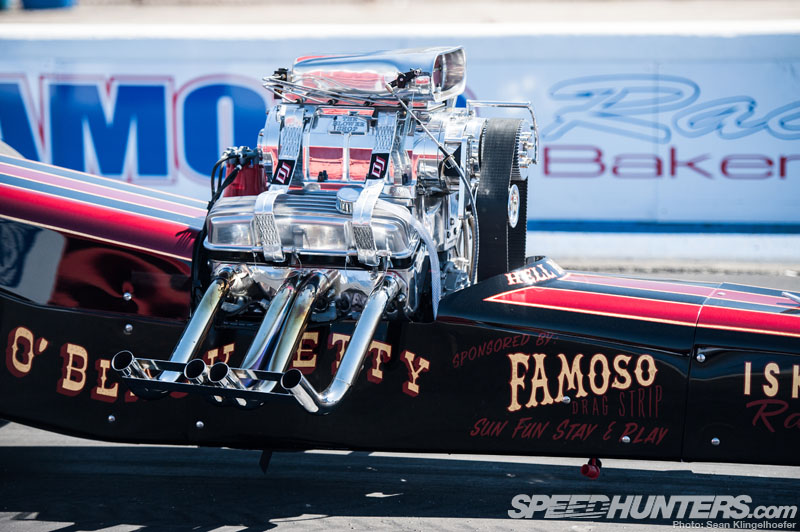 All of the logos were applied by hand using period-correct fonts. That's real gold leafing, edged with hand-painted pinstripes, then finally sealed under plenty of clear coat. Pretty good for a race car, eh?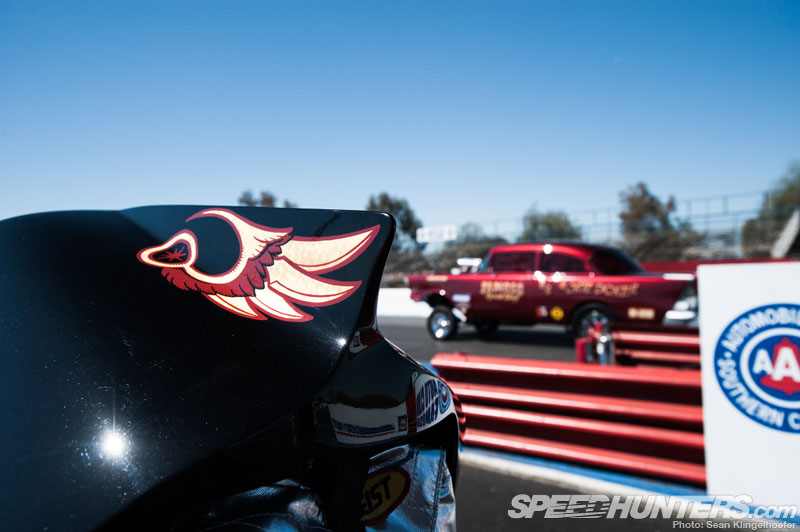 Let's not forget that badass '57 gasser that got us here in the first place though.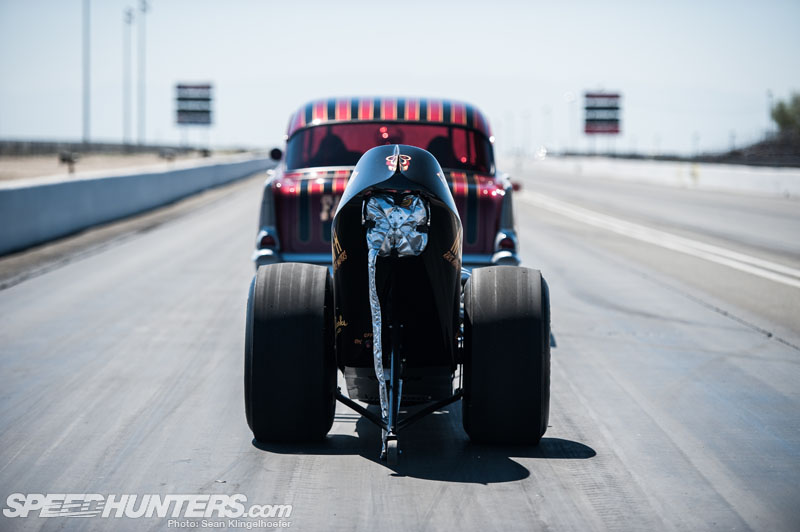 Despite Randy's claim that it was just built to tow O' Black Betty we think it's a feature car in its own right, so stay tuned.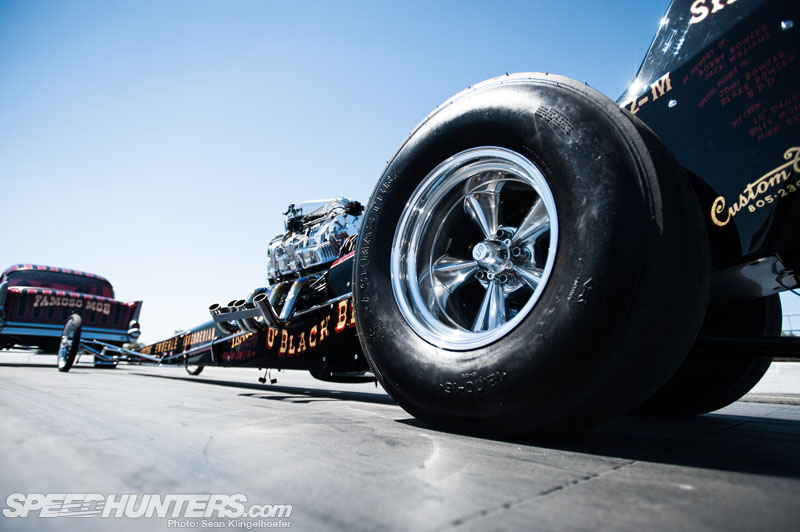 I have a hard time choosing a favorite between these two, as each is amazing in its own right. We'll let you be the judge once we show you the '57 gasser in greater detail.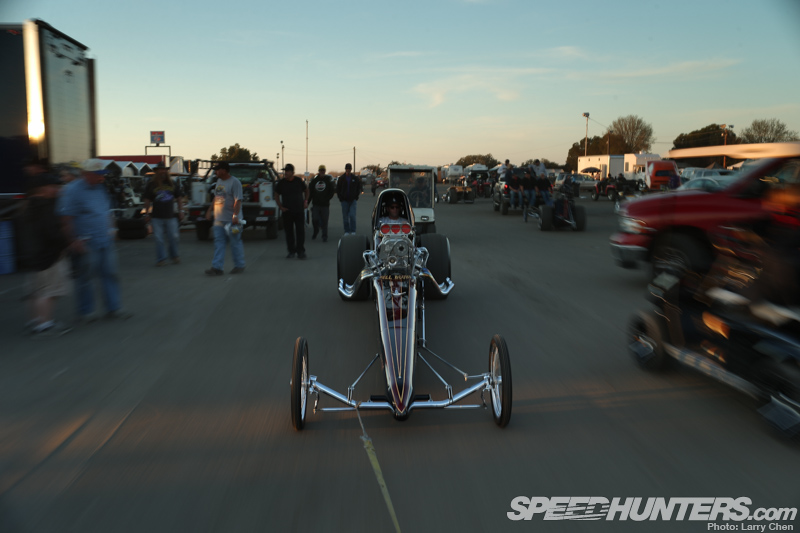 It does a pretty fine job of pulling the FED around though, doesn't it?
Words by Keith Charvonia
Instagram: SpeedhuntersKeith
Email: keith@dev.speedhunters.com
Photos by Sean Klingelhoefer
Instagram: seanklingelhoefer
Email: sean@dev.speedhunters.com
Additional photos by Larry Chen
Instagram: larry_chen_foto
Email: larry@dev.speedhunters.com
Randy Winkle's 1967 Front Engine Dragster – O' Black Betty
Numbers
Max power – 800hp, max torque – 750 lb/ft, weight – 1300 lbs, ET – 7.40 sec
Engine
1971 Chevy 383 ci, 8:1 compression, AFR head machining, Scat camshaft, Manley valves, springs, push rods, retainers and lifters, ARP head bolts, copper head gasket, double roller timing chain, Crower connecting rods, ARP connecting rod bolts, Scat crankshaft, Famoso Speed Shop engine mounts, The Blower Shop intake manifold and supercharger, Enderle fuel pump and fuel rail, Lemons headers, NGK spark plugs, MSD spark plug wires, coil and distributor, Excel battery, wiring harness and cosmetic modifications by Famoso Speed Shop
Driveline
Powerglide transmission, Ford 9″ differential, SFI flexplate, gearing: "I will never tell!"
Suspension/Brakes
Solid mounted rear suspension, chrome front suspension links, Wilwood rear disc brakes, parachute
Wheels/Tires
17″ spoked wheels with Avon tires (front), Rear – 16×12 E/T wheels with M/H Racemaster slicks (rear)
Exterior
Famoso Speed Shop customized chassis and hand-formed bodywork, paint by Mikey and the Paso Boys, graphics by Jamie and the Paso Boys
Interior
DJ Safety harness, unknown vintage steering wheel, Kurtz steering hub and quick release, Famoso Speed Shop shift and brake levers