What you are looking at right here is an S30 Nissan Fairlady Z432 – one of the most sought after Japanese classic cars of all time, powered by Nissan's race-bred S20 engine. What sets this particular Z432 apart is that it happens to be made of delicious milk chocolate. It's also a tasty way to kick off another round of Hobbyhunting from the toy stores and hobby shops of Tokyo.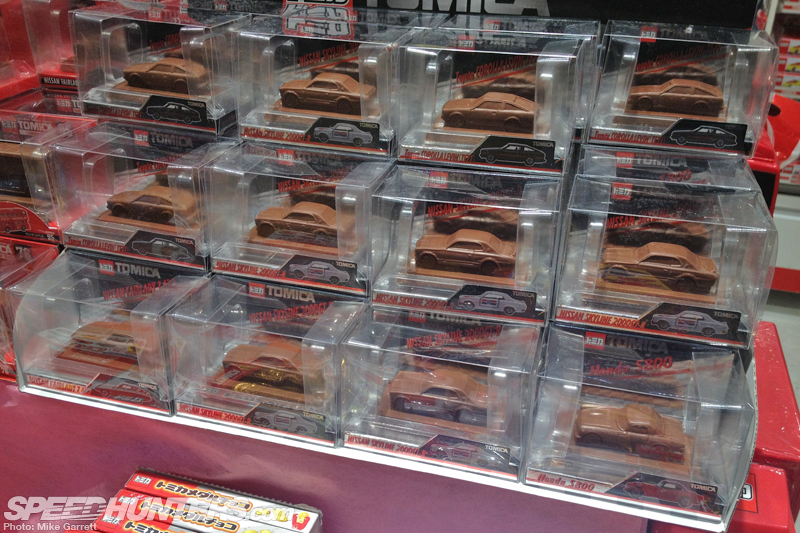 The  Z432 is actually one of several different chocolate replicas of historic cars offered by Tomica as a special product around Valentine's Day. Here you can see a Hakosuka GT-R, a Honda S800, a Te71 Corolla and more. In Japan, Valentine's Day is all about Giri-Choco – a tradition where females distribute chocolates to co-workers and other men they know, and I gotta say Tomica is pretty smart to get in on this. I mean, what guy wouldn't want a chocolate Hakosuka or Z? The only problem is these cars are so cool that you'd feel bad to actually eat them…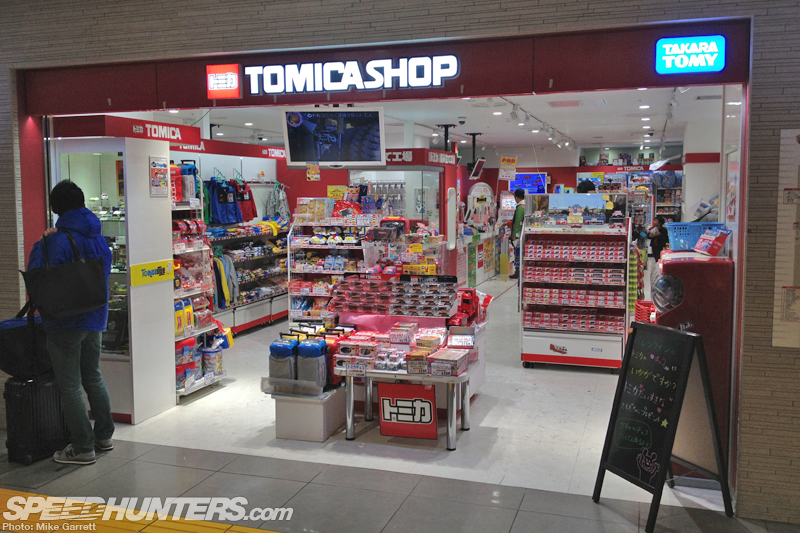 I found the choco cars inside one of Tomica's official retail stores, which are located in shopping areas across Japan – including the new mall inside Tokyo Station. As you'd gather by the name, these stores are stocked exclusively with Tomica diecasts and other Tomica goods.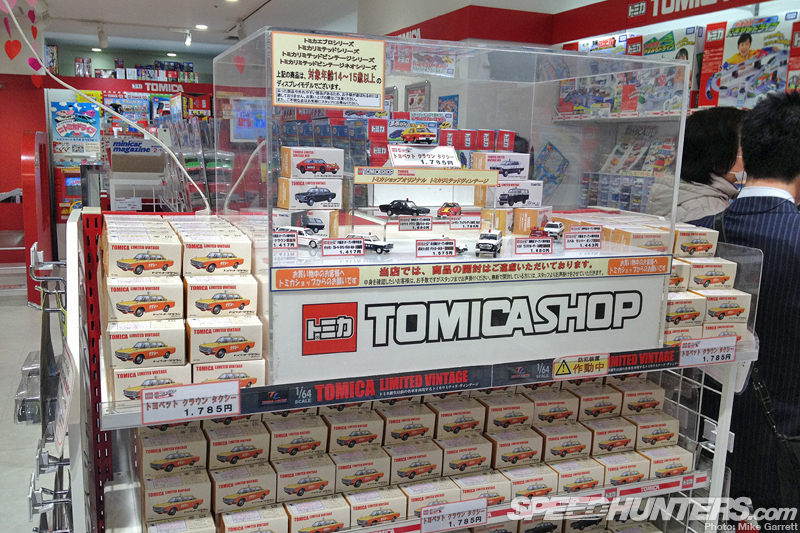 Just about every product in Tomica's current line-up can be found in these stores – from simple children's toys to the highly-detailed models from Tomica's Limited Vintage series. Because of that, the store draws everyone from kids begging their parents for a new toy…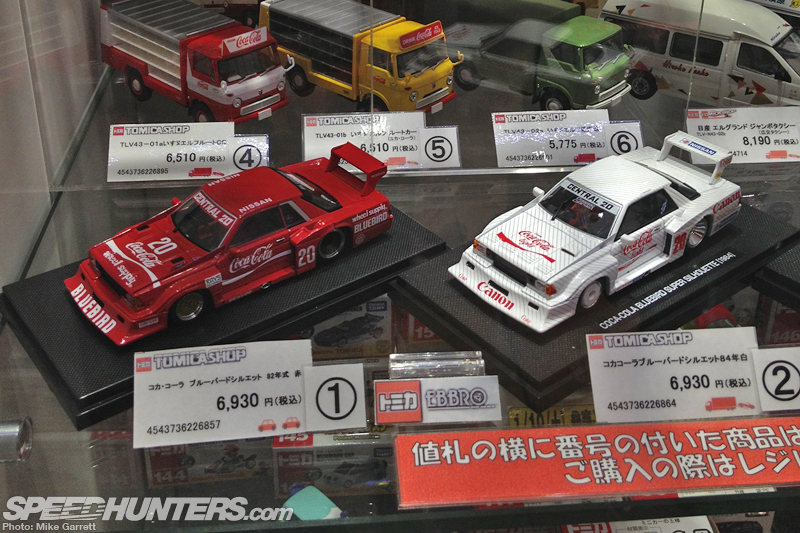 …to serious collectors looking to drop some coin on something like these 1:43 scale Nissan Bluebird Super Silhouette replicas.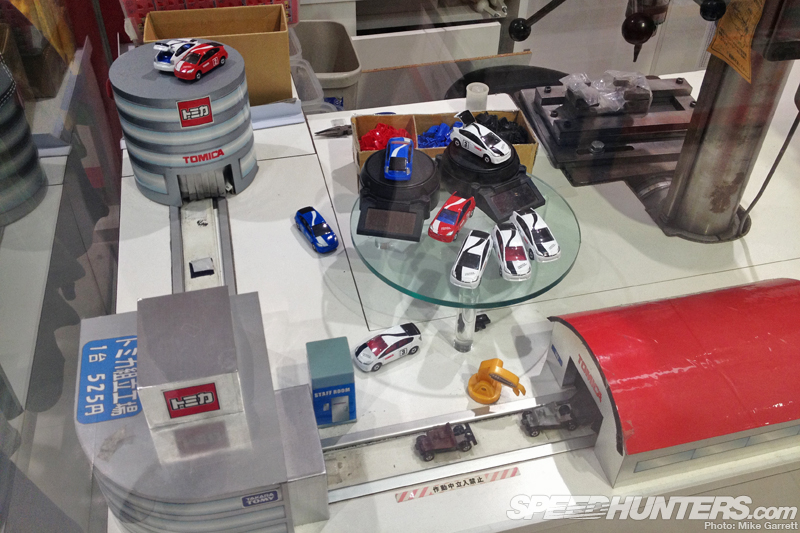 The Tomica Shop also offers special cars that you can only find in the official stores, and there's even an area where you can order a custom-built Tomica diecast and watch it take shape right in front of your eyes. Where was this sort of stuff when I was a kid?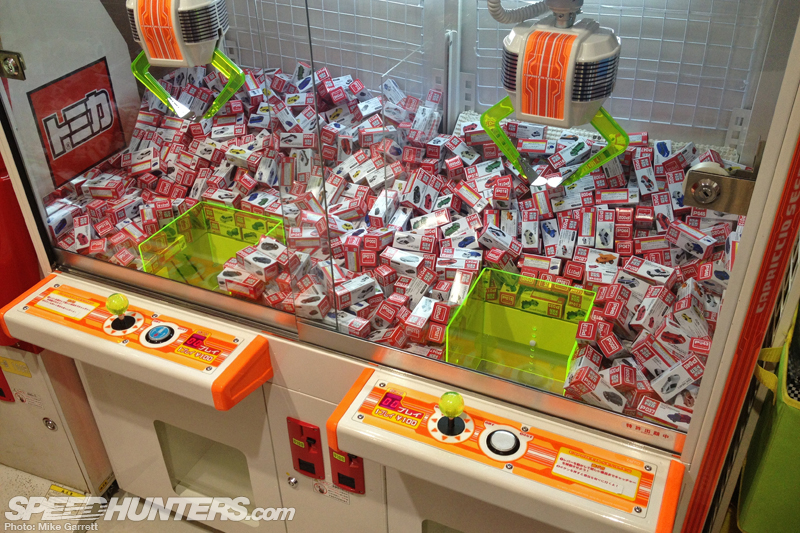 They even have a claw machine (of UFO Catcher as they are known in Japan) filled with Tomica cars. It doesn't get much more Japanese than this.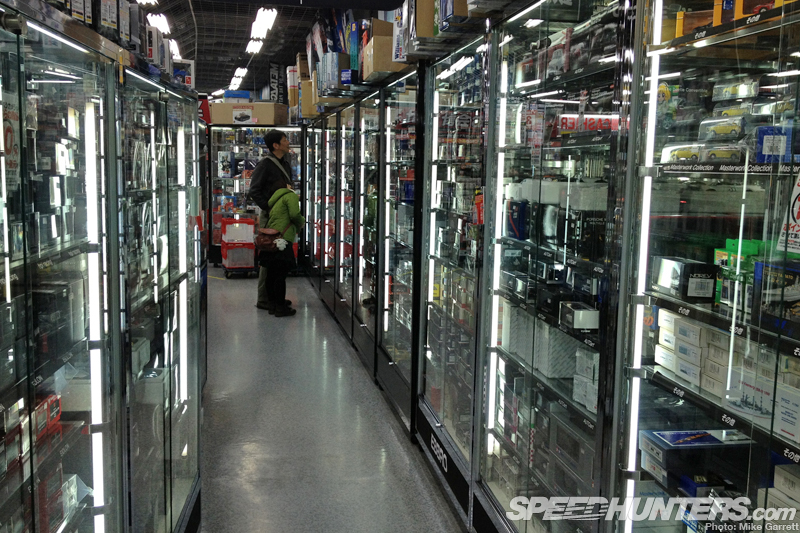 Elsewhere in Tokyo, it was only right to drop by and see what was new at the massive hobby section inside at the enormous Yodobashi Camera store in Akihabara.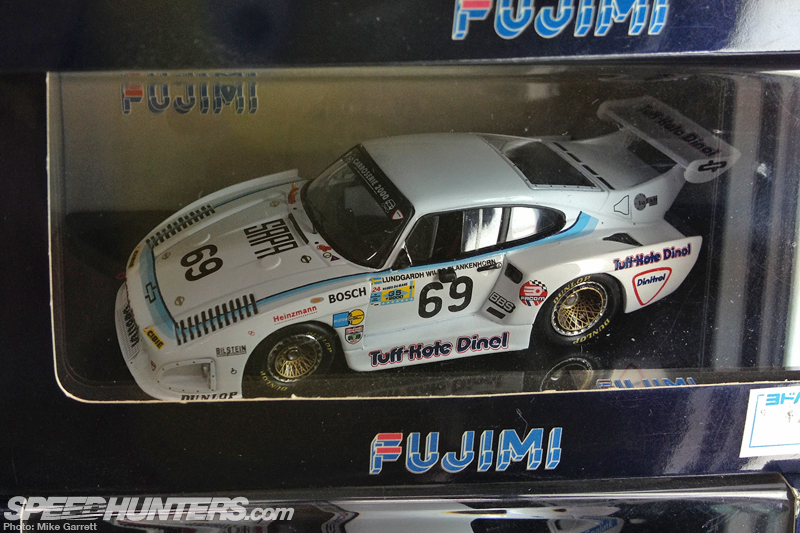 I've been to Yodobashi more times than I can possibly count, but each time I walk in the store I can't help be amazed. There's simply nothing else like it in the world.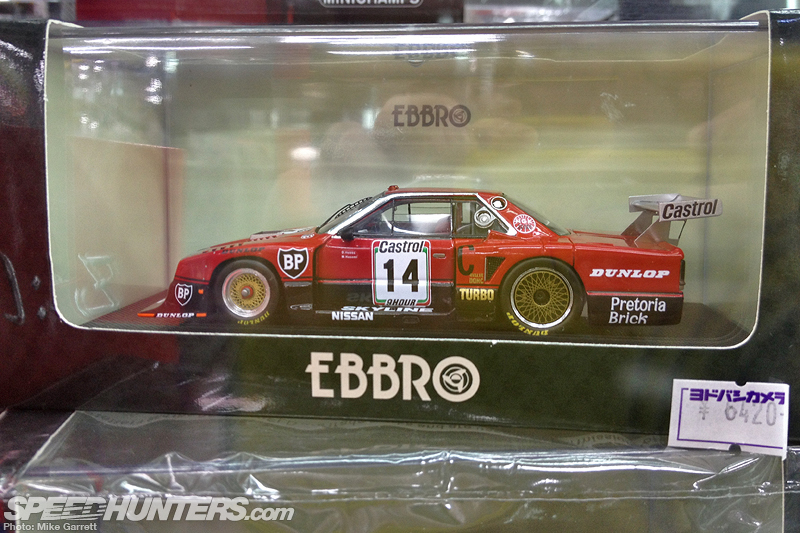 It's hard to fathom that Yodobashi's exquisite selection of high end diecast cars and plastic models is just one miniscule part of an inventory that includes everything from professional photo equipment to bicycles and women's cosmetics.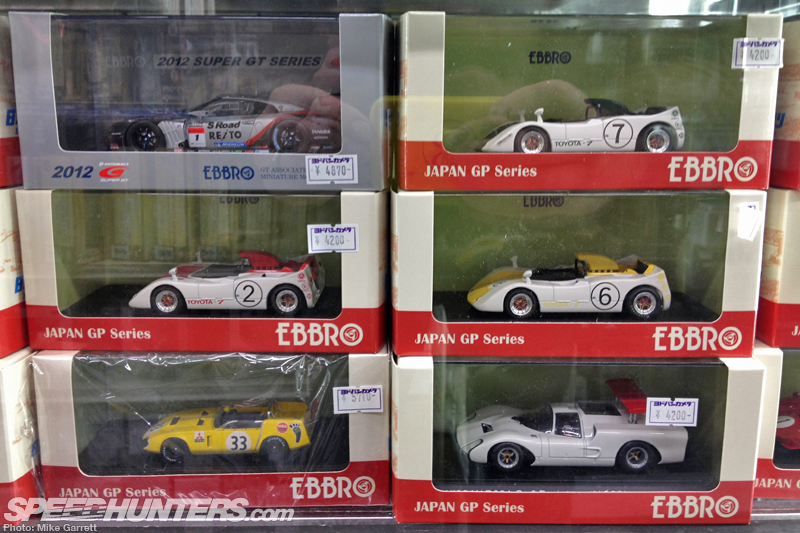 Better yet, a free membership will earn you 10 percent in-store credit for each purchase you make. It doesn't matter whether you are picking up a rare Ebbro diecast or new vacuum cleaner. Like just about everywhere in Japan, Yodobashi has some severe wallet-destroying potential.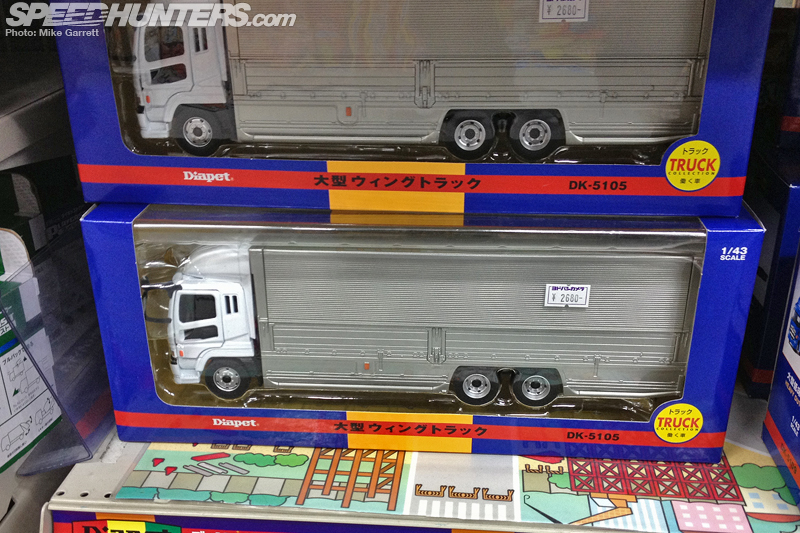 I know I'm strange, but I thought these 1:43 scale Diapet trucks were just as cool some of the race cars. It looks like they are just begging to be transformed into miniature Dekotora.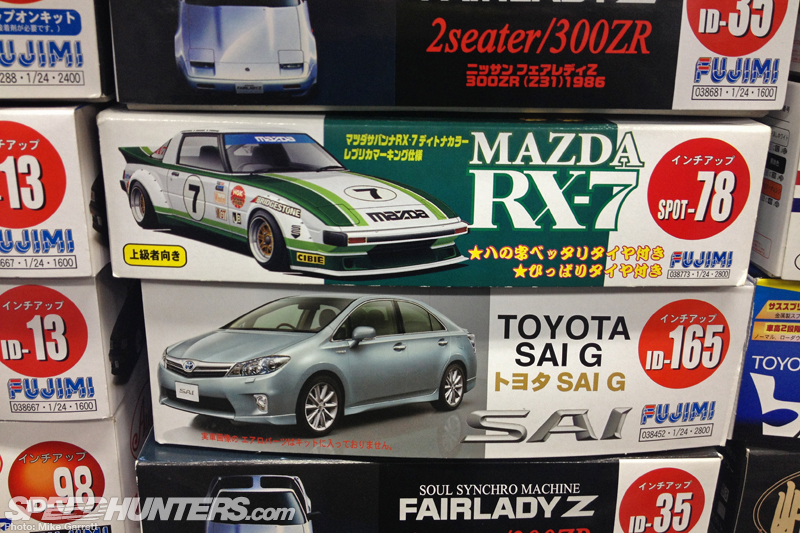 After browsing around the diecast area for a little while, I headed over to Yodobashi's equally impressive plastic model section. Again, just this one little corner of the gigantic store is enough to put many standalone hobby shops to shame.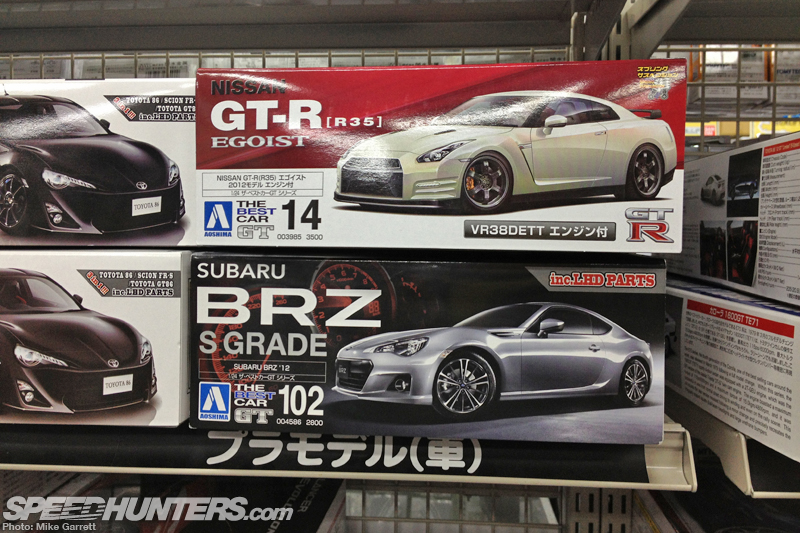 They've got it all, from the latest kits like the 86 and BRZ…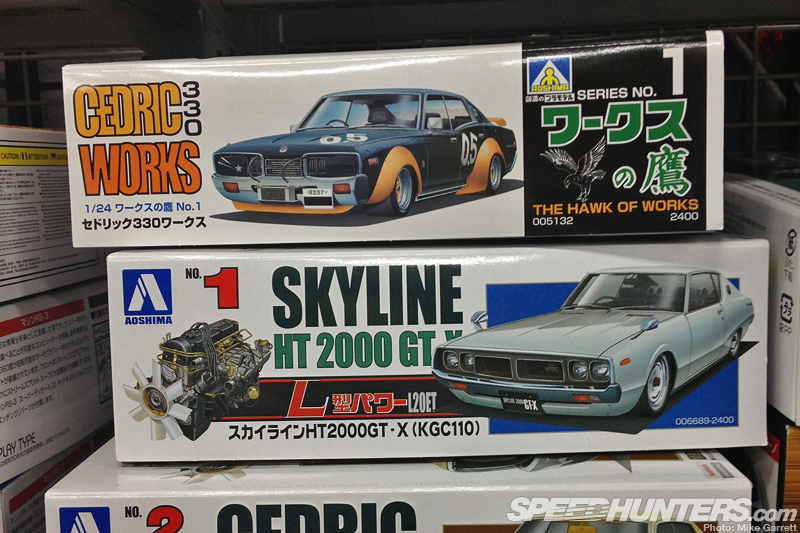 …to the more nostalgic models. 'The Hawk of Works' 330 Nissan Cedric is just amazing.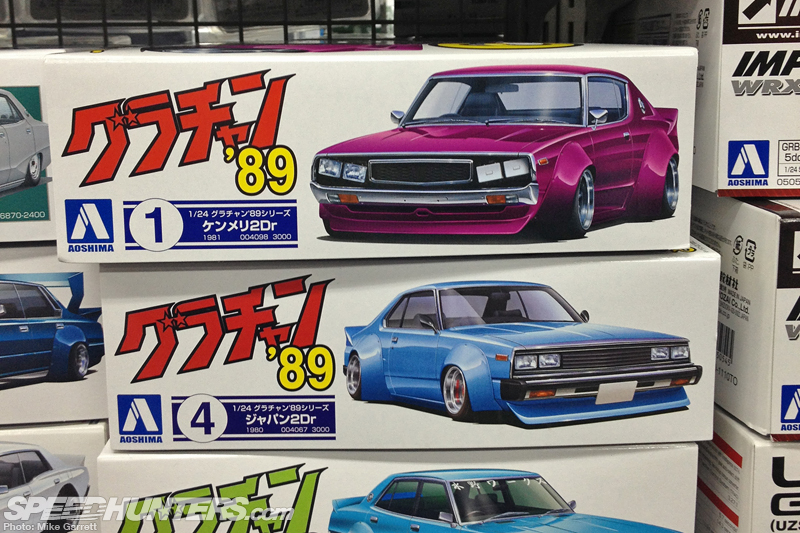 The Aoshima company in particular is on top of the game when it comes to the kyusha modeling scene. Their Granchan line is enough to make anyone want to live out their shakotan dreams in 1:24 scale.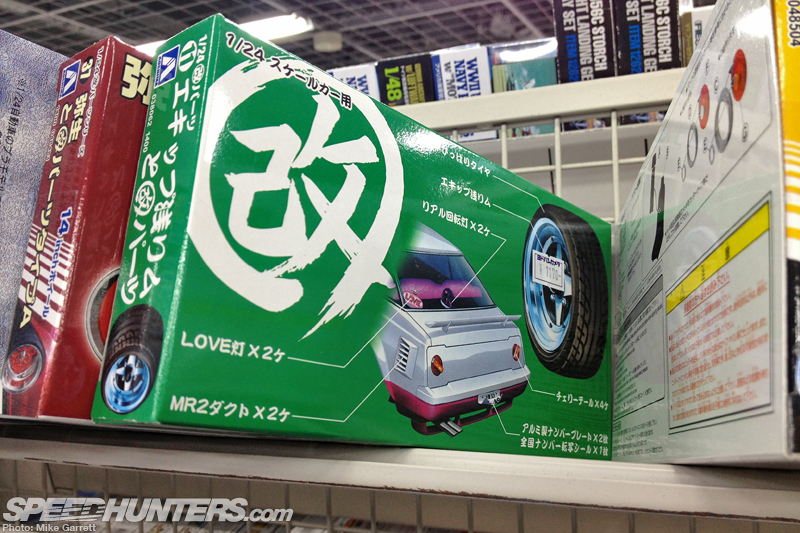 Besides the actual vehicle kits, there's also the amazing line of 1:24 scale parts and accessories made for the kyusha modeler.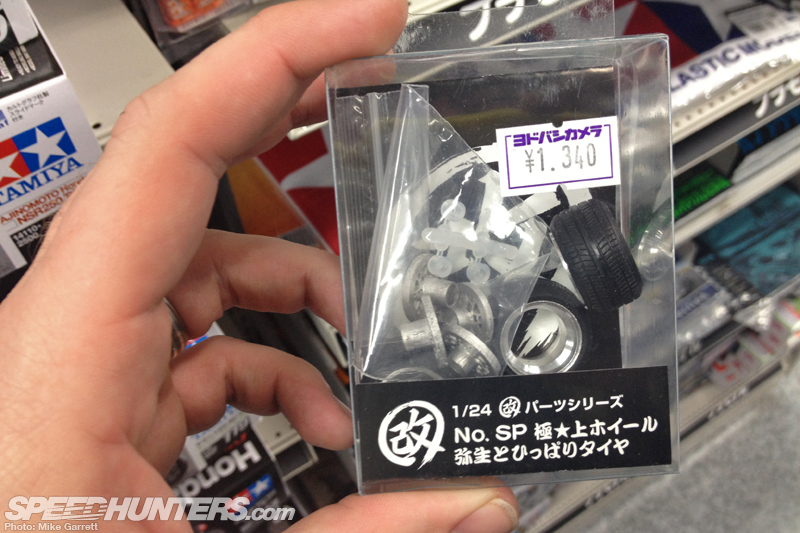 Maybe you're looking for a new set of wheels with appropriately stretched tires?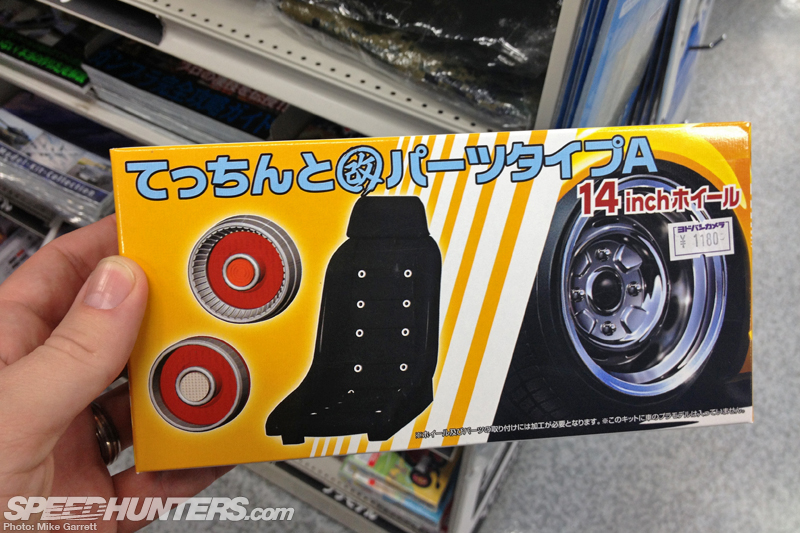 Other parts are sold in packages that include a few different parts foryour scale machine. Here we have custom tailights, bucket seats, and a set of widened steel wheels.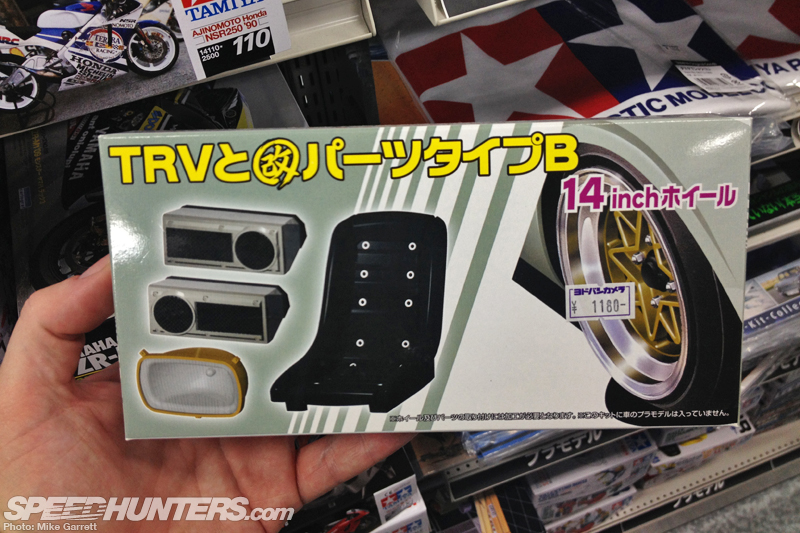 Next up, 14-inch TRV wheels along with more seats, audio equipment and custom headlamps.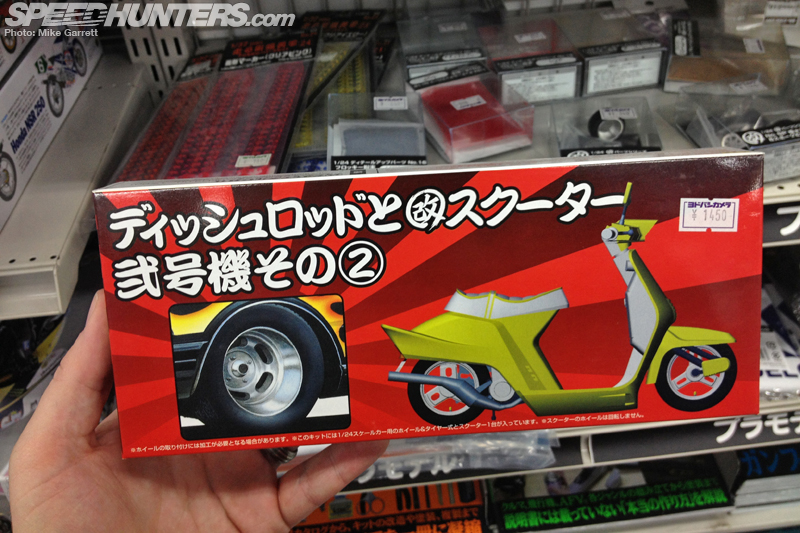 A trick scooter matched with a set of slot mags? Yes please.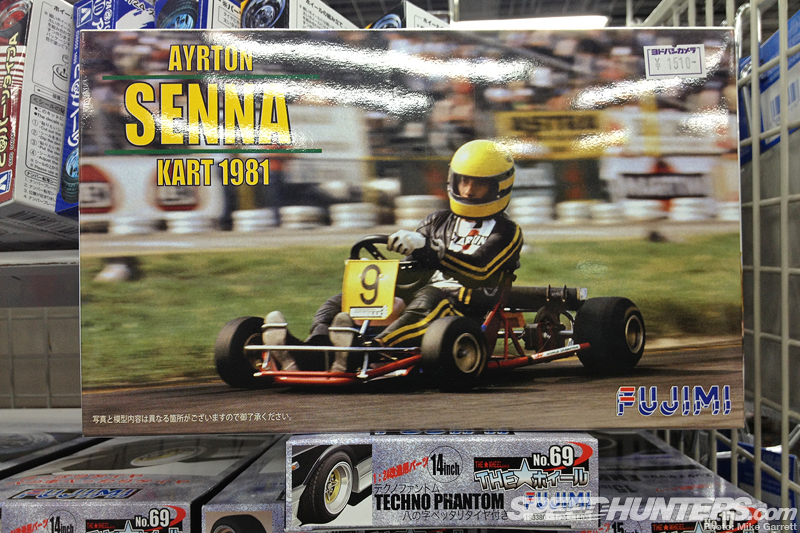 Elsewhere, I came across this cool Fujimi kit of Ayrton Senna's kart from 1981. The fact that someone decided to build a model of this thing is just awesome.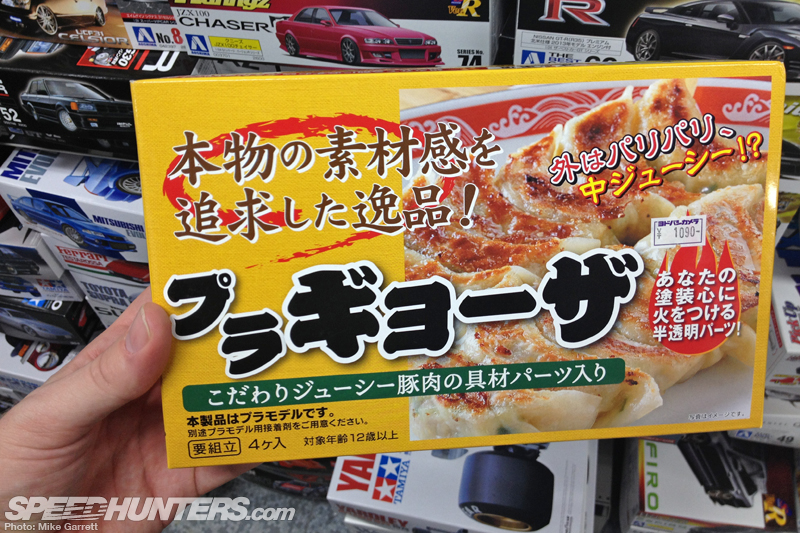 Finally, one more find from Yodobashi's plastic model section that's completely not car related, but too strange not to share. Yes that's a model kit of Japanese gyoza dumpings….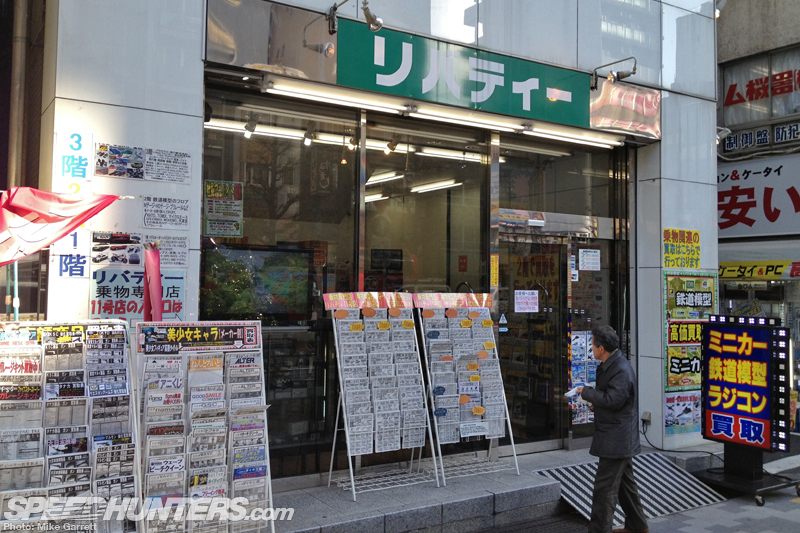 Moving on now, we have another hot spot in the otaku heaven that is Akihabara. This is 'Liberty' – a shop that deals exclusively in second-hand diecast cars, collectables and other scale hobby goods.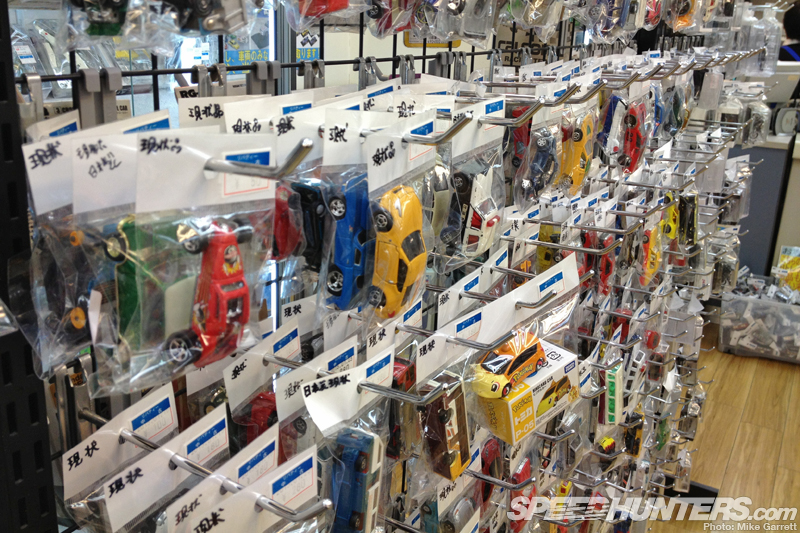 This is makes it the perfect place to hunt for rare out of production vehicles, whether it's Tomica, Choro-Q or any number of other Japanese and international brands.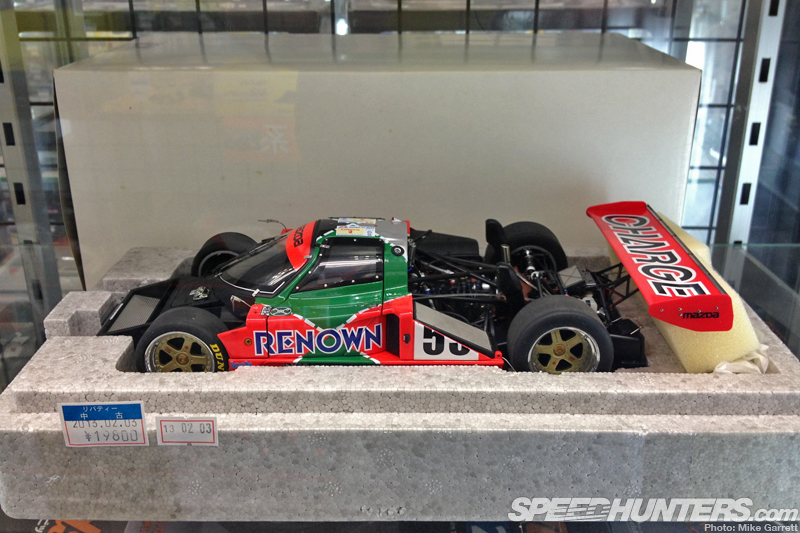 Whether you are a casual or serious collector, Liberty's ever-changing inventory of used items caters to just about anyone. Maybe you are looking for something substantial like this obscenely detailed Mazda 787B?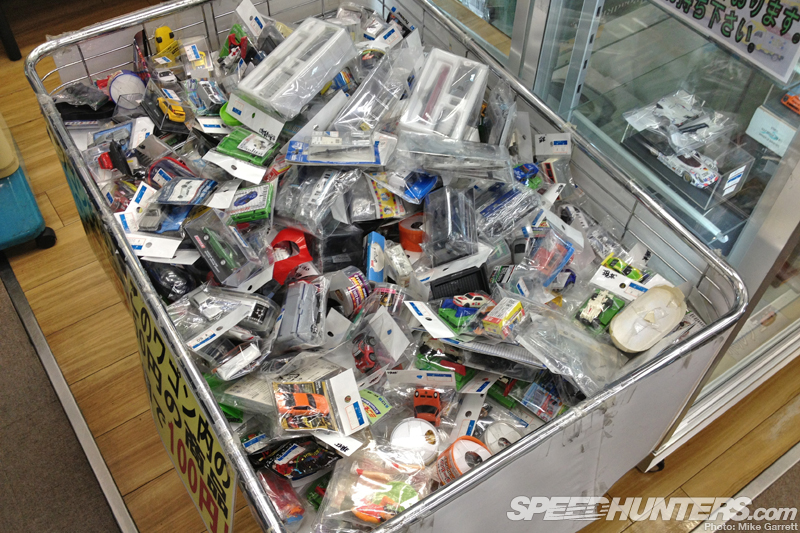 Looking to spend a little less? There are bins full of random miniature cars – some them priced as low as 50 yen (about 50 cents US) each.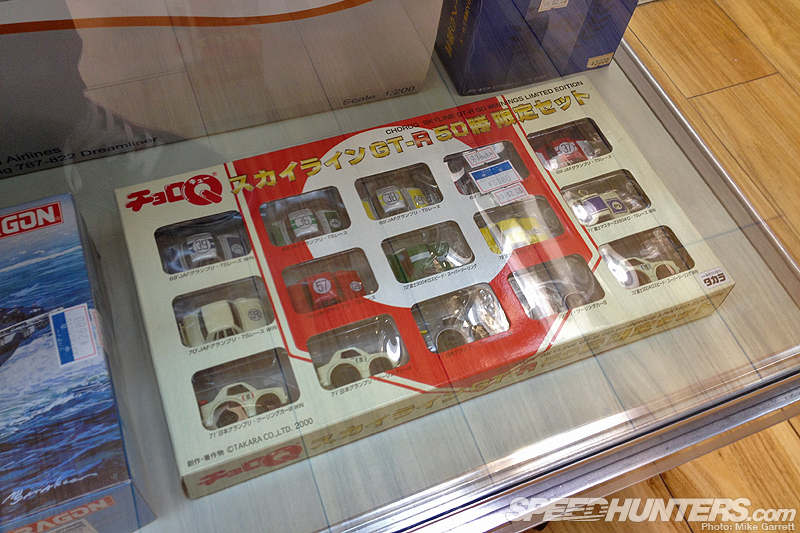 Anytime you visit a shop like this, you find yourself wishing you'd have brought a couple extra suitcases for souvenirs. I would have liked to have brought home this limited edition set of Choro-Q GT-Rs…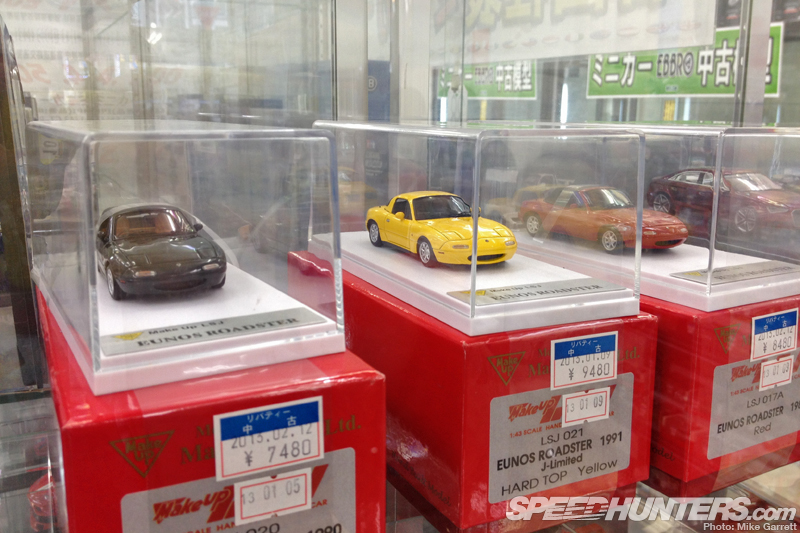 ….or perhaps one of these 1:43 scale Eunos Roadsters to match my full size version?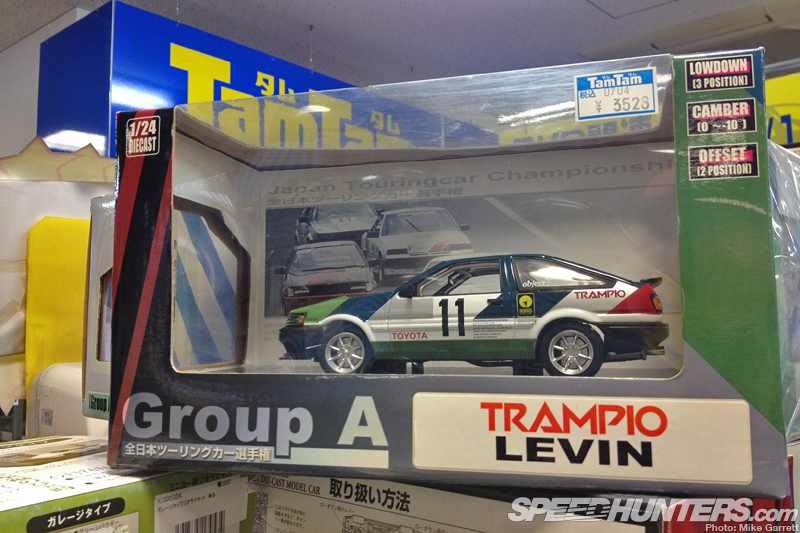 Another must-hit spot in Akihabara for car geeks like myself is TamTam Hobbies. Among the treasure found this visit to TamTam was this 1:24 Group A Levin diecast complete with adjustable ride height, camber, and wheel offset.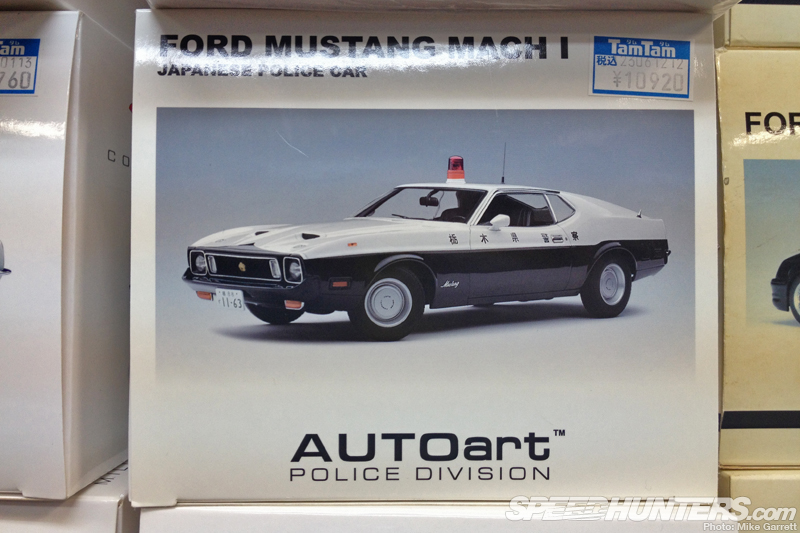 How about AUTOart's Mustang Mach 1 fastback in Japanese patrol car colors? Awesome.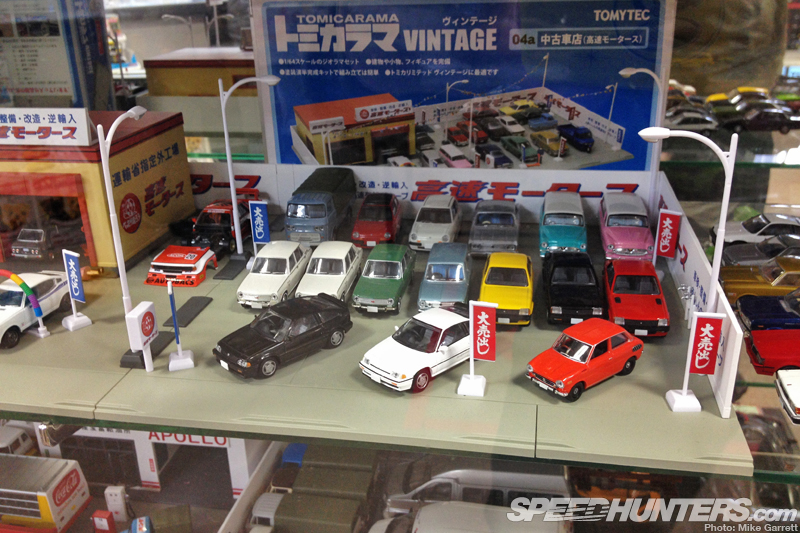 Here we see one of Tomica's super cool vintage series diorama kits. What better place to display your scale classics than on a miniature used car lot?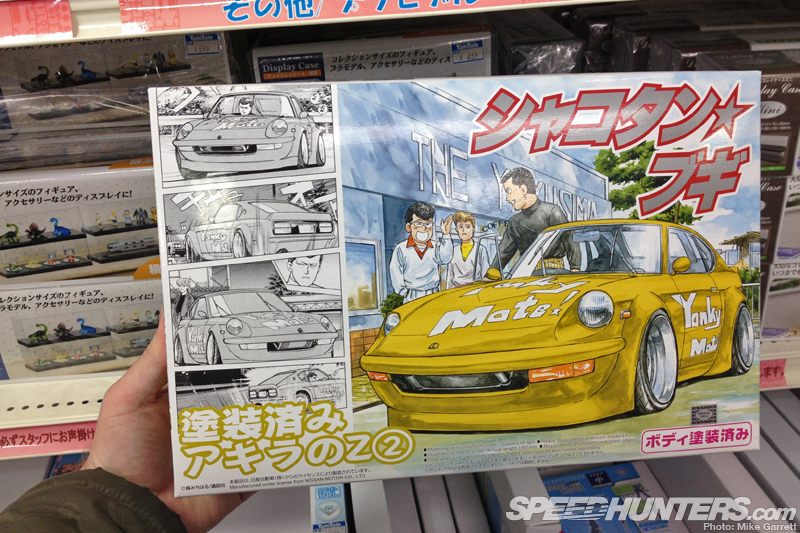 One thing I did actually purchase for myself was this Aoshima model kit of Akira's Z from Shakotan Boogie. Perhaps I'll have to update once I actually get around to putting this thing together?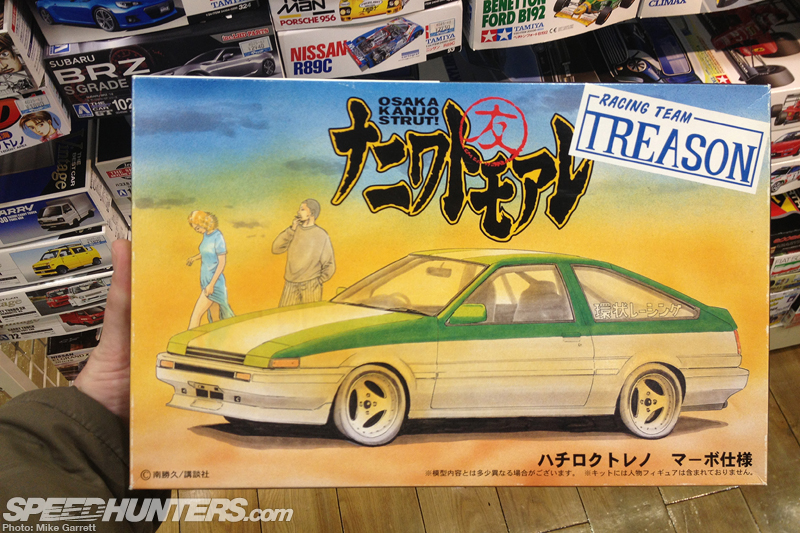 Elsewhere in my visits to other toy stores and hobby shops, I found cool stuff like this AE86 model from Kanjo-themed comic series Naniwa Tomoare.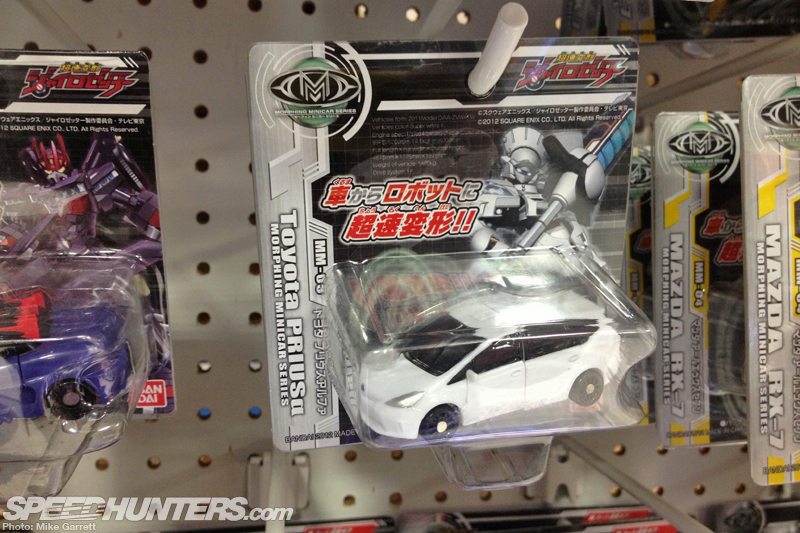 I also found a homegrown Japanese take on Transformers toys that morph from robots into cars like the Toyota Prius.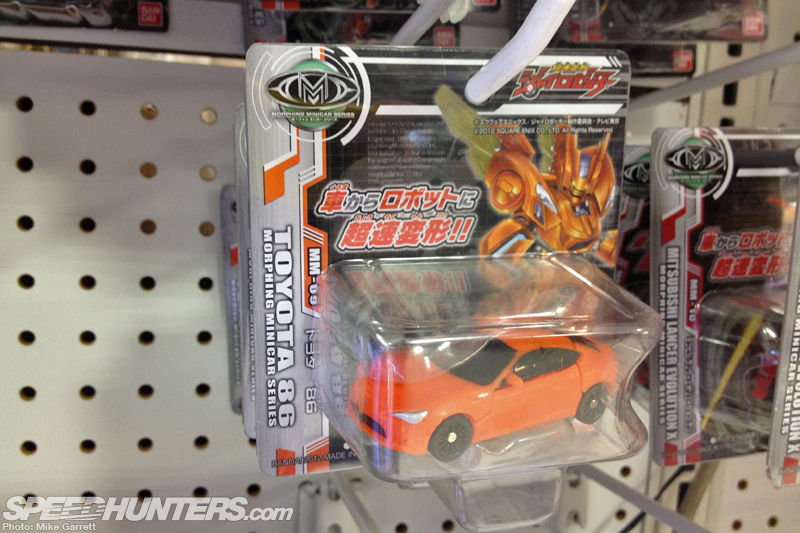 Naturally, there's also a Toyota 86 robot in the lineup.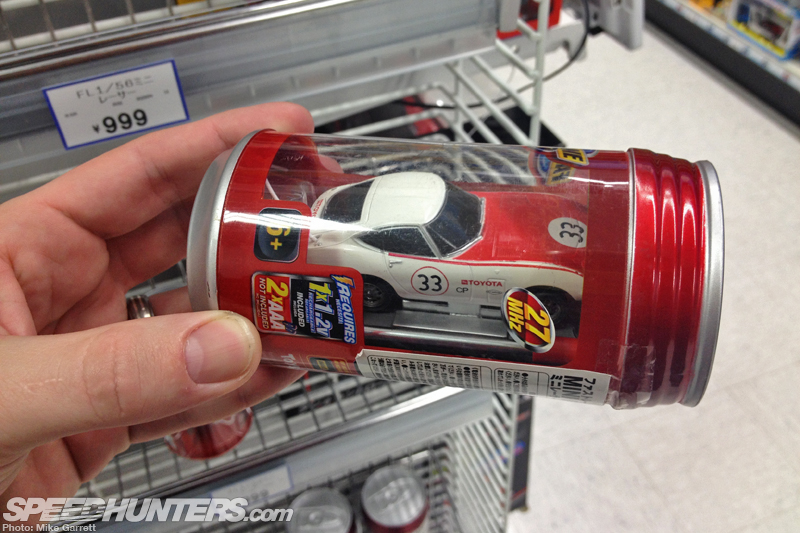 Lastly, we have a radio control Toyota 2000GT race car that comes in a soda can. Why? Because Japan.
That will do it for this edition of Tokyo Hobbyhunting.
Mike Garrett
Instagram : speedhunters_mike
Email: mike@dev.speedhunters.com
Tamiya heaven in Tokyo on Speedhunters
Vintage cool collectables in Tokyo on Speedhunters