Sometimes a Speedhunters story takes weeks or months of preparation to organize. It can require dozens of emails or phone calls back and forth between us and owners of cars or shops we are planning to feature to make sure everything is set. On the other hand, there are those occasions where we just happen upon really cool stuff at random. That's the case with what I'm about to show you.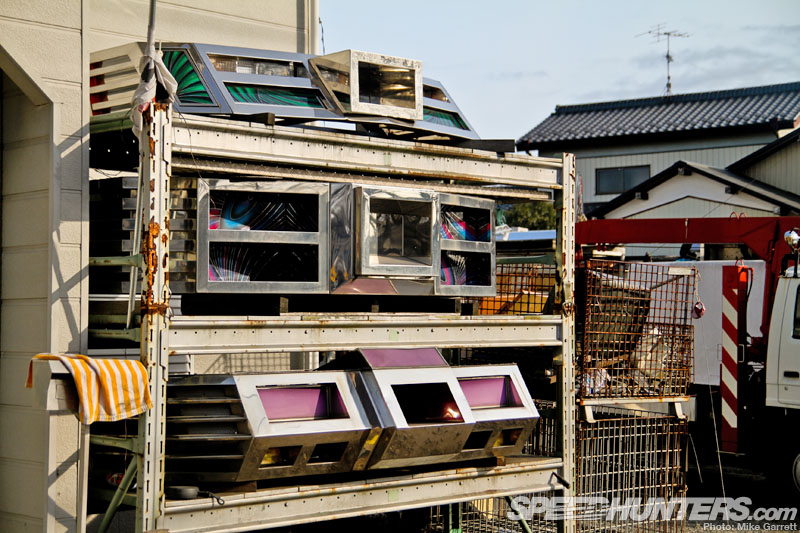 It began when I visited the Cal Trend paint shop in Saitama during my recent trip to Japan. I'd just wrapped up shooting Kondo-san's custom Mercury and was sitting inside the shop talking cars with the guys. This was when I was asked, "Hey, I know this place where they build some crazy Dekotora – wanna check it out?" First off, it would have been completely rude to say no. Second, I absolutely wanted to see it.
So we jumped into the car and took a short ride over to a local shop called Art Planning Yuuma. Now I'd seen Japan's famous Dekotora (translation: Decoration Trucks) once or twice before in Japan – usually out of the corner of my eye on the highway or at a parking area somewhere – but I never had the chance to look at one up close, let alone have an opportunity to see where they are created.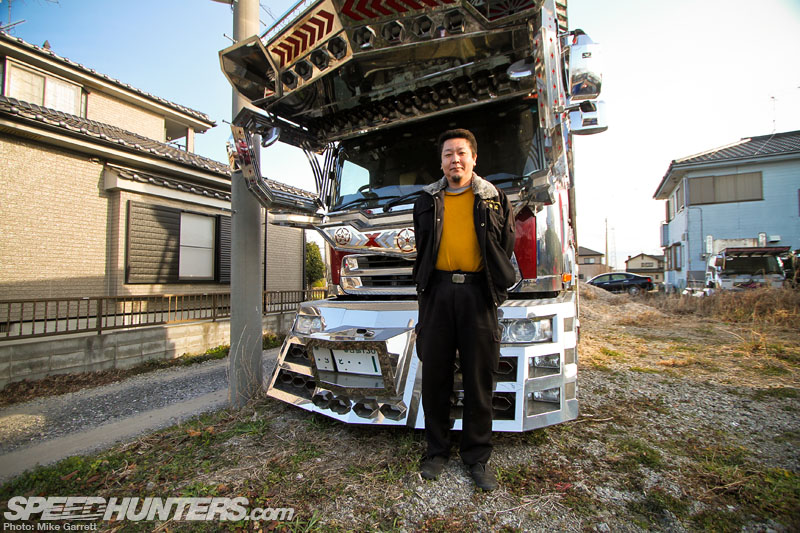 This is Kobayashi-san, the head of the shop and wearer of a very cool old school punch-perm hairdo – or as he describes it in broken English, "Japanese mafia hair". Even though our visit was last minute, he was happy to show me around.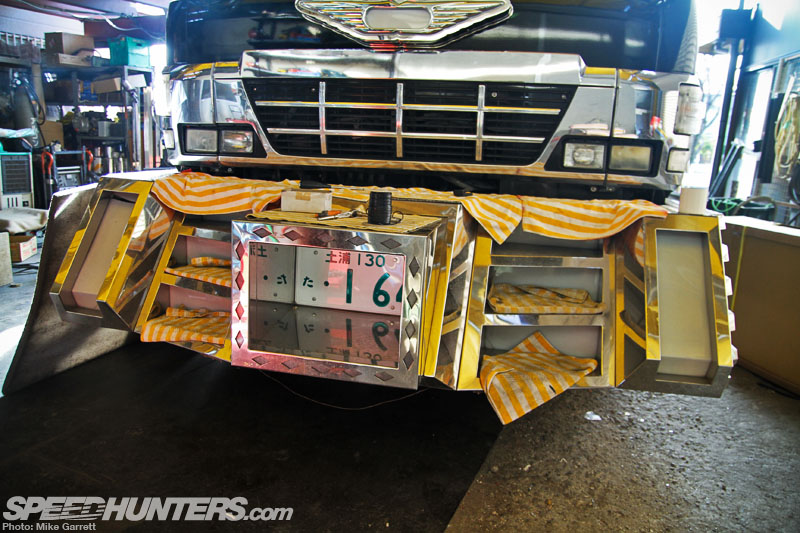 Custom big rigs aren't something we typically cover on Speedhunters, but I say it's near impossible not to be fascinated to these things. Dekotora (or 'Art Trucks' as they're sometimes referred to) are after all, a big part of Japan's vehicular obsession.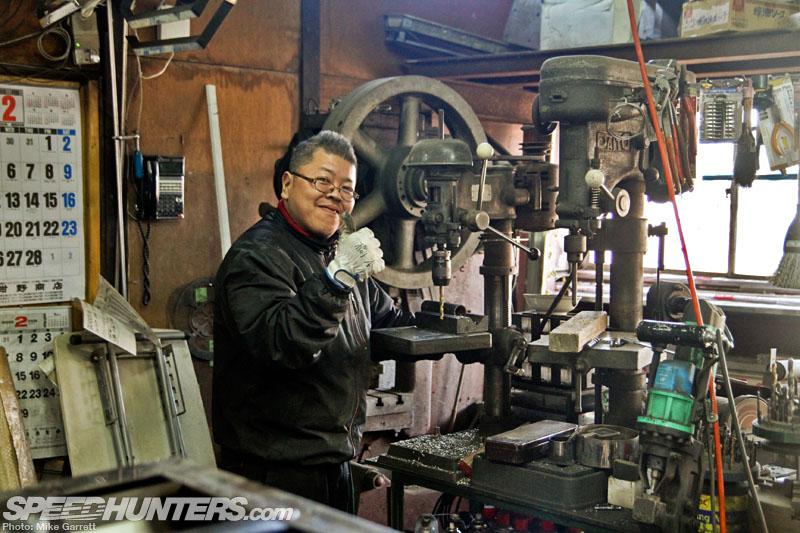 Needless to say, Art Planning Yuuma was unlike any shop I have ever visited before. It was much more like a traditional engineering factory than any sort of tuning shop. But that's not surprising given the massive size of these trucks and the type of work that goes into them.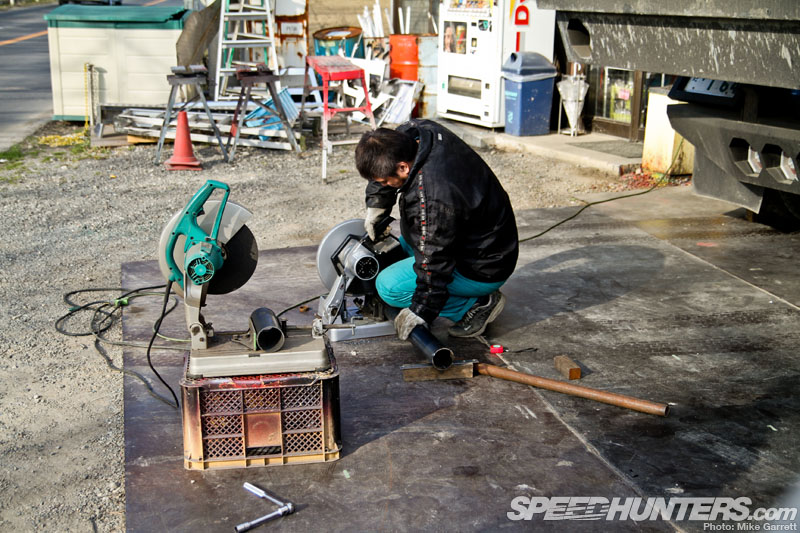 The shop makes its own dress-up parts for the trucks, along with one-off stainless steel fabrication and other custom work for those looking to really personalize their machine.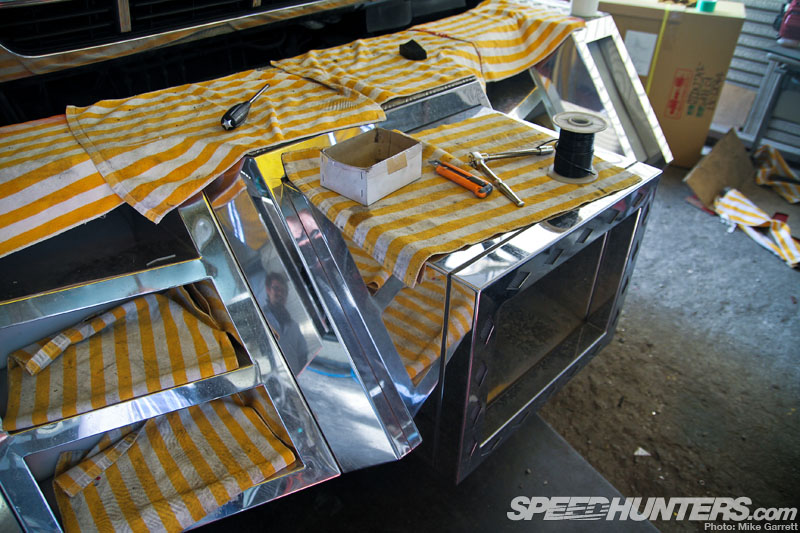 Some of the most popular additions to the body are light fixtures and these bumpers that closely resemble cow catchers from steam locomotives.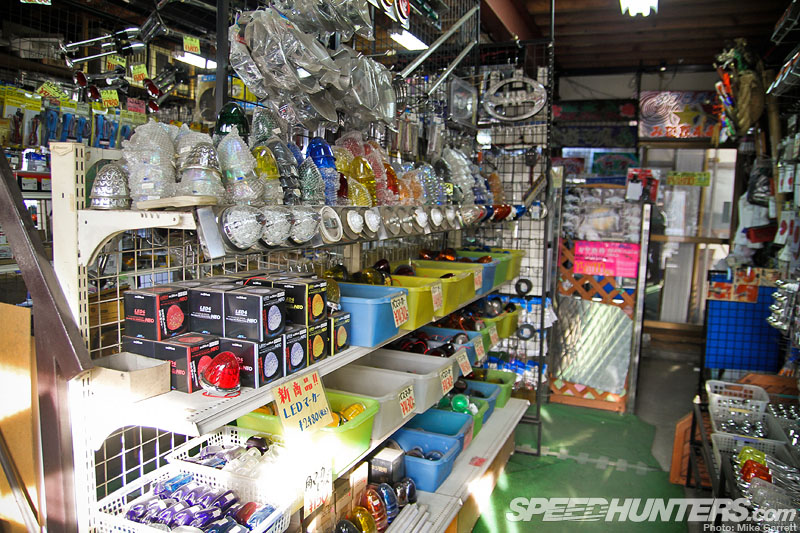 Besides the big garage and workshop area, Art Planning Yuuma also includes a retail store with a full stock of parts and accessories for truckers.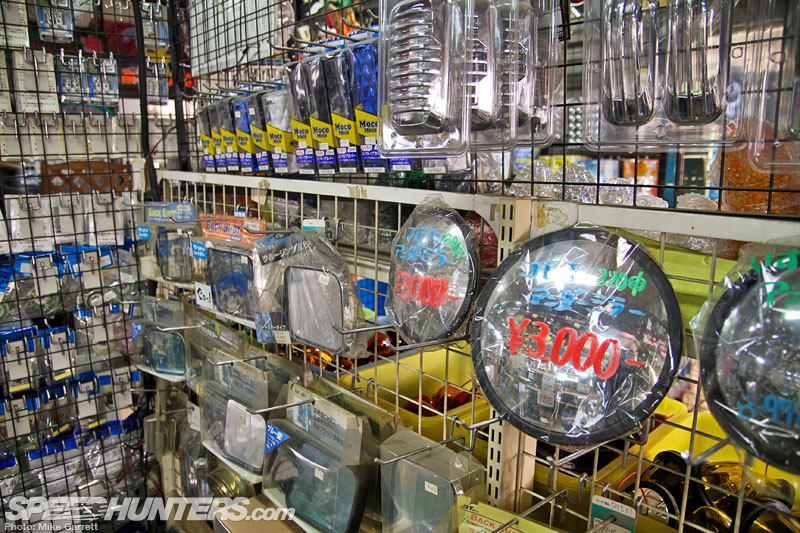 Some of the items in the shop are similar to what you'd find in a Super Autobacs or similar automotive accessories shop in Japan…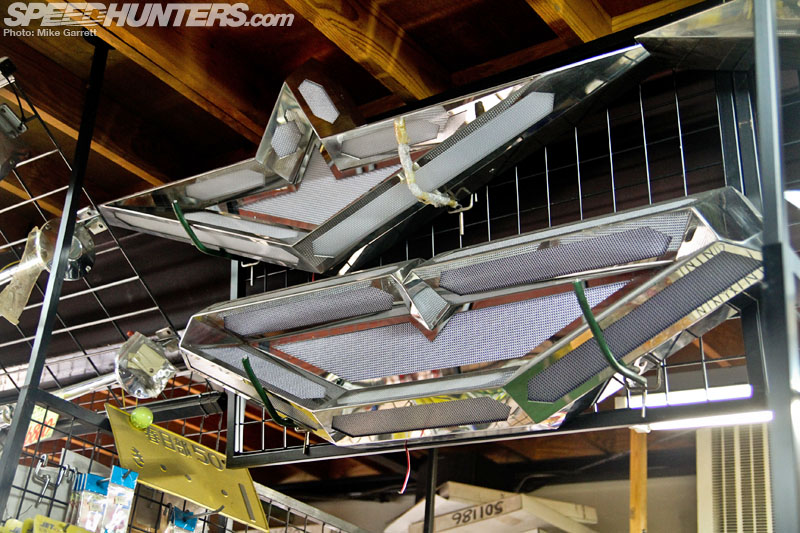 …while others are much more specific to the world of trucking.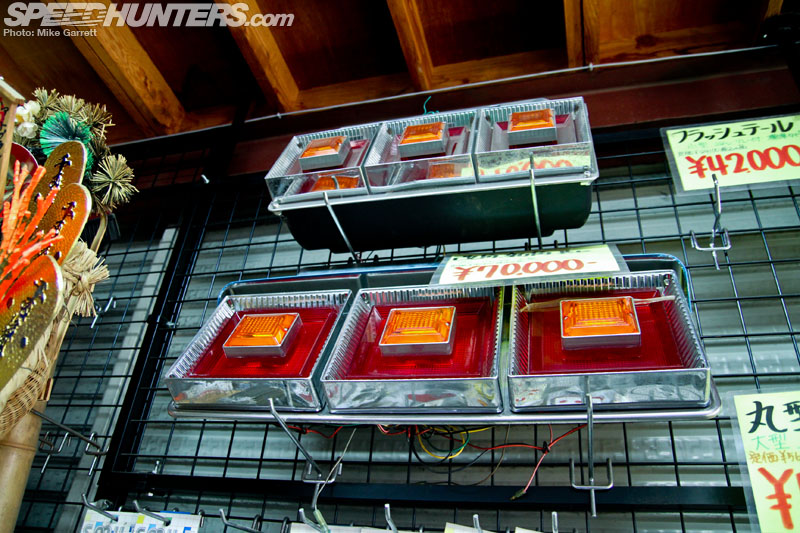 The walls are filled with things like custom tail light set ups…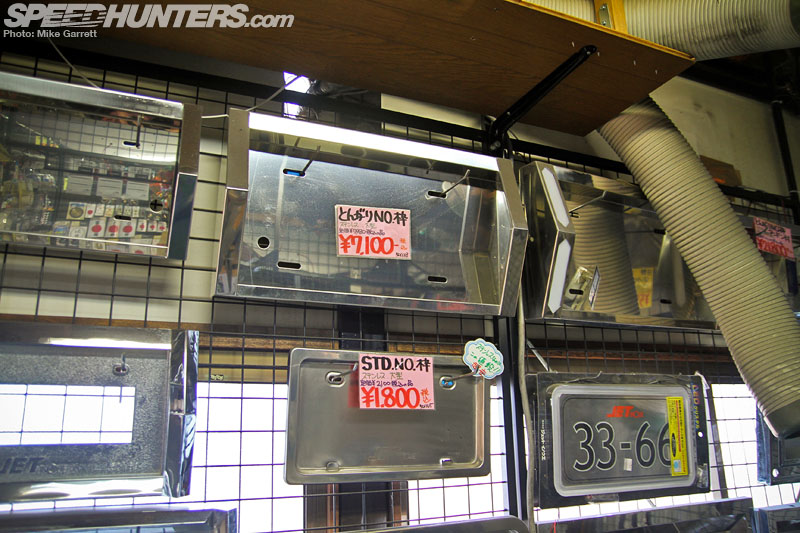 …and flashy license plate holders.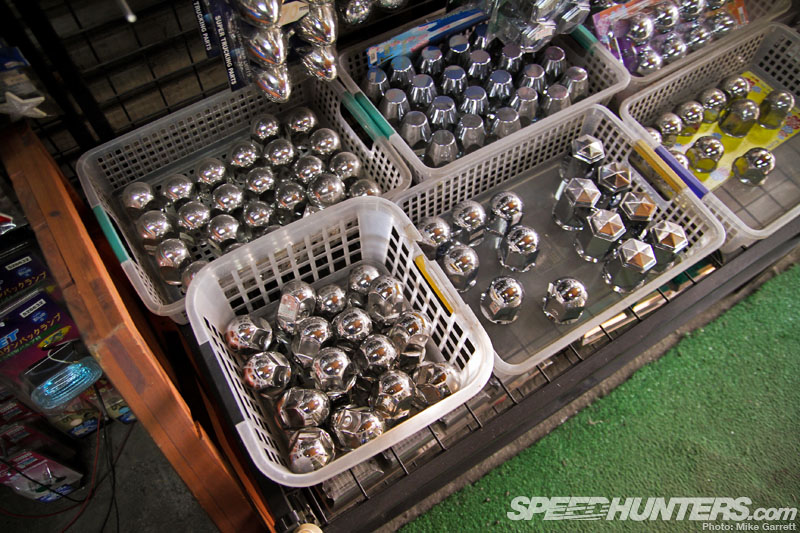 Just as it is with normal cars, there's an entire industry in Japan based around customizing these rigs. It doesn't matter whether it's someone trying to build a mind-blowing Dekotora or just a normal trucker looking to dress up his machine.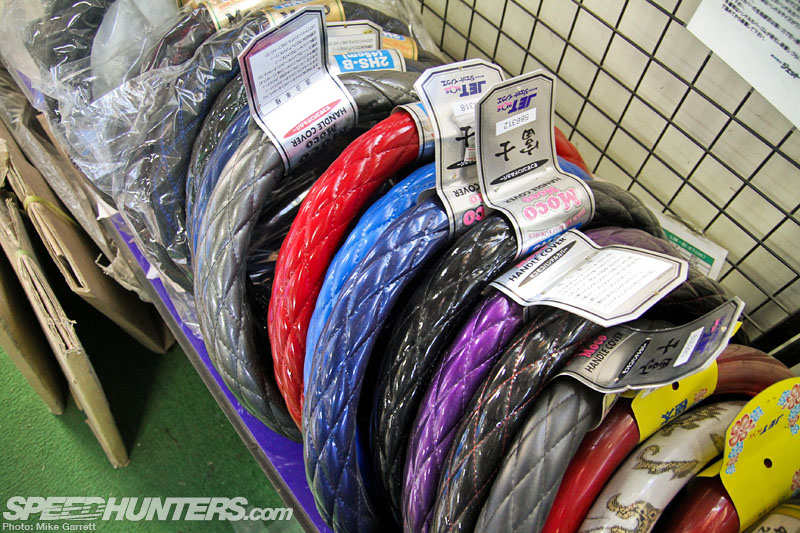 The store also stocks a big selection of accessories for the interiors of these rigs.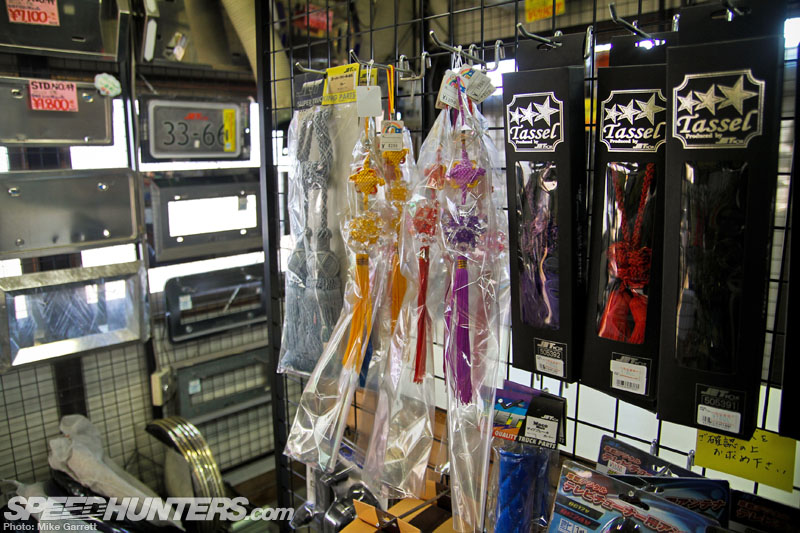 I'm sure some of this stuff will be recognizable to those familiar with Japan's VIP and Kyusha scenes. There's actually a fair bit of crossover between certain elements of the trucking world and the custom car scene that we all know.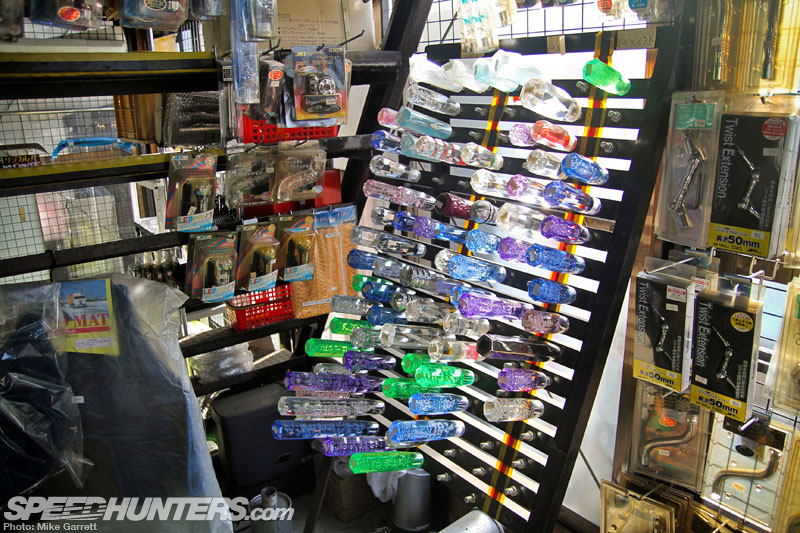 For example, I'm sure you're all familiar with the extravagant bubble shift knobs that have found a home in many a drift car. These are quite big (no pun intended) among truckers as well.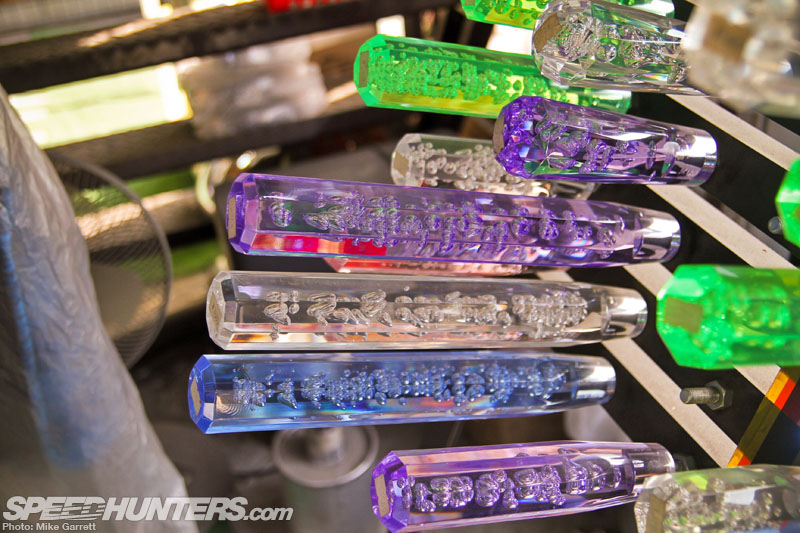 Truck-specific shops like Art Planning Yuuma seem to the place to go if you fancy one of these bad boys for your rig. The selection was astonishing.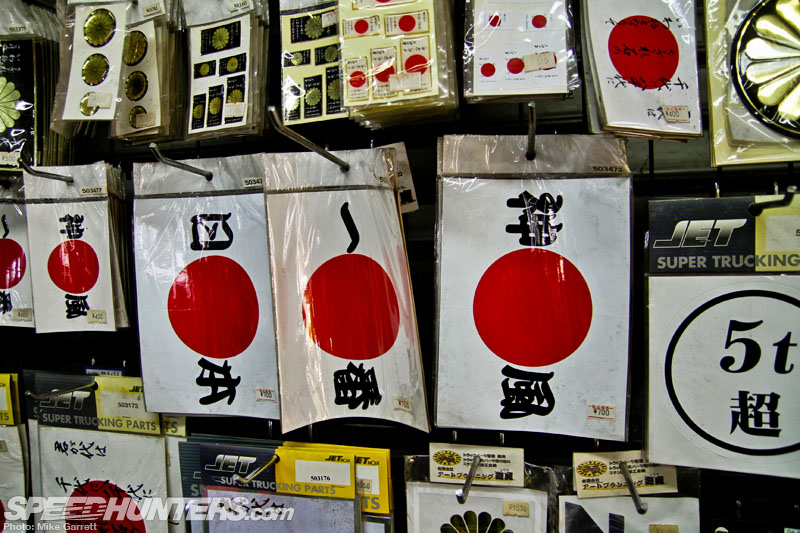 Can't forget about the stickers either. 'Nihon', 'Ichiban' or 'Kamikaze'– take your pick.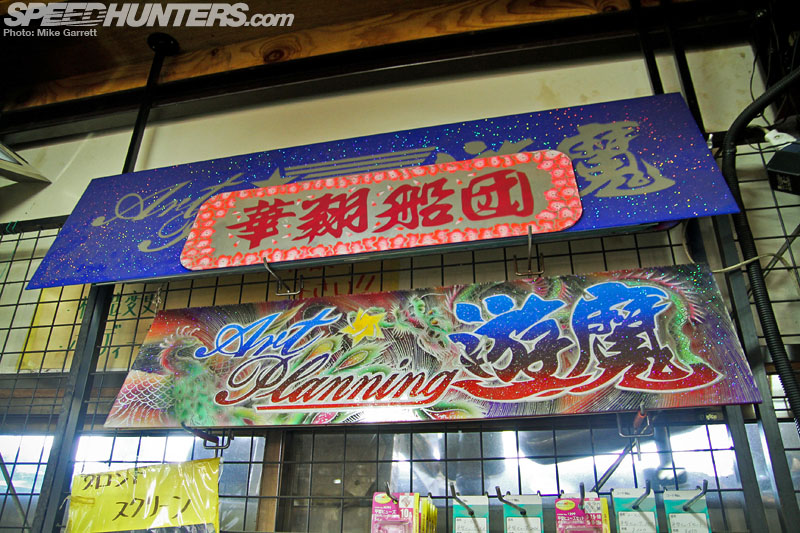 After I had  quick look around the shop, we hopped back in the car to go and check out one of Yuuma's demo trucks, which was parked a short distance away.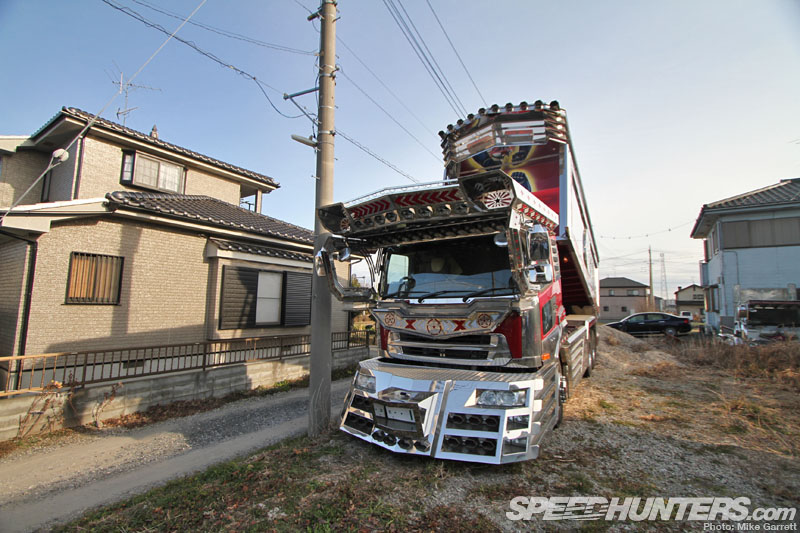 A few minutes later we arrived, and this radical beast sat before us. As I climbed out of the car and walked closer I wasn't quite sure whether I was looking at a Gundam or a dump truck!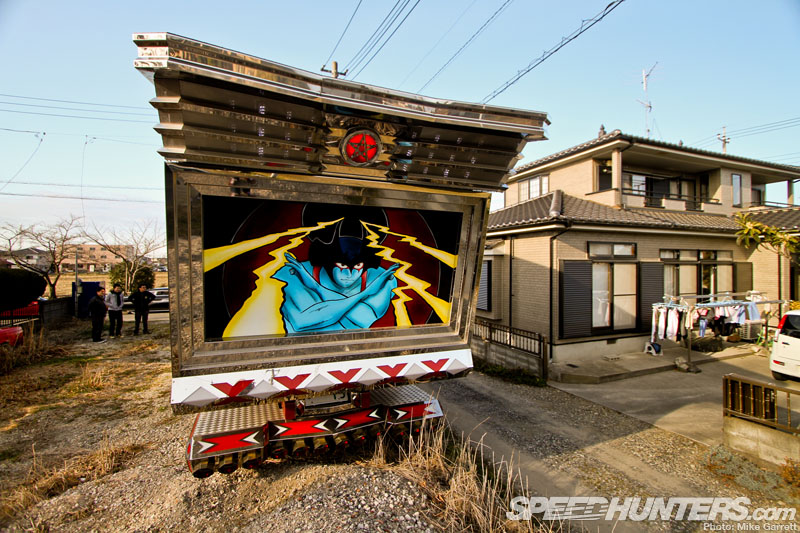 From what Kobayashi-san tells me, this truck was built for a customer who paid cash up front for all the custom work. Once he saw the finished product he was so happy that he didn't want to use it anymore, so the rig has basically become a demo vehicle for the shop.
And like a true Dekotora it looks more like a sci-fi movie prop than it does any sort of normal big rig. Besides the obvious spaceship and robot comparisons, this truck also reminded me of the locomotive time machine that Doc Brown shows up in at the end of Back to the Future III.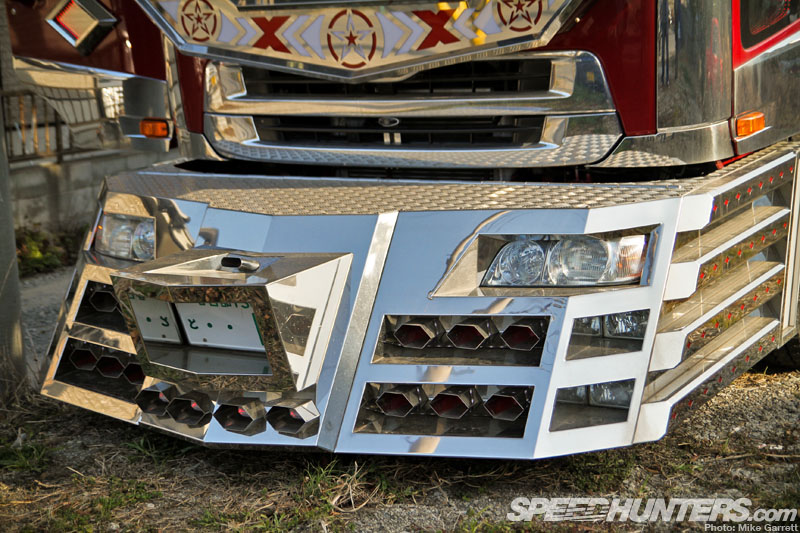 Just look at the front bumper with its array of lights. As for the headlamps themselves, can anyone guess what make and model of car they came from?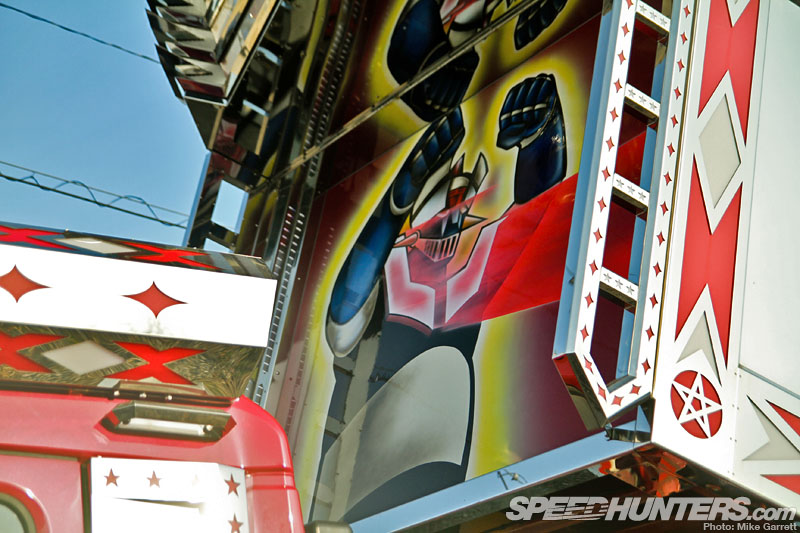 As you find with custom vans in Japan, a lot of Dekotora are covered with images of Japanese pop culture, be it a famous idol singer or characters from popular animation and comic books.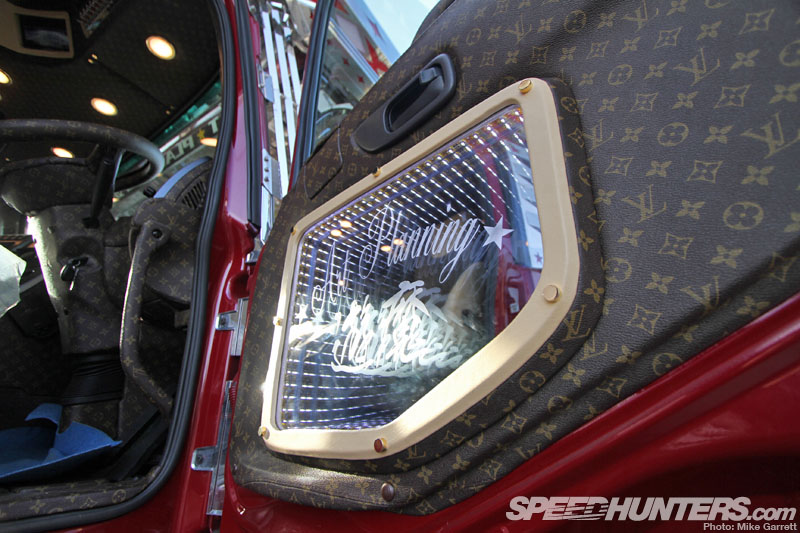 It would be a letdown for such a wild looking machine to have a standard interior, and the cab of this truck certainly doesn't disappoint.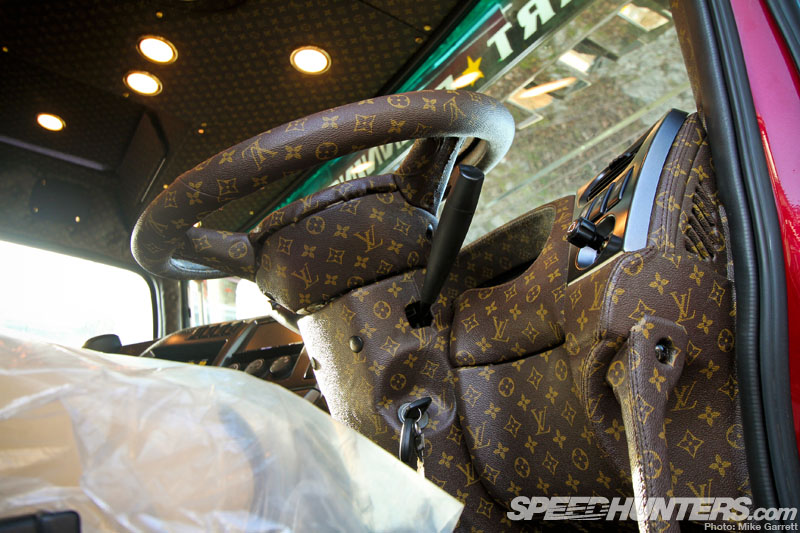 The entire cockpit of the rig is covered in Louis Vuitton style pattern from top to bottom. Could this be the world's most luxurious dump truck?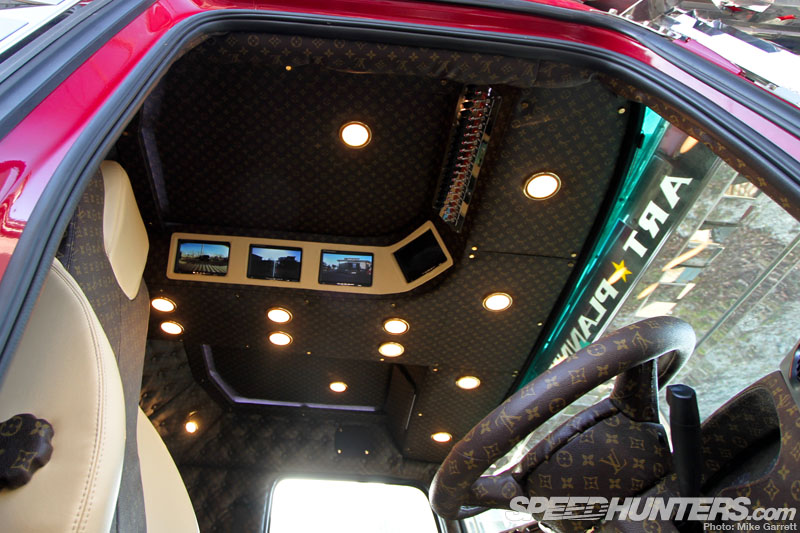 There's also a selection of monitors which are hooked to small cameras mounted all around the truck.
With all of the custom work put into this truck, it's hard to believe that it was originally designed for the utilitarian task of hauling around dirt, rocks and scrap metal.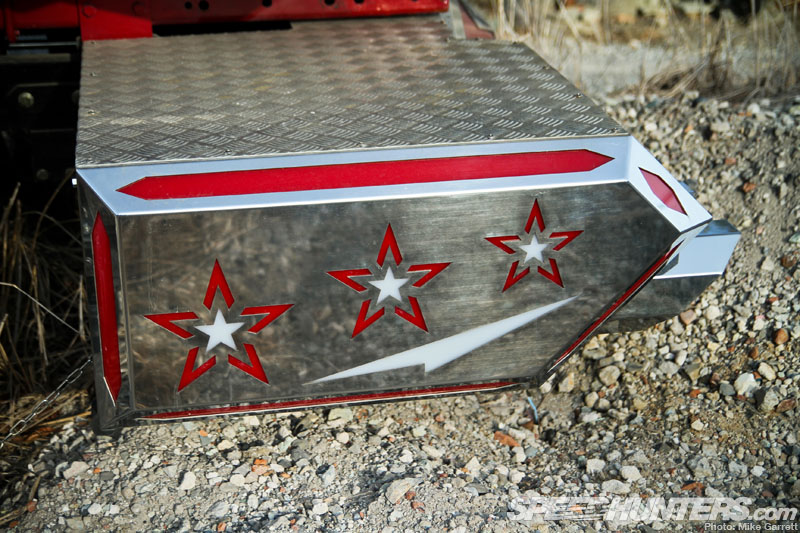 I imagine that "subtlety" is probably not a term used often among the Dekotora community, and that's perfectly fine.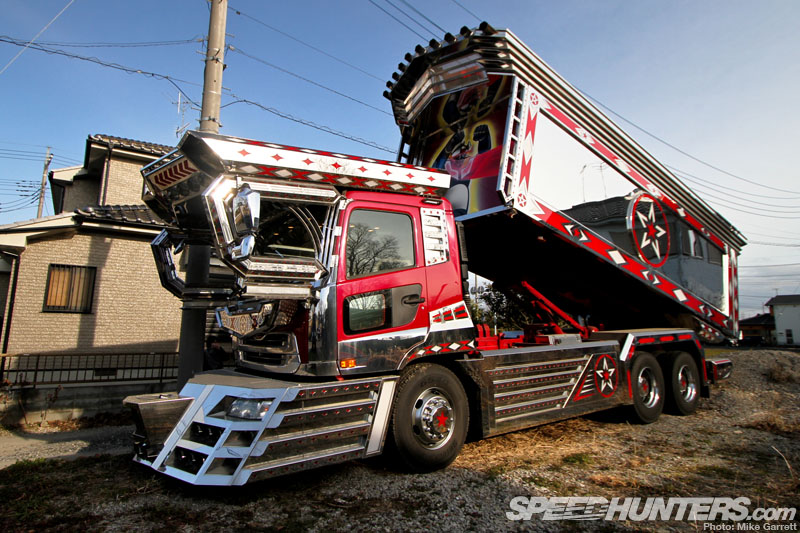 Not only are these creations unique to Japan, but they also tap into that love of big trucks and working vehicles that so many of us had as kids. It's that youthful fascination that  have led many of us to become the car-obsessed adults that we are today.
If you ever have the chance to see a real Dekotora in person, I guarantee you won't be able to wipe the smile off your face.
Mike Garrett
mike@dev.speedhunters.com
Instagram : speedhunters_mike