For those that love cars, it's hard to think of a more exciting place to visit in Japan. The events are fantastic, the shops will blow your mind, and even just being out on the street watching cars can be an amazing experience. While the country's love for the automobile is quite well known, the Japanese have an equally strong passion for their smaller scale hobbies.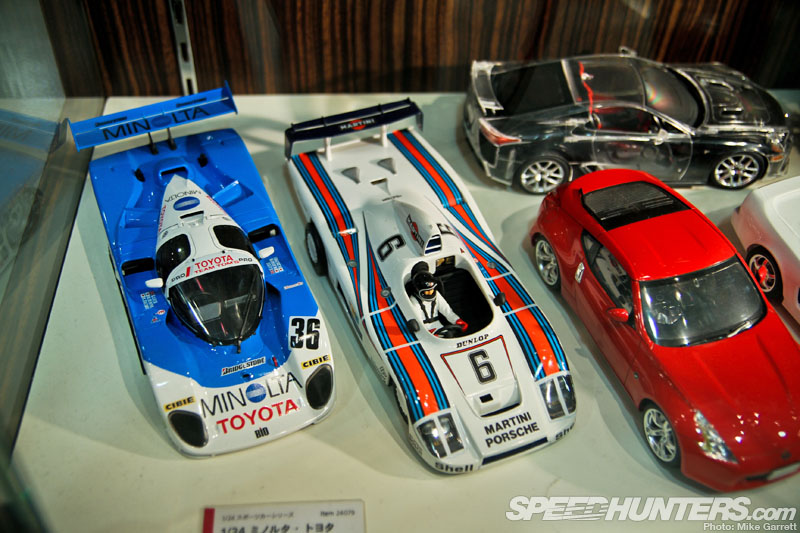 Whether it's those strange anime figurines, old video games, comic books, or anything else – Japan just might be the most hobby-obsessed nation in the world. Often this passion for hobbies crosses over with the love for automobiles and the result is one of the world's greatest diecast, model, and RC scenes. Many of these Japanese-branded products are known and loved by hobbyists throughout the world.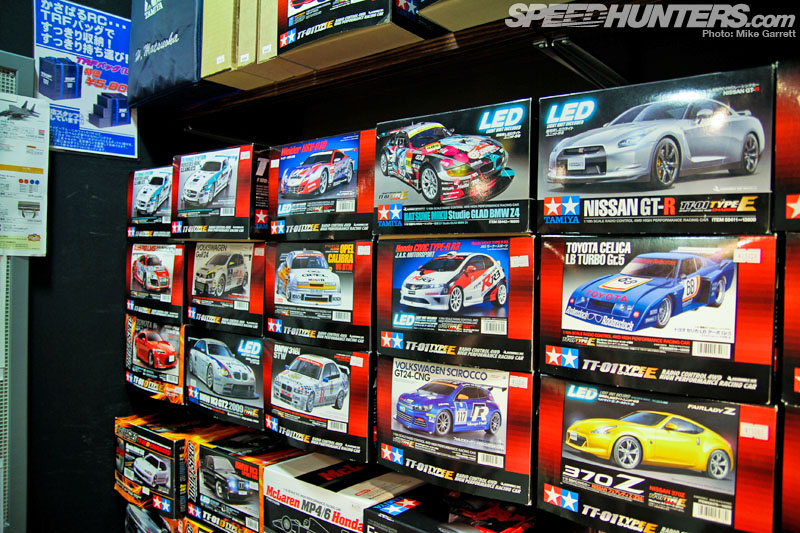 So for many hobbyists, visiting Japan is stepping on to the home turf of their favorite brands. Of these brands, few are more well known or more respected than Tamiya. The company has been around since 1946 and its familiar twin star logo is known by model builders and radio control fans across the planet.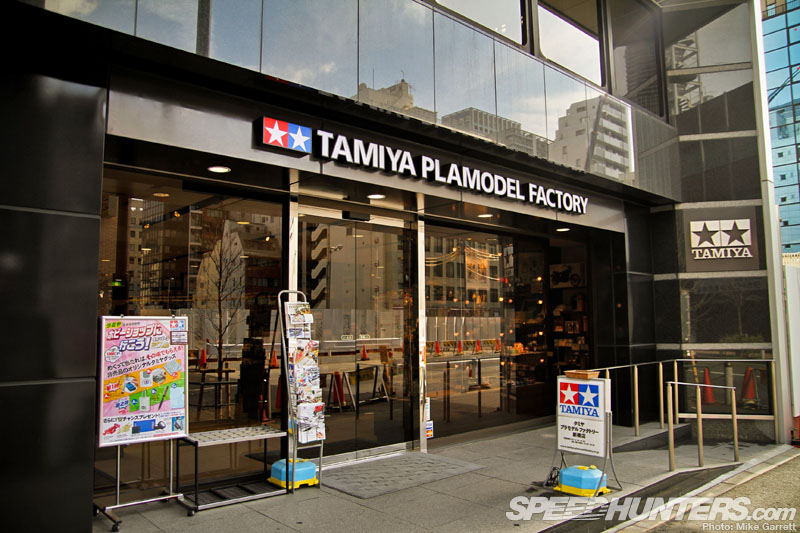 That brings me to the Tamiya Plamodel Factory, located in the Shinbashi district of Tokyo. It opened up a couple years ago, and I had the chance to visit for the first time last month.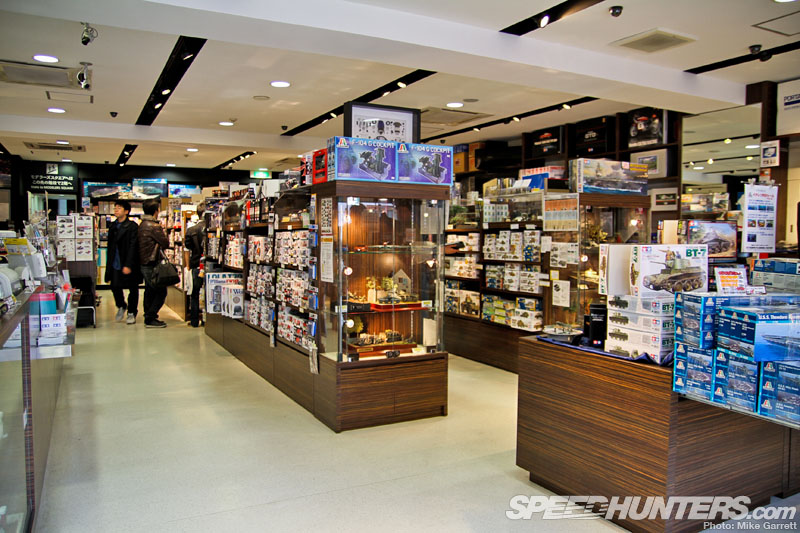 While Tokyo is full of amazing hobby shops, the Plamodel Factory is unique in that it's an actual retail store that offers the entire line of Tamiya products. Spread among the Plamodel Factory's three floors you'll find over 4,000 different Tamiya items for sale.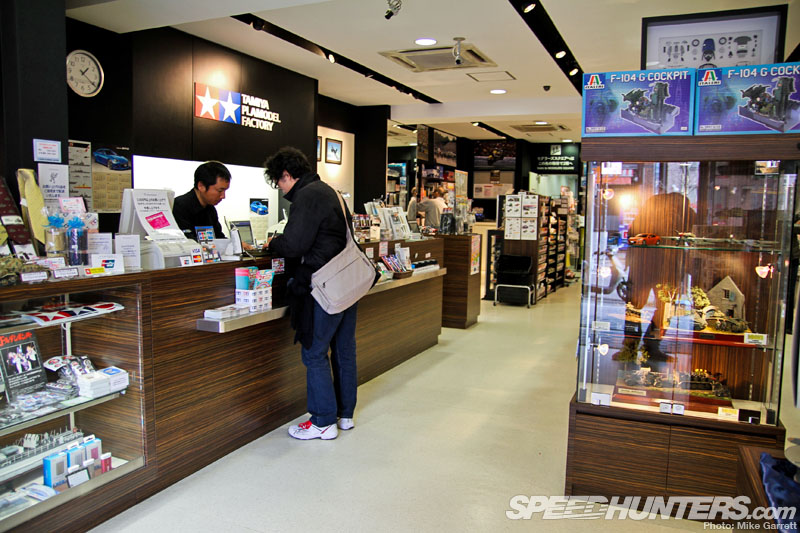 Upon walking in the front door, the first thing I noticed was just how large the place was. Unlike a lot of stores in Japan that can be rather cramped, there was plenty of space here to relax and get a good look at everything. I was also surprised at how nicely everything was presented. Some of this can be attributed to the newness I'm sure, but it had to be the most fashionable hobby shop I've ever seen.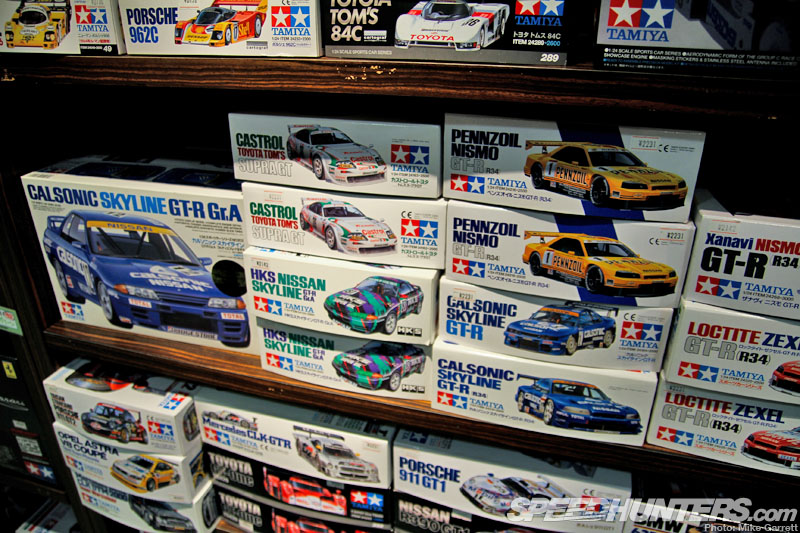 The first floor of the store is dedicated to plastic models – not just cars but motorcycles, aircraft and ships as well.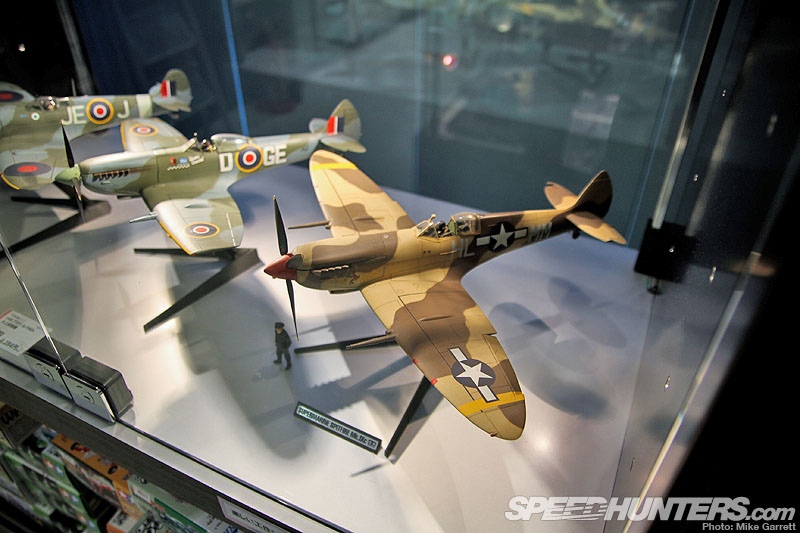 This isn't Planehunters , but I think I speak for many Speedhunters readers when I say have a strong interest in aircraft and military history. I'm sure this comes from the same place in my brain as the passion for automobiles.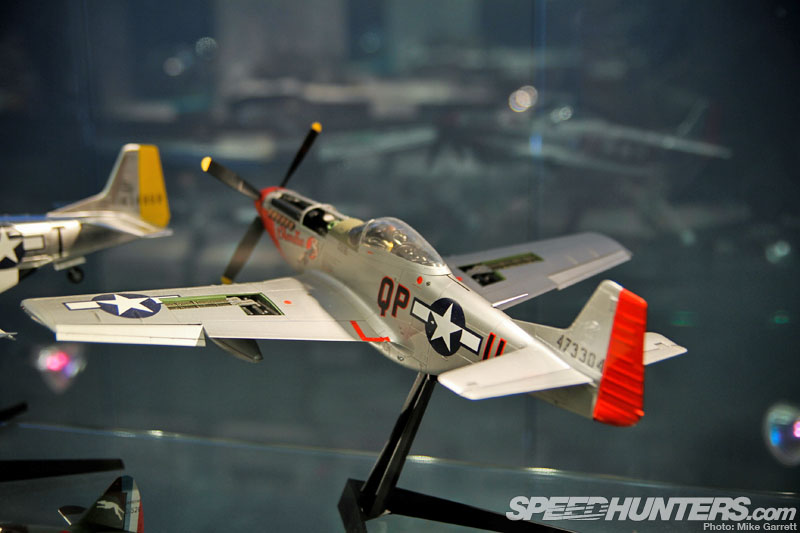 There's definitley something cool about seeing highly detailed Warbird replicas sitting right alongside the cars we know and love. It's almost like a miniature version of Goodwood!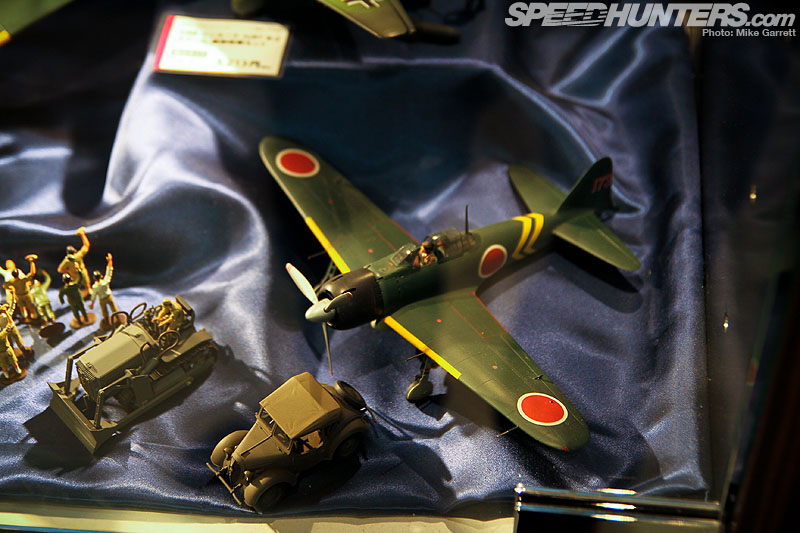 Whether it's a scale replica of a Mitsubishi Zero or a Mitsubishi Evo, Tamiya seems to inject the same amount of detail into all of their products.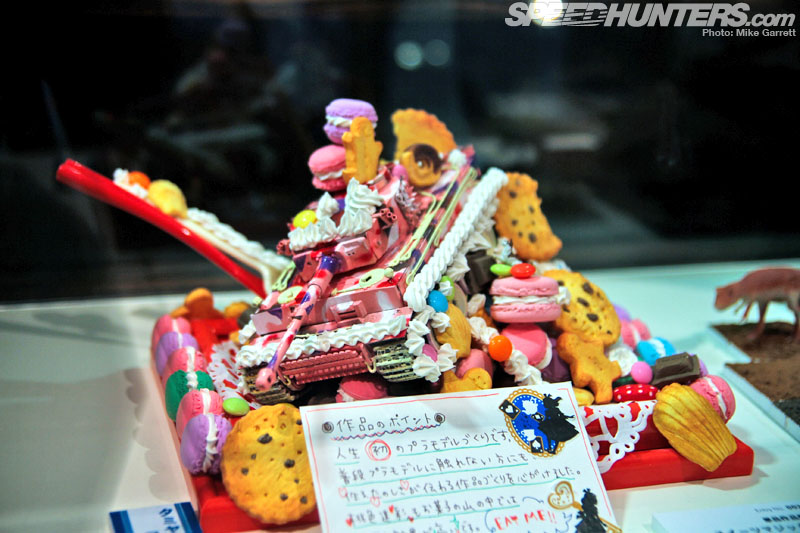 A WW2 tank diorama made out of sweets. I have a strong hunch this is one of those things you'll only find in Japan…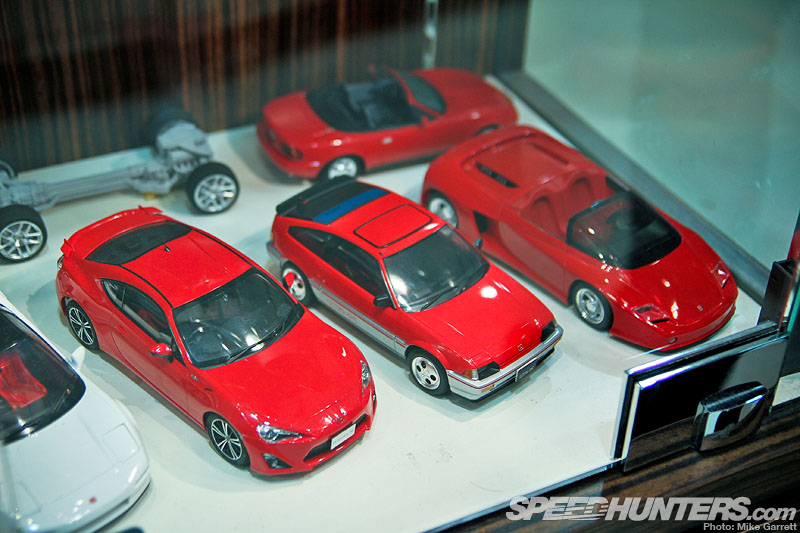 Ah yes, but back to the cars now…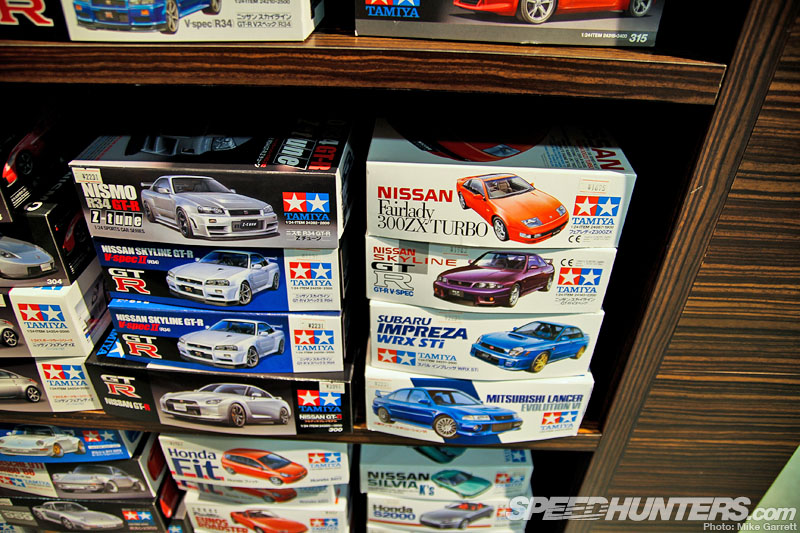 As I said a moment ago, the shelves are well stocked here. If it's a car and currently produced by Tamiya, you'll find it at the Plamodel Factory.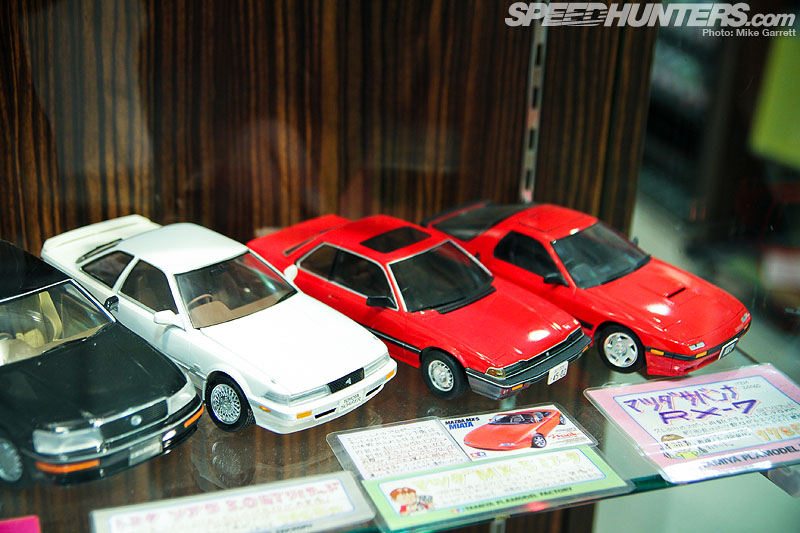 If you are a model builder or have an interest in Japanese cars, you've probably had an experience with a Tamiya kit sometime in your life. Seeing these older models displayed brought back a lot of memories for me.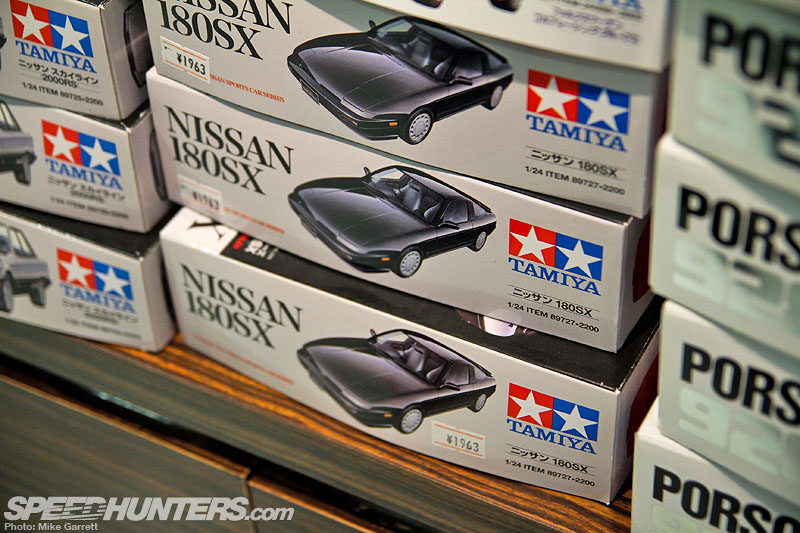 It's cool, for example, to see a model of the original Zenki Nissan 180SX – a kit which I believe came out at the same time the actual car did back in the late '80s.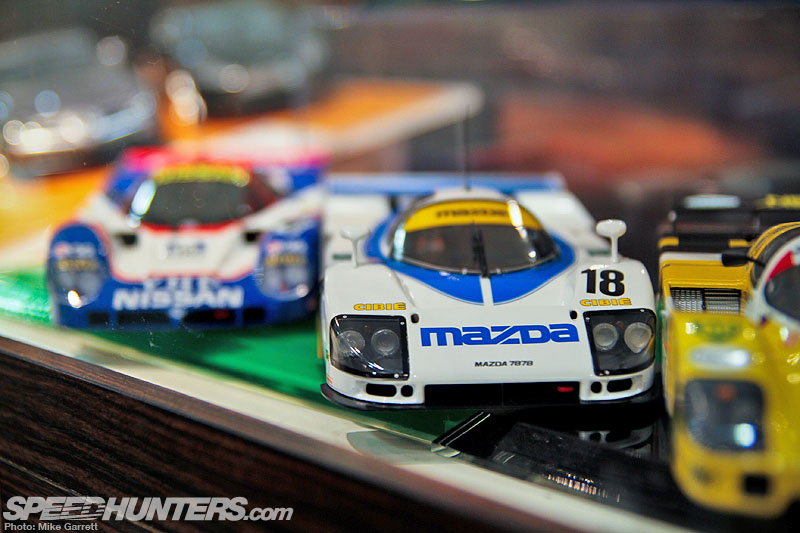 Of course it's not just street cars either. Tamiya's line includes all sorts of race machines too, like this selection of prototypes.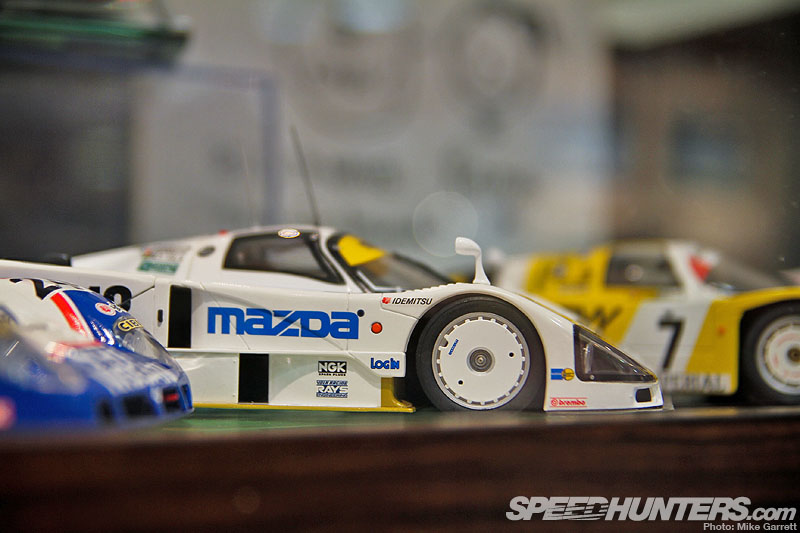 It's nice that they also display the finished versions of the kits so you can see what they are supposed to look like when completed.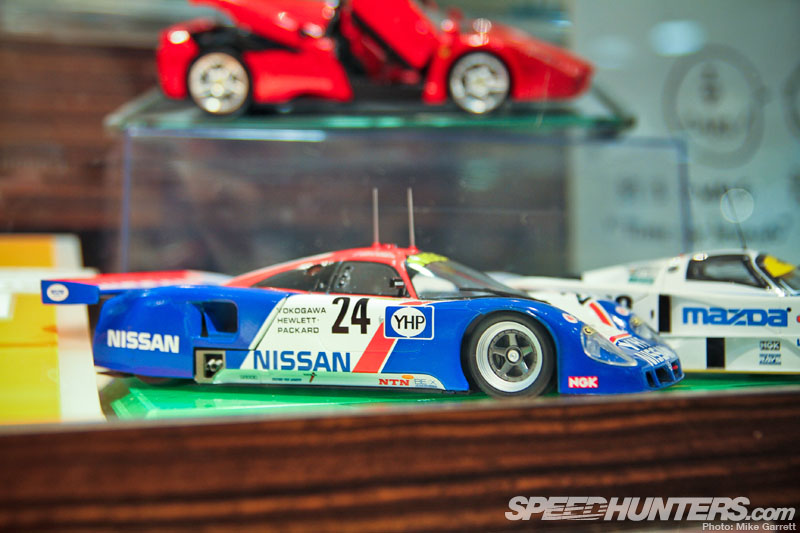 Somehow I can't remember any of the models I put together as a kid coming out quite this well though. Where are the glue finger prints?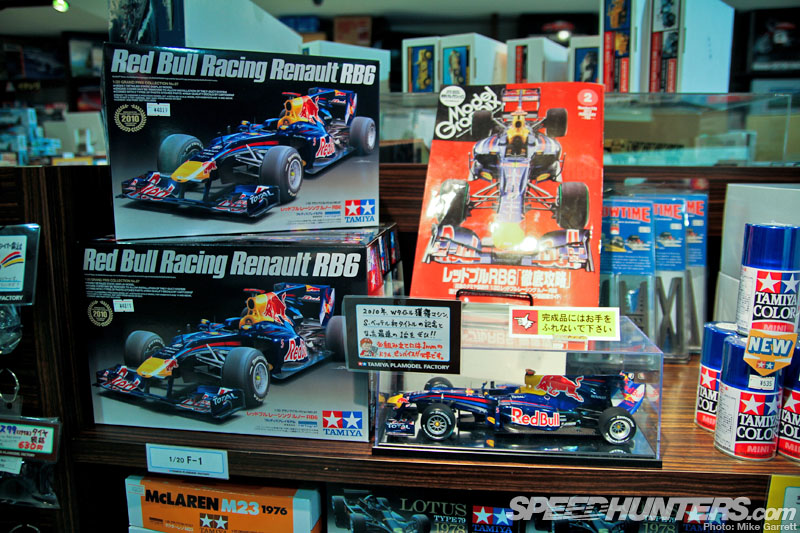 Formula 1 fan? Tamiya also has you covered there with dozens of kits based on the world's great F1 machines. The lineup includes famous cars of recent memory…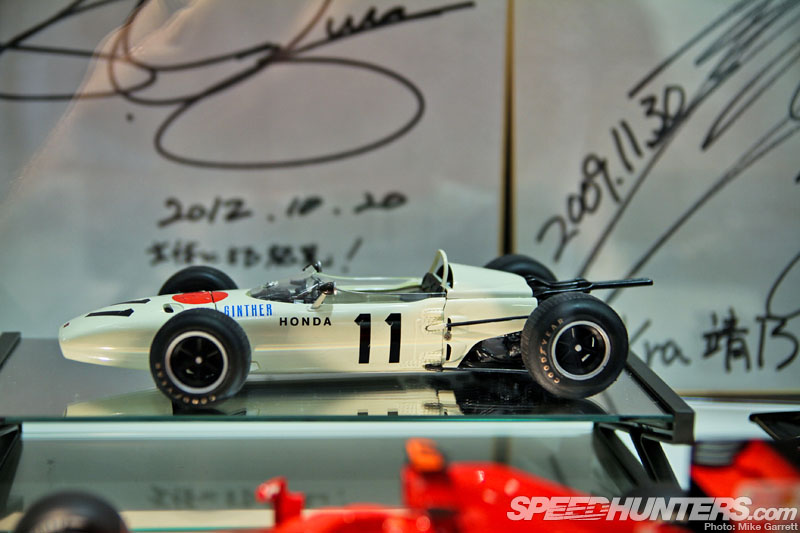 …as well of those from more distant parts of Formula 1 history.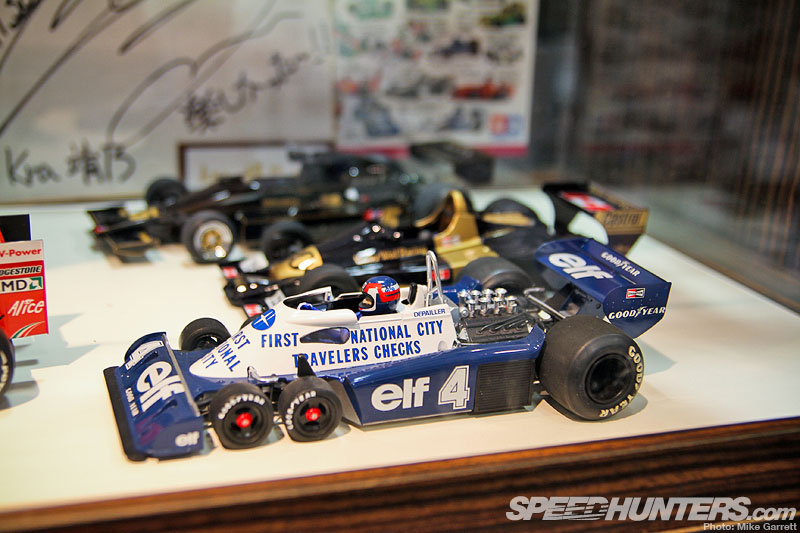 Needless to say, the iconic Tyrrell P34 is also included among the bunch. It's not quite as detailed as the nearly $4,000 diecast model I posted last week, but captures the spirit nonetheless.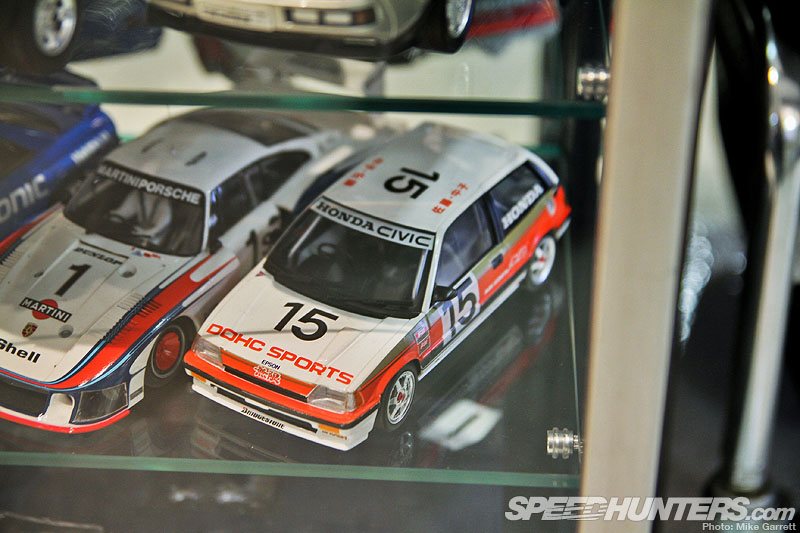 Not surprisingly, I found myself being particularly drawn to the these vintage-themed models. That Group A Mugen Civic looks especially cool.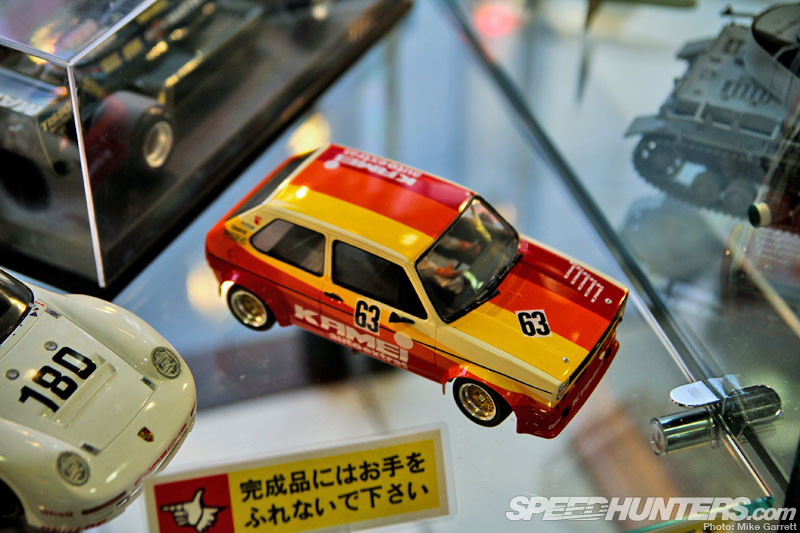 The same goes for its German counterpart, the Group 2 Golf Mk.I racer.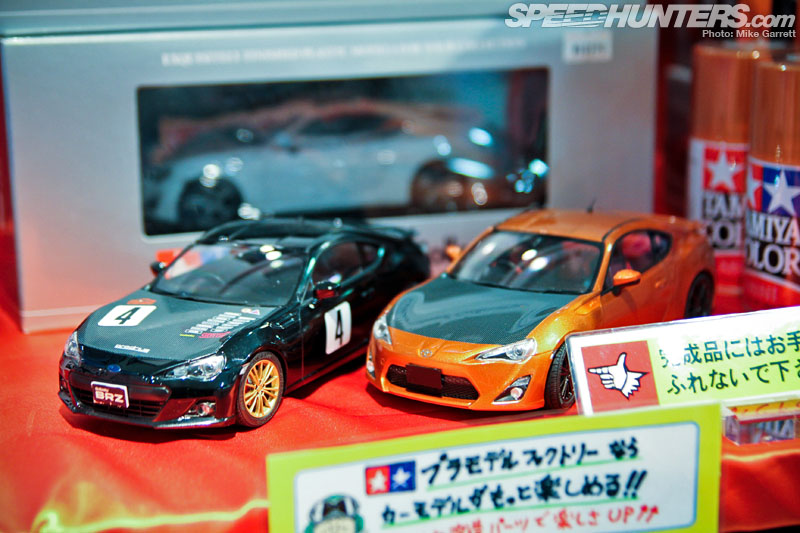 On the modern end of the spectrum, the Toyota 86 and Subaru BRZ have made a big splash in the hobby world, just at they have in the "real world".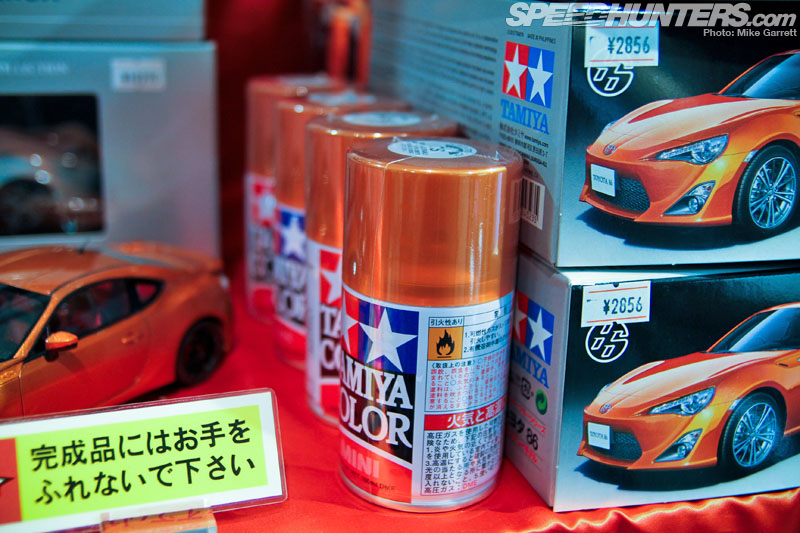 Not only does Tamiya offer detailed kits of both the 86 and the BRZ, they also offer the paint needed to model them as accurately as possible.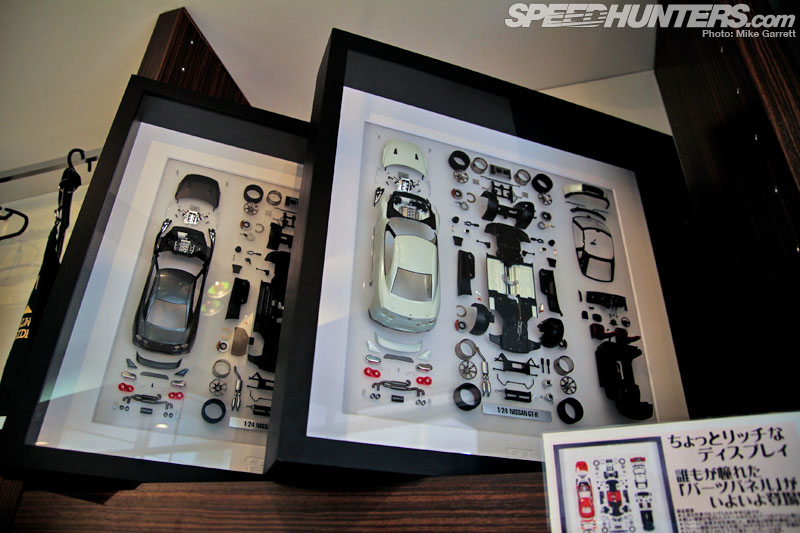 One of the most impressive things I found in the entire store were these framed, unassembled Nissan GT-R kits. At a little over $600 each they aren't cheap, but it's hard to think of a cooler piece of wall art for those GT-R fanatics out there.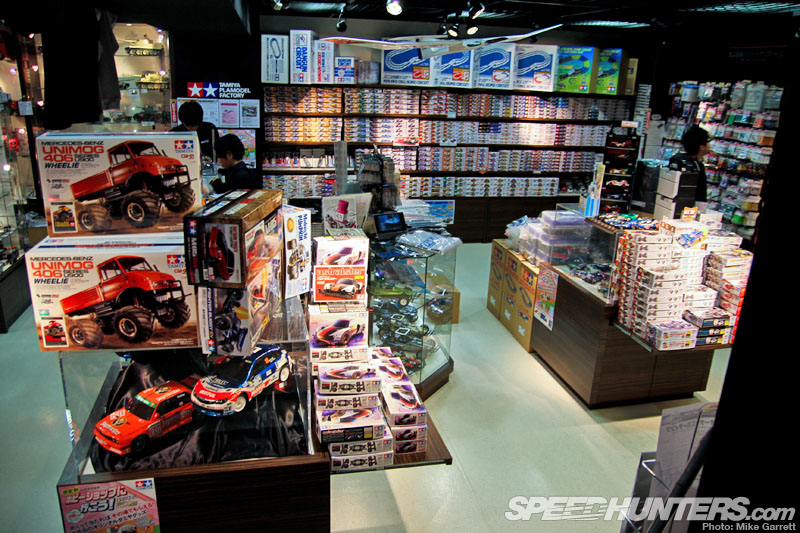 Heading down to the basement level of the store, you arrive in the radio control section.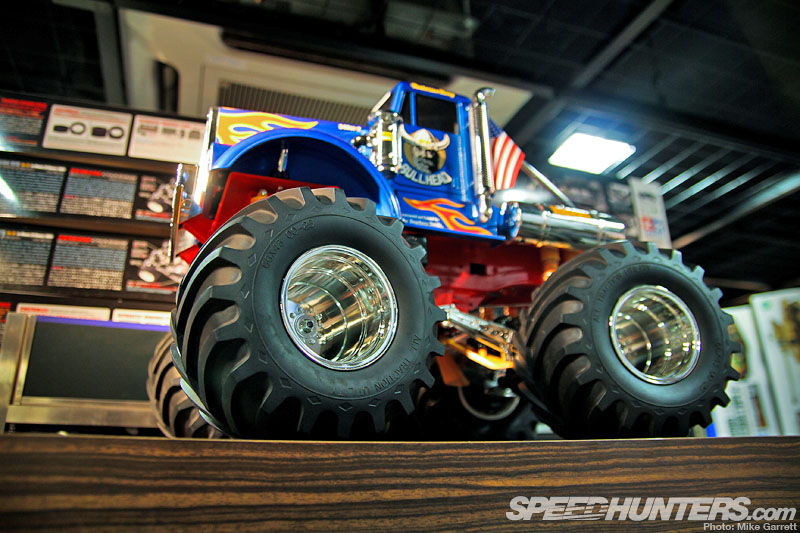 Tamiya's contributions to the RC hobby are perhaps even larger than their contributions to the model world – and they all can be found at the Plamodel Factory.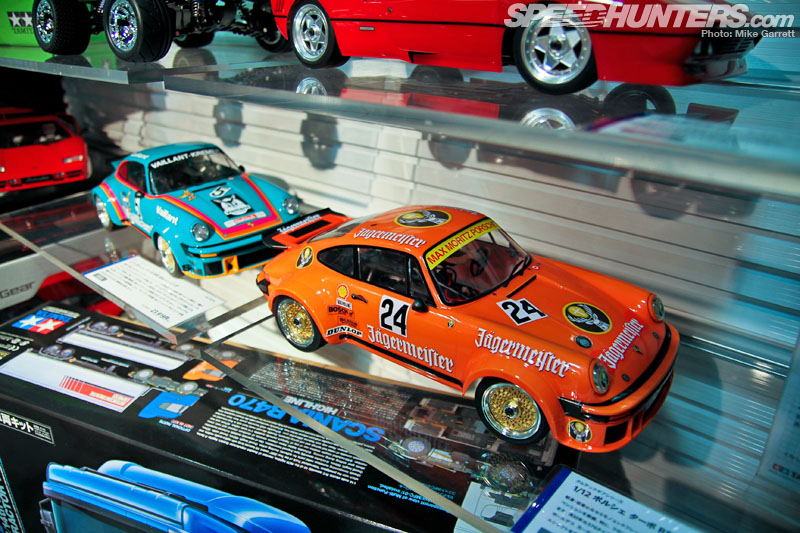 While I never personally got too involved with radio control cars, I still get a lot of enjoyment from just looking at them.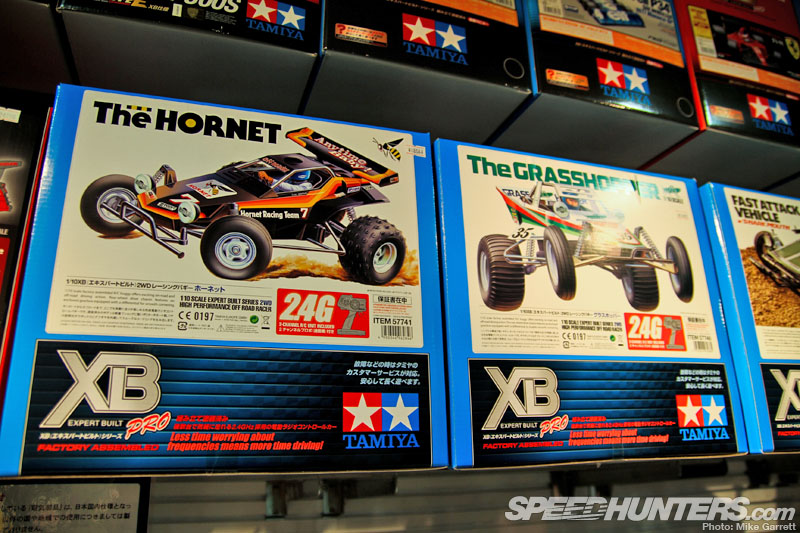 The Hornet, The Grasshopper. You gotta love the sense of nostalgia that comes with this stuff.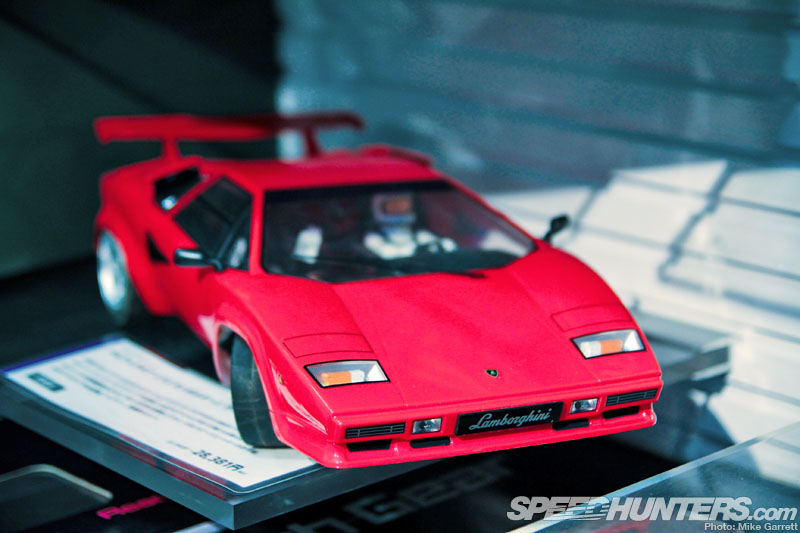 The Lamborghini Countach – a dream car even in RC form I'd say.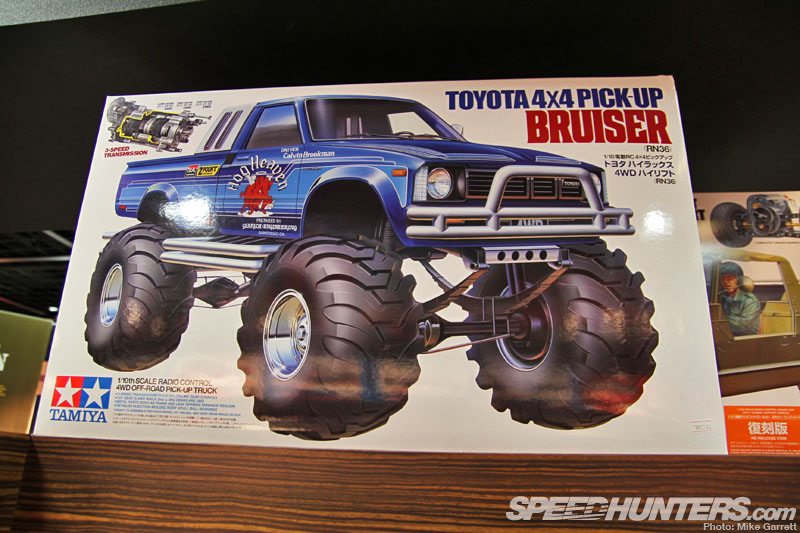 But perhaps my memories most associated with Tamiya involve their off road RC trucks. I never had one myself, but I can recall being very envious of friends that had them or the strong feelings of want when I saw them in hobby shops.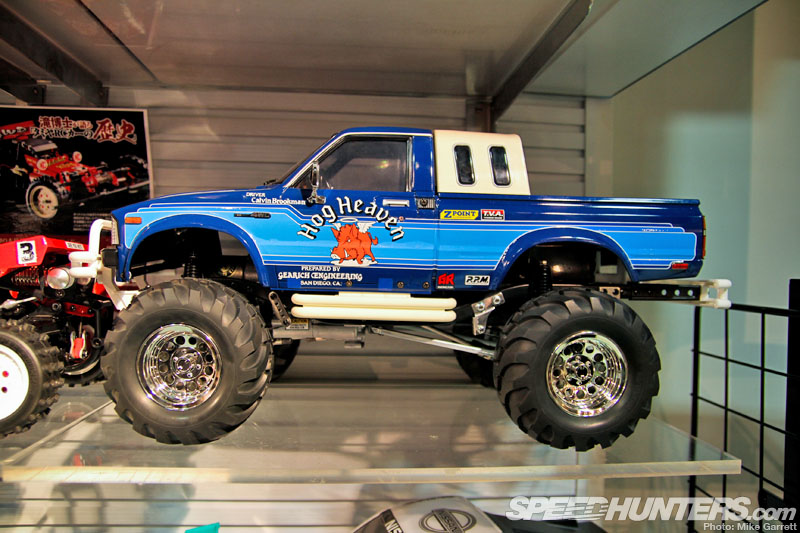 The 1:10 scale "Bruiser" Toyota truck in particular is pure retro awesome. I'm so glad that Tamiya still offers this baby today. Maybe I should get one and see what I missed out on?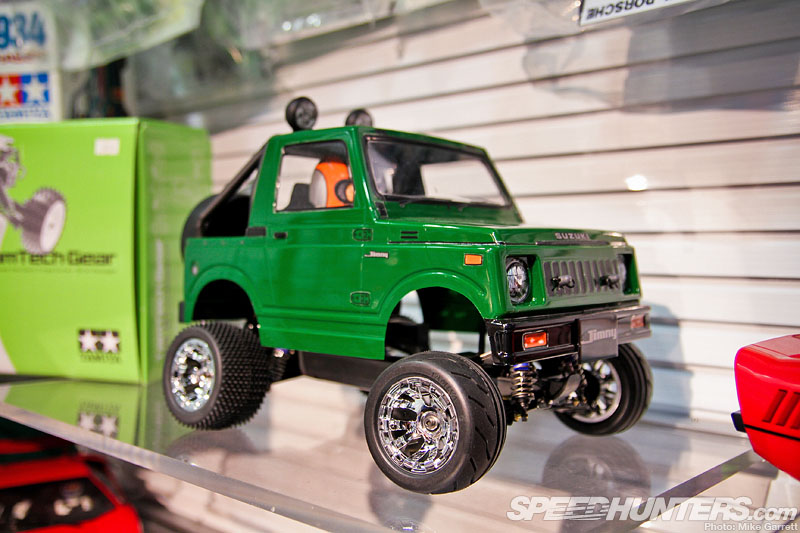 Slightly smaller, but just as cool is this RC version of the popular Suzuki Jimny.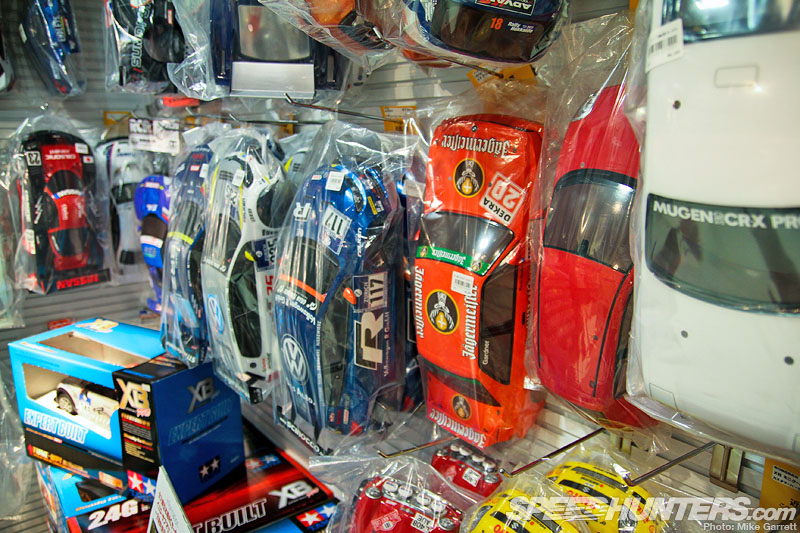 In addition to every RC kit Tamiya makes, the store is also well stocked with just about every part and accessory you can think of. From fully painted bodies…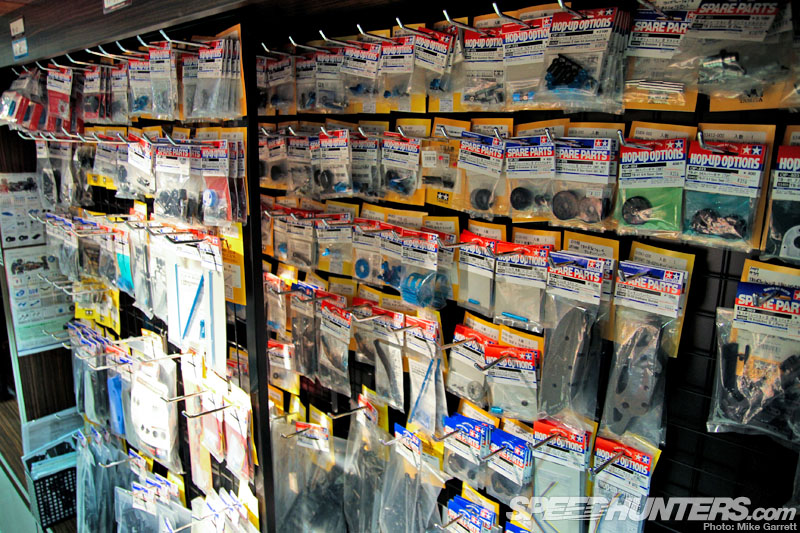 …to the small parts needed to get your machine back on the road or improve its performance.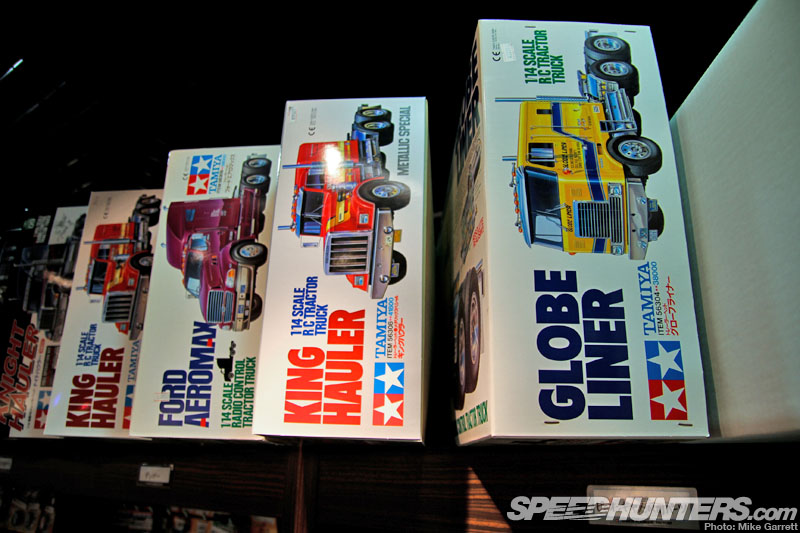 1:14 Radio control big rigs. Does it get any cooler?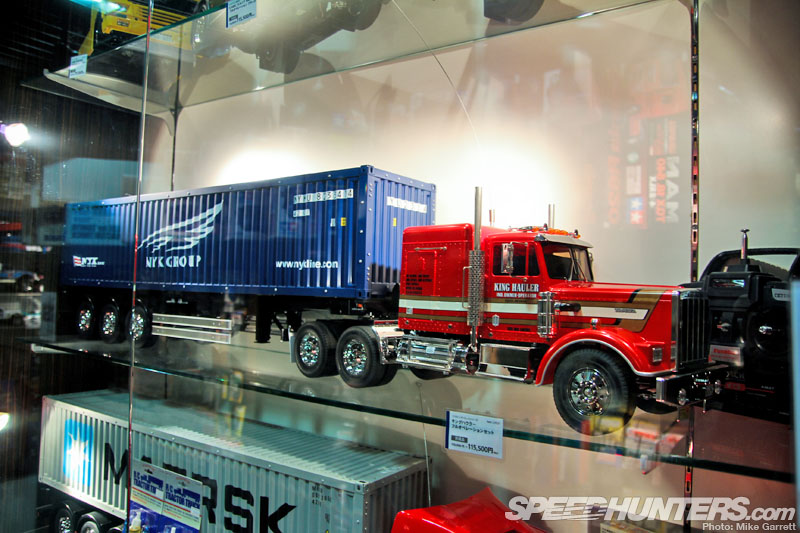 At over $1,100 for a complete tractor and trailer set they aren't cheap, but it's hard to think of anything better in the "I want to play with this now!" department. What kid (or adult who hasn't grown up) wouldn't want one of these?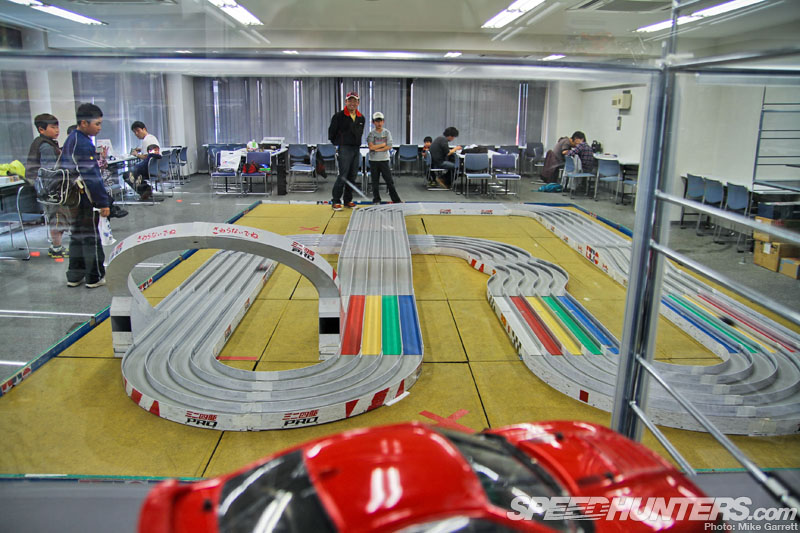 Heading up to the third floor, there's even a work space and race track for small scale RC vehicles. Given the lack of space in Tokyo, I'm guessing this a popular hangout for local hobbyists.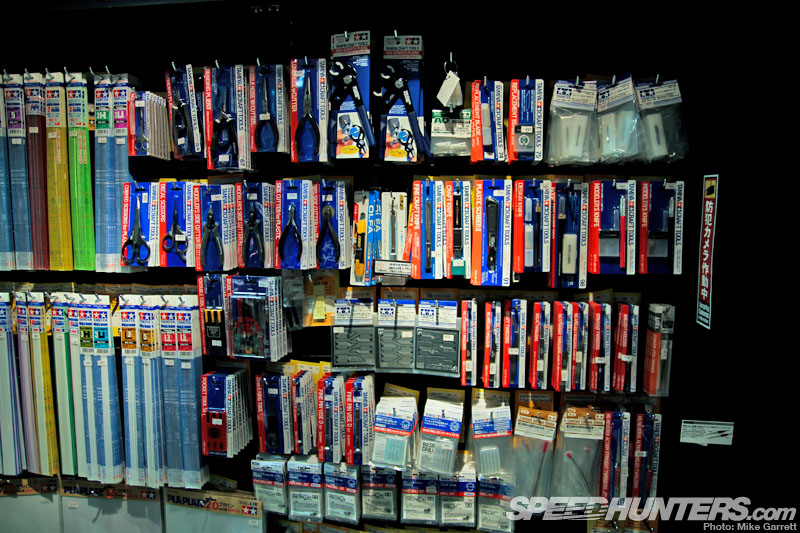 In addition to the plastic model kits and RC items, the store is also stocked with hobby blades, tweezers, drill bits, and other items for model builders. There's also a large selection of plastic for scratchbuilding projects.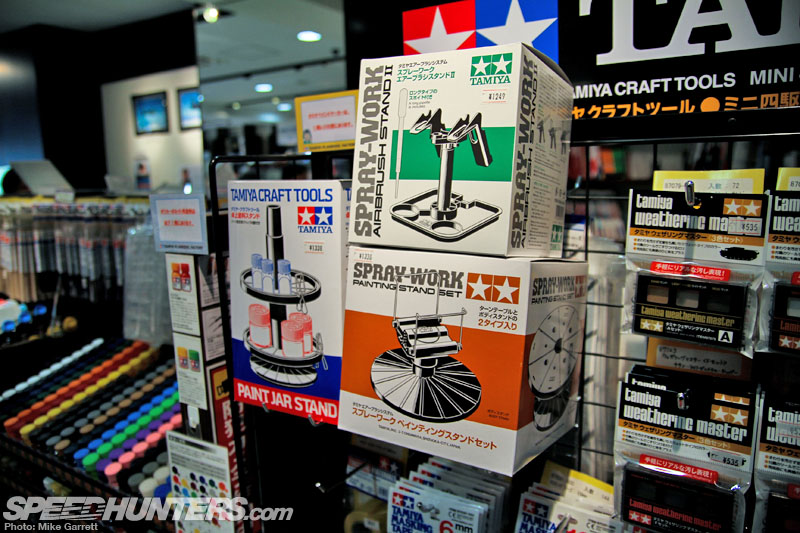 Let's not forget the vast array paint products either…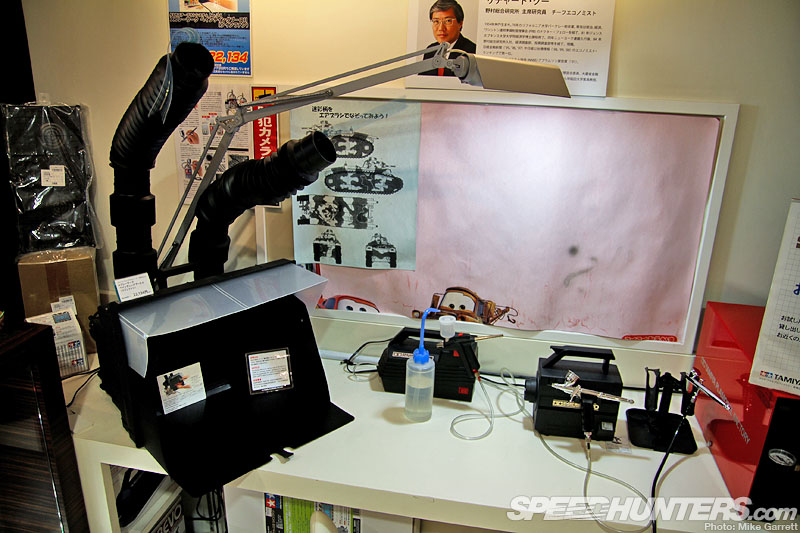 There's also a full line of airbrush kits and even a complete miniature paint booth. A bit more professional than laying newspaper over the kitchen table like I used to do…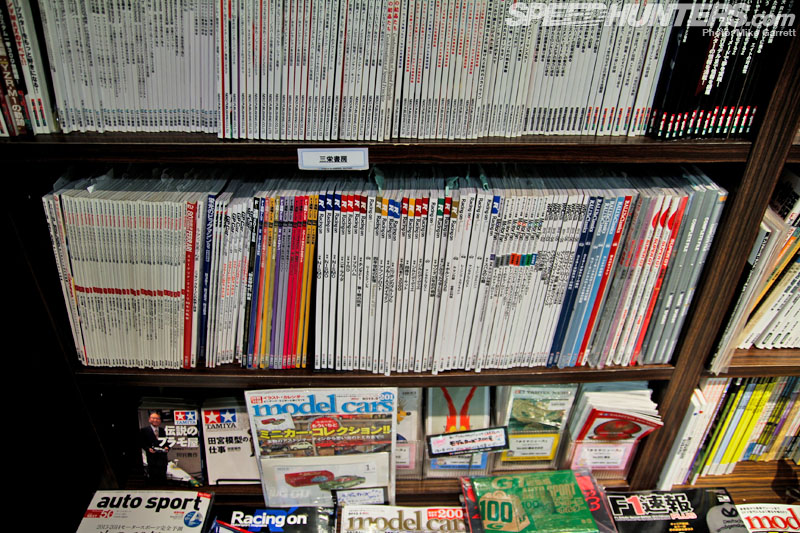 The store also has a decent book and magazine section, with titles dedicated to both real and scale vehicles.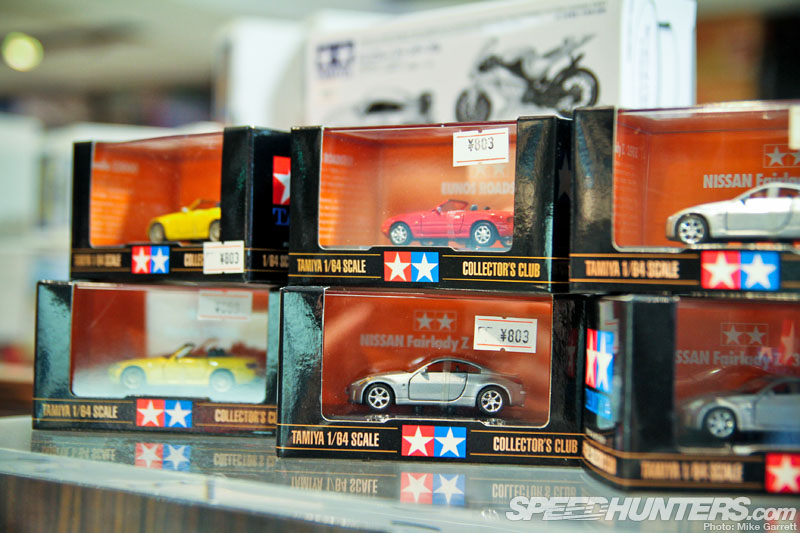 Diecasts? Yep, they have a few of those as well.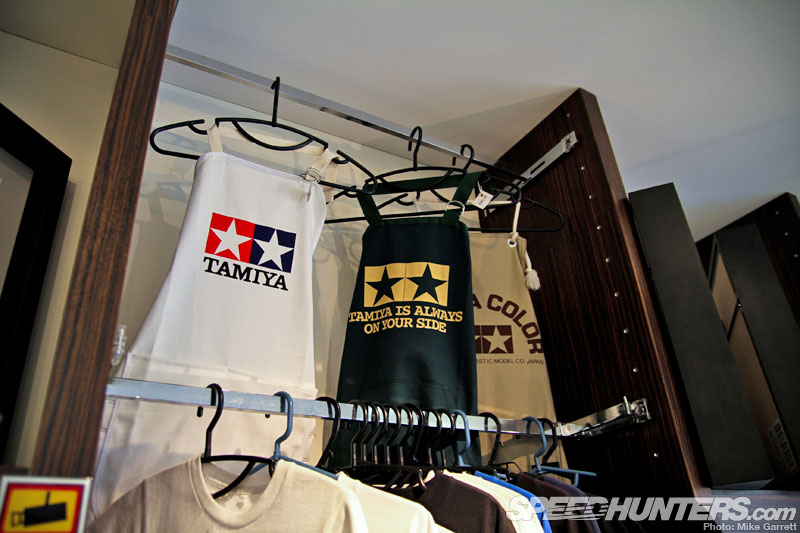 You can also find a big selection of official Tamiya-branded merchandise available. I quite liked these work aprons myself.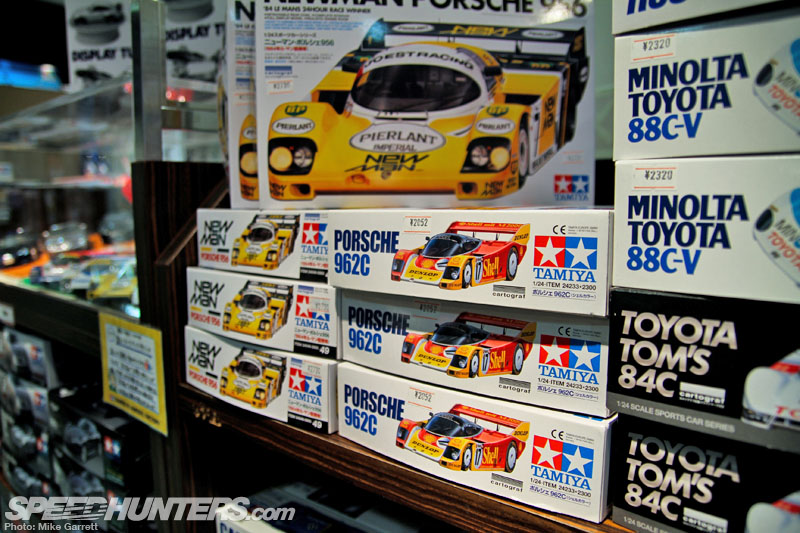 Even if you don't consider yourself a big RC or model person, I highly recommend checking out the Tamiya Plamodel Factory if you ever have the chance. It's a fine place to relive childhood memories and perhaps even rediscover an old love.
Just be warned that as with a lot of destinations in Japan, there is great potential for severe damage to the pocketbook. Come prepared!
-Mike