One of the things I love most about Japan is the accessibility of its car culture. I suppose it's only natural that the Japanese cars and scenes that have small cult followings outside of the country become much more mainstream once you get to their homeland. The best thing is that one doesn't have to visit a hidden-away garage or a once a year event to experience it.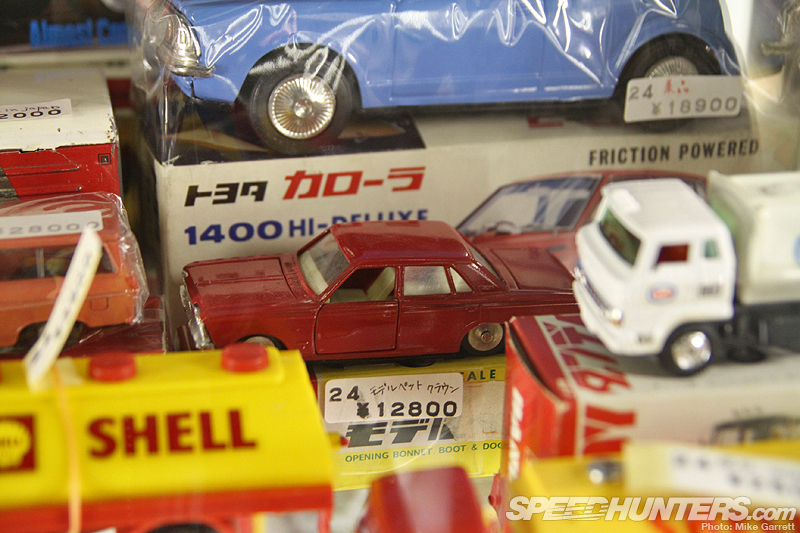 The city of Tokyo alone provides a nearly endless supply of easily accessible destinations for automobile-obsessed folks like us. As we've covered in previous posts, the miniature car hobby in Japan is especially amazing and Tokyo itself is full of places to spend money on (or even just drool over) rare diecasts, model kits or RC cars.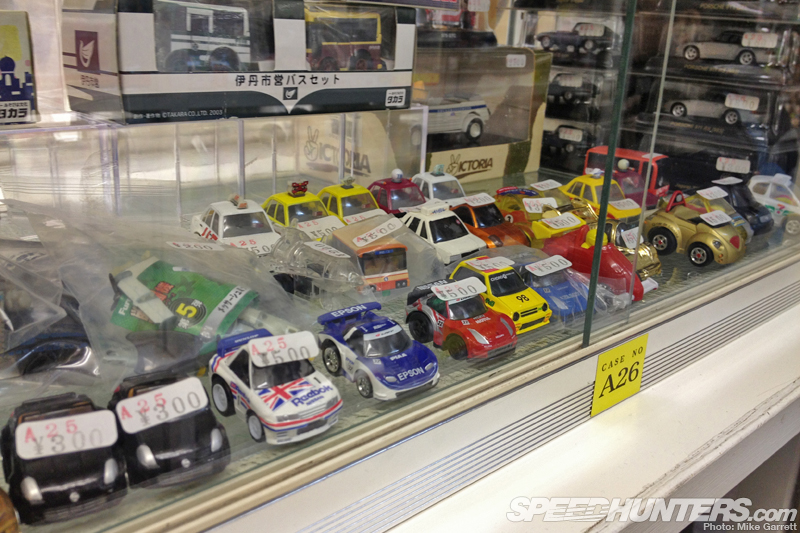 In the past I'd spent a lot of time checking out some of the various toy stores and hobby shops in places like Akihabara, but this time a friend told me that Nakano was the place to go to find the really rare stuff.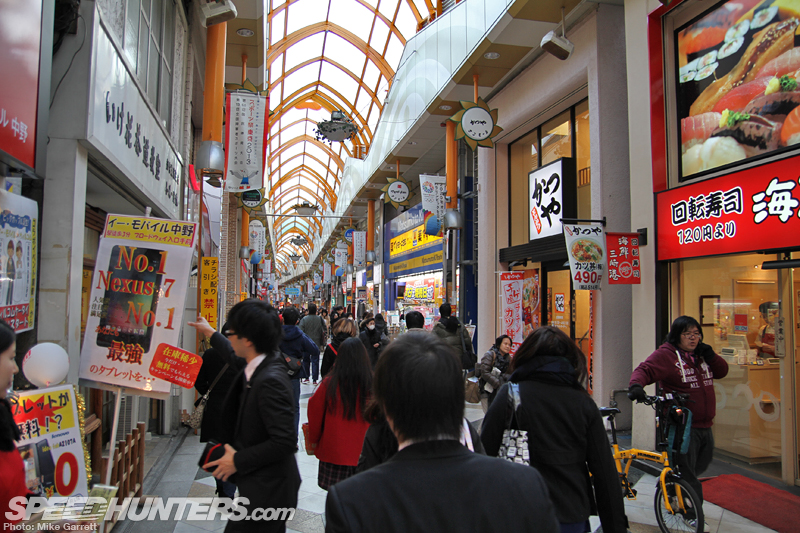 So one Saturday morning I hopped on a Chuo Line train to see what Nakano was all about. After a rather lengthy walk through a shopping arcade…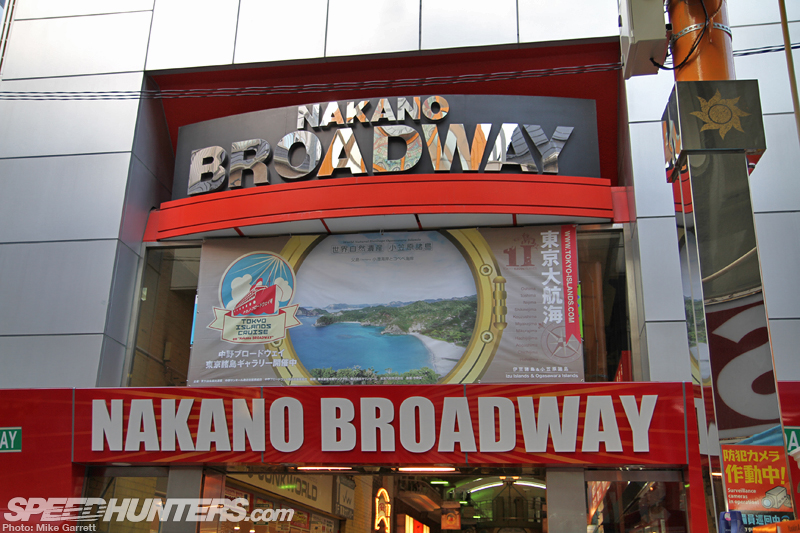 …I arrived at my destination – Nakano Broadway. What is Nakano Broadway you ask? Well, I suppose you can call it a shopping mall.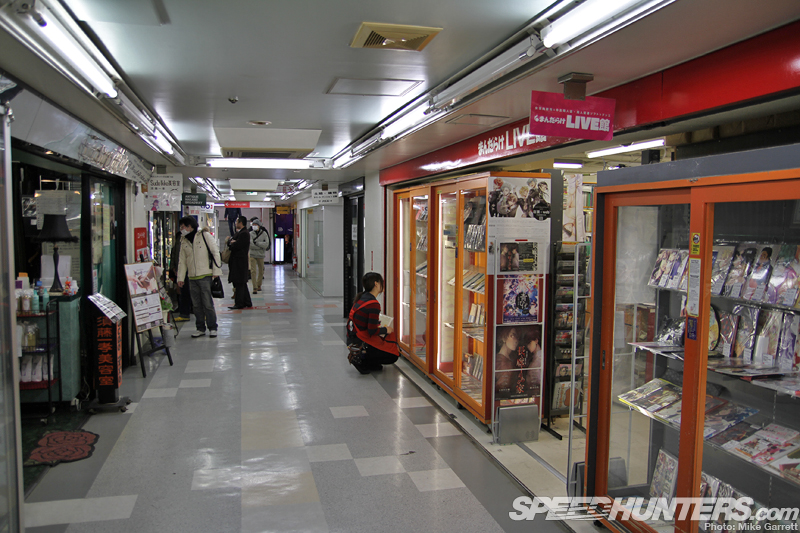 But unlike a normal shopping mall that's full of fashion stores and chain restaurants, Nakano Broadway is a bit more unique. It's a four-story maze of retail outlets, with some of them hardly larger than your typical walk-in closet.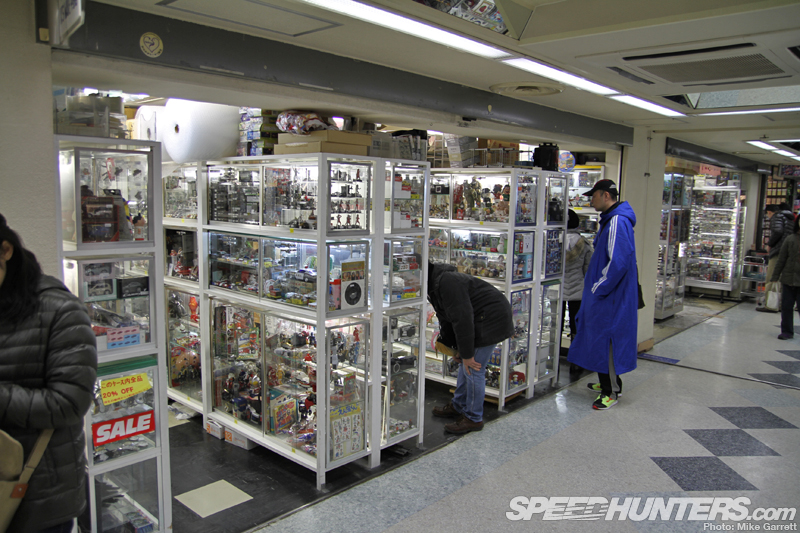 These independently-owned stores include all sorts of things: old records, rare video games, anime figurines, toys, comic books and more. In other words, it's an otaku paradise.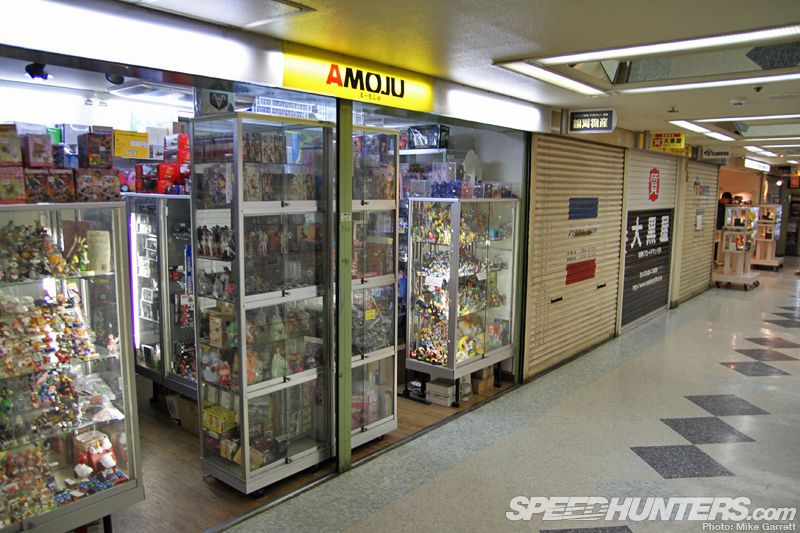 It's a lot like Tokyo's world famous Akihabara, but quieter and much more laid back. In fact, many of these shops used to be located in the famed Electric Town before moving to the more relaxed confines of Nakano Broadway. Today the mall is an extremely popular spot among otaku that want to avoid the bright lights and tourists of Akiba.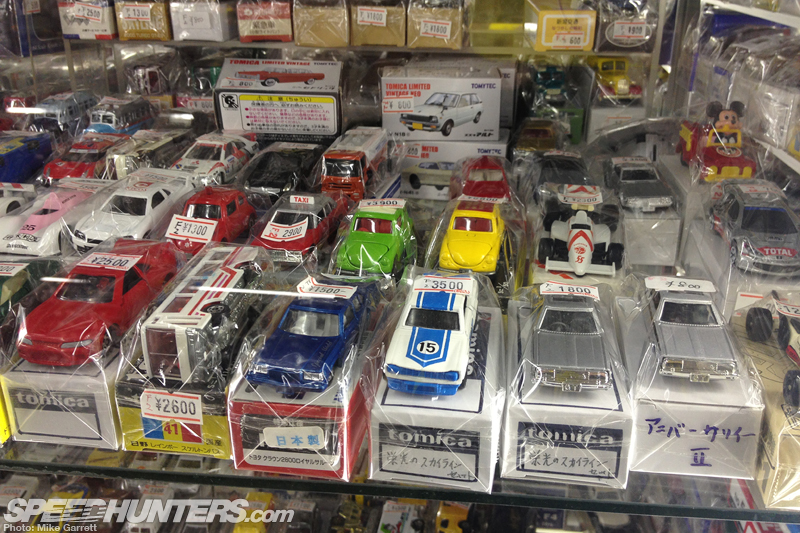 But of course I wasn't here to hunt for robot figures or contrary to what my wife might think – rare AKB48 CDs. Nope, I'm a Speedhunter and I of course came to check out Nakano Broadway's selection of automobile-related goods.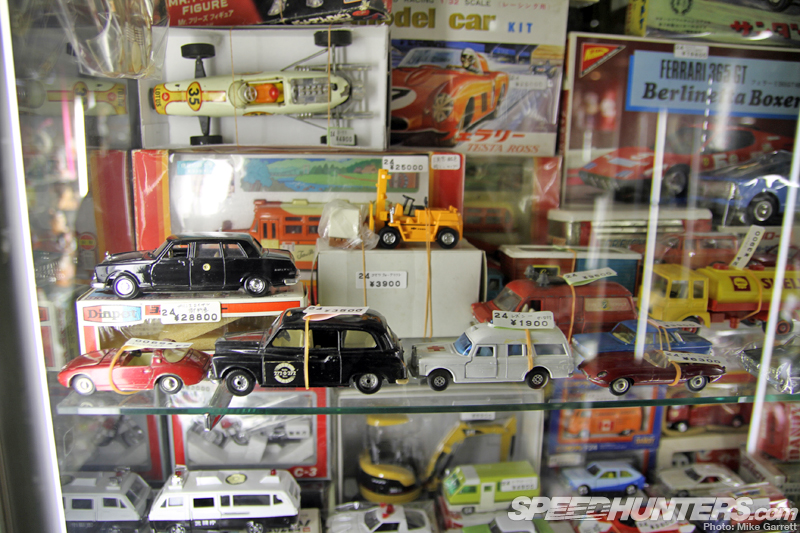 And as I soon found out, Nakano Broadway certainly delivers when it comes to car collectables. The mall is packed full of diecast specialty shops along with used toy stores that include plenty of miniature cars both from Japan and around the world.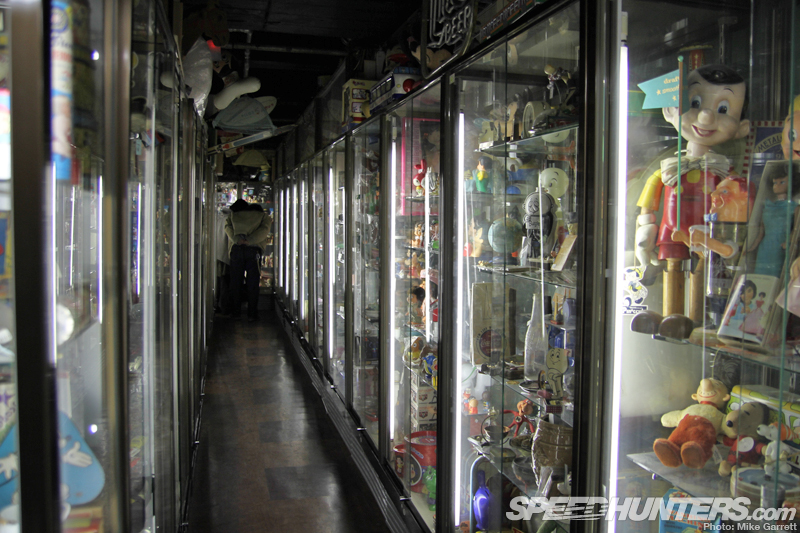 Some of the stores are packed so tight that there isn't even enough room for two people to pass in the aisles. I guess it all adds to the distinct and somewhat mysterious nature of Nakano Broadway.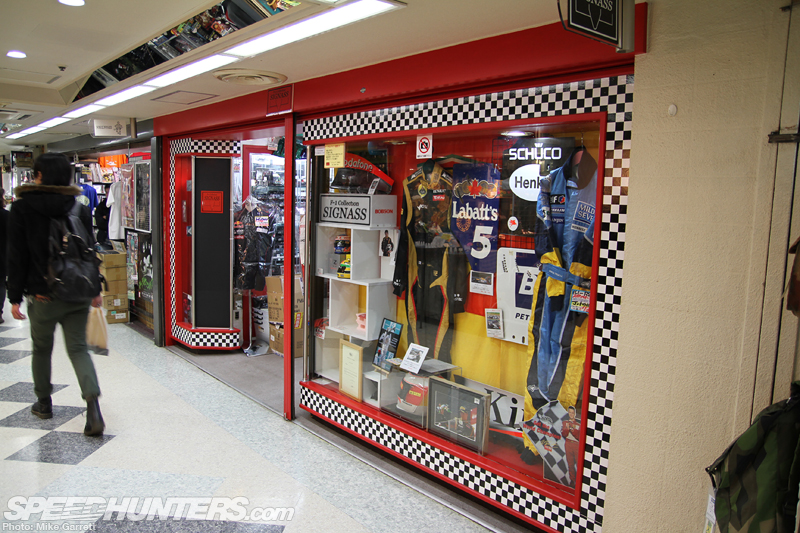 Spread among the the narrow corridors of the mall there are even a couple of shops that deal only in Formula 1 collectables and memorabilia.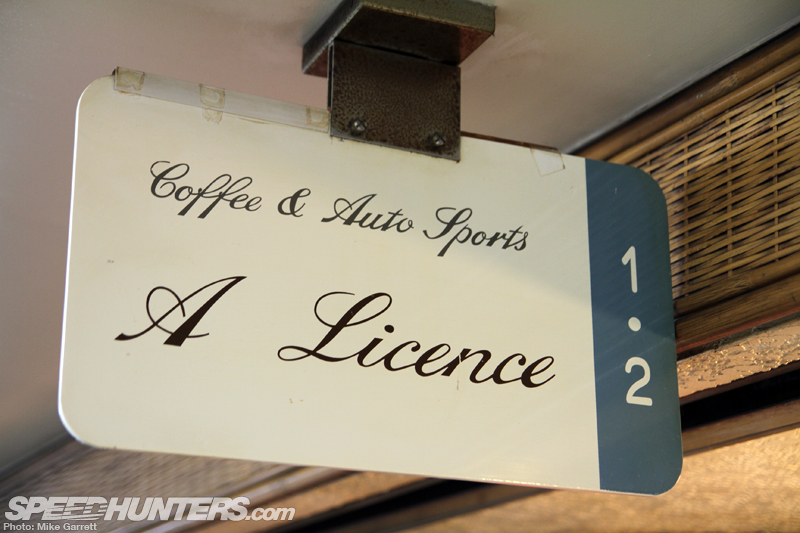 I also found one place that looked particularly intriguing – a cafe called Coffee & Auto Sports A Licence.  As the name suggests, the place is owned by a former professional race driver who drove sports cars in Japan.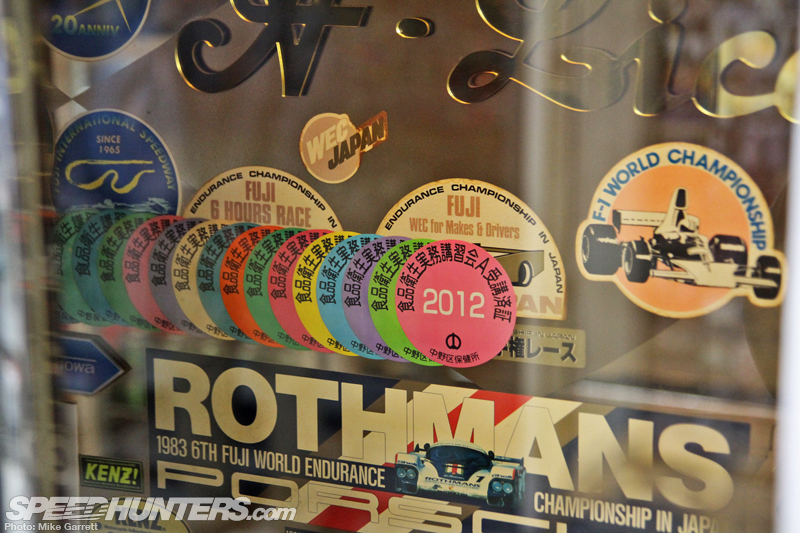 I'd expect to find a racing-themed cafe near a world famous racing circuit, but to find one in a shopping mall in the middle of Tokyo is very unusual. The place is covered with stickers and other vintage F1 and sports car memorabilia…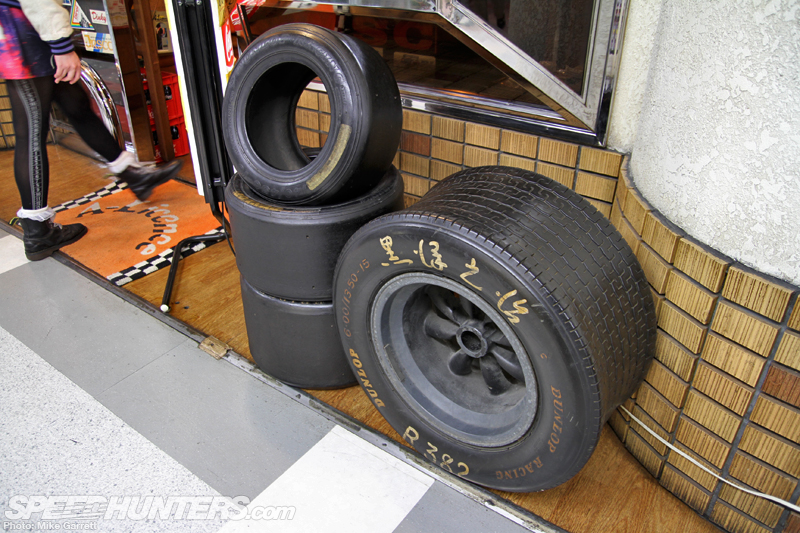 …including an original wheel and tire from a Nissan R382, and signed by legendary driver Motoharu "Gan-San" Kurosawa to boot.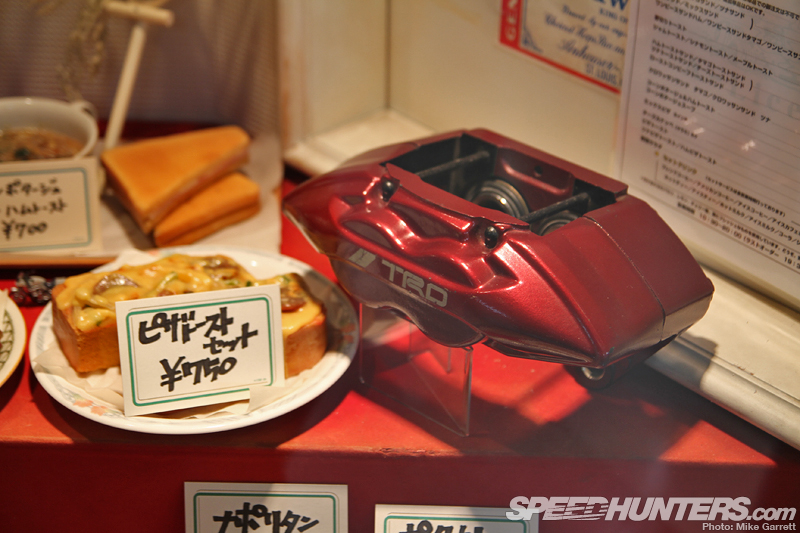 Unfortunately I had just eaten prior to my visit or else I would have stopped in for a bite. It's certainly on the list for next time!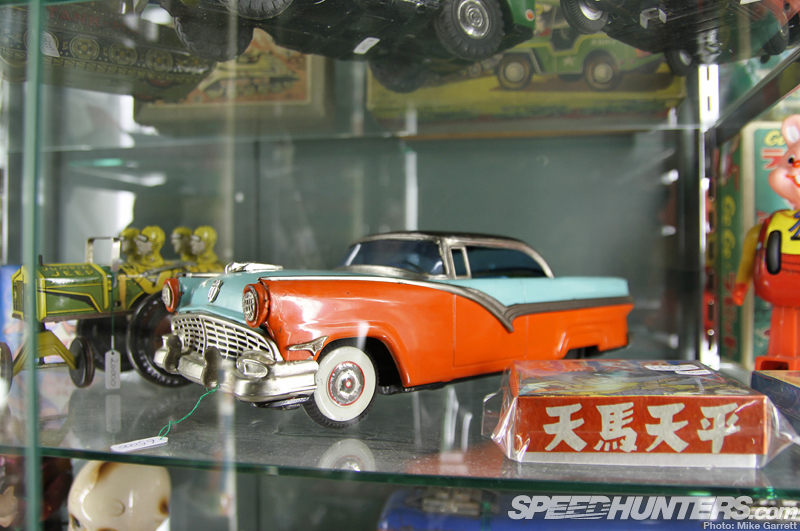 The stores themselves are filled with all matter of automobile-related collectables. Some of the oldest items I found were these Japan-made metal toys that were quite popular during the 1950s and 60s.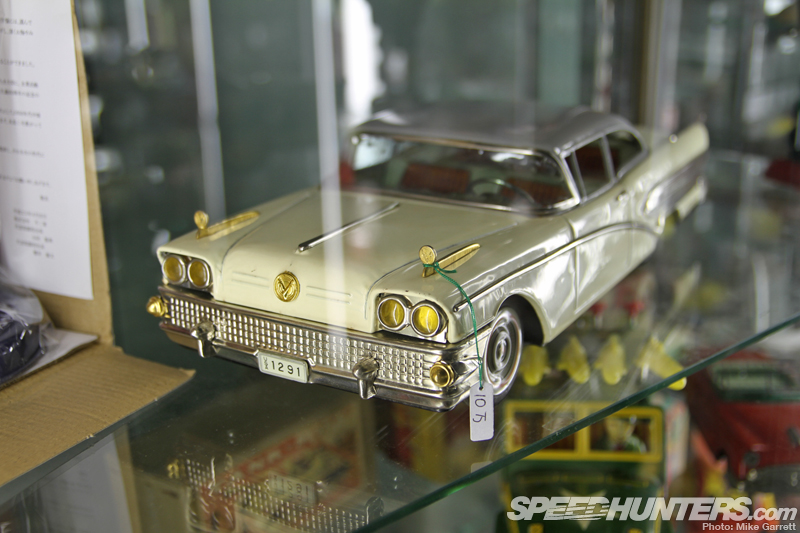 I love how this 1958 Buick has a Japanese style license plate that says "USA" on it.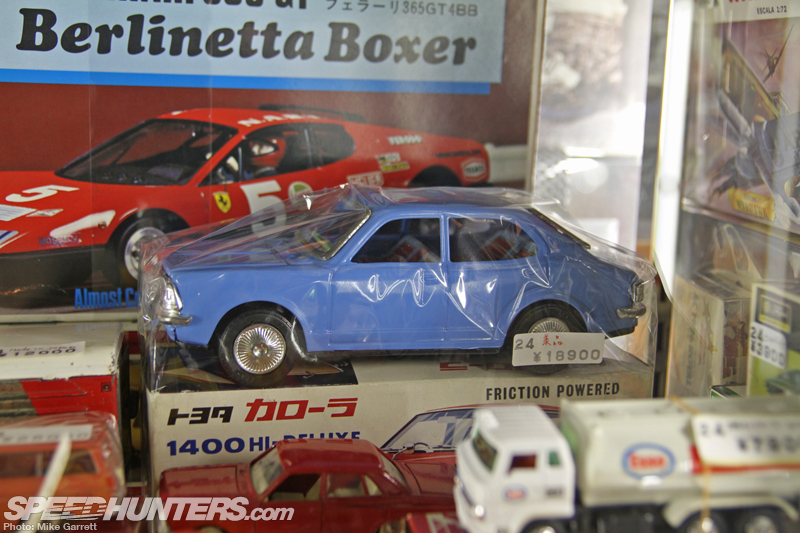 How about a friction-powered Corolla toy from the early 1970s?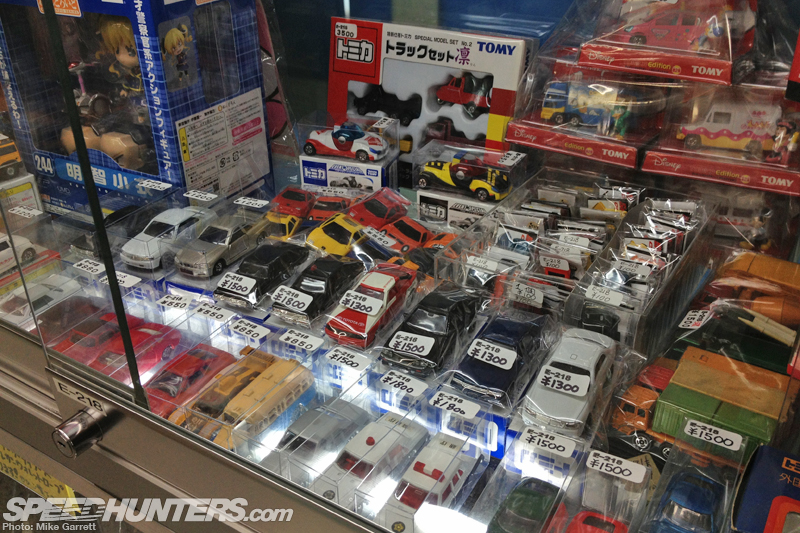 Got a thing for Tomica? There were thousands of the lovable little diecast cars spread among the various stores inside Nakano Broadway. Some were neatly displayed and labeled…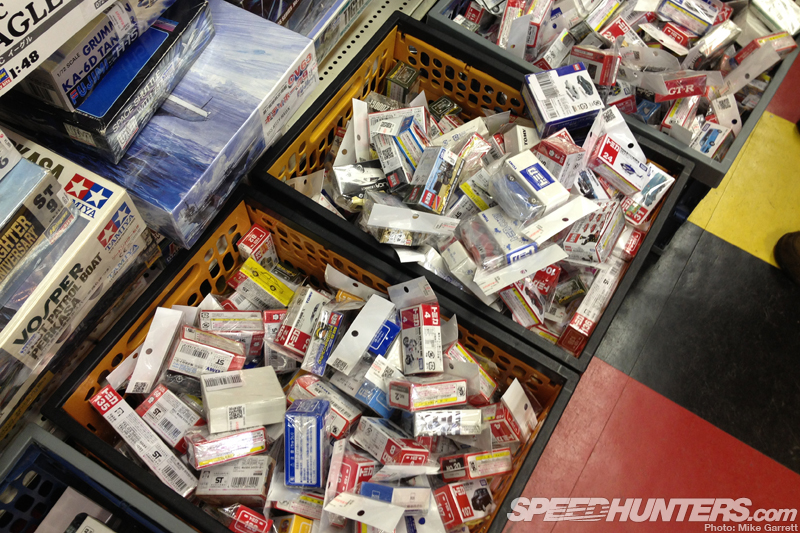 …while the cheaper more common models can be found piled into boxes just waiting to be sifted through. The only problem is that the stores are so small you'd get in everyone's way just trying to look through these things.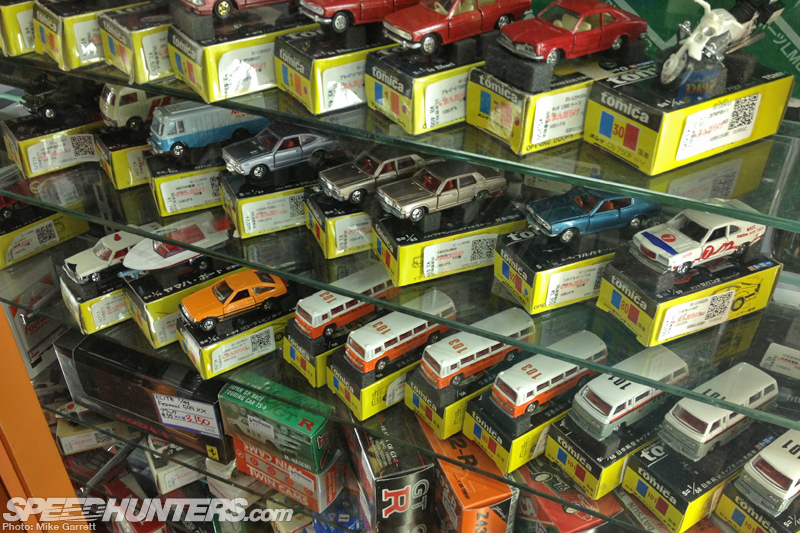 On the top end of the spectrum, some of the rare Tomica vehicles from the '70s can easily bring upwards of 10,000 yen (about $100USD) each if they are in good condition with their original packaging.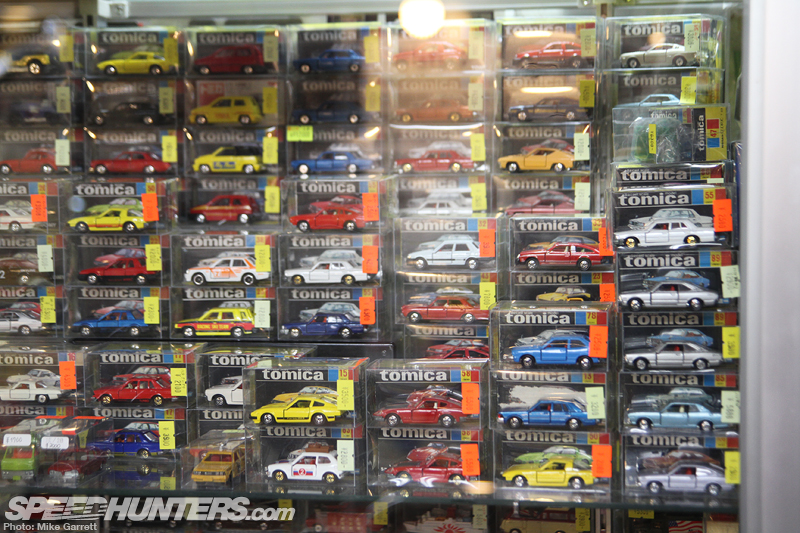 The great thing about Tomica is that they have always produced scale replicas of some of Japan's more obscure cars right alongside the famous Skylines and Fairlady Zs.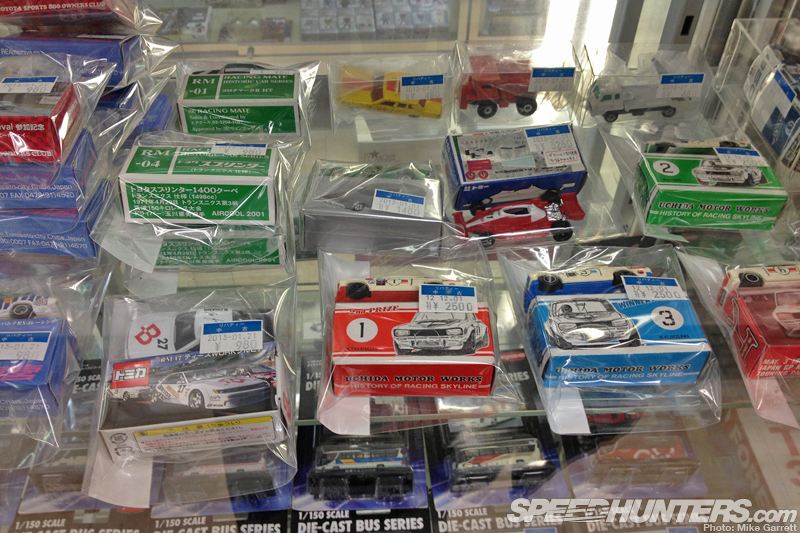 Over the years, the Tomica line has also included plenty of racing cars. From the legendary KPGC10 Skyline GT-R to lesser known cars like the Bride Works S13 Silvia from the '90s (left).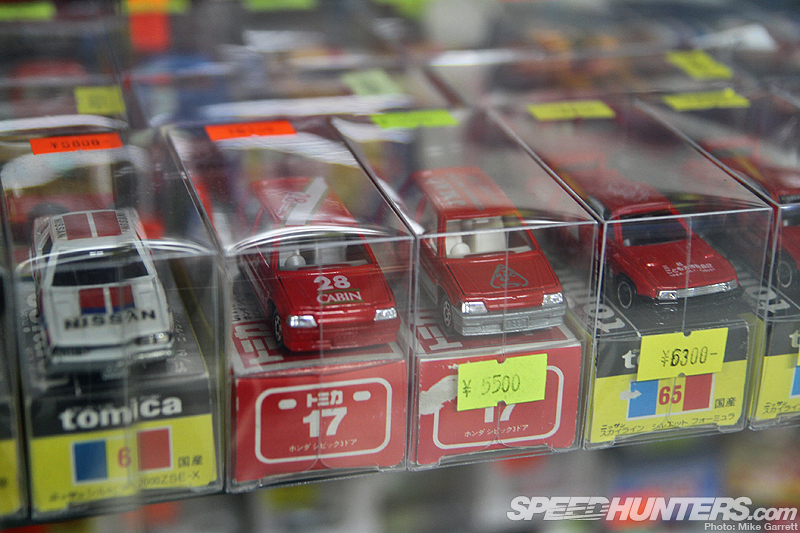 1980s era Group A Civics – awesome! As you might have gathered, collecting Tomica is really a complete hobby in itself.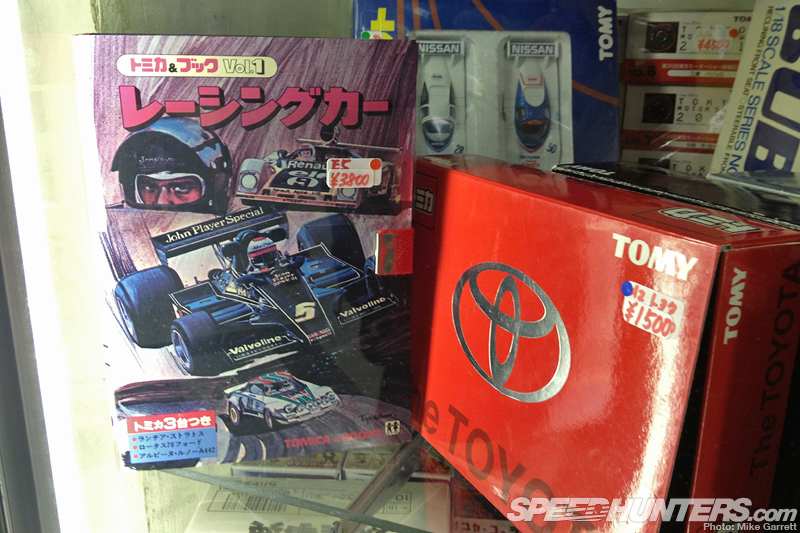 Check out this awesome set that includes a Renault A442, a Lotus 78 and a Lancia Stratos. It's another one of those examples when the cool vintage box art is probably worth the sticker price alone.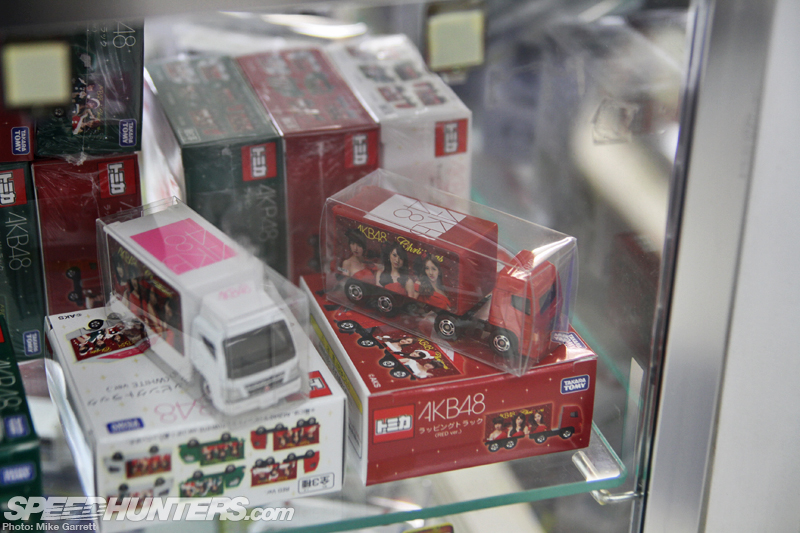 Let's not forget your special edition AKB48-themed Tomica. Not that I like AKB or anything…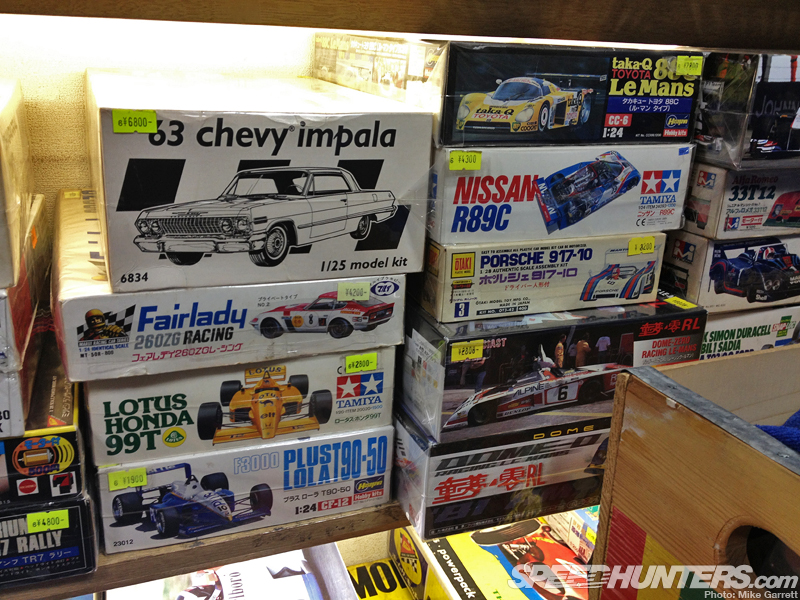 While model kits aren't quite as common as diecast stuff inside Nakano Broadway, there's still plenty of super cool vintage plastic to be found tucked away in the various shops.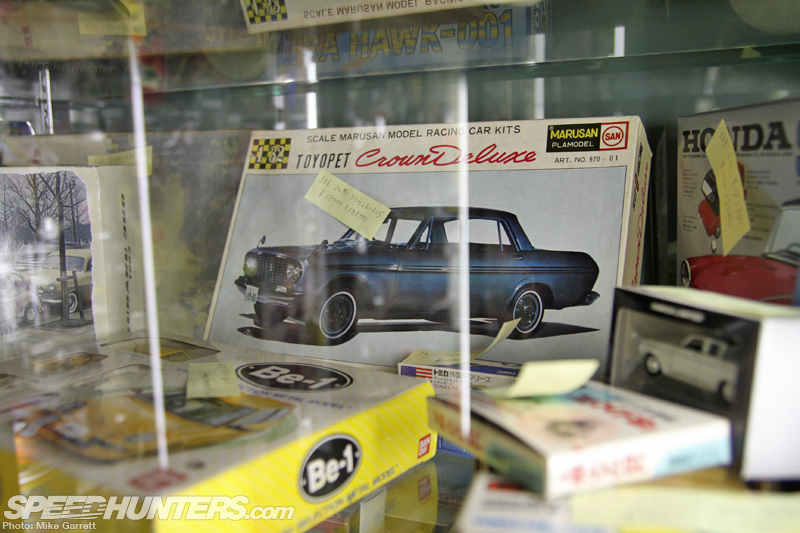 The 18,000 yen (about $180USD) price tag on this 1960s era Marusan Toyopet Crown 1:32 kit certainly speaks to its rarity…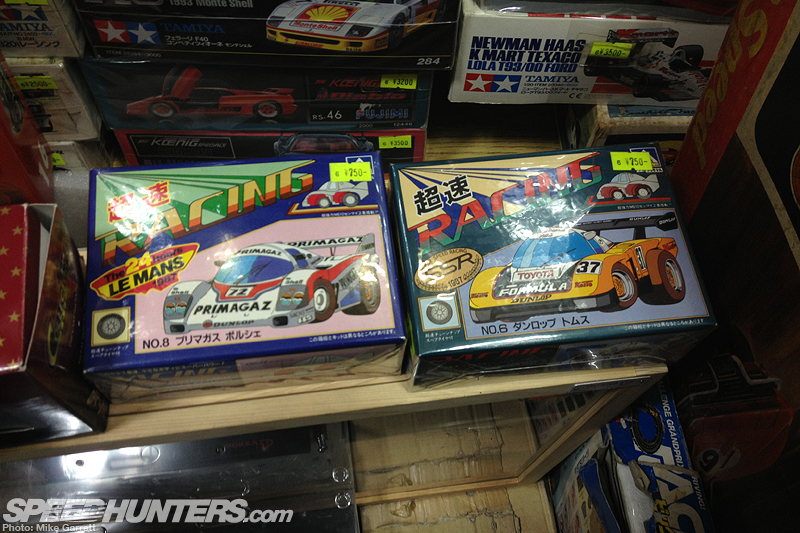 On the other hand, these 1980s vintage Group C kits were much more affordable. At just 750 yen (approx $7.50USD) each, I'm regretting not picking them up. Again, I think the awesome box art is worth that alone.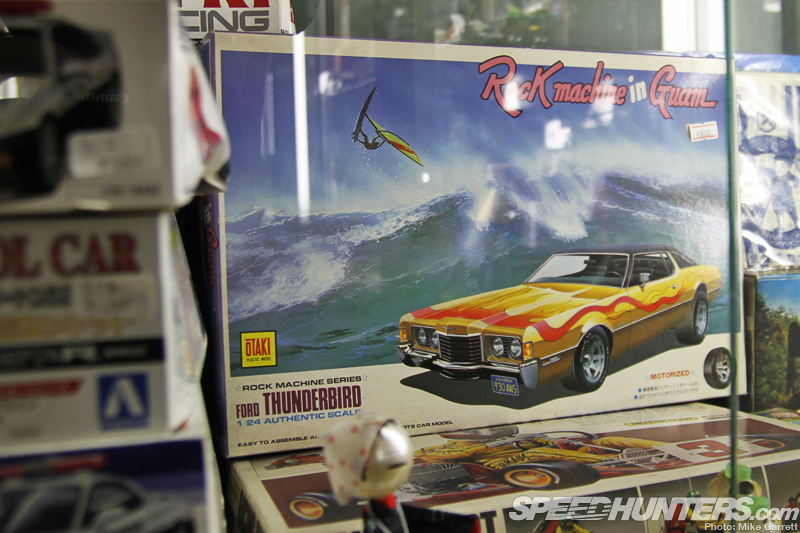 Check out the Otaki Models 'Rock Machine in Guam' Ford Thunderbird model kit. Something tells me this one's a product of the '70s.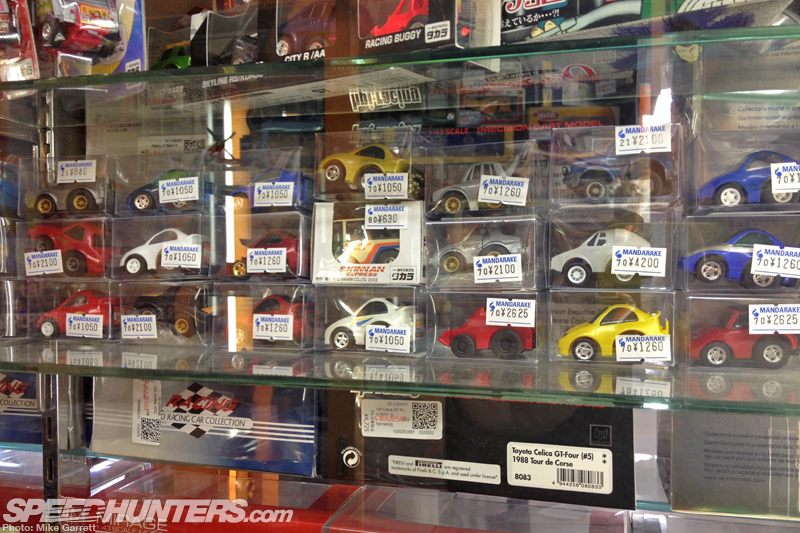 Besides Tomica, Japan's other famous contribution to the toy car world is Choro-Q. Just like the Tomica stuff, an entirely separate hobby has sprung up around collecting these cartoon-like miniatures that are known outside of Japan as Penny Racers.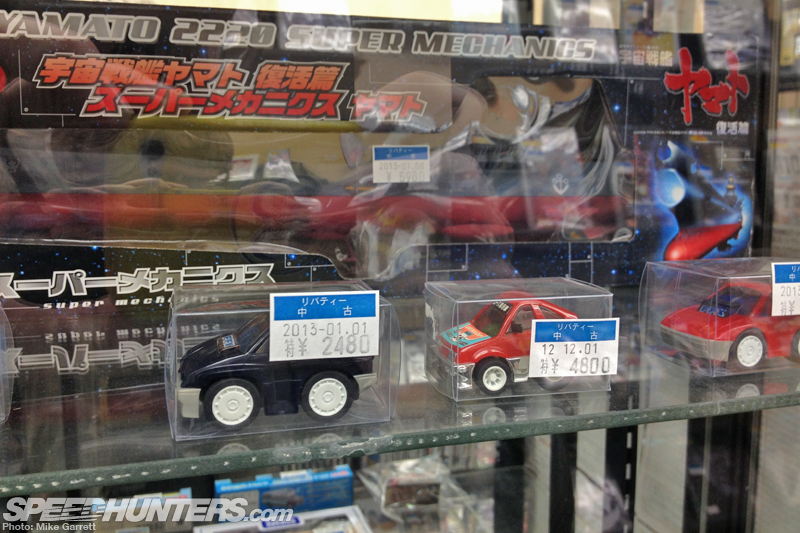 As you can see though, some of the prices for the rare Choro-Q cars are anything but penny-like!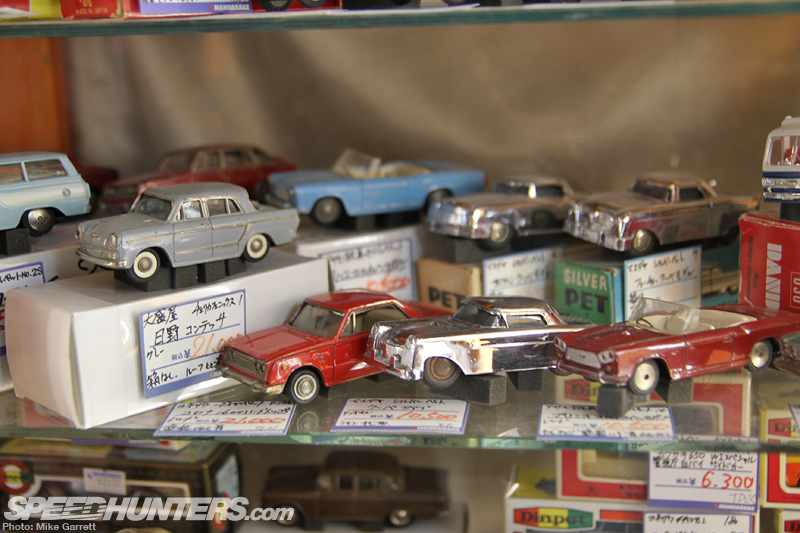 While names like Tomica and Choro-Q are still being produced today, others like Omoriya and Yonezawa have long since vanished.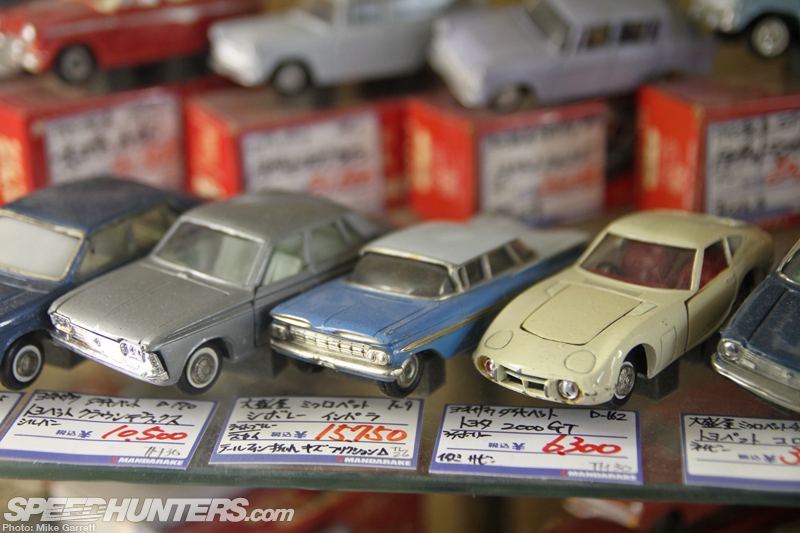 It's pretty evident that these toys were quite detailed by 1960s standards.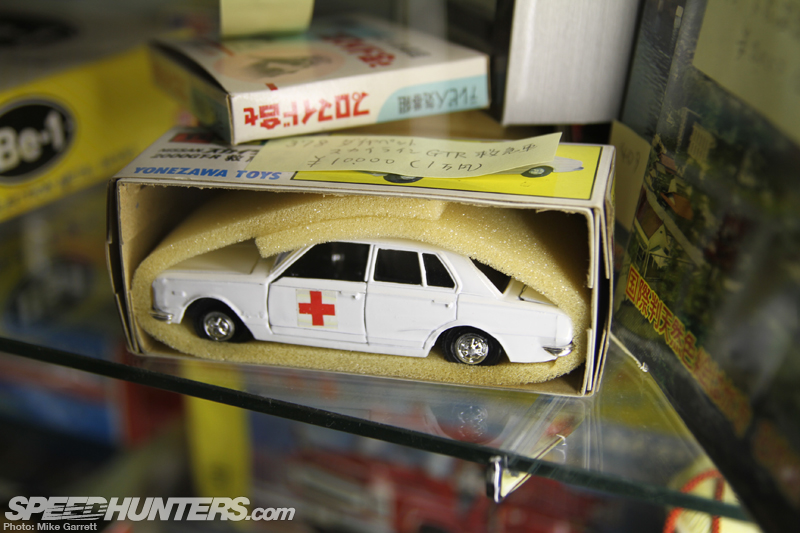 I somehow doubt there was ever an actual ambulance made out of a Hakosuka Skyline GT-R, but that's what makes this particular Yonezawa toy so cool.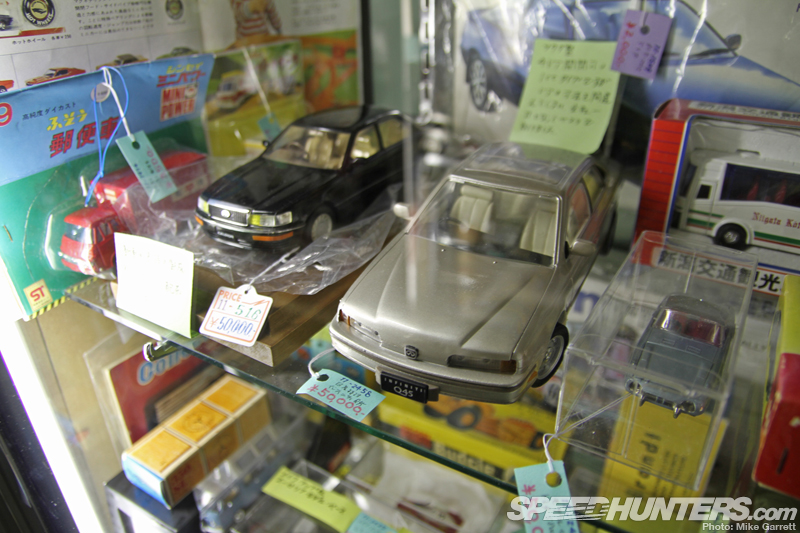 Also spread the mall are a few rare promotional models that were given away by auto manufacturers over the years, like this Infinti Q45 and Toyota Celsior.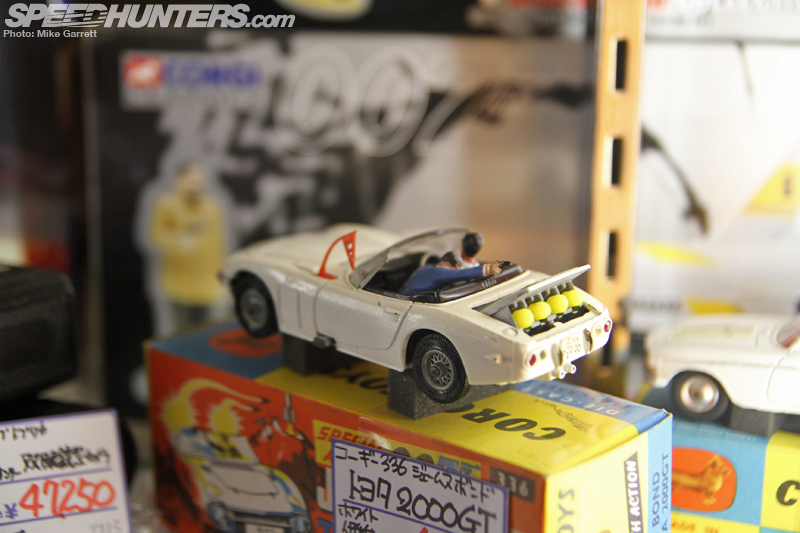 There also vehicles from foreign brands like Hot Wheels, Matchbox and Corgi,  including this awesome replica of James Bond's Toyota 2000GT from You Only Live Twice.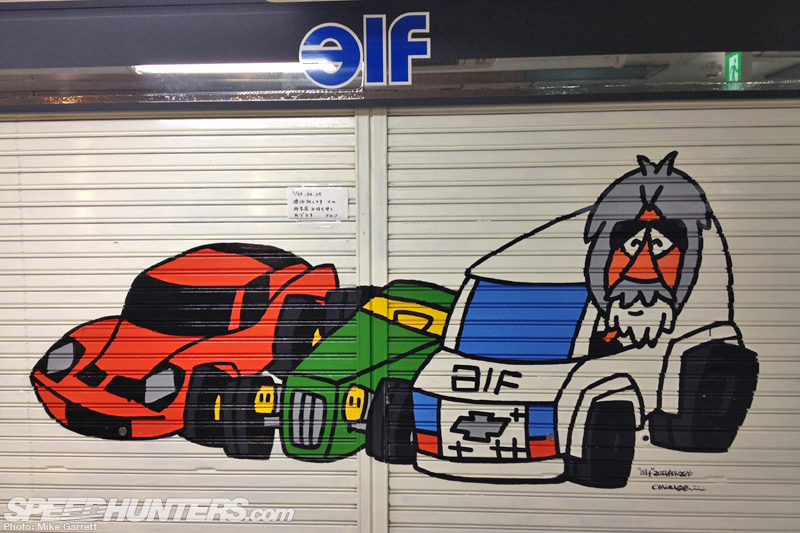 All this is really just a small slice of the treasure to be found inside Nakano Broadway, a place that's a true temple of Japan's hobby obsession.
Coming to Tokyo? I highly suggest adding this place to your list of must-see destinations.
Mike Garrett
mike@dev.speedhunters.com
Instagram : speedhunters_mike
---
---
---