Front wheel drive is, wrong wheel drive. Bold statement, but technically speaking it just doesn't make any sense. Why would you want to subject the front wheels of a car to so much abuse? They're already trying to steer the car and in the process attempting to return some kind of feedback to the driver, so why on earth would you also give them the task of channeling drive to the road. Sounds absurd doesn't it? But like some things, what may seem unfathomable on paper, can actually make sense in practice; at least when you apply copious amounts of engineering to it. Honda always serves as the perfect example when discussing "FF," as they have managed (like a lot of other manufacturers out there) to make this somewhat unnatural layout work – and rather well too. If you ever had the pleasure of driving a DC2 Integra Type-R to the limit you will know exactly what I am talking about here, a car that to this day remains one of the purest interpretations of "effu-effu," as the Japanese would say. What was even greater about that car was that it achieved all of this…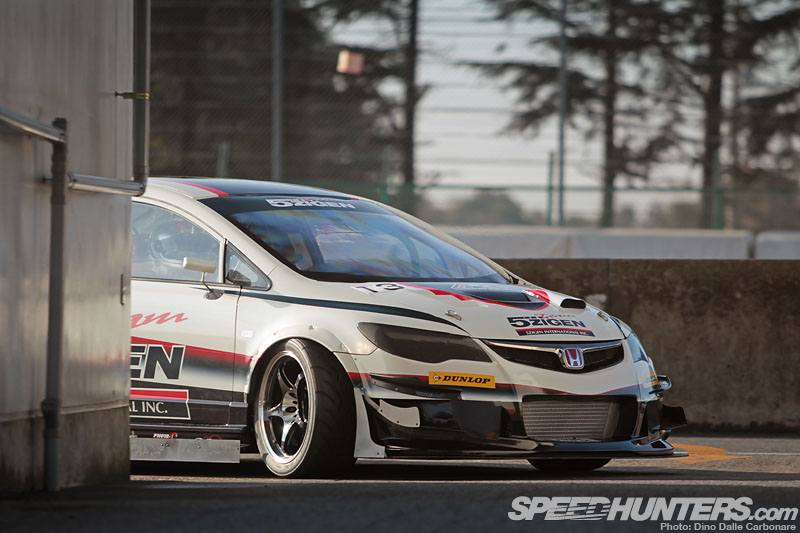 …without the need for any electronics, it was purely a finely honed, impressively simple mechanical creation. The FD2 is the modern day interpretation of it, a car that while no longer on sale, has beautifully carried over those raw driving characteristics that have further evolved thanks to more engineering and fine tuning, allowing the front wheels to do the impossible. And with a bit more fettling from tuning shops what you see here represents the pinnacle of FF capabilities. The 5Zigen FD2 is and remains the fastest ever FF car to lap Tsukuba Circuit, setting a time of 58.222 sec at the hands of pro driver Takashi Oi. We were actually there when he broke the record back in 2010 and took a little look at the car in the Tsukuba pits – but it has since been further perfected for a future lap record attempt so we could hardly pass up a chance to spend a few hours admiring its details.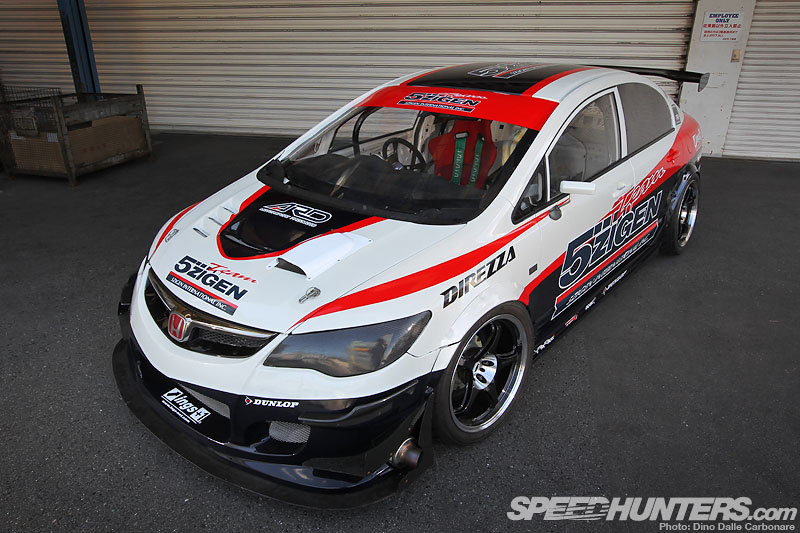 5Zigen have approached the whole project much like they would the race cars that they have been building and racing for decades, which is why it looks very similar to what a Super Taikyu racer would…but far more extreme. You may spot the pumped fenders that barely contain…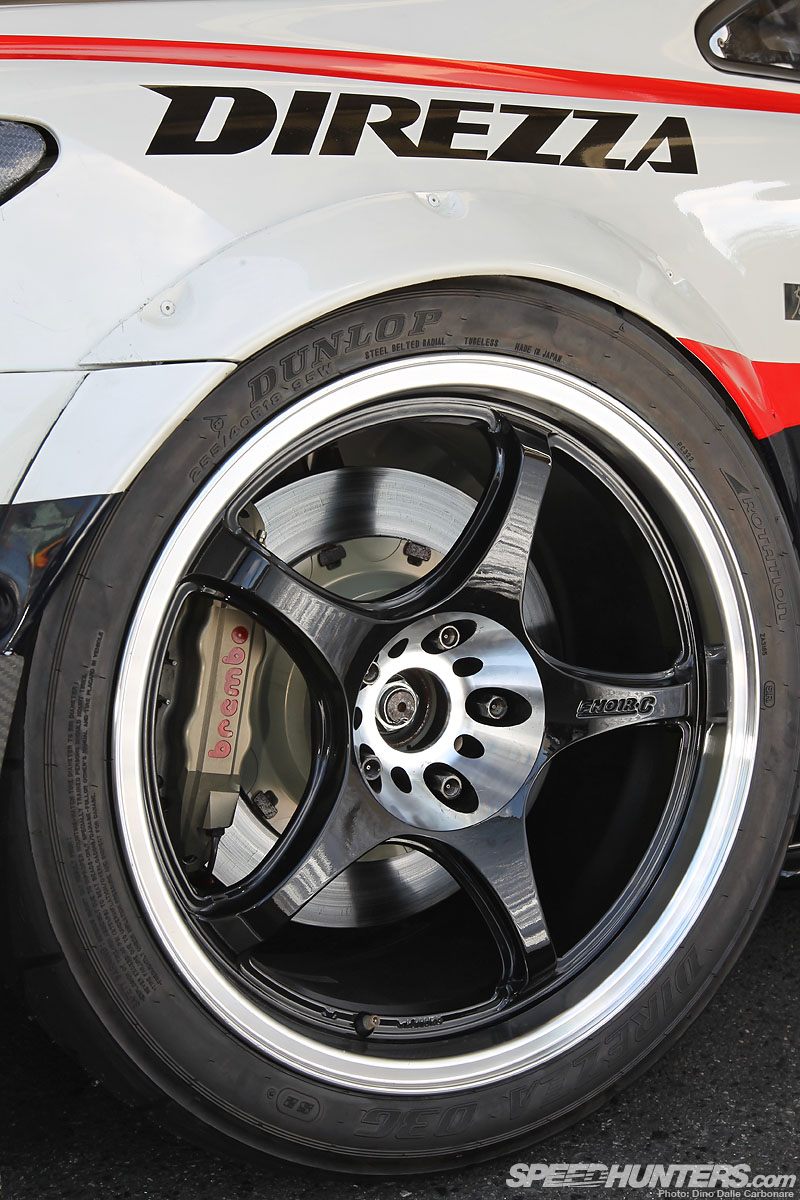 …their original FN01R-C Hot Version wheels, fitted in 9.5Jx18″ +12 sizes all round. Rubber of choice is super sticky 255/40/R18 Dunlop Direzza 03G. One look at the Brembo Racing front 4-pot calipers and you know this car means business, a common set up used in motorsports offering great braking power and lightness to keep unsprung weight in check.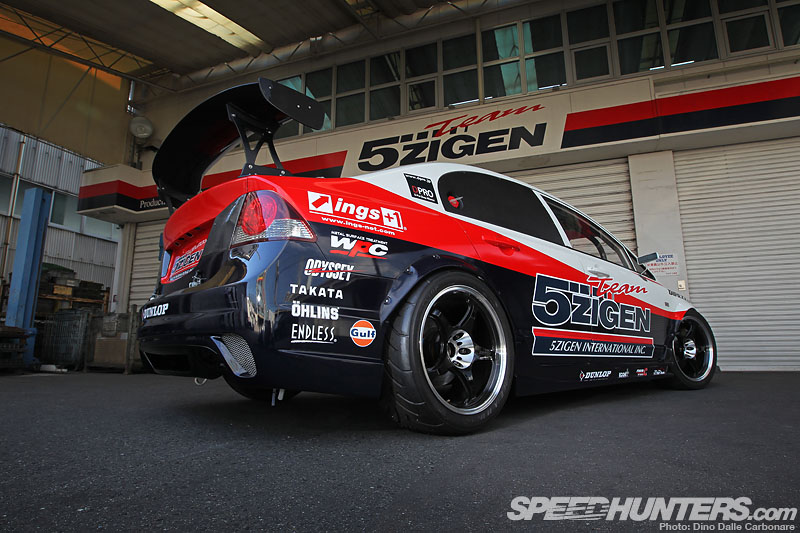 The Civic rides on custom built Endless race dampers running 28 kg/mm springs up front and 22 kg/mm coils at the rear. One off 5Zigen adjustable upper arms allow the ability to set a more aggressive amount of negative camber to help get the most grip out of the Dunlops through the corners. However, as you can probably imagine, without serious amounts of power a 58-sec lap at Tsukuba would be impossible…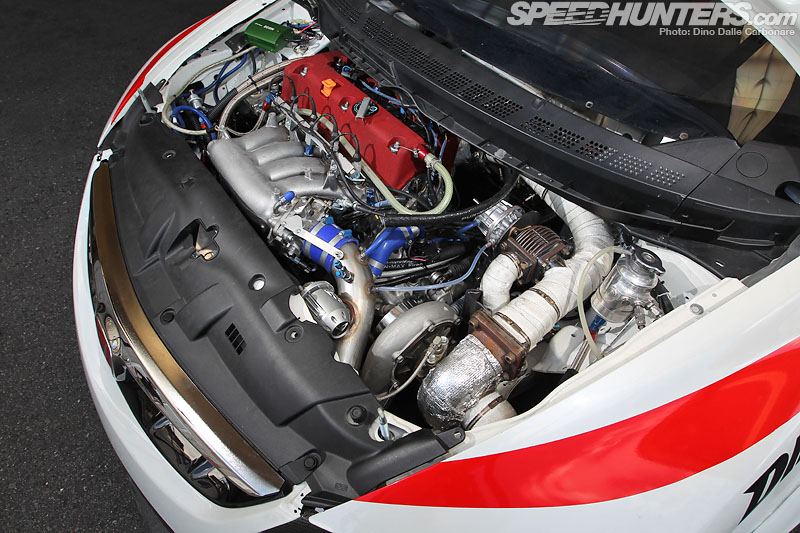 …so after much success with their CL7 Accord Euro-R time attack car a few years back, this is what they came up with. The turbocharged K20 in the FD2 develops close to 100 HP more than the unit in the Accord…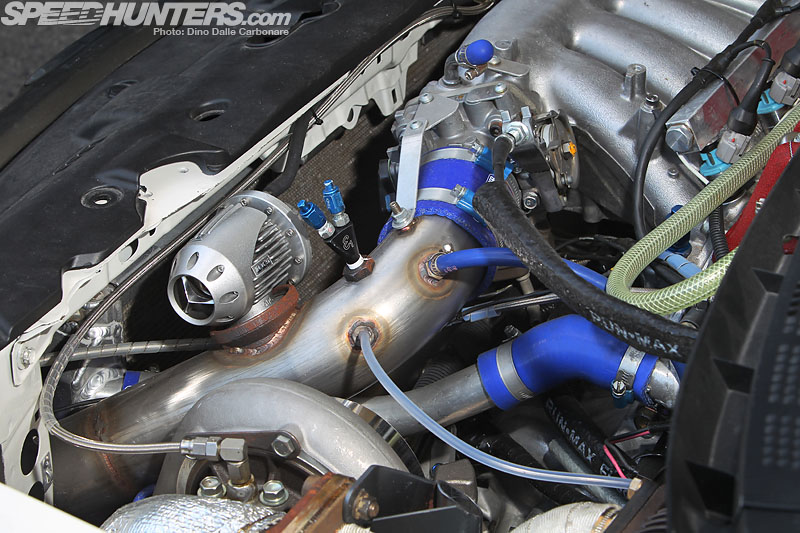 …and that is without the use of nitrous oxide, which hasn't been plugged in yet.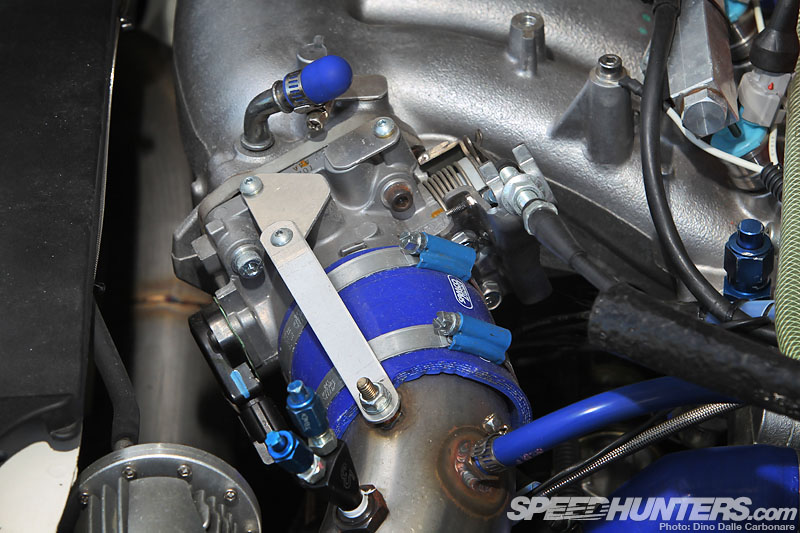 The engine has been completely rebuilt with higher performance components starting off with low-compression pistons, that along with a 1.2mm metal headgasket lower static compression down to 9.1:1. Lightweight I-section rods followed together with the finely balanced stock crank. Headwork consists in lots of porting and polishing as well as a valve spring upgrade courtesy of Toda Racing. The iVTEC system has been retained as it helps get good torque in the midrange…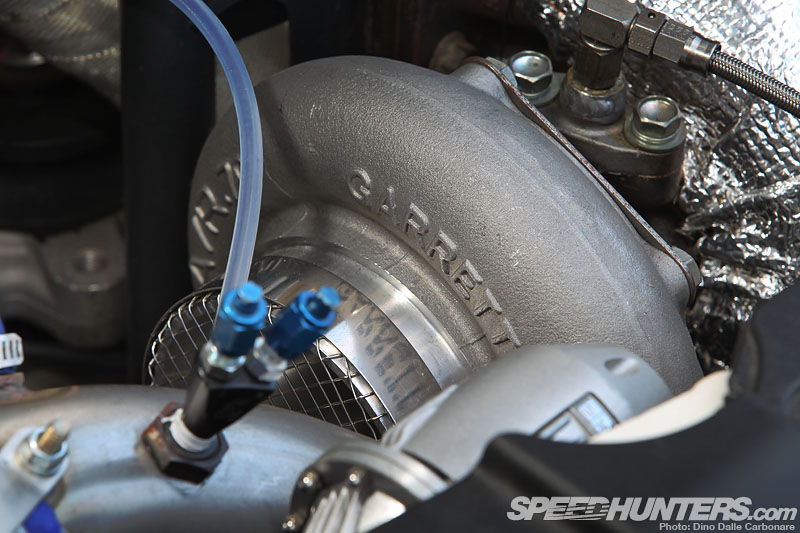 …thanks to the 1.2 bar of boost the HKS T04S provides. The turbo has been mounted high next to the engine and plumbed in a way to help keep piping as short as possible.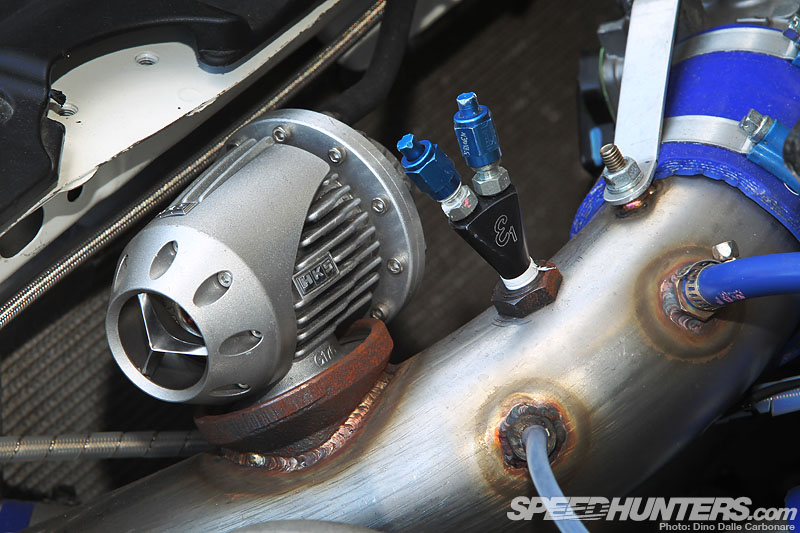 It may look a little cramped under there but it all works well…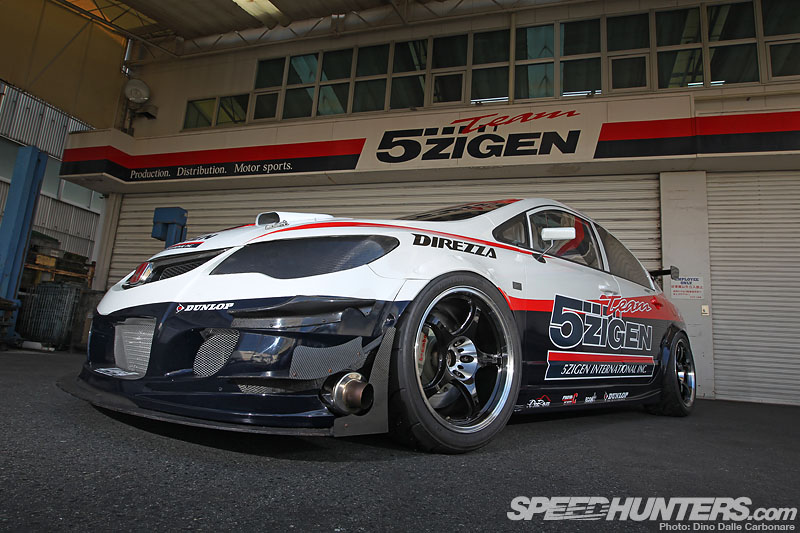 …including the exhaust system which couldn't possibly have been made any shorter, dumping hot gasses straight out from the side of the bumper!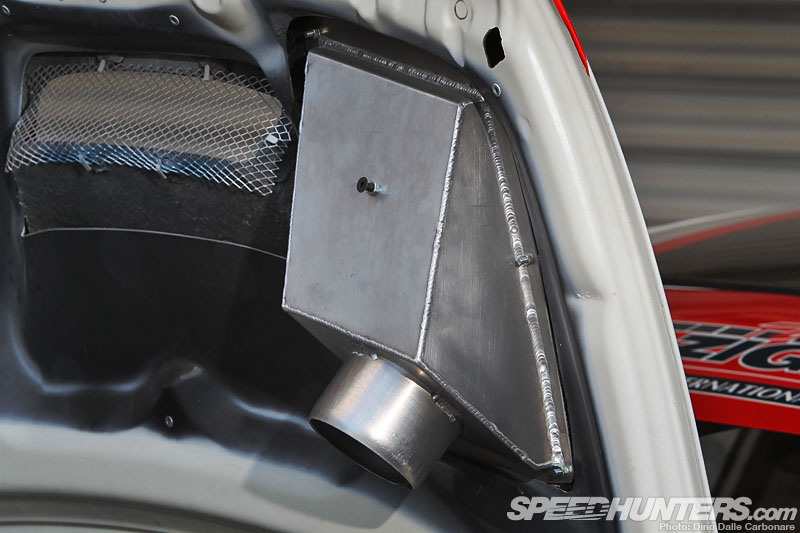 5Zigen aslo fabricated an air guide…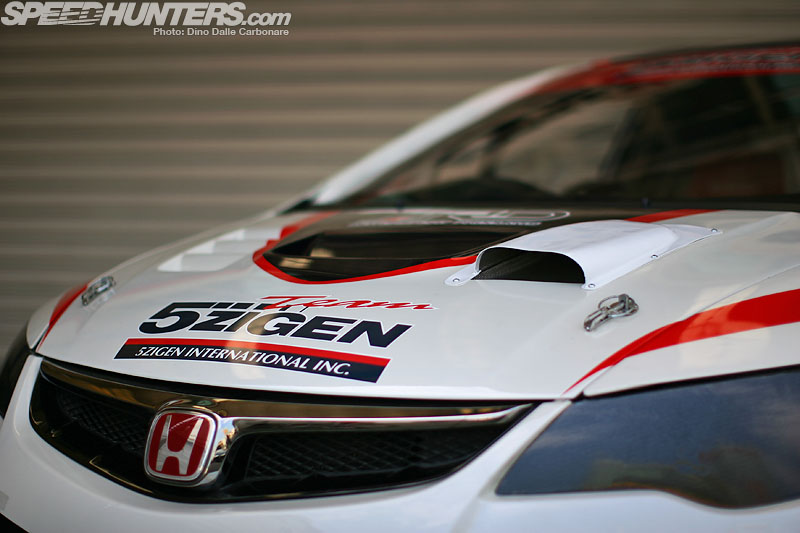 …that channels air from the hood-top intake down to the turbo. And of course where there's boost there is always a need for more fuel, taken care of by a set of 1000 cc/min injectors fed by the Bosh fuel pumps you can see further down in the interior shots. In its present configuration the boosted K20 develops 515.7 HP at 7,630 rpm with a pretty impressive peak of 494.2 Nm (364.4 lb/ft) coming in at 6,050 rpm.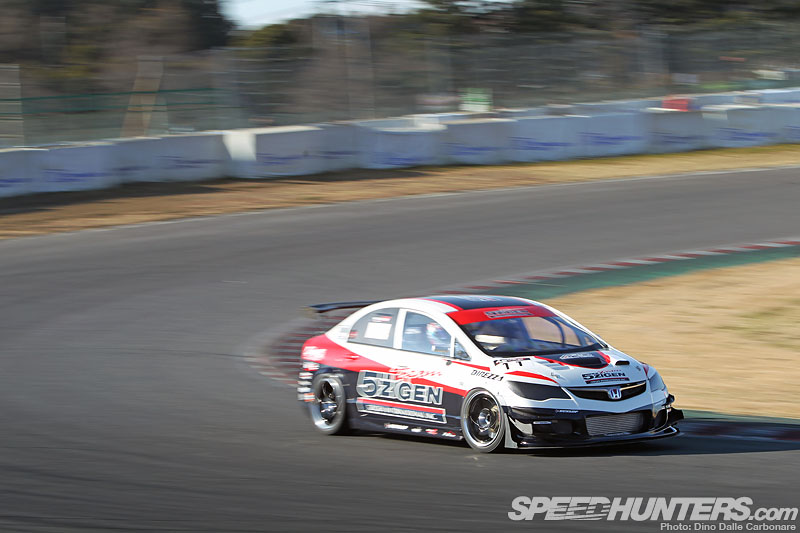 The functional body modifications are purely aimed at increasing the car's aerodynamic performance and on top of the Igns N-spec kit comprising of FRP front & rear bumpers, side skirts and hood also boasts custom carbon front canards,the 5Zigen fender flares we talked about earlier on and a big Igns rear GT Wing. As you can see it looks right at home through the corners of Tsukuba.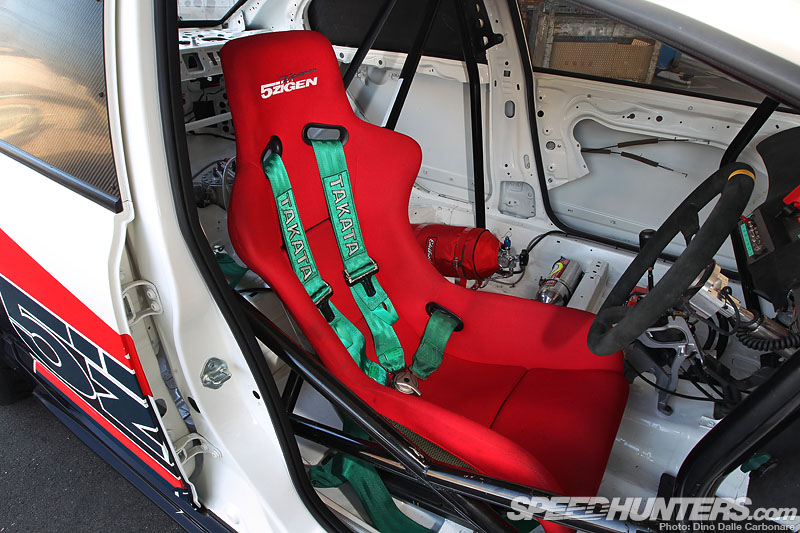 The FD2 was handled much like the Super Taikyu racers that 5Zigen prepare, so before anything started the whole car was stripped down to a base shell, fitted with a bolt-in roll cage and reinforced around the front and rear suspension turrets. It's all very simple inside with a single 5Zigen carbon-Kevlar bucket seat and Takata racing harnesses to help keep the driver tightly in place.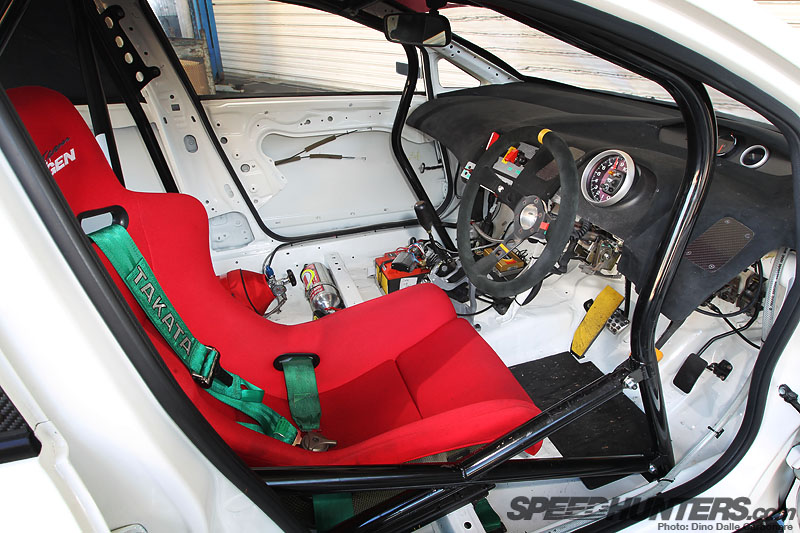 Only the very top section of the dashboard remains; it's been flocked to help avoid nasty reflections on the windscreen…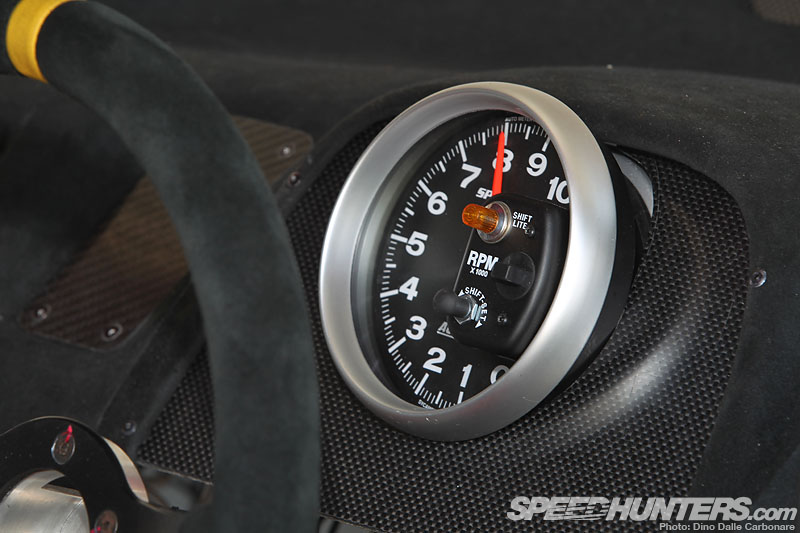 …and is dotted with a few simple pieces of instrumentation like the Auto Meter rpm gauge…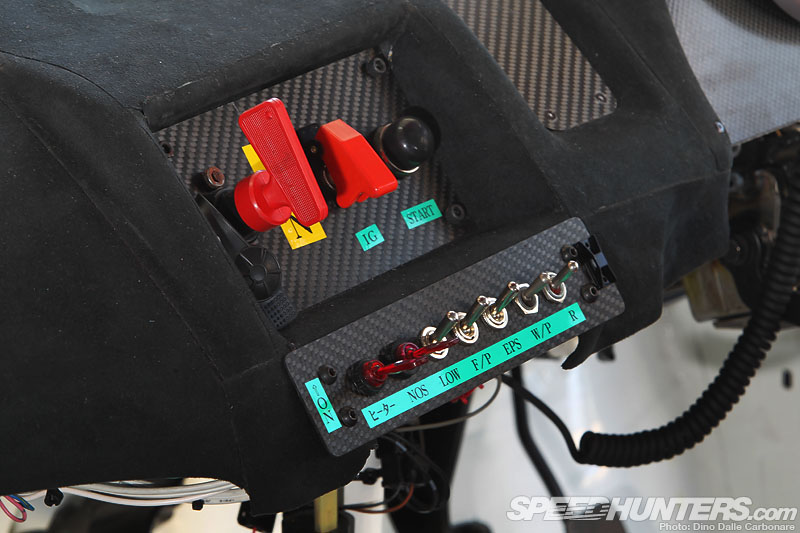 …and a racecar type center-panel where all switches have been arranged.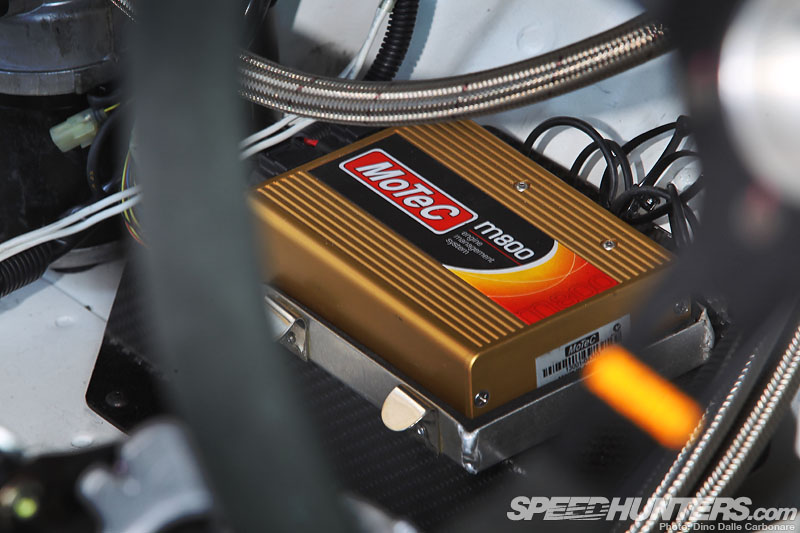 A custom wired Motec M800 has been chosen to handle engine management and is positioned in the passenger side footwell for easy access.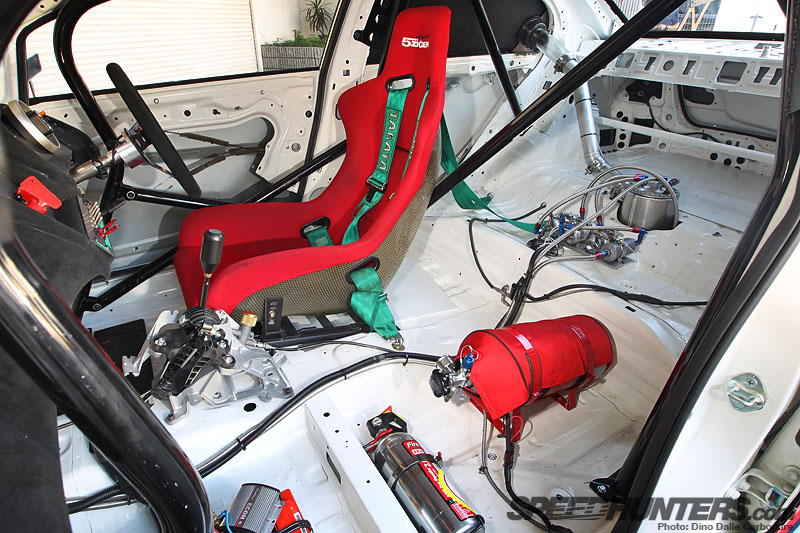 Seeing and FD2 stripped like this shows just what a massive chassis the JDM version of the Civic Type-R was. This gives a better view of the whole layout…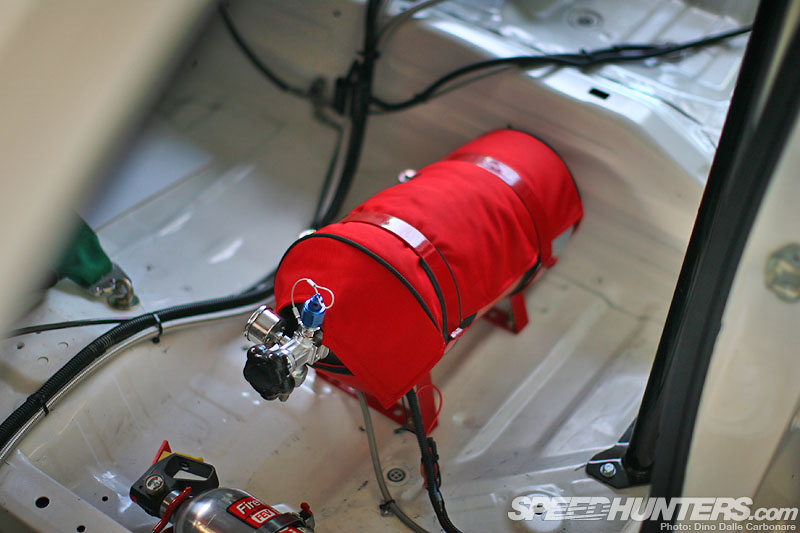 …from the nitrous oxide tank position…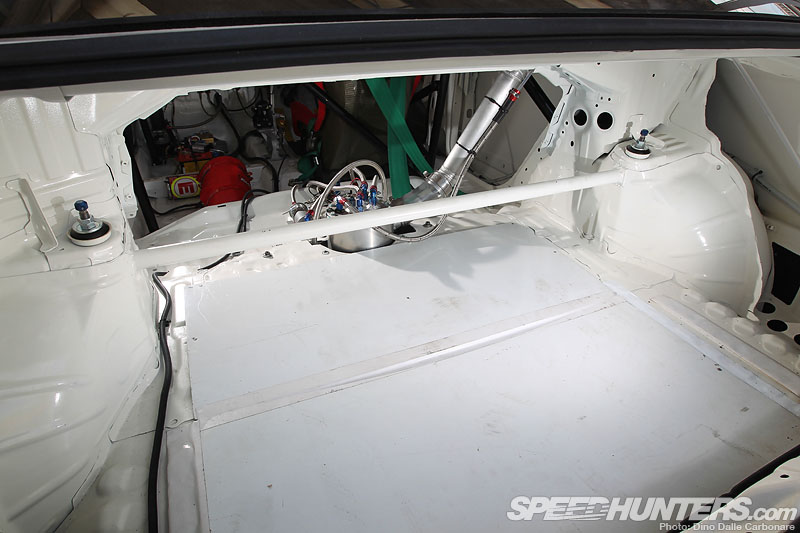 …to the stripped out trunk area…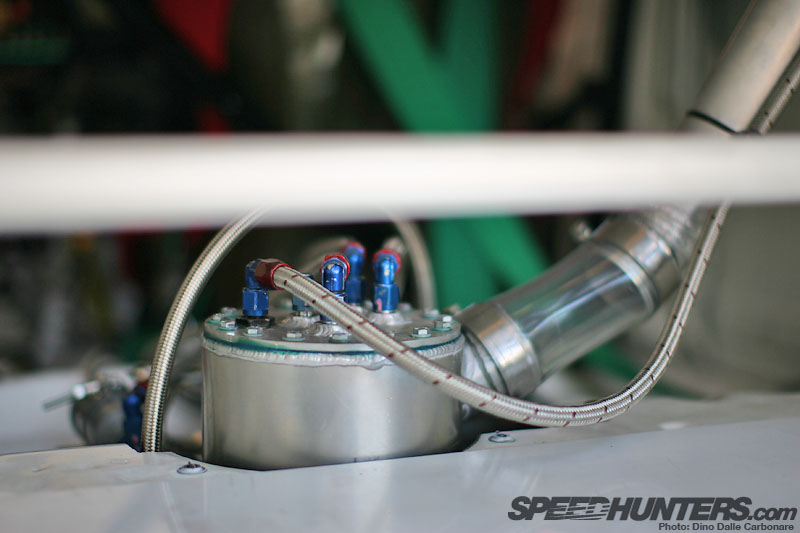 …and fuel system. You can see how the fuel surge tank is fed directly…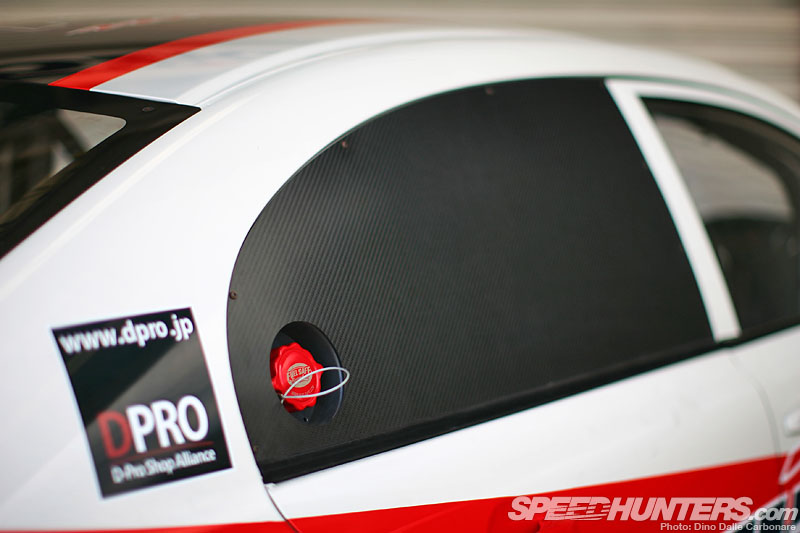 …from the race style filler positioned on the carbon fiber rear door glass covers.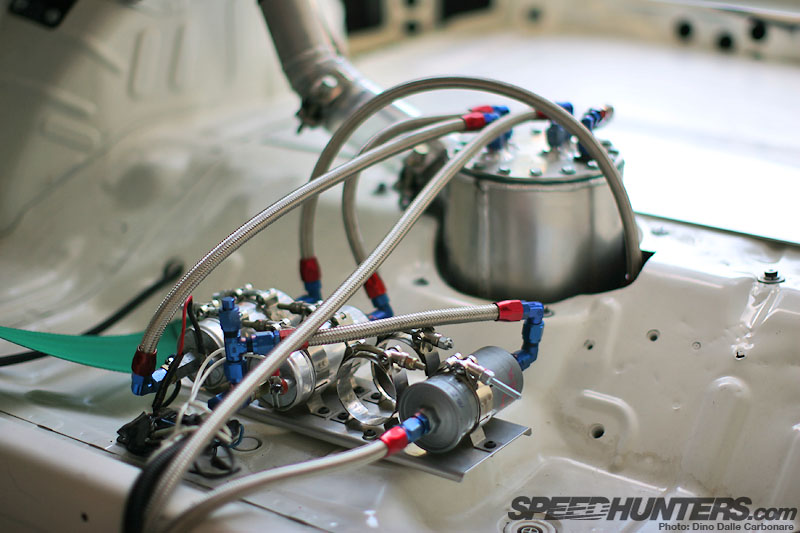 Two Bosh Motorsport 044 external fuel pumps have the job of supplying the 4000 cc/min flow capability of the four Sard injectors.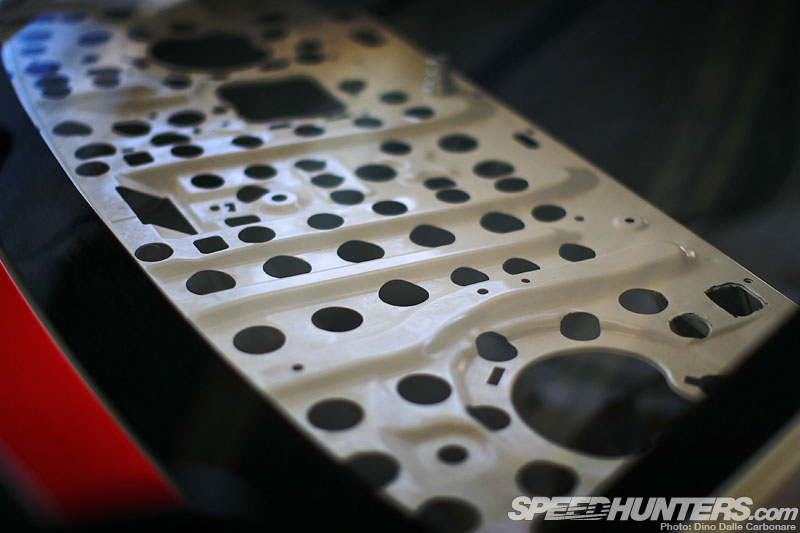 Looking around the chassis you can also see the extent 5Zigen have gone to, in order to remove as much weight as possible, even swisscheesing the rear parcel shelf…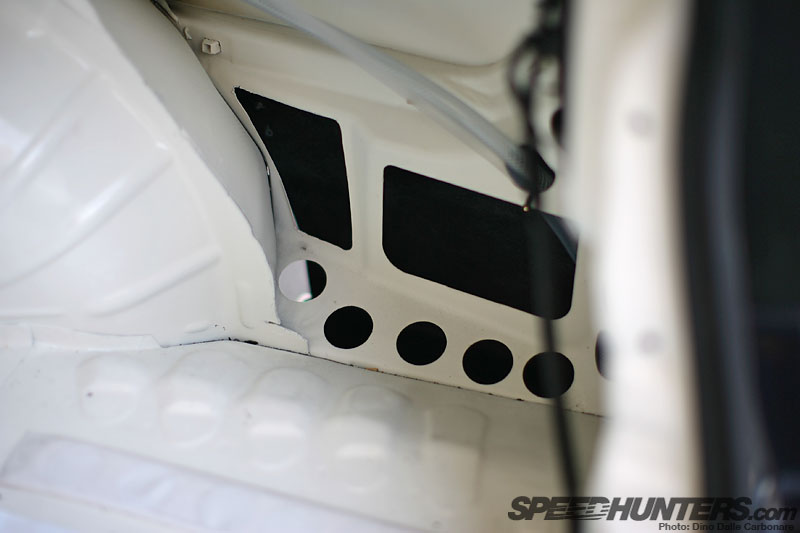 …as well as other non-structural, reinforcement sheet metal.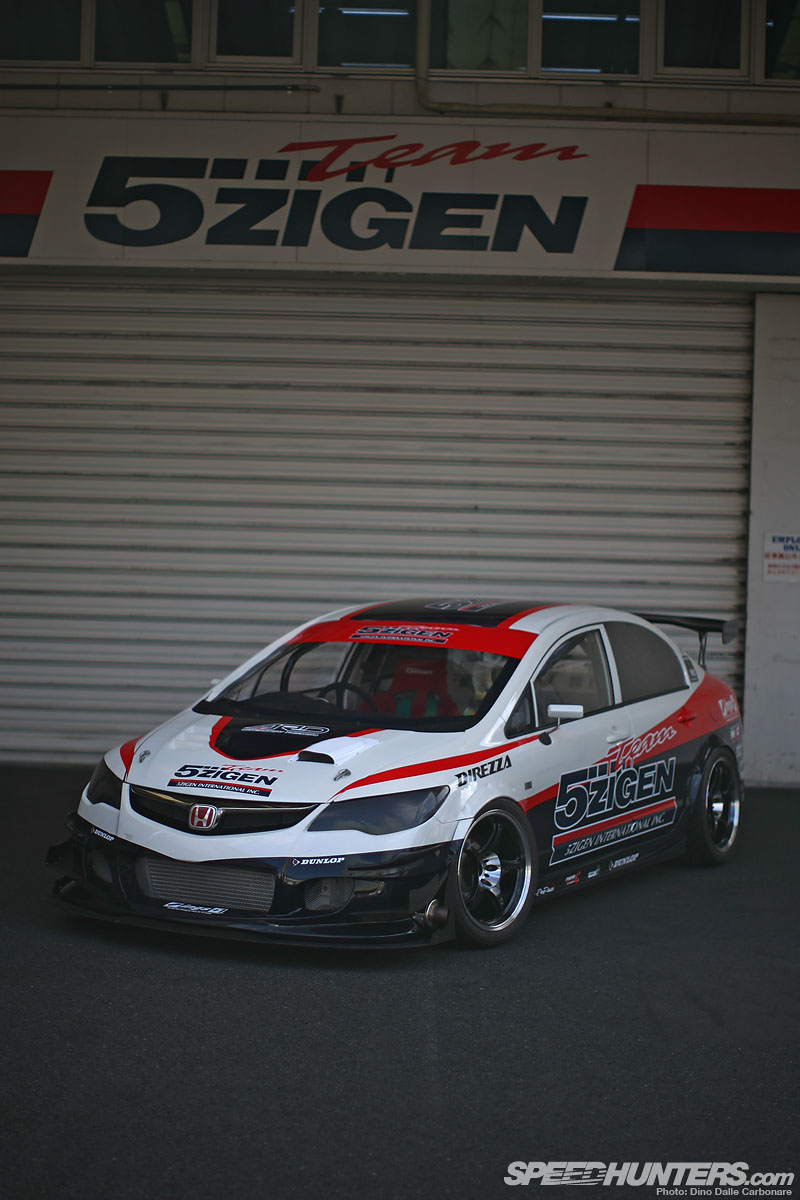 After having set the FF record at Tsukuba, 5Zigen have yet to return to the Super Battle.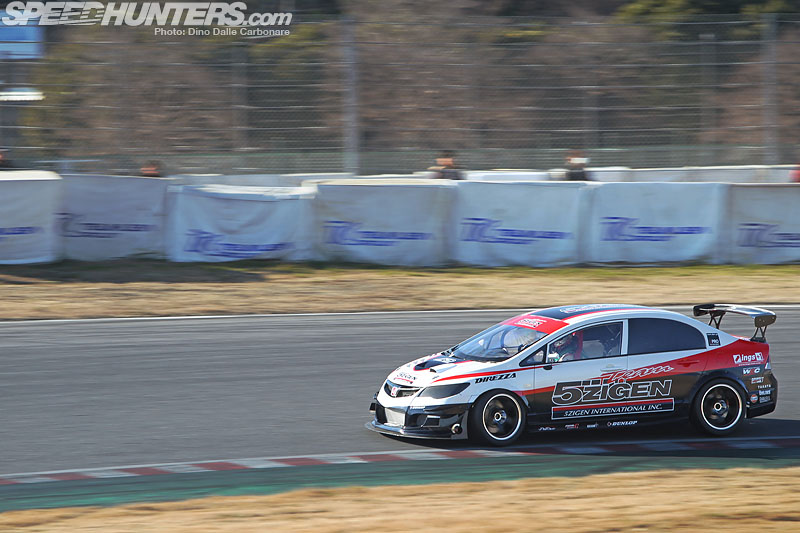 With a little help form the already fitted nitrous oxide system this FD2 has obvious potential for an even faster lap time. They are 0.223 sec away from a 57-sec lap after all. I think I'm not the only one that hopes to see them back at this year's Rev Speed event in December!
Max Power 515.7 HP @ 7,630 rpm
Max Torque 494.2 Nm (364.4 lb/ft) @ 6,050 rpm
Engine  5Zigen original pistons, 5 Zigen I-section connecting rods, Balanced stock crank, Toda Racing valve springs, Toda Racing metal head gasket, 5Zigen stainless steel exhaust manifold, HKS T04S turbocharger, Trust external waste gate, 5Zigen one-off side exit exhaust, 5Zigen custom piping, HKS blow off valve, Trust intercooler, Nitrous Oxide system (disconnected), Bosh Motorsport fuel pumps, Custom fuel tank, 5Zigen custom billet fuel rail, Sard 1000 cc/min injectors, ARC racing radiator, ARC swirl pot, Setrab oil cooler, Custom oil catch tank (fitted in interior), Motec M800 ECU
Transmission  ATS twin plate spec 2 carbon clutch and lightweight flywheel, ATS 2way carbon LSD
Suspension & Brakes  Endless 5Zigen special adjustable race dampers, 28 kg/mm front springs, 22 kg/mm rear springs, 5Zigen adjustable front & rear upper arms, Brembo Racing 4-pot monobloc front brake calipers & 355 mm 2-piece rotor, AP Racing brake bias adjuster, Endless race pads – Earls brake lines
Wheels & Tires – 5Zigen FN01R-C Hot Version 9.5Jx18" +12 front & rear, Dunlop Direzza 03G 255/40R18 front & rear
Exterior  Igns N-spec front bumper, 5Zigen front canards, 5Sigen carbon fiber headlight covers, Ignis custom modified bonnet with aluminium air intake , 5Zigen front overfenders, Igns N-spec side skirts, SPA mirrors, 5Zigen rear overfenders, One off wet carbon doors, Igns N-spec rear bumper, Igns rear wing, Polycarbonate windows
Interior & Chassis  Bolted-in roll cage, 5Zigen carbon-Kevlar bucket seat, Custom repositioned seat mounts, Takata racing harness, Momo steering wheel, Extended steering boss, 5Zigen shift knob, Carbon fiber instrument panel, Defi boost gauge, Volte meter, AutoMeter rpm gauge, Flocked stock dash, Custom carbon fiber switch panel, Odyssey battery
-Dino Dalle Carbonare