I don't think it takes a rocket scientist to tell you that the overwhelming trend of Tokyo Auto Salon 2013 was the FR-S/GT86/BRZ. Those of you that read Dino's post from earlier in the week will remember that there were an unheard of ninety-one of these cars on display at TAS, more than any other single model in the history of the event. While hachiroku mania was definitely running rampant, there were some other trends that seemed to surface.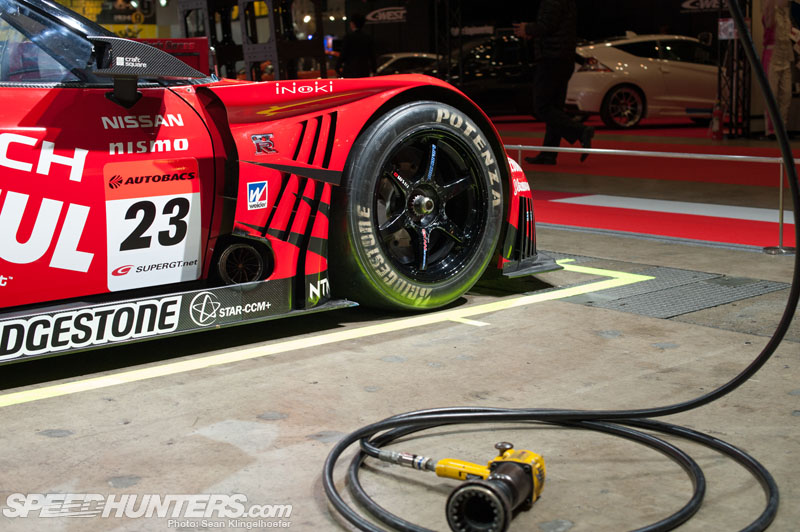 Whether you call them vents or louvers (or louvres), these lattice shapes have been appearing on race cars like the Nismo Super GT R35 for decades. With today's manufacturing processes improving at an alarming rate, they're becoming more and more intricate every year.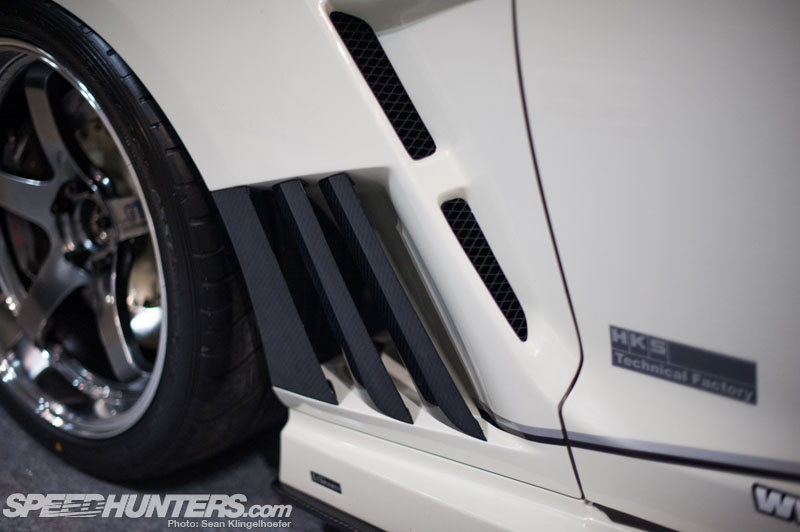 But what I find really interesting is how these features are now being integrated into many off-the-shelf body kits. What was once something reserved only for high-budget racing teams is now available for many tuner cars at a fairly reasonable price.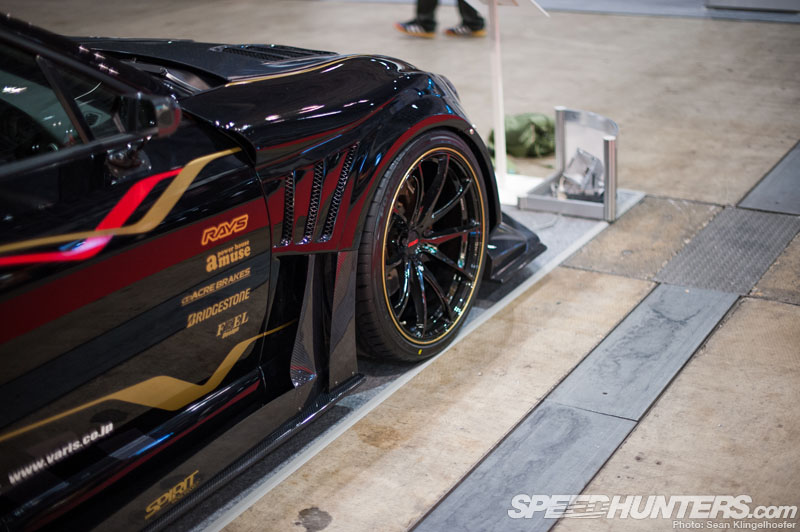 Take for example this new widebody kit from Varis for the ZN6. A decade ago something like this would have been completely unfathomable, even most racing cars didn't have this kind of technology then.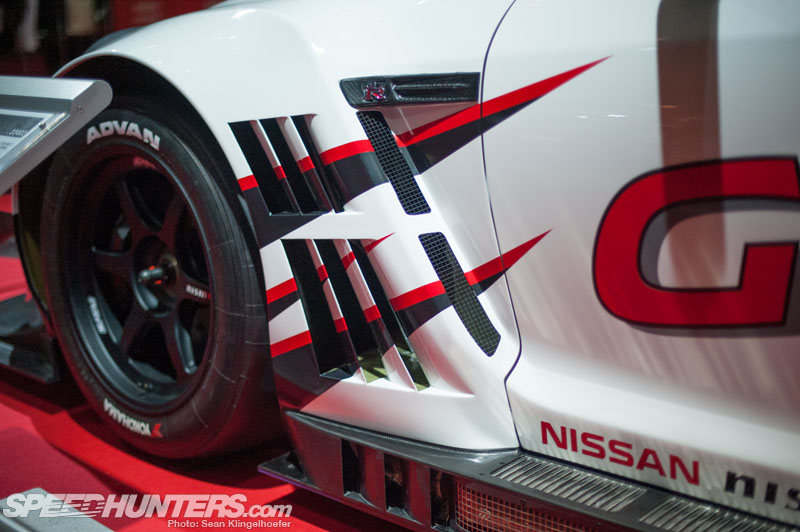 It seems quite obvious that as we learn more and more about aerodynamics, many of these types of innovations will carry into other segments. It wouldn't surprise me if something like what we see here on the Nissan FIA GT3 R35 ends up on an production car in a few year's time.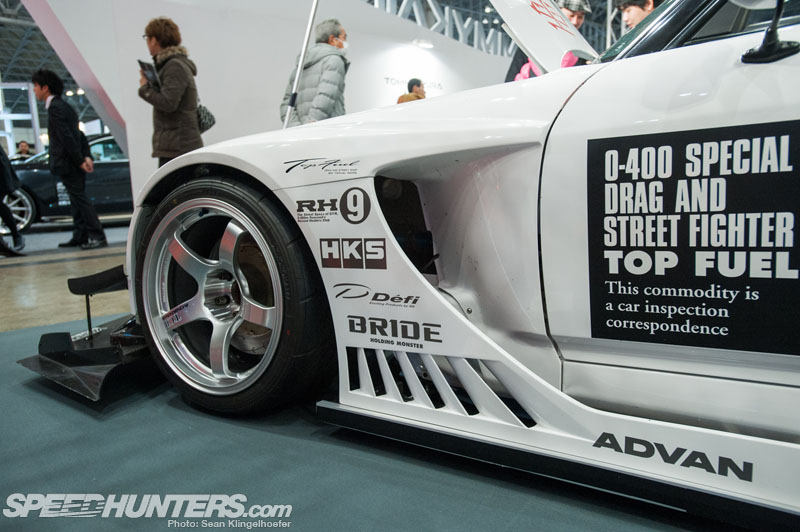 Some examples like this kit by Top Fuel for the S2000 have gone to the very extreme and features virtually an open fender after the wheel. Last weekend Dino and I visited a Battle Evome event at Tsukuba where many of the grassroots racers are now adopting their own budget versions of this concept.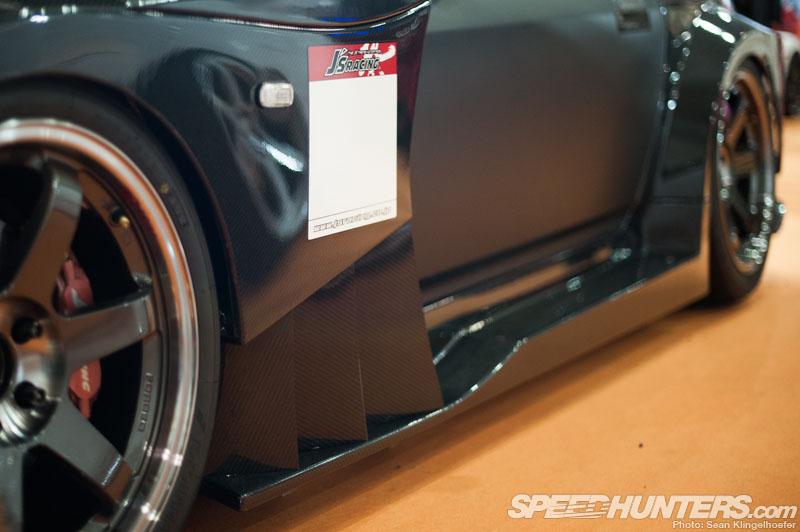 After seeing some of the home-brewed concoctions along with the many high-quality examples at Tokyo Auto Salon, I think I'm just about ready to start hacking up my fenders on my EK. I'm not sure if there will be much performance gain, but my gosh does it look cool!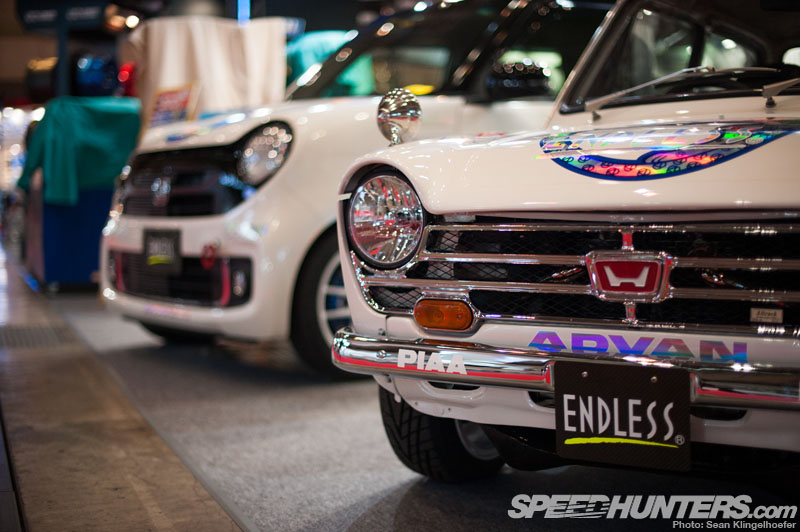 While the Toyota GT86 undoubtedly stole the show, there was another new comer that was quite popular at TAS; the Honda N-One. This new Kei car is a continuation on a theme Honda started back in the '60s with the launch of the N360. To pay homage to this, Endless had both vehicles tuned and displayed next to each other in their booth.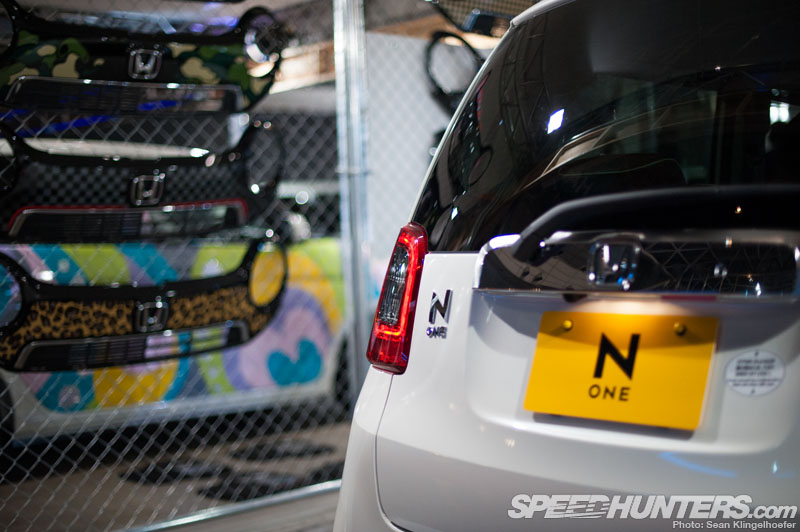 From what I can presume, N-One stands for nori-mono which literally translates to "vehicle" in English. It makes sense when you think about the goal of the car, something affordable, stylish and reliable that works for everyone. It's sort of like the American Apparel tee shirt of cars, or as Rod would call it "a driving appliance."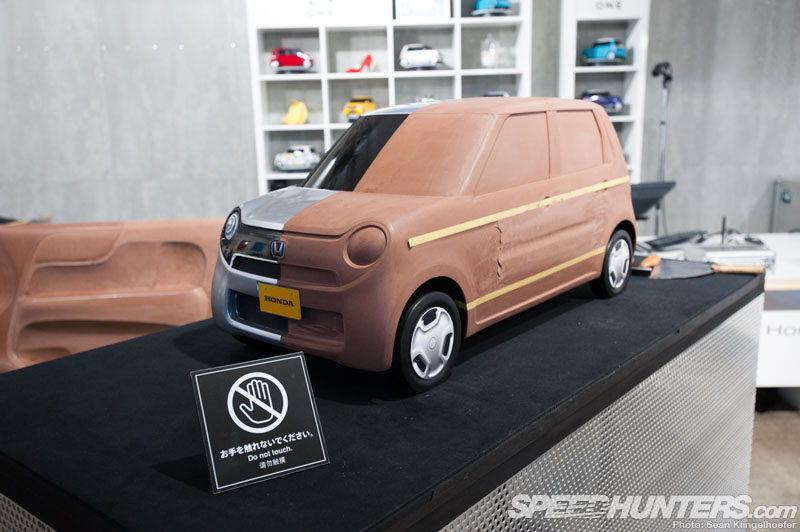 Honda seems to be quite proud of their latest offering and had some really cool stuff on display in their booth, like this scale clay model.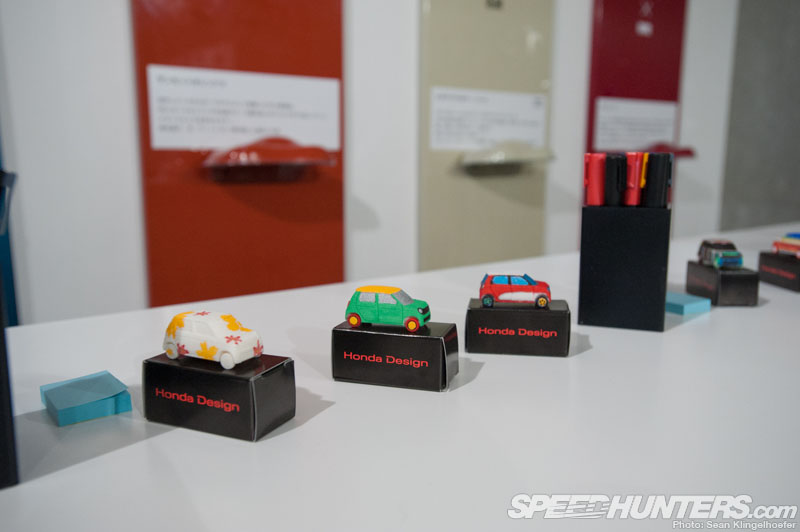 Elsewhere there were tiny boxed N-Ones which come blank so that you can draw your own livery onto the model. Pretty cool.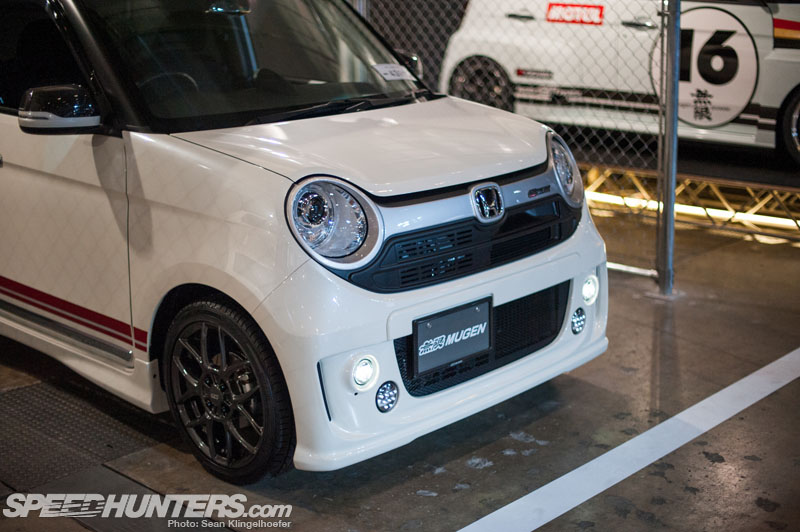 Earlier in the week I did a spotlight on the Mugen N-One Racing Concept, but there were actually several examples from Mugen on display. The car you see here represents a more realistic street-tuned version of the car.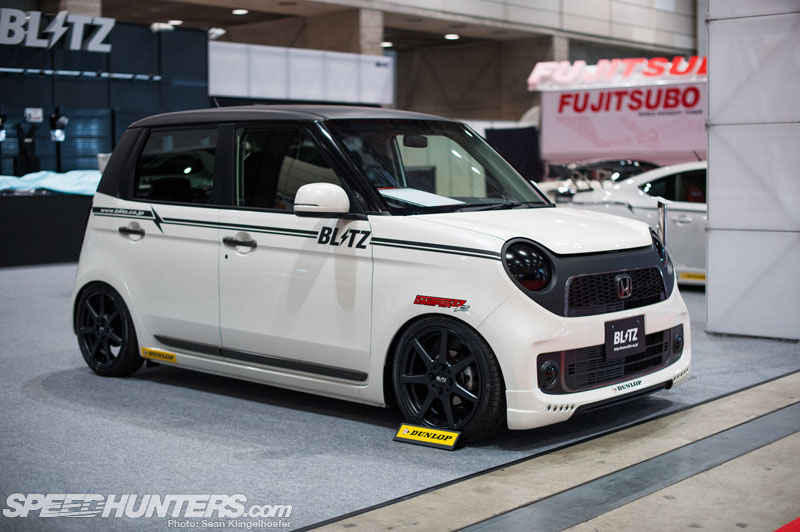 Other tuners like Blitz were also excited to get their hands on the N-One and start tuning it. Considering that the car was only on sale for about a month before Tokyo Auto Salon, it was pretty shocking to see the car being so well received by the community.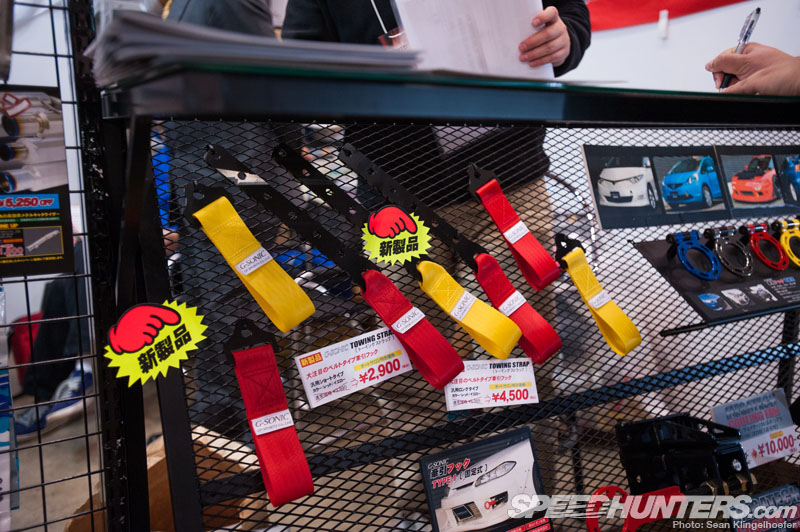 One component that has always been synonymous with "JDM" is the ever popular tow hook, but I think after seeing TAS this year, that's all about to change. These days it seems to be all about the tow strap!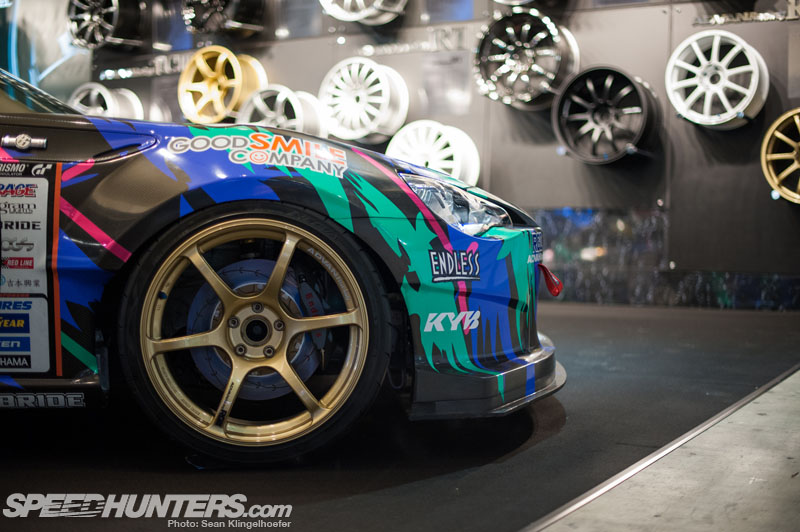 The tow strap isn't anything new of course, but there did seem to be an overwhelming boom in popularity this year. Here we see the HKS GT86 D1 demo car sporting one…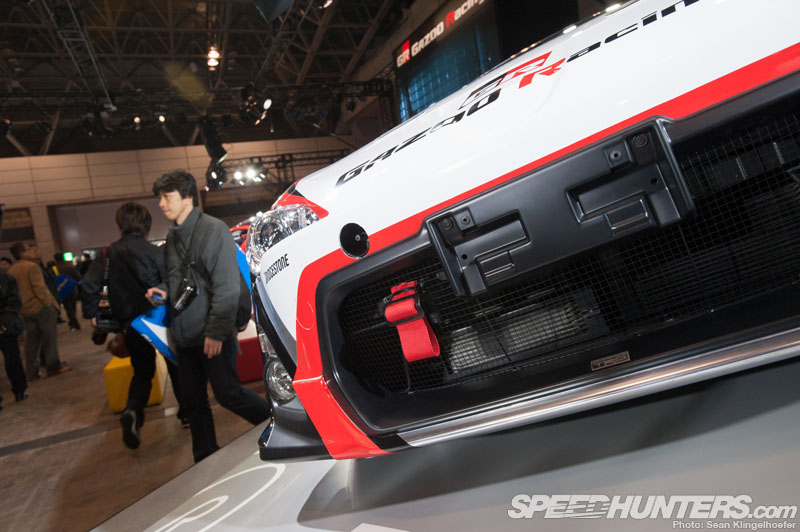 But it wasn't the only eight-six rocking a strap. In fact virtually all of the factory TRD/ Gazoo racing GT86s were sporting one, including the cars that raced at the Nürburgring 24h.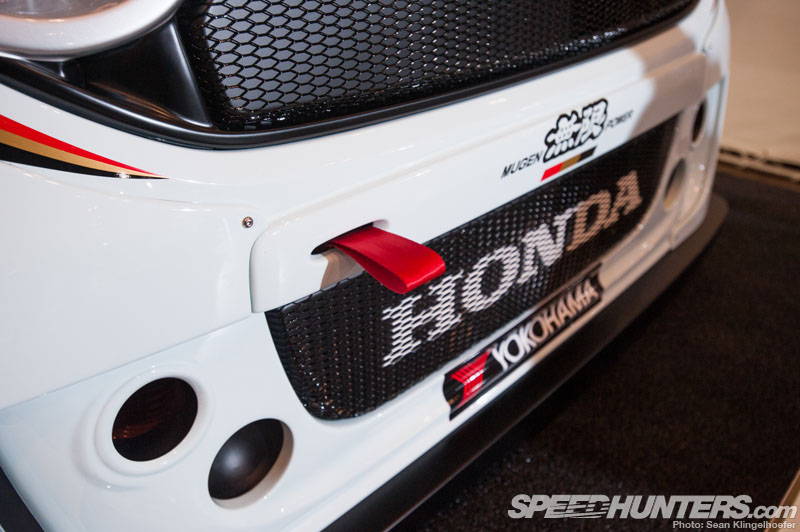 Even the aforementioned Mugen N-One Racing Concept is getting down with a little tow strap action!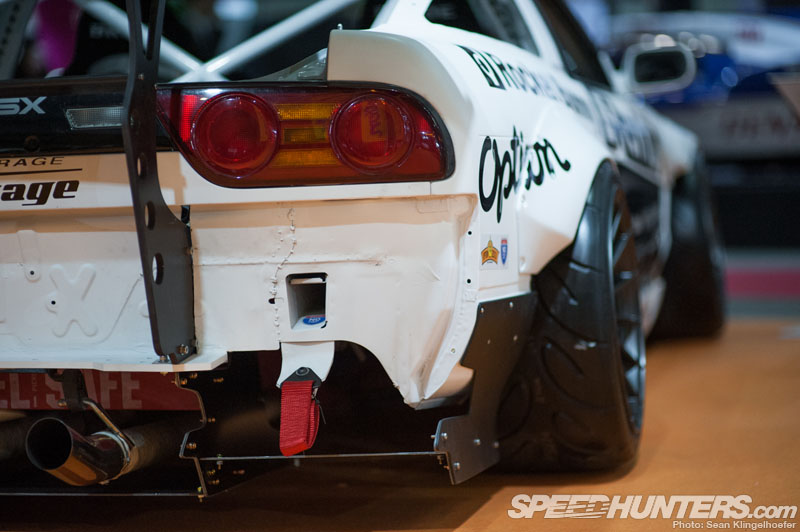 Coincidentally, even before I entered the halls of the Makuhari Messe, I could tell that this was going to be a smash hit at TAS when both the GReddy FR-S and Ben Sopra 380sx were wearing straps on our pre-TAS photo shoots.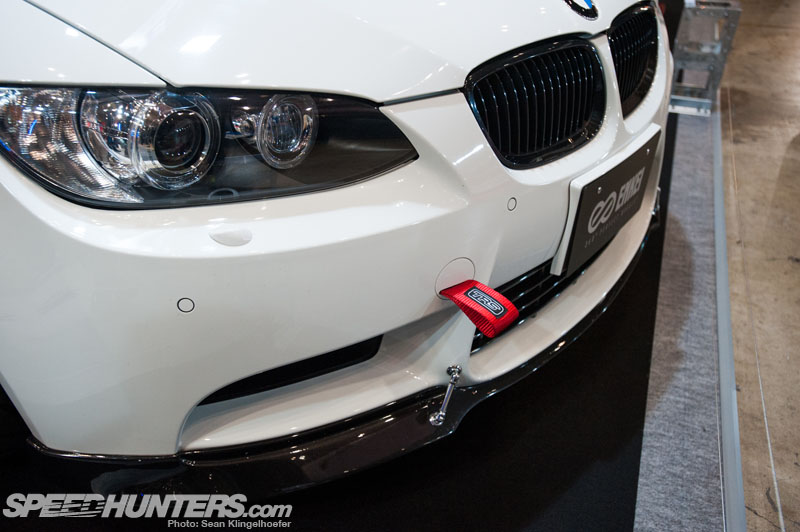 While there are many different types available, it seems like TRS is the preferred brand. I'm calling it now, this is going to be big in the states this year. Aside from not requiring as much modification to the bumper to install compared to a traditional hook, the reasonable price tag is sure to make these a hit.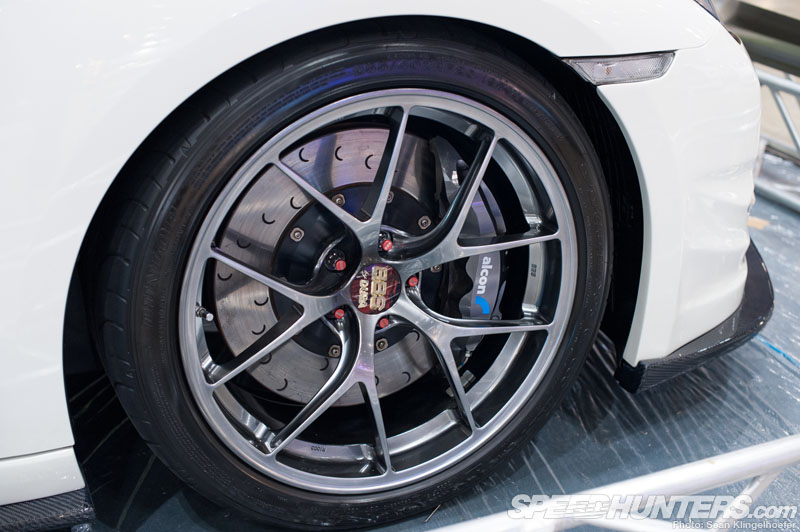 Moving along to wheels, there wasn't much that was necessarily "new," but I have noticed that everyone seems to be slowly moving away from the 5- and 6-spoke wheels like the famous Advan TC or Volk TE37 and have adopted a less-is-more policy. Here we see the über expensive BBS RI-D ACQ, one of the most advanced wheels in the world.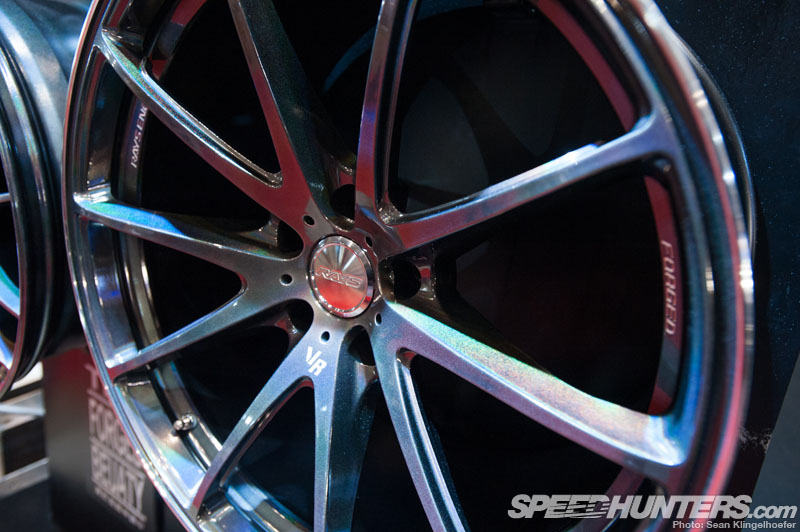 It seems like all the big brands are looking into ways to create the thinnest possible spokes with the least amount of material around the hub. I've also noticed that most of these newer designs usually have some kind of a ribbed reinforcement along the edges of the spoke like the technical Volk Racing G25.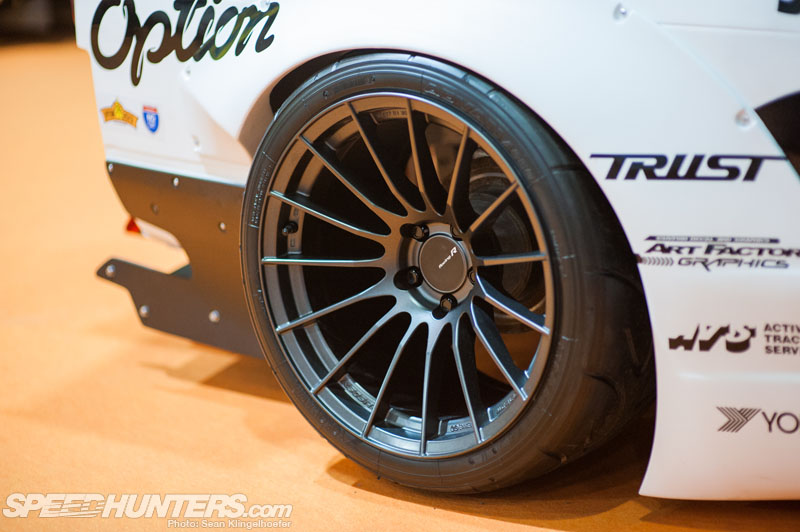 Enkei's latest rollers also seem to follow this pattern, offering a very modern looking spoke pattern on their popular RS05RR.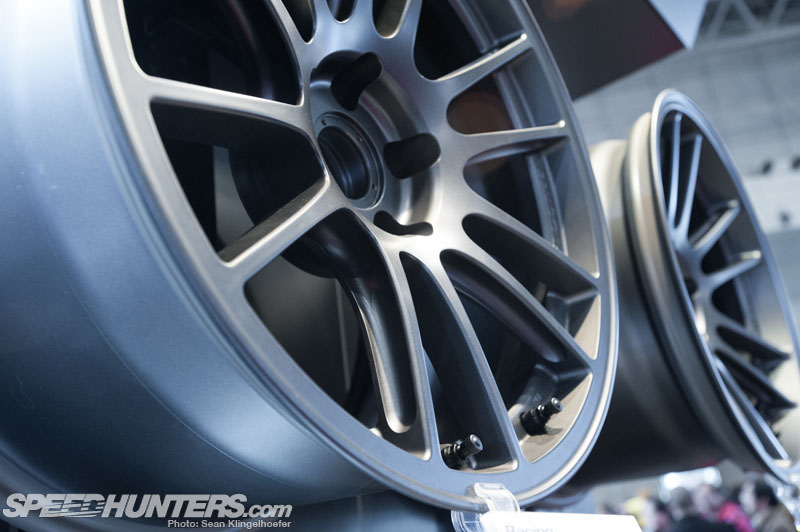 The similarly styled GTC01RR takes this concept one step further by incorporated reliefs in each of the spokes to shave off every last gram without sacrificing rigidity…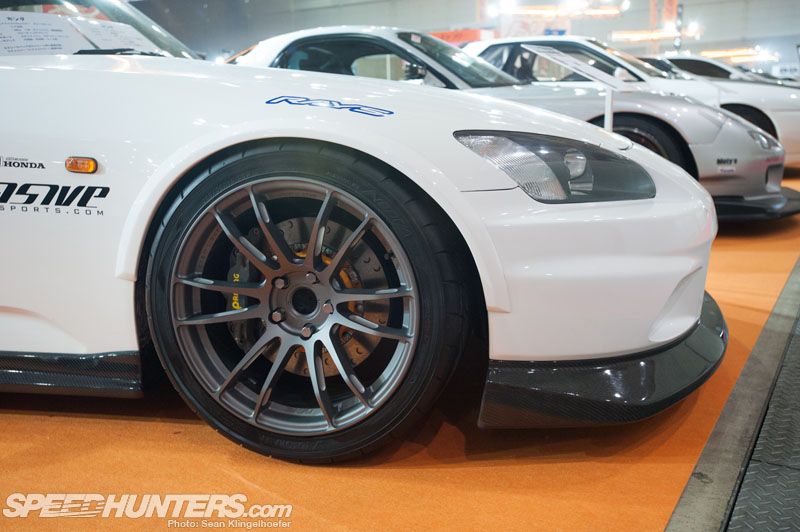 Which is something I first observed on the Rays Gram Lights 57Xtreme. Today's technology has allowed tuning to advance at an alarming rate, it's an exciting time ahead where people will literally reinvent the wheel.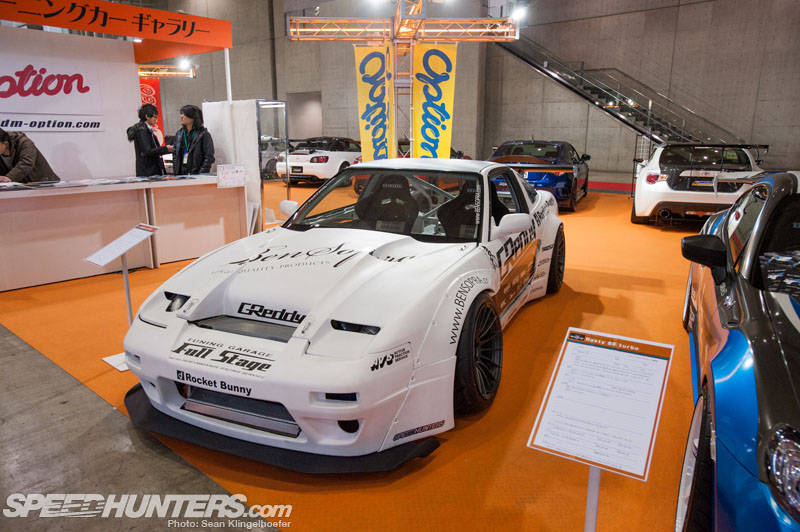 Of course today's post can't come to an end without recognizing the man who once again stole the show, much like he did at SEMA back in November; Kei Miura. Last year he blew minds with his Ben Sopra GT-R kit, and he returned once again to team up with Ben Sopra to build the highly anticipated "380sx."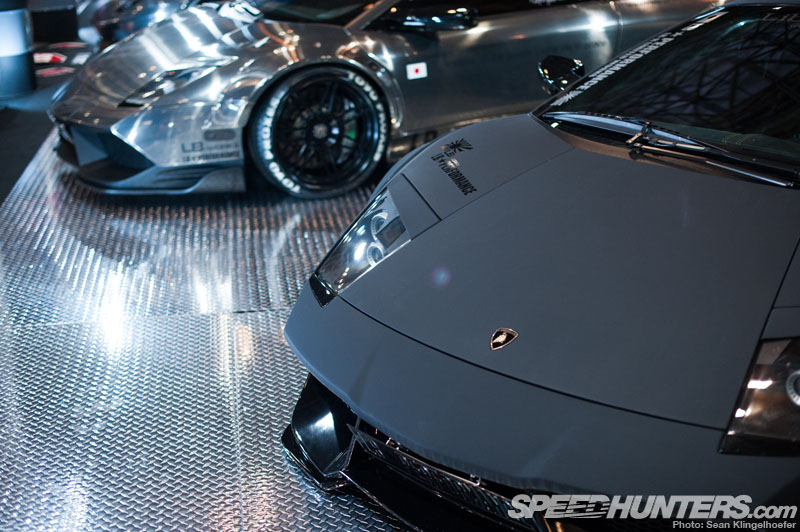 But Miura-san's work could be spotted all over the place. For example, the Liberty Walk booth had two of his recently designed LB-R Limited Works Lamborghini Murciealagos.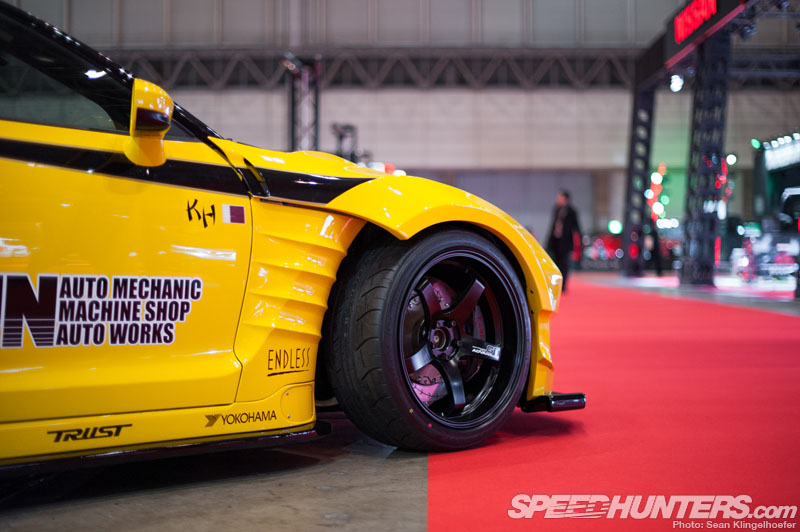 JDM tuning powerhouse JUN returned to TAS with a completely refreshed san-go sporting none other than the now legendary Ben Sopra kit.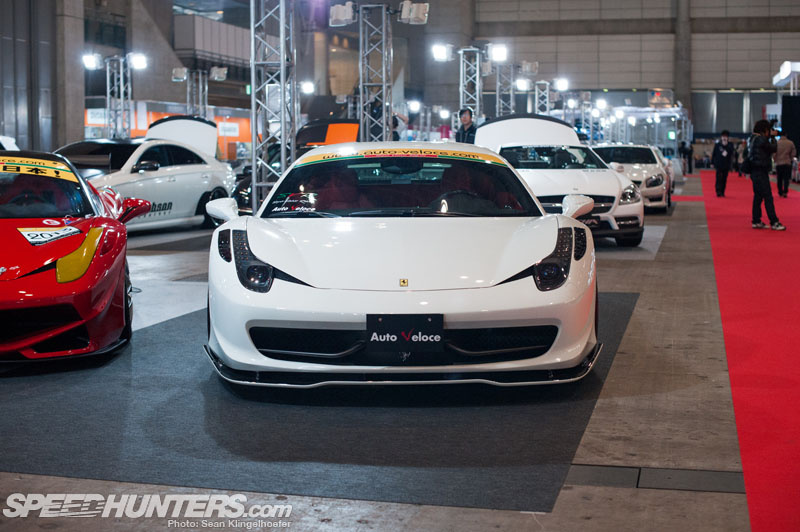 We've also noticed Kei has been sharpening his skills elsewhere by adding a full bumper and wing kit to his pre-existing skirt package for the 458 Italia under the Auto Veloce brand.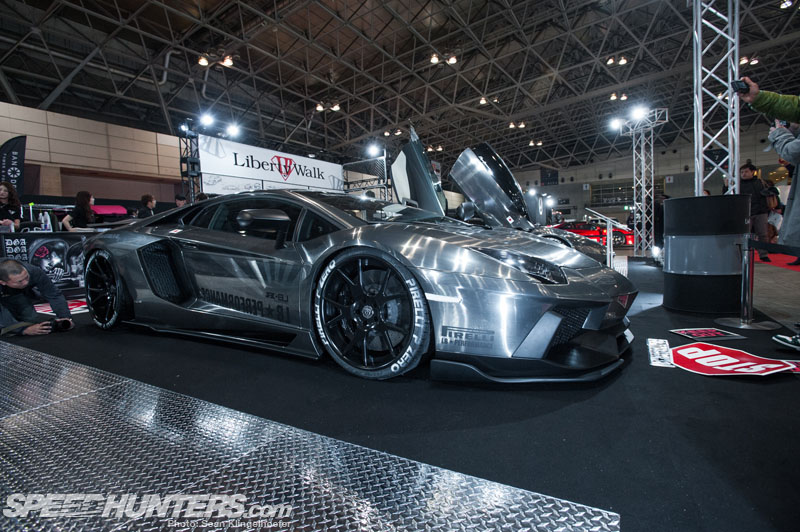 Of course we were quite excited to catch a glimpse of another of his latest pieces, the LB Performance Aventador kit. In fact Dino and I just spent a very late night with this car on the streets of Tokyo, so you can rest assured that a full feature of this beast is on its way.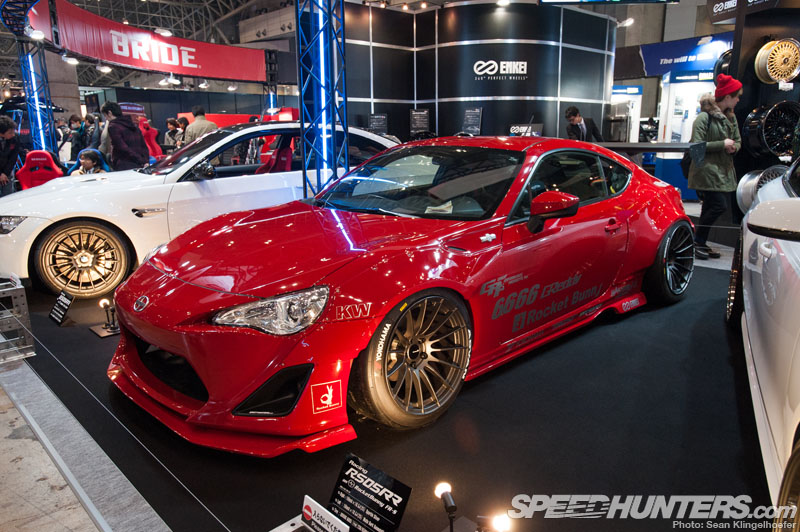 In closing I think it's only right to post the man's personal car, one which he drove all the way out to Tokyo from Osaka on Thursday I might add. After a quick stop by GReddy for a ride height adjustment, he scraped his way all the way to TAS in true hashiriya fashion. Enjoy it while you can Miura-san, you deserve it!
More from Tokyo Auto Salon 2013 on Speedhunters
More stories by Sean Klingelhoefer on Speedhunters
-Sean