To mix things up a little for our Tokyo Auto Salon coverage we thought we'd combine up a few of our spotlights together and bring you a spotlight-o-rama post from myself, Mike and Sean. We all chose two cars that stood out to us as we walked the halls of the Makuhari Messe for two whole days. Here are my two selections: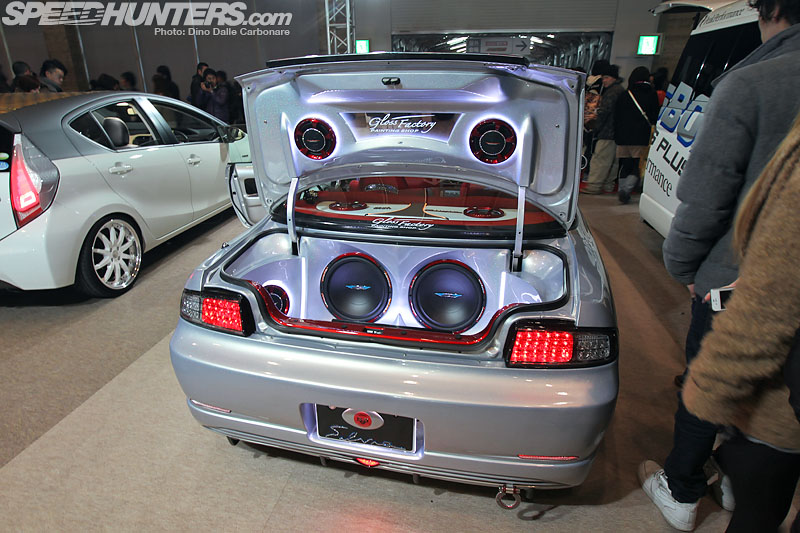 Normally I wouldn't really dedicate too much attention to cars that sacrifice their true calling in life, but somehow this 326 Power kitted S14 Silvia from Gloss Factory stopped me on my way. Every time I passed by it was surrounded by big crowds of people…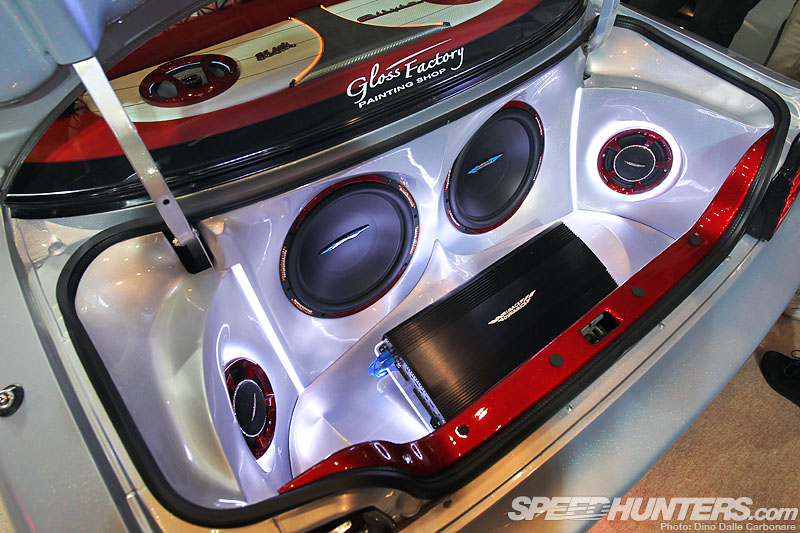 …which weren't too concerned with the trunk-full of audio equipment…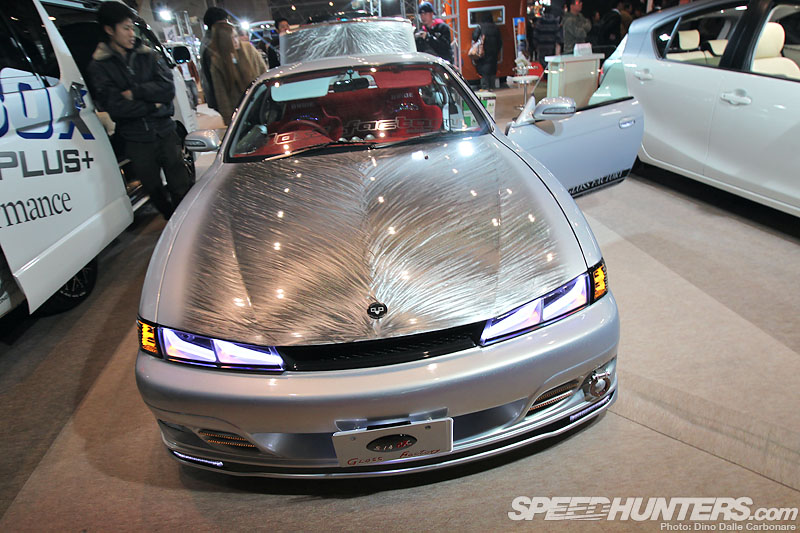 …but rather the way it looked like from the front. I think every single person there was snapping away with their cell phones at the interesting headlight design, not to mention that complex paint job on the hood, which was achieved by running an angle grinder over the steel surface. It's yet another example of how these old favorites are being customized, details of which we can also find in more street and drift oriented builds.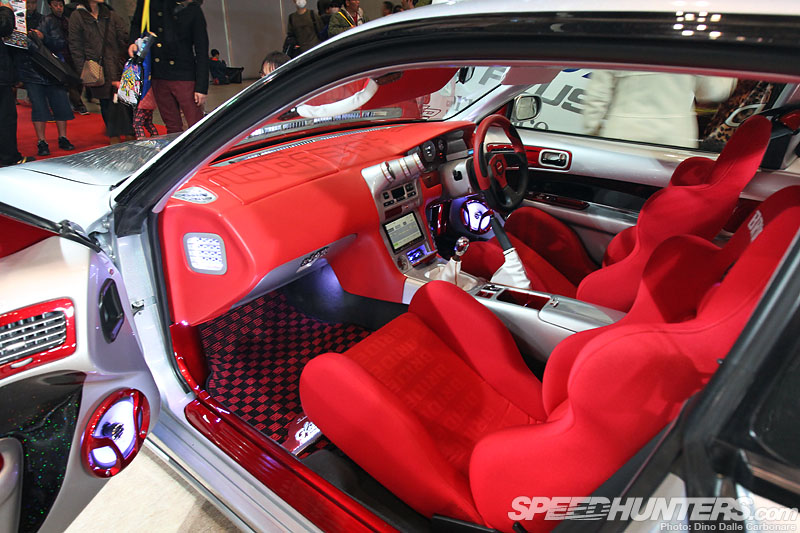 Lots of attention was also given to the interior, with a set of Bride seats and color matched trim.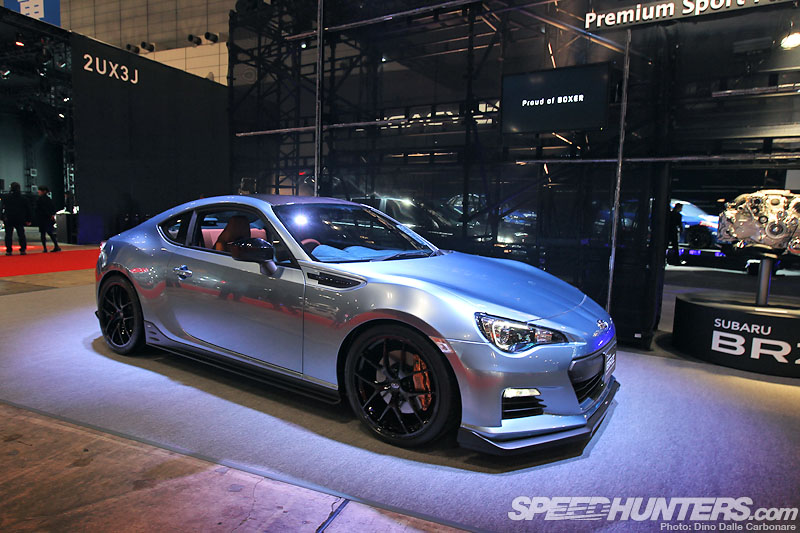 Over at STI it was the BRZ Premium Sports Package Concept that was bringing in the crowds. The idea behind this car is to offer a higher level of luxury and comfort, after all not everyone our there is going to be stripping our their BRZs and taking them to the track. STI was gauging interest to see if all the premium parts this car was fitted with would entice potential customers.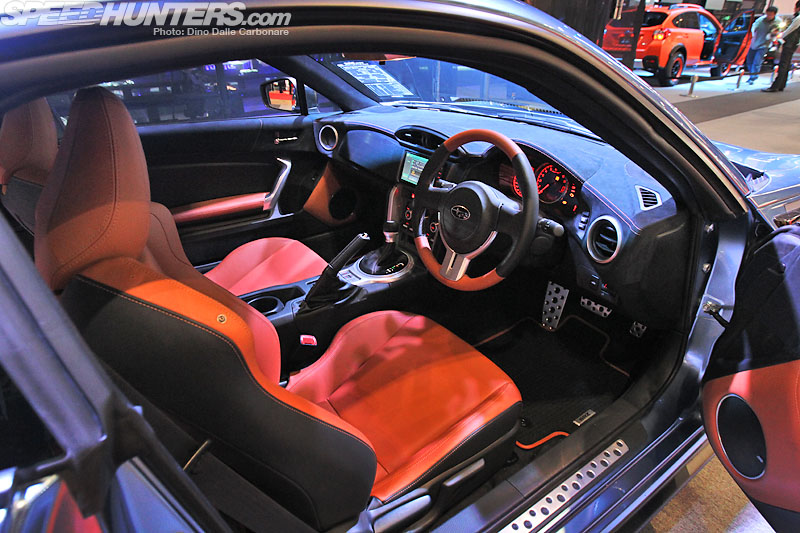 And there were tons of nice little touches, starting off in the interior with leather-clad seats, trim and even soft suede covering over the dashboard.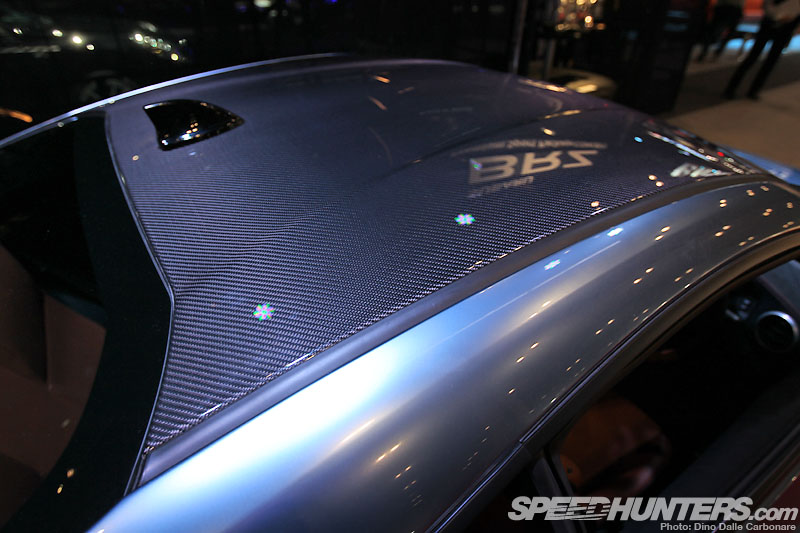 Just like on the STI Concept from last year the Premium Sports Package BRZ was fitted with a lightweight carbon roof, helping to lower's the car's center of gravity.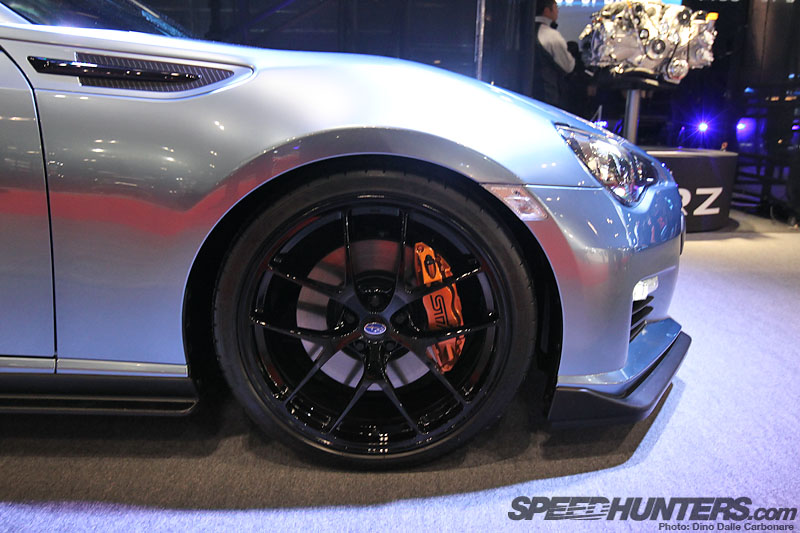 Joining the more performance tuned and lowered suspension are a special set of BBS RF 19-inch wheels barely hiding the STI front and rear braking package.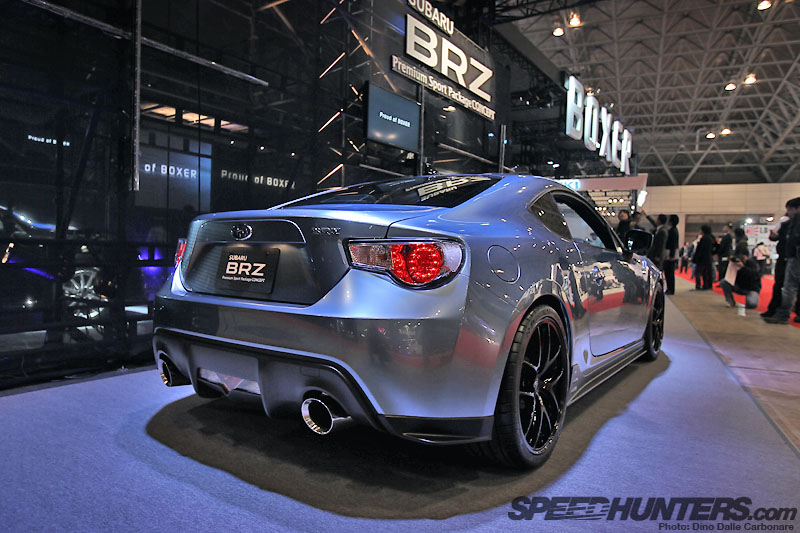 The BRZ was finished off with one of the nicest paint jobs I have seen in a long time, a metallic blue/grey pearl, which resembled polished aluminum depending on the angle you looked at it. Hopefully STI will build a limited number of these in the coming months.
Mike Garrett's Selections: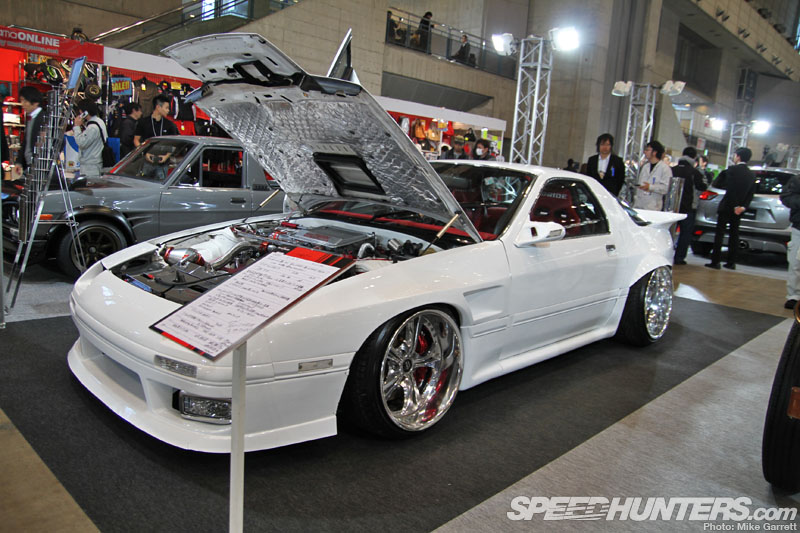 Tokyo Auto Salon is a place where outrageous cars are the norm, and this privately built FC3S out of Tochigi Prefecture was looking pretty mad with its aggressive wide body. We've actually spotted this car in the TAS parking lot in the past, and the owner has been working hard to make it worthy of being displayed on the show floor.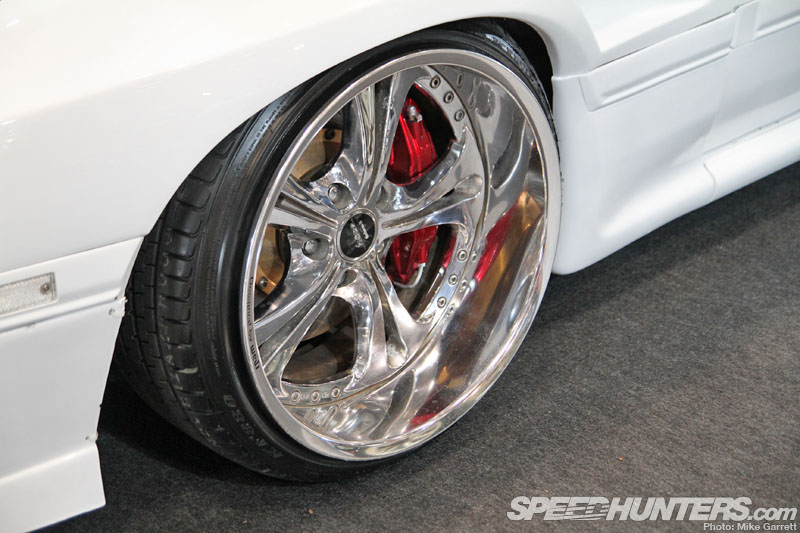 The giant-lipped Weds wheels measure 18×10 up front and 19×11.5 in the rear with offsets well into the negative range…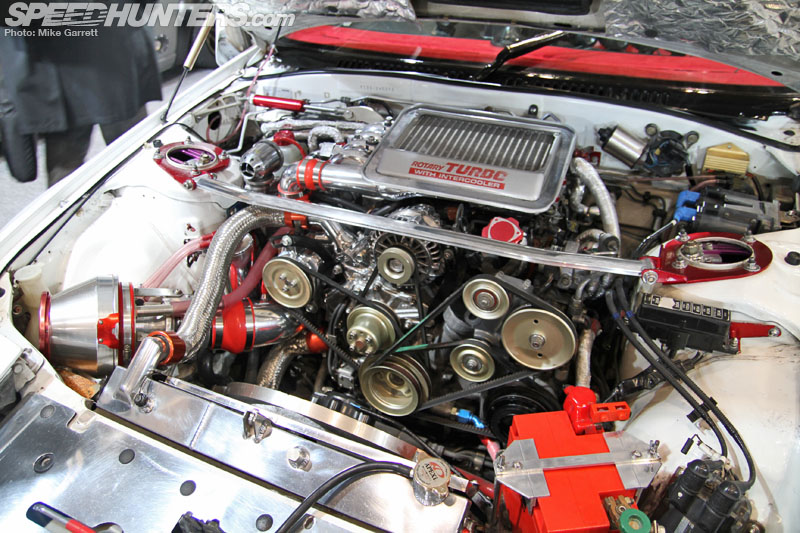 The engine bay and its original 13B turbo motor are just as detailed as the rest of the car. It's also cool to see the original top mount intercooler still being used.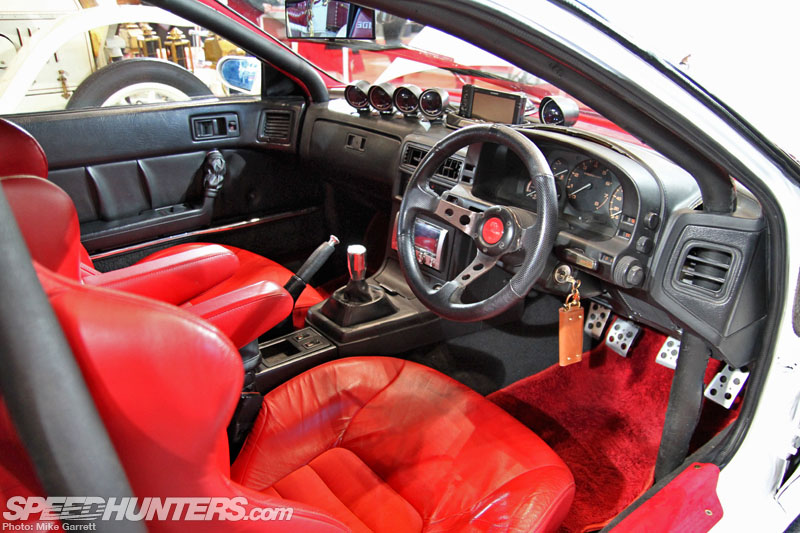 The interior has that distinct Japanese custom feel to it. Check the red Bride seats and matching floor mats,  complete set of gauges, and full roll cage.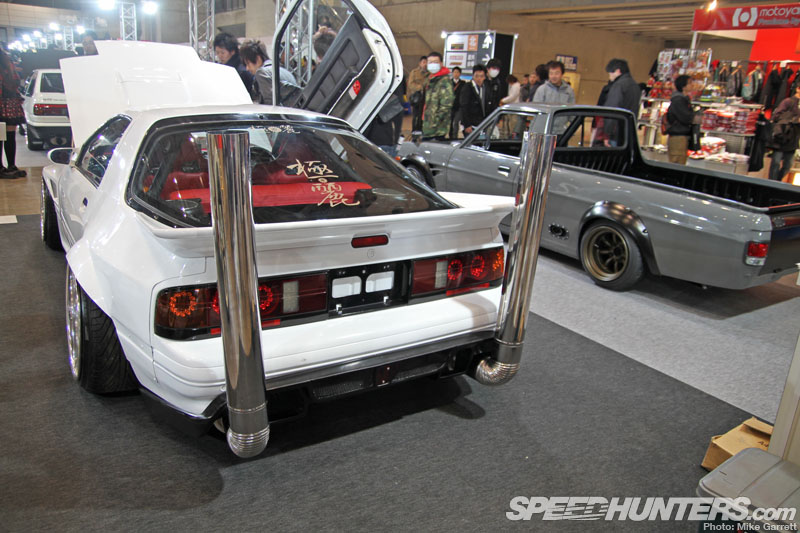 Then there's the craziest part of the car – the two enormous exhaust pipes shooting straight up from the rear bumper. Throw in the "gullwing" doors and you have something that's just so mad that you have to smile.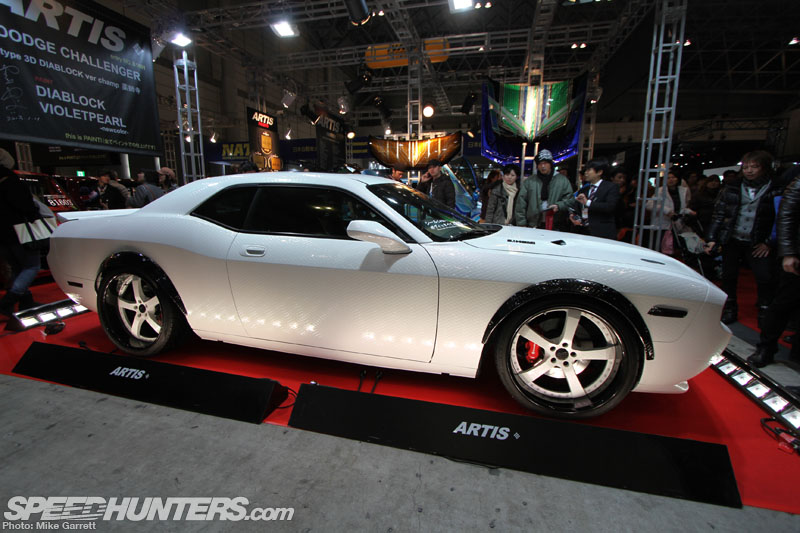 The Dodge Challenger isn't the first car that comes to mind when you think of Tokyo Auto Salon, but this machine from ARTIS was getting a ton of attention on the show floor.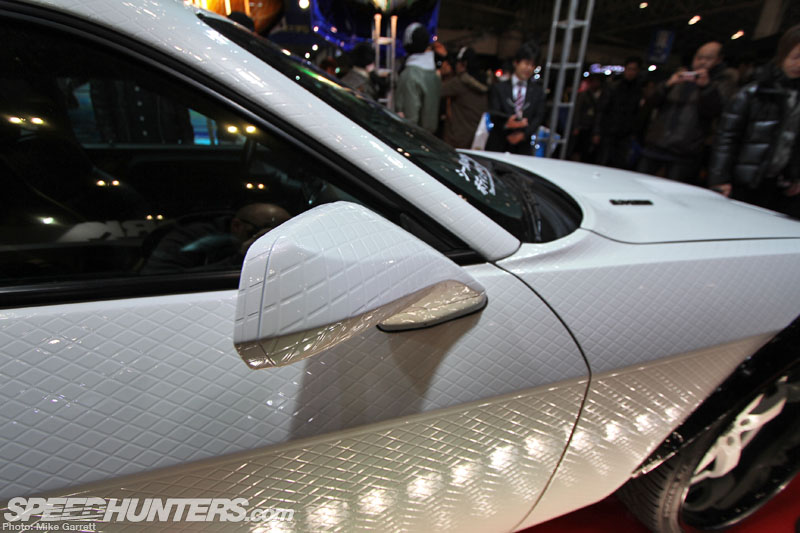 And that was due in large part to it's very unusual Diablock 3D patterned paint job. It might look like a custom vinyl wrap in photos, but that's actual textured paint.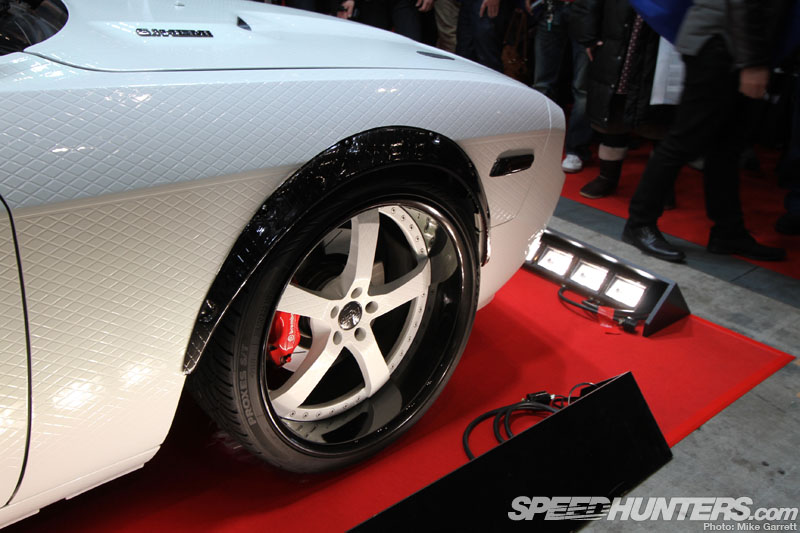 But besides the unique paintjob, the car was done in a cool kaido racer/works-inspired style. Check out the ZG type over fenders for example.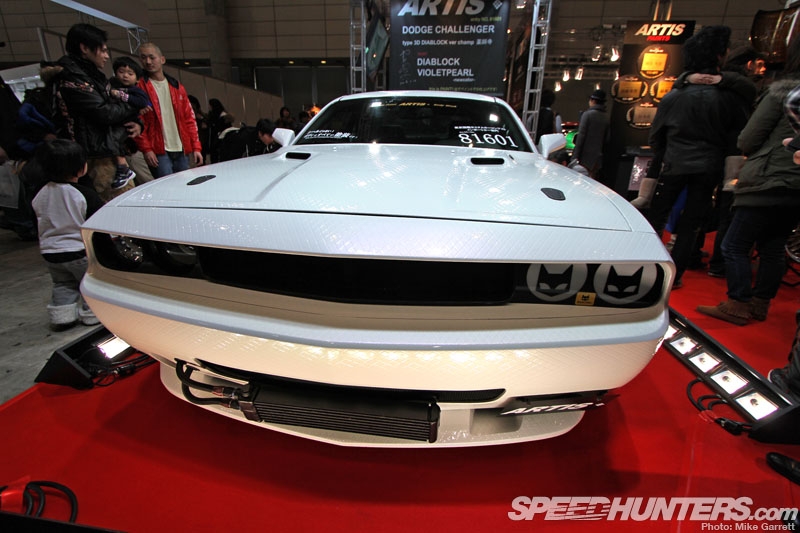 As well as the Marchal headlight covers and external oil cooler mounted on the front bumper.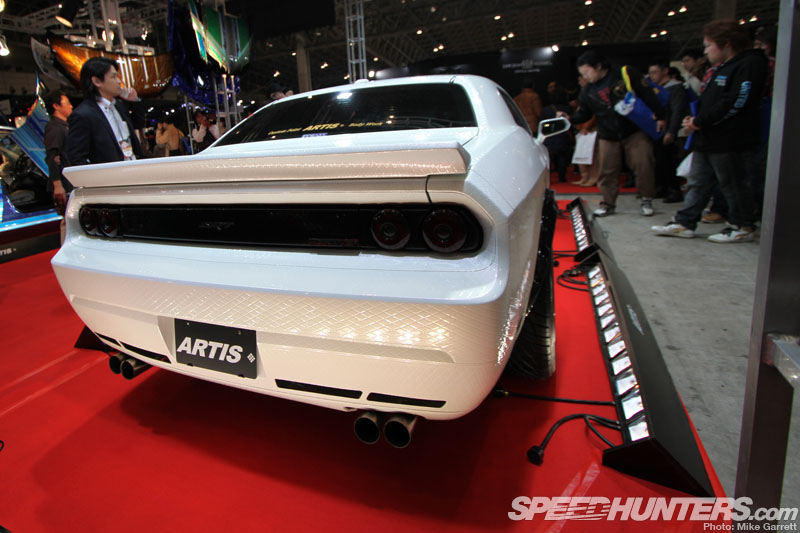 Dodge Challengers have appeared at SEMA in every form over the last few years, but it's really interesting to see the Japanese take on this modern Muscle Car.
Sean Klingelhoefer's Selections: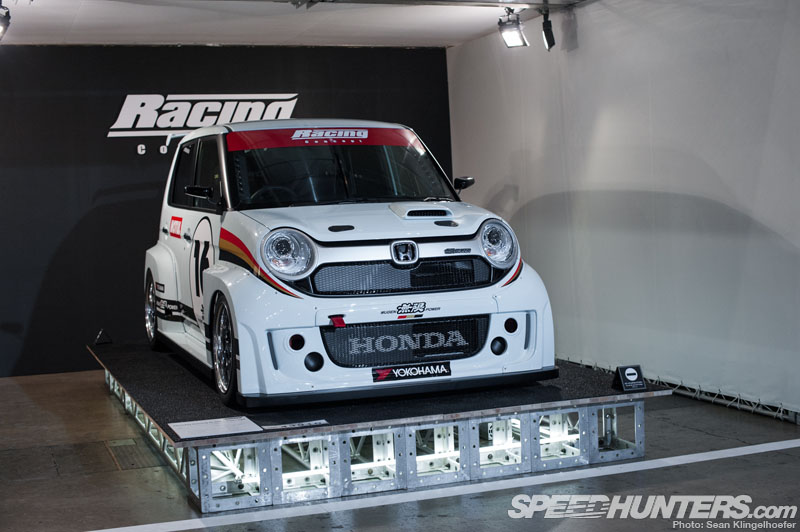 Don't be alarmed if you have no idea what kind of car you're looking at, the Honda N-One has only been on sale in Japan for a month, yet there were already many examples on display at TAS. Honda of course had several varieties of their new Kei offering, but the one I was most drawn to was a racing concept by none other than the Honda specialists, Mugen Power.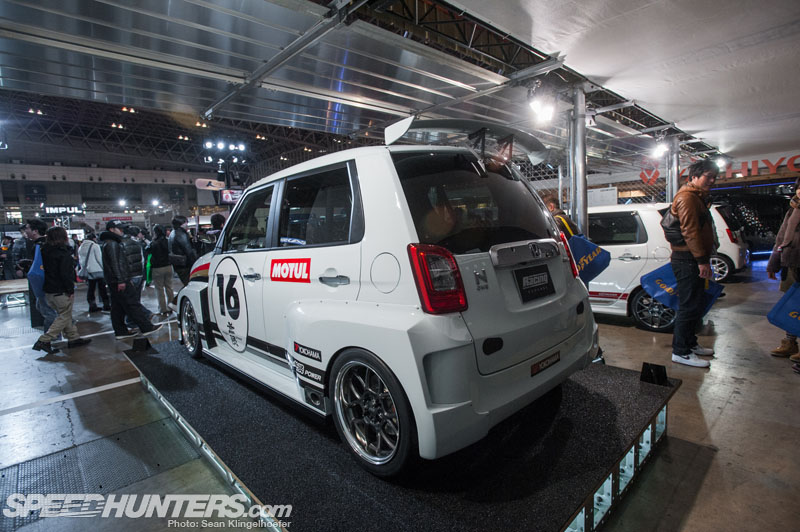 Anyone that knows me knows that I have an obsession with Mugen that goes well beyond what is considered healthy, so it should come as no surprise why I found this little car so interesting. In a very uncharacteristic move, Mugen has designed a kit that consists of visually-bolted-on over fenders, perhaps taking a styling cue from the ever popular Miura-San?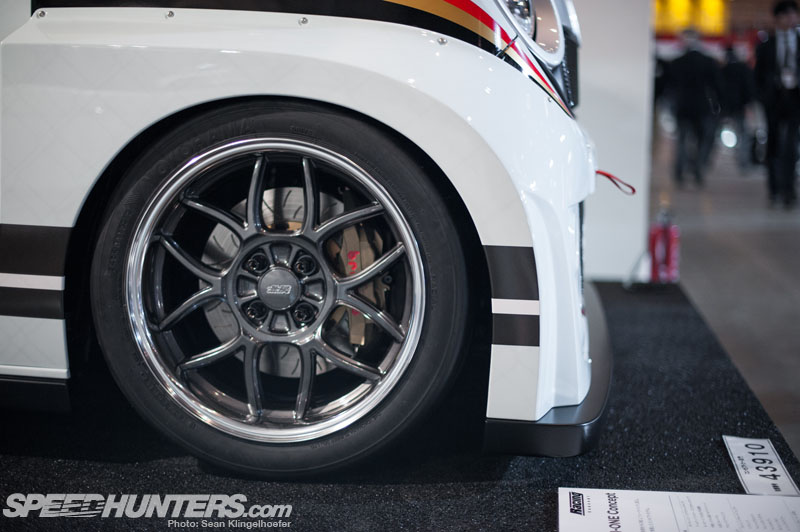 The car also had a serious big brake kit installed behind a set of prototype Mugen wheels in 16×7″. While the rest of the components aren't likely to ever be useable overseas, I know there is a cult of enthusiasts that could put a new 4×100 Mugen wheel in that size to use (myself included).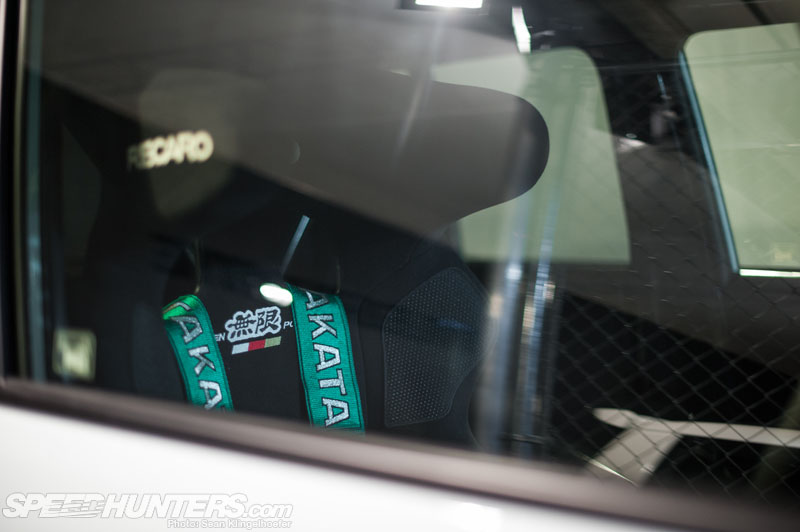 Inside the cabin things are pretty minimal, as you'd expect to see inside a racer. Once again Mugen has opted to install a set of custom-embroidered Recaro seats rather than their own S1R offering. When I spoke with a representative from Mugen this time last year, he told me they were gauging interest in such a seat with the possibility of bringing Mugen-branded Recaros to market, something I'd love to snatch up myself.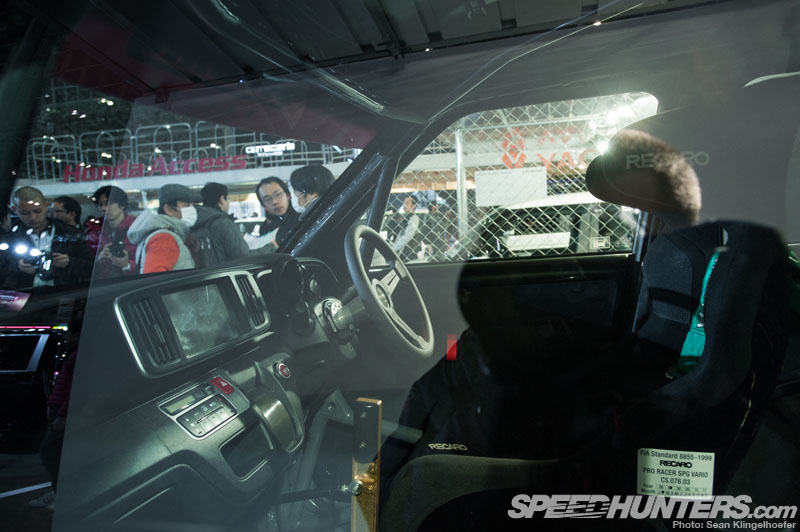 The rest is basic and minimal with weight reduction being the primary goal. There is also an FIA-spec roll cage in place along with a Nardi wheel and a very intricate looking gear lever.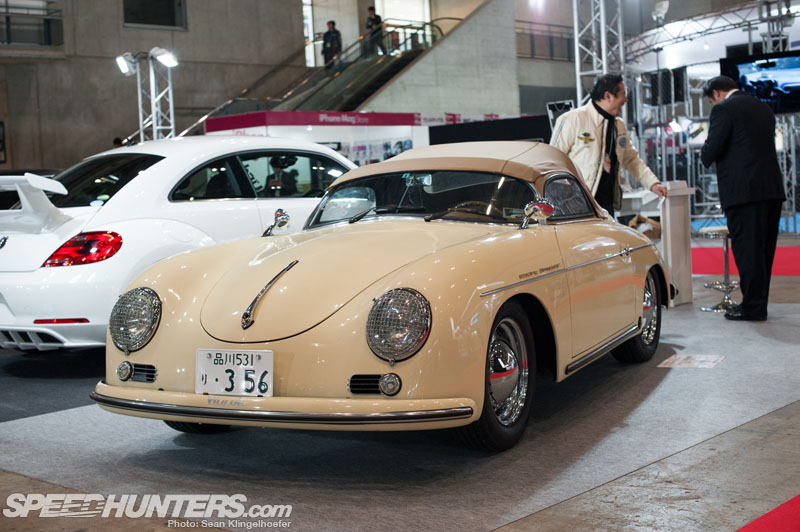 Elsewhere in the Makuhari Messe I stumbled upon this beautiful Porsche 356 during my first pass. Being a sucker for anything Porsche I stopped in my tracks, despite the standard appearance of the car. But this is Tokyo Auto Salon after all…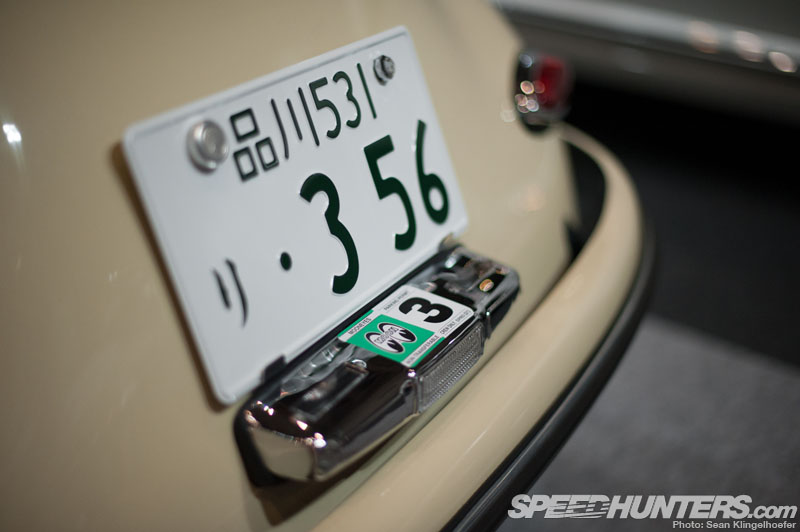 And nothing is ever quite as it appears. When I noticed the Mooneyes parking sticker, I knew something had to be up. Since the engine cover was still closed I made a mental note to stop by later to see what the deal was with this Speedster…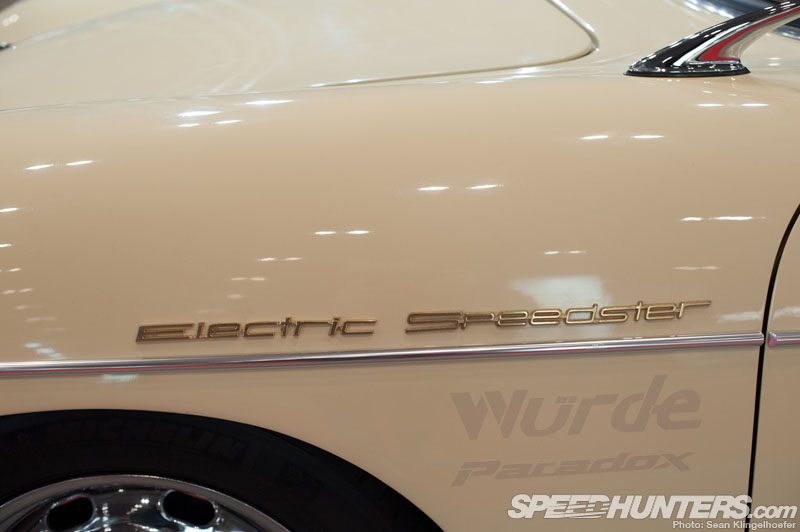 … but not before catching a glimpse of the badge on the side. Electric Speedster huh? Interesting.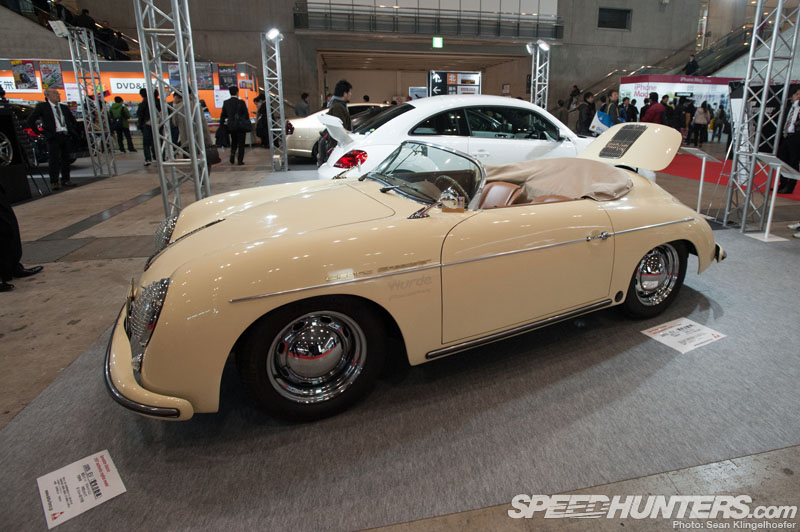 As it turns out, this car is actually a 356 replica (big surprise eh?) but a very fine one at that. From what I can gather, the car is actually built in America, but offered for sale through a Japanese company called Delta Force. For just north of $110,000 US you can own one of these quirky little cars. But what about the performance?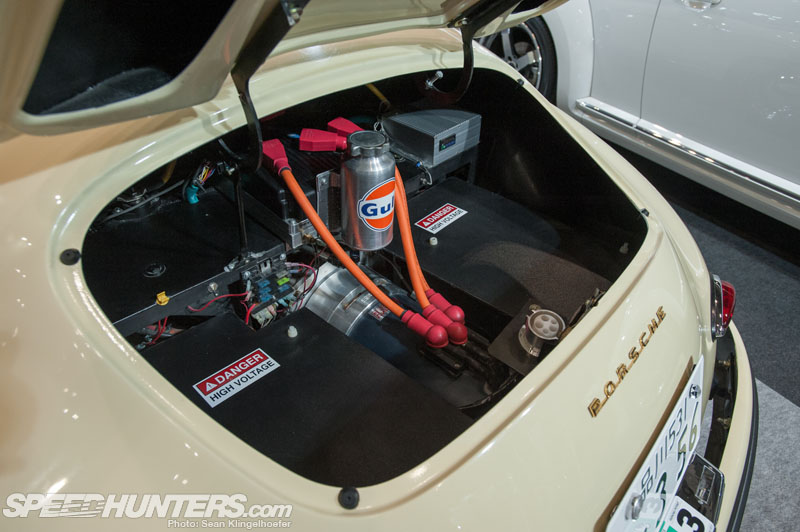 Surprisingly, the electric motor that's been equipped puts out 68 horsepower – which is enough to out perform the original petrol engine in the 1600S model which the Electric Speedster has been benchmarked against. While it might not be everyone's cup of tea, it's certainly a very interesting, stylish and fun-to-drive alternative to other zero-emission EVs.
Tokyo Auto Salon 2013 coverage on Speedhunters
-Dino, Mike & Sean