While there are many car shows that take place at the Queen Mary in Long Beach, California these days, the best in my opinion (by a long shot) is the Japanese Classic Car Show. In addition to Nisei, this is the only other show I have filed away under "can't miss". I can still remember the first time I ever attended it some seven years ago and it's still just as exciting today in its eight installment.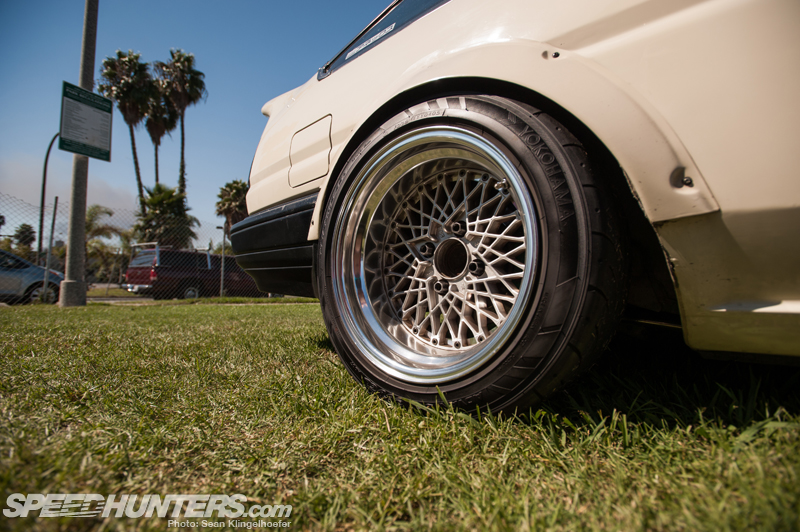 This is the place where vintage Japanese enthusiasts of all brands can get their fix on some of the finest examples of both stock and modified J-Tin around. To this effect it is the only place I have ever seen the likes of Jay Leno rubbing shoulders with the JDM underground. It's truly a show with something in store for everyone, so long as "everyone" can appreciate classic Japanese cars.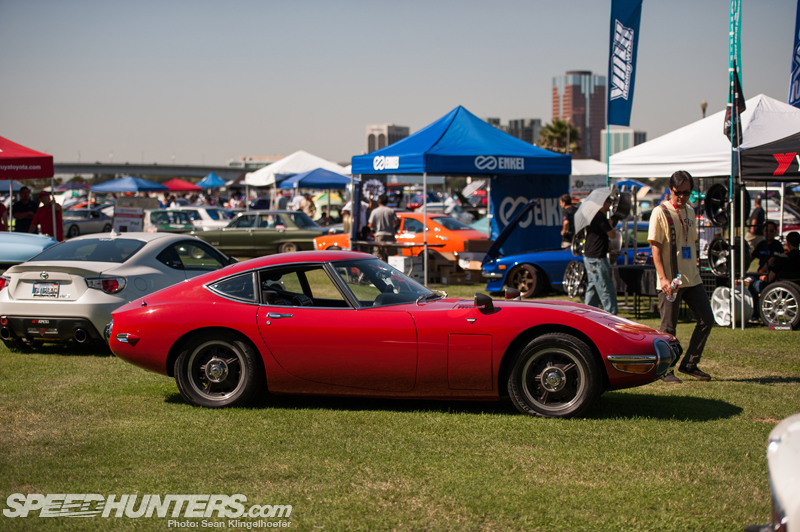 Even the most persnickety of DuPont Regsitry-reading collectors will swoon over immaculate condition rarities like this Toyota 2000GT, which by the way wasn't the only example on display last weekend. Pristine originals as well as factory restorations make up a good portion of the show, but in recent years there has certainly been a boost in modified numbers.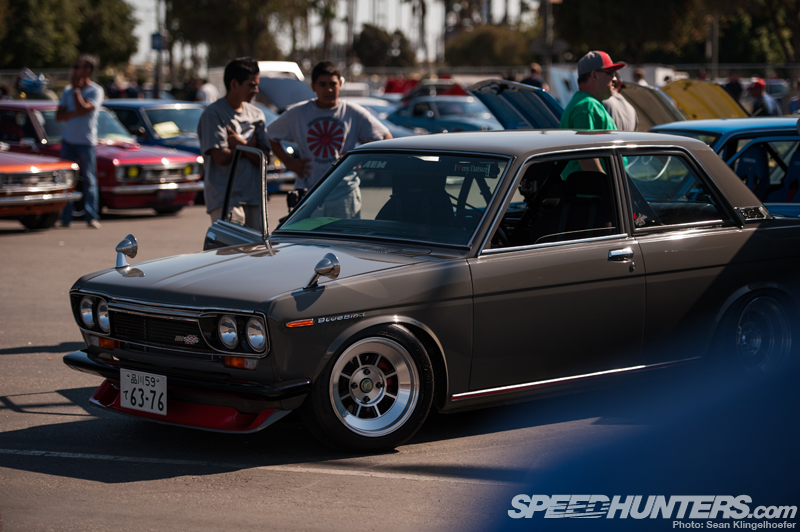 Many of the tuned cars are built in a style that walk a delicate line between factory clean and souped-up performance.  In the world of Hot Rodding this technique is called the "Restomod." I find it to be a look that is quite agreeable and perhaps the second most common site at JCCS.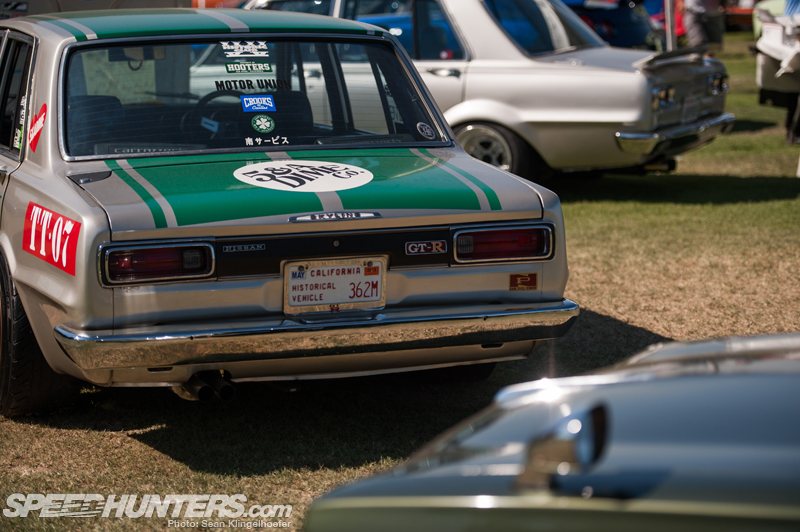 While I have a ton of respect for all types of cars, I know that the Speedhunters crowd will especially dig the cars at the crazier end of the spectrum. While they aren't as common as the aforementioned varieties, there are a lot of mental cars showing up at JCCS these days. In fact it's almost impossible to really get the full scope of it without being there.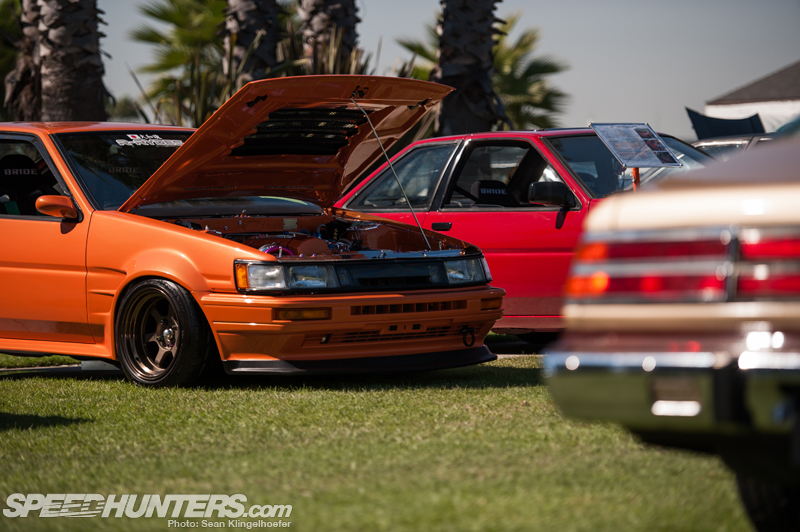 And these over-the-top builds come in all colors and flavors from rough and brutal to smooth and beautiful, but they tend to have one thing in common – modern engine swaps. While the cars may be 25 years or older, that can't be said for all the engines powering them.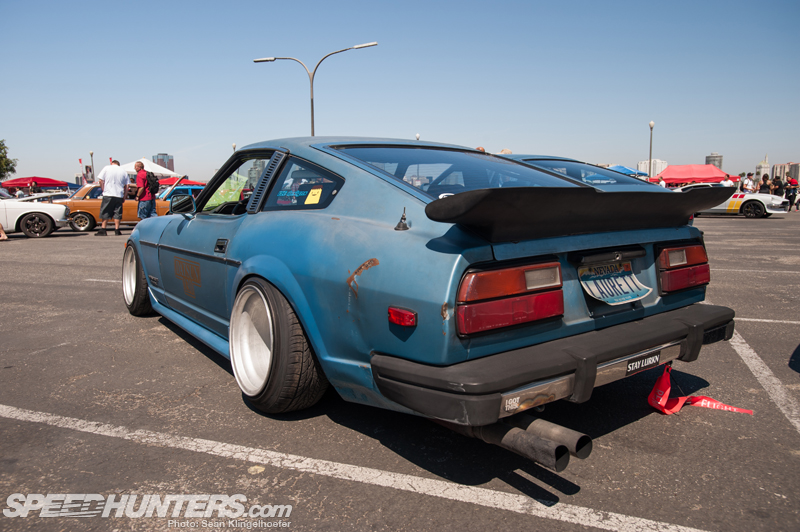 Another emerging scene that I sure some of the old school purists despise is that of the "Zombie" car. I actually think this is quite a cool style and can see it growing more for the next few years. The concept seems simple – take a less than common chassis with some signs of age, slam it, throw some crazy wheels on it and just make it look right – but making it look right without being tacky is easier said than done. Kudos to the owner.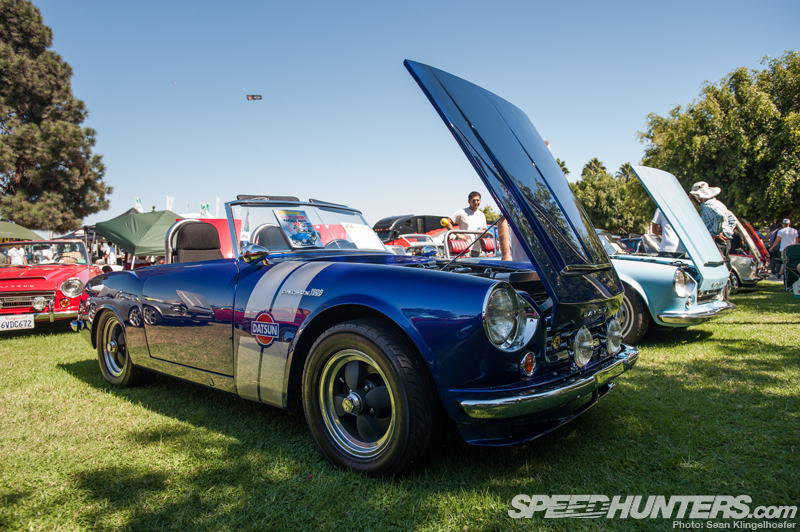 The Datusn Fairlady Roadster is a car that has a cult-like following at JCCS, outnumbered only by the S30. However, unlike the S30 which vary wildly in style and modifications, most of the roadsters are almost all stock or extremely near to it. Then again with a car this beautiful sometimes all it takes is racing stripe and set of wheels to set it off.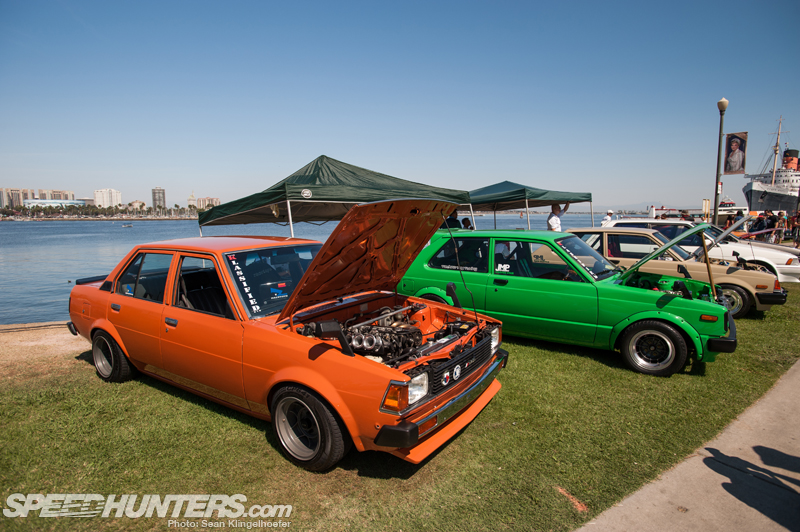 Other cars like Toyota's RWD marvels of the '80's also have a fairly die-hard fan base. Although not quite as popular as the AE86, the KE70 has been proven to be just as capable and increasing in popularity thanks largely to Motorfix. This orange sedan is one of the first super clean modified versions I can remember seeing stateside and we even featured it a few years ago at Super Street during my stint there.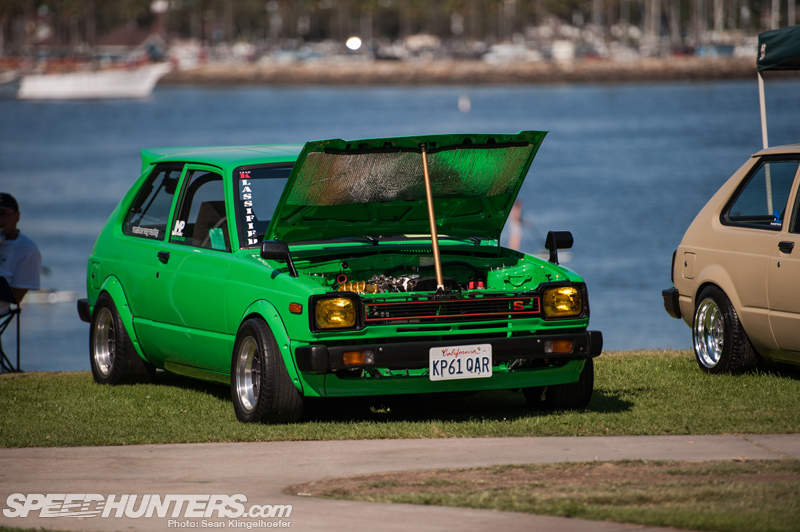 The equally RWD and cool, yet lighter, shorter and more hatchback Toyota Startlet is another car that has seen some killer builds as of recent. I first spotted this green one at JCCS a few years back but it looks just as good today is it did the first time I checked it out.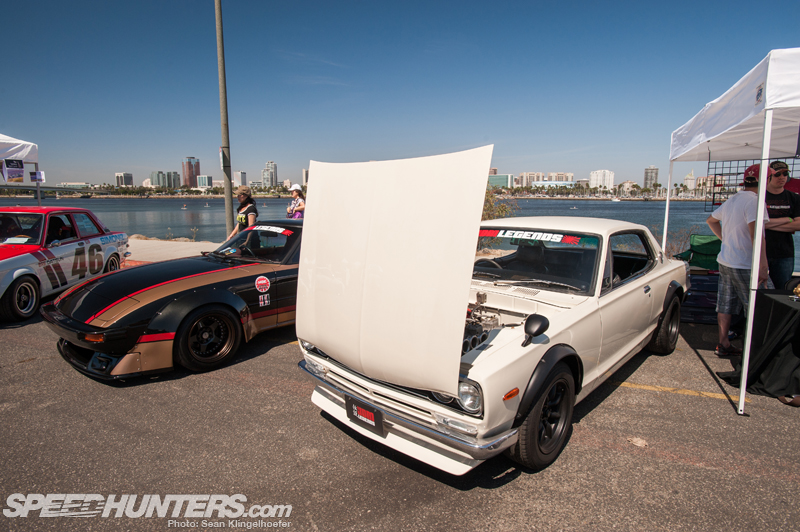 Eric and the gang from JDM Legends made the trek out to SoCal all the way from Utah and, unsurprisingly, brought some amazing cars with them. I say unsurprisingly because I would imagine most of the Speedhunters audience is quite familiar with them after Mike Garrett's awesome shop tour feature last month.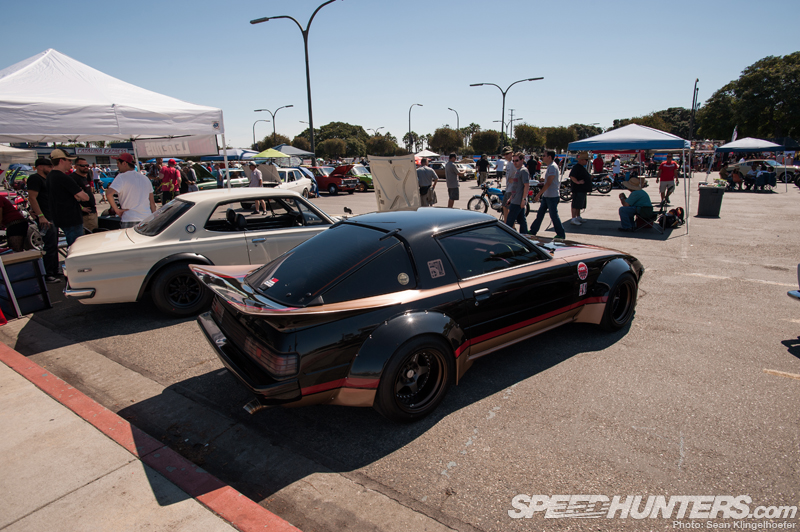 Of course those of you that read that story probably recognize this as the finished Savanna RX-7 that was a work-in-progress during Mike's visit. There's no doubt the boys did an amazing job putting together this SA and we liked it so much in fact that you can expect a full feature coming soon.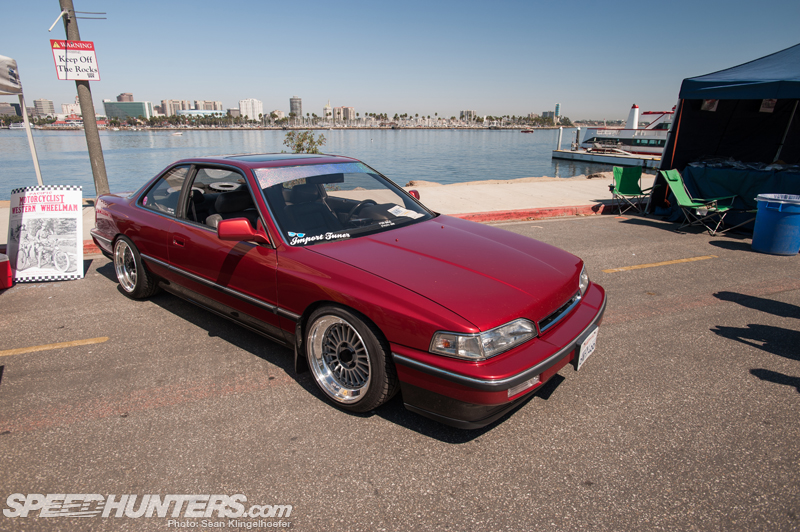 Another car that loyal readers should recognize is this Acura Legend which I showed in my Nisei Spotlight-o-rama. While it remains mostly the same and Vietnamese gangster looking as ever, there was one new modification I spotted that's worth mentioning…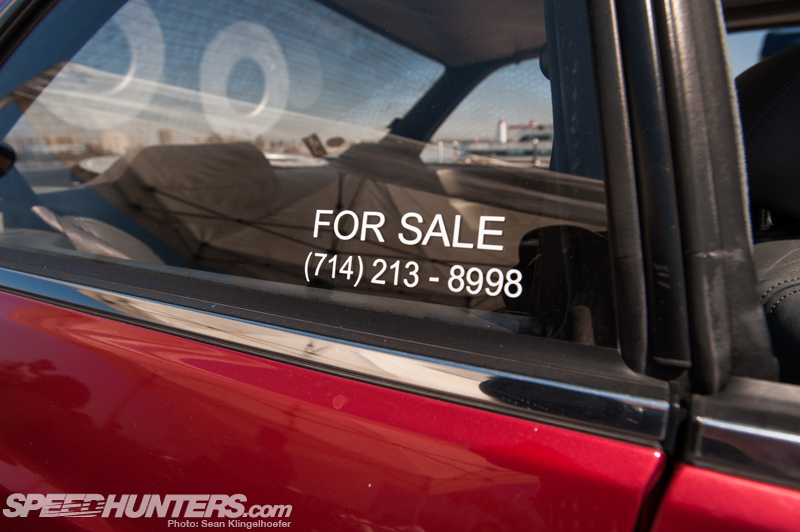 The car is for sale! That's right, for all of you Legend fanatics crazy people out there, here's your chance to own a Legendary ride… get it!? (I know, that was terrible).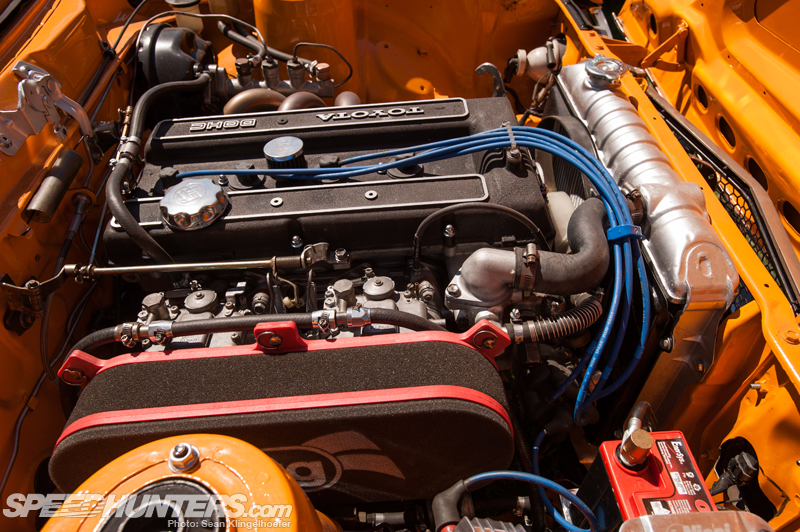 Moving right along, let's take a minute to look under some hoods. The power plants are just as varied as the chassis and owners, but if the hood is popped you can bet you'll see something worth while; like this super clean and mostly-factory 18R-G.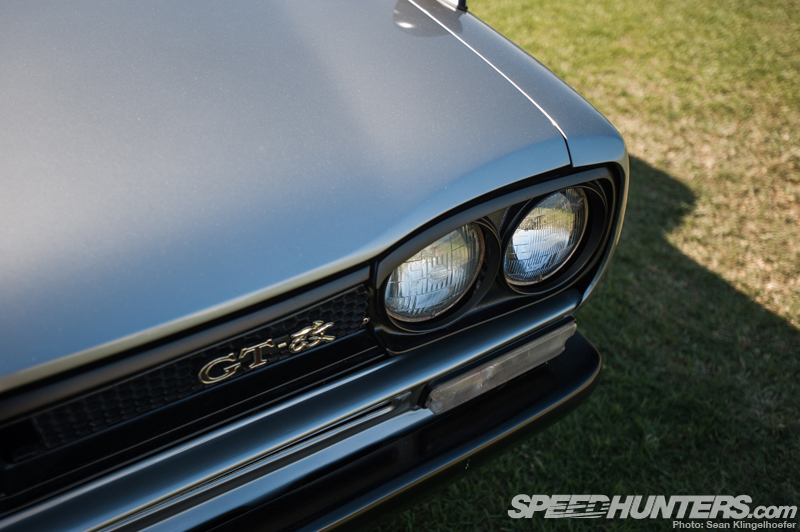 The Restomod style mentioned earlier is also continued into the engine bay on some vehicles, like this unbelievably nice Hakosuka. As the GT-kai badge on the grille suggests, this Skyline has been modified…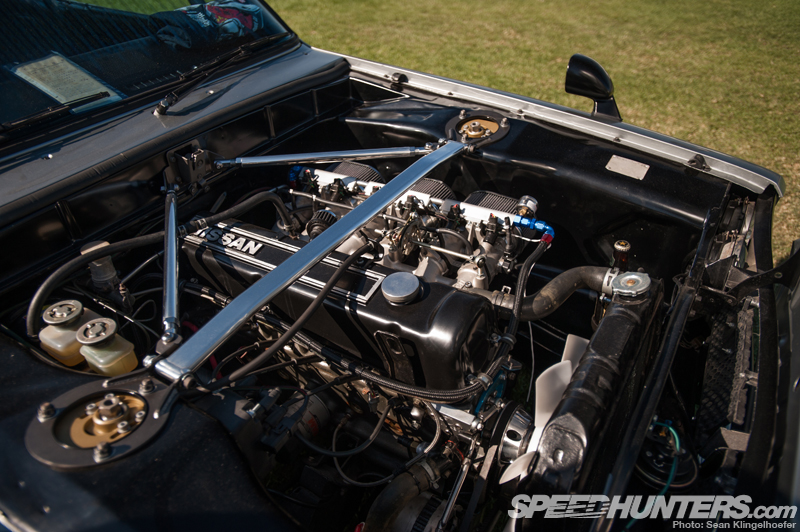 But a quick glance under the bonnet doesn't reveal much, aside from a sanitary L-series motor. However upon further inspection those with a keen eye will notice that the factory carbs have been tossed aside for stealthy fuel-injected ITB setup. Very clever.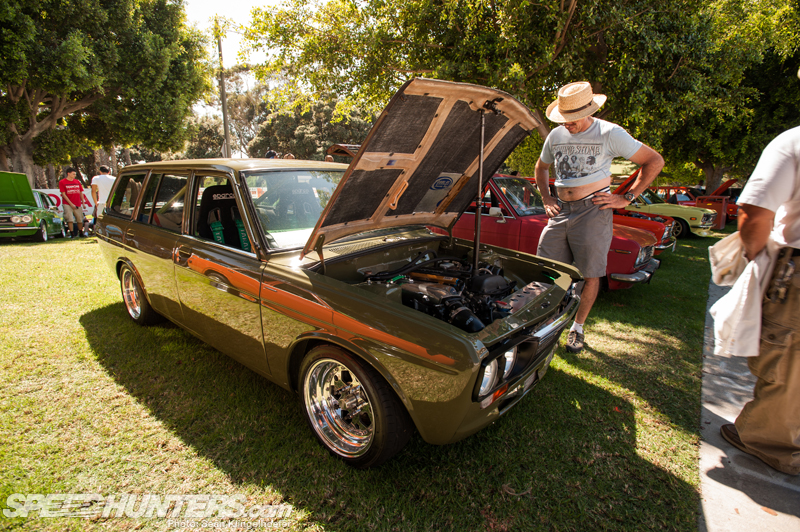 Other cars take the engine bay further still by creating a fantasy engine-chassis combination of the owner's fancy. The setup in this 510 wagon was so hot it made innocent bystanders partially disrobe.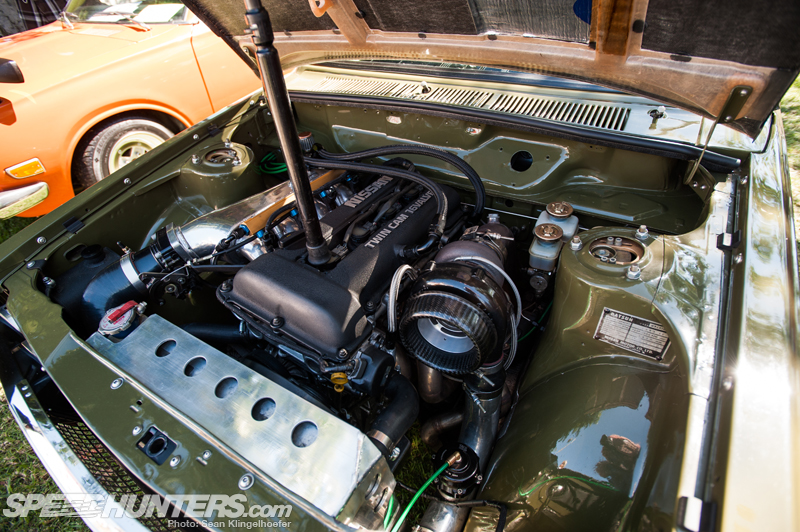 When I got a little closer I couldn't say I blame them. There's something about about a trick turbo setup on an SR that makes me go crazy. Can you feel it? It's getting hot in herre… cue Nelly. (strike two, I know). All kidding aside it was quite hot out, but let's keep moving…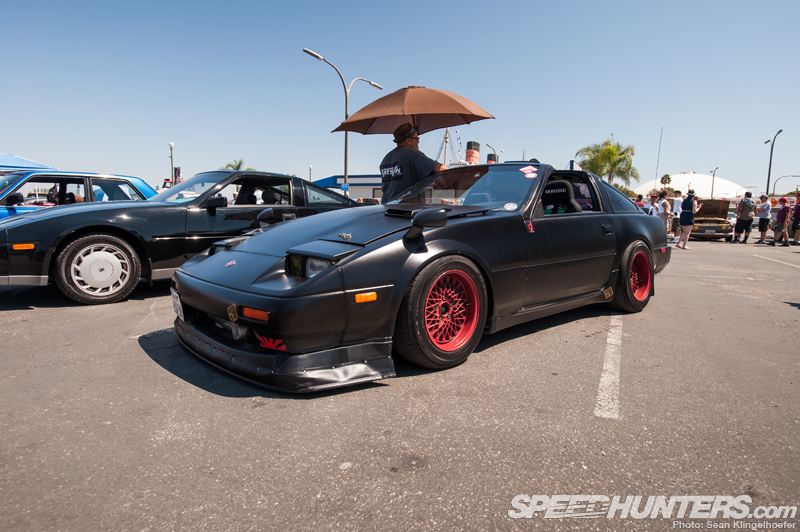 There are cars that are neither here-nor-there, but quite cool to stumble upon nonetheless. The Z31 is a car I've never imagined owning, let alone modifying, but I can't deny its potential after seeing one presented in this manner. While there are some things I'd change, on the whole I'd have to say this is the coolest example I can recall seeing.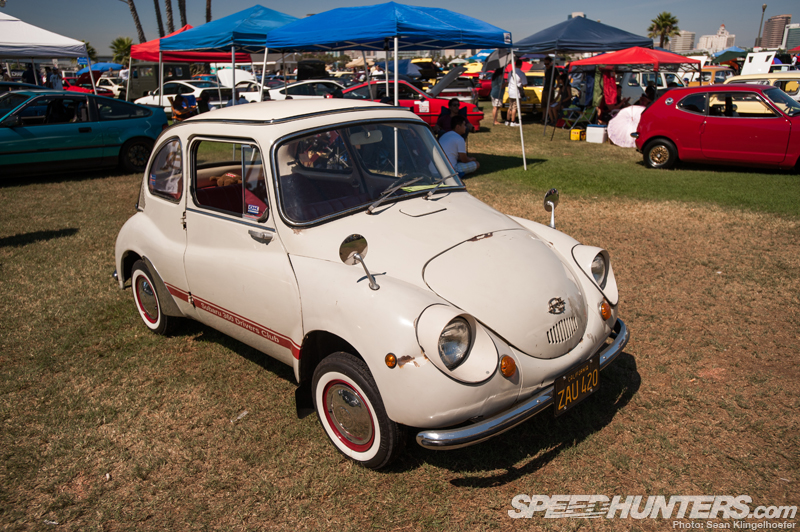 One of the great things about the Japanese Classic Car Show is that there are lots of oddball cars that you aren't likely to see anywhere else in America. The Subaru 360 is a perfect example of such a funky car.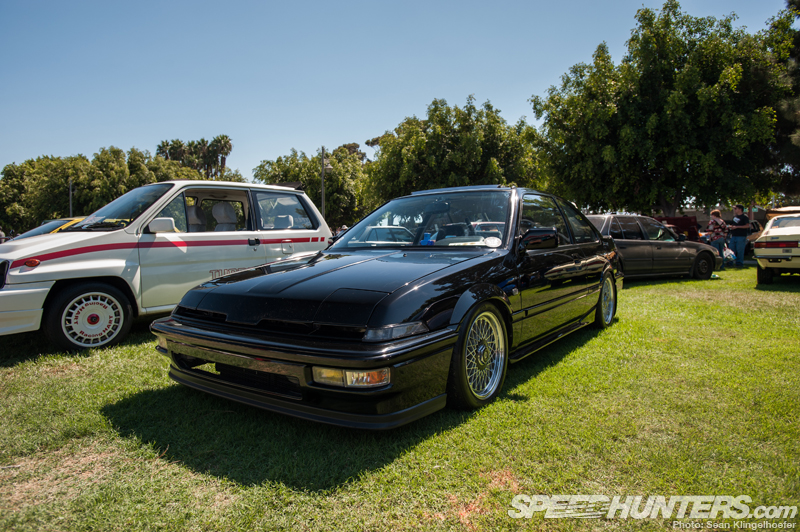 There are of course other varieties of oddball like my buddy Ernie Uy's first generation Integra. This is a car that is seldom modified, but even if there were hundreds of them around I doubt any would look this sick.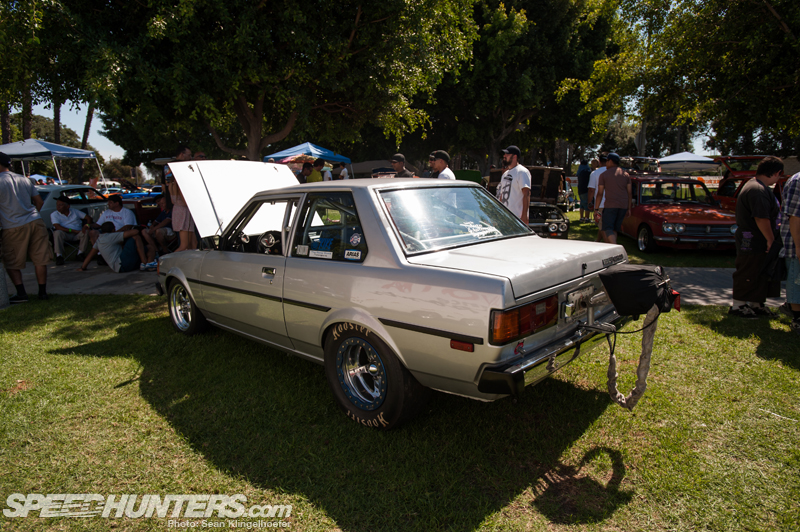 This was a Corolla-of-a-different-color that has quite obviously been modified for quarter mile duty. While this sort of setup might be common in the Caribbean or even on the east coast, I don't remember ever seeing a KE70 like this. It makes me wish import drag racing would come back in a big way.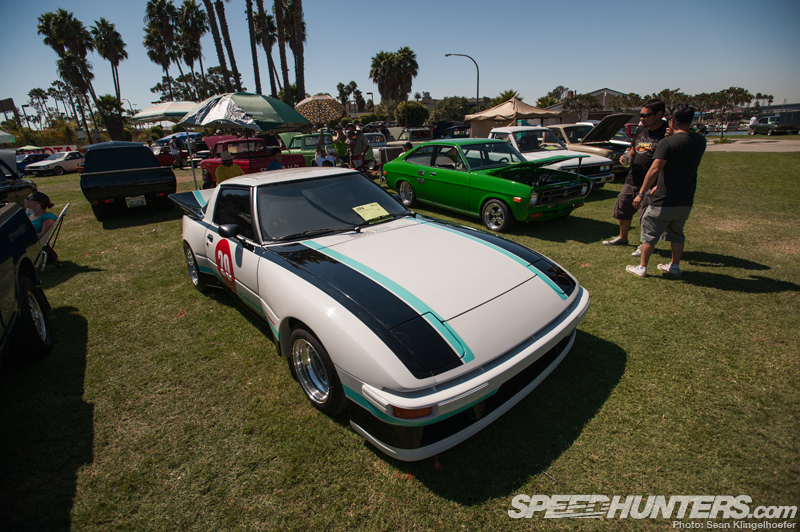 Later in the day I came across this RX-7 which looks curiously similar to the car built by JDM Legends, yet it doesn't. There are some glaring similarities between the cars, like the livery design, but somehow they came out quite different.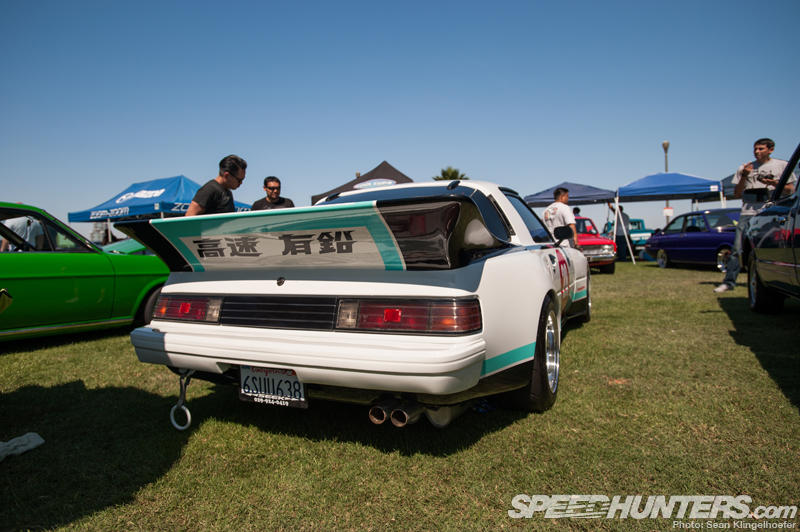 I'm told that the owner of this car was actually sending emails back and forth with Eric while he was building his, which likely explains some of the coincidences. However this car has an undeniable bosozoku touch to it. From what I understand the rear wing on this car was custom built and is 100% metal!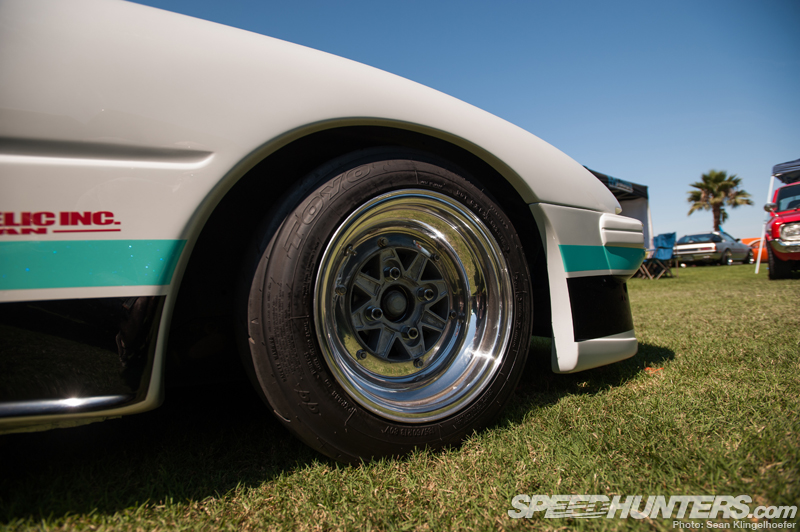 Helping to further the Japanese gangster styling is a set of massive fenders paired with some dinky thirteen inch SSR MKIIIs. It might seem like a moot point to discuss the size of the wheels, but this is a minor detail that separates a casual enthusiast from a man obsessed – this is how they do it in the land of the rising sun.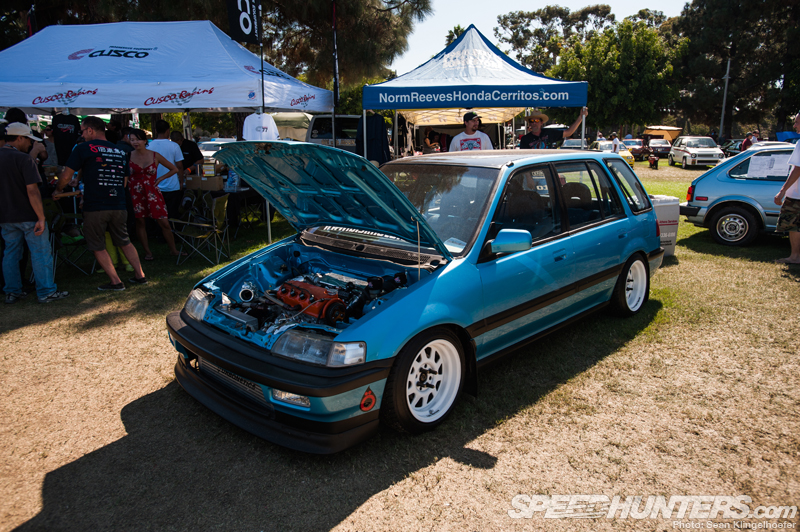 The last of the oddballs I'd like to discuss today is this EF Civic Wagovan owned by our friends at Bisimoto. I wouldn't consider this car, which Linhbergh featured a while back, an oddball because of the chassis, or the engine setup – although neither are exactly run of the mill. I'd consider it an oddball simply because this marks the first year that the EF chassis is old enough to meet the criteria for the show, therefore it's a sight previously unseen.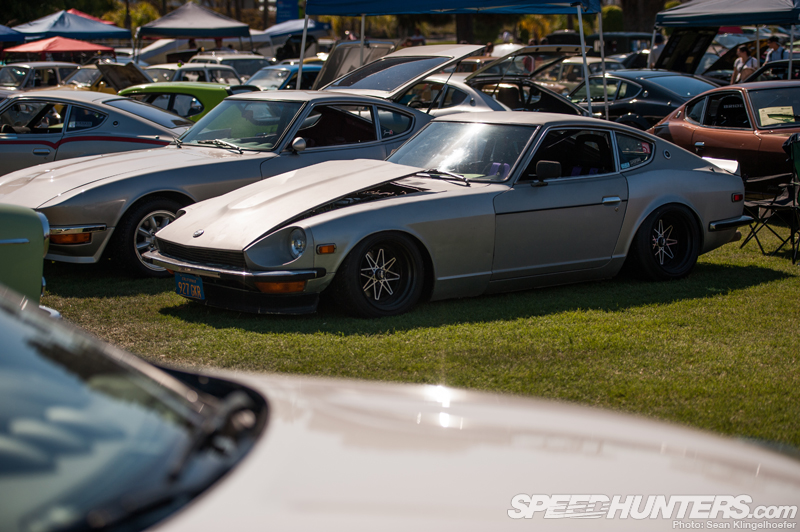 On that note is what makes JCCS so special, the show is an ever changing entity that somehow manages to move forward without alienating the past. It's a model that's almost utopian in terms of car events and one which I hope, and believe, will remain for decades to come.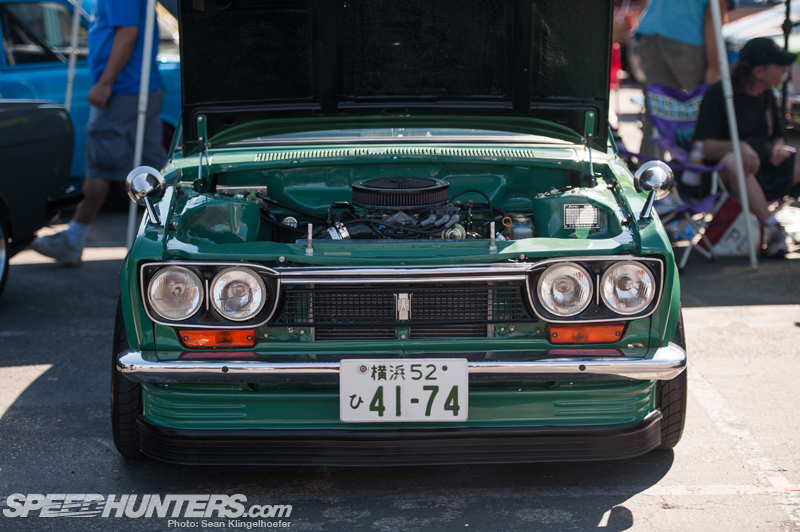 It truly is a unique place where young and old can come together and I'm speaking of not only the cars, but the owners and spectators as well. I don't think I've been to an event with a more eclectic group of people, and that's saying a lot considering the extravaganza that is Gatebil.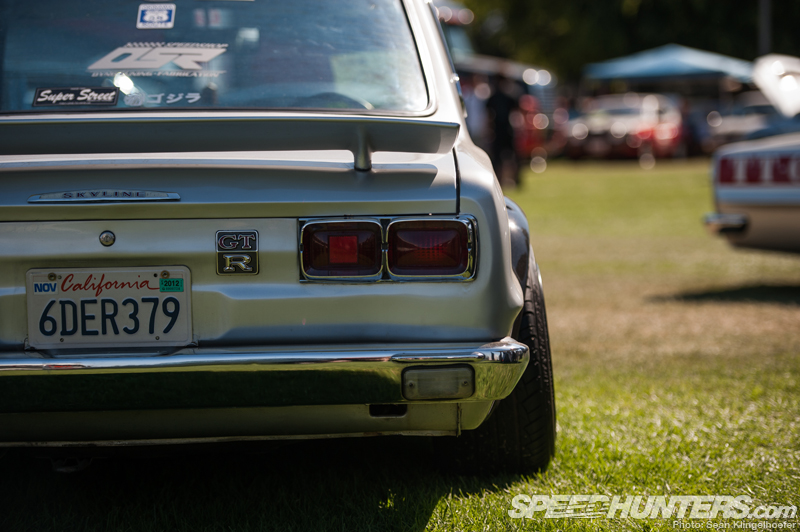 So if you're ever in SoCal in September, do yourself a favor and check out JCCS, it will be eight dollars very well spent. Just ask anyone who's been there and they'll surely agree, it's a "must-see" show.
More to come tomorrow…
More car show coverage on Speedhunters
More stories by Sean Klingelhoefer on Speedhunters
-Sean