Nisei is a show where the standards are so high that virtually every car is worthy of a spotlight, but there were a few that peaked my interest a bit more than the rest. I'm not trying to suggest in any way that these were the only cars worthy of coverage, but this is a select group I saw as stand outs at this year's event. I'm told opinions are like assholes, so you can take it for what it's worth, but here were my favorites from the show…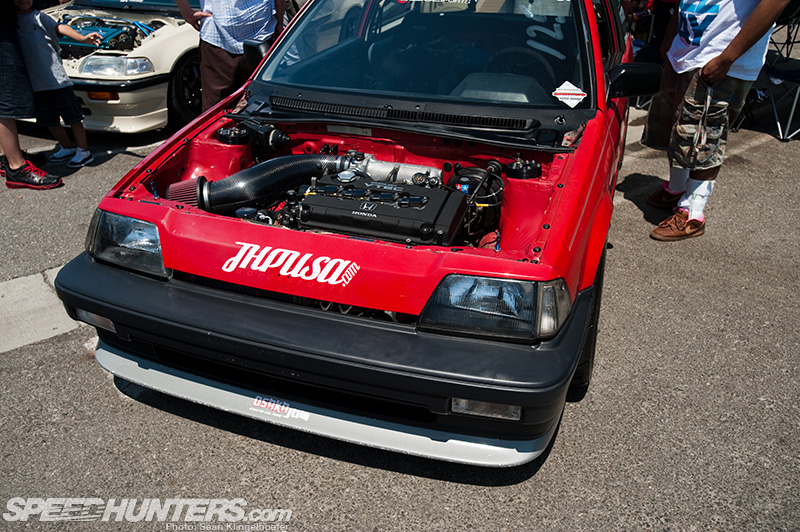 To start things off I wanted to give the Speedhunters audience a closer look at my friend John "Supertwinz" Nguyen's cool little E-AT hatchback. While it's certainly far from finished, it's great to see someone pushing this chassis the way John has and will continue to do. He is quickly building a name for himself in the third-generation Civic community and it's easy to see why. Based on what I know he is capable of I'm sure this car will go a long way from here.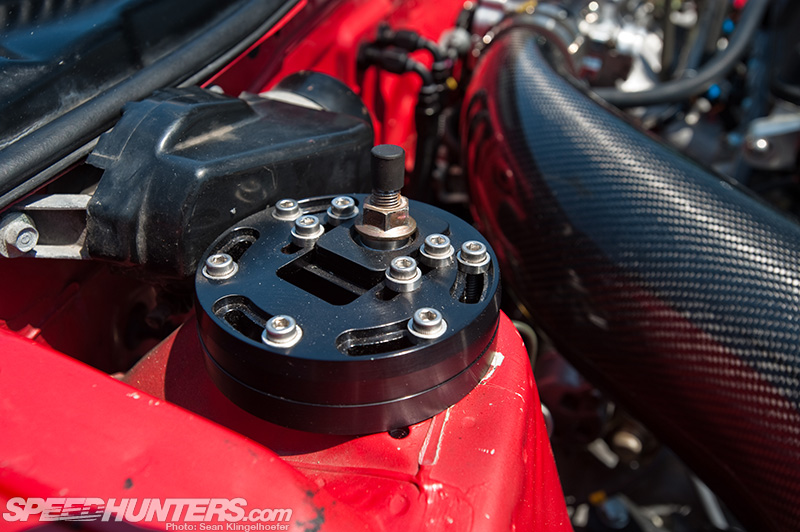 Ironically this car was actually used as his backup / daily commuter while he was undertaking his original project which was far more extreme and ultimately more than John had the time to complete. All the while he was tinkering here and there with this car and once the JDM project was sold off he invested that money, and left over parts, into assembling a more realistic build you see today. While it might be toned down compared to his other car, there are still some very special pieces here, like these custom adjustable strut mounts made by an RPR forum member.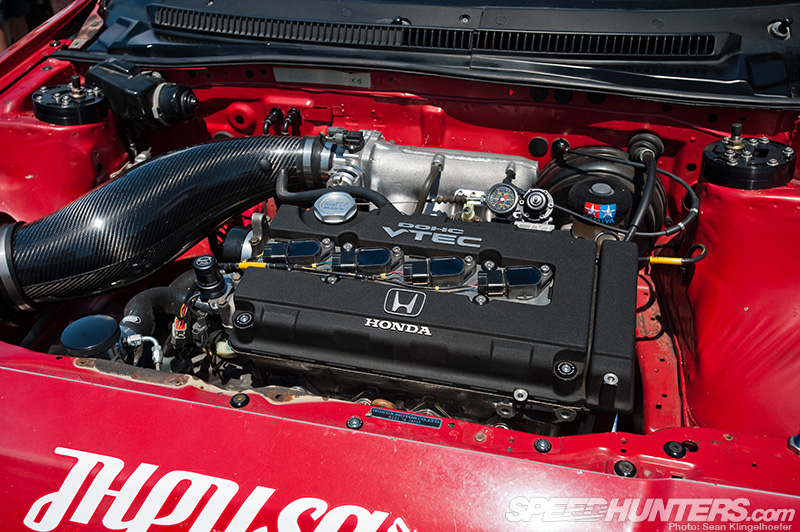 This chassis is largely ostracized by the community so most parts development is done in guerilla fashion by the owners themselves. Something like the B-series swap which would be a walk in the park in a car even a few years newer is a big ordeal with a "Wonder Civic". As an employee of AEM it make perfect sense that he has several components, such as an EMS and EPM installed on the swap. With the cars low curb weight it doesn't take much to make it boogie and for the time being John is content with a mostly-stock B16B while he irons out the details.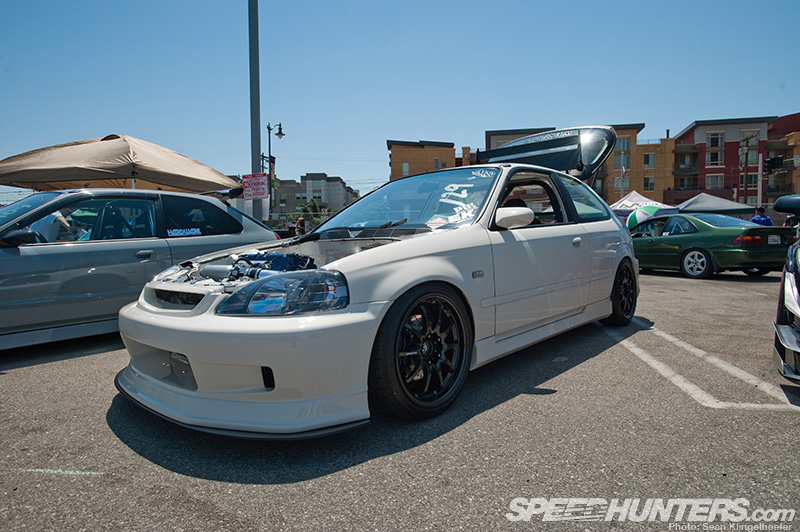 Next up on my list is an EK owned by ATS Garage member Jay Powers. Many of you are likely familiar with his CRX, which is mind blowing on all accounts. Knowing what he, and his wife, are capable of I wasn't exactly shocked by his EK. Although it's not a "brand new" build, this is the first time I have seen the car in its current guise and I can agree with just about everything that's been done to it, like that J-Blood front bumper!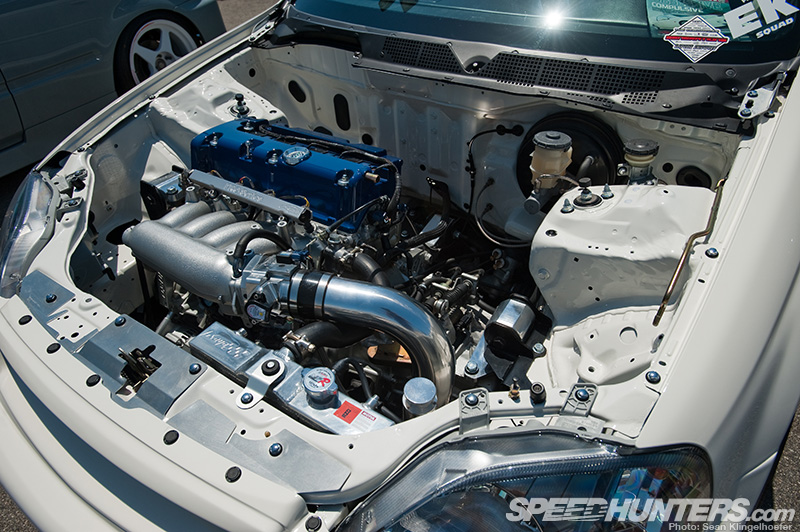 Although wire tucking isn't really my thing, if I were to perform such a modification, this is the way I'd go about it. Using factory plugs to block larger ports in the firewall and leaving the rest of the original holes intact I find to be a much better look than the fully shaven type. If anything I think it helps draw attention to how many things have been removed thus showcasing the amount of work put into it.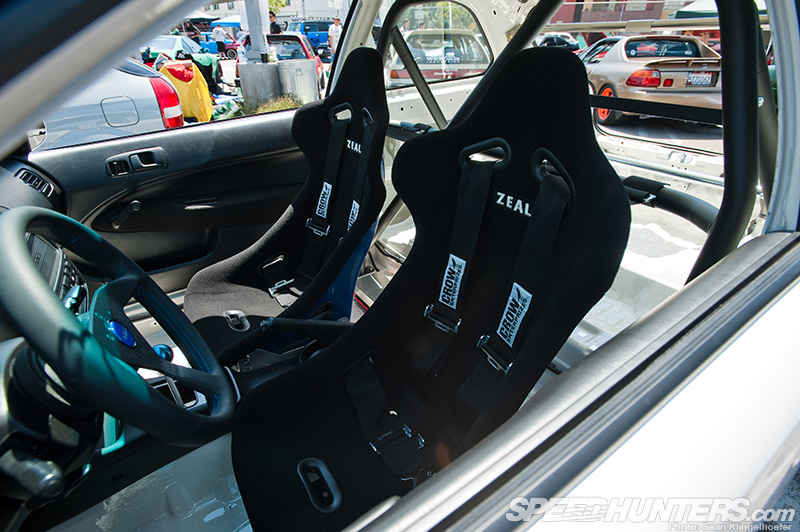 Inside the cockpit seems a very nice place to be! The carpet, sound deadening and miscellaneous panels have been removed and painted to match the exterior. However some pieces like the door panels and center console have been left intact, much as I have my own EK laid out. The pair of Zeal bucket seats is another touch that really sets this car apart from the majority Hondas you'll come across.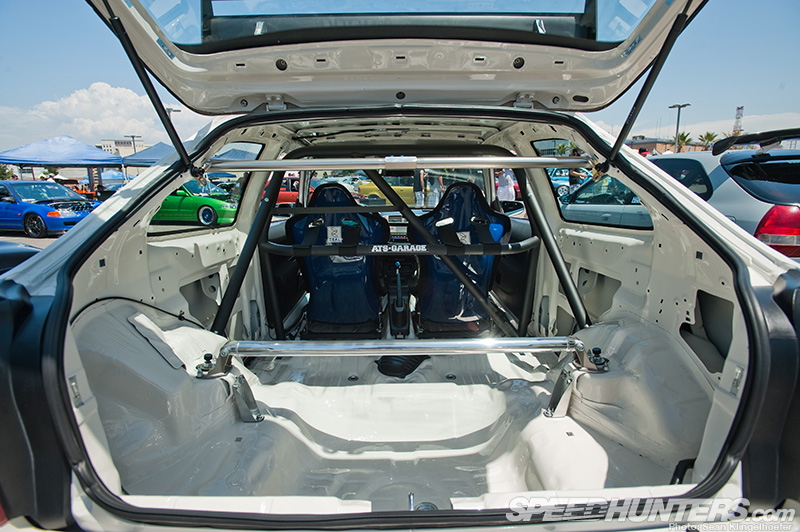 The view from the back shows just how immaculately put together this car is. There's nothing to hide here! In addition to the c-pillar and strut tower bars, an Autopower roll bar helps provide additional support and a safe place to route the Crow harnesses. This really makes the interior of my EK look like a hack job!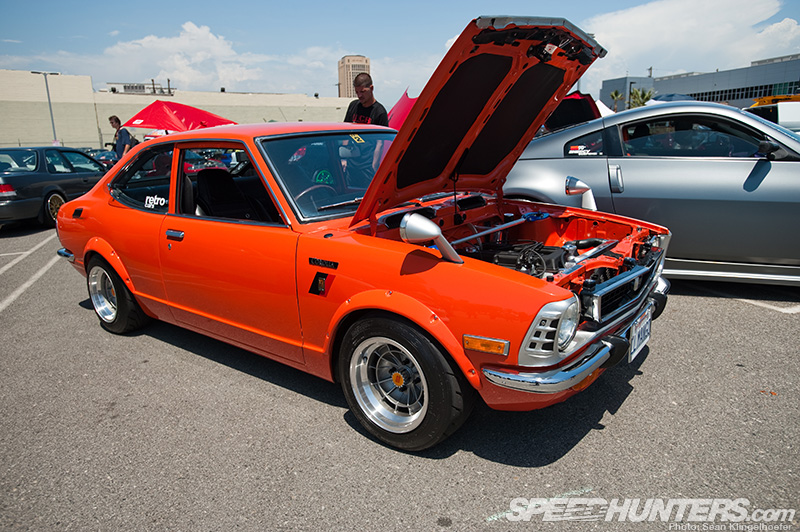 As I mentioned yesterday, in terms of non-Hondas there was little going on, but I did run across this particularly clean Mango Corolla. Although I don't know the owner of the car, I did find a piece of paper sitting on the passenger seat which leads me to believe his name is Mike Muniz. Whomever the owner is, he (or she) has impeccable taste!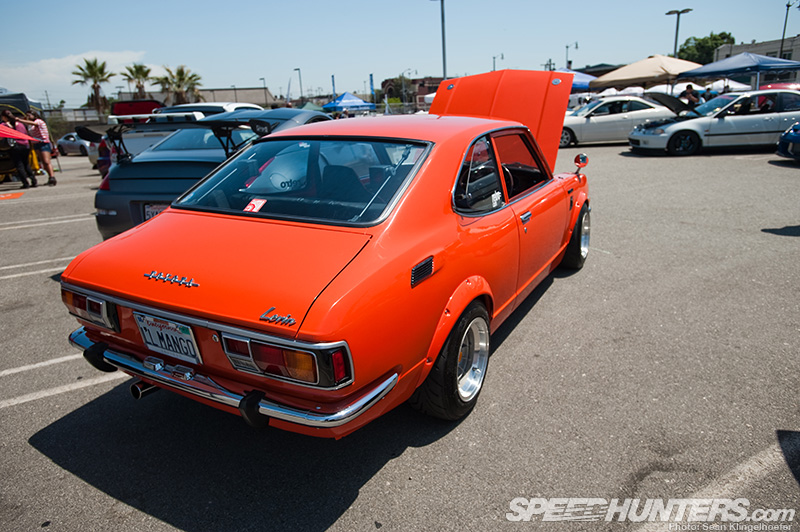 Furthermore if that paper can be trusted I am also under the impression that this car is daily driven! It's certainly not everyday that you come across a TE27, let alone one in this condition that is regularly driven! It appears to be a factory SR-5 Levin which makes it the least common and most sporty version of the Corolla that the US ever got…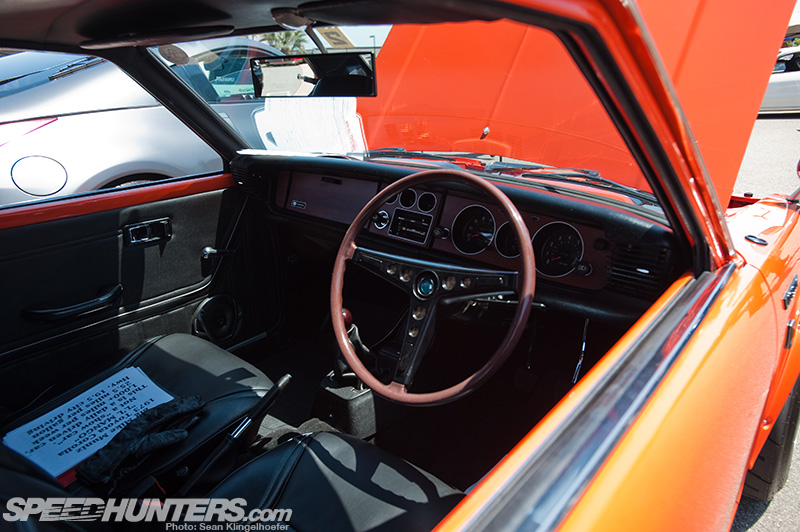 Except this one seems to be a Japanese model. Although there wasn't much going on in the interior in terms of modifications, it's always impressive to see a car that has been this well kept.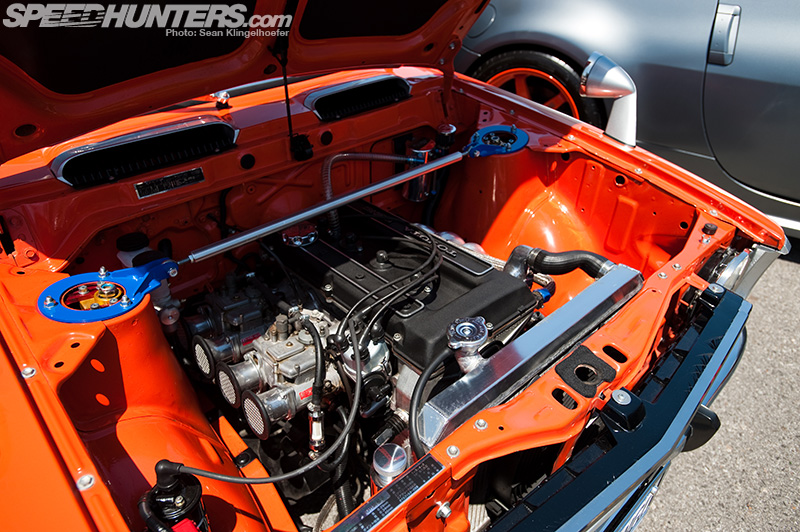 The same goes for the engine compartment, save for a strut tower bar, oil catch tank and an aluminum radiator (all of which are clearly "universal" parts) there wasn't a lot done to the engine. But when you've got an original 2T-G in this kind of condition that's certainly a good thing!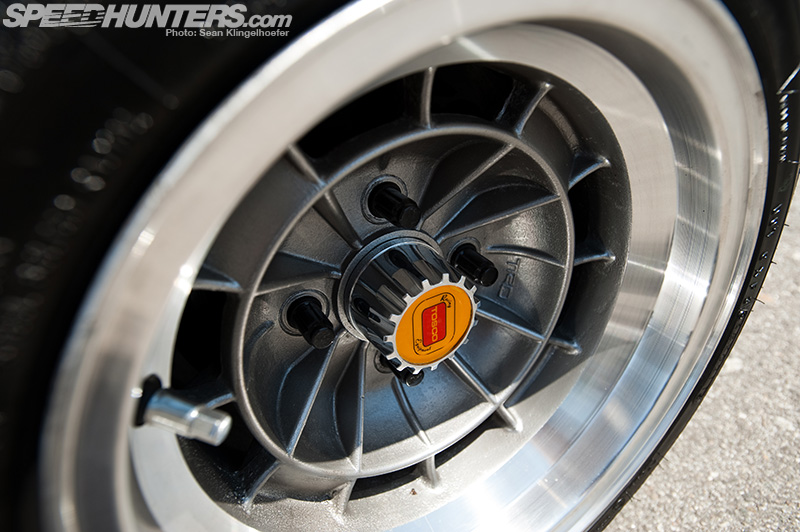 The icing on the cake for any Mango or older Toyota build are the coveted TRD / Tosco wheels. However, unlike virtually every set I've seen kicking around, these ones were completed with center caps. Being that these were designed as racing wheels I never thought they even had center caps, and combined with the condition of the caps I can't help but wonder if these were made by the owner himself. Regardless they looked very nice.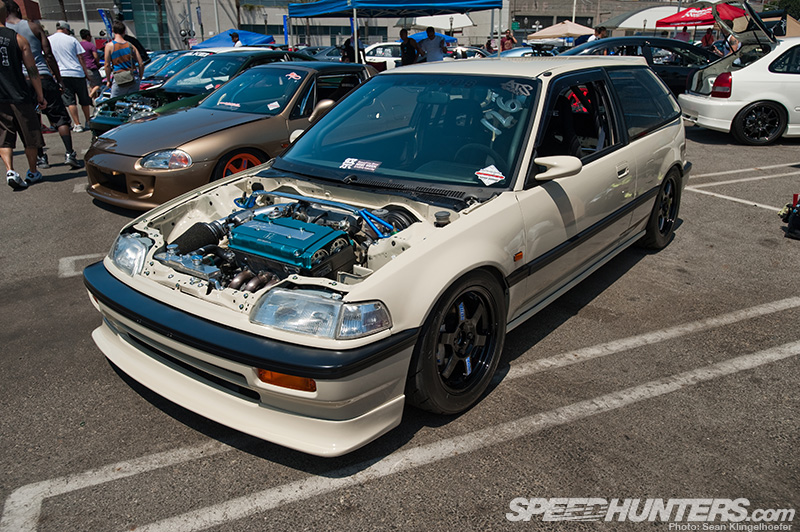 Back in Honda-land there was yet another car from ATS Garage that I couldn't stop staring at. This EF, which was debuted at Nisei, belongs to Mike Estebar; and my god is it hot! It's refreshing seeing the standard USDM / EF7 front bumper left intact because it allows fitment of that incredible Chargespeed / J's Racing front lip! And those EC Works Type-C mirrors… excellent choice.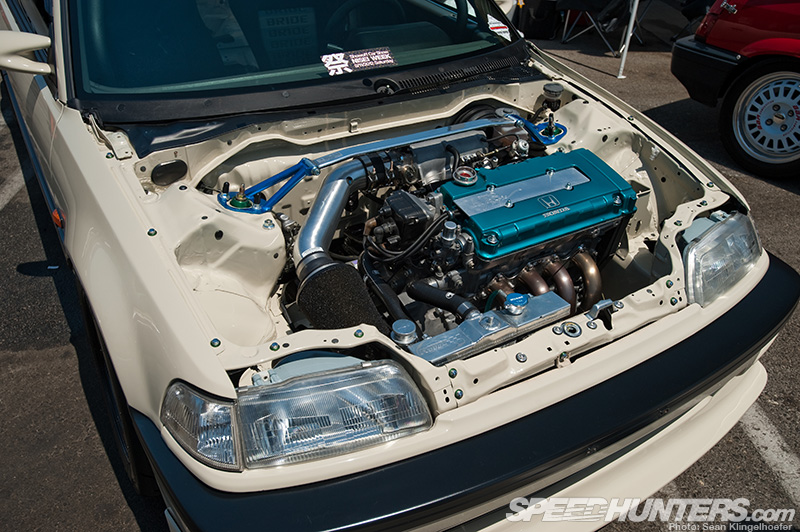 The engine bay displays yet more exceptional taste combining newer technology with old school flavor. Like Jay's Civic above, this car has also been tucked in a sensible manner that I can appreciate. It's not jaw-droppingly shiny or super-baller but I think that's what I like about it.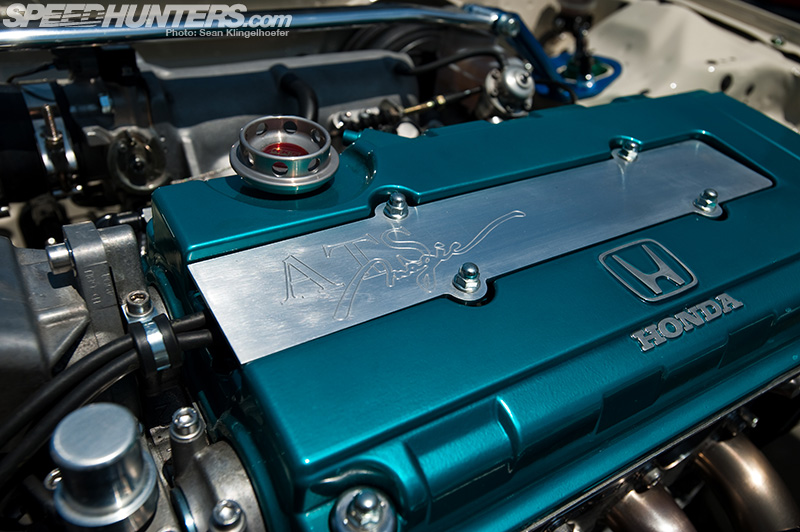 It wouldn't be an ATS car without some custom tweaks like this engraved aluminum spark plate which really sets off the teal valve cover. Note the details like the polished VTEC solenoid cover and allen-head cap screws with washers.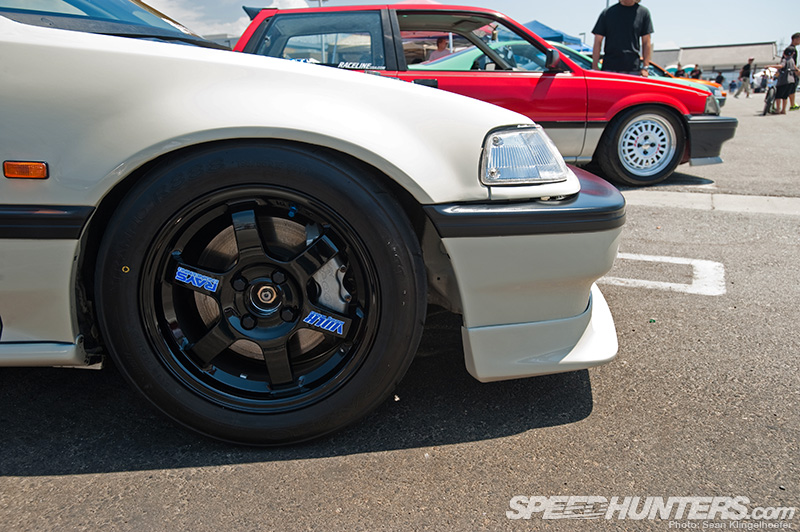 Finishing off this balance of new and old is a set of timeless, yet somehow still very modern, Volk TE37s. Inside their barrels resides a pair of tastefully stripped and stealthy Spoon calipers.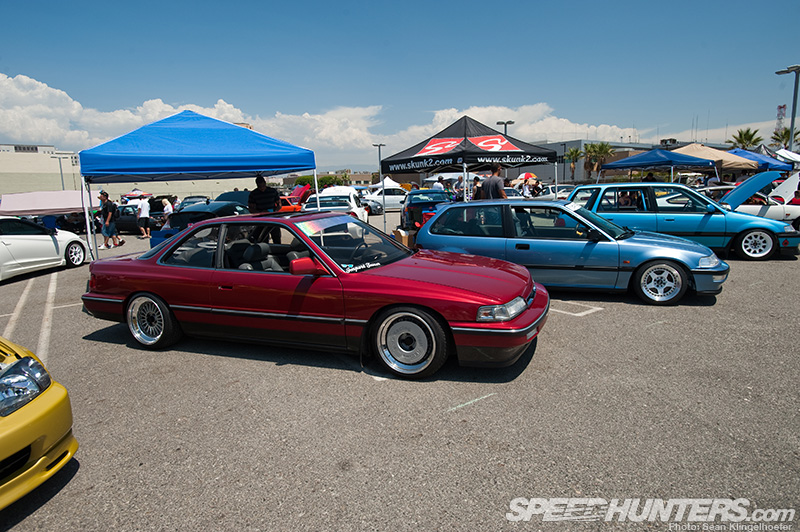 Saving the best, or at least strangest, for last I present a car I actually know quite well. I have ridden in it on many occasions and poked fun at it even more… a first generation Acura Legend owned by my good friend Charles Trieu aka Eggman, the Editor in Chief of Import Tuner. I can see how this car might seem grotesque to casual passersby, and admittedly it's probably one of the quirkier cars you'll come across, but anyone who knows Charles can see it fits his personality to a t.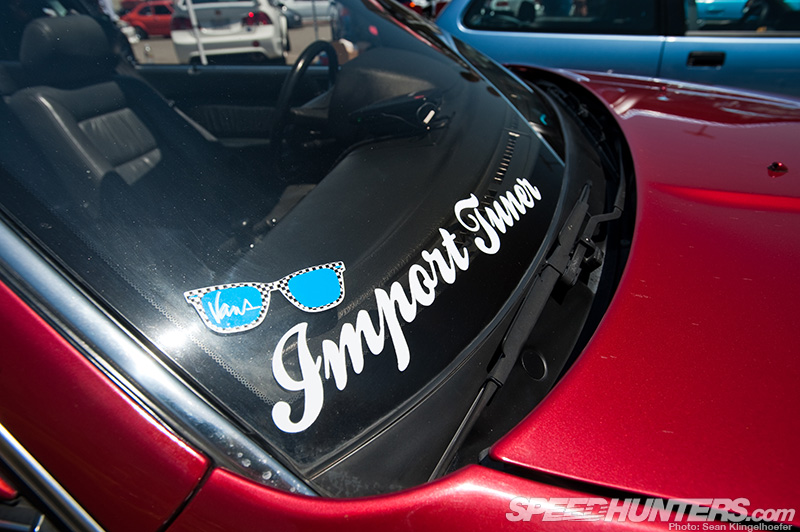 To put it simply, Charles is a Vietnamese-American car enthusiast who spends most of his time in coffee shops in Westminster Bolsa and is a lover of old leather bags and all things '80's. If you were in fact a Vietnamese gangster living in Bolsa during the '80's there is only one car you would be driving – an Acura Legend. To that effect, Charles has purchased the car of what I can only presume were his childhood dreams and made it a reality.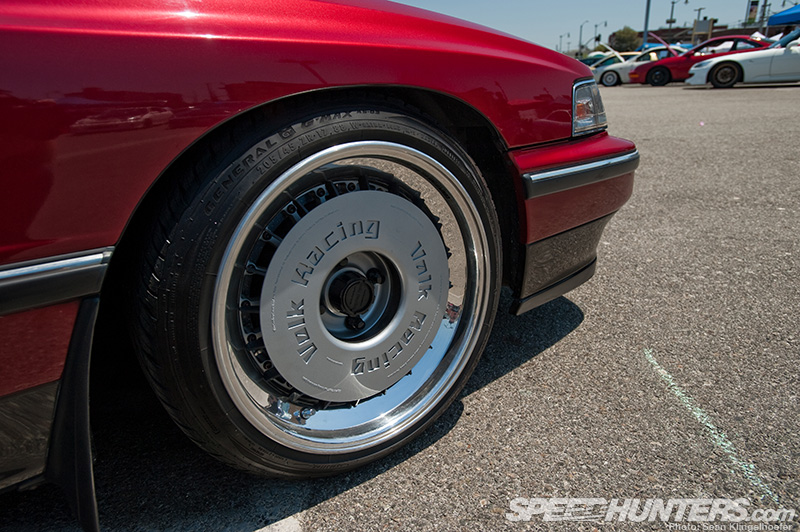 I don't think it needs to be said that tuning parts for this model of car are non-existent, so Chuck has used a bit of ingenuity ghetto-rigging to get the car up to his specs. In order to get the car low enough to do the wheels justice, he had to take a random hodge-podge of suspension pieces and assemble a coilover kit of his own. Of course the wheels also had to be period correct and Charles, the well versed yahoo auctions buyer he is, stumbled upon a set of 17X9″+15 Volk Artisan Fins. We can only conclude these must be ex-JTCC items as there is no recollection of such sizing in any Volk catalogs.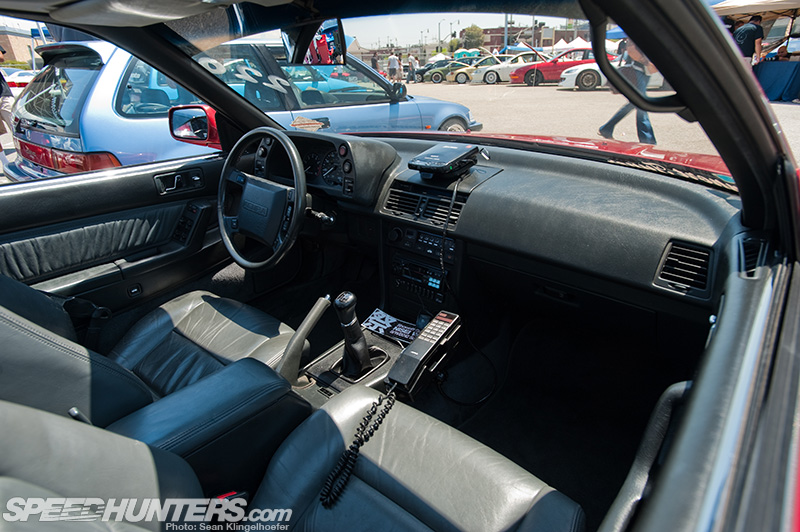 Dedication to the way-cool-eighties theme doesn't end on the outside, as there are some trinkets on the inside worth mentioning. First and foremost I'd like to draw your attention to the vintage Alpine tape deck which is fed tunes via a Sony Discman which has been hard mounted to the dash.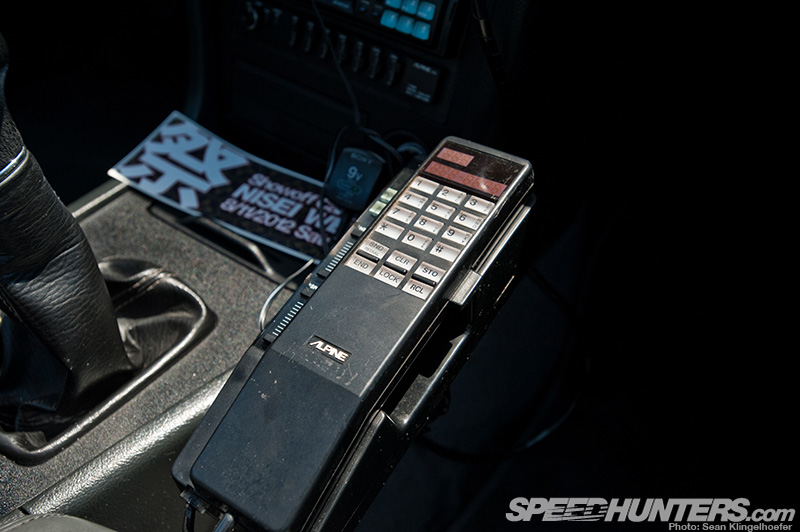 It's completely absurd, even laughable, but it shows some commitment to making the build coherent. The period correct Alpine alarm and car phone put it over the top.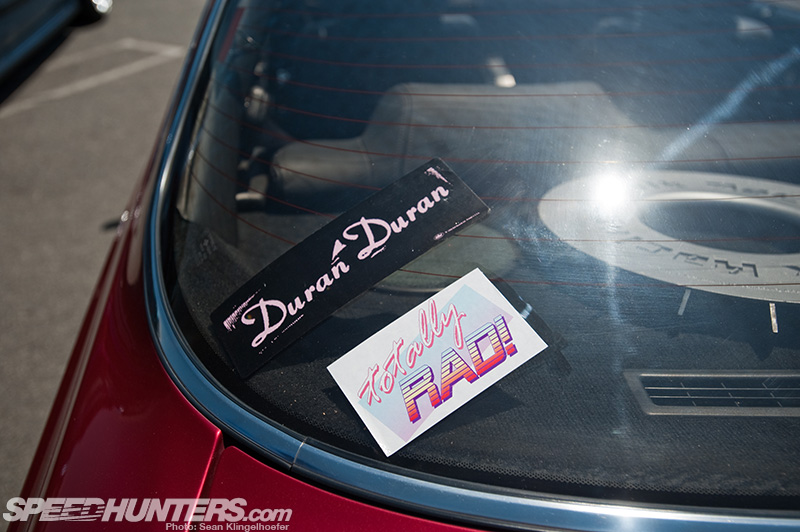 As I'm sure that last image has certainly blown your minds I'll end on that note. I hope you've enjoyed a further look at a few my favorites from Nisei. Have a totally rad day!
Nisei 2012 coverage on Speedhunters
More Japanese event coverage stories on Speedhunters 
More stories by Sean Klingelhoefer on Speedhunters
 -Sean