This was exactly how I pictured London. Just a bunch of Speedhunters from all walks of life, just walking around the street taking photos of cool cars. This Speedhunter had quite the interesting photo stance, she is doing something I have been trying to perfect for years.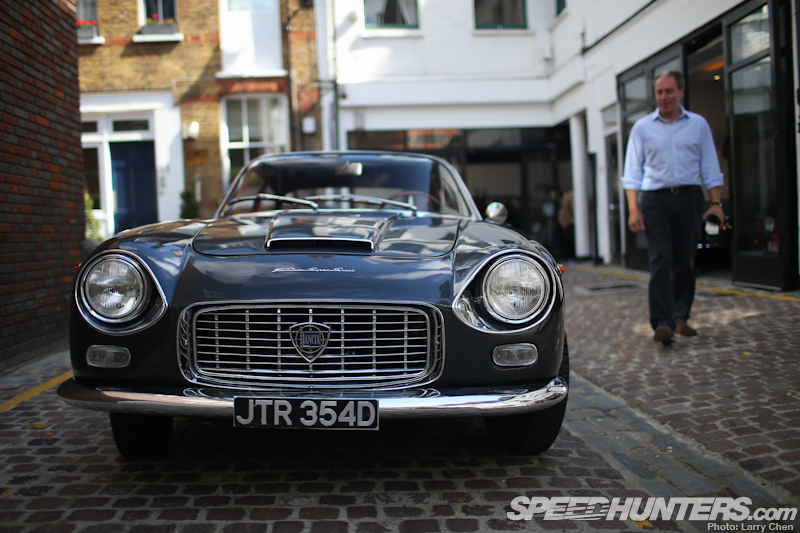 This was my first time outside of the London Heathrow airport. I have always passed through going to other events in Europe but I always found myself pressing my face against the glass looking out and wondering what it would be like to step outside. Well this time I got to step out onto the bustling streets of London and check out some of the cars as well as take in some of the scenery. I came for the Trax event at Silverstone and the final Prodrift event at Mondello. I might as well get the touristy bits out of my system while I'm at it.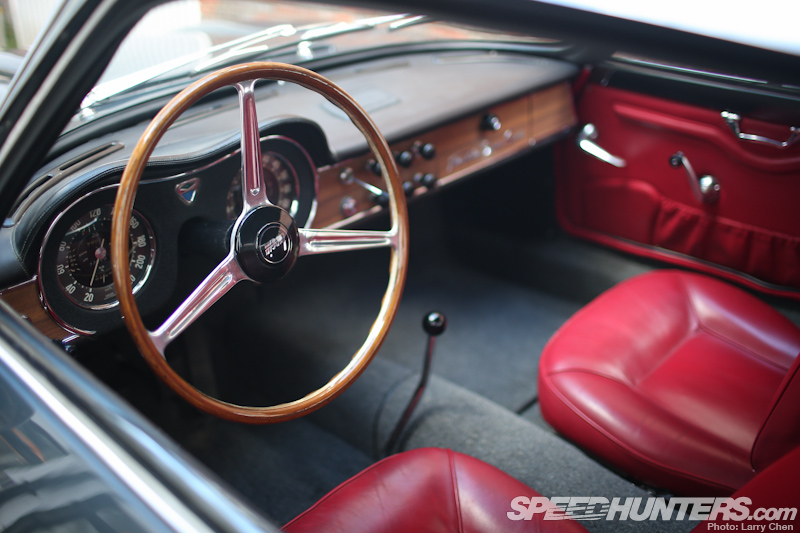 Just check out this Lancia that just happened to be parked on the street, just amazing.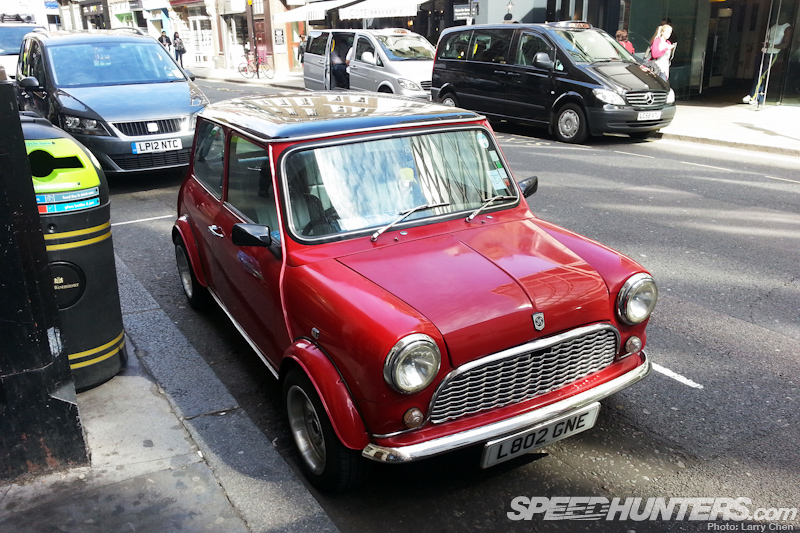 It was a real novelty for me to see one of these Austin Mini Coopers in the wild, and in it's natural habitat no less.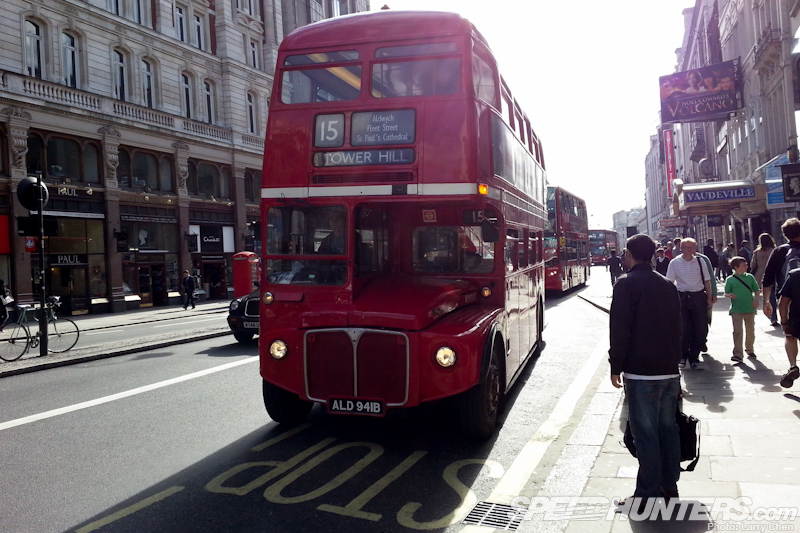 Our very own Rod of the Chong lived in London for ten years and he thought it would be a good experience for me to ride a Routemaster.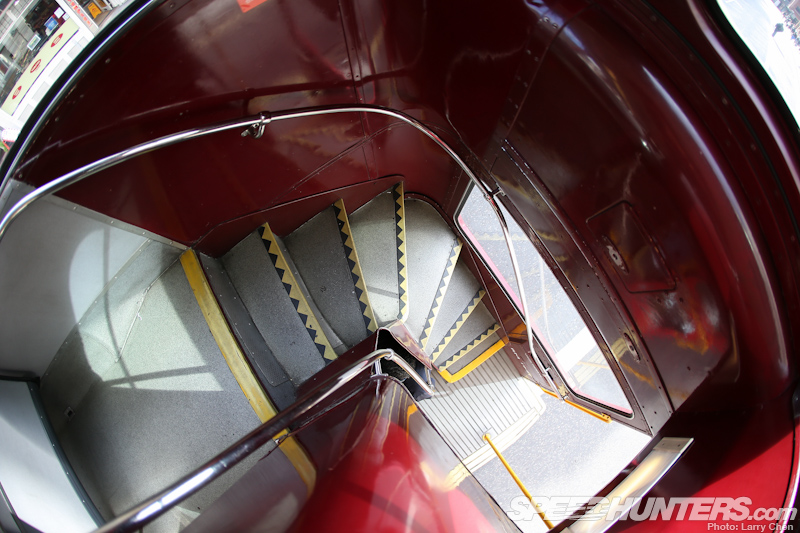 I've heard many times the best way to experience London is from the top of one of these things.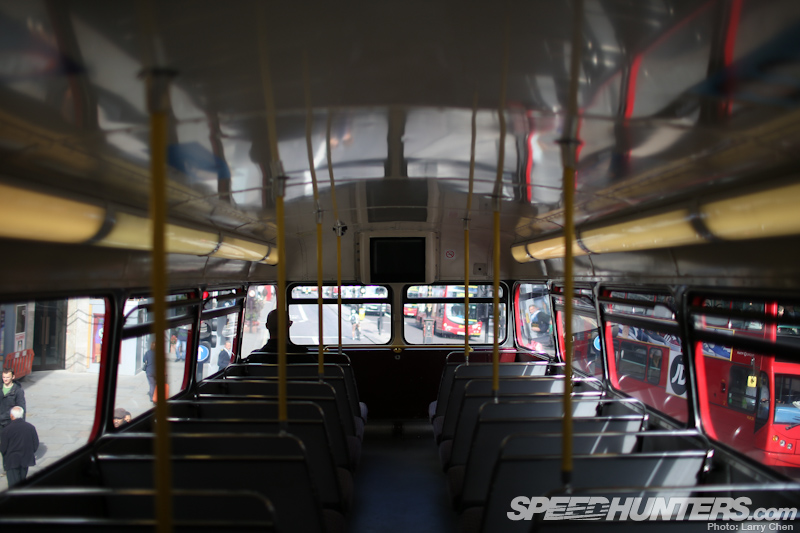 This one happened to be completely empty. It was cool to see these still in service after all these years.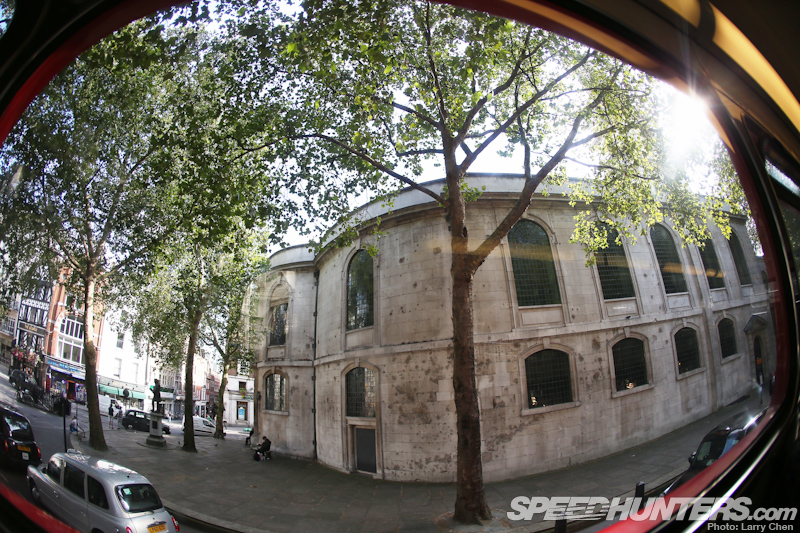 We passed by some buildings that still had bomb damage from WWII. I live in a city that was founded in 1850 which makes it just a baby compared to London. It has such a rich history, so for me it was a bit much to take in.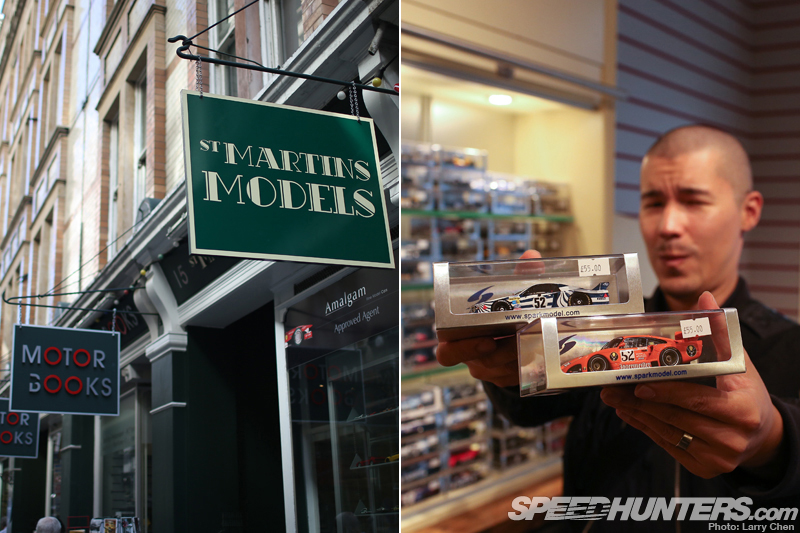 Our first stop would be a model shop for some miniature motoring goodies. Rod immediately found some cars that he just HAD to own. I knew it was a bad idea as soon as we stepped into the store.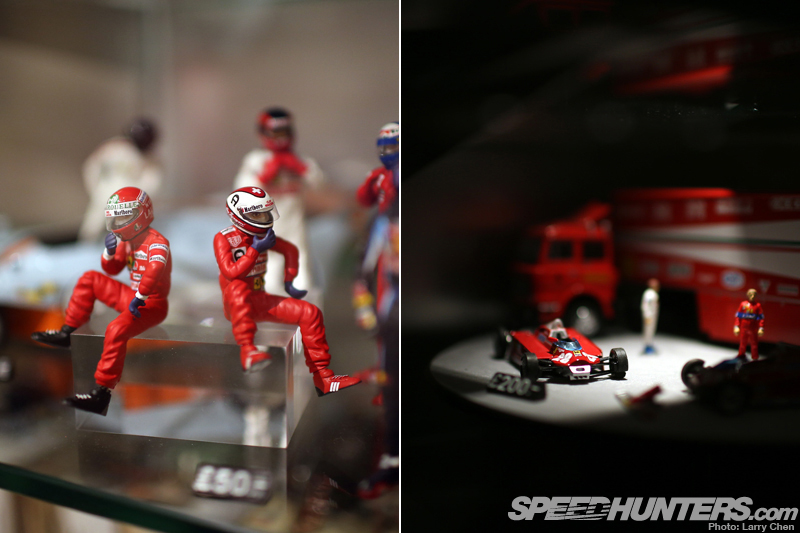 This place had all sorts of cool racing related models.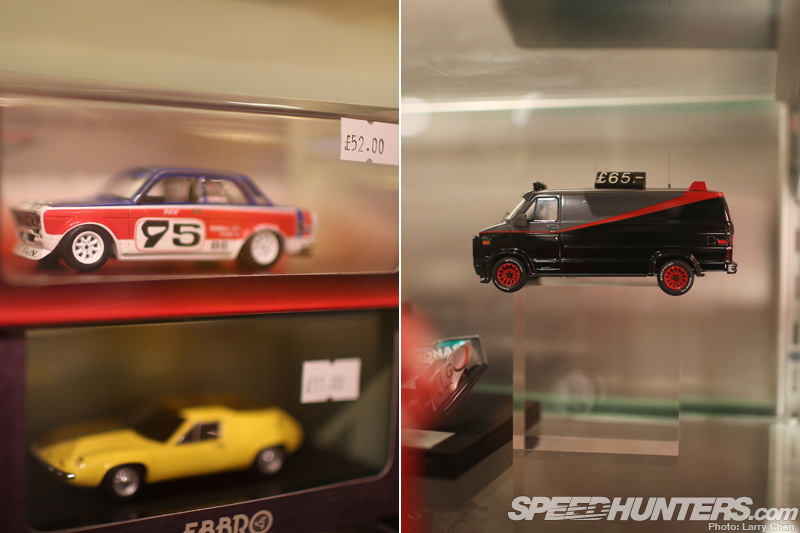 There was something for everyone, I fell in love with that Datsun 510. I pity the fool that could not find something they liked in that store.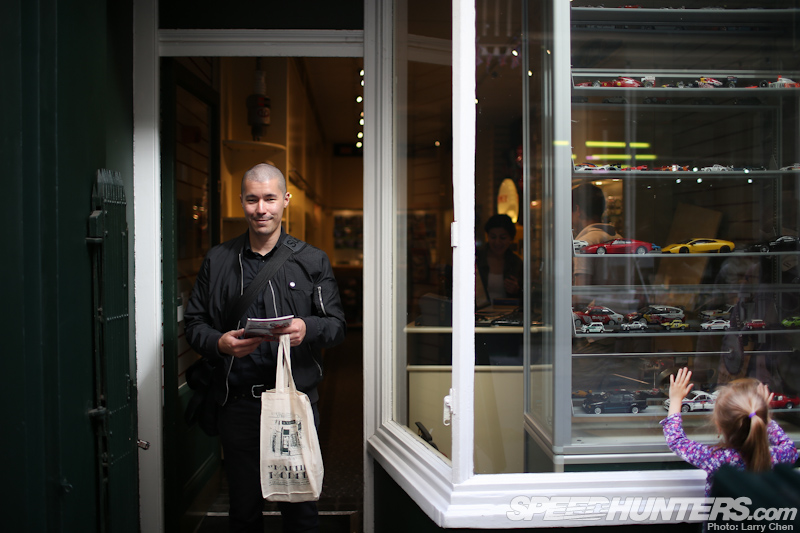 Rod got his toys and we were off to see more of this glorious city.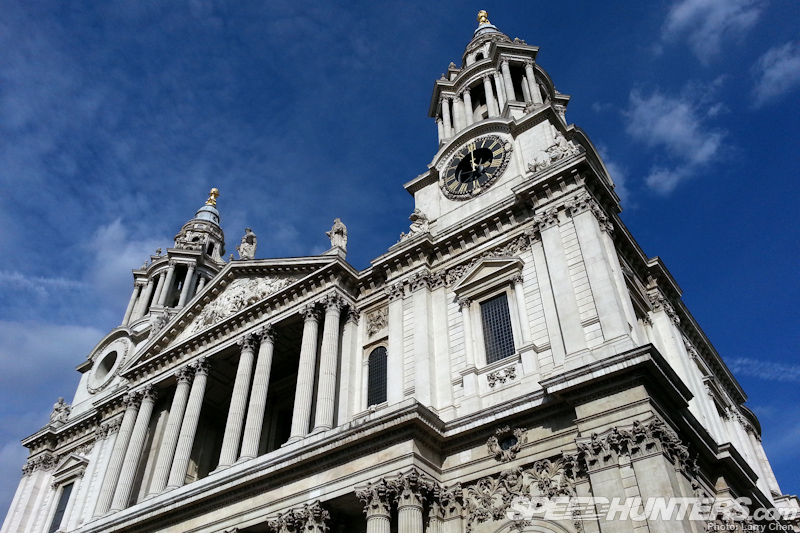 In some ways this place reminded me of Paris, the rich history and the interesting skyline.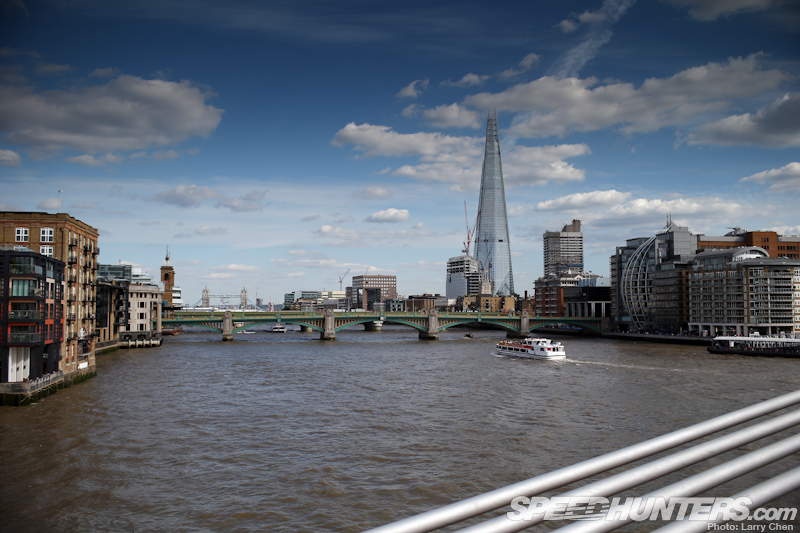 In other ways it reminded me of Shanghai, which is where I was born. Although, that could just be due to the color of the River Thames. The Yangtze River has a similar muddy yellow water.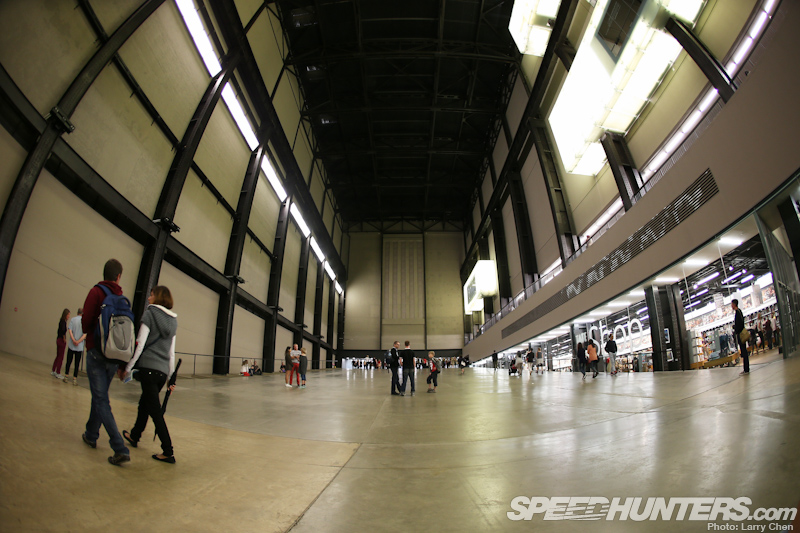 We then met up with fellow Speedhunter, Jonathan Moore, at Tate Modern, which is a modern art museum. It used to be a power station back in the day so it had some very interesting architecture.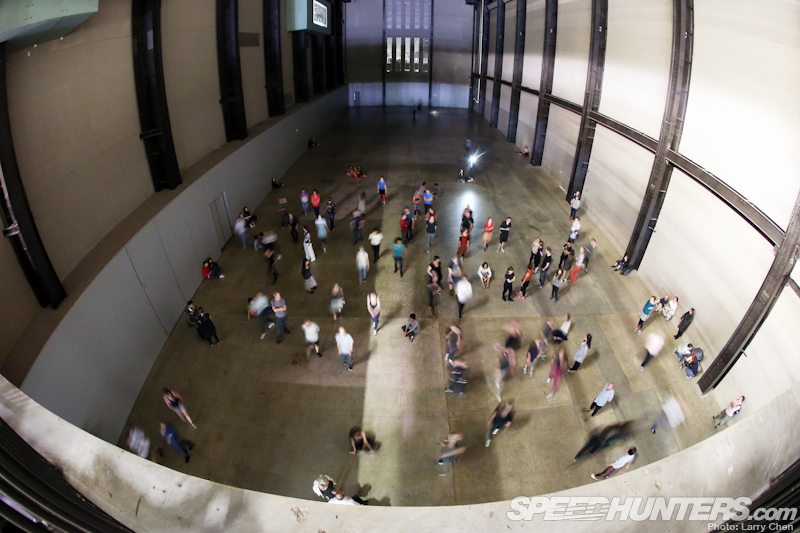 There is only so much modern art we all can take in one day, so after a horde of people started walking around like zombies we decided to call it a day.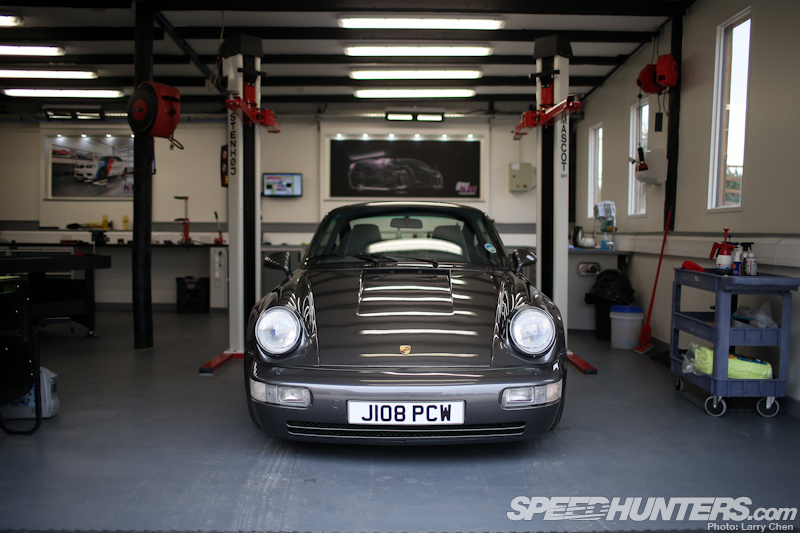 The next morning we headed out of the city and we were greeted with this beauty at KW Suspension UK.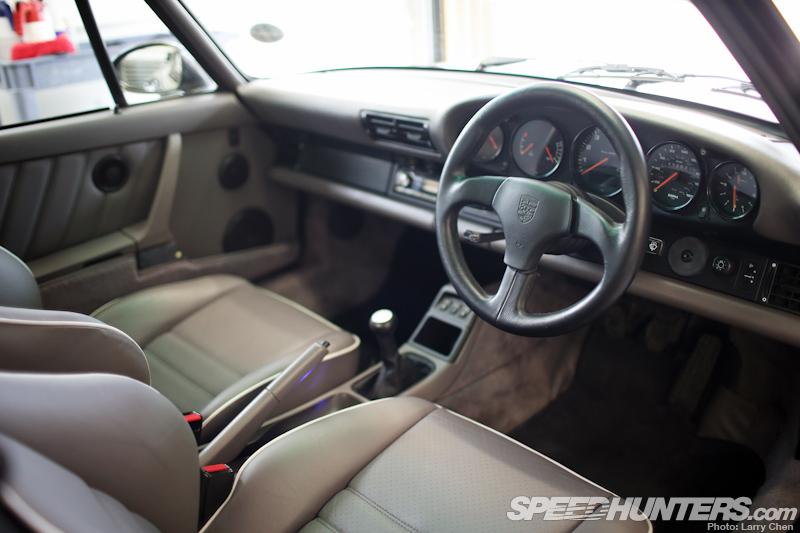 This was to be our press car for the day. I swear it was so clean it felt like it was off the showroom floor, even though it has over 100,000 miles on it.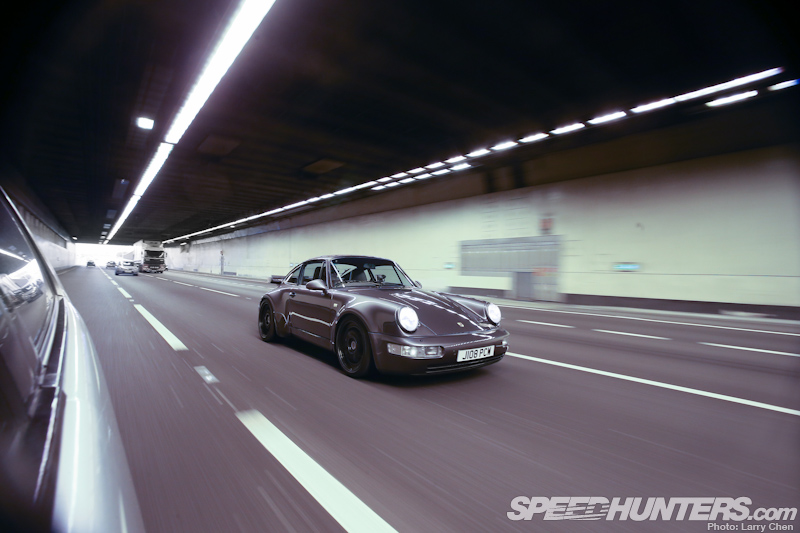 I've always had a soft spot for the 964. We never really get to see that many in Los Angeles, and when we do they are usually pretty beat up. It sounded so amazing in these tunnels.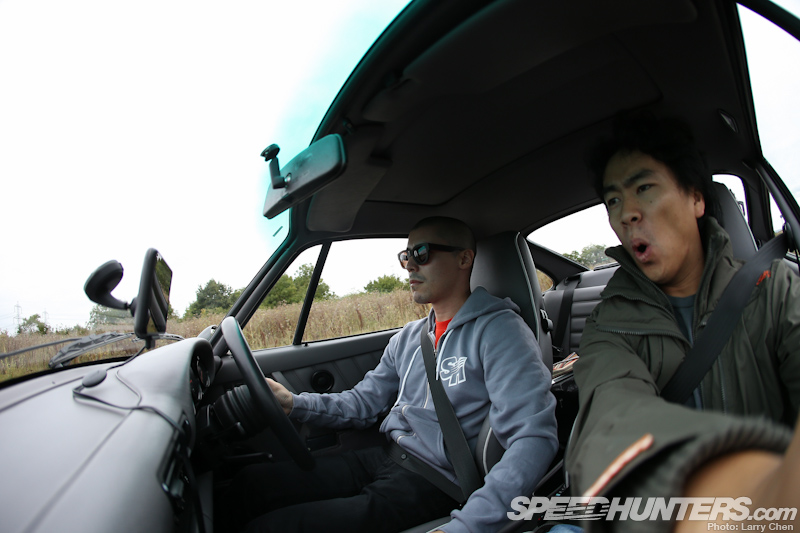 And boy was it fast. Rod even showed us his happy face! Keep an eye out for a dream drive feature from the Rodbot himself.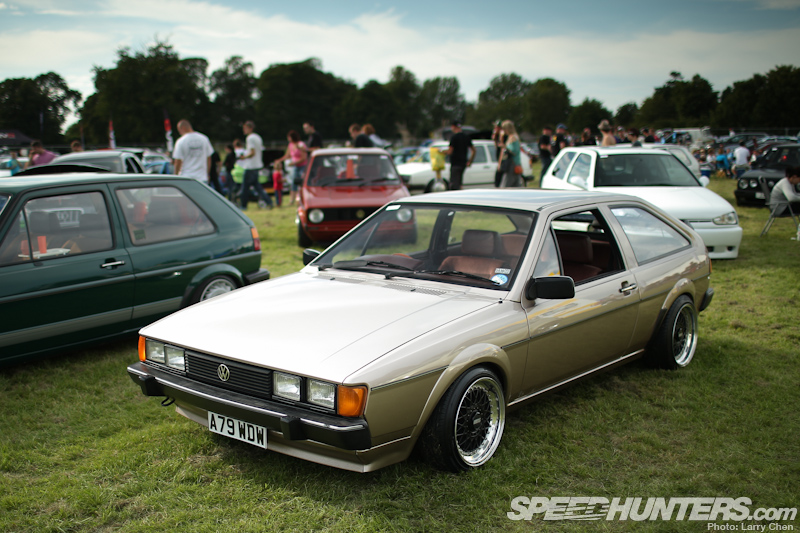 Before we went to Silverstone to setup our booth we stopped by Edition 38 for some car show hunting. Check out our coverage here.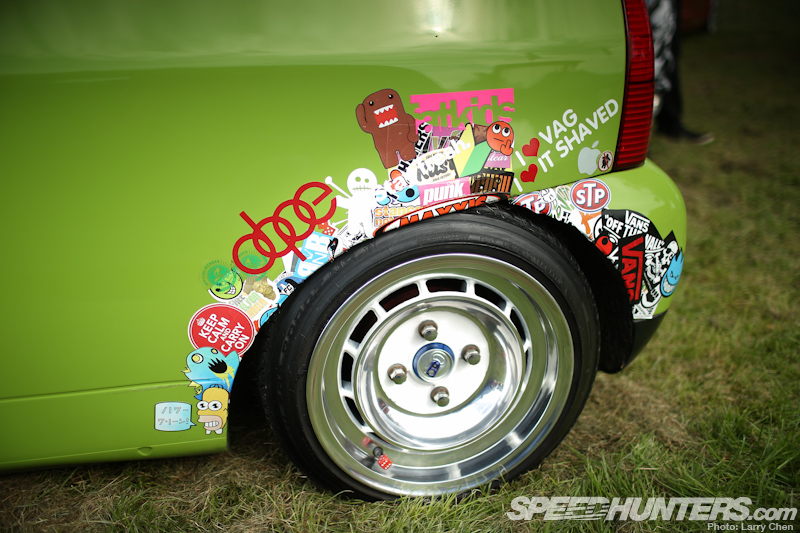 While many of the cars were not my cup of tea, I still understood them. They actually remind me of the North American Honda scene. Some cars were simple and some cars I had to stop and stare at just to take it all in. I just love seeing different kinds of car culture from all over the world.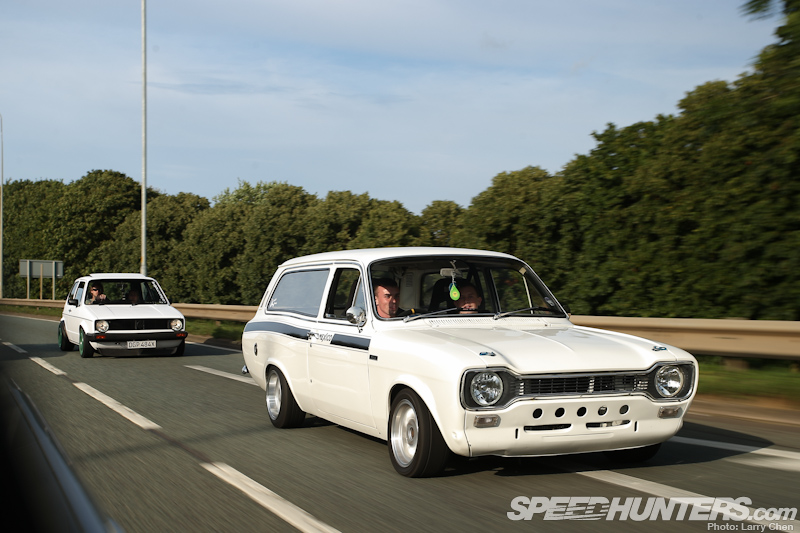 What I really liked about the show was the fact that not a single car was trailered there. ALL of them no matter how crazy the build was driven there, and some of them probably a great distance. You would NEVER see that in North America.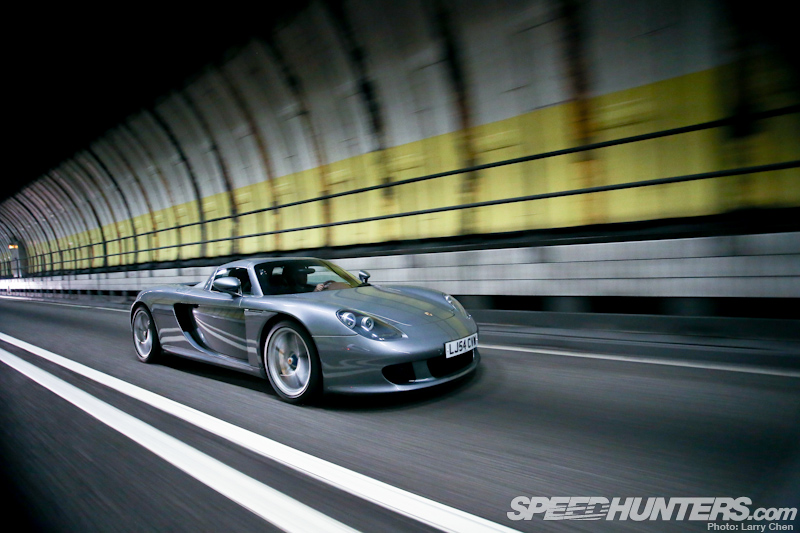 We headed to Silverstone and I rode with our friend Ben Chandler, who wrote the piece on Edition 38. I just wanted to get some car to car shots in before we had to return our press car. As I was hanging halfway out the window this Carrera GT just happened to pass by us as we were going through this tunnel. Improv Speedhunting at its best.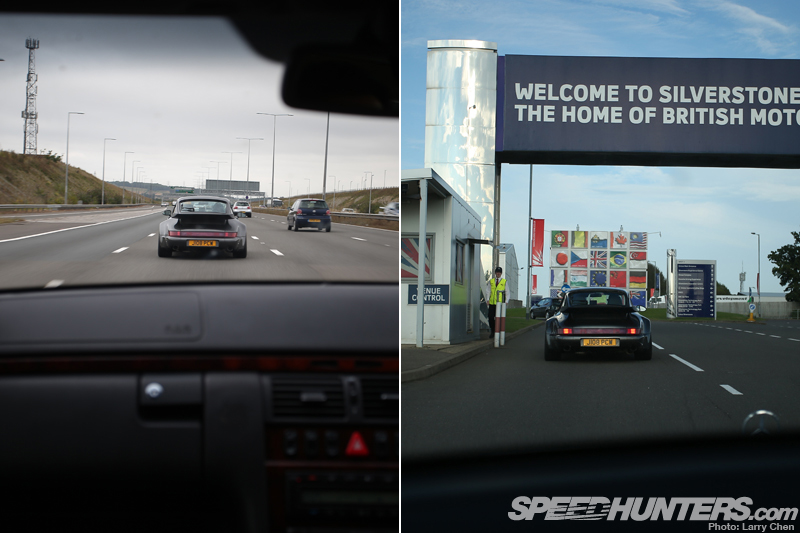 After an hour and a half we arrived at 'the home of British motor racing.'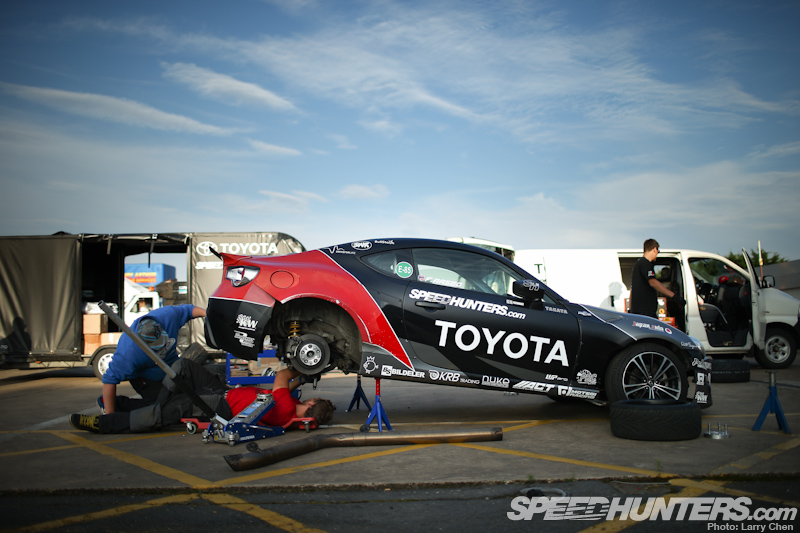 Already hard at work was our very own Fredric Aasbo.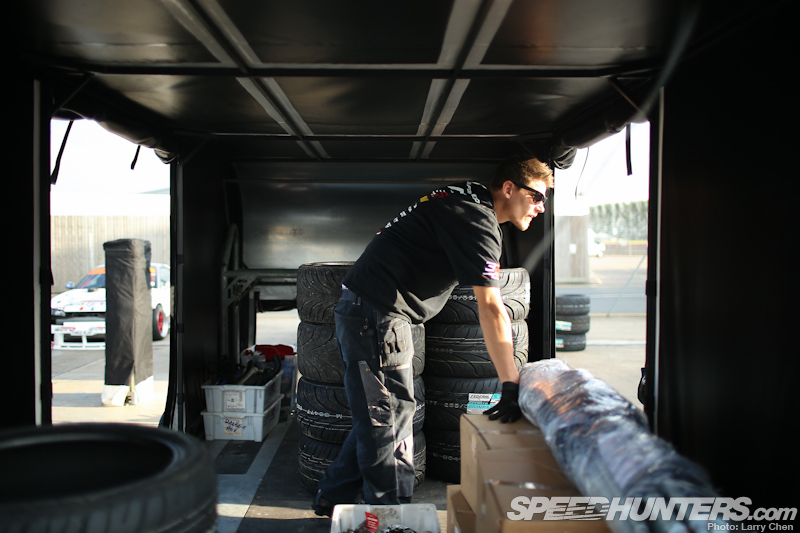 Just coming off of a 2nd place finish at Formula Drift Vegas he was ready for battle. As always with any racing, last weekends result does not matter any more. What matters is where you will place this weekend.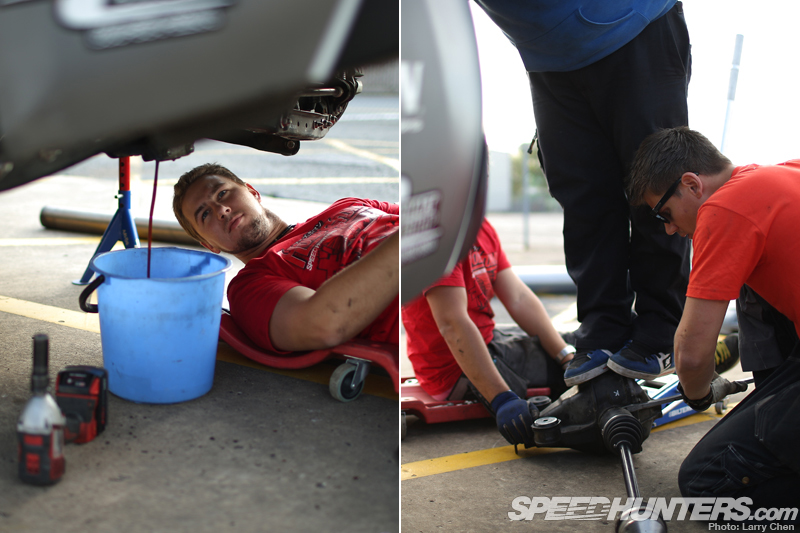 The team was hard at work swapping out damaged parts. As always, when in doubt just step on it.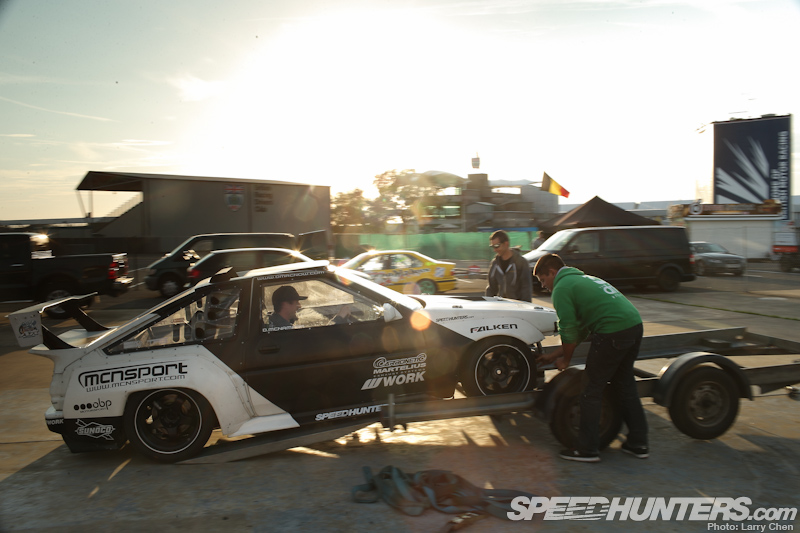 As we were settling in Darren McNamara and crew arrived with the rotary powered AE86.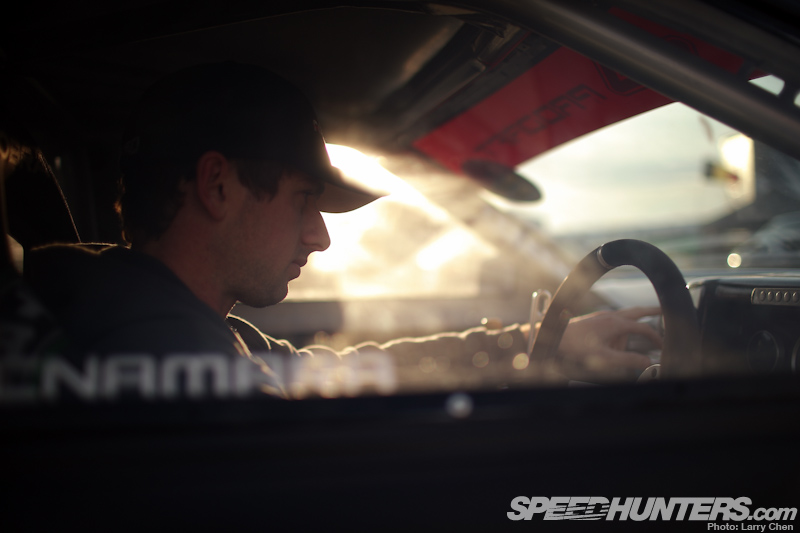 This year has just not going his way. He was understandably frustrated, but as he said in my interview with him, the year is almost over and he is looking forward to a new start.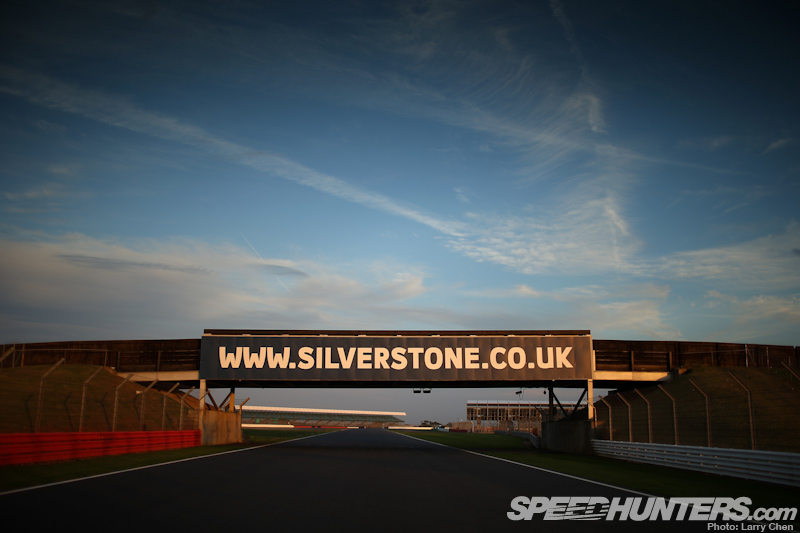 I wanted to check out the track since it was my first time there.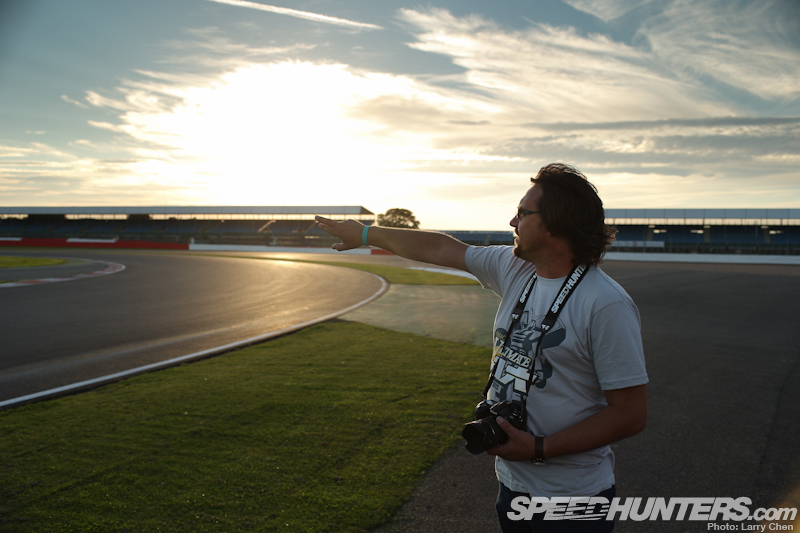 I've always dreamed of coming to this track. Ross I'anson showed me around a bit as he has shot here many times.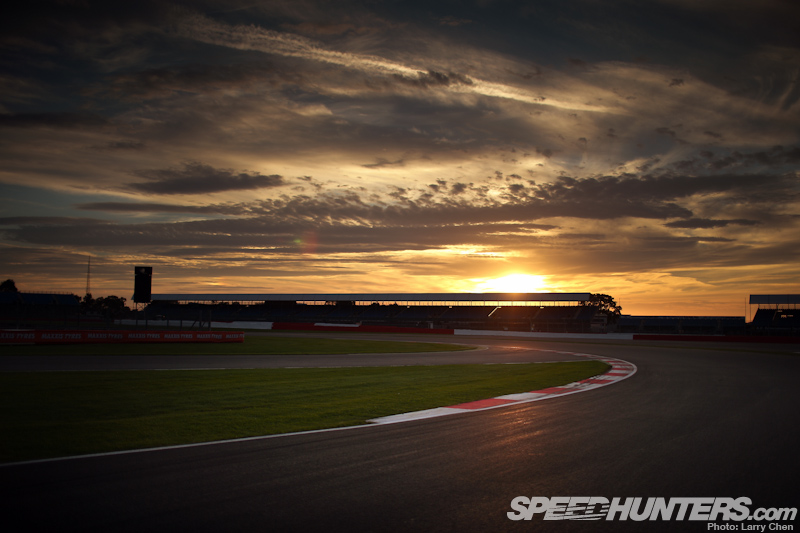 I walked the 'drift course' as the sun was setting to find some interesting angles to shoot from tomorrow. Trax is only one day, so I would not have time to try out every photo location to find my favorites.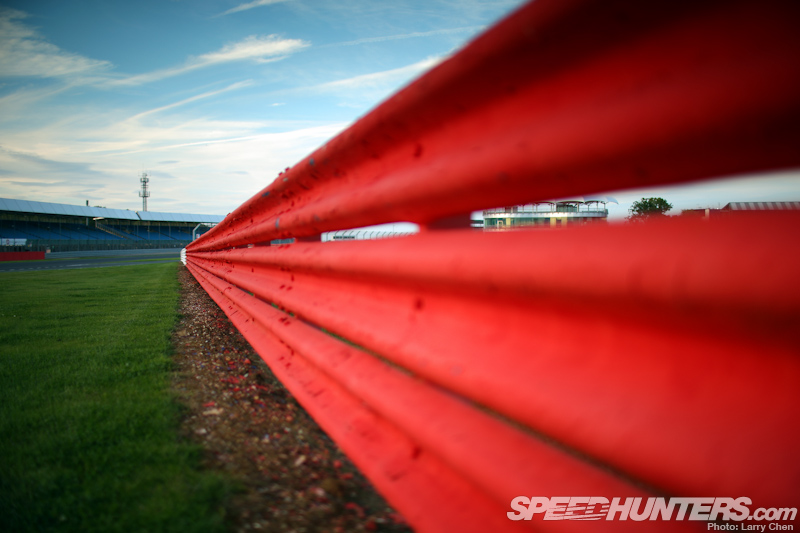 This was a proper F1 track and I could tell very easily from how well it is kept and how clean the grass was.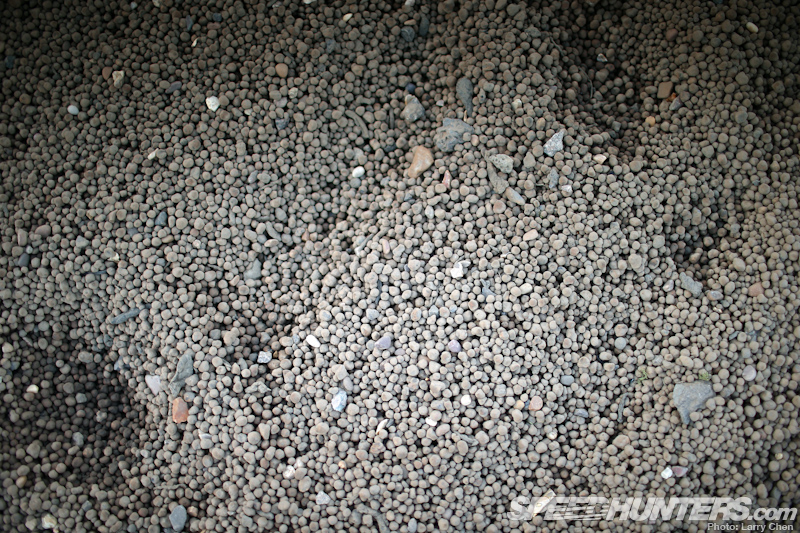 The pea gravel was very clean and it was also groomed very well. I did not realize how soft it was because when I stepped in it I sank quite a bit. It was also pretty difficult to walk in, It left like freshly packed snow. I can see why they use this to stop an F1 car from going into the side of the track.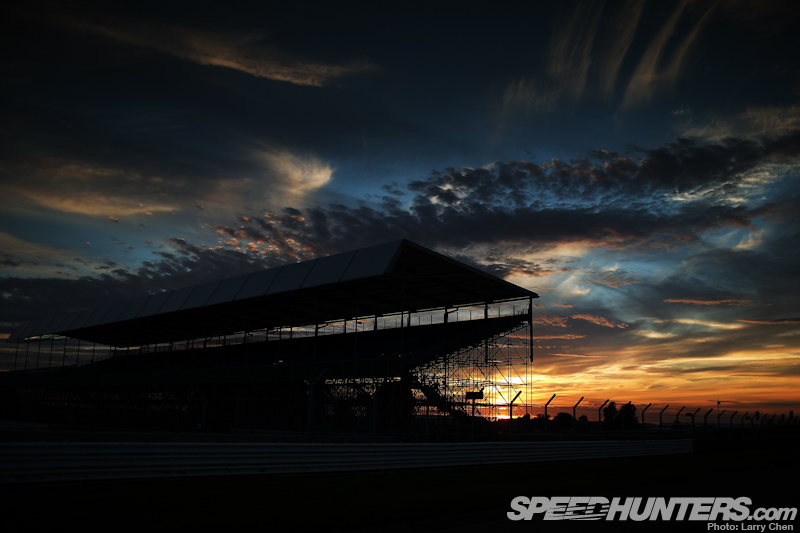 Maybe one day I will be able to come back to shoot a Grand Prix.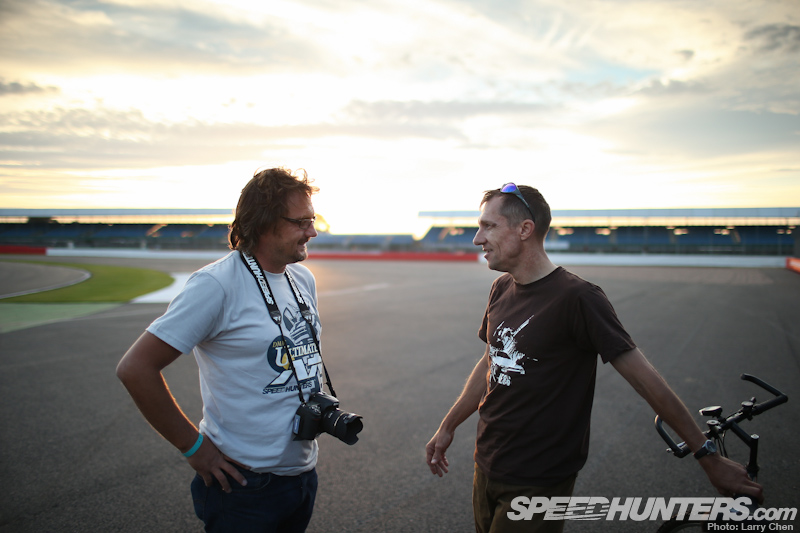 The guy talking to Ross is Mark Buckle. He is in charge of all the on-course activities. He runs the drivers meeting as well.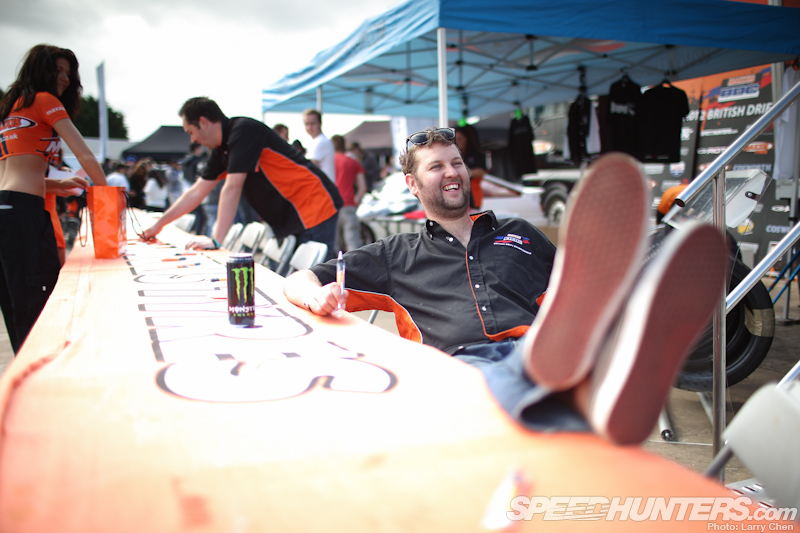 BDC is definitely more grass roots than D1GP and Formula Drift. It is run by the collective effort of guys who just love drifting, like me! One of those guys is Paul Mott, he is half of the commentator team and all around trouble maker for BDC.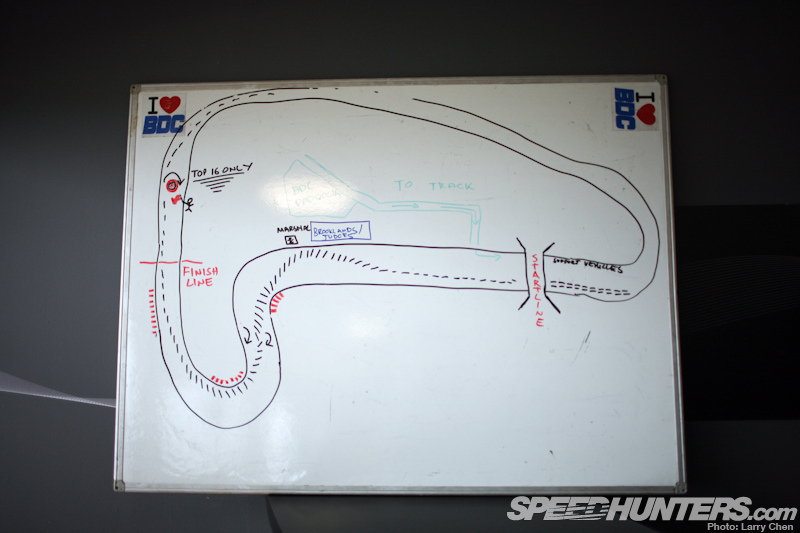 The course was pretty simple. It was basically just two long sweeping turns. In dry conditions the entry speed was up to 100mph.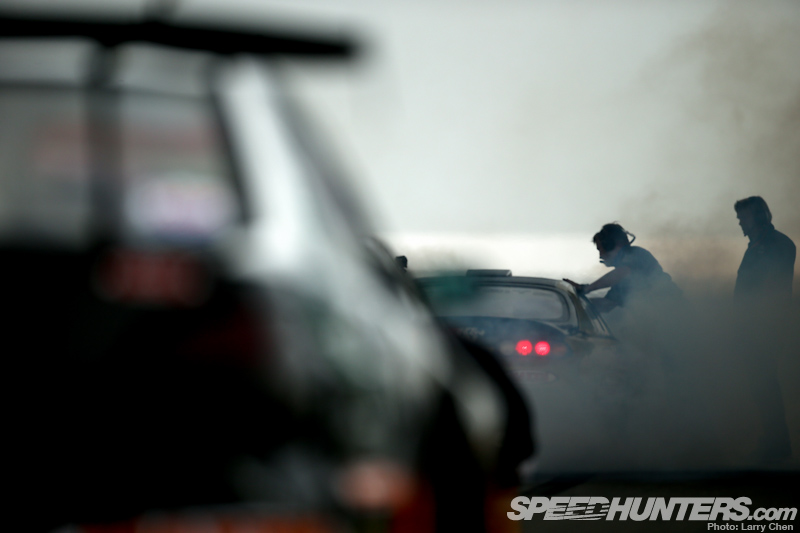 There would be only three sessions in the day. Practice for one hour,qualifying for one hour and then the top 16 competition would finish off the day. I made sure to make the most of every session.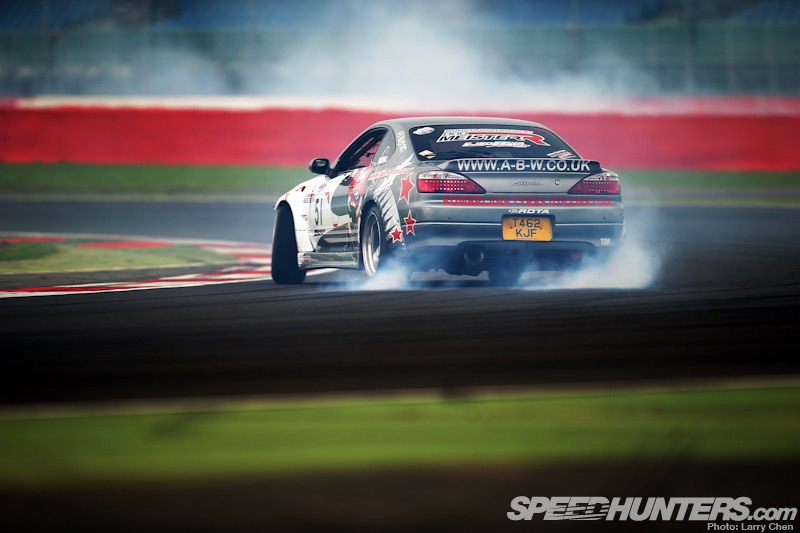 The difference between this track and most other tracks I shoot at is the distance I have to stand from the cars while they are drifting. There is a massive amount of run off, so it is absolutely necessary to have a very long lens. I usually carry a long lens with me just to look cool, but this time I actually used it. Go figure.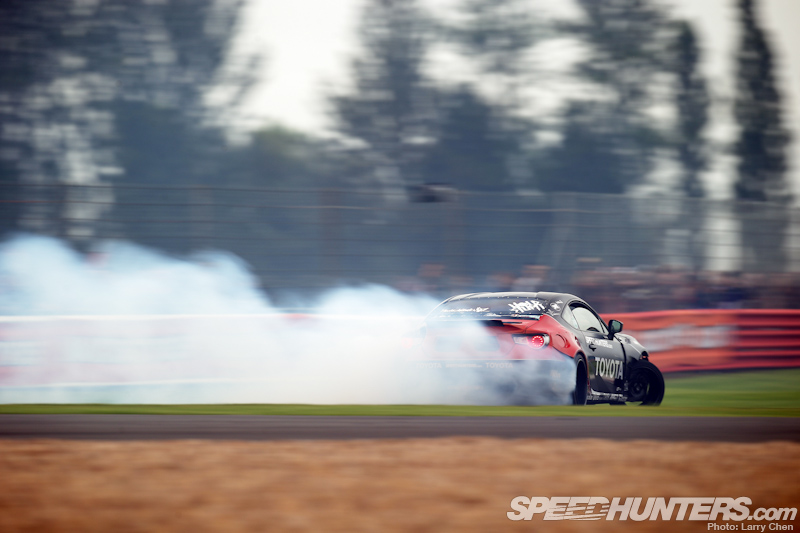 The track was dry, so smoke poured out from the wheel wells of all the cars. Most of the cars are drifting in 4th gear. Dmac's 86 was in 5th gear for the entire length of the track.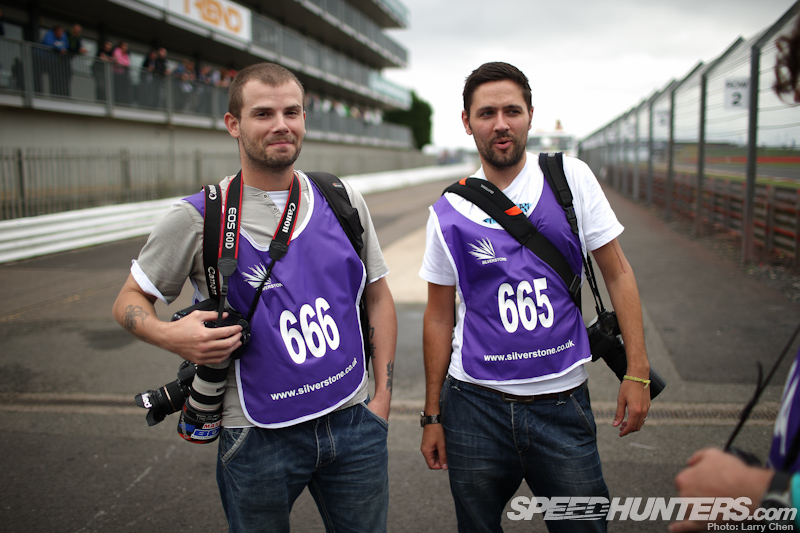 I was half tempted to purchase that 665 vest as it is Matt Powers' Formula Drift car number. I'm sure he would have gotten a kick out of that.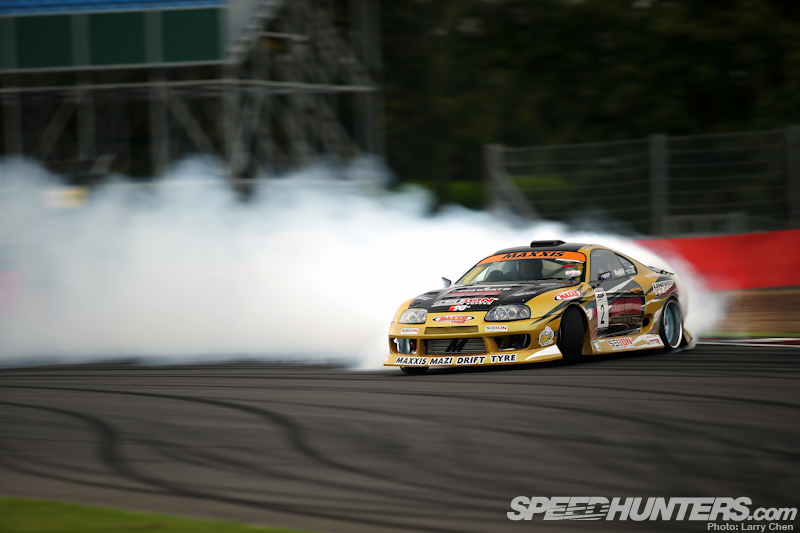 The cloud cover was very thick, so we had some serious overcast conditions. It felt like it was going to rain any minute. I didn't complain as it acted like a giant soft box over the entire course. Shooting constantly in Southern California has given me quite the farmer's tan, so I was grateful for a break from the sun.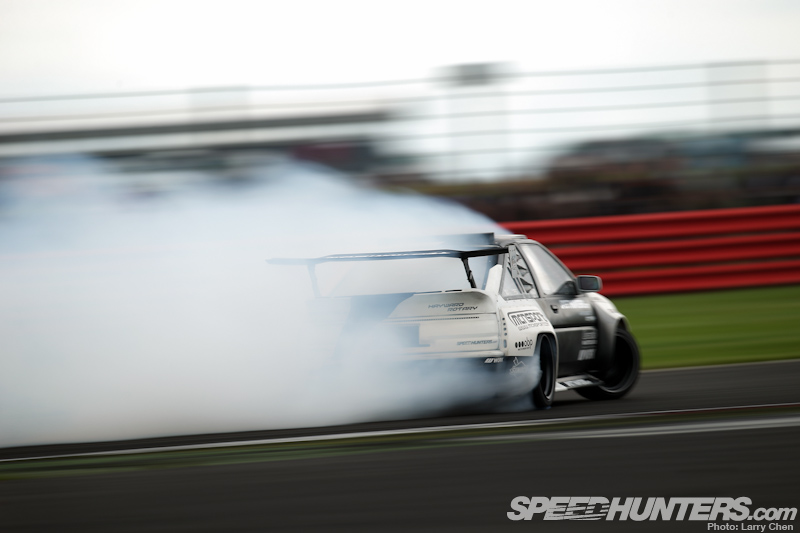 The overcast conditions also acted as a natural neutral density filter allowing me to shoot wide open. Don't tell your photography teacher where you learned all these bad habits.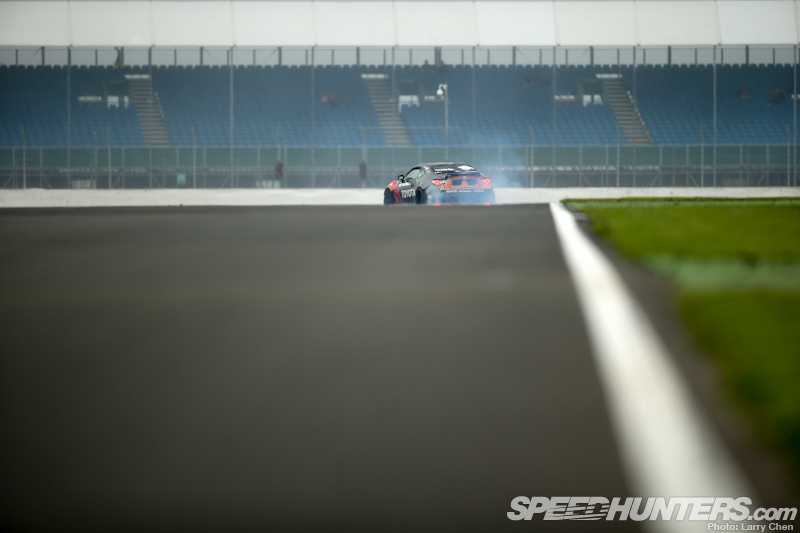 The dry conditions were too good to be true and as soon as qualifying began the skies opened up. Everyone would have to qualify in the rain. I headed to the hot grid to get some shots of the cars leaving the start line.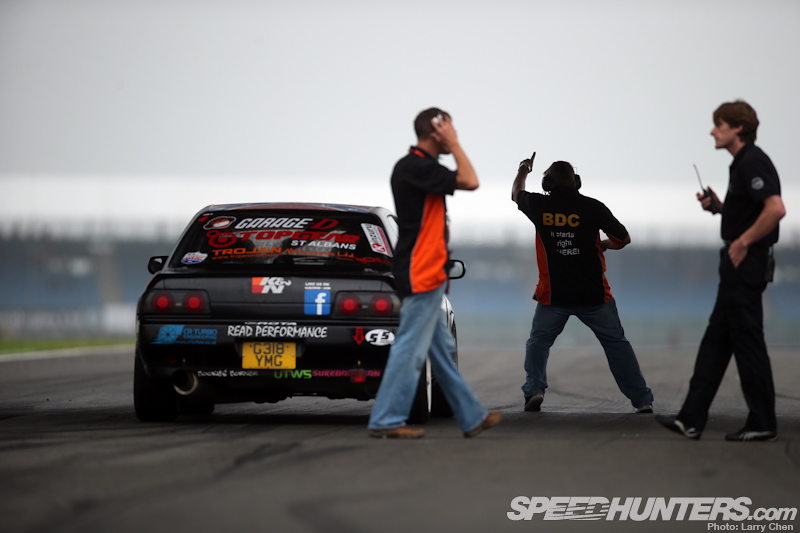 There I found a very enthusiastic starter.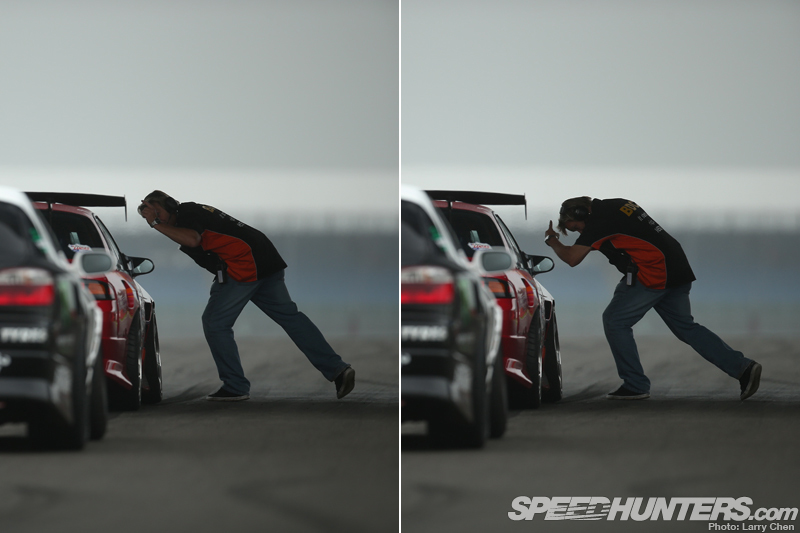 They call him 'Malx' and he takes his job seriously. If I didn't know any better I would think his day job is launching 50 million dollar jets off of an aircraft carrier.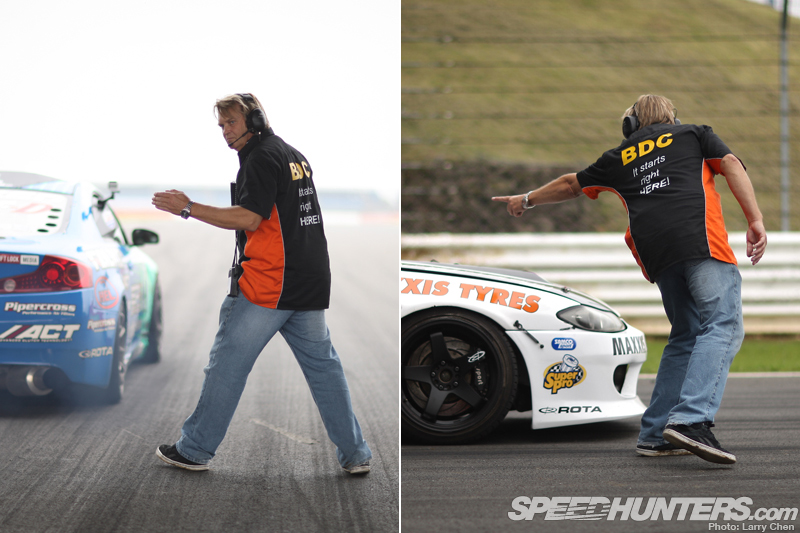 I watched him for a while to figure out what he is doing. First he pre-stages the car. Then he makes sure you are ready for launch.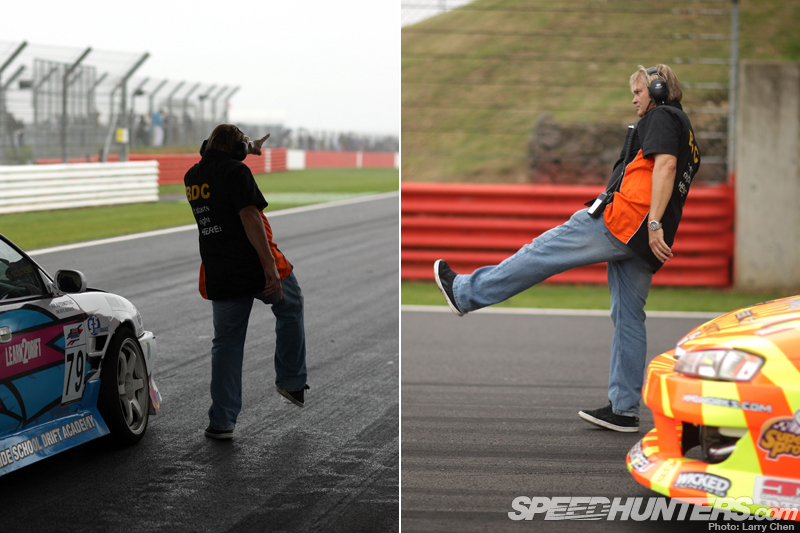 Then he sends you off into the sky. The extreme jetwash force of the car launching then pushes his body like a rag doll. What a cool job!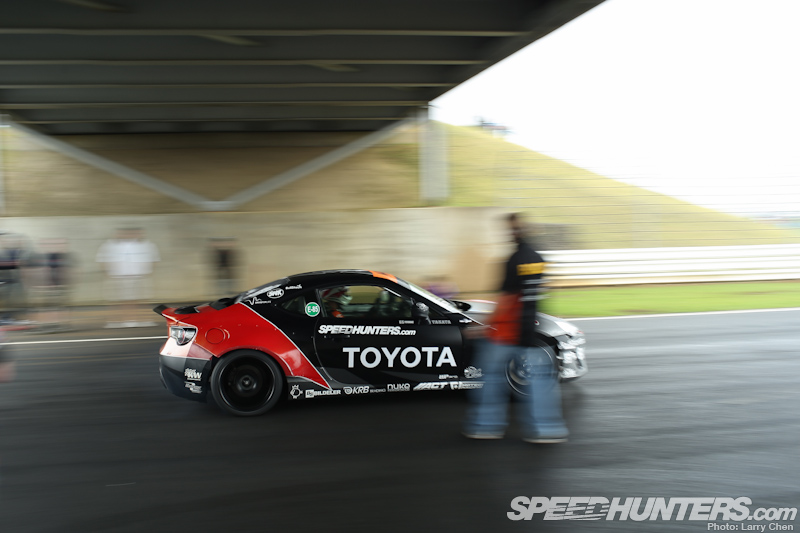 And he did the same thing for every single run throughout the entire day. Drinks energy drinks? Probably.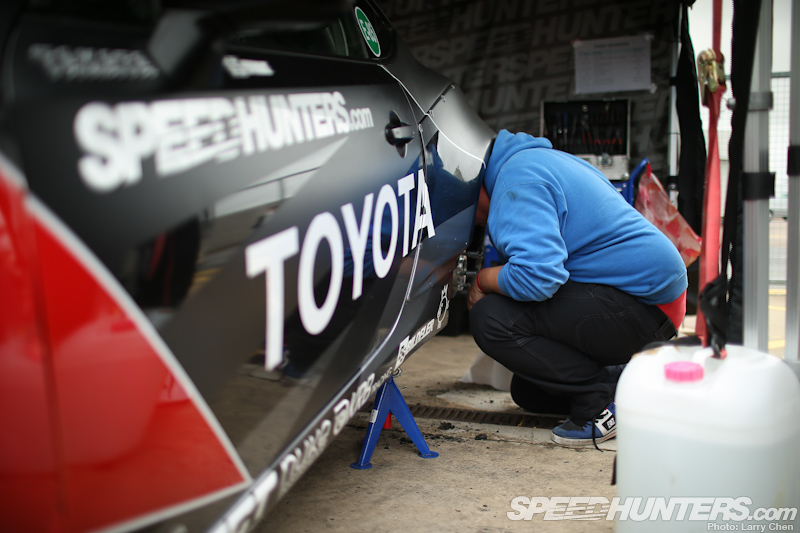 Fredric Qualified 1st, but there was much work to be done before the top 16.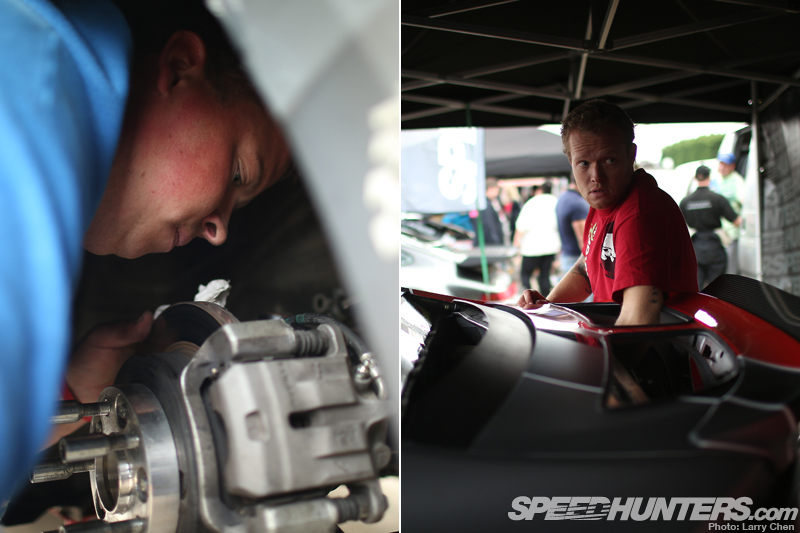 Luckily he has some trustworthy friends that he grew up with as his pit crew. Like any good crew in racing everyone just did their own jobs without getting in the way of the others.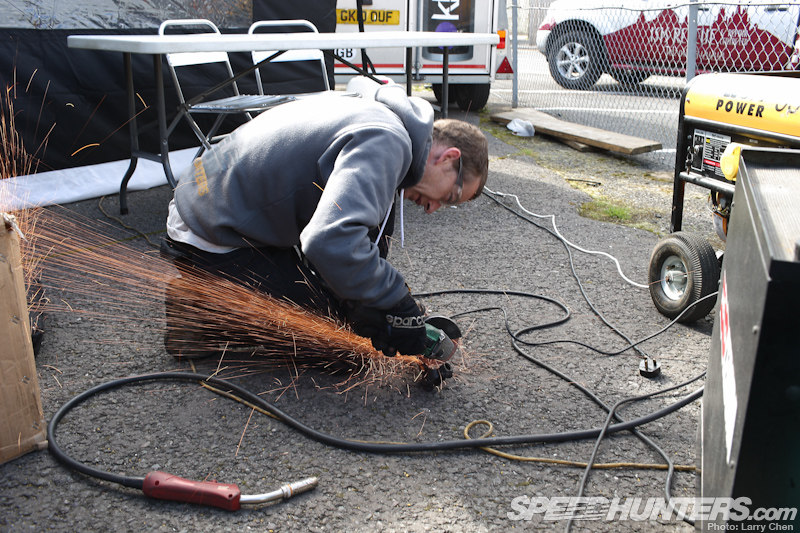 I heard some cutting wheel action going on behind our pits and I went to check it out.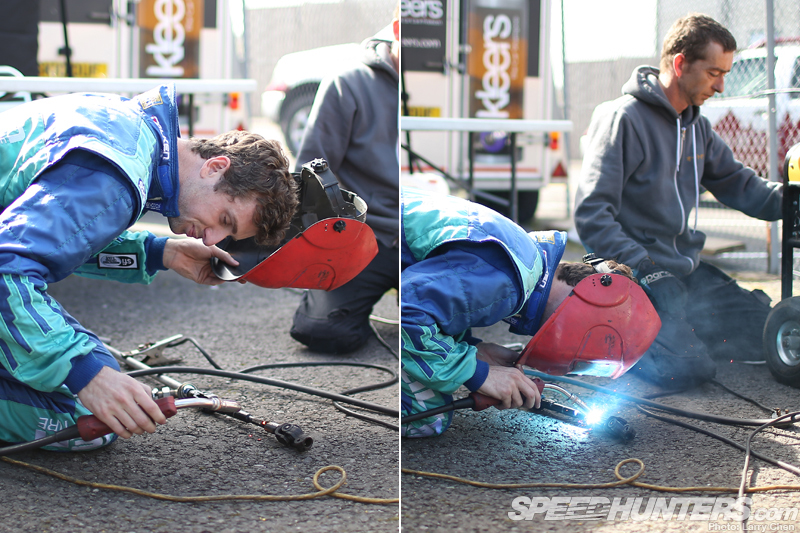 Darren and his crew chief Darren "Happy" Butler were working on the steering. It was binding very badly and it was hard for Dmac to steer the car. It was all because they had to relocated the steering rack based on the new Prodrift rule book.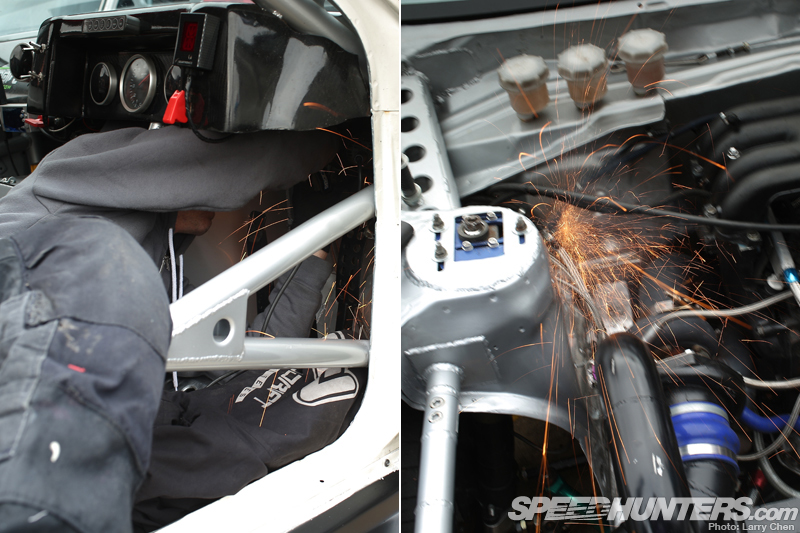 They have been plagued with problem after problem since the beginning of the event. After cutting some sheet metal the steering column was completely relocated. You can read more about his troubles in his interview.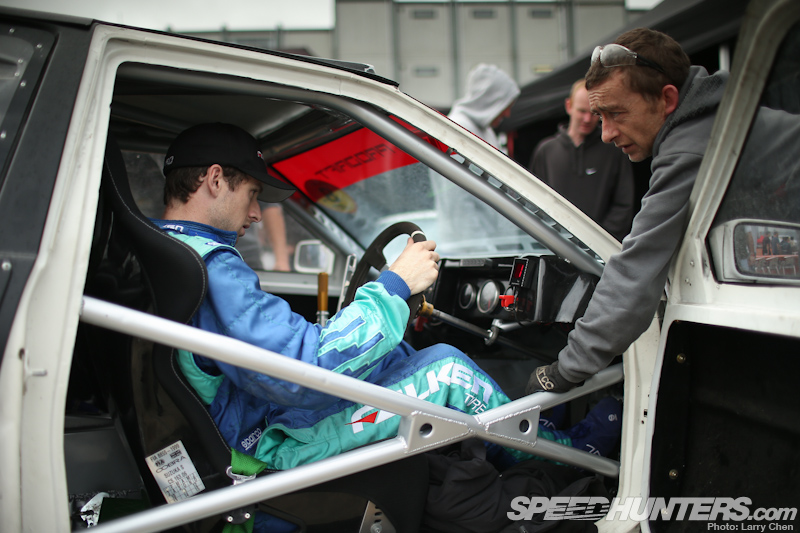 These are just the kind of problems that are expected when you really push the envelope and do off the wall builds. The good thing is Dmac and his crew kept their cool and they finished in time for the autograph session.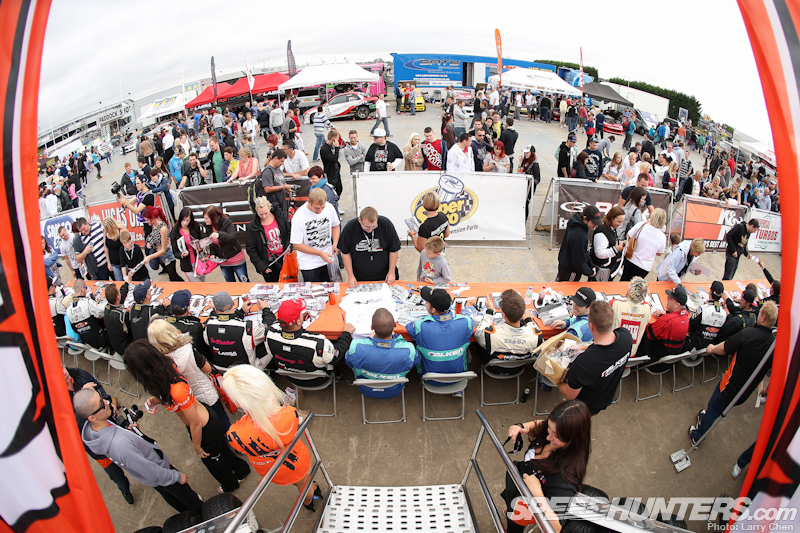 The paddock was getting more and more packed as fans found their way to the drift paddock. The show was absolutely massive and we were in the very corner of the show.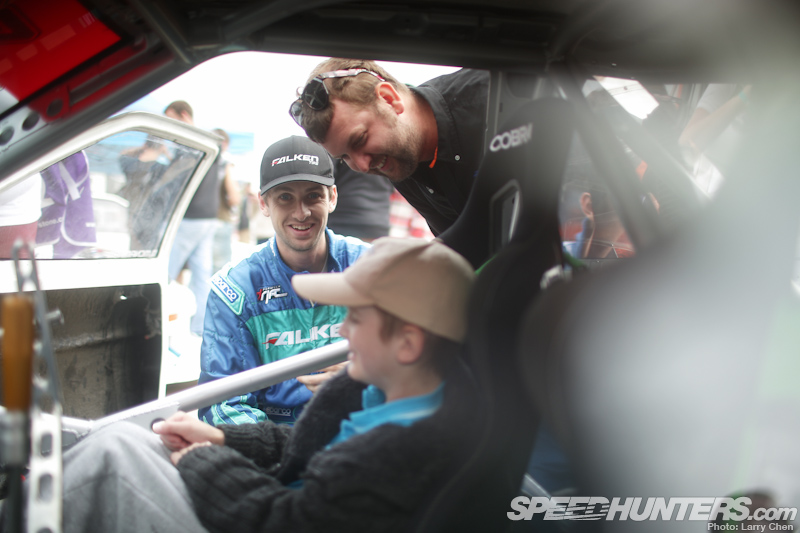 After the autograph session, Darren relaxed a bit and hung out with some fans. He did end up qualifying 5th and fixing most of his problems, so I guess that was a reason to crack half of a smile.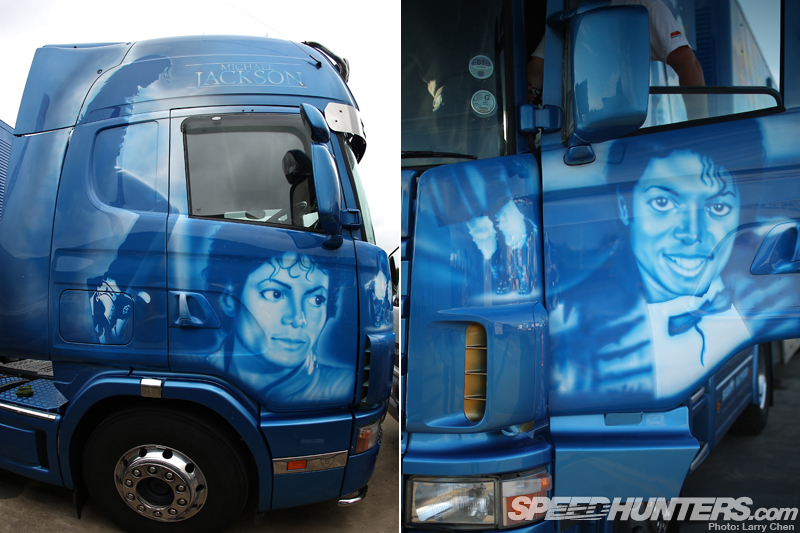 I decided to leave our drivers alone and wander around a bit and to check out the happenings in the pits. The SATS racing guys really take their love of the king of pop to a whole new level. I grew up on his music too so I understand where they are coming from. I was very lucky to have photographed Michael right before he died.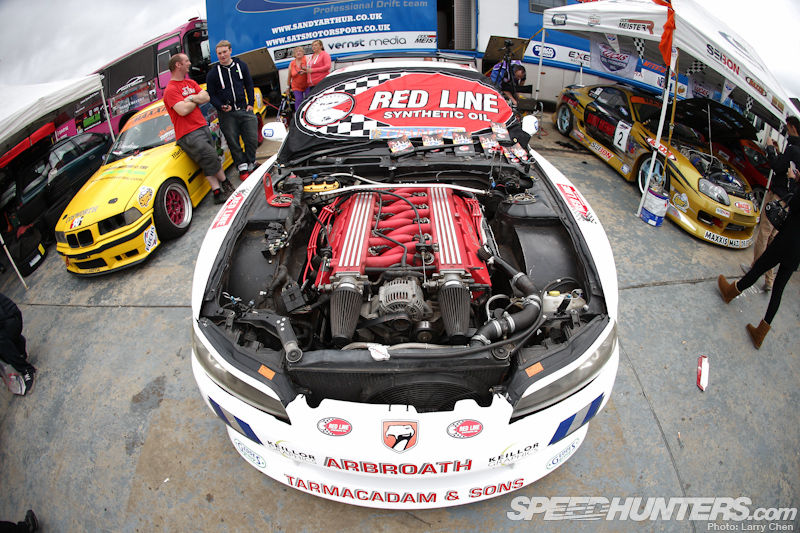 It seems one of the trends in Europe is shoehorning an engine into a tiny engine bay. Like this V10 Dodge Viper motor in an S15. It is amazing to me that a 2.0 liter motor was in this car from the factory and now it has a motor the size of a refrigerator.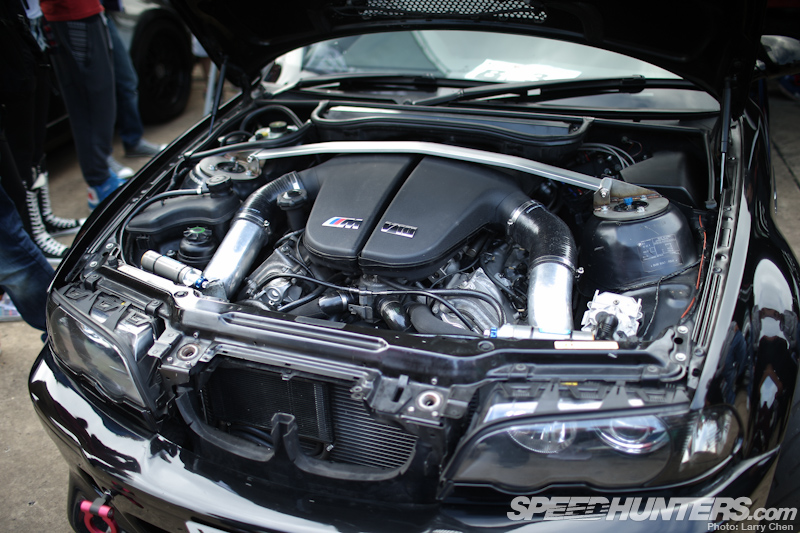 Cursing around the paddock was Phil Morrison's M3 with an M5 V10 motor. What's next? A W16 motor out of a Bugatti Veyron in a Toyota GT-86? Fredric, are you listening?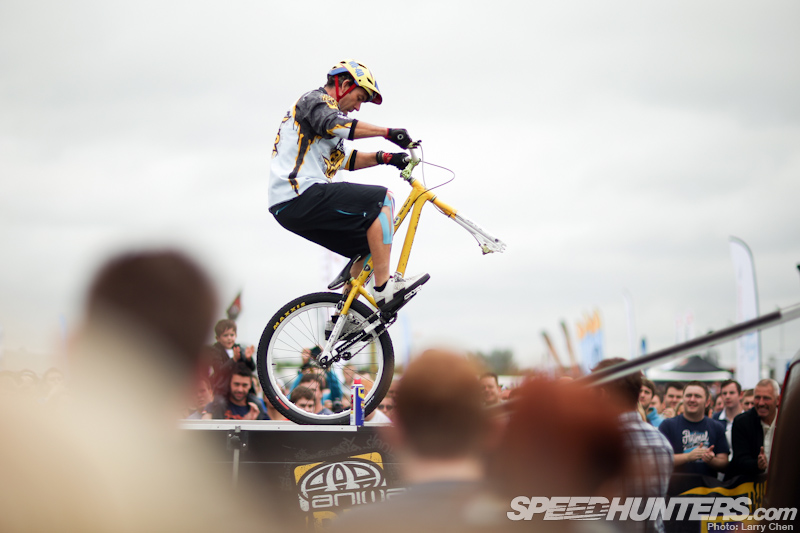 There was also non-car related activities throughout the event. Unfortunately, I was limited on time and I could not really check out the rest of the car show.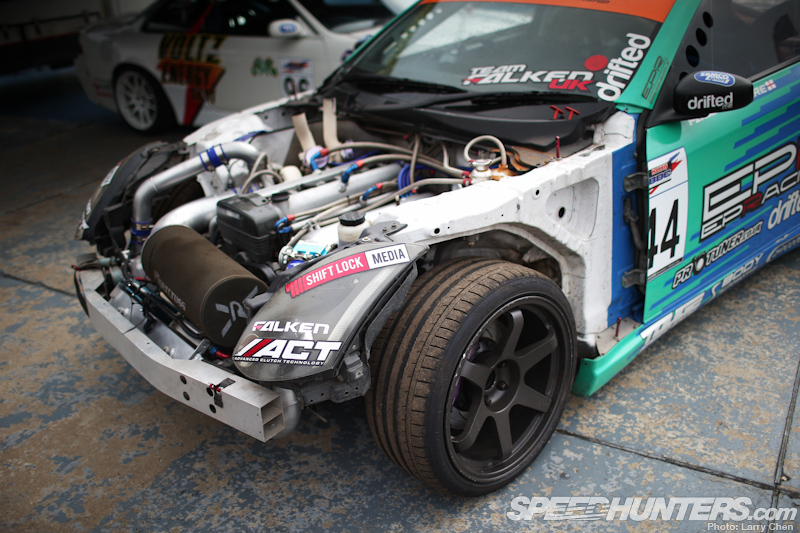 This was an interesting sight to me because the Falken teal and blue colored cars in Formula Drift usually never have their body panels off like this.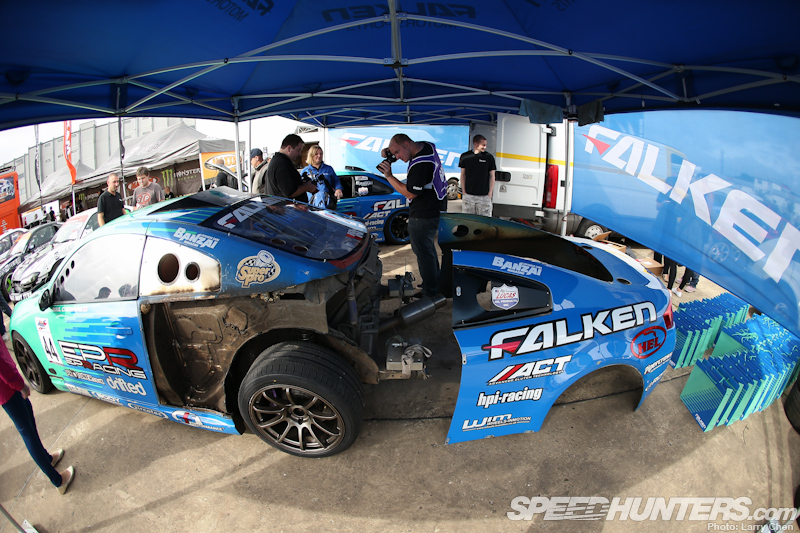 But this Nissan Skyline or Infiniti G35, depending on where you are from, had a removable back section. That makes it much easier to work on, and I am guessing it also makes it much easier to change in case of an incident.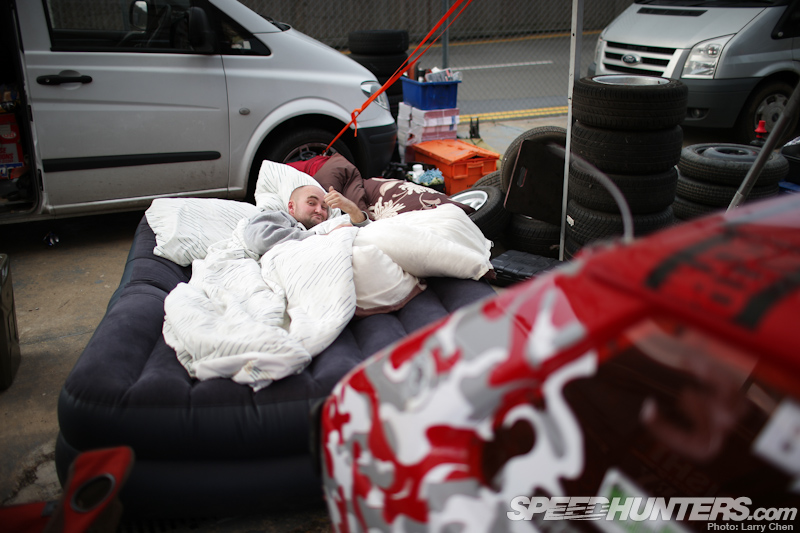 Drivers and crew brought their own track side accommodations. It looked like a slice of heaven as I was still extremely jet lagged.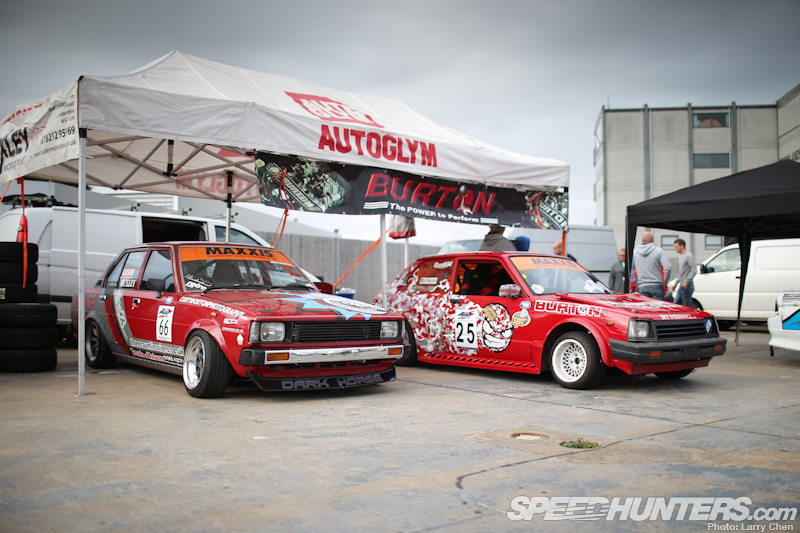 These two cars really peaked my interest. Especially the Toyota Starlet.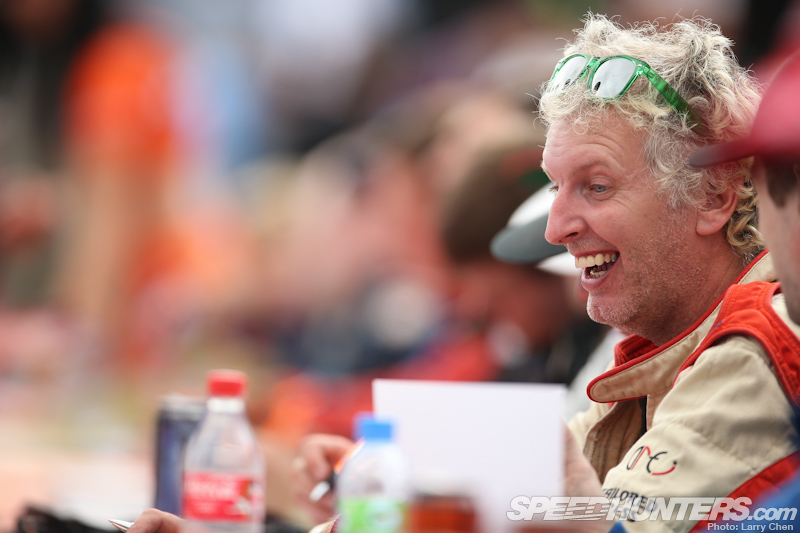 It is driven by Steve Evans also known as 'Stiggy.'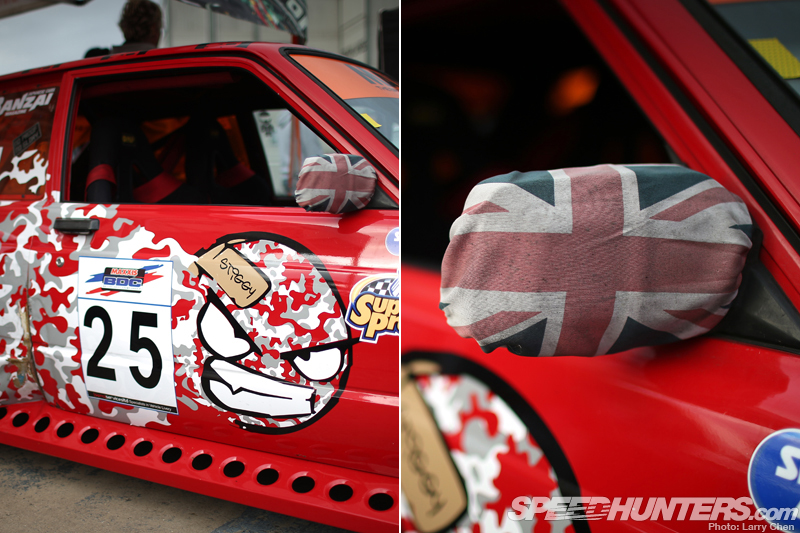 I love the personal touches he has put into this car as it has taken him many years to build.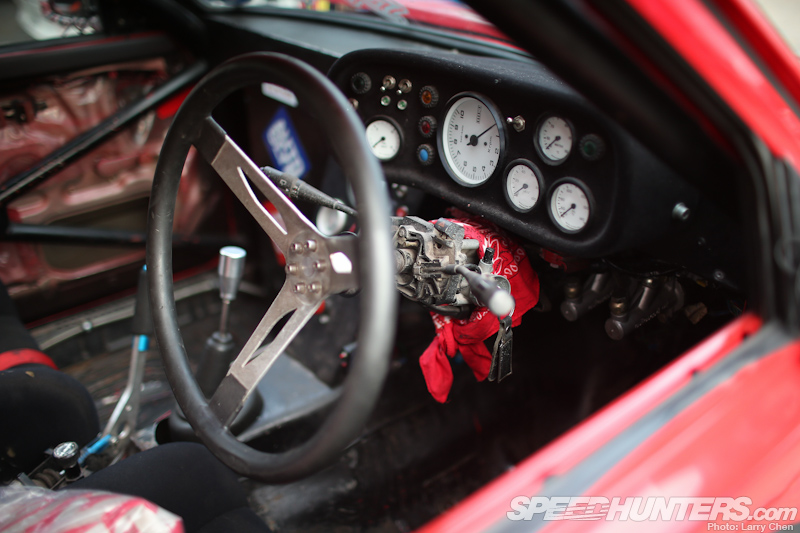 The interior is function over form, which is what a competitive drift car should be.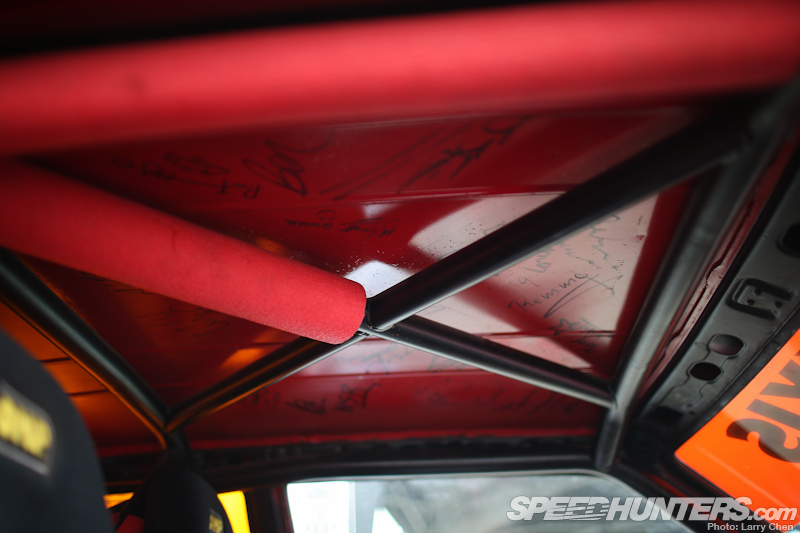 The roof skin is littered with signatures from all the best drifters in the world.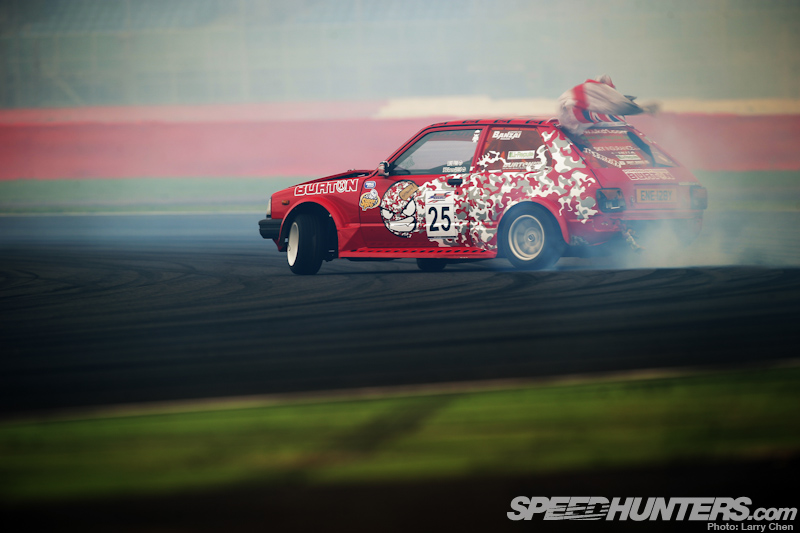 He ended up qualifying 9th overall. Not bad considering how little power he had.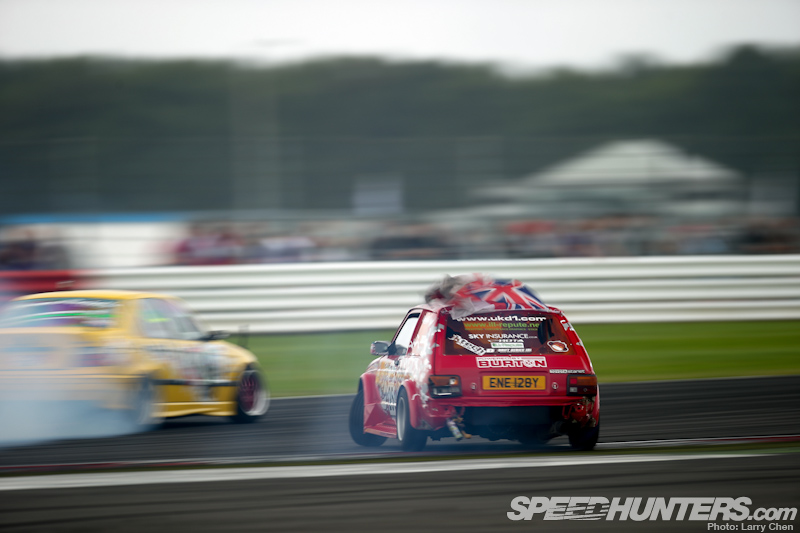 He advanced into the top 8 with some awesome driving despite the damp conditions.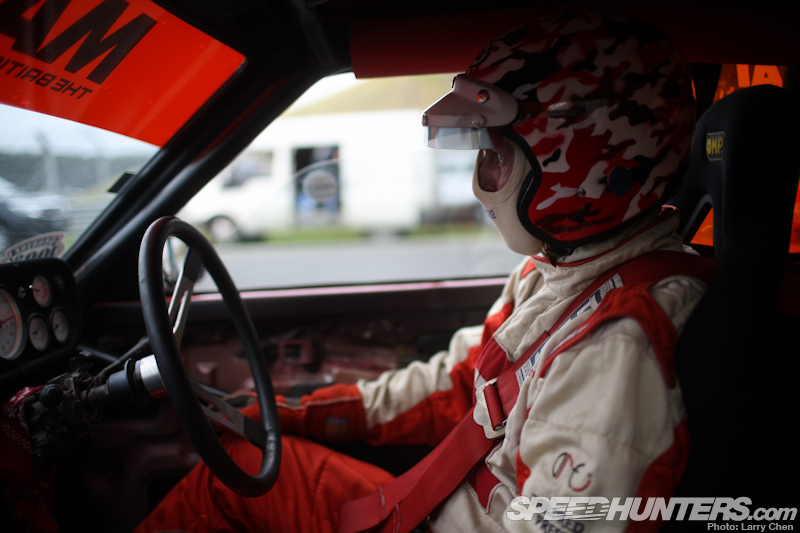 He would meet our very own Fredric Aasbo for a spot in the final four.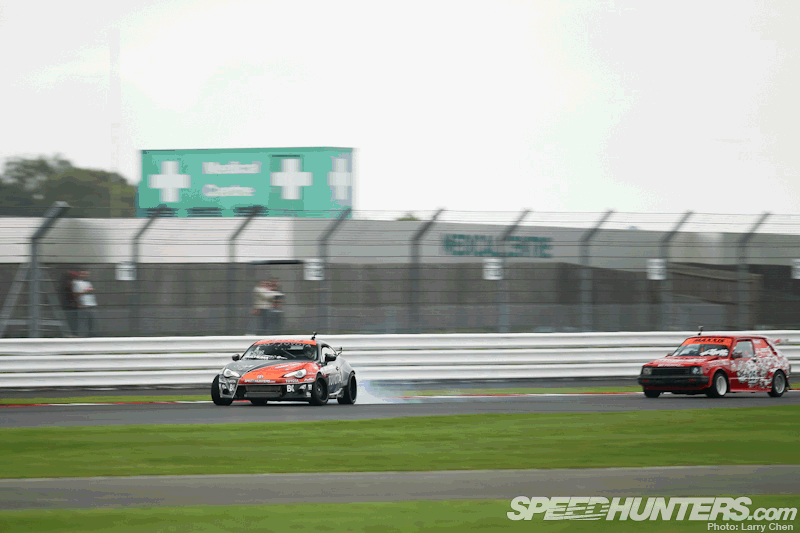 The conditions turned for the worst when it was their turn to battle. Stiggy hit Fredric which gave him a zero for his follow run.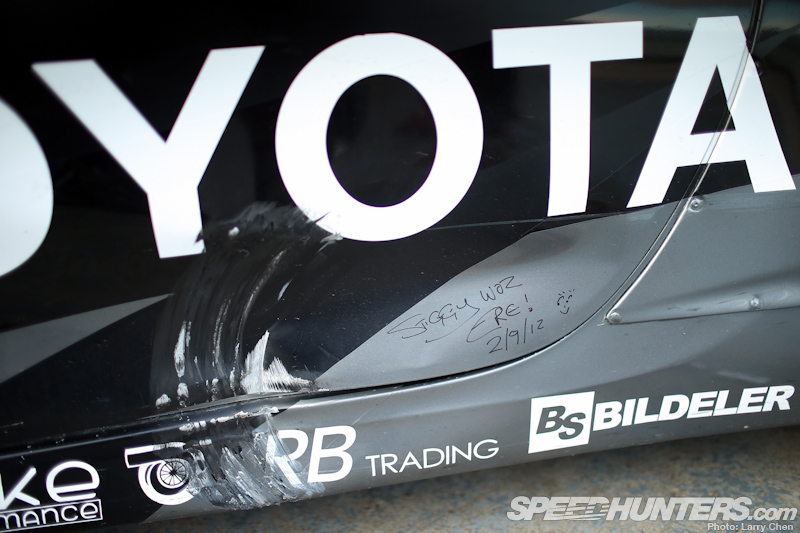 He even signed Fredric's car as a fun little way to say he was sorry. No harm no foul, this was drifting after all.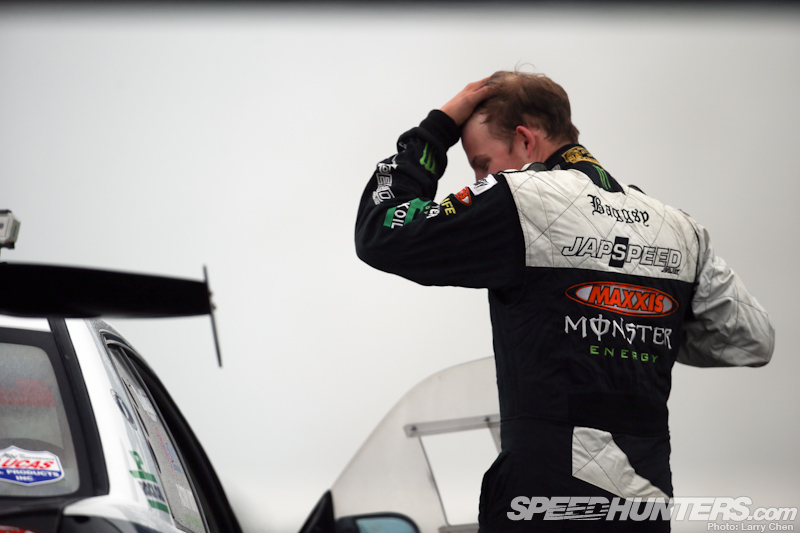 This was around the time when butterflies filled your stomach.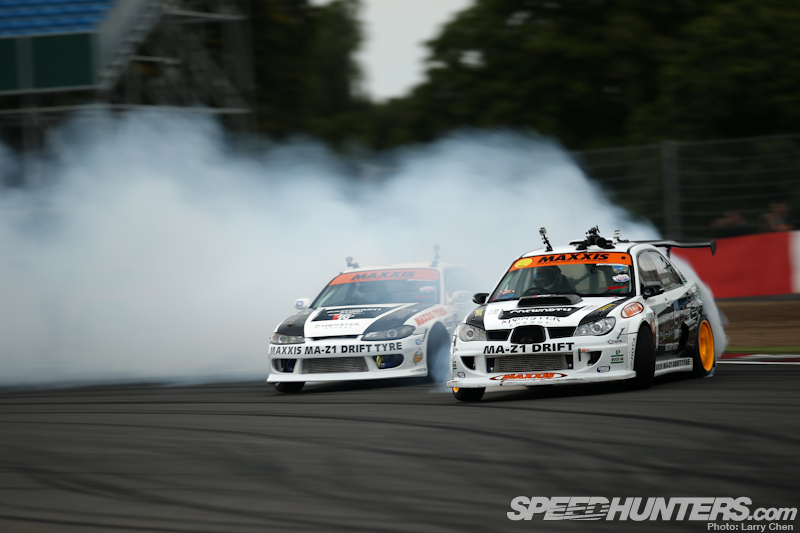 The battles were very intense and they got closer and close in proximity as they went through the brackets. For a run by run recap visit the BDC blog here.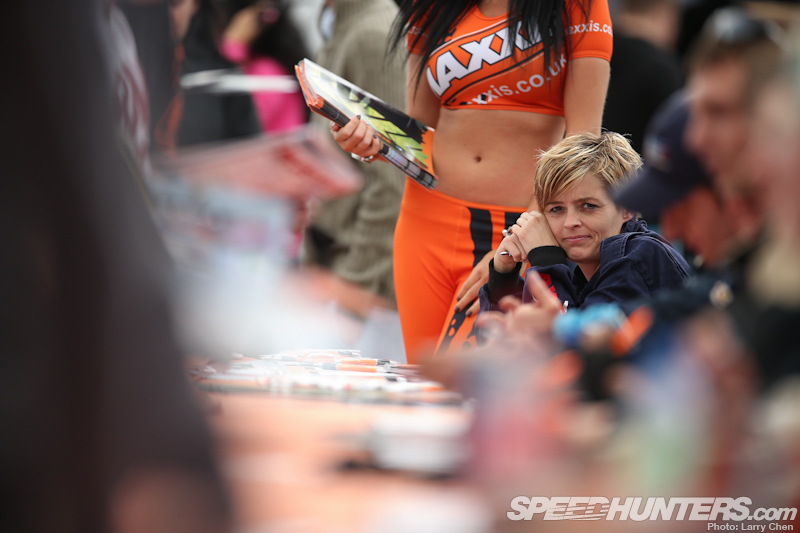 One driver that stood out from the crowd was Julie Robinson. Currently there are no female drivers in Formula Drift so I was curious to see how she would do.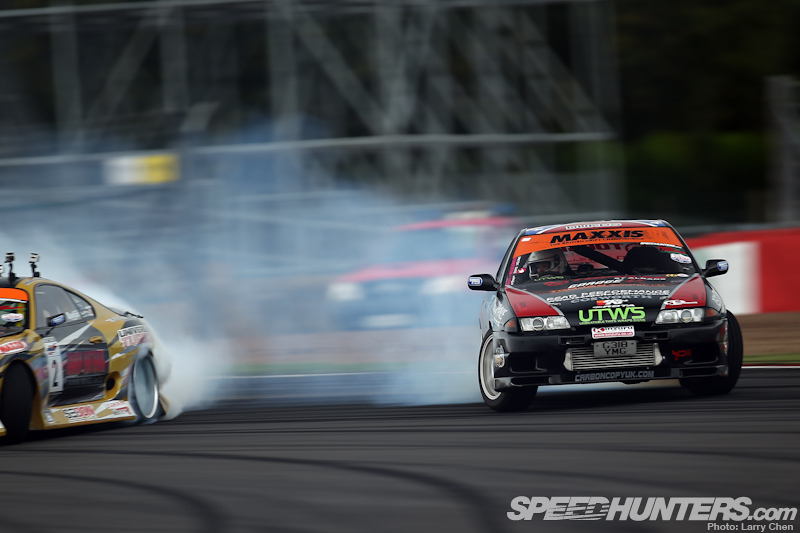 So qualified 15th overall, so she went up against Mark Luney in that awesome Toyota Supra. She lost, but she put up a great fight.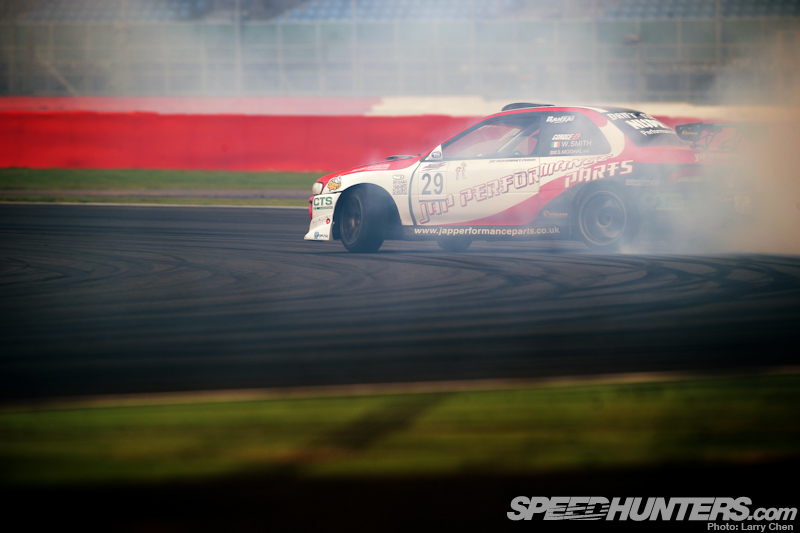 I think one of the coolest looking drift cars at the event was this Subaru driven by Walton Smith.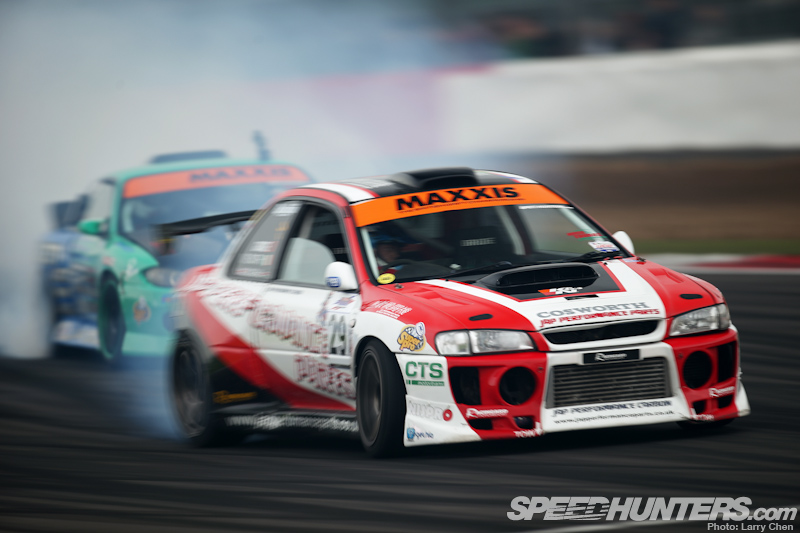 I've actually seen this car drift at Gatebil last year. I don't get to see these cars drift in North America any more.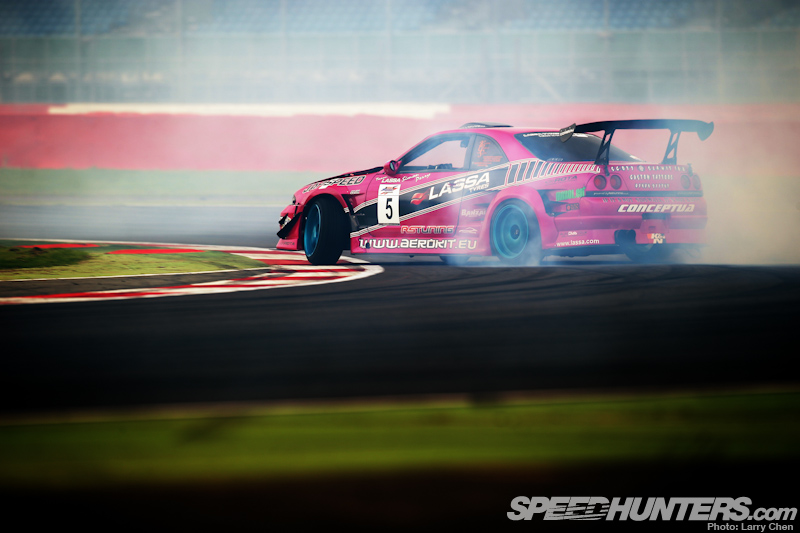 It is too bad this event was so short. I had so much more exploring to do.
I will be tagging along with Darren McNamara as he gets his car back into shape for the last Prodrift competition of the year this weekend, but for now you guys can enjoy a few desktops below.
Larry
larry@dev.speedhunters.com
More stories from Trax on Speedhunters
More stories from Larry Chen on Speedhunters
---
---
---
---
---