It's the first day of September 2012 and I'm in a field in Northampton, England. I've been here many times before and always for the same reason: the annual Edition 38 Show & Shine.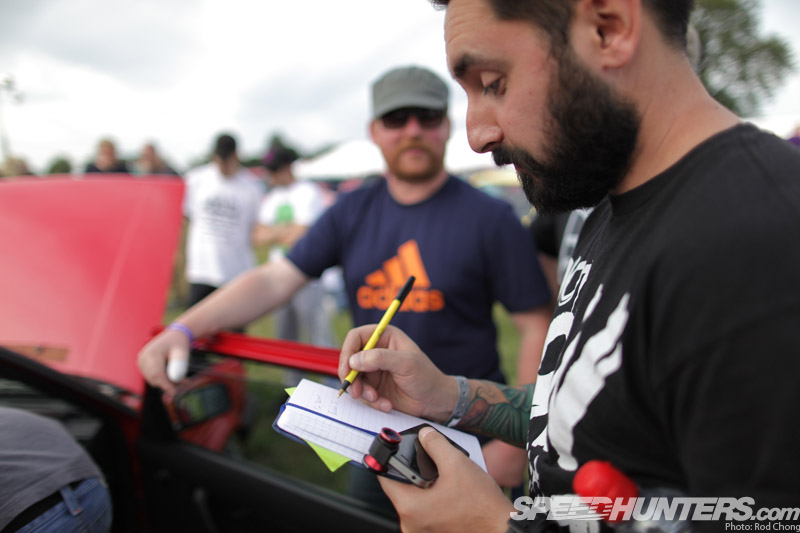 This is my first post for Speedhunters, so I guess I should introduce myself. In a not-at-all-awkward, first-day-of-school-type-of-way, my name is Ben Chandler. I have been lucky enough to work as a member of staff on both Redline and Fast Car magazine and freelance for Performance VW, Retro Cars, Total 911 and some other titles, too. After 8-years of journalism, which is basically like being on holiday all of the time, I left the world of 'magazine making' to start an automotive communications agency. That was two years ago and as you can see my life has progressed and I am now a real-life grown up doing grown-up things… No wait, I am back in a field full of Volkswagens.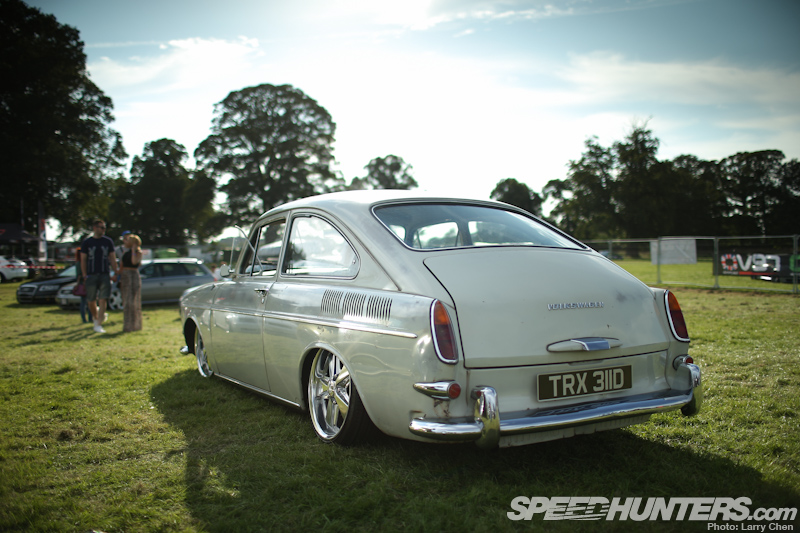 The thing that is so special about the Volkswagen Audi Group tuning scene is its diversity. Everyone building cars is striving to be different and bring something fresh to the table. Some cars are built just for fun, with no regard to finish and fit, whilst other car owner's have clearly spent hundreds of hours perfecting their automotive masterpiece.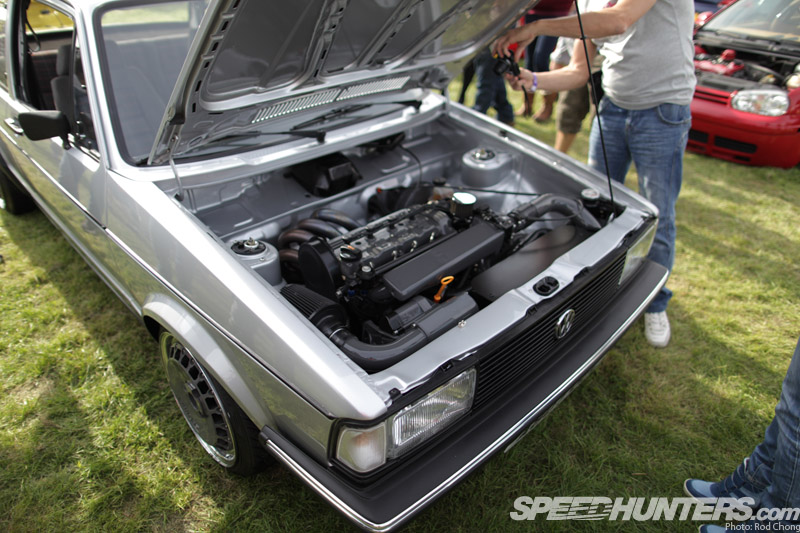 Jamie Fagan falls firmly into the latter category and has spent the best part of five years putting this stunning Mk1 Jetta Coupe together. The rare 2-door model was rolling on 13-inch Mattig SFF steel wheels and running a 1500cc engine when Jamie purchased it 5-years ago. Since then, the Jetta has received a full repaint and been the subject of two G60 engine conversions and two sets of Ronal Turbo magnesium 3-piece wheels.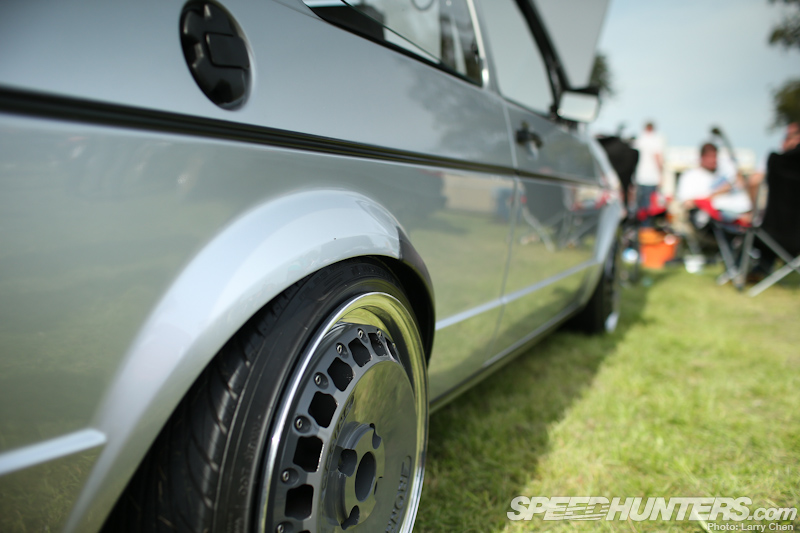 Jamie has completed all of the work, apart from the paint, which his friend Jason Buckley took care of.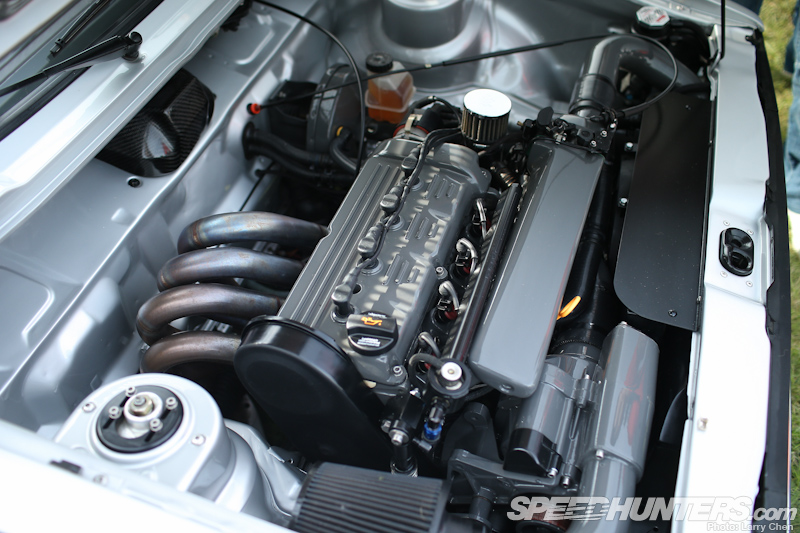 The second G60 motor that Jamie built was based on an ABF 2.0-litre lump. This, combined with a whole host of trick parts that Mr Fagan had gathered, resulted in the coming together of a very cool 2.0-litre 16v G60. The 285bhp it makes is put down via the almost-never-seen, 16×7-inch, 4×100, magnesium Ronal splits.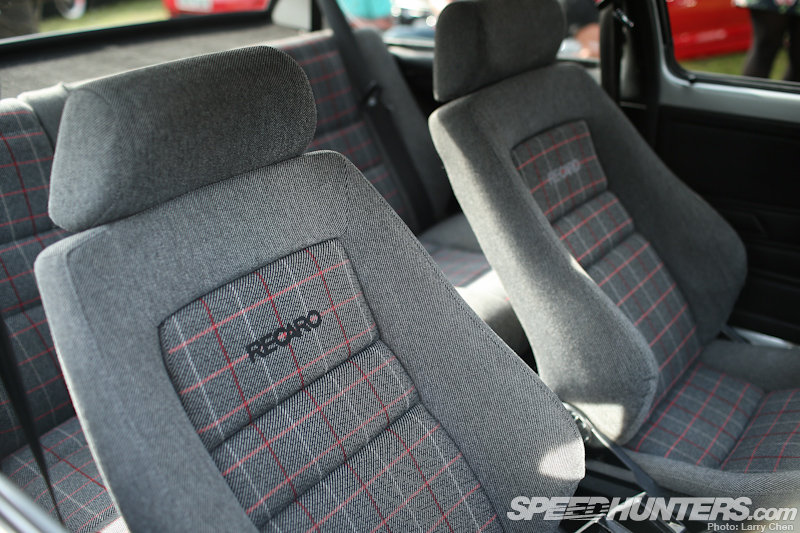 Inside, Jamie mixes together comfort and performance technology – quality Recaro seats sport a stunning trim and the beautifully engineered CAE Ultra Shifter reminds you of the car's potential.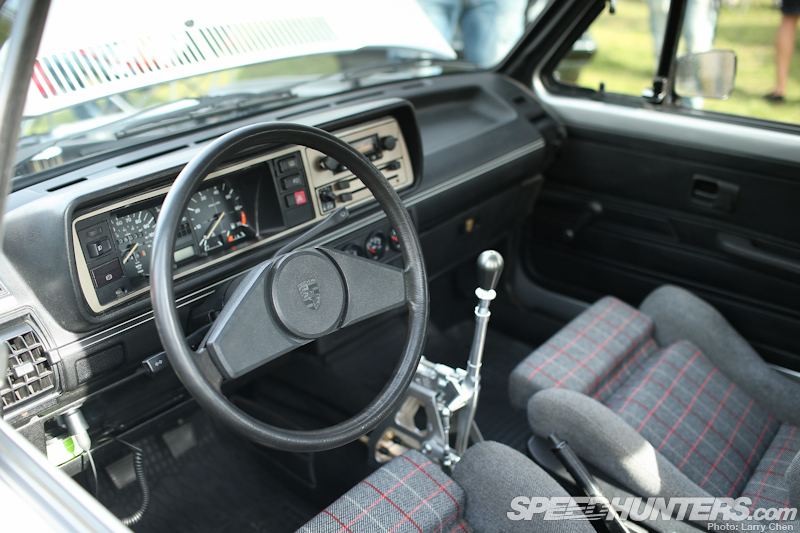 This Jetta has certainly come a very long way since its days of being a 1500cc Coupe lowered on steel wheels.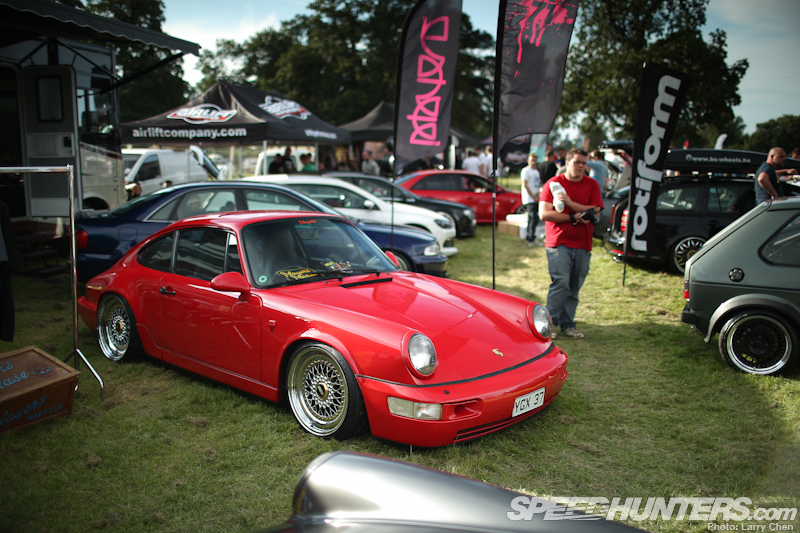 Over the past few years a handful of people in the Volkswagen scene have reached out to the Porsche marque for their kicks. The Porsche 964 model in particular has been the subject of attention and Richie Payne's car, finished in classic Guards Red, has been on the show circuit for some time now. A couple of months back Richie fitted a set of Rotiform-built BBS RS wheels in 18-inch format. The stunning set-up was original run on Brian Henderson's black 964 over in California before being shipped to Richie back in June. The aggressively fitted rolling stock continues to drop jaws over here in the UK.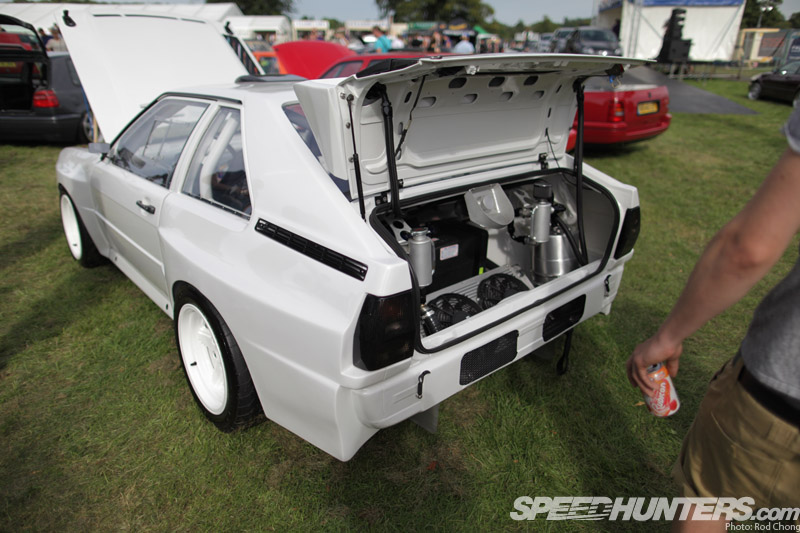 This year, it would seem, that there was a lot more retro metal on display than new wave cars. Maybe this was a Saturday thing; we couldn't attend the show on Sunday due to the intense Speedhunters schedule at Trax. One iconic piece of metal, which caught our eyes, was this stunning Audi quattro.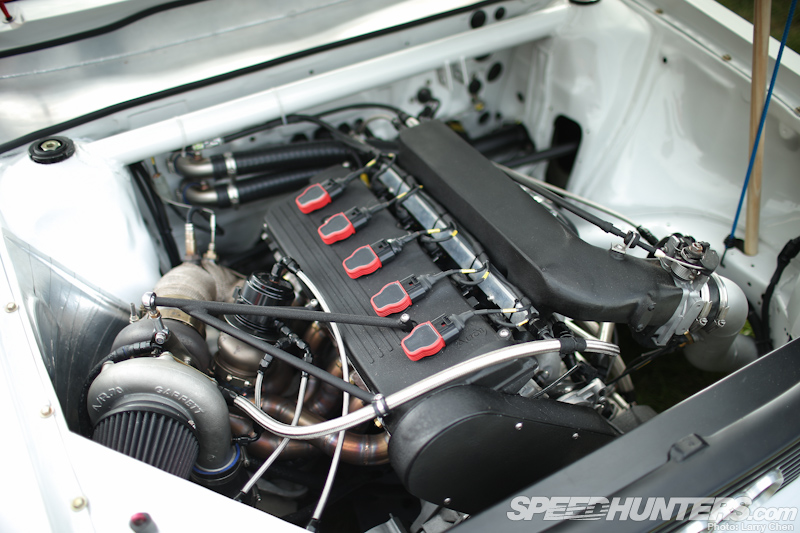 Based on a 1986 ur-quattro, Hamish White has painstakingly created his dream car over a period of four and a half years. Producing 700bhp on race fuel, Hamish has built the complete car by himself, with the exception of the paint.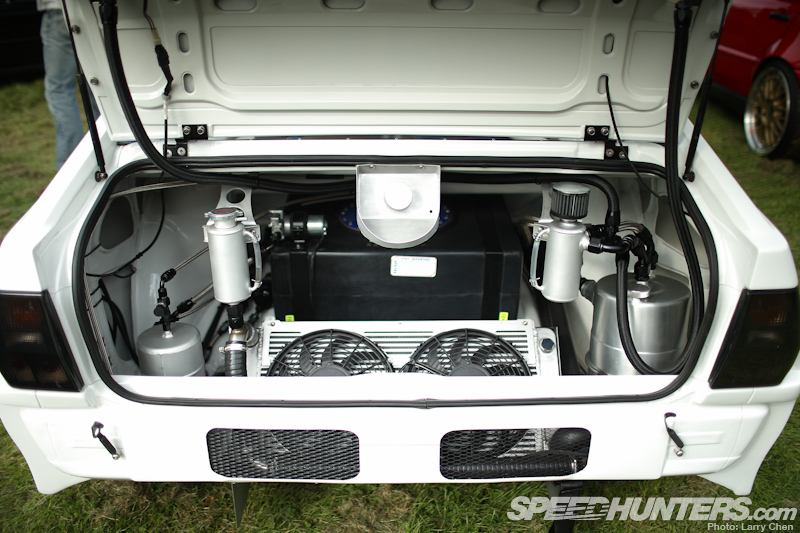 Motec M84 takes care of engine management duties whilst the home-brewed Koni coilover system sits the car nicely over an unusual, but very apt set of AMG Penta wheels that have had the centres machined to enable fitment.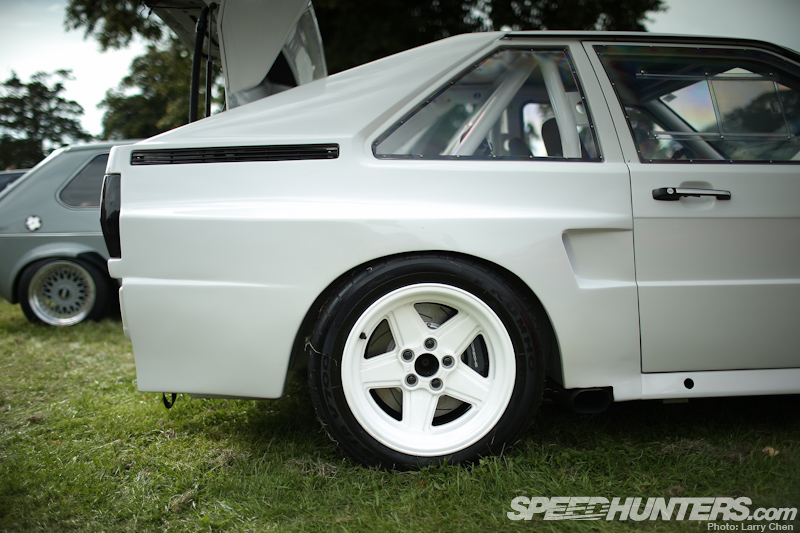 We'll be bringing you a full feature on Hamish's quattro creation very soon.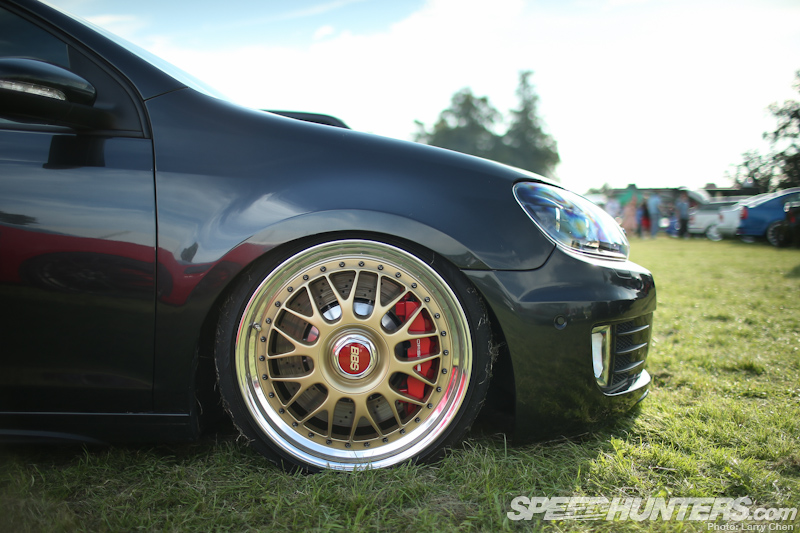 I don't want to use the term 'zero lip', since that has been banded about quite a lot of recent, but there was certainly a trend of 'less lip' at this year's show. The Mk6 Golf you see here was certainly an example of people moving away from 'extreme dish', in favor of a subtler wheel outer.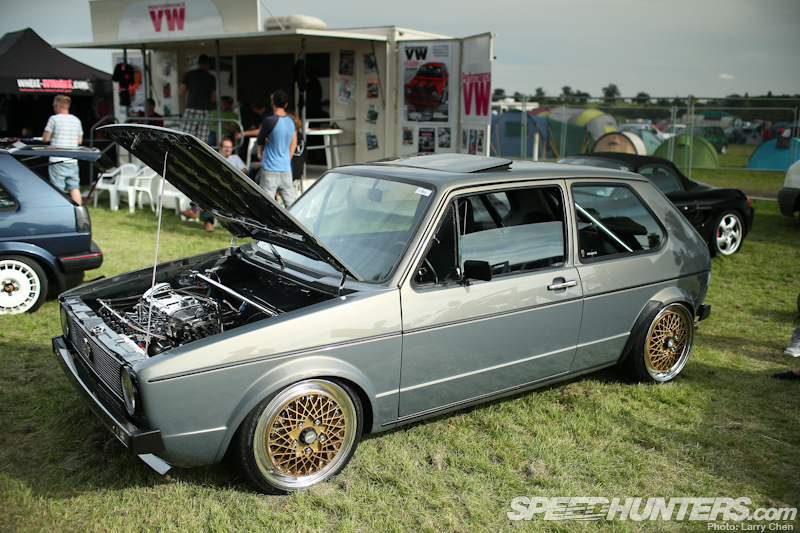 Whilst we're on the subject of minimal wheel lip, 'Big' Ron's incredibly well engineered Mk1 was on show over at Performance VW's stand. The big Dutchman built a legendary VR6-powered Mk2 that set the scene alight over a decade ago and came back with this Mk1 a few years back.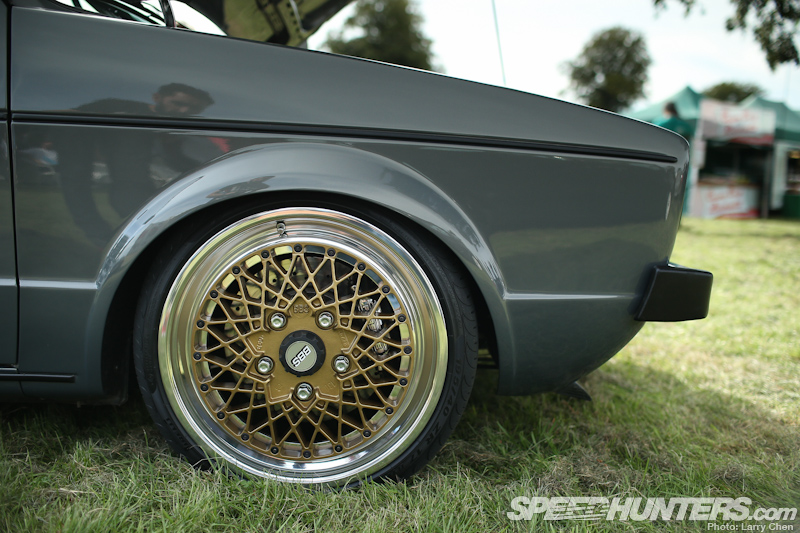 The perfect combination of impeccably finished BBS wheels…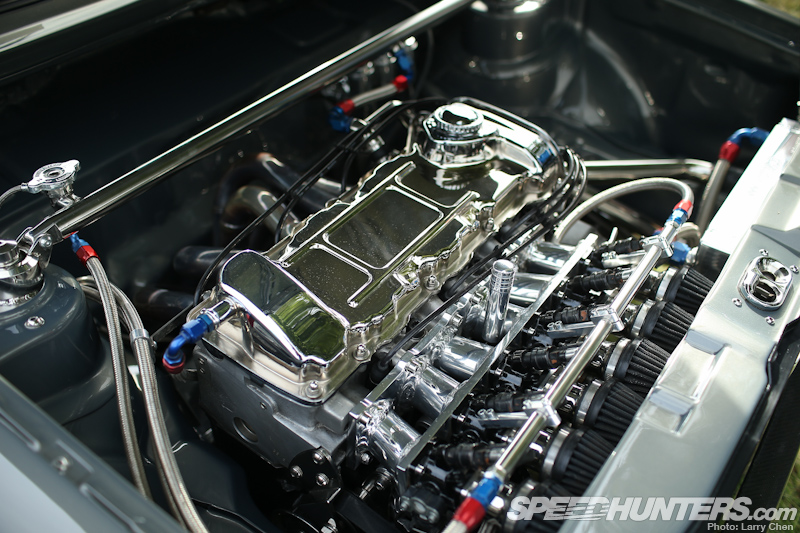 …a VR6 on throttle bodies with motorsport pedal box conversion…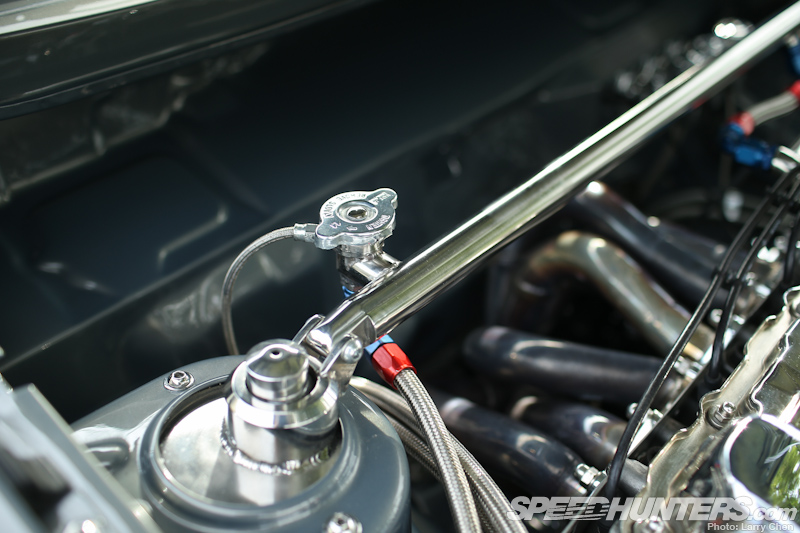 …and an insane strut brace that carries engine coolant, makes Ron's Mk1 stand out from the crowd.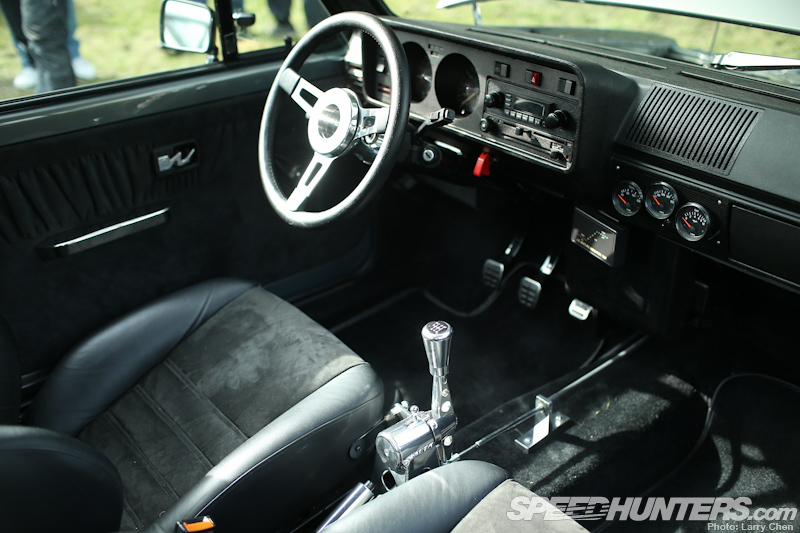 A beautifully finished interior keeps the car useable and allows Ron to attend shows across Europe with ease.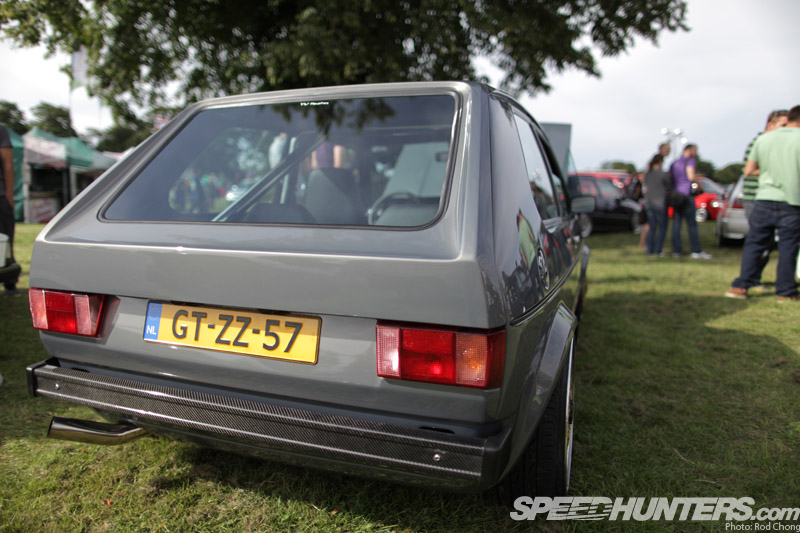 Whilst the narrowed rear beam and re-engineered front suspension set-up creates a narrowed track enabling Ron to run wide wheels without loads of tyre stretch.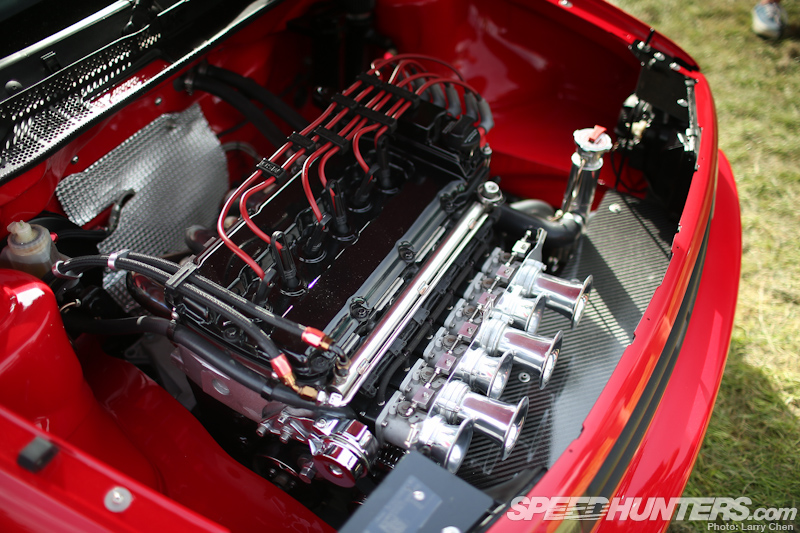 Gareth Spiller shares both a passion for engineering and, much the same as Big Ron, deserves some sort of badge for long service to the Volkswagen tuning scene. His 16-year love affair with this Jetta sees it running a 3.2-litre V6 24-valve lump from an Audi TT on throttle bodies. Check out Bryn Musselwhite's recent Speedhunters feature of Spiller's amazing journey with this car.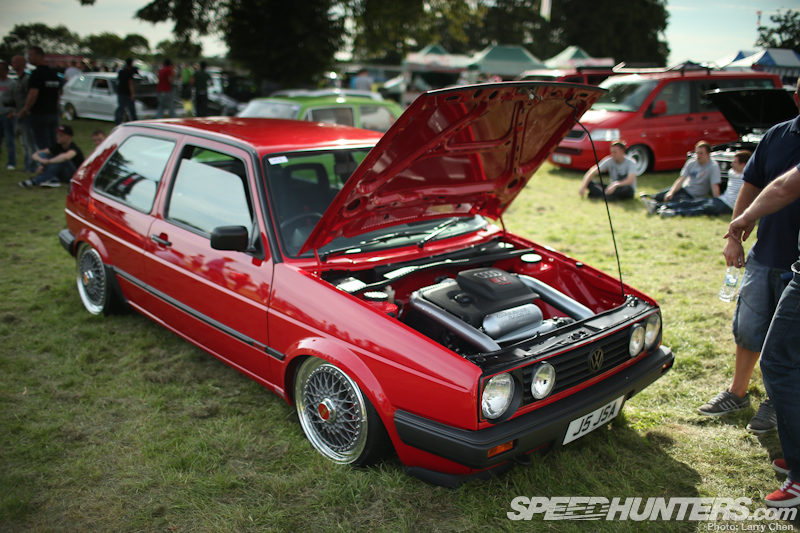 As Rod and myself finished checking out Gareth's Jetta, Larry beckoned us over to Tim Vincent's Mk2 – another car packing not-a-lot-of-lip in the wheel department. Larry took photographs of the incredible tweed Recaro LS interior.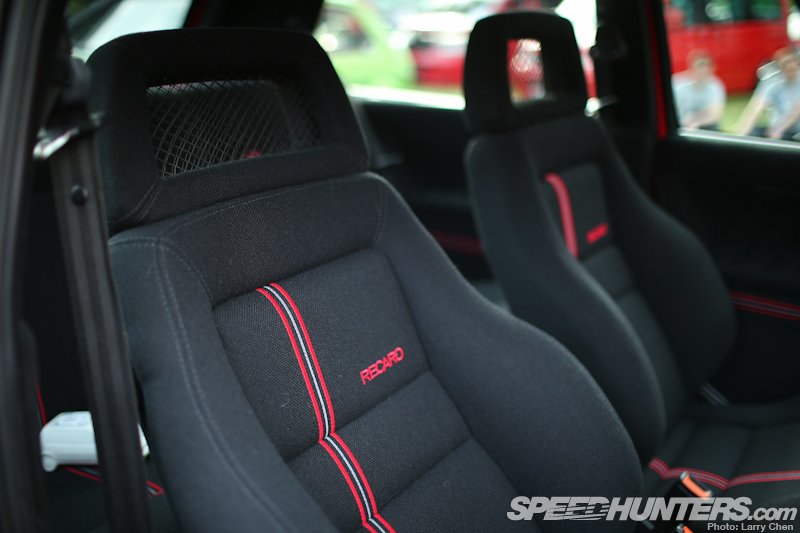 The innards have been the subject of a bespoke MJ Interiors trim.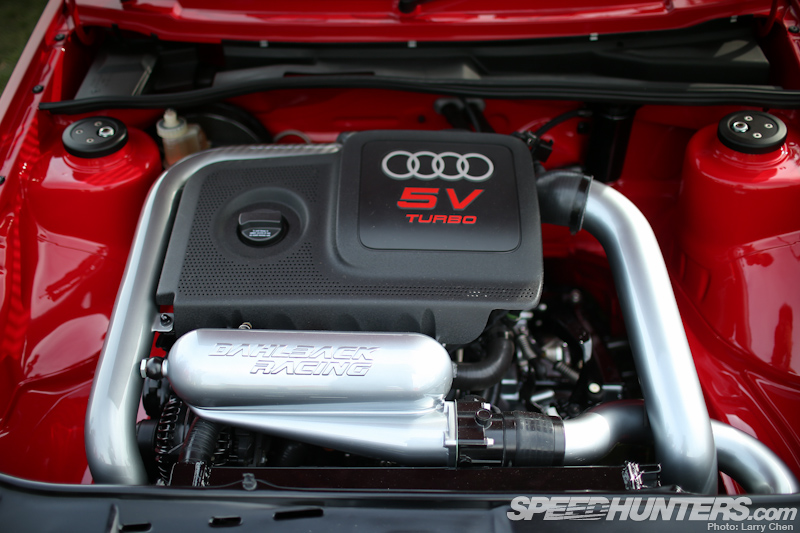 Tim has rebuilt the engine with the help of Jamie Fagan. A slick selection of parts, including a Dahlbäck Racing intake manifold and a bespoke K04 turbo, help the 20v turbo motor kick out around 300bhp.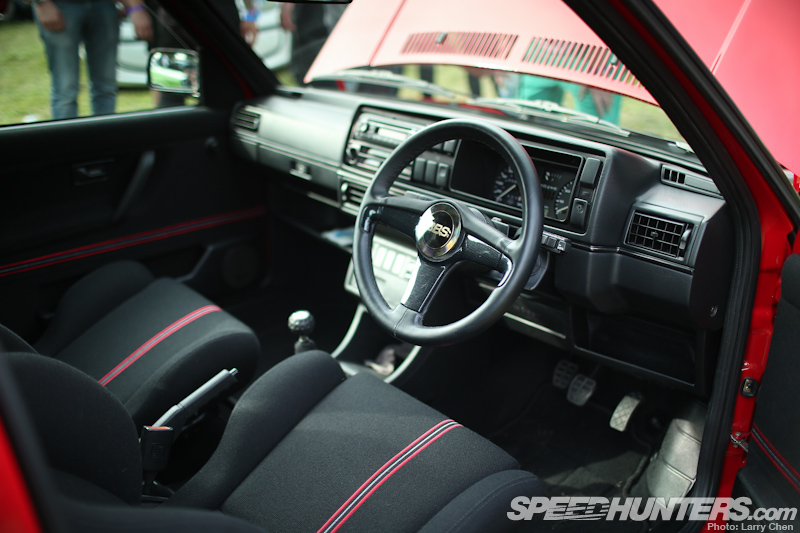 The guys said that there is still some further mapping work required to get the very best out of the car, but it's fair to say Tim's Volkswagen is by no means slow.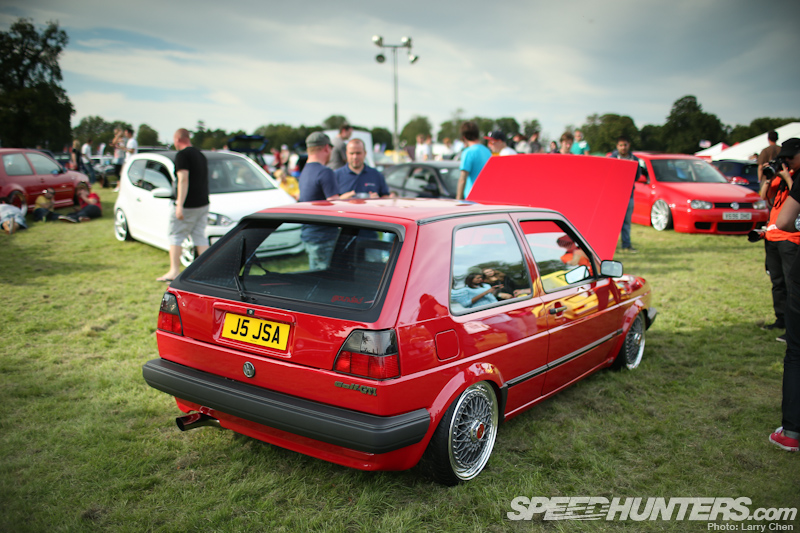 As examples of Mk2 Golf go, this car really does tick all of the boxes for me, personally. It's the sort of car I would happily have sat in the garage to enjoy on a sunny Sunday and take on the odd adventure to Europe's twisty alpine roads for Wörthersee, which is pretty much what Tim does.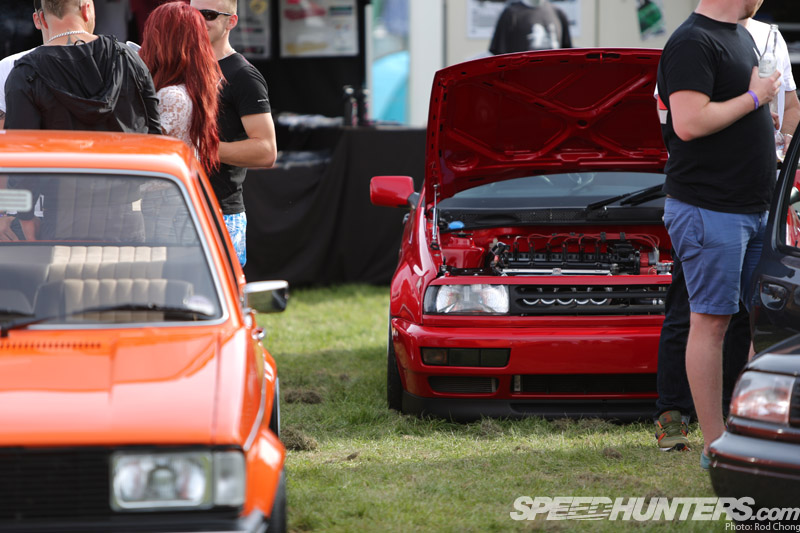 A lot of people have asked over the years where the name 'Edition 38′ comes from and the answer is fairly simple. On the 26th of May 1938 the building of the new Volkswagen factory started in the new town of KdF-Stadt, now called Wolfsburg. So the '38' is taken from the year the first stone was laid at VW's factory, where, of course, it still holds its headquarters. The 'Edition' part of the name comes from the Golf GTi Edition One – a 1989 model with 2-piece BBS wheels, a special Recaro interior, 'Wolfsburg Edition' emblems on the wings instead of indicators and various other touches.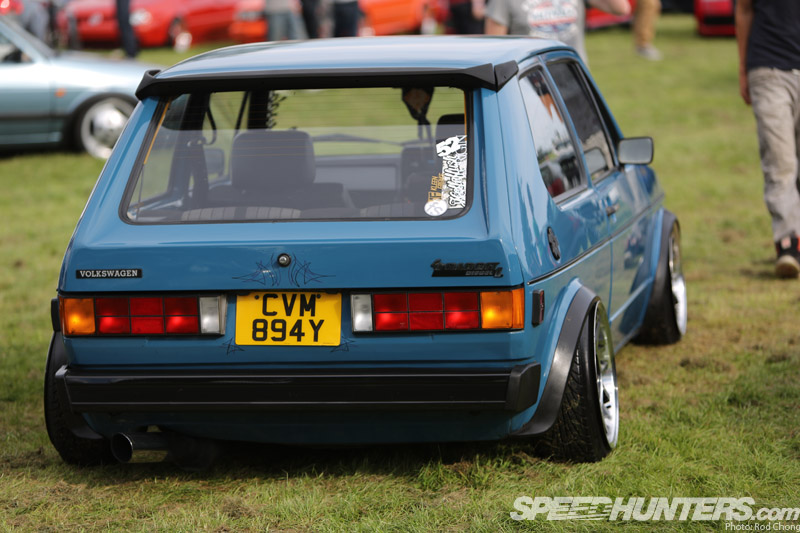 The small club put on its first show in 2001 and launched an online forum. This evolved to be one of the biggest Volkswagen Audi Group communities on the World Wide Web and the rest, as they say, is history.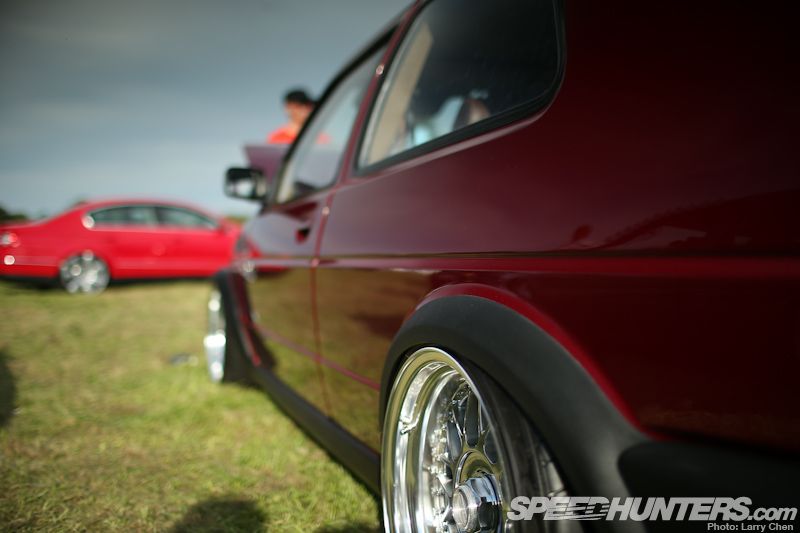 This was the 12th Edition 38 Show and Shine and the event, which pulls cars in from all over Europe, is one of three must-attend events in the VW calendar and a real opportunity to see cars built to the very highest of standard.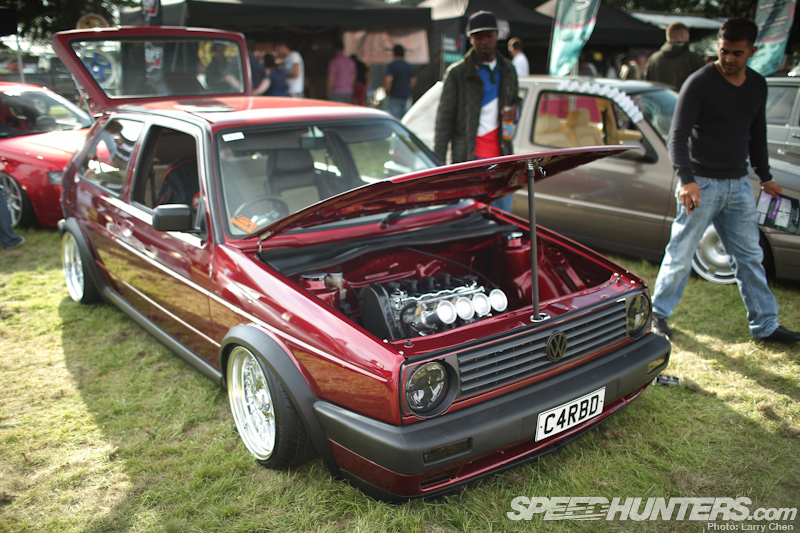 One car that lives up to this expectation of high quality is Russ Whitefield's beautiful Mica Red Mk2. The motor has recently been upgraded from carbs to Jenvey throttle bodies and although Russ says there's still more work to be done, you'll be hard pushed to find a more complete Mk2 Golf.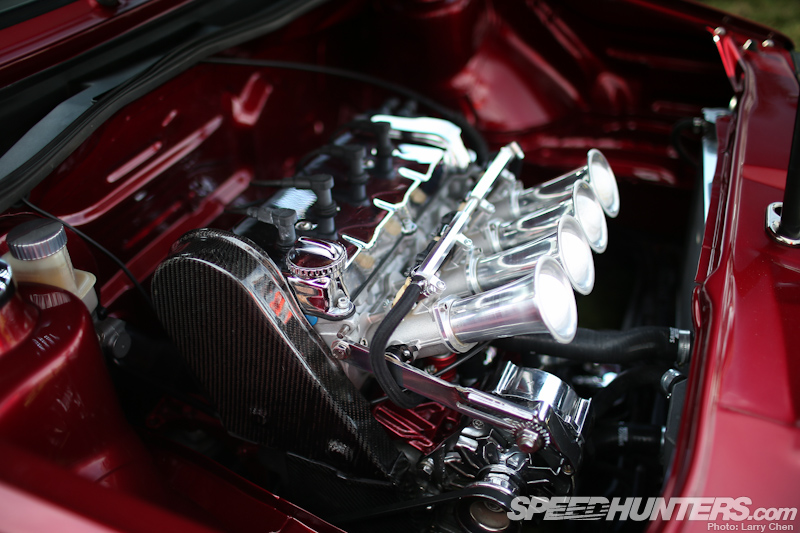 One thing worth mentioning that's easy to overlook when you've been engaged in this scene for sometime, is the standard of engine bay preparation. The Volkswagen guys were one of the first contingents to look to the hot rod movement for inspiration and wisely adopted the cleaned bay look to make their cars stand out even more.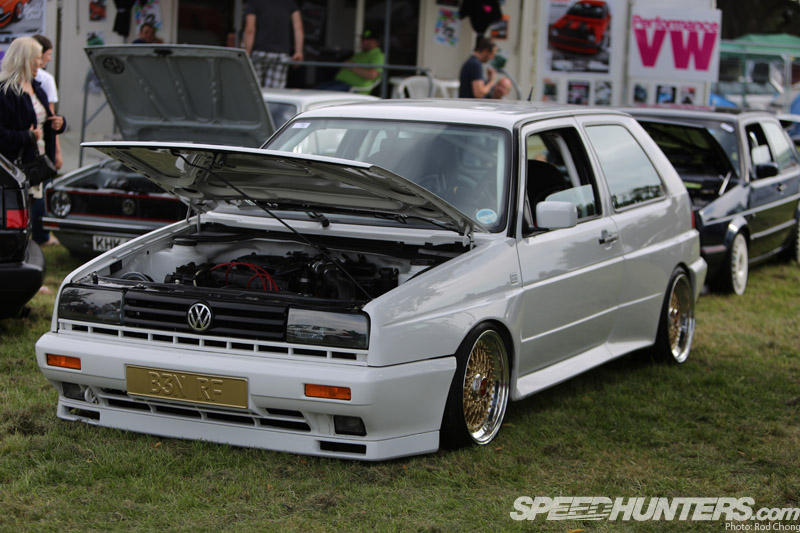 At one point in time you were really ahead of the game if you were sporting an engine bay with a super-clean look, but now wire-tucks and smoothed-out chassis legs are a must-have if you want to bag yourself a trophy.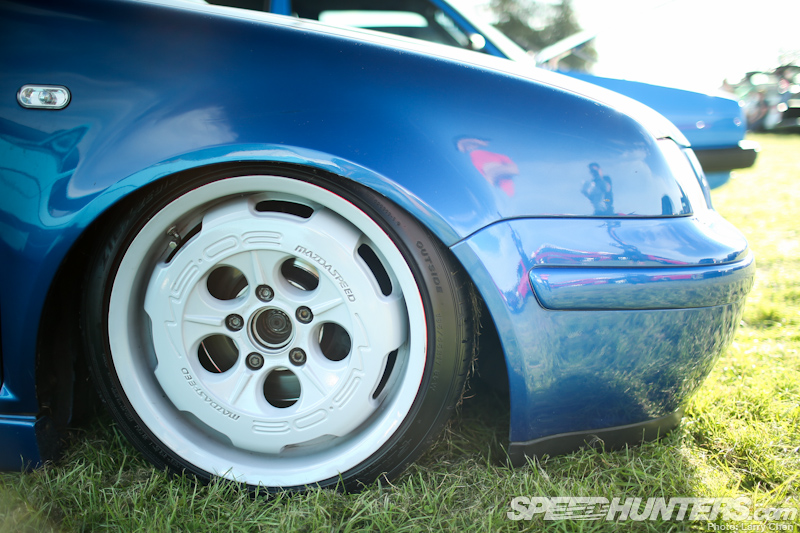 Another theme that has run true for a very long time with the Volkswagen guys is taking the wrong wheels and fitting them to their cars. By wrong I refer to the marque of wheel. When executed correctly the look can be devastatingly right. Porsche wheels have been run on old aircooled Beetles for years, whilst Mercedes wheel swaps have been commonplace on watercooled VWs for a long time. More recently, though, Maybach and Bentley wheels have been used to give cars in the VAG scene a different look. This Bora used these Mazdaspeed wheels to create an interesting effect.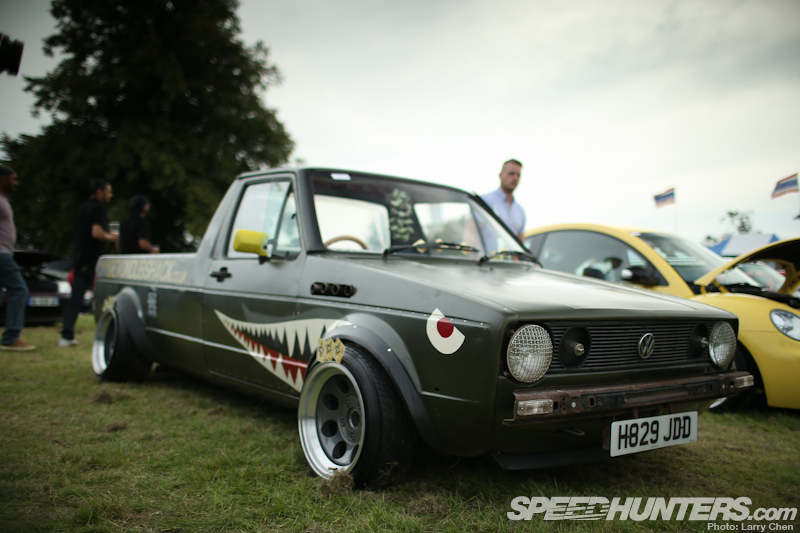 As we started to rush around the show field to make sure we covered all the show had to offer this insane WWII-themed Caddy was a talking point amongst the Speedhunters Crews.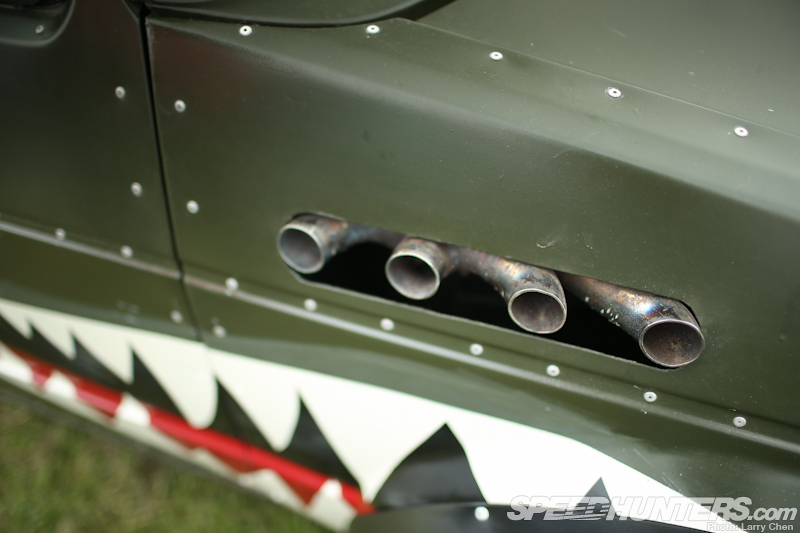 The quite simply bonkers wing modification left us wondering what exactly was under the bonnet?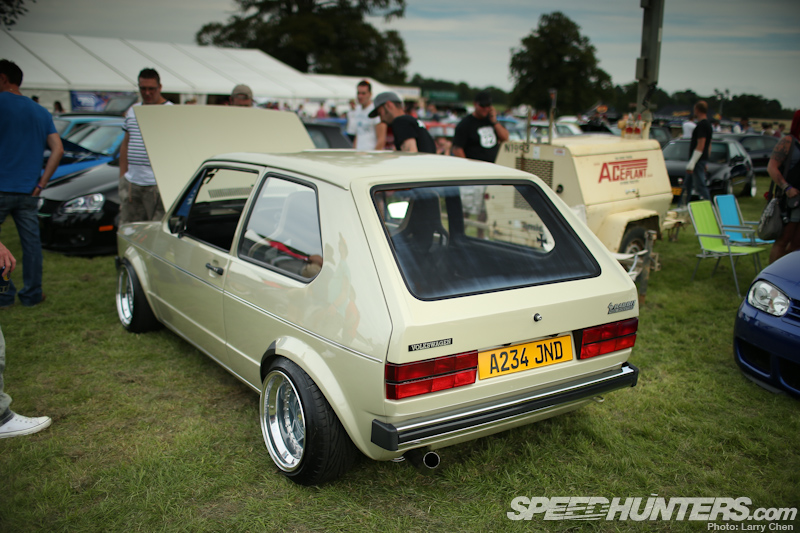 Another stand-out car of the Mk1 variety was this very sweet R32-powered Golf.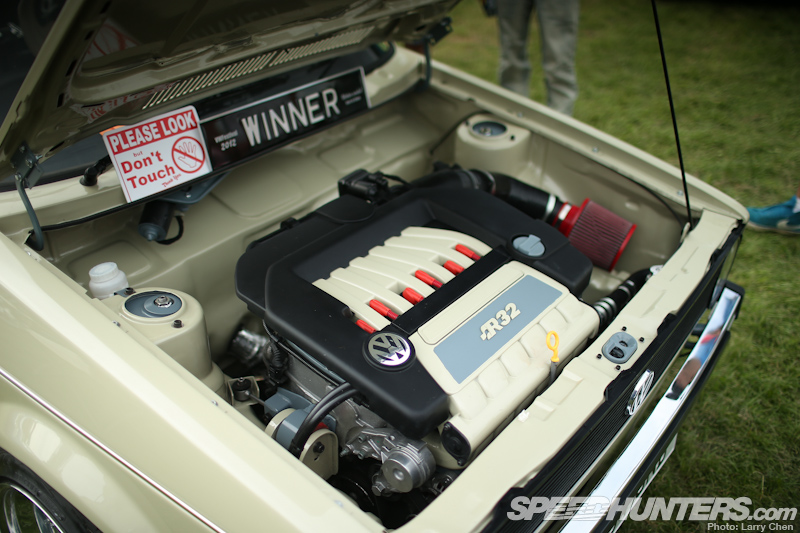 The engine bay was awesome.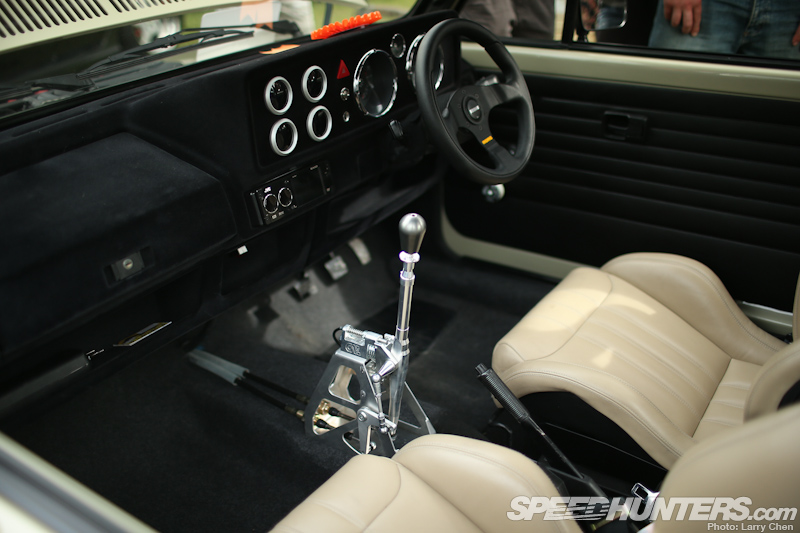 Compomotive wheels, a leather Recaro interior and a purposeful looking motorsport shifter teamed-up with lots of gauges gave this car a 'luxury race car' look, if there is such a thing.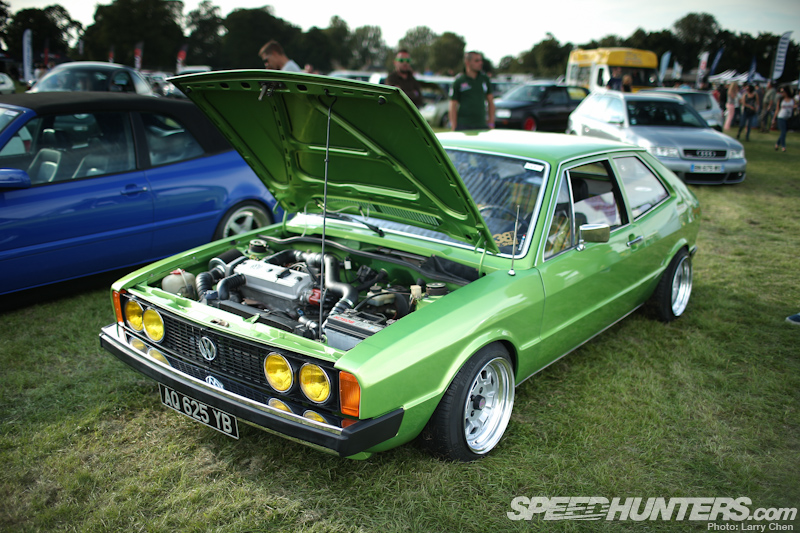 More old school cool came in the form of this beautiful Mk1 Scirocco.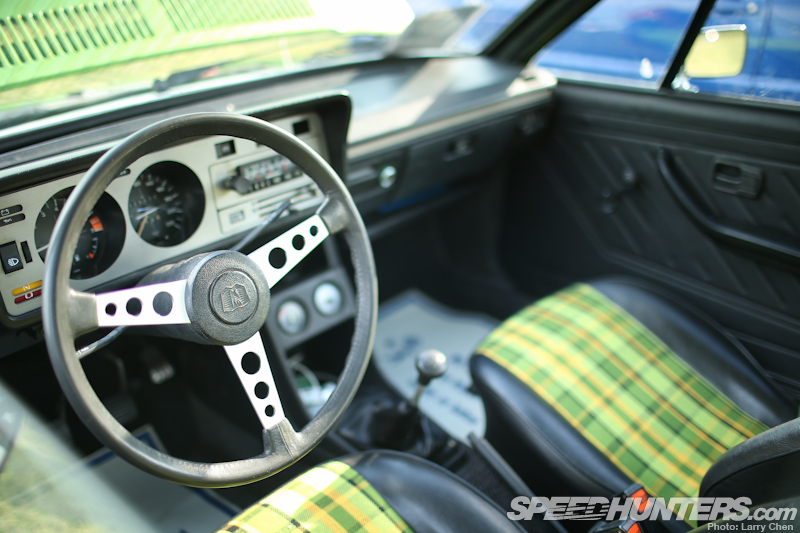 A classic interior and steering wheel choice sets the tone of the build.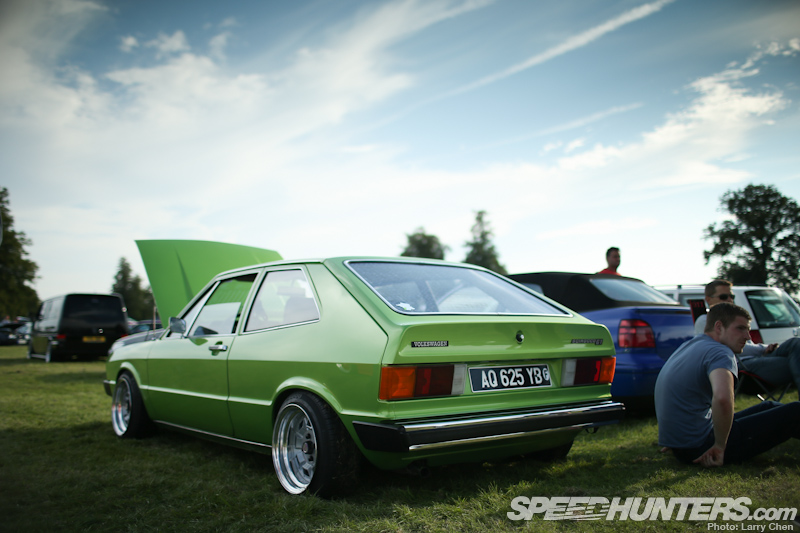 The purposeful stance keeps things useable, too. Another car that is welcome to have a place in my 'dream garage' along with Tim Vincent's previously mentioned Mk2.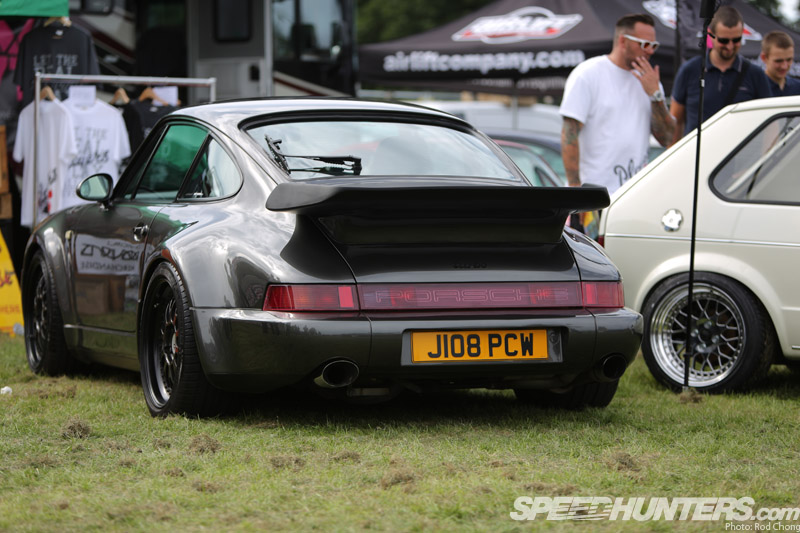 Speaking of dream cars, here's a rear shot of Richard Good's Porsche 964 Turbo on KW Automotive Suspension. Richard is the Managing Director of KW UK and kindly loaned Rod and Larry his car for the day to shoot and take to the show. A 'Dream Drive' feature will be live in the coming weeks on Speedhunters.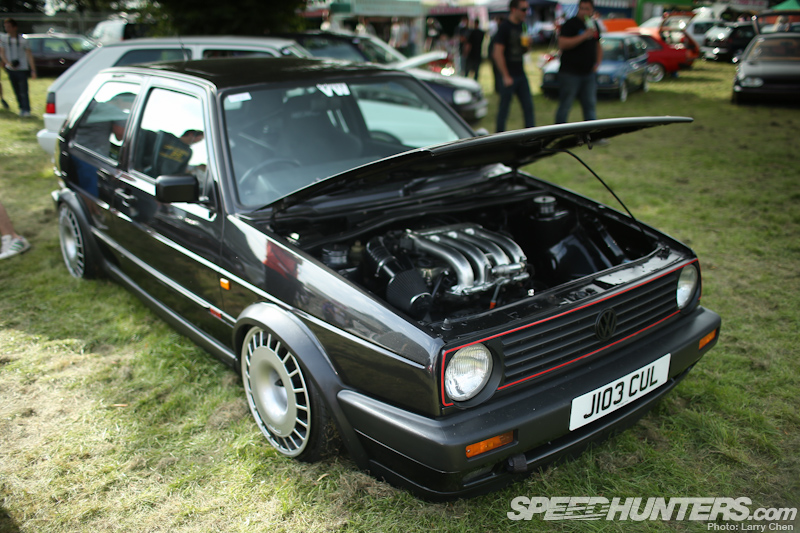 Back near the Performance VW stand we caught sight of a simple but effective looking Mk2 Golf on 17×8-inch Compomotive TH wheels.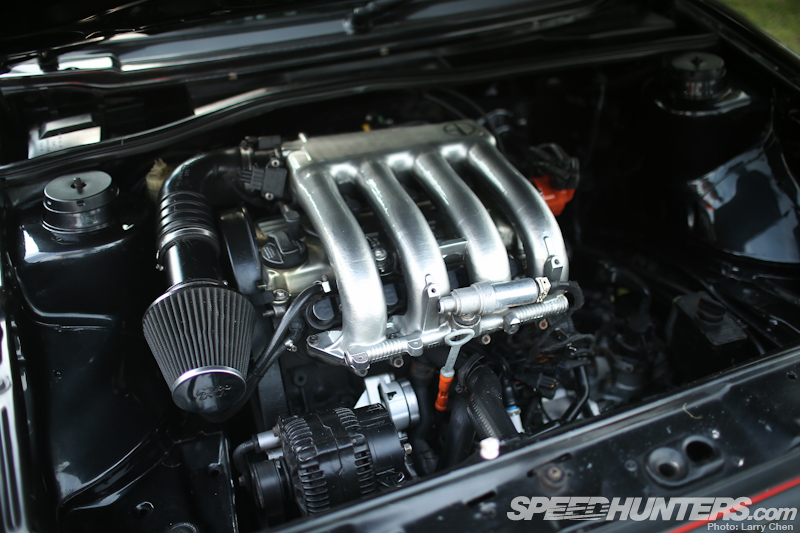 The engine bay was pretty clean, too.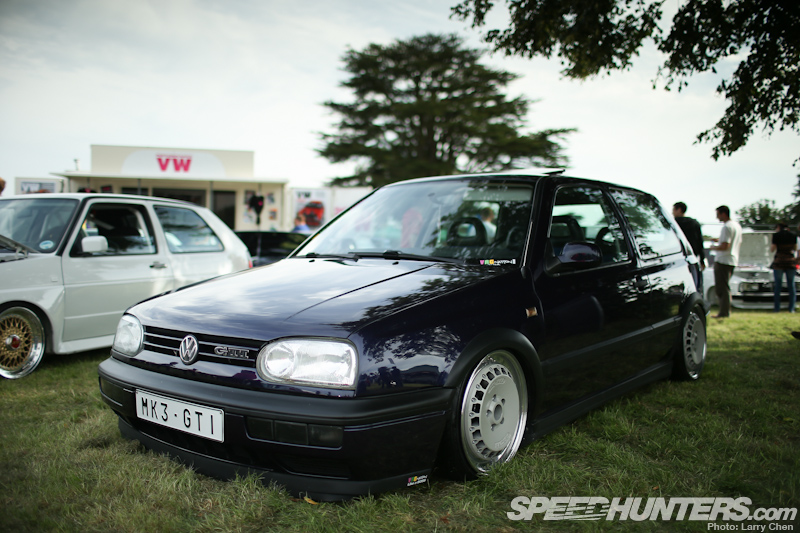 More magnesium Ronal Racing action was also to be found on this very OEM looking Mk3 Golf. There were definitely less Mk3 platform cars at this year's event.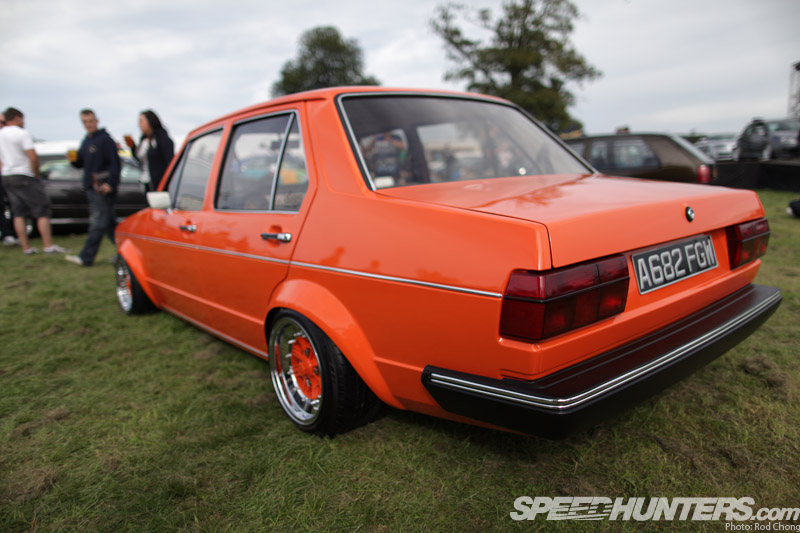 In fact, on the Saturday afternoon retro metal definitely dominated the show field. This orange 4-door Jetta of the Mk1 variety was a sure-fire winner.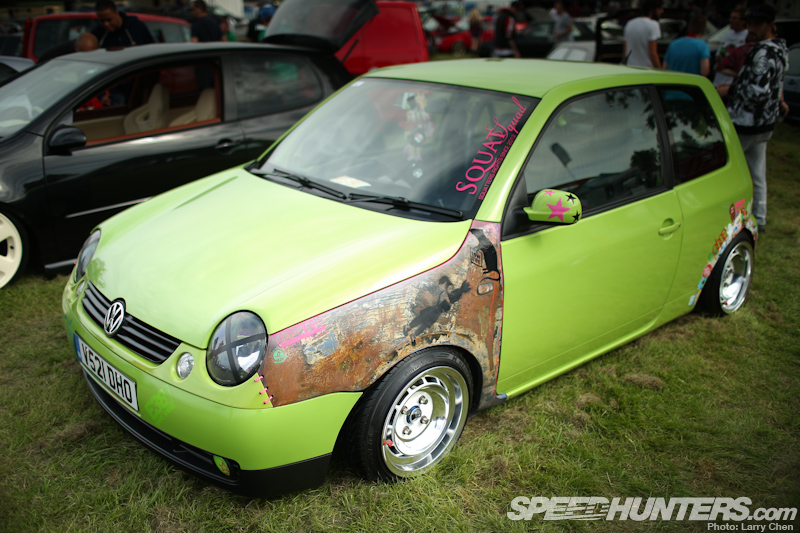 This new wave Lupo sported some sticker bombing with a twist of fake rat look up-front on its wing. There was a lot less of this going on than expected, which, depending upon your point of view, might be a good or a bad thing?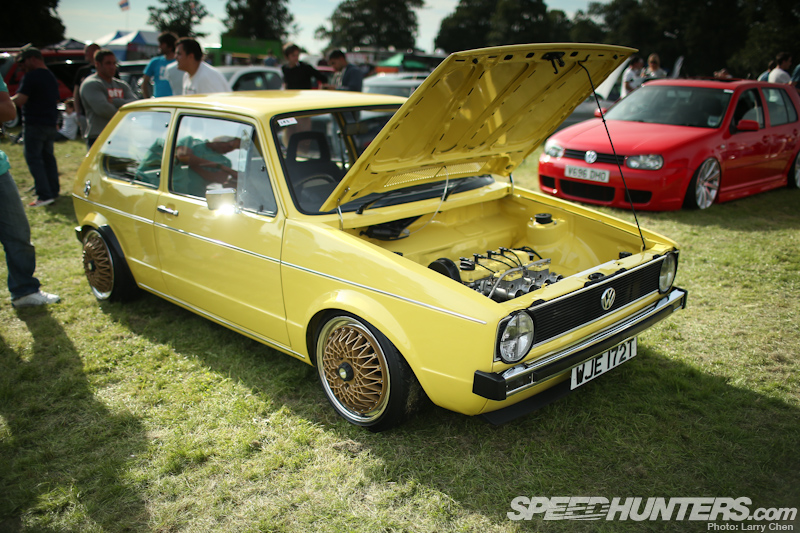 Jason Buckley's classic take on the Mk1 Golf will surely float pretty much everyone's boat.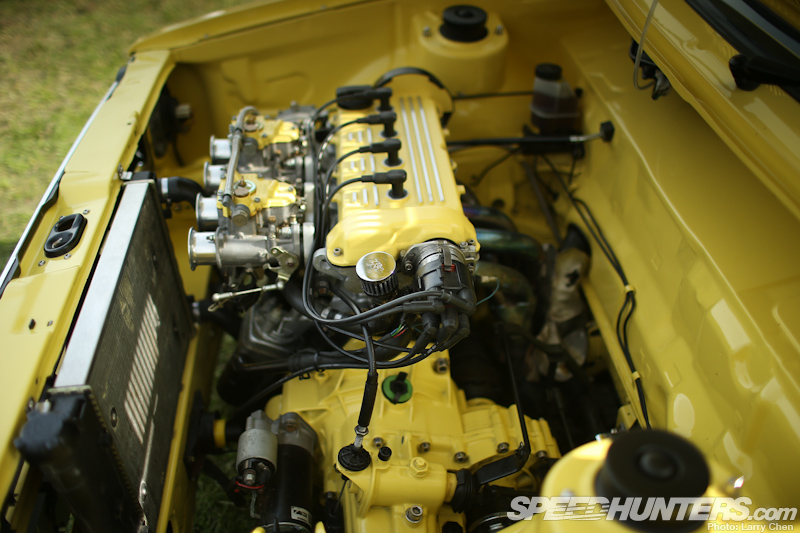 The engine bay is nothing but a work of art packing a trick engine build sucking in cold air via a pair of twin Weber carbs.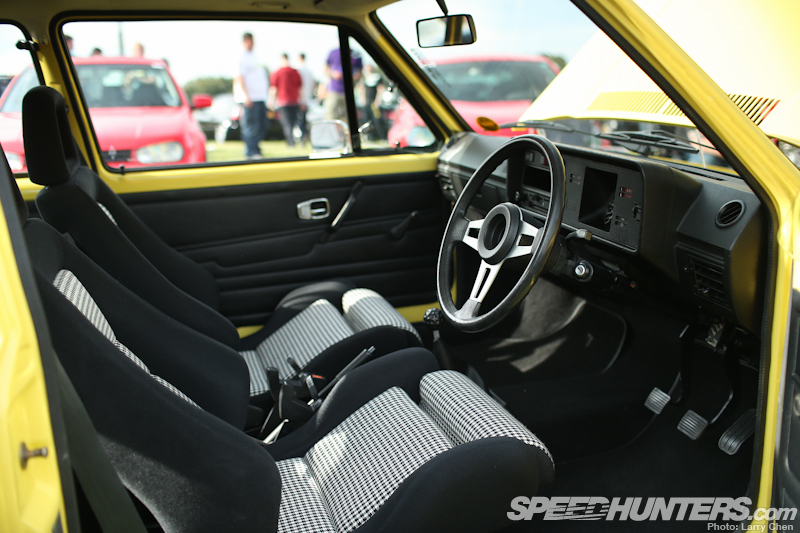 Whilst the interior is a genius combination of fishnet Recaro seats from a Toyota Hilux Surf mounted on custom sub frames and treated to a full hounds tooth fabric re-trim.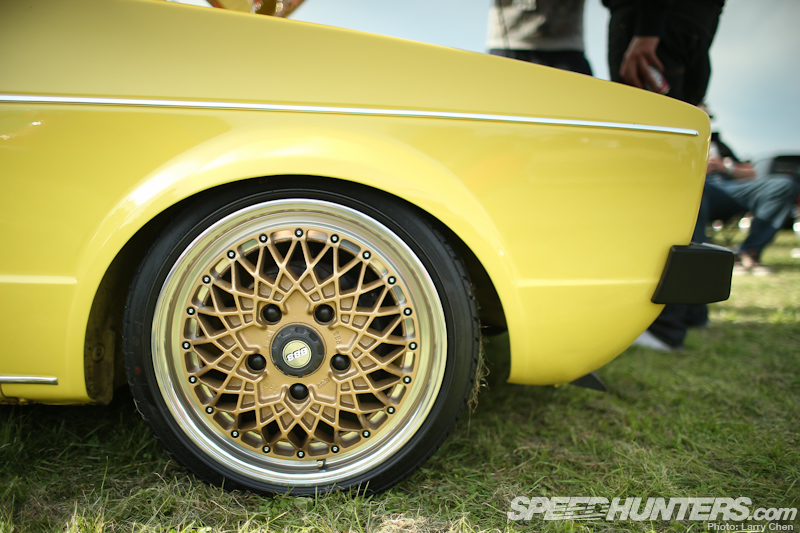 Sat over a lovely set of BBS E52 wheels measuring 16×7 and 16×7.5-inch at the front and rear respectively, the beautiful 1978 model is modified VW perfection.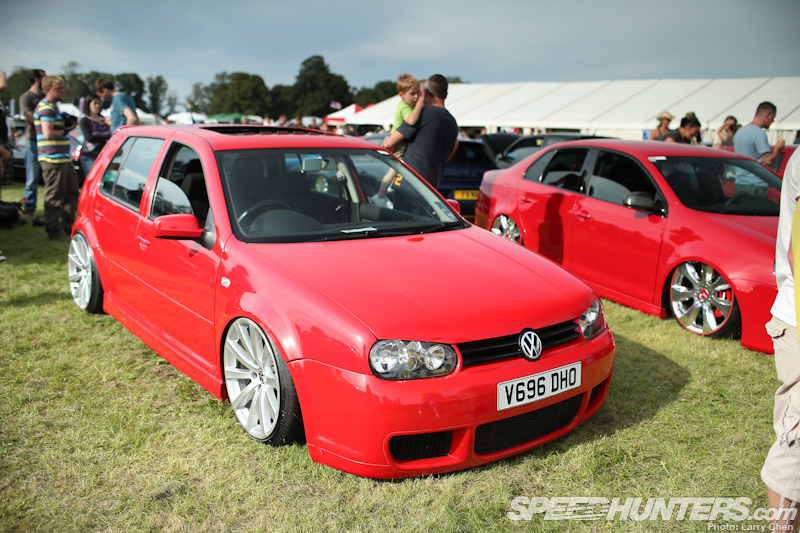 Air ride was, as with any Volkswagen gathering these days, pretty prominent.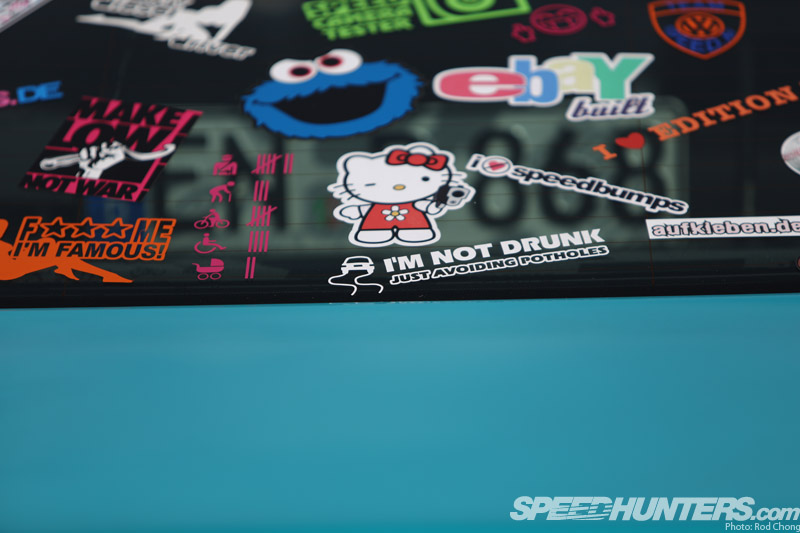 As were stickers.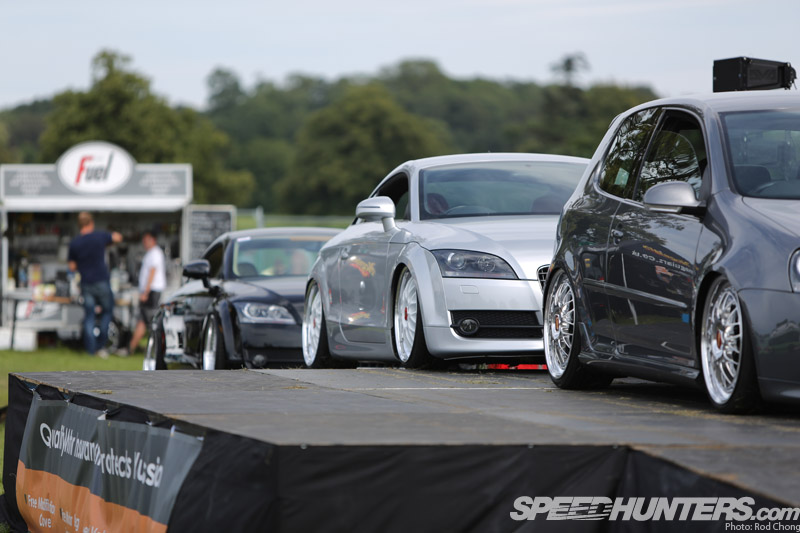 The stage is an important part of the Edition 38 Show & Shine and many a car and owner rolled over it during the day to be interviewed.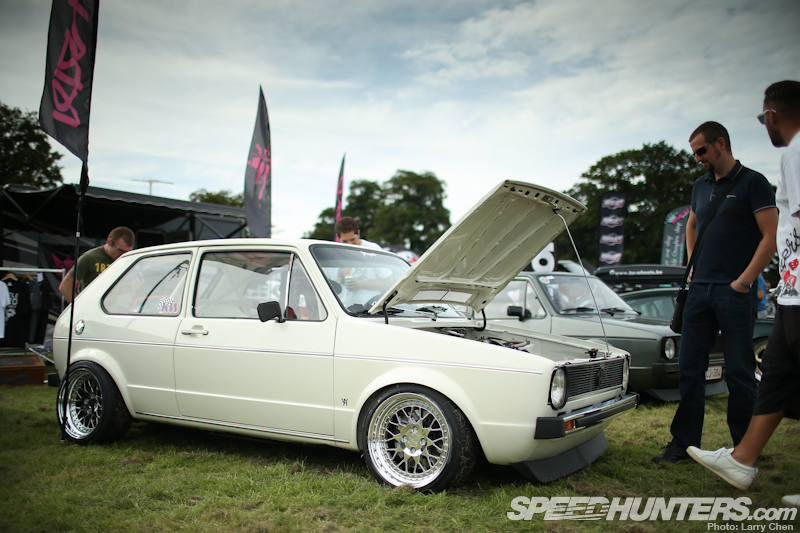 A final car we'll take a look at is Jay Mac's G60 powered Mk1. The 261bhp motor was lifted out of his controversial 'Zero Lip' Mk2.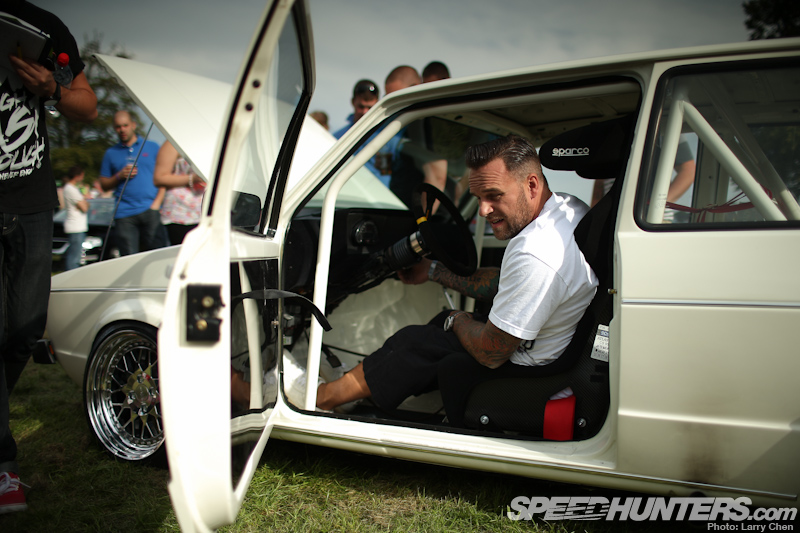 Fully stripped out to save weight and was prepared by Richie and Aaron at Milestone71.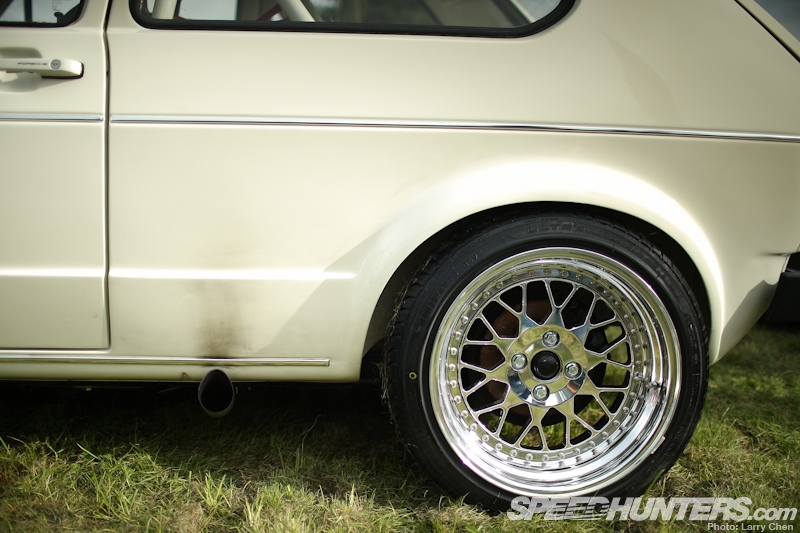 The straight-though, side-exit exhaust system sounds insane and is sure to leave some serious scorch marks on that fresh paint! Jay had the Rotiform wheels fitted for the show, but has some track-ready rolling stock with super-sticky rubber ready for the car's shakedown at Brands Hatch in the near future.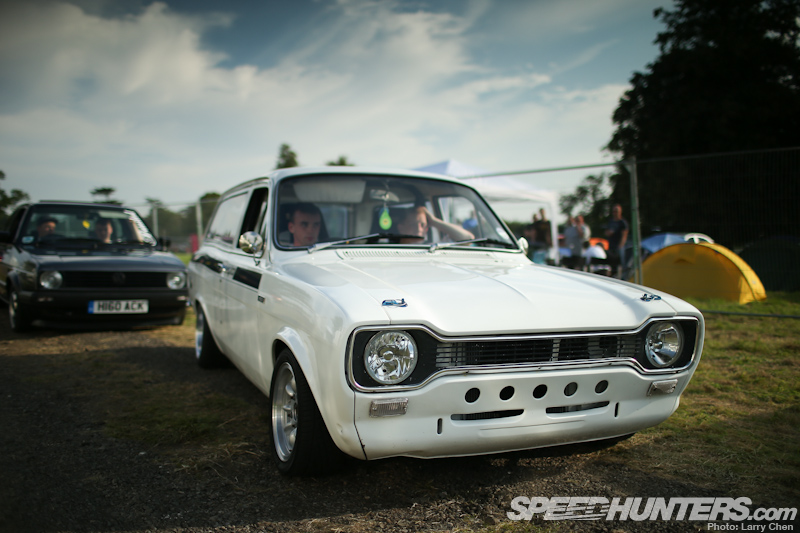 Just as we were chatting about the distant lack of other marques gate crashing the VAG-based party, Larry clocked this very cool Mk1 Escort as we were leaving.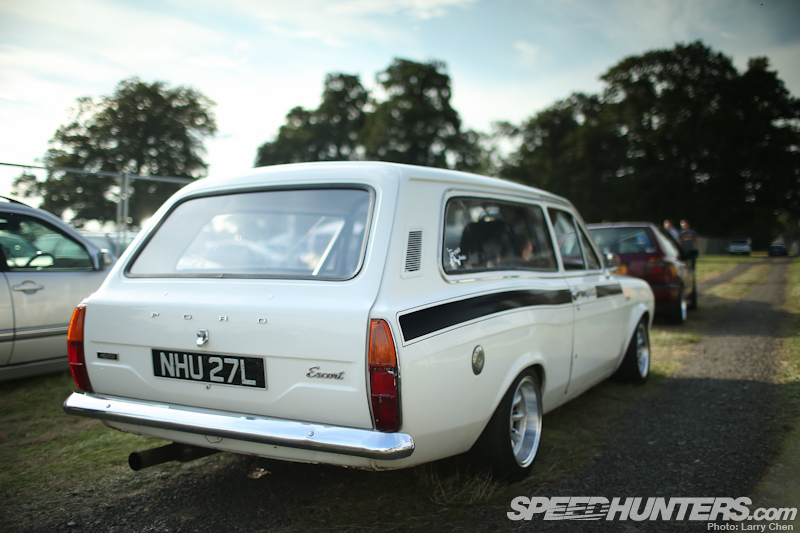 Front or rear the car looks incredible. With all these old school cars around us, I feel like we're taking a trip back in time.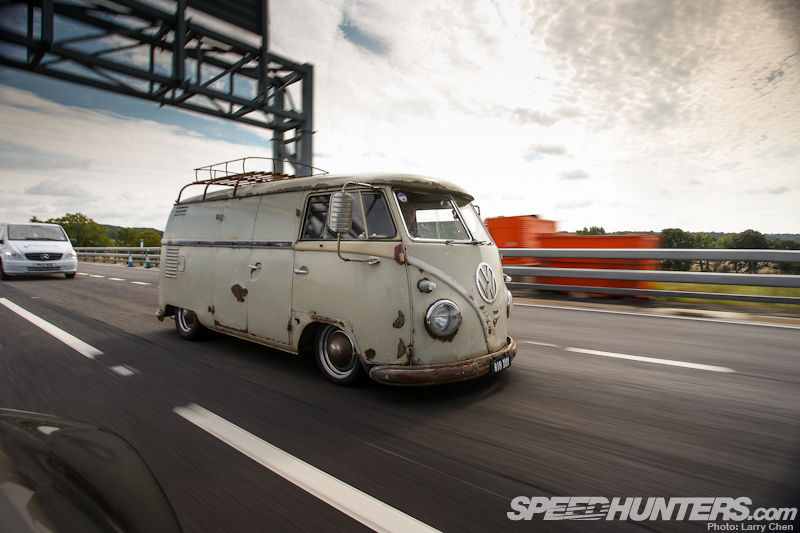 After exiting the show to head over to Trax at Silverstone, out on the road we saw a sweet piece of aircooled metal.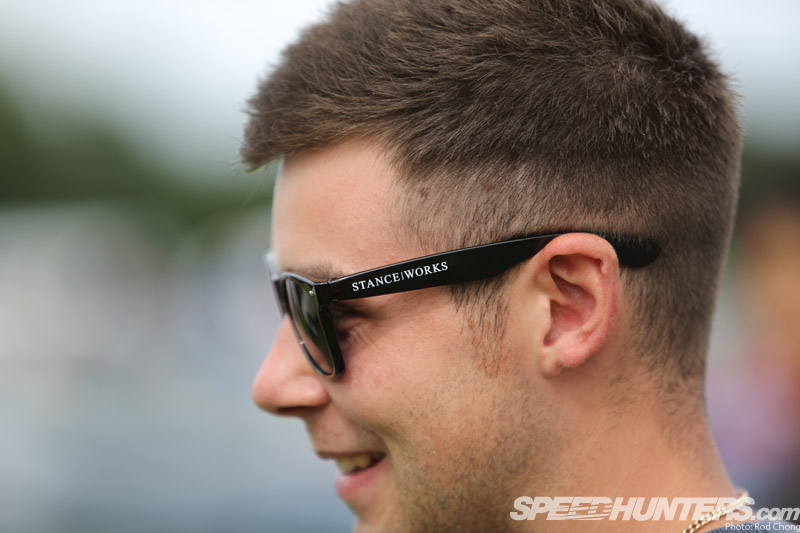 The diversity of the Volkswagen scene continues to evolve and people's hunger to put together cars that make you stop in your tracks is still as strong as ever. The event has progressed from a small club gathering 12-years ago to the huge show that it is now. But despite all of this, the thing that really makes Edition 38 a great show is the people. And I guess the opportunity to catch-up with friends I seldom see, along with the opportunity to check out some of the best Volkswagen Audi Group builds in Europe, is what keeps me coming back to a field in Northampton.
-Ben Chandler
Images: Larry Chen & Rod Chong